Robin D. Thomas
Robin D. Thomas is a brunch loving, Brooklyn born and raised Licensed Social Worker currently working in the Bronx. When she's not writing about all things wellness, entertainment and love, you can find her eating her way through different cities and tending to her plants. Connect with her on IG and Twitter at @_MissRobin or on her Instagram wellness page @thisnoirethat.
It's 2021 and we are officially two months down and almost at our one year pandemic anniversary. It's natural to want to slow down and remind yourself of your wants, needs, and goals. I feel like this last year has tested me in so many ways that oftentimes I've given up hope on the things that I really wanted for myself. As I revisited my 2021 vision board, I realized that visuals were not enough, I needed to write down what I wanted and how I was feeling, and this came out in the form of affirmations.
While it may be easy for us to dream of all the things that we want out of life, sometimes saying it out loud can build our confidence to actually attain these things. Affirmations can be used for every area of our lives, as a way to reaffirm the things we know and affirm the things that are still to come. Last year may not have gone how we wanted, but we still have time to make 2021 the best year yet. I believe there is power in the tongue, so below are 12 affirmations to put out into the universe to solidify this being the year that you do nothing but shine. You ready, sis?
Positive Affirmations for Love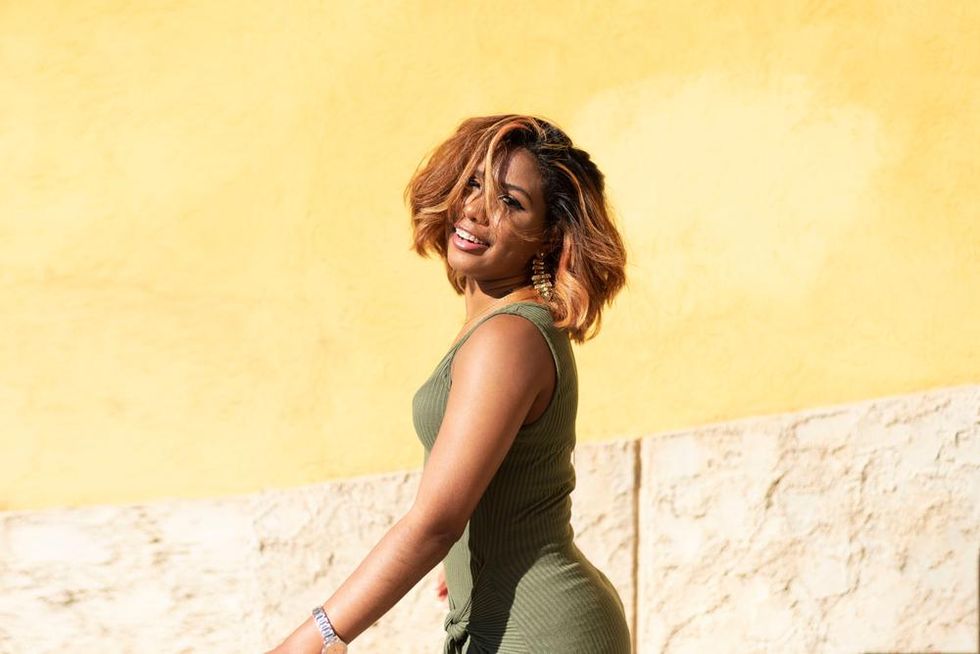 Shutterstock
"My heart is open and ready to receive love."
Wanting companionship and love is one thing, but actually feeling open and ready to experience it is another. It's one thing to say you want a boo this year, but have you opened yourself to receive it when it comes? This year we are recognizing how deserving we are of wonderful, sweep-you-off-your-feet love, and preparing our hearts to take it all in.
"I don't need to do anything to be worthy of love."
Let's stop this narrative that some people are more deserving or worthy of love than others. We are all worthy of that kind of love that surprises you with how good it feels. Your mistakes don't void you of your worthiness for love, just as doing right in the world doesn't put you in the front of the line. There is nothing extra or special we need to do to be deemed worthy of love, except just being. This affirmation is true for friendships, romantic relationships, and even family ties.
"I choose love over fear."
This affirmation is for those who may have been hurt by love before, or those who just have given up on finding the right person. Being vulnerable and open to love can be scary, intimidating, and sometimes disappointing. But don't let the past, and fear of the future, get in the way of you experiencing the love that is waiting for you. Even in the best relationships, we can experience fear of losing it, or making a mistake, but push that fear aside and let love guide you in this journey.
"The love I seek from others must begin within me first."
You didn't think I would end this section without an affirmation about self-love, did you? Before we start opening up our minds and heart to receiving love from others, we have to practice that same loving on ourselves. When we cultivate self-love, it's so much easier to know how to love someone else, as well as know what kind of love we truly crave. The only thing better than being loved by one person, is being loved by two. Let that second lover be you, sis.
Positive Affirmations for New Opportunities
"I have limitless potential."
Say it loud and proud: I have limitless potential! 2021 is the year we are facing new opportunities with the confidence of a mediocre white man. There is no limiting what we can and can't do this year because there is no limit to what we can achieve and what we are capable of doing. Don't you dare let self-doubt or the haters block you from what is already yours: anything and everything you want!
"I am grateful for what I have and for what is coming to me."
Before the new blessings flow in, take a moment to express gratitude for everything you already have in your life. This affirmation is confirmation that you have a divine appreciation for what your life currently is, and are therefore ready to welcome in new and better. There's power in expressing thankfulness right now for what has not happened yet, proving that you already believe in what is coming next.
"Every goal and plan I have for this year is achievable."
There are no big or small goals this year, just goals. Period. Every goal you set for yourself can be met, and it starts with your mindset. If you tell yourself that the goal is too big or might be out of your reach, you're already setting yourself up for failure. WIth every step you make towards that end goal, stop and remind yourself that it is attainable and right within your reach.
"This year I will welcome an abundance of wealth and prosperity. Money will come to me in both expected and unexpected ways."
Where are we going this year? Where the money resides, and nowhere else! This affirmation is about boldly accepting that you are deserving of more money and more wealth, and it is coming to you tenfold. We are no longer settling for less, and instead are committing to reaching our financial goals, and then tripling them. Say hello to financial freedom and increased prosperity.
Positive Affirmations for Life in General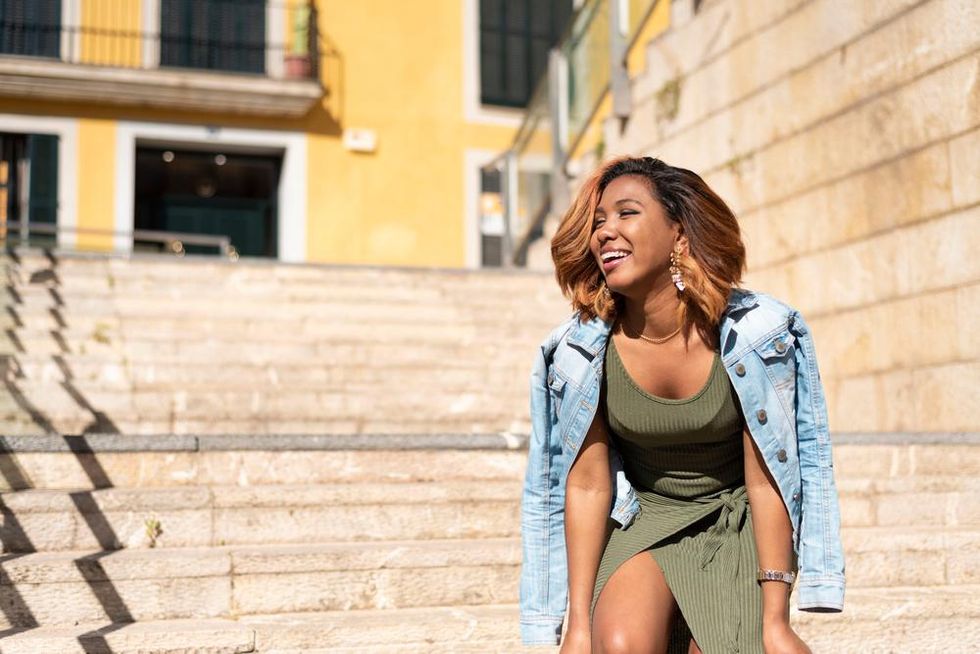 Shutterstock
"I am allowed to be new."
We have a new 365 to do better and be better, and anything that stifled our growth and potential in the past is a thing of last year. You have permission to make mistakes and then start over, to let go of what isn't working, and to hit refresh when things aren't going how you want them to. This is not limited to this month; a fresh start can happen at any time and anyplace. Release yourself from that guilt and move on.
"I am ready to see things differently in 2021."
A positive mind will always yield positive results. Let 2021 be the year you let go of negative thinking and welcome the blessings that are coming your way. If last year didn't go as planned, this is the year to have another outlook on life, love, and any other goals you have. Even when things don't go as planned this year, stop looking at it as a failure and start seeing it as a sign that it wasn't meant for you in the first place because better things are on the way.
"My magnetic energy draws amazing opportunities and people into my life."
Being your true, amazing, authentic self will attract similar things and people into your life. Remind yourself that you are a dope individual with amazing energy, and this will always bring the best people and things into your world. Trust that you don't have to fight for attention or try to be something you are not in order to attract the things you deserve.
"I have faith in myself and in my abilities. It is impossible for me to fail."
Say that last line one more time out loud: "It is IMPOSSIBLE for me to fail." Failure is not an option when you are confident in your abilities, and begin to look at things from a different perspective (reread the affirmation above if you need help with that last part). Just know that you have all the skills and tools to accomplish any and everything you set out to. That faith that you have in your own abilities will give you a boost to walk confidently into success.
2021 will be the year that you unapologetically claim everything that is yours.
Are you a member of our insiders squad? Join us in the xoTribe Members Community today!
Featured image by Shutterstock

Keep reading...
Show less
The first time I really learned about the five love languages was a year after a big heartbreak in my early twenties, and since then I've found myself exploring the love languages of each of my subsequent partners in an effort to be a better lover to them. At the click of a simple quiz, you'll know whether words of affirmation, acts of service, quality time, receiving gifts, or physical touch is the primary way you prefer to experience love.
When most people hear the phrase 'love languages', their first thought centers around how these five so-called languages fit into our romantic relationships. We can all think of a situation where misalignment of love languages, or inattention to them, lead to problems romantically and oftentimes failed partnerships.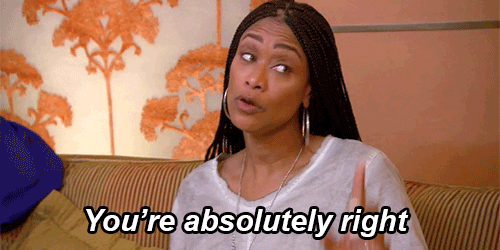 What most people don't realize is that understanding your own love language is also important in understanding how you can love yourself. We get so caught up in considering someone else's love language in order to be a better partner to them, that we don't always use our own love language to practice self-love for ourselves. But how can you love someone else right if you aren't loving yourself?
Check out some practical ways to practice self-love and self-care based on your own specific love language.
1. Words of Affirmation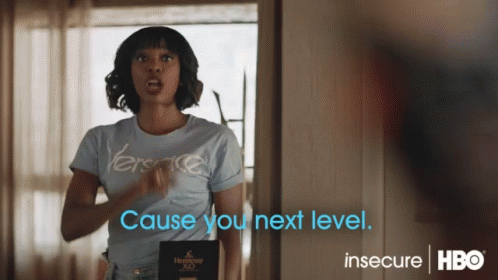 The premise of loving someone who enjoys words of affirmation is using language to affirm, encourage, and appreciate your partner, so this translates well into self-love. One way is to write yourself a love letter. That's right, a love letter! When's the last time you sat down and thought about all the things you love about yourself? Try putting that in the format of a list or a literal love letter, an ode to you featuring all the reasons you love being you. Another way to affirm yourself for all you do daily is by creating a gratitude jar. Get a mason jar or a sturdy container and some index cards, and then each day write down something you're currently grateful for. Then, at the end of each month go back, read each card, and experience the feels all over again.
2. Acts of Service
If your love language is acts of service, you want to focus on ways to alleviate responsibility and burden. But how is that possible when you're doing it for yourself? How about paying for a cleaning service to tidy up your home, so you can kick up your feet and relax, or just focus on another errand you have. Typically do your laundry on your own? This time, take your laundry to be cleaned and folded professionally, so that it's one less chore on your to-do list. This category is all about help and so figuring out how to best help yourself is the key. Something as simple as giving yourself a break and finishing work early to enjoy a glass of wine is an act of service to your well-being that you will for sure be grateful for.
3. Quality Time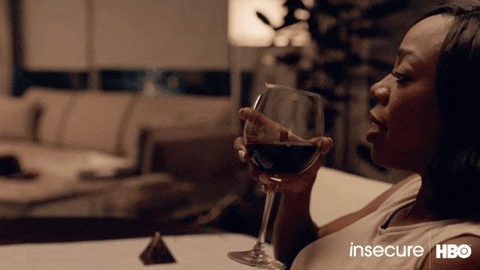 Introverts rejoice! This version of quality time finally involves spending time with just yourself. While with partners, we stress the value of uninterrupted time together, we don't always keep the same energy when it comes to "me-time". If QT is your thing, carve out time during the week to take yourself on a date. Go to your favorite restaurant, catch a movie (post-COVID), or pack some snacks and a blanket, and treat yourself to a picnic. And make sure you get cute and dressed up in the same way you would if you were headed out with a boo; you deserve to see you at your best as well.
And remember, this doesn't have to require spending money or even leaving the house. Just close your laptop, put down the cell phone, and spend intentional time doing something that makes you happy. Bake something tasty, drink a glass of wine and journal, or just lay on the couch and read a good book. All that matters is you are taking a moment to enjoy quality time with the best person you know, you!
4. Receiving Gifts 
Treat yourself, and then treat yourself some more. There is nothing wrong with enjoying getting thoughtful gifts from people who care about you, and that includes from you. This type of self-care can be buying yourself those shoes you've been eyeing, ordering some flowers for yourself to brighten up your workspace, or getting that new dining set you have been contemplating for months. The kind of gift doesn't matter, as long as it has a meaning and importance to you. But also, if you have the means to take yourself on a mini shopping spree and splurge on a few things, I support that as well.
5. Physical Touch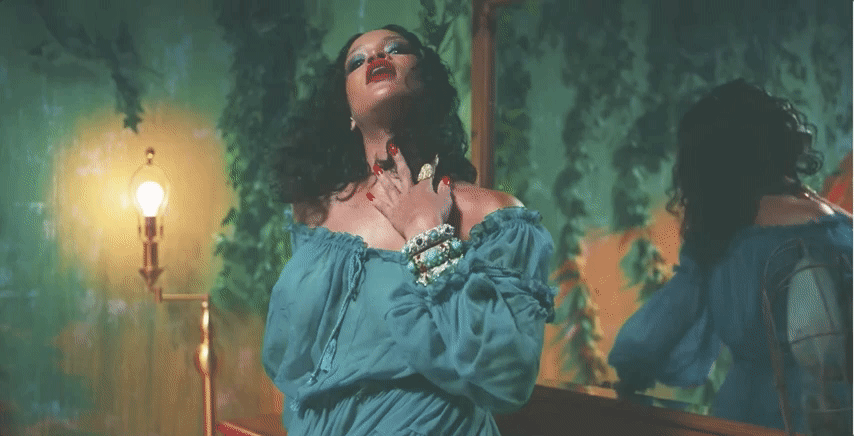 It's time to love up on yourself a little bit here. Stop what you're doing right now and give yourself a nice long hug, because you deserve it. Squeeze tight and let go only when you've had enough. One way to get your daily dose of self-love in this category is by purchasing a massage gun, and giving yourself a body massage. You can focus in on all those areas that have been giving you trouble, and if your co-love language is acts of service or receiving gifts, go on ahead and buy yourself a massage package to get even more physical touch. For my sensual ladies, what better way to love up on yourself than some self-pleasure? Grab one of your favorite toys and make a night of making yourself feel good.
Nobody can touch you like you can.
Join our xoTribe, an exclusive community dedicated to YOU and your stories and all things xoNecole. Be a part of a growing community of women from all over the world who come together to uplift, inspire, and inform each other on all things related to the glow up.
Featured image by Shutterstock.
Originally published September 6, 2020
Keep reading...
Show less
I like my coffee how I like my men: hot, strong and BLACK!
In the early stages of quarantine, with most coffee shops closed down, many of us turned to brewing our own cup of joe at home to get our fix. Whether you went the quick and easy K-Cup route, or prefer to ground your beans from scratch, we can all agree that the perfect cup of coffee has the ability to turn around even the worst of workdays.
For many of us coffee lovers, a cup of morning coffee is a necessity for setting the tone for our day. So, why not switch up your usual at-home caffeine fix by placing your dollars into some dope Black-owned businesses? If you want to step away from the Starbucks and Dunkin Donuts brand coffee to rise and grind for the real thing, order yourself some specialty coffees from one of these Black-owned coffee companies to keep you warm and toasty this fall.
10 Black-Owned Speciality Coffee Brands To Shop Online
BLK and Bold Specialty Beverages
Started by childhood best friends, Pernell Cezar and Jarrhod Johnson, BLK and Bold offers a variety of specialty coffee and tea blends with creative names such as Rise & GRND. The brand was the first Black-owned to be distributed nationally, now being sold nationwide at select Targets, Whole Foods Markets, and on Amazon. And if you needed any more reason to support these young men, the company pledges 5% of profits to local nonprofits, so your business will directly impact at-risk youth.
"If Dizzy, Basquiat, & Elijah McCoy roasted coffee, it would taste like Three Keys." That's the line you will find on the website of this Houston based craft coffee roastery founded by couple Tio and Kenzel Fallen. The name is inspired by the valves of the trumpet, and many of the blends have descriptions with connections to Jazz music. So, pour up a cup of one of their branded blends and vibe out to one of their playlists curated by renowned jazz musician, Jarritt Sheel.
Red Bay Coffee Roasters
Founded in 2014 by artist Keba Konte, Red Bay Coffee seeks to provide coffee that is both high-quality and sustainable. With roots in the Bay Area, this brand also strives to be inclusive in their hiring, including people of color, people with disabilities, the formerly incarcerated, and others from groups traditionally left out of the specialty coffee industry. And don't forget to grab one of their signature merch items that reads "Coffee: Africa's Gift to the World. You're Welcome."
Beanfruit Coffee Co.
M-I-crooked letter-crooked letter-I. I think you get the point of where Beanfruit Coffee Company got its humble beginnings. Though founder Paul Bonds was not a huge fan of coffee for a while, introduction to specialty coffee led him to experimenting with different types of coffee and eventually roasting his own. On the website you will find Colombian, Ethiopian, and Sumatran blends that can be purchased whole bean or grounded.
Historic Noir Coffee Group
Historic Noir Coffee Group is an Atlanta-based coffee company started by ATL native Ricardo Richardson, who then brought on two of his childhood friends to bring the vision to light in an industry where Ricardo didn't see a lot of minority representation. Staying true to the city that made them, each blend is named after the respective neighborhood that they grew up in: Decatur, Fourth Ward, and West End.
2 Bros Coffee Co. of Dallas, Texas offers the freshest gourmet coffee by the pound or in convenient K-Cup packs. Another specialty of theirs is CBD-infused coffee that can be delivered right to your door.
Signature Blends by KF
2020 has come with a lot of surprises, and one of them was discovering that Kim Fields has her own brand of coffee. Yes, thee Kim Fields! Based out of Atlanta, Signature Blends by KF has been putting out quality coffee, teas, dry rubs, and other beverage-related products since 2017. So, order a bag of a medium roast, and get some sweet and savory dry rub for your steak while you're at it.
BD Imports
Dating back to 1999, BD Imports has strived to not only provide high quality coffee, but also champion women's empowerment and gender equality. They offer three blends of coffee beans, and both decaf and caffeinated coffee pods.
Dope Coffee
Dope Coffee is what you'll find at the intersection of premium coffee and black culture. Founder and CEO Mike Loyd aims to show that Black people and Black culture should be seen in every aspect of coffee culture. Along with coffee, the brand also sells coffee-infused syrup, body scrub, and beard and scalp syrup.
CariBBrew 
CariBBrew is a Black women-founded and -owned coffee company providing coffee beans straight from Haiti. Though natural catastrophes that impacted the island slowed down the company's production, they continue to work in partnership with small scale coffee farmers in Haiti to grow the best quality beans, while also creating long-term, sustainable jobs on the island.
Join our xoTribe, an exclusive community dedicated to YOU and your stories and all things xoNecole. Be a part of a growing community of women from all over the world who come together to uplift, inspire, and inform each other on all things related to the glow up. We drop xoNecole events and special opportunities into our Tribe first.
Featured image by Shutterstock
Keep reading...
Show less
The natural hair movement has been going full speed ahead for the last decade-plus, with so many Black women ditching the creamy crack and opting to embrace their curls and tap into their creative sides with natural protective styles. Slowly but surely, the internet was filled with countless must-have product lists for natural hair and YouTube step-by-step guides on how to pull off the hottest natural hair protective trends. However, even as the outside world made the leap over to natural hair paradise, Hollywood was still behind for many years.
Thankfully, over the last few decades of entertainment, we have seen more and more leading ladies showing us how to embrace and rock natural looks.
Because representation matters, and there's just something about watching a TV show and seeing someone who looks like you proudly showcasing their hair in fros, braids, twists, and other natural and protective styles, let's look at 14 characters from some of our favorite shows who effortlessly rocked their natural coils and other dope protective styles over the years.
Nola Darling in 'She's Gotta Have It'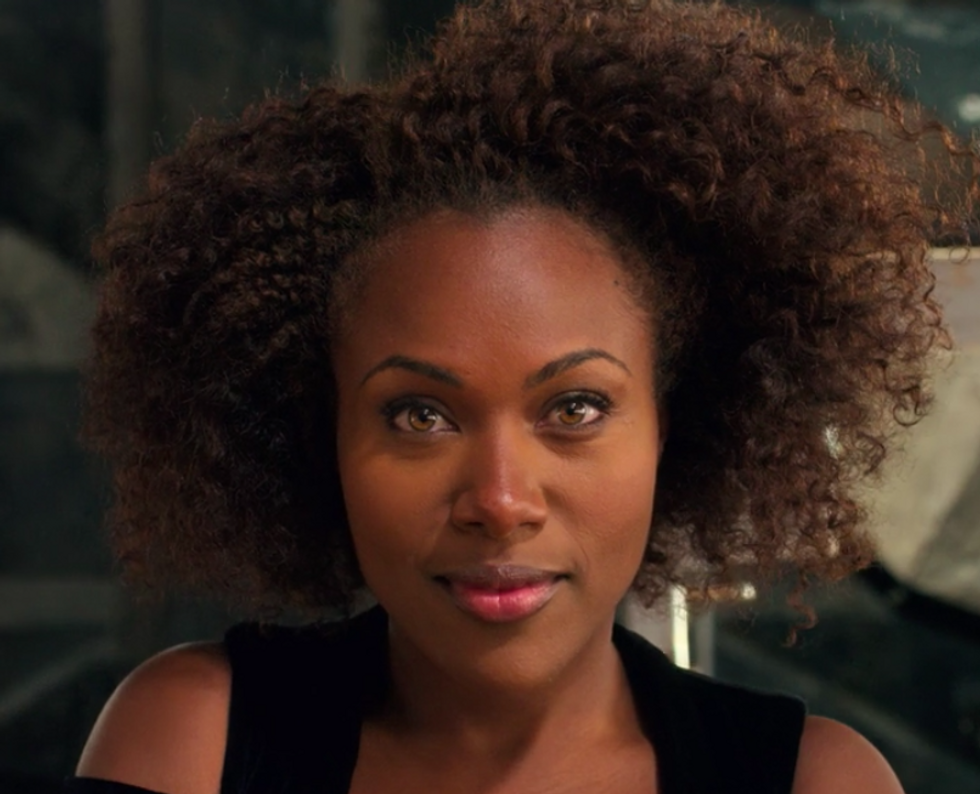 Netflix
Each season of the short-lived Netflix original, we watched Nola Darling juggle her career, relationships, and life in general all while rocking the cutest braids, curly styles, and headwraps.
Denise Huxtable in 'The Cosby Show'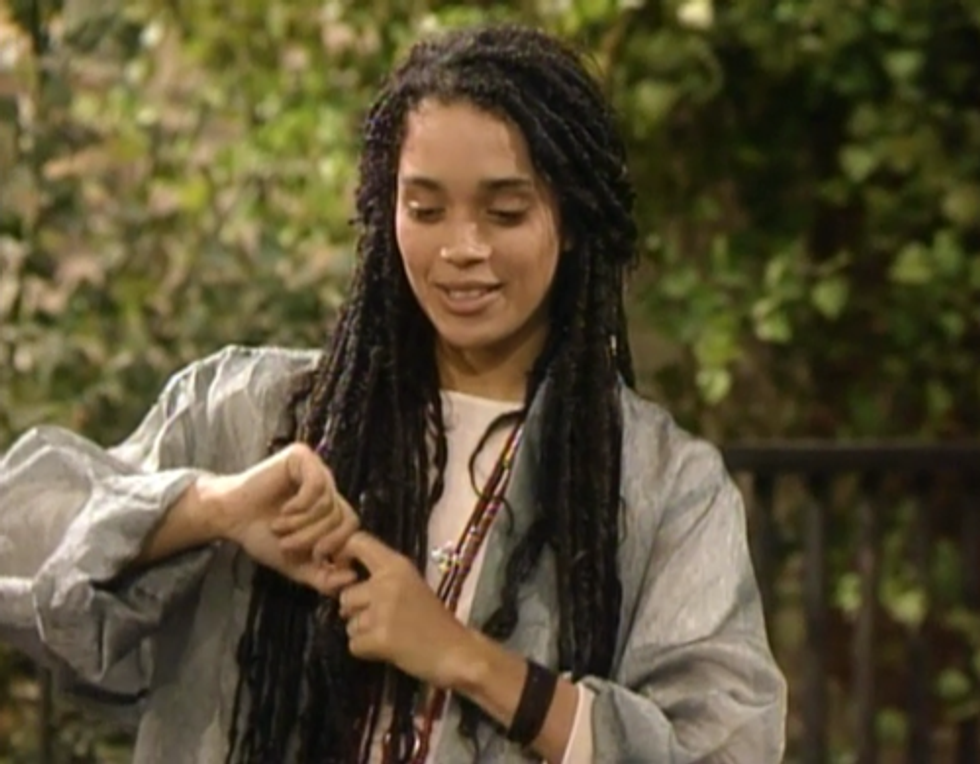 NBC
Known as the wild-child of the Huxtable household, Denise was always making bold choices in both fashion and hair. Her long, waist-length locs were the first time I could remember seeing dreadlocks on primetime television, and she wore it so well.
Zoey Johnson in 'Grown-ish'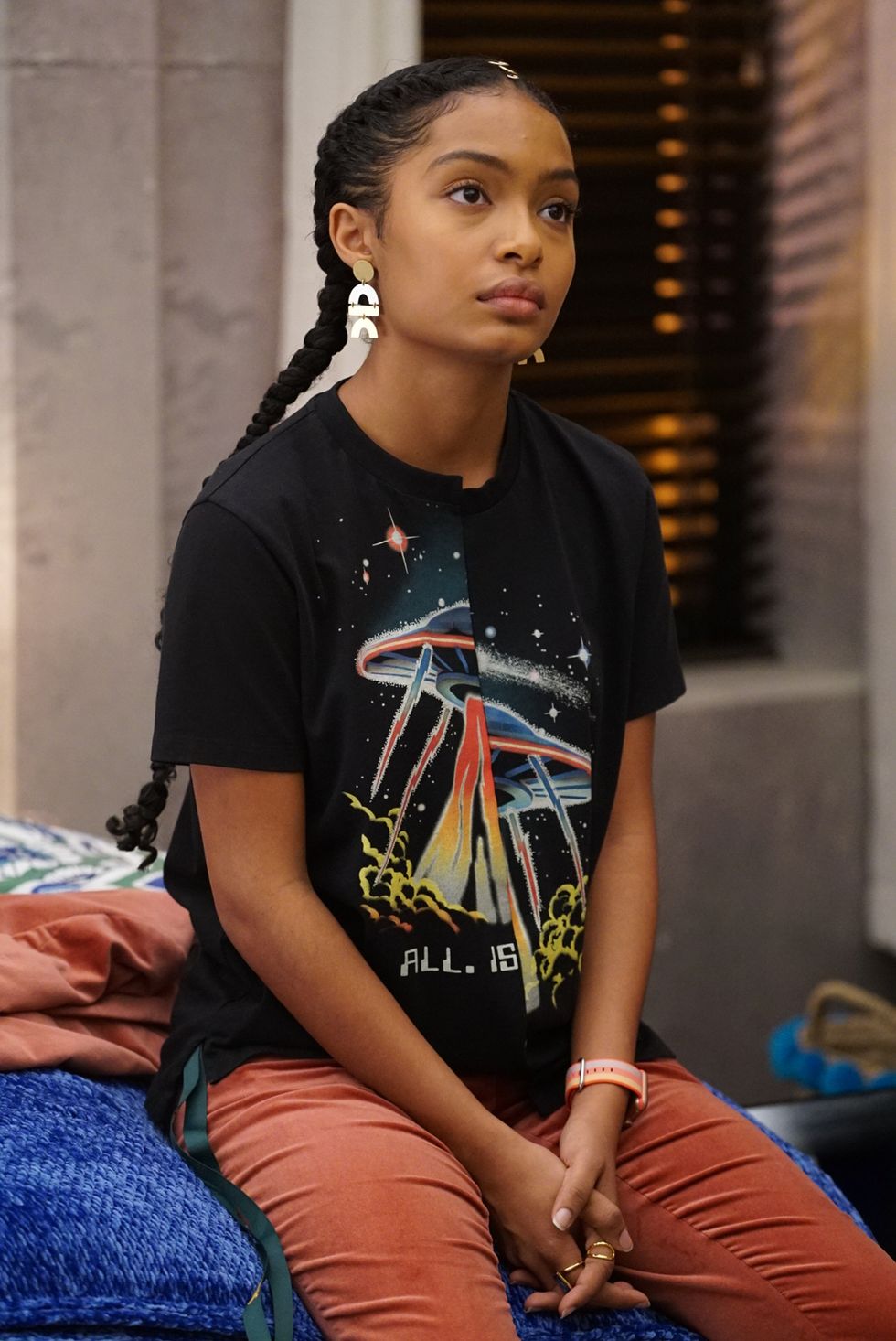 Freeform
Even before landing this spinoff show Grown-ish, Yara Shahidi's character Zoey Johnson had been showing us a plethora of new ways to style natural hair with side do's, wash-n-go's, and cute accessories on Black-ish.
Vanessa "Van" Keefer in 'Atlanta'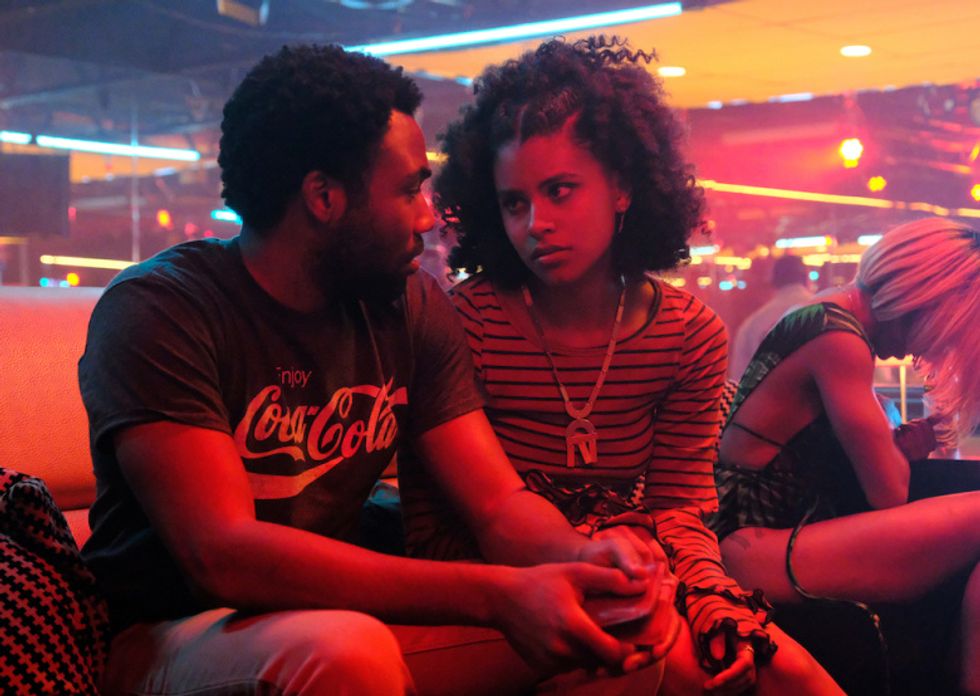 FX
Zazie Beetz's Van is the super sarcastic and straight to the point on-again/off-again girlfriend and baby mama to Donald Glover's Earn who always drops Twitter-worthy quotes when she's on-screen. Aside from her wit, you always see Van either rocking a simple curly fro or jazzing her up her hair into a style almost as memorable as her infamous Drake line.
Moesha Mitchell in 'Moesha'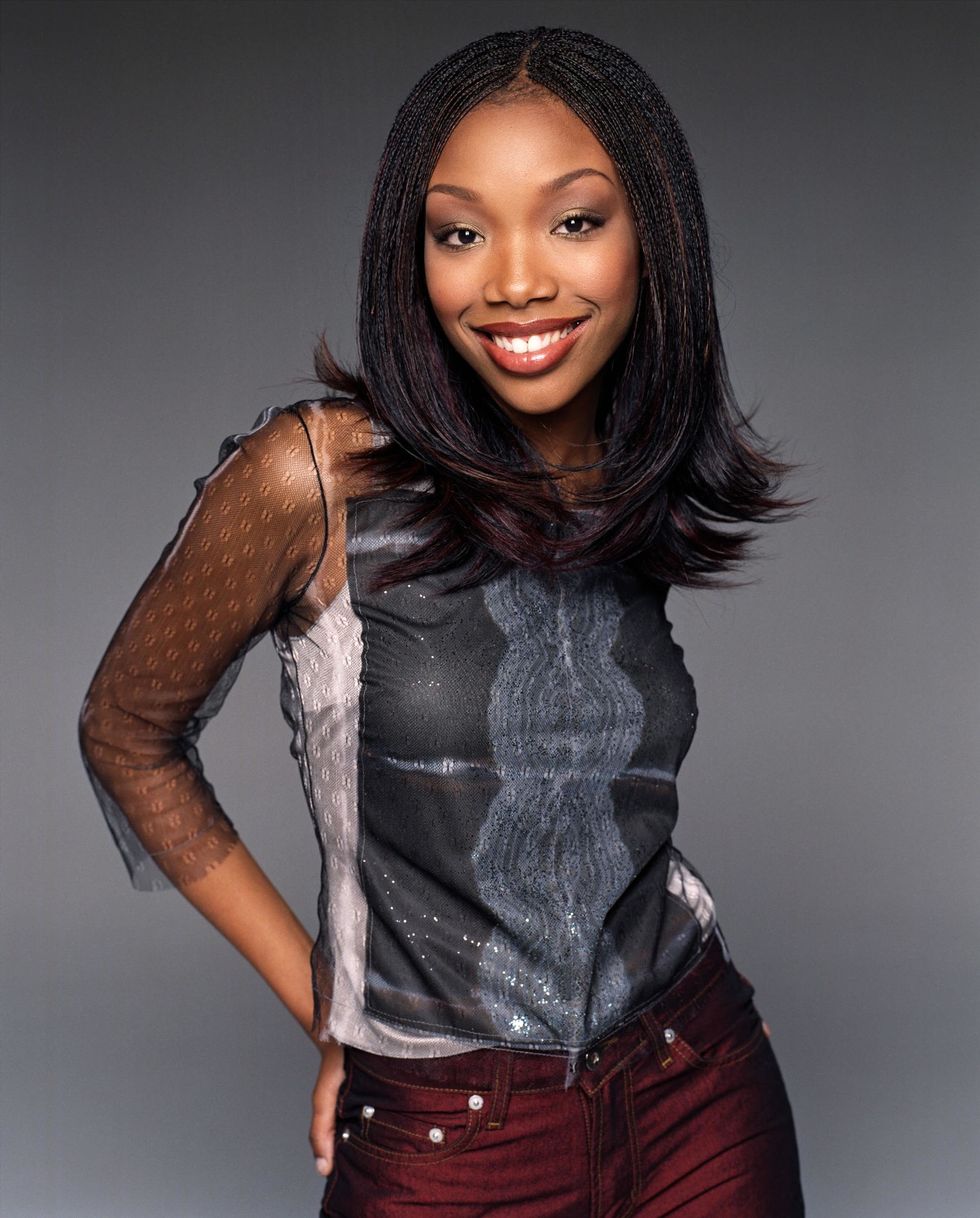 Matthew Rolson/United Paramount Network
"Mo to the, E to the". Almost two decades later and the theme song for Moesha still rings in our heads. The other thing we can't forget is how Moesha set the standard for rocking braids on primetime television, and each episode she would find a new way to style them.
Anissa Pierce/Thunder in 'Black Lightning'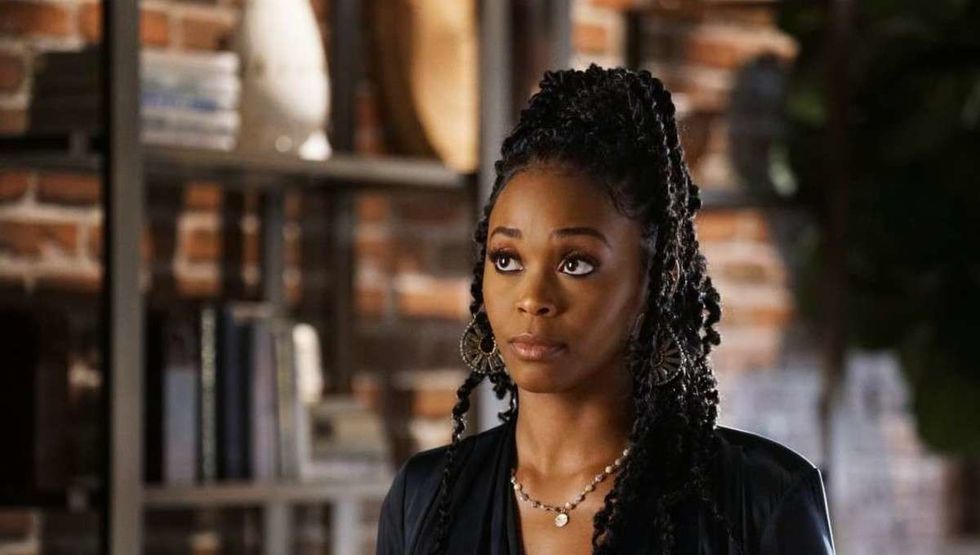 Black Lightning/CW
Sporting killer outfits and hairdo's, Thunder kicked butt as TV's first Black lesbian superhero in CW's hit show Black Lightning. Portrayed by actress Nafessa Williams, Thunder always made sure her edges were laid before and after fighting crime.
Winifred "Freddie" Brooks in 'A Different World'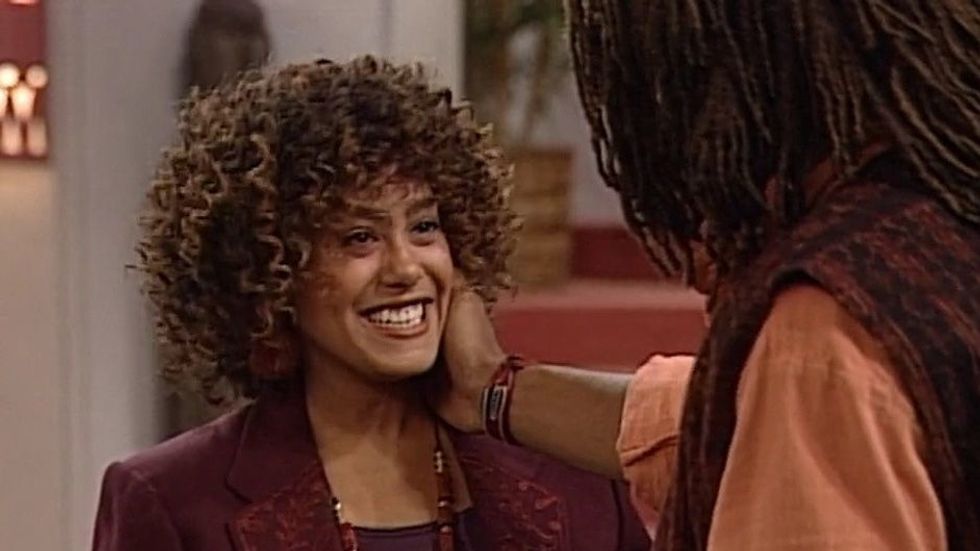 A Different World
The free-spirited, energetic and "woke" Freddie portrayed by Cree Summer was a fan favorite on A Different World. And her bouncy, golden coils were a part of her look. We loved when Freddie showed us how to still wear a bang with our natural curls. An icon!
Florida Evans in 'Good Times'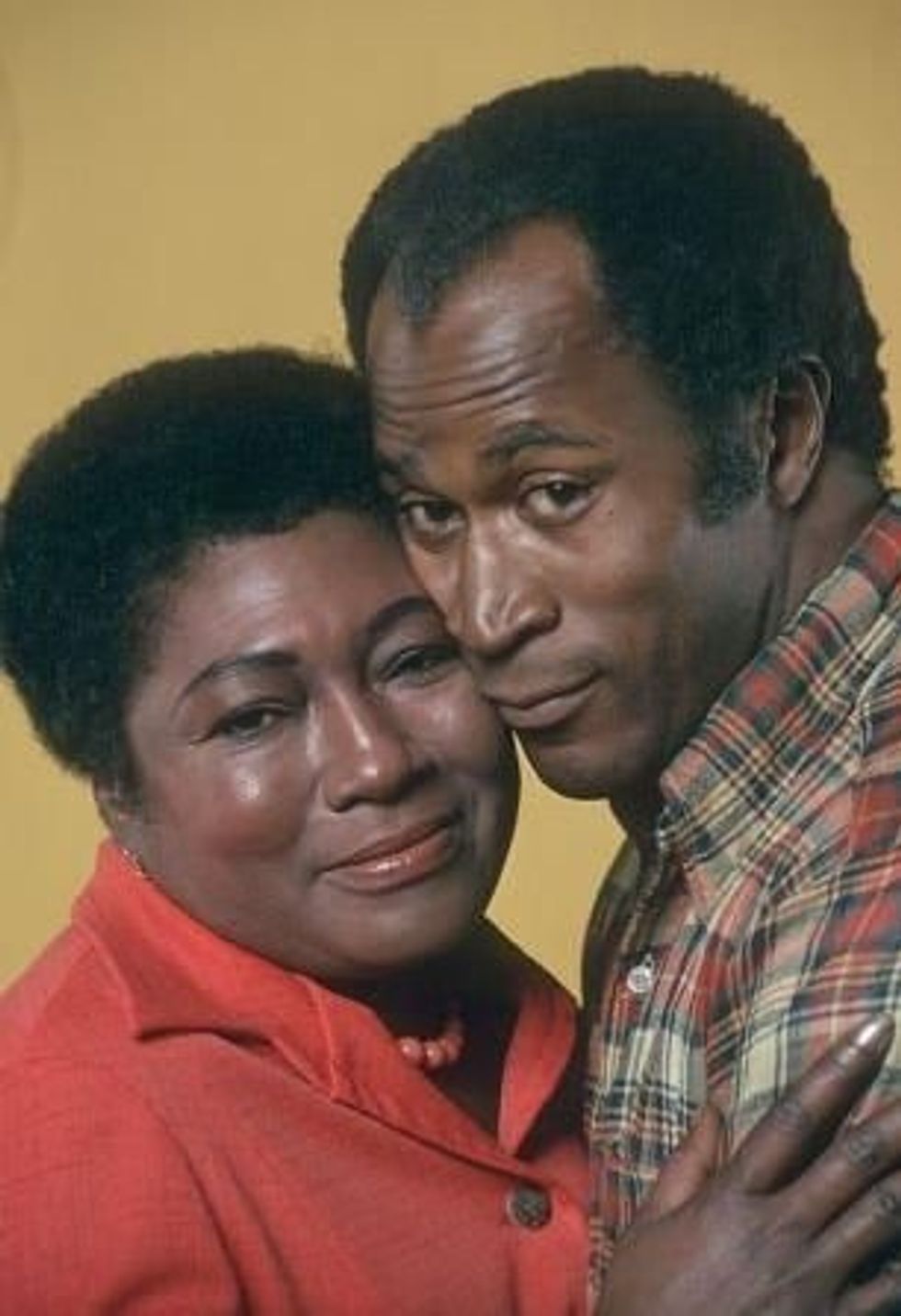 Good Times
When discussing characters who proudly stepped onto the screen in all their natural glory, we can't leave out Esther Rolle's character of Florida Evans in Good Times. Her character's 4C TWA was gracing the screen weekly before natural hair became a trend.
Rainbow Johnson in 'Black-ish'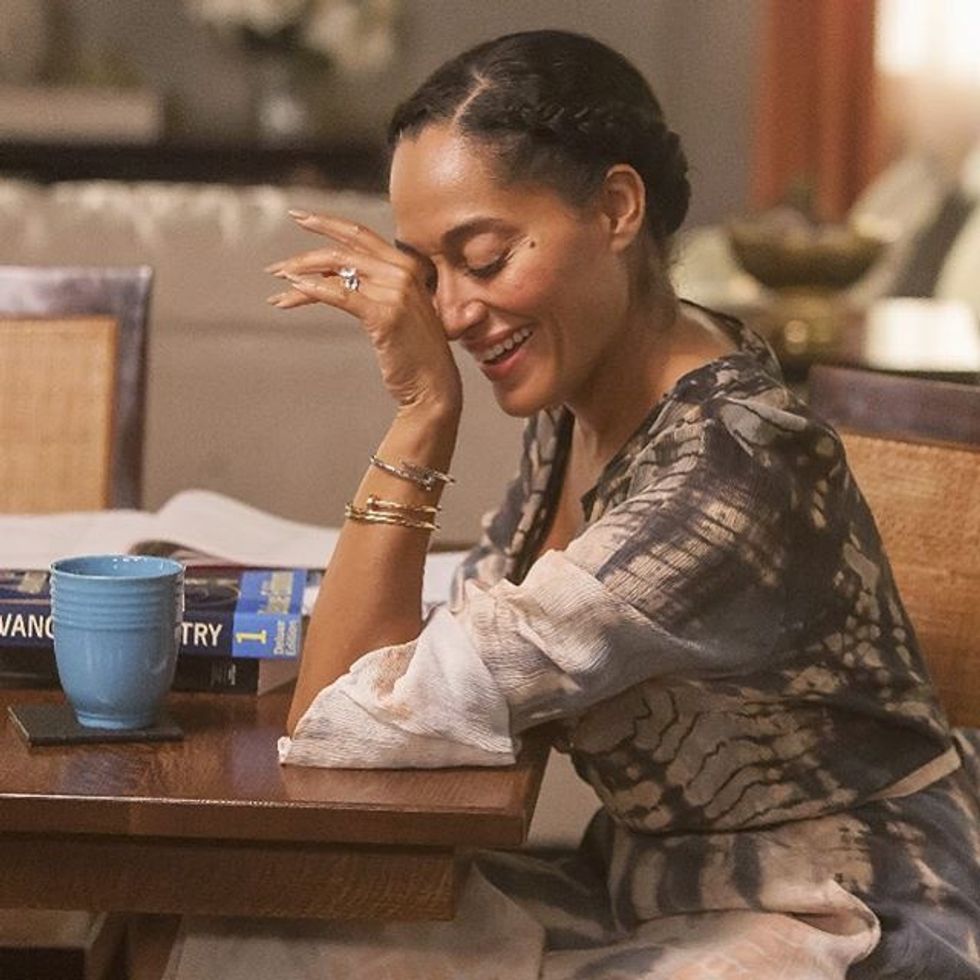 ABC
The fabulous Tracee Ellis Ross has been serving us big-body curls since her days as Joan Clayton on the incomparable show Girlfriends, and this has not changed since the actress took on the role of anesthesiologist Rainbow Johnson in the ABC series Black-ish.
Issa Dee in 'Insecure'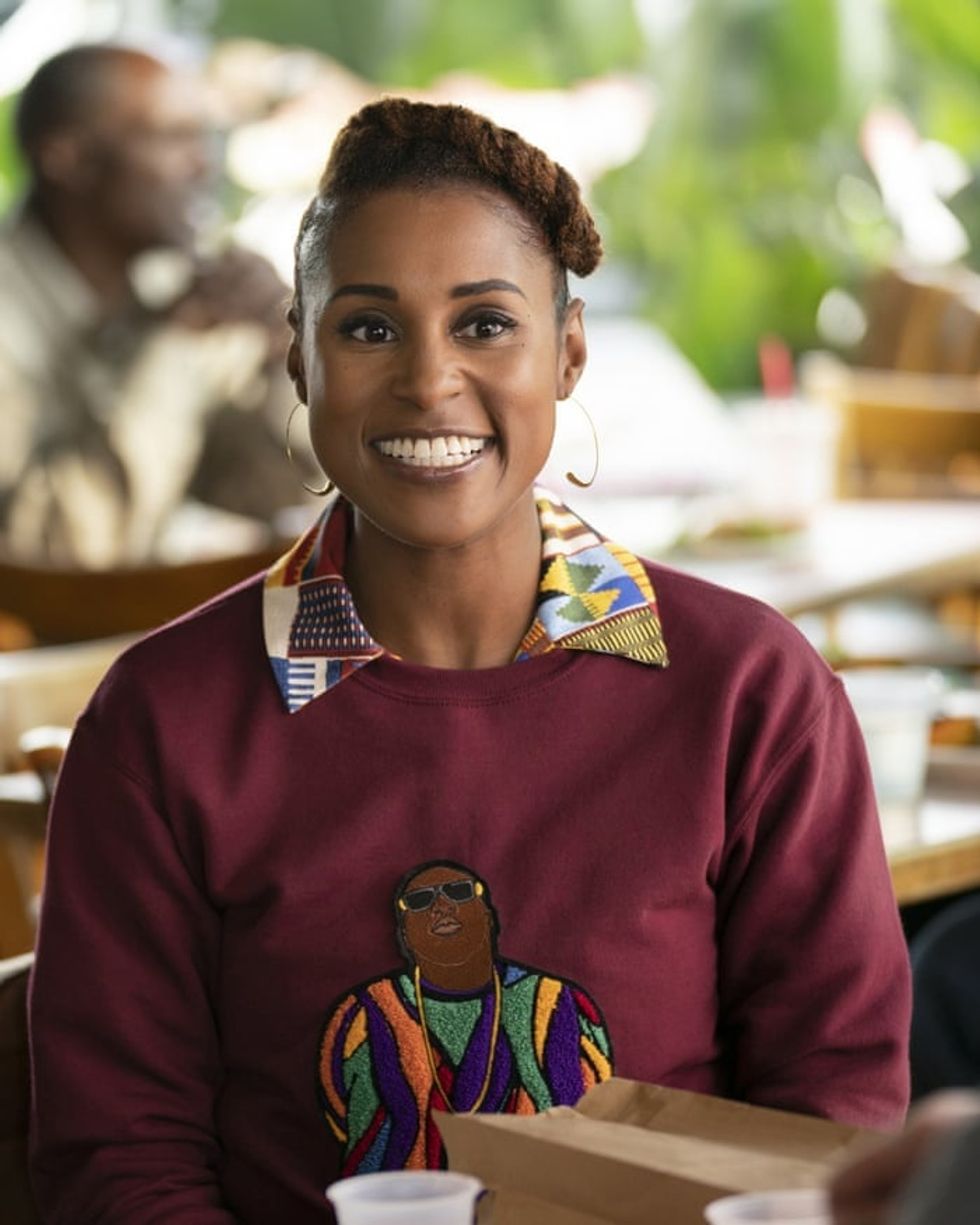 Insecure/HBO
Issa Rae's stylist has had the hair game on lock since the onset of the show and it was no different during the most recent season of Insecure. We've seen the growth and development of Issa's natural hair from the short fro she sported in Season 1, to the high puffs and protective styles she debuted in Season 4. And with styling by Felicia Leatherwood, it's radiated black girl magic.
Tia Landry and Tamera Campbell in 'Sister, Sister'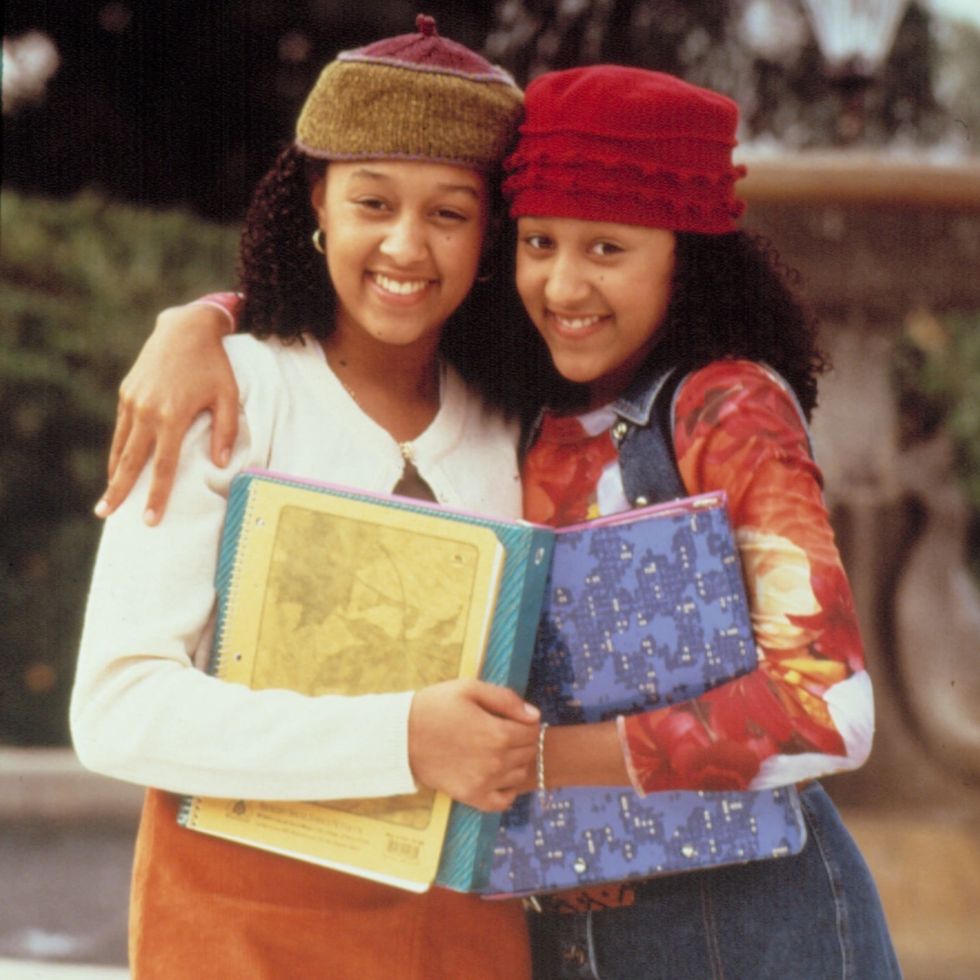 Sister, Sister
Everyone's favorite fashionable Black twins from the 90s set the standard when it came to rocking big hair. Often seen accentuating their curls with hats and headbands, Tia and Tamera were hair goals for every thick-haired teen across America.
Beth Pearson in 'This Is Us'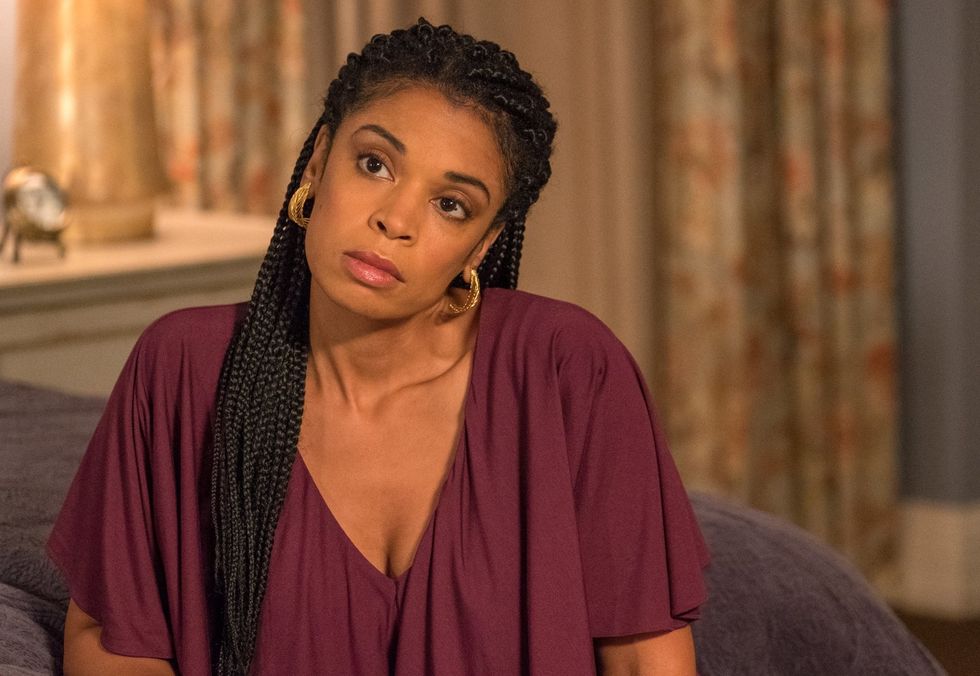 NBC
Played by Susan Kelechi Watson, the matriarch of Randall Pearson's family leads with grace, lots of sass, and some of the best protective styles on TV, while also keeping her on-screen daughters in Black girl magic-worthy natural styles as well.
Maxine Shaw in 'Living Single'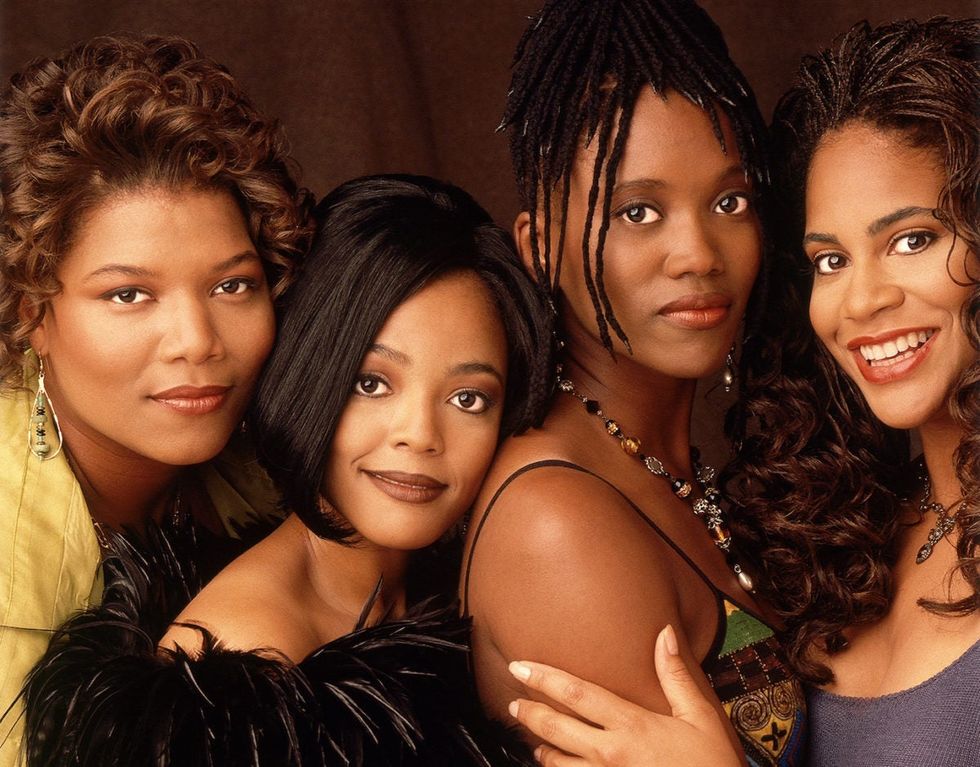 Deborah Feingold/Getty Images
Maxine Shaw was a badass lawyer who brought her signature dreadlock bob to the corporate world with some fierce suits to match. Throughout the series, Living Single actress Erika Alexander played with different styles and lengths of her natural look and we took notes along the way!
Josie McCoy in 'Riverdale'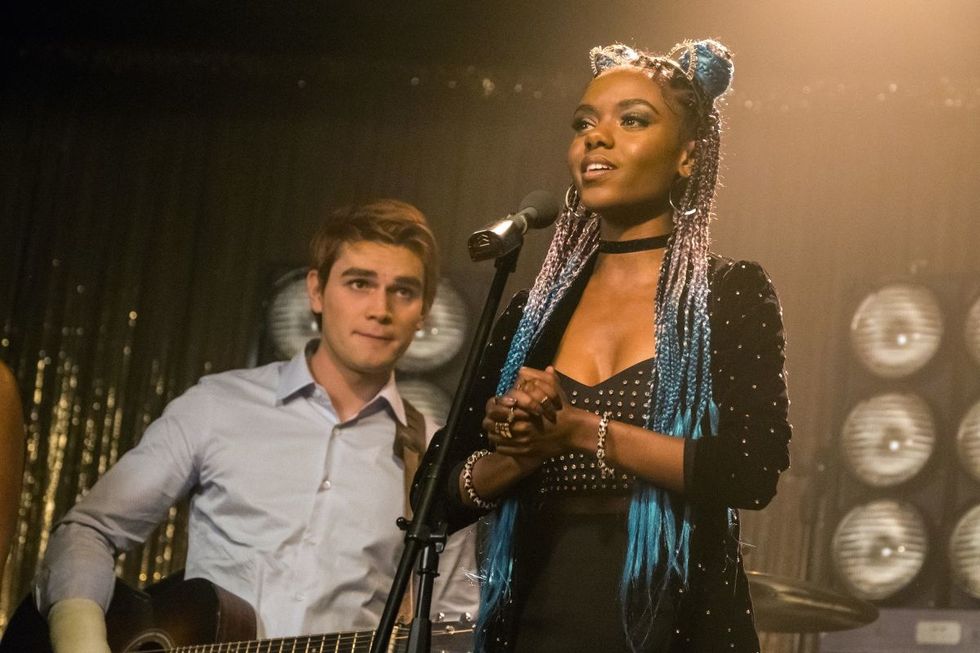 CW/Riverdale
Lead singer of the teen band Josie and the Pussycats, Josie is known to be seen rocking her natural hair in updos and mini-buns. And she never leaves the house without her iconic cat ears, which just elevates her curls to the next level.
Honorable Mention: Susie Carmichael - Rugrats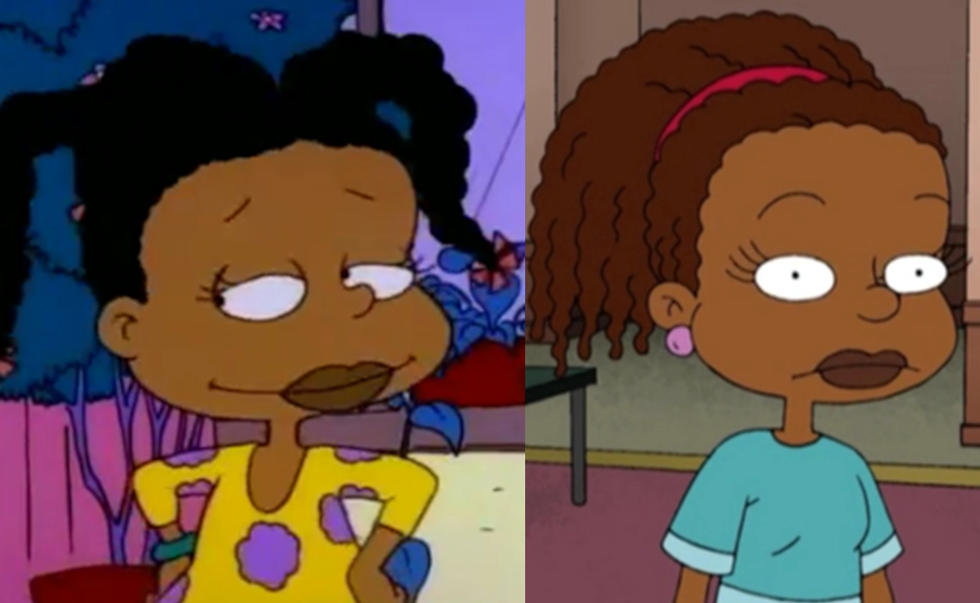 Nickelodeon
In the world of animation, Susie was showing young black girls everywhere how to rock their natural pigtails with the colorful ribbons at the end. When the spinoff Rugrats: All Grown Up aired, we got a glimpse of teenaged Susie still showing off her longer, natural tresses. Voiced by another entry on this list, Cree Summer, Susie was proof that representation matters, old and young.
Want more stories like this? Sign up for our newsletter here to receive our latest articles and news straight to your inbox.
Featured image by Freeform.
Keep reading...
Show less
Although some parts of the country have begun different phases of reopening, most of us have been in quarantine for almost three months due to the COVID-19 outbreak. While most folks were doing their best to stay home and avoid going outside, especially to doctor's offices and hospitals, one group did not have that luxury: first-time parents.
So many couples spend months planning for what their introduction into parenthood will look like, from packing a hospital bag, to choosing their baby's outfit for leaving the hospital, soon-to-be mothers and fathers can outline these details months in advance in order to be prepared for labor, childbirth, and the first couple months thereafter. For parents starting that journey in the first few months of 2020, COVID-19 completely changed that and they've entered this new stage of their lives in a completely unorthodox way.
In honor of June being a month where we celebrate black men and fathers, I spoke with four first-time dads to hear about their experiences entering this new stage of their lives during a pandemic. With everything from the unique hospital experience to feelings around raising a black son in America, these fathers bare it all.
Cheikh Gueye, Brooklyn, NY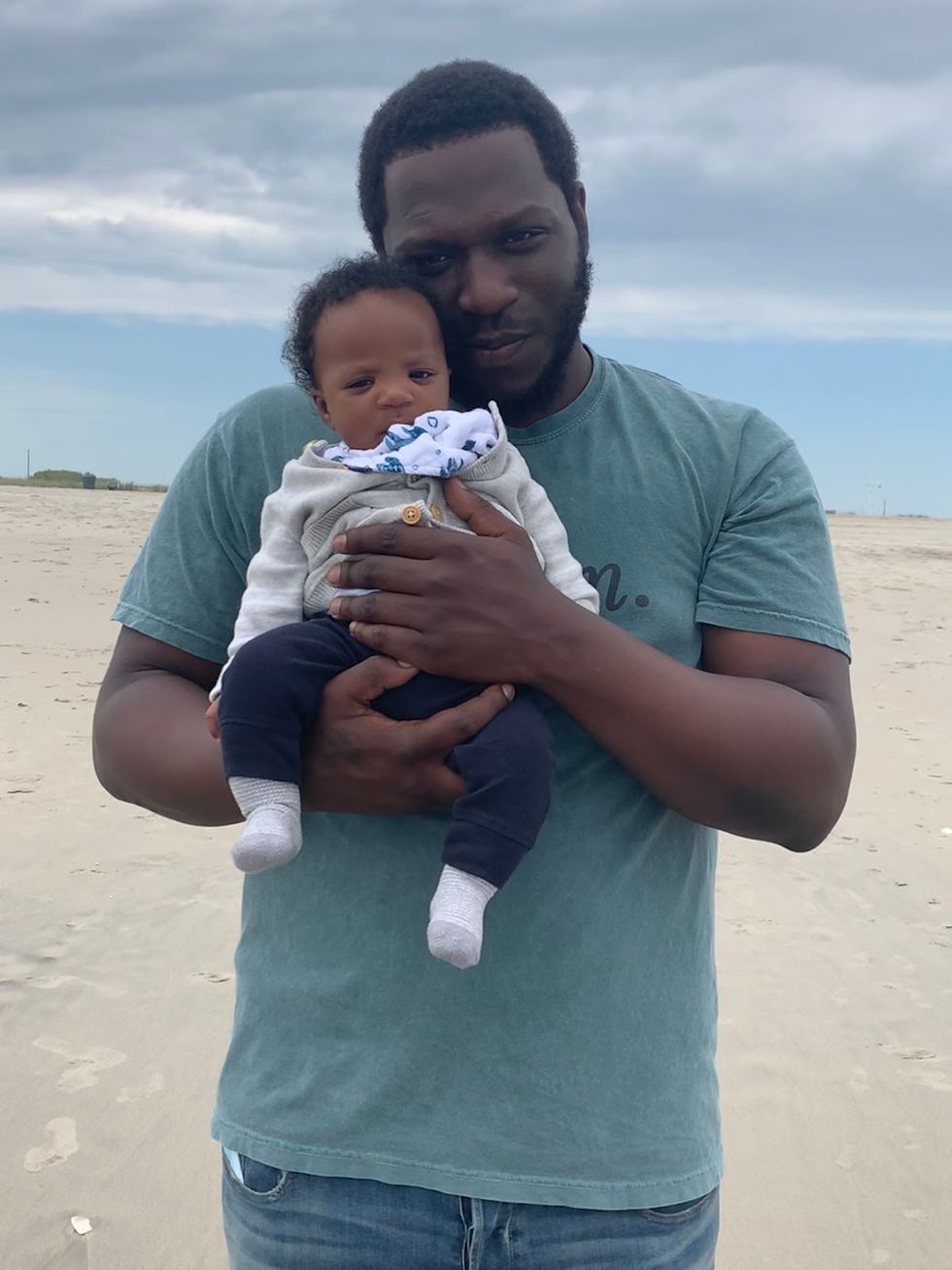 "We consider ourselves to have had [our son] Lamine in the dead heat of the pandemic. It's when a lot of hospitals had converted many of their floors to COVID-19 floors. So of course, for me, my main concern was whether or not I would even be allowed in the building. So that was traumatizing, just hoping that you could be there. Fortunately, for us, we had a midwife who works out of the hospital so she was able to guide us through the process. But just the smaller things like having to have on your mask the entire time and not being able to see facial expressions. It was hard."
How has it been having to quarantine and not have family around?
"That was an experience we weren't really thinking we would have. My family is centered around being around each other and spending that time together. We were unfortunately robbed of that time. Even just people coming by, because they're anxious and just standing outside was something we had to adjust to. My one sibling was just able to see him and this is his second month. The only person who did see him was my mother, and she was the only person up until [our son was] two months. People schedule a lot of Zoom calls right now so we will just pop up with the baby and you can see the light in the room change and people are happy just to have something so special during these crazy times."
What has been the hardest part of this experience?
"With myself being so centered as a family person, not being able to share this special time [has been hard]. As a first-time father, not being able to spend the time with my family has been super rough for me. Especially in a heightened-sensitivity time where Black men are being murdered continuously. The prospect of having to raise a young black man in this climate. Some days, it's a gift and some days it's a curse because you feel like the country is moving towards change, but you're still nervous because you're still a black man growing up in the United States."
What is one word you would use to describe becoming a father during this time?
"I would say 'difficult'. I didn't think it would be this difficult, because you have all of these preconceived notions on what it would be."
Joshua Bennett, West Chester, PA
How was your hospital experience in the middle of a pandemic?
"It was nerve-racking going into the hospital. I wasn't even sure if I was going to be allowed in the hospital. Once there, we could not leave the hospital room and it was very uncomfortable and also hard to stay cooped up in the room. A big difference from what was expected was that there were no visitors allowed after our son was born. We also had to order food from the hospital cafeteria and it was brought to us by the doctors and nurses. I will say this brought me and my wife closer because I was able to comfort her and do things for her. She had a C-Section and it gave me a newfound respect for her."
Were there any expectations you had about the early parts of fatherhood that were impacted?
"Not really. There were adjustments that needed to be made with late nights, feedings, and figuring out what he needs. Not being able to go outside has been impacted as well. My mother has not been able to visit and see him because she is a healthcare worker in NYC and was exposed to the virus. My wife's father also isn't able to visit to see the baby because he is still working. It is hard because you want them to see the child but they haven't been able to."
Once outside fully opens back up, what's the first thing you want to do with you son?
"Travel. I want to be able to travel with him and see the world. Me and my wife like to travel, and travel often, so we want that for him."
Shaq Young, Columbia, SC 
How was it entering fatherhood and then the pandemic hitting soon after?

"My wife was actually about to return to work right before quarantine. I had gone back to work February 9 and on March 13, everything shut down. Actually, lockdown was somewhat of a blessing because I get to spend more time with the baby while home."
How has it been navigating working from home and having a newborn?
"The challenging part is juggling working the same schedule since my wife and I are both teachers. I'm a PE teacher so I try to go last with my work stuff so that my wife can get her work done while I look after [our daughter] Karter. I've been doing videos of physical education with kids and pre-recording the videos help with the schedule. Also, having open hours for the kids to reach out if they need me helps."
What has been the hardest part so far?
"Not having the freedom to go out and get a breather, or having a break. Just having a newborn baby has been a struggle since it's a new experience for us. Also, no one has visited since March 13, but before then we had visitors twice a week almost. We had a picnic in the park for Mother's Day but it was still different."
What is one word you would use to describe becoming a father during this time?
"'Roller coaster'. People enjoy riding because it's fun. And throughout the roller coaster, there are ups and downs but when you get off, it's a fun ride. [I say that] partially due to quarantine and partially due to just being new parents and having a newborn."
Marcus Rice, Atlanta, GA
How was your hospital experience in the middle of a pandemic?

"The hospital experience was rather unique. We had to go in through a separate entrance and there were additional steps taken before being admitted. Everyone had to be screened, if you showed any symptoms you couldn't go in. The hospital was actually calm, there were not a lot of people. Everyone stayed inside of their rooms. No visitors were allowed but I did have the option to leave and get food."
How was the transition back home from the hospital?

"We are both full-time students so we didn't really need to leave the house. We've used grocery and food delivery services for meals. We've been super cautious having people around the baby, even more so now than ever, so no visitors."
Once outside fully opens back up, what's the first thing you want to do with your daughter?
"Go to the pool, or to the park. If we weren't in quarantine, we would have wanted to be out. And enjoy being outside. Maybe even do a photoshoot for her, and start creating memories."
What is one word you would use to describe becoming a father during this time?
"'Blessing'."
Featured image by Shutterstock
Keep reading...
Show less