Robin D. Thomas
Robin D. Thomas is a brunch loving, Brooklyn born and raised Licensed Social Worker currently working in the Bronx. When she's not writing about all things wellness, entertainment and love, you can find her eating her way through different cities and tending to her plants. Connect with her on IG and Twitter at @_MissRobin or on her Instagram wellness page @thisnoirethat.
Whether you prefer to travel in groups, solo, or on baecations, picking the right destination is a major component of ensuring a great trip. Where you go for your next vacation can come down to price, location, activity options, and a host of other things. We've seen how often group trips can go awry because each person has different interests and wants to do different things. But how do you pick the right place for yourself when there's so many options to choose from?
Choosing a destination that will provide you with the most memorable experience comes down to your own needs, and believe it or not, your love language can help with that. Our love languages are a guide to how we prefer to receive love and support, as well as how we like to give it.
Knowing about our love language can help build healthy relationships, better self-care routines, and improve our overall well-being. Imagine centering your travel around the way that you like to be loved and then experiencing that each moment of your trip. Every place around the world is unique and thus can provide a different vibe and feeling for us. Figuring out the places that align with our love language can be a game changer in how we experience the world.
Whether you're a quality time girlie like me or prefer acts of service, here's some of the best destinations to visit based on the five love languages.
If your love language is acts of service, you might want to visit...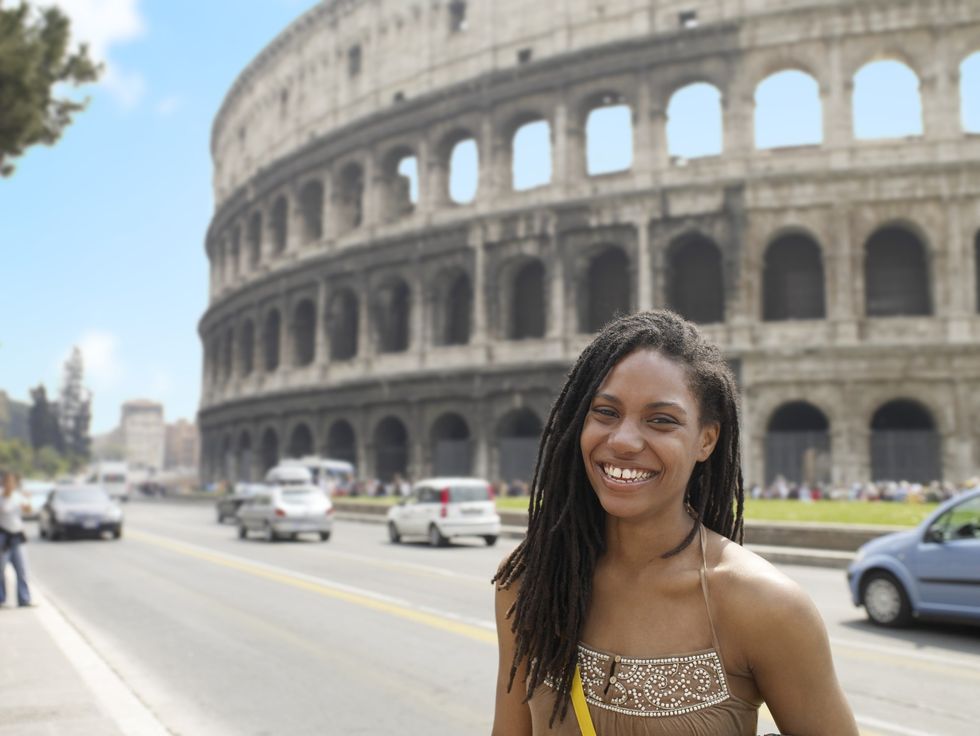 LWA/Getty Images
Rome, Italy

The "Eternal City" is home to the Colosseum, Trevi Fountain, and all the pasta and gelato that your heart desires. People who value acts of service love when things are done for them, and life is made easier. If that's your jam, consider going to Rome and experiencing an authentic Italian dinner cooked by locals for you. What better act of service than having someone cook a full meal for you in their home?
No need to learn how to roll pasta dough or knead pizza. Just sit back, relax, and enjoy the free-flowing wine while learning about Italian culture and having a 4-course meal provided for you. After that, take a guided city tour where someone else can show you around all the popular spots, skipping the lines and avoiding crowds.
Bangkok, Thailand

Having acts of service as your love language is not just about how others show you love but also about how you show it back. If you enjoy giving acts of service to others, consider heading to Thailand and visiting an ethical wildlife sanctuary where you can spend the day volunteering. Choose a place like Wildlife Friends Foundation Thailand, where people are not allowed to touch or ride the elephants but can help with harvesting bananas, cleaning enclosures, or even helping out in the animal clinic. You'll leave feeling a sense of pride and knowing that your time was spent in a way that made an impact.
If your love language is physical touch, you might want to visit...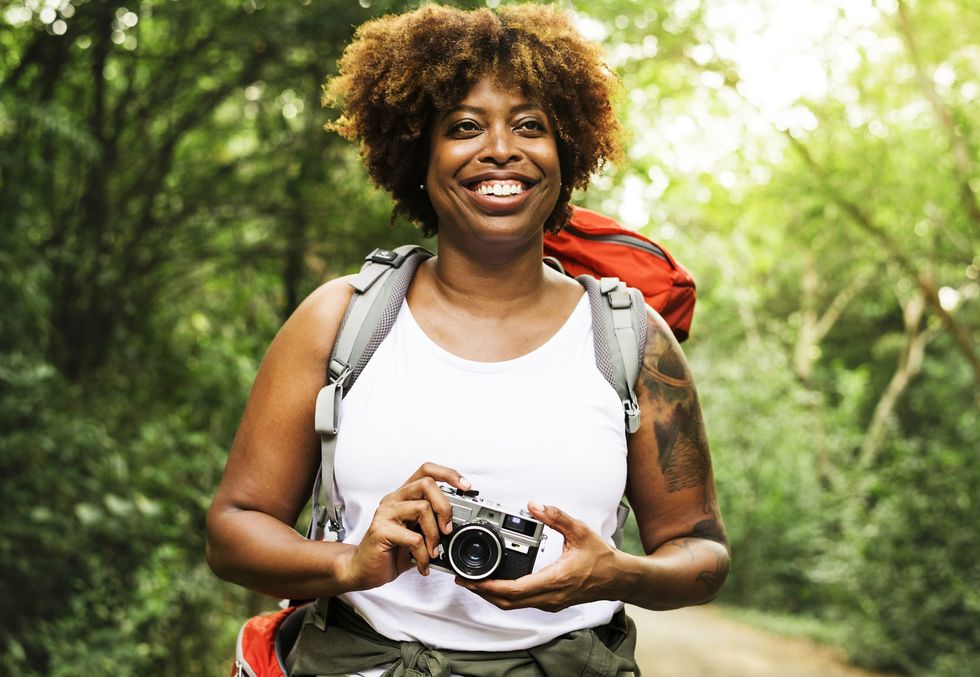 Rawpixel/Pexels

Guatemala

There are so many ways that we can experience the love language of physical touch, and Guatemala is a tropical sanctuary that can provide just that. This South American country is full of rainforests, volcanoes, and ancient ruins and can be the perfect escape to get some TLC. Consider staying at a luxury hotel like Villa Bokeh, where you can get your physical needs met through massages, yoga, or rowing on their lagoon. And if you want to explore off the resort, get those steps in with a hike of one of Guatemala's volcanoes.
If your love language is gift giving, you might want to visit...
Dubai

There's no better place to go to for all your shopping needs than Dubai. Whether you are a gift giver or like to be spoiled, this is where you need to be. To start, the Dubai Mall is the largest mall in the world at over 12 million square feet. With around 1,200 shops to choose from, you are bound to find something for just about everyone. Dubai is not a budget destination, so leave a little extra space in your luggage and prepare to spend a pretty coin while you're there. If luxury gifts aren't your thing, head to the Covent Garden Market, where you can shop local vendors for more affordable items.
If your love language is quality time, you might want to visit...
Costa Rica

Whether you're planning a cute baecation or a solo trip, quality time is all about disconnecting and spending intentional time with your loved one or yourself. Costa Rica is an ideal location to be off the grid and be present. Spend some special time with bae at a nice resort, enjoying a couples massage, a trip to the rainforest, or a sunset dinner. There's something about being off the grid that allows us to be more present with each other.
If you want to get in some DND solo quality time, book a stay at Nayara Springs Resort, located on the outskirts of Costa Rica, where you can enjoy uninterrupted and secluded relaxation while indulging in amenities like yoga classes and a hot springs pool.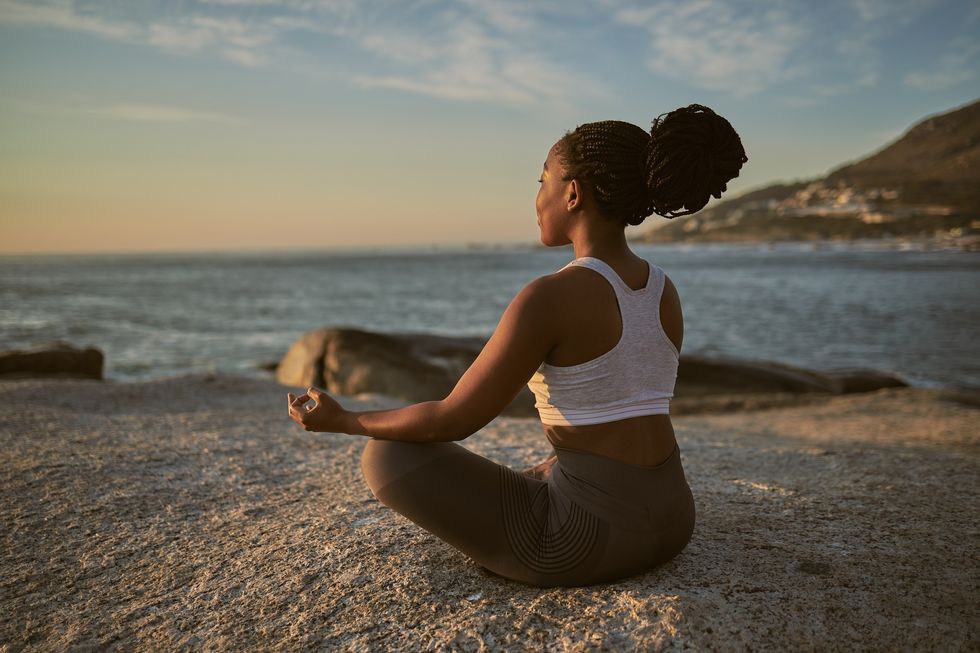 Marco VDM/Getty Images

Tanzania
There are many ways to spend quality time with yourself or others, so why not do it in one of the most beautiful countries in the world? Explore Dar es Salaam with family, learn about the history of Tanzania, and then spend more quality time at the beach on Mbudya Island. If you are looking for a more romantic trip or quality time on your own, go out to Zanzibar, the archipelago off the coast of Tanzania. Here you'll find some of the most beautiful beaches in the world and can stroll through the historical Stone Town.
If your love language is words of affirmation, you might want to visit...
Paris, France

If words of affirmation get you feeling all tingly inside, then why not take a trip to the "City of Love," Paris, France? Not only is Paris considered the mecca for love, but French is literally one of the world's romance languages. So take a French lesson where you can learn how to speak beautiful words about yourself, or if you're with bae, take a stroll by the Eiffel Tower at night while sharing some of the things you appreciate about each other.
Bonus points if you can say it in French.
Let's make things inbox official! Sign up for the xoNecole newsletter for daily love, wellness, career, and exclusive content delivered straight to your inbox.
Featured image by Diamond Dogs/Getty Images
For many of us, traveling usually signifies being busy and on the go and has less to do with sleep. With the way that PTO is set up, there's usually a sense of urgency to go from one activity to the next and maximize the limited time you have on vacation. Despite how exhausting it can be to move non-stop on a trip, I am guilty of saying, "I'll rest when I get back home." However, in recent years, sleep tourism has emerged as a new and exciting trend in the world of travel, and it involves visiting places specifically for rest and sleep-focused accommodations. This is especially important for those of us who live in the hustle culture and prioritize work and other responsibilities over our own well-being.
If you're wondering to yourself why you'd travel somewhere just to get some sleep, research is showing that lack of sleep can have impacts on our physical health, mood, and even cognitive functioning. So even if you're taking a relaxing vacation to get away from the stresses of life and work, if you aren't prioritizing rest as well, you may be putting yourself at a higher risk for things like diabetes, heart disease, and hypertension. And according to The Sleep Health Journal, more than 35% of Americans report poor sleep.
With this in mind, establishments around the world have been shifting their focus to providing packages and amenities for those looking to fight off sleep deprivation. Some of this includes suites equipped with weighted blankets and sleepytime tea, to sleep-inducing medications, and oil diffusers. As society begins to shift its priorities towards mental health, wellness, and well-being, here are some places that you can check out to get your sleep vacation popping.
Feature image by Luis Alvarez/Getty Images
Travel can hold a plethora of purposes, such as business, relaxation, and celebration, so when I booked a solo trip to Antigua earlier this year, I never imagined that my attempt to escape the NYC cold would end up being a journey of healing and finding myself again.
As someone who visited seven countries and 11 cities last year, travel has always been such an important aspect of who I am. And while I enjoy weekend trips with my girls or being laid up on a baecation, solo trips are more my speed. After taking my first solo trip seven years ago, I've realized how freeing it can be to explore a new city or country on my own and how much more I learn about myself during these adventures.
I didn't grow up with a lot of money or the ability to travel the world, so as an adult, I enjoy the freedom and resources to just book a flight and go. I never thought this would be something that would change or I'd have to sacrifice until I did.
A Break From Solo Travel
If you told me a couple of years ago that I would go two whole years without a real solo trip, I would've laughed. Solo travel was a form of self-care, a way that I could reset and rejuvenate. It was the one thing I felt I had control over, the one thing I had to myself. But then I started dating and became serious with someone who expressed discomfort with the idea of me taking solo trips. I remember a few months into dating, I was headed to Aruba on a much-needed solo trip, and he expressed how uncomfortable he was with this.
A part of it seemed to stem from genuine concern, which most of us solo travelers are used to. But I assured him that I was probably less safe living in the Bronx every day than I was going to Aruba. The other side of it seemed to be from a space of thinking that if I was with someone, I should be traveling with my partner and shouldn't need to take solo trips. At first, I was annoyed and offended. Anyone who is dating me, THEE Queen of Travel, will have to be okay with my travel adventures. I thought it was unreasonable and that he just did not get it.
But as our relationship became more serious and more in-depth conversations arose related to his feelings about this, I realized I would have to make a sacrifice for the relationship.
His comments about how the girlfriends of his boys never traveled alone and only traveled with their men made me question if maybe I did need to reconsider this aspect of my life as I entered a relationship. Was I being selfish and not understanding his feelings? Should I be less focused on solo trips and more focused on building our future and making memories together?
I compromised my love for spontaneous solo trips for the comfort of my partner and for the promise that those solo trips would be replaced by baecations, which I was all for. I wasn't happy about it, but I made the decision that I thought would work.
But not all instances of sacrifice have happy endings.
Reclaiming My Time 
Fast forward two years, and 0 solo trips later, my relationship is ending. There's no sob story or terrible incident, I just truly realized that I was no longer fully happy, and this was not the relationship that I could see myself in 5-10 years down the line. While traveling was not the reason for the split, it definitely played some part in my decision. Throughout our time together, I skipped solo trips altogether and filled my time with girls' trips, two baecations, and visiting friends in other cities.
I thought that my time would be filled with more couple trips and vacations together that would keep me too busy to think about solo travel, but that wasn't the reality. And then there were always little comments about how much I traveled, especially if it wasn't with him, which left me feeling defensive or guilty just for taking a girls' trip with my best friends.
In the grand scheme of things, I need a partner who is 100% comfortable and secure with me traveling with friends or alone, even if I choose not to.
So here I am, single again. But I knew exactly what I needed. I had a week off of work in February and would need to leave cold NYC behind, so I did what I do best and booked a flight to Antigua, a destination I have been eyeing forever. I was excited to finally be alone with myself, on a beautiful island, with a mojito in hand and nothing to worry about.
I opted for The Royalton Antigua, an all-inclusive, as opposed to my usual Airbnb, because I truly wanted to unwind and not have to do much thinking and planning. This would give me the freedom to really enjoy my vacation on my own schedule and timing and have everything I needed at my fingertips.
I literally had butterflies while booking my accommodations. That is how much I needed this.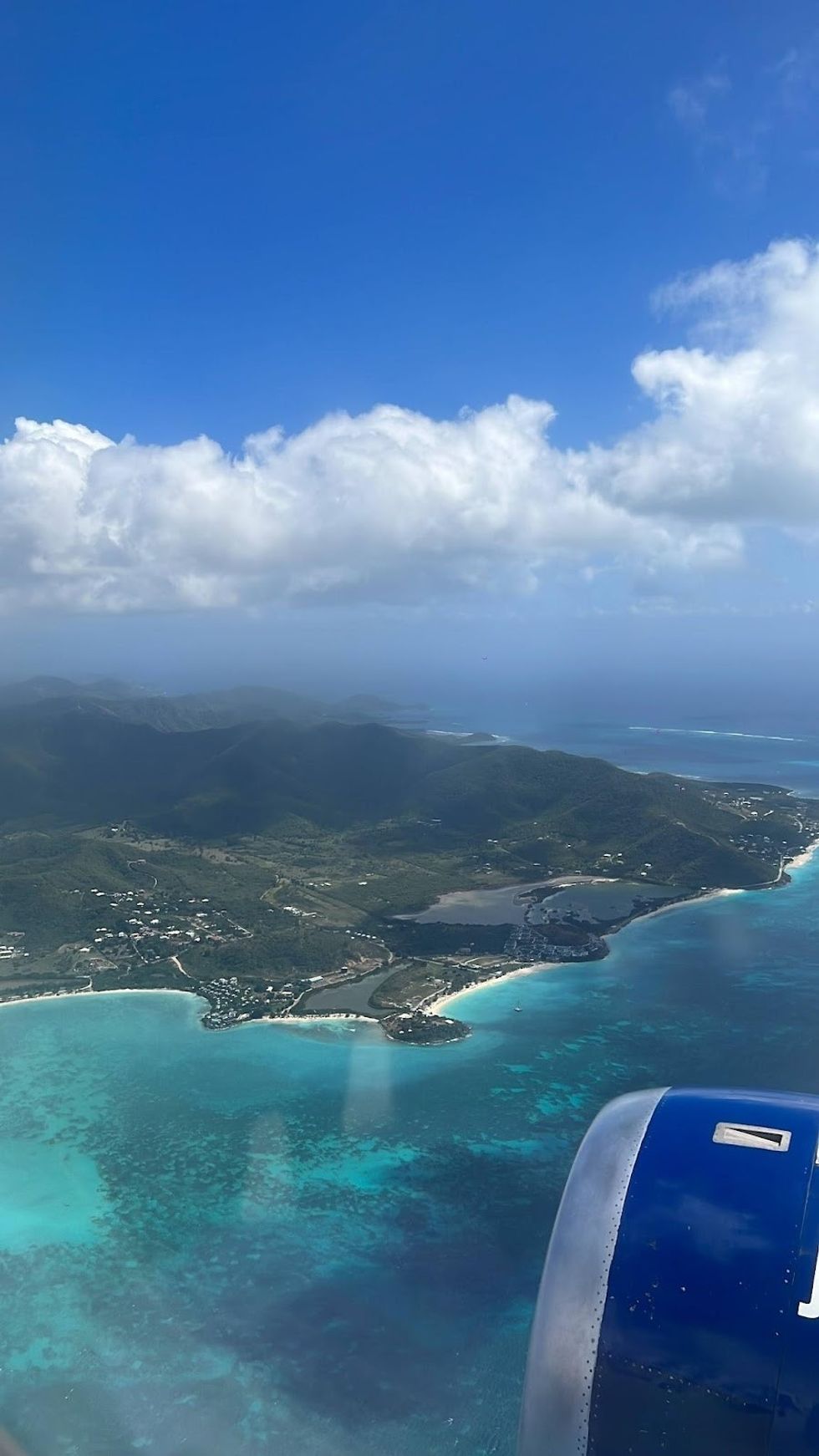 Courtesy of Robin D. Thomas
My Reawakening
From the moment I stepped off the plane, I felt a sense of comfort that I had not felt in so long. Every single day that I spent at that resort, soaking up the sun, and all that Antigua has to offer, I began to feel lighter. Antigua is such a beautiful island and the people were so friendly and welcoming, so I immediately felt at peace.
Though my breakup was my choice and the right choice, I was still carrying around some sadness and heartache. But as the days went by, I spent time sitting on my balcony, journaling and reflecting on my life over the last two years, as well as what I would like it to look like in the next two.
I allowed myself to cry, to breathe, to forgive myself, and to heal. I woke up when I felt like it, ate when and where I wanted, and allowed myself the comfort of just being free.
I knew that I needed this trip, but the type of spiritual and emotional relief that I experienced was unexpected.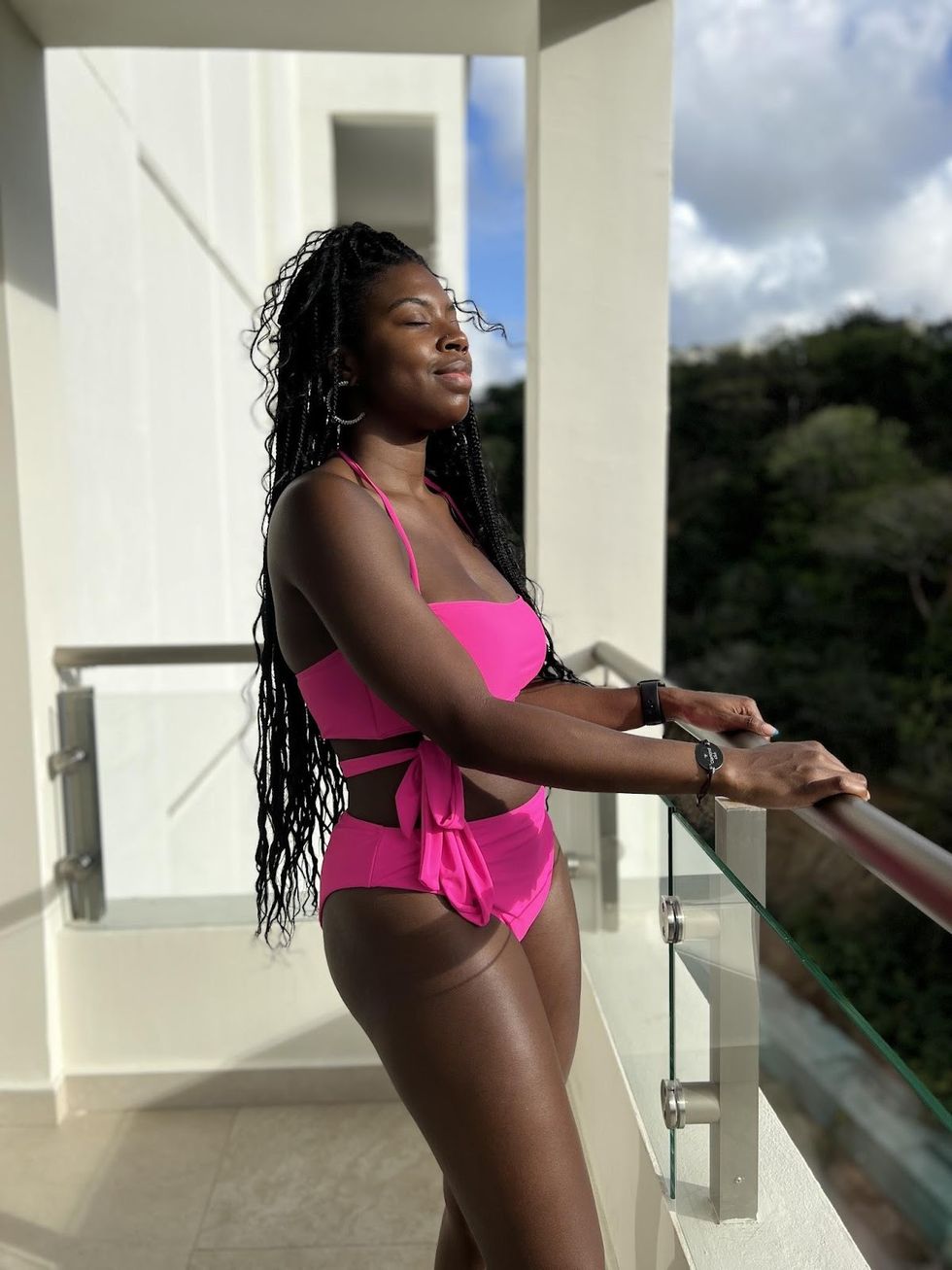 Courtesy of Robin D. Thomas
I realized that giving up solo trips seemed like a small thing to me at that time, but in reality, I was giving up a part of my independence and a part of my own needs. And in the two years I spent without solo trips, nothing else was put into my life to replace that feeling. And so a part of me, the fun and carefree girl, disappeared along with it. During my trip, I spent time on the beach just enjoying the scenery and my solitude.
I did morning workouts on vacation, which is not my thing, but getting a sweat in while overlooking the ocean hits different than any gym. At the pool bars, the staff at the Royalton treated me so kindly and always made sure ya girl always had everything she needed. One thing about being beautiful on vacation, you will be taken care of. I even ventured off the resort to see more of the island and immerse myself in Antiguan culture.
And in the midst of this solo trip, I made friends with three Black women who were celebrating a birthday, and I ended up hanging out with them and partying into the night. It made me realize all the reasons that I love solo travel. The ability to be at peace and enjoy reflective time with myself, but also the ability to make friends and have a damn good time. Not to mention, while partying, I met a fine, tall, handsome man from the U.S. who was also vacationing, but that's a story for another time...
The point here is that by the time I was headed to the airport five days later, I felt so overwhelmed with emotion. Not because I was sad, or even happy for that matter, but because for the first time in a long time, I felt like me.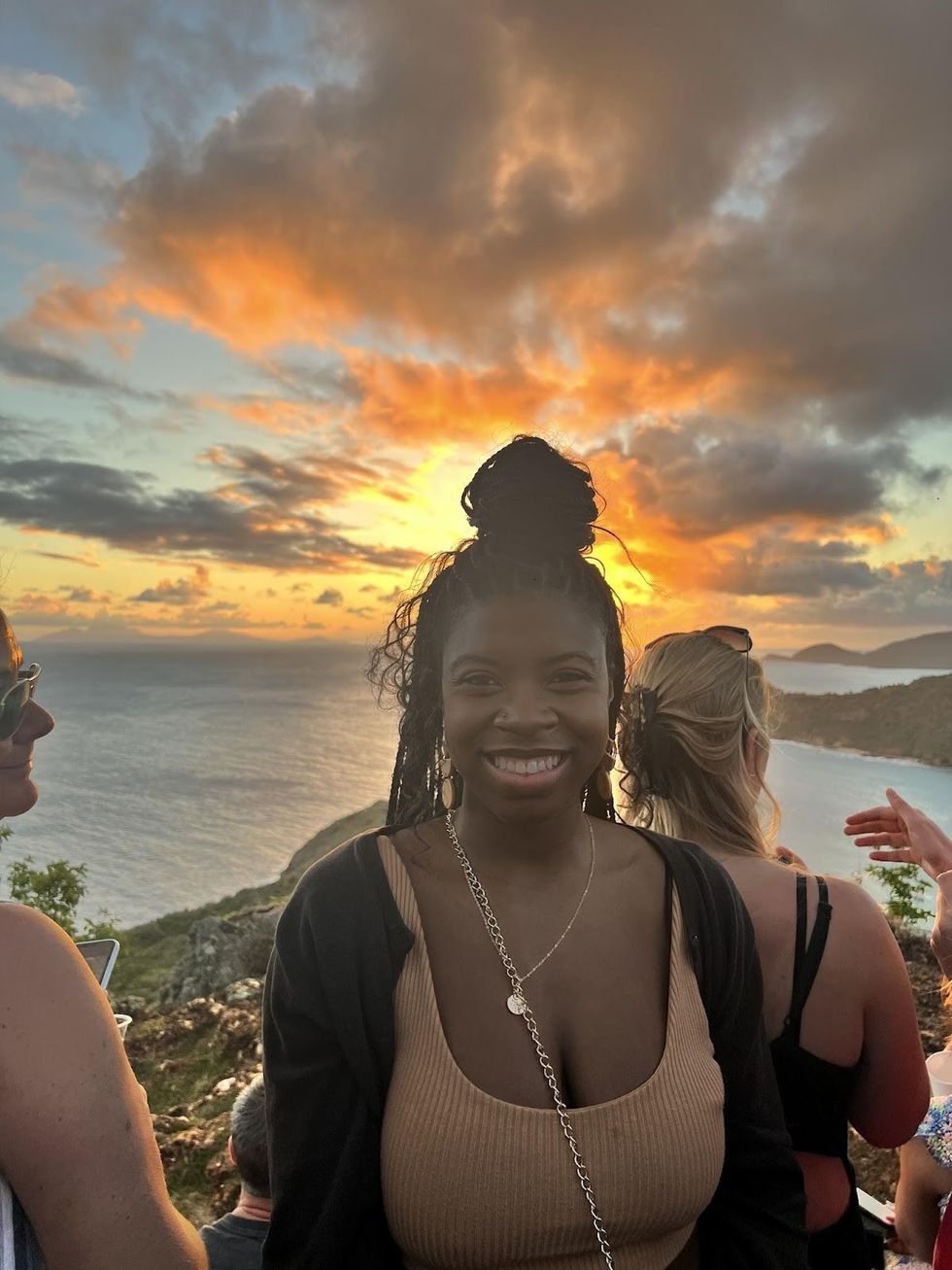 Courtesy of Robin D. Thomas
Looking Forward
There's a quote that I've always loved that says, "Travel not to find yourself, but to remember who you've been all along." There are so many reasons why I feel that travel is not only an important part of life but a necessary one, and discovering more about who you are as a person is one of those reasons.
I didn't "find" myself on that trip, I already knew who I was. Rather, I awakened a part of me that I had allowed to be dormant for far too long.
Antigua reminded me of how much I love stepping off the plane in a new place and knowing that when I step foot back into the airport again to go home, I won't be the same person I was in that moment. I don't have any regrets about the decision I made, but I know that going forward, I'll be more intentional about compromising parts of me that I love so much.
I hope this inspires someone to reawaken that side of you that you've pushed to the back burner and let fizzle because that version of you cannot wait to shine again.
Let's make things inbox official! Sign up for the xoNecole newsletter for daily love, wellness, career, and exclusive content delivered straight to your inbox.
Featured image courtesy of Robin D. Thomas
The first time I really learned about the five love languages was a year after a big heartbreak in my early twenties, and since then I've found myself exploring the love languages of each of my subsequent partners in an effort to be a better lover to them. At the click of a simple quiz, you'll know whether words of affirmation, acts of service, quality time, receiving gifts, or physical touch is the primary way you prefer to experience love.
When most people hear the phrase 'love languages', their first thought centers around how these five so-called languages fit into our romantic relationships. We can all think of a situation where misalignment of love languages, or inattention to them, lead to problems romantically and oftentimes failed partnerships.
What most people don't realize is that understanding your own love language is also important in understanding how you can love yourself. We get so caught up in considering someone else's love language in order to be a better partner to them, that we don't always use our own love language to practice self-love for ourselves. But how can you love someone else right if you aren't loving yourself?
Check out some practical ways to practice self-love and self-care based on your own specific love language.
1

.

Words of Affirmation
The premise of loving someone who enjoys words of affirmation is using language to affirm, encourage, and appreciate your partner, so this translates well into self-love. One way is to write yourself a love letter. That's right, a love letter! When's the last time you sat down and thought about all the things you love about yourself? Try putting that in the format of a list or a literal love letter, an ode to you featuring all the reasons you love being you. Another way to affirm yourself for all you do daily is by creating a gratitude jar. Get a mason jar or a sturdy container and some index cards, and then each day write down something you're currently grateful for. Then, at the end of each month go back, read each card, and experience the feels all over again.
2

.

Acts of Service
If your love language is acts of service, you want to focus on ways to alleviate responsibility and burden. But how is that possible when you're doing it for yourself? How about paying for a cleaning service to tidy up your home, so you can kick up your feet and relax, or just focus on another errand you have. Typically do your laundry on your own? This time, take your laundry to be cleaned and folded professionally so that it's one less chore on your to-do list. This category is all about help and so figuring out how to best help yourself is the key. Something as simple as giving yourself a break and finishing work early to enjoy a glass of wine is an act of service to your well-being that you will for sure be grateful for.
3

.

Quality Time
Introverts rejoice! This version of quality time finally involves spending time with just yourself. While with partners, we stress the value of uninterrupted time together, we don't always keep the same energy when it comes to "me-time." If QT is your thing, carve out time during the week to take yourself on a date. Go to your favorite restaurant, catch a movie (post-COVID), or pack some snacks and a blanket, and treat yourself to a picnic. And make sure you get cute and dressed up in the same way you would if you were headed out with a boo; you deserve to see you at your best as well.
And remember, this doesn't have to require spending money or even leaving the house. Just close your laptop, put down your cell phone, and spend intentional time doing something that makes you happy. Bake something tasty, drink a glass of wine and journal, or just lay on the couch and read a good book. All that matters is you are taking a moment to enjoy quality time with the best person you know, you!
4

.

Receiving Gifts 
Treat yourself, and then treat yourself some more. There is nothing wrong with enjoying getting thoughtful gifts from people who care about you, and that includes receiving gifts from you. This type of self-care can be buying yourself those shoes you've been eyeing, ordering some flowers for yourself to brighten up your workspace, or getting that new dining set you have been contemplating for months. The kind of gift doesn't matter, as long as it has meaning and importance to you. But also, if you have the means to take yourself on a mini shopping spree and splurge on a few things, I support that as well.
5

.

Physical Touch
It's time to love up on yourself a little bit here. Stop what you're doing right now and give yourself a nice long hug, because you deserve it. Squeeze tight and let go only when you've had enough. One way to get your daily dose of self-love in this category is by purchasing a massage gun and giving yourself a body massage. You can focus in on all those areas that have been giving you trouble, and if your co-love language is acts of service or receiving gifts, go on ahead and buy yourself a massage package to get even more physical touch. For my sensual ladies, what better way to love up on yourself than some self-pleasure? Grab one of your favorite toys and make a night of making yourself feel good.
Nobody can touch you like you can.
For more inspiration, self-care, and healing tips, check out xoNecole's Wellness section here.
Featured image by Shutterstock.

Originally published September 6, 2020
Drake said we're "drinking every night because we drink to my accomplishments," and in 2021 why not do it with a Black-owned beer, wine or liquor of your choice, especially when the brand is also founded by women? Finding Black-owned liquor and wine can already be a challenge, but add woman-owned to that and the options dwindle even further. For context, less than 1% of all U.S. wineries are Black-owned, but Black people make up more than 10% of American wine consumption. The math here ain't mathing, and it's time to change that.
While I enjoy meeting up with friends at a bar to have a fancy cocktail and catch up, my half-year in quarantine had me appreciating stocking my bar cart and enjoying my sips at home. Personally, I'm a wine and whiskey kind of gal, but I still love to experiment with new brands that pique my interest. More recently I've been on a mission to support more Black-owned alcohol brands, and if a Black woman is behind it? Even better!
Check out some of these alcohol brands owned by Black women that you can bring to the next game night or have at home by yourself:
Tell us about Abisola Whiskey and why more women should be drinking whiskey.
Abisola: Our [whiskey] is a non-traditional, young whiskey that's here to celebrate the modern-day whiskey drinker. The typical whiskey drinker has changed and evolved; they've gotten younger, more women are drinking whiskey. I mean, there's this whole evolution of whiskey that has been happening for the past twenty years. I wanted to create a brand that celebrated this and celebrated people's every day achievements, all while creating a legacy for my generation.
"More women should be drinking whiskey because it tastes amazing! There's so much versatility with whiskey and you can see that by all the whiskies that are out there."
Take it straight, take a shot of it, make an amazing cocktail with it; whiskey can do it all. And so can women. Women can do it all, women are versatile and strong; honestly, it's a perfect match!
What has it been like entering the spirits industry as a Black woman? What have been some challenges?
It's been quite a whirlwind of rejection, of excitement, of meeting different people and being inspired. It's been overall amazing, even the rejections, even the negative feedback. I just launched in May of this year and have learned so much being in this industry. In terms of challenges, I will say that the largest one has been that sometimes I don't get taken seriously. I mean, you have a young girl with a young whiskey that tastes nothing like what's out there right now? So, there's a lot of doubt about whether or not this can even be good or how can people be interested in this?
I just nod my head and take it on the chin, you know? Because I believe in this, I believe in the taste, the brand, the celebration, all of it.
Tell us about B. Stuyvesant Champagne.

Marvina: It's a boutique brand champagne that publicly launched in February 2020. I was born and raised in Brooklyn, N.Y. —Bedford Stuyvesant—which is what the brand is named after. Being in the wine industry is very new for me, as I've worked on Wall Street for 20 years. I went to Norfolk State University for undergraduate and studied Biology, received my M.A. in statistics from Columbia University. I'm a lover of champagne and the original goal was to open a champagne bar. I wanted a private label for the bar. COVID forced me to pivot as it was not the best time to sign a new lease, and I was asked to put the bottles on shelves for retail. I was nervous because that was not my original plan, but it was the best decision I made.
How would you describe your journey into the champagne industry? What have been some challenges?
I am far from mainstream, I wish I could be mainstream but the brand is not a norm. I let it grow and branch out organically. I am not backed by any investors, celebrity names, or venture capitalist funding so I am doing everything on my own. I do not mind it at all because this is the best way to learn and it is a woman-made brand from the ground up.
I would say it has been interesting, some good and some bad. I always get asked, "Is this real champagne?" It can only be called champagne if it comes from the Champagne region [of France]. The bad is that I am questioned about the authenticity. The good is that the brand has been embraced by many and growing daily.
What are some goals for the brand going forward?
I would love to have the brand be global, as well as be the go-to brand for the hospitality industry. It's a lot of work for me but I am looking forward to doing the work in order for me to reach this goal!
What has it been like entering the beer industry as a Black woman? What have been some challenges?
Alisa: It's been inspiring entering the beer industry as a Black woman as it allowed me to identify the lack of representation and to build and strive to change that. I was the first African-American, woman-owned beer brand in the state of Connecticut (fourth in the country). Challenges have included getting the brand out there like those that have been nationally distributed and around for decades. Our products can be found in locations such as Whole Foods, Total Wine, Trader Joe's, Big Y, and ShopRite, just to name a few.
What makes your beer stand out from others currently on the market?
Our beer is unique and stands out because we specialize in classic traditional beer, which are lagers. But we only identify with brands like Bud, Heineken, Coors and Corona. Our products are unfiltered which means there is a health benefit. We want to make sure that we drink in moderation but we also don't pump bad stuff into our bodies or our communities.
Would you describe your path as more mainstream or indie in regards to getting your brand out there?
Nayana: I think we are definitely leaning toward the indie path rather than mainstream [in order to get] the Anteel brand out there. When we started, we did not have the large budgets to follow a mainstream path that major brands can. We used social media consistently to grow our brand and my husband, who knows quite a bit about social media marketing, used some tactics to not only grow visibility for the brand, but to create a strong, dedicated following.
When we first launched in our home state, we visited over 150 retailers in three months, by ourselves, seeking product placement. We also conducted all the in-store tastings, handled all the marketing internally, and did the majority of our own PR outreach. Doing everything ourselves taught us a lot and kept us focused on turning Anteel Tequila into a well-known tequila brand around the country.
What has it been like entering the spirits industry as a Black woman?
As a Black woman owner, entering the spirits industry has had its challenges, but I have overcome them by focusing on my goals and by adapting when necessary. I am extremely grateful to be able to create a path for others to follow, where we can create brands that speak to our ingenuity, culture and vision.
It is extremely important to me to make sure that I am helping to inspire women to create and execute whatever vision they have for their lives and to bring diversity in the areas they choose to be a part of.
Women have to be fearless when creating the businesses that they are passionate about and not let obstacles deter them. I look forward to continuing to move forward on this path and bringing other women with me, so that we all can create our legacies.
What is your favorite cocktail to make with your tequila?
I have several favorite cocktails that we make with Anteel Tequila and it truly depends on the season. However, I would have to say that my favorite cocktail to make is the Coconut Lime Margarita. It is a very simple cocktail consisting of only three ingredients. It is a one-of-a-kind cocktail, since it is made with the world's only Coconut Lime Blanco Tequila and it is a cocktail that I can drink in any season.
Tell us about Love Cork Screw.
Chrishon: It's the wine and lifestyle brand you bring to a game night with friends, the brand you introduce to board members at an annual gala, and the brand you experience for the first time at a couples' paint-and-sip event. We know that we are not your traditional wine but because of our deep commitment to providing quality, we are sure to quickly become one of your favorites!
What does it mean to you to be one of only a small percentage of Black women in this industry and what have been some challenges?
Not being taken seriously as an African-American woman negociant (a wine trader or merchant), which did not give me the ability to build genuine relationships with wine decision-makers to reach the masses. Another challenge would be not receiving financial support from grants due to the industry.
Being one of only a small number of Black women in wine means a lot to me, and now I have more room to break glass ceilings till there's no more to be broken!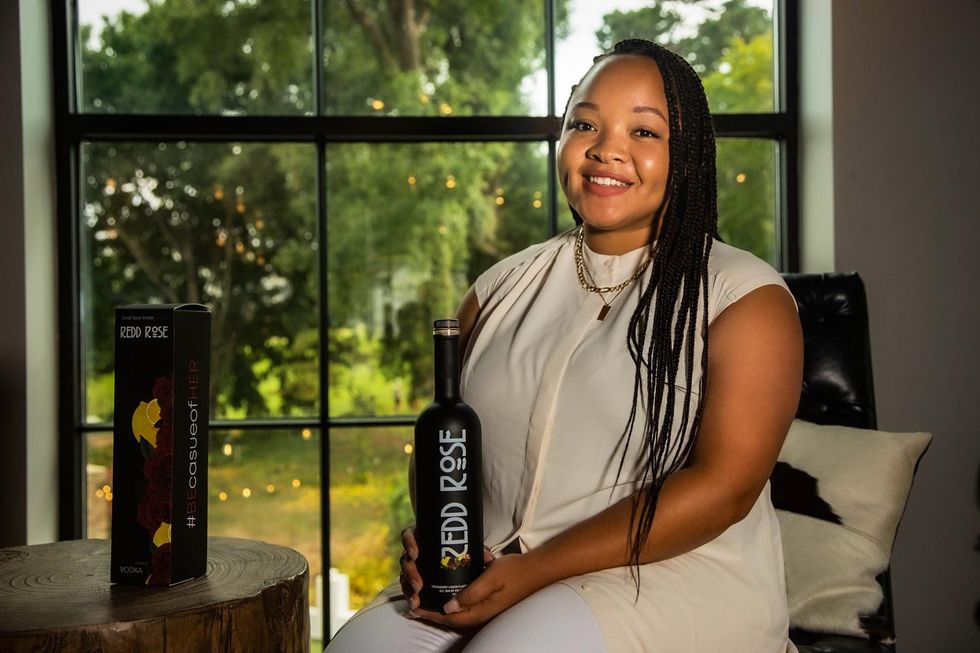 Image courtesy of Redd Rose
Tell us about Redd Rose and the "why" behind starting your own brand.
It's a flavored vodka brand that is named after my grandmother Rose Redd, who was the first African-American woman to own a recycling business in Ohio. The brand is #BEcauseofHER. She was a first-class woman who defied the odds in creating a business that she worked and gave other people the opportunity to showcase their items to sell. She was strong, resilient, and outspoken. What better way [to honor her] than to create a brand in a male-dominated industry.
Would you describe your path as more mainstream or indie in regards to getting your brand out there?
Mainstream. When Redd Rose hit the market, I told her story first and my "why" per se. This is the most important, as Redd Rose is not the next vodka brand to just sit on the shelves, but the next Vodka brand to sit on your shelf. Something I realized is that people purchase what they like because they like it. There is no story or real person behind the majority of the marketplace, but Redd Rose has a story with a real personal behind it.
What makes your vodka stand out from the other brands?
Redd Rose can be sipped over ice, no mixer, no chaser. It's just that simple. It's a brand that is made for the hardworking, resilient, strong and confident women.
Featured image via Getty Images
I didn't get on my first flight until I was 21, so when I found myself on a flight to Chicago for my first solo trip, it was honestly scary. Fast forward five years, I am quick to hop on a plane alone and actually prefer it to larger group trips. My first solo trip was just a matter of me really wanting to visit Chicago and having no one else free to go with. I get a lot of anxiety when flying, so flying alone had never crossed my mind. But little did I know, that first trip would change who I was as a traveler forever. I loved Chicago, but most importantly, I loved the freedom I had to truly explore the city on my own terms because I didn't have to wait around for anyone.
I woke up when I felt like it, visited all of the places I was interested in, and ate only at places that caught my attention. I felt as safe walking down the street in downtown Chi as I do walking around the city in NY. That trip was the catalyst for my newly implemented motto of "Book now, ask later." Since then, I've gone as far as Hawaii, Houston, and Aruba all on my own. Hawaii and Aruba both pushed me to new levels and despite hearing the concern from others who couldn't believe I was going so far all alone, those have been some of my favorite trips to date. Every chance I get, I'm encouraging someone to take a trip alone when everyone flakes or they just really need some alone time.
I understand why some people are hesitant about taking that leap and traveling solo, so I asked some of my favorite travel influencers and bloggers about their own experiences with traveling alone and what advice they have for those looking to take that leap. See their tips below and start planning that first trip now!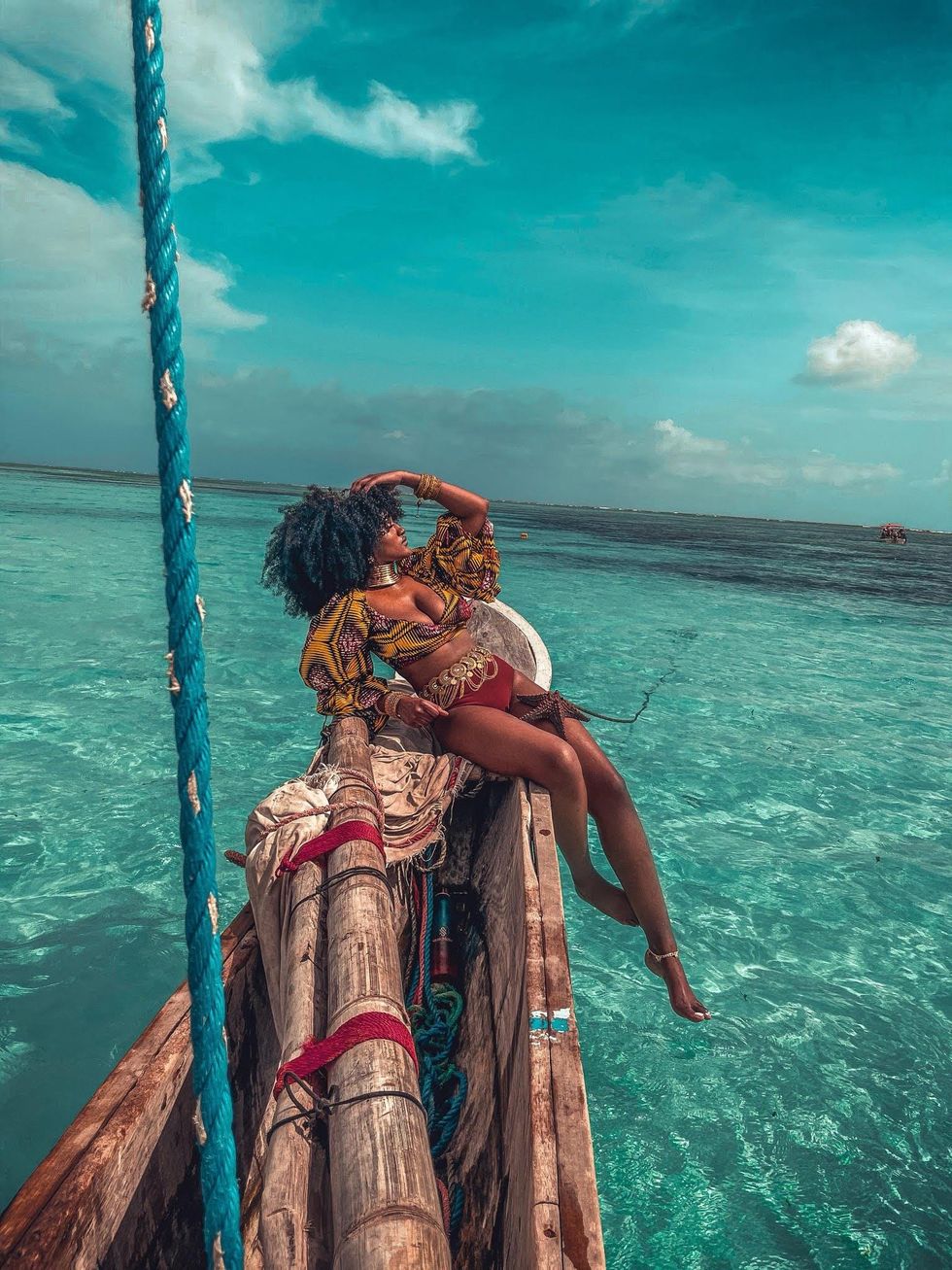 Courtesy of Sabrina
"Traveling solo actually found me by way of a flaky travel partner! I had a trip planned with a friend who backed out at the last minute and I had two choices: cancel the trip or go alone. I wasn't going to lose all that money and time spent planning because of someone else. It was in that moment that I realized that I can experience the world with or without the company of another. Travel is my best friend!
"The most enjoyable thing about solo travel is being on your own schedule. When you're alone, the whole day is yours to seize, and in your own perfect fashion. Some days, I want to get up super early and explore, while other days, I want to pamper myself with a spa day. The choice is completely mine when I'm solo, and to be honest I love it that way! Solo travel can be a way to tap back into who you truly are and fortify the most important relationship you will ever have in your life: the relationship with yourself."
"Also, from what I've experienced and heard from others, safety is a huge concern when traveling alone; especially as a woman. To combat this, I just remain hyper-vigilant of my surroundings and always let someone from home know exactly where I am. I don't ever reveal too much about myself if I am speaking with someone I don't know. I am also super intuitive, and if something doesn't feel right, I remove myself from the situation as quickly and as subtly as possible.
"Also, whenever I travel solo, I never have an issue taking pictures. Most times people are ready and willing to help and (with a little guidance) the pictures come out beautifully! For example, when I traveled to Cartagena, I had a photographer approach me at the pool and we had an impromptu photoshoot! I always have my tripod on deck though, just in case I need an extra hand, so to speak."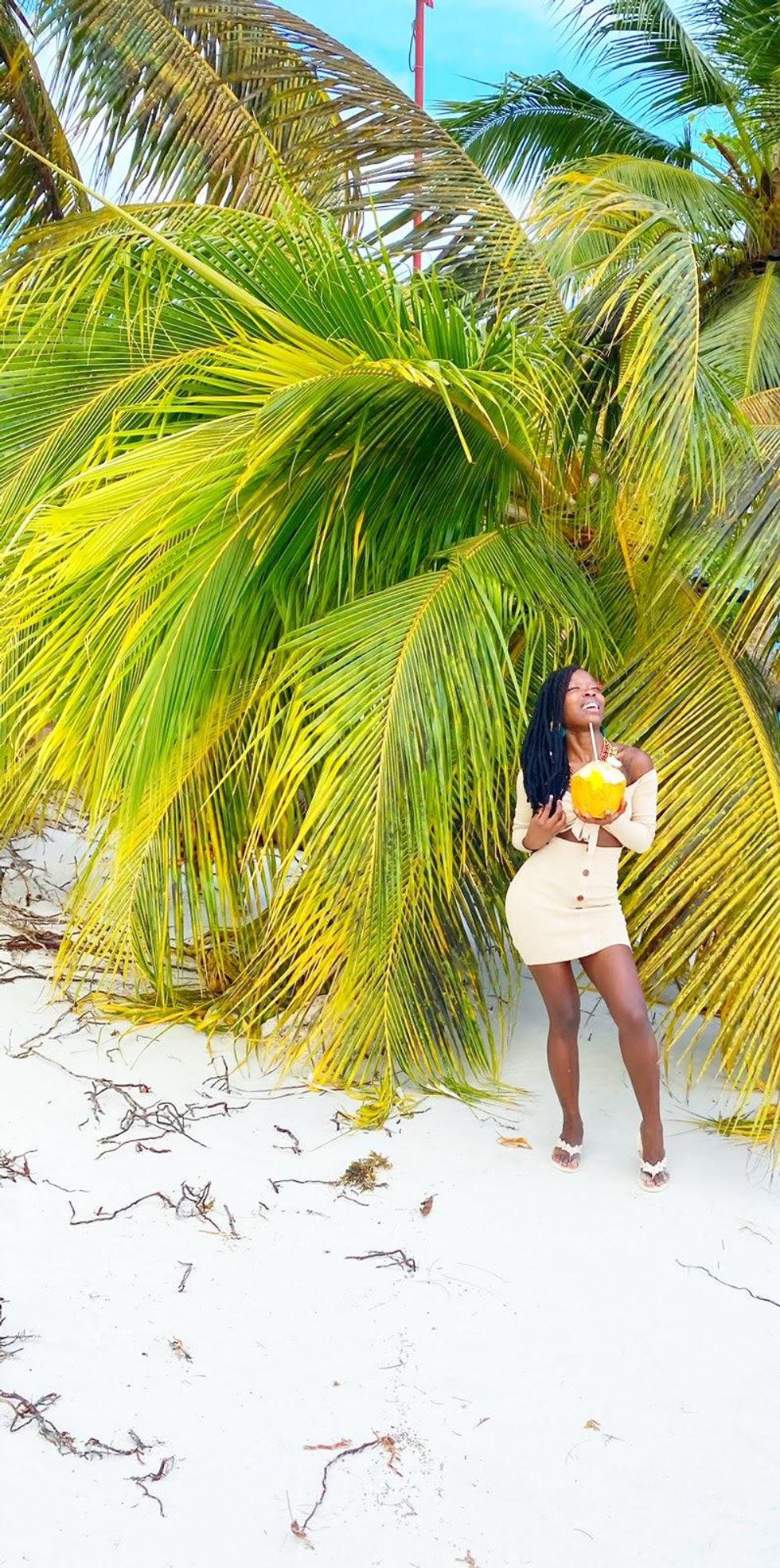 Courtesy of Dominique
"Traveling solo to me is the most liberating thing anyone can do. I've learned so much about myself from just being with myself. I think the scariest part for a lot of people is just knowing that you are your own company. But what I've learned is that you gotta step out on faith and the things that scare you the most are the things that are going to be the most beneficial for you. I've faced my fears and done things that I said I would never do. People will try to discourage you, but don't listen to what people say, go ahead and see for yourself.
"So first thing, research, research, research! The customs, the culture of that country, etc., especially when it comes to dress code and things like that. The number one thing that I do is first enroll myself in the S.T.E.P. Program. S.T.E.P. stands for Smart Traveler Enrollment Program and it's a free program that will register your trip with the U.S. Embassy in whatever country you're visiting. So then you'll get alerts about safety conditions, emergencies, natural disasters and things like that. This way you will be in the loop and also the embassy will know you are there and exactly who you are, and can provide support if you're in trouble. So that's my number one thing that I do once I book a trip.
"The other thing is that I try to pre-plan when I am solo. Pre-plan my taxi ride, my excursions, etc. because you don't want to be out there looking lost. This can make you an easy target anywhere. I liked to use Booking.com for my taxi rides. You can pre-plan every taxi ride and they will come and pick you up. If you say Tuesday I'm going to go jet skiing at this location, you go ahead and schedule it, and they'll pick you up at the time and bring you back. Everything is pre-planned."
"Another thing is that when you're doing solo travel, you're never really alone because you make so many connections along the way. You meet so many people and believe it or not, there are other solo travelers out there just like you, that you will find along the way. I met one of my best friends who is my best friend [to] this day, on a solo trip to St. Thomas. We both were on a solo trip and ended up on an excursion together. So you know, two young, black girls, just talking or whatever and it turns out she lived literally three blocks from my house. After that, it wasn't solo anymore; I was with her the whole time. She became my travel partner and we kind of just stayed with each other the whole trip. So I went solo and then ended up with a friend."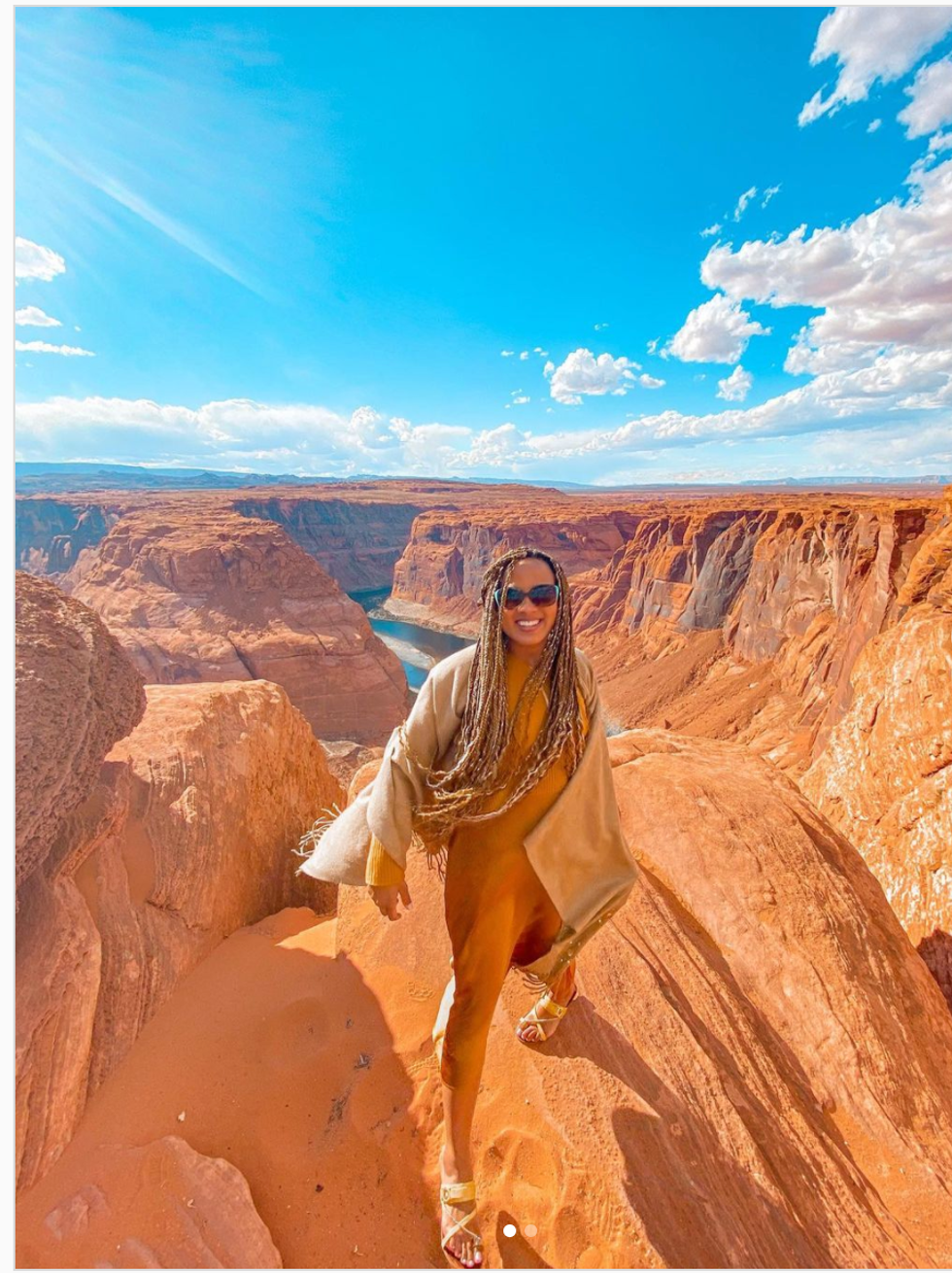 Courtesy of Gabby
"My biggest tip would be to start small. So try to warm yourself up, you know, don't feel pressured by society or social media. Don't do it for the 'gram. Do it for yourself. Start off by going to dinner by yourself once a week, or going to a movie by yourself. Just doing the small things and realizing that it's not scary. I definitely plan out a lot, at least outline a lot. But I leave the room to be flexible.
"Some things that I for sure do are ask around the Facebook groups and check out which parts of town are safe and which are not. I try to find at least one or two people on the ground. I'll ask on my social media for just one or two people who have been there before or live there, or are there right now. When I look at Airbnb, I usually try to go with a female owner or a female point of contact, just to ask the questions I really need to ask, like where can I buy tampons in Croatia."
"And here's the thing with safety. People will swear that everyone is following them. And everyone is like, stalking them. I'm like, you know, things do happen so definitely stay aware. But girl, if it's not happening in your home city every single day, it's definitely not going to happen abroad. And honestly, sometimes the cities abroad are safer. You're going to feel like people are staring at you. I felt people were like, 'Are you seriously by yourself?' 'Are you OK?' 'What's wrong with you?'. But you're going to get through that and be like, 'OK, that's a projection that they have and it has nothing to do with me. I'm enjoying myself and it's fine.' So once you warm up to that, I think that it will help you actually enjoy your solo trip.
"Women deserve to be selfish. And that's why I really hope more women solo travel. You get to wake up and do what you want to do all day long. You can cancel all your plans. You can rearrange them. You can meet other people or you can stay by yourself. I think it's such an empowering experience for women. And even though maybe on paper it's scary or just overwhelming to think about, when you actually take it step by step it's the best experience you could have. I think everyone should try at least once."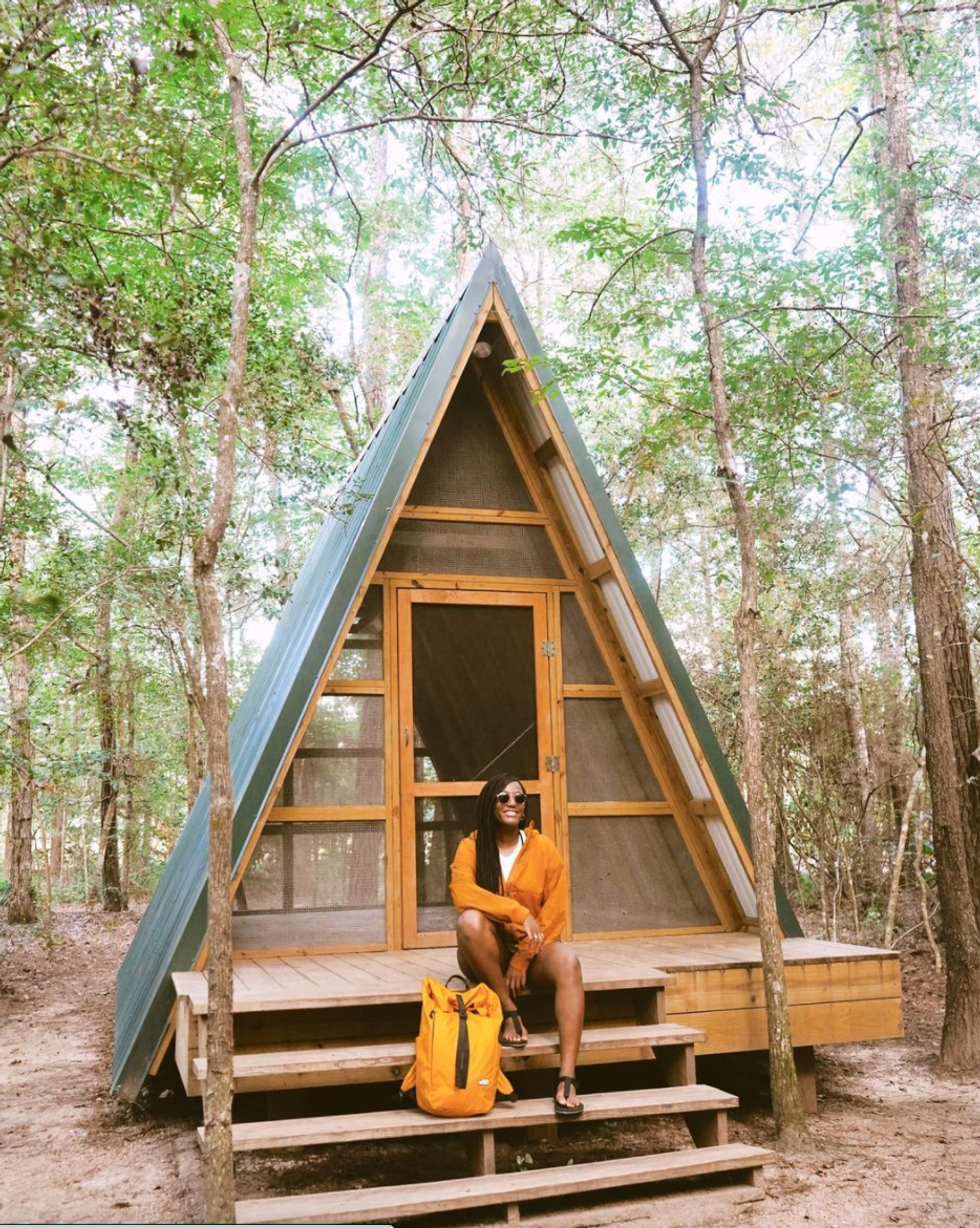 Courtesy of Ciara
"I took my first domestic solo trip to San Francisco and I took my second international solo trip to Costa Rica. I was tired of waiting for schedules, budgets, etc to align with family and friends. I knew I wanted travel to be a major part of my life, so I needed to take the leap to go - with or without anybody by my side. I enjoyed my own company and I wanted to further challenge myself to pursue my interests even if it meant I had to do so alone. This was critical to pursuing my version of a fulfilled life!
"My favorite adventure was my three-month solo backpacking trip after quitting my job. I bought a one-way ticket to Mexico and backpacked all the way down to Colombia over the course of three months. I learned Spanish, lived with strangers, tasted foods I'd never heard of, fell in love, etc."
"I always advise women to do their research and share their location with at least two other people. You should carry yourself with confidence, be strategic when selecting accommodation, and pack light as possible for convenience. Avoid sharing your location in real time and follow your intuition at all times!"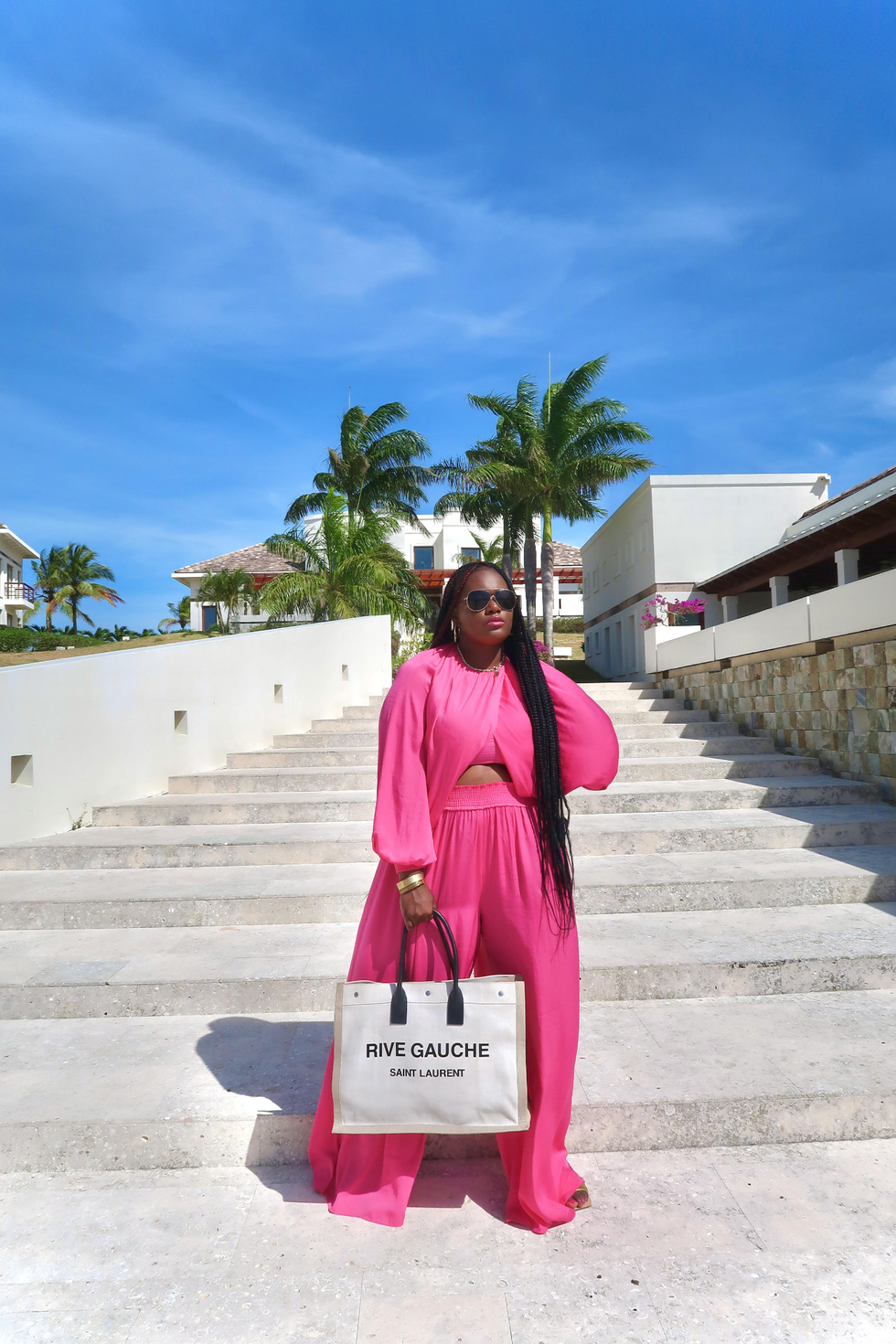 Courtesy of Devorah
"My first solo trip was to Peru in 2017. I found an insane flight deal from NYC to Peru for $389. Usually these flights are between $600-$700. When I reached out to who I normally travel with, none of them could make it due to scheduling conflicts, budget, etc. So I had a choice, do I give up this rare flight deal or swallow my fears and go? Luckily, I made the right choice. Statistically, you have a higher chance of being harmed in your home city/country than you are anywhere else. To shake the fear requires a mindset change. Instead of thinking about what can go wrong, do your research and follow procedures to avoid these things as best as possible.
"Stay in a busy tourist area to avoid feeling alone, book tours with reputable companies on Tripadvisor so you can meet like-minded people like yourself. I always check the reviews for any accommodation I stay in. I also make sure I do not arrive at night regardless of how cheap the flight is. It's not worth the risk of navigating to your accommodation at night while alone. Additionally, there are lots of resources on solo travel that have made my life easier. Pinterest has helped me a lot with planning and finding other female travelers who have shared their solo experiences."
"My favorite solo trip was to Mauritius in 2020. I wasn't planning on going but I was already in the Seychelles and found a round trip flight there for $400 (it's usually $800+ from NYC), so I went with 48 hours notice. Not much time to plan but I was able to wing it thanks to Pinterest and a great hotel staff. I rented a car and drove throughout the island. I almost didn't make it home because I loved it that much.
"Solitude is one of the best forms of self-care. There's no better feeling than taking some time (even if it's a weekend) to only focus on YOU and what you want. From someone who's now been to more than 10 countries solo, this freeing feeling will outweigh your fears."
Featured image courtesy of Sabrina @With.Love.Brina