Robin D. Thomas
Robin D. Thomas is a brunch loving, Brooklyn born and raised Licensed Social Worker currently working in the Bronx. When she's not writing about all things wellness, entertainment and love, you can find her eating her way through different cities and tending to her plants. Connect with her on IG and Twitter at @_MissRobin or on her Instagram wellness page @thisnoirethat.
The first time I really learned about the five love languages was a year after a big heartbreak in my early twenties, and since then I've found myself exploring the love languages of each of my subsequent partners in an effort to be a better lover to them. At the click of a simple quiz, you'll know whether words of affirmation, acts of service, quality time, receiving gifts, or physical touch is the primary way you prefer to experience love.
When most people hear the phrase 'love languages', their first thought centers around how these five so-called languages fit into our romantic relationships. We can all think of a situation where misalignment of love languages, or inattention to them, lead to problems romantically and oftentimes failed partnerships.
What most people don't realize is that understanding your own love language is also important in understanding how you can love yourself. We get so caught up in considering someone else's love language in order to be a better partner to them, that we don't always use our own love language to practice self-love for ourselves. But how can you love someone else right if you aren't loving yourself?
Check out some practical ways to practice self-love and self-care based on your own specific love language.
1

.

Words of Affirmation
The premise of loving someone who enjoys words of affirmation is using language to affirm, encourage, and appreciate your partner, so this translates well into self-love. One way is to write yourself a love letter. That's right, a love letter! When's the last time you sat down and thought about all the things you love about yourself? Try putting that in the format of a list or a literal love letter, an ode to you featuring all the reasons you love being you. Another way to affirm yourself for all you do daily is by creating a gratitude jar. Get a mason jar or a sturdy container and some index cards, and then each day write down something you're currently grateful for. Then, at the end of each month go back, read each card, and experience the feels all over again.
2

.

Acts of Service
If your love language is acts of service, you want to focus on ways to alleviate responsibility and burden. But how is that possible when you're doing it for yourself? How about paying for a cleaning service to tidy up your home, so you can kick up your feet and relax, or just focus on another errand you have. Typically do your laundry on your own? This time, take your laundry to be cleaned and folded professionally so that it's one less chore on your to-do list. This category is all about help and so figuring out how to best help yourself is the key. Something as simple as giving yourself a break and finishing work early to enjoy a glass of wine is an act of service to your well-being that you will for sure be grateful for.
3

.

Quality Time
Introverts rejoice! This version of quality time finally involves spending time with just yourself. While with partners, we stress the value of uninterrupted time together, we don't always keep the same energy when it comes to "me-time." If QT is your thing, carve out time during the week to take yourself on a date. Go to your favorite restaurant, catch a movie (post-COVID), or pack some snacks and a blanket, and treat yourself to a picnic. And make sure you get cute and dressed up in the same way you would if you were headed out with a boo; you deserve to see you at your best as well.
And remember, this doesn't have to require spending money or even leaving the house. Just close your laptop, put down your cell phone, and spend intentional time doing something that makes you happy. Bake something tasty, drink a glass of wine and journal, or just lay on the couch and read a good book. All that matters is you are taking a moment to enjoy quality time with the best person you know, you!
4

.

Receiving Gifts 
Treat yourself, and then treat yourself some more. There is nothing wrong with enjoying getting thoughtful gifts from people who care about you, and that includes receiving gifts from you. This type of self-care can be buying yourself those shoes you've been eyeing, ordering some flowers for yourself to brighten up your workspace, or getting that new dining set you have been contemplating for months. The kind of gift doesn't matter, as long as it has meaning and importance to you. But also, if you have the means to take yourself on a mini shopping spree and splurge on a few things, I support that as well.
5

.

Physical Touch
It's time to love up on yourself a little bit here. Stop what you're doing right now and give yourself a nice long hug, because you deserve it. Squeeze tight and let go only when you've had enough. One way to get your daily dose of self-love in this category is by purchasing a massage gun and giving yourself a body massage. You can focus in on all those areas that have been giving you trouble, and if your co-love language is acts of service or receiving gifts, go on ahead and buy yourself a massage package to get even more physical touch. For my sensual ladies, what better way to love up on yourself than some self-pleasure? Grab one of your favorite toys and make a night of making yourself feel good.
Nobody can touch you like you can.
For more inspiration, self-care, and healing tips, check out xoNecole's Wellness section here.
Featured image by Shutterstock.

Originally published September 6, 2020
Drake said we're "drinking every night because we drink to my accomplishments," and in 2021 why not do it with a Black-owned beer, wine or liquor of your choice, especially when the brand is also founded by women? Finding Black-owned liquor and wine can already be a challenge, but add woman-owned to that and the options dwindle even further. For context, less than 1% of all U.S. wineries are Black-owned, but Black people make up more than 10% of American wine consumption. The math here ain't mathing, and it's time to change that.
While I enjoy meeting up with friends at a bar to have a fancy cocktail and catch up, my half-year in quarantine had me appreciating stocking my bar cart and enjoying my sips at home. Personally, I'm a wine and whiskey kind of gal, but I still love to experiment with new brands that pique my interest. More recently I've been on a mission to support more Black-owned alcohol brands, and if a Black woman is behind it? Even better!
Check out some of these alcohol brands owned by Black women that you can bring to the next game night or have at home by yourself:
Tell us about Abisola Whiskey and why more women should be drinking whiskey.
Abisola: Our [whiskey] is a non-traditional, young whiskey that's here to celebrate the modern-day whiskey drinker. The typical whiskey drinker has changed and evolved; they've gotten younger, more women are drinking whiskey. I mean, there's this whole evolution of whiskey that has been happening for the past twenty years. I wanted to create a brand that celebrated this and celebrated people's every day achievements, all while creating a legacy for my generation.
"More women should be drinking whiskey because it tastes amazing! There's so much versatility with whiskey and you can see that by all the whiskies that are out there."
Take it straight, take a shot of it, make an amazing cocktail with it; whiskey can do it all. And so can women. Women can do it all, women are versatile and strong; honestly, it's a perfect match!
What has it been like entering the spirits industry as a Black woman? What have been some challenges?
It's been quite a whirlwind of rejection, of excitement, of meeting different people and being inspired. It's been overall amazing, even the rejections, even the negative feedback. I just launched in May of this year and have learned so much being in this industry. In terms of challenges, I will say that the largest one has been that sometimes I don't get taken seriously. I mean, you have a young girl with a young whiskey that tastes nothing like what's out there right now? So, there's a lot of doubt about whether or not this can even be good or how can people be interested in this?
I just nod my head and take it on the chin, you know? Because I believe in this, I believe in the taste, the brand, the celebration, all of it.
Tell us about B. Stuyvesant Champagne.

Marvina: It's a boutique brand champagne that publicly launched in February 2020. I was born and raised in Brooklyn, N.Y. —Bedford Stuyvesant—which is what the brand is named after. Being in the wine industry is very new for me, as I've worked on Wall Street for 20 years. I went to Norfolk State University for undergraduate and studied Biology, received my M.A. in statistics from Columbia University. I'm a lover of champagne and the original goal was to open a champagne bar. I wanted a private label for the bar. COVID forced me to pivot as it was not the best time to sign a new lease, and I was asked to put the bottles on shelves for retail. I was nervous because that was not my original plan, but it was the best decision I made.
How would you describe your journey into the champagne industry? What have been some challenges?
I am far from mainstream, I wish I could be mainstream but the brand is not a norm. I let it grow and branch out organically. I am not backed by any investors, celebrity names, or venture capitalist funding so I am doing everything on my own. I do not mind it at all because this is the best way to learn and it is a woman-made brand from the ground up.
I would say it has been interesting, some good and some bad. I always get asked, "Is this real champagne?" It can only be called champagne if it comes from the Champagne region [of France]. The bad is that I am questioned about the authenticity. The good is that the brand has been embraced by many and growing daily.
What are some goals for the brand going forward?
I would love to have the brand be global, as well as be the go-to brand for the hospitality industry. It's a lot of work for me but I am looking forward to doing the work in order for me to reach this goal!
What has it been like entering the beer industry as a Black woman? What have been some challenges?
Alisa: It's been inspiring entering the beer industry as a Black woman as it allowed me to identify the lack of representation and to build and strive to change that. I was the first African-American, woman-owned beer brand in the state of Connecticut (fourth in the country). Challenges have included getting the brand out there like those that have been nationally distributed and around for decades. Our products can be found in locations such as Whole Foods, Total Wine, Trader Joe's, Big Y, and ShopRite, just to name a few.
What makes your beer stand out from others currently on the market?
Our beer is unique and stands out because we specialize in classic traditional beer, which are lagers. But we only identify with brands like Bud, Heineken, Coors and Corona. Our products are unfiltered which means there is a health benefit. We want to make sure that we drink in moderation but we also don't pump bad stuff into our bodies or our communities.
Would you describe your path as more mainstream or indie in regards to getting your brand out there?
Nayana: I think we are definitely leaning toward the indie path rather than mainstream [in order to get] the Anteel brand out there. When we started, we did not have the large budgets to follow a mainstream path that major brands can. We used social media consistently to grow our brand and my husband, who knows quite a bit about social media marketing, used some tactics to not only grow visibility for the brand, but to create a strong, dedicated following.
When we first launched in our home state, we visited over 150 retailers in three months, by ourselves, seeking product placement. We also conducted all the in-store tastings, handled all the marketing internally, and did the majority of our own PR outreach. Doing everything ourselves taught us a lot and kept us focused on turning Anteel Tequila into a well-known tequila brand around the country.
What has it been like entering the spirits industry as a Black woman?
As a Black woman owner, entering the spirits industry has had its challenges, but I have overcome them by focusing on my goals and by adapting when necessary. I am extremely grateful to be able to create a path for others to follow, where we can create brands that speak to our ingenuity, culture and vision.
It is extremely important to me to make sure that I am helping to inspire women to create and execute whatever vision they have for their lives and to bring diversity in the areas they choose to be a part of.
Women have to be fearless when creating the businesses that they are passionate about and not let obstacles deter them. I look forward to continuing to move forward on this path and bringing other women with me, so that we all can create our legacies.
What is your favorite cocktail to make with your tequila?
I have several favorite cocktails that we make with Anteel Tequila and it truly depends on the season. However, I would have to say that my favorite cocktail to make is the Coconut Lime Margarita. It is a very simple cocktail consisting of only three ingredients. It is a one-of-a-kind cocktail, since it is made with the world's only Coconut Lime Blanco Tequila and it is a cocktail that I can drink in any season.
Tell us about Love Cork Screw.
Chrishon: It's the wine and lifestyle brand you bring to a game night with friends, the brand you introduce to board members at an annual gala, and the brand you experience for the first time at a couples' paint-and-sip event. We know that we are not your traditional wine but because of our deep commitment to providing quality, we are sure to quickly become one of your favorites!
What does it mean to you to be one of only a small percentage of Black women in this industry and what have been some challenges?
Not being taken seriously as an African-American woman negociant (a wine trader or merchant), which did not give me the ability to build genuine relationships with wine decision-makers to reach the masses. Another challenge would be not receiving financial support from grants due to the industry.
Being one of only a small number of Black women in wine means a lot to me, and now I have more room to break glass ceilings till there's no more to be broken!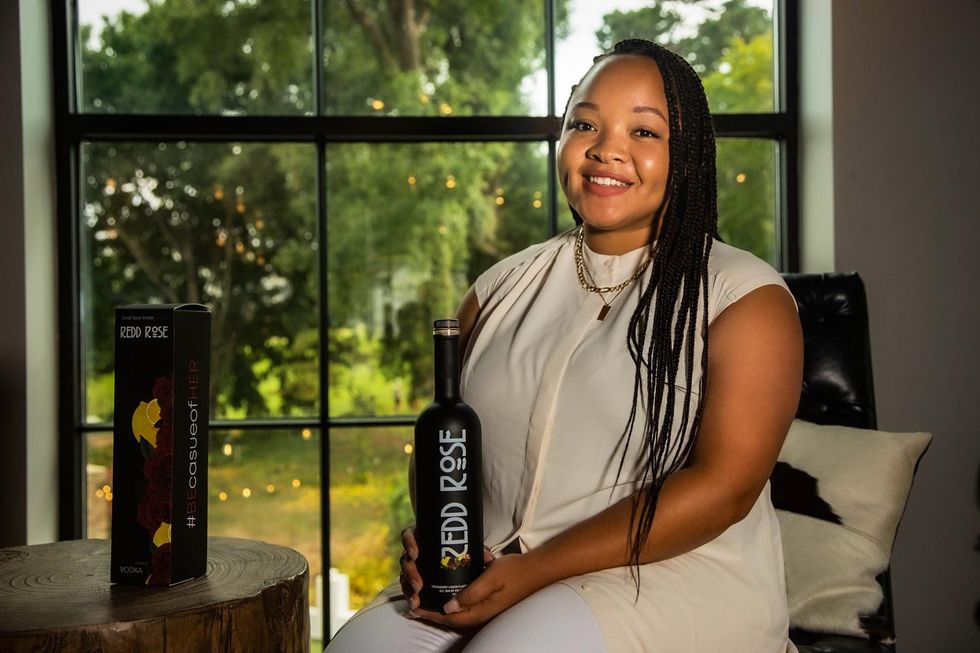 Image courtesy of Redd Rose
Tell us about Redd Rose and the "why" behind starting your own brand.
It's a flavored vodka brand that is named after my grandmother Rose Redd, who was the first African-American woman to own a recycling business in Ohio. The brand is #BEcauseofHER. She was a first-class woman who defied the odds in creating a business that she worked and gave other people the opportunity to showcase their items to sell. She was strong, resilient, and outspoken. What better way [to honor her] than to create a brand in a male-dominated industry.
Would you describe your path as more mainstream or indie in regards to getting your brand out there?
Mainstream. When Redd Rose hit the market, I told her story first and my "why" per se. This is the most important, as Redd Rose is not the next vodka brand to just sit on the shelves, but the next Vodka brand to sit on your shelf. Something I realized is that people purchase what they like because they like it. There is no story or real person behind the majority of the marketplace, but Redd Rose has a story with a real personal behind it.
What makes your vodka stand out from the other brands?
Redd Rose can be sipped over ice, no mixer, no chaser. It's just that simple. It's a brand that is made for the hardworking, resilient, strong and confident women.
Featured image via Getty Images
I didn't get on my first flight until I was 21, so when I found myself on a flight to Chicago for my first solo trip, it was honestly scary. Fast forward five years, I am quick to hop on a plane alone and actually prefer it to larger group trips. My first solo trip was just a matter of me really wanting to visit Chicago and having no one else free to go with. I get a lot of anxiety when flying, so flying alone had never crossed my mind. But little did I know, that first trip would change who I was as a traveler forever. I loved Chicago, but most importantly, I loved the freedom I had to truly explore the city on my own terms because I didn't have to wait around for anyone.
I woke up when I felt like it, visited all of the places I was interested in, and ate only at places that caught my attention. I felt as safe walking down the street in downtown Chi as I do walking around the city in NY. That trip was the catalyst for my newly implemented motto of "Book now, ask later." Since then, I've gone as far as Hawaii, Houston, and Aruba all on my own. Hawaii and Aruba both pushed me to new levels and despite hearing the concern from others who couldn't believe I was going so far all alone, those have been some of my favorite trips to date. Every chance I get, I'm encouraging someone to take a trip alone when everyone flakes or they just really need some alone time.
I understand why some people are hesitant about taking that leap and traveling solo, so I asked some of my favorite travel influencers and bloggers about their own experiences with traveling alone and what advice they have for those looking to take that leap. See their tips below and start planning that first trip now!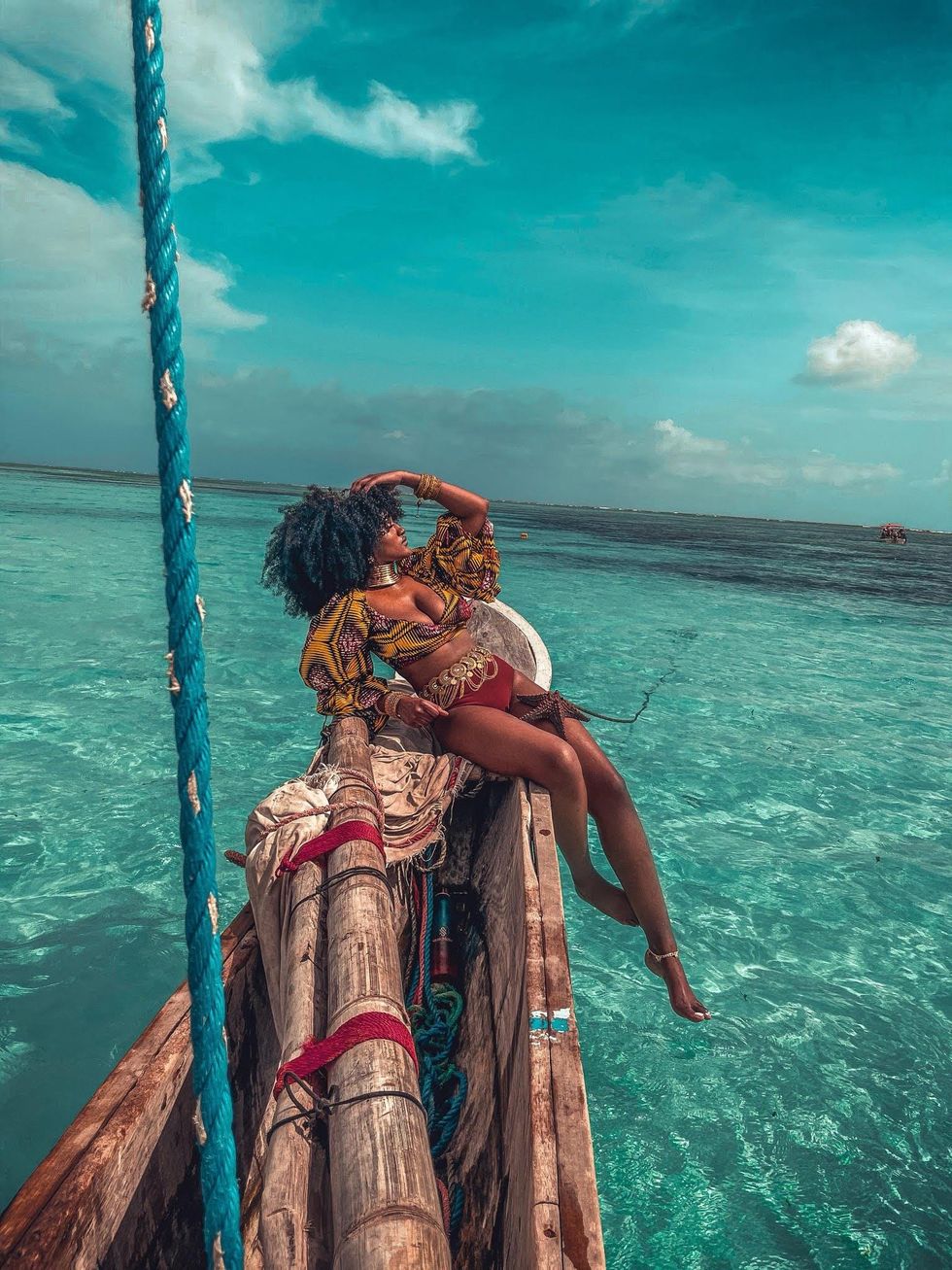 Courtesy of Sabrina
"Traveling solo actually found me by way of a flaky travel partner! I had a trip planned with a friend who backed out at the last minute and I had two choices: cancel the trip or go alone. I wasn't going to lose all that money and time spent planning because of someone else. It was in that moment that I realized that I can experience the world with or without the company of another. Travel is my best friend!
"The most enjoyable thing about solo travel is being on your own schedule. When you're alone, the whole day is yours to seize, and in your own perfect fashion. Some days, I want to get up super early and explore, while other days, I want to pamper myself with a spa day. The choice is completely mine when I'm solo, and to be honest I love it that way! Solo travel can be a way to tap back into who you truly are and fortify the most important relationship you will ever have in your life: the relationship with yourself."
"Also, from what I've experienced and heard from others, safety is a huge concern when traveling alone; especially as a woman. To combat this, I just remain hyper-vigilant of my surroundings and always let someone from home know exactly where I am. I don't ever reveal too much about myself if I am speaking with someone I don't know. I am also super intuitive, and if something doesn't feel right, I remove myself from the situation as quickly and as subtly as possible.
"Also, whenever I travel solo, I never have an issue taking pictures. Most times people are ready and willing to help and (with a little guidance) the pictures come out beautifully! For example, when I traveled to Cartagena, I had a photographer approach me at the pool and we had an impromptu photoshoot! I always have my tripod on deck though, just in case I need an extra hand, so to speak."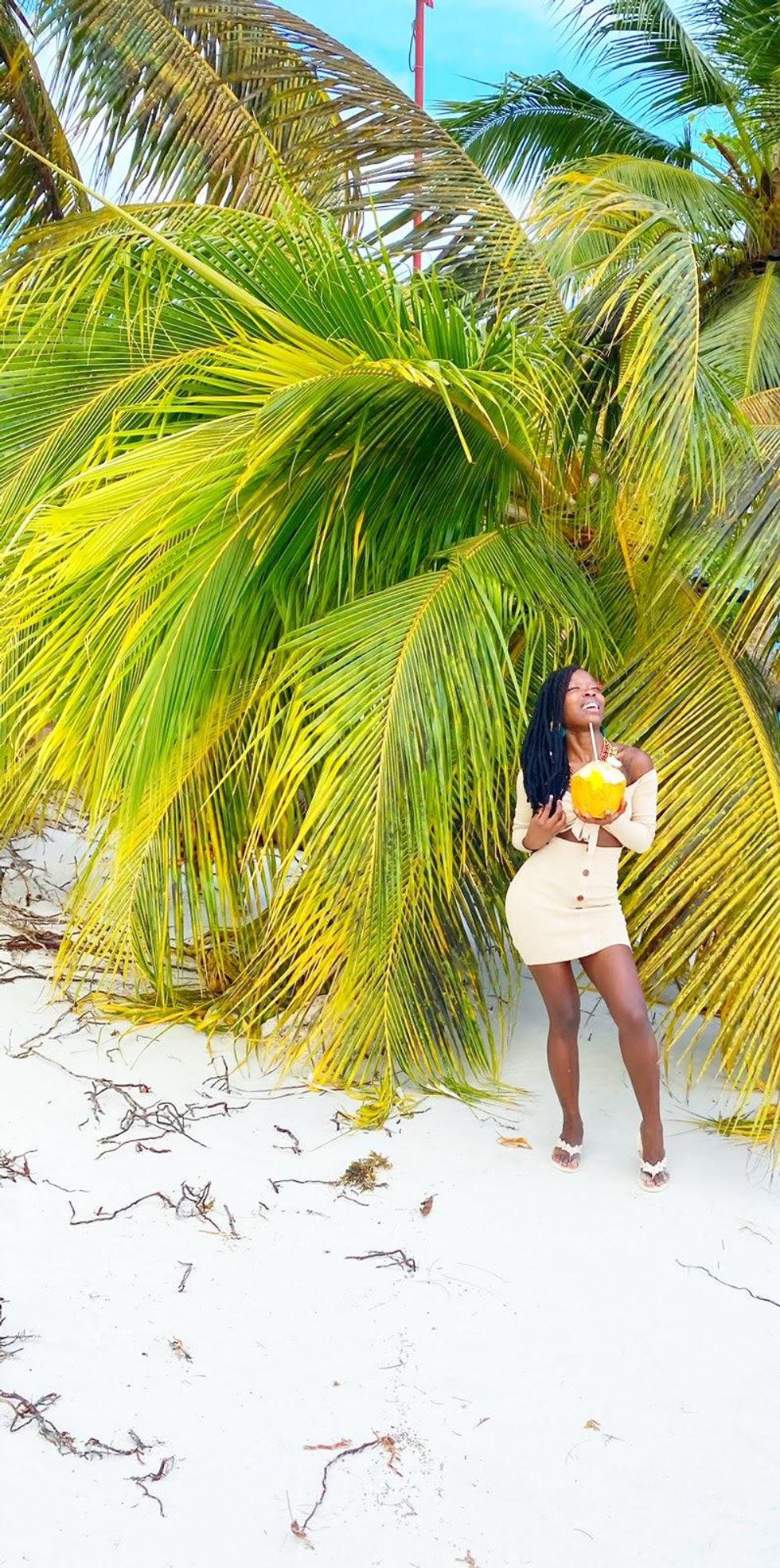 Courtesy of Dominique
"Traveling solo to me is the most liberating thing anyone can do. I've learned so much about myself from just being with myself. I think the scariest part for a lot of people is just knowing that you are your own company. But what I've learned is that you gotta step out on faith and the things that scare you the most are the things that are going to be the most beneficial for you. I've faced my fears and done things that I said I would never do. People will try to discourage you, but don't listen to what people say, go ahead and see for yourself.
"So first thing, research, research, research! The customs, the culture of that country, etc., especially when it comes to dress code and things like that. The number one thing that I do is first enroll myself in the S.T.E.P. Program. S.T.E.P. stands for Smart Traveler Enrollment Program and it's a free program that will register your trip with the U.S. Embassy in whatever country you're visiting. So then you'll get alerts about safety conditions, emergencies, natural disasters and things like that. This way you will be in the loop and also the embassy will know you are there and exactly who you are, and can provide support if you're in trouble. So that's my number one thing that I do once I book a trip.
"The other thing is that I try to pre-plan when I am solo. Pre-plan my taxi ride, my excursions, etc. because you don't want to be out there looking lost. This can make you an easy target anywhere. I liked to use Booking.com for my taxi rides. You can pre-plan every taxi ride and they will come and pick you up. If you say Tuesday I'm going to go jet skiing at this location, you go ahead and schedule it, and they'll pick you up at the time and bring you back. Everything is pre-planned."
"Another thing is that when you're doing solo travel, you're never really alone because you make so many connections along the way. You meet so many people and believe it or not, there are other solo travelers out there just like you, that you will find along the way. I met one of my best friends who is my best friend [to] this day, on a solo trip to St. Thomas. We both were on a solo trip and ended up on an excursion together. So you know, two young, black girls, just talking or whatever and it turns out she lived literally three blocks from my house. After that, it wasn't solo anymore; I was with her the whole time. She became my travel partner and we kind of just stayed with each other the whole trip. So I went solo and then ended up with a friend."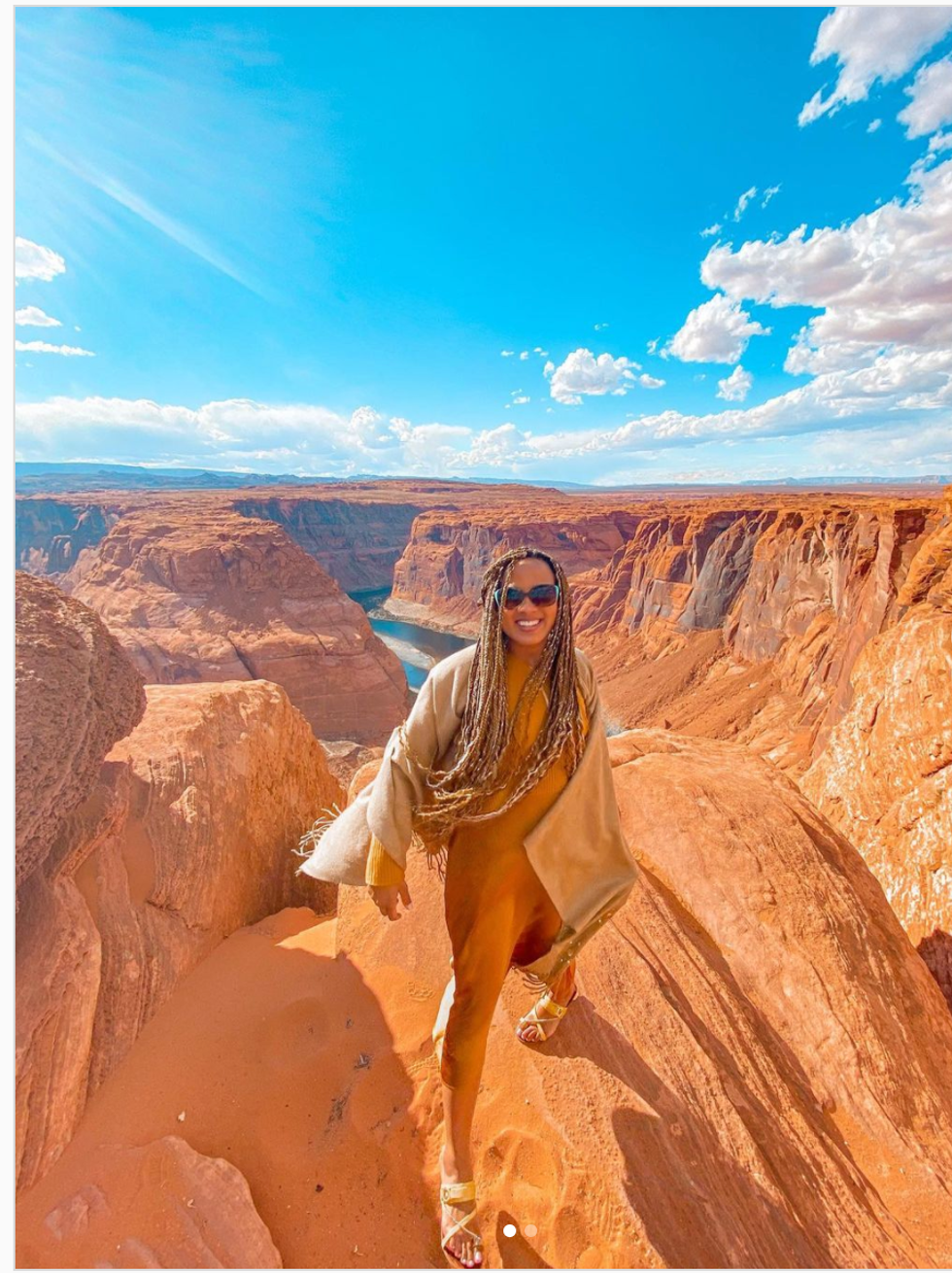 Courtesy of Gabby
"My biggest tip would be to start small. So try to warm yourself up, you know, don't feel pressured by society or social media. Don't do it for the 'gram. Do it for yourself. Start off by going to dinner by yourself once a week, or going to a movie by yourself. Just doing the small things and realizing that it's not scary. I definitely plan out a lot, at least outline a lot. But I leave the room to be flexible.
"Some things that I for sure do are ask around the Facebook groups and check out which parts of town are safe and which are not. I try to find at least one or two people on the ground. I'll ask on my social media for just one or two people who have been there before or live there, or are there right now. When I look at Airbnb, I usually try to go with a female owner or a female point of contact, just to ask the questions I really need to ask, like where can I buy tampons in Croatia."
"And here's the thing with safety. People will swear that everyone is following them. And everyone is like, stalking them. I'm like, you know, things do happen so definitely stay aware. But girl, if it's not happening in your home city every single day, it's definitely not going to happen abroad. And honestly, sometimes the cities abroad are safer. You're going to feel like people are staring at you. I felt people were like, 'Are you seriously by yourself?' 'Are you OK?' 'What's wrong with you?'. But you're going to get through that and be like, 'OK, that's a projection that they have and it has nothing to do with me. I'm enjoying myself and it's fine.' So once you warm up to that, I think that it will help you actually enjoy your solo trip.
"Women deserve to be selfish. And that's why I really hope more women solo travel. You get to wake up and do what you want to do all day long. You can cancel all your plans. You can rearrange them. You can meet other people or you can stay by yourself. I think it's such an empowering experience for women. And even though maybe on paper it's scary or just overwhelming to think about, when you actually take it step by step it's the best experience you could have. I think everyone should try at least once."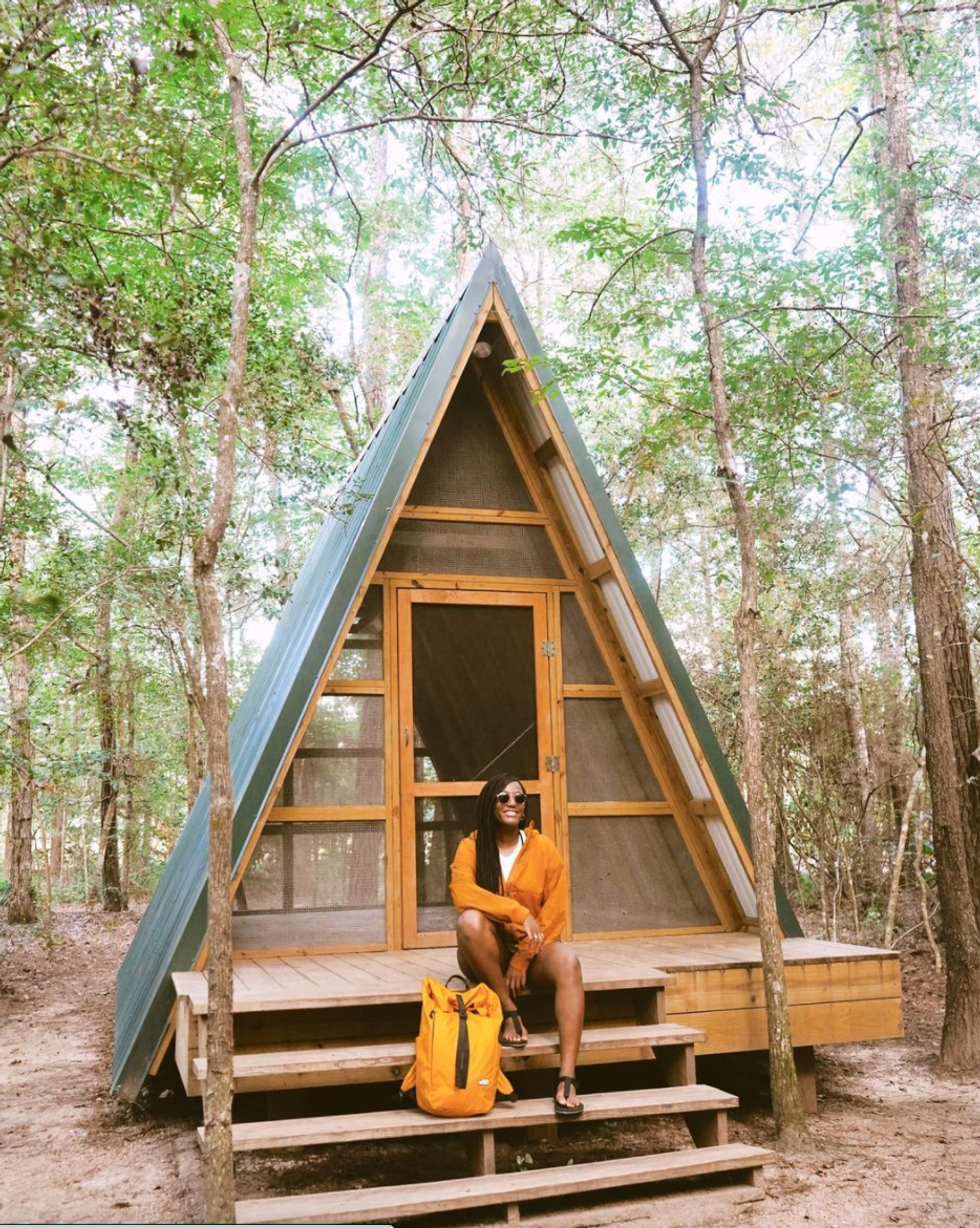 Courtesy of Ciara
"I took my first domestic solo trip to San Francisco and I took my second international solo trip to Costa Rica. I was tired of waiting for schedules, budgets, etc to align with family and friends. I knew I wanted travel to be a major part of my life, so I needed to take the leap to go - with or without anybody by my side. I enjoyed my own company and I wanted to further challenge myself to pursue my interests even if it meant I had to do so alone. This was critical to pursuing my version of a fulfilled life!
"My favorite adventure was my three-month solo backpacking trip after quitting my job. I bought a one-way ticket to Mexico and backpacked all the way down to Colombia over the course of three months. I learned Spanish, lived with strangers, tasted foods I'd never heard of, fell in love, etc."
"I always advise women to do their research and share their location with at least two other people. You should carry yourself with confidence, be strategic when selecting accommodation, and pack light as possible for convenience. Avoid sharing your location in real time and follow your intuition at all times!"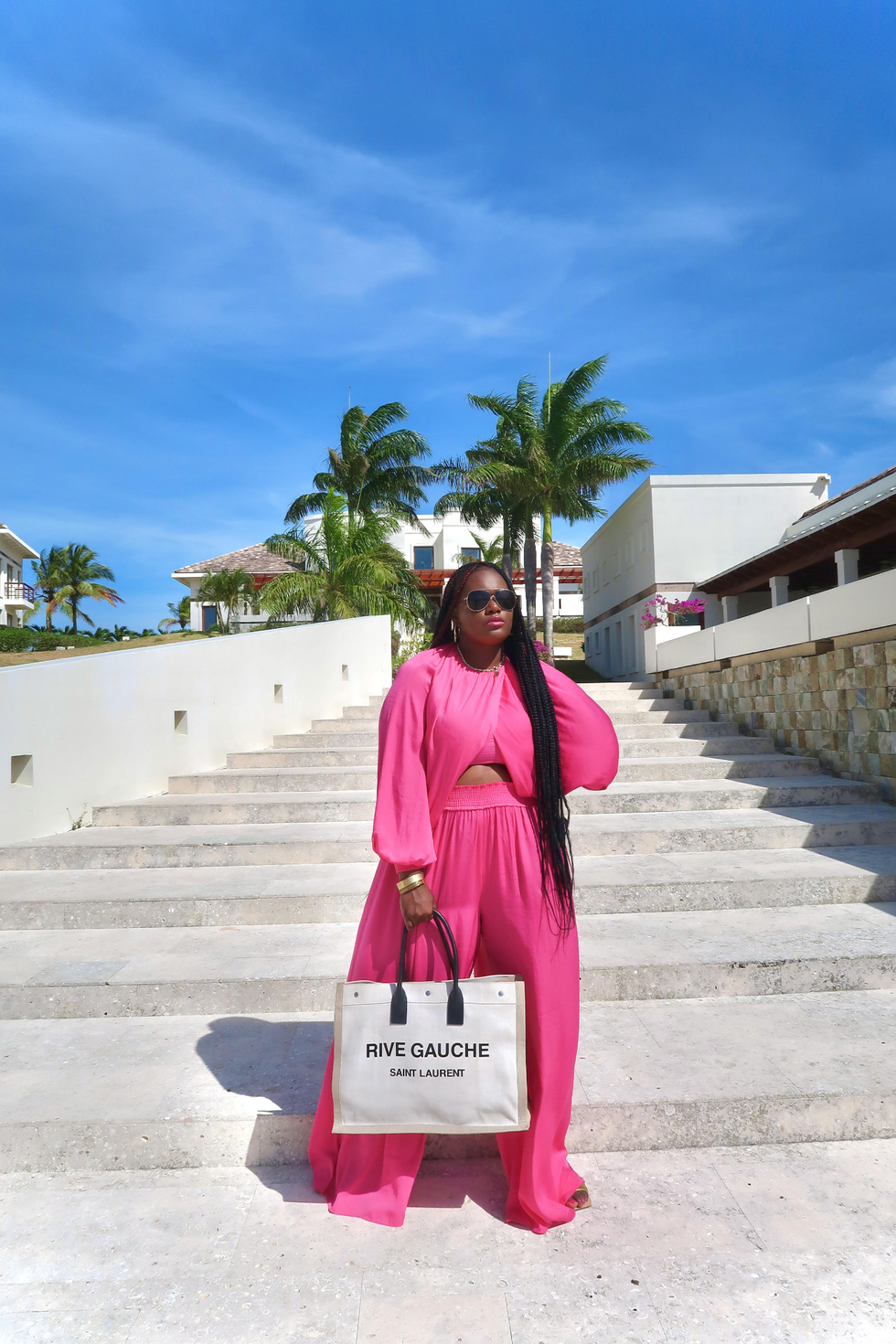 Courtesy of Devorah
"My first solo trip was to Peru in 2017. I found an insane flight deal from NYC to Peru for $389. Usually these flights are between $600-$700. When I reached out to who I normally travel with, none of them could make it due to scheduling conflicts, budget, etc. So I had a choice, do I give up this rare flight deal or swallow my fears and go? Luckily, I made the right choice. Statistically, you have a higher chance of being harmed in your home city/country than you are anywhere else. To shake the fear requires a mindset change. Instead of thinking about what can go wrong, do your research and follow procedures to avoid these things as best as possible.
"Stay in a busy tourist area to avoid feeling alone, book tours with reputable companies on Tripadvisor so you can meet like-minded people like yourself. I always check the reviews for any accommodation I stay in. I also make sure I do not arrive at night regardless of how cheap the flight is. It's not worth the risk of navigating to your accommodation at night while alone. Additionally, there are lots of resources on solo travel that have made my life easier. Pinterest has helped me a lot with planning and finding other female travelers who have shared their solo experiences."
"My favorite solo trip was to Mauritius in 2020. I wasn't planning on going but I was already in the Seychelles and found a round trip flight there for $400 (it's usually $800+ from NYC), so I went with 48 hours notice. Not much time to plan but I was able to wing it thanks to Pinterest and a great hotel staff. I rented a car and drove throughout the island. I almost didn't make it home because I loved it that much.
"Solitude is one of the best forms of self-care. There's no better feeling than taking some time (even if it's a weekend) to only focus on YOU and what you want. From someone who's now been to more than 10 countries solo, this freeing feeling will outweigh your fears."
Featured image courtesy of Sabrina @With.Love.Brina
Visiting the Bahamas for the first time exceeded my expectations, even in the middle of a pandemic. Between the rich culture, flavorful foods, rhythmic music and beautiful beaches, this Caribbean paradise has so much to offer for all types of travelers. I stayed in Nassau, which is the capital of the Bahamas and one of the most popular island ports for cruises. Tourism accounts for more than 50 percent of the country's gross domestic product (GPD) and employs almost half of the Bahamian workforce, so spending my money directly on the island was important to me.
I felt a warm welcome from every single Bahamian I came across for the entirety of my trip, which made me feel more at home than on vacation. So let's get to where to stay, what to eat, and all the fun things to do in and around Nassau so you can start planning your trip now!
Things To Know About The Bahamas Before You Travel
Traveling during a global pandemic means an added layer of research and additional steps to take in making sure you are prepared to travel to your destination. This destination requires you to apply on their website for a Bahamas Health Travel Visa, and the application takes about 5 minutes to complete. There's also a $40 fee.
According to the most recent regulations, all travelers to the Bahamas must provide proof of a negative COVID-19 test taken no more than 5 days before arrival. I was approved within 24 hours of completing my application and uploading my documents, so it's a super-quick process, but you'll want to get your approval ahead of your trip. (And be sure to check the travel visa website closer to the date of your trip, as regulations are subject to change.)
Once approved, you receive a QR code to present at the airport before passing through security. Try to arrive early to ensure you have enough time to get your documents checked because you don't want to get left behind because you don't have all your ducks in a row.
Where To Stay In The Bahamas
Airbnb: Thirty Six
For some destinations, I prefer to skip the resorts and go for a more local accommodation like an Airbnb. After doing lots of research, I decided to stay at Thirty|Six Condominiums, a luxury condo on Paradise Island.
When I say that it's a newer, luxury condo, I mean it. In the taxi ride from the airport, our driver joked that we must be celebrities because only famous people stay there.
The one-bedroom condo had one full bathroom and one half bathroom, a walk-in closet, a washer and dryer, a large wrap-around balcony, and a completely renovated kitchen. I truly felt like I was living a fabulous life in such a beautiful space.
The property had a 24-hour security booth, parking, a gym, and a beautiful infinity pool where we could lounge all day long. The security guards were great for helping us get a taxi or giving restaurant recommendations. I would for sure stay there again next time.

Hotel: Atlantis Paradise Island
Chances are if you start to research anything related to the Bahamas, you've heard of Atlantis" target="_blank">Atlantis has shown up. Located on Paradise Island, it is one of the top rated hotels in all of the Bahamas. Now just know, if you want to stay at Atlantis, you are going to be paying a pretty penny, but it's full of delicious restaurants, a beautiful beach, a water park, a rooftop bar, a casino, and so much more. If luxury is your thing—or just having everything right there—you definitely want to consider paying the extra money for the convenience of Atlantis.
Where To Eat
The Bahamas was filled with so many delicious restaurants, it was truly hard to narrow it down to just a few. As with most islands, the seafood was super-fresh and the hospitality was pleasant.
Conch is a true Bahamian specialty, so be sure to try conch fritters and conch salad everywhere. I honestly had conch fritters every day.
And of course, rum is the true star of any island vacation so I recommend a Bahama Mama or rum punch for lunch and dinner. Everywhere that I ate was spectacular, but here are some of my favorite must-try places for good eats.
Viola's Bar and Grill
Multiple people suggested eating at Viola's, and it did not disappoint. Located in walking distance to most hotels on Paradise Island, Viola's is the perfect spot to grab lunch or dinner. Outside of the delicious Bahamian food, Viola's also has great entertainment like karaoke nights. Don't miss trying the conch fritters (duh!) and the shrimp mac-and-cheese which can be made spicy. Also, ask about the super-sized drink upgrades, because why not?
Green Parrot
This spot is located right on the harbor, so it serves up delicious eats with fantastic views. The service was great and the drinks had me whining in my chair to the reggae music.

Sonia's Jerk
If there is just one thing you follow through with after reading this guide, let it be a visit to Sonia's Jerk Hut on the beach. Located right on the beach, this cute little spot serves all of your Caribbean favorites, and the owner Sonia is super sweet. The restaurant prides itself as the "best jerk on the island," and I did not see the lie. The jerk chicken was thebomb.com. Oh, and don't sleep on her spicy sauce because it packs a punch! Another great thing is that the food comes in to-go containers so if her tables are full, just grab your food and eat it right there on the beach.
Latitudes
Latitudes is where you go when you want to dress up and spend a little more for dinner. Their menu is a fusion of different cuisines that includes sushi, pizza, steak, and noodle bowls. Dinner can fill up quickly so be sure to make a reservation.
Arawak Cay Fish Fry
Fish Fry is not a specific restaurant but a designated strip of different restaurants serving up fresh and delicious seafood. There isn't one specific place I can recommend because I tried so many that were good, so I suggest you treat it like a bar-hop. Stop at one place for the conch fritters, then go a few doors down for some fried snapper, and then try the rum punch and shrimp at another spot.
Later in the evening, this area is vibrant, with music playing and lots of locals and tourists wandering around looking for their next spot to eat. I visited twice and had some of the best conch fritters and rum punch at one of the smaller spots.
What To Do In The Bahamas
When on vacation, it's not always necessary to have a full itinerary. Sometimes you just gotta relax and go with the flow. The Bahamas is great for both travelers who want to lounge on the beach with a cocktail all day and those who are looking for adventure. If you want to make the most of your time, here are some suggestions for things to do and places to visit to get the authentic Bahamian experience.

Junkanoo Beach
Located just minutes away from downtown Nassau, Junkanoo Beach was the best beach for hanging out and enjoying the crystal blue water. I found the water to be calmer and more shallow, which is perfect for those who just want to enjoy the water without going out too deep or worrying about large waves. There's also a strip of bars and restaurants right along the beach (including Sonia's Jerk Hut), so you can easily spend a day here just relaxing and catching vibes. Take a walk a little further down and you'll end up right at the start of the Fish Fry. Win-Win!

Snorkeling Boat Cruise
What is vacation if you don't find yourself on a boat at least once? The water surrounding the Bahamas is just too beautiful not to see up-close and personal. There are a number of boat cruises that will take you to different islands and some trips include stops for snorkeling and lunch. The cruise I took included snorkeling near green turtles, bottomless rum punch, and a stop at a restaurant on Rose island, complete with a DJ and time for ordering food. Need I say more?
John Watling Distillery
When in Rome, or in this case the Bahamas, do a rum tasting! This historic distillery has been pushing out hand-crafted Bahamian rum since 1789 and is worth the visit. Stop by for rum tastings or a free daily tour, and grab a bottle (or two) to bring back to the states.
Hideaway Floating Bar
A floating bar in the middle of the ocean with good drinks and vibes? Sign me up! Hideaway is literally a floating bar and grill located in the water near Athol Island, which is just off of Paradise Island. Open on weekends only, catch an hourly speedboat out to the bar and spend the day hanging out by the bar or lounging with your feet in the water as you take in the views. Be sure to go early, because once it fills up, you have to wait until people leave to go over.
Exuma Island

I know everyone has seen the photos of folks visiting the Bahamas and being on an island full of large pigs called Exuma. There you can visit the pigs, swim with sharks, and just enjoy the beautiful views. It's a separate island from the one Nassua is located on, so if you want to swim with the pigs you will have to book a flight which takes about 40 mins or book a boat tour which can be around 3 to 4 hours via speedboat. It's a long journey, but worth the Instagrammable photos with a piglet and his family.
Cacique Bar and Lounge
If you're like me, then you enjoy venturing out to experience nightlife when visiting new places. The Bahamas did not let me down when it came to having fun, and Cacique was one of those places that I wanted to go back to every night if I could. Located not too far from Junkanoo Beach, it's an outdoor spot that has all the vibes. I'm talking about good food, strong and cheap drinks (hello $10 top shelf), hookah, and a DJ playing everything from soca to hip-hop. Do yourself a favor and plan at least one fun night out to dance and have fun at Cacique, and depending on the day you might find yourself enjoying karaoke, paint and sip, or Ladies Night.
For more travel stories, tips and tricks, check out the xoNecole travel section here.
Featured image by Getty Images
It's natural to want to slow down and remind yourself of your wants, needs, and goals. I feel like this last year has tested me in so many ways that oftentimes I've given up hope on the things that I really wanted for myself. As I revisited my 2021 vision board, I realized that visuals were not enough, I needed to write down what I wanted and how I was feeling, and this came out in the form of affirmations.
While it may be easy for us to dream of all the things that we want out of life, sometimes saying it out loud can build our confidence to actually attain these things. Affirmations can be used for every area of our lives, as a way to reaffirm the things we know and affirm the things that are still to come. Last year may not have gone how we wanted, but we still have time to make 2021 the best year yet. I believe there is power in the tongue, so below are 12 affirmations to put out into the universe to solidify this being the year that you do nothing but shine. You ready, sis?
Positive Affirmations for Love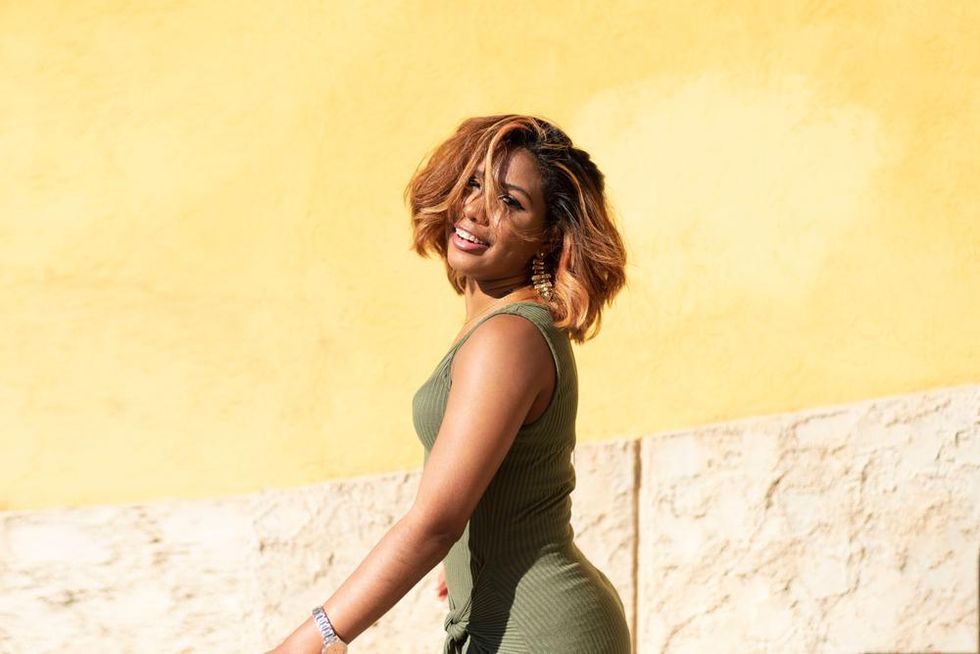 Shutterstock
"My heart is open and ready to receive love."
Wanting companionship and love is one thing, but actually feeling open and ready to experience it is another. It's one thing to say you want a boo this year, but have you opened yourself to receive it when it comes? This year we are recognizing how deserving we are of wonderful, sweep-you-off-your-feet love, and preparing our hearts to take it all in.
"I don't need to do anything to be worthy of love."
Let's stop this narrative that some people are more deserving or worthy of love than others. We are all worthy of that kind of love that surprises you with how good it feels. Your mistakes don't void you of your worthiness for love, just as doing right in the world doesn't put you in the front of the line. There is nothing extra or special we need to do to be deemed worthy of love, except just being. This affirmation is true for friendships, romantic relationships, and even family ties.
"I choose love over fear."
This affirmation is for those who may have been hurt by love before, or those who just have given up on finding the right person. Being vulnerable and open to love can be scary, intimidating, and sometimes disappointing. But don't let the past, and fear of the future, get in the way of you experiencing the love that is waiting for you. Even in the best relationships, we can experience fear of losing it, or making a mistake, but push that fear aside and let love guide you in this journey.
"The love I seek from others must begin within me first."
You didn't think I would end this section without an affirmation about self-love, did you? Before we start opening up our minds and heart to receiving love from others, we have to practice that same loving on ourselves. When we cultivate self-love, it's so much easier to know how to love someone else, as well as know what kind of love we truly crave. The only thing better than being loved by one person, is being loved by two. Let that second lover be you, sis.
Positive Affirmations for New Opportunities
"I have limitless potential."
Say it loud and proud: I have limitless potential! 2021 is the year we are facing new opportunities with the confidence of a mediocre white man. There is no limiting what we can and can't do this year because there is no limit to what we can achieve and what we are capable of doing. Don't you dare let self-doubt or the haters block you from what is already yours: anything and everything you want!
"I am grateful for what I have and for what is coming to me."
Before the new blessings flow in, take a moment to express gratitude for everything you already have in your life. This affirmation is confirmation that you have a divine appreciation for what your life currently is, and are therefore ready to welcome in new and better. There's power in expressing thankfulness right now for what has not happened yet, proving that you already believe in what is coming next.
"Every goal and plan I have for this year is achievable."
There are no big or small goals this year, just goals. Period. Every goal you set for yourself can be met, and it starts with your mindset. If you tell yourself that the goal is too big or might be out of your reach, you're already setting yourself up for failure. WIth every step you make towards that end goal, stop and remind yourself that it is attainable and right within your reach.
"This year I will welcome an abundance of wealth and prosperity. Money will come to me in both expected and unexpected ways."
Where are we going this year? Where the money resides, and nowhere else! This affirmation is about boldly accepting that you are deserving of more money and more wealth, and it is coming to you tenfold. We are no longer settling for less, and instead are committing to reaching our financial goals, and then tripling them. Say hello to financial freedom and increased prosperity.
Positive Affirmations for Life in General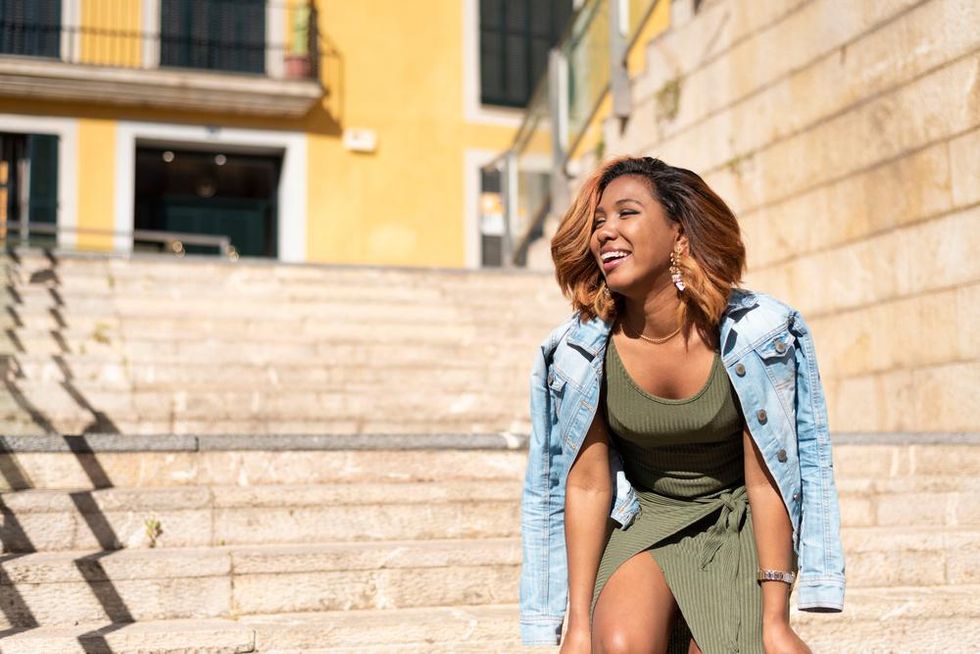 Shutterstock
"I am allowed to be new."
We have a new 365 to do better and be better, and anything that stifled our growth and potential in the past is a thing of last year. You have permission to make mistakes and then start over, to let go of what isn't working, and to hit refresh when things aren't going how you want them to. This is not limited to this month; a fresh start can happen at any time and anyplace. Release yourself from that guilt and move on.
"I am ready to see things differently in 2021."
A positive mind will always yield positive results. Let 2021 be the year you let go of negative thinking and welcome the blessings that are coming your way. If last year didn't go as planned, this is the year to have another outlook on life, love, and any other goals you have. Even when things don't go as planned this year, stop looking at it as a failure and start seeing it as a sign that it wasn't meant for you in the first place because better things are on the way.
"My magnetic energy draws amazing opportunities and people into my life."
Being your true, amazing, authentic self will attract similar things and people into your life. Remind yourself that you are a dope individual with amazing energy, and this will always bring the best people and things into your world. Trust that you don't have to fight for attention or try to be something you are not in order to attract the things you deserve.
"I have faith in myself and in my abilities. It is impossible for me to fail."
Say that last line one more time out loud: "It is IMPOSSIBLE for me to fail." Failure is not an option when you are confident in your abilities, and begin to look at things from a different perspective (reread the affirmation above if you need help with that last part). Just know that you have all the skills and tools to accomplish any and everything you set out to. That faith that you have in your own abilities will give you a boost to walk confidently into success.
2021 will be the year that you unapologetically claim everything that is yours.
Are you a member of our insiders squad? Join us in the xoTribe Members Community today!
Featured image by Shutterstock

I like my coffee how I like my men: hot, strong and BLACK!
In the early stages of quarantine, with most coffee shops closed down, many of us turned to brewing our own cup of joe at home to get our fix. Whether you went the quick and easy K-Cup route, or prefer to ground your beans from scratch, we can all agree that the perfect cup of coffee has the ability to turn around even the worst of workdays.
For many of us coffee lovers, a cup of morning coffee is a necessity for setting the tone for our day. So, why not switch up your usual at-home caffeine fix by placing your dollars into some dope Black-owned businesses? If you want to step away from the Starbucks and Dunkin Donuts brand coffee to rise and grind for the real thing, order yourself some specialty coffees from one of these Black-owned coffee companies to keep you warm and toasty this fall.
10 Black-Owned Speciality Coffee Brands To Shop Online
BLK and Bold Specialty Beverages
Started by childhood best friends, Pernell Cezar and Jarrhod Johnson, BLK and Bold offers a variety of specialty coffee and tea blends with creative names such as Rise & GRND. The brand was the first Black-owned to be distributed nationally, now being sold nationwide at select Targets, Whole Foods Markets, and on Amazon. And if you needed any more reason to support these young men, the company pledges 5% of profits to local nonprofits, so your business will directly impact at-risk youth.
"If Dizzy, Basquiat, & Elijah McCoy roasted coffee, it would taste like Three Keys." That's the line you will find on the website of this Houston based craft coffee roastery founded by couple Tio and Kenzel Fallen. The name is inspired by the valves of the trumpet, and many of the blends have descriptions with connections to Jazz music. So, pour up a cup of one of their branded blends and vibe out to one of their playlists curated by renowned jazz musician, Jarritt Sheel.
Red Bay Coffee Roasters
Founded in 2014 by artist Keba Konte, Red Bay Coffee seeks to provide coffee that is both high-quality and sustainable. With roots in the Bay Area, this brand also strives to be inclusive in their hiring, including people of color, people with disabilities, the formerly incarcerated, and others from groups traditionally left out of the specialty coffee industry. And don't forget to grab one of their signature merch items that reads "Coffee: Africa's Gift to the World. You're Welcome."
Beanfruit Coffee Co.
M-I-crooked letter-crooked letter-I. I think you get the point of where Beanfruit Coffee Company got its humble beginnings. Though founder Paul Bonds was not a huge fan of coffee for a while, introduction to specialty coffee led him to experimenting with different types of coffee and eventually roasting his own. On the website you will find Colombian, Ethiopian, and Sumatran blends that can be purchased whole bean or grounded.
Historic Noir Coffee Group
Historic Noir Coffee Group is an Atlanta-based coffee company started by ATL native Ricardo Richardson, who then brought on two of his childhood friends to bring the vision to light in an industry where Ricardo didn't see a lot of minority representation. Staying true to the city that made them, each blend is named after the respective neighborhood that they grew up in: Decatur, Fourth Ward, and West End.
2 Bros Coffee Co. of Dallas, Texas offers the freshest gourmet coffee by the pound or in convenient K-Cup packs. Another specialty of theirs is CBD-infused coffee that can be delivered right to your door.
Signature Blends by KF
2020 has come with a lot of surprises, and one of them was discovering that Kim Fields has her own brand of coffee. Yes, thee Kim Fields! Based out of Atlanta, Signature Blends by KF has been putting out quality coffee, teas, dry rubs, and other beverage-related products since 2017. So, order a bag of a medium roast, and get some sweet and savory dry rub for your steak while you're at it.
BD Imports
Dating back to 1999, BD Imports has strived to not only provide high quality coffee, but also champion women's empowerment and gender equality. They offer three blends of coffee beans, and both decaf and caffeinated coffee pods.
Dope Coffee
Dope Coffee is what you'll find at the intersection of premium coffee and black culture. Founder and CEO Mike Loyd aims to show that Black people and Black culture should be seen in every aspect of coffee culture. Along with coffee, the brand also sells coffee-infused syrup, body scrub, and beard and scalp syrup.
CariBBrew 
CariBBrew is a Black women-founded and -owned coffee company providing coffee beans straight from Haiti. Though natural catastrophes that impacted the island slowed down the company's production, they continue to work in partnership with small scale coffee farmers in Haiti to grow the best quality beans, while also creating long-term, sustainable jobs on the island.
Join our xoTribe, an exclusive community dedicated to YOU and your stories and all things xoNecole. Be a part of a growing community of women from all over the world who come together to uplift, inspire, and inform each other on all things related to the glow up. We drop xoNecole events and special opportunities into our Tribe first.
Featured image by Shutterstock