When you're closing in on the big 3-0, you naturally want to celebrate in a grand way. For my husband's birthday, choosing the destination was easy. Deciding if we would bring our toddler with us was another story.
---
I have no problem admitting that I am an overprotective mama bear. My daughter is damn near two years old, and she has only been babysat by three family members for no more than a few hours at a time. Daycare you ask? Nope, shorty is with mommy 24/7. So, when hubby started throwing around the idea of a baby-free vacation, I wanted to be cool and give this hard-working man everything he wanted for his birthday, but internally I was in a panic.
Ultimately, he wasn't comfortable with spending so much time away from his little girl either. After all, we vowed to be that black couple that traveled the world with our kids in tow. So, off we went on our first family trip to Cuba. And you know what? We discovered that Baecation-ing with a tot is totally doable. If you're down to make a few adjustments, you can definitely sneak in sexy time with bae while traveling with small children. Here's how: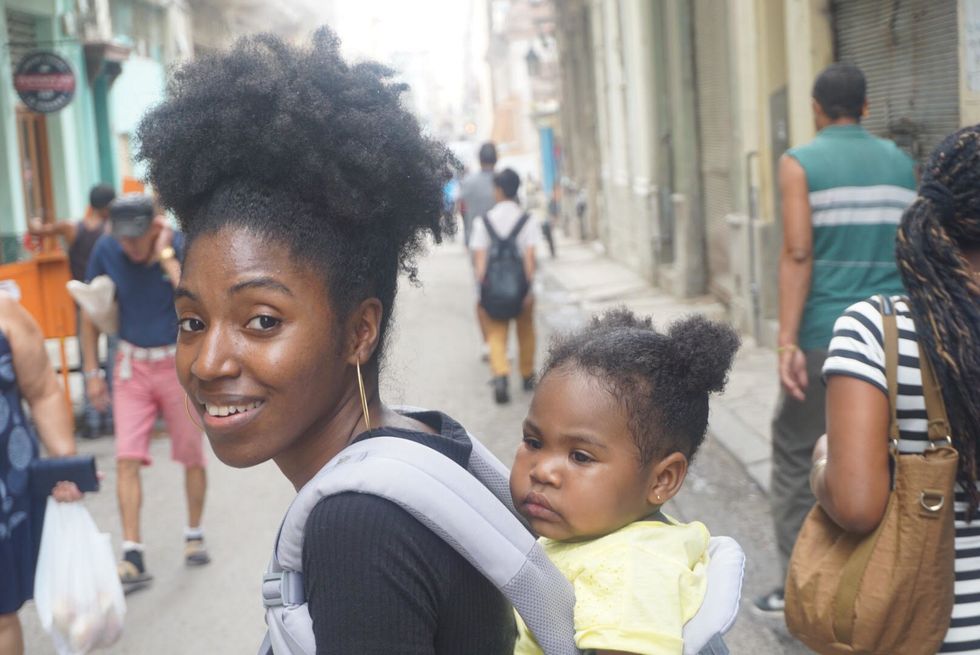 Writer Alisa in Cuba with her little one in tow
Stick to a Schedule
If your child is anything like mine, she functions better on a schedule. A missed nap or snack will transform your little angel into the Tasmanian devil and ruin everybody's good time. Stick to your usual nap routine. It's been proven that children who nap during the day sleep better at night. Don't fret about losing precious daylight. This presents the perfect opportunity for you two to squeeze in some alone time. If you've planned a full day excursion and cannot get your kid back to a room for a nap, a baby carrier will be your best friend. The Ergobaby is our favorite, but there are plenty of other that also hold up to 44 pounds.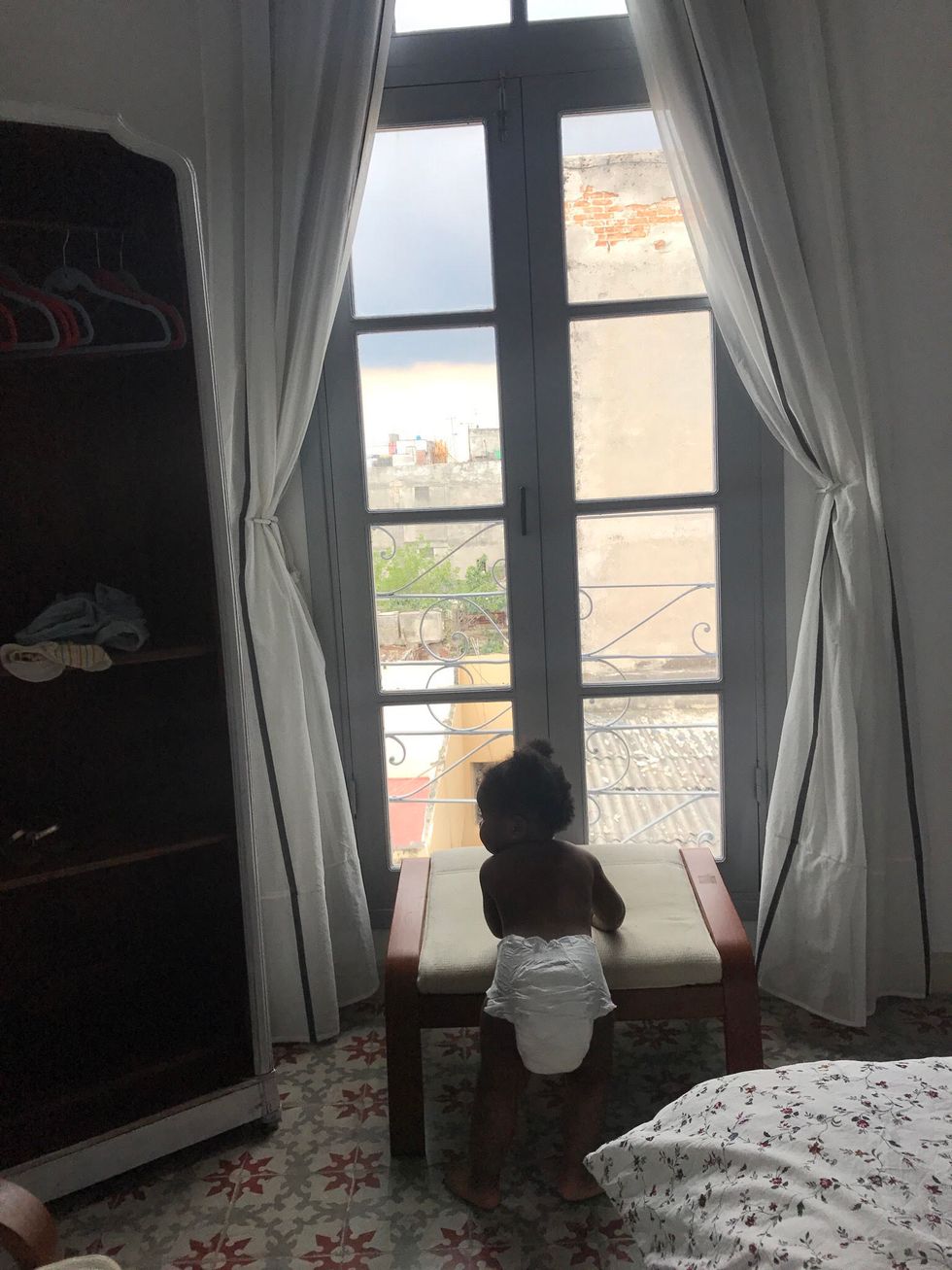 Ditch the Hotel and Opt for an Airbnb
It's hard to pretend that you're on a romantic getaway for two when there's a toddler snoring a few feet away from you. Try to rent a two-bedroom apartment instead of a hotel. When the baby is down for the night, you get what you really flew thousands of miles for, vacation sex.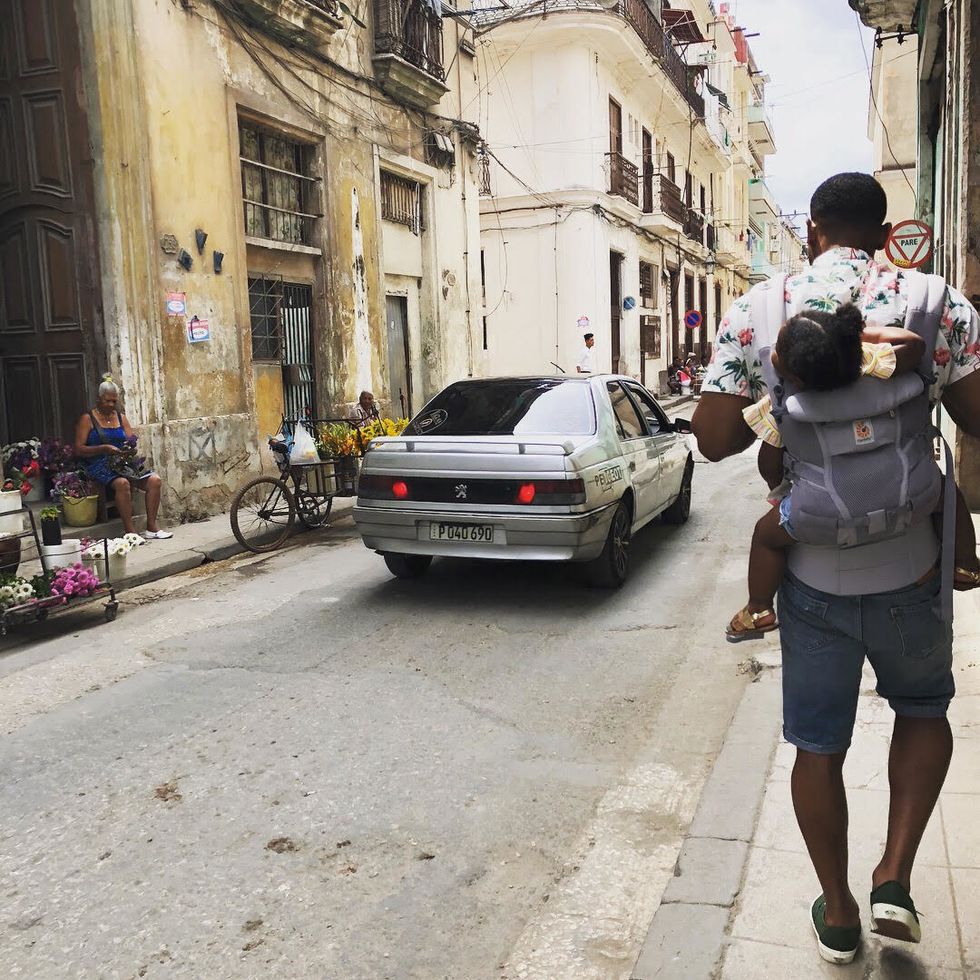 Alisa's husband and daughter wandering the streets of Cuba
Take the Party Outside
After a long day, your baby may be ready for bed, but that doesn't mean you have to call it a night. In the famous words of Lil Jon, "Turn Down for What?" Give your munchkin a goodnight smooch and move your party outdoors. A rental with a private rooftop or a large balcony with a sea view, will make you feel like you never left the beach.
Traveling with your kid will look and feel differently than it used to. Sure, you lose out on the romantic hotel stays where you two have the option of turning a king size bed into a private island. But exposing your little one to the great big world will give you other types of feels. A sleeping child will allow for plenty of alone time. After all, nothing helps a child sleep better than a day full of exciting new adventures.
When the coast is clear, get creative and make it work, even if that means getting it poppin' on a nearby bathroom floor. Just remember not to wake the baby. ;)
xoNecole is always looking for new voices and empowering stories to add to our platform. If you have an interesting story or personal essay that you'd love to share, we'd love to hear from you. Contact us at submissons@xonecole.com