I recently sold all my stuff to travel full-time, and when I told people I was moving abroad, the No. 1 question I got was: "What are you going to do with your hair?" After scouring YouTube and blog posts, I wasn't too confident that I would be able to find someone to do my natural hair in Mexico. Everything seemed so complicated, like a hit-or-miss situation. Well, I finally found someone to braid my hair in Cabo within a week of being here! (So if you need a stylist in that area, feel free to book an appointment with Jane. She did an amazing job.)
---
I still hear Black women say one of their fears of traveling is figuring out what to do with their hair. I'm here to encourage you. Here are my tips for taking care of your natural hair while traveling:
1. Talk to locals.
Google was OK in helping me find a few hair salons, but it doesn't compare to talking to the people who actually live in the location where you'll be traveling. One afternoon, I was walking around the downtown area and struck up a conversation with one of the store workers. That conversation led me to ask if she knew anyone who braided hair, and boom! I was shocked by how easy it was. I simply showed her a picture of the hairstyle I wanted and she immediately knew someone who could do it.
When I'm back home looking for a stylist recommendation, I'd usually ask people, so the same principle applies when traveling.
I suggest talking to locals about everything while you travel. Not only does it help you get out of your comfort zone, but you'll come across places, neighborhoods, restaurants, and events that Trip Advisor can't keep up with.
2. Stick to your go-to hairstyles.
When traveling, I love wearing braids. I've tried wigs and weaves, but because I like to be extremely active and not just lay on a beach (which is totally fine, by the way), those hairstyles usually start to look unkempt after a few days.

I know that if I hit the road with braids, they'll last one to two months which gives me enough of a window to find someone who can redo them when it's that time.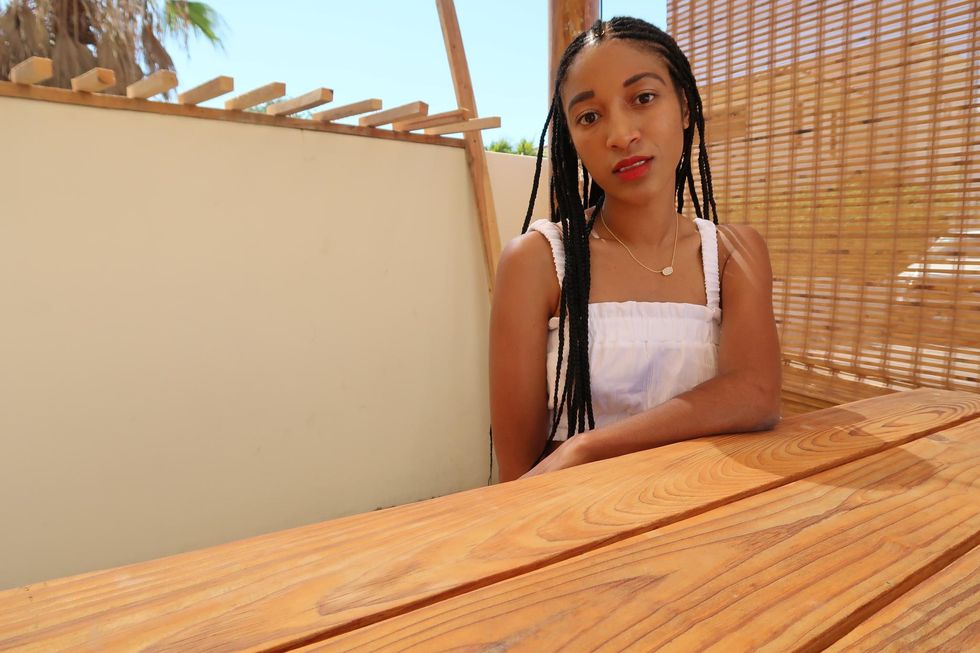 Dominique Jackson/xoNecole
3. Practice at home.
It's always good to know how to style your own hair. It doesn't matter if your hair is relaxed or natural, have a few go-to styles that you can do on your own without the addition of added hair. I have one to two hairstyles in my back pocket that I can do without stress. Hello, flexi-rod set!

Learn how to take care of and maintain your own hair, and experiment with the products that work best for you.
4. Look for essential ingredients.
It's a good idea to pack the right amount of hair products for the length of your trip. When traveling, your favorite hair products might not be available abroad, or, if available, they might not be easily accessible. If you need to shop for hair essentials abroad, look for key ingredients that your particular hair needs. I always try to get products with water as the first ingredient or those that include light oils.

Beauty supply stores such as Sally Beauty Supply have international locations that might have a few familiar natural haircare products. You can also search online for your favorite brand and budget for the cost of international shipping.
5. Use social media.
Social media is also a good tool to use when looking for someone to style your natural hair while abroad. Just make sure you're searching in the correct language. For example, the word "braids" in Spanish translates to "trenzas," so using the hashtag #trenzas brought up more specific results for stylists actually near me.

Also, for any country you are visiting, there's probably a Facebook group for women living abroad who rock their natural curls and styles. Search for keywords such as "Black women," "Black people" and "natural hair" with the name of the country you're traveling to, and a list of results for specific Facebook groups should appear.
And if all else fails, throw on a hat, travel the world, and live your best life, girl!
Featured image by Dominique Jackson/xoNecole