Dominique Jackson
Dominique Jackson is a journalist who covers the intersection of travel, diversity, and culture. She currently runs all things "Girl Around The Globe," where she helps women get out of debt and travel. Reach out to her at hello@girlaroundtheglobe.co. And follow her Instagram @dominiqueJackson.
Have you been dreaming about your 2022 travel goals? If so, consider adding Mexico City to your list of 'must-visit' places. Mexico City is the perfect place for solo travelers. As a digital nomad, Mexico City has been one of my favorite places to work remotely from, build community, and explore all the unique neighborhoods.
I originally planned to stay in Mexico City for one month but stayed for three months after seeing how much there was to explore. Mexico City is filled with endless things to experience, such as museums, galleries, parks, rooftops, and more.
With remote work becoming more popular by the day, it's essential to find the perfect atmosphere to work remotely from. When I first started working from home, I ended up in a routine where I would work from bed, which proved not to be sustainable nor helpful for my mental health. Even with all the perks of working from home, leaving the house and creating separation between your work life and personal life is important.
There is no shortage of places to work from in Mexico City. From co-working spaces to hotel rooftops and even coffee shops, Mexico City has a lot to offer for digital nomads. I'm currently counting down the days until I return. Here are coffee shops you should check out within different neighborhoods of Mexico City.
Featured image by Getty Images
I've been a digital nomad for six months now, with the goal to travel full-time for one year. Out of all the places I've visited, Mexico City is by far my favorite place to stay in Mexico. I originally planned to stay there for one month, but that quickly turned into a three-month stay as I fell more in love with the city.

Once, when I was on a free walking tour, the guide described Mexico City as the "Paris of Latin America." While I've never visited Paris, I could see what she meant. Mexico City is romantic, vibrant, bustling, urban, and charming. There are many neighborhoods to explore and endless food to taste.
It always feels like there is never enough time, but here's what you should do if you only have 72 hours in the city.
Featured image via Instagram/dominiquejackson
As a solo female traveler, I receive lots of questions, and a main one is, "How do I make friends when traveling?" In July, I sold my belongings to start my journey as a digital nomad. Since then, I have visited Cabo, Mexico City, Oaxaca, Playa del Carmen, Tulum, Aruba, Curacao, and Dubai. And that's just in the past six months!
Before I left home, one of my main fears was that I wouldn't make friends. Even as an extrovert, I dread small talk and shallow relationships. I was nervous that traveling full-time would leave no room for deep connections and that I would only have fleeting moments with random people I'd meet.
However, as my journey continues, I've realized that I am never truly alone. We are all more alike than we are different and we all have a desire for deep friendship. If you put yourself out there, you'll find your tribe.
I attended an Alicia Keys concert in Dubai solo and ended up singing and dancing the night away with a group of girls I met there. I stayed in a co-living space in Mexico City for three months and found an incredible community of people to share my time with there. In Oaxaca, I traveled solo and met a group of people at a party, and the following weekend we all met up in Tulum. I love serendipitous moments like these.

Solo travel opens the doors of infinite possibilities to make meaningful connections, so release your defenses, drop all the agendas and show up fully as yourself.
Here are 5 tips for making friends abroad:
1. Be open to new things or unexpected moments.
As a solo traveler, it's completely OK to feel out of place. You are in a new country or destination, after all! Don't be so hard on yourself if you don't hit it off right away with the first few people you meet. Have an open mind about the relationships you are forming and release the pressure. Some friendships might be seasonal, while some might develop into lifelong connections. You are not in control of the outcome, so be open and put yourself out there with no expectations.
2. Utilize social media.
It's called "social" media for a reason. Search for meet-up groups that align with your interests. Join Facebook travel groups, and don't be afraid to shoot your friendship shot in the DMs. Download WhatsApp. I didn't use this platform much before traveling, but it's one of the main apps I use to stay connected to people and find out about cool events happening nearby.
3. Go on free walking tours.
I love free walking tours because they provide you with so much history and context about the country. They're fun and a laid-back way to meet people who are also new to the city. Also, signing up for experiences on Airbnb will allow you to meet people with the same interests as you. You are usually more approachable and likely to connect with people when you show up solo.
4. Choose accommodations wisely.
With remote work and travel gaining more and more popularity, many companies are catering to the needs of travelers. Instead of staying in a hotel, try looking into different co-living spaces and even hostels. One co-living website that I used is called Outsite, and there are other similar options such as WifiTribe, and Remote Year.
5. Step outside your comfort zone.
You have to get comfortable with being uncomfortable. Strike up a conversation first, even if you stumble over your words, and keep going. One of the best things about traveling is meeting new people and broadening your perspective. The world is waiting to meet you!
Featured image by wagnerokasaki/Getty
I recently sold all my stuff to travel full-time, and when I told people I was moving abroad, the No. 1 question I got was: "What are you going to do with your hair?" After scouring YouTube and blog posts, I wasn't too confident that I would be able to find someone to do my natural hair in Mexico. Everything seemed so complicated, like a hit-or-miss situation. Well, I finally found someone to braid my hair in Cabo within a week of being here! (So if you need a stylist in that area, feel free to book an appointment with Jane. She did an amazing job.)
I still hear Black women say one of their fears of traveling is figuring out what to do with their hair. I'm here to encourage you. Here are my tips for taking care of your natural hair while traveling:
1. Talk to locals.
Google was OK in helping me find a few hair salons, but it doesn't compare to talking to the people who actually live in the location where you'll be traveling. One afternoon, I was walking around the downtown area and struck up a conversation with one of the store workers. That conversation led me to ask if she knew anyone who braided hair, and boom! I was shocked by how easy it was. I simply showed her a picture of the hairstyle I wanted and she immediately knew someone who could do it.
When I'm back home looking for a stylist recommendation, I'd usually ask people, so the same principle applies when traveling.
I suggest talking to locals about everything while you travel. Not only does it help you get out of your comfort zone, but you'll come across places, neighborhoods, restaurants, and events that Trip Advisor can't keep up with.
2. Stick to your go-to hairstyles.
When traveling, I love wearing braids. I've tried wigs and weaves, but because I like to be extremely active and not just lay on a beach (which is totally fine, by the way), those hairstyles usually start to look unkempt after a few days.

I know that if I hit the road with braids, they'll last one to two months which gives me enough of a window to find someone who can redo them when it's that time.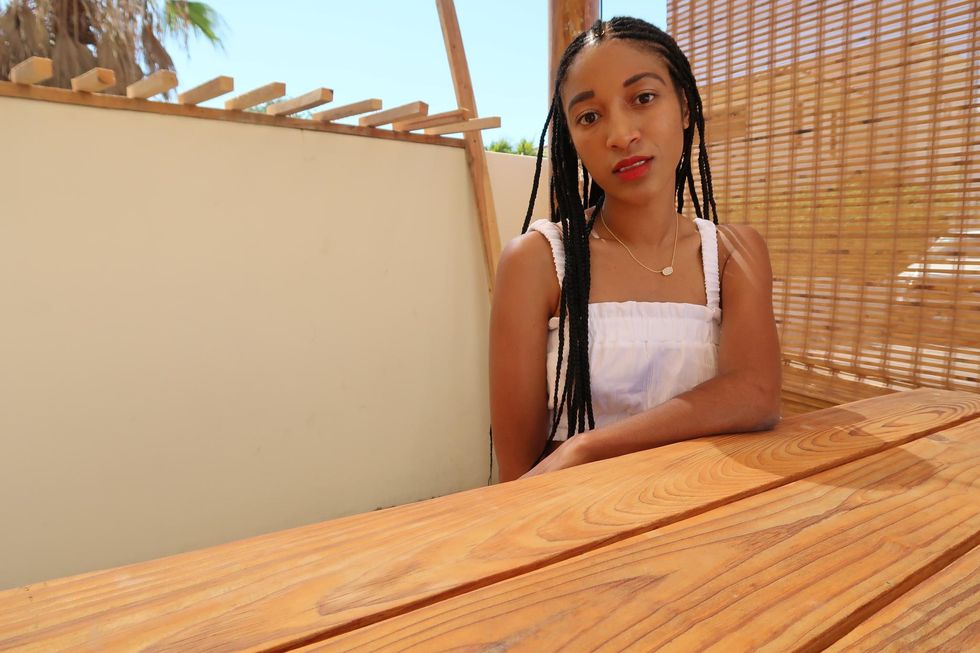 Dominique Jackson/xoNecole
3. Practice at home.
It's always good to know how to style your own hair. It doesn't matter if your hair is relaxed or natural, have a few go-to styles that you can do on your own without the addition of added hair. I have one to two hairstyles in my back pocket that I can do without stress. Hello, flexi-rod set!

Learn how to take care of and maintain your own hair, and experiment with the products that work best for you.
4. Look for essential ingredients.
It's a good idea to pack the right amount of hair products for the length of your trip. When traveling, your favorite hair products might not be available abroad, or, if available, they might not be easily accessible. If you need to shop for hair essentials abroad, look for key ingredients that your particular hair needs. I always try to get products with water as the first ingredient or those that include light oils.

Beauty supply stores such as Sally Beauty Supply have international locations that might have a few familiar natural haircare products. You can also search online for your favorite brand and budget for the cost of international shipping.
5. Use social media.
Social media is also a good tool to use when looking for someone to style your natural hair while abroad. Just make sure you're searching in the correct language. For example, the word "braids" in Spanish translates to "trenzas," so using the hashtag #trenzas brought up more specific results for stylists actually near me.

Also, for any country you are visiting, there's probably a Facebook group for women living abroad who rock their natural curls and styles. Search for keywords such as "Black women," "Black people" and "natural hair" with the name of the country you're traveling to, and a list of results for specific Facebook groups should appear.
And if all else fails, throw on a hat, travel the world, and live your best life, girl!
Featured image by Dominique Jackson/xoNecole
I started dreaming about moving abroad when I was about 21 years old. I remember returning from a two-week study abroad trip to Dublin, Ireland having my eyes and mind wide open to the possibility of living overseas. This new travel passion was intensified after graduating from college in 2016, and going on a group trip to Italy. I was intoxicated by my love for Italy. It's hands down my favorite place. However, my post-grad life was one twist and turn after the next. I'm sure you can relate.
The pressure to find a "real job," start my career, launch a business, date, make new friends, move to a new city, and so on. I felt this immense internal pressure to be settled and have my life nice and neat. Honestly, It was anything but. Any time I talked about travelling, I was usually met with questions such as: "What are running from?" Or projections such as "That's so expensive," "Sounds dangerous," or even "You probably haven't found someone cause you travel too much." Ouch, that last one hurt the most.
All of these comments made me hesitant and afraid towards taking the leap. The opinions of others seeped into my mind causing me to think that maybe I didn't have what it takes, and that I would end up broke and homeless in the middle of some remote region. However, there are some dreams I just can't shake. Obviously, the pandemic halted my travel plans, but if we're being honest, I was afraid of the nomadic lifestlye long before 2020.
After being laid off twice, and paying off my student loans, I felt peace and alignment to make this dream a reality. Now that I'm abroad, I'm thankful I did it in God's perfect timing for my life.
If you're ready to move abroad or simply head in the direction of travelling more, here are the steps I took. Never give up on a dream because of the time it will take to accomplish it, the time will pass anyway. So with that mindset, here are 5 things you can do to prepare for your move abroad.
Don't Rush.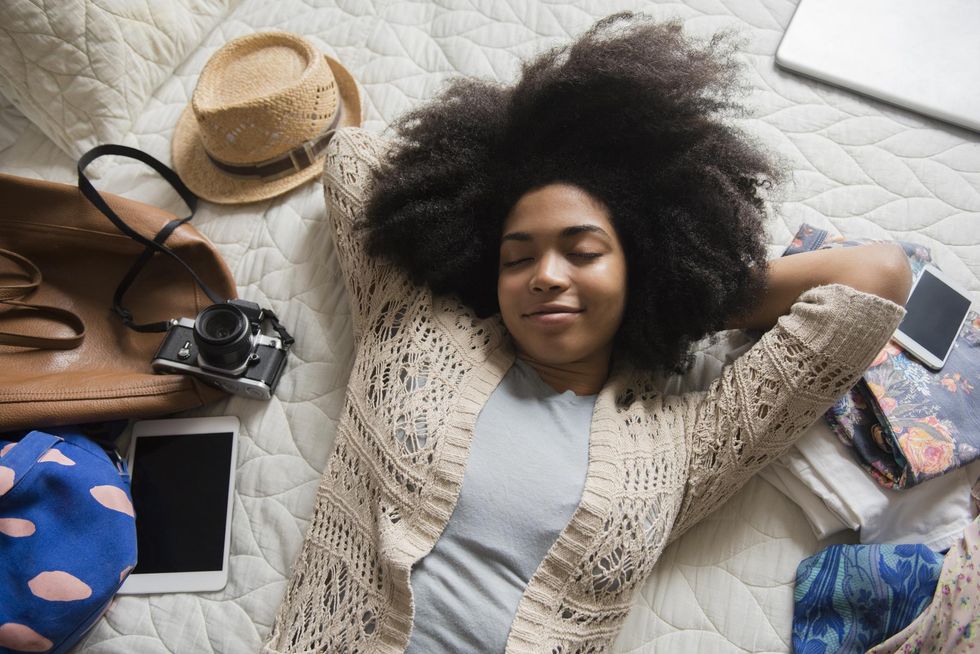 Getty Images
My plans to move abroad got delayed on multiple occasions. But delayed does not mean denied. Looking back, each move set me up for something better. It's easy to want to chase our passions, and keep up with whatever is trending on social media. Yes, travel is one of my passions, but so is being financially stable. For a season, I focused on my financial life. I took side jobs to help me pay off debt, and developed discipline. You don't have to accomplish everything in one day. There is time. No rush, just diligent steps in the right direction. In the end, we'll all get to where we're supposed to be.
Save. Save. Save. 
I know Instagram has conveyed that folks hastily quit their "corporate jobs to move abroad," and that's a cool story, but it's not mine. Take your time to save and create a strategy to move abroad. Identify what type of travel experience you want, and be open. Build out at least six months of an emergency savings, start a travel savings account, create a budget and stick to it. Tokyo will be just as amazing in 2022 or 2025. But do you know what's not fun? Not being able to afford basic life expenses. Save, sis.
Study. Study. Study.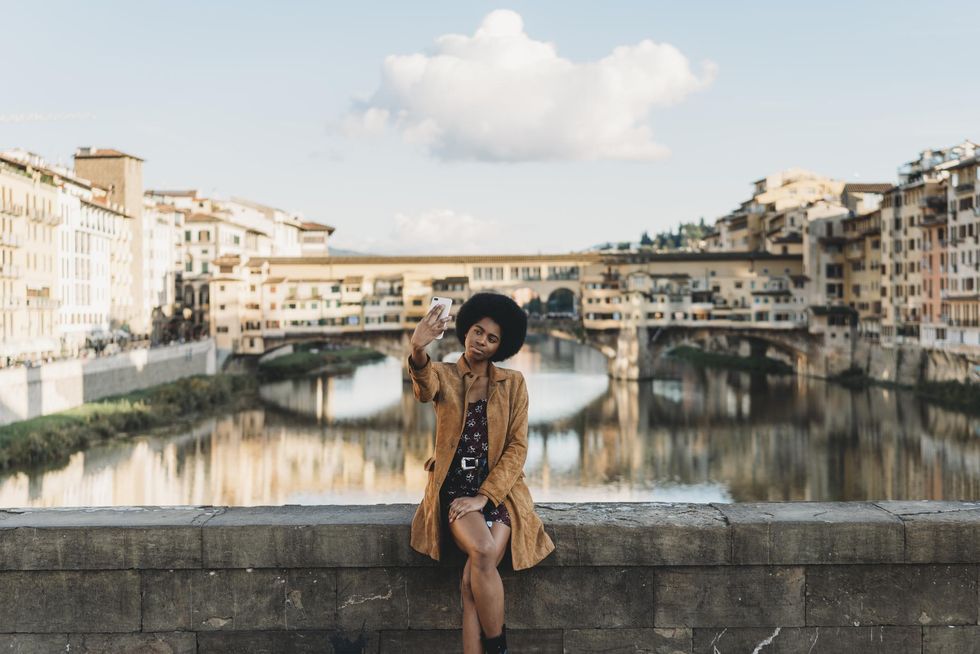 Reading articles like this is a great start. I've taken free courses, read books, followed my favorite travel accounts, consumed blog post after blog post, and all the resources about moving abroad I could find. We are in the information age, so anything you want to find or know is literally at your fingertips.
Your Friends Ain't Coming. Take Action Anyway. 
Your life is yours, and that's it. This is your dream and vision, no one else's. Having a travel buddy, bae, or whatever else is great, but don't let that be the only thing holding you back. Now is a perfect time to live the life of your dreams. A meme was trending on Instagram recently, it said: "Your purpose ain't a conference call." The people who are supposed to be on the journey with you will come, but you have to take the first step. It's absolutely scary. I'm still processing the fact that I sold all my stuff to move abroad, but I did it.
Find Your Travel Crew.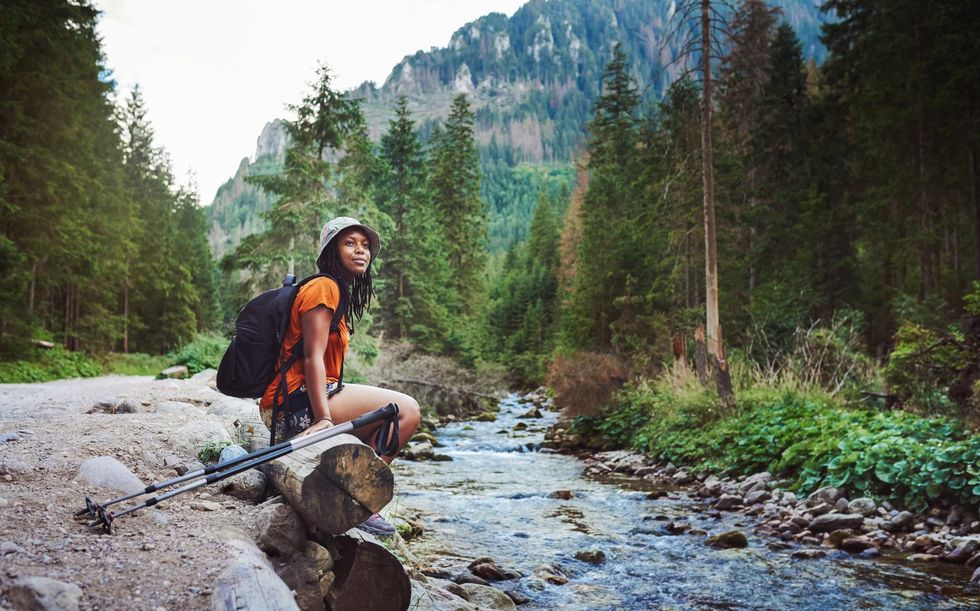 Getty Images
Now, once abroad, there are plenty of resources to find like-minded people. Facebook groups and hashtags are great places to start. If you want to ease back into travelling, then finding a group trip through companies like Dipaways and Wind Collective are great places to start. Work up the confidence to talk to locals or book group tours. We're all looking for connection and friends out here, so remember you are not alone in your desires for community.
To follow along with my journey, check out my Digital Nomad Vlog #1: Saying Goodbye, Surfing, and Natural Hair below!
In this video, I show y'all goodbyes from friends and family, an empty house/co-living tour, a morning surf trip, and what's the heck I'm doing with my hair,...

Featured image by Getty Images

It feels like the world has jolted back to its regularly scheduled ways. Most major cities have lifted some, if not all, COVID restrictions, the vaccine has rolled out, and it seems like everyone on social media is outside. Plus, this new outside is a lot more expensive than what most remember before the coronavirus upended their lives. If you're ready to go outside, I hope your pockets can keep up!
With flight prices increasing, there are a few tried and true methods to snagging cheap tickets no matter the season. I've had the most luck in scoring cheap tickets by using my Chase Sapphire points strategically. I recently got a one-way ticket from Ohio to Detroit for $19.00. In addition to a free night stay at a hotel in the city. Once, I got a ticket for using my points for only $5.00 for a one-way from Washington D.C. to Ohio.
Being budget-savvy is one strategy I used to help pay off my student loans. One of my motivators to paying off $30,000 in loans was to give me the freedom to travel more. There is an art to finding a cheap plane ticket. Clearing your history browser, booking on a Tuesday, and being flexible with dates are standard methods for booking an inexpensive flight. Besides searching on popular sites like Kayak and Expedia to find deals, there are a plethora of others you should triple check before purchasing.
Here are six sites where you can search for cheap tickets, discounts, and more.
1

.

Google Flights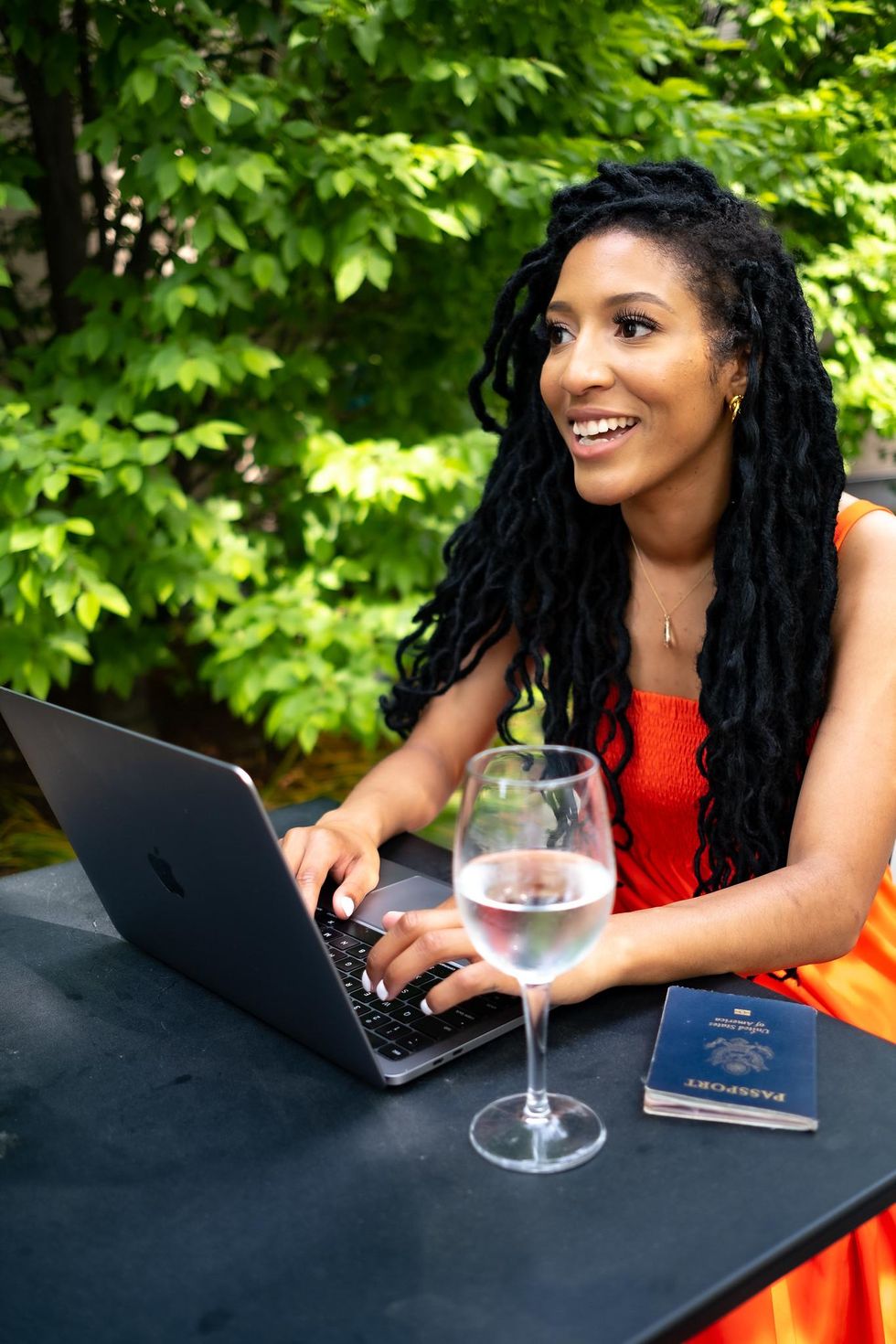 Dominique Jackson/xoNecole
What might seem familiar to some is not common to all. I was a bit shocked when I realized a few of my friends haven't heard of Google Flights. This site is where I begin any search for cheap plane tickets. With its simple interface, it's easier to compare flight prices across different airlines, and the calendar function makes it simple to see what flight prices are like at various times during the month.
2

.

Skyscanner
When planning ahead, Skyscanner is an excellent option to help you track flights. You can download the app and input in your flight information and Skyscanner will send you an alert when the price drops. Using this feature allows you to score the cheapest ticket at the right time. I also love the different options it gives you when booking a flight, such as showing you the fattest route vs. the cheapest way.
3

.

Scott's Cheap Flights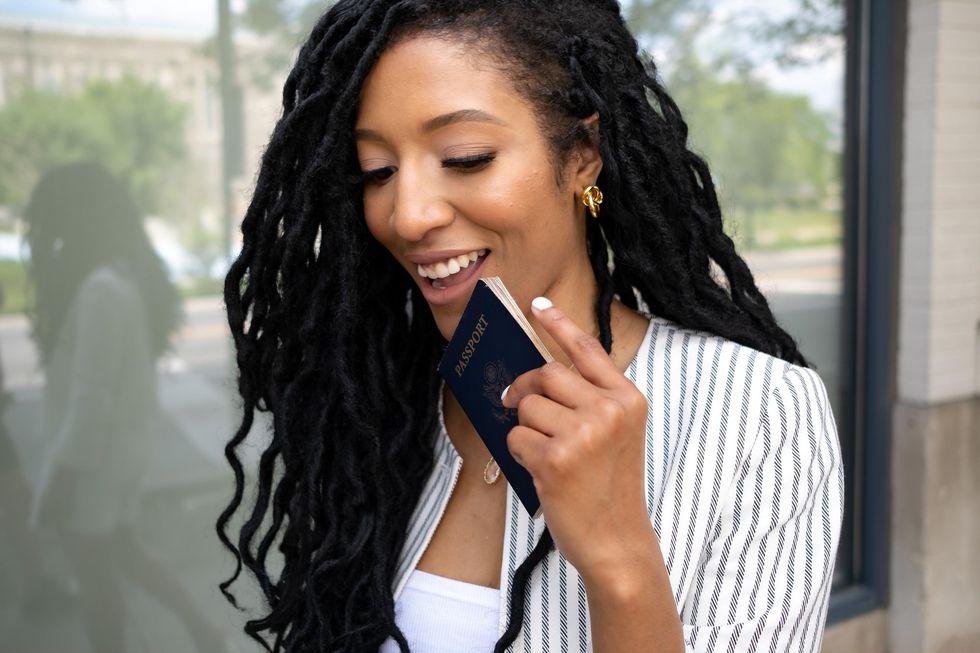 Dominique Jackson/xoNecole
Now for Scott's Cheap Flights, you'll need a paid membership to use, but one of my old coworkers used to swear by it. They pride themselves on "doing the work for you." They have two tiers of membership: Elite and Premium. Once you sign up, you input your information, such as your departure airport. Then watch your emails for the deals to start flowing in, and most deals are between 40-90 percent off.
4

.

Hopper
Hopper is an app that uses a data-driven approach to search the interwebs for the cheapest plane tickets and then delivers them to you. I've used the app to help me book a plane ticket from Ohio to Japan for only $600 in 2018. The app predicts future flight prices with 95 percent accuracy. When I plan for a trip, I always turn on their alert settings to make sure I get the best deal.
5

.

Cheap Tickets 
Cheap Tickets is a great tool to use, especially if you're a student. By verifying you're a student, you can get 18 percent off select hotels with their promo code. Their flight search engine also helps you compare prices and deals to find the most budget-friendly ticket. Their website also hosts tons of content with tips for new travelers and more.
6

.

VPN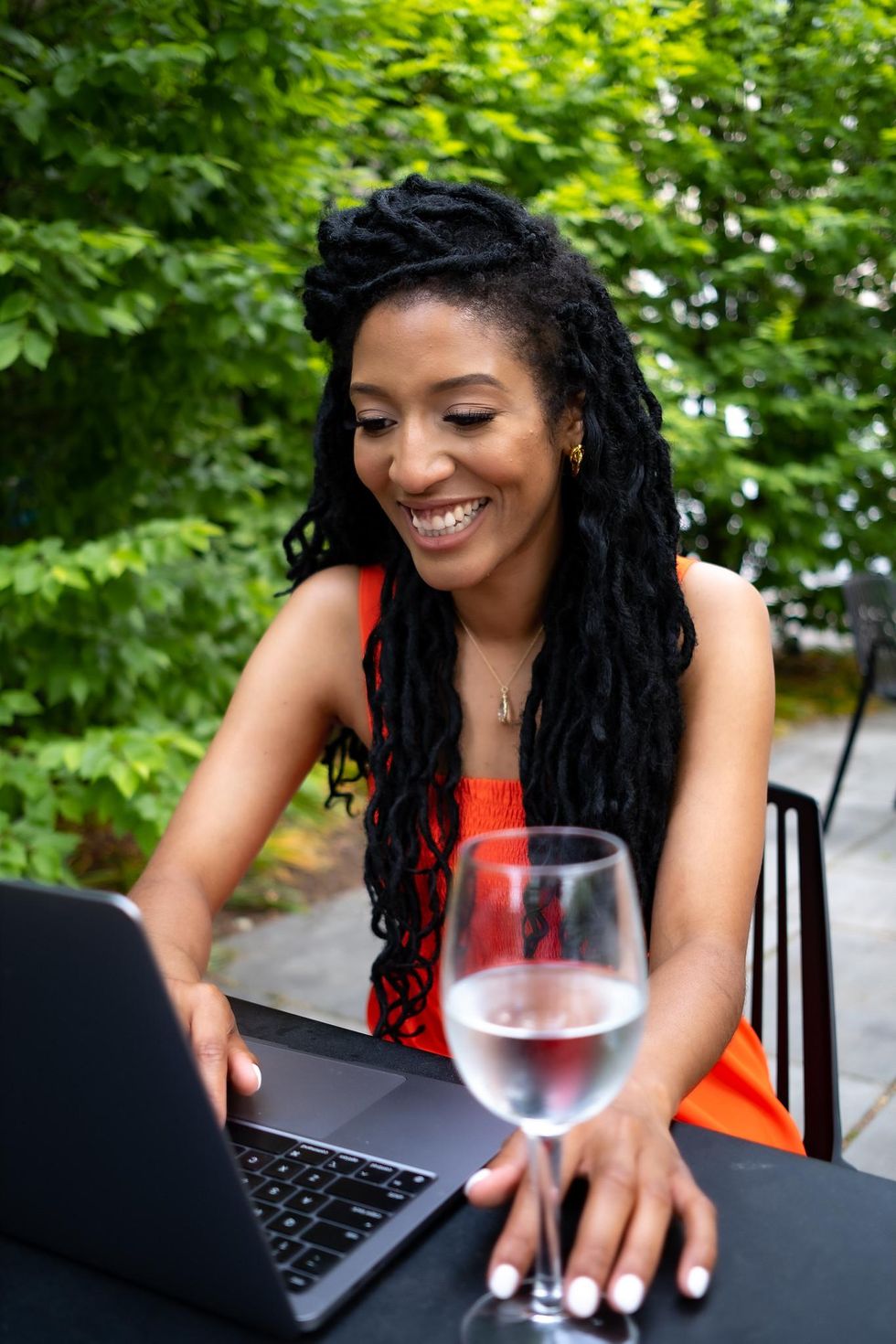 Dominique Jackson/xoNecole
Using a VPN might be tech-savvy, but it doesn't have to be. Downloading a VPN to your computer is relatively easy. According to VPNMonitor, "A VPN allows you to change your IP address to another location while keeping your browsing activity anonymous — this way, you can browse flight deals from around the world without booking sites tracking your data and increasing prices."
Downloading a VPN, plus clearing your cookies and browsing history, and even searching for a flight from a private browser can help lower flight prices.
See you outside, sis! (Safely, of course.)
Featured image by Getty Images