Dominique Jackson
Dominique Jackson is a journalist who covers the intersection of travel, diversity, and culture. She currently runs all things "Girl Around The Globe," where she helps women get out of debt and travel. Reach out to her at hello@girlaroundtheglobe.co. And follow her Instagram @dominiqueJackson.
Have you considered moving abroad? In 2021, I started life as a digital nomad. A "digital nomad" is a phrase that came to popularity due to the pandemic and it describes a person who lives a location-independent lifestyle. Since I started working and traveling simultaneously, I've traveled to Mexico, London, Dubai, and the Caribbean. According to a report by Upwork, 22% of the American workforce will be remote workers by 2025 — thus giving more people than ever the opportunity to live and work abroad.
Social media can make moving and traveling abroad an exhilarating experience. However, there are serious things one should consider before making the jump. Instead of romanticizing what it looks like to live and move abroad, assessing your day-to-day life and the responsibilities of being a foreigner in a new land is worth it. Before I started traveling in 2021, I dreamed and planned for years. I went down the rabbit hole of YouTube videos and blogs to learn everything I could about traveling full-time.
There is no need to rush the lifestyle you desire. However, if the digital nomad lifestyle is something you are curious to explore, then take your time and set concrete goals. Goals can include securing a remote job or having a certain amount of money in your savings account before the big move. Before you know it, the 6-12 months or however long it takes will go by fast.
So, besides dreaming about all the beautiful Instagram content you'll create on your travels, check out the things you should consider before taking the leap to move abroad.
1

.

Voting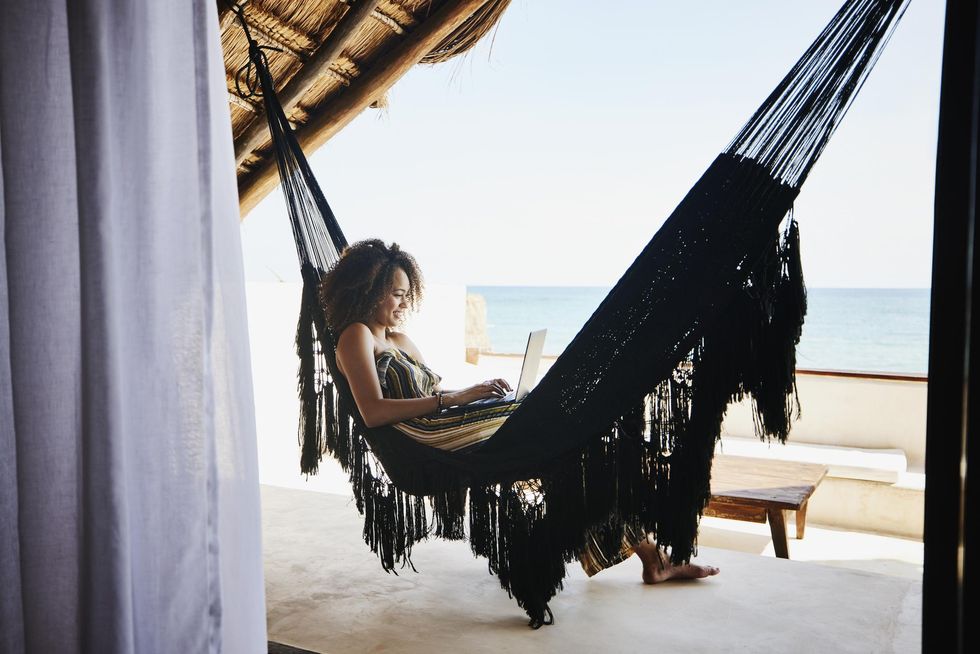 Thomas Barwick/Getty Images
While living and traveling abroad, do not forget your responsibility as a citizen to vote. Voting abroad does not have to be a confusing or overwhelming process. All travelers have to do is request an absentee ballot online and mail it back before the election day. American citizens abroad can request a ballot at https://www.fvap.gov and select their state for instructions on requesting and returning their absentee ballot.
2

.

Paying Bills
You may be just living out of Airbnbs and hotels, but bills will arise for an extended period of time. When living abroad, you'll need to account for how you want to set up your phone bill and how bills are paid locally for your country. For example, when I lived in Europe for the summer, it was easier and cheaper to set up my phone using a local SIM card. I had to purchase one at the airport and paid my bill monthly through their website. During my time in Mexico City, I quickly learned that I could only pay my bills in cash, seeing I didn't have a local bank account.
Understanding how the country you're moving to processes and accepts payments of bills is vital — especially so you don't get your water or electricity cut off due to a simple miscommunication. In addition to paying bills, you'll want to set up your finances and budgets. Consider looking into credit and debit cards with no foreign transactions or ATM fees and cards that offer points so your money can go further and work for you!
3

.

Visas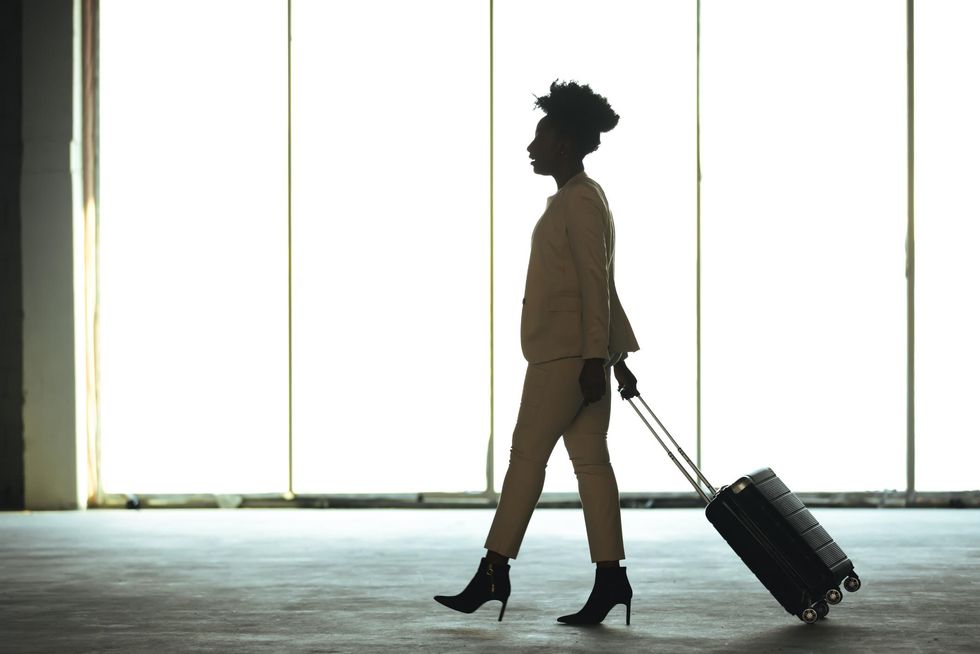 ljubaphoto/Getty Images
Does the country you're considering require a visa? Do you have to apply for it online beforehand, or can you receive a visa on arrival? It would help your transition if you asked these questions and researched the answers before deciding on a country. As American citizens, we can enter most countries visa-free or get a visa on arrival for 3 to 6 months with just our passports. However, if you're looking to move to another country for over a year or longer, that will require a different type of visa.
Since the pandemic, most countries have created "digital nomad visas" that cater to how the world and travel are changing. Make sure to visit the official government website of the country you are interested in moving to so that you fully understand how the visa process works.
4

.

Taking Time to Adjust
When moving and traveling to a new country for an extended period of time, remember to give yourself a ton of grace in the process. In the beginning, everything will feel like a new high, but as you slowly find your roots, life might start to feel more "normal" — and that is fine. While you're traveling, things back at home might change, or you may miss a birthday or two, but give yourself grace because you are embarking on a journey that few are brave enough to do! It will take time to make friends and feel like yourself. However, the reward of travel is not in the fabulous photos we take but in the people we become along the way.
5

.

Building Real Community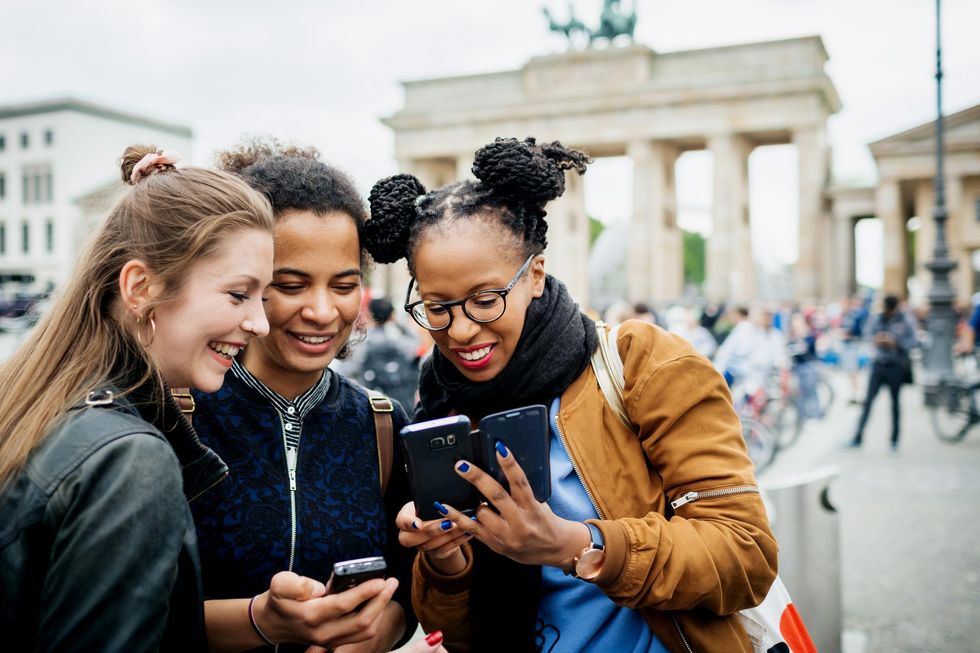 Hinterhaus Productions/Getty Images
When moving to a new country alone one of the first things you will want is new friends. While making friends as an adult is not easy, there are definitely actions you can take to help you build community in your new city. Building community is important not only for social reasons but for safety as well. I was recently in a group chat for Black expats and the admin of the group created a Google Doc where we could list our emergency contact in case of an emergency. It's important that someone you trust knows your location, that's especially true when living abroad.
The best way to find community is honestly through social media. You can search groups on Facebook and Instagram that will show you community events and the best places to hang out. You can search phrases like "Black women in Mexico City" or "Black Expats in Dubai" and swap out your location. Once you meet a few people, make sure to show up and put yourself out there! Invite people to meet up with you, and remember everyone else is also looking for friends, so you're not alone.
Let's make things inbox official! Sign up for the xoNecole newsletter for daily love, wellness, career, and exclusive content delivered straight to your inbox.
Featured image by Westend61/ Getty Images
I've had my fair share of dating-abroad stories. For one year, I traveled the world from Mexico to Dubai, and as a 20-something, I've fully embraced my single nomadic lifestyle. This past year allowed me to get to know myself on a deeper level, experience new cultures, trust in God's timing for my life and ultimately avoid rushing toward the forever my heart desires.

From cute museum dates in London to grabbing drinks in Mexico City and walking the boardwalks in Curacao, dating abroad has allowed me to explore and expand my mind. Of course, there was also the time in Puerto Escondido when my surf instructor picked me up on the back of his motorcycle, and we drove around at night, played pool, danced, and talked on my porch until 2 a.m.
My dating life in the U.S. was pretty stagnant, and I've found that dating overseas has allowed me to be more adventurous and open-minded regarding my love life. My main tip for dating is to trust that God is not limited by location. But don't just take my word for it. I chatted with a few other Black women travelers to get their advice and tips on dating in foreign lands and how to thrive while doing so: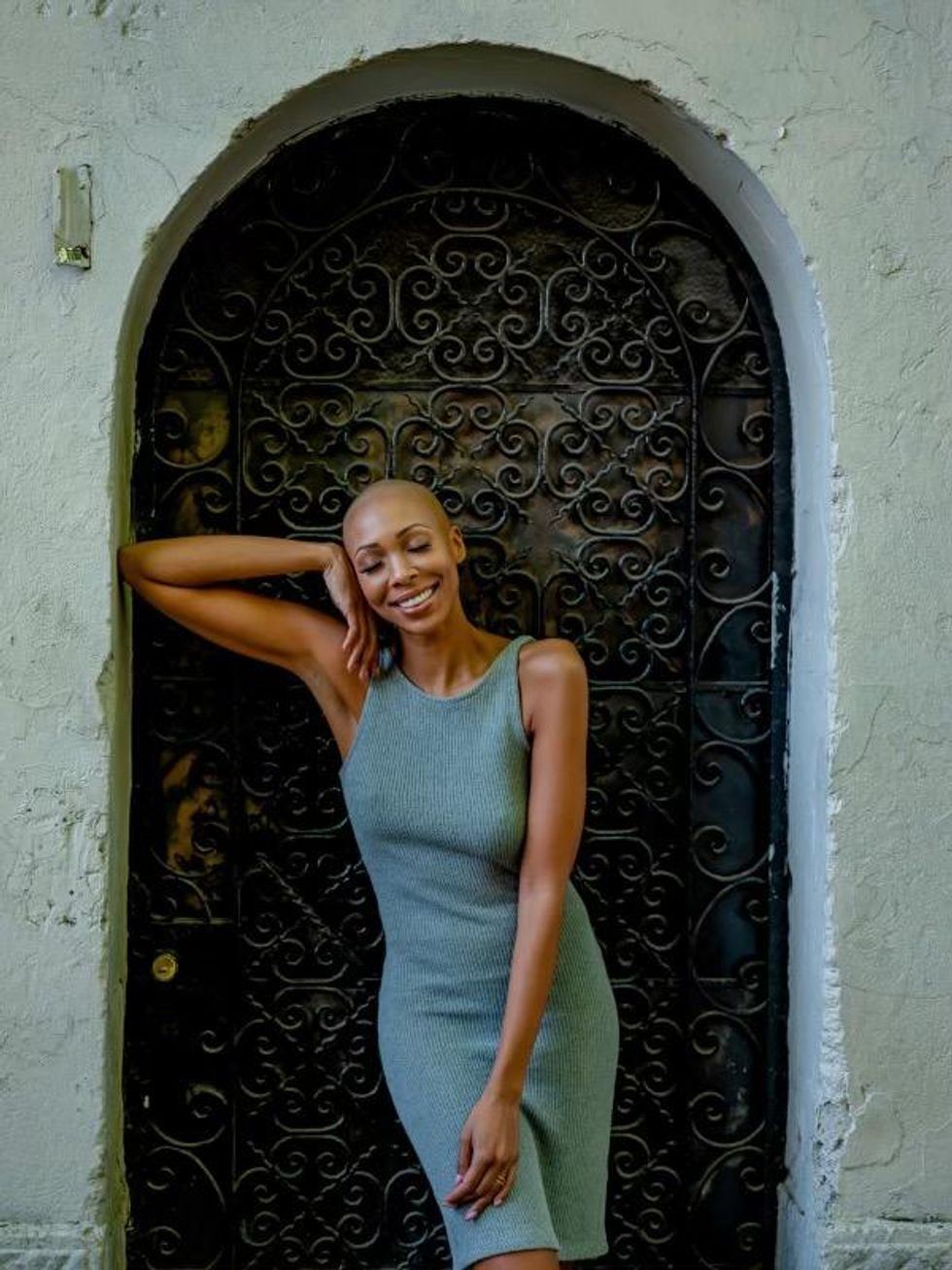 Courtesy of Amber C. Edwards
xoNecole: What's the best way to meet potential dates when traveling?
Amber: WhatsApp groups are like a secret society overseas, and what's great about these groups is they are often a large group for expats or Black expats, but also are segmented into different lifestyles so you can search for groups of activities you like or want to learn like dancing or language exchange, or that you already do, like vegan restaurants and LGBTQ+ meetups. That way you can meet people who you already have something in common with and then meet their friends and grow your potential dating pool.
How did your travel journey begin?
Amber: I was planning a program for Black women who wanted to live outside the U.S. At the time, I had lived in the Middle East and the Caribbean for over two years, received my dual citizenship from Antigua and Barbuda (where my Dad is from), and was able to combine my previous experiences in creating business systems for solo entrepreneurs to partner with travel groups and companies coming into and out of Antigua.
Then in January 2021, I launched The L.I.T. (Local In Training) House as an overseas group transition house for Black women who want a more streamlined way to test out overseas life with a built-in community.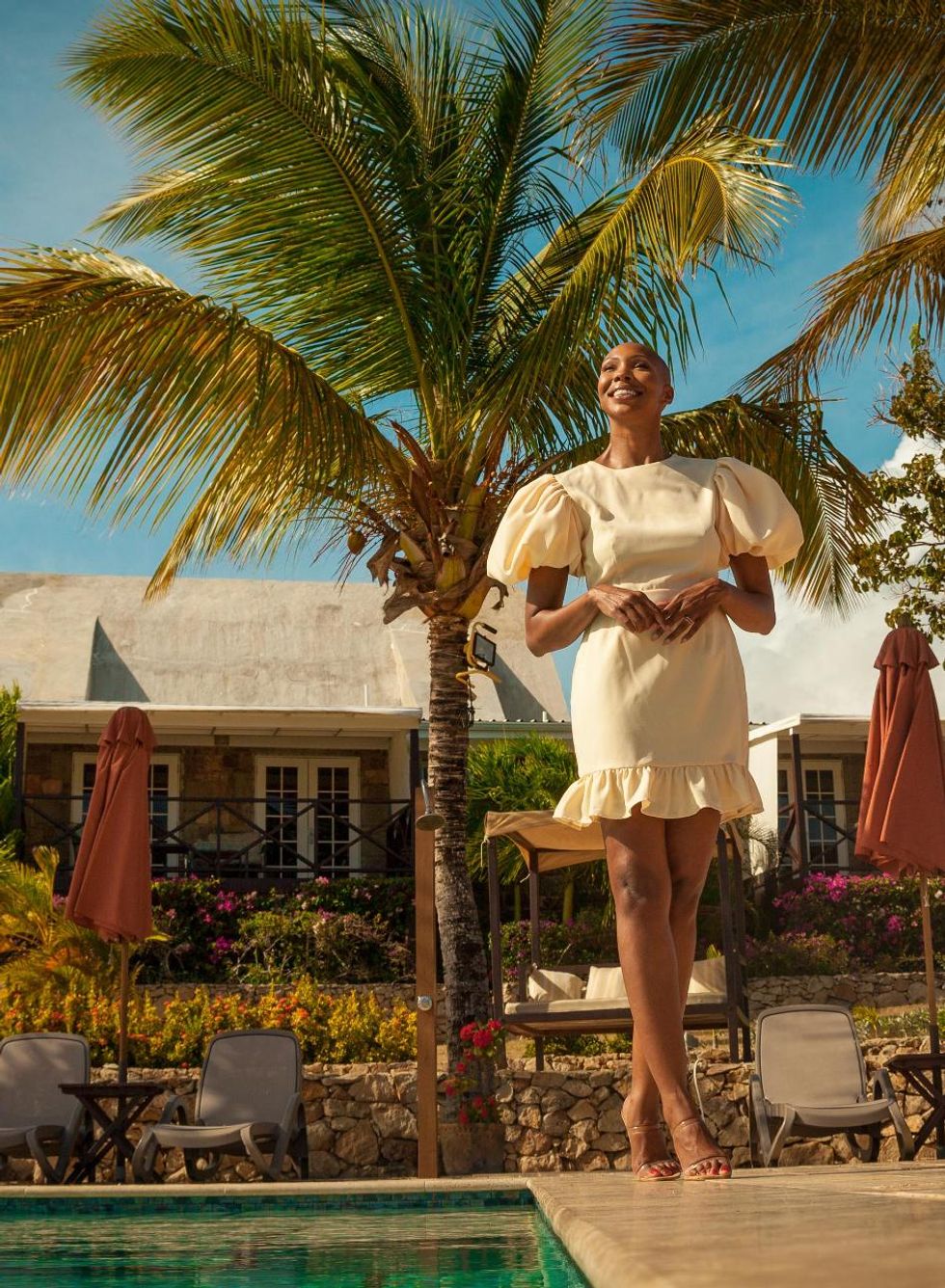 Courtesy of Amber C. Edwards
What has been your experience with dating abroad?
Amber: As a relocation specialist for Black women, around 65% of my clients are single and solo Black women and a majority of those women are interested in dating and have dated while overseas. Initially they take the traumas from their U.S. dating life into their new life, but as they adjust to their new city, they learn to open their horizons to different cultures and mindsets than they have experienced before in the past, especially in the larger cities like México City which has a large Black expat and global community. I've had clients who have gotten into relationships and even created a new life while overseas, and now her baby can have two passports!
What advice would you give to others who want to date abroad?
Amber: Be open and take your time to figure out who you are in your new environment. Living overseas allows you to address and leave your baggage back in your home city, so spend some alone time in the beginning of your move abroad so you can figure out just who you are, what kind of life you want to create, and what type of people you want to exchange energy with.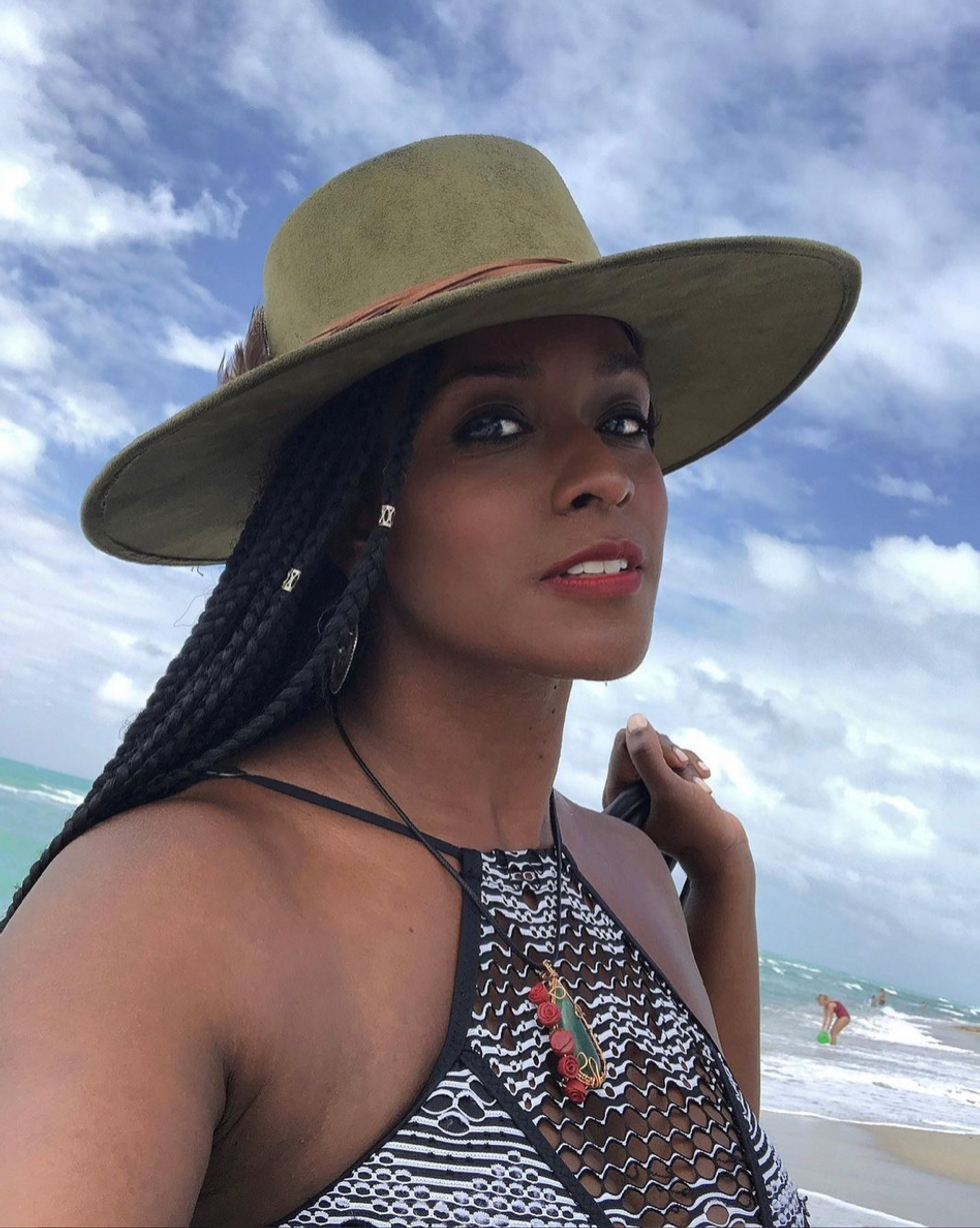 Courtesy of Tiffany Tapley
How did your travel journey begin?
Tiffany: I was living on the south side of Chicago navigating the riots and pandemic blues. Do you remember those loud booms and firecrackers in the middle of the night? At that moment, I said, 'I gotta get the f-ck out of here for a couple of weeks.' So I left for Playa Del Carmen and ended up in Tulum for two months. I returned to Chicago to put my things in storage and never looked back. It's been two years of exploring 15 cities in Mexico, and I finally decided to be an official resident in Mexico City.
What was your experience dating abroad?
Tiffany: It's been a fun, exciting, crazy whirlwind, navigating cultural differences and learning more about other cultures. Mexico City is a global community, so you meet people from all over the world. It was my first time dating outside of my race. I figured the world would end soon, so I might as well do things I've never done before. I wish that I had been more open before.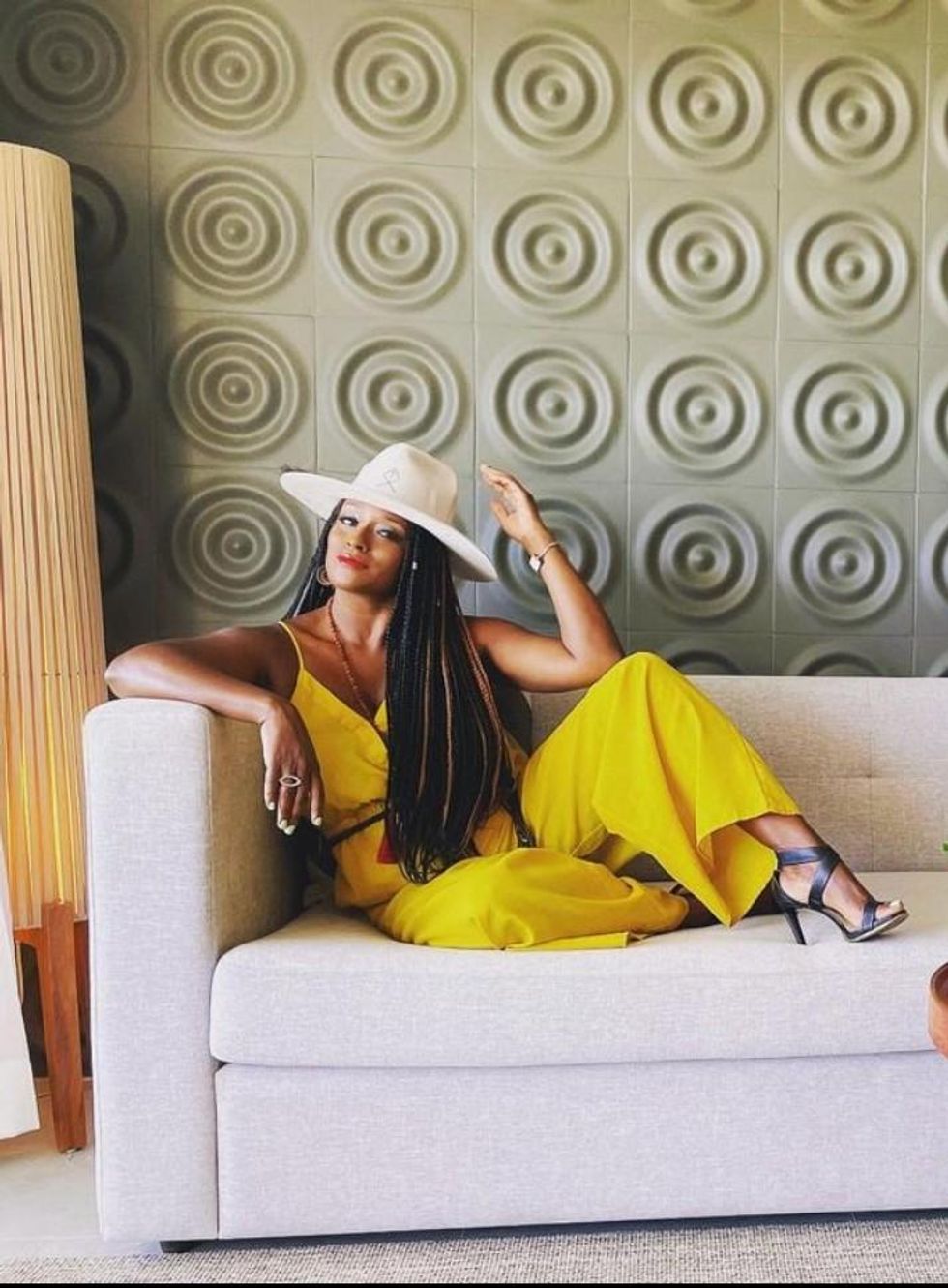 Courtesy of Tiffany Tapley
How do you feel like dating abroad differs from dating in the States?
Tiffany: In my experience, dates are more intentional, and men communicate how they feel. In the States, you are lost in a sea of 'wyd'ing' texts and 'What you up to?''Here, men are direct and make dinner reservations and creative dates. They're more traditional and will let you know they will protect and provide. Both men and women are so guarded in the States. It's been hard for me to connect there because it's always based on superficial checklists instead of someone's character, and we're supposed to accept the least and give so much of our hearts.
The cultural difference from a Mexico City perspective is that Mexicans are very kind and giving. They lead with their heart, so at first, it was uncomfortable for me to date because I had this American side-eye and I'm letting go of it. On the flip side, as Black American women, we may not be used to someone pouring out their heart so soon, so it's easy to get attached quickly. Mexican men are the ultimate love bombers, just go in having fun and enjoy yourself.

Can you share a time when you stepped outside your comfort zone with dating abroad and the results of that?
Tiffany: Yes. I met a cute Argentinian guy who took me to a private club with a stripper pole, and he jumped up on it and slid down into a split. I was intrigued and got competitive and realized he was better on the pole than me. We went out a few times, but unfortunately, his sexual preferences did not match mine, and he got upset when I asked if he was in a sex cult. We never spoke again, but he inspired me to sign up for pole dancing classes. It worked out for both of us.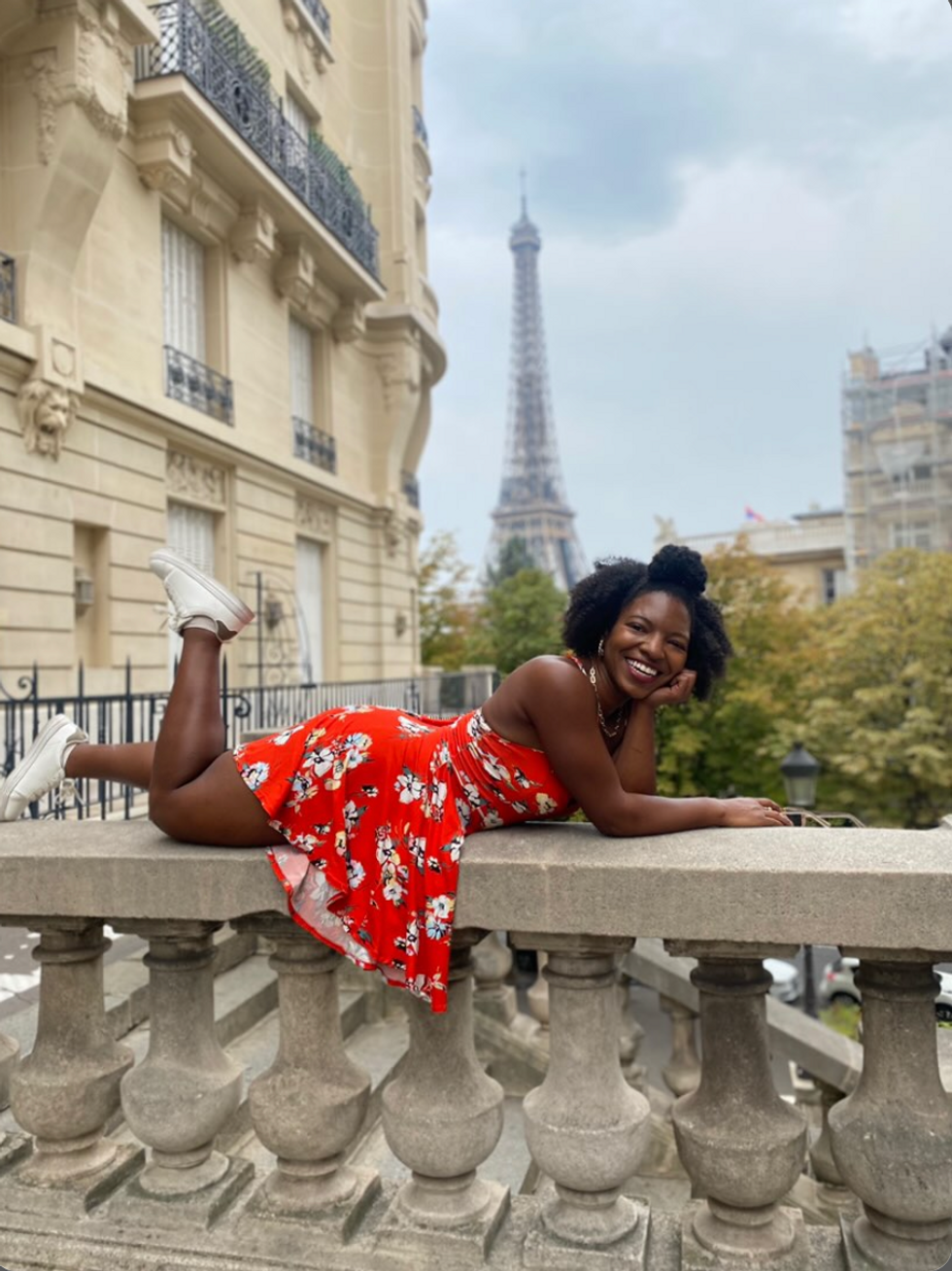 Courtesy of Sharita Jennings
How did your travel journey begin?
Sharita: My travel journey began in 2018 when I first moved away from the U.S. to Medellin, Colombia. I moved there mostly to learn Spanish and to just experience life somewhere new. I also chose Medellin because it was popular among other "digital nomads"and it had a thriving Black expat population.
What advice would you give to others who want to date abroad?
Sharita: When dating abroad, trust your gut. Don't be afraid to try new things, but never second guess your instincts if you get a bad feeling. I've said yes to taking a motorcycle ride through the mountains with a man in Antigua, Guatemala because I felt safe with him after a few dates. On the other hand, I've just as quickly said no guys who just rubbed me the wrong way. If anything in my gut feels off, I don't wait to find out why on the date. I just say no or block numbers and move on.

What safety tips do you have for women dating abroad?
Sharita: I have a lot of tricks up my sleeve. I might make some crazy decisions on dates, but I always have safety in the back of my mind:

All first dates should be in a very public place. While I love for a guy to choose the date, I might say that I prefer to be in XYZ area where there are lots of tourists or just lots of people which means I can leave if I need to, or get help in a worst-case scenario.
Share your location with someone who is local. If I'm staying in an Airbnb, I'll ask my host, when friendly, if I can send them my location while I'm on a date. At a minimum, I'll drop a pin and say, "I'm here with a new guy." And especially if my host is female, they know exactly what's up. I've had Airbnb hosts really look out for me, and offer to come pick me up if I felt unsafe on a date (in Guatemala and Mexico).
If riding with someone, share license plate info and your date's name. In a rare case, if I'm getting into a date's car, I take a photo of their license and send their name to a friend. I know it's a bit much, but you just never know. I even let the guy know so he's on notice that I'm not to be messed with!
Be sparse with your traveling details. Of course, like any solo female traveler, I don't share everything about my travel situation upfront. I always say that I'm traveling with friends and I don't share where I live until I feel safe with them, if ever.
How do you think dating abroad differs from dating in the States?
Sharita: For me, dating abroad has been better, mostly due to my attitude. As a woman who's new to a city or country, I'm much more open and vulnerable than I am at home. I have to rely on my dates to show me around, teach me things about the culture or language, and it really makes me a better dater, in my opinion. So I lean into this "foreigner advantage" as much as possible.

Another difference that I've noticed is how much (or little) Black women are appreciated from place to place. I've gone from feeling completely overlooked in Medellin, to feeling like I was Beyoncé in Playa Del Carmen and Mexico City. And years ago in Madrid, Spain, the local men treated me as though I was a prostitute when I'd walk through the streets in my business attire. So, location can make all the difference in the overall dating experience.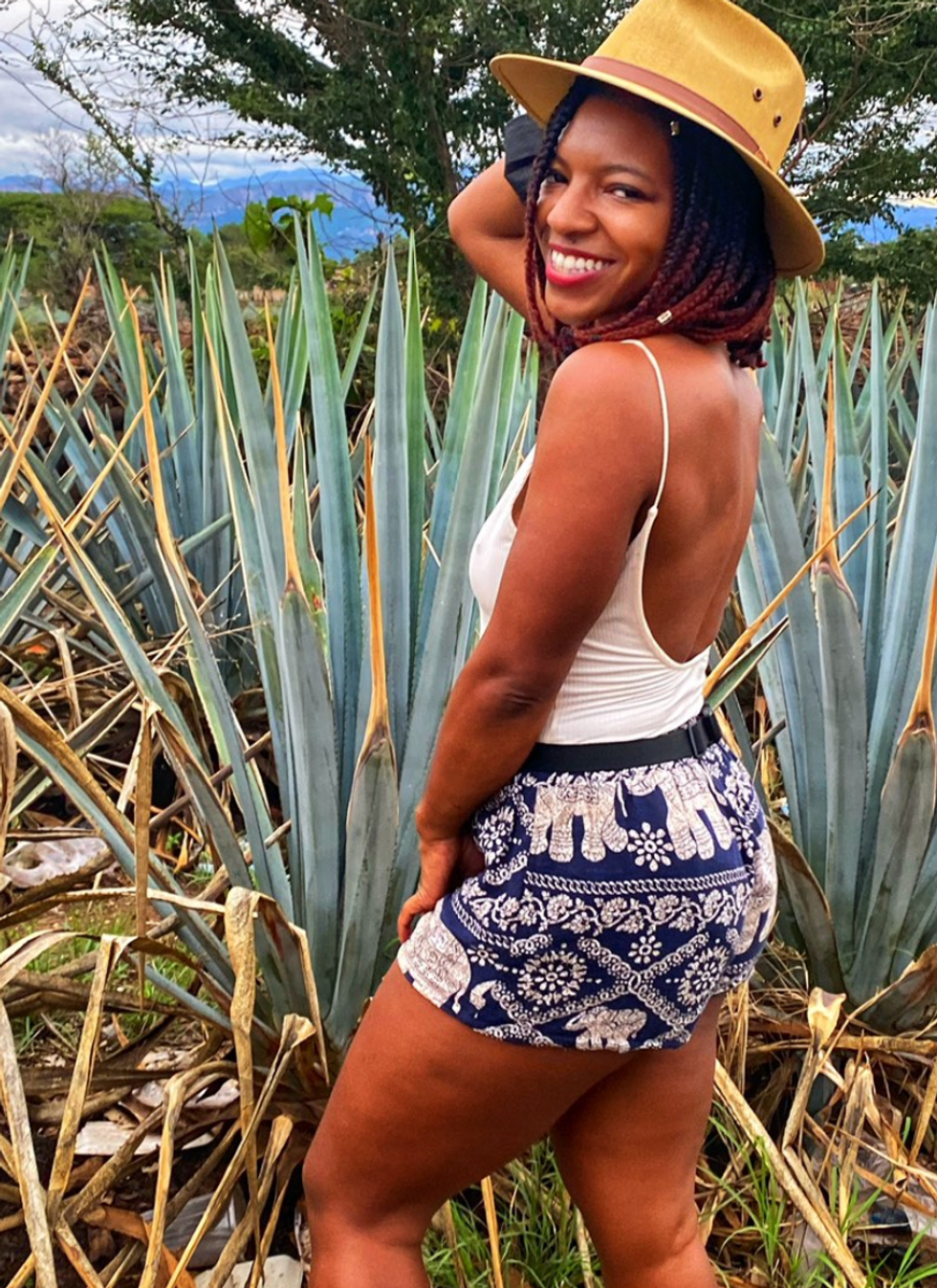 Courtesy of Sharita Jennings
What's been your favorite destination to date abroad?
Sharita: When I was in Latin America, Mexico was my favorite place to date. It may be the proximity to the U.S. that helps, but I really enjoyed the dating scene there. And most importantly, in Mexico, unlike many parts of the world, my Blackness felt like an advantage. I genuinely felt appreciated for being darker skinned, and I never felt fetishized, in my personal experience.
Share a time when you stepped outside your comfort zone while dating abroad and the results.
Sharita: What I'm most proud of in my time dating abroad, is attempting to date completely in Spanish. When I first moved to Colombia, I had a disadvantage by not speaking the language well. But when I moved to Mexico City for the first time in 2019, I wrote all my dating profiles in Spanish (with a note that I was still learning) and wrote all my messages in my imperfect Spanish. I'd even work with my Spanish tutor to cover dating topics and situations. The experience was thrilling and turned out so much better than I could have imagined. Again, I became more vulnerable as I had to rely on my dates to help me out with the language and they had to show a lot of patience as I tried to express myself in 2nd-grade level Spanish.

Overall, it was a great way to meet new people, have unique experiences, and improve my Spanish. I would 10/10 recommend trying to date in another language even if you just have a basic level. Perhaps seek out dates who also speak English so you can fall back on that when needed.
Featured image by The Good Brigade/Getty Images
Have you been dreaming about your 2022 travel goals? If so, consider adding Mexico City to your list of 'must-visit' places. Mexico City is the perfect place for solo travelers. As a digital nomad, Mexico City has been one of my favorite places to work remotely from, build community, and explore all the unique neighborhoods.
I originally planned to stay in Mexico City for one month but stayed for three months after seeing how much there was to explore. Mexico City is filled with endless things to experience, such as museums, galleries, parks, rooftops, and more.
With remote work becoming more popular by the day, it's essential to find the perfect atmosphere to work remotely from. When I first started working from home, I ended up in a routine where I would work from bed, which proved not to be sustainable nor helpful for my mental health. Even with all the perks of working from home, leaving the house and creating separation between your work life and personal life is important.
There is no shortage of places to work from in Mexico City. From co-working spaces to hotel rooftops and even coffee shops, Mexico City has a lot to offer for digital nomads. I'm currently counting down the days until I return. Here are coffee shops you should check out within different neighborhoods of Mexico City.
Featured image by Getty Images
I've been a digital nomad for six months now, with the goal to travel full-time for one year. Out of all the places I've visited, Mexico City is by far my favorite place to stay in Mexico. I originally planned to stay there for one month, but that quickly turned into a three-month stay as I fell more in love with the city.

Once, when I was on a free walking tour, the guide described Mexico City as the "Paris of Latin America." While I've never visited Paris, I could see what she meant. Mexico City is romantic, vibrant, bustling, urban, and charming. There are many neighborhoods to explore and endless food to taste.
It always feels like there is never enough time, but here's what you should do if you only have 72 hours in the city.
Featured image via Instagram/dominiquejackson
As a solo female traveler, I receive lots of questions, and a main one is, "How do I make friends when traveling?" In July, I sold my belongings to start my journey as a digital nomad. Since then, I have visited Cabo, Mexico City, Oaxaca, Playa del Carmen, Tulum, Aruba, Curacao, and Dubai. And that's just in the past six months!
Before I left home, one of my main fears was that I wouldn't make friends. Even as an extrovert, I dread small talk and shallow relationships. I was nervous that traveling full-time would leave no room for deep connections and that I would only have fleeting moments with random people I'd meet.
However, as my journey continues, I've realized that I am never truly alone. We are all more alike than we are different and we all have a desire for deep friendship. If you put yourself out there, you'll find your tribe.
I attended an Alicia Keys concert in Dubai solo and ended up singing and dancing the night away with a group of girls I met there. I stayed in a co-living space in Mexico City for three months and found an incredible community of people to share my time with there. In Oaxaca, I traveled solo and met a group of people at a party, and the following weekend we all met up in Tulum. I love serendipitous moments like these.

Solo travel opens the doors of infinite possibilities to make meaningful connections, so release your defenses, drop all the agendas and show up fully as yourself.
Here are 5 tips for making friends abroad:
1. Be open to new things or unexpected moments.
As a solo traveler, it's completely OK to feel out of place. You are in a new country or destination, after all! Don't be so hard on yourself if you don't hit it off right away with the first few people you meet. Have an open mind about the relationships you are forming and release the pressure. Some friendships might be seasonal, while some might develop into lifelong connections. You are not in control of the outcome, so be open and put yourself out there with no expectations.
2. Utilize social media.
It's called "social" media for a reason. Search for meet-up groups that align with your interests. Join Facebook travel groups, and don't be afraid to shoot your friendship shot in the DMs. Download WhatsApp. I didn't use this platform much before traveling, but it's one of the main apps I use to stay connected to people and find out about cool events happening nearby.
3. Go on free walking tours.
I love free walking tours because they provide you with so much history and context about the country. They're fun and a laid-back way to meet people who are also new to the city. Also, signing up for experiences on Airbnb will allow you to meet people with the same interests as you. You are usually more approachable and likely to connect with people when you show up solo.
4. Choose accommodations wisely.
With remote work and travel gaining more and more popularity, many companies are catering to the needs of travelers. Instead of staying in a hotel, try looking into different co-living spaces and even hostels. One co-living website that I used is called Outsite, and there are other similar options such as WifiTribe, and Remote Year.
5. Step outside your comfort zone.
You have to get comfortable with being uncomfortable. Strike up a conversation first, even if you stumble over your words, and keep going. One of the best things about traveling is meeting new people and broadening your perspective. The world is waiting to meet you!
Featured image by wagnerokasaki/Getty
I recently sold all my stuff to travel full-time, and when I told people I was moving abroad, the No. 1 question I got was: "What are you going to do with your hair?" After scouring YouTube and blog posts, I wasn't too confident that I would be able to find someone to do my natural hair in Mexico. Everything seemed so complicated, like a hit-or-miss situation. Well, I finally found someone to braid my hair in Cabo within a week of being here! (So if you need a stylist in that area, feel free to book an appointment with Jane. She did an amazing job.)
I still hear Black women say one of their fears of traveling is figuring out what to do with their hair. I'm here to encourage you. Here are my tips for taking care of your natural hair while traveling:
1. Talk to locals.
Google was OK in helping me find a few hair salons, but it doesn't compare to talking to the people who actually live in the location where you'll be traveling. One afternoon, I was walking around the downtown area and struck up a conversation with one of the store workers. That conversation led me to ask if she knew anyone who braided hair, and boom! I was shocked by how easy it was. I simply showed her a picture of the hairstyle I wanted and she immediately knew someone who could do it.
When I'm back home looking for a stylist recommendation, I'd usually ask people, so the same principle applies when traveling.
I suggest talking to locals about everything while you travel. Not only does it help you get out of your comfort zone, but you'll come across places, neighborhoods, restaurants, and events that Trip Advisor can't keep up with.
2. Stick to your go-to hairstyles.
When traveling, I love wearing braids. I've tried wigs and weaves, but because I like to be extremely active and not just lay on a beach (which is totally fine, by the way), those hairstyles usually start to look unkempt after a few days.

I know that if I hit the road with braids, they'll last one to two months which gives me enough of a window to find someone who can redo them when it's that time.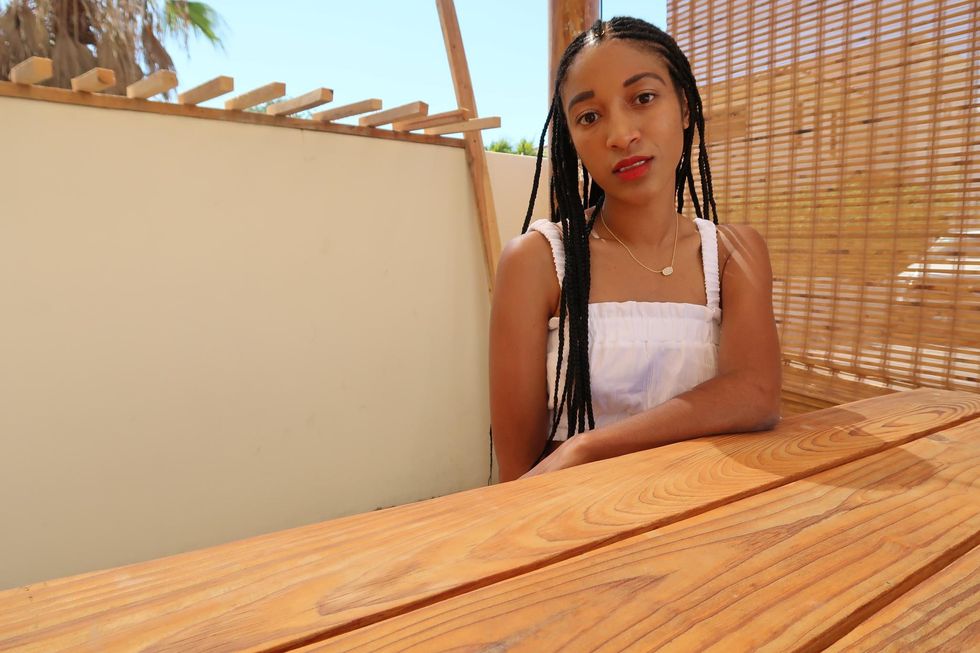 Dominique Jackson/xoNecole
3. Practice at home.
It's always good to know how to style your own hair. It doesn't matter if your hair is relaxed or natural, have a few go-to styles that you can do on your own without the addition of added hair. I have one to two hairstyles in my back pocket that I can do without stress. Hello, flexi-rod set!

Learn how to take care of and maintain your own hair, and experiment with the products that work best for you.
4. Look for essential ingredients.
It's a good idea to pack the right amount of hair products for the length of your trip. When traveling, your favorite hair products might not be available abroad, or, if available, they might not be easily accessible. If you need to shop for hair essentials abroad, look for key ingredients that your particular hair needs. I always try to get products with water as the first ingredient or those that include light oils.

Beauty supply stores such as Sally Beauty Supply have international locations that might have a few familiar natural haircare products. You can also search online for your favorite brand and budget for the cost of international shipping.
5. Use social media.
Social media is also a good tool to use when looking for someone to style your natural hair while abroad. Just make sure you're searching in the correct language. For example, the word "braids" in Spanish translates to "trenzas," so using the hashtag #trenzas brought up more specific results for stylists actually near me.

Also, for any country you are visiting, there's probably a Facebook group for women living abroad who rock their natural curls and styles. Search for keywords such as "Black women," "Black people" and "natural hair" with the name of the country you're traveling to, and a list of results for specific Facebook groups should appear.
And if all else fails, throw on a hat, travel the world, and live your best life, girl!
Featured image by Dominique Jackson/xoNecole