I didn't get on my first flight until I was 21, so when I found myself on a flight to Chicago for my first solo trip, it was honestly scary. Fast forward five years, I am quick to hop on a plane alone and actually prefer it to larger group trips. My first solo trip was just a matter of me really wanting to visit Chicago and having no one else free to go with. I get a lot of anxiety when flying, so flying alone had never crossed my mind. But little did I know, that first trip would change who I was as a traveler forever. I loved Chicago, but most importantly, I loved the freedom I had to truly explore the city on my own terms because I didn't have to wait around for anyone.
I woke up when I felt like it, visited all of the places I was interested in, and ate only at places that caught my attention. I felt as safe walking down the street in downtown Chi as I do walking around the city in NY. That trip was the catalyst for my newly implemented motto of "Book now, ask later." Since then, I've gone as far as Hawaii, Houston, and Aruba all on my own. Hawaii and Aruba both pushed me to new levels and despite hearing the concern from others who couldn't believe I was going so far all alone, those have been some of my favorite trips to date. Every chance I get, I'm encouraging someone to take a trip alone when everyone flakes or they just really need some alone time.
I understand why some people are hesitant about taking that leap and traveling solo, so I asked some of my favorite travel influencers and bloggers about their own experiences with traveling alone and what advice they have for those looking to take that leap. See their tips below and start planning that first trip now!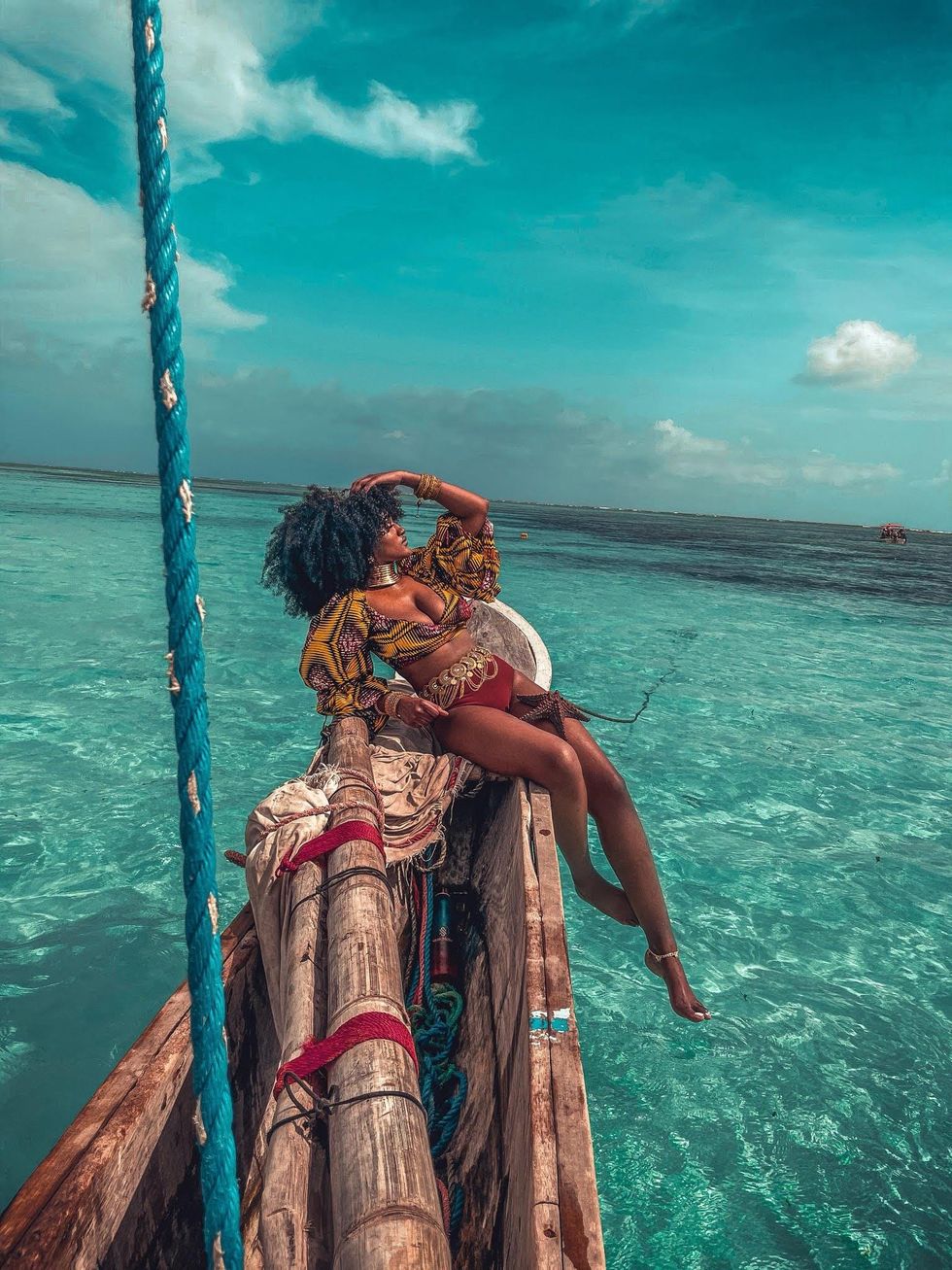 Courtesy of Sabrina
"Traveling solo actually found me by way of a flaky travel partner! I had a trip planned with a friend who backed out at the last minute and I had two choices: cancel the trip or go alone. I wasn't going to lose all that money and time spent planning because of someone else. It was in that moment that I realized that I can experience the world with or without the company of another. Travel is my best friend!
"The most enjoyable thing about solo travel is being on your own schedule. When you're alone, the whole day is yours to seize, and in your own perfect fashion. Some days, I want to get up super early and explore, while other days, I want to pamper myself with a spa day. The choice is completely mine when I'm solo, and to be honest I love it that way! Solo travel can be a way to tap back into who you truly are and fortify the most important relationship you will ever have in your life: the relationship with yourself."
"Also, from what I've experienced and heard from others, safety is a huge concern when traveling alone; especially as a woman. To combat this, I just remain hyper-vigilant of my surroundings and always let someone from home know exactly where I am. I don't ever reveal too much about myself if I am speaking with someone I don't know. I am also super intuitive, and if something doesn't feel right, I remove myself from the situation as quickly and as subtly as possible.
"Also, whenever I travel solo, I never have an issue taking pictures. Most times people are ready and willing to help and (with a little guidance) the pictures come out beautifully! For example, when I traveled to Cartagena, I had a photographer approach me at the pool and we had an impromptu photoshoot! I always have my tripod on deck though, just in case I need an extra hand, so to speak."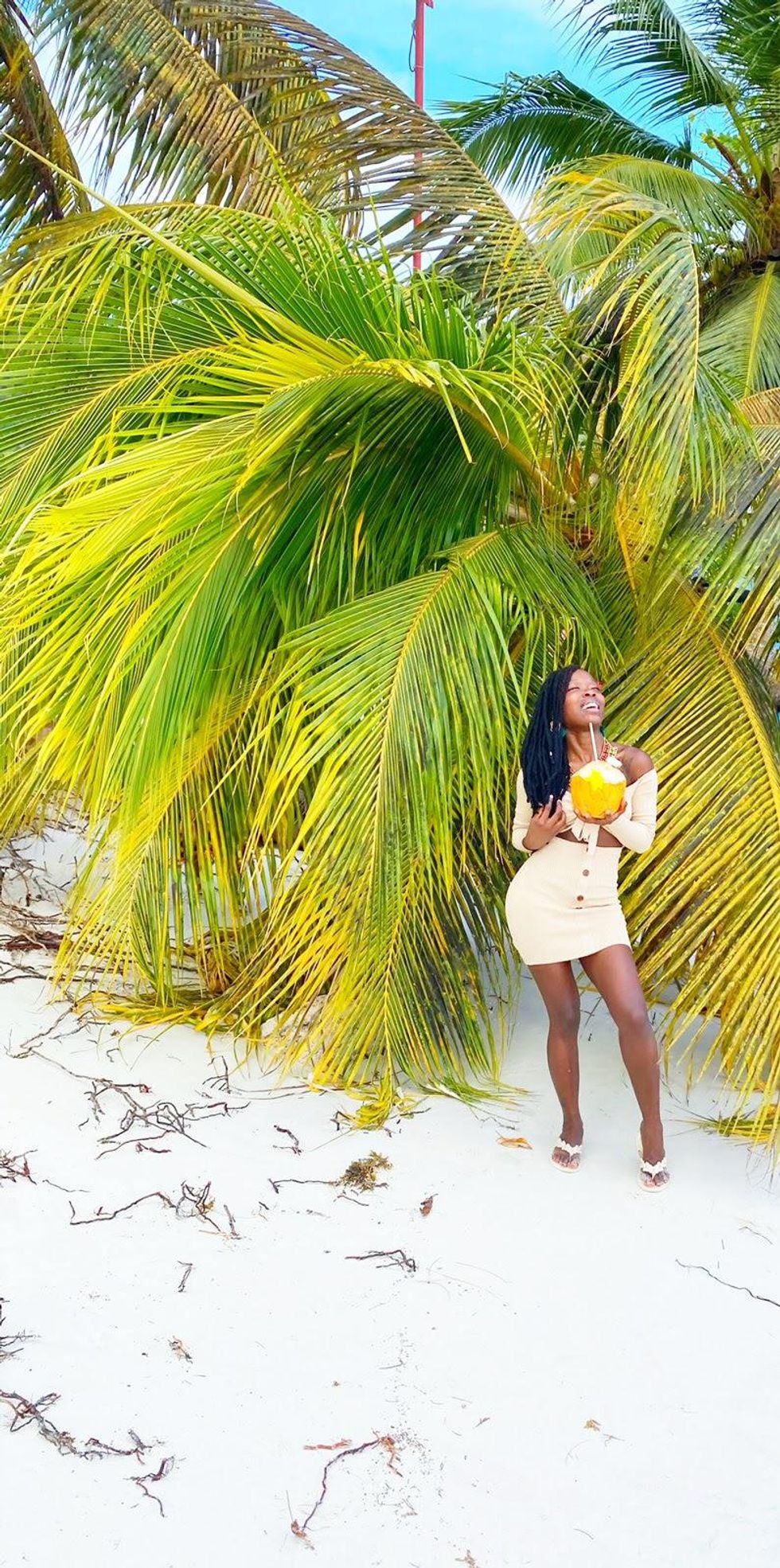 Courtesy of Dominique
"Traveling solo to me is the most liberating thing anyone can do. I've learned so much about myself from just being with myself. I think the scariest part for a lot of people is just knowing that you are your own company. But what I've learned is that you gotta step out on faith and the things that scare you the most are the things that are going to be the most beneficial for you. I've faced my fears and done things that I said I would never do. People will try to discourage you, but don't listen to what people say, go ahead and see for yourself.
"So first thing, research, research, research! The customs, the culture of that country, etc., especially when it comes to dress code and things like that. The number one thing that I do is first enroll myself in the S.T.E.P. Program. S.T.E.P. stands for Smart Traveler Enrollment Program and it's a free program that will register your trip with the U.S. Embassy in whatever country you're visiting. So then you'll get alerts about safety conditions, emergencies, natural disasters and things like that. This way you will be in the loop and also the embassy will know you are there and exactly who you are, and can provide support if you're in trouble. So that's my number one thing that I do once I book a trip.
"The other thing is that I try to pre-plan when I am solo. Pre-plan my taxi ride, my excursions, etc. because you don't want to be out there looking lost. This can make you an easy target anywhere. I liked to use Booking.com for my taxi rides. You can pre-plan every taxi ride and they will come and pick you up. If you say Tuesday I'm going to go jet skiing at this location, you go ahead and schedule it, and they'll pick you up at the time and bring you back. Everything is pre-planned."
"Another thing is that when you're doing solo travel, you're never really alone because you make so many connections along the way. You meet so many people and believe it or not, there are other solo travelers out there just like you, that you will find along the way. I met one of my best friends who is my best friend [to] this day, on a solo trip to St. Thomas. We both were on a solo trip and ended up on an excursion together. So you know, two young, black girls, just talking or whatever and it turns out she lived literally three blocks from my house. After that, it wasn't solo anymore; I was with her the whole time. She became my travel partner and we kind of just stayed with each other the whole trip. So I went solo and then ended up with a friend."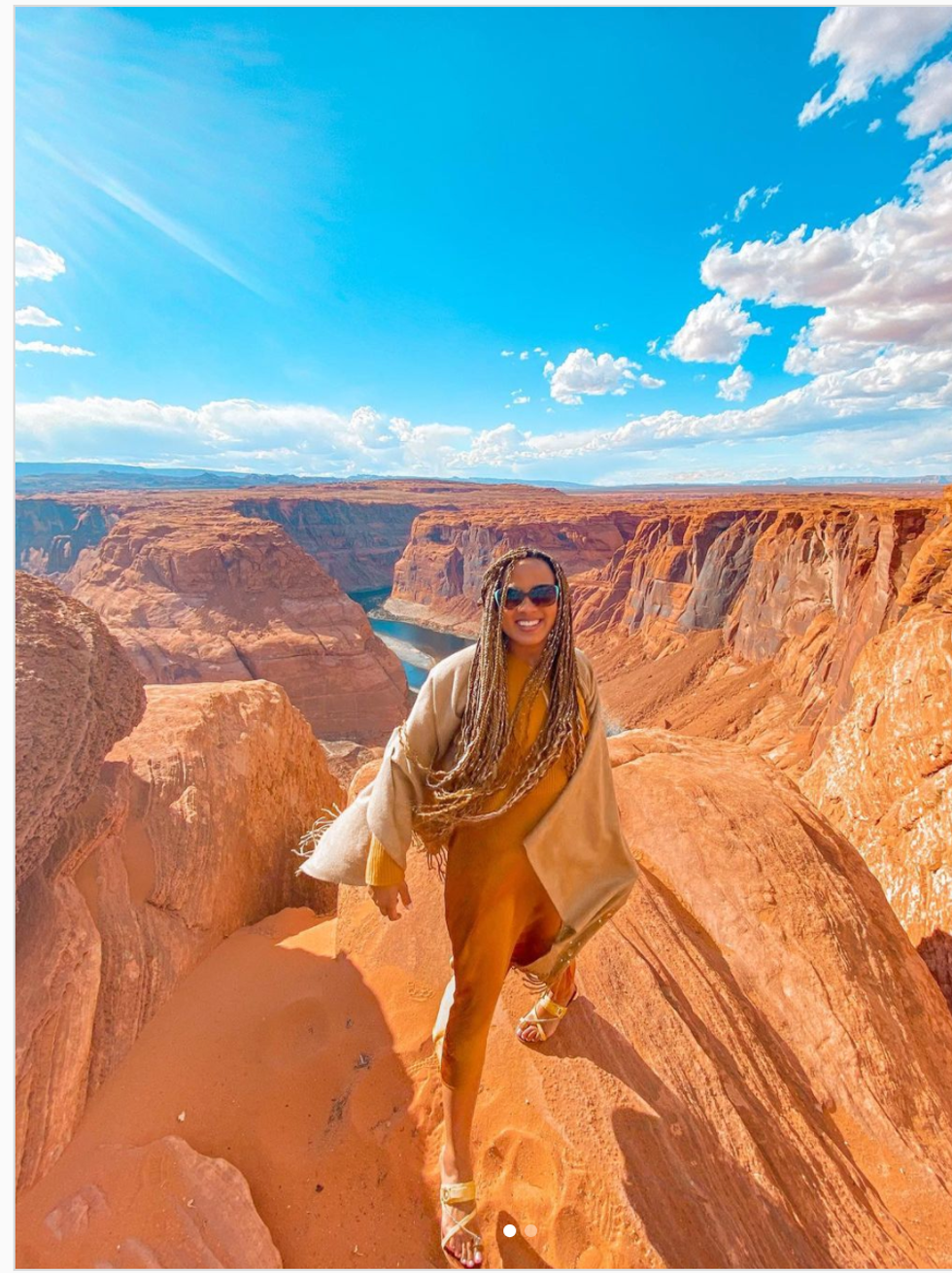 Courtesy of Gabby
"My biggest tip would be to start small. So try to warm yourself up, you know, don't feel pressured by society or social media. Don't do it for the 'gram. Do it for yourself. Start off by going to dinner by yourself once a week, or going to a movie by yourself. Just doing the small things and realizing that it's not scary. I definitely plan out a lot, at least outline a lot. But I leave the room to be flexible.
"Some things that I for sure do are ask around the Facebook groups and check out which parts of town are safe and which are not. I try to find at least one or two people on the ground. I'll ask on my social media for just one or two people who have been there before or live there, or are there right now. When I look at Airbnb, I usually try to go with a female owner or a female point of contact, just to ask the questions I really need to ask, like where can I buy tampons in Croatia."
"And here's the thing with safety. People will swear that everyone is following them. And everyone is like, stalking them. I'm like, you know, things do happen so definitely stay aware. But girl, if it's not happening in your home city every single day, it's definitely not going to happen abroad. And honestly, sometimes the cities abroad are safer. You're going to feel like people are staring at you. I felt people were like, 'Are you seriously by yourself?' 'Are you OK?' 'What's wrong with you?'. But you're going to get through that and be like, 'OK, that's a projection that they have and it has nothing to do with me. I'm enjoying myself and it's fine.' So once you warm up to that, I think that it will help you actually enjoy your solo trip.
"Women deserve to be selfish. And that's why I really hope more women solo travel. You get to wake up and do what you want to do all day long. You can cancel all your plans. You can rearrange them. You can meet other people or you can stay by yourself. I think it's such an empowering experience for women. And even though maybe on paper it's scary or just overwhelming to think about, when you actually take it step by step it's the best experience you could have. I think everyone should try at least once."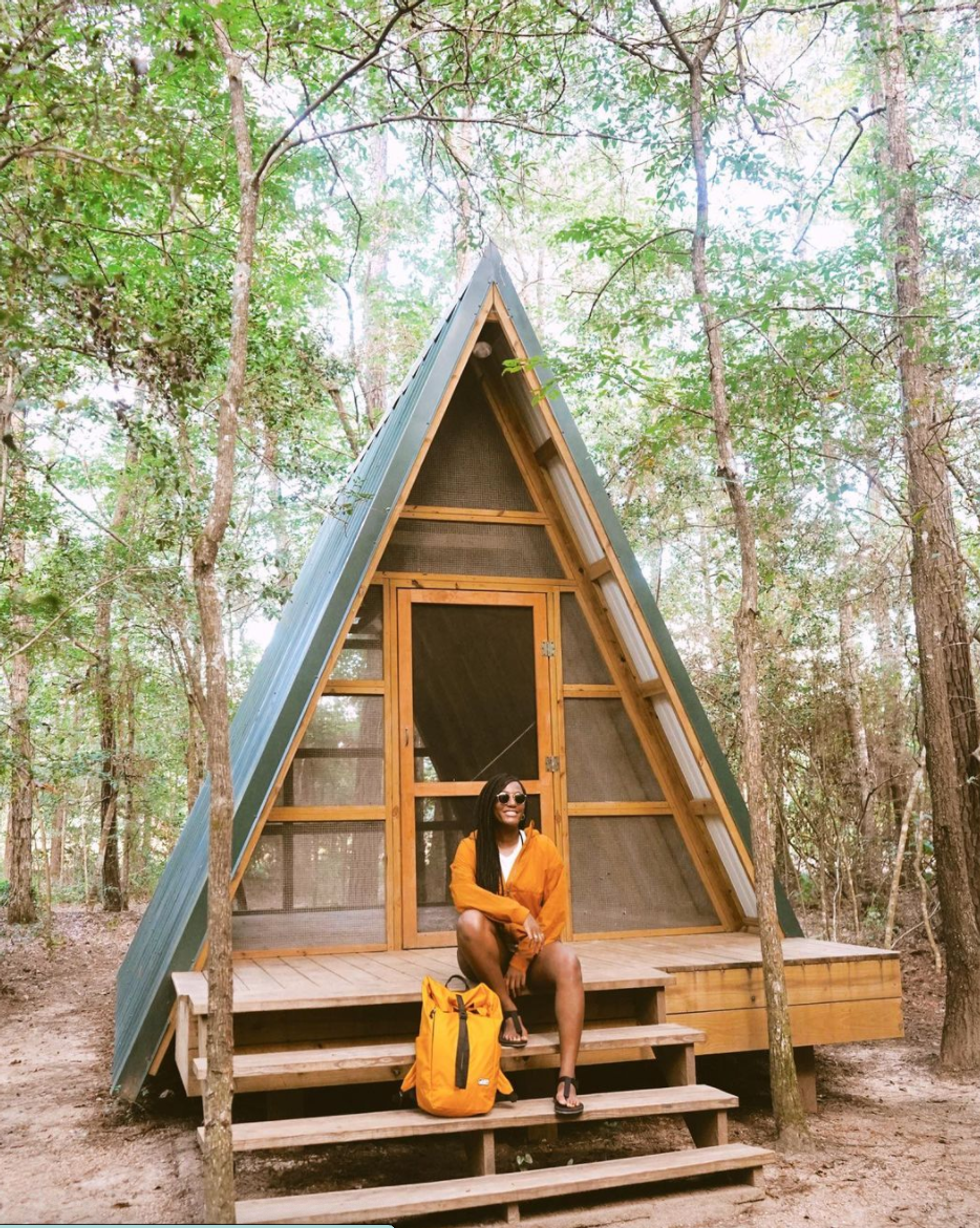 Courtesy of Ciara
"I took my first domestic solo trip to San Francisco and I took my second international solo trip to Costa Rica. I was tired of waiting for schedules, budgets, etc to align with family and friends. I knew I wanted travel to be a major part of my life, so I needed to take the leap to go - with or without anybody by my side. I enjoyed my own company and I wanted to further challenge myself to pursue my interests even if it meant I had to do so alone. This was critical to pursuing my version of a fulfilled life!
"My favorite adventure was my three-month solo backpacking trip after quitting my job. I bought a one-way ticket to Mexico and backpacked all the way down to Colombia over the course of three months. I learned Spanish, lived with strangers, tasted foods I'd never heard of, fell in love, etc."
"I always advise women to do their research and share their location with at least two other people. You should carry yourself with confidence, be strategic when selecting accommodation, and pack light as possible for convenience. Avoid sharing your location in real time and follow your intuition at all times!"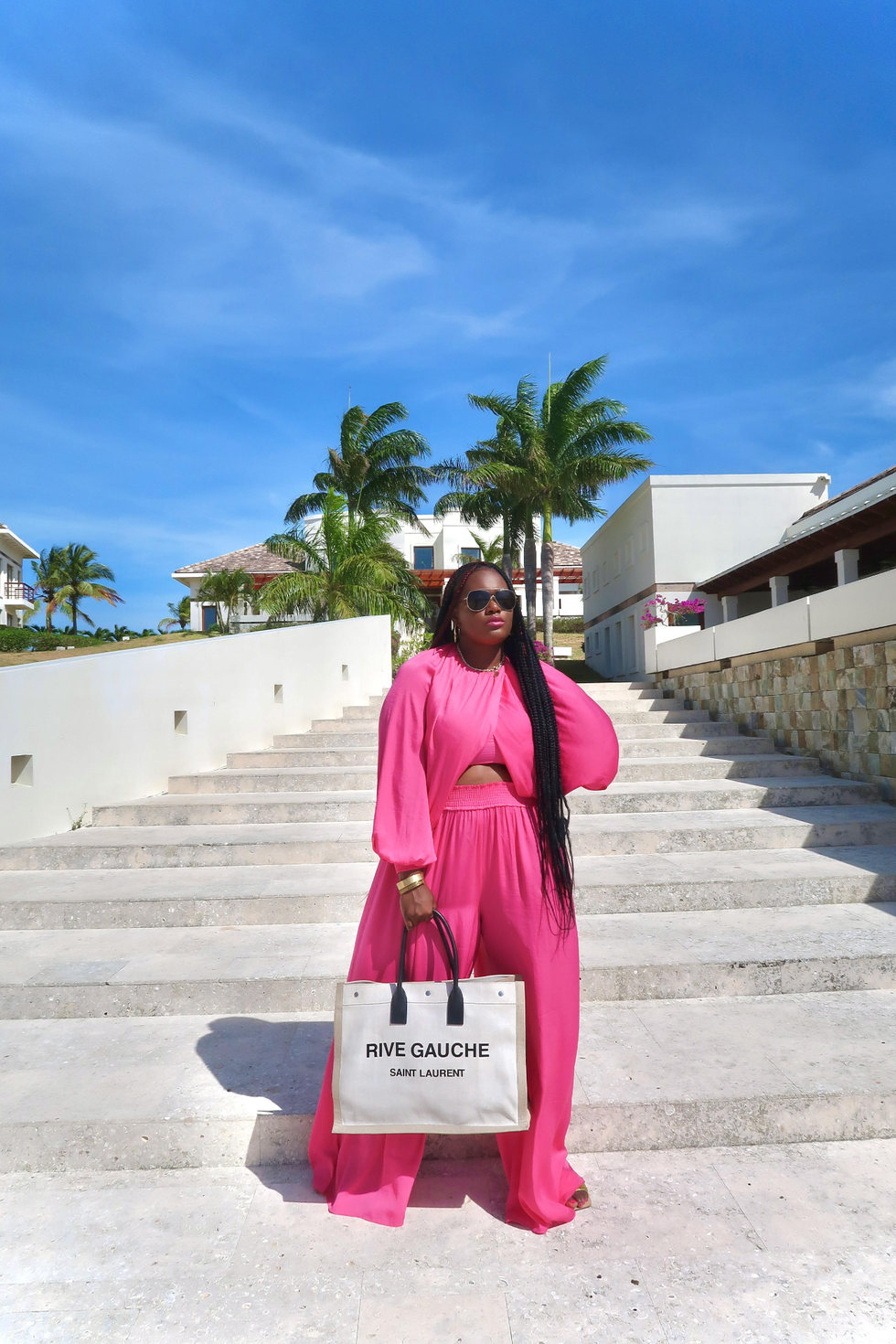 Courtesy of Devorah
"My first solo trip was to Peru in 2017. I found an insane flight deal from NYC to Peru for $389. Usually these flights are between $600-$700. When I reached out to who I normally travel with, none of them could make it due to scheduling conflicts, budget, etc. So I had a choice, do I give up this rare flight deal or swallow my fears and go? Luckily, I made the right choice. Statistically, you have a higher chance of being harmed in your home city/country than you are anywhere else. To shake the fear requires a mindset change. Instead of thinking about what can go wrong, do your research and follow procedures to avoid these things as best as possible.
"Stay in a busy tourist area to avoid feeling alone, book tours with reputable companies on Tripadvisor so you can meet like-minded people like yourself. I always check the reviews for any accommodation I stay in. I also make sure I do not arrive at night regardless of how cheap the flight is. It's not worth the risk of navigating to your accommodation at night while alone. Additionally, there are lots of resources on solo travel that have made my life easier. Pinterest has helped me a lot with planning and finding other female travelers who have shared their solo experiences."
"My favorite solo trip was to Mauritius in 2020. I wasn't planning on going but I was already in the Seychelles and found a round trip flight there for $400 (it's usually $800+ from NYC), so I went with 48 hours notice. Not much time to plan but I was able to wing it thanks to Pinterest and a great hotel staff. I rented a car and drove throughout the island. I almost didn't make it home because I loved it that much.
"Solitude is one of the best forms of self-care. There's no better feeling than taking some time (even if it's a weekend) to only focus on YOU and what you want. From someone who's now been to more than 10 countries solo, this freeing feeling will outweigh your fears."
Featured image courtesy of Sabrina @With.Love.Brina
Keep reading...
Show less
Dwyane Wade and Gabrielle Union are living their best livesssss hunni, and we are here for it! The 39-year-old retired NBA player, and 48-year-old actress left the kids at home and took off to vacation in the Mediterranean with friends, as they enjoy relaxing sunsets and pull up to gems on a yacht that has us all screaming in poor.
The two couldn't care less about who's watching, packing on the PDA, all of which Union has been documenting throughout the trip.
Additionally, sis' story is filled with views on views on views, as she enjoys life with bae without a care in the world. The two have been traveling quite a bit over the last few weeks, and anyone who has been following the couple for a while knows that a "Wade World Tour" is what the two call their baecations together. And the best thing about the trips? All of the photos, of course! What else?!
The Wade World Tours are (mostly) annual, as in the past, (and pre-pandemic) they've visited Ibiza and the Greek Isles for other hugely documented trips--trips which the couple credits to keeping their marriage in tact. They told PEOPLE:
"This is both of our second marriages, and we're super transparent about that. We didn't do it right, the first time around. There's another way—to be more collaborative and equitable. We humble ourselves, listen and we meet in the middle."
Ever since, the couple have been open about what works for them, no matter how big or small.
"In this partnership, there are times when I have to lead, times when I have to step back and times where we are side by side."
Thankfully, this trip is just in time, as Union is scheduled to go out on tour for her new book, You Got Anything Stronger? in September, and Wade has a new TV game show and journey into NBA ownership.
Keep scrolling for some of our favorite moments!
When Dwyane showed off why he's the GOAT in a video of himself jumping off the yacht. "There's no going back," he captioned the video:
And finally, when Gabrielle had one important question:
Currently, there's no word on how long this vacation will be happening, but we do know that we will be tuned in.
Now, let me check these flights to the Mediterranean...
Are you a member of our insiders squad? Join us in the xoTribe Members Community today!

Featured image by Johnny Nunez/Getty Images for Stance
Keep reading...
Show less
I recently sold all my stuff to travel full-time, and when I told people I was moving abroad, the No. 1 question I got was: "What are you going to do with your hair?" After scouring YouTube and blog posts, I wasn't too confident that I would be able to find someone to do my natural hair in Mexico. Everything seemed so complicated, like a hit-or-miss situation. Well, I finally found someone to braid my hair in Cabo within a week of being here! (So if you need a stylist in that area, feel free to book an appointment with Jane. She did an amazing job.)
I still hear Black women say one of their fears of traveling is figuring out what to do with their hair. I'm here to encourage you. Here are my tips for taking care of your natural hair while traveling:
1. Talk to locals.
Google was OK in helping me find a few hair salons, but it doesn't compare to talking to the people who actually live in the location where you'll be traveling. One afternoon, I was walking around the downtown area and struck up a conversation with one of the store workers. That conversation led me to ask if she knew anyone who braided hair, and boom! I was shocked by how easy it was. I simply showed her a picture of the hairstyle I wanted and she immediately knew someone who could do it.
When I'm back home looking for a stylist recommendation, I'd usually ask people, so the same principle applies when traveling.
I suggest talking to locals about everything while you travel. Not only does it help you get out of your comfort zone, but you'll come across places, neighborhoods, restaurants, and events that Trip Advisor can't keep up with.
2. Stick to your go-to hairstyles.
When traveling, I love wearing braids. I've tried wigs and weaves, but because I like to be extremely active and not just lay on a beach (which is totally fine, by the way), those hairstyles usually start to look unkempt after a few days.

I know that if I hit the road with braids, they'll last one to two months which gives me enough of a window to find someone who can redo them when it's that time.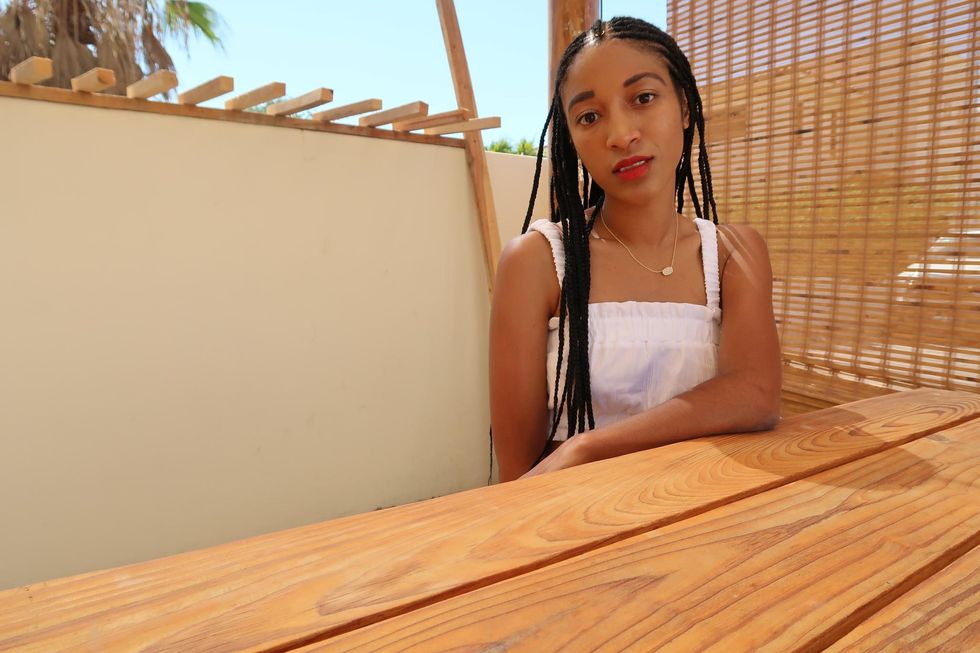 Dominique Jackson/xoNecole
3. Practice at home.
It's always good to know how to style your own hair. It doesn't matter if your hair is relaxed or natural, have a few go-to styles that you can do on your own without the addition of added hair. I have one to two hairstyles in my back pocket that I can do without stress. Hello, flexi-rod set!

Learn how to take care of and maintain your own hair, and experiment with the products that work best for you.
4. Look for essential ingredients.
It's a good idea to pack the right amount of hair products for the length of your trip. When traveling, your favorite hair products might not be available abroad, or, if available, they might not be easily accessible. If you need to shop for hair essentials abroad, look for key ingredients that your particular hair needs. I always try to get products with water as the first ingredient or those that include light oils.

Beauty supply stores such as Sally Beauty Supply have international locations that might have a few familiar natural haircare products. You can also search online for your favorite brand and budget for the cost of international shipping.
5. Use social media.
Social media is also a good tool to use when looking for someone to style your natural hair while abroad. Just make sure you're searching in the correct language. For example, the word "braids" in Spanish translates to "trenzas," so using the hashtag #trenzas brought up more specific results for stylists actually near me.

Also, for any country you are visiting, there's probably a Facebook group for women living abroad who rock their natural curls and styles. Search for keywords such as "Black women," "Black people" and "natural hair" with the name of the country you're traveling to, and a list of results for specific Facebook groups should appear.
And if all else fails, throw on a hat, travel the world, and live your best life, girl!
Featured image by Dominique Jackson/xoNecole
Keep reading...
Show less
Visiting the Bahamas for the first time exceeded my expectations, even in the middle of a pandemic. Between the rich culture, flavorful foods, rhythmic music and beautiful beaches, this Caribbean paradise has so much to offer for all types of travelers. I stayed in Nassau, which is the capital of the Bahamas and one of the most popular island ports for cruises. Tourism accounts for more than 50 percent of the country's gross domestic product (GPD) and employs almost half of the Bahamian workforce, so spending my money directly on the island was important to me.
I felt a warm welcome from every single Bahamian I came across for the entirety of my trip, which made me feel more at home than on vacation. So let's get to where to stay, what to eat, and all the fun things to do in and around Nassau so you can start planning your trip now!
Things To Know About The Bahamas Before You Travel
Traveling during a global pandemic means an added layer of research and additional steps to take in making sure you are prepared to travel to your destination. This destination requires you to apply on their website for a Bahamas Health Travel Visa, and the application takes about 5 minutes to complete. There's also a $40 fee.
According to the most recent regulations, all travelers to the Bahamas must provide proof of a negative COVID-19 test taken no more than 5 days before arrival. I was approved within 24 hours of completing my application and uploading my documents, so it's a super-quick process, but you'll want to get your approval ahead of your trip. (And be sure to check the travel visa website closer to the date of your trip, as regulations are subject to change.)
Once approved, you receive a QR code to present at the airport before passing through security. Try to arrive early to ensure you have enough time to get your documents checked because you don't want to get left behind because you don't have all your ducks in a row.
Where To Stay In The Bahamas
Airbnb: Thirty Six
For some destinations, I prefer to skip the resorts and go for a more local accommodation like an Airbnb. After doing lots of research, I decided to stay at Thirty|Six Condominiums, a luxury condo on Paradise Island.
When I say that it's a newer, luxury condo, I mean it. In the taxi ride from the airport, our driver joked that we must be celebrities because only famous people stay there.
The one-bedroom condo had one full bathroom and one half bathroom, a walk-in closet, a washer and dryer, a large wrap-around balcony, and a completely renovated kitchen. I truly felt like I was living a fabulous life in such a beautiful space.
The property had a 24-hour security booth, parking, a gym, and a beautiful infinity pool where we could lounge all day long. The security guards were great for helping us get a taxi or giving restaurant recommendations. I would for sure stay there again next time.

Hotel: Atlantis Paradise Island
Chances are if you start to research anything related to the Bahamas, you've heard of Atlantis" target="_blank">Atlantis has shown up. Located on Paradise Island, it is one of the top rated hotels in all of the Bahamas. Now just know, if you want to stay at Atlantis, you are going to be paying a pretty penny, but it's full of delicious restaurants, a beautiful beach, a water park, a rooftop bar, a casino, and so much more. If luxury is your thing—or just having everything right there—you definitely want to consider paying the extra money for the convenience of Atlantis.
Where To Eat
The Bahamas was filled with so many delicious restaurants, it was truly hard to narrow it down to just a few. As with most islands, the seafood was super-fresh and the hospitality was pleasant.
Conch is a true Bahamian specialty, so be sure to try conch fritters and conch salad everywhere. I honestly had conch fritters every day.
And of course, rum is the true star of any island vacation so I recommend a Bahama Mama or rum punch for lunch and dinner. Everywhere that I ate was spectacular, but here are some of my favorite must-try places for good eats.
Viola's Bar and Grill
Multiple people suggested eating at Viola's, and it did not disappoint. Located in walking distance to most hotels on Paradise Island, Viola's is the perfect spot to grab lunch or dinner. Outside of the delicious Bahamian food, Viola's also has great entertainment like karaoke nights. Don't miss trying the conch fritters (duh!) and the shrimp mac-and-cheese which can be made spicy. Also, ask about the super-sized drink upgrades, because why not?
Green Parrot
This spot is located right on the harbor, so it serves up delicious eats with fantastic views. The service was great and the drinks had me whining in my chair to the reggae music.

Sonia's Jerk
If there is just one thing you follow through with after reading this guide, let it be a visit to Sonia's Jerk Hut on the beach. Located right on the beach, this cute little spot serves all of your Caribbean favorites, and the owner Sonia is super sweet. The restaurant prides itself as the "best jerk on the island," and I did not see the lie. The jerk chicken was thebomb.com. Oh, and don't sleep on her spicy sauce because it packs a punch! Another great thing is that the food comes in to-go containers so if her tables are full, just grab your food and eat it right there on the beach.
Latitudes
Latitudes is where you go when you want to dress up and spend a little more for dinner. Their menu is a fusion of different cuisines that includes sushi, pizza, steak, and noodle bowls. Dinner can fill up quickly so be sure to make a reservation.
Arawak Cay Fish Fry
Fish Fry is not a specific restaurant but a designated strip of different restaurants serving up fresh and delicious seafood. There isn't one specific place I can recommend because I tried so many that were good, so I suggest you treat it like a bar-hop. Stop at one place for the conch fritters, then go a few doors down for some fried snapper, and then try the rum punch and shrimp at another spot.
Later in the evening, this area is vibrant, with music playing and lots of locals and tourists wandering around looking for their next spot to eat. I visited twice and had some of the best conch fritters and rum punch at one of the smaller spots.
What To Do In The Bahamas
When on vacation, it's not always necessary to have a full itinerary. Sometimes you just gotta relax and go with the flow. The Bahamas is great for both travelers who want to lounge on the beach with a cocktail all day and those who are looking for adventure. If you want to make the most of your time, here are some suggestions for things to do and places to visit to get the authentic Bahamian experience.

Junkanoo Beach
Located just minutes away from downtown Nassau, Junkanoo Beach was the best beach for hanging out and enjoying the crystal blue water. I found the water to be calmer and more shallow, which is perfect for those who just want to enjoy the water without going out too deep or worrying about large waves. There's also a strip of bars and restaurants right along the beach (including Sonia's Jerk Hut), so you can easily spend a day here just relaxing and catching vibes. Take a walk a little further down and you'll end up right at the start of the Fish Fry. Win-Win!

Snorkeling Boat Cruise
What is vacation if you don't find yourself on a boat at least once? The water surrounding the Bahamas is just too beautiful not to see up-close and personal. There are a number of boat cruises that will take you to different islands and some trips include stops for snorkeling and lunch. The cruise I took included snorkeling near green turtles, bottomless rum punch, and a stop at a restaurant on Rose island, complete with a DJ and time for ordering food. Need I say more?
John Watling Distillery
When in Rome, or in this case the Bahamas, do a rum tasting! This historic distillery has been pushing out hand-crafted Bahamian rum since 1789 and is worth the visit. Stop by for rum tastings or a free daily tour, and grab a bottle (or two) to bring back to the states.
Hideaway Floating Bar
A floating bar in the middle of the ocean with good drinks and vibes? Sign me up! Hideaway is literally a floating bar and grill located in the water near Athol Island, which is just off of Paradise Island. Open on weekends only, catch an hourly speedboat out to the bar and spend the day hanging out by the bar or lounging with your feet in the water as you take in the views. Be sure to go early, because once it fills up, you have to wait until people leave to go over.
Exuma Island

I know everyone has seen the photos of folks visiting the Bahamas and being on an island full of large pigs called Exuma. There you can visit the pigs, swim with sharks, and just enjoy the beautiful views. It's a separate island from the one Nassua is located on, so if you want to swim with the pigs you will have to book a flight which takes about 40 mins or book a boat tour which can be around 3 to 4 hours via speedboat. It's a long journey, but worth the Instagrammable photos with a piglet and his family.
Cacique Bar and Lounge
If you're like me, then you enjoy venturing out to experience nightlife when visiting new places. The Bahamas did not let me down when it came to having fun, and Cacique was one of those places that I wanted to go back to every night if I could. Located not too far from Junkanoo Beach, it's an outdoor spot that has all the vibes. I'm talking about good food, strong and cheap drinks (hello $10 top shelf), hookah, and a DJ playing everything from soca to hip-hop. Do yourself a favor and plan at least one fun night out to dance and have fun at Cacique, and depending on the day you might find yourself enjoying karaoke, paint and sip, or Ladies Night.
For more travel stories, tips and tricks, check out the xoNecole travel section here.
Featured image by Getty Images
Keep reading...
Show less
I started dreaming about moving abroad when I was about 21 years old. I remember returning from a two-week study abroad trip to Dublin, Ireland having my eyes and mind wide open to the possibility of living overseas. This new travel passion was intensified after graduating from college in 2016, and going on a group trip to Italy. I was intoxicated by my love for Italy. It's hands down my favorite place. However, my post-grad life was one twist and turn after the next. I'm sure you can relate.
The pressure to find a "real job," start my career, launch a business, date, make new friends, move to a new city, and so on. I felt this immense internal pressure to be settled and have my life nice and neat. Honestly, It was anything but. Any time I talked about travelling, I was usually met with questions such as: "What are running from?" Or projections such as "That's so expensive," "Sounds dangerous," or even "You probably haven't found someone cause you travel too much." Ouch, that last one hurt the most.
All of these comments made me hesitant and afraid towards taking the leap. The opinions of others seeped into my mind causing me to think that maybe I didn't have what it takes, and that I would end up broke and homeless in the middle of some remote region. However, there are some dreams I just can't shake. Obviously, the pandemic halted my travel plans, but if we're being honest, I was afraid of the nomadic lifestlye long before 2020.
After being laid off twice, and paying off my student loans, I felt peace and alignment to make this dream a reality. Now that I'm abroad, I'm thankful I did it in God's perfect timing for my life.
If you're ready to move abroad or simply head in the direction of travelling more, here are the steps I took. Never give up on a dream because of the time it will take to accomplish it, the time will pass anyway. So with that mindset, here are 5 things you can do to prepare for your move abroad.
Don't Rush.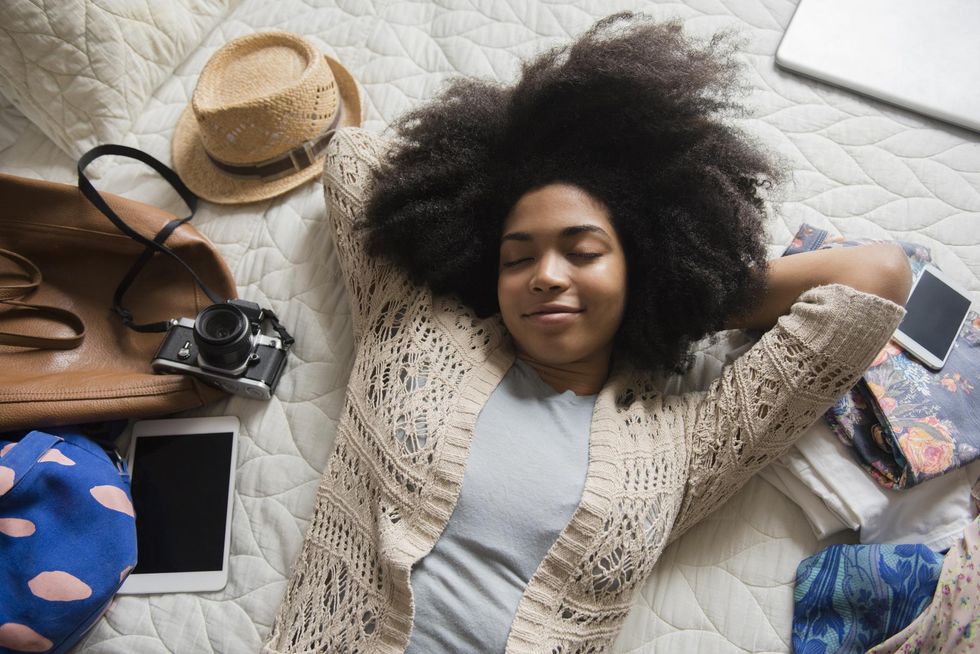 Getty Images
My plans to move abroad got delayed on multiple occasions. But delayed does not mean denied. Looking back, each move set me up for something better. It's easy to want to chase our passions, and keep up with whatever is trending on social media. Yes, travel is one of my passions, but so is being financially stable. For a season, I focused on my financial life. I took side jobs to help me pay off debt, and developed discipline. You don't have to accomplish everything in one day. There is time. No rush, just diligent steps in the right direction. In the end, we'll all get to where we're supposed to be.
Save. Save. Save. 
I know Instagram has conveyed that folks hastily quit their "corporate jobs to move abroad," and that's a cool story, but it's not mine. Take your time to save and create a strategy to move abroad. Identify what type of travel experience you want, and be open. Build out at least six months of an emergency savings, start a travel savings account, create a budget and stick to it. Tokyo will be just as amazing in 2022 or 2025. But do you know what's not fun? Not being able to afford basic life expenses. Save, sis.
Study. Study. Study.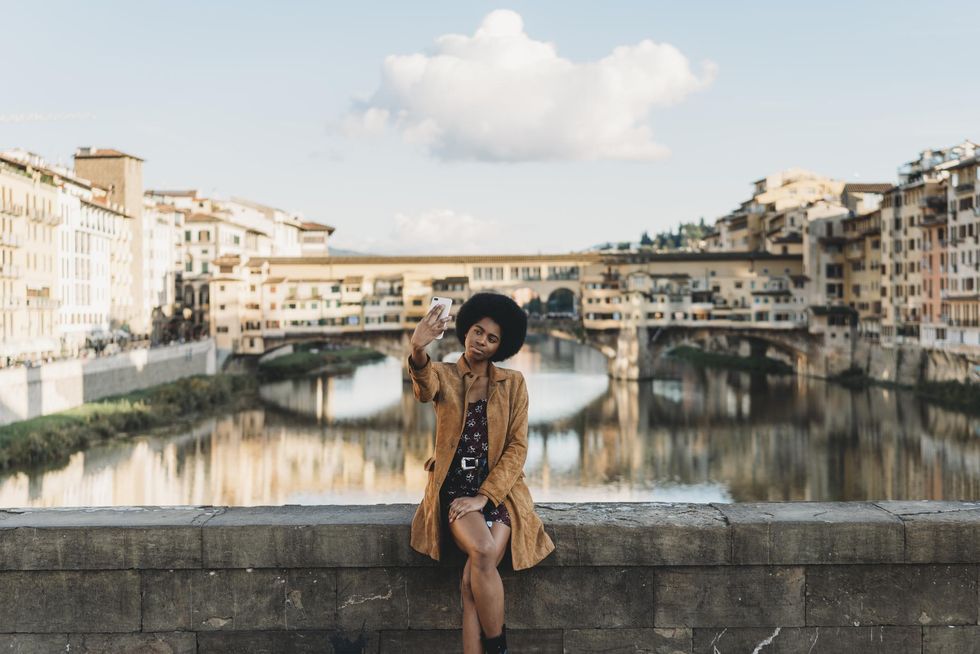 Reading articles like this is a great start. I've taken free courses, read books, followed my favorite travel accounts, consumed blog post after blog post, and all the resources about moving abroad I could find. We are in the information age, so anything you want to find or know is literally at your fingertips.
Your Friends Ain't Coming. Take Action Anyway. 
Your life is yours, and that's it. This is your dream and vision, no one else's. Having a travel buddy, bae, or whatever else is great, but don't let that be the only thing holding you back. Now is a perfect time to live the life of your dreams. A meme was trending on Instagram recently, it said: "Your purpose ain't a conference call." The people who are supposed to be on the journey with you will come, but you have to take the first step. It's absolutely scary. I'm still processing the fact that I sold all my stuff to move abroad, but I did it.
Find Your Travel Crew.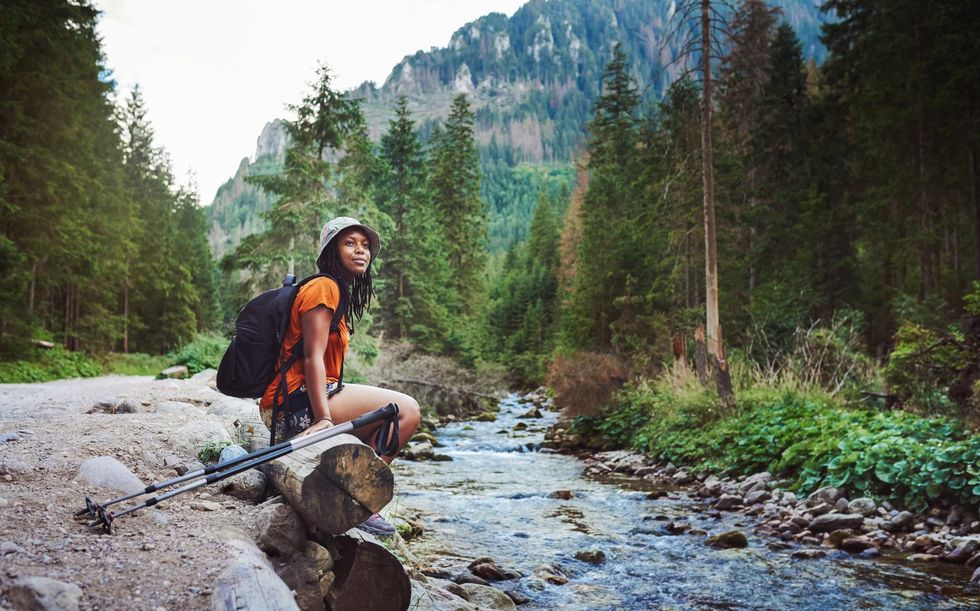 Getty Images
Now, once abroad, there are plenty of resources to find like-minded people. Facebook groups and hashtags are great places to start. If you want to ease back into travelling, then finding a group trip through companies like Dipaways and Wind Collective are great places to start. Work up the confidence to talk to locals or book group tours. We're all looking for connection and friends out here, so remember you are not alone in your desires for community.
To follow along with my journey, check out my Digital Nomad Vlog #1: Saying Goodbye, Surfing, and Natural Hair below!
In this video, I show y'all goodbyes from friends and family, an empty house/co-living tour, a morning surf trip, and what's the heck I'm doing with my hair,...

Featured image by Getty Images

Keep reading...
Show less
OK, so guess how much an average vacation costs. Dun-dun-dun-dun. It's a whopping $4,700! And while things like traveling internationally, staying in a nice hotel and planning to eat out for every meal (not to mention how long you plan on staying gone) definitely contribute to whether this could be your price tag reality, I'm pretty sure that I'm not jumping the gun when I say that money is gonna be a little tight for a lot of us this year when it comes to taking a traditional summer vacation.
Still, when you factor in all of the definitions of vacation that are up at the top of this article, just because you may not have a ton of coins (or maybe even a lot of time), that doesn't mean that you can't create your own vacation of sorts — one that doesn't require you spending a ton of cash or even going very far.
If you definitely would like a little bit of rest and relaxation in the upcoming weeks but your budget says you need to get creative, here are some ways to take a bit of a summer vacation — even if you can't really take one.
1. Shop Like You're About to Go on a Trip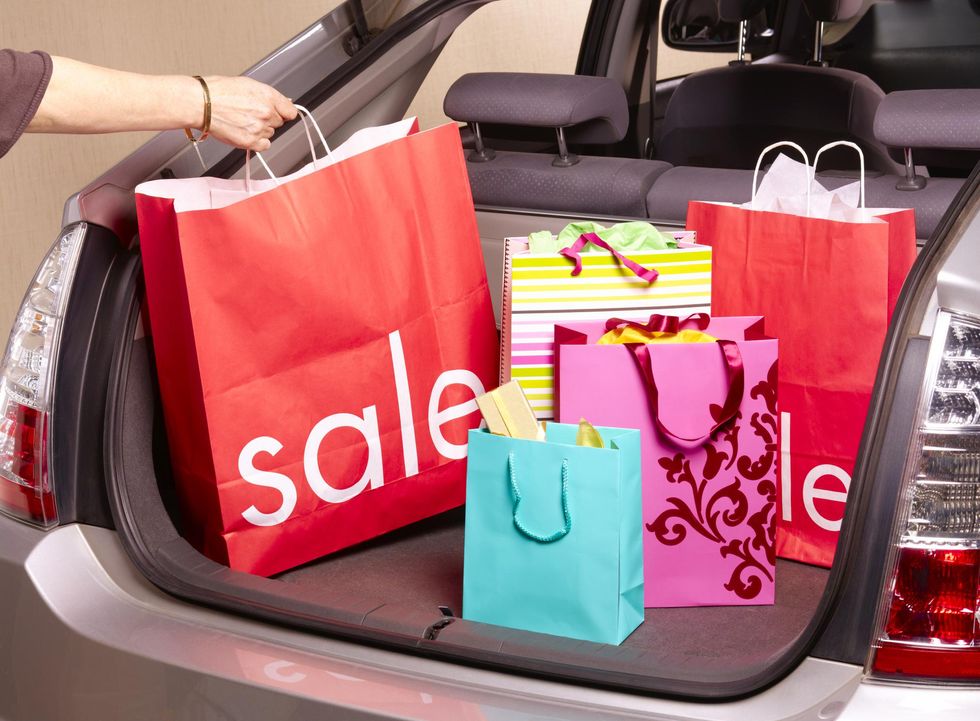 Aight, y'all. Let's not act like one of the best things about going on vacation is purchasing some new things to take on our trip. Since you're not actually going anywhere (or anywhere far), you can actually buy a few things without guilt or debt because you won't have to spend as much (if you're on a budget, that is).
So, why not use your non-vacation vacation as an opportunity to pick up a new dress, pair of pumps or whatever else you've been eyeing for a while? Something new, whether you wear it immediately or not, is always an easy way to put a smile on your face and take some of the stress off (again, if you budget).
2. Turn Your Bedroom into a (Temporary) Tropical Paradise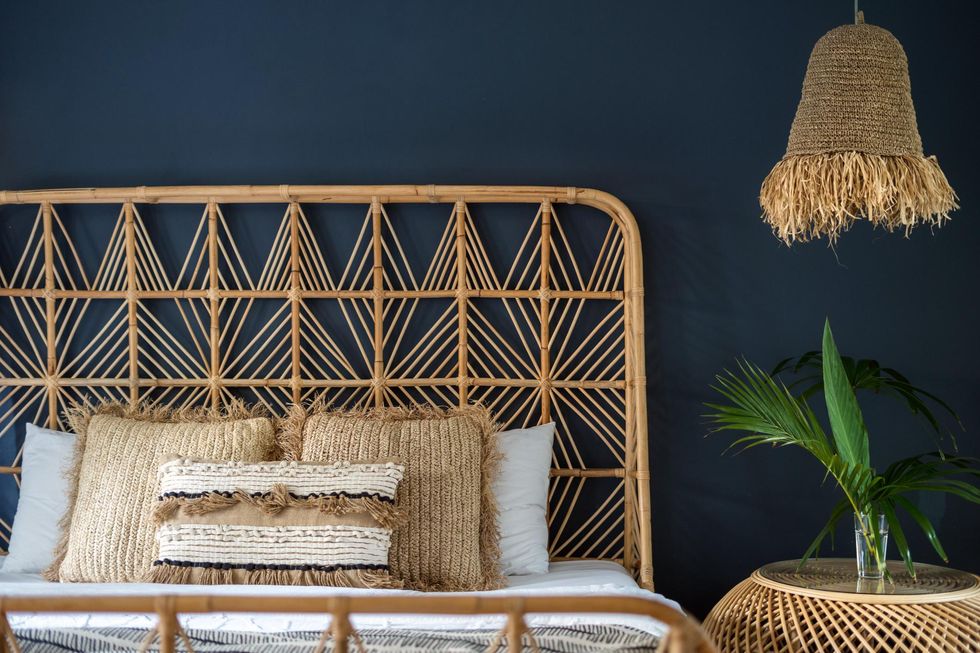 I know someone who had an actual tree (sans the leaves) in their living room. It was kinda dope because, every holiday (and also with the change of the seasons), they would put different decorations on it. Why not do something similar to this when it comes to your bedroom? Because here's the thing — the change of bedding, some new window treatments and maybe a big plant or a faux tree can make all of the difference in the world if you're ready for something new in your bedroom but you don't have the big bucks to go all out. If you would've liked nothing more than to go somewhere that requires a passport and has plenty of water and sand upon your arrival, Decoist is a site that offers 30 tips for how to turn your bedroom into a tropical oasis (check it out here). If you add a pineapple-scented soy candle, a fan and some ASMR of ocean waves, you really could feel like you're in a beach house — or very close to it.
3. Eat Different Exotic Foods Every Day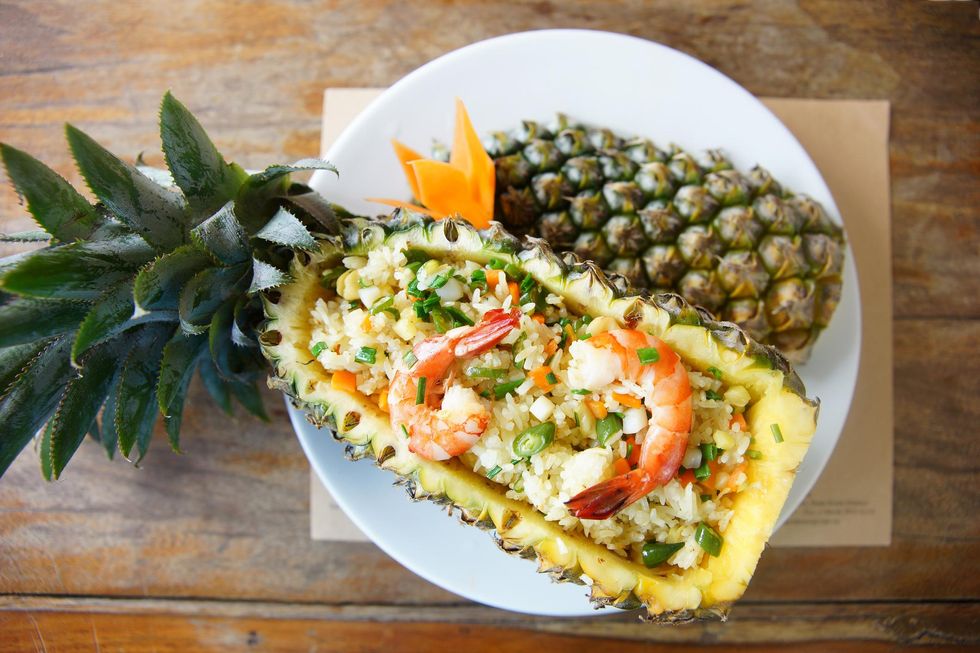 Something else that's fun about going on vacation is it's pretty common to either try a restaurant or a kind of food that you've never had before. That doesn't have to change, just because you're going to be at home. If you go to your favorite search engine and put "exotic recipes" into the search field, you might be surprised by the kind of dishes that you can make. Or, if the last thing that you want to do is be in your kitchen, try putting "unique dining experiences near me" in the search field instead for a list of restaurants that you can either go to or will deliver food to your front door.
4. Play Some World Music Sometimes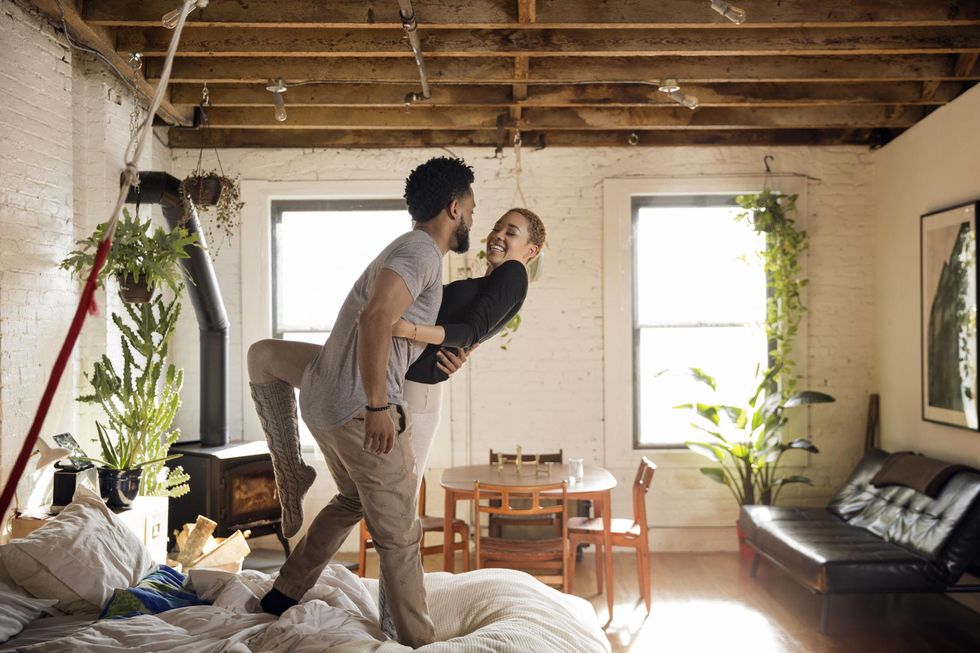 There are literally dozens of scientifically backed reasons for why listening to music is good for us. It reduces stress and anxiety. It puts us in a better mood (well, depending on what we choose to listen to). It can decrease pain and discomfort. It improves your memory, strengthens your heart and can even help you to sleep better.
That said, this time, rather than playing what you usually do (shout-out to 90s R&B fans), how about a little bit of world music? It can introduce you to new artists, expose you to another culture and can put your home's atmosphere into a totally different kind of vibe.
For instance, I happened upon a Nigerian artist named Banky W. and the song he wrote for his wife a few years back. It's called "Heaven (Susu's Song)". It definitely put me on the path to check out other artists in his country. Absolutely no regrets either.
5. Have Fun with Google Street View/Google Earth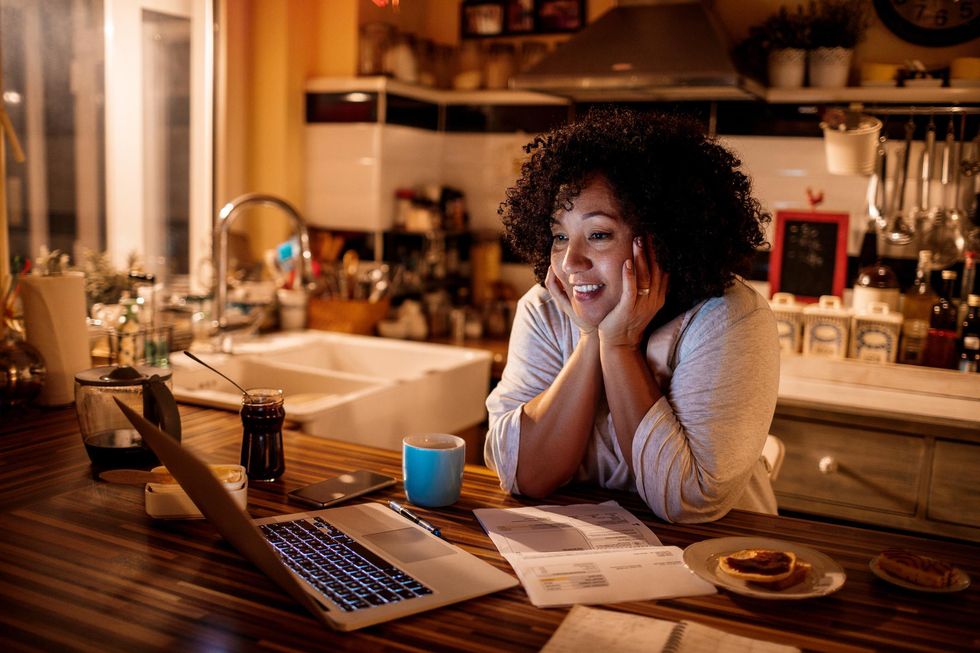 Who said that just because you're not physically traveling anywhere that you can't still do some major sightseeing from the comfort and convenience of your own home? Thanks to Google Street View and Google Earth, you can look at various countries, museums, national parks — just about anything that you can possibly think of, all while sitting on the couch or lying on your bed.
6. Be a Tourist in Your Own City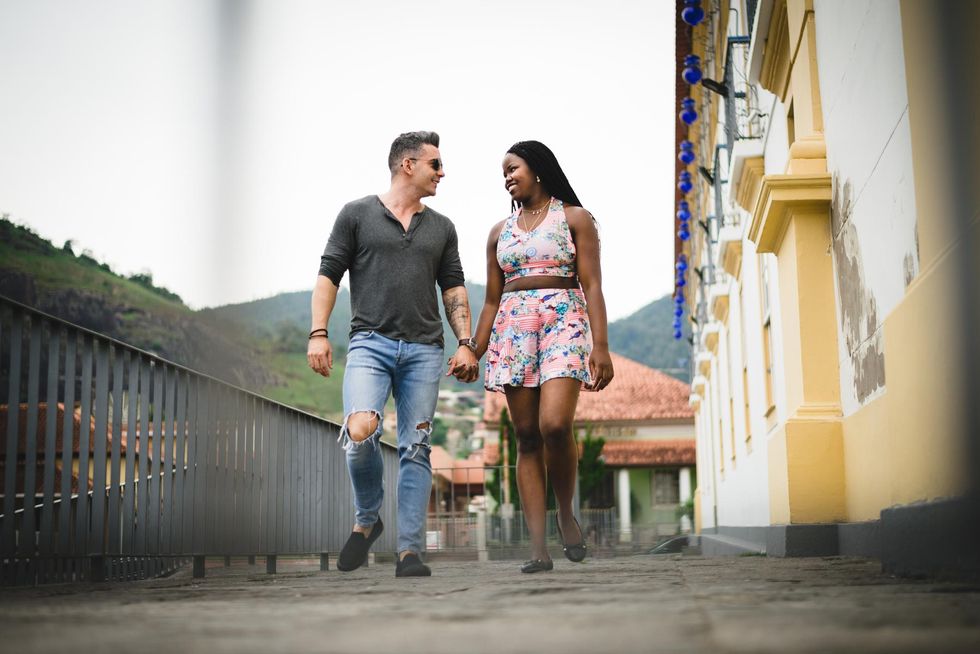 A few weeks ago, a friend of mine and I went to the Assembly Food Hall, downtown in Music City, for the first time and y'all — I've lived in Nashville since I was three and have written for the major newspaper here which means I spent a lot of time in that area…and when I tell you I barely recognized my own city? Nashville is on steroids right now! My point? I could easily spend a day down there and explore like I was a tourist. Chances are, you could probably do the same thing where you live since there's a really good chance that you've never really looked at where you live through the eyes of a tourist. Hey, it might seem like a corny thing to do on the surface, but you might be surprised what hanging out for a few hours in your own downtown will reveal to you.
7. Book a Hotel Room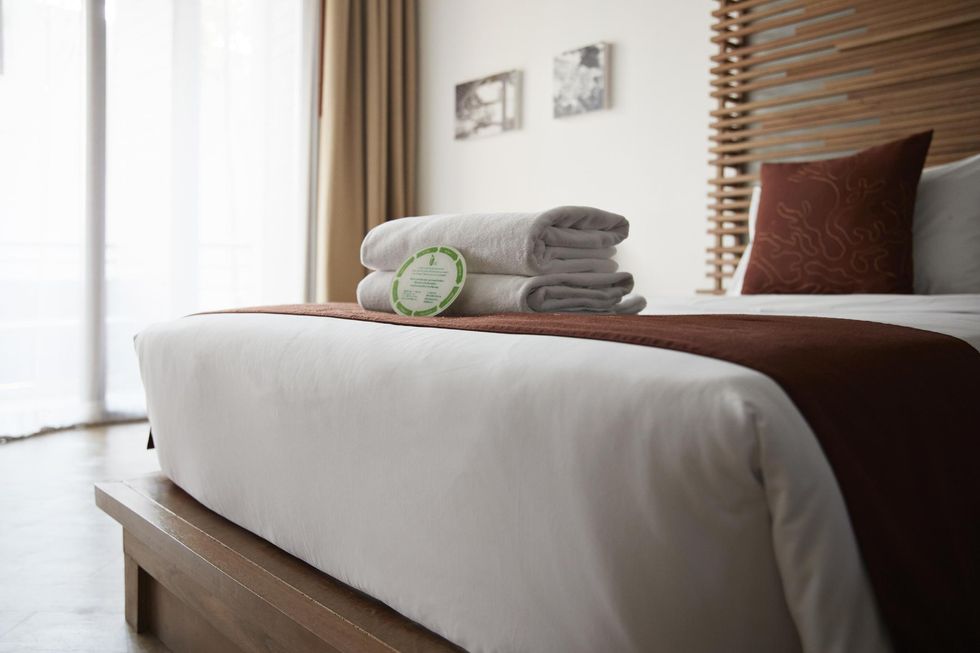 It doesn't matter if you're single, in a relationship or wanting to hang out with your friends, you absolutely must take out at least one day to spend the night in a local hotel. Not some two-star one up the street either. Pick a place that you've always been curious about, go to a discount site like Hotels and book a reservation at a discounted rate. While the world is still trying to open up, you should be able to get a pretty good deal since many businesses are not as busy as they were prior to the pandemic (yet).
8. Do Something "Risky"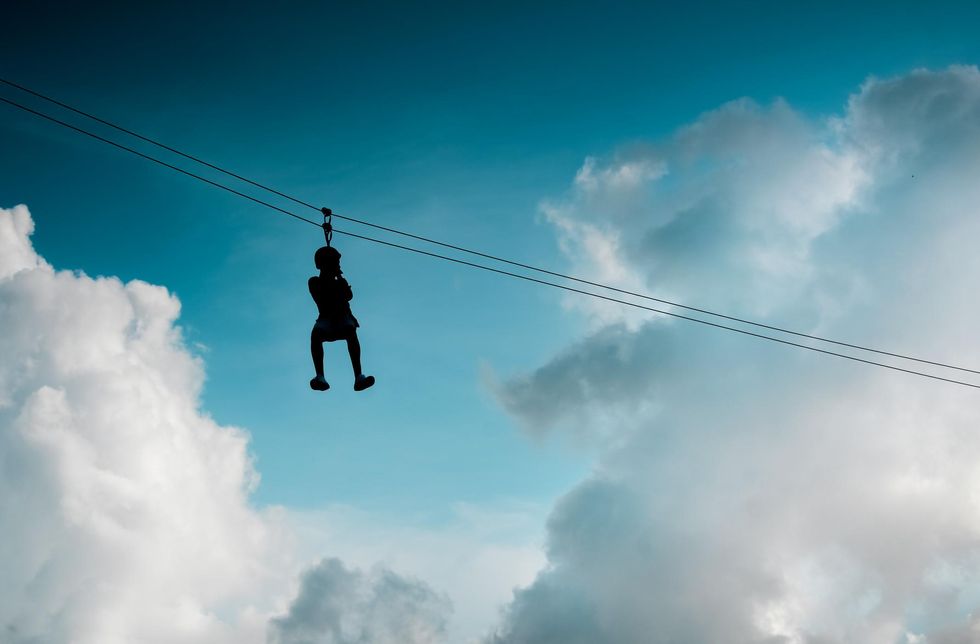 I don't know what it is about traveling to other places that makes us want to try things that we probably would never attempt at home. Why wait to go out of town to take a risk or two, though? Whether it's ziplining, skydiving, rock climbing — whatever, book an appointment to do it while you've got the time off. It's a great way to check something off of your bucket list and create a pretty awesome memory in the process.
9. Designate a "Good Vices" Day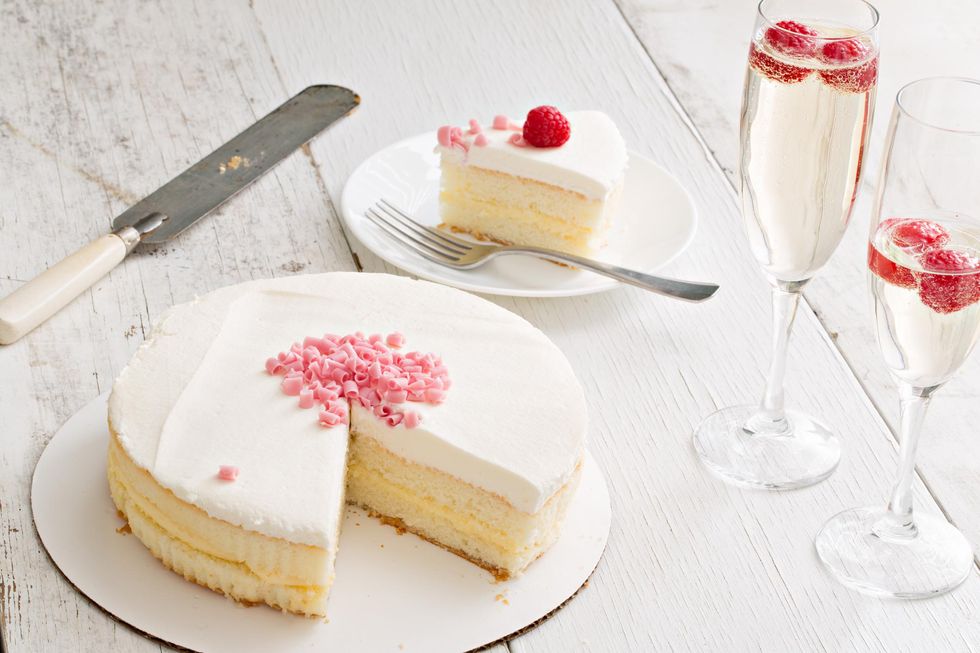 One of my favorite quotes of all time is, "The excess of a virtue is a vice." Aristotle is who said it. What it basically means is, anything done in excess has the great potential to be problematic — even if it's good for you. So, if you've been eating super clean in order to shed some pounds, you can't remember the last time you've enjoyed your favorite cocktail or you've been craving ice cream for a couple of weeks now and, for whatever the reason, you've been denying yourself — why not use this time off to have what I call a "good vices" day. Nobody is saying to be reckless or anything. Just designate a day when you can order a pizza, roll up a couple of blunts and/or eat a couple of Krispy Kremes to your total heart's content. You're on vacation. Why the hell not?
10. Get Completely Off of the Grid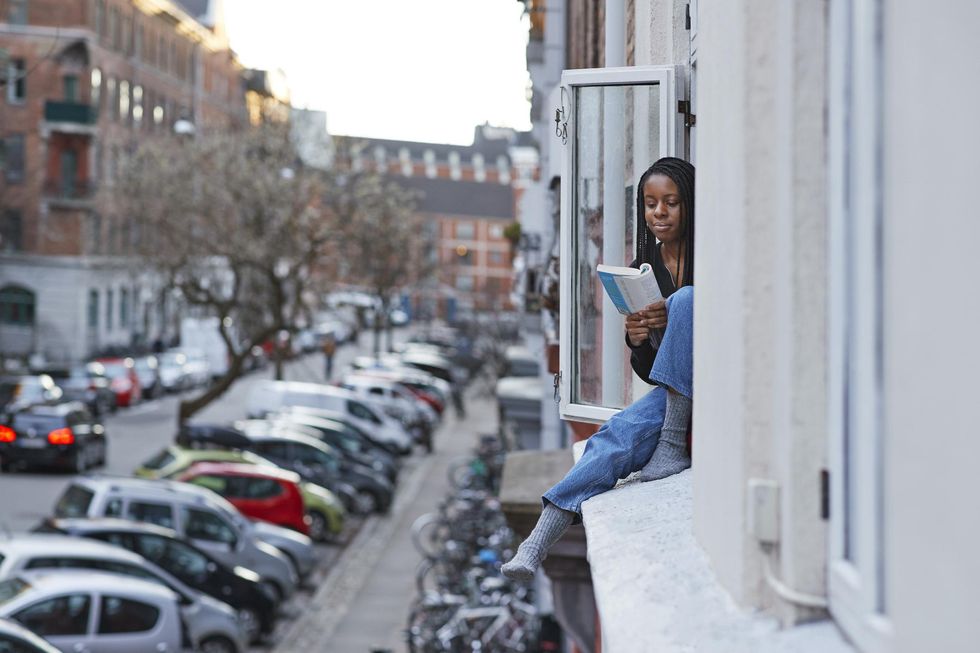 There are a few people I know who are definitely workaholics. What's my clue? Even when they go on vacation, they are still "plugged in". If it's not their laptop, it's their phone. A part of why you go on a vacation is so you can take a break away from your regular routine. So, unless you're a parent who is going to take a few days off from your kids, there really is no reason to be around your usual electronics during your down time. Folks can leave a voicemail, shoot an email or write a text. And I promise you, 85 percent of whatever it is that they say — it can wait until you return to your regularly scheduled life.
11. Leave Certain Topics Totally Off of the Table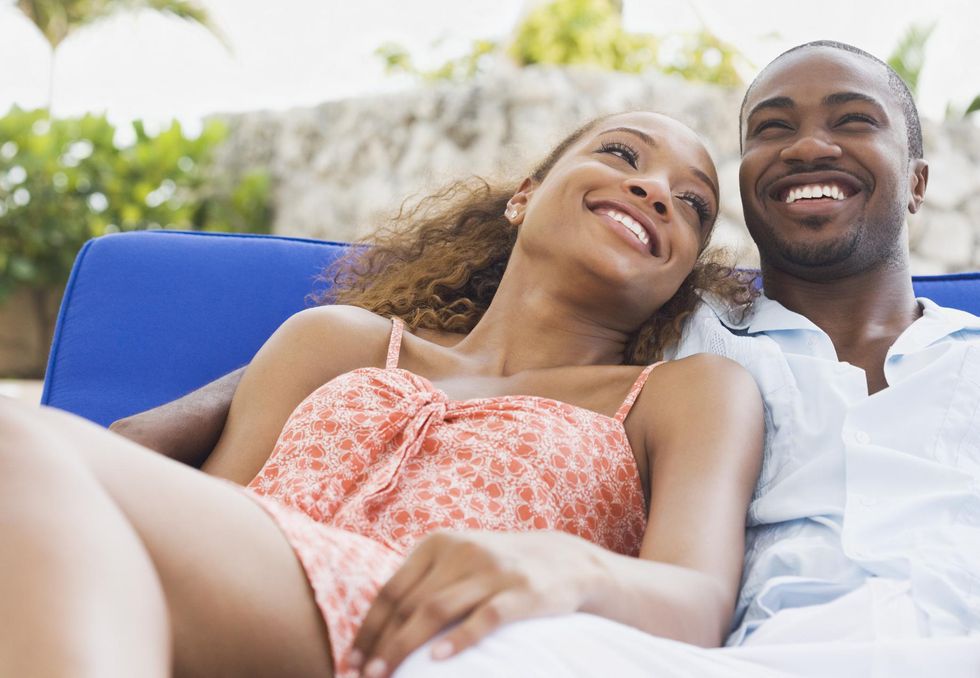 Along the same lines of the point I just made, there is also absolutely no point in going on a vacation if all you're going to be doing is worrying about the same stuff that you do when you're not taking time off. So again, whether you're single, in a relationship or planning to do some of this with family members and/or friends, ask everyone to agree that certain topics are off of the table — bills, work, drama…stuff that prevents you from chilling out and completely relaxing.
When I'm working with married couples and I recommend that they take a sexcation, it is amazing how many of them return stressed because they decided to bring their problems along for the ride. A vacation should be about a shift in mindset more than anything else. Always remember that.
12. Don't Forget About Your Sex Jar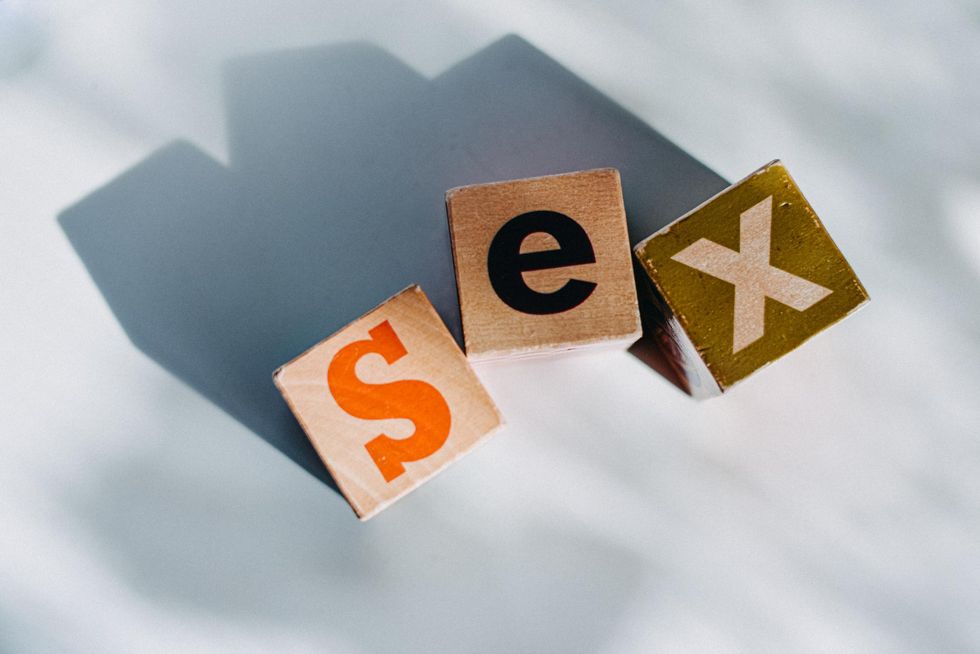 One of the first articles that I wrote when I first came to this platform was "5 Reasons Why Every Married Couple Needs A Sex Jar". The gist is, if you're in a long-term exclusive relationship, every time you and your partner have sex, put some money into a jar. At the end of six months or a year, count up your coins and do something together that will benefit the relationship — whether that ends up being a trip to Baskin Robbins or a cruise is totally up to y'all and y'all's sex life. Anyway, if you happen to fall into this relational dynamic, there's no time like your vacation to start stacking up some paper. Sex jars are one of the best things ever invented. Using your vacation as an opportunity to take advantage of 'em.
13. Take Lots of Pictures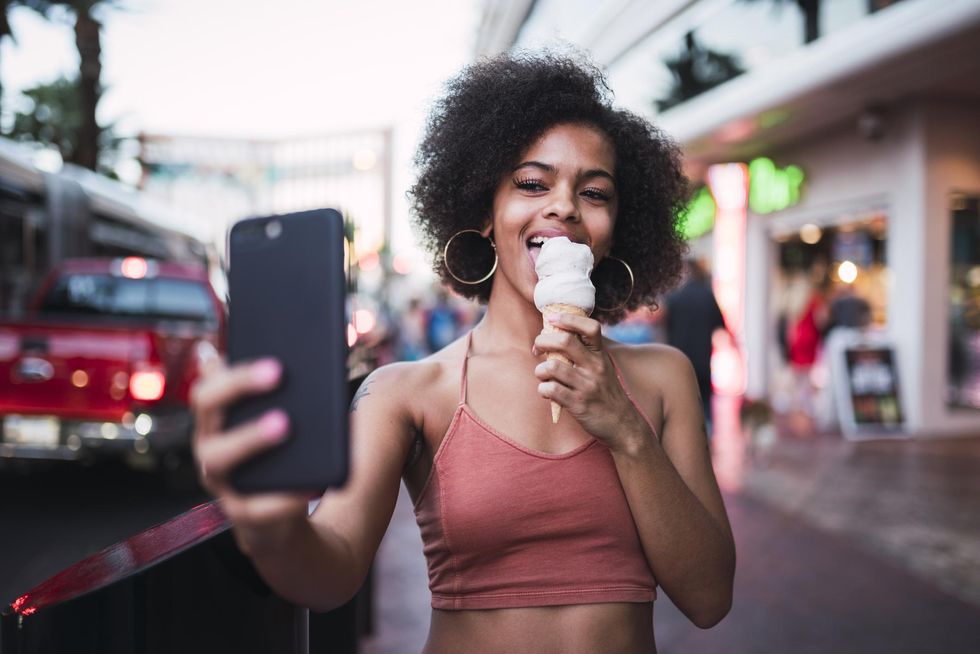 Maybe it's just me, but it's kinda crazy how folks will take selfies all day, every day (some literally) and yet, ask them to show you a picture of their family or some event, and oftentimes they find themselves drawing a blank. Where I'm going with this is, just because you may not end up doing anything super extravagant, that doesn't mean that memories won't be made, so be intentional about taking pictures. There's a list of apps for photographers here and an article on almost 40 cool editing apps for pictures here.
14. Rent a Vacation House in the Next County/Town/City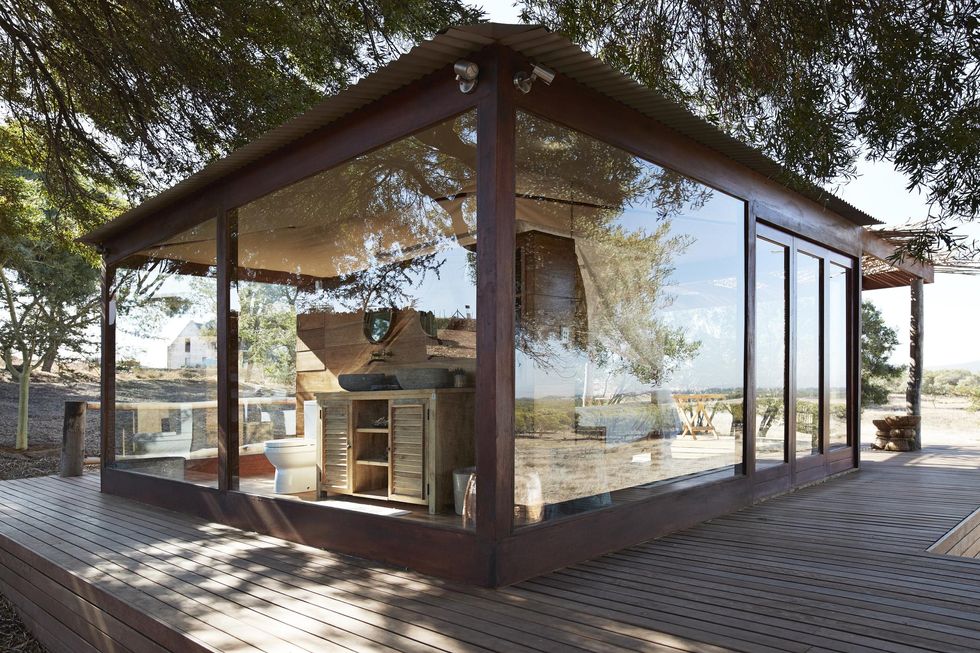 What if you actually do want a change of scenery for more than a night but your funds (or the amount of time off) are keeping you from going all out? Something worth considering is renting a vacation house, even if it's just for a couple of days. One site that you might want to try is VRBO. While it features listings from all over the United States, what I like about it is, there's a really good chance that you could find a dope house or even a mansion that isn't very far from you; one that you wouldn't have ever known about, had you not specifically gone looking for vacation homes. You can live like the rich for a little while without going into debt in the process.
15. Plan Your Next "Away Vacation"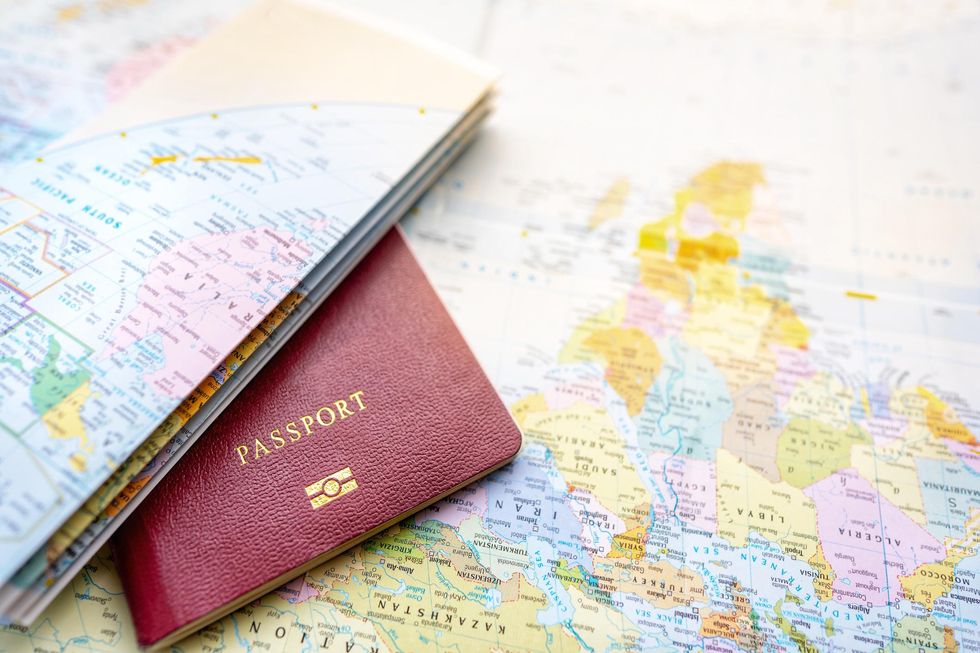 Now that you're about to have some downtime, use it as an opportunity to also plan your next vacation that's away from your house/city. When you're sitting on the floor with some pizza, wine and your favorite tunes playing in the background, it can be fun to use some vacation-planning apps to figure out where you're gonna go, when and how much it will cost. And you know what? If you, even 50 percent of what's on this list, you might realize next year that you'll want to take a traditional vacation — and another one just like this too!
Join our xoTribe, an exclusive community dedicated to YOU and your stories and all things xoNecole. Be a part of a growing community of women from all over the world who come together to uplift, inspire, and inform each other on all things related to the glow up.
Featured image by Getty Images
Keep reading...
Show less