I planned the trip of a lifetime for my 40th birthday -- a solo trip to Salvador de Bahia, Brazil. They were hosting the World Cup during my birthday week, so even though I don't follow soccer, it seemed like the perfect chance to party in South America with people from all over the world. I booked my flight and put in my vacation request at work. You already know what happened. They said, "No." Well, not exactly "no", but close enough.

They approved me for three vacation days (not consecutive, sigh) and said that if I wanted the rest of the time off, I'd have to find someone else to cover my shifts. I worked in a hospital pharmacy on the night shift. Nobody ever wanted to work my hours. I hardly even want to work my hours. So, I took matters into my own 40-year-old hands and called in sick from Brazil. I'd earned paid vacation as part of my compensation package, so why did I always have to beg to use it?
This was a long-time problem for me that repeated itself over and over again with every job I'd had. I made IVs for hospital patients. Sure, my job was an important part of providing patient care. But I needed time off. And so do you.
Everybody needs time to rest from work and replenish their mental energy.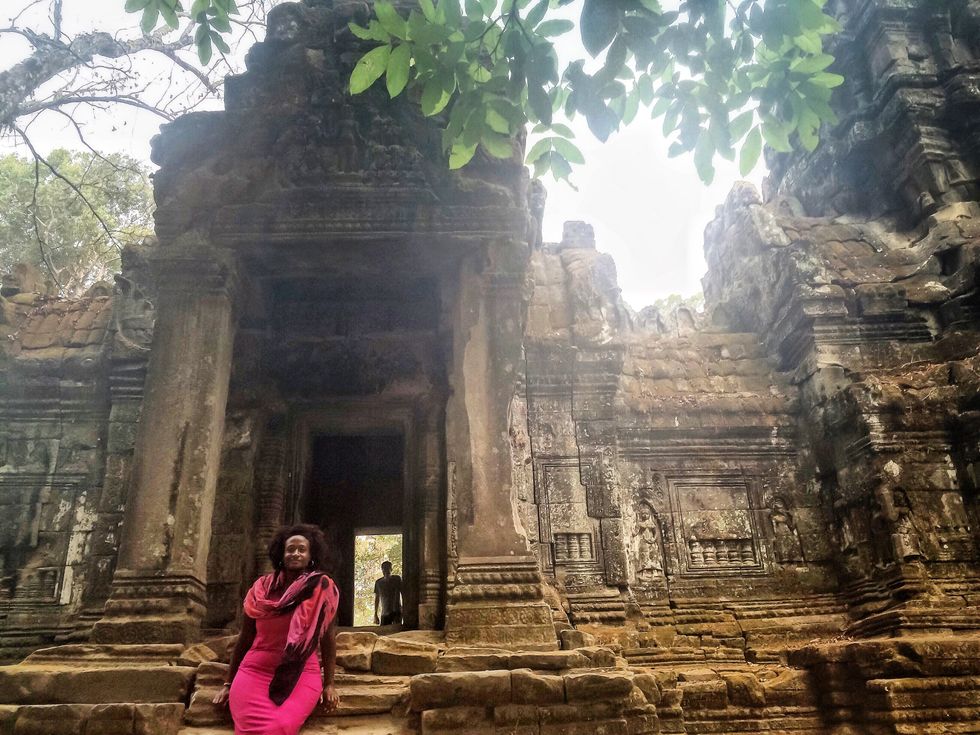 Courtesy of Stephanie Perry
It turns out that during my wonderful trip to Brazil, I met two millennials from San Diego who put me on to a new work philosophy. They worked jobs that were always hiring. So, they worked and saved up their money to travel long-term. And then they'd quit and travel to places where their money stretched further than it would at home. When they ran out of money, they went back home and got new jobs. I knew immediately that this was what my near future would look like. At least for a year or two.

I went home to Delaware and back to my hospital job -- short a few sick days -- with a new mission. I needed to save up enough money to travel around Southeast Asia for a year.
Fifteen months later, I was on a plane headed to Kuala Lumpur, Malaysia.
I broke into a serious sweat the day I went in to give two weeks' notice at work. But I'd already paid for my flight, so there was no turning back. Once I took some deep breaths and told my supervisor September 15 would be my last day, it was smooth sailing.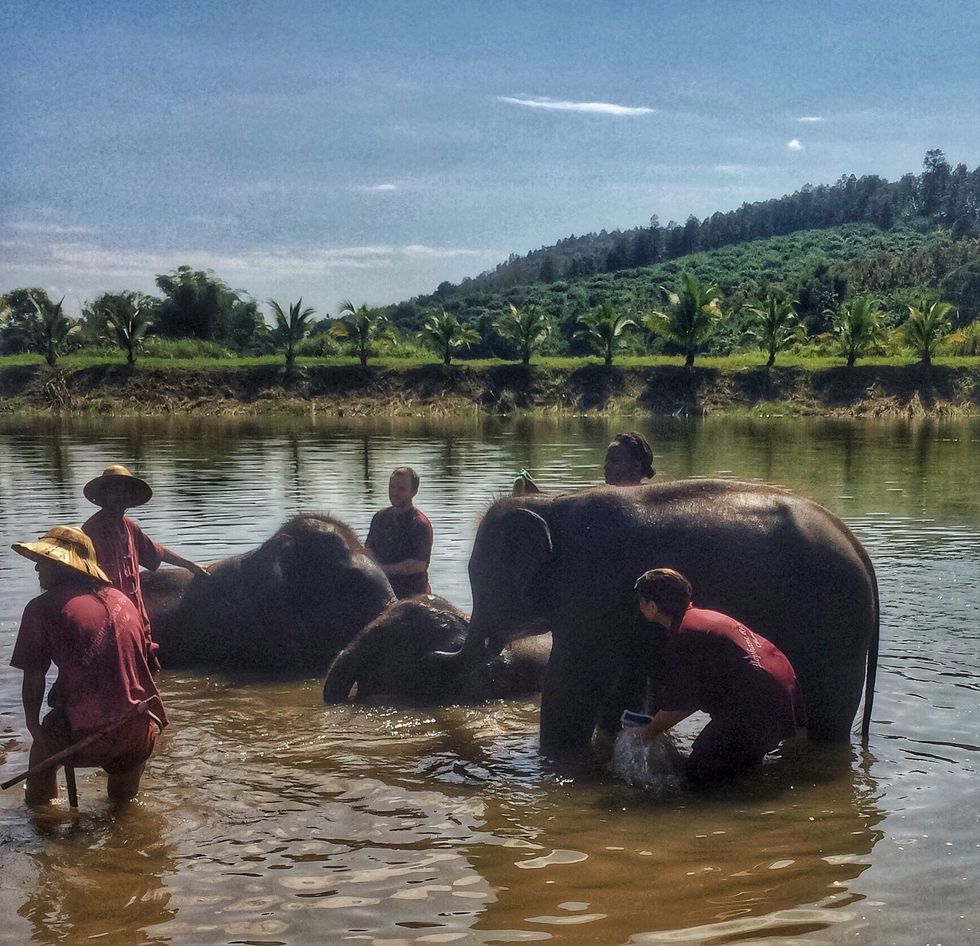 Elephants in ThailandCourtesy of Stephanie Perry
For a year, I backpacked around SE Asia right alongside the 21-year-olds from the Netherlands who seem to be everywhere. I slept in dorm rooms in hostels and once volunteered on a cricket farm for free room and board. I had adventures that, at 41, I used to think were out of my reach. I bathed elephants in Thailand. I took a three-day motorbike tour in Vietnam. And I met people who showed me kindness and generosity like I'd never imagined.
The trip was both harder than I expected and more fulfilling. Sure, I got to check things off my bucket list. But I also learned how resilient and resourceful I can be.

And the sabbatical gave me time to dream.
Most days during that year, I set an alarm so I could drop what I was doing and watch the sunset. When I worked night shift, I often slept from sun up to sun down, especially in the wintertime. But that winter I was on a beach in the Philippines watching the sky put on a show like I couldn't believe.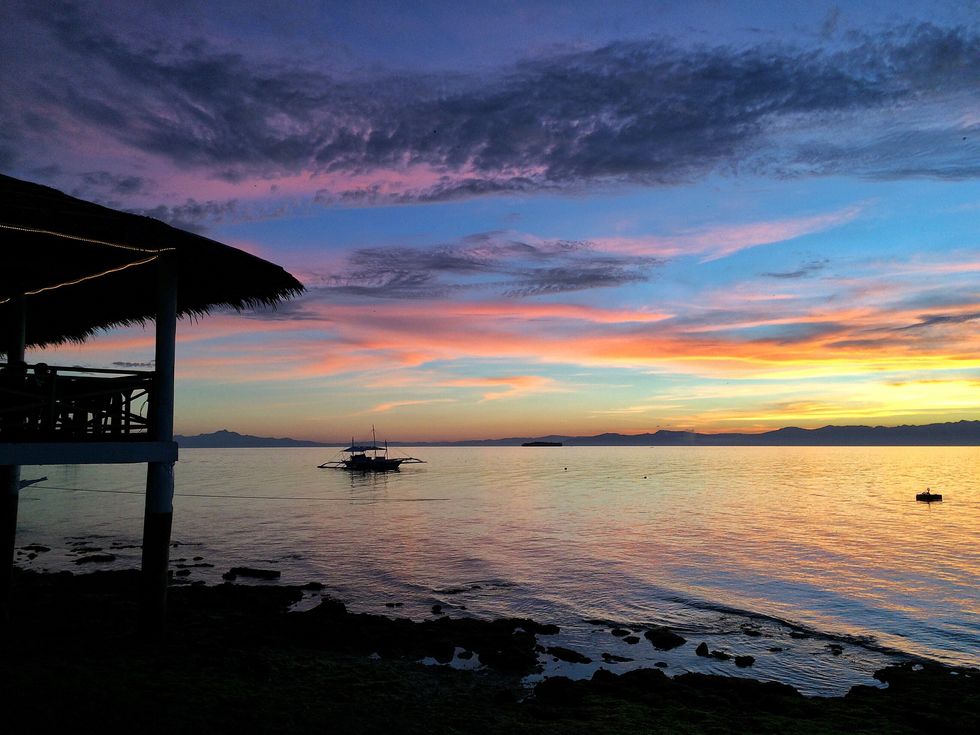 A sunset in the PhilippinesCourtesy of Stephanie Perry
When we're always busy and always tired, our minds don't have a chance to play. We don't have the time to ask ourselves if we are who we want to be or set goals for our future that make our hands shake while we write them.

I quit my job just to see the world without someone else being in charge of whether or not I could go. But somewhere during the trip -- maybe while I was riding in a tuk-tuk in Cambodia on my way to see the Temples at Angkor Wat -- it became about more than travel.
I was free to BE anywhere and DO anything I wanted. And what I wanted was to keep it going.
I traveled from country to country until my money ran out -- exactly 52 weeks later. I went back home to Delaware and even got offered my old job back. But I knew that the next job I took wouldn't last long. I had to get back on the road. So, I took a different job for a few weeks while I set up my next adventure. I used that time to find better ways to stretch my newly earned money, and I found a few ways to support myself while I travel. And then I quit that job too.
I don't regret quitting two jobs to travel. And I don't regret taking time off of work to explore myself. And most importantly, I'm so glad I don't have to regret never taking the chance in the first place.
Featured image via Stephanie Perry/Instagram
Originally published on November 19, 2019
The Paris of the South, The Big Easy, The Crescent City, no matter the moniker, New Orleans is a legendary city brimming with things to do, see and eat. Whether you're flocking to the city with your girlfriends for ESSENCE Fest, attending Jazz Fest with your significant other, partying during Mardis Gras, or simply enjoying a weekend getaway filled with food, fun, art, and history, there is something for every type of traveler. Here are some of our top picks for where to eat, play and stay in New Orleans.
Featured image by Getty Images
It's great to check a few of the tried-and-true popular U.S. and global locales off your travel wish list, but it's even better to add a few other spots that are not quite as overpopulated with tourists. You can create a few unique memories and get those IG moments that don't seem so overdone or cliche while exploring a different part of a country.
Now that travelers are packing airports again, it might be a good idea to visit a few top destinations that are off the beaten path. These spots are just as enjoyable, are often much less pricey to visit, and allow for a different travel experience. Check out a few options below.

While babymoons have existed for eons, they have grown incredibly popular in recent years! As someone with insufferable wanderlust, there was no doubt that a babymoon was something I wanted to do during my pregnancy, especially because it has always been my goal to maintain pre-mommy personality traits, qualities, and hobbies – before and after the baby is born.
Fortunately for me, and not to toot my own horn, pregnant me was already headed to France for a wedding so I simply decided to extend my trip and travel outside of Paris to conduct my pre-baby meditative vacation in the South of France (exact destination still TBD). Doing so eliminated a lot of the hassle of trying to figure out where to go for a babymoon and lowkey may be a good tip, you know? Double up! If you're already going somewhere during your pregnancy, pick a babymoon destination nearby based on comfortability and doctor's orders.
But it also reminds me to point out that there is a major difference between a vacation and a trip! The older you get, the more you realize this. Getting fucked up every day isn't always the relaxation you crave and even worse when you're tacking on jetlag. Personally, I find it hard to believe that anyone might return home feeling relaxed under those circumstances. Babymoons are a time to unwind before the baby comes because, while I hope it won't be anyone's last trip, it may damn sure be the last relaxing trip before so much of your planning caters to your growing family.

A handful of travel experts provided us with a nice list of destinations that might be perfect for your babymoon, but many of them also pointed out that a babymoon (with its purpose in mind) can be a staycation at a luxurious hotel or off in the cabins – it doesn't have to be a pricey, passport-toting getaway. Below are 18 destinations that you might consider while mapping out your babymoon.
1. The Bahamas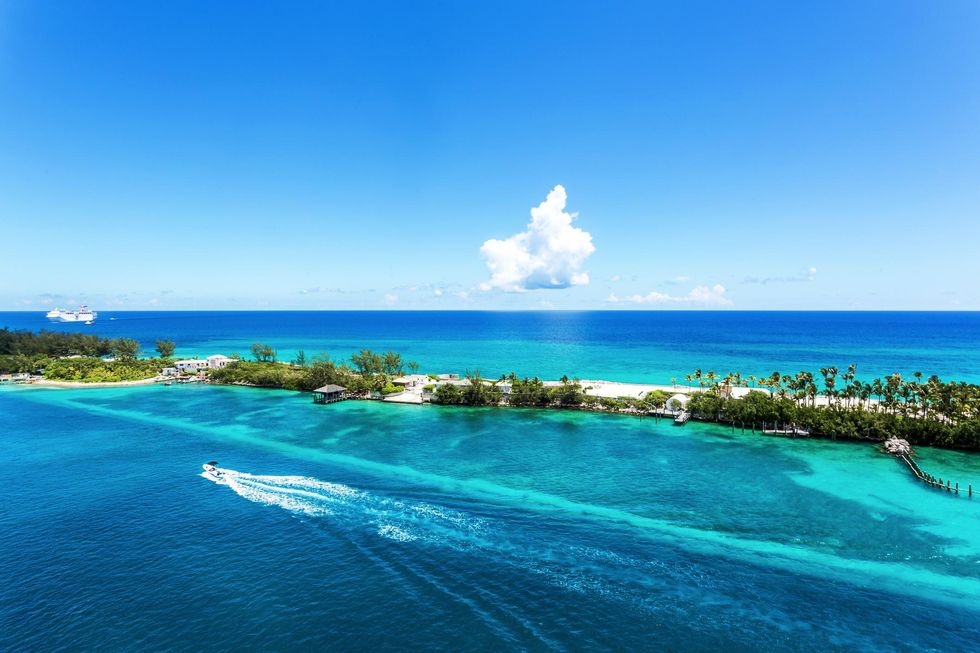 Getty Images
The Bahamas offers beautiful beaches, gorgeous resorts, and plenty of activities for expectant parents to enjoy. At Breezes Resort and Spa, you will be pampered with spa treatments and delicious food. The resort also has an array of activities including snorkeling, kayaking, and swimming with dolphins.

– Shawn Richards, Expedition Coordinator and Master Adventurer
Nassau, Paradise Island Bahamas is the perfect vacation for soon-to-be parents to relax and unwind before heading into parenthood. Paradise Island offers visitors an array of different experiences including an afternoon with the world-famous swimming pigs, a tour around the statues of the peaceful Versailles Gardens, or a visit to the National Art Gallery. Atlantis Paradise Island's The Cove is an elegant hotel perfect for couples seeking a romantic babymoon.
Couples can also enjoy five miles of white sand beaches, tranquil azure waters and so many amenities including golf for the soon-to-be dad and a fun day shopping and self-care for the soon-to-be mom. For a relaxing day at the adults-only pool, couples can spend the day in a private cabana enjoying delicious mocktails and end the night dining at diverse culinary options including Fish by Chef José Andrés, Nobu by Nobu Matsuhisa, Olives by Todd English, and Casa D'Angelo by Chef Angelo Elia.
2. Chicago, IL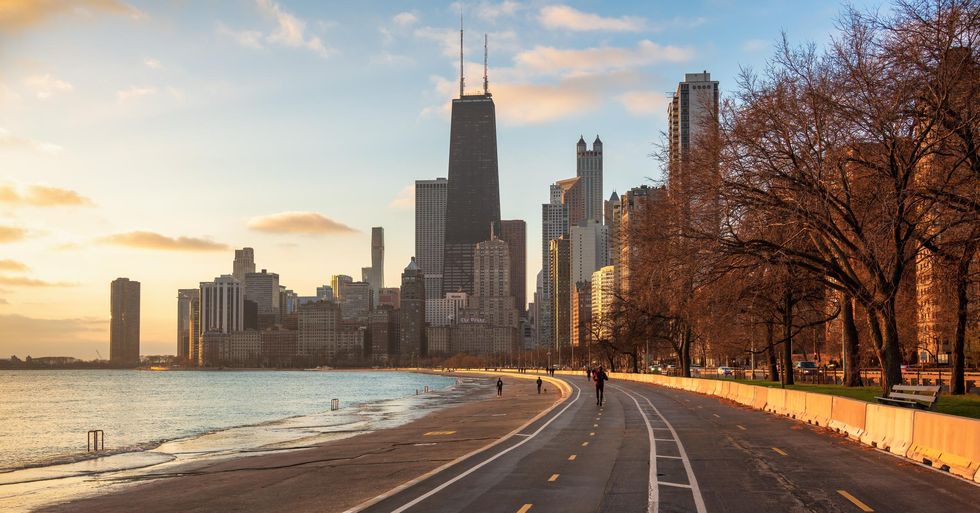 Getty Images
You're not regular parents, you're cool parents, so why not go all out for your last night as a pair? Fly to Chicago and spend a night (or three) in Viceroy Chicago's penthouse suite. You'll also enjoy a private yacht cruise on the Chicago River, a custom tasting menu at Somerset restaurant, and incredible sunset views from the Devereaux rooftop lounge. Babymoons are a great time to relax, unwind, eat (with two hands because you'll be holding a baby all day!) and pamper yourself.
– Matthew Bowley, Marketing Manager at Solmar Villas

A quick 1.5 - 2 hour drive southwest of Chicago, IL – we have a Babymoon Package that we offer, perfect for the significant other to surprise someone with or plan together. [The Kishauwau Cabins] are located just a 10-minute drive from the largest state park in Illinois, so there are lots of things to do in the area. [The cabins] are a small built-up family business that has been here for over 35 years. Our customers love how well-spaced our cabins are for privacy. We are out in the country, so it's such a safe property and we get many single women that [travel] here. [Additionally], four of our cabins are dog-friendly.
–Terisa King, Owner of Kishauwau Cabins
3. St. Lucia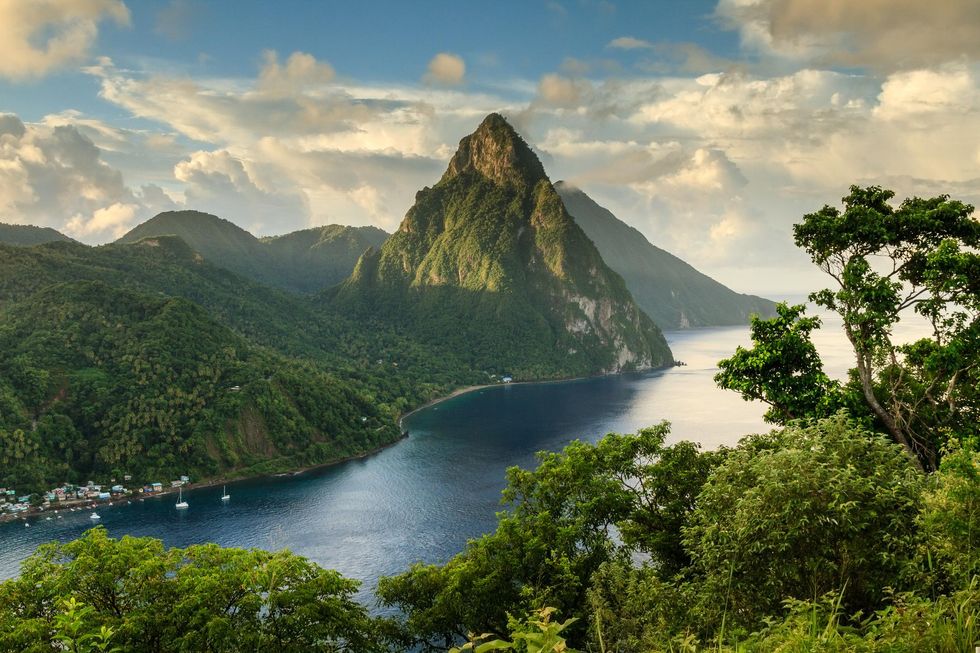 Getty Images
St. Lucia offers a tropical paradise that has a little bit of everything — beaches, waterfalls, parks, and everything in between. If you are looking for an all-inclusive resort, there are a ton to choose from. Here you get to enjoy much-needed rest and take full advantage of the endless spas the resorts have to offer.
Babymoons can be taken anywhere, however, some general considerations that may be helpful before choosing a holiday destination for your babymoon may include avoiding areas with high altitudes or intense heat, being mindful of possible food and waterborne illnesses, and ensuring that there is adequate medical support available in case of an emergency.
– Becky Moore, Founder of Global Grasshopper

Arguably one of the most breathtakingly beautiful resorts in the Caribbean, Jade Mountain offers a relaxing getaway where moms-to-be (and expecting dads) can enjoy a babymoon surrounded by St. Luca's stunning nature. With sanctuaries that feature uninterrupted views of the famed Pitons surrounded by striking blue waters, butler service, and en-suite private plunge pools, the resort offers an idyllic getaway for expecting parents to be pampered before the baby arrives.
Spend the day relaxing in a private beach hut with perks like mitered cooling spray, fruit kebabs and sorbed, unwind with en-suite yoga and meditations, and satisfy cravings at the resort's onsite Chocolate Lab where a dedicated Chocolate Alchemist guides guests in making signature sweets, or learn the art of healthy vegan cooling at the resort's organic, regenerative farm. The options are endless but one thing is for sure: you'll leave feeling rested, refreshed, and ready for the next steps in your journey.
– Unknown
4. Iceland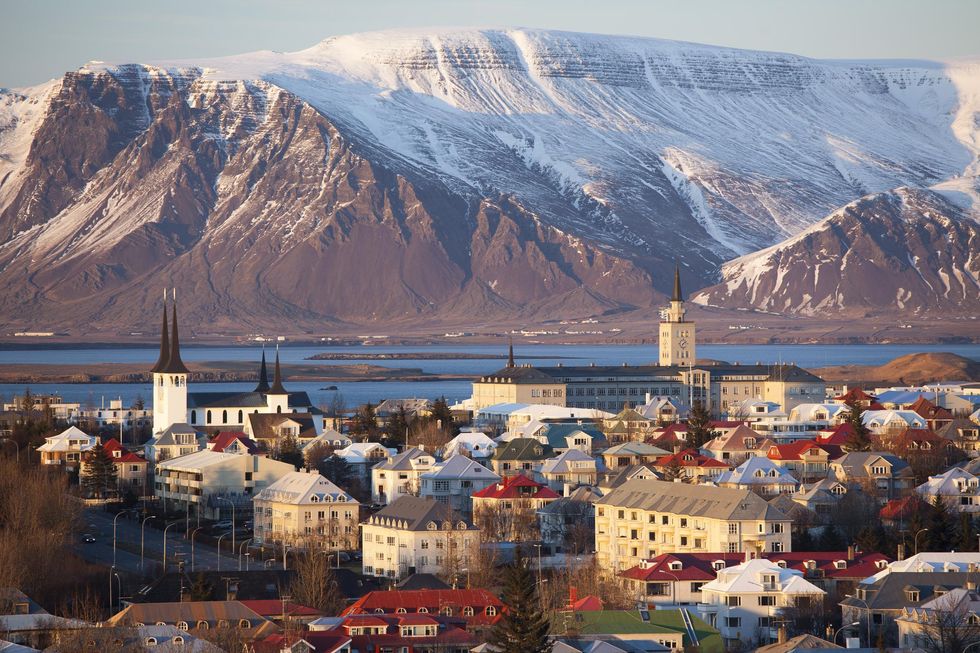 Getty Images
After visiting Iceland myself a couple of years ago I can fully understand the attraction to the country for a babymoon, the air is clean, the population is small and the wide-open spaces help you feel at one with nature. The Blue Lagoon is a must-visit, it is known for its geothermal waters, which are said to have healing properties. The setting is breathtaking as you are surrounded by mountains and black sand beaches. If it wasn't enough to float around supported by the wonderful warm waters you can also enjoy spa treatments and prenatal massages.
– Becky Moore, Founder of Global Grasshopper
5. Poconos, PA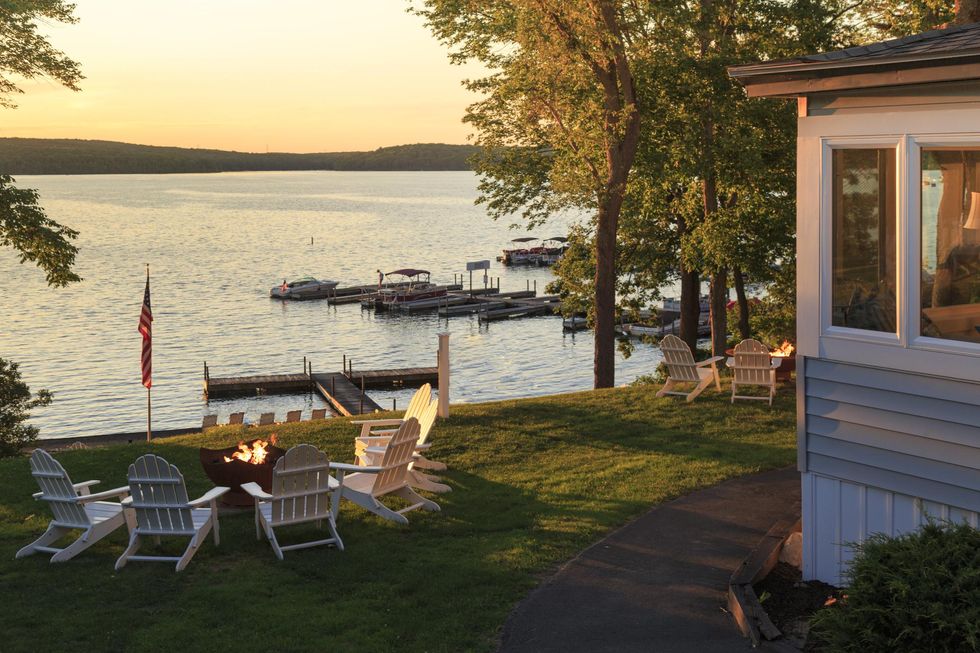 Getty Images
One of the best babymoon destinations is the Poconos. The Poconos offers a relaxing atmosphere to have an iconic view while picnicking on the lake, taking a walk in the beautiful downtown area, or taking a scenic drive through the mountains. You can skip the adventure and relax with nature before your little one arrives.
– Corritta, It's a Family Thing
6. Virginia Beach, VA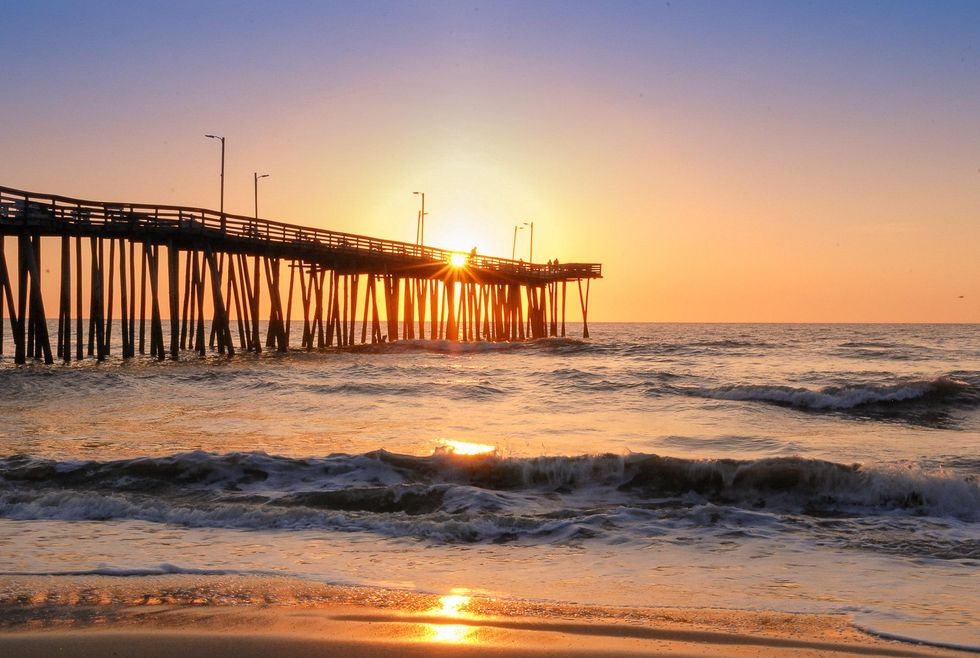 Getty Images
Virginia Beach would be an excellent option for one last hoorah before the beautiful new addition. The destination is easily accessible, home to 35 miles of beaches and for those couples who want to enjoy themselves but be mindful of expenses, Virginia Beach is an affordable getaway that still provides the pleasures of a true escape. The most unique package offered in the beach town is from The Barclay Cottage Bed & Breakfast in Virginia Beach.
Located near the oceanfront, the house features wraparound porches on both floors and was originally intended as a golf course clubhouse. Each guestroom features soothing, coastal decor with original hardwood floors, and most offer a private bath. Couples who choose the cottage's Babymoon Package are greeted with chocolate-dipped clementines and sparkling cider in their room plus a couple's massage (prenatal for her, Swedish for him) in the on-site Seagrass Massage Room during their stay.
– Francisco Perdomo
7. The Florida Keys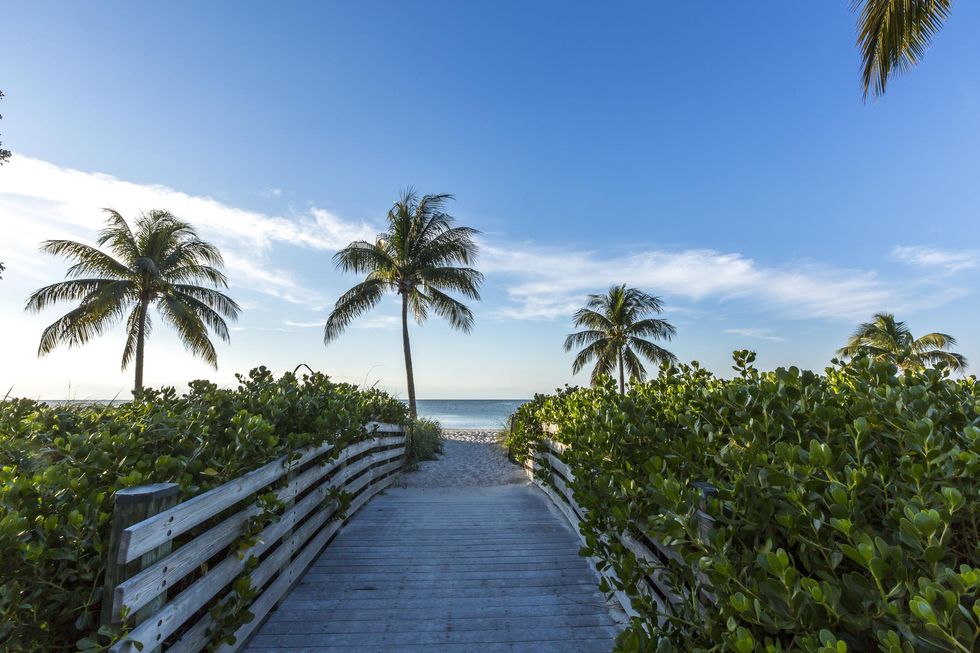 Getty Images
The Florida Keys are also great for single moms – our resorts are in Islamorada, only 90 minutes from Miami and the MIA Airport so it's an easy and safe destination to travel solo. It's similar to a Caribbean destination without ever leaving the U.S. Moms-to-be can be as active as they'd like to be – relax poolside or get out on the water. Moms will wake up on the sunrise side of Islamorada.
Couples can enjoy an oceanfront pool, boat excursions, and daily activities from sunrise to sunset such as beachside yoga. We also have a large mocktail menu which is appreciated by mamas. Amara Cay Resort hosts babymoons on a weekly basis.
–Sarah Vining
8. San Juan Island, WA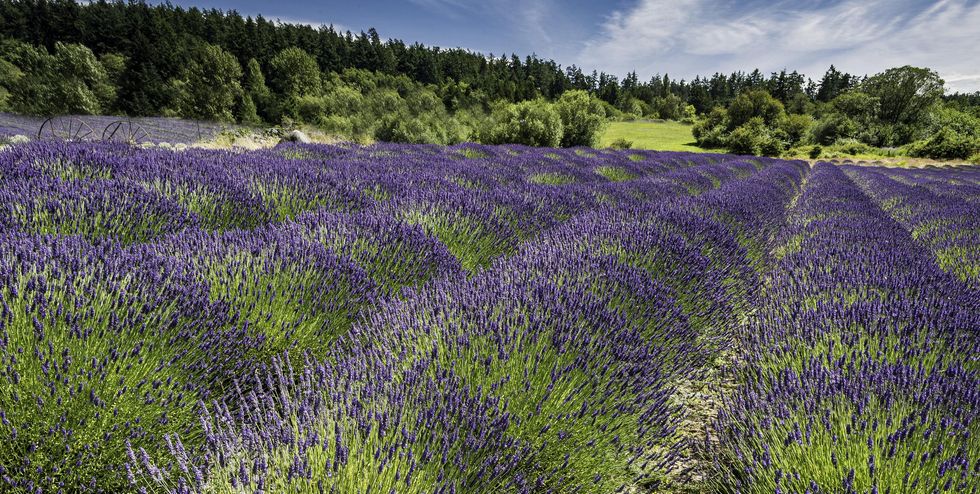 Getty Images
Need some time off before the baby arrives? Spend a memorable weekend at the Tucker House Inn & Harrison House Suites on magical San Juan Island. They'll pamper the expectant parent(s), provide satiating food and relaxation with freshly baked house-made cookies, a sparkling non-alcoholic beverage, truffles waiting upon arrival, and a $50 voucher to tide-to-table Coho Restaurant for a candlelit dinner. A gourmet breakfast in bed every morning and a special prenatal massage for the mom-to-be at a local spa round out the indulgence. They'll even satisfy the prenatal cravings of the new mama with ice cream made just for her! Where else can you do a babymoon and receive an orca whale onesie for your new arrival?
The San Juan Islands are a short floatplane ride from Seattle or an hour-long leisurely ferry ride from the mainland of Washington State. Consistently recognized as a top travel destination by TripAdvisor, Travel + Leisure, and Condé Nast Traveler for the last decade, the Islands offer nature and nurture--gentle hikes, sea kayaking, farm-to-table foods, and pampering spas await.
–Amy M. Nesler, Stewardship & Communications Manager
9. Niantic, Connecticut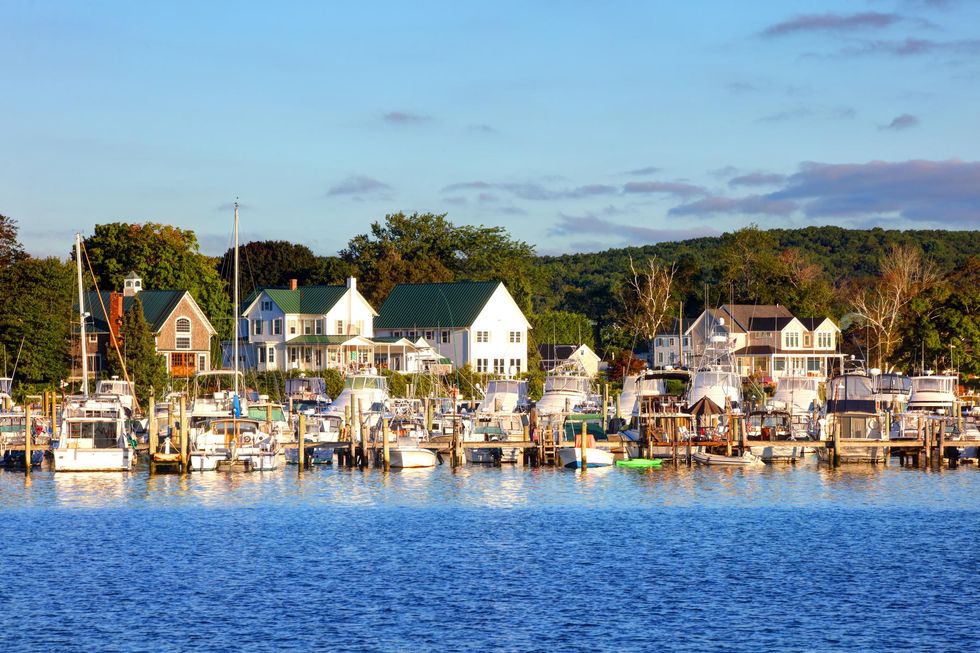 Getty Images
[This] is the most perfect place for any woman ready to take her babymoon. The Inn at Harbor Hill Marina Bed and Breakfast is a restored inn located in the marina district and has the most beautiful views you will ever see. It offers elegance, nostalgia, and relaxation to its guests. This place is fantastic because it's within walking distance of a lot of local shops and restaurants, so you can stroll along and enjoy the area. Best of all, this inn offers special packages to residents for anniversaries, simple getaways, or relaxation. It's also said that they offer packages specifically for babymoons! So don't be afraid to check it out!
– Suzanne Bucknam CEO, The Connecticut Explorer
10. Maui, Hawaii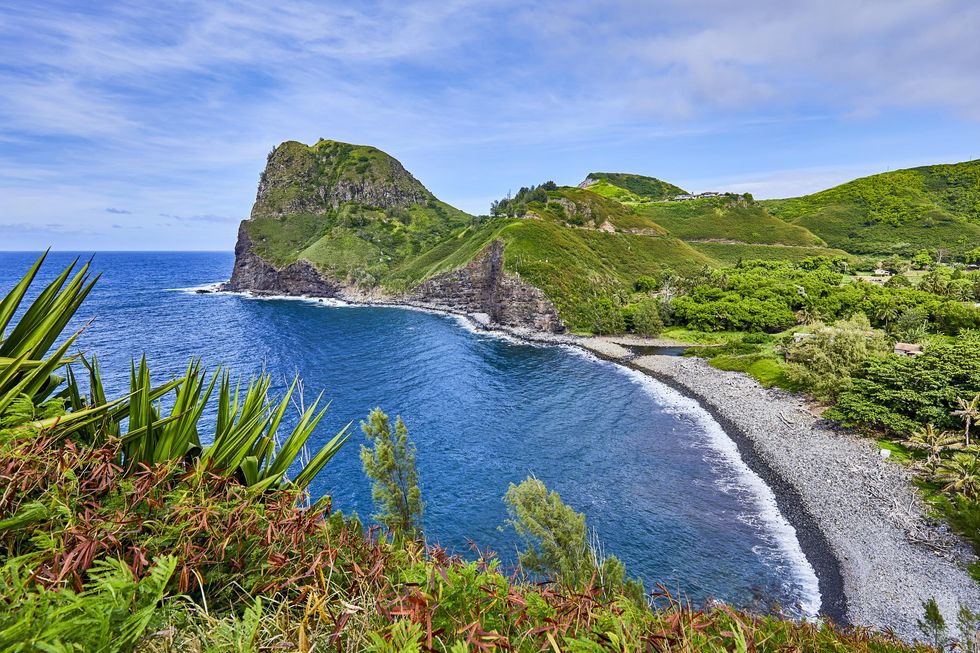 Getty Images
​Maui is home to golden sand beaches, swimming, snorkeling, golfing, and consistently sunny skies, making it a perfect choice for a babymoon. Here, visitors can relax on famed Kaanapali Beach, take a light walking tour of Haleakala National Park and attend a showing of Old Lahaina Luau to learn and enjoy all that Hawaiian culture has to offer. Hyatt Regency Maui Resort and Spa is an ideal resort for a babymoon getaway as it stands out when it comes to relaxation. The hotel has recently completed the multimillion-dollar renovation of its 810 guestrooms and lobby and is the perfect place to unwind.
Soon-to-be-parents can enjoy a relaxing couples massage or feel an authentic sense of Hawaii with the Lomi Lomi Massage at the Marilyn Monroe Spa, the only oceanfront spa on Maui. The resort also hosts an award-winning Drums of the Pacific Lu'au. [Last but not least], it features six free-form pool areas, oceanfront cabanas, various dining destinations, and much more.
11. Palm Beach, Aruba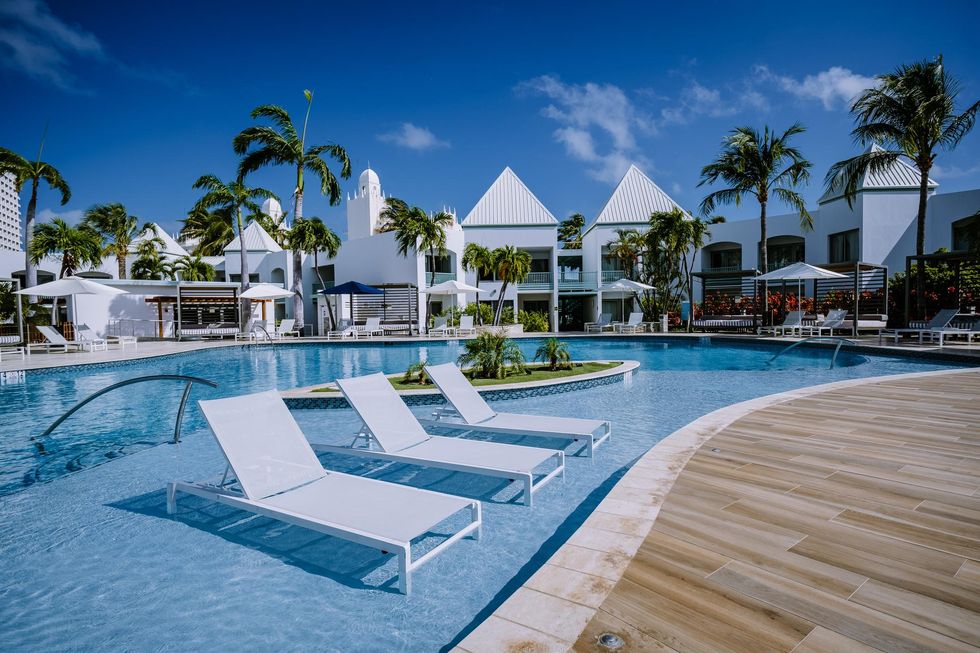 Getty Images
Aruba, the happy island, is the perfect place for parents to enjoy an authentic Caribbean babymoon. Known for its year-round sunshine, Aruba boasts amazing weather with low humidity and refreshing east trade wind breezes. Aruba is easily accessible with daily flights arriving from across the country and has plenty of activities for couples to enjoy. Aruba is known for some of the most amazing beaches including Baby Beach, known for its shallow and calm waters it is the perfect place for soon-to-be parents to relax. The scenic coastline makes the perfect backdrop for couples to have a romantic day on a Monforte Luxury Cruise.
Located on 12 acres of luxe waterfront property, Hyatt Regency Aruba Resort Spa and Casino is the perfect place to stay on this vacation. The resort recently finished a multimillion-dollar renovation that includes the brand-new ZoiA Spa and Trankilo, an adults-only pool with 10 private cabanas where guests can receive spa treatments as well. Couples can enjoy treatments including Aruba Sun Rescue using local aloe to Island Breeze with a pineapple sugar scrub to Massage den Awa, a gentle form of body therapy performed in the Trankilo pool for deep relaxation that combines elements of massage, shiatsu, and muscle stretching.
12. St. Barths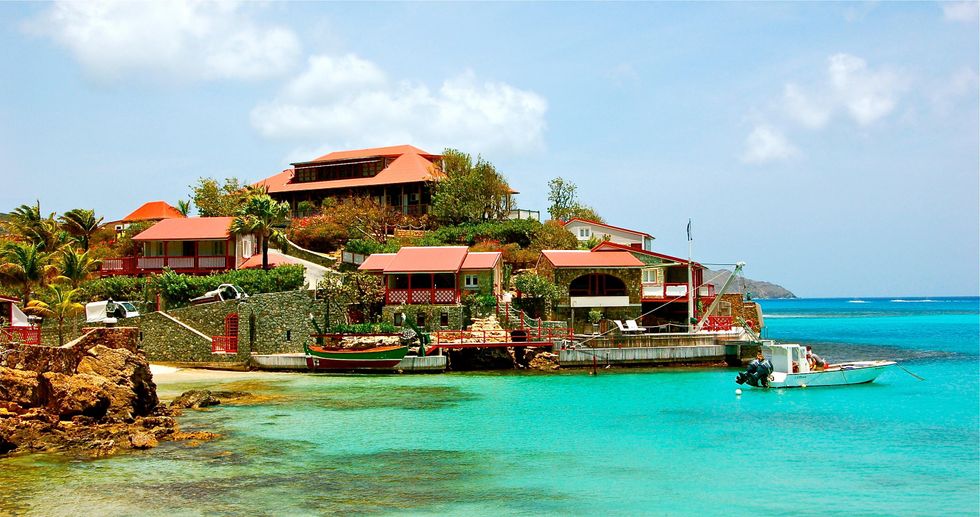 Getty Images
Hôtel Barrière Le Carl Gustaf opened in St. Barths in October 2020. The five-star resort exudes luxury, elegance, and French-style charm throughout its 21 luxurious rooms, suites, and bungalows, including a Penthouse Suite. Set amid tropical elegance that creates an ambiance of well-being, relaxation, and letting go, Le Carl is the perfect place for a babymoon. The Hotel Barrière Le Carl Gustaf is the only hotel on the island boasting panoramic views of the port of Gustavia, the island's capital. Guests can enjoy the renowned Fouquet's restaurant which has made the journey from Paris to offer guests the delicious and exciting cuisine created by three-star Michelin Chef Pierre Gagnaire.
The spa offers multi-sensory stimulation, bespoke holistic treatments, and tailored massages. They also offer a treatment called a Serenity Massage that is perfect for expectant mothers who are 4-8 months pregnant and relieves backache, lightens the legs, and improves skin elasticity. They offer pure and natural products from Biologique Recherche. The hotel is situated in close distance to other key attractions of the area including the idyllic Shell Beach and its superb Shellona restaurant; the lively port, with its tranquil alleyways and sophisticated boutiques; and the natural sea pools of Grand Fond and Petit-Cul de Sac.
13. West Hollywood, CA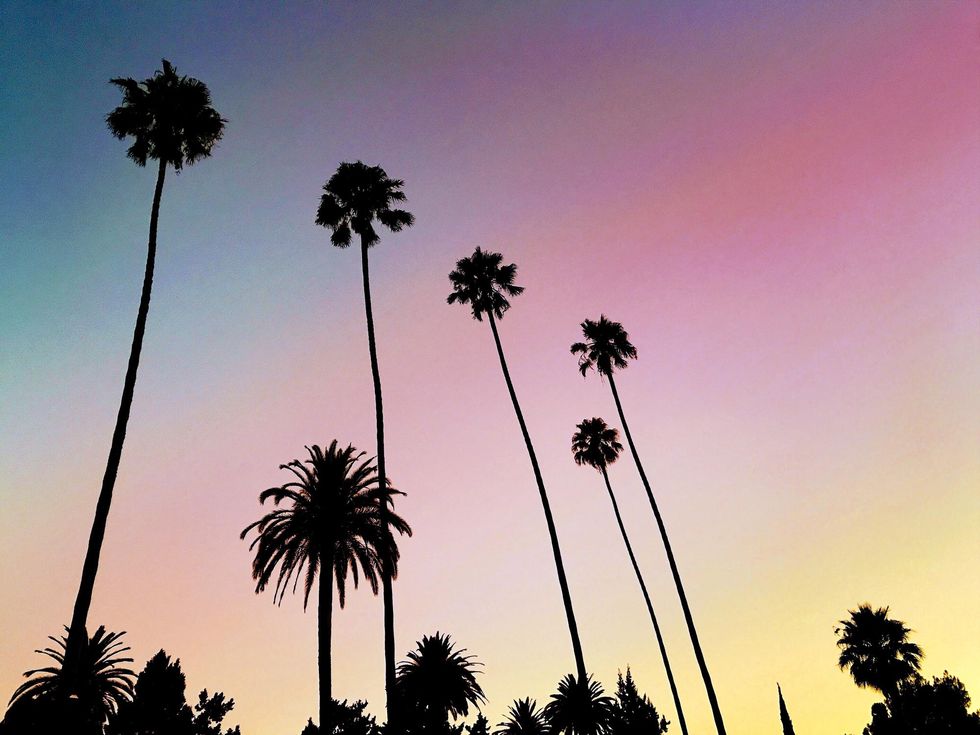 Getty Images
Andaz West Hollywood is perfect for soon-to-be parents who love music and film as it is Los Angeles' iconic rock 'n' roll hotel located on the famous Sunset Strip in West Hollywood, California where musical history, celebrity, and style come together. Couples can enjoy spectacular views of the Hollywood Hills on one side and the Sunset Strip and Downtown Los Angeles on the other from the hotel's rooftop pool, complete with a poolside bar and an array of cabanas to revel in. The pool is the highest rooftop pool in Los Angeles, making for a truly unforgettable getaway. The hotel also features the acclaimed Riot House Restaurant for a night of dining in West Hollywood.
14. Sanibel, FL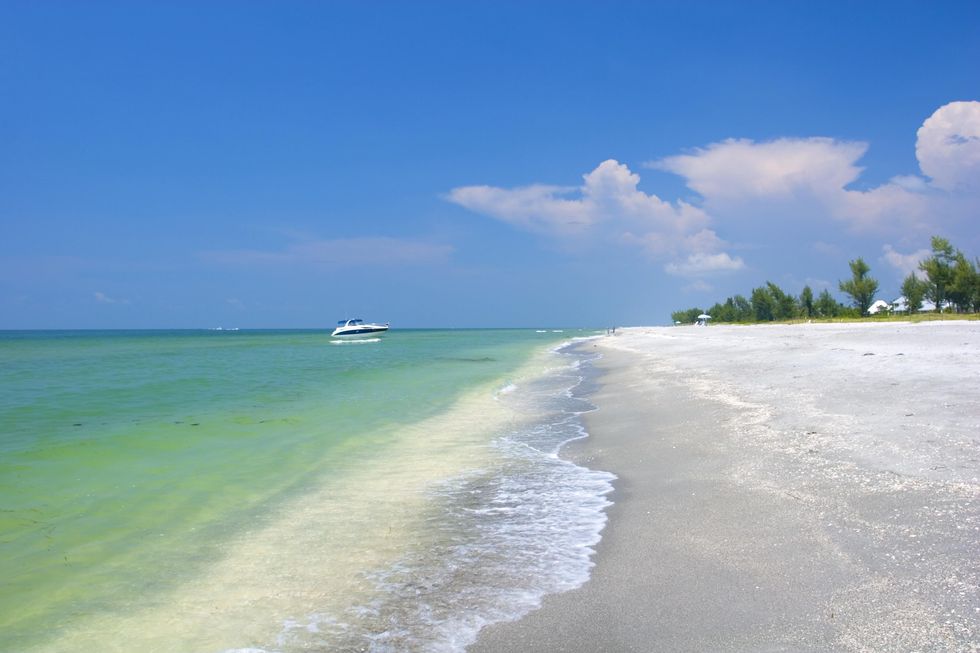 Getty Images
As one of the prettiest beaches and state parks in Florida, Sanibel is the perfect weekend getaway for couples or single women alike. Sanibel is an ideal location for a babymoon because you can relax on the beach, take a nap on a hammock, lie by the pool or simply lay in your room and admire the Intracoastal views from your balcony. Or, if you want to shop around the town for the little one on the way, there are tons of quaint shops to explore.
Sanibel Harbor Resort is home to one of the best spas in Florida on Punta Rassa, a peninsula on San Carlos Bay. While staying at the hotel, you can enjoy a full menu of therapeutic treatments. Most importantly, they have a Prenatal Massage which is perfect for moms to be. This massage is custom designed to focus on the discomfort that happens during pregnancy.
– Nikki Webster,
Brit on the Move
15. The Great Smoky Mountains, NC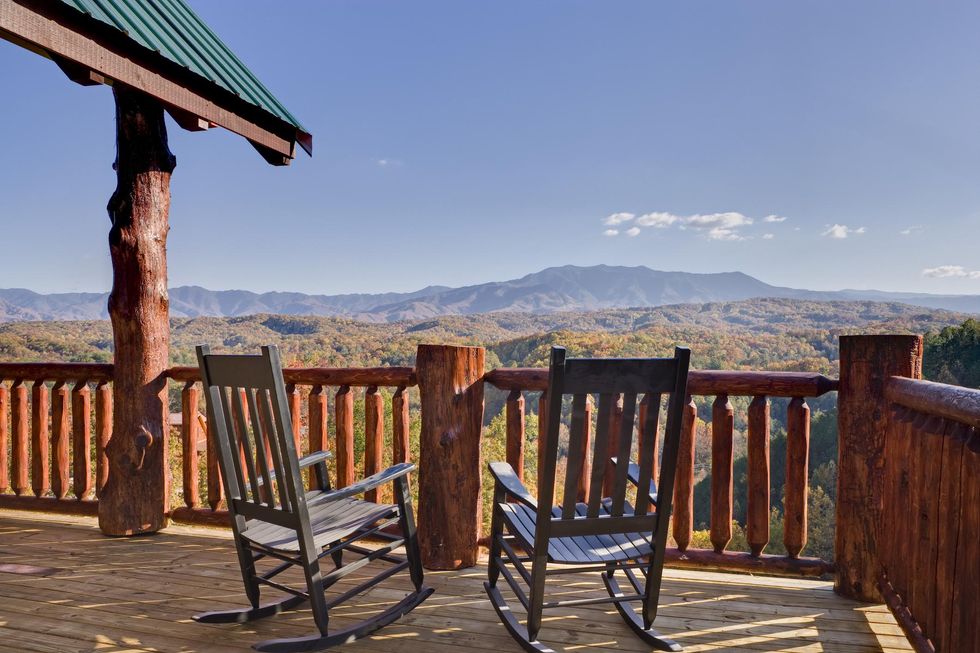 Getty Images
The weather in this location is warm and pleasant depending on the time of year, making it ideal for relaxing. The Great Smoky Mountains are ideal for a babymoon because of the pleasant weather, numerous activities, breathtaking views, and soothing ambiance, as well as the fact that it is a budget-friendly trip.
– Jenny Ly
16. Florence, Italy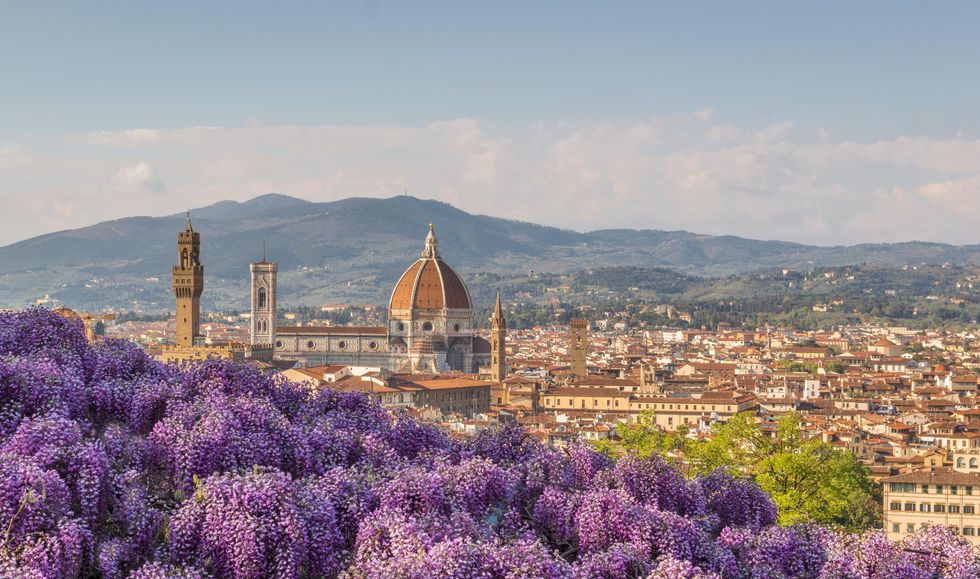 Getty Images
Before the baby arrives, take that romantic trip to Italy you've always said you would. The picturesque capital of Italy's Tuscany region is known for its culture, architecture, and fascinating history. Elevate your trip with a stay at Four Seasons Hotel Firenze, a five-star urban resort minutes from the Uffizi and the Duomo. Dine on the Arno River: A quiet dinner for two may soon be a thing of the past.
Don't miss the opportunity to enjoy a memorable meal on the private fourth-floor terrace of the Ponte Vecchio – Florence's signature bridge. The hotel enjoys exclusive access to the bridge's only open-air terrace, where guests can indulge in a four-course meal designed by Michelin-starred chef Vito Mollica. (Available May through October.)
17. Scottsdale, AZ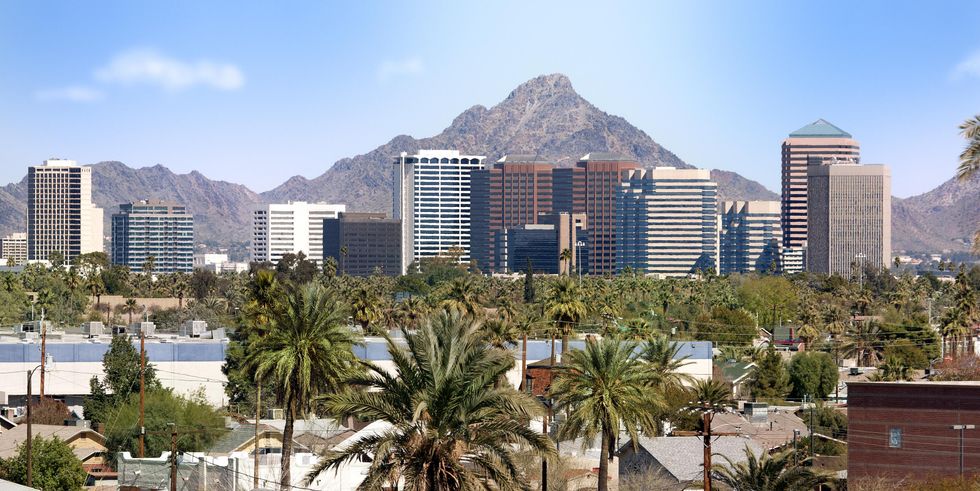 Getty Images
Scottsdale [offers] more spas per capita than any other U.S. city, Scottsdale is a logical destination for pregnant guests seeking R&R. Between massages, pedicures, and pampering, visitors can kick back at the Four Seasons Resort Scottsdale at Troon North, taking time to explore the golf course and area's culinary scene. [They offer a] "Hello Baby" Package – with comforts from the luxury casita accommodations to the complimentary maternity pillow, moms-to-be are guaranteed to leave Scottsdale feeling rejuvenated. The resort's special babymoon package includes a credit for poolside mocktails, maternity massage, or comfort food classics at the Proof restaurant.
– Gianni Lai
18. Cartagena, Colombia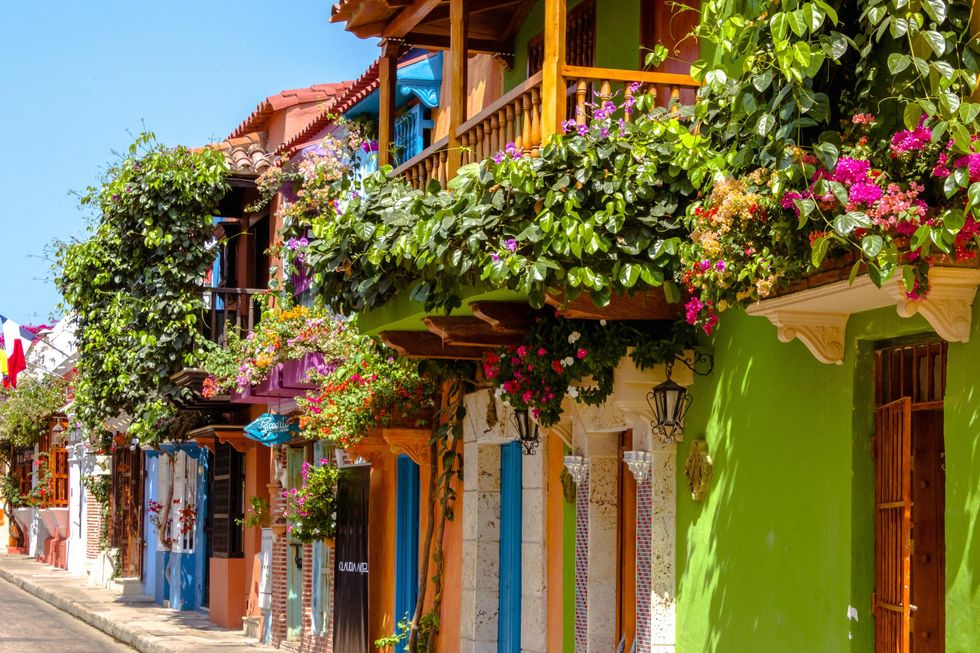 Getty Images
Colombia is much closer to the U.S. than most people think, the city of Cartagena, also known as "Cartagena de Indias" is located on the Caribbean Sea, in the northwestern part of the continent. Bringing together the charm of colonial architecture, fascinating cultural festivals, and lush landscapes, Cartagena de Indias brings together the perfect babymoon experience. Framed by its stunning bay, Cartagena de Indias is one of the most beautiful, well-preserved cities in the Americas.
Casa San Agustín [is a] luxurious small hotel restored and reimagined for a new generation of travelers, Casa San Agustín echoes Cartagena's fresh contemporary style and colorful Caribbean sensibility. From original frescoes in the library to centuries-old wood-beamed ceilings in the guest rooms, Casa San Agustín's art and architecture evoke the city's rich history as a 17th-century Spanish stronghold. The hotel's Aurum Spa offers traditional Hammam treatments for increased circulation, the release of tension, and nourishment for the skin.
–
Pro Colombia
And this doesn't even begin to cover all the destinations you might consider for your babymoon, as anywhere in the country could make for a great destination depending on what it is that you're looking for. Additionally, where you choose to travel will depend on how far you are in your pregnancy.
Be sure to consult with your OB/GYN for any additional tips on how to travel safely during your pregnancy. Safe travels!
Let's make things inbox official! Sign up for the xoNecole newsletter for daily love, wellness, career, and exclusive content delivered straight to your inbox.
Featured image by Getty Images
Thus far, 2022 feels so refreshing compared to the last two years we've all experienced. And it's safe to say that people are feeling safer traveling internationally again — which fills my heart to see people basking in joy exploring mother Earth! I had the time of my life treating myself to a solo trip to one of the most beautiful countries I've ever been to, the one and only Pura Vida lifestyle, Costa Rica!
Costa Rica is such a beautiful place to explore for any age group; it's filled with various things to do all over the country. It was the first country I've ever been to in Central America, and it's already my favorite one because of all the unique things they have to explore, the food that I couldn't get enough of, and the Costa Rican natives being so welcoming and sweet.
I had the pleasure of staying in the capital, San José, but anyone who's ever been to Costa Rica would say the best parts of the country to explore are outside of the city. But as the city girl that I am, I wanted to challenge myself to explore both sceneries, and I did just that, exploring different rural towns during the day and wandering San José for the nightlife scene.
Here's a list of the best places to visit in Costa Rica.
La Paz Waterfall Garden Nature Park & Wildlife Refuge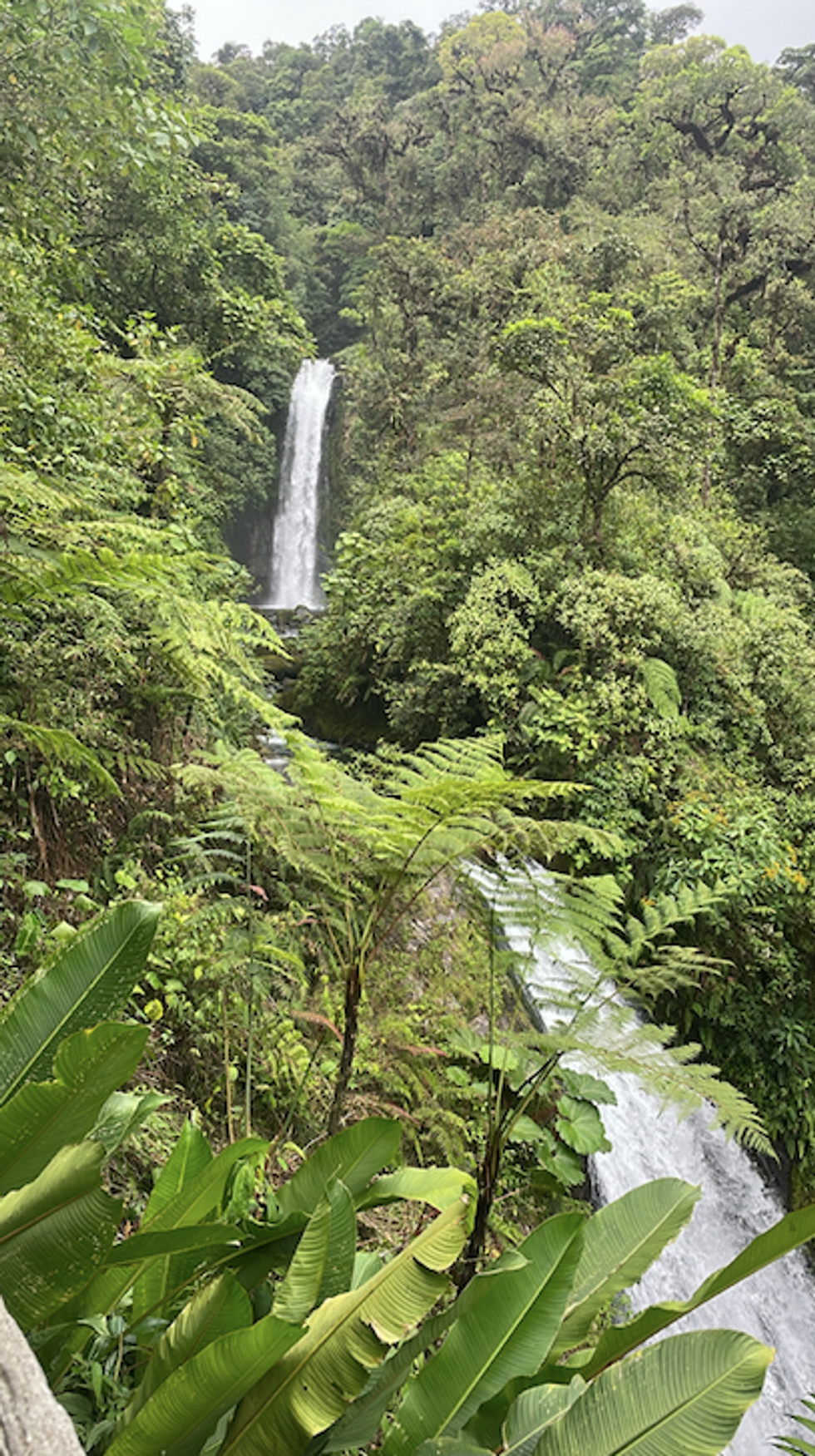 Ajeé Buggam
La Paz Waterfall Garden Nature Park is located in Alajuela, Costa Rica. Arguably one of the most famous waterfalls in Costa Rica, La Paz is a must-see! It has five different waterfalls layers that look like it's stacked on top of each other at different altitudes. The names of all of the waterfalls are Templo, Encantada, Magia Blanca, and Escondida, and the most acclaimed of them all La Paz.
La Paz waterfall is the most unique waterfall out of the five because you can see it as you drive on the road; it flows exquisitely in the La Paz River.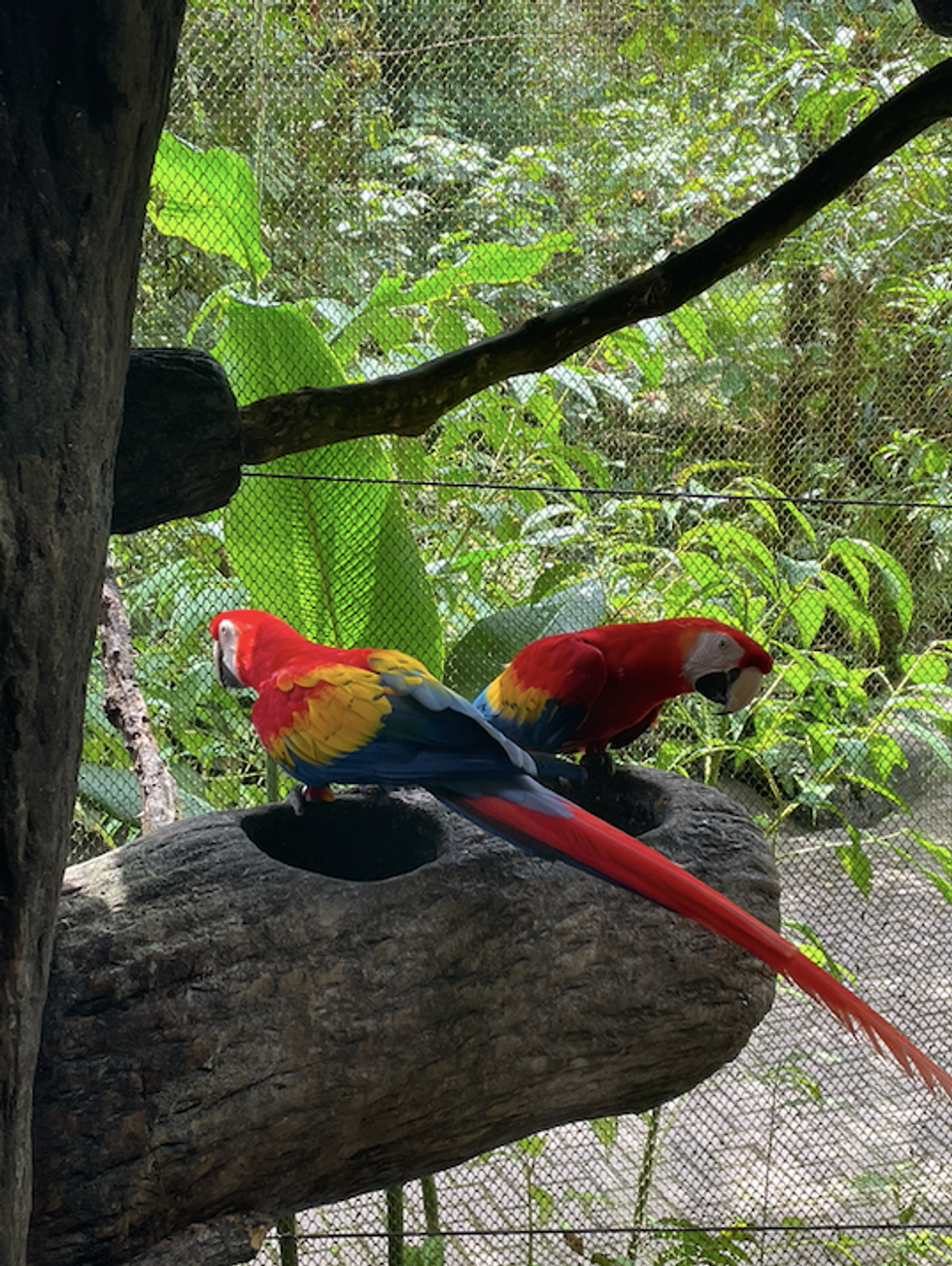 Ajeé Buggam
La Paz Waterfall Gardens Nature Park is actually split up into four parts that you can explore separately, the peace lodge (which is their five-star hotel, overlooking the waterfalls area), hiking trails, a nature park, and wildlife refugee. I would advise wearing active/comfortable attire and sneakers on your visit if you choose to explore multiple areas of the 70-acre park because it requires a lot of walking. The rescued wildlife refuge preserve is home to over 100 species that are native to Costa Rica and was quite a sight to see.
If you're a big animal lover like myself, you will really enjoy this! I got to see two-toed sloths for the first time in person, pumas, jaguars, ocelots, black-handed spider monkeys, toucans, and they had a whole butterfly observatory where the butterflies got to fly freely, and there was even an area where you could see them coming out of their cocoons.

Poás Volcano National Park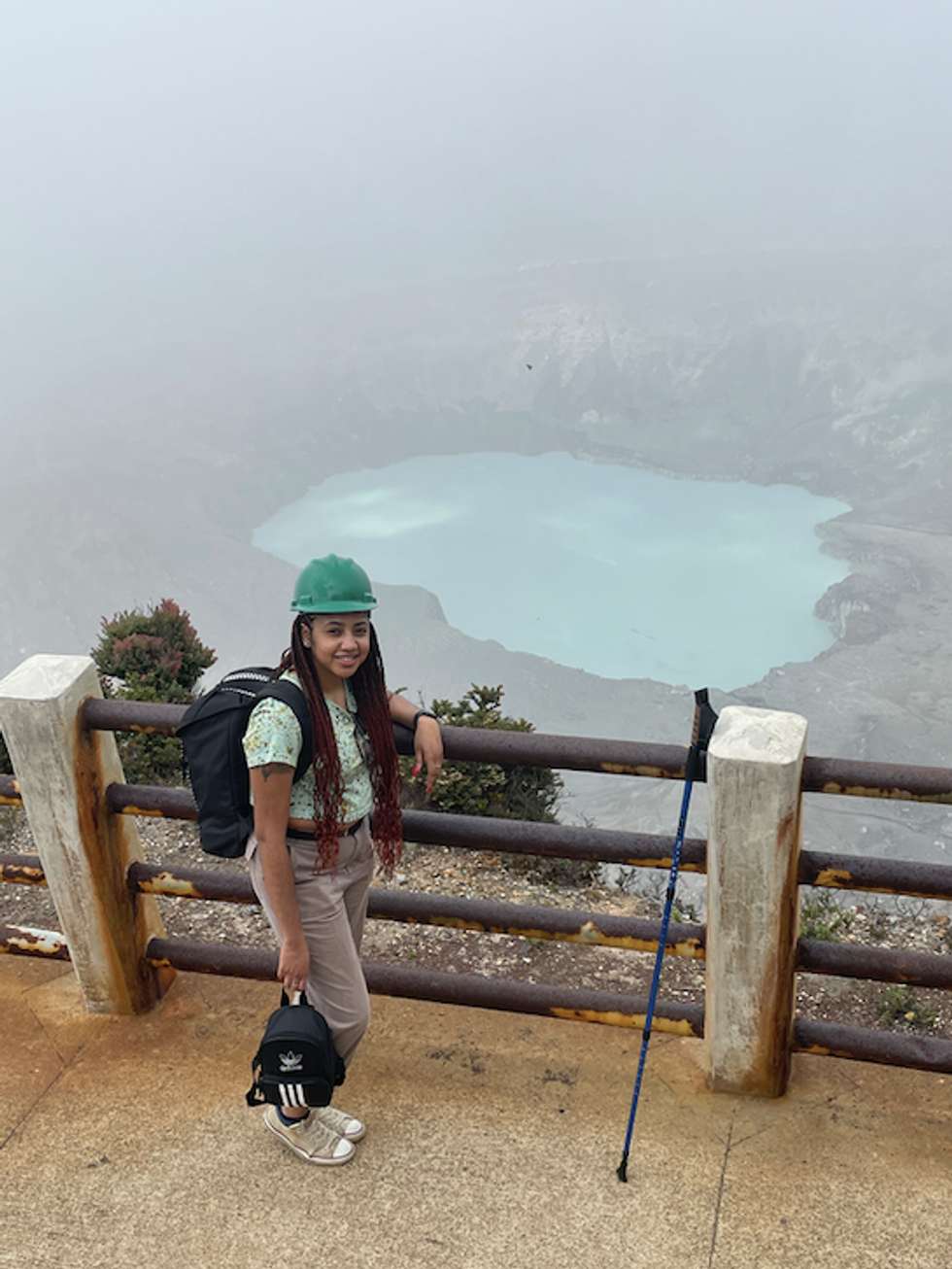 Ajeé Buggam
Costa Rica is the home of nearly 70 volcanoes, 61 of them being extinct or dormant, and six of them are active volcanos like Poás Volcano (which is not erupting when visitors visit), located in the Central Highlands of Costa Rica. Poás Volcano is about 8,887 ft tall. It was such an interesting experience feeling the weather shift; it went from low 80 degrees to several degrees cooler and cloudier the closer we got to the volcano site. The time I went to the Poás Volcano wasn't the best time to see the volcano, it was very cloudy, and it only popped up for about 10 minutes during the 20-minute gated tour that was only 300 feet from the volcano itself.
It's best to see the volcano around 7 a.m. or 8 a.m., but fortunately, I wasn't able to see it until around 1. When you're in the gated area to see the volcano, you'll see that there is a light system indicating safe times to be around the volcano so people can leave the scene when it's near the eruption stage. It was such a breathtaking sight; I highly recommend it!
Hacienda La Chimba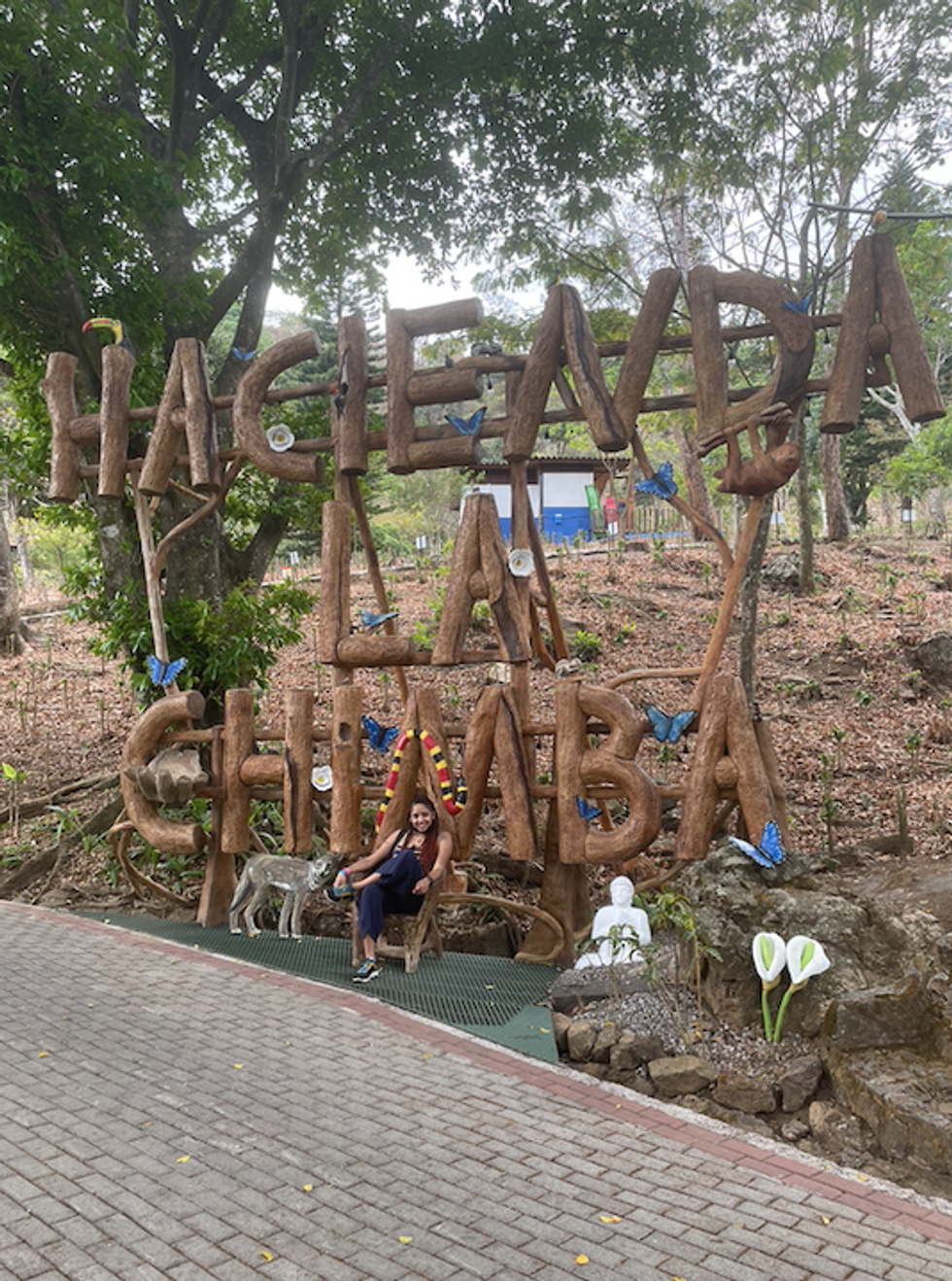 Ajeé Buggam
Hacienda La Chimba is definitely a must-see to add to your list if you enjoy adventurous outdoor activities! It's located 20 minutes outside of San Jose, in a town called Santa Ana. I'd highly suggest going there in the morning and spending the whole day there because they have multiple activities that can be quite time-consuming. Out of all the activities I've done there, I loved ziplining most. It was my first time ziplining, and it couldn't be a more perfect experience. They had about 5-6 ziplining areas ranging from different altitudes.
Then there is the high rope course that takes about an hour to complete, I'm a thrill-seeker, so this was a fulfilling experience for me to work through a physical obstacle course.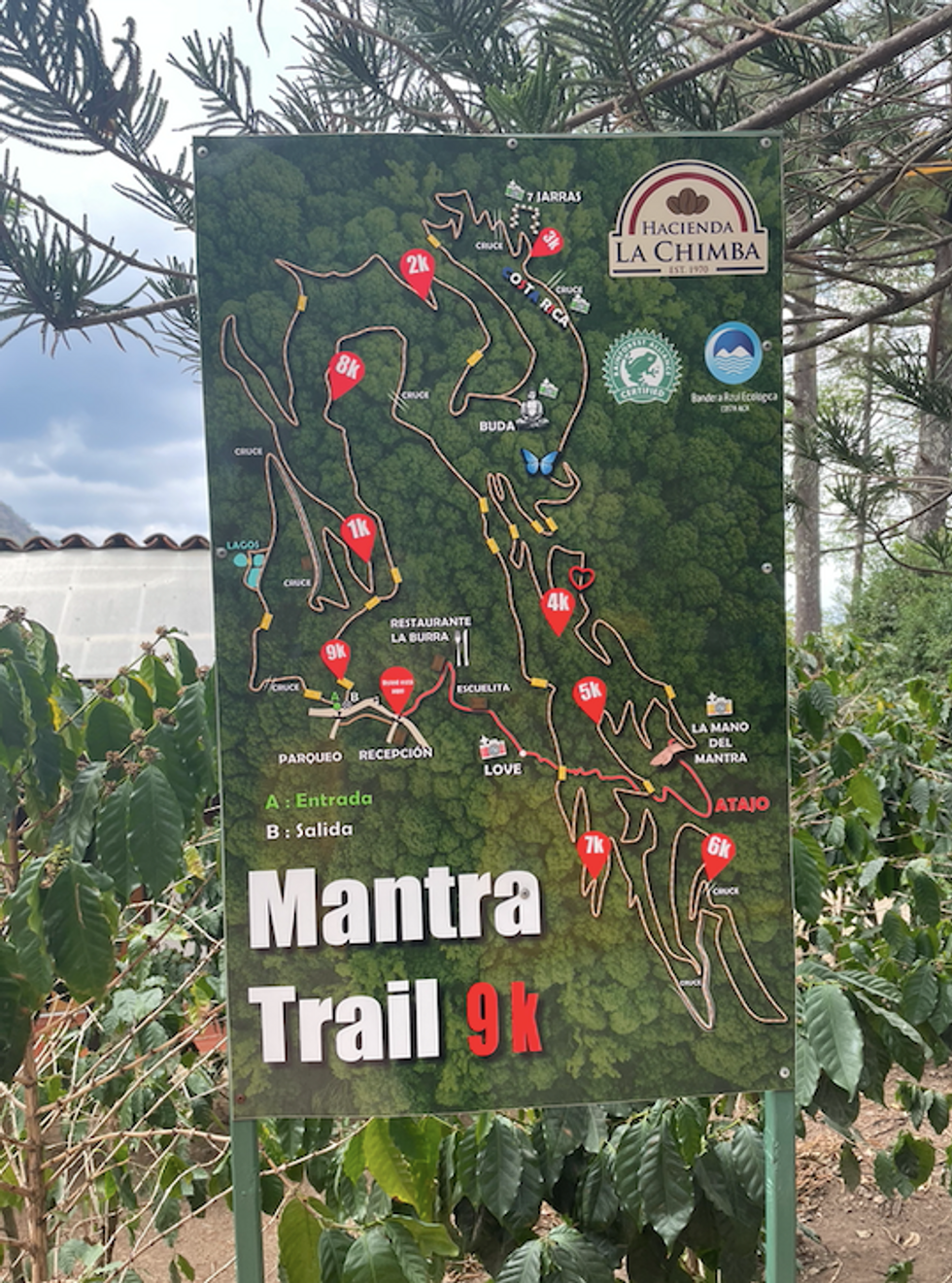 Ajeé Buggam
The park also features a coffee tour and a 5-9K hiking trial you can do that has different prompts to take pictures along the way. My biggest tip here is to stay hydrated and wear active gear. As an added plus, there was a restaurant there that served bomb-ass food and drinks that I was in heaven while indulging in it.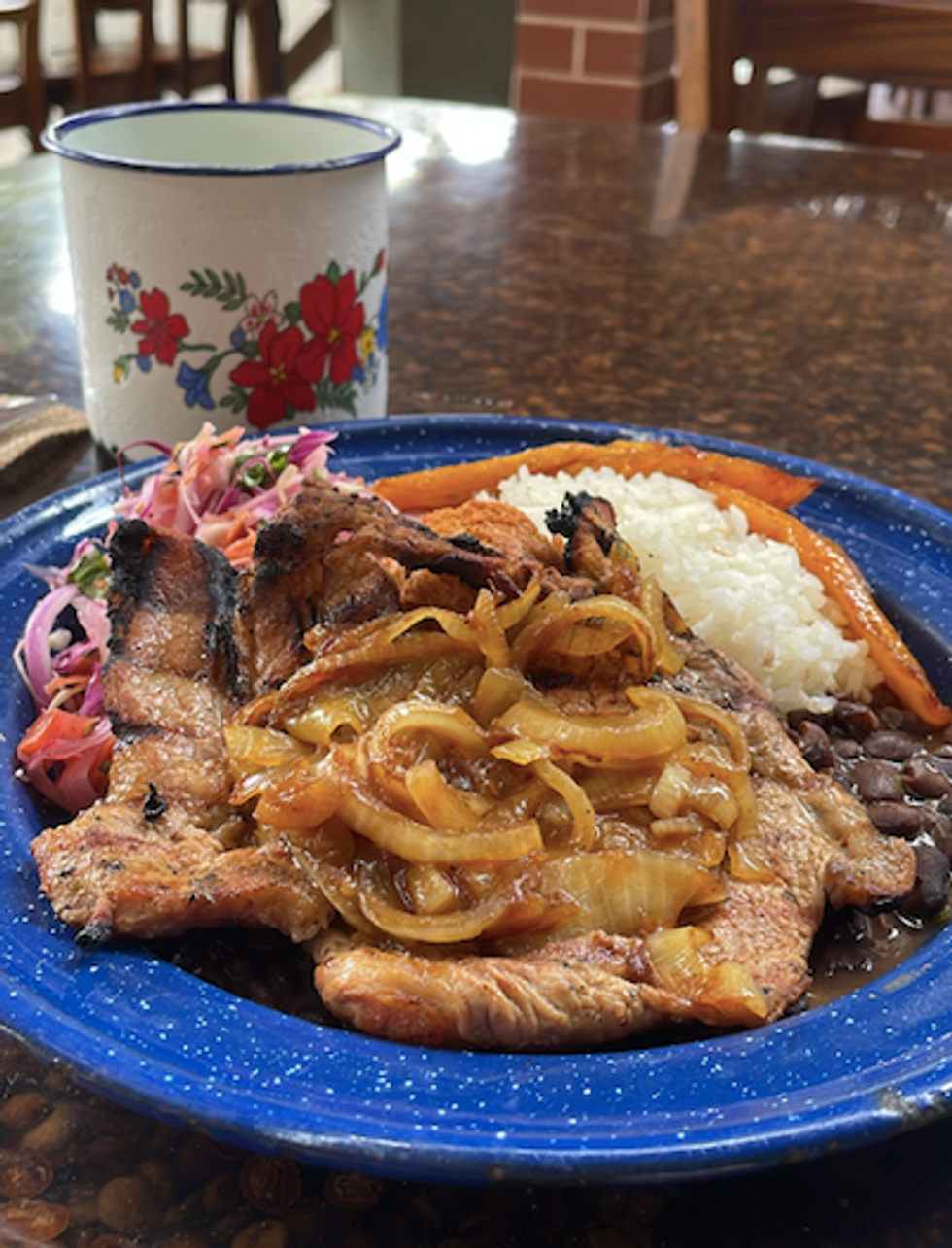 Ajeé Buggam
Doka Estate Costa Rica Coffee Tour & Plantation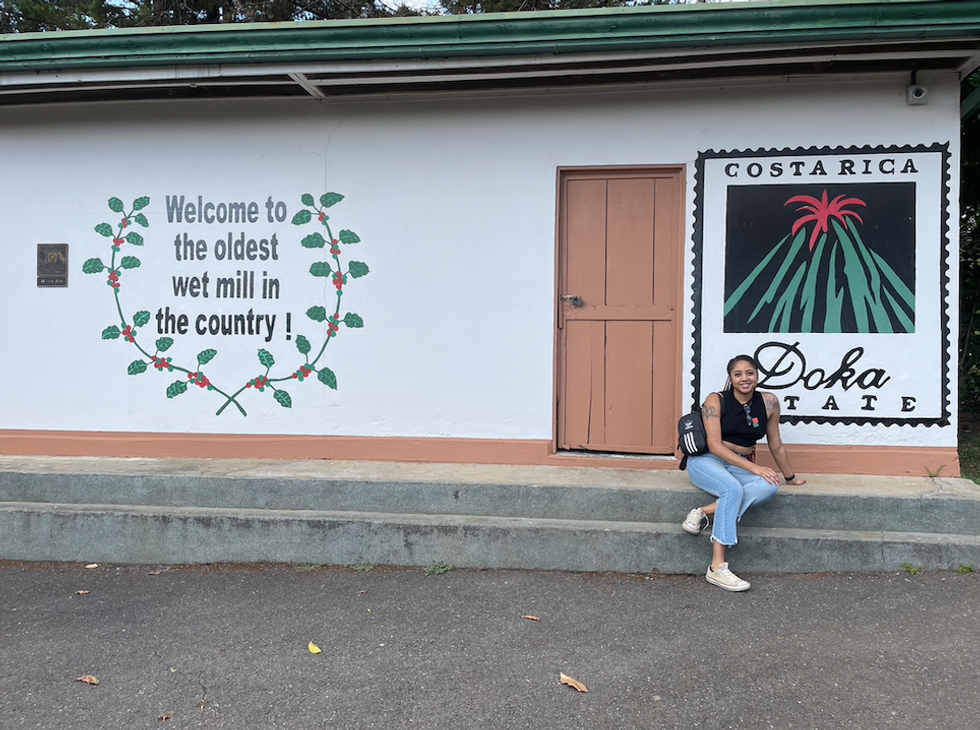 Ajeé Buggam
Costa Rica is notorious for its coffee production, and let me tell you, I had about 3 cups of coffee some days from different areas because the coffee was so rich and smooth. There are coffee farms all over the country, but Doka Estate Costa Rica Coffee Plantation is one of the most famous and oldest ones because it's a coffee plantation by a third-generation Costa Rican family.
The coffee tour the plantation offers is so thorough, taking you through all the meticulous steps of how coffee is made. From how to harvest it to sorting out different qualities of coffee beans and molding it, there are many steps in cultivating the coffee from the 45 coffee beans it takes to make a cup of coffee.
San José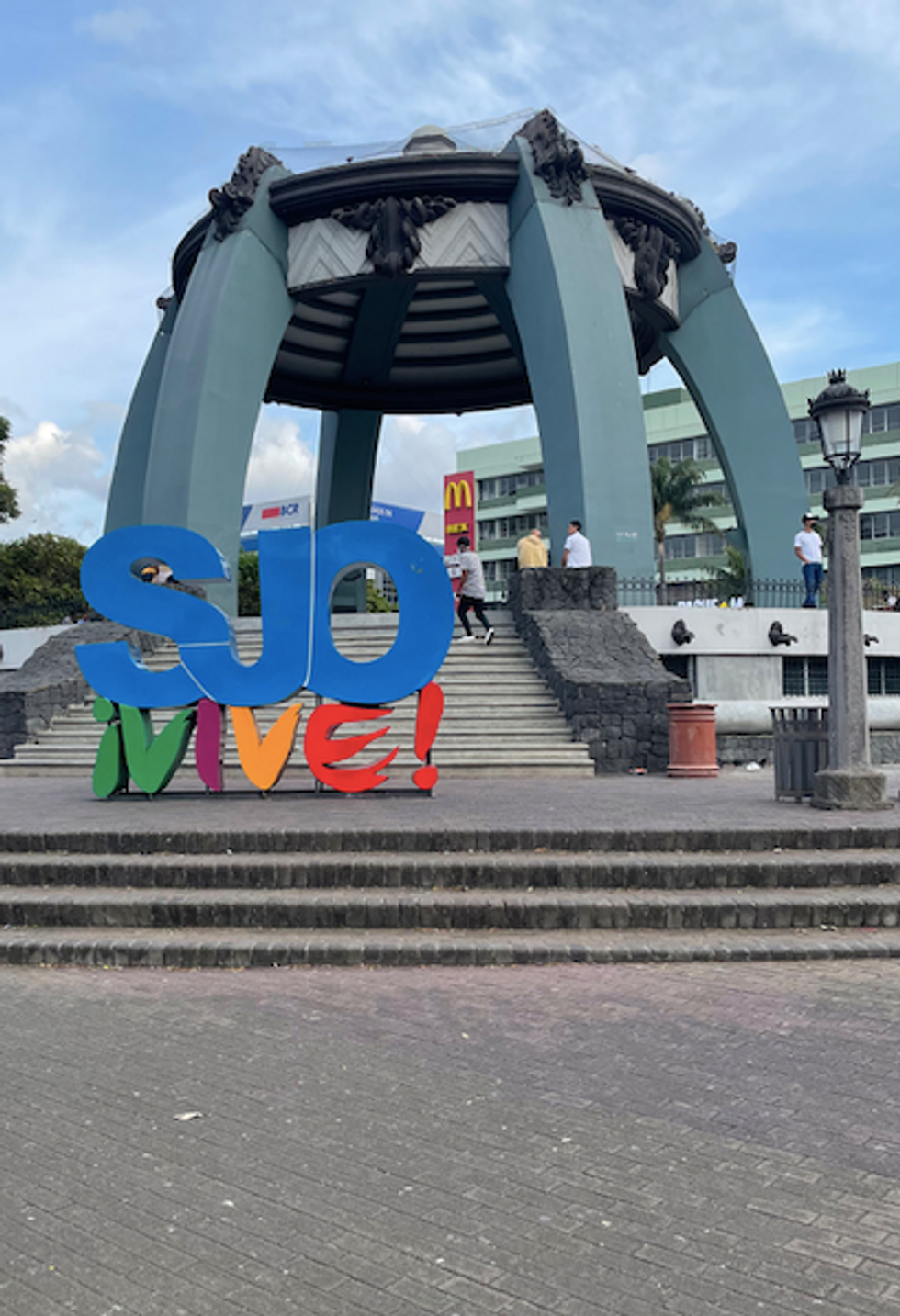 Ajeé Buggam
There's a bunch to explore in San Jose, from history and museums to culture. By far, restaurants and bars were my favorite. I had the best sangria, and tres leches dessert at Restaurante Silvestre; it's one of the oldest yet most contemporary restaurants in the city.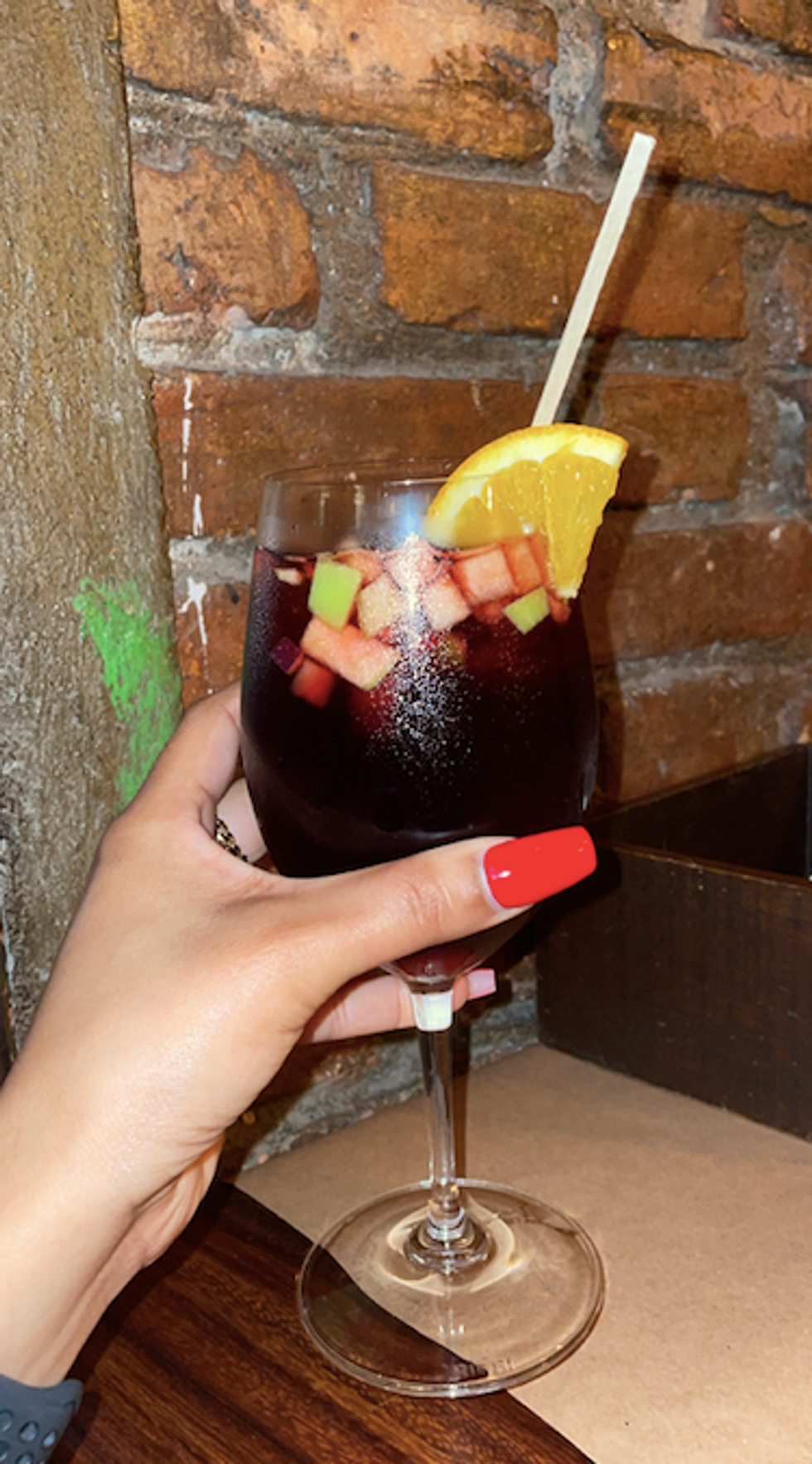 Ajeé Buggam
One of the best areas I'd recommend to bar hop or explore restaurants is in Barrio Escalante; it is such a cute and hip section of the city, and so many things are so close for easy access to try out different places back to back. El Social is a modern yet edgy bar nearby where you can enjoy great music, watch a sports game, and have drinks in a mixed crowd.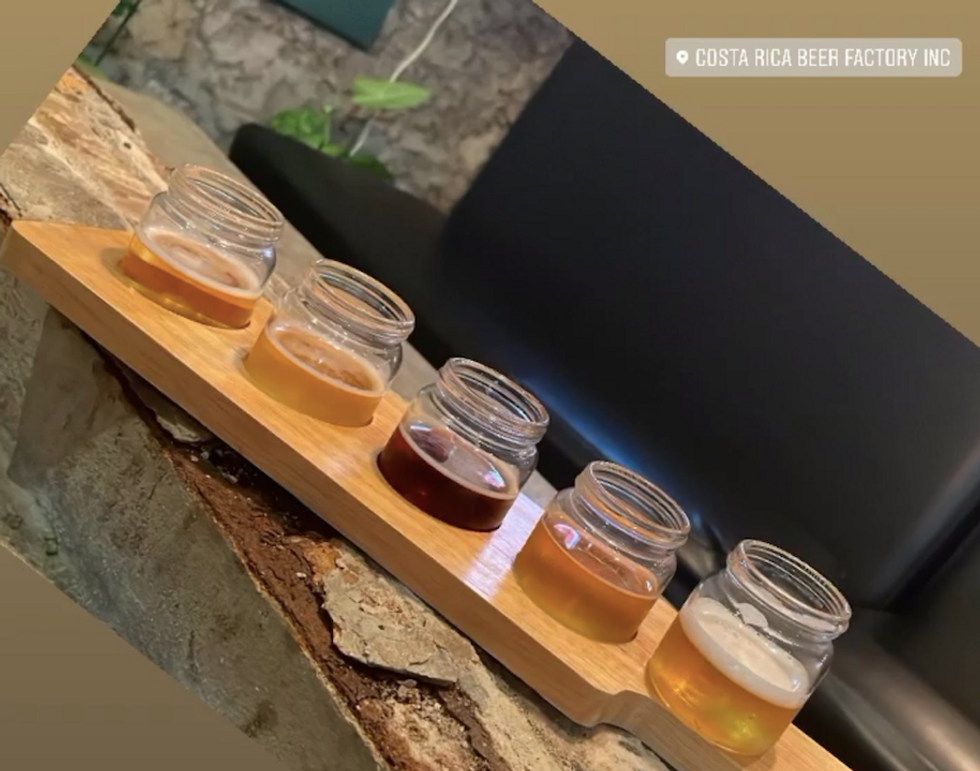 Ajeé Buggam
Neon is a nice mix of a bar and lounge indoor/outdoor scene with great tunes playing in the back and a dance room if you feel called to move your body! If you're a beer drinker like myself, head to Costa Rica Beer Factory Inc; it's such a cute beer brewery that offers a nice variation of beers to try.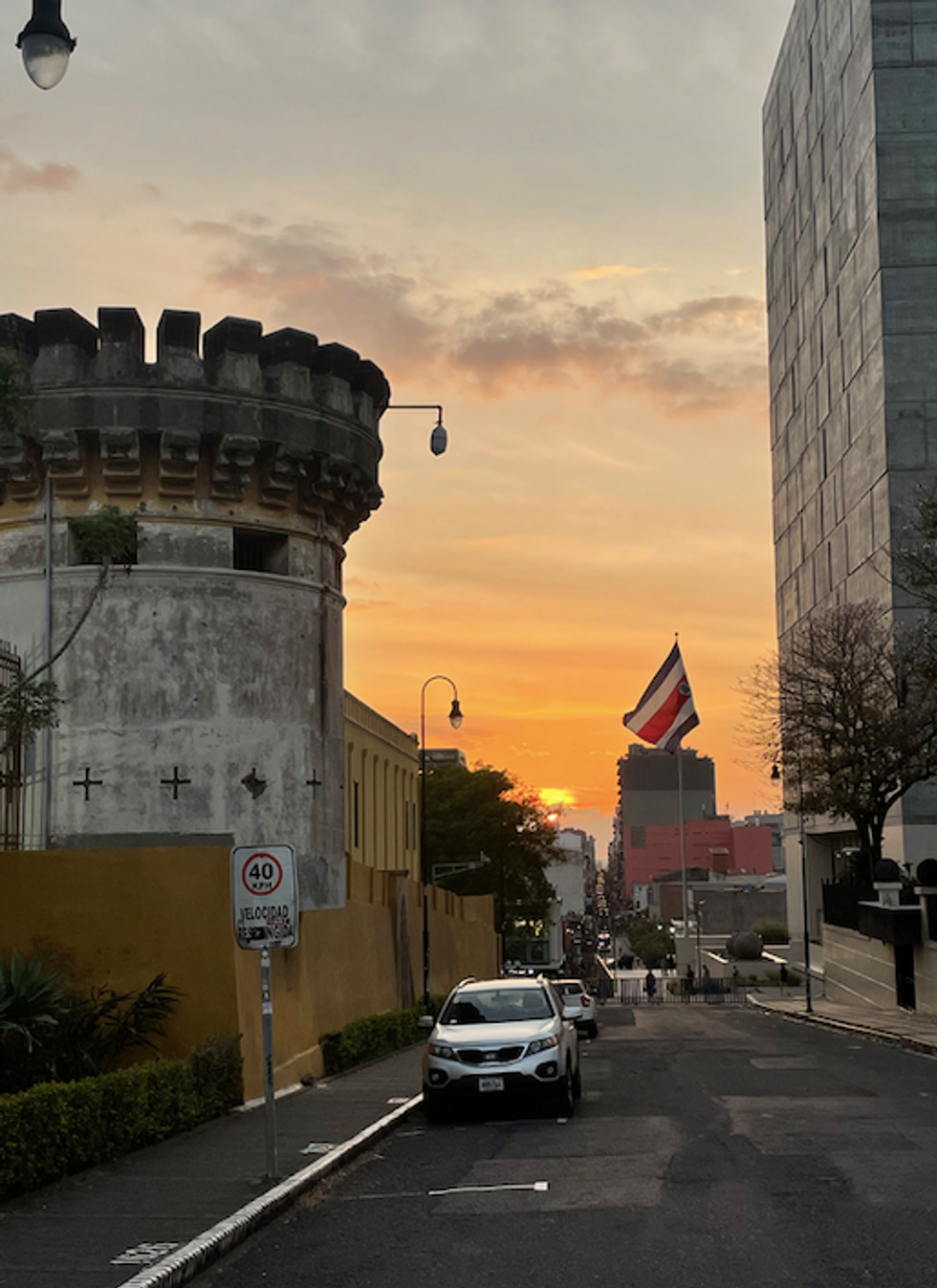 Ajeé Buggam
Overall, Costa Rica is where all the action is at. My last few tips would be to plan strategically because Costa Rica can be expensive very quickly, but it's well worth the experience. Also, if you get a chance, stay in different parts of the country to venture out more to see their beautiful beaches like Playa Flamingo and Manuel Antonio Beach and check out more adventurous sites like Skybridge in Monteverde Cloud Forest and tons more.
More than anything, stay present and enjoy your time witnessing one of the most beautiful countries the world has to offer. Pura Vida!
Featured image by Getty Images
Sometimes, being "outside" can be just as lit (if not more) when you're literally 30 minutes to an hour from home. And if you're not too keen on being around crowds, spending your last on (very) high flight tickets, or having to get yet another COVID test after a week-long stay in Jamaica, a staycation might be just what you need for some fun, relaxation, or a change of scenery.
Try one of these four fun staycation ideas for your next girls' trip, family get-together, or that solo getaway you've been putting off:
Featured image by Vladimir Yelizarov on Unsplash