It's always good to be able to get a warning or preview of travel experiences before booking a trip. Who wants to spend hard-earned money traveling somewhere only to find that they've gotten themselves into a horrible, unsafe, or unsavory experience that could've been avoided? And if you love to travel or are looking for your next vacay spot, you've probably come across lists detailing the best and worst countries for Black women via your IG Explore page or your YouTube suggestions.
Black women have been leading the charge in shifting the narrative on travel as of late, framing it as a great way to expand our horizons, find a better quality of life, or reach extraordinary personal milestones. And with the challenges of COVID and the recent national epidemic of police brutality, some have decided that relocating abroad is the best move.
Whether you're simply planning your next vacay or looking to make a major life change, take a nod from other experienced travel lovers. That's the beauty of the Black female travel tribe.
(Oh, and this list is neither to discourage nor overly encourage visiting any city or country, but to offer a diverse perspective to help you make your own sound decisions for what's best for you during your travel journey.)
NICOLE GRIMES, PH.D., Educator, New York
Nicole is an education consultant and founder of Carib Biz Network who has traveled to 40 countries including Zambia, St. Lucia, Chile, and New Zealand. "We will at times encounter things or people that stand counter to our values or belief systems, but the goal is to move in understanding and respect," she says.
BEST: Portugal
I recently came back from a multiple-stop Euro-trip where I visited Portugal for the first time. It was a phenomenal surprise! First, it's all things Western Europe but at a more affordable price point. The colorful tuk-tuks and trams that traveled up and down hilly Lisbon added so much old-world charm to the city.
If you're a seafood lover, the food there is everything. Octopus, sardines, cuttlefish, and shrimp are served practically everywhere. The most awesome part was seeing so much diversity. Lots of melanin everywhere!
The most amazing day trip I did was to a village called Sintra, a whimsical, hilly town with palaces and castles. Visiting the world-famous Pena Palace was like stepping into a fairytale. It's a must-see!
NOT SO GREAT: The United Arab Emirates (UAE)
I have been to the UAE twice, once in 2013 and then in 2015, and I really wouldn't return with any degree of fervor. Traveling solo as a woman of color in Muslim countries comes with certain challenges. I remember—whether it was trying to get a taxi, interacting with front desk staff at my hotel, or just walking the streets and asking questions—men were often rude and sometimes menacing.
There were male taxi drivers who didn't want to give me change back. Store clerks also tried to rob me and grew belligerent when I asked questions. A lot of times they had attitudes like, 'How dare you question me, woman?!'
I quickly realized that I had to remember where I was and not prance around with any degree of what could be interpreted as arrogance. I just tried to move in patience. It was what it was. My safety was way more important.
JENNIFER HENDERSON, Travel Influencer, Washington, D.C. Area
Jennifer is a makeup lover and foodie whose platform, Lipsticks and Passports, covers unique ways to affordably appease your travel bug and all that comes with prepping for your next adventure. She's been to more than a dozen countries, including Iceland, the Netherlands, and Ethiopia. "If it's your first time traveling, find a list of things to know for first-time travelers," she tells xoNecole. "It will be a lifesaver!"
BEST: Mexico
Isla Holbox has a totally different vibe than Cancun or Cozumel. It's way more chill. There are flamingos, friendly people, clear water, and $1 tacos! Does it get any better than that? I spent the majority of the time laid up on the beach drinking cheap champagne, but I did venture out and do an island tour, and I explored the local food scene. Everyone on the island was pretty friendly and they were definitely helpful, especially when it came to translating.
Oh, and since there are no cars on the island, there is minimal smog, so you can see the stars!
I live in a city, so seeing stars is a rare occurrence! I [was tempted to book] another trip to visit the island before my first visit to Mexico even ended.
NOT SO GREAT: Canada
I can't say I have ever had a bad experience traveling, per se, but I have had several interesting experiences in various countries. My most memorable experience was in 2016 in Vancouver, Canada. It was my first time traveling internationally. I was headed to Sydney, Australia, and I had a four-hour layover in Vancouver.
I was scared and confused because I couldn't find the gate for my flight on my boarding pass. I had no idea what I was doing. So, I walked up to a woman who looked like she would know how to help me. She grabbed her purse as If I was about to rob her.
The entire time I was there I noticed various people staring and pointing any time I made eye contact. I ended up finding a customer service desk and asked about my boarding pass. They were able to help.
NGOZI OGBANNA, Tech Professional, New York
Ngozi enjoys her work as a growth marketer and has proudly visited "20 countries and counting!" including Jamaica, Indonesia, and Kenya. For Black women looking to take their next trip, she adds, "Ultimately, be aware of your surroundings, stay street smart, and know that isolated incidents are not representative of your entire travel experience."
BEST: Ghana
I've had amazing experiences across a number of continents and countries, but one of my absolute favorite experiences was visiting Ghana during the "Year of the Return" festivities in 2019. Africa in December is the best—and typically most expensive—time to visit since it's when most people return home to see family, attend weddings, and of course, party into the new year.
My trip felt like a homecoming: lots of fabulous Black people from all over the world connecting, vibing, luxuriating, and enjoying the sights, food, culture, and music of Accra.
I can definitely picture myself living in Accra—going to the beaches, hanging out at rooftop bars, enjoying the concerts, and hiking across waterfalls and jungle canopy walks.
NOT SO GREAT: Argentina
I went to both Patagonia and Buenos Aires. While it was a diverse group of people, I was the only Black person on the trip. I was also one of the very few Black people, in general, in the Patagonia region during my entire trip.
I definitely stood out—Black Girl Magic!—and it was very awkward to get blatant stares from some of the locals, especially having one man point at me—in surprise, but still rudely—and say 'la negra,' which means 'Black woman,' because he clearly doesn't see many of us in his day-to-day life.
I did not, however, let that sour my overall trip nor my desire to travel to more remote regions (like mountain regions in Peru, for example) because I will make the best of any situation.
CHARMAINE RADWAY, Regulatory Specialist, Florida
Along with her day job, Charmaine hosts her own podcast, Kulcha Shock Abroad, and serves as director of Yawd Cards, a fun game that plays homage to her Jamaican heritage. She's been to 30 countries including Costa Rica, Cuba, and Belgium. "Visit everywhere with an open mind," she urges. "Someone else may have a terrible experience and hate a country or city. You may go and have time time of your life!"
BEST: Turkey
It was an unexpected love-at-first-sight destination. You know those places where you get off the plane and the excitement starts but continues throughout the trip and you are devastated to leave? Yeah, that one! The food, for me, puts it in the top five places I've been.
The beach towns are quieter and just as beautiful as many other coastal European cities. The people were unbelievably welcoming and nice, and as a Black woman, I never felt uncomfortable at all.
If you are a geology or ruins junkie like me, this country is definitely a must-go.
NOT SO GREAT: United Kingdom
I experienced blatant racism for the first time on my first long-haul trip there at 16. I never forgot being followed around museums or while shopping on Bond Street.
It left a bad taste in my mouth, and although I live in the U.S. where these things happen all the time, that experience as a teenager shaped the way I felt about being Black for a very long time.
Gladly, I resumed traveling extensively in my 30s and have since embraced Blackness and Caribbean culture. I have not been back to London since, but I will within a year!
Davida is founder of skincare and lifestyle brand Katelynn and Adwoa, and she's traveled to South Africa, Cambodia and Germany, to name a few.
BEST: Ghana
The experience starts as soon as I get off the airplane at Kotoka International Airport. Each person makes it a point to say "Akwaaba" which means "Welcome Back."
The amazing food, beautiful beaches, top fashion, and culture in general all add to the amazing experience that I always have in Ghana, but specifically as a Black woman, it feels good to travel to a country with billboards and ads of women who look like me.
Knowing that I am safe to roam by myself, can sit at a restaurant, or even walk into any bar without being harassed puts Ghana at the top of favorite countries to explore. I book all of the tourist tours to Cape Coast, Kakum National Park, local festivals, shopping at the night market, and of course restaurant- and bar-hopping.
NOT SO GREAT: France
I've traveled to Paris two times. The first time was in 2007 for work, and I had a terrible experience. I left my hotel and decided to explore the city on my own. When the cab pulled up in front of me, I proceeded to get in when a man started yelling and cursing at me in French, pushed me out of the way, and proceeded to get in the cab I hailed. No one helped. No one at the restaurants were welcoming or warm at all.
Between all of the cigarette smoke everywhere, the blunt, rude attitudes of the locals, and the language barrier, I did not have a good experience in Paris.
The second time I went was in 2011, and this time I was with my mom, sister, and best friends. The experience was about the same: bad customer service, rude locals, and just an overall feeling of not being welcome.
Nevertheless, [I think] I would have been able to navigate a bit better had I learned the language. And going with a group of friends is a good idea. I wouldn't recommend Paris for solo travelers. Also, search #BlackParis on Instagram before visiting. It gives a list of cool Black-owned restaurants and tours in Paris.
Featured image via Getty Images
Keep reading...
Show less
A wise human once said, "A vacation away keeps the doctor at bay." Vacationing hasn't been the same since the pandemic but I think it's still essential to get away every now and then. Airbnb has been a game-changer for me since 2012. The homestay platform provides a sense of culture and community that you just can't get from staying at a hotel. The groundbreaking company is one of the largest lodging companies in the world with no actual properties.
A gem amongst the thousands of options: The Modern Balinese Style Villa. Designed by decor duo, Angelique and Alexander, the pair channeled their love for traveling and adventure into one of the most beautiful spaces on this planet.
"Our specialty is modern living with world influences: from Bali to Mexico, Norway to India. We will design your space from concept to completion. Oh, and we build our own properties that you can come and stay in: our first being a luxury Balinese style retreat in Encino, CA."
The opportunity presented itself to visit this stunning, perfectly nestled abode and all I could think was, "Black girls deserve luxury." So this Black girl and her best friend got to spend the unofficial end of summer, Labor Day, relishing in the most grandeur place I have ever laid my head. Not only is every crevice of the house social media-worthy but it oozes relaxation.
Featured Image by Joce Blake

Keep reading...
Show less
It was 2018 when I realized working in a toxic work environment and pursuing a high-stress career in Corporate America wasn't for me. But at the time, resources on how to take a career break were scarce. I researched, googled, and scrolled through Pinterest. I read blogs and listened to podcasts about other women who traveled and eventually made a career switch. But there wasn't a platform dedicated to strategizing an exit plan from the American lifestyle. At least, not for women of color. I was left to make these life-altering decisions on my own with little to no help or substantial resources.
I managed to execute my plan, and here I am still curating this new life of mine. I still dream of living life overseas too. It's going to happen, but I'm just not quite there yet. And in 2021, more and more American Black women have realized hustle culture or Black Excellence is not where it's at. Two years ago, it was highly uncommon for a Black woman or any woman of color to quit her job, sell her house, give up everything she owns, and catch a flight to a destination unknown and start a whole new life. It was just completely unheard of.
It went against everything our parents and the generations before us taught us about building the American dream. Life for an American Black woman embodies hard work.
Oftentimes, this means demanding and stressful careers. It's a constant state of chaos and, the thing is, most Black women don't realize this until they are forced to. And there is no telling how chaos decides to show up, but it usually manifests in unhealthy vices or underlying health problems. The idea of "taking a break" or moving abroad isn't a part of what we consider Black Excellence to be. So, we entertain the idea of a relaxed lifestyle only when we are eligible for retirement.
But in case you haven't noticed, we are no longer waiting until 65 to truly live. We are deciding to be present and live our best lives now.
The pandemic showed us what a life with balance and freedom can look like. It gave more and more Black women the permission to discover new ways to find joy. Even if that joy looks like leaving their homes and everything they know. Whether that is through a career break or a more permanent move, Black women have come to realize a life of constant burnout and mental health problems isn't a life at all. And Stephanie Perry and Roshida Dowe came to this same realization too.
Together, through their company Exodus Summit, they help other black women navigate the ins and outs of taking a career break or living abroad. "The idea for Exodus Summit started in the summer of 2020. Stephanie and I thought this would be a good way for us to collaborate and serve more women than we could serve individually," Roshida explained. "This year, we have invited back women who attended the summit last year to be speakers at this year's Homecoming. These women are coming back to share their roadmaps for how they made the transition abroad happen for themselves."
Meet The Creators Of Exodus Summit
Stephanie is a digital nomad. She has visited 12 countries in 12 months all at $1200 per month. Before making the leap overseas, she was a hospital pharmacy technician. Now, she's a year-round house sitter and pet sitter who helps Black women take a career break to travel on a budget through her website vaycarious.com.
Roshida, aka "Shida D", is a passionate proponent of career breaks, sabbaticals, and grown-up gap years. In her previous life, she was a lawyer in high-pressure tech companies. It wasn't until a decade later that Roshida realized she wasn't in love with the life she built.
Stressed, tired, and burned out, Roshida decided to take the leap and travel the world for a year. It was then that she discovered her purpose. Roshida decided to help other women experience the freedom she had found on her own career break. She now coaches women on how to plan satisfying and sustainable breaks from their careers and leave burnout behind.
xoNecole interviewed Stephanie and Roshida on their personal experiences with taking career breaks and living abroad. Here's what they had to share.

Leaving The American Life
It's never an easy decision to leave the life you're accustomed to for an unconventional life. There are so many what-ifs, risks, and issues that come up. Not to mention self-doubt and limiting beliefs. It's an internal battle of:"Can I really do this?" "Am I making the right decision?" and "What are people going to say?" Especially for Black and brown women. Our function in the United States is to work and take care of other people so that others can live out their dreams. To seek a desired of level freedom is almost considered unattainable and too far-fetched in our culture. But says who?
Stephanie and Roshida share their reasons for leaving this American life.
Stephanie: "I decided that I wanted to spend a year traveling full-time and I thought that one year was going to be enough. And I was going to return from that year and be like, 'I did it. I saw it all. Now, I'm ready to go back to my old life.' It turns out, that once I was out for a little while, it made me put my life and work in perspective. I started to see how other people in other countries don't make work their priority and try to fit other things in. They get to enjoy a full life. They get to live it 360 degrees and not just work most of the time and then hope and pray when they get to that magical retirement age that they are still able to do the things that they have always wanted to do. So, being able to experience life in other cultures for those 12 months changed the idea of what I wanted my life to look like."
Roshida: "I got laid off from my job when the company I worked for went out of business. The thought of getting a new job was overwhelming (I was totally burnt out from the last job). So, I did some quick math and realized I had enough money saved to travel for a year, and I was off exploring the world less than a month later."
Challenges Of Living In A Foreign Country
When you finally decide to build a life in a different country, there is no question there will be a few challenges. And it seems scary at first when you don't know how another country operates or how to establish residency, let alone get a job. But we live in a digital world. We have a variety of resources that allow us to educate ourselves about other countries and their cultures. From social media, YouTube, language and travel apps, blogs, and Google, we can easily travel to another country well-prepared. I mean, I did. While external challenges exist to living in a different country, most of the challenges are internal. It comes down to adopting a new way of thinking and allowing yourself to say "yes."
Stephanie: "Living in another place is simpler than what most people think it is. It's 2021 and there is a lot of information out there. You don't have to go into a place blind. There are communities of people, especially if you're a Black woman. There are communities of Black women all around the world that are sharing information so that you can get to places and know what neighborhoods you want to live in, the good doctors, and the good service providers in the area. So, you're not moving to a place with no clue.
"The real hurdles are in yourself. How do I reject everything I was told that I was supposed to be living for? We are stuck on the idea of Black excellence, which is a trap. It's doing things for outward appearance and forgetting about what you really want. You have to be these things so that other people can look at you and respect you. But what about how you feel about yourself?"
Roshida: "Beyond not being fluent in the language, getting used to the local customs can be a challenge. But when you find the perfect place for yourself (for me, it's Mexico City), those challenges seem like learning opportunities."
Earning An Income And Finding Work In Another Country
Stephanie: "Because I like to go to inexpensive countries, finding work overseas would not benefit me. I would be paid in their currency, and it would be worth less than the U.S. dollar. So, I instead make money in U.S. dollars online and stay, visit, or live in these other places. It turns out that I have a skill set that people were willing to pay me for that I had been doing for free. I'm a house sitter and people used to ask me all the time how to get started with house sitting and I would give them information for free. Now they pay me for it. That's my business. I make a living helping people become house sitters. Most of my clients are Black women from the U.S. and the Caribbean. I found a skill set that supports me so that I don't have to have a traditional job."
Roshida: "During my career break, I started helping other Black women take breaks as well, and that turned into a business. Building my own business, I get to set my own hours, work with who I want, and work from wherever I want."
Misconceptions About Living Abroad
Stephanie: "Misconception number one is that it's dangerous. I spend six months out of the year in Mexico and people always want to know how safe it is or what about the cartels. But if you don't have cartel business, you don't have to think about the cartels. Another piece of American propaganda is that we are better than other places. Especially when it comes to certain things like safety. I am not safer in the United States compared to when I'm in a different country. Mexico is a place where people just mind their business. There is not a group of people in Mexico who are waiting to harass you. If you have an interaction with the police in Mexico, it's not going to be a negative interaction. In the cities we live in, in the United States, we are probably in more danger than in any place that you're going to want to go to in the rest of the world."
"It's also not as expensive as people think. People price places based on what they see when they go on vacation. When you live someplace, it's a lot less expensive than when you are just visiting. It was less expensive for me to travel full-time, than it was for me to live in Wilmington, Delaware."
"Loneliness. When you are a solo traveler, you will meet people if you want to. It's so much easier to meet new friends when you travel solo. I have friends now that I would not have met if I traveled with other people, and we are still friends today."
Life Abroad Vs. The Black American Lifestyle
Stephanie: "When I'm abroad, it's the only time I get treated like an actual American with all of the rights and privileges that come with being an American. I also don't have to fear for my safety as a Black woman abroad. Dating is better for me as a Black woman abroad too. My self-care is better. We think self-care is manicures and pedicures, but not like actual rest. I have free time to do creative things and daily spirituality practices. All of those things are things I have time for because I don't work and live in the United States."
Roshida: "Living outside of the U.S. gives me a sense of freedom that I didn't experience in the U.S."
On Why Black Women Are Adopting A Life Overseas
Stephanie: "I think that we have gotten tired of living the life of other people. We want to feel that freedom, that right now, it's only felt when we leave the country. Also, it's helpful that the internet exists and that Black women are sharing what they have been doing so new people can be introduced to it. I have a YouTube channel, and people are like, I didn't even know that I can do this. I think the communities of people who are out sharing information are very helpful."
"And I think that we've hit a breaking point where either you're going to make a big change, or this environment is going to kill us. We are fighting for our lives. It's a fight for our peace of mind, for our safety, for children's safety, and our joy. There's a new emphasis on Black joy that has not existed in the past. It prioritizes what you want or what life you want to live. All of these have converged to make it so much easier and so much more realistic for us to go."
Roshida: "Life abroad comes with significantly less stress and a sense of joy and ease that is hard for Black women to achieve overseas. It's not a stress-free life, but most other cultures have a more relaxed way of life, and it's nice to get to enjoy that abroad."
Exodus Summit 2021 starts this weekend, from September 24-26. Learn more about the virtual event here.
Featured image by Getty Images
Keep reading...
Show less
I didn't get on my first flight until I was 21, so when I found myself on a flight to Chicago for my first solo trip, it was honestly scary. Fast forward five years, I am quick to hop on a plane alone and actually prefer it to larger group trips. My first solo trip was just a matter of me really wanting to visit Chicago and having no one else free to go with. I get a lot of anxiety when flying, so flying alone had never crossed my mind. But little did I know, that first trip would change who I was as a traveler forever. I loved Chicago, but most importantly, I loved the freedom I had to truly explore the city on my own terms because I didn't have to wait around for anyone.
I woke up when I felt like it, visited all of the places I was interested in, and ate only at places that caught my attention. I felt as safe walking down the street in downtown Chi as I do walking around the city in NY. That trip was the catalyst for my newly implemented motto of "Book now, ask later." Since then, I've gone as far as Hawaii, Houston, and Aruba all on my own. Hawaii and Aruba both pushed me to new levels and despite hearing the concern from others who couldn't believe I was going so far all alone, those have been some of my favorite trips to date. Every chance I get, I'm encouraging someone to take a trip alone when everyone flakes or they just really need some alone time.
I understand why some people are hesitant about taking that leap and traveling solo, so I asked some of my favorite travel influencers and bloggers about their own experiences with traveling alone and what advice they have for those looking to take that leap. See their tips below and start planning that first trip now!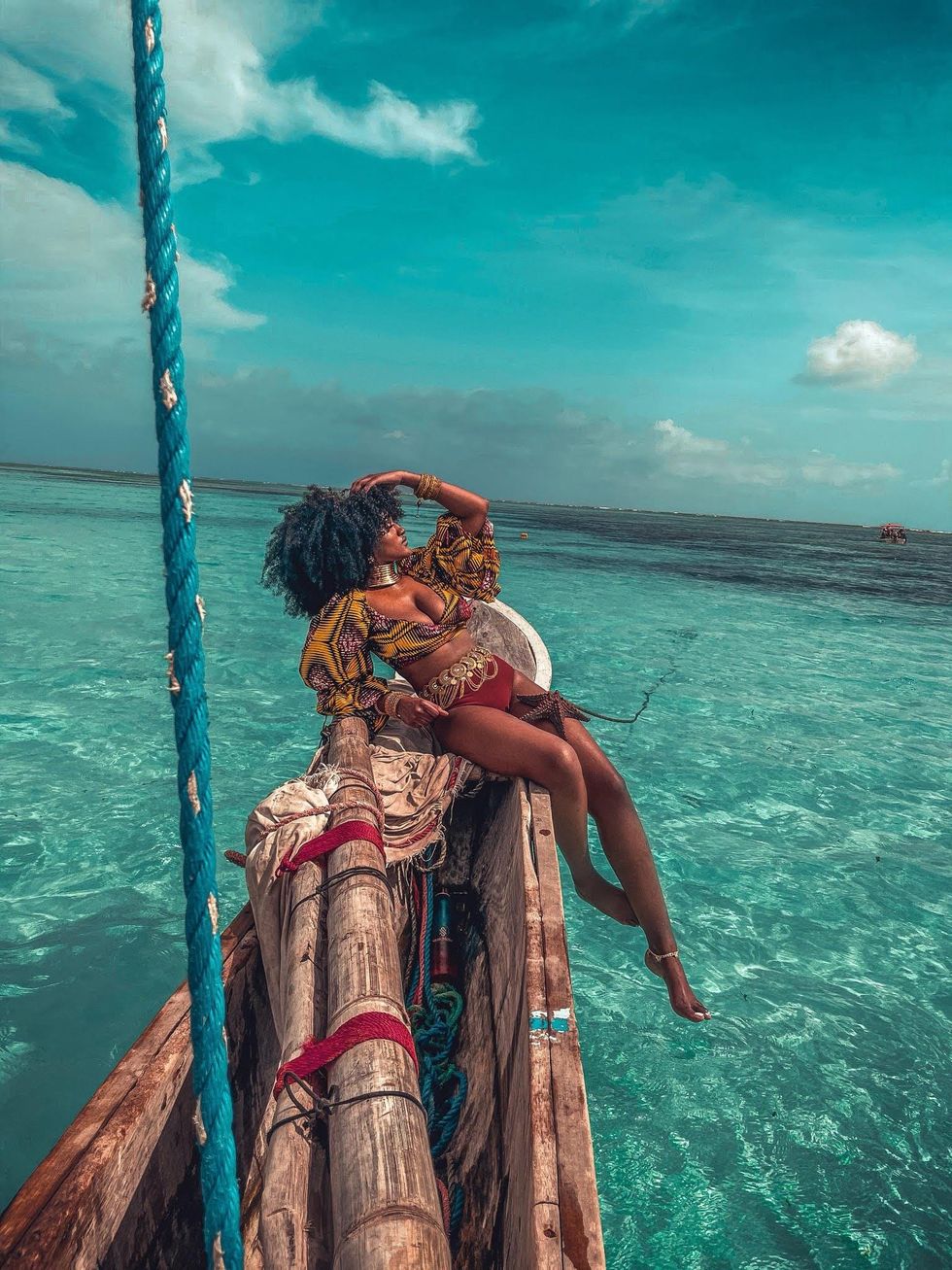 Courtesy of Sabrina
"Traveling solo actually found me by way of a flaky travel partner! I had a trip planned with a friend who backed out at the last minute and I had two choices: cancel the trip or go alone. I wasn't going to lose all that money and time spent planning because of someone else. It was in that moment that I realized that I can experience the world with or without the company of another. Travel is my best friend!
"The most enjoyable thing about solo travel is being on your own schedule. When you're alone, the whole day is yours to seize, and in your own perfect fashion. Some days, I want to get up super early and explore, while other days, I want to pamper myself with a spa day. The choice is completely mine when I'm solo, and to be honest I love it that way! Solo travel can be a way to tap back into who you truly are and fortify the most important relationship you will ever have in your life: the relationship with yourself."
"Also, from what I've experienced and heard from others, safety is a huge concern when traveling alone; especially as a woman. To combat this, I just remain hyper-vigilant of my surroundings and always let someone from home know exactly where I am. I don't ever reveal too much about myself if I am speaking with someone I don't know. I am also super intuitive, and if something doesn't feel right, I remove myself from the situation as quickly and as subtly as possible.
"Also, whenever I travel solo, I never have an issue taking pictures. Most times people are ready and willing to help and (with a little guidance) the pictures come out beautifully! For example, when I traveled to Cartagena, I had a photographer approach me at the pool and we had an impromptu photoshoot! I always have my tripod on deck though, just in case I need an extra hand, so to speak."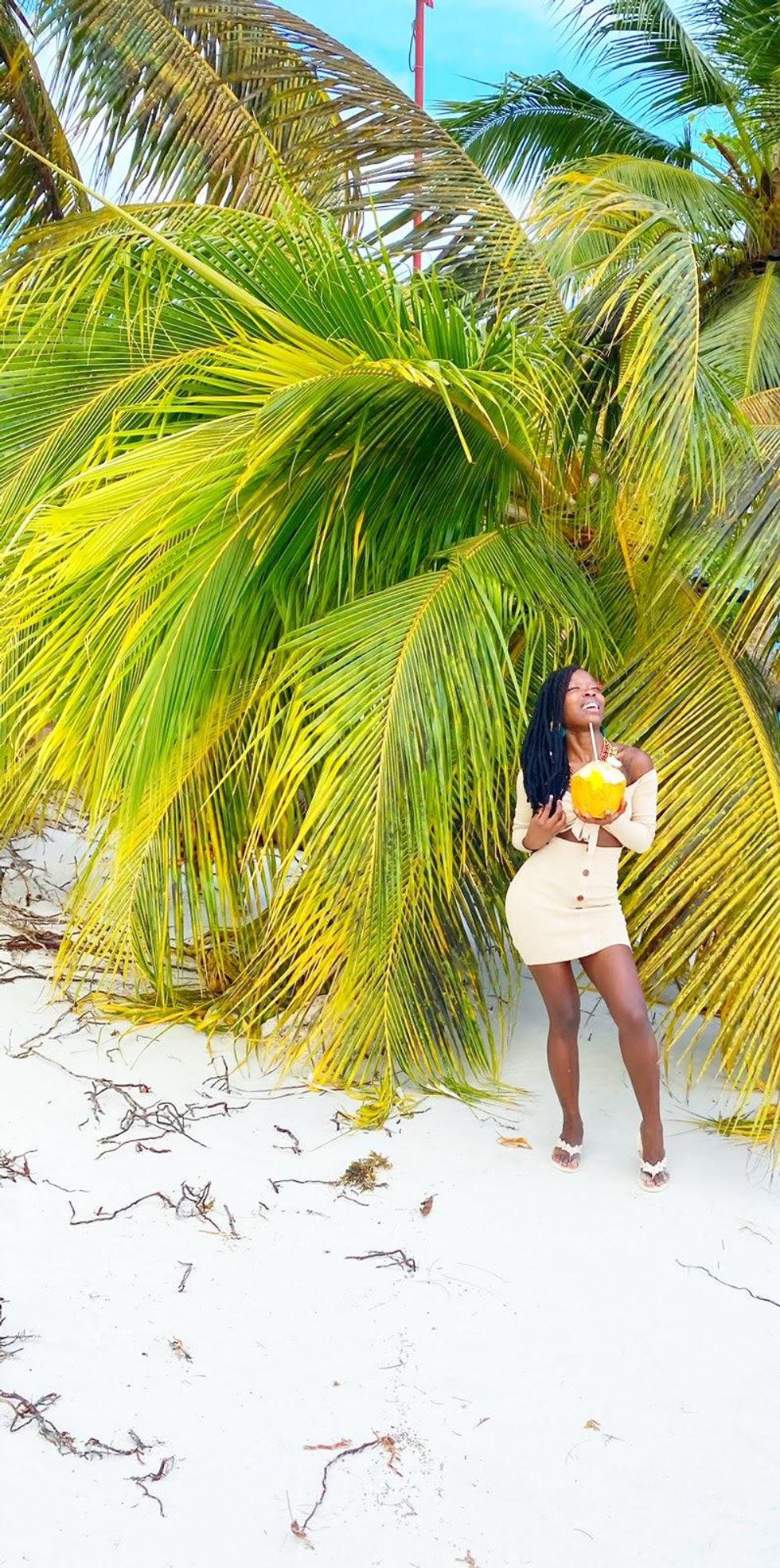 Courtesy of Dominique
"Traveling solo to me is the most liberating thing anyone can do. I've learned so much about myself from just being with myself. I think the scariest part for a lot of people is just knowing that you are your own company. But what I've learned is that you gotta step out on faith and the things that scare you the most are the things that are going to be the most beneficial for you. I've faced my fears and done things that I said I would never do. People will try to discourage you, but don't listen to what people say, go ahead and see for yourself.
"So first thing, research, research, research! The customs, the culture of that country, etc., especially when it comes to dress code and things like that. The number one thing that I do is first enroll myself in the S.T.E.P. Program. S.T.E.P. stands for Smart Traveler Enrollment Program and it's a free program that will register your trip with the U.S. Embassy in whatever country you're visiting. So then you'll get alerts about safety conditions, emergencies, natural disasters and things like that. This way you will be in the loop and also the embassy will know you are there and exactly who you are, and can provide support if you're in trouble. So that's my number one thing that I do once I book a trip.
"The other thing is that I try to pre-plan when I am solo. Pre-plan my taxi ride, my excursions, etc. because you don't want to be out there looking lost. This can make you an easy target anywhere. I liked to use Booking.com for my taxi rides. You can pre-plan every taxi ride and they will come and pick you up. If you say Tuesday I'm going to go jet skiing at this location, you go ahead and schedule it, and they'll pick you up at the time and bring you back. Everything is pre-planned."
"Another thing is that when you're doing solo travel, you're never really alone because you make so many connections along the way. You meet so many people and believe it or not, there are other solo travelers out there just like you, that you will find along the way. I met one of my best friends who is my best friend [to] this day, on a solo trip to St. Thomas. We both were on a solo trip and ended up on an excursion together. So you know, two young, black girls, just talking or whatever and it turns out she lived literally three blocks from my house. After that, it wasn't solo anymore; I was with her the whole time. She became my travel partner and we kind of just stayed with each other the whole trip. So I went solo and then ended up with a friend."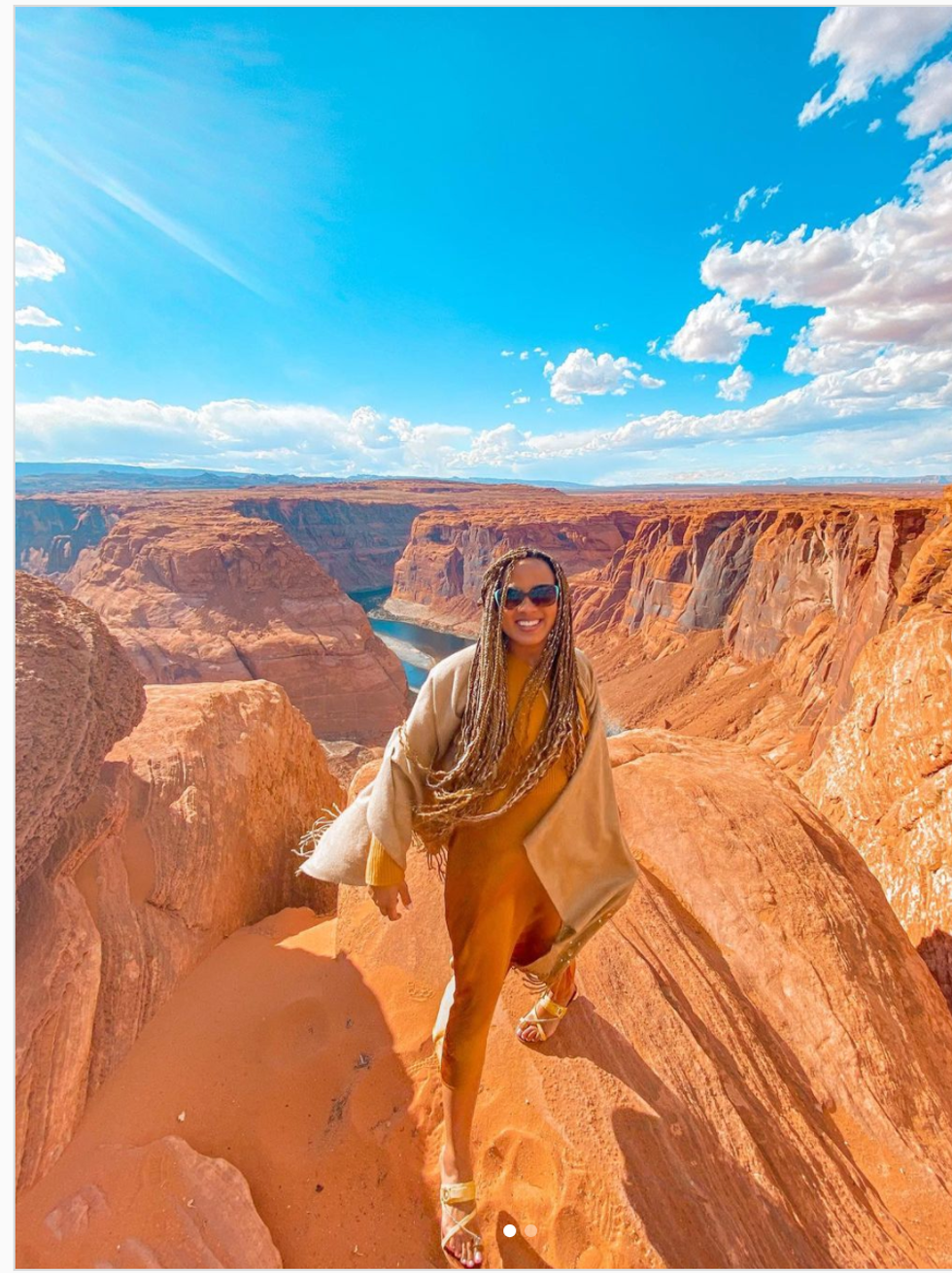 Courtesy of Gabby
"My biggest tip would be to start small. So try to warm yourself up, you know, don't feel pressured by society or social media. Don't do it for the 'gram. Do it for yourself. Start off by going to dinner by yourself once a week, or going to a movie by yourself. Just doing the small things and realizing that it's not scary. I definitely plan out a lot, at least outline a lot. But I leave the room to be flexible.
"Some things that I for sure do are ask around the Facebook groups and check out which parts of town are safe and which are not. I try to find at least one or two people on the ground. I'll ask on my social media for just one or two people who have been there before or live there, or are there right now. When I look at Airbnb, I usually try to go with a female owner or a female point of contact, just to ask the questions I really need to ask, like where can I buy tampons in Croatia."
"And here's the thing with safety. People will swear that everyone is following them. And everyone is like, stalking them. I'm like, you know, things do happen so definitely stay aware. But girl, if it's not happening in your home city every single day, it's definitely not going to happen abroad. And honestly, sometimes the cities abroad are safer. You're going to feel like people are staring at you. I felt people were like, 'Are you seriously by yourself?' 'Are you OK?' 'What's wrong with you?'. But you're going to get through that and be like, 'OK, that's a projection that they have and it has nothing to do with me. I'm enjoying myself and it's fine.' So once you warm up to that, I think that it will help you actually enjoy your solo trip.
"Women deserve to be selfish. And that's why I really hope more women solo travel. You get to wake up and do what you want to do all day long. You can cancel all your plans. You can rearrange them. You can meet other people or you can stay by yourself. I think it's such an empowering experience for women. And even though maybe on paper it's scary or just overwhelming to think about, when you actually take it step by step it's the best experience you could have. I think everyone should try at least once."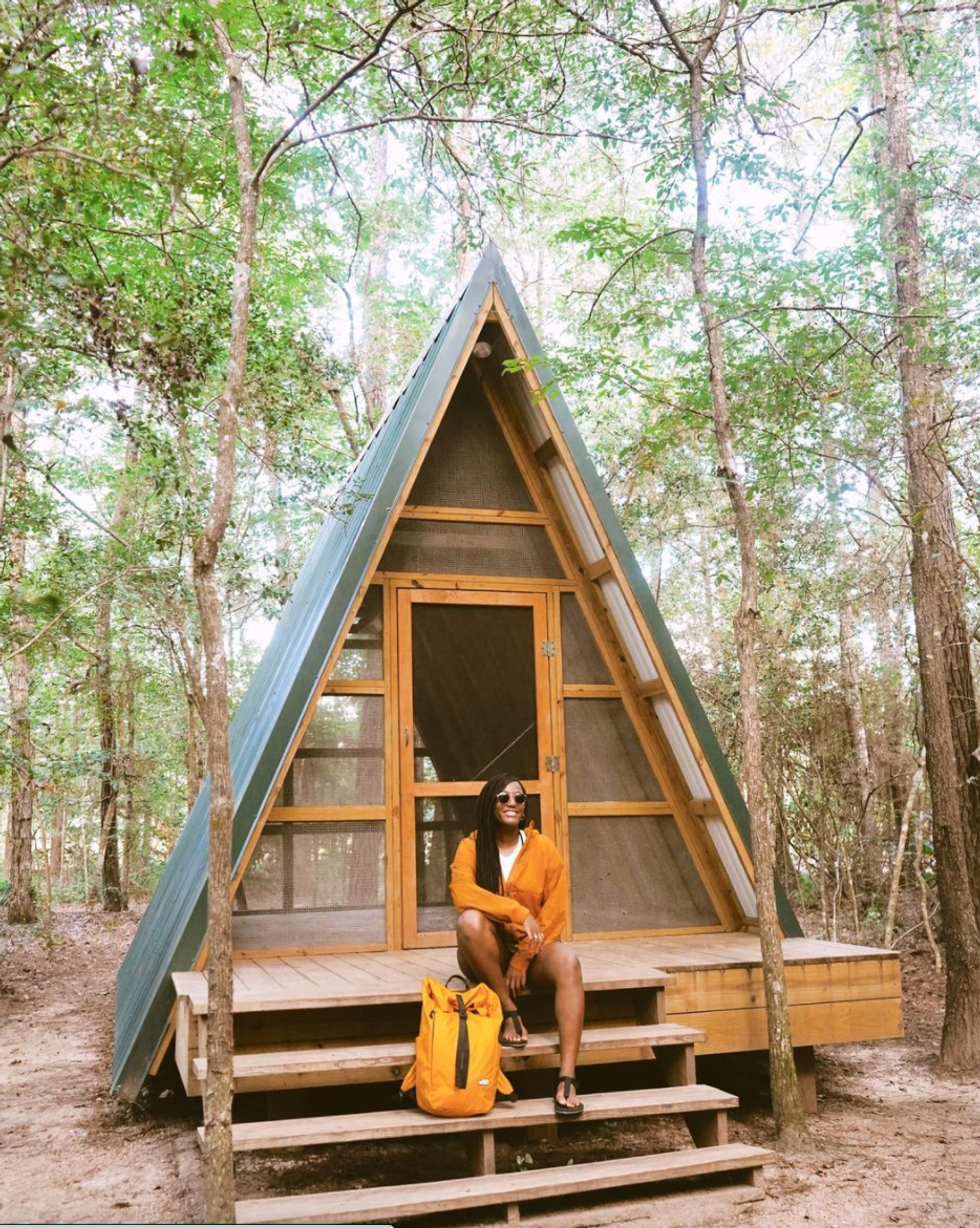 Courtesy of Ciara
"I took my first domestic solo trip to San Francisco and I took my second international solo trip to Costa Rica. I was tired of waiting for schedules, budgets, etc to align with family and friends. I knew I wanted travel to be a major part of my life, so I needed to take the leap to go - with or without anybody by my side. I enjoyed my own company and I wanted to further challenge myself to pursue my interests even if it meant I had to do so alone. This was critical to pursuing my version of a fulfilled life!
"My favorite adventure was my three-month solo backpacking trip after quitting my job. I bought a one-way ticket to Mexico and backpacked all the way down to Colombia over the course of three months. I learned Spanish, lived with strangers, tasted foods I'd never heard of, fell in love, etc."
"I always advise women to do their research and share their location with at least two other people. You should carry yourself with confidence, be strategic when selecting accommodation, and pack light as possible for convenience. Avoid sharing your location in real time and follow your intuition at all times!"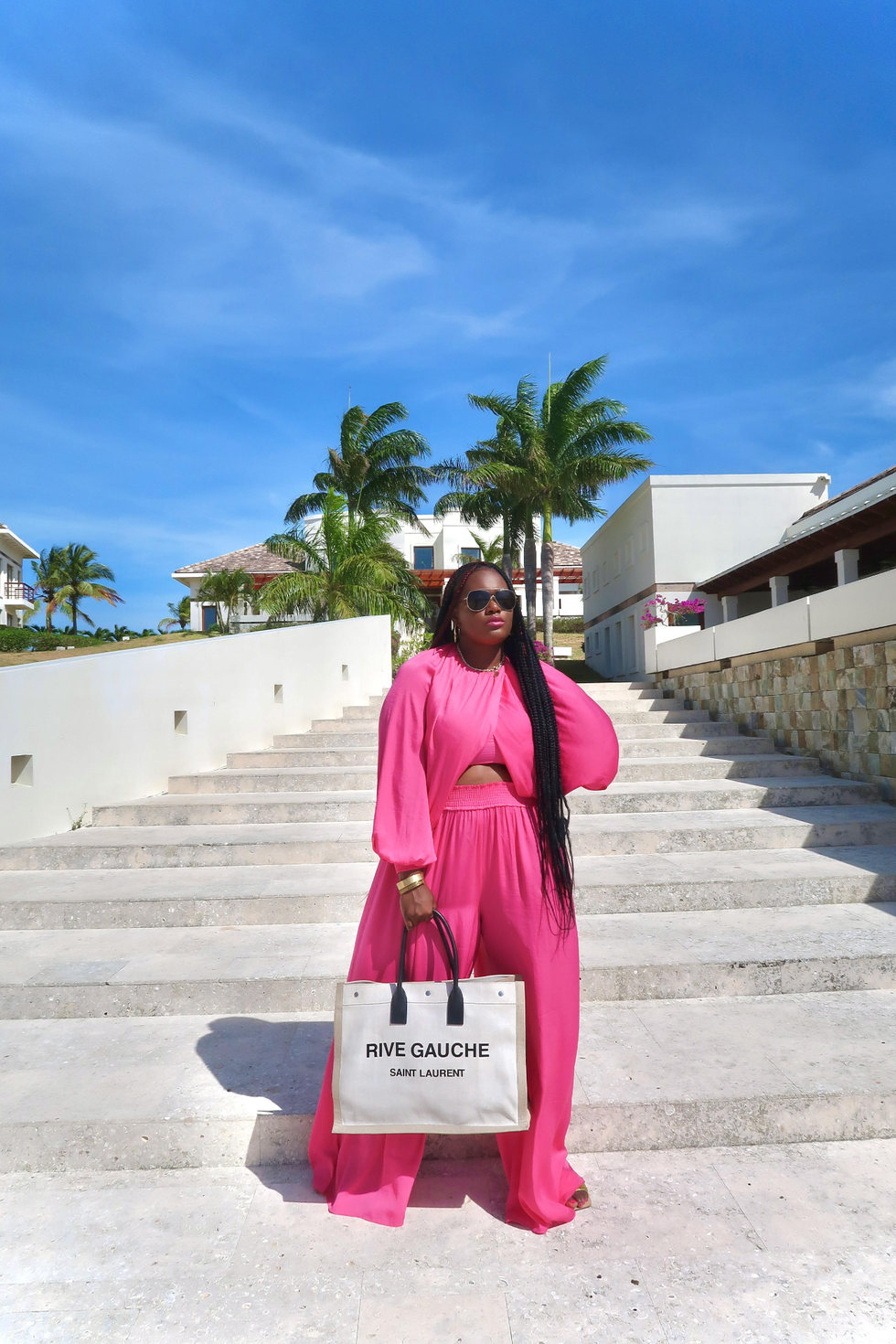 Courtesy of Devorah
"My first solo trip was to Peru in 2017. I found an insane flight deal from NYC to Peru for $389. Usually these flights are between $600-$700. When I reached out to who I normally travel with, none of them could make it due to scheduling conflicts, budget, etc. So I had a choice, do I give up this rare flight deal or swallow my fears and go? Luckily, I made the right choice. Statistically, you have a higher chance of being harmed in your home city/country than you are anywhere else. To shake the fear requires a mindset change. Instead of thinking about what can go wrong, do your research and follow procedures to avoid these things as best as possible.
"Stay in a busy tourist area to avoid feeling alone, book tours with reputable companies on Tripadvisor so you can meet like-minded people like yourself. I always check the reviews for any accommodation I stay in. I also make sure I do not arrive at night regardless of how cheap the flight is. It's not worth the risk of navigating to your accommodation at night while alone. Additionally, there are lots of resources on solo travel that have made my life easier. Pinterest has helped me a lot with planning and finding other female travelers who have shared their solo experiences."
"My favorite solo trip was to Mauritius in 2020. I wasn't planning on going but I was already in the Seychelles and found a round trip flight there for $400 (it's usually $800+ from NYC), so I went with 48 hours notice. Not much time to plan but I was able to wing it thanks to Pinterest and a great hotel staff. I rented a car and drove throughout the island. I almost didn't make it home because I loved it that much.
"Solitude is one of the best forms of self-care. There's no better feeling than taking some time (even if it's a weekend) to only focus on YOU and what you want. From someone who's now been to more than 10 countries solo, this freeing feeling will outweigh your fears."
Featured image courtesy of Sabrina @With.Love.Brina
Keep reading...
Show less
Dwyane Wade and Gabrielle Union are living their best livesssss hunni, and we are here for it! The 39-year-old retired NBA player, and 48-year-old actress left the kids at home and took off to vacation in the Mediterranean with friends, as they enjoy relaxing sunsets and pull up to gems on a yacht that has us all screaming in poor.
The two couldn't care less about who's watching, packing on the PDA, all of which Union has been documenting throughout the trip.
Additionally, sis' story is filled with views on views on views, as she enjoys life with bae without a care in the world. The two have been traveling quite a bit over the last few weeks, and anyone who has been following the couple for a while knows that a "Wade World Tour" is what the two call their baecations together. And the best thing about the trips? All of the photos, of course! What else?!
The Wade World Tours are (mostly) annual, as in the past, (and pre-pandemic) they've visited Ibiza and the Greek Isles for other hugely documented trips--trips which the couple credits to keeping their marriage in tact. They told PEOPLE:
"This is both of our second marriages, and we're super transparent about that. We didn't do it right, the first time around. There's another way—to be more collaborative and equitable. We humble ourselves, listen and we meet in the middle."
Ever since, the couple have been open about what works for them, no matter how big or small.
"In this partnership, there are times when I have to lead, times when I have to step back and times where we are side by side."
Thankfully, this trip is just in time, as Union is scheduled to go out on tour for her new book, You Got Anything Stronger? in September, and Wade has a new TV game show and journey into NBA ownership.
Keep scrolling for some of our favorite moments!
When Dwyane showed off why he's the GOAT in a video of himself jumping off the yacht. "There's no going back," he captioned the video:
When a huge flamingo made an appearance and rubbed it in our faces that he made the trip:
When Gabrielle showed us that perfect moments do exist:
When we learned that sleepovers with friends can happen on water:
When they were the most beautiful part of France:
And finally, when Gabrielle had one important question:
Currently, there's no word on how long this vacation will be happening, but we do know that we will be tuned in.
Now, let me check these flights to the Mediterranean...
Are you a member of our insiders squad? Join us in the xoTribe Members Community today!

Featured image by Johnny Nunez/Getty Images for Stance
Keep reading...
Show less
I recently sold all my stuff to travel full-time, and when I told people I was moving abroad, the No. 1 question I got was: "What are you going to do with your hair?" After scouring YouTube and blog posts, I wasn't too confident that I would be able to find someone to do my natural hair in Mexico. Everything seemed so complicated, like a hit-or-miss situation. Well, I finally found someone to braid my hair in Cabo within a week of being here! (So if you need a stylist in that area, feel free to book an appointment with Jane. She did an amazing job.)
I still hear Black women say one of their fears of traveling is figuring out what to do with their hair. I'm here to encourage you. Here are my tips for taking care of your natural hair while traveling:
1. Talk to locals.
Google was OK in helping me find a few hair salons, but it doesn't compare to talking to the people who actually live in the location where you'll be traveling. One afternoon, I was walking around the downtown area and struck up a conversation with one of the store workers. That conversation led me to ask if she knew anyone who braided hair, and boom! I was shocked by how easy it was. I simply showed her a picture of the hairstyle I wanted and she immediately knew someone who could do it.
When I'm back home looking for a stylist recommendation, I'd usually ask people, so the same principle applies when traveling.
I suggest talking to locals about everything while you travel. Not only does it help you get out of your comfort zone, but you'll come across places, neighborhoods, restaurants, and events that Trip Advisor can't keep up with.
2. Stick to your go-to hairstyles.
When traveling, I love wearing braids. I've tried wigs and weaves, but because I like to be extremely active and not just lay on a beach (which is totally fine, by the way), those hairstyles usually start to look unkempt after a few days.

I know that if I hit the road with braids, they'll last one to two months which gives me enough of a window to find someone who can redo them when it's that time.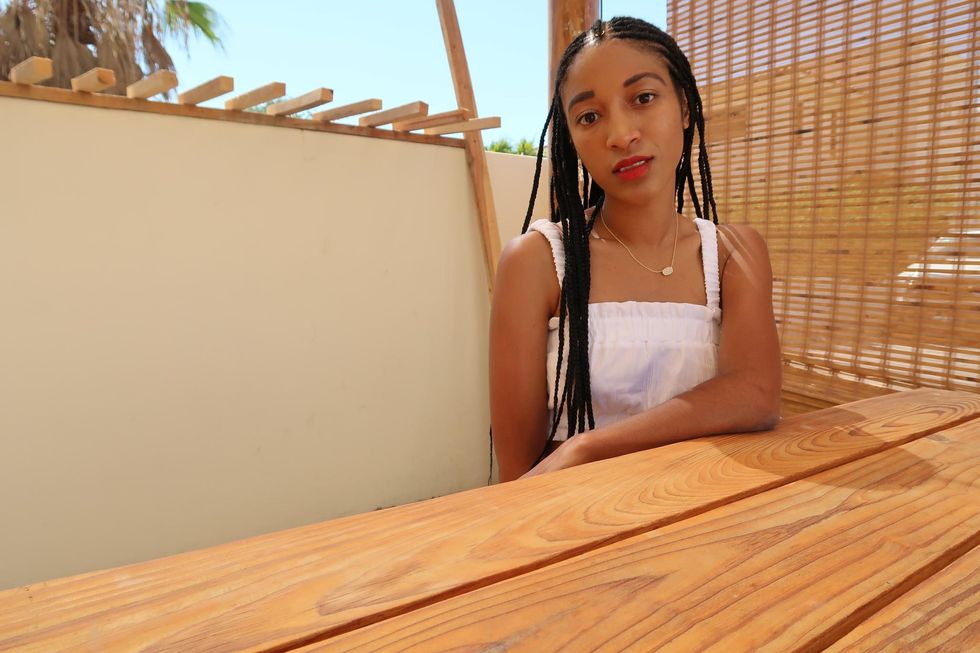 Dominique Jackson/xoNecole
3. Practice at home.
It's always good to know how to style your own hair. It doesn't matter if your hair is relaxed or natural, have a few go-to styles that you can do on your own without the addition of added hair. I have one to two hairstyles in my back pocket that I can do without stress. Hello, flexi-rod set!

Learn how to take care of and maintain your own hair, and experiment with the products that work best for you.
4. Look for essential ingredients.
It's a good idea to pack the right amount of hair products for the length of your trip. When traveling, your favorite hair products might not be available abroad, or, if available, they might not be easily accessible. If you need to shop for hair essentials abroad, look for key ingredients that your particular hair needs. I always try to get products with water as the first ingredient or those that include light oils.

Beauty supply stores such as Sally Beauty Supply have international locations that might have a few familiar natural haircare products. You can also search online for your favorite brand and budget for the cost of international shipping.
5. Use social media.
Social media is also a good tool to use when looking for someone to style your natural hair while abroad. Just make sure you're searching in the correct language. For example, the word "braids" in Spanish translates to "trenzas," so using the hashtag #trenzas brought up more specific results for stylists actually near me.

Also, for any country you are visiting, there's probably a Facebook group for women living abroad who rock their natural curls and styles. Search for keywords such as "Black women," "Black people" and "natural hair" with the name of the country you're traveling to, and a list of results for specific Facebook groups should appear.
And if all else fails, throw on a hat, travel the world, and live your best life, girl!
Featured image by Dominique Jackson/xoNecole
Keep reading...
Show less