As we know, if anyone is the queen of solo travel, it's Tracee Ellis Ross. Year after year, she takes her banging body poolside, or to somebody's island, in an effort to show us how this shit is really done.

She has perfected the 'solo selfie', and is a master at teaching the art of self-love, and working hard, but absolutely playing much frickin' harder.
And this vacay was no different as our good sis packed up her bags and headed where the beaming sun resides.
She didn't say much, just enjoyed, and captured glimpses of her getaway. She laughed. She danced. She rested. She slayed. She was boundless in her "me time", a lesson we all needed as we gear up for a panorama-less summer, or at least a new normal. But most of all, she was unapologetic in why she was there, with simple captions, mainly one that kicked off the trip:
"Consider this my out of office reply!"
And listen, it's no secret that Ross is happily single and not waiting for anyone--a man OR friends--to catch these flights. She's living openly, on her own terms, and living her best life doing so. She tells Brit + Co:
"I think that was a big growth opportunity for me as I was coming of age and learning how to be on my own. I'm very comfortable traveling alone and being my own best friend."
Which she wants you to learn to be as well. And if you aren't sure how to do so, she has a bit of advice: baby steps.
"I would experiment going to a restaurant at 8pm on your own on a Saturday night to see how it feels. You start to get a sense of what it is that you're comfortable with."
What better way to jumpstart the summer than to revist some of our favorite Tracee vacays? Keep scrolling for your reminder that this year is THE year to take that solo trip, boo!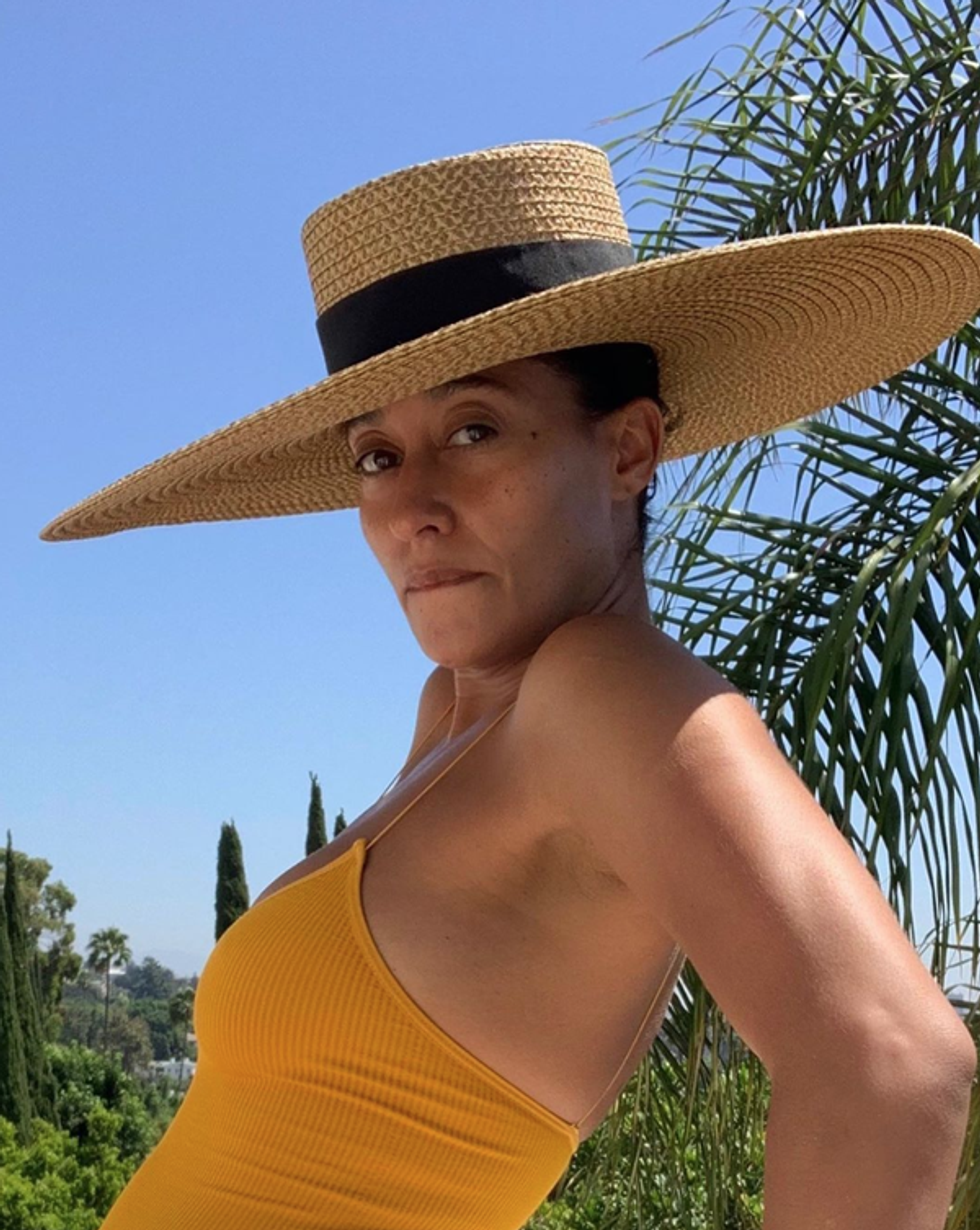 Tracee Ellis Ross/Instagram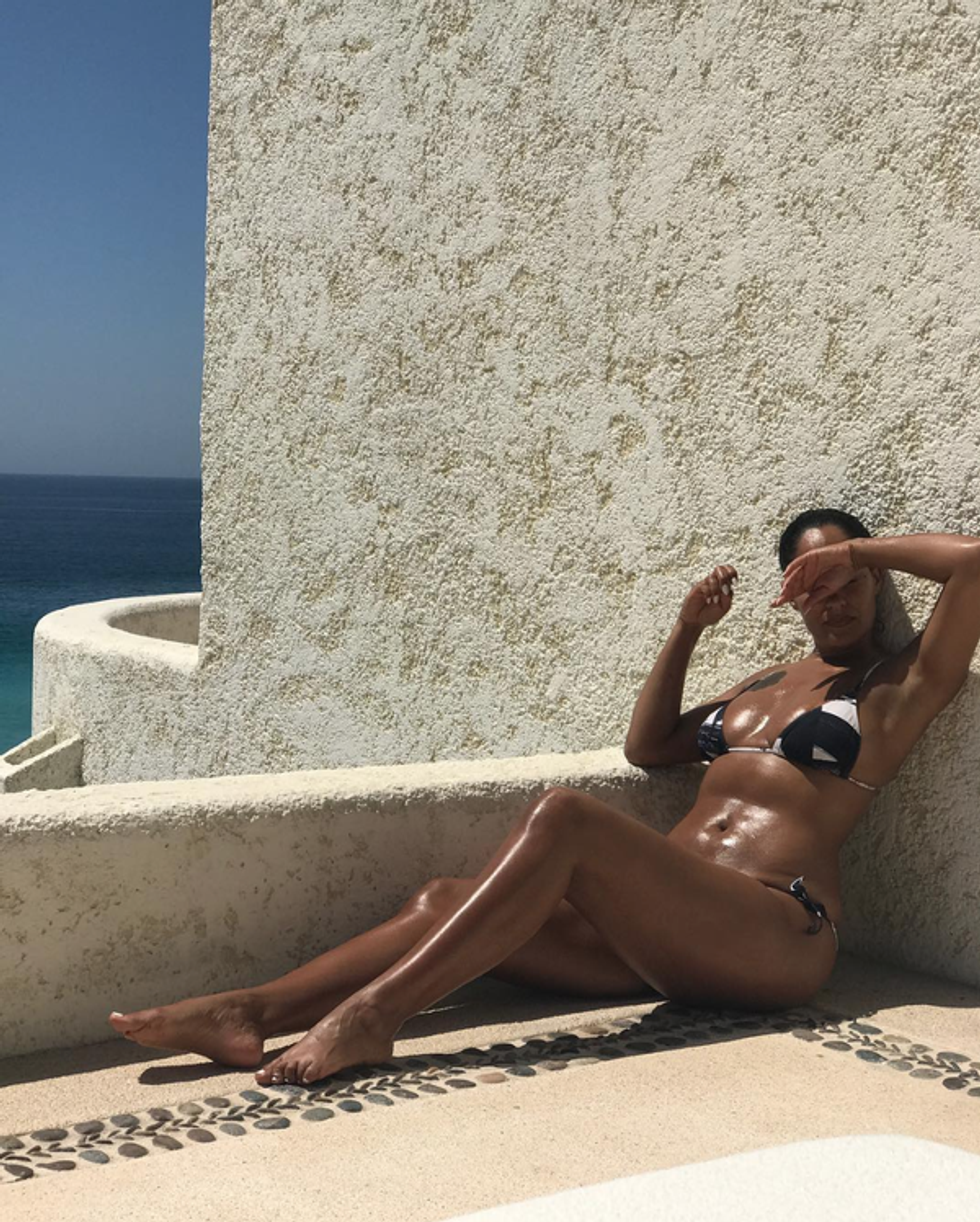 Tracee Ellis Ross/Instagram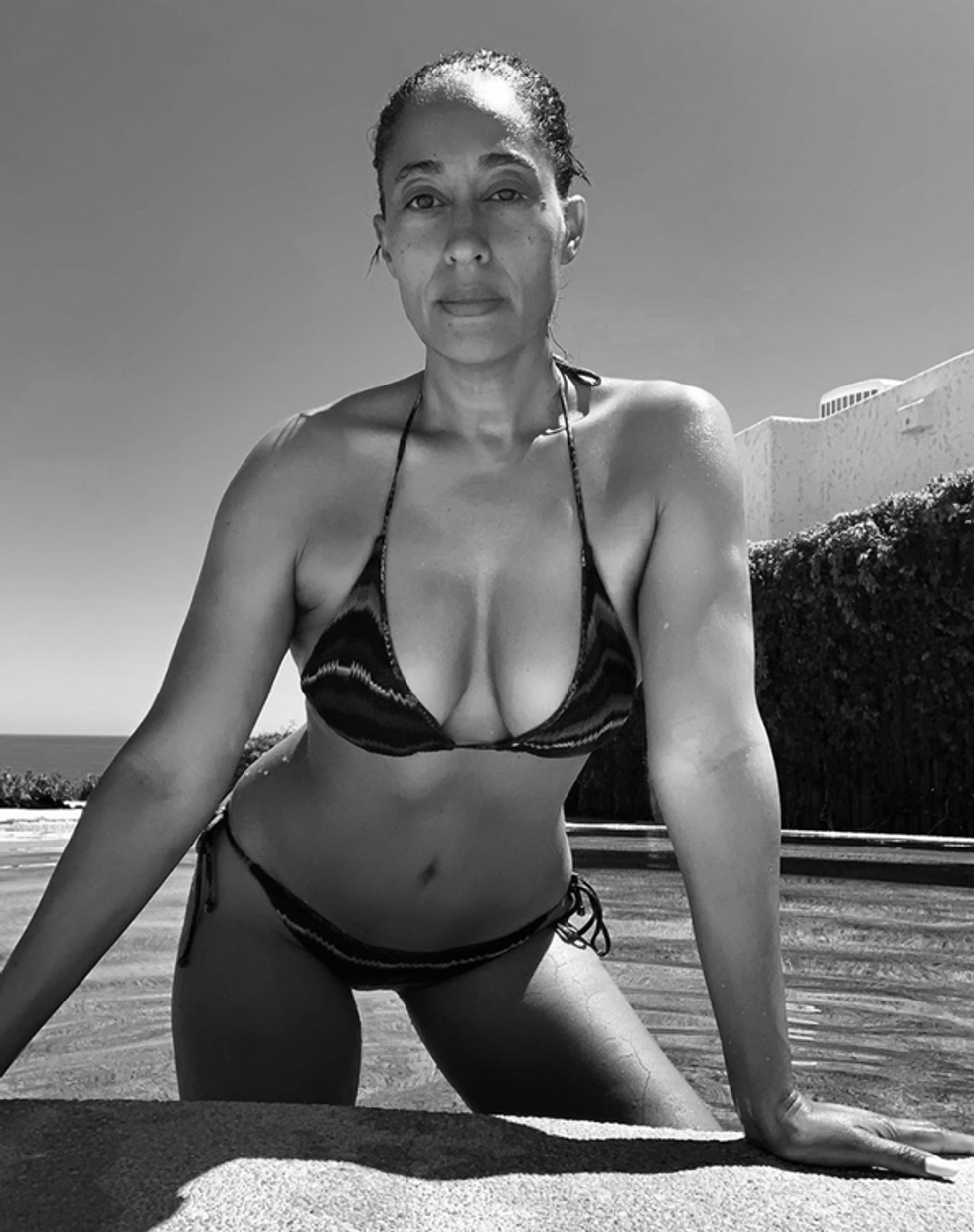 Tracee Ellis Ross/Instagram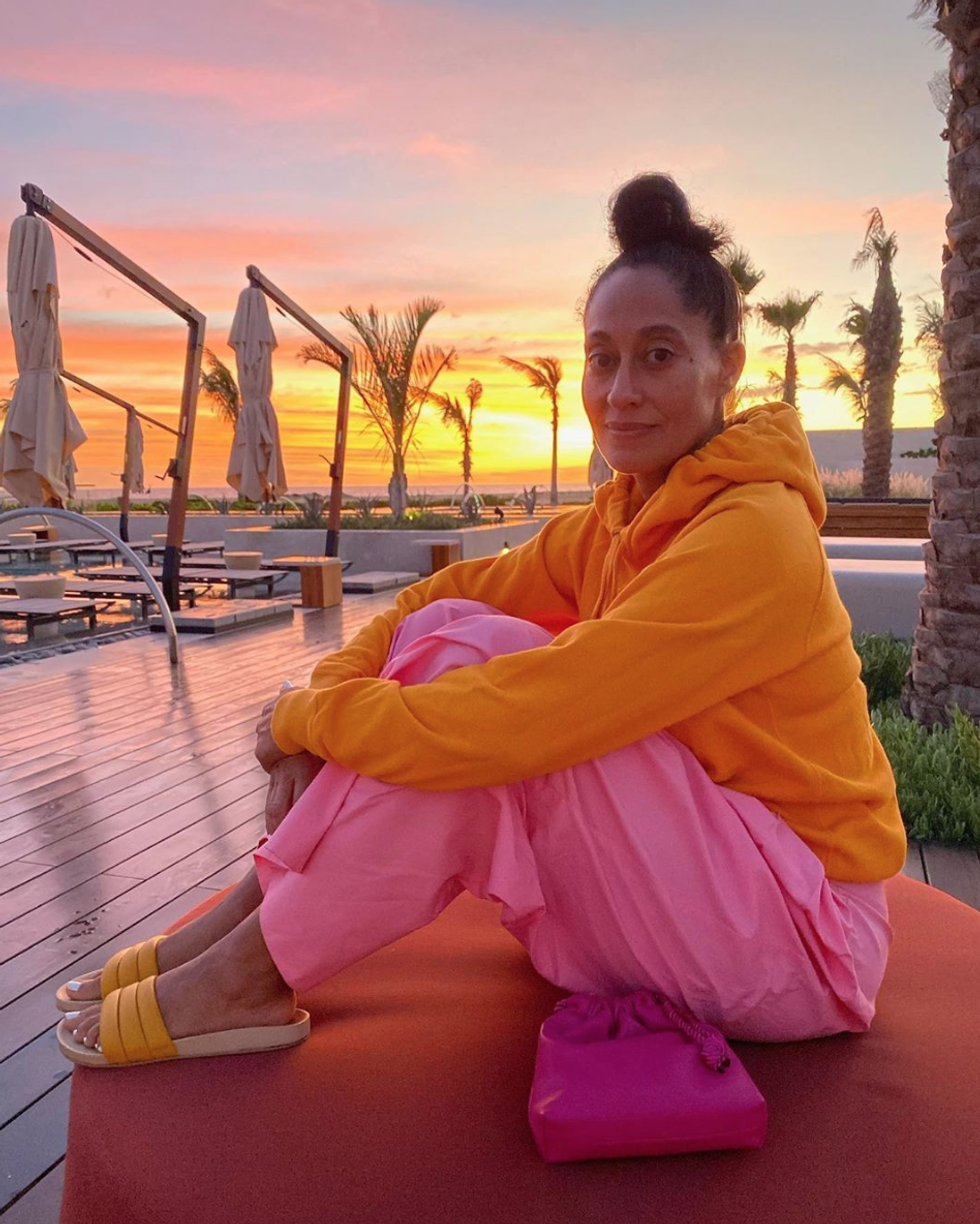 Tracee Ellis Ross/Instagram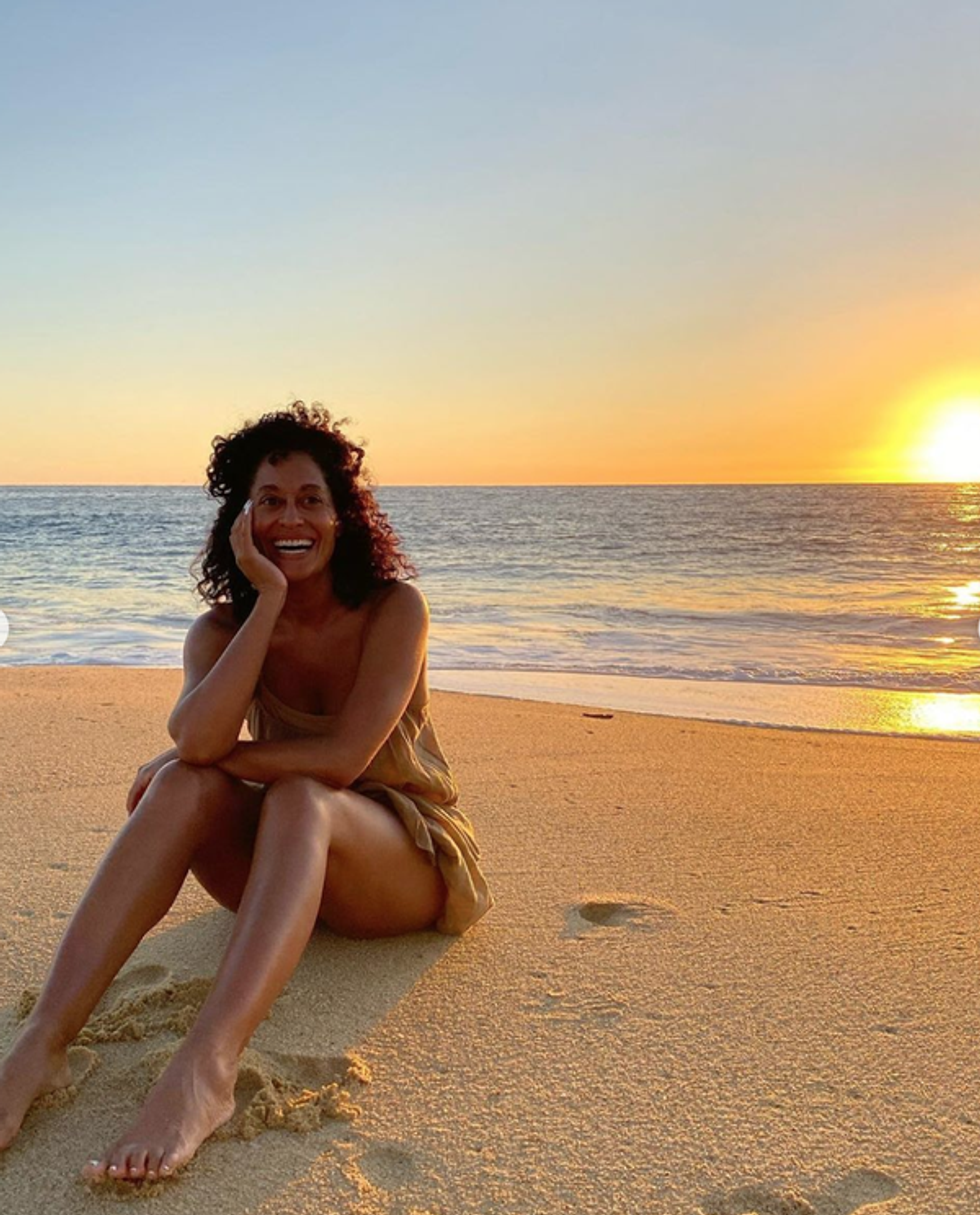 Tracee Ellis Ross/Instagram
And bonus! Here's a clip of Tracee discussing her vacations below:
Oh, Tracee. How we love you so. How we don't deserve you authenticity, but we welcome it. We're not worthy but we thank you!
Are you a member of our insiders squad? Join us in the xoTribe Members Community today!

Featured image by Jamie McCarthy/Getty Images for Marc Jacobs
Keep reading...
Show less
If you've ever googled Hedonism II, you have likely found message boards wondering if the resort is filled with a bunch of naked people having lots of sex in public. So, when I was invited to experience the resort myself, I was a little apprehensive — but like Shonda Rhimes, I said yes. In my mind, what did I have to lose by packing my bags, jetting off to Jamaica, and spending four days at a clothing-optional resort? Nothing.
Well, except my clothes.
Growing up in Atlanta, I always felt like we were "liberal," but when I look at how I was raised, my parents are very conservative. While I am the most liberal thinker in my family, I recognize that my conservative nature comes out in how I present myself to the world, and how I see my sexuality. The moment I hit puberty, my mom made sure I always wore a slip, a bra, and full panties because I guess anything else would have made me too fast or too grown.
I understand why she did what she did. Her objective was to "make sure I looked like a child" so that grown men wouldn't sexualize me too early and I wouldn't be prone to sexual violence. The sad part is both of those things happened even with me doing all of the right things. As I packed for Hedo, I thought about this a lot, even calling myself a "prude" in conversation with friends when I talked about my trip. Wearing anything low-cut, short, or that shows any skin beyond what my parents taught me was acceptable makes me uncomfortable. I'm either covering up with a blazer or pulling down my skirt in fear of showing too much. Much of that now comes from all of my experiences with men from a distance and those that have been important in my life.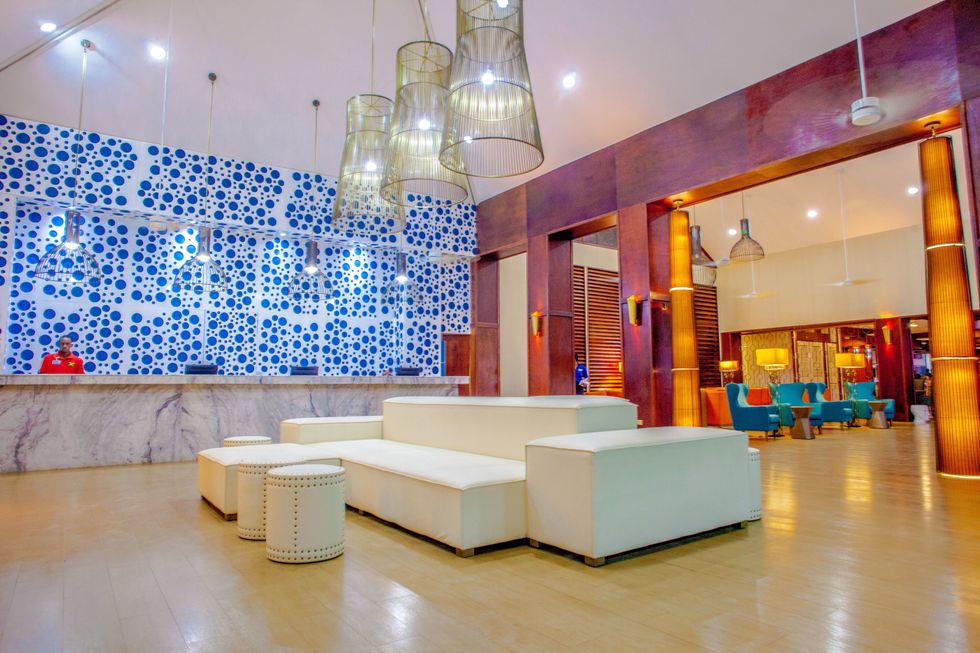 Courtesy of Bianca Lambert
I decided I was going against the grain for this trip.

My body has been policed, abused, and shamed. In my mind, this was my chance to take my power back. To defy the idea that wearing short, sheer, and sexy clothes made me anything but the beautiful black woman I am becoming.
I hit Amazon and added pasties, a sheer dress, and a strappy leopard swimsuit to my cart. I also knew I was "packing" my birthday suit because I was going to the nude beach and disrobing.
When I arrived, I was greeted by Denise and Chantel. Two stunning black women who treated me like family from the start. I soon met up with my girls for the four-day stay dressed in a thong, pasties, and a sheer dress. I questioned whether it was too early to be letting it all hang out since it was my first time meeting the group, but the ladies validated me immediately.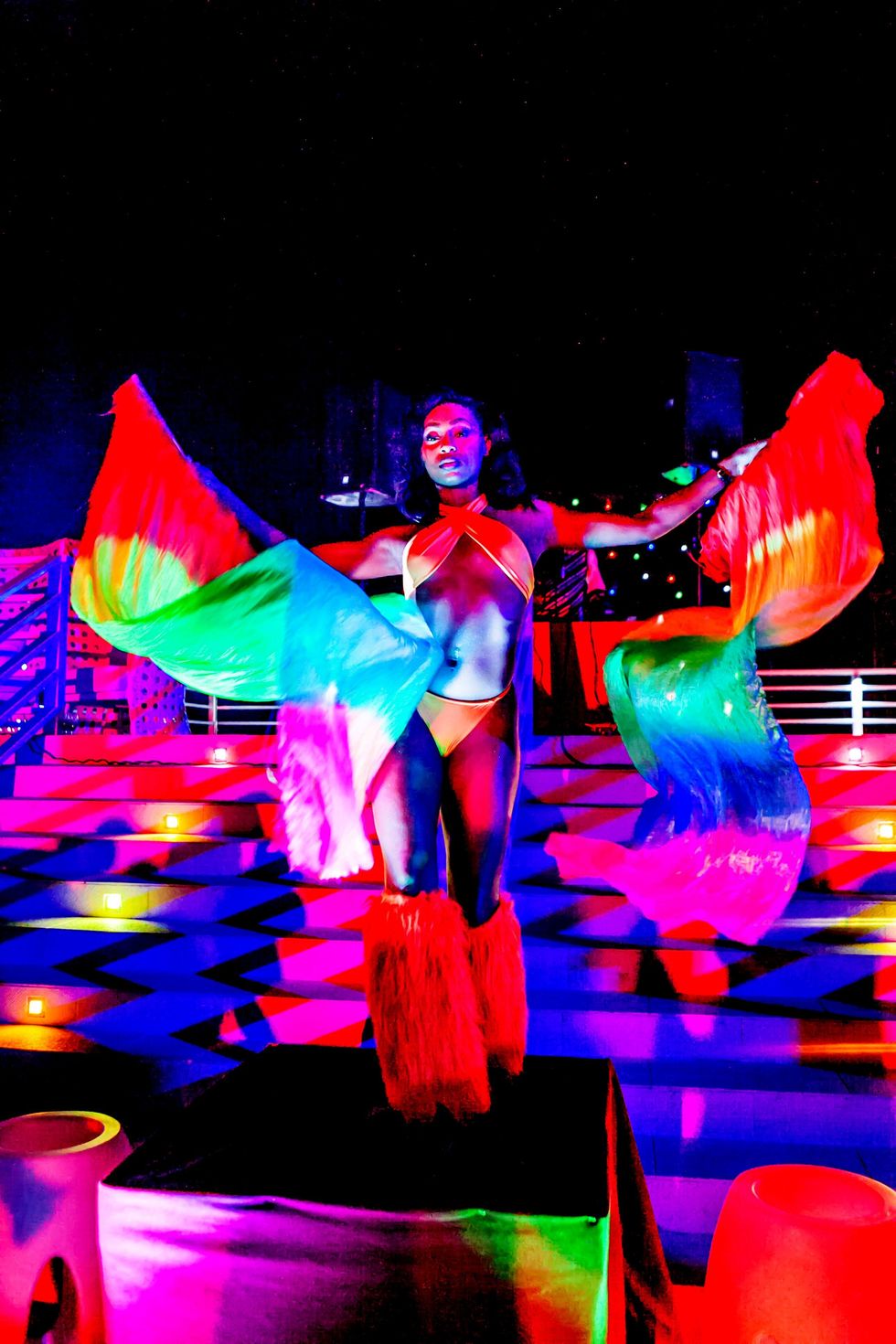 Courtesy of Bianca Lambert
Later, we caught the fetish show that featured stunning black men and women dressed in sheer bodysuits, colorful pasties, and at certain points, they were topless. As I watched them twerk, grind, and own their bodies — I was inspired. How does one get to this point in life? Especially the ladies. We are taught from the jump that enjoying sex is for men, and we're just there to fulfill their pleasure and fantasies. Then layering on sexual liberation as a black woman? Whoa, that's a whole different article.
After watching the show, I knew I was ready for the nude side of the beach. When in Rome…
There is a nude side and a prude side at Hedo, and while the prude side offers a chance to be naked or clothed, on the nude side, your only option is letting yourself be free. I gathered the girls after lunch, and we started our walk down the sandy stretch of the beach towards the nude side. Once we got there, we all hesitated. I felt knots in my stomach and kind of wanted to turn back, but I didn't. I went for it. I took off my swimsuit top and bottom and walked freely across the sand with the four other ladies with me.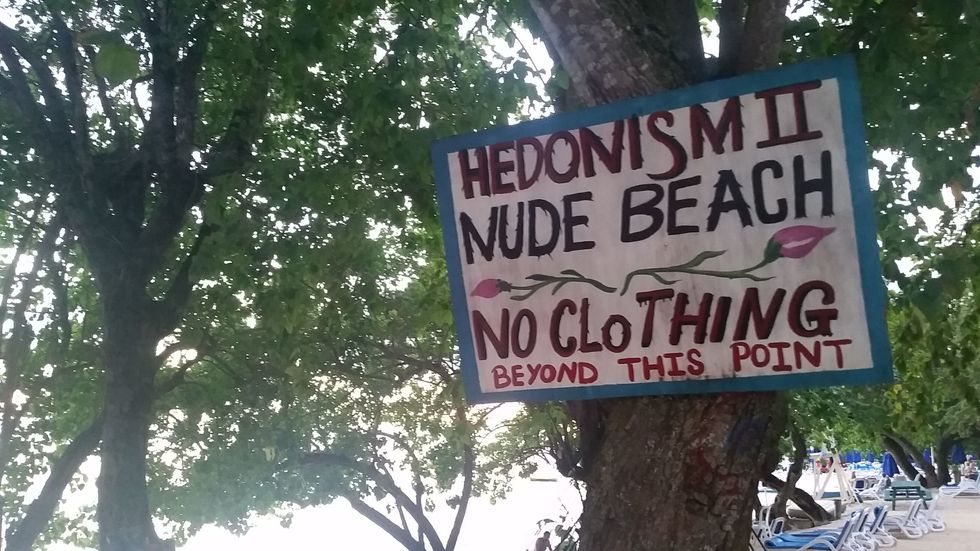 Courtesy of Bianca Lambert
I'd be telling a story if I told you it didn't feel awkward. "Is anyone looking at me?" I thought. Well, the answer to that is yes.
But, everyone was naked, so it made that reality less weird. Laying out and walking into the water sans clothing was incredibly liberating, much like my experience at Hedo. The resort is not about being a "freak," it's about letting go of judgment, eating good food, watching great entertainment, and dancing the night away at the disco or at a toga foam party.
My experience not only was a stepping stone in me, it was a moment of reclaiming my body from a traumatic situation that still haunts me. It helped me realize that I'm not as "okay" as I thought I was. There are moments when I walked the long way so that I didn't have to interact with men, there were times when I cowered when men complimented me. Having those reactions a month, two months or even years after an assault is normal, and as my fellow writer and new friend *Delores said, "You don't owe anyone an explanation."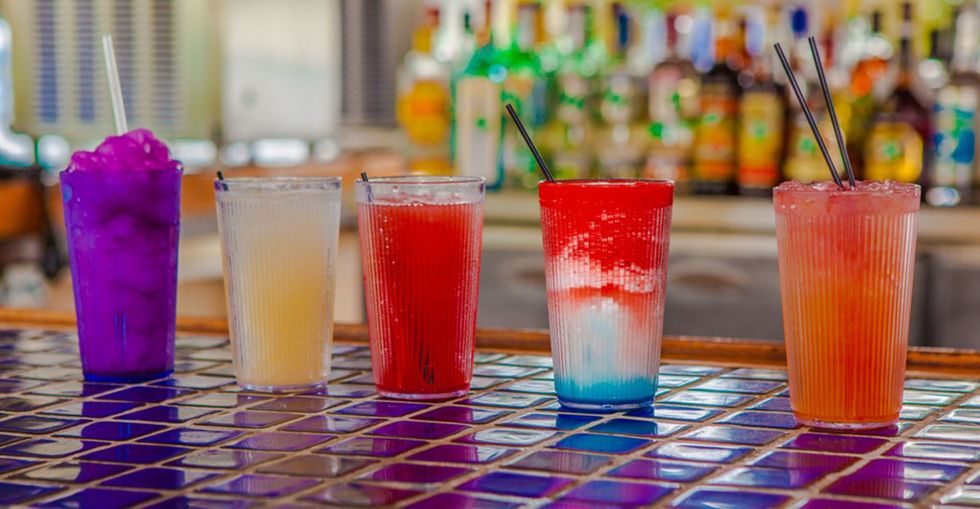 Courtesy of Bianca Lambert
The women of Hedo (who were all women of color) that I met on this trip (Hey Denise, Michelle, Diana, and Melissa!), are why I'd recommend women hit the resort with their girls. Hedonism isn't about hooking up with random people (which is an option if that's what you're into) or going nude. The resort is about allowing yourself to experience life without judgment and restriction, no matter what that looks like to you— and know that you're in a safe space to explore, thanks to women I mentioned above.
You can have whatever experience you desire. If going topless and walking the beach is your version of taking a chance, you can do that. If you're into finding a sex partner(s), to explore sexually, you can do that. Want to have sex in a pool out in the open? You can try that, too (I saw that for myself.). Or, if you just want a drink, tan, take twerking lessons, snorkel, and eat chicken wings (which are so good) at two o'clock in the morning, live your best life, sis.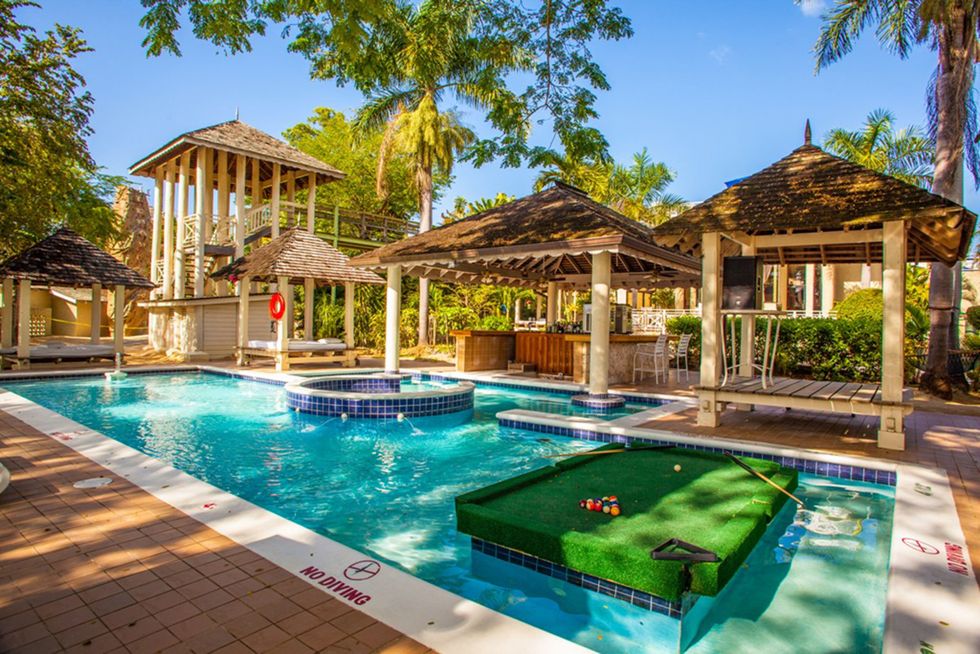 Courtesy of Bianca Lambert
Sexual liberation can come in any form.
My liberation came from walking the beach naked and being reminded that I own the rights to my body no matter what a man, these Republicans, or society says.
I'm grateful I was able to have this "aha moment" amongst women who were supportive and fun; at a resort that is as beautiful as it is transformative.
Want more stories like this? Sign up for our newsletter here to receive our latest articles and news straight to your inbox.

Featured image by Getty Images/EyeEm
Originally published on June 11, 2019
Keep reading...
Show less
I think that we can all agree that international travel is one of the things we miss the most ever since COVID-19 forced us to experience a new normal. Traveling internationally can still be a bit tricky as several countries are still giving the US and its citizens the side-eye due to the current number of COVID-19 cases here. Besides, travel bans, entry, and re-entry requirements seem to be changing by the day which adds another element to consider when traveling outside of the US.
The Centers for Disease Control provides a country-by-country risk assessment if you still plan to travel to another country, however, if you still aren't ready to leave the United States, it doesn't mean that you can't indulge in some travel this year. There are plenty of places right here in the US that will be sure to satisfy the wanderlust that I'm sure we're all experiencing right about now.
Check them out below.

1. Napa Valley, California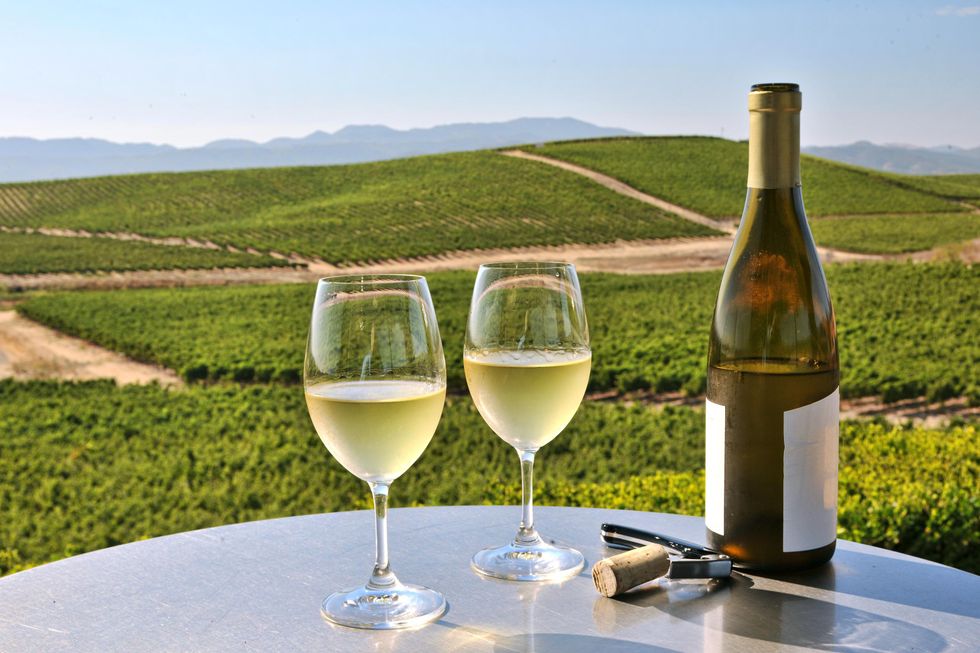 Shutterstock
One word: Wine. Do I really need to say more? Napa Valley, home to over three hundred wineries is one of the most famous wine regions. For most of the year, the weather is pretty close to perfect so there isn't really a bad time to go. So, whether you want to plan a romantic getaway with your boo or a fun girls' trip, Napa Valley has you covered with five-star restaurants, beautiful hotels, and spas.
2. Key West, Florida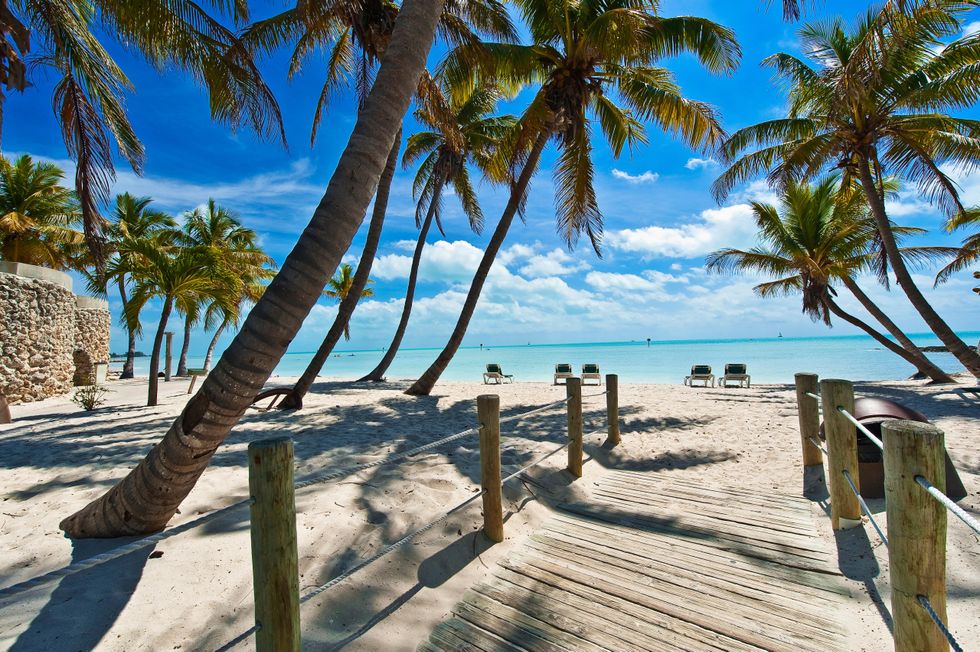 Shutterstock
Want to experience a Caribbean-like vacation without leaving the US? Well, look no further than Key West. One look at all of the beautiful conch-style architecture, stunning beaches, and rich history, you'll swear you're no longer in the US. Key West is not only beautiful to look at but there's tons to do from dolphin watching, to snorkeling, to kayaking, to sailing. No worries, if you're not the adventurous type because you can drink by the pool and eat deliciously fresh seafood all day too.
3. Martha's Vineyard, Massachusetts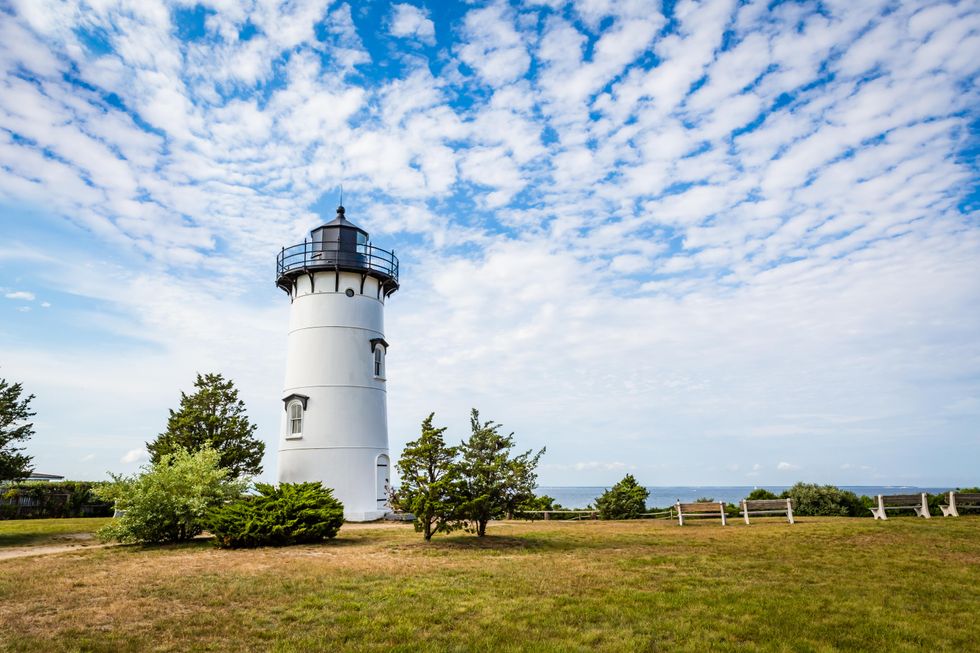 Shutterstock
It may take a bit of work to get there but that hasn't stopped people from flocking to Martha's Vineyard for a summer getaway and that is not expected to change in 2021. Martha's Vineyard is known for its laid-back vibe, beautiful beaches, great food, and most of all for its worst kept secret: being a hideaway for the rich and famous.
4. Chena Hot Springs Resort, Fairbanks, Alaska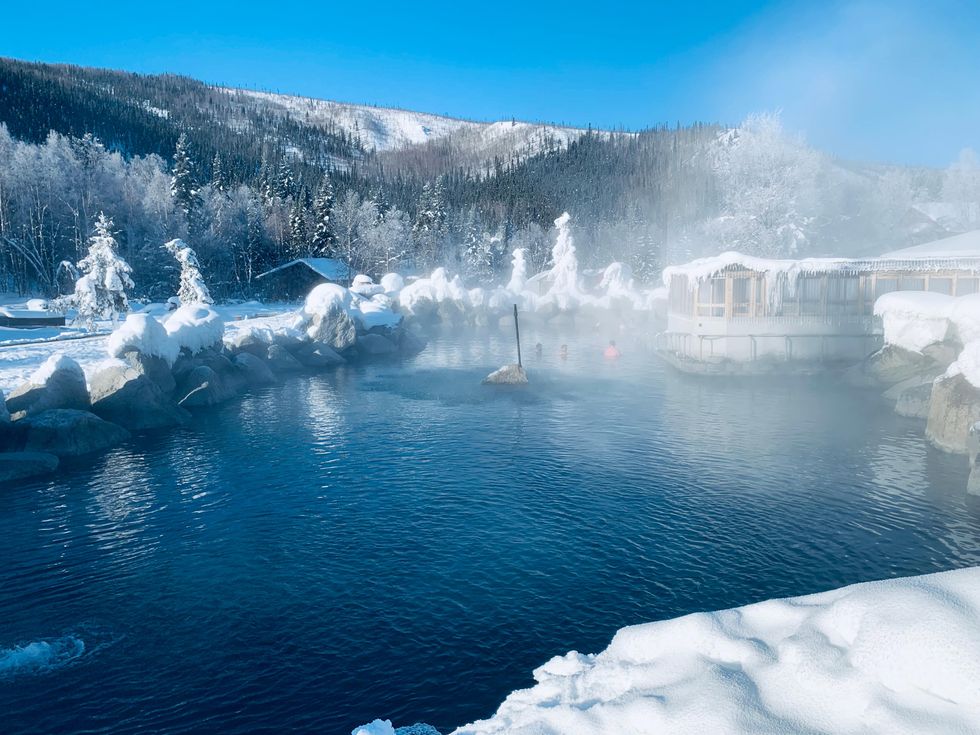 Shutterstock
Chena Hot Springs Resort is probably one of the most popular and accessible natural hot springs in the state. Visiting the Chena Hot Springs Resort will for sure give you a touch of the Blue Lagoon, Iceland feels. The resort is also home to a campground, a restaurant, and an ice museum. You can even catch a view of the Northern Lights if you visit in the winter. The resort also allows day trips if you have other plans for accommodations.
5. Aspen, Colorado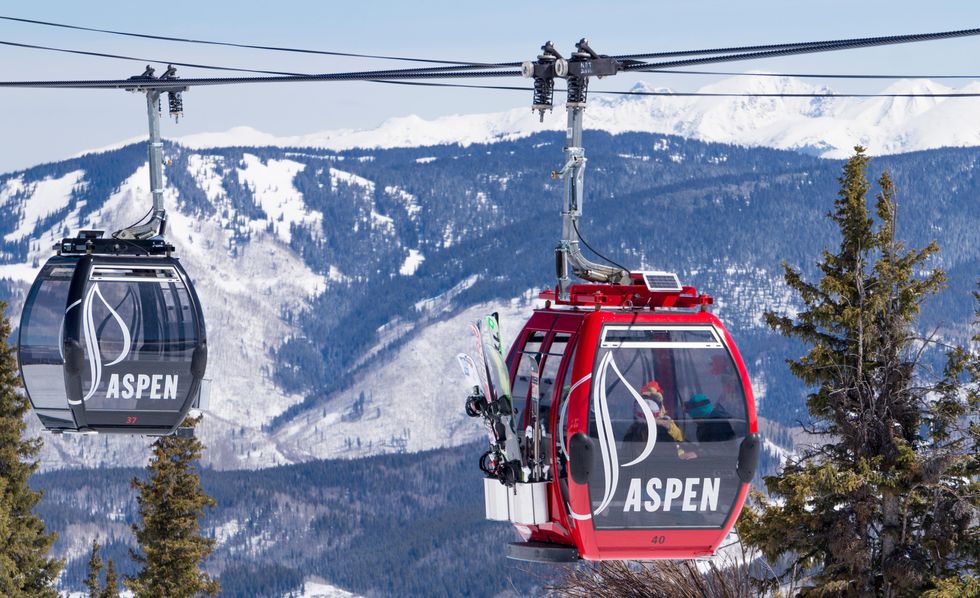 Shutterstock
Put your Ivy Park, Icy Park collection to good use and visit Aspen. You are certainly welcome to visit Aspen any time of the year but there is something to be said about visiting in the winter and experiencing one of the city's four ski resorts. If skiing (or other outdoor activities) isn't really your thing, Aspen is a literal shopping hub with stores like Prada and Gucci. You can also relax at one of their many spas after a long day of shopping.
6. Santa Fe, New Mexico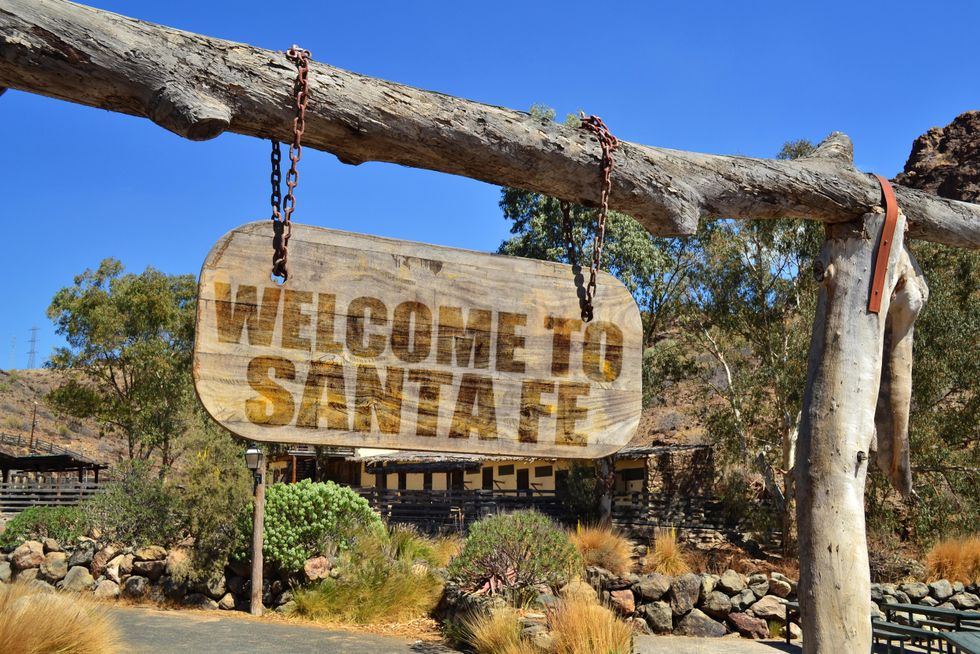 Shutterstock
History. Culture. Art. Architecture. Healing. Those are just some of the things you can expect when you visit Santa Fe. Santa Fe literally has something for everyone. Home to a plethora of museums and art galleries, delicious fresh cuisine, hot springs, hiking trails, and spas.
7. Kauai, Hawaii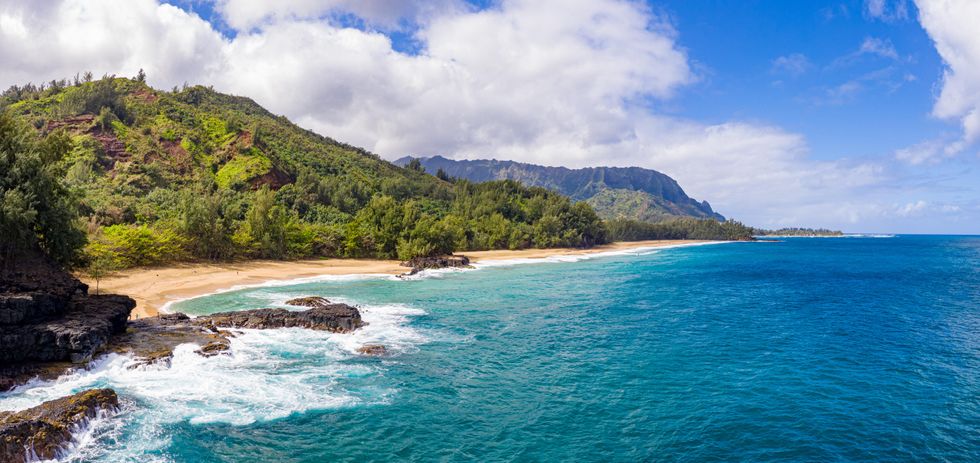 Shutterstock
Kauai, Hawaii's fourth-largest island may not be the first island that comes to mind when you think of Hawaii but that doesn't make it any less beautiful than the others. The island is laid back but also offers tourists tons to do from kayaking, to ziplining, to snorkeling. An additional perk is that Kauai is often not as crowded as the other islands.
8. Palm Springs, California
Shutterstock
In search of a vacation where you can just sit by the pool and drink cocktails all day? Well, look no further than Palm Springs. Palm Springs, known for its eclectic food and drink scene and luxurious hotels can certainly give you all of that and more. If you can manage to pull yourself from the pool, Palm Springs has plenty of other activities for you to indulge in like hiking, shopping, spas, and museums. Palm Springs is also only a two-hour drive from LA if you find that you want to venture there for a fun day trip.
Are you a member of our insiders squad? Join us in the xoTribe Members Community today!
Featured image by Shutterstock
Keep reading...
Show less
If you're a solo traveler like me who is always itching to catch a flight, you probably feel like COVID just did away with all your travel dreams. I am sure you feel restricted AF. As a Sagittarius, I don't do well with restriction. I was so ready to be more adventurous this year too. I was planning to go to Southeast Asia, Australia, and New Zealand. But those plans came to an indefinite pause because of this never-ending pandemic. Scrolling through my Instagram feed, I was lowkey jealous of travelers that were stuck in countries like Bali, or Thailand. I mean, who wouldn't want to be stuck in paradise during a pandemic? A girlfriend of mine has been living in Portugal since the beginning of COVID not knowing when she can come home. Believe me, she is more than OK with the uncertainty of it too.
With random flight cancellations, mask requirements, and temperature checks, I am sure you are wondering what travel will look like for 2021. Well, let me just say if you love to fly, travel is about to be a whole damn process. And I know a good portion of us are willing to go through that process because we desperately need a redo of 2020. The travel industry got an unwanted makeover that none of us asked for. But there is confidence that travel will increase in 2021 as most of us either chose not to travel at all or postponed pre-planned vacations, weddings, honeymoons, anniversaries, and birthday trips.
In 2021, you can still live your best travel life, but it is not without a few caveats and new travel trends.
Pre-Travel Requirements Are Here To Stay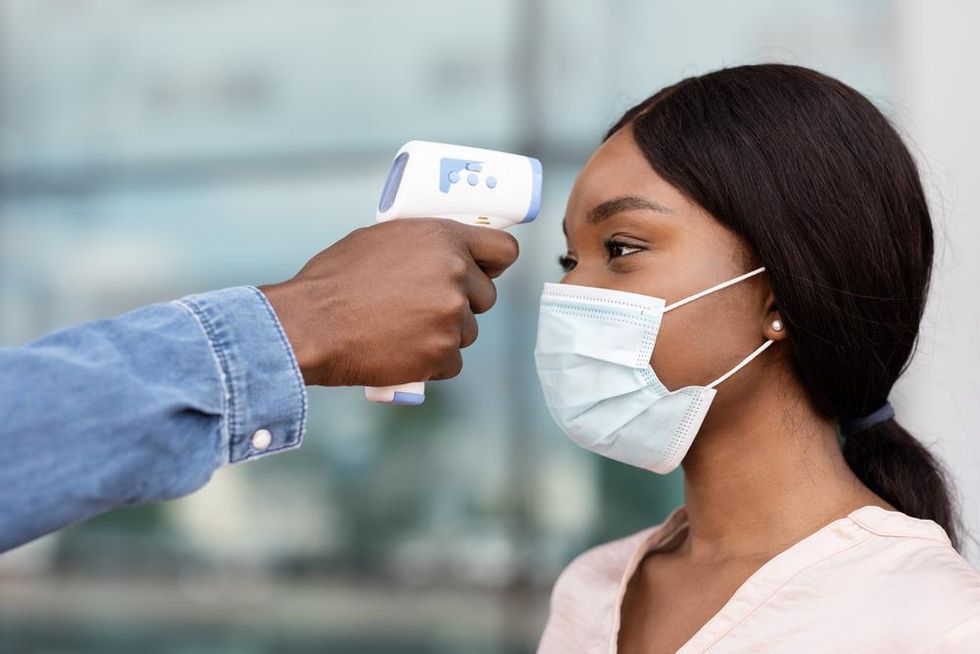 Shutterstock
Mexico and Colombia are open to tourism with the minimal requirement of a face mask and social distancing in public places. Countries like Trinidad are still on lockdown, and other countries are allowing foreign nationals to visit with restrictions. Not only are we required to wear face masks, social distance, and quarantine at our destination city, we are required to show proof of a negative COVID test for entry. I hate to pick on Jamaica, but because I will be traveling there soon, their government requires visitors to provide a copy of a negative COVID test that is less than 10 days old from the date of travel. Visitors must also request approval for entry into Jamaica via an online form five days before their arrival date.
Other countries like Egypt require a negative COVID test result 72 hours before their departure flight. And there is a high possibility travel insurance may become mandatory. While you have the option to take the PCR or antigen test, the PCR test is the universal standard and recommended. So, if you plan to travel internationally, check the visitor requirements for your destination country to avoid delays, and denied entry.
Staycations In Your Home City Or State Are Where It's At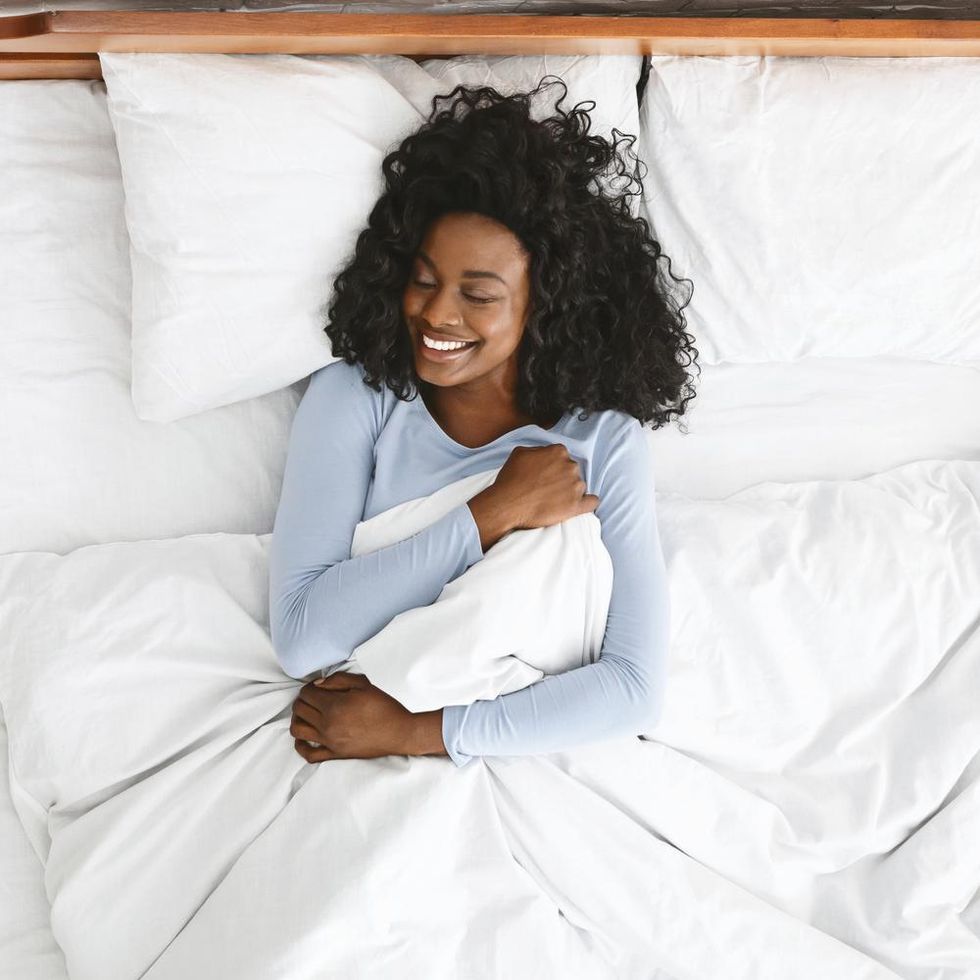 Shutterstock
If international travel isn't something you're ready for this year, a staycation in your home city or state is where it's at. Because of the stay-at-home orders or state lockdowns, many travelers used the quarantine to explore their own hood.
Believe it or not, there are places you have yet to see or experience right in your own backyard. And now is the time to do it. The good thing is by choosing a staycation, travelers are supporting local Airbnbs, boutique hotels, restaurants, and other small businesses.
I love me a boutique hotel too. It's always the décor and ambiance for me. Oh, and the best food usually comes from the restaurant down the street.
Road Trips Are A Wanderlust Alternative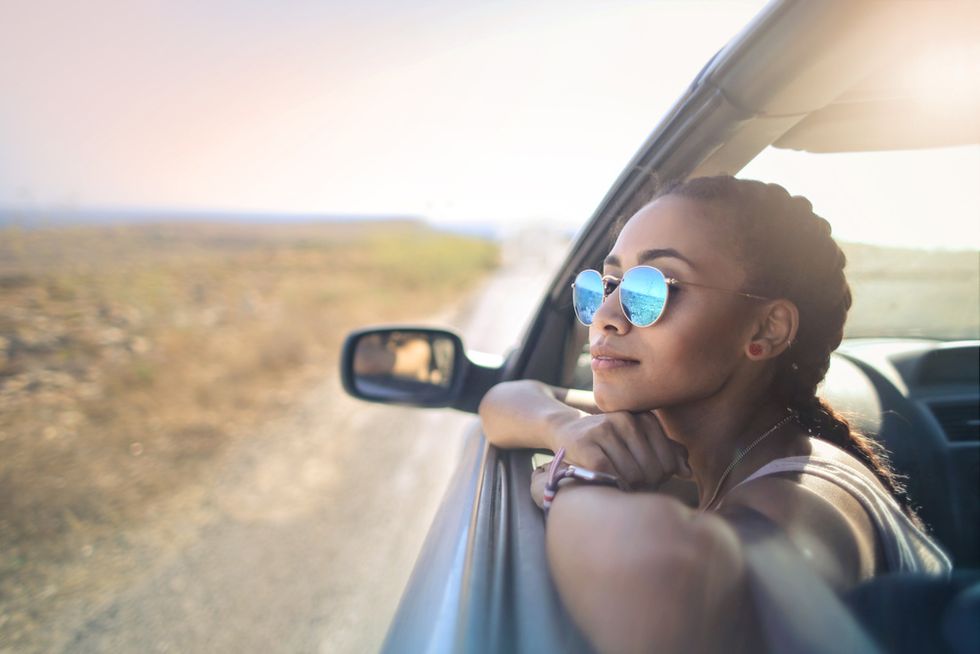 Shutterstock
2020 also became the year of the road trip. Somehow driving became the safest method of travel for everyone. And honestly, who doesn't like a good road trip? It's so much easier to rent a car or an RV, map your route, and explore the city of your choosing at your own pace. Some have even used the quarantine for a DIY van build just so they can travel across the country. Personally, I like driving. It's the get-up and go feeling I crave. Distance doesn't bother me either, I always have my overnight bag ready to go.
If there is anything COVID taught us, it's that we take our own country's beauty for granted while admiring the beauty of others. COVID allowed us to get back to our roots by just being present in nature. Whether it was walking, hiking, riding a bike, rollerblading, or camping we all found our inner child outside.
Wellness Is Always The Answer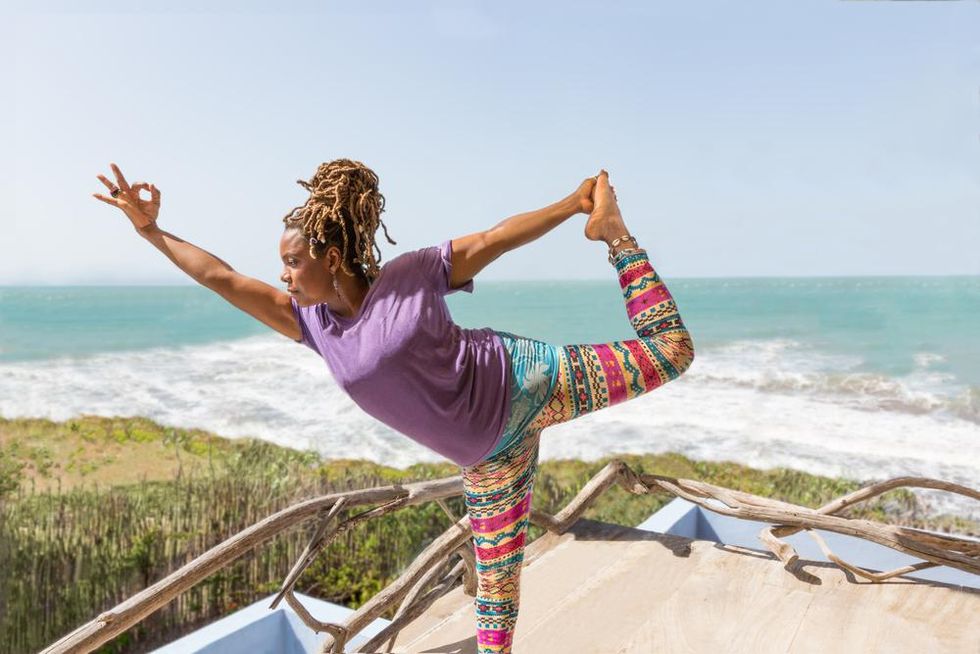 Shutterstock
It's been said that there has been a collective shift in thinking due to this pandemic. A universal awakening of some sort. Self-awareness, mental health, and well-being are major themes this year. And it has now become a theme for the travel industry. Hotels are starting to consider the whole person when creating an environment. They are aiming to meet people where they are now by offering experiences that focus on physical, emotional, and mental well-being. This also translates to the look and feel of hotels. Does the designed space make guests feel comfortable or connected to nature? There is more of a focus on the design of outdoor spaces as well as hotel lobbies that are spiritually engaging and offer privacy.
Travel is going to continue to look different in 2021 and beyond, but do not let this "new look" kill your travel joy. Now, there is just an added layer of protection and it is needed. We are here in this world to experience, to live, and to feel. Regardless of how you choose to travel, be smart, and play it safe.
These are moments and memories you are creating for yourself.
These are your untold stories.
And years from now, you can look back and say, "I survived a global pandemic and I traveled too."
Are you a member of our insiders squad? Join us in the xoTribe Members Community today!
Featured image by Shutterstock

Keep reading...
Show less
For my 31st birthday, I knew I wanted to take my very first solo trip. Taking an international trip by myself was something that I wanted to do for years, and I finally decided to make this goal become my reality. Tulum, Mexico has been on my travel radar for a couple of years, so I was ecstatic that I could finally visit this gorgeous city!
Tulum can be described as a peaceful, picturesque, relaxing, and rejuvenating city that offers amazing food and drinks, natural and holistic healing, some of the friendliest citizens ever, and a number of Instagram-worthy places to take photos! It is located about two hours away from Cancun in the state of Quintana Roo and is home to some of the most amazingly beautiful beaches the world has to offer. In recent years, Tulum has gained popularity.
When visiting Tulum, you should know:
Getting There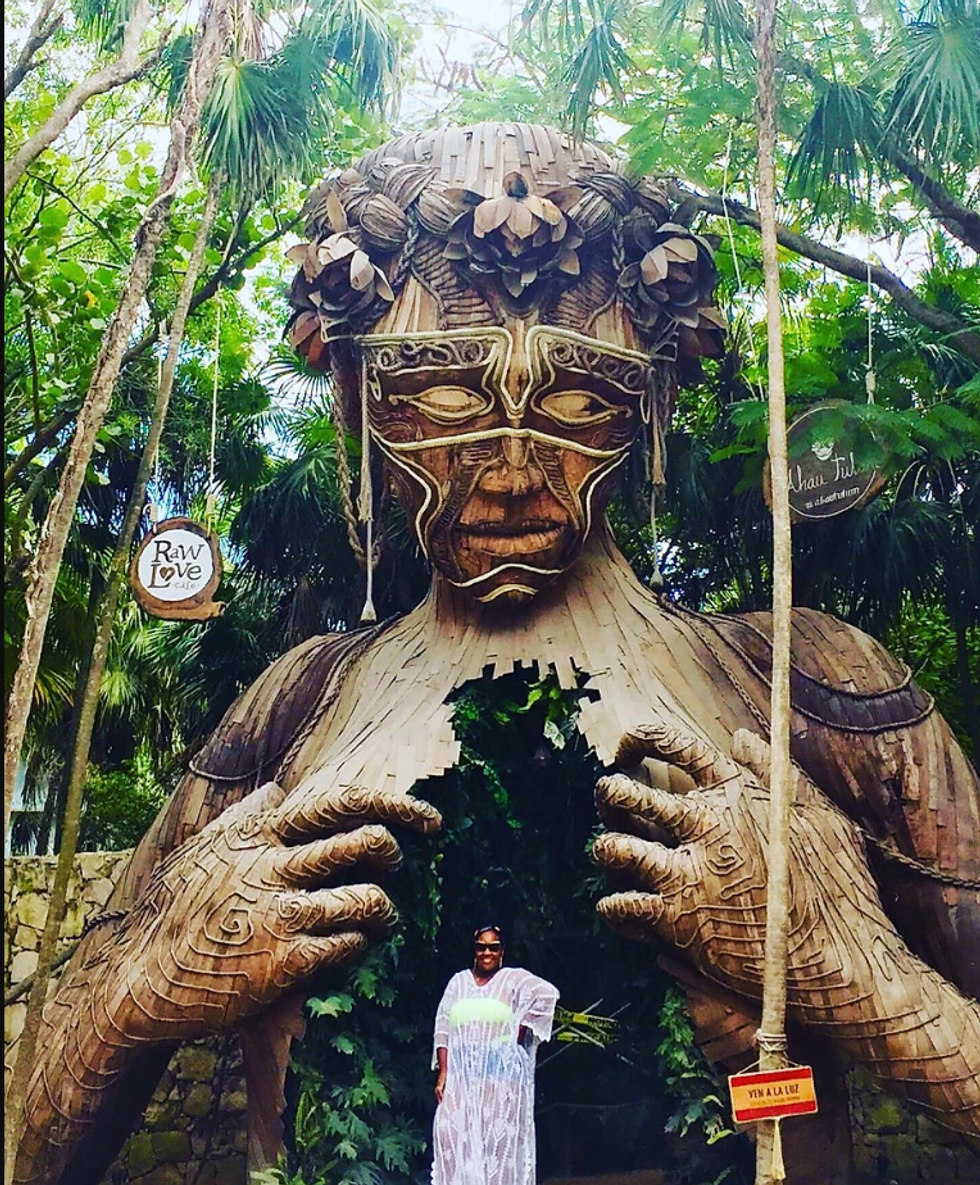 Image via Sylvia Pettway
Since Tulum does not have an airport, you must fly in through Cancun International. From there, you can rent a car, use a private or shared transportation service, or do what I did and ride on the ADO bus, the cheapest option. The ADO buses are public charter buses that citizens and tourists use to travel to different cities along the Riviera Mayan coast. The buses are affordable to ride and super comfortable. Some of them even come with Wifi!
Once I exited the airport, I found the ADO stand and paid for my ticket using pesos. (Please use pesos instead of your currency when buying your ticket because you will get your change back in pesos, and it may be less than what you expect). When using the ADO bus, you can either purchase a ticket where the bus goes straight to Tulum or you can purchase a ticket where you will arrive in Playa del Carmen from the airport and transfer to another bus. (You can read more about the transportation options here.)
Money, Communication, and...the Plug
Their currency is the Mexican Peso, but some places accept credit cards. It is best for you to bring pesos to use. You either order your currency through your local bank or visit the Santander Bank in Tulum to exchange your currency. Avoid exchanging your currency at the Cancun International Airport, because the exchange rates are a lot higher than the above-mentioned options.
Most of the citizens speak Spanish, but I came across a few men and women who were either bilingual or understood me and could help me if I had any questions. With that being said, brush up on your Spanish! Even if you only know or learn basic Spanish greetings, it goes a long way in Tulum. The citizens appreciate it and it will help you learn and respect their culture even more. If all else fails, Google Translate is your friend!
For my fellow Americans, there is no need to buy a universal plug as Tulum has both plug type A and plug type B for all your electronic needs.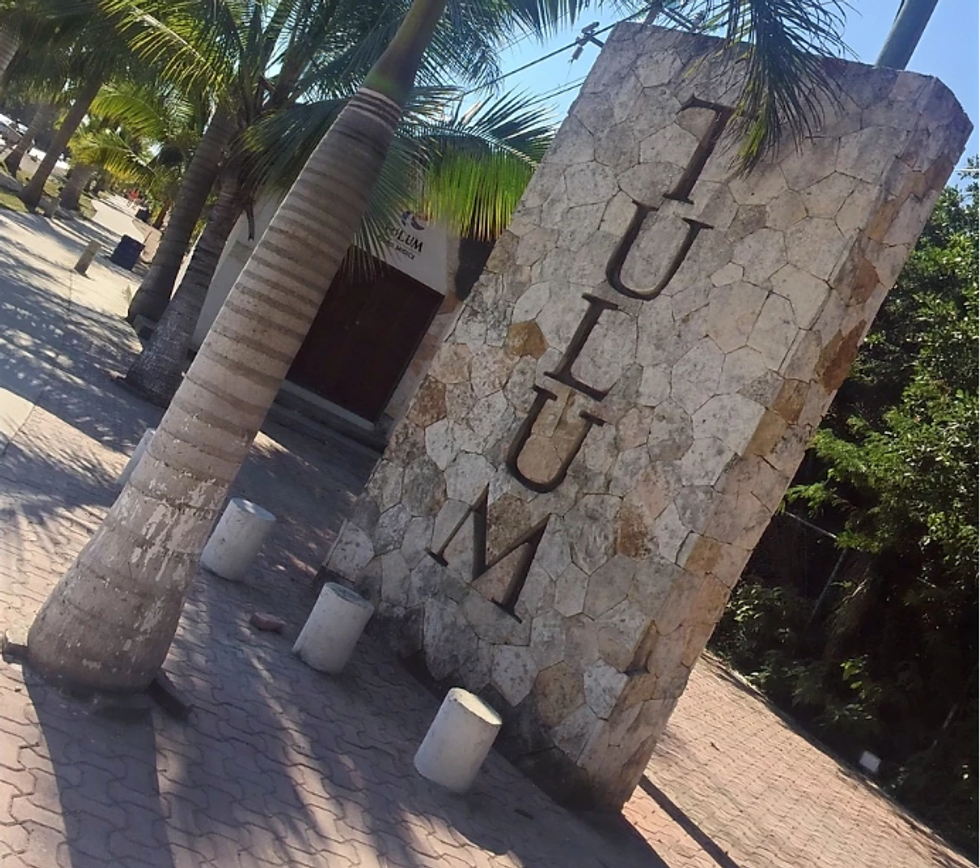 Image via Sylvia Pettway
Skincare Is a Must
Bring sunscreen and bug repellent. You're going to need them both. In order to accommodate Tulum's eco-friendly living and to protect the animals, try to use biodegradable skin products, especially when visiting the cenotes. I used these products: Neutrogena Sheer Zinc Sunscreen and OFF Botanicals Insect Repellent.
Research your hotel accommodations. Staying in town is cheaper than staying on the beach, but it is all about your preference and your budget. I stayed in town on this trip, but when I visit again, I plan to do a couple of days on the beach and a couple of days in town.
Hot Spots for Lodging
Image via Sylvia Pettway
For my solo trip, I knew I wanted my accommodations to be close to the center of Tulum where mostly everything was within walking distance. I'm so glad that I was blessed to find Villas Geminis Boutique Condo Hotel as it absolutely exceeded my expectations! Each room is named and reflected after a famous artist. I stayed in the 'Gustav Klimt' room which came with a complete kitchenette area, a king-sized bed, a sofa bed, shower, and a very big and deep outdoor tub with another overhead shower.
The staff at Villas Geminis was very welcoming and accommodating to my needs, and they went above and beyond to help me to navigate the area with ease. A stay at this fabulous and very affordable hotel also comes with an outdoor pool (which I had all to myself each day), breakfast at no additional charge, and free bicycle rentals to use for touring the beautiful city. Villas Geminis have booklets inside of each room that describes the additional services they provide as well as restaurants, bars, attractions, and tours that helped me to experience one of the best hotel stays ever!
Best Eats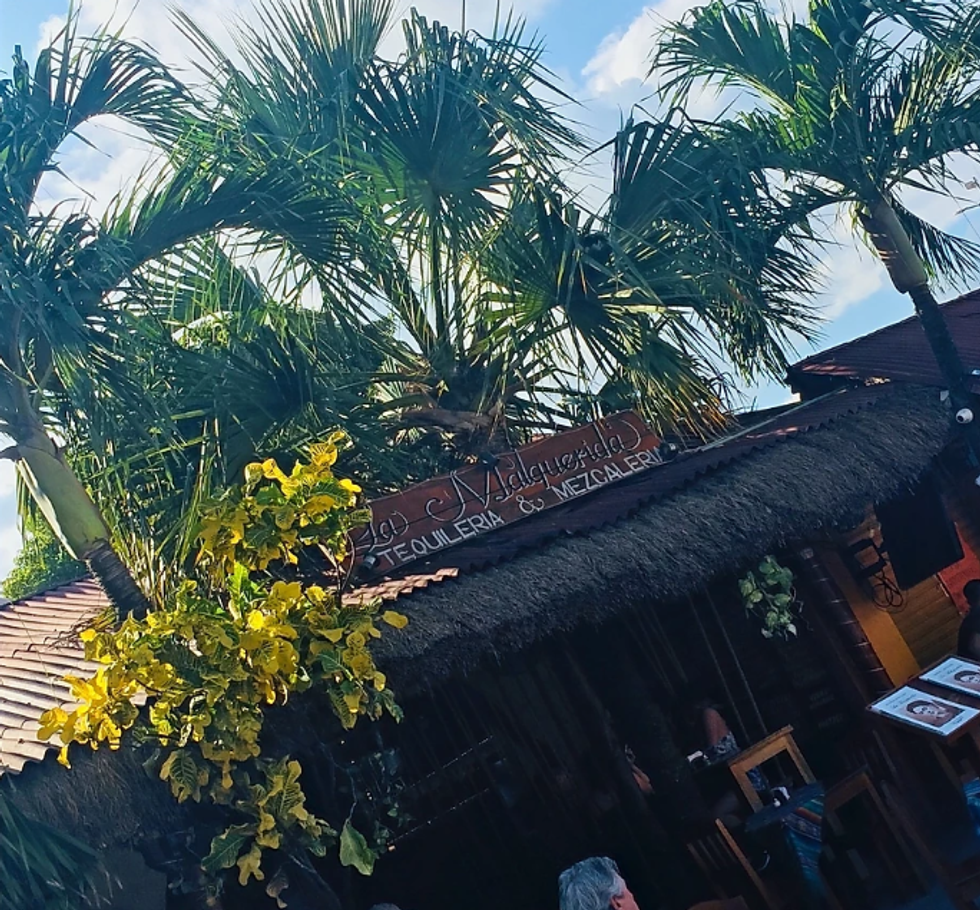 Image via Sylvia Pettway
La Malquerita was the first restaurant that I visited in Tulum. The restaurant has two menus--one with Mexican dishes and one with Italian dishes! The food and drinks at this restaurant are not only appetizing but super affordable. Like many other restaurants in the Tulum city center, they offer happy hour specials on their drinks (which were quite strong and tasty). The total cost of my first meal was $11.50--including two drinks! The restaurant also has a dining area inside that has swings instead of chairs. The quesadilla plate was really delicious, but the tacos needed a bit more flavor. Nevertheless, it was definitely worth visiting, even if you simply want to take advantage of their two-for-one drink specials.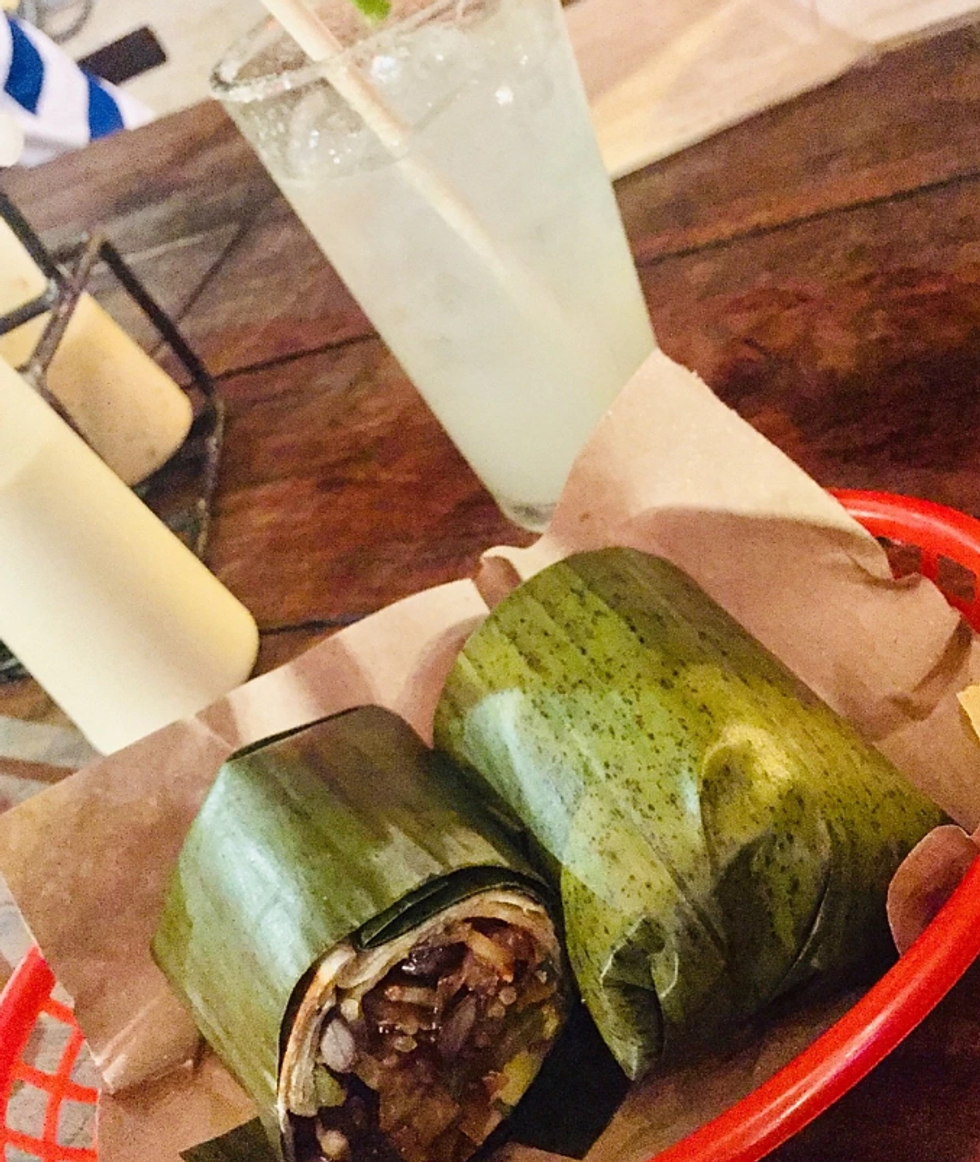 Image via Sylvia Pettway
Burrito Amor is one of the top restaurants to visit in Tulum. This is one of those restaurants that you have try or your visit to Tulum won't be complete. The establishment has a variety of options, including vegetarian and vegan, to please the burrito-lover in you! The burritos are wrapped in banana leaves and served with a variety of sauces to appeal to your preferred level of spice! I got the vegetarian burrito with a margarita, of course, and the meal was fantastic! It's a busy restaurant, so if you want to beat the crowd, get there once they open. F.Y.I., they serve breakfast, too!
Listen to me...if you desire an authentic street taco with the most flavorful meats you've ever tasted in your life? Please, please, please make sure you visit Antojito La Chiapaneca. I've never had tacos that tasted so good. You know the food is good when you forget to take a picture of the meal (le sigh). I had a chicken and a steak taco, and they were both amazing! The restaurant is famous for their tacos de carnitas, or pork tacos, where they shave the cooked pieces of pork in front you and prepare it for you!
More Than Tacos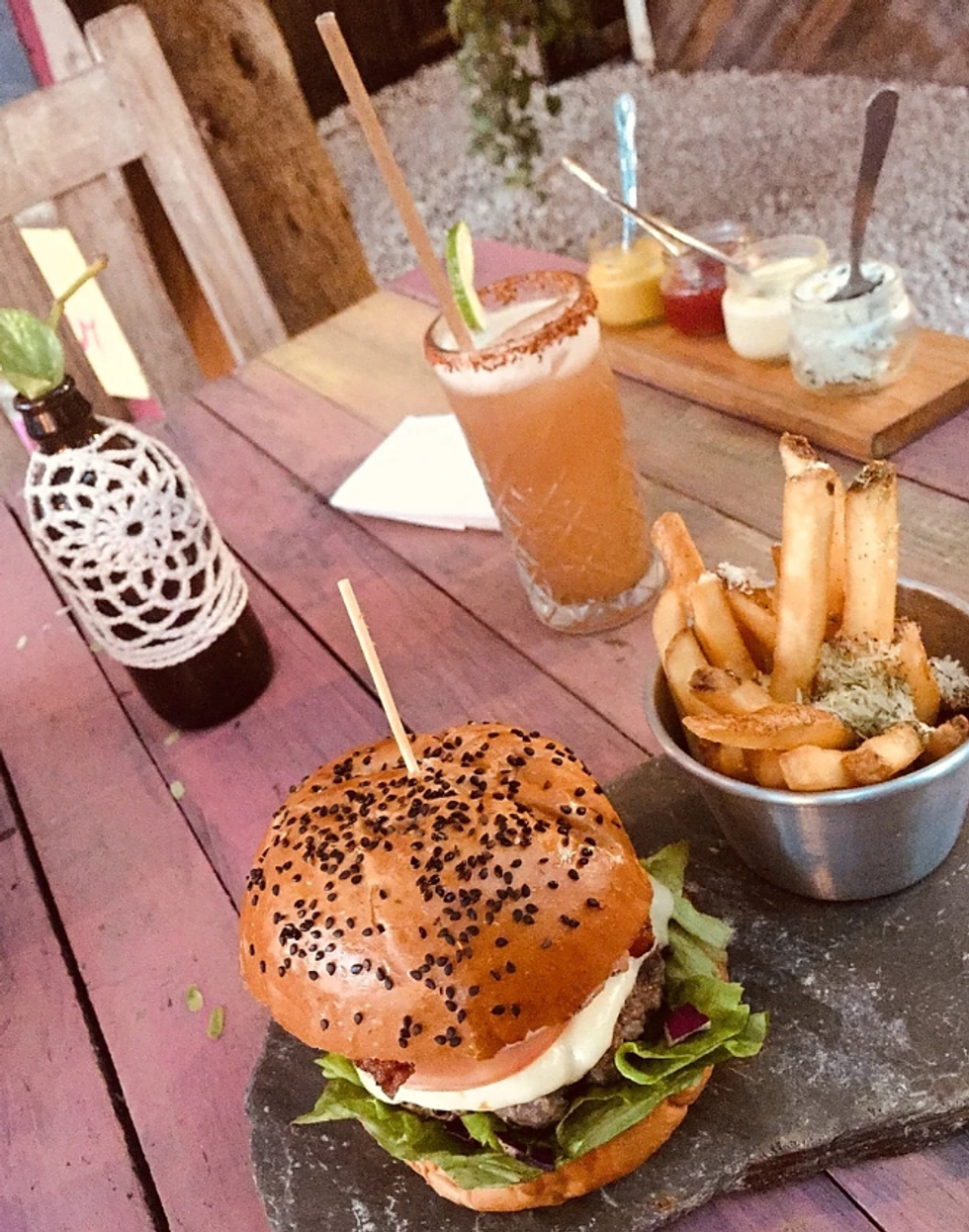 Image via Sylvia Pettway
Anyone who knows me knows I love a good, juicy, flavorful burger, and hot, crispy, well-seasoned fries. I needed my burger fix while I was in Tulum, so I researched some places and came across Bonita Tulum Burger Bar and it definitely exceeded my expectations! It was one of the best burgers that I've had in a while---huge, fresh, and perfectly seasoned. Along with the standard condiments, Bonita offers a cream cheese spread that was heavenly. I used that instead of ketchup to dip my fries in! Like the other above-mentioned restaurants, Bonita is affordably priced and offers vegan and vegetarian options.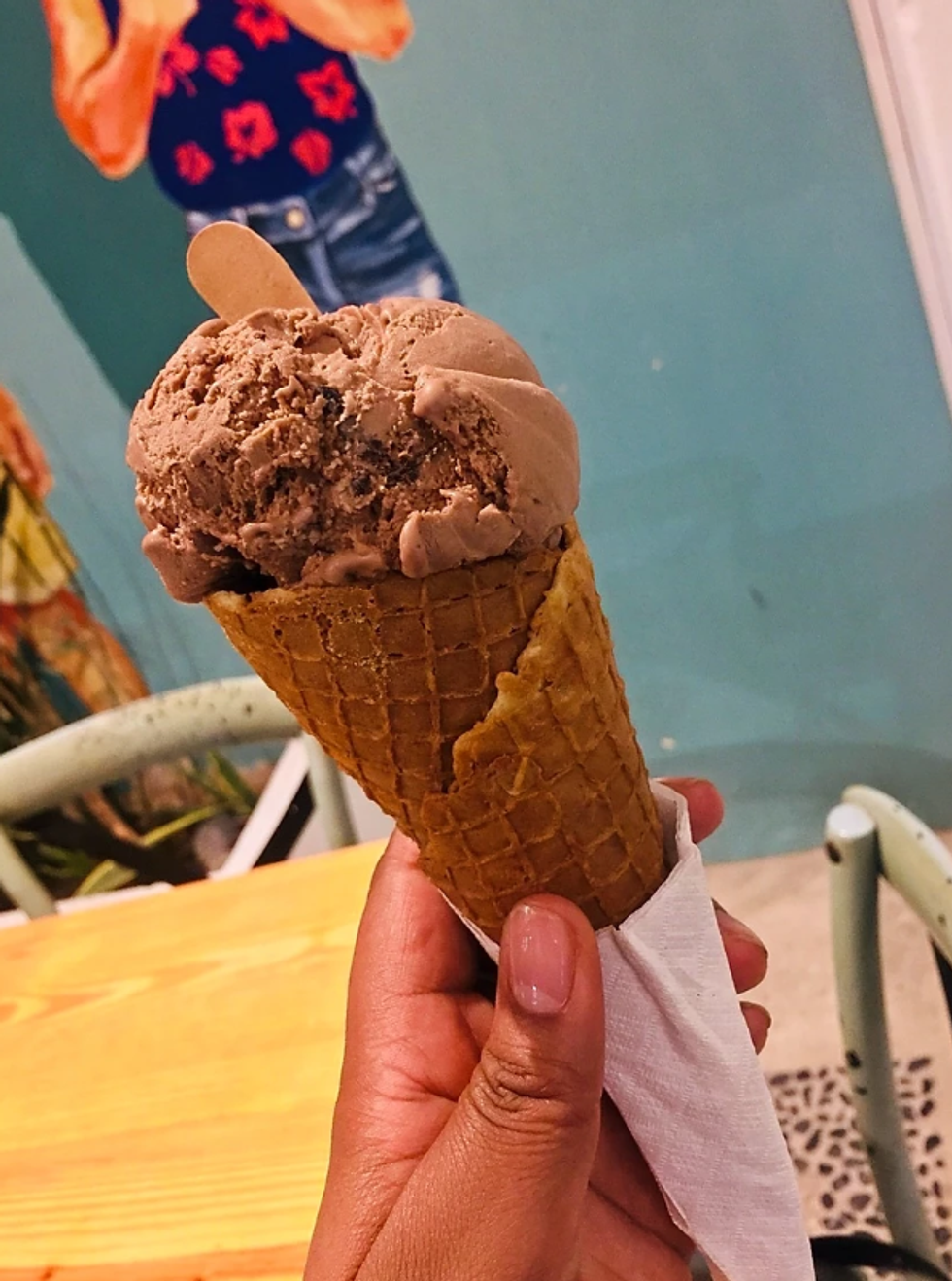 Image via Sylvia Pettway
I have a huge sweet tooth, so I was glad that I came across Campanella Cremerie, a shop that sells a selection of gelato flavors and other sugary sweet treats. The staff members were very friendly and the gelato was extremely tasty! Try the hazelnut flavor and thank me later. I ended up visiting this place twice and was satisfied each time.
Batey is a very popular bar located in Tulum Centero that is known for its mojitos. What makes these particular drinks so special is that they are made using fresh sugar cane juice! I had the watermelon mojito and it was pretty good!
Life's a Beach
Tulum is known for its amazingly beautiful beaches, and there are a variety of them to enjoy. Each day I visited the beaches, the weather was gorgeous, the temperature was perfect, and the water felt amazing! The most popular beaches in Tulum include Playa Paraiso, Playa Ruinas (which surrounds the Tulum Mayan Ruins), and Las Palmas Public Beach.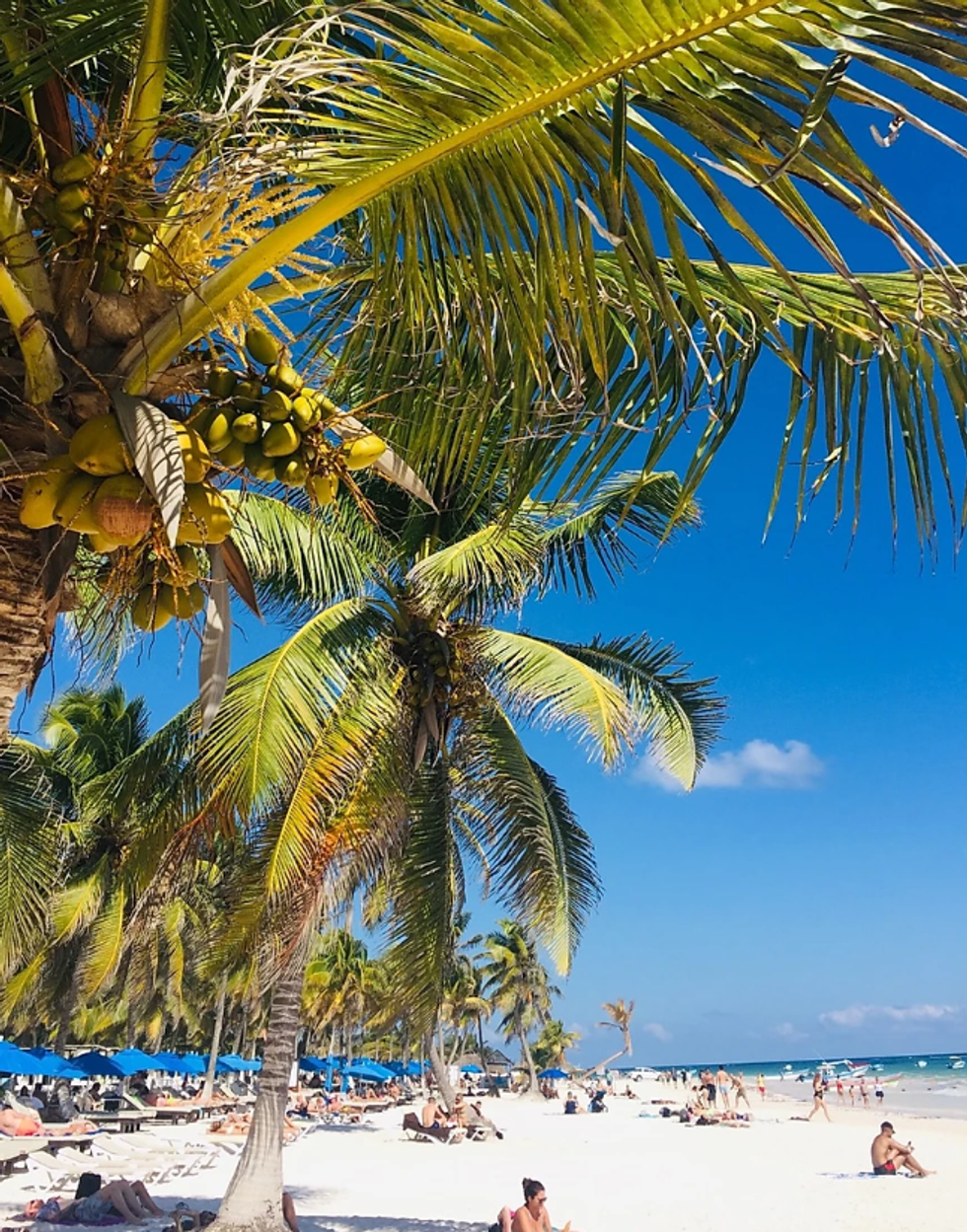 Image via Sylvia Pettway
There are beach chairs and cabanas for a fee so that you can lie back and enjoy the serenity that the beaches have to offer. I didn't get the opportunity to visit some of the other attractions that Tulum is famously known for, but I have added them for future reference. Click on each one for more info:
I have already decided that I will be going back to Tulum again for my birthday this year, and I can't wait to relive these experiences and make new ones in this magical city! Where would you like to go for your first solo trip?
Article originally published on Living SILsationally
Featured Image by Shutterstock

Originally published March 10, 2020
Keep reading...
Show less
Listen.
If you frequently read my posts, you know that I am first-in-line-here for Black people, with Black families, being unapologetically and openly Black for the world to see. And a family that wears this cape so beautifully, is none other than the Native Borne Family—expat social influencers, John and Safiyyah Christian and their 5 kids—all embarking on a relocation journey to live their best lives abroad. They encourage holistic living while boastfully being true advocates of down-to-earth lifestyles.
From traveling as a family of seven, to creating and sharing a relocation blueprint, this family is all about helping us find our passions, and showing us that we can live and travel while simultaneously being immersed in them too.
Well, recently, they grabbed my attention by detailing their painfully honest list of key, or what they described as dumb, mistakes made when moving internationally. And with many of us considering moving overseas, this list could be even more valuable to international cautionary tales.
Their mistakes consisted of:
Not Rooting in a Secure Place
Like with any move, but especially internationally, home should be safe—that's a given. Obviously, John and Safiyyah did their due diligence in ensuring their new home was safe, their new residence even had 24/7 security. But as time went on, they learned that their security was too lax and wasn't as thorough as promised. This caused them to be robbed while sleeping one night, all of their belongings being stolen.
They later found out that although Ghana is an overall safe country, known expats and tourists are targeted at a much higher rate than locals.
Their advice:
Be mindful. Pay the price for peace of mind.
Get advice from locals about locals. Get to know people.
Take your time in choosing where you want to live.
Look for clean grounds and security performing thorough inspections.
Shipping Everything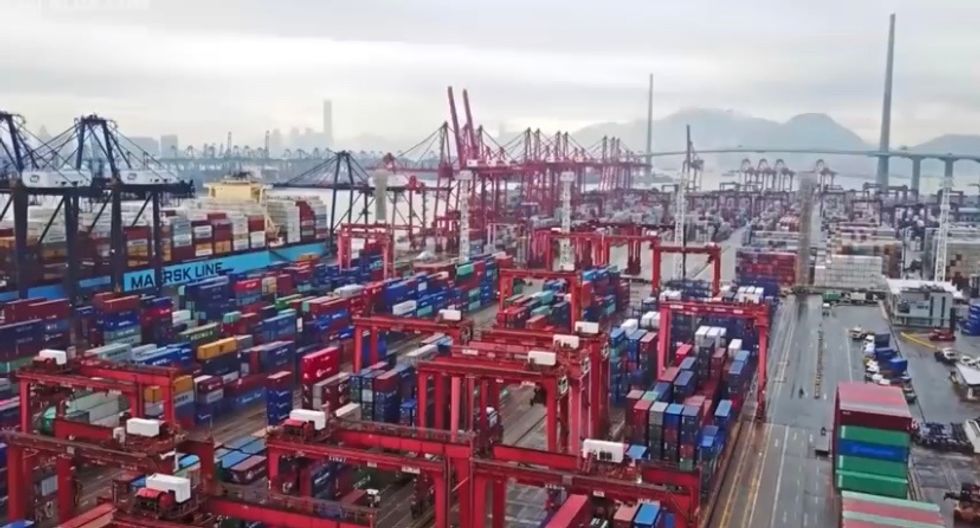 Native Borne
When the NB fam officially decided to move to Ghana, they were so excited to relocate, that they chose to ship all of their belongings to the country. Beds, mattresses, dishes. Even unnecessary paperwork.
Huge mistake. Why? Because it was expensiiiiiveeeee. They soon found out, that not only are there shipping costs, there's also Customs fees, which they estimated to be about $2,000 USD. Ouch.
Their advice:
Less is more. If you don't need it, don't bring it.
Find a shipper who is able to explain the full process in detail.
Adopt a minimalist mindset.
If you want to bring particular items, just pay the additional bag fees to bring your items on the plane. Whatever that cost is, it is much cheaper than having them shipped.
Not Having Residual Income
Like many expats, they saved up money and moved with their faith in tow. They had a nice-sized cushion to sustain them for a while, but it dwindled quickly. Their ultimate goal was to always become digital nomads, so that they could travel the world, but they learned that they had to set themselves up properly in order to continue to do so, thus monetizing their journey and providing insight and guidance to those of us interested in doing the same.
Their advice:
Savings is great, but have residual income.
Take part in business that's proven to bring you revenue.
Start the business now, and then relocate.
Be able to show yourself results on paper. Confirm that "this is what this business is making, and if I move, I'll be OK."
Sending Money Ahead Of Time
Prior to arriving, the NB family made connections with locals in the country. They ended up sending money to people that they trusted to secure their home. Once they arrived, communication changed, the story changed, and the place they were supposed to be living in, also changed. They were supposed to save money through this connection, but it ended up costing them more due to..."fees." *side eye*
Their advice:
When dealing with professionals, conduct business in person.
Have written agreements and contracts to protect both parties.
Stay at an Airbnb or hotel until you are acclimated with the area.
Find a reputable real estate agent show you around. There's plenty where you want to relocate, but it's one of those things that you must do on-site.
Be patient and stay in control.
Don't send your money.
Don't send your money.
Don't send your money.
Rushing To Purchase Land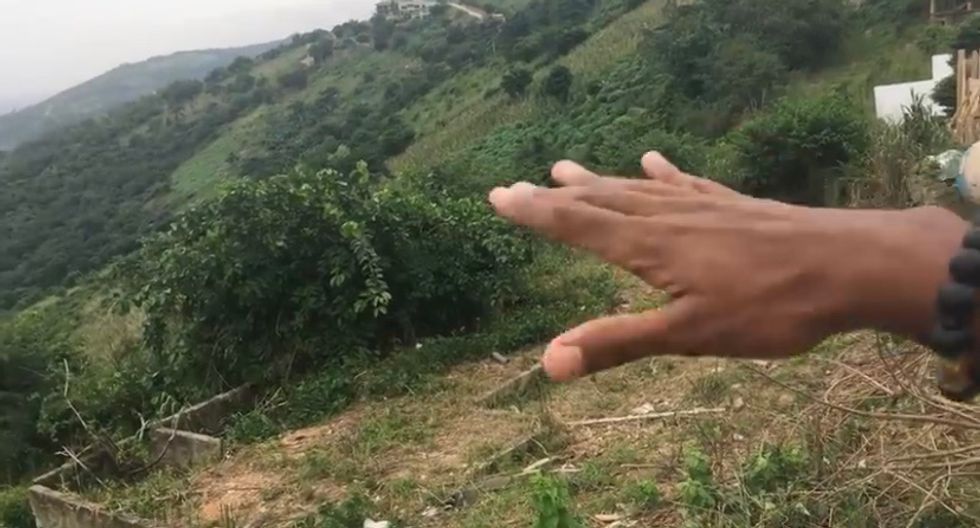 Native Borne
Like with any country, buying land is a highly in-demand interest across the board. The NB family had many conversations with people who have lived in the country for decades, who all told them to take their time. Unfortunately, they soon learned they were taken advantage of by people whom they trusted. To make a purchase of that caliber, takes time, so their process ended up being quite difficult.
Their advice:
Before you make any decisions, rent. Don't allow excitement to cloud judgement.
Build your team. Hire a reputable surveyor, real estate agent, and the like.
Always protect your interest and don't be afraid to walk away from a seemingly great deal.
Again, conduct your deals in person, guys. Nothing less.
Take your time in signing the dotted line.
Ultimately, the NB family found their stride and perfected what they sought out to do. In addition to living in Ghana, they frequent various countries, masterfully traveling as only they know how: black and beautiful.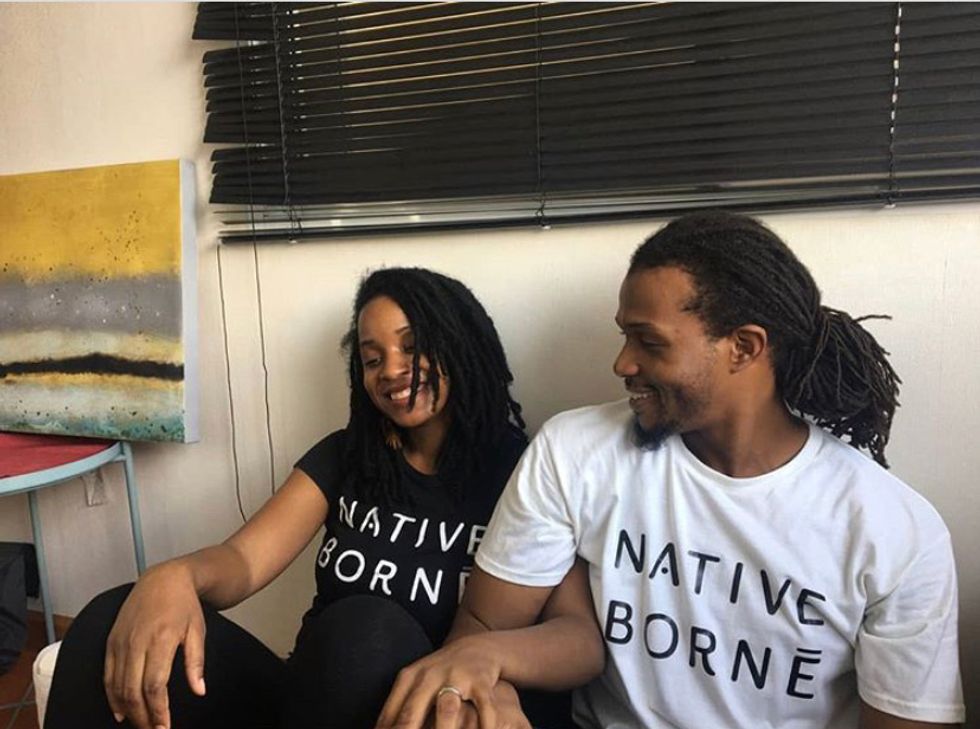 To learn more about the Native Borne Family, visit their YouTube channel here. Also, for anyone interested in their relocation blueprint or current projects, visit their website.
Feature image courtesy of The Native Borne Family

Keep reading...
Show less