For the past few years, social media has been influential in helping travelers plan their trips, especially those traveling to the African continent. For prospective travelers, connecting with content creators in Africa provides access to insider advice and guidance that hasn't always been easily accessible. One of those creators, Nabz Arah, has been documenting her life in Uganda and showing the rest of the world the beauty of the East African nation.
"I started creating content after I took a trip to Jinja, in Eastern Uganda, and took a boat ride down the Nile River. I remember being so taken up and falling in love with exploring right then and there," she says.
Uganda has been gaining popularity with adventure travelers, and the country saw over 1.5 million visitors in 2019 before travel halted in 2020. Arah says some of the most sought-out activities in Uganda include boating on Lake Bunyonyi, gorilla trekking at Bwindi Impenetrable National Park, and hiking up Sipi Falls.
"I want people to see that Uganda is beautiful, but it's the people that make it even more beautiful." Arah adds, "The future of travel in Uganda is brighter than ever before as more people in other countries learn about the country and more Ugandans embrace domestic travel."
Featured image courtesy of Nathalie Bonte
Today some travelers are motivated by bucket lists and "30 countries before 30" challenges, and while there's nothing necessarily wrong with that, in 2023 I wanted to start the year off by returning to one of my most visited countries - The Bahamas.
The Bahamas has special meaning to me. It's the place where my husband and I traveled as newlyweds, where my sister and I spent a weekend girls' trip, and it was one of the first places I took my kids when we started traveling as a family. The Bahamas has always been a place I return to, partly because it's so close to my home in South Florida and because the beautiful beaches are an ideal setting for a peaceful break.
A New Year in a Familiar Destination 
Last year was full of highs and lows, and I wanted to spend my first days of the new year in a good place. I set out to usher in the new year in The Bahamas by spending a week in Nassau with my two preteen-aged kids, exploring more than we had on our previous trips.
On December 29th, after a quick hour-long flight, we touched down in Nassau, and the pink Victorian homes and bright turquoise waters were a welcome sight. We checked into the newly opened Margaritaville Beach Resort, which offered easy access to all of Nassau's attractions. On our first night, I sat out on the balcony watching the sun disappear on the horizon, and I knew I had made the right choice.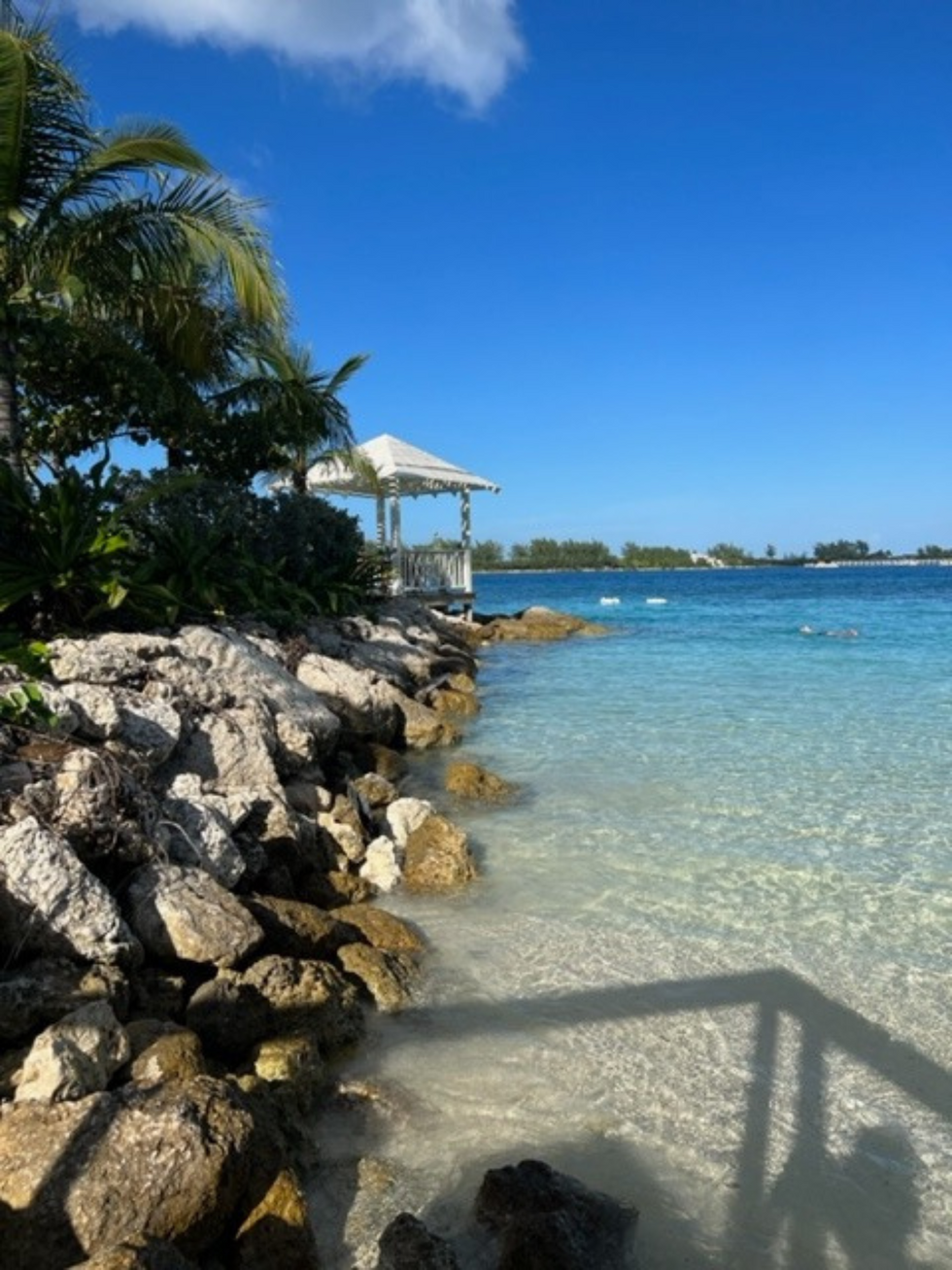 Margaritaville Beachfront
Mariette Williams
A Week Well Spent 
We had always spent just a few days in The Bahamas, in Nassau and Grand Bahama, but on this week-long trip, we were able to take in a lot more. On one of our first nights, we made our way to Fish Fry, a nearby strip of local restaurants and food vendors, and ate freshly fried conch fritters and red snapper on the rooftop patio of Twin Brothers. On previous visits, we had only walked past Graycliff Manor, the historic 18th-century mansion in downtown Nassau. But on this trip, we ate an elegant seafood lunch and toured the iconic wine cellar, which is home to over 250,000 bottles of wine.
Though we loved spending our time in downtown Nassau, some of our best meals were outside of Nassau's tourist areas. We followed the advice of locals and lunched at Traveler's Rest, where we devoured battered crawfish bites while enjoying the tropical breezes coming off the water. Another gem was Studio Cafe, a former recording studio for stars like Bob Marley and James Brown that serves traditional Bahamian dishes like crispy cracked conch paired with sweet mango chutney.
We also spent a blissful day at Atlantis Paradise Island, and my kids made a beeline to the high-speed water slides at Aquaventure. Afterward, we lazed in the beachside hammocks and made plans to come back and explore the onsite marine habitat filled with sharks and stingrays. Atlantis was followed up by visiting some of the more uncrowded beaches around Nassau. And while there aren't any private beaches in The Bahamas, the beaches outside of the hotel zone felt more secluded. Our favorites were Jaw's Beach, Goodman's Bay, and Cabbage Beach, and we often felt like we had the beaches to ourselves.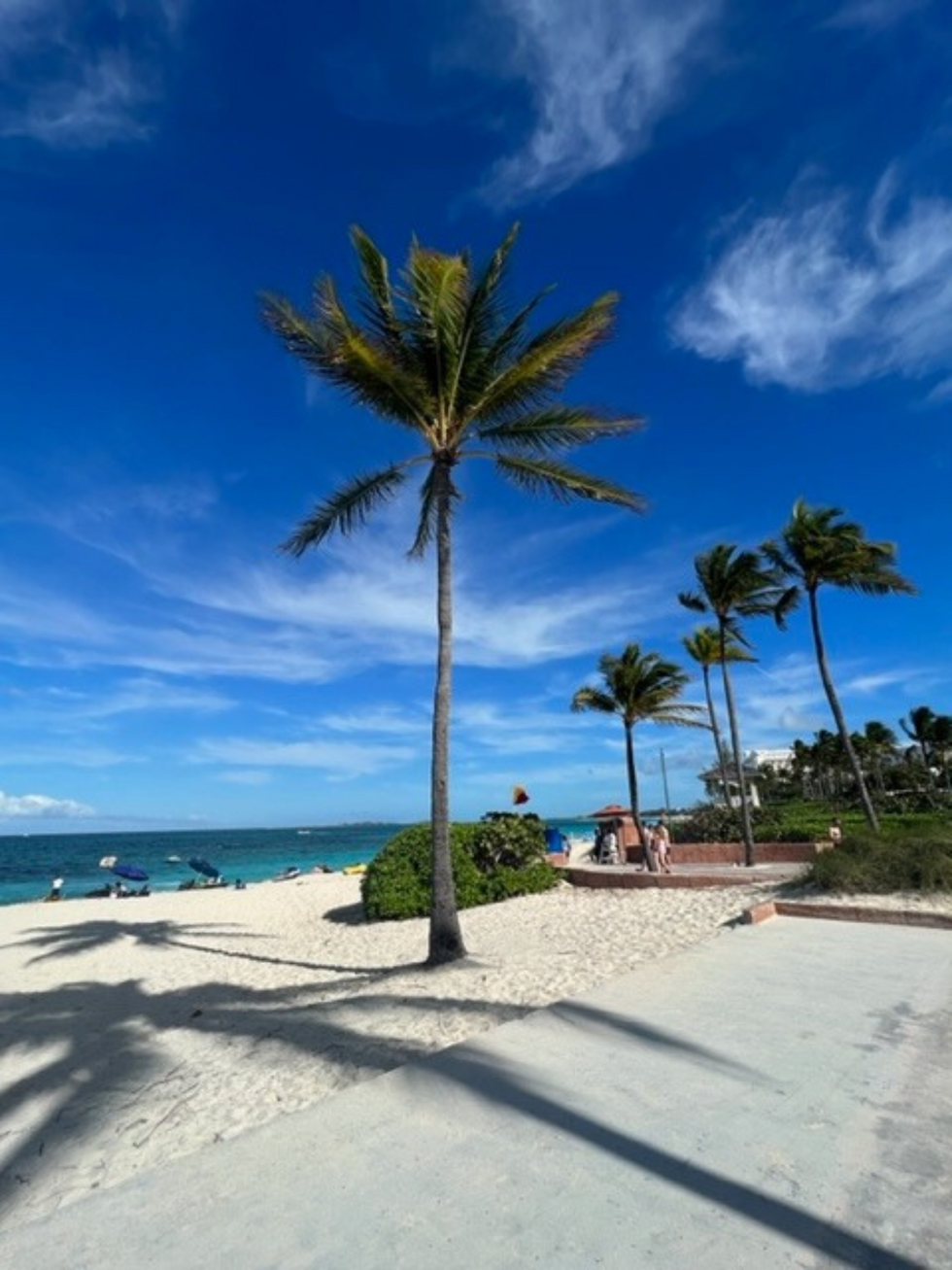 Beachfront of Atlantis Paradise Island
Mariette Williams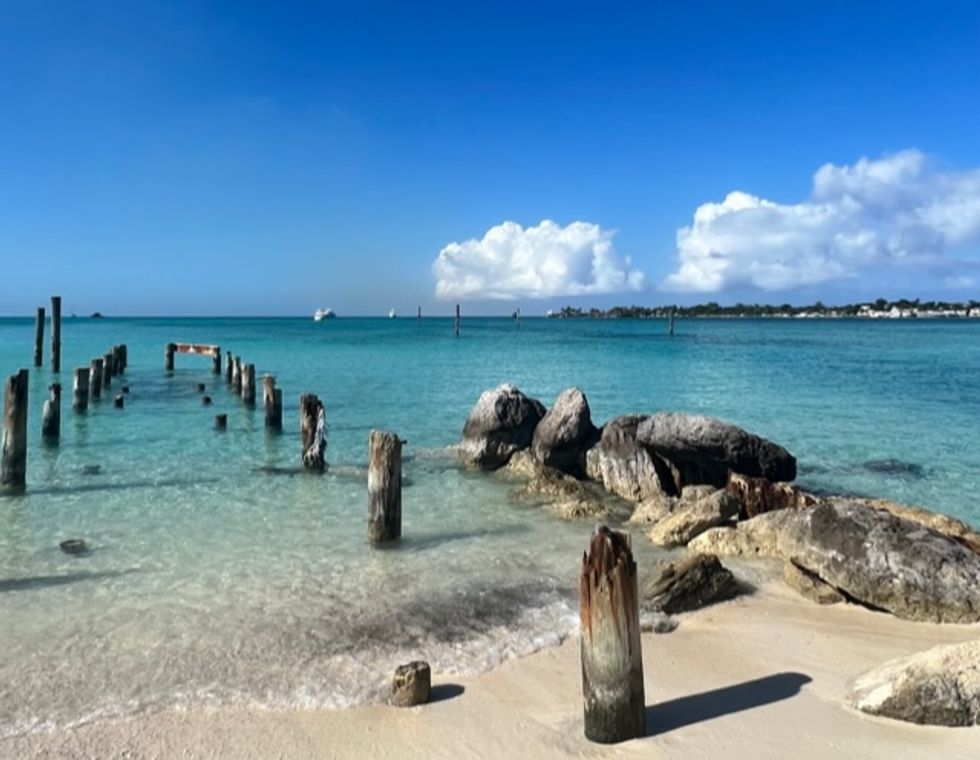 Jaw's Beach
Mariette Williams
Celebrating Junkanoo Festival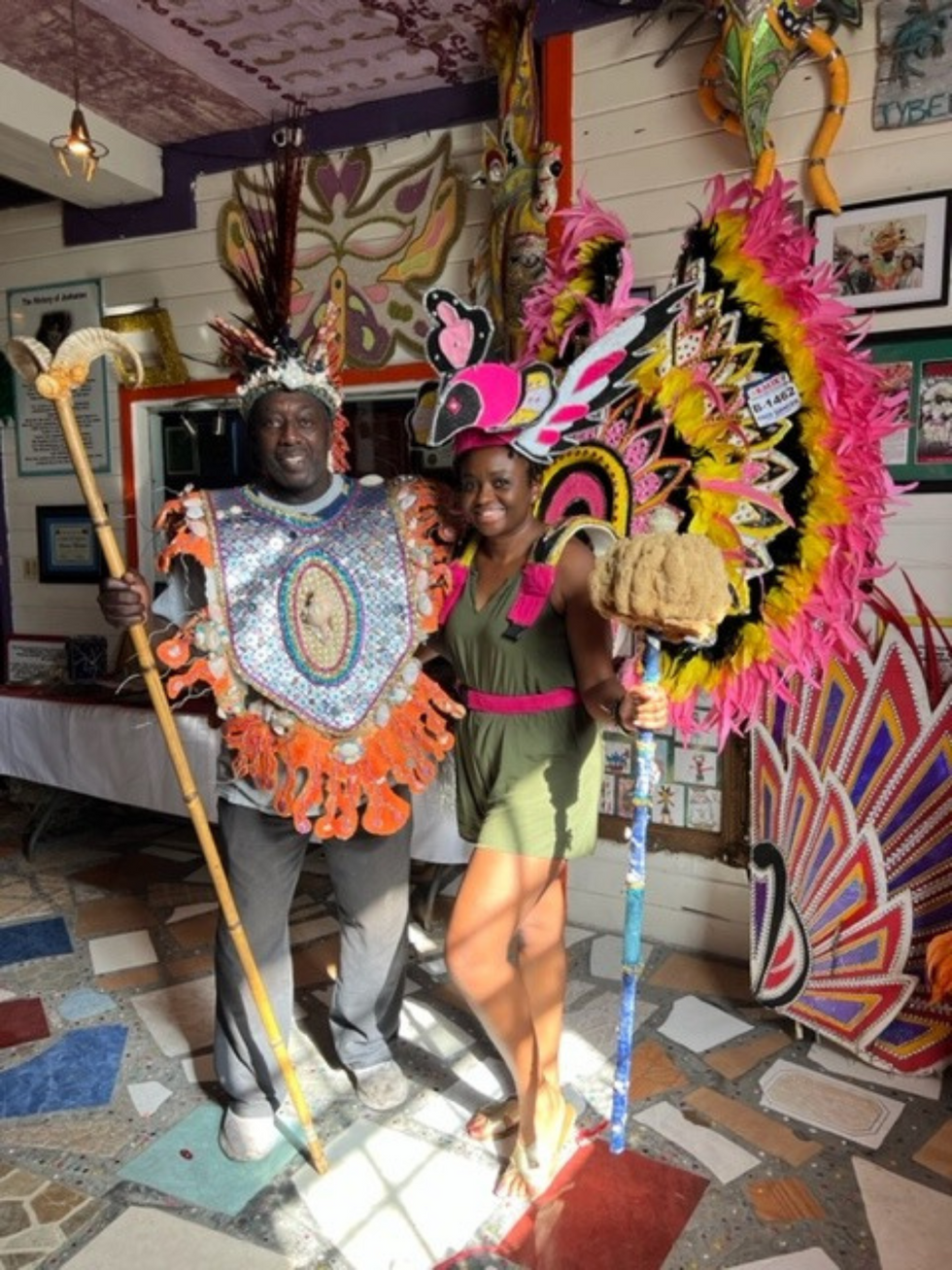 With Quentin "Barrabas" Woodside at Junkanoo World Museum
Mariette Williams
The highlight of our trip was attending the all-night Junkanoo parade, where we were exposed to the rich culture in The Bahamas. At the Educulture Junkanoo Museum, director Arlene Nash Ferguson explained how Junkanoo existed in The Bahamas for over 200 years, originating when enslaved Africans dressed in costumes made of leaves, straw, and shells and celebrated with dancing and parades. Today that tradition lives on with two Junkanoo parades on December 27th and January 2nd that feature bands parading through the streets of Nassau with elaborate floats and vibrant, feathered costumes.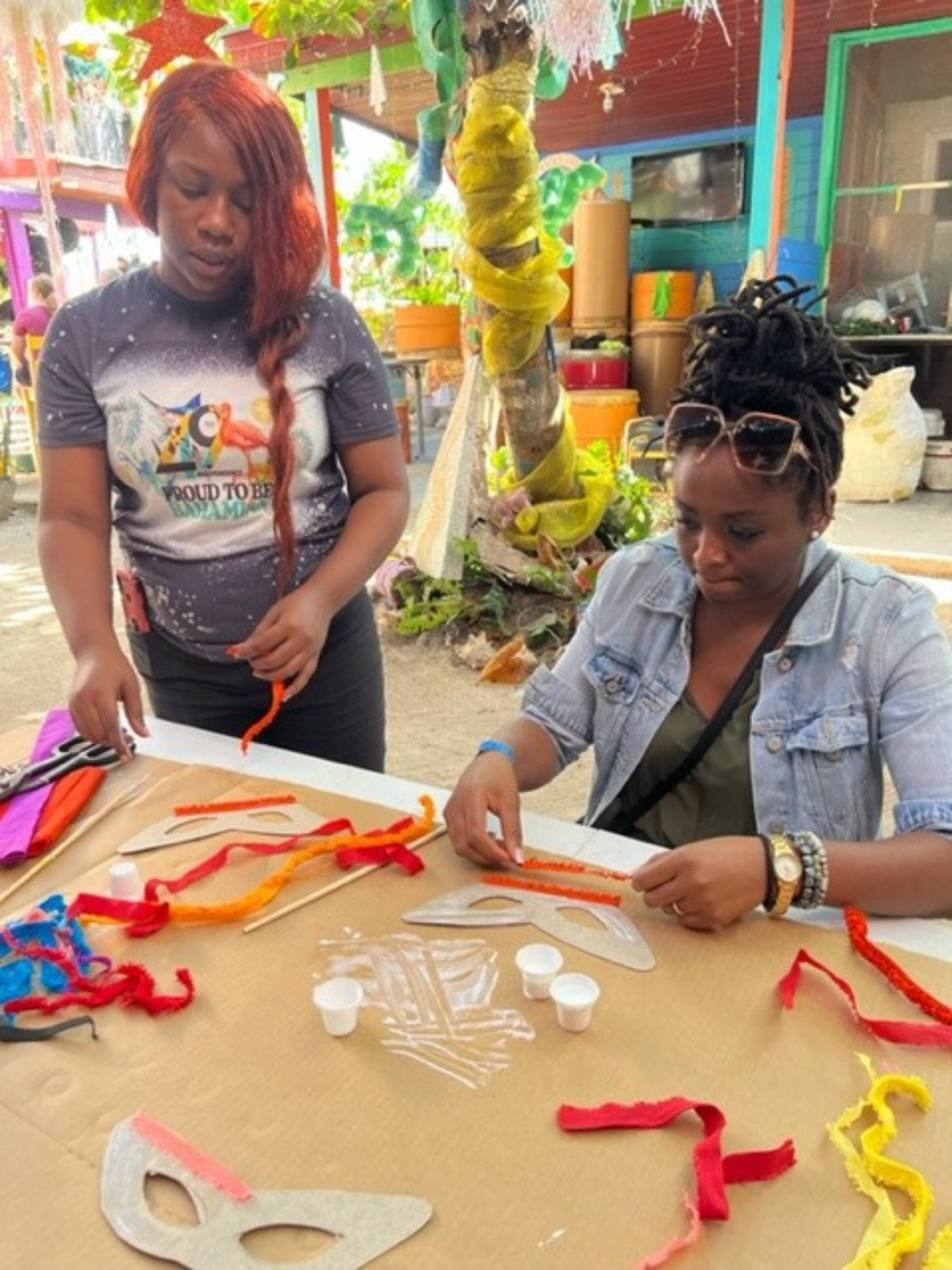 Pasting Junkanoo masks
Mariette Williams
Before the parade, we also visited the Junkanoo World Museum & Arts Center where we had a behind-the-scenes look at what goes into putting the festival costumes together. We spent a morning with the owner, Quentin "Barrabas" Woodside, who explained how each costume and float was pasted with strips of colorful crepe paper by hand. He also showed us how to paste a mask, which gave us an appreciation of how much work went into preparing for Junkanoo.
And at 12:01 a.m. on January 2nd, the Junkanoo parade finally kicked off. The parade was back after a two-year hiatus, and it was hard not to get swept up in the energy from the crowd. Thousands lined Bay Street to see the return of their favorite bands as drums, cowbells, and trumpets rang out the triumphant return to the parade, which lasted until the sun came up. The night was an unforgettable display of Bahamian culture - and the best way to start the new year.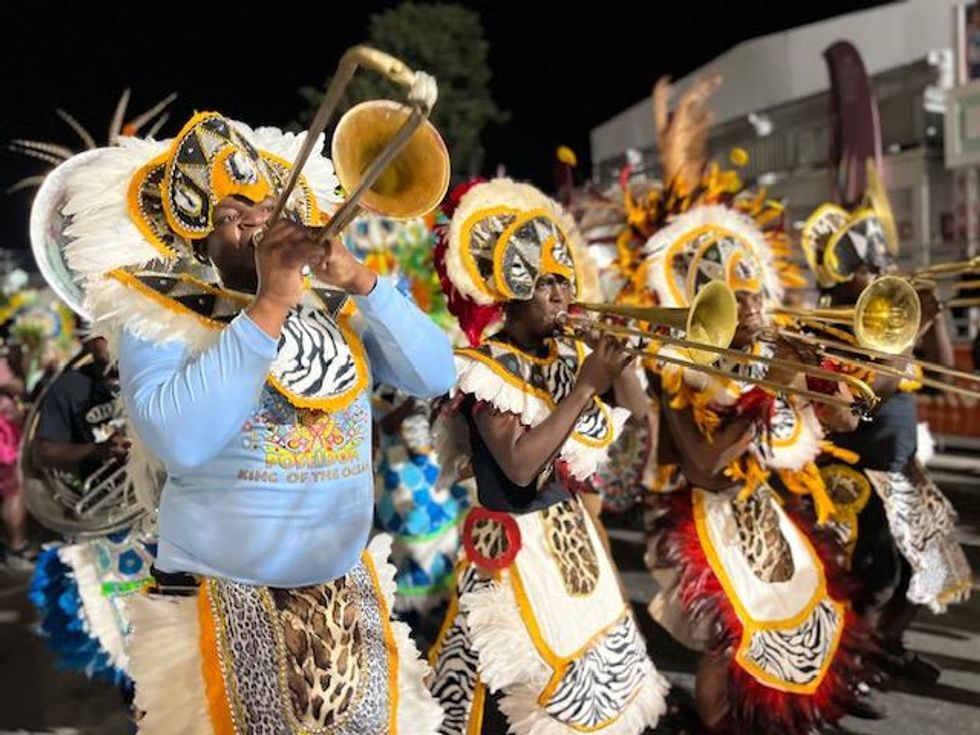 Junkanoo Band
Mariette Williams
Junkanoo Dancers
Mariette Williams
Why Return Travel?
While there's also a sense of awe in visiting a new country, there's a certain magic in revisiting the same places. My week in The Bahamas helped me slow down and have a deeper travel experience. I visited several off-the-beaten-path beaches, ate at local restaurants, and learned the history behind the one-of-a-kind Junkanoo parade.
When we return to the same countries, it's nearly impossible to have the same travel experience because the places we visit also change. Since our last visit, new restaurants and hotels had cropped up around Nassau, and on this return trip, I was reminded that we had changed too. I had come back to The Bahamas with my kids, now preteens, and we sought out different experiences from when they were toddlers - ones that helped them learn more about the local culture.
Return travel also helps us go beyond our initial impressions, allowing us to see more and forge new memories. As we boarded the plane to go back home, my daughter asked me when we would be coming back. The week had made an indelible impression on both me and my kids, and we're all looking forward to returning to The Bahamas to discover more about one of our favorite destinations.
Featured image by Glowimages/Getty Images
It's officially been a year and six months since I made the move to Mexico City full-time. And while Mexico is home to rich culture, prideful people, and breathtaking beaches, I've come to grow an even deeper love and appreciation for the place I now call my home away from home. Domestic travel will do that for you and has only helped to increase my affinity for all things Mexico. Forbes recently dropped their list of the top five travel destinations of 2023, and coming in the third position nestled right under St. Kitts and just above Japan was Mexico.
After seeing so many travelers on my timeline and my FYP respectively posted up on various beaches, I had no doubts that Mexico's tourism boom would continue in the year ahead. But what if you want to visit Mexico, and also want to travel a bit 'off the beaten path' in comparison to touristy (but still beautiful af) places like Cancun and Tulum? That's where we come in with this list of places in Mexico to add to your radar in 2023.
It's not an exhaustive list by any means, but it is one based on my own travels as an expat living abroad in Mexico. Keep reading for even more beauty this diverse country has to offer.
San Miguel de Allende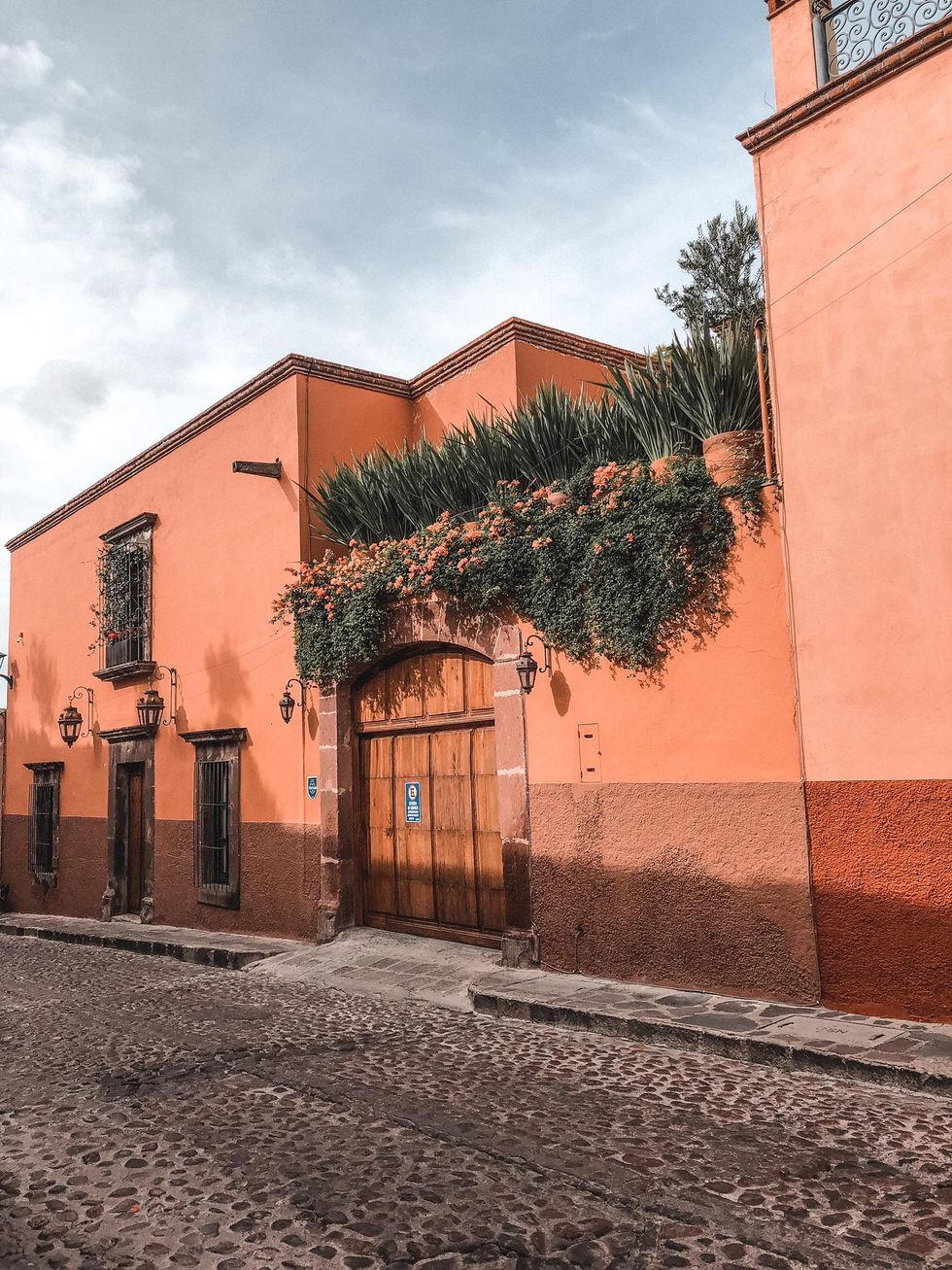 Courtesy of Sheriden Chanel
The cobblestone streets and Spanish architecture are just some of the awe-inspiring beauty San Miguel de Allende has to offer. Perhaps most known for the Parroquia de San Miguel Arcángel located at the city's center, San Miguel de Allende is a colonial-era small town that has also become synonymous with wellness. One of my favorite things about living in Mexico is how modern often mixes with history in the look and feel of pueblos and cities alike. San Miguel captures the essence of that juxtaposition so beautifully and you feel instantly transported into a storybook town of yesteryear.
The many pastel-colored buildings are only part of San Miguel's charm, as my time there was spent lavishing in massages at Essential Massage & Watsu, hiking in Charco del Ingenio, sound baths, enjoying bites at the local restaurantes, and visiting Viñedo Dos Buhos, a certified organic winery nestled not too far away from the town's center.
Tepoztlán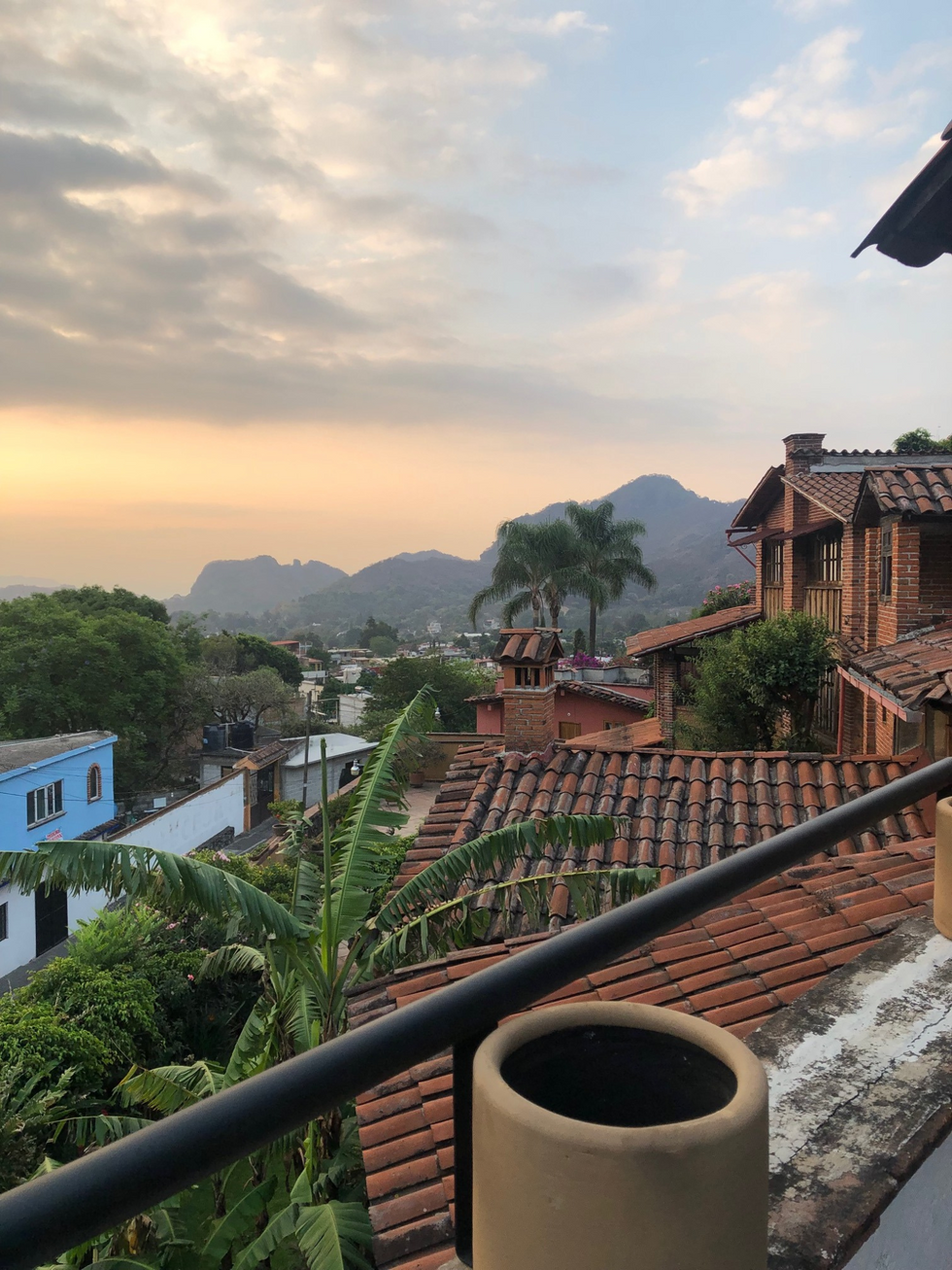 Courtesy of Sheriden Chanel
​Whenever I want to take a quick trip from my life in the city and want to feel closer to nature, Tepoztlán is there. Located less than two hours south of Mexico City is the magic town of Tepoztlán in the state of Morelos. The pueblo also has the reputation of being the birthplace of the Aztec god, Quetzalcoatl. I love being able to rent a casita in the town's center or one up in the mountains where I can access some of the hiking trails there, as well as the deer sanctuary. If you're feeling lucky, you can also climb the infamous El Tepozteco. It is steep but worth the view at least once. It really depends on the vibe you're looking for.
As a town, Tepoztlán is heralded for the wellness experiences it has to offer. Stop by the town center for a deep tissue massage that rivals any four- or five-star hotel. And speaking of hotels, there are quite of a few that have an emphasis on mind, body, and spirit rejuvenation. Visit the urban retreat of Casa de la Vida to reset with the help of packages like Elixir of Life and Detox and Rejuvenate. Hotel Boutique Casa Isabella and Nican Mo Calli are a couple of other accommodation options that are also holistic-centered.
Val'Quirico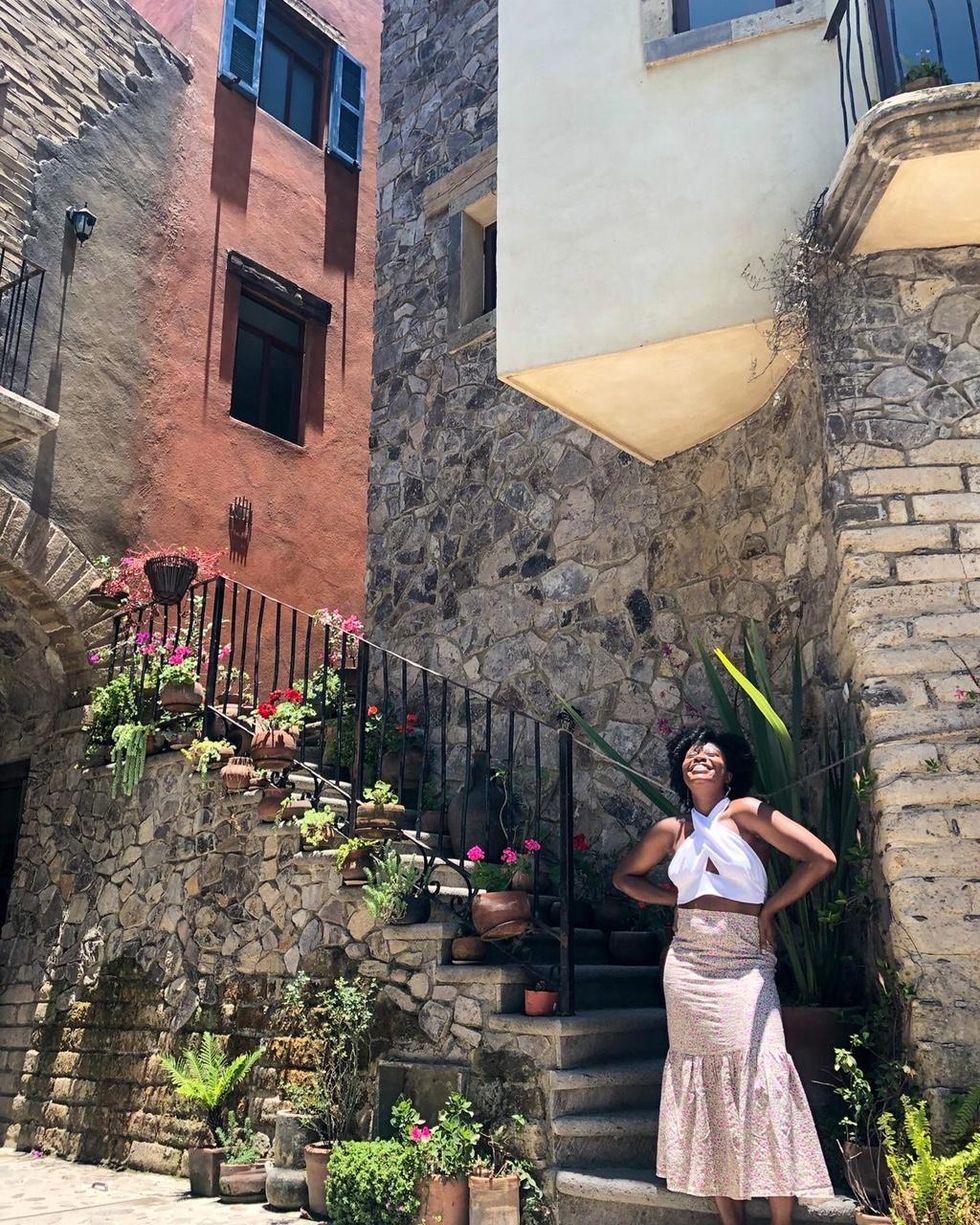 Courtesy of Sheriden Chanel
Speaking of Mexico City day trips, Val'Quirico is another beautiful place the country has to offer. Although, not quite. The housing community also has the unique feature of being fictional. So while you can visit it, it's technically not a town at all. Inspired by Tuscany, a visit there will have you feeling like you're walking the streets of Italy without ever leaving Mexico. Val'Quirico has many restaurants, cafes, and even live music, but also plenty of attention to detail which makes for a lot of photo-opp moments. You can choose to lodge there for the night (or multiple nights) or just visit during the day as a quick day trip while you're in Mexico City.
Ixtapa Zihuatanejo
By far, my favorite beach in Mexico is located in Ixtapa Zihuatanejo. It's one of those places that doesn't feel too touristy yet so I hesitate to add it to this list but we don't gatekeep around here so here I am, gifting keys to the paradise vacation kingdom. Ixtapa Zihuatanejo is located in the state of Guerrero and is a resort town located on the Pacific Coast. Surrounding the picturesque El Palmar Beach is an array of hotels, restaurants, and bars.
Although we stayed mostly on the private beach at Las Brisas Ixtapa when soaking up the sun rays and sipping on cocktails, the public beach is also a sight for sore eyes and definitely worth a visit whenever you feel like taking a break from your respective resort. I've seen some of the prettiest sunsets in Mexico, but being in Ixtapa Zihuatanejo just hits different.
Cabo San Lucas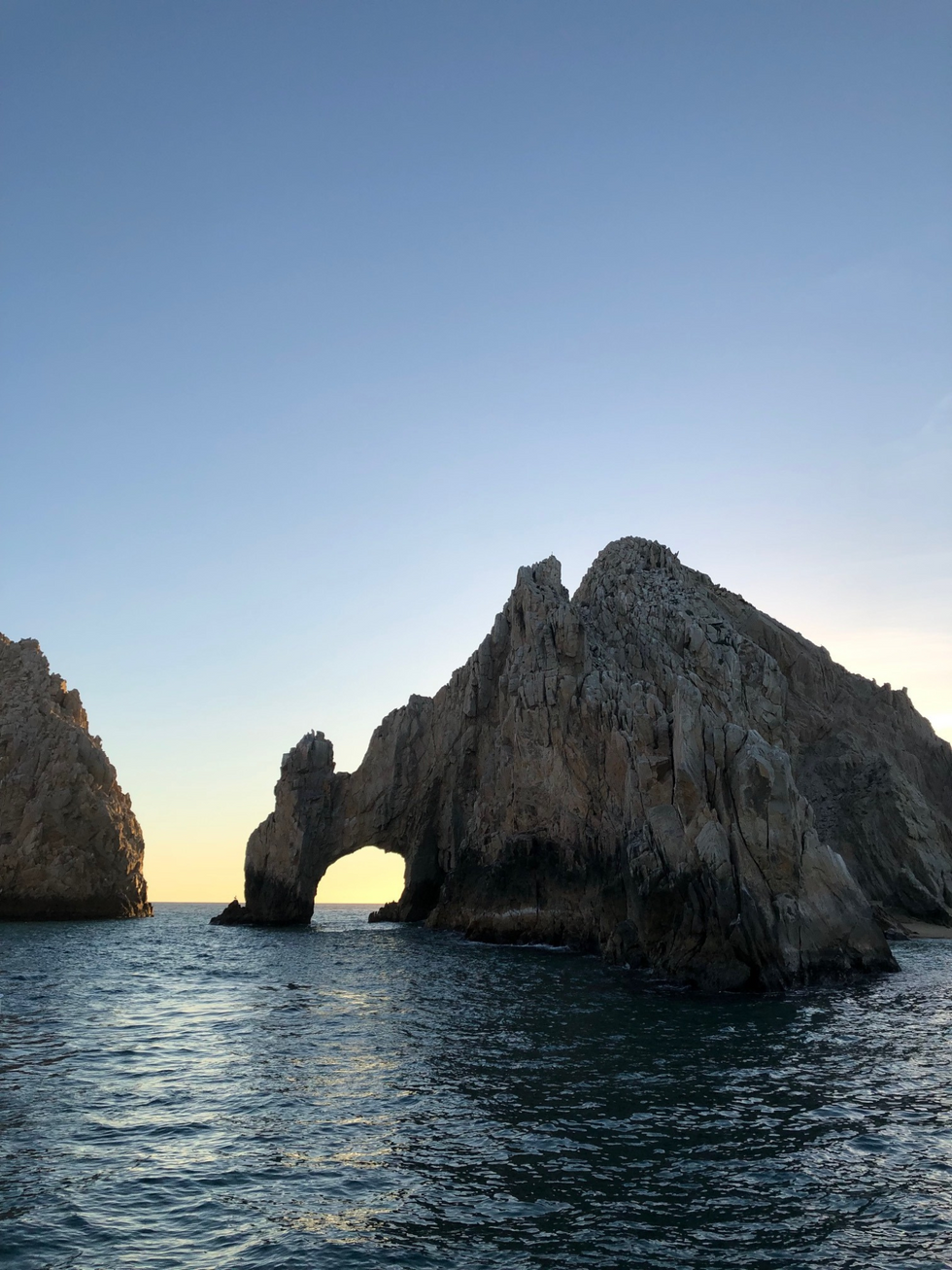 Courtesy of Sheriden Chanel
Such a list would not be complete without mentioning Cabo San Lucas. Located in Baja California Sur, the popular vacation destination is comprised of picturesque beaches, luxurious resorts, and desert landscapes. Perhaps most known for its natural rock formations aptly called The Arch, Cabo San Lucas is also home to deep sea fishing, water recreation activities galore, and a thriving nightlife. Absolutely soak up the luxury at any of Cabo's plethora of resorts, but don't forget the joy of visiting the resort town's public beach or taking a quick boat ride to see the iconic rock formations up close while visiting the famed Lovers Beach and Divorce Beach (which are only accessible via boat). Even in December, the water was warm and glittered like diamonds underneath a cloudless sky. I was in love and you will be too.
Featured image by Justin Lewis/Getty Images
2023 is the year of claiming your freedom and exploring the beauty of this world. Now we all know Sagittarius are known for traveling and they know all about the importance of an adventure. However, each sign can benefit from a vacation or two often, and this is the year to put some of your destination dreams and bucket lists into motion. With more areas around the world lifting restrictions and travel being more prevalent in 2023, we've broken down some of the best places to travel in 2023 based on your zodiac sign.
Featured image by Westend61/Getty Images
There's a great debate on social media platforms, from TikTok to Instagram, among travel credit card holders: What travel credit card is actually worth the annual fee? Asking yourself this lofty question with your fancy card in hand might feel counterproductive. However, it's always good to reevaluate any financial investment early and often to ensure you're getting the most out of it.
Credit cards are already a minefield because, without financial planning, you can end up in a boatload of debt. Been there, done that, and got the wasted money on interest to show for it. After paying off $15,000 in debt, I was reluctant to use any more credit cards. But after tons of research, I saw the value of the American Express Gold Card. I got points on my everyday spending and was diligent about paying off my monthly balance. But for me, as an avid traveler, it was time for either an upgrade or a new card with lots of research, of course.
Spoiler alert: I upgraded to the American Express Platinum Card, but I wanted to break down some of the benefits of all of the most talked about cards so that you can both use every benefit you're paying for if you already have these cards in your wallet or get to know some of the perks if you're in the market for a travel credit card so you can invest in a card that's best for your everyday and travel needs.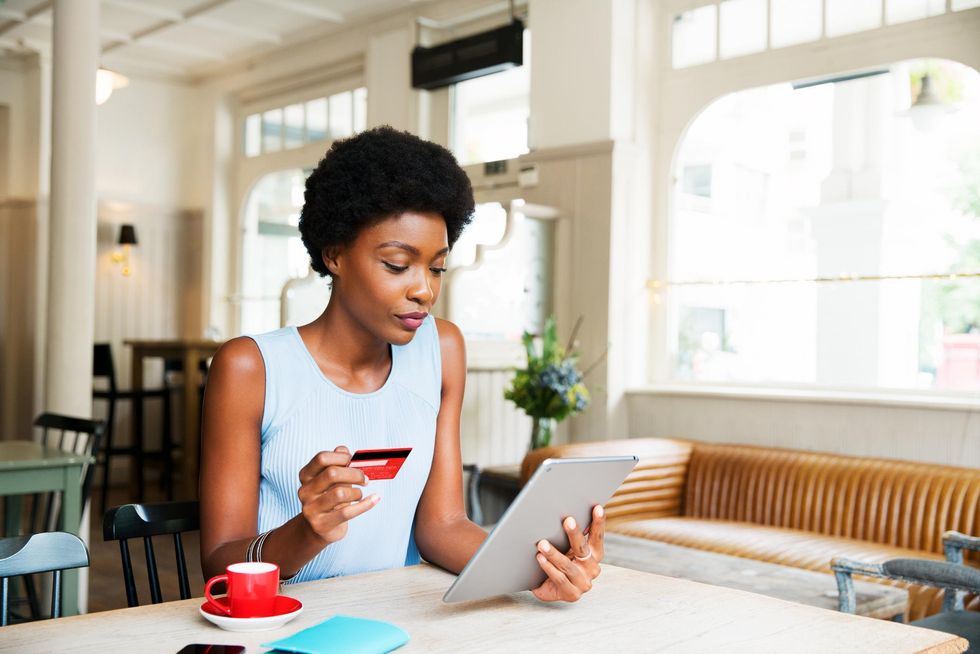 Tim Robberts/Getty Images
American Express Platinum Card Benefits and Perks
Because I was already an Amex customer, I started here. The introductory offer—100,000 points after spending $6,000—for upgrading to an American Express Platinum Card was difficult to pass up. But I needed to see how the benefits stacked up if I was giving up 4X points on groceries and dining and opting for a lofty $695 annual fee. So how does the Platinum card stack up on earning points? Platinum cardholders get a point for every dollar spent, 5X the points on flights, and 5X on prepaid hotels booked through the Amex travel portal.
1. Lounges
Before gaining status with Delta, I always felt some FOMO passing the Sky Clubs. However, with the Platinum card, you can get through the velvet rope into Centurion lounges. You can also access Priority Pass lounges and Delta Sky Clubs with a same-day Delta ticket. One of the biggest gripes I've seen in online forums is how packed Priority Pass lounges can be as they serve many other luxury credit card holders, and during peak travel season, this could feel less like a perk.
2. Hotels Perks
Accommodations are the second most crucial part of planning a trip. Before booking through a third-party site or directly through the hotel, the Amex portal offers the ability to earn 5X the points when prepaying for accommodations. But there are more benefits aside from points. First, there's the complimentary Gold status with Hilton Honors and Marriott Bonvoy.
Next up, the credit card company provides The Fine Hotels + Resorts and The Hotel Collection. The Fine Hotels + Resorts benefits are as luxe as the five-star accommodations that are a part of this collection. When booking, your perks are: daily breakfast for two, free Wi-Fi, guaranteed 4 p.m. checkout, a $100 hotel credit, and noon check-in and room upgrade when available.
For The Hotel Collection, the hotels are among some of the best in the city, and cardholders receive a $100 hotel credit and a room upgrade when available. Additionally, another hotel benefit instantly helps offset the $695 credit card fee: $200 back in statement credits each year when you book a prepaid Fine Hotels + Resorts or The Hotel Collection reservation. I used this credit at the Conrad Hotel Midtown in New York City. It was so worth it.
3. Transportation Perks
We've covered lounges, so what about transportation benefits? Well, they're quite a few. Firstly, this card gives you a $200 airline fee credit per calendar year. So this covers everything from baggage fees to seat upgrades. Just be sure you go into the portal to select your airline.
Don't want to spend an overabundance of time in TSA or have to take off your shoes? The Platinum card credits back on your credit card for Clear ($189), TSA-Precheck ($85), and Global Entry ($100). In addition to taking care of the cost of breezing through TSA, if your flight is delayed six hours due to an airplane mechanical issue, the loss of your passport, or inclement weather, the card offers delay insurance reimbursing expenses like hotels and meals up to $500. After my flight from Paris to Atlanta was canceled due to mechanical issues (while I was on it), this came in handy and was very easy to use with a call to American Express customer service.
Additional transportation benefits:
If your bag goes MIA, the card baggage insurance plan protects against damage or loss of up to $3,000 as long as you've paid the total cost of your trip with your card.
Uber Benefit: $200 in Uber cash ($15 a month with $35 in December).
Car Rental Loss and Damage Insurance (be sure to pay for the rental with your card and decline the collision damage waiver).
Some of the other American Express Platinum Card benefits:
Up to $300 in annual Equinox credit.
SAKS Benefit: Earn up to a $100 Saks Fifth Avenue credit, split into two $50 statement credits between January and June, then July through December.
No Foreign Transaction Fees.
Free shipping with ShopRunner (offers two-day shipping with select online retailers).
Up to $240 in digital entertainment credit.
The Best Way to Redeem American Express Membership Rewards Points
Amex rewards points can be used on everything from gift cards to Amazon purchases and on, of course, travel. Each point is worth one cent, so let's say you book a flight through the portal for $150. You'd need 15,000 points to pay for that fare. Not worth the trade-off, right? So if this is your card (or your future card), you'll want to research before you turn over those points. Typically, you can get more bang for your points when transferring them to one of Amex's airline partners. But again, you'll want to see what airline makes the conversion worth it.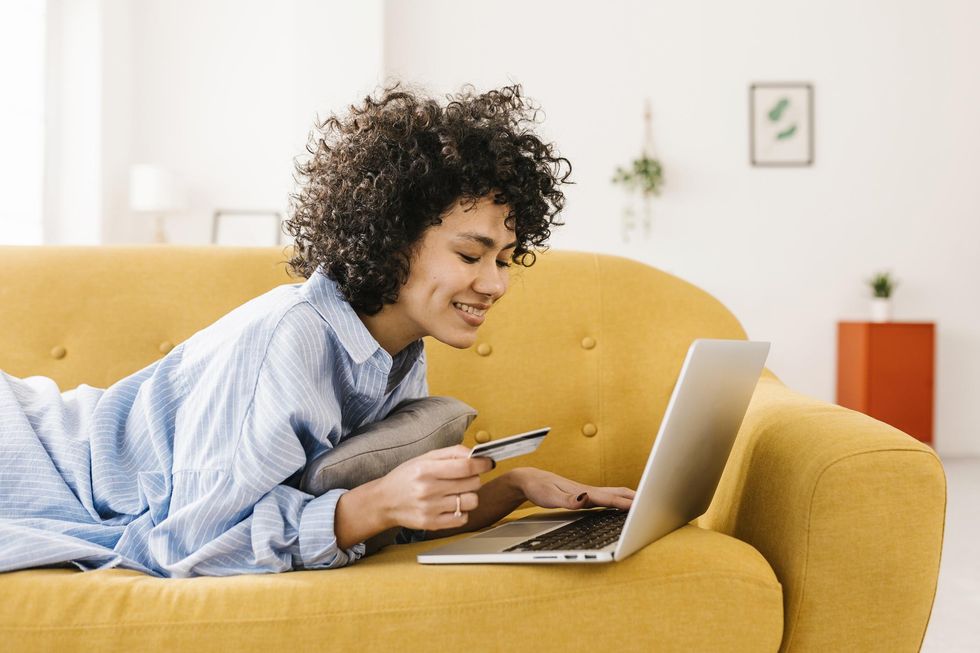 Westend61/Getty Images
Chase Sapphire Reserve Benefits and Perks
The Chase Sapphire Reserve card is another beloved option at the center of the luxury travel credit card debate. This one is a contender with an annual fee of $550. When it comes to earning points, you earn 5X points on flights. 10X points on hotels and car rentals when you purchase through Chase Ultimate Rewards. 3X points on travel and dining worldwide and 1X on all other purchases. So Chase's points-earning system does have some leverage on alternative cards. However, before earning 3X points on travel and dining, you must first use the $300 annual travel credit offered for flights and hotel stays.
1. Lounges
The Chase Sapphire Reserve card offers access to the Priority Pass lounges. But there's been a new development. Chase is introducing Chase Sapphire Lounge by The Club, which started last year. There isn't much info on these clubs yet, but the first Chase Sapphire Lounge by The Club—an 11,948-square-foot space—opened in Hong Kong in October 2022. So, this is certainly something to look forward to if you're a Chase member.
2. Hotel Perks
This card offers a Luxury Hotel & Resort Collection with select properties offering daily breakfast for two, a $100 benefit (unique to each property), free Wi-Fi, and a room upgrade and early check-in and late checkout when available.
Additionally, there are Elite Hotel Benefits at Relais & Châteaux and Elite Hotel Benefits at Ennismore. These properties are in specific places throughout the world. For example, Relais & Châteaux properties are mostly located in Europe. In comparison, Ennismore properties are located in major hubs like Beverly Hills, London, New York, Rome, and Paris. However, if you end up in a city with Ennismore options, the Elite Hotel Benefits offers some solid perks like a complimentary fourth night, late checkout, food and beverage credits, and room upgrades.
3. Transportation Perks
Regarding transportation benefits, the Chase Sapphire Reserve offers a $100 credit toward Global Entry/TSA PreCheck fee every four years. And financial assistance for bag delays on any mode of transportation— airline, bus, cruise ship, or train—for more than 6 hours at $100 per day (up to five days) as long as your ticket purchase is made with your credit card or points.
Additional transportation benefits:
Trip Cancellation/Interruption Insurance: Up to $10,000 in reimbursement for cardholders and immediate family members).
Lost Luggage Reimbursement: Up to $3,000 per passenger, including cardholder and immediate family members (even if the cardholder is not traveling on the trip).
Trip Delay Reimbursement: If your trip is delayed by more than six hours or requires an overnight hotel stay, you are eligible for reimbursement of up to $500 per person. This benefit extends to your family as well.
Lyft Pink All Access free membership for two years.
10 points per $1 spent on Lyft (through March 2025).
Primary rental car coverage of up to $75,000 for theft and collision damage.
Other Chase Sapphire Reserve benefits:
Free subscription to DoorDash DashPass.
Monthly DoorDash Food Delivery Credit ($5/month).
Instacart+ Membership ($99).
Monthly Instacart Credit ($15/month).
No foreign transaction fees.
The Best Way to Redeem Chase Ultimate Rewards Points 
Like many credit card points systems, with Chase Ultimate Rewards, you can use your points to purchase gift cards or even make a payment on your bill. But if you want to use them on travel, the best way to make the most use of your points currency is to transfer your points to Chase partners (there are 11 airline partners and three hotel partners). Before moving points, do thorough research to ensure you're satisfied with your investment.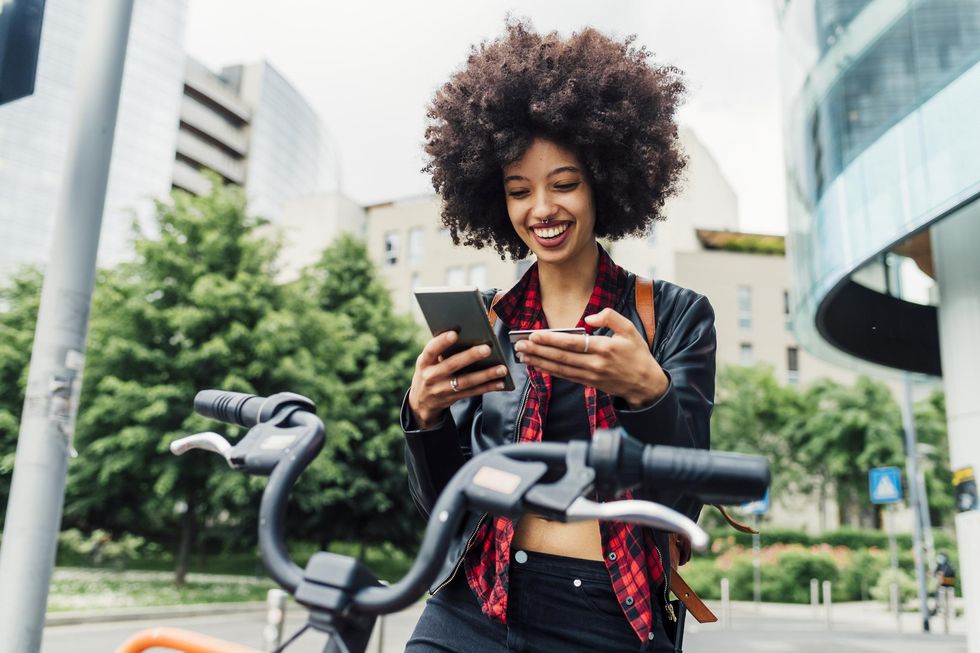 Westend61/Getty Images
Capital One Venture X Card Benefits and Perks
The Capital One Venture X card is the last card making a splash in the fancy credit card convo. But this card came to play with an annual fee of $395, which is quickly offset with the card's $300 in annual statement credits when booking through Capital One Travel. Additionally, cardholders receive 10,000 bonus miles (a $100 value) on every account anniversary. And, you get 2X miles on everyday purchases, 5X miles on flights, and 10X miles on hotels and rental cars booked via Capital One Travel.
1. Lounges
Lounge benefits are similar to other cards, with cardholders being able to access Priority Pass. But if you want more lounge access, Capital One is introducing its own lounges, with the first opening at DFW in November 2021, with more openings slated for 2023.
2. Transportation Perks 
Like the other two travel cards, Venture X offers $100 statement credits for Global Entry or TSA PreCheck. In addition, the card offers trip cancellation and interruption insurance that covers you and your immediate family member—up to $2,000 per person— on prepaid, nonrefundable tickets.
Additional Capital One Venture X transportation benefits:
Trip Delay Reimbursement: Up to $500 per person to cover expenses like hotel rooms, food, and clothes when your flight is delayed overnight or by six hours or more.
Lost Luggage Reimbursement: Up to $3,000 per covered trip if the airline damages or loses your bags.
Rental Car Status: Both the primary cardholder and authorized users receive complimentary Hertz President's Circle status and primary rental car insurance (up to $75,000 for damage caused by collision or theft to a rental car).
The Best Way to Redeem Capital One Miles  
The best way to make the most use of your points currency for travel is to transfer your points to Capital one partners. (There are 18 partners).
Feature image by Westend61/Getty Images
Black Girl Wanderer is a series spotlighting the travels and explorations of Black women journeying the world. Black women in all their magic and all their glory wander the earth, sprinkling the earth with their brown and their gold.
Romie Robertson, 26, is a travel blogger and a former English teacher who currently helps manage a nonprofit that supports professionals in becoming certified classroom teachers. She is also skilled in the EdTech and education policy space. Her travel content goes beyond the fluff and Instagram trends. Instead, it shows an in-depth view of what a place is like while sharing the history, culture, and traditions of destinations worldwide.
As a Black Girl Wanderer, she has visited over 40 countries and is based in Atlanta with her husband, who she met at Harvard University. She was first bit by the travel bug during childhood when she visited Frankfurt, Germany with family. From there and throughout her adolescence, she traveled throughout Europe. As a travel blogger, Romie bridges educational and inspirational travel content on her platforms to inspire viewers to travel deeply and with meaning. One of her most memorable trips was the two weeks she spent roaming Hawaii with her husband.
"I'm sad about the over-tourism situation in Hawaii because it's truly one of the best places on Earth, and people should experience it. However, I hope the state and local governments successfully implement policies to preserve Hawaii and prevent the inundation of tourists," she tells xoNecole.
Her best travel advice is not to compare yourself and your travels to the flashy content Instagram portrays because there are beautiful places to explore in one's backyard! If you don't have many resources to travel, start where you are.
Read more about Robertson's adventures and travel tips below.
Featured image courtesy of Romie Robertson