Mariette Williams
Mariette Williams is a freelance writer living in South Florida. Her work has appeared in many well-known publications, and she covers topics like travel, culture, books, and wellness. When she's not traveling, she's lost in a good book. Follow her on Instagram or Twitter.
We've all been seeing tons of travel content from Ghana light up our social media feeds lately. Ghana's popularity has exploded among Black travelers, kicked off by 2019's "Year of Return" and sustained by Detty December, a month-long celebration that draws crowds of partygoers to the capital of Accra. For first-time visitors to Africa, Ghana's relative stability, natural attractions, and nightlife make it a perfect introduction to the continent.
I visited Ghana recently, spending two weeks exploring Accra, Kumasi, and Tamale, home to Mole National Park, the country's largest natural game reserve located in the northern part of the country.
Though you won't see lions, giraffes, or zebras at Mole National Park, you'll get up close with elephants, baboons, monkeys, and antelope in what I call a great "starter safari."
If you're planning a visit to Ghana soon, here's how to add a safari to your trip.
​But First, Some Paperwork.
Before considering a trip to Ghana, be aware that U.S. citizens need a visa to enter the country. The costs depend on whether you need a single-entry or multiple-entry visa. You can complete the application online, and regular processing times are 15 to 20 days while the expedited service is seven business days, so apply early.
Travelers to Ghana will also need to get a yellow fever vaccine, which can be administered at a local health clinic.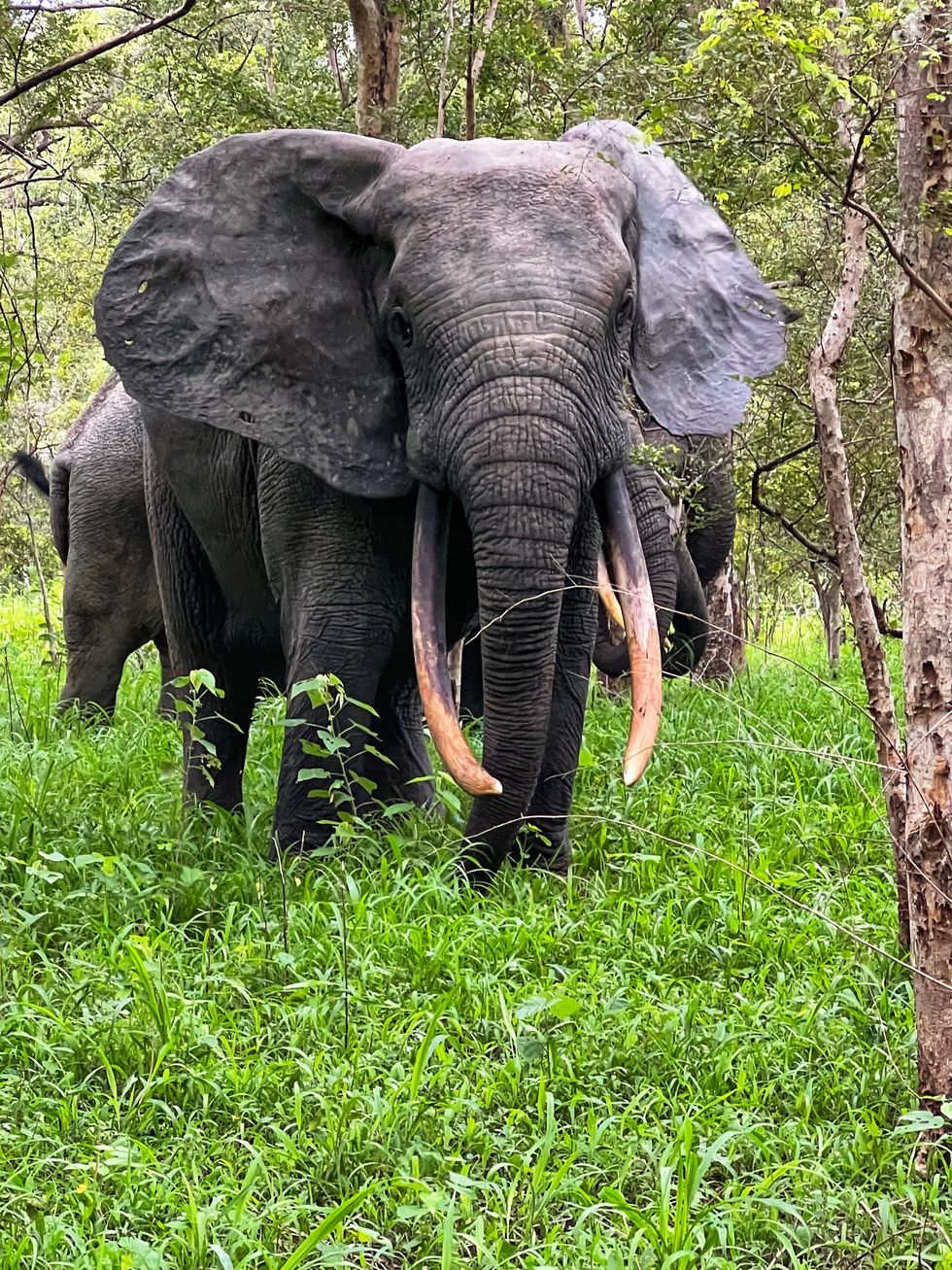 Courtesy
​How To Get To Mole National Park
Most travelers from the U.S. will fly into Ghana's capital city, Accra, which is where I landed after a connecting flight from New York where I had met up with my friends. Once we landed in Accra, we met our tour guide from Uprise Travel and spent the night at Roots Hotel which had a trendy rooftop lounge with a bird's eye view of the city.

The next morning, after a breakfast of coffee and fresh fruit, we headed back to the airport for a quick one-hour flight to Ghana's northern city of Tamale. From Tamale, we met another tour guide from Uprise Travel who drove us two hours to Mole National Park. If you don't want to fly to Tamale, it is about a 10-hour drive from Accra, which can be arranged by booking a private driver or by taking a bus.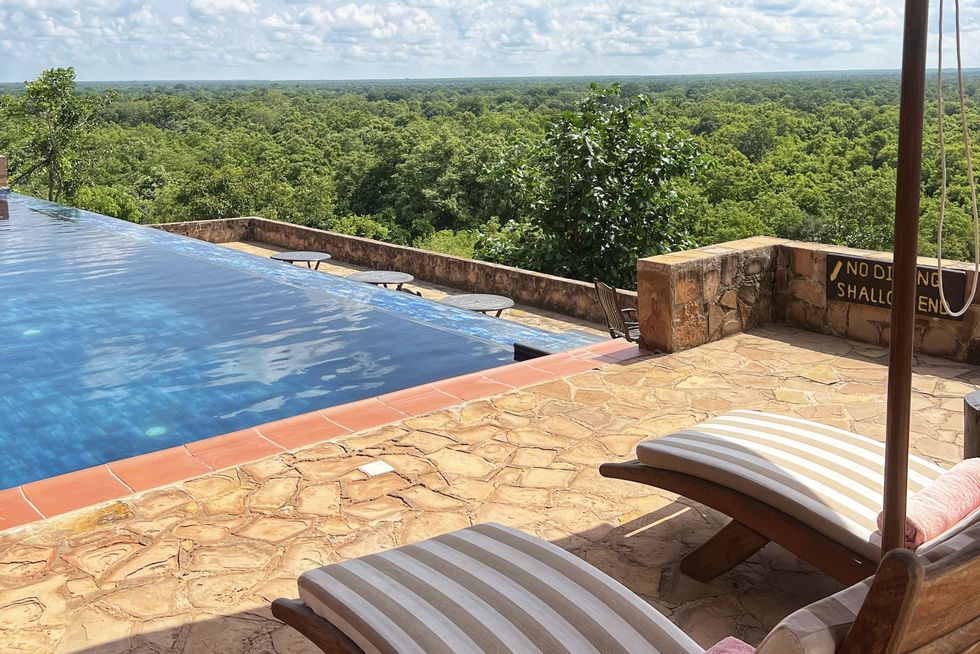 Courtesy
​Where To Stay
Mole National Park is the largest game reserve in Ghana, and there are only two options for staying at the park. The first, Mole Motel, is a no-frills motel with clean rooms, a large swimming pool, and impressive views of the park. My friends and I chose the second option, Zaina Lodge which is a luxury safari camp, and if you're used to certain conveniences, I would recommend staying here.

Zaina Lodge has a gorgeous dining area that overlooks the savanna, pool loungers that surround an infinity pool, and cabins with outdoor showers, high-end linens, and private balconies. The food during our stay included a mix of Western and African dishes; there was oatmeal, bacon, and toast for breakfast along with dinners of goat pepper soup, fufu, and jollof rice.
​What To Expect
We stayed at Zaina Lodge for three days, which gave us time to lay out by the pool, go on a pre-dawn walking safari, and enjoy a canoe safari where we spotted rare birds and visited a local village. The highlight of our stay though was the early morning safari. We rose before the sun and traveled deep into the wildlife park in a safari jeep. Treading quietly, we followed the park rangers to the elephant tracks etched in mud, and with bated breath, we watched as a herd of elephants slowly emerged from the leafy jungle, walking just steps from us.

Even if you decide to not take a jeep safari, staying in Mole National Park means you need to be pretty comfortable getting up close with animals because here they have free reign on the property.
Monkeys would often hang out by the pool and warthogs would gather in groups outside of our cabins. The larger animals like the elephants, antelope, and baboons stayed further from the lodge grounds, though we were cautioned that the baboons could smell our food and we were discouraged from taking anything from the dining area.
The lodge's remote location meant that we sometimes lost power at night (which can be daunting sleeping in a cabin surrounded by wild animals), but the presence of armed park rangers also helped us feel safer. Being in the park was also quite peaceful. During our stay, we talked to a few other travelers—a Ghanaian family from London and medical students volunteering in the area— but for the most part, our visit was quiet compared to the bustling city life we left behind in Accra.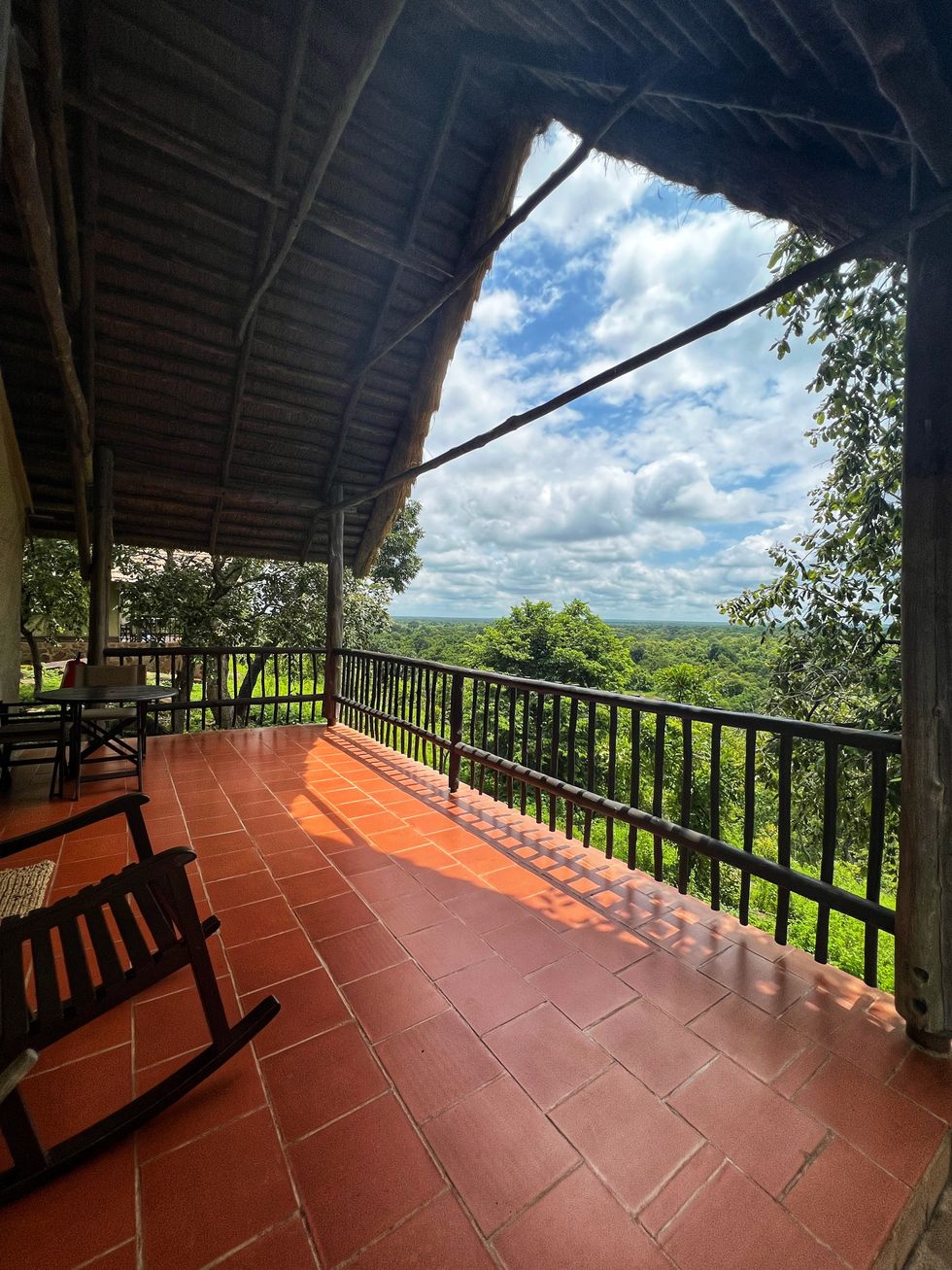 Courtesy
​Final Tips
Visiting Mole National Park deepened my experience in Ghana, and after my stay, I would recommend the safari for experienced or adventure travelers. There were times when we didn't have any phone reception or electricity, and for some travelers, the experience might be a bit too far out of their comfort zone.

There's also a bit of planning involved in getting to Mole National Park, and I highly recommend using a Ghanaian tour company like Uprise Travel who booked our flights and lodging and arranged for a driver to pick us up from the airport in Tamale and transport us to Zaina Lodge.
Three days were just the right amount of time to visit the safari park though you could easily extend your stay to a week or longer. If you already have plans to visit Accra, a visit to Mole National Park is a great way to experience your first safari.
Featured image courtesy of Mariette Williams
Few cities beat the energy of Miami, and the city's beaches, nightlife, and restaurants attract millions of travelers every year. But Miami also has a rich Black history and culture that's often overlooked. Few people know that one of Miami's oldest neighborhoods, Coconut Grove, was built by Black Bahamians, and in the 1930s, the historic neighborhood of Overtown used to be a bustling entertainment district, hosting greats like Aretha Franklin, Ella Fitzgerald, and James Brown.
For your next visit to the "Magic City," check out the following hotels, restaurants, and attractions where you can learn about Miami's Black history and support the city's Black-owned businesses.
Featured image by DisobeyArt/Getty Images
St. Lucia is the kind of place that you put on your honeymoon vision board. The tiny island has a big reputation for catering to couples' getaways, in part, because of the scenic vistas provided by the Piton peaks and the golden beaches made for candlelight dinners. But even though St. Lucia makes a perfect couples' escape, I recently found out it's also a great place for solo travelers to explore.
Feature image courtesy of Mariette Williams
For the past few years, social media has been influential in helping travelers plan their trips, especially those traveling to the African continent. For prospective travelers, connecting with content creators in Africa provides access to insider advice and guidance that hasn't always been easily accessible. One of those creators, Nabz Arah, has been documenting her life in Uganda and showing the rest of the world the beauty of the East African nation.
"I started creating content after I took a trip to Jinja, in Eastern Uganda, and took a boat ride down the Nile River. I remember being so taken up and falling in love with exploring right then and there," she says.
Uganda has been gaining popularity with adventure travelers, and the country saw over 1.5 million visitors in 2019 before travel halted in 2020. Arah says some of the most sought-out activities in Uganda include boating on Lake Bunyonyi, gorilla trekking at Bwindi Impenetrable National Park, and hiking up Sipi Falls.
"I want people to see that Uganda is beautiful, but it's the people that make it even more beautiful." Arah adds, "The future of travel in Uganda is brighter than ever before as more people in other countries learn about the country and more Ugandans embrace domestic travel."
Featured image courtesy of Nathalie Bonte
Today some travelers are motivated by bucket lists and "30 countries before 30" challenges, and while there's nothing necessarily wrong with that, in 2023 I wanted to start the year off by returning to one of my most visited countries - The Bahamas.
The Bahamas has special meaning to me. It's the place where my husband and I traveled as newlyweds, where my sister and I spent a weekend girls' trip, and it was one of the first places I took my kids when we started traveling as a family. The Bahamas has always been a place I return to, partly because it's so close to my home in South Florida and because the beautiful beaches are an ideal setting for a peaceful break.
A New Year in a Familiar Destination 
Last year was full of highs and lows, and I wanted to spend my first days of the new year in a good place. I set out to usher in the new year in The Bahamas by spending a week in Nassau with my two preteen-aged kids, exploring more than we had on our previous trips.
On December 29th, after a quick hour-long flight, we touched down in Nassau, and the pink Victorian homes and bright turquoise waters were a welcome sight. We checked into the newly opened Margaritaville Beach Resort, which offered easy access to all of Nassau's attractions. On our first night, I sat out on the balcony watching the sun disappear on the horizon, and I knew I had made the right choice.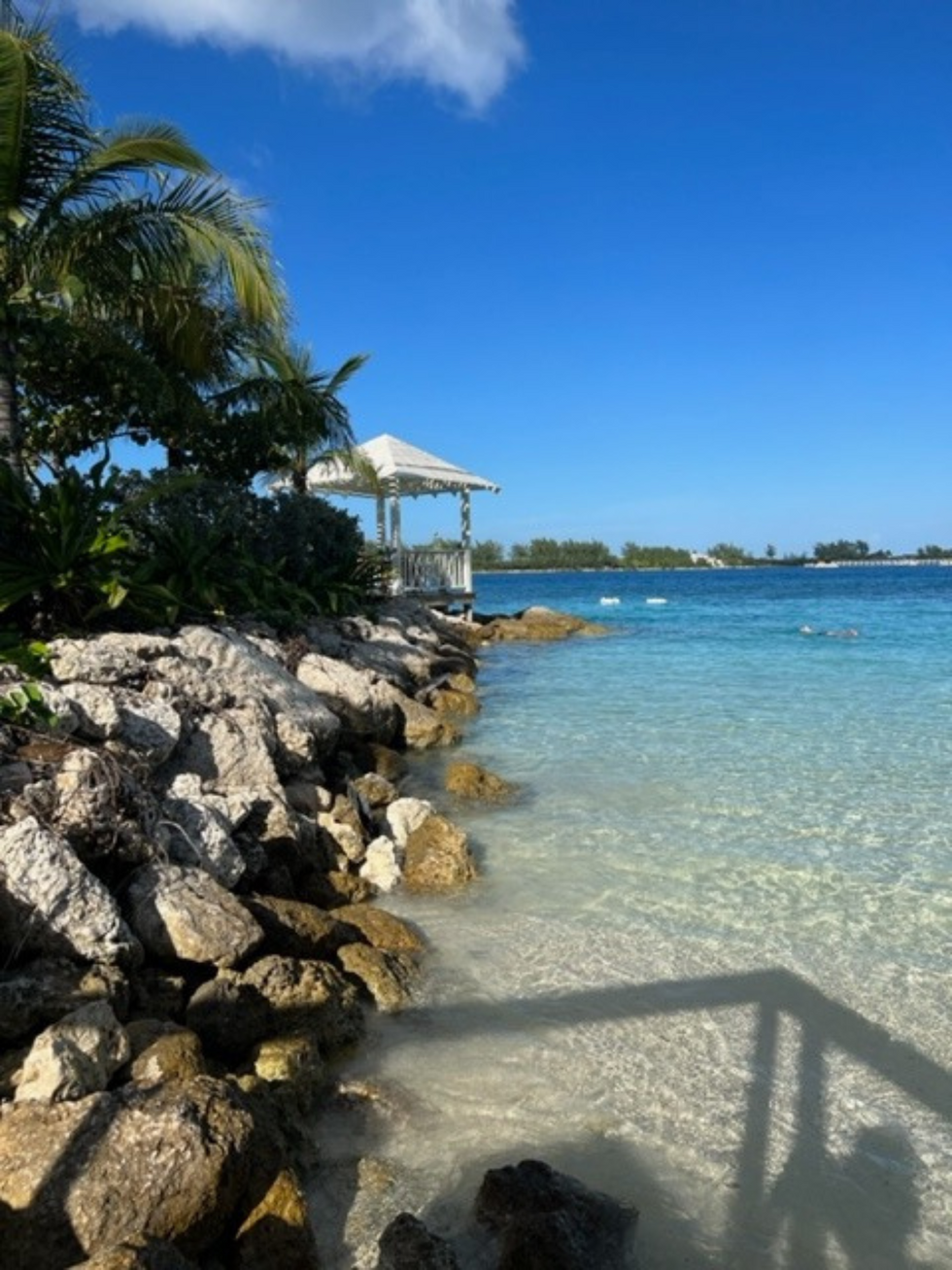 Margaritaville Beachfront
Mariette Williams
A Week Well Spent 
We had always spent just a few days in The Bahamas, in Nassau and Grand Bahama, but on this week-long trip, we were able to take in a lot more. On one of our first nights, we made our way to Fish Fry, a nearby strip of local restaurants and food vendors, and ate freshly fried conch fritters and red snapper on the rooftop patio of Twin Brothers. On previous visits, we had only walked past Graycliff Manor, the historic 18th-century mansion in downtown Nassau. But on this trip, we ate an elegant seafood lunch and toured the iconic wine cellar, which is home to over 250,000 bottles of wine.
Though we loved spending our time in downtown Nassau, some of our best meals were outside of Nassau's tourist areas. We followed the advice of locals and lunched at Traveler's Rest, where we devoured battered crawfish bites while enjoying the tropical breezes coming off the water. Another gem was Studio Cafe, a former recording studio for stars like Bob Marley and James Brown that serves traditional Bahamian dishes like crispy cracked conch paired with sweet mango chutney.
We also spent a blissful day at Atlantis Paradise Island, and my kids made a beeline to the high-speed water slides at Aquaventure. Afterward, we lazed in the beachside hammocks and made plans to come back and explore the onsite marine habitat filled with sharks and stingrays. Atlantis was followed up by visiting some of the more uncrowded beaches around Nassau. And while there aren't any private beaches in The Bahamas, the beaches outside of the hotel zone felt more secluded. Our favorites were Jaw's Beach, Goodman's Bay, and Cabbage Beach, and we often felt like we had the beaches to ourselves.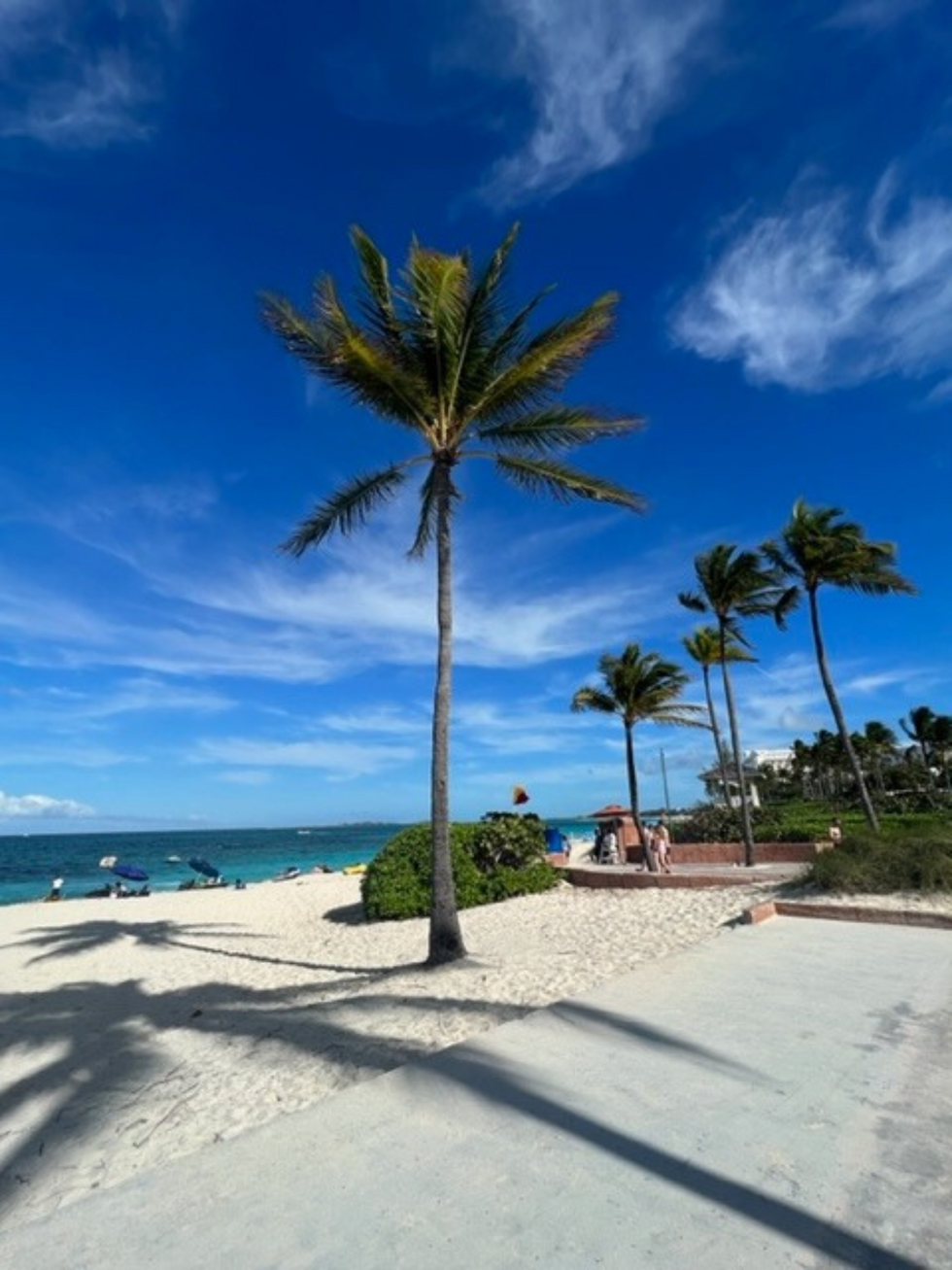 Beachfront of Atlantis Paradise Island
Mariette Williams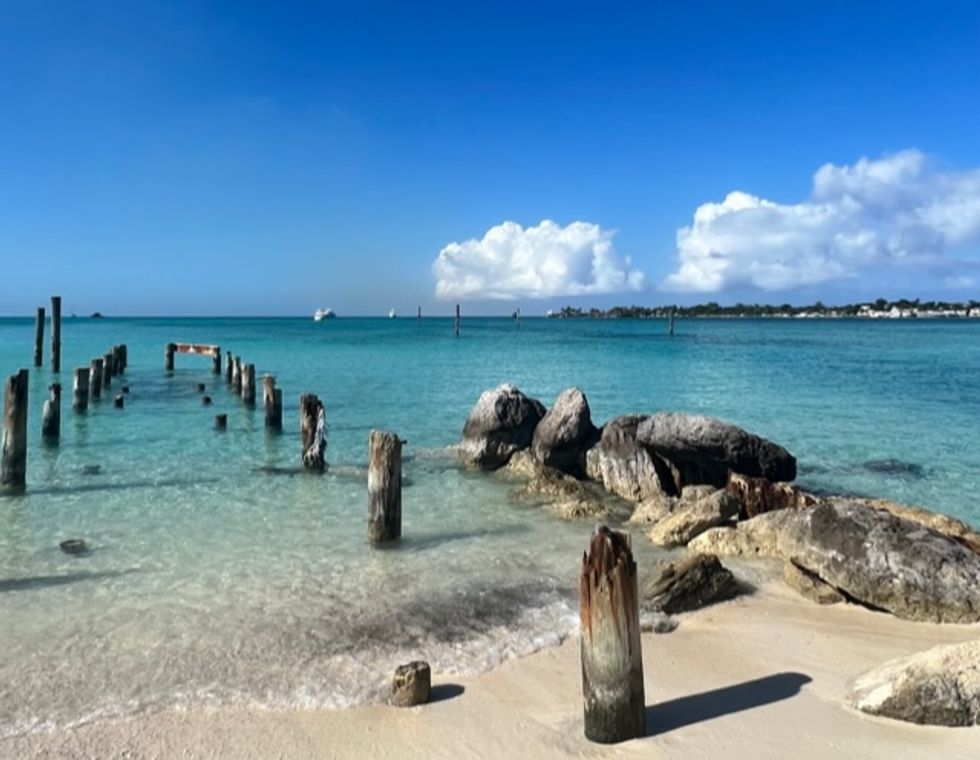 Jaw's Beach
Mariette Williams
Celebrating Junkanoo Festival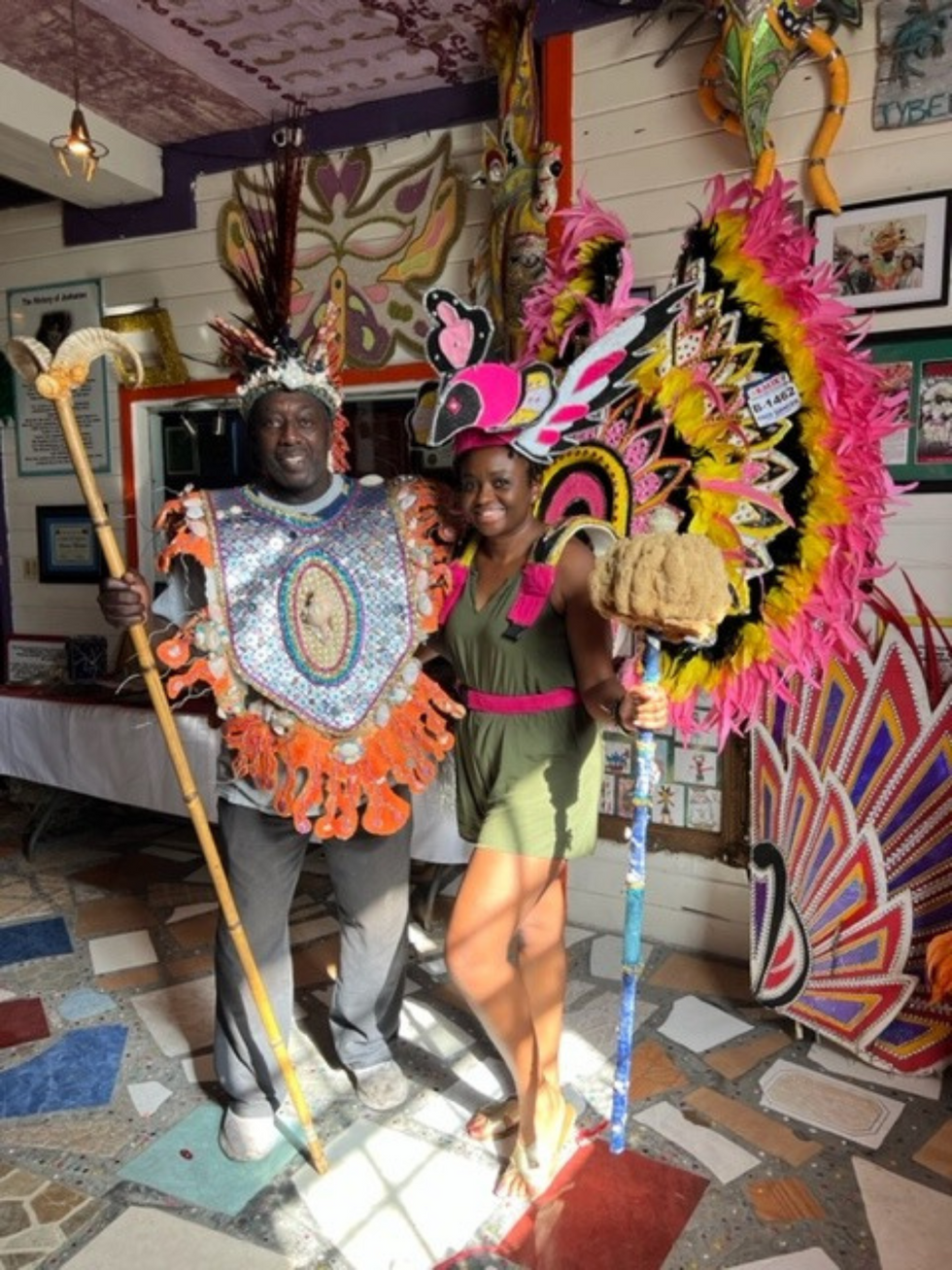 With Quentin "Barrabas" Woodside at Junkanoo World Museum
Mariette Williams
The highlight of our trip was attending the all-night Junkanoo parade, where we were exposed to the rich culture in The Bahamas. At the Educulture Junkanoo Museum, director Arlene Nash Ferguson explained how Junkanoo existed in The Bahamas for over 200 years, originating when enslaved Africans dressed in costumes made of leaves, straw, and shells and celebrated with dancing and parades. Today that tradition lives on with two Junkanoo parades on December 27th and January 2nd that feature bands parading through the streets of Nassau with elaborate floats and vibrant, feathered costumes.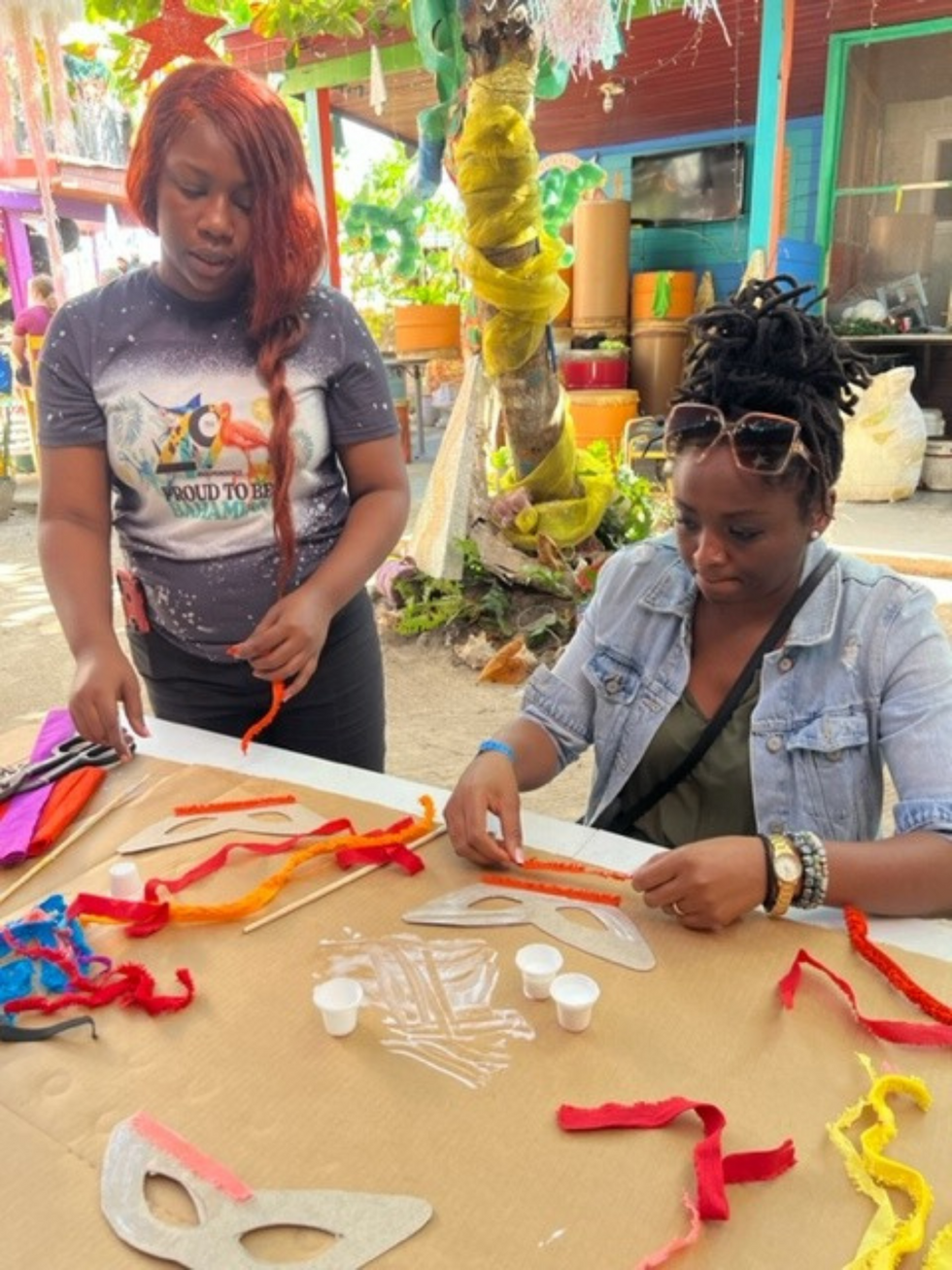 Pasting Junkanoo masks
Mariette Williams
Before the parade, we also visited the Junkanoo World Museum & Arts Center where we had a behind-the-scenes look at what goes into putting the festival costumes together. We spent a morning with the owner, Quentin "Barrabas" Woodside, who explained how each costume and float was pasted with strips of colorful crepe paper by hand. He also showed us how to paste a mask, which gave us an appreciation of how much work went into preparing for Junkanoo.
And at 12:01 a.m. on January 2nd, the Junkanoo parade finally kicked off. The parade was back after a two-year hiatus, and it was hard not to get swept up in the energy from the crowd. Thousands lined Bay Street to see the return of their favorite bands as drums, cowbells, and trumpets rang out the triumphant return to the parade, which lasted until the sun came up. The night was an unforgettable display of Bahamian culture - and the best way to start the new year.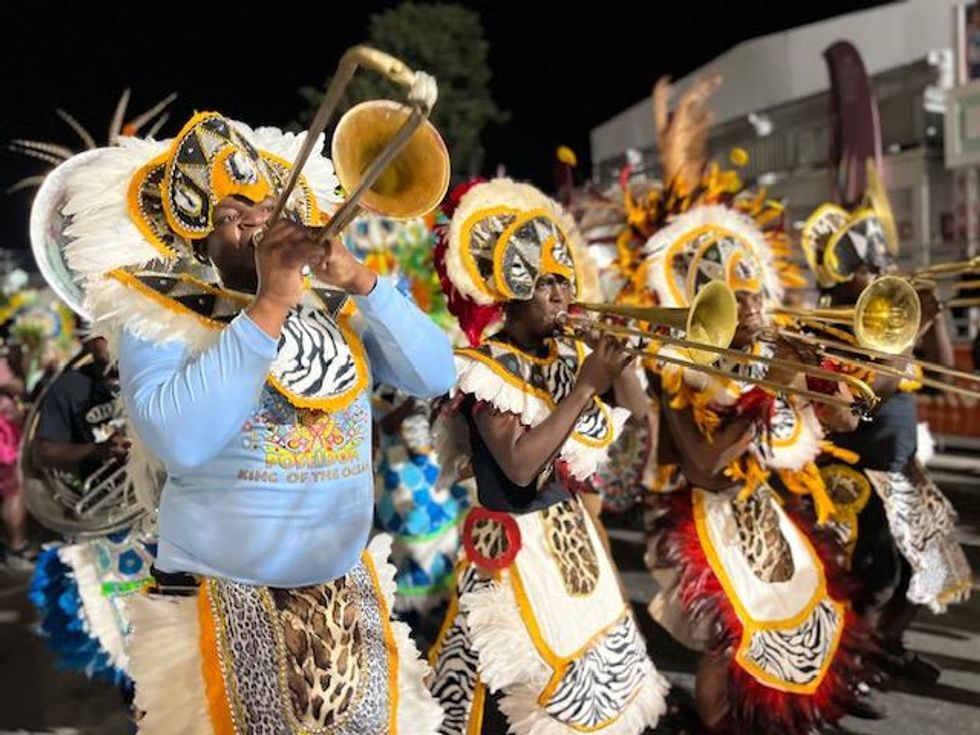 Junkanoo Band
Mariette Williams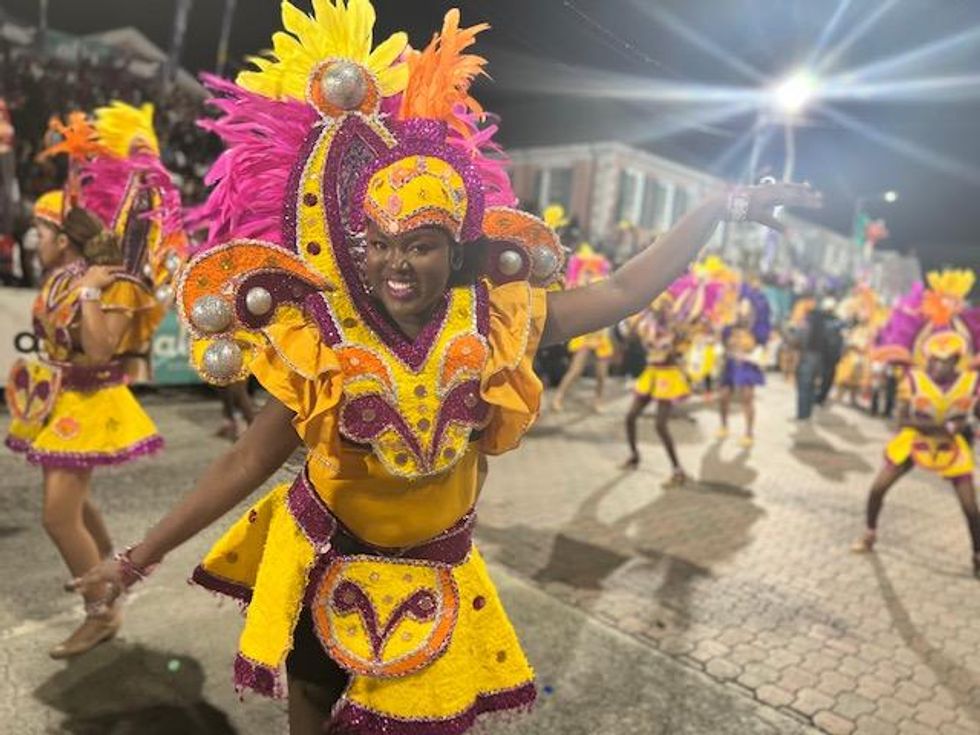 Junkanoo Dancers
Mariette Williams
Why Return Travel?
While there's also a sense of awe in visiting a new country, there's a certain magic in revisiting the same places. My week in The Bahamas helped me slow down and have a deeper travel experience. I visited several off-the-beaten-path beaches, ate at local restaurants, and learned the history behind the one-of-a-kind Junkanoo parade.
When we return to the same countries, it's nearly impossible to have the same travel experience because the places we visit also change. Since our last visit, new restaurants and hotels had cropped up around Nassau, and on this return trip, I was reminded that we had changed too. I had come back to The Bahamas with my kids, now preteens, and we sought out different experiences from when they were toddlers - ones that helped them learn more about the local culture.
Return travel also helps us go beyond our initial impressions, allowing us to see more and forge new memories. As we boarded the plane to go back home, my daughter asked me when we would be coming back. The week had made an indelible impression on both me and my kids, and we're all looking forward to returning to The Bahamas to discover more about one of our favorite destinations.
Featured image by Glowimages/Getty Images