When it comes to money, many of us are behind in ways to provide passive income strategies for our families. Particularly, something that many of us in the culture don't do enough of, is investing. It's simple, to the point, a way to make sure your family is comfortable without putting much effort into doing so.
Well, the celebrities of today does lots of it. In fact, many of their careers take a backseat to the opportunities they have to build their portfolios and create generational wealth for years to come. Now, celebs do more than just sing, act, play a sport, or secure a few little endorsement deals. Additionally, now, they push the limits on those contracts, or with building that business, or capitalizing on their brands. And I ain't mad at them. In fact, I celebrate and welcome them. So, join me as we do just that.
Here's a list of the leading Black celebrity investors in the world:
Note: Data is complied from money.co.uk. They were surveyed on five factors: net worth, number of investments (personal and partner investments), highest investment sum, estimated total amount of funding and average investment sum.
Jay Z + Beyonce
Rapper turned billionaire entrepreneur, a.k.a. Jay Z, obviously topped the list as the celebrity with the most investments. He has made stacks from his album sales and tours, sure, but most of his coins come from his business moves, which include music, tech, art, and luxury alcohol brands. Jay is very well aware of his influence and uses it to his advantage. Buying art for a small(ish) price, rapping about said artist in multiple songs to increase the value, and sitting back and watching it collect prestige, is what he does. And now, the rest of his portfolio, according to money.co.uk, has at least 11 personal and partner investments with a total investment sum of $983M--tech and champagne being his biggest investment areas.
This means that the once kid from Marcy projects, is now worth a cool $1.2 billion.
As far as Bey, she recently announced that she was investing in a hemp farm to obtain her own CBD. She also has a partnership with Adidas, as well as many upcoming business ventures on the way (you know she doesn't give too much away until she's ready).
Oprah
Up next is Oprah Winfrey--also a billionaire, but that has found huge success in media with a career that spans well over 20 years. From here, she pivoted her talk show into a business, and her brand into an empire.
Oprah has a 25.5% stake in her created cable channel OWN. She also has a 10% stake in Weight Watchers. Her other investments includes Maven clinic, Oatly, Apeel Sciences, True Food Kitchen and Waywire.
Dr. Dre
The one and only Compton doctor, Dr. Dre came in next. Dr. Dre is the epitome of what a music producer is and has held this title in a way that no other has. His entrepreneurial journey began in 1996 when he created The Aftermath, shortly after leaving Death Row records that March. And as we all know, he eventually founded Beats by Dre, and sold it to Apple for $3 billion. He still has 20% stake in the company. #whew
Serena Williams
The greatest athlete of all time, Ms. Serena Williams, through her Serena Ventures, has invested in 34 startups over the past five years, with 60% of the investments focused on companies founded by women and minorities. OK, I'm going to say that again: The greatest athlete of all time, Ms. Serena Williams, through her Serena Ventures, has invested in 34 startups over the past five years, with 60% of the investments focused on companies founded by women and minorities.
She launched a self-funded, direct-to-consumer clothing line, S by Serena, in 2018. She also owns stakes in the NFL's Miami Dolphins and Dana White's UFC. Flex on the people, sis!
Will.i.am
Williams Adams, a.k.a. the brainchild of popular eclectic group, Black Eyed Peas, is quite the entrepreneur. He invested in (and acquired) a $4.6 million stake in app-only bank Atom in 2017, and he has also dabbled in tech in the last few years, putting his money in startups such as the app 'Knock Knock', and he's even launched his own line of headphones.
Will.i.am is even international with his investments, as he's invested £5m ($6m) in Music Messenger's Series A round, followed by a further investment of £5m in Shellanoo Group and £3m investment in Honest Dollar.
Nas
Nasir Jones has quietly established himself as one of the most prolific investors in the world. In April, Yahoo News reported that he could be $100 million richer following his 2013 investment in Coinbase, the cryptocurrency exchange expected to reach over $100 billion in valuation once going public. He's also the founder of QueensBridge Venture Partners, which has reportedly invested in more than 40 start-ups across a range of sectors like financial technology, health care, and music production.
Additionally, Nas has invested in Lyft, Dropbox, Tradesy, and LANDR, a start-up that uses big data and artificial intelligence to produce music.
Will Smith
According to Crunchbase, Will Smith has made 21 investments across multiple industries. He has invested in companies such as Superhuman, Titan, Sundae, Sandbox VR, Flockjay among others. He also happens to have one of the best pages on the 'gram.
Rihanna
We're never going to get anymore music from Rihanna with the way she collects the bag elsewhere. Sis is making billions from her side hustles! Rihanna is the richest female musician in the world with a net worth of $1.7 billion. Her investment portfolio includes a 50% stake in Fenty Beauty which accounts for $1.4 billion of her worth. The rest of her worth comes from her stake in her lingerie company, Savage x Fenty, worth an estimated $270 million, and her earnings from music and acting. She's even venturing into the perfume business, because, why not?
50 Cent
Outside of music, 50 Cent famously invested in Vitamin Water, which was sold to Coca-Cola for $4.1 billion. His other ventures include footwear, headphones, Casper mattresses, Le Chemin du Roi Champagne and Branson Cognac.
Tyra Banks
Tyra has been lowkey these days, but that doesn't mean that sis hasn't been quietly getting those coins too! We know her as an actress, author, television personality, supermodel, and founder of TZONE. But she's also an investor in TheSkimm, Videogram, The Muse and Shop Tap Industries.
Featured image by Amy Sussman/Getty Images for ABA
Keep reading...
Show less
There's always talk about entrepreneurship and how it can be the key to making your financial dreams come true, but there often isn't as much talk about the sacrifices—especially those that hit your pockets hard—required to get a business off the ground, nevertheless keep it running. And maybe you've got a great idea, but when you're out there just trying to live a normal life, who can even think about taking money out of the I'm-barely-making-ends-meet account and putting it toward starting a business? Research even shows that one of the top reasons women don't start businesses is because of the startup costs required.
Well, we're not into discouraging our aspiring bosses out there. We're here to talk solutions for starting a business with little money. Here are a few ideas inspired by those who have done just that so you can get started on making your business vision a reality:
1. Start small and scale.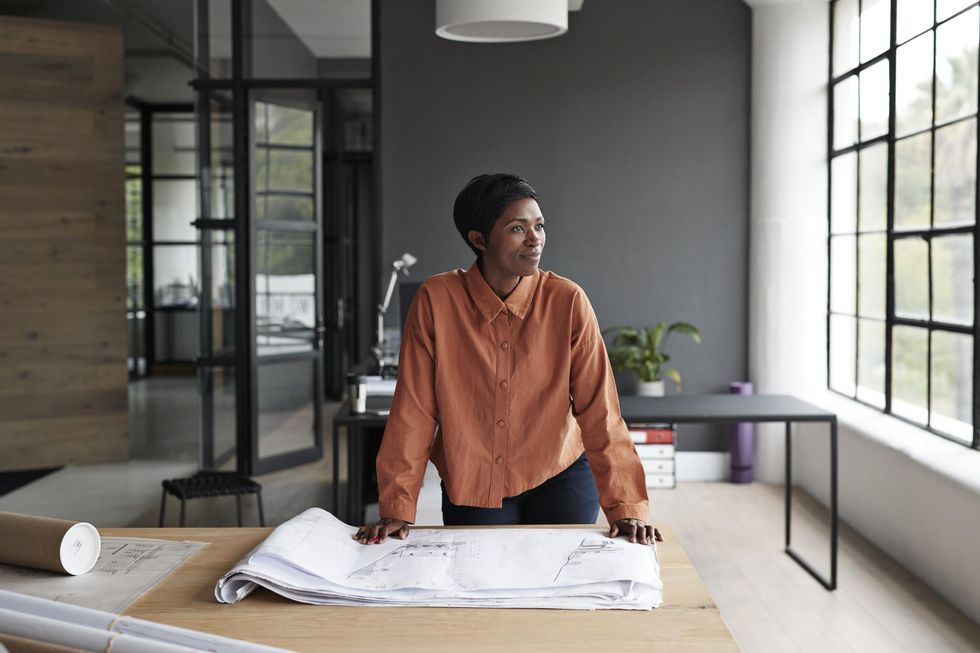 Getty Images
Sometimes that infamous quote, "Go big or go home," might not apply to startup costs. Take a nod from the founder of The Mane Choice who is now CEO of Olbali Corp. Courtney Adeleye started her line of haircare products by making the first product in her home, and she took advantage of free resources such as YouTube and Instagram to build her customer base. Within a few years, she was able to turn those small efforts into millions of dollars in sales and expansion into collections of products in stores likeTarget.
Get out of your own head and get into facts by reading up on what it truly costs to start your business and then calculate, based on your finances and lifestyle, what you can realistically afford to do.
For example, if you want to sell clothes, maybe start with one cache item, see how that sells, and then expand the line. Want to offer a service? Start with one niche that you can excel at, track the success, then pivot and change your strategy where necessary. Want a storefront? Try a mobile or online business first, build up your capital and customer base, and create a plan for saving up and financing for your grand opening at a later date.

2. Pool investors.
There are many ways to do this, but don't let that overwhelm you. (Also, don't be intimidated by the big-money talk or the multi-millionaire professionals who are the movers and shakers.) If you have a good product, prototype, brand, or idea, think strategically about who could invest in your launch and get in the game.
Angel investment organizations or firms are a good place to start (and there's a good list of those that support women- and minority-led startups here). Platforms created by women like Arielle Loren, founder of 100K Incubator, are also great resources for finding investors and networking with other entrepreneurs.
You'll want to weigh the pros and cons of taking on an investor to start up your venture. Getting money is great, but investors sometimes have authority over important aspects of your business including how the money is spent or even the name of your company. They might also, down the line, play a role in how you run your brand or even decide whether you remain as the leader at all.)
Another great option is crowdfunding or microfunding, where you use a platform like Kickstarter, present your business idea or project to the world, and raise funds via community investors.
Dawn Dickson, founder of Flat Out Heels and CEO of PopCom, was able to raise more than $1 million to launch and expand businesses via supporters in her community. Other entrepreneurs have used this method and raised funds even without having a physical product, gauging interest and building momentum via pre-sales, offers of equity, and prizes.
Oh, and don't overlook networks within your family, your school, your civic organizations, or your workplace. There might be someone less than six degrees of separation from you who is willing to invest just to gain a percentage in profits or ownership or to contribute to the greater good.
3. Get into a pitch competition.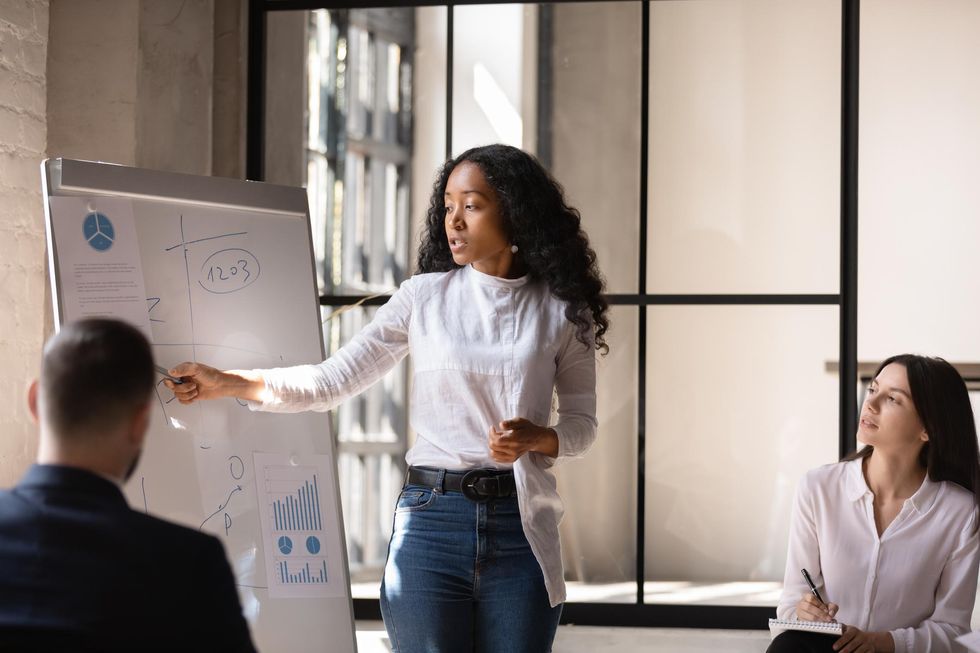 Getty Images
Be inspired by the story of Stephanie Smith, founder of Digital Insomnia, who won $25,000 to put toward creating a digital marketing simulator prototype. Or the story of Range Beauty founder and CEO, Alicia Scott, who was able to take her brand from $300 to $300K by becoming a master of pitching her business. Organizations and businesses often sponsor pitch competitions that offer thousands of dollars in startup funds as prizes, and this is a great way to get that financial boost you need to start your business. Some even cover all expenses and offer additional support resources like mentors and tech tools.
Sharpen up those public speaking, marketing, and sales skills, sis, and make sure your business plan is a solid one. Invest in a coach, watch competitions online, or attend a few so you can hear common feedback from judges.
The better prepared you are, the more likely you'll come out the victor. (Oh, and of course, here's a great list of a few to start with. Yep, you're welcome.)
4. Outsource and partner up.
Any time you can split the costs of something, you save, so if you have a similar idea as someone else or you might be serving the same audience, why not partner up and pool resources? Malaika Jones, Nia Jones, and Tai Beauchamp, the three Spelman sisters who founded wellness brand Brown Girl Jane, are a great example of how combining talents and resources for launching a brand is more than smart.
Let's say you want to start a business building and selling phone apps. Well, maybe there's a tech professional in your network (or someone you could get to know through, well, networking) who wants out of the 9-to-5 life and has plans to transition into tech entrepreneurship. Pitch your idea and see where there might be common goals. Match their skills and network with yours and you might have a winning combo in which you can split the costs of bringing an idea to life.
Not too keen on partnering up and sharing profits? Many online vendors can handle certain aspects of getting your business off the ground in a more cost-effective way due to their level of experience or expertise. It might be a better idea, in the long run, to simply pay them a one-time fee to handle those areas.
Contacting a consultant with skills in coming up with cost-effective strategies for starting your business can sometimes save you money in the long run. LinkedIn is a great place to start to find other professionals and entrepreneurs to become partners or consultants, and nothing beats attending events and seminars (whether virtually or in person) where smart business-minded and successful folk congregate.
5. Try low-investment retail.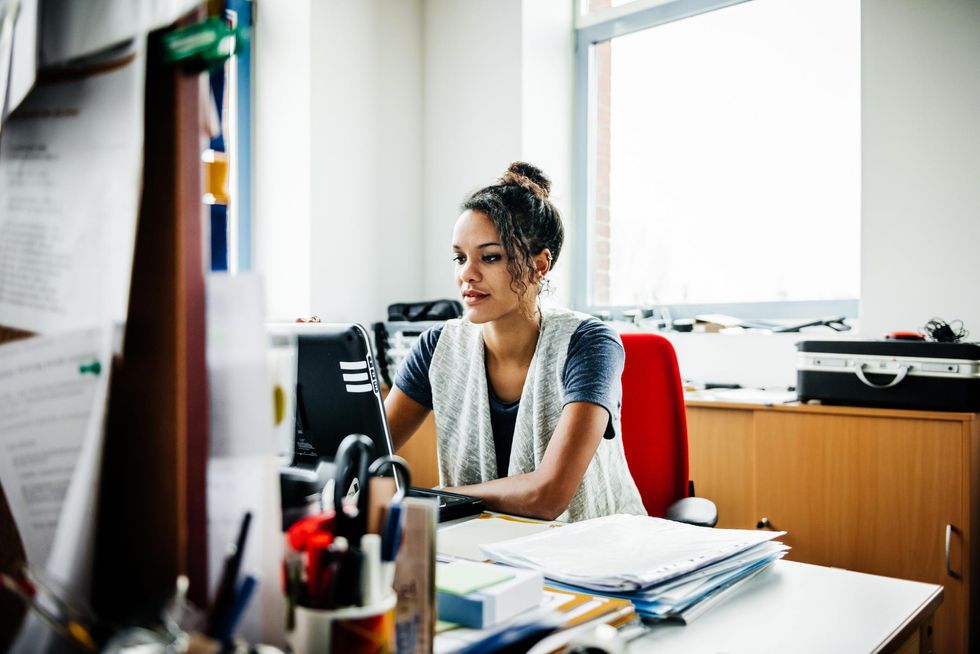 Getty Images
Just a disclaimer on this one: We're not talking about "easy" or "get-rich-quick" ways to start a business, and you'll want to be aware of all risks associated with these sorts of businesses (or any business, for that matter). That being said, dropshipping, print-on-demand, and direct sales are options for breaking into a business without shelling out a lot in upfront costs.
Picture this: You design something for T-shirts, mugs, or other custom items (or pay a one-time fee for someone else to), upload the design on a third-party supplier portal, build your store on a platform like Shopify (which costs less than $50 to launch), and then let the third-party supplier take care of the production, inventory, and shipping.
Products are made only after orders are received (thus, printed "on demand"), allowing you to avoid several overhead. Sites like Amazon offer dropshipping, and there are other platforms that allow you to create your own marketplace without having to take care of order fulfillment.
If you've ever heard of Avon, Mary Kay, or Tupperware, then you know a bit about direct sales. With this model, you might have to pay a registration or starting fee (several of which are less than $100), be offered an optional, moderately priced starter kit of products, or both. You'll earn a commission on sales (with some as much as 50 percent) and you'll be able to tap into a network of support from others in the industry.
The direct-sales market includes selling almost anything nowadays—cosmetics, kitchenware, coffee, health and wellness supplements, hair extensions, appliances, even medical scrubs—but be sure to look into the fine print on quotas, refund policies, and earnings or incentive models. Avoid scams, and be sure you have a realistic understanding of the sales savvy, time commitment, and financial investment required for success in these types of businesses.
6. Be patient and save up.
Some of us want to start something without worrying about a loan to pay back or investors to answer to, so a savings plan is the best option. If you don't have enough money right now, save up. It may take a bit longer, but hey, you have to start somewhere. Karen Young, founder of Oui The People, a personal care brand, saved up $1,500 while working for Estee Lauder to launch the beginnings of her business. Shana Cole, founder of The Shana Cole Collection, used $4,000 in savings to launch her first line of lipsticks and expand her customer base from Jamaica to the U.S.
Slow and steady can win the race, and if you're able to be disciplined, set a goal, and stick to a plan, you'll eventually have the money you need to get started. Think about it: Saving just $5 a day can go a long way. In one year, you'll have more than $1,800 for your entrepreneurship adventure.
Look at your current budget and needs, and find areas where you might be able to cut back or adjust in order to pour into your "Business Launch" fund. Also, be sure to look into savings accounts that have higher interest rates or high yield options so you can get the most from your efforts. Squirrel away your next tax refund, or find ways to give your savings a boost such as reselling items or downsizing your home or car. Implement settings like automatic transfers or deposits to a separate account so that you'll be sure to hit your goal in the time you need to.
Finding the money to start your business on a small (or barebones) budget is all about being creative and figuring out the best route for your future. The key is to at least take that first leap, with research and planning as your parachutes, and just go for it.
Featured image by Getty Images
Keep reading...
Show less
Money Talks is an xoNecole series where we talk candidly to real women about how they spend money, their relationship with money, and how they get it.
As we are out here getting to these coins, I want to ask you all something really quick. If you could write down the first idea that pops into your head, how much is it worth to you? And I am not talking about how much money you THINK people would pay for your idea. But how much money do you honestly believe your idea is worth right now? I ask this because a lot of times, as creatives, when we are coming up with ideas, we struggle with being confident in knowing how valuable they are. Now, no idea is too big or too small. But, with so many possibilities in the world with how you make a statement, it can get a little cloudy with believing that your idea can stand out among the rest.
I believe the trick is to not focus on how much faith you have in other people to buy in, but to focus on having faith in yourself. Do you believe in yourself? Do you believe your idea is valuable because you are valuable? You should always be confident in your capabilities first to really push forward your ideas/dreams. Your ideas are an extension of you, so they will always be pretty expensive. It doesn't matter how you came up with the idea or if you feel it has been done before. When you take a chance on your idea and stay determined to see it through, you are taking a chance on yourself. Every time.
This mindset is something I learned from six-figure entrepreneur Afenya Montgomery. Last year in 2020, I was able to attend an event at a coworking space where I connected with other women who were pursuing different businesses in different industries. It was so amazing listening to all their stories, especially the host, Afenya Montgomery. When we met, I knew we would stay in touch instantly. Now one year later, Afenya reminded me of how important investing in yourself is when it comes to entrepreneurship.
"I'm the kind of investor where I invest in myself and my ideas to watch them grow and flourish. I had this idea and I had to see it through. Nobody wants to look back years later and think, 'I should have done this or that.' I felt like if I was going to bet on anything, I was going to bet on myself. Always remember, when you are putting real money behind an idea, don't be in the talking stage or dating the idea. You have to be married to it."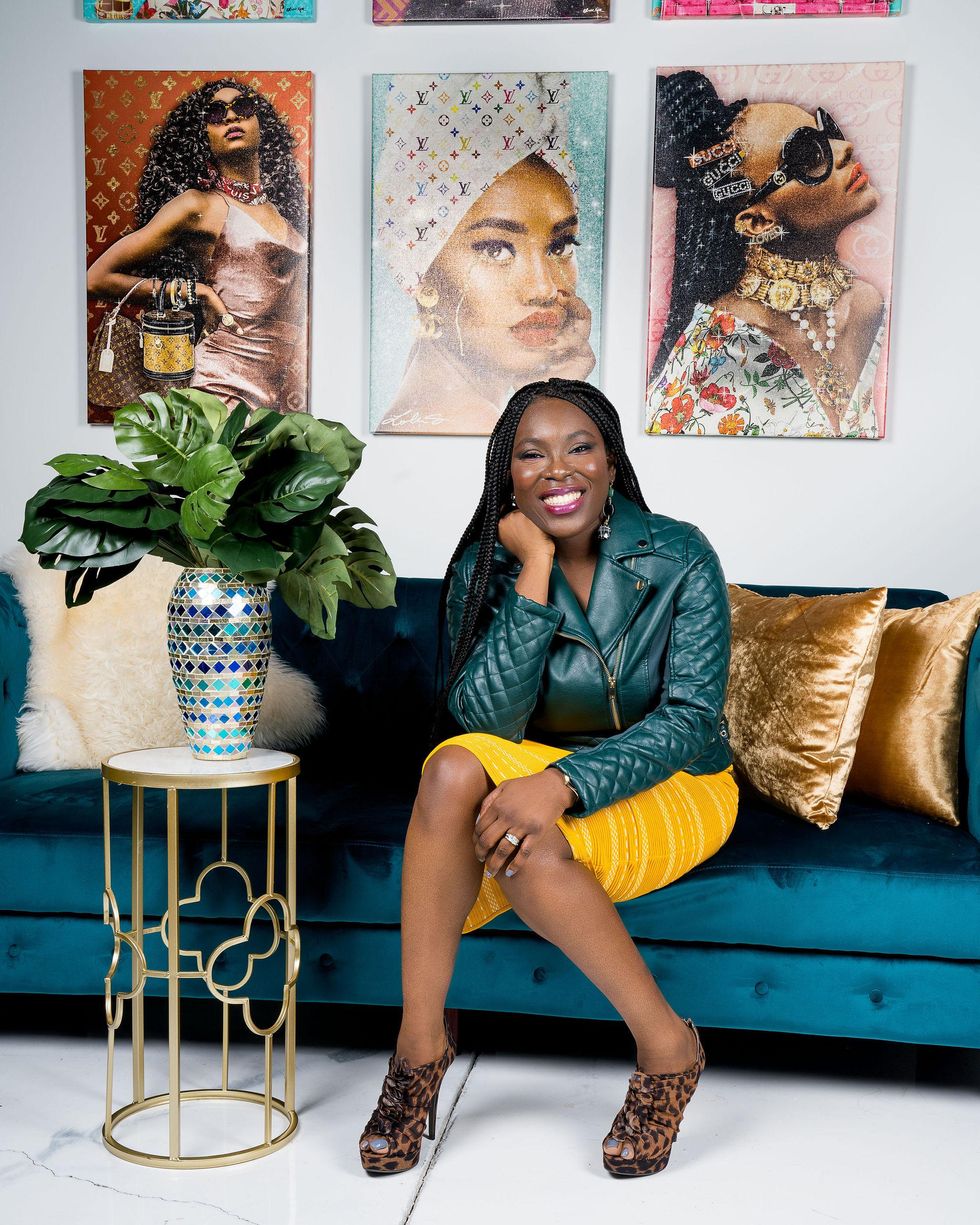 Courtesy of Afenya Montgomery
Afenya Montgomery, born and raised on the south side of Chicago, started her professional career in the nursing field. Afenya was able to obtain her Master of Nursing degree and an MBA with a focus in executive leadership. In the year of 2017, Afenya felt that it was time for her to pivot. During that time, she started meeting up with her friends at local coffee shops and noticed that there was a lack of resources for people of color in entrepreneurship. That is all it took for Afenya to come up with an idea to help change that problem. Afenya mentions, "The idea began to form that it would be great to create a network of people that could act as accountability partners, potential business collaborators and resources for each other. Our first event was a panel discussion in June 2017 titled, 'Leveraging Your Network to Create Impact,' and we haven't looked back since."
Afenya is now the founder of The iCAN Collective. The iCAN Collective was founded on the pillars of Innovation, Collaboration, Accountability and Network. The iCAN Collective strives to give women a space to build a foundation of collaboration, authentic connections and support as they blaze new trails on the path of entrepreneurship or in their careers. This company is a collaborative coworking space for women of color entrepreneurs, creatives, and game-changers, where it offers memberships, exclusive events, networking opportunities, and brand packages. Afenya wants to be a resource for creative entrepreneurs and celebrate them for going after their dreams.
When you chase your dreams and execute them no matter what, nobody can tell you nothing.
In this installment of "Money Talks", xoNecole spoke with Afenya Montgomery about how trusting your gut, being strategic, and building your business at your own pace are the keys to creating financial freedom.
xoNecole: How much money do you make in a year? A month?
Afenya: I usually make mid-six figures with my company in a year. My revenue breaks down to making around $15-20K a month.
What do you define as "wealth" vs "success"?
Success for me means you are setting goals for yourself and getting them accomplished. You create these milestones for yourself and they can be small or big. Either way, you are getting them done. As far as wealth, wealth to me is being able to have certain things you want in your life, but more importantly, leaving something behind for your children and building that legacy.
What's the lowest you've ever felt when it comes to your finances?
The lowest point for me was back before I was in nursing school. It was during the Great Recession and I got laid off. At the time, I was a newlywed, I had just bought a house, and I was about to have a baby. So that was when I started to look at money differently. I realized you can't only depend on a job. You need other ways in order to sustain money. I didn't think about entrepreneurship at that time honestly, so what I did was, I started a blog about my journey. Then, I looked at what I was passionate about, what careers aligned with that, and thought about how I can have more control over my money.
How important is investing to you?
I have always been interested in investing and how I can save money better. Even before my company, I would open money marketing accounts and make sure I was smart about utilizing what I had for the things I needed at the time. When it comes to investing, I think it is really important to know which type of investments are right for you. Because let's be real, it is not easy investing thousands of dollars or 500 dollars into something that you want([laughs). I'm the kind of investor where I invest in myself and my ideas to watch them grow and flourish. But it is important to have a diverse portfolio and that you are married to this investment/idea.
When it comes to structuring your business, what are your streams of revenue and how did you go about establishing them?
Prior to having a physical space, The iCAN Collective was about creating workshops and networking events/opportunities for women of color interested in entrepreneurship. I found myself having these events in different spaces and figured why not create a space that was permanent. From there, I wanted to provide different things that a lot of spaces do not offer. So with this space, we provide membership, a coworking atmosphere, host events or intimate gatherings, and we offer brand packages. It's important to have something that is unique and stands out from the rest.
What are some unhealthy habits about money or some unhealthy mindsets about money that you had to let go of to truly prosper?
The first thing I had to change was this mindset about money as if it will never come. My brother would tell me these affirmations stating, "Money is always free-flowing. I am abundant. Money will come my way, etc." Affirming to myself that money is always around me shifted my scarcity mindset. I think a lot of us think about money with this mindset and we cannot continue thinking, 'If I spend this amount or I go after this goal, I will never have money again.'
"Affirming to myself that money is always around me shifted my scarcity mindset. I think a lot of us think about money with this mindset and we cannot continue thinking, 'If I spend this amount or I go after this goal, I will never have money again.'"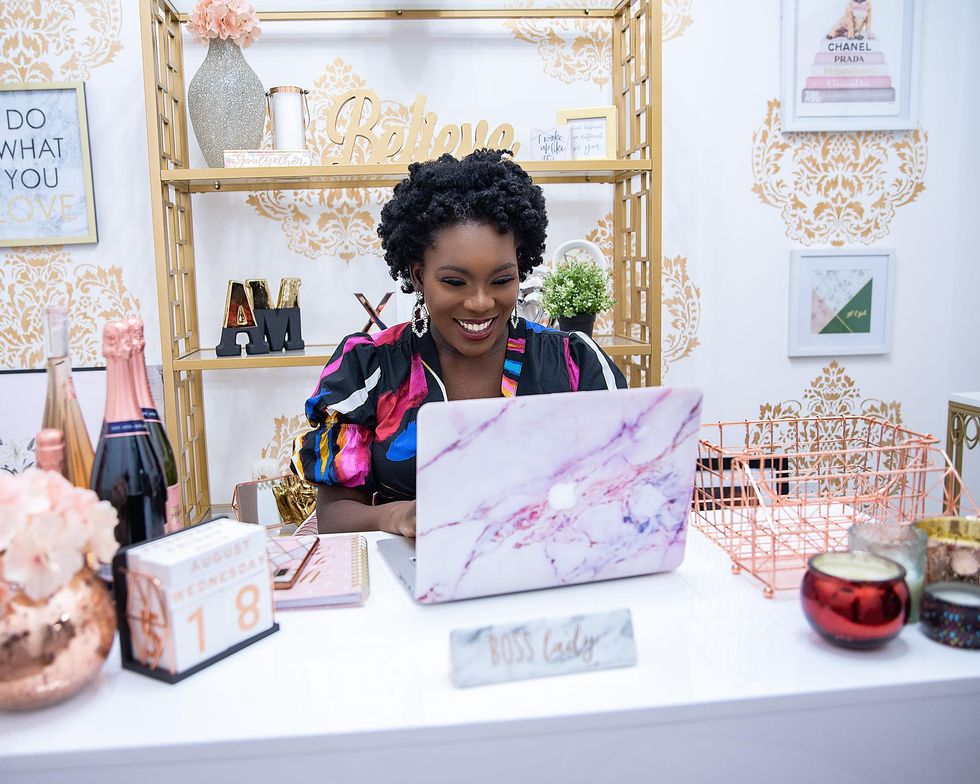 Courtesy of Afenya Montgomery
What keeps you motivated? 
If you are passionate about something, then build the strategy behind what you want to do. I have heard people say that when it comes to business, do not go after your passion. But why passion is important to me is because that is honestly what keeps me going. If I don't have any interest or drive to be in that space, then I can't innovate in that space. Entrepreneurship is not one of those things where you're going to get a check just for showing up. You have to be really good at what you do and also have passion for it to see it flourish.
What is the most important lesson you've learned through being a businessowner?
It is important to be flexible and roll with the punches when you're an entrepreneur. But more importantly, my main lesson has been trusting your gut and trusting God. If God gave you an idea/mission, it is already protected by Him. I always tell people that I never wanted to be an entrepreneur. It was more of a God-given assignment and I have faith in what I am creating to be aligned with my purpose.
What was it like learning to expand your business from one city to multiple cities?
We are looking to expand The iCAN Collective to New York, which is funny because I actually wanted to move to New York when I was 18 years old (laughs). I am so in love with the vibe of New York and I also have family who live there. What I learned about creating a space in a new city is to always poll your people. It is really important to build relationships with the people in the community. I try to look at it through the lens of what I can I bring to this space to support the community the best way I can? I ask myself, what is the main need and what can I provide?
Was it easy to become a well-respected businesswoman in your respective industry or did it take time?
In the beginning, I was letting people know 'ya'll better put some respect on my name' (laughs). The thing about Chicago is that we are known to be a little cliquish. So it is not that I didn't know people in the industry, they just didn't know me. I won't lie, navigating through the industry was hard. I would go to a bunch of events, hand out my business cards, and network, network, network. But as time goes on, you realize that it is not about everyone knowing who you are, it is about the right people knowing who you are. You want to know the people who can speak your name in rooms that matter.
"As time goes on, you realize that it is not about everyone knowing who you are, it is about the right people knowing who you are. You want to know the people who can speak your name in rooms that matter."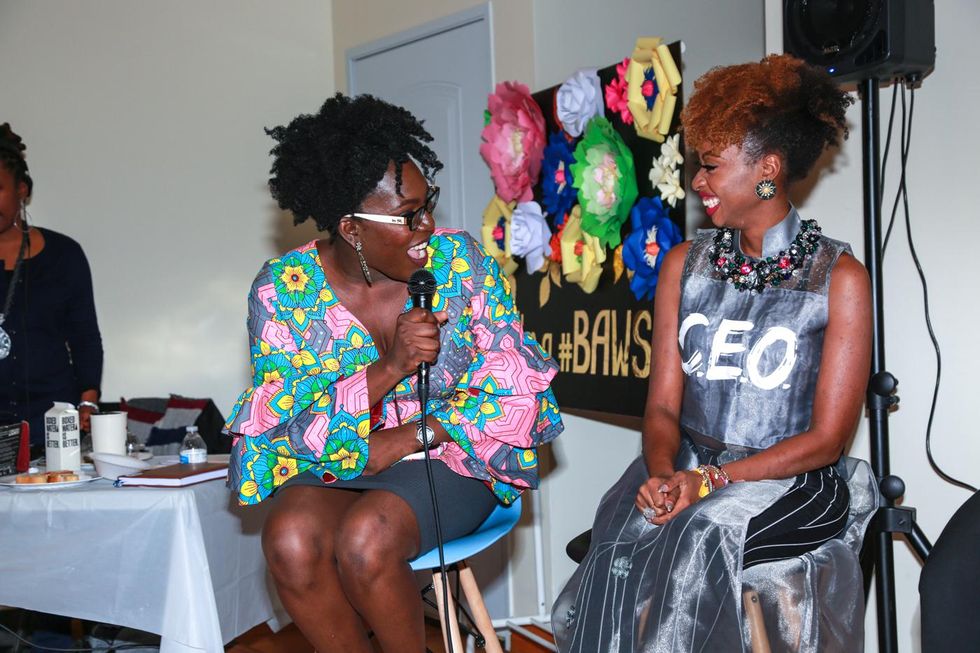 Courtesy of Afenya Montgomery
What's the best advice that you've received about finance during your first year of entrepreneurship?
The best advice I think that helped me during my first year is to build slowly. There is this misconception where you see people starting their businesses and everything is happening so fast, so you feel you have to catch up in a sense. But you really have to look at your strategy for your business, intentionally, in order to scale. Another really good piece of advice I received is that, a lot of people talk about an individual having multiple streams of income. But I don't think we talk enough about businesses having multiple streams of income. I have learned that it really helps to diversify what you provide in your business. If you are trying to be a million-dollar business, make sure that every move you make feeds that desire.
To learn more about Afenya, you can follow her on instagram @afenyabsn. You can also check out her business website here.
Featured image courtesy of Afenya Montgomery
Keep reading...
Show less
Courtney Adeleye is no stranger to making multi-million-dollar moves that not only change lives but empower others to do the same. As the founder of The Mane Choice⁠—a line of natural haircare products that went from her home to the shelves of major stores like Target⁠—she took $500 and turned it into more than $100 million within a few years. Her online brand is undeniable⁠—bright, bold, and uber-confident⁠—and her more than 380,000 followers on Instagram alone eat it up.
Her most recent transition has been her biggest yet. She struck a deal with MAV Beauty Brands for millions more, which meant The Mane Choice would be acquired by the Canadian company and more doors would be open for partnerships like the Generational Advantage Fund that would help women build generational wealth. She also made a personal investment, to the tune of $30 million.
Yep. Sis, is about that life. "Doing the acquisition gave me the ability to expand and to continue to grow in other areas of business that I wouldn't have had the ability to do," Courtney said in a recent interview with xoNecole. "It's not only a financial thing but it's about a resource, a growth, and an understanding. It put me in a position to do other things I really enjoy which includes pouring back into women, investing back into female brands, and creating the conglomerate I have today."
We talked with her more on those other things, which right now fall under the umbrella of her newest venture, Olbali Corp. The conglomerate houses brands Lily Frilly (where her 7-year-old daughter is the CEO), Foolproof Body, Cool Coffee Clique, and POPtritional.
Check out what Courtney had to say about how she finds multi-million-dollar sweet spots in business, how she remains inspired as an entrepreneur, and her advice for other Black women who want to continue to grow and advance in building the lives of their dreams:
You've got your hands in multiple businesses. What inspires you to pursue certain industries? How do you know it's worth the risk?
I don't think there's an industry out there that I'm not interested in. I can look at a category and I can see what we call in business the 'white space.' I always think, 'What are those opportunities that could possibly exist?' So creating a company like Olbali, we're going to play in different areas from a consumer-product goods perspective, whether that be food or health and wellness.
I thought, 'Do I see an opportunity to do it better? Do I see an chance to give the industry something it doesn't have?'
Even with my daughter's brand, I definitely feel representation matters. Sometimes we can't achieve what we haven't seen. So, it's about putting her in a position where she can speak to little girls across the world to let them know they can do it, too. I definitely felt like we had a lack of representation in a community in regard to what we see in the retail world and what we see on TV. You're never too old and never too young. Entrepreneurship is a special gift from God and you have to give that back to the world.
This is so fascinating, because you've been able to take several businesses and turn them into platinum. Tell me more about this 'white space' concept.
A lot of times, we're motivated only by what we see. It's easy to pinpoint what's already been done. Ultimately, when you look at a business, there are not many things out there that are totally new or haven't been done before, but what makes a business special is doing it in a way that hasn't been done before—doing it in the unique way you have to offer.
I see a lot of entrepreneurs who think they're too young or too new and they think they have a lot missing, but what's missing is what makes them special. I always say don't be afraid to infuse that thing that makes you different into your brand.
Take an industry, such as coffee, which you could say is a boring industry. I look at it and say, "No, there's a lot of white space there because if it's so boring, who can make it dope? Who can make it classy? Who can make it something everyone would want to be part of?" I think there's a lot of white space in everything we do. You have to look at something and innovate. It's easy to say, "Hey, this is how it's always been done," but in order to be innovative you have to be willing to take those risks and do things differently.
For example, with [Cool Coffee Clique], it's very risky to make coffee [packaging] pink. It's like, 'Am I excluding men?' But I have to be confident in what I have to offer and say, "But it's been done before in black, brown, and in every traditional way. How do I make it interesting?" That's where that white space comes in.
That's awesome. We have to tap into those white spaces where we can create what we want to see on the market. So, to some, you pretty much made it when you started earning millions. What's the key to continue growing and leveling up?
We can all agree that no matter what your age, there's experience there that's going to give you the jump on entrepreneurship or innovation. And I have to continue doing that, to continue innovating. That experience is the very thing you amplify and use for your brand. It's important to have an understanding that you can grow as you go. You don't have to seek funding in order to make it. I started with $500. I didn't have a line of credit or a credit card.

Also, it's understanding that distractions come in many shapes, forms, or fashions. It could be a relationship, time, or lack of support. Distractions are the No. 1 deterrents to someone going into business, no matter what age you are.
Sometimes, isolation is going to help you ascend to the next level. You're going to have to lock yourself in that room in order to think. It's going to take you not being at those functions sometimes, which, as you mature, you understand that's not always where it's it. I have to think about my future.
Ask yourself, "How do I compare to people who are dominating in the industry?" It's not about comparing to say, "I need to mimic that," but what elements about that brand inspire you? There's something you can do to make your own brand attractive. Many times I'll sit with entrepreneurs and ask, "Do you think you have the best product?" and many times, the scary thing I hear, is "No I don't." Well, why? Whatever that reason is, you've got to address it and fix it.
You're looking at someone else's social media page and saying, "I think everything they post is clean. Everything is dope." Meanwhile, you have the ability to come close, even if you're not mimicking it--even if you're inspired to go get an AirBnB, for example, and take some great pictures. You say, "I'm going to call some models in and take some product shots."
Business is business. You have to understand you're taking the market share from somebody. I'm in the coffee industry, so I understand, "Hey Starbucks is dominating. How can I take that consumer? How does that translate to the consumer? What are the things I can do?"
I'm always about leveling up—always try to do it better. If I did something great last year, how do I do better this year?
Follow Courtney Adeleye and learn more about her brands via Instagram @courtneyadeleye, or via Olbali's website.
Featured image courtesy of Olbali Corp.
Keep reading...
Show less
If you're like me, you like the freedom that money can bring. Budgets, investments, and proper money management are all part of creating the life that you want and making your coins work for you. But sometimes life happens, and the dreaded B-word (budget) can seem like a noose around your neck, not a resource that ensures you reach your goals. Between taking care of everyday bills, managing households, trying to advance in our work, practicing self-care, or taking on new challenges, there can seem like there's barely enough time in the day to really zero-in on financial fitness or keep up with ways we can save or invest as often as we should.
Well, these 8 money management apps make keeping an eye on your financial growth a bit easier and take a bit of stress out of it all:
This is an app by Ramsey Solutions (yes, think, Dave Ramsey and Rich Dad, Poor Dad) and it allows you to plan your spending, manage savings and debt payments, and track expenses. Transactions can be set up to stream automatically and create custom budget reports.
Mint is a tried-and-true app that's easy to use for budget planning, and a place to manage all of your bank accounts. You also have an online resource for all of your personal finance needs.
Another OG in the personal finance app game, the Acorns app helps you by automating your savings, rounding up your purchases and putting the extras in an investment portfolio.
This one is great for overspenders (i.e. me) because it uses a special algorithm to track how much you earn and spend, along with your savings goals, and then gives you a limit based on those factors. It takes the guesswork and the temptation out of the equation.
If the name doesn't spark your interest, this should: Not only does this app give guidance to meet your financial goals via tutorials and educational materials, it's made to cater to people with modest incomes. YNAB sticks with the basics of personal finance because your dollars are assigned to a particular task and the account information is in real time (so no delays thinking you have money to spend when you might have forgotten about a bill due or that pack of gum you bought.)
This one is all about the user's happiness, and it provides financial coaching and savings resources. Joy allows you to rate your emotions when buying certain things and then logs this for a report. It's an awesome resource to keep track of your motivations for the purchases you make and evaluate your spending choices based on that. Their website also has awesome content on income-earning options, money tips and more.
Digit is another that uses data on your income and spending habits to automate your savings. Every few days, it will transfer money into a Digit account based on how you spend your money, your upcoming pay and the state of your linked bank accounts. There's also a text option for transferring funds.
If you have a serious significant other or spouse, this app is perfect for you. Zeta is made for managing joint accounts or simply keeping track of one another's spending. There's also an option to sign up for a joint no-fee account, and their website offers resources and tips for couples who tackle to financial fitness together.
Featured image by Getty Images
Keep reading...
Show less
No one is excited about paying taxes, but for the most part, they're unavoidable for the working woman. Yet, not everyone has to pay quarterly taxes. You may have to get acquainted with quarterly taxes depending on how you earn money and who signs your paychecks. Not only is it essential to know if you should pay quarterly tax payments, but you need to know what your tax liability is and the deadline to submit your taxes — unless you want the IRS visiting.
Who Needs To Pay Quarterly Taxes?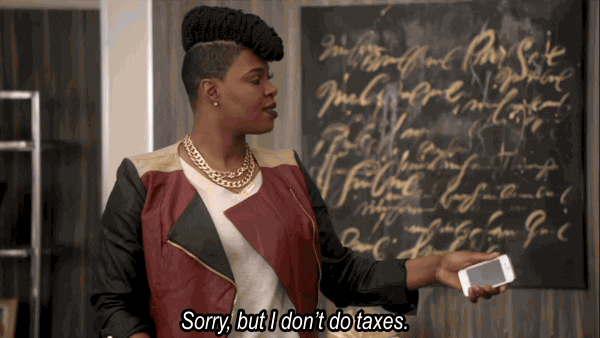 Giphy
Plan on paying taxes if you're a small business owner, you haven't had enough of your income withheld, or you're a self-employed individual. Unsure if you're self-employed?
You're self-employed or a small business owner if you're:
An independent contractor
A full-time/part-time freelancer
An individual with a side gig
A sole proprietor
A business partnership member - LLC, LLP, LP, GP
You haven't had enough income withheld if:
You owe a minimum of $1000 in federal income taxes currently after accounting for your refundable and withholding credits.
Your withheld and refundable credits don't cover more than 90% of your tax liability for the current year or 100% of your liability for the previous year; whichever is lesser of the two. (The threshold is 110% as long as your adjusted gross income in the prior year was larger than $150,000 for jointly filed married partners and $75,000 for singles).
Who Doesn't Have To Pay Quarterly Taxes?
You don't have to pay to make quarterly tax payments if you're a U.S. citizen or a permanent resident who had no tax liability from the previous year. Also, individuals who don't have untaxed income.
How To Estimate Quarterly Taxes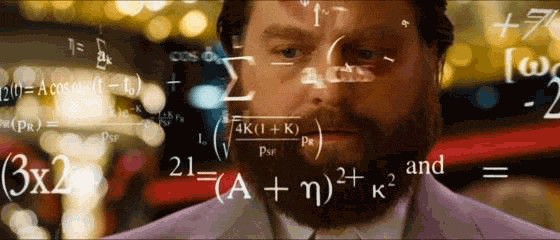 Giphy
To calculate your estimated tax, you should know your expected adjusted gross income, taxes, deductions, taxable income, and credits for the current year. Then, you can calculate your estimated quarterly taxes using a calculator or manually:
1. Determine Taxable Income. Start by estimating the total amount of income you're expecting to earn during the year. Then subtract deductions that are considered above the line (expenses the IRS allows you to deduct from your gross income) to get an adjusted gross income.
2. Calculate Income Tax and Self-Employment Tax. Once you know your adjusted gross income, it's time to calculate your taxes. First, you need to figure out your tax bracket to determine the rate that you are taxes based on your income. Then, take your income tax rate and multiply it by your adjusted gross income.
If you're self-employed, you calculate your taxes a bit differently. There isn't any need to pay taxes on self-employed income under $400, but if you make more than $400, then you're responsible for a 15.3% tax that's a combination of social security tax and medicare. But, you're only responsible for paying taxes on 92.35% of your estimated total income.
If you had a $50,000 estimated total income, the calculation would be 50,000 x 15.3*% 92.35%, for a total of $7,076.25 in owed taxes.
3. Total Taxes and Divide By Four. Lastly, add your income tax and self-employment tax for the current year and divide your total by four. So pretty much if you owe $10,000 in income tax and you owed $15,000 in self-employment tax, your total income tax is $25,000.
So next, you'd divide $25,000.00 by four, so your quarterly tax payment would be $6,250.
When Are Quarterly Taxes Due
If you plan on paying quarterly taxes, it's a bright idea to know when they're due:
If you earned income on September 1–December 31, 2020, your quarterly tax payment is due by January 15, 2021.
If you earned income on January 1–March 31, 2021, your quarterly tax payment is due by April 15, 2021.
If you earned income on April 1–May 31, 2021, your quarterly tax payment is due by June 15, 2021.
If you earned income on June 1–August 31, 2021, your quarterly tax payment is due by September 15, 2021.
If you earned income on September 1–December 31, 2021, your quarterly tax payment is due by Jan 18, 2022.
How Do I Pay Quarterly Taxes?
There are three ways to pay quarterly taxes; the choice is yours. You can pay your taxes the old school way by mailing your estimated tax payments with IRS Form 1040-ES or paying in cash at an IRS retail partner.
Or, you can keep it modern by paying electronically using the IRS's Direct Pay System or the U.S Treasury's Electronic Federal Tax Payment System. Keep in mind, there is a credit card fee of approximately 2% when paying electronically.
You can mail your estimated tax payments with IRS Form 1040-ES. You can pay electronically and use the IRS's Direct Pay system or the U.S. Treasury's Electronic Federal Tax Payment System, for example. Paying with a credit card carries of fee of around 2%.
Now that you have all of the proper knowledge to make quarterly tax payments, it's time to start actually planning to make your payments. Be sure to estimate your taxes reasonably in advance to avoid lacking enough funds to cover your tax payments. Or, you can simply reach out to an accountant who has the expertise to ensure your taxes are taken care of properly.
Featured image by Getty Images

Keep reading...
Show less