When you think of a seasonal business, you might picture those random Christmas mugs sold on Amazon and or those Valentine's Day baskets with Victoria's Secret lotions in them that your favorite side-hustling auntie sells at work every year. But don't sleep on these kinds of businesses. Whether it's landscaping, holiday-themed, or a bed-and-breakfast, savvy entrepreneurs who offer amazing, unique, and convenient services and products can bank hundreds of thousands, if not millions, in profits.

And with Valentine's Day around the corner, now is your chance to consider tapping into a prime opportunity to not only build a flexible side hustle but, if you're really passionate and skilled, a successful seasonal business that can sustain itself year-round. Here are five options to consider:
1. Holiday-Themed Sweets And Treats: 
Sales for these sorts of products (candies, cookies, and other dessert snacks) are expected to grow from $36.9 billion to $44.9 billion by 2026. (Let that marinate for a second). It's obvious that people love a good sweet treat, and if you can offer your own recipe, your own way of decorating or packaging, or healthy options (that actually taste good), even better.
​2. Celebration Party Planning: 
This includes birthdays and anniversaries, and you can do so many different things in this realm other than actually planning the party. Services like location scouting, venue management, party favors, and party decor creation (or rentals) are all great ways to be part of this lucrative industry. Also, you don't have to limit yourself or your business to small groups, family members, or micro organizations. You can organize large-scale parties for Christmas, Valentine's Day, the Fourth of July, and more. (Think about the last time you went to a New Year's Eve party and paid $250 for a VIP ticket.) As the organizer and backing company, you could make six to seven figures in profit.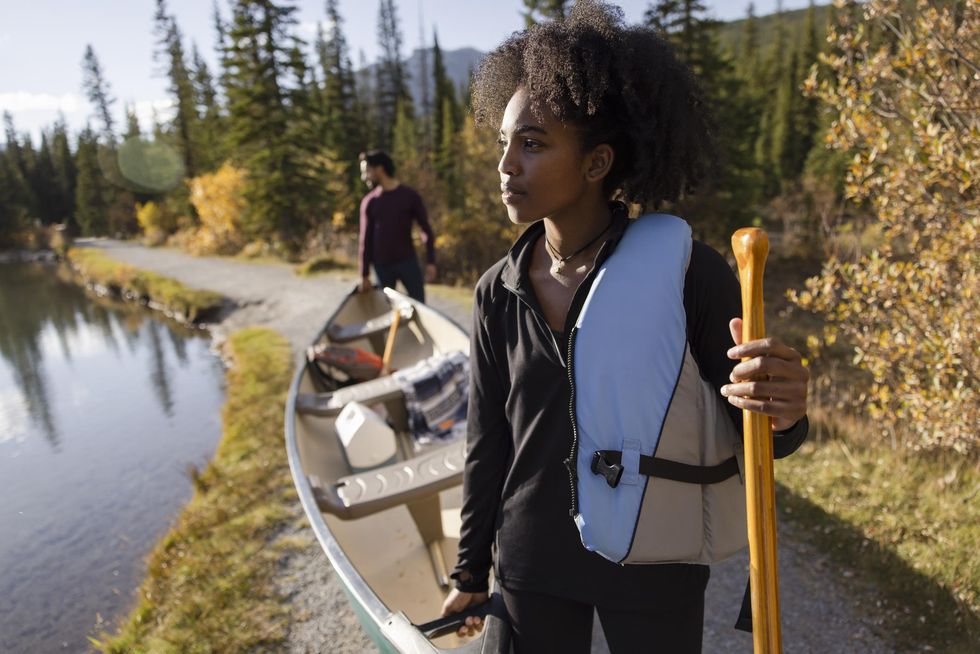 Hero Images Inc.
​3. Food Truck: 
You might think this isn't a seasonal business but just remember: This involves working from a vehicle outdoors. (Also, many food truck owners who live and work in places other than popular dining meccas like Los Angeles, New York, and Chicago can only enjoy a consistent stream of customers during a limited time each year.) Even then, it's still possible to make more than $100,000 a year with this venture (and even more if you're in the aforementioned food truck sweet spots). Again, offering something unique, quality, culture-centered, or with a spin to it (Hello: Vegan oxtails, anyone?) is key.
​4. Watersports Adventures or Tours: 
This one is perfect for those who might want to live or travel abroad full-time or who just love nature and connecting with people. You can offer parasailing, jet skiing, hiking, bar crawls, and other interactive activities for tourists or locals. This is also something you could start on a site like Airbnb with little overhead costs, depending on the extent of the adventures you're getting into. This industry brings in $124.5 billion each year.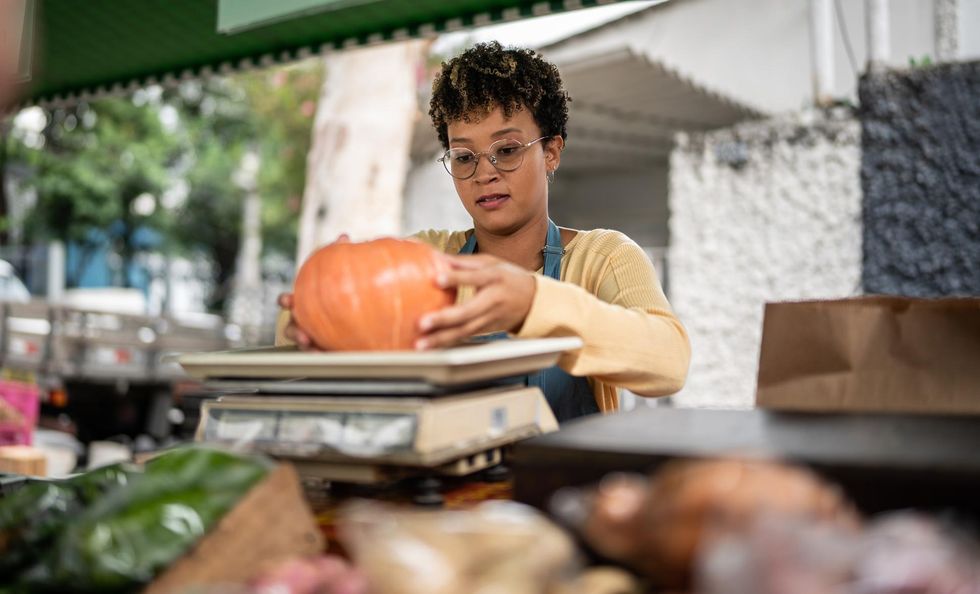 FG Trade/Getty Images
5. Niche Farmer's Market: 
If you have a green thumb or are into specialty foods, this might be perfect for you. And you don't have to have a huge farm to do this. You could specialize in offering diverse types of one produce (such as mushrooms, which can be grown right in your backyard, in a home-based grow room, or on rented farmland), gourmet jarred goods (like preserves or pickles), exotic plants, or organic tea mixes in order to stand out and build a unique customer base. Not only would you be serving your community and helping to combat problems associated with food deserts, but you could also be part of an industry raking in at least $2.9 billion.
Featured image by Jose Luis Pelaez Inc./Getty Images
There's a great debate on social media platforms, from TikTok to Instagram, among travel credit card holders: What travel credit card is actually worth the annual fee? Asking yourself this lofty question with your fancy card in hand might feel counterproductive. However, it's always good to reevaluate any financial investment early and often to ensure you're getting the most out of it.
Credit cards are already a minefield because, without financial planning, you can end up in a boatload of debt. Been there, done that, and got the wasted money on interest to show for it. After paying off $15,000 in debt, I was reluctant to use any more credit cards. But after tons of research, I saw the value of the American Express Gold Card. I got points on my everyday spending and was diligent about paying off my monthly balance. But for me, as an avid traveler, it was time for either an upgrade or a new card with lots of research, of course.
Spoiler alert: I upgraded to the American Express Platinum Card, but I wanted to break down some of the benefits of all of the most talked about cards so that you can both use every benefit you're paying for if you already have these cards in your wallet or get to know some of the perks if you're in the market for a travel credit card so you can invest in a card that's best for your everyday and travel needs.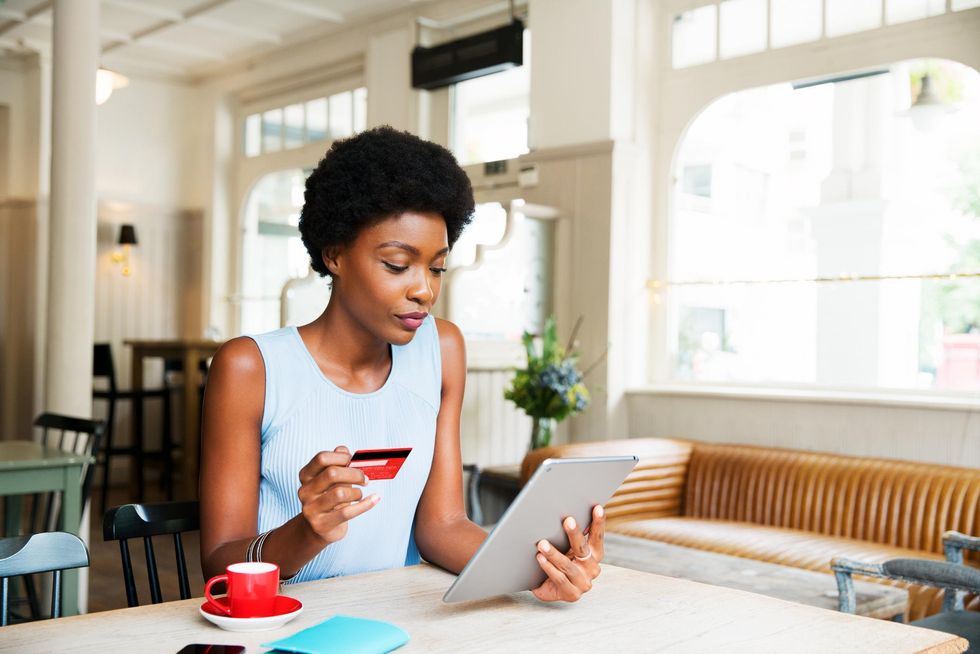 Tim Robberts/Getty Images
American Express Platinum Card Benefits and Perks
Because I was already an Amex customer, I started here. The introductory offer—100,000 points after spending $6,000—for upgrading to an American Express Platinum Card was difficult to pass up. But I needed to see how the benefits stacked up if I was giving up 4X points on groceries and dining and opting for a lofty $695 annual fee. So how does the Platinum card stack up on earning points? Platinum cardholders get a point for every dollar spent, 5X the points on flights, and 5X on prepaid hotels booked through the Amex travel portal.
1. Lounges
Before gaining status with Delta, I always felt some FOMO passing the Sky Clubs. However, with the Platinum card, you can get through the velvet rope into Centurion lounges. You can also access Priority Pass lounges and Delta Sky Clubs with a same-day Delta ticket. One of the biggest gripes I've seen in online forums is how packed Priority Pass lounges can be as they serve many other luxury credit card holders, and during peak travel season, this could feel less like a perk.
2. Hotels Perks
Accommodations are the second most crucial part of planning a trip. Before booking through a third-party site or directly through the hotel, the Amex portal offers the ability to earn 5X the points when prepaying for accommodations. But there are more benefits aside from points. First, there's the complimentary Gold status with Hilton Honors and Marriott Bonvoy.
Next up, the credit card company provides The Fine Hotels + Resorts and The Hotel Collection. The Fine Hotels + Resorts benefits are as luxe as the five-star accommodations that are a part of this collection. When booking, your perks are: daily breakfast for two, free Wi-Fi, guaranteed 4 p.m. checkout, a $100 hotel credit, and noon check-in and room upgrade when available.
For The Hotel Collection, the hotels are among some of the best in the city, and cardholders receive a $100 hotel credit and a room upgrade when available. Additionally, another hotel benefit instantly helps offset the $695 credit card fee: $200 back in statement credits each year when you book a prepaid Fine Hotels + Resorts or The Hotel Collection reservation. I used this credit at the Conrad Hotel Midtown in New York City. It was so worth it.
3. Transportation Perks
We've covered lounges, so what about transportation benefits? Well, they're quite a few. Firstly, this card gives you a $200 airline fee credit per calendar year. So this covers everything from baggage fees to seat upgrades. Just be sure you go into the portal to select your airline.
Don't want to spend an overabundance of time in TSA or have to take off your shoes? The Platinum card credits back on your credit card for Clear ($189), TSA-Precheck ($85), and Global Entry ($100). In addition to taking care of the cost of breezing through TSA, if your flight is delayed six hours due to an airplane mechanical issue, the loss of your passport, or inclement weather, the card offers delay insurance reimbursing expenses like hotels and meals up to $500. After my flight from Paris to Atlanta was canceled due to mechanical issues (while I was on it), this came in handy and was very easy to use with a call to American Express customer service.
Additional transportation benefits:
If your bag goes MIA, the card baggage insurance plan protects against damage or loss of up to $3,000 as long as you've paid the total cost of your trip with your card.
Uber Benefit: $200 in Uber cash ($15 a month with $35 in December).
Car Rental Loss and Damage Insurance (be sure to pay for the rental with your card and decline the collision damage waiver).
Some of the other American Express Platinum Card benefits:
Up to $300 in annual Equinox credit.
SAKS Benefit: Earn up to a $100 Saks Fifth Avenue credit, split into two $50 statement credits between January and June, then July through December.
No Foreign Transaction Fees.
Free shipping with ShopRunner (offers two-day shipping with select online retailers).
Up to $240 in digital entertainment credit.
The Best Way to Redeem American Express Membership Rewards Points
Amex rewards points can be used on everything from gift cards to Amazon purchases and on, of course, travel. Each point is worth one cent, so let's say you book a flight through the portal for $150. You'd need 15,000 points to pay for that fare. Not worth the trade-off, right? So if this is your card (or your future card), you'll want to research before you turn over those points. Typically, you can get more bang for your points when transferring them to one of Amex's airline partners. But again, you'll want to see what airline makes the conversion worth it.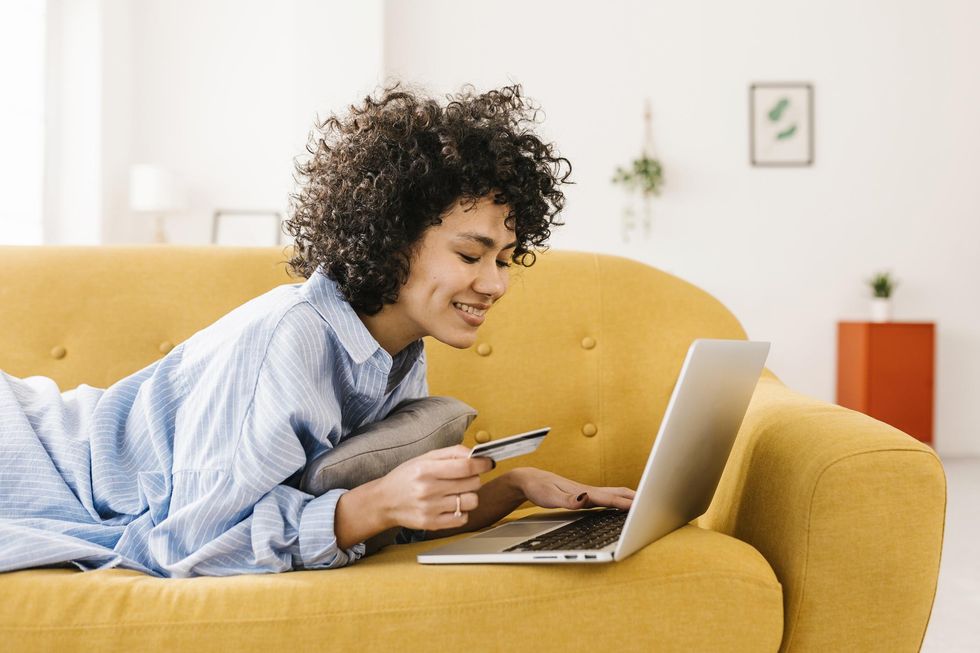 Westend61/Getty Images
Chase Sapphire Reserve Benefits and Perks
The Chase Sapphire Reserve card is another beloved option at the center of the luxury travel credit card debate. This one is a contender with an annual fee of $550. When it comes to earning points, you earn 5X points on flights. 10X points on hotels and car rentals when you purchase through Chase Ultimate Rewards. 3X points on travel and dining worldwide and 1X on all other purchases. So Chase's points-earning system does have some leverage on alternative cards. However, before earning 3X points on travel and dining, you must first use the $300 annual travel credit offered for flights and hotel stays.
1. Lounges
The Chase Sapphire Reserve card offers access to the Priority Pass lounges. But there's been a new development. Chase is introducing Chase Sapphire Lounge by The Club, which started last year. There isn't much info on these clubs yet, but the first Chase Sapphire Lounge by The Club—an 11,948-square-foot space—opened in Hong Kong in October 2022. So, this is certainly something to look forward to if you're a Chase member.
2. Hotel Perks
This card offers a Luxury Hotel & Resort Collection with select properties offering daily breakfast for two, a $100 benefit (unique to each property), free Wi-Fi, and a room upgrade and early check-in and late checkout when available.
Additionally, there are Elite Hotel Benefits at Relais & Châteaux and Elite Hotel Benefits at Ennismore. These properties are in specific places throughout the world. For example, Relais & Châteaux properties are mostly located in Europe. In comparison, Ennismore properties are located in major hubs like Beverly Hills, London, New York, Rome, and Paris. However, if you end up in a city with Ennismore options, the Elite Hotel Benefits offers some solid perks like a complimentary fourth night, late checkout, food and beverage credits, and room upgrades.
3. Transportation Perks
Regarding transportation benefits, the Chase Sapphire Reserve offers a $100 credit toward Global Entry/TSA PreCheck fee every four years. And financial assistance for bag delays on any mode of transportation— airline, bus, cruise ship, or train—for more than 6 hours at $100 per day (up to five days) as long as your ticket purchase is made with your credit card or points.
Additional transportation benefits:
Trip Cancellation/Interruption Insurance: Up to $10,000 in reimbursement for cardholders and immediate family members).
Lost Luggage Reimbursement: Up to $3,000 per passenger, including cardholder and immediate family members (even if the cardholder is not traveling on the trip).
Trip Delay Reimbursement: If your trip is delayed by more than six hours or requires an overnight hotel stay, you are eligible for reimbursement of up to $500 per person. This benefit extends to your family as well.
Lyft Pink All Access free membership for two years.
10 points per $1 spent on Lyft (through March 2025).
Primary rental car coverage of up to $75,000 for theft and collision damage.
Other Chase Sapphire Reserve benefits:
Free subscription to DoorDash DashPass.
Monthly DoorDash Food Delivery Credit ($5/month).
Instacart+ Membership ($99).
Monthly Instacart Credit ($15/month).
No foreign transaction fees.
The Best Way to Redeem Chase Ultimate Rewards Points 
Like many credit card points systems, with Chase Ultimate Rewards, you can use your points to purchase gift cards or even make a payment on your bill. But if you want to use them on travel, the best way to make the most use of your points currency is to transfer your points to Chase partners (there are 11 airline partners and three hotel partners). Before moving points, do thorough research to ensure you're satisfied with your investment.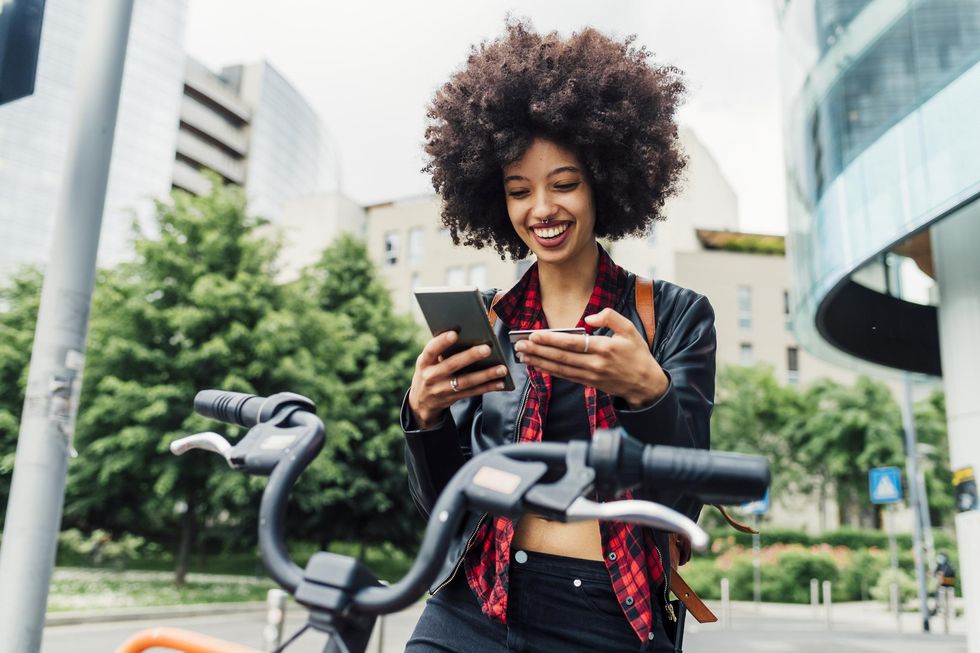 Westend61/Getty Images
Capital One Venture X Card Benefits and Perks
The Capital One Venture X card is the last card making a splash in the fancy credit card convo. But this card came to play with an annual fee of $395, which is quickly offset with the card's $300 in annual statement credits when booking through Capital One Travel. Additionally, cardholders receive 10,000 bonus miles (a $100 value) on every account anniversary. And, you get 2X miles on everyday purchases, 5X miles on flights, and 10X miles on hotels and rental cars booked via Capital One Travel.
1. Lounges
Lounge benefits are similar to other cards, with cardholders being able to access Priority Pass. But if you want more lounge access, Capital One is introducing its own lounges, with the first opening at DFW in November 2021, with more openings slated for 2023.
2. Transportation Perks 
Like the other two travel cards, Venture X offers $100 statement credits for Global Entry or TSA PreCheck. In addition, the card offers trip cancellation and interruption insurance that covers you and your immediate family member—up to $2,000 per person— on prepaid, nonrefundable tickets.
Additional Capital One Venture X transportation benefits:
Trip Delay Reimbursement: Up to $500 per person to cover expenses like hotel rooms, food, and clothes when your flight is delayed overnight or by six hours or more.
Lost Luggage Reimbursement: Up to $3,000 per covered trip if the airline damages or loses your bags.
Rental Car Status: Both the primary cardholder and authorized users receive complimentary Hertz President's Circle status and primary rental car insurance (up to $75,000 for damage caused by collision or theft to a rental car).
The Best Way to Redeem Capital One Miles  
The best way to make the most use of your points currency for travel is to transfer your points to Capital one partners. (There are 18 partners).
Feature image by Westend61/Getty Images
Eliza "Ellie" Diop is a business strategy coach and mother of four who teaches Black women the ins and outs of business. This includes starting a business, scaling, selling, and getting business funding. And while she's successfully made seven figures as an entrepreneur running her Ellievated academy and Mommy to Millionaire company (which teaches moms about wealth planning for their families), as the old saying goes, "nothing worth having comes easy." The 30-year-old mom decided to pursue entrepreneurship after being laid off from her job in 2019 and shortly after began going through a divorce, which caused her to move back in with her mom. On top of that, she was dealing with the COVID-19 pandemic like the rest of the world.

She had a background in finance and after applying to over 53 jobs with no luck, she decided to take what she learned over the years and teach others how to start a business, particularly Black women. "I couldn't find a person or a coach for myself, so I decided to be what I was looking for," she says. Ellie took her first stimulus check and established an LLC, bought a ring light, upgraded her phone, bought some domains, and bought a Canva subscription. She set aside the remainder of the money and the rest was history. The L.A. native began creating content daily, sharing information and tips for entrepreneurs. From there, she began offering coaching calls.
Experiencing major life shifts at one time was overwhelming, but whenever she wanted to give up, she would refer back to an inspirational quote she came across one day on Instagram. "When you're in a dark place and it feels like you've been buried, perhaps you've been planted. So, bloom," it reads. "It was one of those things that I stuck to and every time things got hard, I told myself this isn't the end, you're just being planted right now," she says reflecting on the quote.
When it comes to her clients, Ellie makes sure to listen to their needs and also keeps it real with them about entrepreneurship. While her focus is on helping Black women-owned businesses, she is aware that everyone isn't meant to be an entrepreneur or run a company. She calls that rhetoric, which is constantly being promoted on social media, "toxic." But she does believe that everyone should own something. Whether it's real estate properties or an online store.
Ellie shares five tips to help you get funding for your business no matter if it's a side hustle or your main source of income.
1. Business Credit
"Any woman who has a business should have business credit. There's personal credit we have in our own name but you don't want to attach your own name and your funds to your business because it's its own entity, so having business credit allows for your business to have credit cards [and] to have loans to have lines of credit. And those only report to your business so it keeps you separate from it. And truly, business credit is easy to build. It's just a matter of getting consistent with trading lines.
"The important things to know about business credit are you're going to need trade lines. These can be things like gas cards, retail cards, vendor credit and eventually you will get a business card or business loan. And you want to make sure you have early payments. [They] are better than on-time payments but definitely don't be late and continue to do that for at least 90 days to about 4-5 months. And now you're in a really good place to have a good business credit score and [you can] go out and seek more funding."
2. Grants
"I think a lot of the times and especially because of all the PPP stuff that went on, people think that grants are associated with [the] government or they get scared. There are government grants but there are also several funding opportunities that are just available for women-owned businesses and even more so that are available for Black women-owned businesses. And that's free money. That's money you don't have to pay back. It's money given to your business that you can use to scale.
"Some places to find these are the Minority Business Development Agency (MBDA). They have one of these in every state and every major city typically so you can search that online. I would also recommend looking at the National Association for the Self-Employed (NASE). They have a monthly grant that they give away. There's also a lot of private grants. Chase does grants every year, American Express has grants every year, FedEx, Visa. So just really looking into those opportunities."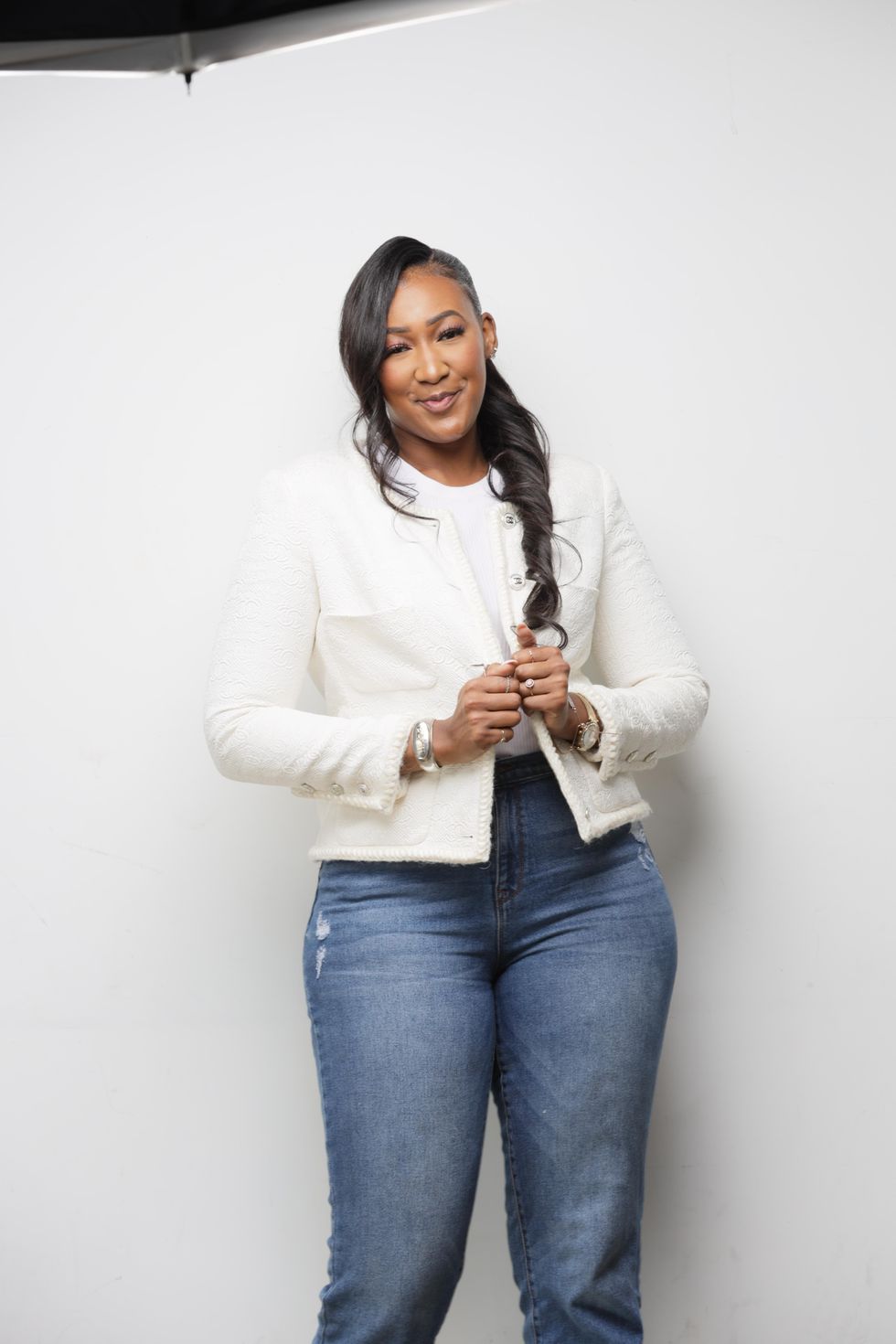 Photo courtesy of Ellie Diop
3. Business Bank Account
"You need to have a business bank account. You need to have a payment processor so when someone buys from you, that money should go through something like a Stripe or a PayPal or Shopify, or Square and enter your business bank account. That is going to set you up to be able to get funding because they're going to ask you for things like your business bank statements and you're not able to provide Cash App screenshots as proof of income."
4. Business Plan
"A lot of people feel intimidated when we hear business plan because it sounds like a 30-page thing [or] we have to pay someone to write it but truly, it's not that bad. I have a class where I teach women how to write business plans and their marketing plans and I give them a template so that we understand how to really communicate our businesses and what the mission is and why we're better than the competition. All of these things are super important because when you're in front of an investor, for example, those are the kind of questions they're gonna ask you. And we want to be able to answer them as much as possible."
5. Bookkeeping
"Organize where the money is coming from, where it's going [and] what are your expenses because that is how you're gonna stay cash flow positive, [which] is when you can see where it's coming in, where it's going out and make sure that what's going out is less than what's coming in so that you have that margin. Knowing those numbers will also help you to get funding 'cause a lender is more prone to approve a business that's positive cash flow than negative cash flow."
For more information about Ellie, follow her on all social media platforms @ellietalksmoney and visit her website Elliediop.com.
Let's make things inbox official! Sign up for the xoNecole newsletter for daily love, wellness, career, and exclusive content delivered straight to your inbox.
Feature image courtesy of Ellie Diop
Julien and Kiersten Saunders met in 2012 while working for the same company and they quickly fell for one another. However, their whirlwind romance was cut short following an extravagant vacation. When they got home from Panama, reality set in, and they were forced to have a tough conversation about money after they both had different opinions on recouping the money spent on the vacation.
Prior to their baecation, they had agreed to split everything and used credit cards to help pay their traveling costs. Julien had always been conservative with his money whereas Kiersten was a little more liberal but those differences became more glaring after Kiersten continued going out while Julien was budgeting. As a result of the fallout over money, they would ultimately break up. Shortly after, however, they decided to give their love a chance once more and are now married with a son, running a successful blog and podcast helping others to learn financial literacy and build wealth.
Their blog Rich and Regular was inspired by the conversations they had with one another about money. Launched in 2017, they have used the blog to share their personal struggles and wins regarding money as well as making it a platform for Black people to gain knowledge about investing, entrepreneurship, and much more.
"It all sort of turned into what can we do to attract more people of color, especially Black professionals to think like this, to have these conversations to think like this, to re-evaluate their careers and their approach to investing for a myriad of reasons," Julien says. "One, obviously Black wealth is important to the Black community, two, Black marriages are a core part of that community and that equation, and three, all of the other kinds of issues that affect our community that we don't have time to solve because our lives are basically spent working."
According to Business Insider, opposing attitudes about money is one of the biggest culprits leading many marriages to end in divorce. Kiersten and Julien were able to overcome this hurdle that many couples face, so they know a thing or two about the importance of having the money conversation early on.
"Once you hit that part when you start talking about goals and future plans, which for some people they come out the gate with that," says Kiersten. "They want something very serious and they want to know that the person they're spending time with aligns [with] them and their ambitions but as soon as you start having those conversations about the kind of life that you want, money is a huge tool to enable all of that life. So, you also want to make sure there is an accommodating financial plan to try to achieve this white picket fence, home ownership, multiple children and pets, and travel."
The Atlanta couple also wrote the book Cashing Out: Win the Wealth Game by Walking Away, a guide to reaching financial freedom, which they both have managed to do. As life partners and business partners, Kiersten and Julien have experienced many trials and errors to maintain a thriving marriage and business. They agreed that the key to being successful at both has a lot to do with the type of environment you create in the home.
"We also make it a point to play to our strengths. We do that in our marriage and in our business where regardless of what gender roles or the patriarchy or what traditional marriage advice is, if I'm not good at something or if he's not good at something, we don't force the issue," Kiersten explains. "So something as simple as cooking–Julien is a professionally trained culinary student and so cooking is far easier for him to do even though traditionally women are the ones who [are] supposed to cook but he does 99% of the cooking in our household and that's just one example."
"We really audit every task, every project, every goal that we have to decide who's gonna do what. Nothing really is on autopilot in that way and we're true partners. It's a bit unconventional because a lot of people kind of opt into roles because that's what they've seen done [by] their mom or their parents or on television, whereas for us, it's a conversation to be like does that make sense?"
What once broke them up now has helped them amass wealth, become financially independent, and be adept at helping others achieve similar goals. Currently, they are working on launching the Cashing Out podcast to accompany their book and they are gearing up to release season three of their YouTube series "Money on the Table." But while a lot has changed, some things still remain the same.
"We've both developed hacks to get around our natural tendencies but there's also these limits so that you don't create conflict. I still like to spend freely," Kiersten admits, "but my workaround is to make sure we pay ourselves first, make sure we've invested, make sure we've set aside money for savings, the bills are taken care of and then I can do whatever I want with the rest."
Julien shares that they now respect each other's differences and even learn from them. "We have evolved to appreciate the other person's approach or I think more so in the broader setup, financial characteristics that you may use to define who you are as opposed to spender or saver," Julien says. "It's more complex than that."
"And so I think we've grown to appreciate that but I also think that as your money grows, as you have more of it, and as you continue to have more conversations about money, you just kinda get better at it. So, it's not really so much of a need to be so tight as you may be or may be required to be at the beginning when you're really trying to dig out of debt or tryna to accomplish some lofty goal. If you're past that then you can kind of afford to ease up a little bit and I think we've learned to do that. I've learned for sure."
Let's make things inbox official! Sign up for the xoNecole newsletter for daily love, wellness, career, and exclusive content delivered straight to your inbox.
Feature image courtesy of Julien and Kiersten Saunders
We all know that Black women, as educated, talented, and amazing as we are, have been paid and treated unequally in traditional workplaces for decades, especially when it comes to our pay.
To bring attention to the gender pay gap, the U.S. has recognized Equal Pay Day yearly, on March 15, since the mid-'90s, an effort sparked by the National Committee on Pay Equity. Then a shift happened where there was a vital need to specifically highlight pay disparities by ethnicity.
Recent research has found that, on average, Black women make 58 cents for every dollar their white male counterparts make, while white women make 73 cents for every dollar made by white men. (In other words, according to the AAUW, Black women make 42% less than white men and 21% less than white women.)
Black Women's Equal Pay Day is commemorated on Sept. 21 to bring to light how much longer it takes for us to catch up to the earnings of her white counterparts.
While the overarching key to destroying the pay gap, especially for Black women, lies in the hands of the U.S. government and corporate leaders and requires major systemic shifts in how women are recruited, how their salaries are budgeted and negotiated, how companies are legally held responsible for breaches in pay equity, and other vital systemic changes related to bias and discrimination, there are ways we can empower ourselves, advocating for equal pay and ensuring that we get what we deserve. Here are five ways to do so in your workplace: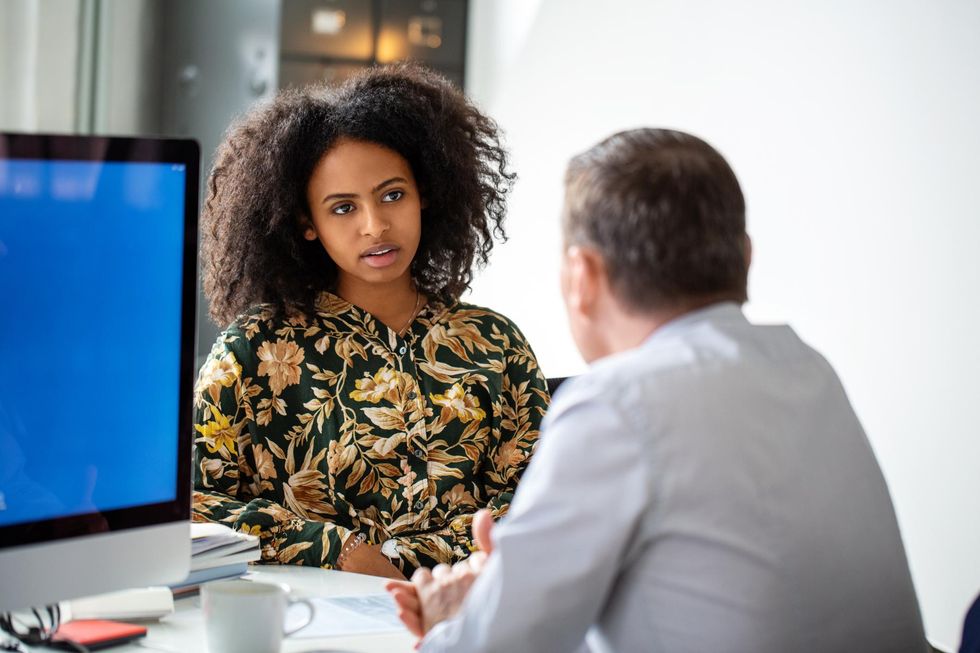 Luis Alvarez/Getty Images
1. Always, always, always negotiate your salary, and get advisement if needed.
It might seem intimidating to push back after getting a great job offer, especially if the offer seems amazing. Research has shown that women are less likely to negotiate when it comes to salary, and they're leaving millions of dollars on that table. That notion alone is enough reason for you to speak up to at least see whether there's more that you should be getting for your talent and time.
No matter what job you're up for or the field you're in, always do your research on what a reasonable salary and benefits package should be and consider your lifestyle, unique talents, and credentials before accepting an offer.
You can look up salaries via sites like Glassdoor or Salary.com or follow IG pages like Salary Transparent Street to get a gauge of how much people make at their respective jobs. It's also a good idea to do a bit of informal comparative research in your real-life network and ask others about their salary negotiation and pay experiences.
Talking with a lawyer, leadership coach, trusted friend, family member, or someone who has sustained a successful and lucrative career is a good idea as well, especially if you're up for a management, director, or executive position. My best career decisions related to salary negotiations and advocating for what I deserve have been made with advisement from mentors (several of whom were men) and my own mom, who handles budgets and has experience in hiring decisions, and who has, unfortunately, often been one of the only Black people in leadership in her workplace.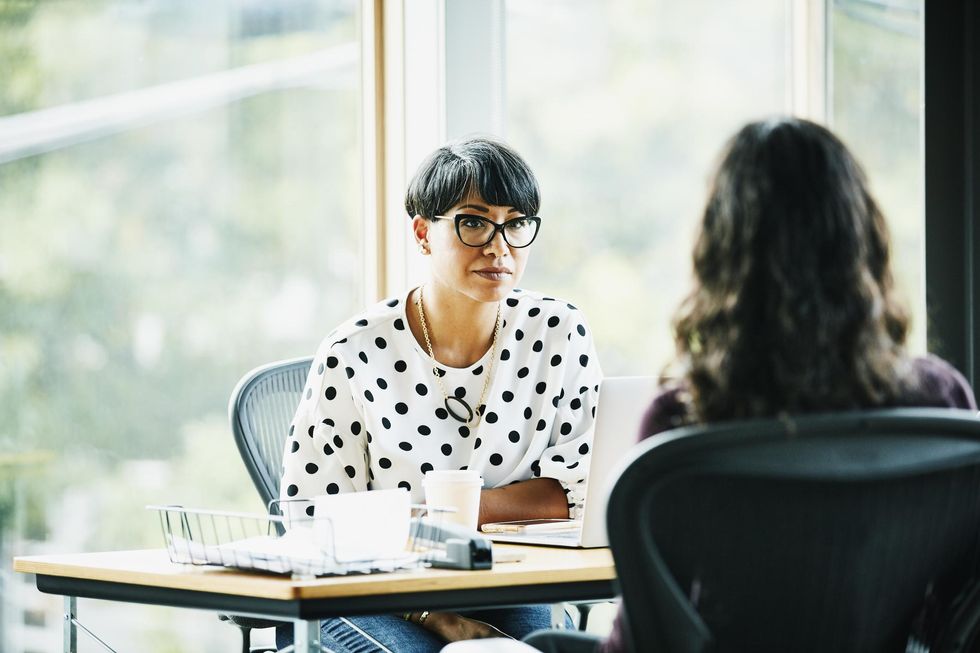 Getty Images
2. Once in a leadership position, use your voice, actions, and influence to push for fair compensation practices.
If you're a manager, a leader in the C-suite, or a business owner (whether a small or mid-sized company), find ways to advocate for equal pay for employees, especially when recruiting new talent. Look into the way in which you set salaries and how you perceive "value" when it comes to an employee. Hire a consultant, do your research, and talk with teams to see what is feasible, what expectations exist, and what biases you might be holding as they relate to gender and pay.
Sometimes it's as simple as just offering women fair salaries, especially if you're the one handling budgets or one of the decision-makers for budgets and approvals.
Speak up when you see issues of inequity in pay. (In some cases, there are legal issues associated with this, as well as your possible role as an accomplice to wrongdoing.) Help create an environment where pay is talked about openly and honestly and where there's a sense of fairness exhibited via actual policies (on paper and enforceable). Offer options to compensate women that are also complimentary to salary in ways that accommodate women's needs that, while outside of work, affect the work that they do (ie. childcare, PTO, healthcare, and performance incentives).
When all else fails, withdraw your talents (via resignation) or support from companies that have historically been known for not paying women equally or who have supported, in action, policies that don't make equity a priority. Take legal action when applicable.
There are indeed women who see equal pay as a major factor in their leadership values. I'll never forget the time when a Black woman CEO upped my employment offer by several thousand dollars (on top of the negotiated salary I'd already asked for). It was profound to me because it showed that, while words are encouraging and offering opportunities is awesome, she put money where her advocacy was. It also reminded me to continue doing the same when I'm in the position to negotiate with freelancers and team members I've been privileged to lead and hire.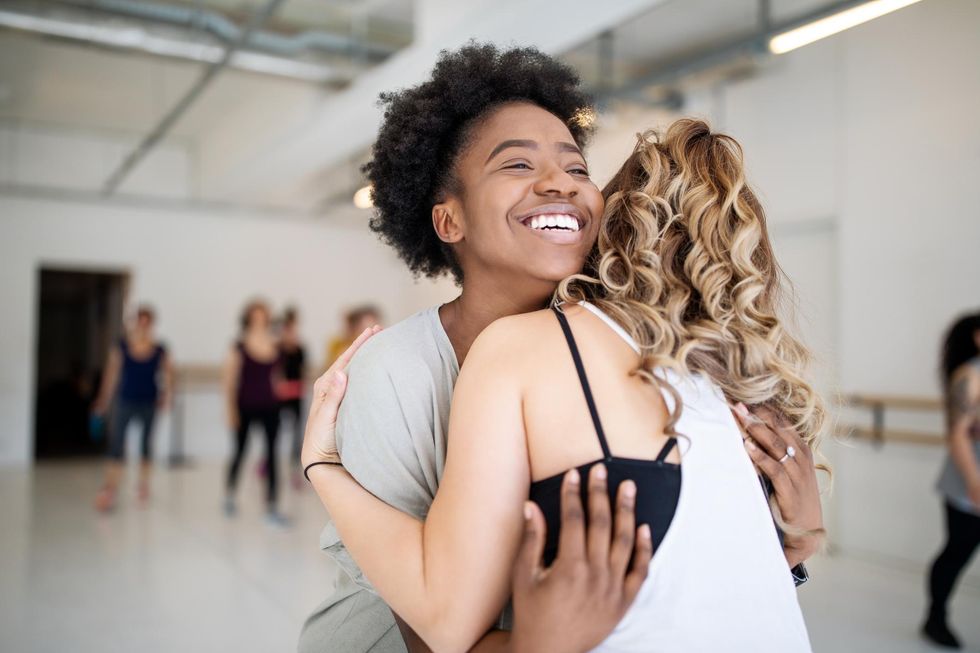 Luis Alvarez/Getty Images
3. Build community and rally fellow women professionals, entrepreneurs, and leaders to change policies and culture around pay.
While there's a disparity when it comes to Black women CEOs at major Fortune 500 companies, businesses are significantly impacted by women (and we represent more than 56% of the workforce) so it's a good idea to build community with fellow women at your company and others. When it comes to systemic change, there's power in numbers. Set precedents and rally for changes that urge companies to follow suit. Being strategic about partnering with other women to ensure that compensation offers are not only equal but actually match the time and talent investment of the employee is just good business.
While we often talk about challenges related to white women being allies, there's also a crabs-in-a-barrel sense that Black women do not support one another, especially when in leadership positions, and thus do not actively advocate for one another, via action, when it comes to advancement and pay. This is something that can change.
If we all seek to walk in our purpose, look out for one another (when fair and appropriate), and think of the bigger picture, we can help to close the gap. For example, early in my career, I was told that I was getting market value for a job. After researching, I found that notion to be true and accepted the offer. However, I later found out that a peer—with similar experience and credentials, working in the same industry—was making much more than me at a company of the same size and stature.
While she, a fellow Black media professional, definitely earned less than her male counterparts at her company, it taught me two important lessons: Just because one company is offering a "reasonable" salary, doesn't mean it's fair or equitable, and it would have been a smart move to gain a new friend and support system by authentically connecting with this particular person instead of thinking of her as competition.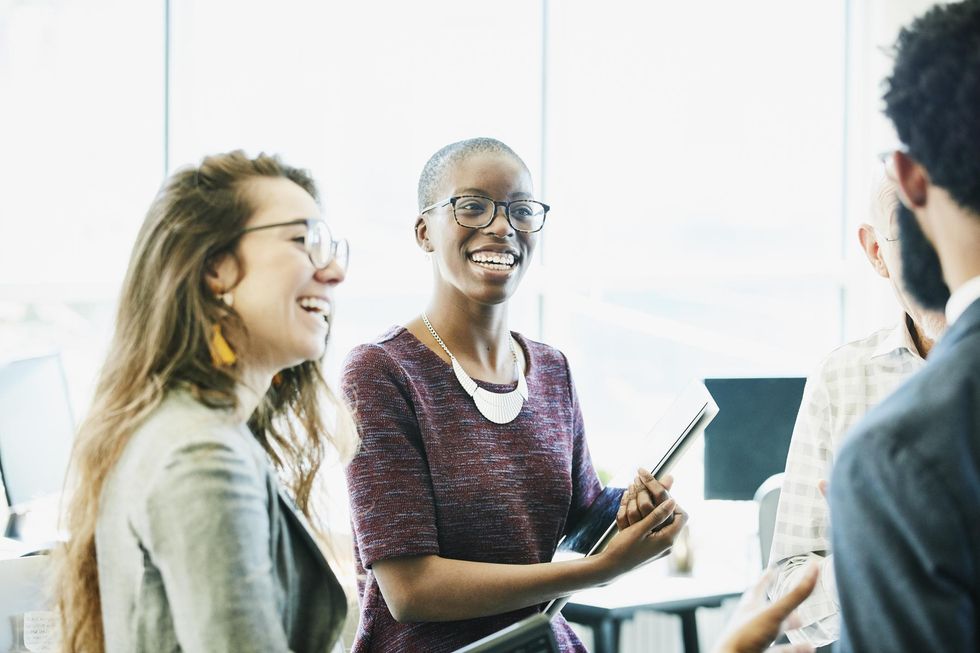 Thomas Barwick/Getty Images

In another situation, I got the chance to advocate for a young woman who was a former coworker. I had about a decade more experience than she did and had gained managerial experience by then, so I knew how salary negotiations worked. She was up for a position at another major global brand and was about to take an offer that not only was a case of low-balling, but it also would have made it difficult for her to sustain a decent lifestyle in that market. And based on the nature of the job, she certainly deserved more.
She felt uncomfortable asking for more money due to the brand and its popularity. There was a fear she'd lose out and end up with no job. I advised her to increase the salary ask and to be kind but assertive in refusing to take the offer until they gave in. I even told her exactly what to say and troubleshot scenarios with her.
She ended up getting $20,000 more than they'd initially offered, accepted the position, got the experience she needed to upgrade her skills and resume, and ended up, later, finding success as a self-employed consultant. She expressed to me that she was grateful for my words of encouragement and guidance. As Black women, we must do our part, small or large to ensure that our sisters are confident, respected, and able to shift the narrative on what people can get away with when it comes to paying us.
4. Support organizations, influencers, and activists shedding light on the issue and/or fighting for equal pay.
You might not feel you're called to activism or fights of a legal nature, and that's okay. You can still do your part by donating to a reputable organization that advocates for pay equity and actively fights against efforts that do not accommodate fair pay for Black women in particular. Like, share, and comment on social posts that offer truthful, research-based, and authentic content about pay for women. (Need a few to start with? Check out the accounts like Ladies Get Paid,The Broke Black Girl, Influencer Pay Gap, or Your Corporate Black Girl.)
Organizations like UN Women, the AAUW, the ACLU, the National Coalition of Black Women, and others work to not only advocate for gender equity but to provide resources for women to take action, advance, and succeed. Do your research and find ways to get involved through volunteering or donating.
When we get real about what people are getting paid, it opens up an honest dialogue about the pay gap. Also, you can't really negotiate or change things from a place of ignorance or naivete. While you can gain a general sense of an average salary via certain online platforms and articles, the reality is, well, reality, and different companies have their respective barriers, biases, company cultures, challenges, and bottom lines.
Behind stats, research reports and statistics are actual people and situations that provide context and true understanding. Knowing the real deal about real-life issues associated with pay is more than helpful and getting real-life knowledge on these things is key.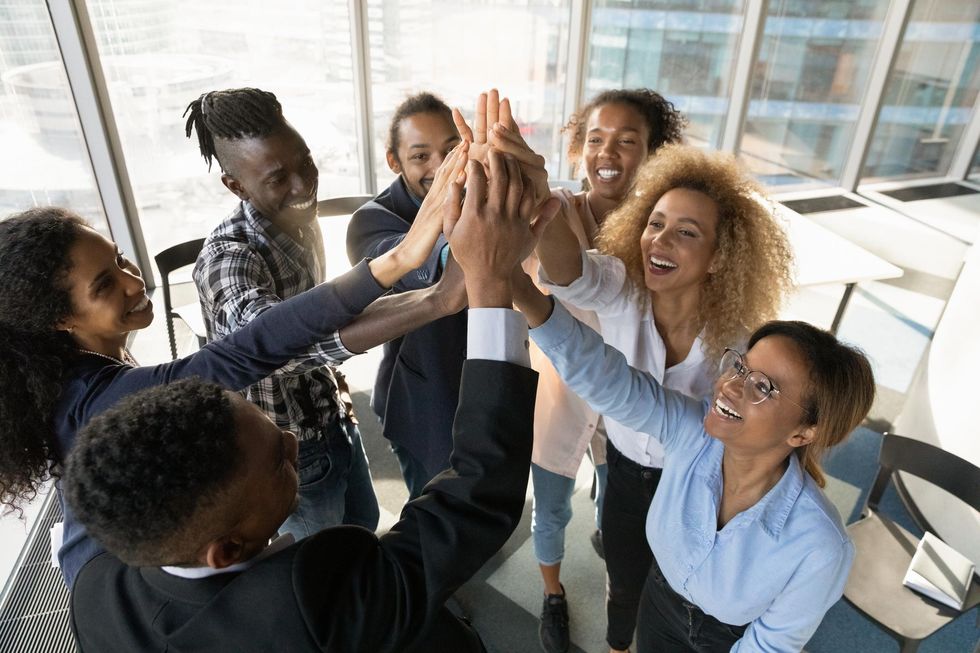 fizkes/Getty

5. Use social media, conferences, and events as opportunities to keep the conversation going and spread awareness about the pay gap all year round.
We all like reposting and sharing funny and entertaining content on our social accounts, and it's a great idea to add a few facts about the inequity affecting Black women, how people can fight against it, or, at the very least, how we, as Black women, can stand up for ourselves. Also, information is power, so sharing facts about salary negotiation, how much people actually make in certain positions or at certain companies, and calling out companies that accommodate or actively participate in adding to the problem are great ways to positively add to the narrative.
When hosting conferences and events, adding the topic of pay, especially to the agendas of those targeted to young Black professionals and entrepreneurs, is a good idea. Also, as attendees of popular conferences and events, speaking up about the content that you're paying for and requesting the inclusion of conversations around salary and pay is key.
If you're paying for an experience that is marketed to enrich you or support your success (and you're, in turn, offering a chance for profit for event producers and organizations) shouldn't you have a say in what you're getting in return? Otherwise, why support or go? Even if there are sponsors, what's an event without its attendees? Using our voices via social and at events can help build up infrastructures of solutions-oriented conversations and ultimately, accountability. While it is not the overall solution, it is part of helping to forge the change we need to see.
We face tremendous challenges as Black women in the workplace, however, we can do our part in empowering ourselves by boldly speaking up, supporting one another beyond performative rhetoric, shedding archaic stereotypes, and truly unifying to close the gap through one deliberate act of strategy and defiance at a time.
Featured image by Cecilie_Arcurs/Getty Images
Let's face it: Debt is a common part of the personal finance reality for millions of people in the U.S., and it's something, as Black women, we often struggle with. It can keep you up at night, lead to that final step to start a side hustle, or simply serve as a reminder of an option that facilitated your journey to live your best life.
Whatever your reason is for being in debt (or owing a balance to any entity or person), you can be empowered and find solutions for how to cope with debt. Try these steps in order to get a handle on things and gain balance:
Step away from the guilt, shame and fear.
Oftentimes, there's an element of fear and shame when it comes to facing debt. You might feel overwhelmed just by the mere thought of owing anybody money. It might even contribute to depression and anxiety. This is why an important first step is to deal with the feelings of shame, talk with a professional (find free resources here) and find ways to overcome those feelings in order to focus more on a plan of action.
Also, remember that you're not defined by debt and that you're a beautiful human being who simply happens to have debt. It's not the end of the world and it doesn't diminish the amazing person you are. Your life and mental wellness are priceless and should be celebrated and protected.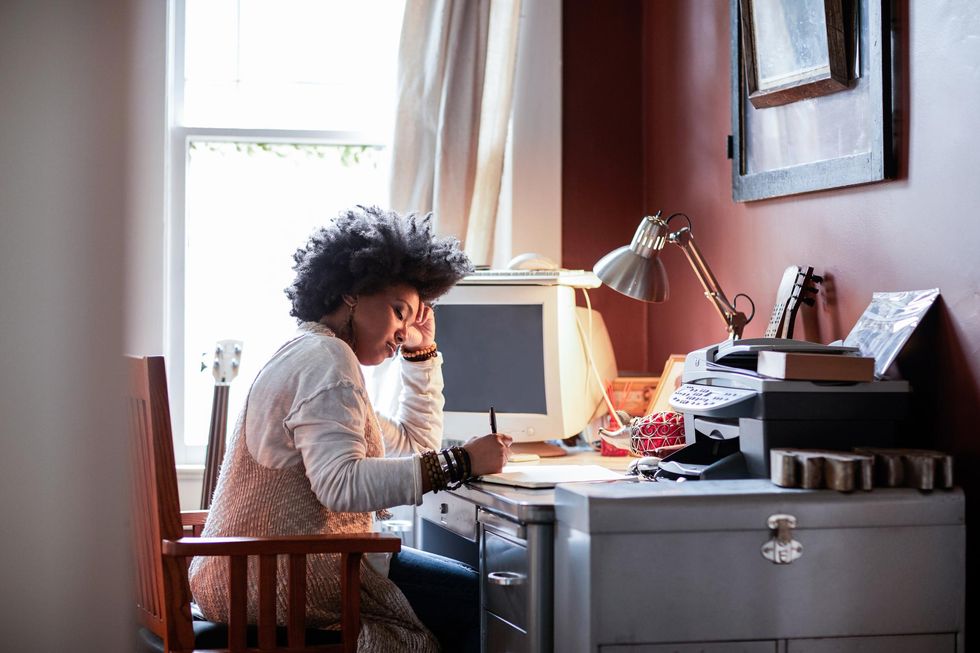 MoMo Productions/Getty Images
Honestly evaluate your income and budget.
If you don't have a budget, now's a good time to create one, even while in debt. When you have a budget, you get to know exactly how much money you're earning, how much you're spending, and what your bills truly are. This is the perfect opportunity to get honest about your money flow (even if you're unemployed or underemployed) and a great time to find out what your options are in terms of a plan to pay down debt. And make technology your friend. There are several budgeting tools and apps that will do all the hard work for you when it comes to tracking your expenses and money flow.
Be sure to take a realistic approach to budgeting, including recognizing what you're willing to give up, cut back on, or not. Getting help with this is also a good idea if budgeting is something that overwhelms you or is something you struggle with, and there are nonprofits and orgs such as Greenpath to look to for options in debt management.
Contact your creditors and explore your options.
Bills like those with medical institutions or hospitals can oftentimes be negotiated, down to the final sum due. You can also discuss your options with credit card companies and explore your payment options based on "hardship" programs. It can be a huge relief when you know you have options and everything isn't all doom and gloom. Oftentimes, you can get a handle on debt simply by talking with the party you owe, asking lots of questions about what your options are, and even making an offer that's more beneficial for you (i.e. settling the debt for a lower lump sum, forgiving late fees, or forgiving the loan altogether.) You can find empowerment by negotiating, even for conditions or amendments, that you didn't believe to be possible simply because you were so focused on worrying about the debt.
Celebrate the wins, big or small.
Whether you paid off a $200 debt or are much closer to finally paying off that $20,000 student loan, celebrate it. Don't let it just pass by as if it's a blip on the personal finance radar. It's good to treat yourself and focus on the good in the journey. Experts recommend doing this so that you can have something positive to focus on while you're going through a debt-management journey that challenges you. You can find small and affordable ways to do this. Include your support system and enjoy the company of family, friends, or bae.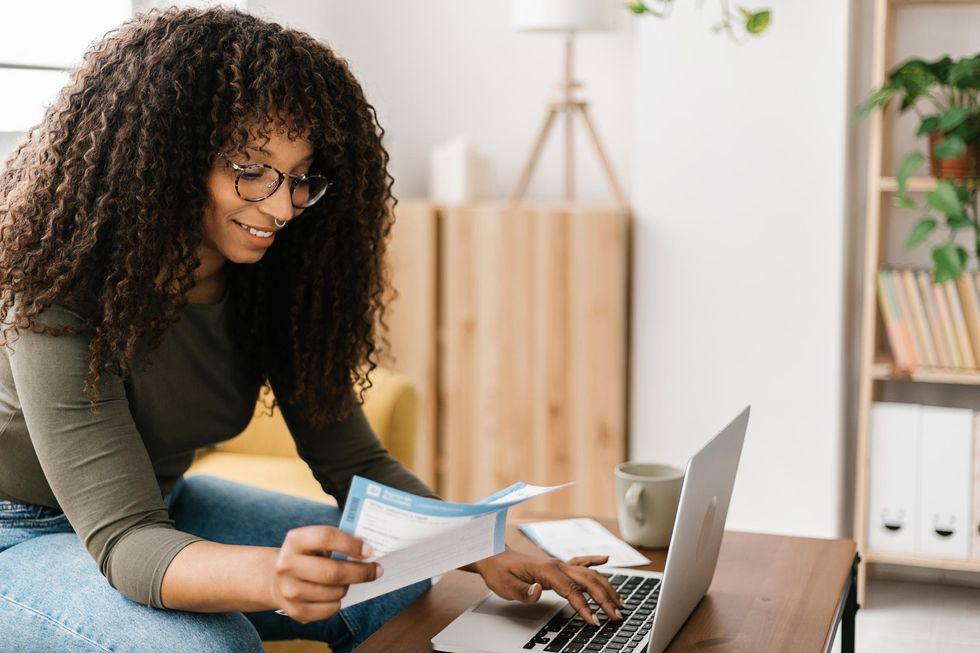 Xavier Lorenzo/Getty Images
Explore other options for income generation or downsizing.
While you may not want to add on the stress of a second job or side hustle, it might be a good idea to look for other options to bring more money in. Explore the return on time investment and really tap into why getting a second gig, applying for a higher-paying job, or asking your company for a raise might be the best option, especially if you're trying to avoid continued interest expenses and just knock the debt out as soon as you can. You'll have to become super-deliberate about how you're spending your time and ways you can bring in more income in order to pay down the debt.
If you can move in with a family member, take on a roommate or tenant, or try a weekend gig in which the salary or income goes totally toward cutting down debt, it might be a worthwhile sacrifice in the long run.
Whatever reducing debt can mean for you, peace of mind is priceless. Finding strategies or realistic ways to reduce debt is both reasonable and doable. With a bit of planning and determination, you can do it, sis. Remain encouraged and try the tips above to take your life back.
Featured image by Fizkes/Getty Images