---
When I was younger, I couldn't wait to be grown so I could have my own apartment. I remember visiting my older cousin's apartment and taking mental pictures of her decor because I wanted to replicate the same energy once I was old enough to have my own space. The chance to turn on lights without my mama giving me the black mama look was all I wanted. Every time Ari Lennox sang, "I just got a new apartment. I'm gon' leave the floor wet. Walk around this bitch naked and nobody can tell me shit," I feel that in my soul. I finally got that freedom after moving to Denver in 2016 and I realized the joy of living independently also comes with some lonely nights.
I've lived in different cities and countries all over the world but I always had a roommate so moving to the Mile High City alone was one of the biggest risks I had ever taken. And one of the best risks if I'm being honest.
I am so proud to be a part of a generation of women that is focusing more on what makes them happy and not allowing societal deadlines to compromise their life choices. Marriage and birth rates have lowered due to a number of variables and a woman's choice to make her career a priority is leading the charge. Between the government and nosey family members all in our fallopian tubes, women just want to create a life they love.
For some queens that equates to living solo. A recent study says that women who live alone have higher education levels, are higher income earners and are more likely to be professionals than women living with others. With those statistics, we decided to catch up with five women to spill the tea on the perks and pitfalls of living single-ish.
Peigy Theodore: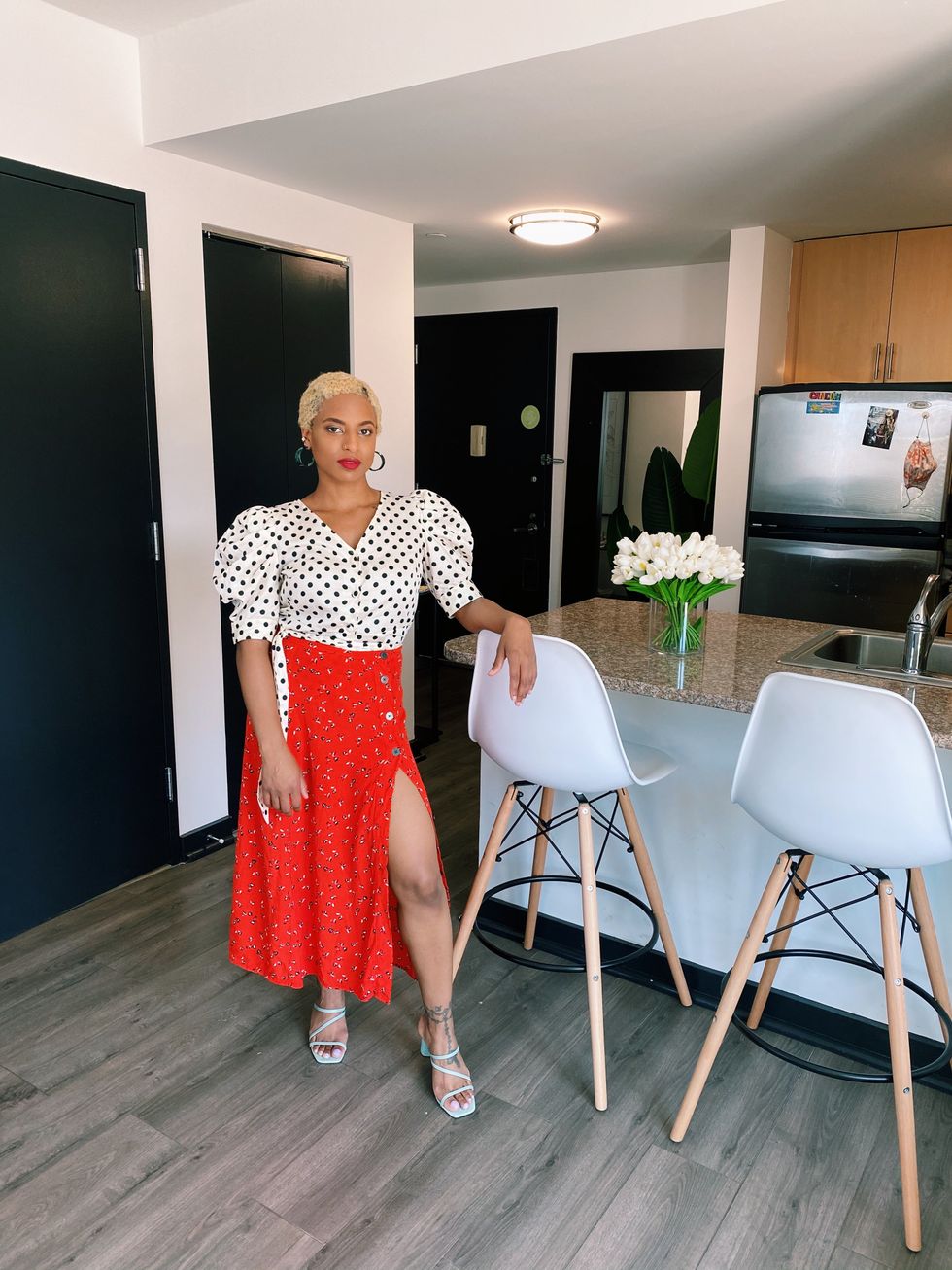 Courtesy of Peigy Theodore
"My life has been pretty different from my friends and peers. I moved out of my parents' home when I was 19 and my sister was my roommate. It was a stepping-stone decision for me. By the age of 21, I had moved out completely on my own. I've lived alone for almost 10 years now. I'm newly and happily single.
The biggest misconception about living alone is that it's scary, and not in the 'someone is going to break into your house' kind of way, but more so getting psyched out and thinking you're not going to sustain the life you want, especially in New York.
It's super expensive here but I made it work on minimum wage while going to school. I tell everyone, it's all about timing, budgeting and money management. That being said, it is in no way easy and there will initially be some fear because it's a big change but it's worth it.
I actually really love living alone and suggest for everyone to try it but there are three things I dislike that are kind of silly but here they are: being my own 'handy-man' (I'm actually really handy, but sometimes you just want things to be magically fixed); having to actually kill spiders myself; having to pay this expensive NYC rent on my own (honestly, I would save a ton if I were willing to get a roommate); not being able to zip the back of a dress. I've definitely shown up to places and asked someone there to zip me.
I almost never feel lonely. I thoroughly enjoy spending time with myself and just relaxing.
My favorite space is my living room. It's the perfect amount of comfort and I can just focus there as opposed to being in my room. Also, it's a great space for home workouts during quarantine."
Follow Peigy's journey on Instagram @peigystyles.
Vic Styles: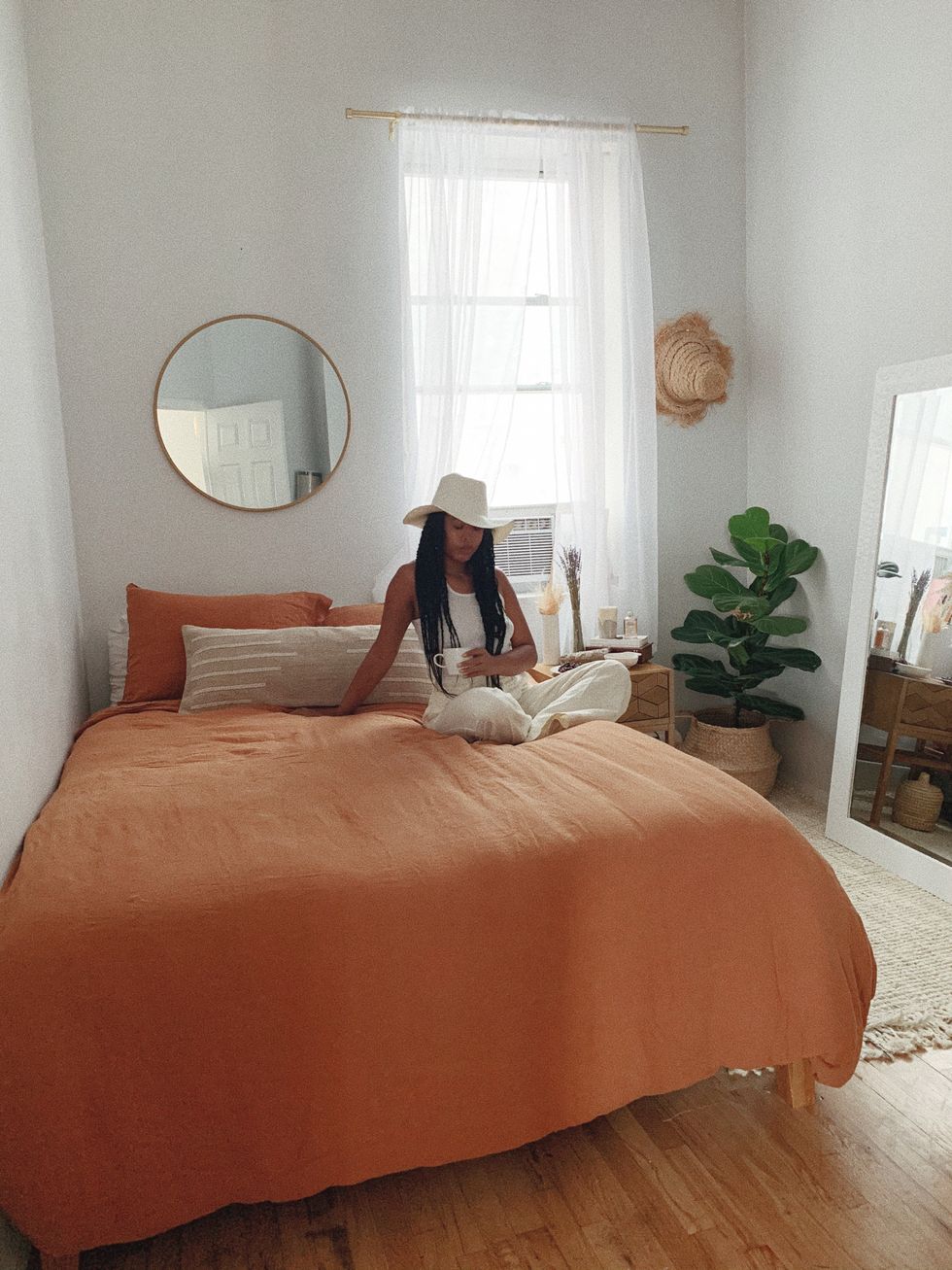 Courtesy of Vic Styles
"I decided I wanted to live alone two years ago. I was sleeping on friends' couches because I couldn't get approved for my own place. My credit was bad, and being freelance it was almost impossible to get approved. I vowed to myself that I would fix my credit and get an apartment alone. I worked and prayed diligently, and a year later I moved into my own place. I am in a relationship, but he does not officially live with me.
The biggest misconception about living alone is that you get bored or lonely. And for me, this hasn't been the case. I enjoy time with and for myself.
I grew up an only child, and because my dad was in the military we moved every 2-3 years. I say this to say: I've spent most of my life alone. I've grown to love and cherish the time I'm allowed to spend with myself and never really find it lonely. I am my own best friend.
There's only one thing I dislike - I freak out whenever I see a bug and there's no one to deal with it but me. My favorite space is my bedroom. It feels like peace. Some things I like to do when I'm alone include: reading, binge-watching cheesy TV shows, writing, manifesting through Pinterest vision boards, and of course working."
Follow Vic's journey on @thevicstyles.
Tania Cascilla: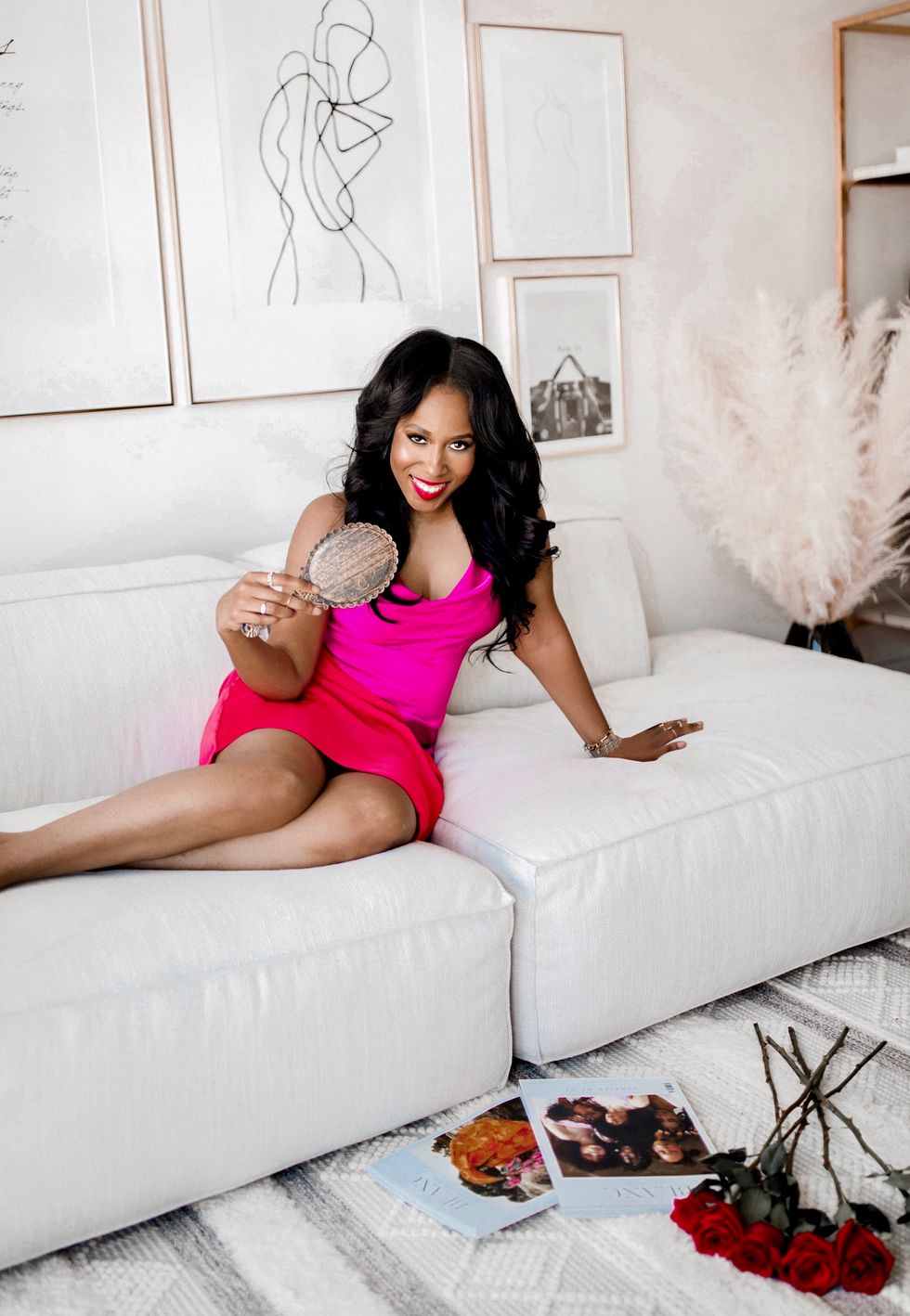 Courtesy of Tania Cascilla
"I've always preferred to live alone, I grew up an only child, so I'm totally accustomed to it now. I'm single-ish and totally not against cohabitating, I think it's all about setting boundaries and respecting each other's space. Im definitely not opposed to living with my partner in the future but right now I'm enjoying the freedom of being alone in my space.
The biggest misconception is definitely loneliness. It's like geez, can't I enjoy my own company?
FaceTiming with friends, working, going for a walk, soaking in the tub or simply just watching TV help combat loneliness. I feel like I have so much going on that I honestly don't notice it.
My favorite space in my home is definitely my living room... Specifically my couch, It's such a cozy and comfy vibe."
Follow Tania's journey on Instagram @darlingtee.

Tanisha Cherry: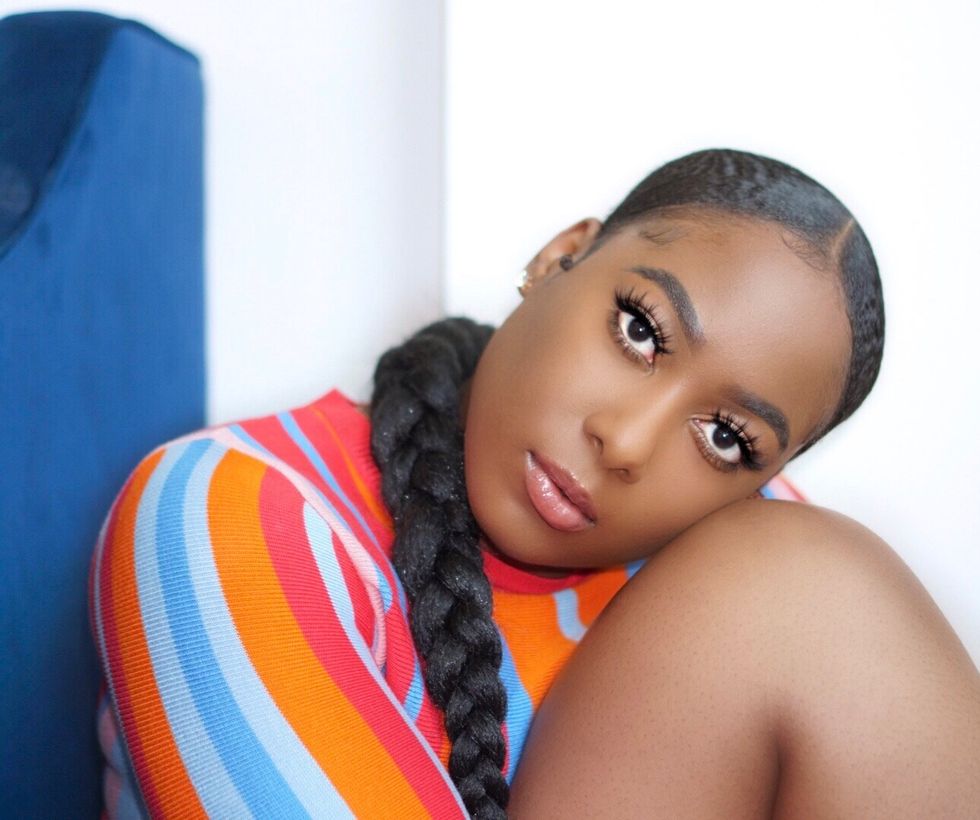 Courtesy of Tanisha Cherry
"I decided to live alone three years ago when I got the call that I was the successful candidate for a new job. This blessing was taking me away from a job that was making me miserable and giving me the money to change my living situation. At the time, I had five more months on my lease and the friendship with my roommate was over.
The biggest misconception is that being alone is being lonely, when really it's 'all in one'. Honestly, I don't dislike anything about living alone. I really enjoy living alone because I'm in an environment that aids in my flourishment.

Loneliness is sadness because one has no friends or company. I prevent loneliness by making plans with my family/friends and incorporating a shared interest. A shared interest can be food, fitness, shopping, etc. For example, my friend Ryan and I are committed to living a more active lifestyle. So, we go on two-hour walks together around our neighbor to get our steps in and check-in.
My favorite space in my home is my living room. There's an energy in that area that helps me be completely in the moment of whatever I'm doing."
Follow Tanisha's journey on Instagram @tanisha.cherry.
E'yonnie Scott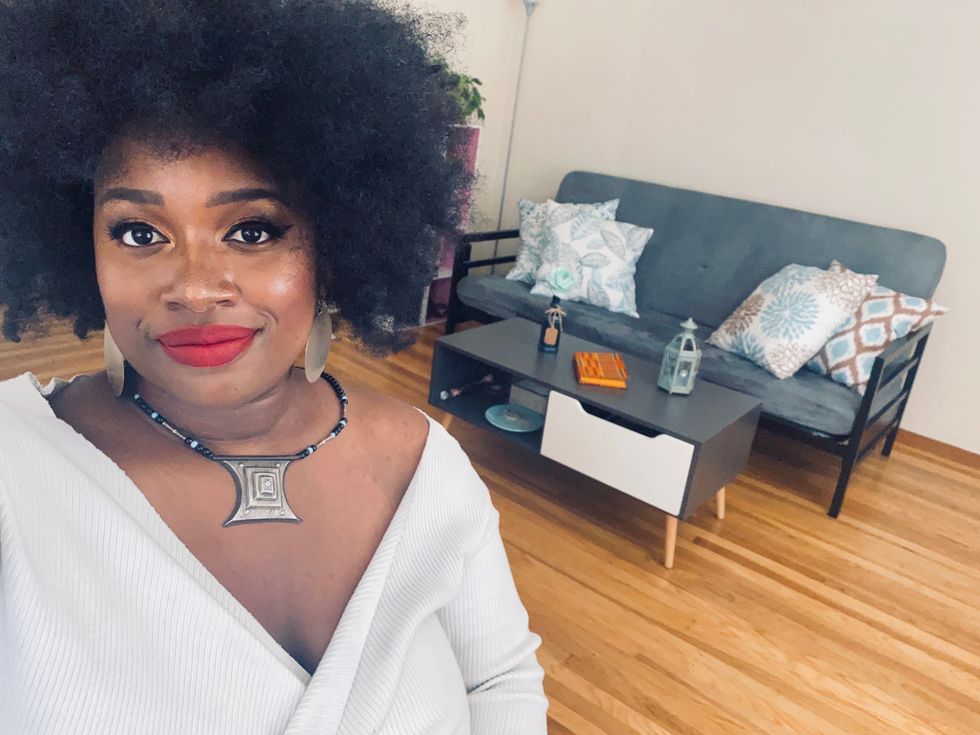 Courtesy of E'yonnie Scott
"I've dreamed of living alone since 2014 when I graduated from college. But I was finally able to make this a reality earlier this year in March. I made a major career change that gave me the footing I needed to branch out on my own. I've now been living alone for almost five months.

I personally prefer living alone right now, as this is the first time in my life that I've had this kind of space to myself. I'm 100% accountable to myself and have the flexibility to build my household around my needs. But when the time feels right, I'm excited to live with a partner that I can grow and align with.
As far as what led me to that decision, I took cues from my own experiences living with family, as well as from stories friends have shared about living with partners and roommates. It's very sweet living with loved ones, but I realized I'm more suited to having space to retreat into my own world (at least for now).
My biggest misconception about living alone was that, despite how much I love alone time, it still gets lonely at times. I still get homesick for my family and childhood home, but I'm finding ways to make my new space feel like 'home' the more I settle in.
Things I dislike about living alone include managing everything alone, like bills, budgeting, repairs, chores, and time management now that I'm working from home (sometimes it's daunting, but it also gives me a sense of accomplishment); the existential dread that comes with quarantining alone (I'm thankful, though, that my loved ones and I are finding ways to help each other stay centered); there's no one else around to help catch spiders that sneak into the apartment.
My favorite area is my living room because it feels like a sanctuary, from the teal couch pillows to the afternoon sunlight that pours in every day. I love my candles, my plants, the berimbau that sits behind my plants, and the bookshelf full of Octavia Butler. Despite the chaos outside, my living room and its soft accents make me feel safe.
I stave off loneliness with lots of FaceTime calls, a robust podcast rotation, crafting, gardening, tuning into webinars, movies, and playing lots of music. I'm also a part of a small quarantine-pod that meets up social-distance style. I love them very much and cherish our time together."
Follow E'yonnie's journey on Instagram @eon_genesis.
Join our xoTribe, an exclusive community dedicated to YOU and your stories and all things xoNecole. Be a part of a growing community of women from all over the world who come together to uplift, inspire, and inform each other on all things related to the glow up.
Featured image by Vic Styles