Recently, I decided to give the relatively new ABC series A Million Little Things a shot. While I'm the fence about tuning in regularly, I believe it was totally meant to be that I watched this particular episode. The part that's relevant to what I'm about to discuss is, there was a woman who had just shared with her husband that her uncle had molested her when she was a preteen (then basically tried to buy her silence by funding her restaurant as an adult).
---
When she went to the hospital to finally confront him about it, she discovered that he had literally died a few hours earlier. Meanwhile, she and her mom always had a very strained relationship. Come to find out, a part of it was because her mom had been molested by the same uncle, her mother's brother, and never said anything about it either.
Whoever came up with that "keep it in the family" mentality is mentally unstable, to say the least.
Listen, if you're a Christian reading this, the Bible clearly instructs us to "confess and be healed" (James 5:16). Confessing—bringing things out into the open—brings forth healing. Shoot, even if you're not a bible believer, there is NOTHING healthy, logical, or beneficial about enduring abuse from a family member in silence. All it does is give the victimizer the power to keep harming you (and probably others) over and over again. (It also ups the chances of you hurting others too because sometimes "hurt people hurt people").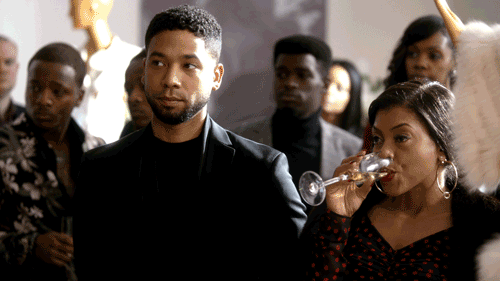 media.giphy.com
I say this with complete and total conviction because I have quite a few toxic family members on both sides of my bloodline. If you're not sure how to tell what that looks like, the video "6 Signs You're Dealing with a Toxic Person" will provide all sorts of light bulb moments. The cliff notes are—people who constantly play the victim, are emotionally abusive, are pathological liars, are control freaks, who don't respect boundaries and are negative? If they exhibit one, some or all of these traits, they are considered to be toxic individuals. Do you know a relative like this? Probably so.

Toxic is poisonous and poison kills. That's why I don't think anyone should be made to feel bad for setting clear and firm boundaries with family members who are toxic. Here's a deeper explanation into why I say that.
All a boundary is, is a limit. If you've got relatives who think you shouldn't have any or that your limits should not apply to them—one, that's a sign that you've got some pretty toxic people in your life and two, it's a clear indication that it's totally OK to set even more limits with them. No apologies needed.
Featured image by Getty Images.

Related Articles:
How To Deal With Being The Successful One Of The Family - Read More
Your Closest Family And Friends Don't Always Know What's Best For You - Read More
We've Said A Word About Toxic Fathers, But Who's Talking About Toxic Mothers? - Read More
Originally published on February 28, 2019