Jayde Young
Hey, I'm Jayde! I'm an astrologer, metaphysical lifestyle expert and the CEO of ZennBoxx.com. Say hi to me on Instagram @JustJaydeYoung.
What attracts an Aquarius man and an Aries woman to each other? Novelty. The Aquarius man, keenly aware of and concerned with his public persona, wants a woman bold enough to send a strong message to society about his societal interests, convictions and values.
Who else can stand such a challenge but the unapologetically bold and dynamic Aries?
What Attracts An Aquarius Man And An Aries Woman To Each Other? 
When it comes to the initial meeting between this pairing, there is no gray area: They either love each other or hate each other.
The Aquarius man, bored by "safe", predictable women, is immediately intrigued by Aries' intellect and boldness. She's different from the rest. He is instantly drawn to her and seeks to engage with her intellectually. Sure, she passes the test on the surface, but he needs to see if she can hold her own mentally. He'll verbally spar with her to gauge her perspectives on matters that are most important to him.
The key to an Aquarian man's heart is through his mind. When the female ram inevitably meets his high standards, he finds himself falling in love.
The Aries woman, a human bullshit detector who doesn't have the time or patience for an overbearing, underhanded man, will give Aqua a run for his money. She is not concerned with the sexist social norms placed on woman, and instead, seeks a life that is true to her own independent values. A natural-born Alpha who values independence, she refuses to repress her strong drive and sense of individuality for anyone, especially a man! Aries will give Aqua a run for his money.
She feels him out, at first wondering if his naturally charming, and boyishly unassuming personality is his attempt to run game on her. If interested, she is inclined to test his willingness to accept her for who she is. She may initially decide to just use him for sex, determining his sexual attitudes in the process. Ultimately, once she realizes she's found a man who respects her and who and won't make her feel claustrophobic in a relationship, she will fall in love.
Above all else, the female ram needs a man who will allow herself to assert herself in her relationship and in life.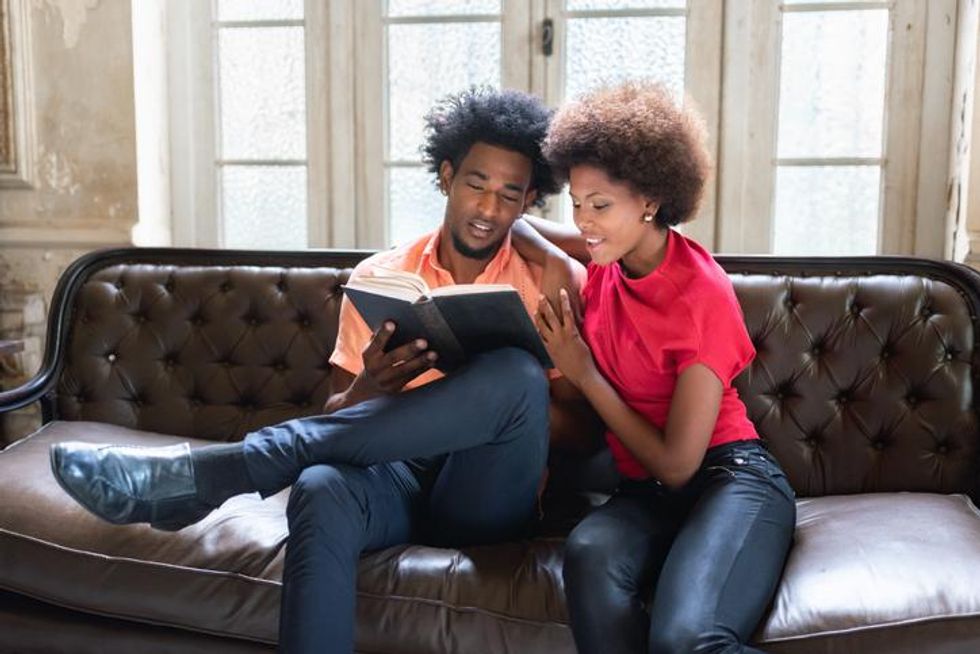 Getty Images
What Is Sex Like Between An Aquarius Man And An Aries Woman?
Sexually, a romp between these two is likely to flame or fizzle out from the beginning. Whether these two click or not in the bedroom, they'll know it immediately because neither sign is inclined to playing games or beating around the bush.
Aries women are attracted to direct, active and frequent sex. She's a straight-shooter who doesn't mind letting her man know exactly when and how she wants to do the do. The intellectually-driven male Aquarian will either be down for this dynamic or he won't, and he will let you know in no uncertain terms if he's willing to play the role that the female ram has designated to him. If he's not, the female Aries is off to the next - no hesitation!
Between the two, the Aries woman is likely to find herself pursuing sex the most in the relationship with her Aquarian man who, at times, seems like he has too much on his mind to engage in sex with her. Her relentless sex drive can easily wear him down. In contrast, he may find himself irritated by her constant need for it.
What Is A Relationship Like Between An Aries Woman And An Aquarius Man?
Publicly, a relationship between an Aquarius man and an Aries woman is dynamic, modern and cutting-edge. Behind the scenes - it is the same. A relationship between the female Aries and the male Aquarian is likely to run an unorthodox course with these two freedom-loving, open-minded partners exploring the gamut of human sexuality. Swinging, group sex, polyamory, pegging, etc. these two don't mind trying it all behind the scenes. The priorities here are freedom, discretion, and mutual fulfillment.
Aquarians like women who are out of their league, and the Aries woman - a natural born goddess - is well-suited for the task. Though distant in private, he likes to dote on his partner romantically in public. The Aries, quite comfortable on her pedestal, is happy to receive her man's praise for what it is. What she appreciates most about him is that, unlike most other men she's dealt with, he is not intimidated by her strength and isn't likely to try to control her or limit her freedom.
In all, this relationship isn't overly romantic. This is a more friendship-based dynamic that is comfortable, respectful and familiar. It feels safe, natural and uninhibited.
What May Cause An Aquarius Man And An Aries Woman To Break-Up
Where these two hit a snag is in their way of dealing with conflict. Aries, whose sign rules the head in astrology, is naturally inclined to want to address problems head-on. The problem is, Aquarius is difficult to pin down! Stubborn and fixed in his beliefs, the Aquarius male is unlikely to shift his stance on a matter. Instead, he is more inclined to stone-wall or emotionally shut down during a disagreement. This in turn can cause his Aries woman to feel as if she's been left "high and dry." At its worst, it is easy for her to feel emotionally and physically neglected in this relationship.
Ultimately, the freedom-focused, intellectual connection between the male Aquarian and the female Aries is what will help it stand the test of time.
Summary
A relationship between an Aquarius male and an Aries female is marked by a deeply intellectual connection based in mutual respect and admiration. This pairing will be successful so long as the bond is friendship-based and both are allowed plenty of flexibility and space to pursue their individuality and their unique sexual and emotional outlets.
Featured image by Getty Images
Keep reading...
Show less
A relationship between the Cancer man and the Libra woman is a bittersweet fairy tale. Libra women are the princesses of the zodiac whereas your typical Cancer man is the proverbial "Prince Charming." In the early stages of her relationship with a Cancer man, a Libra woman feels like she's finally found her prince; a charming gentleman who appreciates her inherent value physically, intellectually and emotionally.
Libra women tend to attract men drawn only to her looks and surface-level attributes, men who see her as a challenge to be conquered. In contrast, her Cancer suitor is refreshing in that he doesn't see her as a mere conquest, he wants to wife her. Libras have extremely discriminating tastes in men and are hesitant to settle down until they've met who they perceive to be the perfect one. The man who wins her heart will have to exercise plenty of patience and will have to put in the work to win her for the long-haul!
Interestingly enough, Cancer men are turned off by women they perceive to be "easy." Cancer men love a challenge and want to view the woman he settles down with as a much-desired prize. Both Libra and Cancer, in the initial stages of attraction, fit extremely well into what they each want as both a short-term and long-term partner.
This astrological pairing has the foundation needed for a strong love story.
However, as is the case with all fairy tales, there are major roadblocks that need to be overcome before these two can ever reach their happily ever after.
What attracts a Cancer man and a Libra woman to each other?
Cancer men are drawn to the effortless sex appeal of the flirty Libra. Libra women ooze femininity and Cancer men find this extremely attractive. Even dressed down, Libra women have a magnetic aura that draws men to them. Libra women are the personification of the infamous Drake line:
"Sweatpants, hair tied, chillin' with no make-up on/That's when you're the prettiest, I hope that you don't take it wrong"
Turned off by aggressive and overtly sexual women, Libra has the kind of unassuming, girl-next-door beauty that Cancer men are typically attracted to. Similarly, Libra women can easily find a sense of security and stability with her Cancer mate who, like her, is ultimately seeking a long-term partnership. Libra is comforted by Cancer's traditional values, emotional sensitivity, deep respect and appreciation for her. This is one relationship where Libra won't feel like any aspect of herself is being taken for granted!
Cancer is attracted to Libra's light and breezy demeanor. The male crab is put off by fiery, confrontational women. Libra's peaceable, congenial nature is extremely attractive and soothing to the highly-sensitive crab. Likewise, Libra is deeply drawn to Cancer's gentlemanly, considerate and soft-natured personality. She is pulled in by his sensitivity, feeling compelled to nurture him. Cancer's vulnerability creates a soft spot in Libra's heart for him.
What is sex like between a Cancer man and a Libra woman? 
Sexually, Cancer men are attracted to assertive partners who don't mind taking control in the bedroom. He loves a woman who is free and won't hesitate to get on top and take control of her sexuality and orgasm. He is a giving lover who takes his woman's pleasure very seriously, especially when it comes to oral! He is naturally attracted to breasts and isn't squeamish in his strong attraction to the female anatomy. He will quite literally worship his woman in bed!
Libra is extremely sexually open, free and loves variety. She is uninhibited and loves trying new tricks in the bedroom. She is aroused by her mate's sexual desire and feeds off of Cancer's intense passion for her. Libra has no tolerance for monotonous or boring sex. In contrast, Cancer, while highly sexual and deeply emotional, is happy with a routine sex life.
Overall, there is a comfortable, invigorating synergy between both signs sexually.
What is a relationship like between a Cancer man and a Libra woman?
The Cancer man wants to settle down with a deeply empathetic partner. Cancer finds the most comfort in a motherly figure who is happy to provide for and cater to him while emotionally affirming him and encouraging his growth. Cancer men have no qualms about getting involved with older women; and, quite frankly, that may be the most appropriate and fulfilling dynamic for him.
The Libra woman needs a keen, patient listener who she can constantly bounce ideas off of. She needs intellectual stimulation and plenty of new experiences in life. She hates feeling bored or tied down in relationships and needs a life filled with beautiful experiences and surroundings. She is intensely empathetic to the mistreatment of others and may even find herself fighting for a cause. She roots for the underdog always because injustice affects her deeply.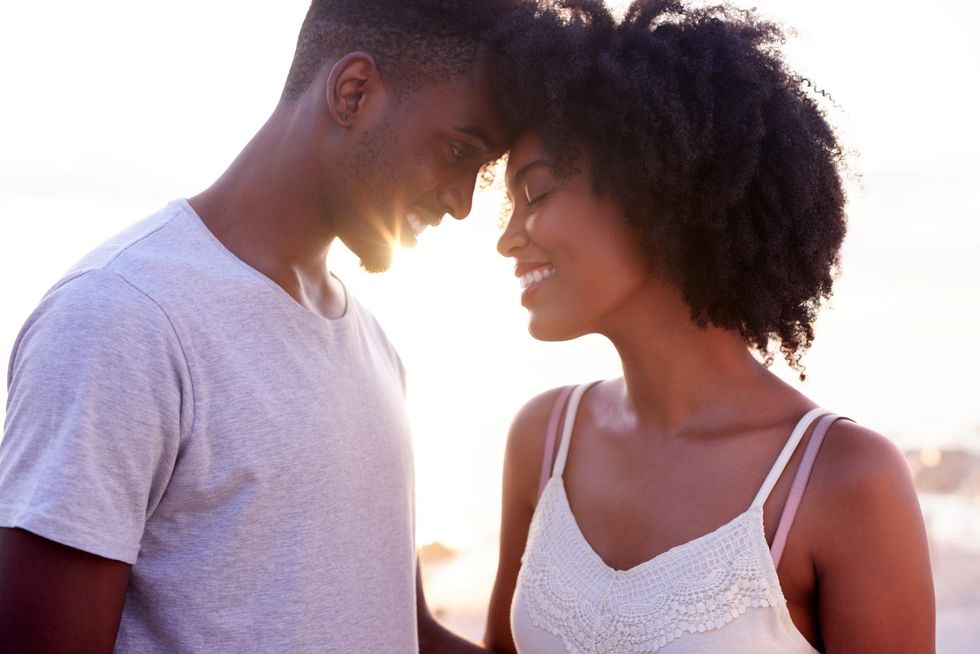 Getty Images
What may cause a Libra woman and a Cancer man to break up?
The Cancer male, who errs on the jealous side, may find himself feeling insecure by the attention his flirty Libra woman always seems to attract. Not one to be ill-mannered, Libra refuses to curtly rebuff male suitors, opting instead to politely (or even apologetically!) decline advances.
Libra's naturally social and flirty attitude to others can bruise Cancer's fragile ego. He feels she's "too nice" to other men and sends mixed messages to them. To him, she's impossible to pin down! Cancer feels disrespected by Libra's pleasantries, perceiving it as a lack of loyalty. Cancer's insecurities are deeply triggered, causing him to clam up and brood silently - much to the bewilderment of Libra.
In contrast, easy-breezy Libra is constantly weighing the pros and cons of a potential mate before settling down. She refuses to allow herself to be tied down to the wrong person. She values her independence and freedom. While deeply empathetic, she doesn't have the time or the patience for what she deems to be unreasonable and immature emotional responses.
To add fuel to the fire, indecisive Libra is always looking for any hints of incompatibility in relationships; and at the first hint of conflict or unpleasantry, she is inclined to detach from it. She may easily find herself repulsed by Cancer's jealousy and resentful nature. Turned off, she won't hesitate to leave the relationship altogether.
Unevolved Cancer is jealous and possessive. When he develops a strong bond with someone, he holds onto that bond for life. Sensing Libra's flirtatious nature, Cancer may shut down and remove Libra from the running, doubting her trustworthiness and loyalty.
Cancer's moodiness tends to throw Libra off-balance and Libra's flightiness triggers Cancer's deep insecurities.
Cancer Man Libra Woman Summary
A relationship between a Cancer man and a Libra woman has the foundation needed for a successful relationship, so long as certain critical pitfalls are avoided.
Cancer needs to be aware of his tendency toward jealousy and possessiveness. He has to feel secure enough within himself and his relationship to allow her plenty of room and freedom to express herself in the way that feels most natural to her, without doubting her loyalty.
In turn, Libra has to get rid of her deep fear of conflict and must be willing to compromise and be considerate of the effects her flirtiness has on her partner. She needs to practice gently confronting and addressing what she perceives to be Cancer's clingy and insecure behavior in order to reach a mutual understanding.
Once these major issues are addressed, Libra and Cancer can happily ride off into the sunset as romantic life partners - enjoying a relationship filled with empathy, peace, beautiful experiences and harmony.
Featured image by Getty Images

Keep reading...
Show less
Astrology is a funny thing. On the surface, based off of your sun sign, you could appear to be an ambitious Capricorn or a chill Gemini, when in reality, you're the complete opposite. The biggest mistake that many people make when using astrology to learn more about themselves is by only observing the sun sign.
"Many people look at a person's sun sign as the end-all, be-all of astrology, but people who do that are doing themselves and others a grave disservice. When analyzing a person astrologically, you need to look at them holistically."
In astrology, your house placements are equally as important as your sign placements and can reveal a ton about how you experience and operate in the world. "Each house represents a different aspect of life, from travel and romance to career, and every planet in your chart is located in both a sign and a house."
If you'd like to learn what field you should explore career-wise, look primarily at your 10th house placement. Your 10th house placement will reveal a lot about what and where you need to be in order to thrive in your career.
I highly recommend creating an account with Astro.com (or Co–Star) to find your 10th house placement. Then, take a look below for a brief breakdown of what your 10th house placement reveals about what you need to thrive, career-wise.
What Sign Is In Your 10th House?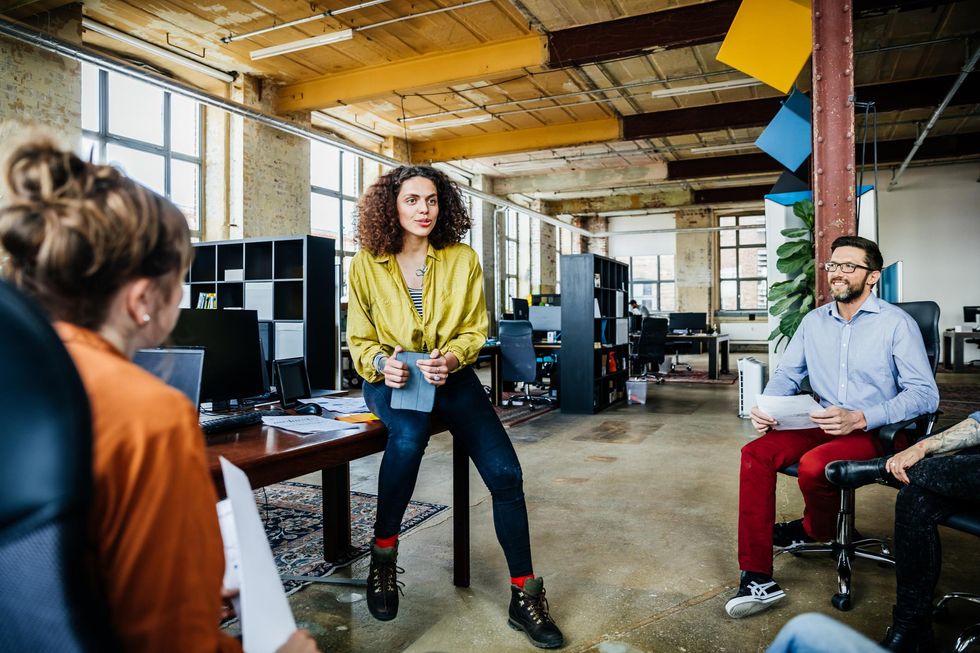 Hinterhaus Productions/Getty Images
Aries in 10th:
You need to be a leader in your career. You have a strong desire for recognition.
Taurus in 10th:
Karmically, you need to learn to let go of your strong desire for prestige and authority. It can sabotage your career success! Focus on the work and providing value, regardless of whether or not you're recognized for it.
Gemini in 10th:
You need to speak and express yourself in your career. You require flexibility and contact with many people. You may find yourself having more than one job at a time.
Cancer in 10th:
Your career is directly tied to your emotions - you need to work in a nurturing environment or to be able to work from your heart in your career.
Leo in 10th:
Behind-the-scenes professions are not for you. You require a career that provides the opportunity for you to receive attention and acknowledgement from others.
Virgo in 10th:
You require a career dedicated to serving others and that utilizes your keen attention to detail. You are extremely analytical and selfless in your career - your primary goal is to make everyone else's jobs and lives easier.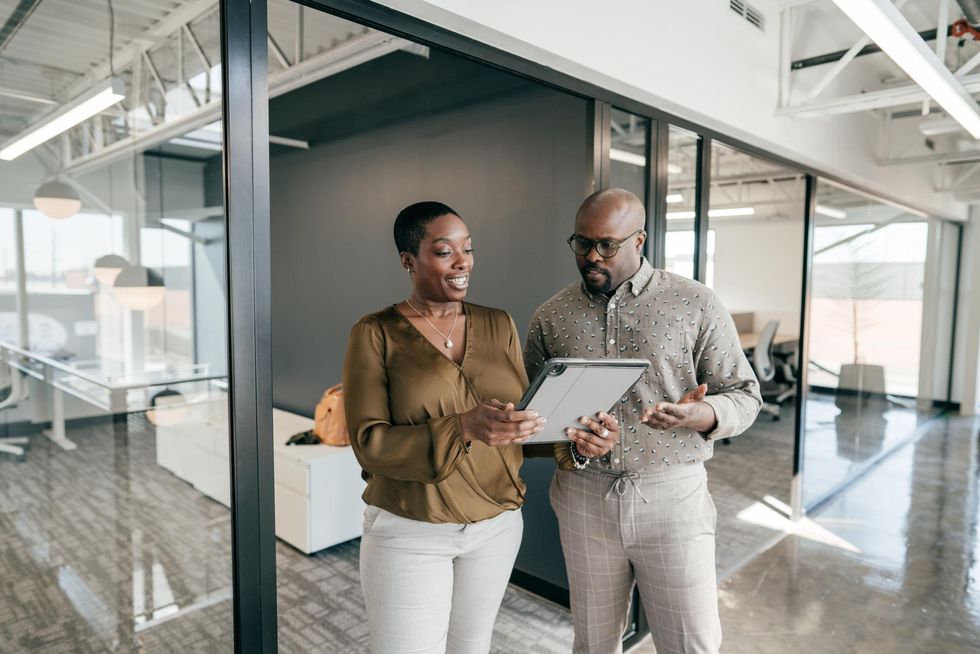 kate_sept2004/Getty Images
Libra in 10th:
You have a strong sense of justice. You would make an excellent attorney or judge. You are diplomatic and tactful. You also exhibit strong artistic abilities.
Sagittarius in 10th:
This is an extremely favorable 10th house placement. You are a hard-working, friendly and outgoing leader. You relate well to others and to the public.
Scorpio in 10th:
You need a career that utilizes your strong investigative skills and your ability to face some of life's less pleasant realities, like life or death matters.
Capricorn in 10th:
You are highly protective of your reputation and would thrive in an environment where you can grow or climb the ranks to becoming the boss - whether it's for your own company or a Fortune 500 company!
Aquarius in 10th:
Your ideal workplace is somewhere unorthodox, where you can work with influential people in organizing and fighting for the rights of the underserved. Non-profit work may be an excellent fit. You like to feel dedicated to an altruistic cause.
Pisces in 10th:
You need a profession where you can care for and help to heal others. Your work must appeal to your emotions and compassion for others. Otherwise, you will have difficulty tolerating it.
What Planet Is In Your 10th House?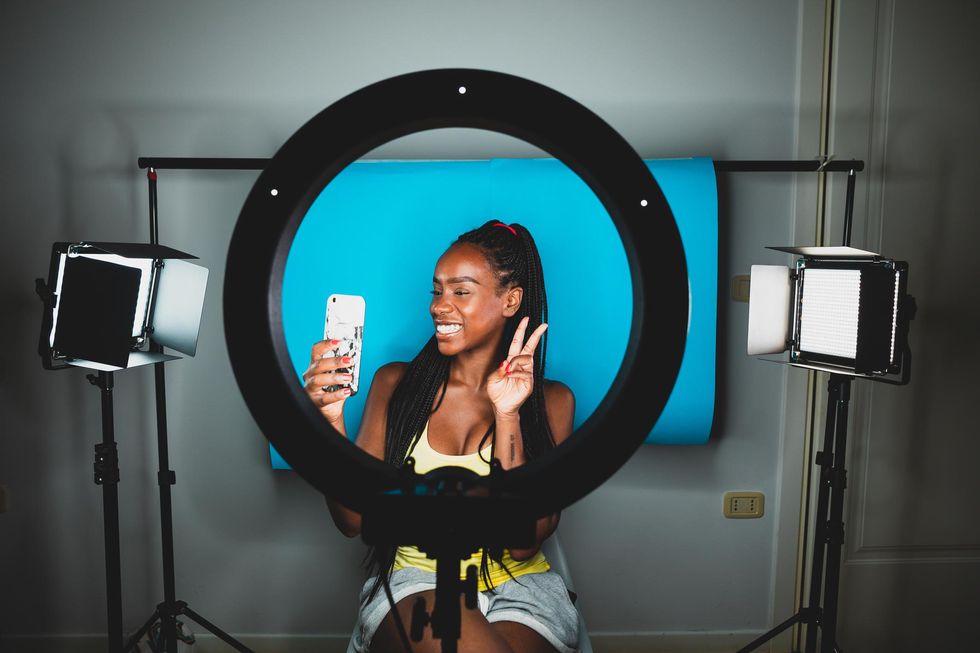 LeoPatrizi/Getty Images
Sun in 10th:
You are known for your career. You are authoritative. You have a strong inclination to be a public figure.
Moon in 10th:
You are emotionally invested in your career. A home-based job or an occupation related to family or children is ideal. Your career may fluctuate a lot - it's out of your control. Public note and worldly success is possible.
Mercury in 10th:
You require a job that utilizes your attention to detail and the opportunity to speak and conduct meetings. Anything technology or analytical-focused is a good fit.
Venus in 10th:
A very favorable position, you can achieve success, prestige and prosperity in your career. You are highly creative and easily accepted by the public.
Mars in 10th:
You fare best in a career that requires a lot of physical activity. Engineering, mechanics or the military fields are good choices.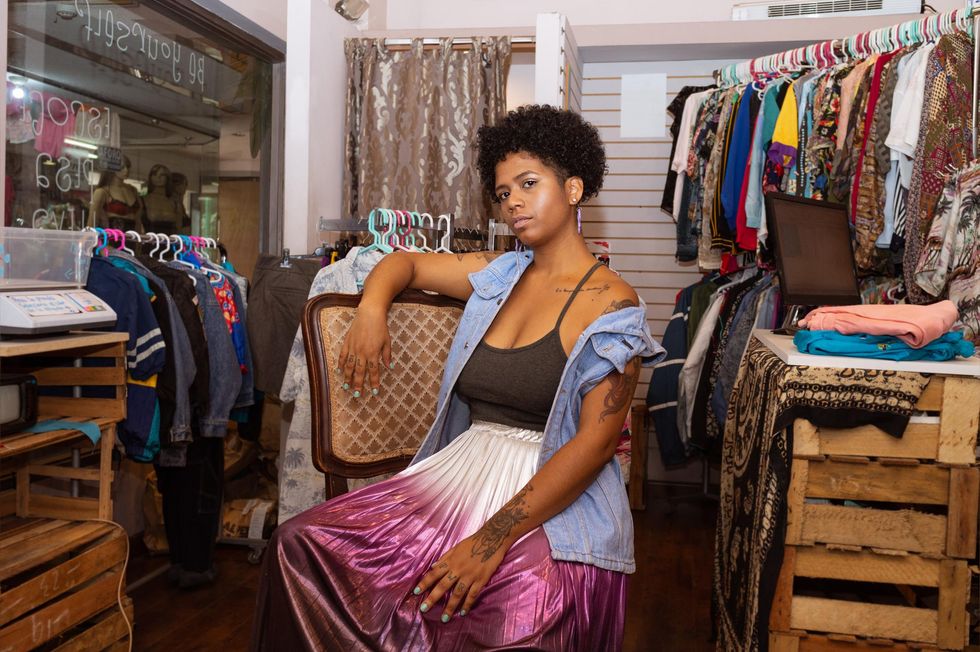 Florence Goupil/Getty Images
Jupiter in 10th:
You are afforded plenty of opportunities career-wise, this is the luckiest placement for prosperity and success in your career. You can easily achieve a high position of importance in whatever field you select.
Saturn in 10th:
Everything you achieve will come through hard work. Opportunities won't come easily but you have the natural determination, discipline and ambition to achieve your dreams. You have strong business acumen.
Uranus in 10th:
You need an unorthodox career, your career path may involve several twists and turns. You need to be your own boss because you refuse to conform. You are extremely original and altruistic. You are a humanitarian at heart.
Neptune in 10th:
You require a career related to spirituality or healing others. You may find that others frequently take credit for your work. You must disown your ego and serve others in your career in order to achieve success.
Pluto in 10th:
Your career will transform you and/or others. Professions related to surgery, death, investigation and insurance are excellent choices.
What's your 10th house placement and where do you work?
Featured image by Hinterhaus Productions/Getty Images

Keep reading...
Show less
There are four words to describe a relationship between a Libra man and a Cancer woman: Love At First Sight. A meeting between a Libra Man and Cancer Woman is one filled with a sense of kismet. In terms of love compatibility, the initial connection between these two signs is incredibly strong, it may almost feel karmic in nature.
It's as if you both were meant to meet, connect and grow together. Even if this relationship starts off platonically, which it typically does, you both will find that you have a fast and emotionally strong bond with each other right out of the gate.
Generally speaking, there is an inherent compatibility in the way you both relate to each other and to the world. You feel comfortable letting your guard down a lot quicker with each other than you typically do with other signs.
Contrary to the skeptics, naysayers and haters that this pairing typically brings, a relationship between a Cancer woman and a Libra man is able to stand the test of time - in spite of how quickly it progresses.
What attracts a Libra man and a Cancer woman to each other?
When a Cancer woman first lays eyes on a Libra man, she feels as if she's finally found a safe haven; a man who she easily connects with emotionally and intellectually. Contrary to past relationships with narcissists who aimed to take advantage of Cancer's deeply sensitive nature, the Libra male does not have any ulterior motives. Sensing this, Cancer steps out of her protective shell and finally lets her guard down.
Similarly, the Libra man is intensely drawn to his Cancer woman's classic femininity and vulnerability. Her sensitivity triggers a strong protective instinct in him. He feels deep compassion for her and wants to do whatever it takes to finally bring her peace and happiness. With his Cancer woman, the Libra man finally feels like a man; like a "knight in shining armor." Libra's subtle masculinity is affirmed and strengthened by his relationship with the female crab.
What is a relationship like between a Cancer Woman and a Libra Man?
Fair-minded and partnership-oriented Libra, a monogamist at heart who has a deep respect for women, ultimately wants to settle down. Looking for a life partner, Libra finds his Cancer woman's wifely, affectionate attributes irresistible.
In turn, the mature Cancer woman, typically overcoming a history of past relationships with toads and bad-boy types, is attracted to Libra's reassurance and openness. Cancer feels like she has finally found a safe haven in her Libra man. He is her happily ever after. She is attracted to his emotional intelligence, charm, confidence, and protectiveness.
What is sex like between a Libra Man and a Cancer Woman? 
Sex between a Libra man and a Cancer woman is extremely balanced. There is a fair share of give and take during sex between these two signs. Both Cancer and Libra are extremely open in the bedroom; they will go above and beyond in making sure their partner is satisfied.
Cancer is intensely emotional, passionate and sexually intuitive. She expresses her love, vulnerability and repressed emotions through sex. She is happy to receive all that her partner has to give to her and knows the exact tricks for drawing out even the most stoic, nonchalant partners sexually and emotionally. Because of Cancer's deeply emotional nature, empathic Libra may find himself reaching new sexual heights with Cancer. Her sex is all-consuming and will literally leave him with his mind blown.
Libra enjoys light and fun sex. He prides himself on pleasing his partner sexually and catering to her physical needs. He makes a point to tend to his partners emotionally during the act, constantly checking in and reading her body language to ensure she is getting the most out of her experience with him. In bed, Libra makes Cancer feel extremely sexy, safe and respected.
Sex between both Cancer and Libra is fun, open and explorative, and physically and emotionally fulfilling to both parties.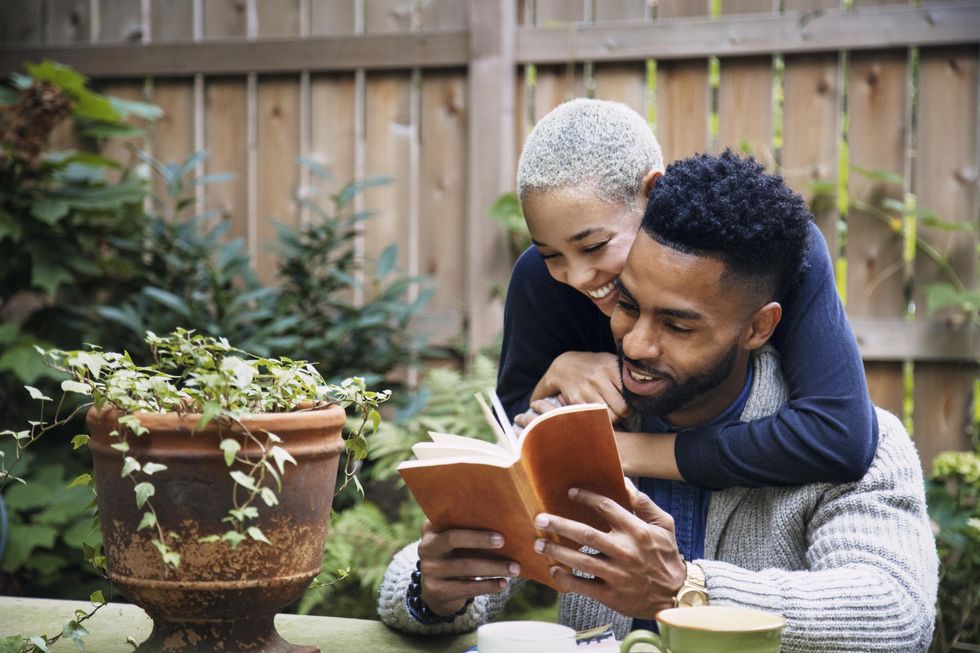 Getty Images
What makes a relationship between a Cancer woman and a Libra man work?
A relationship between a Cancer woman and Libra man just clicks into place. Cancer women need reassurance, and Libra is happy to provide! In her Libra man, the Cancer woman has finally found someone who she can safely open up to emotionally. He patiently provides much-needed balance and objectivity to her life.
Libra wants an affectionate woman who is devoted to him; someone who can nurture and provide for him in ways that he may tend to neglect for himself. Appearances are incredibly important to a Libra man and his Cancer woman fits the bill, often presenting herself to the public in a demure and classically feminine way.
Libra likes to feel needed and Cancer effortlessly affirms this need. The love between the Cancer woman and the Libra man is incredibly balanced and flows naturally.
What may cause a Cancer woman and a Libra man to break up?
The incompatibility between these two lies solely in the conflict between Cancer's moodiness and Libra's deep aversion to conflict. Libra, while deeply empathetic, may reach a point where he feels repulsed by an unevolved Cancer's emotional murkiness. He may no longer be able to serve as her safe space, feeling overwhelmed and exhausted by the depths of Cancer's emotions and sensitivity. If this occurs, he is likely to detach from the relationship in an attempt to recalibrate and reclaim his sense of balance and peace.
Once Libra has decided he has had enough emotionally, he may return to his safe space - his highly social and flirtatious lifestyle. He prefers and enjoys the company of women - platonically and otherwise - which may trigger Cancer's deep insecurities.
In this worst case scenario, Cancer runs the risk of feeling neglected or even betrayed. After finally letting her walls down and building up enough courage to express her deep emotions to her Libra man, she may find herself perturbed and feeling abandoned by Libra's sudden detachment and insensitivity.
The key to avoiding this disaster scenario is in providing each other with plenty of space and patience. Cancer will need space and patience from Libra, at times, to process and manage her fluctuating moods. Libra will need space and patience from Cancer when Libra is indecisive or stir-crazy and needs to express that restless energy through social interaction with others.
Even when the relationship is flowing smoothly, Cancer may often find herself at odds with Libra's estrogen-charged social and family circle. She feels threatened by the familiar and flirtatious charge of his relationships with other women. Libra's female friends, in turn, feel threatened by the Cancer woman, questioning her authenticity and worrying that she will take their beloved Libra away from them.
Summary
The relationship between a Libra man and Cancer woman is deeply emotional and has the strong potential to stand the test of time. Sexually, emotionally and intellectually, both parties naturally click and effortlessly fall into complementary roles. They see eye to eye on what their futures should look like and are able to work through problems openly and maturely.
The best way to ensure success between the Libra man and the Cancer woman is through maintaining open communication, respecting each other's unique emotional needs and love languages, and allowing each other plenty of room and freedom to recharge on your own.
Featured image by Getty Images

Keep reading...
Show less
The Full Moon in Sagittarius taking place on May 26th is not your average full moon! This full moon also marks a lunar eclipse - a highly significant occurrence in astrological and spiritual circles. In terms of spiritual significance, according to Explore Deeply, "Eclipses are harbingers of change — they usher in evolution."
In astrology, the Full Moon is a period of reckoning, manifestation and culmination. You are likely to find yourself on a fast track to resolution or closure when it comes to the people, relationships and situations that haven't been serving any real or beneficial purpose in your life.
With this Full Moon taking place in Sagittarius - the sign that symbolizes discovery and freedom - you will likely receive a major revelation or make a significant discovery that will ultimately lead to your freedom. The energies of this moon will be felt most strongly by those with strong Sagittarius placements and those with strong placements in other mutable signs (like Virgo, Gemini and Pisces).
You can expect that whatever news you receive during this time is meant to cut you loose. It is intended to set you on a path that is better aligned with who you are and your true purpose. Whatever has remained stagnant in your life or that was inevitably going to end will now come to a conclusion.
The life-changing energy of this moon phase is most suitable for any introspective work that involves grounding and cleansing - not necessarily for manifesting blessings.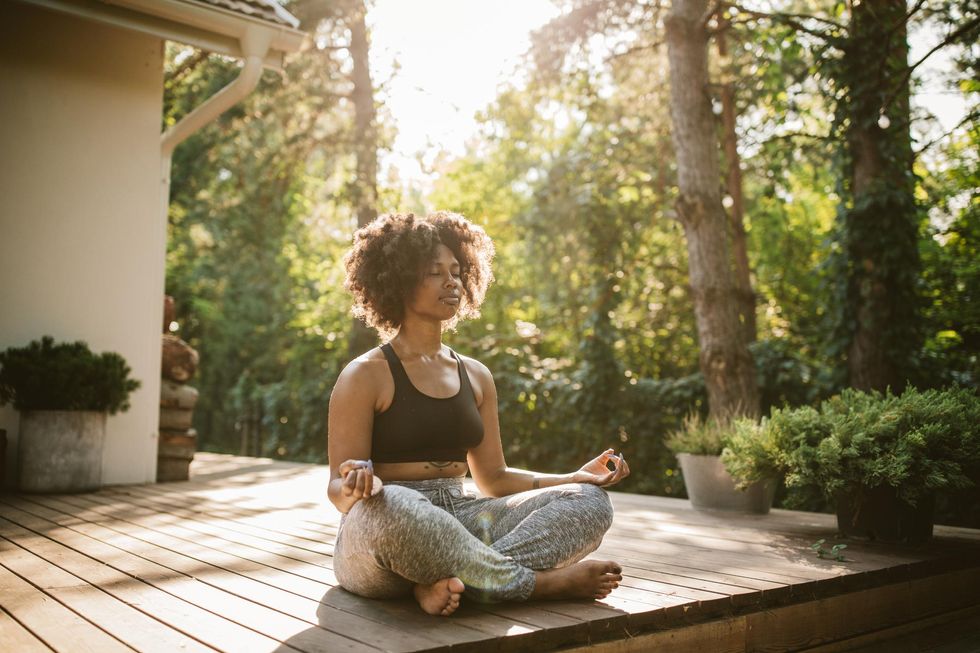 svetikd/Getty Images
According to astrologer Chani Nicholas, "Eclipse energy isn't energy you want to bathe in, soak up, or retain. When the light of the sun or moon is obscured it's not 'good'. It's revealing. Eclipses reveal our personal and collective shadow, all that we hide from, ignore, and brush under the rug."
Here are 10 ways to navigate the shocking and powerful energy of the Full Moon In Sagittarius:
Grounding
Walk barefoot on the ground.
Carry Black Tourmaline, Black Obsidian or any other dark, grounding crystals.
Take a quiet, technology-free walk in nature. Take in the sounds and the beauty around you.
Meditate while sitting on the ground for at least 30 minutes every day.
Cleansing
Sweat out your toxins at a sauna.
Smudge yourself and your space with sage or palo santo.
Work with Selenite crystals.
Rid yourself of people, places and situations that no longer serve you.
Cry.
Pour out your emotions in your journal or to a trusted friend
Bonus: Take a salt bath - not with an eye to manifesting anything, but to take a moment to cleanse your aura and to heal from the powerful and shocking energy that the Full Moon in Sagittarius will inevitably bring.
The primary theme of the Full Moon In Sagittarius is that of sudden revelations leading you to your true path. This is a period of acceptance, of grounding, of cleansing and of letting go of things, people, things and situations that are no longer relevant in your life.
Make the most out of this energy now so that you can enter your next cycle healed, refreshed and empowered.
Featured image by svetikd/Getty Images
Keep reading...
Show less
We each have placements in more than one astrological sign and therefore exhibit characteristics of several signs. Our placements in each of the planets, signs and houses are just as important as our sun sign placement (the placement that most people refer to when they ask, "What's your sign?"). In addition to the sun sign, there is also a moon sign, an ascendant or rising sign, and even a Venus sign. In particular, the Venus sign is an area you would explore in your astrology chart to learn more about the way you approach friendships and relationships.
Knowing your Venus placements can serve as an extremely helpful guide in navigating your friendships and relationships.
Do you have an extremely large social circle, or are you more of a "no new friends" type? Are you a social butterfly, or are you extremely selective about who you let into your friends group? Have you ever been told, "I didn't like you at first, but you're actually really cool!"? Your Venus sign can reveal a lot about your social tendencies, despite how your sun sign may make you appear to others on the surface!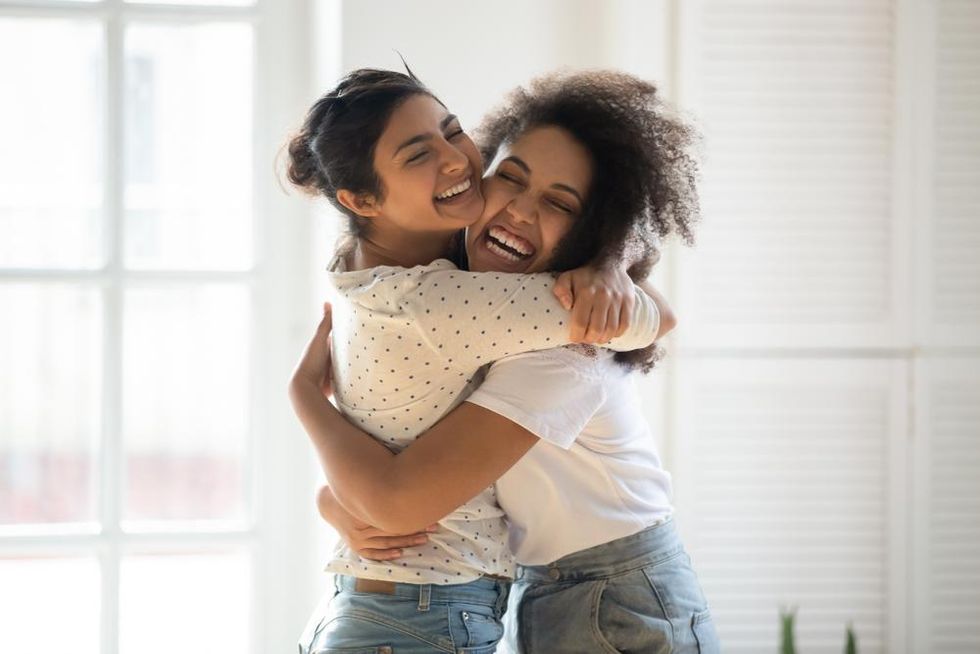 Shutterstock
Here's what your your Venus sign reveals about the way you approach friendships and relationships:

Venus In Aries
Enthusiastic, impulsive and active, you are fun-loving and a fierce defender of your friends. You are not about the games! You are a straight-shooter who is attracted to direct, fiery and assertive people and relationships.
Venus In Taurus
Your favorite pastimes involve checking out new restaurants and spending time with a stable, core group of friends and family. You're not eager to just let anyone into your friend group! You need stability and lots of physical affection and consistency in relationships.
Venus In Gemini
You LOVE humor and jokes! You love to spend time with people who don't take themselves too seriously and who you could enjoy great conversation with. You are the friend that people can talk to about ANYTHING.
Venus In Cancer
You are the mommy of your friend group, regardless of your gender identity! Friends can count on you to nurture them, to comfort them and to express sympathy in times of need. Sentimental and nurturing, you express your love by being in tune with and caring for the needs of others.
Venus In Leo
You are the life of the party! Your friends admire your fashion sense and your dynamic personality. You love to court and to be courted. You pride yourself on being a memorable, irreplaceable friend and romantic partner.
Venus In Virgo
You are very particular about who you let into your friend group. People who are too brash or loud can be a turn-off. You love helping others and you show your love and support for friends through small acts of service.
Venus In Libra
You are the peacemaker of your friends group. A graceful social butterfly, you innately know exactly how to make the people around you comfortable. You make a special effort to make sure that new members of your friends and family group feel welcome.
Venus In Scorpio
Loyalty is a non-negotiable for you! You only want people who will ride for you the way you ride for them. You don't easily let people into your friends circle because not many people are worthy of your devotedness and undying loyalty. You are turned off by superficiality and are attracted to intelligent and deep people.
Venus In Sagittarius
You are the best travel partner a friend could have! You are a "ride-or-die" type who is always down for action or to join your friends in pursuing their wildest dreams or adventures. You are extremely fun-loving and are attracted to those who can help you expand your horizons.
Venus In Capricorn
You are about your business! You like to surround yourself with people who can talk business and investments. You don't have time for petty drama. You are an alpha who prefers to spend time with other people who carry mature, focused energy. You are a boss who doesn't want to be around someone who may distract you or take away from your drive.
Venus In Aquarius
You need intellectual stimulation and plenty of space. The most annoying thing a friend could say to you: "Why didn't you call me?" People with Aquarius in Venus don't like clingy people or feeling pressured to coddle others emotionally. You avoid cliche people and situations. Intelligence and originality in others is very stimulating to you. You love discussing how to bring about real change in the world.
Venus In Pisces
You are a deeply intuitive and sympathetic friend. You find that people are often drawn to you and want to confide their problems in you. You not only hear and sympathize with what the people around you are going through, you absorb and feel their experiences as if you're going through them yourself! You are extremely selfless but you have to be mindful not to let others take your kindness for weakness.
What's your Venus Sign?
Are you a member of our insiders squad? Join us in the xoTribe Members Community today!
Featured image by Shutterstock
Keep reading...
Show less