Jayde Young
Hey, I'm Jayde! I'm an astrologer, metaphysical lifestyle expert and the CEO of ZennBoxx.com. Say hi to me on Instagram @JustJaydeYoung.
Astrology is gaining new popularity with many beginning to acknowledge what our ancestors have realized for civilizations - that astrology can reveal an awful lot about our lives, our personalities, and our psyches. Sure, we're all pretty familiar with the personality types of certain signs, but did you know that astrology can also reveal insights about your relationships with certain people? Specifically, your Moon sign can shed a ton of light on your relationship with your mother - for better and for worse!
Are you and your mother thick as thieves, or is your relationship with her strained? Can you tell her your deepest and darkest secrets, or do you find it difficult to be yourself around your mother? Are you the apple of your mother's eye, or do you feel like you were never able to really please her?
Knowing your moon sign can reveal a lot about the way you view the person who brought you into this world.
If you do not know your full birth chart, find your moon sign here and then check out the information below to get a glimpse inside you and your mom's emotional dynamic.
I. Moon In Aries:
If your moon is in Aries, your mom is the leader of her household. Growing up, you viewed her as brave, bold and fun-loving. She was fiery and knew exactly how to put others in their place, if needed. You respect her, but may have found her to be overbearing at times.
II. Moon In Taurus:
If your moon is in Taurus, your mom knew how to tend to all your creature comforts. She expressed love through food and the material nourishment she provided to you. She was a very hands-on, affectionate mother but also extremely headstrong and stubborn. Not the best at negotiating, your mom wants things to go her way or the highway!
III. Moon In Gemini: 
If your moon is in Gemini, your mom is extremely expressive and intelligent. You felt most connected to her through words and your stimulating conversations with her. Her behavior, at times, seemed unreliable to you, but you admired her on an intellectual level. Always moving, you probably felt like she was difficult to pin down as a child.
IV. Moon In Cancer: 
If your moon is in Cancer, you are the apple of your mother's eye. You love and care for her deeply. In fact, sometimes you served as a mother to her - comforting her and constantly expressing your understanding of her emotionally. You are extremely close - sometimes too close. Your mom tends to err on the clingy, over-mothering side.
Growing up, you sometimes felt like you needed more emotional and physical space from her. You share a psychic connection with your mother - it's easy for you to take on her emotions and moods as your own, for better and for worse.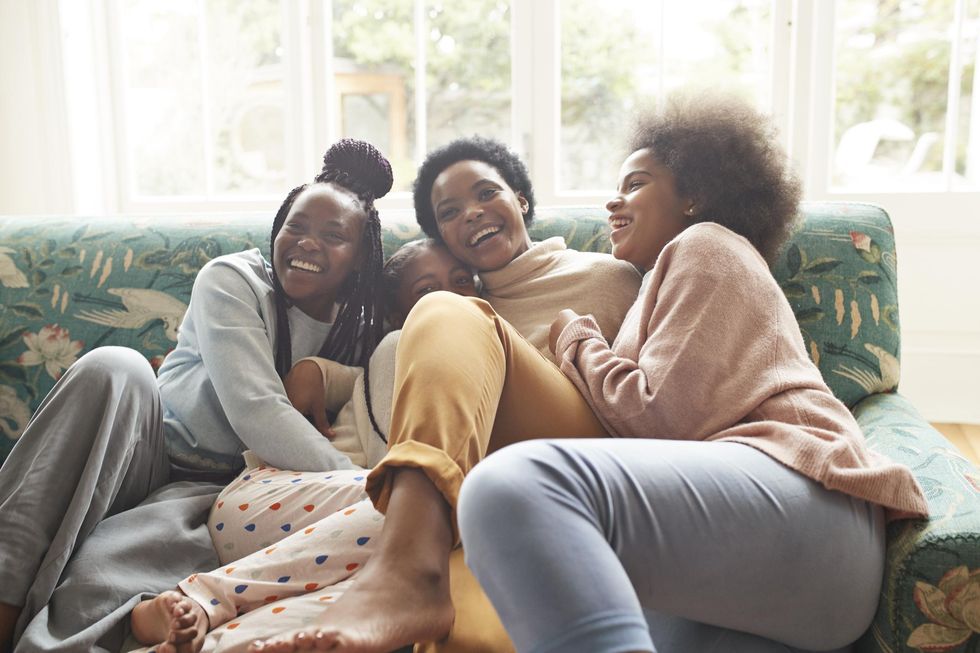 Klaus Vedfelt/Getty Images
V. Moon In Leo:
If your moon is in Leo, your mother has always been a large presence in your life. Growing up, you felt a pressure to present yourself a certain way in order to preserve your mother's reputation. You felt the way you looked and behaved was a direct representation of your mom so you had to stay sharp! Your mom was potentially someone of public note, someone that many people in your neighborhood or community knew very well.
VI. Moon In Virgo: 
If your moon is in Virgo, you love your mother dearly and would move mountains for her. You are extremely protective and defensive of her. Your mother is your world. Though you've always needed her deeply, you sometimes felt like she was unable to be there for you in the ways that you yearned for. You've been aware of her shortcomings since birth; otherwise, you found her to be very nit-picking and critical of you.
VII. Moon In Libra: 
Growing up, your mother was known for her attractiveness, fashion-sense, her ability to throw a fun party and the beautiful way in which she kept her home. If your moon is in Libra, it is likely that your mother was popular for her congenial and pleasant personality. Erring toward the formal and structured in your relationship, you've learned to establish specific roles in each other's lives, making sure not to over-step them in order to maintain peace and a sense of fairness between you both.
VIII. Moon In Scorpio: 
Your mother has affected you in deep and profound ways; deeper than she or you may even realize. If your moon is in Scorpio, your relationship has gone through major transformations through the years. You've felt that she was, at times, out of tune with your emotions.
You wished and expected that she would be able to intuitively understand you. When she didn't, you may have felt somewhat abandoned by her.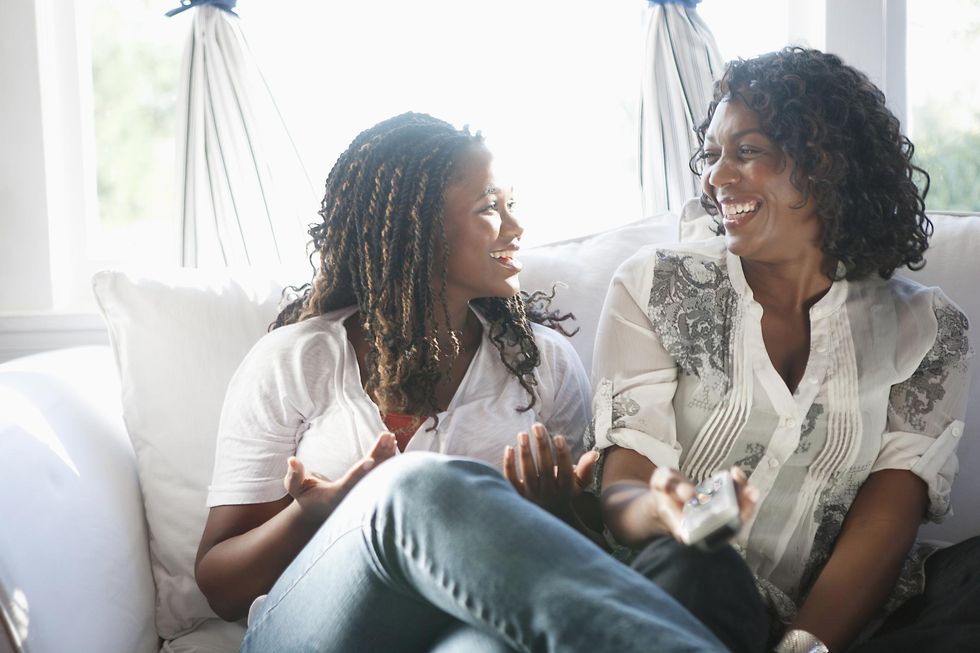 Jennifer Boggs/Amy Paliwoda/Getty Images
IX. Moon In Sagittarius: 
If your moon is in Sagittarius, you've always required freedom in life. If your mother respected this, you both enjoyed a fun-loving and adventurous relationship together. If she did not fully respect your desire for freedom, you may have felt unfairly held back or restricted growing up. Wise beyond your years, you may have perceived her to be immature and naive, learning to rely on your own judgement rather than hers.
X. Moon In Capricorn: 
If your moon is in Capricorn, your mother has always been more concerned with the serious matters of life. She viewed you as mature and knew she could rely on you for support and sound judgement. Self-sacrificing, she always put work before play and constantly had tons on her plate. You sometimes wondered why she worked so hard and why she didn't take an easier approach to life. She held extremely high standards for you growing up. Favorably, she pushed you to be ambitious in pursuing your goals.
XI. Moon In Aquarius: 
If your moon is in Aquarius, you've always viewed her as more of a peer than a parent. Being chastised by her felt unnatural and foreign to you - almost silly! Parenting was unconventional - you did not have the typical parent-child dynamic. You were raised to be emotionally self-sufficient and didn't rely on her for an overly emotional or affectionate relationship.
XII. Moon In Pisces: 
If your moon is in Pisces, you share an extremely intuitive bond with your mother. You often took on her burdens and emotions as your own. You were extremely sympathetic to the things she went through in life and were mindful not to add anything else to her plate. You felt like her caretaker in certain ways. You loved her extremely deeply and would fight for her. You are keenly aware of all of the sacrifices she's made in life for you. You wish you were able to rely on her more as a child and may have felt like you had to grow up much quicker than you would have liked.
What's your moon sign and how would you describe your relationship with your mother?
Are you a member of our insiders squad? Join us in the xoTribe Members Community today!
Featured image by Klaus Vedfelt/Getty Images
Keep reading...
Show less
Astrology can reveal a lot of deep information about the inner workings of yourself and others. But did you know that it could also reveal your sexual style? Whether you like spontaneous sex, kinky sex, rough sex, or soulful sex, your unique astrology placements can reveal the specifics of your sex M.O. It also can reveal what you find sexually attractive in your partner and in their approach to sex. Do you like to be pursued or do you like to be the aggressor? Do you like a subtle, polite approach to sex, or do you want him to "beat it up"?
Knowing your specific astrological "sex" placements and those of your partner can save you a lot of time and heartache by predicting your sexual compatibility - or incompatibility - with a love interest. There are specific placements to look for when trying to determine someone's sexual style.
I highly recommend creating an account with Astro.com (or Co–Star) in figuring out the following:
Mars Sign: A person's Mars sign reveals, among other things, how they express their sexual urges and how they go about achieving their deepest passions and yearnings. It reveals what they want and how they go about getting it!
House placement of Mars: Where a person's Mars sign is placed can hint at *where* and under what circumstances they may subconsciously like to express their sexual energy.
Asteroid Placements: Knowing the placements of specific asteroids like the "Lust", "Lillith," "Eros" and Juno Asteroids (among others) can reveal your sexual triggers and what really gets you off about the sexual act.
The simplest and most straightforward way to determine your sex style is by looking at your Mars sign. Your Mars sign reveals much, much more about your sex style than your Sun sign. For example, your Sun sign can make you appear more outwardly prude or reserved than you actually are behind closed doors - and vice versa! Here's what your Mars sign reveals about your sex style:
Mars In Aries
You are direct, spontaneous and instinctual. You enjoy active, unrestricted and fiery sex. You are not into playing mind games. If you are interested in someone, you don't mind and won't hesitate to go after what you want.
Most Compatible With: Sagittarius, Leo and Libra Mars
Mars In Taurus
You have a deep, earthy, tactile sensuality. You express your desire through tons of physical affection. You like to take the time to figure out exactly what stimulates your partner and you fulfill their biggest fantasies and sexual turn-ons slowly and steadily. Sex with you is ground-shattering and nourishing to the soul.
Most Compatible With: Capricorn, Virgo and Scorpio Mars
Mars In Gemini
You express your desire and sexual energy through words. You are all about dirty talk. Mental stimulation is key for you. You love variety and to switch things up in the bedroom.
Most Compatible With: Libra, Aquarius, and Sagittarius Mars
Mars In Cancer
You crave soulful and intuitive sex. Sex and emotions are a package deal for you. You are not necessarily the no-strings attached type - you love to nurture and care for your partner inside and outside of the bedroom. Sexually, you like to play into masculine and feminine stereotypes.
Most Compatible With: Scorpio, Pisces and Capricorn Mars
Mars In Leo
You pride yourself on being the most memorable sex your partner has ever had. You will pull out all the stops necessary to create a mind-blowing experience. You have no tolerance for being disrespected, sexually or otherwise.
Most Compatible With: Aries, Aquarius, and Sagittarius Mars
Mars In Virgo
You aim to please! You often put your partner's needs ahead of your own. You are extremely turned on by their orgasm and all it takes to get them there. If your partner is not fully enjoying sex, it's impossible for you to enjoy it either. Good hygiene is incredibly important to you.
Most Compatible With: Capricorn, Taurus and Pisces Mars
Mars In Libra 
You go above and beyond in setting the mood for your partner, creating an ambient and visually appealing experience. Sexually, you are happy to follow your partner's lead. You are adventurous, playful and up for everything.
Most Compatible With: Aries, Aquarius and Gemini Mars
Mars In Scorpio
It is quite easy for your partner to become addicted to sex with you and vice versa. Sex for you isn't only a physical act, it's an extremely deep mental, emotional and spiritual energy exchange. Whether you realize it or not, you use sex to penetrate your partner's mind, heart and soul. You love pushing boundaries sexually and are drawn to taboos and BDSM dynamics. You enjoy kinky, soulful sex.
Most Compatible With: Pisces, Cancer and Taurus Mars
Mars In Sagittarius
You enjoy adventurous sex and sex games. You are direct and aren't afraid to beat around the bush when it comes to what you want sexually. You love to challenge yourself and your partner during sex.
Most Compatible With: Aries, Leo and Gemini Mars
Mars In Capricorn 
You strive to be the best in everything and sex is no different. You will put in the work to figure out the most enjoyable sexual experience for your partner. You have the patience and steady determination to blow your partner's mind. Your partners are often surprised by how sexually intense you are. You're the epitome of "a lady in the street but a freak in the sheets".
Most Compatible With: Taurus, Virgo and Cancer Mars
Mars In Aquarius
You don't enjoy boring, uninnovative sex. You hate overly cliche or romantic gestures. You are attracted to intelligent, unconventional, bold and somewhat rebellious sexual partners. You enjoy taboo sex. You are the sapiosexual of the zodiac.
Most Compatible With: Libra, Gemini, and Leo Mars
Mars In Pisces
You are attracted to the underdog. You can easily become addicted to devil d*ck! If you are not careful, you may find yourself drawn to fuckboys and hobosexuals because of the deep empathy you have in them. You are completely selfless and self-sacrificing sexually - you intuitively know what turns your partner on and will go the extra mile to make sure they get there. They are amazed by how much you are willing to give and push your boundaries sexually.
Most Compatible With: Virgo, Cancer, and Scorpio Mars
So, what's your Mars sign?
Are you a member of our insiders squad? Join us in the xoTribe Members Community today!
Featured image by Shutterstock

Keep reading...
Show less
On paper, I had every Black woman's dream. A six-figure salary. A flashy career in entertainment. But what most didn't realize is that I was severely burnt out. Corporate America had me working 70-hour work weeks, on average. I was juggling this while raising two small children. And as if that wasn't impossible enough, I was (and am!) an empath.
I peep everything, intuitively pick up on vibes and easily absorb other people's energy and intentions. Fast-paced environments that require lots of social interaction are extremely taxing for empaths and introverts, and that was my life for 10-12 hours each day! Every day, I constantly brushed off racist and sexist microaggressions, executed high-stakes presentations (despite being shy), schmoozed with celebrities and took on all of the last-minute, high-pressure projects needed to overcompensate for the deep insecurity that I felt inside about being a Black introvert.
Looking back, I was a train wreck waiting to happen. And happen it did.
At the height of my career, my once statement-making hair started to fall out in clumps. Then, the stomach issues, joint pain and random food allergies set in. Imagine being a young Black woman trying to convince your doctor that you're struggling with all of these random symptoms? Good luck!
Life has a funny way of forcing you to slow down when you refuse to slow down by choice; I was finally diagnosed with lupus and had to resign from my job. My doctor told me that my condition was likely triggered by my stressful lifestyle. Without realizing it, ignoring my true nature made me sick.
Although it was a hard pill to swallow at first, I recognize now that diamonds are forged through fire. Being diagnosed with lupus led to my spiritual awakening. If I hadn't gone through this crisis and discovered my passion for the metaphysical, my self-acceptance journey would have never begun. And for that, I am eternally grateful.
Despite society making Black women feel like we need to constantly display super-human strength and resilience, I am proud to be an empath. My experiences have taught me to respect my deep intuition and my need for a quieter, more introspective lifestyle. These are some of my favorite metaphysical practices as an empath that keep me healthy, emotionally, physically and spiritually.
1. Crystal Healing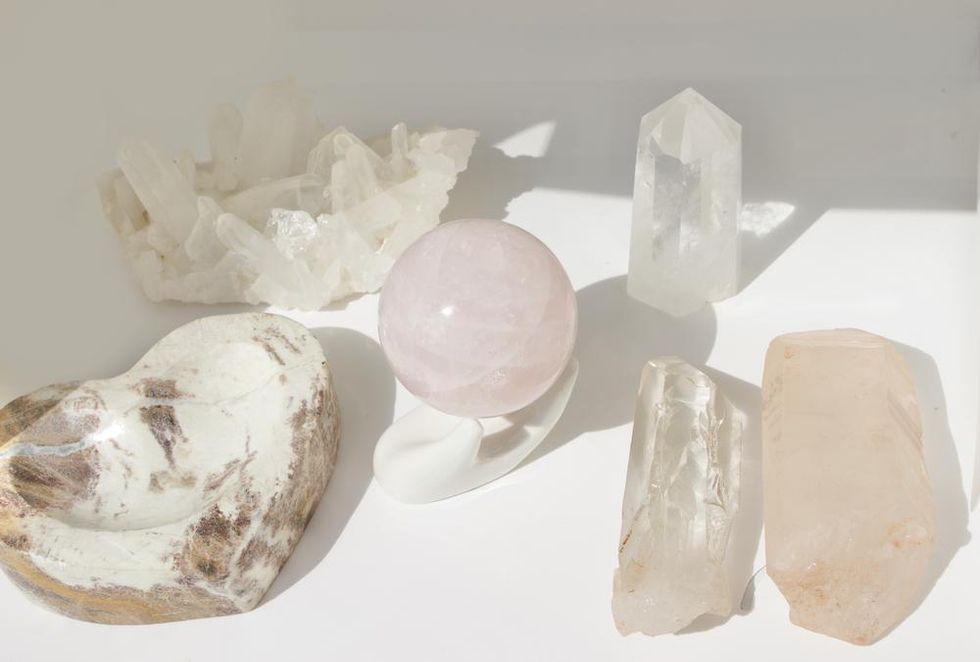 Shutterstock
According to Harper's Bazaar, crystal healing is a type of alternative therapy that involves using gemstones to bring balance to your life and mind. Healing crystals have been referenced in the Bible, by ancient philosophers, and were frequently used as healing and protective talismans in ancient civilizations like Egypt, Greece and Japan.
Each crystal emits a unique energy pattern and frequency. Carrying these crystals influences your own personal frequency and the quality of your aura in very specific ways.
Rose Quartz crystals are purported to attract love. Citrine is rumored to attract wealth. My personal favorite is Black Tourmaline. I never leave my house without it. It is highly protective and resistant to negative energy. It shields you from taking on the energy of your surroundings and the people around you - an absolute must-have for empaths, introverts, and highly sensitive people.
2. Acupuncture
According to PopSugar.com, acupuncture is the "placing of acupuncture needles at certain acupuncture points to treat a variety of ailments and pain, which are rooted in the blockage of energy." I have used acupuncture consistently over the past five years and for me it has significantly reduced bloating and joint pain and has improved my digestion. It has also promoted deeper sleep, reduced stress, and tons of other benefits that I swear by. I always feel incredibly refreshed and sleep deeply following my acupuncture treatments and try to schedule these in at least 1-2 times a month.
3. Mindfulness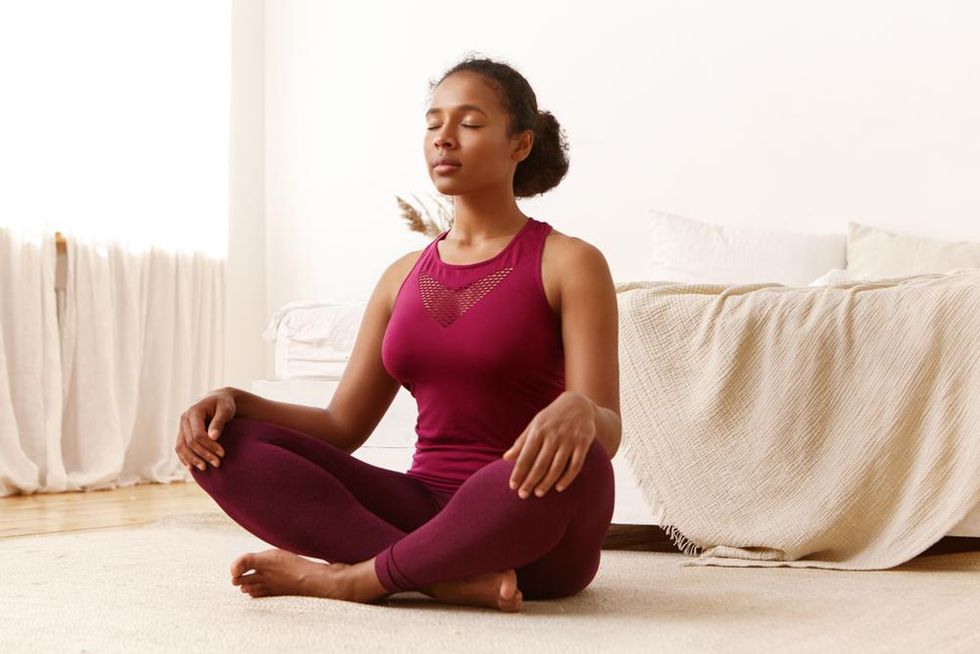 Shutterstock
According to MayoClinic.org, mindfulness is "a type of meditation in which you focus on being intensely aware of what you're sensing and feeling in the moment, without interpretation or judgment." The key to practicing mindfulness successfully is through allowing ourselves to be "fully present, aware of where we are and what we're doing, and not overly reactive or overwhelmed" by what's going on around us.
I practice mindfulness by taking a phone-free walk for at least 30 minutes each day and turning on my senses so that I can fully take in and appreciate all that is going on around me. Limiting your time on social media, turning off your phone, and doing one thing at a time (like eating with the TV off) are other ways to incorporate mindfulness into your life.
4. Astrology
Astrology is "the study of the influence that distant cosmic objects, usually stars and planets, have on human lives." Astrology boasts lots of legendary followers including Psychologist Carl Jung, Hippocrates, and bank tycoon J.P. Morgan who famously said, "Millionaires don't follow Astrology. Billionaires do."
Whether you believe in astrology or not, science has shown that the phases of the moon and planets have a profound effect on humanity, especially those who are already highly sensitive by nature. I notice that I am particularly tense and wound up during the full and new moon phases when lunar energy is super charged. Knowing my astrological placements and transits have also been extremely helpful and incredibly accurate in determining my energy patterns and experiences in the days and weeks ahead.
5. Feng Shui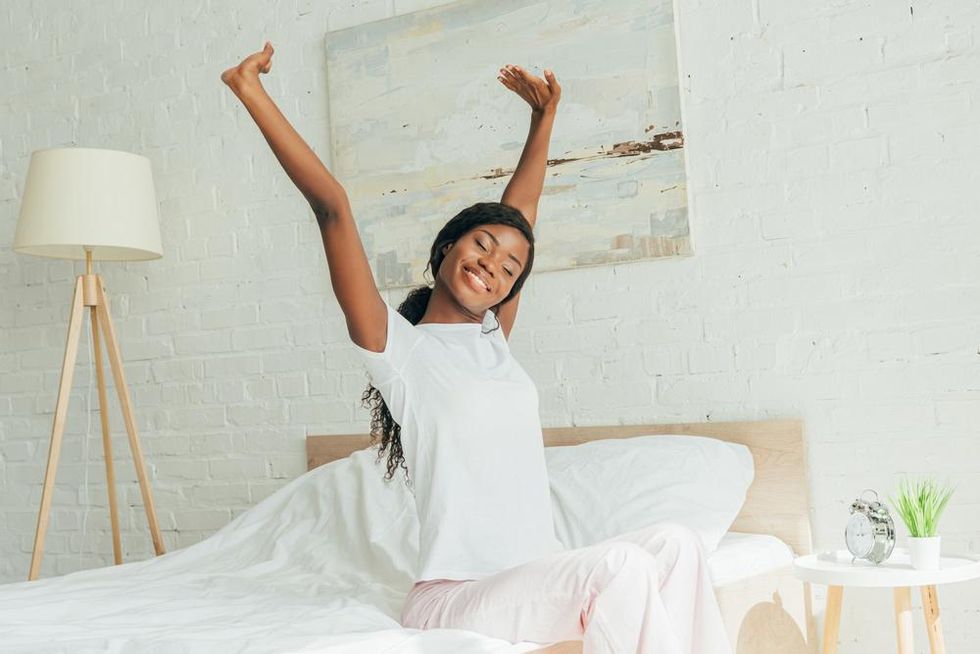 Shutterstock
According to Invaluable.com, feng shui, "often referred to as the art of placement" is, in the simplest of terms, "about positioning different elements to optimize 'Chi,' or energy in your environment." It is based on the belief that your environment has a direct effect on your mood and experiences.
I am so fascinated by feng shui and have noticed that when I follow its basic practices, like making sure my living space is clear and clutter-free so that energy can freely move, my mood, productivity and energy levels are instantly elevated. Notice how you feel immediately uplifted after cleaning your room? Having clutter and clothes around can be extremely draining to empaths and highly sensitive people.
6. Reiki
According to Reiki.org, "Reiki is a Japanese technique for stress reduction and relaxation that also promotes healing. It is administered by 'laying on hands' and is based on the idea that an unseen 'life force energy' flows through us and is what causes us to be alive."
When our "life force energy" is low, we are more likely to get sick or feel stress, and if it is high, we are more capable of feeling happy and healthy.
Reiki for me has been like therapy. The advice and energy that I receive from my Reiki practitioner is holistic and makes me keenly aware of the patterns and imbalances in my life. I try to schedule in a session at least once a month.
7. Taking Spiritual Moon Baths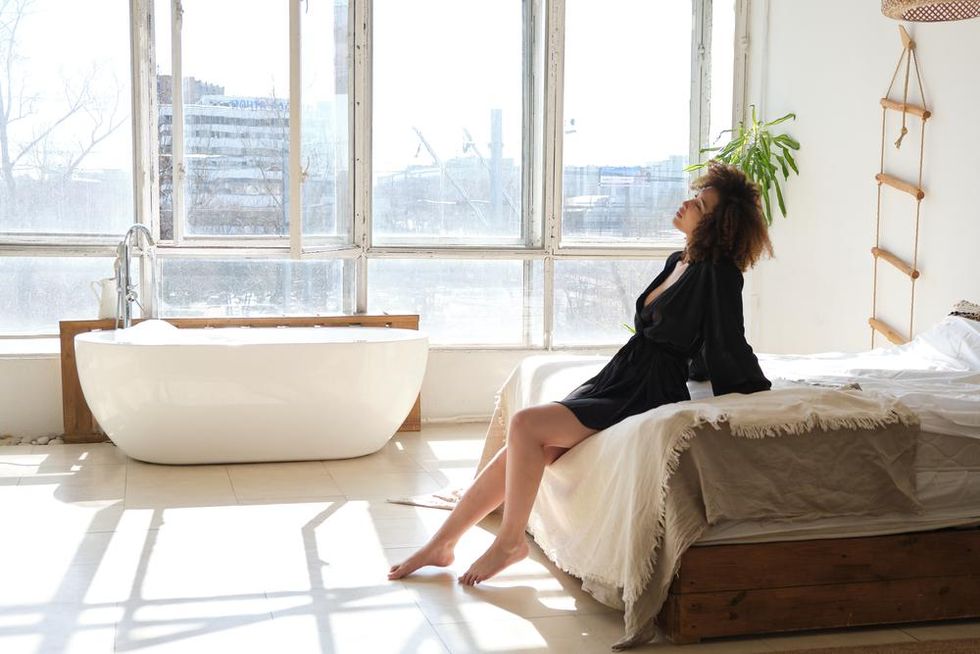 Shutterstock
Rooted in ancient Ayurvedic practice, moon bathing is the act of tapping into the powerful energy of the moon to promote optimal physical and emotional health. There are a number of ways to tap into the energy of the moon - my favorite way is through my bi-weekly Moon Bath Regimen, i.e. taking a healing bath with crystals, essential oils, herb botanicals and a variety of sea salts.
When I take my baths, I use formulas that are specifically targeted to what's going on in my life at the time. I use Ylang ylang and Rose quartz if I need to boost feelings of acceptance and love for myself or to reconnect romantically with my partner. I use Green Aventurine and Eucalyptus essential oil if I'm feeling stagnant and unmotivated. Rhodonite is my go-to if I'm going through a tense situation like a break-up, or difficult work project. This practice has helped me so much that I created a company out of it.
Of all of my metaphysical and ritual self-care practices, moon baths are by far the most fulfilling and effective for me. I schedule them in twice monthly during the New Moon and Full Moon phases - with additional baths whenever I am feeling particularly heightened or over-stimulated. I view my ritual moon baths as much-needed alone time where I'm able to manifest positive vibes and experiences in my life.
Are you a member of our insiders squad? Join us in the xoTribe Members Community today!
Featured image by Shutterstock

Keep reading...
Show less
When Trayvon Martin was senselessly murdered for doing what any average teenager does on a rainy afternoon - making a run to the corner store wearing a hoodie - it made blatant to the world what Black people have long suspected. That, despite centuries of injustice, despite having a Black president, and despite living in a so-called post-racial society, our Black lives still didn't matter.
I remember hearing the audio tape of his killing as I carried my unborn child. I followed Trayvon's trial extremely close that year as I struggled through a high-risk, life-threatening pregnancy. It was an extremely low, uncertain period in my life exacerbated by frequent hospitalizations, the brutal murder of Trayvon Martin and the realization that I, my family, and my unborn child were not safe from racial violence. In fact, I myself had been a victim of excessive force by police officers seven years prior.
My pregnancy was marked by frequent instances of pre-term labor, symptoms of heart failure and dangerously high blood pressure. It wasn't until late into my second trimester that my mother made a startling connection:
Every single time I watched the trial or allowed myself to get worked up by new developments in the case, I ended up being hospitalized. My physical symptoms were directly connected to the emotions the trial brought up in me.
She told me to turn off the TV and to block out the violence and negativity going on around me. "Pregnancy is supposed to be the happiest time of your life. Watch comedies, eat the foods you enjoy. Don't expose yourself to negativity." Despite my initial resistance, I found that, surprisingly, my hospitalizations immediately ceased once I took her advice to heart.
This experience made me realize two things:
The mind-body connection is incredibly strong, especially for empaths, introverts and highly-sensitive people like me.
People of color internalize trauma so deeply that we may not realize the effect it has on us, on our children, on our relationships, and on our physical and emotional well-being.
Studies show a direct link between being exposed to racial injustice and generational trauma. Stress hormones, susceptibility to anxiety and depression and symptoms of PTSD, throughout history, have been passed down from traumatized Black mothers to their unborn children through the womb.
Renowned author and researcher Joy DeGruy has coined a term for this phenomena: Post-Traumatic Slave Syndrome. "Post Traumatic Slave Syndrome is a condition that exists when a population has experienced multigenerational trauma resulting from centuries of slavery and continues to experience oppression and institutionalized racism today." Healthline.com notes:
"For the Black community, the impact of centuries of unaddressed trauma still manifests today...being Black in America means living with chronic post-traumatic stress disorder (PTSD) caused not only by one's lived experiences, but the experiences of our ancestors…"
Black people have been exposed to racial injustice and police brutality for centuries. But for the past eight years especially, since the brutal murder of Trayvon Martin and the wide availability of smartphones, coverage of these events have markedly increased. Much to our benefit, but also to the detriment of our physical and emotional health.
Exposure to graphic images of murder and death is adversely affecting our collective health. This is quite literally a public health crisis that isn't being adequately addressed.
Until it is, it's on us to protect ourselves and our loved ones. Here are 4 steps that you can take to off-set the dangerous effects of these traumatic events on your psyche and on your physical health:
1. Unplug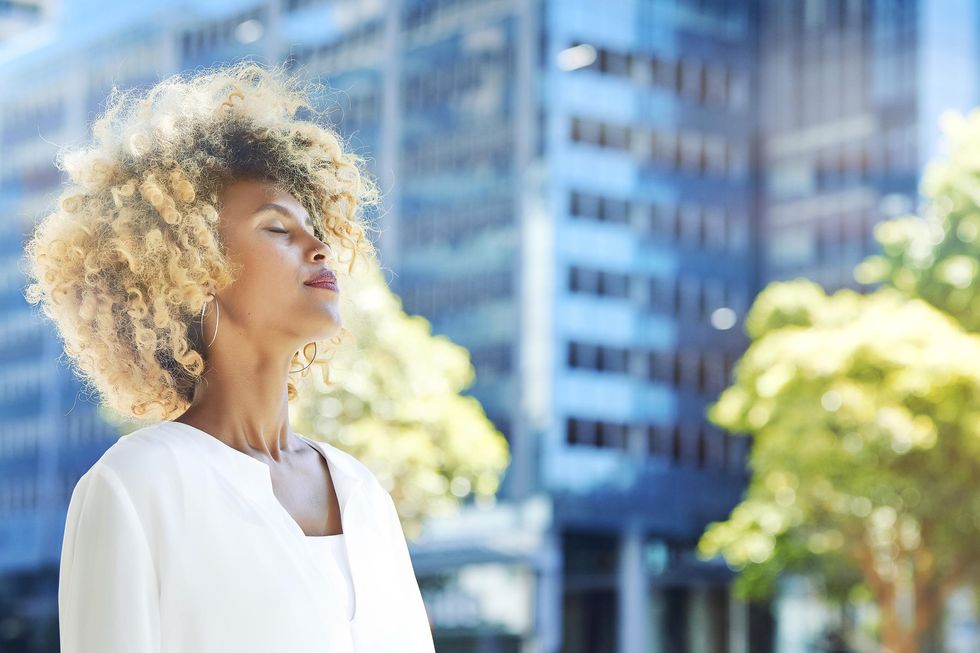 Getty Images
Turn off your television. Take a break from Instagram, Twitter and Facebook. In fact, turn off your phone altogether. Limit your exposure to negative news, conversations and graphic violence. Our generation, more than generations prior, is subject to an "always on, 24-hour" news cycle that makes it difficult to turn away from what's trending in the news and on social media.
Studies show that our generation is experiencing "information overload" by the constant influx of news. This increased access is linked to an increased risk of depression.
2. Evaluate Your Feelings
It is normal to experience FOMO (the Fear Of Missing Out), but you don't have to know and publicly react to everything that's going on in the world. Often, when incidences of racial violence go public, there is a pervasive pressure to immediately issue a public reaction. There is a feeling that if you don't respond right away, you're not "woke."
Don't ever allow yourself to feel guilty about protecting your emotional and mental health.
Empaths and highly sensitive people need time to process traumatic events. This is especially true for empaths who absorb everyone else's feelings so deeply to the point where you may become confused about where your feelings end and someone else's begins! You need time to process your feelings and to determine whether or not you're actually carrying on the emotions of someone else or of society at large. Take your time.
Take a moment to connect with nature. Take a walk in the park. Run a bath. Allow yourself some solitude and the chance to clear your mind. Practice grounding exercises and carry dark crystals like Black Tourmaline and Black Obsidian to stave off negative vibes.
3. Think Critically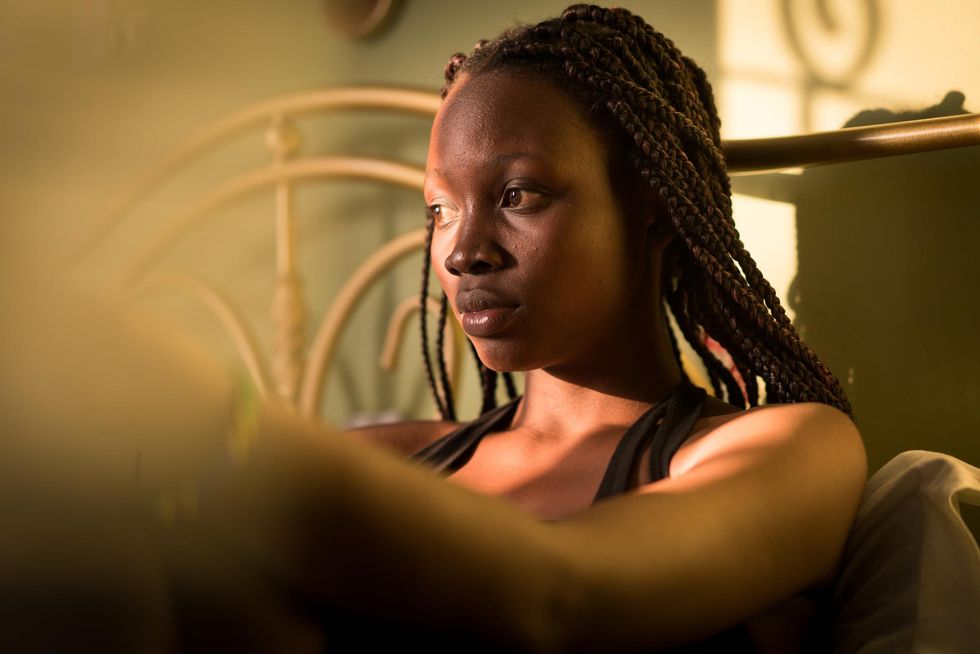 Getty Images
Don't allow yourself to be so easily persuaded by what's being reported in the news, by social media influencers and by social media justice warriors. Some of these people and groups profit off of permanent outrage. The louder and the more outraged they sound, the more "woke" they seem, the more clout they get and the more followers they receive.
Be introspective. Reflect on whether or not the feelings you are experiencing are indeed your own, or if you are being influenced by performative outrage. The same adage about cutting off negative people, environments and situations also applies to the people and pages you spend time on on social media too!
Don't underestimate the impact social media has on mental health. Studies show that since social media first appeared on the scene in the early 2000s, rates of suicide, anxiety and depression have surged.
4. Don't Bottle Up Your Emotions
Set an appointment with a therapist. Speak with a trusted friend. Pour your emotions out in your journal or through your preferred artistic medium like illustration, music, or dance. Allow yourself to deeply feel and experience the influx of emotions that you may not be able to express outwardly. Cry if you need to. Go somewhere private and scream at the top of your lungs. Allow yourself to fully experience the pain that these events inevitably bring. And then LET IT GO.
Don't allow stress and pain to live and fester inside of your mind and body. It will inevitably manifest in harmful ways.
Brutality against people of color is embedded into the fabric of America since the days of our founding fathers. Instances of police brutality will likely continue until major systemic reforms are made.
Remaining mindful of the effects these events have on you can help you survive and prosper in the face of injustice and brutality against people of color.
How do you cope with news of racial violence or police brutality? Let me know in the comments!
Are you a member of our insiders squad? Join us in the xoTribe Members Community today!
Featured image by Getty Images

Keep reading...
Show less
The New Moon in Aries taking place on April 11 marks a rare opportunity to trailblaze an exciting new path for your life. In Astrology, the New Moon is an excellent period for intention-setting and new beginnings. You are being called to release what's no longer serving you so that you can move on to better and greener pastures.
Since the beginning of time, many have used New Moon phases to set goals and to release what's no longer serving them so that they can move closer to their life's true purpose.
This month's New Moon takes place in Aries. Aries, the take-charge initiator of the zodiac, is amplifying the potent energy of this New Moon. Aries rules action, impulse, initiation, new beginnings, new goals, and adventure. What new adventures are you embarking on at this stage of your life?
Now more than ever is the time to set a clear path and goals for yourself. This will be the strongest opportunity that you have all year to achieve your goals - whether they are financial, romantic or otherwise. Issues that have been stewing beneath the surface may dramatically and impulsively come to a head now in order to be addressed. You may find that relationship, work or lifestyle issues become unbearable. Tune in to what your gut is telling you at this time, regarding certain dynamics in your life that you can no longer tolerate.
In the period surrounding this New Moon, you may find certain aspects of your life fading away with little effort on your part. Relationships may come to an end. You may move on from your job - voluntarily or involuntarily. You may decide and take actionable steps toward relocating to another city. You may initiate a new fitness regimen, make a new friend, or start a new freelance project. These are all occurrences that are very much in line with the energy this New Moon in Aries is bringing into our lives. Whatever passes from your life at this time no longer serves a valuable purpose for you or your future. Let them go and prepare yourself for a better and brighter new beginning.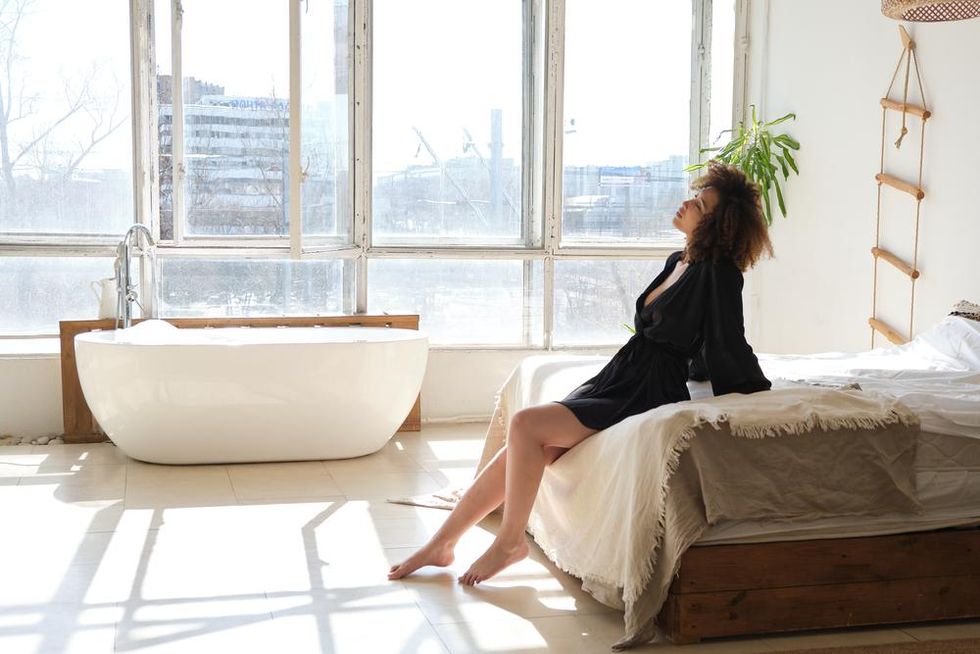 Shutterstock
Because this New Moon takes place in adventurous and fun-loving Aries, your ability to release negativity, achieve your dreams and to attract good fortune and positive experiences will be at its peak. Take advantage of this powerful energy with a spiritual Moon Bath.

According to ZennBoxx.com, ritual Moon Bathing is rooted in ancient Ayurvedic practice and involves tapping into the powerful energy of the moon to promote optimal physical and emotional health. Gaia.com explains, "Ritual bathing cleanses you from physical grime and negative spiritual grime, thus purifying both your body and your aura."
Taking a ritual bath during a New Moon phase is a powerful way to honor yourself, to get back in touch with your spirit, to set new goals and intentions, and to let go of what's no longer serving your higher purpose. The key to a successful moon ritual bath is through the proper use of healing crystals, herb botanicals, essential oils and salts that reflect the current themes of the moon.
With April 11's New Moon taking place in Aries, you will want to be intentional about releasing negative energy, cutting off dead relationships and embarking on a fresh, positive beginning. Including bath ingredients that carry these themes is critical in effectively tapping into the powerful energy of this month's Full Moon.
Here is a step-by-step guide for how to prepare a ritual bath that honors this month's New Moon in Aries.
Step 1: Select Appropriate Crystals
Bathe with crystals that boost positive energy and encourage initiative. Golden-hued solar-plexus crystals like citrine, tiger eye and carnelian are excellent fits here as are crystals that are highly protective and block negative energy like Black Tourmaline or Obsidian.
Step 2: Use A Variety Of Salts
Use a minimum of two salts - a blend of three sea salts is ideal. You can select from Himalayan Pink Salt, Dead Sea Salt, Epsom Salt, or something more intensely detoxifying and exotic like Black Hawaiian Lava Salt.
Step 3: Use Essential Oils With Energy-Boosting Properties
Take a bath with citrus-y, mood-boosting essential oils like sweet orange, lemon or grapefruit.
Step 4: Add A Dash Of Herb Botanicals
Bathe with your choice of herb botanicals, like dried lemon or orange peels, invigorating peppermint or chamomile to induce feelings of peace and harmony. One cup should suffice!
Step 5: Set The Mood
Make things steamy. Run the water as hot as you can take it. The heat from the water will activate the healing properties of your essential oils, salts and herb botanicals.
Use natural light only. Light candles. Let the light and energy of the moon illuminate your spirit, unimpeded by fluorescent light bulbs.
Stay hydrated. This bath is powerfully healing and will move a lot of energy in your body. Make sure you drink water or tea.
Achieve peace of mind. Do not use your cell phone. Meditate during this time, read a spiritual book, or journal.
Play soft, reflective music.
Step 6: Manifest
The final and perhaps most important step to your ritual bath is in setting an intention for the weeks to come. There are a number of ways that you can do this:
For courage: After everything you've been through, you're still here. Write a list of everything you have been able to accomplish and all of the challenges you've survived throughout your life.
For positive experiences: Write a list of new things you would like to experience in the weeks and months to come. Be as detailed as possible.
For setting boundaries: Write a list of deal-breakers you will no longer tolerate in relationships.
For happiness: Write a list of things you are grateful for today, no matter how small.
For motivation: Write a list of goals you would like to achieve before next April.
April 11's New Moon in Aries offers the best opportunity this year to embark on a brand new, positive beginning. Use the powerful energy of this moon phase to work toward achieving your wildest dreams.
Read all about astrology and horoscopes on xoNecole here.
Featured image by Shutterstock
Keep reading...
Show less