Shahirah Ahmed
Shahirah Ahmed is a content creator, influencer and fashion stylist residing in Los Angeles, CA. Originally from Sacramento, CA she decided to pursue a career in the fashion industry once realizing she had the power to turn her dreams into reality. A year after obtaining her degree in Fashion Merchandising, Shahirah launched her namesake fashion blog for tall women with larger shoe sizes in 2015. Keep up with her daily looks on Instagram @shahirahahmed.
Spring is upon us and with this time of year comes the annual closet cleanout we so desperately need and collectively look forward to. Despite freezing cold temperatures and endless rain, winter weather is slowly fading away and it's time we clear out what no longer serves us both in life and in our closets. A symbol of new beginnings and transformations, the shift in seasons is the perfect time to declutter our space while releasing the old to welcome the new.
During the process of evaluating our wardrobes, we determine what we can live without while looking forward to what it is we truly need. As we reintroduce boldly enticing fashion predicted by spring runway collections, it's smart to start with a foundation of neutral staples to be mixed and matched with serotonin-releasing statement items some of us so desperately live for.
Each season there are new styles and designs and with the overload of viral trends, it's easy to become influenced by an endless cycle of forgettable "must-haves." To help get you started on your most stylish season ever, we've curated a list of 10 trending items you can mix and match daily to achieve a perfectly balanced chic and classic fashion-forward wardrobe.
Featured image by Edward Berthelot/Getty Images
As the winter flows through its final days, we encounter Pisces Season with a warm yet passionate embrace. Tapping into our innermost thoughts and emotions, we're never really in the present, either reminiscing on the past or romanticizing our future. From our complex imaginations to concrete realities, those born as this particular water sign have a way of knowing exactly what we want and how we choose to represent ourselves, especially when it comes to fashion.
Like our hearts, we wear our emotions on our sleeves, opting for clothing and accessories based solely on how we feel from the inside out. Independent by nature, we all have a distinct stylish approach to the world which cannot be defined or confirmed by anything other than how we decide to reveal ourselves to those around us.
Known for our dreamy disposition and outgoing personalities, Pisces tend to gravitate towards statement pieces with bold feminine attributes, never failing to possess main character energy. No matter one's mood, you can always count on us to have fun, opting for colorful tones, design details, and carefully selected accessories we've collected over the years.
Most notable Piscean style icons such as Rihanna, Lupita Nyong'o, and Erykah Badu are all known for dramatic style, while confidently taking risks oftentimes in uniquely oversized garments with bodacious prints and artistic silhouettes. Never failing to make a look of one's own, now is when Pisces thrive most, even when it feels like the season of most resistance.
As we continue to pace ourselves throughout this sentimental time of year, keep scrolling as we've gathered a few Pisces-inspired looks for those celebrating another year around the sun this season or who simply want to embody the dreamy aspects of this one-of-a-kind sign.
What To Wear to Your Birthday Dinner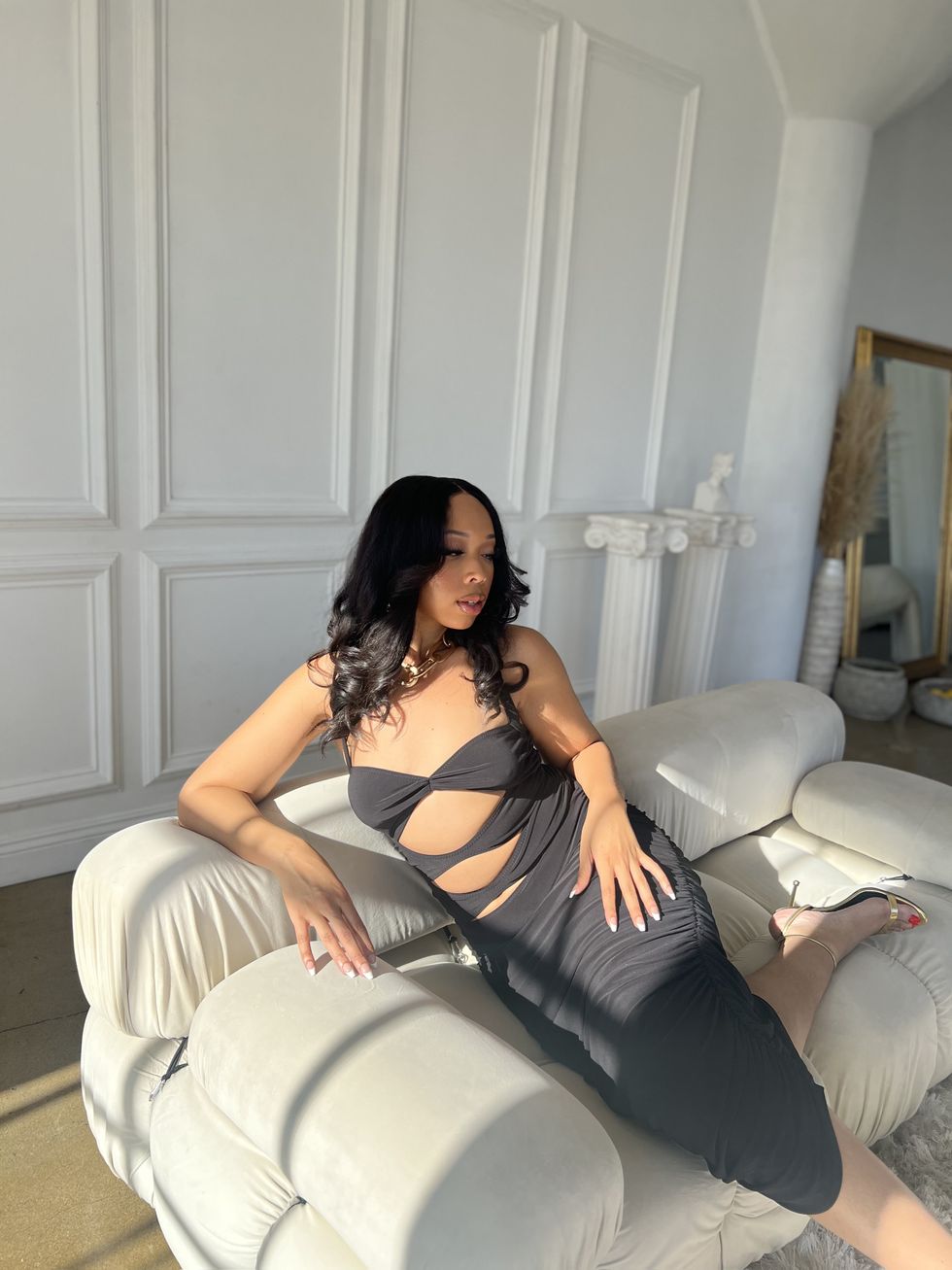 Shahirah Ahmed/xoNecole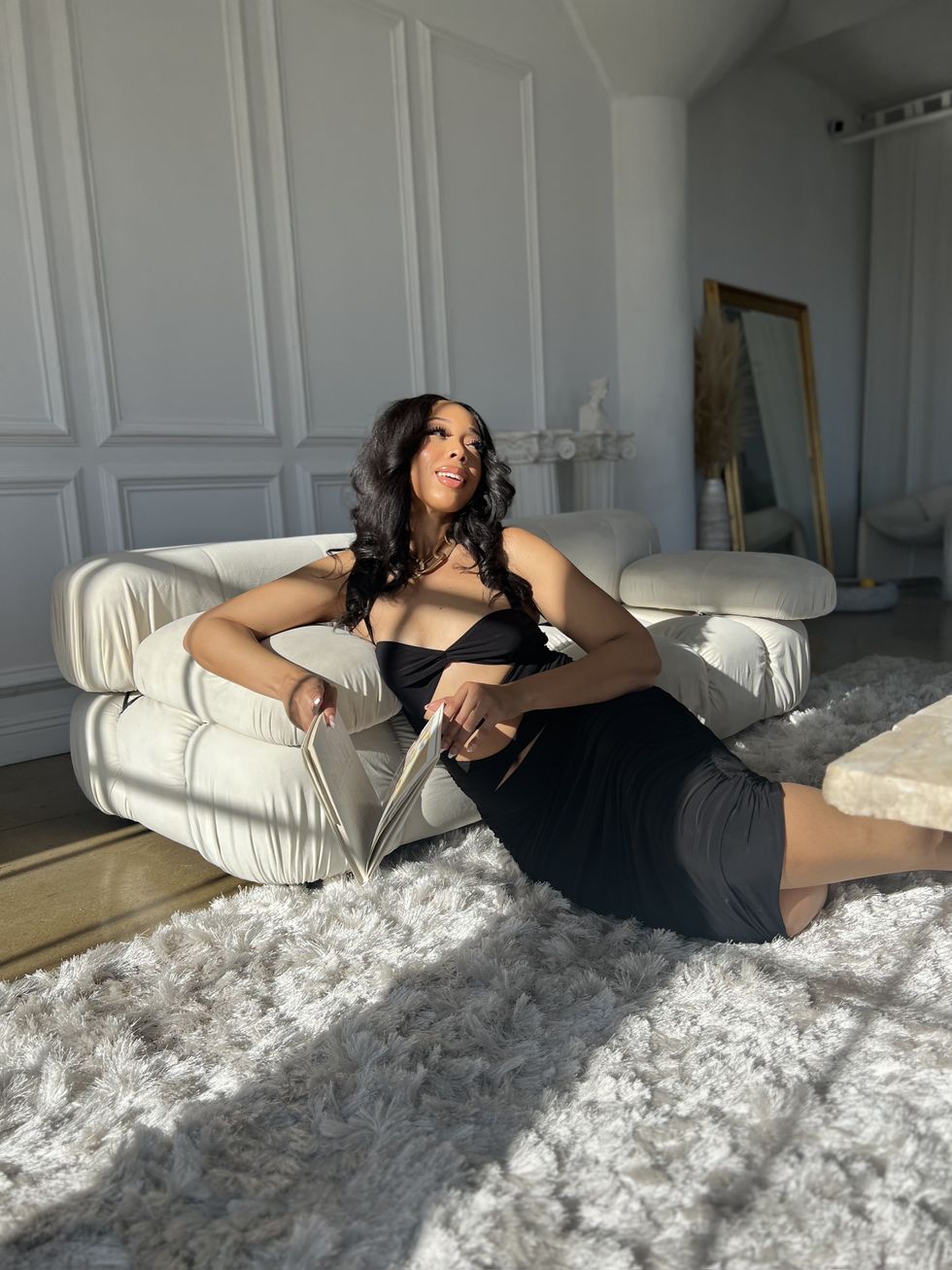 Shahirah Ahmed/xoNecole
Hate it or love it but the birthday dinner is the most convenient way to gather our loved ones in the same building as we don't care for organizing events. It's not often we experience all of our closest friends at the same time so we take this moment each year to celebrate those who have stuck beside us in our highest of highs and dramatic lows.
To lessen the traumatic stress that comes along with planning a birthday, a classic little black dress is all we need. With a pop of skin and form-fitted detail, this ruched Norma Kamali halter dress is perfect for the thirty-something-year-old maturing Pisces. Paired chunky gold necklace, gold heel, and classic clutch, this is a timeless look you'll love forever.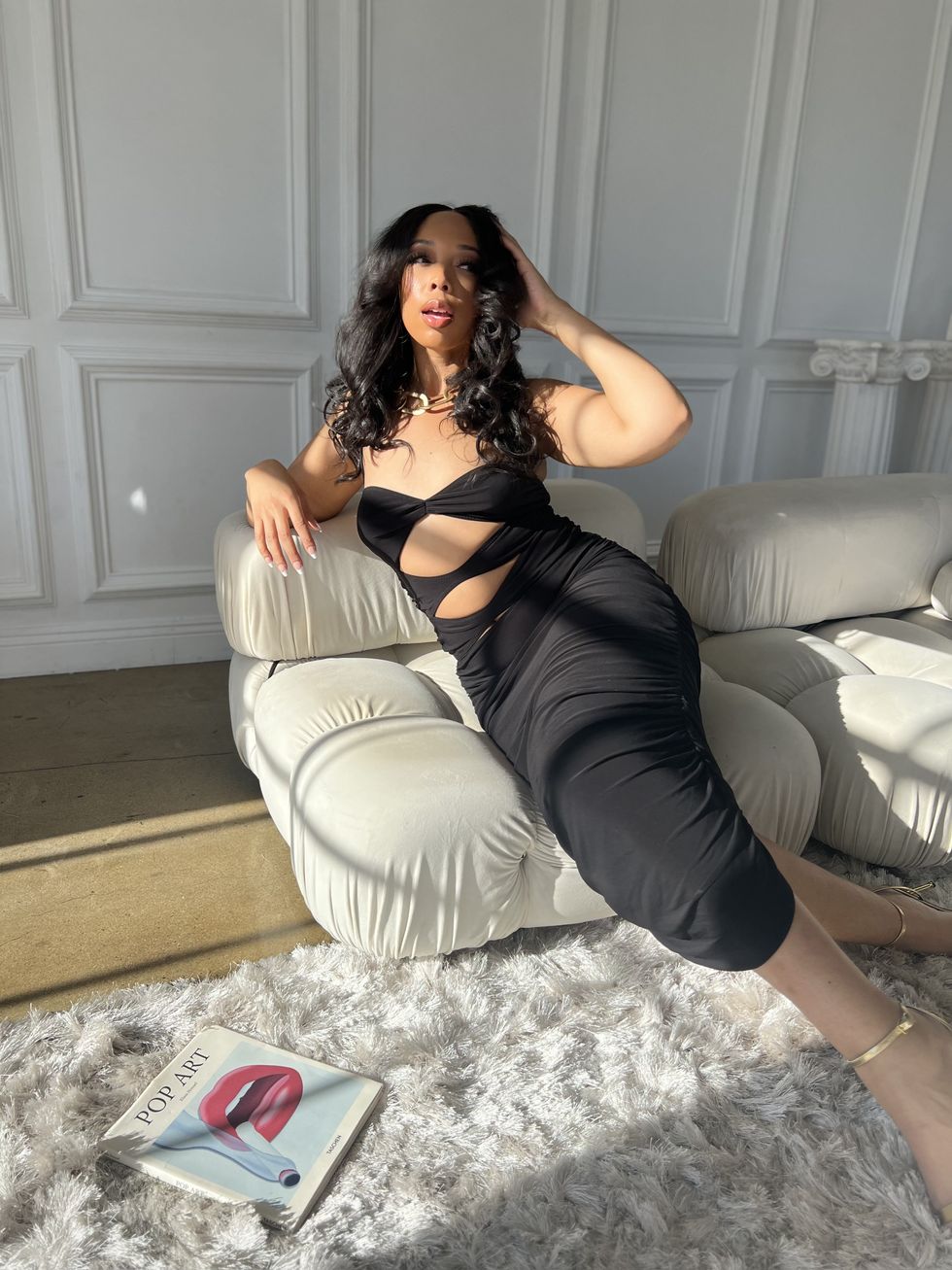 Shahirah Ahmed/xoNecole
What To Wear on a Wine Tour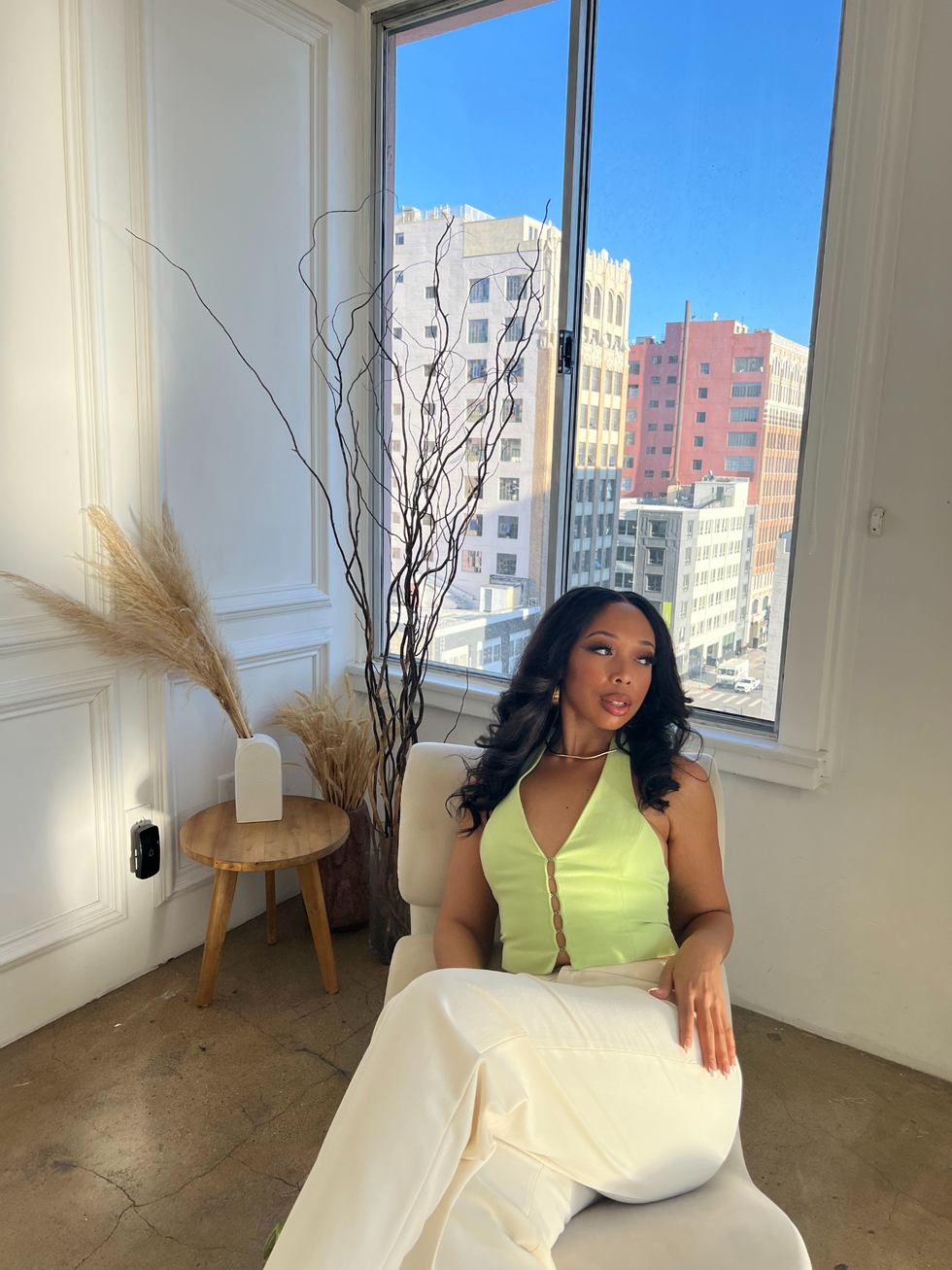 Shahirah Ahmed/xoNecole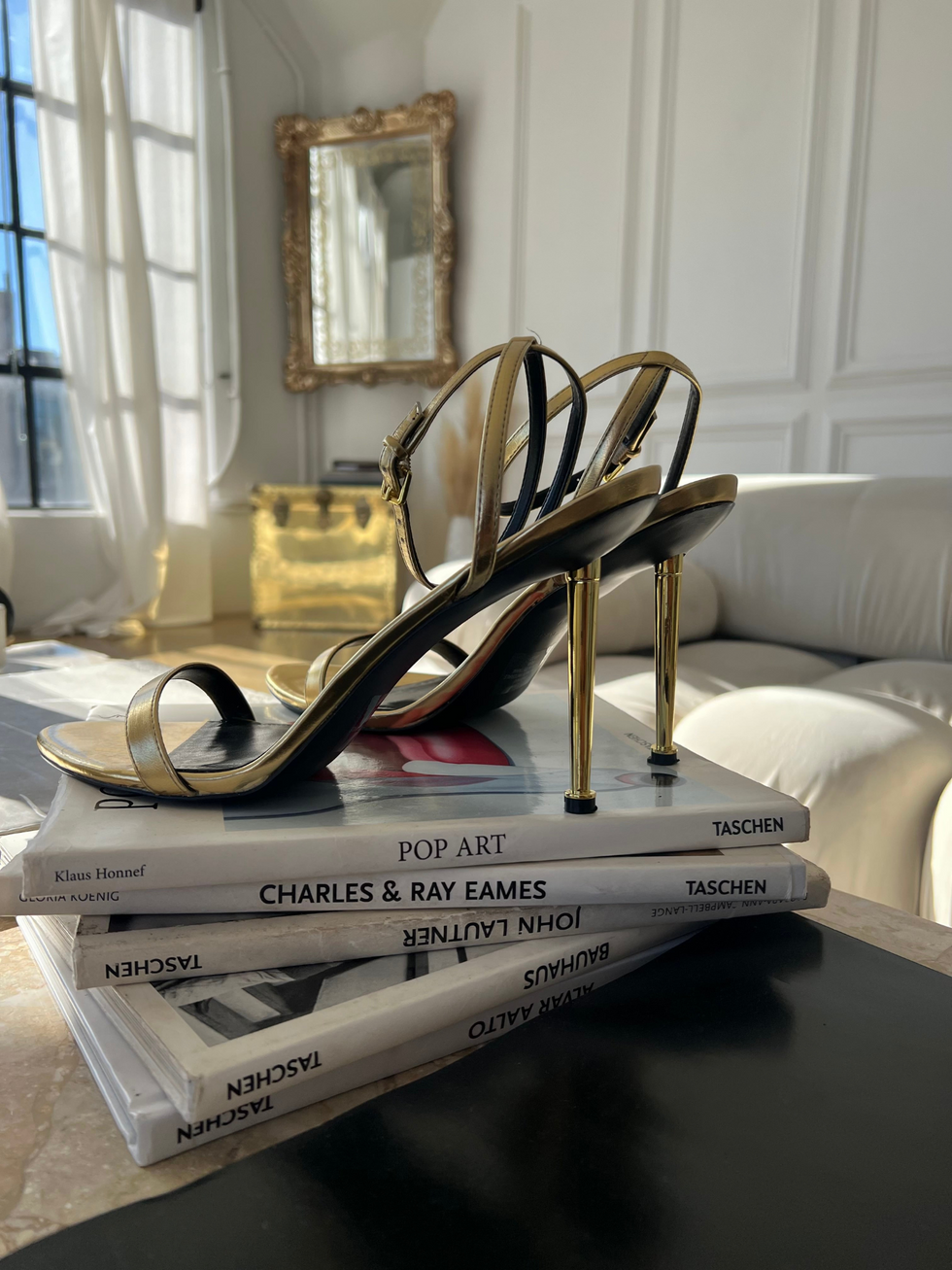 Shahirah Ahmed/xoNecole
As one that loves adventure, wine tasting is the perfect excursion for a spontaneous Pisces. For a daytime look within Napa Valley or caravaning throughout Malibu Hills, a beige trouser and lime green fitted vest may be more of a perfect pairing than the wine and cheese platter. A sign who loves taking risks, off-white wide-leg pants just feel perfect for the moment, regardless of the potential for deep red wine.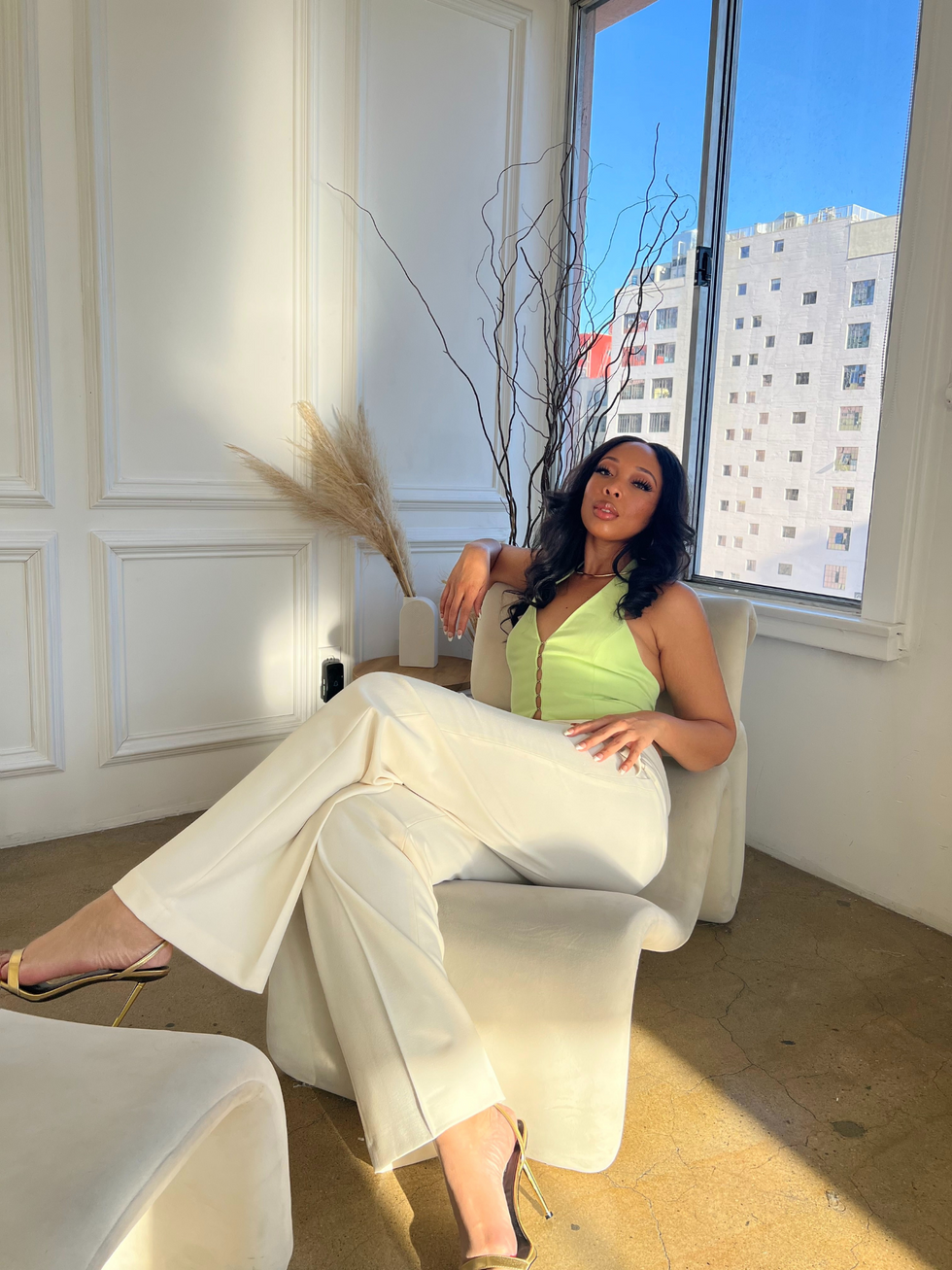 Shahirah Ahmed/xoNecole
What To Wear on Your Solo Date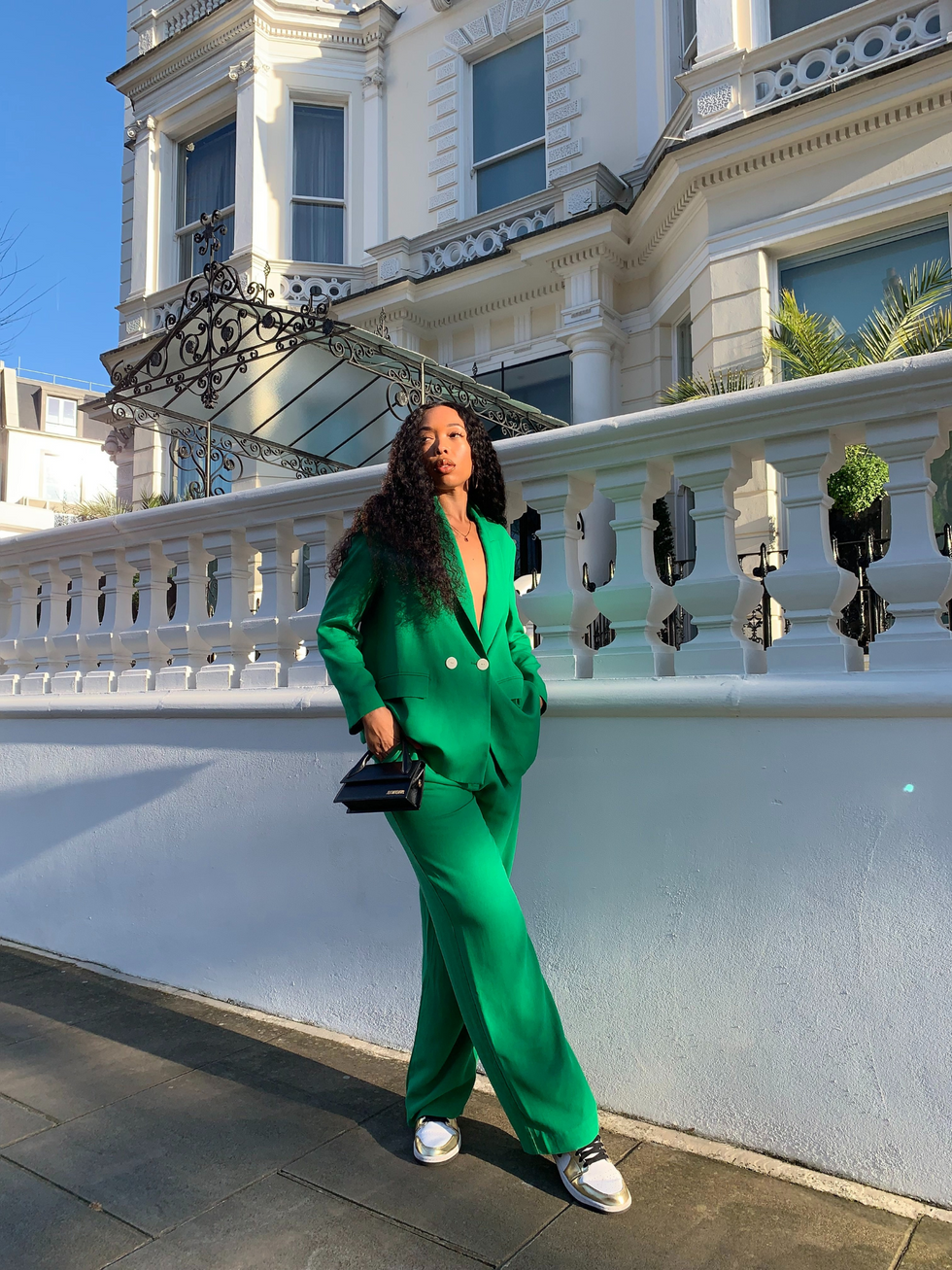 Shahirah Ahmed/xoNecole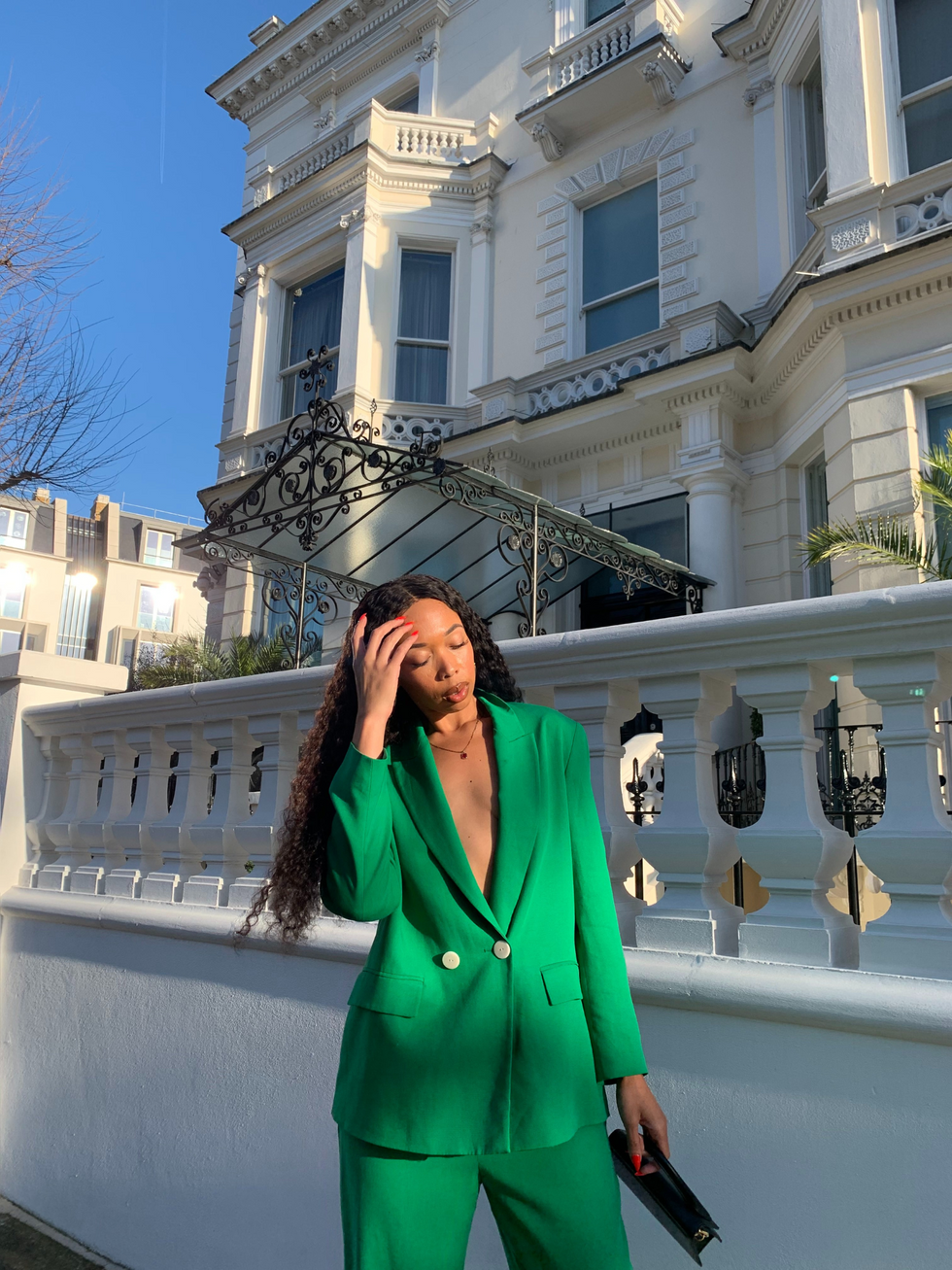 Shahirah Ahmed/xoNecole
Never afraid of solitude, we love to celebrate a special day by enjoying our own company. Independent, passionate, and sensitive to both creative expressions of the imagination, the perfect birthday consists of doing whatever we want on our own terms. A day at the museum would be top of the list, as we have a tendency to be led by good taste in visual arts. Accessorize a lightweight co-ord set paired with a sneaker, minimal gold jewelry, and an oversized statement coat to embody Pisces energy while living your best life.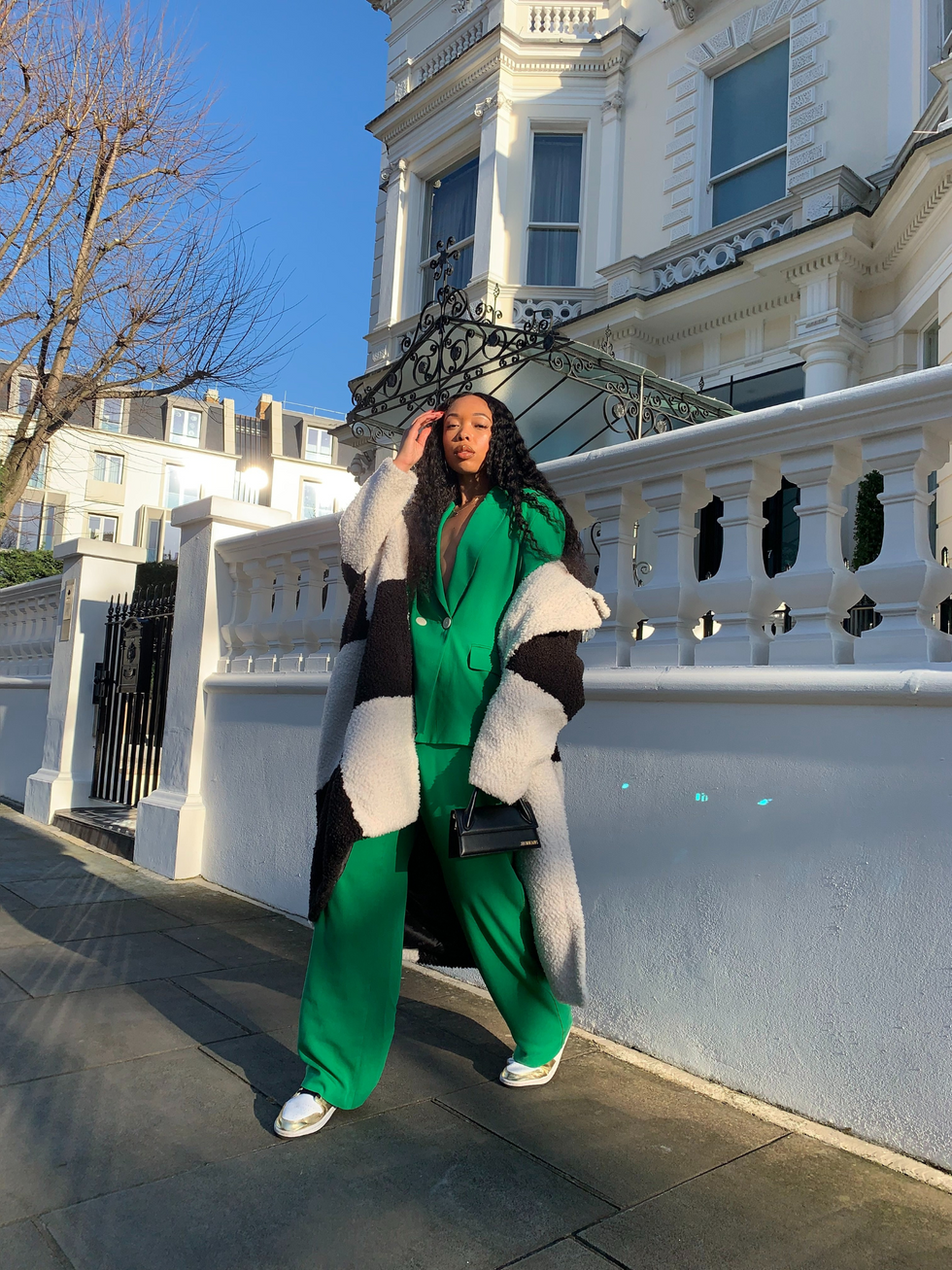 Shahirah Ahmed/xoNecole
Let's make things inbox official! Sign up for the xoNecole newsletter for daily love, wellness, career, and exclusive content delivered straight to your inbox.
Featured image Shahirah Ahmed/xoNecole
With fashion's brightest season on the horizon, it's high time we break out of our winter shells and take a peek at the color trends soon to take center stage. Last year, we saw spring 2023 runways from New York to Paris debuting unforgettable collections creating unwavering anticipation of sunshine and warm weather.
Brands such as Anonlychild made it easy to imagine a delicate yet bold color palette while brands such as Off-White used cooler hues for an edgier approach. Rich purple pigments from LaQuan Smith created images of American royalty while Loewe chose red as a power play. After a season or two of non-stop neutrals, it's time to reset our warm-weather wardrobe with traditionally bold colors that have remained classics throughout time.
As winter slowly comes to an end, I revisited my favorite runway shows along with researching this year's Pantone trends to share the most obvious color palettes that will soon take over our everyday lives according to design and color experts. With the new season, we're setting our sights on a variety of saturated, cool, and jewel tones as we embrace a brighter future ahead.
Marigold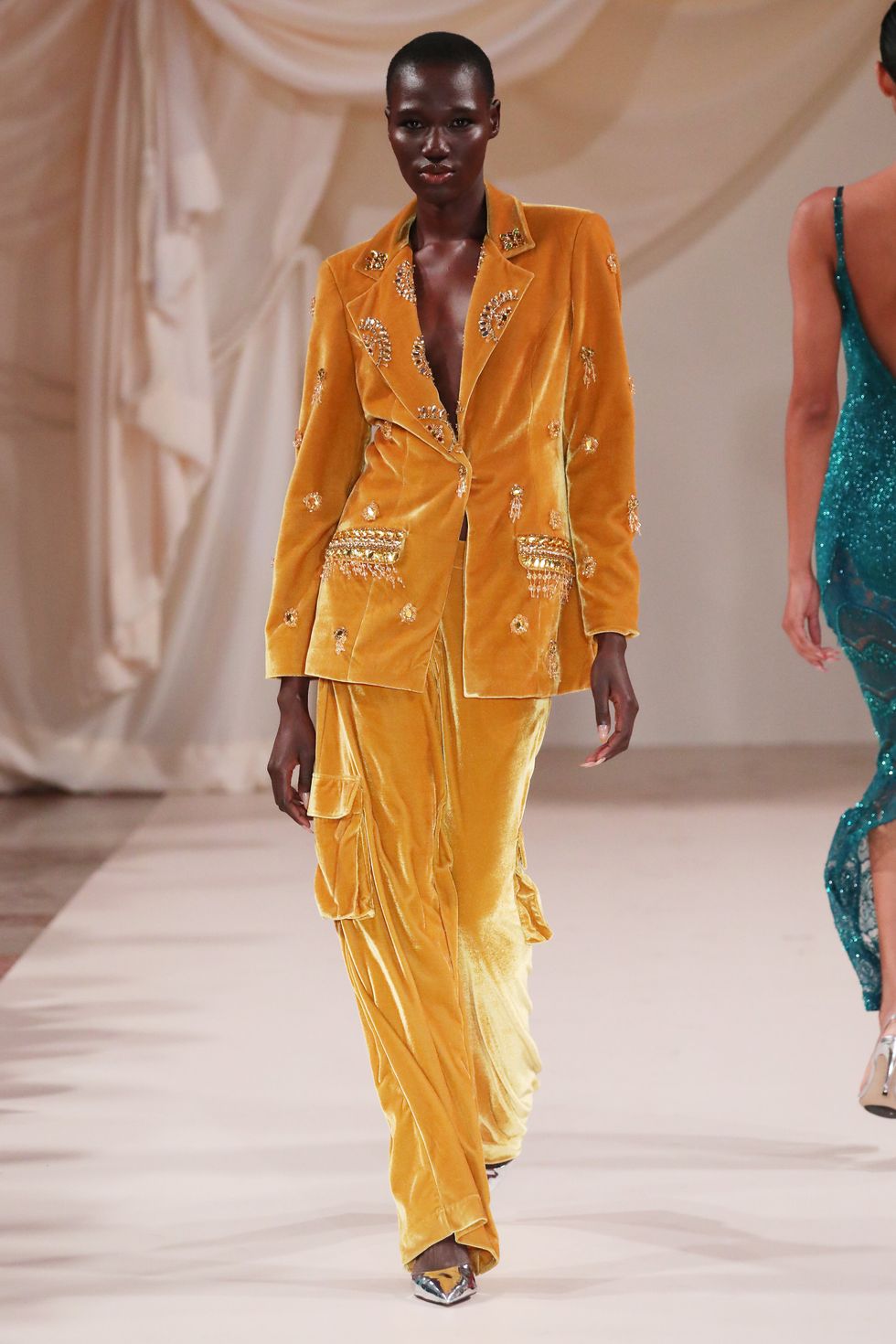 Albert Urso/Getty Images
One thing about yellow and its many variations is that it looks absolutely amazing on melanated skin tones. The spotlight of designer shows like Anonlychild, marigold was a common theme amongst the designer collection. From accents to accessories and full looks, there was a golden-esque quality to the show with styles gracefully illuminating the runway.
Pressed for Purple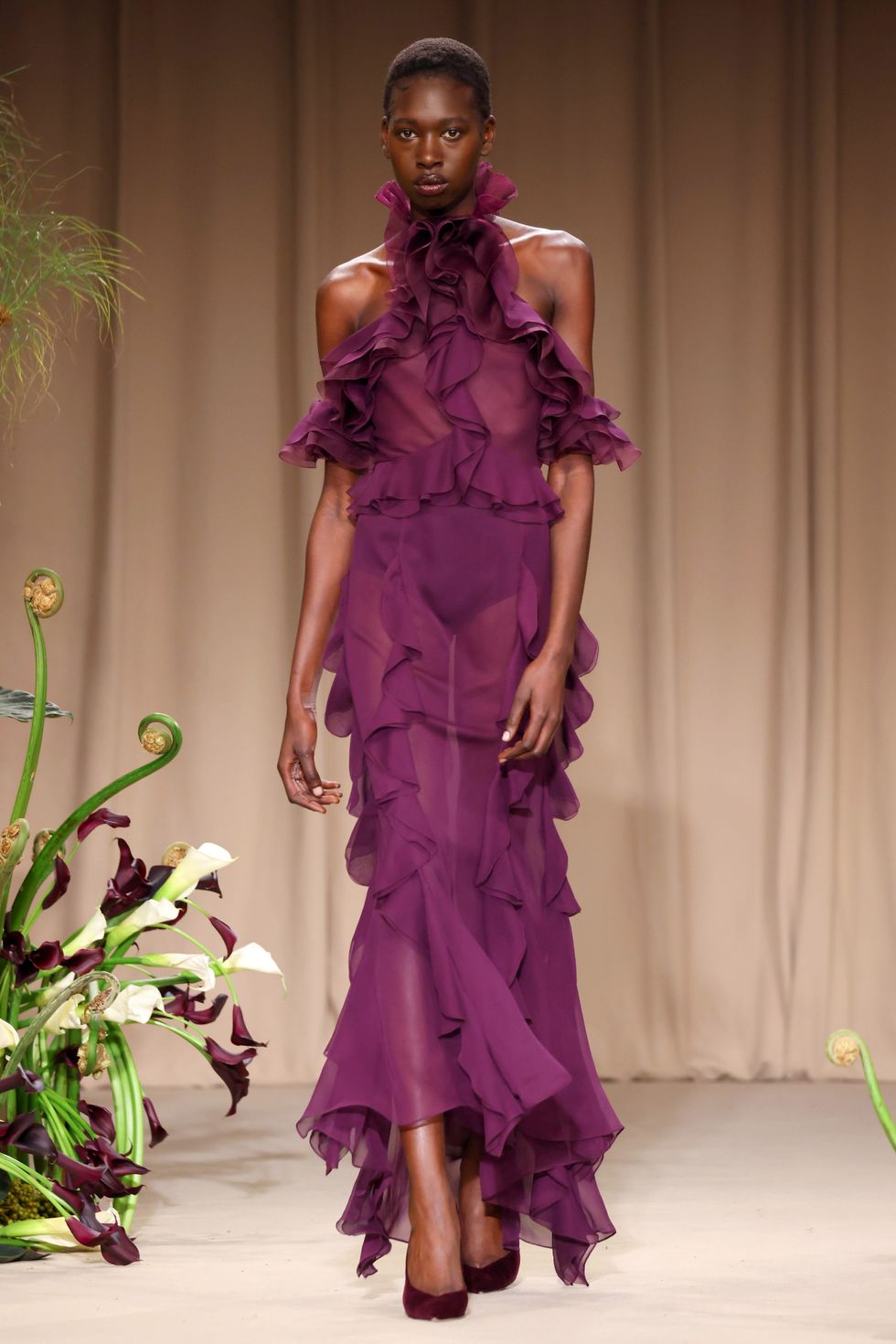 JP Yim/Getty Images for NYFW: The Shows
Purple will soon have a moment no one saw coming. The underrated jewel tone embodies royalty and prestige, making a one-of-a-kind statement of high-class and sex appeal. Style with chrome accessories for a pop of metallics or for a modern take, stack oversized statement pieces such as acrylic bangles or oversized earrings.
Perfectly Pink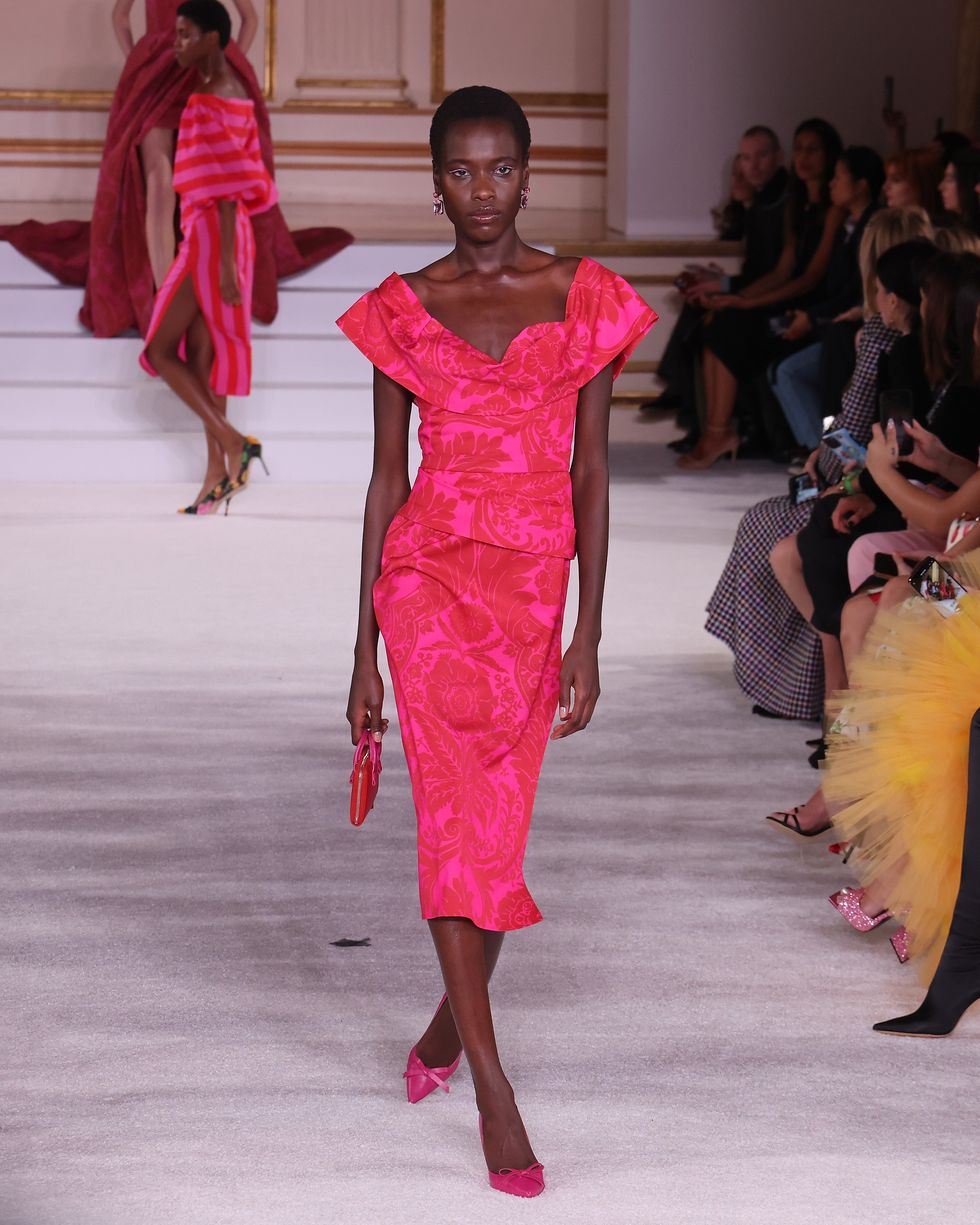 Taylor Hill/WireImage
Depicting the fruits of nature, the deep undertones of a bright and bold pink represent a soft and sweet version of femininity attracting those from all walks of life. Bold in its approach yet subtle in nature, this color was showcased in a number of collections from Aliétte Norma Kamali as well as Carolina Herrera. When styling pink this spring, go for a memorable monochromatic look from head to toe for a tastefully soft and sultry palette.
Better Blues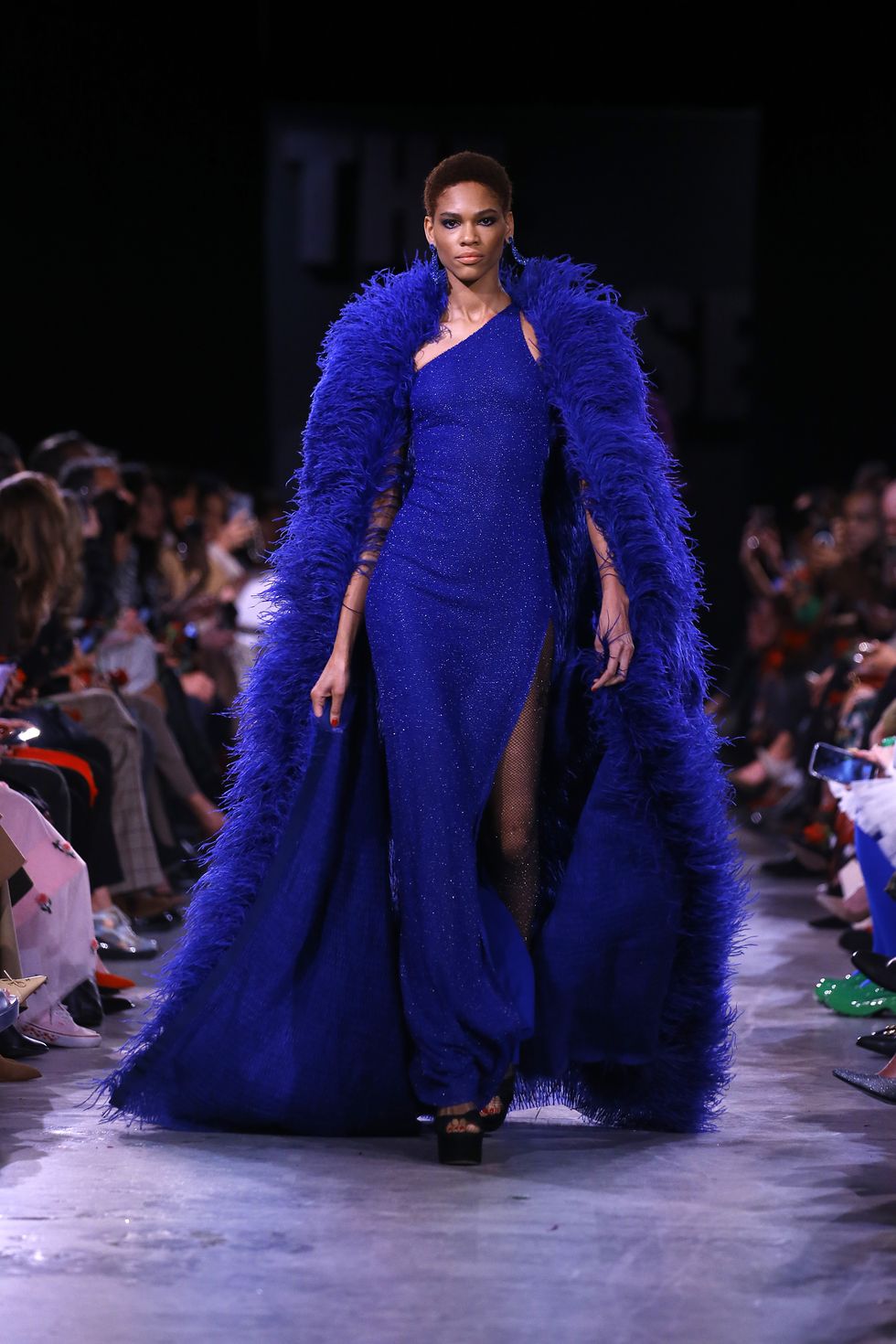 John Lamparski/Getty Images
Like purple, blue is soon to unexpectedly take over women's ready-to-wear as one of spring's top color trends. Effortlessly cool, the anticipation of a bold hue for spring is high on my list of statement staples to collect this fall. Designers like Off-White perfectly styled its oversized transitional tailored silhouettes with sleek moto accessories and monochromatic features.
Whether a deep blue or royal hue, this pigment is the unexpected life force we needed. Contrast with black accents for an enticing feel to achieve an "it" girl aesthetic.
Seeing Red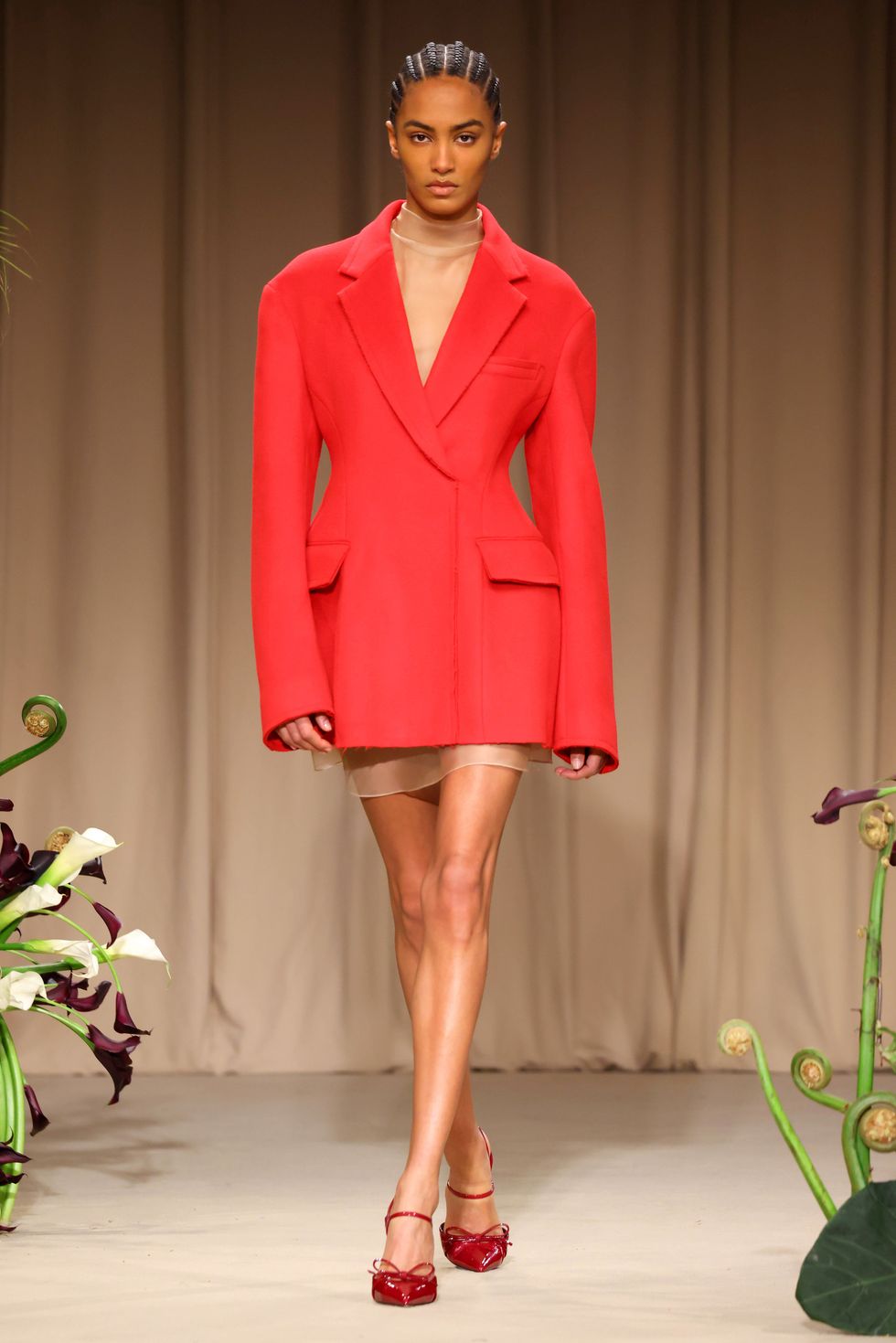 JP Yim/Getty Images for NYFW: The Shows
Designers like Loewe proved that the power color will forever be red as the statement hue of the season. Interestingly enough primary colors took the top spot with designers implementing these timeless shades with red being a source of maximal style. Color blocking is also making a comeback for spring/summer coordinating tones such as red with yellow, or blue for a primary combination.
Freshly Lime Green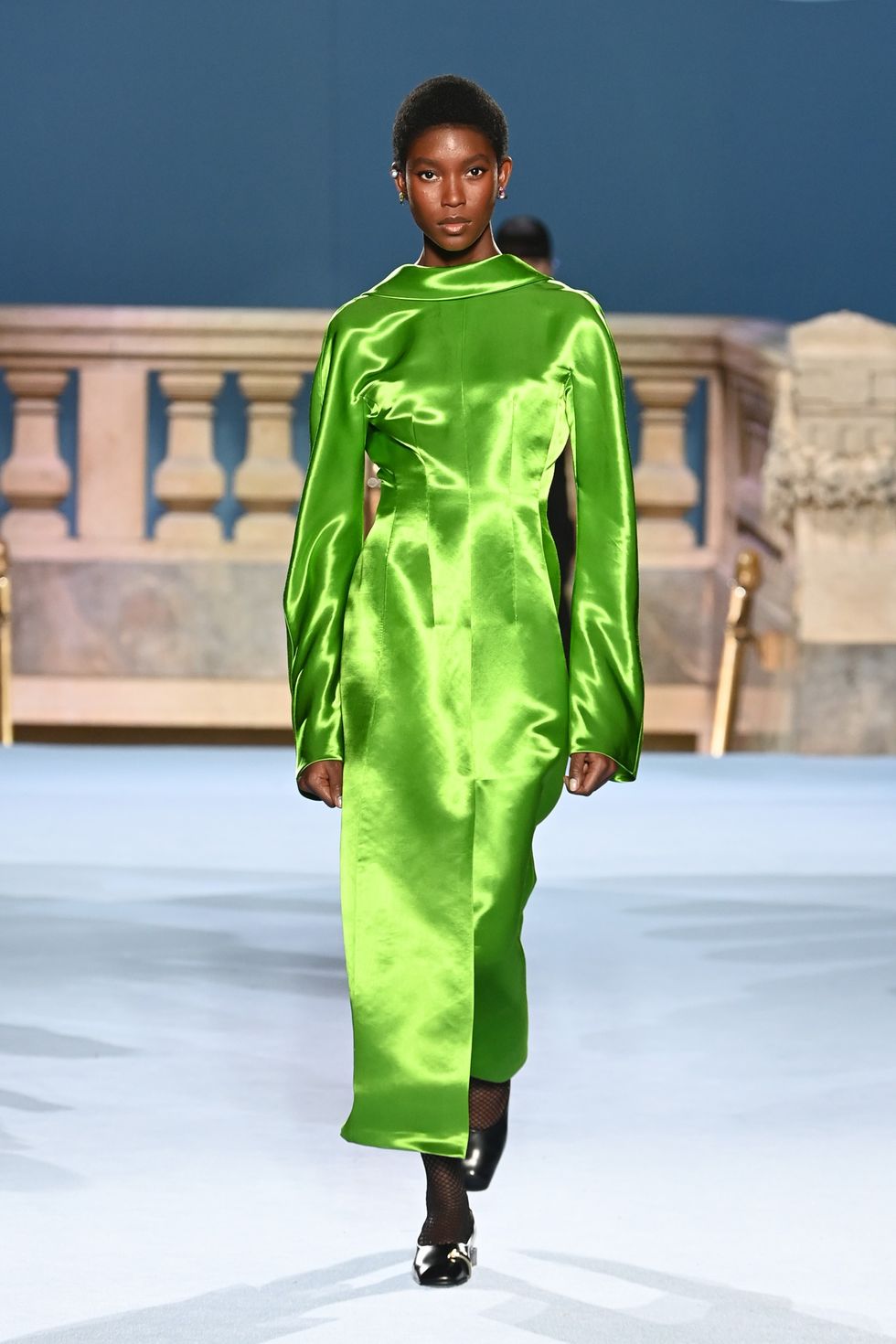 Slaven Vlasic/Getty Images for Tory Burch
There's never a season when green doesn't trend and this year it's a refreshing lime shade of green with a boldly tropical feel. The highlight of spring, Sergio Hudson implemented lime green throughout his show leaving us wanting more than we could handle. While bright, this is the perfect shade to experiment with black accessories for a fashion-forward contrast as we transition from winter to fall.
Featured image by Albert Urso/Getty Images
As the human body's largest organ, the skin is one of our most precious features. Caring for such a delicate attribute should be nothing less than a thoughtful process full of deeply rich, nourishing ingredients that enhance our melanin, not take away from it. Being conscious of what we put on our bodies is only one step to healthy skin. With the range of products on the market, it's beneficial to know about Black-owned skincare companies that create products specifically for people of color, addressing issues that were previously overlooked by traditional brands in the past.
Making up about half of the beauty industry, the range of skincare brands on the market can be overwhelming. With such an oversaturated market, it's hard to believe that not too many years ago, Black individuals were left out of the equation when searching for products such as white-cast free sunscreen or simple ingredients like shea butter that deeply moisturize deeper skin tones. Within the last 10 years, there's been an explosion of Black-owned beauty brands founded by entrepreneurs that birthed companies out of frustration, lack, and the necessity for what was missing in their everyday lives. Choosing the proper products can be an expensive and time-consuming process but supporting smaller brands that prioritize naturally clean ingredients as well as uplifting their community is a great start in the right direction.
In honor of Black History Month, keep scrolling for a comprehensive guide to Black-owned skin brands, their stories, and how they aim to benefit people of color.
Featured image by LaylaBird/Getty Images
London is one of my favorite cities in the world and when it comes to their influence on the fashion world, they're even higher on my list. The epicenter of European style and grace, London is full of trend-forward locals that take effortless fashion to another level. With a population of over 10 million people, you can't narrow down just one aesthetic. Like any other big city, there are a plethora of shapes, personalities, and daily activities that contribute to one's personal style.
When visiting this past November, I spotted a number of streetwear trends that seemed to be a favorite amongst Londoners. As we get deeper into the winter months, colder temperatures require a major style adjustment. To get a better understanding of what's trending now, I enlisted the help of styling duo May and Melinda. Identical twin sisters, these fashion lifestyle content creators are based out of London, focusing on pear-shaped styling.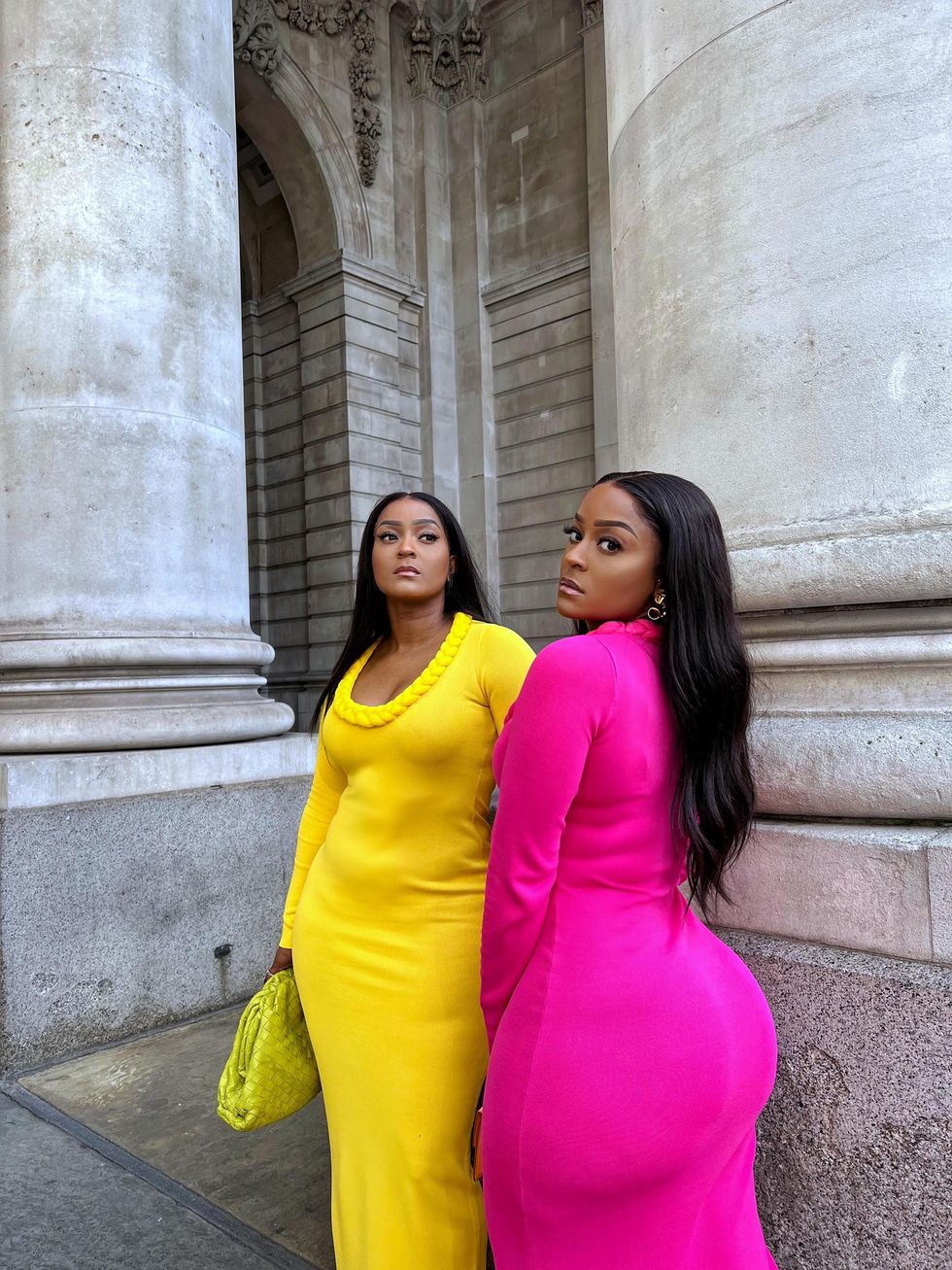 Courtesy of May and Mel
East African-born, naturally pear-shaped, and lovers of fashion, they always found it difficult shopping ready-to-wear items that fit their shape. Beginning their careers a little over a year ago, they started May Mel out of frustration and wanting to help others who were also left out and ignored while bringing the latest trends to our social media feeds.
Like many parts of the world, the colder weather in London has May and Mel gravitating towards layering, which the fashion lovers say is a major key for staying warm without sacrificing style. The duo notes that plus knitwear and "good duvet coat" as winter wardrobe essentials. They tell xoNecole, "You have to start with a good base layer like a Merino turtleneck and thermal leggings. You can layer [them] with almost anything."
In addition to Uniqlo thermal leggings, May and Mel also recommend "the ease and coolness" of a pair of oversized pants. "We recommend buying mid- or high-waisted pants for our curvy girls. This is for a better fit, plus the illusion of a slender hip and an elongated body frame."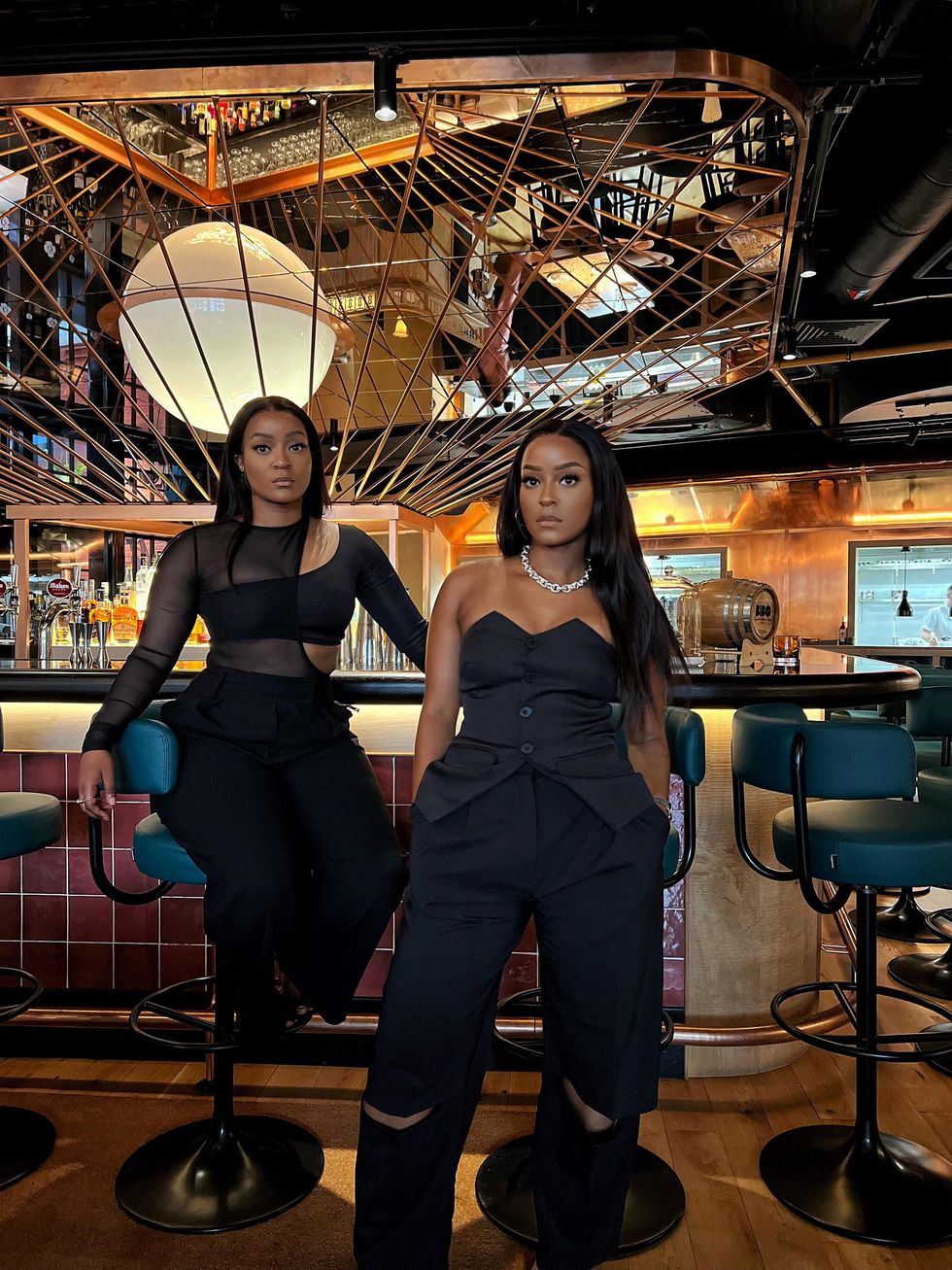 Courtesy of May and Mel
One way that May and Mel like to keep things sexy and cozy during the winter months is by introducing form-fitted items to accompany more oversized outwear. "If you follow our accounts you know we love a knitted midi bodycon; it is sexy, cozy, and classy. Playing with shapes, especially oversized outerwear, and fitted innerwear is an absolute favorite in the colder months. For instance, an oversized blazer paired with a tank or crop top and bottoms gives sexy and shows off your shape, whilst keeping you warm."
When it comes to UK winter fashion, there's a mix of classic staples and throwback items seen on the streets every day. Keep scrolling to read what's trending in London this season according to these ready-to-wear experts.
1. Shearling-Lined Jackets
Perfect for below-zero temperatures, I saw this cozy suede coat all over London. From street style to my Instagram feeds, this is one of the stylish winter items that look just as good as it feels warm.
2. Denim Corsets
The fashion girls love to layer and what better way to stay chic than with a denim corset as the final addition to a day or nighttime look? May and Mel suggest, "Corset tops with denim or cargos (or denim cargos). Still very Y2K, these are fun and look uber-feminine, paired with heels. Styling trick for our pears: try a corset with vertical stripes to help elongate your frame and lift the bust to give you a fuller-busted appearance."
While fashionistas may have ditched this look opting to stay warm during the day, it's still a sexy staple for date night or out for drinks with the girls.
3. Tracksuits
Tracksuits are the cozy co-ord sets that are worn best with sneakers and a puffer coat. The key to surviving the below-freezing temperatures while boarding the London Underground or walking along Oxford street, this is the go-to daytime look to stay warm and cozy while out and about.
4. Longline Wool Coats
​One of my favorite winter staples is a longline coat, transforming a subtle casual look into a major statement. May and Mel explain, "Londoners are great at taking simple and classic items and elevating them with trendy pieces like chunky knee-high boots or cargo pants." They continue, "For pears, we'd recommend a belted wool coat which is uber chic and flattering, creating a balanced proportion between the shoulders and the hips, emphasizing your cinched-in waist."
5. Headphones
The epitome of early 2000's style, headphones are officially one of my favorite accessory trends of 2022-2023. Reinvigorated by Gen Z, headphones are no longer for just listening to music but have been adopted as part of the latest London cool girl aesthetic. Specifically, Apple's AirPod Max has seemingly replaced ear muffs as the cozy girls' fashionable attempt to stay warm and antisocial.
6. Cargo Pants
The utilitarian trend can be spotted absolutely everywhere, reinforcing the oversized cozy look that is taking over the streets of London. Dressing the pants style up or down, the versatility is endless. "We're obsessed just like every other fashion lover and most of London. Easily one of the biggest trends of the year, you can't help but see them everywhere you go," states May and Mel. "These are just too comfortable and cool not to own. We bought a pair from Local European that we love and wish we could live in them as they fit so well with their cinch-able waistband."
7. Chunky Knit Sweater
Oversized knits are a necessity when bracing for winter London weather. With negative temperatures, the only way to stylishly embrace the cold is by layering cute and functional items. "This is an absolute staple in all Londoners' wardrobes. We've seen a lot of bold and jumper-style knitwear this winter, alongside classics like turtlenecks," says May and Mel. "This sweater style is the perfect addition to statement pants layered with a heavy-duty coat, running sneakers, and a crossbody bag. "We love a chunky knit, great for adding volume on the upper body; especially bright and textured knits like patterned fleeces," they add.
8. Knit Dresses
Knit maxi dresses are the perfect balance of sexy, chic, and cozy. "We've seen lots of knit dresses; as they're so easy, versatile, and chic. A winter staple, these dresses are perfect for any event, day to night, and suit everyone." May and Mel continue, "For our fellow pears, we recommend styles that are belted at the waist or patterned on the top half. This is to draw attention to your smallest part and show off your curves."
Let's make things inbox official! Sign up for the xoNecole newsletter for daily love, wellness, career, and exclusive content delivered straight to your inbox.
Featured image courtesy of May and Mel
With the holidays being the busiest time of year for the travel industry, there's even more incentive to strategize your vacation wear as you jet-set from one destination to the next. As a fashion stylist and reformed over-packer, when it comes to travel, both planning and packing can be two of the most stressful aspects of every trip. Whether preparing for a week-long excursion across the country or galavanting abroad, it's best to lighten your load by bringing vacation-worthy looks that are not only essential but versatile enough for multiple combinations to wear throughout your trip.
Winter travel brings challenges of its own when visiting colder parts of the world. Unlike summer vacation, cold weather means bulky coats, oversized knits, and chunky boots that take up a lot more space in your suitcase. For my recent trip to London, to alleviate the stress of packing and overweight baggage fees, I prepared in advance with a try-on haul of what I planned to wear each day of my trip. From shoes to accessories and bags, I captured a photo to reference each look while on vacation. Staying comfy, cozy, and chic was my main priority and I wanted to achieve that goal with the least amount of clothes possible.
Making a mental note of necessary items ranging from sneakers, boots, and coats to matching sets, I narrowed my options to one of each style that would complement the few statement pieces I purchased for my trip. In the end, I opted for five neutral-toned staples I could rotate from day to night throughout the week.
Keep scrolling to see the five minimal items that maximized my winter London looks.
Featured image by Shahirah Ahmed/xoNecole