Shahirah Ahmed
Shahirah Ahmed is a content creator, influencer and fashion stylist residing in Los Angeles, CA. Originally from Sacramento, CA she decided to pursue a career in the fashion industry once realizing she had the power to turn her dreams into reality. A year after obtaining her degree in Fashion Merchandising, Shahirah launched her namesake fashion blog for tall women with larger shoe sizes in 2015. Keep up with her daily looks on Instagram @shahirahahmed.
I'm learning the importance of trusting my instinct, especially when it comes to aspects of life I take pride in maintaining. In 2018, I committed to achieving healthy hair which began with freeing myself of unwanted and excessive damage caused by years of straightening. I remember the day of my big chop—a weight lifted from my shoulders. I felt a mix of both excitement and relief as my dead ends fell to the floor. As part of my promise to take care of and nourish my hair, I vowed to never make the same mistake twice, refraining from heat entirely.
While faithfully dedicated to my kinky texture, I became curiously anxious to do a length check four years later. I'd be lucky to enjoy straight hair for 3 to 4 days. What could go wrong? I knew I would either hate my straight hair or love it, but never did I think it would be the last time seeing my curls fully intact. As predicted, after less than a week of straight hair my curls began to revert, slowly returning to their natural state—or what was left of it. My once carefully defined curls were no longer existent. Devastated, I took to social media to express my shock and frustration for going against my "no heat" rule. Immediately after posting a clip of my damaged hair, I received messages suggesting I use the Olaplex hair repair treatment to improve the look of my hair.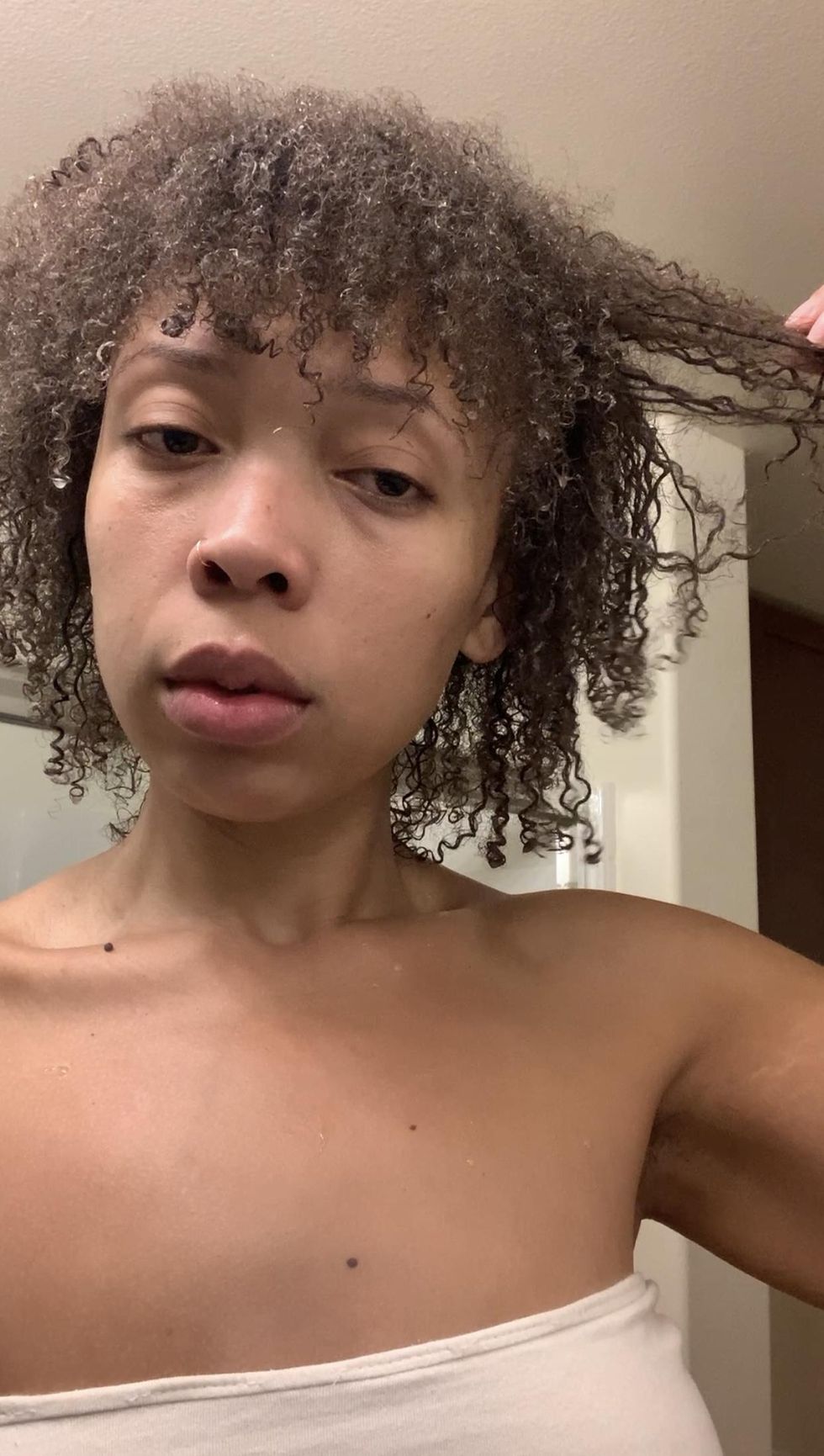 Courtesy of Shahirah Ahmed
Devastated, I took to social media to express my shock and frustration for going against my "no heat" rule. Immediately after posting a clip of my damaged hair, I received messages suggesting to use the brand Olaplex's hair repair treatment to improve the look of my hair.
Within those 24 hours, I received several messages from women with a range of textures claiming this brand is an absolute game-changer when repairing hair to its proper state. Surprised by the number of recommendations raving about the positive results of the products, I was desperate to try anything with reviews from people I know in real life.
Does Olaplex Help Repair Damaged Hair?
My curls before using Olaplex.
Courtesy of Shahirah Ahmed
Olaplex is a patented system to treat extreme damage using technology that restores compromised hair by repairing it from the inside out. Within our hair, bonds provide structure, strength, and stability. When broken, these bonds become weak and the result can be flat, dull, and unflattering.
There are several causes of damage, including destructive hair habits, hot tools, chemicals, dye, and styling. Olaplex uses a patented single ingredient, bis-aminopropyl diglycol dimaleate, which helps build bonds, and in alignment, you have healthy and beautiful hair. From curly hair to stick straight, the brand states it's suitable and beneficial for all hair types, so I decided to try it for myself.
Olaplex First Impressions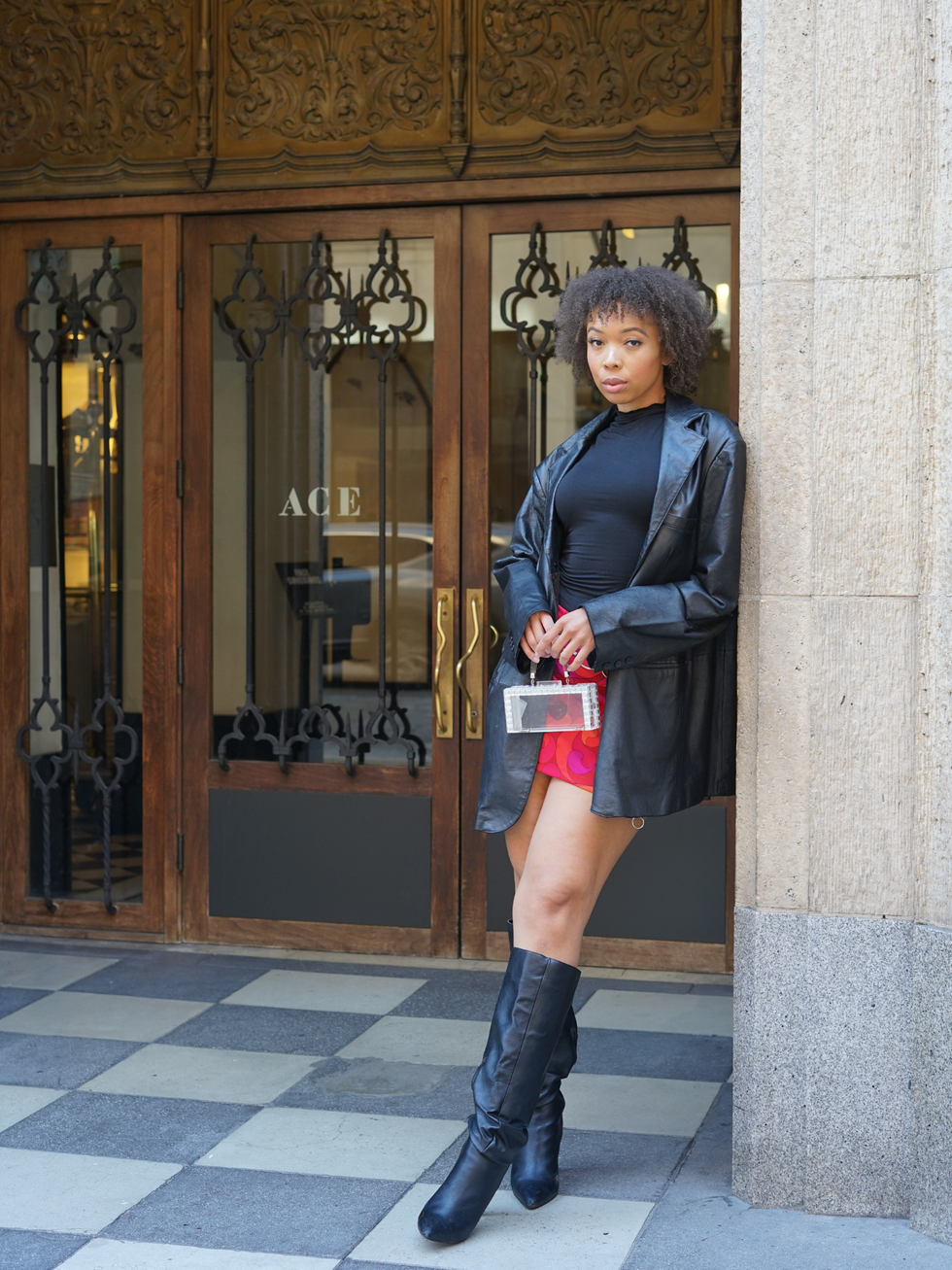 My curls after one week of using Olaplex.
Courtesy of Shahirah Ahmed
In all honesty, I was a bit skeptical of the blanket claim to help all hair types (even kinky curls like mine). Not all hair care is created equal. Starting off, I purchased the No. 0 Intensive Bond Building Treatment ($28/5.2 fl oz) and No.3 Hair Perfector ($28/3.3 fl oz). Because they were a pricey investment, I was hopeful each bottle was worth every penny.
The No. 0 Intensive Bond Building Treatment is a two-part at-home treatment for damaged hair created to absorb nourishment when used along with No. 3 Hair Perfector, 1 to 3 times per week. Considering the size of both bottles and the amount of repair I was in need of, I decided to apply the products twice per week.
Is Olaplex Worth It?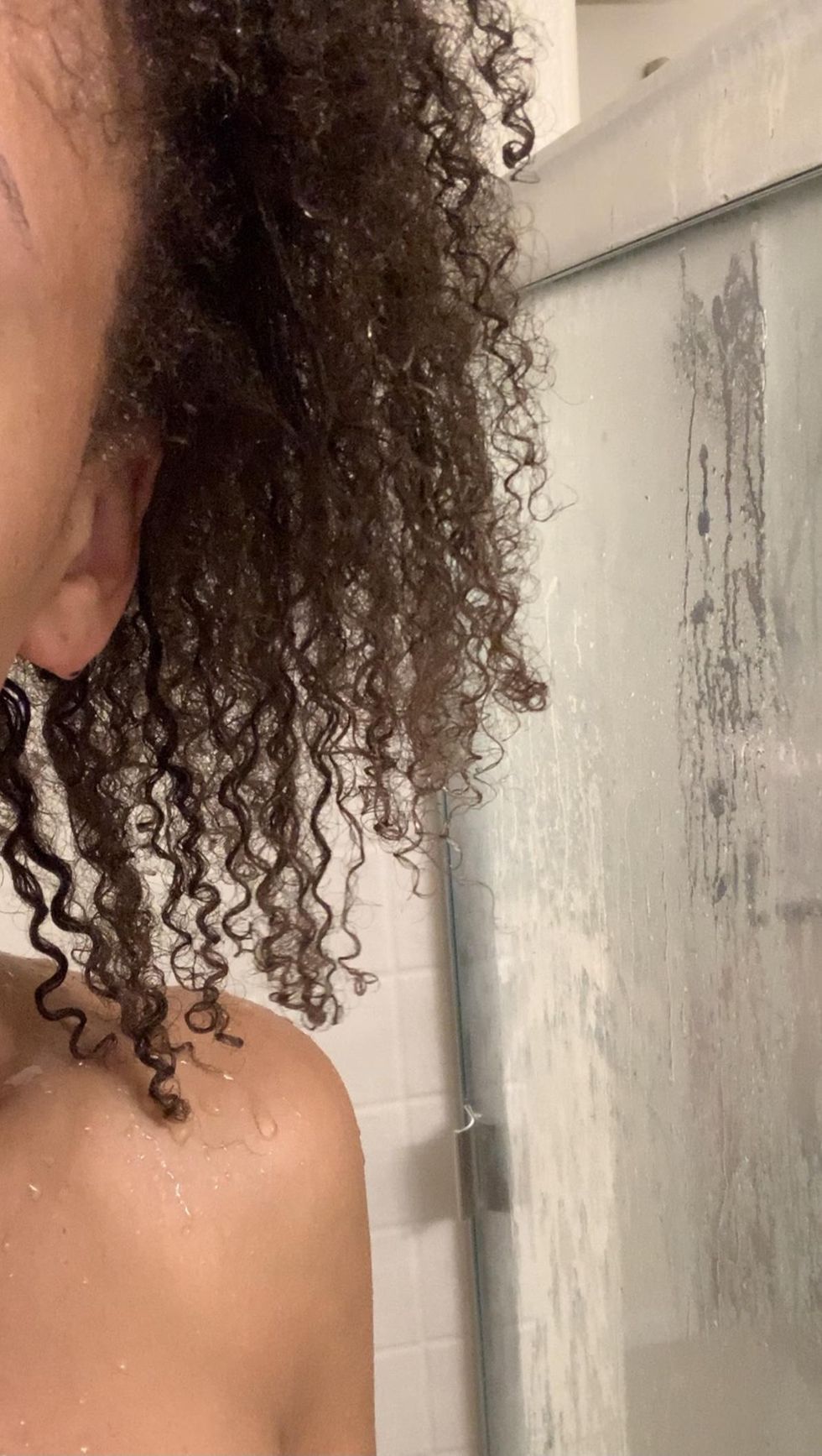 My curls after week four of using Olaplex.
Courtesy of Shahirah Ahmed
I didn't see much progress after the first week, but nothing great happens overnight. Not to be discouraged, I continued with the duo seeing a slight yet recognizable return of my natural curl pattern appearing in week two after the fourth application. By week three, I began to see texture reappear where curly strands had previously been completely lifeless and flat.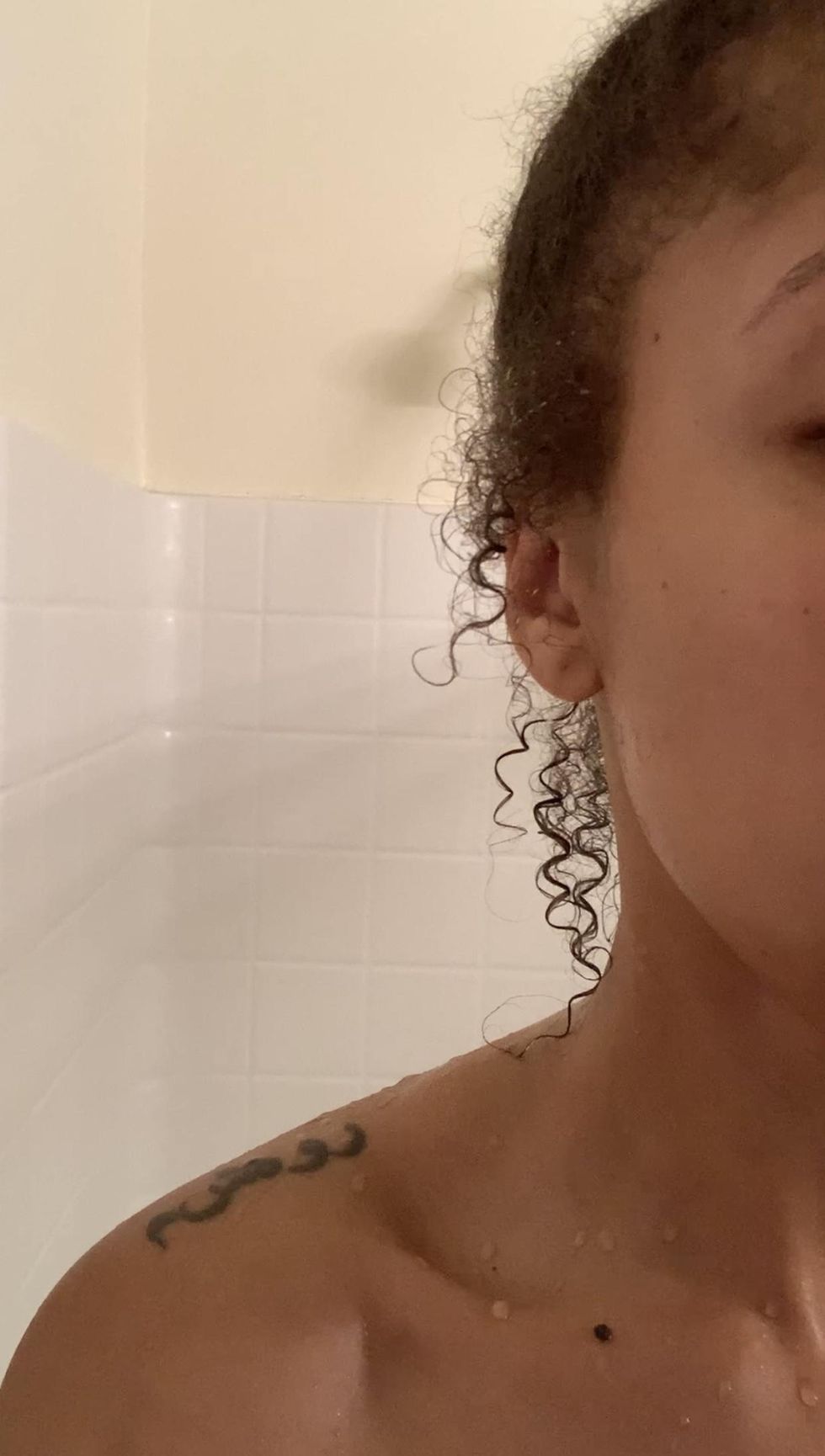 My curls after four weeks of using Olaplex.
Courtesy of Shahirah Ahmed
After week four, I noticed not only had most of my curls come back to life, but my hair also appeared more hydrated, more full. My curls were more defined than ever before. While there are still damaged areas in need of improvement, I'm convinced that continued and consistent use of Olaplex products will allow my curls to be at their peak.
A game-changer revolutionizing the hair industry, these are products that should remain in our hair-care collections at all times.
Featured image courtesy of Shahirah Ahmed
Since the dawn of time, animal prints have been a reigning force all over the world. Once worn as a means of survival, these looks were eventually adapted by the masses thanks to the fashion industry both on and off the runway. From clothing to accessories, prints such as leopard spots, zebra and tiger stripes have been dominant choices when going for a fierce addition to any look. Today, clothing trends continue to evolve as those once-beloved materials are quickly being replaced by a new generation of artistic self-expression.
Becoming the latest patterns of choice, abstract art in the form of geometric shapes, swirls, and optical effects has become the new reign of impressive prints trending in 2022. After two years of solid neutrals, designers are having fun once again and I can't get enough of these fresh whimsical feels. Broadening my range of wardrobe this year, I decided to get in on the fun and brighten up my looks with colorful statement pieces boldly going where I've never gone before. Check out the patterns and prints I'm currently obsessed with below.
Geometrically Opposed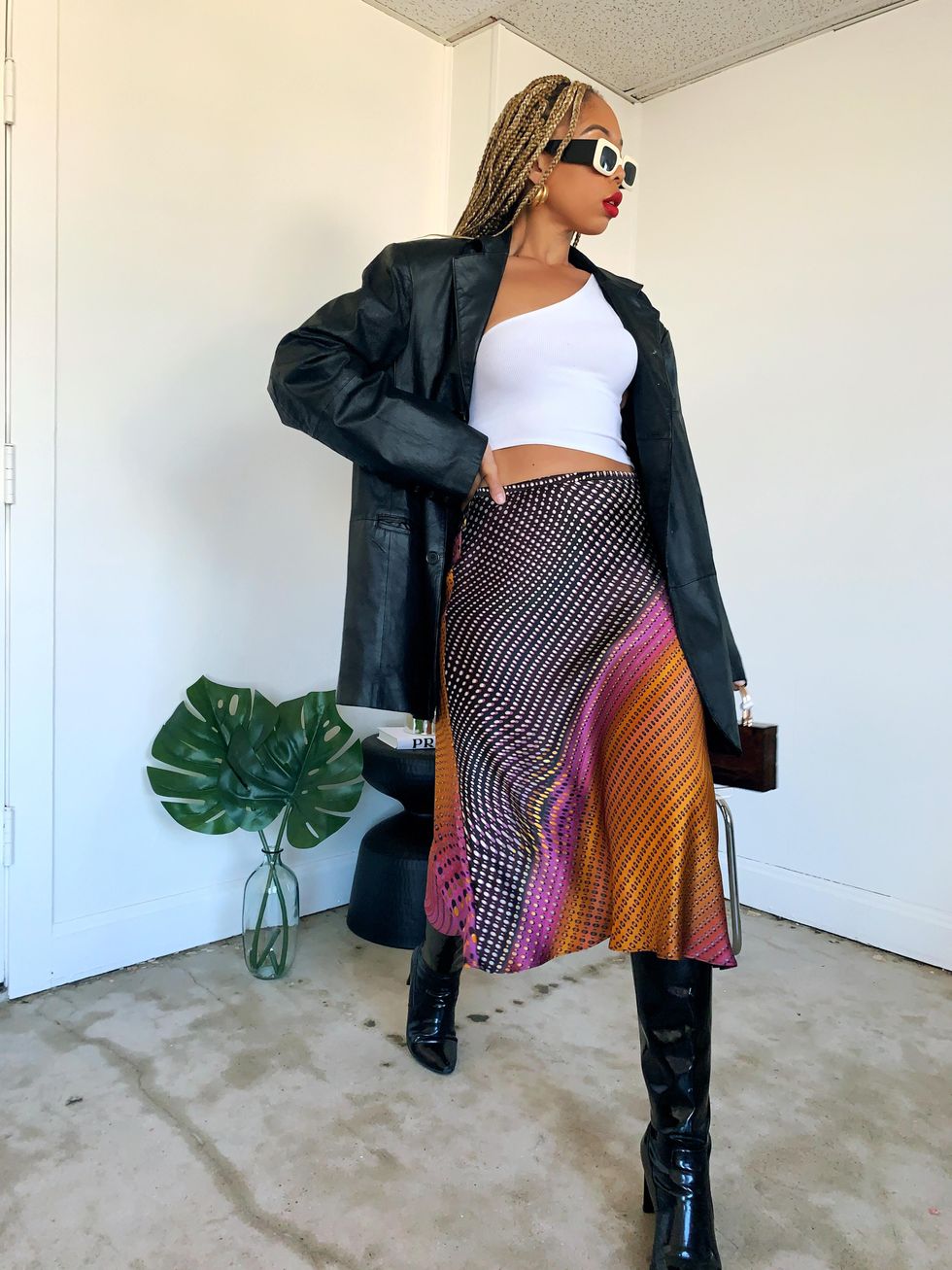 Shahirah Ahmed/xoNecole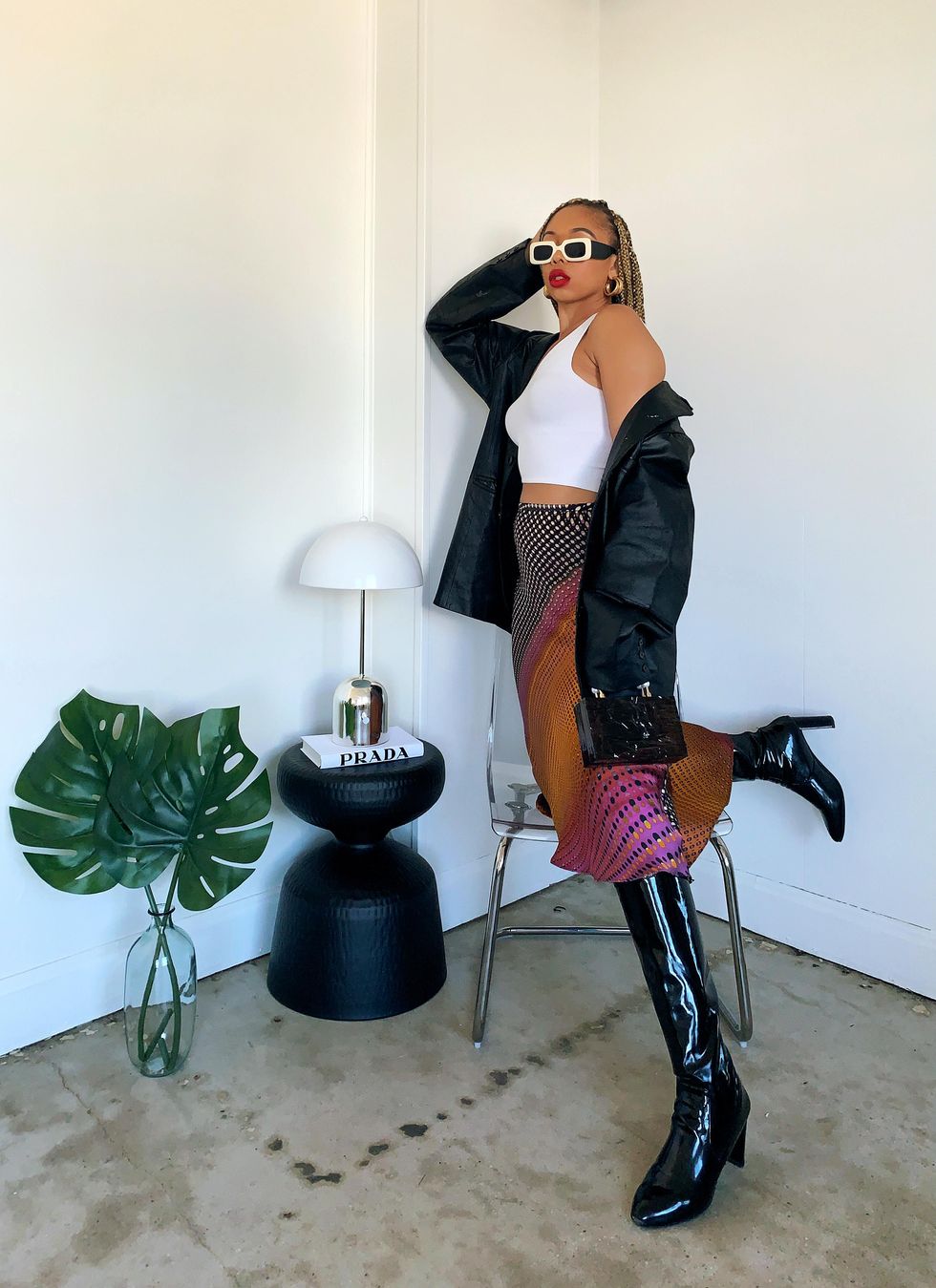 Shahirah Ahmed/xoNecole
As one who doesn't wear many skirts in my day-to-day looks, I absolutely couldn't pass on this multi-colored geometric print midi. With its 3D pattern giving its best impression of an optical illusion while gracefully forming every curve, I was immediately impressed with the contrasting hues when initially laying eyes on this piece.
Going for a casual approach, I decided to wear an asymmetrical one-shoulder ribbed knit along with an oversized blazer and patent leather boots. Perfect for a winter weekend look, this skirt is extremely versatile with the ability to transition from season to season.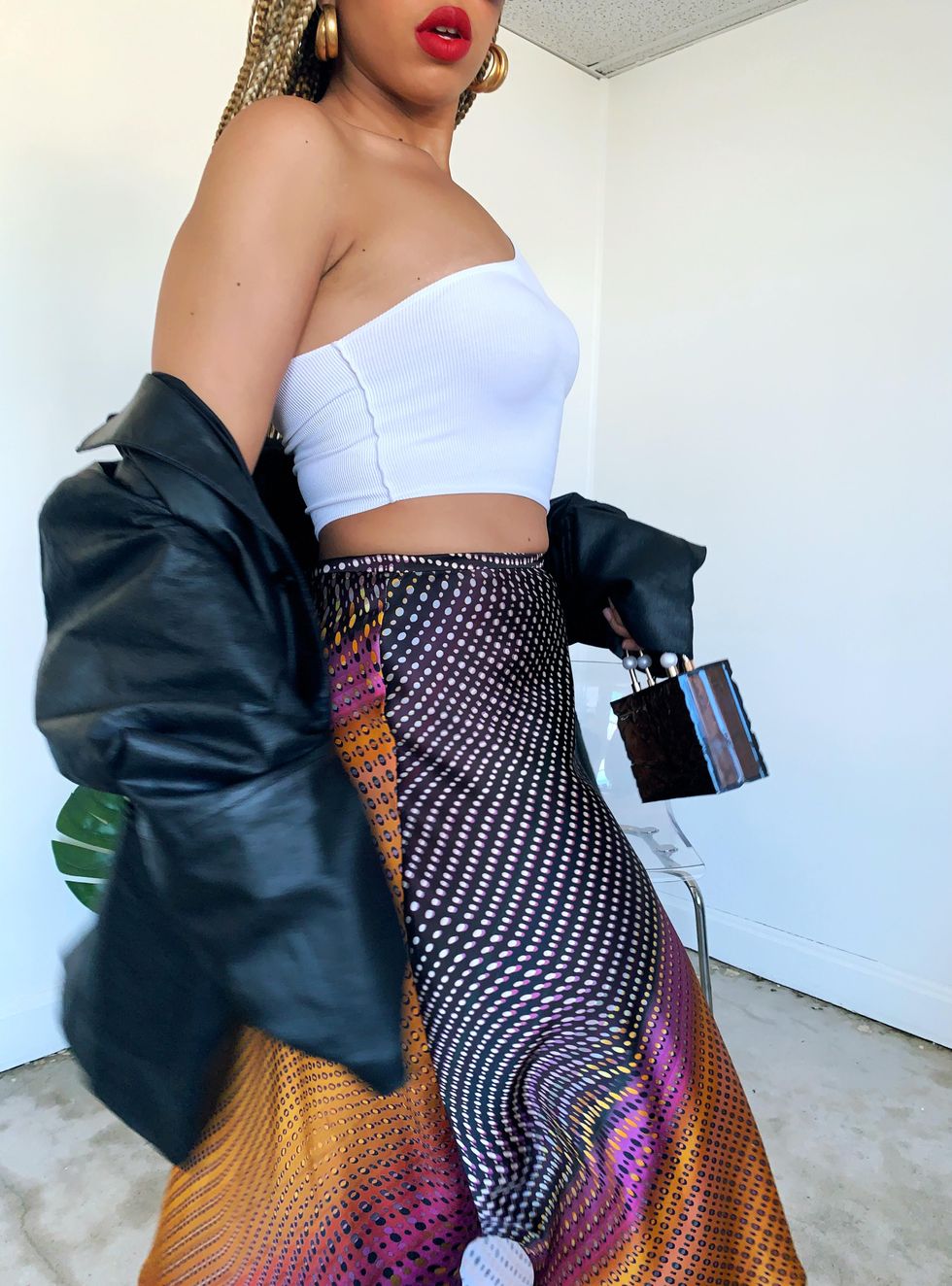 Shahirah Ahmed/xoNecole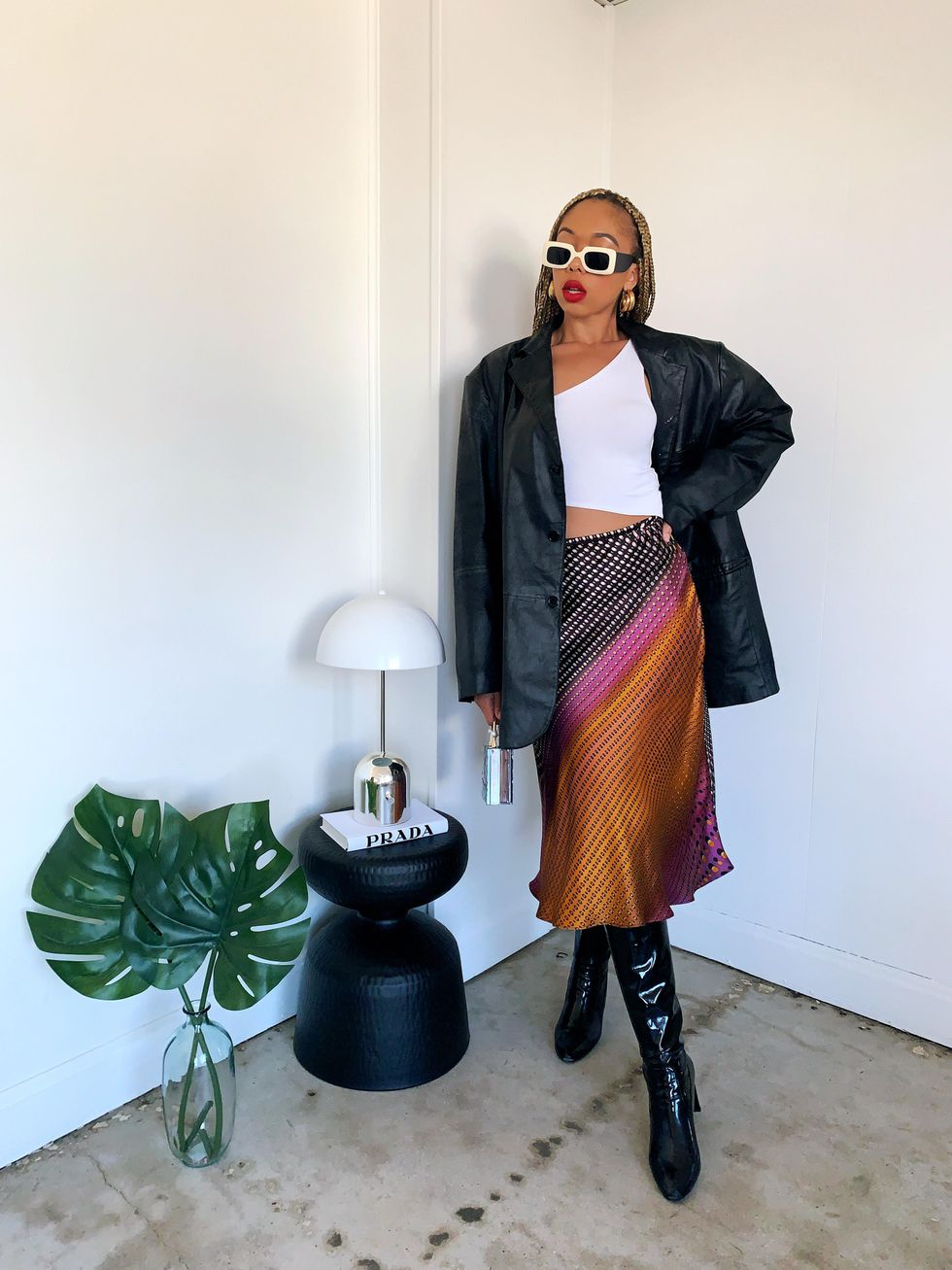 Shahirah Ahmed/xoNecole
In the Abstract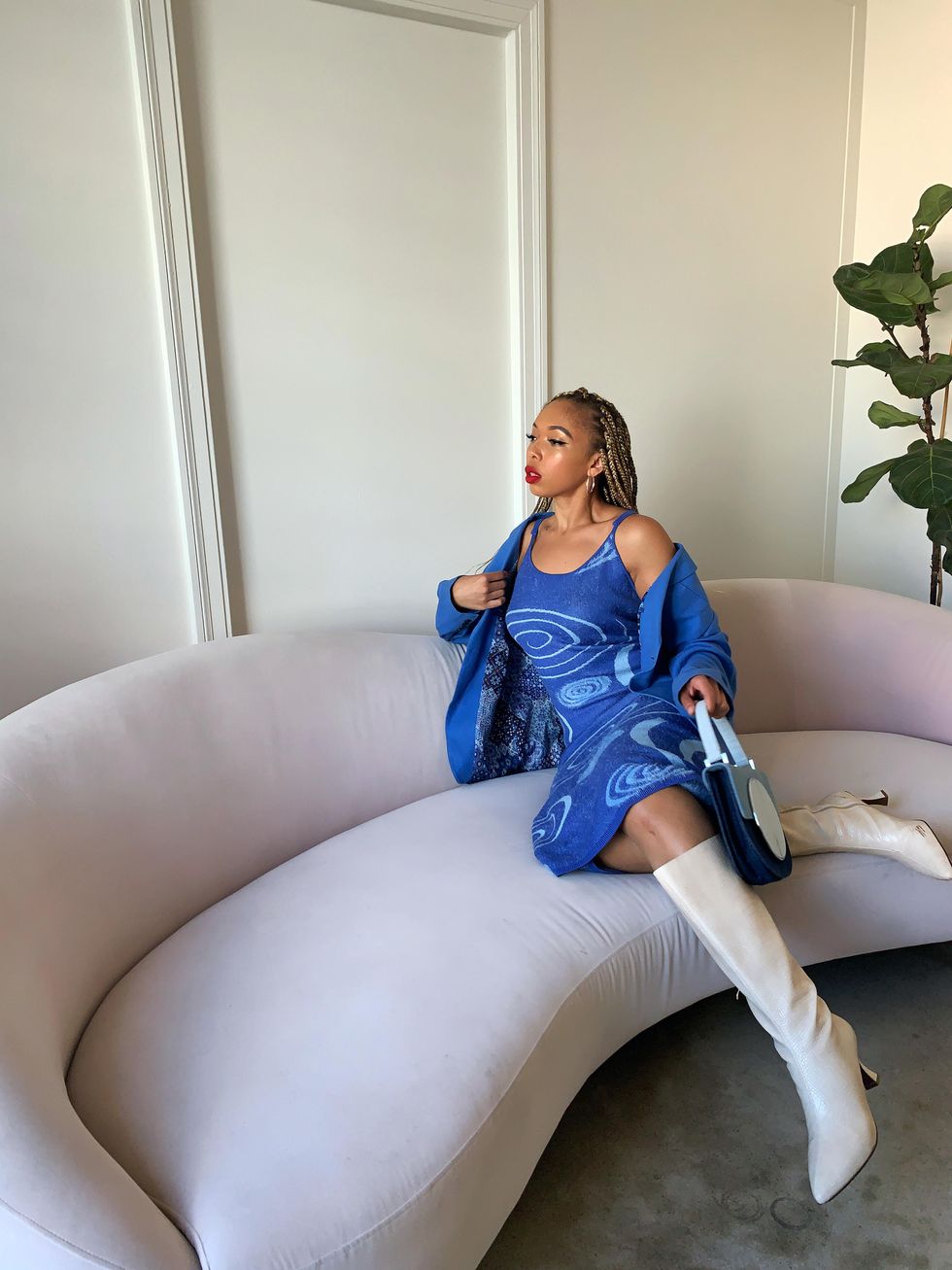 Shahirah Ahmed/xoNecole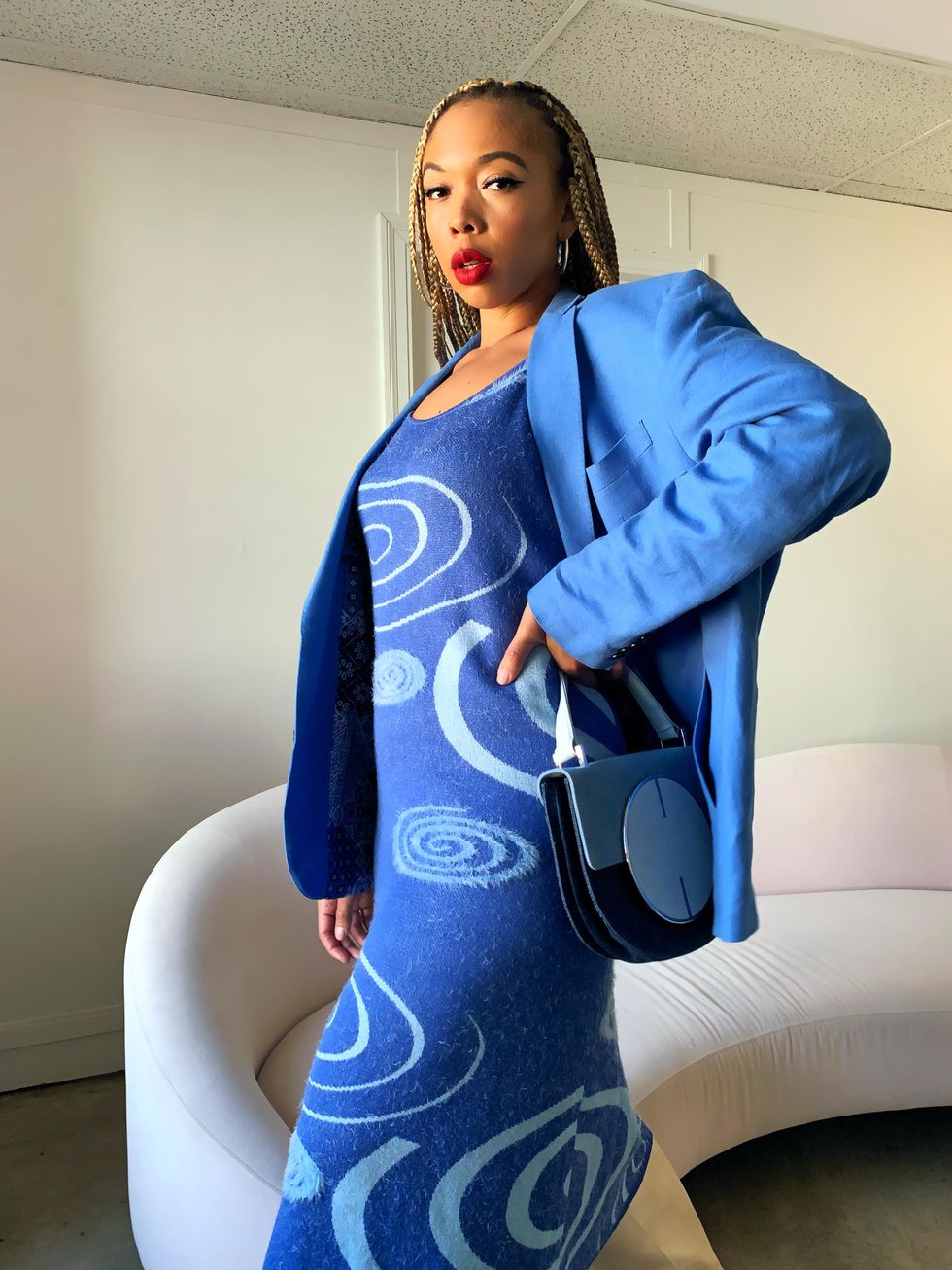 Shahirah Ahmed/xoNecole
These days when it comes to prints, I love plenty of drama. This knitted swirl patterned slip dress is the perfect day-to-night look when paired with a white boot and matching blue blazer. Not to be too conservative, the cut-out back gives this design an unexpected pop to this cozy maxi.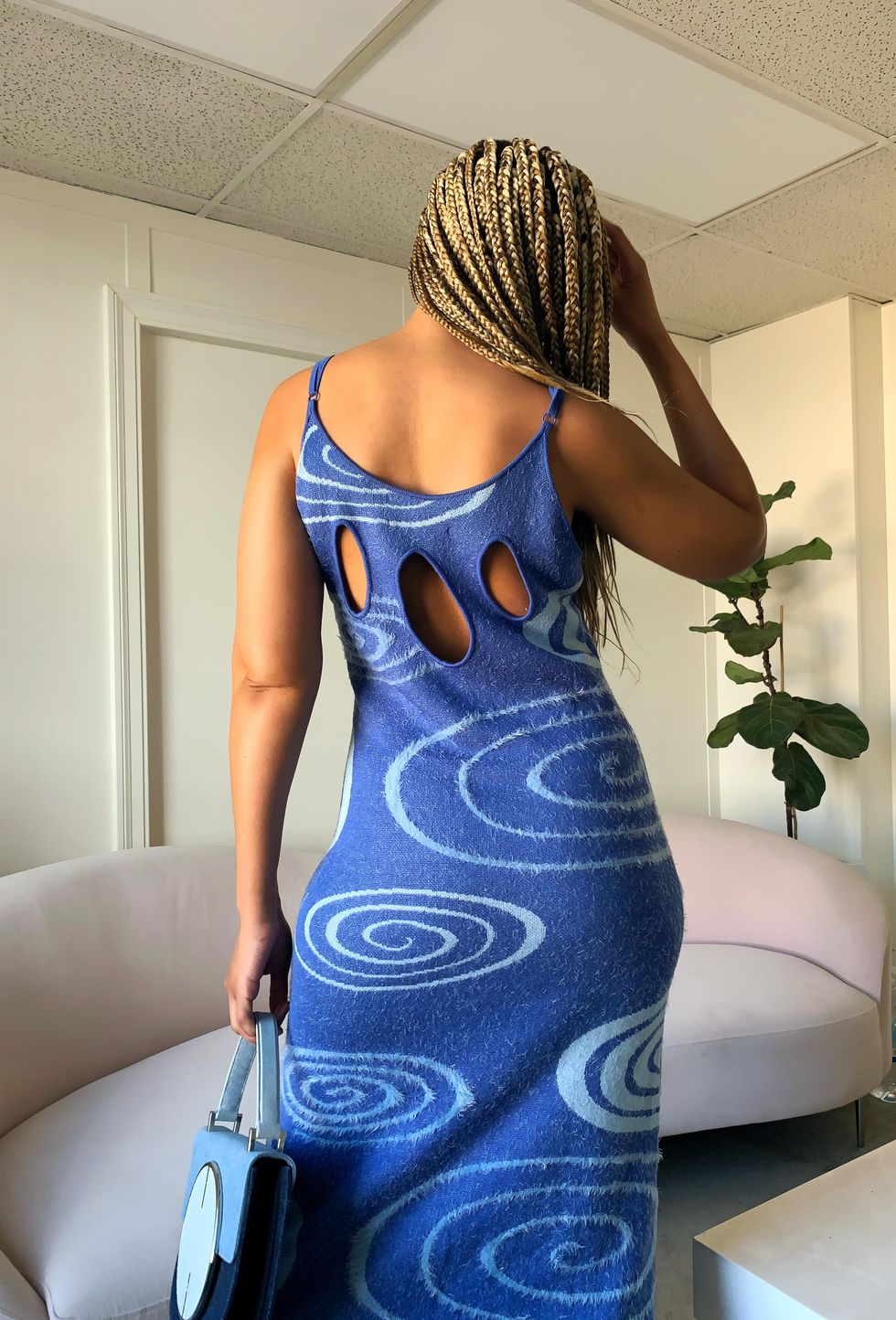 Shahirah Ahmed/xoNecole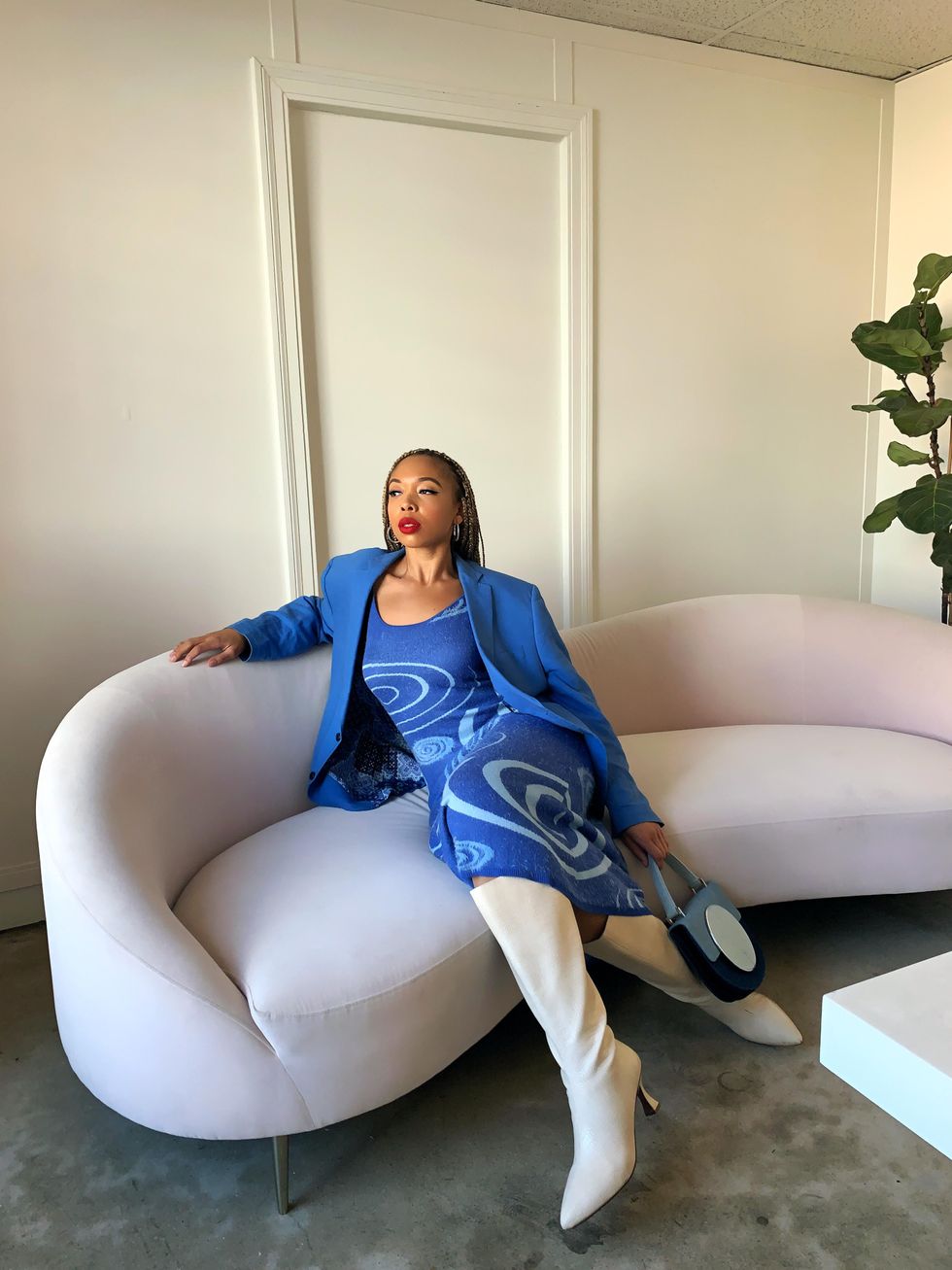 Shahirah Ahmed/xoNecole
Zebra-ish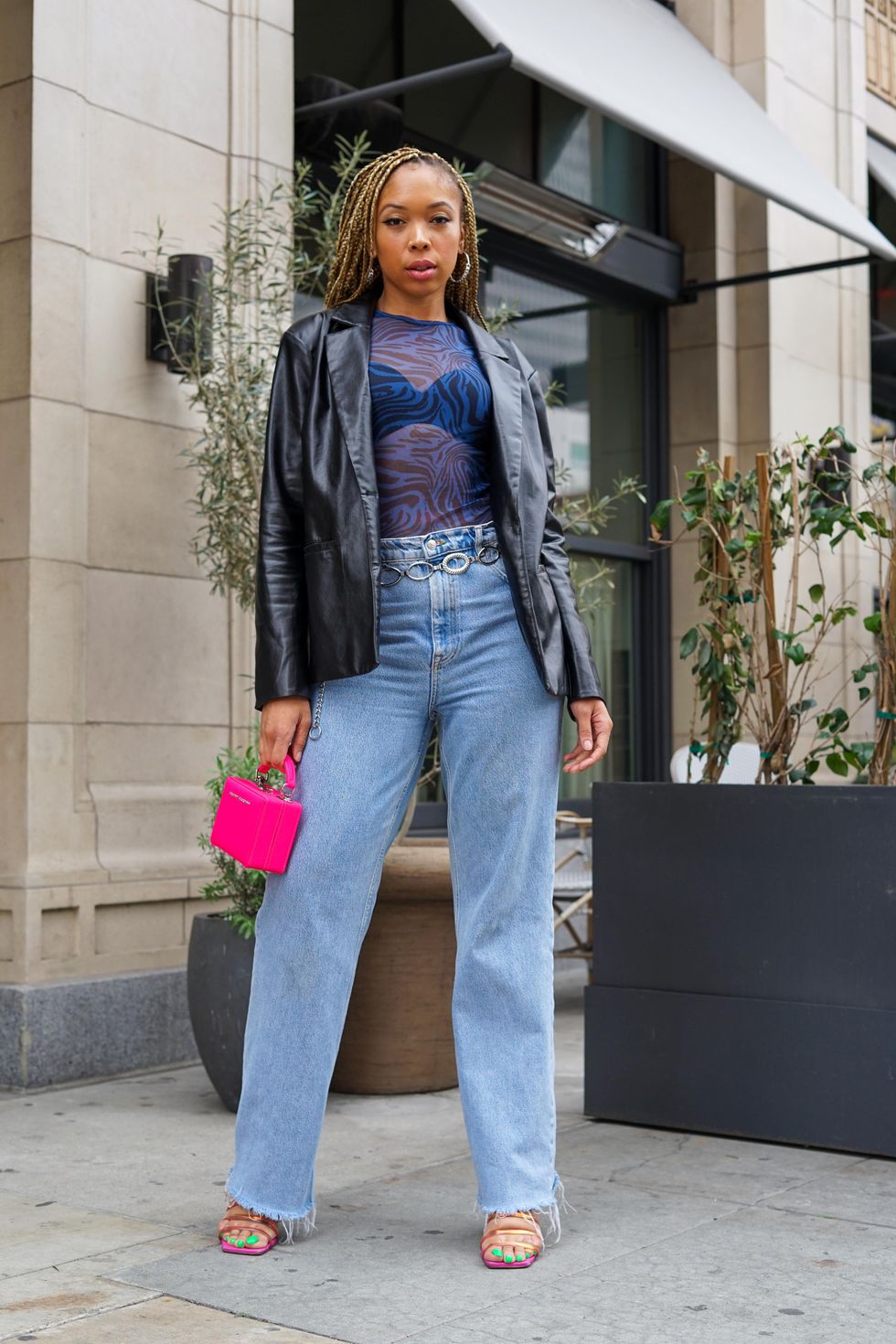 Shahirah Ahmed/xoNecole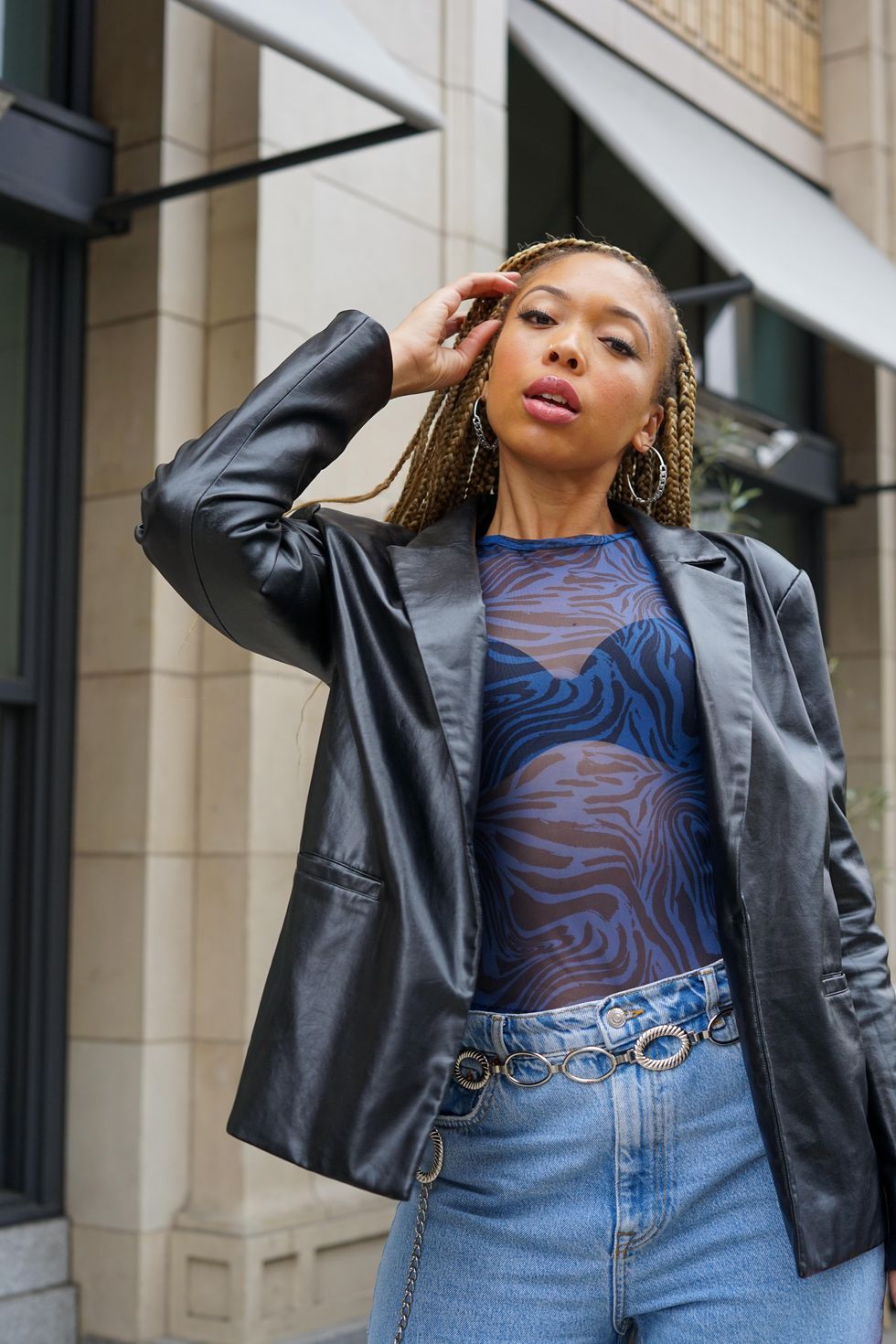 Shahirah Ahmed/xoNecole
Not to be fully replaced, zebra print hasn't fully gone away just yet. With an updated approach, this classic look has gotten a bit of a 2022 makeover. Wearing this black and blue zebra swirl top along with wide-leg denim jeans, I couldn't help but give this look a pop of pink courtesy of Brandon Blackwood and strappy heeled sandals to complete this look.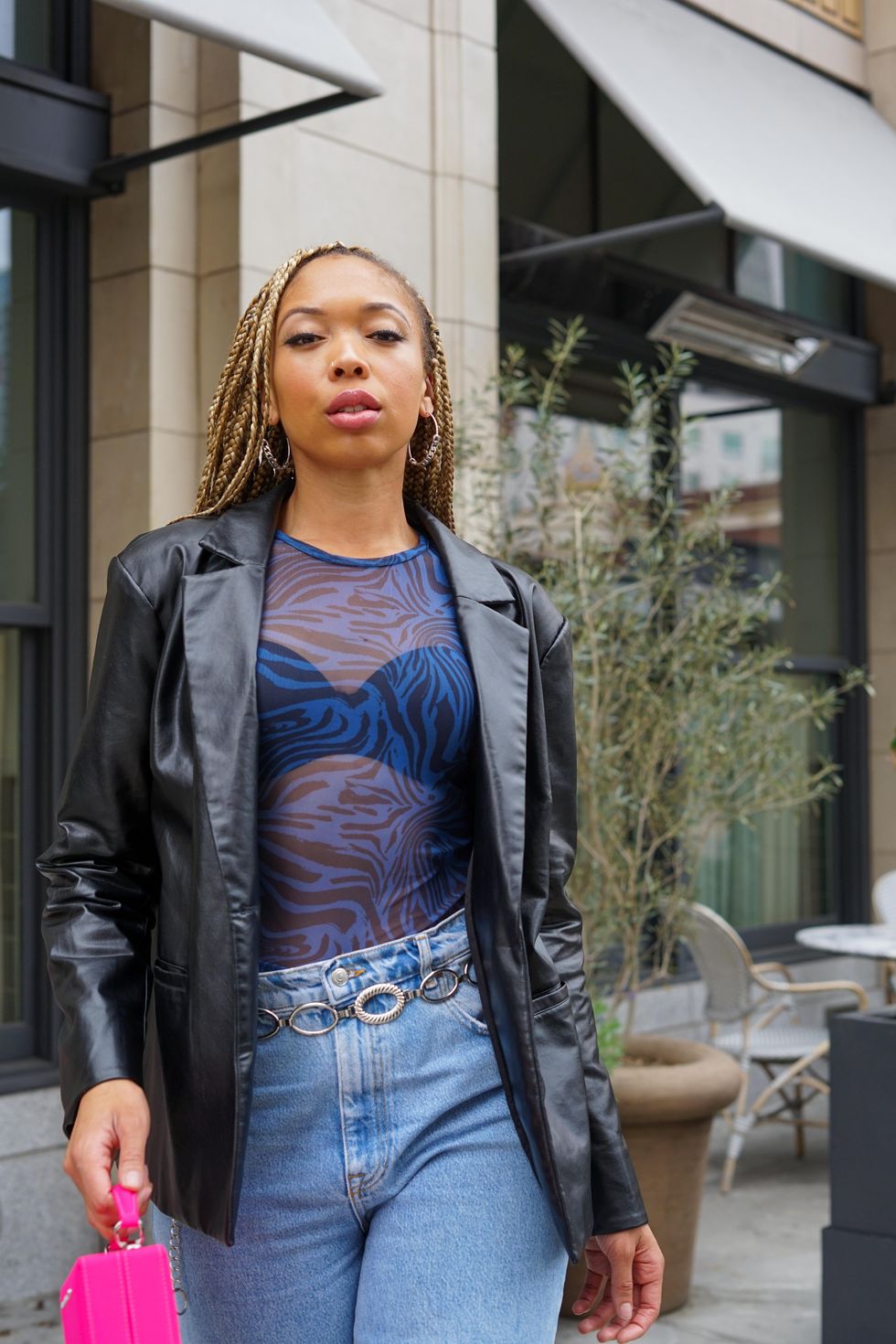 Shahirah Ahmed/xoNecole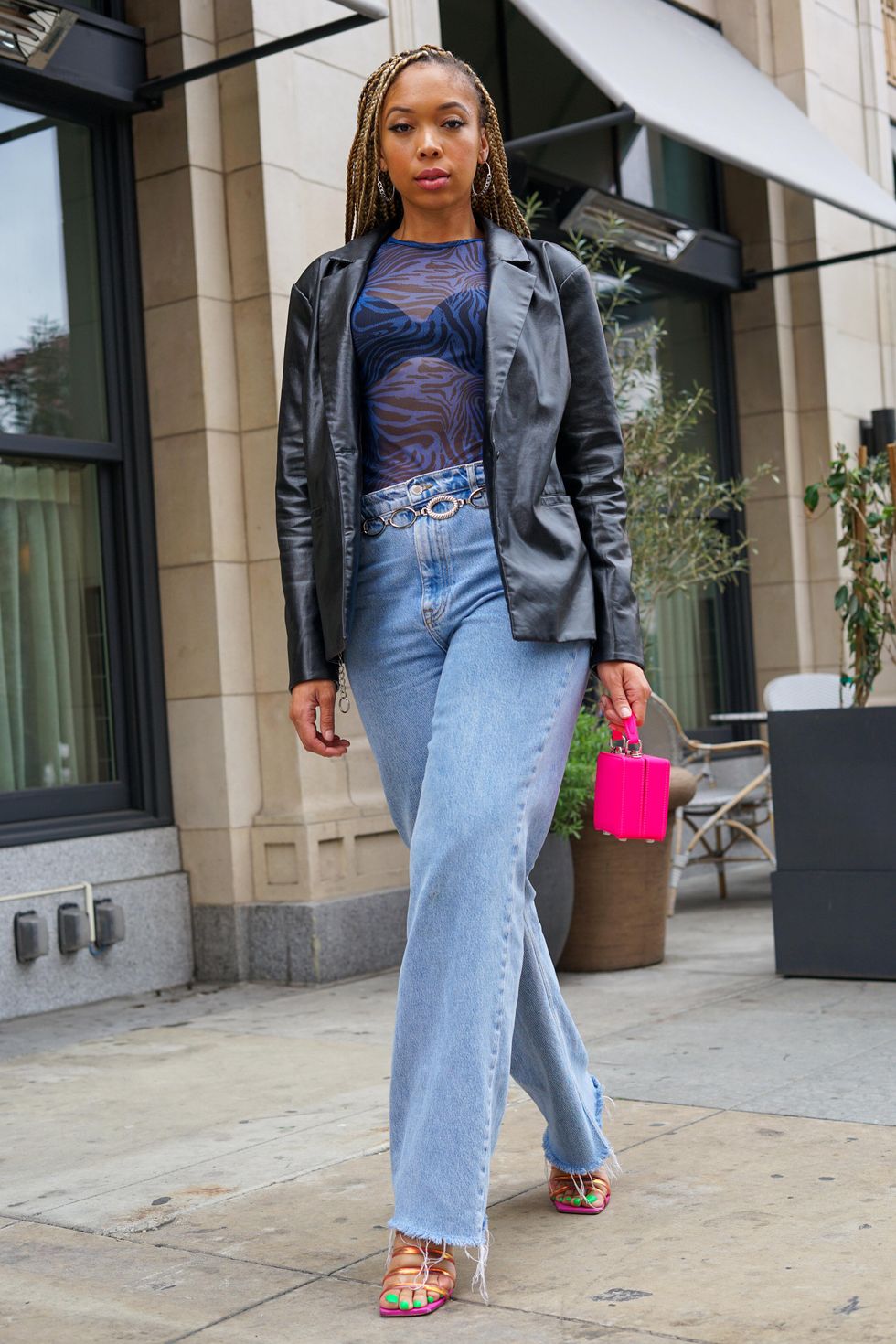 Shahirah Ahmed/xoNecole
Featured image by Shahirah Ahmed/xoNecole
About six months ago, I started my fitness journey and decided it was time to put in the necessary work to achieve my goals. As I began to take a more active approach to my lifestyle, I knew that the right workout clothes would motivate me to stay consistent when starting my days with an early-morning gym session. Along with my newfound love of fitness came my obsession with finding stylish and comfortable athleisure outfits I could feel confident wearing while breaking a sweat or running around town. As someone who loves both fashion and fitness, gone are the days of oversized collegiate sweatshirts and spandex pants.
Athleisure has come such a long way within the apparel industry as brands continue to blur the line between active and casual wear. While I love a trend-forward approach to workout sets, comfort is a non-negotiable. When managing to find sleek clothing items that fit my body, I never want to take them off. Even on my days off from the gym, I often gravitate toward pieces that will keep me right and tight when worn on the go. Keep scrolling to find stylish yet effective additions to wearing more of your favorite athletic looks.
Post-Workout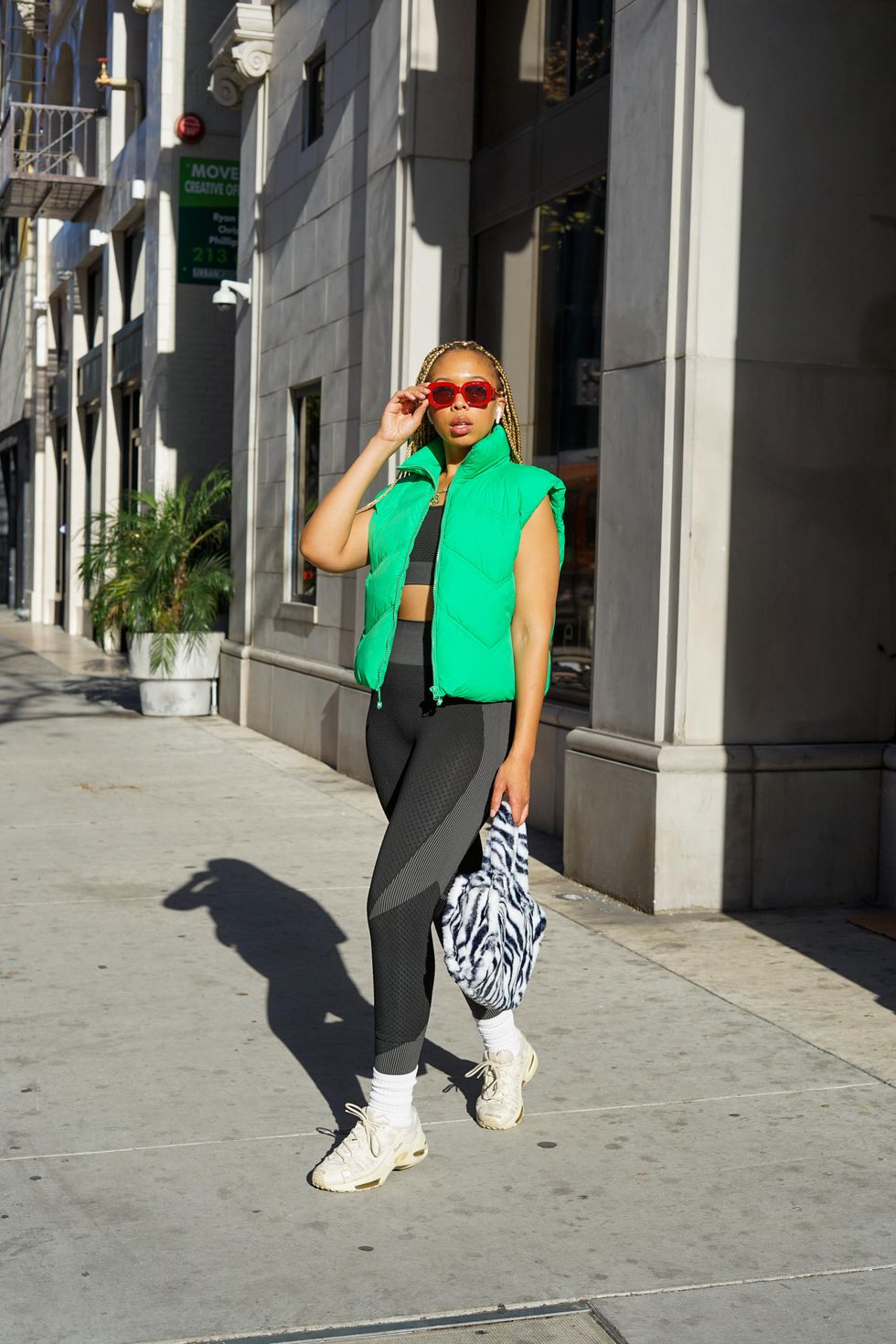 Shahirah Ahmed/xoNecole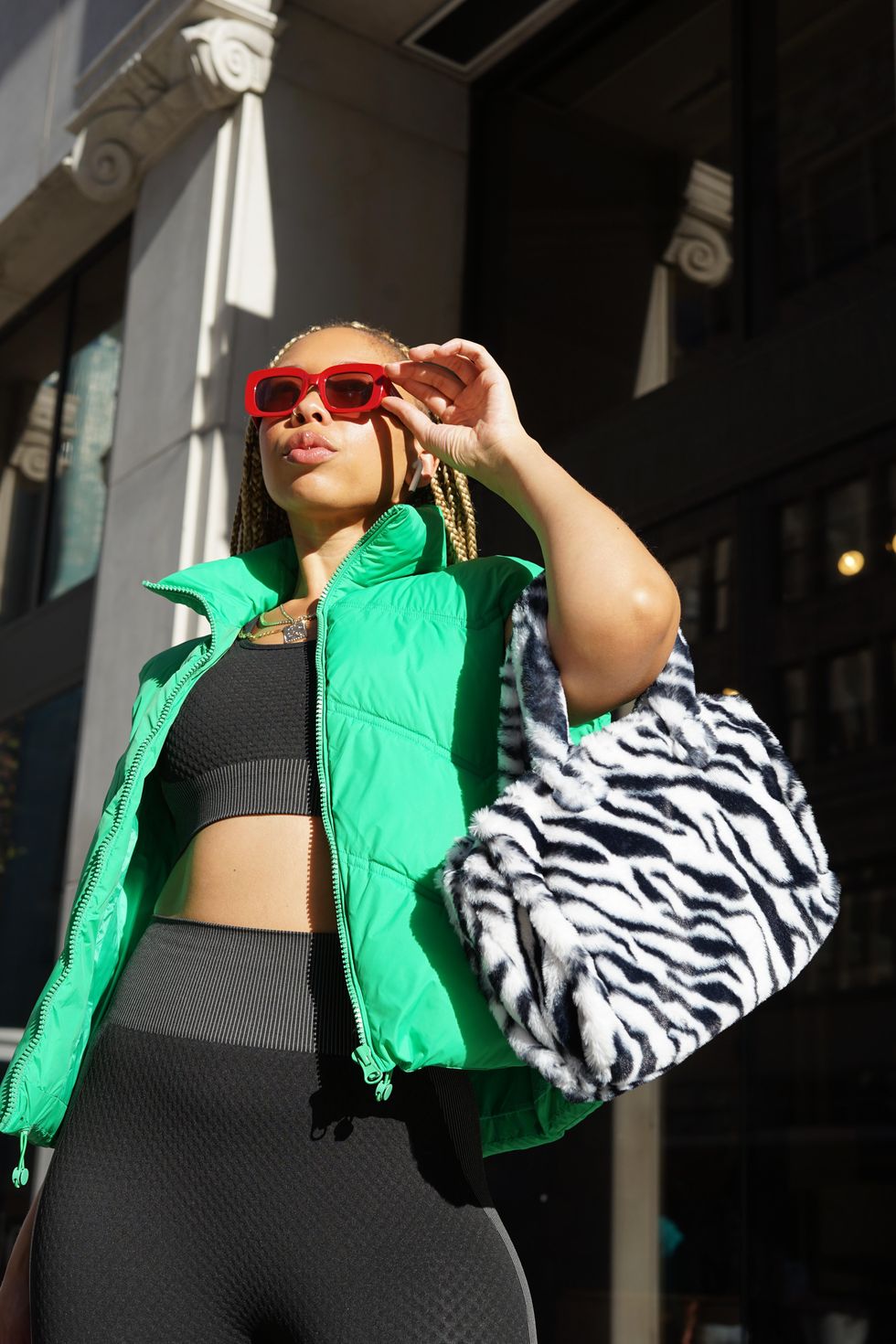 Shahirah Ahmed/xoNecole
Green is my favorite color, so I absolutely needed this cropped puffer vest. Effervescent, eye-catching, and eclectic, this is the perfect addition to a post-workout look on a sunny winter day. Gravitating toward more color and prints this season, I wanted to brighten up this all-black classic workout set as I stopped to run a few errands after a quick low-impact workout. Having fun with this look, I paired dark red sunnies and a faux fur, zebra-print bag simply for the extra wow factor.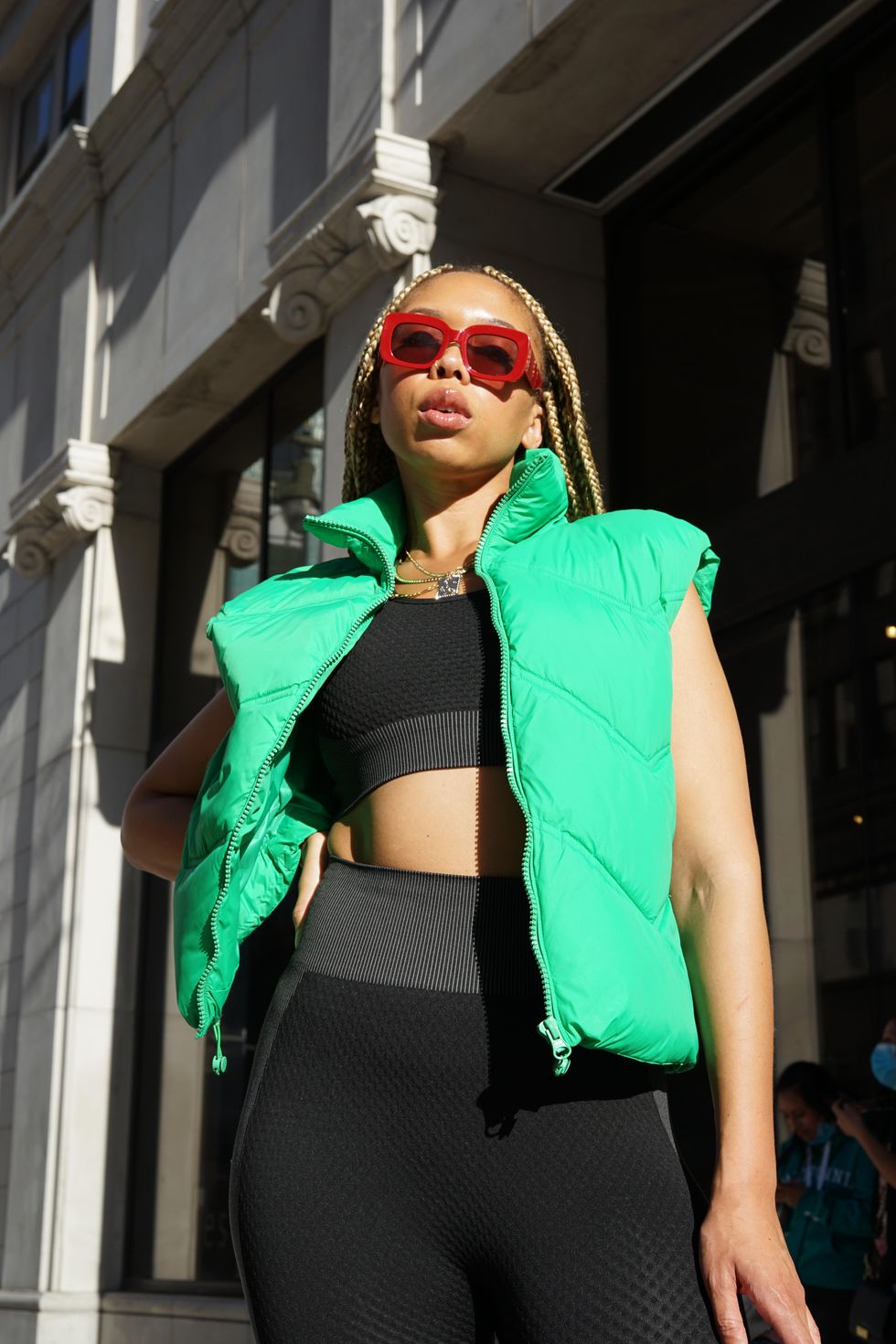 Shahirah Ahmed/xoNecole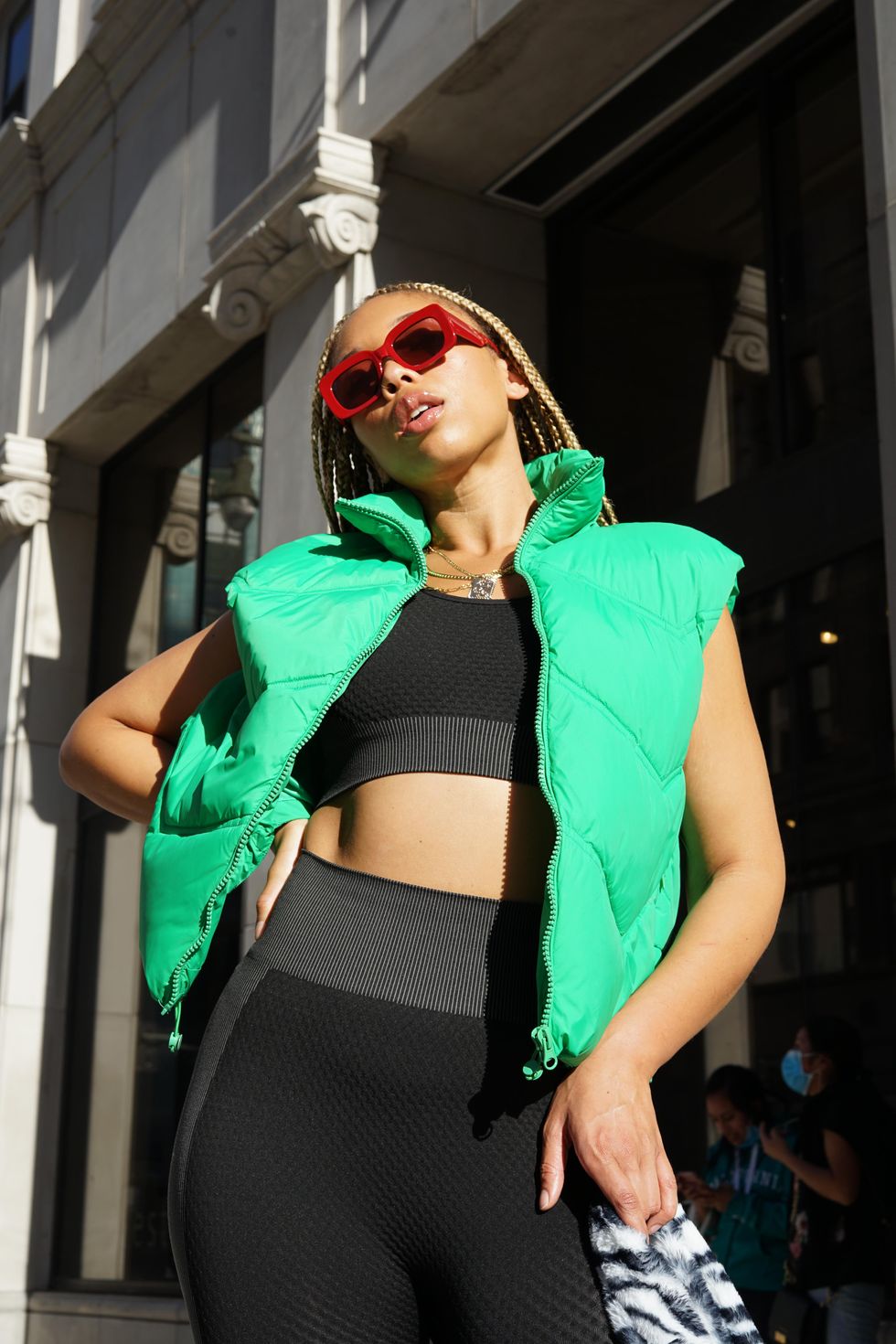 Shahirah Ahmed/xoNecole
On the Go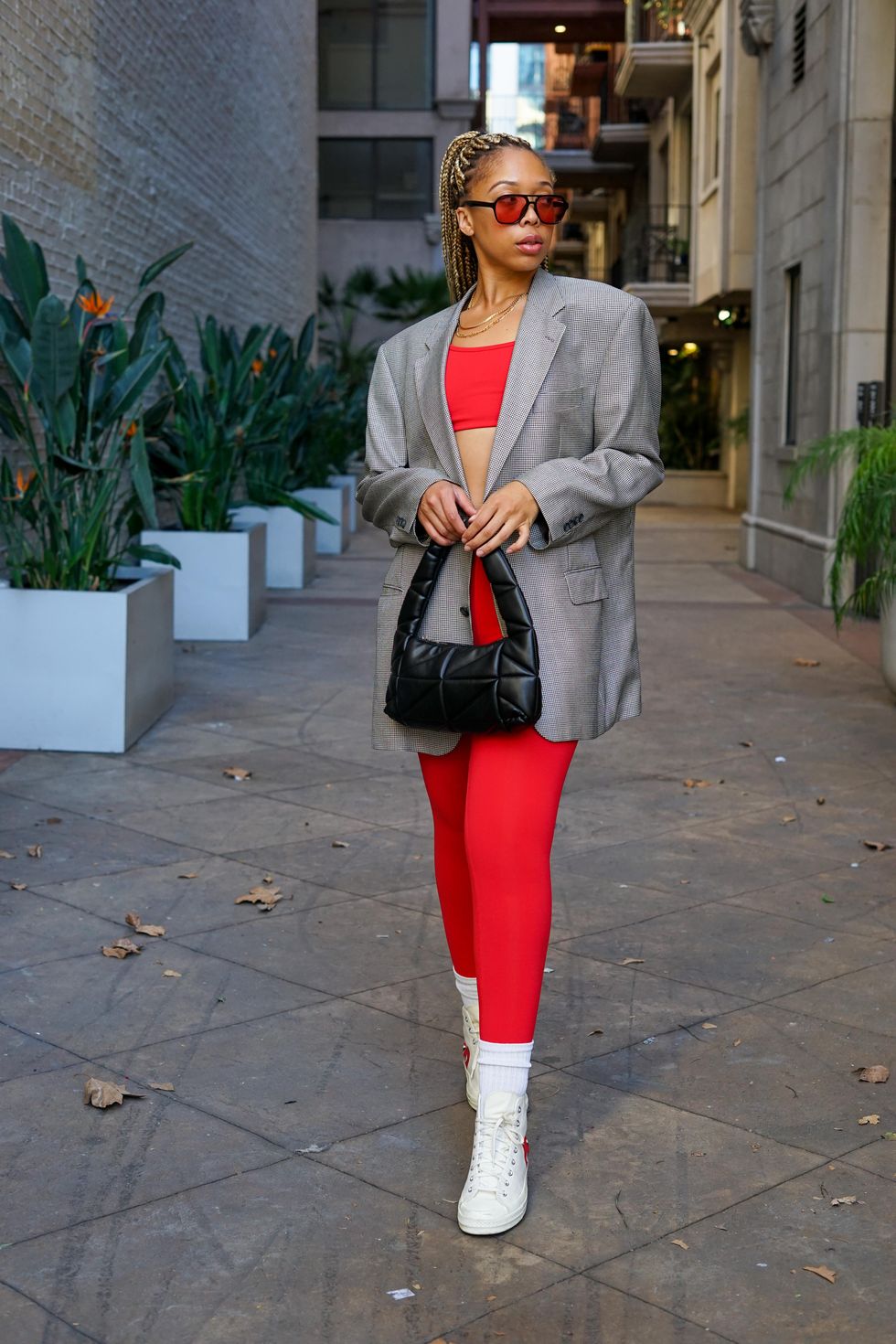 Shahirah Ahmed/xoNecole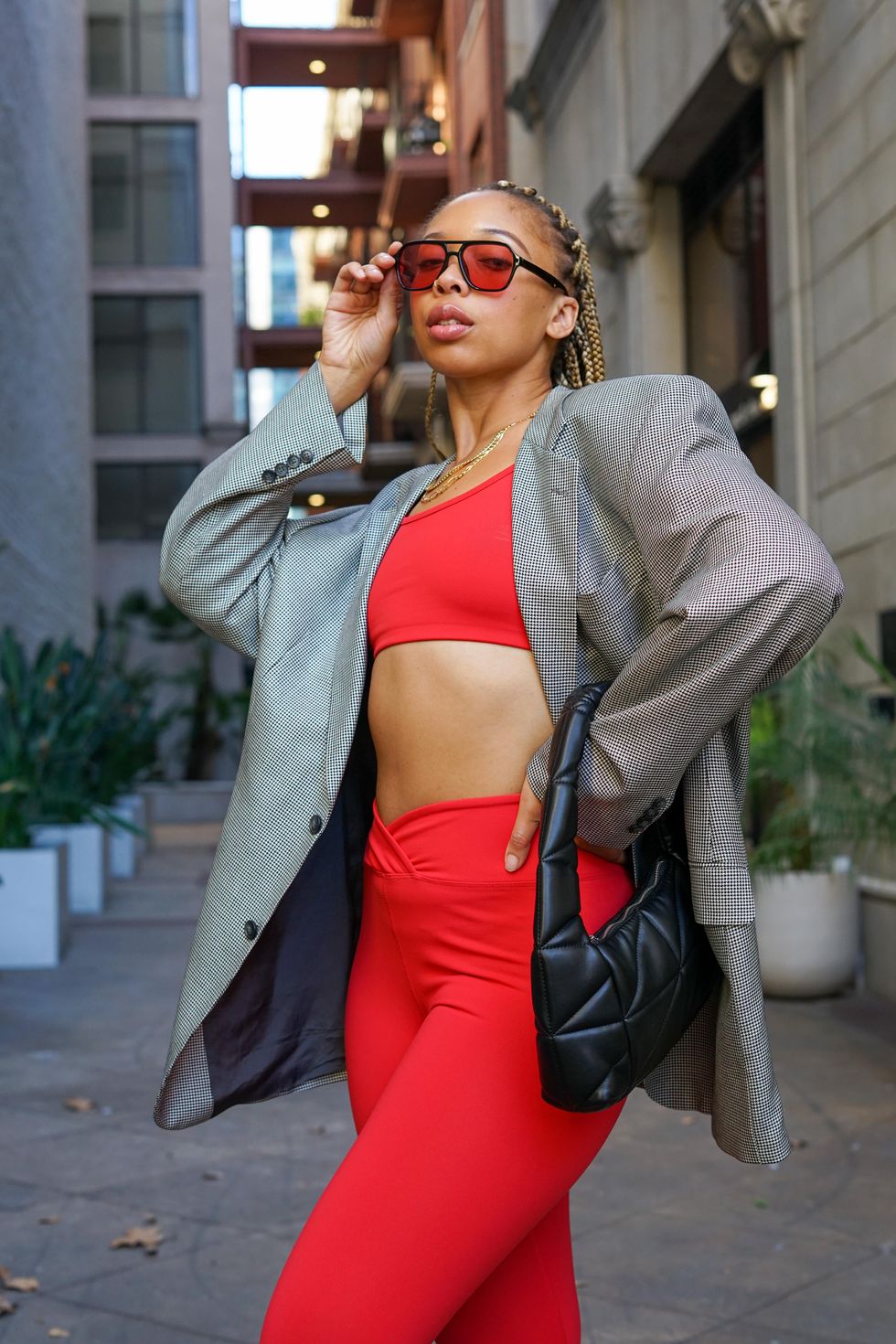 Shahirah Ahmed/xoNecole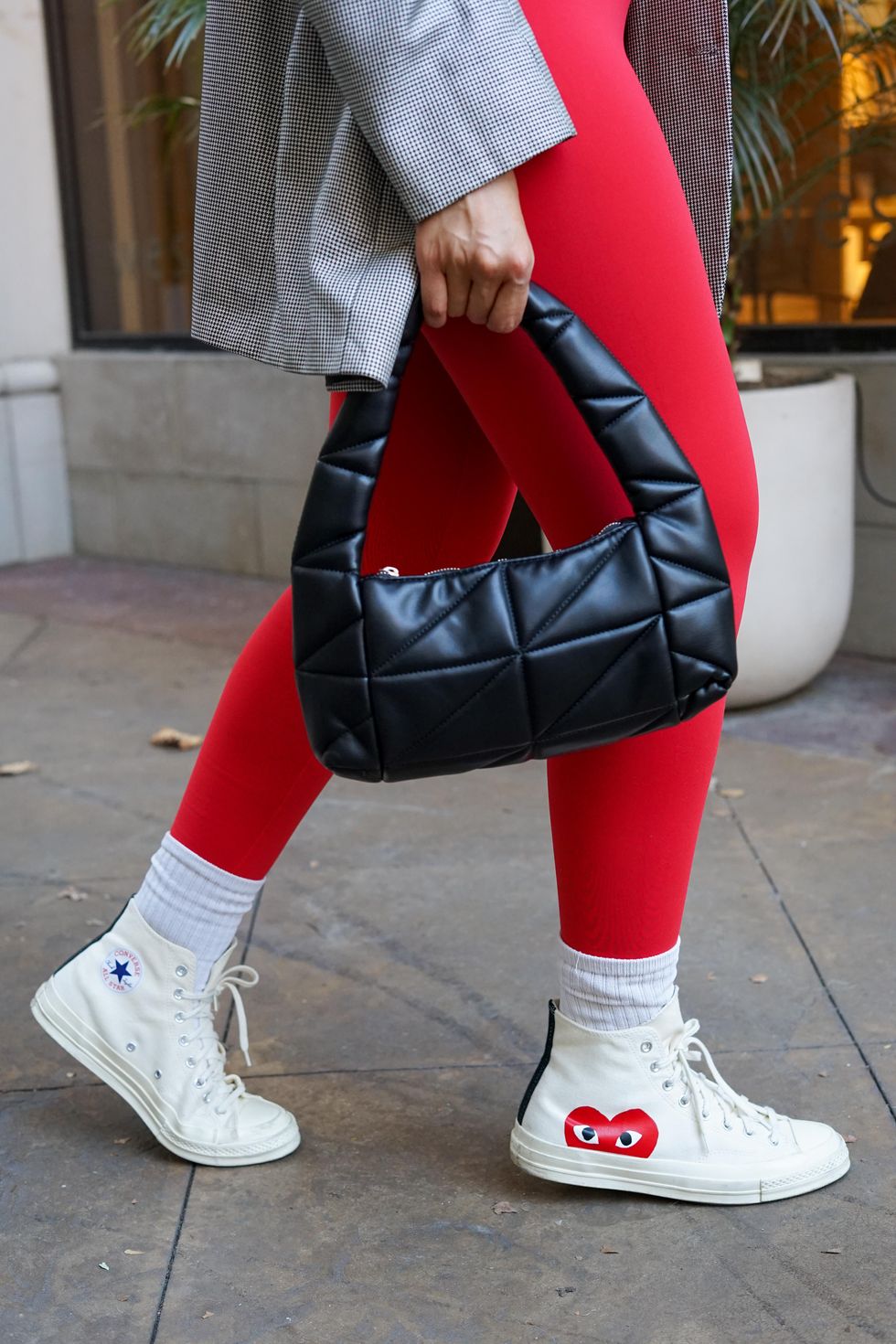 Shahirah Ahmed/xoNecole
Getting a head start on upcoming spring 2022 trends, I paired this fiery set, complete with a bra top and matching v-cut active tights, with a vintage oversized plaid blazer for less exposure. The key to making on-the-go active sets pop is bold accessories such as these red-tinted sunglasses with black frames. If you prefer to hit the gym at the end of your day, this look is perfect for store or mall runs during the day and a workout at night.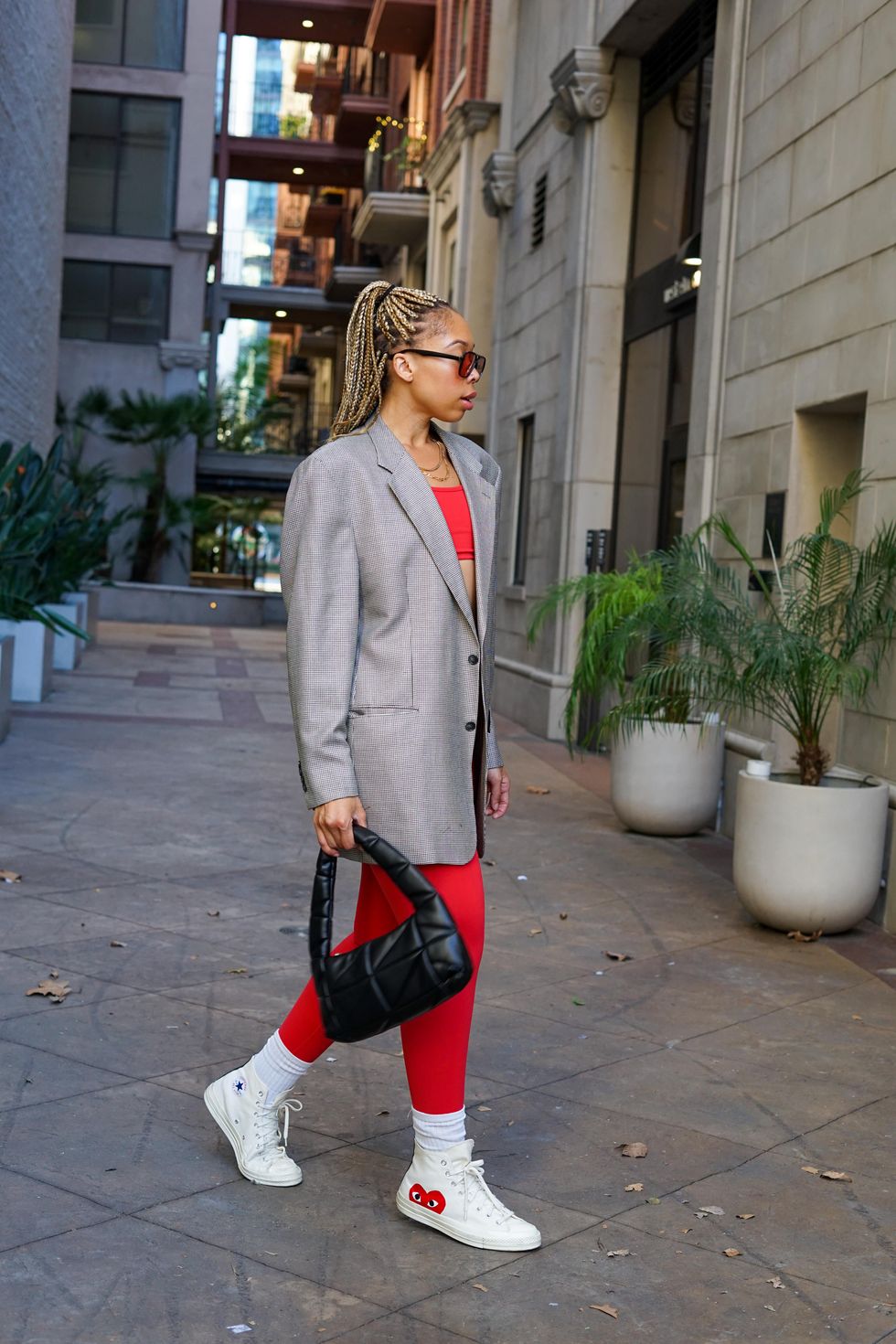 Shahirah Ahmed/xoNecole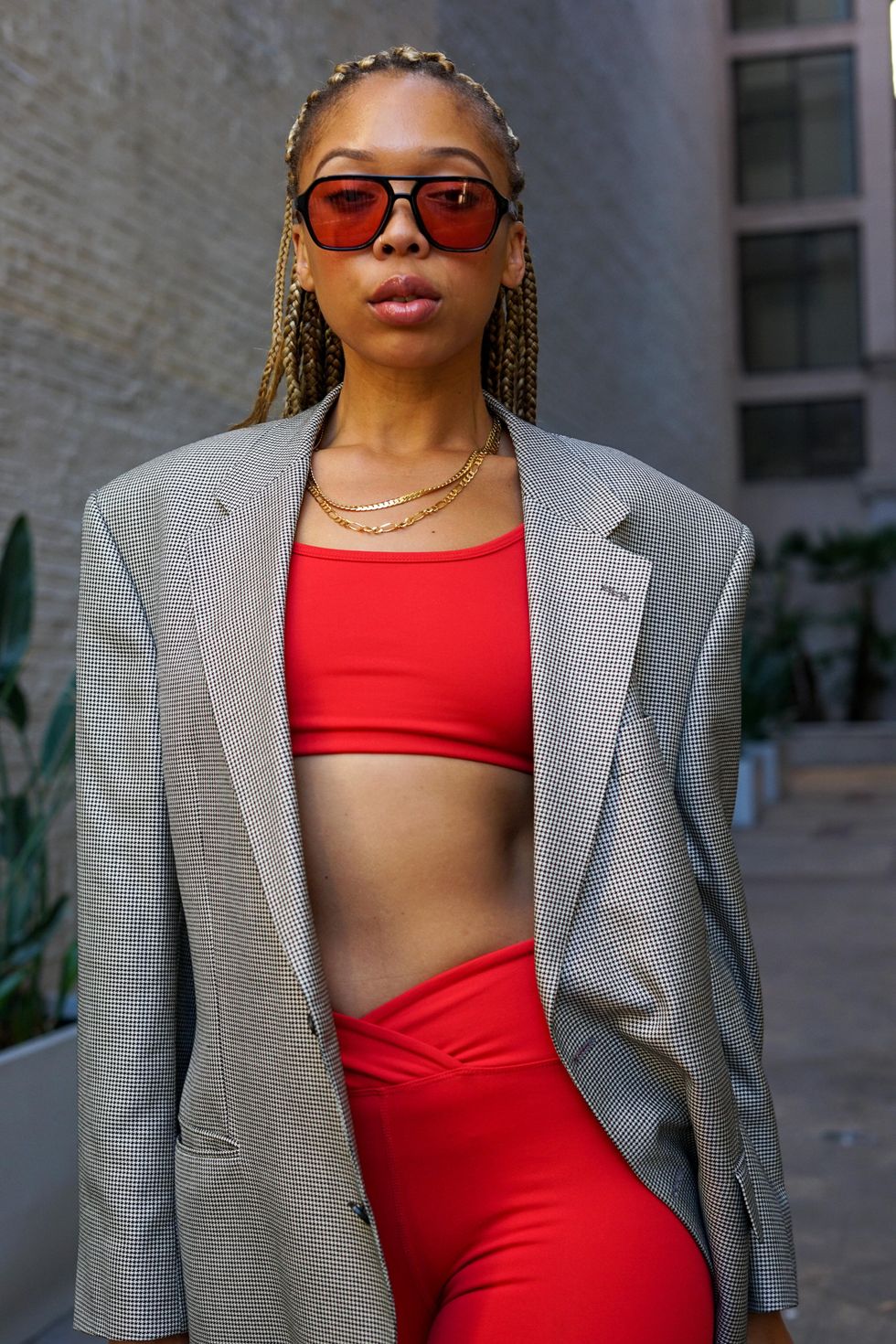 Shahirah Ahmed/xoNecole
Keeping it Cozy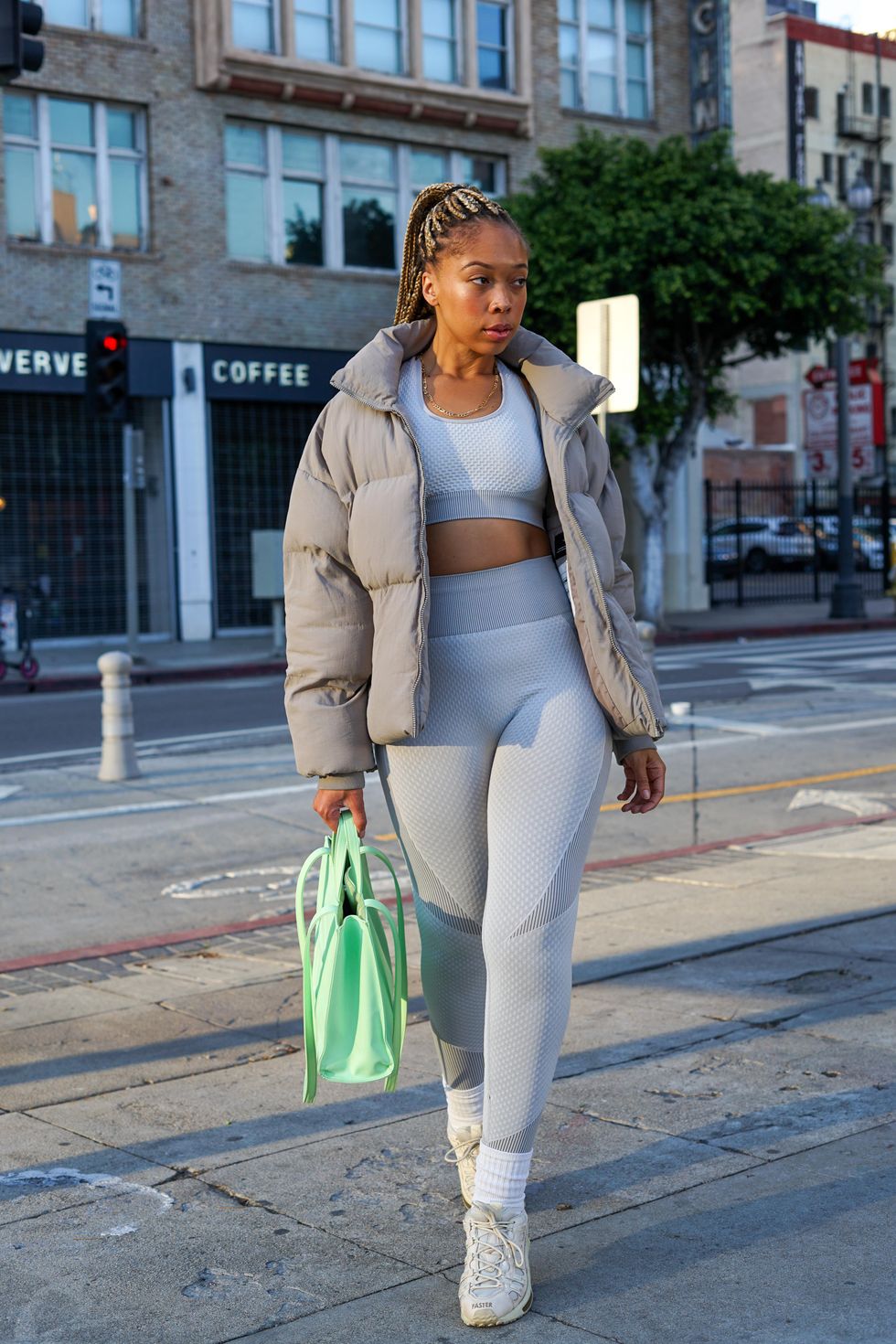 Shahirah Ahmed/xoNecole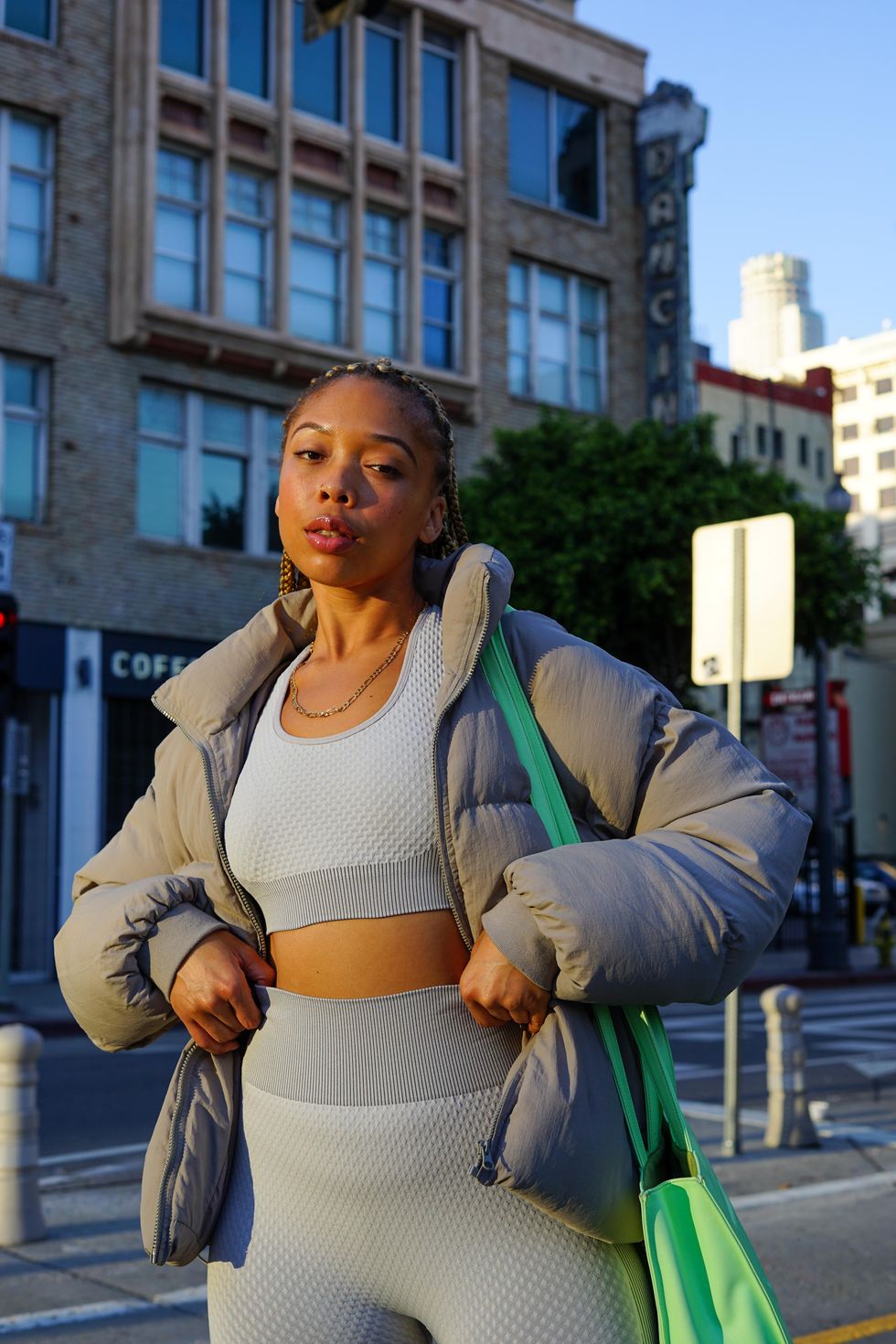 Shahirah Ahmed/xoNecole
A top-of-the-morning gym session comes with colder temperatures, no matter the season. For a cozier look, I'm loving this cool gray pairing with a matching puffer coat. The oversized fluorescent tote was the perfect pop of color to brighten my morning. To complete this look, I added chunky socks for extra insulation.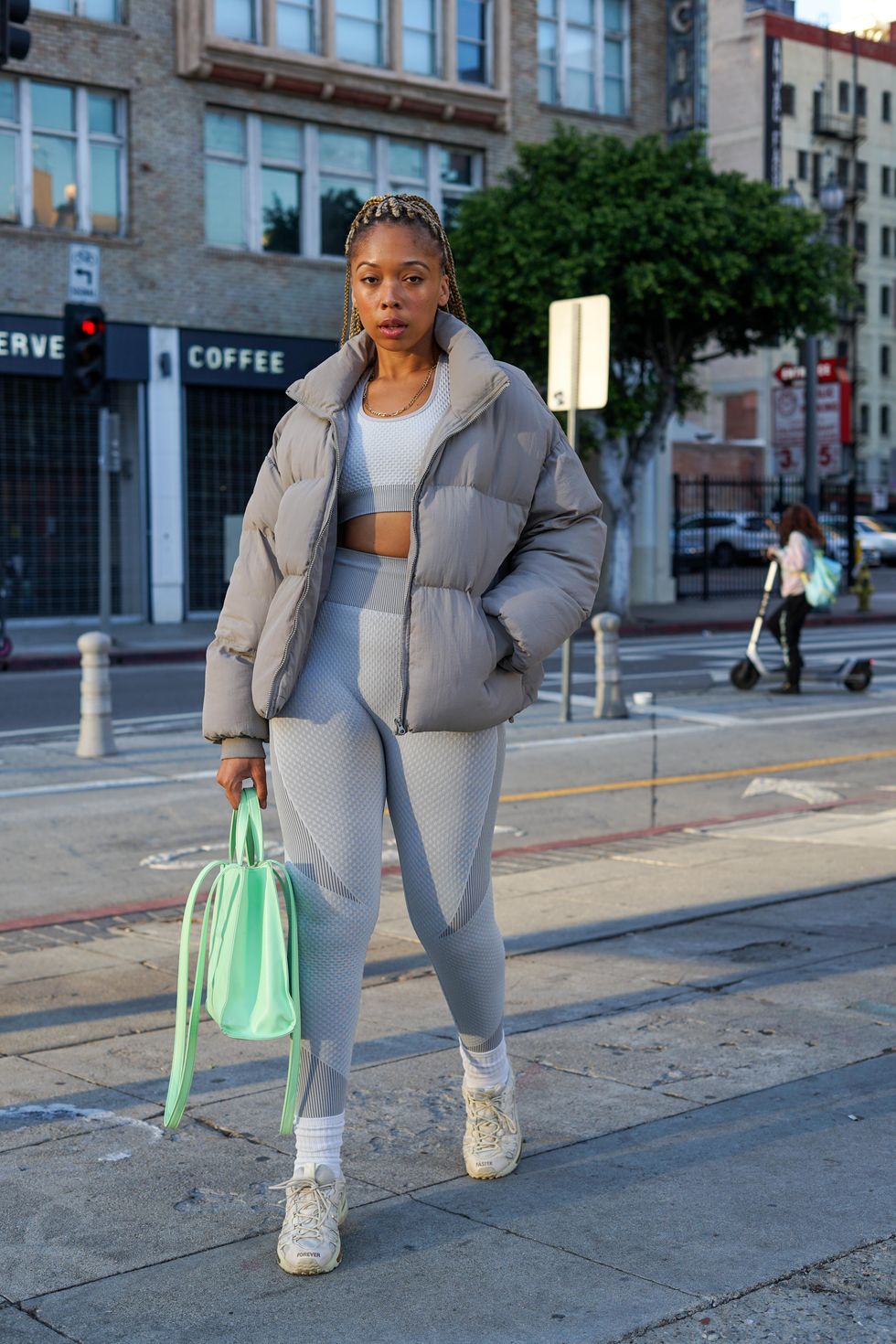 Shahirah Ahmed/xoNecole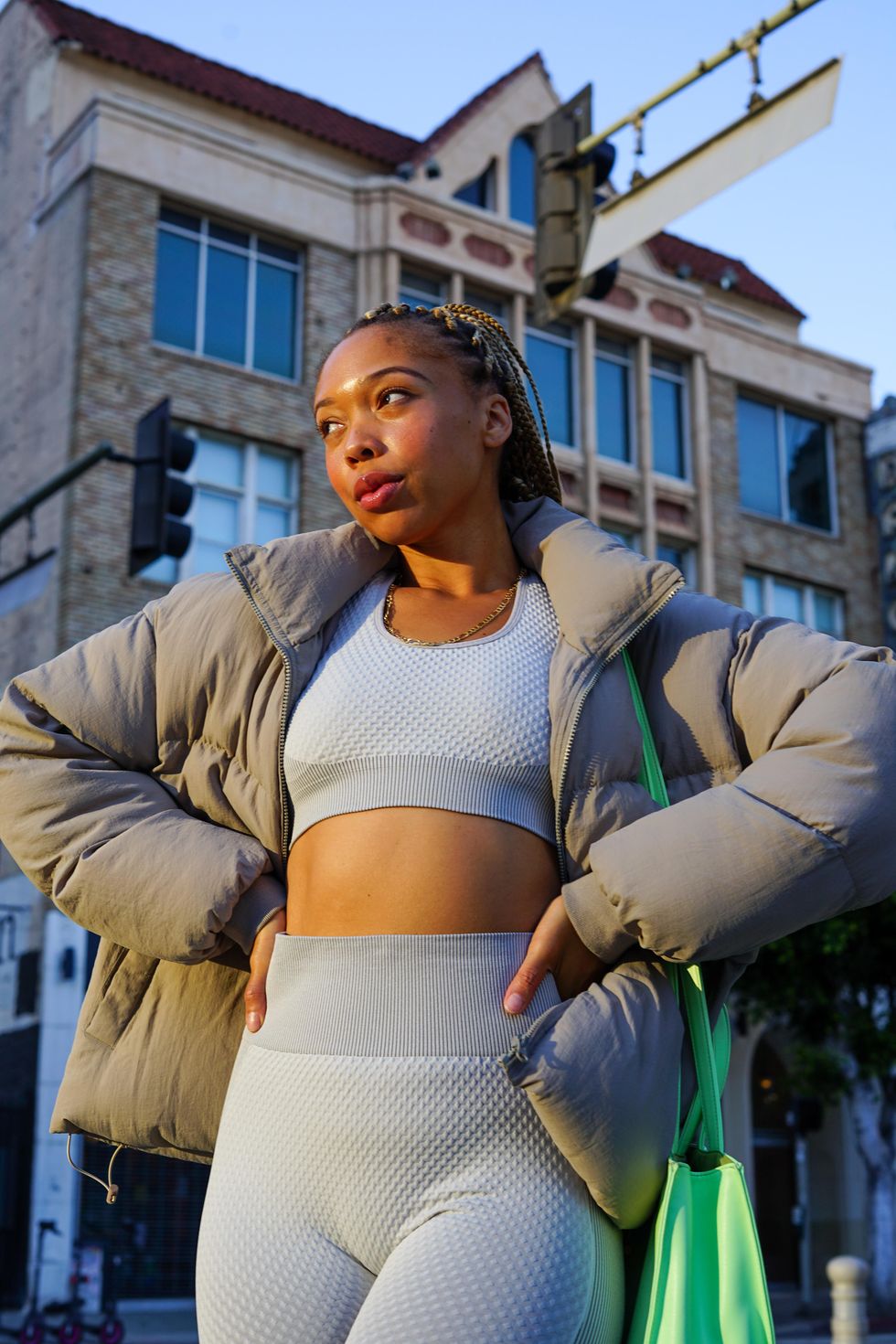 Shahirah Ahmed/xoNecole
Featured image by Shahirah Ahmed/xoNecole
With spring right around the corner, there's no better time than now to get ahead of what's soon to be trending for next season. You're probably thinking you've just gotten a hold of your winter wardrobe but fashion waits for no one. Luckily, for the early adopters, you may already own or have been eyeing much of what's to come as most styles are just an extension of what we saw in the last year such as color, cuts, and prints. However, the slight difference between the looks of 2021 and the Spring/Summer '22 runways is that the latter is even bolder and brighter with less being left to the imagination.
Preparing myself for the enticing looks to come, I'm getting a head start by predicting which trend-forward pieces will dominate IRL and our social media feeds. Whether you're into a subtle slay or an electric ensemble, here are 9 fashion trends I'm sure will see viral success in the upcoming months to come. From ultra mini skirts to conservative maxi skirts, these are the key items sure to blow up the fashion world sooner rather than later.
1

.

Bra Tops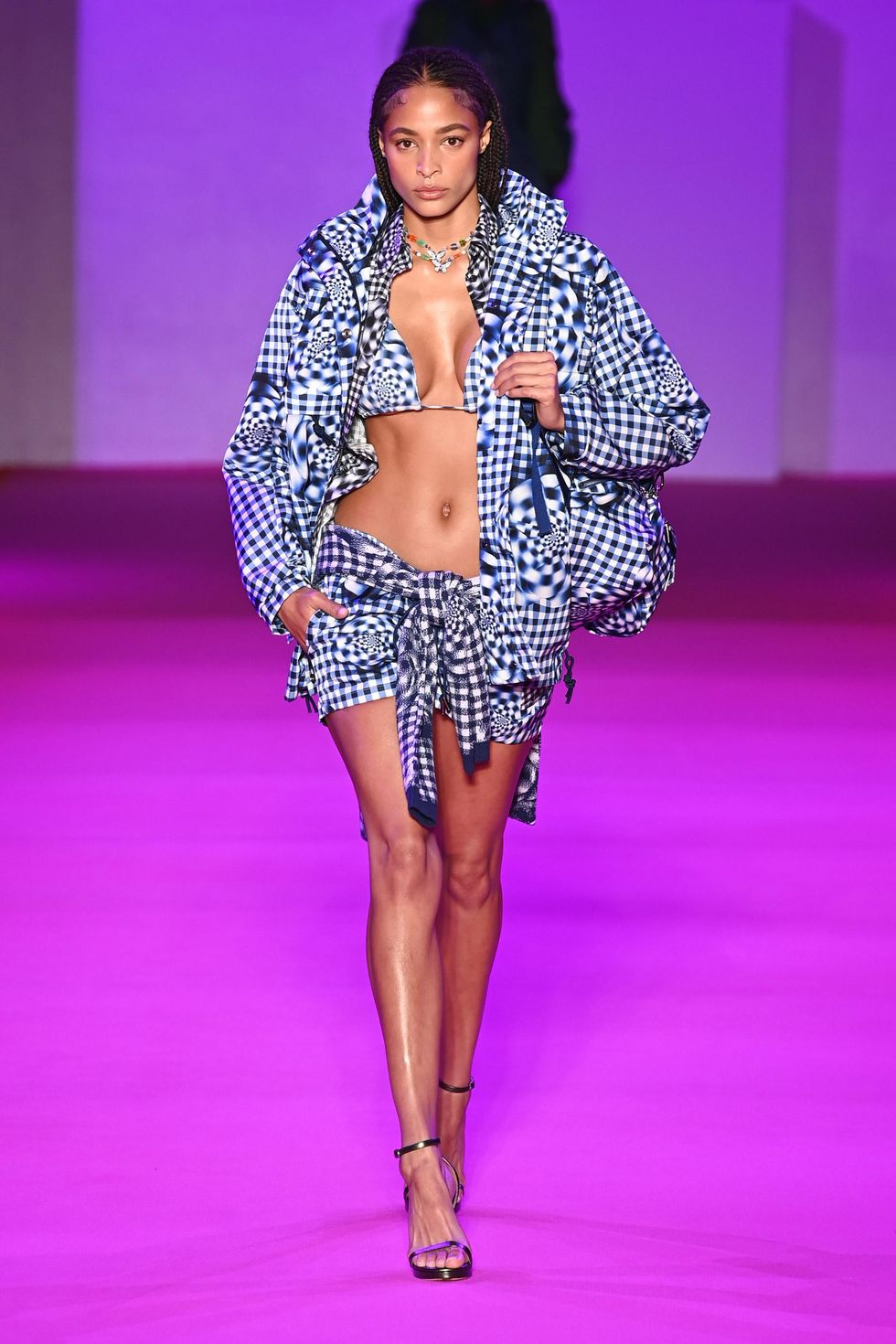 Slaven Vlasic/Getty Images
With spring comes more sunshine and ultimately baring more skin. I love bra tops as they are the perfect foundation for a warm-weather layered look. Whether satin or knit, there's an appropriate material to style for any occasion.
2

.

Sheer Enough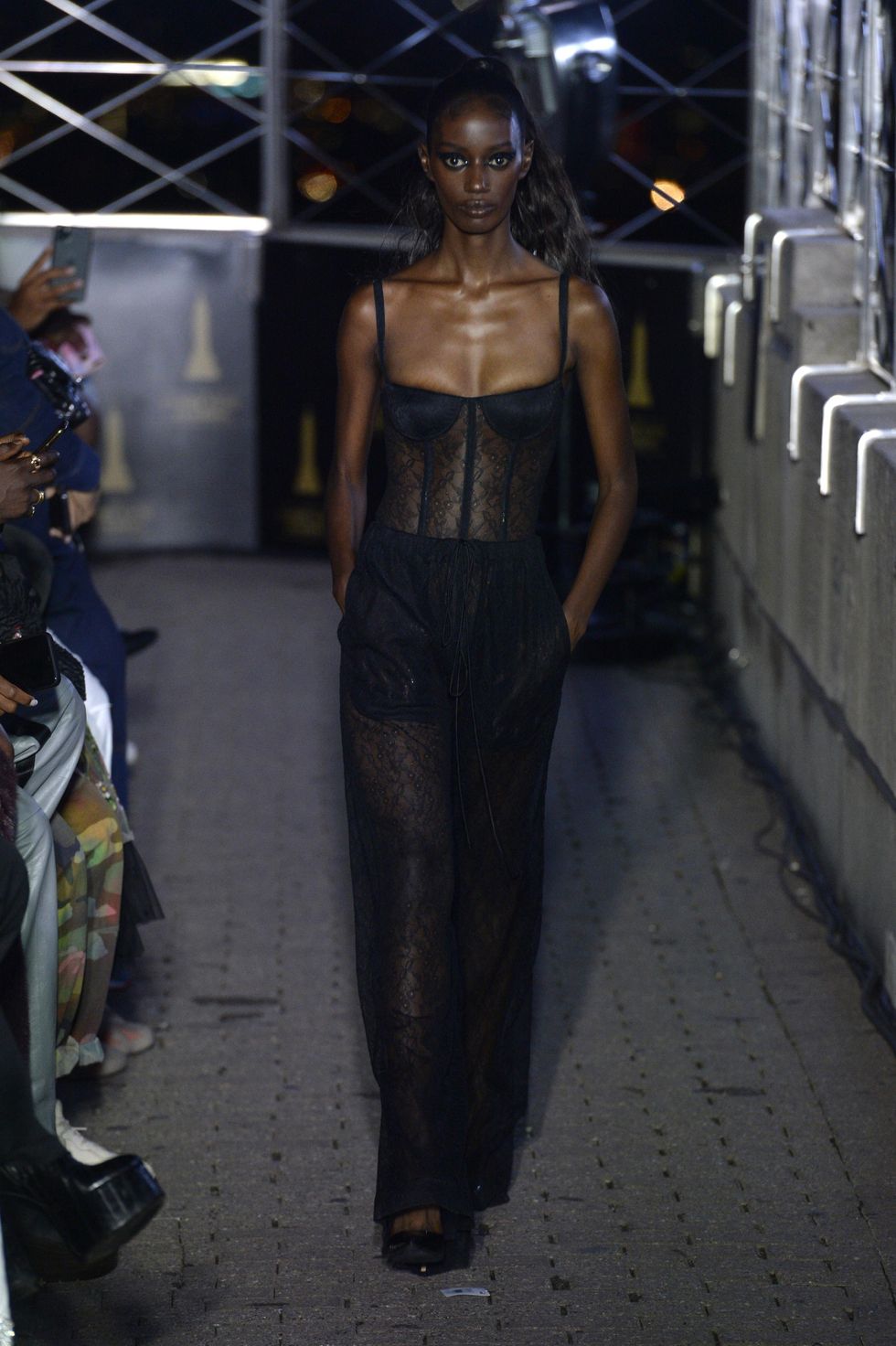 Fernanda Calfat/Getty Images
Again, skin is in this spring but if you're not ready to bare it all, go for a more conservative take by going sheer instead. From mesh tops to barely-there dresses and swim coverups, there's no denying this sexy trend. With intricate design details, there are plenty of ways one can implement this bare necessity.
3

.

Slouchy Pants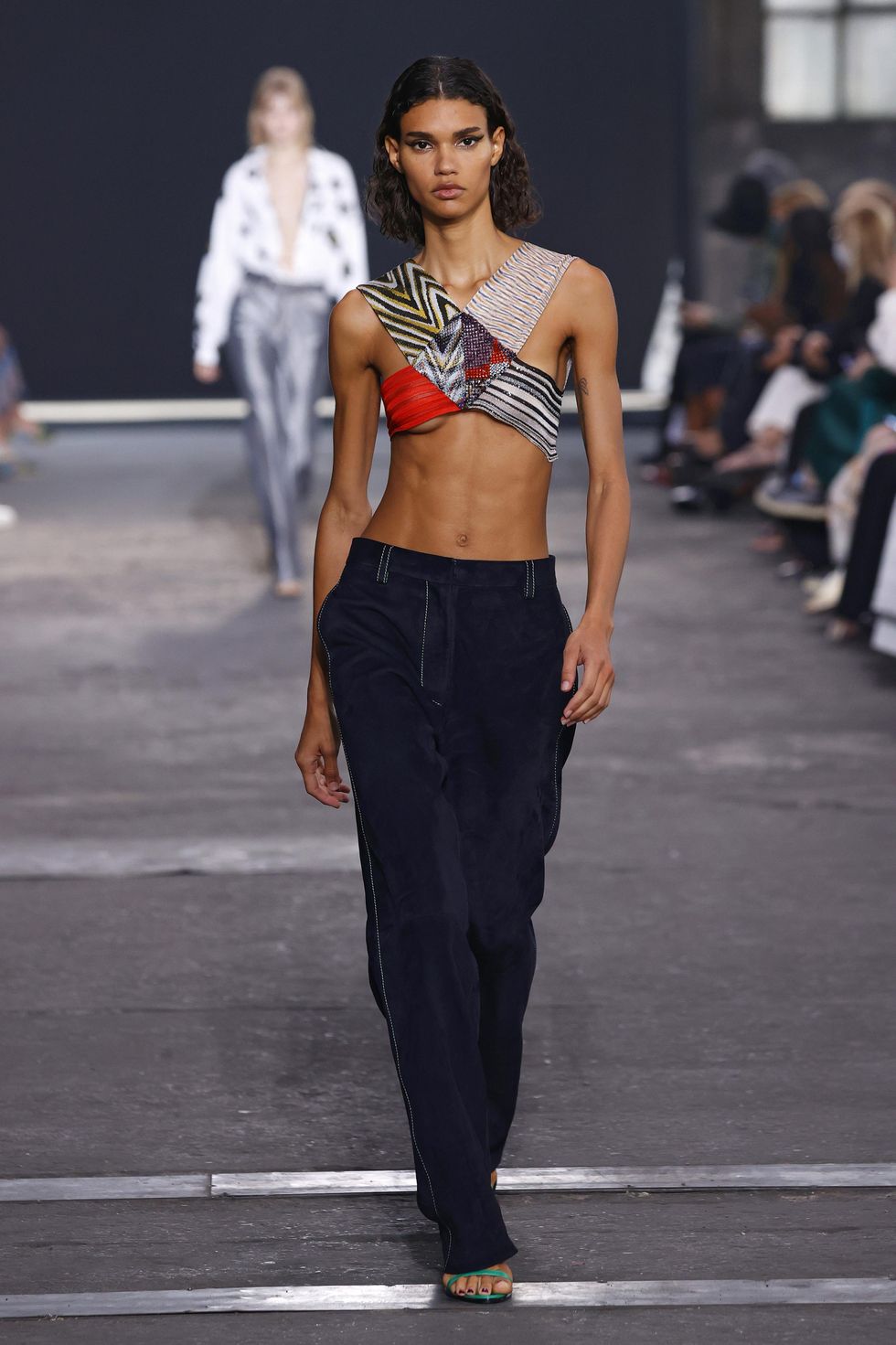 Estrop/Getty Images
Yes, low-rise trousers are back and this time the slouchier the better. For a comfy chic look, oversized trousers are definitely next-level. Graduating from at-home knits and sweatpants, these bottoms are perfect for the lazy yet fashion-forward gal at heart.
4

.

Maxi Skirts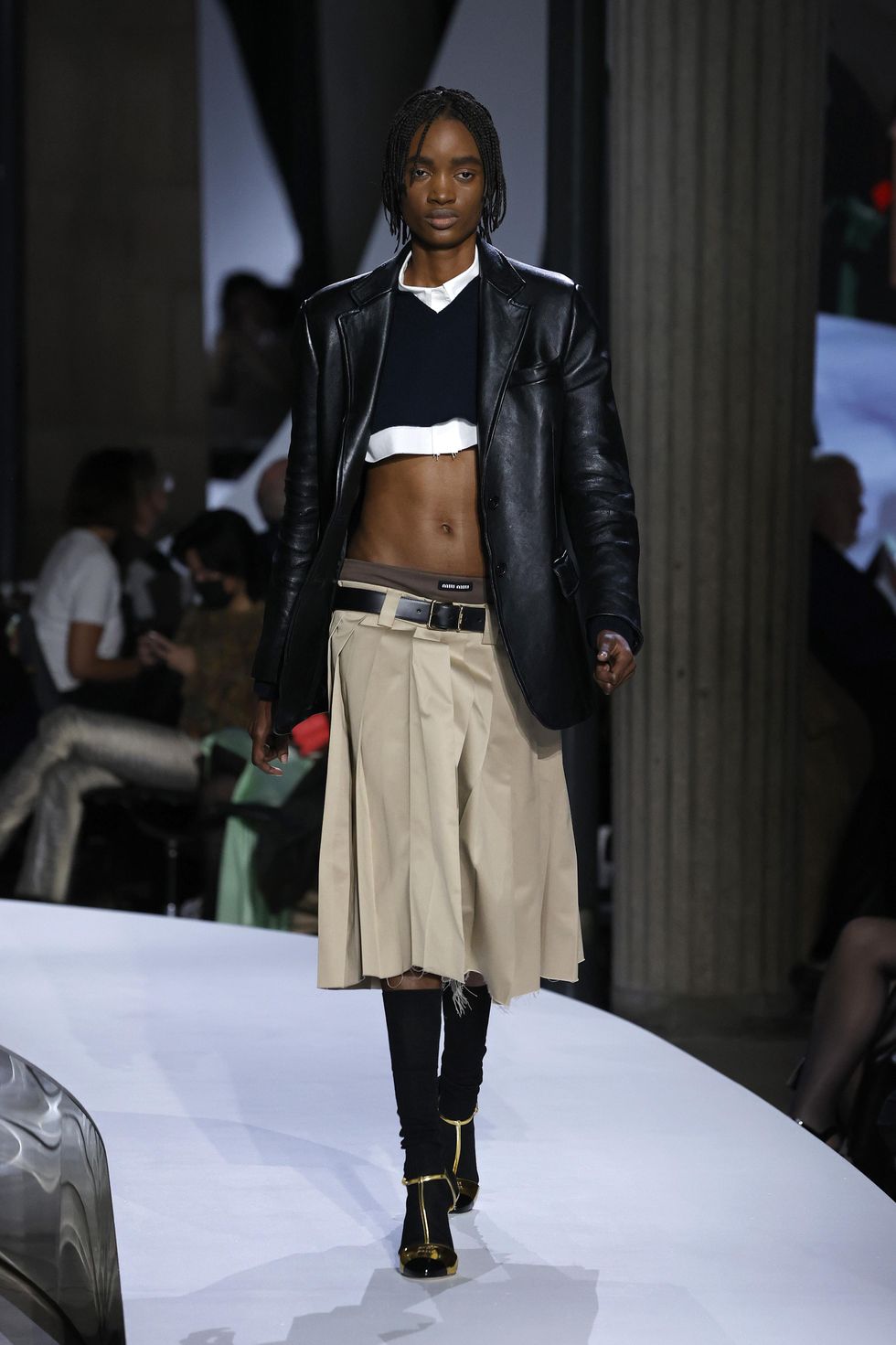 Estrop/Getty Images
When it comes to this year's trends you may be having major Y2K fashion flashbacks. Don't worry, as influential as the early 2000s will be on spring collections they come with a modern upgrade. Maxi skirts are a cult classic that will continue to stand the test of time which in my opinion are definitely worth the purchase. This season, try an oldie but goodie denim maxi skirt to relive your best teenage dreams.
5

.

Chunky Footwear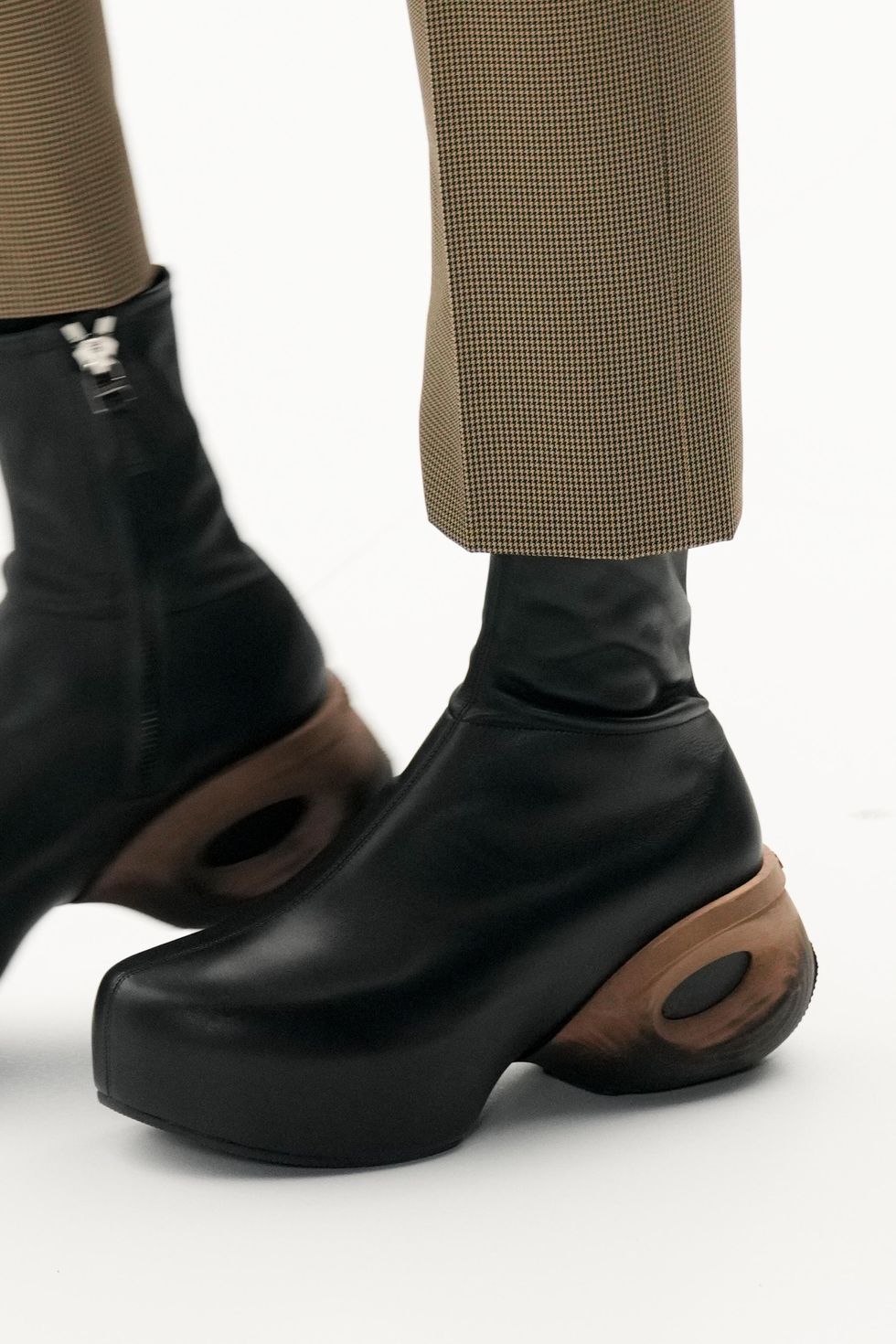 Peter White/Getty Images
The chunky shoe trend began to re-emerge on the 2021 footwear scene and will definitely continue into the new year. From boots to sneakers, loafers, and pumps, this statement trend will see new heights in the months to come. This elevated shoe style amplifies classic styles into fashion-forward must-haves.
6

.

Playful Prints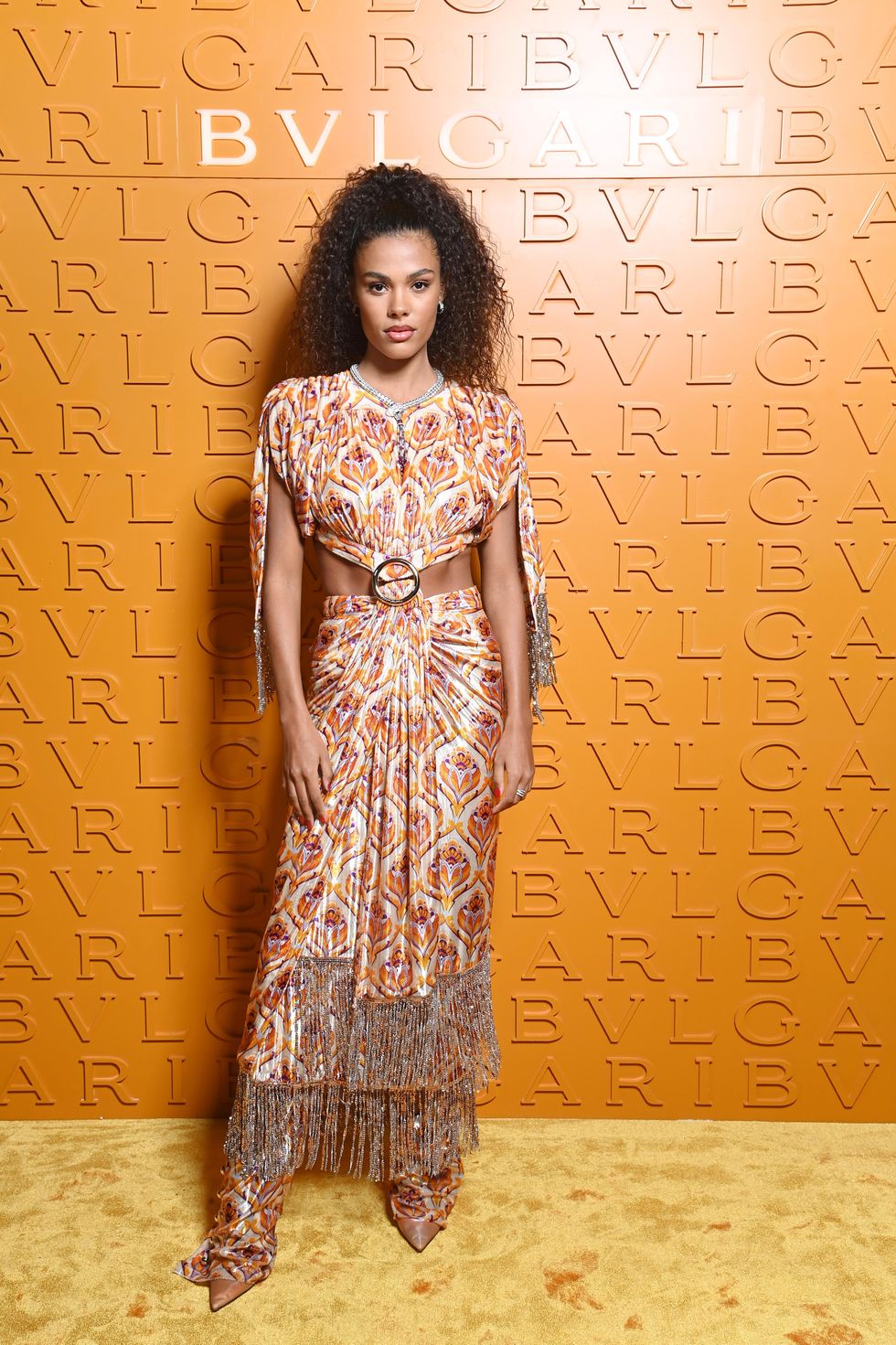 Daniele Venturelli/Daniele Venturelli/Getty Images for Bulgari
​Animal print is so 2020 and I predict abstract designs made of geometric shapes, artistic drawings, and colorful combinations will be the new go-to. Abstract illustrations were seen all over the runway from Brandon Maxwell to Versace and every designer in between. In 2022, fashion is the art and we the consumer are its muse.
7

.

Unwashed Denim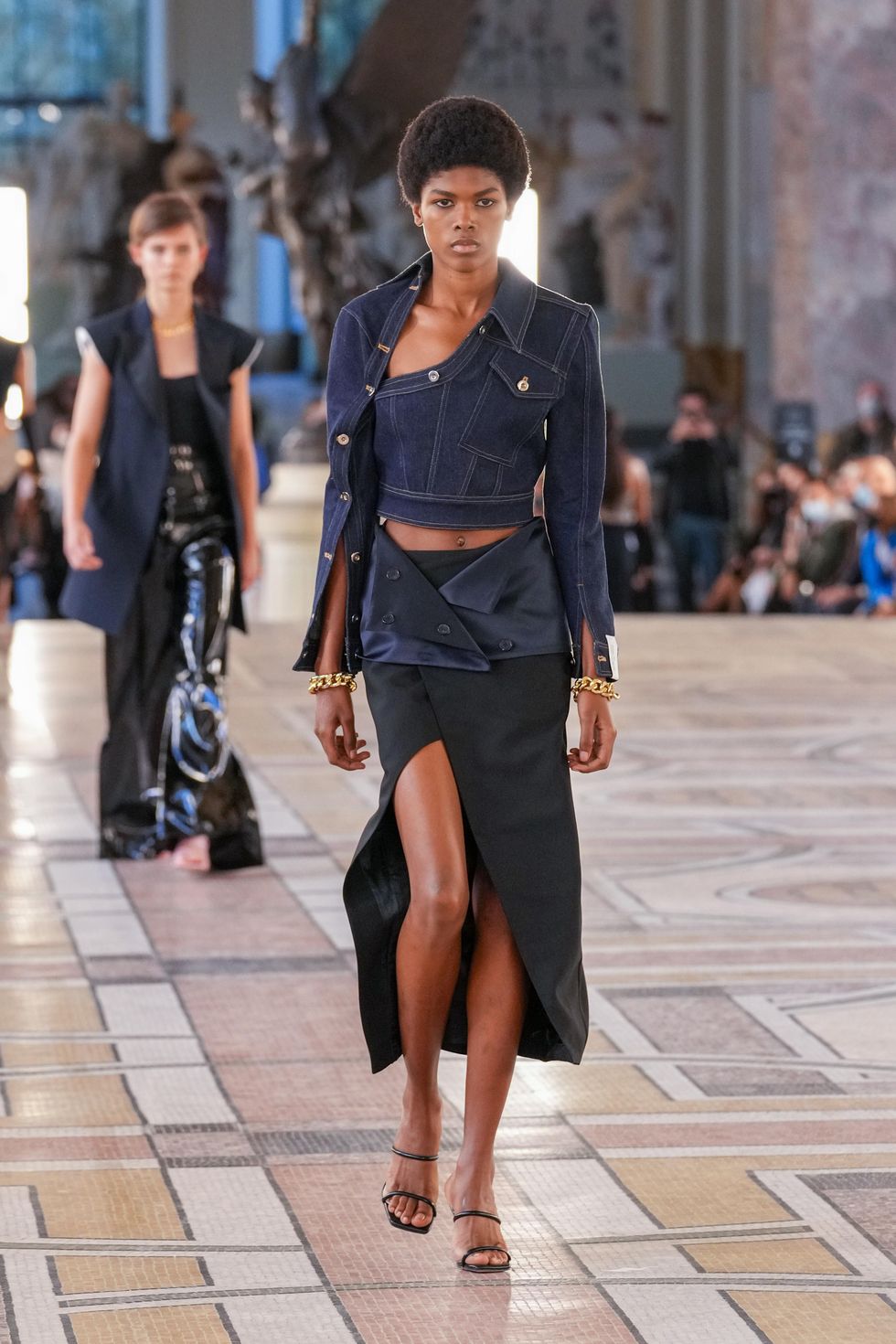 Peter White/Getty Images
​The ultimate 90's dark denim trend is back and taking over for the year 2022. As we know, fashion comes in waves so it's no surprise to see many of this year's trends appearing to be the ghost of fashion's past. Super sleek, this denim trend gives the everyday staple a high-end appeal.
8

.

Vibrant Color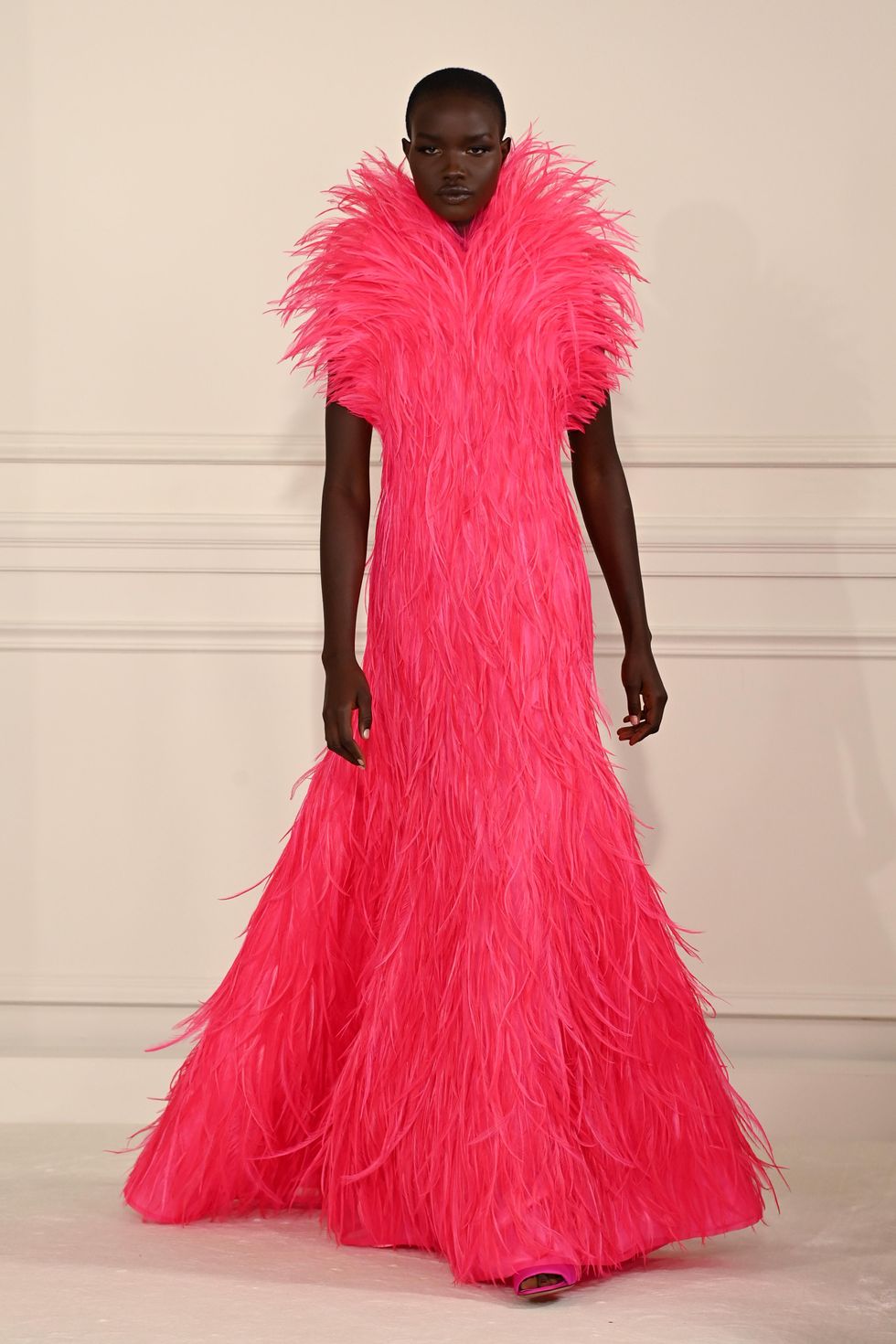 Pascal Le Segretain/Getty Images
Spring is always the season for more color but this time it's all about deeper, bolder, and more vibrant shades. This spring we can include just about every color of the rainbow into our wardrobe. With magnetic shades and sleek yet wearable tones, the biggest colors trends of the year are just as exciting as what's to come in the year ahead. Full of optimism along with a sense of hope, the pigments that will dominate our everyday lives this coming season are what we all need as we continue into a new year of wonderful possibilities.
9

.

Fringe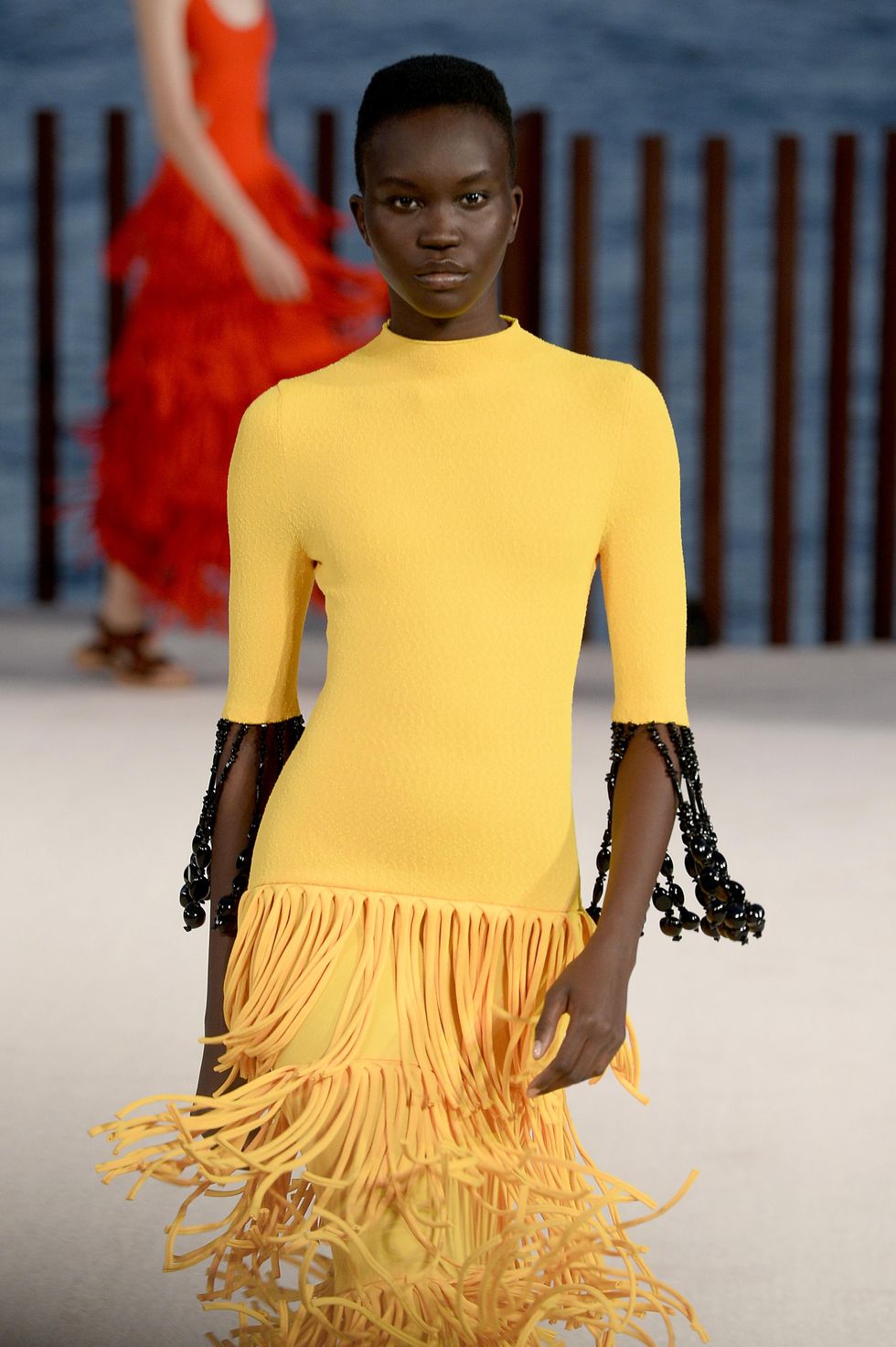 Fernanda Calfat/Getty Images
Every other decade fringe finds itself back in the hearts of fashion lovers everywhere. Making a fierce resurgence, the drama is unlike any other. Intricately designed with breathtaking detail, I am excitedly anticipating the fabulousness of fringe. With effortless movement and bold sensuality, this is an elevated yet sexy design detail perfect to re-emerge into the world.
Featured image by Christian Vierig/Getty Images
As most countries around the world begin to reopen their borders, it's finally time to break free of the global restraints brought on by the COVID-19 pandemic. Whether a tropical vacation or a European excursion, planning a trip can feel a bit overwhelming especially when it comes to planning your day-to-day outfits. As I gear up to take the biggest solo trip of my life thus far, I'm getting a head start on stylish looks I can wear from beginning to end. Of course, one of the most important aspects of a trip is traveling to your destination, so I'm getting a head start on the major inspiration that will keep me both chic and comfy during my dreaded 10-hour flight.
Practical choices such as sneakers, crossbody bags, and minimal (to no) accessories are key to a seamless in-flight experience. Along with the right essentials, showing the least amount of skin possible also elevates my comfort level. Catching both flights and hopefully feelings this year, these are the eight airport-approved ensembles that will keep you looking fresh off the runway. Whether going for an elevated approach or casual cool, keep scrolling to find the fashion-forward looks that can go the distance.
Featured image via @wearmichelletravels/Instagram
Living in Los Angeles I've grown accustomed to clear sunny skies and perfect temperatures most of the year; however that doesn't stop us from wanting the full winter experience. Rarely dropping below 60 degrees, when given a chance, we don't hesitate to either bring out our flyest cold weather clothes or freeze in our year-round attire. If you're a last-minute shopper like me or could just use a seasonal wardrobe update, there's still time for a winter refresh.
Stocking up on fashionable yet practical clothing items that I can wear year after year is necessary to keep my closet from overflowing with bulky items I'll hardly ever wear. From quilted pants to chunky boots, it's finally time to put on a few of my favorite winter purchases that can keep up with not only the weather but my busy everyday life. Scroll to find the key fashion items to embrace the semi-cold LA weather in style this season.
1. Quilted Pants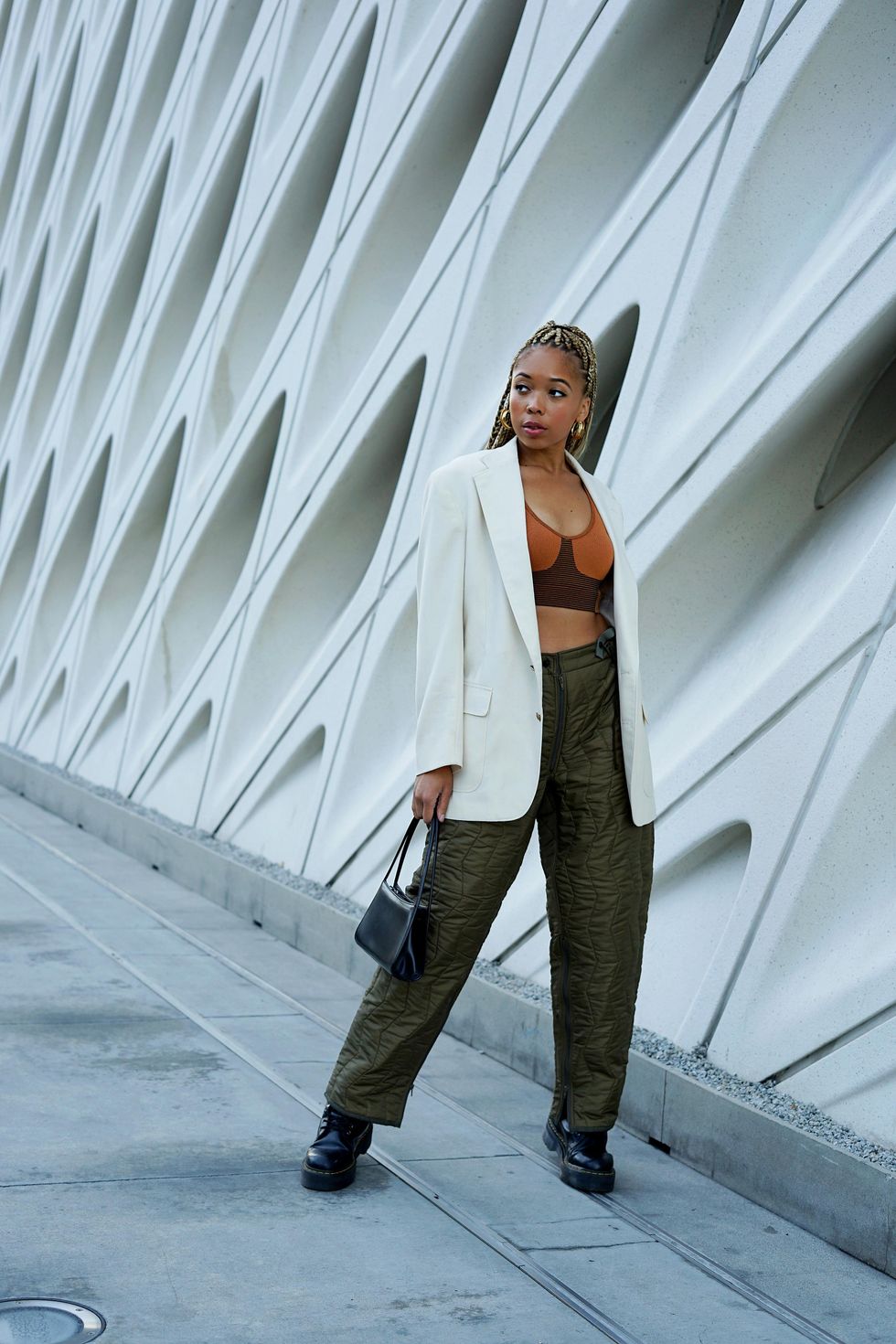 Shahirah Ahmed/xoNecole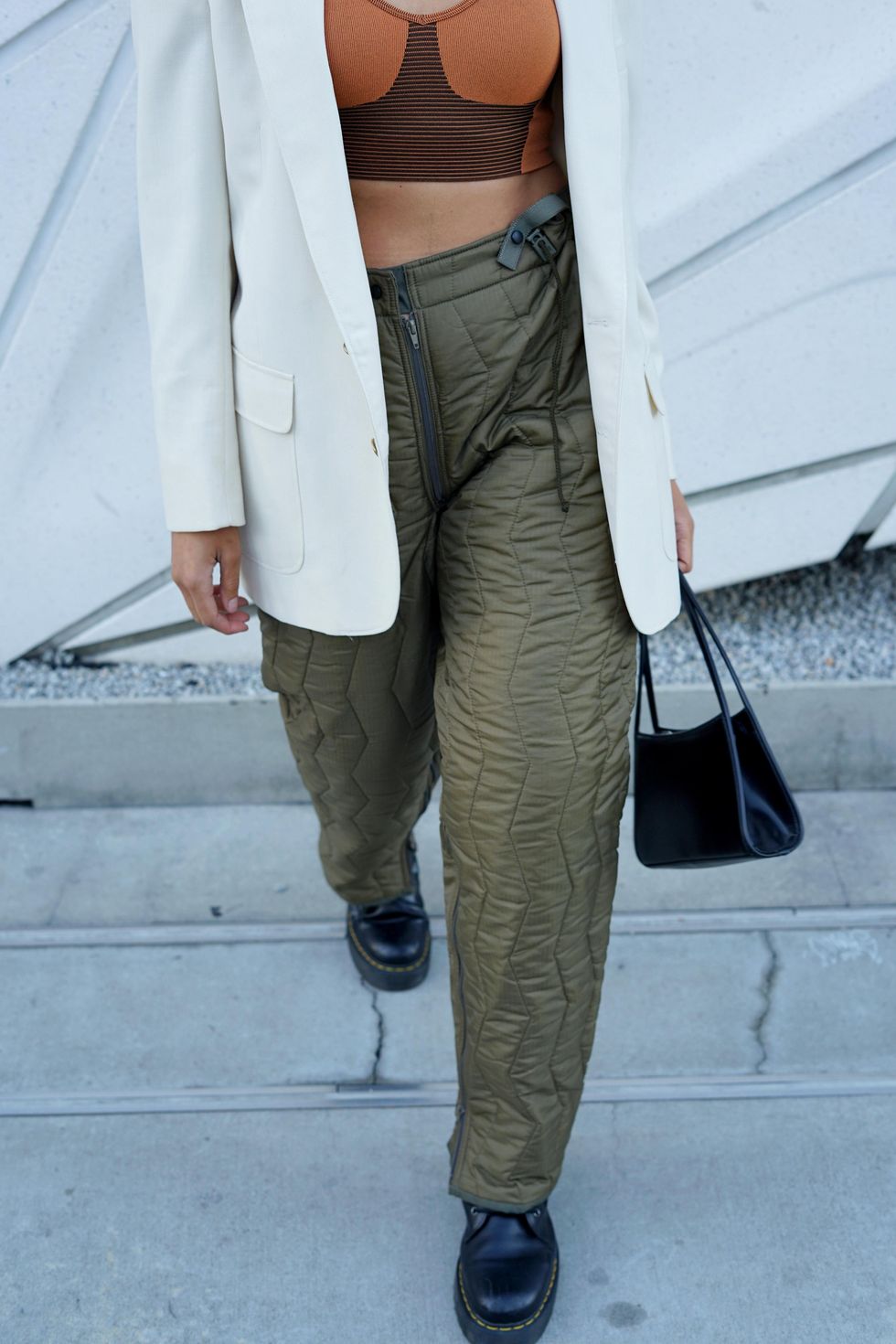 Shahirah Ahmed/xoNecole
These olive green vintage quilted liner pants are perfect for a winter in LA and beyond. Extremely comfortable, stylish, and uniquely designed, they can be worn throughout a range of temperatures this season. For cool sunny days, pair with a cropped top, oversized blazer, and platform Doc Marten boots for the ultimate weekender look.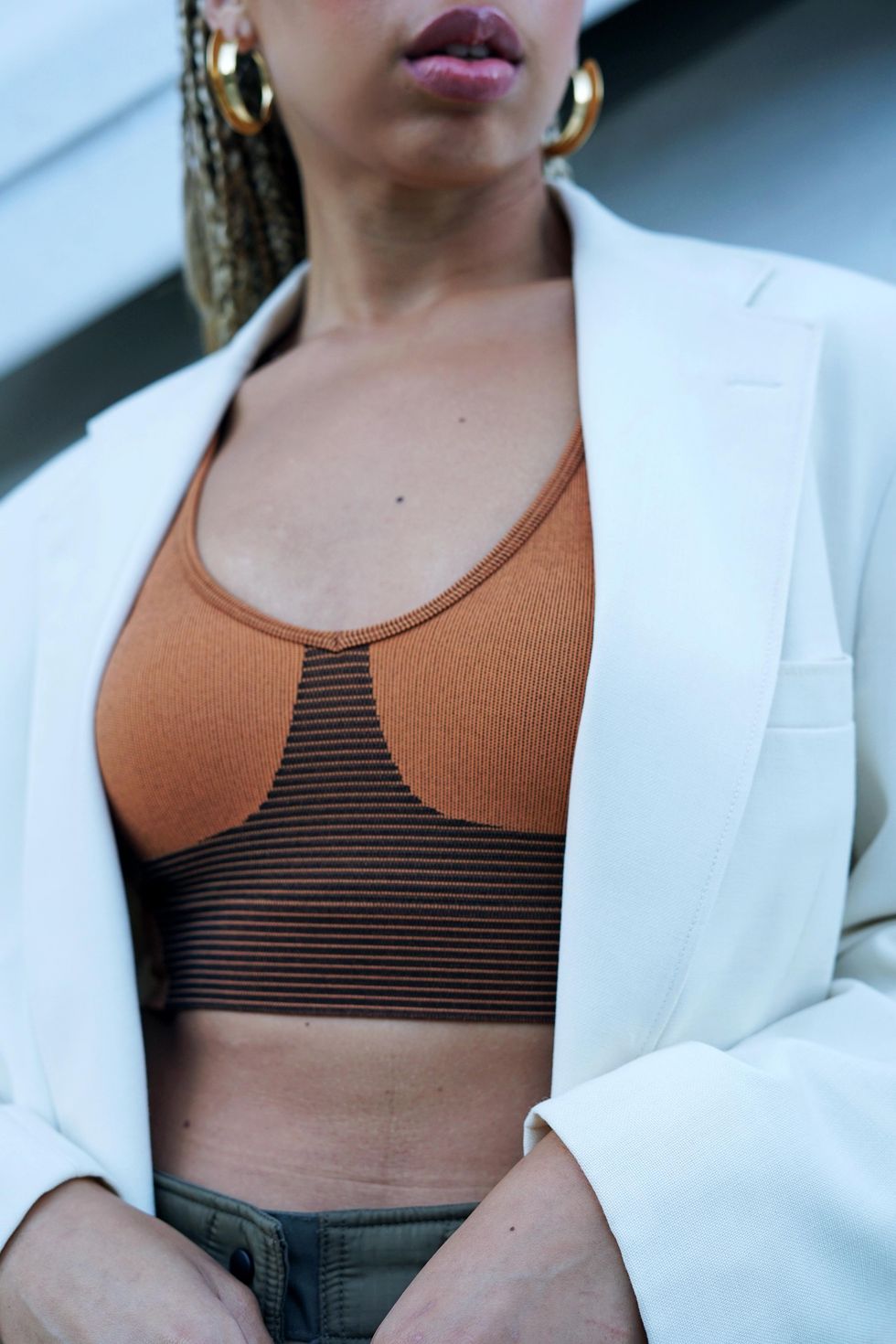 Shahirah Ahmed/xoNecole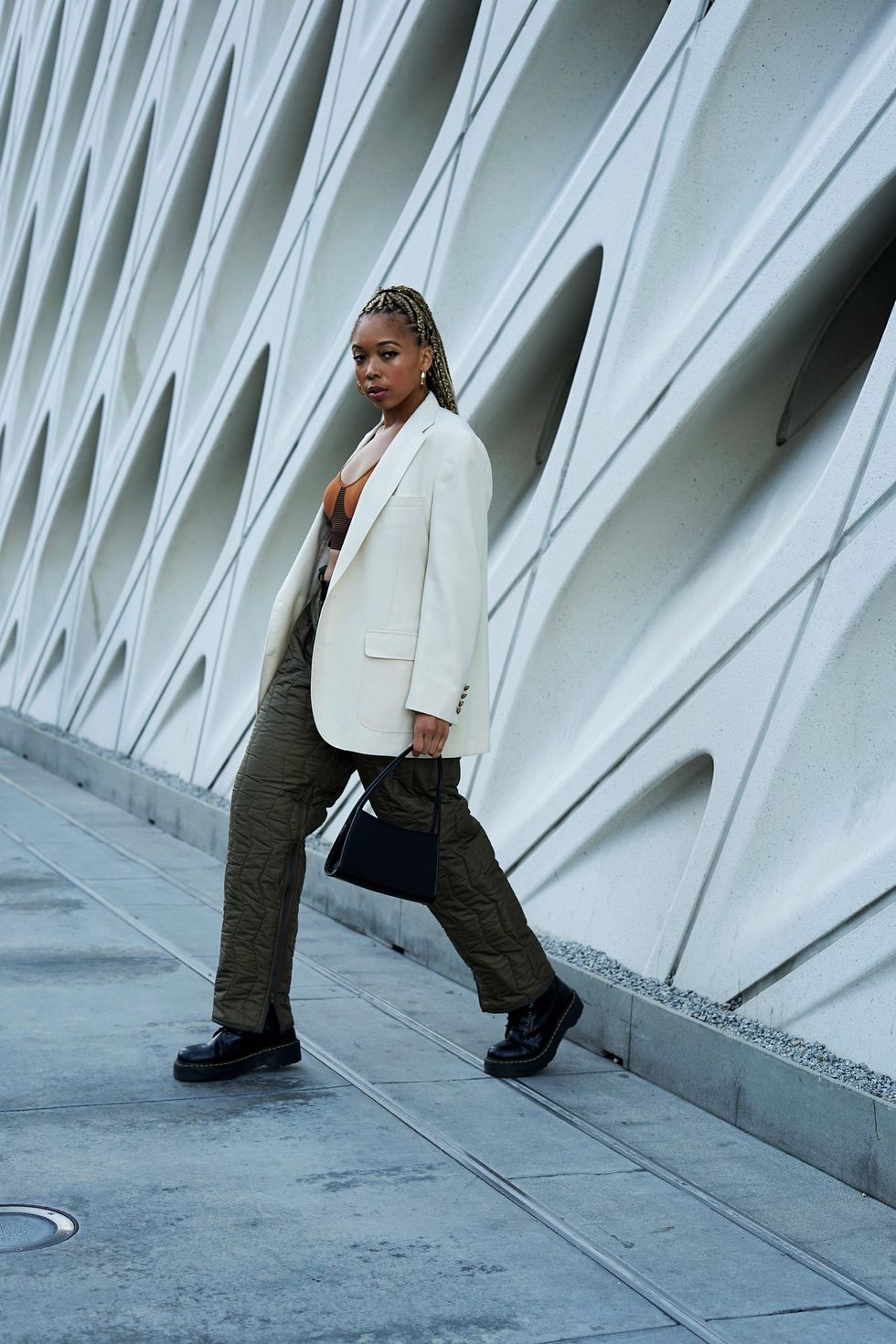 Shahirah Ahmed/xoNecole
2. Chunky Boots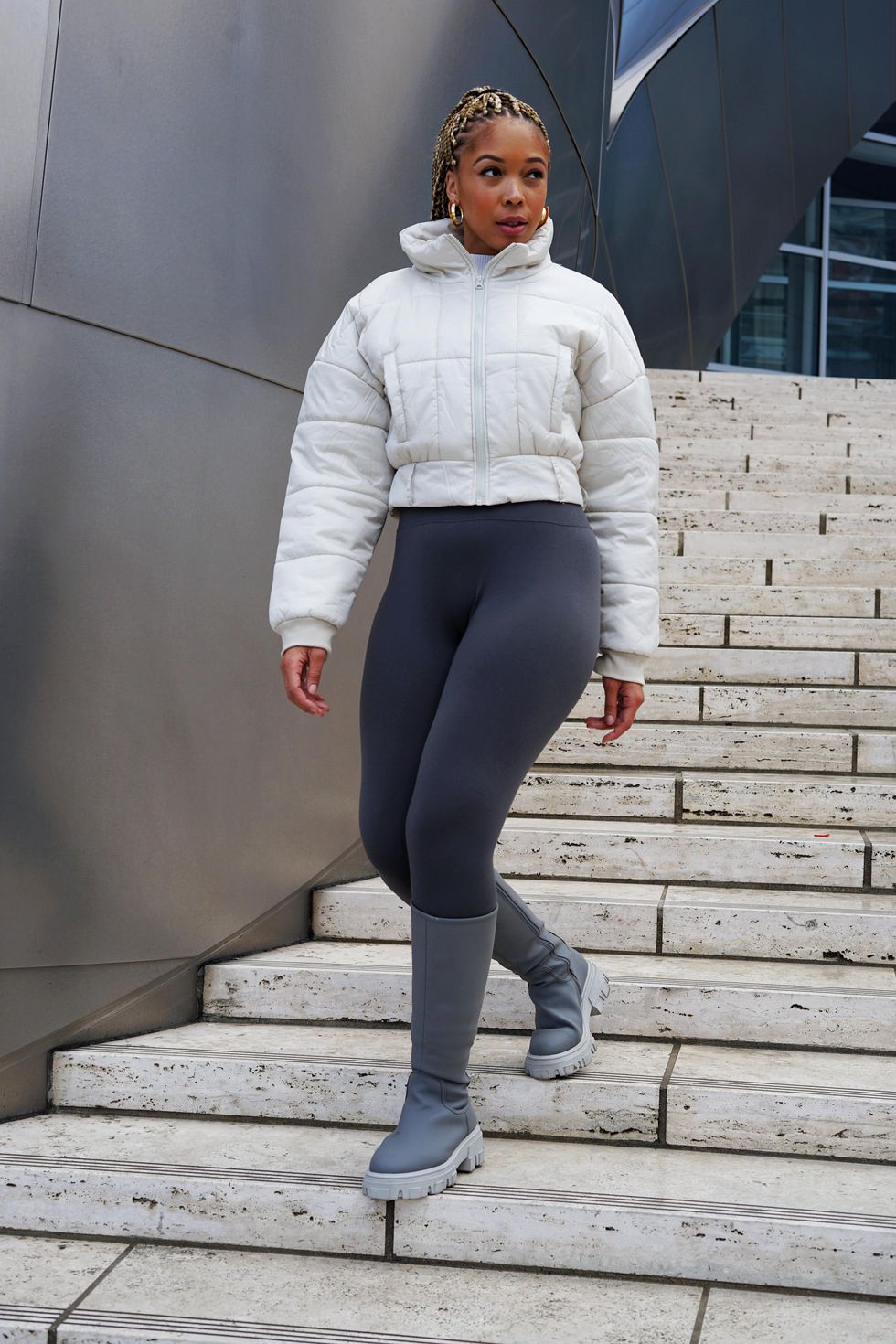 Shahirah Ahmed/xoNecole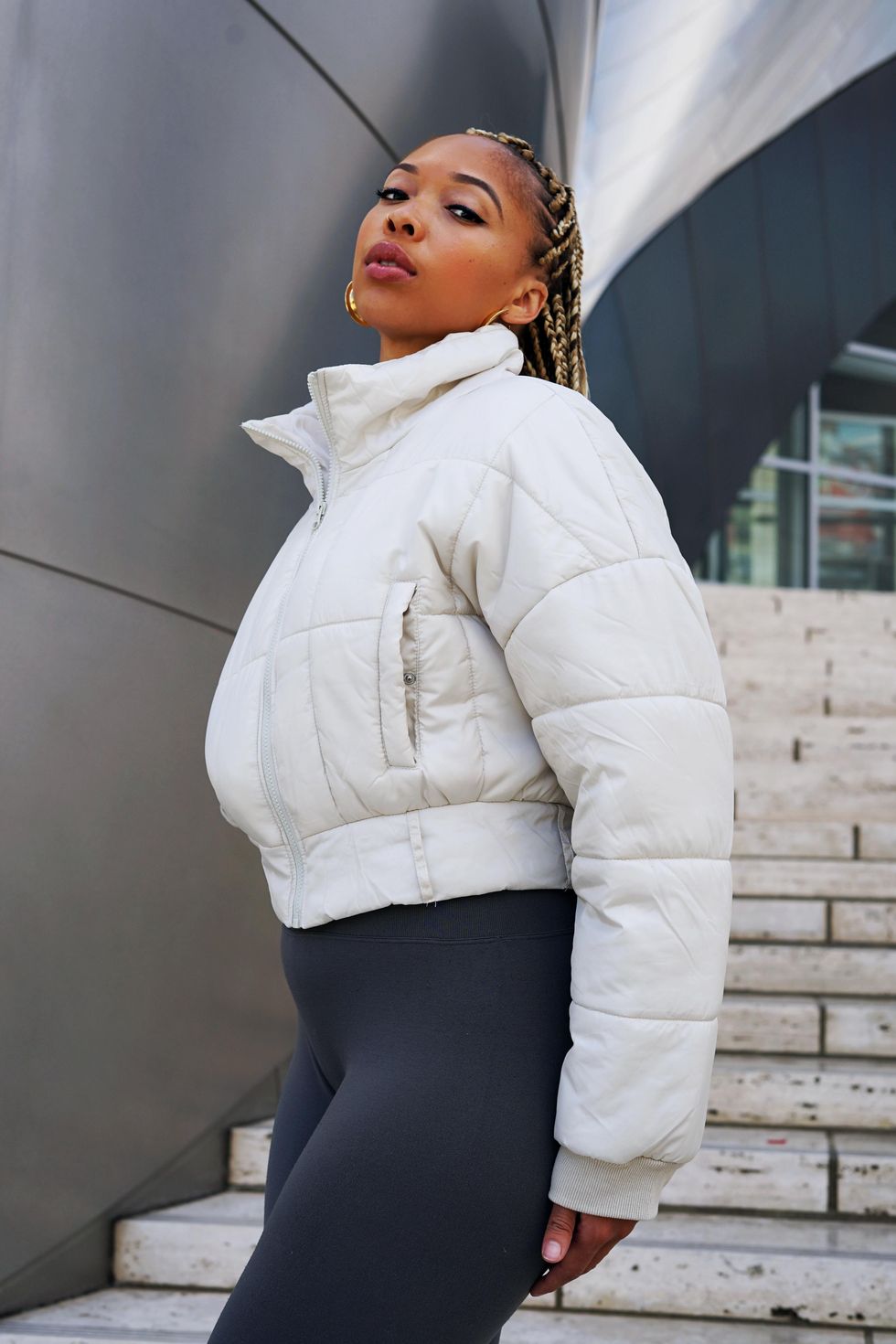 Shahirah Ahmed/xoNecole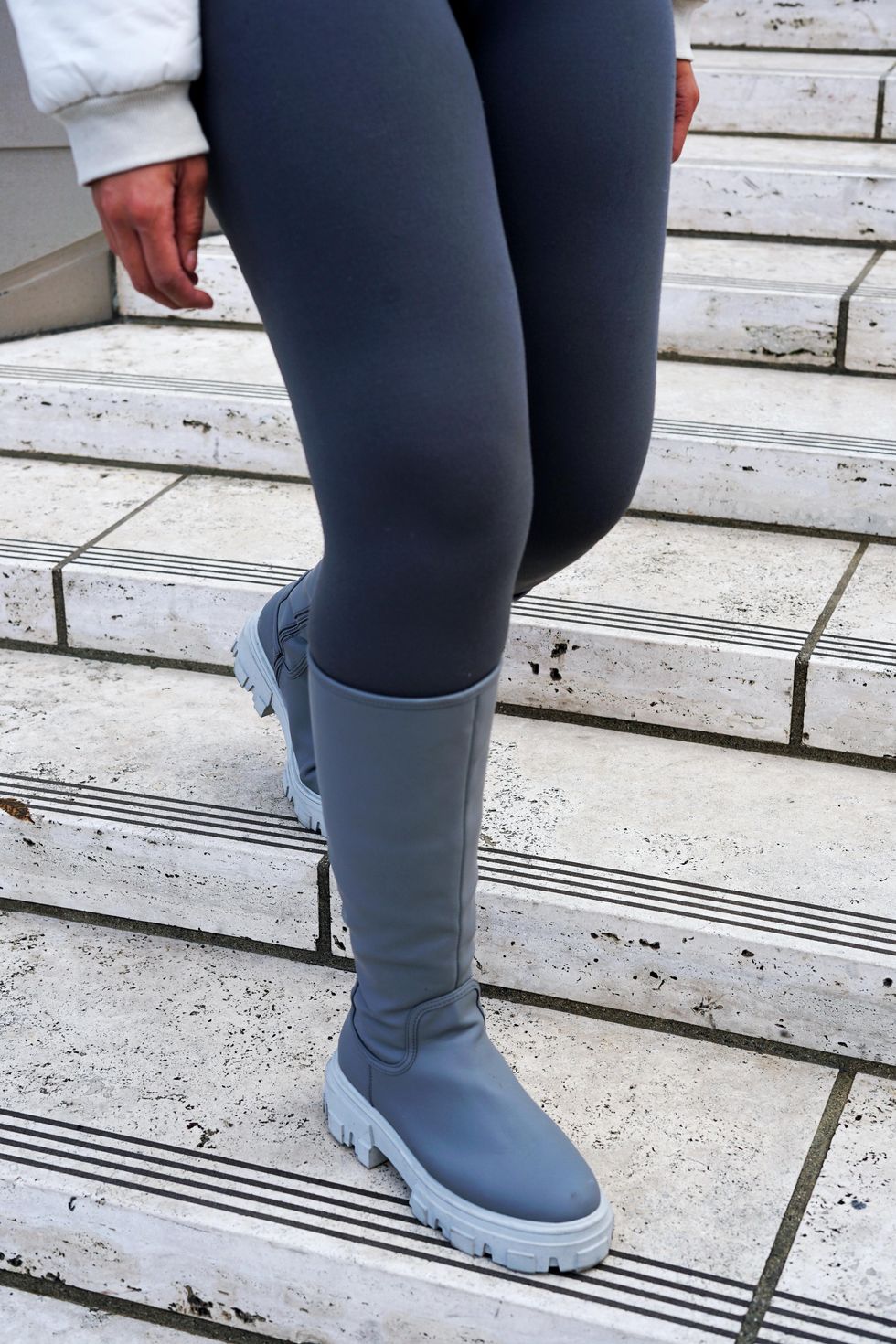 Shahirah Ahmed/xoNecole
My favorite footwear trend, chunky soles are here to stay throughout the remainder of winter 2022. Pairing these two-toned platform boots with gray leggings and a cropped quilted jacket, I'm serving my best ski-inspired look. No matter your location, you'll get plenty of wear rain or shine.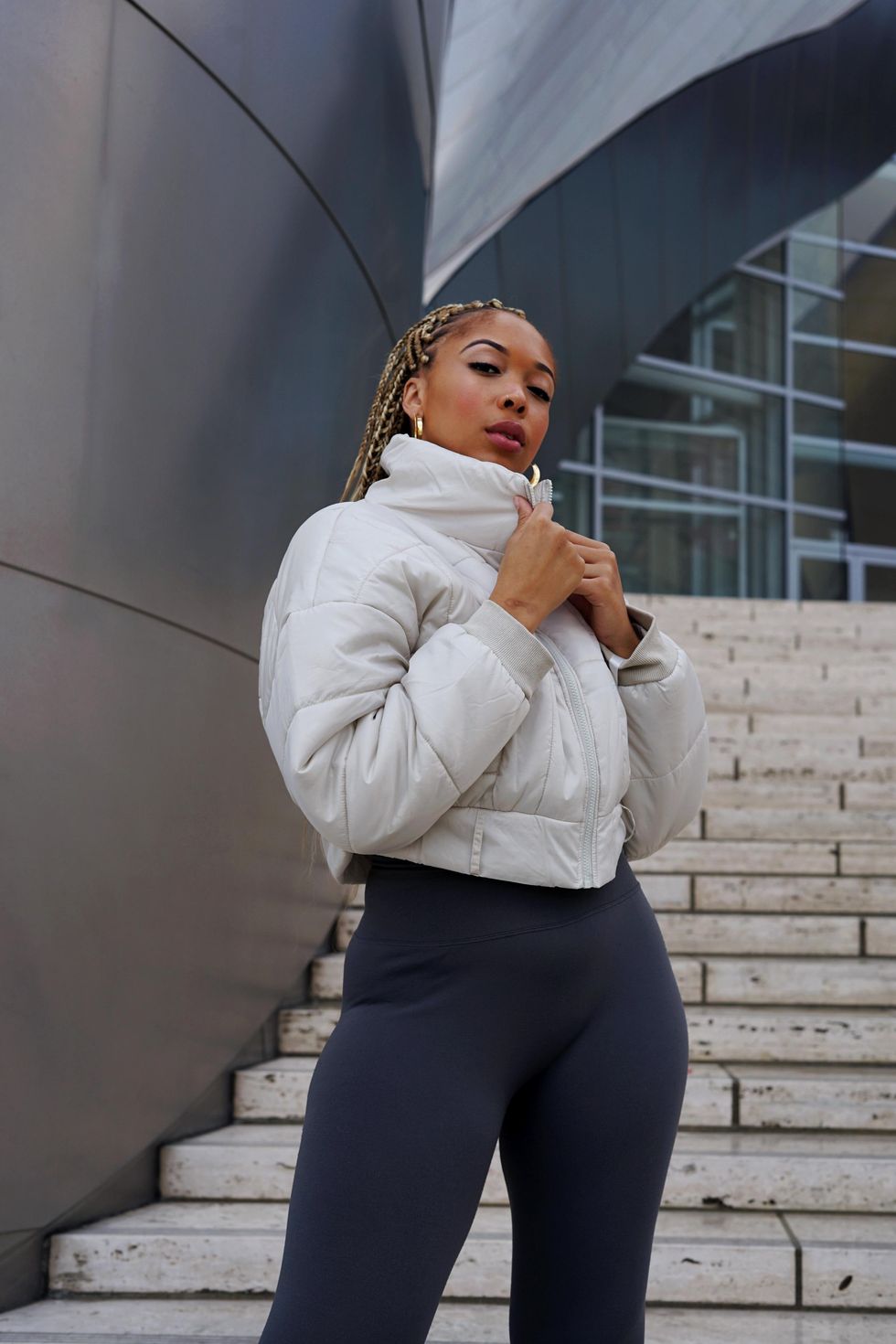 Shahirah Ahmed/xoNecole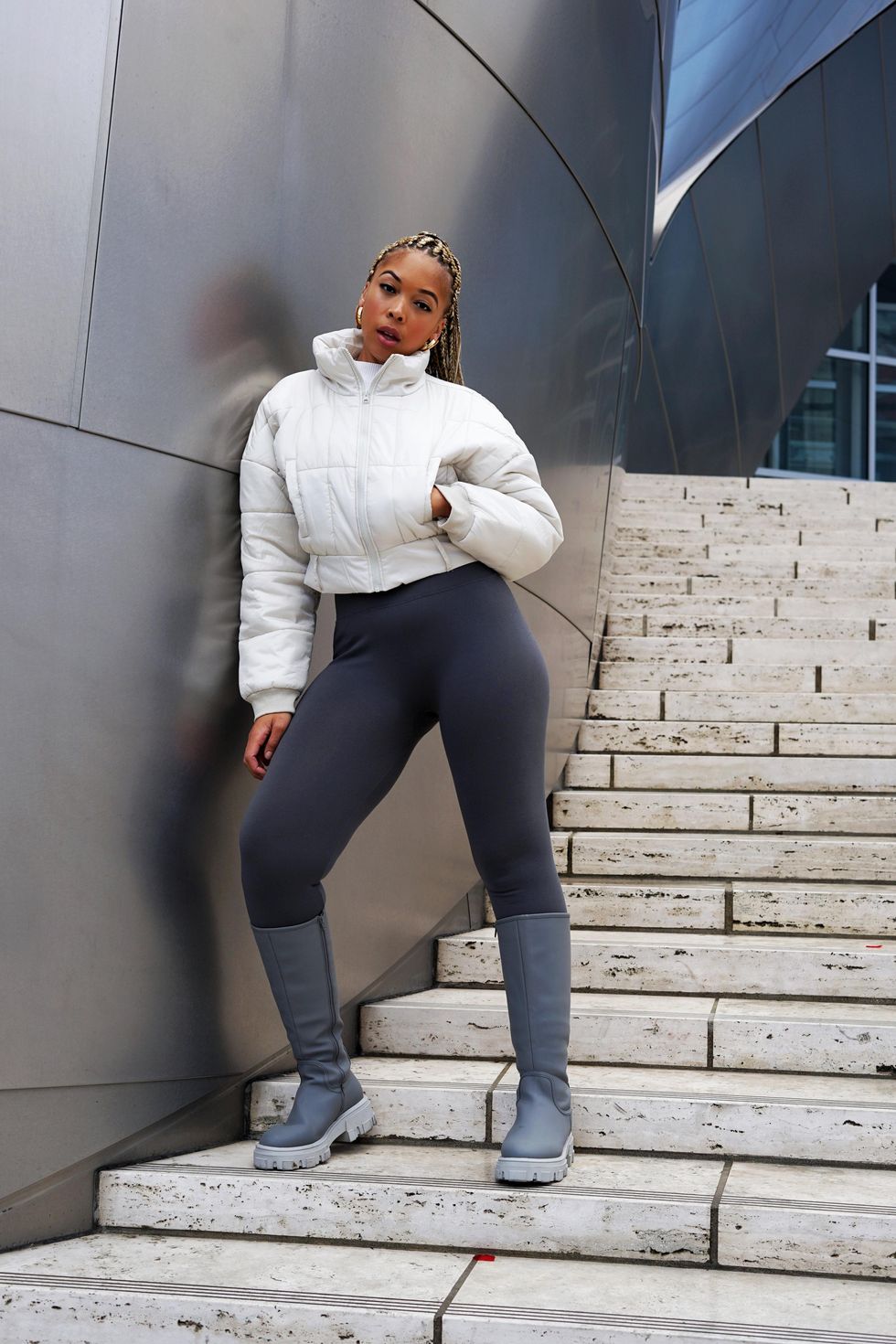 Shahirah Ahmed/xoNecole
3. Puffer Coat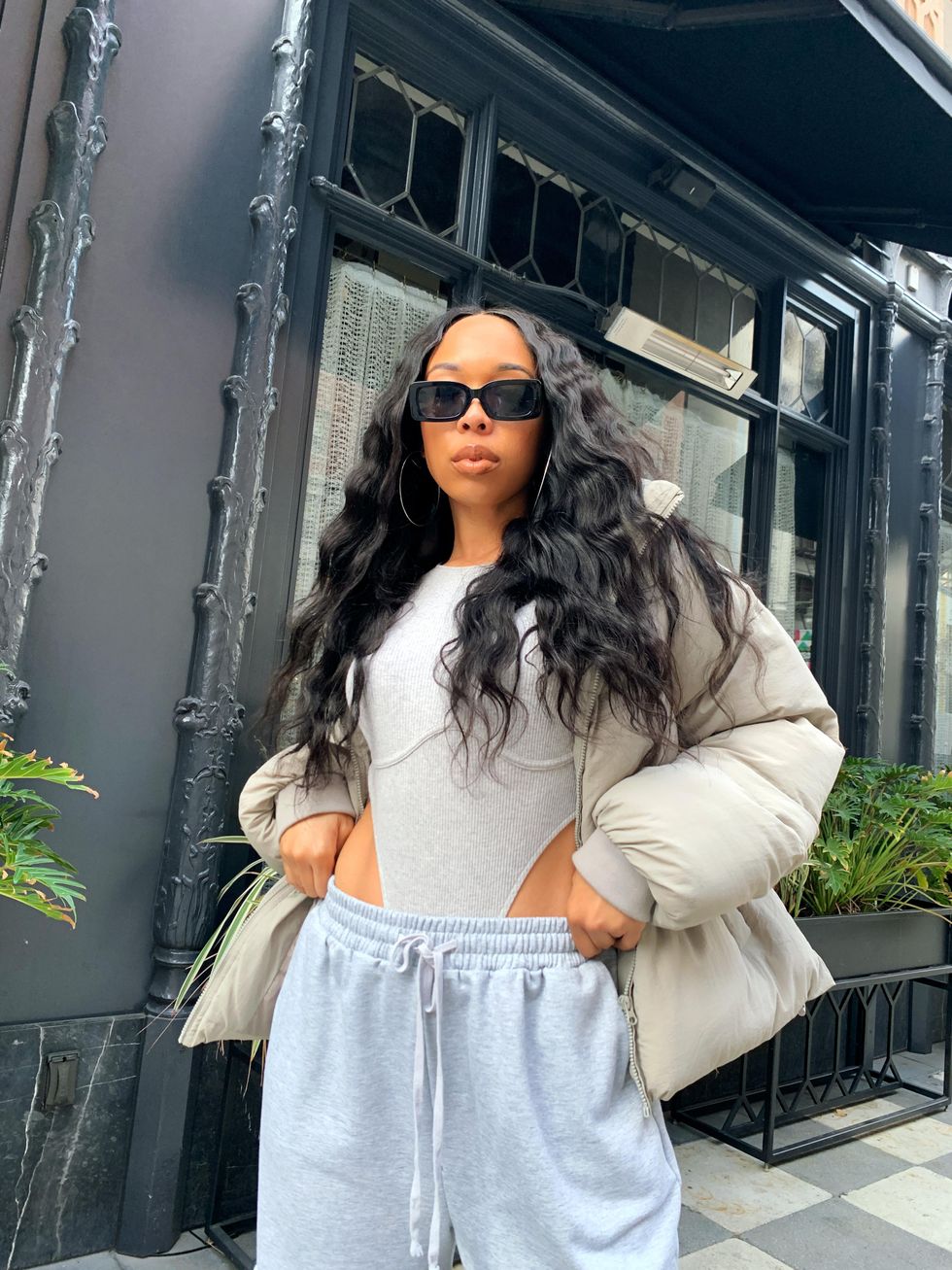 Shahirah Ahmed/xoNecole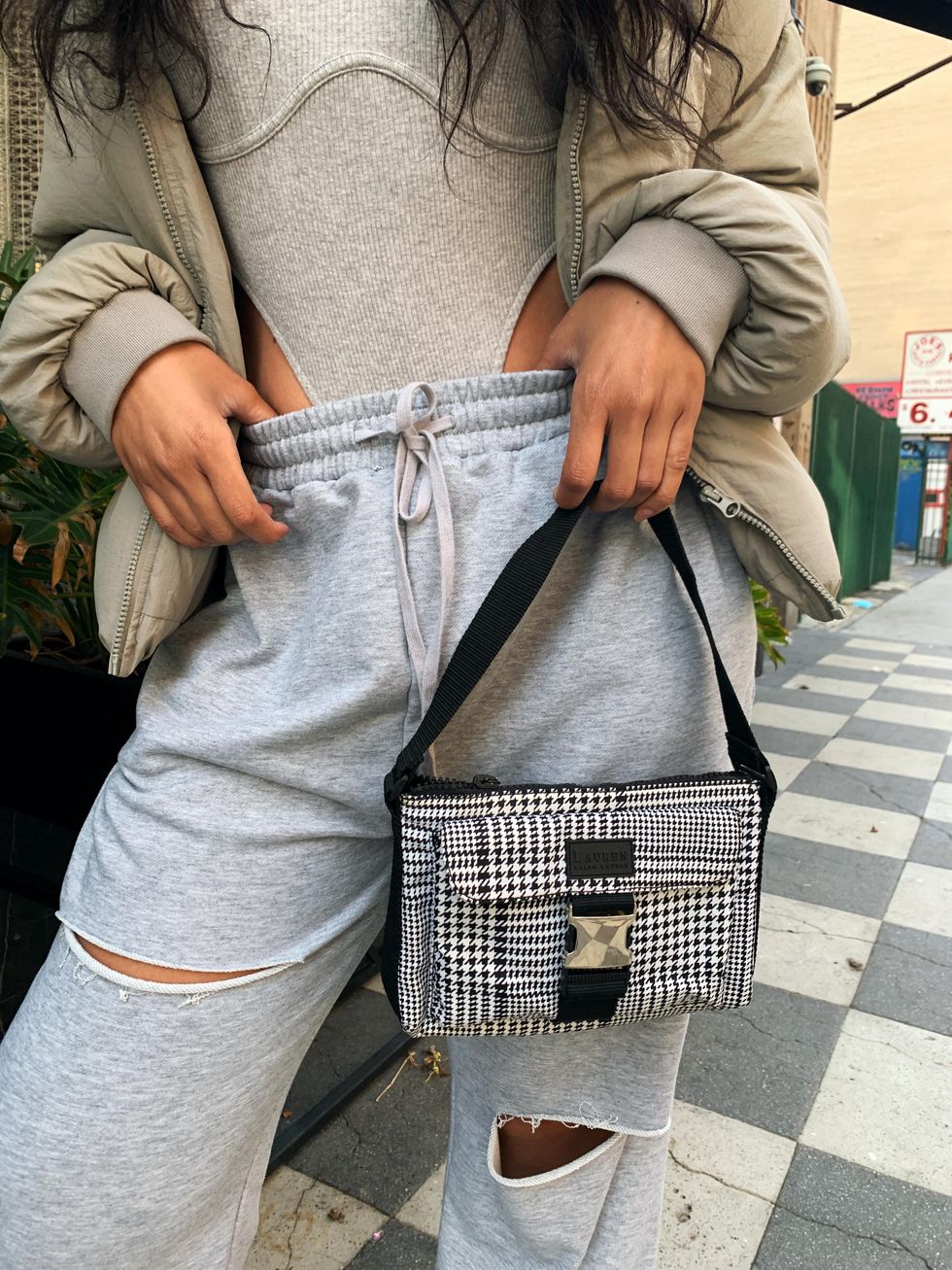 Shahirah Ahmed/xoNecole
The puffer coat (or puffer jacket) remains one of the most popular outerwear trends, even for LA girls. While it is hardly ever cold enough to wear without overheating, for a cozy and casual look, this winter classic makes sweatpants and sneakers look so good. Wearing my go-to sweats 90% of the time, I love adding this extra layer for a more stylish approach.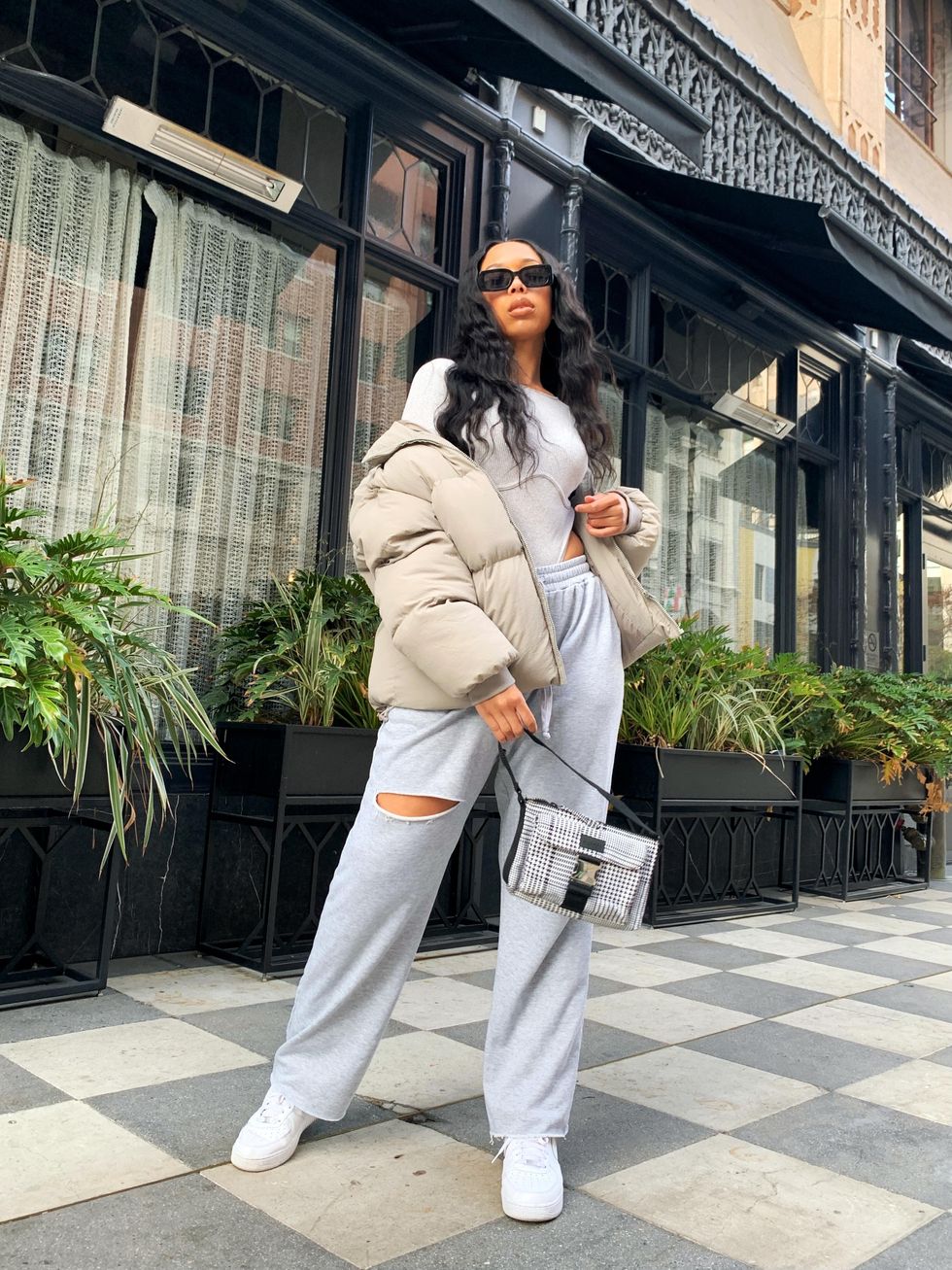 Shahirah Ahmed/xoNecole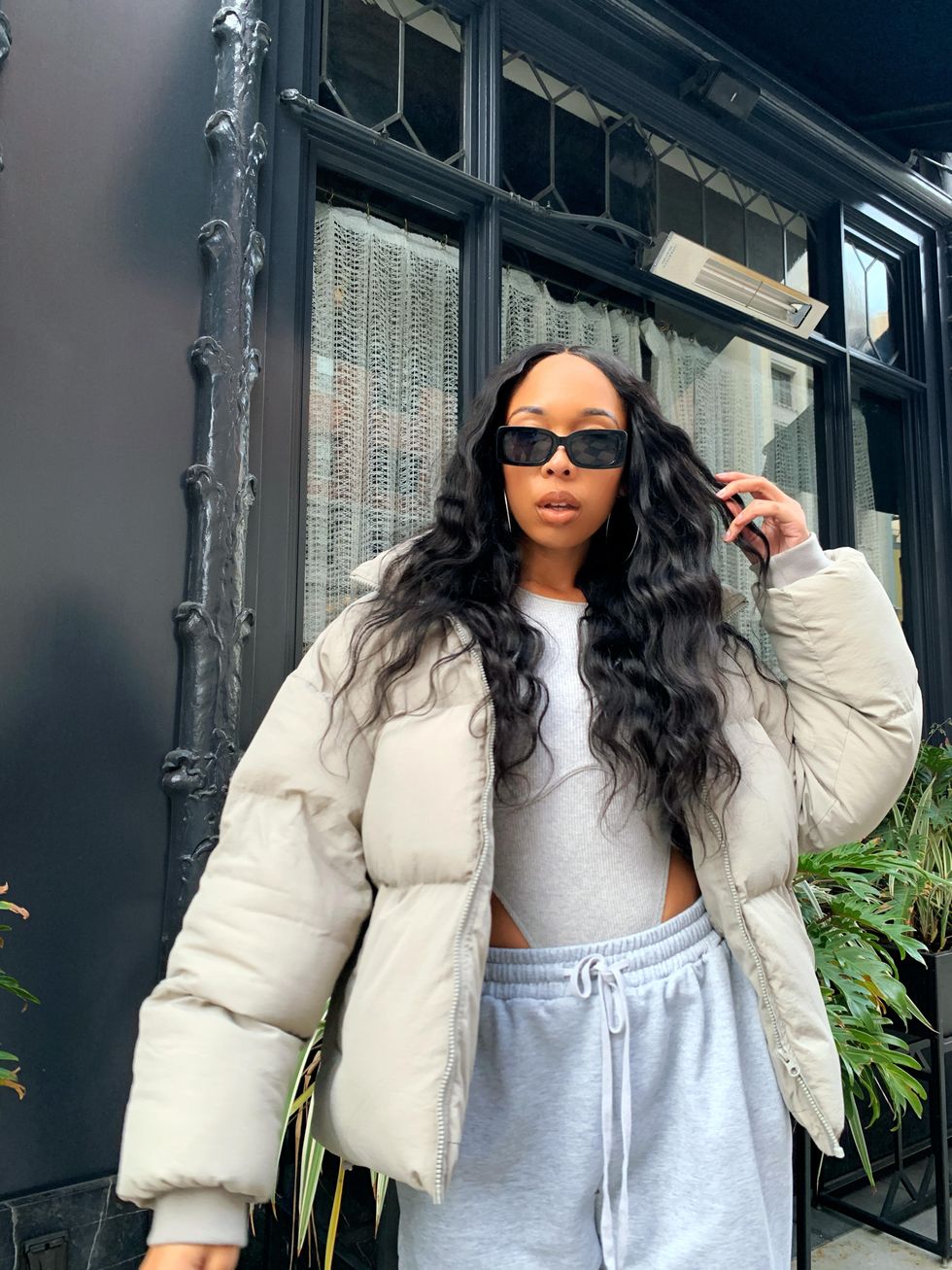 Shahirah Ahmed/xoNecole
Featured image by Shahirah Ahmed/xoNecole