Shahirah Ahmed
Shahirah Ahmed is a content creator, influencer and fashion stylist residing in Los Angeles, CA. Originally from Sacramento, CA she decided to pursue a career in the fashion industry once realizing she had the power to turn her dreams into reality. A year after obtaining her degree in Fashion Merchandising, Shahirah launched her namesake fashion blog for tall women with larger shoe sizes in 2015. Keep up with her daily looks on Instagram @shahirahahmed.
Another day, another slay, thanks to the latest beauty trend taking over my "For You" page. TikTok has become the quintessential source of easy, real-life, everyday makeup tutorials that leave me wanting to take a trip to my local Sephora only to search for products I never knew I needed. It has become a trusted source of tried and true beauty hacks demonstrated by my favorite online influencers.
A more recent trend to hit TikTok is the pink under-eye blush application, with a phenomenal 106.1 million views. With a quick search of #pinkundereye you'll see endless videos of women from every background and a variety of skin tones with their product recommendations and techniques on how to achieve this DIY pink concealer.
I love discovering practical and effortless beauty tips that I can add to my daily routine that won't take too much time each morning. My makeup preference is a natural beat that takes less than 30 minutes to apply. Easy to achieve no matter one's skill level with a quick combination of three products, I was excited to give it a shot.
Follow along with my step-by-step guide on how to apply this pink under-eye concealer that may have you rethinking your everyday makeup routine below.
How To: The Pink Under-Eye Blush Trend
Step 1: Concealer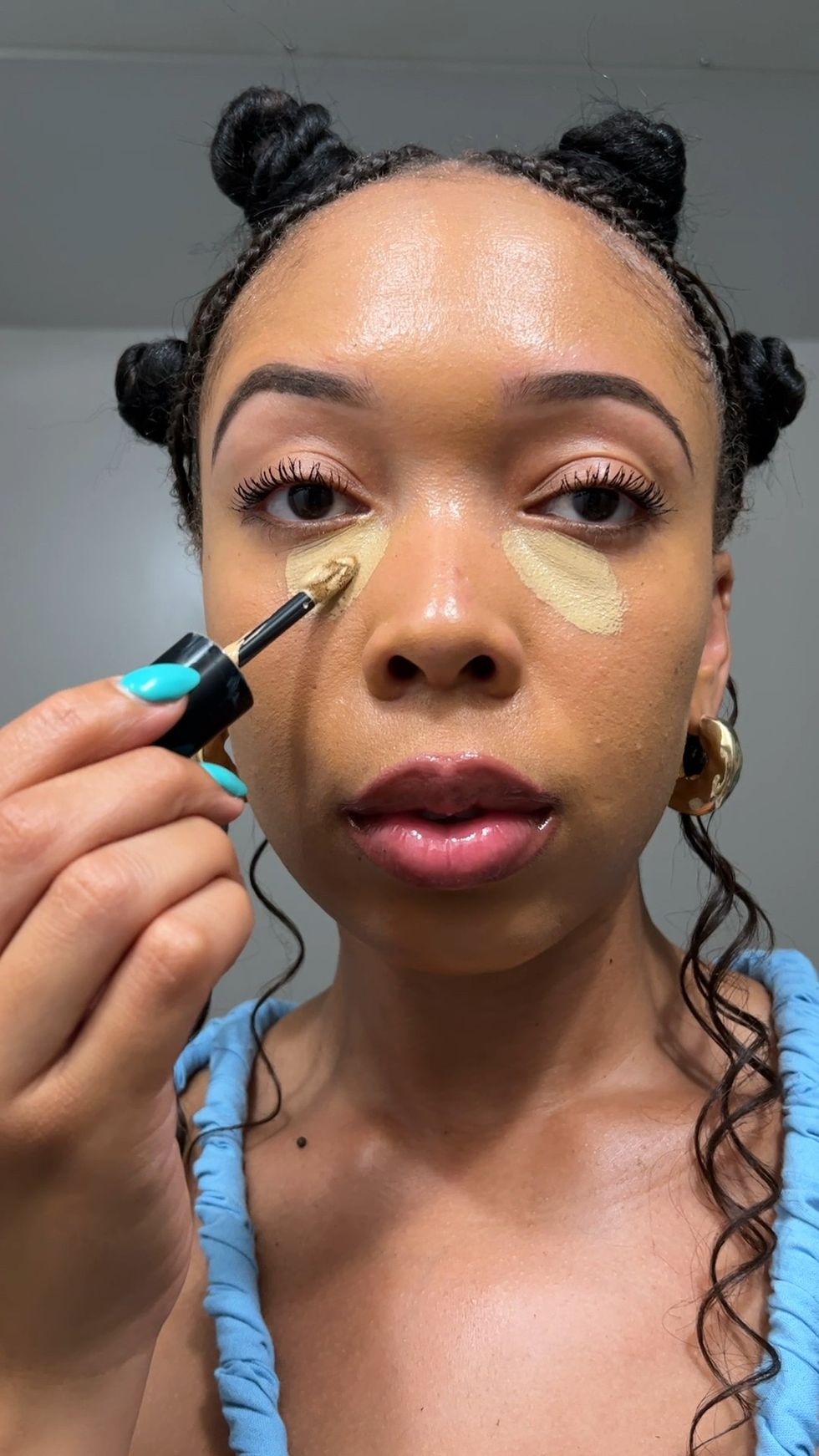 Shahirah Ahmed/xoNecole
First thing when starting your pink under-eye look, apply your go-to under-eye concealer to brighten the inside corner area underneath your eye. A good concealer will be a shade lighter than your foundation, masking any dark circles, wrinkles, or blemishes. Preferably used after smoothing on your foundation, allow your concealer to set for about 5 to 10 minutes before moving on to steps 2 and 3 of this effortless look.
Step 2: Blush #1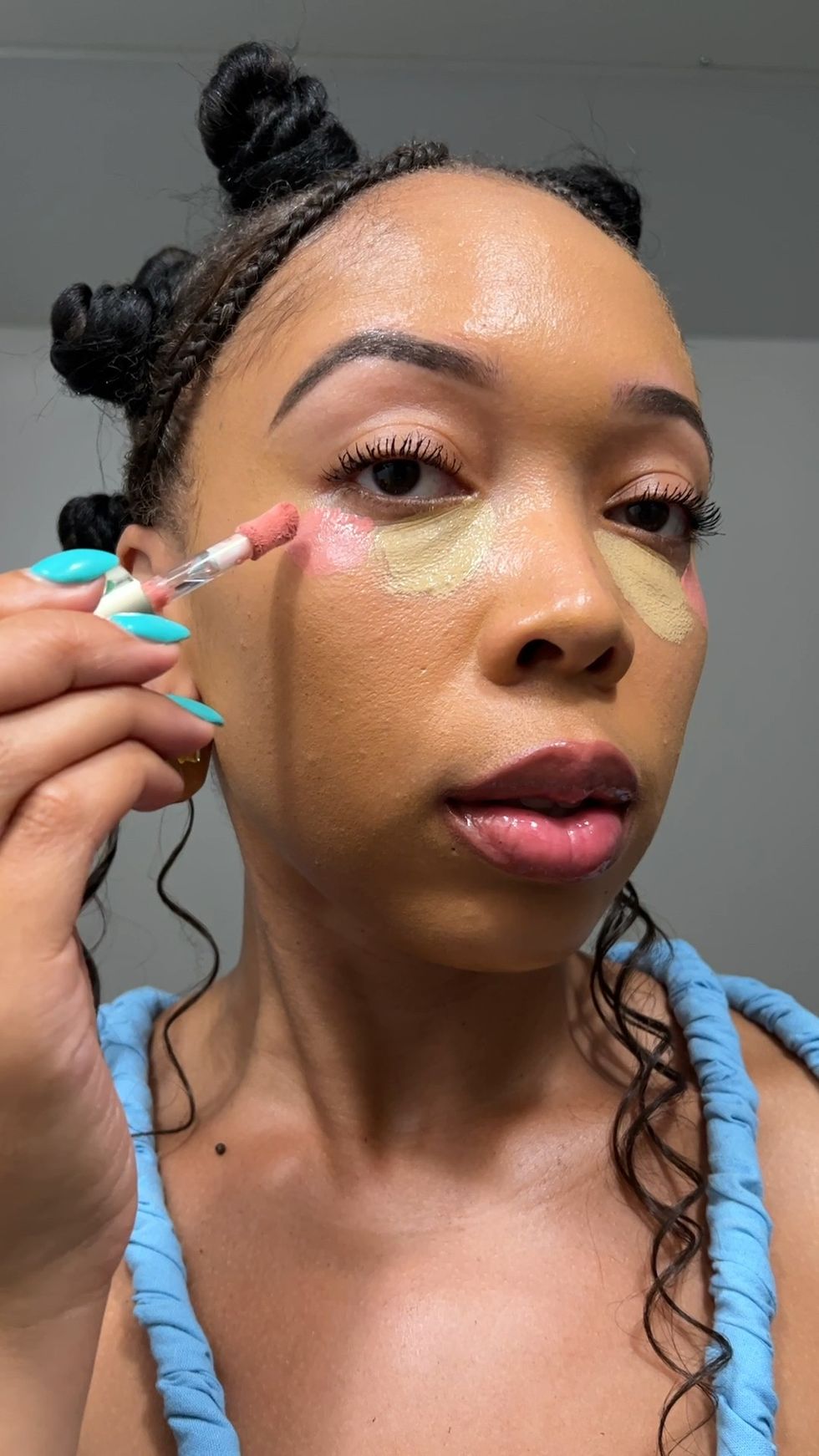 Shahirah Ahmed/xoNecole
As for the next step, I used Rare Beauty's Soft Pinch Liquid Blush in the color "Bliss." I loved the lightweight feel and ease of application the matte nude pink provided. The soft tonal rose pink was subtle, with just the right pop of color extending to the deepest part of the inverted triangle underneath the eye.
Step 3: Blush #2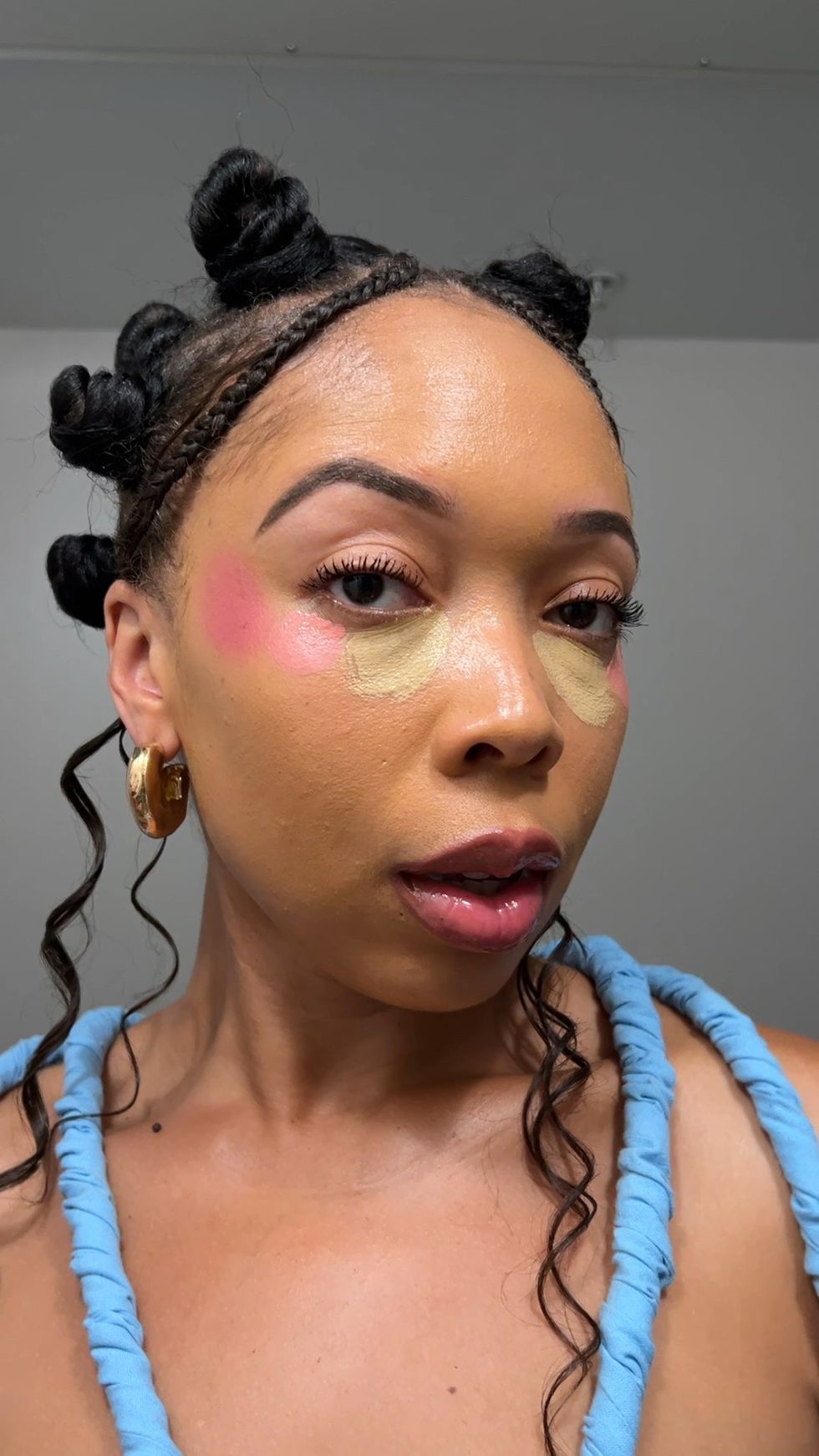 Shahirah Ahmed/xoNecole
Following up with a second blush with a deeper tone, I used Fenty Beauty's Cheeks Out Freestyle Cream Blush in "Summertime Wine" on the outer under-eye higher up on my cheekbones. Using a M405 Angled Contour Brush from Morphe, I applied the lightweight cream blush, which is a great product to build upon if a more pigmented look is desired.
Step 4: Blend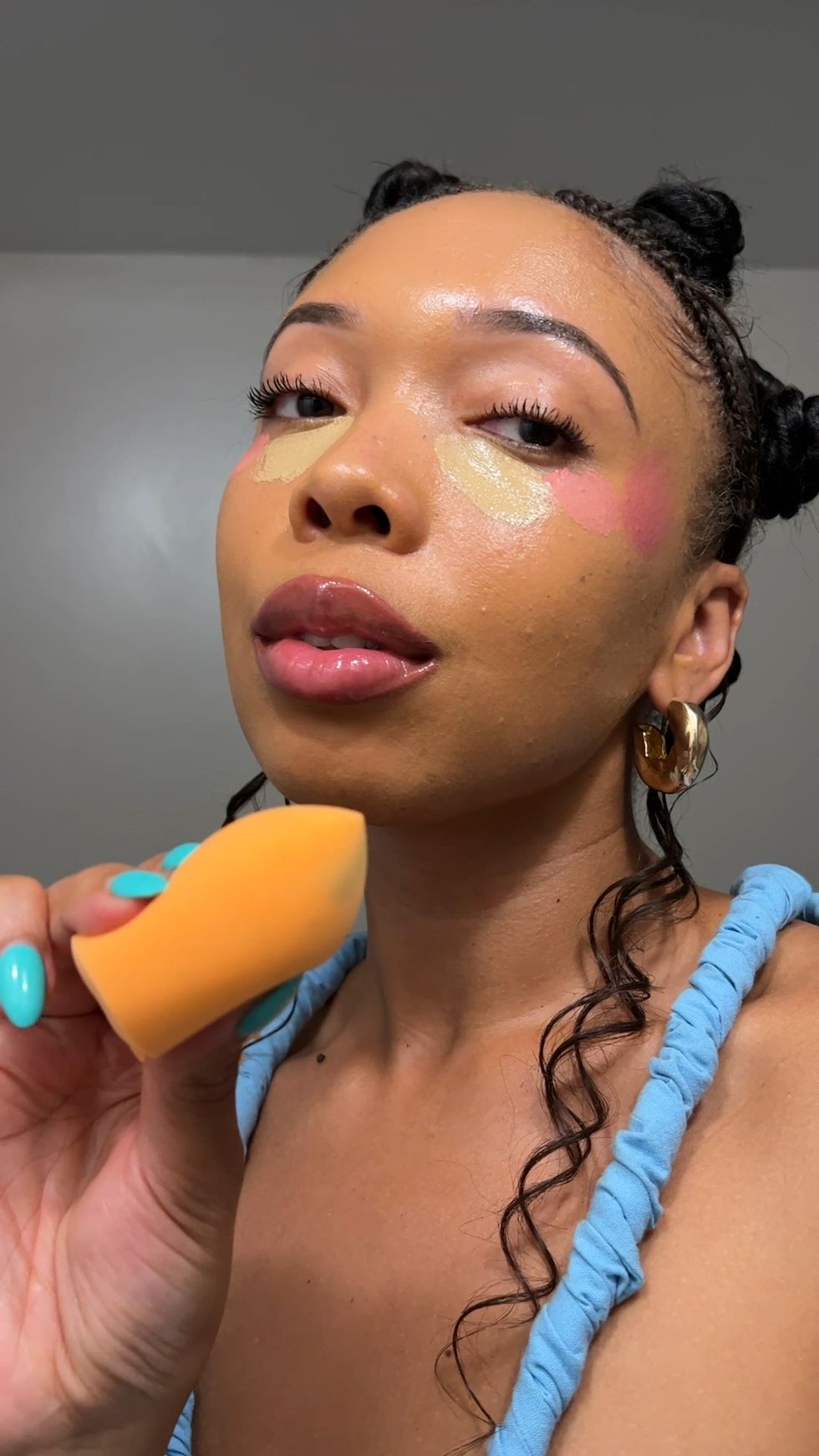 Shahirah Ahmed/xoNecole
At this point, I was a bit nervous about the outcome but knew I had to trust the process. Opting for a sponge for finishing touches, it worked wonders in blending the layers of blush, especially with a mix of liquid and cream products, giving it a more natural finish.
After blending, I decided to apply another layer of Fenty Beauty's "Summertime Wine," which is why I love a builder blush. With more layers, the bolder the look with a doll-like effect.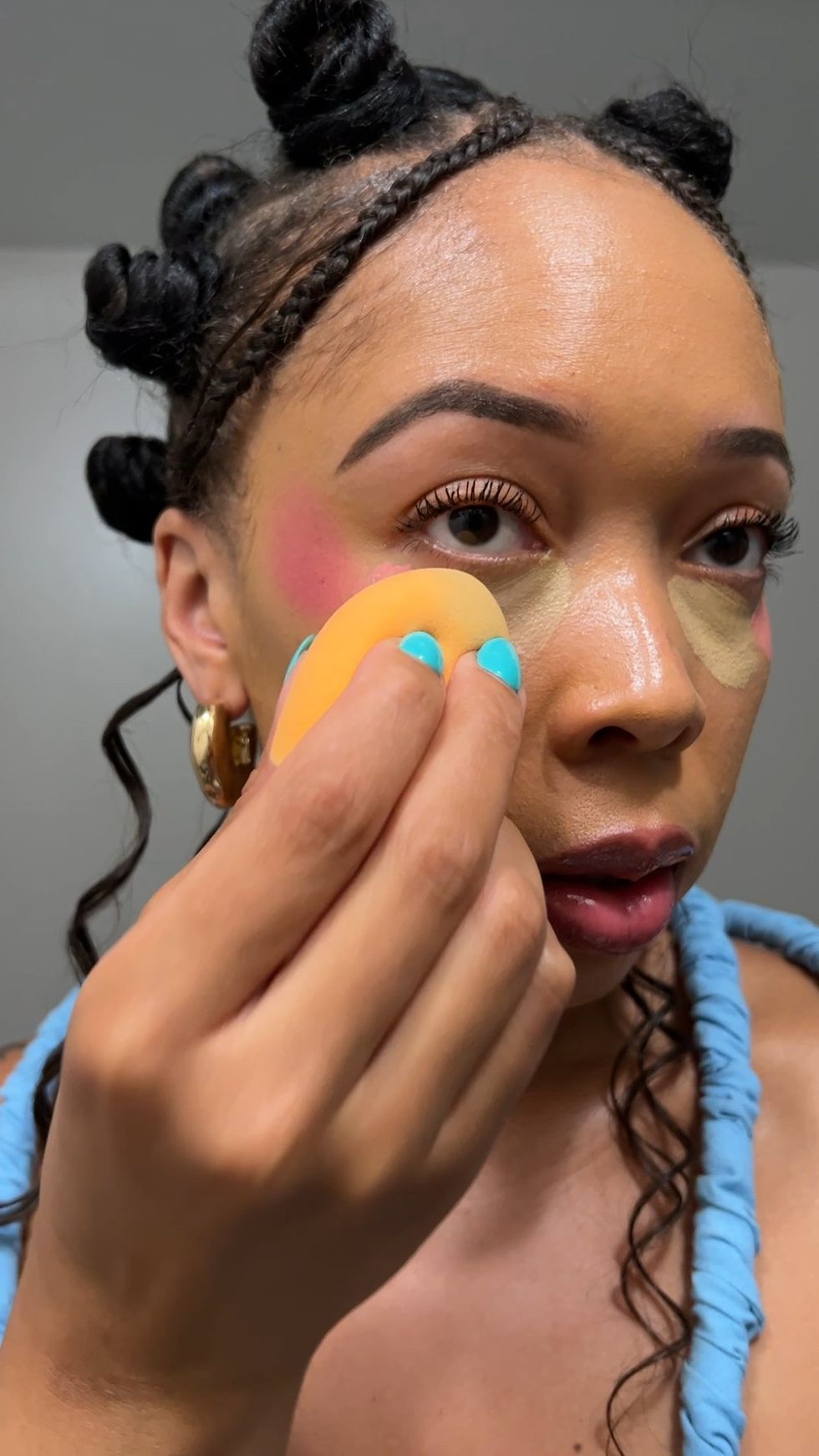 Shahirah Ahmed/xoNecole
Step 5: Setting Powder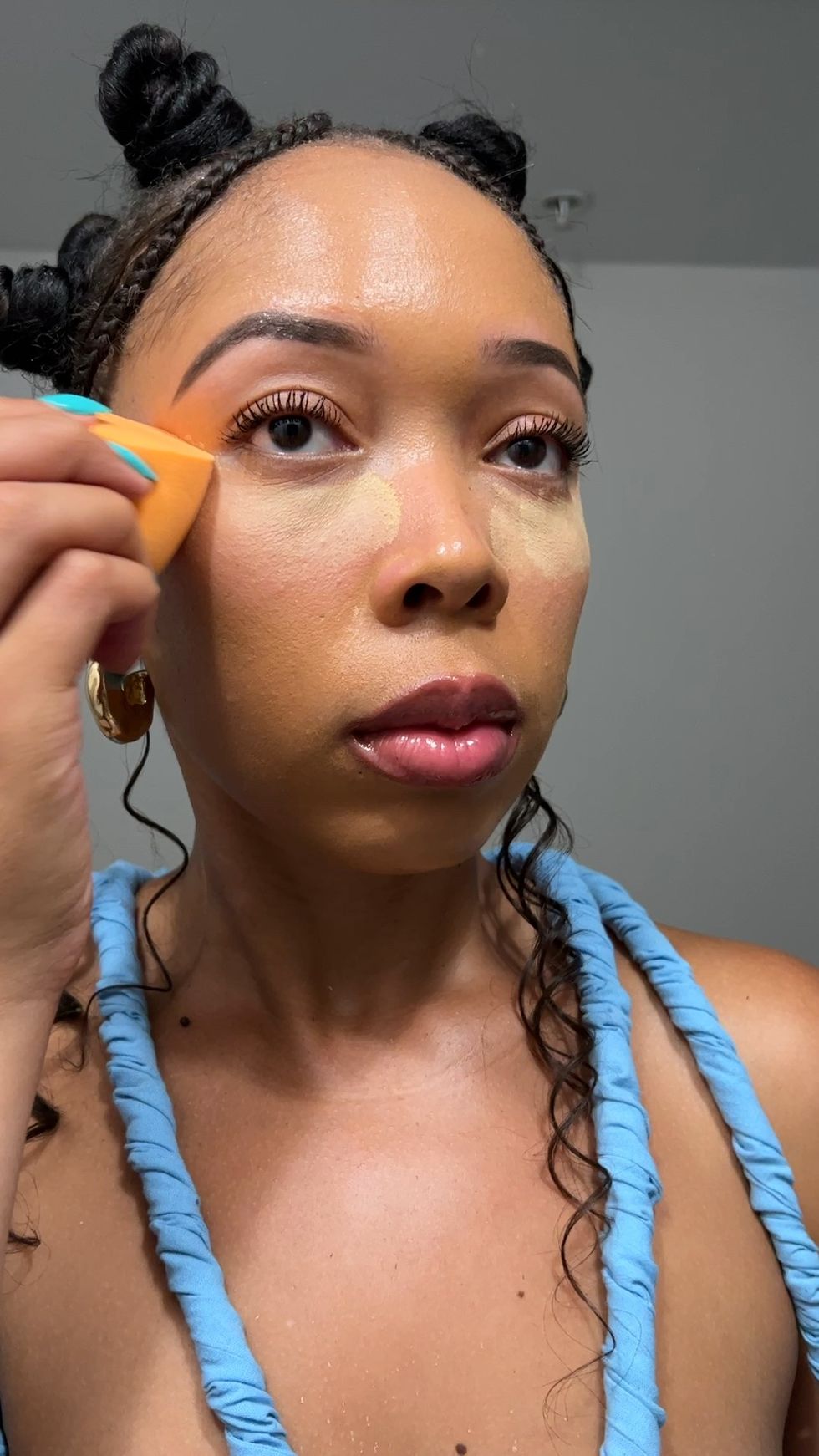 Shahirah Ahmed/xoNecole
Finally, I applied setting powder to set the under-eye makeup, which allows it to last throughout the day by keeping the oil away while also achieving a smooth matte finish. For this step, I also used a Beauty Blender to set the concealer and blush combination.
Final Look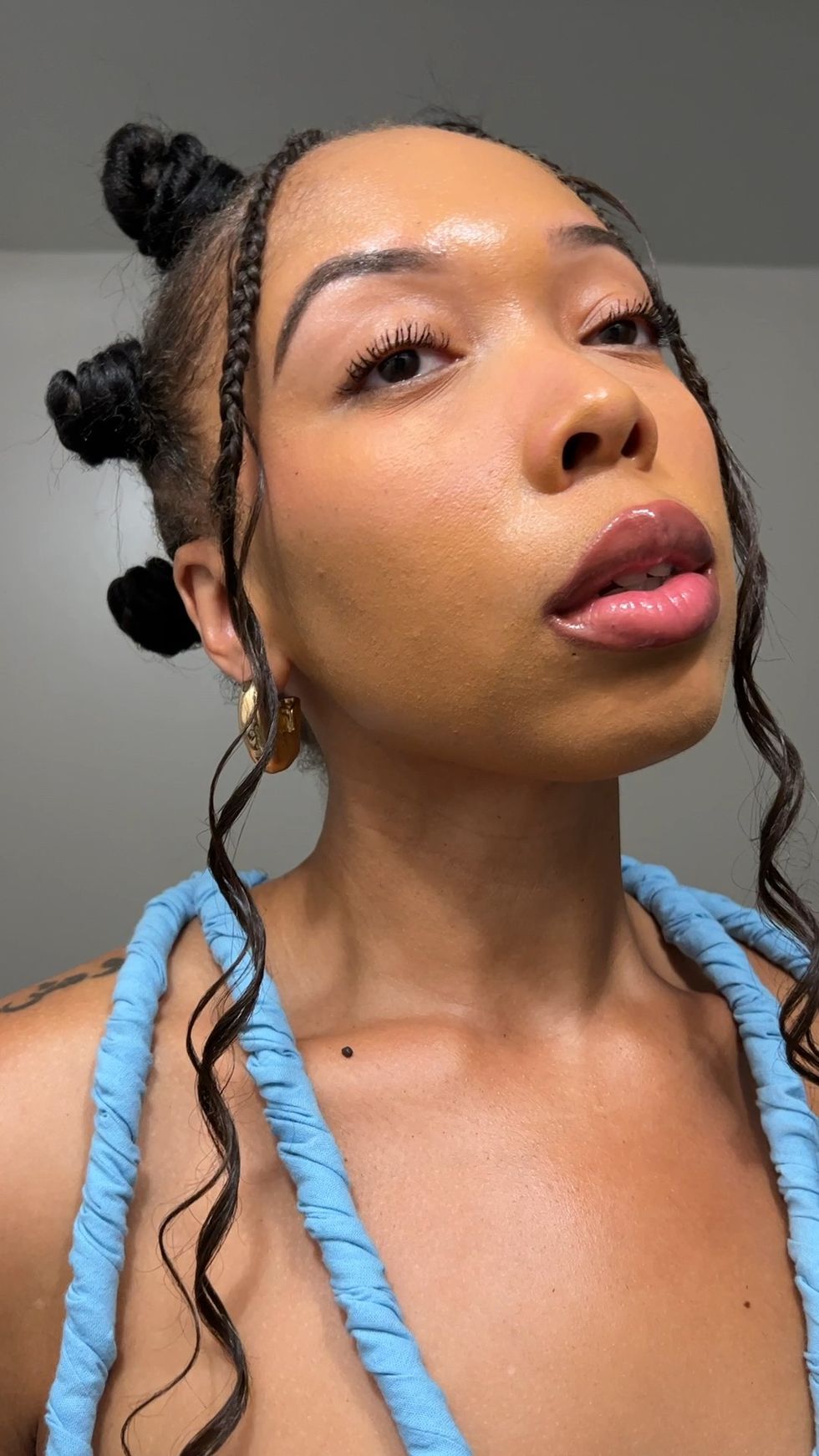 Shahirah Ahmed/xoNecole
Being a natural makeup girly with less is more perspective, I'll definitely try this look again. Finding the right balance of blush, concealer, and setting powder will be the ultimate goal, as this beauty trend is for those who love a subtle approach to their everyday makeup routine.
Layering the perfect pinks without going too bold while also achieving an effortless pigmented look is the key.
Let's make things inbox official! Sign up for the xoNecole newsletter for daily love, wellness, career, and exclusive content delivered straight to your inbox.
Featured image by Shahirah Ahmed/xoNecole
Like most teenage girls, my first acrylic nail set felt like a right of passage. I was 17 years old, and it was the morning of my junior prom. I went with a long square silhouette, a lightly colored base coat topped with swirling white airbrushed designs on each fingernail ---a very early 2000-esque homage. After years of only being allowed to wear press-on nails around the house, I remember sitting in the chair, trying my best to hold in the excitement and anticipation of my first professional full set.
From that moment, I was hooked. Throughout my adult life, I developed a love-hate relationship with visiting the nail salon faithfully every two to three weeks.
After years of acrylic extensions, I began to notice how damaged and brittle my natural nails were becoming in between sets. Once the process became too painful and upkeep seemed to be causing more harm than good, I began to seek alternatives that would allow my real nails to grow healthy, strong, and just as long but without extensions.
One day, a friend came back from Paris raving about her latest experience receiving a hard gel manicure while abroad. After hearing her testimony and seeing how long her natural nails had grown in such a short time, I did more research to learn what exactly went into this gel that she couldn't stop raving about.
Skeptical of the many nail trends and techniques, I became frustrated trying to keep up with the latest innovations, and this seemed to be just another trend. However, fully determined and striving for longer lengths and stronger nails without the awful nail enhancements, I finally decided to give the hard gel a try.
I tried just about everything as an alternative, from gel polish to Gel-X; however, nothing seemed to get the results I was looking for.
After removing my acrylics, I began my natural nail journey with short and brittle nails. Surprisingly, it didn't take long to see major improvements. Within the first 30 days, I saw how fast my nails were growing and how strong they were becoming.
Keep scrolling to see my nail journey from the beginning and why hard gel has convinced me to leave nail extensions in the past for good.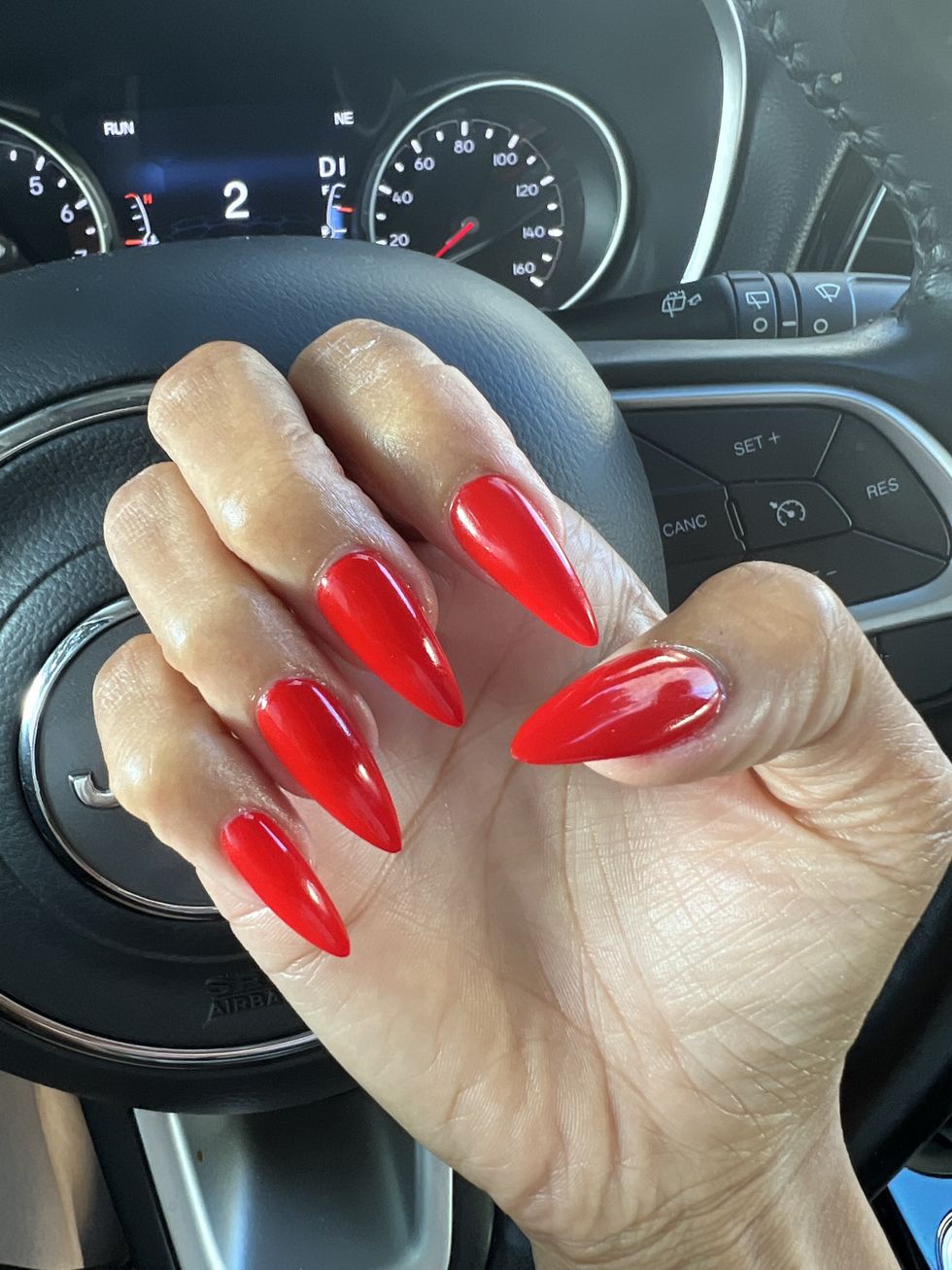 Acrylic Nails - July 2022
Courtesy of Shahirah Ahmed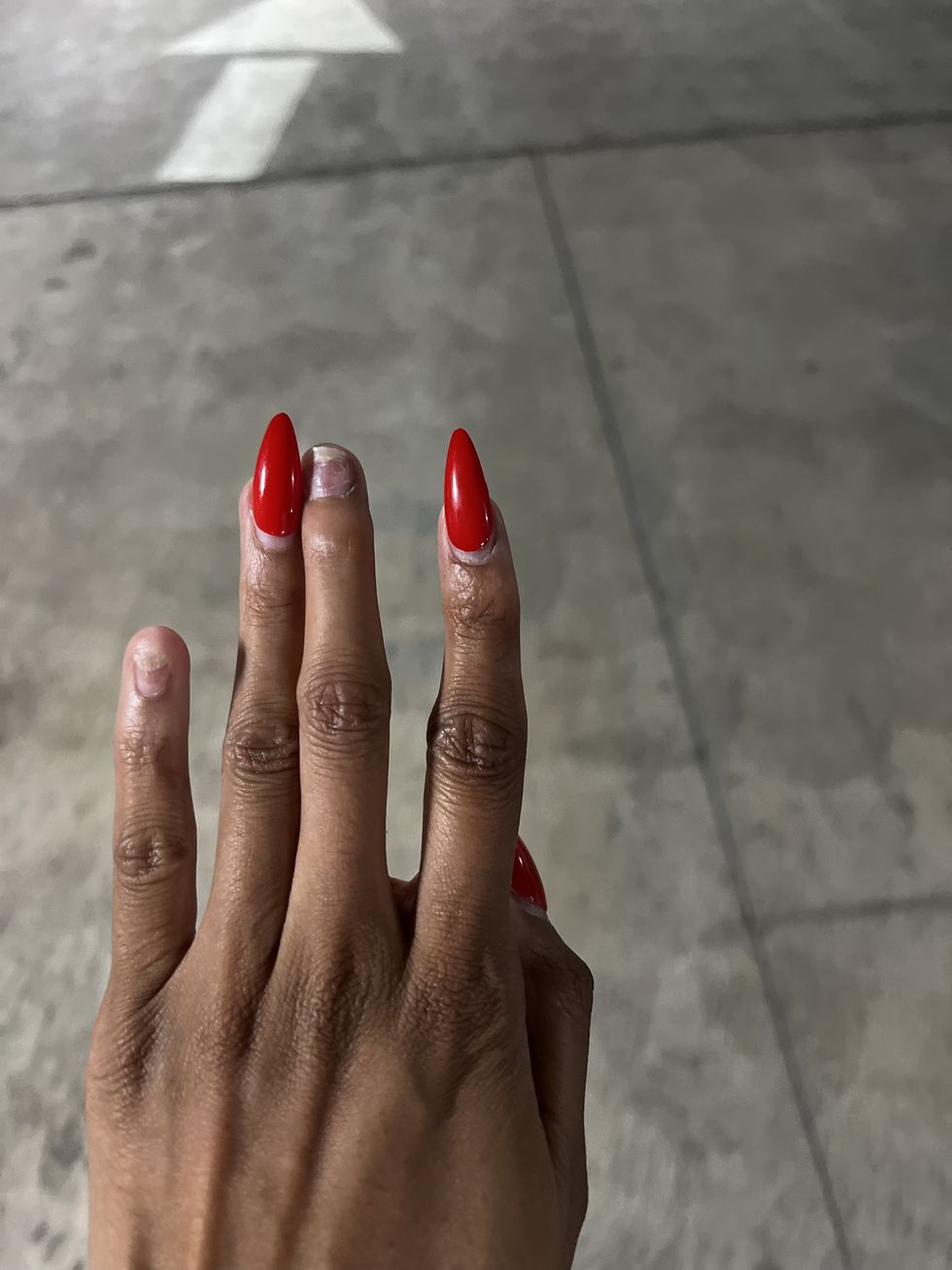 Courtesy of Shahirah Ahmed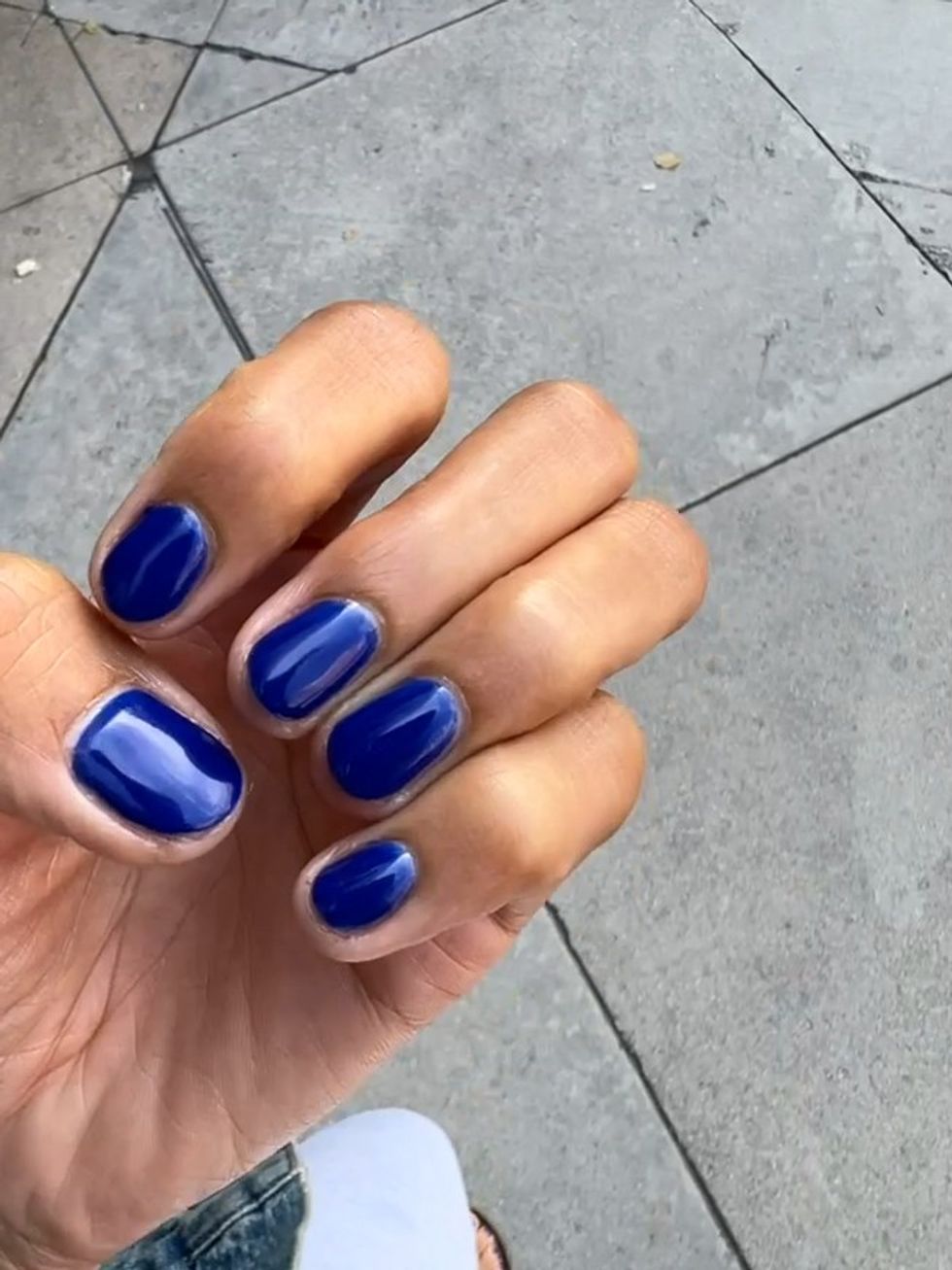 Hard Gel Manicure - February 2023
Courtesy of Shahirah Ahmed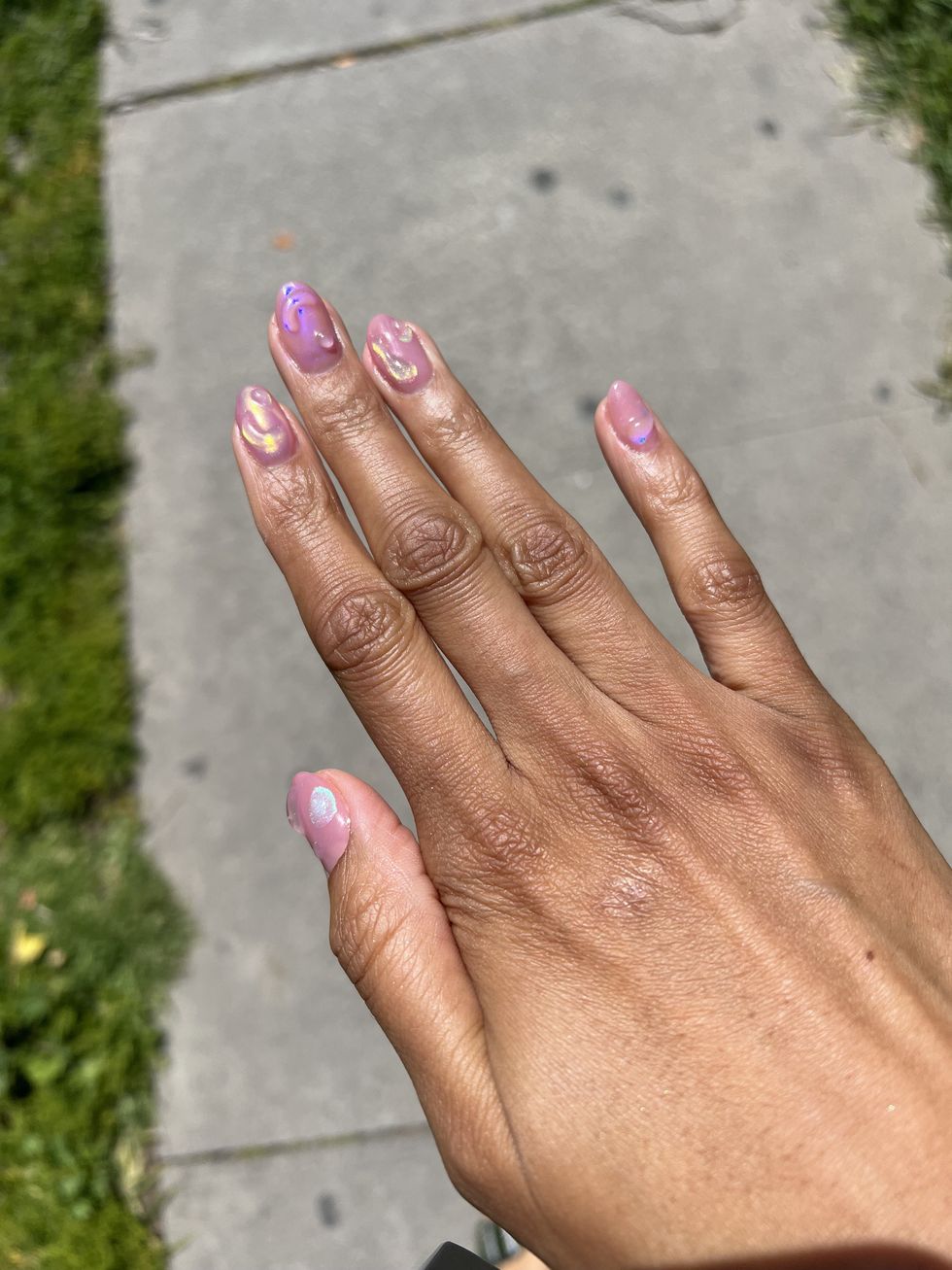 Hard Gel Manicure - March 2023
Courtesy of Shahirah Ahmed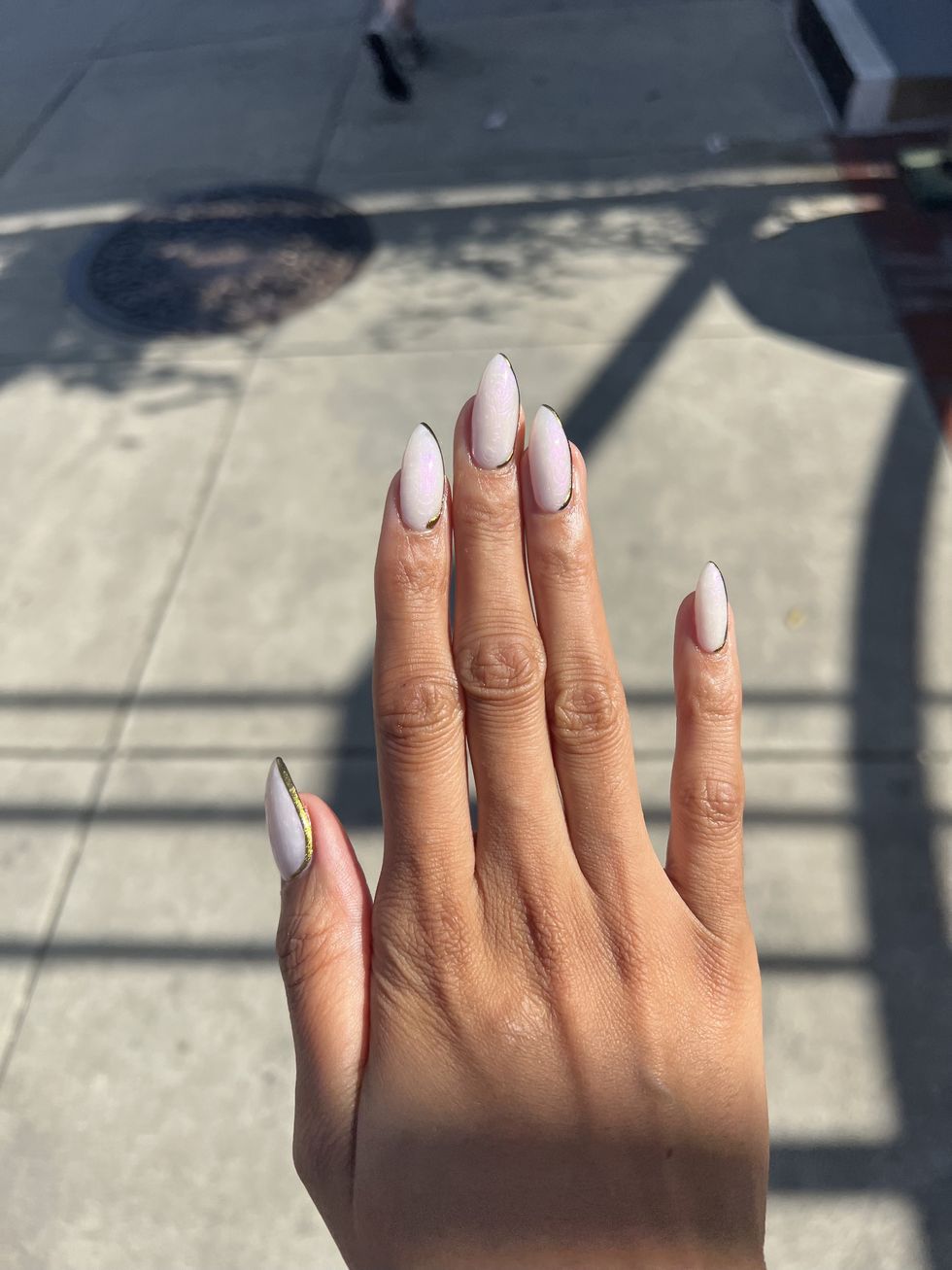 Hard Gel Manicure - April 2023
Courtesy of Shahirah Ahmed
What Is Hard Gel?
Also known as builder gel, hard gel can be used to deliver a protective coating to cover the natural nails, making them feel harder, stronger, and more flexible. This innovative nail enhancement can be molded, shaped, and refilled by being cured or hardened in a UV light rather than through evaporating solvents like acrylic. Hard gel is not gel polish, shellac, soft gel, or soak-off gel; however, you can put gel polish over hard gel for a nice finish and designs if you're feeling fancy.
Along with more strength and durability, the hard gel is excellent at protecting natural nails, making them less likely to break or crack over time.
According to nailpro.com, hard gel is an acrylic alternative, and you can use hard gel to overlay natural nails, sculpt extensions and repair broken nails. The site also suggests hard gel is perfect for clients who are transitioning from acrylic, who want to strengthen their natural nails, or who have weak and brittle nails that need more support and structure. Also, if you are removing acrylic, hard gel is the best product to provide more support as you transition.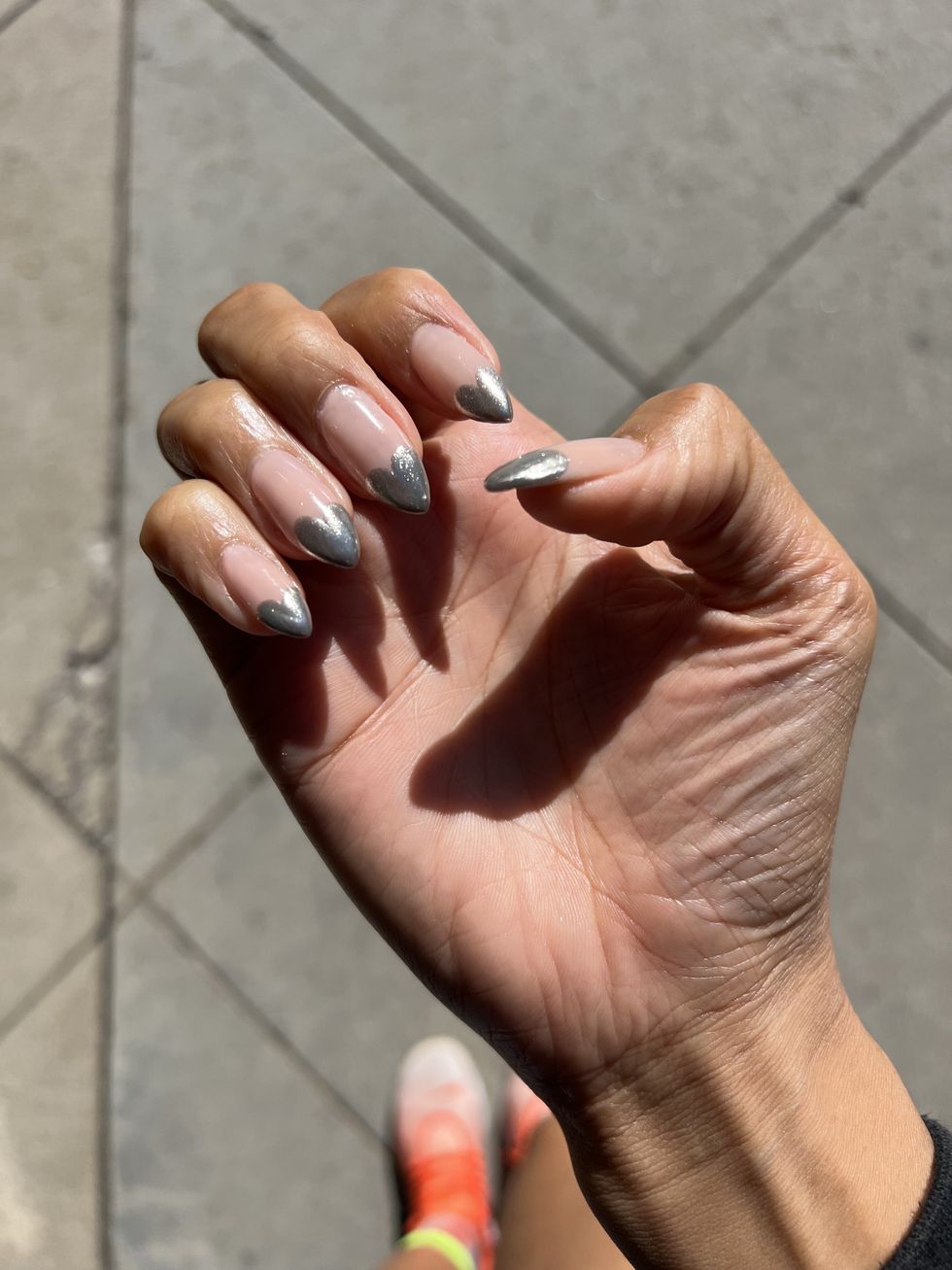 Hard Gel - June 2023
Courtesy of Shahirah Ahmed
The Benefits of Hard Gel
What I love most about the application of hard gel is how quickly I'm in and out of the salon chair. A method that takes about an hour from start to finish, it's extremely quick compared to the time it takes to apply acrylic. Another bonus of hard gel is that you can fill it in, just like you would acrylic, which is ideal for those of us who rather not soak off our nails every service. Unlike many gel methods, hard gel cannot be taken off by acetone which is one reason it's so durable and why its properties help protect the natural nail.
As previously mentioned, this is also a good service for those who want to grow their natural nails to longer lengths while keeping them strong and healthy, which is why I personally made the switch. Long, healthy natural nails are definitely a flex. Along with efficiency and time, hard gel is also more cost-effective, starting at $70---cheaper than a full set of acrylic nails.
I'm also not booking nail appointments every two weeks because hard gel can last up to six weeks without needing a fill or even getting a chip.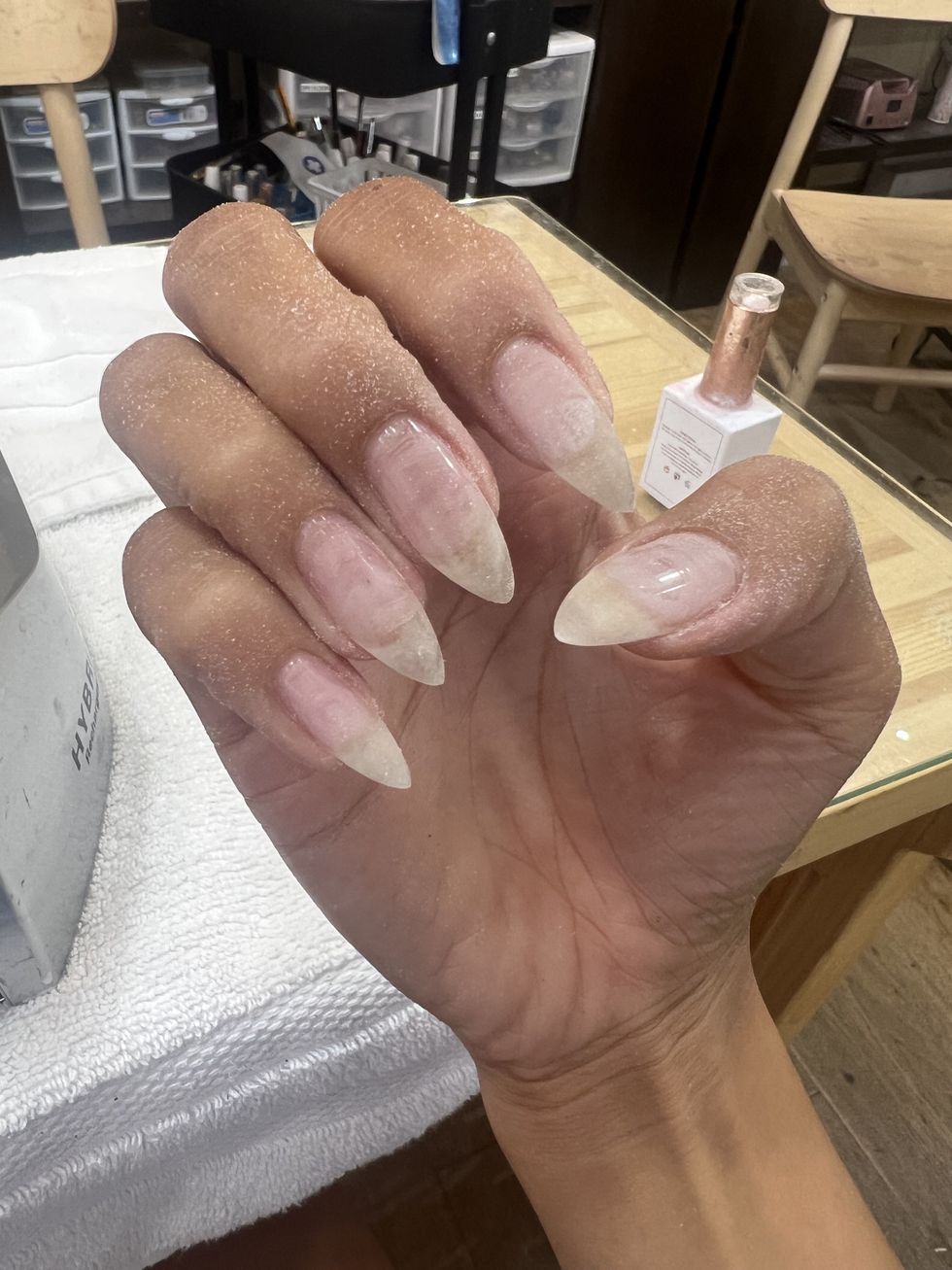 Healthy Nails - July 2023
Courtesy of Shahirah Ahmed
With patience and determination, my nails have achieved my wildest dreams. A year later, my nails are now at a length I thought was only achievable with artificial enhancements, and I couldn't be happier. Hard gel has become a staple in my self-care routine, and I don't plan to give it up any time soon.

Let's make things inbox official! Sign up for the xoNecole newsletter for daily love, wellness, career, and exclusive content delivered straight to your inbox.
Featured image by Pavlina Popovska/Getty Images
Every year the lure of a European summer draws me in with temptations of an Aperol spritz on the shores of the swankiest of beaches or sipping poolside on the rooftop of a trendy boutique hotel. This year, I decided to book a two-week vacation galavanting around Europe from London to Paris, with a few stops in Spain.
Jet setting from city to city may sound like the picture-perfect holiday in theory. However, it took more time to lock down my outfits than it did to plan my day-to-day itinerary. With such a long trip, dragging multiple suitcases around Europe was completely opposite of the romantic fantasy I envisioned for myself.
My goal? To blend in with the European aesthetic while also standing out in my own unique way. With perfectly warm temperatures along with stunning historical architecture, it was the perfect opportunity to shop for new clothes to fit my new surroundings. From neutral tones, lightweight trousers, bikinis, and chic accessories, these were items I could easily fit into a checked bag while also rotating between looks without a complete outfit repeat.
Whether packing for an upcoming trip or adding to your 2024 mood board, I'm here to ease your stress with a quick guide and outfit inspiration to living a stylish life while on your next European vacation.
What To Wear: 72 Hours in Paris
A Classic Blazer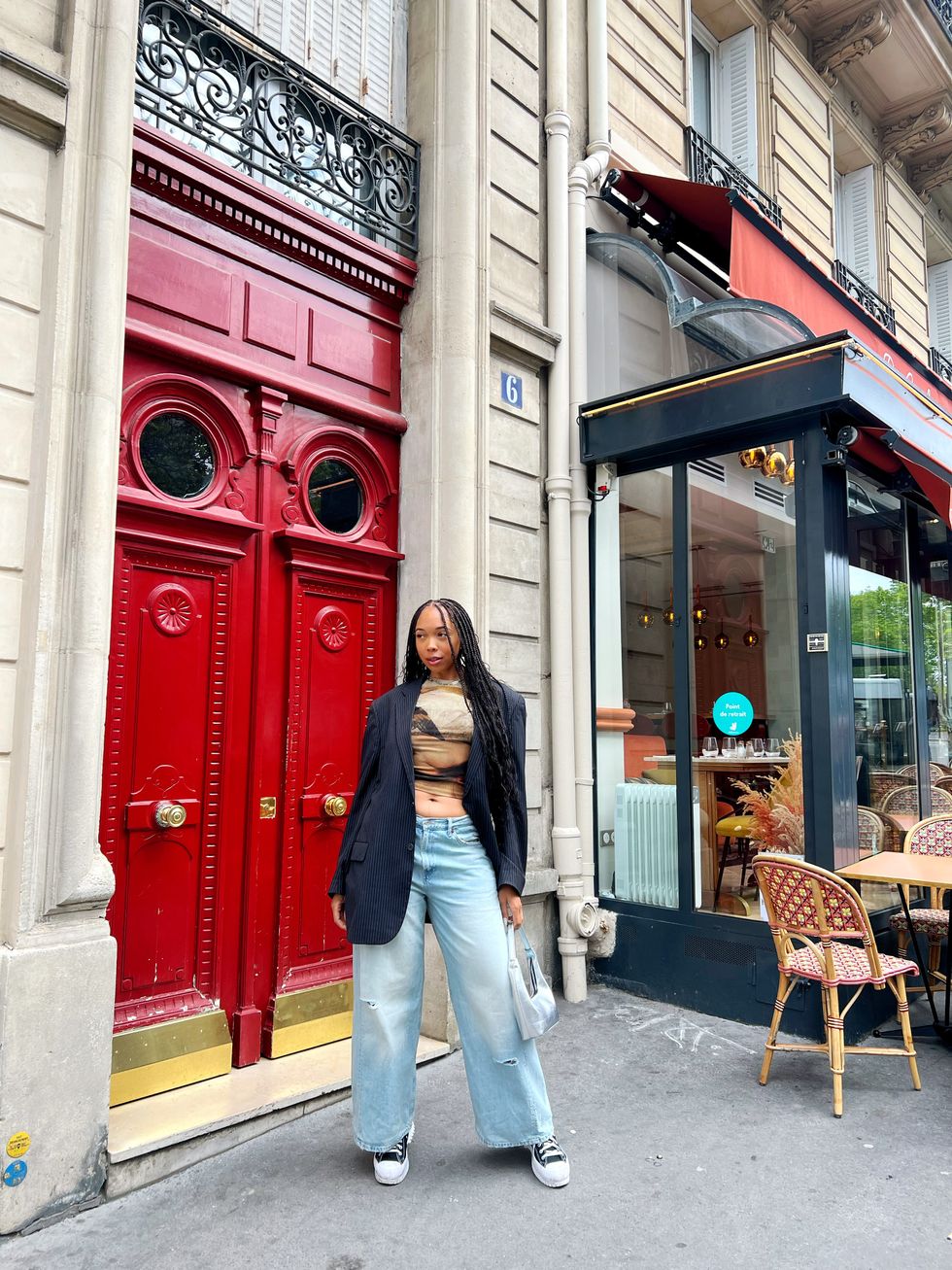 Shahirah Ahmed/xoNecole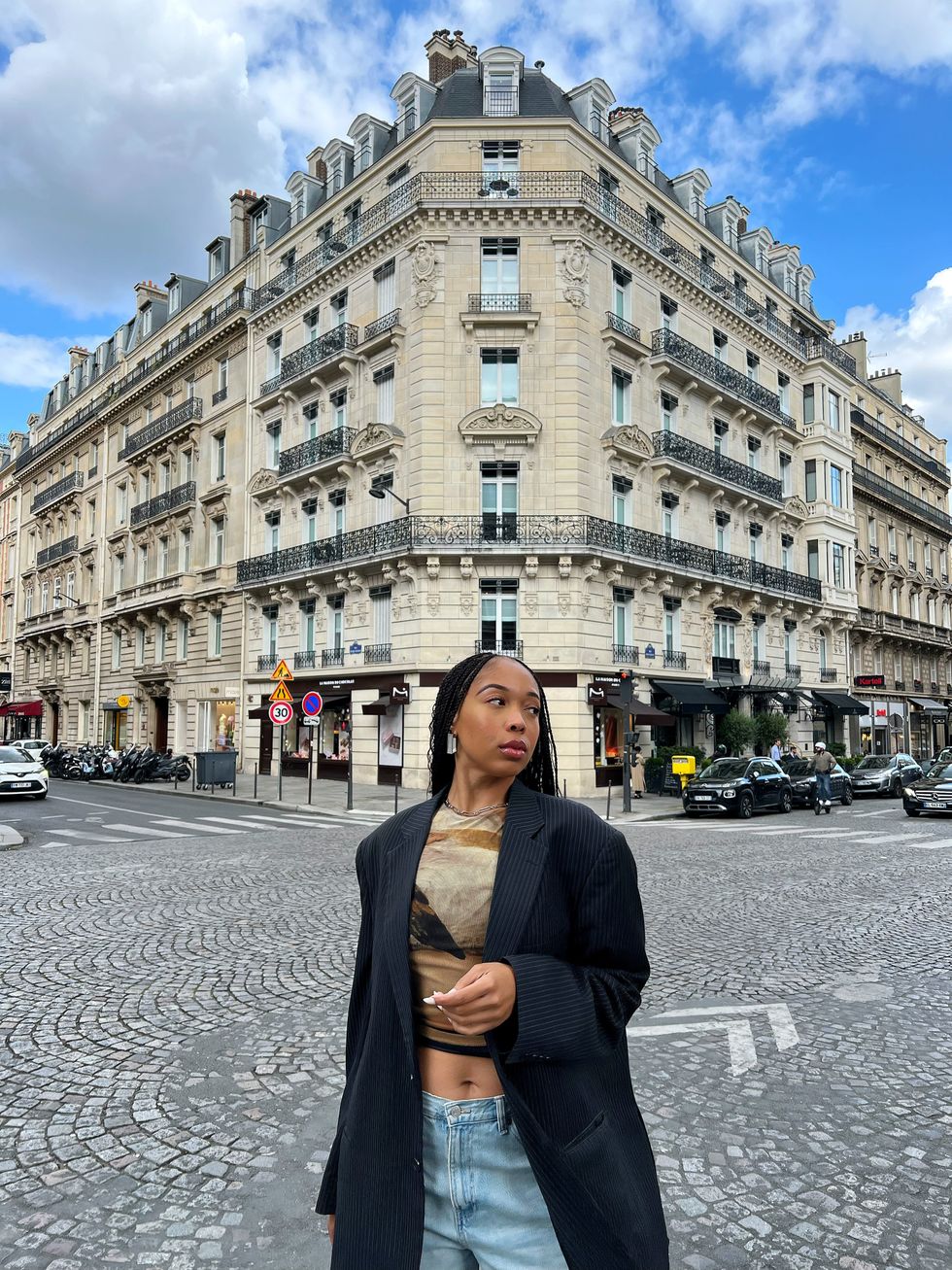 Shahirah Ahmed/xoNecole
There's an effortlessly casual nature about The City of Light with chic undertones that I instantly wanted to be a part of. On day one, I went with a pinstripe blazer paired with wide-leg distressed denim jeans and casual sneakers for a day of sightseeing. Perfect from day to night, a dark oversized blazer is a great choice for a variety of looks.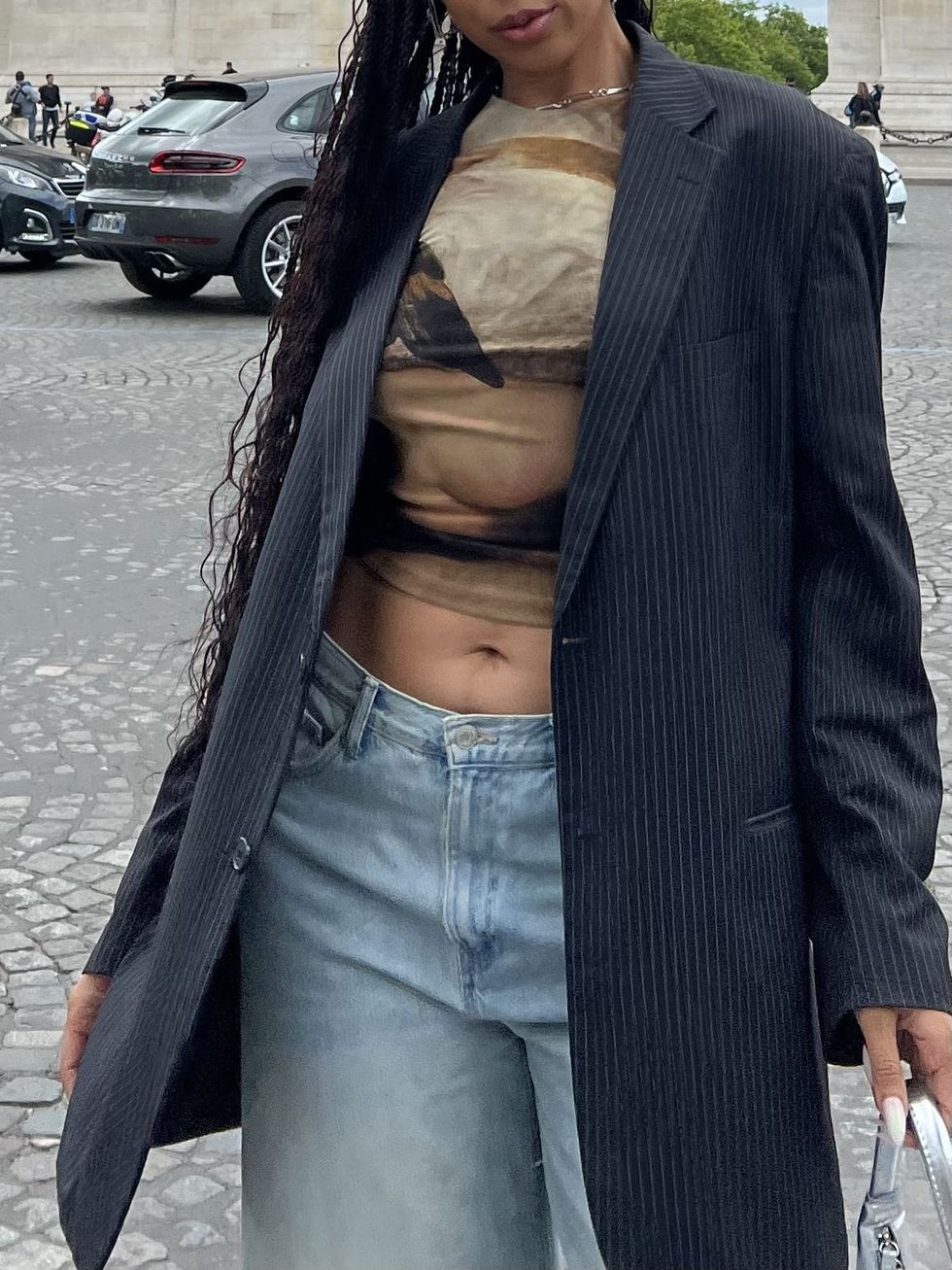 Shahirah Ahmed/xoNecole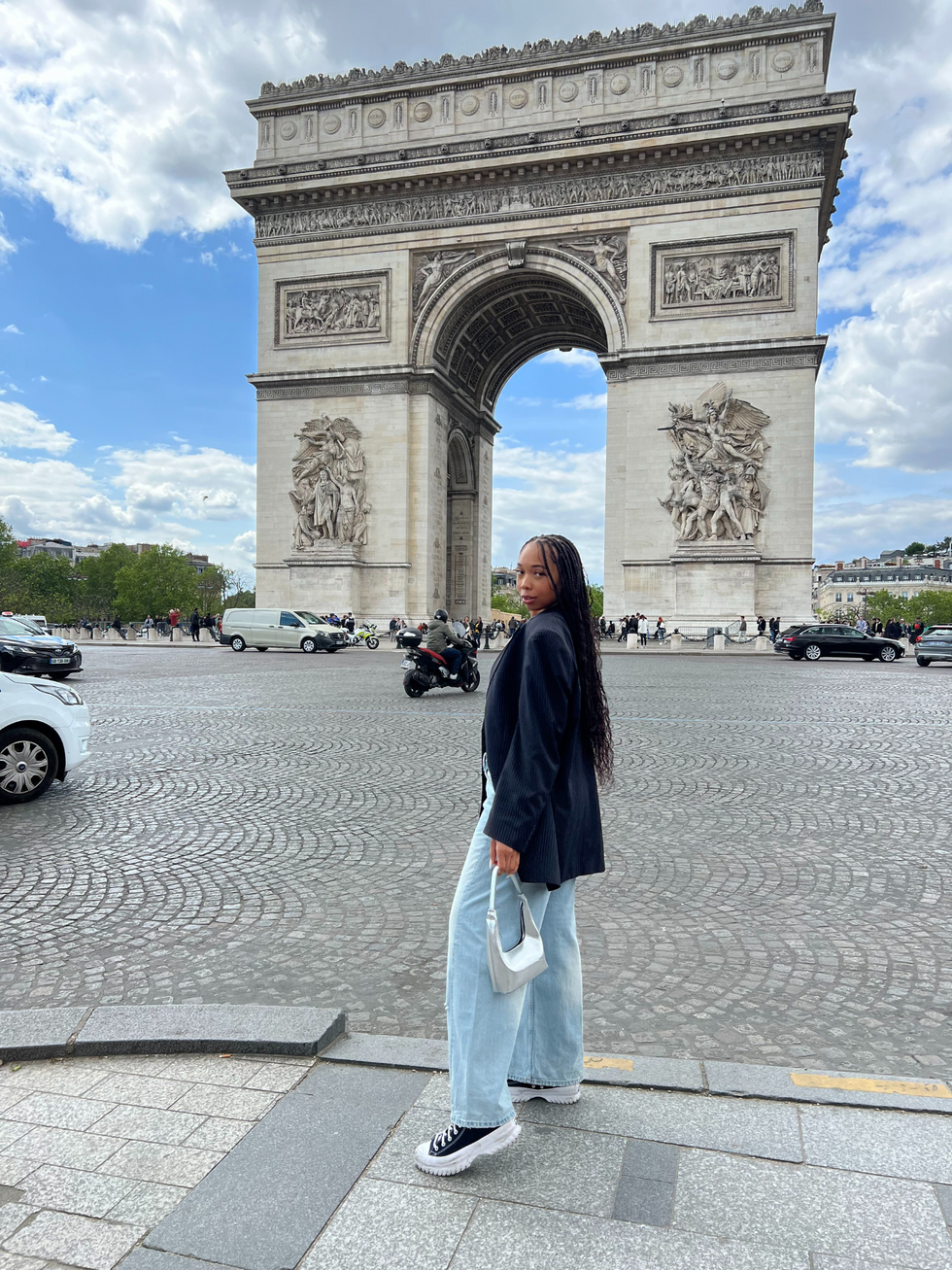 Shahirah Ahmed/xoNecole
The Denim Maxi Skirt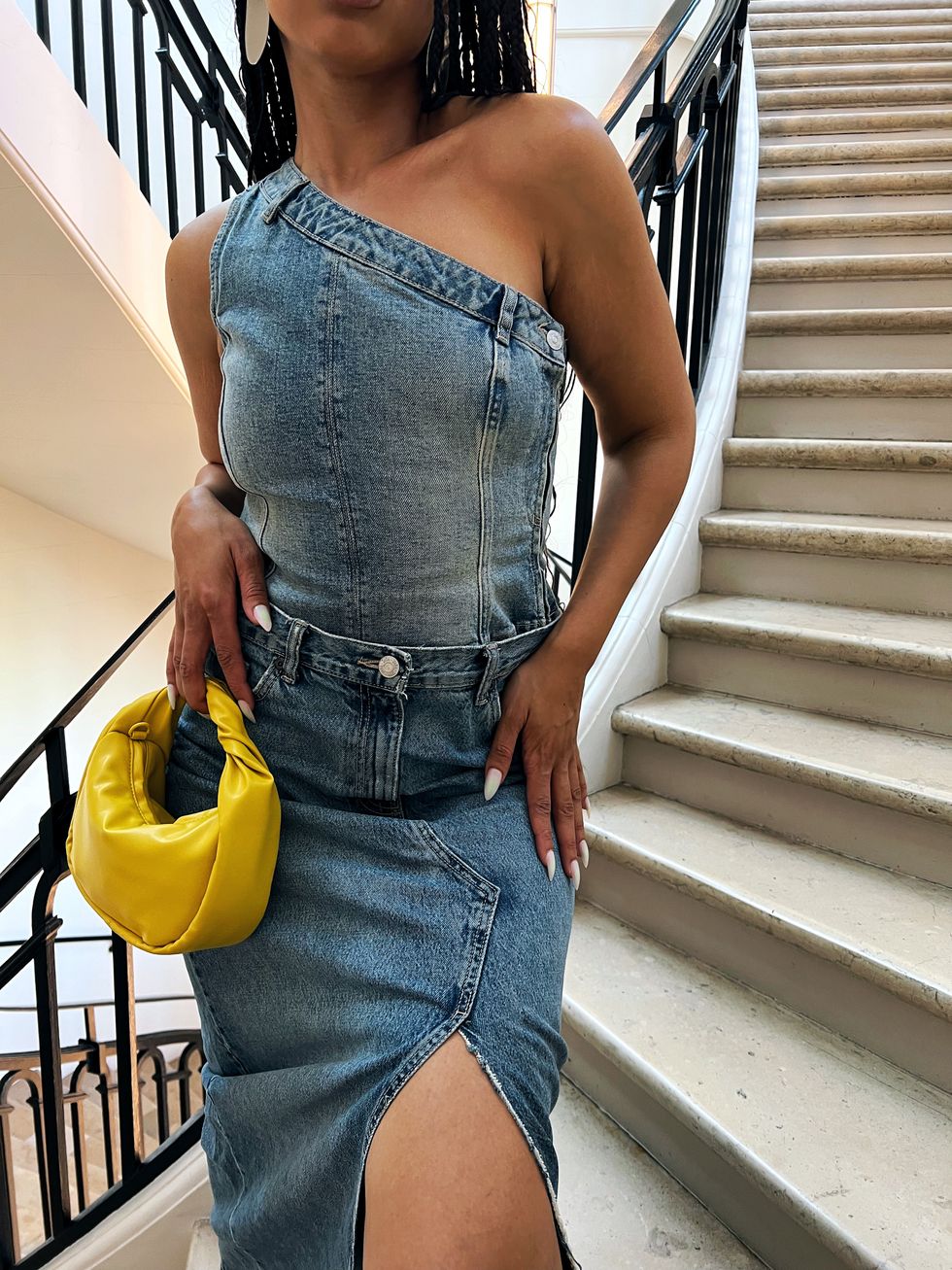 Shahirah Ahmed/xoNecole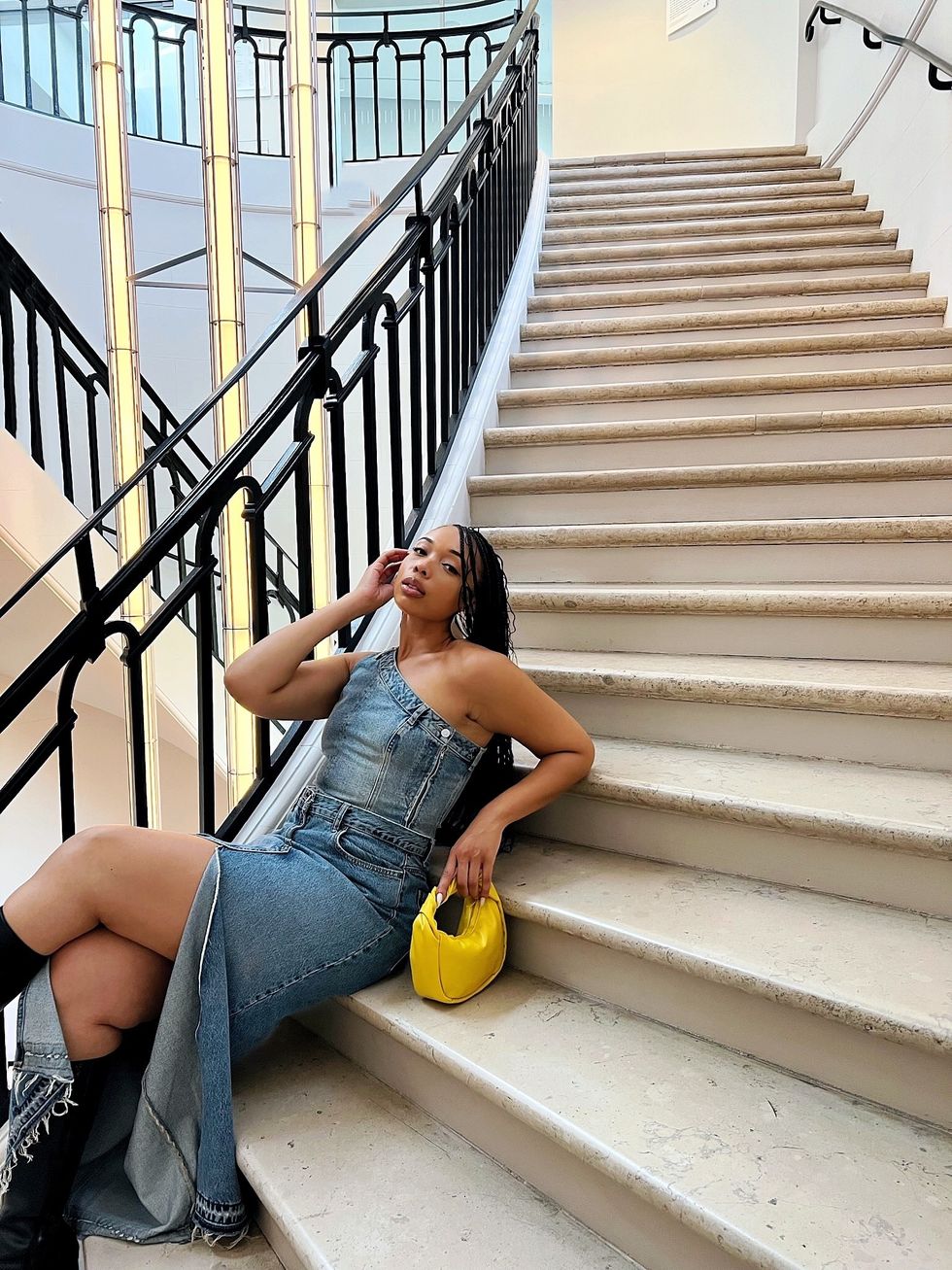 Shahirah Ahmed/xoNecole
I couldn't travel to Europe without a few of my favorite denim pieces. Pairing a maxi denim skirt with a matching one-shoulder denim top gave the appearance of a denim dress ultimately, which allowed me to break up each piece to wear on two other occasions throughout my trip.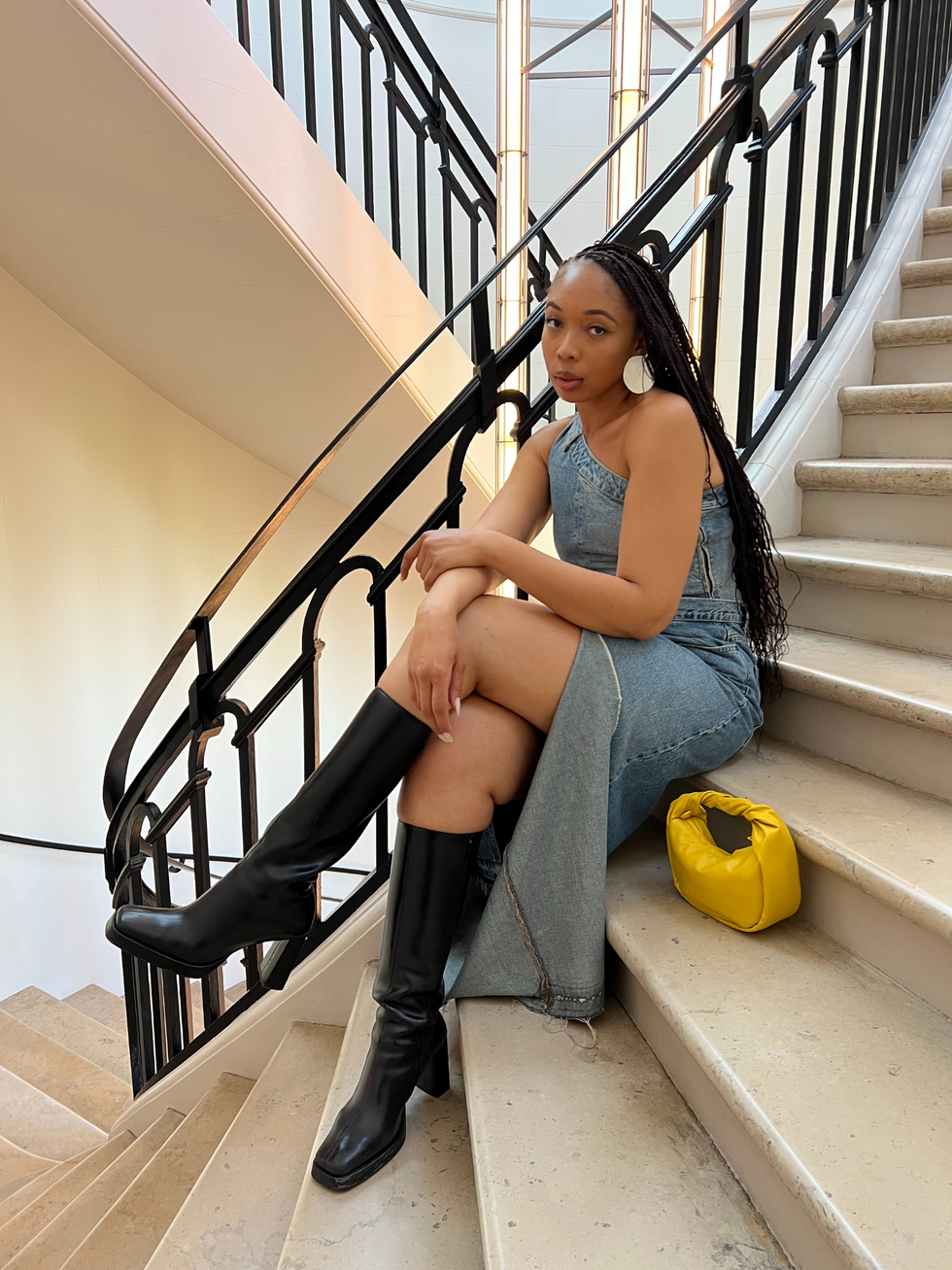 Shahirah Ahmed/xoNecole
A Necktie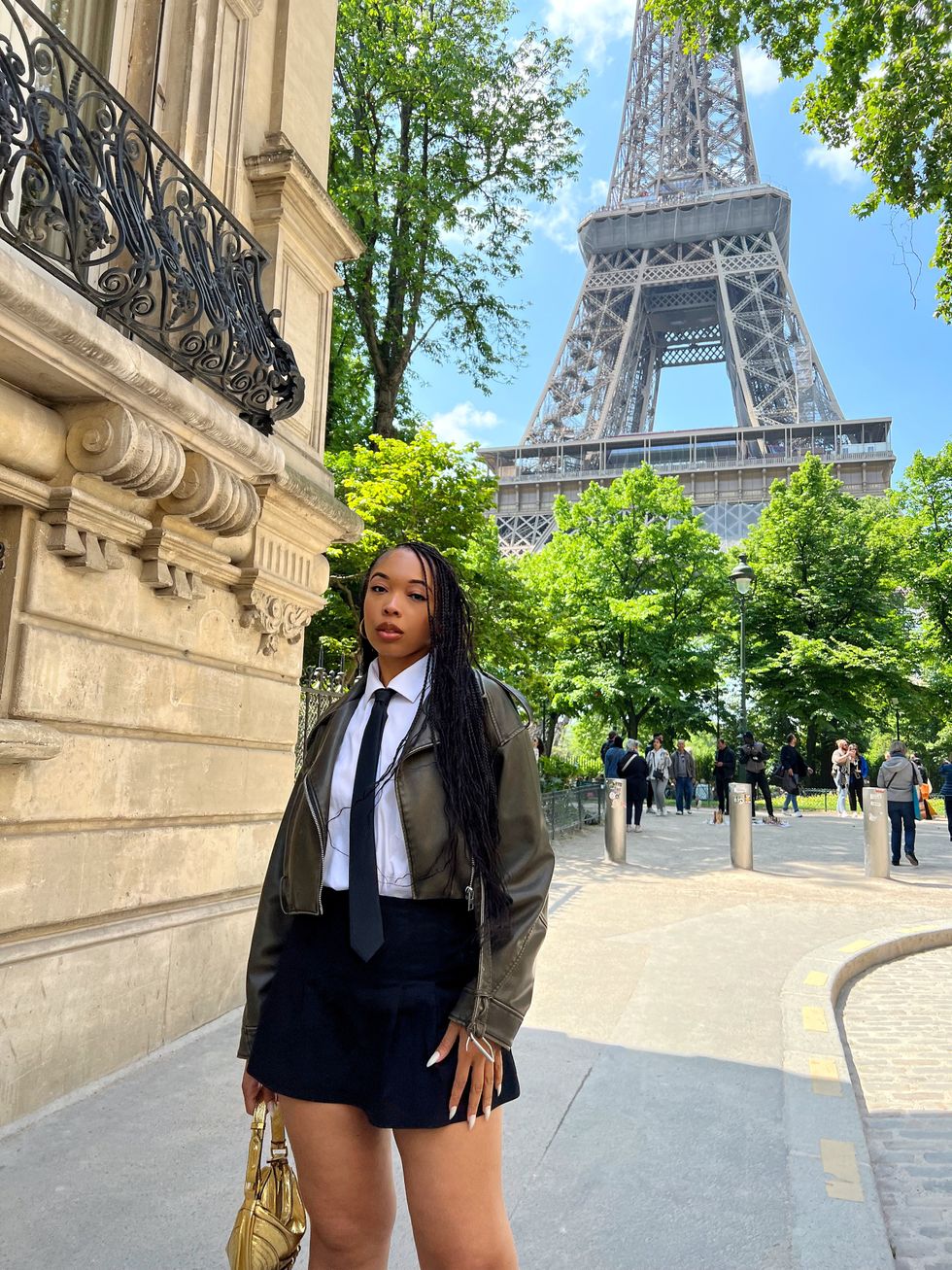 Shahirah Ahmed/xoNecole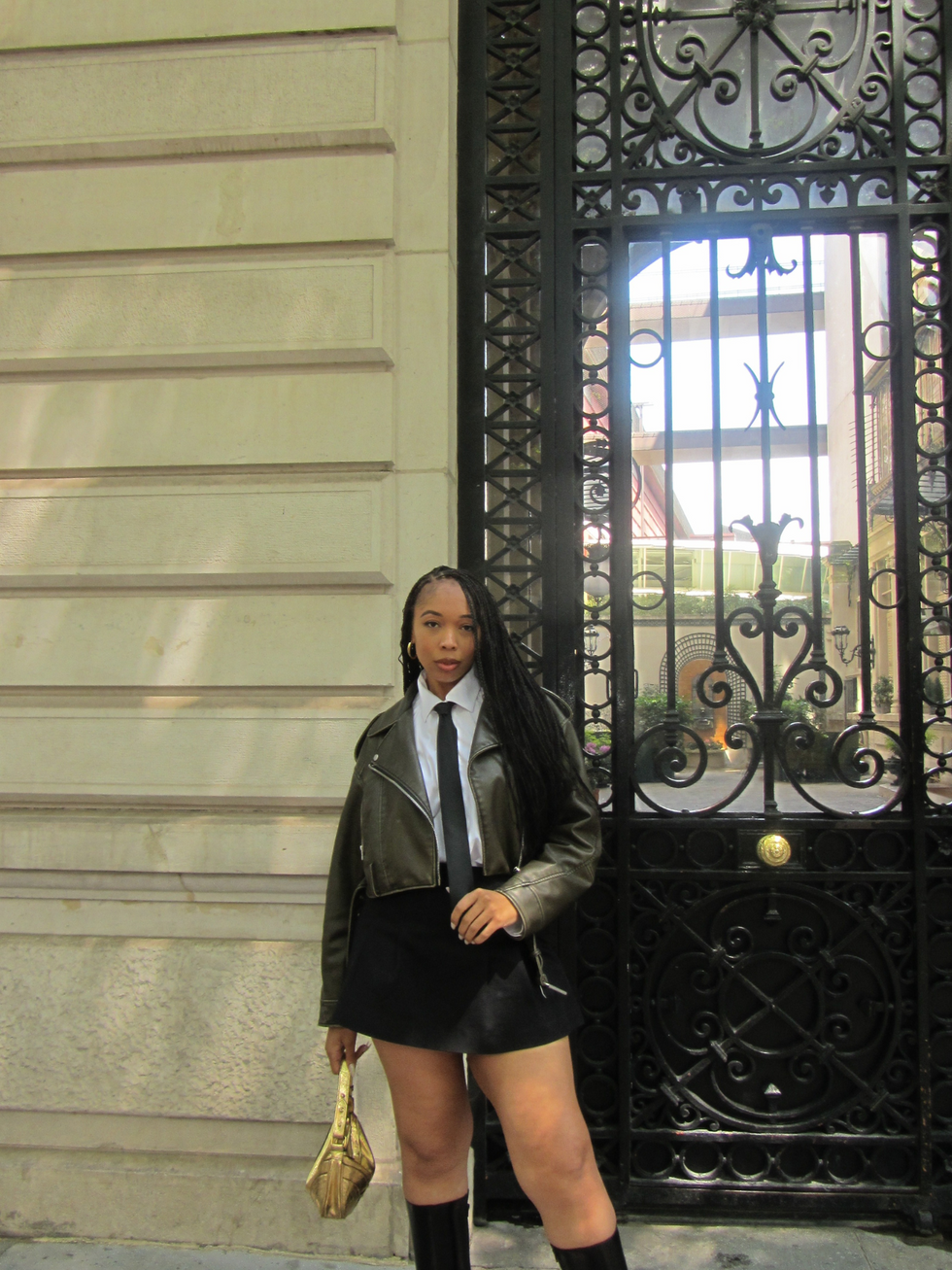 Shahirah Ahmed/xoNecole
Incorporating menswear can be a cool addition to a women's look. Recently black neckties have taken on a unisex appeal within the spring/summer streetwear scene, and I couldn't wait to wear one of my own. In true Parisian fashion, I kept my tones neutral for a sleek look with a pop of gold metallic.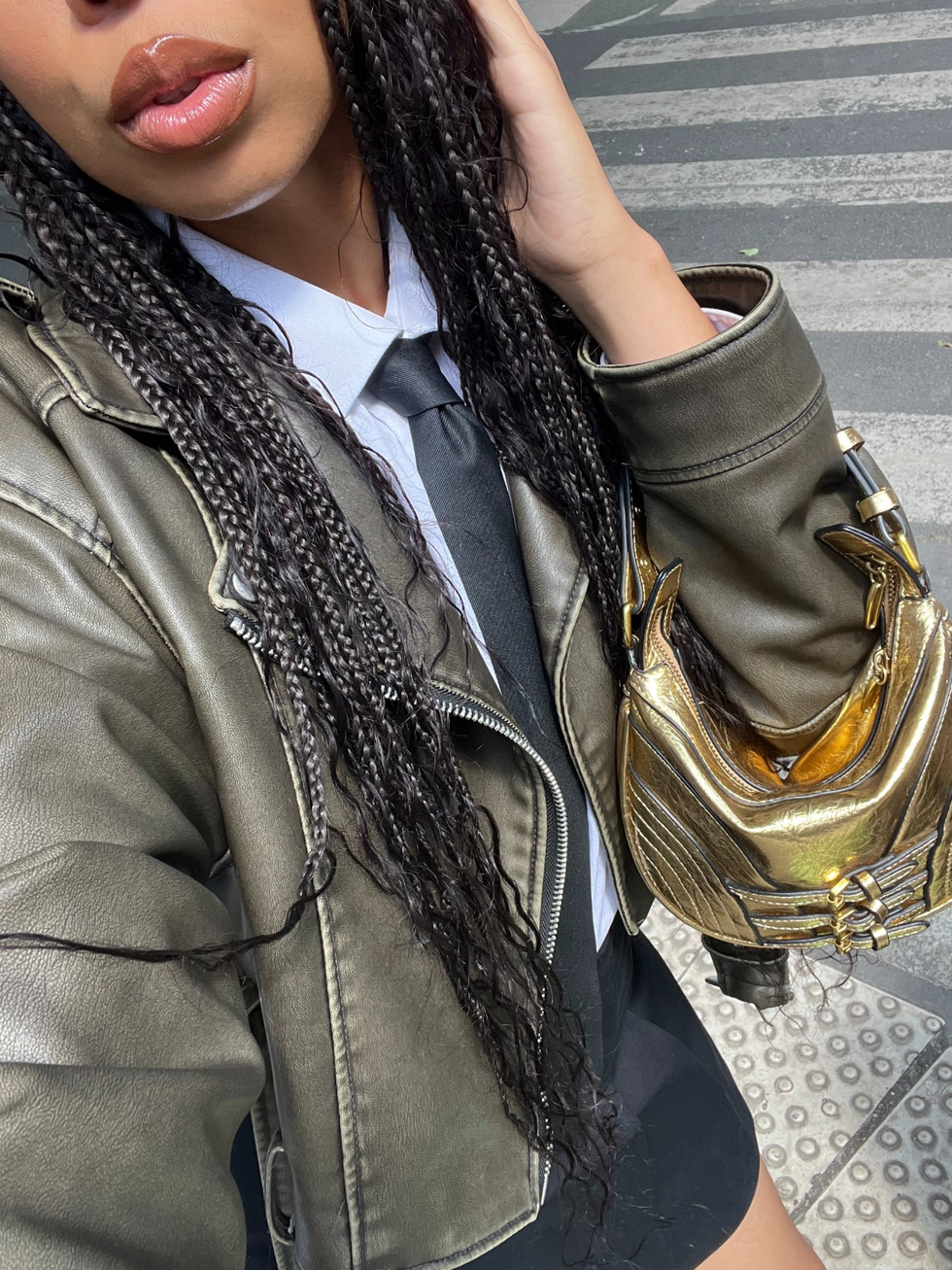 Shahirah Ahmed/xoNecole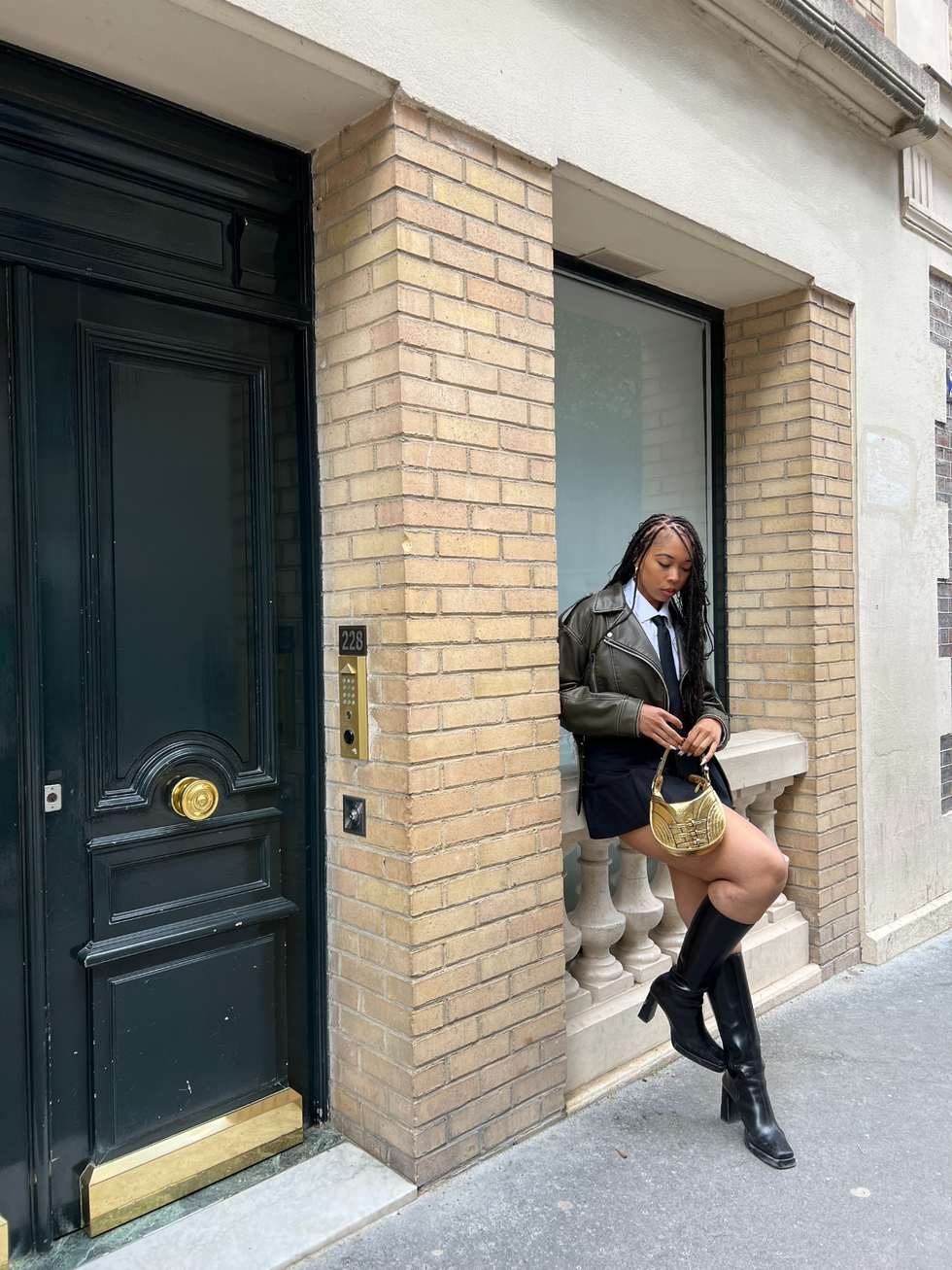 Shahirah Ahmed/xoNecole
​What To Wear: Views From Mallorca
Linen Trousers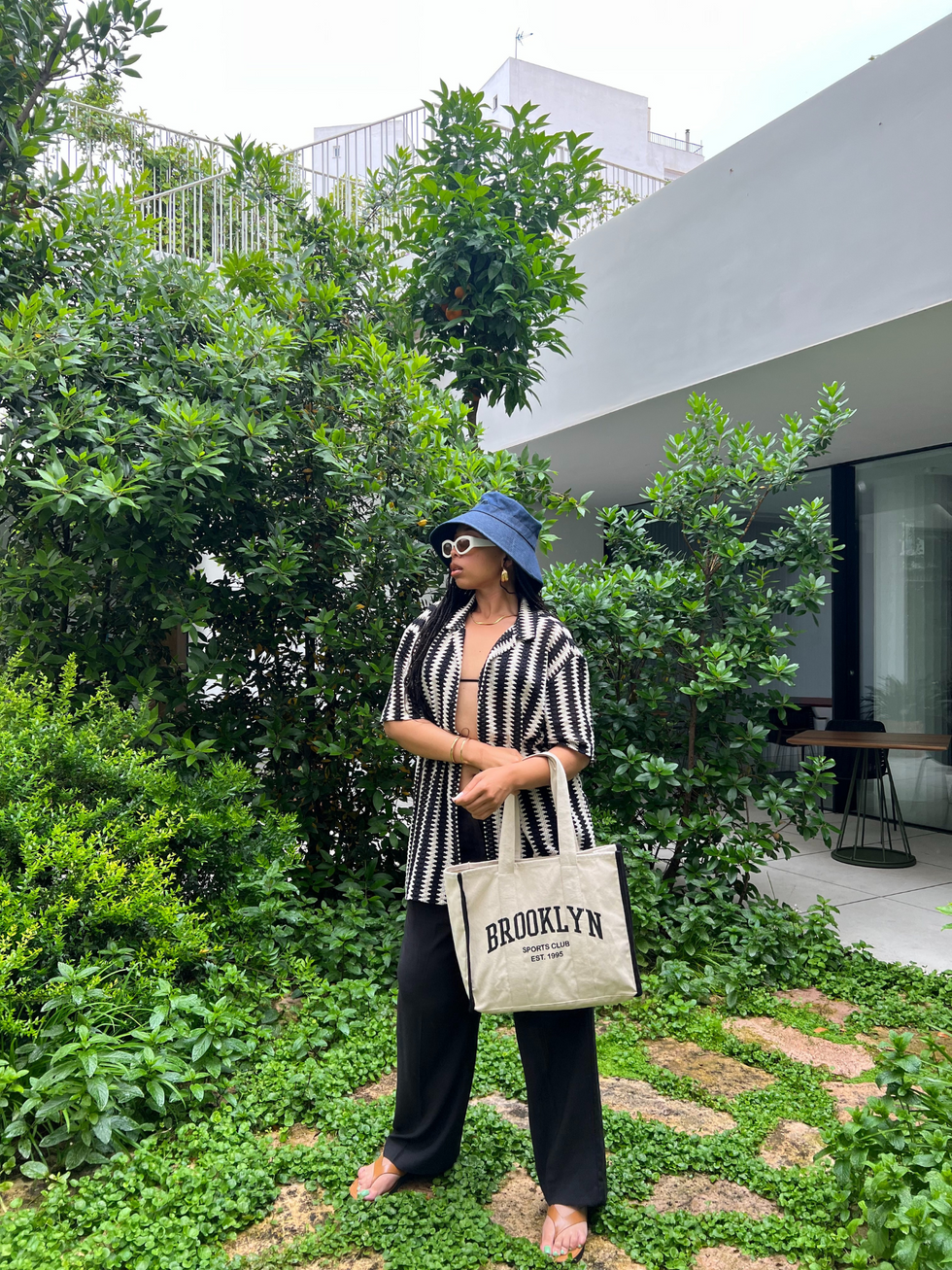 Shahirah Ahmed/xoNecole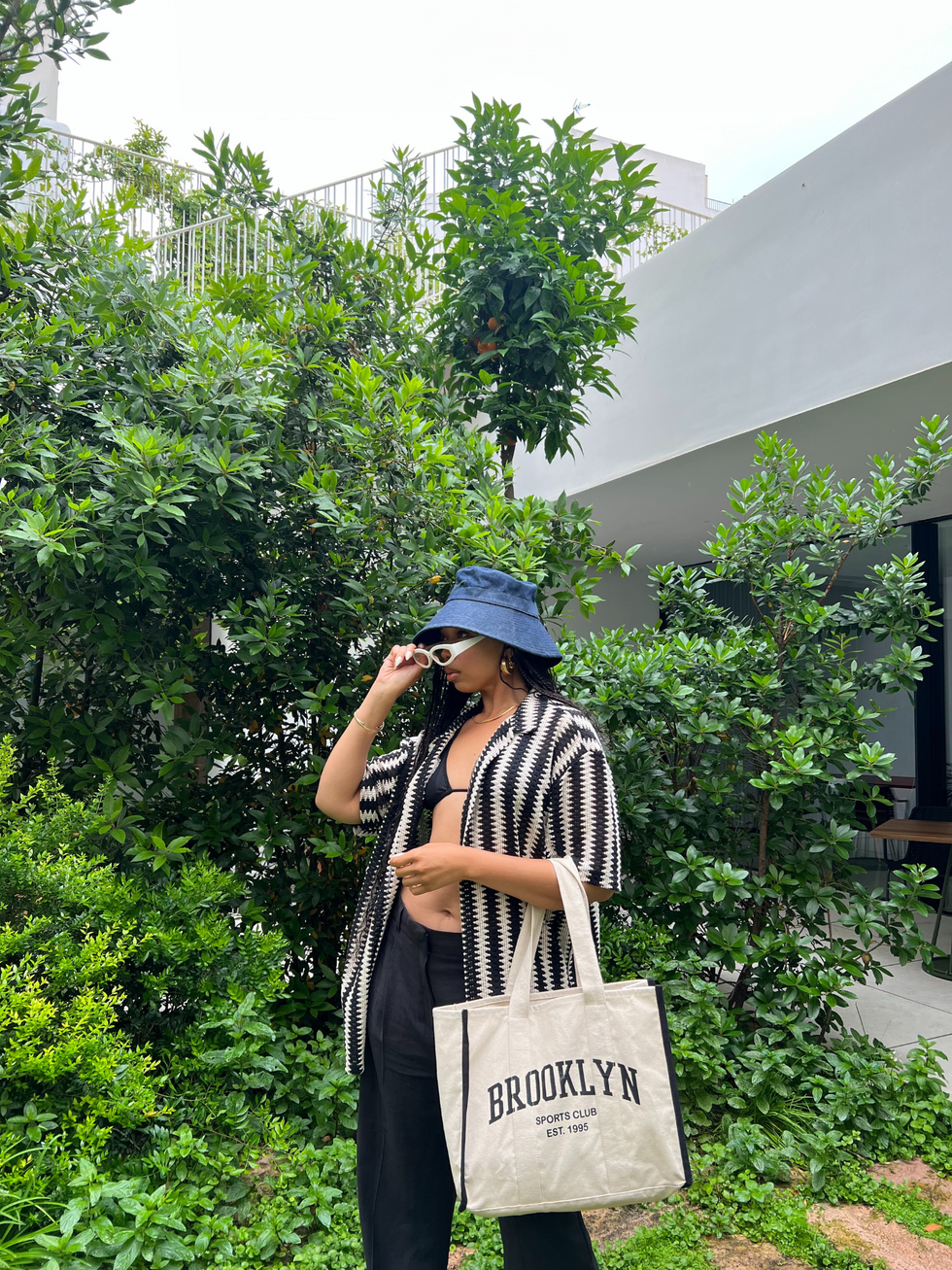 Shahirah Ahmed/xoNecole
There's only one requirement when traveling to a warm European destination: lightweight fabrics. A fun play on textures and patterns, I paired a men's cream and black knit top worn as a cover-up early in the day, ultimately transitioning my look with a pair of trousers for an evening walk around the city. Linen pants are my favorite this time of year because of their versatility and feel.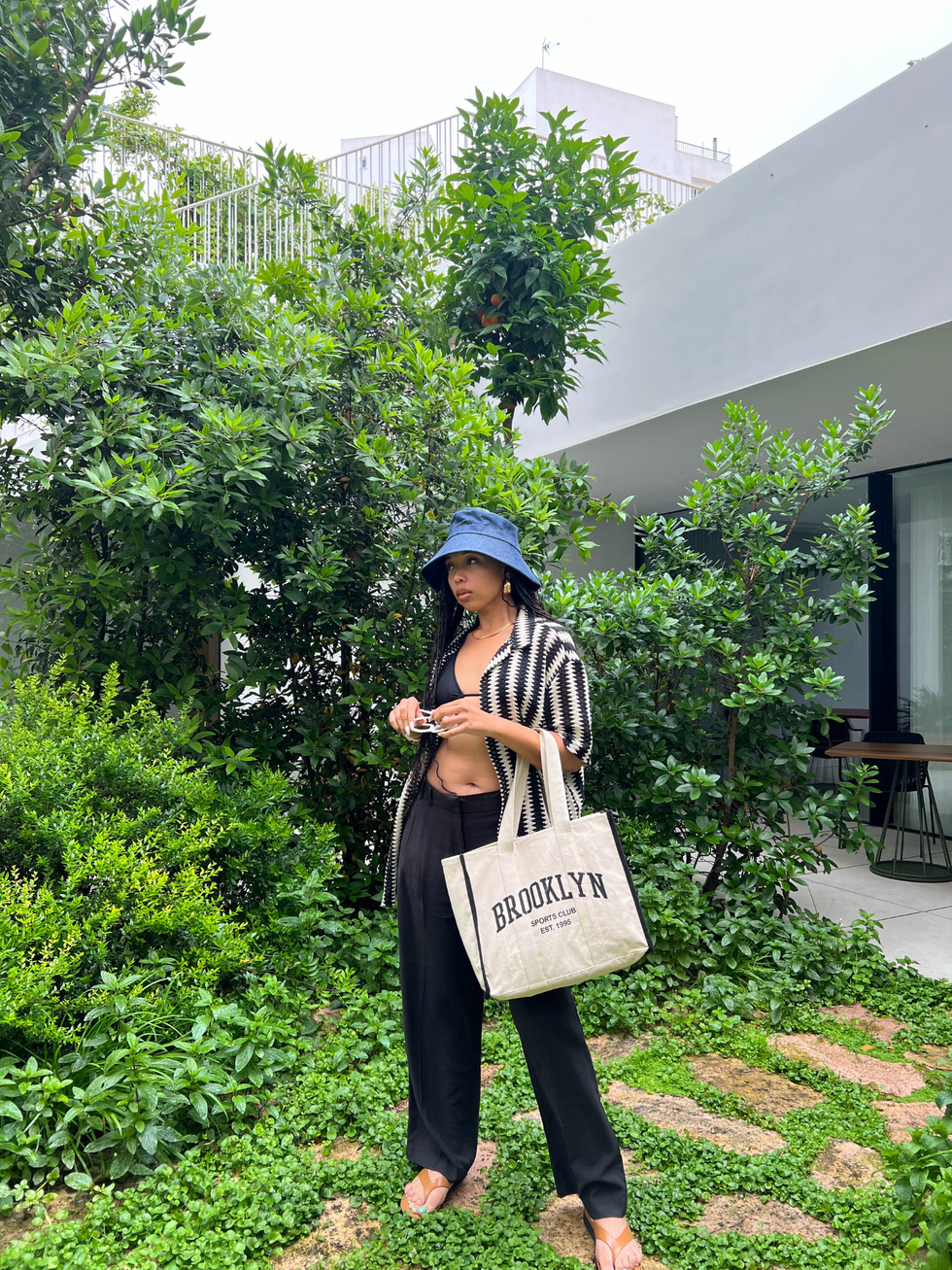 Shahirah Ahmed/xoNecole
Crochet Knits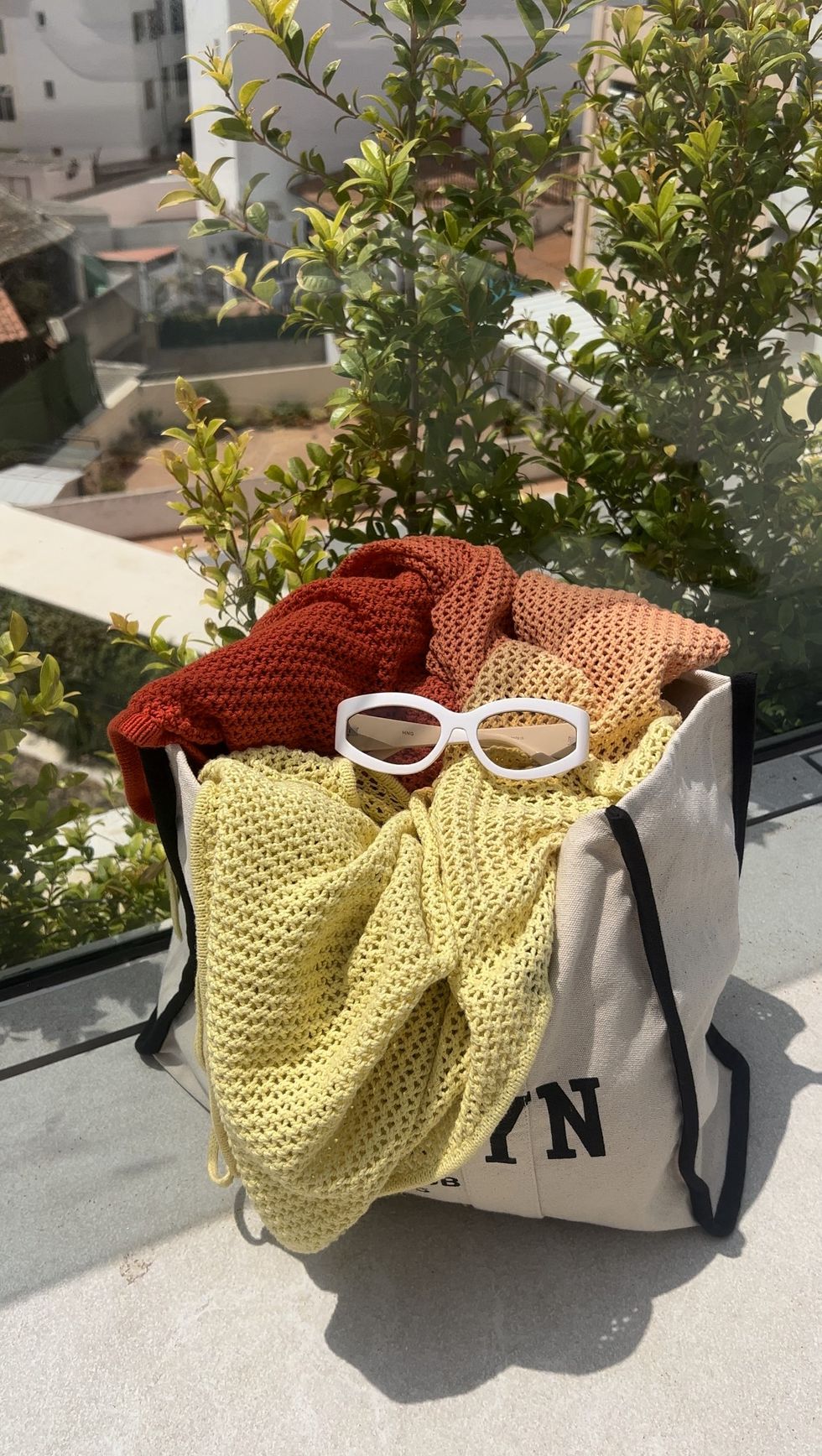 Shahirah Ahmed/xoNecole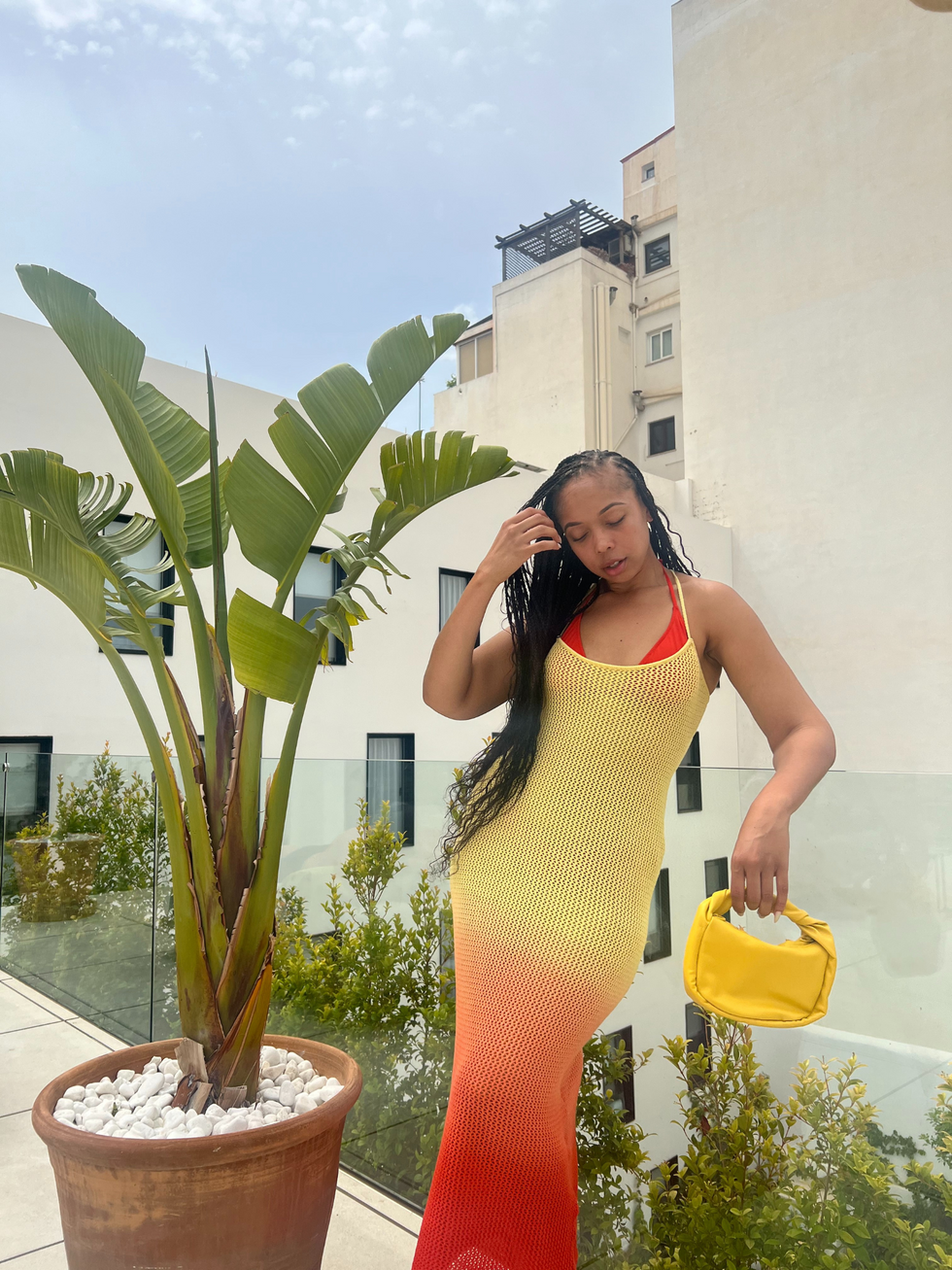 Shahirah Ahmed/xoNecole
Spain was the perfect destination to invest in summer trends saved to my Pinterest boards, such as crochet knits. As mentioned above, lightweight, breathable fabrics are great options to stay cool while lounging or touring a city. This yellow and orange ombre bikini crochet cover-up was the perfect coverage by the pool, revealing a conservative amount of skin.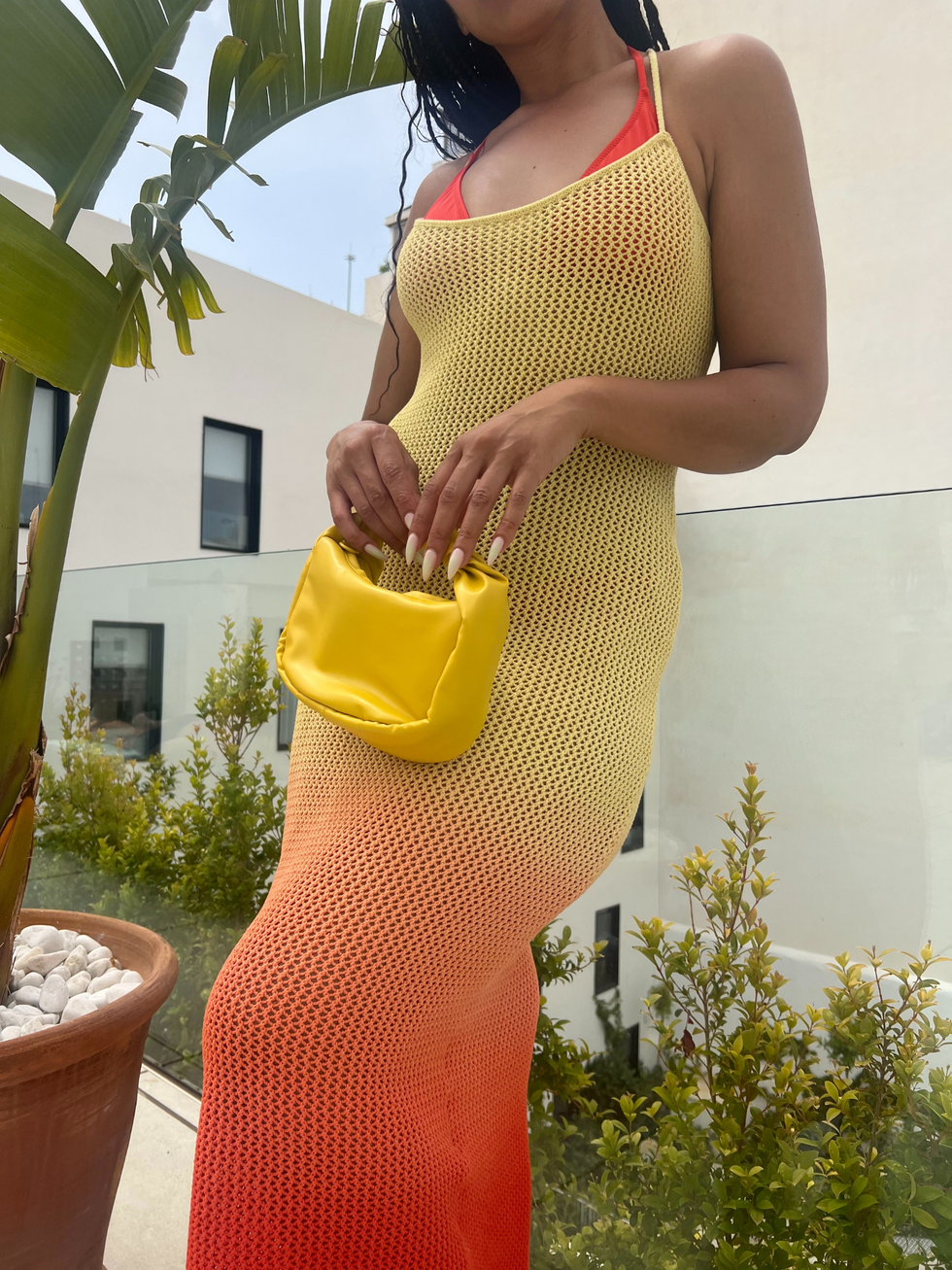 Shahirah Ahmed/xoNecole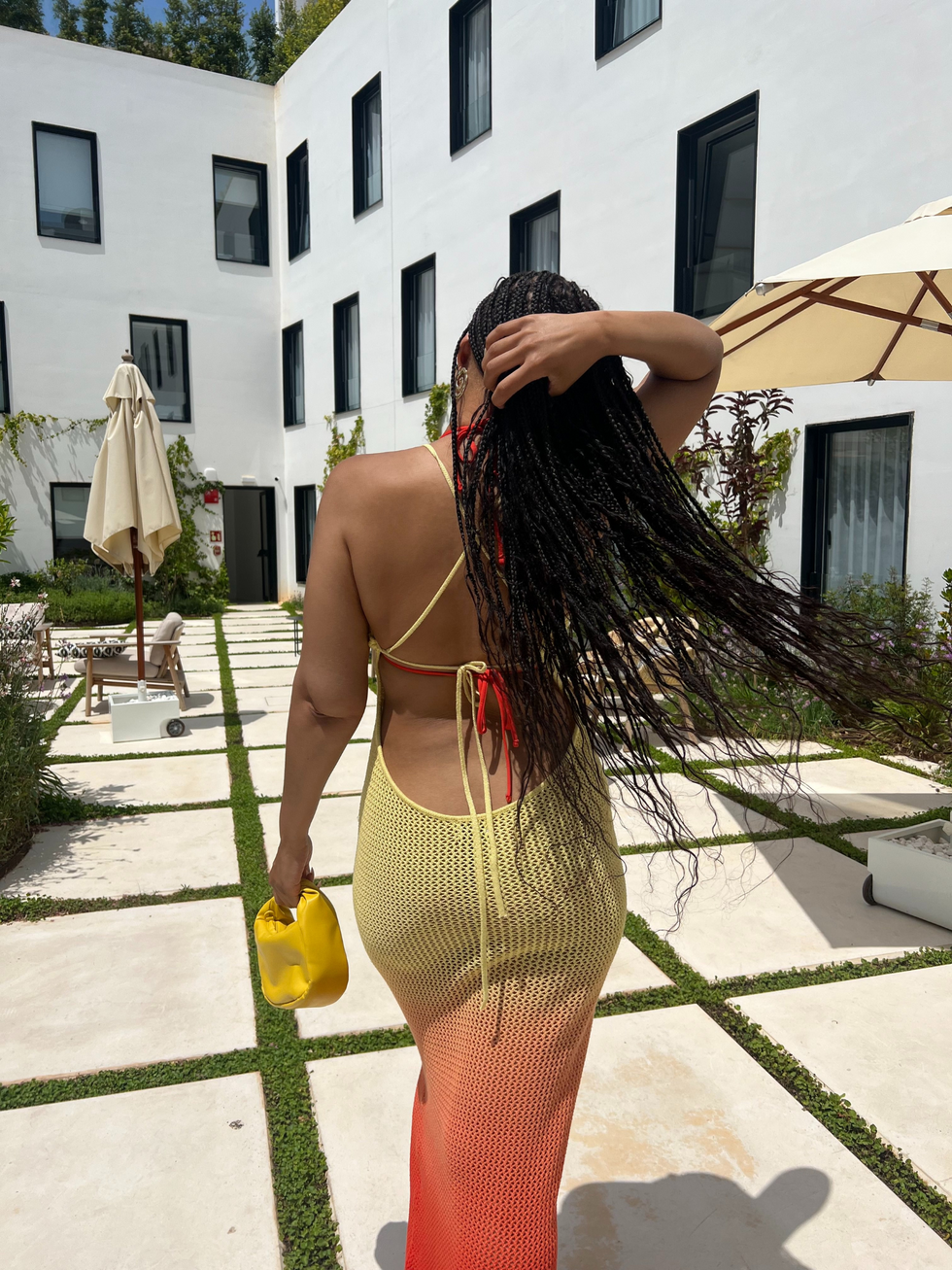 Shahirah Ahmed/xoNecole
Cargos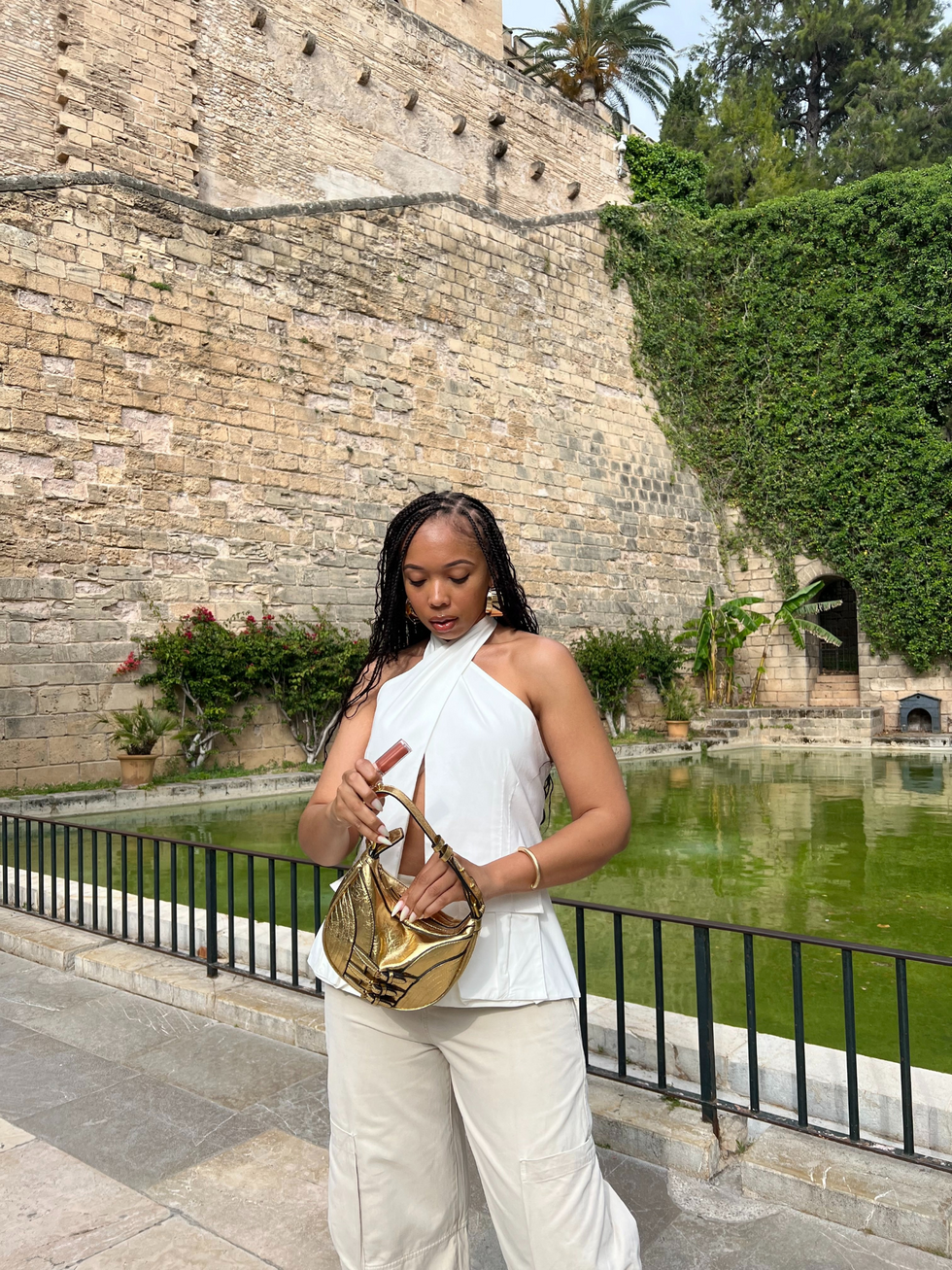 Shahirah Ahmed/xoNecole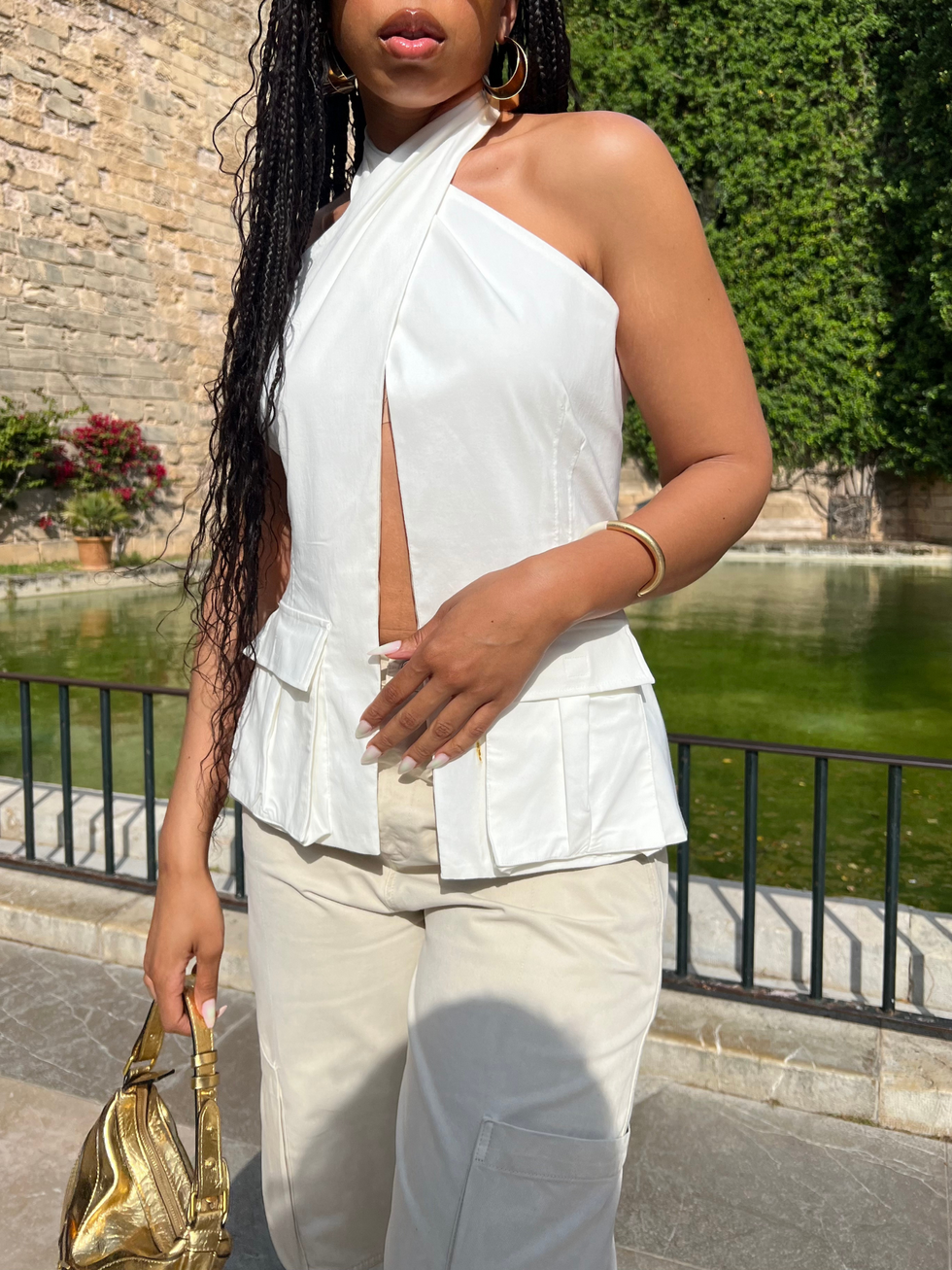 Shahirah Ahmed/xoNecole
The cargo look has dominated fashion trends for a couple of years, and now its influence has spread to incorporate more than just oversized pants. This cargo halter neck open-front top was an exciting addition to my vacation-ready looks, I couldn't wait to wear it. Keeping it light and neutral, I paired it with tan cargo pants along with light green sunglasses for a subtle pop of color.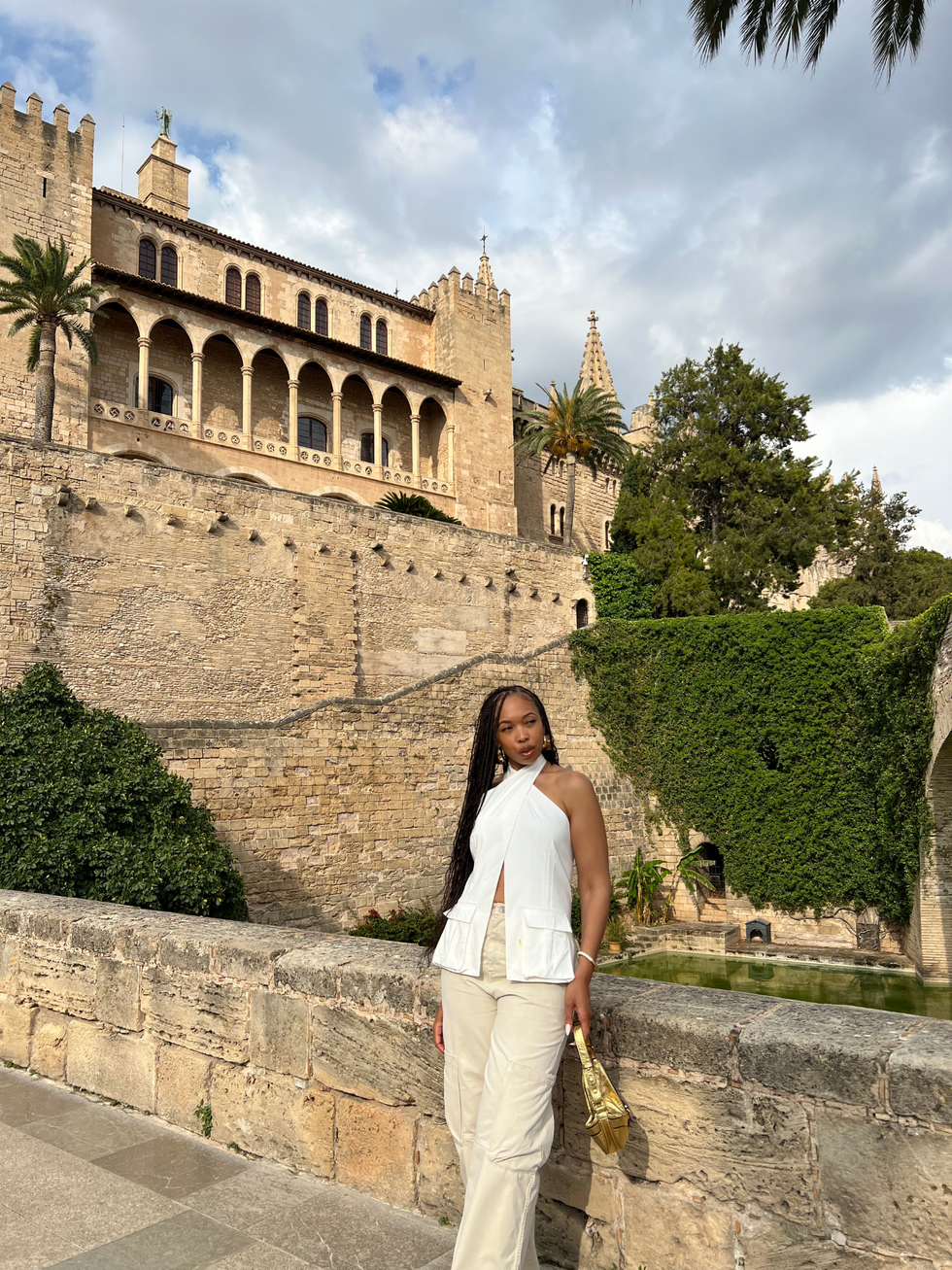 Shahirah Ahmed/xoNecole
Ruffle Dress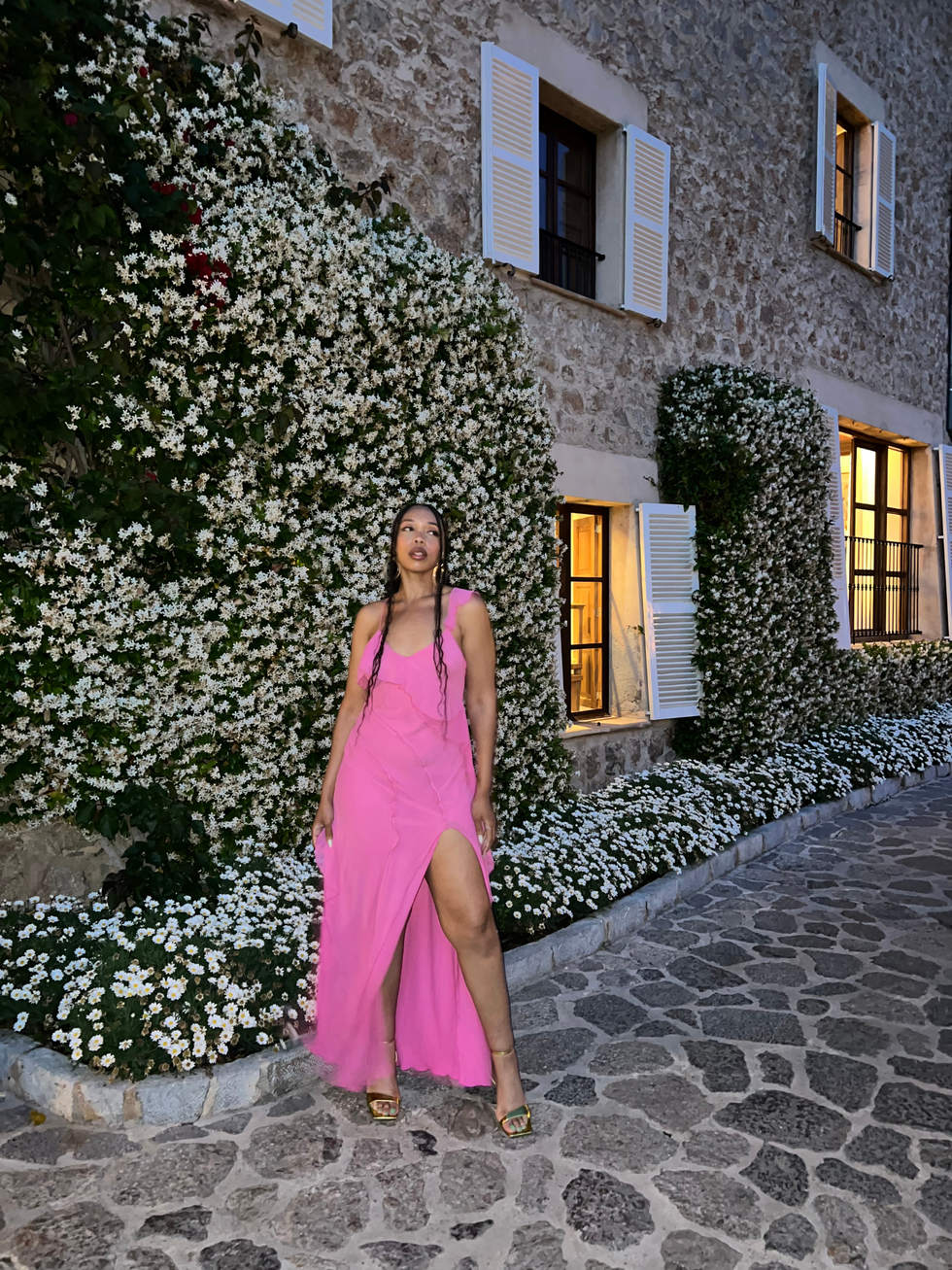 Shahirah Ahmed/xoNecole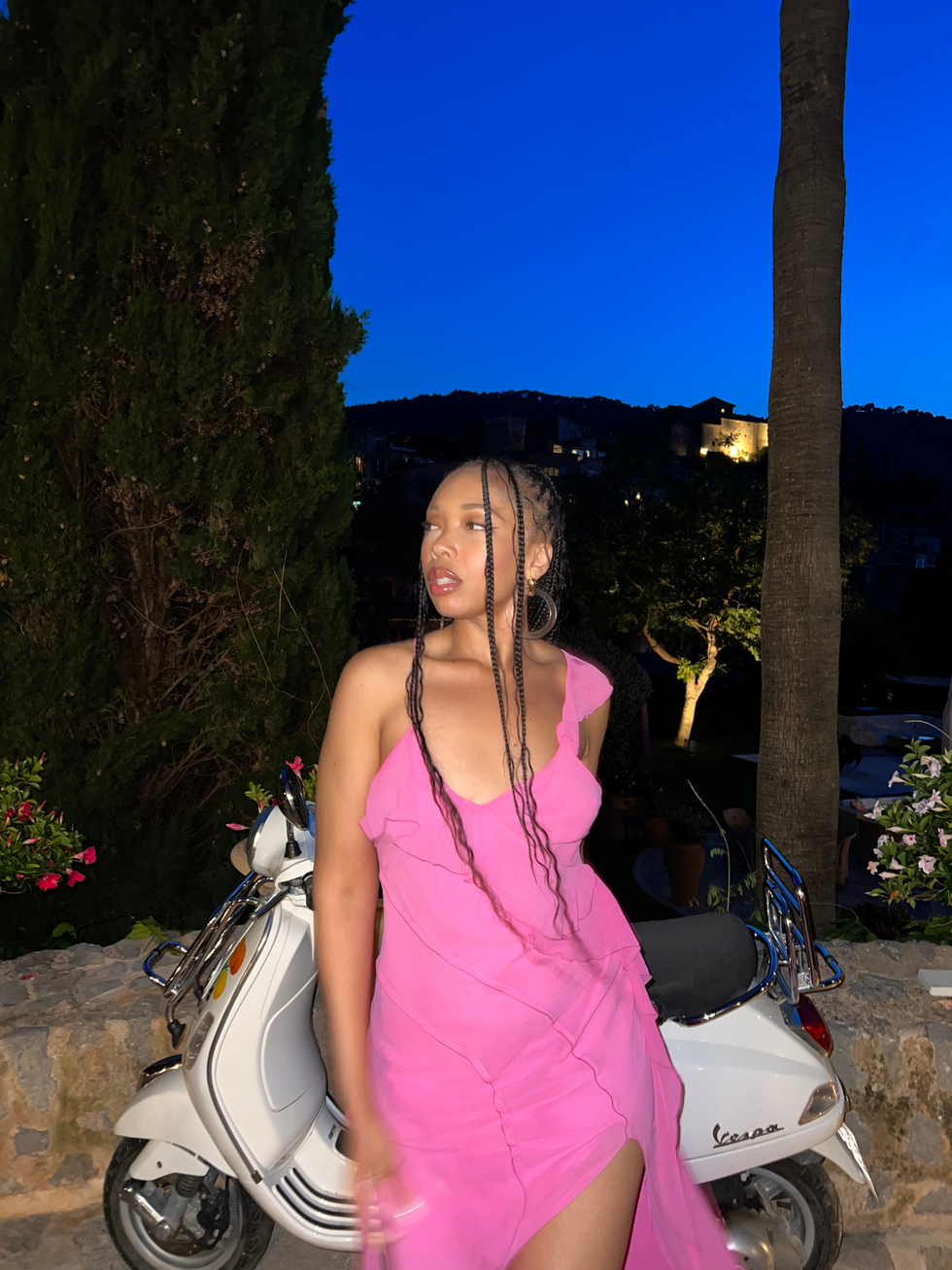 Shahirah Ahmed/xoNecole
This maxi ruffle dress was perfect for dinner with a view. Fit for a fairytale, the romantic style was a must-have for a stunning nighttime look. Traveling through Europe with mostly neutral, there was no better time than this flowing fuschia moment.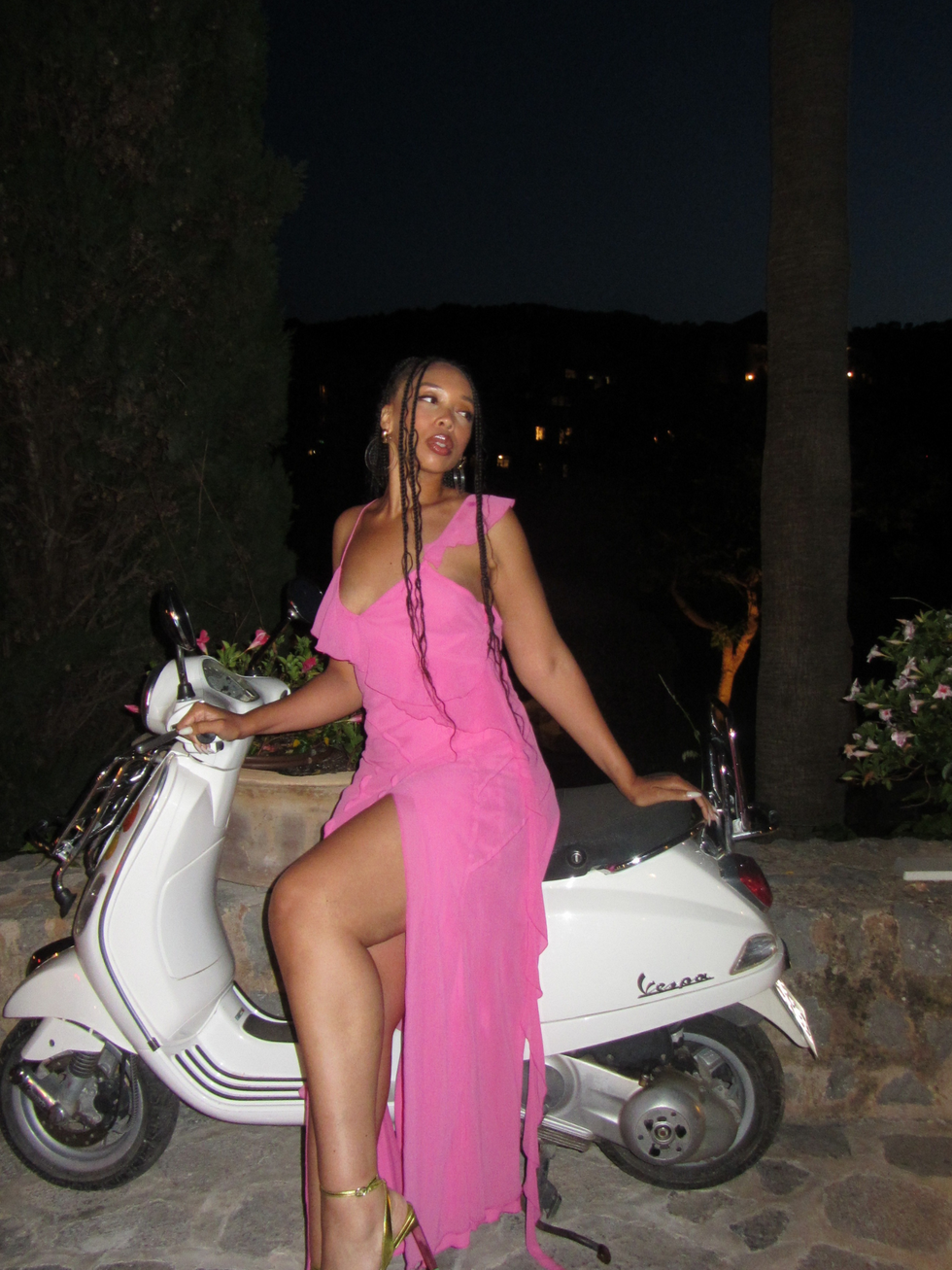 Shahirah Ahmed/xoNecole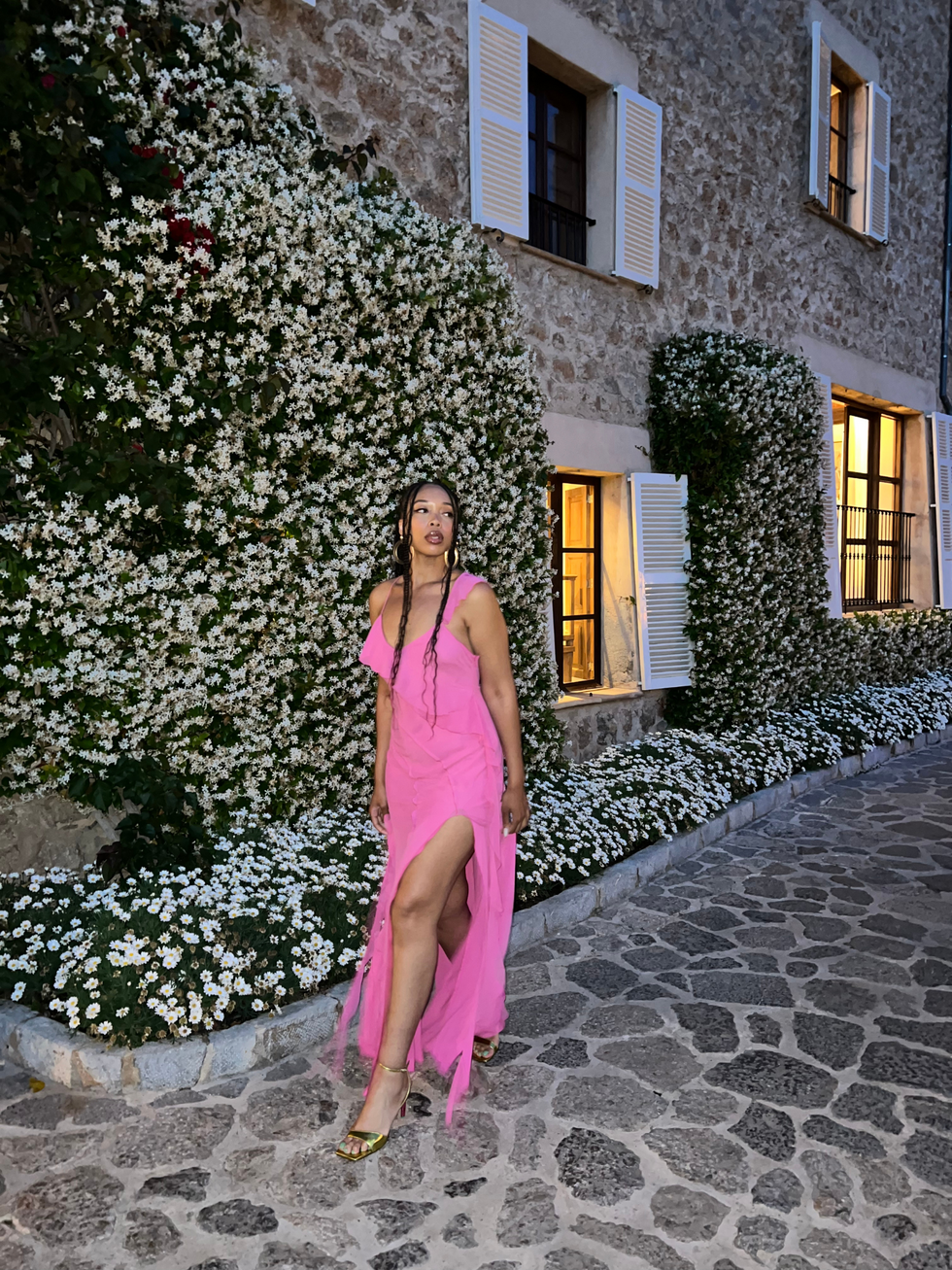 Shahirah Ahmed/xoNecole
Let's make things inbox official! Sign up for the xoNecole newsletter for daily love, wellness, career, and exclusive content delivered straight to your inbox.
Featured image by Shahirah Ahmed/xoNecole
Growing up in the early 2000s, it was common to see our favorite music artists, high fashion models, and video vixens revealing plenty of skin with an emphasis on their favorite assets throughout many facets of mainstream media. While overtly convincing young women being sexy was determined by the least amount of clothing one could possibly wear, it caused many of us to become obsessed with our bodies believing that was the only way to be seen, feel beautiful, and most importantly gain the attention of the opposite sex.
Over 20 years later the fashion industry is beginning to shift in ways we haven't seen in decades. Throughout the spring 2023 runway collections, designers debuted enticing looks featuring long hemlines with emphasis on silhouettes and fully covered midriffs articulating sexiness with fashion-forward modesty.
A part of this modern culture shift can be attributed to the current state of our economy here in the United States. As we climb out the last three years of a worldwide pandemic there has been a decline in consumer confidence with predictions of a looming economic downturn. The hemline index theory is what's known in the fashion industry as the theory of recessions correlating to longer hemlines and less flashy clothing resulting in a more conservative way of life. To give a comparison, skirts tend to get shorter when the economy is doing well and people are feeling more confident financially and longer when there's less optimism and uncertainty.
While the theory is debatable in its factual nature, this can be seen throughout history with clothing being of neutral tones and less revealing following the Wall Street Crash leading to the Great Depression and World Wars in the most extreme cases, while bright and jubilant during the 1960s and early 2000s.
When it comes to fashion, less being more is truly subjective, especially to those that believe dressing conservatively to be the quintessential aspect of true elegance, style, and liberation. While seemingly another mainstream fashion trend on the rise here in the United States, for many women around the world modesty is not a trend but a lifestyle. More than maxi skirts, oversized blazers, and baggy trousers, modesty represents a mindset of sophistication while demanding respect for one's body, mind, and soul regardless of one's personal style or religious affiliation.
Even with a modern shift in the sartorial world, modesty has misconceptions of its own. While there's still a long way to go with modest representation, these fashion influencers are sharing why they believe modesty makes women more attractive and how it's more than clothes but a way to represent who they are from the inside out.
Featured image by Aïssata Diallo/Instagram
Let's face it, growing older is inevitable, and there's nothing we can do to stop it. With age comes maturity, strength, and wisdom, and it should be embraced, not seen as a hindrance or a part of our lives to be ashamed of. While we can't stop the natural process of life, we can be proactive about the proper skincare products, tools, and lifestyle choices we can practice to promote healthy and natural aging that allows us to age gracefully with beautiful, healthy skin.
Prior to my 30s, I relied on my melanin-rich skin with minimal effort because, as the saying goes, "Black doesn't crack." However, I've learned that there's more to maintaining glowing skin than relying on purely genetics. Preventative measures are crucial in combating the skin's aging process. Fine lines, wrinkles, loose dry skin, hyperpigmentation, and other noticeable forms of aging begin long before you see them, seemingly appearing out of nowhere. Recently, I noticed a change in my skin's texture around my neck that never went away. Slowly panicked once I realized what was happening, the first sign of aging had arrived, and I had no idea what to do or how to reverse it.
From product ingredients to lifestyle choices, there are many factors in how one's complexion and skin health progresses over time. If you're reading this, you more than likely have a facial routine or know to at least wash and moisturize your face daily, however, there are simple additions that we can incorporate into our everyday routines.
To provide tips, I've enlisted the help of skincare experts to provide the best and most effective products, ingredients, and even foods to achieve your best-looking skin yet.
Meet the Experts
Featured image by Olga Rolenko/Getty Images
Spring is upon us and with this time of year comes the annual closet cleanout we so desperately need and collectively look forward to. Despite freezing cold temperatures and endless rain, winter weather is slowly fading away and it's time we clear out what no longer serves us both in life and in our closets. A symbol of new beginnings and transformations, the shift in seasons is the perfect time to declutter our space while releasing the old to welcome the new.
During the process of evaluating our wardrobes, we determine what we can live without while looking forward to what it is we truly need. As we reintroduce boldly enticing fashion predicted by spring runway collections, it's smart to start with a foundation of neutral staples to be mixed and matched with serotonin-releasing statement items some of us so desperately live for.
Each season there are new styles and designs and with the overload of viral trends, it's easy to become influenced by an endless cycle of forgettable "must-haves." To help get you started on your most stylish season ever, we've curated a list of 10 trending items you can mix and match daily to achieve a perfectly balanced chic and classic fashion-forward wardrobe.
Featured image by Edward Berthelot/Getty Images