Shahirah Ahmed
Shahirah Ahmed is a content creator, influencer and fashion stylist residing in Los Angeles, CA. Originally from Sacramento, CA she decided to pursue a career in the fashion industry once realizing she had the power to turn her dreams into reality. A year after obtaining her degree in Fashion Merchandising, Shahirah launched her namesake fashion blog for tall women with larger shoe sizes in 2015. Keep up with her daily looks on Instagram @shahirahahmed.
This year I had the pleasure of attending my very first New York Fashion Week where I witnessed the best of fashion both on and off the runway. In between highly anticipated shows and jam-packed schedules industry insiders dominated the street style scene making their very own impression on the world. Buyers to bloggers, editors, and stylists were captured serving one-of-a-kind looks that will forever live in Fashion Week history.
Strolling from one event to the next, I got on-the-ground coverage of the most eye-catching New Yorkers and what they're excited to wear this fall. From layers to oversized clothing, the overall theme this season is maximum comfort and style while wearing classic staples that go far beyond seasonal trends. Keep scrolling to read the most anticipated items that will define New York style this coming fall/winter season.
Leather blazers 
Blazers are a personal favorite all year around, however, I love to up the ante with a leather option when it comes to fall. A staple in the millennial fashion community, blazers can be a lightweight addition to any look, especially during transitional weather. If opting for a chic all-black blazer or making a statement with a colored choice, I suggest a full leather look with matching trousers paired with a contrasting top and a boot to make an even bolder statement this fall.
Layering
No matter your personal style, the addition of layers upon layers is half skill and half art. At the top of everyone's mind this fall, layering is a must for NYC fall/winter. Whether for fun or functionality, layering isn't just for warmth and comfort but for fashionistas, it's a way to play with your season's best. Layer your look with warm accessories such as scarves, socks, and even jewelry along with functional items like button-downs, vests, blazers, and jackets.
Oversized clothing
One thing you can count on during Fashion Week is models bringing the best and most effortless street style. I ran into one of my favorite models, Maya, who recently moved to NYC from LA, and had to get her thoughts on how she plans to rework her fall wardrobe for an east coast aesthetic. When asking both her and her friend Mina what they're looking forward to wearing this fall, the oversized look was the first that came to mind. "I'm looking forward to layering big baggy clothing this fall for warmth and a genderless look," Mina told xoNecole.
High boots with midi skirts
​High boots and midi skirts are a certified look for fall. You can dress this combination up or down depending on your personal style. For a casual look try a calf-length chunky boot with an oversized cropped sweatshirt with a denim midi skirt or for a more feminine and chic approach, wear a high boot with a sleek heel and long sleeve bodysuit or knit sweater.
Cargo pants are trending high on the list of fashion must-haves this fall. A closet staple that you can wear year after year, this is a pant style worth investing in. Tiffany shared her excitement to wear cargo pants this fall with xoNecole, "You can dress them up or down so it's the versatility that I love the most." When it comes to cargo pants, I love oversized ones the most with elements such as acid wash fabric or contrasting stitching to set your pair apart from the rest.

Knee-high boots
Fresh off the runway, I took one look at model Jordan Daniels and knew exactly which item she was looking forward to wearing this fall. Her oversized all-white ensemble made up of a men's button-down and knee-length soft shorts paired with cognac riding boots defined comfy chic NYC style. Cool and effortless, Jordan made it clear flat knee-high boots are a perfect choice for the fashion girl on the go looking for her must-have shoe.
Featured image courtesy of @mayamused & @minaelise
One of my favorite aspects of being a Black woman is the dedication to our ever-changing hair. Forever testing the bounds, we love staying a step ahead while placing no limits on what we can do with a lot of texture and a little imagination. Our hair is a lifestyle and the art of being a Black woman includes our diverse range of looks we can pull off from one week to the next. Whether a sleek pony or beachy body waves, we can literally pull off anything we set our mind to.
During the summer, there are quite a few looks I try to squeeze in before the warm weather starts to cool off. It's hard to resist the temptation of a blunt cut or long bob to keep hair off our neck and shoulders for a super chic and easy look. If not a drastic cut then maybe extra length and volume with soft beachy waves that I can easily maintain for an effortless style. If I'm not experimenting with cuts or lengths of my hair, then I'm experimenting with brighter hair tones and colors that come alive with the light of the brighter beaming sun. Whichever hairstyle I'm wearing for the moment, there always seems to be certain styles that I tend to gravitate towards at certain times of the year.
Like everything else within the beauty world, hair has trends and this season is all about blunt bold cuts and effortless hair. To get a better idea of what women are asking for, I reached out to the California-based owners of DreamGirls Fine Hair Imports & Salon for hair tips and inspiration on the top hair trends of summer.
Meet the Experts
Featured image courtesy of Dime Jones/xoNecole
Within the last year, TikTok has slowly gained most of my attention when it comes to my preferred social media platform. While I'm still getting accustomed to the app and all that it offers, I'm learning that it's a go-to resource for beauty hacks and product recommendations. Gone are the days of the long format YouTube product review, TikTok is the quickest way to judge whether a viral product or beauty tool is actually "For You" in 60 seconds or less. The new generation of social media influencers gives us access to real reviews at our fingertips from the girl next door excitedly sharing her recent discovery of relatable skin and beauty products you never knew you needed.
After asking my TikTok-obsessed friends and spending countless hours watching product reviews, I decided to include a list of summer beauty products everyone will love regardless of their skin's texture and tone. Gone are the days of face palettes and full glam, the natural makeup trend is taking over and I'm absolutely here for it. No more cakey layers and complicated applications, these barely-there makeup products are receiving glowing reviews.
Let's face it, everyone's an influencer in their own right so stay camera-ready with these lightweight easy-to-apply products, no filter required.
Featured image by PeopleImages/Getty Images
Summer is officially here and I can't wait to show off my hot girl outfits. With the world at our fingertips, 2022 is proving to be the biggest fashion awakening of our generation. Unlike the last two years of understated looks and neutral combinations, this season's trends are brighter and bolder than ever. Reminiscent of the early 2000s, this year has become a revival of an era when fashion knew no bounds and pushed beyond our creative limitations.
Beyond style, the most fashion-worthy moments are the juxtapositions of an outfit. You may see the fashion girlies rocking a corset, cargo pants, and sneakers one day and a babydoll dress with platform wedges the next. From low-rise waistlines to never-ending hems, this is the season to put self-expression at the forefront by dressing how you feel even if it means doing the bare minimum. Regardless of the day's mood, implementing just one of these summer trends gives major main character energy.
Scroll to see my top picks below.
Featured image courtesy of Shahirah Ahmed/Instagram
I'm learning the importance of trusting my instinct, especially when it comes to aspects of life I take pride in maintaining. In 2018, I committed to achieving healthy hair which began with freeing myself of unwanted and excessive damage caused by years of straightening. I remember the day of my big chop—a weight lifted from my shoulders. I felt a mix of both excitement and relief as my dead ends fell to the floor. As part of my promise to take care of and nourish my hair, I vowed to never make the same mistake twice, refraining from heat entirely.
While faithfully dedicated to my kinky texture, I became curiously anxious to do a length check four years later. I'd be lucky to enjoy straight hair for 3 to 4 days. What could go wrong? I knew I would either hate my straight hair or love it, but never did I think it would be the last time seeing my curls fully intact. As predicted, after less than a week of straight hair my curls began to revert, slowly returning to their natural state—or what was left of it. My once carefully defined curls were no longer existent. Devastated, I took to social media to express my shock and frustration for going against my "no heat" rule. Immediately after posting a clip of my damaged hair, I received messages suggesting I use the Olaplex hair repair treatment to improve the look of my hair.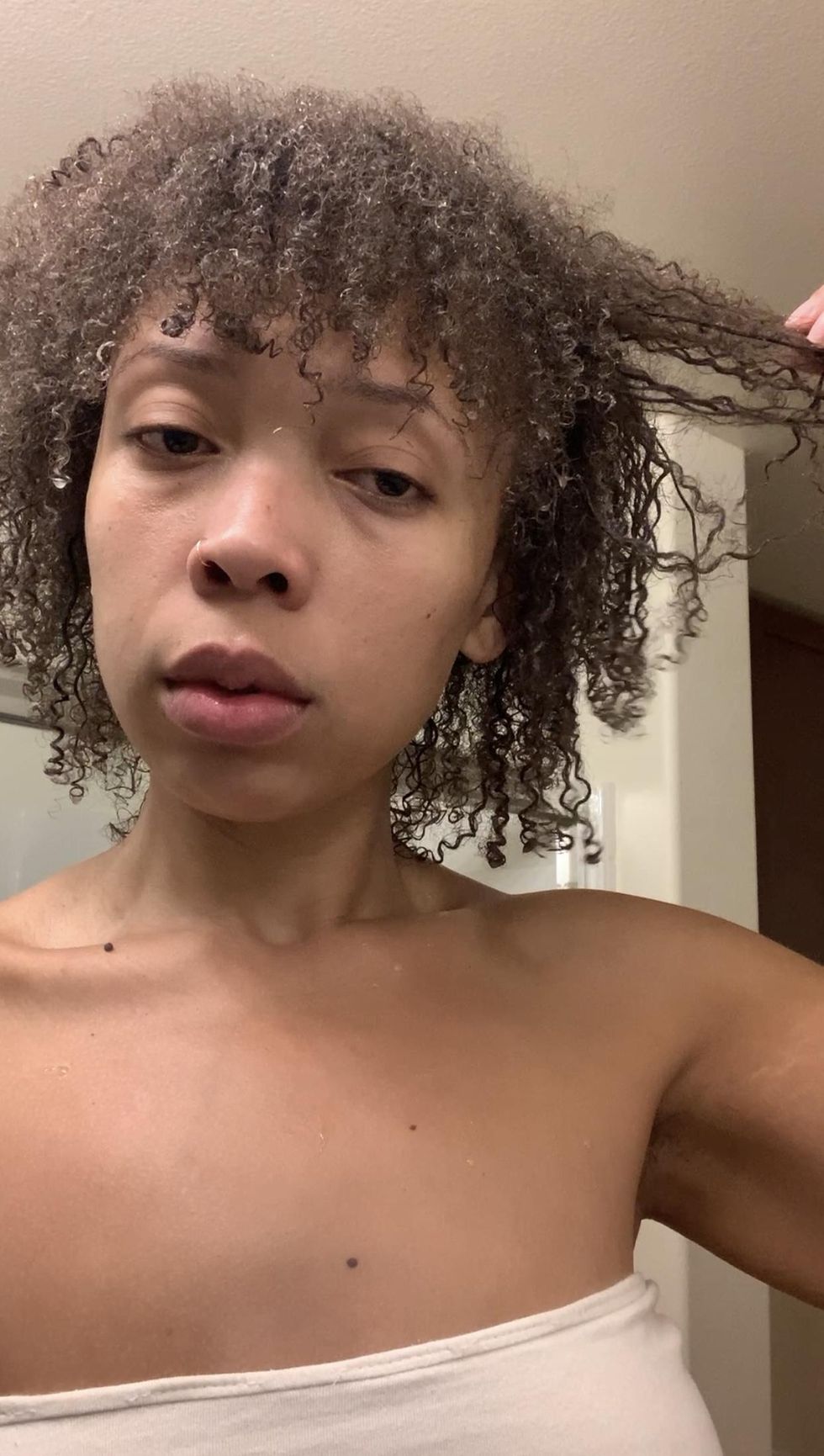 Courtesy of Shahirah Ahmed
Devastated, I took to social media to express my shock and frustration for going against my "no heat" rule. Immediately after posting a clip of my damaged hair, I received messages suggesting to use the brand Olaplex's hair repair treatment to improve the look of my hair.
Within those 24 hours, I received several messages from women with a range of textures claiming this brand is an absolute game-changer when repairing hair to its proper state. Surprised by the number of recommendations raving about the positive results of the products, I was desperate to try anything with reviews from people I know in real life.
Does Olaplex Help Repair Damaged Hair?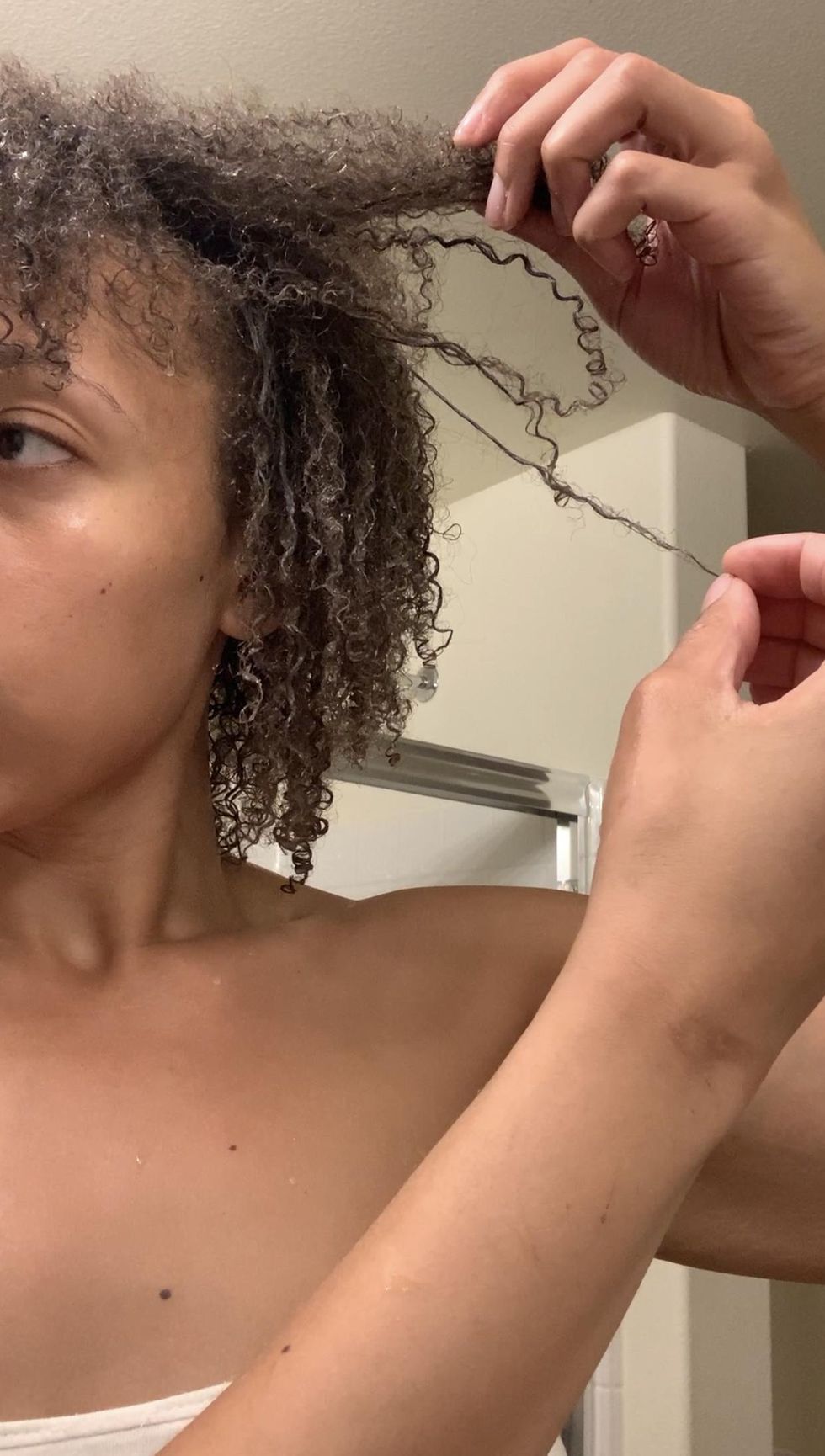 My curls before using Olaplex.
Courtesy of Shahirah Ahmed
Olaplex is a patented system to treat extreme damage using technology that restores compromised hair by repairing it from the inside out. Within our hair, bonds provide structure, strength, and stability. When broken, these bonds become weak and the result can be flat, dull, and unflattering.
There are several causes of damage, including destructive hair habits, hot tools, chemicals, dye, and styling. Olaplex uses a patented single ingredient, bis-aminopropyl diglycol dimaleate, which helps build bonds, and in alignment, you have healthy and beautiful hair. From curly hair to stick straight, the brand states it's suitable and beneficial for all hair types, so I decided to try it for myself.
Olaplex First Impressions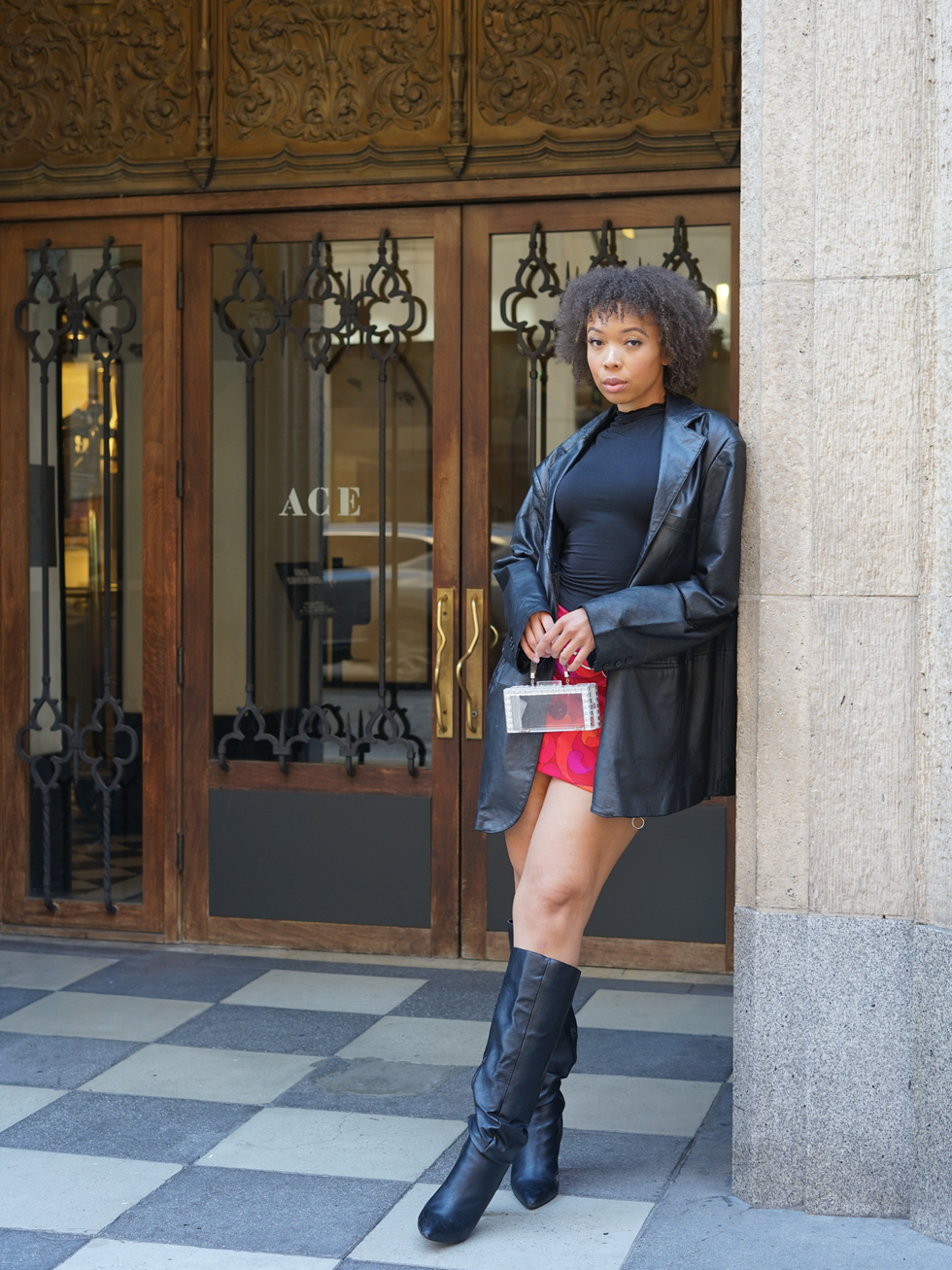 My curls after one week of using Olaplex.
Courtesy of Shahirah Ahmed
In all honesty, I was a bit skeptical of the blanket claim to help all hair types (even kinky curls like mine). Not all hair care is created equal. Starting off, I purchased the No. 0 Intensive Bond Building Treatment ($28/5.2 fl oz) and No.3 Hair Perfector ($28/3.3 fl oz). Because they were a pricey investment, I was hopeful each bottle was worth every penny.
The No. 0 Intensive Bond Building Treatment is a two-part at-home treatment for damaged hair created to absorb nourishment when used along with No. 3 Hair Perfector, 1 to 3 times per week. Considering the size of both bottles and the amount of repair I was in need of, I decided to apply the products twice per week.
Is Olaplex Worth It?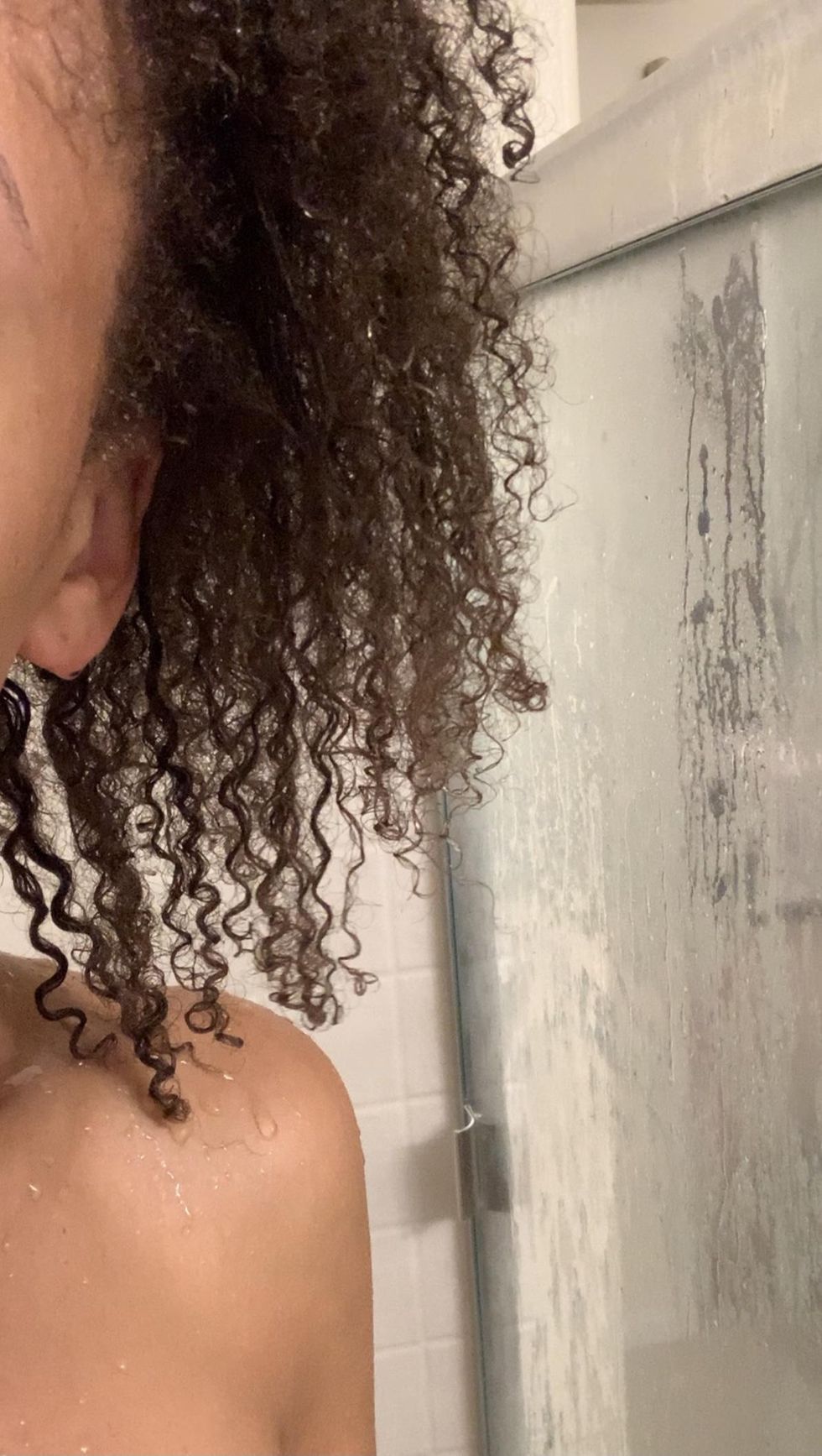 My curls after week four of using Olaplex.
Courtesy of Shahirah Ahmed
I didn't see much progress after the first week, but nothing great happens overnight. Not to be discouraged, I continued with the duo seeing a slight yet recognizable return of my natural curl pattern appearing in week two after the fourth application. By week three, I began to see texture reappear where curly strands had previously been completely lifeless and flat.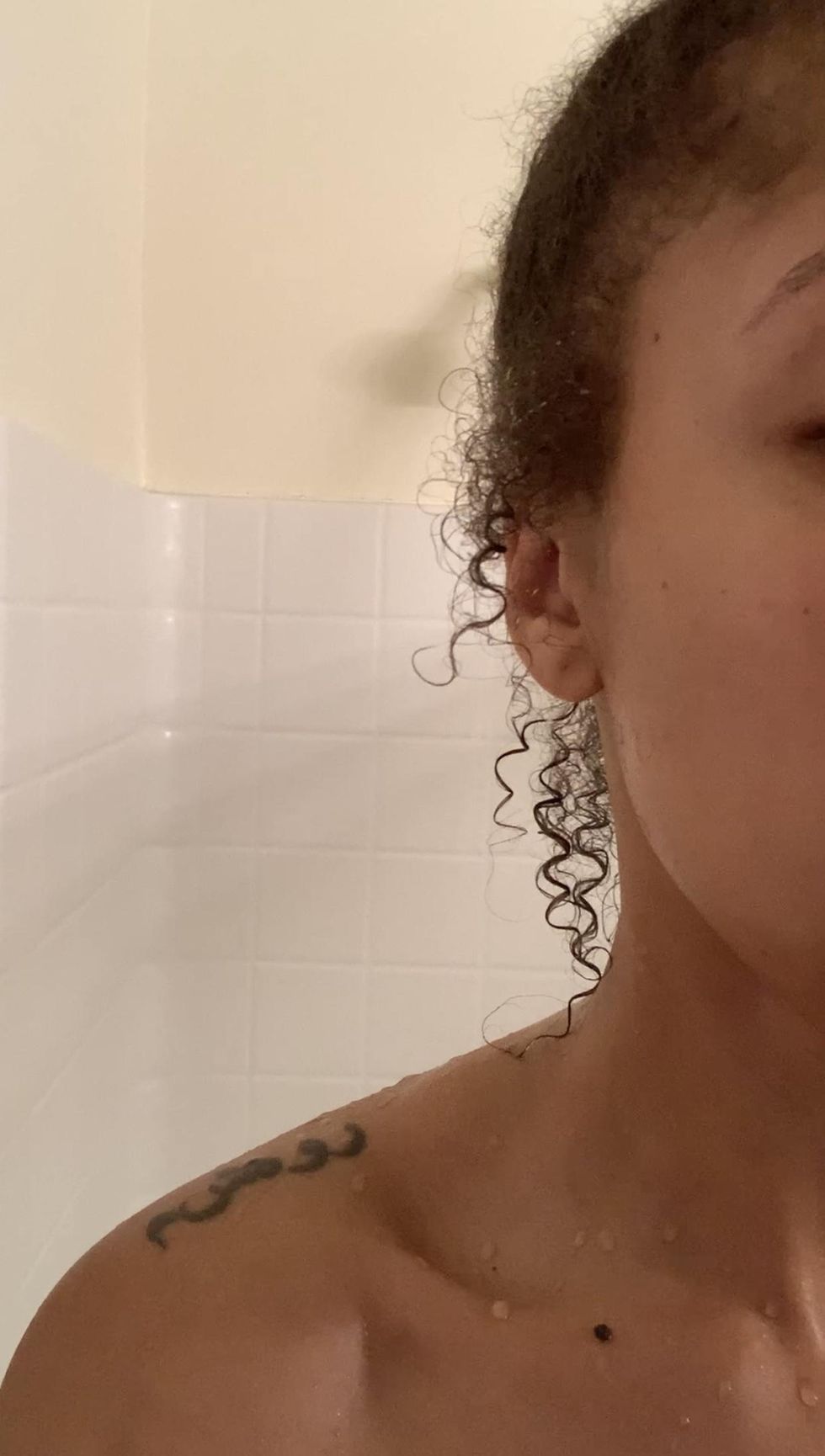 My curls after four weeks of using Olaplex.
Courtesy of Shahirah Ahmed
After week four, I noticed not only had most of my curls come back to life, but my hair also appeared more hydrated, more full. My curls were more defined than ever before. While there are still damaged areas in need of improvement, I'm convinced that continued and consistent use of Olaplex products will allow my curls to be at their peak.
A game-changer revolutionizing the hair industry, these are products that should remain in our hair-care collections at all times.
Featured image courtesy of Shahirah Ahmed
Since the dawn of time, animal prints have been a reigning force all over the world. Once worn as a means of survival, these looks were eventually adapted by the masses thanks to the fashion industry both on and off the runway. From clothing to accessories, prints such as leopard spots, zebra and tiger stripes have been dominant choices when going for a fierce addition to any look. Today, clothing trends continue to evolve as those once-beloved materials are quickly being replaced by a new generation of artistic self-expression.
Becoming the latest patterns of choice, abstract art in the form of geometric shapes, swirls, and optical effects has become the new reign of impressive prints trending in 2022. After two years of solid neutrals, designers are having fun once again and I can't get enough of these fresh whimsical feels. Broadening my range of wardrobe this year, I decided to get in on the fun and brighten up my looks with colorful statement pieces boldly going where I've never gone before. Check out the patterns and prints I'm currently obsessed with below.
Geometrically Opposed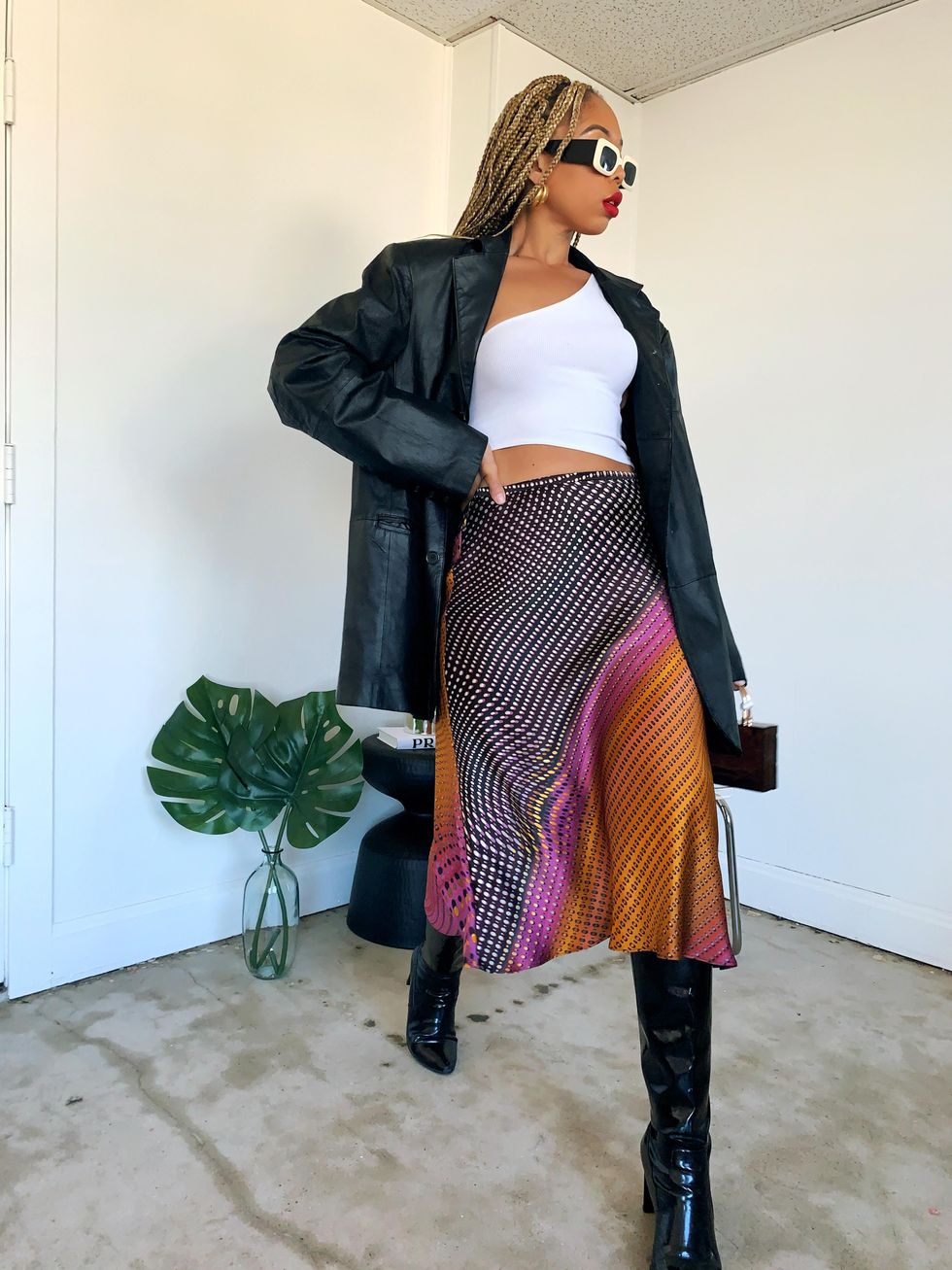 Shahirah Ahmed/xoNecole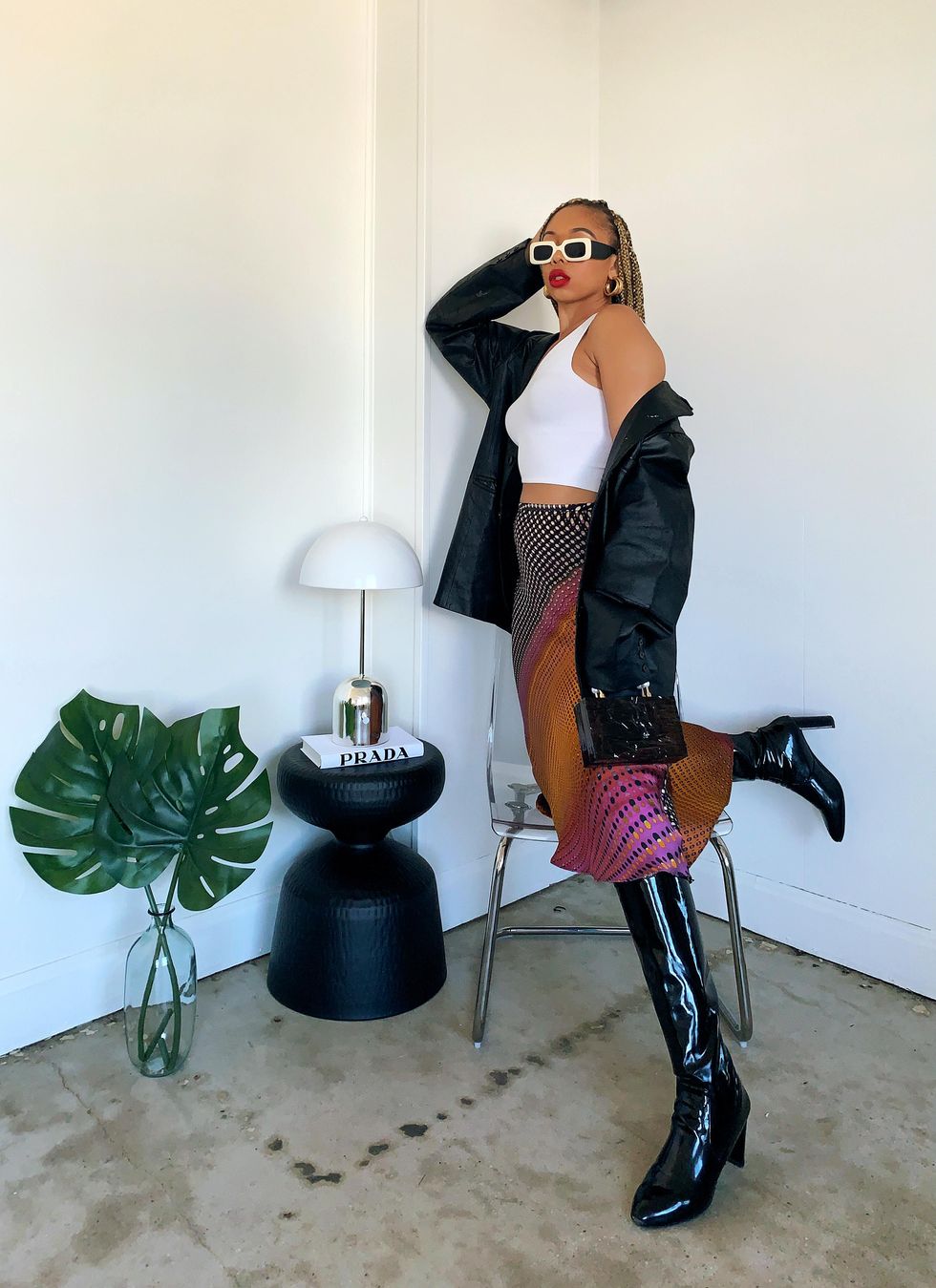 Shahirah Ahmed/xoNecole
As one who doesn't wear many skirts in my day-to-day looks, I absolutely couldn't pass on this multi-colored geometric print midi. With its 3D pattern giving its best impression of an optical illusion while gracefully forming every curve, I was immediately impressed with the contrasting hues when initially laying eyes on this piece.
Going for a casual approach, I decided to wear an asymmetrical one-shoulder ribbed knit along with an oversized blazer and patent leather boots. Perfect for a winter weekend look, this skirt is extremely versatile with the ability to transition from season to season.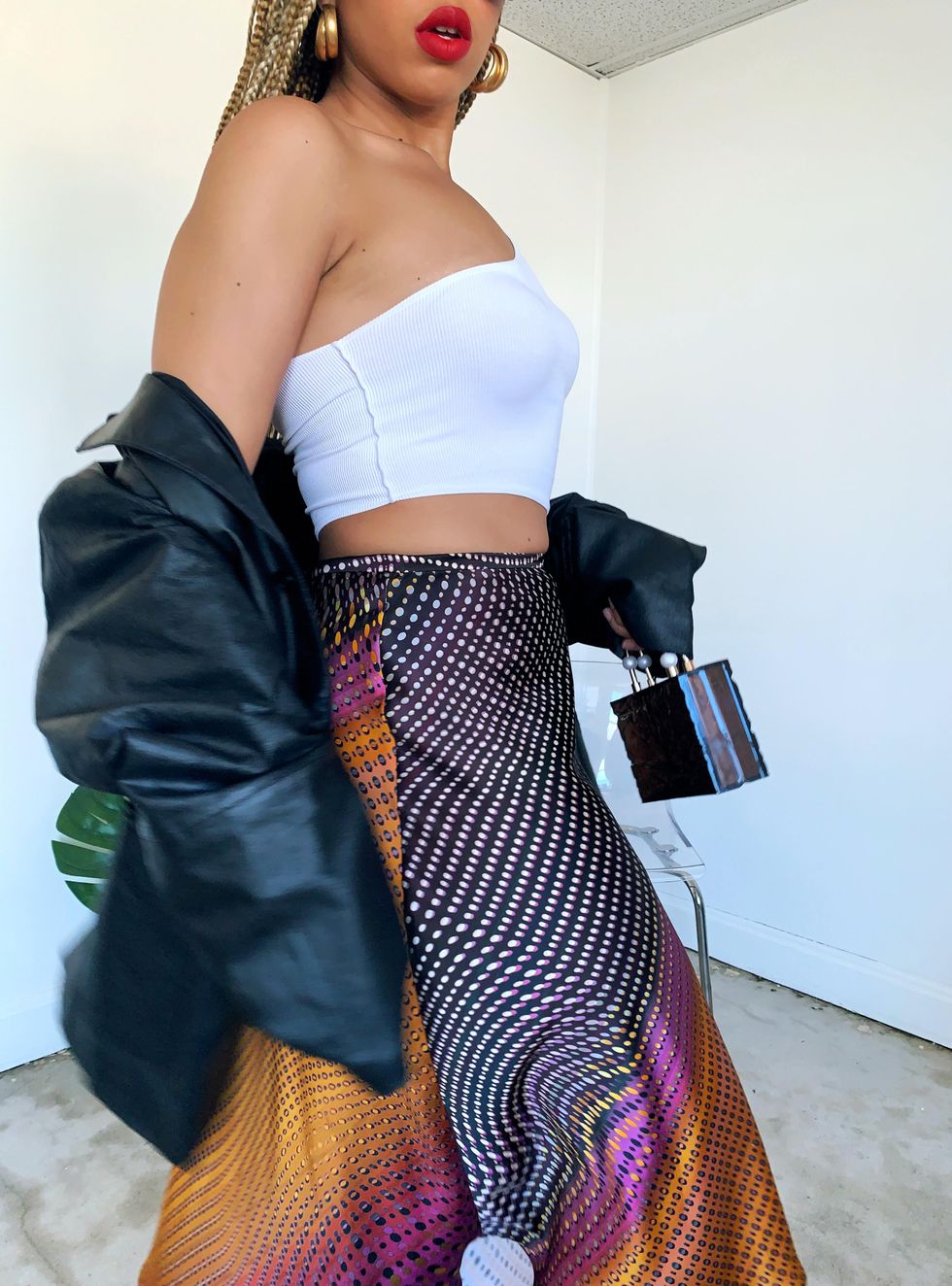 Shahirah Ahmed/xoNecole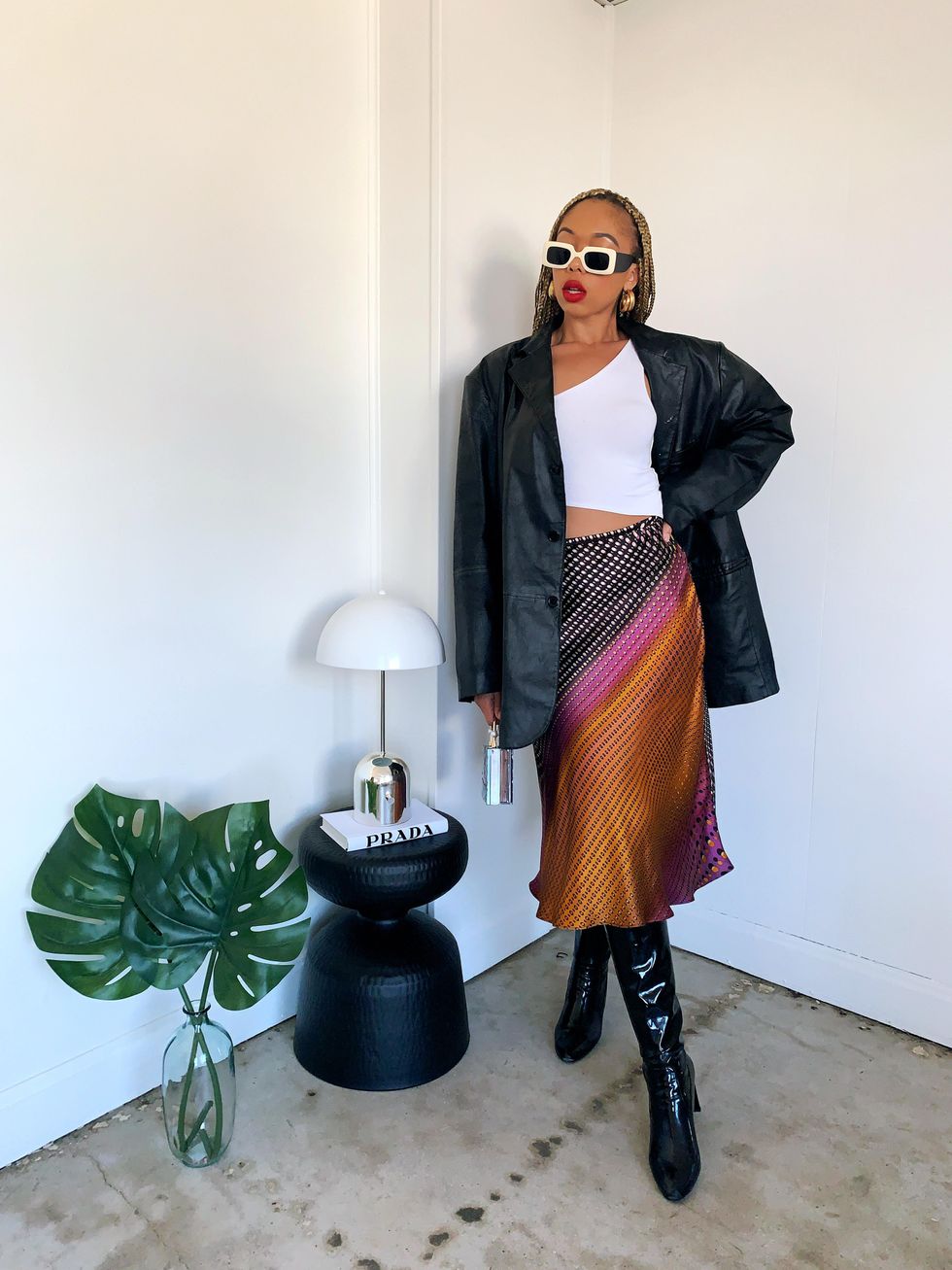 Shahirah Ahmed/xoNecole
In the Abstract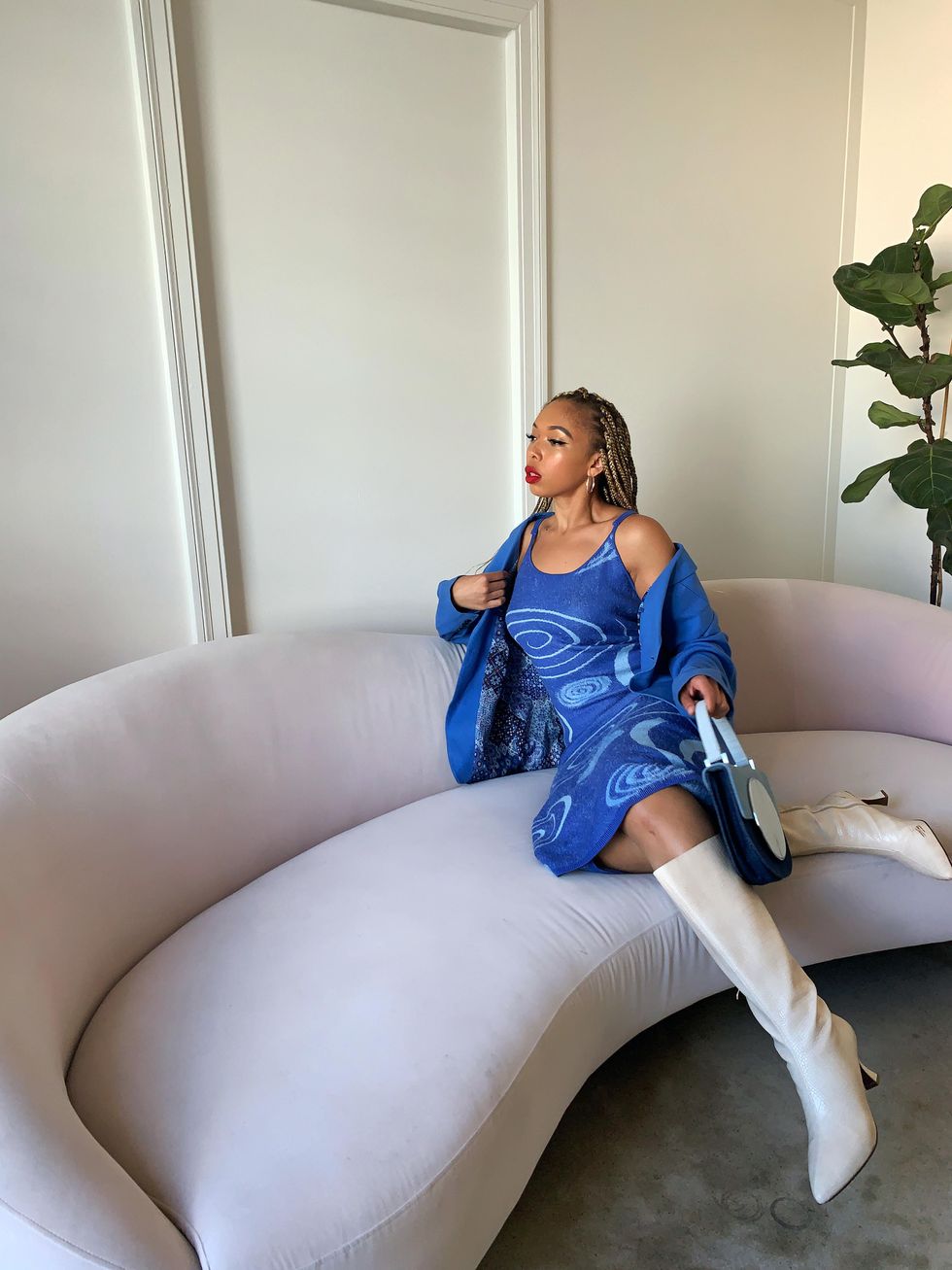 Shahirah Ahmed/xoNecole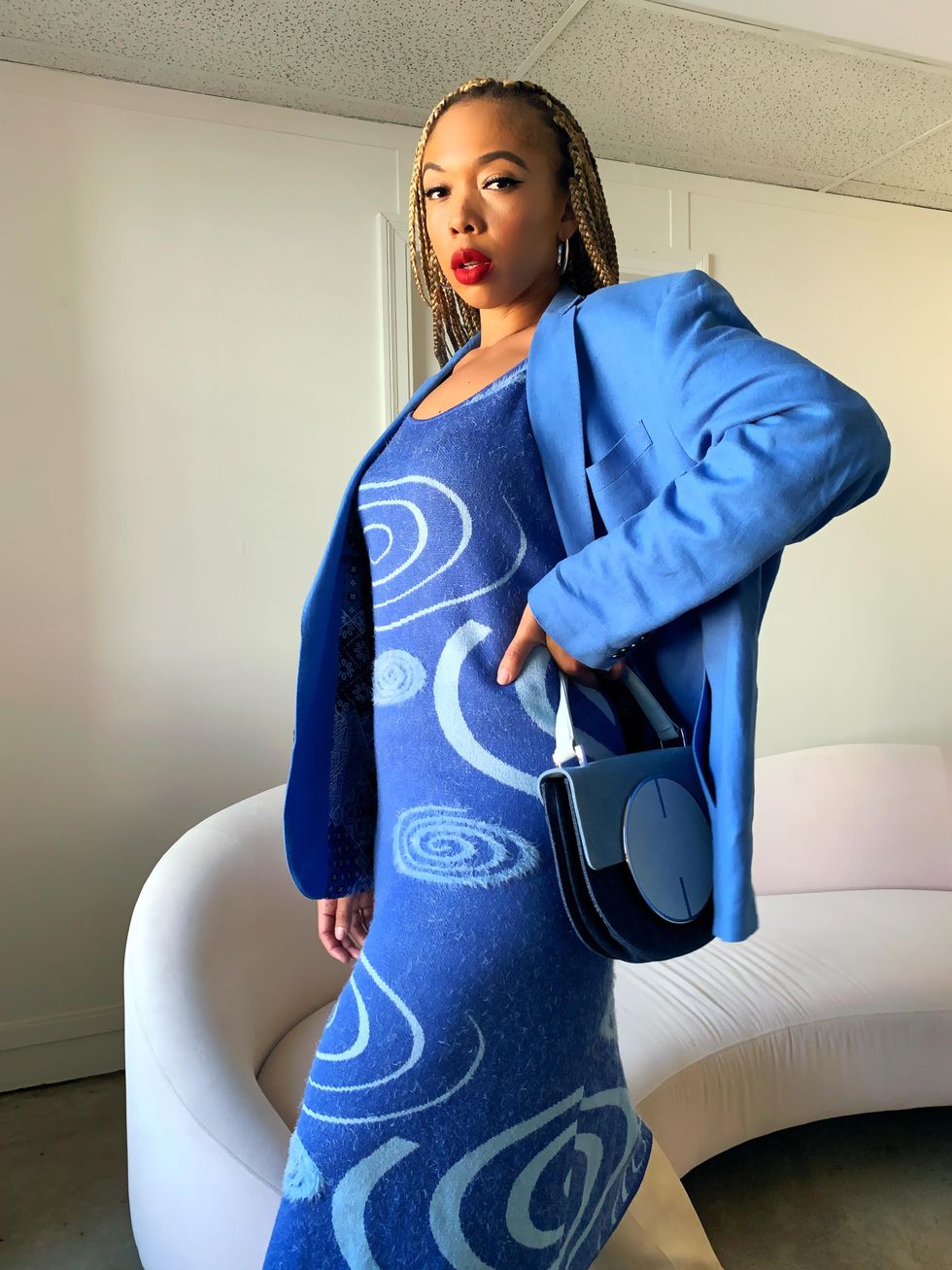 Shahirah Ahmed/xoNecole
These days when it comes to prints, I love plenty of drama. This knitted swirl patterned slip dress is the perfect day-to-night look when paired with a white boot and matching blue blazer. Not to be too conservative, the cut-out back gives this design an unexpected pop to this cozy maxi.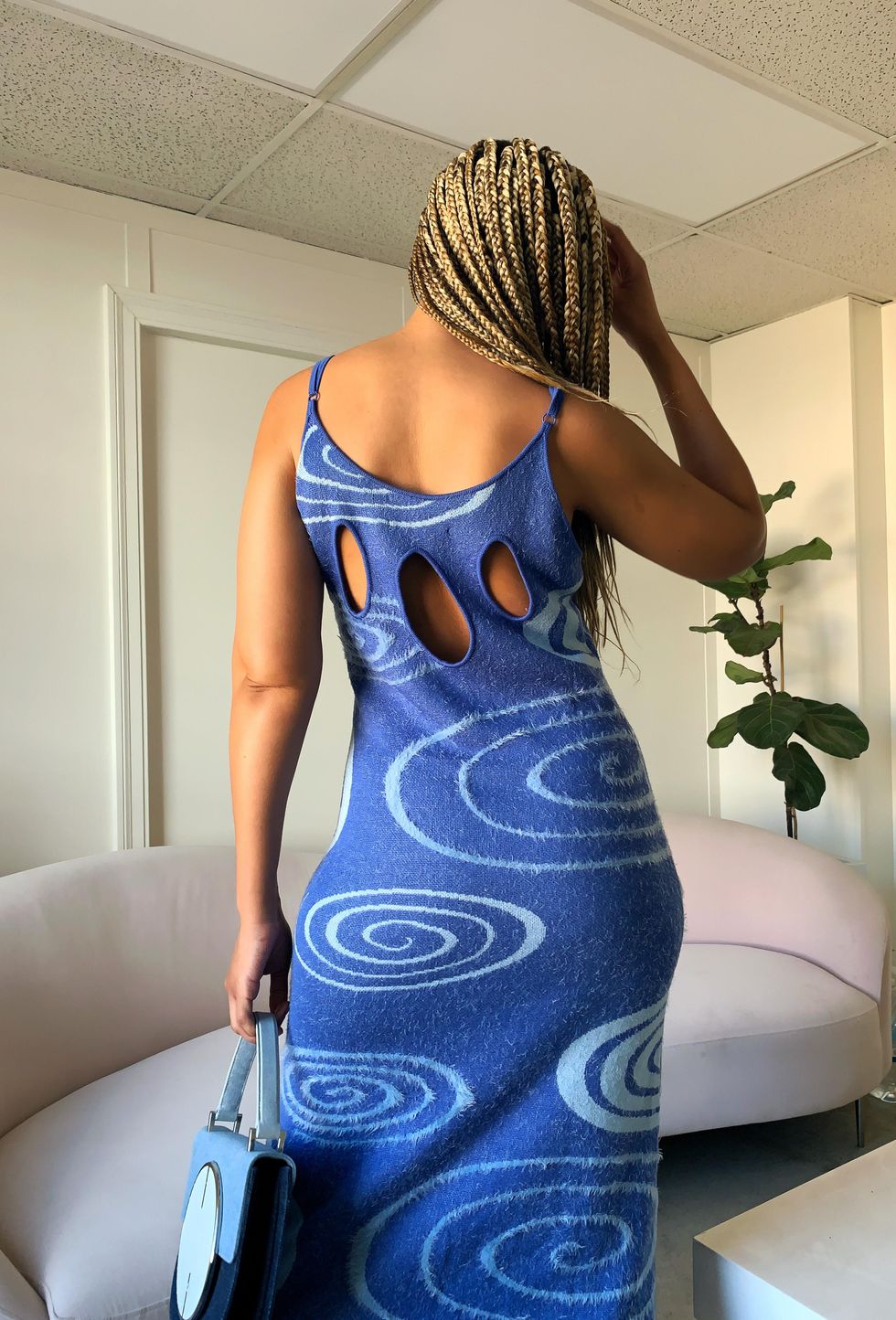 Shahirah Ahmed/xoNecole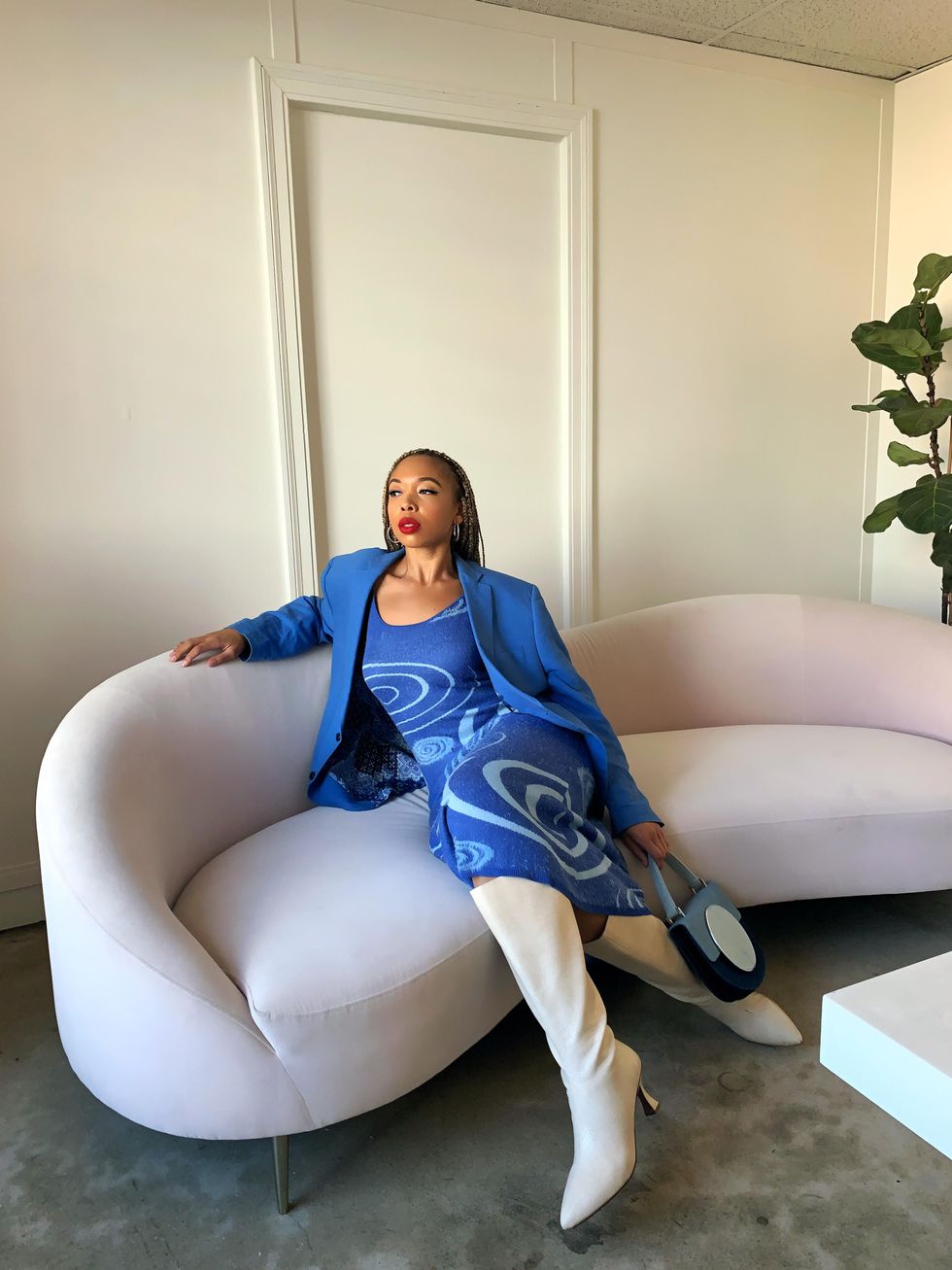 Shahirah Ahmed/xoNecole
Zebra-ish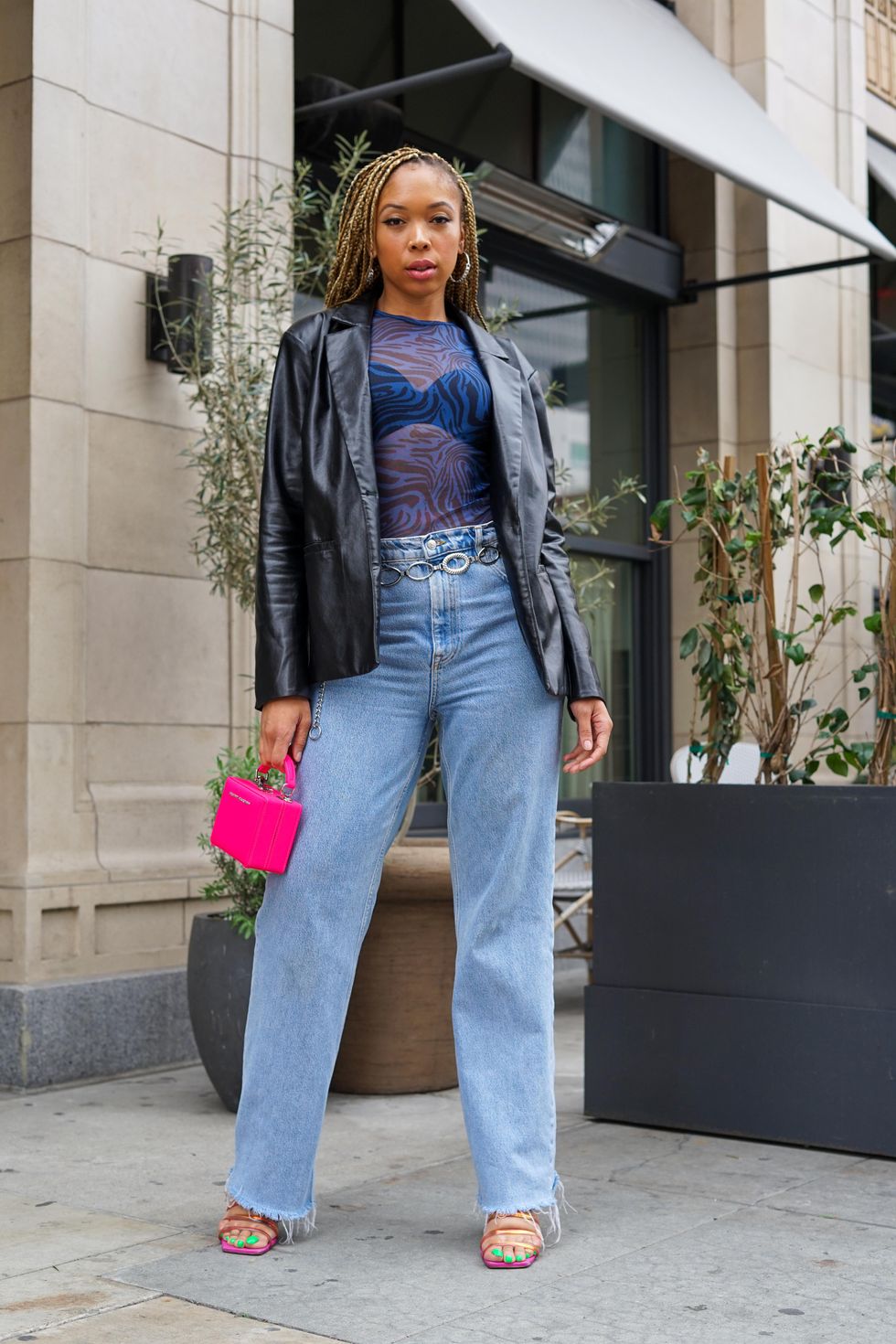 Shahirah Ahmed/xoNecole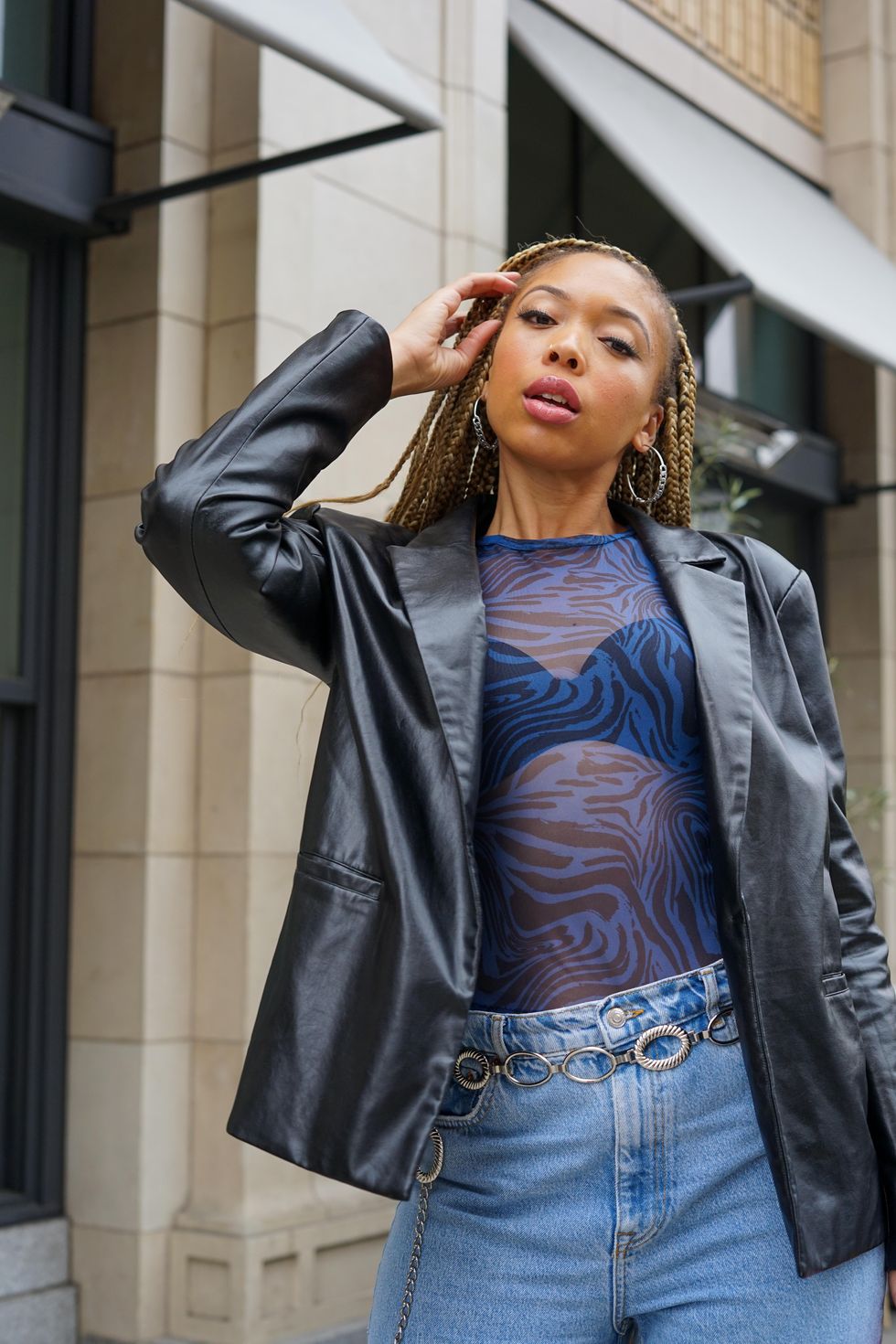 Shahirah Ahmed/xoNecole
Not to be fully replaced, zebra print hasn't fully gone away just yet. With an updated approach, this classic look has gotten a bit of a 2022 makeover. Wearing this black and blue zebra swirl top along with wide-leg denim jeans, I couldn't help but give this look a pop of pink courtesy of Brandon Blackwood and strappy heeled sandals to complete this look.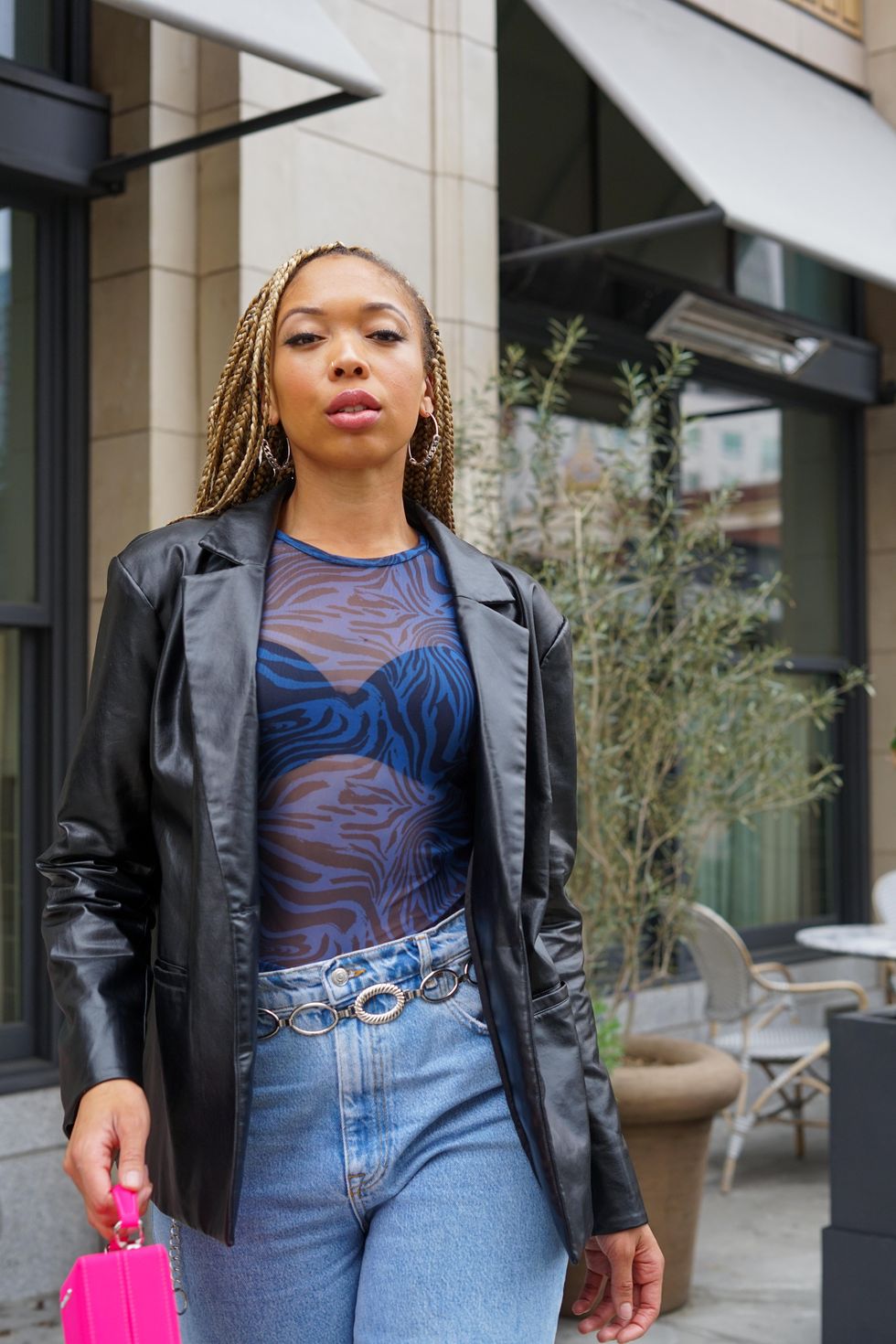 Shahirah Ahmed/xoNecole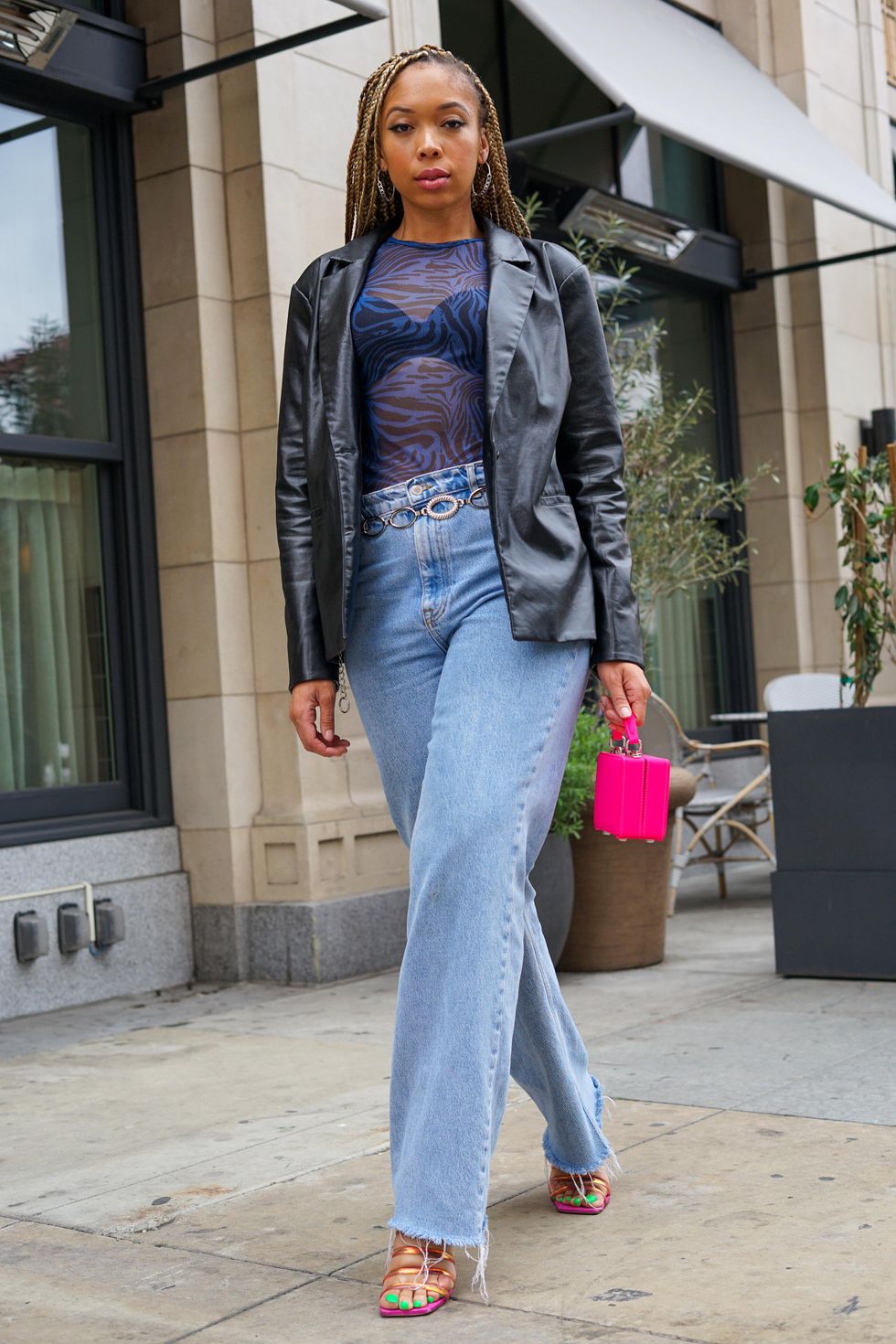 Shahirah Ahmed/xoNecole
Featured image by Shahirah Ahmed/xoNecole