Shahirah Ahmed
Shahirah Ahmed is a content creator, influencer and fashion stylist residing in Los Angeles, CA. Originally from Sacramento, CA she decided to pursue a career in the fashion industry once realizing she had the power to turn her dreams into reality. A year after obtaining her degree in Fashion Merchandising, Shahirah launched her namesake fashion blog for tall women with larger shoe sizes in 2015. Keep up with her daily looks on Instagram @shahirahahmed.
There's no doubt fall is one of the most exciting seasons of the year. While many of us are still basking in the final days of summer, I can't help but look forward to the variety of layered looks I plan to pull out my closet in the upcoming months. As we transition our warm weather staples, there's no better time to get a head of what's new in the world of fashion by first taking a look at this year's biggest and boldest trends.
I'm sharing the chicest accessory of the fall 2021 Ready-to-Wear designer collections you'll see everywhere this season. Trust me, you'll never want to leave home without these stylish pieces, rain or shine. What were considered non-essential items just last year are here to reclaim the spotlight they've always deserved. From oversized shades and totes to stylish hair accessories, these are the year's biggest statement pieces to add to cart in preparation for your flyest fall season ever.
Thank me later.
1. Oversized Shades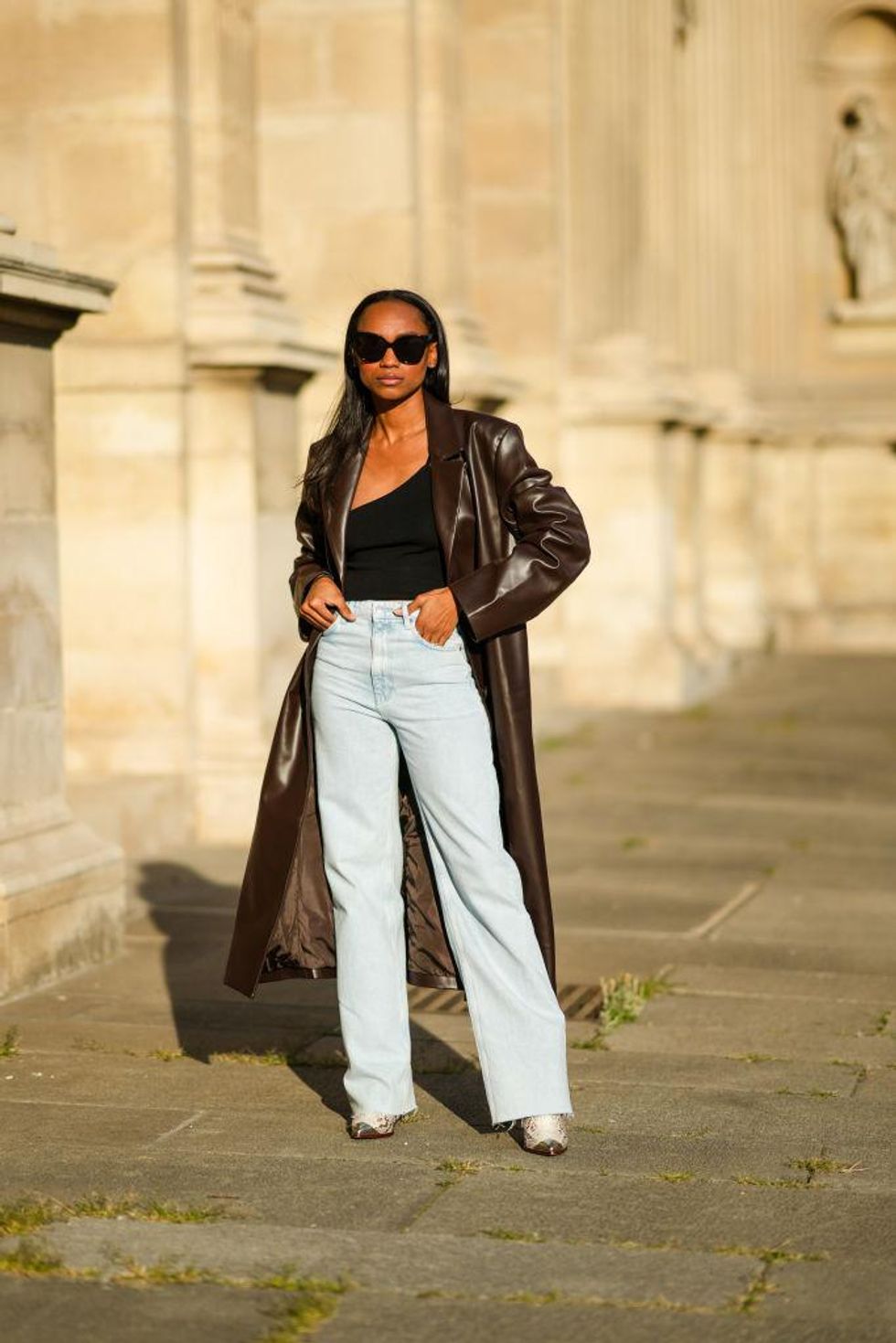 Edward Berthelot/Getty Images
Your grandfather's shades are making a comeback with a chic upgrade. Putting a spin on a throwback classic, oversized silhouettes are the glam we all need in our lives. Perfect with a lightly tinted shade, this bold frame is giving us the luxury feel we need for fall.
2. Oversized Totes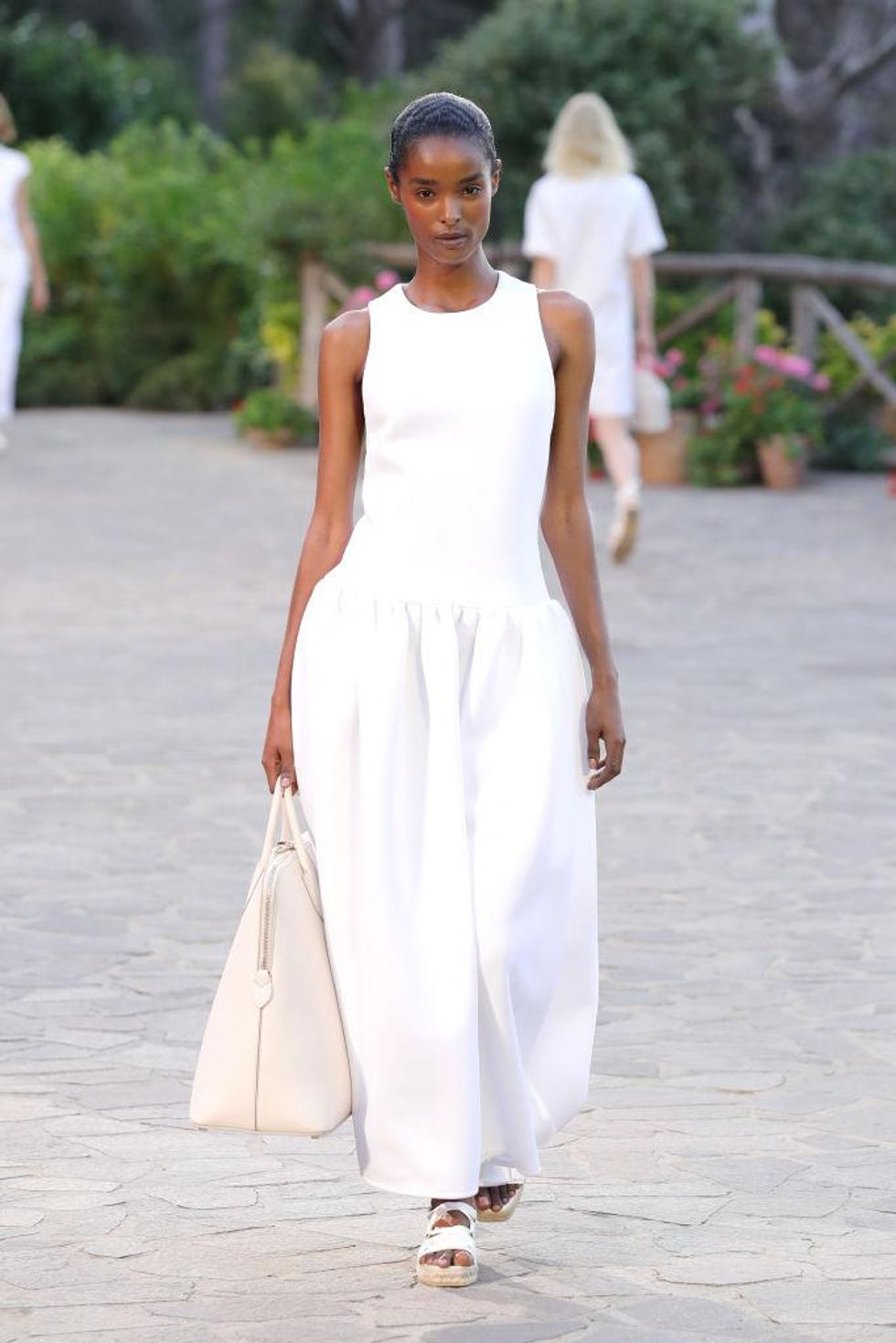 Vittorio Zunino Celotto/Getty Images
Oversized totes are taking over the handbag scene as accessories are getting bigger and bolder this season. Say goodbye to your mini bags, for now, as functionality meets style in a major way. Perfectly paired with your cold weather ensemble, the oversized shopper is the stylish carryall to be spotted in this season. From faux leather to textured prints, these will be the latest essential bag trend you won't want to live without.
3. Over the Knee Boots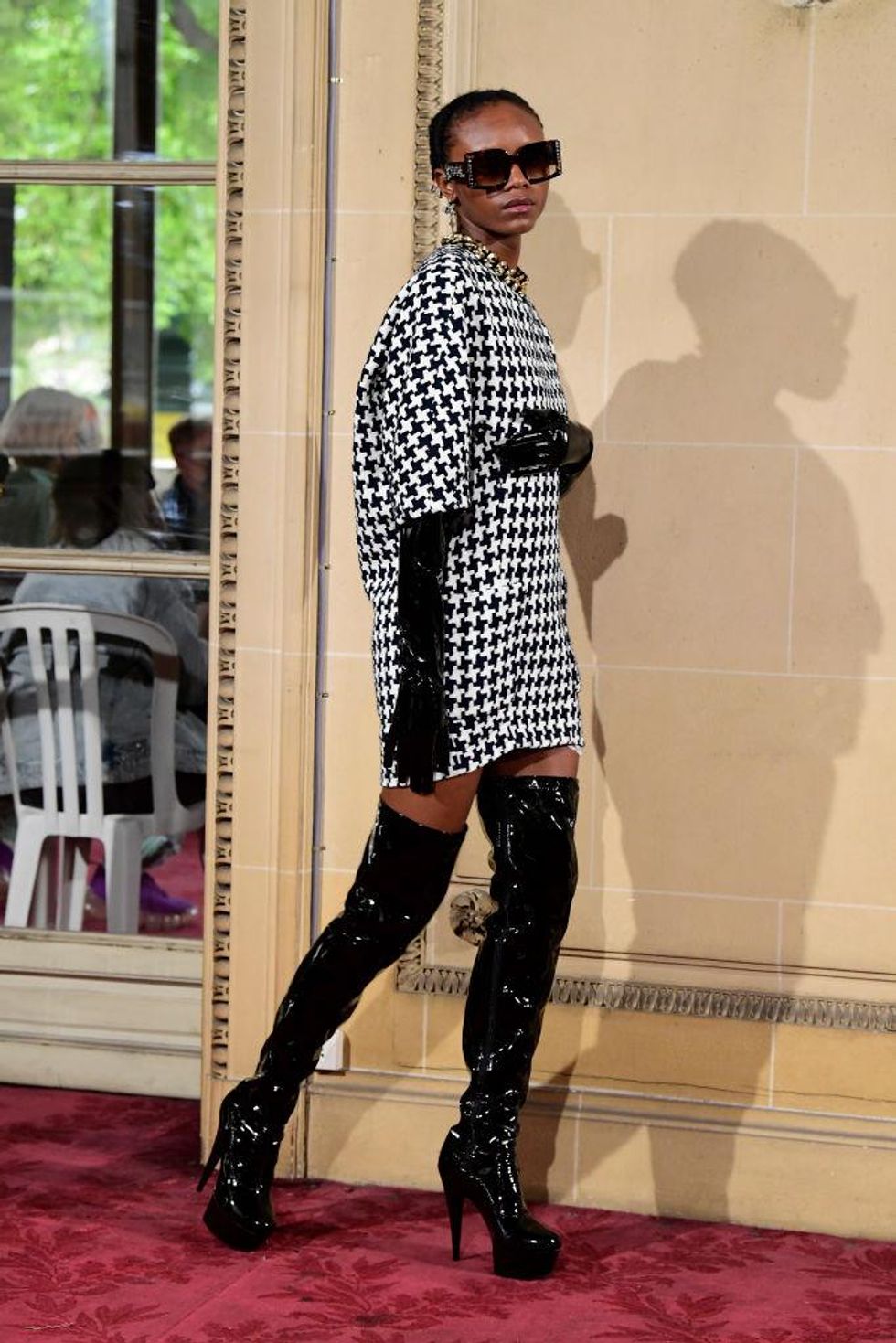 Kristy Sparow/Getty Images
Every fall we deserve to buy ourselves a new pair of boots. The classic footwear staple, there's no reason we shouldn't have a fly pair over the knee styles for the cold weather season. Pair with a bold knit maxi dress for a stylishly elegant fall look.
4. Printed Stockings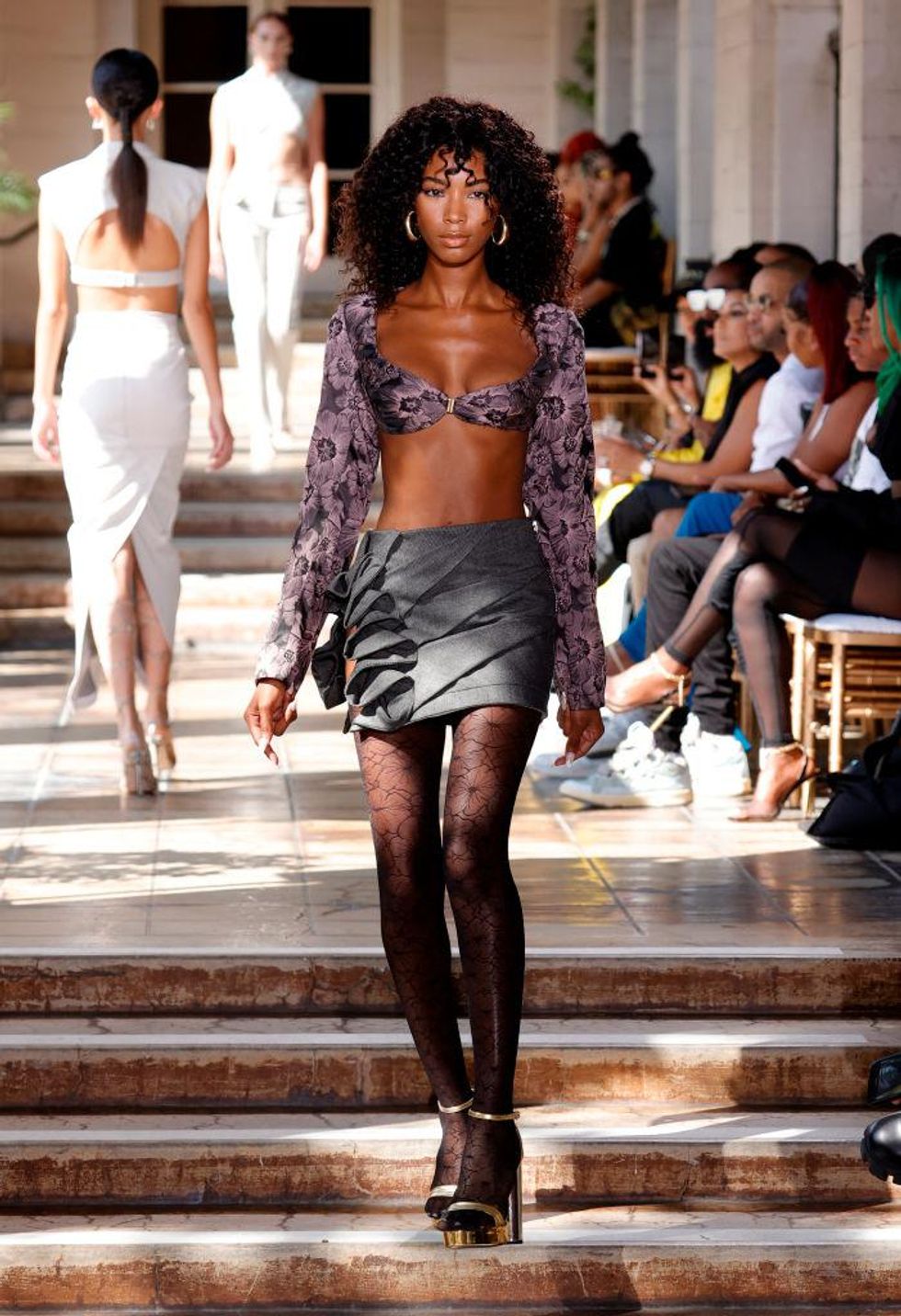 Frazer Harrison/Getty Images
I can't remember the last time I wore a pair of stockings but this season they're making a major comeback in our ready to wear outfits. Elevate your looks by adding a printed stocking to your wardrobe mix, pairing with a mid length skirt and if you're really bold go for a higher than life platform for a chic yet daring moment.
5. Statement Earrings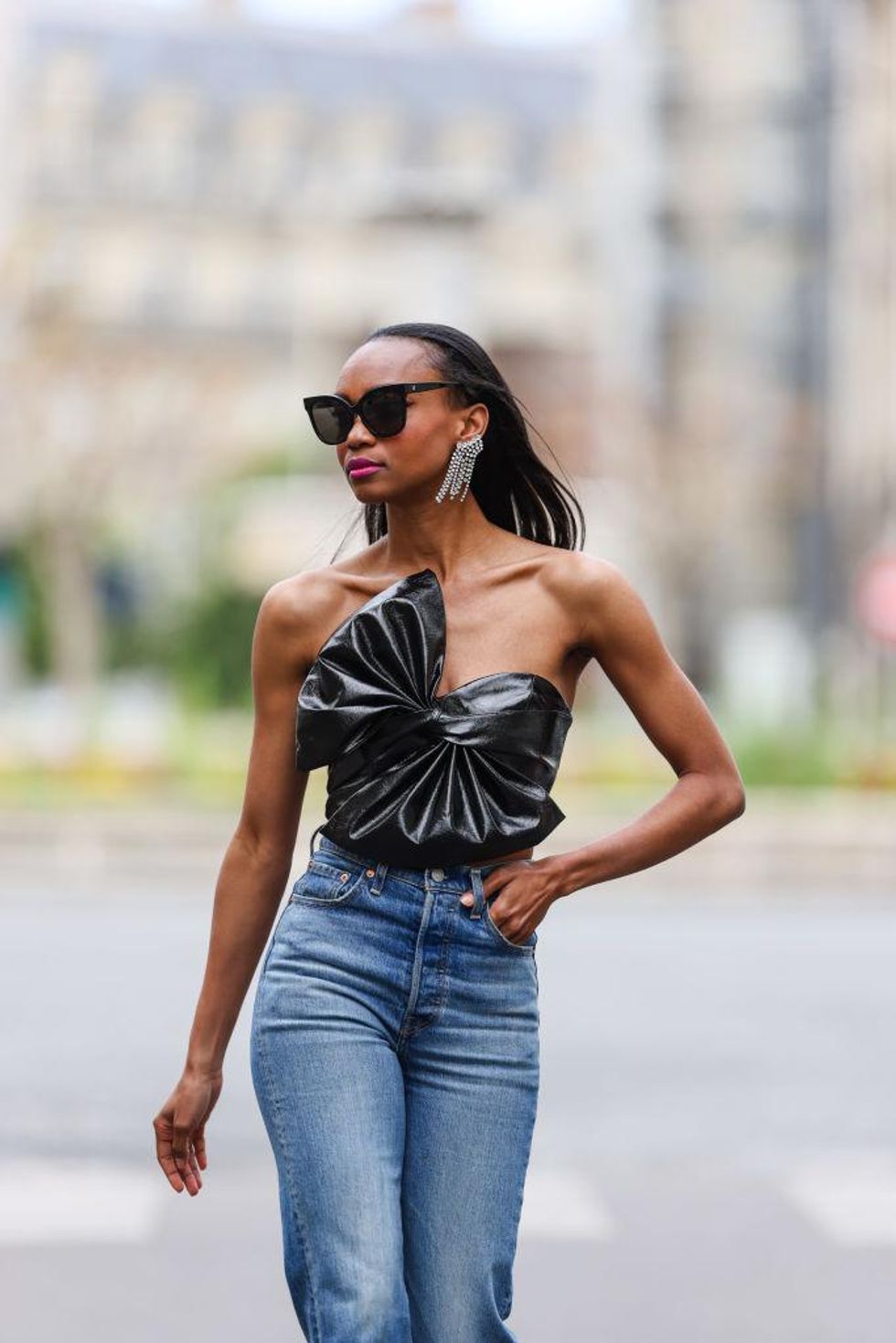 Edward Berthelot/Getty Images
Gone are the days of subtlety, this season we are going big or staying home with larger than life earrings poised to take over fall. From oversized hoops to dazzling chandeliers, there are a range of styles to add to cart ASAP in preparation for next season. Pair with everyday fall classics like leathers and knits for bold eye-catching cold weather looks.
6. Hair Scarves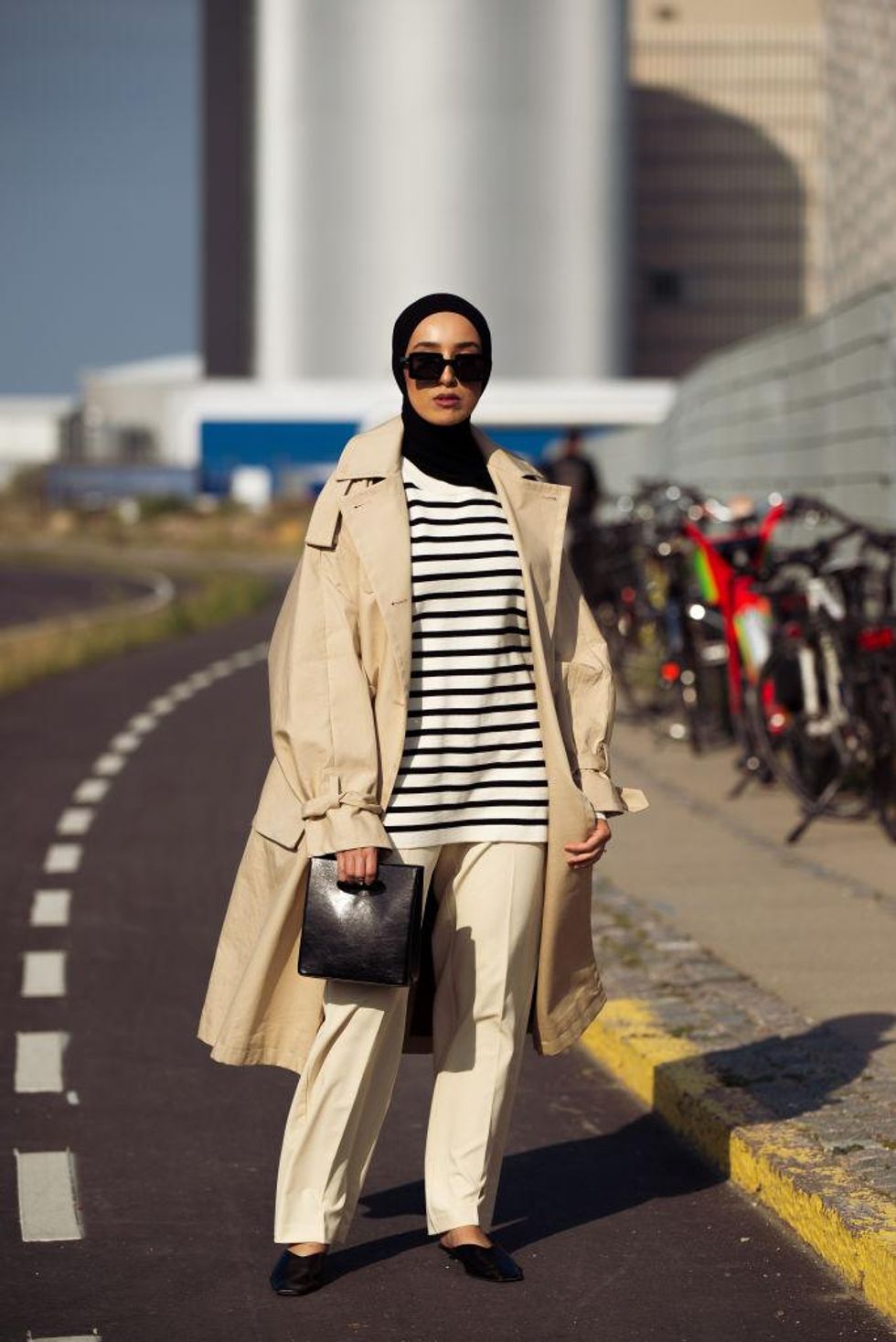 Raimonda Kulikauskiene/Getty Images
For black women, wearing headscarves is nothing new. Also known as kerchiefs, this is the latest hair trend that took over fall runways. For a retro twist to your fall look, tie a printed head scarf, paired with a statement coat layered and oversized sunnies for a modern yet elegant daytime look.
To get your fashion fix and to stay up to date with the latest trends, check out the xoNecole Style section here.
Featured image by Edward Berthelot/Getty Images
Keep reading...
Show less
When thinking of fall palettes, bright vibrant colors are the last thing on my mind. Typically, black and soft neutrals set the tones but just like everything else happening around us, nothing in 2021 is the same. As the world sheltered in place for most of the 2020 fall/winter season, we missed out on our typical fashions as the industry shut down most operations. This year, designers are taking advantage of lost time by making up for what we missed with exciting and vibrant colors, prints and overall looks. With optimism on the rise, there seems to be a gravitation towards intense hues and distinct combinations this upcoming season.
While traditional tones will make a natural shift, bright colors trending through spring/summer will continue to have their moment during the autumn season. According to Pantone Color Institute experts, colors for Fall/Winter 2021/2022 emphasize our desire for a versatile range of color that embraces and accommodates the various possibilities of our lifestyles; colors that encourage personal expression whether sensible or quirky; colors that embrace the calm and healing as well as express a rainbow of hope and joyfulness.
Fall 2021 lit up the runways in more ways than one but designers' use of color throughout each collection created bold personalities of their own. This year's color trends reimagined everyday essentials, easily elevating looks with the use of exciting hues and color schemes.
Warm up your traditional fall wardrobe with electrifying compliments to neutral tones with the addition of deep blues, pastels, vivid pinks, and ultra bright trending hues.
1. Illuminating Yellow
There's something about a black woman in yellow. Typically a spring/summer hue, this color dominated the fall runways. Named Illuminating by Patone, this color is described as "friendly and joyful, an optimistic yellow offering the promise of a sunny day." While the guarantee of a bright beautiful day is less likely as seasons change, mixed with a soft purple pastel, this color combination is giving life regardless of the weather conditions.
2. Leprechaun Green
Named for its wondrous green hue, this color is one of the most distinct. Green has been a top trend throughout spring/summer of this year so it's no wonder it will continue through fall. Cop a few accessories in leprechaun green or layer your look with a bold oversized blazer for the win.
3. Pale Rosette Pink
A romantic pink, the soft Pale Rosetta is another non-traditional fall tone. The perfect hue for a feminine yet chic approach, look for this color in chic knit sets this season. Pair with a classic wrap around heel or a white calf-length boot when looking to accessorize this pretty in pink moment.
4. Mykonos Blue
While many of us may not be able to vacation in the beautiful mediterranean city by the sea, there's no reason not to add this hue to your wardrobe this fall. Described as a brisk blue evocative of the Aegean Sea, this stunning shade of blue is one of my favorite colors of 2021. Such a vibrant tone sets off your entire ensemble with an instant pop. Have fun experimenting with your look for an eye-catching color-blocked combination.
5. Fire Whirl Red
Fire Whirl is the hottest color trend of the 2021 season. This fiery selection will bring the sparks, lighting up your everyday looks this fall. A vigorous red with a dynamic presence, use extreme caution when wearing this bold color choice. Pair with cream and gold accessories for a classic yet chic look to adapt to the rest of your neutral fall clothing collection.
To get your fashion fix and to stay up to date with the latest trends, check out the xoNecole Style section here.
Featured image by Edward Berthelot/Getty Images
Keep reading...
Show less
Spending more time indoors has forced me to re-examine my home life, compelling me to create a space that is conducive to maximum peace and comfort, which also means a space that is aesthetically pleasing. One way to effectively advance towards my goal of ultimate serenity is living in a thoughtfully curated and organized clutter-free zone with everything having a proper place. Although a perfectly organized home looks as if it's only seen on TikTok or Pinterest, I'm finally ready to make it my everyday reality.
It can be difficult taking on home projects without feeling tired and overwhelmed from all of life's other responsibilities. When thinking of getting our homes in order, no matter your family size, tasks such as organizing can sound overwhelming and expensive, especially when working with limited space and a limited budget. In need of expert advice, I enlisted the help of LA-based professional organizer Charlotte Upshaw to jumpstart the process. Lending her expertise with projects large and small from LA-based brands to family home projects, Charlotte is known for her beautiful and masterful work when it comes to maximizing any space, perfect for individual and family needs.
Keep scrolling to check out our conversation for insight on how to get started on decluttering your home to live your best gratifying life.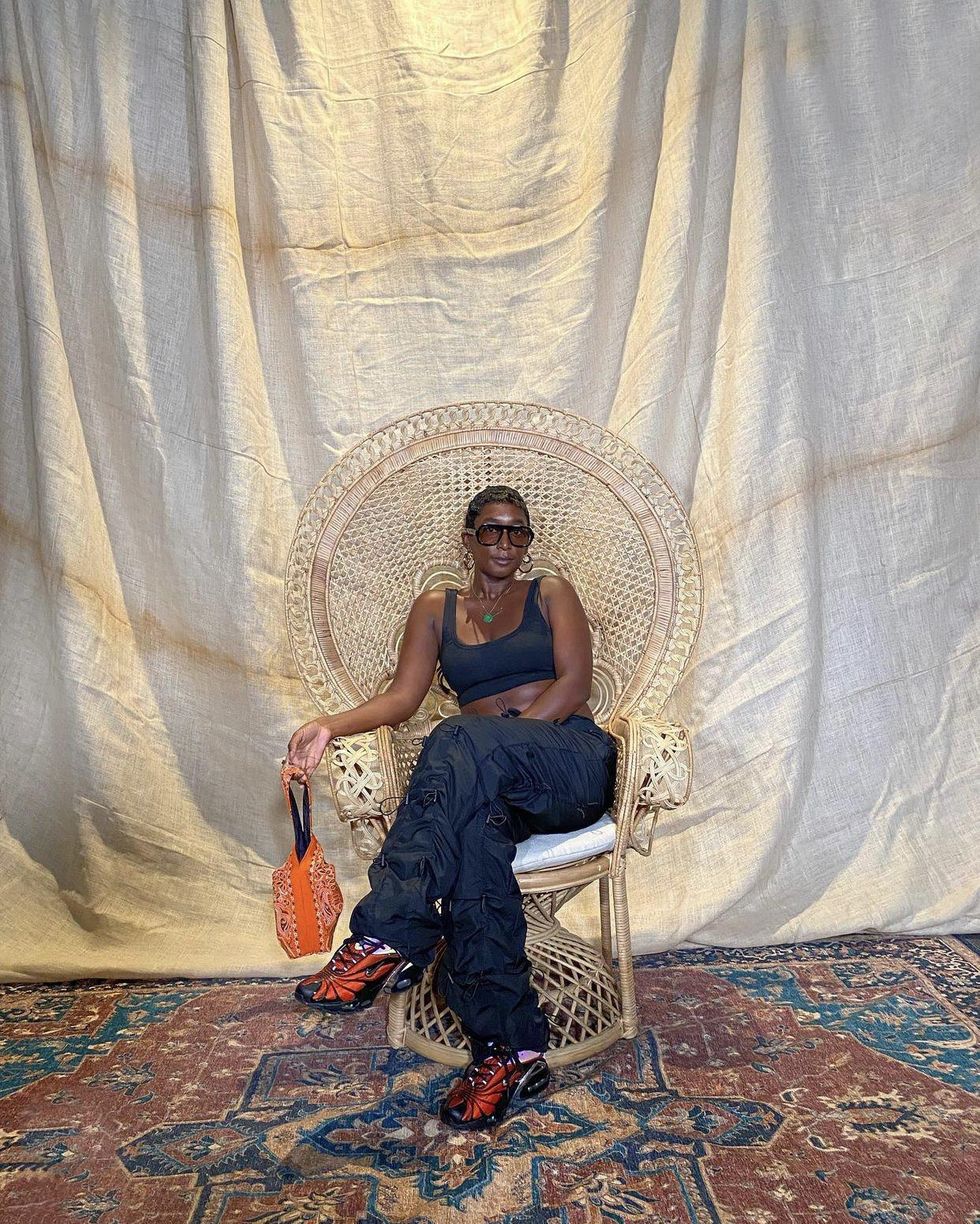 Meet Charlotte Upshaw, "the Iverson of organizing."
Courtesy of Charlotte Upshaw
1. What's the first step when tackling a home organization project?
"At the beginning of a project, it's important to access what you have. The best way to do so is by pulling everything out of the space you want to organize, then do an honest edit of things you no longer need. Editing is very important here so that you're not re-cluttering your space all over again."
2. What about bathroom tips for women like myself with tons of makeup and hair products with limited drawers and cabinets? 
"When it comes to bathrooms, categorizing is important. I like to organize according to category and store it as such. I'm not big on crowding a sink with product. I suggest editing down to everyday essentials if anything. Stackable containers are great for bathrooms and allow you to get the best of your space under the sink."
3. Any closet hacks for those of us struggling to work with minimal storage space but want to maintain an aesthetically pleasing atmosphere? 
"I always tell clients that vertical space is important, so make sure you're using all of the height as well as width. Getting rid of original boxes is a huge help; bulkiness takes up much-needed space. A few of my favorite closet products that I always suggest for those with storage space are slim hangers (they come in various colors and textures), drop front shoe containers, and 's' hooks for purses and accessories. Another thing I do is use decorative bins that can function as both as storage and a cute piece of furniture."
4. For those that feel like a professional organizer would be too expensive, what are a few tips on organizing on a budget? 
"First, I want to clarify the misconception that professional organization services are expensive and unfeasible. It's a great investment because it's essentially a lifestyle elevation. However, when organizing on a budget, I suggest doing things in phases. Whether that's buying new hangers and getting rid of your old ones or tossing flimsy shoe boxes that are taking up too much space. The Container Store is actually not as expensive as people assume; their perks program is extremely rewarding. Your local Target is always a good resource for organizational and aesthetically pleasing things as well."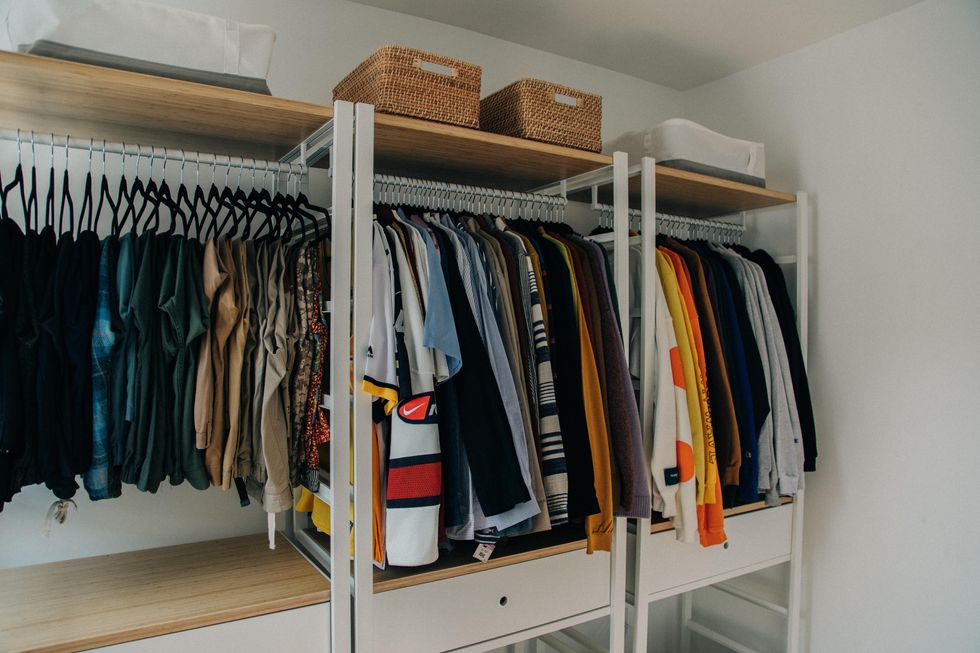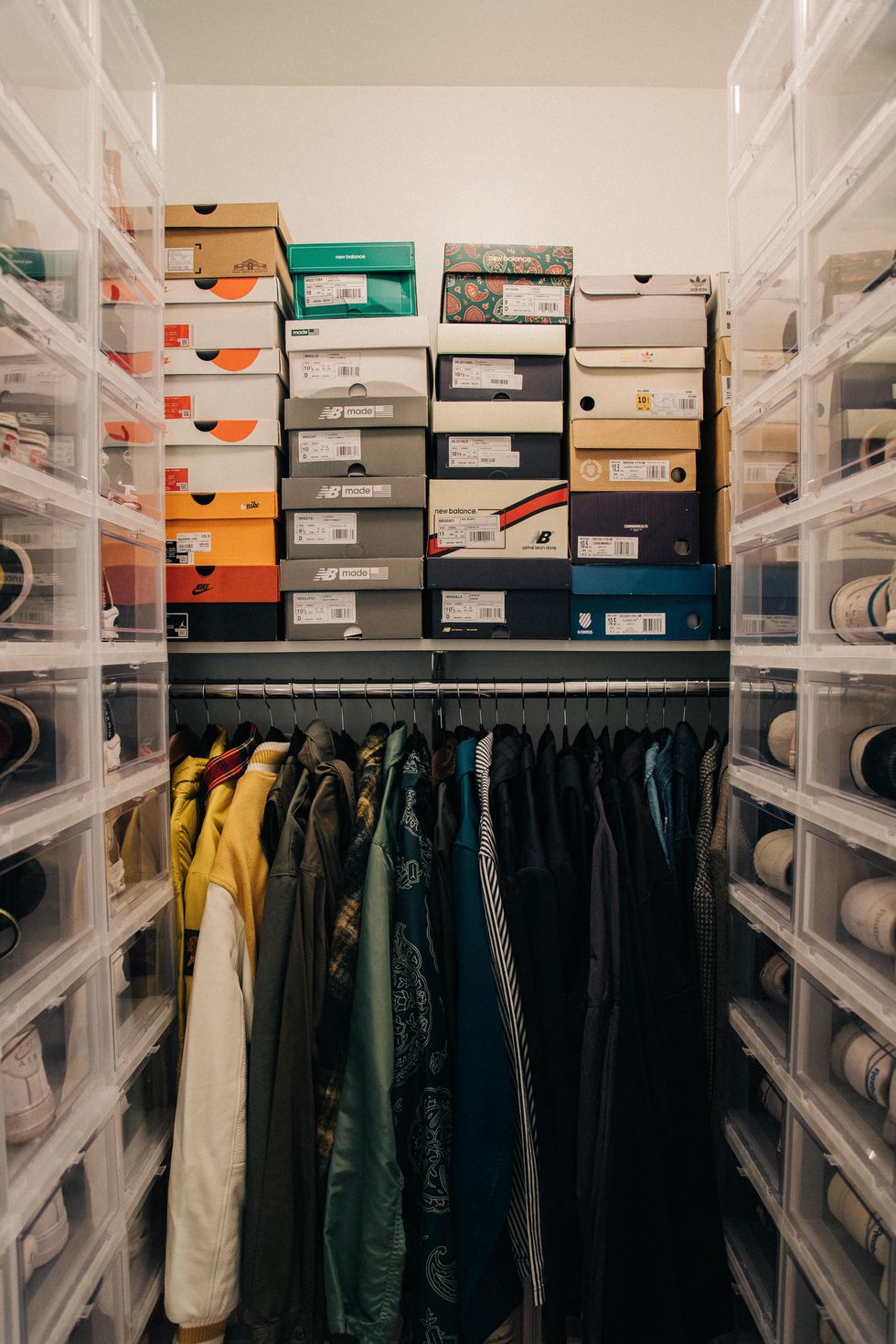 5. I have a hard time organizing overall but the amount of accessories I own such as jewelry and sunglasses are overwhelming. Any suggestions on storing these smaller items?
"I love an open acrylic tray for sunglasses and accessories. They can easily just lay flat, lined up and look great on a dresser."
6. Growing up, a junk drawer and utensil holder were the only two things organized in our kitchen, ultimately causing me to create the same bad habit. What are a few kitchen organization ideas I can adopt to break this cycle?
"Drawer organizers! Adjustable drawer organizers can be used for more than utensils. You can find them at Target, Amazon, etc. I also love incorporating clear fridge bins whenever I can to create the most refrigerator space."
7. You mentioned hiring a professional organizer is more affordable than people assume. For those that are now considering this new lifestyle elevation, what can they expect from an expert such as yourself vs. an everyday DIY project? 
"By hiring me you're paying for a specific creative execution. DIY is great for the short-term but I feel like everyone needs to have an organizer get their space to another level. DIY projects are time-consuming and the result sometimes doesn't meet the initial vision you may have had. Essentially, once I come in and create a system for you, I'm setting the tone and you just have to maintain it. It's absolutely worth holding off on that pair of shoes or bag you were going to cop and hiring an organizer instead."
For a more detailed home organization consultation, feel free to contact Charlotte on Instagram @CHELF.LIFE.
Featured image courtesy of Charlotte Upshaw

Keep reading...
Show less
No matter your cup size, wearing a traditional bra is not always comfortable or convenient. Having a love for modern styles with trendy deep v's and backless cut outs, wearing your strappy or strapless styles just won't cut it. When searching for solutions, it can be frustrating identifying brands that can fulfill our individual needs for invisible support especially when it comes to trusting that they'll be effective and hassle-free. As technology advances, alternatives for women of all sizes and colors have been introduced to the market and I'm determined to find the perfect fit for all.
Also known as second skin, adhesive bras are created with unique designs and features that make them almost invisible under clothing of all styles. When it comes to breast support that sticks to the skin, it's important to find brands that not only guarantee materials that allow your skin to breathe but most importantly making sure it won't come off unintentionally or even worse worrying about it falling off. From smaller to larger bust sizes, it's important to be secure no matter how much support you need. It's typically assumed women with small breasts are the only ones with the option of ridding themselves of the overly restrictive and painful support of bras, but these brands are proving that braless products can range from size A for a minimal left to DDDD.
Get into these invisible bra alternatives that actually lift while supplying all day comfort and support.
Brassybra is a disposable adhesive boob tape for women cup sizes A-G (DDDD). Beloved by many and known for its support for larger breasts, Brassybra is confident in being the perfect solution for those in desperate search of the right adhesive product. Brassybra is carefully designed and manufactured to work with your body like a second skin with worry-free products that fit, stick and stay on throughout your day.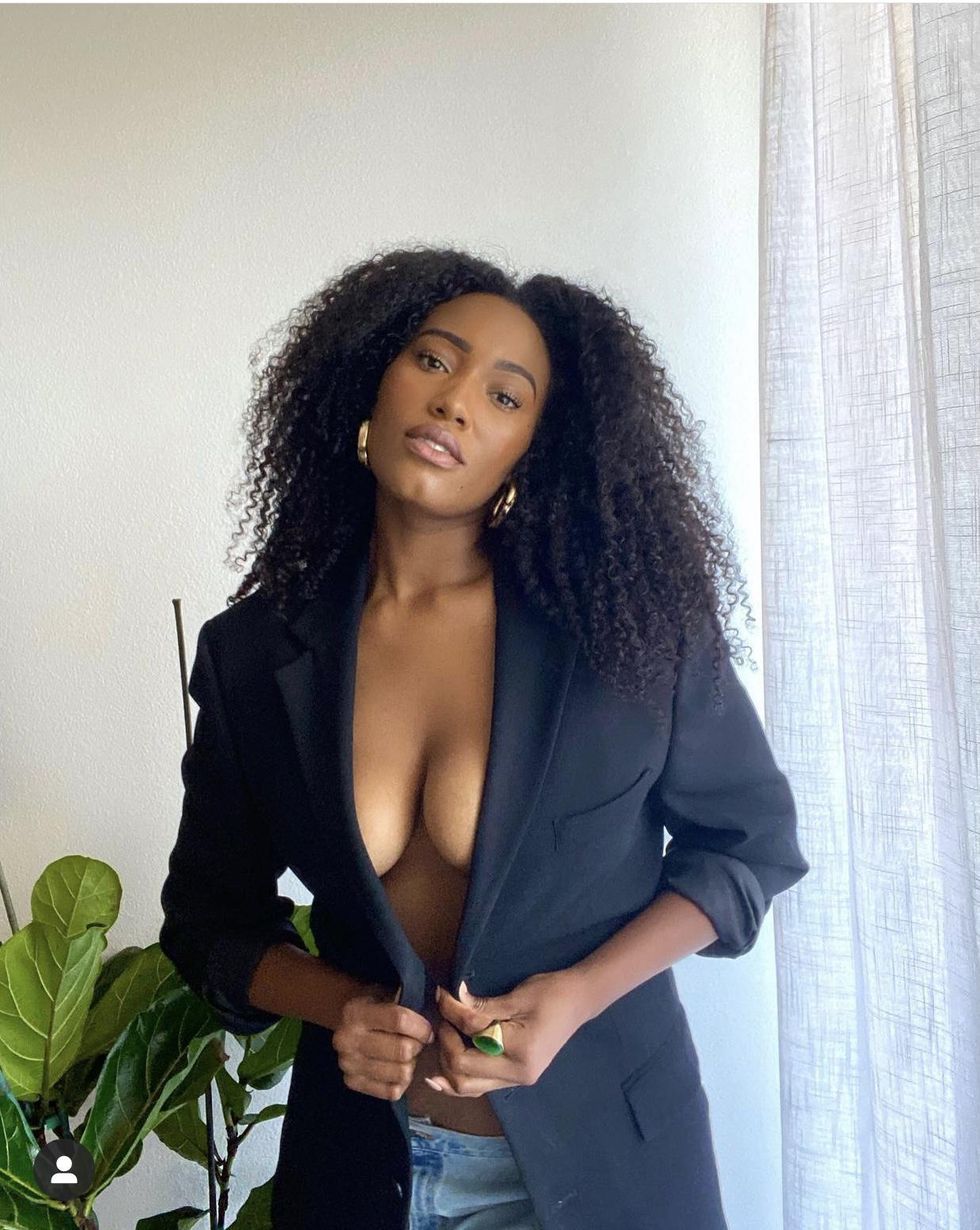 Wearing the Brassybra
Courtesy of Taylor (@tall.tay)
"What I love most about Brassybra is the freedom and support that comes with it. I don't have perky boobs and for a long time I felt bad about not being able to wear certain outfits that required not wearing a bra. Brassybra has allowed me to have more freedom to wear outfits I've always loved while boosting my confidence." - Taylor 36DD (@tall.tay)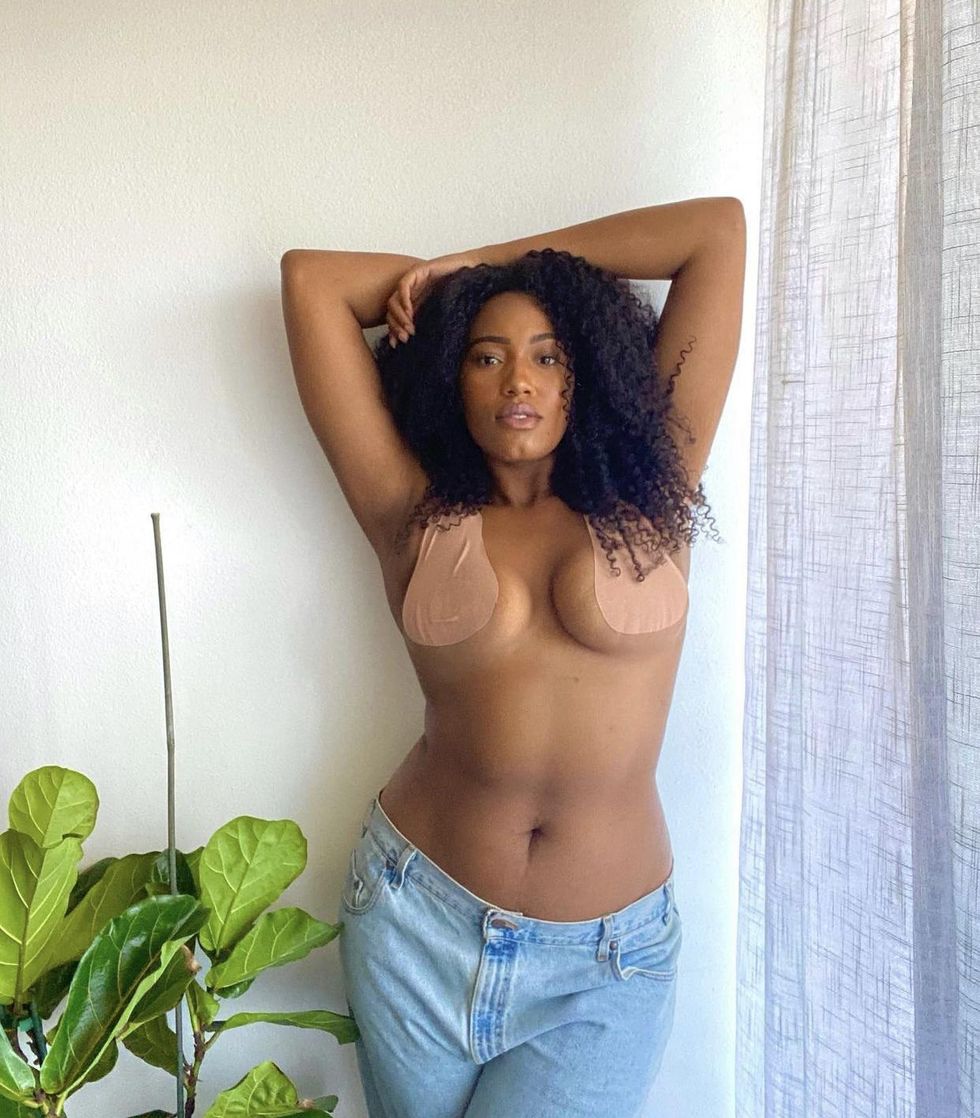 Wearing the Brassybra
Courtesy of Taylor (@tall.tay)
Revolutionizing the conventional bra with the innovative NuBra is a silicone 3D bra cup for women ranging from small to medium breast sizes. This strapless and self-supportive bra has a specially formulated adhesive, which has been clinically tested to be safe and skin-friendly. The unique PSA adhesive can be washed which then regenerates its stickiness and offers its wearer more than 100 times of normal, repeated application. This bra is comfortable, versatile, and extremely easy to apply.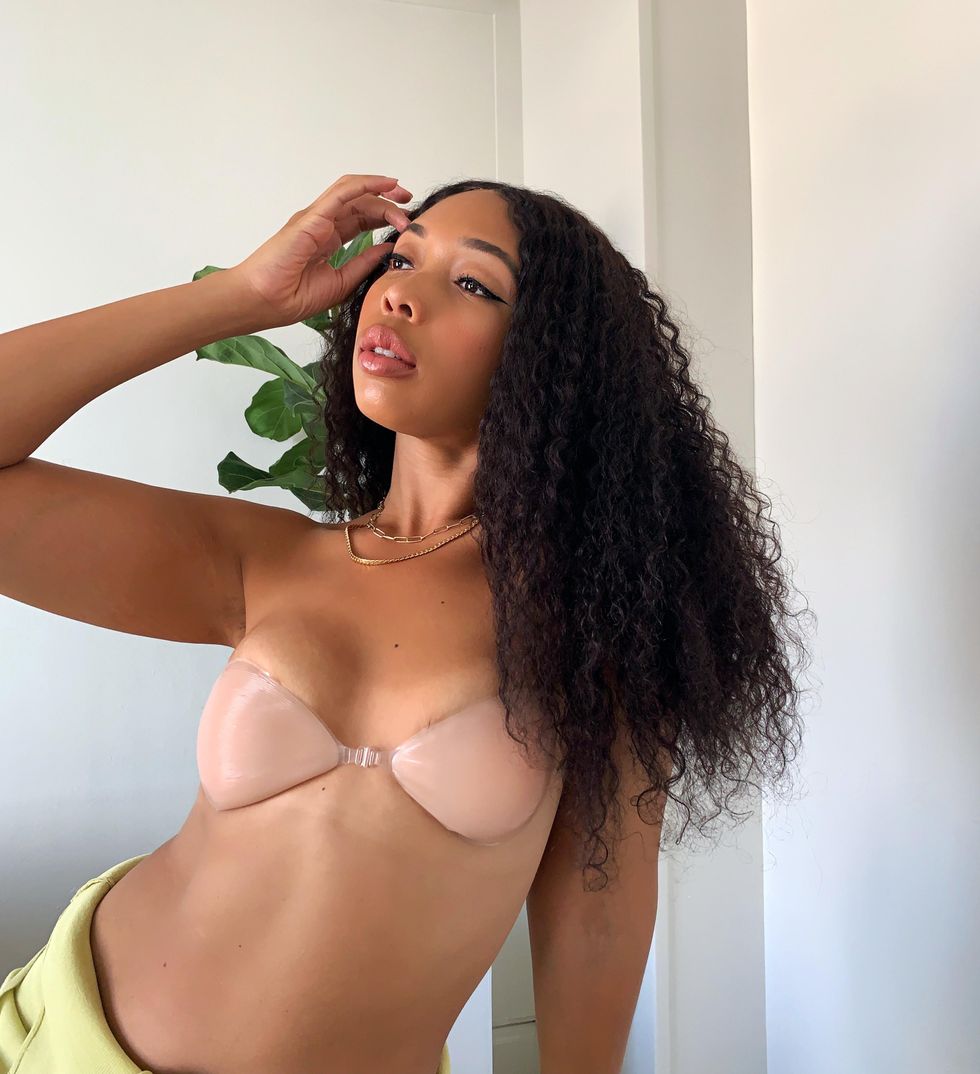 The NuBra
Courtesy of Shahirah Ahmed
NuBra is also highly practical and convenient, as it can be used in a pool or in the shower, while remaining secure. Perfect as an additional alternative to a bra-free lifestyle, this product essentially eliminates the adhesive tape currently marketed in the lingerie industry. Make sure to purchase this bra in the correct size or risk the cups being too large with too much access room. I am a B cup but should have gone a size down for a better fit.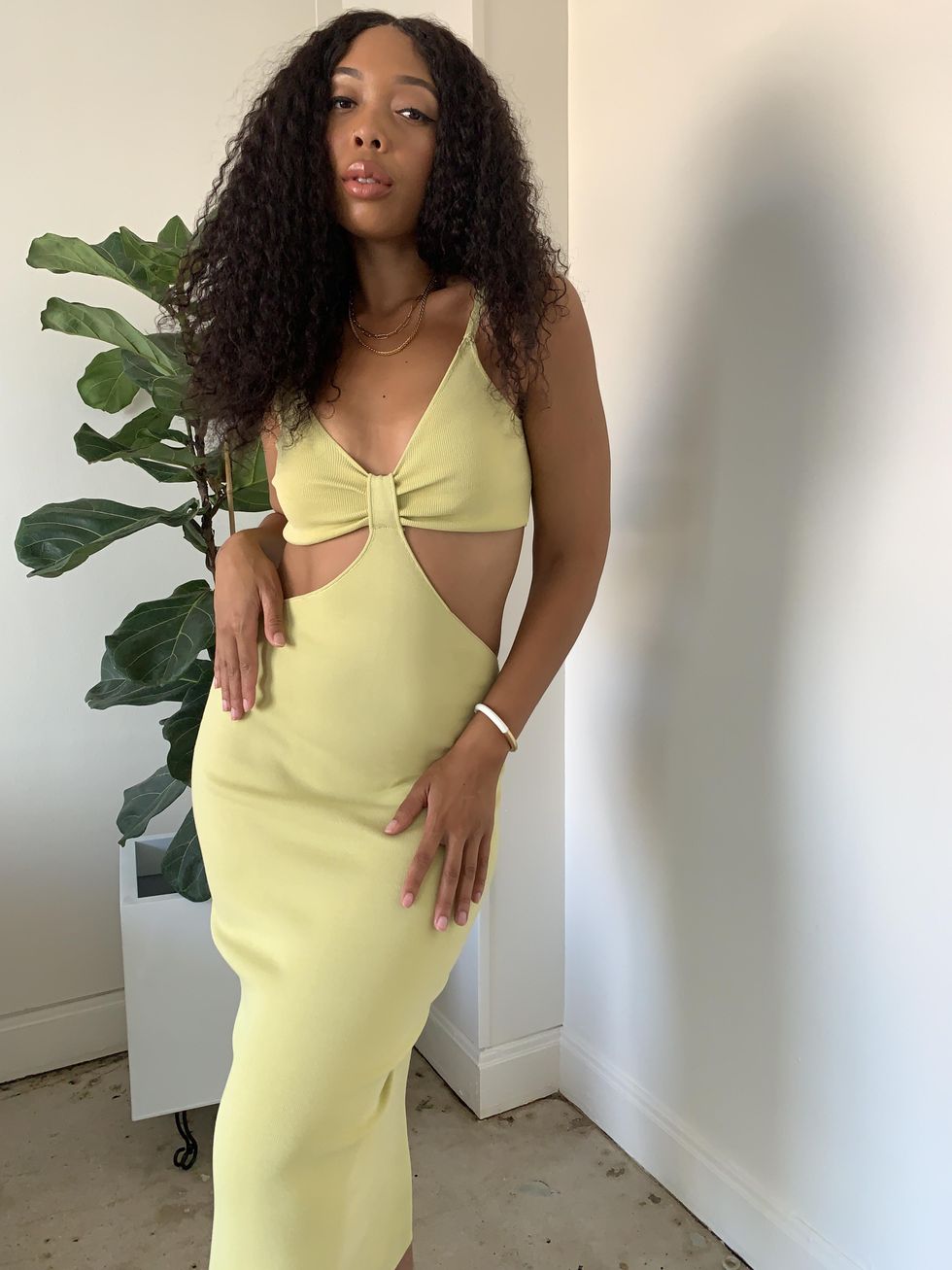 With wearing the NuBra
Courtesy of Shahirah Ahmed
Pros: The adhesive silicone is a natural lift and super convenient. This braless alternative is a great option for those that want a slight lift.
Cons: Not a great option in the summer. When sweating, the adhesive loses its stick and slips.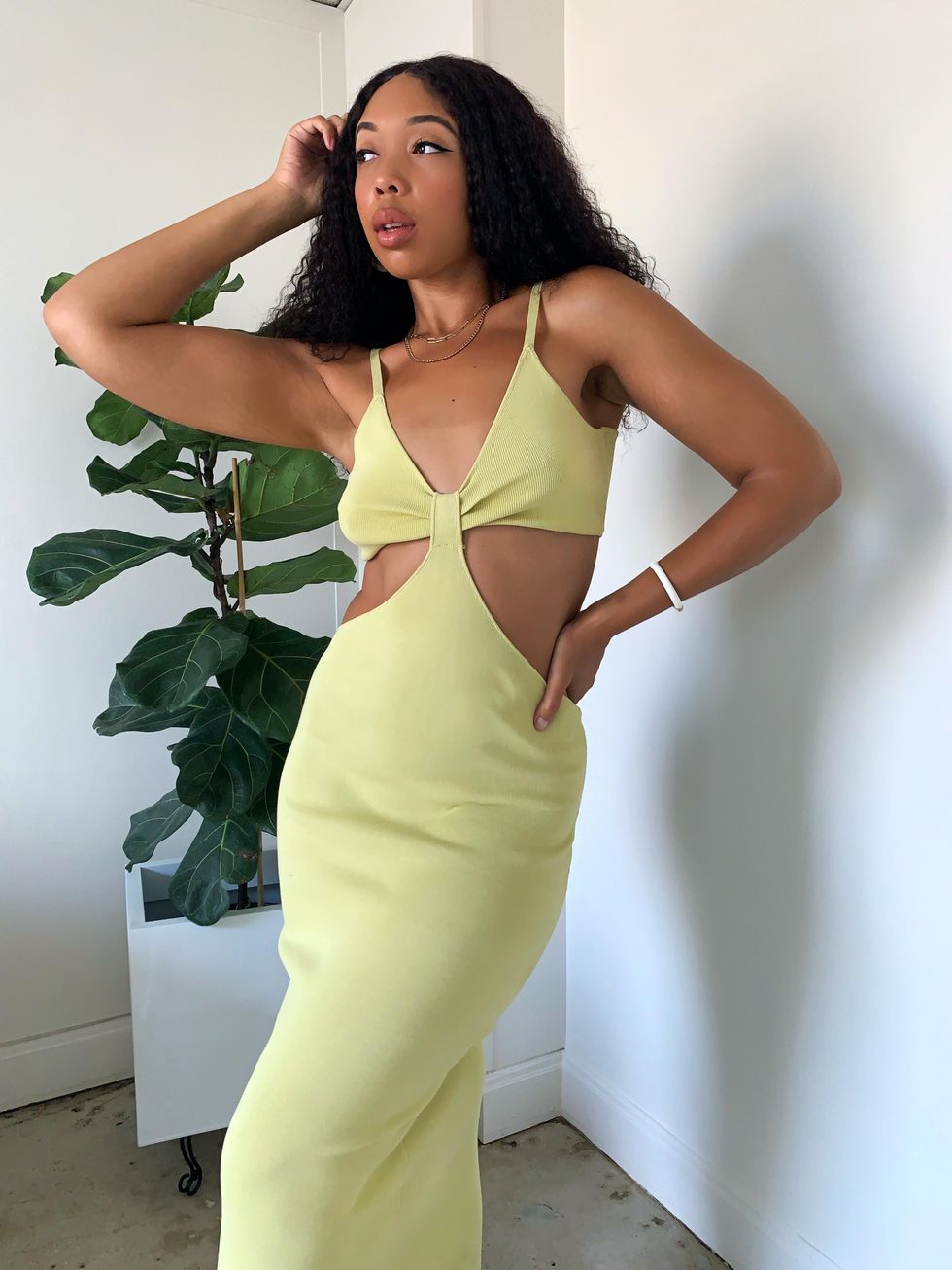 Without wearing the NuBra
Courtesy of Shahirah Ahmed
MultiNUDE is a Black women-owned company with a range of adhesive products from "lift 'em up" tape to nipple pasties, allowing you to be fashionable and comfortable with less effort. This brand offers shades that have been thoughtfully crafted to embrace the melanated. With complimentary nudes for those in need of darker shades and complexions, MultiNUDE is another great braless alternative.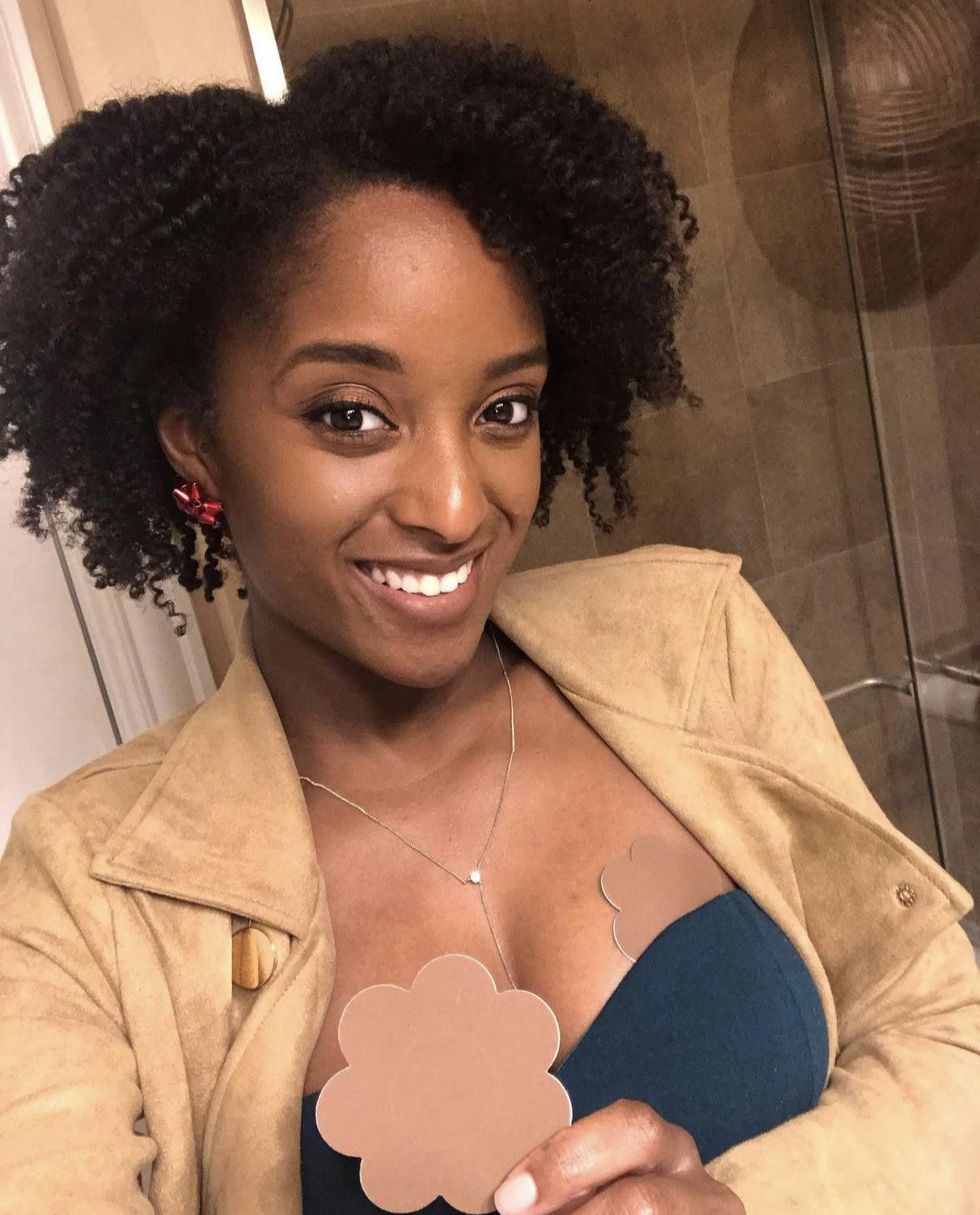 Featured image courtesy of Shahirah Ahmed
Keep reading...
Show less
It's not every day we discover a designer brand made up of beautiful garments that are both relatable and affordable to the everyday woman. As a budget conscious consumer, I do my best outfitting my wardrobe with affordable brands that speak to how I feel and how I'd like to be seen. With so much going on in the world, it's nice to see Black women entrepreneurs thriving in a world that oftentimes overlooks our talents and capabilities.
With a modern essence combined with an artistic feel, Nior is the epitome of class. The Nior customer isn't afraid to be bold. She is unapologetic in her style and fearless in position. Confident in who she is, she looks up to Black women who've conquered before her, defining what it means to appreciate luxury. "Nior is the art of a classic woman. I get my inspiration from the greats, Diana Ross, The Supremes, Cicely Tyson, Diahann Caroll and all the women in my family who are always so poised and beautiful," explains Dime Jones, designer and founder of The Nior Collection.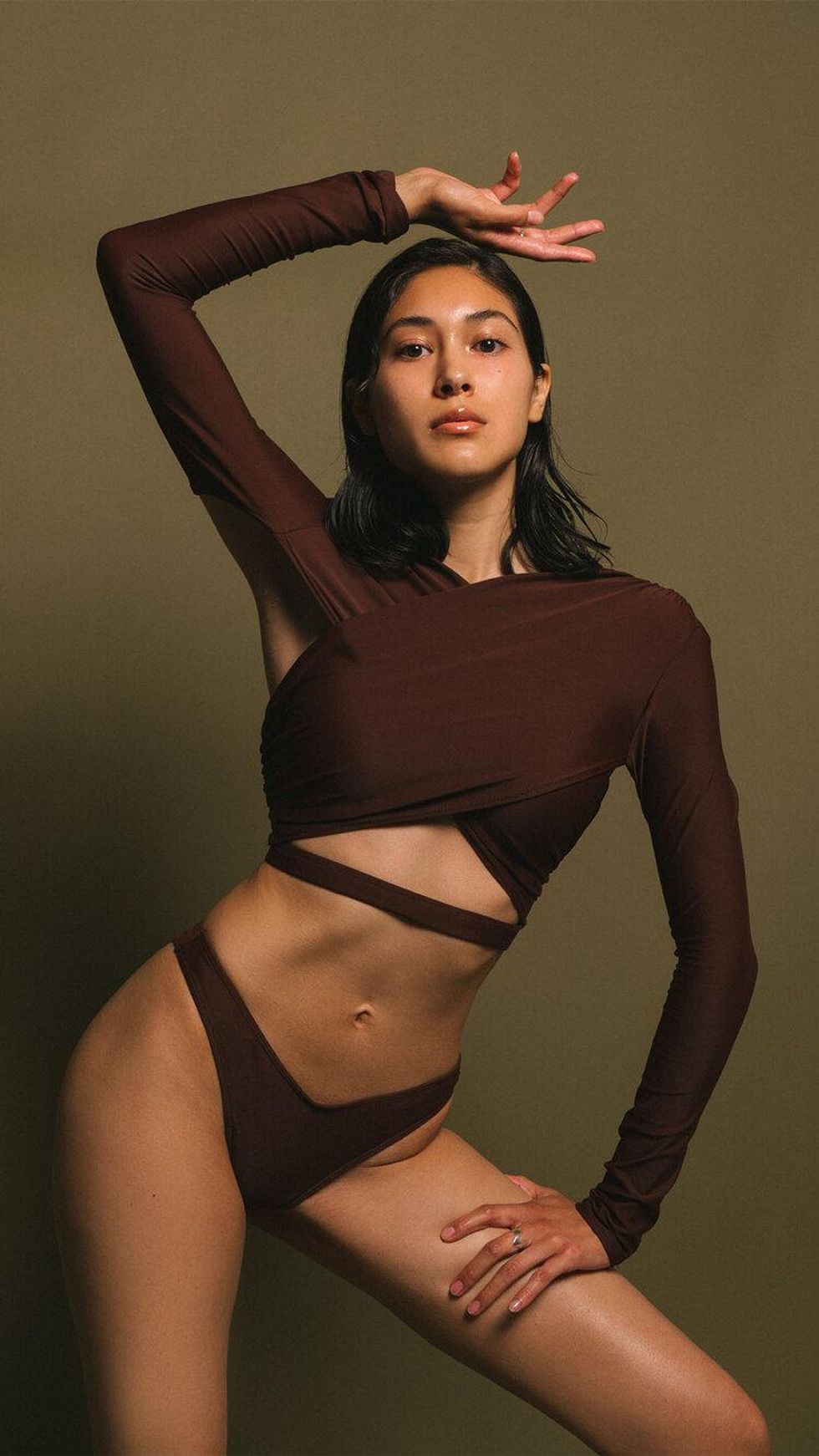 Courtesy of Nior Collection
"We pride ourselves in telling our story through a Black woman's eyes. It's important that we highlight who we are so that we can define our futures."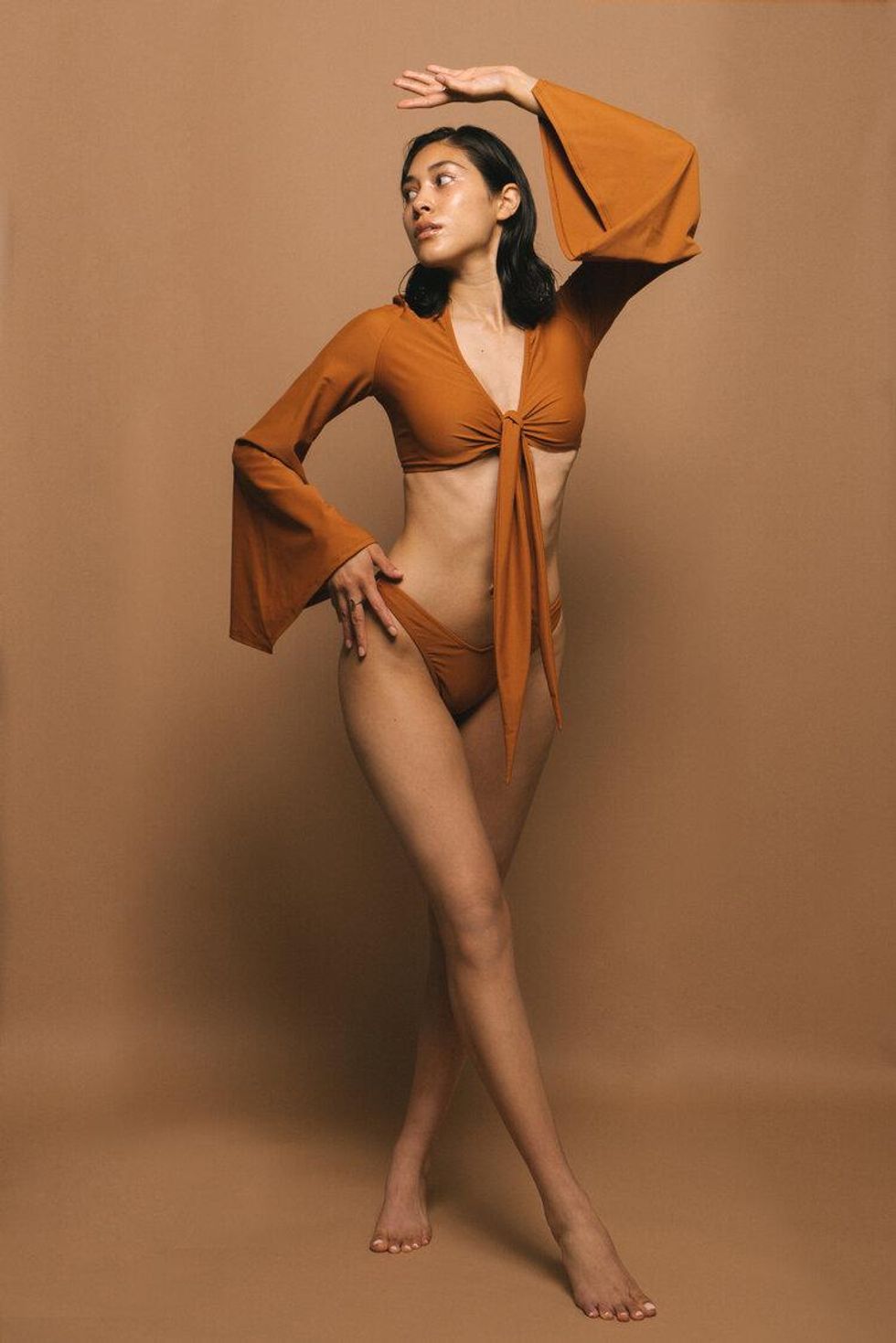 Courtesy of Nior Collection
This summer, Nior introduced the brand's first swim collection and I can't get enough of it. With contemporary lines and soft subtle asymmetrical drapes, each new style is a fashionista's dream. Whether traveling the world or looking for pieces to complete your weekend style, this is a collection that speaks to the art of a woman.
"The inspiration for Nior swim was for it to be pieces that you can wear everywhere, not just in the pool or at the beach. You can transition these pieces into your everyday life and that's what I love so much about the designs. We use a lot of neutral colors that can be worn with any color tone."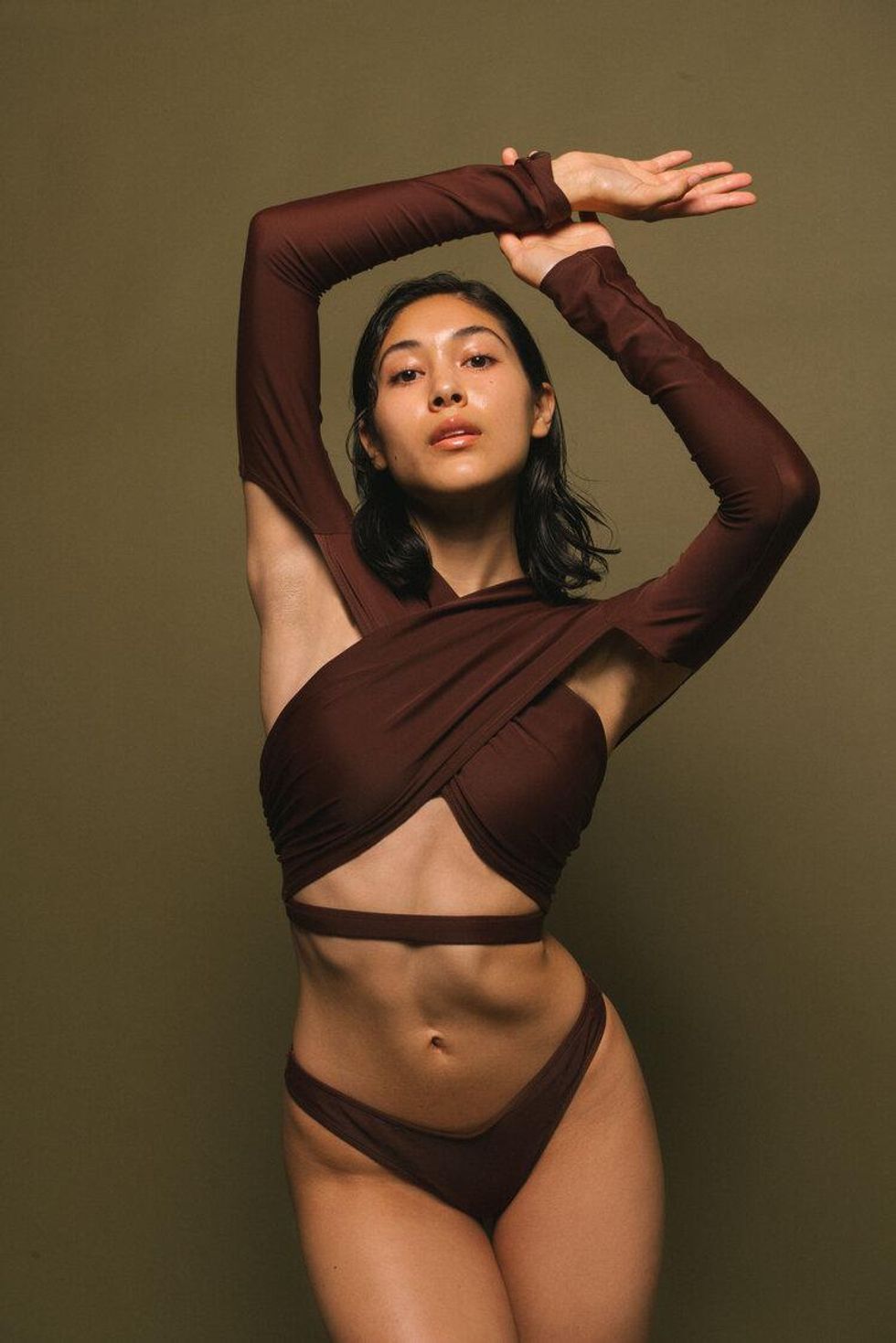 Courtesy of Nior Collection
In need of all four styles, there's a sexy sleek quality in the design that was created for everyone. Defining itself as a luxury ready-to-wear collection, Nior continues to stay true to their brand by creating styles for the modern day women.
"I want everyone to feel like they can afford it, but still see that it is quality work. I am a small brand, but I know my potential and I want my consumer to grow with me."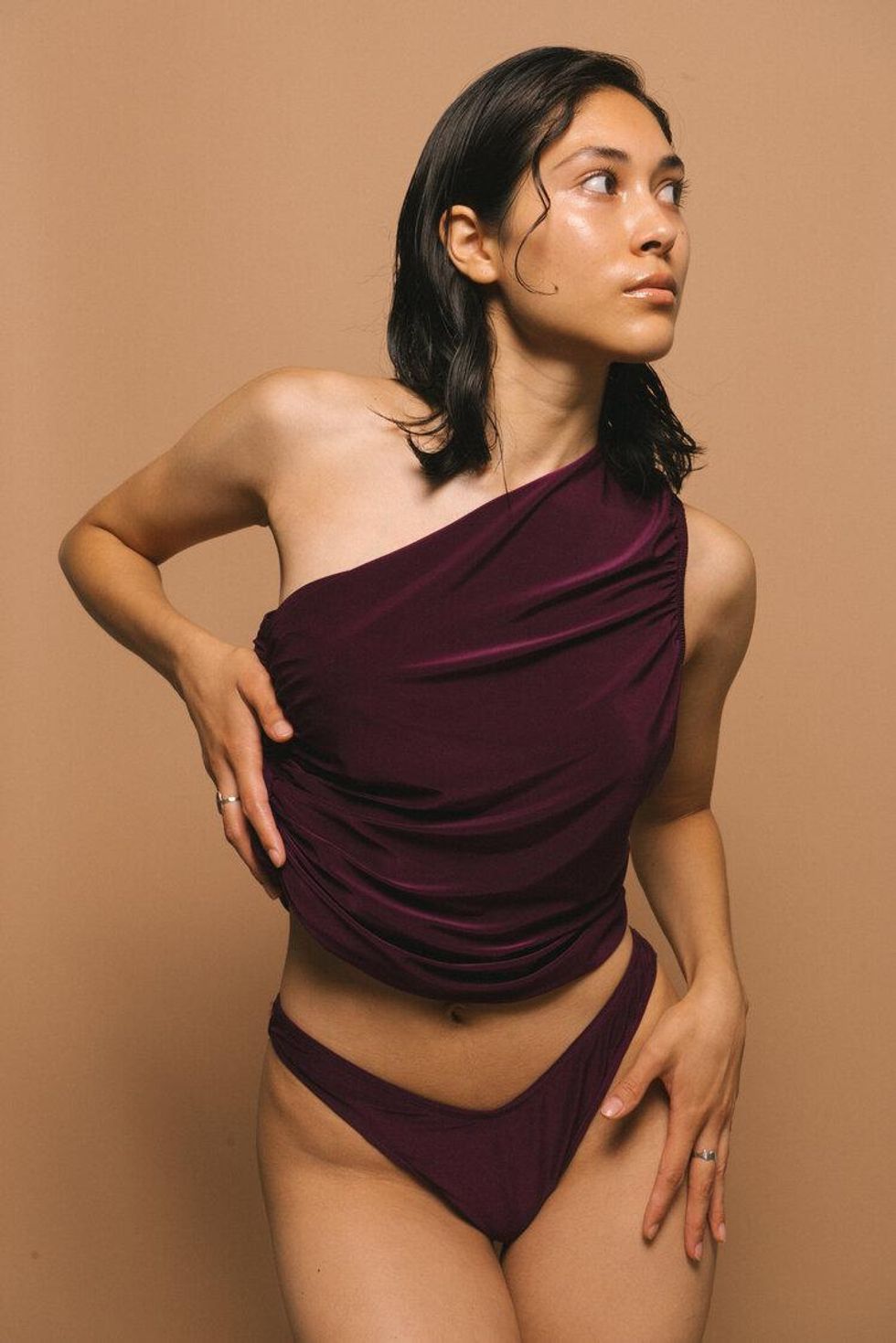 Courtesy of Nior Collection
Ranging in sizes small to x-large, it's nice to see brands including larger sizes into the mix. When it comes to being size-inclusive, Jones states, "Size inclusivity is a no-brainer. The more I grow, the more I want to dive into that market more."
Check out Nior's latest swim collection here.
Featured image courtesy of Nior Collection
Keep reading...
Show less
Cultural mecca and home to a diverse community of urban beauty, art and history, Oakland, California is the epicenter of afrocentrism. Located just minutes from San Francisco, separated by a small body of water and the Bay Bridge, Oakland has its own distinct history, sounds, tastes, and social movements known around the world. Affectionately known as "The Town", this city has always been a resource for those seeking natural and holistic approaches to their everyday lives. Notorious for its appreciation of black culture and traditions, it's no wonder there has been an explosion of black entrepreneurs from tech, fashion and beauty taking advantage of the feel-good nature this city has to offer.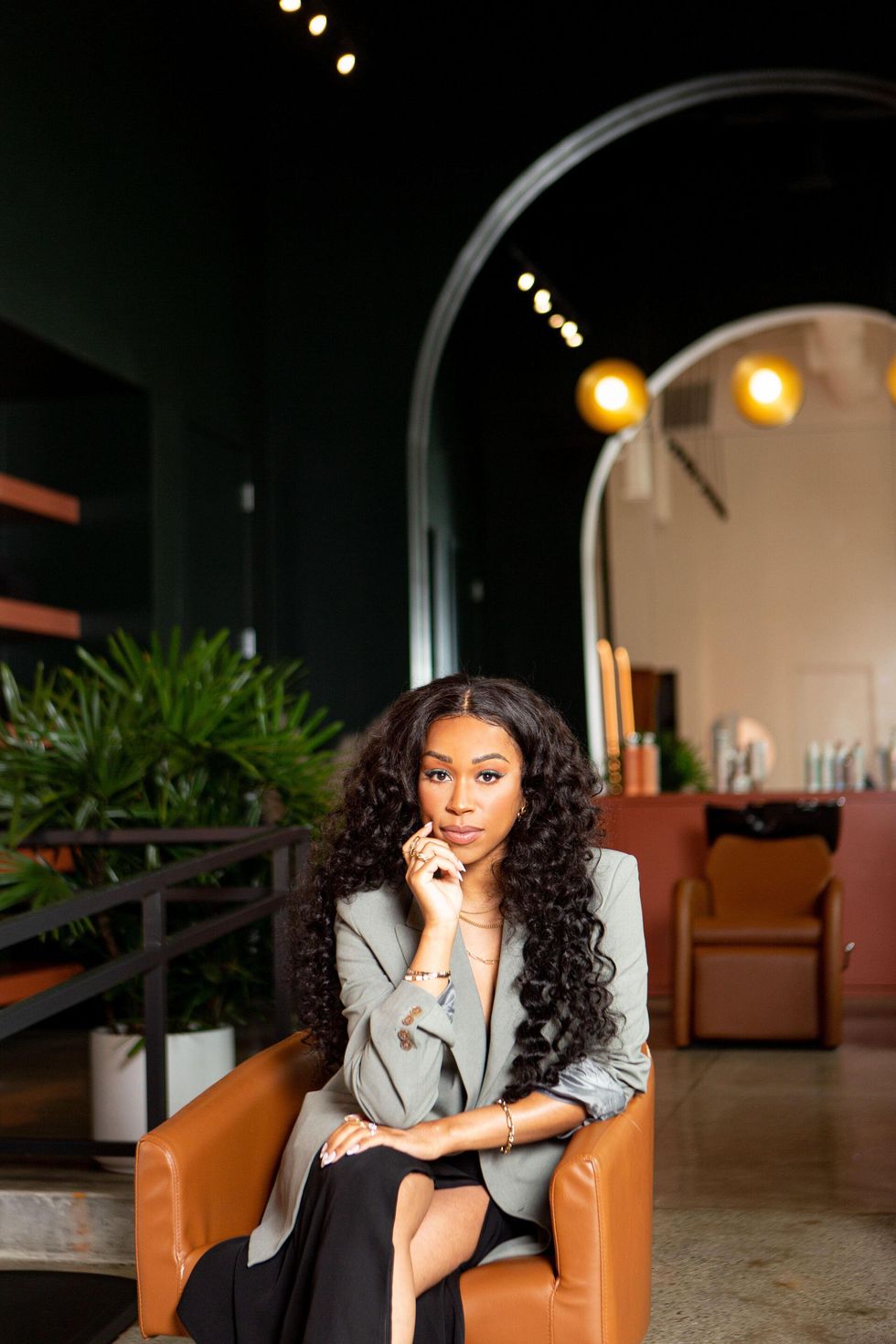 GoodBody founder Brittany Barns
Courtesy of GoodBody
Black woman-owned and operated, GoodBody, is Oakland's newest beauty destination. Opening in October 2020 amidst a global pandemic, this one of a kind beauty bar celebrates diversity by providing an oasis for women with afro-textured hair. A trendy yet modern experience offering a range of services including wash and go's, crochet twists and blowouts to beauty treatments such as facial threading and waxing, GoodBody is not your typical black hair salon.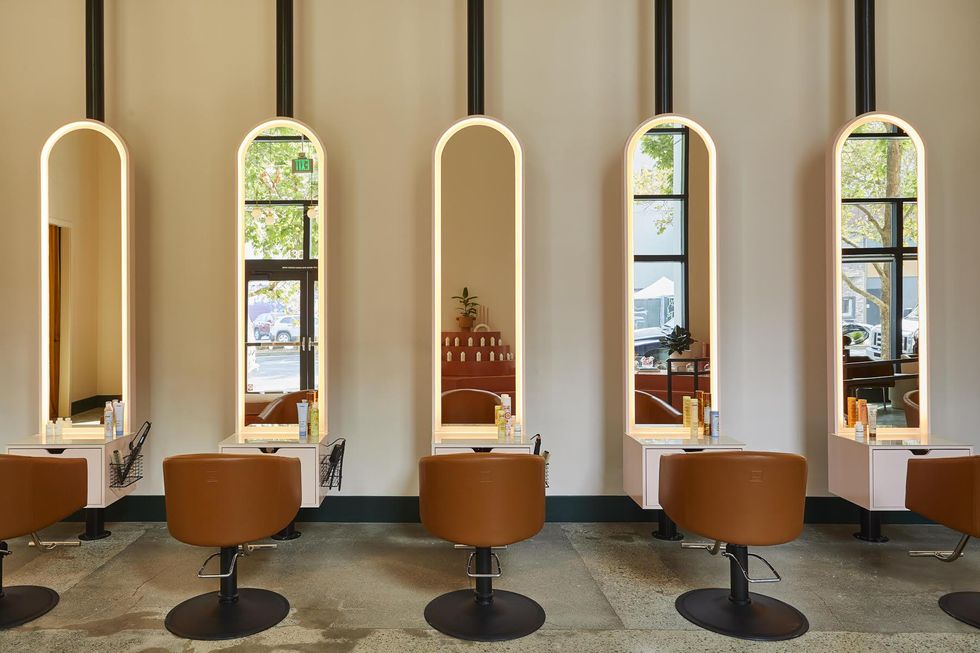 Courtesy of GoodBody
"Every black woman understands how difficult it can be to find efficient and professional haircare, which should be the standard," says founder Brittany Barns. "You go somewhere to get your hair done and you expect to be in and out in a decent amount of time and expect the service to be professional. Even if that's walking in and being greeted, something that simple."
Taking the pain out of the ordinary salon visit, GoodBody is setting the tone by elevating black haircare not only with excellent service but understanding the importance of a luxury experience. Brittany states, "From the time you walk in, before we get to your hair, we understand that you've chosen to spend your money here and that is something that should not be taken for granted."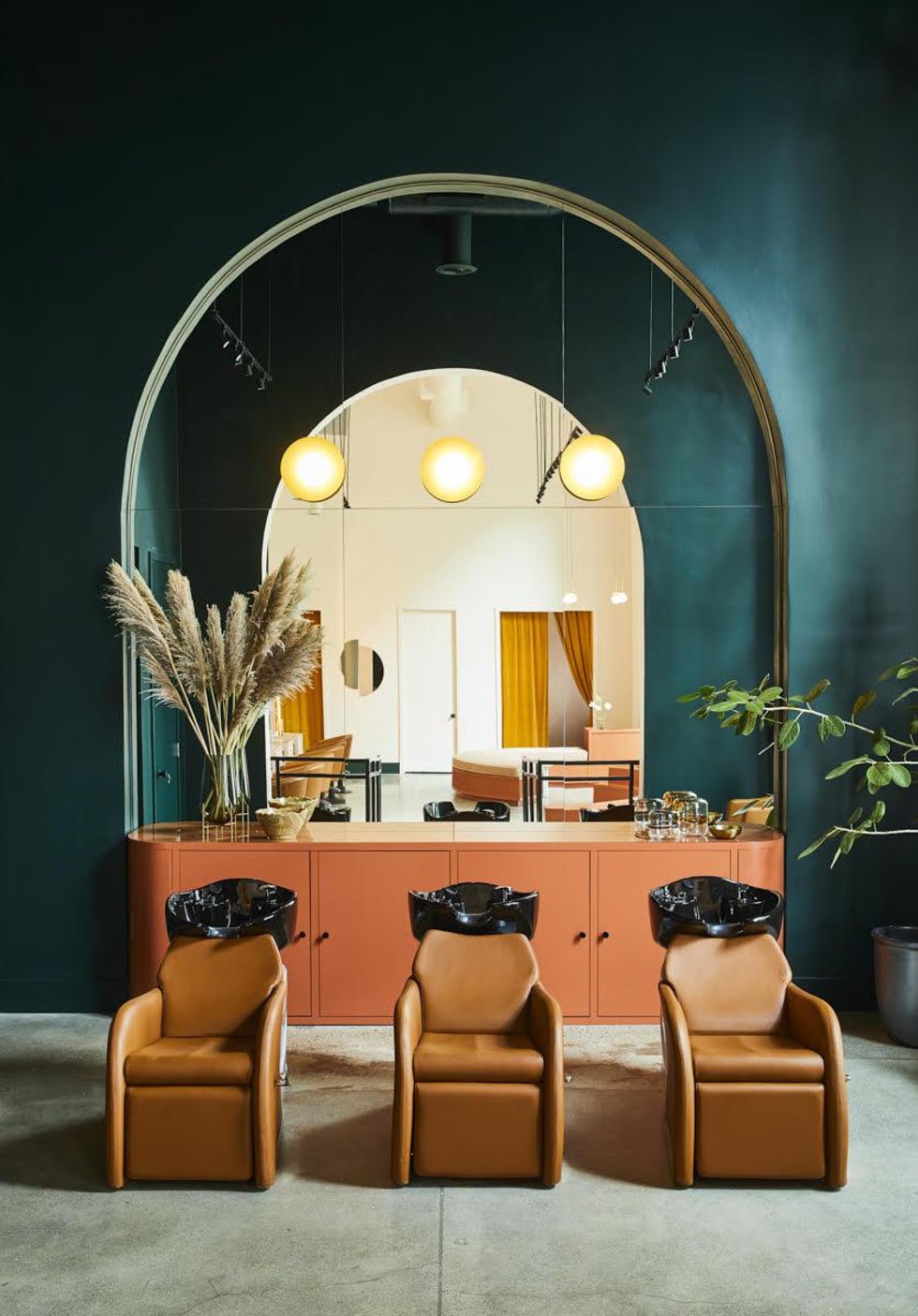 Courtesy of GoodBody
Not only is GoodBody salon dedicated to an amazing customer experience, walking through its doors felt as though I teleported to an oasis of my dreams. With a sleek modern design complete with high arches and a complimentary color palette, creating a welcoming environment through interior design was a top priority. "The thing that a lot of people don't think about for black women is that we actually enjoy being in beautiful spaces. There are very few created for us."
Getting frustrated with salon experiences, Brittany realized what was missing in our world for haircare.
"I began to question what type of space I would envision wanting to spend 8-10 hours. I wanted to create a place for haircare that met a standard that black women deserve."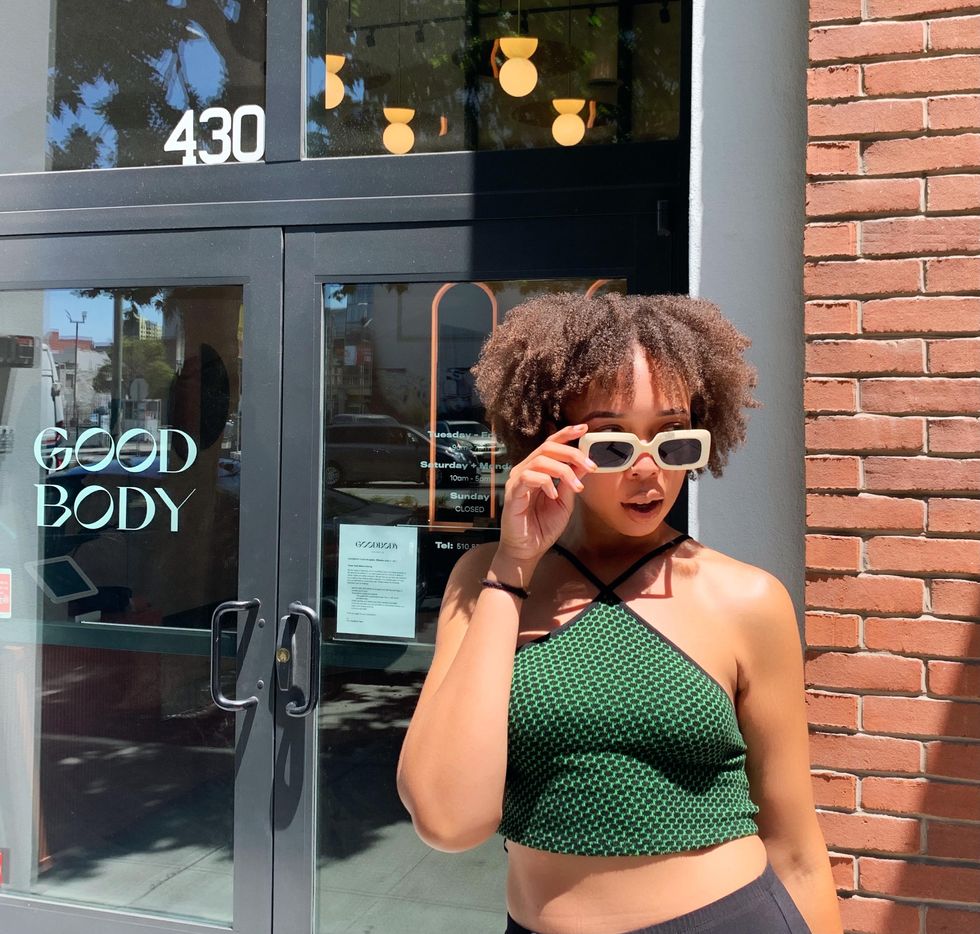 Writer Shahirah Ahmed
Courtesy of Shahirah Ahmed
Having the opportunity to visit this one of a kind beauty experience for the "Unwind and Define" service, consisting of a wash, define and go, I was impressed not only by the enchanting decor but the attention to individual haircare. With a mini consultation consisting of a short survey of questions to understand personal needs, the GoodBody team's dedication of specializing in health and wellness begins as soon as you sit in the styling chair.
"Most of the time it's assumed you're not going to be wearing your natural hair when you go to a black salon, you must want to get it pressed, weave or a wig and trust me, I wear all those things but whatever you decide to do, there has to be some type of consultation. If you're experiencing dryness or breakage, how can we help you with that?"
Brittany continues, "A consultation is more than the service being performed today, it's letting the stylist know what you're loving about your hair, getting to know what a client doesn't love, product recommendations, a detailed regimen on how to get your hair where you want it to be. That's extremely important to our business plan."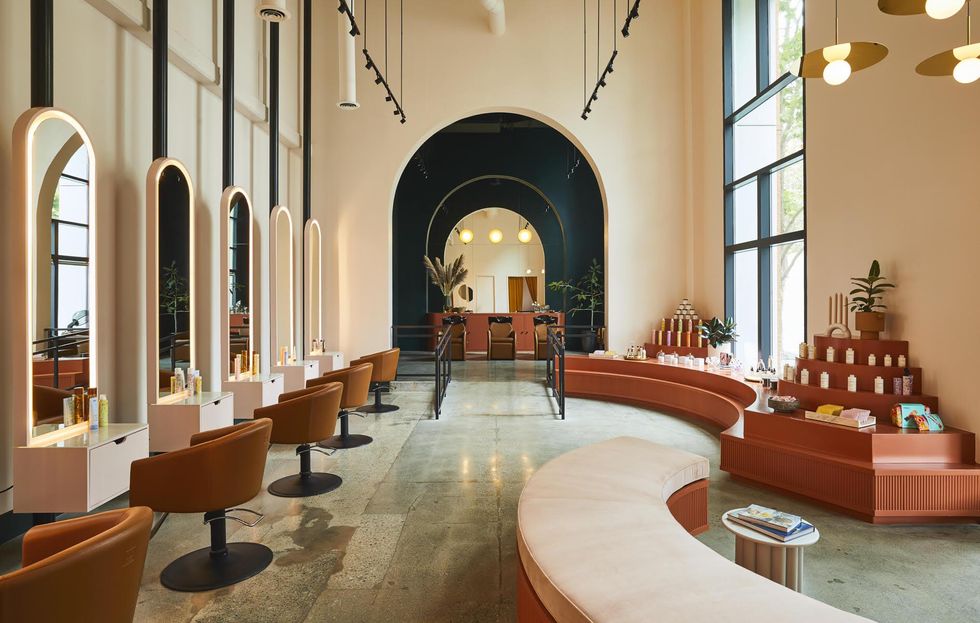 Courtesy of GoodBody
The essence of GoodBody is more than a name, it's a lifestyle. "I have hopes and dreams of what GoodBody can be and really expanding the self-care space for black women. I wanted a name that had a lot of room for growth."
"It's not just about hair, the goal is to focus on self-care and creating beautiful spaces of wellness for black women. We're known for voluptuous high volume hair with a lot of body and we are embracing that luminous and voluminous full look."
Redefining "good hair" is this contemporary salon's main focus is a holistic approach to every aspect of our lives, for a good body of overall health from head to toe creating an experience unlike any other.
GOODBODY BEAUTY SALON
430 W. GRAND AVE
OAKLAND, CA
Featured image courtesy of GoodBody
Keep reading...
Show less