Shahirah Ahmed
Shahirah Ahmed is a content creator, influencer and fashion stylist residing in Los Angeles, CA. Originally from Sacramento, CA she decided to pursue a career in the fashion industry once realizing she had the power to turn her dreams into reality. A year after obtaining her degree in Fashion Merchandising, Shahirah launched her namesake fashion blog for tall women with larger shoe sizes in 2015. Keep up with her daily looks on Instagram @shahirahahmed.
When thinking of basics, I tend to think of a plain white, neutral or black staple that can be worn with just about anything in my wardrobe. From white tees to denim jeans, these are the type of classics most of us already own which means it's time to think outside the box when refreshing our mix of summer basics. After a tumultuous 15 months, I'm seeing a new trend emerge in the world of everyday fashion that I can only attribute to the excitement of getting dressed with somewhere to go. One of my favorites this season, the asymmetrical knit has been on my radar for the past few months and I'm loving how this simple yet chic detail can quickly elevate a look especially when paired with other cool basics.
This season is an era of sexy "basics" reminiscent of the early 2000's fashion evolution, full of risky decisions yet quirky perspectives on styles, brands today are redefining what it means to wear basics. Gone are the days of blending in, these are the knit basics that will effortlessly stand out.
Now Trending: White on White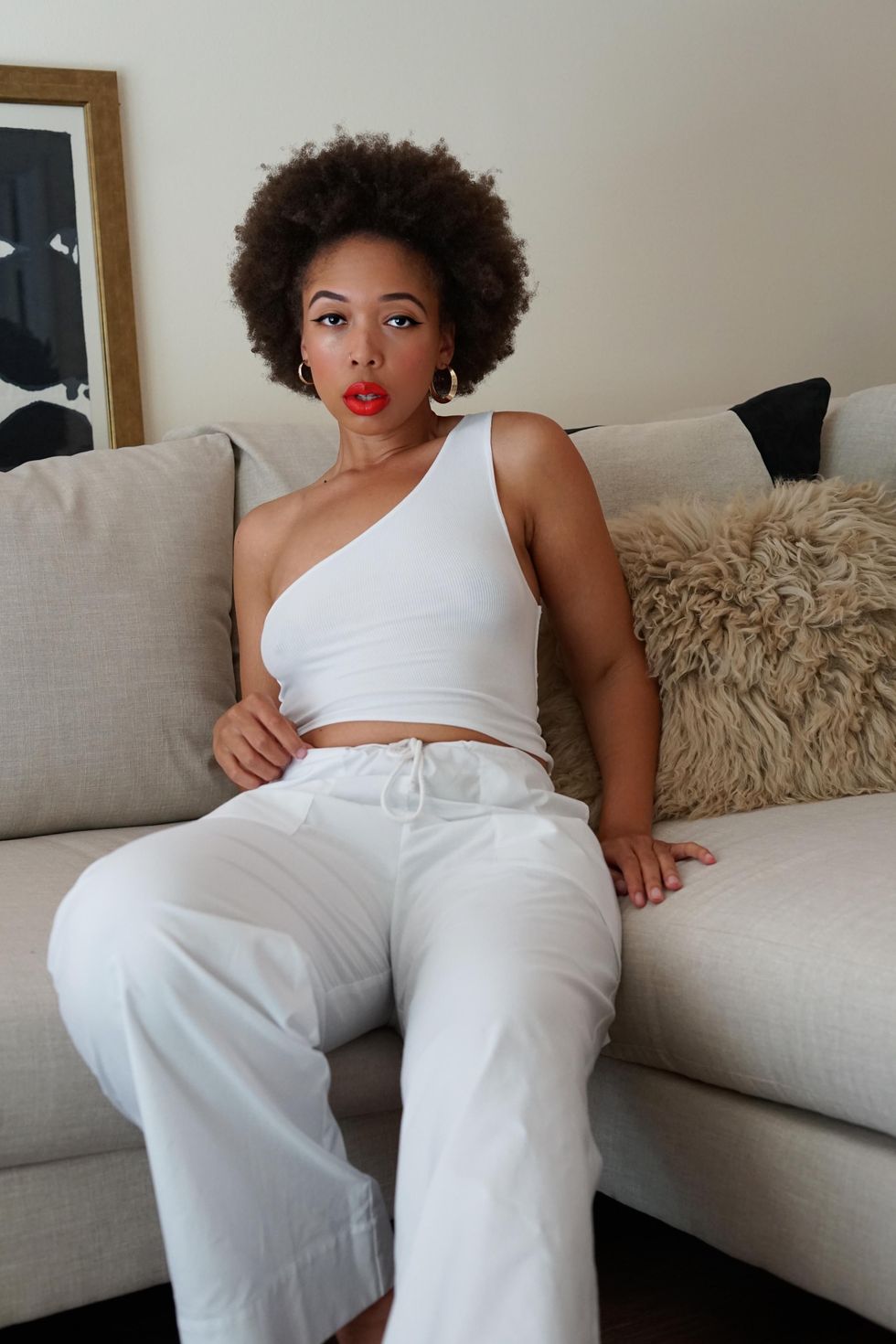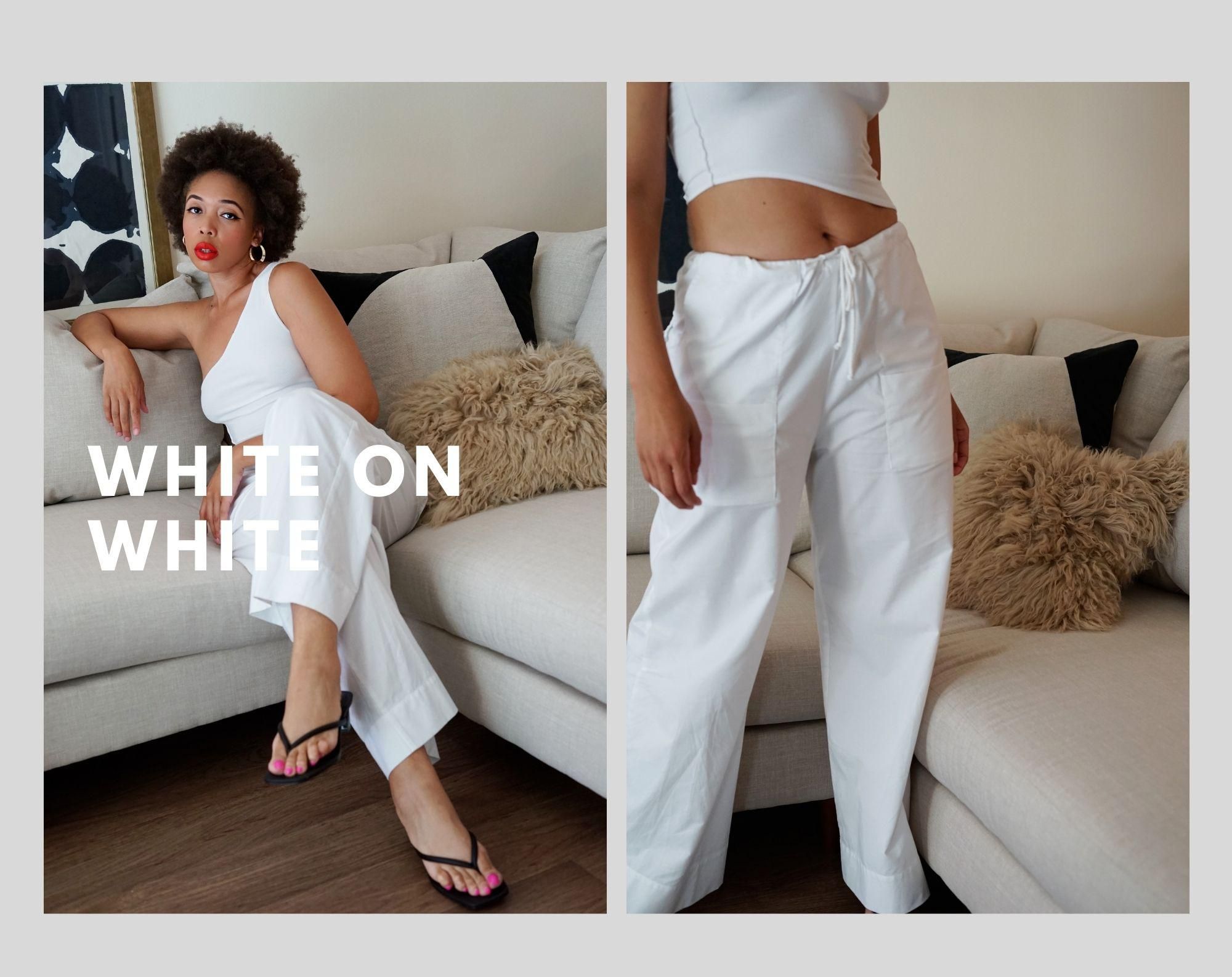 One of my favorite looks this season, this white on white combination is an effortlessly sleek look with a one shoulder knit tank paired with super lightweight utility pants. Both top and bottom from Black-owned lifestyle brand, Local European, are a reimagining of classic staples. I love the combination of an asymmetrical design and knit tank top.
The lightweight wide leg bottoms are a trend on the rise as we transition from oversized knit sweatpants for a cooler summer option. Paired with another summer must-have, a black thong sandal is the last and final touch.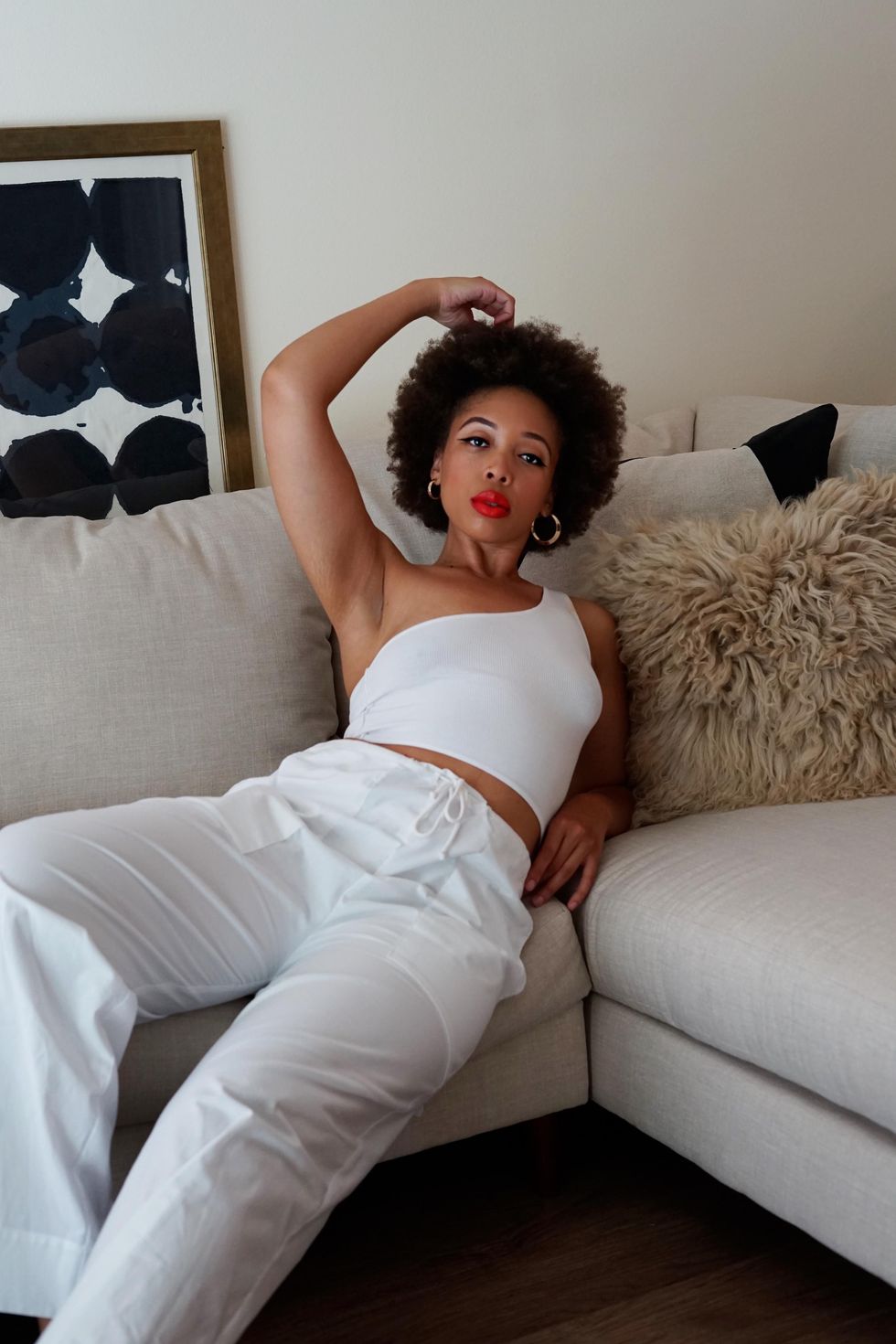 Shahirah Ahmed/xoNecole
Now Trending: Wide Leg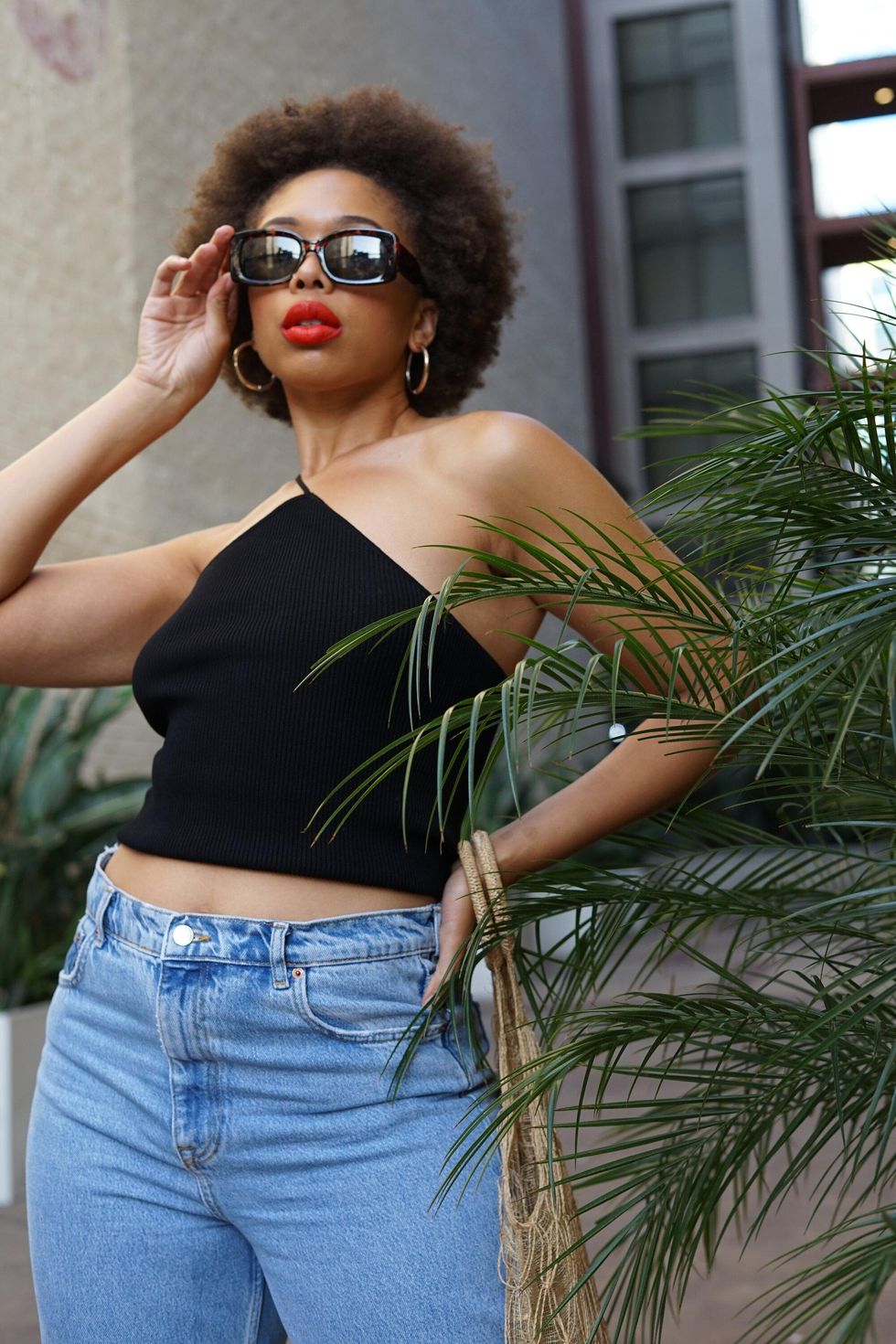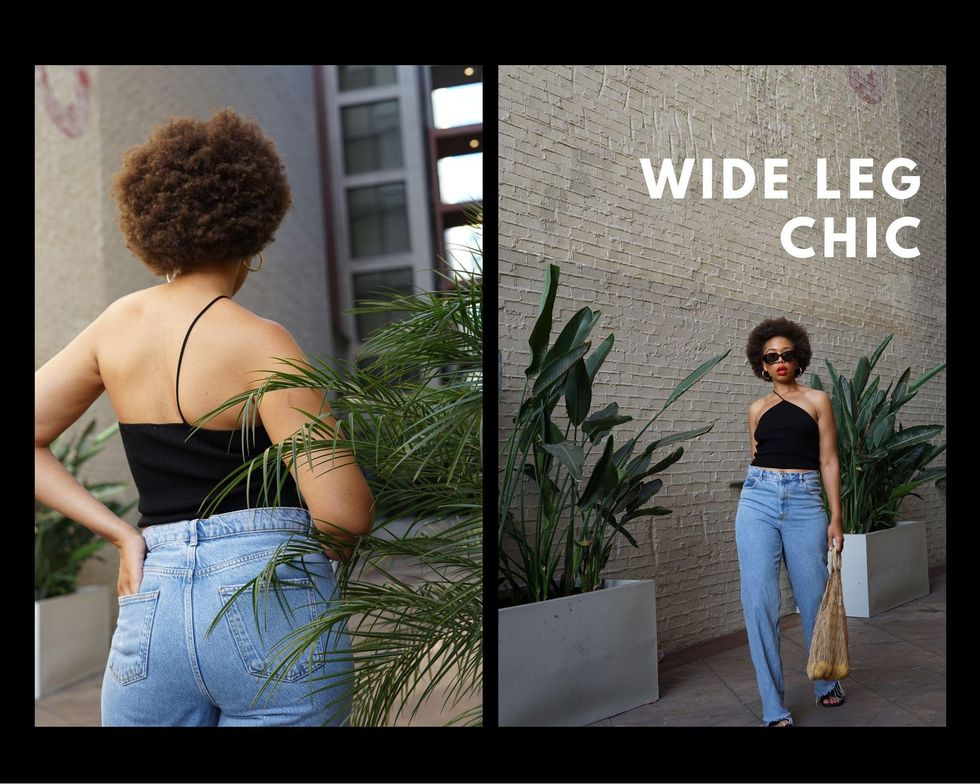 Shahirah Ahmed/xoNecole
Another chic and easy way to pair an asymmetrical top this summer is with a wide leg denim jean. The perfect casual look when out and about town or heading to a local farmers market, I decided to wear a fun one-toe flat slide for an even more stylish approach. With a pop of color and my go-to square sunnies, this is one of the most comfortable chic looks.
Now Trending: Maximalism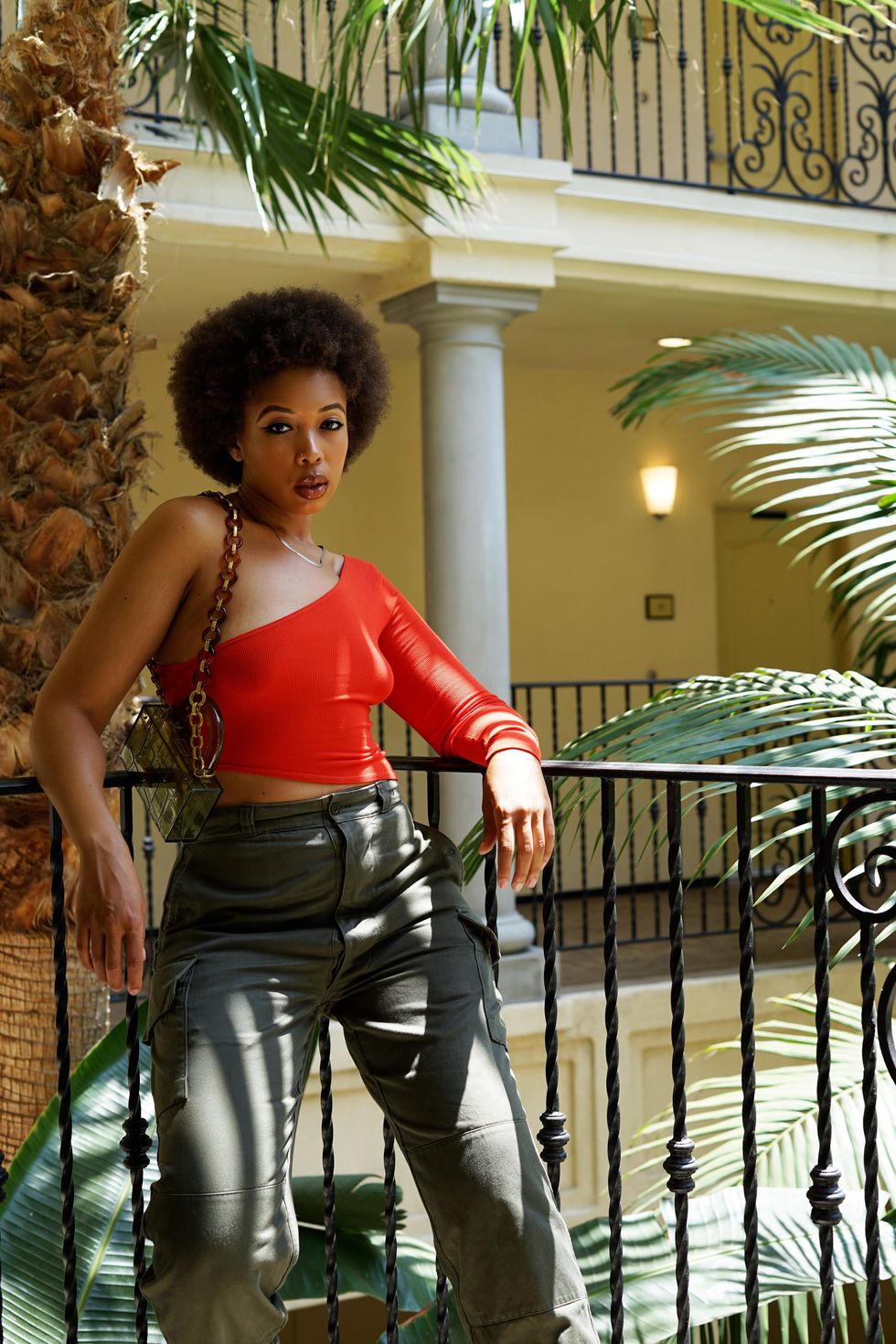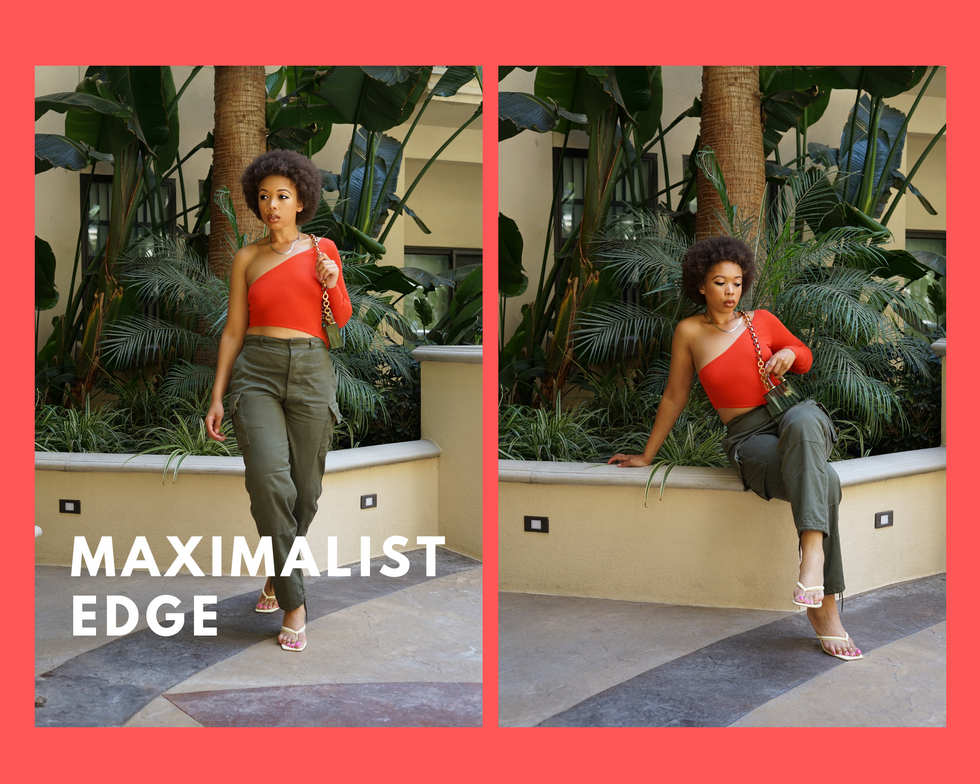 All basics may not be created equal but there are options for everyone, including maximalists. For those that need color in their everyday lives, this vibrantly orange one shoulder knit is a fierce choice for an edgier take on a casual look. Pairing this new age asymmetrical knit top with a classic cargo is a balanced approach to this season's one shoulder trend. Having fun, I added a yellow thong sandal to complete this color-blocked look.
Read all about fashion and style here.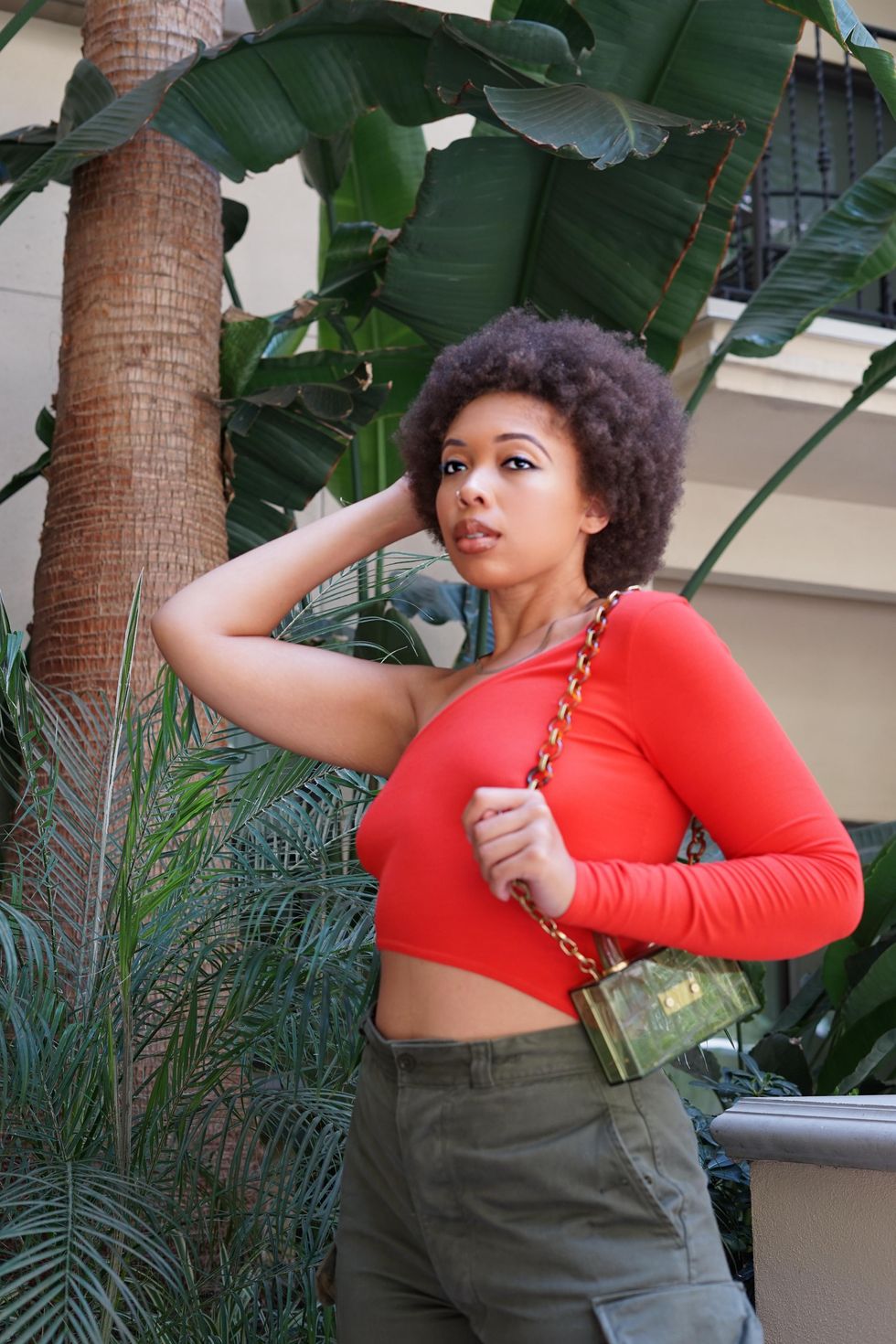 Shahirah Ahmed/xoNecole
Images by Shahirah Ahmed/xoNecole
If it feels like you've been living under a rock these past 15 months, you're not alone. While the world has been in an uproar, staying up-to-date with the latest fashion trends may not be high on the list of priorities. The sudden shift within the fashion industry early into the pandemic left many designer brands on life support. With all of the major setbacks due to a sluggish economy and overall uncertainty, many designers decided to push through fashion fatigue, continuing to encourage major style moments, bringing a pulse back to this season's runway.
These collections, created during the worldwide stay-at-home orders, gives us a sense of each designer's creative imaginations running wild with chic possibilities, setting the bar high with iconic trends for spring/summer 2021. Many of the season's independent and designer brand collections from names such as Hanifa, Versace, Christopher John Roberts, etc. are giving exciting silhouettes along with mixed patterns, one-of-a-kind prints, vibrant colors, features of nature and drama as fashion is finally seeing a playful resurgence.
Picking up where we left off last spring, here are the top runway trends you'll want to implement into your wardrobe this summer season.
Asymmetrical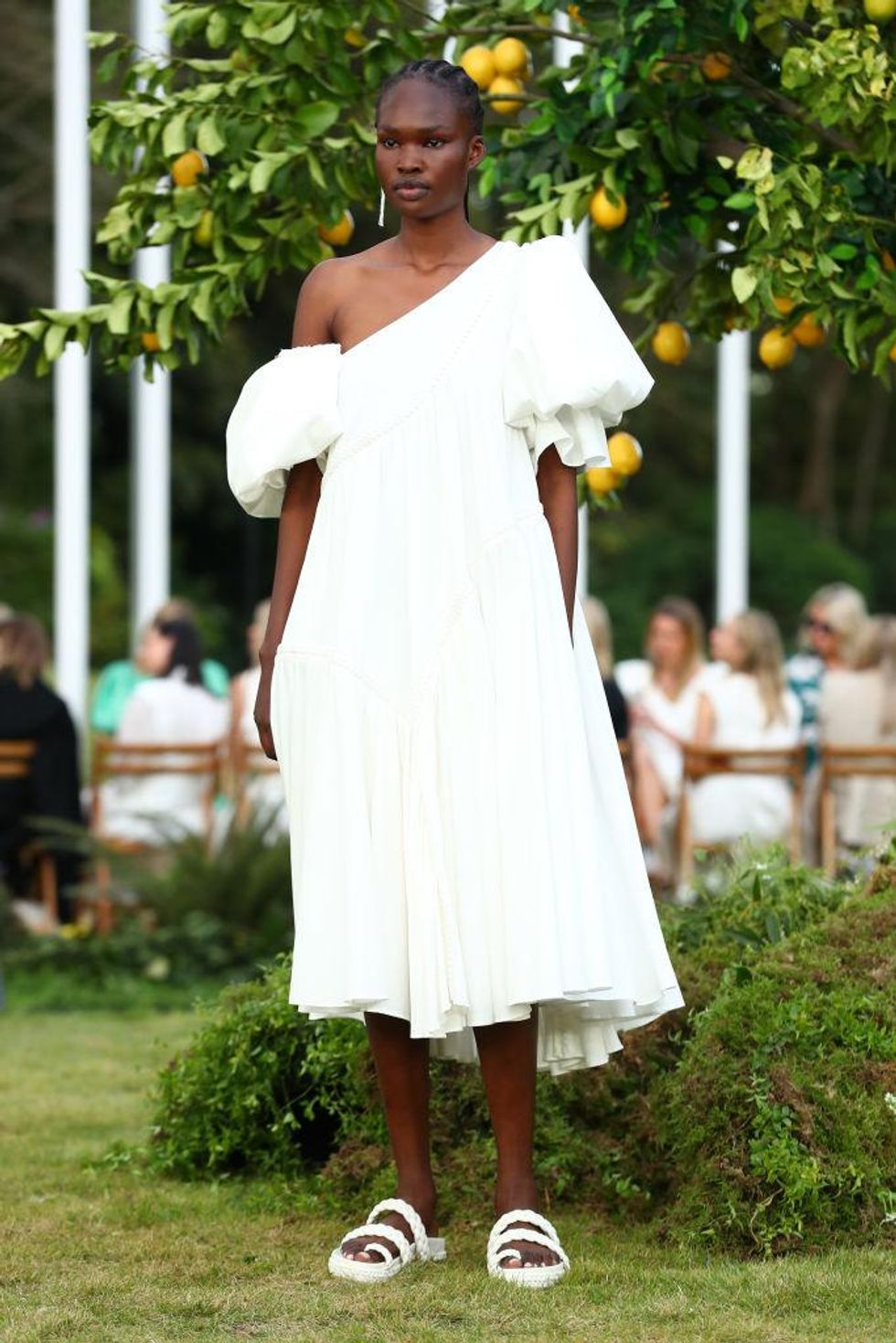 Mark Metcalfe/Getty Images
A favorite throwback 90's trend, the ultra sleek asymmetrical design detail is tailor made for the chic minimalist. Complementing the body's natural shape, this particular cut immediately elevates everyday staples to a timeless silhouette with a dose of edginess. From one shoulder necklines to unbalanced hems, this trend is one to buy into this summer.
Backless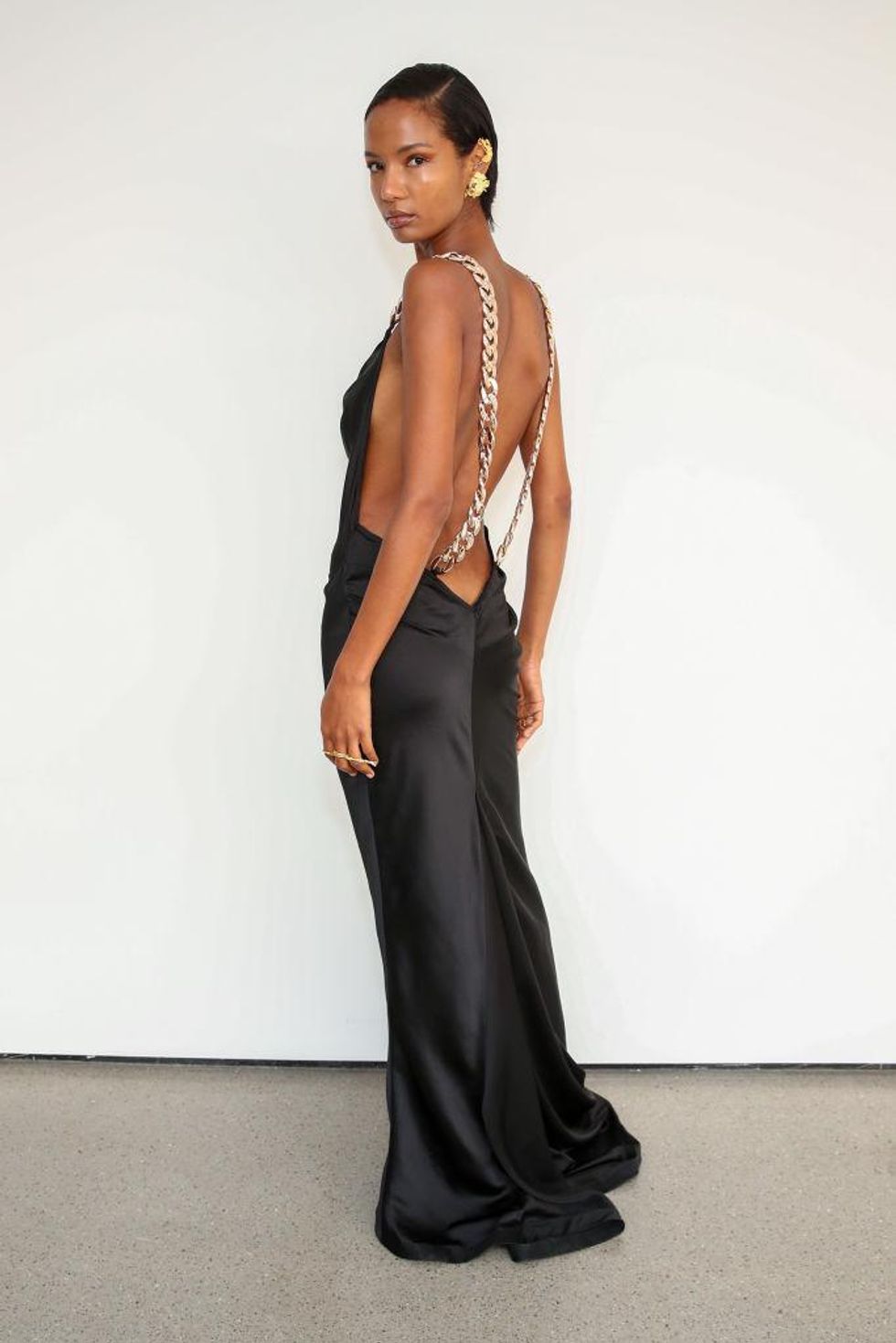 Cindy Ord/Getty Images for Bronx & Banco
A bare back is one of the latest trends turning heads this season. While we've been hibernating indoors with oversized knits for the past year, skin is finally having its breakthrough moment in 2021! With its chic approach to long sleeve knits, this trend gives a whole new meaning to the phrase "business in the front, party in the back."
The Blue Hue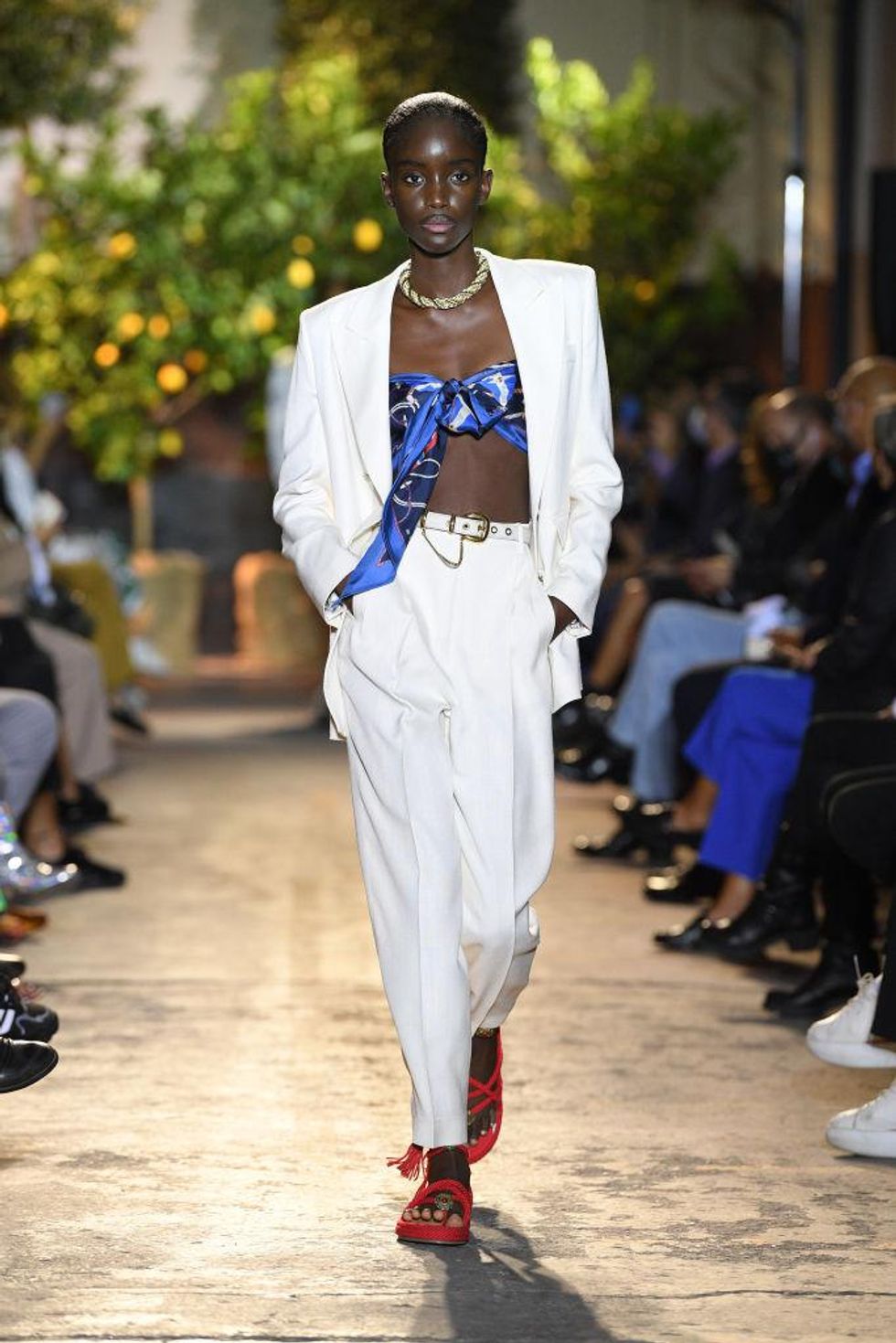 Daniele Venturelli/Daniele Venturelli/WireImage
Color is a priority this summer. One of the most stand-out colors this season, blue is making an appearance on almost every runway this season. Mixed and matched with designer details paired with complimentary colors, there are so many ways to experience its many shades.
Peek-a-Boo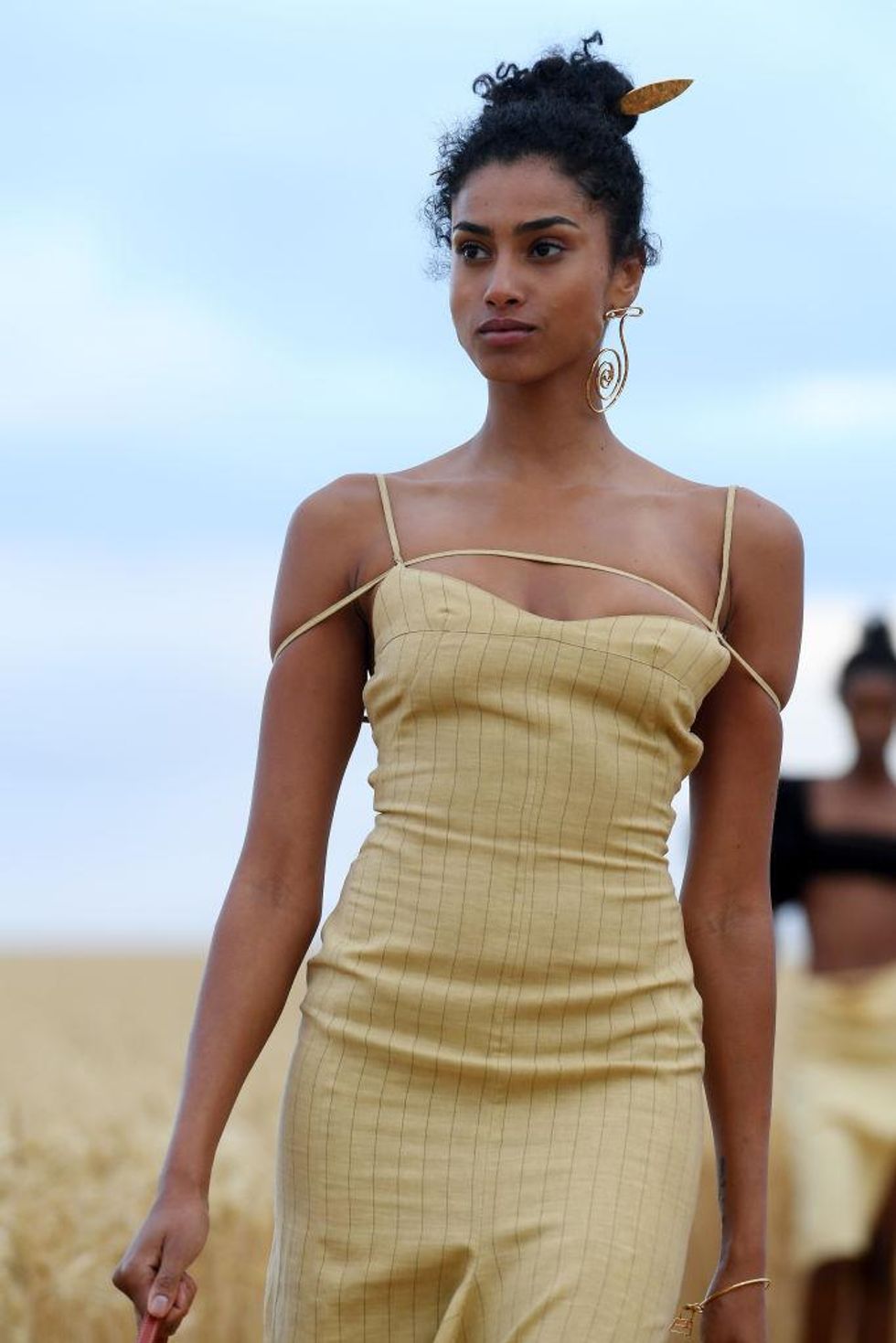 Pascal Le Segretain/Getty Images
As we become more adventurous with our style, post-COVID lockdowns, exposed skin is making yet another attempt at mainstream fashion. While leaving plenty to the imagination, a little bit of skin goes a long way. Sheer styles are a chic addition to any look.
Sheer Enough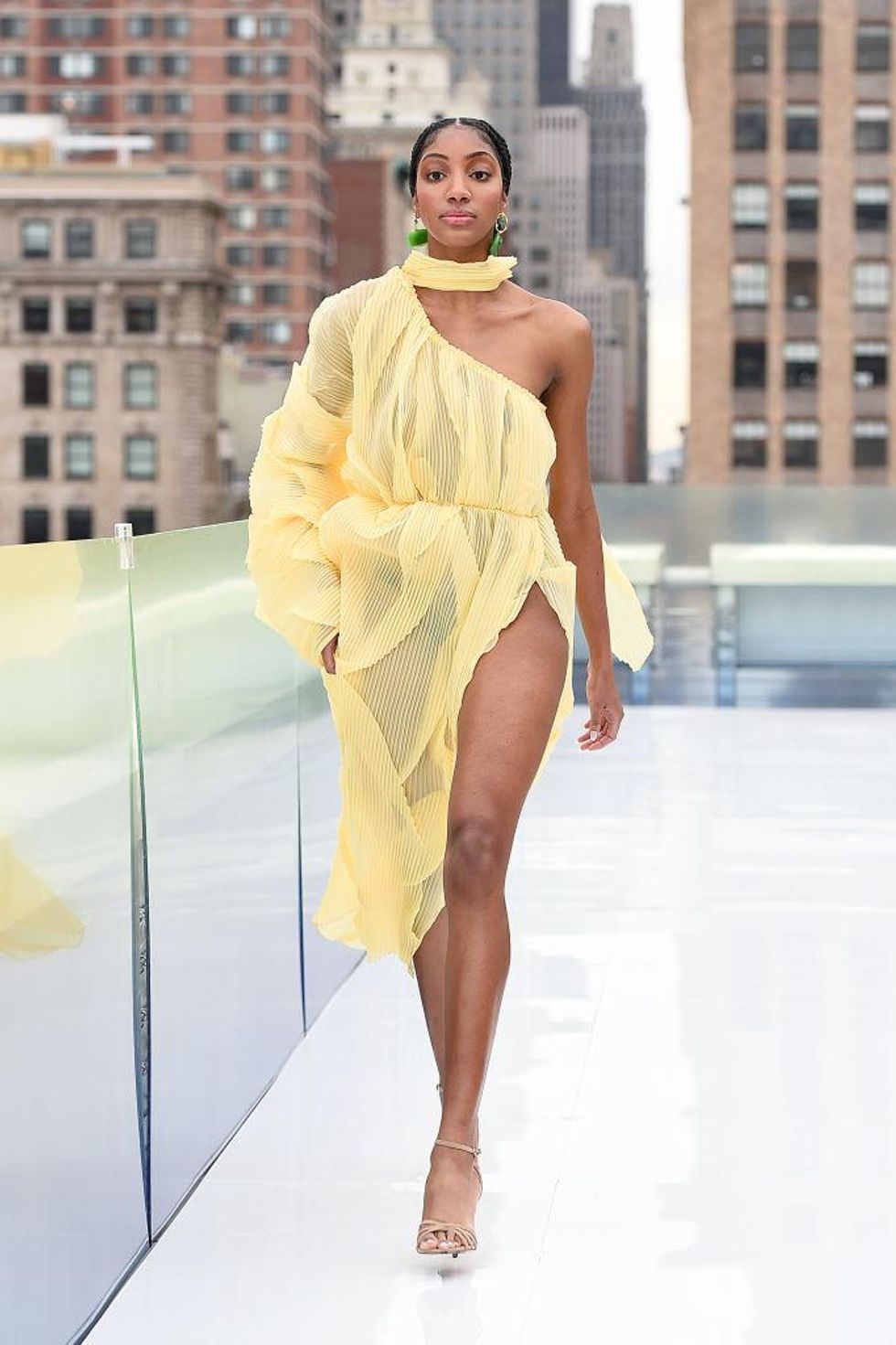 Ilya S. Savenok/Getty Images for Flying Solo
For a sexy night out, slinky sheer fabrics are super chic when in the mood to feel absolutely fabulous. From bodycon to oversized fits, this trend was made for the bold. My favorite sheer look this season is the gray trouser by Acne Studios. The long tailored pants are the perfect silhouette for a sleek ensemble effortlessly transitioned from day to night.
Under the Sea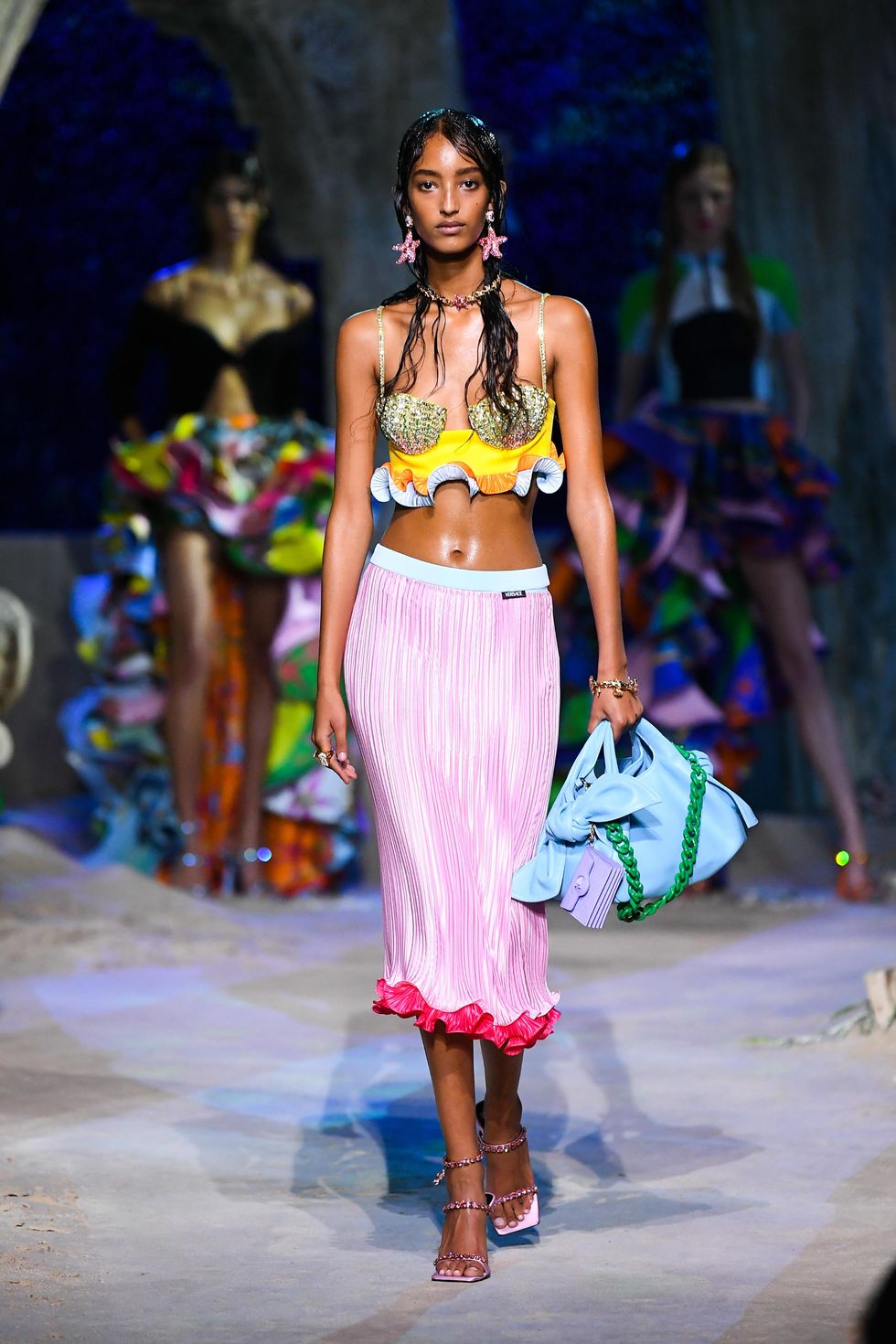 Handout/Versace Press Office via Getty Images
The most exciting ready to wear summer trend, 'escapism' was a major theme on this year's runways. My favorite demonstration of nature in design, Versace had the best whimsical flair bringing to life the ultimate under the sea fantasy with literal starfish prints and mermaid styles. While many of us have been looking forward to our perfect beach getaway, it's no wonder designers are making our island fantasies come true. With beachy nets and shell accessories, I'm most excited to see this trend in action.
Applying Texture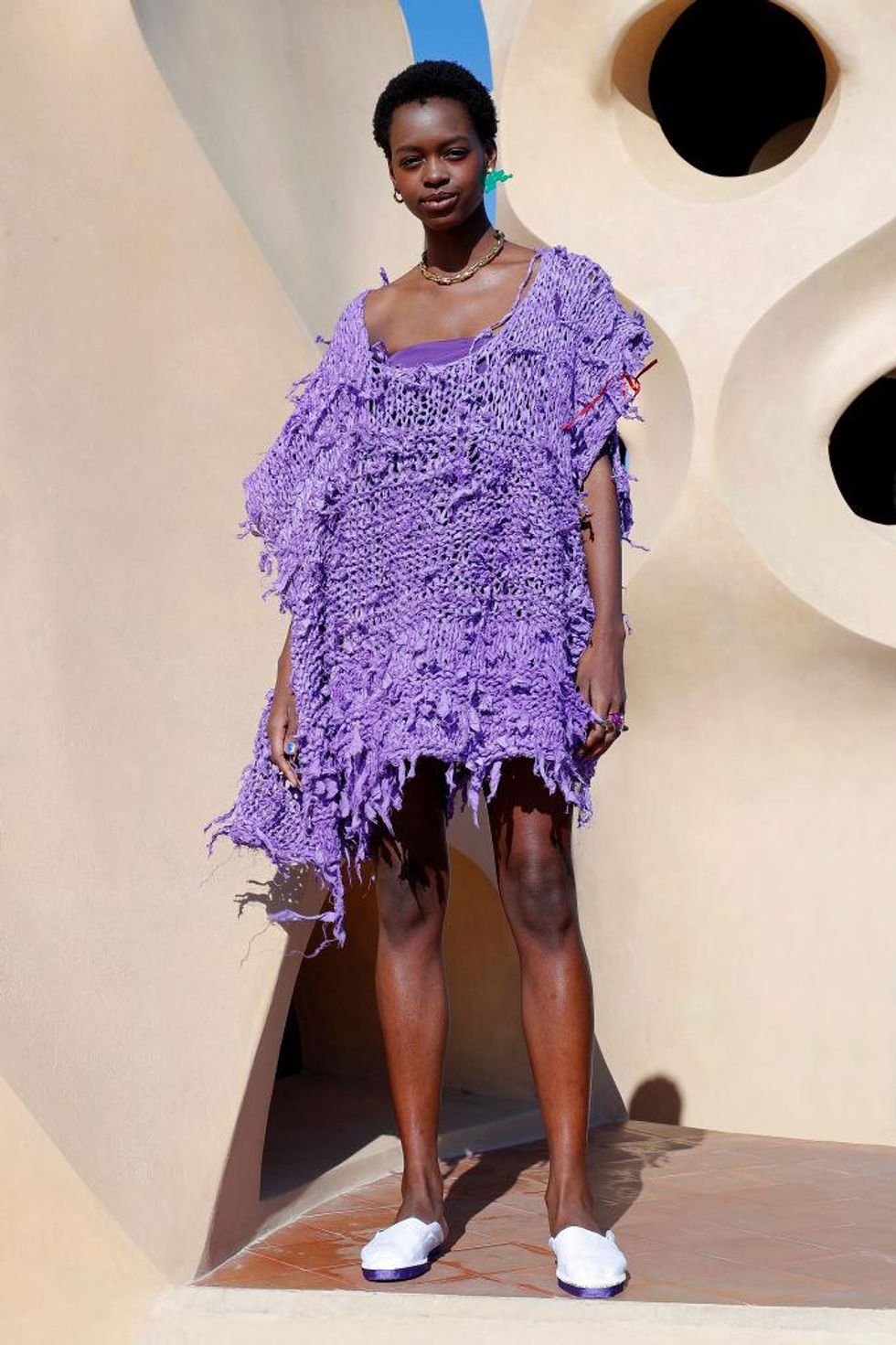 Estrop/Getty Images
There is a new era in fashion and we're beginning to have fun with our wardrobes again. This season is all about texture. In addition to the summer trends, this season almost every designer has implemented drama and texture with a 3D element tempting one to look as well as touch.
Heavy on the Prints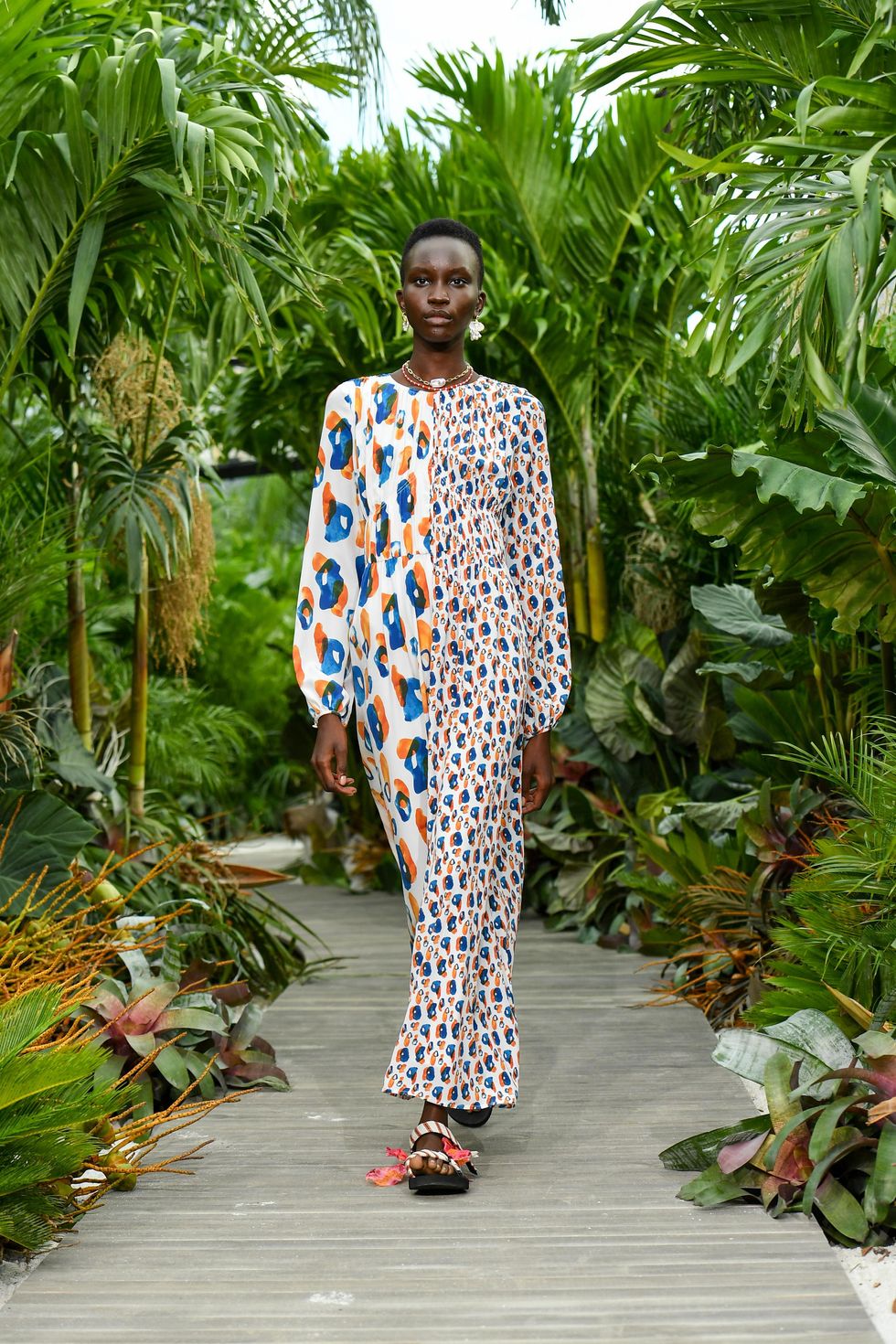 Mike Coppola/Getty Images For NYFW: The Shows
This year's uniform are the iconic neon floral prints of designers such as Christopher John Roberts and the lucid geometric designs of Mugler. For a major mood boost, bold retro patterns and mixed prints are a feel-good goal this summer. As this pandemic comes to an end, it's exciting to get back to fashion.
Featured image by Edward Berthelot/Getty Images

Keep reading...
Show less
As the world slowly begins to reopen from the devastation caused by the novel coronavirus and the subsequent pandemic, many of us are beginning to revisit the clothing we've set aside. As our everyday lives shrunk to the confinements of our own home, our staple wardrobe was slowly replaced by a leisure lifestyle dominated by our favorite oversized t-shirts and cozy knits. With denim jeans being the most abandoned, they're now creeping back onto our wardrobe radar.
Here are four examples of how you can jump into those neglected jeans once again, confidently conquering the outside world (or the inside world) like never before.
Look 1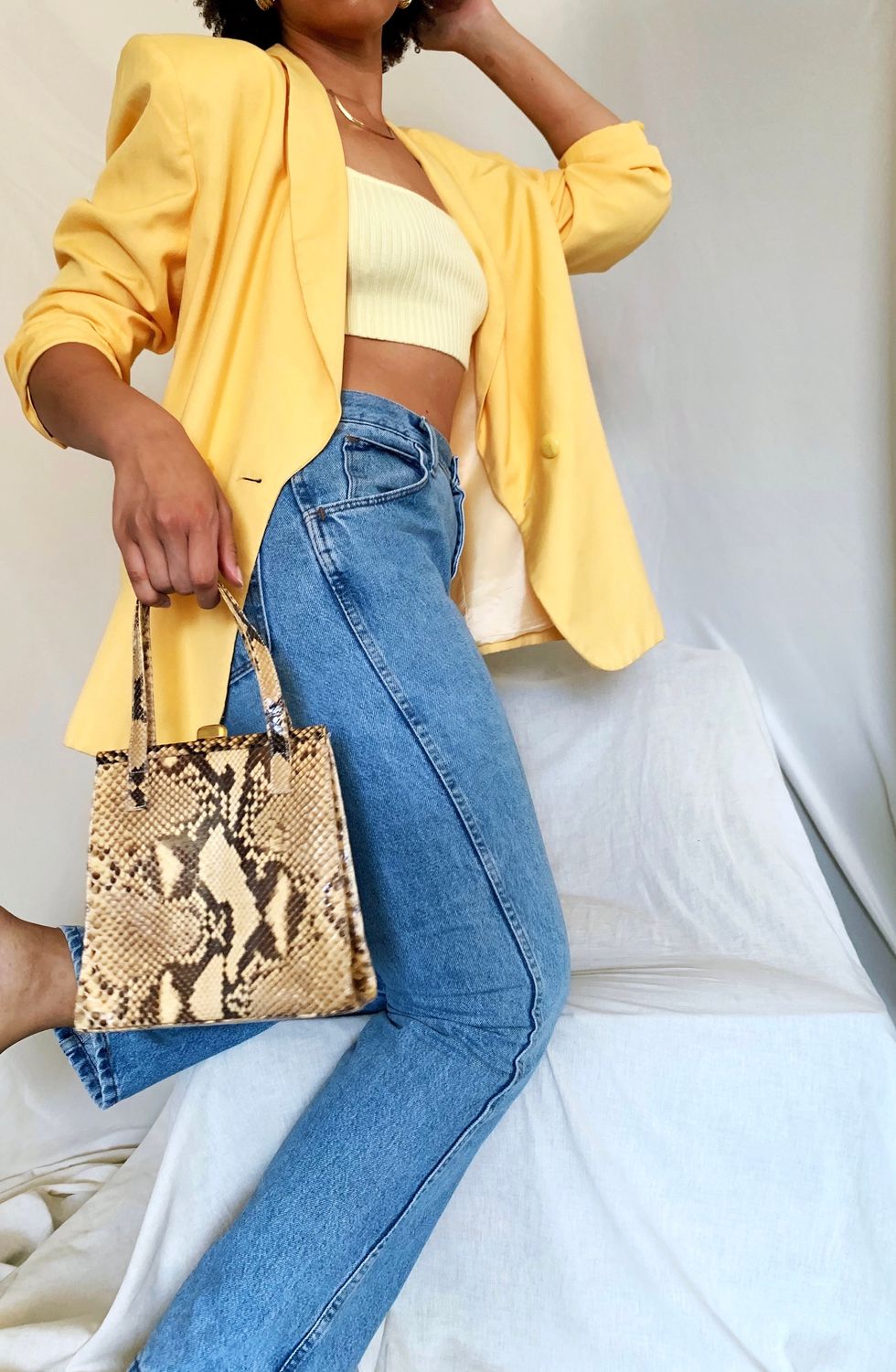 Shahirah Ahmed/xoNecole
As we begin to dine at our favorite restaurants, straight leg denim jeans are versatile for any outfit in mind. With knits being a current staple of our quarantine style, we can comfortably transition this lovable trend by throwing on a matching lightweight blazer which is perfect for a patio lunch date.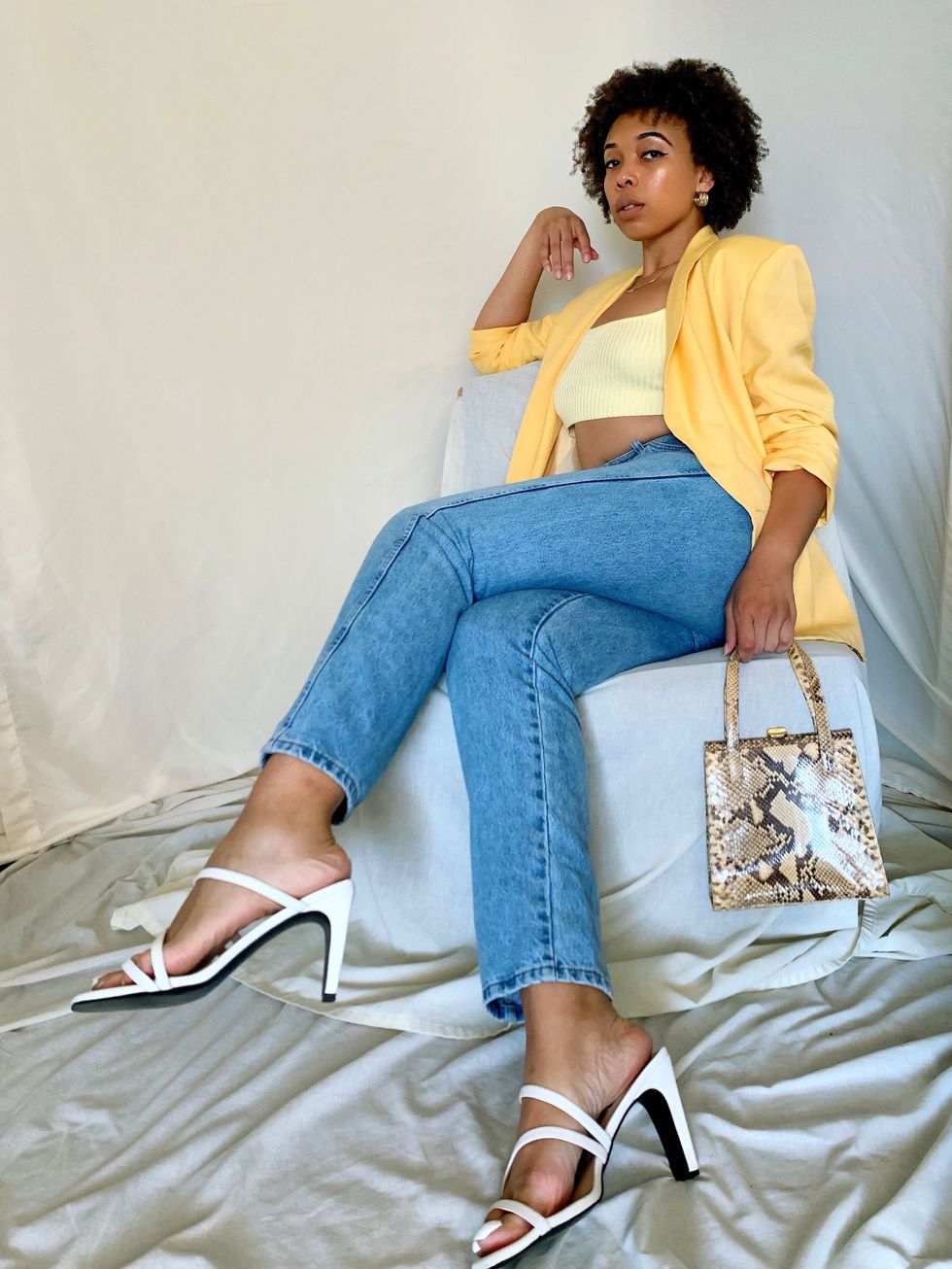 Shahirah Ahmed/xoNecole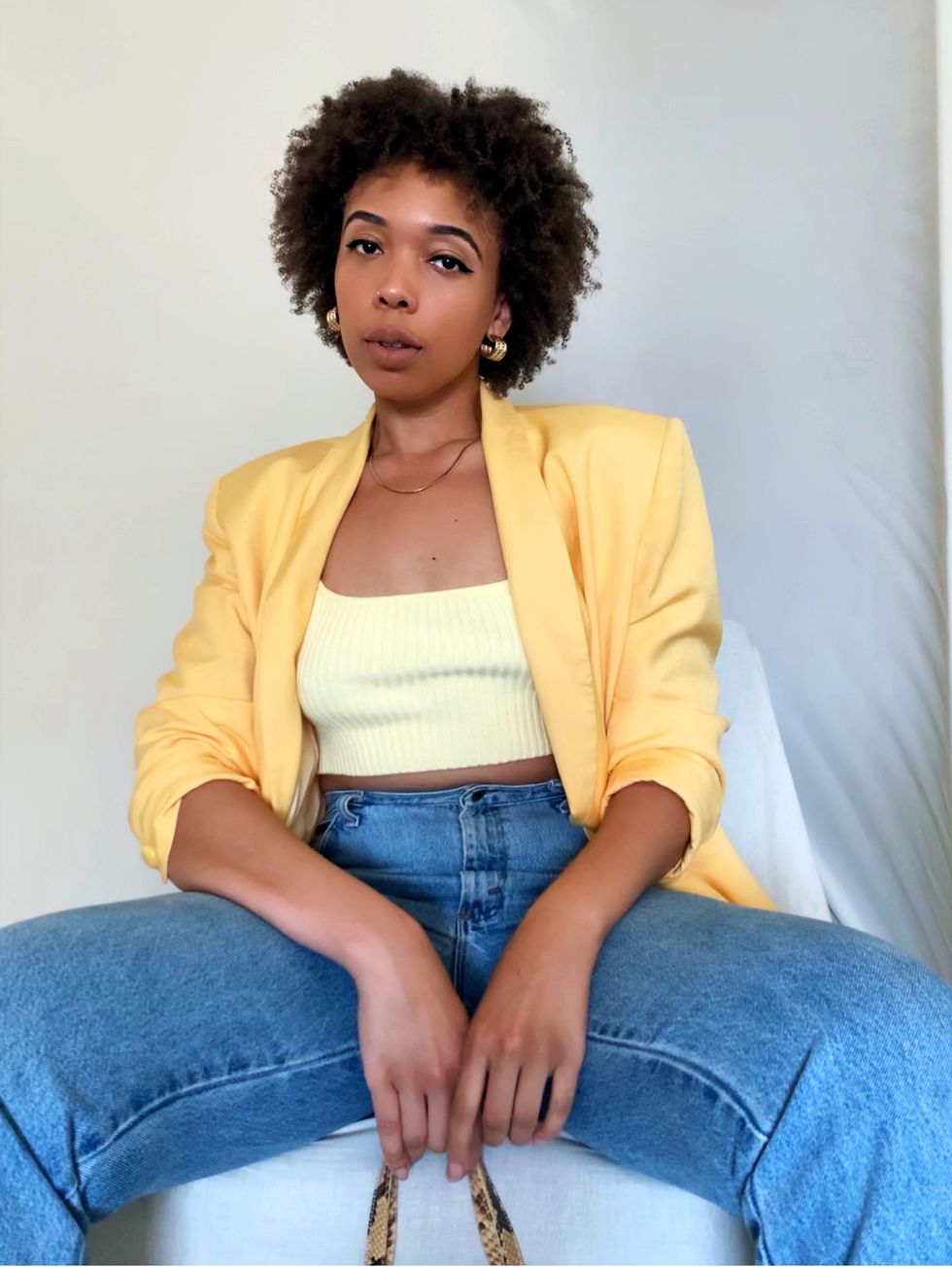 Shahirah Ahmed/xoNecole
Look 2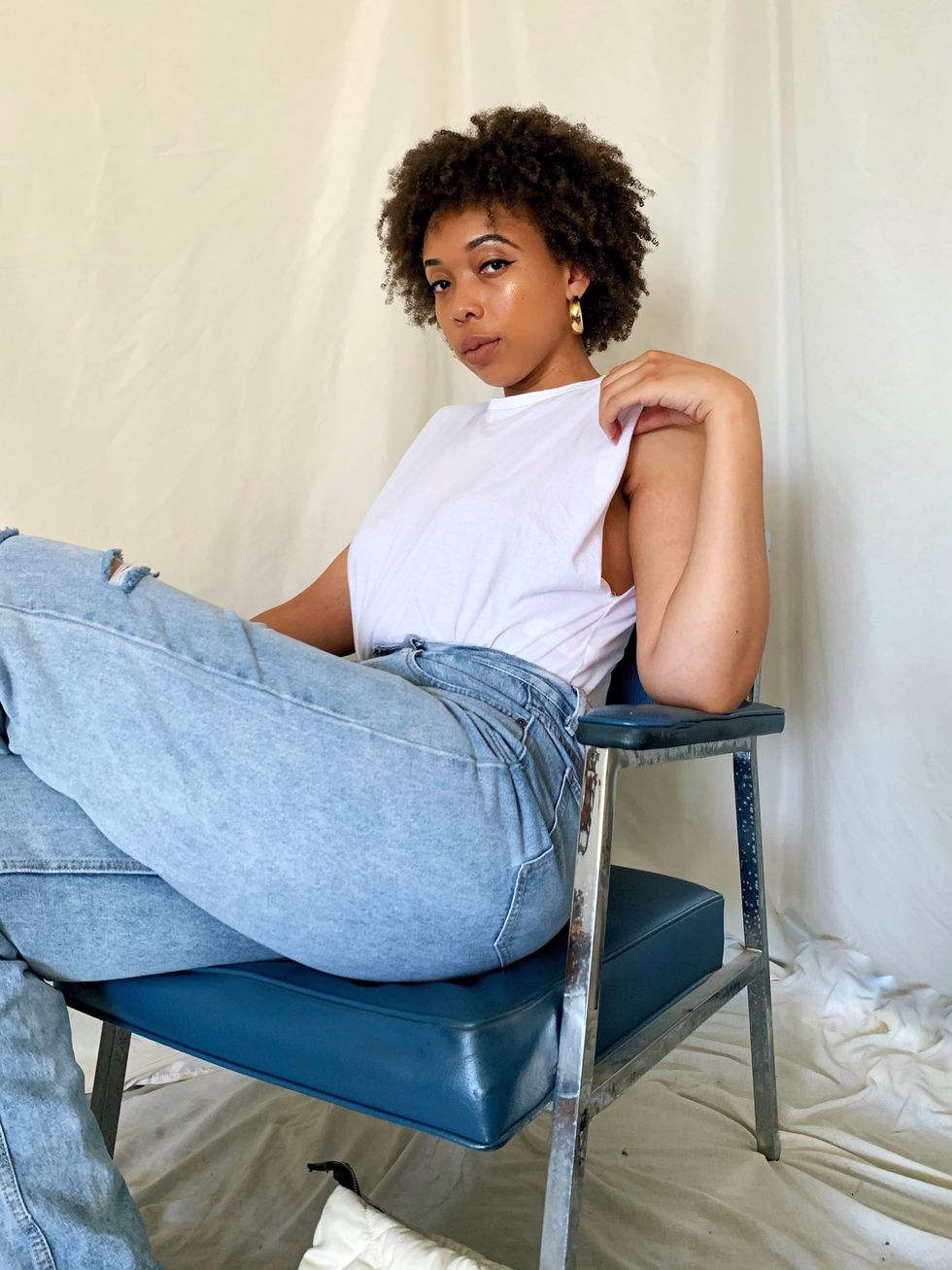 Shahirah Ahmed/xoNecole
While most of our social lives have dwindled significantly, we are anxiously awaiting the moment to reunite with our loved ones. Ideal for a night on the town, destroyed denim is the chicest of them all. Get dressed pairing a white tee along with a stylish mule and pillow clutch as we once again enjoy a casual chic night out on the town.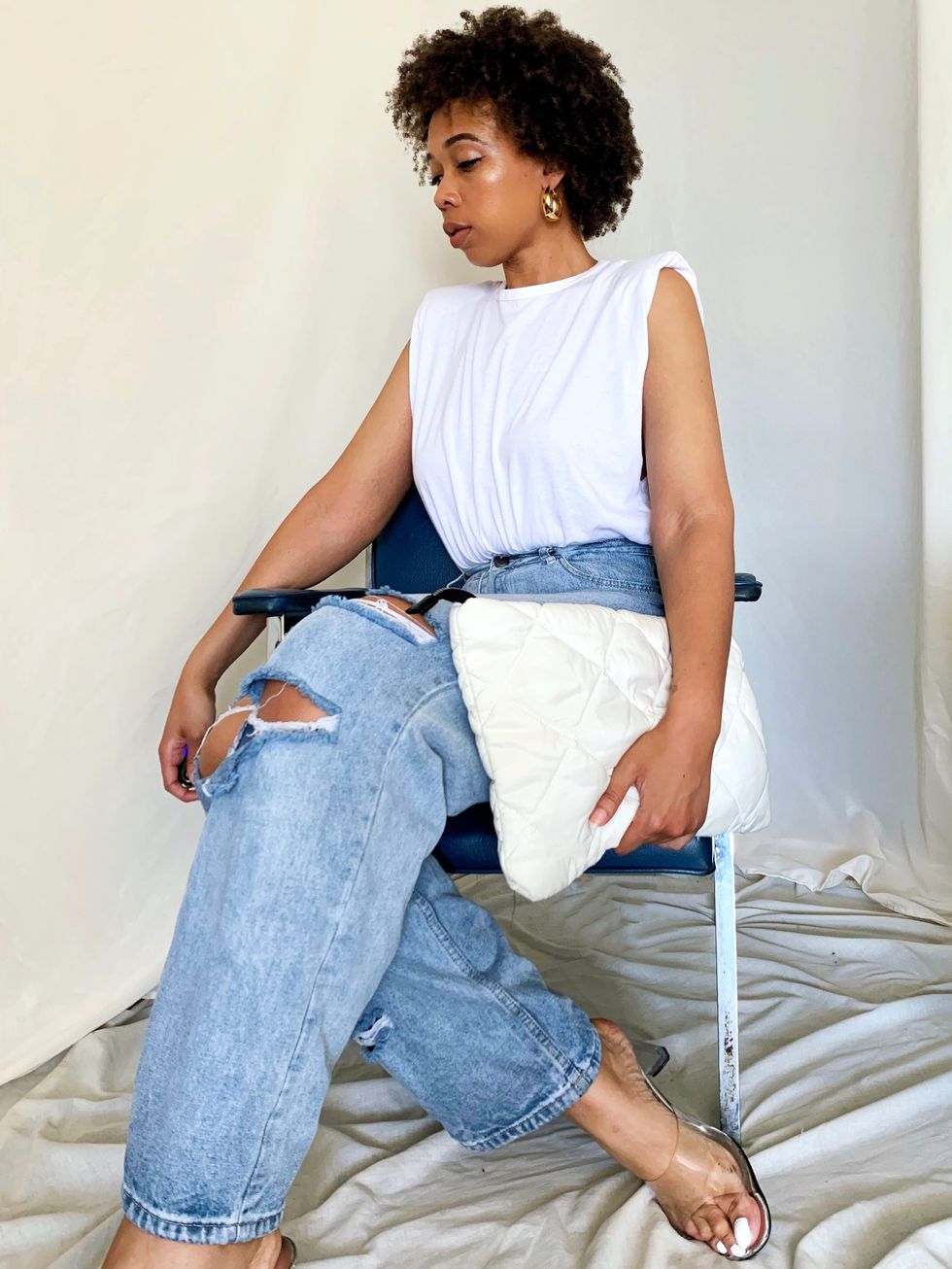 Shahirah Ahmed/xoNecole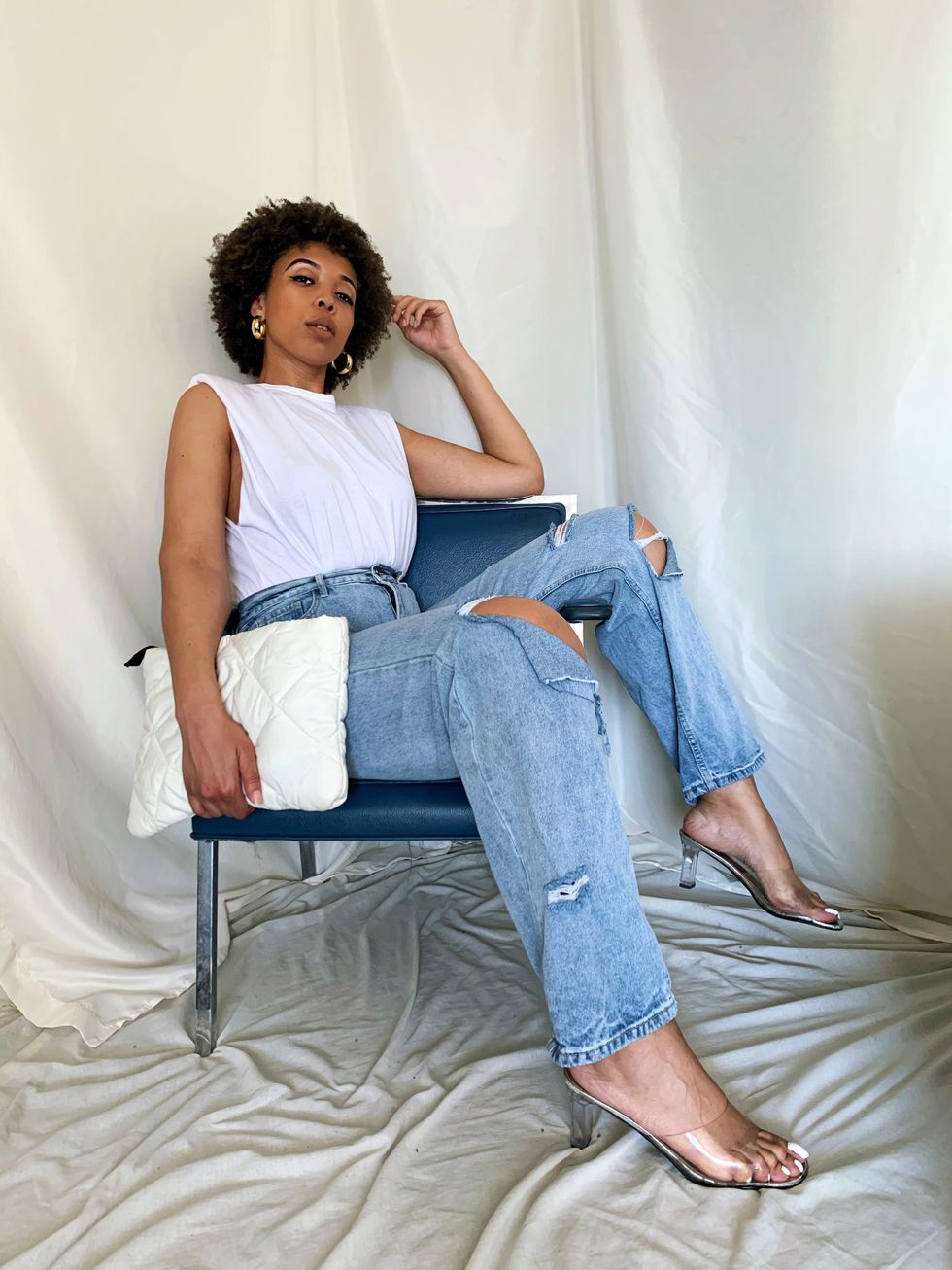 Shahirah Ahmed/xoNecole
Look 3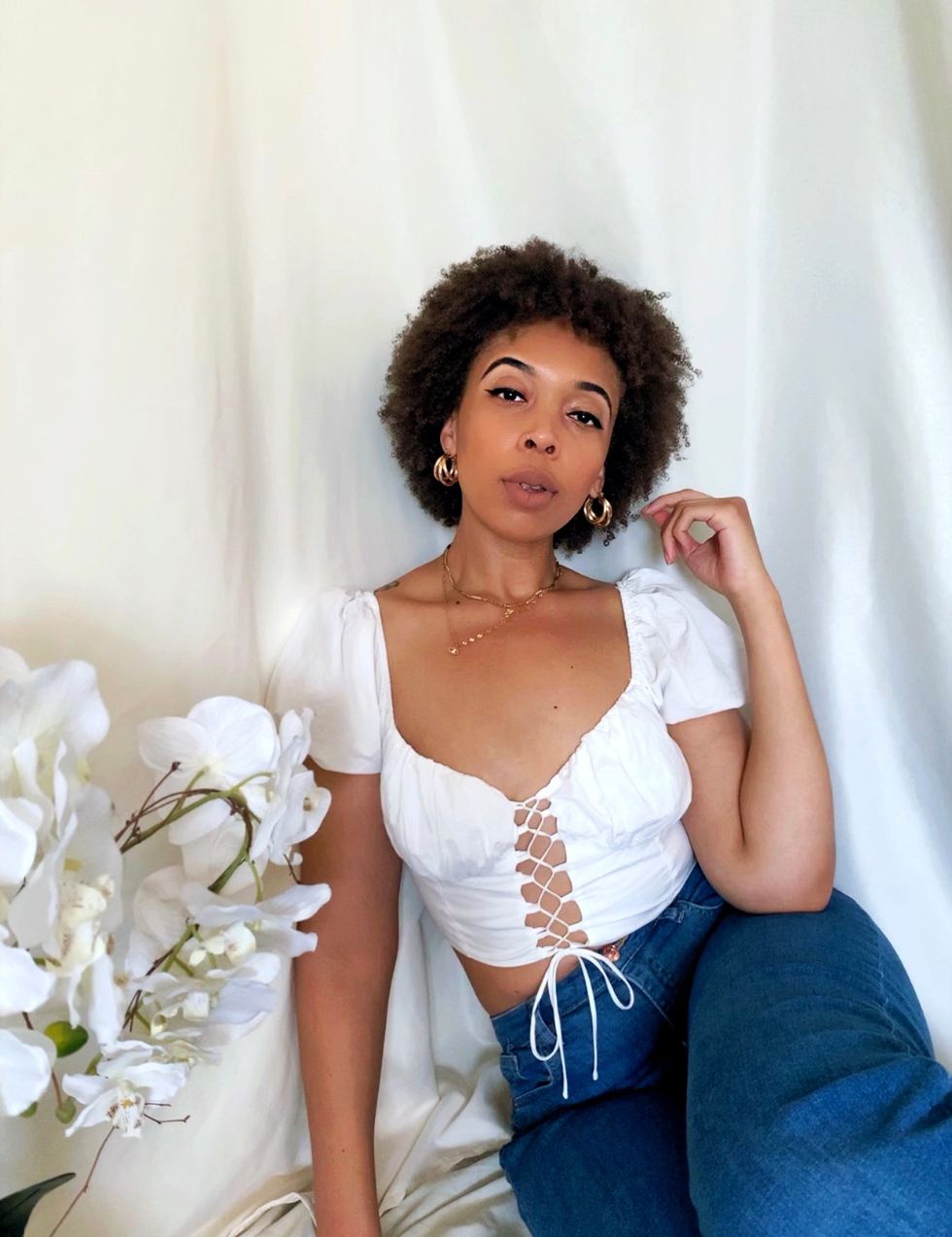 Shahirah Ahmed/xoNecole
If being indoors has taught us one thing, it's increased our admiration for the outside world by sparking a desire to spend more time in nature. Wear a wide-leg cropped denim pant paired with a short puffed sleeve crop top to enjoy a cute outdoor picnic. Add a pop of spring with a brightly colored wrap-around sandal, another exciting element to this casual look. A small step into post-quarantine, this outfit will enhance a delicious stress-free picture-perfect reintroduction into normal life.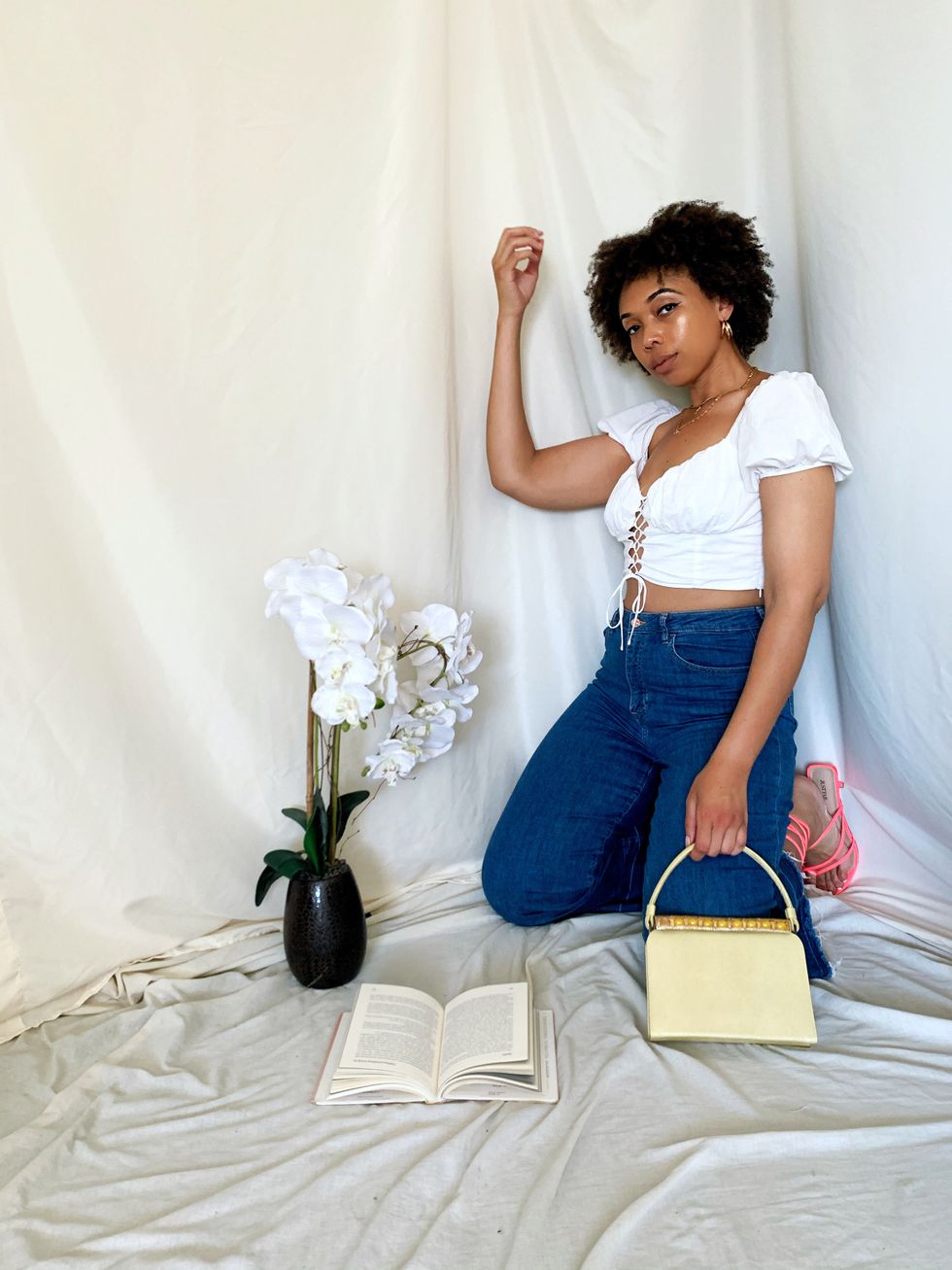 Shahirah Ahmed/xoNecole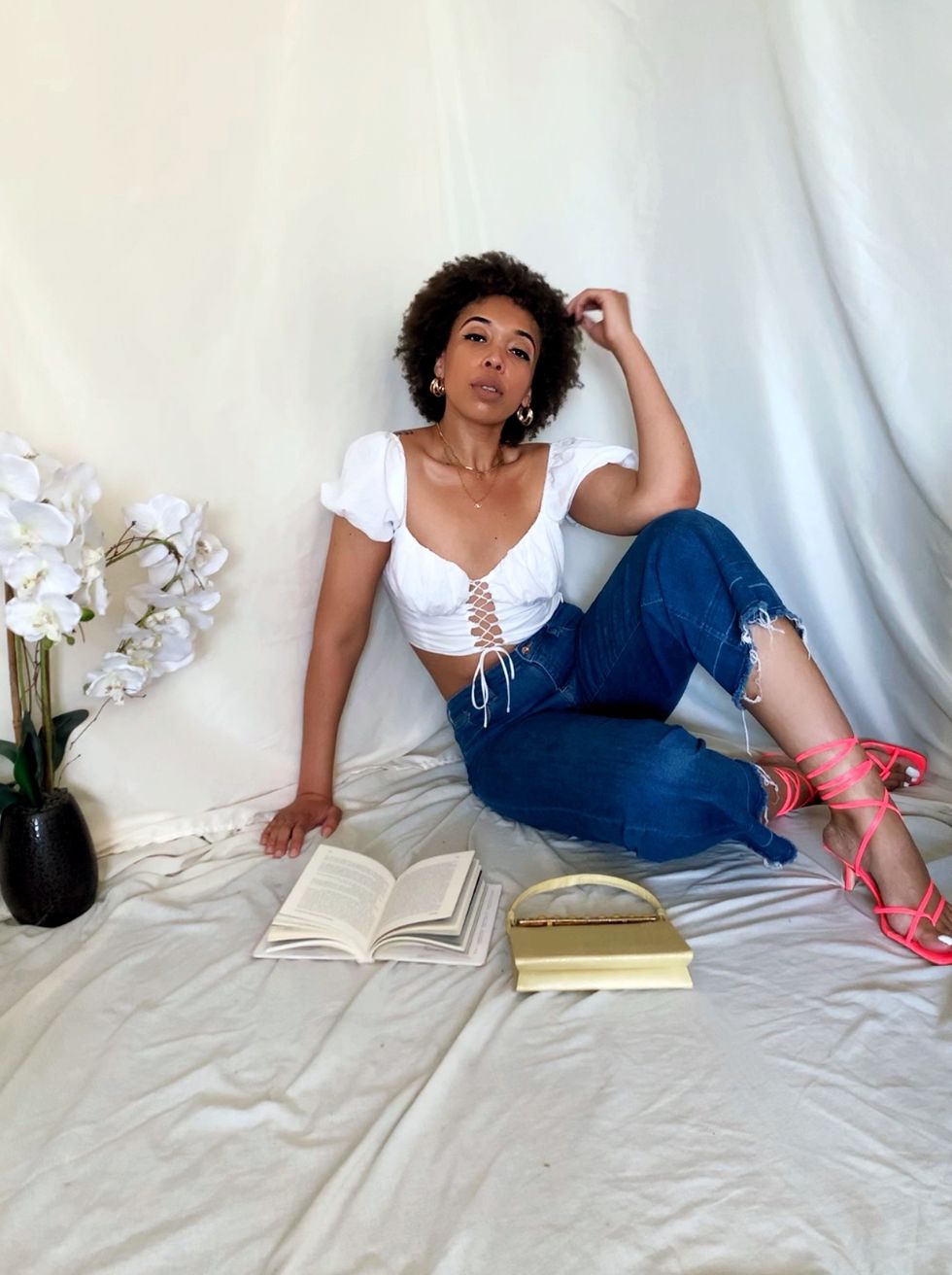 Shahirah Ahmed/xoNecole
Look 4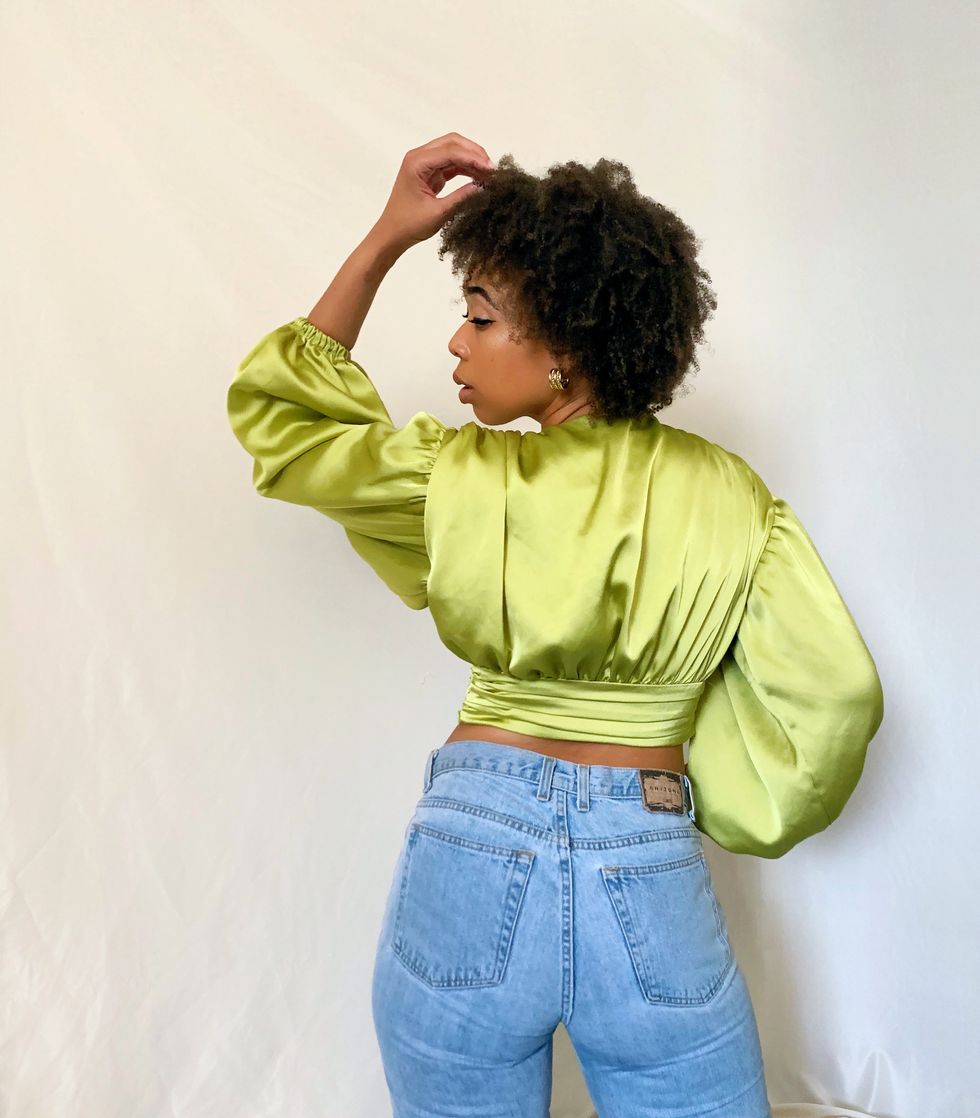 Shahirah Ahmed/xoNecole
Satin is the perfect lightweight material to enjoy a silky green puff sleeve paired with a mom jean. The perfect high waist denim for crop tops, this pair of jeans allows maximum coverage with a conservative pop of skin. By pairing this ensemble with a flat sandal, this look is the ideal cute and casual outfit for a romantic stroll to your local farmers market.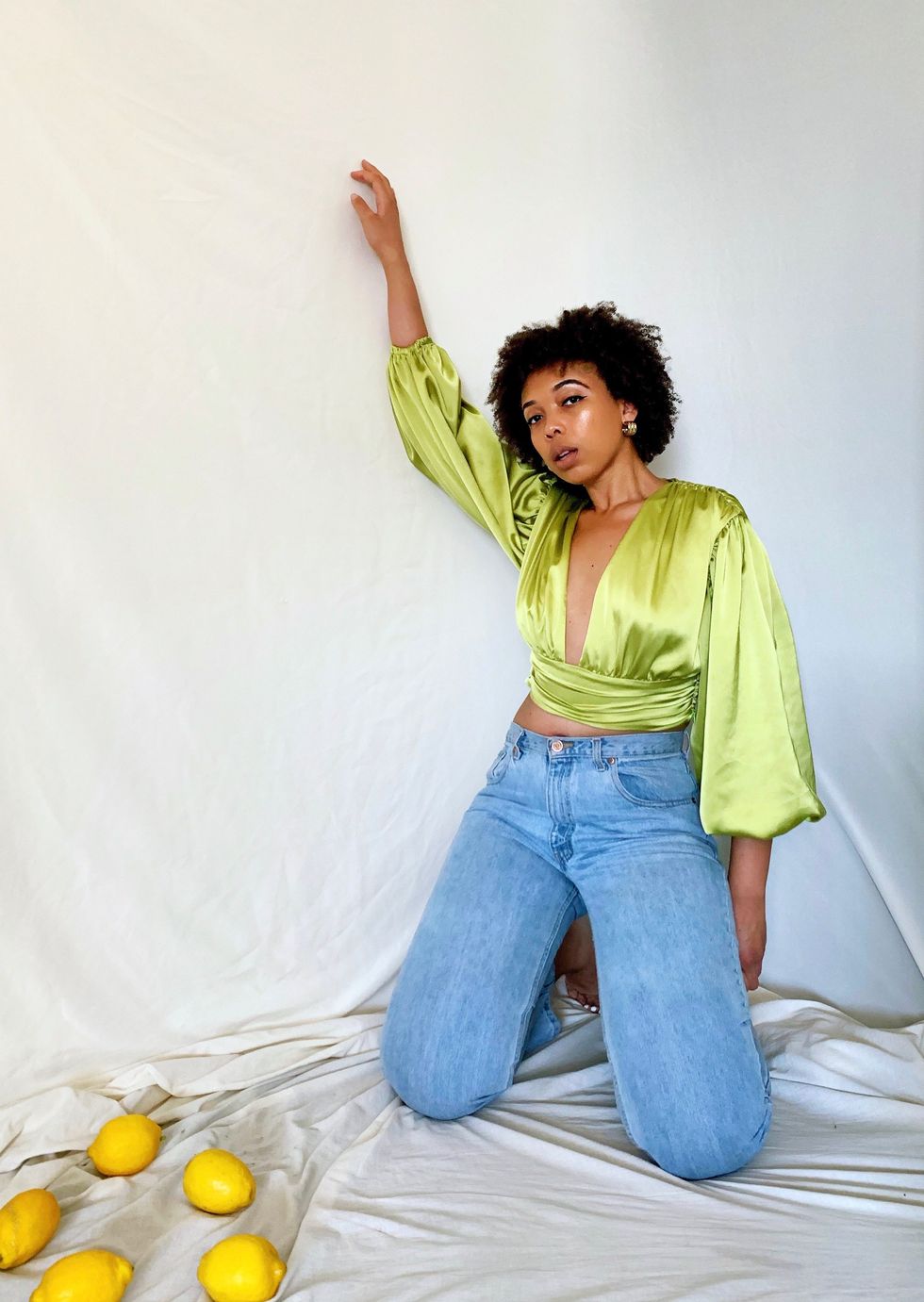 Shahirah Ahmed/xoNecole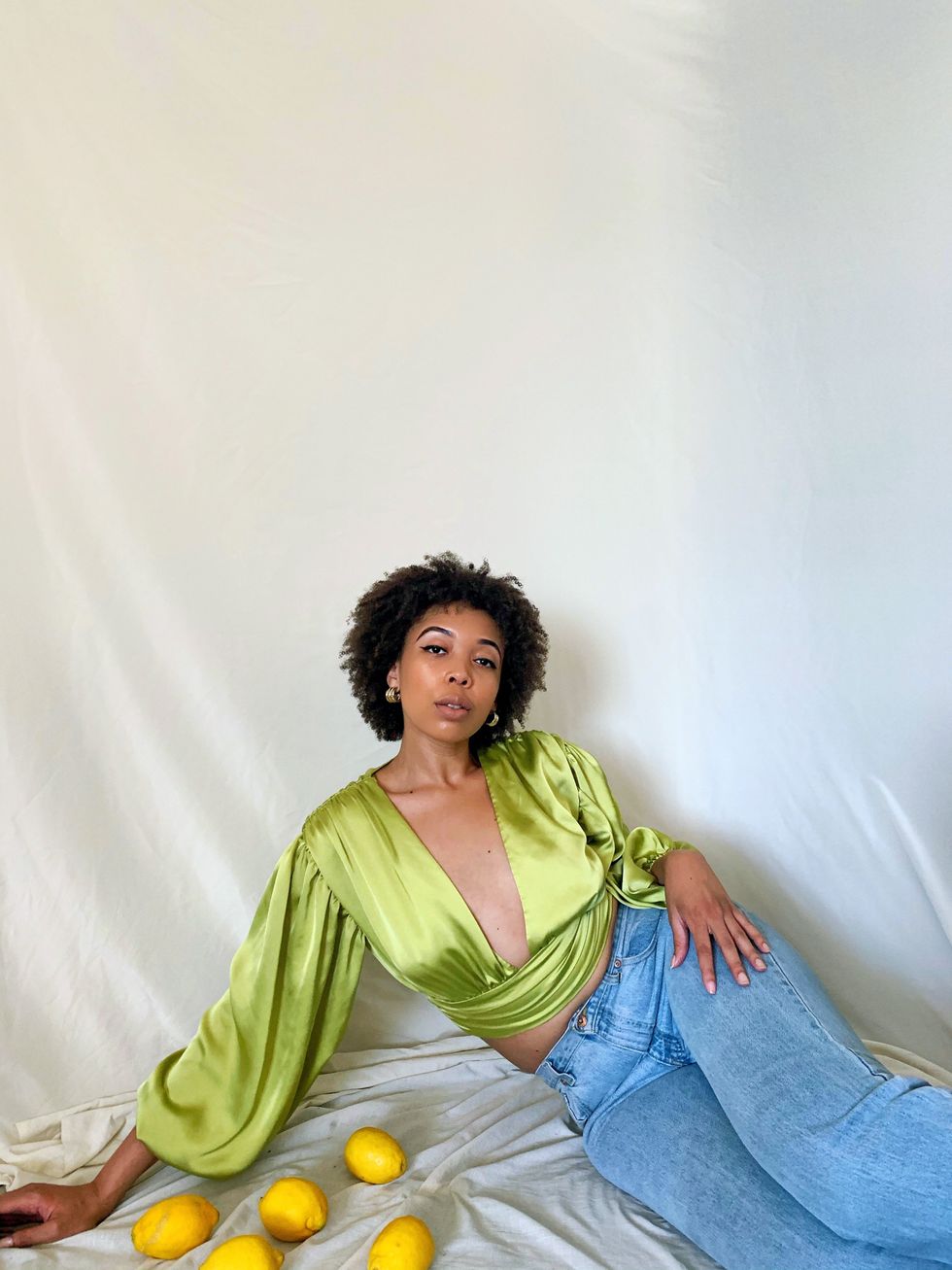 Shahirah Ahmed/xoNecole
Shop Similar Closet Finds:
*Some links are affiliate links. If you make a purchase, xoNecole may earn a small commission.
BDG High-Waisted Mom Jean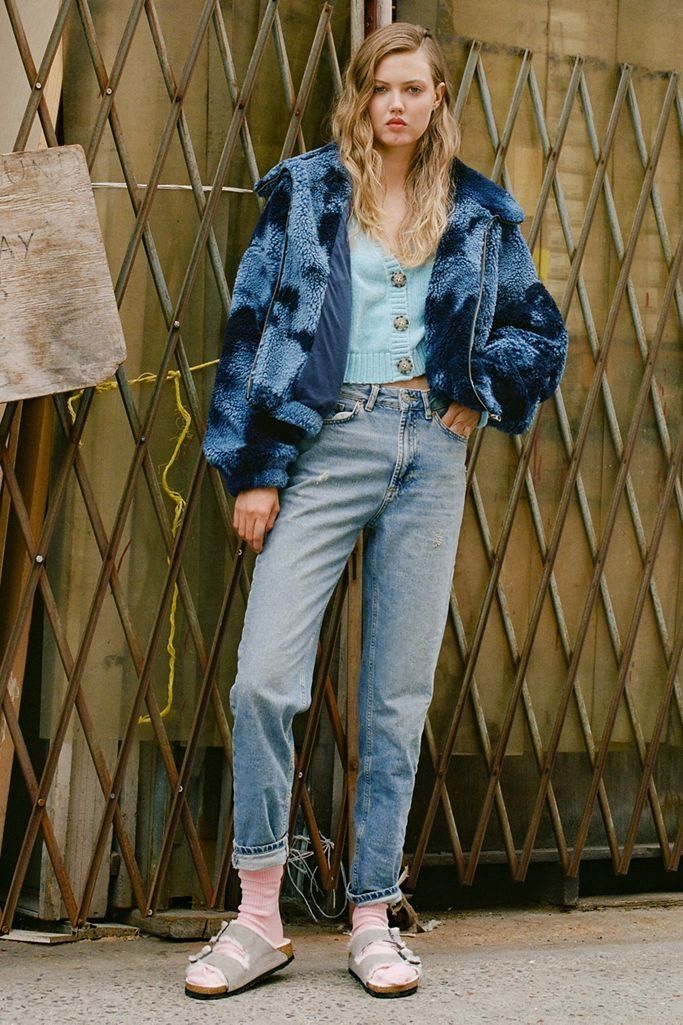 Urban Outfitters
BDG High-Waisted Baggy Jean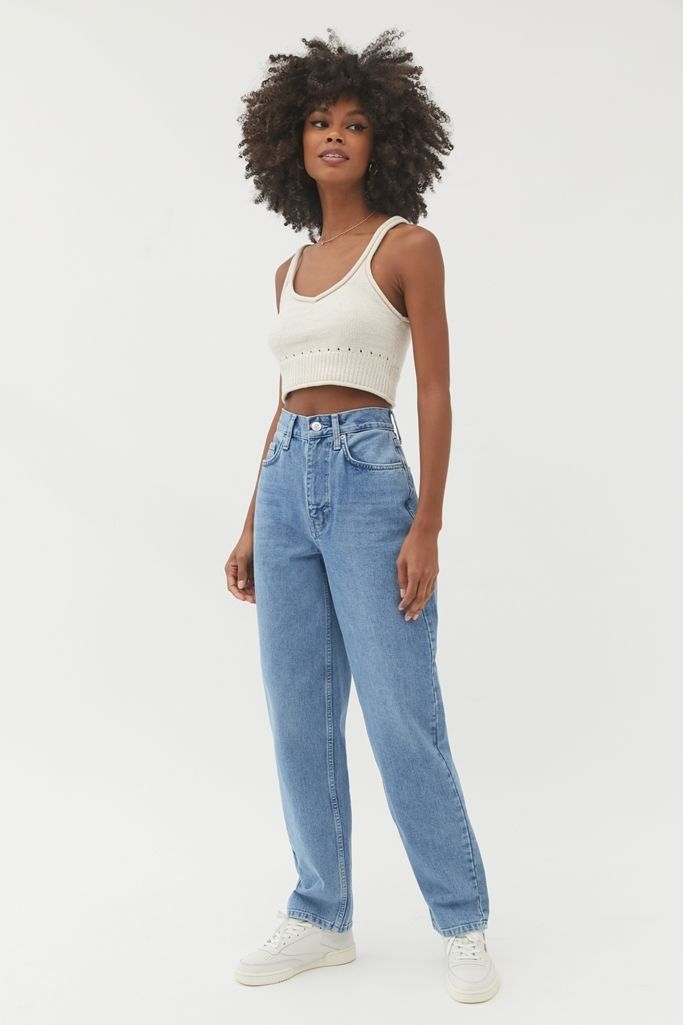 Urban Outfitters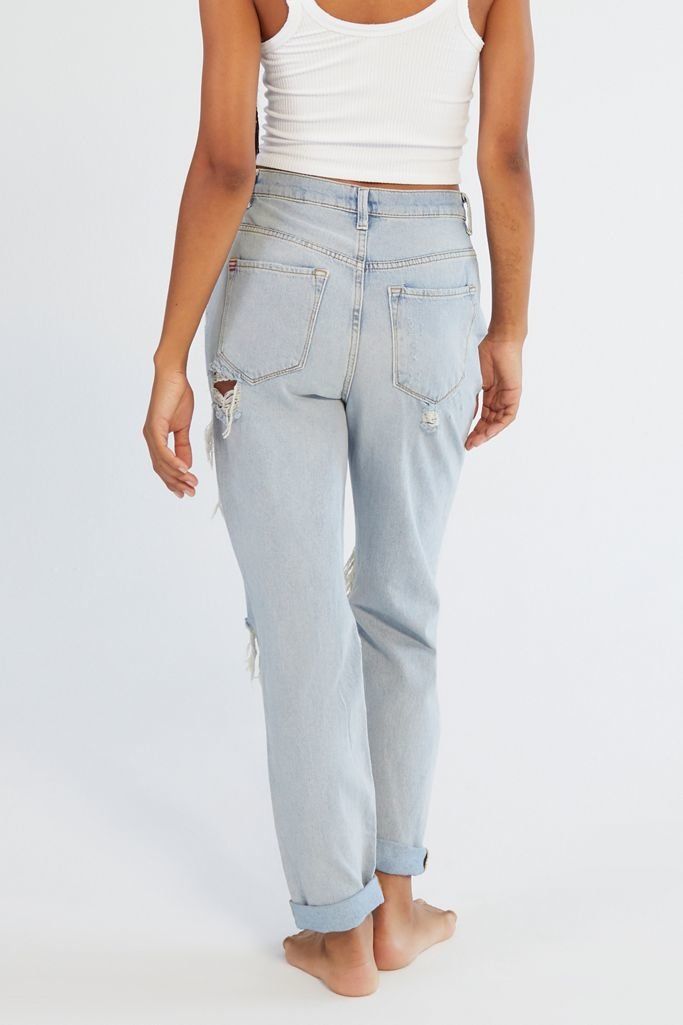 Urban Outfitters
Levi's Wedgie Icon Jean - Shut Up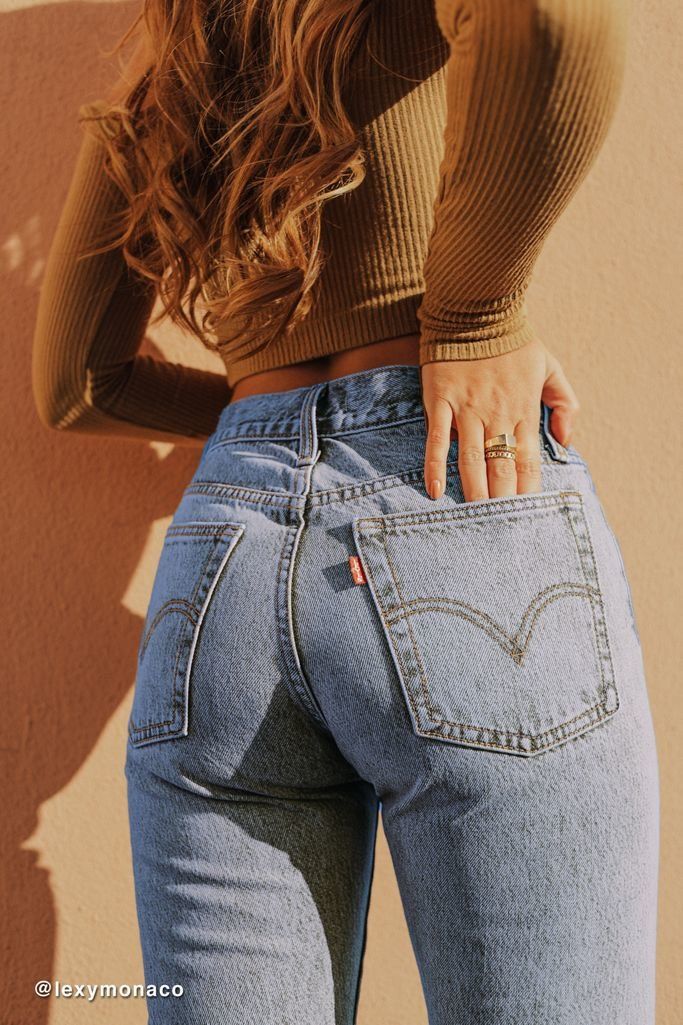 Urban Outfitters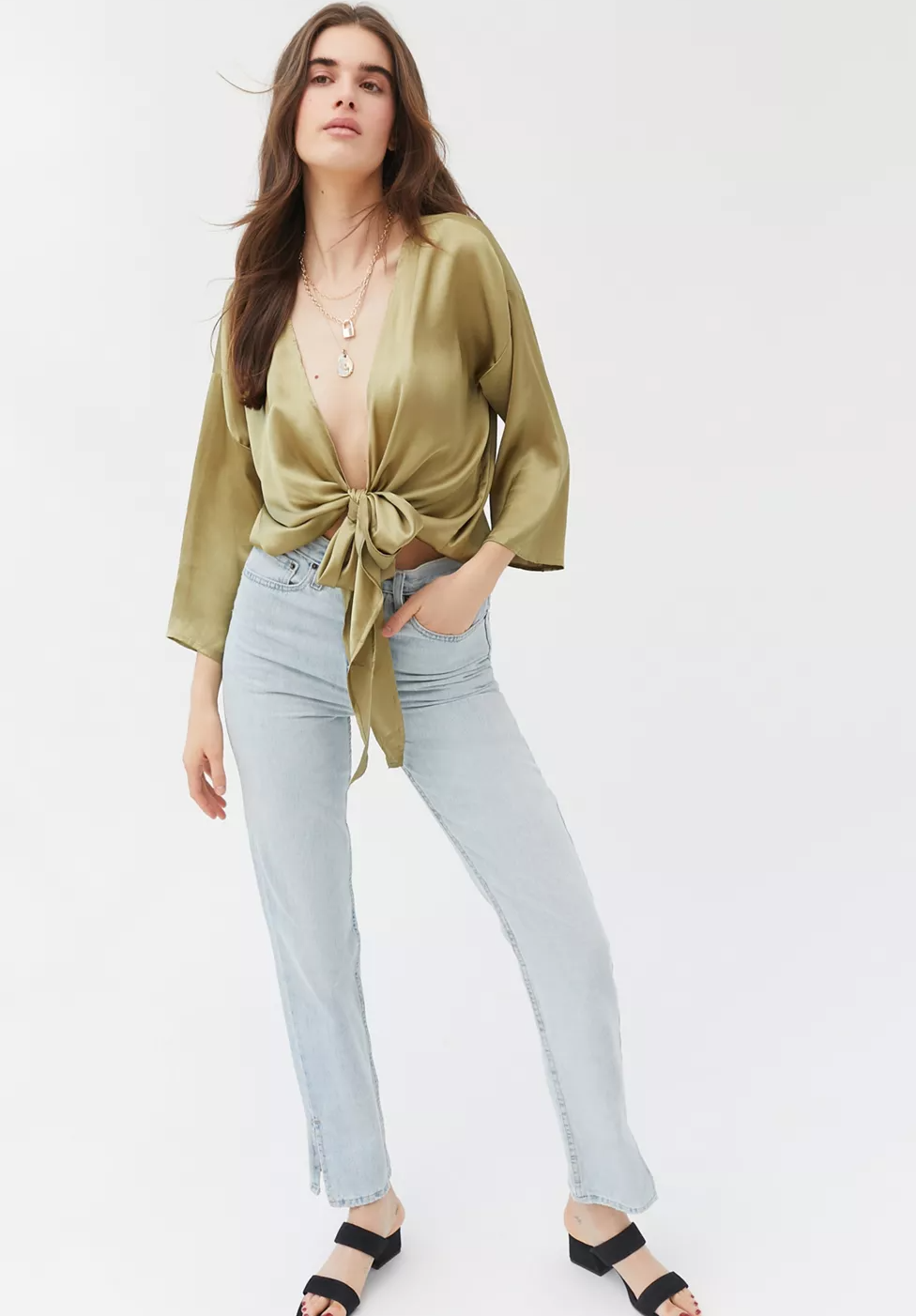 Urban Outfitters
Lime Satin Plunge Tie Waist Blouse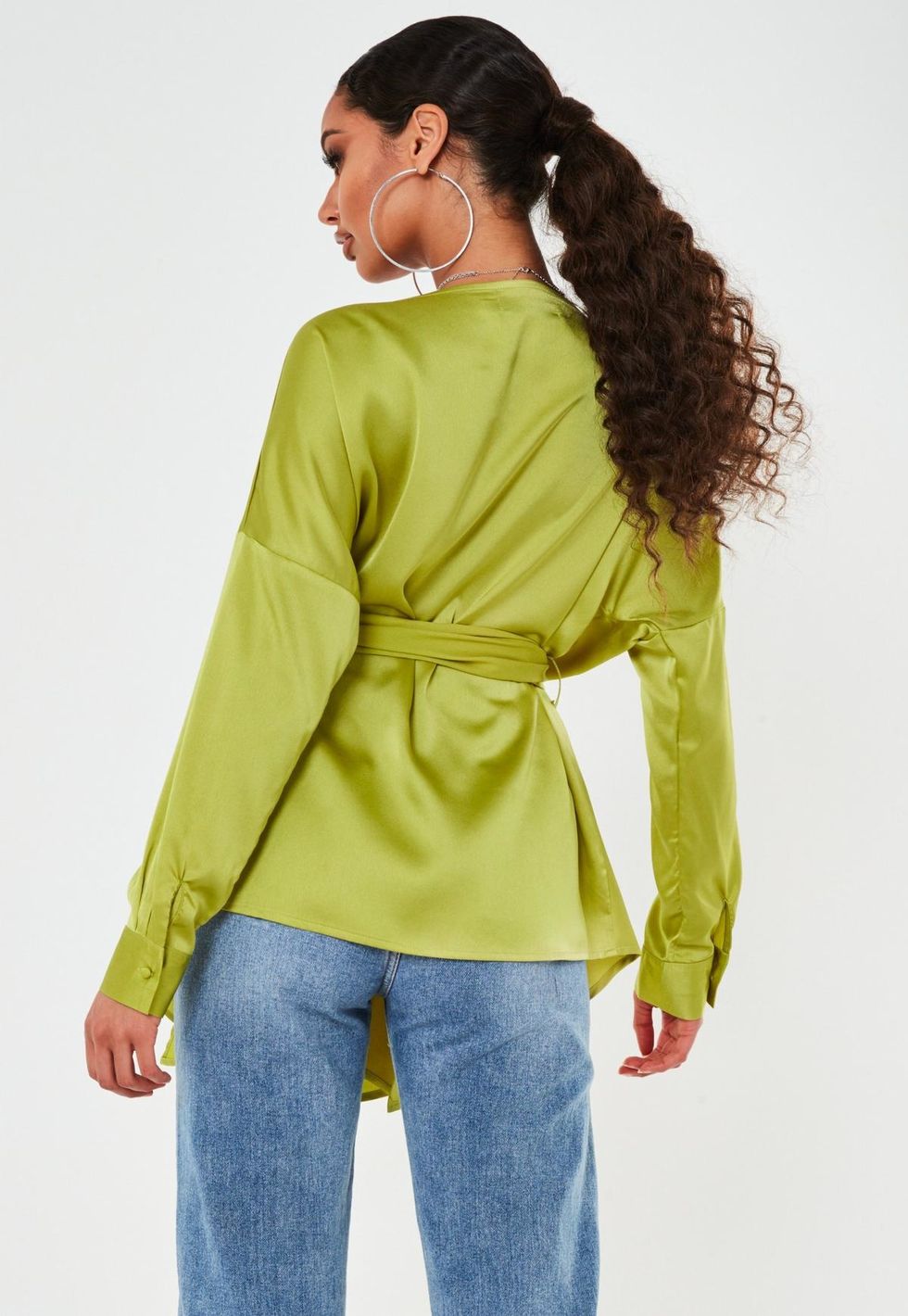 Missguided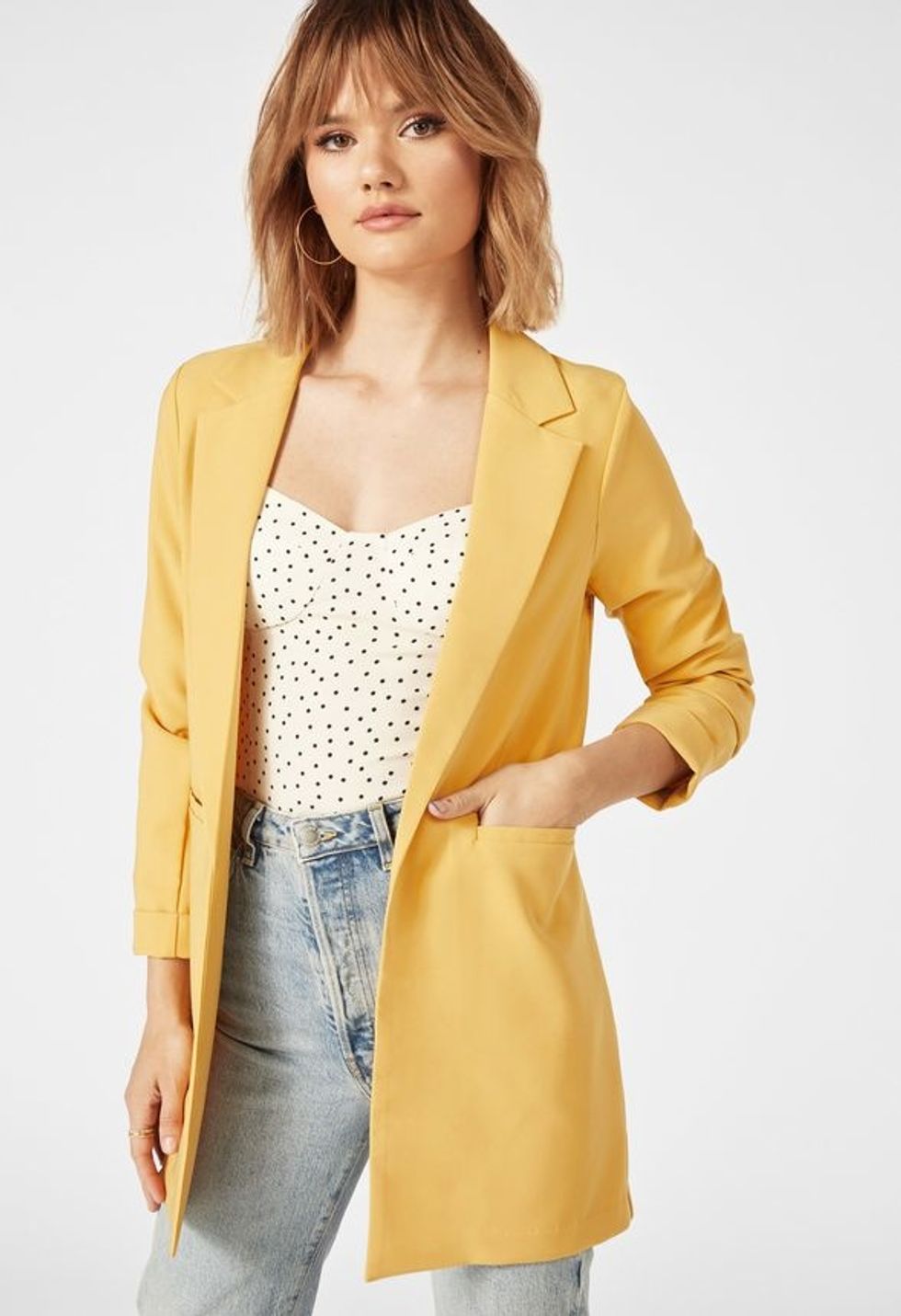 JustFab
Out From Under Drew Either Way Twist Bra Top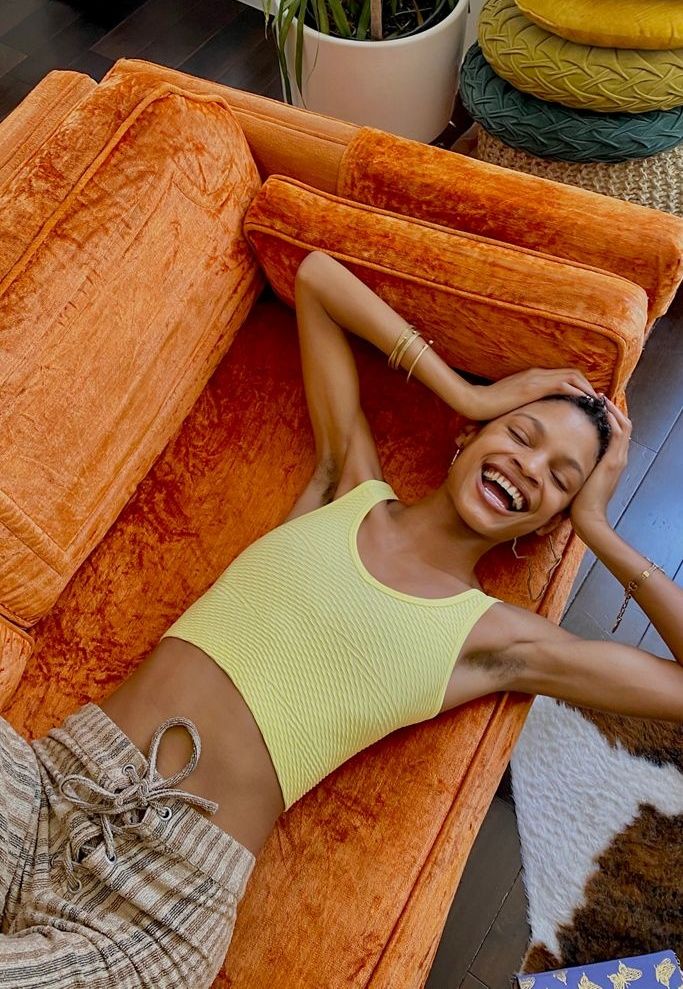 Urban Outfitters
Out From Under Feel Free Seamless Bra Top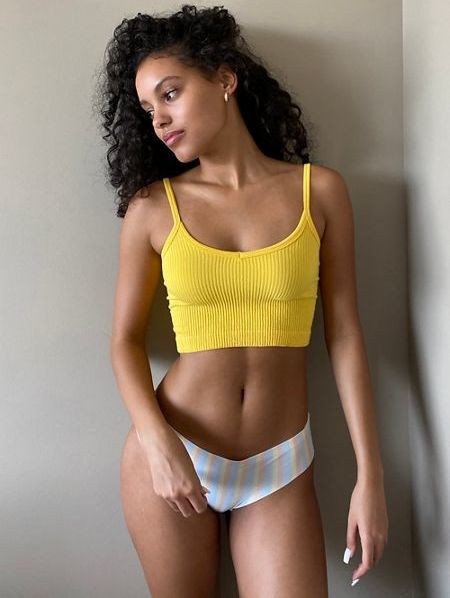 Urban Outfitters
SHEIN Padded Shoulder Tank Top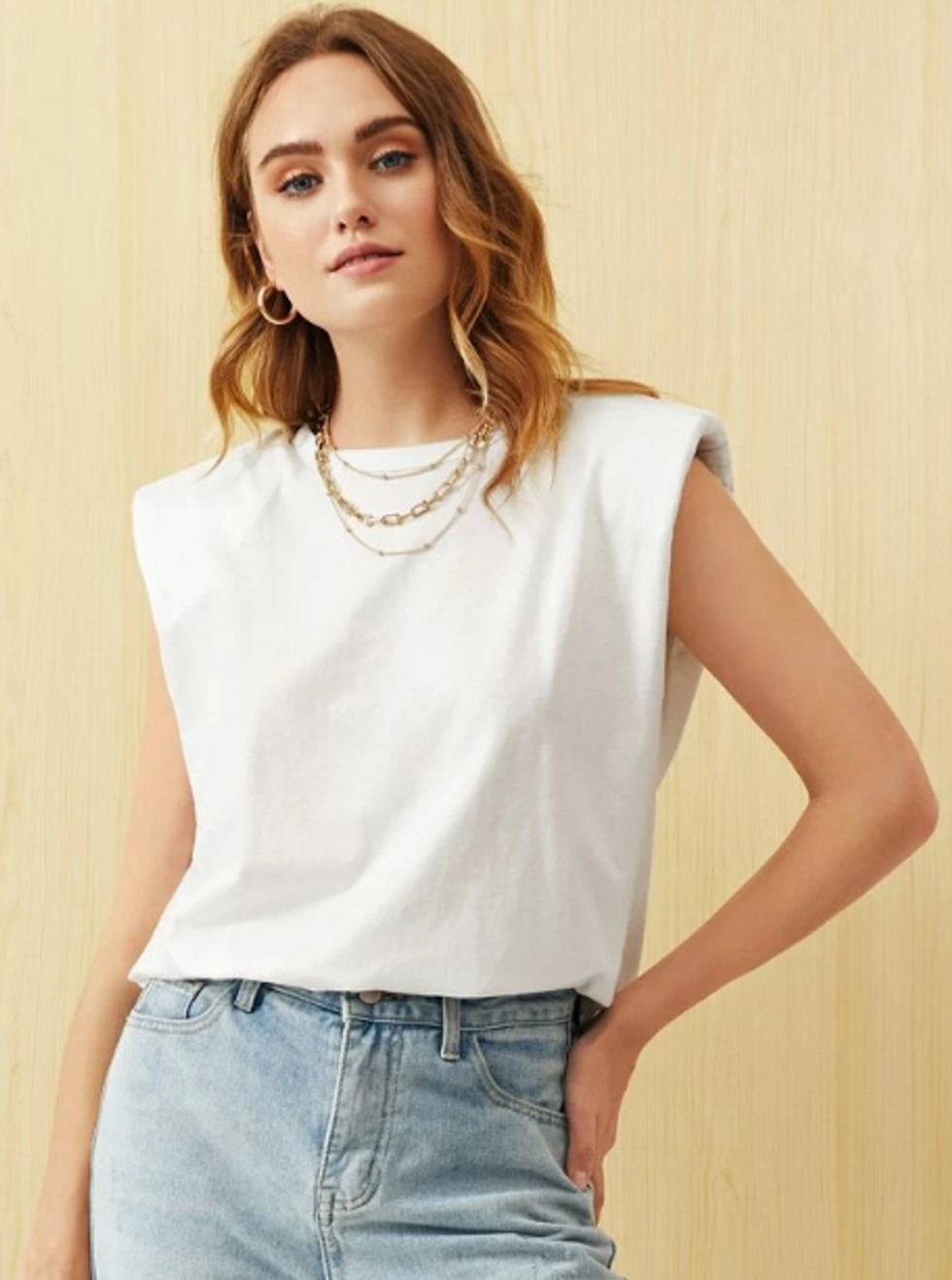 SHEIN
Want more stories like this? Sign up for our newsletter here to receive our latest articles and news straight to your inbox.
Featured image by Shahirah Ahmed for xoNecole
Originally published on May 21, 2020
Keep reading...
Show less
Although the last several months have significantly changed the way we get dressed each morning, I've noticed jewelry has never ceased to be a staple amongst women both inside and outside of our homes. While most are taking a more casual approach to everyday outfits, accessorizing remains the final touch to our daily dress routines. Whether subtle statements or stackable jewelry, there are plenty of 2021 trends that can easily elevate your casual look while giving off the impression that plenty of thought and effort went into the day's ensemble.
What I enjoy most about shopping for everyday jewelry is finding the perfect piece that is versatile and of quality at an affordable price. The exclamation point of every outfit, I love how effortlessly chic these intricate designs make me feel when mixing and matching my favorite silver and gold pieces each morning.
From mixed metals to linked chains, this season's jewelry trends are here to stay. Scroll to check out the everyday jewelry I'm wearing with my casual looks this winter and beyond.
Mixed Metals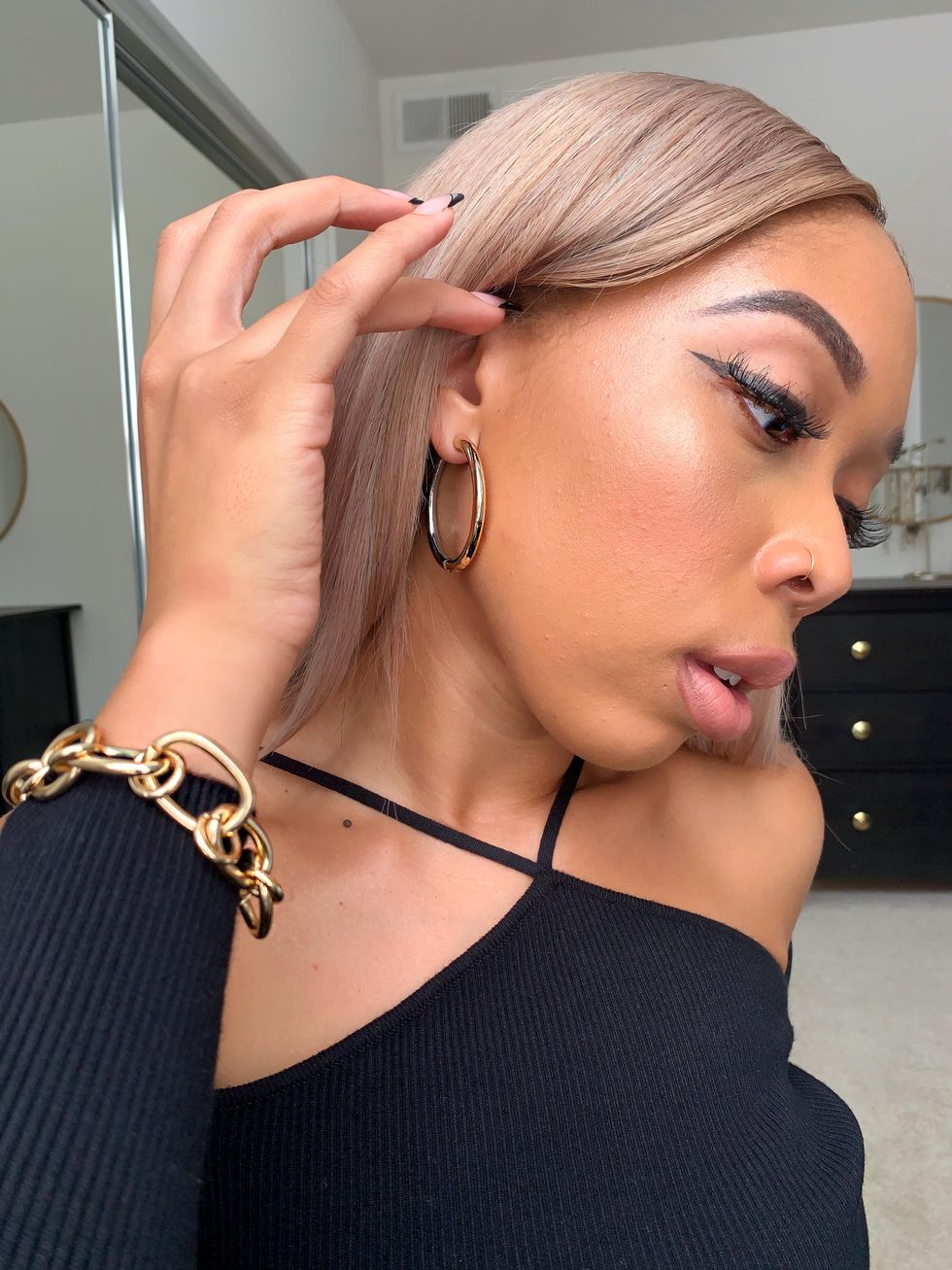 Shahirah Ahmed for xoNecole
Whether you prefer silver jewelry or naturally gravitate towards gold, a fairly new trend has emerged for those who share a love of both. I am loving the combination of silver and gold for a sleek addition to any outfit. No longer am I forced to choose between one or the other, with this pair of mixed metal hoops, I get the best of both worlds. In addition to the subtle earring combination, I added a gold vintage bracelet to complete this off the shoulder sweater look.
Chunky Chain Links
Shahirah Ahmed for xoNecole
A classic design, chunky chain necklaces are bolder than ever before. The perfect addition to elevate the day's look, this necklace easily becomes the center of attention with the ability to shine on its own. To complete my fully accessorized look, I paired matching chain linked hoop earrings to enhance my blazer and legging combination for a chic and casual fall vibe.
Silver Hoops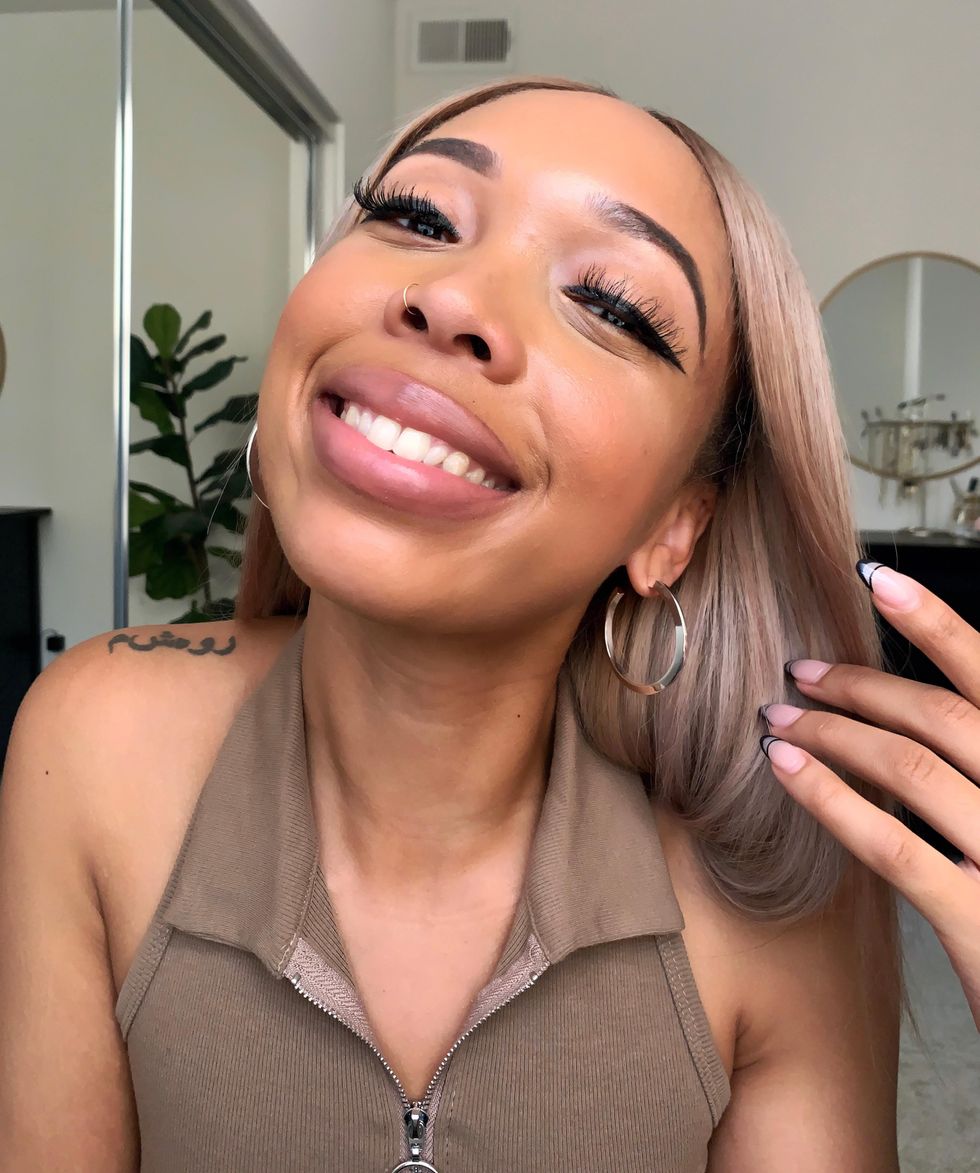 Shahirah Ahmed for xoNecole
This year I discovered many things about myself, including a newfound love of silver jewelry especially when complementing my favorite warm tones. You can never go wrong with polished silver hoops when in search of modern everyday staples to add to your collection. When shopping for the perfect pair, keep size in mind for all day comfort and versatility.
Layered Chains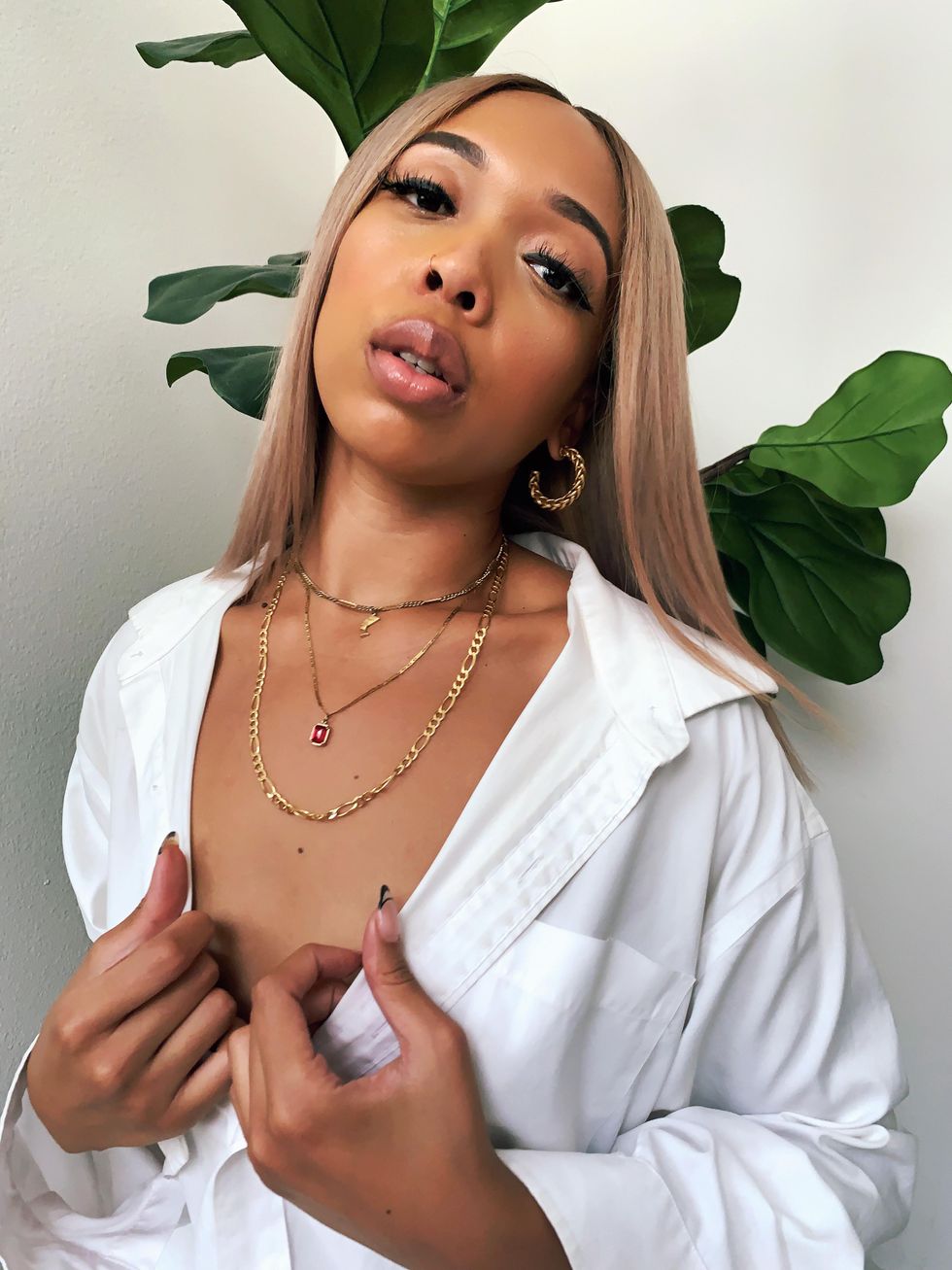 Shahirah Ahmed for xoNecole
There's nothing new about layered chains, however it's the ongoing jewelry trend I can't stay away from. A personalized combination layered with a mixture of my favorite pendants, stones and vintage chains, there's no denying this trend makes any casual outfit look cool. When wearing an oversized button down, layering chains are always a good idea.
Collar Necklaces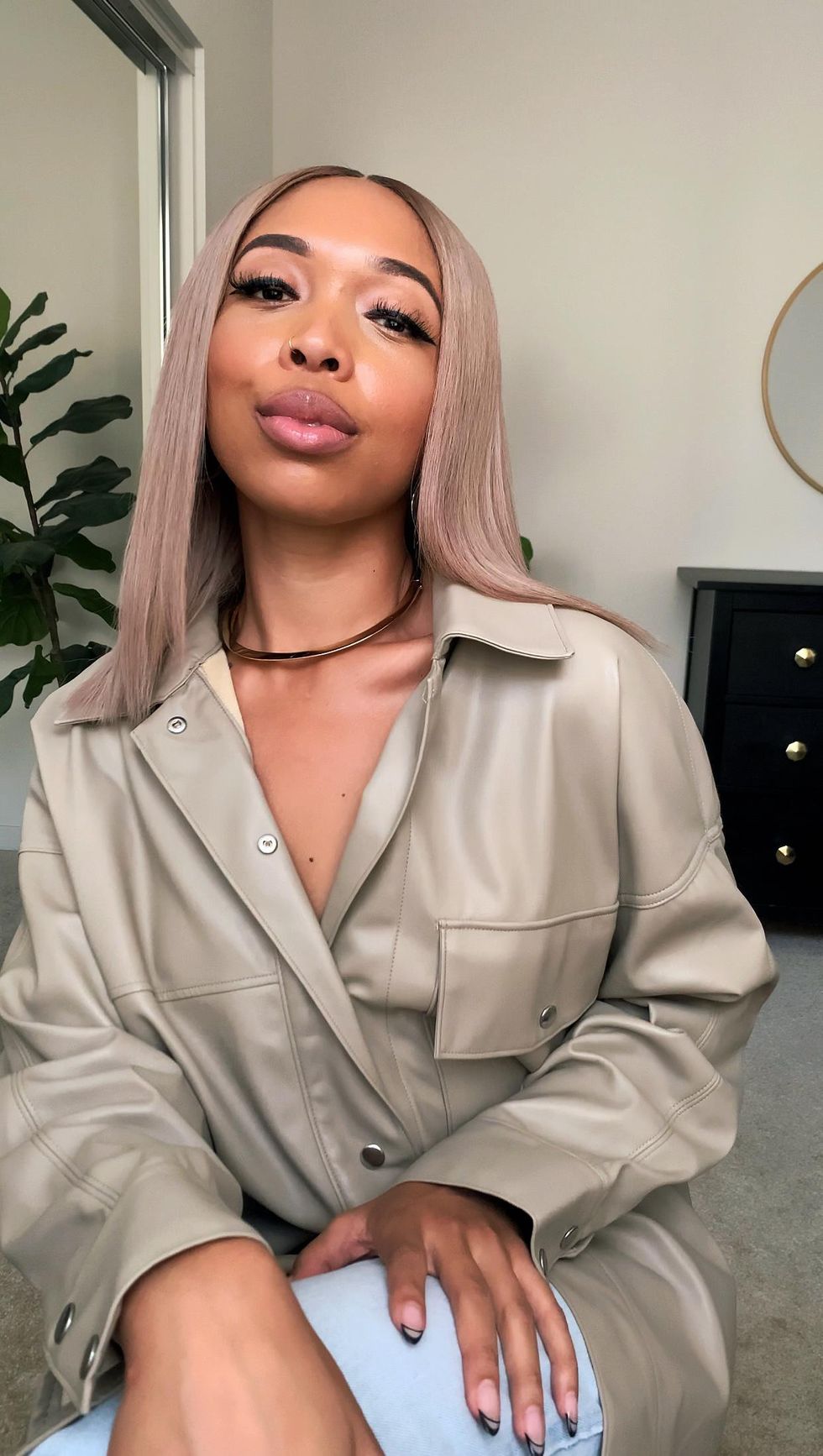 Shahirah Ahmed for xoNecole
Collar necklaces come in many forms, however it's this smooth 14K gold plated design for me. This piece fits perfectly on the neck, graciously lighting up my collar bones for the ultimate glow. So feminine and chic, this style is perfect for every woman. Paired with a neutral toned leather button up and light washed denim jeans, I'm giving myself an 'A' for effort in this minimal fall/winter look.
Are you a member of our insiders squad? Join us in the xoTribe Members Community today!
Featured image by Shahirah Ahmed for xoNecole

Originally published on December 5, 2020
Keep reading...
Show less
I have no recollection of getting my ears pierced for the first time, however I do recall being drawn to subtle yet chic earrings to be worn with my day-to-day outfits even as a young girl. As I gradually moved away from the sparkly studs sold at my local Claire's, I discovered my now never-ending love for hoop earrings and the need to pair them with almost every ensemble for every occasion.
From large to small, the circumference of my hoop choice typically depends on the mood I'm in for the day and my desired aesthetic, however with most of the country still reeling from the effects of COVID-19, wearing extra large statement earrings feels a bit out of place in our current climate. Overall fashion has gotten a bit more cozy comfortable with less of a need for over the top pieces, instead dainty earrings that are lightweight and perfectly paired with everyday effortless looks while still noticeably chic are first on my priority list.
Like most, I can find an assortment of hoop earrings throughout my jewelry box, however I am currently obsessed with finding small to medium-sized options ranging in different shapes, colors, designs, and textures creatively designed with artistic expression in mind. Check out these not-so-basic everyday casual hoop earrings to add to your jewelry collection before they're gone!
1. Spiked Hoops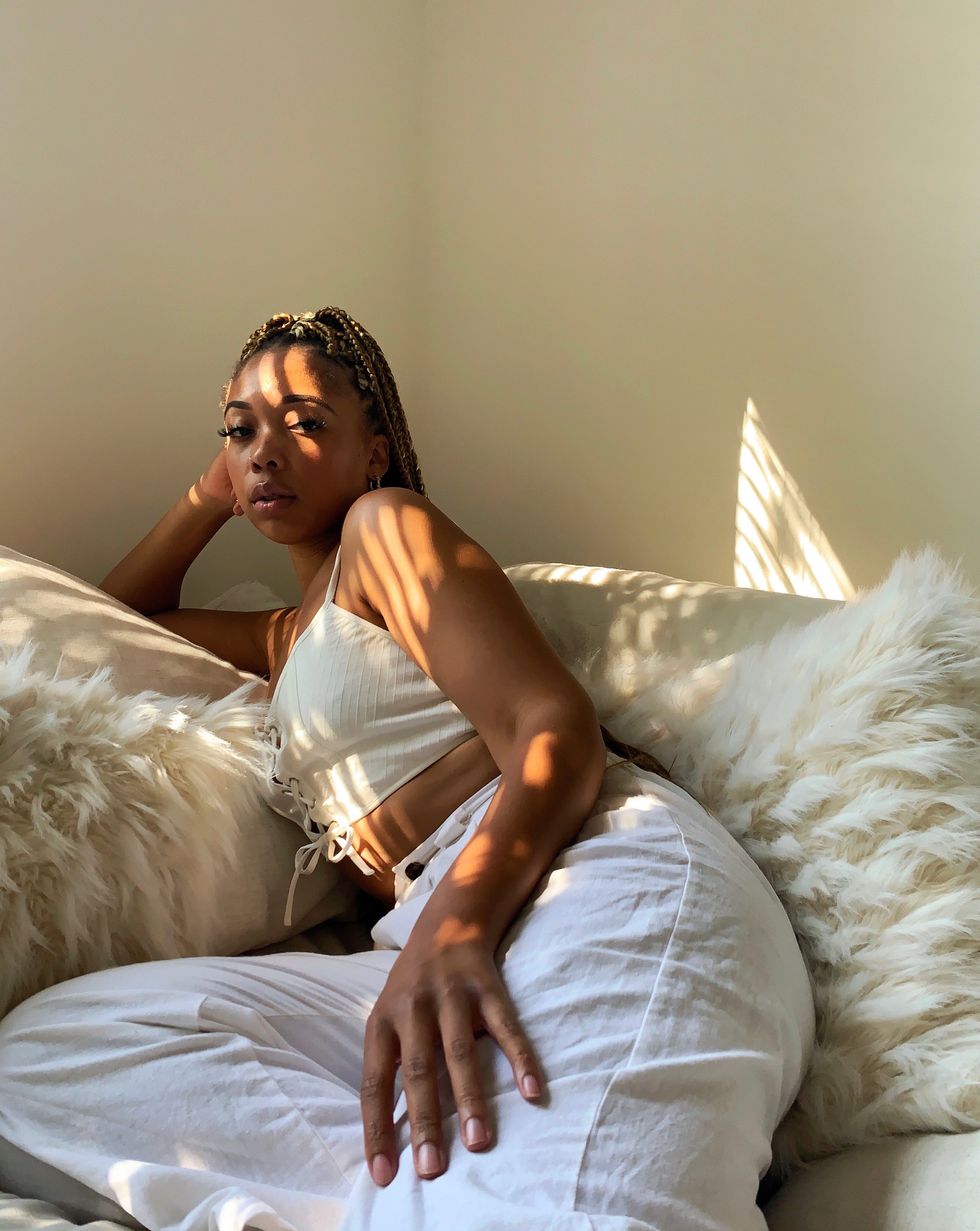 Shahirah Ahmed/xoNecole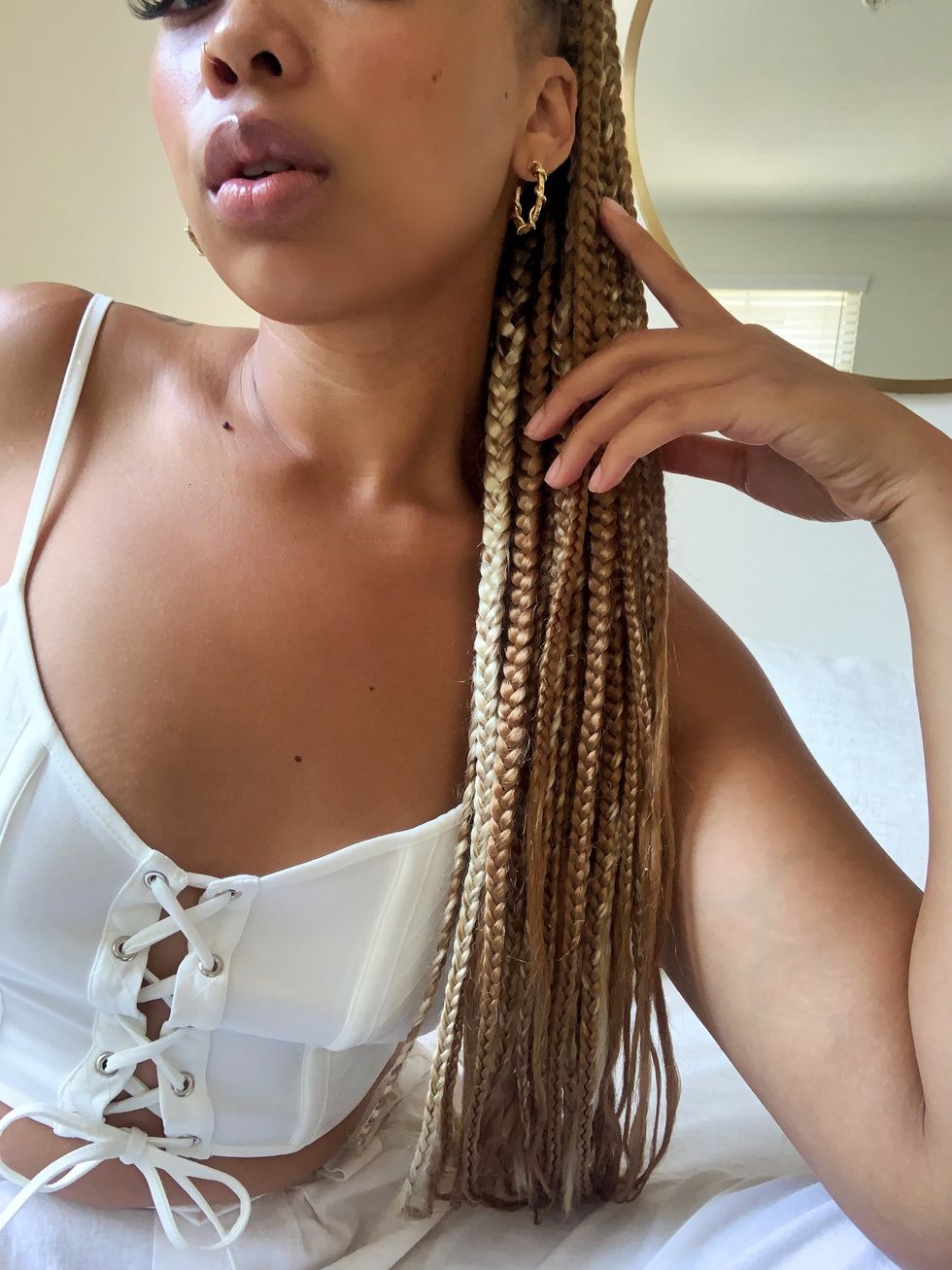 Shahirah Ahmed/xoNecole
These 14k gold spiked hoops are an absolute treasure. Edgy and fun, these mid-sized hoops are Natalie McMillan's signature design. Created to last a lifetime, these are ideal for sensitive ears as well those who value handcrafted one of a kind styles. Pair with an all-white ensemble so as to not take away from these small but mighty hoop earrings.
Shop earrings here.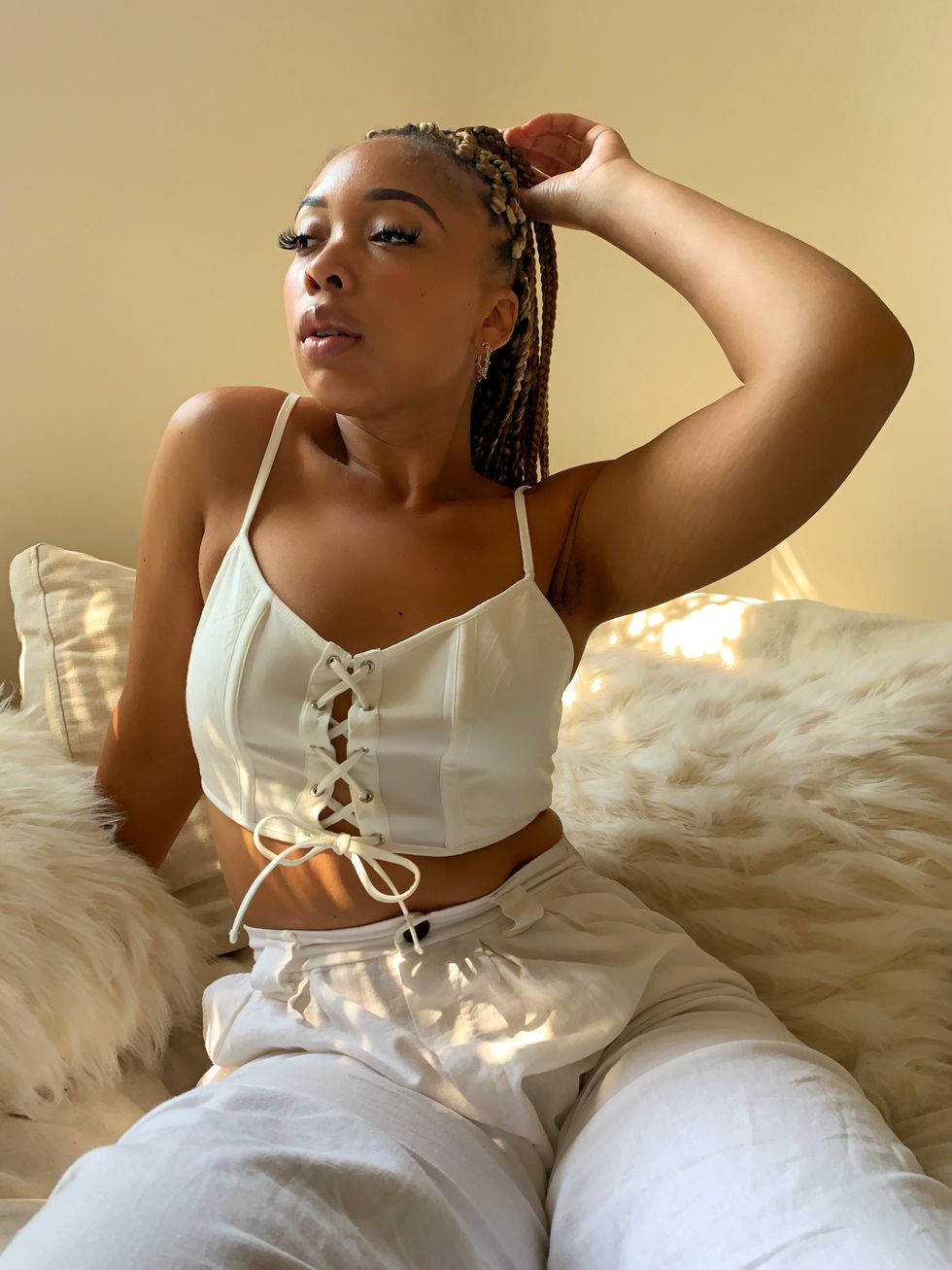 Shahirah Ahmed/xoNecole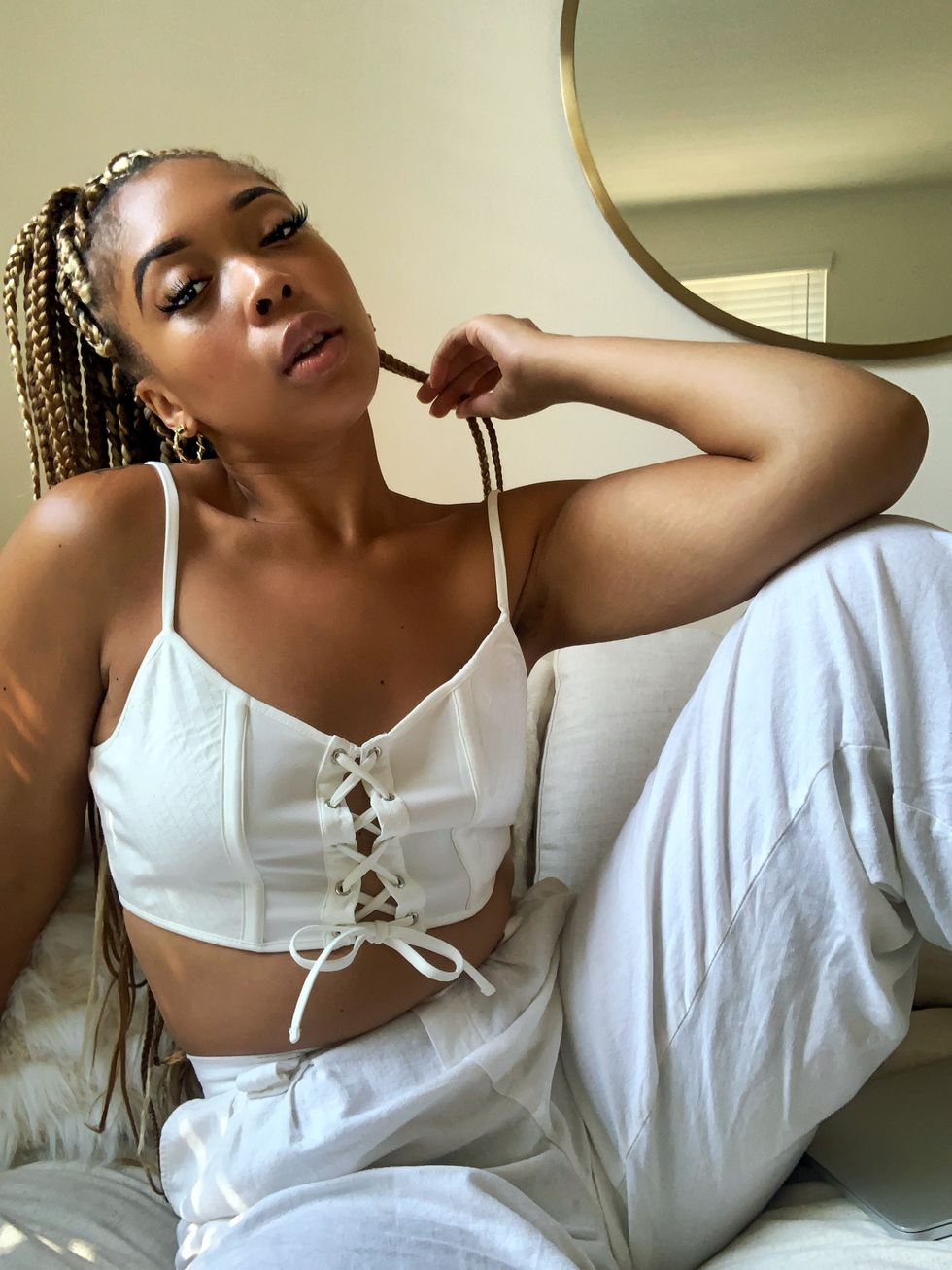 Shahirah Ahmed/xoNecole
2. Ivory Hoops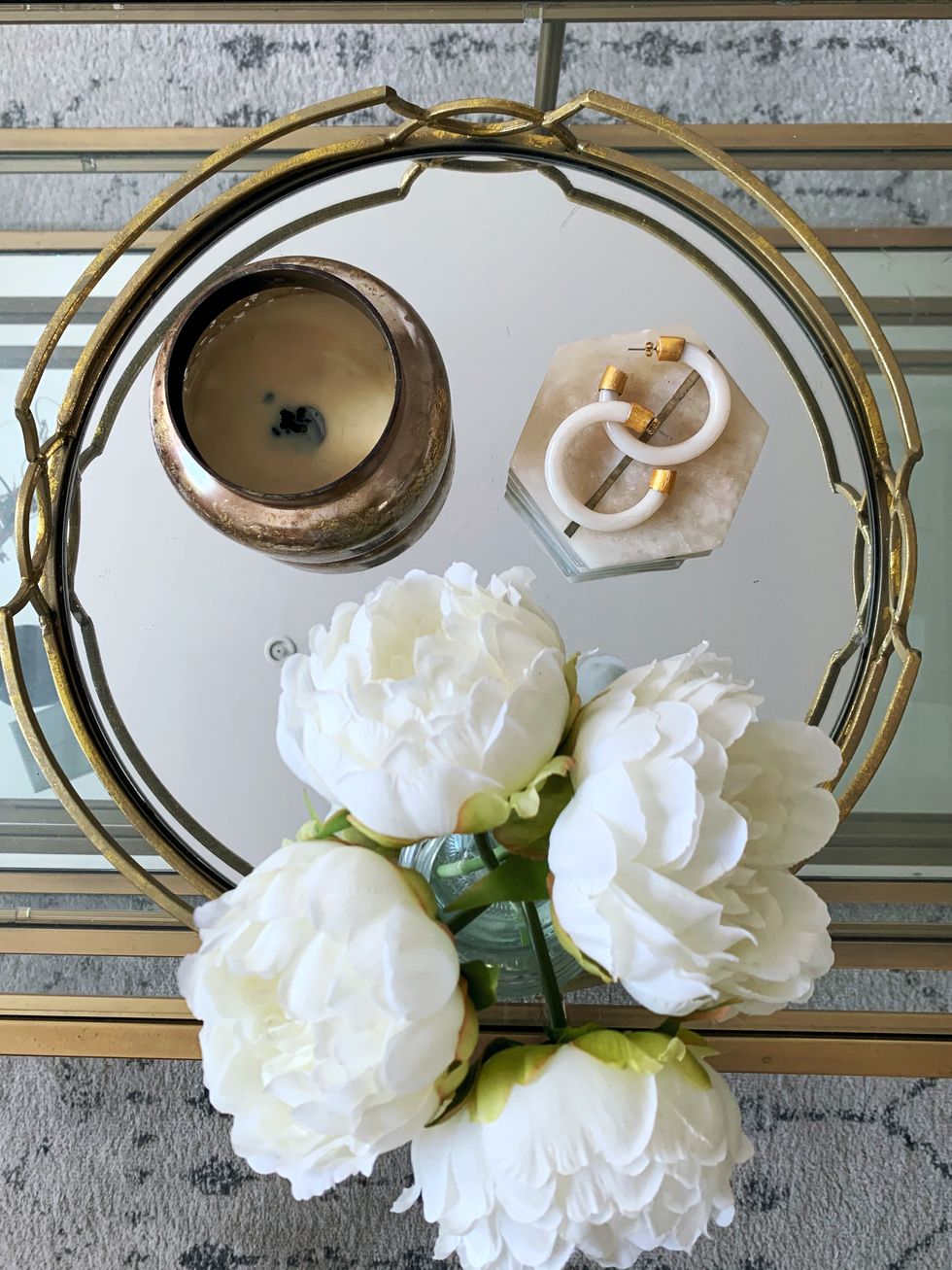 Shahirah Ahmed/xoNecole
As much as I love gold and silver hoop earrings, ivory is the perfect alternative to the common metals we've grown accustomed to. Perfectly paired with light colors and earth tones, these hoops are perfect to transition from summer to fall. I also love the duality in design, allowing for both casual and sophisticated outfit options.
Shop similar earrings here.
3. Vintage Mini Chain Link Hoops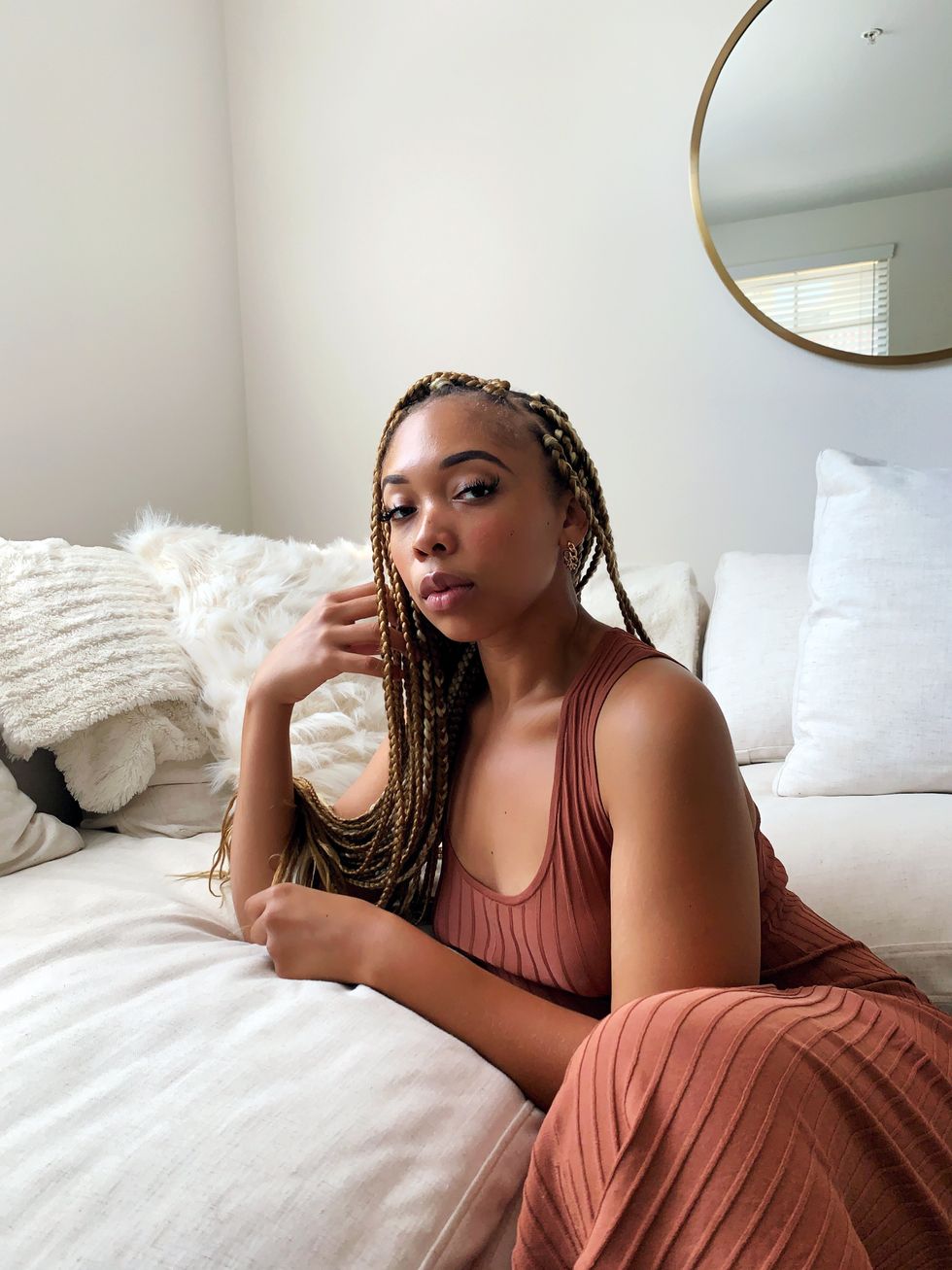 Shahirah Ahmed/xoNecole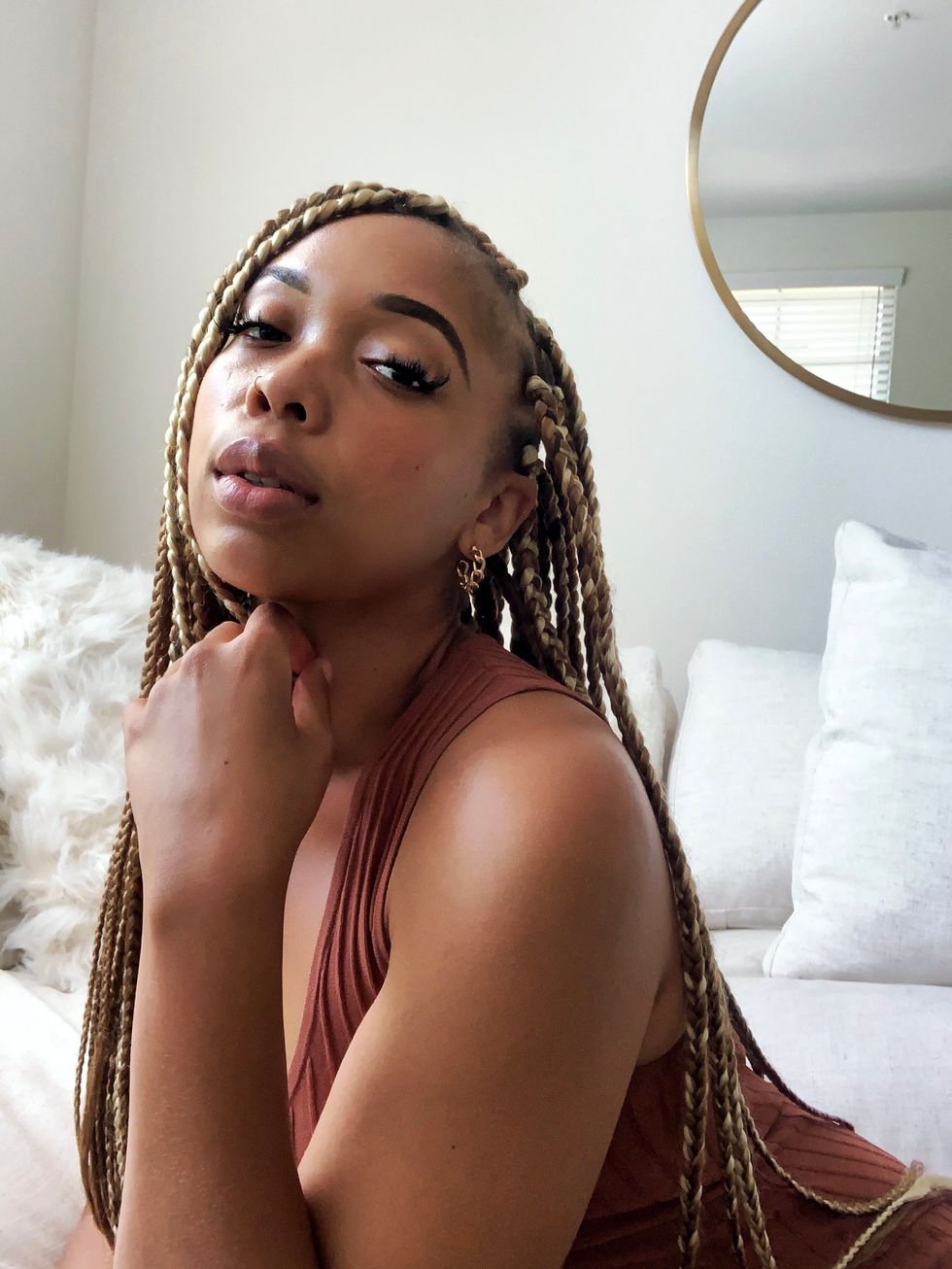 Shahirah Ahmed/xoNecole
One of my favorite pastimes is shopping for vintage jewelry as nothing compares in style, design and durability. With a classic chain link design, these mini hoop earrings are a staple that can be worn for years to come. Tiny yet chic, it's the subtle details that count. Pair with absolutely anything and they're an instant match.
Shop similar earrings here.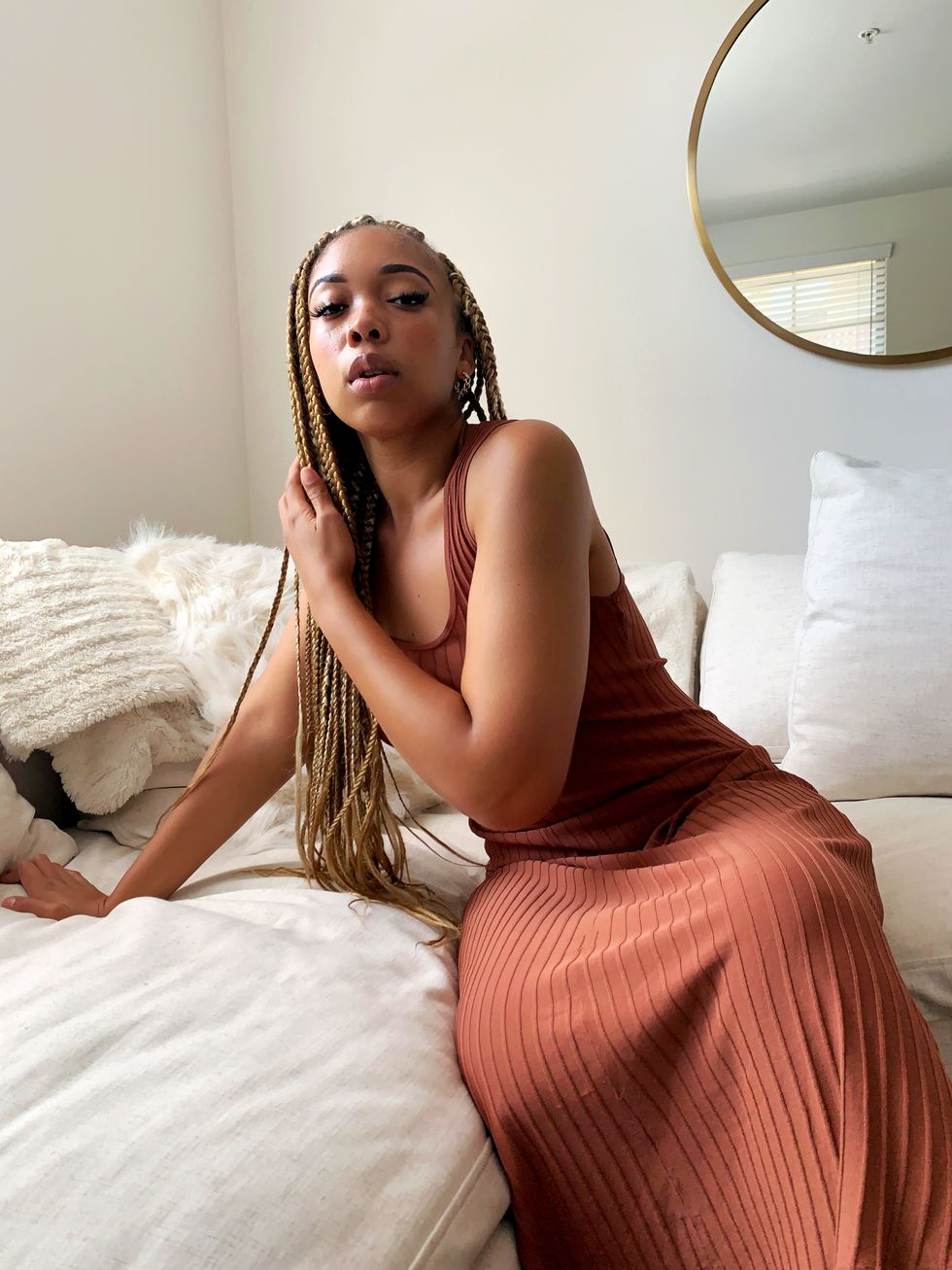 Shahirah Ahmed/xoNecole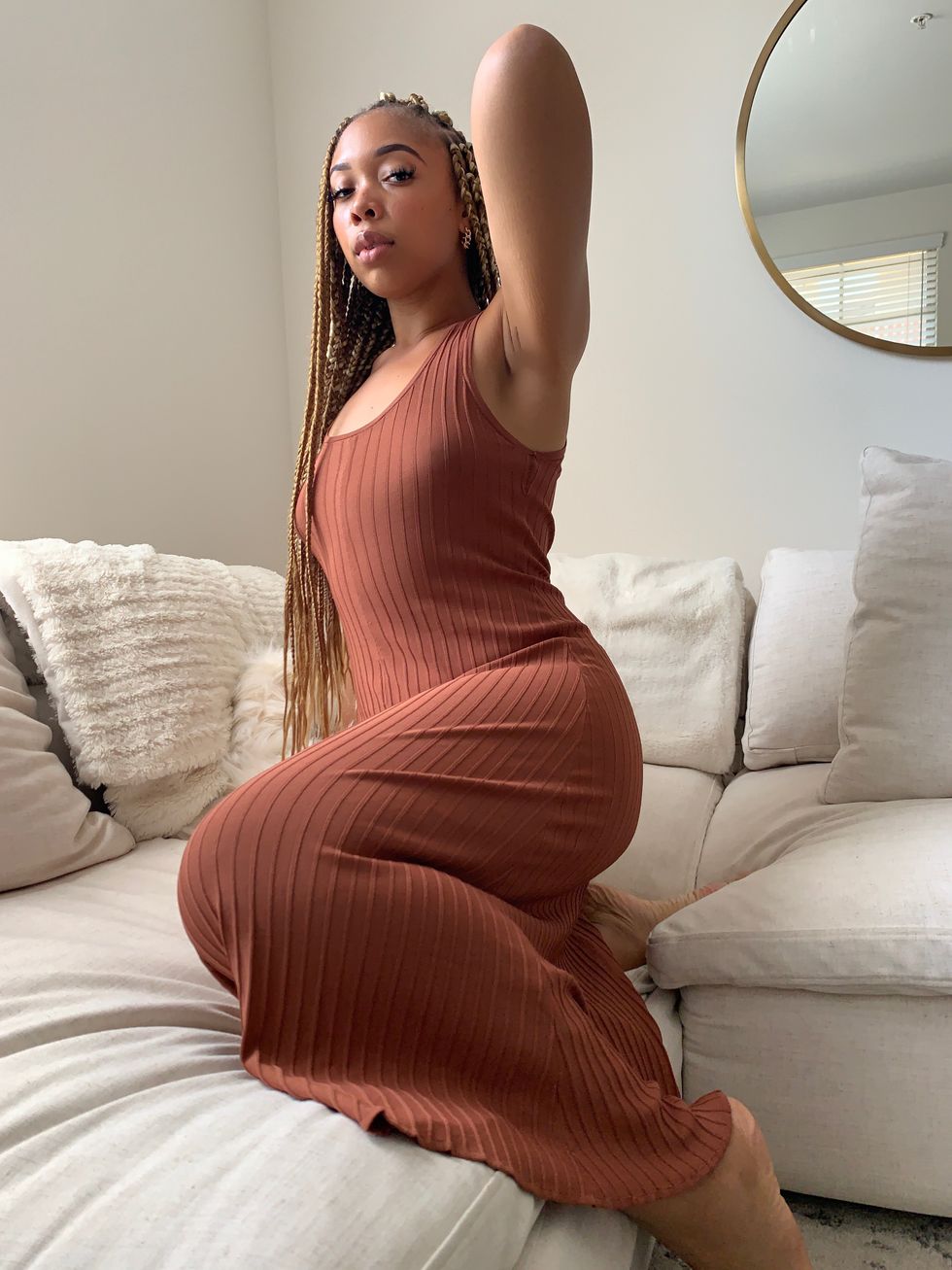 Shahirah Ahmed/xoNecole
4. 80's Vintage Hoops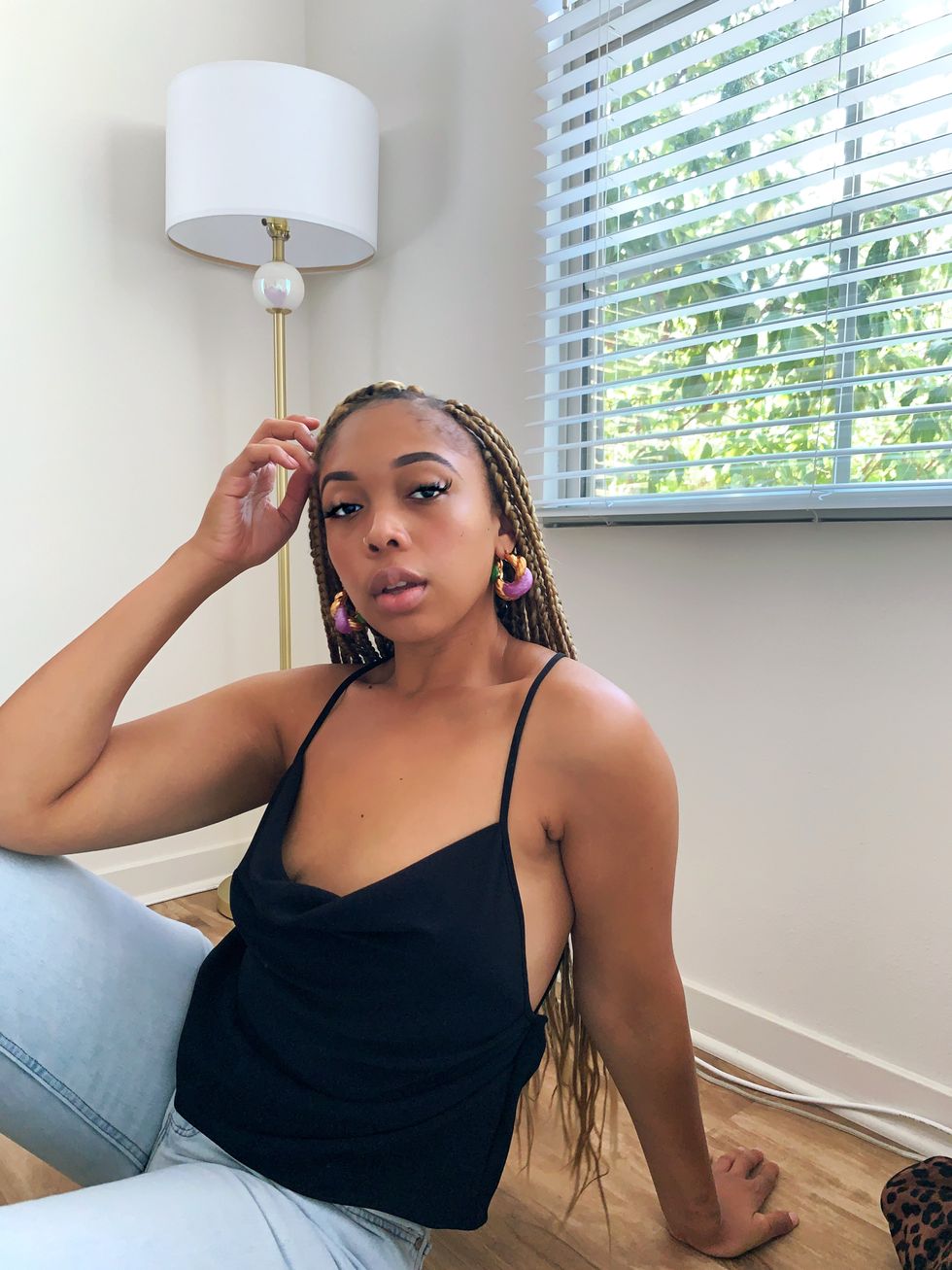 Shahirah Ahmed/xoNecole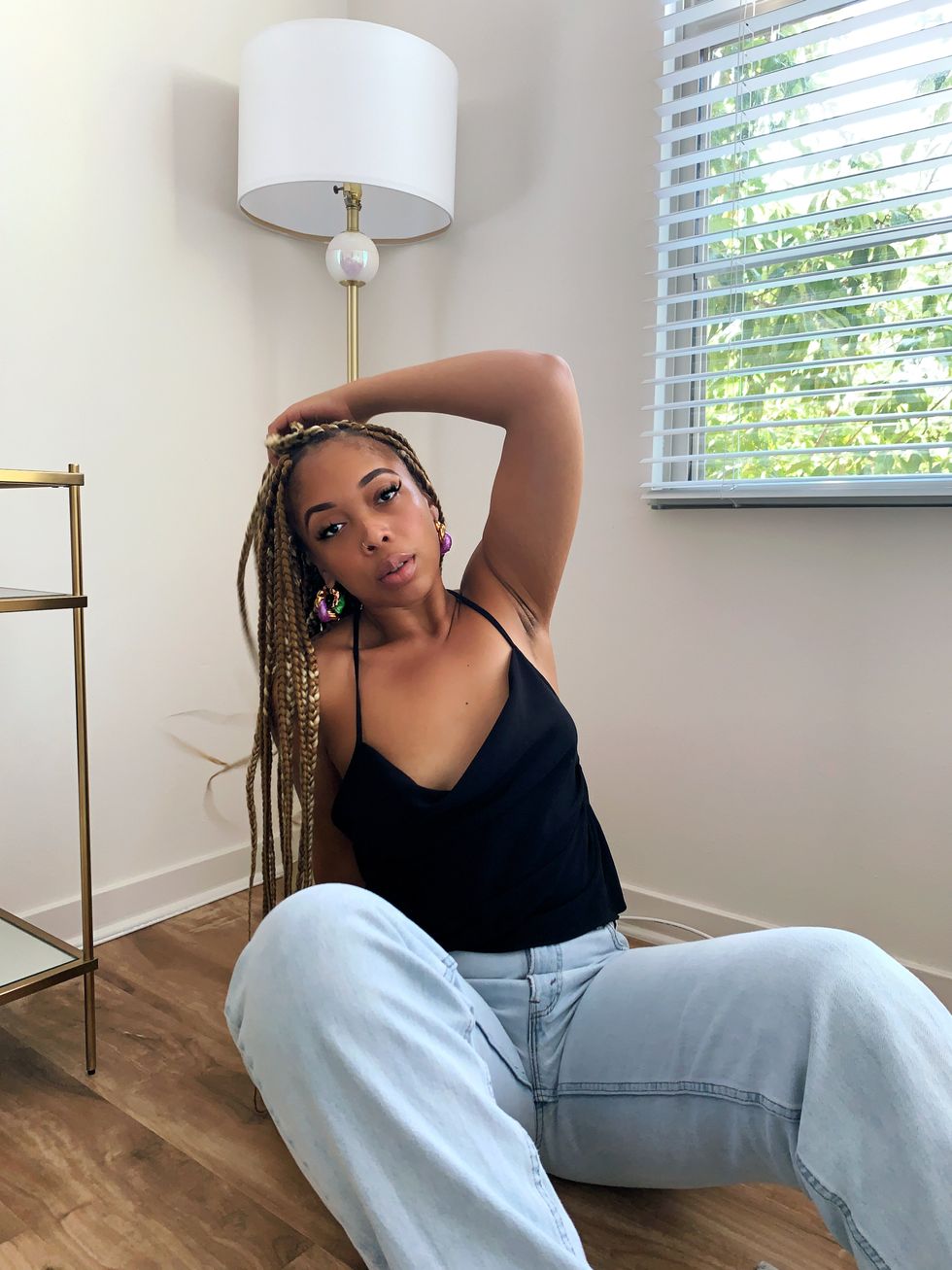 Shahirah Ahmed/xoNecole
Vintage is always in, but there's room for an updated modern spin on a classic. Burgundy Bay is an online boutique specializing in clothing trends and unique styles for fashion lovers everywhere. I love that I can wear this style with a silky top and jeans for a cute and casual slay or even with biker shorts or sweats for a fun streetwear type of vibe. These are definitely a style to have fun with while stretching your everyday outfit combinations.
Shop similar earrings here.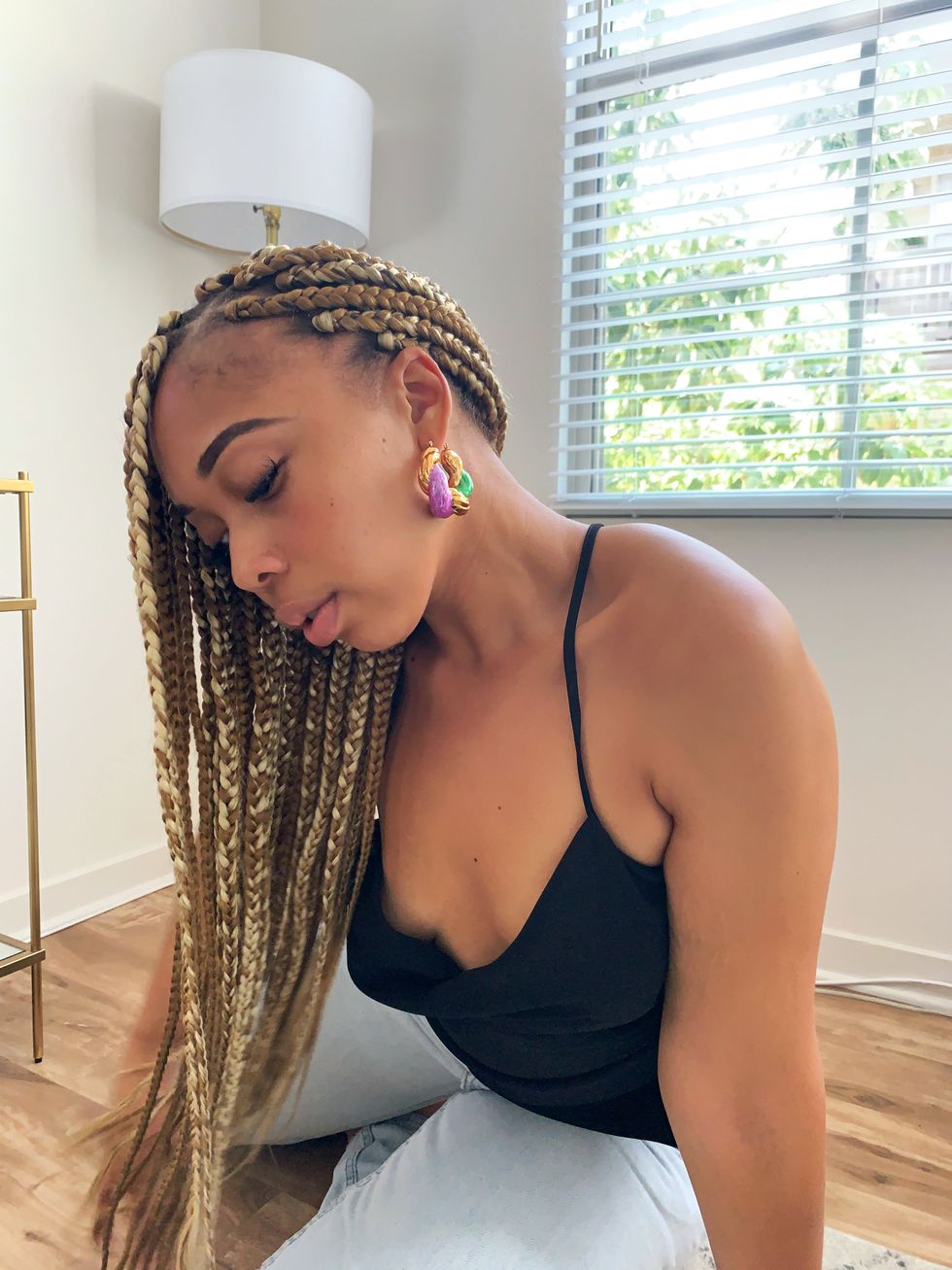 Shahirah Ahmed/xoNecole
5. Colorful Hoops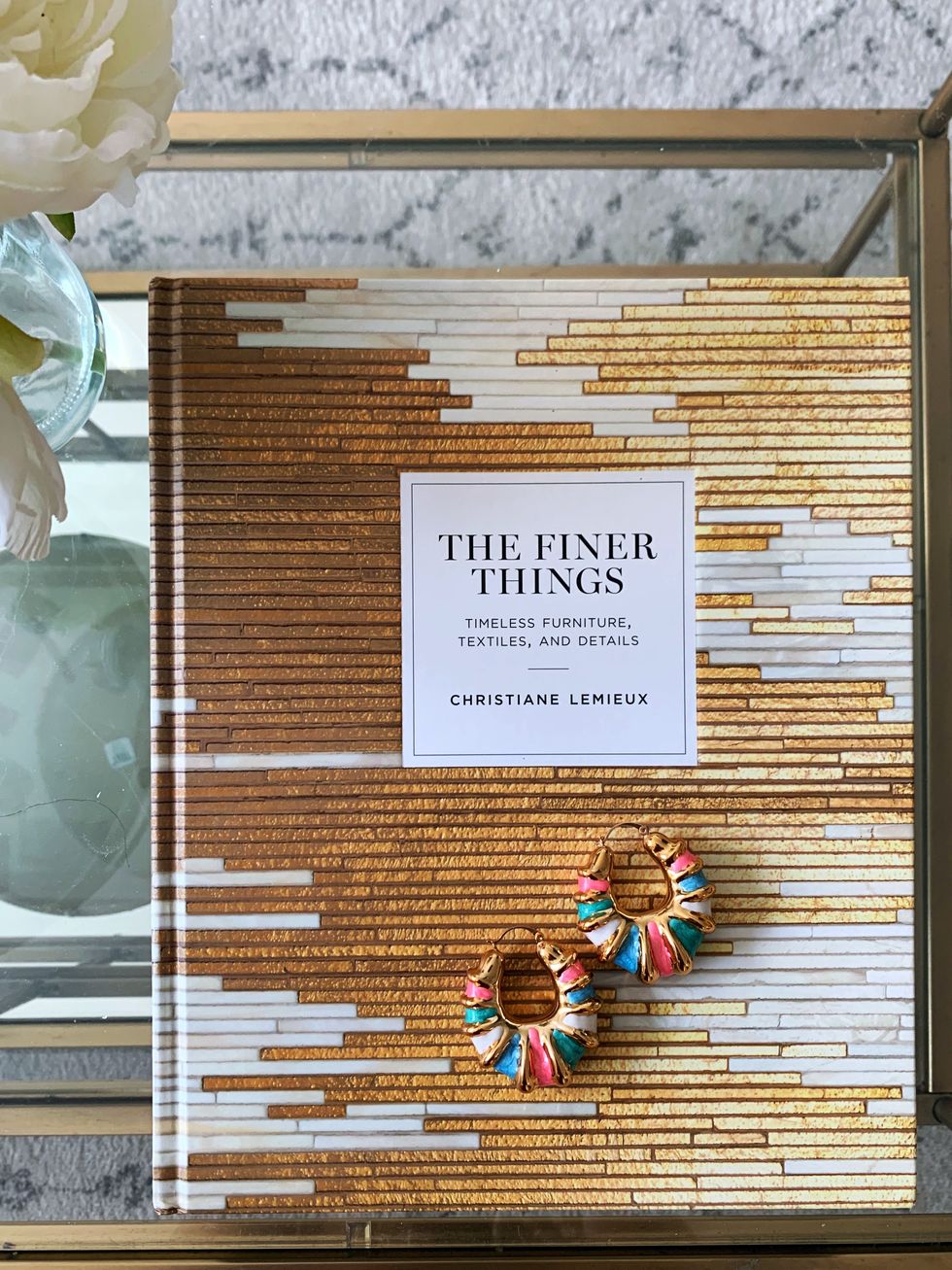 Shahirah Ahmed/xoNecole
I might have mentioned staying away from statement earrings, however these multicolored trimmed hoops are definitely an exception to the rule. Mid-size, brightly pigmented and surprisingly lightweight, these are the perfect feel-good earrings to add to your collection.
Shop similar earrings here.
Are you a member of our insiders squad? Join us in the xoTribe Members Community today!
Featured image by Shahirah Ahmed/xoNecole
Originally published on September 17, 2020
Keep reading...
Show less
Summer has officially ended however we don't have to let go of that natural sun-kissed glow, thanks in part to the natural benefits of warm weather. As we transition into fall, there are still ways of achieving radiant hydrated skin during the dull cold weather months. About a year ago, I discovered the perfect combination to my everyday beauty routine, eliminating excessively oily skin transitioning into a smooth, satin-like glowy complexion I had no idea was achievable using four easy-to-use products.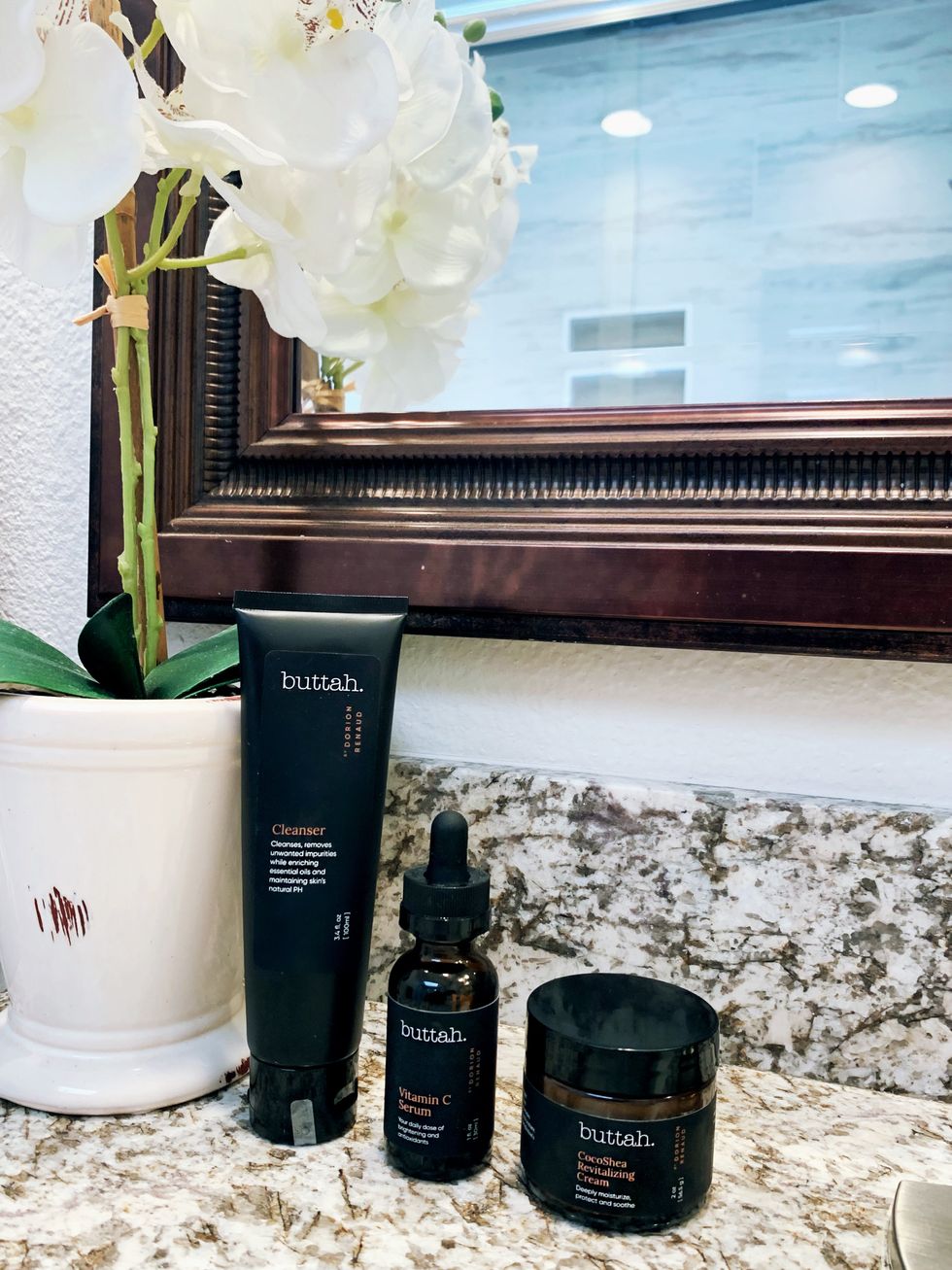 Shahirah Ahmed for xoNecole
While celebrities like Alicia Keys make effortless skin look easy, Dorion Renaud of Buttah Skincare makes it possible. Dedicated to enriching skincare for all multicultural tones along with cruelty-free products created using organic ingredients, you'll love Buttah for its mission to create an authentic glow from the inside out. I tried Buttah's popular transformation kit complete with a facial cleanser, Vitamin C serum, and cocoa shea butter, easily providing glowing smooth-as-butter skin instantly. For an ultra shine and buttery finish, this kit is for all those needing extra moisture for an extended summer glow.
My Buttah Skincare Review
Step 1: Cleanser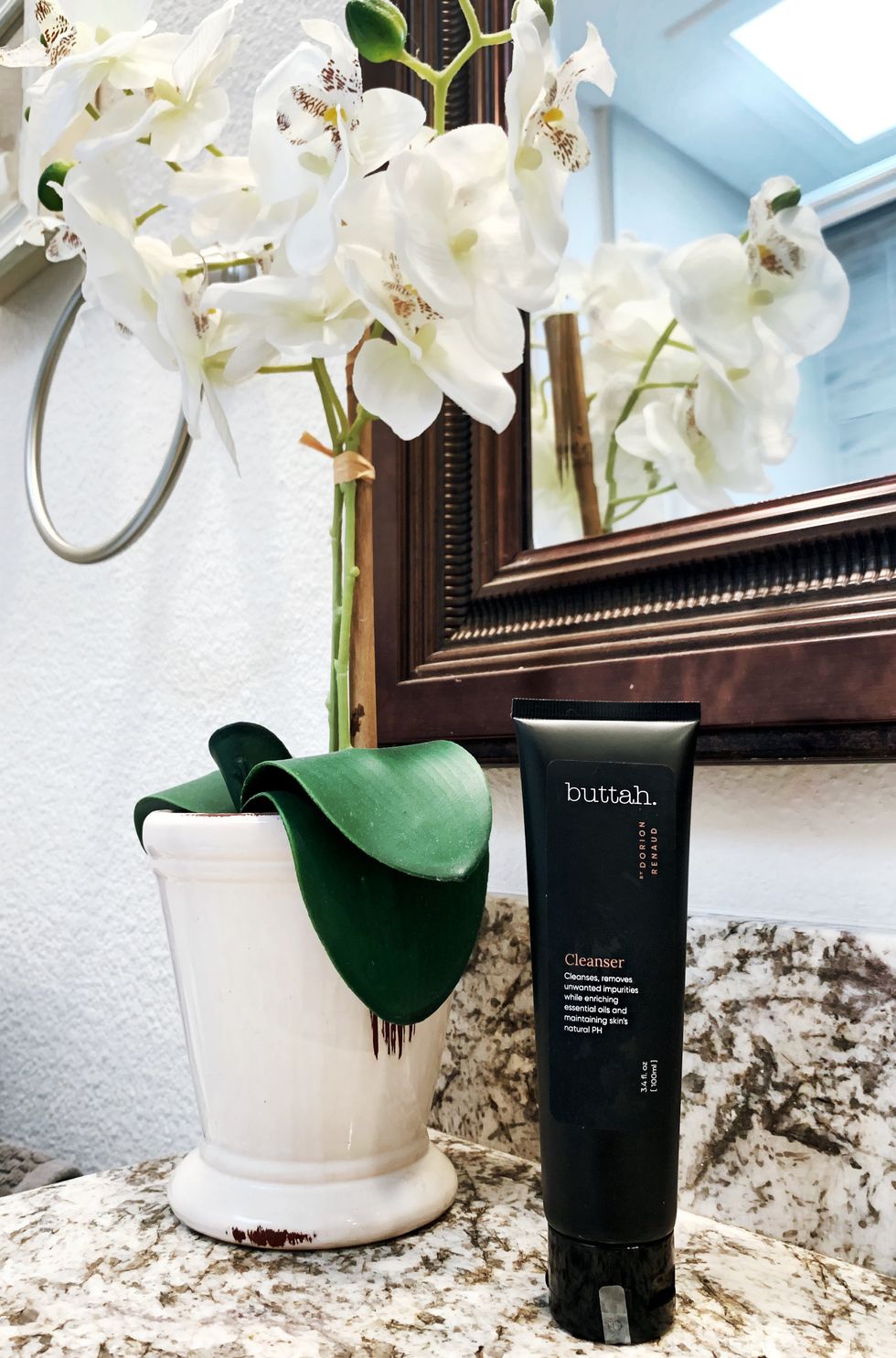 Shahirah Ahmed for xoNecole
The first step to buttery smooth skin is the ultra-lightweight and clear facial cleanser that gently removes impurities while adding essential oils as well as prepping your face for the additional products to achieve your skin's ultimate glow. Whether challenged with dry, oily, or combination skin, this cleanser promises effective results for all with daily and consistent use. After squeezing a quarter-sized amount of product on my fingertips, I felt it best to rub together for a nice foaming effect before applying.
Step 2: Rose Water Toner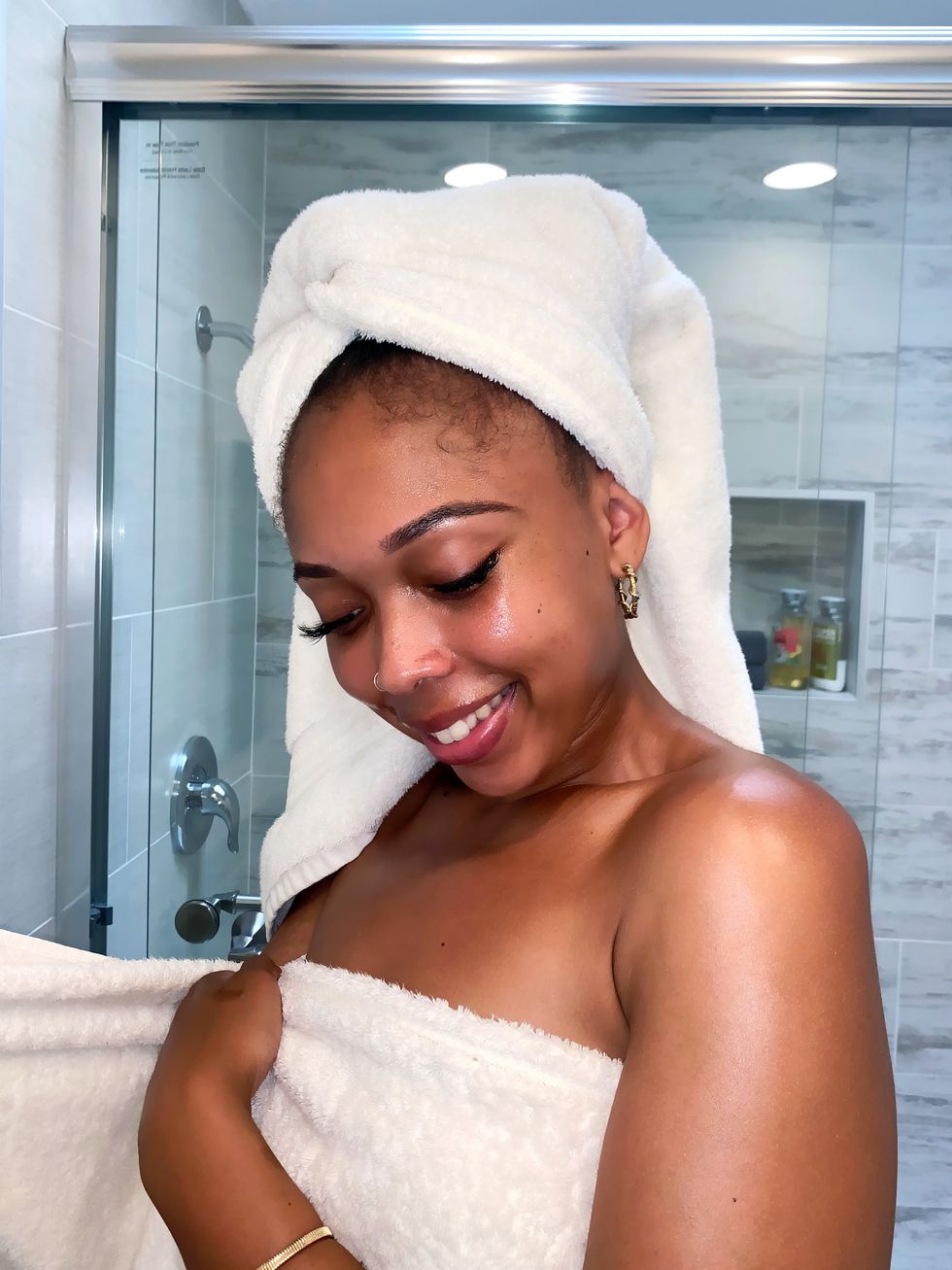 Shahirah Ahmed for xoNecole
Not included in this kit but a great option for extra cleansing is the addition of a facial toner to this routine. Not an absolute must however, I love using this product after washing my face because it picks up stubborn makeup and excess dirt missed by my facial cleanser.
Step 3: Vitamin C Serum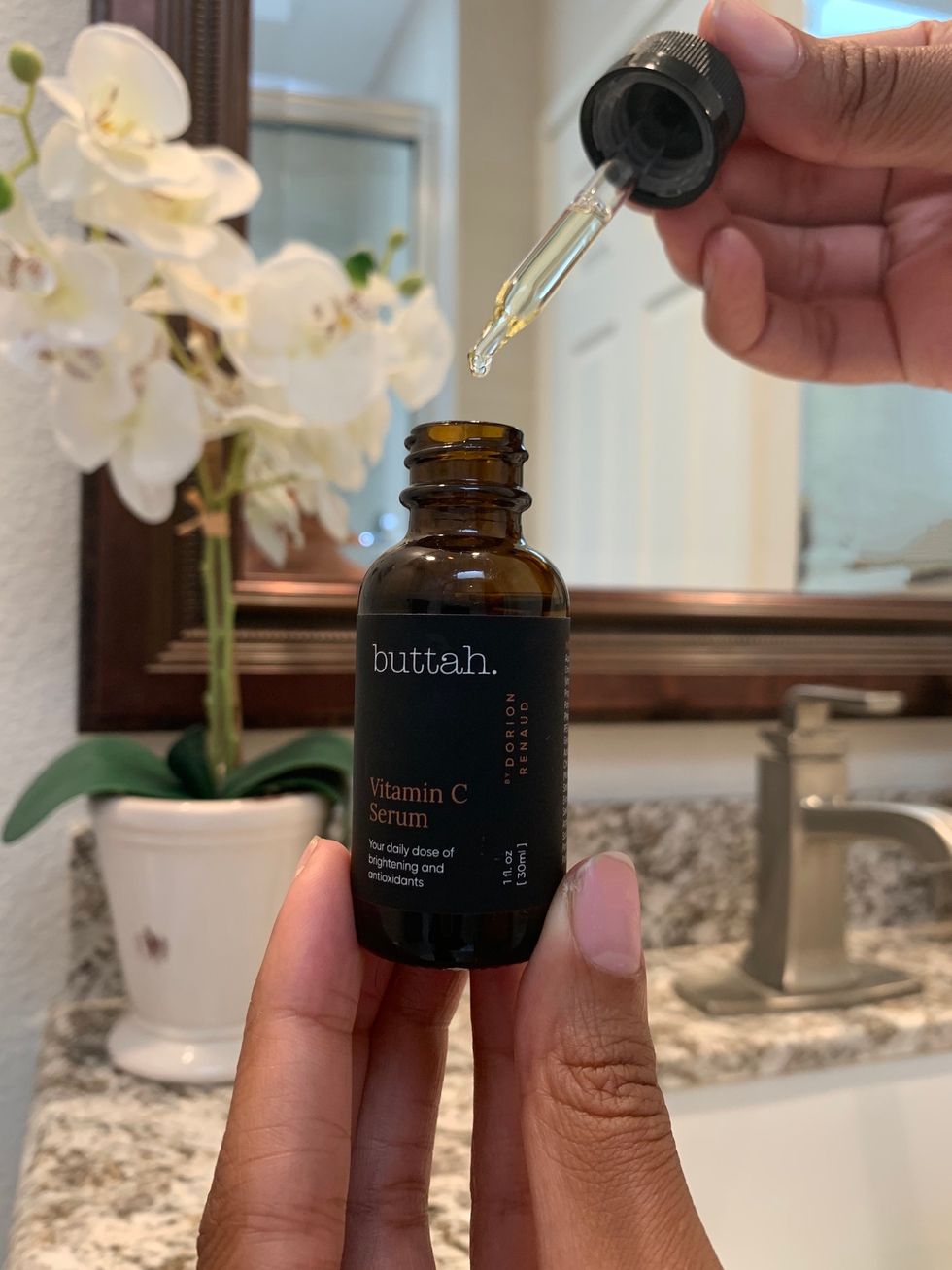 Shahirah Ahmed for xoNecole
Vitamin C serum is the key ingredient to achieving smooth and radiant skin, period. The best addition to my everyday routine, this particular serum has done wonders for my skin after discovering the nutrient two years ago.
Buttah offers a super lightweight serum that may be perfect for those who prefer products that aren't made with a thick consistency. Although I wish this particular Vitamin C Serum was a bit thicker in texture, it is a thin layer of added nutrients that balances out the CocoShea Revitalizing Cream soon to follow. Apply 4-5 drops to freshly cleansed and dry skin to then be followed up with the shea butter as the final touch to an enriching skincare experience.
Step 4: CocoShea Revitalizing Cream/Facial Moisturizer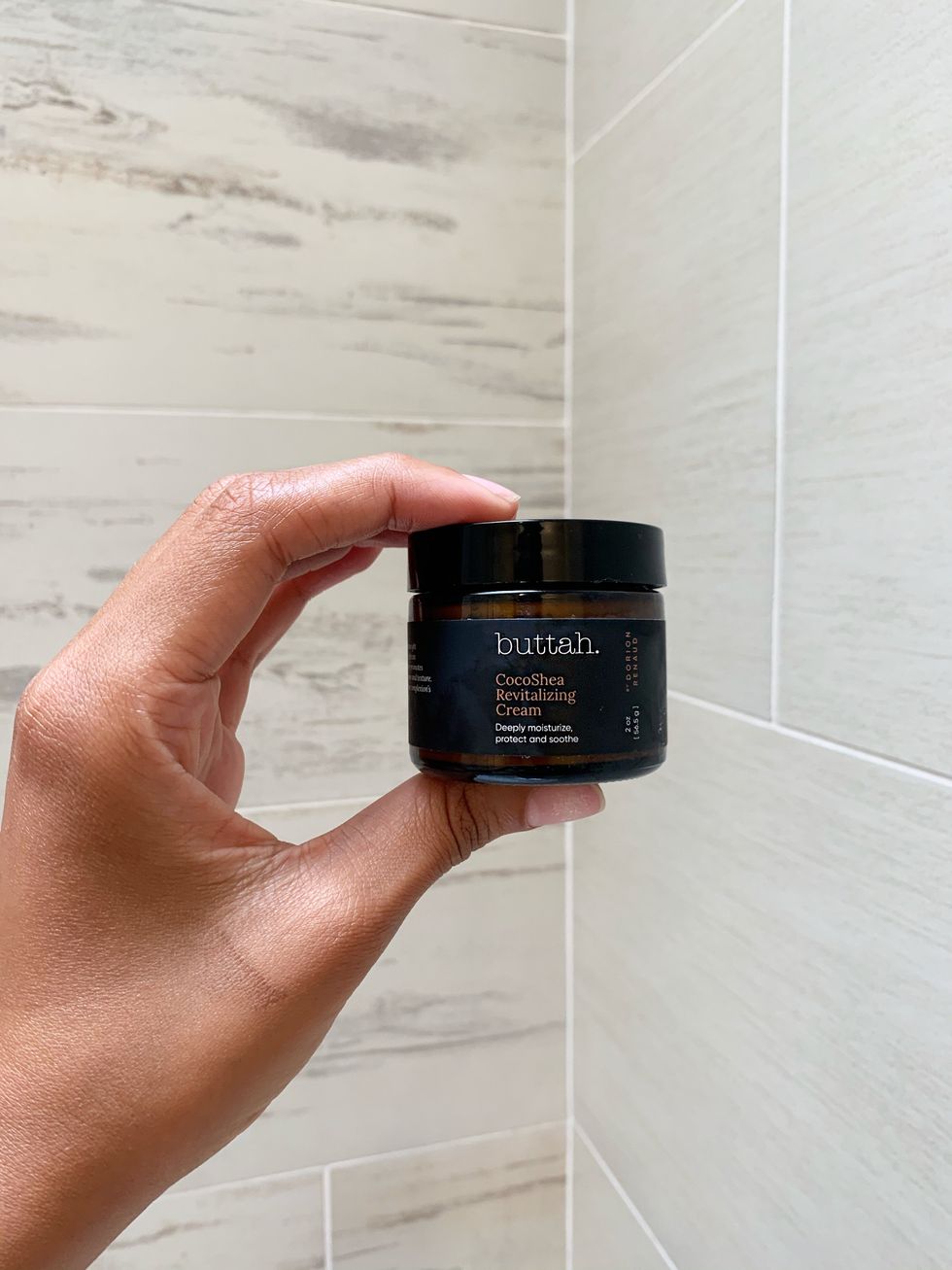 Shahirah Ahmed for xoNecole
With an amazing scent and silky-soft texture, the key ingredient within this transformation kit is the facial shea butter. As the initial products applied are extremely lightweight, this deeply moisturizing cream is the essential item needed for a complete Buttah transformation. I not only used the shea butter on my face but also my arms and neck for a glowy finish. As the CocoShea Revitalizing Cream has an immensely thick texture, I suggest using portions of this product based on your desired glow.
Featured image by Shahirah Ahmed for xoNecole.
Join our xoTribe, an exclusive community dedicated to YOU and your stories and all things xoNecole. Be a part of a growing community of women from all over the world who come together to uplift, inspire, and inform each other on all things related to the glow up.
Originally published on September 25, 2020
Keep reading...
Show less