---
Don't you think it's funny that as human beings born imperfect, we despise making mistakes so much? Making mistakes is something that we've been doing since we were given the chance to breathe and which we'll pretty much continue to do for the rest of our lives. It's a character trait that we all share. Yet, it's also something that, oftentimes, we strive to avoid and struggle to forgive ourselves or fail to brag about when we allow it to happen. (Yes, I said "brag about." You read that right.)

Despite the uncomfortable feeling that it can provide us with, I believe that making a mistake is a beautiful thing to do. Although I agree that they can be tougher to learn from, mistakes are impactful life teachers, and the fundamental lessons that they carry with them deserve to be put under the spotlight and passed along rather than being considered as shameful secrets.
If anything, I'm sincerely grateful to have crossed paths with women of color who share this point of view throughout my life. I'm even more grateful to those that recently granted me some of their time to tell xoNecole about their biggest career mistakes, the things they would've done differently, the lessons that they learned, and more.
Jeannette Reyes, 31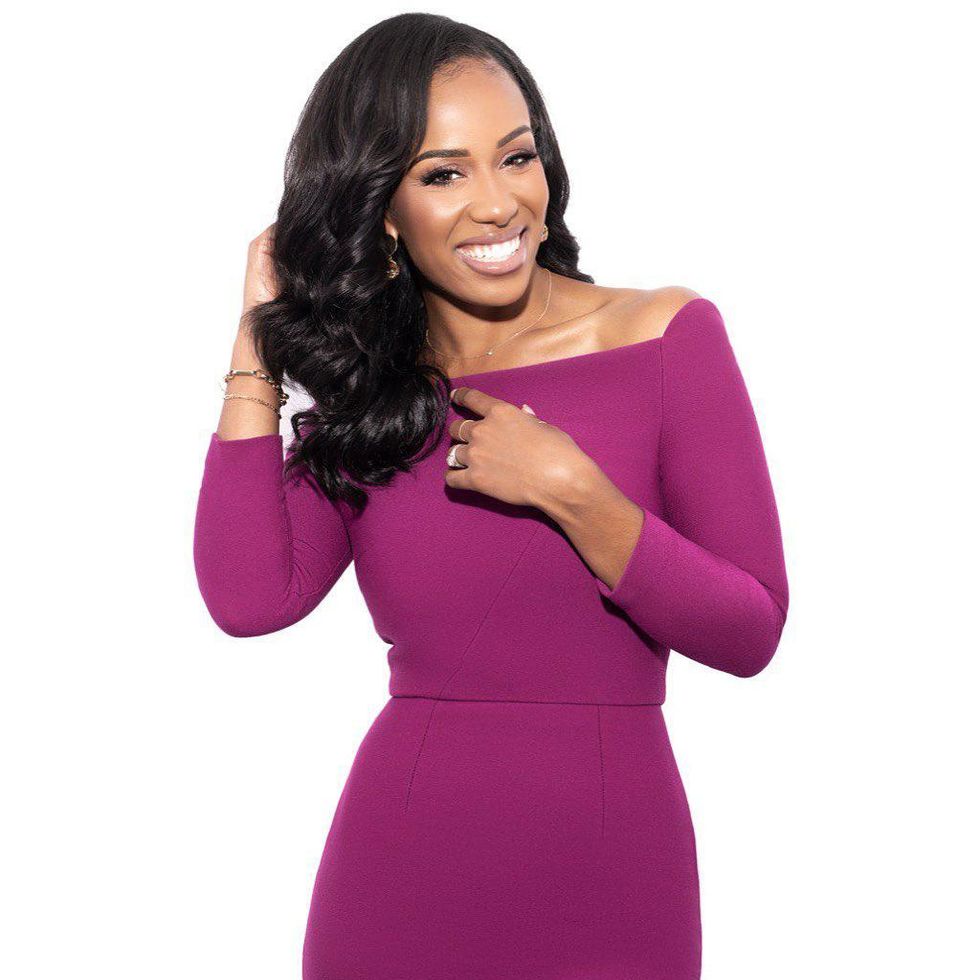 Courtesy of Jeannette Reyes
News Anchor for FOX5 DC
Her biggest career mistake and the things she would've done differently:
"I had just turned down a job offer in my dream city because I didn't feel I was good enough for it. For much of my career, I didn't bet on myself because I felt like a fraud and felt like I didn't deserve the position I was in. The handful of times when I did take a leap of faith, it was largely motivated by fear.
"The news director who'd offered me the job was the first to tell me that I was probably experiencing Imposter Syndrome . It was the first time that I'd heard of it. I didn't realize until years into my career that I'd been suffering from it. When it comes to the things that I would've done differently, I believe I would've been intentional about correcting my self-talk earlier in my career.
"Our minds have a way of emphasizing mistakes to fit a certain narrative and minimizing our successes as just luck. I was often my worst enemy in that respect. It took the joy out of a lot of things when it came to any accolades or promotions I got."
What the journey to access resilience looked like:
"My rock bottom wasn't so much physical as it was spiritual and emotional. I had spent so much of my life being motivated by fear and the desire to prove to myself that I was worthy of my accomplishments, I found myself chasing after the wrong things. Although I'd achieved everything I set out to do, I still wasn't satisfied.
"I put in some serious work to address my negative mindset , my source of motivation, what my fears were, whether they were legitimate or not, and what I found to be fulfilling. It was a tough few months for me during which I had to get reacquainted with myself all over again and that has shown me that you can have everything you've dreamed of and still be unhappy. Happiness and fulfillment should be found within."
The lessons that she learned from making this mistake and her advice:
"When you suffer from Imposter Syndrome, you're less likely to advocate for yourself, go after a certain higher salary , negotiate a higher salary, etc. because you're convinced that you're lucky to even be there. Not to mention that you experience a constant fear of being 'exposed', so it feels best to lay low.
"However, I've learned that we shouldn't be ashamed to be our biggest fans. Self-talk is powerful. We often wouldn't speak to a friend—even a stranger—the way we speak to ourselves. So, my advice is mainly to give yourself some grace and know that you've earned whatever successes come your way."
"What helped me was having a mentor who is just as much a spiritual mentor to me as a professional one. During my most insecure moments, she would figuratively hold a mirror up to me to show me who I really was and remind me of the things I had accomplished despite what I'd been through. Our self-image can be so distorted, sometimes it takes someone else to remind us of who we really are."
Follow Jeannette on Instagram @msnewslady .
Alisha Robertson, 32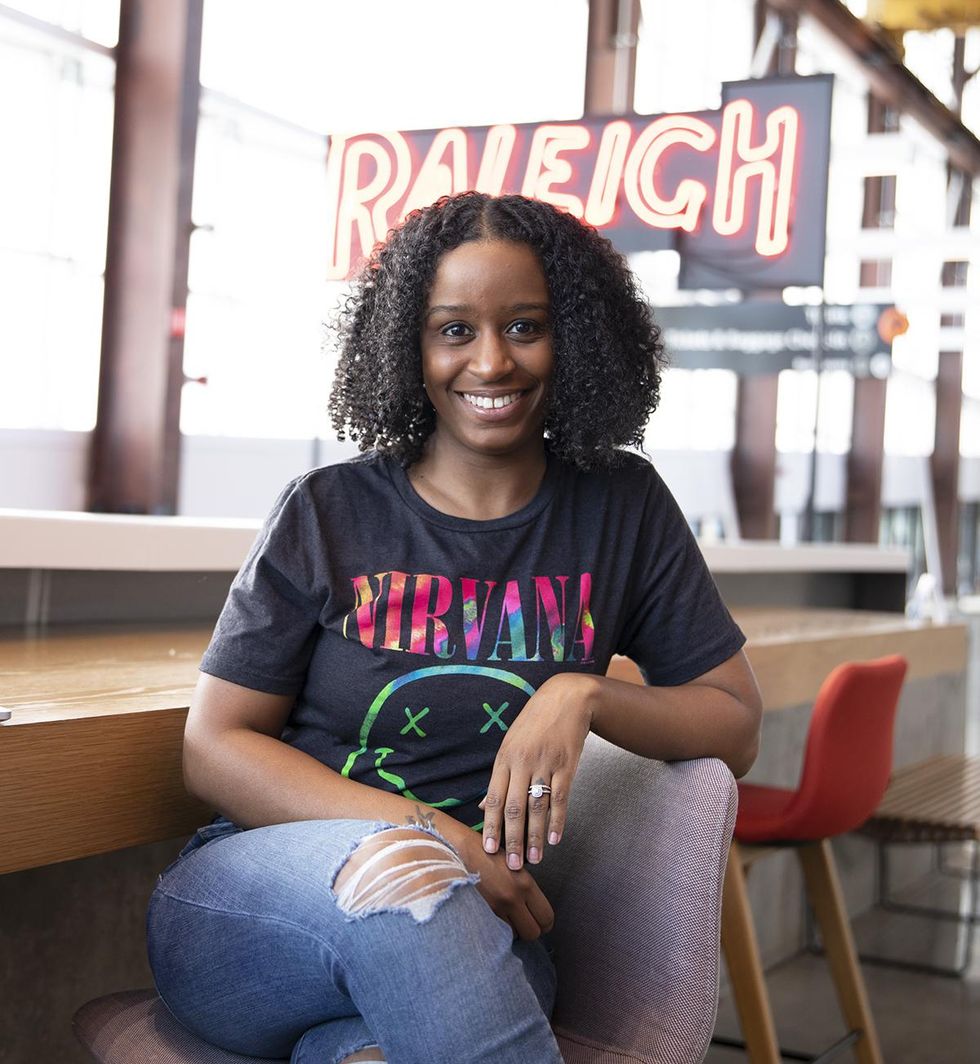 Courtesy of Alisha Robertson
Business Coach
Her biggest career mistake and the things she would've done differently:
"One of the biggest mistakes that I've made was chasing someone else's idea of success versus focusing on what I felt I was called to do [and] listening to all of the marketing gurus and making products that I wasn't excited about because that's what I thought would make me successful. Because of that mistake, I suffered from severe burnout which, in return, pushed me into starting over in my business so that I could do it the right way.
"If I could go back, I would've spent more time figuring out what I wanted and developing actionable steps that would get me closer to that dream. I would've set boundaries around my work and my clients, and would have leaned more on the marketing strategies that were working for me versus attempting to do all the things."
What the journey to access resilience looked like:
"I truly believe that just because you hit rock bottom, it doesn't mean that you're supposed to stay there. I figured that, even if I needed to shift and start over, I could easily build another successful business again. So I took the time that I needed to rest and get back to myself mentally. Only then did I get back to work. I spent about a year just getting clear on what I wanted as well as the impact that I wanted to make. I also spent that time working through and trying out different business models.
"That's what entrepreneurship is about—taking the time to experiment and see what works and then building on whatever results you receive. Eventually, I figured out something that stuck. I felt some guilt at first and was down on myself for a while but I always kept going back to my 'why'."
"That bigger reason for doing what I do is what got me up every day even when I wanted to throw in the towel. But I also knew that one day, that experience would be a huge part of the story that I tell today."
The lessons that she learned from making this mistake and her advice:
"There are three major lessons that making this mistake taught me:
To get clear on what my desire and the way I want to impact the world and those around me;
To not be afraid to shift and pivot if it'll help me get closer to my ultimate goal;
To trust my gut and stay consistent with putting that mission out there. That's what will help separate me from the others.
"If I had a piece of advice, it'd be to keep your eyes on your own path. And as you go through your journey, always take time to reconnect with your 'why' and your ultimate goal to ensure that you're on the right track of building your business your way. There isn't anything wrong with pivoting but make sure that those changes are what you want and not what everyone else wants for you."
Follow Alisha on Instagram @thealishanicole .
Keyera Williams, 27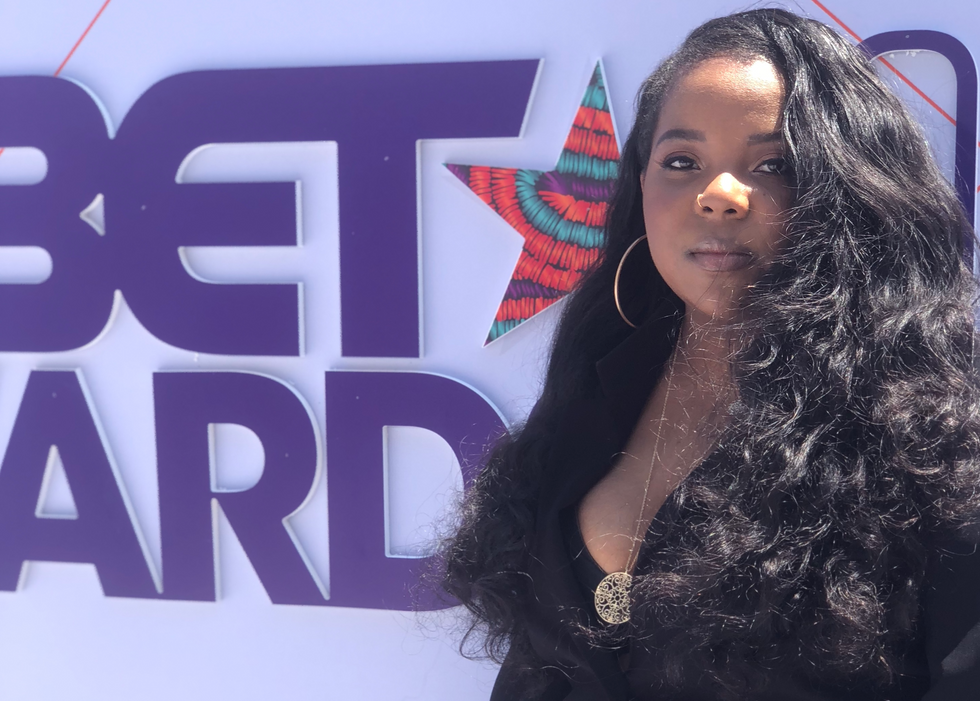 Courtesy of Keyera Williams
Producer at Westbrook Inc.
Her biggest career mistake:
"My biggest mistake so far was probably not understanding what my actual value is and not advocating for more. I've had a few jobs in the past where I knew what I was bringing to the table but was afraid to ask for a bigger salary thinking that, in return, I'd get reprimanded or have that opportunity taken from me.
"I've said 'yes' to a lot of opportunities below my pay grade because I felt like I should simply be grateful for the opportunity. I remember working 50+ hours a week and barely being able to pay my rent."
"As a Black woman, you're constantly being force-fed just enough and told that you raise trouble if you complain or advocate for more . I'm all about good trouble, and it's taught me how to advocate for myself or either to go somewhere else where I'm valued."
What the journey to access resilience looked like:
"That journey is still ongoing, to be honest. There are days where I still feel like I'm not good enough or I don't believe that my voice matters because I've spent time in places where I was constantly treated as such. It's a journey that includes a lot of therapy, self-evaluation, and just learning how to move forward .
"Moreover, I believe that there's no such thing as a last opportunity. What's for you is for you, and when you walk in your purpose, opportunities will keep presenting themselves to you."
The lessons that she learned from making this mistake and her advice:
"I've learned that if I don't know what I'm worth, no one else will remind me. It's important to know your worth not just in regard to the dollar amount, but also when it comes to your mental health and quality of life. I've also learned to not be afraid to reach out to mentors or ask questions to find out if something is normal within the industry I work in [and] moreover, to recognize when a person, place, or opportunity is no longer serving me or pushing me toward the person and the creative I want to become.
"As for my advice, unfortunately, there will be jobs that you have to take to get your foot in the door. The money won't always be great, but take advantage of these opportunities to prove your value and your capabilities so that when you move on, you have work to show and can also negotiate what you're worth."
"Lastly, check the market. See what people occupying the same position as you in your field are making and advocate for the same—if not more based on your education and experience."

Follow Keyera on Instagram @keywilliamss .
Chi Ilochi, 21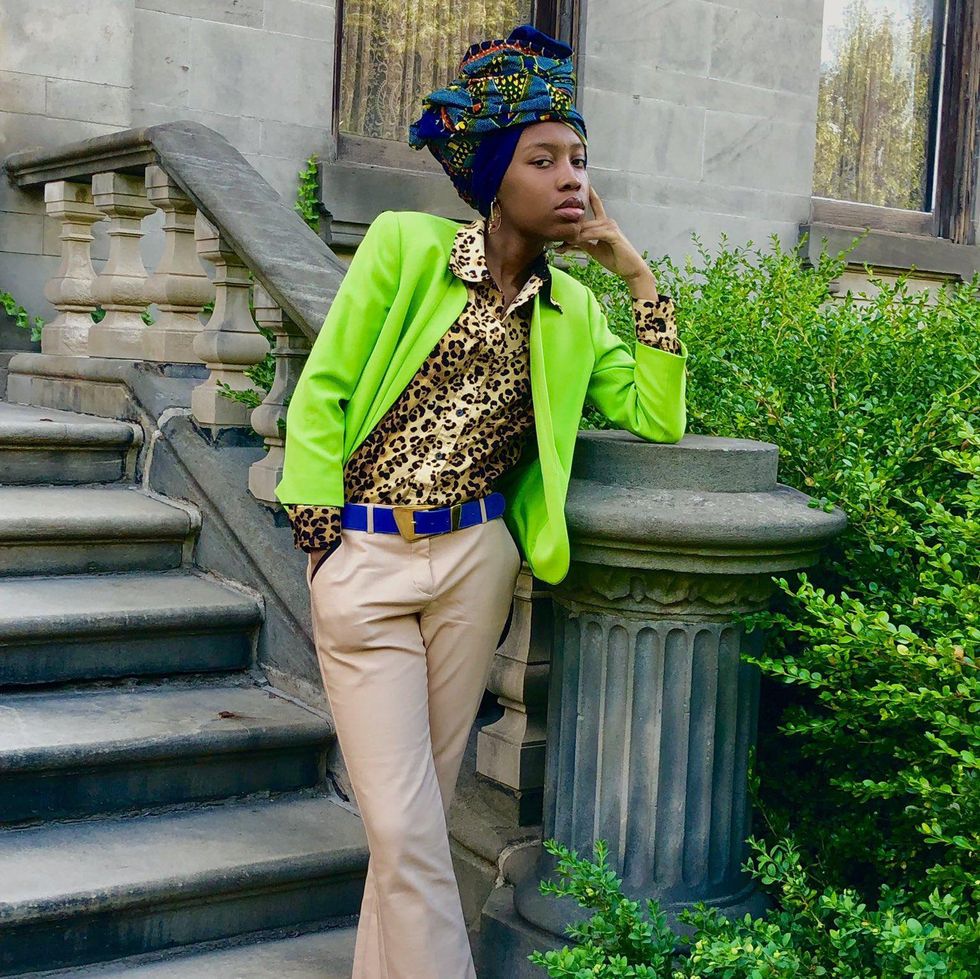 Courtesy of Chi Ilochi
Founder of StylingByChi | Fashion Stylist & Image Consultant
Her biggest career mistake and the things she would've done differently:
"One of the biggest mistakes I've made in my career is not understanding the power of 'no'. I would oftentimes stretch myself thin because I thought my value came from being able to deliver when people needed me. This mistake resulted in stress and exhaustion because I had so much on my plate. I couldn't even hang with my girls or have a brunch date.
"Of course, not knowing how to say 'no' resulted in more opportunities career-wise, but it also resulted in an unhealthy amount of stress that wouldn't allow me to capitalize on those opportunities. Knowing what I know now, I would've said 'no' more often, and taken more time to understand the saying, 'What's for me is meant for me.'"

What the journey to access resilience looked like:
"My journey to access resilience was one of the loneliest periods of my life. I had to take the time out to sit with myself and my mistakes so I could learn the right way to show myself grace.
"I knew that little progress would be made if I spent my reflection period beating myself up about my mistakes. Instead, I forgave myself for what I did wrong while reaffirming myself for the things I did right."
"It took me about two years to navigate this hard process but once I completed it, I realized that I am far more capable than I thought I was. I am not my mistakes and I don't have to identify with them."
The lessons that she learned from making that mistake and her advice:
"I've learned that your value isn't found in how much work you can fit on your plate, it's in who you are as an individual and the quality of your work. Therefore, work at the pace that works for you and remind yourself that success isn't found in your ability to overextend yourself. These two lessons shifted my mindset from scarcity to abundance ."
"It's hard to do better and be better when you've conditioned yourself to operate out of scarcity. Abundance requires vulnerability, and my lessons have taught me that it's OK to be vulnerable. It's OK to say, 'Hey I've got too much on my plate right now.' One thing that I know for sure is that when you allow yourself to be vulnerable, the opportunities flow abundantly and stress becomes a thing of the past."
Follow Chi on Instagram @Igbohippie_ .
Ponchitta Lanoue, 46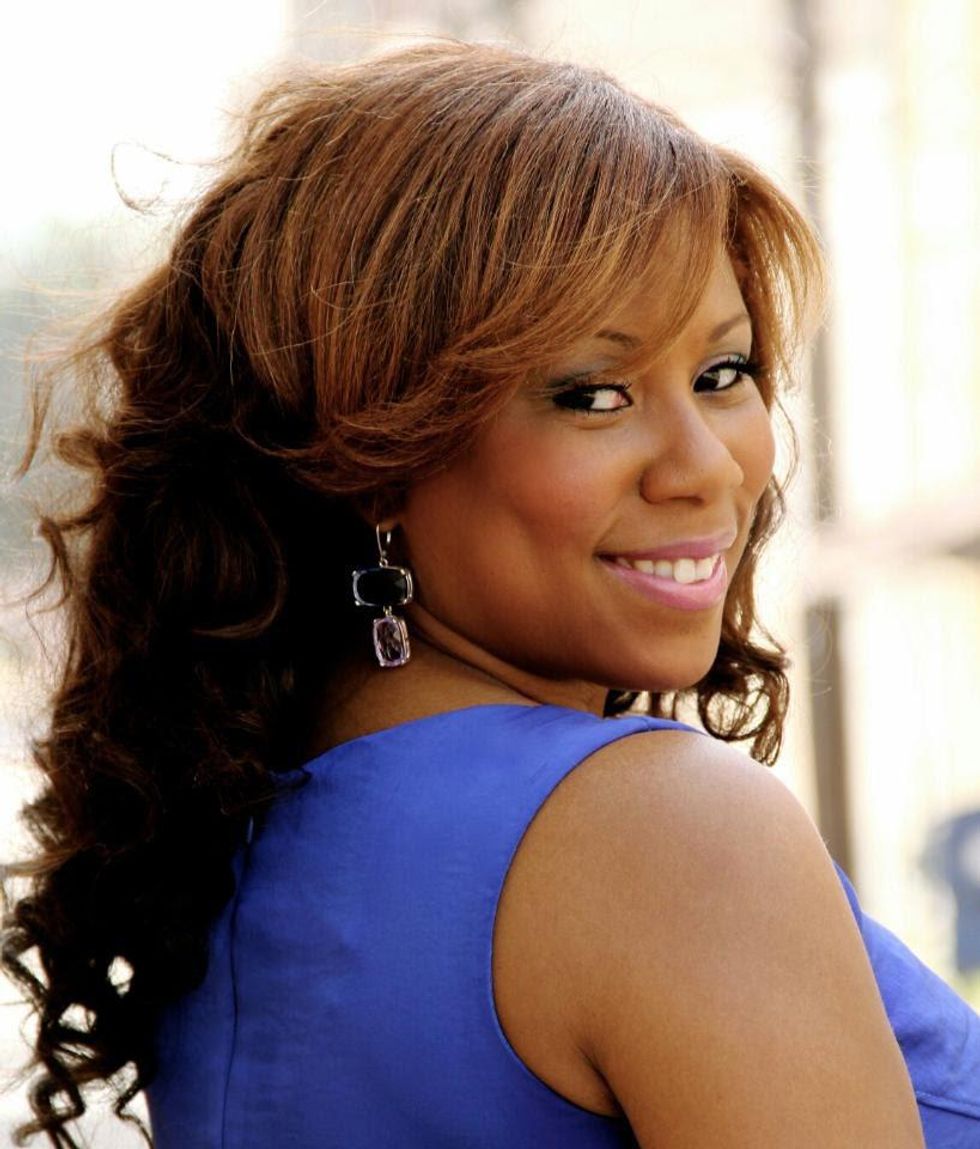 Courtesy of Ponchitta Lanoue
Beauty Entrepreneur
Her biggest career mistake and the things she would've done differently:
"I decided to start a business to offset some of the unhappiness I felt in my personal life and career. But while building the latter, I made some of the worst decisions which only made my life harder.
"I would say that the most detrimental mistake was taking all the money that I had to put it into my business and not knowing where to put it or where to invest."
"I started my business with my savings of $20,000 and then my brother invested $5,000. I blew through the money in less than eight months. For five years, I was flat broke because of that [and] a bitter divorce that left me empty-handed. My business was surviving on a wing and a prayer.
"If I could do it all over again, instead of buying too many product categories and not being able to sell them, I would have launched with four lip colors and sold the hell out of them until my lipstick line paid for the next category. I would have bought $100 Facebook and Google ads each month to promote the brand and sell the products. I would have focused less on investors or trying to get capital and would've been more worried about figuring out what exactly it was that my customers wanted from me. However, as difficult as it got at times, I honestly don't think I would've wanted to do anything differently. I needed to grow through those growing pains."
What the journey to access resilience looked like:
"So many times we don't want to grow because we fear change and failure. Change is the catalyst that pushes us into action. Failure is the impetus that propels us into destiny if we are wise enough to keep going."
"I had to move in with my mother to bounce back. It has taken me six years to recover from those two major life-changing events. I thought I would never recover from the financial losses that I experienced as a result. For the longest time, I was hard on myself because I could not believe that I allowed myself to be in this situation. It seemed like I was always starting over. It caused me to go into a deep depression. I was even angry at times. A conversation that I had with my grandmother years ago helped me pick myself up and dust myself off. After that, I was able to forgive myself and give myself more grace."
The lessons that she learned from making that mistake and her advice:
"Those experiences made me stronger and wiser. Eventually, I came to understand that money isn't the answer to all problems. You can have a lot of money, but if you don't know what to do with it, then all that you have is a lot of money—no direction. The major lesson, however, was learning the power that I possess . I don't need 1 million followers to define my success. A solid group of 100 to 300 customers can easily keep the lights on and sustain a business.
"My advice is to start small and then promote your products all day every day. Define your target audience and sell to them specifically. Don't worry about being popular, but find influencers that can be brand ambassadors for your products or services. Be frugal and watch every single dime. Do not focus on money or a man; instead, make sure that you're never in a position to depend on a man for happiness or finances."
Follow Ponchitta on Instagram @ponchcosmetics .
Featured image courtesy of Alisha Robertson
Savannah Taider
The most Gemini woman you'll ever meet. Communications & community enthusiast, I run a media platform centered around spirituality, and I'm always looking to connect with fellow creatives. Follow me on Instagram & Twitter @savannahtaider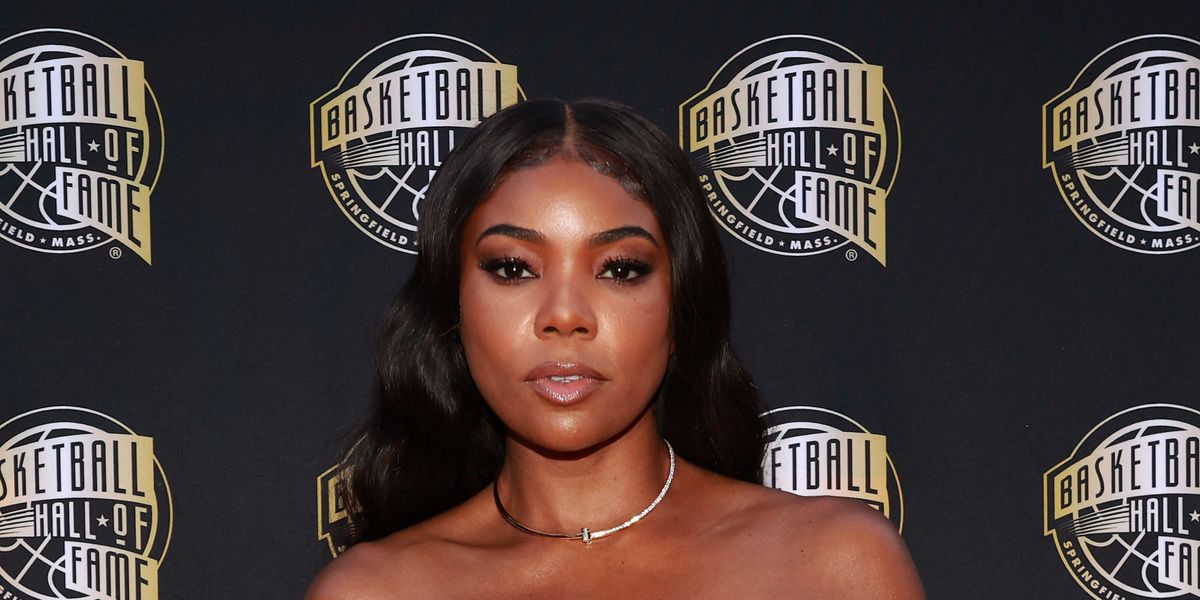 Whenever Gabrielle Union graces the movie screen, she immediately commands attention. From her unforgettable scenes in films like Bring It On and Two Can Play That Game to her most recent film, in which she stars and produces Netflix's The Perfect Find , there's no denying that she is that girl.
Off-screen, she uses that power for good by sharing her trials and tribulations with other women in hopes of helping those who may be going through the same things or preventing them from experiencing them altogether. Recently, the Flawless by Gabrielle Union founder partnered with Clearblue to speak at the launch of their Menopause Stage Indicator, where she also shared her experience with being perimenopausal.
In a xoNecole exclusive, the iconic actress opens up about embracing this season of her life, new projects, and overall being a "bad motherfucker." Gabrielle reveals that she was 37 years old when she was diagnosed with perimenopause and is still going through it at 51 years old. Mayo Clinic says perimenopause "refers to the time during which your body makes the natural transition to menopause , marking the end of the reproductive years."
"I haven't crossed over the next phase just yet, but I think part of it is when you hear any form of menopause, you automatically think of your mother or grandmother. It feels like an old-person thing, but for me, I was 37 and like not understanding what that really meant for me. And I don't think we focus so much on the word menopause without understanding that perimenopause is just the time before menopause," she tells us.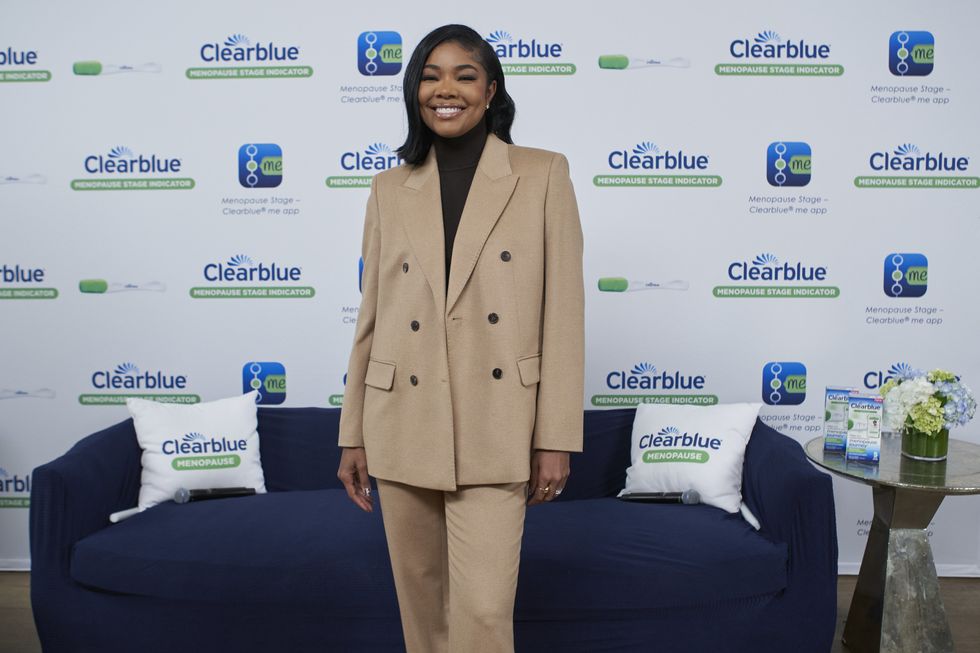 Gabrielle Union
Photo by Brian Thomas
"But you can experience a lot of the same things during that period that people talk about, that they experienced during menopause. So you could get a hot flash, you could get the weight gain, the hair loss, depression , anxiety , like all of it, mental health challenges , all of that can come, you know, at any stage of the menopausal journey and like for me, I've been in perimenopause like 13, 14 years. When you know, most doctors are like, 'Oh, but it's usually about ten years, and I'm like, 'Uhh, I'm still going (laughs).'"
Conversations about perimenopause, fibroids, and all the things that are associated with women's bodies have often been considered taboo and thus not discussed publicly. However, times are changing, and thanks to the Gabrielle's and the Tia Mowry 's, more women are having an authentic discourse about women's health. These open discussions lead to the creation of more safe spaces and support for one another.
"I want to be in community with folks. I don't ever want to feel like I'm on an island about anything. So, if I can help create community where we are lacking, I want to be a part of that," she says. "So, it's like there's no harm in talking about it. You know what I mean? Like, I was a bad motherfucker before perimenopause. I'm a bad motherfucker now, and I'll be a bad motherfucker after menopause. Know what I'm saying? None of that has to change. How I'm a bad motherfucker, I welcome that part of the change. I'm just getting better and stronger and more intelligent, more wise, more patient, more compassionate, more empathetic. All of that is very, very welcomed, and none of it should be scary."
The Being Mary Jane star hasn't been shy about her stance on therapy . If you don't know, here's a hint: she's all for it, and she encourages others to try it as well. She likens therapy to dating by suggesting that you keep looking for the right therapist to match your needs. Two other essential keys to her growth are radical transparency and radical acceptance (though she admits she is still working on the latter).
"I was a bad motherfucker before perimenopause. I'm a bad motherfucker now, and I'll be a bad motherfucker after menopause. Know what I'm saying? None of that has to change. How I'm a bad motherfucker, I welcome that part of the change."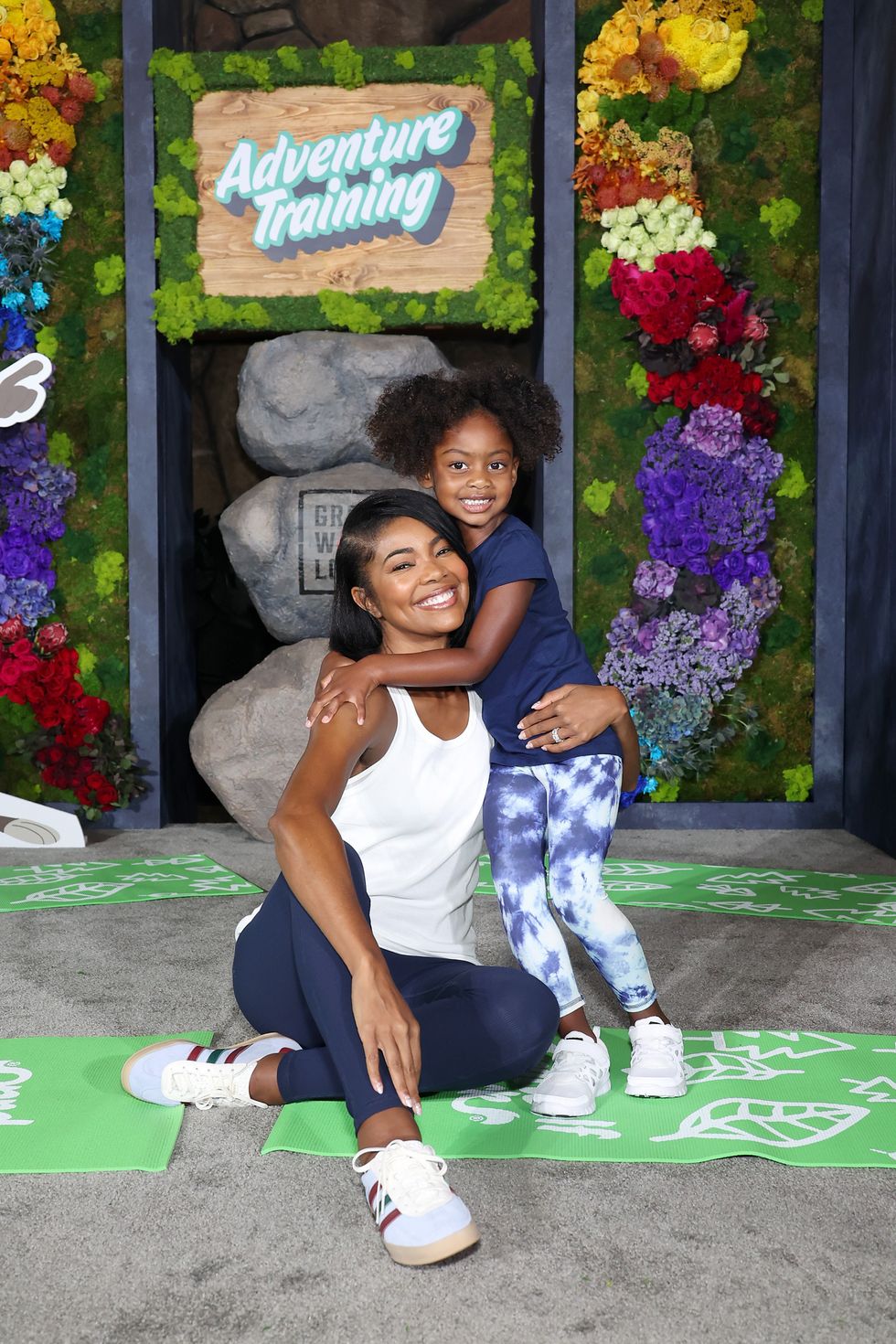 Gabrielle Union and Kaavia Union-Wade
Photo by Monica Schipper/Getty Images
"I hope that a.) you recognize that you're not alone. Seek out help and know that it's okay to be honest about what the hell is happening in your life. That's the only way that you know you can get help, and that's also the only other way that people know that you are in need if there's something going on," she says, "because we have all these big, very wild, high expectations of people, but if they don't know what they're actually dealing with, they're always going to be failing, and you will always be disappointed. So how about just tell the truth, be transparent, and let people know where you are. So they can be of service, they can be compassionate."
Gabrielle's transparency is what makes her so relatable, and has so many people root for her. Whether through her TV and film projects, her memoirs, or her social media, the actress has a knack for making you feel like she's your homegirl. Scrolling through her Instagram, you see the special moments with her family, exciting new business ventures , and jaw-dropping fashion moments. Throughout her life and career, we've seen her evolve in a multitude of ways. From producing films to starting a haircare line to marriage and motherhood , her journey is a story of courage and triumph. And right now, in this season, she's asking, "What's next?"
"This is a season of discovery and change. In a billion ways," says the NAACP Image Award winner. "The notion of like, 'Oh, so and so changed. They got brand new.' I want you to be brand new. I want me to be brand new. I want us to be always constantly growing, evolving. Having more clarity, moving with different purpose, like, and all of that is for me very, very welcomed."

"I want you to be brand new. I want me to be brand new. I want us to be always constantly growing, evolving. Having more clarity, moving with different purpose, like, and all of that is for me very, very welcomed."
She continues, "So I'm just trying to figure out what's next. You know what I mean? I'm jumping into what's next. I'm excited going into what's next and new. I'm just sort of embracing all of what life has to offer."
Look out for Gabrielle in the upcoming indie film Riff Raff , which is a crime comedy starring her and Jennifer Coolidge, and she will also produce The Idea of You , which stars Anne Hathaway.
Feature image by Mike Lawrie/Getty Images
Victoria Monét has had an incredible year. Thanks to the success of the widely popular " On My Mama " that went viral, the singer/ songwriter's Jaguar II album debuted in the top 10 of Billboard's Top R&B Albums chart. She also went on to headline her own sold-out tour . So, when the MTV VMAs happened in September, everyone was surprised to learn that Victoria's team was told that it was "too early" for the "Smoke" artist to perform at the award show. However, a couple of months later, the mom of one received seven Grammy nominations, including "Best R&B Album" and "Record Of The Year."
Victoria is currently in London and stopped by The Dotty Show on Apple Music and shared how she feels "validated" after being dismissed by the VMAs.
"It really does feel nice and validating because, in my head, the reason why I wanted to be a performer at the VMAs or award ceremonies like that is because I felt like I am at the place where I should. I would work really hard to put on the best show that I could, and I was excited to do so," she said.
"And I guess the best way to describe it for me is like when you're like on a sports team, and the coach is like, 'No, you gotta sit this one out.' When they finally put you in, and then you score all these points, and it feels like that feeling. You're like, yes, I knew it wasn't tripping, but I knew I worked hard for this, and so it's been super validating to just have these accolades come after a moment like that, and I know the fans feel vindicated for me.
While her fans called the VMAs out on their decision, the "Moment" singer kept it cute and is still open to performing at the iconic award show. "I feel no ill towards them because it's just maybe that's just truly how they felt at the time, but I hope their mind has changed," she admitted.
Aside from recognition from the Grammys, she has also received praise from legendary artists such as Janet Jackson , Kelly Rowland , and Usher .
Feature image by Amy Sussman/WireImage for Parkwood