Being your own enemy. This is definitely one of those topics that I can raise my hand and admit that I once owned a T-shirt, bumper sticker and coffee mug with that exact message on it.
---
What's really a trip is, 15 years ago, if someone were to ask me if I was my own worst enemy, I would've looked at them like they were crazy. But when I stop and think about what my life looked like at the time—from my relationship, to my so-called friendships, to things that I tolerated both personally as well as professionally—I definitely didn't like myself very much. I say this because settling for less than I deserve is a blaring sign of self-hatred—of being one's own worst enemy.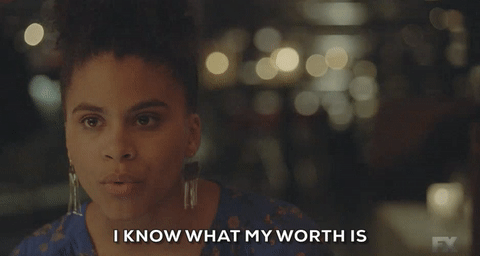 media.giphy.com
Why do I say that? What might surprise you is one definition of hate is "unwilling" and one definition of enemy is "to engage in antagonistic activities against another". To antagonize is to "act in opposition".
If I continue to participate in anything that is unwilling to give or opposing of the kind of love and respect that I am worthy of, there is some part of me who doesn't love or even like myself very much.

For years, that's just how I lived. I would consciously choose to interact with people, places, things and ideas that were not willing to support or celebrate me; in fact, many were in direct opposition of those things (if you can relate, check out Trent Shelton's "Refuse to Be Used" message. It'll preach!).
If this is somehow resonating, but you can't quite put your finger on what you're doing that's proving you too are your own worst enemy, I'll share with you the list I came up with that has served as a series of light bulb moments for me. It's my personal experience that once you know how you're not loving/liking yourself, you can start doing the opposite of those things. Before you know it, you'll stop being your own worst enemy and instead, you'll become your very biggest friend (and fan).
It's hard to be your own ally until you recognize how you're being your own enemy. Hopefully, this provided some food for thought to make some necessary adjustments.
Life is hard enough without at least you not being on your side. If no one else has your back, please make sure that you do.
Feature image by Getty Images.
Want more stories like this? Sign up for our newsletter here and check out the related reads below:
5 Ways To Stop Self-Sabotaging Yourself
3 Tips To Get Out Of Your Own Way And Succeed
To Live A Purpose-Filled Life, You Have To Leave Your Comfort Zone