It's been nearly half a year since the series finale of Insecureaired, and I'm still not over it. So much so, I've unapologetically binge-watched the series a couple of times since "Everything Gonna Be, Okay?!" had us shedding real tears as it was hard to say goodbye, okay?! The Issa Rae-created show offered a complex look into the normal lives of Black millennial women navigating adulthood. It was relatable, authentic, and easy for a lot of us to see ourselves at some point throughout the duration of the five-season run. Since its premiere in 2016, we've laughed, we've cried, and we've also taken a look in the mirror and challenged our own mirror selves to grow and leave comfort zones behind at times.
---
In addition to the subject matter, Insecure also struck a chord with its thoughtfully curated soundtrack and stunning visuals. And I can't be the only one who was a fan of the steamy sex scenes that often played out (of which my favorite were the ones that sort of popped up out of nowhere). Keep reading for an extensive list of all of the sex scenes in Insecure (excluding the finale season because they were few and far between and nobody has time for that).
Spoilers are most definitely ahead.
Season 1, Episode 5: Issa's first time with Daniel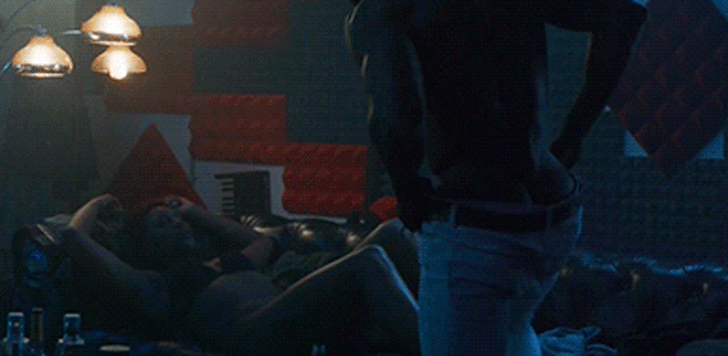 Despite his chocolate skin and brilliant smile, I was never Team Daniel (Y'lan Noel). However, I could see the writing on the wall as the tension unfolded between episode 1 and episode 5 of Insecure's first season leading to Issa (Issa Rae) cheating on her long-time love Lawrence (Jay Ellis) for the seemingly ambitious, charismatic Daniel who seemed like the one who got away. As soon as Daniel and Issa ended up running down a video of her on the internet and somehow ended up alone in the studio by the end of the episode, I knew what time it was. Plus sir told her things she thought she always wanted to hear from him, about being ready, so I knew the panties would drop shortly thereafter. And that they did.
Points for Issa trying to resist, but that kiss was only the beginning of a few things between Daniel King and Issa Dee. What unfolded was an indulgent gratuitous love scene that started on the couch, ended up on the floor, and also acted as the first sex scene we got on the show. For that reason, it rightfully earns this spot on our list.
Honorable Mention: The brief flashbacks we got of the scene in the episode that came after. Whew.
Season 1, Episode 6: Molly and Jared get reacquainted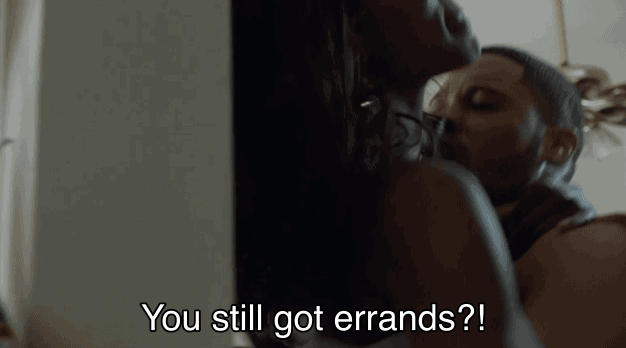 I still think the way Molly (Yvonne Orji) did Jared (Langston Kerman) was messed up. I understand that she felt like she was settling but there were quite a few noteworthy qualities about him that could have made her a great partner for her. Including the fact that he was creative with how he went about getting it in. He seemed content with allowing her to play the dominant role in their waking life, but in their sex life, he always found ways to make it known he was in control. And based on how she was cooking for Jared in the very next scene, I truly believe that was something Molly liked about their dynamic.
His affinity for dirty talk was very prominent in the two brief sex scenes between Molly and Jared in this episode, both of which coincidentally took place in kitchens. From "You still got errands, you still got errands?" to "You tried Blue Apron?" Jared was hitting all the right spots. Until he wasn't.
Season 1, Episode 8: Lawrence's 'Revenge'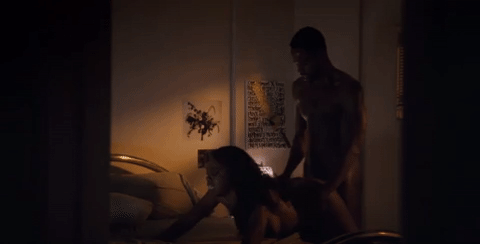 Okay, 'revenge' is a strong word but this is perhaps what ignited the fire of hate and created the divide on Twitter that would become us and them (better known as the Lawrence Hive versus everyone else). What I loved about Tasha (Dominique Perry) and Lawrence's first sex scene together was the build-up as Lawrence went through a dance between whether he should stay and make things work with Issa or leave the relationship completely. His feeling of betrayal hit different because for weeks we viewed a very not-so-subtle-wit-it Tasha stay in the pocket and also boldly shoot her shot while he played the role of a dutiful boyfriend without a flicker of disloyalty. Meanwhile, we saw his partner do the opposite with a similar source of temptation. So even though as the main character, we hoped Issa and Lawrence would see a reprisal by the finale, we understood that the relationship was over, over. And I for one, appreciated the way he went about it. Tasha was head down, ass up, and we were here for it.
And after all that talk about Lawrence's depressive episode and him allegedly not putting it down right (thanks Thug Yoda for that tidbit), we were able to confirm that he had the material and knew exactly what to do with it.
Season 2, Episode 1: Issa and Lawrence's ex-sex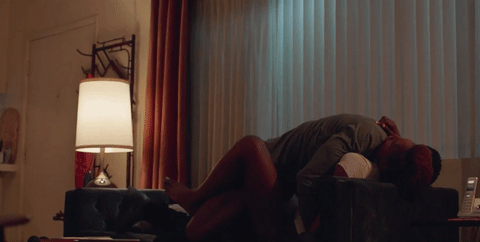 The sophomore season of Insecure started off with a bang, literally. In a moment of high emotions and confusion, Lawerence and Issa engaged in 30 seconds of passion remembering what was between them sexually. The blue couch that saw no action in the first season suddenly got a taste of what could be again as Lawrence and Issa gave into their indulgences and made a messy breakup somewhat messier. I found the ex-sex slip-up to be very realistic, especially in situations where closure hasn't happened yet and there's still a desire to be together. Though not one of the steamier love scenes featured in the series, it still holds a lot of weight because it was so damn relatable.
Honorable Mention: Earlier in the episode, a brief spooning sex exchange played between Lawrence and Tasha. So good he had her saying "daddy with a 'z.'"
Season 2, Episode 3: Issa has sex with Neighbor Bae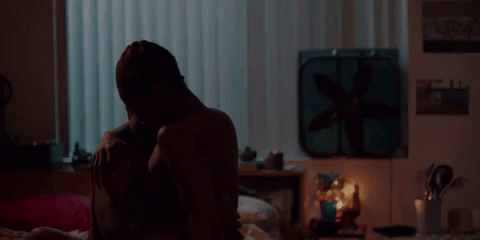 Speaking of relatability, the very next sex scene between Issa and Neighbor Bae (Leon Thomas III) was also on point for that reason. Neighbor Bae, also known on the show as Eddie, made a couple of appearances before becoming a sometimes-y hookup for Issa and he was just what the doctor ordered in terms of helping her enter her "hoe phase" and get Lawrence's recent dick-me-down out of sight and out of mind. During a somewhat lengthy scene, Issa and Eddie were able to work through the sometimes awkward reality of sex (especially first-time sex with someone new) by finding a position that worked for them and communicating along the way.
Sometimes the first new fuck after a breakup is the hardest. And what we saw was no-strings-attached sex between two consenting adults and it was great to see Issa get back in the game. As she exits his apartment, she receives a message from a dating app and reads it with a smile, showing the audience that she is single and officially ready to mingle. Dating roster and all.
Season 2, Episode 4: Lawrence has a threesome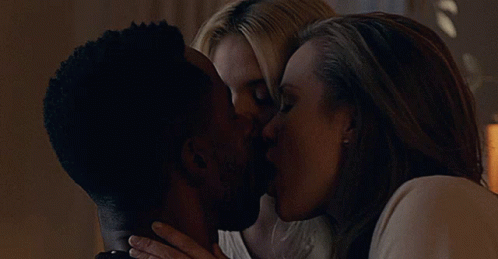 Yeah, no comment on the actual threesome, but I will say I really appreciate the moments throughout the series where I could see the contrast between the "masculinity" Lawrence was trying to portray to the world versus the man he wanted to be (also of note, he is also navigating his own version of getting over his breakup). With his homeboy Chad (Neil Brown Jr.), there were instances in the series where Lawrence would just do something to get his approval but not necessarily because it was something he would feel good about in the end. Case in point, this threesome. But it also took me back to a scene earlier in the season where they are looking for a place together and Chad expresses being excited that Lawrence is shedding his "good guy" ways. So that was an interesting continuation of that theme.
Season 2, Episode 5: Molly has sex with Dro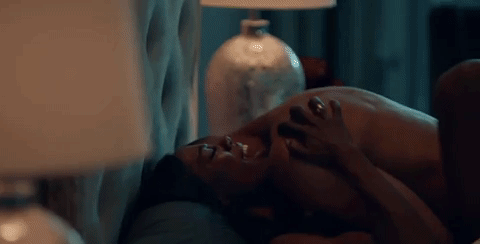 In terms of what she wanted, Molly always had a hard time practicing what she preached in matters of the heart. That was no different in how she moved in her situationship with Dro (Sarunas J. Jackson). I knew from the minute they first interacted on-screen that she'd end up letting him in sexually and emotionally, especially because she was not feeling ole dude that was good on paper (Sterling K. Brown). When the illusion she had of her parents' picture-perfect marriage shattered, it was only a matter of time before she'd stray from her checklist and find herself underneath a man with whom she had no future as an act of self-sabotage.
As soon as he walked her to the door, we knew what time it was. He tried to walk away but Molly grabbed him by the hand and gave him a look that asked him to stay. And underneath Dro is exactly where she found herself at the end of the episode, leading to a series of trysts between the two that would continue throughout the remainder of the season.
Season 2, Episode 6: Issa, Daniel, and the infamous facial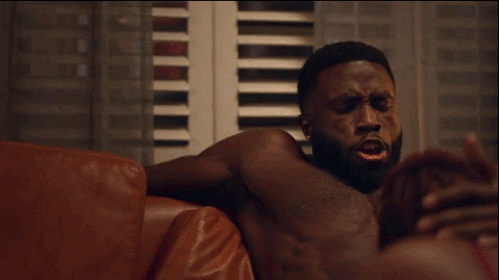 I know the moment of the climax is the most talked-about aspect of this particular scene, but Daniel emitting that breathy moan when he first starts getting head? Yes. And him sinking into the couch before closing his eyes? Absolutely. And the attention to detail of holding her head closer to take more of "him" in when he is about to climax? Abso-fucking-lutely. To be frank, Issa's dramatization following said unsolicited facial kind of killed what Daniel's orgasm was doing for me, but still, I loved that we were able to get a sex scene where oral was more of the focus.
Honorable Mention: The intimate connection Molly and Dro have between them gets the visual treatment with a quick transition into them spooning.
Season 3, Episode 1: Boundaries are a thing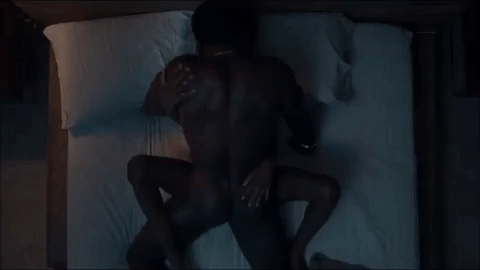 Nothing super intense or indulgent played out in this episode as far as sex scenes go, instead, it seemed to be planting seeds and establishing dynamics based on where people were in their lives. Boundaries also seemed to be an important theme, as both Molly and Issa navigated situations with men who had feelings for them (and they too had feelings for) but men they also didn't necessarily want to get themselves too caught up on because of the mess history alluded to be on the other side.
Honorable Mention(s): There is an opening scene where Daniel is attempting to make Issa jealous or at least painfully aware of what she's missing out on by having loud sex with someone else. The slow pan across Daniel's body was cinematography for the books. Also, loved that brief intermission of oral between Dro and Molly where she was sitting on the counter and he was nestled in between her legs, the emphasis was placed on her pleasure. I personally loved this scene because it felt like a parallel for where they were in their situationship. Molly was in a place where she was intent upon laying out her boundaries and as the episode played out (as well as the demise of their dealings), the two were fighting for control. And by the end, they both retreated and a white flag was raised.
Season 3, Episode 3: The Issa and Daniel sex scene that never came to be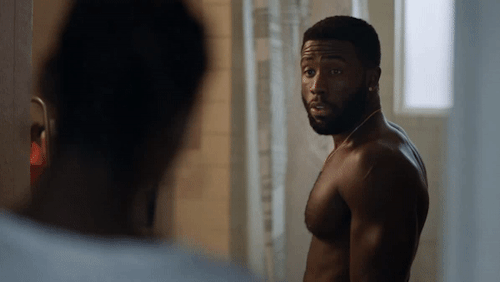 After a disappointing setback involving another producer, Daniel lashed out at Issa and called her out on some shit even though Issa's line of questioning was perfectly on point. It resulted in a shutting down between both parties. Later that night though while laying together silently in bed, Daniel attempted to initiate sex with Issa. At first, she seemed to give in to his kisses and even seemed open to him eating her out, but instead of going backward with him again like we thought she would, Issa pumped the brakes and didn't give in to the temptation because she knew the reality was, she couldn't entertain Daniel in that way. The body is weak but the heart and mind were stronger.
Personally, I was relieved af. He's fine but Daniel was one of the most emotionally immature men Issa had dealt with and I felt like their paths stopped and stalled so often for a reason.
Honorable Mention: The "good morning oral sex" fantasy Issa had with Daniel involved extra spicy Hot Cheetos and some diligent head game.
Season 3, Episode 5: Issa and Nathan on the Ferris wheel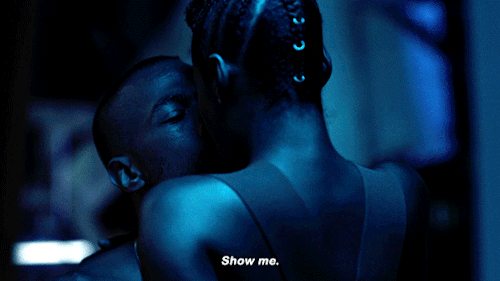 I felt the chemistry between Issa and Nathan (Kendrick Sampson) as soon as he dropped her taco earlier on in the season so when they reunited again during Coachella, I was like immediately yes. I never knew I would need a sex scene such as this, but everything from the cool-toned lighting to the Ferris wheel setting made this a contender for one of the best sex scenes on Insecure (for me). The lead-up conversation where Nathan made Issa feel seen and supported (another reason why I like him around for her character) added to how their first time played out. Issa pulled him in for a kiss, got onto his lap, and the rest was history.
I loved Nathan's attention to her nipple (a detail we don't often see, especially from the main actors) and when he told her to show him how much she wanted him, I understood why sis had no choice but to put her panties to the side and pull him into an impromptu ride.
Season 4, Episode 1: Issa and her TSA cut buddy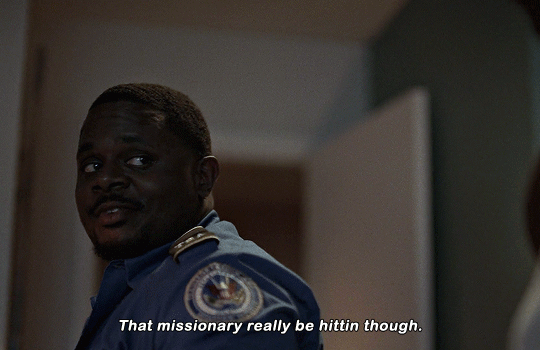 After Nathan dropped the ball by turning into Ghost Bae, we are introduced to one of Issa's next hookups at the beginning of the series' fourth season. TSA Bae (Reggie Conquest) was putting in work and I lived for the thick fellas getting some love on the show and showing some nudity on top of that. Here for it! I also loved the nod to the sometimes underrated nature of how people look at missionary. As Issa classically said following their tryst, "Church is always in the answer."
Honorable Mention: We got a glimpse into Lawrence and Condola's (Christina Elmore) bedroom in this episode too, and I'll just add it to the very short list of ways I felt did Lawrence and Condola wrong. The energy was just not…there.
Season 4, Episode 2: Issa and TSA Bae lose the condom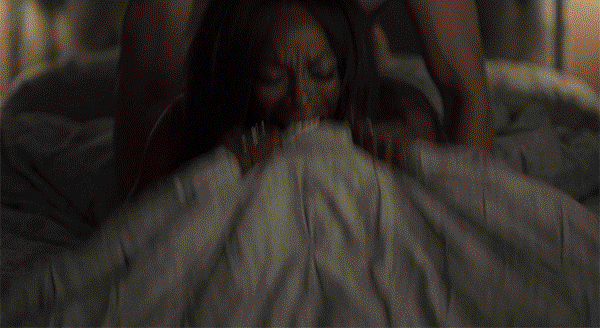 TSA Bae gets another quickie in as Issa's go-to cut buddy at the start of this season. I personally loved seeing such diversity in love interests in this show, from size to race, which is why some of the fourth season's love scenes stand out to me. This orgasm-inducing scene between Issa and TSA Bae in particular even added some butt play to the mix. Initially, Issa is shown positioned over the side of the bed while TSA Bae is thrusting out Issa's "stress." After she orgasms, they switch to a modified missionary position so he can get his. Sir respectfully requests that Issa press his "button" during to intensify his climax. Here. For. It.
Honorable Mention: Take the cake Andrew (Alexander Hodge), take the cake. IYKYK.
Season 4, Episode 7: Andrew and Molly's vacation sex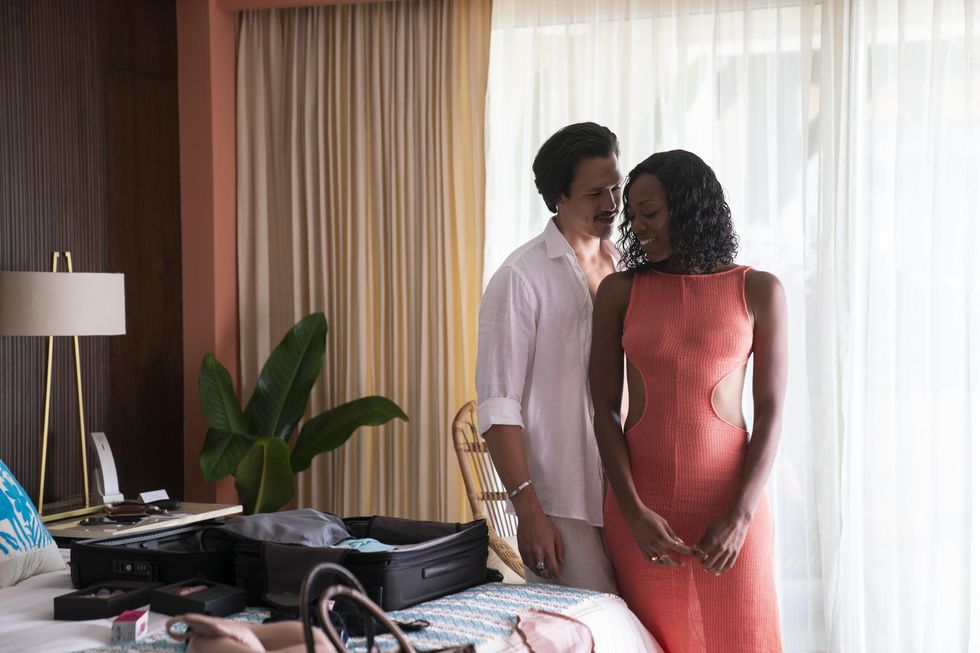 Merie W. Wallace/HBO
On their first couple's baecation, Andrew and Molly prioritize experimenting. Our first taste of that was when Andrew snuck his hand beneath her blanket while in the air. An easy life hack for joining the Mile High Club without joining the Mile High Club. The conversation about what they like and want to explore continues when they enter their hotel room and bring out the toys they decided to try on the trip. Molly says she knows she likes the fingering sesh from on the plane and wants to try the balcony. They take it outside where Andrew thrusts into her while holding her neck and the beauty of Puerto Vallarta surrounds them.
Honorable Mention: Molly taps into her dominant side later when she slides that thang up to Andrew's face while he's blindfolded. She does this before instructing Andrew to eat her ass. He humbly obliges.
Season 4, Episode 8: Issa and Lawrence reunite for real, for real this time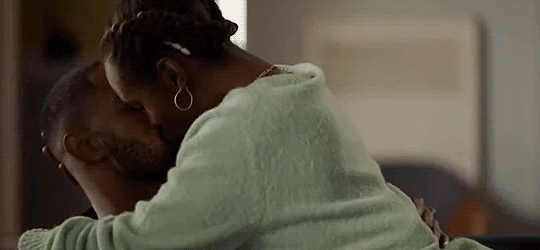 I felt this reunion in my soul. Even though it was a reunion I didn't know I was going to get, the combination of the real conversations they had and the body-to-body connection they were able to reignite by the end of the episode was everything. Lawrence and Issa were introduced as a couple at the beginning of the series and lost their way due to Issa cheating on him with Daniel. It was great to see that down the road, both of them were able to make peace with their contributions to the demise of the relationship and take accountability for their actions. It was also beautiful to note that Condola was a catalyst in Lawrence seeing something through that he might have always had a question mark about since it was shown to viewers that he was ready to marry Issa back in the first season. From the second they kissed, it seemed that they were finally coming home to each other where they had become better people and were in a better place. Coming together after falling apart.
Honorable Mention(s): Technically, the Lawrence and Issa sex montage happens at the start of the next episode but due to it being the only sex scene in episode 9, I'll just place it here. The fact that all of the sex between the couple happened on or against his couch was a nice nod to previous episodes where a couch has seemed central to their shared intimacy.
Let's make things inbox official! Sign up for the xoNecole newsletter for daily love, wellness, career, and exclusive content delivered straight to your inbox.
Featured image by Glen Wilson/HBO