Have you ever thought about just how far we've come as a society when it comes to sex? You can log onto just about any website and see some form of porn, whether you want it or not. Yet, for some reason, women are still not comfortable talking about "taboo" subjects, including but not limited to threesomes.
---
Everything about our sexual experience as women is geared towards a man and his pleasure. It's as though our sexual liberation is only okay under the approval of male standards. That's a problem for me. It makes me wonder: Do people think that women are incapable of being sexually attracted to another woman without the approval of a man?
And I'm not speaking in terms of lesbians; I'm speaking in terms of women who are bisexual, women who want to experience sex with both sexes, because it's just something she wants to do. If you're considering having a threesome, but still feel a little skeptical, here's a few words of advice that will help you through your first time:
Have No Shame 
I'm on a mission to live my life for me, this was a part of that. I didn't have to tell my Mom this information. I've been in a committed hetero-relationship for seven years. I felt that it was important to reveal this information, because my Mom, like many other older women of color, has a problem with the gays (and has no problem vocalizing it.) This was part of my reasoning for coming out to her this summer.
I felt like a hypocrite, allowing her to speak about that community when I'm secretly a part of it. It's so easy as a "bisexual" woman to live a life completely in the closet and under the radar. I could have kept this fantasy to be with women to myself and end up pulling a Glennon Doyle. But why deny a part of myself? Why build shame inside of myself? So, in my office on-call room, I told my Mom that I was bisexual.
If you're thinking about indulging in a three-way, make sure it's something you're not ashamed of to avoid a sea of regret from flooding in later on.
Ask Yourself If This Is Something You Want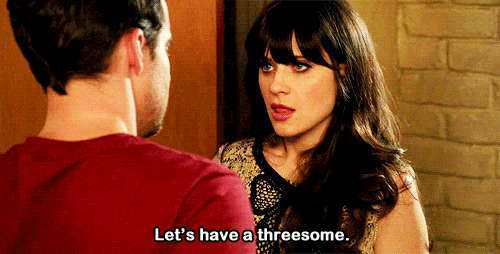 Threesomes, like all sexual activities, are best when everyone involved wants to be there. If there is an issue of cheating or trust, you shouldn't be thinking about having a threesome. Sis, the threesome is not an experience you can give to your man to "make him stay". Or to keep him happy. If you don't trust him, then you damn sure won't trust him with another party involved. So why purposely put yourself through that? You don't want to be the only one in the room, counting the number of times he had sex with her versus you. (That's not fun for anyone).
When considering a threesome, the last thing you should be thinking about is pleasing him. This is about you! Do you want to know what it's like to have another woman down there? Maybe, you want to know what it would be like to be with two men at the same time (no judgment here). This is all about who you want to bring inside of your bedroom. You are the one who has to sit through it, don't you want to be enjoying it, and not watching the clock?
Be Specific In Your Choices
When you think about who you want to bring into your bedroom, it should be someone who fits into your couple style. If you can, you should be the one to pick the girl (or guy). If you don't, at least have a conversation with the person. Remember, this is your bedroom your opening up. It shouldn't be something done lightly. It shouldn't just be something you do to check off a box. A threesome is still a form of sex, which means it's still an exchange of energy, so why not make it count?
One day, I was watching Claws and Uncle Daddy was getting ready to celebrate his 30th anniversary with his wife. He said the key to a happy marriage, is to marry the right woman. He kissed his wife and then his boyfriend walked up next to him. As ridiculous as that scene was, it's true. When you're picking your mate, it must go beyond the surface level sh*t. Your relationship should be the ultimate safe zone, you shouldn't be "hiding" parts of yourself from your mate, so if you want a girlfriend or boyfriend, you shouldn't be afraid to bring up that subject.
The Ball(s) Are In Your Court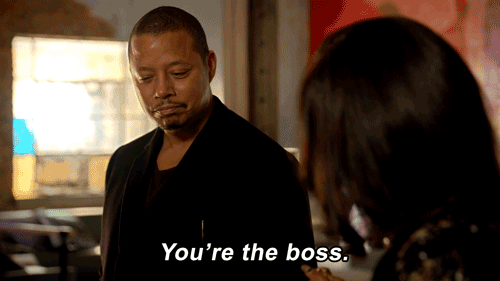 It's your bedroom, your man, your vagina, you get to make the rules. Only you can decide if a threesome is good company or a crowd. When you make the decision, do it from a place of curiosity, not out fear or from "the disease to please". YOU make the choice (or not).
I want us as black women to embrace our sexual complexities. To know that our body is not just for male consumption, gaze, or approval. We should feel confident in not only telling our partners what we want, but demanding that all our sexual needs are met. If that can only be done with more than one partner, then sis, it just is what it is! That doesn't make you a "freak" or a "hoe", it just makes you a fully realized woman, who knows what the f*ck she wants!
Related Stories:
What I Learned From My Night At A Swinger's Club -Read More
My First One Night Stand Changed How I Feel About Sex - Read More
I Fulfilled My Trois Fantasy...And This Is What I Learned - Read More

So, I'm Definitely Not A Lesbian After This... - Read More
Featured image by Shutterstock