Honest Am
Honest Am is a Detroit-based writer and podcaster. She co-hosts Dear Showrunners and is the creator of the Honestly, Sis newsletter. She prides herself on her knack for finding life lessons in television, movies and celebrity drama. Jay-Z is her godfather and Kanye West is her spirit animal.
Keep up with her on social @AmBee and join the Honesty Circle here!
What I know for sure, is that you cannot make it to the next level without appreciating your current level. It took me a while to understand this concept. I have always been the type of person who says things like, "If only I lose twenty pounds, I will feel amazing." Or, "Once, I'm out of corporate America, then I'll be happy."
Never once did I ask myself, what if this never occurs? Does that mean I have the right to hate my life forever? The thing about statements like that is that they only reinforce the belief: I'm not happy. It only validates that I'm overweight. Neither of those things is going to make me feel better. Neither of these things is going to help me change my current state.
Like many people, I've watched The Secret and Oprah's specials on the 'Law of Attraction'. Each time, I would walk away excited to change my life. Each time, nothing changed. I was vision boarding, affirming, hoping and praying but nothing was "changing". One afternoon, I was explaining my struggles with my spiritual teacher; she turned to me and said, "You have to believe it. There's a difference between understanding and knowing."
See, I was doing all this work to better myself, all while focusing on what wasn't changing. My actions said one thing, but my beliefs said another.Have you ever wanted something so badly, that it was all you thought about? The gift and the curse of the universe are that that is exactly how it works. So, in my situation, the more I focused on how badly I wanted out of corporate America, all the universe heard was: want corporate America.

If you're ready to shift your thinking and manifest the life of your dreams, keep these tips in mind:
What You Give Your Attention To Will Grow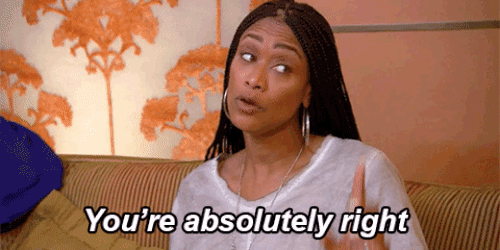 Now, I know what you're thinking: Are you saying I must stay 100% positive? No, that's not even possible.
I am saying, you must learn to control your vibration by learning to control your mind. The mind is like a magnet to the universe. Anything that you project out, by universal law, you're going to get back. So, if you're in a funk, or thinking about how crappy your life is; all your doing is magnifying more negativity into your life.
For my church folks, this is not just limited to us crystal-loving hippies. In the Bible, Philippians 4:8, says: ".... whatever things are of good report, if there is any virtue and if there is anything praiseworthy, meditate on these things." I say all this to say, you cannot constantly be negative and pray for a positive outcome.
You Must Become Emotionally Aware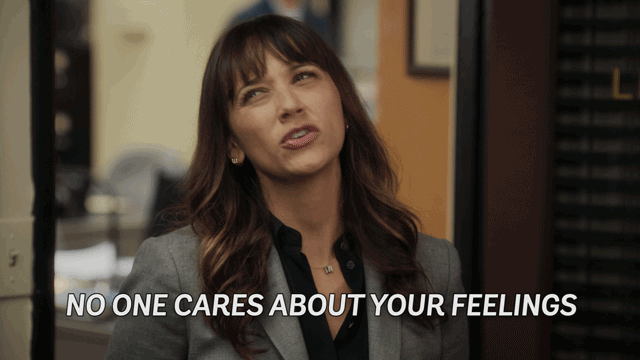 The key is not to lie to yourself and pretend that you're happy. The key is to pay attention to your emotions. In, The Subtle Art of Not Giving a F*ck, author Mark Manson said, "If you feel crappy it's because your brain is telling you that there's a problem that's unaddressed or unresolved." In other words, negative emotions are a call to action. When you feel them, it's because you're supposed to do something! Denying your emotions is simply denying information that your body is trying to send to you.
Here's a real-life example: Have you watched the Red Table Talk with Jada Pinkett-Smith? If you haven't, Will Smith joins the table to tell the truth about his and Jada's marriage. At one point, Will mentioned that Jada cried for forty-five days straight. Mama Adrienne, Jada's mom, said she didn't understand how Jada could be unhappy with her life. Even Jada herself felt that she was being ungrateful. Yet, her emotions were telling her that something wasn't right. I also struggled with this. I got caught up in how I thought my life was supposed to look and what people would think of me, instead of honoring what felt right and true to me.
Our emotions know us better than we know ourselves because they know our true self.
They know all about the hopes and dreams you're afraid to tell people. So, while Jada was trying to be the perfect wife to this megastar, her emotions knew she wasn't being true to herself.
Make Sure Your Intentions Match Your Execution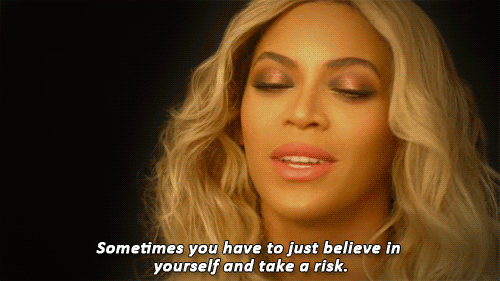 Once you have accepted and paid attention to your emotions, the next step is to make sure that your hopes match your actions. I have a career in accounting that I do not want. I know this on a mental level, but also physically. There have been plenty of mornings, I would roll over and literally say, "Not this sh*t again." It came to a point that I was dreading work and finding non-permanent ways to injure myself, to get more time off work. I would go into work bored out of my mind, applying for other (accounting) jobs. All while saying, I don't want to be an accountant.
Then one day, I was on my way to a third-round interview and it finally hit me. My actions were saying, "I wanted to be an accountant." My belief was saying, "I can only be an account." Yet, my emotions knew that no matter how the job is dressed up, accounting, especially corporate America, isn't for me. My actions said that I wanted them to stay the same, despite my mind wanting things to change. Do you see how that would keep me in the same place? But I'm not alone, am I?
How many times have you talked about wanting to lose weight all while eating a double-double from Five Guys? My cycle was the definition of insanity, but we all do it. We all want things but mentally self-sabotage ourselves from ever receiving it.
Train Your Thoughts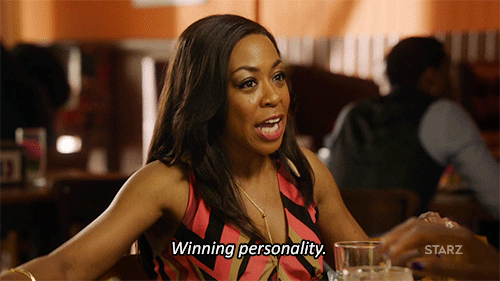 For me, this meant that no matter what happens at this current job, my next job would not be in accounting. That was a small shift, but not enough! There were still days that were just unbearable. What helped most was thinking about my job differently or what Oprah loves to call, "choosing another thought." I than began to look at my current job to see how it does or could prepare me for my future as a professional writer. I began observing my daily tasks.
Daily, I'm juggling multiple projects with a variety of personalities types. I can create my own work schedule, but I must pay attention to detail and meet my deadlines. I imagine this would be a great skill-set to have as a showrunner. So, whenever I'm just not feeling it, I look in the mirror and tell myself my job is preparing me to become baby Shonda. Most creatives aren't good with numbers, while most people who are good with numbers aren't creative. Thankfully, those are my two strengths. It may seem like a long shot, but the belief that my job is preparing me to become Shonda not only helps me but completely shifts my energy on my bad days, along with a popping playlist!
Since I've begun to look at my job differently, I find myself appreciating the small things at my job. I realized I couldn't get away with half the stuff I do at another job. So, in the grand scheme of things, this job puts me in the best possible situation. Nothing has "changed" in my life, but my attitude. Yet I feel differently, I move differently and I'm noticing writing opportunities everywhere soclearly, things are starting to change.
So, what are your emotions trying to tell you? When you feel bad, ask yourself why. Ask yourself, 'what are you avoiding'? What issues need to be solved? Remember, emotions are our friends! They are here to give us information! Be aware of your thoughts and realize that you can always choose another one. It's not about lying to yourself, it's about gaining control of your mind. The mind is like a child, and it can be all over the place. But when you give it proper training, it's amazing.
We often talk about trauma that can be transferred down from generation to generation but, it works both ways! If you take the time to re-program your mind, to listen to your emotions, to make sure your hopes match your actions, you are not only helping your current self but the entire lineage of your future family. So, if you don't have the strength to do it for yourself, how about doing it for your grandkids? We really do have control over our lives through our thoughts.
Whether you want to believe it or not, we are creating our reality. You can do it consciously or unconsciously, it's truly up to you. But know it's not by magic, it's by believing. And that's something we can all do, so will you?
Featured image by Shutterstock
Keep reading...
Show less
Have you ever thought about just how far we've come as a society when it comes to sex? You can log onto just about any website and see some form of porn, whether you want it or not. Yet, for some reason, women are still not comfortable talking about "taboo" subjects, including but not limited to threesomes.
Everything about our sexual experience as women is geared towards a man and his pleasure. It's as though our sexual liberation is only okay under the approval of male standards. That's a problem for me. It makes me wonder: Do people think that women are incapable of being sexually attracted to another woman without the approval of a man?
And I'm not speaking in terms of lesbians; I'm speaking in terms of women who are bisexual, women who want to experience sex with both sexes, because it's just something she wants to do. If you're considering having a threesome, but still feel a little skeptical, here's a few words of advice that will help you through your first time:
Have No Shame 
I'm on a mission to live my life for me, this was a part of that. I didn't have to tell my Mom this information. I've been in a committed hetero-relationship for seven years. I felt that it was important to reveal this information, because my Mom, like many other older women of color, has a problem with the gays (and has no problem vocalizing it.) This was part of my reasoning for coming out to her this summer.
I felt like a hypocrite, allowing her to speak about that community when I'm secretly a part of it. It's so easy as a "bisexual" woman to live a life completely in the closet and under the radar. I could have kept this fantasy to be with women to myself and end up pulling a Glennon Doyle. But why deny a part of myself? Why build shame inside of myself? So, in my office on-call room, I told my Mom that I was bisexual.
If you're thinking about indulging in a three-way, make sure it's something you're not ashamed of to avoid a sea of regret from flooding in later on.
Ask Yourself If This Is Something You Want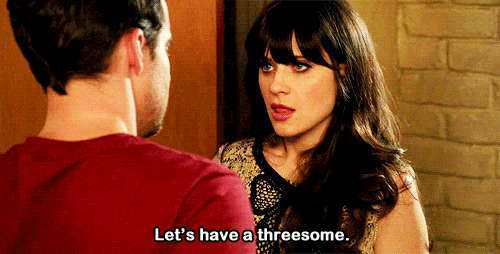 Threesomes, like all sexual activities, are best when everyone involved wants to be there. If there is an issue of cheating or trust, you shouldn't be thinking about having a threesome. Sis, the threesome is not an experience you can give to your man to "make him stay". Or to keep him happy. If you don't trust him, then you damn sure won't trust him with another party involved. So why purposely put yourself through that? You don't want to be the only one in the room, counting the number of times he had sex with her versus you. (That's not fun for anyone).
When considering a threesome, the last thing you should be thinking about is pleasing him. This is about you! Do you want to know what it's like to have another woman down there? Maybe, you want to know what it would be like to be with two men at the same time (no judgment here). This is all about who you want to bring inside of your bedroom. You are the one who has to sit through it, don't you want to be enjoying it, and not watching the clock?
Be Specific In Your Choices
When you think about who you want to bring into your bedroom, it should be someone who fits into your couple style. If you can, you should be the one to pick the girl (or guy). If you don't, at least have a conversation with the person. Remember, this is your bedroom your opening up. It shouldn't be something done lightly. It shouldn't just be something you do to check off a box. A threesome is still a form of sex, which means it's still an exchange of energy, so why not make it count?
One day, I was watching Claws and Uncle Daddy was getting ready to celebrate his 30th anniversary with his wife. He said the key to a happy marriage, is to marry the right woman. He kissed his wife and then his boyfriend walked up next to him. As ridiculous as that scene was, it's true. When you're picking your mate, it must go beyond the surface level sh*t. Your relationship should be the ultimate safe zone, you shouldn't be "hiding" parts of yourself from your mate, so if you want a girlfriend or boyfriend, you shouldn't be afraid to bring up that subject.
The Ball(s) Are In Your Court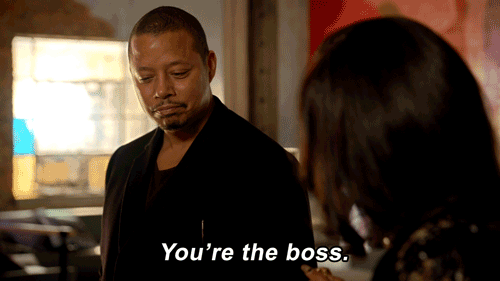 It's your bedroom, your man, your vagina, you get to make the rules. Only you can decide if a threesome is good company or a crowd. When you make the decision, do it from a place of curiosity, not out fear or from "the disease to please". YOU make the choice (or not).
I want us as black women to embrace our sexual complexities. To know that our body is not just for male consumption, gaze, or approval. We should feel confident in not only telling our partners what we want, but demanding that all our sexual needs are met. If that can only be done with more than one partner, then sis, it just is what it is! That doesn't make you a "freak" or a "hoe", it just makes you a fully realized woman, who knows what the f*ck she wants!
Related Stories:
What I Learned From My Night At A Swinger's Club - Read More
My First One Night Stand Changed How I Feel About Sex - Read More
I Fulfilled My Trois Fantasy...And This Is What I Learned - Read More

So, I'm Definitely Not A Lesbian After This... - Read More
Featured image by Shutterstock
Keep reading...
Show less
The recent news of Cassie and Diddy breaking up has been triggering the internet and putting everyone in their feelings. One would think it was their eleven-year relationship has suddenly ended. Most feel as though Cassie "wasted" her time. While Cassie's only comment has been a resounding, "F*ck These Hoes".
Cassie was with Diddy 11 years........ bye. twitter.com
If I could have just a few words with Cassie, I would give her a word from the Book of Rihanna. I would tell Cassie all about the great Gospel of Rihanna. I would focus the lesson around the Book of ANTI, Song Number 7. My centering thought will be the chorus for "Needed Me". The reading of the word goes as follows:

Don't get it twisted.
You was just another n*gga on the hit list,
Tryna fix your inner issues with a bad bitch.
Didn't they tell you that I was a savage?
F*ck ya white horse and ya carriage.
As we read these words out loud, may they not just hit your ears but also penetrate your heart. The title of today's lesson is, "F*ck Ya White Horse and Ya Carriage." I bring this message to you, not to disrespect the union of marriage, or to further divide the sexes. Instead, I bring this message to offer a new stance on the idea of marriage. Since the beginning of time, women, more specifically, black women have been taught to be the head of the family. We have been conditioned that it is our love and nurturing nature that allows black families to flourish. Since the dawn of time, black women have taken our task seriously.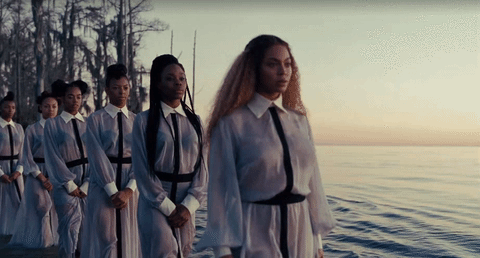 Yet, with every disadvantage against our black families, women still measure their worthiness in society by whether or not if they are married or have kids. As the infamous lines go in the great Book of Chimamanda Ngozi Adichie, "We women are expected to make life choices, always keeping in mind that marriage is most important."
But, it's a new day, sis!
Now, we are in a transitional period. Mother Earth, the Great Divine Feminine, is asking us to remember our power. This doesn't happen by lowering, disrespecting, or casting out men. No, in fact, it is the exact opposite. It is empowering, uplifting, and holding men accountable. Only when the male and female can hold mutual space, does the world return to its rightful place. But because we are stuck in this illusion that marriage is most important, i.e. pleasing a man is most important, we continue to give away our power. We are willing to put up with anything from a man for the sake of getting down the aisle, or simply just to say we have a man. Then we wonder why our marriages don't last. We are not taught to aspire to healthy, mutually respectful marriages, we're just taught to get there by any means necessary. F*ck ya white horse and ya carriage.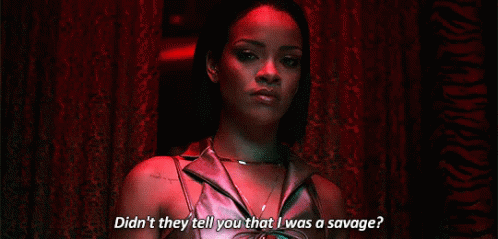 I use the great apostle Rihanna because despite her being worth $260 million and being one of the richest singers of all time, I remind you that Rihanna is just like us. In light of her break up, I ask Cassie to simply look to Rihanna. Think about it. We love Rihanna so much because she doesn't mind being both a sweetheart and a savage.
We embrace her because she embraces all herself (thick thighs and all), which makes me wonder, why are we are trying so hard to be perfect for these men? We should accept all parts of ourselves: the good, the bad, the bitchiness, and the flaws. Conversely, we should require our men do the same. Not shrink ourselves. That's the Gospel According to RiRi!
Expand yourself to the height of a giant, then mandate that your man meets you there! Or get the fuck out the way.
We have to learn to recognize when the men in our lives don't deserve our love, let alone our presence. That's what we, as women, have forgotten. We are the ones who makes the man better. Not the other way around. It says it in the Bible (a man who finds a wife finds a good thing). We elevate the man! We are the life-givers of the world, both literally and figuratively. Yet, we have weakened our place in society to keep our families afloat. For decades, women have molded and changed themselves for the acceptance of men, but where has that gotten us?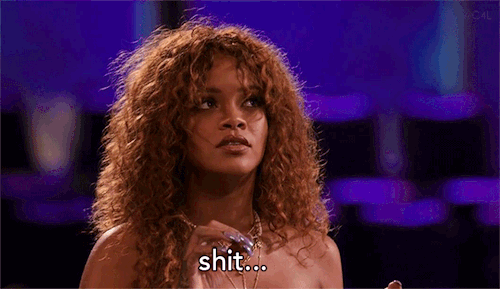 If he can't respect the fact that you don't want to have sex until your married, he's not the one for you. If he can't live with the fact that you like to shake your ass every Tuesday and Thursday, then guess what? He's not the one. If you have been with a man, say for, eleven years and you're still having year two problems, it's time to let it go. If you have given this man chance after chance and he's still doing the same shit - sis, it's time to let it go. Allow these moments of denial and incompatibility be your doorway to the person for you.
If you're constantly trying to morph and shape yourself into the wishes of every man you meet, how would you ever find the man for you?
And I get it, we as woman can be prideful, we want a return on our investment. But at what cost? The heartbreak is going to be so temporary compared to the constant heartbreak you will experience "trying to make it work". If Rihanna can walk away from the hottest pop star, baseball player, the greatest rappers of our generation, and a billionaire, why can't you walk away from Tyrone at Taco Bell? Why are you holding onto Harold from Howard because you two went to middle school together?
I know that society wants to us to feel like we're an endangered, undesirable species but that's bullshit. We deserve love too. Real love. Love without exception. We deserve to be in love with someone who makes us feel good. Love is supposed to inspire you. It's not supposed to feel like you're compromising yourself or losing bits and pieces of your soul. That's not love. Love is not going to make you feel like you're betraying yourself. It's not enough to just have a man.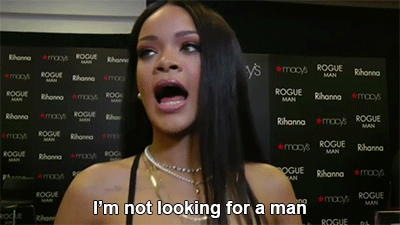 We need to build families from a place of wholeness. Not from a place of lack or fear.
I'm asking that we as Black Women take on the attitude of Rihanna and say, "F*ck ya white horse and ya carriage."
We deserve full, all-encompassing, all-committed love. Anything else must go. We are challenging men to love us how we deserve to be loved, or to hit the curb. I'm happy for Cassie because she chooses herself.
She didn't allow the length of time to determine the price of her happiness and that's something to admire. After all, it's a new day, sis!
Related Stories:
I Have a Perfect Response to "What Do You Bring to the Table?" - Read More

Why Do We Confuse History With Chemistry? - Read More

5 Lessons In Love & Self That Rihanna's Taught Us Through Her Relationships - Read More

Why Are Women Accepting Bare Minimum As Bae-Material? - Read More

xoNecole is always looking for new voices and empowering stories to add to our platform. If you have an interesting story or personal essay that you'd love to share, we'd love to hear from you. Contact us at submissons@xonecole.com
Keep reading...
Show less
The "Men Are Trash" movement bothers me. As a feminist, I should be joining the marches and making posters for the movement. But, I'm not though. And the reason being is that I believe men are a lot more complicated and sensitive than we give than credit to be. Allow me to explain to you how I got here.
I am a listener and lover of the wildly popular podcast, The Read. Every week, there is a letter about a guy with great penis that a girl doesn't want to let go. Crissle and Kid Fury would begin their rants on trash men and saving yourself from heartbreak.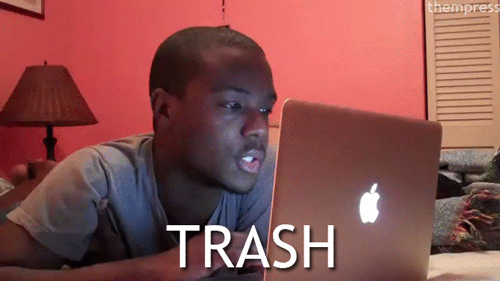 I would, nine times out of ten, agree with the advice; but as I laughed, I couldn't help but feel like a hypocrite.

The truth is, I know a ton of good black men.
The type who have been in relationships for five plus years. With no real drama or outside babies. You know, guys who hang out with their fathers on a regular basis. Or the type of men that spend Saturday mornings on three-way phone calls with their mom and sister.
Clearly, these types of men aren't trash. In fact, they have the qualities that we should all look for in a man. But, what if I told you that those exact same men, have attention issues and it plays out as them flirting with other women?
See, men are EXTREMELY sensitive and human.
They leave this vulnerable side for women they deem worthy, and as such, they treat personal things as something a woman must earn. Which makes me think, why aren't we doing the same? Why are we dying to bring the guy we just met to our family reunion?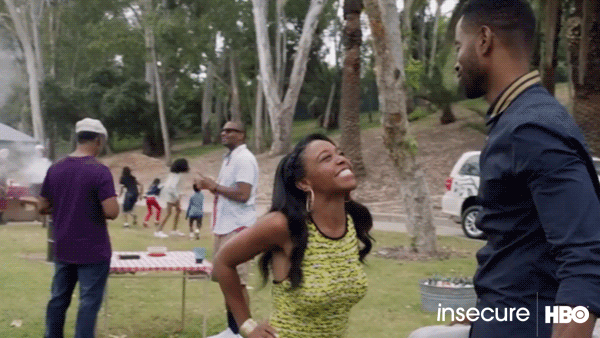 We might have laughed at Tasha in Insecure, but some of us have been on date number one with a guy, thinking about future kids. This led me to the self-reflective question: Could it be that women have unrealistic expectations that leads us to thinking that a man has trash behavior?
When Jay released 4:44, I was obsessed with everything about the album. He came out and said that he's been leading us astray. This album was the manifestation of his motto, "Hov did that, so hopefully you don't have to go through that."
He told us he was trash, and the steps he had to take to overcome it. He even brought in more men with different points of views to show us, "Hey, men are complicated as f-ck."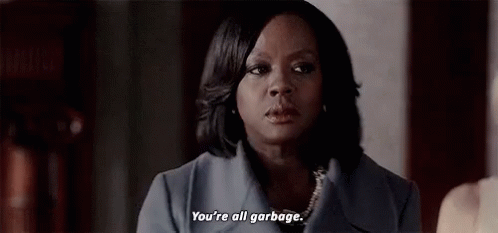 They don't know what they are doing when it comes to love (any more than women). See, what I have come to realize is, traditionally, men aren't expected to figure out the "love shit." They must get money, provide for the family, be the protectors. AND, they can't cry or bitch about how hard it is.
With something as rare as this album (and the footnotes), there should be pieces celebrating vulnerability. You would think we would all talk about how some of the most powerful men in the industry discussed their shortcomings in love. Instead, it was the exact opposite. people were downing him for revealing his deepest secret. They even went so far as to say that Beyoncé wasn't a true feminist and she was DUMB for sticking around.
Can we just stop and laugh at that?! Has no one heard "Ring the Alarm"?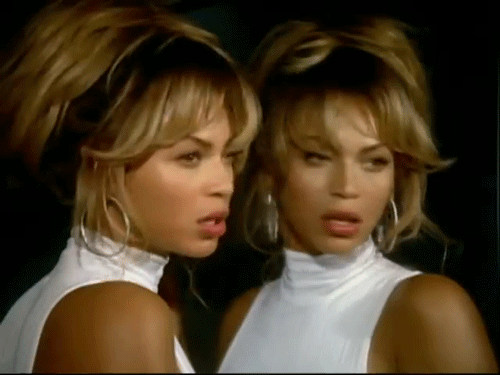 Bey put in years... Shit, a decade with this man. She made it clear she wouldn't just walk away from something she built. Plus, they have a MARRIAGE, not a relationship that doubles as a situationship. I'm ranting, but the point is, I found myself frustrated and disgusted by the public response.
It made me realize that men are not trash, we just have a distorted mentality when it comes to men in relationships.
Movies have ruined us all. They have us thinking that relationships are just a matter of finding the right person, who's attractive, makes you laugh, possibly gives you "leg-shaking orgasms," or, at the very least, has money. Then BAM, we're all set. Life falls into place, cue the happily ever after music. But, like Jerrod Carmichael said, there's a reason fairy tales don't have sequels.

The truth is, no one wants to see what it takes to sustain that level of happiness.
People see Michelle and Barack Obama now and laugh at their cute little love story. "Oh my gosh! A hole in the floor board of the car!"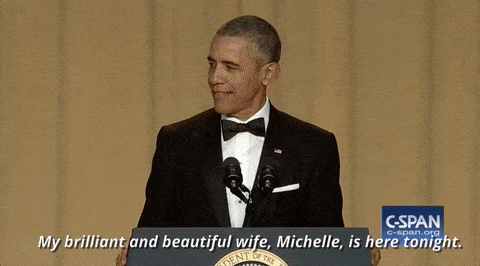 But no one thinks about the constant internal debates Michelle probably went through during the "in between" period of her man becoming the love of her life that he grew to be. Sure, he was charming. Had swag too. But shit, he wasn't on her level. She was placing her bets on potential and her heart. I can just imagine the phone calls with her girlfriends back then: "A hole? His broke ass! Run Chelly, run!"
If you haven't been in a serious relationship, let me be the first to tell you, they are HARD. It's no fairy tale and there damn sure isn't a rule book to get it right.
So instead of saying, "Men are trash," let's say that men are complicated emotional human beings with penises.
Let's agree, they don't always get it right. Let's applaud a man when he reveals a weakness. Let's show some compassion and patience. Remember that even with money and #lifegoals, there are still real things to overcome in relationships.