Diamond Jeune
Diamond Jeune's love for storytelling began early after discovering how impactful information and the media could be. Over the years, she sharpened her writing abilities by obtaining a journalism degree at Ohio University and working for various publications. Many of Diamond's work can be seen at We Got This Covered, Black Enterprise, Atlanta Black Star, Its Onsite!, and Ja GurlTV. In addition to perfecting her craft with each article, Diamond can be found getting lost in a good book, documentary, and television show. She also enjoys finding new ways to improve her mental and physical health by incorporating some form of exercise, yoga, and meditation into her daily routine.
Singer and actress Janelle Monáe exemplifies how change can be a powerful catalyst for growth and transformation.
Monáe, who rose to fame in 2010 following the release of her debut album, The ArchAndroid, captivated fans' hearts with her powerful vocals, catchy tunes, and style. Around that time period, when various female artists were known to wear provocative ensembles on stage, the "Tightrope" songstress set herself apart by wearing her signature black and white suits and continued to do so for almost a decade.
In the later years of her career, after the release of her studio albums The Electric Lady in 2013 and 2018's Dirty Computer, many began to notice the shift in Monáe's artistry and fashion, which some widely praised.
Although the now 37-year-old rarely addressed the reason behind the transformation over the years, that would all change when Monáe sat down with radio personality Angie Martinez on her IRL podcast earlier this month.
During the interview, Monáe --who was promoting her latest album, "The Age of Pleasure"-- opened up about her mental health struggles, how she would cope, and why she chose to live in freedom.
Janelle On Why She Stopped Wearing Her Signature Suits All the Time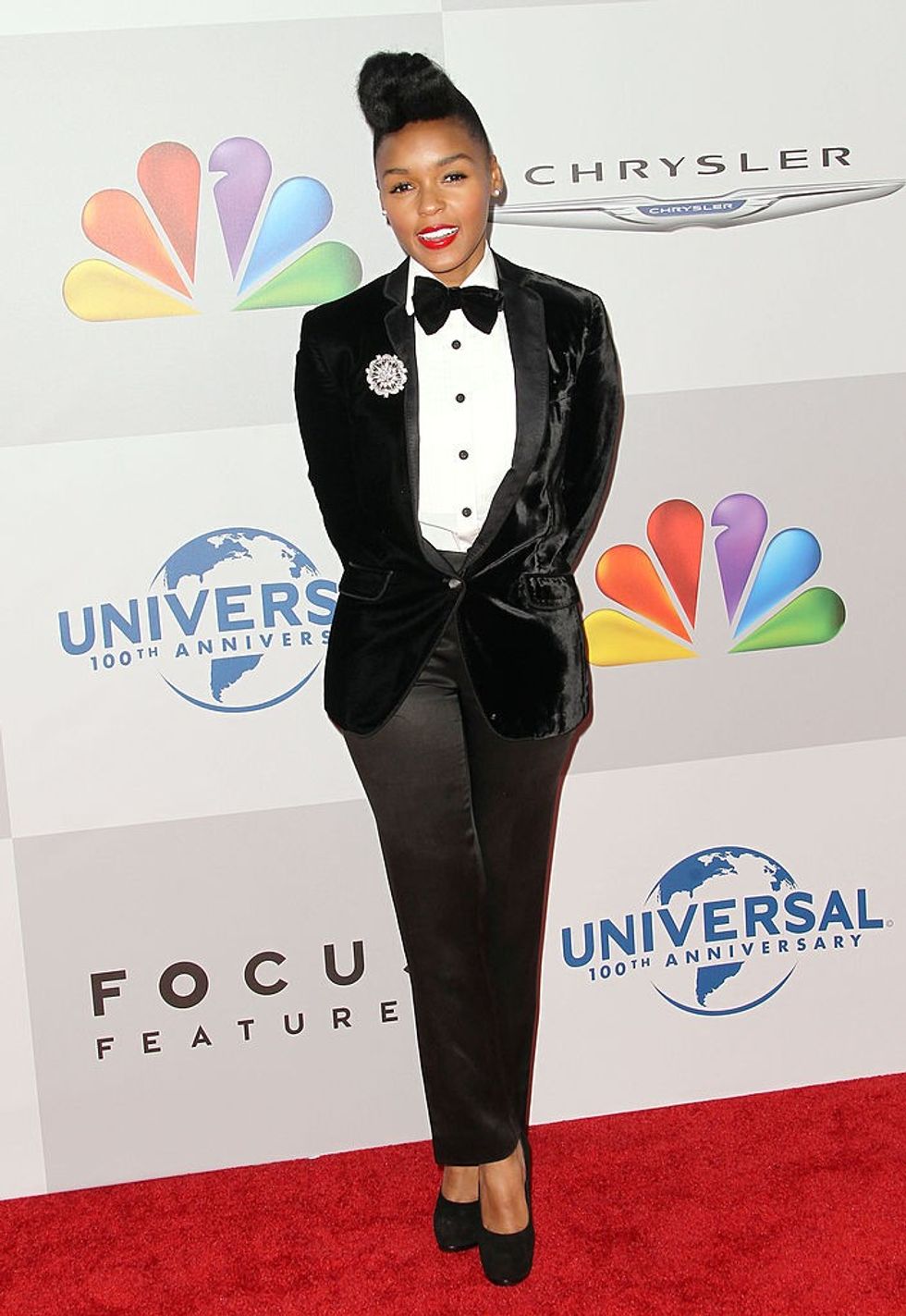 Janelle Monáe
Photo by Frederick M. Brown/Getty Images
In the May discussion, the "I Like That" vocalist revealed she suffers from anxiety, which she claimed would occur around "winter to spring."
Monáe added that when she has her bouts with anxiety, she tends to turn to food as a coping mechanism. Further in the interview, the "Lipstick Lover" singer disclosed that her emotional eating habits caused a weight fluctuation and that she could no longer fit into the suits she once wore earlier in her career.
Monáe explained that even though she tried to diet and exercise to return to her smaller figure, she ultimately stopped and made peace with herself with the help of therapy because she acknowledged that she isn't the same person she was nearly a decade ago and shouldn't try to be even if it was a highly "celebrated" version.
"I'm petite, but it can get thick... When I couldn't fit them suits anymore, and I was like, 'Oh my God, what is going on?' I would be dieting, running, or exercising, trying to fit into [it]. I'm just like, 'No. No, we're here. This is where we are.' We [are] not about to be utilizing life trying to be an old version of ourselves. No matter how celebrated that version of me was. I'm here. I'm here," she said.
Janelle On Freedom
As the topic shifted to freedom and what that meant to Monáe, the "Primetime" vocalist shared that in this new era of her life, she enjoys it because she can boldly express herself however she wants and honor who she is as a person right now.
Monáe also revealed that she had found ways to become a better artist and the best version of herself because of her freedom.
"What is the new version of freedom? What does that feel like? That's usually when I feel the most free is when artistically, I can honor exactly who I am right now," she stated. "I feel most free as a human when I can honor exactly who I am right now."
Monáe's fourth studio album, The Age of Pleasure, is set to be released on June 9.
Feature image by Rachpoot/Bauer-Griffin/GC Images
Could a new romance be brewing for Megan Thee Stallion?
The rapper's dating life took center stage recently after she was captured on various occasions sharing intimate moments with Belgian soccer player Romelu Lukaku as the pair attended a wedding for his close friend and teammate Lautaro Martinez in Lake Como, Italy.
During the event, which occurred over Memorial Day weekend, Megan and Romelu were spotted getting close and holding hands. Although neither party commented on the recent images, it sent shockwaves on social media as it circulated online because many assumed that the "Her" emcee was still dating her longtime partner Pardison "Pardi" Fontaine.
\u201cFound another video of Lukaku and Megan Thee Stallion at Lautaro's wedding \ud83e\udee1\u201d

— Lili \ud83d\udd2e\u2728\ufe0f (@Lili \ud83d\udd2e\u2728\ufe0f) 1685398844
Megan and Pardison have been together for over two years. Rumors about a supposed split arose in early 2023 when the "Savage" lyricist allegedly unfollowed Pardison on Instagram. To date, Megan and Pardison have seemingly wiped all posts of one another on their respective Instagram pages and have yet to confirm their split.
In light of Megan's new alleged romance with Romelu, xoNecole digs deep into the 30-year-old's life and shares a few facts many may not know about the soccer star.
Romelu Is A Belgian Soccer Player, And Megan Was Allegedly Spotted At One of His Games Recently
Romelu, who is Belgian and Congolese, has played soccer professionally since 2009 and is currently a forward for the Belgium national team and Inter Milian.
Earlier this month, Megan appeared to have attended one of his games after uploading a photo dump on Instagram. On May 2, while informing her fans about what she has been up to, including sightseeing and shopping, Megan shared an image of a soccer field.
Romelu Comes From A Family Of Athletes 
Romelu's passion for soccer began early on due to his family's background. The star's father, Roger Lukaku, is a former soccer player and participated in numerous Belgium clubs as a forward before retiring in 2007. In addition to his father, Romelu's younger brother Jordan Lukaku and cousin Boli Bolingoli-Mbombo are also professional soccer players.
The last team Jordan
played for was SD Ponferradina
. At the same time, Boli is
a defender for KV Mechelen
.
Romelu Was One Of The First Big Premier League Players To Sign To Roc Nation Sports
\u201cJUST IN: Jay Z\u2019s Roc Nation Sports has signed their first big Premier League player: Manchester United\u2019s @RomeluLukaku9. Joins @JB17Official as soccer clients.\u201d

— Darren Rovell (@Darren Rovell) 1524139645
Although there are limited details of how Romelu and Megan may have met, many could assume it's due to their Roc Nation connection.
In 2018, the father of two made headlines after signing with Roc Nation Sports. The commotion mainly occurred because Romelu was one of the first big premier league players to sign with the company. A year later, Megan joined the Roc Nation team.
Romelu starred on Reality Television As a Teen 
Prior to his success on the soccer field, a teenage Romelu and his classmates starred in a reality television seriesDe School Van Lukaku, for the Dutch Network Eén.
The show followed the students' lives as they dealt with various struggles, including love and friendship, while attending Saint-Guidon Institute in Brussels. During that time, Romelu was playing for the Anderlecht youth team.
Romelu Stands Up For Racism
Over the years, Romelu has showcased he isn't afraid to fight for what is right. In 2021, during an interview withCNN, the star disclosed why he felt taking a knee before the start of the game in protest of police brutality and racism wasn't enough.
Romelu told the news outlet that even with the particular gesture, it wouldn't stop others from treating people like himself or his family poorly. Romelu went on to add that he would continue to fight this battle head-on because it needs to be done to create a change for the future generation.
"I think we can take stronger positions, basically. Yeah, we are taking the knee, but in the end, everybody's clapping but… sometimes after the game, you see another insult. I have to fight, because I'm not fighting only for myself. I'm fighting for my son, for my future kids, for my brother, for all of the other players and their kids, you know, for everybody," he said.
Toward the end of the conversation, Romelu shared that the game of soccer, also known as fútbol in other countries, should be an "enjoyable" experience for all and not a place where people feel unsafe due to the "opinion from some uneducated people."
"At the end of the day, fútbol should be an enjoyable game… You cannot kill the game by discrimination. That should never happen," he stated. "Fútbol is joy, it's happiness, and it shouldn't be a place where you feel unsafe because of the opinion from some uneducated people."
Romelu's Past Relationship With The Mother of His Child 
Before dating rumors between Romelu and Megan went rampant online, the soccer star was romantically linked to Belgium model and entrepreneur Sarah Mens.
News outlets are reporting that Romelu and Sarah met in 2016 while she was interning in Miami. Following their brief encounter, the pair would ultimately become a couple. Romelu and Sarah, who share a son Romeo Lukaku, reportedly dated for five years before calling it quits in 2021. Years following their breakup, Romelu would welcome another son Jordan Lukaku with an unidentified woman.
Despite the limited information about Megan and Romelu's alleged new romance, one thing is for sure it will indeed be a hot girl summer for the rapper.
Feature image by Jeff Kravitz/Getty Images for CMT
Supermodel Chanel Iman's whirlwind romance with her now-fiancé, NFL star Davon Godchaux, showcases how a breakup can often be a hidden blessing for something greater.
For context, the model was previously married to New York Giants wide receiver Sterling Shepard. Iman and Shepard --who share two daughters, Cali and Cassie Shepard-- were married from 2018 to 2021 when the Dope star filed for divorce in June of that same year.
Although there are limited details as to what caused the demise of their relationship, when Iman filed, she claimed it was due to "irreconcilable differences." Iman and Shepard's divorce would be finalized years later, in April 2023. Since their split, both parties have officially moved on. Shepard is dating reality star, Carolyn Moore.
At the same time, Iman has been in a relationship with Godchaux. During the couple's year-long union, they announced they were officially engaged and welcoming their first child in their blended family of three.
As fans commemorate Iman's next chapter, xoNecole takes a look back into the 32-year-old's love story with Godchaux, from the pair's Instagram debut as a couple to their engagement.
Chanel and Davon Become Instagram Official 
Iman and Godchaux were romantically linked in April 2022 after the duo uploaded affectionate photos on their respective Instagram accounts while attending Coachella.
The Mad Families star used a heart and upside-down smiley face emojis to describe her budding relationship with Godchaux. As for the New York Patriots defensive tackle, he immediately let it be known that Iman was officially off the market by writing the caption "Mines" with a tongue emoji.
Chanel and Davon Take Their Romance On The Road 
Nearly a month after going public with their relationship, Iman and Godchaux gave fans a look into their Turks and Caicos vacation by documenting the getaway and sharing it on their Instagram pages.
Iman, who appeared visibly smitten, posted a photo of the couple hugging with the caption, "Spoiled with love." While Godchaux expressed how happy he was to have met Iman.
Chanel and Davon's Blended Family
In July 2022, things seemed to be getting serious between Iman and Godchaux after the star shared an image of the football player's son and her two daughters, Cali and Cassie, as they spent quality time together in Miami.
Chanel Supporting Davon On The Field
Fast forward to September 2022. As the football season kicked off, Iman was seen dressed in a Patriots jersey as she showed her support for Godchaux and his team.
"Let's go BIG DADDY #92. Let's go, @patriots," the model wrote while sharing an image of the pair posing on the field. Godchaux showed his appreciation in the comment section by declaring his love for her.
"I love u baby! Only the beginning," the 28-year-old said.
Chanel and Davon Spending the Holidays Together 
Later that year, Iman and Godchaux reached a milestone in their relationship by celebrating the holidays together. The couple brought in Christmas with her family by opening presents and building gingerbread houses.
Despite the busy schedule, Iman was able to sneak in a selfie with her beau as they commemorated the special day.
Chanel and Davon's Quality Time With Their Children
The good times between Iman and Godchaux continued as the New Year occurred. The couple collaborated in a partnership with PJ Palace.
As for their relationship, Iman and Godchaux remained strong as ever as they traveled around the world from New Orleans to Dubai. In addition to the lavish vacations, the couple also spent time with their children. The family's most recent trip occurred in April 2023 when they visited Nick Resort Riviera Maya in Mexico.
Chanel and Davon Announce They Are Expecting 
A few weeks later, Iman and Godchaux announced on social media that they were expecting their first child.
On May 3, in an Instagram post jointly shared on the couple's respective accounts, Iman revealed how ecstatic she and Godchaux were to meet their "new little one."
"Our family is growing, and we are so excited to meet our new little one," she wrote. Godchaux responded to the post by hinting that he would soon ask Iman for her hand in marriage.
"My love, my everything! Soon to be mine forever," he stated in the comment section. That same month, Iman and Godchaux would share with the public that they were expecting a little girl after participating in a gender reveal with Cali and Cassie during a photoshoot.
Chanel and Davon On Their Engagement 
At the height of the couple's exciting news of expanding their family, Iman shocked her fans again on May 30 when the soon-to-be mother of three shared that Godchaux proposed to her during their babymoon in Italy.
While sharing various images from that special moment, Iman expressed her gratitude for all "the blessings" that have occurred in her life following "this new chapter."
"The blessings keep pouring, grateful for this new chapter and soon to be married and a forever to go," she said. In another upload, Iman added how much she loves Godchaux.
"Babymoon in Capri turned into the perfect engagement. I love you so much @chauxdown. You promised me the world and so far you have given me that and so much more!" she wrote.
On the other hand, Godchaux opened up about how nervous he was to propose to Iman, but he explained that the nerves would eventually subside because he realized that he wouldn't "want no one else by" his side.
"First of all, I can't even lie, I was nervous ahh hell and I never thought I would be getting down on one knee but LOVE will make you do some amazing things in life! Chanel I love you so much and I wouldn't have rather spend this moment with no one else by my side!" he stated.
"From the moment we met I knew it was something about you and how much you value having a FAMILY that was really important to me! We are in this together and will always be, I love you from the bottom of my heart! My love, My fiancé, My everything!! What does not kill us only makes us stronger!!"
Although Iman and Godchaux have yet to set an official wedding date, many appeared inspired by their journey because it showcases that there is life after the demise of a relationship.
Congrats to the lovely couple!
Feature image by Pascal Le Segretain/Getty Images For Louis Vuitton)
At the time, Blige cited the reason behind the couple's split as "irreconcilable differences." Despite the previous claims, it would ultimately be revealed that toxicity within their relationship and alleged infidelity on Isaacs' part played a major role in their demise.
ENews! reports that during the divorce proceedings, Blige --who had a prenuptial agreement that "waived any spousal support"--was ordered to pay her ex about $30,000 a month in alimony, significantly less than the original $129,319 a month Isaacs asked to maintain his lifestyle and the additional legal fees. Blige and Isaacs' divorce was officially finalized in June 2018.
Since then, the 52-year-old has shared details about her financial struggles while trying to keep up with the payments. Blige was allegedly millions of dollars in debt and claimed that because of the monthly alimony to Isaacs, there were times that she couldn't afford her rent.
In a recent interview with Afrotech, Blige recalled those challenging moments in her life, how she got through them, and the lessons she learned over the years.
Mary J. Blige On The Hard Times Following Her Divorce 
In the May discussion, the "Real Love" vocalist disclosed that she was forced to return to work after her divorce was finalized because she "had nothing" left.
Blige explained that because of her name and celebrity status, she sought various job opportunities, such as music, films, television shows, paid partnerships, and touring, to make some income.
"That moment was when I got a divorce and got hit with all of that alimony. I was like, 'OK.' I never realized that this could happen to me in that way, and I was like at the bottom," she said. "I had nothing when I left out of that marriage and I had to work. I had my name, you know, so I had to work and so I did. I went on tour, I had to do everything to make that money to pay out the alimony."
To date, Blige's most recent work includes becoming an author, portraying the role of Monet Tejada in Starz Power Book II: Ghost, executive producing two Lifetime projects that are based on her song "Real Love" and the album "Strength of a Woman," and releasing her fourteenth studio album "Good Morning Gorgeous."
Mary On The Lessons She's Learned After Divorce
As the topic shifted to what Blige has learned throughout the entire ordeal, the "Take Me as I Am" singer explained that during her journey, she realized how important it is to not put her life "in someone else's hands" and to stay on top of everything, including finances.
Blige would add that with the pain she endured in her divorce and feeling helpless following the verdict, she would "never want to feel like that again," so she is taking the appropriate steps to prevent it.
"I realized that I put my life in someone else's hands that wouldn't take care of me. Now, I'm all over my business. I'm all over my finances. I'm all over my life because that was a painful feeling. I felt so weak and helpless, and I never want to feel like that again. So that's my aha moment… my divorce," she stated.
Feature image by Derek White/Getty Images for Strength Of A Woman Festival & Summit
Rapper Sean "Big Sean" Anderson is inspiring his fans to prioritize self-care through a timely reminder conveyed in a tweet.
This message comes when the 35-year-old's passion for mental health is at an all-time high. Over the years, Anderson has openly discussed his mental health struggles in various interviews, and his music, especially in his last album, "Detroit 2," released in 2020.
Anderson's drive to inform those about the importance of one's well-being ran so deep that the "Wolves" lyricist, alongside his mother, Myra Anderson, would create a nonprofit organization called the Sean Anderson Foundation to provide "academic and wellness resources" for the youth. To date, the father of one continues to demonstrate his commitment to raising awareness about mental health by intentionally sharing his recent tweet during Mental Health Awareness Month
\u201cTo everybody stressed the fuck out or overwhelmed cause y\u2019all busy\u2026 just remember, It\u2019s much more stressful when things ARENT happening versus stress bc they are. Ok, back to work\u2026 but take care of you too \ud83e\udd32\ud83c\udffe\u2728\u201d

— Sean Don (@Sean Don) 1684455884
Big Sean On Why It's Important To Take Care of Oneself 
In the May tweet, Anderson offered advice to many individuals that may feel "stressed" or "overwhelmed" due to their busy schedules.
The "Body Language" emcee told his millions of followers that although their work-life balance may be a bit hectic, it is essential to take care of themselves during those moments and to think about the stress they would have endured without those work responsibilities. Anderson wrote,
"To everybody stressed the f--k out or overwhelmed cause y'all busy… just remember, It's much more stressful when things AREN'T happening versus stress bc they are. Ok, back to work… but take care of you too."
Big Sean On His Past Mental Health Struggles
This isn't the first time Anderson has spoken about caring for oneself.
During a past interview with People magazine, the "I Know" rapper revealed when he realized that he had to step back to recuperate. In a 2020 discussion, Anderson disclosed that his mental health started declining because he failed to take a break and was constantly creating scenarios about certain situations, ultimately leading to his anxiety and depression.
"You just have to pace yourself and take a break before you need a break. It gets very real, especially with a person like me. I live inside my head so much," he said. "I go over scenarios and I go over two or three things at the same time, and that creates an overwhelming feeling and a lot of anxiety, which leads to depression, which leads to all these things."
Anderson would add that after finding the tools, including therapy, to combat his depression and anxiety, he's learned "how to pace" himself during his low moments "as opposed to before" when he didn't have the proper guidance.
"I had to learn how to pace myself. Not to say I still don't go through those things, I definitely do. It's just, now I know how to deal with them. I know how to get through them easier and I know what it is [I'm dealing with]," he stated. "As opposed to before, when I was confused on why I was feeling like that, because nobody ever talked to me about it."
Anderson wrapped up his remarks by encouraging others to prioritize themselves and their mental health because when he finally did it, he started "feeling better" and "looking better."
"I'm putting myself as a priority and that really, really speaks volumes. When you do that, you start looking better, and you start feeling better, and being better in everything you do. So, it's important," he said.
Feature image by Jon Kopaloff/Getty Images For Activision
The world has become a little less brighter following the loss of the indomitable force known as Tina Turner.
The legendary singer --who was crowned the Queen of Rock 'N' Roll after captivating many hearts for six decades with her electrifying raspy voice, explosive dance moves, empowering life story, and much more-- died on May 24 at the age of 83 after battling a long illness. Turner's passing was confirmed in a statement released by the star's publicist Bernard Doherty.
In a statement to People magazine, Doherty revealed that Turner had "died peacefully" in her home in Switzerland, which she shared with her husband, music producer Erwin Bach. Doherty also announced that a private funeral service would be held at an undisclosed date for Turner's close family and friends.
"Tina Turner, the 'Queen of Rock'n' Roll,' has died peacefully today at the age of 83 after a long illness in her home in Küsnacht near Zurich, Switzerland. With her, the world loses a music legend and a role model. There will be a private funeral ceremony attended by close friends and family. Please respect the privacy of her family at this difficult time," the statement read.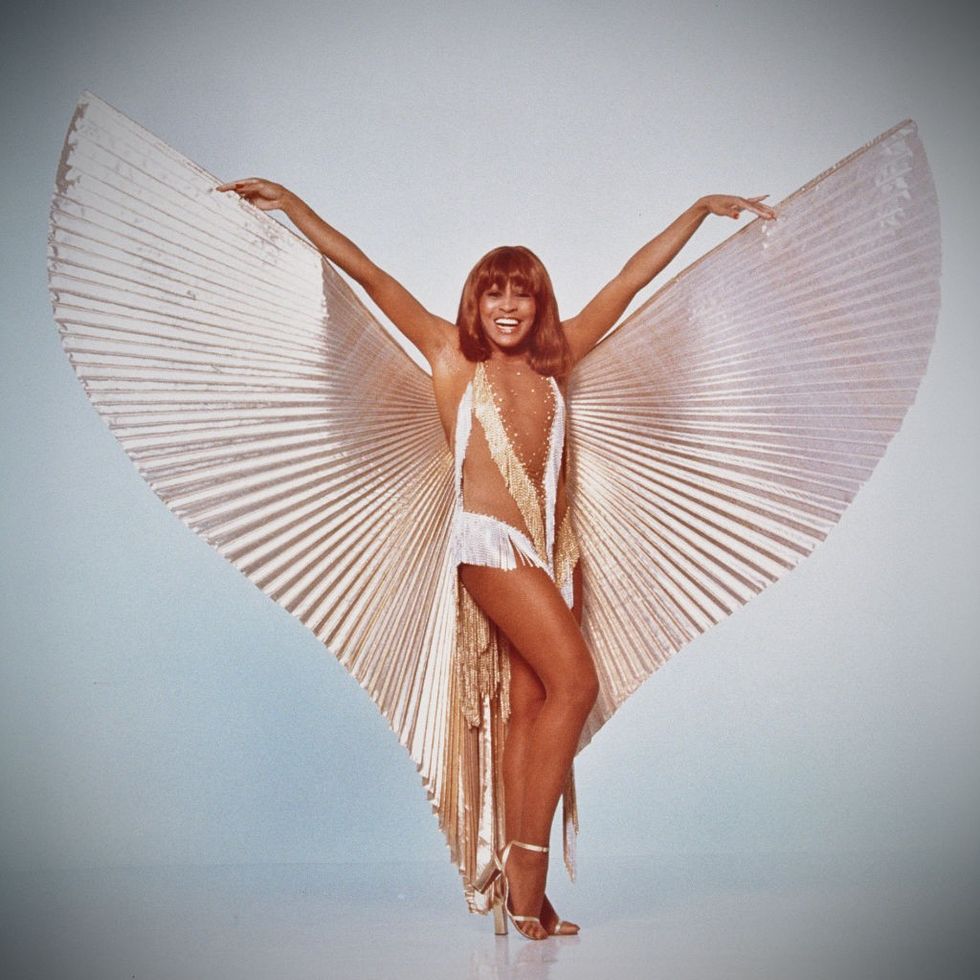 Tina Turner
Photo by Harry Langdon/Getty Images
In addition to the public statement, Turner's passing was also confirmed on her social media accounts. Although, at the time, details surrounding Turner's cause of death were limited, it was ultimately revealed that the "River Deep Mountain High" songstress passed away from natural causes. This comes years after Turner underwent a kidney transplant, which her husband donated, and suffering from various health issues. The list included high blood pressure, stroke, and intestinal cancer.
As the news circulated online, many of Turner's close friends and fans paid homage to the icon by expressing how much she meant to them. The list included Angela Bassett --who played Turner in the 1993 film What's Love Got To Do With It-- Beyoncé, Dionne Warwick, Mariah Carey, Ciara, and longtime friend Oprah Winfrey.
In an Instagram post, Winfrey recounted how her friendship with Turner started. The 69-year-old explained that she was a massive fan of the "Proud Mary" vocalist, and upon meeting, the pair's bond would blossom into a decades-long sisterhood.
During that time, Winfrey shared that she was in awe of Turner's resilience from her past childhood traumas and being abandoned by both her parents to how she overcame her violent relationship with ex-husband Ike Turner. The former television host added that Turner's ability to preserve through life's hardships inspired an entire nation.
"I started out as a fan of Tina Turner, then a full-on groupie, following her from show to show around the country, and then, eventually, we became real friends. She is our forever goddess of rock 'n' roll who contained a magnitude of inner strength that grew throughout her life. She was a role model not only for me but for the world. She encouraged a part of me I didn't know existed," Winfrey wrote while honoring her longtime friend.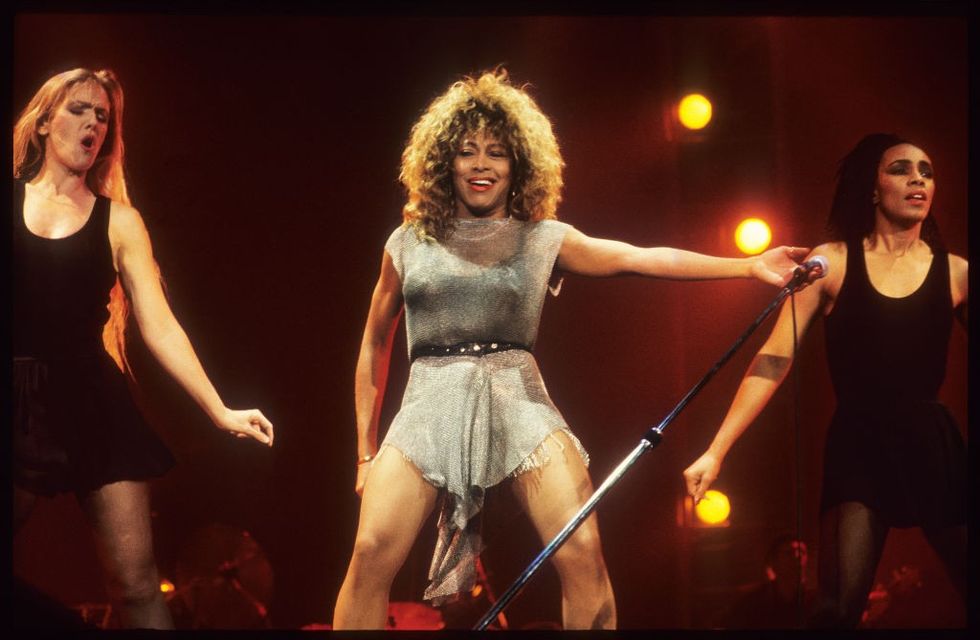 Tina Turner
Photo by Rob Verhorst/Redferns
"Once she claimed her freedom from years of domestic abuse, her life became a clarion call for triumph. I'm grateful for her courage, for showing us what victory looks like wearing Manolo's and a leather miniskirt."
Winfrey wrapped up her words by recalling her conversation with Turner regarding death. The Oprah Winfrey Show host revealed that Turner embraced it because "she had learned how to live surrounded by her beloved husband, Erwin, and friends."
"She once shared with me that when her time came to leave this earth, she would not be afraid, but excited and curious. Because she had learned how to LIVE surrounded by her beloved husband, Erwin, and friends. I am a better woman, a better human, because her life touched mine. She was indeed simply the best," Winfrey stated.
With Turner's untimely death, the "What's Love Got To Do With It" singer leaves behind an immaculate career spanning over 60 years. Alongside her countless hit songs, Turner's past accolades consist of eight Grammy Awards, a Grammy Lifetime Achievement Award, and a Grammy Hall of Fame for three of her songs.
"The Best" songstress' other achievements included Turner earning her own star on the Hollywood Walk of Fame, becoming a double inductee in the Rock 'N' Roll Hall of Fame once in 1991 with Ike Turner, and again in 2021 as a solo artist, etc.
Turner is survived by her husband, Erwin Bach, many friends, and fans. Turner had four sons, two of whom she adopted while married to Ike. Her biological sons, Craig and Ronnie, both sadly passed away in recent years. To date, it is unclear if Turner has mended her relationship with her two adopted sons, who belonged to her ex-husband Ike Turner.
Turner's music has impacted many people thanks to the beautiful storytelling and powerful words. In honor of Turner's legacy, xoNecole is looking back at her most memorable quotes on life, love, aging, and beauty over the years.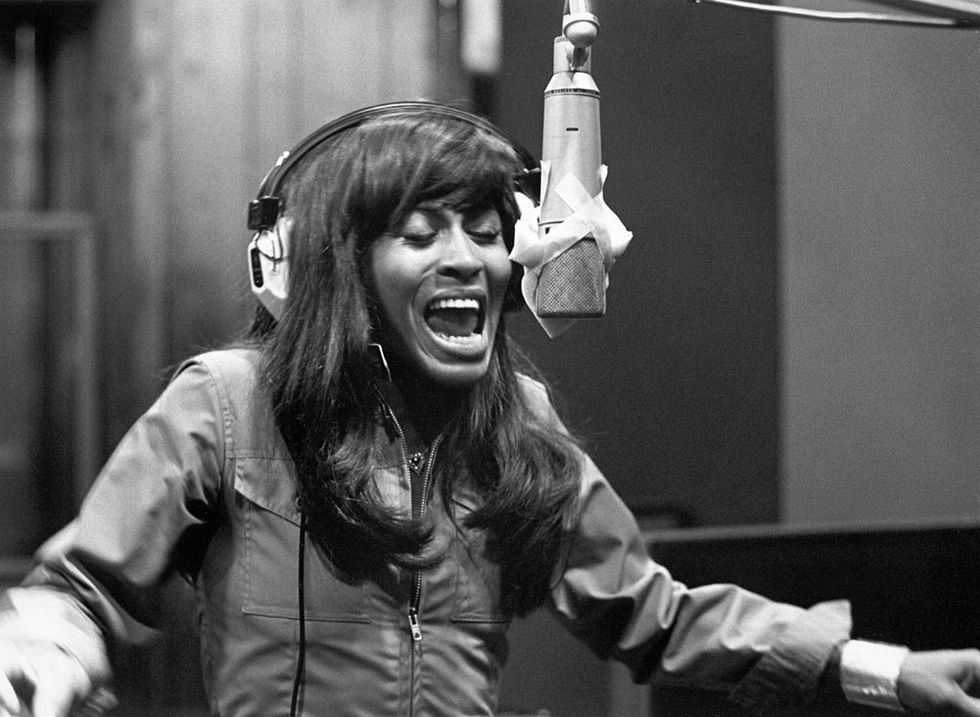 Tina Turner
Photo by Michael Ochs Archives/Getty Images
Tina On Life 
"If you are unhappy with anything…Whatever is bringing you down, get rid of it. Because you'll find that when you're free, your true creativity, your true self, comes out."
-via 1986 interview with Ebony magazine.
Tina On Love 
"He [Erwin] shows me that true love doesn't require the dimming of my light so that he can shine. On the contrary, we are the light of each other's lives, and we want to shine as bright as we can, together."
via Turner's book, Happiness Becomes You: A Guide to Changing Your Life for Good.
Tina On Her Greatest Beauty Secret
"My greatest beauty secret is being happy with myself. It's a mistake to think you are what you put on yourself. I believe that a lot of how you look has to do with how you feel about yourself and your life."
-via 2016 interview with Woman & Homemagazine.
Tina Turner - What's Love Got To Do With It (Official Music Video)
Tina On Aging 
"Fifty is the new 30. Seventy is the new 50. There are no rules that say you have to dress a certain way, or be a certain way. We are living in exciting times for women. Keep up with fashion, keep up with your figure and the clothes you wear. If you look good and you can still do it, then go and do it. I have never worried about age."
-via 2009 interview with the Daily Express.
Tina On Death 
"Even when it's time to go and leave to another planet, I'm excited about that because I'm curious to know what it is about. Nobody can tell you because nobody has come back. I'm not excited to die, but I don't regret it when it's time for me. I've done what I came here to do. Now is [time for] pleasure. I've got great friends. I have a great man in my life now. I have a great husband, and I'm happy."
-via 2013 interview with Oprah Winfrey.
Tina On The Legacy She's Leaving Behind 
"My legacy is that I stayed on course from the beginning to the end because I believed in something inside of me that told me that it can get better…So my legacy is a person that strived for wanting it better and got it."
-via 2013 Oprah interview.
Tina On How She Would Want To Be Remembered
"As the Queen of Rock 'N' Roll. As a woman who showed other women that it is OK to strive for success on their own terms."
via April 2023 interview with The Guardian.
Although xoNecole and the world are mourning the loss of the incredible Tina Turner, it is humbling to know that she accomplished so many things, personally and professionally, during her time here and continues to show why she was, in fact, "simply the best," even after death.
We will miss you, Queen. Rest in Power!
Tina Turner - The Best (Official Music Video)
Let's make things inbox official! Sign up for the xoNecole newsletter for daily love, wellness, career, and exclusive content delivered straight to your inbox.
Feature image by Paul Natkin/Getty Images