Gia Peppers is that girl-next-door, friend-in-your head who slays and stays super-booked and super-busy, cares a lot about the plight of Black folk (especially sistas), and makes sure you stay enlightened and reflective about some of the most difficult but necessary topics affecting Black communities. She's also that bestie that is sure to drop some Bible-laced inspo as easy as breathing, with quips and realness that remind you why we, as Black women, need sisterhood, friendships, and thriving networks now more than ever.
"I just want people to not put too much pressure on themselves for this new year and don't worry if their goals are not done within the first month," she said in an interview with xoNecole. "To give themselves the grace that we may give others all the time. We've been through a crazy last two years and it takes a lot for us to fully show up within the parameters of what we want to accomplish without really dealing with what these last two years have done to us as a people, especially for Black women because that's what I know and who I am."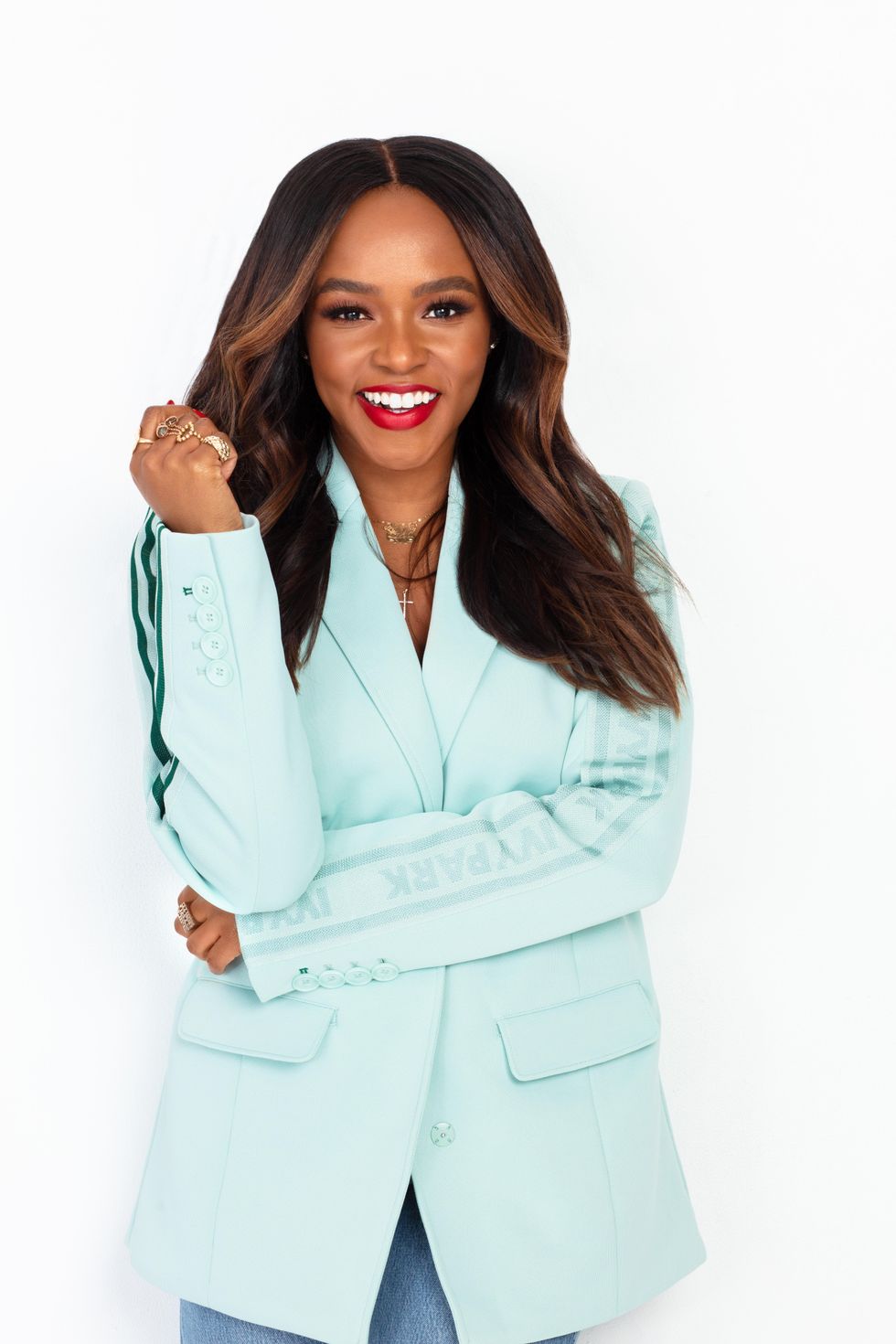 Courtesy of Gia Peppers
The award-winning journalist and TV personality–who, by the way, is doing triple-duty as a contributor on the Today show, host on Amazon Music's R&B Rotation, and co-host of the wildly popular podcast, Black Girl Pod—is geared up for Season 3 of More Than That With Gia Peppers.
The Rutgers University grad, who splits her time between New York and Los Angeles, is super-excited about the opportunity to continue to serve radio and online listeners in more than 100 markets, with many of the episodes airing via Black-owned stations across the U.S. The show amplifies Black voices, excellence, perspectives, and experiences on subjects including wellness, entertainment, and wealth. "We were awarded Adweek's Best DEI podcast in 2021," she added. "So we are doing work that people are finally really celebrating, which is awesome because we have a team of creatives who are just as passionate about telling these real stories that impact us as I am."
xoNecole caught up with Peppers to get the deets on just what's in store for the show, why she continues to ride for the power of storytelling in shifting narratives and forging change in Black communities, and what she loves more about the unique medium of podcasting.
​xoNecole: You've had a successful career in media for years. What would you say is the key to the longevity?
Gia Peppers: It starts with your mindset, as everything does. You have to be relentless in your pursuit of storytelling, evolving with technology as it evolves, and figuring out new ways to enter into this space that align with what you believe you're here to do. It's a balance of purpose. It's [also] a balance of reflection and realigning.
xoN: You've got some fresh conversations coming with your podcast and radio show, More Than That. What's new that listeners can expect from season 3?
GP: First, More Than That is one of those shows that we have the privilege of being able to tell stories about the conversations we're having in real-time. One of my favorite things to note is that we'll literally pull conversations that are trending and figure out the experts to talk to when it comes to how we can approach wellness in a whole bunch of different ways and that doesn't just mean wellness traditionally. How can we make sure that we're talking about sustainability and what does that really mean and how do we apply it.
This season we're really setting our eyes toward the future. We did a lot of great storytelling in 2020 when we started this. It was the height of the Black Lives Matter 2.0 movement where we were in the racial reckoning in this country and we had to tell the reality of what it means to move forward within the grief of what we've been through but also understand there are more ways to tap into what we want to say and do and be in this moment.
And we continued that for season 2 with motivation and this time we're thinking about the future. Our first episode, one of the great things we've seen is the resurgence of the attention on HBCUs [from] the mainstream and how that's affecting enrollment and funding and things like that and I mean, the culture is clearly impacted by HBCUs and the graduates. We have a great conversation about how we are going to utilize this moment within our culture so that this is not a passion moment—that HBCUs thrive from this moment on.
We have David Banner, an HBCU graduate, and [he is] just one of those iconic men who gets all the aspects of hip-hop culture [and] education moving forward. We talked to Cari Champion as well, because she's something who has covered sports for the past 15 years and is a person who knows how incredible it is to have athletes coming out of high school, who are the top-ranked in the world, choosing HBCUs and what that means to our community. And the same way ADifferent World impacted how many people looked at HBCUs twice, this new wave of athletes is also doing the same thing for our high school and our Gen Z students.
It was such a great conversation, and again, we're thinking about forward movement.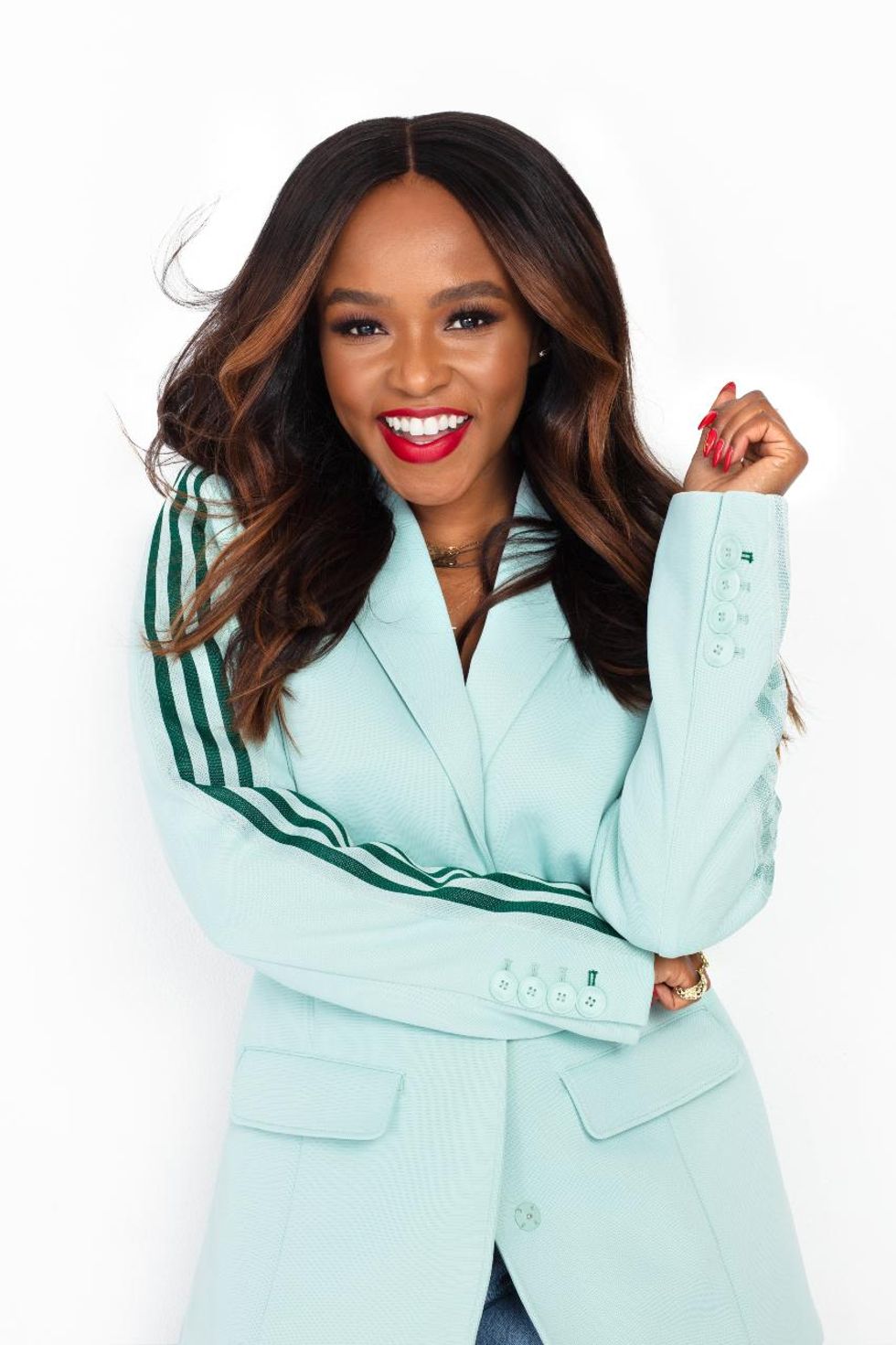 Courtesy of Gia Peppers
​​xoN: Working in media, you can have some very prolific moments with interviews and conversations. Who has been your most memorable guest on the show?
GP: Well, there have been so many great people on our show! It's hard to choose! We did an episode featuring a farmer from Urban Mothers Finest Farms in North Carolina, and she just changed my perspective of going to put my feet in actual soil and grounding, and what properties exist in the sun and the land, especially for Black women. Just standing there and being more centered and being connected to the space where so much trauma has happened and for our people in this country specifically but where so much life is. I learned we absolutely need to put our feet in soil sometimes and sit there and be connected to something that is bigger than ourselves.
And the healing—I know as I'm driving down the East Coast and you get to certain parts of town, you [are] like 'Dang, this used to be a plantation. I don't even want to look at it.' But then it's like yeah, but these people survived and thrived, and I am the living evidence of their dreams and prayers and their faith that something would change. Just the idea of watching something grow and seed and sprout is good for our mental and spiritual health. She just changed my mind in so many ways.
Another person who was so great was Lynae Bogues. Of course, we all know her. We get her brilliance every week in Parking Lot Pimpin.' She's just such a brilllant historian and she knows so much about the past and beautifully connects it with the future.
​xoN: What do you love the best about podcasting that's different from other types of media?
GP: This one is hard because I might like all of media the same. All of it is a lift. Your best version of that story is you showing up in the fullness of your experiences, your research, your passion for the conversation—that's always going to be the common thread with all types of storytelling. It doesn't matter the medium.

With podcasting, people are a lot less worried about cameras and more interested in the conversation and feel less pressure to be perfect. We do a lot of focus on making sure our guests know that this is not a get-ya-got-ya show [and] this is not a tea [gossip] show. This is a real conversation around what matters to our community, what's affecting our community, and how we can make it better.
I love that, with this particular podcast, we get to have conversations that don't just focus on messiness and focuses on solutions around how we can be better within our personal and external lives.
For more of Gia, follow her on Instagram @giapeppers. And click here to check out the new season of More Than That.
Featured image by Jonavennci Divad
When Brianna Arps, founder of the indie fragrance label MOODEAUX, was laid off from her role at a women's media publication in 2018, the loss impacted her confidence and state of mind. "As someone who had always wanted to be a writer and to be in beauty, I thought I had reached such a pinnacle, and then my world came crashing down," she recalls.
Unsure of how the next chapter of her life would unfold, Brianna turned to the accessory in her beauty ritual that faithfully pulled her out of even the darkest moment: perfume. "There's a connection between our sense of smell and its ability to make us feel things, whether that's empowered, motivated, inspired, or like 'that girl,' she tells xoNecole. "When you put on your favorite scent, you just feel something."

Each day, her favorite fragrances would serve as a daily reminder that while things were tough at the moment, she was still worth betting on. "I'm still worth giving myself a shot, and I'm not going to just lay down and die. I'm gonna get up and fight for a new reality."
After recognizing the lack of visible, Black-owned fragrance brands in the industry, Brianna decided to merge her love of beauty with her marketing and editorial savvy to create a clean, luxury perfume label herself — and in October 2021, MOODEAUX was officially launched.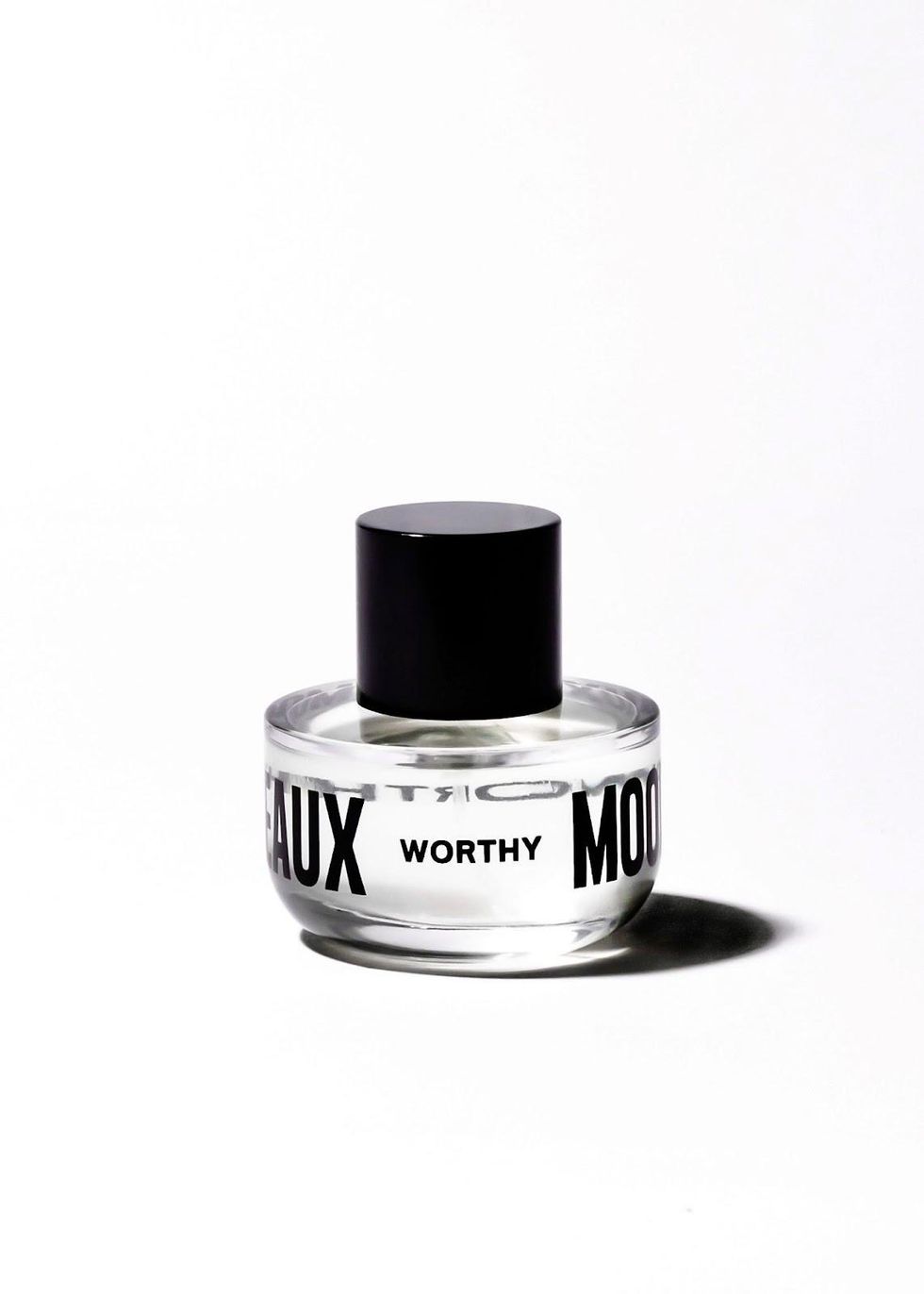 Risa Dexter
Her signature scent "Worthy" has garnered a devout following for its unique and calming notes that adorn your senses in white tea, orange blossom, lavender, vanilla, amber, and rose, complete with the earthy, raw pairing of musk.
This cozy, yet inviting fragrance has been coined "a hug in a bottle" by its customers, a title that Brianna lovingly accepts. "'Worthy' is so special because all of the notes inside the fragrance have meaning," she says. "I designed 'Worthy' to smell and feel like a big hug to yourself. It's warm and wraps your senses in a cozy blanket, but also gives off some sex appeal. It's a sexy, warm scent."
MOODEAUX is disrupting the fragrance industry by putting the intention and meaning back into the space. With a message that encourages its customers to "Flaunt How You Feel," Brianna shares that MOODEAUX has become the physical manifestation of walking in one's full power, unapologetically. "It carries the sentiments of self-expression, individualism, and not being afraid to go against the status quo, regardless of what people may say or think," she says.
In January, MOODEAUX released its highly anticipated IntenScenual™ Fine Fragrance Collection. Blending 'intentionality' and 'sensuality,' Worthy IntenScenual™ Eau de Parfum ($98 USD) is the same scent that you're grown to know and love, only bigger, long-lasting, and pairs perfectly with the best-selling Worthy SuperCharged SkinScent™.
"Everyone deserves something different. A sophisticated signature scent that reminds us how powerful we truly are."
xoNecole: When I think about the name of your perfume, 'Worthy,' it sounds like a daily affirmation when putting on your favorite fragrance. Could you share why you chose the name 'Worthy' for your product?
Brianna Arps: It's kind of twofold: When I lost my job, it was really tough. I was depressed for a really long time and struggled for a really long time. The notion was in reminding myself through a daily affirmation that I'm worthy of giving myself a shot, I'm worthy of picking myself back up, I'm worthy of creating the life of my dreams, regardless of what might happen out there.
"Worthy" started out personal but it's the notion that you are worthy of clean, luxury beauty. You are worthy of all of these things that, in pockets of the beauty industry, we don't really see. We're all about helping people flaunt how they feel, and at the very least, people need to know their worth and that they are worthy of all they desire.
"'Worthy' started out personal but it's the notion that you are worthy of clean, luxury beauty. You are worthy of all of these things that, in pockets of the beauty industry, we don't really see. We're all about helping people flaunt how they feel, and at the very least, people need to know their worth and that they are worthy of all they desire.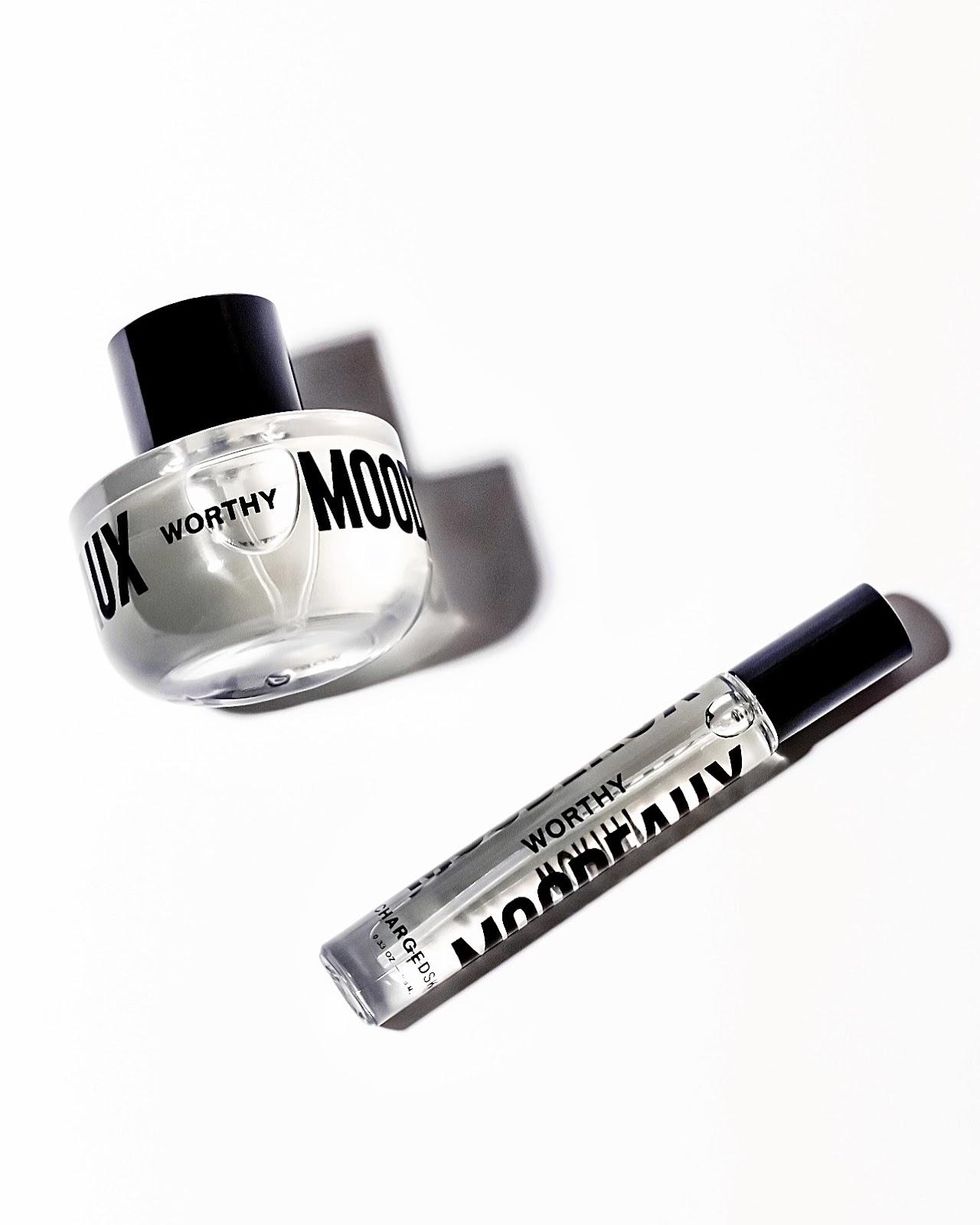 Risa Dexter
xoN: You've been the recipient of a number of awards like the Sephora Accelerant Program and others. With funding being one of the biggest hurdles for Black founders in particular, what advice you would give to new founders who may be looking to apply for grants in the future?
BA: I started MOODEAUX and the initial stages with my savings account, I didn't have a job anymore, but I was passionate and convinced that this was something special. I really exhausted a lot of my options to get this MOODEAUX off the ground.
There is a lot of opportunity out here; it sounds so cliche, but it's so true. But with so much opportunity comes increased competition to get your name out there and be seen. The biggest piece of advice that I have is to own your story and to really understand what makes you unique. Really understand how you're going to tell not only your founder story but your brand and product story too. How you convey them to the general public and to someone who is primed to give you a big check matters.
It's not enough to talk about the product because in reality, especially in the beauty industry, everything can be reverse-engineered. So instead of leaning on the product, these people want to know who you are, what your brand is about, and how you're changing lives and building community. If you can tell that story in a compelling and unique way, you are light years ahead of others who aren't thinking that way and you have a better shot of reaping the success that you wish to see.
"I started MOODEAUX and the initial stages with my savings account, I didn't have a job anymore, but I was passionate and convinced that this was something special. The biggest piece of advice that I have is to own your story and to really understand what makes you unique. Really understand how you're going to tell not only your founder story but your brand and product story too."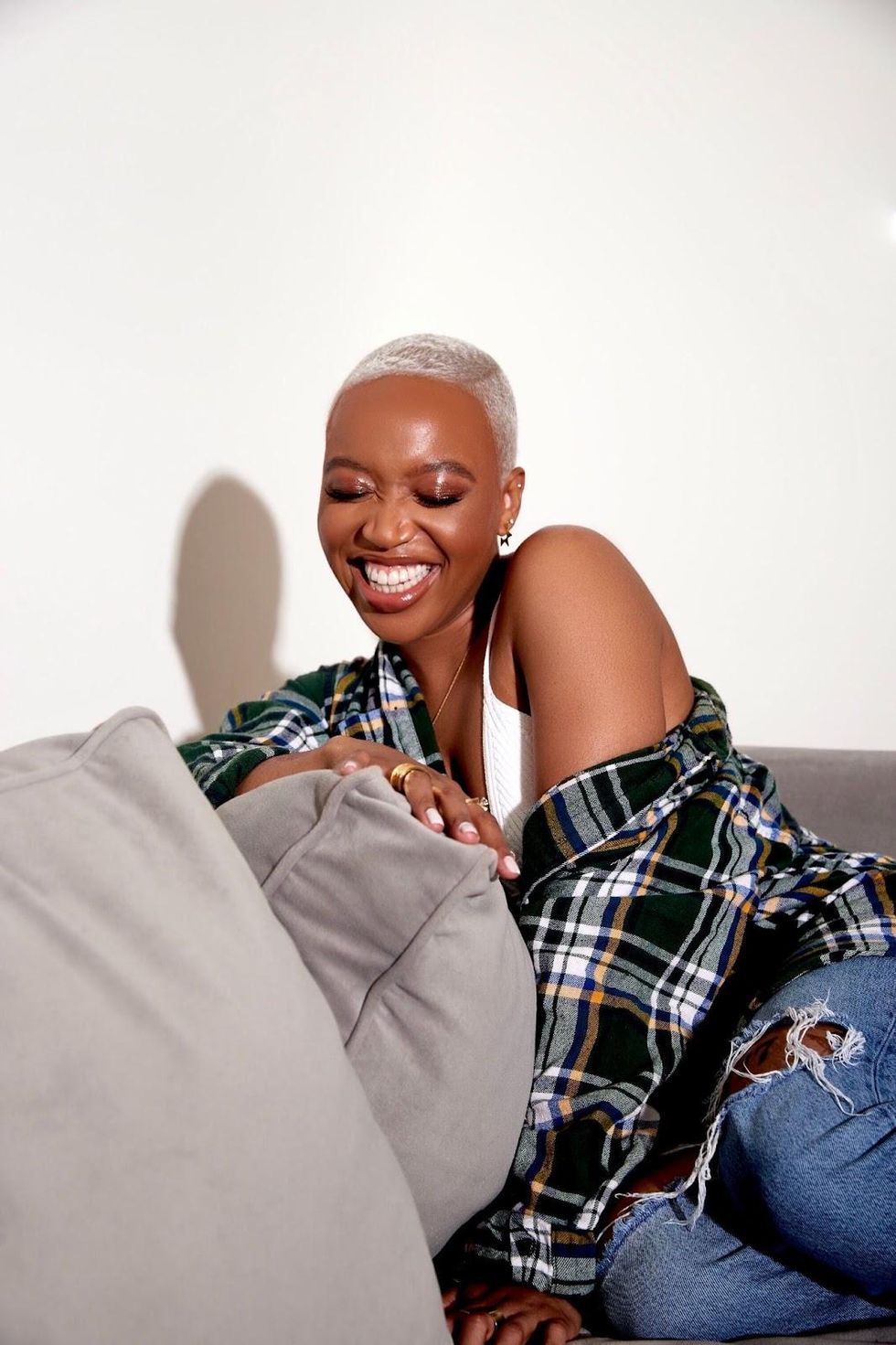 Ryan Stokes
xoN: What was one of the biggest challenges you experienced while building MOODEAUX and what did you learn from it? 
BA: When I first started Moodeaux, it had a totally different name called Moode Beaute. In hindsight, it makes me laugh because I hate that name now, but I was gungho about it at the time. I consider myself to be a creative person and people who are creative often dive right in with visuals, colors, and fonts but get so consumed by the creative aspect, we completely neglected the legal aspect.
When I got down to the trademarking, my lawyer was like, "I am so sorry to tell you, but someone has filed for a very similar name, two weeks before us." I was devastated. We had spent thousands of dollars on marketing, branding, and content creation that will never see the light of day because we didn't have our legal house in order first. It's something that I learned from, so now every time I have an idea, I'm looking to see if it's trademarked. I'm always taking that initial lesson and keeping it at the forefront of my mind.
xoN: In many ways, your brand is a pioneer and among the "firsts" within the fragrance industry. How are you looking to use your platform and brand to leave the door open for others looking to enter the space?
BA: There's a lot of pressure to be a 'first' but, if I don't empower, inspire, or convince someone to take up this type of career path, then I failed. No matter how many bottles of perfume I sell or retailers I'm in, it doesn't matter if I don't show someone who never saw this as an opportunity that is possible.
We have a service component of our brand called, Black In Fragrance, where we provide, resources, education, and support to Black women in the fragrance space. We've even provided three grants last year to Black women who have fragrance labels to help kickstart their dreams. The presence of Black entrepreneurs within the fragrance industry is growing, but there's still not enough. If there's something that I'm going to do, it's tell somebody to pick up this career. I'm going to tell them that it's possible that they can do it and I'm going to be there for them. You're not a good first if you're the last.
xoN: What do you hope your customers will experience when they pick up a bottle of perfume from MOODEAUX? 
BA: I want them to feel seen, heard, and represented. Intentionality is something that's at the core of everything we do. We want to remind you to take up space because so often. Black women shrink themselves to fit into boxes and molds that weren't even designed for us to fit into as a survival tactic, but in reality, we don't have to. There's so much value and uniqueness that we can bring to the world when we are simply ourselves; when we simply flaunt how we feel.
That's what I want people to feel when they come across us. I don't want it to feel like an 'It Girls Only' club or anything like that. Whatever you identify as I want you to feel as though you have the room to take up space here.
For more of Brianna, follow her on Instagram @Briannaarps.
Featured image courtesy of Brianna Arps
They say you never forget your "first." From a first kiss to our first pair of kicks, each moment becomes a memory that shapes us forever. For Jourdan Ash, creator of the sneaker and streetwear platform True To Us, her first subway ride after moving to Harlem from Detroit served as an official initiation into East coast sneaker culture. "I stepped on somebody's sneakers," Jourdan recalls. An offense that, while pardonable (she was six years old after all), still held minor repercussions. "[The girl] was really upset that I stepped on her sneakers, to the point where my mom and her had words about it," she tells xoNecole. Even in her innocence, the encounter brought Jourdan to an illuminating realization, "People really care about sneakers."
"Growing up in New York, I realized a lot more that people will look at your shoes first before they decide to speak to you, so I had to get that together real quick," she says. Coming of age in the mecca of streetwear culture gave Jourdan a unique perspective on the significance of sneakers and the people who wore them. One that proved why these footwear staples were more than just coverings for your feet — but a lifestyle and symbol for self-expression.
In February 2020, Jourdan was in pursuit of a potential social media job at a popular streetwear publication. For the edit test, she was tasked with creating an Instagram account from scratch. After noticing the lack of representation of Black women and men on the brand's page, Jourdan decided to curate a mockup that was inclusive and reflective of her culture and community. "I built it in a way that I wanted to see certain things," she says. While the position was dissolved due to COVID, Jourdan was determined to put this project to use, and thus, True To Us was born.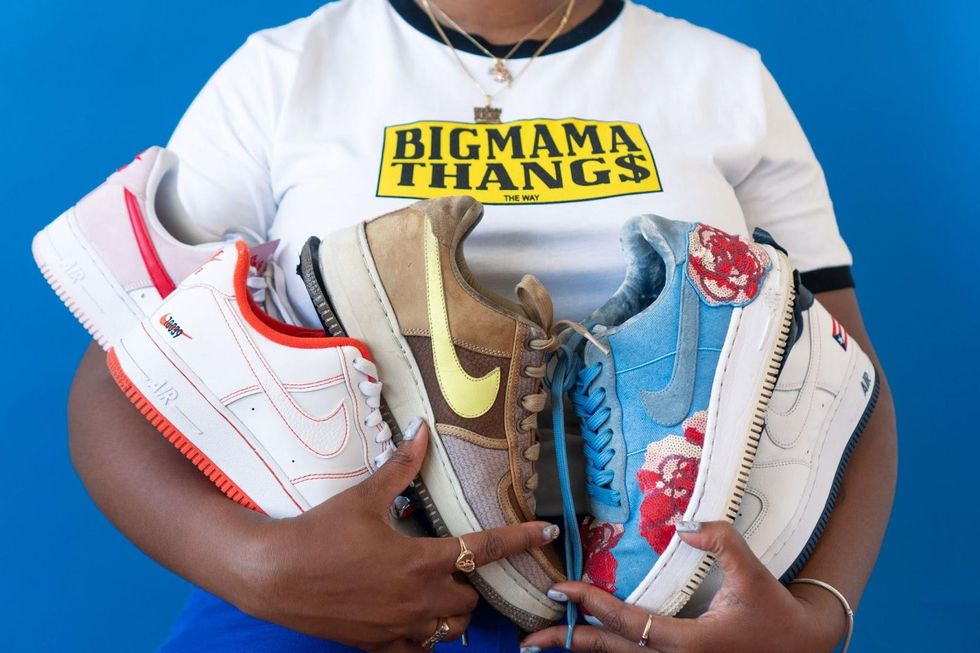 Sarai Garcia
True To Us is an online platform dedicated to Black and brown women to amplify their voices and presence in the sneaker industry and the streetwear culture. "The community was there immediately because there were so many women and people who just wanted to talk about sneakers and streetwear without feeling belittled," she says. "If I didn't have that embarrassing moment when I was six, just for stepping on somebody's sneakers, who knows where I would be?"
With her unique merch and insightful podcast, True to Us Talks, Jourdan continues to use her platform to amplify the ever-growing population of women within the sneaker industry and provide her community with the tools and resources necessary to shape their path into the streetwear industry.
​xoNecole: From your work with notable brands to your podcast, Dating In NYC, one of the things I love most about your work is how community-focused it is. Tell us more about the importance of community-building and how it's played a role in growing your brand.
Jourdan Ash: Community building is important because a lot of people think they can buy their way in. When we think about gentrification, it's the same thing; you think because you can afford to be here that you are a part of the community and maybe that's not true. For me, building community has always been important from the bottom up. For example, I like to volunteer. I don't just say, 'Hey, I'm here,' and impose myself. I build community, I talk to people, and I come back every week to volunteer. I can't say I love something without helping it.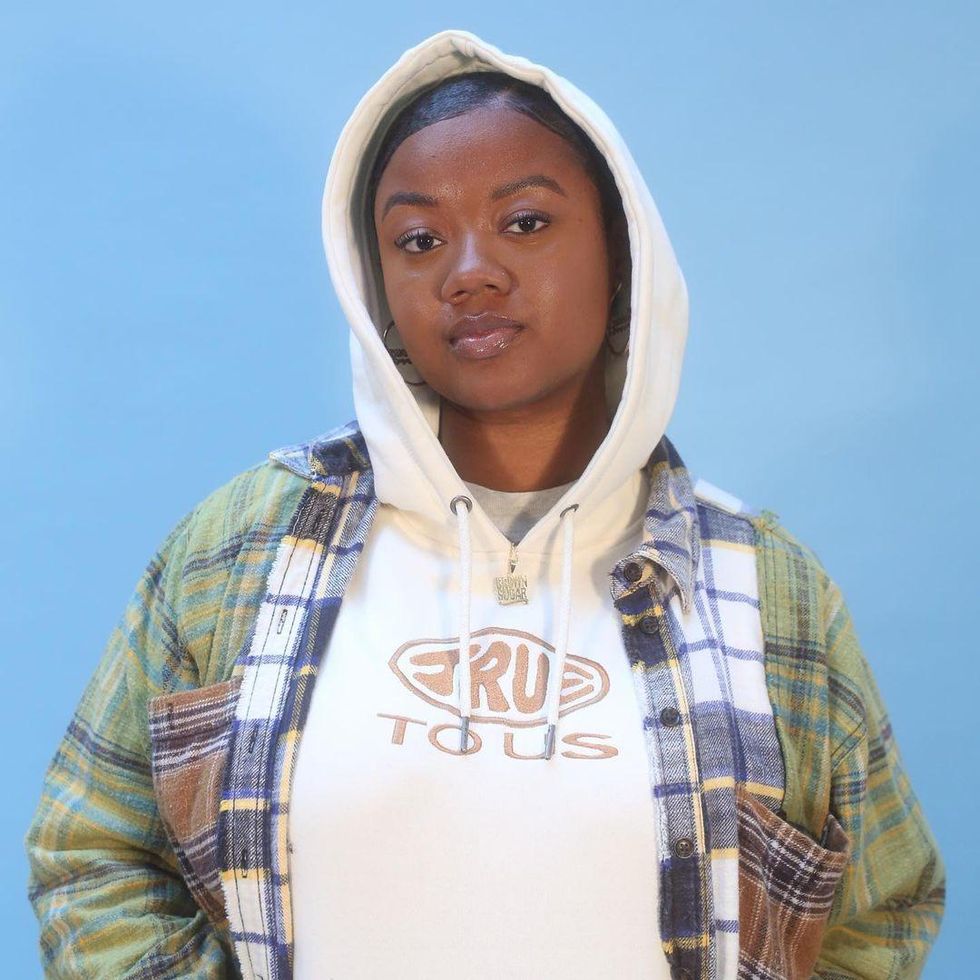 Sarai Garcia
So if I say I love the Bronx, why wouldn't I volunteer in the Bronx? If I say I love streetwear and sneakers, why wouldn't I hold space for people in it? Why wouldn't I help other people? Why wouldn't I say other people's names?
"I can't say I love something without helping it."
In terms of authenticity, people are always going to know when you buy yourself in. People are always going to know when you're posing or pretending, especially in New York. It's very obvious when they're not of the culture or replenishing the culture. I think a lot of people use the culture, Black and brown folks, and all these really amazing, beautiful things as a resource, and they don't replenish, and that's the issue. So that's why community building is always so important to me. Whenever I have any type of partnership, I always make sure that there's something that goes back because you have to replenish what you just took.
​xoN: What have you learned the most from the women you've encountered within the streetwear and sneaker industries?
JA: I think the most important thing is to try because a lot of people get turned away easily. I'm not afraid of a no, and I'm not afraid to be myself. I think those are things that are super important. Every single woman I have met this year has genuinely been themselves, and that's the most important thing. I think a lot of times we see streetwear, and it happens to be a woman, there's an archetype of woman that gets heavily promoted. That woman doesn't look like everybody, but that doesn't mean you can't do it.

There are times when I go onto a set and I'm looking for the other Black women or other brown-skinned women and I'm like, 'Oh, I'm actually the darkest person on this set.' I have to not only set the tone for the next person but also let them know that this is not okay. There's no reason to not have more body types. There's no reason to only have light-skinned women in your photo shoots. There's no reason to not share. So I think being authentically you and sharing with your community, that's a part of it.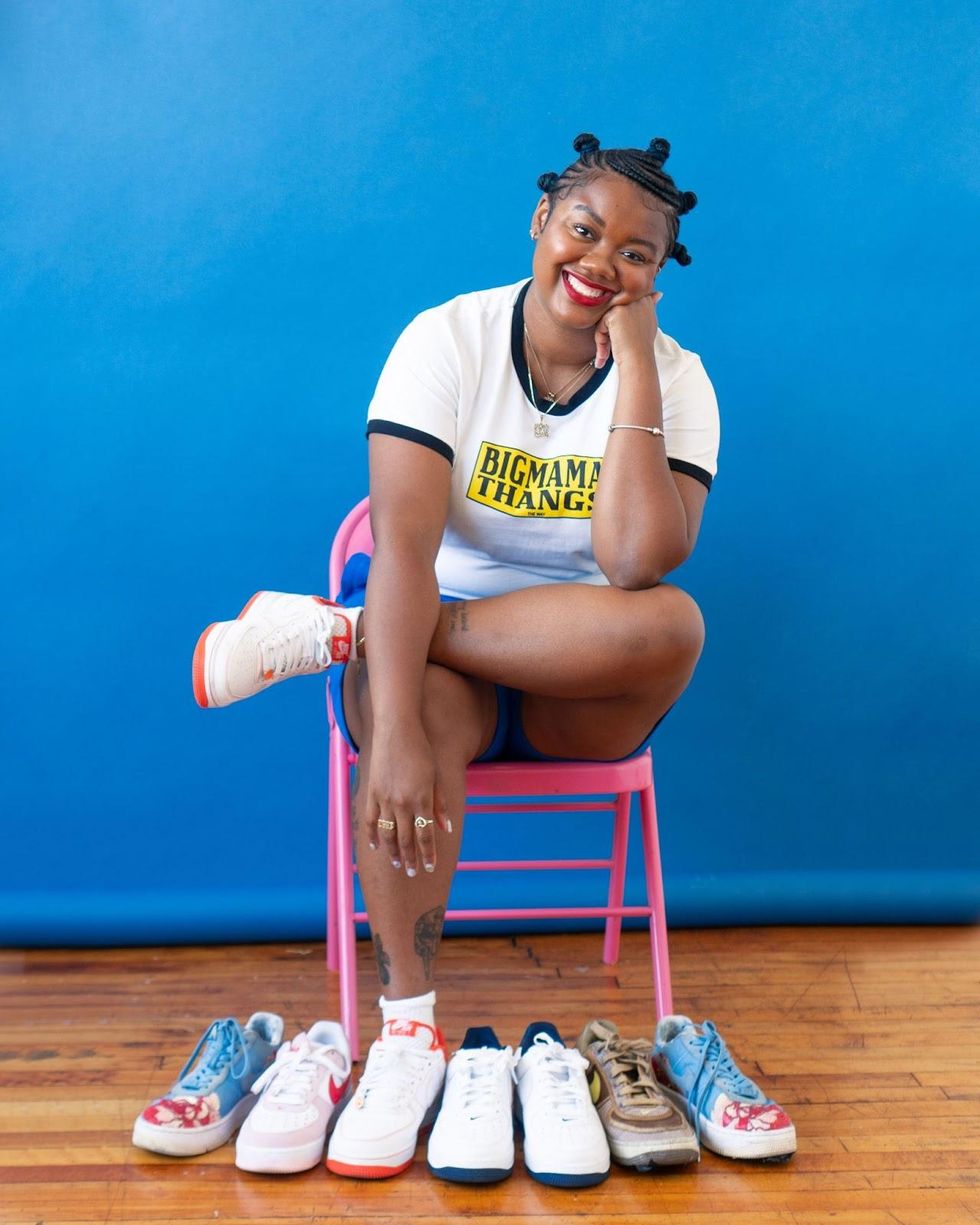 Sarai Garcia
​xoN: What space do you hope to fill within sneaker culture and the streetwear industry through True To Us?
JA: I want to break the glass wall; I want to break down the gate. There's a lot of gatekeeping that goes around to the point where people don't even know how you can get a job in the sneaker industry without working in a sneaker store first. That's why we have True to Us Talks, where we speak to different women about their journey into streetwear and sneakers.

There are so many avenues you can take to work in these industries without wanting to design your own sneaker. There are so many different aspects of sneakers and streetwear that involve math [and science] that people don't know about, so let me talk to somebody who does that, and hopefully, that'll bring you to a place where you can either get in contact with them, try to follow a similar path, or at least get some questions answered. I'm hoping with True To Us not only are we able to share opportunities as they come, but let people know it's okay to explore new things and you don't have to start at the sneaker store.
​xoN: What advice would you give to women who are looking to build and grow their own platforms?
JA: The biggest thing is just to do it; don't worry about anybody else. There have been so many times when I didn't know if I wanted to do a podcast because 'everybody has podcasts,' but nobody has a podcast like me. It doesn't matter what's already out there if you're not out there.

"It doesn't matter what's already out there if you're not out there."
I am a firm believer in the power of words, some people call it delusional and some people call it being optimistic, but there's no reason why I can't get what I want. A part of getting what you want is working towards it. You're not going to get what you want if you don't put yourself forward in doing it. Even if you have to fake yourself out and say, 'Yeah, I could do that,' you keep saying it until it's real.
Get out of your own head. There are plenty of times when I tell myself I want to do something, and when I tell somebody, they speak fear into my plans and now I'm hesitant about doing it. But that's just the projection. Sometimes you can't tell people until it's done, and that's okay, too. But the first step is to always just do it; just try.
Featured image courtesy of Jourdan Ash
2023 is in full motion, which means we're gearing up to walk into our greatest season yet. While New Year's resolutions can look different for everyone, every woman needs a trusty journal to write her dream into a reality.
Journals secure our goals, document our lives, and keep our to-do lists in check. And while studies show that on average, one-third of resolutions don't make it past the end of January, that won't be our story. Because we've tapped the expertise of Jasmin Foster, founder of the inclusive stationery and gifts brand, Be Rooted for insight on how to utilize journals and planners to crush our goals all year long.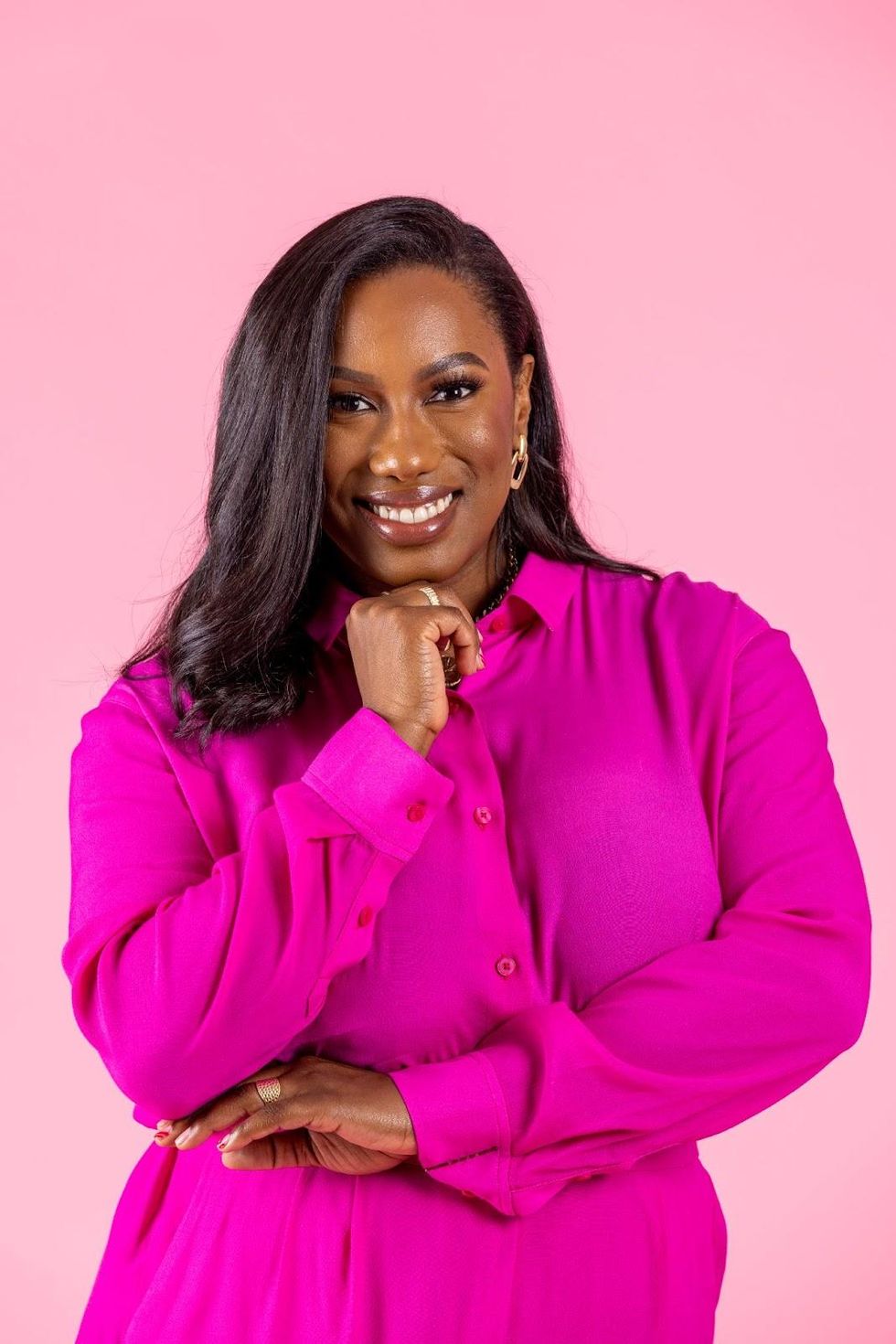 Courtesy of Jasmin Foster
When Jasmin launched her brand in 2020 as a passion project, it was the first time she wasn't chasing someone else's dreams; instead, she began to prioritize her own. Jasmin established her brand with the belief that Black women deserve to feel seen and represented across covers and within the pages of their journals. It is both a reflection of our stories and an affirmation to be rooted in ourselves, our culture, and our desires. "I want women to be able to see our products and not feel like they had to make a choice," Jasmin tells xoNecole.
Since launching, Be Rooted has made history by becoming the first Black-owned stationery brand to be sold at Target and continues to inspire Black women to explore their inner muse and celebrate themselves. "I want our customers to know that there's a brand out there that believes in them and wants them to succeed," she says. "We are just one of the tools in their toolbox that allows them to increase their productivity and to achieve their dreams."
For xoNecole, Jasmin drops gems on best journaling practices, how to make measurable goals, how a chance encounter with Issa Rae taught her the importance of being specific while manifesting our dreams, and more.
​On the importance of representation through design: 
Choosing journals that reflect one's personality and identity is a key part of the journal selection process. Here, Jasmin shares her intentions behind selecting designs that make Black women feel seen. "We wanted to have products that people could carry with them in their everyday life that were reflective of them and encouraged them throughout the day. There weren't a lot of brands, especially national brands, that were putting Black artwork on the covers in the stationery space. Having artwork that was more inclusively designed and reflective of our community was something that really hadn't been tapped into in a large way."
Courtesy of Jasmin Foster
Jasmin adds, "As we create every single design, we're taking into account who we're trying to talk to, how we're embodying her vibe, and taking into account different skin tones, body types, and hair textures. People are coming to our brand to either find a reflection of themselves or a reflection of someone in their life that they're looking to connect with; and if it's not the artwork, they're looking at the words."
On her Number #1 tip for getting started in your journaling practice: 
Jasmin explains, "Journaling doesn't have to be something that you need to sit down every day and be like, 'Dear Diary...', it should be for when you're ready to sit down, write those honest truths, and recap your day. I'm never going to be the person that is going to push that you have to write every single day because that may not be everybody's authentic truth. However, if you are someone who is looking to make it a daily habit, as a goal of yourself, I would say there are some amazing journal prompts that you can leverage as a starting tool. Some examples that I think are important are, 'What am I grateful for the day?' and 'One thing I was proud of is…' Using these journal prompts is a great way to get started," she shares.
​On being specific about your dreams: 
Jasmin shares how a chance encounter with actress and producer, Issa Rae, revealed the importance of making your goals as gradual as possible. "While at Essence Festival this year, we were running into all these amazing celebrities, and I thought, 'What if by the end of the week, I could finally meet Issa Rae?' I didn't want to meet her as a fan, I wanted to meet her while we were eating dinner or something where I could have a conversation. I went to dinner an hour later and guess who walks into the restaurant? Issa Rae. And she gets the table across from me. I realized I have to be a little bit more specific with my dreams because I meant to tell God that I wanted her to sit at the table with me," she says laughingly. "Be very intentional with what you ask for."
Courtesy of Jasmin Foster
On how to make your dreams measurable: 
"Be very clear about what you want. I think in the vision board space, we focus on collecting pretty pictures. But we should also take the time to write a couple of action steps to start marching towards that goal. Think of what the pathway is to get there. Another kind of gut check that I've been doing for myself is, as I'm writing down goals, putting timeframes around them. If every goal is something I can complete in the next six months, I'm not dreaming big enough."
On giving yourself permission to dream beyond the surface-level: 
"Because I'm moving so fast at building a business, I often don't take the time I should to reflect on all the amazing things that are actually happening in my life. One prompt that I use at the beginning of the year is, 'My dream is…' and then build upon it. For many of us, our dreams can be very surface because we need to feel like we're able to actually achieve them. So for me, it's important to write, 'My dream is…' and then push it beyond that and take it up another level."
​On how journals and planners can help create structure and routine in one's life: 
While some people may look to journals as a means to file away tasks, they can also be a great tool for organizing our life. Jasmin shares how she creates structure through daily planning. "I live by my planner. With my busy schedule, I have to write everything down that needs to get done. One thing I love about planners is that it gives you a structured space to prioritize everything. Oftentimes, we use our notebooks to create to-do lists that are 25 items deep, but when you prioritize the top five things that you're going to do for today, it becomes way more achievable. I leverage those tools to help increase my productivity on a daily basis."
Courtesy of Jasmin Foster
On what journaling has taught her about herself over the years:
Jasmin shares how getting your thoughts out on paper can help you get honest about your dreams. "Journaling has allowed me to be honest when I'm ready. I oftentimes find that I will stay in the ruminating phase of dealing with my thoughts/ideas in my head until I'm ready to write them down and put them on paper; and at that point, it becomes real for me. A lot of people are trying to figure out how to take their ideas and then turn them into reality, and journaling did that for me.
"The moment I put my thoughts on paper, I have to be honest with whatever goes onto that paper. You can tell yourself different lies or ignore your beliefs and thoughts when they're in your head, but when you write them down, that makes it real."
​On the affirmation she's taking into the new year: 
Simply put, "I'm that girl." Jasmin says, "I've always played small and been comfortable being behind the scenes while figuring out how I can elevate and uplift those around me. I still want to do all of those things, but I'm stepping into the season of, 'I'm that girl.' I'm not going to play small. I'm not going to diminish myself. I'm going to fully embody the person that I'm trying to become, and y'all are gonna see that."
"I think a lot of us need to own that we are 'that girl' in whatever space that looks like. We all need to stand tall and own the greatness and power that we have," she adds.
Be Rooted is available for purchase at berootedco.com, Amazon.com, Target.com and Target Stores Nationwide.
Featured image courtesy of Jasmin Foster
For decades, the beauty industry has maintained a culture that prioritizes correcting and concealing our outward blemishes while overlooking our inward needs. As brands sell products with the promise of flawless skin, Devin McGhee, co-founder of the adaptogenic brand, Deon Libra, suggests that the key to one's wellness starts by getting to the root of their stress.
After losing her father to a stress-induced heart attack in 2018, McGhee began to have difficulties sleeping. "A lot of people were like, 'just take Xanax,' because there were days where I was up anywhere from 48 to 72 hours with no sleep. Meaning no nap, nothing," she recalls. Armed with firsthand experience of the effects that long-term stress can have on the body through the loss of her father, she began researching natural stress solutions to cope with her grief.
"I didn't want that to be my fate," says McGhee.

Through her research, McGhee found out about a profound natural remedy that gradually put her mind and body at ease. "Adaptogens are essentially a specific group of herbs and non-psychedelic mushrooms that help your body regulate your cortisol levels," she explains.
"I came across a sleep study that studied Black people sleeping versus white people sleeping. They monitored their heart rate and blood pressure and what they realized was that when Black people are sleeping, they're not truly at rest because their blood pressure and heart rates do not drop to the normal level of a sleeping human," she says. "When I realized that, everything in my world and what happened to my dad clicked."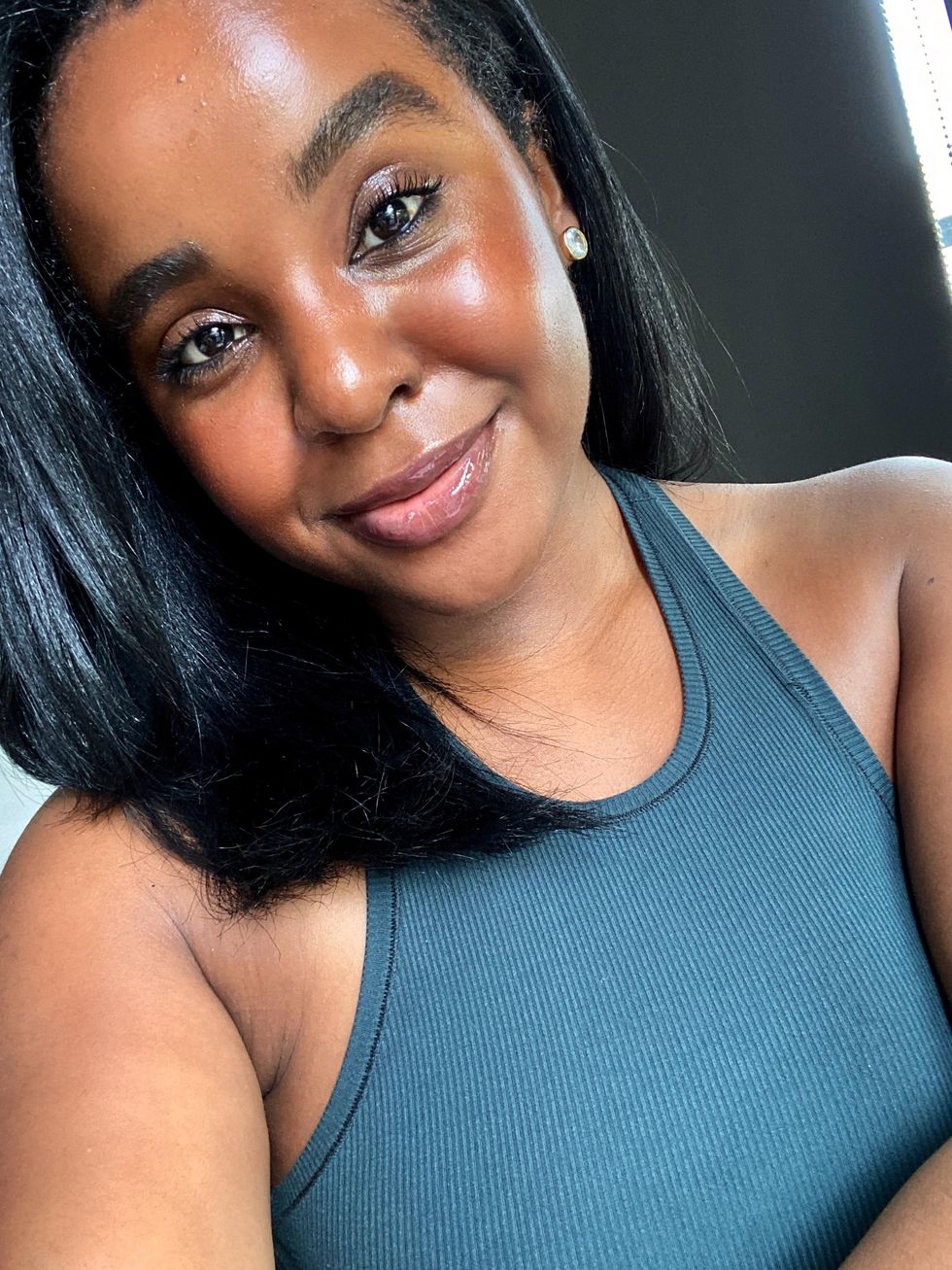 Deon Libra CEO/co-founder Devin McGhee
Courtesy of Devin McGhee
It wasn't long before she began seeing changes in her mood and after just two weeks of taking adaptogens, McGhee was finally sleeping again.
"I looked at Brit, our co-founder, and I was like, this works. Why isn't anybody teaching Black people about this?" she says. "There were no brands marketing this to Black people and teaching Black people." She decided to create her own.
Deon Libra, named in tribute to McGhee's father's middle name and his astrological sign, is an adaptogenic brand fostering beauty and wellness from the inside out. In November, the brand launched its ingestible adaptogenic powder, Unbothered, along with Big Up, a luxe, adaptogenic full-body oil serum that aims to make Black folks feel and look good.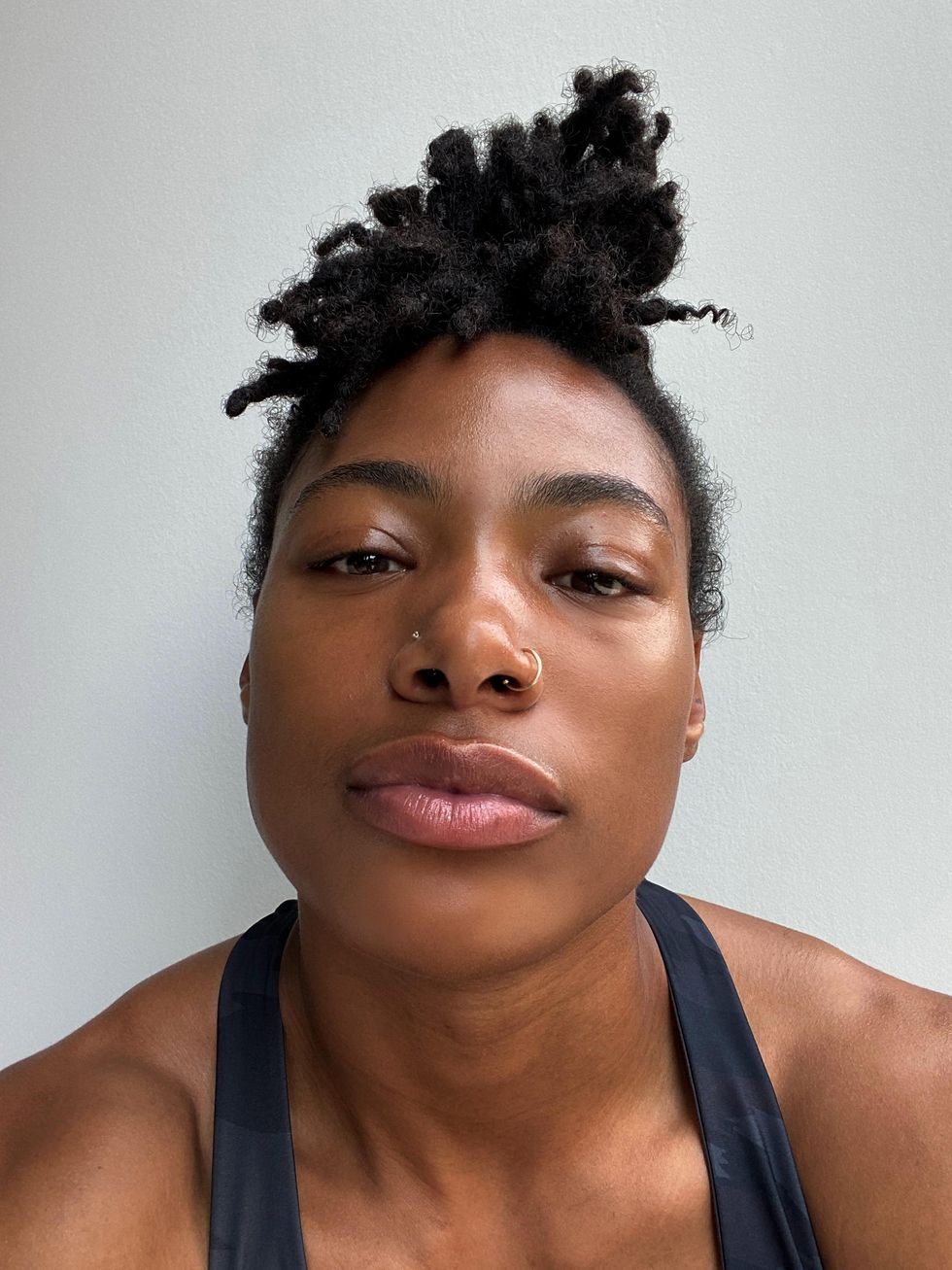 Deon Libra COO/co-founder Brit Kirkland
Courtesy of Devin McGhee
McGhee and her co-founder/fiancée, Brit Kirkland, aim to supply "stress care to every hood." Through their bold, luxurious, and educational products, the duo strives to challenge the "white, skinny, and feminine" standard within the wellness industry that often treats Black folks as an afterthought.
"In the wellness industry, we've been excluding so many people by trying to make it this cookie-cutter thing," she shares. "I think what keeps a lot of people away from wellness is that it's so intimidating, and nothing looks fun," McGhee continues. "Wellness can be fun; not everything has to be a meditation or yoga pose."
xoNecole: Being a new founder, are there any obstacles or challenges that you've encountered along the way? If so, what have you learned from them?
Devin McGhee: As a founder, it feels like every day is an obstacle. Outside looking in, it just seems like everybody wants to be 'the perfect founder,' and everybody wants to have their shit together. But I've learned that that's impossible. If you're a founder, most times, it's your first time doing this. At one point in your life, it was your first time taking a physical step and you had to learn how to walk. I look at my founderhood the same way: every day, I'm going to do something and learn something. If I've never done it before, and I don't understand it, that's okay.
I think a lot of times, the lack of knowledge and the lack of access to certain knowledge on your founder's journey scares a lot of people. The difference for me, and my co-founder—who's also my fiancée—is that we never let not knowing scare us. Just because you don't know something about a certain area doesn't mean that you can't learn it. And that doesn't mean that you can't find somebody to help you learn it or help guide you through that process.
"Outside looking in, it just seems like everybody wants to be 'the perfect founder,' and everybody wants to have their shit together. But I've learned that that's impossible."
xoN: The wellness industry is a traditionally white space that can often feel exclusionary to Black people. How do you hope to shift this with your brand?
DM: I always like to emphasize that the wellness industry is very white, feminine, and skinny. When we were doing all those polls and surveys while trying to initially build the brand, one thing that stood out to me was how whenever I mentioned something with wellness and color, it came down to very muted, light things. And so for me, I had to first define what wellness looked like to me. And for me, it was balance.

If practicing yoga once a week or meditating is your thing, that's a form of wellness and it looks different for everybody. I really wanted to create a brand that allowed our people to create space for themselves during the day.
"For me, I had to first define what wellness looked like to me. And for me, it was balance. If practicing yoga once a week or meditating is your thing, that's a form of wellness and it looks different for everybody. I really wanted to create a brand that allowed our people to create space for themselves during the day."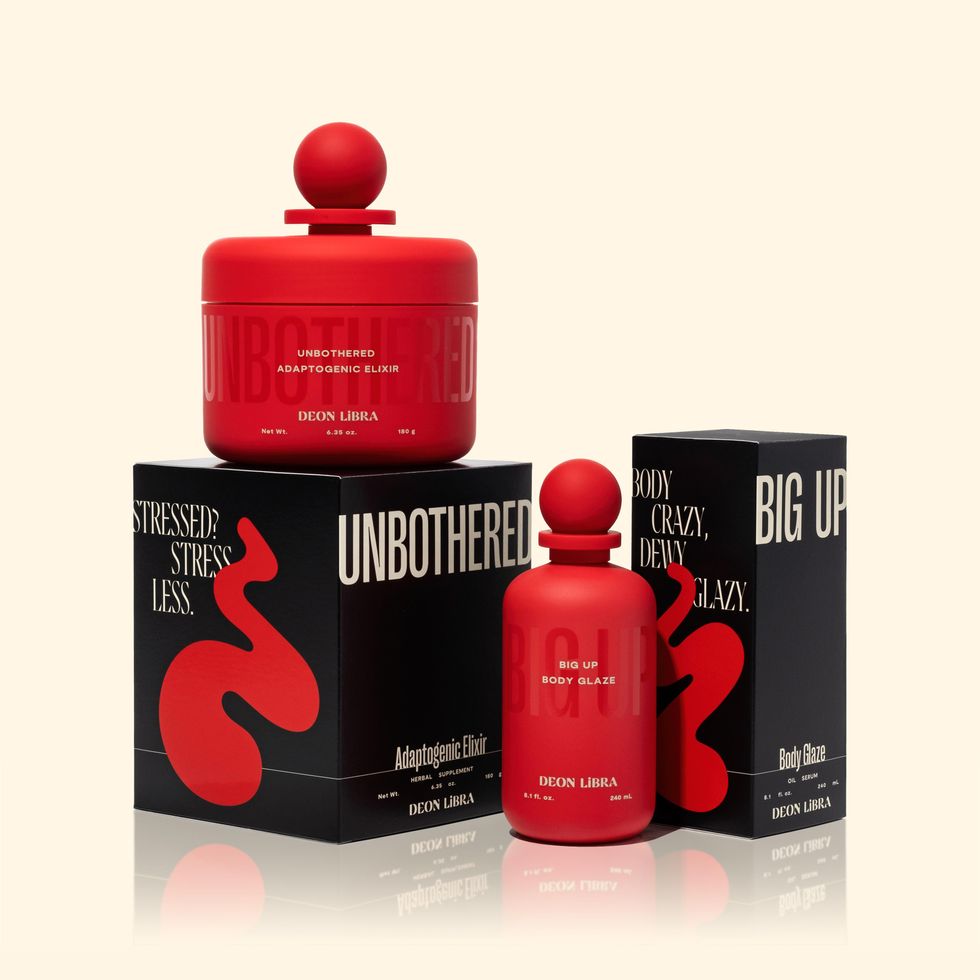 Deon Libra
Courtesy of Devin McGhee
xoN: As someone who has battled with stress and seen the impact that long-term stress can have on the body, how has your relationship with wellness evolved since first starting Deon Libra?
DM: I think I'm very much a 'do as I say, not as I do' type of person right now, and it's not 100% intentional, but I am a founder, and there are sacrifices you make. I tell people it's really important to get sleep and take your adaptogens daily, and I try my hardest to practice that. But we run a whole company with just two people and I'm very straightforward about that. Like on Instagram, if I'm having a bad day, I have no problem saying that this journey is really, really hard right now. I think we talk a lot about founders making entrepreneurship look really glamorous, online and it's not, this shit is ghetto. I tell anybody who wants to do this that it's worth it, but it's very ghetto.
Although I know how to take care of myself, I don't do the best and that's because I'm trying to make sure other people do it. There's a line on the Kendrick Lamar song, "Mr. Morale" where he says, "I'm sacrificing myself to start the healing," and that's literally my mantra. I'm not gonna let this company kill me, but somebody has to make the sacrifice for Black people to understand how detrimental stress is to our life and that it can kill you. It killed my daddy and he was 54.
I think there are a lot of things that are challenging as a founder, especially as a Black, female LGBT founder. There are a lot of things you have to take and tolerate, so I think the hardest part about my wellness for me is balancing what I'm going to tolerate, what I want to change for other founders and entrepreneurs, and what I can deal with.
"There are a lot of things that are challenging as a founder, especially as a Black, female LGBT founder. There are a lot of things you have to take and tolerate, so I think the hardest part about my wellness for me is balancing what I'm going to tolerate, what I want to change for other founders and entrepreneurs, and what I can deal with."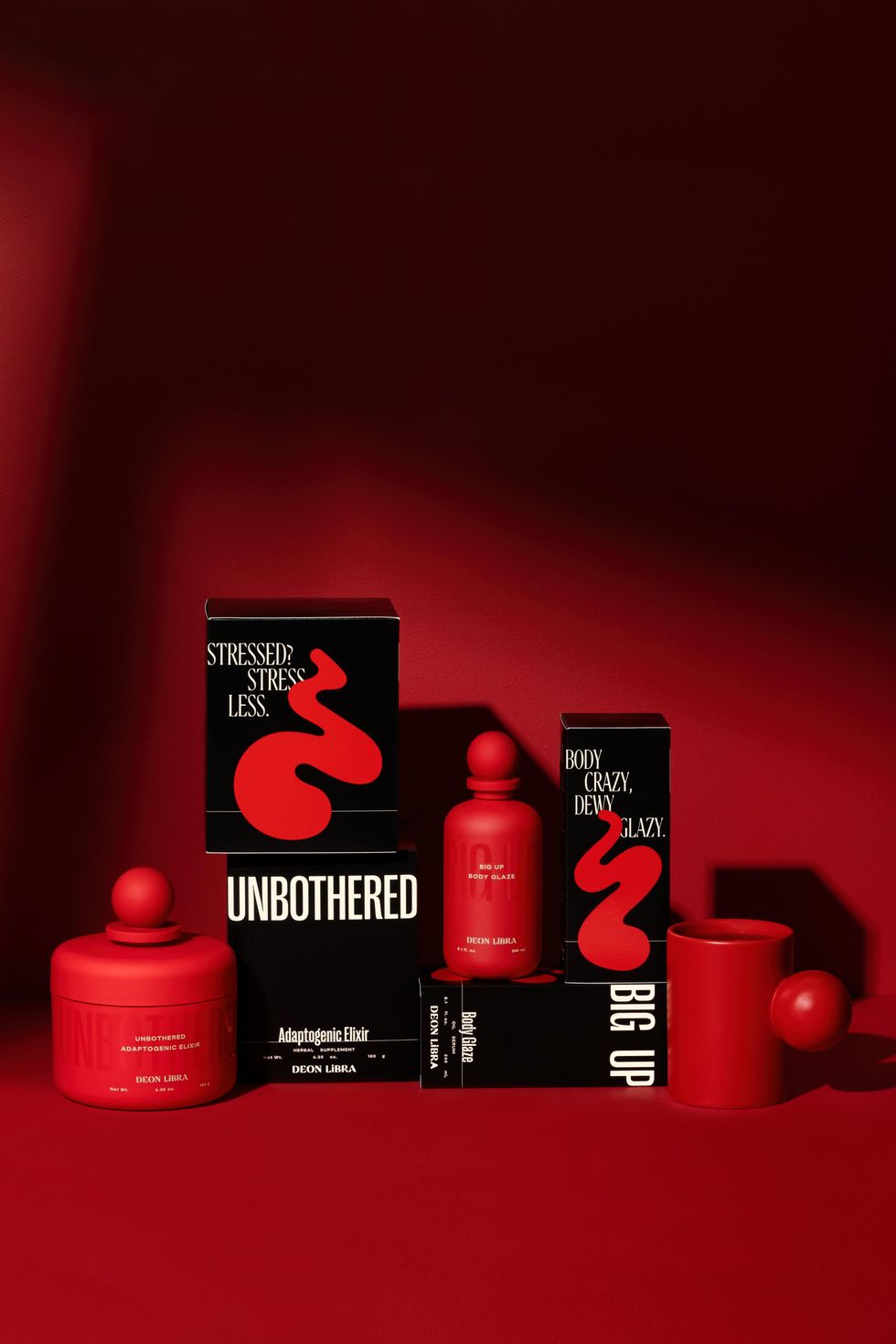 Deon Libra
Courtesy of Devin McGhee
xoN: Overall, how do you hope Black people will feel and take away from their experience with Deon Libra?
DM: I hope that our people know that they are worthy of anything and everything good, to them and for them. Down to our branding, Brit was like we really need a little monogram that looks like luxury; like the LV of Louis Vuitton, because as Black people, we deserve to have luxury.

Luxury doesn't have to equate to a dollar sign. Luxury for me is things that make you feel good and that make you proud to be exactly who you are and where you are at any given point in your life. I just want Black people to know that they are worthy of feeling good. I think everything cool and everything innovative comes from Black culture, I will stand by that until I die.
For more of Devin and Deon Libra, follow her on Instagram @devinkielle and @deonlibra_.
Featured image courtesy of Devin McGhee

We've all heard about the benefits of manifesting your dreams by mere thought or creating vision boards to illustrate, in plain sight, what you want out of life. Many of us might even have the same cliche perception of what vision boarding actually entails--- something as simple as cutting out photos and words from magazines and pasting them on posters like an elementary school project.
I must admit, as a professional in my 20s, I'd never really believed in vision boards. I'd always been raised to believe that faith and action were enough, and I strategized my plan for success accordingly. (And I'm sure I wasn't alone. According to research, apparently "fantasizing" about an "idealized future" can actually be counter-productive and "sap energy" needed to actually achieve goals.)
By 30, I'd reached management status, had my own blogs and columns, hired teams, and led successful campaigns. I'd felt like I'd somewhat made it in my industry, quite early actually. Along with the accomplishments came the career rut and utter burnout, so I found creating a vision board to be yet another task to add more pressure and anxiety to my life. The vision board would only serve as a reminder that I hadn't become "like Oprah," made a million with a best-selling book, or landed a prime placement on somebody's news show.
There was one major key I'd been missing: While it's awesome to have goals and make them plain in writing or illustrations, one also must pair belief with strategic planning in consideration of one's true purpose and talents that aligns with the vision board. A vision board is not the end-all-be-all to mapping out success. It is simply a complementary tool part of that process. And many successful people, in this way, swear by them, including Steve Harvey, Cardi B, and Tamera Mowry.
Another such leader who has elevated the conversation around vision boarding is Mariko Bennett, founder of COCO B. Productions, and author of The Blueprint: to Manifest Your Dreams. She and her team offer leadership development workshops and strategy sessions and offer tailored solutions for government agencies, corporations, professionals, associations, nonprofits, and other organizations.
Here's more from her on elevating your approach to vision boarding and taking action on your wildest career dreams:
xoNecole: You've written a book that describes a 'blueprint' for planning career advancement and success. What should readers expect?
Mariko Bennett: The Blueprint: to Manifest Your Dreams is my purpose project. I am a master manifester and did not realize [it] until friends of mine told me. We would sit down, at that point, we'd called them 'vision boards' but now call them 'blueprinting boards' and I would manifest everything on my board. They would say 'You did that?! You did that?!' Absolutely. What I found out was that 92 percent of people never really reach to achieve their dreams and goals.
I set out, when I wrote this book, to help the 92 percent of people to become master manifesters. In the book, I talk about seven life-focus areas, I talk about SMART goal-setting, I talk about being intentional, and about understanding what the obstacles are so that you can make plans to get around those obstacles.
I talk about my 4-C's of manifesting, which is really my secret weapon as to how I've been able to be successful. I talk about the power of belief and affirming yourself. It's literally a blueprint to manifesting your dreams---personal and professional.
xoN: What would you say to someone who might be skeptical when it comes to the power of manifesting or vision boards?
MB: We approach our blueprinting boards in a different way. Why are boards important? Why is putting your vision down important? It's a strategic plan. If people don't understand vision boards, they do understand a strategic plan. That's the first thing I'd say to anyone who's hesitant. You have a vision in the words of quotes, photos, and images that remind you of what your vision is, in life form. We take it a step further. That's where the SMART goals come in.
It's important to have a vision---which is where that first C comes in, crystalize---and you've gotta go an extra step, where you customize the plan and you're doing SMART goal-setting. Then you go to the third C, which is cultivate, where you have to do the work. Manifesting doesn't work just because you look at a board. You have to cultivate it. You do the work. The fourth C is when you curate, and that's when you're measuring success and fine-tuning your approach as you are manifesting.
xoN: What does 'putting the work in' look like after creating this vision board, or 'blueprinting'?
MB: In customizing, you're looking at what you have and what you need to reach that vision. What works for your life? [For example], if you want to finish school in 4 years, how many credits do you need to take? How much will it cost you? Where do you want to live? And with cultivating, it's where a lot of people begin to fail or quit. It gets difficult. You actually have to show up at that job all the time to get that money. You actually have to save those dollars, right?
Whatever you're working on, you actually have to put the work in to get it done. And then, life can happen, which may throw people off. And so, it's important that you have your blueprint and your vision to remind you what you promised [yourself] and you've got your plan so that you can work to get back to it once life happens.
xoN: What's a recent example of how you've used this process, for yourself, in any current career transitions, for spaces you're in now?
MB: Absolutely. We did a blueprint for Coco B Productions, at the beginning of the year, and one of the goals was to get minority certifications as a firm. I customized a plan. And sometimes your plan is beyond you. I am not the person to sit there and do all the applications. That's where the accountability partners come in that are cheering you on and reminding you of what you promised yourself.
Sometimes they're helpers. They do the work for you. I hired a firm to help me get my certifications. Yes, I had to give them a lot of paperwork and I had to do the work to get us there, but they actually did the filing for me and really just helped me to get across the finish line.
For more of Mariko, follow her on Instagram @mariko_bennett1.
Featured image courtesy of Mariko Bennett