There's nothing like finding a tribe that empowers you to be your best self, especially during challenging times like these. And when you can also find ways to partner up, build legacies, and build wealth together, that's even better. Friendpreneurs Tai Beauchamp, Nia Jones, and Malaika Jones have enjoyed the fruits of all of that with their plant-based wellness brand Brown Girl Jane. The collection of products include broad-spectrum CBD, an ingredient that has been found to improve issues like anxiety, pain, stress, acne, skin dryness and much more, and can be found at Nordstrom, within Birchbox, and online via their website.
Sisters Malaika, who is CEO, and Nia, who is the Chief Impact Officer (CIO), found kinship in fellow Spelman grad Tai, who serves as the Chief Brand Officer (CBO). They decided to combine their talents, networks and experiences to offer a product line that promotes wholeness, balance, and beauty from the inside-out.
"The brand started very organically," Malaika said in an exclusive interview with xoNecole. "We come from three very different backgrounds in terms of professional career but we were confronting the same wellness challenges even though we're approaching them from different directions. In terms of creating the brand, we recognized a need to craft a beautiful wellness collection centered on women of color. We were amazed at the efficacy of the plant and all that it could do and the different ways it could be used. In terms of getting started, we created the brand we always wanted to exist."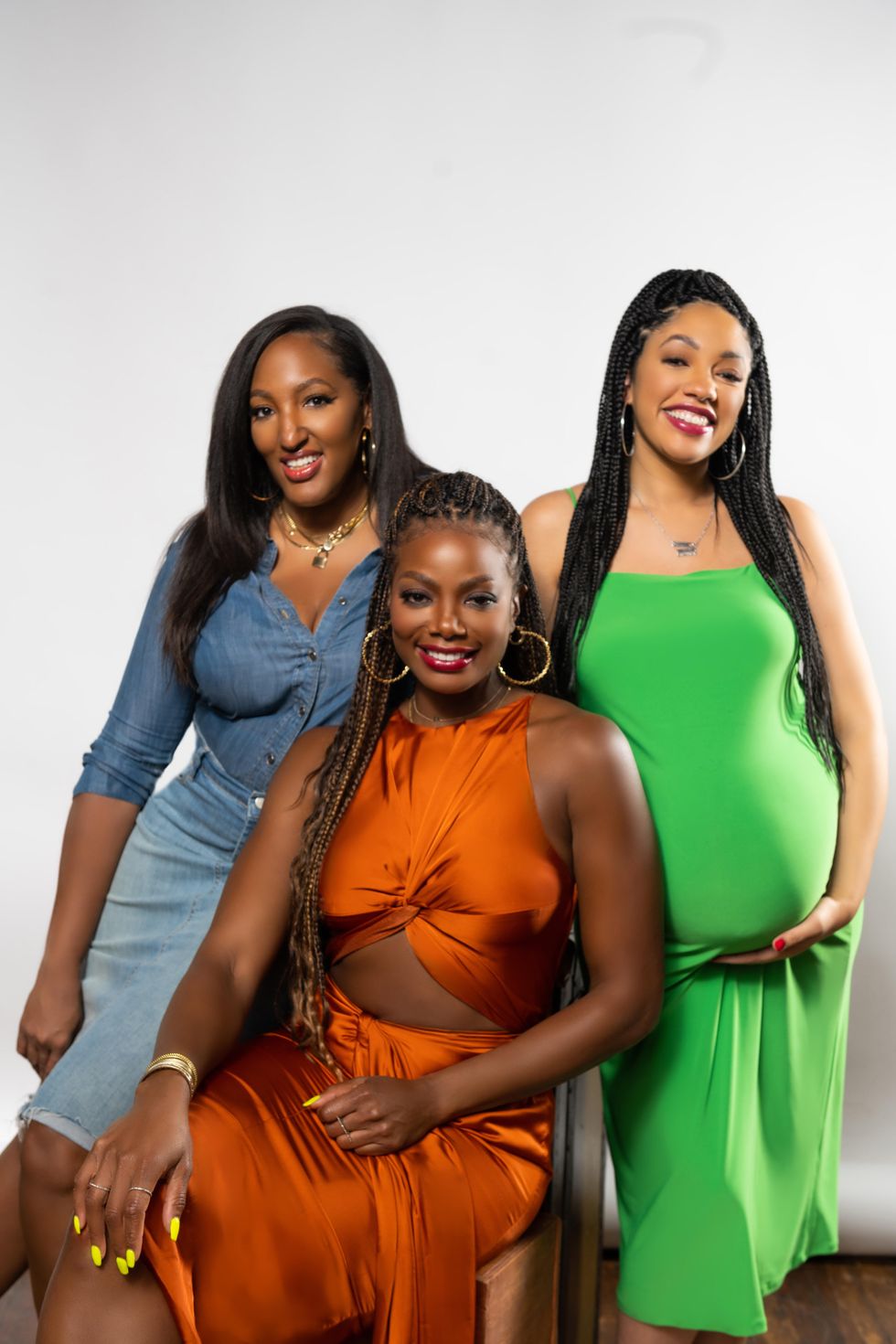 Brown Girl Jane co-founders, Malaika Jones, Tai Beauchamp, and Nia Jones
Image courtesy of Brown Girl Jane
The founders of Brown Girl Jane have also been able to build a community that centers on inclusive luxury and transparency about what Black women are putting in and on their bodies. Working directly with the people involved in the process of making their products, the founders ensure that they interact with everyone from the farmers to the chemists to the manufacturers. "We are self-funded, and we really just broke apart all of the components of the brand," Malaika added.

"My background is in finance and on Wall Street, and so building a business and knowing the functions and operations of business is something I've done before. Tai obviously has her expertise in brand-building, marketing, and publishing. And Nia has done enormous work in mission. We've brought together those components to craft the brand that we wished existed."
The mark of any great (and lucrative) venture is filling a void in the market and providing a solution to a problem that would impact a large number of people. Each founder had their own personal connection to wanting to solve everyday problems in their own lives. "I think the other thing in terms of how it started was recognizing the needs of women like us and feeling more well," Tai added.
"Specifically, [it was] Malaika's experience with giving birth to her youngest daughter and having a spinal cord injury and not wanting to take the pharma route of medicating. CBD plant-based solutions provided a great deal of benefit to her physically. For me, travelling and being on the road constantly and feeling anxious about getting sleep and all those things, obviously also impacted [me]."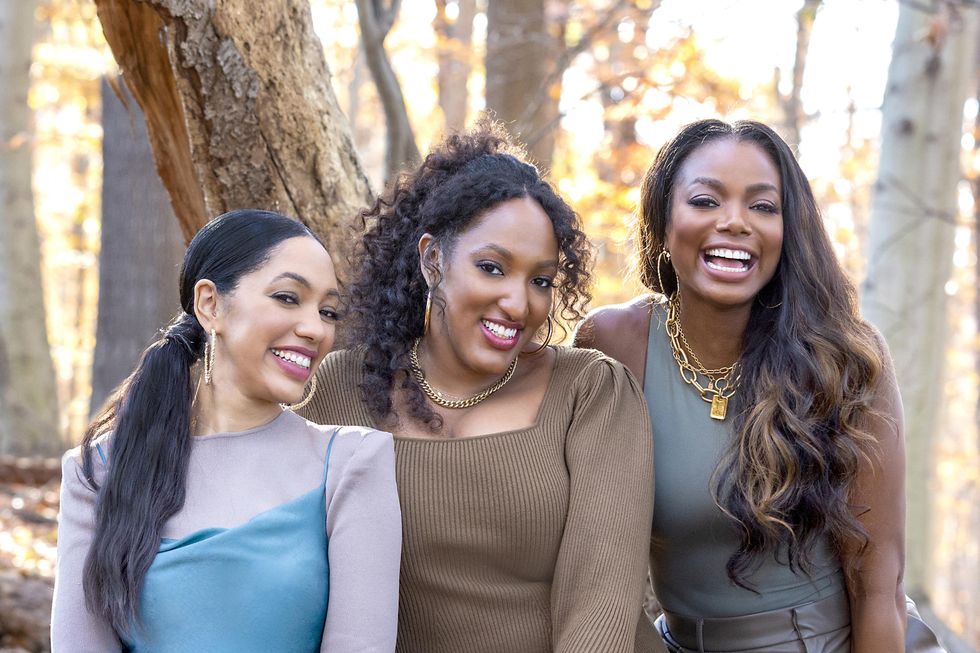 Image courtesy of Brown Girl Jane
With health and isolation issues related to the pandemic, the transitions of politics, and the issues of police brutality and racism at the forefront, many of the challenges they faced were those that other Black women around the world could relate to. "This is really about solutions not only for women as a whole, but that can support how we feel, how we look, and how we're able to show up, from anxiety from sleep deprivation, from pain and what have you," she continued.
"That's what we're doing with this collection as a whole. It's really centering what have been areas of challenge and opportunity for us to not necessarily being able to thrive to our fullest potential and providing both community, a tribe, as well as a collection that takes all of that into consideration, saying, 'Here's your toolkit sister. Here's what you need in order to live your most elevated life.'"
The women agree that it's important to not only offer products with a super-popular, trending ingredient like CBD, but provide a holistic, authentic platform for women to address the many facets of what wellness means for them. "That was intentional. And these products actually work in terms of the level of efficacy, the level of quality, and the level of intentionality in how we craft our collection even as we consider expanding beyond CBD. There is an intentionality, and we want to ensure that this [product] is highly advantageous."
There's a special sense of being the change you want to see even beyond offering a product to consumers, and this is surely evident through the founders, who are indeed real-life sister-girlfriends who aren't afraid to be the embodiment of their beliefs. Cultivating community and finding power in partnering up with fellow women is a key part of the company that tangibly manifests itself through the founders' connections with one another.
"Being founded by three Black women—two of whom are biological sisters and all of whom are Spelman sisters—there is a profound recognition of who we are individually but also who we are in the power of our collective," Tai said. "And in recognizing the power of our collective, because that is ultimately what has sustained us when we didn't have our collection, when we didn't have Brown Girl Jane as a product and brand, we had our sisters, as a community, who held us, who supported us, and who were essential to our toolkit."
"We wanted to make sure that the women we look to support have that same resource because that's foundational. In partnership with the collection, centering ourselves, and changing some of the systemic belief systems that have held us back in some ways in prioritizing health and wellness, we can all be well. We can feel more whole. There can be healing. There can be support. We can be a resource. That was intentional."
The trio's relationship sets a tone for providing a different narrative that challenges other age-old negative stereotypes about female friendships and further illustrates the power of partnering up with other Black women to build something great. "We can approach everything with a different set of eyes," said Malaika.
"I would encourage that when people are working with friends, you actually want people who think differently and have different sets of expertise, but who share the same north star, which for us is just wanting women of color to be able to live their best lives. We want to be helpful along their journey toward wholeness. That's very consistent across the founder team and that's really just the expertise which is varied, and that's amazing to be able to lean upon one another for."

Follow Brown Girl Jane on Instagram @itsbrowngirljane and find their products on Nordstrom.com or their website.
Featured image courtesy of Brown Girl Jane
Keep reading...
Show less
Just a few years ago, Dunnie Onasanya, affectionately known as Miss Dunnie O, had the perfect winning trio of a roster of amazing clients, a huge online following, and a relationship that was publicly among the coveted, sparking IG comments like "Bae goals." She and her ex launched a popular Los Angeles-based swimwear brand, leading to the further increase of her online following and widening the brand presence of the then mother of one and events producer. But things got messy when the couple separated and subsequently divorced, with details of the split playing out very publicly on social media.
After finalizing the divorce, taking a step back, and getting the support of family and friends, she decided to pursue a passion she'd had since childhood but had never really considered as a viable career choice. She's a Tuskegee University alumna and Delta Sigma Theta member who studied business administration and marketing before starting her path in entrepreneurship.
Today, she's an artist-in-residence at VisArts in Rockville, M.D., and she earns five figures and up for her pieces that reflect her faith and Nigerian heritage. She also recently celebrated the birth of her second daughter, with an internationally famous new bae (one whose identity we will be keeping on the hush hush as to respect our good sis's privacy.)
We caught up with the artist to talk about how she was able to overcome the hurt, heartache and public scrutiny of the past, totally reinvent herself to reclaim her life, and how other women can tap into pursuing their wildest dreams after divorce: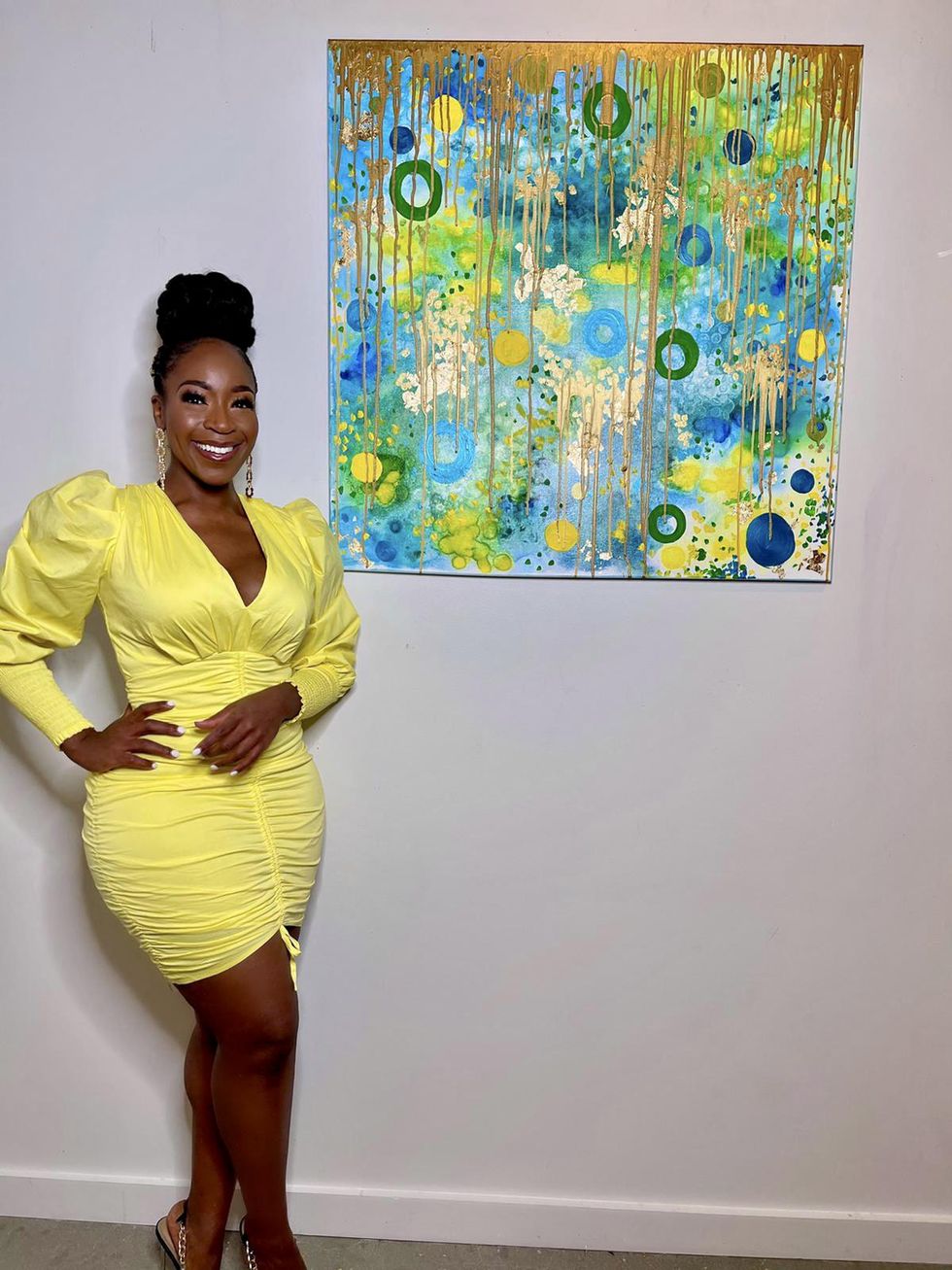 Image by Dunnie O
xoNecole: Any separation or divorce is tough, and it can be even more challenging for a successful businesswoman and mom whose 2018 separation played out online in front of tens of thousands of followers. What was it like for you going through that?
Dunnie O: Well, it was a very toxic situation. I feel like a lot of women will be able to relate in the sense that a lot of women stay in situations because they are trying to keep their families together, even though they probably know deep down inside this is not healthy. And sometimes it takes your friends or people closest to you at the time to help you navigate out of those types of situations. So, I'm grateful for the support system that I did have in L.A. [at the time] because they were able to help me get out of that situation and back to a safe and healthy environment for my daughter and myself.
Our wedding was all over the Internet, and you kind of feel that obligation to your followers or to your family. It's like, 'Oh my gosh, I don't want to let people down or make people upset.' But then are you actually living? That's what's most important. I think the biggest lesson that I learned out of that situation is that perception, you know, people are always going to talk.
"People are always going to have something to say, but at the end of the day, you need to be able to go to sleep at night with peace of mind, knowing that you've made the best decisions for your own wellness—for your mental health and physical health."
It's crazy because sometimes when you're in relationships, you know, things don't start off that way. It's usually a progressive build and there's some kind of breaking point or something to where the other person starts to make poor choices that are now affecting the entire household. And you can either choose to suffer in silence or break away and move on.
xoNecole: That's so true. We have to practice self-care and do what's best for our well-being. So, how did you transition from that and your work in branding, events and PR, to your current work as a full-time artist?
Dunnie O: Art is something I always loved as a child, but it was never something I actually thought I could pursue as a career. And when I came back home and everything, my mom's just like, 'Well, what are you going to do? You want to go back to school?' I was like, no, I really want to try painting. I didn't go to art school, but I just knew I at least wanted to give it a shot. I was like, OK, let me try this for a year and see how it goes. If it doesn't work, then I'll go back to school and maybe pursue something like healthcare, something more stable.
"I'm so blessed because God really allowed for me be fruitful in this endeavor. I started painting and then I just started sharing my work online, just from the platform I already had."
People reached out wanting to purchase my work, which was super encouraging to just keep going with it. Within my first year, I got invited to exhibit in Toronto as an international artist for a big festival out there. Then I got commissioned to do a few different projects in my area and in Canada, too. So, all of that first-year work was the perfect thing that I needed to actually apply to be a resident at an art gallery. I was attending a networking event with a friend and someone at the event told me [about VisArts]. Initially, it felt like, you know, impostor syndrome.
That's what I essentially had because I literally turned my application in the day before the deadline. About a month later, they sent me an email. They're like, "We would love to have you as an artist-in-resident at the gallery." It was a huge accomplishment—a testimony for me—just because it was something that I really wanted. I didn't go to art school, but, you know, it was a personal miracle in the sense that yeah, I got it.
It's amazing [because] as a result of being a studio artist there, I've been able to teach and host artists talks. Even in the pandemic I've had to work from home primarily, but I still have my studio space so I'm able to meet clients for pickups and remain plugged into the community that way. I'm really grateful to be where I am on my journey so far.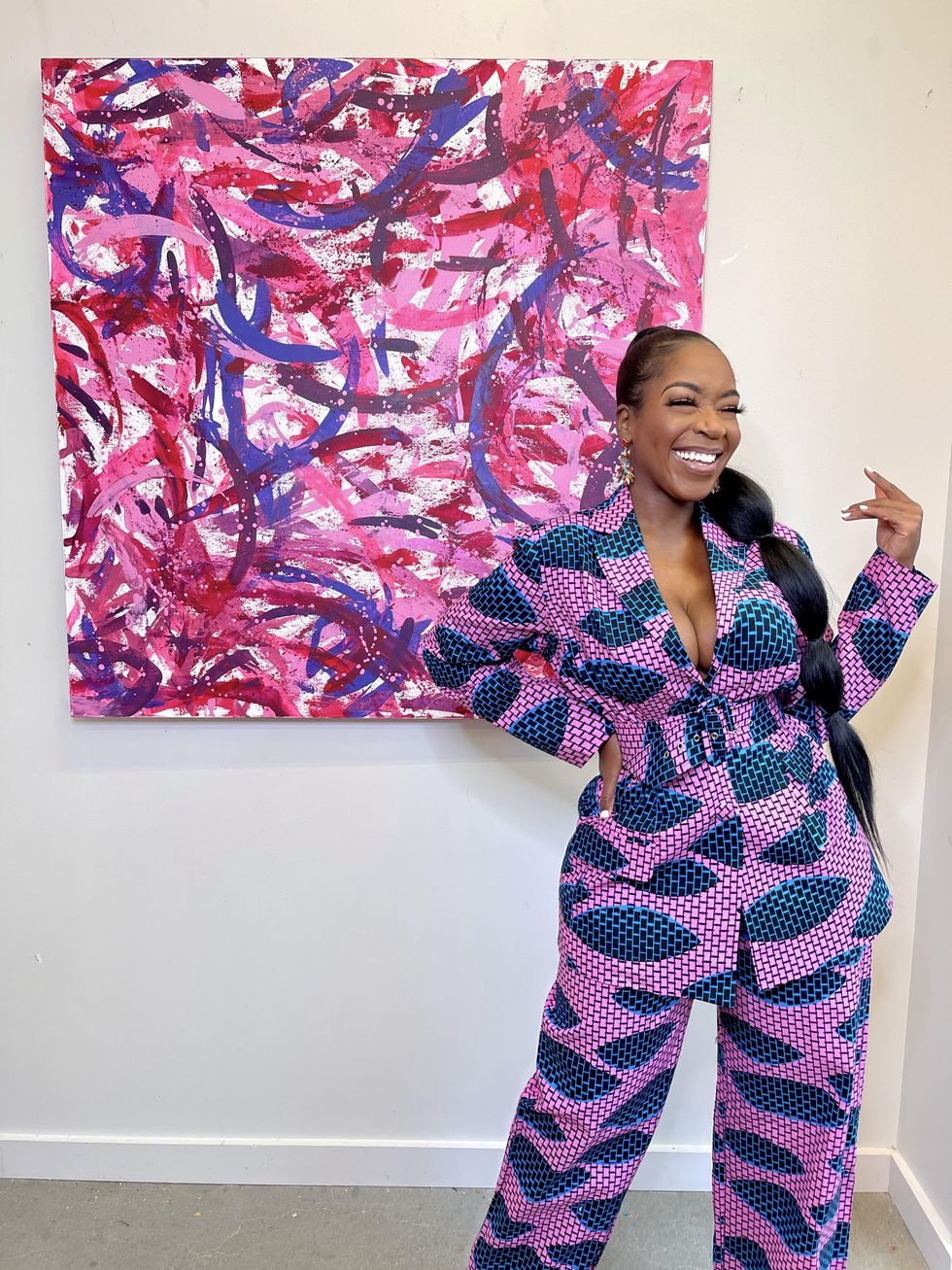 Image by Dunnie O
xoNecole: That's amazing. Now, shifting from one lifestyle and career to another can definitely have a major effect on one's finances. What has the journey been like for you in that regard, and how do you find opportunities that allow you to earn well as an artist?
Dunnie O: Well, it starts with putting your work out there and letting people know what's for sale. People need to know that you are offering a service or offering a product that they can readily purchase. I believe I've built a niche for myself in the sense that people now seek me out for custom paintings for their homes or their businesses. I [recently] put out a spring collection of paintings that people can purchase that are readily available to ship.
"I literally built my business around what I love to do, so it's not strenuous and I'm happy in the work that I do."
I have a request form on my site. People can request then it gives me information to generate a quote for them in terms of what it would cost for me to take on their project. I basically applied the same skill set as I would to produce an event. It's the same skills, and I tweaked a few things and made it to apply toward artistry.
So now, my starting prices for an original on the smaller end can start at $500 [per piece], and I've done projects at this point now, like one-offs, starting at $11,000 [each]. And I think the really cool thing about art is that, you know, it's a luxury buy, so it's something that people are also looking to as an investment. As my brand grows and as I continue to grow, so will the value of my work. Art collectors who decide to invest in the early or the potential trajectory of my [art career], the worth of my collection down the line, you know, is pretty substantial.
xoNecole: Yes, many art lovers would agree with that. And we see art value appreciating all the time. So, what have been the biggest lessons about yourself that you've learned overall in the transitions, both personally and career-wise?
Dunnie O: It was definitely challenging, but [it was about] owning my story and knowing that I cannot allow myself to be defined by other people, you know? If I allowed myself to be defined by my divorce [then] that's what I'd be, a 'divorced chick' the rest of my life, you know what I mean? But that's not going to be my story. That was one chapter, [and I'm now] moving along to the next.
"My artistry has been my therapy and brought about so much of my healing. Renewing my faith in God has helped me to start this new chapter of my life and fully transition into my career as a visual artist and muralist."
With consistent prayer, practicing unapologetic self-love, meditating, and affirming myself daily, I've been working consistently to grow spiritually so that I stay in alignment with my purpose and soul mission. As a result of staying in alignment I've learned how to protect my peace of mind. God has blessed the works of my hands with financial success, and I've established consistent income with my artistry and amazing clientele who truly value and appreciate all of the artwork that brings me so much joy to create.
For more of Dunnie O., follow her on Instagram.
Featured image by Pablo Raya
Keep reading...
Show less
When we imagine arranged marriages in the traditional sense, our minds may trail off into stereotypes that reflect reluctant brides, invasive parents, with two coerced individuals, doomed to suffer in a loveless union. Not so romantic, right? But arranged marriages are not to be confused with forced marriages. See, the former centers the autonomy of choice: with two consenting adults, choosing to pursue one another for a lifetime - even after the allure of their parent's wise counsel fades. This was the case for content creators, Cam and Vicky Logan; who after 7 years of marriage illustrates what can happen when the potential for love is offered and accepted.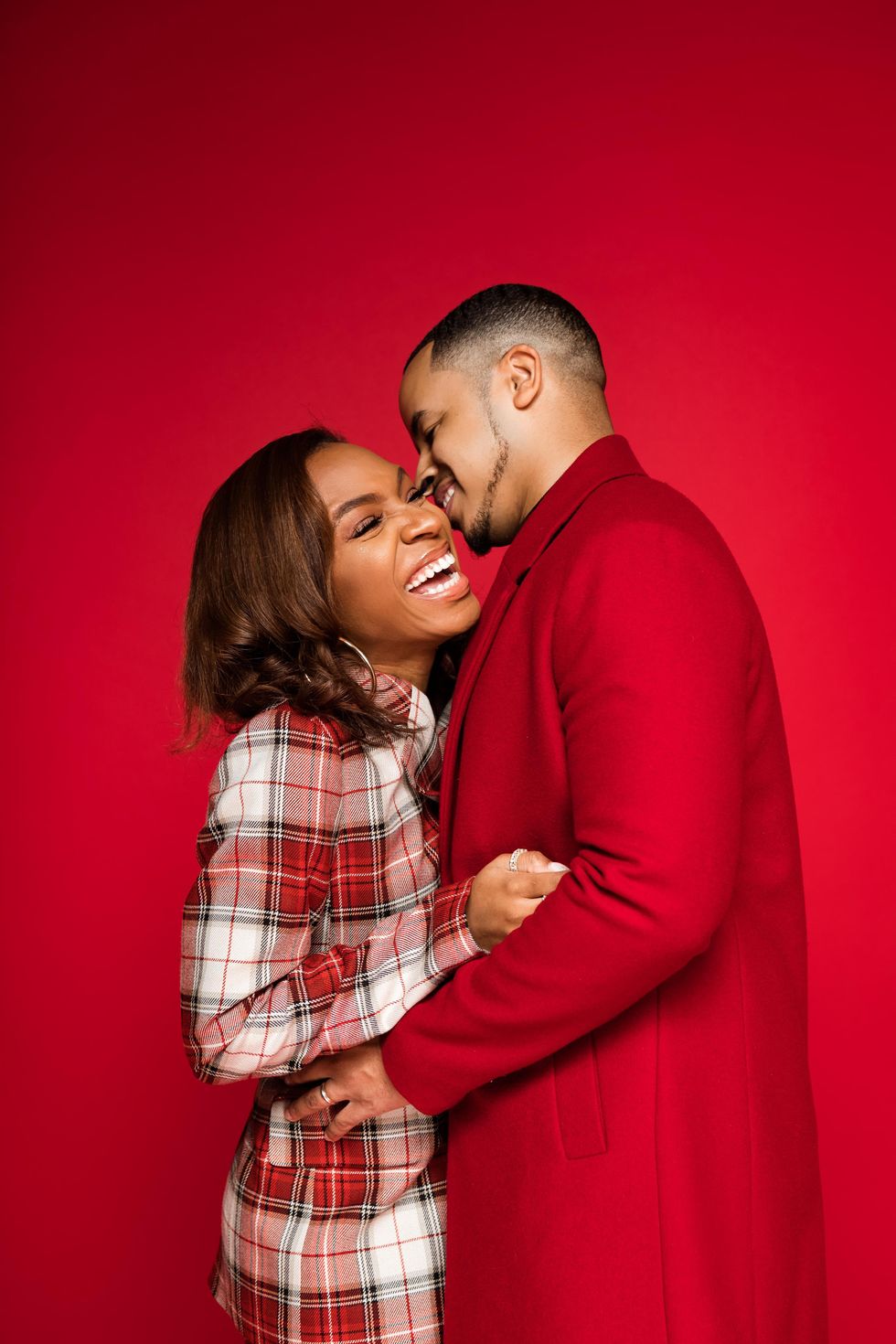 Courtesy of Vicky Logan
Cam and Vicky's parents were friends before the two of them ever met. Follow me: Vicky's father was celebrating his 40th birthday and invited Cam's father; it was there that Vicky met Cam's dad. Soon after the party, both sets of parents suggested that the two should meet, so Cam and Vicky started by adding each other on Facebook. Initially, there weren't any sparks that ignited their correspondence. In fact, Vicky shares that she never intended on dating someone who shared the same "Preacher's Kid" background that she grew up in, being that both her mother and grandmother were wives of preachers.
"I wanted a different experience and I knew how much work it would take," she shares. But what she didn't know was how God would use her expert-level background as preparation for the marriage awaiting her, "The joke was on me because since I knew how much it would take, it was just preparing me for doing the work with Cam."
Although reluctant at first, answering the call allowed her to step deeper into her purpose in becoming a helpmeet, which for Cam, was an answered prayer, "Growing up as a preacher's kid, various girlfriends didn't understand my necessity to be at church all the time, it's part of my life. As I got older and matured, I knew I needed someone that was going to understand this life in ministry and when I found out that she was a PK too, things started going off in my head like, 'Oh, this could work.'"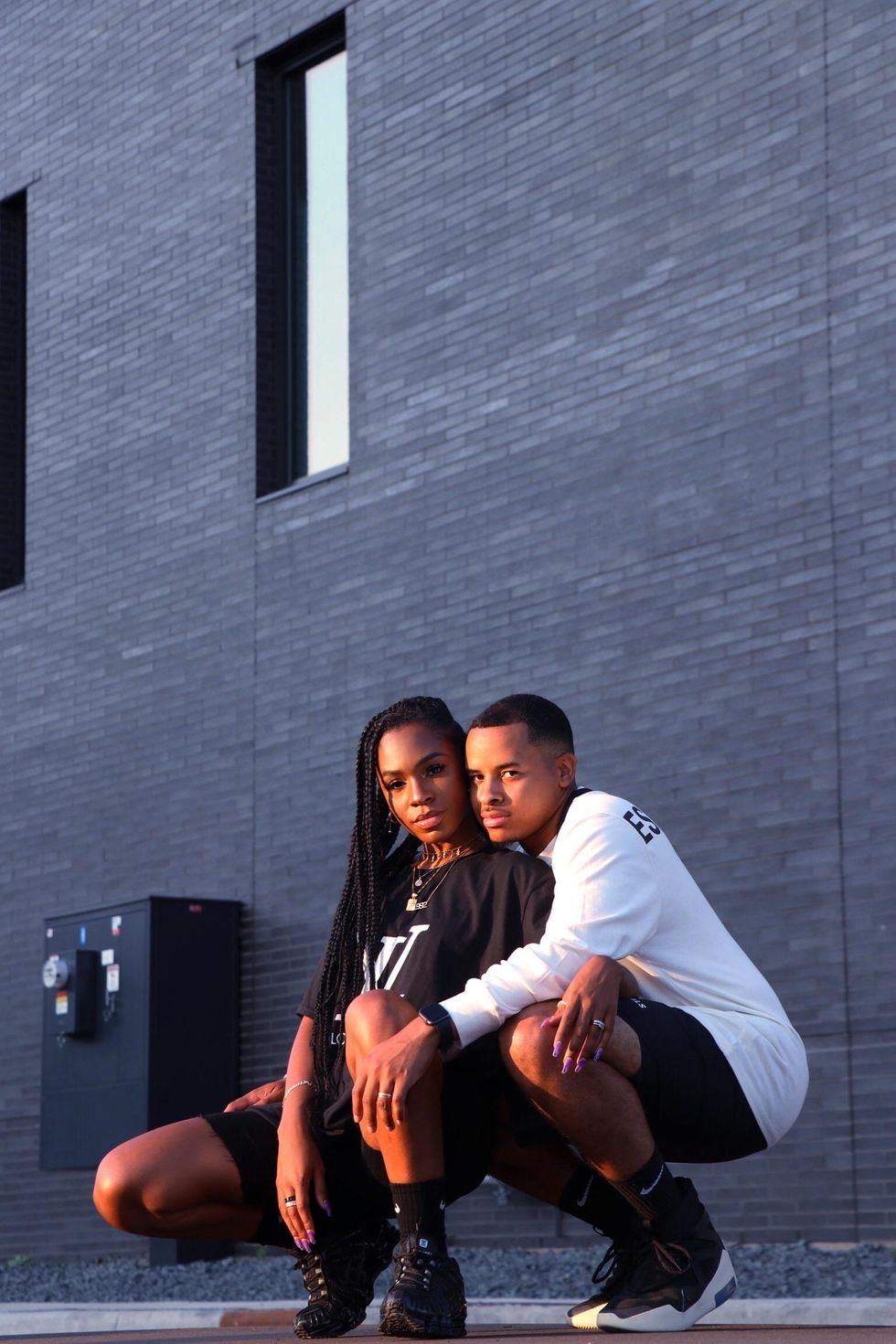 Courtesy of Vicky Logan
Their friendship grew even as the miles separating them widened, with Vicky finishing school in Texas, and Cam starting his post-grad life in Chicago. The distance between them allowed the space to be filled with what would fortify their relationship in the long run: deep and intentional communication. Still, the two had to get creative for things to work since, even in the early 2010s, technology still hasn't quite reached its peak, "We were recording videos on the back cameras of our iPhone 3s, we were on ooVoo and Skype. We communicated as much as we could to feel connected even though we were 1000 miles away," Cam says. Or as Vicky puts it, "We were definitely doing the most."
But you have to applaud the effort. Especially when you're young and dating at a distance, since, let's be honest, the innate reflex is to jump straight to the physical. Cultivating verbal and non-physical intimacy was fundamental for the two in their early days, "Since we weren't sexually attracted to each other at first, we were able to develop a natural, non-sexual friendship," Cam shares. "We genuinely talked about our interests and desires. It wasn't just, 'Aye girl, what you got on?'"
This approach laid a solid framework for their relationship because they were (and still are) truly friends, "At the end of the day, she's my homey, that's my best friend. Then you add the physical, sexual attraction and it just elevates how deeply we care about each other," Cam tells xoNecole.
"At the end of the day, she's my homey, that's my best friend. Then you add the physical, sexual attraction and it just elevates how deeply we care about each other."
One of the keys to making love work is building a relationship from a solid friendship. You never really know how important that can be until you're facing a difficult time with your partner, like a global pandemic, and realize there are some things that romance and sex just can't fix. As Vicky shares, you have to truly be in like with each other, "People like to ask me, how do we not get bored with one another? Well, we're friends! Do you get bored with your friends?" she shares laughingly.
The authenticity of their companionship not only beams over the phone but also through the camera. For over 10 years, YouTube has served as a digital archive for Vicky to document everything from ever-changing hairstyles, her colorful style hauls, and witty girl talk videos. So when the two got engaged in 2013, it was only natural for them to join forces to create their own vlog channel, Life With the Logans. As both platforms grew, there was one annual video that their community looked forward to the most: their Marriage Q&As.
Only in 2020, things were different. With COVID forcing everyone inside, Cam and Vicky decided to open their YouTube livestreams for their subscribers to ask them all things love and relationships advice. The response was so great, it springboarded their newest collaboration, the Everything is We podcast.
"We had a really good foundation because we spent a lot of time just being friends. Now, when we go through things as a married couple, we have our friendship to fall back on, it's not like our only connection was sexual or romantic. We had a true friendship where we enjoyed hanging out together, doing things together, marking each other laugh, no matter what we're doing, we're enjoying each other's company."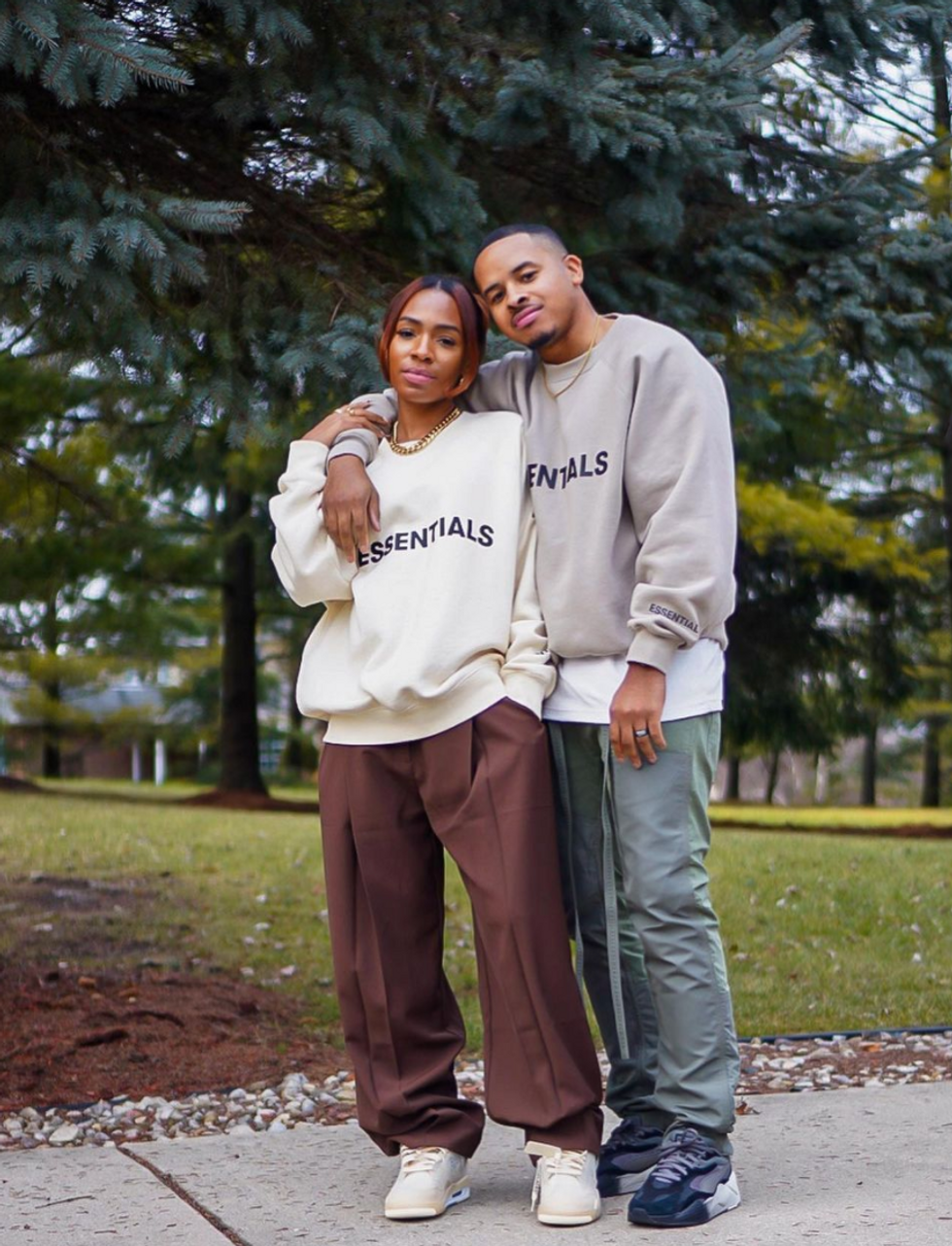 Courtesy of Vicky Logan/Instagram
On their faith-based, relationship-centered podcast, the two speak candidly about a range of topics from sex before marriage, toxic relationships, love languages, and even gender roles and submission. After 7 years of marriage, the two felt confident enough in their experiences to dish advice on their union from a place of transparency to host honest and open dialogue. "We know each other well enough to give people something of substance. This a 'we' thing, not just a 'me' thing," Vicky shares, explaining the origin of the show.
Creating as a "we" continues to add color and vibrancy to the Logans' relationship, with visual documentation being a vital part of how they keep record of their experiences together and connect with their audience. Vicky grew up with home videos and videotapes being essential in logging her childhood memories, so continuing that tradition was a natural progression for her and Cam's story. "I love documenting our relationship because I can always go back and see our memories happening on video. It keeps me grounded because I can see our progression as a couple," Vicky explains.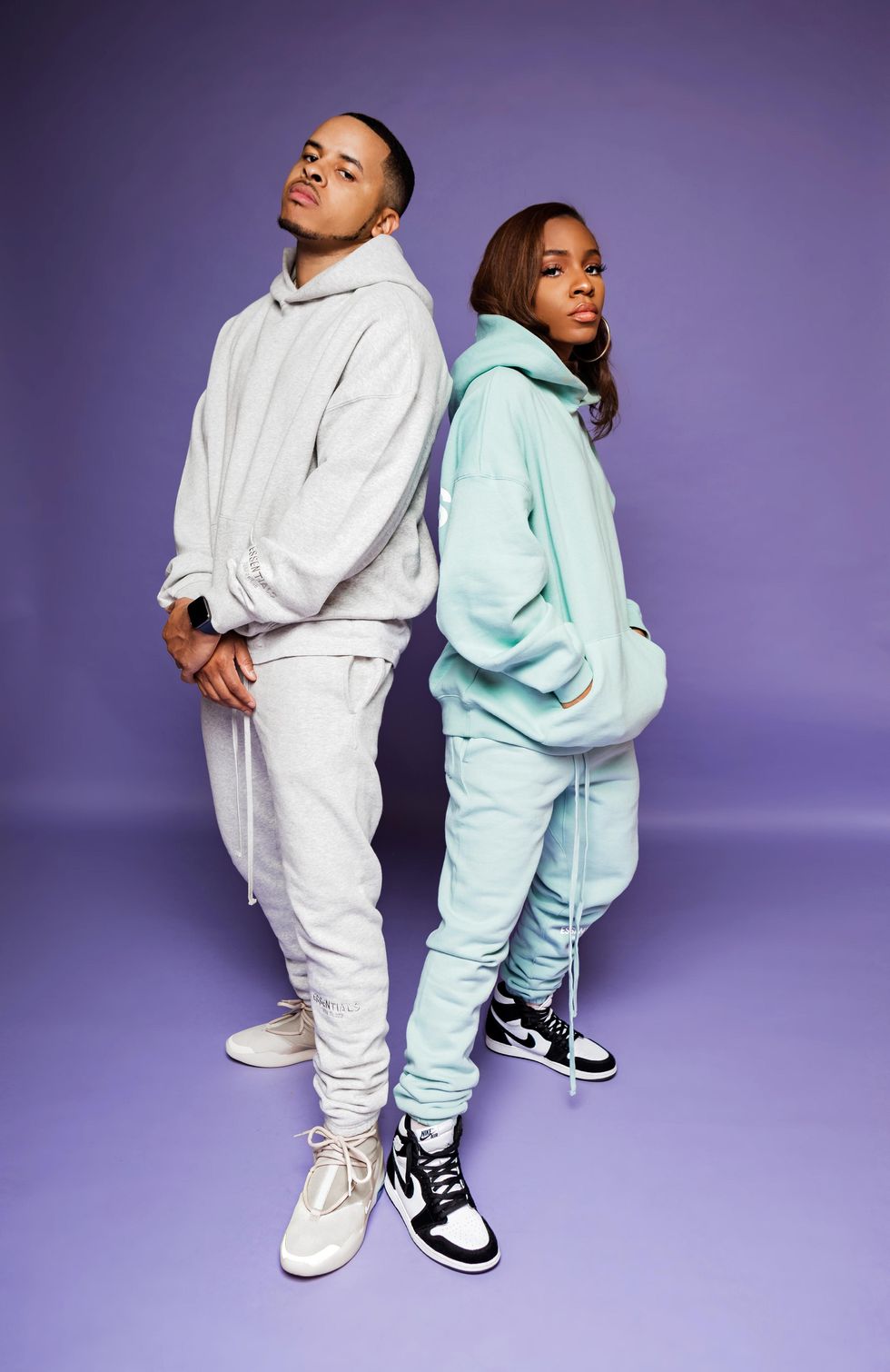 Courtesy of Vicky Logan
Documenting your life online for yourself and for the world to see comes with its own set of boundaries. For the Logans, that means staying true to their authentic selves and being present in the moments they share together. Cam expresses that who you are online should always match who you are in private. "I saw people that would vlog and become these public figures, and when they turn the cameras off, they're nothing like that. For me, in everything that I do, I want to be consistent."
Staying rooted as a content creator requires a deep level of self-awareness and routine check-ins with yourself. In fact, Vicky recalls a time early in her vlogging career where she found herself swept away in the process of creating a perfect memory, instead of participating in the moment. "When I was heavily into YouTube, I was vlogging so much, I felt like I have to go back and watch those videos to remember what happened because I wasn't present in the moment." She continues, "I was looking at my life through the lens instead of looking at it as my life. I never want to get back to that point. I try to prioritize being in the moment rather than creating content."
"When I was heavily into YouTube, I was vlogging so much, I felt like I have to go back and watch those videos to remember what happened because I wasn't present in the moment. I was looking at my life through the lens instead of looking at it as my life. I never want to get back to that point. I try to prioritize being in the moment rather than creating content."
When you've been with someone through your 20s and into your early 30s like the Logans have, evolution becomes the third wheel. Over the years, the two have seen each other grow and evolve as individuals with callings that stand alone and complement each other's purpose. Arriving at the place in a relationship where everything is truly about the we and not the me takes sacrifice, time, and the process of "dying to yourself" daily. That means pride and self-centeredness have no place. For the Logans, this required taking the time to learn how to truly love each other the way each person needs to be loved, not the way they assumed they needed to be loved. As Vicky puts it, "I think sometimes people come into relationships a little bit prideful and don't want to change."
But if the common goal is longevity, you have to forgo the "that's just the way I am" mentality. "We know that we're different people, but at the same time, we want to operate as a team," Vicky shares. "You have a partner for a reason: to help you."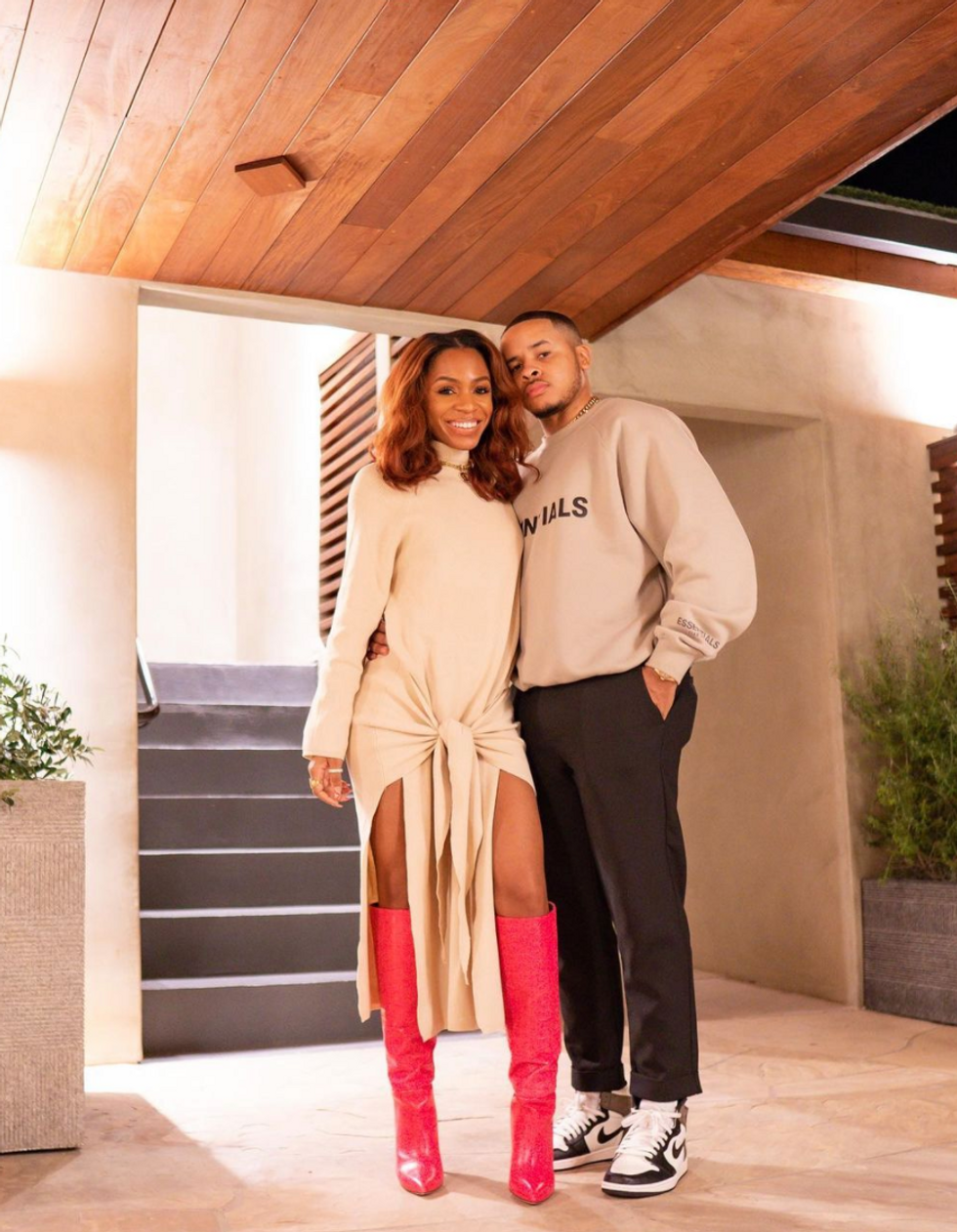 ​Courtesy of Vicky Logan/Instagram
If you follow the #CamToria hashtag on Instagram, you'll find that the Logans are far more than your typical "relationship goals", they're the embodiment of steadfastness. A marriage that hasn't rushed through the years or the moments that they've shared together, but has instead made the daily decision to partake in the witnessing of one another's blooming growth. "My life has changed just by being friends with Cam," Vicky reflects, "He truly loves people and I try to be like that more and more every day."
For Cam, experiencing Vicky's growth has been the greatest honor to witness as a husband, "[Vicky's] ability to literally go after her dreams... I don't know if people realize how difficult that is in a society that trains you to do what people tell you to do." He adds, "She's a boss, but remains humble and loving at the end of the day. She's constantly growing and I'm just happy to be married to her."
The freedom in having an unconventional love story is in the license it gives to a couple to tell a story that's never been told before. Although arranged marriages aren't something that's typically highlighted in the Black community, the Logans exemplify what can happen when you follow the wise counsel of your parents, while fostering the "it takes a village" adage. "I think our community could benefit from the fact that our parents are connected with solid people with solid foundations, values, and morals," Cam says. When you're building towards a future legacy, sometimes the best way to know where you're headed to by trusting the wisdom and guidance of those who have been where you're headed. Even if that turns out to be your own parents.
"I know that when we have children, that's definitely something I plan on doing," Cam says.

Featured image courtesy of Cam and Vicky

Keep reading...
Show less
Who doesn't remember showing up to the hair salon with a ripped out page from Hype Hair, ready to be transformed? The magazine has been a staple in salons and homes for more than 20 years, giving us edgy editorial spreads with the latest haircare and styling trends, and featuring our favorite style icons. We've seen Eve go from her platinum TWA to her signature braids, Monica go from her "Don't Take It Personal" precision cut to slayed extensions, and all the chic transitions of our favorite Real Housewives. We've also read stories about style trends and techniques from the industry's top stylists.
Today, the brand is set for a major refresh with its new CEO, Lia Dias, a Los Angeles native with her own personal connection to the haircare world. As founder of The Girl Cave LA, a growing chain of beauty supply stores with locations in California and Texas, Dias has always been someone not afraid to take risks and create the change she wants to see. Trained as a social worker and leaving the industry after not finding fulfillment, she took $30,000 in savings to start her first location.
It's been up and onward ever since.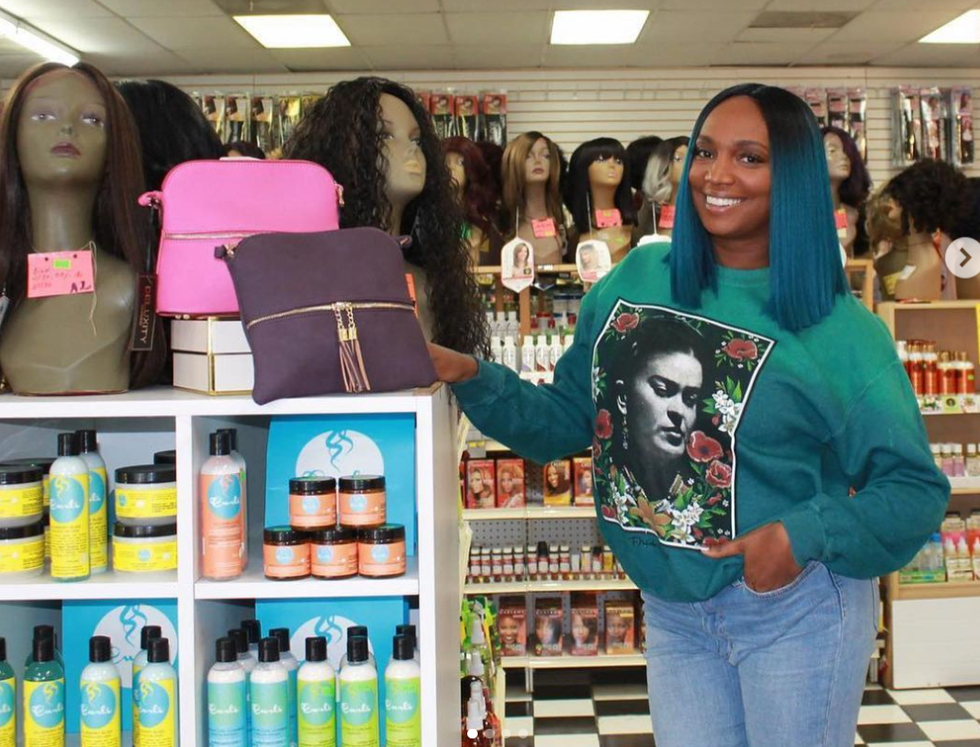 Image by Ashli Brown
"I grew up going to beauty supply stores to get ready for the weekend, you know, on a Friday night," she recalled. "So it was just natural for me. I love being in beauty supply stores, but I always felt like I was never treated like a customer. I always felt like I was being treated with an air of suspicion. I wanted to create something that felt good for me. I'm from Inglewood, so [it had to be] something that felt good for my friends, my sisters. And so I started with the small store. April actually makes six years, and now we have seven locations."
Dias is adding to the growing number of black-owned beauty supply stores in a multibillion-dollar industry that's far from diverse when it comes to ownership. Seventy percent of the nation's stores are owned by Korean-Americans, yet African-Americans spend more than $600 million on personal soap and ethnic hair and beauty aids, according to a recent Nielson report. In other words, we buy a whole lot of products from these types of stores but we don't have a major share of the behind-the-scenes buying power, customer service protocols, community investment or influence.
Dias has been empowering other women in ownership via her franchise model, and several of her stores are female-owned as well. "My husband and I are franchisees of a juice bar called Juice It Up!, and I love the model. I love the support that the corporate office gives us because we knew what we wanted to do but we didn't know how to do it. I would have a lot of women come to me say, 'I want a beauty supply store,' and they'd want to know about how do I get started. I thought, well, why don't I expand the stores?" she says. "My goal is to have stores across the country, but the reality is that I'm a mother of three.
"I have a husband who has a career that I help him and support him through, and I have my own career and ambition. So I knew that I wouldn't be able to run retail stores by myself across the country. I thought about this franchise model and I said, 'This is the best way to [not only] expand the stores, but to also give people an opportunity to get into ownership without having to figure out this beauty supply model on its own.'"
With Dias's model, prospective owners must go through an application process, pay a fee, and invest to start their store. Upon approval, they are given the tools they need to succeed including access to vendors, how-tos on setting up their store, and information on how to run the business.
"We go through the interview process and we really see who will fit the model and make sure that their finances are in line with what it takes to run a store," Dias explains. "Then we approve people based upon their tenacity and what we feel like would be a good fit for the brand. It's [not so much] about how much money you have personally. We really are looking for the right family, the right person, the right partnership that will go well with what we're creating."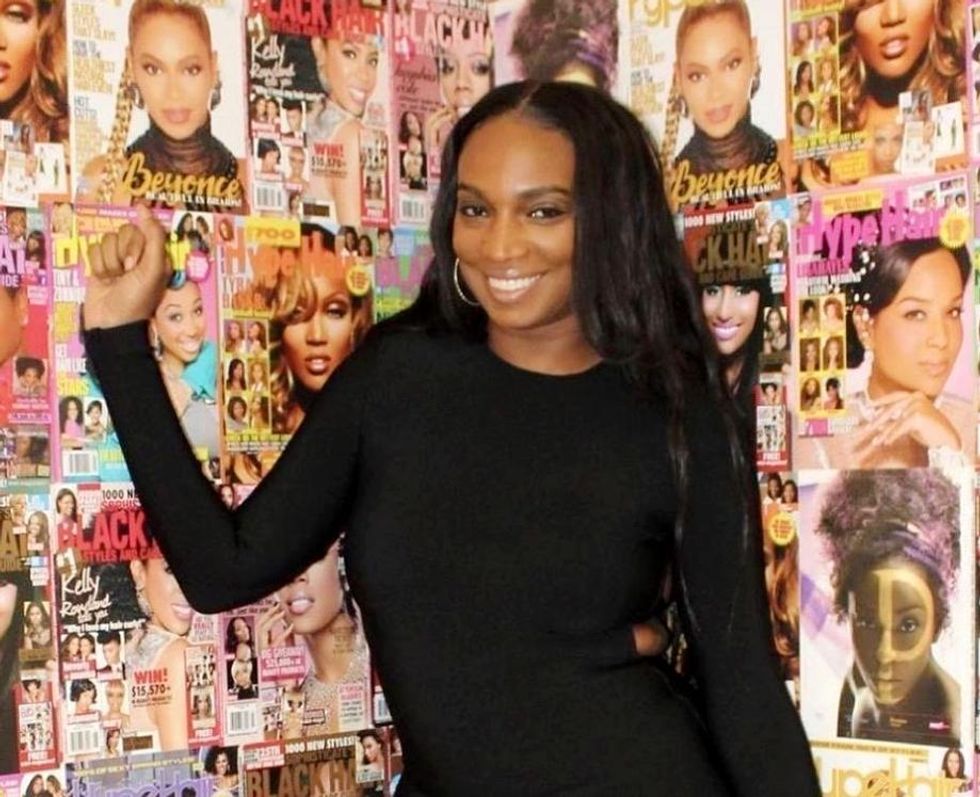 Image by Ashli Brown
Dias's venture into acquiring Hype Hair came about in the same strategic way she was able to expand the Girl Cave LA brand. She'd been interviewed for the magazine, and after building a relationship with the magazine's previous owners, she was able to step into the CEO role.
"I'd never get too excited when I have good sales months. I've always put money away. I didn't know what it was, but every time I had these good sales month, I'm like, 'Let me just put this money away.' So by the grace of God, when this opportunity came up, I didn't have to go to a bank. I didn't have to go borrow the money. I had it stockpiled from years of savings from my retail stores, so that when the opportunity came up and it was almost down to the dollar of what I had saved over the last few years, that was another indication to me that this was what I was supposed to be doing. I didn't have to stretch for it."
Due to its built-in audience, long-standing presence in publishing, and popularity in the haircare industry, Hype Hair has served as the perfect opportunity for Dias to get into something that has the potential to continue growing in spaces she's passionate about. "I want to really give a more full picture," she adds.
"We're doing the same things—editorials featuring hairstylists and hairstyles that are on the cutting edge and inspirational—but the other thing that I'm really bringing to the magazine is I want to infuse more of the culture into it."
"We're talking about a lot of women who are in the hair industry and telling their stories because I feel like those stories are powerful, too," she adds. "A lot of the stories that we're telling, we're making sure that we tell them very boldly. We're giving a lot of color. We're giving a lot of things that grab people's attention because this is a digital magazine and what comes down to it is the clicks and impressions. We want to provide useful, meaningful content."
For more of Lia, follow her on Instagram.
Featured image by Joseph Ford/Gifted Mindset
Keep reading...
Show less
Gummies, tinctures, edibles. Indica, Sativa, or hybrid. No matter how you consume this multifarious plant, cannabis's ability to shape-shift emphasizes the many ways it can be enjoyed as well as the plethora of business opportunities that can stem from it. For decades, stigmas surrounding cannabis and marijuana have prevented Black women from experiencing the joys of computation along with the health benefits that the plant provides. From decreasing stress and easing anxiety, to relieving joint pain, migraines, and menstrual cramps, this plant has a lot more to offer than the cultural taboos that ellipse it.
Today, the cannabis industry continues to climb as one of the largest growing markets in the country, projected to reach $30 Billion by 2025, through the Farm Bill of 2018 and the reclassification of cannabis in 2020. Although this comes with its restrictions, this shift in the regulation has opened the door for opportunities surrounding hemp-derived products to be explored by those who have been disproportionately left out of the industry. As a result, one woman is on the mission to not only destigmatize the language around cannabis while equipping Black folks with the tools (and kits) needed to launch their own CBD empire.
Like most ambition-driven women, Q. Nicole started her corporate career with a plan. "I'm Generation X, and we were taught college + good job = financial security." Upon graduating from college, Q. would soon become a six-figure earner with a rampant 12-year career trajectory that laid the foundation to eventually, "walk on water" and live out what she calls "a cushiony life." But even the most diligent readiness could not prepare her for the abrupt passing of her father in 2013.
At the time, she found herself drowning in the grief of the recent loss while attempting to balance the demand of her transition from corporate life into full-time entrepreneurship. The hectic nature of her work-life balance triggered a deep emotional response that was so unfamiliar, she knew it was time to seek professional help. Shortly after, her therapist diagnosed her with delayed PTSD, a response to her father's death. Her loss triggered an inability to cope.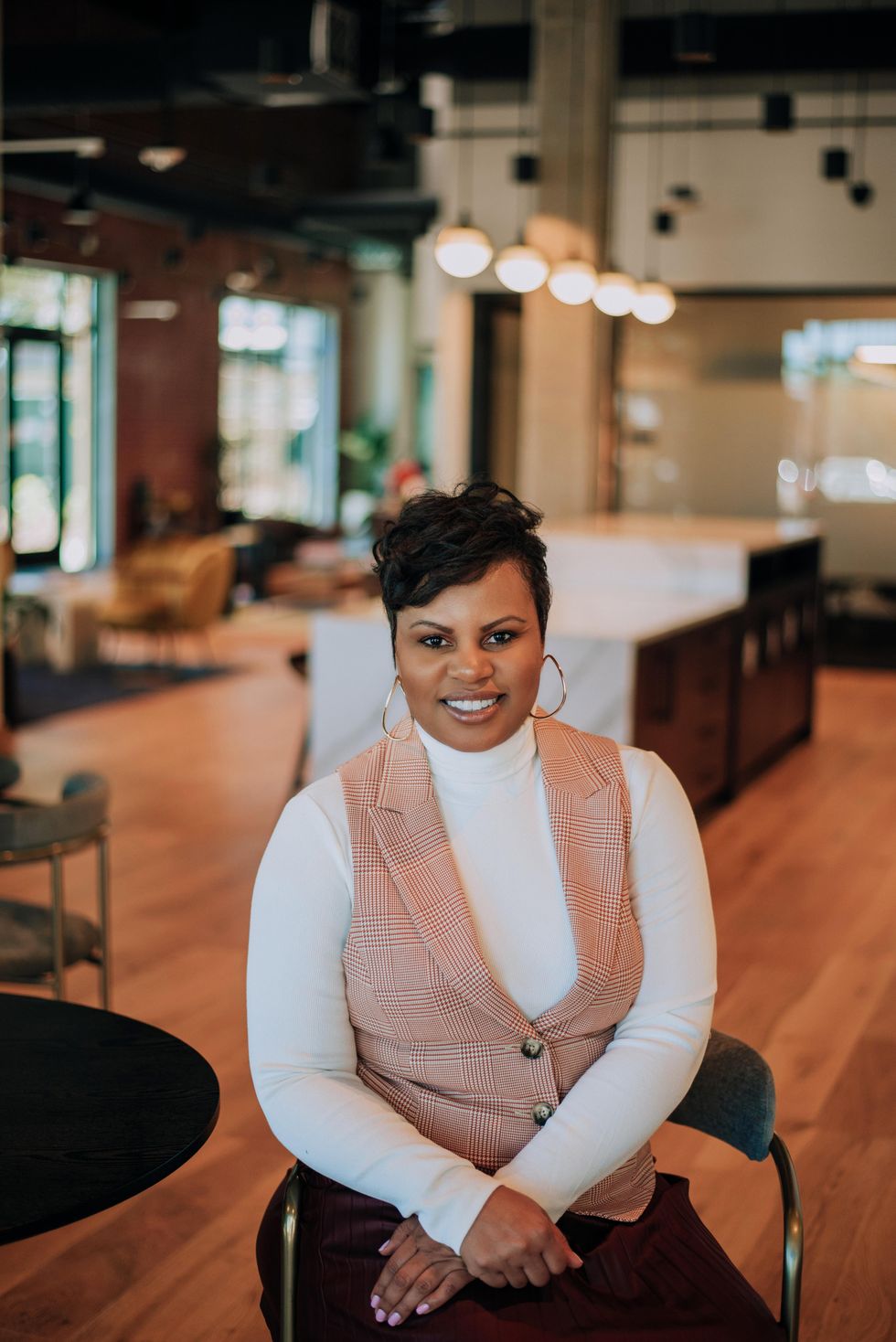 Courtesy of Q. Nicole
During the heaviest points of Q.'s healing process, she was recommended by a psychiatrist to explore opioids to balance her mood. Yet, something about the drug didn't sit right with her, so she sought alternative options. Since medicinal marijuana was legal in her state, she was able to get approved for a license to explore plant-based options to deal with the anxiety and depression that were a result of her PTSD. "That was my introduction to the space as someone who genuinely was a patient." She continues, "I was broken, emotionally. I was in a very fragile place and cannabis saved my life."

This turning point allowed Q. to regain control of her life and reestablish her emotional and professional momentum. Now, Q. Nicole leads WH Farms, a five-acre, three-greenhouse farm located in Eastern North Carolina. She aims to equip Black folks with everything needed to build their own consumable products through the CBD Business Launch Kits and puff, puff, pass the baton into the booming hemp industry that awaits them.
xoNecole: Tell us more about the work you do with WH Farms.
Q. Nicole: Our farmers are African-American legacy farmers which is huge to our story. We're growing with farmers who have had this land for 100s of years, from their sharecropper ancestors who were first-generation slaves. So that's a part of the heritage that we're proud of when purchasing products. I'm a country girl and I've always felt like mobilization is a part of my purpose. WH Farms currently has 200 acres of land that we can pull from. The farmers wanted to protect themselves from large corporations that sought to extract from their land and not pay them their worth. So we wanted to partner with them and whatever our overflow was, we could source it from legacy farmers.
Were there any stigmas that you had to detach yourself from before exploring cannabis? 
I had my preconceived notions. I came from corporate real estate development, so everything I did was about my career advancement. Playing with what was considered a drug was very "anti" my professional development path. But I was open to understanding the medicinal benefits because I saw so many high-profile professionals using it. I would be in conversations with physicians and surgeons and they would talk about how they would grow the plant at home. It made me realize that society had established a stigma that was "urban", but in reality, the plant wasn't just for "urban" use. I became a little bit more open-minded, but at that time of transitioning into full-time entrepreneurship, I did what I needed to do to not compromise my professional standing.
You have a background in real estate and corporate development. What was the transition like for you pivoting from the corporate world into entrepreneurship?
Being in real estate and understanding a number of things about the economy and marketing, I understood that the cannabis industry was exploding and I wanted to be a part of the solution. I wanted to be a part of bringing it to the market for the other corporate, straight-laced individuals, especially African-American women like myself who would otherwise suffer in Corporate America because of the stress that comes along with being an achiever. They place more on you, they expect more from you.
You have the responsibility on the shoulders as the woman and now she's in this corporate environment struggling. But here's this plant that she can drop in her coffee in the morning and have a completely different experience. It was so important for me as a corporate girl to come to the table and say, "Listen, [cannabis] is nothing to be afraid of. Stress is a silent killer and if we're not able to identify ways to relieve our stress in a very tangible way, on a daily basis, then we're going to find ourselves as a community losing to some of these silent killers."
"It was so important for me as a corporate girl to come to the table and say, 'Listen, [cannabis] is nothing to be afraid of. Stress is a silent killer and if we're not able to identify ways to relieve our stress in a very tangible way, on a daily basis, then we're going to find ourselves as a community losing to some of these silent killers.'"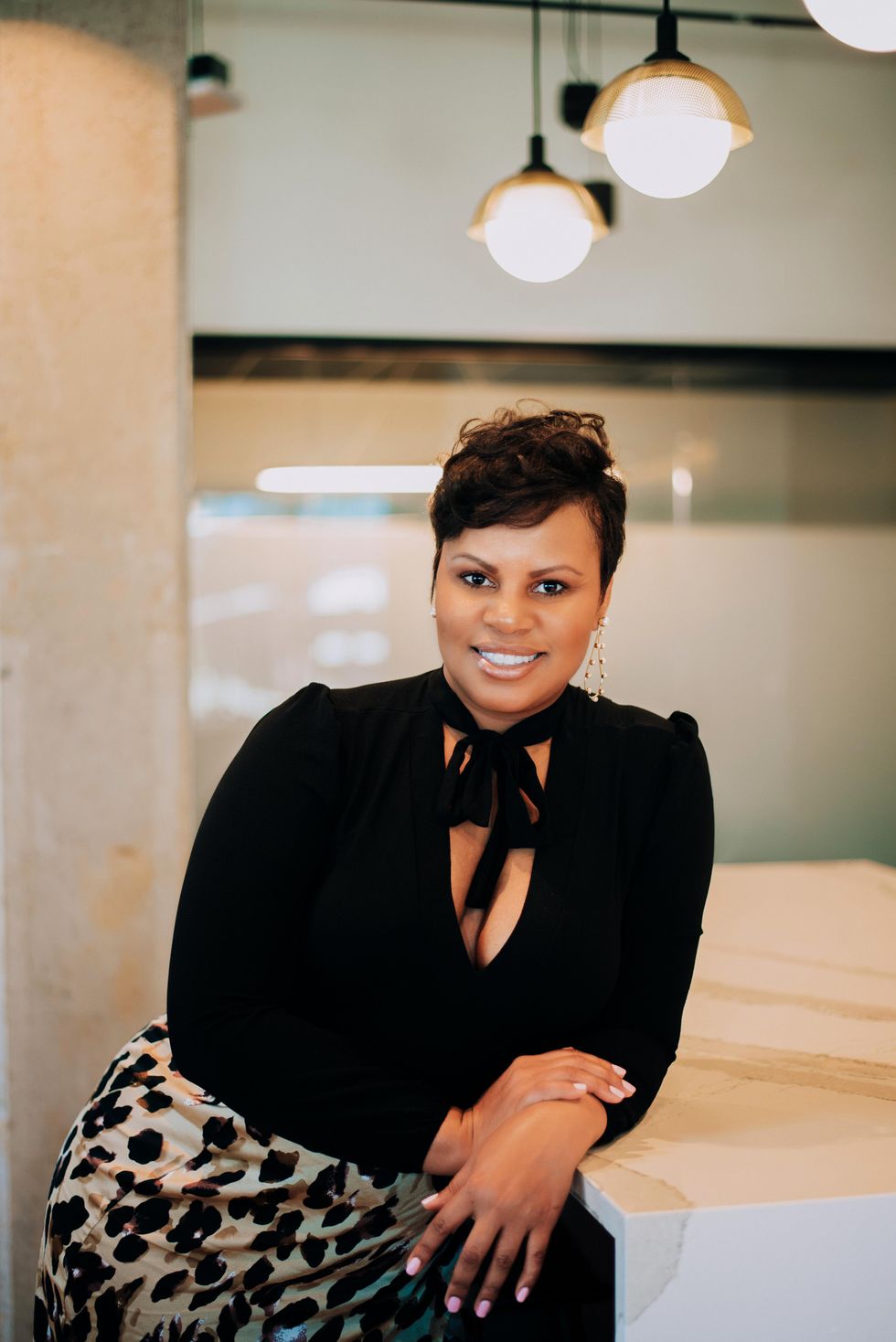 Courtesy of Q.Nicole
How do you see the match between Black creativity and the hemp-derived product industry complementing one another?
I see nothing but Black wealth, Black advancement, and Black opportunity. This is why I'm so passionate about the Launch Kits and what our farm does. We know this plant, maybe not the technical-scientific data, but we know the way it makes people feel, we know the weight, we know how much it's worth. When you take that transferable skill and talk about the Black men who are a part of STEM programs looking for ways to add cannabis to technology, that skill is helpful.
Cannabis goes well in so many different forms, it has chemical qualities that help with hair growth and fight acne. There are ways that the industry needs to be supported by science, manufacturing, technology, and chemistry. So when you talk about a group of people who have certain soft skills and are already exposed to the plant, we're not starting from scratch, we're starting from a basic understanding of it.
How were you able to adapt to the shift in your purpose? 
I don't think that I ever shifted purpose. I understood very early in my purpose walk that my purpose would always expand. Jullien Gordon [real estate entrepreneur] and I were professional buddies, and he shared that, 'if it's truly your purpose, it'll always just expand into a new version of itself.' WH Farms is just a continuation and expansion of the same purpose: I educate and empower. There's a lot of people who don't know about cannabis.
Since I grow it, I can educate them and empower them to have their own CBD product line and be positioned to take advantage of what this industry has to offer. As a business owner and CEO, I always want to build a business that helps people create more than they already have, learn more than they already know, and believe they can have more than they already have.
You've tapped into two industries (real estate and cannabis) that are known for their high return and opportunity for growth. How has navigating these growing markets shaped your views on generational wealth?
It's taught me that generational wealth is a goal and it should be an expectation, but it should never be confused with something that's easy. I think it is a necessary collective reset because it's a great buzzword, but what does it really take? To be a woman in the entrepreneur space, I've had to fight to not be backdoored on deals not only to get respect but to receive the compensation I deserve. Same for the cannabis industry.
It's still the Wild Wild West, it's still a developing industry and because of that, it takes courage, bravery, and the ability to manage risk. The guts that it takes to play in these spaces for generational wealth reminds me that it's something that isn't free, it comes with a price and it comes with perseverance. It's not always easy but it's always purpose, it's always valuable, and my ancestors also fought for it.
"The guts that it takes to play in these spaces for generational wealth reminds me that it's something that isn't free, it comes with a price and it comes with perseverance. It's not always easy but it's always purpose, it's always valuable, and my ancestors also fought for it."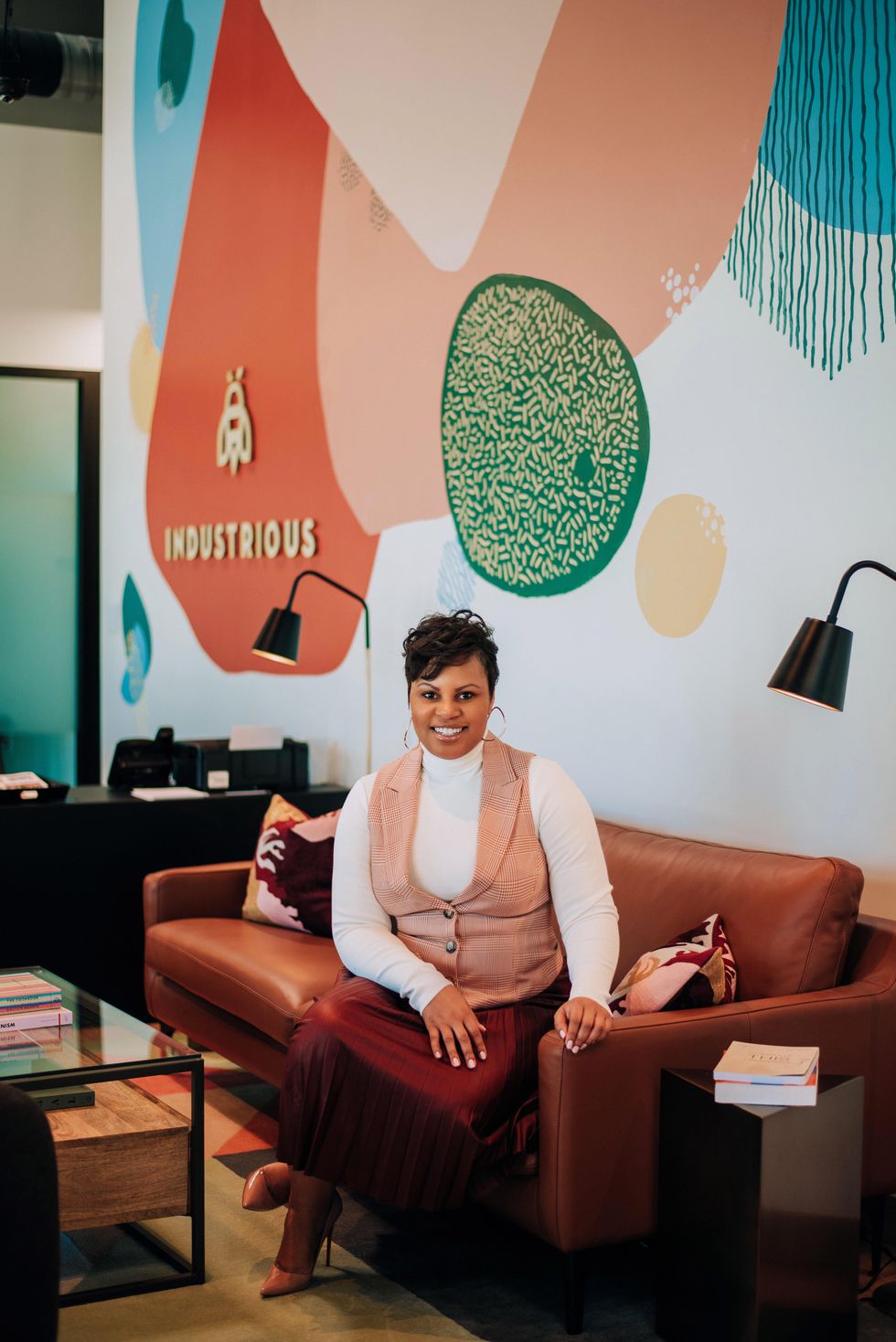 Courtesy of Q.Nicole
I think sometimes there's a push to encourage women to go after entrepreneurship, but we're rarely told how to balance the weight of it. As a serial entrepreneur yourself, what are some tools that help you find balance in all that you put your hands to?
I find that there's never balance, it's only harmony and that's the first permission that I gave myself. I seek harmony and that gives me a different metric to measure by. Everyone knows I have my phone on 'Do Not Disturb' from 9 a.m. to 9 p.m., Monday through Friday. That's because I have to hear myself. All calls are scheduled and I don't do a lot of distractions. I have to make sure that I am able to bring forth what I feel I'm supposed to be putting into this business and stay ahead of it.
I work in chunks, I'm big on grounding, I make sure I do meditation in the morning, and I love my CBD tinctures and smokable herbs in the morning -- it helps with mental focus and gathering my thoughts. I leave work at work and keep home at home; I am a person who attempts to separate the two. I think that the way to be present in these various relationships, especially my relationship as a wife and my role as a wife because that is certainly a priority for me before business. I don't let things bleed, I'm very compartmentalized.
​
"I think we have to give ourselves grace in the human experience and the permission to turn the poison of our mistakes, of the doubt, setbacks, and the hate into the medicine that fuels us and turn it into lessons and inspiration."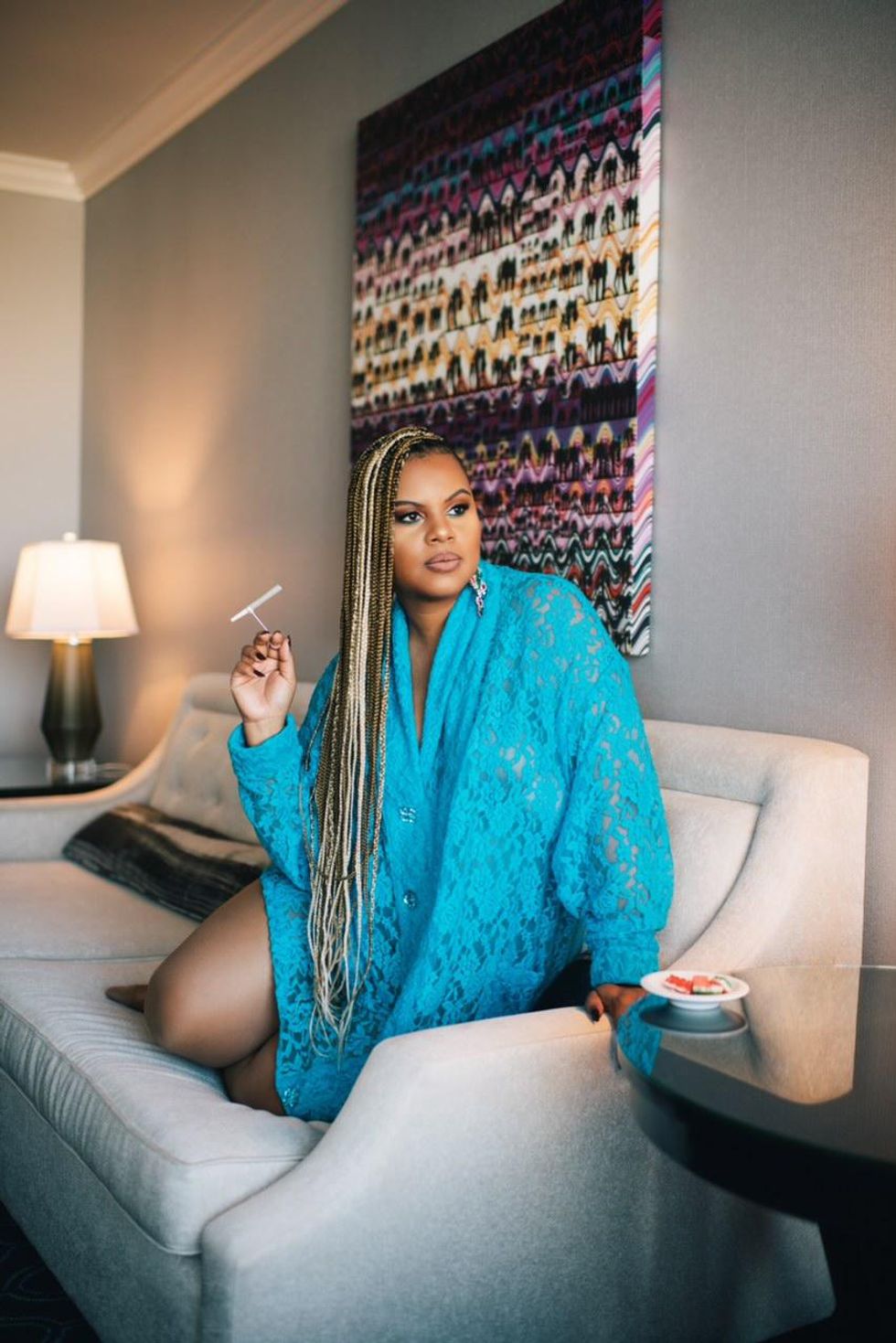 Courtesy of Q. Nicole
What advice would you share for those starting in entrepreneurship? 
Learn how to comfortably turn poison into medicine. You're going to fail, you're going to fall, things aren't going to go right, it's going to be stressful. You may look at yourself and say, am I actually doing it right? All of these aspects of the journey are pretty uniform to everyone's journey because this is the journey. And I think we have to give ourselves grace in the human experience and the permission to turn the poison of our mistakes, of the doubt, setbacks, and the hate into the medicine that fuels us and turn it into lessons and inspiration.
To learn more about how you can get your own CBD Business Launch Kit, click here. To stay connected to Q.Nicole's mission, follow her here.
Courtesy of Q. Nicole
Keep reading...
Show less
Hair styled in a long high ponytail. Lips painted in a popping shade of red that adds even more sexiness to her statement outfit. A black, see-through lace bodysuit paired with streetwear pants of the same color, along with a matching jacket, all accented by a gorgeous set of pearls and white heels. On this sunny winter day, the look of YouTube star Dulce Candy Ruiz fills the streets of her friendly Californian neighborhood with boldness and a fresh breeze of creativity. As she poses in the driveway of her home, Jesse, her husband and biggest supporter, masters her angles and captures the best portraits of her.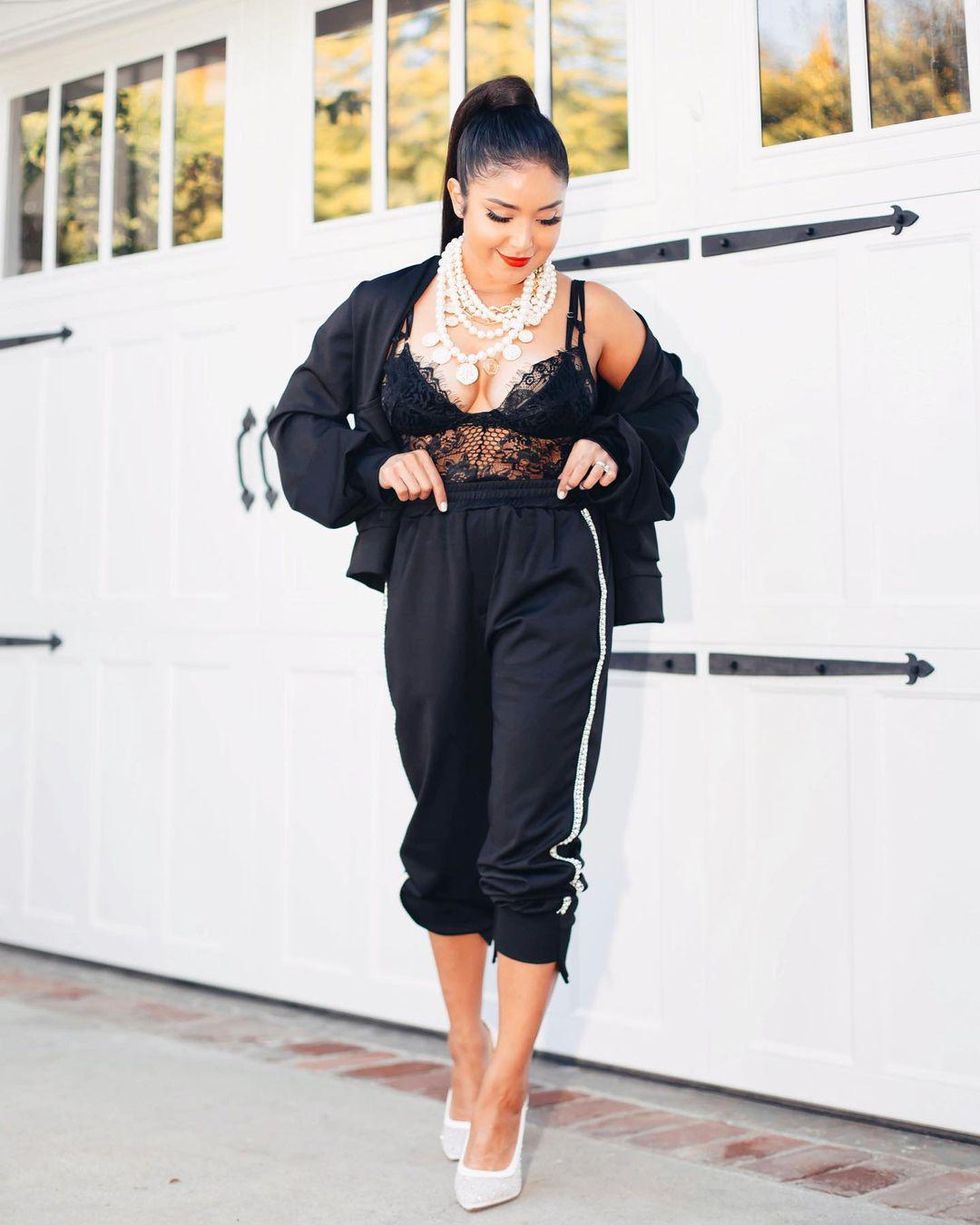 Courtesy of Dulce Candy Ruiz/Instagram
From the outside, it looks just like a regular day in the life of a YouTuber who has more than a million followers on Instagram alone. Yet, when Dulce and I both sit down for an interview, I understand from the honesty and vulnerability she exudes that it was, in fact, the day everything changed. It was the day she'd finally gathered enough strength to steer away from the empire that she built to spread her wings and fly to new horizons.
"We were simply outside doing this photo shoot, and I don't know what possessed me," she explains. "I wasn't expecting myself to do that, but I did. I grabbed my phone and tweeted it out: I'm quitting YouTube."
Making the Shift: A Bold Move to Let Go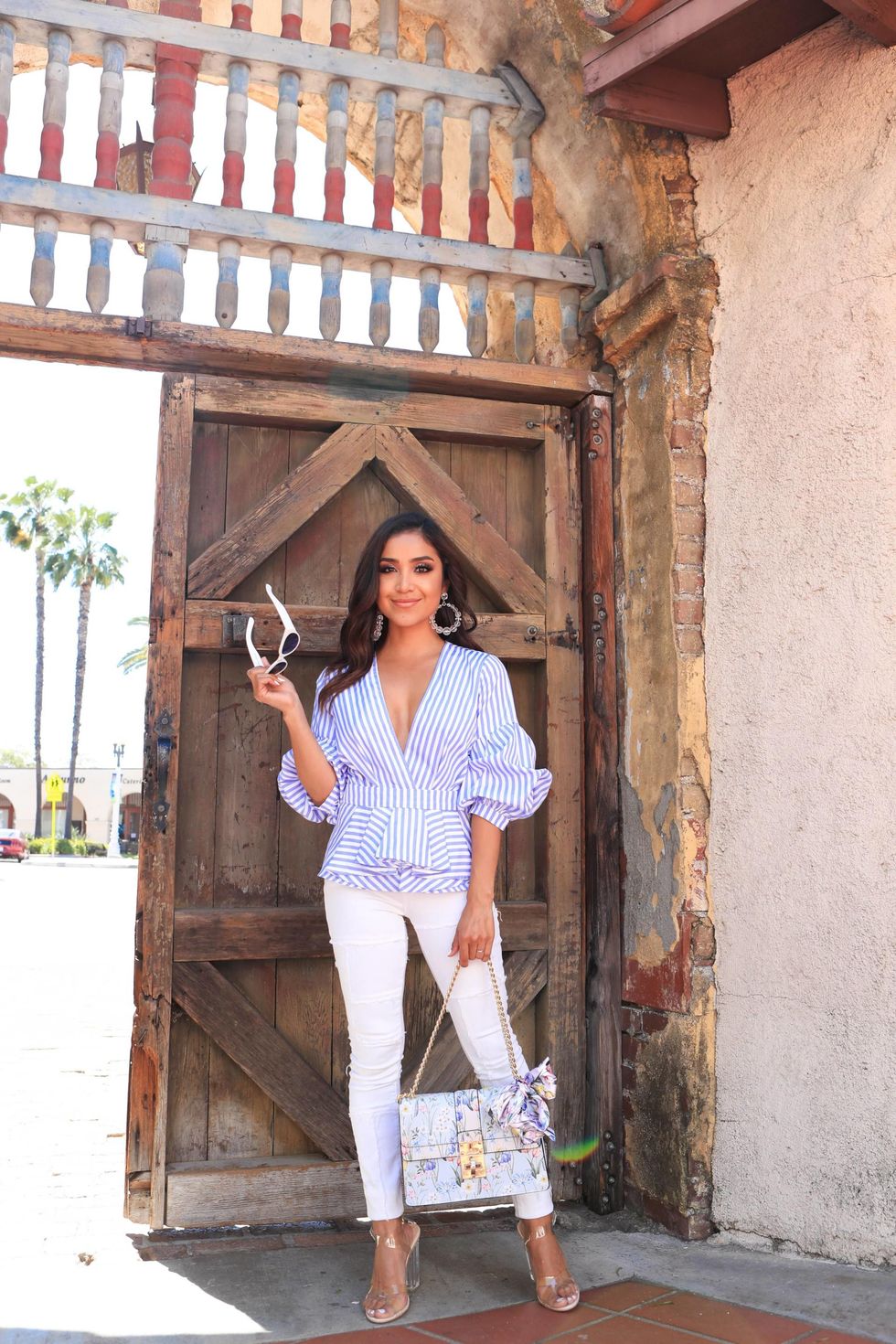 Courtesy of Dulce Candy Ruiz
The decision for Dulce to quit YouTube took five years. "I didn't have a lot of confidence to let go in the past because I was unclear as to what I wanted to do with my life, which is why it took me so long to redirect my energy," she confesses. "Because YouTube was a safe space for me—it provided me with a lot of stability, I knew what to expect—I kept reverting to the same old pattern and cycle."
Indeed, since 2008, Dulce has positioned herself as a major force in the beauty and fashion industry. Over time, her blog and social media posts, along with her viral YouTube videos, turned her into a trusted source. Most importantly, she's been able to live off of her passion even though she was convinced that foregoing a higher level of education after high school would reduce her chances of one day becoming successful. It's not hard to imagine how much of a tough choice it was to close the book on her biggest accomplishments—let alone in current times when the world is experiencing a devastating pandemic.
When asked what prompted such a bold move, Dulce admits that although YouTube was her safe space, it was no longer her healthy space. Quite the contrary, it had become somewhat of a glass ceiling that was preventing her from elevating to her higher self. "I didn't see myself growing on that platform anymore. I'd reached a point where the things that used to come easy to me before, like editing videos, setting up the lighting and background, or even the content that I was producing as a whole, left me feeling restricted and became difficult to do," she recalls. "I was often making excuses and was also constantly debating whether it was the kind of life I wanted to live or not. I considered these as big signs that it was time for me to move on."
"I believe that life is meant to be lived in a flow. When that's the case, the challenges that you come across in your journey excite you. They become a source of motivation and ultimately lead you to find happiness. On my end, these challenges were pushing me back and draining my energy. I was living in resistance."
Intently listening to Dulce reveal the reasons that drove her out, her words confirm the assumptions that I had of her: that she is the kind of woman who is very mindful of the way she feels, and she uses that information as a compass to guide her through achieving her personal legacy. As I question her on whether or not she still believes that quitting YouTube was the right thing to do, the indubitable intonation of her voice says it all. "[Quitting YouTube] was a really liberating feeling. Once I put it out to the world—an act that I had no doubts would hold me accountable to not go back to my word—the big weight and pressure that I was bearing on my shoulders instantly lifted off, which was a confirmation that I was, indeed, taking a step in the right direction."
"With that said, from the moment the simple thought of quitting crossed my mind five years ago, I knew that it was what I was supposed to do—without consulting my husband, my mother, or anybody else. Something that I learned is how important it is for us to trust our inner voice and let go of the need to seek the opinion of others."
Dulce continues, "It's mandatory to listen to our intuition and to spend the necessary time to learn about ourselves. This is what enables us to harness the power to really discover and understand what we want to do as well as who we want to become. Because deep inside, we know."
Changing the Narrative: Quitters Do Win and Winners Do Quit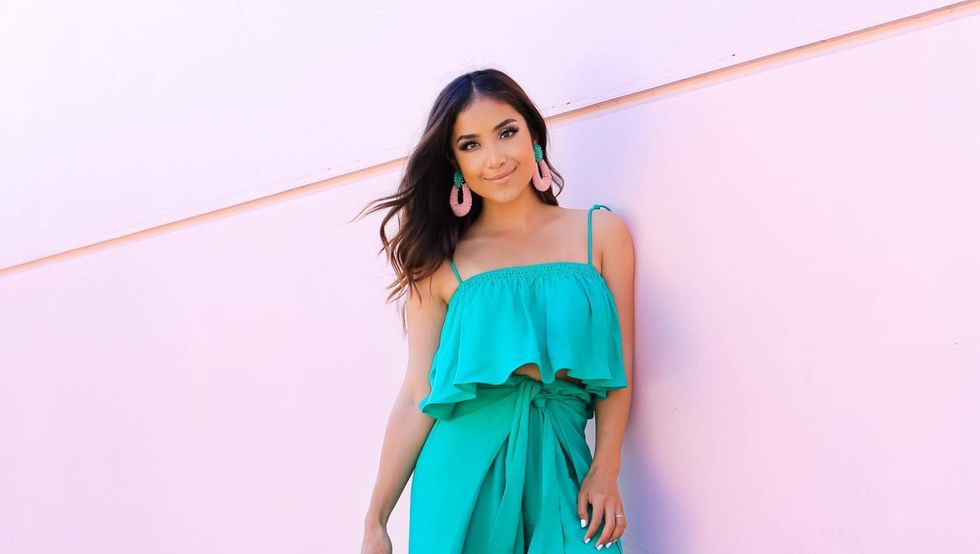 Courtesy of Dulce Candy Ruiz
The more we progress as human beings, the more we grant ourselves the permission to tailor the definition of success and allow success to look different on everyone. Nevertheless, it seems like no matter what we decide to equate success to, the ultimate goal remains a common one: to live our best life—or as Dulce beautifully calls it, "passionate living"—regardless of the consequences it may entail.
"One thing I'm not going to do is to stay in a place where I don't feel fulfilled for the sake of stability. Had I stayed in the military when I was younger, I could've benefited from housing, a guaranteed paycheck at the end of every month, and a plethora of other benefits. Yet, I wasn't happy. I don't think that any kind of opportunity or amount of money is worth bringing me down, let alone costing me my peace. And so, I left."
Now, you're probably thinking that walking away from money is way easier said than done—and you're right. I would even say that it's extremely scary. But one thing that speaking with Dulce has taught me is that it's possible.
"If you're not content with your current situation and wish to pursue your goals, do like I do," she advises, "Start by investing two hours of your time daily to work on them. Filter out your surroundings and the things that you consume to help your vibration rise higher. Exert a lot of energy in your dreams and bringing your vision to life while still maintaining your other job, and without allowing the negative emotions it involves to tear you down. It's all about balance here [and keeping your why at the forefront of your mind]."

The Mexico native adds that she is now able to see and experience the world differently and can dedicate her focus to the things she enjoys and the legacy she wants to leave behind. I can't help but think about American football coach Vince Lombardi's famous saying, "Quitters never win, winners never quit." What if the latter, although motivating, was a narrative rooted in falseness or, dare I say, burnout culture? What if, in the end, we all could win regardless?
As time goes by, women of all ages, races, and social statuses keep proving that quitting does not deserve the negative connotation it's always been associated with.
In other words, if it doesn't feel right, may Dulce's testimony serve as a reminder that you're allowed to let go.
Owning Her Pivot and Expanding Her Impact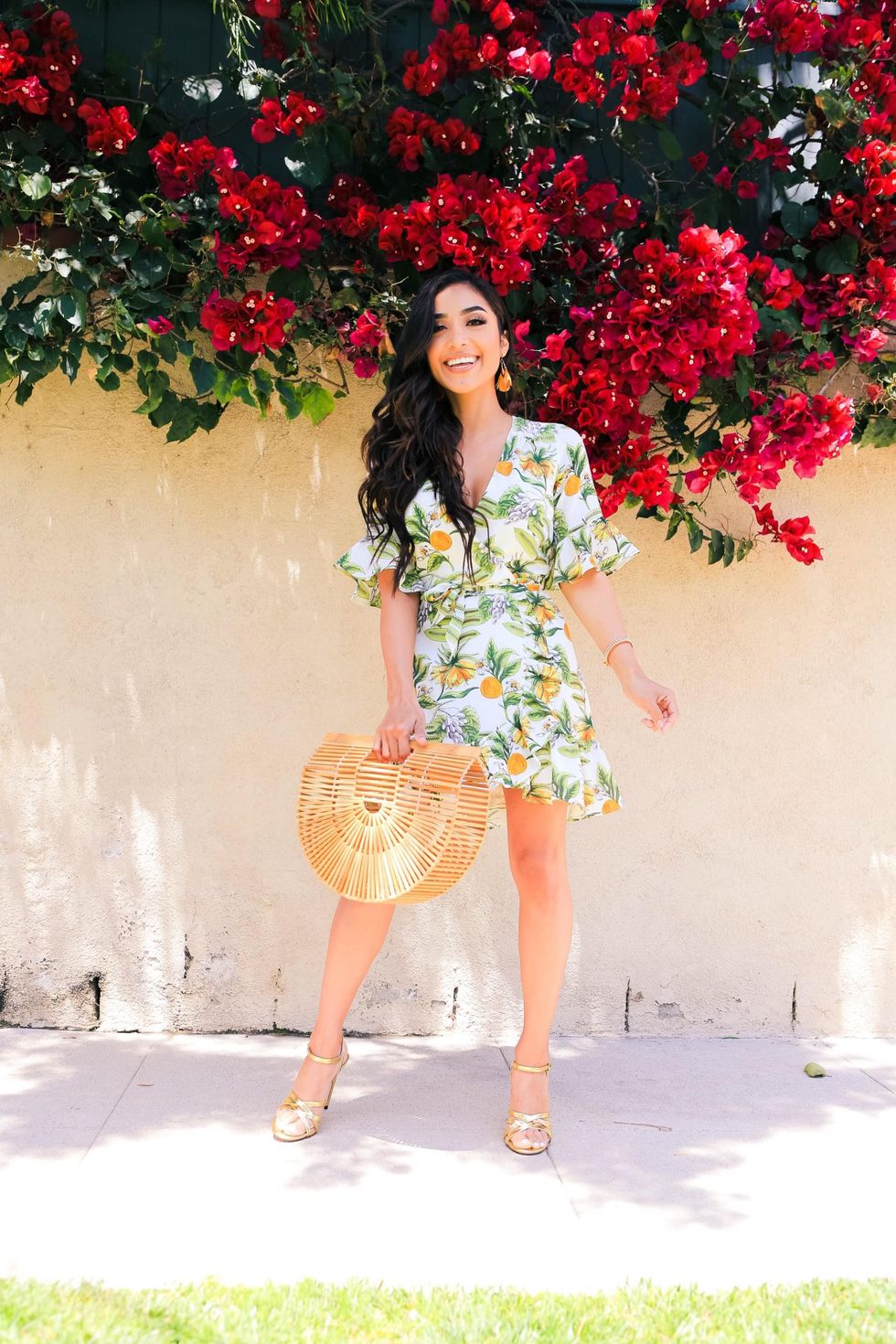 Courtesy of Dulce Candy Ruiz
At the time of our interview, Dulce still considers herself in transition, and she's giving herself the freedom to surrender to her creative callings and explore different avenues. She's also actively working on the development of her new brand called Sweet Soul—and from what we can see of her recent Instagram stories, a possible second book. (The first, titled The Sweet Life: Find Passion, Embrace Fear, and Create Success on Your Own Terms, was published in 2015 and chronicles the story of how she emigrated from Mexico to the United States, enlisted in the Army, and found her calling in beauty and fashion.) For if the butterfly has decided to desert her kingdom, something that she's not leaving behind is the garden and beautiful flowers that she's been growing for over a decade, namely her audience.
"What also drove me to quit is the fact that I do respect and care for my audience deeply. I value their time a lot and it'd be disrespectful to show up as an inauthentic version of myself that's not passionate just to stick to what I've been doing."
"I want the things they'll take away from the content that I create to always elevate them, and for that to happen, my content must evolve at the same pace as I do. It shall remain in alignment with who I am. Sweet Soul, my upcoming stationery and jewelry line, will be just that. It aims to empower women through self-discovery and self-love. Both have been a defining part of my own journey, and to make helping other women learn how to truly love themselves and how to be confident enough to step into their true essence my purpose feels natural."
Building and ensuring the success of Sweet Soul is a challenge for Dulce, though, but it's one she's excited and enthusiastic to take on. "I really feel like I'm starting from scratch again, which I technically am. It's a new path for me, one that I've never explored before. I've never owned nor have I ever built a thriving company that sells products. From securing a design house to figuring out successful sales and social media strategies, everything is a challenge."
And it's not only that that makes her new venture challenging, there's also the eventuality that she has to rebuild everything that revolves around it, especially her connections and perhaps even her following. "I'm well aware that not everyone will be interested in the things that I'm now pursuing. When you decide to initiate such a shift, everything in your life changes—your attitude, your priorities, your interests, and of course, your relationships."
In a world where individuals are constantly put in boxes, Dulce simply wishes to be seen as who she is. But if she's really to be categorized, then she's a soul-centered creator.
"My legacy doesn't necessarily have to be so huge that it shakes up the generations to come. As long as the people whom I have crossed paths with during my existence remember the way I made them feel, how I showed up in any field of my life, then that's enough for me."
For more of Dulce Candy's life and her new endeavors, follow her on social media @dulcecandy and @sweetsoul.
Featured image courtesy of Dulce Candy Ruiz.
Keep reading...
Show less