If a breath of fresh air was a person, it would be Sonya Renee Taylor. Even via our Zoom call, the poet, best-selling author, and social justice advocate exudes that perfect mix of grace, intellect, and tell-it-like-it-is candor of your favorite auntie or podcast host. Taylor, who started The Body Is Not An Apology movement in 2011 and wrote The New York Timesbest-seller The Body Is Not An Apology: The Power of Radical Self-Love in 2018, has used her voice and platform to create a profound safe space, and drive a movement behind being unapologetically yourself as a Black woman and embracing all that comes with that journey.
Sonya has also powerfully taken on the dismantling of systems set up in the U.S. that support body-based oppression and stifle true "radical self-love," stepping beyond shame and so-called societal "norms" of what being a woman supposedly should be and into inner transformation that blossoms divinely. I had a conversation with Taylor that not only blessed my soul—and reaffirmed my own journey toward self-love— about what exactly "radical self-love" means, how concepts of body positivity have evolved—or not—and how we, as Black women, can take back our power to define womanhood on our own terms.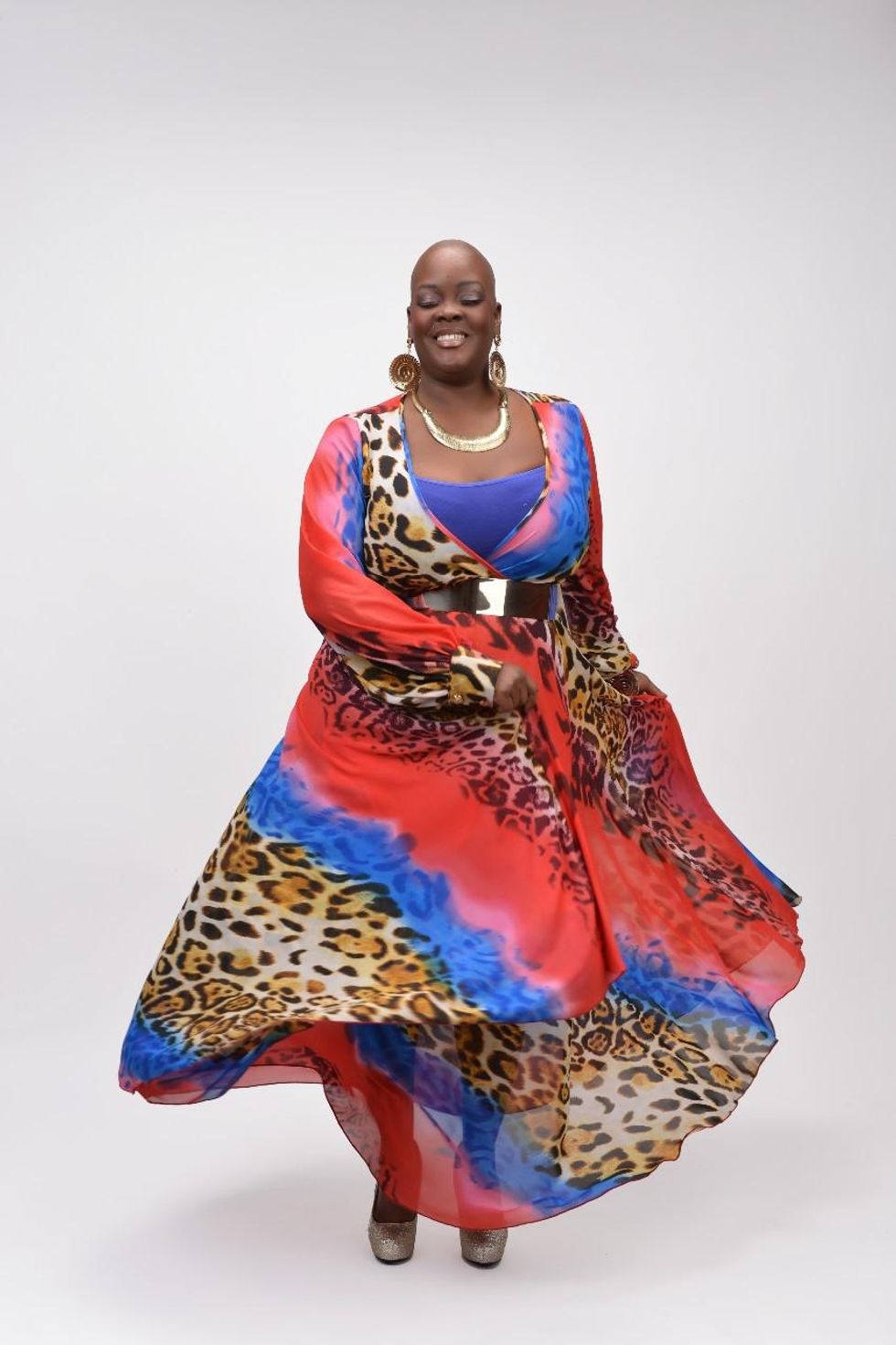 Courtesy of Sonya Renee Taylor
xoNecole: So, you've been a fierce advocate for 'radical' self-love, and your poetry as well as your platform have seen global recognition. You've touched so many people. How did the idea for your platform and book, 'The Body Is Not An Apology,' come about?
Sonya Renee Taylor: From a place of love. I'd asked my friend about her sexual health choices and why she wasn't using protection with this person that I knew was a casual partner. And my friend responded very honestly–very transparently—and shared that because of her disability–she has cerebral palsy—that she felt it made it difficult already to be sexual so she didn't feel entitled to ask this person to use a condom.

xoNecole: Oh wow...no!
SRT: And my immediate response—that I'm very clear today, was through me, not of me—I said, "Your body is not an apology. It's not something you offer someone to say, 'Sorry for my disability.'" And those words resonated. They stuck for me. They felt like I wasn't just sharing a message with a friend. I also was communicating something that I needed to know too, and you know, at the time I was a poet and so when something particularly compelling showed up, I wrote about it. I was going to write the poem with this refrain, "The body is not an apology." So I wrote that poem, and I began performing it and sharing it.

I believe that language is always making things manifest, so what we speak over our lives always comes into being—good, bad, or indifferent. And so those words—the words I had written in this poem–started challenging me to look at the places where I was still living like my own body was an apology. In a small way, a few months prior, I'd taken a photo of myself—a selfie in a black corset—and I felt sexy and delicious. I also felt like I didn't have a right to feel sexy and delicious in this fat, dark-skin body and so I hid the picture away until February 9, 2011.
"I believe that language is always making things manifest, so what we speak over our lives always comes into being—good, bad, or indifferent."
Prompted by someone who posted a photo of a plus-sized model, naked, on my Instagram page, I went and googled her quickly and one of the first ads that came up was with her in a black corset for a lingerie campaign. I just felt inspired. Why am I hiding this thing that I feel good about? What would it look like if I just posted this picture? So I posted it and asked people on Facebook, "Post a picture where you feel beautiful and powerful in your body." The next day about 30 people had tagged me in photos. I was like, 'Maybe we just need a little space where we're allowed to affirm ourselves and each other. So maybe I'll start a little Facebook page and I'll name it after this poem, and I'll call it, 'Your Body Is Not An Apology.''
So, I started a Facebook page and that was 11 years ago, a New York Times best-seller-ago and a multimedia company ago.
xoNecole: That's amazing! There are a lot of women who feel like they have to dishonor themselves in order to appease a partner sexually. I love that you were that friend. Now tell me this: How has the concept of self-love evolved for you today, considering your success and considering that body positivity and self-love now seem to be trending topics. What have you seen in terms of evolution, if any?
SRT: I think that part of the reason the word 'radical' ended up on self-love—when I started this 11 years ago, there were less than one page of hits on the page of 'radical self-love—it was me and one other person. [Laughs] At the time, I was really talking about body empowerment and how we honor all bodies. What's happened over time, for me, it's become very clear that our relationship to self-worth— to our sense of enoughness—filters into every aspect of existence. And not just our existence but everybody's existence. This thing we think of as this very individual experience that we're having by ourselves—in how we relate to our body—actually has global, political, and socioeconomic consequences.
'Radical' is so important in self-love because I want people to make the connection that I'm talking about a kind of love that changes systems, that I'm talking about a kind of love that transforms policies, that transforms institutions. I'm talking about a kind of love that transforms how we show up in the world, which consequently changes how the world exists. And I have seen, over and over again in my own life, that when I am connected to [and] moving from my own radical self-love, I am looking at how the world has said I'm supposed to experience being this fat, Black, bald, queer, neurodivergent woman—what the world says that's supposed to mean—versus what I inherently understand what my true self knows about that, which is that each and every aspect of me is divine and that when I buy into what the system has told me to buy into about that, that I reinforce all of those negative aspects of the system.
"It's become very clear that our relationship to self-worth— to our sense of enoughness—filters into every aspect of existence. And not just our existence but everybody's existence. This thing we think of as this very individual experience that we're having by ourselves—in how we relate to our body—actually has global, political, and socioeconomic consequences."
If I listen to what the world says about being a dark-skinned Black woman, I immediately become an agent of anti-Blackness. I immediately become an agent of white supremacist delusion. When I believe what the world tells me about my fat body, I immediately become an agent of fatphobia. And so, all of those systems stand because so many of us have been indoctrinated to be agents for them, knowingly and unknowingly. So, every time I tap into my own radical self-love, I divest from that job I was given, that I didn't even know I was given, to keep furthering those systems.
And I think that that is where body positivity misses the boat because body positivity has been co-opted and turned into this incredibly apolitical thing. Body positivity was born out of the fat liberation movement of the '70s, which was started by queer women, disabled communities, and people of color, and it was co-opted so that white ladies could feel good in their size 14 jeans. That's cute. I want that for people, I suppose.
I don't want you to feel terrible about yourself, but how does that impact the wage gap for Black women? How does that stop extra-judicial killing by the police? It doesn't, and the radical self-love I'm talking about interrupts those systems, interrupts those ideas that there are bodies that are not worthy of resources, opportunity, and life. And so, consequently, we devalue those bodies. [Transforming that system is] what radical self-love does. And to me, that's an inherently political act.
xoNecole: So let's talk more about redefining 'woman' in that context then. Oftentimes, being a Black woman, we were raised with concepts and issues with our bodies, from our grandmas to our moms to our aunties. For me, I grew up tall and slim, so anything above a size 6 was said to be "fat" in a negative way in my family. How do we as Black women really embrace 'radical' self-love, especially considering some of the things we've been taught about ourselves?
SRT: One of the things I advocate for is that first, we have to understand where those [negative messages] come from. Oftentimes we think that we created them. Like, 'I have this judgment about myself, this thing that popped up in my head,' or 'I have this judgment about myself and the boy in 8th grade gave it to me or my grandmama gave it to me.' So we have this very centralized focus of responsibility. I encourage people to zoom the lens out and to understand that it's an individual experience they're having inside of a larger context of systems and structures. Your grandmother got the message that 'fat' was bad. Where did she get that message from?
She got it from a campaign that started in the 19th century, the late 1800s, right after the abolition of slavery, where white people needed to figure out new ways to reconstruct their power. They needed to figure out ways to reaffirm their superiority. Dieting and control of the body became that new way. And we know about this because, in the book Fearing the Black Body by Sophia Strings, she talks about the historical and racial origins of fatphobia. So that wasn't an idea your grandma just came up with. It was an idea inside a larger system—a system we call white supremacy, inside of what I call white supremacist delusion. I don't want to get it twisted. Inside of that system is another doll—that doll is called fatphobia. And then, inside of that system, there are communities who pass on, and become unwitting agents of that system because they've been told these messages.
If you can get [to] that larger level, you can recognize that these ideas are not my ideas. They are the ideas of a larger system that's designed to control me and manipulate me, that's designed to further marginalize and oppress me. I don't want to be an agent of that. So, then what do I do? I start raising the consciousness and I start taking new action based off of that awareness. "Well, this is what I used to do, based on that indoctrination. What can I do now? Well, maybe I could make a little money jar, and every time I say something fatphobic about myself, I put a little something in there." That's my reminder to invest in myself and divest from that system.
There are small little activities we can do to help interrupt old patterns—those old stories of womanhood that often come out of those systems, but it's important to recognize that it was the system that told us that. It's not our authentic self. Authentic self understands our inherent worthiness.
xoNecole: A lot of us look in the mirror and see those delusions. I've never outlived the negative feelings of my Granny calling me "fat" when I gained any amount of weight. It makes you feel like you're not enough. It's taken me decades to undo the effects of that, with therapy as well. Are you an advocate of therapy as a resource to tap into that 'radical' self-love?
SRT: Absolutely. I'm a wildly unapologetic advocate of therapy. My therapist is my longest relationship. We've been together for 10 years. So one of the things I think particularly Black women need to give themselves permission to do is to invest in ourselves. We've been so conditioned to take care of everybody else—to take care of everybody else's well-being, to look out for everyone else. And what I am a profound advocate of is that it's of no use to anyone to give from a dwindling cup.
What I give from is my overflow and I give from my overflow for two reasons: One, what's in my cup belongs to me. That's how I sustain myself. So what you give is more vibrant and more beautiful from overflow. And two, I am not doing anyone any favors—I'm not actually offering the world a real gift to, like, have my backwash or the dribble at the bottom of my cup. I make sure that my cup is full first so that whatever it is I'm giving is a generous and joyful gift to the world and that, to me, relates to therapy or whatever healing modalities that we decide to undertake.
"What I give from is my overflow and I give from my overflow for two reasons: One, what's in my cup belongs to me. That's how I sustain myself. So what you give is more vibrant and more beautiful from overflow. And two, I am not doing anyone any favors—I'm not actually offering the world a real gift to, like, have my backwash or the dribble at the bottom of my cup. I make sure that my cup is full first so that whatever it is I'm giving is a generous and joyful gift to the world and that, to me, relates to therapy or whatever healing modalities that we decide to undertake."
First, let me learn to take good, good, good, good, good care of me. Because, one, so that I can give a fantastic instruction guide for whoever else shows up and says they want to do the job, and, two, so that when I'm offering something to the world, it never has the bitter taste of resentment and it never has the flavorlessness of exhaustion. It doesn't have any of those qualities because it's so full of what it is that I, first, offer myself.
Find out more about Sonya Renee Taylor and The Body Is Not An Apology via her Instagram or website.
Featured image courtesy of Sonya Renee Taylor
Before 43-year-old film and television writer Felicia Pride made a career writing for shows like Queen Sugar and Grey's Anatomy, she had vastly different plans for her life. A business major in college, she'd been pursuing a path in the corporate world, but got her first taste of the possibility of a career in writing. "In college, I had a professor who saw something in my writing," Pride tells xoNecole. "[The professor] encouraged me to minor in English, but that's more time and more money – both of which I [didn't] have."
Deciding instead to move forward with her business degree, Pride quickly realized the monotony of the corporate world was not going to keep her interests. On the side, she took on an internship at a Black-owned newspaper to satiate her creative impulses. "My first published piece was a review of Mary J Blige's No More Drama album," Pride says. "And when I saw my name in print – the byline – I was like 'oh this is it.'"
It still took a moment for Pride to find her footing as a writer. "Freelancing is a lot of work," she says. "You're typically undervalued in many ways." After moving to Los Angeles, Pride started working in film distribution – acquiring documentaries as an impact producer – a career that she immensely enjoyed because it allowed her to go to film festivals like Sundance for free. After being laid off, however, Pride saw that as an opportunity to return to her original passion of writing.
When she first moved out to California, Pride brought along the screenplay for her film Really Love – a romantic drama about two Black artists falling in and out of love against the backdrop of Washington, DC.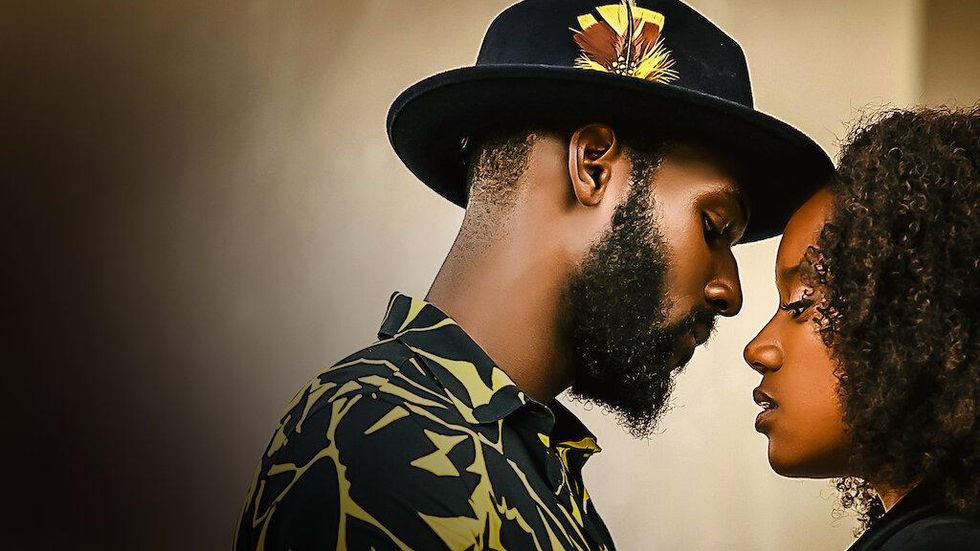 'Really Love' / Netflix
"There were so many 'nos' along the way," she tells me about her journey to get her film on the screen. "There were so many white folks who were like they seen this film a hundred times and I was like, 'with Black people in it?'" In her more than a decade-long process of trying to get the film produced, directed, and distributed, Pride met people like director Angel Kristi Williams. Williams boarded on to Really Love as the director after a conversation the two of them had where Williams expressed interest in wanting to direct romantic dramas. From there they took a meeting with MACRO where they pitched the film to a room full of people that included producer and founder Charles King. Even after MACRO bought the script, Pride says that it still took time for the film to get into production, get out of post-production, and then for Netflix to pick it up, and then for the streaming service to release it. Through all of this, Pride says that she learned a valuable lesson in patience and divine timing. "I never want to do a project that takes me ten plus years to get fucking made, but I do know that this project came out exactly at the right time."
Really Love was slated to premiere at the 2020 SXSW Film Festival that was canceled due to the COVID-19 pandemic. The film wound up premiering virtually at the American Film Institute's AFI Fest later that fall before streaming on Netflix in August 2021 and cracking the top 10 most watched list on the platform.
The time around which Really Love finally premiered was particularly auspicious for Pride. She was coming off of writing on her first TV show, OWN's Queen Sugar and going into her next writing job with Grey's Anatomy. Pride got into television writing because not only did it offer a consistent source of income, but it also gave her the opportunity to write more in-depth. "There's something about the ability to do long-form storytelling," she says. "To be able to see characters change over time, to track journeys – that I really, really love."
Her time on Queen Sugar, which came through her spec script being sent to showrunner Anthony Sparks, taught Pride that it was possible to work in Hollywood and enjoy a respectful, healthy work environment, despite so many examples to the contrary.. "[Anthony] is an amazing leader. He's kind," she tells me. "So it shows you can do this job without abusing people." As for her time on Grey's Anatomy, an opportunity that arose during what she described was going to be a self-imposed "hot girl hiatus" on writing, she said that it gave her the chance to both write and produce. "It's a beast," Pride says.

Outside of her television work, Pride is ready to produce and direct her own work. Her multi-media production company Honey Chile – the name being an ode to Black women over 40 whom she describes as "honeys" – is set in motion to begin putting out projects dedicated to and created by middle-aged Black women, including podcasts (Chile Please), a TV series, and two Will Packer-produced films with Universal. "I came into the business when I was 35. I turned 39 in my first writer's room, and I feel like I had a different kind of experience," Pride says of why she's so intent on making space for seasoned Black women to tell their stories. "I was able to bring the experience of a 39-year-old Black woman with Baltimore sensibilities who had whole other careers."
Pride's first short film Tender, about two queer Black women that take place the morning after a one-night stand, became Pride's first foray into directing, something she says she is excited to do much more in the future. "I wanted [Tender] to serve as a calling card for the kind of themes I want to explore in my work," she tells me. "Which is: sexuality, sisterhood, Black joy, trauma."
When thinking about the kind of career she wants to have, Pride looks to the novelist Toni Morrison for inspiration. "Writing for Black people is a legacy [of Morrison's] that I want to continue."
In this special Women's History Month Boss Up series, we talk to women who are redefining what leadership looks like. They're deciding, on their own terms, to tap into a fulfilling career, walk their own paths, and embrace the fullness of the impact of Black women when they decide to unapologetically take up space and disrupt in business.

The pandemic has had a tremendous effect on almost all aspects of life, and our careers are obviously no exception. One intriguingly empowering phenomenon within it all has been the boost in innovative and resilient leaders pursuing startups and side hustles despite the challenges.
A recent Lending Tree report indicates that 50% of millennials and 46% of Gen Zers have side hustles. Many are also turning the traditional side hustle narrative on its head, keeping their day jobs and maximizing opportunities to fulfill multi-hyphenate passions. They're the example that you don't have to leave a job you love to start a business. And that you might be even more successful by pursuing both professional and entrepreneurial dreams, as research also found that professionals who kept their day jobs while running a startup were 33% less likely to fail in business than their counterparts who quit their 9-to-5s.)
Melissa Carnegie is one such woman, enjoying the challenge and allure of balancing her 9-to-5 as the head of global community and communications for Cantu Beauty, with the responsibilities of building a business. And don't call it just a side hustle. In Carnegie's case, having a full-time job and building an enterprise keeps her invigorated and motivated. She adores both and reaps the reciprocal benefits.
Self-Starter Beginnings
Carnegie started her lifestyle blog MelissaChanel.com, as an outlet for sharing her personal style and stories of travel adventures, and of course, showcasing her massive sneaker collection. In May 2017, she launched Kicks & Fros to create a space for Black and brown women to shine among the millions of consumers behind the success of the growing $70 billion sneaker market. (And indeed, the space was more than needed, since Black consumers practically bolstered popularity and profitability booms for most if not all of the sportswear industry and have revolutionized how sneakers are created, marketed, and even resold.)

Carnegie is excited to not only help Black and brown women find their sneaker style and embrace a love for them but become a prominent figure in a very white—and very male-dominated industry. "I wasn't seeing a lot of us— women who looked like me—on different pages that would reshare sneaker lovers or inspirational women in the sneaker community. And I knew I couldn't be the only one who felt that way," she says. "I'm a very small-town girl, and community is something that I've always had as a small child. I was like, 'You know what? I think I need to create something. It started as an inspo page, and it grew very quickly and made me think about structuring it as a business."
What started as an IG page has evolved into a community of more than 50,000 (from both her personal and Kicks & Fros brands) and a full-fledged business that offers opportunities for women to connect via events, custom campaigns, digital media content, and branded apparel. "You can be a boss-ass woman in the boardroom with your suit and your sneakers on, making powerful decisions. I wanted women to understand that we are in the sneaker space, we have just as much knowledge as men, and that we're here to stay."
A Prime Opportunity
Then Cantu came calling, she recalls. In her role at the company, she manages the hair care brand's consumer-facing activations for events like the ESSENCE Festival, BeautyCon, and natural hair care shows. She also works with teams for ad campaigns, influencer relations, and other communications with consumers. All of this helps strengthen her entrepreneurial side, and everything becomes like a cycle of personal and professional development that benefits all parties. "My favorite part of my job is that I get to work with different creative minds, understand how people think and how they work. I also love helping women find solutions for their hair care regime."

Carnegie adds that the team at Cantu is super-supportive of her business endeavors and has even been part of some of the events she's thrown for her own brand. "I'm cultivating community for women in the space, and they support me 100%. If I need to take a day off, they totally understand. They're always asking for ways to help."
Mastering It All
Balancing the duties of both a job she loves and a business she's passionate about requires quite a bit of planning, grace, and confidence. "As a woman in leadership, I've learned [it's important to] ask for help. That's not a bad thing. Collaborate. Work with other team members. Bring like-minded people in to take things to the next level. Time management is also something that's big for me and that I've learned in leadership, especially with me having 50-11 jobs," she says with a laugh.

To keep everything organized and work at her best for both her job and her business, Carnegie implements systems, uses apps and tech tools like Canva, Later, Asana, and Microsoft Outlook, and she practices calendar blocking to set clear boundaries for managing her time. "The most important part for me was not feeling like I had to give up on my business dreams, but I can juggle both as long as I keep up with what I'm doing and make conscious decisions about my business and what I want to happen. Just having teams, projects, and setting goals and tasks is helpful."
Deliberate Choices, Big Wins
Standing firm in decision-making is also key for Carnegie. "It's about using my voice and not being afraid of being headstrong and confident in [the choices] I make, and knowing that I'm making the correct decisions and sharing that with my team, especially as a woman—a Black woman," she says. "I've worked my way up to now being in this amazing position with a hair care brand that I love. I believe in myself and know I've done the research, I have the education, and I have the background to support my decisions."
For women who would like to advocate for themselves at their 9-to-5 in order to launch a business, Carnegie recommends not being afraid to spark that first conversation. "Just start. Share it with your team. Tell them why you're doing it and why it's important to you. I think your 'why' is very important. That will fuel you at your full-time job just like it fuels you in your business."
And if your boss or company isn't too keen on the idea? Owning your career and leading today requires being empowered by the choice to work for companies whose policies, practices, and missions align with your long-term goals. "I would have a sit-down discussion or meeting to see what the reasons are and to see if we could make something possible," Carnegie adds. "If it's something I'm really passionate about, I would try to find a position or company that respected my values and my idea of the life I wanted to create for myself, and let them know that [while] I'm still passionate about my full-time job, this is also something I'm passionate about and will do just as well."
To find out more about Melissa Carnegie and Kicks & Fros, follow her on Instagram or visit her website.
Featured image by Brandon Grate Photography
In this special Women's History Month Boss Up series, we talk to women who are redefining what leadership looks like. They're deciding, on their own terms, to tap into a fulfilling career, walk their own paths, and embrace the fullness of the impact of Black women when they decide to unapologetically take up space and disrupt in business.

With the challenges of the day—a global pandemic (that's still not quite over), horrifically high gas prices, and the yet-to-be-resolved issue of unequal pay, to name a few—the need to pivot, recharge, and reinvent in many aspects of Black women's lives has become more and more important for us. The environment today has led to a shift in not only how we live but how we approach getting to the bag, whether that be through a full-time job, a side hustle, a business, or all three combined.
The days of the straight-and-narrow journey on the road to so-called success are quite long gone, and today, new generations of Black women are traveling roads that not only have detours but intersections created anew. And one unchanging component that seems to always fuel success is a plan founded on good old-fashioned principles of planning, education, and resilience through advocacy, empowerment, and innovation.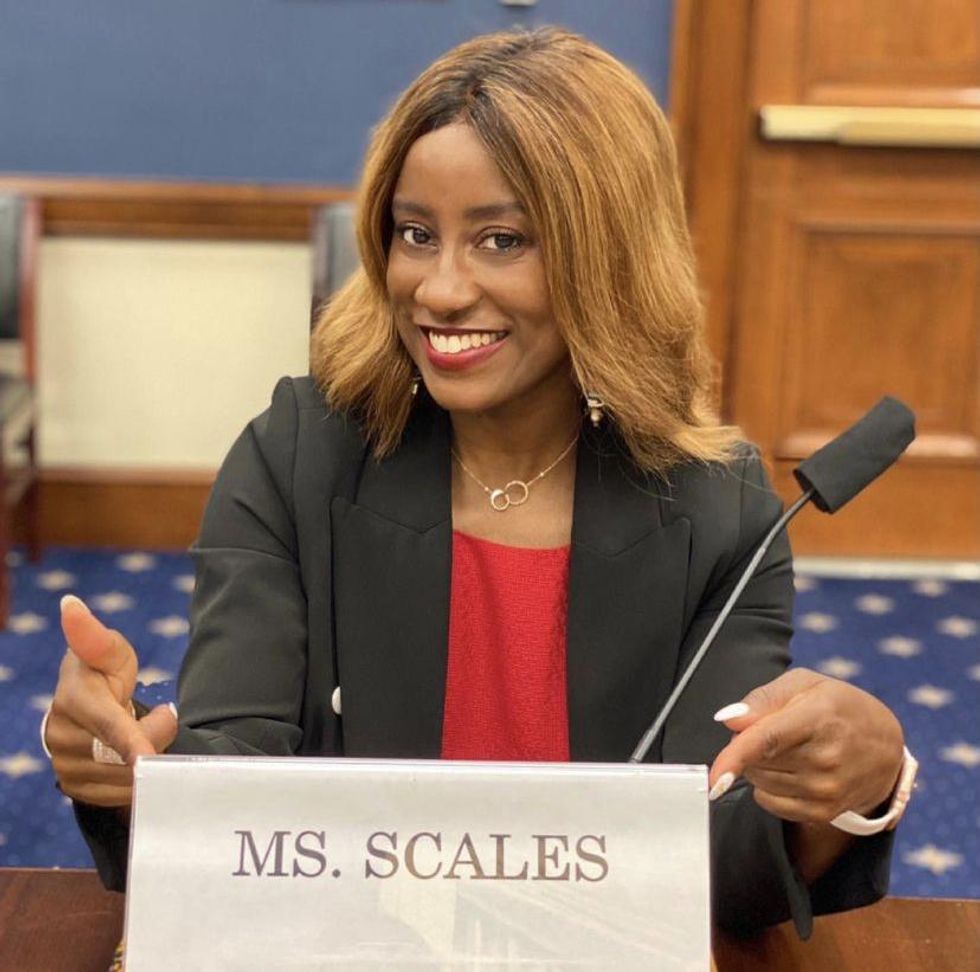 Courtesy of Ayris Scales
Ayris T. Scales is a leader who knows more than a thing or two about just those things, with more than 20 years of experience excelling as what she calls a "tri-sector" professional. The path to her current role as CEO of Walker's Legacy Foundation included taking on a variety of roles in corporate, nonprofit, and public service industries.
"When I came into this role last year, it was interesting because someone who I considered a friend said to me, 'So what are you now—a champion of women in business?' It was a bit of a slight, and I had to correct her and say, 'You know, I've really been doing this work for almost 20 years now,'" Scales recalls to xoNecole. "I started out in communications and got a job in corporate America doing corporate communications. I hated it. And we were working with big global brands. Every once in a while, we'd have these smaller businesses calling us about our services or calling us trying to tap into resources but couldn't afford them. I come from a family that has been very focused on community, collective impact, and service, so I thought, let me get out of this corporate job and go into the public sector to work on policies to connect businesses with the resources they need."
She eventually moved on to work in public policy, managing initiatives and communications for city governments including those in Washington DC, Indianapolis, Chicago, and Atlanta. Throughout her career, she's seen many career highs, but one, in particular, landed her in a position to work with the Obama administration as the inaugural executive director of the DC Promise Neighborhood Initiative (DCPNI), part of the White House Neighborhood Revitalization Initiative with a purpose to end generational poverty.
To date, she has raised more than $50 million in funding and overseen more than $200 million in grants and subsidies to support women, marginalized communities, and small business owners.
Now at Walker's Legacy, an organization founded in honor of beauty mogul Madam C.J. Walker and committed to uplifting the next generation of minority women entrepreneurs, Scales is tasked with leading the nonprofit arm's charge of getting 10,000 Black women founders "capital ready" by 2025. It's a challenge she does not shy away from. And it's the use of transferable skills and the reliance on deep confidence to take risks to pursue out-of-the-box opportunities that have been key in building that tenacity.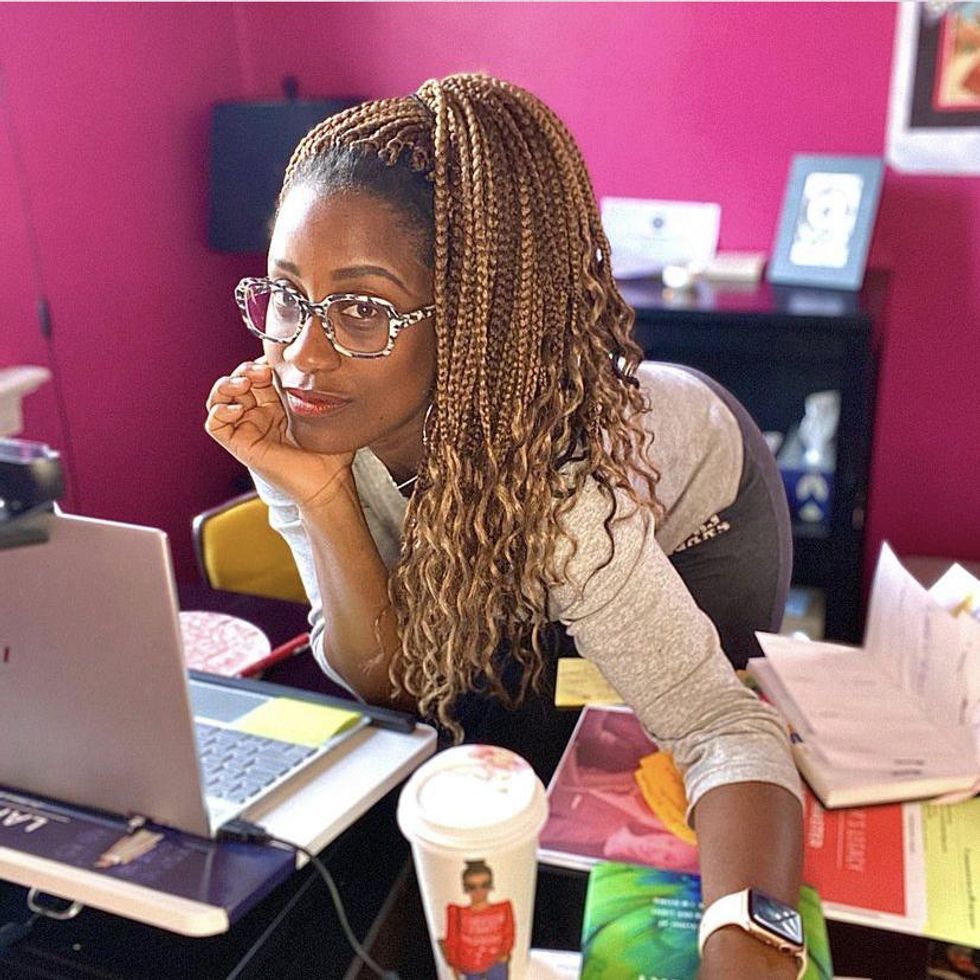 Courtesy of Ayris Scales
"It's been an amazing journey to be at Walker's Legacy to lean in more on what I'm passionate about," she says. "For me, I know that I have to bring those things that are natural to me. That's not also to say don't push yourself [beyond], because that's important, too," she adds. "I love to lead with my 'why.' Why are you here? Why do you feel the need to make a pivot, start a business, or go into a role? And I challenge people who say, 'Well, I'm passionate about the mission or vision.' We're all passionate about those things but that's not why you are here. When you have that understanding of what your 'why' is, it allows you to be more connected and invested in how you're going to have a true impact and navigate when those days get hard."
Black women millennials and Gen Zers, in particular, are at the forefront of putting their "why" first, further challenging the status-quo approach in building a successful career or business. "I'm just observing my own daughter, my cousins, and the children of my friends: They care so much more—which is great—about the quality of life–how they live–and not so much about being driven or focused on 'I gotta chase down this role, and this job, and this title. They're looking at how they move and how they make money [in a way] that's more supportive of some of these broader goals that they have in life," she says.
"And I'm like 'How wonderful is that!' As we think about millennials—who are well grown at this point—I think the path isn't as linear as it used to be. We are seeing right now that more Black women are starting to go into entrepreneurship at faster rates and in larger numbers than ever before—even at higher rates than any of their counterparts. And we're doing that for many reasons. Part of that is understanding that we want to start to create legacy."
"We are seeing right now that more Black women are starting to go into entrepreneurship at faster rates and in larger numbers than ever before—even at higher rates than any of their counterparts. And we're doing that for many reasons. Part of that is understanding that we want to start to create legacy."
And here's where the aggressive push for the "Capital Ready Initiative" becomes that much more significant for Scales. It's a way to not only educate Black women founders on how to get funding that will sustain their businesses through the long game but also to remind the world that the disparity still exists. "When we talk about minority- and women-owned businesses, and then you throw on being a Black woman-owned business, it's exceptionally hard to access capital for a few reasons. For one, we may not have the full understanding of what it takes to successfully complete a loan or a grant," she shares.
"One of the things I've also said is that we have funding that's available in this country. Capital is here and capital flows throughout this country. What's not always available is for that capital to trickle down to our communities and that's because of discriminatory and systemic types of barriers and criteria in which we are being evaluated against people who are not traditionally our peers."
A huge part of an elevated pivot to success is one that involves Black women, especially millennials and Gen Zers, stepping things up beyond social media hype and overnight-success stories of six- and seven-figure revenues of bootstrapped startups, especially when it comes to the glazing over of in-real-life success metrics of actual profit, longevity, business legitimacy, impact, and market influence. "When it comes to social media, we want to see what others are doing so that we can draw inspiration and stay abreast of what competitors are doing in the market, but we can't be distracted from what actually works for sustainability. When we have a plan, we have to work it. We want to talk about the ability to still be around when the market starts to shift."
Scales, who is also an entrepreneur herself, having founded Abel Vision Enterprises, has had a chance to continue to lay the foundation for her own success, as a woman whose career has been multifaceted and nonlinear, and continues to work to pay it forward for other women who are operating in the same vein—and generations that will learn from their journeys in the future.
"As Black people, we are so enterprising anyway—that's how we've always had to be. We've always had to create our own products and services for our own community. We've always had to figure things out in that sense," Scales explains. "So to be able to do that today where there are some resources finally being made available to us, and where we have the luxury of being global—just because of social media— and we have the opportunities to be paid for our services and ideas, it's something that our ancestors could have never, never even imagined. I'm extremely committed and passionate about creating legacy. We are literally our ancestors' wildest dreams."
Find out more about Walker's Legacy's "Capital Ready" Initiative and other resources for Black women entrepreneurs via their website or their Instagram.
Featured image courtesy of Ayris Scales
In this special Women's History Month Boss Up series, we talk to women who are redefining what leadership looks like. They're deciding, on their own terms, to tap into a fulfilling career, walk their own paths, and embrace the fullness of the impact of Black women when they decide to unapologetically take up space and disrupt in business.

It's always empowering to hear about anyone willing to throw fear to the wind to do… well, anything that makes them happy and fulfilled. And when that fear comes attached to a paycheck and a sense of stability, the story is that much more intriguing and inspiring.
Jayde Powell, an Atlanta-based marketer and content creator, decided she was tired of working in environments that threatened to irreversibly destroy something very important to her: her joy. She'd built her career cutting her teeth at major brands (one being a major airline) and agencies (some small in size but not in clientele), managing social media and marketing campaigns that pushed narratives and led to growth in consumer engagement and sales.
"I had been working for other companies for about nine years and throughout my career, I really enjoyed the experiences I had, however, I will say that I did a lot of suffering as well," Jayde recalls. "I had a lot of experiences where the work environment wasn't very healthy for me—incredibly toxic."
Thriving in a toxic workplace can be tough—almost impossible—and constantly living in survival mode while at work can ultimately have long-term negative effects. "There were times when I was working under leadership that didn't really have the capacity to do their job effectively, thus impacting my job. I was really suffering from a lot of burnout, partly because the work that I was doing— social media management—is very intensive, but also because of the types of brands I was working for—startups and smaller agencies," she adds.
"Oftentimes, you have your job you're hired for but you're doing work outside of your job description. Earlier on, I was young in my career and didn't set boundaries. And that had a detrimental impact on my life in the long run simply because of how I was dealing with stress. There were times where I was crying under my desk. I was so sad."
"I had a lot of experiences where the work environment wasn't very healthy for me—incredibly toxic."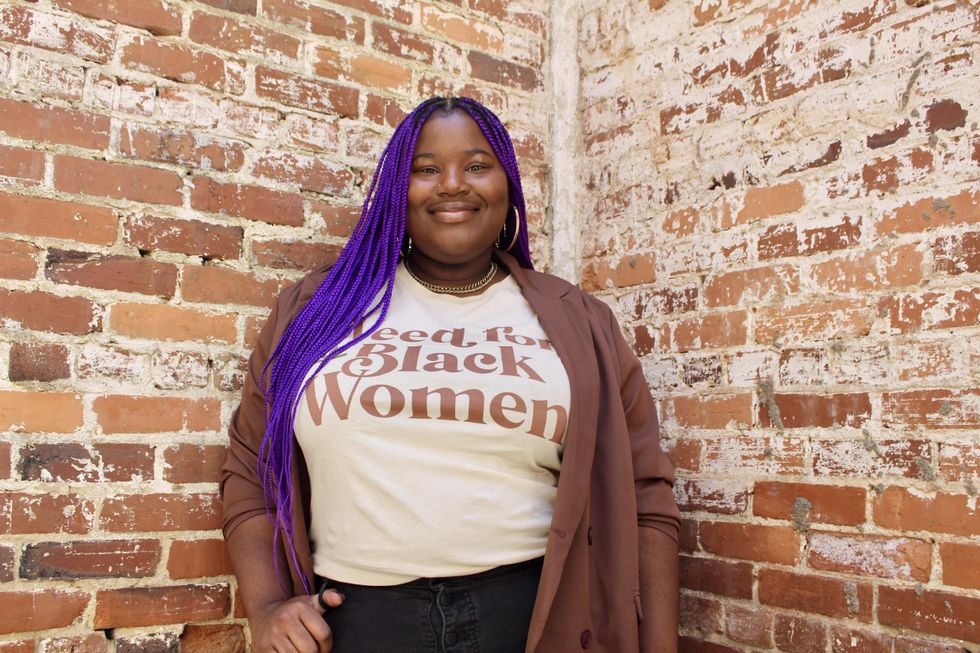 Courtesy of Jayde Powell
In November 2021, like many who are a part of what is now being called 'The Great Resignation,' she chucked the deuces to the madness. Jayde decided she would not only rock out with her own personal brand, but partner with a friend and former colleague, Gbemi Maiyegun, who came to her with an opportunity she just couldn't pass up. That's when Weed for Black Women was birthed. (Gbemi lives and works in Texas, balancing duties of both running a budding business and other professional pursuits related to her personal brand.)
"We'd worked together at a cannabis company, and I really enjoyed working with her. She was incredibly professional and even after I left the company we were able to retain that relationship and friendship," Jayde says. "The idea for Weed for Black women was actually out of her mind. She came to me with this vision about a space for Black women to talk about cannabis unapologetically. We realized there wasn't a lot of representation of Black women. We both have this passion for advocacy and education in the industry. This stigma around cannabis use holds people back from seeing how helpful the plant really is. I mean, women healers and spiritual guides have been using cannabis for centuries."
Through the platform, Jayde and her co-founder provide a place where Black women, who experience judgment and shame when it comes to anything associated with cannabis, can find avenues that allow them to be their "best selves through weed," and enjoy a "warm and welcome" community to "indulge and learn." This includes offering online content that not only talks about the Black experience and innovations with the plant but the still-prevalent injustices associated with the laws that disproportionately affect Black women.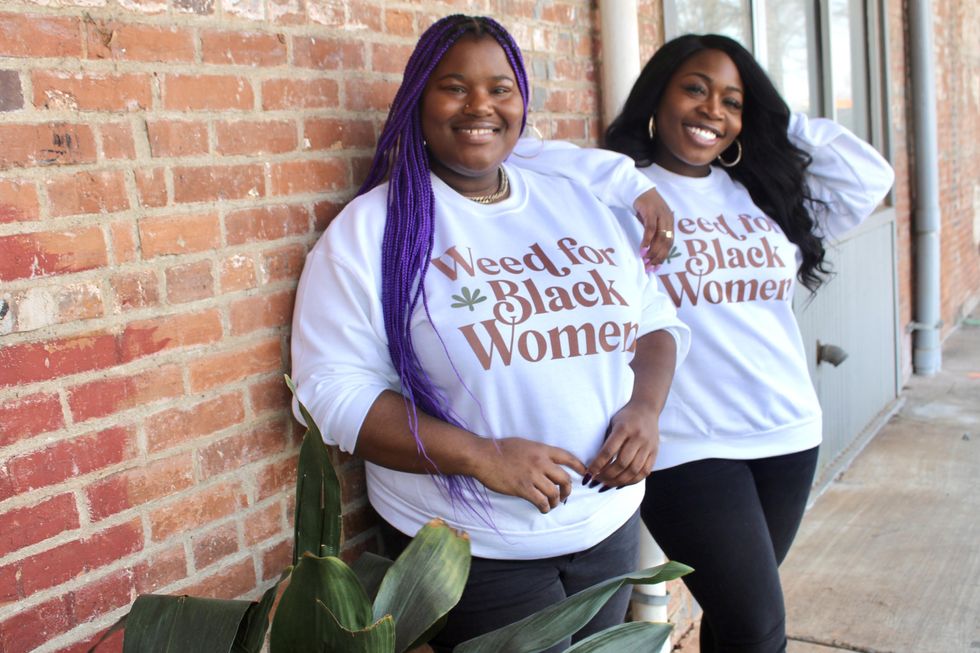 Courtesy of Jayde Powell
"In everything we do, of course, we're thinking about cannabis but we're also keeping Black women at top of mind—the issues that particularly impact Black women. The lifestyle choices that Black women make, that is the priority for us. It's just a matter of, 'Okay, how does cannabis support, or how can cannabis be infused into the conversation?' "

The journey to going from a 9-to-5 worker to a full-time entrepreneur, influencer, and cannabis advocate was not linear nor was it without planning, though. Jayde had been saving part of her paychecks and had a bit of a cushion in order to be able to take the leap. "I don't think I would have felt as comfortable quitting my job had I not had savings. It was like, 'If I quit my job tomorrow I'll be okay for a couple of months.' And then, let's say, I crash and burn, and I can't do the entrepreneurship thing anymore. I can get a job eventually."
She has also been able to take on freelance projects via her own professional platform as a consultant and influencer, adding more to the financial cushion she'd built up over the years. "People pay me to be me online, which is nice. I get to show up as myself," she says.
"I don't think I would have felt as comfortable quitting my job had I not had savings. It was like, 'If I quit my job tomorrow I'll be okay for a couple of months.'"
Another important step in the process that helped her ease into her career change was taking a month off to simply strategize, get better prepared for the transition of not having to clock in every morning, and pool her resources. "I forced myself to literally relax—probably the first time I'd done that in a very long time— and I wasn't working, wasn't trying to aggressively find ways to make money. I hired an amazing marketing manager to support me, and she and I got to planning."
For Jayde, the true reward in all of it has been retrieving and protecting the priceless things in life that really matter more than a salary or a title. "I think a lot of people who are aspiring entrepreneurs come out the gate like, 'I'm going to grow this multimillion-dollar business.' I just thought, 'If I just make the salary I had last year, I'm good.' Entrepreneurship looks different for everyone. It's not about being a multimillionaire, but about doing the work that allows me to have the most happy and fulfilled life, and if that means I'm only making a couple thousand a month, I'm very much okay with that. My joy is what's important to me."
To find out more about Jayde and Weed for Black women, visit her website or follow her on Instagram.
Featured image courtesy of Jayde Powell
Early last year, thirty-two-year-old Alicia Scott was personally invited to appear on season 13 of ABC's pitch competition show Shark Tank to try to convince the Sharks to invest in her makeup brand Range Beauty.
"[The email] was sent to our info@rangebeauty.com inbox and I was like 'is this spam?" Scott tells xoNecole. But after running the name of the person who contacted her through Google to check the legitimacy of the email, Range Beauty's founder and CEO was assured that the email was, in fact, not spam.
Scott and her cousin and operations manager Myisha Fantroy appeared in episode 14 of the show which aired last month – a career highlight on a long road to success.
Since creating her own makeup brand in 2018, there's been a learning curve that Scott has had to contend with since becoming a first-time entrepreneur. "I'm a long-time student of Google university," Scott jokes. "And so I use that to teach myself about everything. I used to teach myself about how to even start a business. What's needed for you to have your own business? What's needed for you in cosmetics? What does this pigment do? What does this undertone mean? I had to learn everything."
On her journey to building her brand, Scott ran into many issues relating to accruing financial funding for her company. "I started Range while I still had my 9-to-5," she recounts. "Up until 2019, I had always worked a 9-5 to make sure that I had funds to cover my bills but to also cover whatever expenses were needed for Range," Scott says. "It wasn't happening fast enough. I was like, we need more money, more money."
After being contacted by Target and told by the retail giant everything that was needed financially to launch her brand in stores, Scott finally decided it was time to figure out a way to get investment into her company. One of the main ways she was able to find funding was through pitch competitions.
"Shortly after I launched in August 2018, I did my first competition," Scott says. "And it was in September of 2018 and it was hosted by Arian Simone, who now leads the Fearless Fund right here in Atlanta." Held at the Spanx Headquarters, the competition involved several rounds where competitors made their case to the judges and the judges decided who got to advance to each round. After not hearing her name called to be one of the five entrepreneurs to be on the main stage, Scott approached her judge to thank her and to also ask for advice on how to strengthen her pitch.
"You gave an excellent pitch and your delivery was great, it was just that you weren't able to differentiate how your brand was different from others," Scott recalls the judge telling her. "And I began telling her and she was like 'yeah that's what you need to put into your pitch! You need to speak to why you created this."
Scott internalized the advice and was able to redeem herself at the next pitch competition she attended which was Noire Tank, which she describes as "the Black Shark Tank" where she pitched to YouTuber and Beauty Influencer Jackie Aina who flew her out to Los Angeles, California and covered other expenses for Scott. It was at that competition that Scott secured her first grant.
By the time she stepped in front of the Sharks at her July 2021 taping, Scott had already mastered the skill of how to tailor her pitch and delivery for each competition she did. The journey from receiving the email in February 2021 to finally being able to make it to the show was an arduous one. "Along the way they say 'there's still a chance you might not tape.' And so the day we were finally there, we had been waiting in our trailer since like ten or eleven and we didn't get to go out until like [after] four."
Once inside the room, Scott said she could feel her heart and adrenaline pumping. Standing alongside Fantroy, her first full-time employee who she was allowed to bring along for moral support, Scott started pitching to the Sharks. "Hi Sharks!" Scott and Fantroy said enthusiastically in unison.
"It's different than what you see on TV," Scott says. "The straight faces and just everyone smiling and they laugh at certain parts of our pitch and they're engaged and, once you finish Mark was like, 'excellent job,' and everyone looks pleased with our pitch. So it went really well with our pitch, we didn't mess up any lines. So we were really excited."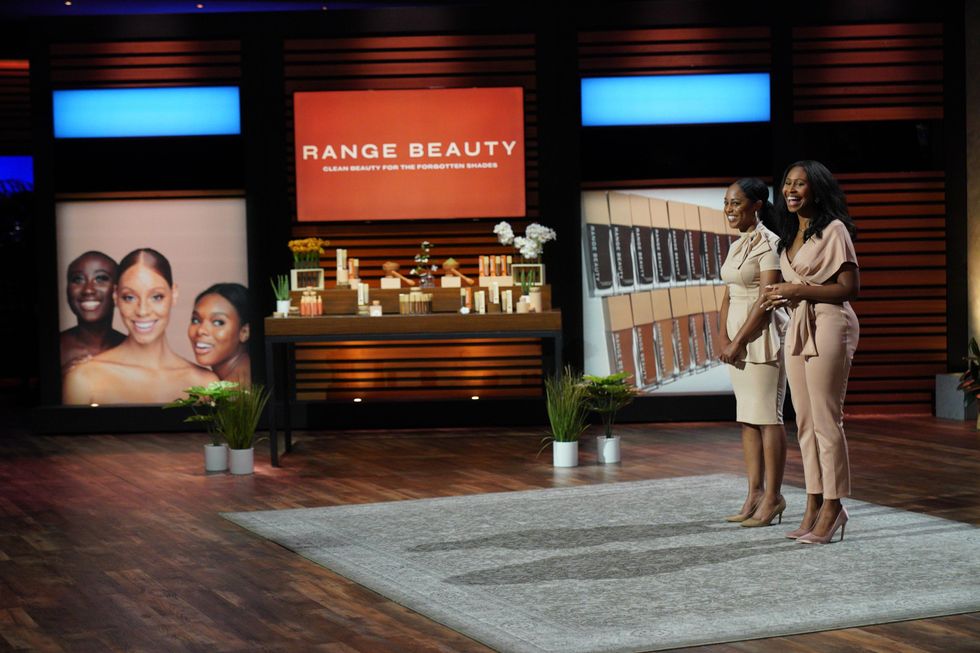 Myisha Fantroy and Alicia Scott, Shark Tank
ABC/Christopher Willard
In a rare feat, Scott was able to secure the investment of two of the Sharks, Lori Grenier and guest Shark, Good American and Skims co-founder Emma Grede. "It's been so nice because Emma sits on the board of the Fifteen Percent Pledge," Scott says. "She knows all about the struggles of Black businesses, not only with trying to get investments, but also trying to have space with retailers and making space in our industry. So it's really nice to have an investor who looks like me and understands the challenges."
Grenier and Grede have been incredibly hands-on as investors according to Scott. "[Grede] has been so on the ball with just being there for us and being so accessible," she says." And with Lori …she's the one that's like seen it all, she's done it all. So she comes with her own perspective and experience on how things will move, the, how things will move. So it's been a great interaction and great relationship."
In the time that has passed since her appearance on Shark Tank, Scott says that she's grown exponentially as an entrepreneur. "I started this like mixing things in my living room with $150. And so to now be on a national TV stage like Shark Tank, sitting in front of investors who have just seen it all is magnificent."
Let's make things inbox official! Sign up for the xoNecole newsletter for daily love, wellness, career, and exclusive content delivered straight to your inbox.
Featured image by ABC/Christopher Willard