Savannah Taider
The most Gemini woman you'll ever meet. Communications & community enthusiast, I run a media platform centered around spirituality, and I'm always looking to connect with fellow creatives. Follow me on Instagram & Twitter @savannahtaider
I think it's fair to say that most of us long to reach that place where the money resides, especially in the present times when life is so uncertain and people are likely to lose their jobs at any given moment. On the other hand, perhaps thanks to the plethora of entrepreneurs that document their journeys on social media, there's the sense that abundant financial wealth seems more accessible now than it ever has before. With that said, despite all the step-by-step guides to becoming rich available on the market, we can still hear the same question echoing in our heads: How do I get to the bag, though?
Well, apparently, it's in the mind, chicas. It all happens in our minds first.
The mind is a powerful tool that, depending on how we choose to use it, has the power to make or break us. This is a fact that the bomb business owners I had the opportunity to interview as part of this feature said to have learned the hard way while on the path to acquiring their Boss badges. The four ladies got real on the struggles that they've faced in the past which almost prevented them from becoming who they are today, the mindset shifts that helped overcome them, and more.
Befriending Fear To Unlock a World of Luxury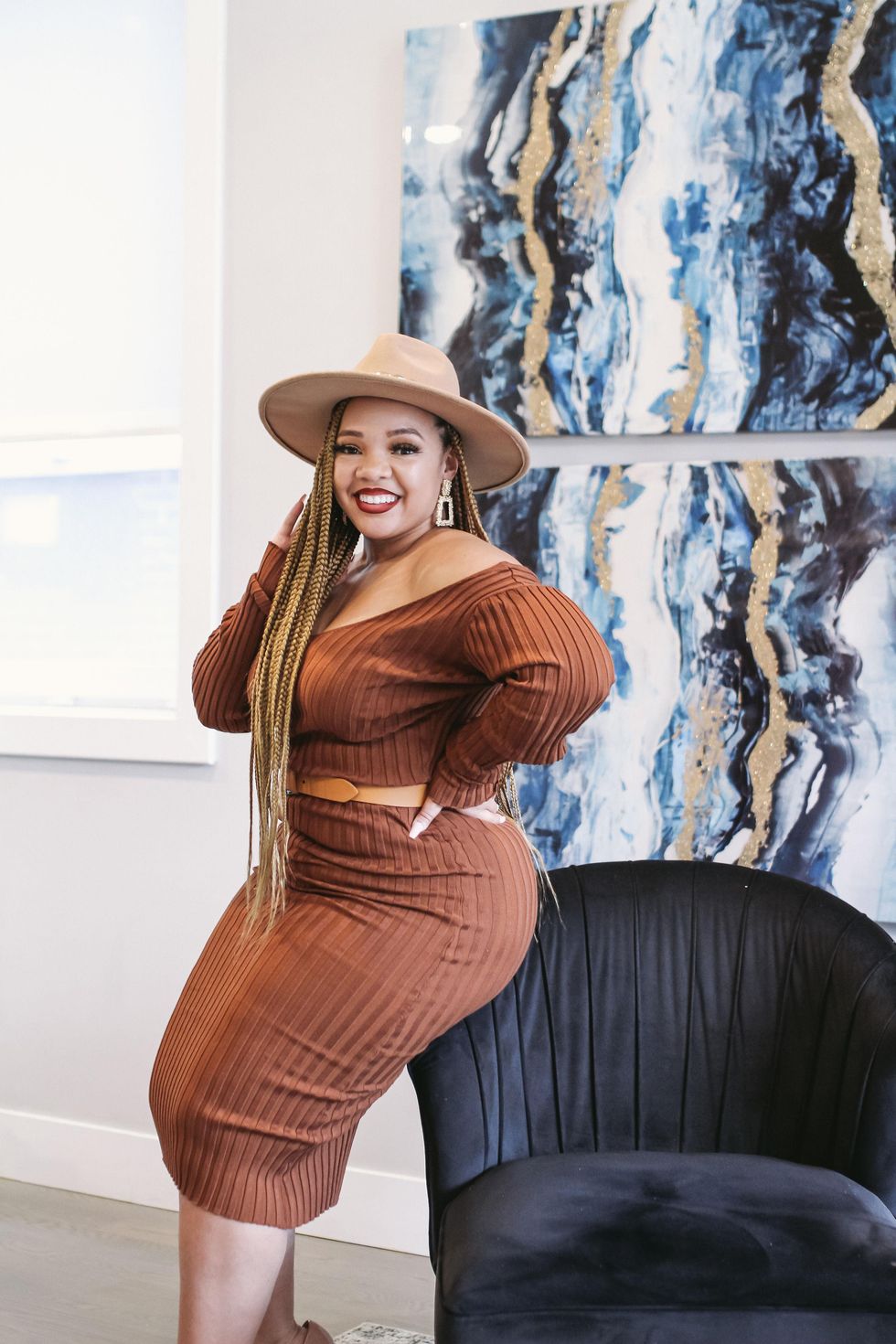 Image courtesy of Candace Junée
For the longest, I followed the 'American dream.' I studied mechanical engineering in undergrad, received my MBA by the age of 23, and transitioned into a job in Corporate America [and] began earning six figures. However, despite all the benefits of working that job, I knew after a little time that it wasn't what I wanted to do forever. Corporate America, I felt, deprived me of being the master of my own time. My time was theirs and I had little to no say on that.
Many times, I found myself wiping my tears because I had to work extra hours or on the weekends to complete the tasks that I was asked to do at the last minute, all while my personal life and loved ones were waiting on me. When September 2017 came, the moment finally came for me to reclaim my freedom. Although I was deathly afraid and almost talked myself out of it, I decided to quit my job and pursue my dreams.
Fear, I must say, is the companion that's been following me throughout this whole journey from giving up on a six-figure salary to building my own six-figure company. It's still there, to be honest, but I've learned how to tame it.
In the beginning, I feared wandering in the unknown. While we do know what we decide to walk away from, there's no certainty that what we'll find on our path will be any better. And then, once I became my own boss, the fear that my finances would never advance as much as my career did quickly took over me.
A year before taking this leap of faith, I launched Epic Fab Girl, "a community for women entrepreneurs who want to build profitable brands and grow their faith." The latter initially started as a blog but after I quit, I had to figure out a way to monetize it to generate revenues. On top of that, in January 2018, I launched my own marketing agency. I wanted to offer my target audience coaching services and digital courses to help them scale their businesses to six figures. Funny thing is, I was nowhere near earning such an amount of money myself, even after giving my business more than a year to grow and flourish.
While my clients were getting the desired results, on my end, I was struggling financially; I faced difficulties paying my bills, my car had been repossessed and I'd received foreclosure papers on my home as a Christmas present. Earning six figures has never been a requirement for me, but it was somewhat mandatory if I wanted to maintain the level of comfort I was living in. All of which ultimately had me contemplating [whether or not] to go back to Corporate America. However, while it's a move that my entourage encouraged me to make, I never received any signs from God that meant this was what He wanted for me. So, as a woman of faith, I continued walking the path that I was already on.
As soon as 2020 rolled around and the pandemic hit, that's when everything changed for the better. Within the first semester of the year, my revenues reached six figures for the first time—which wouldn't have happened had I decided to take some steps back or had I simply not shifted my mindset to believe that my services are worth the luxury price point.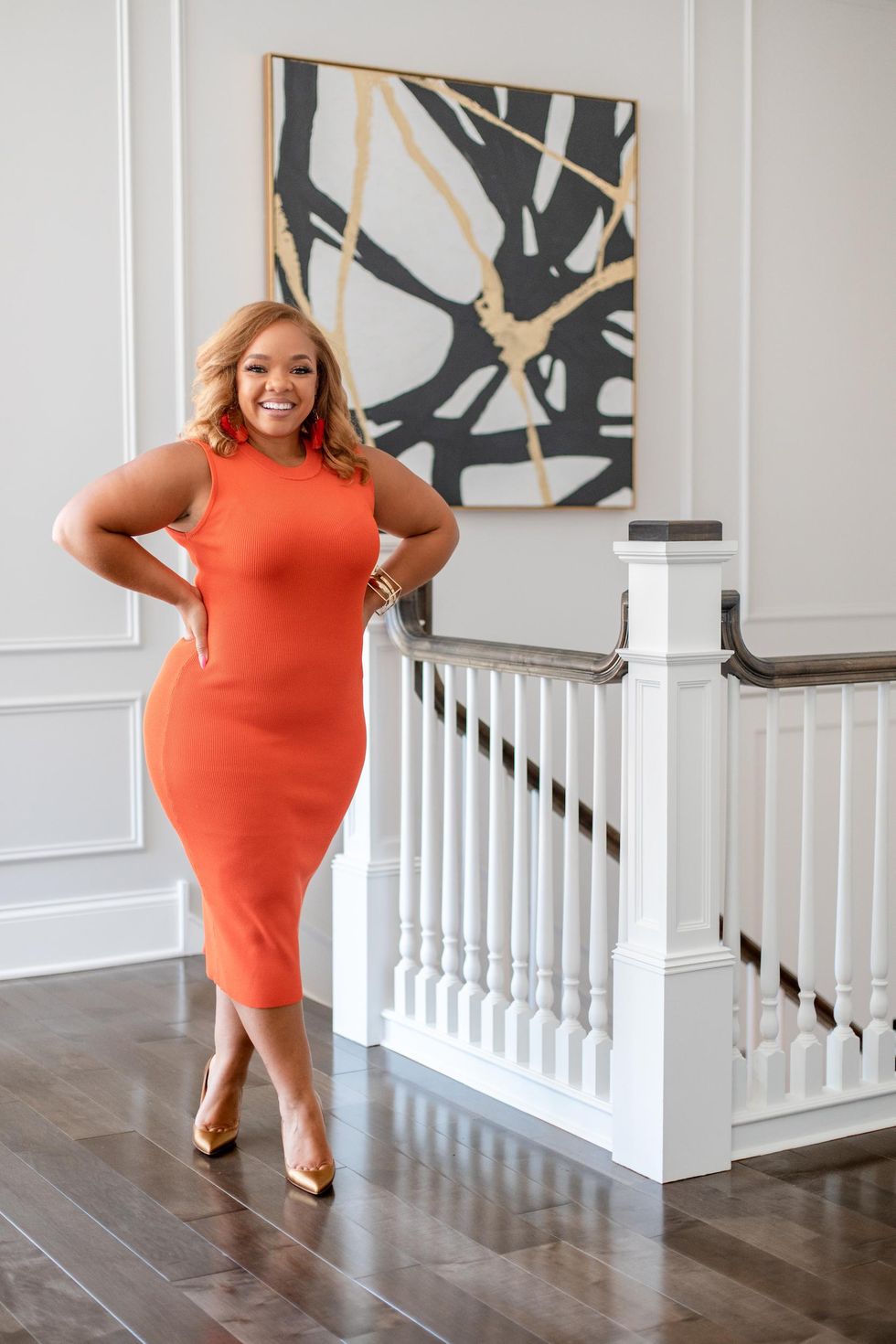 Image courtesy of Candace Junée
It probably wouldn't have happened either if I hadn't invested in a coach to help me make the shift on top of using affirmations and visualization to help me own my abilities and brilliance when I'm doubting.
Here again, fear made me doubt whether I was making the right decision or not because I wasn't fully convinced that my audience would pay those prices—although some of my clients were already paying me four figures monthly for some of the services that I offer. But because I'd managed to reach a level of self-confidence high enough to recognize that I was excellent at what I was doing and understand that my financial situation was only the consequence of me undercharging for my services, I was ready for those who want to work with me to pay premium prices.
The best thing was to realize that I wasn't insane for believing that numbers don't necessarily throw people off. Quite the contrary, they attract the right clients, the kind that can afford your expertise, and therefore make a way for money to flow to you easily.
Wherever you find yourself in your journey, fear is going to rear its ugly head. To me, it's a sign that you're on the right path. You've probably read somewhere that, "If your dreams don't scare you, they're not big enough." I believe that it couldn't be more true. Be willing to bet on yourself and know your value. Trust that anything is possible.
Follow Candace on Instagram @candacejunee.
Unlearning Scarcity To Discover Absolute Abundance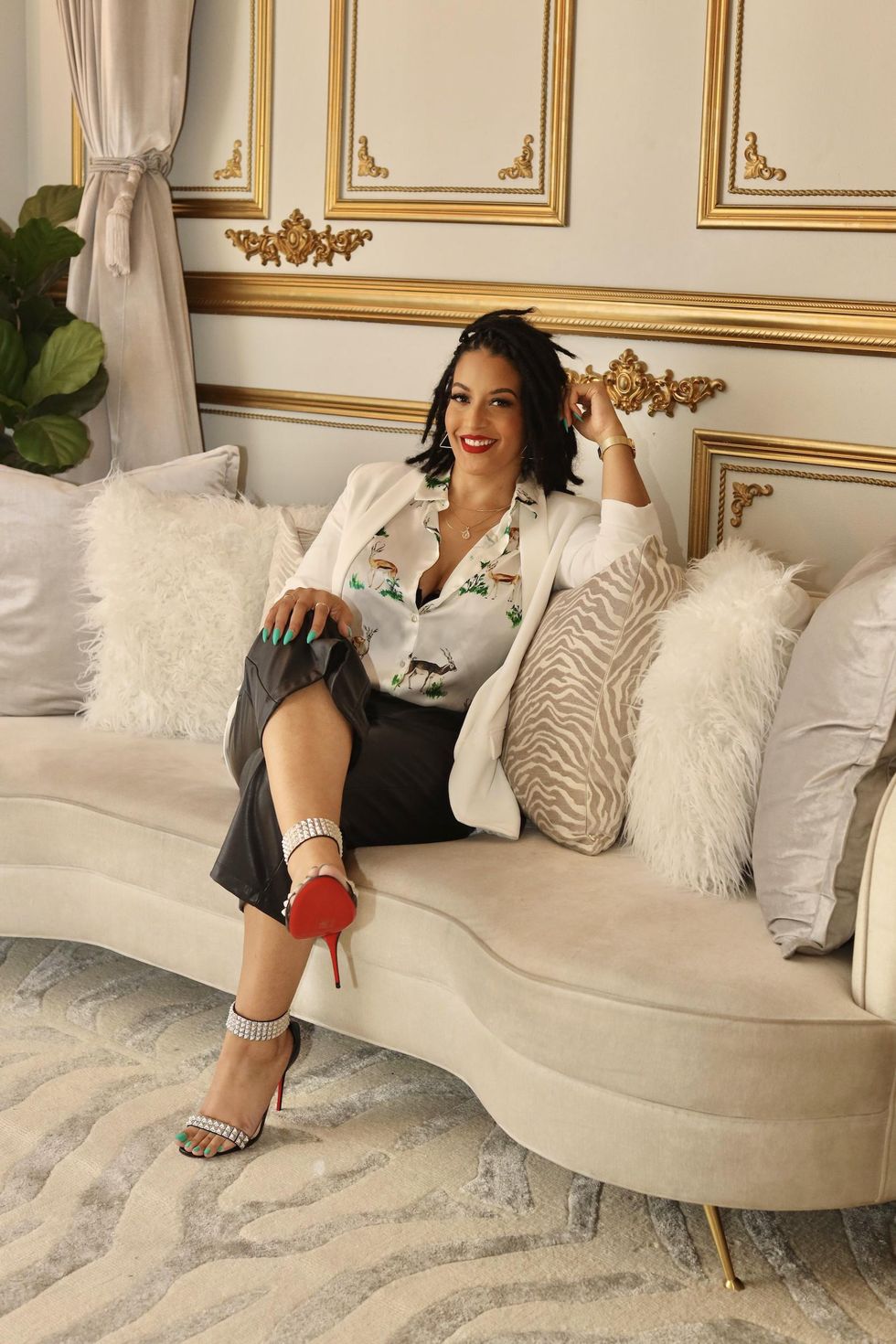 Image courtesy of Chris Bible
One of the biggest personal breakthroughs I've experienced thus far is realizing the vital value of unlearning. Unlearning the things that hold you back is just as important as learning new [things]. It's necessary to be successful and unlock your potential.
I was a mother at the age of 16 and was raised by a single mother solely responsible for five children. Needless to say, I had to unlearn the scarcity mindset engraved in my head from childhood. Becoming a mother before I became a woman also played a major role in the endless struggles that prevented me from exploring the boss lady hibernating within. Like many, I didn't have a direct example of entrepreneurship; I was raised to play safe and to think that financial stability was something that only Corporate America could offer.
With age and an evolved self-awareness, I began to take risks and explore opportunities I normally wouldn't as a way to overcome those struggles.
In 2012, I relocated from Los Angeles to Arizona after being laid off from a corporate position that I occupied for five years. This move that I considered to be bold truly cultivated the opportunity for me to discover what my passion was. Thanks to Arizona's low cost of living, I was able to quit the new job that I'd found after working there for a year to live off of savings and explore revenue-generating opportunities which I'd hoped would unveil my purpose and passion. Moment of transparency, I must give credit to my supportive husband and his steady income. Without him, I wouldn't have been able to do so.
I tried fashion blogging and freelance writing for local publications. I even dabbled in fashion event production. Although all of that was fun, it wasn't what ignited the fire in me, which is truly what I was seeking. After many failed attempts, I found myself enrolled in a lash extension training class—a $1,300 investment. My lash artist at the time encouraged me to do so because I'd always ask her thousands of questions about how she did mine. Unexpectedly, this training class is where I found my spark.
Back in the day, I wasn't aware of all the doors that would open from just trying something new.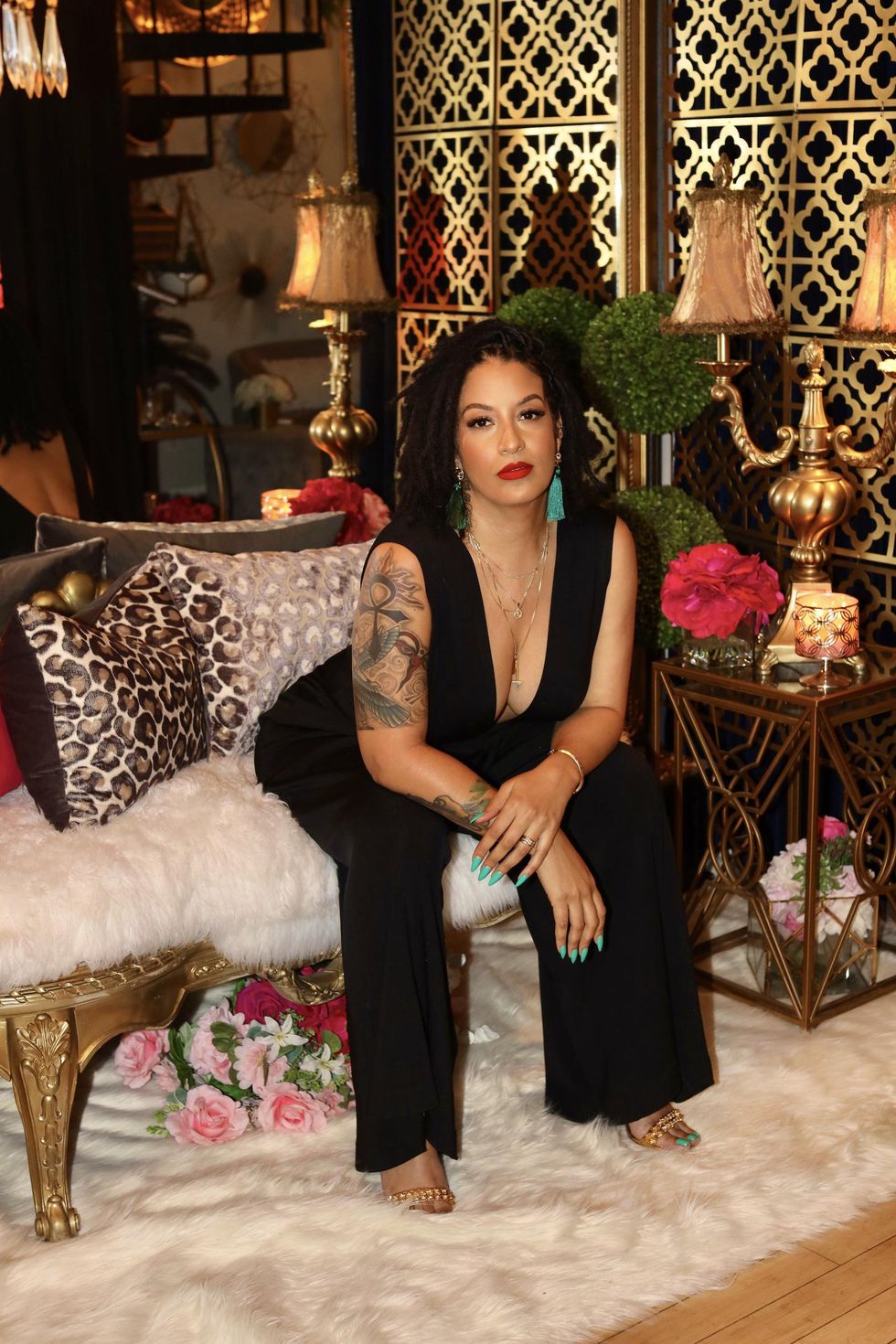 Image courtesy of Chris Bible
Never would I have thought that I'd one day run my own business, let alone work in the beauty industry. But it turned out that lashing was a service that quickly led to the creation of my own training academy and a full-fledged lash product line.

Seeing the revenue that I was generating is partly what helped break the scarcity mindset that I earlier mentioned I was suffering from. What was truly life-changing, I'd say, was practicing daily affirmations as well as investing in a mentor, Pauleanna Reid for instance, salon staff and marketing experts. This is what truly propelled me to my current level of success and showed me that taking control of your daily rituals on top of having an organized process for goal-setting is the difference between having a side hustle and running a six-figure business.
A boss, in my world, is a leader. She has clear morals and values, yet balances that with an attitude that gets ish done by any means necessary. Sacrifice, hard work, and patience are the ingredients to achieve success.
I didn't reach boss status before I made countless mindset shifts, alleviated excuses, welcomed uncertainty with confidence, and followed an unorthodox schedule. Most importantly, I had to embrace that I was worthy and capable of reaching a certain level of success and that it could be done all on my own. Of course, some of these shifts were easier to implement than others, while some were made out of necessity. The hardest changes dealt with inner work and self-love. I struggle with imposter syndrome and reminding myself that I am worthy is a constant fight. Having to embrace who you're meant to be can be frightening but growth never comes from comfort; it thrives in the newest version of ourselves.
Follow Chris on Instagram @sheluvslashes.
When Failure Serves as an Expensive Stepping Stone to Success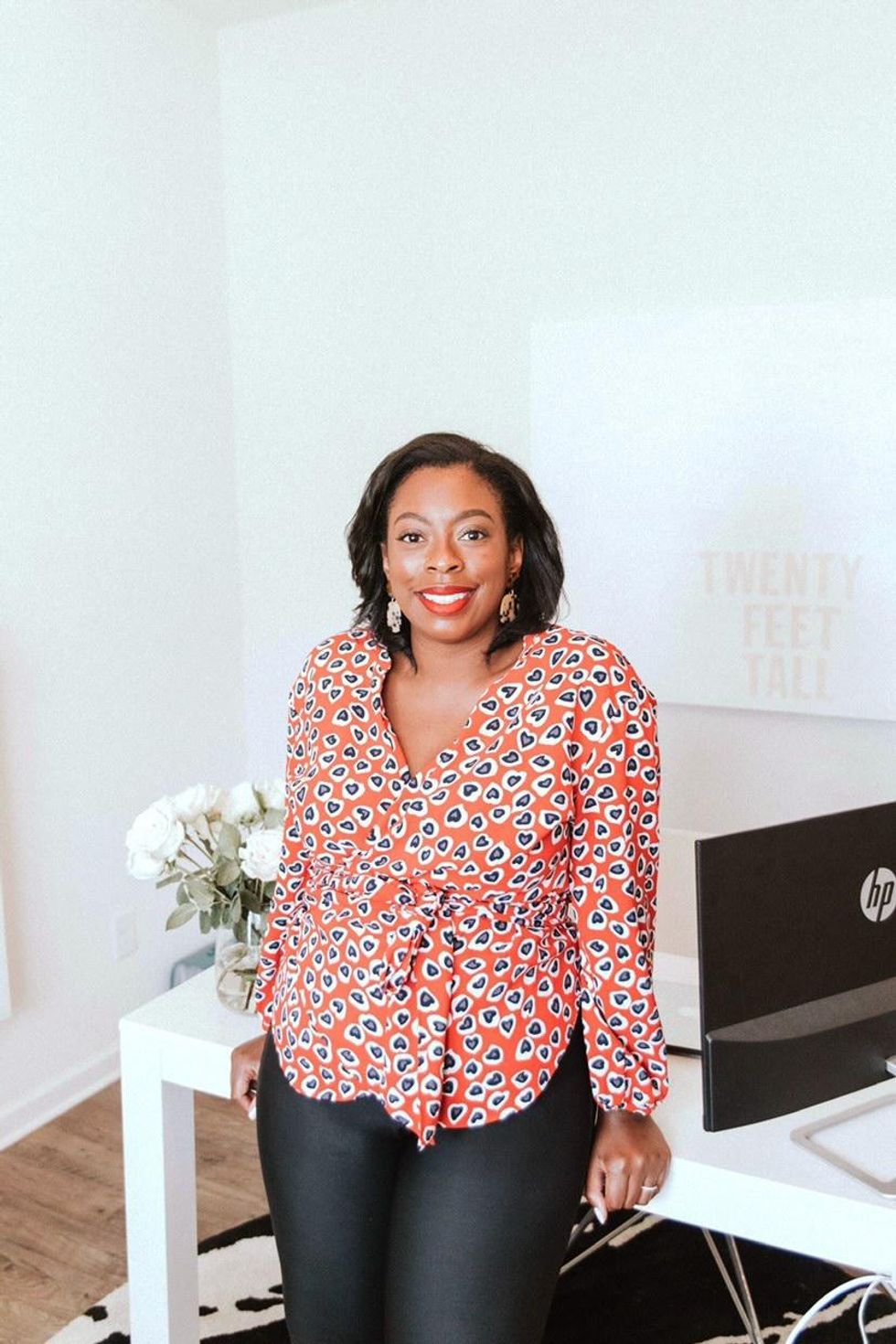 Image courtesy of Miranda Mader
I had a huge mindset shift in my early 30s when I launched a business that failed—but from which I recovered. That experience taught me a ton from bringing a dream to fruition to pivoting and iterating.
Five years or so ago, I launched a business with two friends and partners whose purpose was to encourage college students, particularly HBCUs students, to travel the world. My friends and I who are all HBCU grads have had the opportunity to travel abroad when we were younger and being aware of the benefits of doing so, our desire was to give that opportunity to an audience that didn't have the same ability as we did.
We made a ton of mistakes during the launching process. We firmly believed that this project would be the solving of an issue, however, we didn't succeed to shed light on the said issue in a way that resonated with our target audience. We failed to properly grab their attention. And then, we launched too big, way too big—and we actually paid for it.
Looking back, that situation was ironic considering that prior to that, I'd spent a significant amount of time teaching as a product manager—and now as a product management career coach and business coach to women of color entrepreneurs—to actually not do this [launching too big]. It's always best to start small and test your audience first, which is a fact that I was proven once again when I later found myself launching another venture with a pair of two other friends.
For years, we'd casually played a game about dating deal breakers during our girls' nights and wondered if it would be commercially viable. We wanted to create it and then sell it to the public. However, despite how good we thought this idea was, having learned from my past mistakes the hard way, I made it clear from the start that spending any money was out of the question for me; an announcement that caused my friends to glance at me with a confused stare stating that it would therefore not be feasible. But I knew we would figure something out. And we did.
We managed to come up with the simplest launching strategy which cost us the bare minimum but enabled us to maximize our success.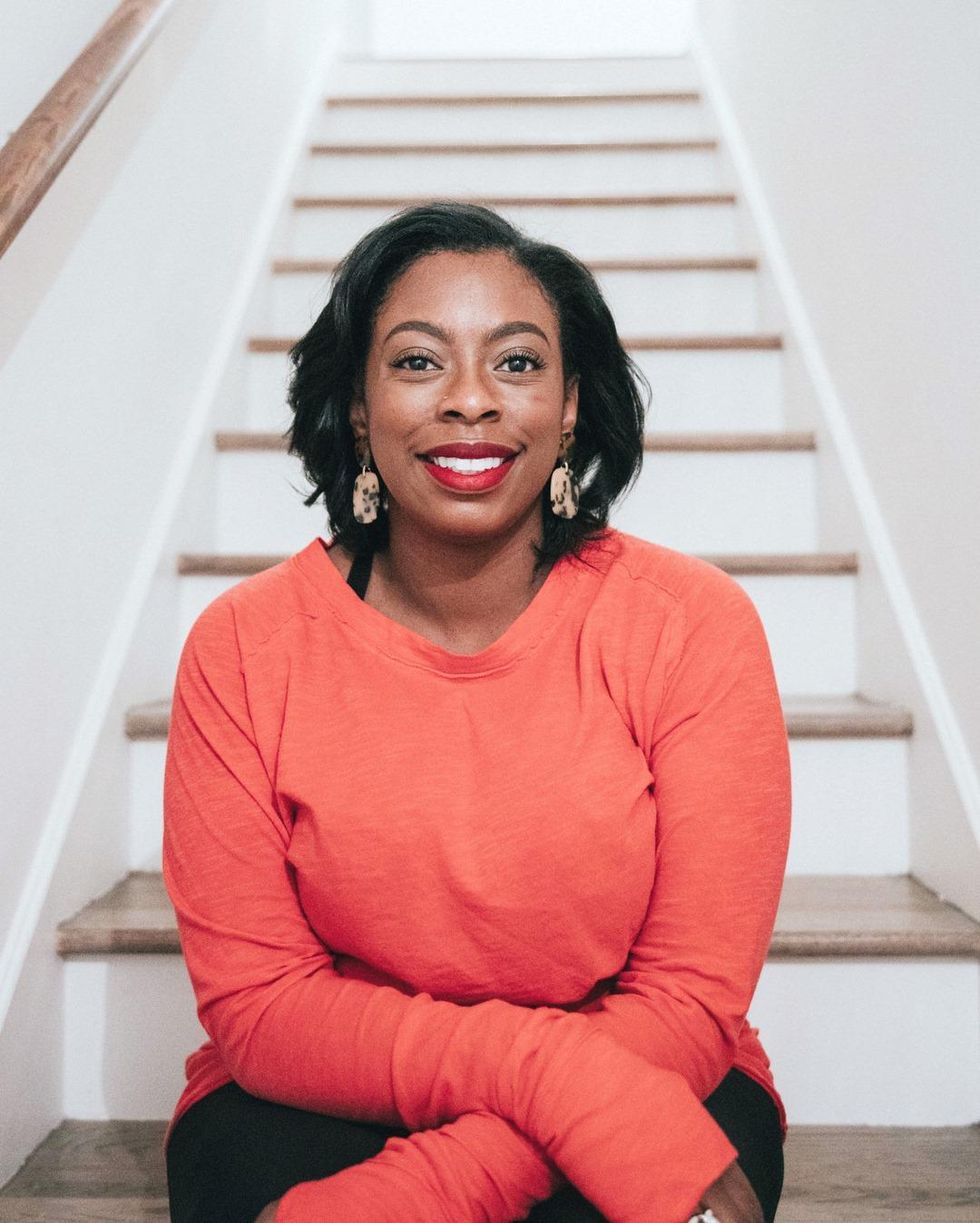 Image courtesy of Miranda Mader
To introduce the game to our audience and test both, we decided to organize a small gathering with our friends. The plan was to play with them so they could see how much fun it is and therefore potentially turn those friends into customers. As for the cards' prototype, my partners and I had opted for at-home printing, a cheap and efficient solution. When the ladies validated our concept that night, we were given the green light to start the next step of our launching process: social media promotion. There again, we'd only invested a few dimes in marketing, just enough to get a decent number of customers to pre-order the deck and allow the real production of our card game to finally begin. We suddenly had the cash to order inventory to cover the pre-orders and more, without taking a hit upfront.
While my initial attempt at entrepreneurship was a complete failure, the lessons that I've learned from our mistakes [not building proper brand awareness and launching too big] are the main reasons why my other partners and I managed to turn this second endeavor into a complete success. I told them that I wouldn't risk losing any more money and adopting such a sales strategy that spared us from buying in bulk without being sure whether we'd sell allowed me to honor my vow.
As I previously briefly mentioned, I now work as a business and career coach. I've been self-employed for approximately two years now, and the services that I offer allow me to generate a six-figure revenue. I believe it's worth noting that the journey hasn't been linear and didn't come without low-grade anxiety. Self-doubt was also ubiquitous; the "will-I-be-able-to-sustain-this-long-term" fear was real. But the thing that I did and which today allows me to say that I'm living a life beyond my dreams was pairing my ability to execute, my vivid imagination, and Godly faith. It's been equal parts of each: envisioning an outcome, believing that it's available to me—which has been difficult because as a young girl, I hadn't met many black women entrepreneurs who independently monetized their talent for the personal and professional benefit of others—, and creating and executing a plan to achieve.
Shifting from fear to possibility has gotten easier over time. I equate it to the first time you tackle a small fear. It's nerve-wracking at first but through repeated actions, it becomes a part of your muscle memory.
Follow Blair on Instagram @blairpres.

Learning How To Cope With Introversion and Impostor Syndrome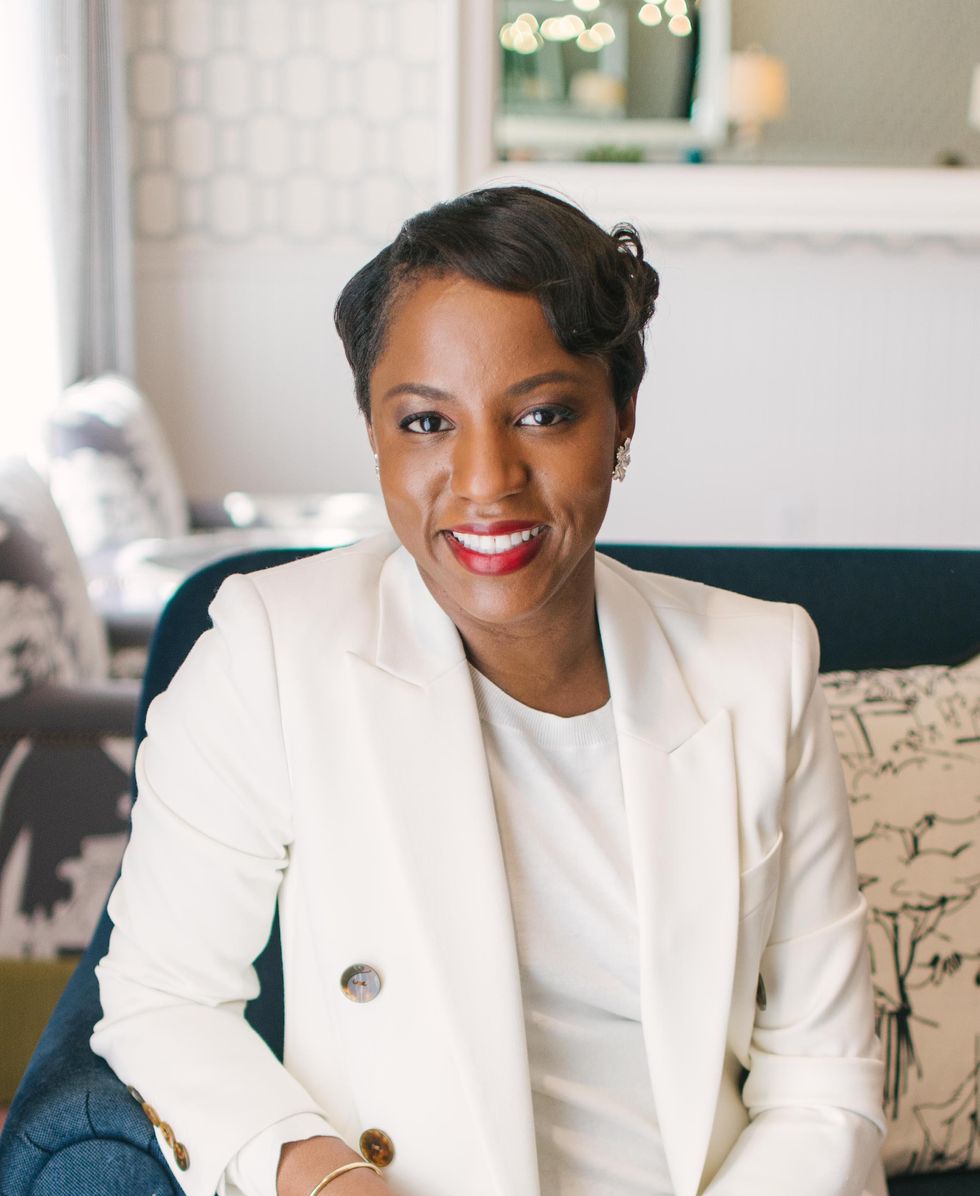 Image courtesy of Caroline Beffa Photography
My name is Bola Sokunbi, I'm the founder and CEO of Clever Girl Finance, "a mission-driven financial empowerment platform aimed at providing women with the right products and services as well as financial guidance." I'm also a super introverted individual who happens to suffer from impostor syndrome, all of which can be a tad bit problematic when you have high professional ambitions. I wish I could say that these feelings fade away with time and experience, but they don't. However, what the former and the latter did help with was to figure out my coping mechanisms.
Before I started my business, I remember how much of a struggle it was for me to make myself seen and heard when I found myself in important rooms. Instead of being as aggressive as my colleagues were in the pursuit of coveted promotions, I was trying to stay as quiet and as little as possible. I was unable to position myself for further opportunities—and had my advisor not convinced me that the founder of a brand is as important as the brand itself, my inner struggles would've probably prevented my company from growing as well.
One of my biggest challenges was to believe that my story—the story of how I managed to save $100,000, for instance—and accomplishments are valuable enough to be shared with the world. The question that would always pop up in my head was, "Who are you to actually say these things?" When I finally had the guts to put it out two years after the launch of my business, it turned out it became a huge anchor in terms of brand awareness. The exposure my story was given by other media outlets showed me that my fears of being judged were unfounded for people were actually inspired by it, and it also made me realize that what I'm doing is bigger than me.
When I first launched Clever Girl Finance, I used to decline all public speaking appearances and big events that would make me the focal point. Now, because my mindset shifted to thinking of purpose before self and I've learned how to cope with them, I'm able to seize those opportunities.
My secret when it comes to surviving being an introvert plus impostor syndrome as a business owner is to step out of my comfort zone when I need to and step back into it when I can.
When I step out of it, I prepare by repeating affirmations out loud, hyping myself up. I look for an accountability partner, whether it's a friend or my husband so that I have someone to push me and make sure that I do whatever it is that I'm supposed to do. And then, once it's done, I allow myself to rest. Keyword: rest.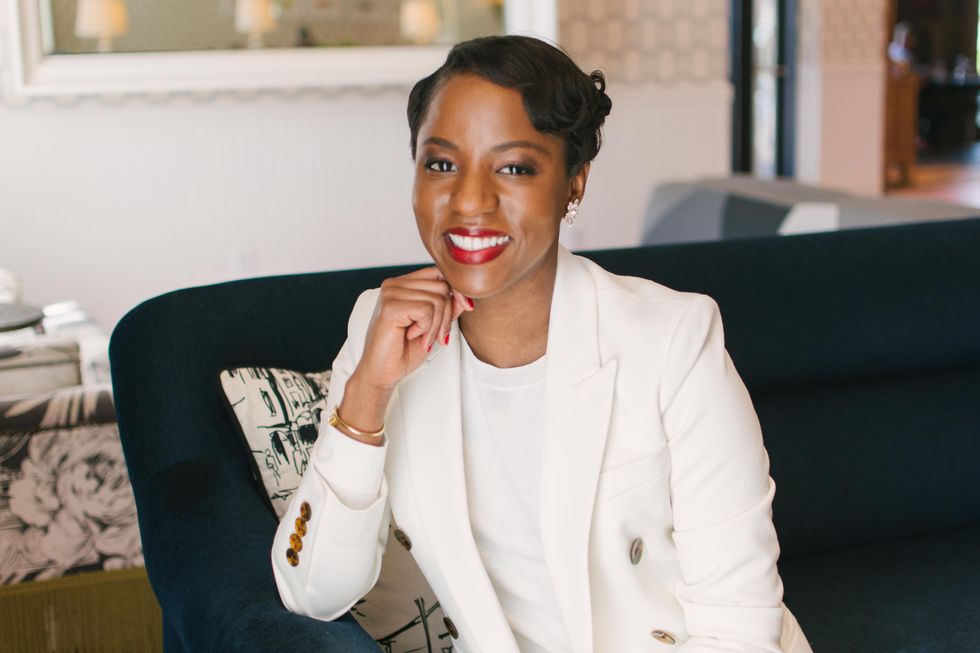 Image courtesy of Caroline Beffa Photography
I came to realize that being an introvert was so much of a struggle for me—not just as a professional but in my daily life as well—because I never took the time to recover after I do an event. Or a video. Or a webinar. Basically, anything that puts me in a place where I'm surrounded by a lot of people.
By not giving myself time to recover, I was just compounding the effect of how much I disliked being out there and being the face of my business. But when I allow myself to step back into my comfort zone and sit there in silence for as long as I need to, I feel rejuvenated and motivated enough to go out and do it again.
Since I discovered the benefits that this technique has on me, 'recovery day' made it to my weekly calendar. It usually occurs on Fridays and to make it possible, I hired a team to help me alleviate the work, take the pressure off of me and allow me to hide for a short amount of time. My staff has been the best at pointing out when I need them to take specific tasks off my plate. Because one thing about introverts, when they don't feel like doing something, that's when a whole nonessential delay game begins and time gets wasted, which is a fortune that as business owners, we cannot afford to lose.
On top of my team, I can also count on my three advisors to help me to be my best self. These ladies, whom I consider my sisters and aunties in my head, make sure to speak life and words of encouragement into me. They also make me uncomfortable, but I like it because the discomfort is private. It's not happening on the public stage, but one thing that's for sure is that it prepares me to stand with confidence in front of my public.
As I said earlier, impostor syndrome and introversion are unfortunately not easy to get rid of—provided it's possible. For me, these are uneasy feelings I'll always have to deal with and I can tell from experience that they evolve with each level that you reach throughout your journey. But there are going to be times when you'll have to tell them to sh*t up because you have work to do. You have a purpose to serve—and recovery day is coming soon anyway, so you can do it.
Follow Bola on Instagram @clevergirlfinance.
Featured image courtesy of Candace Junée
Originally published on February 19, 2021
Hair styled in a long high ponytail. Lips painted in a popping shade of red that adds even more sexiness to her statement outfit. A black, see-through lace bodysuit paired with streetwear pants of the same color, along with a matching jacket, all accented by a gorgeous set of pearls and white heels. On this sunny winter day, the look of YouTube star Dulce Candy Ruiz fills the streets of her friendly Californian neighborhood with boldness and a fresh breeze of creativity. As she poses in the driveway of her home, Jesse, her husband and biggest supporter, masters her angles and captures the best portraits of her.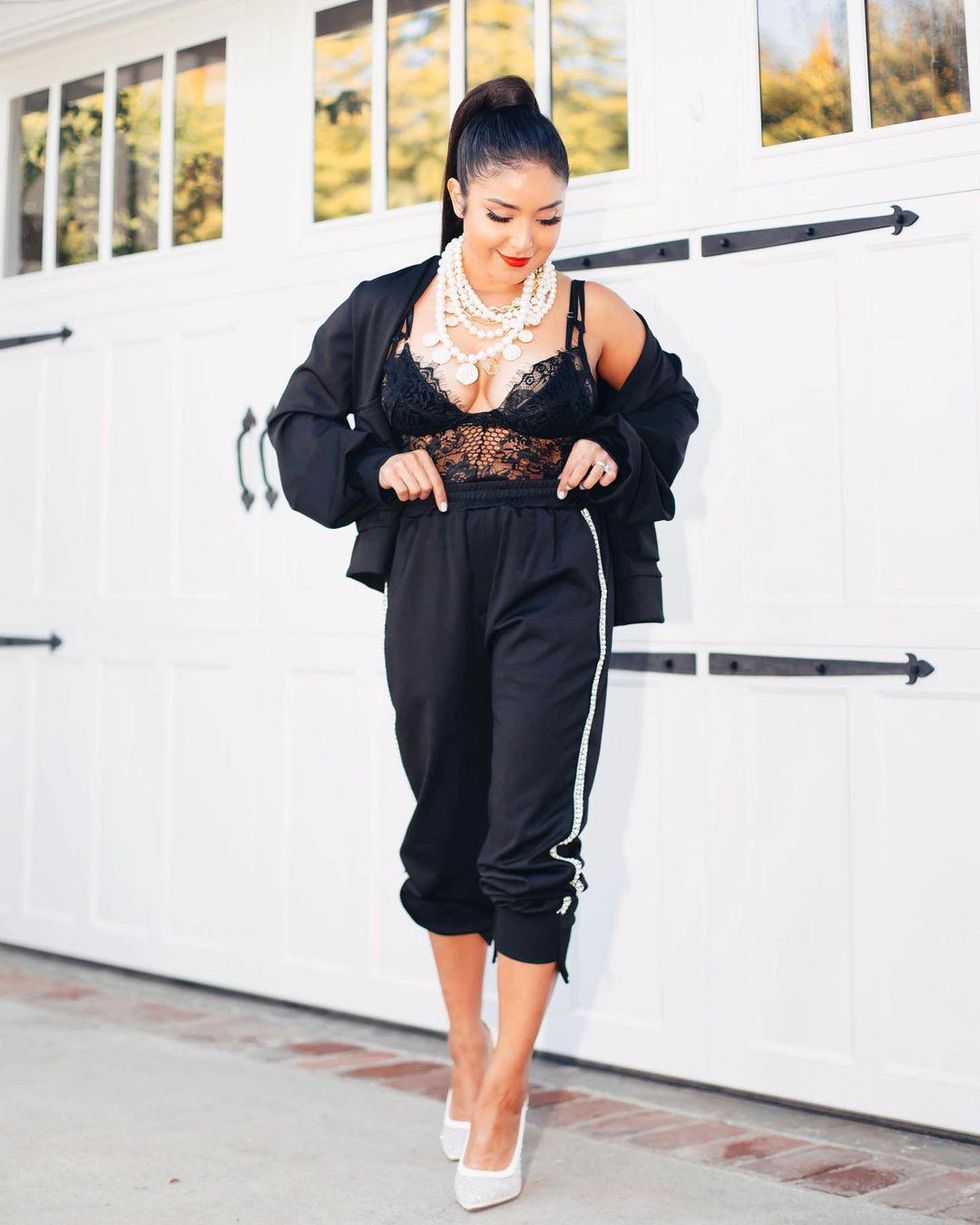 Courtesy of Dulce Candy Ruiz/Instagram
From the outside, it looks just like a regular day in the life of a YouTuber who has more than a million followers on Instagram alone. Yet, when Dulce and I both sit down for an interview, I understand from the honesty and vulnerability she exudes that it was, in fact, the day everything changed. It was the day she'd finally gathered enough strength to steer away from the empire that she built to spread her wings and fly to new horizons.
"We were simply outside doing this photo shoot, and I don't know what possessed me," she explains. "I wasn't expecting myself to do that, but I did. I grabbed my phone and tweeted it out: I'm quitting YouTube."
Making the Shift: A Bold Move to Let Go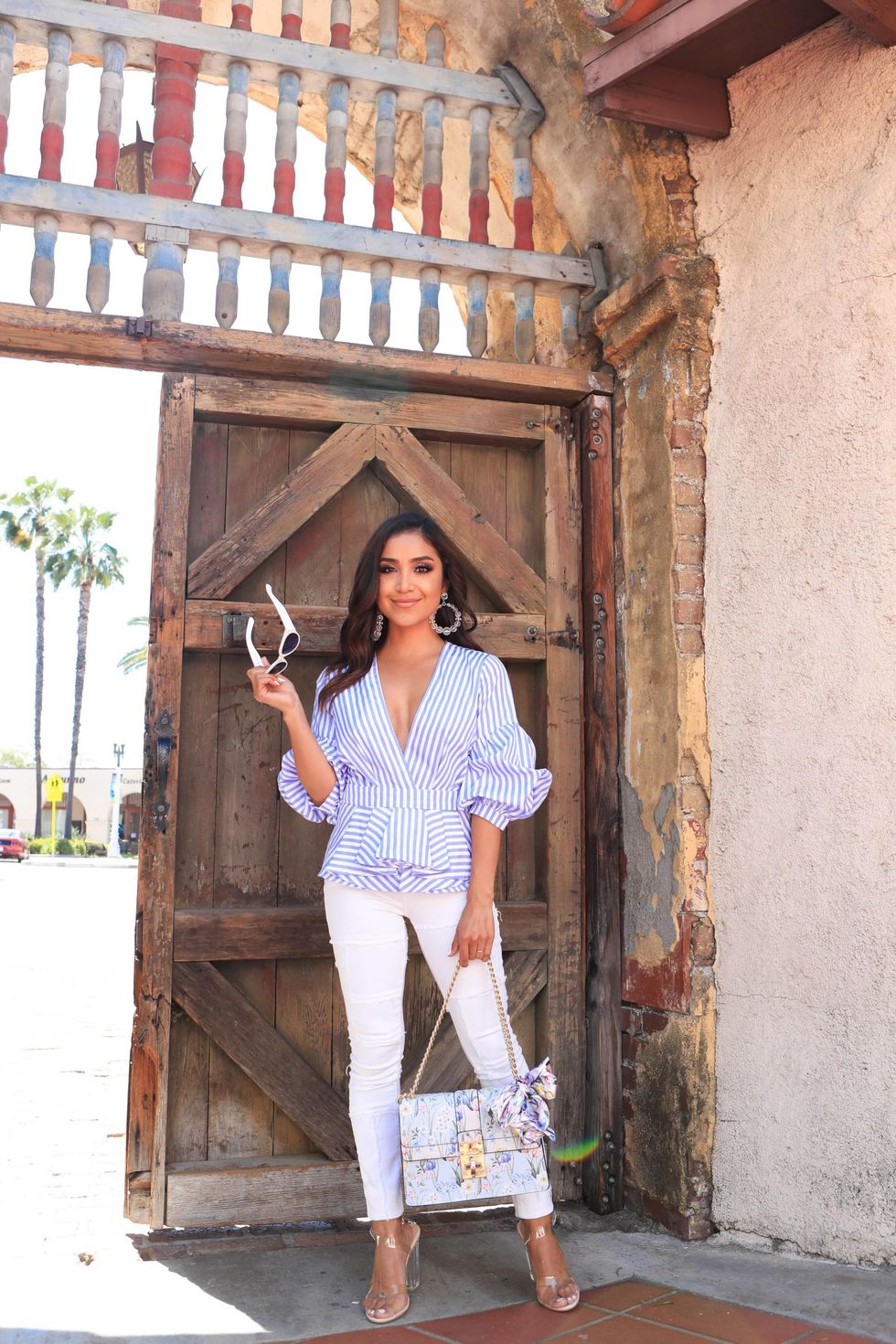 Courtesy of Dulce Candy Ruiz
The decision for Dulce to quit YouTube took five years. "I didn't have a lot of confidence to let go in the past because I was unclear as to what I wanted to do with my life, which is why it took me so long to redirect my energy," she confesses. "Because YouTube was a safe space for me—it provided me with a lot of stability, I knew what to expect—I kept reverting to the same old pattern and cycle."
Indeed, since 2008, Dulce has positioned herself as a major force in the beauty and fashion industry. Over time, her blog and social media posts, along with her viral YouTube videos, turned her into a trusted source. Most importantly, she's been able to live off of her passion even though she was convinced that foregoing a higher level of education after high school would reduce her chances of one day becoming successful. It's not hard to imagine how much of a tough choice it was to close the book on her biggest accomplishments—let alone in current times when the world is experiencing a devastating pandemic.
When asked what prompted such a bold move, Dulce admits that although YouTube was her safe space, it was no longer her healthy space. Quite the contrary, it had become somewhat of a glass ceiling that was preventing her from elevating to her higher self. "I didn't see myself growing on that platform anymore. I'd reached a point where the things that used to come easy to me before, like editing videos, setting up the lighting and background, or even the content that I was producing as a whole, left me feeling restricted and became difficult to do," she recalls. "I was often making excuses and was also constantly debating whether it was the kind of life I wanted to live or not. I considered these as big signs that it was time for me to move on."
"I believe that life is meant to be lived in a flow. When that's the case, the challenges that you come across in your journey excite you. They become a source of motivation and ultimately lead you to find happiness. On my end, these challenges were pushing me back and draining my energy. I was living in resistance."
Intently listening to Dulce reveal the reasons that drove her out, her words confirm the assumptions that I had of her: that she is the kind of woman who is very mindful of the way she feels, and she uses that information as a compass to guide her through achieving her personal legacy. As I question her on whether or not she still believes that quitting YouTube was the right thing to do, the indubitable intonation of her voice says it all. "[Quitting YouTube] was a really liberating feeling. Once I put it out to the world—an act that I had no doubts would hold me accountable to not go back to my word—the big weight and pressure that I was bearing on my shoulders instantly lifted off, which was a confirmation that I was, indeed, taking a step in the right direction."
"With that said, from the moment the simple thought of quitting crossed my mind five years ago, I knew that it was what I was supposed to do—without consulting my husband, my mother, or anybody else. Something that I learned is how important it is for us to trust our inner voice and let go of the need to seek the opinion of others."
Dulce continues, "It's mandatory to listen to our intuition and to spend the necessary time to learn about ourselves. This is what enables us to harness the power to really discover and understand what we want to do as well as who we want to become. Because deep inside, we know."
Changing the Narrative: Quitters Do Win and Winners Do Quit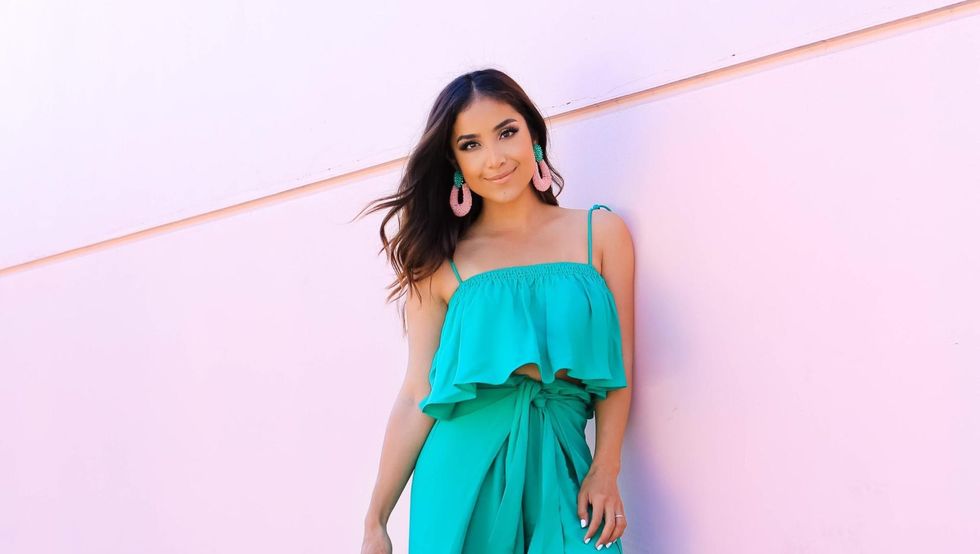 Courtesy of Dulce Candy Ruiz
The more we progress as human beings, the more we grant ourselves the permission to tailor the definition of success and allow success to look different on everyone. Nevertheless, it seems like no matter what we decide to equate success to, the ultimate goal remains a common one: to live our best life—or as Dulce beautifully calls it, "passionate living"—regardless of the consequences it may entail.
"One thing I'm not going to do is to stay in a place where I don't feel fulfilled for the sake of stability. Had I stayed in the military when I was younger, I could've benefited from housing, a guaranteed paycheck at the end of every month, and a plethora of other benefits. Yet, I wasn't happy. I don't think that any kind of opportunity or amount of money is worth bringing me down, let alone costing me my peace. And so, I left."
Now, you're probably thinking that walking away from money is way easier said than done—and you're right. I would even say that it's extremely scary. But one thing that speaking with Dulce has taught me is that it's possible.
"If you're not content with your current situation and wish to pursue your goals, do like I do," she advises, "Start by investing two hours of your time daily to work on them. Filter out your surroundings and the things that you consume to help your vibration rise higher. Exert a lot of energy in your dreams and bringing your vision to life while still maintaining your other job, and without allowing the negative emotions it involves to tear you down. It's all about balance here [and keeping your why at the forefront of your mind]."

The Mexico native adds that she is now able to see and experience the world differently and can dedicate her focus to the things she enjoys and the legacy she wants to leave behind. I can't help but think about American football coach Vince Lombardi's famous saying, "Quitters never win, winners never quit." What if the latter, although motivating, was a narrative rooted in falseness or, dare I say, burnout culture? What if, in the end, we all could win regardless?
As time goes by, women of all ages, races, and social statuses keep proving that quitting does not deserve the negative connotation it's always been associated with.
In other words, if it doesn't feel right, may Dulce's testimony serve as a reminder that you're allowed to let go.
Owning Her Pivot and Expanding Her Impact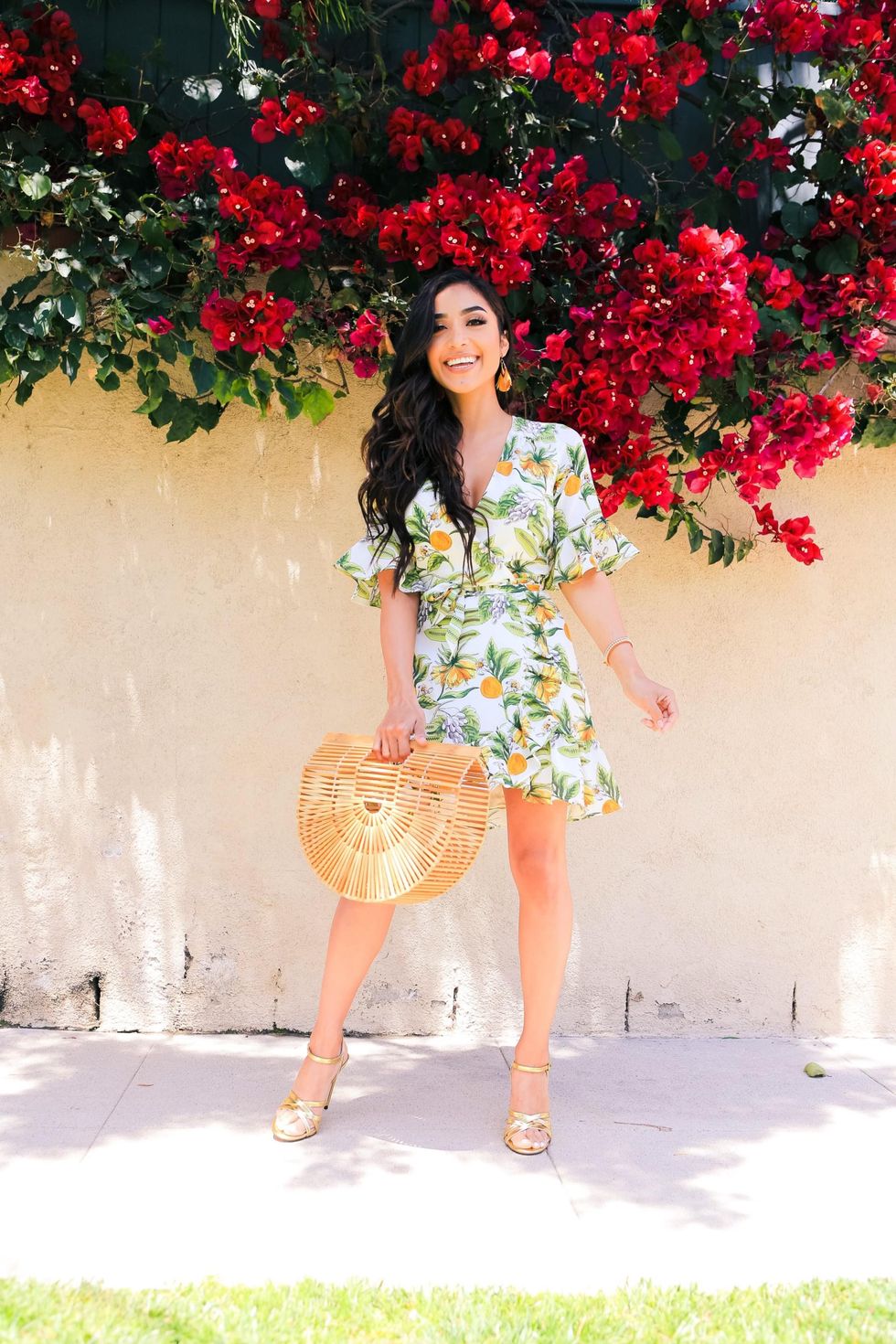 Courtesy of Dulce Candy Ruiz
At the time of our interview, Dulce still considers herself in transition, and she's giving herself the freedom to surrender to her creative callings and explore different avenues. She's also actively working on the development of her new brand called Sweet Soul—and from what we can see of her recent Instagram stories, a possible second book. (The first, titled The Sweet Life: Find Passion, Embrace Fear, and Create Success on Your Own Terms, was published in 2015 and chronicles the story of how she emigrated from Mexico to the United States, enlisted in the Army, and found her calling in beauty and fashion.) For if the butterfly has decided to desert her kingdom, something that she's not leaving behind is the garden and beautiful flowers that she's been growing for over a decade, namely her audience.
"What also drove me to quit is the fact that I do respect and care for my audience deeply. I value their time a lot and it'd be disrespectful to show up as an inauthentic version of myself that's not passionate just to stick to what I've been doing."
"I want the things they'll take away from the content that I create to always elevate them, and for that to happen, my content must evolve at the same pace as I do. It shall remain in alignment with who I am. Sweet Soul, my upcoming stationery and jewelry line, will be just that. It aims to empower women through self-discovery and self-love. Both have been a defining part of my own journey, and to make helping other women learn how to truly love themselves and how to be confident enough to step into their true essence my purpose feels natural."
Building and ensuring the success of Sweet Soul is a challenge for Dulce, though, but it's one she's excited and enthusiastic to take on. "I really feel like I'm starting from scratch again, which I technically am. It's a new path for me, one that I've never explored before. I've never owned nor have I ever built a thriving company that sells products. From securing a design house to figuring out successful sales and social media strategies, everything is a challenge."
And it's not only that that makes her new venture challenging, there's also the eventuality that she has to rebuild everything that revolves around it, especially her connections and perhaps even her following. "I'm well aware that not everyone will be interested in the things that I'm now pursuing. When you decide to initiate such a shift, everything in your life changes—your attitude, your priorities, your interests, and of course, your relationships."
In a world where individuals are constantly put in boxes, Dulce simply wishes to be seen as who she is. But if she's really to be categorized, then she's a soul-centered creator.
"My legacy doesn't necessarily have to be so huge that it shakes up the generations to come. As long as the people whom I have crossed paths with during my existence remember the way I made them feel, how I showed up in any field of my life, then that's enough for me."
For more of Dulce Candy's life and her new endeavors, follow her on social media @dulcecandy and @sweetsoul.
Featured image courtesy of Dulce Candy Ruiz.
Twenty-five—including eight in one day. That's the number of times he called me in a week. He left no voicemail, sent no text, let alone an email. Nothing. He just kept calling me, at inappropriate times of the day and night, all while I was attempting to get some rest on my week off. "He" was one of my clients that I'd been working with for a little while and was recently forced to let go of because of his toxic behavior.
Featured image by Giphy
When I think of the most traumatic stories one can experience, breakups are among the firsts that come to mind. Losing someone that we love can become the source of such a wrenching pain, it draws an indelible trace on our hearts and leaves us changed forever. As bizarre as it may seem, breakup stories are my favorites to write. It's true that they involve a lot of darkness and negativity that the world would gladly pass on. But the reason I find it essential to tell these stories is that they involve the darkness and negativity that most of us go through, yet often refuse to talk about because of fear.
Fear of being judged, fear of being misunderstood, fear of being alone...sometimes we even fear talking about a breakup because it'd mean that we acknowledge and accept the fact that the relationship is over.
For this particular reason, I recently asked four women* about the worst ways they've been broken up with with the intent to share their stories on xoNecole—I wanted to show you that alone and misunderstood is something that you, who's reading this, will never be. Indeed, there'll always be someone out there going through the same things that you're going through. There'll always be someone experiencing your pain. In fact, what you're experiencing is called life, and life is something that happens to every one of us.
Sharing stories you can relate to isn't the sole purpose of this article, though. What was also important to me was to show you that each of these ladies has somehow found a way to bounce back after hitting rock bottom. Each woman was able to find the good in goodbye. Each was able to find joy and glow again. These stories are reminders that no matter how low you may feel, eventually, you'll bounce back too.
*Names have been withheld for the ladies to maintain their anonymity. Pseudonyms have been used so that the ex-lovers could maintain their privacy.
I Moved To Another State For Him & He Dumped Me Soon After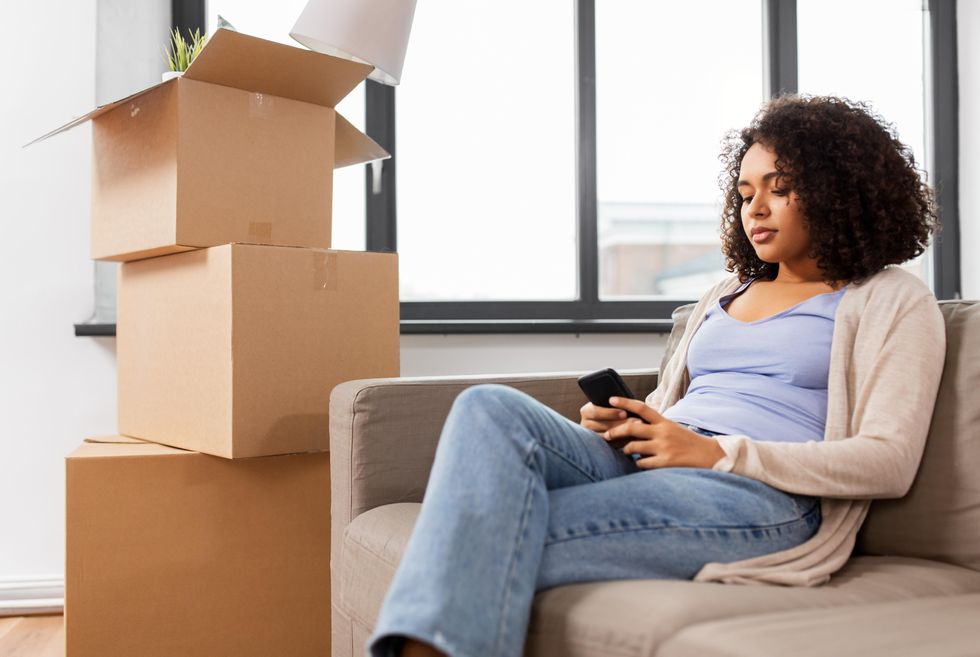 Shutterstock
*Thomas and I met through mutual friends. He's always been pretty upfront about his attraction and desire to get to know me and I wasn't against it. We'd gotten the opportunity to get together (with our friends) on several occasions and I enjoyed our conversations; I thought that he was a cool and funny guy. When he and I began to date exclusively, we did so for almost two years. Within this timeframe, we were serious enough for our families to meet as well as to discuss the serious steps that we wanted to take together as a couple. The first big step, we agreed, was to move from Ohio to Atlanta, GA, where he's from.
At the beginning of our relationship, our similarities, the connection that we had, the way we clicked...the feeling that I was getting from it all was that "we" were too good to be true. But a couple of months in, it became obvious that I'd simply crossed paths with a good person—my person.
Or so I thought.
Thomas was in his last year of law school when I started preparing for our move. Well, it wasn't really our move, it was more my move. I'd decided that, in order to establish myself as well as my professional career over there, I'd move before Thomas graduated so that I could take the time and space I needed to do so. Three months before the big day, what I hadn't noticed was uncertainty at the time began to settle in. "Are you sure you want to do this?" He'd ask me. "Maybe you can wait, just so we can move together?" Neither he nor I were the kind to let doubt creep in during moments or conversations like these. My soul inevitably perceived his words as him looking out for me, not wanting me to go through this on my own while he'd still be stuck in school, unable to protect me should anything happen.
I believe the moment I started feeling that something was off was when I was offered a job in Atlanta. I noticed a significant gap between both our levels of excitement; he wasn't as thrilled as I was. On top of that, there was the fact that, days later, he didn't come to help me move out of my apartment.
My gut feeling, which I was trying my best to ignore on that day, told me that it wasn't normal. Apparently, my cousin didn't think it was either. Being a man himself, I remember him advising me to only move if I wanted to—he, too, was getting a strange feeling from my man's absence.
The moment everything turned upside down came two weeks later, as we were driving to visit an apartment for me. I'd temporarily moved in with my grandmother and was therefore looking for my own place. Since I'd landed in Atlanta, I'd been hanging out with Thomas—who was there to visit—and his family. Despite the good times that we were having, I'd noticed a shift in his attitude, and some things started adding up. All of which started giving me an uneasy feeling. So uneasy that at some point, I felt drawn to ask: "Do you still want to be in this relationship?"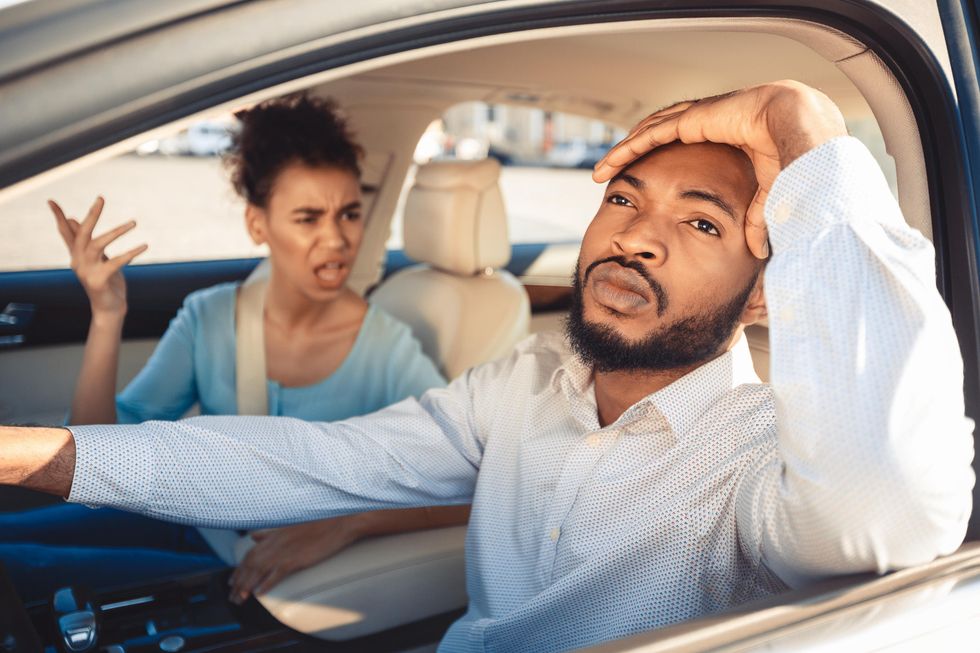 Image by Shutterstock
"No," he said. "There are things that I don't like about you which I feel you'll never change because this is just who you are. And the truth is, I don't see myself married to someone like you."
This whole car conversation was a gut punch. I was furious—and extremely sad at the same time. I'd move to Atlanta for a very specific reason, him, and he was bluntly showing me how huge the mistake I'd just done was. He left me. I found myself isolated in a new city that had broken its promise for a future filled with love and which then lost all its appeal.
Both physiologically and psychologically, having my heart broken changed a lot of things: I lost thirty pounds in the matter of a month, and navigating life was very painful. Later finding out that he'd been cheating on me didn't help. The only way for me to get over Thomas, I figured, was to run away. As far as possible. So, I used my connections. I called one of my friends who always told me to feel free to reach out if I was ever looking for a job and he did all he could to help me pave a way out of Atlanta.
The distance, time, having something to do career- and purpose-wise, meeting new people, allowing myself to fall in love again is the medicine that helped me fix my broken heart.
Over the years, I became open to receiving feedback from the men I was dating. Some of them pointed out the same flaws in me which eventually made me realize that I was probably not the easiest person Thomas had to deal with. No excuse for how he did what he did; he should have broken up with me. He just should have done it differently. All in all, my breakup with Thomas was the catalyst for me to grow up and learn how to take full ownership of the role I play in my relationships instead of just blaming the other person.
Our New Year Resolution Talk Led To The End Of Our Relationship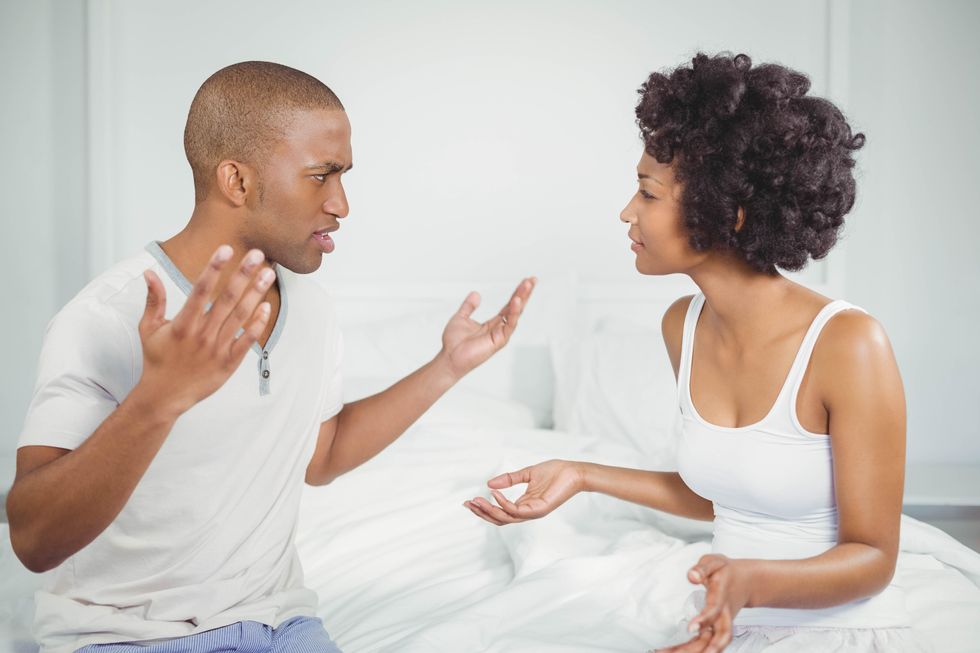 Shutterstock
I believe that human beings fall in love three times during their lifetime. The first time, obviously, is our first attempt at love. We tend to believe that we'll spend the rest of our life with that person—which may happen—but basically, this is mainly the first experience. Then comes our second love: the hardest. It's the love that teaches us about ourselves and changes us at our core. And finally, the third love, which is supposed to be our happily ever after.
*Dorian was my second love. Had I not experienced life with him, I wouldn't be the woman I am today. I wouldn't have been able to know exactly what I want in a relationship, I'd still be insecure and trying to find somebody to fill the void.
When I was introduced to Dorian, I was still dating someone. Funny enough, the work friends that we had in common and who wanted me to meet him believed that my boyfriend at the time wasn't right for me, so they insisted for me to hang out with them all so that Dorian and I could get to know each other. To make a long story short, Dorian didn't impress me at all in the beginning, although I did think that he was a cool guy. With that said, because we shared the same workplace, we got to spend a lot of time together, and, eventually, we built a bond. A bond that I must admit rapidly became ambiguous as, even though Dorian didn't impress me when I first met him, I grew to like him enough to break up with the guy I was dating.
Our relationship wasn't all sunshine and rainbows, though. We loved each other deeply, indeed, but because we both had a lot of growing up to do emotionally, it didn't take long before we somehow began tearing each other down. As I said, I was insecure—and he was too. He didn't know how to express himself, so he would often project his insecurities on me. As for me, I kept some parts of my life before him to myself because I feared he would reject me. The lack of trust is something that truly affected him.
One day into that new year, we agreed that, after being together for almost four years, it was time to start off on a clean slate. We spoke a lot on the morning of New Year's Day. However, when I felt safe enough to finally share my truth with him, the conversation took a turn that I did not expect. I thought he'd be understanding and that he'd give me his support. Instead, he completely blew up on me—and put an end to our story.
Losing my best friend isn't the way I expected the first day of 2019 to go. Generally, New Year's Day is supposed to be a little happier than that. At worst, meant to recover from a strong hangover from the night before. But being broken up with? I wasn't prepared for that.
The days that followed were terrible. I felt as though I had nobody to turn to anymore when things turned bad. Back in the day, I was diagnosed with high-functioning depression and panic disorder. Dorian was the only one who'd seen me have panic attacks and the only one who actually tried to help me overcome that. He used to be my rock—and now I was left to deal with life on my own. Until I remembered that this is what therapy is actually for.
The first four times I saw my therapist, all she heard me talk about was [my relationship with] Dorian. I was going through a roller coaster of emotions and had the hardest time grieving. But once the whole topic of "us" was covered, it was then time to shift the focus of the conversation on me. Me, my feelings, the reason why my love for him was so strong, the necessity for my well-being to move on, and my inabilities to let go.
The most defining lessons that I learned while going to therapy are, one, although my love for Dorian was real, the reason it grew so big was that it came from a place of self-doubt. I was dealing with self-esteem issues and was unconsciously depending on him to fix me.
However, the cure to our problems can't be found in other people. They must be found within. If you are to love someone, it's because that person adds to your life, meaning you're already whole all by yourself. Two, things start getting better from the moment you decide that they will.
My separation from Dorian forced me to level up to a higher version of myself. When I started elevating, taking some distance, I began seeing the situation from a whole other point of view. I was able to witness the bigger picture and as soon as it happened, I knew I'd just been provided with all the evidence I needed to believe that, in the end, I was better off on my own. At least during that season of my life.
He Broke Up With Me Through A Text & Took Off To Africa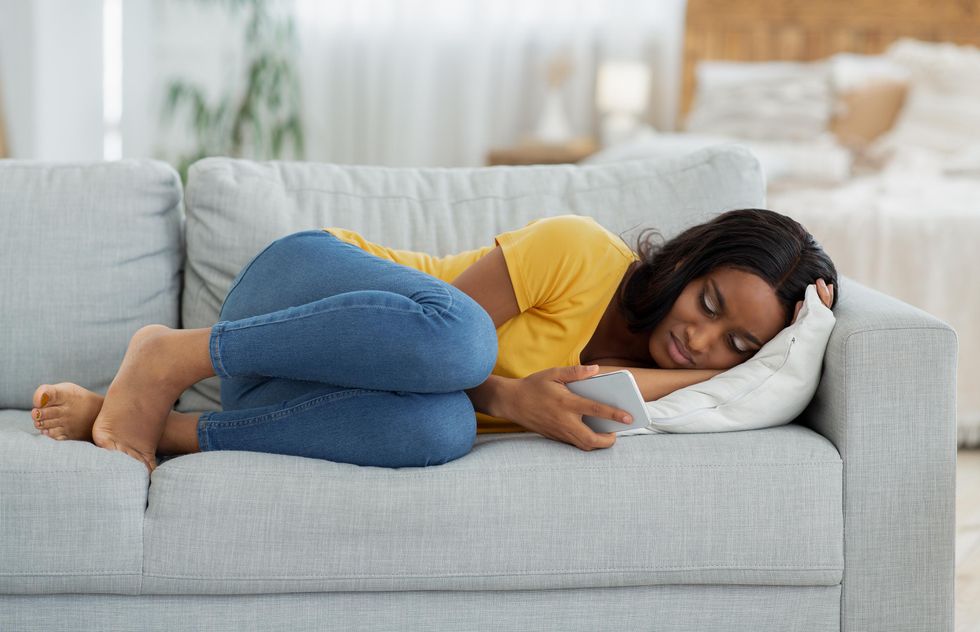 Shutterstock
Until he decided to abruptly end our relationship through text and take off to Africa right after pressing 'send', *Cameron and I dated for a year. Our story was special. We'd known each other for approximately 10 years before we started dating; it was the kind of love story you see in Hallmark movies. You know when the man has the longest crush on his friend but she has no idea, although she has a lot of love for him as well. And then, the timing of their respective love life never gives them the chance to explore what they don't know exists between them until, 10 years later, singleness finally finds them both at the same time. Yes, it was that kind of romance.
The both of us together formed a great pair; we had the same sense of humor, had a strong connection, traveling was one of our favorite activities to do together…
I couldn't say that our relationship wasn't healthy—if anything, we were best friends who were romantically involved and there have never been any signs of a red flag in sight. This is probably why the breakup caught me so off-guard; everything was fine.
However, when I visited him in Boston that time I had no idea it would be the last—I'm from New York; we were in a long-distance relationship—I noticed a shift in his energy. He was strangely acting as though my every move, not to say my presence as a whole, bothered him. I couldn't pinpoint what it was that I did or said that put him in such a mood. Of course, he wouldn't tell me either—later after the breakup, he admitted that his behavior had nothing to do with me and was in fact due to the struggles he was going through at the time. That was the most uncomfortable I've ever felt around him—and frustrated because he'd asked me to come only to make me feel unwelcome in the end.
Eventually, the time finally came for me to travel back home and get back in my own space and to my own routine. His bad mood had faded a bit before I left, but my senses were telling me that something was still off. And indeed, as well all know, intuition never lies.
No more than 24 hours after I left Boston, a notification popped up on my phone. It was a text from him, a goodbye text. I was at work going through a roller coaster of emotions while reading all these paragraphs that he'd written. So many words simply to tell me that he didn't want to be with me anymore and that, on top of everything, he was about to board a plane to Africa.
It was hurtful. Not so much the breakup, but his behavior. You know a person for so long, you have this built-in trust with him and then, he lets you down... It's hurtful. It makes you question everything, especially who can you trust if you couldn't even trust the person you thought you knew so well? I debated whether or not it was worth responding to his text for a week. After endlessly writing, erasing, and rewriting my response, I ultimately got it off my chest. I had to.
Sometimes, people will tell you to "kill them with silence." While it's a wise thing to do, I believe that there are some situations where you must stick up for yourself. That was one of those for me.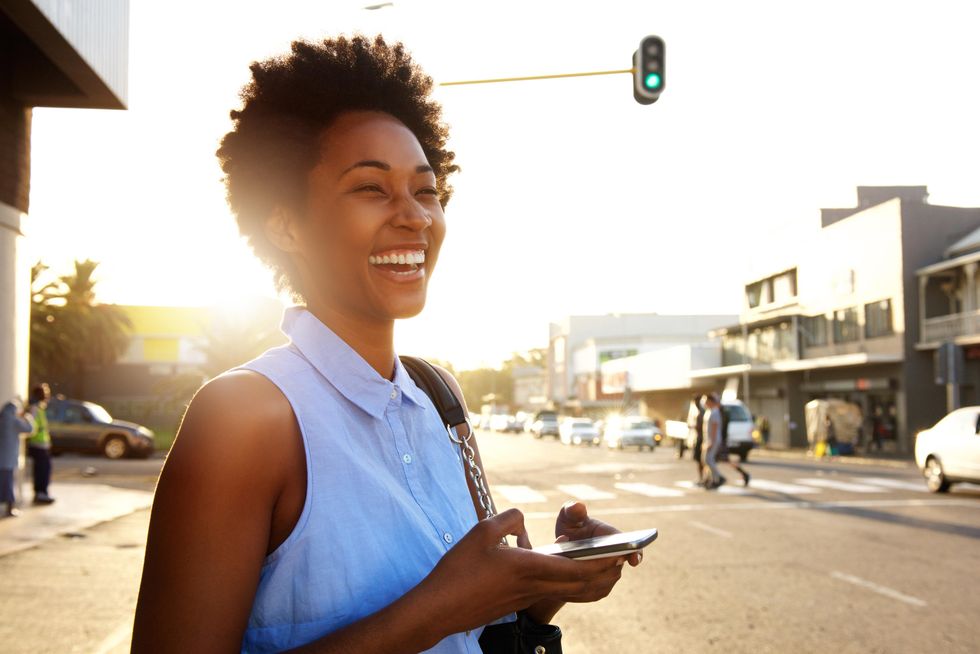 Image by Shutterstock
You see, long-distance relationships come with a lot of sacrifices, whether it's time, money, or [something] else. During that weekend, the sacrifices that I made weren't considered which was very disrespectful, so I had to speak up for myself and show him that what he did wasn't right, nor was it fair.
All in all, it was the worst way I've been broken up with, but I'm happy to say that it didn't shatter me. Quite the contrary, it made me realize what he was capable of; his exit was so big and intense, I couldn't go past it. And focusing on that instead of all the reasons why I loved him opened the way for me to heal and move on quite quickly. I must also admit that the timing couldn't have been better for it happened at a moment in my life where I was finding myself at an intersection. I'd just graduated from college, I was being presented with tons of opportunities, I could decide to do whatever I wanted to do, become whoever I wanted to become; the only one I'd need to look after was me.
A month or so later, I received another text from him, this time saying that he missed me. "I get it," I replied. "I'd miss me too."
After Fake Proposing To Me, He Confessed That He Wanted To See Other People. "People" Included His Homeboy.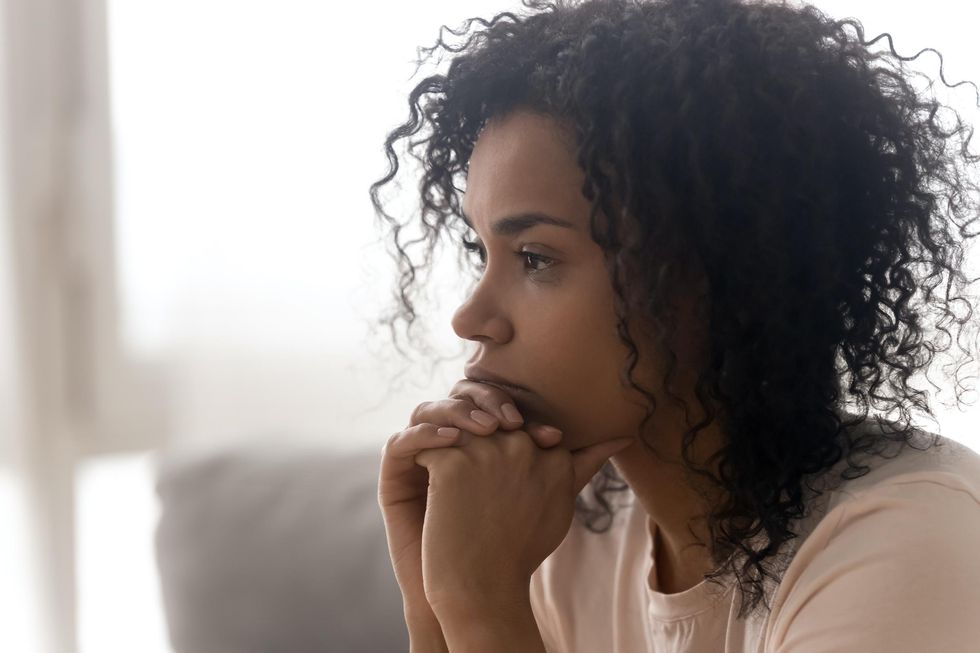 Image by Shutterstock
Have you ever found yourself in a relationship that you initially didn't want, yet you ended up the most hurt when it ended? That's exactly what happened to me with *Devin, the most toxic spiritual encounter I've ever had in my life.
I met Devin at a bookstore located in Flint, MI, where he happened to work. My spiritual advisor introduced us. Devin was different from all the other men I'd met before. He was this fine, chocolate man with big almond-shaped brown eyes. He wore his hair like a Black nerd—but a sexy Black nerd. He was nothing like the men I'd dealt with before.
Somehow, that bookstore became my new coworking space. I'd go there to get some work done and whenever he had some free time, Devin would sit with me to help me and give me new ideas for my projects. I remember we'd also talk about entrepreneurship—he was trying to get his feet wet in public relations—and spirituality. The best part was that we started by building a friendship by connecting intellectually, which made him even more attractive to me.
With all of that being said, believe it or not, I wasn't trying to date him. At the time, a relationship wasn't part of my priorities at all; all I wanted to focus on was school and my future. But I'd be lying if I told you that the latter stopped me from accepting his invitation to take me out on a date.
If anything, this man whom I considered my friend made me feel safe. I was comfortable with him, comfortable enough to completely allow him into my life. By that, I mean allowing him to spend time with me at my place and sometimes stay overnight, plus introducing him to my family.
After some time, though, his actions began reminding me of a manipulation technique called love bombing. He would overwhelm me with love, shower me with gifts, and would become passive-aggressive when he'd hear me say that I wasn't ready to commit to him. The times he visited me at my place, I noticed, he'd leave some of his stuff around, probably as a way to mark his territory. In all honesty, the situation began giving me a strange feeling, I wasn't at ease. But my friends kept insisting that I was overthinking it. In their eyes, Devin was only a good man and they maintained that I should just accept receiving his love.
Eventually, spending so much time together led us to become more intimate. Not because I wanted to, but because I felt giving myself to him was the right thing to do as he'd been such a gentleman to me—and according to other people, I'd been so hard on him.
I'll never forget that night when I saw a Black figure leave my room as he was getting off of me. Immediately, I knew that something had changed within me spiritually-speaking. It was like I'd just lost my mind.
From the moment we had sex, we created the strongest soul tie. I couldn't get rid of him, even in spite of the many signs that I received from God urging me to run away. If I felt safe in his presence before, being involved with him then made me feel depressed. I was also sure that he'd brought the spirit of pestilence into my home, added to the fact that I found myself at the hospital quite a few times because of ruptured cysts and twisted ovaries. One night, as I was dealing with my suicidal thoughts while on my way back from work, a deer suddenly hit my car. The accident shook me so much, I knew it wouldn't take any more signs for me to understand that it was time to save myself. With a lot of difficulties, I ultimately found the strength to tell him that we were over.
Fast forward to several months later, Devin reached out to me again. He was being very apologetic and told me that he wanted us to meet up. I know I shouldn't have but I agreed.
At the time I was still really suppressing and dishonoring my intuition. Somehow, I began questioning whether I'd made the right decision when I left. I thought that maybe I was really missing out on something, so I gave him another chance.
Soon after Valentine's Day—that he celebrated with his new homeboy, whom he'd met during the time we were broken up because I was out of town—he came over to my house. It was a sweet moment because we hadn't seen each other in a long time. And at some point during the night, he pronounced some words that sounded a lot like a proposal to me. "If I was to propose to you, would you marry me?" he asked. Although I'd said that I didn't want to commit to him before, the fact that life seemed to keep bringing us back together despite our arguments and disagreements, I was then convinced that he was my soulmate. So, with a glowing heart, ready to hand him my hand, I said, "Yes, I would."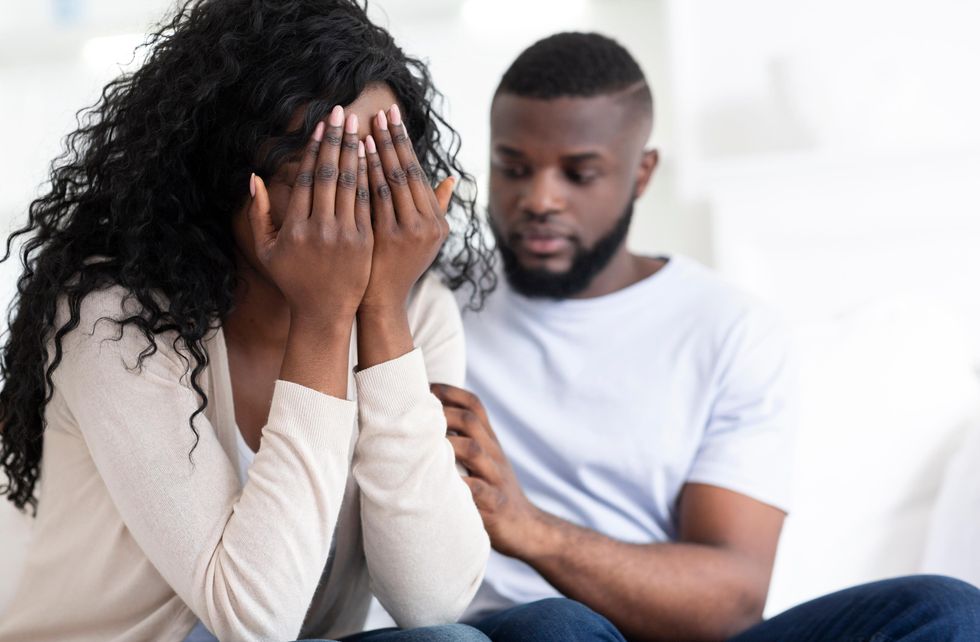 Shutterstock
Until, Devin flipped the script on me. Immediately, he admitted that he simply wanted to hear what I'd respond, which was far different from what he'd imagined because to him, it was clear that we weren't a good match in the end. He also briefly mentioned his desire to see other people. Other people that, from my understanding and to my greatest surprise, included the man he spent Valentine's Day with.
If there was one lesson to learn from my story, it'd be to never doubt the signs that God is sending you. I was upset at myself for not listening, also very angry because choosing to get involved with him was similar to choosing to abandon myself.
One of the ways that I found to bounce back from this emotional deception was to get back to my roots, to the essence of who I am. I moved back to my hometown, started spending more time with my family, and my childhood friends. I went back to visit the places that held cheerful memories and made it a priority to do more of the things that made me happy. On the bright side, however, even if this whole experience destroyed me inside, it was the catalyst that allowed me to live my dream to write a book and become an author. All of which has shown me that, if you let them, major breakdowns can actually lead you to the biggest breakthroughs.
Featured image by Shutterstock
Don't you think it's funny that as human beings born imperfect, we despise making mistakes so much? Making mistakes is something that we've been doing since we were given the chance to breathe and which we'll pretty much continue to do for the rest of our lives. It's a character trait that we all share. Yet, it's also something that, oftentimes, we strive to avoid and struggle to forgive ourselves or fail to brag about when we allow it to happen. (Yes, I said "brag about." You read that right.)

Despite the uncomfortable feeling that it can provide us with, I believe that making a mistake is a beautiful thing to do. Although I agree that they can be tougher to learn from, mistakes are impactful life teachers, and the fundamental lessons that they carry with them deserve to be put under the spotlight and passed along rather than being considered as shameful secrets.
If anything, I'm sincerely grateful to have crossed paths with women of color who share this point of view throughout my life. I'm even more grateful to those that recently granted me some of their time to tell xoNecole about their biggest career mistakes, the things they would've done differently, the lessons that they learned, and more.
Jeannette Reyes, 31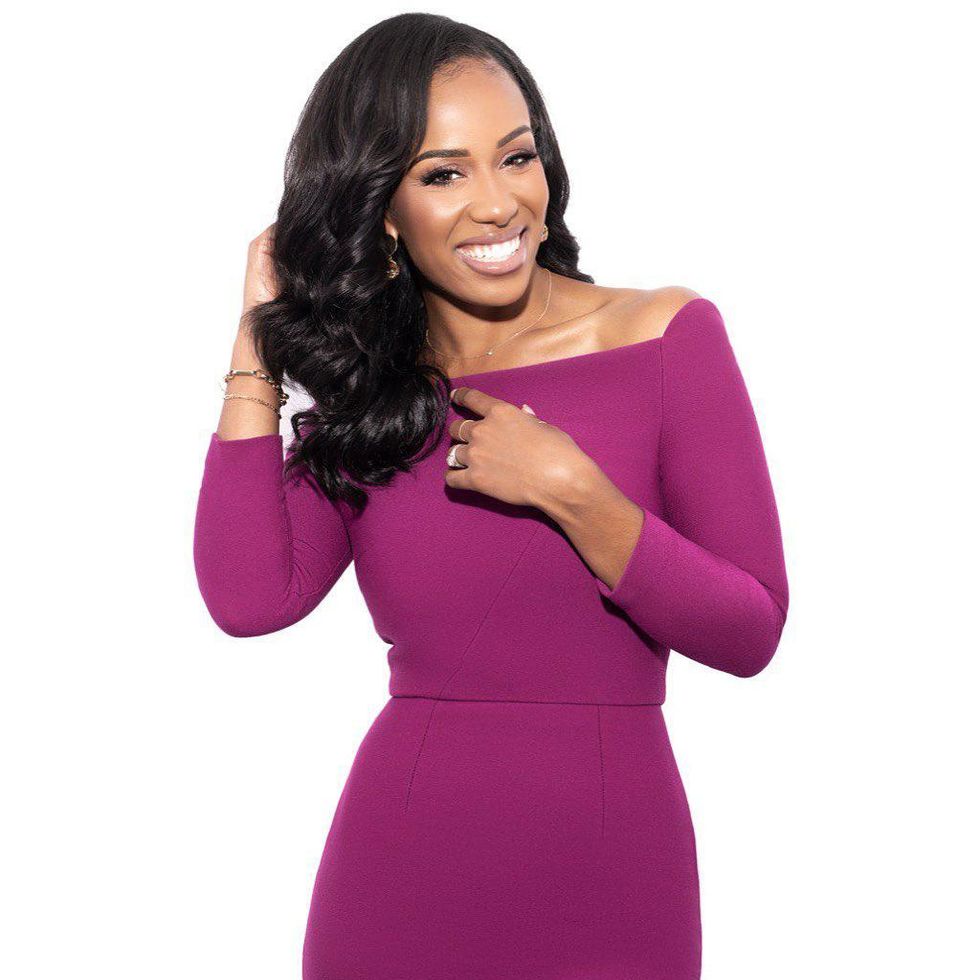 Courtesy of Jeannette Reyes
News Anchor for FOX5 DC
Her biggest career mistake and the things she would've done differently:
"I had just turned down a job offer in my dream city because I didn't feel I was good enough for it. For much of my career, I didn't bet on myself because I felt like a fraud and felt like I didn't deserve the position I was in. The handful of times when I did take a leap of faith, it was largely motivated by fear.
"The news director who'd offered me the job was the first to tell me that I was probably experiencing Imposter Syndrome. It was the first time that I'd heard of it. I didn't realize until years into my career that I'd been suffering from it. When it comes to the things that I would've done differently, I believe I would've been intentional about correcting my self-talk earlier in my career.
"Our minds have a way of emphasizing mistakes to fit a certain narrative and minimizing our successes as just luck. I was often my worst enemy in that respect. It took the joy out of a lot of things when it came to any accolades or promotions I got."
What the journey to access resilience looked like:
"My rock bottom wasn't so much physical as it was spiritual and emotional. I had spent so much of my life being motivated by fear and the desire to prove to myself that I was worthy of my accomplishments, I found myself chasing after the wrong things. Although I'd achieved everything I set out to do, I still wasn't satisfied.
"I put in some serious work to address my negative mindset, my source of motivation, what my fears were, whether they were legitimate or not, and what I found to be fulfilling. It was a tough few months for me during which I had to get reacquainted with myself all over again and that has shown me that you can have everything you've dreamed of and still be unhappy. Happiness and fulfillment should be found within."
The lessons that she learned from making this mistake and her advice:
"When you suffer from Imposter Syndrome, you're less likely to advocate for yourself, go after a certain higher salary, negotiate a higher salary, etc. because you're convinced that you're lucky to even be there. Not to mention that you experience a constant fear of being 'exposed', so it feels best to lay low.
"However, I've learned that we shouldn't be ashamed to be our biggest fans. Self-talk is powerful. We often wouldn't speak to a friend—even a stranger—the way we speak to ourselves. So, my advice is mainly to give yourself some grace and know that you've earned whatever successes come your way."
"What helped me was having a mentor who is just as much a spiritual mentor to me as a professional one. During my most insecure moments, she would figuratively hold a mirror up to me to show me who I really was and remind me of the things I had accomplished despite what I'd been through. Our self-image can be so distorted, sometimes it takes someone else to remind us of who we really are."
Follow Jeannette on Instagram @msnewslady.
Alisha Robertson, 32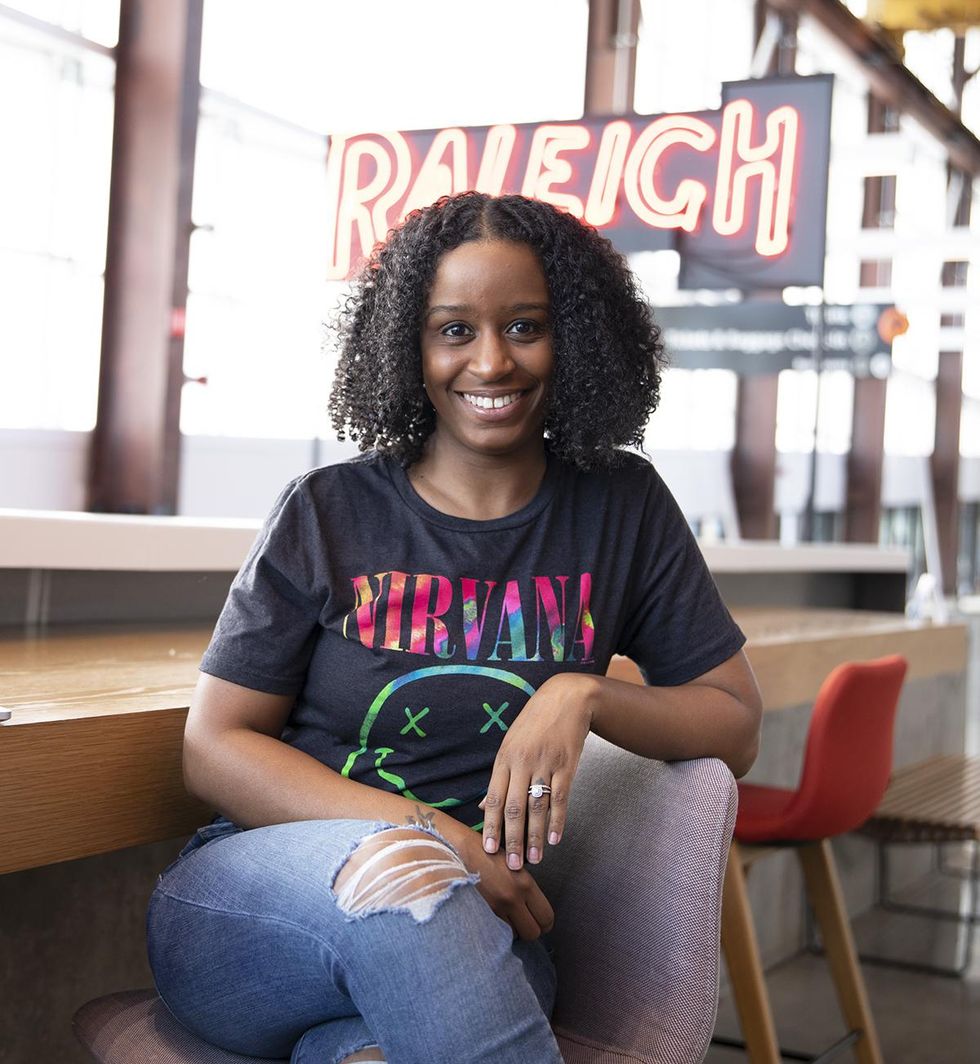 Courtesy of Alisha Robertson
Business Coach
Her biggest career mistake and the things she would've done differently:
"One of the biggest mistakes that I've made was chasing someone else's idea of success versus focusing on what I felt I was called to do [and] listening to all of the marketing gurus and making products that I wasn't excited about because that's what I thought would make me successful. Because of that mistake, I suffered from severe burnout which, in return, pushed me into starting over in my business so that I could do it the right way.
"If I could go back, I would've spent more time figuring out what I wanted and developing actionable steps that would get me closer to that dream. I would've set boundaries around my work and my clients, and would have leaned more on the marketing strategies that were working for me versus attempting to do all the things."
What the journey to access resilience looked like:
"I truly believe that just because you hit rock bottom, it doesn't mean that you're supposed to stay there. I figured that, even if I needed to shift and start over, I could easily build another successful business again. So I took the time that I needed to rest and get back to myself mentally. Only then did I get back to work. I spent about a year just getting clear on what I wanted as well as the impact that I wanted to make. I also spent that time working through and trying out different business models.
"That's what entrepreneurship is about—taking the time to experiment and see what works and then building on whatever results you receive. Eventually, I figured out something that stuck. I felt some guilt at first and was down on myself for a while but I always kept going back to my 'why'."
"That bigger reason for doing what I do is what got me up every day even when I wanted to throw in the towel. But I also knew that one day, that experience would be a huge part of the story that I tell today."
The lessons that she learned from making this mistake and her advice:
"There are three major lessons that making this mistake taught me:
To get clear on what my desire and the way I want to impact the world and those around me;
To not be afraid to shift and pivot if it'll help me get closer to my ultimate goal;
To trust my gut and stay consistent with putting that mission out there. That's what will help separate me from the others.
"If I had a piece of advice, it'd be to keep your eyes on your own path. And as you go through your journey, always take time to reconnect with your 'why' and your ultimate goal to ensure that you're on the right track of building your business your way. There isn't anything wrong with pivoting but make sure that those changes are what you want and not what everyone else wants for you."
Follow Alisha on Instagram @thealishanicole.
Keyera Williams, 27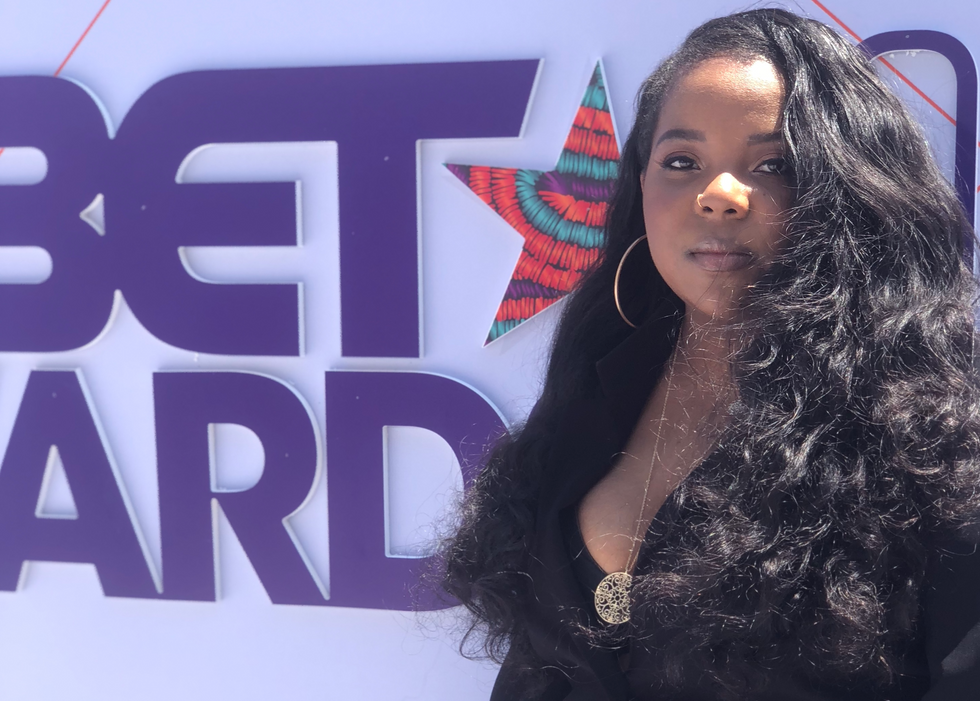 Courtesy of Keyera Williams
Producer at Westbrook Inc.
Her biggest career mistake:
"My biggest mistake so far was probably not understanding what my actual value is and not advocating for more. I've had a few jobs in the past where I knew what I was bringing to the table but was afraid to ask for a bigger salary thinking that, in return, I'd get reprimanded or have that opportunity taken from me.
"I've said 'yes' to a lot of opportunities below my pay grade because I felt like I should simply be grateful for the opportunity. I remember working 50+ hours a week and barely being able to pay my rent."
"As a Black woman, you're constantly being force-fed just enough and told that you raise trouble if you complain or advocate for more. I'm all about good trouble, and it's taught me how to advocate for myself or either to go somewhere else where I'm valued."
What the journey to access resilience looked like:
"That journey is still ongoing, to be honest. There are days where I still feel like I'm not good enough or I don't believe that my voice matters because I've spent time in places where I was constantly treated as such. It's a journey that includes a lot of therapy, self-evaluation, and just learning how to move forward.
"Moreover, I believe that there's no such thing as a last opportunity. What's for you is for you, and when you walk in your purpose, opportunities will keep presenting themselves to you."
The lessons that she learned from making this mistake and her advice:
"I've learned that if I don't know what I'm worth, no one else will remind me. It's important to know your worth not just in regard to the dollar amount, but also when it comes to your mental health and quality of life. I've also learned to not be afraid to reach out to mentors or ask questions to find out if something is normal within the industry I work in [and] moreover, to recognize when a person, place, or opportunity is no longer serving me or pushing me toward the person and the creative I want to become.
"As for my advice, unfortunately, there will be jobs that you have to take to get your foot in the door. The money won't always be great, but take advantage of these opportunities to prove your value and your capabilities so that when you move on, you have work to show and can also negotiate what you're worth."
"Lastly, check the market. See what people occupying the same position as you in your field are making and advocate for the same—if not more based on your education and experience."

Follow Keyera on Instagram @keywilliamss.
Chi Ilochi, 21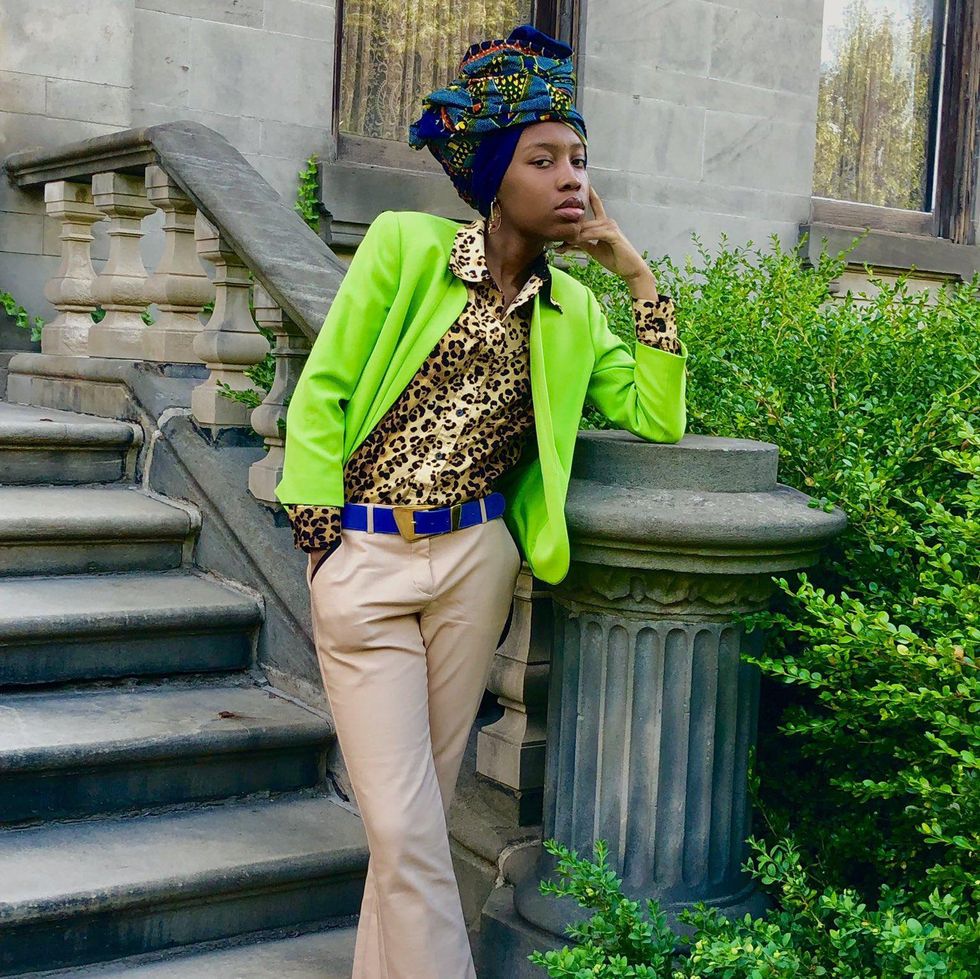 Courtesy of Chi Ilochi
Founder of StylingByChi | Fashion Stylist & Image Consultant
Her biggest career mistake and the things she would've done differently:
"One of the biggest mistakes I've made in my career is not understanding the power of 'no'. I would oftentimes stretch myself thin because I thought my value came from being able to deliver when people needed me. This mistake resulted in stress and exhaustion because I had so much on my plate. I couldn't even hang with my girls or have a brunch date.
"Of course, not knowing how to say 'no' resulted in more opportunities career-wise, but it also resulted in an unhealthy amount of stress that wouldn't allow me to capitalize on those opportunities. Knowing what I know now, I would've said 'no' more often, and taken more time to understand the saying, 'What's for me is meant for me.'"

What the journey to access resilience looked like:
"My journey to access resilience was one of the loneliest periods of my life. I had to take the time out to sit with myself and my mistakes so I could learn the right way to show myself grace.
"I knew that little progress would be made if I spent my reflection period beating myself up about my mistakes. Instead, I forgave myself for what I did wrong while reaffirming myself for the things I did right."
"It took me about two years to navigate this hard process but once I completed it, I realized that I am far more capable than I thought I was. I am not my mistakes and I don't have to identify with them."
The lessons that she learned from making that mistake and her advice:
"I've learned that your value isn't found in how much work you can fit on your plate, it's in who you are as an individual and the quality of your work. Therefore, work at the pace that works for you and remind yourself that success isn't found in your ability to overextend yourself. These two lessons shifted my mindset from scarcity to abundance."
"It's hard to do better and be better when you've conditioned yourself to operate out of scarcity. Abundance requires vulnerability, and my lessons have taught me that it's OK to be vulnerable. It's OK to say, 'Hey I've got too much on my plate right now.' One thing that I know for sure is that when you allow yourself to be vulnerable, the opportunities flow abundantly and stress becomes a thing of the past."
Follow Chi on Instagram @Igbohippie_.
Ponchitta Lanoue, 46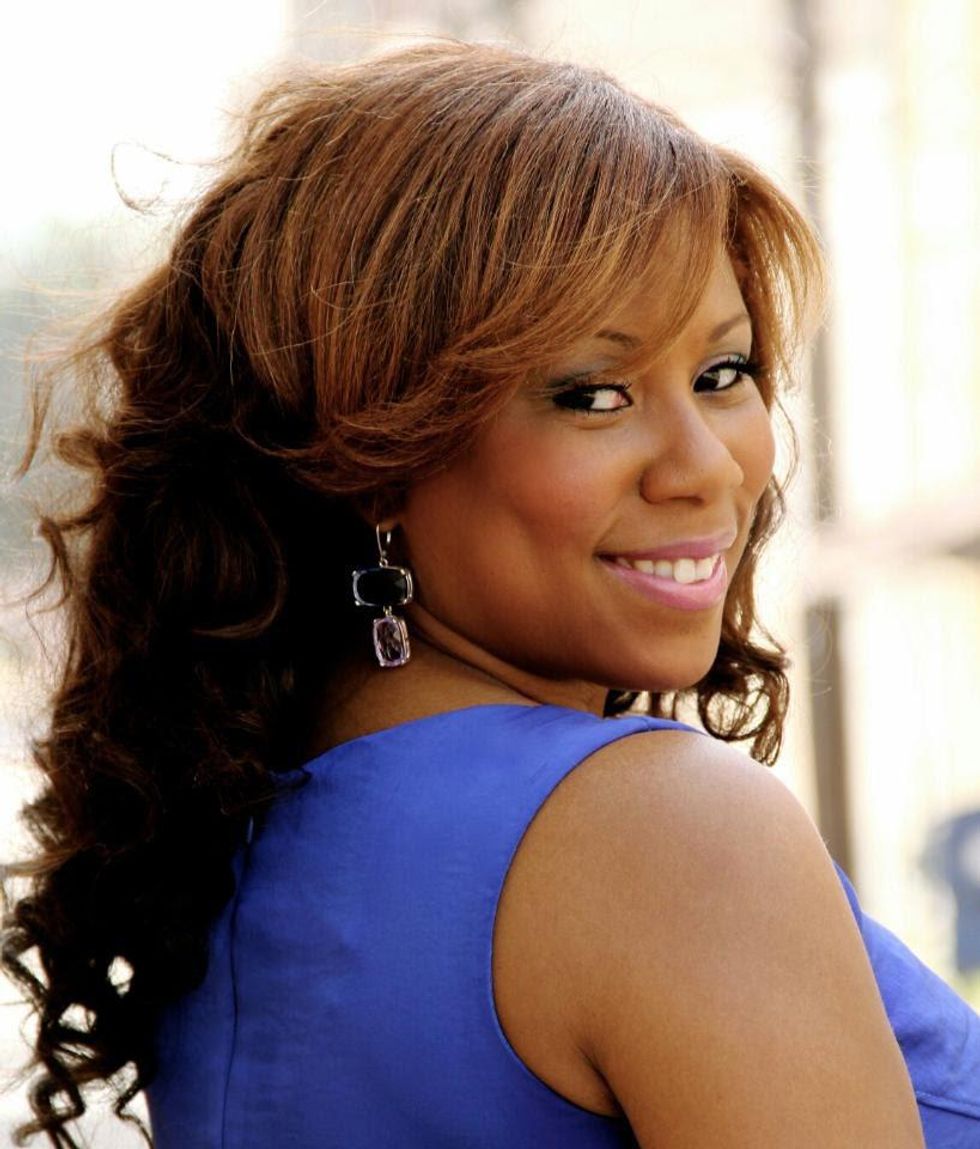 Courtesy of Ponchitta Lanoue
Beauty Entrepreneur
Her biggest career mistake and the things she would've done differently:
"I decided to start a business to offset some of the unhappiness I felt in my personal life and career. But while building the latter, I made some of the worst decisions which only made my life harder.
"I would say that the most detrimental mistake was taking all the money that I had to put it into my business and not knowing where to put it or where to invest."
"I started my business with my savings of $20,000 and then my brother invested $5,000. I blew through the money in less than eight months. For five years, I was flat broke because of that [and] a bitter divorce that left me empty-handed. My business was surviving on a wing and a prayer.
"If I could do it all over again, instead of buying too many product categories and not being able to sell them, I would have launched with four lip colors and sold the hell out of them until my lipstick line paid for the next category. I would have bought $100 Facebook and Google ads each month to promote the brand and sell the products. I would have focused less on investors or trying to get capital and would've been more worried about figuring out what exactly it was that my customers wanted from me. However, as difficult as it got at times, I honestly don't think I would've wanted to do anything differently. I needed to grow through those growing pains."
What the journey to access resilience looked like:
"So many times we don't want to grow because we fear change and failure. Change is the catalyst that pushes us into action. Failure is the impetus that propels us into destiny if we are wise enough to keep going."
"I had to move in with my mother to bounce back. It has taken me six years to recover from those two major life-changing events. I thought I would never recover from the financial losses that I experienced as a result. For the longest time, I was hard on myself because I could not believe that I allowed myself to be in this situation. It seemed like I was always starting over. It caused me to go into a deep depression. I was even angry at times. A conversation that I had with my grandmother years ago helped me pick myself up and dust myself off. After that, I was able to forgive myself and give myself more grace."
The lessons that she learned from making that mistake and her advice:
"Those experiences made me stronger and wiser. Eventually, I came to understand that money isn't the answer to all problems. You can have a lot of money, but if you don't know what to do with it, then all that you have is a lot of money—no direction. The major lesson, however, was learning the power that I possess. I don't need 1 million followers to define my success. A solid group of 100 to 300 customers can easily keep the lights on and sustain a business.
"My advice is to start small and then promote your products all day every day. Define your target audience and sell to them specifically. Don't worry about being popular, but find influencers that can be brand ambassadors for your products or services. Be frugal and watch every single dime. Do not focus on money or a man; instead, make sure that you're never in a position to depend on a man for happiness or finances."
Follow Ponchitta on Instagram @ponchcosmetics.
Featured image courtesy of Alisha Robertson
I remember Monday mornings at my old job when everyone (although they hated that it had ended) was eager to tell the whole office about their weekend. These were conversations that I deeply resented. One, because I had little interest in hearing about my coworkers' personal lives, and two, because they were instant reminders of how burnt out and misunderstood being in that place made me feel. Every week it was the same thing: They'd ask me what I did during the weekend and could never believe their ears when they'd hear me say that I didn't do anything. Then, they would guilt-trip me into believing that I was wasting the best years of my life by staying hidden inside my cave and refusing to socialize.
To this day, I'm still wondering why it was so hard for them to conceive that the time we have off from our responsibilities isn't necessarily meant to be spent doing any other activities and that it's OK to choose to rest. That joy and fulfillment can also be found in unplugging from the world and reconnecting with ourselves.
In hindsight, I must admit that I was choosing to escape life every chance I had was more reflective of how miserable I was than the happiness I felt from retreating.
Indeed, a hard truth that I failed to acknowledge before I had the opportunity to discuss the art of embracing doing nothing with four amazing Black women and what it truly means to them is that my me-time had turned into toxic self-isolation. All because it was easier to run away from a life I didn't enjoy rather than making hard decisions that would change the course of my future for the better. The major takeaway that I got from speaking with the women below is that stillness shouldn't (just) be an exit door—and just like everything else in life, it has extremes that finding balance will prevent us from falling in.
Dr. Thema Bryant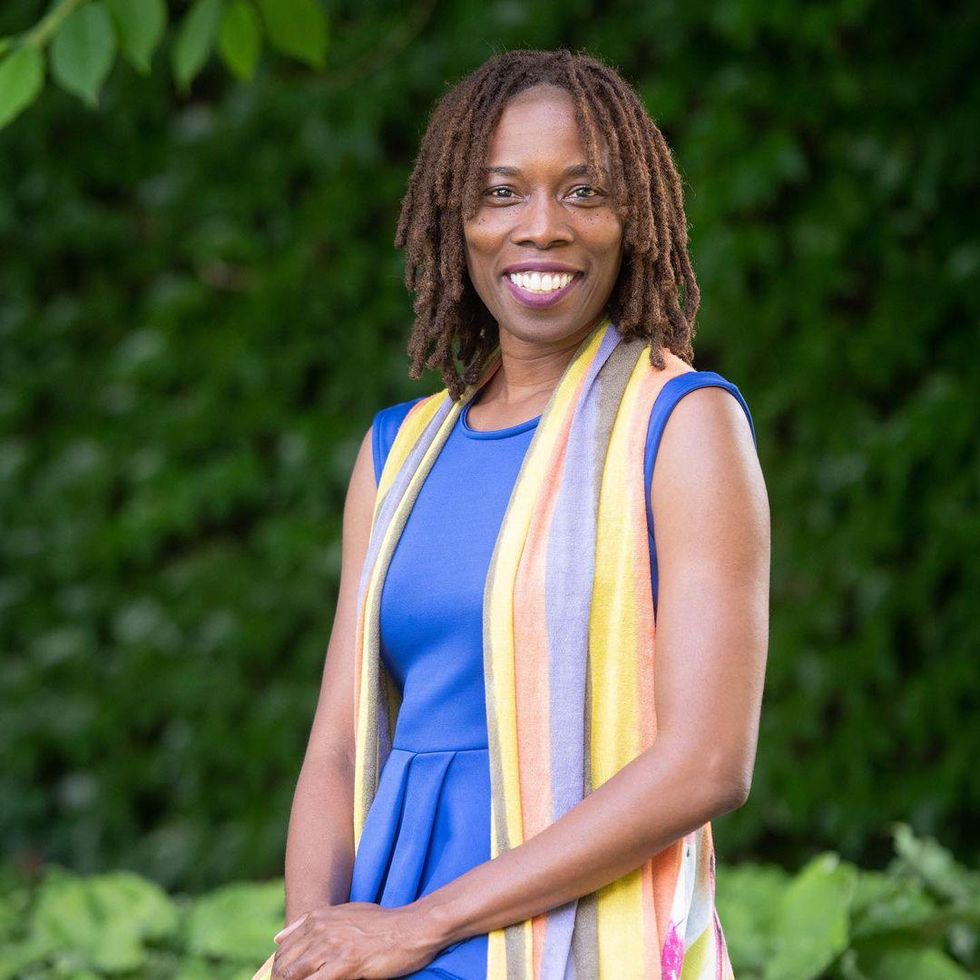 Courtesy of Dr. Thema Bryant
Licensed Psychologist & Professor at Pepperdine University
"Indulging in the art of doing nothing is such a radical decision, particularly for women of color because our worth and value are often associated with our busyness. For the longest time, women of color have been put under this pressure to work hard for everyone else. There's often little attention given to our care, wellness, let alone our needs. So, for us to be revolutionary enough to say that those [things] matter and to choose to do nothing at all during moments of our days and life is a declaration that says, "I am worthy and I am enough. I don't have anything to prove."
"I was introduced to stillness by my mother. She's a minister who teaches, particularly women of African descent, about prayer. A lot of people associate prayer with talking but it turns out that a major point of prayer is in silence and stillness. It's a sacred rhythm between activity, action, accomplishment, and taking the time to be still, to reconnect, to be grounded, as well as to be filled. All of which to ensure that when we pour, we are not operating out of emptiness. Growing up, I followed my mother's path and practiced stillness through prayer and meditation. Later, I also added physical movement that allows the mind to be still such as dancing and walking. I believe that there's a need to push back on the idea that the art of doing nothing can only be practiced by sitting still with our eyes closed and our legs crossed.
"To me, the art of doing nothing means slowing down our pace, becoming more aware, operating with gentleness and compassion to ourselves, etc. It's more a way of living than it is an approach to living. It's not something that we're required to schedule or practice during a specific time frame only. It's something that we can decide to do at any given moment."
"However, it is likely that sometimes, the urge to escape our own company by burying ourselves in work or finding something entertaining to do manifests itself. When this happens, it is important to truly understand that being in our own presence is not a punishment. Considering it as such or seeing it as a chore is the best way to miss the gift of it. It becomes another task to add to our to-do lists instead of being a pleasure that we're giving ourselves to stay still and do nothing but to reconnect.
"As a psychologist, I work a lot with trauma survivors and I noticed that people who have gone through very difficult experiences sometimes cope by staying busy. It's their way to prevent their thoughts from taking over their minds. But one thing I know for sure is that busy and distracted don't serve as a definition for healed. And unhealed traumas must be addressed at some point. One of the ways to do that is to practice the art of embracing doing nothing."
Visit Dr. Thema's website drthema.com.

Amber Janae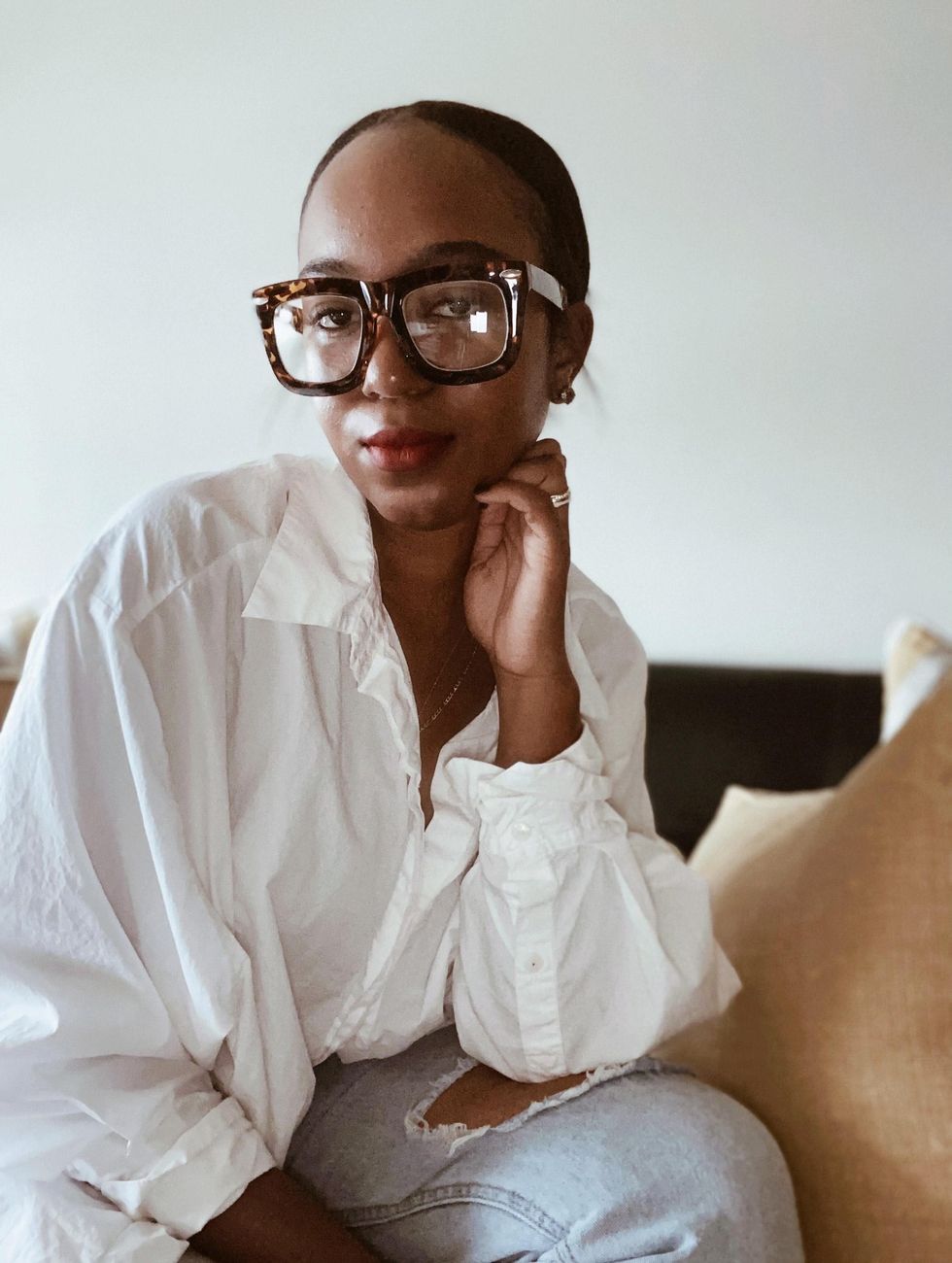 Courtesy of Amber Janae
Professional Expert in Content Strategy & Digital Marketing
"For me, the art of doing nothing is simply being as I am and not feeling any guilt, pressure, or a desire to be anyone or anything other than who I am in the present moment. I believe that women in general should learn to embrace stillness because it's our way to just be. It is the space where we become one with ourselves. It is important to understand that stillness is something that we choose; it does not choose us.
"Many spend a lot of time ignoring their intuition or that inner nudge guiding them in the direction to pause and just be for a while. When you're ready to discover and connect with the parts of yourself that have remained a mystery, you will make time to be still.
"To embrace stillness, you also have to let go of the misconception that stillness simply means not moving or staying in one place. You can force yourself not to physically move for days, weeks, and months but it doesn't guarantee progress is being made. It's not enough to be still, you have to disconnect."
"For me, the art of doing nothing is less of a practice and more of a natural state of being. The benefits that I've gained from such have been loving and trusting myself more than ever before—and not allowing anything to change that. Self-care isn't a one-off thing I do when I am having a bad day or week. I am forever intentionally creating a safe space for myself internally and externally; therefore, I am always practicing a form of self-care. It is less of a single method or action; it is a way of being... It is an organic way of life in my world.
"Personally, I do not believe that stillness is scary. There are very few things that I fear and stillness isn't one. Fearing growth, evolving, or becoming a better me which are the things that we embody when we choose to remain still isn't a natural act to me. In my opinion, if you're actively choosing entrapment, then it more than likely means that you're afraid to face yourself. You live in fear of what awaits you on the other side of self-discovery. You're running from your truth and not ready to embrace, accept, or face the parts of you that need healing."
Follow Amber on Instagram @ajscribes.
Tempest Linh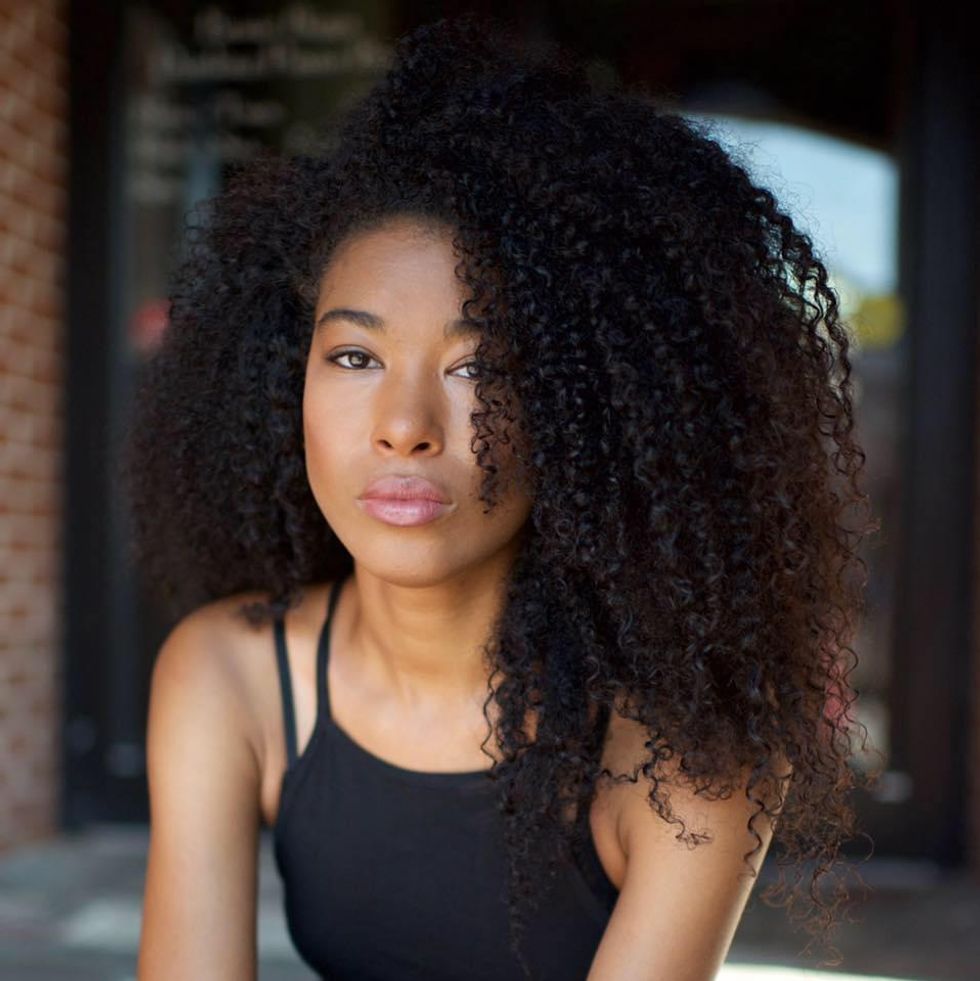 Courtesy of Tempest Linh
Freelance Writer, Martial Artist & Tarot Reader
"I learned the true concept of stillness through my journey as a martial artist, which started in 2018. I practice American Kenpo Karate and Tai Chi. My head instructor, a badass Southeast Asian woman, taught me the principles of meditation (Anapanasati) and stillness that I currently practice. Typically, when people think of meditation, they imagine themselves seated in a lotus position and devoid of all thoughts. But that's not what true stillness is to me—it's honestly not realistic, especially in today's climate.
"Stillness is when your mind is racing, but you're not consumed by those thoughts. It's when something can pop up in your mind and you don't ruminate over it. When you can observe your thoughts and emotions without judgment, and just let yourself be."
"Martial arts is my main outlet for practicing stillness. The practice happens when I'm faced with my 'not enough story', as my head instructor calls it. The 'not enough story' is an overwhelming feeling of inadequacy. This happens when I feel like I'm not learning a form or set of techniques fast enough, or when I do learn it I feel like I'm doing it all wrong. It's that nagging inner critic that we all have. The challenge is to move through it, even when I feel like I'm just not good enough, and this mindset trickles into daily life outside of the dojo.
"With that said, even in knowing and experiencing the benefits of stillness, I still struggle to resist escaping my own company. Sometimes, the thought of being alone with myself, and my thoughts is kind of terrible. Even showing up to karate can truly be a struggle—and 2020 made it especially hard. We normally live in a world that's made of distractions, so being forced to pause and sit with ourselves truly allows our 'not enough' stories to come out and be heard. Then, our insecurities become glaringly obvious. I've experienced many existential crises when faced with mine. Being pummeled by your own thoughts and anxieties can be a bit too much; mine, for example, are like monsters and a lot of the time, I just don't want to face them.
"Eventually, it gets to the point where I can't avoid it anymore and I have to sit with myself and get realigned and refocused. But that's when I remember to breathe, find one truth in the madness of my thoughts—because our brains lie to us a lot—and stick to it. I would like to grow to a point where taking the necessary time for myself becomes a daily practice, not just something that I do when I'm fed up."
Follow Tempest on Twitter @sunstorm_.
Radiah Rhodes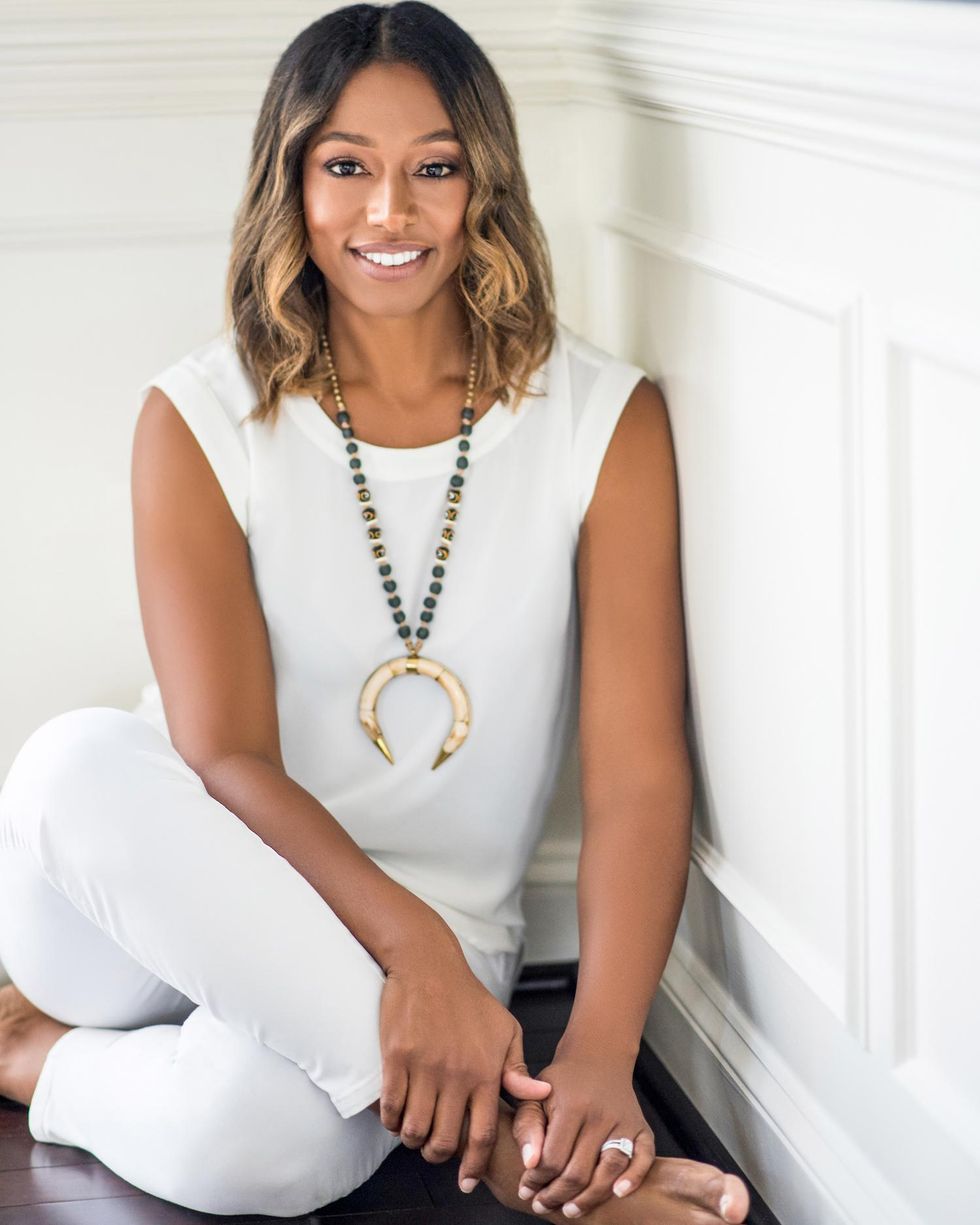 Courtesy of Radiah Rhodes
Founder at Evók and Smart Pressed Juice & Well-Being Innovator
"The word I'd use to define stillness is 'light'. To me, stillness is where your truth and all the answers that you're looking for reside. It's also an art for which you don't find the time to practice, you create it. Every season, I follow The Inner Game Plan™, a step-by-step process to practicing stillness that I came up with 10 years ago with the intent to save myself and which I'm now able to share with the world. I schedule two to three hours of uninterrupted time and space so I can go through each exercise and stay aligned. I've committed to this process as a way to live my life that makes my well-being the priority and the source for everything else. It allows me to build assurance in my spirit and such peace in my soul from knowing that I stopped, prioritized, inquired, listened, and honored what is within me.
"If it wasn't for stillness, I wouldn't have been able to discover my truth, flow, nor the power of who I am. Because I know me and what works for me, I, therefore, know how to wield it in the world for the good of what matters most to me with very little effort. There's authentic power in stillness."
"With that said, I didn't get to the point of fully embodying stillness without experiencing fear. Stillness is scary. First, it feels like if we take our foot off of the gas pedal that's gotten us this far, everything is going to drop when we stop. We deeply believe that our 'doing' is the only way to get things done. Then, there's the fear of the unknown—or the unacknowledged because we've been suppressing so much. It's catastrophizing whatever you might uncover. I remember always feeling like I couldn't allow my thoughts or feelings out because then I'd have to do something about them and it was either going to be drastic or cause the loss of something significant if I acknowledged the truth.
"'If I tell the truth about my job, I'm going to have to quit,' I'd think. Or 'If I tell the truth about my marriage, I'm going to have to get a divorce.' In my head, there was so much riding on me: family, finances, community, the culture, the country...all of it. It's easy to think that if we stop, everything will fall apart. That was a catastrophe to be avoided at all costs in my world. However, I came to understand that the pain of suppressing and avoiding is far worse than any discomfort or challenge that stillness and owning your truth will put you through."
Follow Radiah on Instagram @radiahrhodes.
Featured image courtesy of Amber Janae