I was introduced to Mya around eight years old.
I would belt out the lyrics to "Movin' On" as if I understood what it felt like to get cheated on.
And when "It's All About Me" came on the radio, I popped a cassette tape into my karaoke machine to record the song for repeated playback because I was determined to learn the lyrics, though it would be years before I made the connection to the meaning of the line "are you going to get it up?" and become in tuned with the sexual connotations laced throughout the many R&B songs that I grew up listening to.
---
To me, Mya was the epitome of sexy. She had a girl-next-door quality about her that matched her seductive vocals. It didn't matter if she was rocking crop tops or one-piece suits, she could draw you in with a subtle glance that only hinted at the depths of her sensuality—something that even now, almost 20 years after the release of her first self-titled album, she still emits throughout her interviews and music. "I'm naturally sexy," she says confidently on our call. "Sexy is owning all parts of you, whoever that is. Owning it, and not being ashamed of those choices."
At 38, Mya can officially say that she's on some grown woman shit. Gone are the days of poor relationships choices that led to heartbreak, crazy antics that could've landed her in jail, and toxic situations that had her questioning her worth. She's finally experiencing the freedom that she sung about years ago over sweet melodies: the liberty to live unapologetically on her own terms.
In the past, Mya's "sexy" has gotten her name in more than a few headlines as gossip blogs dug for details of her supposed hookups and breakups with some of the industry's notable male bachelors. It seems with every new single release came a new beau, all of which she's repeatedly denied, even years after the alleged affairs were long laid to rest. Some labeled her a ho, many slandered her name, and suddenly the "sex kitten" became marked as industry pussy before she could even purr in protest.
But what many didn't know was while the tabloids crucified the songstress in public, she was busy burying her real skeletons in private. In a 2007 interview with Vibe Vixen, she recalls the time she hired a private investigator to track down the other woman of a record producer she was dating, which turned out to be one of many unfaithful encounters that she had with reckless lovers. "I found the chick's address; I went riding by. I was calling her cell phone to see if he would be in the background. I had her work number, all of that. I heard things about an engagement, wedding invitations…I just wanted the truth."
Like many women, she kept the particulars between herself and her psychologist before finally breaking her silence years later on her album Liberation. And now, almost a decade later, she's choosing to take the rocks that were thrown her way and use them as stepping-stones. "I sometimes have to sit down, examine and analyze myself and say, 'what is a mistake?' I'm alive, I'm breathing right now, I have wisdom, I've definitely evolved, so some of the things that I might have considered mistakes back then were necessary for me to grow and be the person that I love that I may not have loved back then," she says.
A part of loving herself means embracing who she is at her core—someone who doesn't follow traditions and refuses to allow others to define who she is, and who identifies more closely with the social exiles than those who are closed-minded and quick to judge. It's part of the reason why she often finds herself in the strip club—for observation and good conversation, of course.
"I go to strip clubs specifically to watch how powerful women are, and I'm a person that's observant of how she carries herself and [believes] women who are not strippers have power, too. I don't care what walk of life you're from; women are just naturally sexy and have an essence about them. Fully clothed and not clothed. If everyone breaks down their walls and stops putting themselves on holier than thou pedestals, we can all learn from each other. We all have different stories, different experiences, and different obstacles, so not only do I just watch and study, I also sit down and talk to people—strippers in general—to get their journey and back-story. I share a lot of the same walks and obstacles, and I saw myself relating to a lot of people that might appear broken. I'm always connecting with what society would label the outcasts and the weirdoes and the lost souls. It's strange, but I'm learning myself just by talking with people."
On her new album Smoove Jones, she's not the Mya who used to be bullied for being biracial and having "good" hair, nor is she the Mya that claps back at gossipmongers and naysayers; she's the Mya who has grown past her insecurities and imperfections to become a woman who knows herself and goes after what she wants. And one thing she doesn't want is a man who lacks passion in his own life.
"I've found that there's jealousy and insecurity attached to having a passion outside of that person if they don't have the same passion in something else outside of you. If your craft has you very rarely stationary, it can be extremely tough on the other individual. There are trust issues that come with that, insecurities if they're not able to witness how you flow and the hours you have to put in. It can be very demanding and not fair, but there will be a right place and right time. You can't appoint another person to save you, and I think that's usually where we go wrong. One or the other person doesn't have a balance in their life and are looking to you as the savior. There has to be a balance in both parties' lives. And it also has to start with spirituality, and nothing else."
Just a few years shy of 40, Mya isn't pressured to pop out babies anytime soon. She's more concerned with having the right situation than to force a wrong one. Freezing eggs. Adopting children. She's open to all of that if necessary. "I believe that there's a time and a place for the right one that's meant for the true you, and sometimes your career is part of the true you. It's part of your makeup and your gift, and if you're trying to be your best and give your best to the world for whatever reason that's a problem, and there's a void that you have to fulfill within yourself and for yourself."

In the meantime it's all about taking care of self, and she accredits her still youthful appearance to a vegan diet (she's almost three years strong), cleanses, and self-preservation. "When you invest in yourself, and I'm talking every aspect of yourself: financially, spiritually, emotionally, physically, you get younger."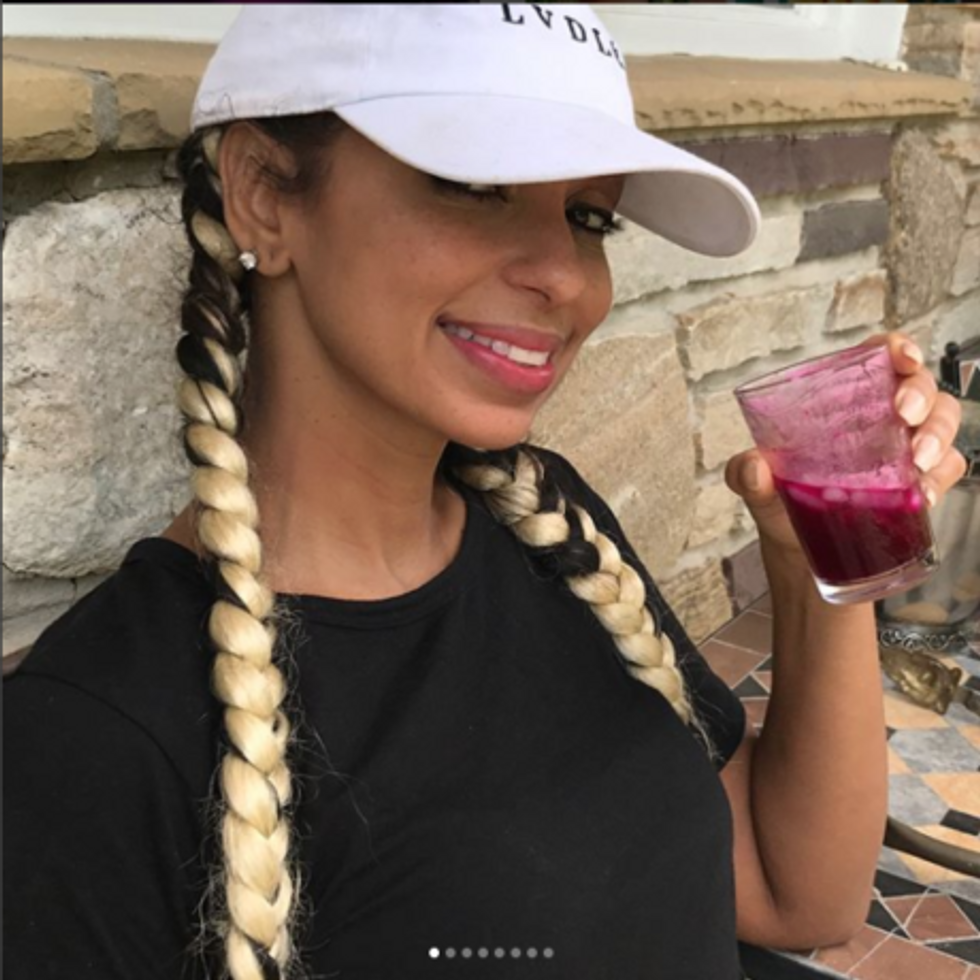 "You really have to stop listening to what the world says is best for you and do what truly makes you happy."
More importantly, she's no longer listening to what the world says to her or about her. She's a grown woman, and she doesn't need validation from anybody outside of herself. "It's still possible to have a beautiful life and you really have to stop listening to what the world says is best for you and do what truly makes you happy."
Featured image via Mya/Instagram