Most are familiar with the BMF story, but the tale of Tonesa Welch, the First Lady who was at the epicenter of drug trafficking in Detroit during the '80s and '90s, remains largely untold. Tonesa's journey is one of resilience and transformation, as she navigated the tumultuous world of crime and emerged with a renewed sense of purpose. After serving time in prison, Tonesa has dedicated herself to turning her life around, becoming a powerful example of redemption and the possibility of positive change. Her story is a testament to the strength of the human spirit and a reminder that even in the darkest of times, there is always a path to a brighter future.
I had the pleasure of sitting down with Tonesa herself, director Vivica A. Fox and executive producer Tressa Smallwood to discuss the new film now streaming on BET+ to discuss the transformative power of storytelling and the critical role that Black women play in owning and shaping our narratives.
Certainly, Vivica Fox is no stranger to the big screen, having graced us with her captivating performances in a myriad of iconic roles such as Set It Off and Two Can Play That Game. However, this project marked a momentous first for Vivica as she stepped into the director's chair, embracing a new and exciting chapter in her illustrious career. In a candid conversation, Vivica expressed her heartfelt gratitude towards her collaborator, Tressa, who offered her the invaluable opportunity to explore the world of directing.
"I'm actually very grateful to my partner there, Tressa. She gave me an opportunity to see if I like directing," Vivica shared. She went on to reveal the challenges and triumphs of the production process, noting that the team had a mere 14 days to bring the film to fruition, a testament to their dedication, resilience, and unwavering passion for storytelling.
In my conversation with Tonesa, we discussed the significance of her sharing her own story, particularly as a young Black woman. Tonesa highlighted the importance of reclaiming her narrative and challenging stereotypes and emphasized that telling her story is about empowerment and inspiring others. Her commitment to authenticity and inclusivity underscores the need to amplify diverse voices and broaden our understanding of the stories that shape our world.
"Because people have so many different perspectives of women in the streets, and they think we are always behind the man, and that's not always true. I just wanted to show people how it happened, how I made it through it and made it out, and what I'm doing now. I'm working on me. I'm helping other people, and I want people to see that from me," said Tonesa.
"I was given a second chance, and that's what I want to do. Once I left the prison doors, I said I'm not ever coming back here. I'm not ever living that life again. So that's why it's important because people get you stuck in that box, and I'm not that person anymore, especially as Black women. We're so multi-dimensional. There's so many different sides to us and everyone does try to fit us in one box or put us in one stereotype."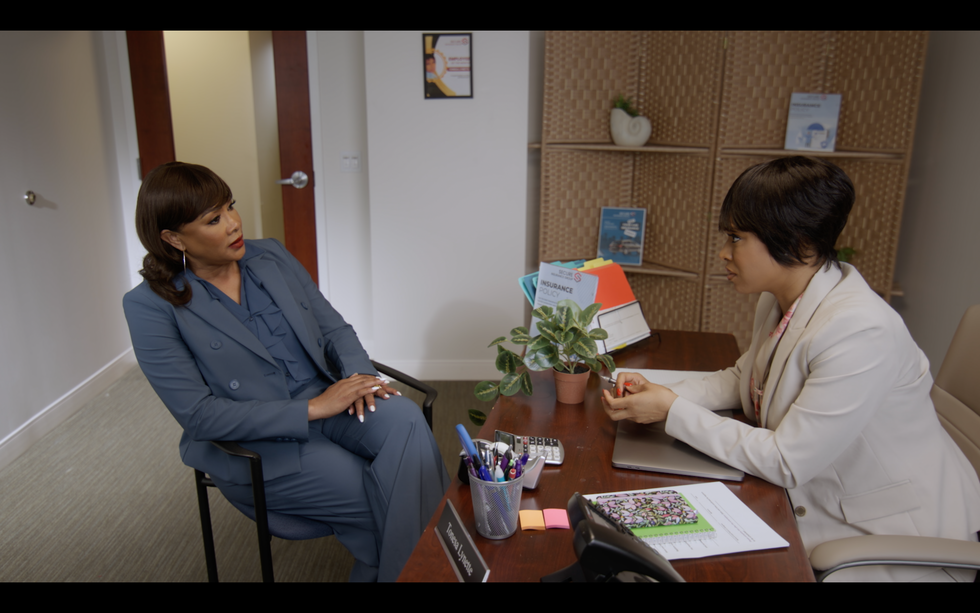 Vivica delved deeper into her role as a director, providing us with valuable insights into her unique approach. "I'm an actor's director. I would know when my actors were filming if they weren't giving it to me. If we needed pacing, that's the beauty of having a director who is an actor as well," she stated. Vivica emphasized her hands-on approach, often running lines with the cast to ensure a strong connection and delivery.
The executive producer, Tressa Smallwood, echoed these sentiments, highlighting the added value of working with a director who is also an accomplished actor. "You almost kind of get an acting coach because your director has been there," Tressa explained. This synergy between the director and actors served to elevate the overall quality of the performance, creating a rich and dynamic storytelling experience.
Life after prison can be challenging, but Tonesa has been actively contributing to her community since her release. She works with women who are incarcerated or about to be released, helping them transition back into society. Through her support and guidance, Tonesa helps these women navigate reentry and rebuild their lives. "It's so important because when I came home from prison, I didn't have all the resources. So now I've learned about all these resources that are available to women. It was a lot of things for men but not for women." she explained. "I love talking to the women. I love giving them hope because, coming from there, you don't have any hope. You don't believe in yourself. That's what we're here for. We got to pull our sisters up."
It's crucial to emphasize the significance of Black women in the industry finally having the opportunity to share our stories in our own way. "Now we're having an era where especially Black women are sticking together and telling our stories. It's us telling our stories truthfully so that our audience will know our true story." Vivica said.
"I think a lot of that also comes with being in a different time whereas Black women, we're able to be in ownership and in leadership positions where we have the say about the stories that we want to tell, and we didn't typically have that years ago," Tressa adds.
The stories we tell and the voices we amplify have the power to shape our world, and the work of the First Lady of BMF: The Tonesa Welch Story team exemplifies this. Tonesa's journey from incarceration to community service is a testament to her resilience. It's a reminder that everyone has a story to tell and that those stories are richer and more powerful when they are told by the people who lived them. As we move forward, let's continue to uplift and support the voices of Black women in the industry and celebrate the progress that has been made while acknowledging the work that still lies ahead.
Feature image courtesy of First Lady of BMF: Tonesa Welch Story
Stephanie Allain, a powerhouse in the world of cinema, has made a name for herself as a prolific film producer with an impressive portfolio of award-winning films that have not only shaped culture but also catapulted careers. Films such as Hustle & Flow, Something New, Black Snake Moan, and Dear White People bear testament to her uncanny ability to recognize and nurture talent.
I had the pleasure of sitting down with Stephanie to delve into her latest venture as executive producer for The Exorcist: Believer, a spine-chilling masterpiece currently gracing the big screens in theaters.
"I was thrilled when Jason Blum called me and said, 'Do you wanna join us on this journey with David Gordon Green and Leslie Odom, Jr.?' and I said, 'Say no more!'. It disregards all the other Exorcist movies that have come out since the original. It's a new beginning for a new trilogy."
Feature image by Stefanie Keenan/Getty Images for Women In Film
Rihanna has been a game-changer in the beauty industry with the launch of Fenty Beauty and Fenty Skin. For me, this impact has been nothing short of transformational and, let's be real, a bit of a splurge. I mean, it's no accident that I've achieved the coveted ROUGE Status at Sephora for another year, thanks to my obsession with all things Fenty. But when it comes to beauty perfection, who's counting the cost?
Fenty Beauty and Fenty Skin have evolved from mere products in my routine to absolute must-haves. From the iconic lip gloss that's a staple in every girl's purse to the skincare saviors that have my skin looking the best it has in YEARS, Fenty has everything I need. I've even nailed down a quick and easy 10-minute everyday makeup look using only Fenty Beauty products. It's my secret weapon for looking effortlessly chic, no matter what life throws at me.
So, I'm here to spill the tea (and maybe start a few beauty addictions in the process) with a curated list of the best Fenty Beauty and Fenty Skin products that I can't get enough of. These are the holy grail favorites that I reach for day in and day out.
Fenty Beauty Best Products 2023
Feature image by Kevin Mazur/Getty Images for Fenty Beauty by Rihanna