---
Let me start by saying, I give zero f*cks about Kardashian drama. I don't hate them, get your money. But as a journalist at heart and a cynic by nature, I can't help but believe that most celebrity drama is created for ratings. One of the first rules in branding is: all roads lead to the product, and in the case of the Jordyn Woods versus The Kardashians scandal, my first thought was that it was a publicity stunt to boost dialogue surrounding the upcoming season of Keeping Up With The Kardashians. Upon watching this week's episode of Jada Pinkett Smith's Red Table Talk, I realized that this might not be the case.
Jada sat down with Jordyn for an intense conversation about recent allegations against the star. According to tabloids, Jordyn, who has a decade-long friendship with Kylie Jenner, allegedly slept with Khloe Kardashian's boyfriend, Tristan Thompson. Since the news released, Jordyn has been called everything from a homewrecker to a bad friend, but now, the 21-year-old socialite has come forward to tell her side of the story and clear her name.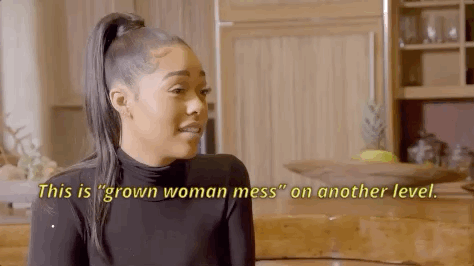 According to Jordyn, there was no relationship with Tristan before or after the alleged incident, and the way things played out was a lot different than the media portrayed. For starters, Jordyn claims that she was only at the basketball player's house for an after-party, and her biggest mistake was showing up. She told Jada:

"Sunday night, I went dinner with some friends and I went to this bar after. I was minding my business, dancing, drinking. Tristan was there, he was doing his own thing. Normal LA culture, go to the bar, go to the club, you go to someone's house afterward. We're not thinking about whose house. We're all having fun, we're in the moment."
Here's everything we learned from the interview:
Will Smith Is Jordyn Woods' Godfather
In my eyes, Jada and Will can do no wrong. But when I heard there would be a special episode featuring Jordyn Woods, I gave them a major side eye. I thought it was odd that Jada would use the platform she created to inspire so many women to fuel celebrity drama, so how in the hell did Jada get mixed up in all of this? It wasn't until I watched the episode that I learned that Jordyn and the Smith family actually have a life-long connection.
Jordyn's late-father worked on the set of the The Fresh Prince of Bel-Air as a sound engineer, where he and Will developed a friendship. During the interview, we learned that not only have Jordyn and Jaden been besties since birth, but Will is also Jordyn's godfather. He even stopped by the Red Table before the interview via FaceTime to give Jordyn these words of encouragement:
"The world attacks. It just happens. But I want you to know that you are supported. I got you and I got you… Take your medicine and tell your truth. This is a part of what growing up is, this is a part of what learning is, a part of what family is. This world is not going to break you. We won't allow it."
Jordyn Woods Didn't Have Sex With Tristan Thompson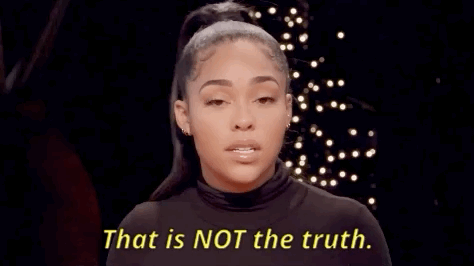 Although Jordyn did admit that she felt wrong for even being at Tristan's house, she said that there was no intercourse between the two and that they had stayed in a public setting for the entire duration of the party. She explained:

"He didn't even personally invite me there…We're all dancing and we're drinking and we're all enjoying the time and I'm not thinking I shouldn't be here. And that's my first step where I went wrong. And how I would feel if someone close to me is hanging at my ex's house or the father of my child. I didn't think about that. That's the first part of the problem. The first step is, I should have gone home after the party. I shouldn't have been there. Never once was I giving him a lap dance, making out with him, sitting all over him, it's just we're all together, we're in a group. Never once did we leave the public area, go to a bedroom, go to a bathroom, we're all in plain sight."
"It was just an innocent time."
...But Tristan Did Kiss Her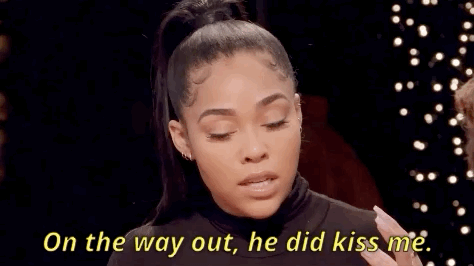 But… there were some questionable moments that took place at the alleged after-party. For example, Jordyn remembers laying his legs on top of his. And, when she was getting ready to leave, an unwarranted kiss:
"So this is where the story gets tricky. I feel like I can't point fingers and I can't say you did this because I allowed myself to be in that position. I allowed myself to be there. I never was belligerently drunk to where I can't remember what happened. I was never blacked out. I was drunk. I was not tipsy. I was drunk but I was not beyond the point of recollection. I know where I was."
At the time, Jordyn says she was at a loss for words and left immediately. She revealed:
"On the way out, he did kiss me. No passion. It was a kiss on the lips but no tongue kiss, no making out. And I don't think he's wrong either because I allowed myself to be in that position and when alcohol's involved, people make dumb moves or they get caught up in the moment."
Jordyn Wasn't Forthcoming Initially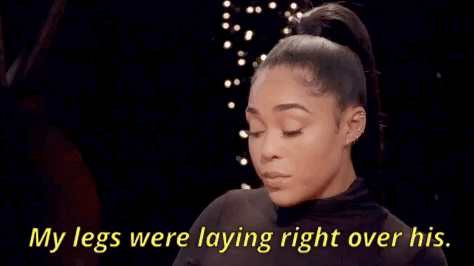 My first thought after hearing this was, well did you tell Khloe what happened? But Jordyn explained that it wasn't that easy. After spending the ride home trying to forgive and forget what Tristan had done, she made the decision to keep the incident to herself. Jordyn shared:
"In my head, trying to forget that part of the story, I said, 'No he was chillin. There were girls there but he wasn't all over them.' I was honest about being there. I wasn't honest about the actions that had taken place. I just knew how much turmoil was going on, I was like let me not throw more fuel on the fire."
How The Kardashian Drama Has Affected Jordyn's Personal Life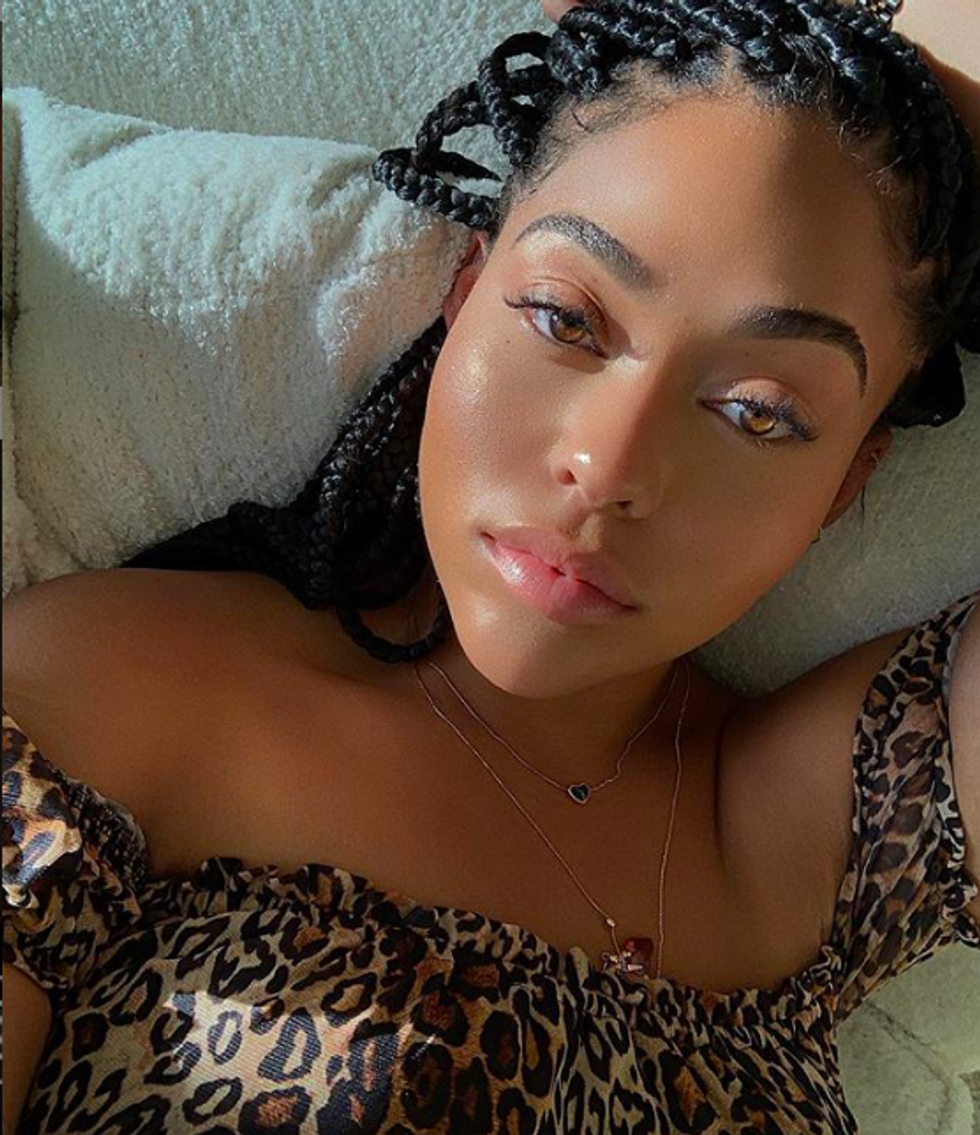 Instagram/@JordynWoods
Contrary to my belief, Jordyn revealed that nothing about this situation was for publicity, and the aftermath has affected her in ways that are almost too devastating to talk about. According to Jordyn, the first few days were the hardest:

"I couldn't eat. I didn't eat for days. I wouldn't look at my phone even. I would just try to sleep and hope that this wouldn't be true. Every time you refresh the page, it's another person bullying me, or wishing death upon me or telling me something like, 'Your father deserved to die.' I may have done something wrong but whatever I did, I don't think I deserve this."
In the emotional interview, Jordyn explained that it was important that she break her silence not to save her reputation, but to protect the people she loves. She continued:
"It's even hard for me to say this. Everyone's safety is now…we can't leave the house. My brother can't go to work. My sister can't go to school, she's twelve years old. My mom can't even go to the grocery store. I'm not here to play the victim. I'm here to take responsibility. And when I was asked about what happened, I didn't tell the truth to the people I loved, not because of malicious intent. But because I was just scared."
Now, I'm not here to pass judgment. Even though Jordyn Woods and The Kardashians are public figures, it doesn't give us the right to be judge, jury, or executioner when it comes to morality. But what I can say is, when I was 21 years old and made stupid mistakes, I had the advantage of not having my wrongs blasted and misconstrued all over the internet.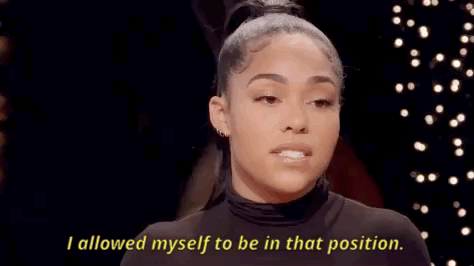 As much as I hate reality TV drama (with the exception of Black Ink Crew: Chicago, that's my sh*t), I am so glad Jada decided to bring Jordyn on Red Table Talk to speak her truth. No matter what the truth is, it's so important that we have people like Will and Jada in our lives who have our back and help us change the narrative. Despite how entertaining celebrity drama might be, the interview helped me gain an alternative perspective on how real lives can be affected by petty drama.
Watch the full video below:

Featured image by Jordyn Woods/Instagram.