It was almost this time last year that I wrote "Wanna Start Your Own T-Shirt Line? 7 Pros Will Show You How" for the site. I make no apologies for the fact that I am borderline obsessed with a good unisex, Bella Canvas, T-shirt in a large, that has a great message on it. I just like how tees give you the ability to convey a message without saying a single word. Well, aside from the not-lucky-but-blessed sweatshirt, Black Dope Marriage Coach and Harpo, Who Dis Woman? tees that I recently copped, something that I've also been looking for is a T-shirt that represents a woman who I personally think handles herself in such a phenomenal fashion that her name is actually gonna be used as a verb in my life (like "Girl, you just Ava'd that!") all of this year —Ava DuVernay.
To get into all that she's accomplished as a filmmaker and film distributor would require more than just one article. For now, I'll just say that if you're a fan of the OWN seriesQueen Sugar, thank Ava. If the series based on the Central Park Five,When They See Us, completely moved to you to anger, then tears, then admiration for the strength of the five men in the story, thank Ava. Selma? That's what earned her the bestowed title of being the first Black woman to be nominated for a Golden Globe Award for Best Director and also best director when it came to the Academy Award for Best Picture in 2014. Maybe Black Love on your television screen is what you seek. Thanks to Ava, via her upcoming OWN drama,Cherish the Day, you're all set.
Honestly, to even begin to grasp all that Ava's accomplished, you'd need to get a glass of wine, curl up on the couch and review her Wikipedia page and website (not necessarily in that order either). For now, I'll just say that if you're a creative who's looking for some inspiration to breakout and do something that a shirt that I like says ("Keep Creating Dope Ass S—t 'Til Someone Notices"), unequivocally, Ava can serve as your muse. Case in point:
Reflecting on the decade. In 2010, I got a call from @BET. They heard I'd made an indie documentary about LA hip… https://t.co/Zj1p6EF0uX

— Ava DuVernay (@Ava DuVernay) 1577740033
Can you tell I'm a fan? Indeed, I am. But today, it's not actually her resume that I want to get into. Rather, I'd like to simply take a little bit of your time to express why I personally find her name (Ava, if somehow you end up reading this, have you seenthis T-shirt before? At first I thought it was about you) to be a verb—"a word that represents an action or a state of being". Because how she appears to move—as a woman who is gracious, focused, fearless, private and totally unbothered—is just how I want to handle whatever 2020 brings my way.

She's Gracious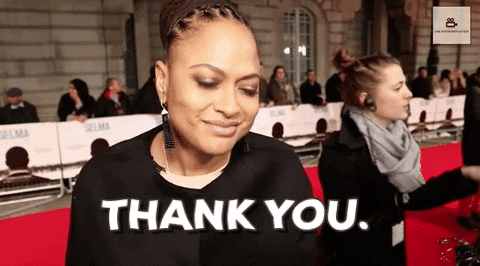 To be gracious is to be "pleasantly kind, benevolent, and courteous". Even though Ava's Netflix series When They See Us did not earn a Golden Globe nomination (I'll touch a little more on that at the end of this piece), if you hop on over to Ava's Twitter page, you'll see her posting words of gratitude to folks like Brad Pitt and Robert De Niro for being co-executive producers on Selma and shouting out other accomplished individuals like Patricia Cardoso who is the first Latina director to be included in the National Film Registry at the Library of Congress. Interestingly enough, I'm not the only one who thinks that "gracious" is an appropriate adjective for her (click here for a really cool example).
There are a lot of narcissists in this world. Selfish and self-absorbed people too. It's a real gift if you've got the ability to still remember to be kind, to help others and shoot—to be freakin' polite. How cool is it that someone with the accolades that Ava has still makes the time to be thankful, supportive and to celebrate others? That is a trait all of us should have. No doubt about it.
She's Focused
To @TheAcademy, You disqualified Nigeria's first-ever submission for Best International Feature because its in Engl… https://t.co/lumMVrLjqb

— Ava DuVernay (@Ava DuVernay) 1572906334
If you want to see Ava in a not-so-formal setting, check out herShine On with Reese (that would be Witherspoon) interview from 2018. She talks about her first job being at a yogurt place, working as a publicist and not even picking up a camera until 32. Something that really stood out to me is her expressing just how much she loves what she does and how, "Your change from one career to another doesn't have to be all at once. It definitely and should be progressive." She also talks about "cobbling through" her film school experience for herself without ever sitting in a classroom (I can relate. I flunked out of college twice and still became a writer; we'll have to talk about that on another day). Instead, she said that she watched over 200 DVD commentaries of directors and determined in her mind, "I only have what's inside of me, and I had to be able to tell myself 'That's enough'."
Talk about drive. Talk about ambition. Talk about focus. No wonder she's able to introduce us to a new project—not just project but quality project—every time we blink. No wonder she also has the time to advocate for others (see "Ava Duvernay Just Hired A 50% Female Production Staff For Her New Series On OWN"). She's a living and breathing reminder that when you are crystal clear about your purpose and how it is designed to affect as well as benefit other people, it's hard to get distracted by…fame, trolls, critics, obstacles or even your own self-doubt. Focus y'all. Stay. Focused.
She's Fearless
@megynkelly You should be ashamed. Educate yourself before you talk about racism and legitimate claims. You sound l… https://t.co/TI4JsPtGUf

— Ava DuVernay (@Ava DuVernay) 1578249166
There is a doctor by the name of Ashish Patel who once said, "The elegance under pressure is the result of fearlessness." Man, if this doesn't embody Ava, I don't know what does because, looka here—if you never considered her to be fearless before, you should hang out on her Twitter page more often. Shoot, just the straight-up read alone that she dished out to Ms. Megan Kelly and the tweet she sent out to Jack (the CEO of Twitter) to hold y'all's president accountable are enough examples to remind us that our platform should be about more than stacking up followers. We should each use our gifts, talents, social media accounts and influence to stand up for what we believe in, to push back on things that we don't agree with, and to seek justice in the areas we are truly passionate about.
And what if we're disliked for it? Something tells me that Ava doesn't lose a lot of sleep over questions like that. Something tells me she's more in the lane of Margaret Thatcher—"If you set out to be liked, you would be prepared to compromise on anything, at any time—and you would achieve nothing." That'll preach. A billion times over.
She's Private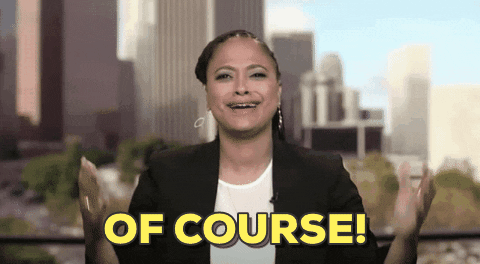 I want to say that Ava tweeted it out herself sometime last year, but something that I find to be really cool about her is she's consistently active on social media; not her "team"—her. Still, you don't really know all that much about her personal life. Her Twitter bio says that she's (currently) a "Mom of 10" (she's referring to her creative babies). Her bio tells you that she's from Long Beach, California and her alma mater is the University of California. Still, you really don't know much more than that. Is she seeing someone? We don't know. What's her net worth? Rumors say that it's somewhere around (whew!) $60 million, but I've never heard her bring it up. We do know her age and, since she was born in 1972 (she's a Virgo, by the way), I totally get why she wanted everyone to nix the whole "Auntie Ava" thing. Per this tweet, I think she's a vegan. I'm assuming her favorite color may be black (only because I see her in it a lot). But really, what can we confirm?
And that's what I think is so dope. For the most part, all you know about Ava is related to her art—and her advocating for others; oh, and her sometimes putting folks in check. It's like she totally embodies a quote by an author named Katherine Neville— "Privacy—like eating and breathing—is one of life's basic requirements." To be able to pull that off in a world that is oh-so-very-nosey, 24 hours a day, seven days a week, is a feat within itself. Then to be able to be private in a way where folks feel connected to you without them being in all of your business? That's an art form. One that more of us could stand to adapt, don't cha think?
She's Totally Unbothered
Upside of not being nominated for Golden Globe for WHEN THEY SEE US: I don't have to juggle getting into hair, make… https://t.co/U4VRRmuHYt

— Ava DuVernay (@Ava DuVernay) 1578267183
*le sigh* The Golden Globes. Yeah, I'll spare y'all my soapbox thoughts on that awards program (or the politics of award shows, in general). What I will say is when I saw some of what was nominated while When They See Us was overlooked, I couldn't help but to immediately conjure up some of my own conspiracy theories. It really is crazy, just how much a lot of this world would rather be entertained—mindlessly so—than inspired. But you know what? I did get another Ava-related takeaway from it. If Omarion won the Totally Unbothered Award for 2019 (and he did), Ava has to at least be nominated for 2020. Just peep her tweet about the awards show (see above). Look at how she chose to look at it.
I don't personally know Ava, so I can't speak to why she's so calm, cool and collected about everything. But what I can do is speak to how her energy ministers to me personally—"Shellie, stick to your purpose, do your best and be your own biggest fan. If you commit to doing those things, not only will you be untouchable but unstoppable." Y'all, being unbothered is a superpower because it keeps you centered, balanced and able to keep pressing forward. We ALL need to be on that tip this year. Each and every one of us.
Something else that Ava once said is, "I love to see people just being regal in their own skin; it's just when they know who they are." Regal. Some synonyms for that word include royal, majestic and sublime. When you see yourself in this fashion, it's a lot easier to walk through this life, both online as well as off, yep—totally unbothered.
So yeah, call this a "jock piece" if you want. I don't care. The energy frequency that Ms. Ava DuVernay is on, that is what I totally aspire to this year. So, if somebody can point me in the direction of a really cool portrait T-shirt with her on it, I'd be grateful (sidebar, I'm on the hunt for a Yara Shahidi one too). For me, it's symbolic of the fact that you know you're truly on task when you motivate others.
Ava, big ups for doing that. Keep walking in your greatness, holding people accountable with your tweets and, in some ways, keeping us wondering. It's a part of your charm. Not only can I dig it. I totally appreciate it. It inspires me. It really does. Thank you.
Want more stories like this? Sign up for our newsletter here and check out the related reads below:
When They See Us: 5 Things You Didn't Know About The Central Park Five
What The Year Of 4 Has In Store For Your 2020 Energy
'A Wrinkle In Time' Is Representation Black Girls Need

Ava DuVernay Reps for 'All the Sisters' In Elle-- And It's Everything!
Feature image by Shutterstock
Did you know that xoNecole has a podcast? Subscribe on Apple Podcasts or Spotify to join us for weekly convos over cocktails (without the early morning hangover.)