It's no secret that the pandemic hit all of us hard, and now that restrictions have been lifted, offices have reopened, and work seems to be getting to a new normal outside of quarantines and isolation, we all want to take our lives back. If you only learned one lesson in the past year, it's to look out for No.1, i.e. yourself, and practice a bit more balance in self-care.
Research has shown that many of us were overworked and pretty much burned out, and we missed out on vacations last year, too. The average work day extended at least an hour, and millions of vacation days wasted away.
Well, now that the advocacy for remote work has gotten stronger, so has the prioritizing of vacation days so that companies can not only attract top talent, but keep their current workforce.
Check out companies, via FlexJobs, that not only offer remote work but are taking steps to offer competitive vacation packages:
This platform has become a favorite among travelers, offering diverse experiences, from budget to luxury. And the AirBnb doesn't skimp on the vacation perks for their employees. Workers there get annual travel and expenses credits, and "generous" parental and family leave.
If you're into project management, then you've heard of Basecamp. Founded in 1999, the company has 50 employees working across 32 cities. Business Insider reports that employees who have worked with the company for at least a year can choose from 16 paid vacation packages each year, with trips valued at $4,000 to $5,000 each.
Many entrepreneurs and professionals use Calendly (which is Black-owned by the way) for scheduling meetings and coordinating calendars, and it's one of the top such tools on them market. Well, employees here get flexible time off, the option to "pick your own perk," a $1,000 annual vacation stipend.
Who hasn't gone to TripAdvisor to get the real tea on any restaurant, hotel, or travel experience around the world? The company has more than 350 million monthly users who book flights, hotels, rentals and offer insights for other travels through reviews. Employees at this company can get a travel reimbursement of $250 or more and discounts on vacation packages.

Motley Fool, a platform that offers business and investing advice, gives its employees unlimited vacation time and the opportunity to participate in their "Fool's Errand" program in which an employee is randomly chosen monthlty and given "a decent chunk of money" to use for a two-week vacay.
Travelzoo, a site that promotes deals for entertainment and travel experiences, gives its employees a stipend and extra days of PTO to book their travel experiences on the platform.

Expedia is another popular go-to site to book hotels and flights or find deals that give members percentages off their bookings. Employees at the company get a travel reimbursement and discounts on any packages they buy via the site.
Moz develops marketing, has a dope community of online marketers, and is a leader in the industry, and professionals who work there reportedly get at least 21 days paid time off per year, 10 paid holidays, seven days of sick leave, and a $3,000 per year vacation expense reimbursement.
To find out more about remote jobs that offer competitive vacation packages, visit Flexjobs.
Featured image via Getty Images
Keep reading...
Show less
This article is in partnership with Staples.
As a Black woman slaying in business, you're more than likely focused on the bottom line: Serving your customers and making sure the bag doesn't stop coming in. Well, there's obviously more to running a business than just making boss moves, but as the CEO or founder, you might not have the time, energy, or resources to fill in the blanks.
Well, here's where Staples comes in. Sis, this is not just the spot to drop in and grab a few replacement cartridges for your printer or a pack of paper when you're in a jam. With August being National Black Business Month, you'll definitely want to check out the slew of resources and perks Staples offers.
Staples' professionals can literally serve as the team behind your team. Their tailor-made services and selection of products offered in-store will help you adapt to any issues life might throw at you, and they literally have everything you need to bring your small business dreams to life!
Here are 5 must-haves that Staples provides for your business that you just won't be able to live without. These small business solutions ensure you'll remain a leader and can always be where the money resides:
1. Connections with communities.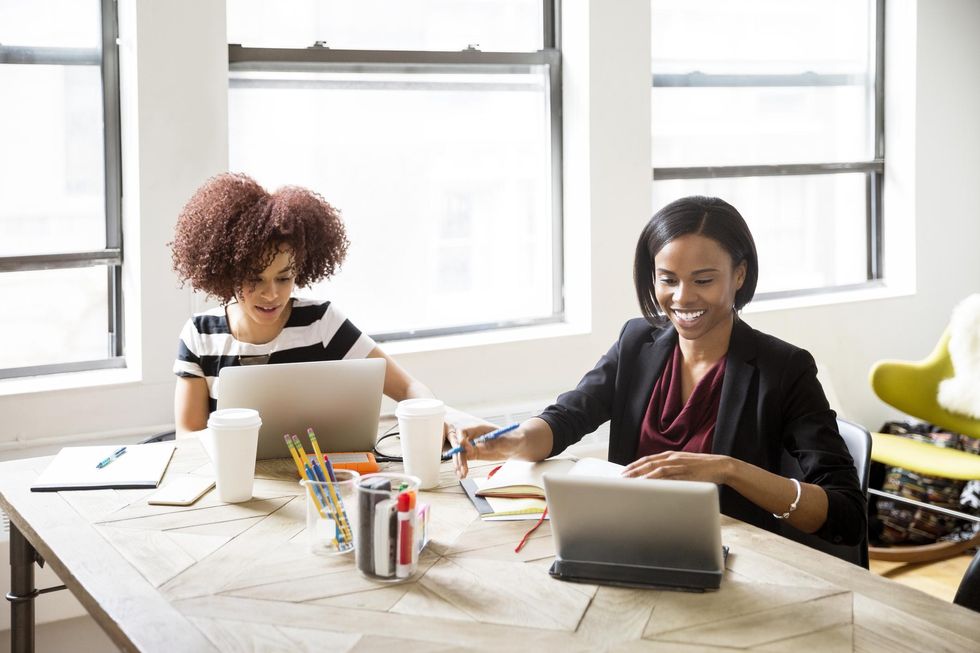 Getty Images
Business owners are as strong as their tribes, and Staples can help you connect with the people where you work and live via their Community Business Directory. It provides access to Staples' extensive customer base and the potential to be featured in store and via community emails (which, by the way, reach an average of 15,000 readers). Listings in the directory are also linked from Staples Connect, so you'll get the exposure you need as a small business owner. You can register your business for free at StaplesConnect.com/Small-Business/Register.
They also offer a Local Chamber Program where, as a member, you'll have access to their resources and exclusive savings of 20% off your in-store print and marketing services, as well as 10% off your in-store purchases of regularly priced items. For information on enrolling, contact your local chamber leadership.
2. Valuable tips and advice just for entrepreneurs.
The Staples' Resource Center offers content on how-tos including marketing strategy, taxes, and finances, entrepreneurship advice, and more. It's a hub that benefits entrepreneurs by giving them the insider knowledge for continuing to work at their best and the tools needed to do so.
Find out everything from how to optimize your online shop (to make the experience better for customers to stay on the site and buy more) to profiles on successful businesses to inspire your own glow up. Visit StaplesConnect.com/Small-Business for the jewels!
3. A one-stop shop for office and tech necessities.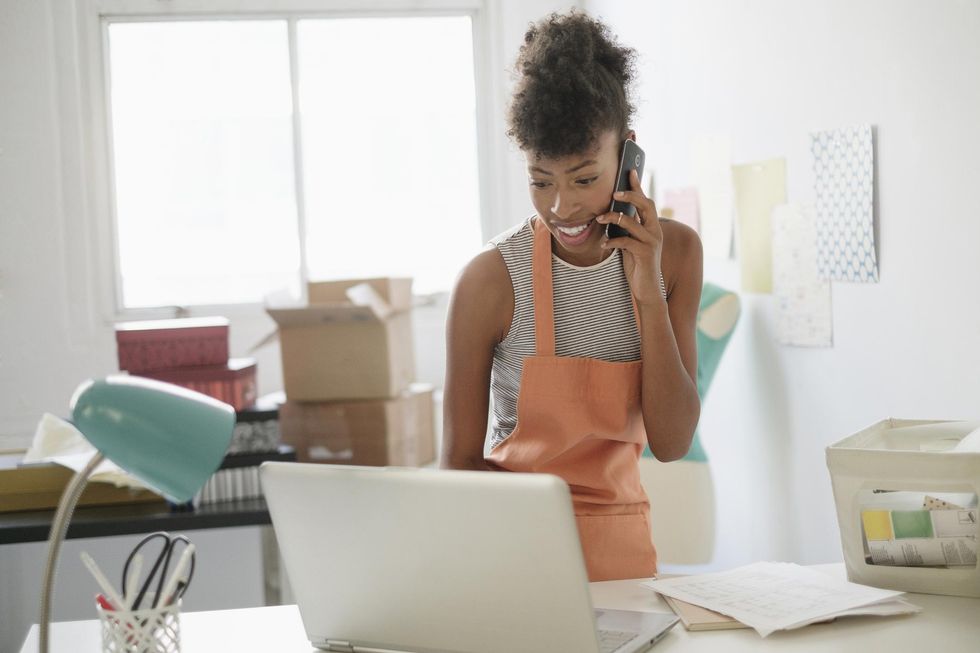 Getty Images
Beyond the impressive array of top quality office supplies, technology, and equipment offered at competitive prices―from paper, ink, and toner, to computers, printers, and electronics, to ergonomic furniture, facilities maintenance, and health and safety supplies. You can't beat deals on everyday staples, like shipping boxes, premium shipping supplies
(key word: premium), and 50-pack, 3-ply face masks. And the deals on top tech, especially for those constant video calls, online correspondences, and web meetings, are indeed not-to-miss, with hot items like the iPostal digital mailbox services, the Logi H800 wireless headset, and the Logi C922 Pro webcam.
4. Shipping made more than easy.
With everything gone mobile or virtual, you can't miss out on the best ways to transport items. With Staples, you can pack, mail and ship all in one place―even rush orders. UPS® shipping services are available early and late, 7 days a week. You can even complete your direct mail projects, from design to targeting to delivery.
5. Marketing, marketing, marketing!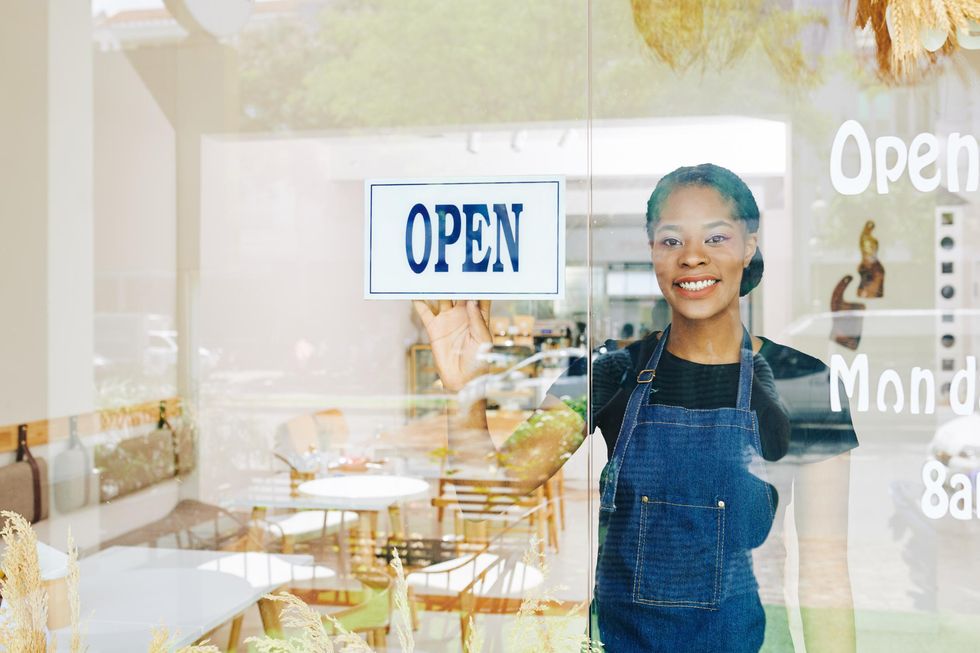 Getty Images
You can also bring your signage concepts to life―from sidewalk signs, window, wall and floor decals, to indoor and outdoor banners, to paper, adhesive, and foam board posters. Staples has experts who can help you create consistent, professional-quality marketing materials for your brand. Custom outdoor banners are offered at competitive prices, and you can get double-sided A-frame sidewalk signs as well.
And let's not forget those extra details and special touches that allow your business to stand out and put you at top-of-mind for customers, partners, or prospective clients, like business cards, flyers, brochures, postcards, menus, advertising labels, presentations, manuals, and letterheads. Going custom is always a good look, and Staples has in-store professionals to help you with this!
Staples' general managers are standing by to help you with your business's unique needs, so tap in! Let this be the year you rebound, refresh, and rejoice in the growth you and your business deserve.
To find a store and access more resources for your small business, visit StaplesConnect.com/Small-Business, today!
Featured image by Getty Images
Keep reading...
Show less
Entrepreneurs thrive when they are able to work freely and truly focus in on their gifts in building their brands and businesses. But that focus can be tough when the finances are tight, dwindling, or just not available for key parts of the journey like expansion. Well, we've got all our xoNecole entrepreneurs and budding businesswomen covered with millions in funding opportunities that you can literally apply for from the comfort of your computer screen.
Check out a few awesome options to get your business off the ground, finance a new phase, or just invest in bettering the process of offering your best product or service to the world.
(Oh, and all application information and websites can be accessed by clicking each title. Get your money sis!)

This one is targeted toward creatives, and anyone interested in the $10,000 in funds, as well as a mentoring session with Issa Rae, will need to follow LIFEWTR's Instagram, shoot their shot via a pitch presented on the platform, tag them, and use the hashtag. There will be five winners chosen and the deadline is July 30.
If you have a big idea for a business that you can scale to succeed over time, you could win $50,000 with this one. You'll get to connect with investors and venture capitalists as well. The deadline is July 26.
There are 25 $10,000 grants up for grabs for small business owners via SIA Scotch's partnership with Hello Alice, an online entrepreneurship resource for funding and more. The deadline is August 10.
Eat Me Guilt Free, a maker of protein-filled baked treats, is offering $10,000 to finance a lucky woman's entrepreneurial dreams. They're also offering a one-year supply of their products, a Peloton bike, and a one-year mentorship with founder Cristie Besu. The deadline is August 1.
This is a unique opportunity for jewelry entrepreneurs that includes a $7,500 cash grant and other resources, and it's presented by Halstead Bead Inc., a family-owned company with more than 40 years in the business. The deadline is August 1.
This multimedia giant is offering marketing, creative, media and technology services and resources to minority-owned businesses, much of which is almost priceless but clearly worth thousands of dollars. The deadline is July 31.
National Association for the Self-Employed Growth Grants are awarded on a quarterly basis and there's up to $4,000 available to each recipient. Applicants must be members of the organization, and there are rolling deadlines.
Featured image via Getty Images
Keep reading...
Show less
When you think of a trucker, the image of a beautiful, skinny-jeans-wearing, caramel-skinned woman behind the wheel is probably not what comes to mind. Indeed, the $791 billion industry is dominated by male drivers, many of which are over age 55 and white. But Casey Cooper is helping to change that, one million-dollar contract and one woman at at time. She is among the growing number of women in the industry, and among the few Black female millionaires who owns a company that continues to thrive.
The Virginia Beach, Va. native, and founder and president of The Compass Circle definitely knows what it's like being a boss in a male-dominated industry who built her business from the ground up. And the idea for the business, according to Casey, was sparked from sheer vision and abrupt inspiration. "One day I literally woke up, and I was like, 'You know what? I think I'm going to buy a truck.' And I couldn't tell you where the idea came from. Nobody in my family was in trucking. I just literally woke up one day and said, 'I'm going to do this.'"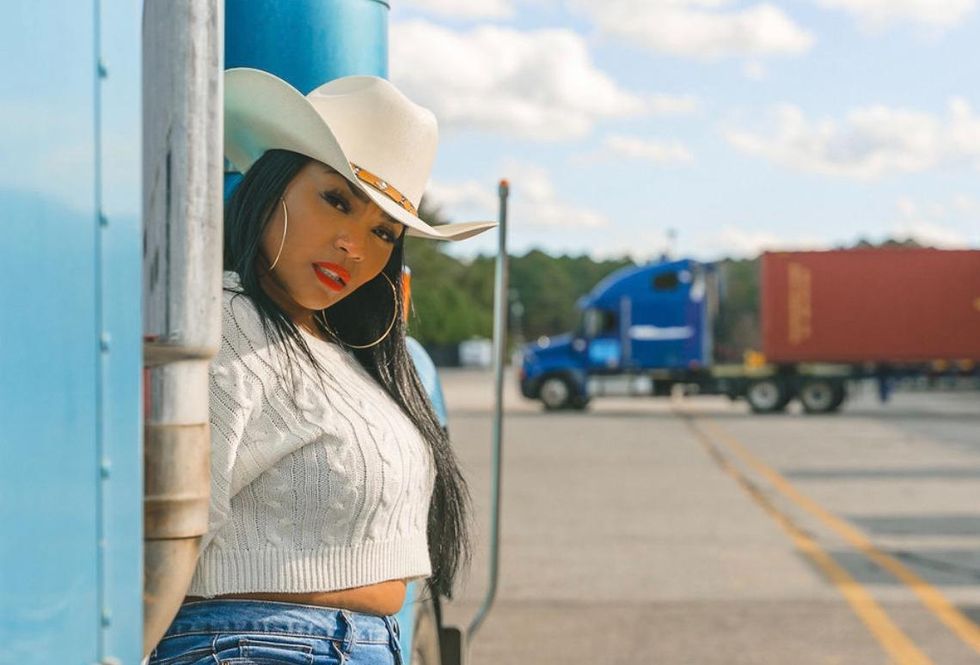 Image courtesy of The Compass Circle
When Casey started in the industry, she liked the idea of employing others to drive, but she ended up having to learn how to drive for herself. "My priority at the time was to figure out how I was going to finance the first vehicle. I was 25 when I started, so I didn't have a lot of credit and I didn't have a whole lot of money." Her first investment was in an $80,000 dump truck. "Luckily my mom was able to co-sign for me, but that was only the first challenge. The second challenge was the down payment [which was] $2,500 back then, and I had a fiance at the time who helped me with the funds."
Casey also faced a third major hardship simply not seeing many people who looked like her doing what she was attempting to do.
"Trucking wasn't popular for women at the time, so I didn't have any point of reference. I was like a fish out of water."
To further turn her idea into reality, she began researching the credentials needed to drive and studying a free manual from the Virginia DMV. She took the commercial license permit test and passed, but when she asked a few mechanics she knew to help her with driving experience, they didn't take her serious. "They laughed me off the lot, like 'Girl, you're not going to be able to drive!'
She eventually found drivers who she'd pay to ride with her every day. "I knew I could still make money while getting the feel of everything. I thought it was best to learn how to drive first because in the future, if somebody's truck broke down, a driver quit, or even if we needed to take the truck around the corner to the shop, somebody needed to be able to be able to drive. Thank God I had the presence of mind to at least go through that driving process early on."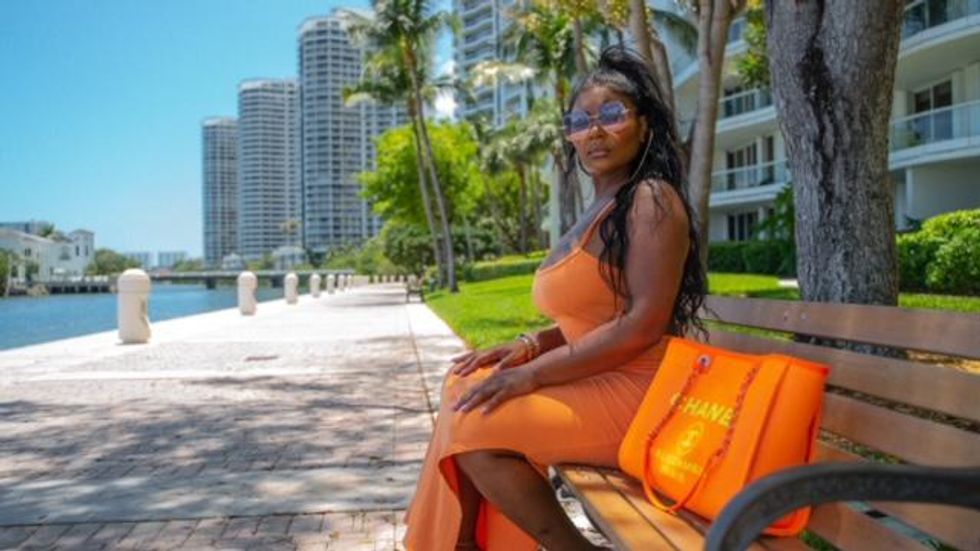 Image Courtesy of The Compass Circle
The more money Casey made taking on hauling projects, the more she'd invest back into her business, and she was able to expand her truck fleet and work with more drivers. She'd research more about ways to expand her clientele and make more money, and she later found out that the major profits were made via federal contracts. "Initially, I didn't know what I was doing in terms of the process of going for those contracts, but it was through those contracts I was really able to scale my business. I ended up just applying. I know there are a lot of myths related to that, and true, [getting federal contracts] happens so many different ways for different people."
For her, the success was seamless once she learned about the proper paperwork and other important protocols. After her initial three government-funded projects, she was able to earn $6 million in profits.
"For anybody who is looking for longevity in the business or to get your feet under you financially, try the federal sector. And it doesn't have to be huge multi-million-dollar contracts. In fact, the profit margins on smaller contracts are a lot greater than on the larger ones."
Trucking isn't limited in terms of the types of businesses you support or the types of hauls you transport, Casey added. It could be anything from construction materials, to retail goods, to farming materials and animals. No matter what the haul, she's a huge advocate of getting your business certified. "Getting the woman-owned certification is how I got my very first contract, and I had another certification that allowed me to get my first million-dollar project."
Casey's company is also part of the 8(a) program which levels the playing field for disadvantaged small businesses to have the opportunity to take on federally backed projects, providing a fair chance for women and minorities.
Today, her days driving have been replaced with managing a network of drivers, traveling to conferences, hosting events, and meeting with clients who either want to get into the trucking industry or who are already in and want to take their careers or businesses to the next level. She's now built a business where she can earn passive income, and she's cultivated a following of more than 270,000 on Instagram alone. She conducts global events to teach budding entrepreneurs as well as industry veterans about how to level up and reach the seven- and eight-figure mark. She even has an extension of her brand in the works that she said will be "the Uber of trucking."
"Being creative and coming up with new projects, new incentives, new concepts—I just love using that, combined with my background in project management, to help my clients bypass the challenges that I've gone through."
As a divorced mother of two, Casey has now developed a sense of pride in the financial and time freedom, luxury lifestyle, and redefinition of what success and motherhood looks like after launching a successful business. She's relocated to Miami, enjoys yachting, and travels the world both for business and for pleasure.
"A lot of times people are like, 'Oh she's just a pretty face,' but when I open my mouth, I can't fake about the information that comes out. You can't fake knowing about these certifications. You can't fake this stuff. It's a chance to dispel those myths. I didn't have some NFL boyfriend or a rich dad to put me in position. I really got this out of the mud. Being able to show up, present, as I am, I bring all my gifts with me. I like to really show people that I'm not some cute girl. I really can stand toe-to-toe and talk this talk and walk it."
For more about Casey Cooper, The Compass Circle, and her programs on trucking entrepreneurship, visit her website or follow her on Instagram @TheCompassCircle.
Featured image courtesy of The Compass Circle
Keep reading...
Show less
There's almost nothing better than being a top earner in your field, and getting to that six-figure mark is a big career milestone within itself. But what about those of us who don't work in the typical fields where the journey to making $100,000 or more is a bit more feasible, a lot more cookie-cutter, and much more straight-and-narrow than others. (Hey, creatives, hey! I see and feel you!)
The frustration is real, especially when we're thinking along the lines of the usual get-a-college-degree chatter about how best to get to that tax bracket (and how nontraditional routes are the exception, not the rule. Don't we all have an auntie, uncle, mom, dad, or other elder constantly pushing that narrative?)
Well, take this list to the naysayers. We know of more than several high-paying jobs for women with no degree: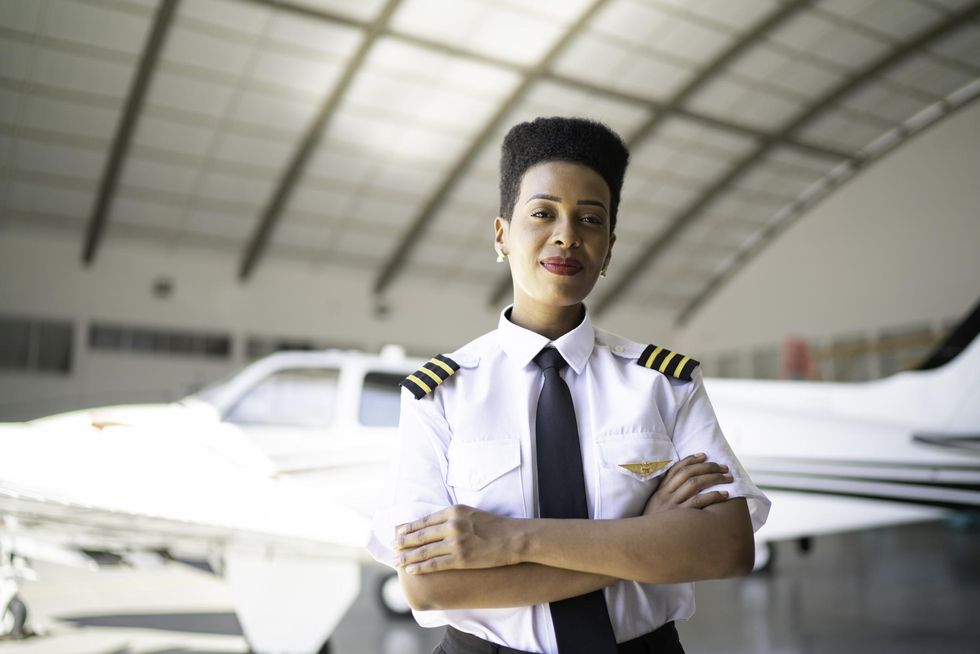 FG Trade
Commercial Pilot
A license, flight hours, and a love of, well, flying, are the minimum requirements for the role of commercial pilot, and you can earn up to $139,000 to boot. You can work for a major airline, only do private chartered flights, or start your own company offering services or teaching. The sky's the limit. (Hey, sis. I couldn't resist.)
Truck Driver
Sis, don't sleep on this multi-billion-dollar industry. As a truck driver, you can make up to $145,000 per year with a high school diploma, a commercial drivers license, and exemplary experience. It's also a plus if you are the owner-operator of a truck and you know the ins and outs of the industry.
Media Communications Equipment Professional
For this one, we're looking at up to $131,000 in yearly salary potential, and you can find success (or at least get your foot in the door) with a two-year associate's degree for this amount of pay. If you are great at setting up microphones, comms tech, or working sound, lighting, and mixing boards for large-scale events, this is the opp for you.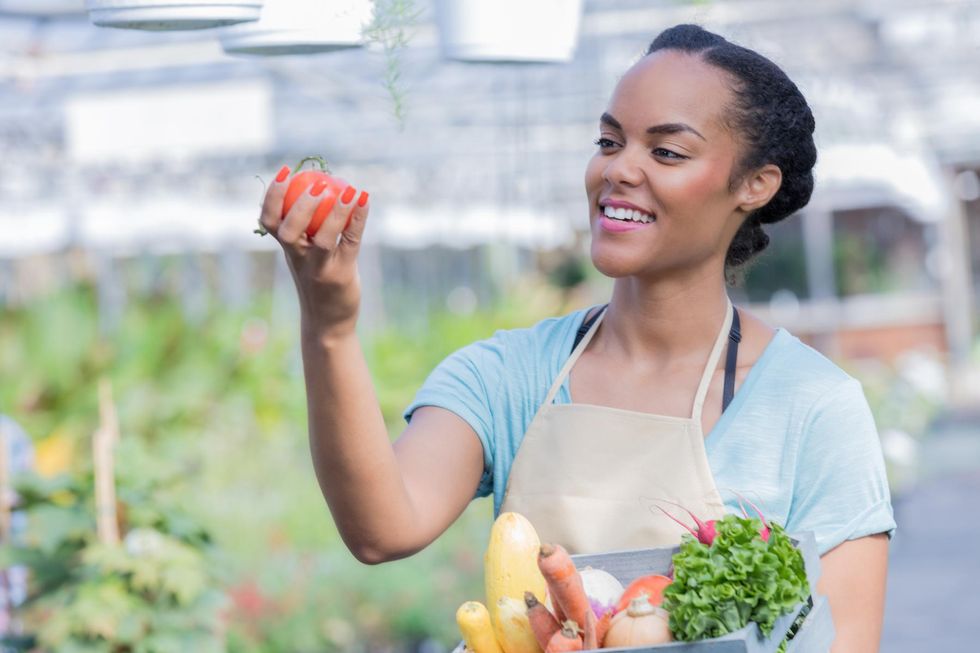 SDI Productions
Agricultural Manager
If you work in larger markets like San Francisco, there's the potential to make up to $129,000 per year as an agricultural manager. In this job, you'll supervise and manage farm or agricultural workers, determine budgets and create strategies for the maintenance and growth of farms or a company's farming activities. You'll need at least a high school diploma and some companies require special certifications as well as experience in the industry.
Transit or Railroad Officer
At the top ranks and in larger city markets, transit or railroad officers are making upwards of $99,000 on average, and more with benefits and incentives. A high school education is the starting point in terms of qualifications, and of course, experience in law enforcement, management, and training is a must.
Supervisor, Non-Retail Sales
There's up to $151,000 a year up for grabs with a gig like this, and you'll need a high school diploma and a knack for sales and communications. This job requires managing sales professionals, as well as budgeting and accounting and is perfect for someone who has a bit of skin in the game.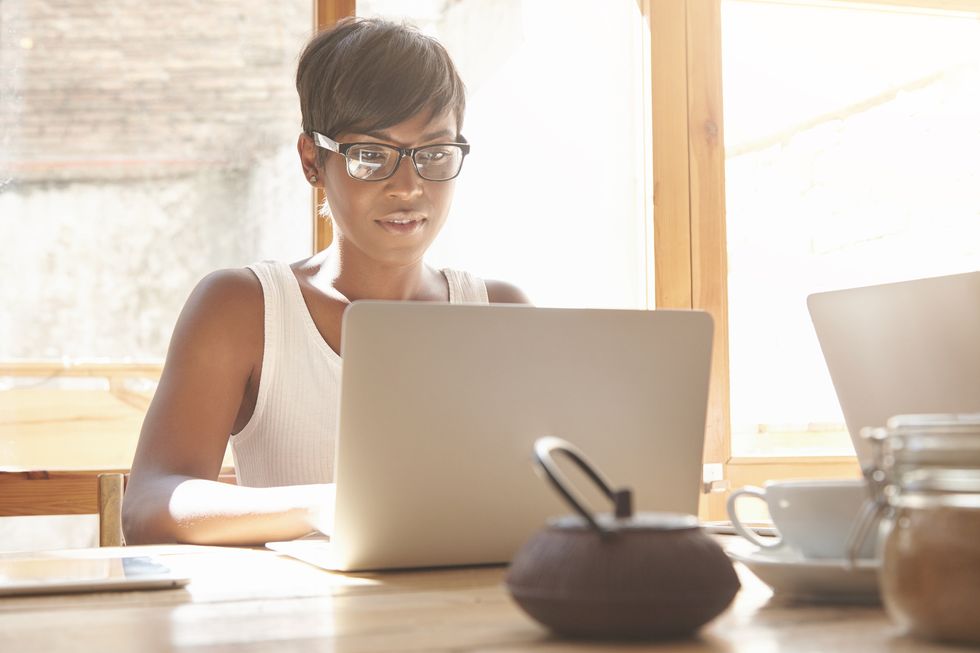 Shutterstock
Senior Web Developer
You can earn up to $101,000 as a senior web developer, and you'll need skills in designing and/or building websites. Though there are four-year college programs that strengthen those skills, associate's degree programs or even online certification courses can provide ample training needed for this job, especially if you've already got the gift and passion for this sort of work. Of course, experience is a plus, but talent and tenacity definitely trump all.
Casino Manager
Even on the lower end of the average, you can earn up to $153,000 per year in this field, and you'd be in charge of all aspects of running a casino, including operational budgeting and forecasting. Sometimes, this role is one within a corporate entity, and an MBA might be great, managerial and casino industry experience are king for landing this gig.
Nuclear Plant Manager
OK, sis. You see the word "nuclear" and think Homer Simpson? Well, at the higher end of management in this field, you're looking at a yearly salary of at least $100,000. (I guess Marge and the fam was living large. No wonder Homer could afford all those donuts!) This job entails overseeing teams that handle electricity services and ensuring governmental compliance. While some companies require specific licenses at this level, the minimum requirement for the industry is a high school diploma and, to become a manager, good ol' hard work and experience.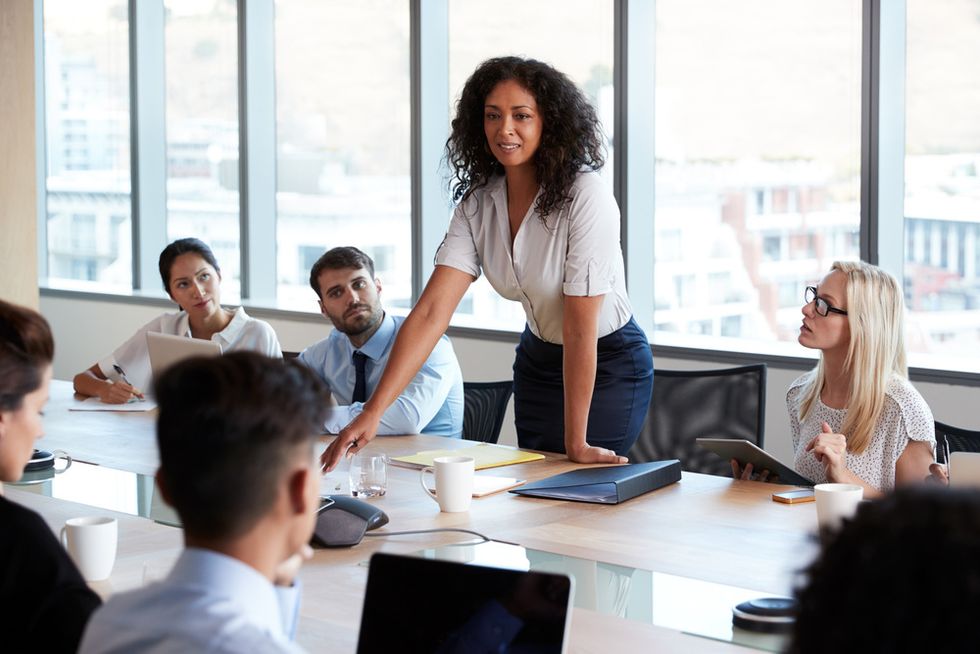 Shutterstock
Senior Consultant
Whether you work for a major firm or you're off on your own, you can make a salary of at least $105,000 as a senior consultant. Some companies indeed require a bachelor's or even a master's degree, but many of today's innovators do not, especially when it comes to industries like public relations, automotive and transport, personal finance, or technology. You can bank on experience, great communication skills, and actual results to lead the way on landing this gig. Independent certifications or training completions are a plus.
Project Manager
If you're super-organized, great at planning a project or transition from start to finish, and even more great at rallying teams to actually execute a plan, you can earn up to $152,000 in the role of project manager with only an associate's degree. Also, there are several options for certifications in this field that boost your salary potential.
Senior Engagement Manager
You're looking at a little over $100,000 in annual salary for the job of senior entertainment manager, and the name of the game for this one is relationships. Businesses want savvy professionals who can not only build new relationships with clients or customers, but create strategies to keep them coming back for more. People with amazing interpersonal, networking, sales and communications skills thrive in this sort of work, and having training in marketing or digital media is a plus.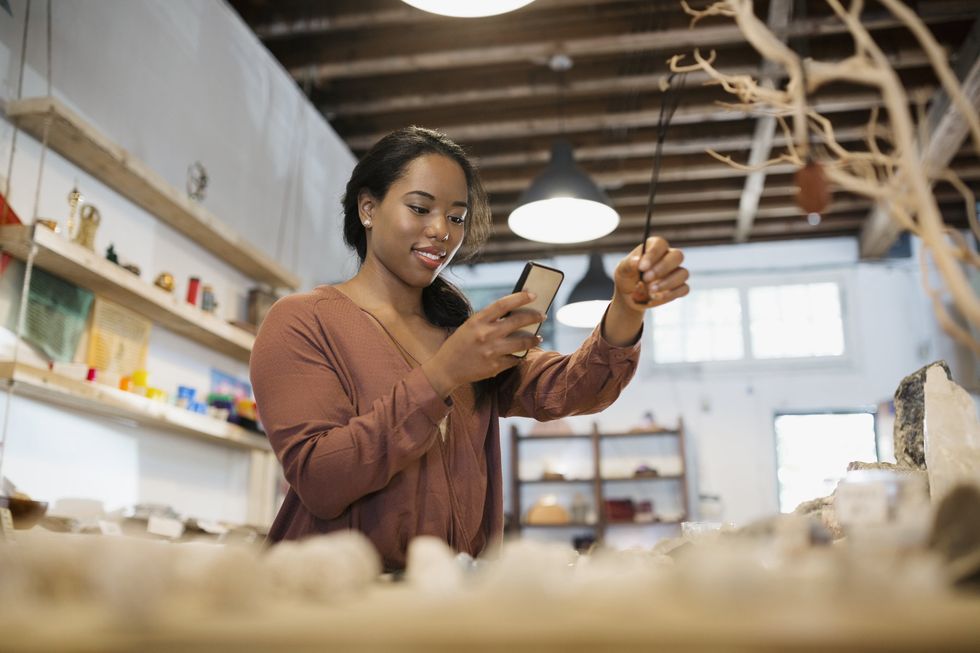 Shutterstock
Senior Visual Designer
Senior visual designer is another great option for creatives, especially if you're great at creating bold and vivid experiences and concepts for brands and their customers. You'll be heading the creative direction for campaigns and contributing to strategy for customers to buy into new products. The annual salary potential for this role is up to $138,000, with a minimal requirement being a high school diploma, vocational training, and of course, experience with providing a decent body of work.
Creative Lead, Retail
This job requires managing the art elements and designs of a project, and having skills in project management is a plus. You might also have to manage artists and designers part of a team to execute your vision and deliver what the company wants as the end result. Vocational training and experience are important to this role, which has the annual salary potential of up to $145,000.
Film Director
You might be thinking that becoming a film director is far-fetched, but not so fast, sis. There is indeed the potential to earn more than $100,000 per year even if you haven't completed a film school program. True, many greats earned that four-year degree, but just take a nod from the career journeys of icons like Quentin Tarantino, Keenan Ivory Wayans, Regina King, or Tyler Perry, who have seen major mainstream success without traditional film school experiences.
(And just a side note: Even our good sis Ava DuVernay—who brought us Queen Sugar, Cherish the Day, Selma, and A Wrinkle In Time—actually studied journalism and African-American studies before venturing into film directing, so technically she falls in this category as well.) From music video productions, to major streaming network deals, to documentaries, to TV ad projects, if you really have the vision, go-getter attitude, internship experience, and work ethic, it's possible.
Featured image by Shutterstock
Keep reading...
Show less
This article is in partnership with CROWN Act.
Picture this: You just got your locs freshly twisted for an interview. You're looking sharp, slaying with your responses to questions, and your resume is amazing. You're a hit when talking with the team set to become your new coworkers. You then get a call that they want you for the job, but you'd need to get rid of the locs. Company policy.
Think this is a story from 1965? Nope.
In 2021, the issue of natural hair in the workplace shouldn't be, well, an issue, right? Consider a few key stats: According to the Dove CROWN Research Study, Black women are still 1.5 times more likely to be sent home from the workplace because of their hair, and 80 percent have expressed that they agree with the statement that they've had to change their natural hair to "fit in at the office."

Companies have even been protected by law in banning locs in the workplace, and there have been recent cases of schools dismissing or targeting students with braids, locs, or other natural styles deemed to be against policy or inappropriate. Talk about oppressive politics that teeter on the line of outright racism.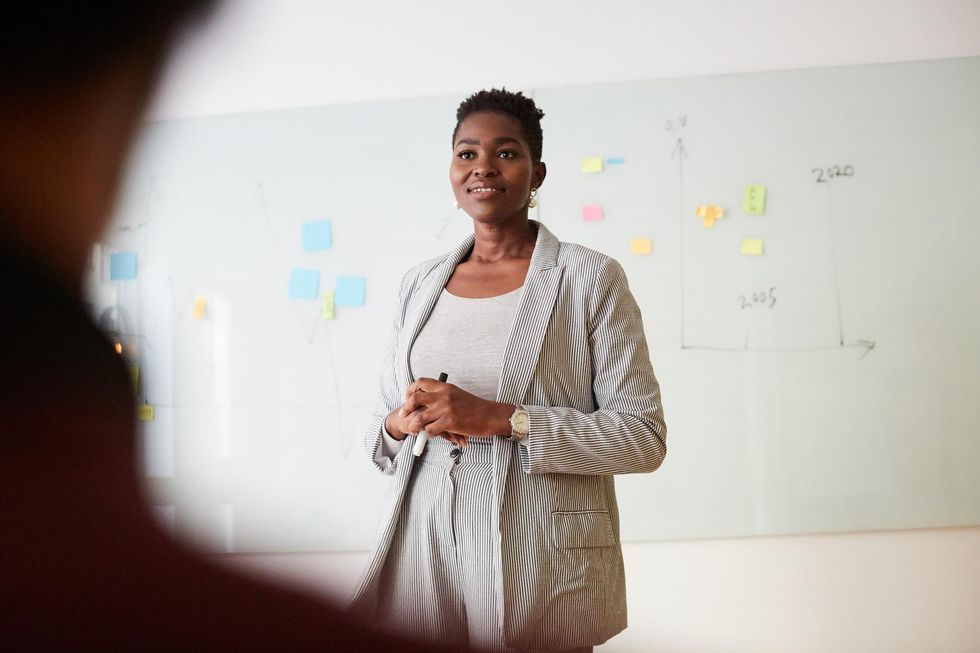 Getty Images
Well, a coalition of advocates, legal professionals, and politicians has been successful in combating the bully that is hair discrimination with the CROWN Act, which stands for "Creating a Respectful and Open World for Natural Hair." It's legislation that prohibits race-based hair discrimination, including the denial of employment and educational opportunities because of hair texture or protective hairstyles including locs, cornrows, box braids, twists or Bantu knots.
First introduced in January 2019 in California and signed into law in that state on July 3 of the same year, the inaugural CROWN Act expanded the definition of race in the Fair Employment and Housing Act (FEHA) and state Education Code in order to ensure that any employer or K-12 public and charter school could not penalize employees or students for their choice to rock their natural styles.
Led by the CROWN Coalition (which was founded by Dove, National Urban League, Color Of Change, and Western Center on Law & Poverty), the CROWN Act movement has grown, gaining support from activists and other state legislators to make discrimination on the basis of wearing one's natural hair illegal nationwide. Thirteen states, in total, have signed the legislation into law, and the coalition continues to fight for further expansion to all other states.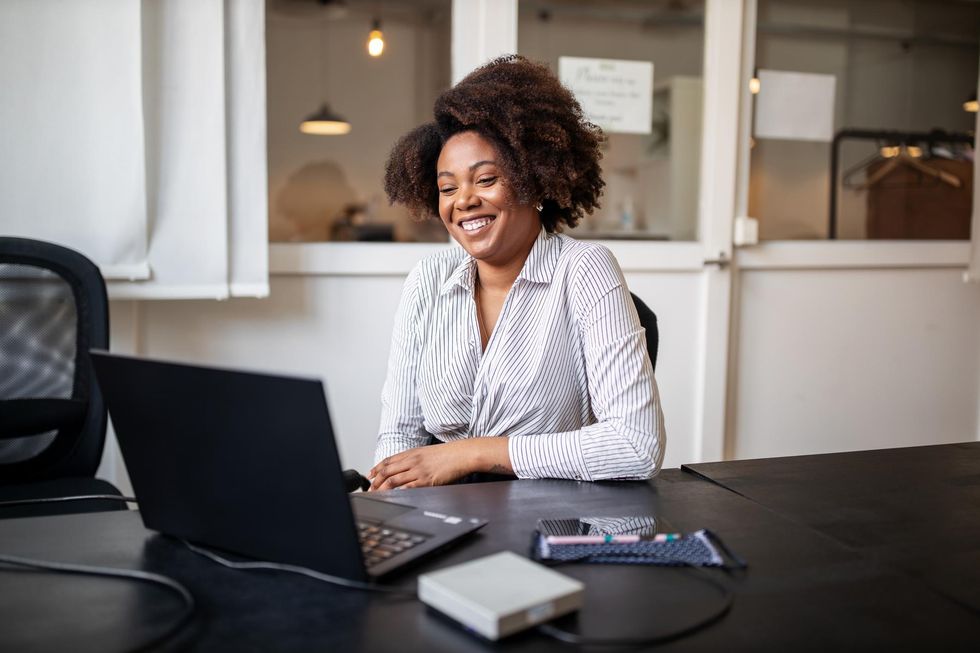 Getty Images
Just let the thought of you wearing braids, curls, or a 'fro being the sole reason you're dismissed from a job or not even considered a viable candidate at all. Or how about the one where your daughter, son, niece, or nephew is sent home from school, missing out on a proper education and being embarrassed and mentally scarred all because an administrator or teacher decided to enforce some archaic and divisive rule that separates the normalcy their natural hair from that of others?

Just fathom, further, companies totally dominated by one version of Eurocentric "appropriateness," and devoid of independent expression and diversity? Oh, and these workplaces can legally enforce discriminatory practices, all under the guise of preference, policy, or propriety.
In some states, this is still a very tragic reality, especially when the company or school is privately owned and operated. With the Crown Act, your right to be treated equally as well as the positive benefit of ensuring that companies are diverse and free for employees to express themselves are both protected.
You can sign the petition to support the expansion of the Crown Act here, and on July 3, participate in the National CROWN Day celebration via a full day of virtual engagements, community connections, and the inaugural CROWN Awards. Find out more information on the festivities here.
You can also show your support by using #PassTheCrown on social. Lend your voice to ending hair discrimination across the U.S. today!
Featured image by Getty Images
Keep reading...
Show less