CultureCon is one of the top conferences for creative people of color to attend to meet fellow changemakers. The event, which is presented by the Creative Collective NYC, has attracted some of our favorite entertainers as keynote speakers such as Tracee Ellis Ross, Chloe x Halle, Michael B. Jordan, and many more.
Attendees get to interact with other creatives and engage in panel discussions that cover an array of topics from entrepreneurship to branding. This past weekend, CultureCon took over Atlanta with some big names such as Kat Graham, Stacey Abrams, Kandi Burruss, and Insecure star Jay Ellis.
xoNecole caught up with CultureCon founder Imani Ellis to share her self-care routine, her tradition before every CultureCon, and advice for creatives.
How CultureCon Founder Imani Ellis Prioritizes Self-Care
Imani on Her Self-Care Routine
"My self-care routine is gotta be sleep, at least eight hours. Coffee because we need to make sure we're awake but also water so we can make sure we're hydrated. And then for me, I just love to eat and I know that's not a traditional self-care but I think that you should just have lazy days where you can just eat fried catfish and grits."
Imani on Her Tradition Before Every CultureCon
"I started this recent tradition where about a month before CultureCon, I will go on vacation for a week just clear my mind, release the stress and really prioritize everything. Then when I come back from that vacation, I hit the ground running executing everything but it just become a moment to look forward to. It's like the calm before the storm."
On the Best Advice to Give Creatives During Times of Struggle
"I think to just remember that there's hills and valleys and the valleys make the hills so much more important because you had to fight and go through something to get there. I think for me whenever I'm having these moments where I cannot see how I'm gonna get through, I remind myself that the only way out is through. You can't stop in the middle you gotta keep pushing and so the vision pulls you through it."
CultureCon's next stops are Los Angeles June 16-18 and New York City October 3-7. Visit their website theccnyc.com for more information.
Featured image by Derek White/Getty Images

It's National Nurses Week, a time for recognizing the amazing work nurses do and the innovations, issues, and challenges they face in the healthcare industry. Nurses have been impacted tremendously by the complications and demands of the job, especially in minority communities that are disproportionately affected by the COVID-19 fallout. Research shows that there are almost 4.2 million registered nurses in the U.S. and more than 325,000 licensed nurse practitioners. Black people make up the second-largest group of minorities in the field, at 6.7%.
Featured image by Getty Images
It's always a good idea to have a decent online presence even if you're not an influencer or content creator. This is especially true if you're a leader in your industry, are looking for new career opportunities, are experiencing a career rut, or if you want to transition into another field altogether. Everyone from investors to recruiters, to journalists, to your fellow high-achieving industry leaders uses the internet to find folk who are killing the game, innovating, or have interesting stories to tell.
So, sis, let this be that final sign you needed to upgrade your online presence. Here are four ways to do so: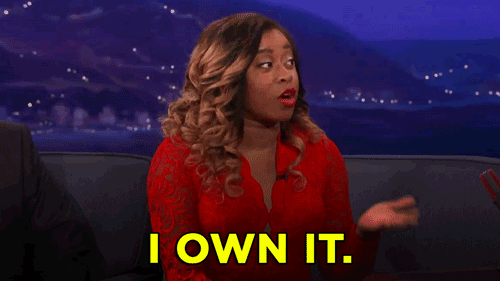 1. Create your own website or page versus depending on the free stuff.
Nothing says boss like your own website. Many of us learned a hard lesson during the infamous Facebook outage of late 2021. The platform and its app fam including WhatsApp and Instagram, were down for hours, leaving some who rely on traffic, social media-based product sales, and brand partnerships missing out on the bag. It's important to have your own little space on the internet that is for you and by you.
Creating a page or a website for yourself not only empowers you to be the sole controller of content and to be able to update as you see fit, but you can leverage it to get new opportunities and build your own community of followers and supporters.
Then you can allow your Facebook, LinkedIn, or Instagram to complement your main website. Even if you're a regular-degular professional, you can have something to give recruiters that shows your creativity, your abilities to strategically market a very hot commodity (yourself), and stand out from those who only have that one LinkedIn page or their social platforms to rely on. Resources like Wix, GoDaddy, Squarespace, or WordPress are easy to use and have quality tools for building reasonable DIY websites.
(Another big tip: For me, as a journalist, I'm more apt to contact a professional or small business owner for an expert voice or feature who has their own branded website. It just shows that they take their jobs and businesses seriously and go above and beyond. More than likely, they can offer a certain A-level of expertise needed and have stories of reputability that I and many media outlets require.)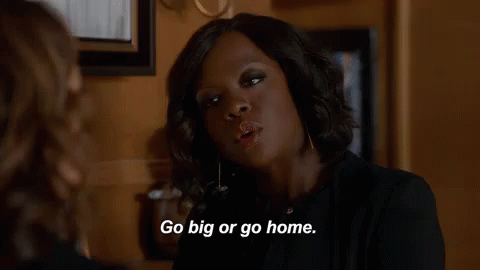 Giphy
2. Invest in updating your visuals, including photos and text.
If you've still got that college graduation shot from 2006 or that ID picture from five jobs ago as your lead visual on your LinkedIn, Facebook, or Instagram profiles, sis, it's time for a refresh. And how about hiring a photographer to get some new professional shots of you? You never know when your voice might be needed for an article, conference, commercial, or YouTube interview, and you want the best version of yourself presented as your first web-based impression. Also, sometimes your branded website, About.me page, or the visuals you use on your social sites need to be upgraded, too.
The quality of visuals shows you're serious and competitive, and while it's great to be able to DIY things, some results scream "amateur and unprofessional" when you're a true boss IRL. Take a look at the full picture and figure out if it's time to change a few color schemes, invest in a new camera or program, or use that Canva or Adobe time and money to hire a real-life graphic artist or professional photographer. Also, the way in which you tell your story or offer your products and services is important, so you'll need to make sure that all information is up-to-date, accurate, and best represents, holistically, who you are and what you offer.
What vibe does it give off? Do the colors, wording, and placement of elements like photos and titles reflect who you really are as a professional or business owner? Intelligence? Quirkiness? Fun? Creativity? Boldness? Simplicity? Be sure you're sending the right message in both the look, feel, and content of your sites, and if you're not sure, hire a copywriter, PR professional, or coach who can help you tell your story best.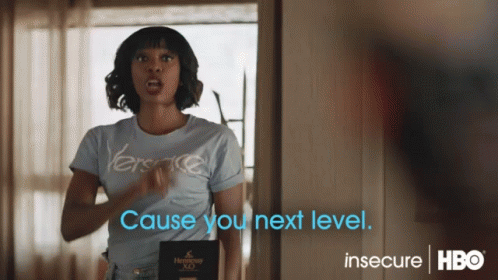 Giphy
3. Get into SEO and learn how content is searched and shared on the internet.
You don't have to be an expert on search engine optimization (SEO) but you'll need to at least know a thing or two about how people search the web and how you can get them to find you among the billions (or trillions?) of pieces of content shared via Google and other search engines. There are certain words, phrases, and types of content that get more love based on your goals of why you'd want someone to get to know you via the internet, so it's good to know what those elements are. Try blogs (like this awesome one via Hubspot) or other online tutorials. Also, use the tools available to you on your blog's dashboard, Instagram's insight resources, or helpful content creators' tips (like those offered by these amazing women.)
Be patient with yourself if this is super-new to you or if it's something that baffles you. Learning from trial-and-error, through inspiration, or by simply experimenting with titles, formatting, headlines, hashtags, and visuals can be fun if you remember your goal: to boost your online presence and reach your success goals.
And if you just really can't be bothered with all this between boss moves, schedule a consulting session with someone who can. You can even hire someone (if you have distinct goals for this) to monitor, assess, and boost your visibility for search. They can let you know the dos and don'ts that could be costing you customers, interest, or partnerships.
Giphy
4. Try a different way of showcasing who you are online.
Listen, I don't expect you to be doing TikTok dances all up in the videos (in my Suge Knight voice) and I definitely don't expect you to upload new Instagram Reels every other hour, but come on sis, get creative. If you're passionate about what you do, can offer smart insights on career advancement, technology, beauty, finance, or whatever it is that you're great at, try getting in front of the camera and offering those tips via a Facebook or Instagram live, writing a blog post, or even posting a few simple informative updates on your LinkedIn page a few times a week.
What's unique about you and how you do your job? Find ways to showcase that with video, tutorials, brand packages, or artistry. If you're not into overdoing, oversharing, or just doing themost, guess what? Even that's something you can leverage to show who you are online.
Start a podcast or network to be a guest on one. Showcase your work via great graphics (a simple comedic or straight-to-the-point phrase graphic can do wonders) or videos (even if you're not in front of the camera). Infuse your personality in what you do, especially if you're an introvert (like me) or you're into niche and nontraditional things. (Listen, there's a space for you considering there are at least thousands of other people who can relate.)
Get deliberate about pursuing the many ways you can become more visible as a leader in your industry and still remain authentic, balanced, and on point, whether you're an entrepreneur, freelancer, or 9-to-5er. Tap in!
Featured image by Tim Robberts/Getty Images
Poetry has always been an art form that transcends boundaries, enhances understanding, and expands the ability to wonder. It's a magnificent medium only mastered by those who know the nuances of language, expression, and flow. And today, poets have continued to carry the torch passed to them by our favs like Maya Angelou, Audre Lorde, Ntozake Shange, Sonia Sanchez, and Rita Dove.
As we near the close of April, commemorated as National Poetry Month, let's check out a few Black women who are taking poetry to the next level, continuing to serve empowerment, imagination, and revelation:
Featured image by Getty Images
Whether you love, hate, or feel indifferent about your job, incorporating wellness is still important. Research has shown that burnout and stress are "at an all-time high." The American Psychological Association reports that 36% of workers "reported cognitive weariness," 32% said they've experienced "emotional exhaustion," and 44% reported "physical fatigue"—a 38% increase since 2019. It seems cliche to continue to talk about the effects of the pandemic as well as other world events and everyday trauma, but that doesn't mean the struggle isn't indeed real for many of us as professionals.
This points to a major reason why putting your wellness first, especially during your workday, is important. Here are five smart, and several easy, ways to add a bit of relaxation and release to your day in order to combat stress and headache.
1. Ask for what you need at work.
It's oftentimes a good idea to not only plan to add activities that you love and that allow you to take a break from your work during the day (or night), but you can also ask your supervisor to make it official. Many jobs offer professionals the opportunity to section off time for prayer, meditation, or other wellness activities. You can literally make yourself unavailable for anything but a self-care activity, even if it's just taking a nap. And a huge perk to that: This isn't just "extra" time off the clock. This is paid time to rest. (Several companies offer this as part of their culture and workplace standards.)
As a freelancer, this is especially important. I often discuss certain time boundaries or my wellness values upfront with clients, and nine times out of 10, the requests are granted. Having flex-time to incorporate wellness and balance is important considering the fact that, essentially, working for yourself involves the added stress of being financially responsible for all aspects of self-employment that some folk who are employed by a company don't have to worry about.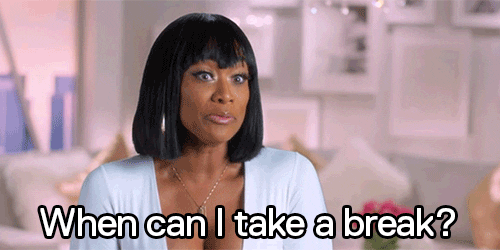 Giphy
2. Schedule wellness activities like you'd schedule important appointments.
If you find yourself working through your lunch break or not having enough time to work out, do something fun, or simply rest, add an alarm to your phone or a calendar alert that will remind you to do these things. Sometimes simply setting a notification for wellness and self-care will help you keep yourself accountable. I often set alerts that say "Stop, breathe, and pray," on my Google calendar, and, as silly as it seems, helps me to really slow down, release the anxiety of a deadline, and take a moment for myself to reset mentally.
You can also set aside time during your 15- or 20-minute workday breaks (outside of lunch, since that time really should be spent nourishing yourself) to participate in a quick online class, meditation session, or even a massage break. The key here is to set a specific time during the day and keep to it just like you would an important meeting or business call.
3. Add a bit of fun and wonder to the way you approach your work.
Companies have used creative ways of doing a job to boost engagement and make solving problems fun. For example, gamification is used to build brand awareness, promote teamwork, and think of new products or services. If it's safe or appropriate to do so, start that next meeting with a game, dance session, or a contest. I once had a very horrible in-between-clients-and-need-to-pay-the-bills job that, while I loved interacting with coworkers and customers, just wasn't creative nor relevant to what I went to college to do for a living.
One manager had this routine where she'd require us to "hold a circle" outside for mid-week check-ins or she'd start in-office meetings with ice-breaker games that you'd typically play at dinner parties. I found it to be like a soothing balm to the mental scab of resentment and regret I felt while working at that particular company. It was also a reminder to enjoy the moment, learn the lessons, and focus on other aspects of the job that I did like i.e. my coworkers and customers.
You can do the same, even if you're not a manager, by creating a little friendly competition between you and a coworker (or even a whole team of coworkers) or including incentives to finish a project or innovate within something new. Find ways to add joy or intrigue to how you do your job. Take the work outdoors or to other settings that can get you out of the cubicle or office space and into nature, where the fresh air and sounds can do wonders for your mental and spiritual health.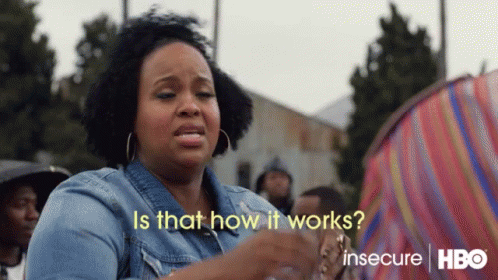 Tenor
4. Find ways to partner with others.
It's very clear the wellness benefits of having healthy interactions and connections with others, especially in the workplace. And oftentimes, two heads are better than one when trying to achieve a goal. Think about ways you can team up with others to do your job versus trying to keep your head down and burn the midnight oil alone. While it's sometimes great to get all the shine and spearhead a project solo dolo, splitting the load can be better for your long-term health and for expanding your network of advocates and sponsors at the office. I found this to be super-helpful when I felt burnout creeping up due to wearing that overachiever crown at a publication I used to work for.
Not only did I gain more workplace friends (one or two who previously thought I was a snob) but it did wonders in terms of removing a lot of pressure from my day. And if you don't quite feel comfy doing this for projects that might land you that promotion you've been eyeing, try this for other initiatives such as volunteer efforts or your company's philanthropic activities. I loved participating in Steps competitions (where you'd track steps you'd take during the day and have to check in with your team at the end of the week to win a prize) or joining in for a breast cancer awareness walk with a team to help them reach their fundraising goals.
Many companies are sponsors of major health initiatives or serve as hosts for events connected to healthcare and wellness nonprofits. If yours is one of them, get on that planning committee or become an active participant. If your company isn't, be the change you want to see, and organize that team walk, field day event, partnership, or wellness retreat. For some, you might have to pitch and convince in terms of the return on investment for the company, but in these pandemic streets, that's not quite a hard sell.
5. Listen to podcasts, books, or apps while working.
Again, when it's appropriate, this can be a great way to not only enrich your mind but give yourself a mental break from work-related thoughts and activities. I like to play the Calm app's rain and mountain sounds sometimes when I hit a mental writing rut or feel a tad bit too overwhelmed. It helps me, again, calm down in times of stress, usual work-related pressure, or anxiety, and it reminds me of my favorite remote work spot: Jamaica. I get that mental push to finish up and remember who and what pays for my trips there and how grateful I am to be able to be a creative working in the space I'm in.
Whatever you choose, just remember to deliberately add joy, wellness, and balance to your workday so that you're able to enjoy the job you do regardless of its nature or the company. Whether you're ready to exit or are planning to make a move to advance where you are, you'll be mentally and spiritually prepared to take the next step.
Featured image by Good Faces on Unsplash
The art of self-affirmation has been a way to combat negativity and literally speak life over our lives. When we think of how things like burnout, self-doubt, stress, and anxiety creep into our mental and emotional state and cause us to believe things about ourselves that are the furthest thing from the truth, affirmations act as a powerful tool at combating negative energy. In a world that oftentimes seems intent on making us feel small, devalued, or overlooked, affirmations build us up and act as armor as we battle the everyday pressures and pitfalls of life.
Starting your day with "I am" affirmations can stop your negative self-talk in its tracks, inspire motivation, change your negative thoughts, and encourage an overall optimistic mindset. Through these positive statements, we remind ourselves that we are love, that we are worthy and deserving of great things, that we are beautiful, and that we are capable beyond measure.
xoNecole recently chatted with five successful women about the power of "I am" affirmations in their daily lives. Here's what they had to say:
Entertainment Journalist, On-Air Host and Producer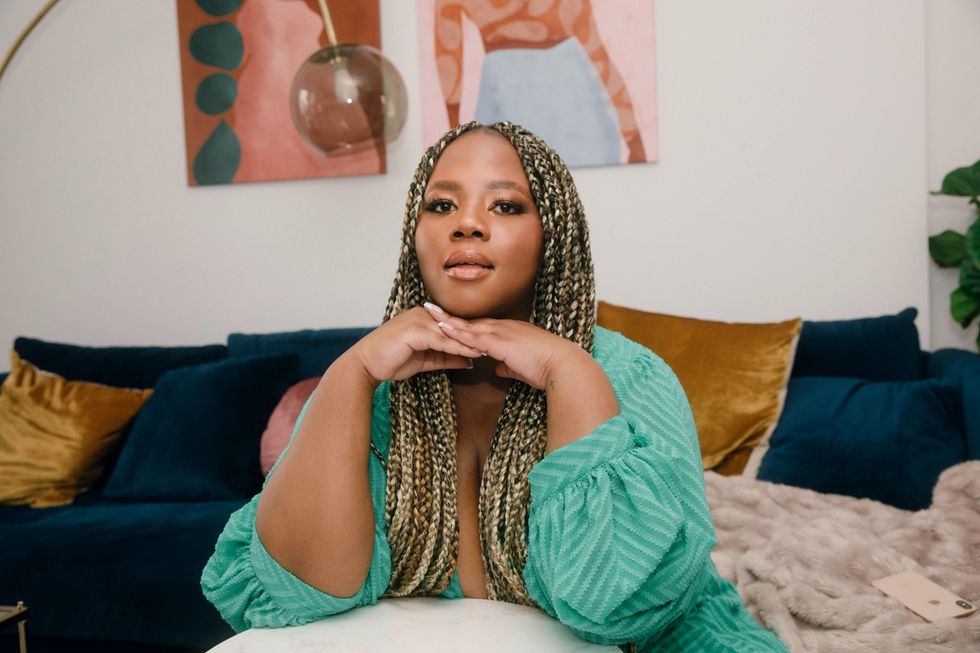 Courtesy of Sylvia Obell
Raven B. Varona
"I am capable."
"I can do all things through Christ who strengthens me."
"I know the plans God has for me."
"I have survived 100% of my worst days."
When I get overwhelmed, I begin to question my ability to handle executing under pressure. Imposter syndrome can seep through and I begin to worry I've bitten off more than I can chew, that I've pushed my abilities to their limits. As a freelancer, I don't have just one manager who can see the big picture of my workload and say, "Okay, her plate is full right now." No one knows what it looks like but me.
My podcast producers only see that angle, an editor has no idea that when they're pulling me left, another editor from a different publication may be trying to pull me right. These affirmations remind me who I am and what I can do. They help me tap into the boss energy that requires pushing back and setting boundaries when necessary. And they remind me that I'm not doing it in my own power, that God is with me as I navigate it all.
"These affirmations remind me who I am and what I can do. They help me tap into the boss energy that requires pushings back/setting boundaries when necessary. And they remind me that I'm not doing it in my own power, that God is with me as I navigate it all."
I think of success as a mountain, the higher the altitude the thinner the air. I realized at a certain point that I'm going to need an oxygen tank to survive the high altitudes that come along with working at this level. Affirmations, my faith in God, and my tribe are all my oxygen tank. They keep me going. I wouldn't be able to do what I do otherwise.
Affirmations are important because we live in a world that takes every chance it has to tell Black people, Black women especially, that we are not enough, that we are unworthy, and that we are not beautiful, etc. We have to combat all that negativity. We have to face it head-on so that it doesn't sink in. The best way to fight lies is with the truth. Affirmations are the truth. Repeat them daily so they sink in more than society's lies.
Founder of OMNoire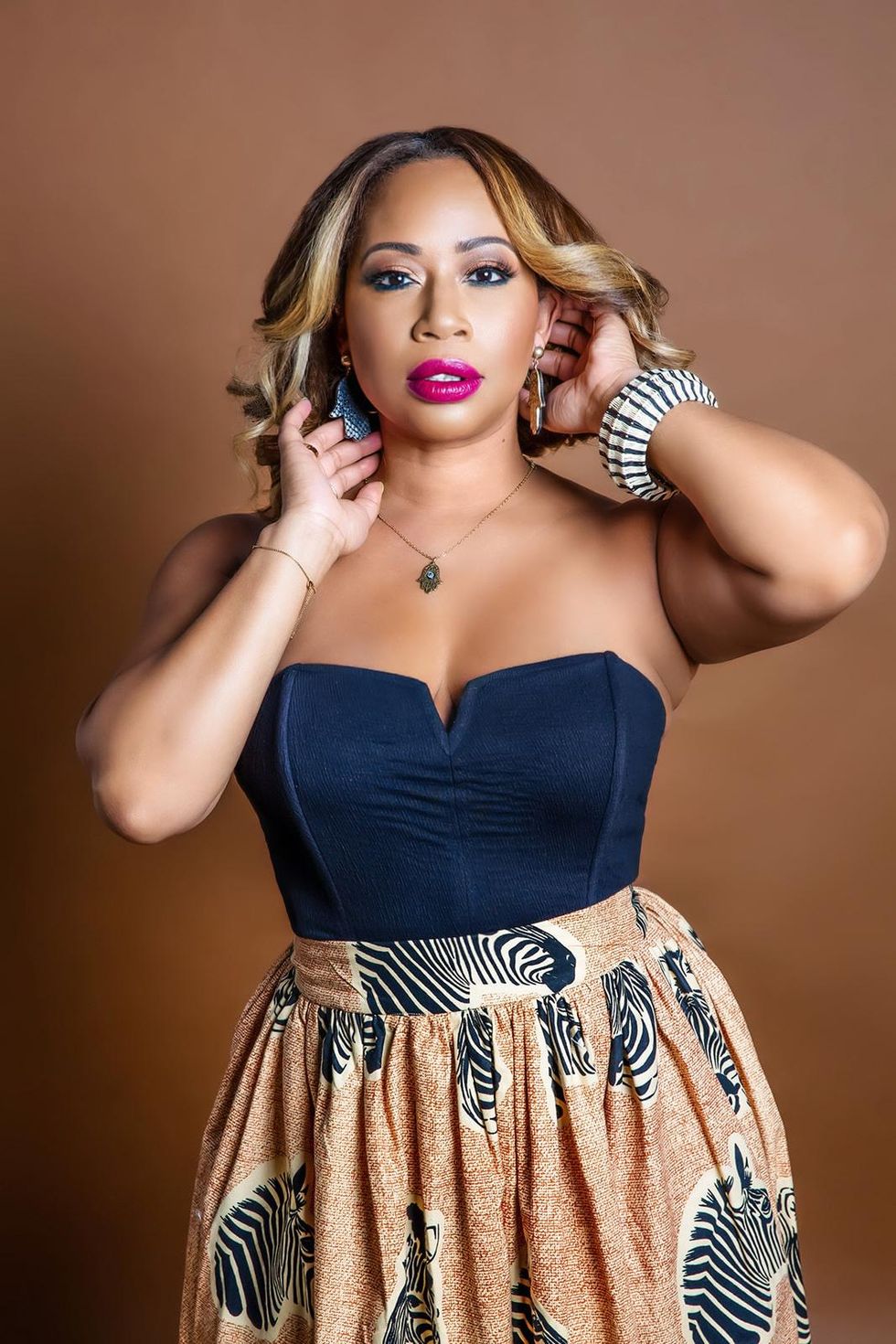 Courtesy of Christina M. Rice
"I am a multi-millionaire wellness entrepreneur, author, coach, and speaker."
This is the same affirmation I have had for six years. I have several but this is my top one. I have it written down in my journals, on my computer, and on my phone. I may not recite it or see it every day but it's ingrained in my work ethic every day. So even days I am overwhelmed, hectic, frustrated, and tired, this one "I am" affirmation is my constant reminder of what I am striving for in life. "I am" affirmations are the zoomed-out view of your life six months, twelve months, three, five, or ten years from now.
Start with one over-arching affirmation like mine above and then break it down into small digestible bites, what I call incremental manifestations. If I know my goal one, three, or five years from now is to be a multi-millionaire wellness entrepreneur, author, coach, and speaker, then the daily hats I wear are leading me to that goal, such as ideating new ways to generate revenue for the business, hiring the best talent, honing my public speaking and writing skills, and more. I'm a visual person so I tend to write an affirmation at the top of my daily to-do list which helps to ground and recenter me, then focus on what I need to do today to get to where I want to be tomorrow.
"What you put intention towards, gets your attention; what gets your attention, gets your power. You have a choice every day on where your power goes. Is it focusing on all the bad or is it leaning into all your infinite possibilities?"
We spend most of our lives in our heads, so make sure it's a pleasant place to be. One thing I've learned over the years is this…what you put intention towards, gets your attention; what gets your attention, gets your power. You have a choice every day on where your power goes. Is it focusing on all the bad or is it leaning into all your infinite possibilities? That decision is solely up to you. Operating from an abundant, positively affirming mindset takes a lot of work. Hard work and practice. There are days a negative thought may pass through my mind and I stop it immediately and recite something positive and affirming.
I notice an immediate shift in my mood when I do so and that energy, that delight, and joy in knowing I have this much power over how show up in my world, translates into how I show up to my work and my life every single day. Affirmations give us hope. Affirmations expand our worlds to what's possible. Imagine if every day your spirit was set ablaze by experiencing how good and delicious life could be; if you just believed in yourself, if you constantly affirmed your dreams and capabilities, if you surrounded yourself with others who live in this same truth. You would be unstoppable.
200 HR Certified Yoga Instructor
Client Services Manager, xoNecole.com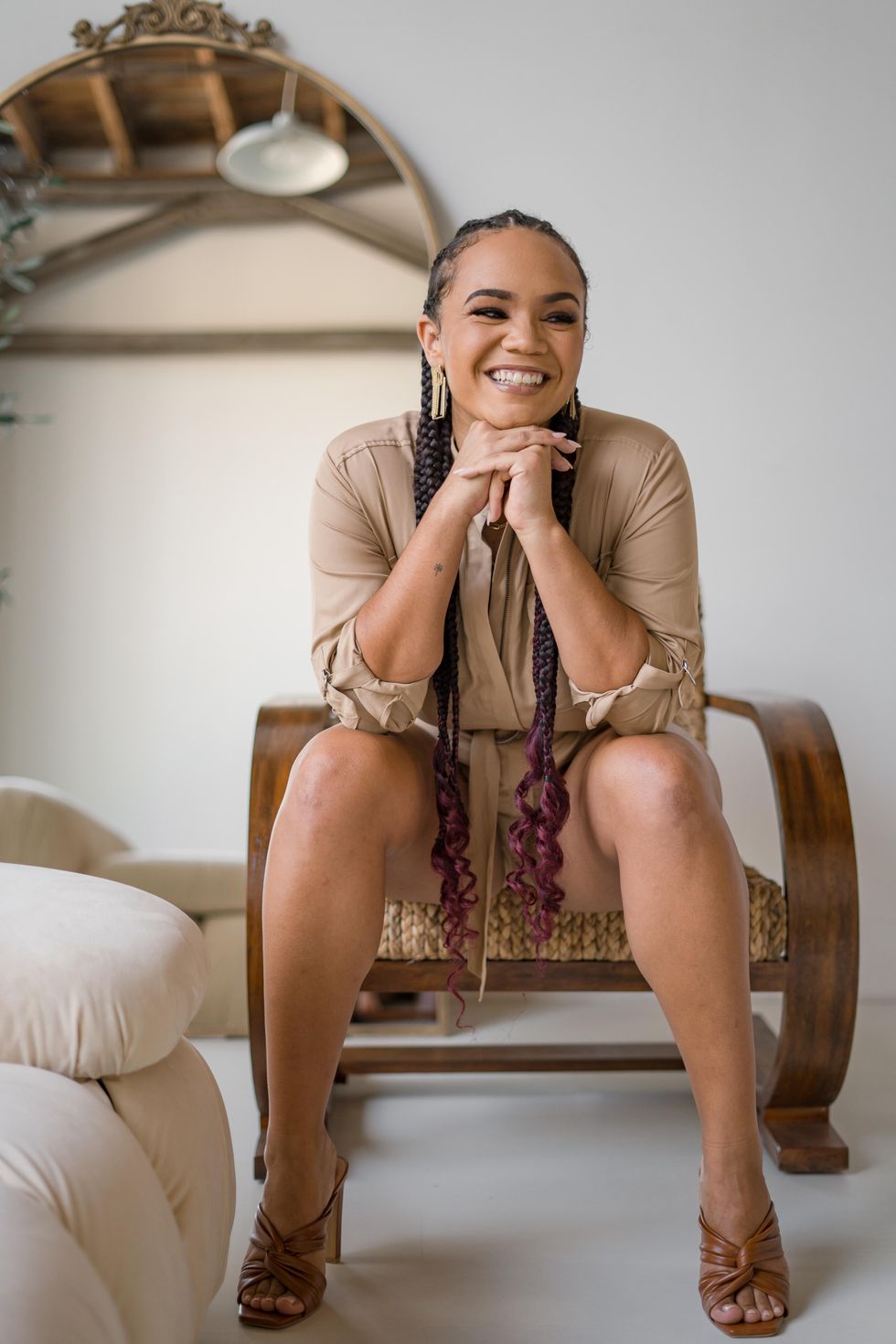 Courtesy of Tyeal Howell
Kaye McCoy
"I am not defined by what I do, but by who I am."
"I am safe, secure, loved, and protected."
"I am capable."
"I am allowed to rest."
"I am present with my body, mind, and spirit. I am here, right now."
I start my day with affirmations. I have several colored sticky notes (Being Mary Jane-style) on my bathroom mirror so they are the first thing I see when I'm up from bed. When I start my day like this, it doesn't matter how busy my day is ahead of me. Time with self is so necessary in my life. I am a mother, I live alone and I work from home. My office is my home so keeping up around my apartment is basically a second full-time job. As a client services manager at xoNecole, it's my responsibility to keep our projects organized and moving on track. So, if I'm not organized and on track I can't handle my business. My affirmations help me connect with myself first to be able to show up for my daughter and the world.
"I believe that everything in life is mental. What we focus on becomes reality. What we believe about ourselves is the only truth that exists."
I first realized the significance of my affirmations when I spoke a cross-country career move into existence. I moved from Los Angeles to Atlanta and started my own business in 2018. I had been affirming my ability to accomplish those goals for over a year with my daily affirmations. When I was finally able to see how much I've accomplished and how capable I really was of achieving certain success milestones, I realized that affirmations are an essential part of my lifestyle. Affirmations also got me through my labor and delivery process with my daughter. In between contractions in the hospital, I spoke some powerful affirmations over myself and my daughter and they really helped me stay in the zone and focused on meeting my baby girl for the very first time.
I believe that everything in life is mental. What we focus on becomes reality. What we believe about ourselves is the only truth that exists. My love language is words of affirmations. If I can't show that love to myself, I cannot expect anyone else to show it to me. Affirmations have been life-changing for me and I hope everyone takes some time to define what they affirm about themselves and their futures.
Founder of Manifest Daily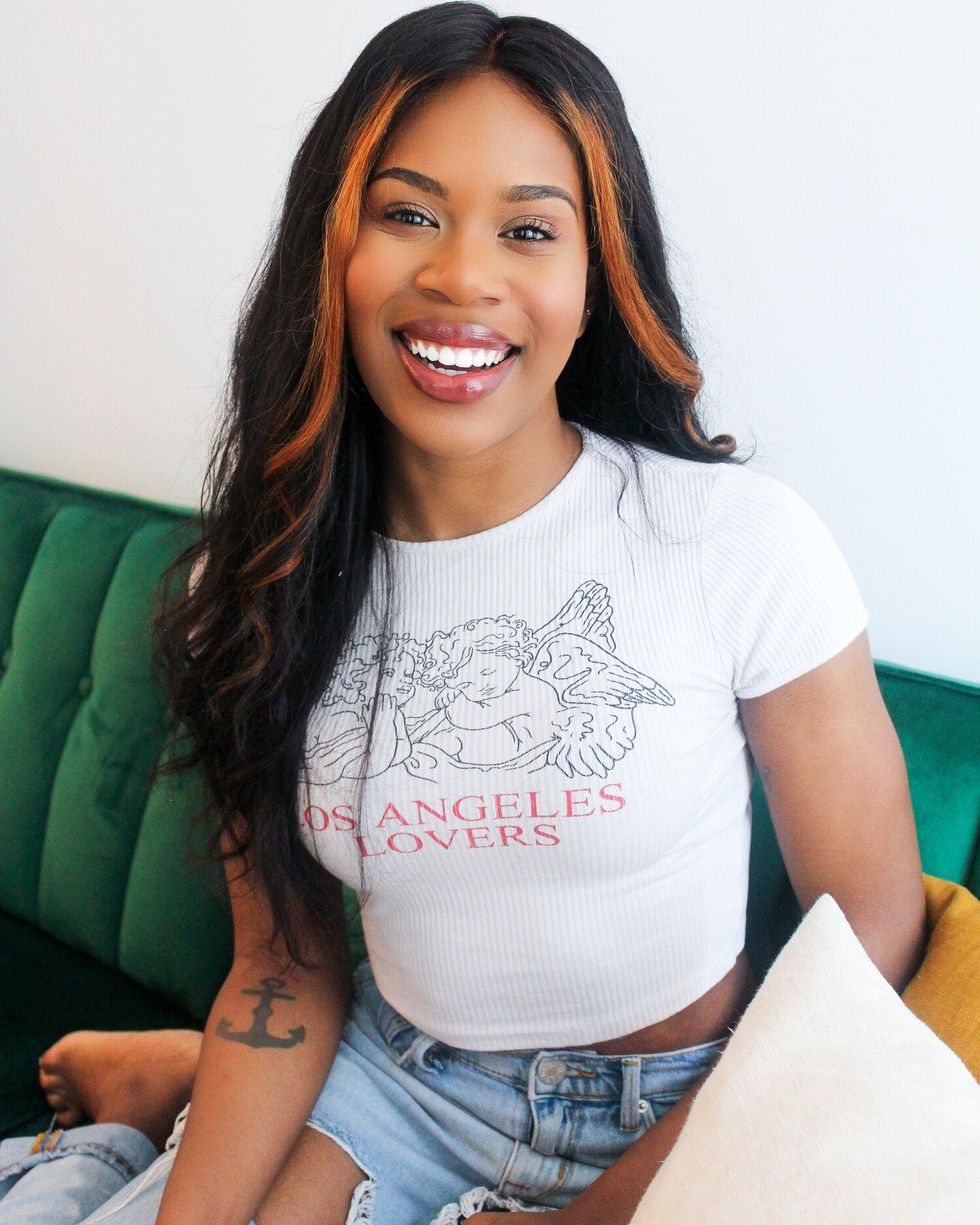 Courtesy of Dheandra Nicolette
"I am strong."
"I am worthy and deserving of everything that I want in this life."
"I am a powerful co-creator of my reality."
Throughout the week, I'm balancing my role as Director of Social Media at a travel media company beside my role as the sole content creator behind Manifest Daily. This daily balancing act means that I'm often holding myself and my work to incredibly high standards because of my goals and the reality that I am manifesting. Returning to these affirmations and reminding myself that I am deserving of the things I am working towards helps me combat imposter syndrome and the feeling that I am not doing enough.
As a woman, I am constantly trying to balance my masculine and feminine energies while bringing my best self to both my team and my content creation process every day. It's essential for me to remind myself that this process isn't easy, but I am strong enough to do it.
"It's essential for me to remind myself that this process isn't easy, but I am strong enough to do it."
When you take the time to reaffirm positive affirmations to yourself consistently, you're choosing to speak kindness and love over yourself, which affects you in so many ways. Affirmations need to be spoken with intention, positive energy, and a genuine desire to show yourself compassion. When you do this, you're reminding yourself that you're worthy of love, respect, and kindness. You not only begin to treat yourself with more of this energy, but you begin to project it on to others as well.
It creates this ripple effect where you end up constructing a much lighter and brighter world for yourself simply because you chose to start with the small yet powerful intention of showing up for yourself.
Founder/Editor-In-Chief of The Gumbo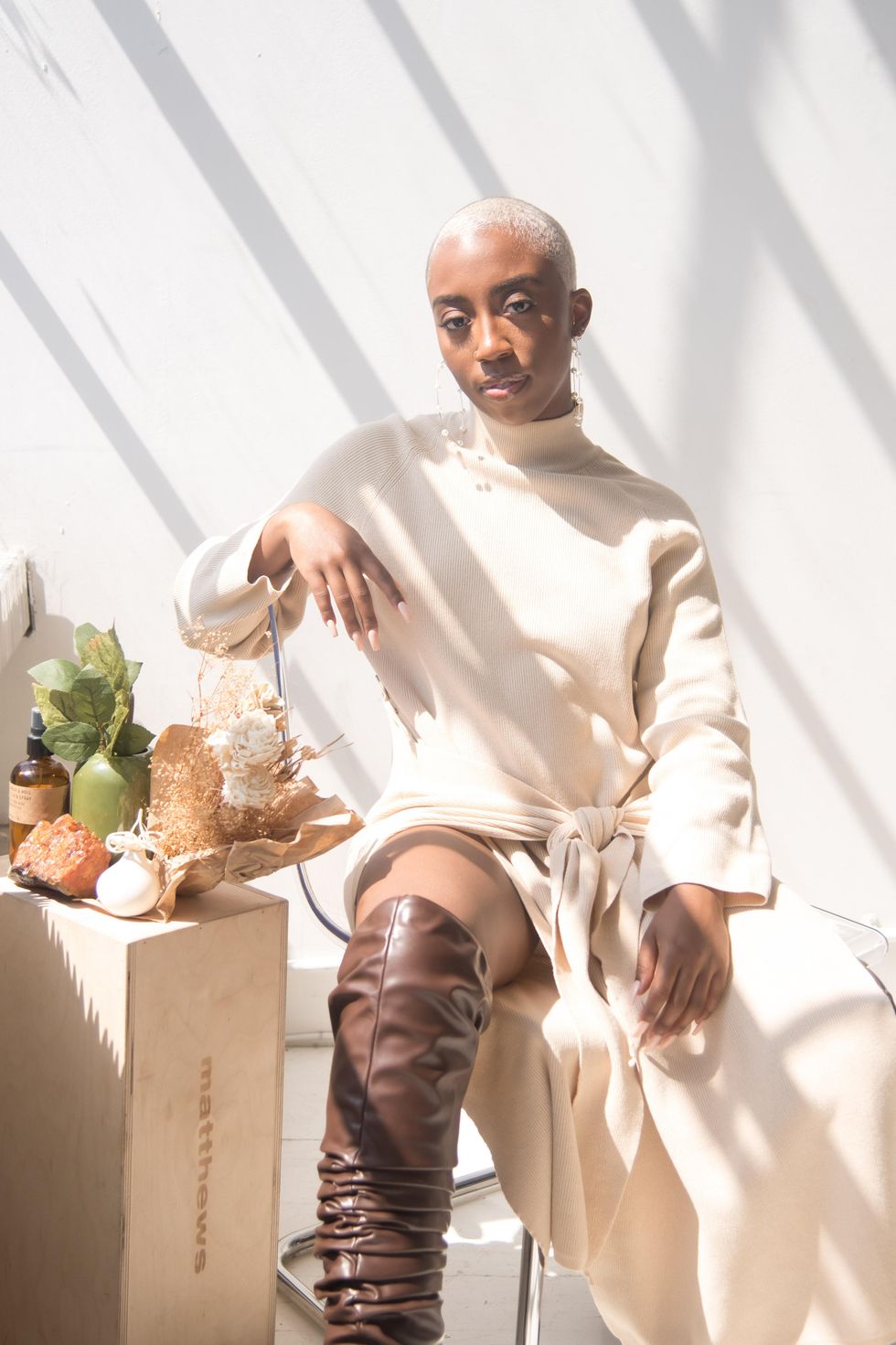 Courtesy of Nadirah Simmons
"I am doing what I can with what I have."
My affirmation is a play on my favorite Arthur Ashe quote: "Start where you are. Use what you have. Do what you can." It's so easy to get caught up in what others are doing, what they have, or what they're doing with what they have. And as someone whose tasks and roles require them to be on the internet and social media every day, the exposure to these things increases tenfold.
My affirmation is a good reminder to always remain focused on my work, my path, and the tools I have right in front of me. When the world quite literally stops, you start questioning who you are and what your purpose is. During the beginning of the pandemic for sure, especially when we were all in isolation.
"I realized that affirming I'm in the right place with the tools I've been afforded at that very moment helps remove the pressure to present myself to the world in a certain way."
I realized that affirming I'm in the right place with the tools I've been afforded at that very moment helps remove the pressure to present myself to the world in a certain way, always working, always having something new coming out, etc. It's cool to just be where you're at when you're there.
Affirmations often reflect what we believe and who we are at our core, and they also give us the space to state these things as facts! When you do this, it can only enhance the way you feel about yourself and your place in the world around you.
Featured image courtesy of Nadirah Simmons