It can be more than challenging trying to balance childcare, COVID-19 prevention (hey, Delta), and work. It's hard enough not worrying about whether your kid's school will cancel in-person classes or shut down altogether while facing the not-so-usual growing pains of children and teens who are forced to live in whatever phase of a pandemic we're in right now. (I mean, is it really post-pandemic? Is it halfway done or just beginning? And what's "normal" about this "new" environment?)
Moms, we feel your pain.
There are many things the pandemic has revealed. Quality of life and finding balance in managing home and work are super-important, and now, more than ever, parents want to be able to have the flexibility to put family first.
In fact, a FlexJobs survey found that 61% want to continue to work remotely full-time and 62% even said that they would quit their job if they can't.
Some parents who are being asked to return back to the office are having difficulty finding childcare, and with concerns about future COVID-19-related complications, some just don't want to take the risk of being in an office, even with the vaccination options in place.
If you have children, we're sure you want a work situation that is parent-friendly. Well, here are a few red flags you can look out for when looking for new opportunities (or weighing the pros and cons of your current gig):
1. Only the bare minimum of paid time off (PTO) is offered.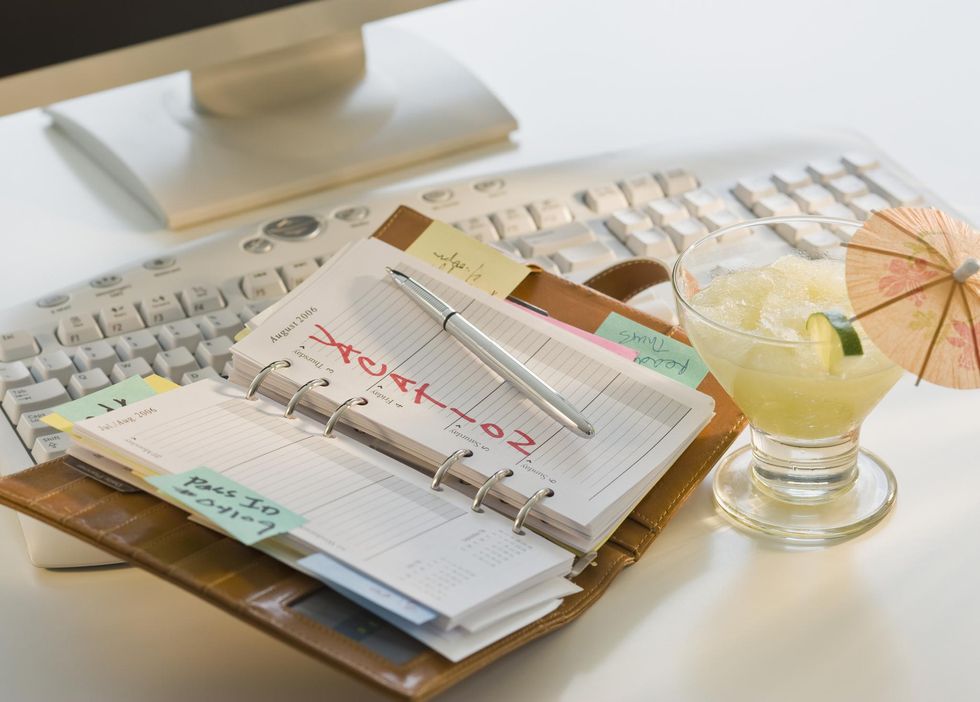 Getty Images
You might think that getting just two weeks of vacation and less than 12 sick or personal days a year is industry standard, but you might also be selling yourself and your family short by accepting this as a norm. Considering the challenges of COVID-19 and the constant changes in policies, legislation, and school closures, having the flexibility to take off without having to worry about losing money is a top priority for parents.
Companies that offer more PTO time or flexible policies on using it often have positive outcomes related to retention and worker satisfaction, and that means you, as the employee, should be at least asking for more or looking elsewhere if your current company is not budging. Competitive companies consider the health and welfare of their workers to be an important asset to productivity, and while you're not going to be able to excessively call out of work, you should still be able to lean on flexible policies.
With more employers adjusting policies to accommodate unlimited sick leave, unlimited vacation, and options to take a few hours off for an appointment (versus requiring taking a full day), please do side-eye the ones that are still stuck in the pre-pandemic limbo of being stingy with PTO.
2. Care-giving support? What's that?
More companies are now offering expanded childcare benefits such as stipends, discounts via childcare partners, or even on-site daycare resources, thus, this is a competitive and realistic benefit to look out for. If a company you're interviewing with (or you currently work for) has not even a semblance of understanding of this concept, it might be a good idea to pause talks of moving forward. This is yet another benefit that often leads to retention, and top Fortune 500 companies offer childcare assistance, so it's not an unreasonable option for parents to expect or ask for.
3. Remote or hybrid work schedules are not allowed.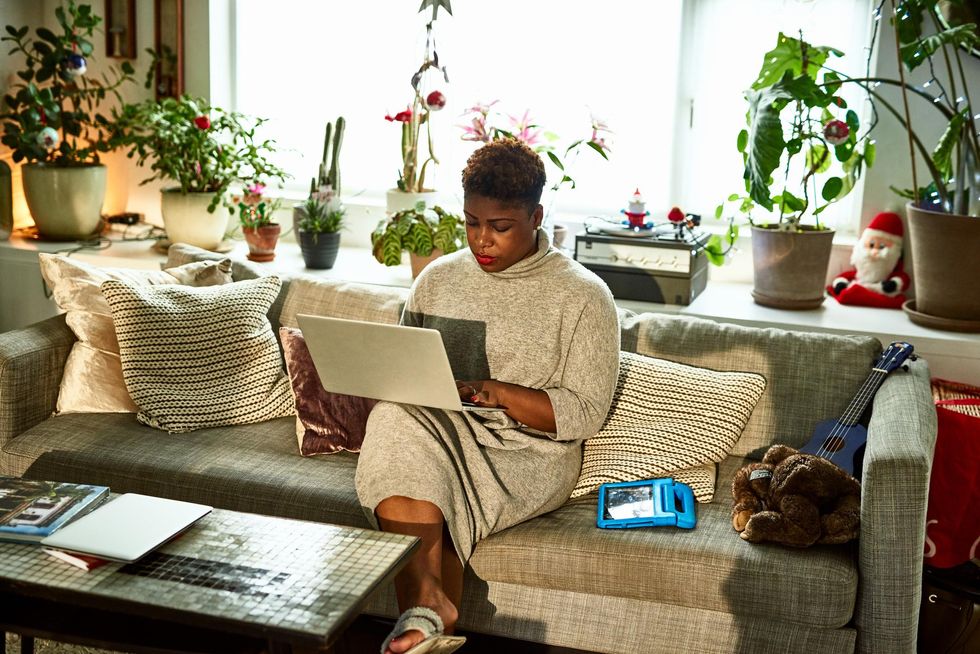 Getty Images
For some jobs, it's totally understandable that working from home is simply impossible. But for others, working in an office full-time is slowly becoming obsolete.
If managers at your current job (or prospective employer) are strictly against allowing remote work (with little to no evidence that doing so would negatively impact productivity), again, explore other options.
You might be among the parents who would rather continue homeschooling your children, who isn't too comfortable yet with school policies related to COVID-19, or who enjoys the extra time a lack of commute has given you. Being able to work remote, at least some of the time, is one perk you'll want to look out for if you're a parent who falls into those categories.

4. Maternity leave is very limited or non-existent.
There was once a time when professionals had to use disability leave or lose pay altogether just to take off while pregnant or after having a baby. (And some companies probably still force employees' hands with this one). But if a company doesn't offer maternity leave in today's day and age, there's a problem.
If you get just one golden nugget from this article, it should be that reputable companies that are successful and competitive put their workers' needs at the forefront. If they want to keep great talent, they ensure that that talent is healthy and happy. More than half of top employers in the U.S. actually offer maternity leave and the number continues to grow.
Being pregnant and having to finesse time off or thug your way through being sick, tired, and on the verge of hospitalization just to keep your job is just not the move.
And if you have plans to have children, be sure ask about the details of this benefit before taking an offer, including inclusive policies for single parents and LGBTQ couples.
5. There's a workaholic culture.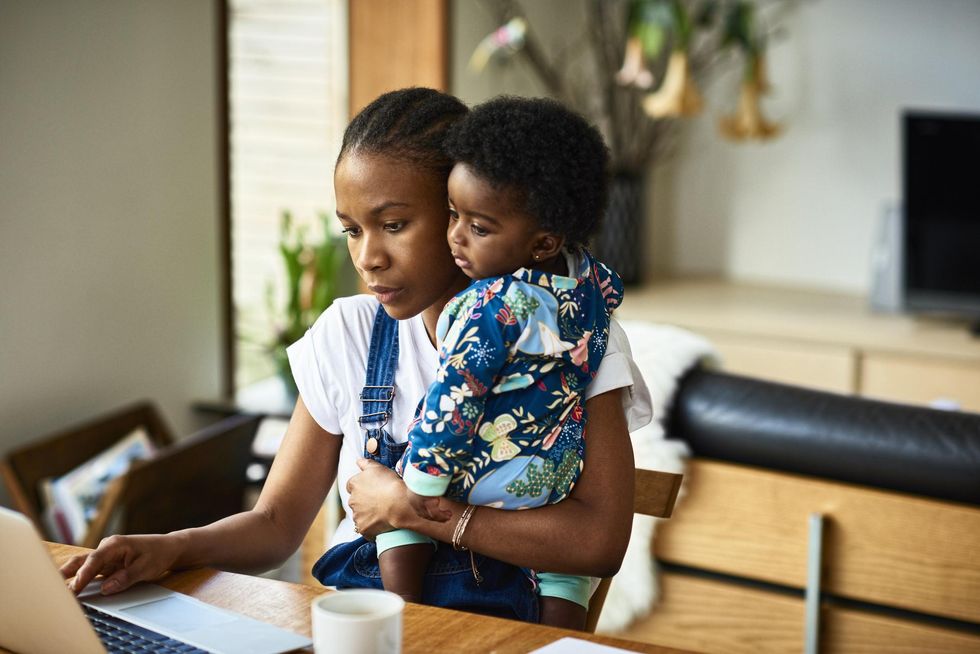 Getty Images
Some companies offer all the benefits in the world, but this means nothing if there's an undertone of workaholic expectations lurking in the shadows. Let's say you ask during the interview, "What are the confirmed work hours of this position?" and the manager gives you a vague answer like, "However long it takes to get the job done." Major red flag, sis.
Or maybe pre-pandemic, you had time to make dinner and actually sit with your kids to eat it, but now you're ordering more DoorDash and taking calls and emails into the late-night hours. Yep, red flag.
What about the manager that gives an end-of-day directive at 5:50 p.m., dumps a two-week deadline on you for a project that should take months to complete, or constantly calls you while on vacation? The lack of boundaries might prove to become toxic for working parents. Be sure to ask questions during interviews or reevaluate whether you want to continue working for an employer thinks you're a robot.
6. There's a clear disregard for the value of family and parenting.
From snide jokes to outright questioning your ability to manage being a mom and doing your job, these are signs that a prospective employer (or your current one) is not a good fit. If you're being made to feel guilty about making time to pick your child up from sports practice or using PTO to stay at home with your baby, or you're constantly being compared to employees who don't have children, it's inappropriate and toxic. A balanced work environment accommodates all employees and embraces a diverse workforce, therefore, and if the managers of a company aren't ensuring this, it's time to chuck the deuces.
If you're on the job hunt, check LinkedIn or the company's website to find clues about the culture or values related to family and parenting.
(Some managers might list parenting organizations they support or include their children and spouses in their bios, for example.) Pay close attention to what is said during your interview process, and infuse small details about being a parent to get responses that might allude to potential issues. Insert something like, "My daughter just finished pre-school..." and see what the interviewer says. If it's anything close to distrust or outright disrespect, go ahead and scratch that company off your list.
With all that's going on the world, it's a good idea to think of what's really important for you and your family. Go for the opportunities that not only allow you to flourish but support the chance to be the best parent you can be. Let these red flags be the wake-up call you need to pursue what you and your children deserve.
Featured image by Getty Images
Keep reading...
Show less
There's always talk about entrepreneurship and how it can be the key to making your financial dreams come true, but there often isn't as much talk about the sacrifices—especially those that hit your pockets hard—required to get a business off the ground, nevertheless keep it running. And maybe you've got a great idea, but when you're out there just trying to live a normal life, who can even think about taking money out of the I'm-barely-making-ends-meet account and putting it toward starting a business? Research even shows that one of the top reasons women don't start businesses is because of the startup costs required.
Well, we're not into discouraging our aspiring bosses out there. We're here to talk solutions for starting a business with little money. Here are a few ideas inspired by those who have done just that so you can get started on making your business vision a reality:
1. Start small and scale.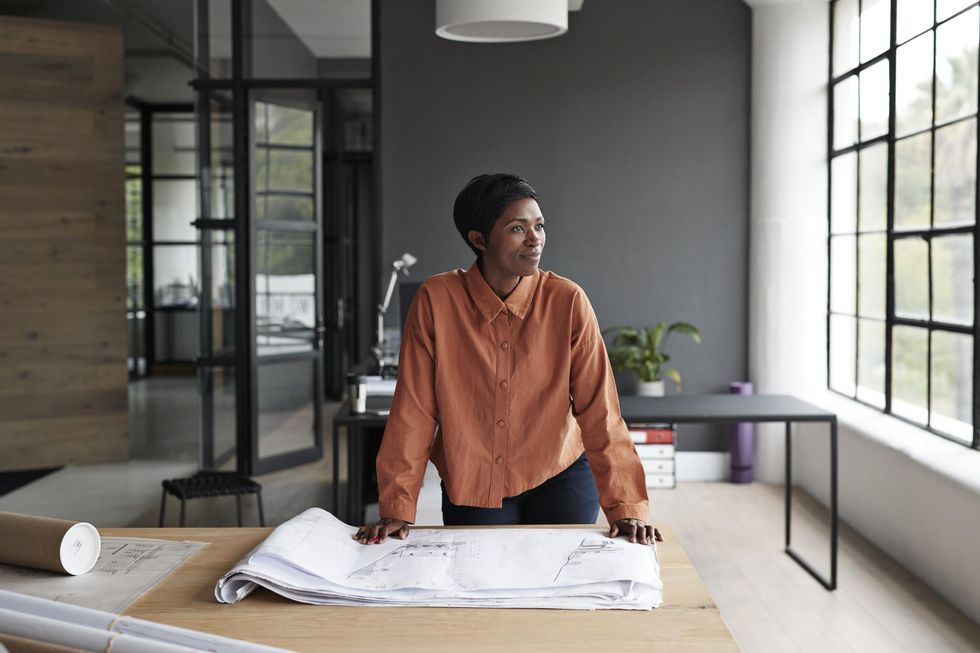 Getty Images
Sometimes that infamous quote, "Go big or go home," might not apply to startup costs. Take a nod from the founder of The Mane Choice who is now CEO of Olbali Corp. Courtney Adeleye started her line of haircare products by making the first product in her home, and she took advantage of free resources such as YouTube and Instagram to build her customer base. Within a few years, she was able to turn those small efforts into millions of dollars in sales and expansion into collections of products in stores likeTarget.
Get out of your own head and get into facts by reading up on what it truly costs to start your business and then calculate, based on your finances and lifestyle, what you can realistically afford to do.
For example, if you want to sell clothes, maybe start with one cache item, see how that sells, and then expand the line. Want to offer a service? Start with one niche that you can excel at, track the success, then pivot and change your strategy where necessary. Want a storefront? Try a mobile or online business first, build up your capital and customer base, and create a plan for saving up and financing for your grand opening at a later date.

2. Pool investors.
There are many ways to do this, but don't let that overwhelm you. (Also, don't be intimidated by the big-money talk or the multi-millionaire professionals who are the movers and shakers.) If you have a good product, prototype, brand, or idea, think strategically about who could invest in your launch and get in the game.
Angel investment organizations or firms are a good place to start (and there's a good list of those that support women- and minority-led startups here). Platforms created by women like Arielle Loren, founder of 100K Incubator, are also great resources for finding investors and networking with other entrepreneurs.
You'll want to weigh the pros and cons of taking on an investor to start up your venture. Getting money is great, but investors sometimes have authority over important aspects of your business including how the money is spent or even the name of your company. They might also, down the line, play a role in how you run your brand or even decide whether you remain as the leader at all.)
Another great option is crowdfunding or microfunding, where you use a platform like Kickstarter, present your business idea or project to the world, and raise funds via community investors.
Dawn Dickson, founder of Flat Out Heels and CEO of PopCom, was able to raise more than $1 million to launch and expand businesses via supporters in her community. Other entrepreneurs have used this method and raised funds even without having a physical product, gauging interest and building momentum via pre-sales, offers of equity, and prizes.
Oh, and don't overlook networks within your family, your school, your civic organizations, or your workplace. There might be someone less than six degrees of separation from you who is willing to invest just to gain a percentage in profits or ownership or to contribute to the greater good.
3. Get into a pitch competition.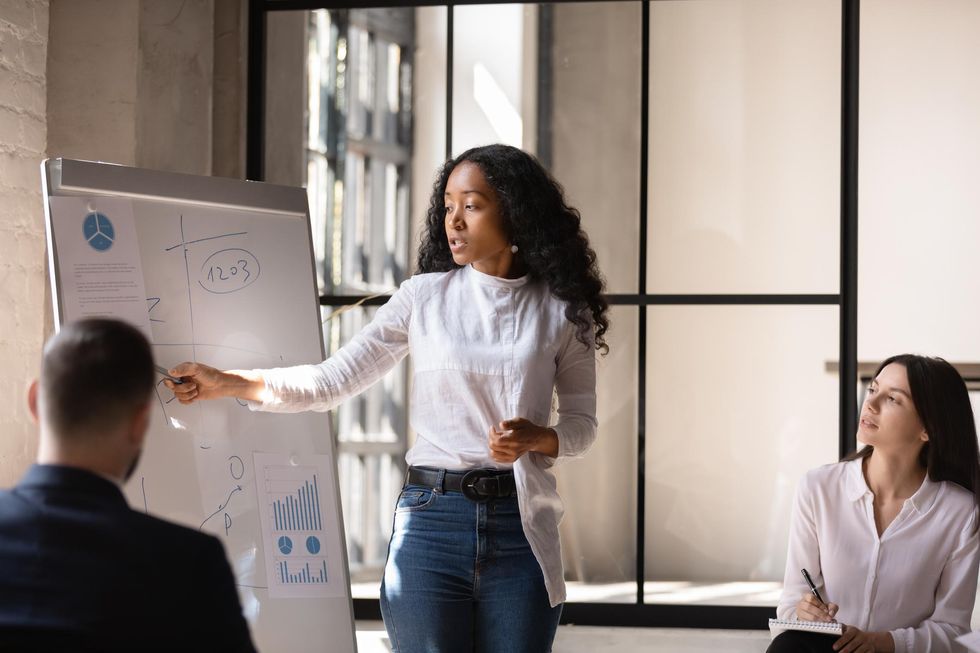 Getty Images
Be inspired by the story of Stephanie Smith, founder of Digital Insomnia, who won $25,000 to put toward creating a digital marketing simulator prototype. Or the story of Range Beauty founder and CEO, Alicia Scott, who was able to take her brand from $300 to $300K by becoming a master of pitching her business. Organizations and businesses often sponsor pitch competitions that offer thousands of dollars in startup funds as prizes, and this is a great way to get that financial boost you need to start your business. Some even cover all expenses and offer additional support resources like mentors and tech tools.
Sharpen up those public speaking, marketing, and sales skills, sis, and make sure your business plan is a solid one. Invest in a coach, watch competitions online, or attend a few so you can hear common feedback from judges.
The better prepared you are, the more likely you'll come out the victor. (Oh, and of course, here's a great list of a few to start with. Yep, you're welcome.)
4. Outsource and partner up.
Any time you can split the costs of something, you save, so if you have a similar idea as someone else or you might be serving the same audience, why not partner up and pool resources? Malaika Jones, Nia Jones, and Tai Beauchamp, the three Spelman sisters who founded wellness brand Brown Girl Jane, are a great example of how combining talents and resources for launching a brand is more than smart.
Let's say you want to start a business building and selling phone apps. Well, maybe there's a tech professional in your network (or someone you could get to know through, well, networking) who wants out of the 9-to-5 life and has plans to transition into tech entrepreneurship. Pitch your idea and see where there might be common goals. Match their skills and network with yours and you might have a winning combo in which you can split the costs of bringing an idea to life.
Not too keen on partnering up and sharing profits? Many online vendors can handle certain aspects of getting your business off the ground in a more cost-effective way due to their level of experience or expertise. It might be a better idea, in the long run, to simply pay them a one-time fee to handle those areas.
Contacting a consultant with skills in coming up with cost-effective strategies for starting your business can sometimes save you money in the long run. LinkedIn is a great place to start to find other professionals and entrepreneurs to become partners or consultants, and nothing beats attending events and seminars (whether virtually or in person) where smart business-minded and successful folk congregate.
5. Try low-investment retail.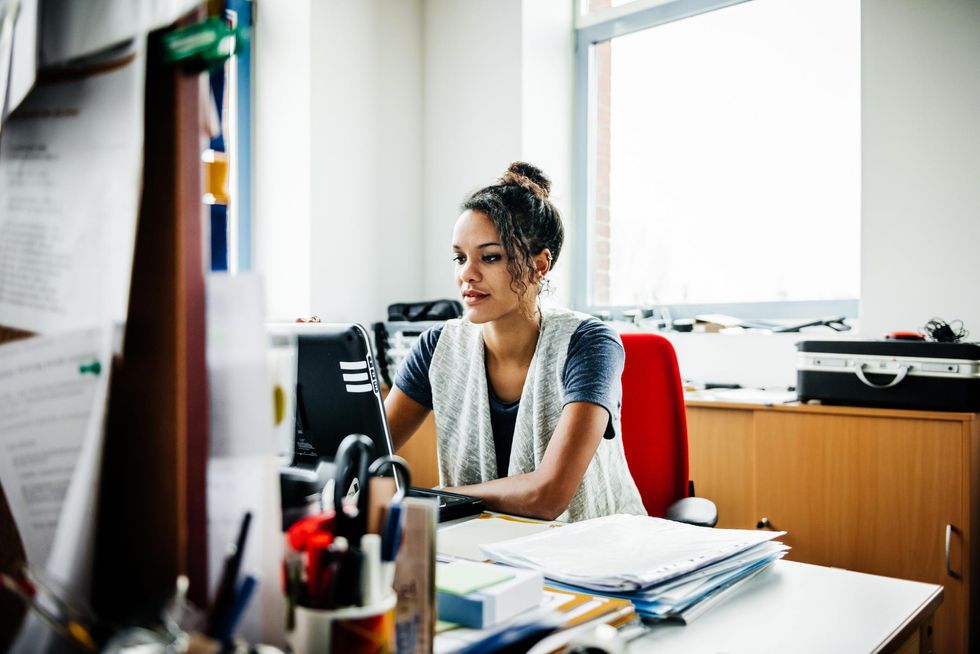 Getty Images
Just a disclaimer on this one: We're not talking about "easy" or "get-rich-quick" ways to start a business, and you'll want to be aware of all risks associated with these sorts of businesses (or any business, for that matter). That being said, dropshipping, print-on-demand, and direct sales are options for breaking into a business without shelling out a lot in upfront costs.
Picture this: You design something for T-shirts, mugs, or other custom items (or pay a one-time fee for someone else to), upload the design on a third-party supplier portal, build your store on a platform like Shopify (which costs less than $50 to launch), and then let the third-party supplier take care of the production, inventory, and shipping.
Products are made only after orders are received (thus, printed "on demand"), allowing you to avoid several overhead. Sites like Amazon offer dropshipping, and there are other platforms that allow you to create your own marketplace without having to take care of order fulfillment.
If you've ever heard of Avon, Mary Kay, or Tupperware, then you know a bit about direct sales. With this model, you might have to pay a registration or starting fee (several of which are less than $100), be offered an optional, moderately priced starter kit of products, or both. You'll earn a commission on sales (with some as much as 50 percent) and you'll be able to tap into a network of support from others in the industry.
The direct-sales market includes selling almost anything nowadays—cosmetics, kitchenware, coffee, health and wellness supplements, hair extensions, appliances, even medical scrubs—but be sure to look into the fine print on quotas, refund policies, and earnings or incentive models. Avoid scams, and be sure you have a realistic understanding of the sales savvy, time commitment, and financial investment required for success in these types of businesses.
6. Be patient and save up.
Some of us want to start something without worrying about a loan to pay back or investors to answer to, so a savings plan is the best option. If you don't have enough money right now, save up. It may take a bit longer, but hey, you have to start somewhere. Karen Young, founder of Oui The People, a personal care brand, saved up $1,500 while working for Estee Lauder to launch the beginnings of her business. Shana Cole, founder of The Shana Cole Collection, used $4,000 in savings to launch her first line of lipsticks and expand her customer base from Jamaica to the U.S.
Slow and steady can win the race, and if you're able to be disciplined, set a goal, and stick to a plan, you'll eventually have the money you need to get started. Think about it: Saving just $5 a day can go a long way. In one year, you'll have more than $1,800 for your entrepreneurship adventure.
Look at your current budget and needs, and find areas where you might be able to cut back or adjust in order to pour into your "Business Launch" fund. Also, be sure to look into savings accounts that have higher interest rates or high yield options so you can get the most from your efforts. Squirrel away your next tax refund, or find ways to give your savings a boost such as reselling items or downsizing your home or car. Implement settings like automatic transfers or deposits to a separate account so that you'll be sure to hit your goal in the time you need to.
Finding the money to start your business on a small (or barebones) budget is all about being creative and figuring out the best route for your future. The key is to at least take that first leap, with research and planning as your parachutes, and just go for it.
Featured image by Getty Images
Keep reading...
Show less
If you know me, you know first and foremost I'm a free spirit. And I found healing through writing. But by trade, I'm a business consultant. And because of my blended skill set and expertise, my service offering allows me to give my clients the best of both worlds. Recently, I found myself having to renegotiate my fees with one of my clients for the scope and level of work I produce. I had requested three times my fees at a monthly flat rate due to scope creep and the expansion of the role. My client counter-offered with a rate that would be considered unacceptable for anyone with a background similar to mine.
I had wanted to respond right away to the offer. But I decided to listen to my intuition and take the weekend to sit with the email I received late one Friday afternoon. I started to rationalize their response in my head, almost wanting to accept the offer. I thought to myself, "Don't take it personally. Don't get offended, this is business."
I'm nice, not naive.
Corporate America taught me, and a big four consulting firm raised me.

And they taught me extremely well. Corporate America might have ruined my life at one point, but they didn't leave me without the knowledge and experience to succeed at anything I do. It broke me down and built me up, but I bounced back one hundred times better. Now, I can make boss moves like this.
BTW, this is the only damn thing I am thanking Corporate America for.
Everything inside of me knew my client was trying it and trying me. On the real though, I low-key love it when people try me because they don't expect the clap back. And one thing about me is I will clap back when necessary. And I do it with grace and eloquence. Always. Come that Sunday night, I strategically drafted an email to my client clarifying my role, scope of work, work product, and deliverables. I stated all the facts. Come that Monday morning, I clicked on the send button and the email was sent.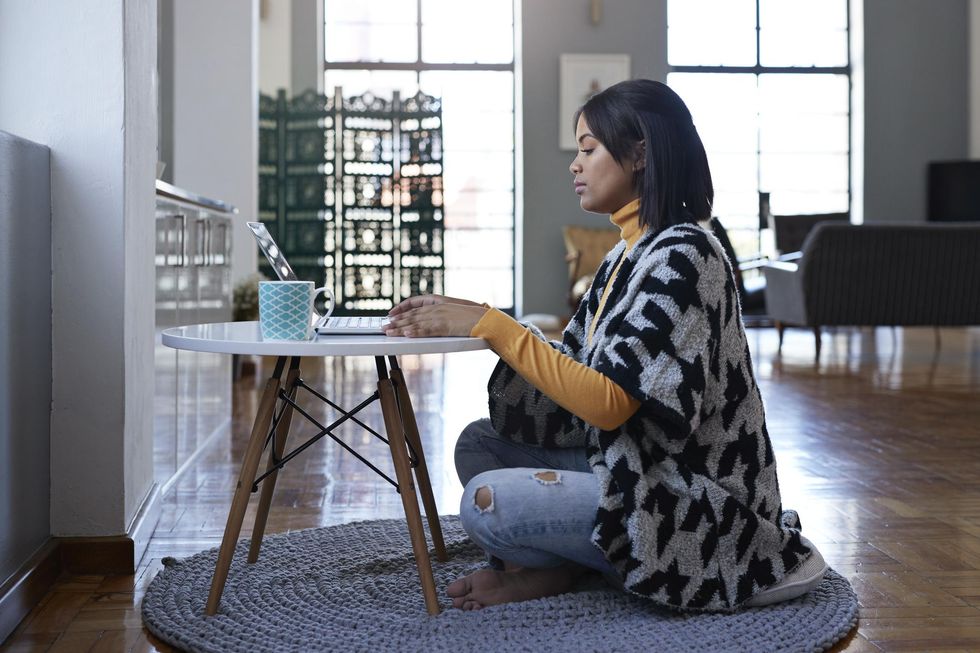 Getty Images
I was confident. I know who I am. I know what I'm doing. And I told no lies. There are ethics to this shit.
Not only did I know my client was trying it, so did my circle. This is where the importance of the right people in your circle comes to play. A remote working session with two of my homegirls allowed me to further talk through the situation. When I gave them my life update, their initial reaction was, "OH, HELL NO." They were angry and in their feelings for me too. One of my friends also pointed out, "They tried to box you into a title and role you were never doing as an 'employee' when you're an independent consultant." She was right, and I had completely looked over this small detail.
Maybe this is why I felt slighted as all hell.
Because I'm not working for someone anymore, I am working with them. And that's where some clients have it all the way fucked up. I have most of the say so, not them. I set my rates and hours, not them. My homegirls immediately reminded me of my worth. And I was ever so grateful. It gave me the confidence to stand by my response and be prepared to make certain decisions.
Listen.
If your friends don't remind you of your worth, they ain't it.
If your friends don't help you plan your exit strategy, they ain't it.
If your friends don't help you to play big, they definitely ain't it.
If your friends don't encourage you to be bold and brave, they ain't it either.
I walked away from a six-figure salary and title, what makes anyone think I wouldn't walk away from a client?
Not all money is good money. Your currency is your time, energy, and peace. You cannot put a price point or a market value on these things.
You have to know your worth more than any dollar amount or currency in this world.
And I want to remind you to always know your worth in any space.
Featured image by Getty Images
Keep reading...
Show less
Dear Entrepreneur,
As we close National Black Business Month, I am honored to pen this letter to you-- the creators, the waymakers, the innovators, the entrepreneurs who have the courage to bet on yourselves time and time again. Your very existence in this space is deeply inspiring and legacy shifting. There's no greater honor than to follow your assignment, your purpose, that's been given uniquely to you. As a fellow entrepreneur in this journey, what I share in this letter comes from my own journal, where I ground myself, each morning, in the lessons I have learned to become a stronger business owner. My journey as the Founder and CEO of the Village Market, the Village Retail, and Our Village United.
Black entrepreneurship is a love endeavor and, like any good love, it has cracked me open and revealed to me things that I did not know I possessed, things that tested my grit, and things that have awarded me such a beautiful and full journey. This letter will be a catalogue of the most important lessons I have learned thus far.
Boundaries.
The boundaries I have claimed specifically around my time and my wellness. An abundance of time is the biggest myth of entrepreneurship. Being your own enterprise requires sustained, focused time and attention. The perception that entrepreneurship is a respite from a daily grind can often cause conflict and hurt feelings from those closest to you.
The delegation of time is important because for most start-ups, the majority of the responsibilities fall on the founder, the big Zoom meetings, the unexpected "fires" and the nuance of being a founder--are all unloaded on the person with the vision.
Communication allows those that you love to better understand the demands on your time. There will always be those to test it, expecting you to be available to return texts immediately, calling at random hours during the day, asking for time-sensitive favors.
Having boundaries around self-care is essential. The greatest gift I have given myself is a wellness routine that stills my mind--waking early to be still, to be fully present in my own being, going for my morning bike ride centers me every time.
The No.
If your journey has been anything like mine, you have experienced a lot of no's. The no's have the capacity to knock the air out of you and it will be hard to not take it personal.
No's are a part of the journey and most no's, if you learn what you should from them, afford you the ability to step back, refine your plans and see that things are simply unaligned.
When I first started to talk about creating a modern Village, creating a community where health is centered and there's a collective economical win, people thought I was a cute, naive woman from Mississippi. I agree; I was cute and a Mississippian. I understood something valuable. Most people have not done what I was assigned to do and simply could not understand it. It's likely the same for you.
Remember, everyone will not have the capacity to see you, the potential of you but as you stay on your path, those who have been assigned to aid in your elevation will see you and be honored to assist in your growth. You must also be your greatest cheerleader affirming your purpose daily.
Perfection.
Purpose and understanding your assignment does not come without its challenges. It actually will test you time and time again to never settle for less versions of your greatness. However, the bar of perfection is unreal and can be damaging.
Anxiety, depression, fatigue, and burnout are real risks for entrepreneurs, especially those who are striving to achieve perfection.
I imagine you find yourself waking up extra early to have enough time in the day to work toward your goals. Oftentimes, when the day ends, there are so many goals still left on the table for tomorrow and it's likely you feel like a failure.
As a recovering perfectionist that needed to learn how to delegate, the book Who, Not How: The Formula to Achieve Bigger Goals through Accelerating Teamwork, and it changed my life. Push yourself to operate in excellence but do not damage your spirit in your pursuit of it, offer yourself grace to learn, to figure it out, to revisit, to finetune.
Find Your Village.
There's a great deal of loneliness that will come until you find your peer group or solid mentors. I really do not know where I'd be without my peer circle. Having peers and friends who have an entrepreneurial IQ helps you strengthen yours especially during the time of growth pains. For me, these relationships have been organic as I have operated in my purpose, I have attracted like-minded people.
Being a part of a community of like-minded people is an invaluable investment in yourself. Relationships are the core of all successful businesses.
As you grow in entrepreneurship, you will find yourself in rooms with people you've admired from afar. Do not allow imposter syndrome to set in. Your work got you in the room. To have a vision is a gift and an honor and I celebrate your excellence, grit, determination and purpose. Nothing complements purpose more than timing.
Trust yourself and go forth and prosper and as Toni Morrison once said, "Remember that your real job is that if you are free, you need to free somebody else. If you have some power, then your job is to empower somebody else."
Featured image courtesy of Dr. Key Hallmon

Keep reading...
Show less
In a world where working remotely or working from has now become a part of our mainstream culture, staying productive has become so much harder. We are constantly distracted by our home or social environments. We mismanage our time throughout the day and week. We're guilty of choosing to catch up with friends, scroll through social media, or engage in almost anything else that prevents us from owning our day. And we're not one hundred percent wrong for this. Americans are known to be overworked and burned out. It's only now we are catching up to the world in adopting a better work-life balance. But it doesn't mean we should drop everything and forget about our priorities.
So, how do you boss up and own your day when we live in a society that is made to distract you? Boundaries. Strong boundaries. Creating boundaries for yourself is key to managing your day. Boundaries apply to productivity the same way they apply in friendships, relationships, and family. The problem we run into is standing by our boundaries. It takes a level of discipline and consistency. This requires continuous commitment and practice.
Here are 7 boundaries you can set for yourself to be more productive and slay not only your workday but all your goals.
1. Limit Social Media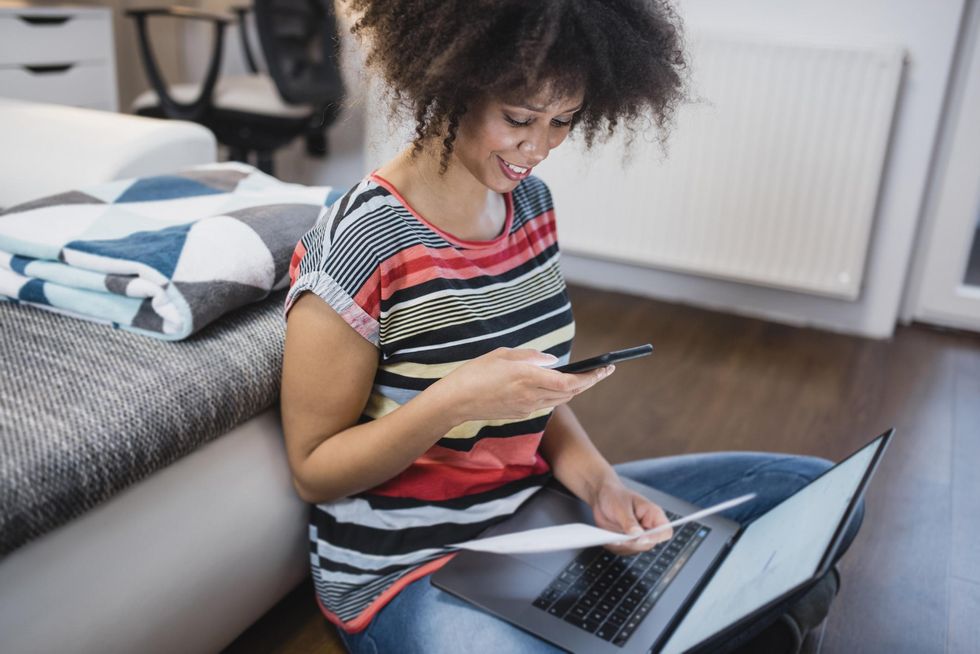 Getty Images
You can't tell me you're not mindlessly scrolling through the 'gram or TikTok throughout your day. Because I do it too. We are all guilty AF of this. It's like an addiction or some type of FOMO. We have to constantly be in the know. We have to ensure we are not missing out on someone else's life. Read that again. Someone else's life. When we should be paying attention to our own life. Some people will spend 4-8 hours a day on social media like it's a whole job. I mean, if social media is your job, you're exempt from this conversation.
Thanks to app updates and Apple, we have the tools to physically limit social media. It's called Do Not Disturb. It's a setting that can be turned on or off to your choosing. But if that doesn't work for you, consider deactivating your social media accounts or deleting the apps from your phone. In 2019, I took a social media break for a whole year. And I'm currently on a social media break now. Trust me, you're not missing anything. And I have been able to manage my time better, complete my to-do list, and do more of what I love.
2. Limit Communication
If it's not work-related or an emergency, it can wait. There's no need to respond to every single call, text message, and/or email. Those people in your DMs can wait too. We are also guilty of this. We feel like we have to be responsive to everything and we don't. If it has nothing to do with your time or money, it can wait. This goes for work emails, messages, and meetings as well. If it has nothing to do with you and your position, kindly excuse yourself from the meeting. Set time aside in your day to respond to work messaging platforms and emails. Ask to schedule work communications for certain days and times of the week. There is no need for daily meetings if it's not an urgent matter. Provide updates on pertinent projects through emails and/or project management apps.
3. If It's Not Written Down, Don't Worry About It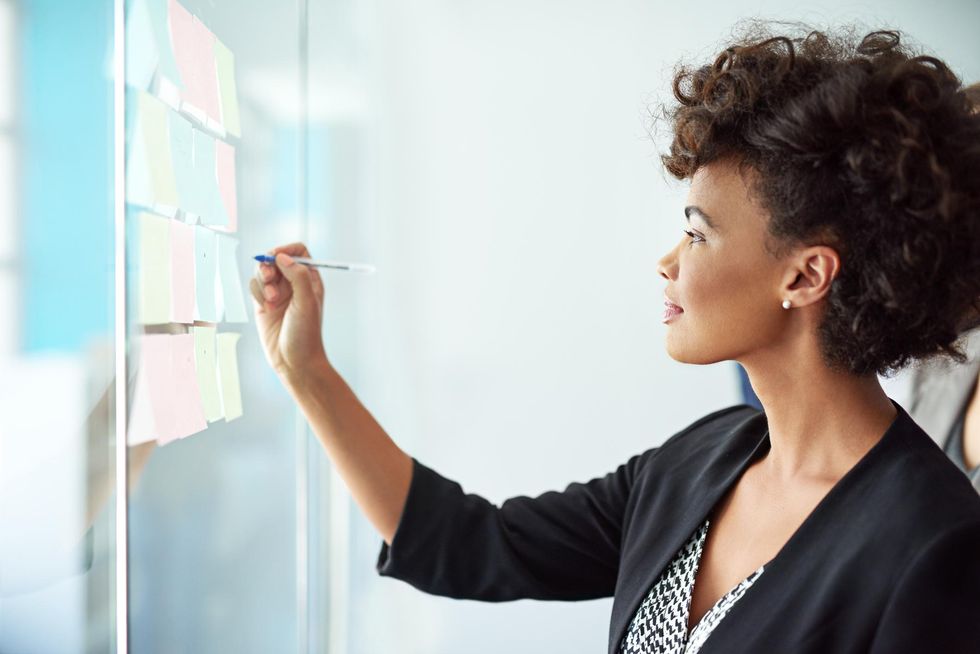 Getty Images
Plan out your workday or workweek with a daily planner. I typically do this on Sunday nights or Monday mornings. I even go so far as to color code events, projects, appointments, and deadlines. If a task is not written down in your planner as a to-do for that day, or week, don't worry about it. These tasks can be done when you have time and energy to complete them. And don't go adding more things to your day when you know you may not have the time to dedicate to it. Worrying about what you didn't complete only adds more stress. Minimize stress by setting this boundary.
4. Break Down Big Projects
Large projects can be daunting. It's hard to know where to start and where to end. The key is to break down large projects into smaller parts, then assign estimated due dates for each part of the project. You want to also track project completion using a gannt chart. A gannt chart is a project management tool that displays project activities set to a timeline. You can adjust the timeline based on external factors or dependencies. This way, you are not overwhelmed about completing the project on time. If you only have 2-3 hours a week to work on parts of the project, that's OK. Honor the time that you're able to give.
5. Set A Routine And Stick To It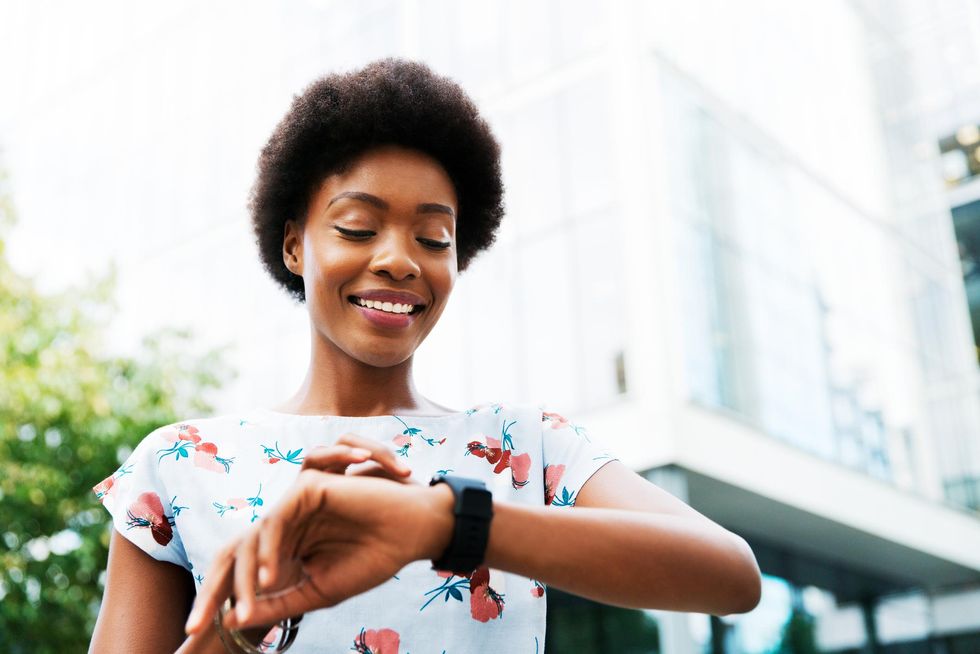 Getty Images
Day drinking or weekday bar hopping is not it. Do not expect your day to go your way with a hangover. I yelled at my client for this. Shout out to him because he was the inspiration for this whole article. Having a daily routine will help you move through your day effortlessly. Your daily routine should include habits like eating a good breakfast, waking up early, going to bed early, drinking water, and daily exercise. Habits like these help you prioritize and understand what is important.
6. Take A Break
Being productive does not mean working 6 to 8 hours straight without a break. We are not robots, and we are not made to constantly be on. We are human, we need to rest and recharge daily. Don't skip breaks or lunches, take them. You would be surprised what a 20-minute break can do for you. It allows you to reset your energy levels. Research shows that our minds naturally need a break after 90 minutes of intense work. Science doesn't lie. Use your breaks to practice mindfulness or take a walk. Research also shows spending time outside helps relax our minds.
7. Know When To Call It Quits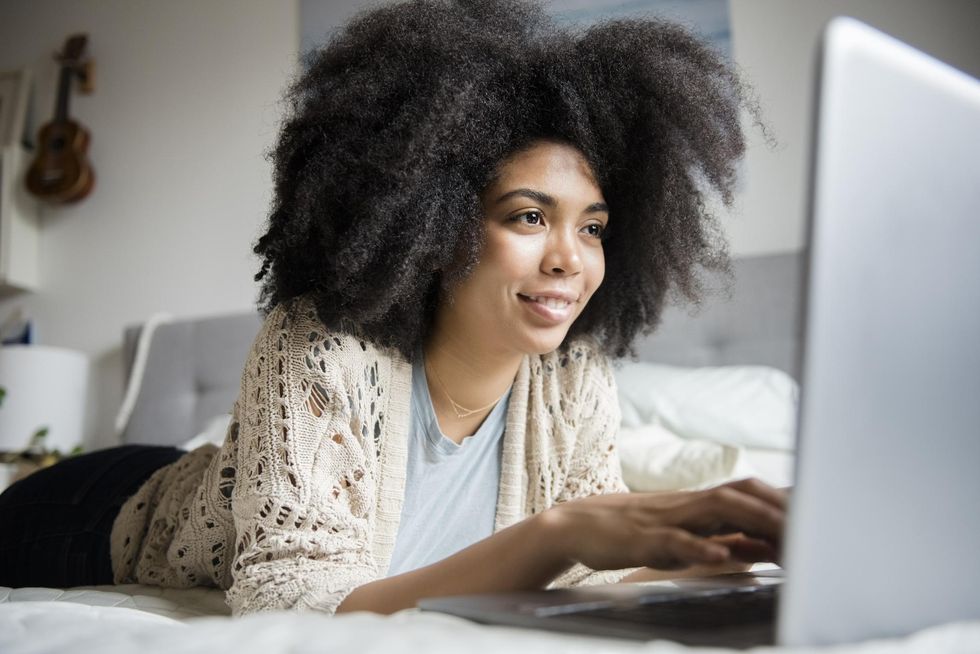 Getty Images
Listen, I stop working at 4 p.m. or 5 p.m. On a good day where I checked everything off my to-do list, I call it quits at 3 p.m. too. And I don't work weekends unless it's necessary. We have to end our day. How else would we know when a new day begins? Again, we are not meant to be one hundred percent on. But this is America – we live in a capitalistic society that expects high-performance 24/7.
I know some of us don't have the luxury of controlling our schedules. Not all of us are exempt employees or self-employed. With that being said, I would suggest taking 30 minutes before you go off the clock to start preparing for the next workday. This is called a shutdown ritual. Organize your desk, close tabs on your internet browser, write out your to-do list, or check your calendar.
The goal is to be productive, not busy. We often use the word busy to imply we don't have time, but it doesn't mean we are productive. According to Google, to be productive means achieving or producing a significant amount or a result. To be busy means having a great deal to do. Do you see the difference? Productivity is associated with a result or outcome.
With that said, I think it's time to change how we use our words when it comes to managing our workdays. If we can master this, we can transform our day.
Featured image by Getty Images

Keep reading...
Show less
Courtney Adeleye is no stranger to making multi-million-dollar moves that not only change lives but empower others to do the same. As the founder of The Mane Choice⁠—a line of natural haircare products that went from her home to the shelves of major stores like Target⁠—she took $500 and turned it into more than $100 million within a few years. Her online brand is undeniable⁠—bright, bold, and uber-confident⁠—and her more than 380,000 followers on Instagram alone eat it up.
Her most recent transition has been her biggest yet. She struck a deal with MAV Beauty Brands for millions more, which meant The Mane Choice would be acquired by the Canadian company and more doors would be open for partnerships like the Generational Advantage Fund that would help women build generational wealth. She also made a personal investment, to the tune of $30 million.
Yep. Sis, is about that life. "Doing the acquisition gave me the ability to expand and to continue to grow in other areas of business that I wouldn't have had the ability to do," Courtney said in a recent interview with xoNecole. "It's not only a financial thing but it's about a resource, a growth, and an understanding. It put me in a position to do other things I really enjoy which includes pouring back into women, investing back into female brands, and creating the conglomerate I have today."
We talked with her more on those other things, which right now fall under the umbrella of her newest venture, Olbali Corp. The conglomerate houses brands Lily Frilly (where her 7-year-old daughter is the CEO), Foolproof Body, Cool Coffee Clique, and POPtritional.
Check out what Courtney had to say about how she finds multi-million-dollar sweet spots in business, how she remains inspired as an entrepreneur, and her advice for other Black women who want to continue to grow and advance in building the lives of their dreams:
You've got your hands in multiple businesses. What inspires you to pursue certain industries? How do you know it's worth the risk?
I don't think there's an industry out there that I'm not interested in. I can look at a category and I can see what we call in business the 'white space.' I always think, 'What are those opportunities that could possibly exist?' So creating a company like Olbali, we're going to play in different areas from a consumer-product goods perspective, whether that be food or health and wellness.
I thought, 'Do I see an opportunity to do it better? Do I see an chance to give the industry something it doesn't have?'
Even with my daughter's brand, I definitely feel representation matters. Sometimes we can't achieve what we haven't seen. So, it's about putting her in a position where she can speak to little girls across the world to let them know they can do it, too. I definitely felt like we had a lack of representation in a community in regard to what we see in the retail world and what we see on TV. You're never too old and never too young. Entrepreneurship is a special gift from God and you have to give that back to the world.
This is so fascinating, because you've been able to take several businesses and turn them into platinum. Tell me more about this 'white space' concept.
A lot of times, we're motivated only by what we see. It's easy to pinpoint what's already been done. Ultimately, when you look at a business, there are not many things out there that are totally new or haven't been done before, but what makes a business special is doing it in a way that hasn't been done before—doing it in the unique way you have to offer.
I see a lot of entrepreneurs who think they're too young or too new and they think they have a lot missing, but what's missing is what makes them special. I always say don't be afraid to infuse that thing that makes you different into your brand.
Take an industry, such as coffee, which you could say is a boring industry. I look at it and say, "No, there's a lot of white space there because if it's so boring, who can make it dope? Who can make it classy? Who can make it something everyone would want to be part of?" I think there's a lot of white space in everything we do. You have to look at something and innovate. It's easy to say, "Hey, this is how it's always been done," but in order to be innovative you have to be willing to take those risks and do things differently.
For example, with [Cool Coffee Clique], it's very risky to make coffee [packaging] pink. It's like, 'Am I excluding men?' But I have to be confident in what I have to offer and say, "But it's been done before in black, brown, and in every traditional way. How do I make it interesting?" That's where that white space comes in.
That's awesome. We have to tap into those white spaces where we can create what we want to see on the market. So, to some, you pretty much made it when you started earning millions. What's the key to continue growing and leveling up?
We can all agree that no matter what your age, there's experience there that's going to give you the jump on entrepreneurship or innovation. And I have to continue doing that, to continue innovating. That experience is the very thing you amplify and use for your brand. It's important to have an understanding that you can grow as you go. You don't have to seek funding in order to make it. I started with $500. I didn't have a line of credit or a credit card.

Also, it's understanding that distractions come in many shapes, forms, or fashions. It could be a relationship, time, or lack of support. Distractions are the No. 1 deterrents to someone going into business, no matter what age you are.
Sometimes, isolation is going to help you ascend to the next level. You're going to have to lock yourself in that room in order to think. It's going to take you not being at those functions sometimes, which, as you mature, you understand that's not always where it's it. I have to think about my future.
Ask yourself, "How do I compare to people who are dominating in the industry?" It's not about comparing to say, "I need to mimic that," but what elements about that brand inspire you? There's something you can do to make your own brand attractive. Many times I'll sit with entrepreneurs and ask, "Do you think you have the best product?" and many times, the scary thing I hear, is "No I don't." Well, why? Whatever that reason is, you've got to address it and fix it.
You're looking at someone else's social media page and saying, "I think everything they post is clean. Everything is dope." Meanwhile, you have the ability to come close, even if you're not mimicking it--even if you're inspired to go get an AirBnB, for example, and take some great pictures. You say, "I'm going to call some models in and take some product shots."
Business is business. You have to understand you're taking the market share from somebody. I'm in the coffee industry, so I understand, "Hey Starbucks is dominating. How can I take that consumer? How does that translate to the consumer? What are the things I can do?"
I'm always about leveling up—always try to do it better. If I did something great last year, how do I do better this year?
Follow Courtney Adeleye and learn more about her brands via Instagram @courtneyadeleye, or via Olbali's website.
Featured image courtesy of Olbali Corp.
Keep reading...
Show less