It's always good when you can learn something and laugh at the same time, and these Black women on TikTok make sure you're doing both week after week. From teaching us how to best navigate the job search to giving tips specific to advancement in certain industries, these videos are all about empowering and inspiring you to advance in your career. Check out a few of the top TikTok users for this week's picks to enjoy during your lunch break and allow to live rent-free in your head:
Keep reading...
Show less
There's this phenomenon that's being talked about on social media as well as in the news, where a wave of people have sparked what is now being called the "Great Resignation." Professionals have been chucking the deuces to working their 9-to-5s and saying to hell with pandemic-era fear and hesitation. This recent wave, which includes at least 4.3 million workers, has been led by—you guessed it—women, who have been quitting their jobs at a higher rate than men.
And here are some telling tidbits about the who, what, where, when and why of it all: Harvard Business Review reports that resignation numbers are the highest in the healthcare and tech industries, both areas where high levels of stress came in with the increased demand during and after the pandemic. Rates are also high among mid-career workers (Hey, all my geriatric millennials! Heeey!) who perhaps have "reached a breaking point" and are rethinking career and life goals.
Let's get into a few real-life stories of Black women who took the plunge to find success and fulfillment, redefine balance, and get to the bag in ways that shift the narrative.
Allyssa resigned from her job as a VP in marketing after more than a decade managing multimillion-dollar campaigns for global beauty and luxury brands. She officially launched her company, Meg & Munro, in September 2020 and hasn't looked back since. "I left because I began to notice that despite resounding success, I was frequently being overlooked as a Black consumer of those brands and as a key strategist on the marketing team," Alyssa says. "With the goal of bringing more inclusivity to the marketing field, I launched a marketing and communications agency for beauty and lifestyle brands."
She held a passion to tap into new audiences and offer her skills on her own terms, while expanding the landscape of brand awareness. "With the growing attention to the multicultural beauty and personal care category in the height of the pandemic, many brands needed help reaching the same diverse consumers they once ignored," she added. "Through public relations, social media, and influencer partnerships, my agency drives visibility, interest and demand for brands aiming to reach multicultural consumers."
"Surprisingly, the pandemic allowed me to double down on my decision to leave my full-time marketing position. I saw how uncertain things were in the workplace and thought it was a better use of my time and talents to grow my own business."
Allyssa has enjoyed her new normal after taking the leap. "I now experience less anxiety (no more Sunday Scaries!) and have a lot more ownership over my work and time," she says. "Since launching, we have worked with dozens of beauty and lifestyle brands and creators including Converse Shoes, Footlocker, Anderson Bluu, Her Agenda, Strange Bird Beauty, Avocurl, and Yawoni just to name a few. Our work and clients have also appeared on The View and in Glamour, Forbes, Refinery29, Good Housekeeping, Hypebeast, Goop, and much more!"
For others who might be pausing their efforts to go forward with leaving their jobs, especially at a prime time when millions of companies and professionals are reevaluating strategies and goals, she urges planning and patience. "Leverage your network. It's important to communicate your values and let others know your goals for starting a business. Second, it's very important to plan your finances and strategy for making money within the first few years of operating. It takes time to start seeing returns in business, and it will be difficult to scale andor make sound business decisions if you're constantly worrying about finances."
Melissa decided to go full time with her love for makeup artistry last November, after slowing growing her business as a side hustle. "I was working as an underwriting analyst for an insurance company, and my part-time business was starting to require more of my time," she recalls. "The more it grew the more I realized that's where my passion was. My career was no longer fulfilling. In addition to not feeling fulfilled in my career, I had a boss that micromanaged everything I did."
"I felt overwhelmed, undervalued, and drained. My 9-to-5 was holding me back from reaching my full potential. My boss would often deny my PTO requests and when he did approve my time off, I would feel the retaliation when I returned to work."
The final straw for Melissa was when she took approved PTO for a big wedding booking, and upon returning to the office, was met with an abrupt meeting request. "It was about my work and more micromanaging. In that moment I knew I couldn't do it for another day. I submitted my resignation letter in the middle of a pandemic not sure what would happen next."

Stepping up her game in building MeMa Creations and gaining new clientele seemed like a natural next step for Melissa. "That feeling of uncertainty—not knowing what tomorrow may bring—made me feel so uneasy, but it also made my decision to leave very clear. I didn't want to continue putting all my time and efforts into a corporation that didn't value me. I was tired of sacrificing my own dreams for someone else's dream."

Since going full-time with her business she has enjoyed a level of success that she can be proud of. "I have done makeup for more than 60 weddings, in addition to my regular clients," she says. "I also offer virtual makeup lessons, and one-on-one in-person makeup lessons. My work has been published in two major magazines in less than a year, and I am launching my makeup products before the end of the year."
Tracy started her firm in June 2020 as a pivot due to the pandemic. She'd worked for a decade in the finance industry, and had taken a leap of faith to pursue a career as a retail fashion buyer and independent image consultant. "The ongoing freelancing that I was doing lessened significantly in early 2020, but as opportunities came back, I was not comfortable doing image consulting due to the nature of the work. It was impossible to be socially distant," she said. "So when an opportunity for PR management arose, I leaned into it and grew it knowing I needed to replace my income."
Tracy's reputation preceded her, and she was able to help a previous image consulting client to help with her public image via PR management. That was when, she says, Tracy Aliche Consulting really took off.

"I took on the challenge, hit the ground running, and soon attracted opportunities to do the same for other entrepreneurs as a result of all the press I was able to secure. We now have a roster of five full-time clients, and the rise has been truly exhilarating!"
For others considering quitting their day jobs to pursue a new career or journey, Tracy suggests investing time in a bit of self-actualization. "One of the most important things to consider before leaving a job is being honest with yourself about what you're willing and not willing to sacrifice to reach your end goal," she adds. "What are you willing to give up? Would you give up your cozy apartment if it meant being able to sustain financially after leaving the workforce? If you insist on maintaining your current lifestyle as is, then creating a realistic timeline, building a financial safety net, and having a fully fleshed-out back-up plan are non-negotiables. I think it's important to know your 'why.'"
Watchen Nyanue's journey in transitioning from a 9-to-5 to entrepreneurship during the Great Resignation has a positive twist. She'd been leading a podcast that was the launchpad for her brand, all while working full time as a WNBA executive. "My job was actually amazing, but I knew that, for the sake of my reputation and for the work I'd put in, I didn't want to start letting the quality of my work drop to pursue something else and ruin the reputation I'd already built in decades of work. My company was literally behind me 100%. They knew when the podcast launched, and they are [actually] one of my clients today."
Her platform, I Choose The Ladder, helps large corporations develop and retain their high-performing Black female talent, a service that came in high demand.
"The pandemic, at least for me, was a gift and a curse. The time that we had at home gave me some time to assess what I wanted to be spending my time doing and who I wanted to be spending my time with. And because I started planting the seed already, the jump wasn't as scary as I thought it would be."
She offers some key advice for women who are thinking about joining the wave. "First I would encourage folks to ask, 'Is it the company you work for, the person you work for, or is it corporate America?' A lot of times we make large decisions based on really small factors. Maybe the company that you work for is not the best fit for what you're trying to do. That doesn't mean there's not a company that can meet your needs."
Another key piece of advice: "A lot of people go to entrepreneurship because they're running from something not because they're running to something. If you're running from a job and all of the chaos that you think might be in corporate, a lot of those things still exist in entrepreneurship. And if you have not figured out how to navigate [challenges] while on someone else's dime, it's going to be an even steeper, more expensive, more stressful, and lonely learning curve. So make sure you're running to entrepreneurship, not just from corporate America."
Featured image via Getty Images
Keep reading...
Show less
Going on the hunt for a new job can be both exciting and frustrating, and more of the latter if you don't have a solid plan. You might get to the point where you've sent out hundreds of resumes, attended dozens virtual job fairs, and hit "Instant Apply" on LinkedIn more times than you can count, yet still no offers. You also might be growing tired of the rejection emails, the multiple interview rounds that lead nowhere, or the low-quality correspondences about jobs that are way below your experience and pay grade. Figuring out how to find your next gig can be more than draining.
If any of this sounds familiar to you or you feel seen, we've got you covered with a better way to attack your job search and come out the victor:
Elevate your online presence.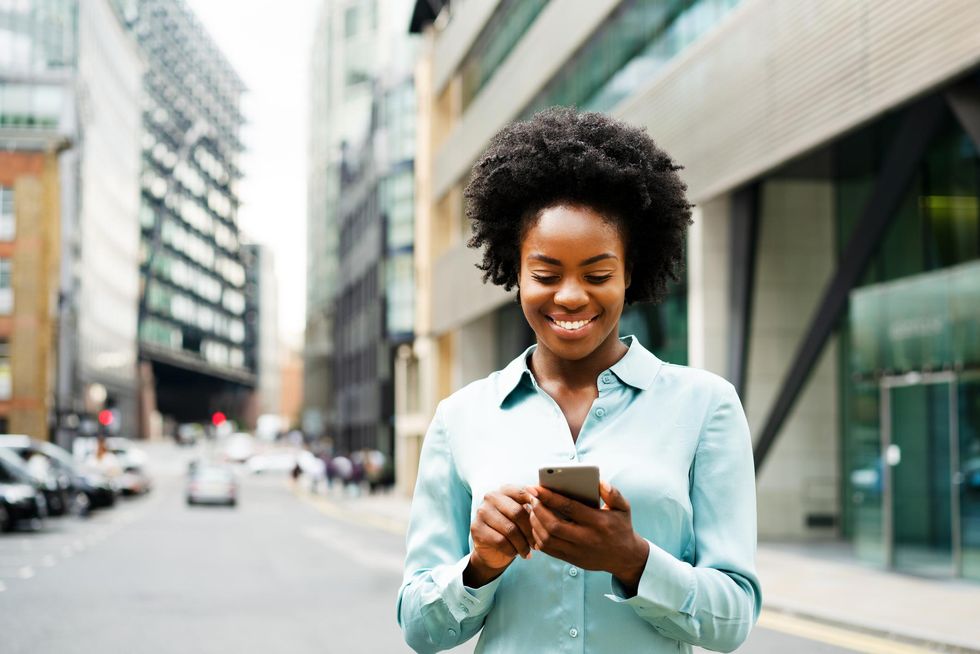 Getty Images
More than 50 percent of recruiters are using social media to find job candidates, according to recent research, so it's time you up the ante on the web. You'll need to get creative, and there are so many cool and free ways to do this. You can set up a free Wix or Weebly website or a simple About.me page with your photo and resume presented in a way that is both visually pleasing, informative, and engaging. Keep it simple but allow it to reflect your personality and who you are outside of what you do. (And, unless you're in a creative industry, don't go to crazy with colors, fonts, and other elements that might be distracting. Keep it clean and let the storytelling about who you are and what you offer shine).
You can also spruce up your Instagram, LinkedIn, or Twitter pages by getting some professional headshots done and updating a bit more often with posts that include insights on solving a problem or highlights on your niche knowledge, experiences, and expertise.
If you're into shooting videos, starting a YouTube channel discussing issues you're passionate about (job- or industry-related, of course) and again, keep it simple (unless you're a whiz at video production and editing).
Go old-school.
So you've only been relying on email or private messages? Sis, you might have to actually visit a few offices in person (if safe and possible). Call and inquire about a recent job post, and ask about additional information so that you can strategize a better way to approach applying. Connect with an executive assistant, receptionist, or maybe even someone who might become your future coworker—in person.
Attend in-person fairs instead of virtual ones. While you might not want to shove a resume in someone's face at a conference or panel, a brief face-to-face encounter is a good icebreaker for when you do follow up with an email about a recent job opening.
(And take your resume anyway. You never know if your perfect moment to shoot your shot might come up. Be sure to read the room. This is where good social skills and strategic initiative come in.) If unsure, just get their contact information to cultivate a relationship and work your way toward that perfect moment to pitch yourself in the future.
Get a coach or connect with ​a head hunter.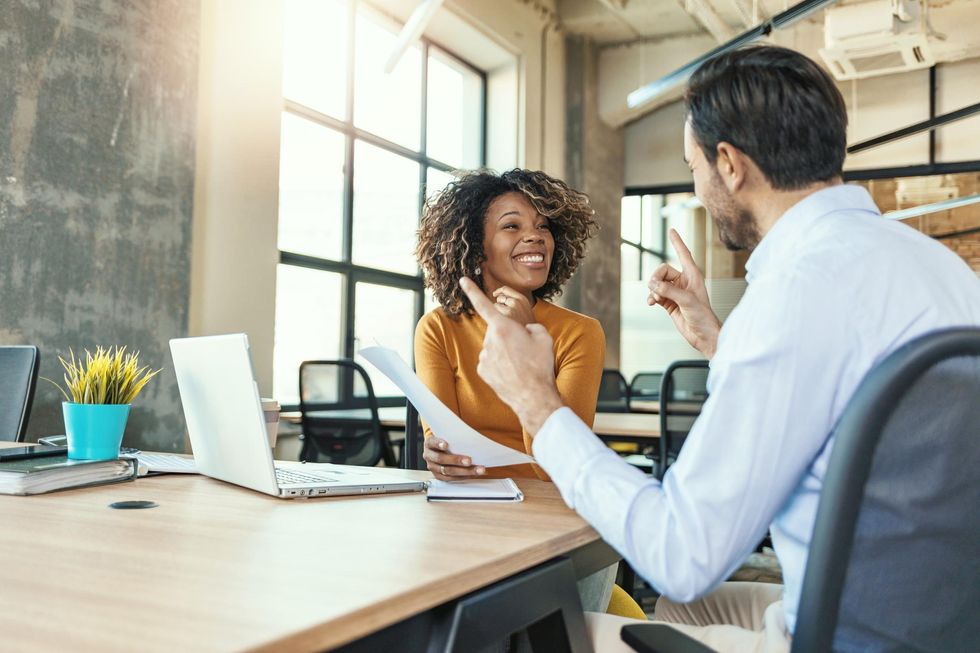 Getty Images
Sometimes it's best to get some help from a professional who can be your sounding board for your frustrations, assist you in creating a better strategy, and connect you legitimate job leads. This is especially important when you have more than 10 years of experience in an industry because at that point, you'd be looking for opportunities that reflect your growth, career fulfillment needs, and salary requirements.
The best place to start is LinkedIn because you want to be sure you're getting a person who's about results and has credibility.
Many career coaches and headhunters detail their experience, background, methods and success stories on LinkedIn, and finding one can lead you to others who might be a good fit.

Also, try contacting your former college's career center or alumni office to get information on people who provide coaching or headhunting services. Check out resources like the National Career Development Organization (NCDO) or the Professional Organization of Resume Writers and Career Coaches to find reputable professionals. (And here's a good time-saving trick: Do a bit of digging into their social pages. Oftentimes you'll find professionals you can reach out to among their follower lists.)
Consider civic, internship, fellowship, or volunteer work.
Don't roll your eyes just yet. When you're unemployed or are changing careers, ain't nobody got time to giving away their time for free or for lower pay than expected. But hear us out, sis. If you've already been hitting job search walls for a while, it won't hurt to offer a few hours a week toward volunteering for an organization, entrepreneur, or company initiative in order to spark relationships, showcase your abilities, and build trust in your potential to become a paid employee. (And even if it doesn't lead to a job at that company or brand, it's experience that you can market for another opportunity.)
It could be a breast cancer advocacy walk where you know certain sponsors and their key executives will be involved. It could be a church event, local school program, a blood drive—even a political or advocacy march or demonstration. Position yourself to not only do good but to be in the presence of others who might have job leads.
Internships and fellowships (even if you're past your college days) are also great for getting your foot in the door and gaining experience.
Post-grad internships provide opportunities for professionals who have already earned degrees but do not fit the requirements of traditional internships. Most fellowships provide some sort of stipend, grand, or modest salary and might even include benefits, relocation funds and health insurance.
Another option is military enlistment or applying for the Peace Corps (which is an independent non-military entity). The age limit for some military branches goes up to 35, and both paths provide a great way to not only expand your horizons (both mentally and physically) but to cultivate and apply your skills to a multitude of industries and roles while serving.
Broaden your standards and think outside the box.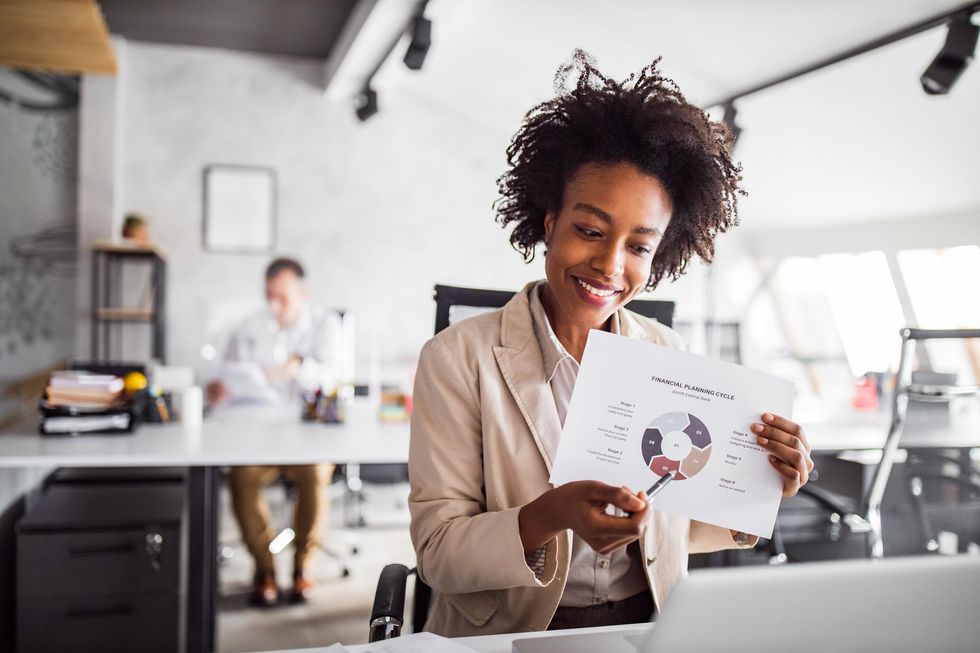 Getty Images
Don't limit yourself by the degree you earned or the industry you've always worked in. True, some jobs require certain certifications and specialized education, but many jobs rely on transferable skills. For example, you could have a bachelor's degree in marketing but your skills might be ideal for a sports organization, news outlet, or nonprofit, not just for a marketing agency or advertising firm. Or let's say you've been an educator in a traditional school system for five years. Well, those same leadership, class management, and lesson plan composition skills could be used for corporate training, research, or standardized test development.
Love fashion but you're a tech geek? Get your foot in the door via IT or graphic design, and then work your way into a different department. If you've always worked in the for-profit sector, why not explore nonprofit and use your talents there? Only looking at the big Fortune 100 companies? Why not get your feet wet first at a startup or mid-sized brand?
You have to think about the long game in order to win in sustainable career advancement, so sometimes taking the alternative or nontraditional route to gaining employment is a better idea in the long run.
Featured image via Getty Images
Keep reading...
Show less
It's no surprise that women are leading in more ways than one when comes to making boss moves. While some have left the workforce altogether to start businesses, stay at home with their children, or travel, others have taken new, traditional career opportunities to the next level. Women have bagged 57% of the more than 530,000 new jobs that opened up in October, according to reports, and hey, it's always good to know that our savvy, flair and smarts will be dominating into the new year.
Which leads us to this: Where are the jobs, and what companies are putting action behind words to diversify their ranks with opportunities for women to thrive? (There's still work to be done of course, in terms of CEO and board appointments, and equal pay, but that's a whole other story). Let's take a look at the "best" companies for women, according to the experts who put together select elite lists every year. These are companies that have implemented policies, initiatives, and practices that put inclusion, safety, and minority advancement at the forefront.
(A quick note: This list isn't exhaustive nor is it intended to be a ranking of any kind. It's a snapshot, summarized based on inclusion of companies consistently listed on multiple "best" lists that point to not only being great for women, but for Black women specifically, to give you a starting point for research to pursue your career goals.)
1

.

ADP
If you've ever had to download an app to get your 401K info, tax returns, or digital paystubs, you're probably familiar with ADP. It provides human resource management software and services that are widely used across the globe. AnitaB.org, an online platform and women computers' community founded in 1987, named ADP among its "2021 Top Companies for Women Technologists" report, in part due to its efforts to "build leadership capabilities to recognize and mitigate unconscious bias in over 2,000 leaders globally through training."
The company also made Seramount's (formally Working Mother Media), "100 Best Companies" list for working mothers, which takes into account whether a company offers inclusive options like flexible work schedules and great childcare benefits.
(A bonus: It's rated highly at 4 out of 5 stars on Glassdoor, a leading platform that highlights reviews from actual employees, both former and current.)
2

.

The Hershey Company
This powerhouse chocolate manufacturer made Forbes' list of "The World's Top Female-Friendly Companies 2021," ranking at No. 1. For this list, more than 85,000 women were asked to rate their companies on things like pay equity and parental leave, and they were also asked to describe how the brands backed gender equality or "perpetuated negative stereotypes." Another reason Hershey reported made the cut was due to an initiative the company launched called the Pathways Project, described as "a five-year plan to make its workplace and communities more inclusive" and their savvy in introducing the HSY Care Connect app which offers transportation, tutoring, childcare and eldercare resources.
3

.

Hilton
They've got top rankings in the hospitality industry, and they took the No. 1 spot on Fortune's 2021 "Best Large Workplaces For Women" list. In partnership with Great Place to Work, a platform that quantifies employee experiences at companies across the U.S., the feedback of more than 5.6 million U.S. workers was analyzed to gain perspectives on "whether different identities women hold change their experience of the workplace," and insights on the daily experiences of innovation, company values, and leader effectiveness.
It also made the top 50 on Glassdoor's 2021 list of "Best Places to Work," with reviews praising its "flexible work hours" and focus valuing employee opinions.
4

.

Navy Federal Credit Union
This banking institution headquartered in Virginia ranked 25 among Fortune's 2021 list for "Best Workplaces for Women," but what stands out even more is that the company works with groups including Women in Technology, Achieve Escambia and HBCUs to advocate for and facilitate career advancement for minority groups. They've also hosted organizations such as the African-American Credit Union Coalition, the Human Rights Coalition and National Association of Minority Mortgage Bankers of America, and they were once named among Fortune's "10 Best Workplaces for African Americans."
5

.

Bank of America
Bank of America made both the Forbes and Fortune top lists this year that are specific to women and their needs in the workplace. And more specifically—for our melanated career women—this company made the top 5 on a recent Glassdoor list that focused on "satisfaction" ratings and other insights directly from Black professionals. On a scale of 1 to 5, it had the second-highest "overall company" rating among Black employees surveyed.
6

.

Estee Lauder
A popular and super-successful beauty brand with global reach, Estee Lauder made the top 25 on Forbes female-friendly list, but it's also very telling the recent initiatives this company's gotten behind to provide opportunities specific to Black women. There's the Howard University partnership to empower alumni with a career hub, the recent establishment of the Equity and Engagement Center of Excellence to boost equity, and the more-than-inspiring existence of Black women executives among its ranks like Deirdre Stanley, executive vice president and general counsel, and the amazingly chic Black girl magic of the women of NOBLE, the company's Black employee resource group.
7

.

Hubspot
Comparably, an online resource that provides culture and compensation data, ranked Hubspot No. 1 for "Best Companies for Women," a list that was compiled from the observations of female employees on management efforts to promote diversity and inclusion and provide an positive environment for women.
Women gave the company an "A+" rating overall, and the same rating was given about perks and benefits.
The software company also made FlexJobs' list "28 Best Remote-Friendly Companies for Women" due to its flex work and remote job options.
8

.

Airbnb
This popular lodging and vacation rental platform made Forbes' list for best companies for women, and Airbnb also made the cut for Parity, a platform that works to close race and gender gaps in business. Their list, "The Best Companies for Women to Advance," includes companies that all have "a zero-tolerance policy for harassment," "safe complaint system for employees," and practices of "regularly" communicating gender-equality values to employees.
9

.

Spectrum Health
Here's a healthcare company that not only made Forbes' 2021 list of "America's Best Employers By State," but more notably in relation to female professionals made Seramount's 2021 "Best Companies for Multicultural Women," list. Spectrum Health reportedly offers paid maternity and gender-neutral parental leave, and responded to the challenges of COVID-19 by offering employees childcare resources, support and remote work options. The company also also "requires cultural competency training, implicit bias education and diversity in the interview process."
Featured image via Getty Images/Shannon Faggan
Keep reading...
Show less
It's always good to not only seek financial freedom, but to achieve it, and when you can make a few extra coins from the comfort of your own personal laptop or computer, that's even better. The options online might seem endless, but there are a few things to consider before pursuing a money-making venture or opportunity that is solely based online. It's telling that recent Pew Research Center findings show that 24% of Americans reported making money from a "digital platform economy." And by 2023, the projected gross volume of the digital-based gig economy is expected to hit more than $450 billion.
If you haven't already jumped into an online-based side hustle, business, or career and you're still looking for more reasons, we offer 10. Check out how to make money online, with a key emphasis on fun and savvy:
1. Sell, sell, sell.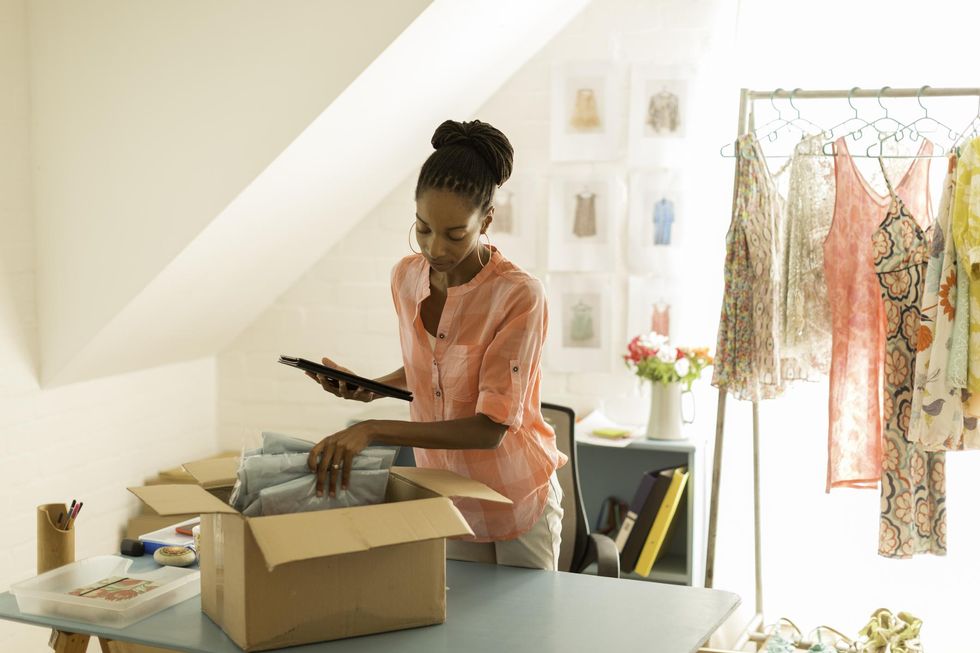 Getty Images
We're not talking about posting photos of your current living room furniture in a last-minute plight to get the rent money here, either. (That's definitely not fun, and oftentimes it's more frustrating than successful). Let's take things a step further. We're talking about offering creative works such as art, crafts, graphic works, fashion designs, photography or templates. We're talking about trading stocks, or selling products and services you actually love and care about. And you don't have to reinvent the wheel here. Try platforms like Shopify or Etsy that take the legwork out of website design and e-commerce tools, try affiliate marketing, or sign on to be an online influencer or team seller for your favorite brand.
Of course, you can still also make money as an online sales professionals for major companies including Google, GrubHub, and Neiman Marcus, making up to $84,000 a year.
2. Become a consultant.
True, there are a lot of coaches and consultants out there, but why not use the skills you've built working at your 9-to-5 or earning degrees to help individuals, small businesses, entrepreneurs, and nonprofits? You would be hired to pinpoint an issue, analyze a problem, and offer solutions via a projected plan, and you can offer these skills via your own free website (try Wix, Wordpress or About.me). You can also use Instagram, YouTube, or Facebook to showcase your knowledge, build community, and attract clients, or you can work from home for companies who need to fill this role. Oftentimes, you don't even have to be the person executing the solutions plan. You're just the mastermind.
And please think outside the box on this in terms of what this could look like for you (i.e. using your graphic design skills to consult on a new logo or website rebrand or your journalism degree to offering project management consultations for church blog projects).
3. Build community and capitalize.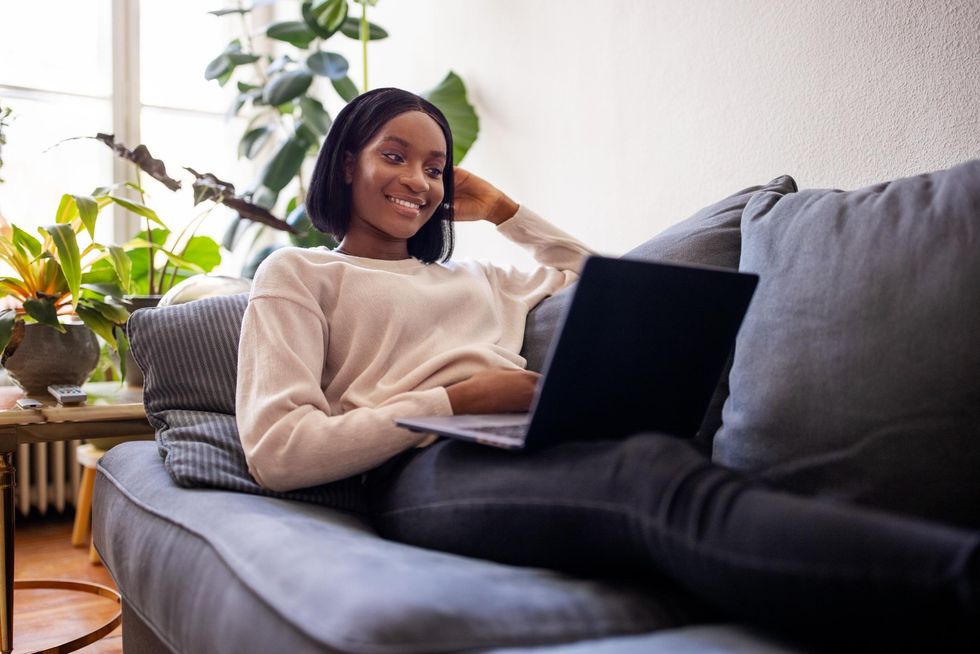 Getty Images
If you're a creative or personality who loves to build a vibe, who has a specialized skill, who caters to a niche crowd or who is passionate about specific issue, this is perfect because you can use your passions and unique abilities in a variety of ways. Brands and nonprofits will actually pay you to not only expand their audiences and draw more people to their products, causes, and services, but they will pay you for access to the community that you've built through your own content creation or creative direction.
They will also pay top dollar for the skills of creators who are able to tap into markets they've had difficulty reaching or who have the skills, methods, and tools they do not have. You'll want to be sure that the missions and values of any brand or org you work with matches those of your brand and community, of course. So get those creative projects, advertisements, vlogs, and photo shoots out of your head and on somebody's computer or smartphone! You could rock out to making thousands of dollars if things pan out. You don't necessarily have to be an "influencer" with thousands of followers either. If you're savvy, great at showcasing who you are online, and are able to market yourself via pitch competitions, job openings or meetings, you can still do this and be successful.
Major companies also pay a pretty penny for full-time community engagement roles, to the tune of up to $98,000 per year.
4. Learn coding, web design, or digital graphic arts.
Again, this is all about doing things you actually enjoy, so if you're not into creating beautiful imagery, concepts, animation, apps, digiprints, or games online, go ahead and skip this one. Also, you don't really have to know the ins and outs of programming or tech to do some of these jobs. Some successful app builders and game creators, for example, actually outsource the parts of the process that they're not great at (or have no interest in doing), so if you have a concept and want to bring it to market, go for it!
Digital graphic arts can be used for a multitude of things (like how this artist uses them for apparel), so, again, think outside the box on how these skills can be used to make money. If you want to brush up on your DIY design skills or simply want to learn something new in order to monetize coding, try Udemy or Codecademy and then flip that into your piece of the $100,000 per year salary pie for a career change.
5. Rent or source valuable spaces or items.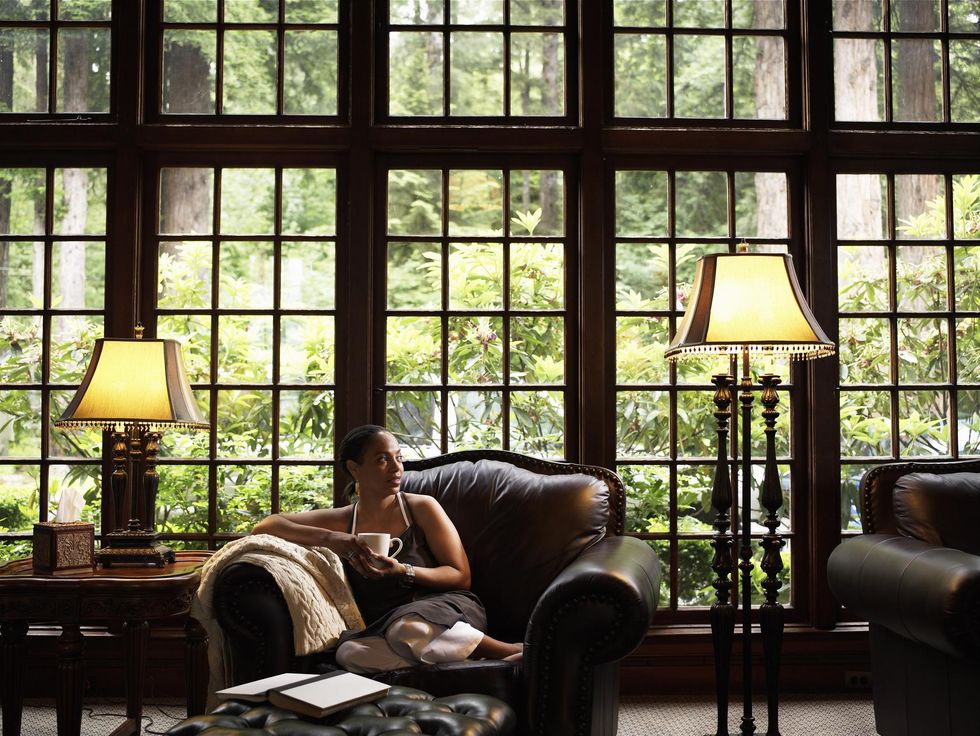 Getty Images
This makes sense for someone who has a fabulous home, backyard space, garden, garment or shoe collection, or office and has the flexibility to offer such items and spaces to others for a fee. The fun factor: Managing and witnessing how your spaces and items can be the cool-factor catalyst for events such as photo shoots, weddings, birthday parties, anniversary dinners, or ad campaigns. Your home could be the backdrop of a fabulous Halloween shoot (like this one Janelle Monae shot at designer Dani Dazey's spot) or you could source fab items for campaigns or projects (like how this power couple of Blk Vintage did for Issa Rae's Insecure.) This might be more of a hybrid offline-online gig, but it can still provide the time and creative flexibility you crave with the major aspects of operation being web-based.
6. Get into gaming.
Yes, you can get paid to play games, and though there's a lot of spam out there in terms of information on legit companies, you can find legit opportunities to make money this way. Try popular platform Twitch (and don't forget to read the rules and get to know the tax implications of earnings or donations) or you can try apps that pay you for how much time you spend fooling around with a game. (Check out reviews and do your research before downloading or participating.)
Another avenue is to create a YouTube channel---where all you do is test out, review, or simply play games---and build an accompanying Patreon where viewers can offer donations or pay for memberships to view specialized content.
7. Create adventures for others.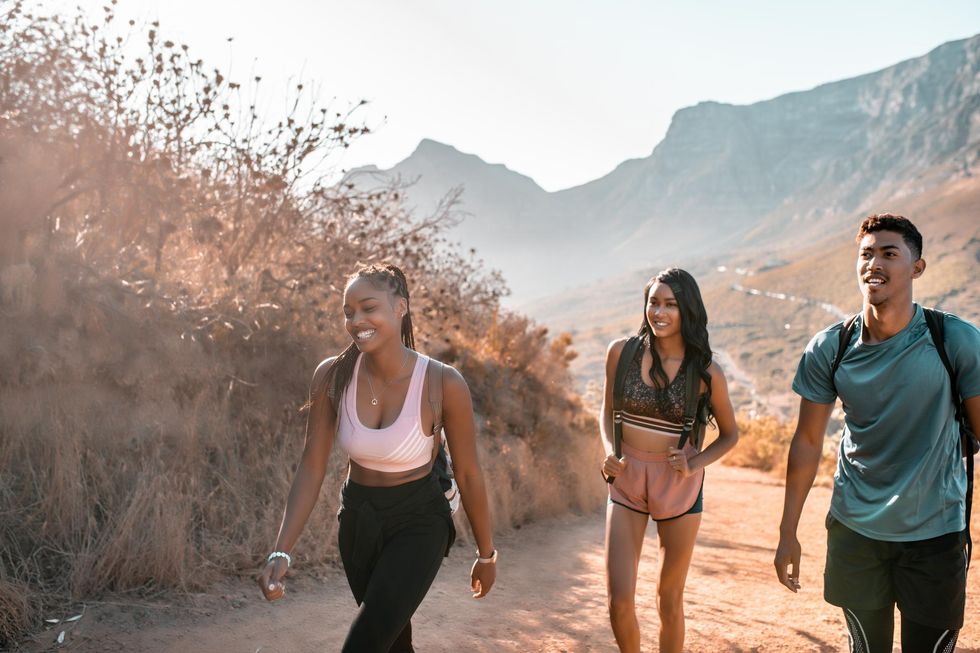 Getty Images
For outgoing types who still want to be able to tap into the introvert who would rather work online, making life that much more interesting for everyday folk by creating experiences or adventures is ideal. Airbnb offers a platform for doing this, but you can also set out on your own to create private picnics, plan parties, lead excursions, coordinate trips, or add to the offerings of others who provide specialized goods and services.
Take a nod from this entrepreneur, who offers exotic fruit tastings in Montego Bay, Jamaica, for example. If you're not into actually managing experiences or dealing with people, you can be the creative thinker and coordinator to turn dreams into reality, for a fee, corresponding only via the web and offering packages.
8. Chef it up.
A love for cooking, creating dining experiences, or providing diet and nutrition insights is a must for this one, and you can provide all of this from the comfort of your home. If you like vegan food, have a knack for creating recipes in a way that no one else has, know a thing or two about food chemistry or nutrition, or simply want to provide a space for content you want but don't see, get up and offer it. You can make money selling recipe downloads, meal plans, or virtual consulting, and you can cultivate a client base that you're passionate about. You can also become a virtual nutritionist, food specialist, or culinary teacher. The online food community is growing, so get in where you fit in.
9. Build in a dance or fitness platform.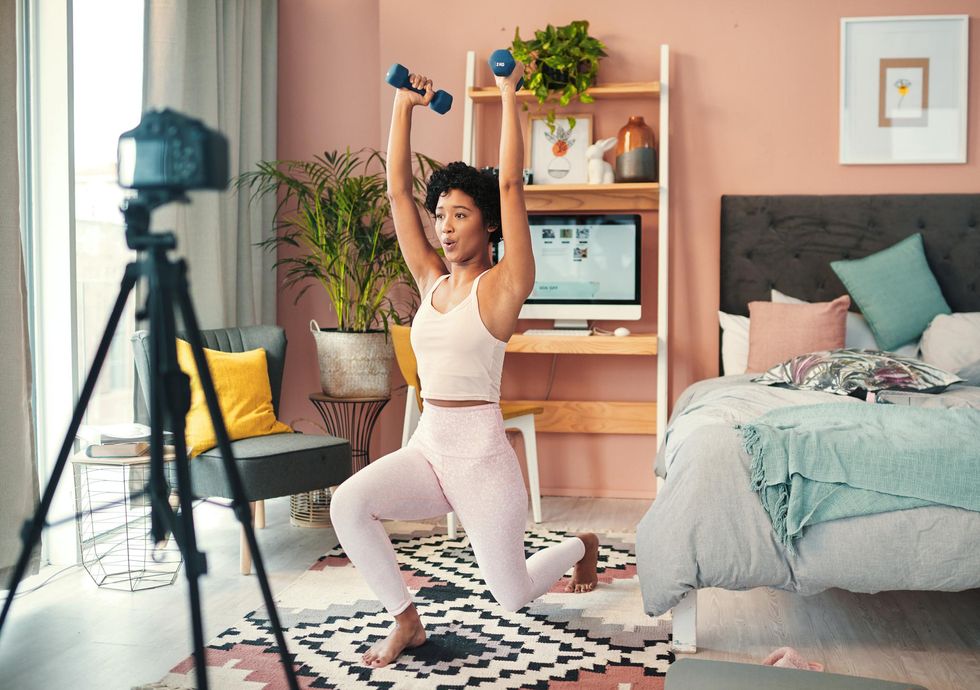 Getty Images
Sis, don't sleep on this. Billboard reports that the global dance music industry raked in $3.4 billion in 2021, and the fitness industry has reportedly hit almost $100 billion. We're not about that scarcity mentality over here, so there's clearly money to be made. If you love dance, have experience, or just love to stay active and see results, this might be perfect for you. Go ahead and offer virtual classes, start that YouTube, or get into a gym or private space of your own. You could even host via sites like Zoom, Skillshare, and Teachable are great places to start. (You could even try OnlyFans, if you dare.) Read the fine print on profit percentages, userability, and additional features like membership management.
10. Just sit... 
Nah, not that, sis. House or pet sitting can not only be fun, but it can offer some spice to your life in terms of the opportunity to experience new things and diversify those experiences. Platforms like Nomador and Housecarers have been raved about among the OG house sitter tribe, and for the pet lovers, there are sites like Petsitters or Rover. You can also take a look at Care or TaskRabbit to find gigs. If you're living that nomad life, just want a chance of routine or scenery, or want to enjoy the company of an animal without the commitment—and get paid for it—this is worth a try.
Featured image via Getty Images
Keep reading...
Show less
The pandemic has caused millions of men and women to lose their jobs, but a large subset of the population not returning to the American workforce are women. In a tweet shared in September, Madam Vice President Kamala Harris stated that the lack of affordable and quality childcare in our nation inhibits women from returning to work. And the clap back on Twitter was real. Responses to MVP Harris's tweet varied with multiple opinions from both men and women.
Millions of women have dropped out of the workforce during the pandemic. It's a national emergency.

We need to invest in quality, affordable child care to help get working mothers back to work and set our economy up for sustainable, long-term growth.
— Kamala Harris (@KamalaHarris) September 16, 2021
Twitter followers pleaded with Madam Vice President Harris to introduce maternity leave or to provide women with the support they need to make their own decisions, whether that is choosing to be a stay-at-home mother or to work. Some suggested for our government to model our healthcare system after our foreign counterparts which allows one parent to stay at home and one parent to work.
Other responses stated the solution is to invest in livable wages for the childcare workforce or implement a mask mandate in schools so parents can feel safe sending their children to school. In the end, Twitter agreed that the factors that contribute to women not returning to the workforce are not entirely due to our poor childcare system alone.

How Childcare Affects Working Black Mothers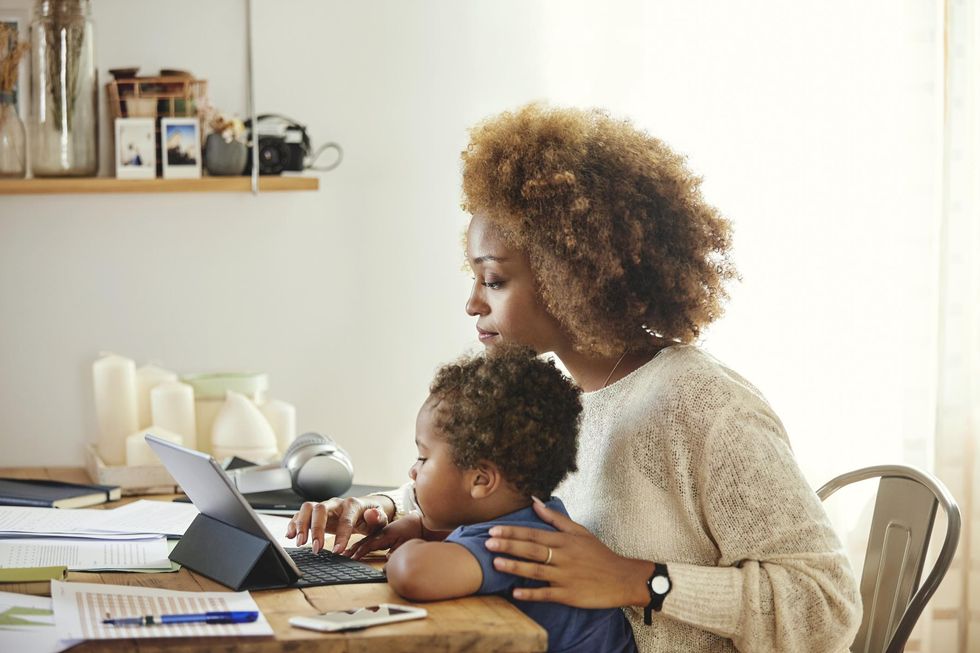 Getty Images
Yahoo News reports before the pandemic, Black mothers struggled to access affordable childcare and had lower workplace flexibility. The cost of childcare has increased pressure on Black mothers who were juggling work and childcare responsibilities.
According to the National Women's Law Center, Black women over the age of 20 have faced the largest drop in employment since the start of the pandemic and have an unemployment rate of 7.6% as of July 2021. Black women also experienced more job losses since July 2021, while women overall gained jobs.
The Stats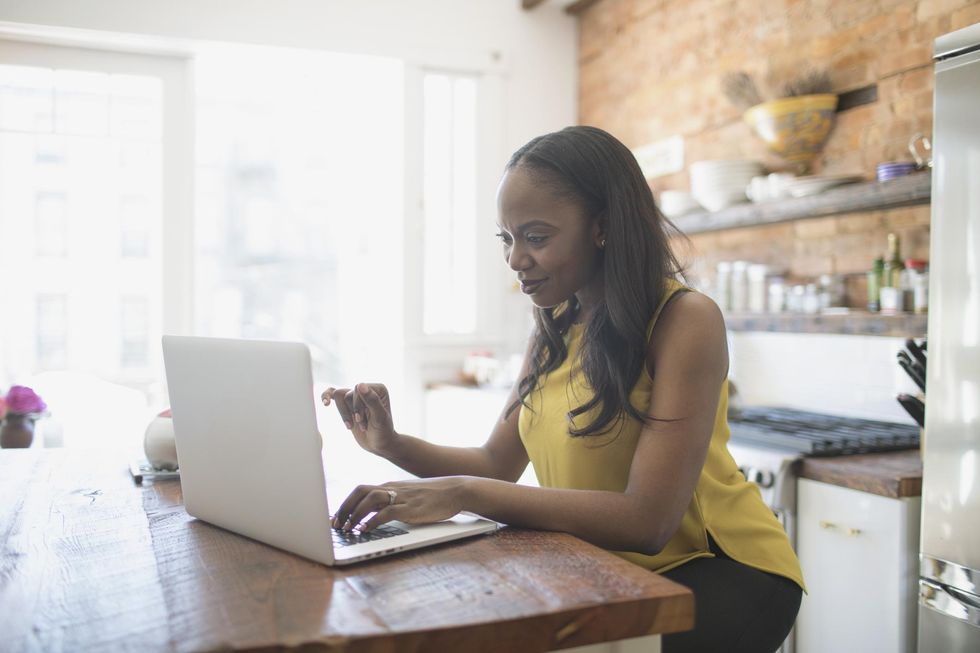 Getty Images
According to CNBC, about 3 million women have left the workforce since the beginning of the coronavirus pandemic in 2020. And in September, 300,000 women left the workforce, according to the Bureau of Labor Statistics jobs report. News outlets report that getting women back into the workforce is a key factor in sustaining the U.S. economy. The industries that suffered the most job losses are state and local government, and private education. Combined, this is a total of 676,000 jobs lost before the pandemic.
Not only is childcare expensive, but childcare industries are also suffering a shortage of workers as many are taking jobs with higher pay. U.S. News states the childcare business has operated in a broken market. Low wages for workers and high costs for consumers. Coupled with the pandemic, the lack of affordable childcare limits jobs people can accept and harder for many to climb the corporate ladder.
Since the pandemic, 9% of licensed childcare programs have permanently closed. Between December 2019 and March 2021, roughly 16,000 centers and in-home daycares in 37 states no longer exist. With that said, many women are opting to stay home with their children and accept lower-paying wages rather than spend their entire paycheck on increased daycare tuition.
The Great Resignation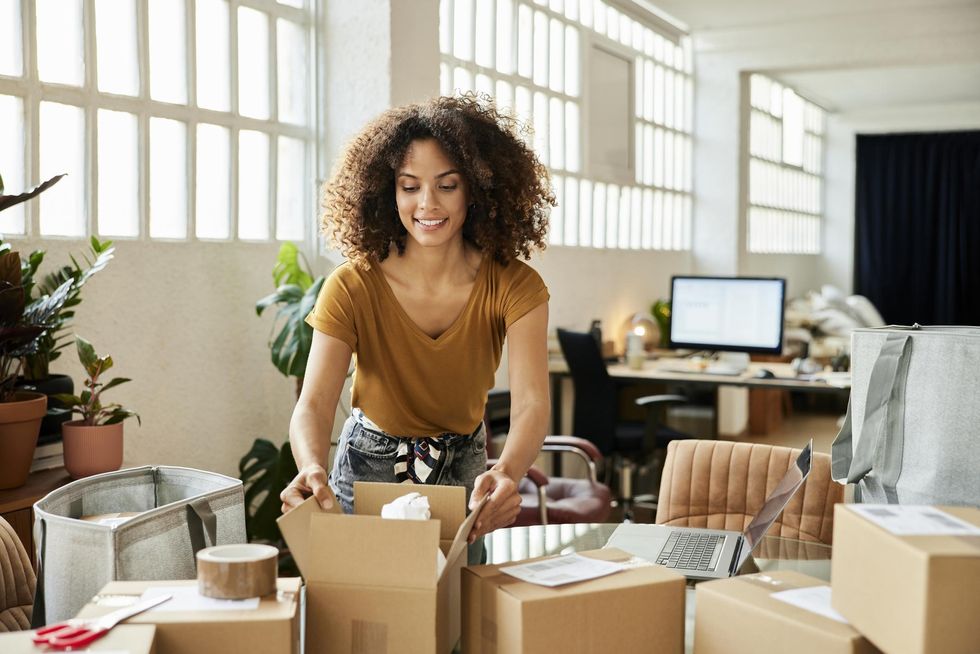 Getty Images
Many women, regardless of color and age are carving their own path. It's not just about the lack of childcare, it's about the quality of life for all women. Single, married, kids, or no kids. We straight up told Uncle Sam, "NO. I am not doing this anymore." And honestly, America needs to catch up to our neighboring countries in achieving a desired work-life balance.
Even though remote work is readily available, the way our workforce is structured and systemized just ain't it. We are still pouring the majority of our time into a job title and not truly living.
In an article by CBS News, the number of job transitions for women has surged to 54% in 2021 compared to a year ago. The pandemic allowed many of us to reassess not just our careers, but our happiness and well-being. We took a moment to sit with the fact that we were burnt out. With infinite time on our hands, we had to realize what is important to us. We had to ask ourselves if our current jobs and salaries are worth the sacrifice. And for many women, the most important thing to us is freedom, time, and flexibility.
Women have begun to bet on themselves and take risks. And why wouldn't we take the risk? Women are resilient. We tend to always land on our feet. It's a movement, not a crisis. We are living authentically, flourishing in our purpose, thriving in our element, and securing the bag. Since the pandemic, women have quit their corporate jobs to pursue their true passion or entrepreneurship.
According to a study by Northwestern Mutual and OnePoll, 10% of Americans have quit their job to pursue their dreams. The study also revealed 50% of women are willing to explore making a bold move like this compared to men at 44%.
The Solution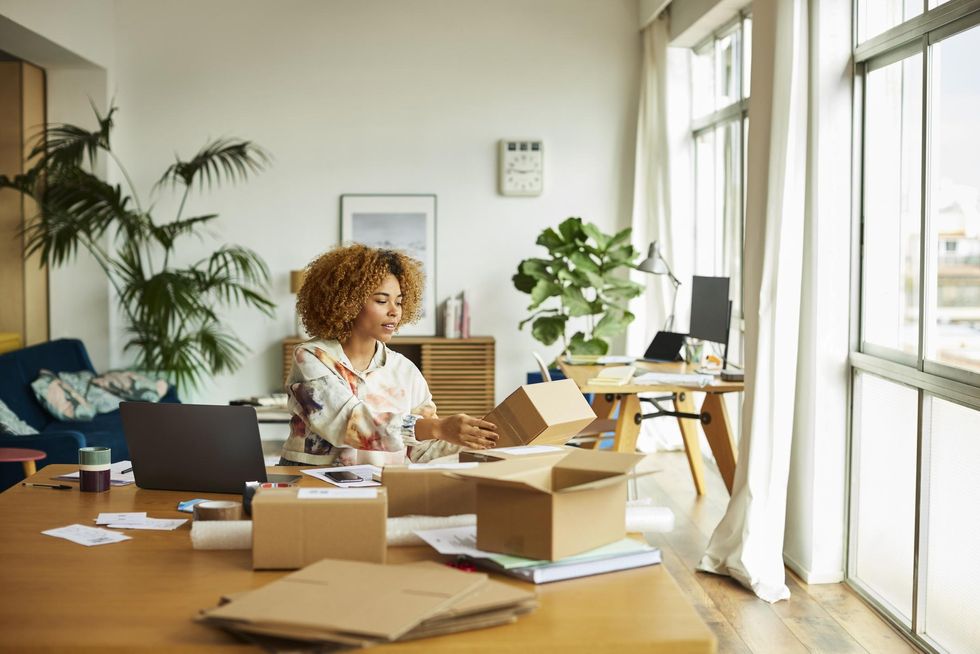 Getty Images
Women have fought so hard throughout history for equal rights, status, and pay. Now, there is a call to action to use this newfound power to fix something we didn't break or mismanage? It's not the responsibility of a specific gender, women, to fix this economy. The solution starts with realizing how much our society has changed as a whole, the direction women are moving in, and building a structure and/or system to accommodate those changes. And the reality is, we are moving far away from traditional jobs or careers more and more. I will say the solution is complex and it always will be. When it comes to policy and programs, it's difficult to know where to start without adversely affecting another group of people, budget, economy, and/or industry.
While the majority of people leaving the U.S. workforce are women, it is not without cause. I know because I was one of them. As we entered the pandemic and we navigated a mandated quarantine, I too was faced with the decision of whether or not I was going to reenter the workforce. Once you have experienced the level of freedom and flexibility that most people dream of, it's a hard thing to walk away from let alone give up. You'll do almost anything to protect this level of peace. Once you realize your full potential and that you have the power to create the life you want to live, the possibilities are endless. I mean, we have women moving overseas and converting vans into living spaces now.
For me, the writing was on the wall. I decided I wanted to choose how I show up in the workforce. It was my choice to make regardless of tradition, conditional beliefs, cultural norms, and social standards. I refused to blindly continue to buy into companies that were solely concerned with my performance or my level of profitability. And like many of my sisters, I chose myself. I always will. Now here I am, a published writer, an independent consultant, and a small business owner.
I have to say, what a time to be alive.
And as we begin to close out 2021 and prepare to enter 2022, there is no better time to be a woman.
Featured image by Getty Images
Keep reading...
Show less