"They may just not be in the room," the front desk clerk says, doing little to disguise her annoyance.
"No, he should be there. Can you try again?"
---
She patches me through for the second time as I begin plotting an alternative plan of action in case the phone goes unanswered. It's not the first time I've played phone tag with Terrence J because, hey, he's a busy man. But before I can decide between calling his manager or shooting a "well I tried" email, the ringing ceases and I'm greeted with a warm tone.
He's in Anguilla, he tells me. "I'm shooting for Mark Burnett. We're doing a show for FOX."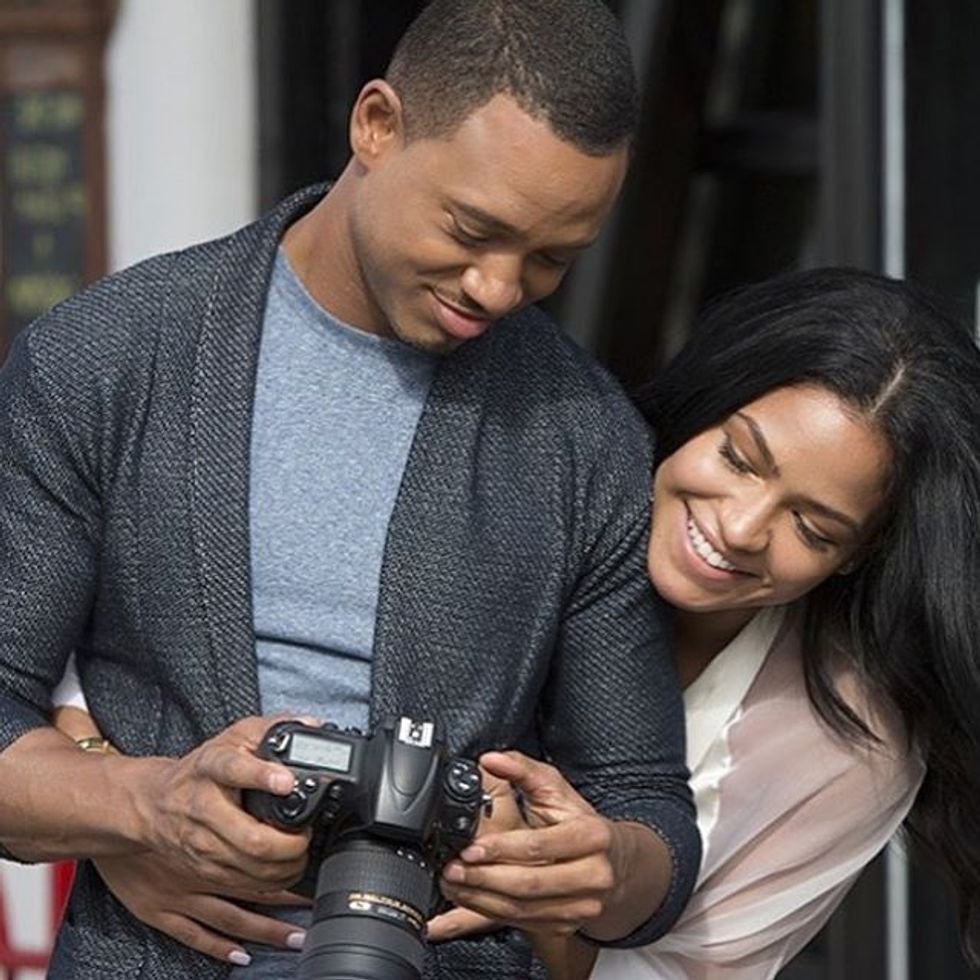 Mind you, this was two days before he was set to release his latest film The Perfect Match, where he played the role of the leading man alongside model Cassie Ventura and a cast of beautiful women—think Paula Patton, Brandy, Lauren London and Dascha Polanco—in addition to snagging a production credit. Somewhere between doing radio and television promo and red carpet appearances, he's managed to slip back to the islands to add another hosting gig to his resumé. Less than three months prior, the former co-anchor announced his departure from E! News in order to pursue acting and producing full time—just a few days shy of receiving a call from Lionsgate that they were interested in distributing The Perfect Match. He left a steady paycheck in pursuit of his dream, nothing less than a boss move. Risk-taking is something that Terrence J has perfected over the years.
"It was really stepping out on faith and believing myself to know that I want to leave the club before the lights turn on," he says. "I actually sat down with Will Smith, and I asked him when did he know it was time to leave The Fresh Prince of Bel-Air. They offered him a million dollars an episode for 22 episodes, and he said he just felt it in his gut—he felt it in his heart—and he knew when it was time to leave. This was when he only had Six Degrees of Separation. It wasn't like he had done Bad Boys or Men in Black yet, he just stepped out on faith. And so I felt like it was just my time."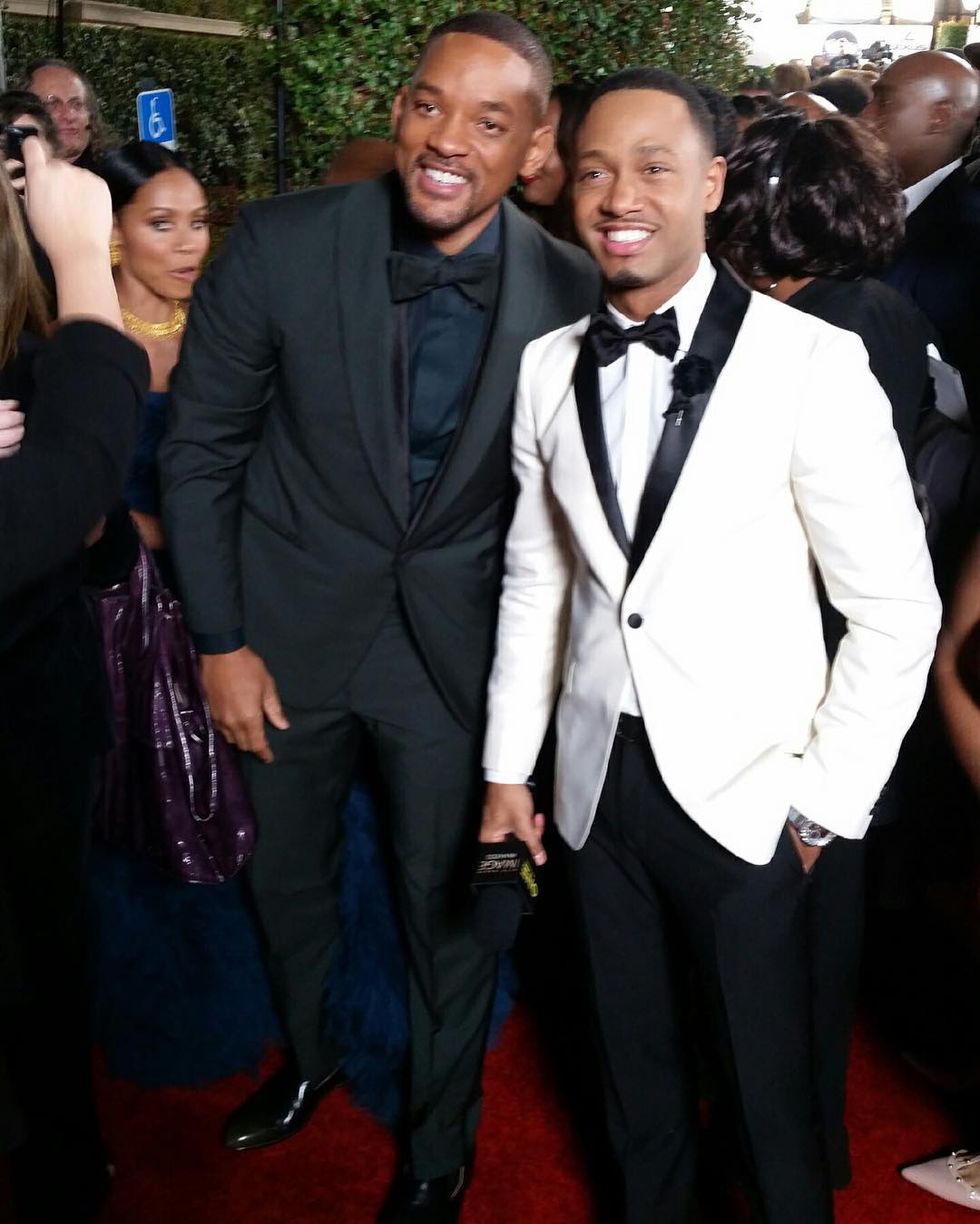 Terrence J has always had this innate ability of knowing when to trust his gut, and it's always paid off. When the Rocky Mount, NC native showed up on the campus of North Carolina A&T State University his freshman year, he headed straight to the student radio station and offered to volunteer. Within one semester he snagged a part-time job at the city's local radio station 102 Jamz. "Closed mouths don't get fed," he says without hesitation. "I tell people that if you do something that you love, eventually it'll come full circle and it'll work for you. And you'll never feel like you're working a day in your life."
He took that same logic with him to New York in 2005 when he auditioned for BET's "New Faces"contest. Like thousands of others he didn't advance to the second round, but the person in front of him did. Instead of admitting defeat, he took it as a lesson in perseverance. "It wasn't that I didn't get the job, it was more so that I couldn't believe that somebody that close was able to advance, and I didn't feel like the person was any better than me or that person was greater, it was just that for whatever reason I wasn't on my A game that day."
He showed up to Atlanta the next day where they were holding another round of auditions. This time he was prepared, and when he stepped into the room for the second time, they didn't dare turn him away. "A lot of times in life when people tell us no we take that so personally. When someone tells us that we can't sing, then we'll never sing again. If someone tells us that you can't play basketball good, a lot of us will put the ball down and never pick it back up. And a lot of times in life people will tell you no for a lot of different reasons and those reasons having nothing to do with you. People will tell you no because of how they feel about themselves, and so you've got to understand that the only person that can't stop you from doing that is yourself."
"People will tell you no because of how they feel about themselves."
His career aspirations landed him in the Big Apple during the heart of winter with nothing more than a dollar and a dream. At one point he was homeless, sleeping in his car and on his frat brother's couch while waiting to be assigned to a show. He beat out three other finalists before he and co-host Rocsi Diaz finally graced the stage of 106 & Park six months later. "We didn't know how it was going to work out, so we had to be patient and stay hungry."
At BET he would encounter a setback that later prepared him for a comeback. Interviewing celebs with their flashy chains and expensive rides enticed Terrence into the world of overindulgence. Instead of paying off student loans he bought a Cadillac in effort to keep up with this celebrity friends, but after nearly going bankrupt he learned a lesson on the importance of money management. (He has since built a net worth of a reported $4 million.)
After seven years of entertaining teens his gut told him that it was time to make moves. Before getting the call from E! News, he had already started dabbling in film as a co-star in Think Like A Man and later Think Like A Man Too. Though his brand was getting bigger, that didn't mean his ego had to. "Walking into a movie theater and having people watch you on screen is a scary thing. I do work where it's based off of opinions, so any given day public opinion can shift and say we don't like you and I have to figure out something else to do. You just got to believe in yourself and stay hungry."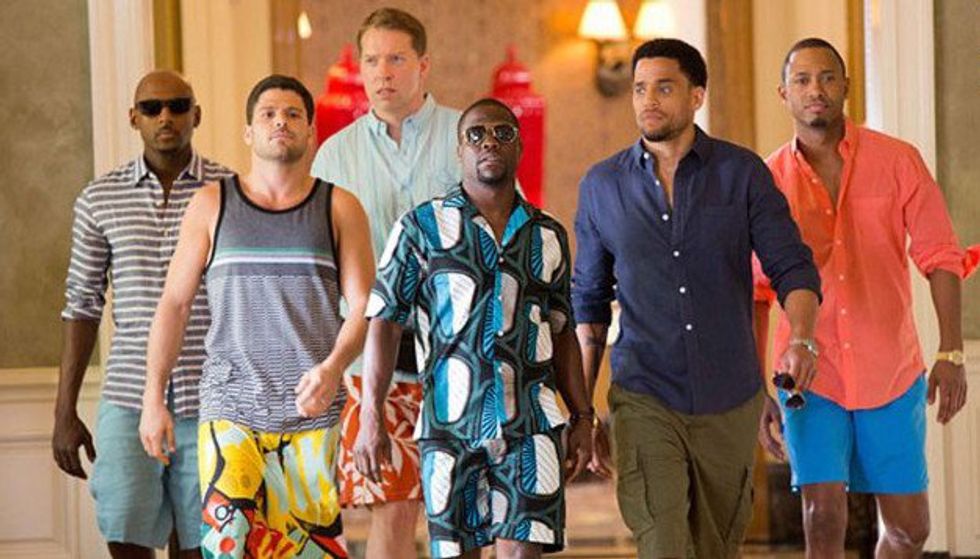 Never knowing when his time may be up keeps Terrence J grounded and grinding. Ask any production crew and they'll tell you that he's the first on set and the last to leave. "There are a lot of people out there who may be more talented than me, may be better looking than me, they may be stronger, taller and faster than me, but they're not going to work harder than me. I will outwork whoever until the wheels fall off, and so I think with that it's [about] how bad you want it."
"There are a lot of people out there who may be more talented than me, may be better looking than me, they may be stronger, taller and faster than me, but they're not going to work harder than me."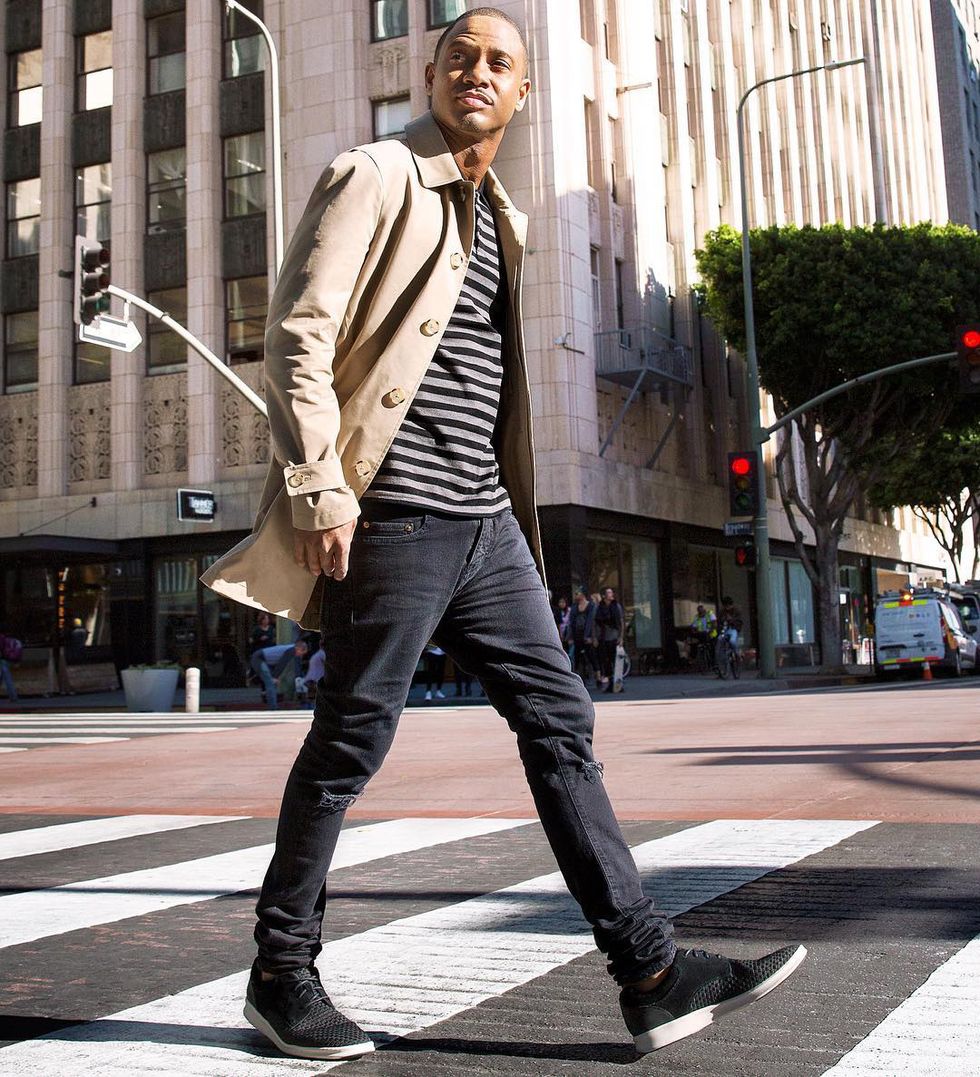 In the midst of building his empire he's also attempted to have a love life with model Selita Ebanks and blogger Nicole Isaacs, but becoming a Renaissance doesn't come without sacrifice. The time and effort required to build a healthy relationship would come at the price of his career, and similar to his bestie Michael B. Jordan, he's not willing to put his aspirations on hold just yet. "The Michael Ealy character [on Think Like A Man] is a character that every guy can relate to because it's hard for you to be the person that you have the potential of being in a relationship until you're at a place in your career that you can be comfortable with," he says " I'm very aware of where I want to be with my career, and a lot of times that takes an extreme amount of tunnel vision in order to get that."
The 33-year-old still has hope for marriage and kids—one day. "Relationships are reflections of where you are and you get what you project. You receive what you put out into the universe. I have no doubt that one day I'll be married and with kids if I'm fortunate enough, and I look forward to all of those things. But for me right now I've worked very hard for a long time and right now I'm focused."
Touché.
It's easy to understand why Terrence J goes so hard when his work is his passion. He's chosen a path where waking up is another day to live out his dream, and he's determined to add a few slashes to his Twitter bio.
"The universe will move out of your way and conspire to assist you in whatever your dream may be."
"All I want to do is what I'm doing. I love what I do so much that this is my joy. And I don't care about winning an Oscar or any type of award or recognition or even a bunch of money. None of those things are at the top of my priority list. I love waking up in the morning and doing what I'm passionate about. If you keep going after your dream, the universe will move out of your way and conspire to assist you in whatever your dream may be."
For the television host, actor, and now producer, his dream took him from his small-town home all the way to Hollywood. Terrence recently acquired a new first-look production and talent deal with MTV and VH1 proving that your dreams can be achieved!