On any given day, no matter my destination, you can find me in at least one article of men's clothing, specifically suiting. When I'm not wearing an oversized vintage blazer, then I'll be more than likely layering a men's button-up as a substitute for a lightweight jacket. What I love most about menswear is the overall comfort and not being confined to material that restricts my range of motion. Also, being tall and curvy, it's sometimes impossible to get that oversized feel when shopping within the women's department. Over the years, I've gotten my hands on a plethora of blazers and button-downs, even men's trousers in many different colors and prints but lately, I've embraced suiting with a more feminine approach.
---
With men's suiting, there are only so many styles that are available. Mostly designed with classic silhouettes, this fall, I want to embrace more trendy and stylish pieces in line with the modern masculine twist that I love so much. Keep scrolling to check out these menswear-inspired looks that are all "woman."
Peek-a-boo Blazer with a Twist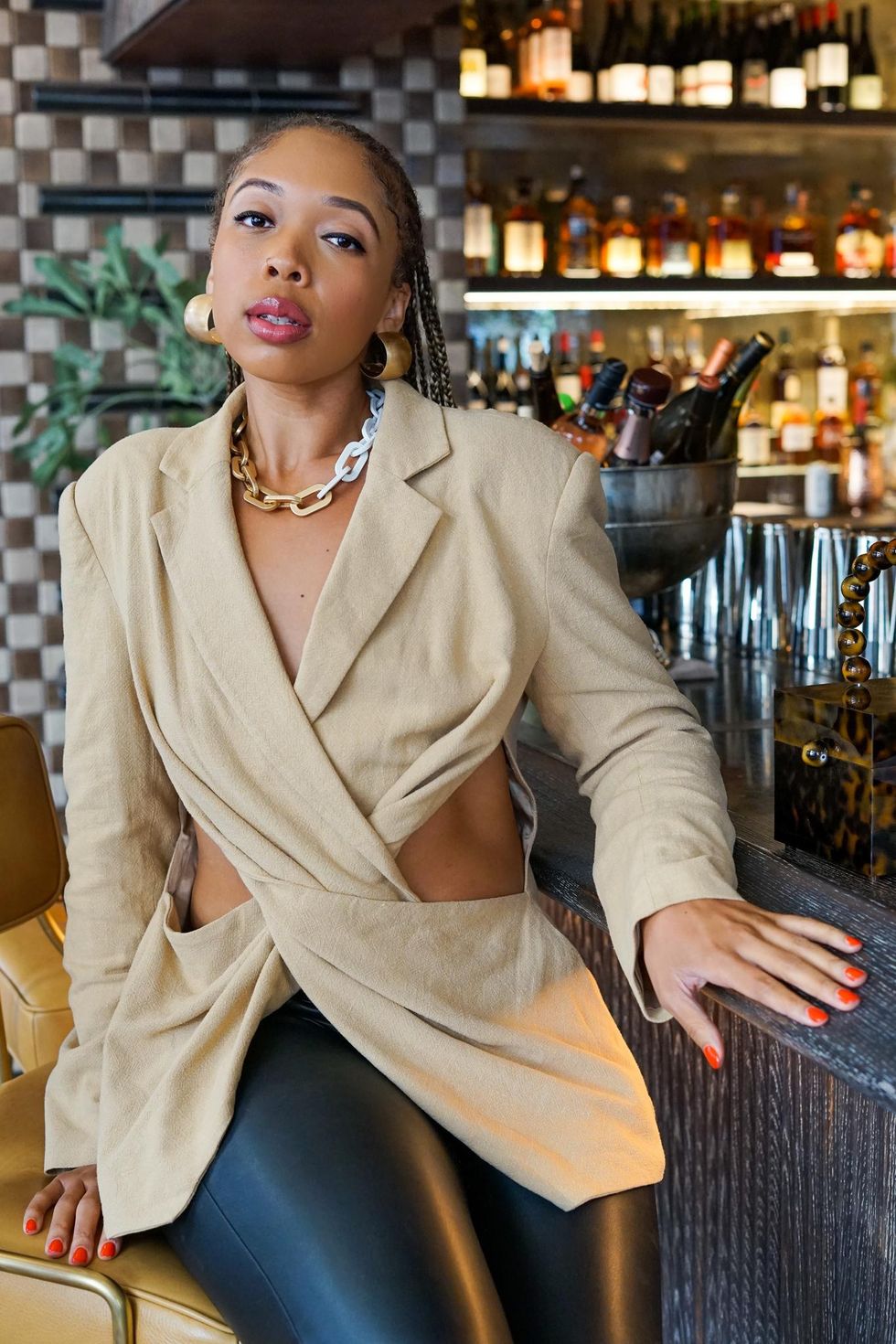 Shahirah Ahmed/xoNecole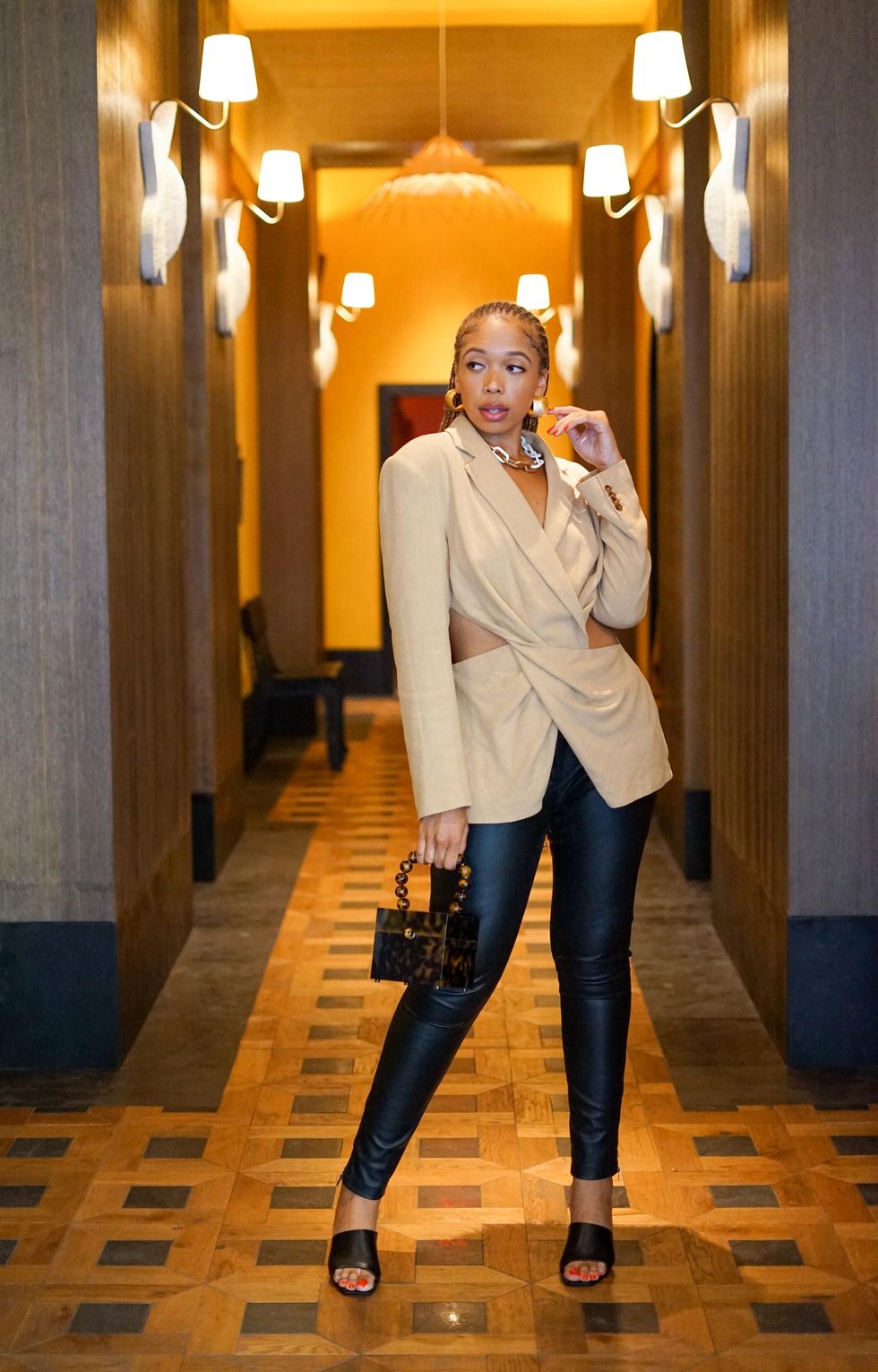 Shahirah Ahmed/xoNecole
The moment I saw this blazer, I knew I had to have it. Perfect to catch an evening drink with the girls or a night out with bae, this outfit is not only chic but incredibly comfortable as well. Beyond its super stylish twisted knot detail and trendy side cut-outs, it's the perfect color for fall.
Keeping it seasonally appropriate, I paired slim black leather pants and matching mules for a professional yet sultry look. I couldn't forget my accessories, so I went with a two-toned gold linked chain necklace along with a tortoise print acrylic box bag to complete this look.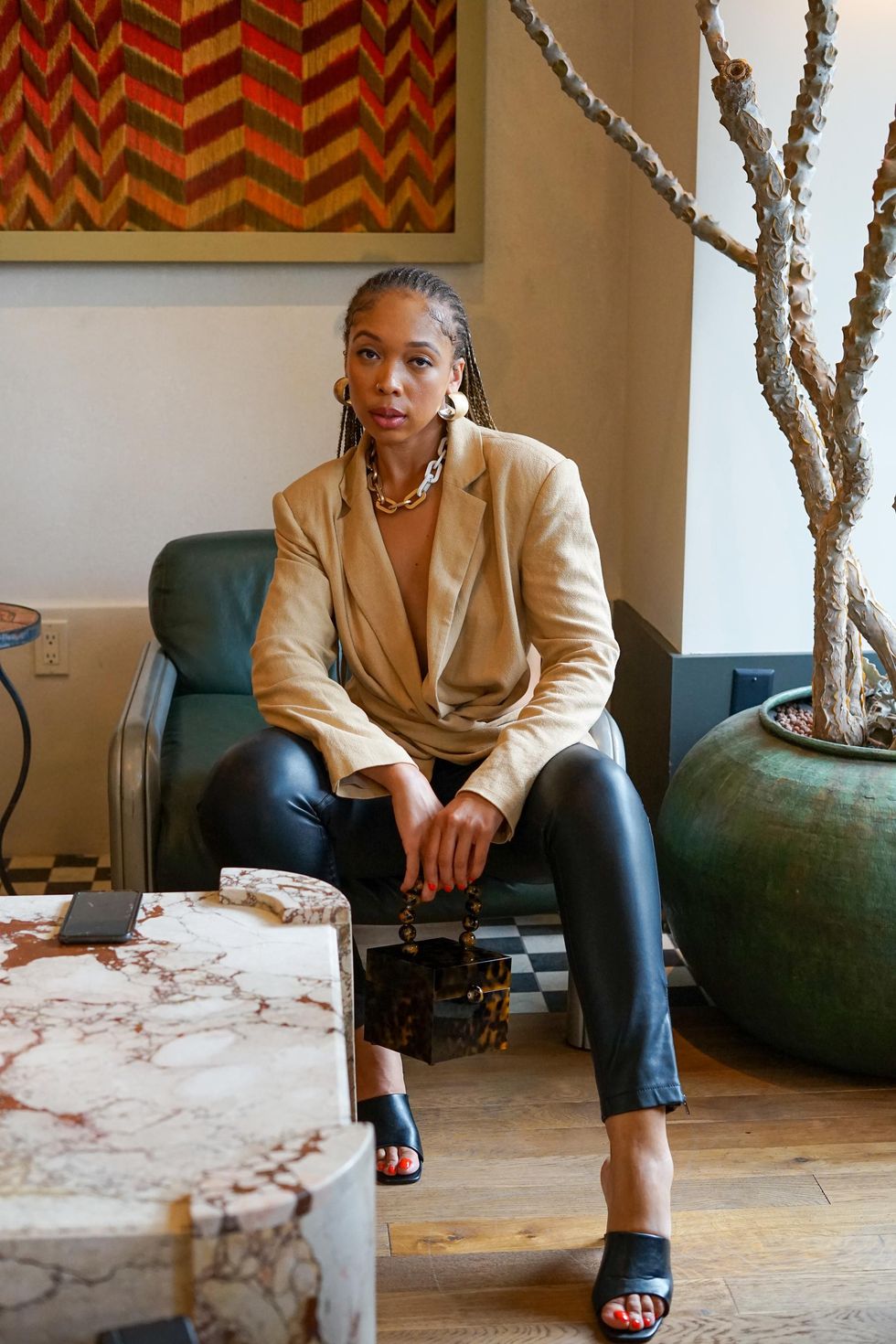 Shahirah Ahmed/xoNecole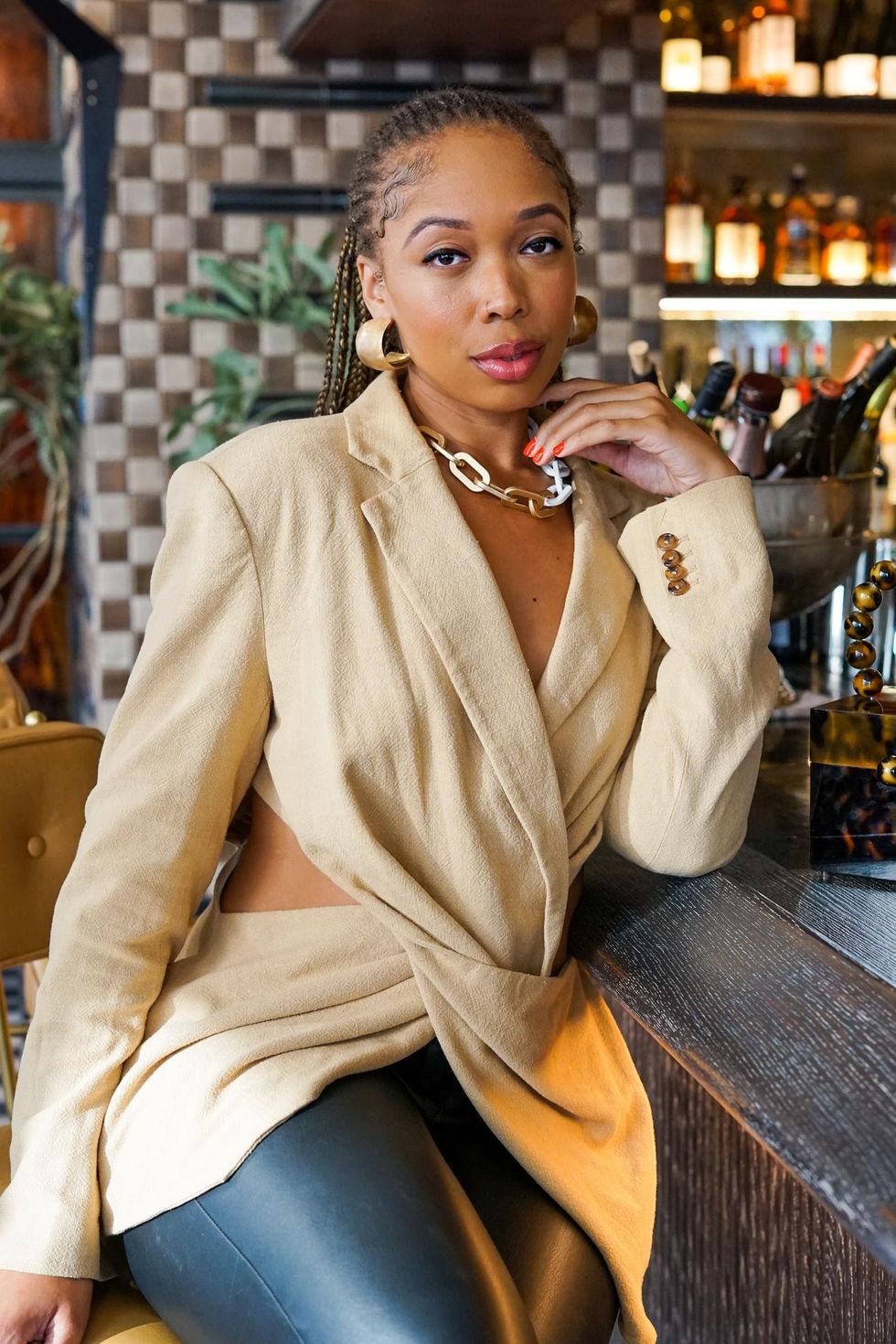 Shahirah Ahmed/xoNecole
Cut-Out Button Down Dress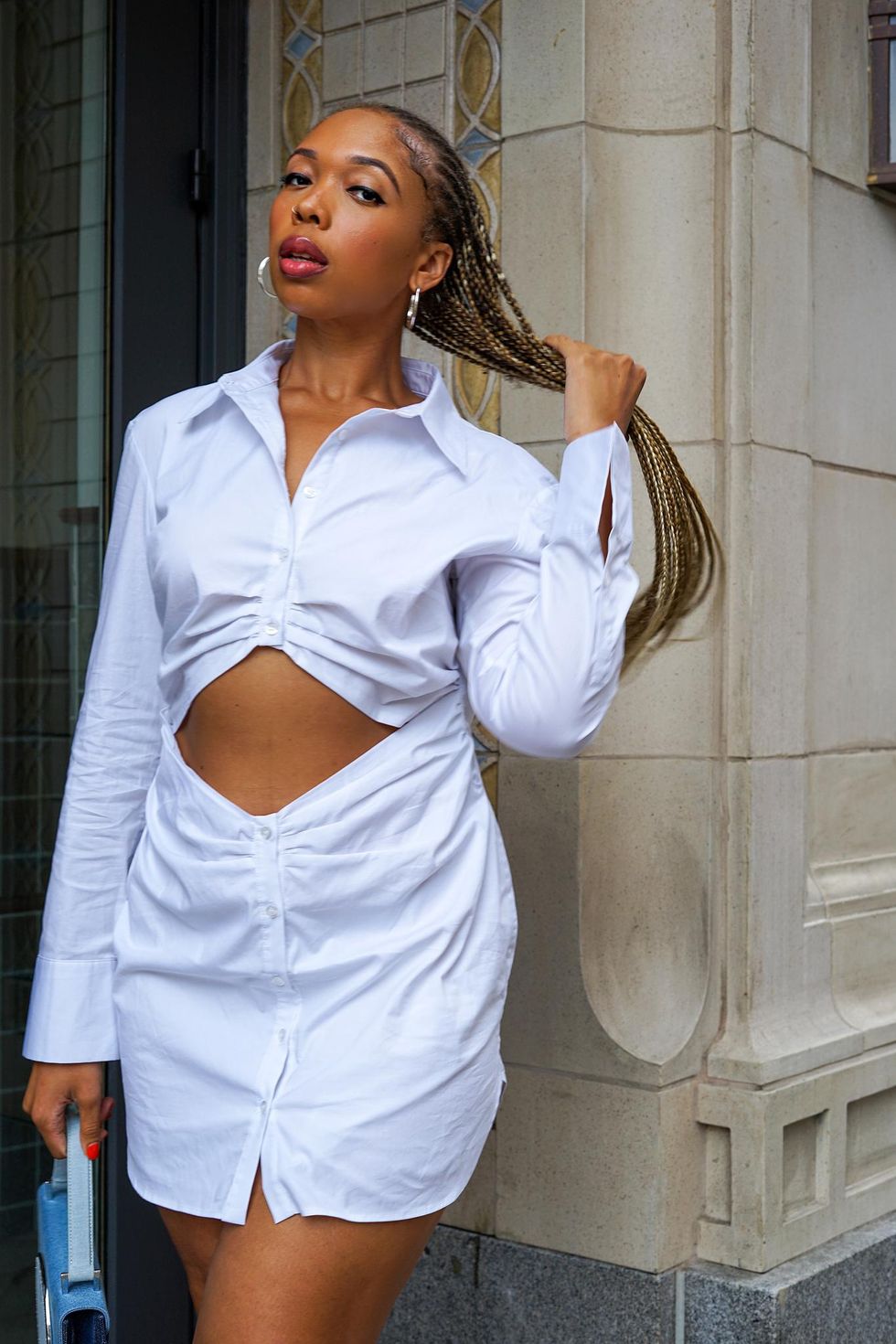 Shahirah Ahmed/xoNecole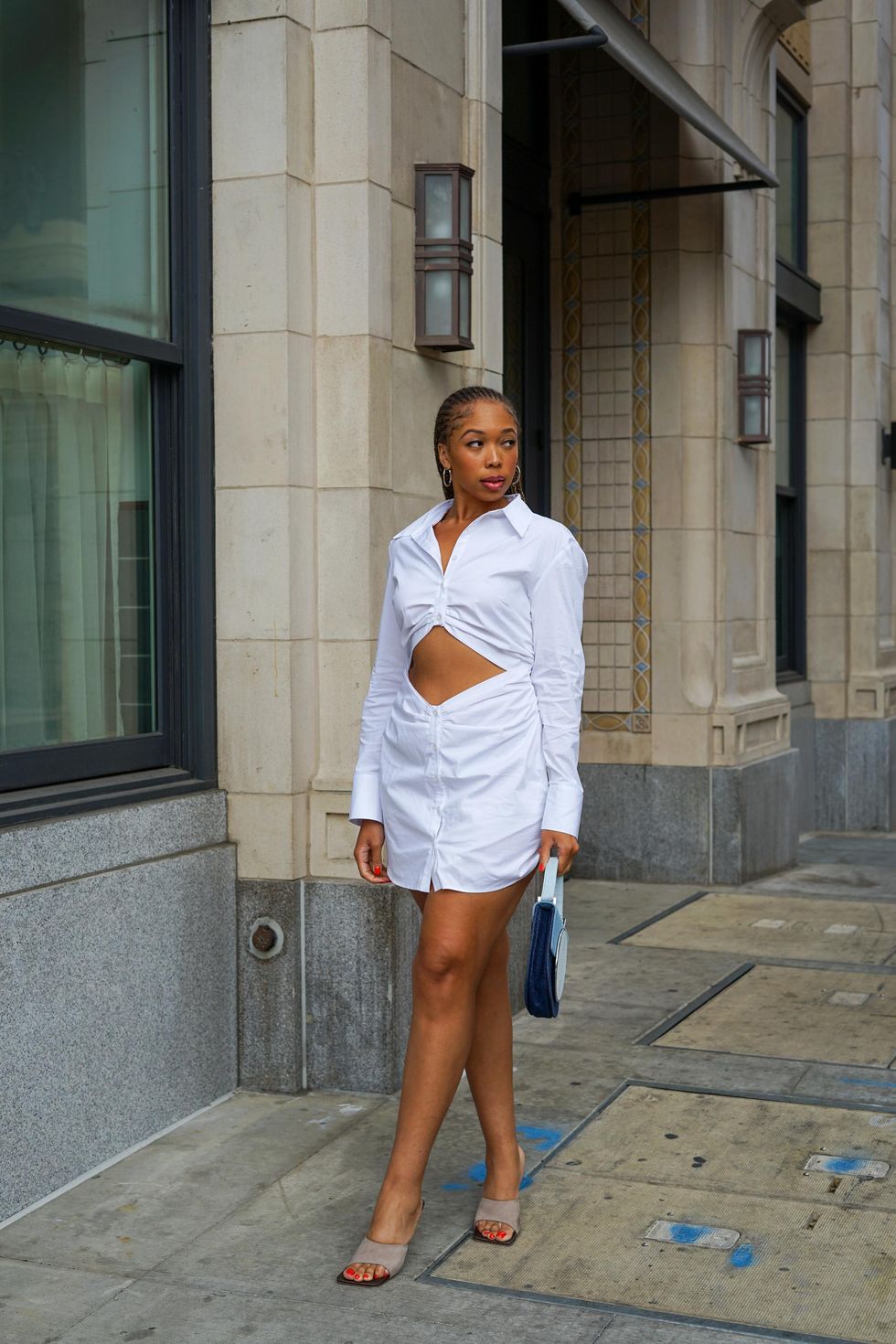 Shahirah Ahmed/xoNecole
Owning my fair share of classic white button-downs, I went on the hunt to find a more feminine style that embodied my favorite 2021 trends. Opting for this dress because of its bold front cut-out, I loved that it's not your everyday outfit. Perfect for transitional weather, I wanted to go for a more subtle approach, opting for a brown square toe mule.
When worn during cooler weather or at night, this look can easily be worn with an oversized blazer and boots.
Shahirah Ahmed/xoNecole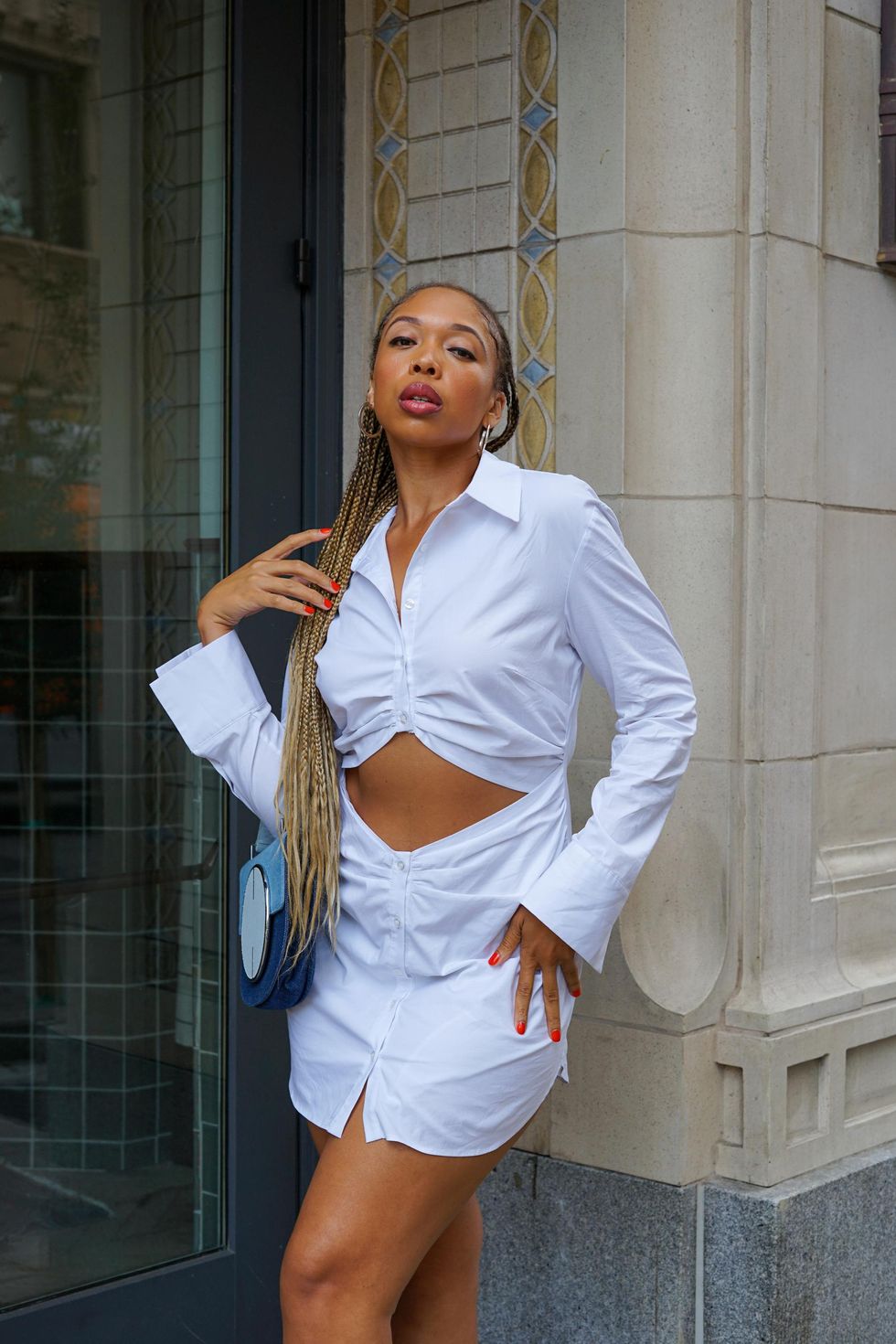 Shahirah Ahmed/xoNecole
Wide Leg Trousers With Subtle Mixed Prints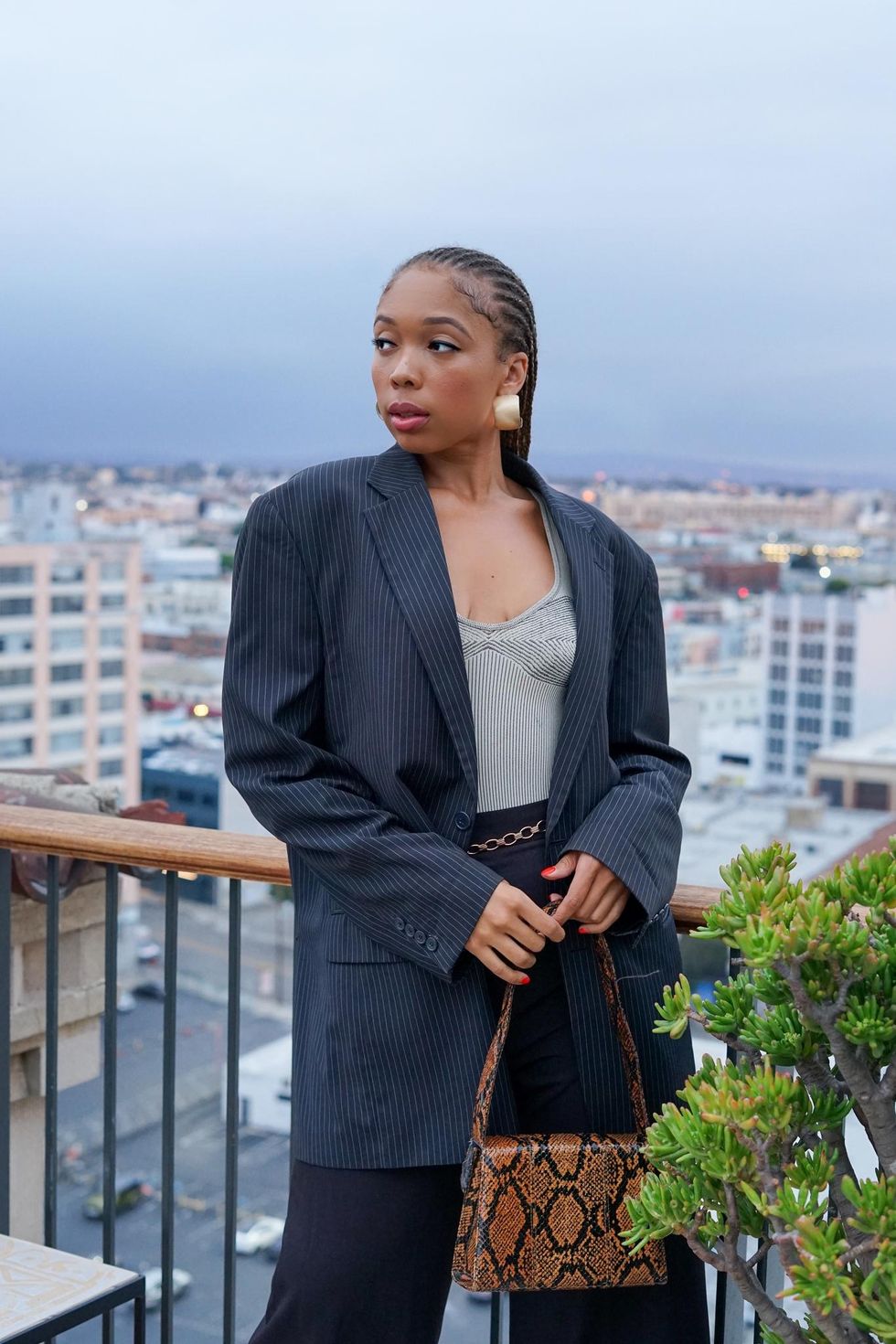 Shahirah Ahmed/xoNecole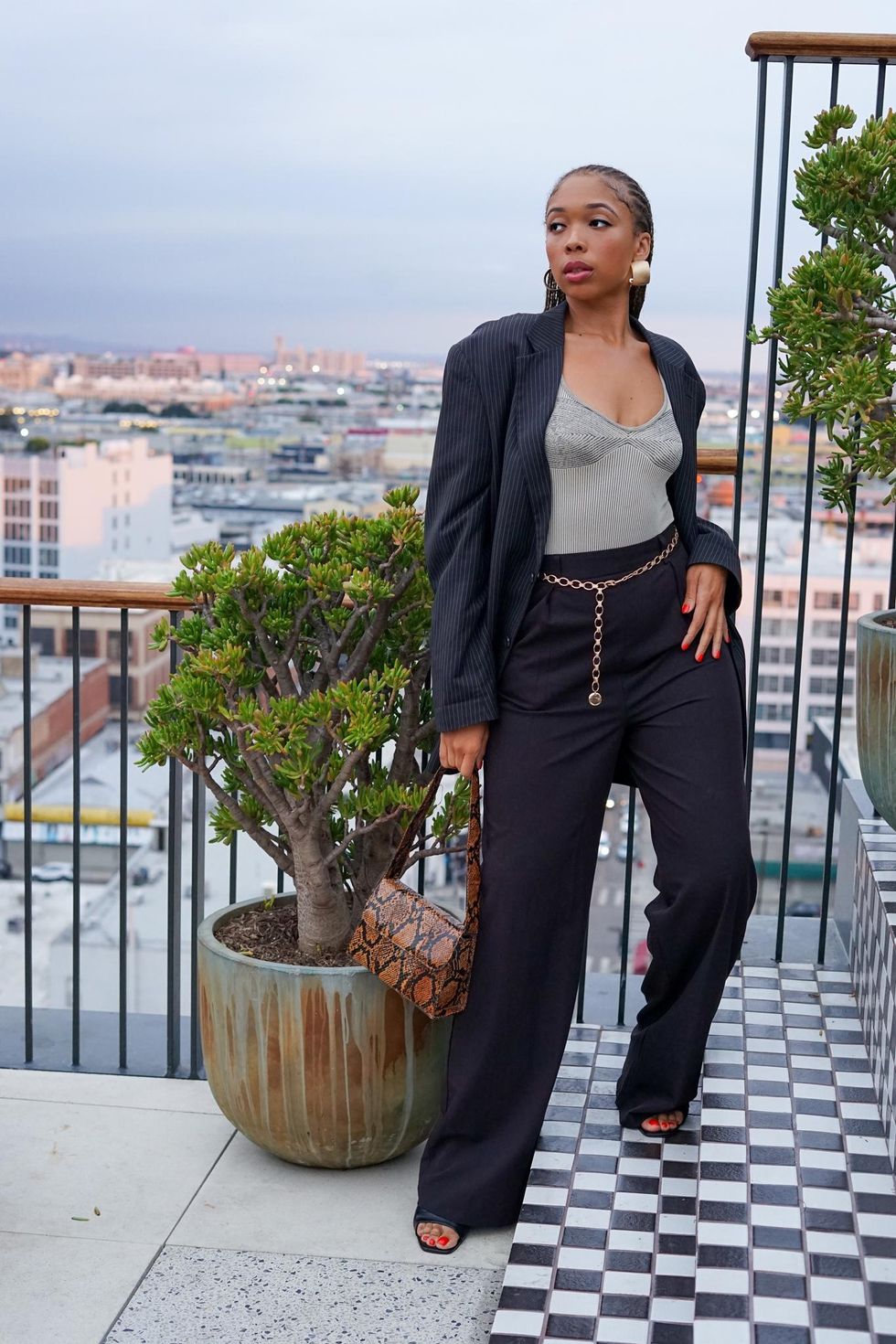 Shahirah Ahmed/xoNecole
First things first, a black wide-leg trouser is a must-have in every woman's closet. To add more depth to such a dark look, I decided on the addition of prints with an abstract bodysuit layered underneath a men's oversized pinstripe jacket. Pairing a slim gold chain belt for a subtle pop of color along with a brown and black python print bag added the perfect minor details to this oversized look.
Feeling extremely chic and comfortable, my mission was accomplished.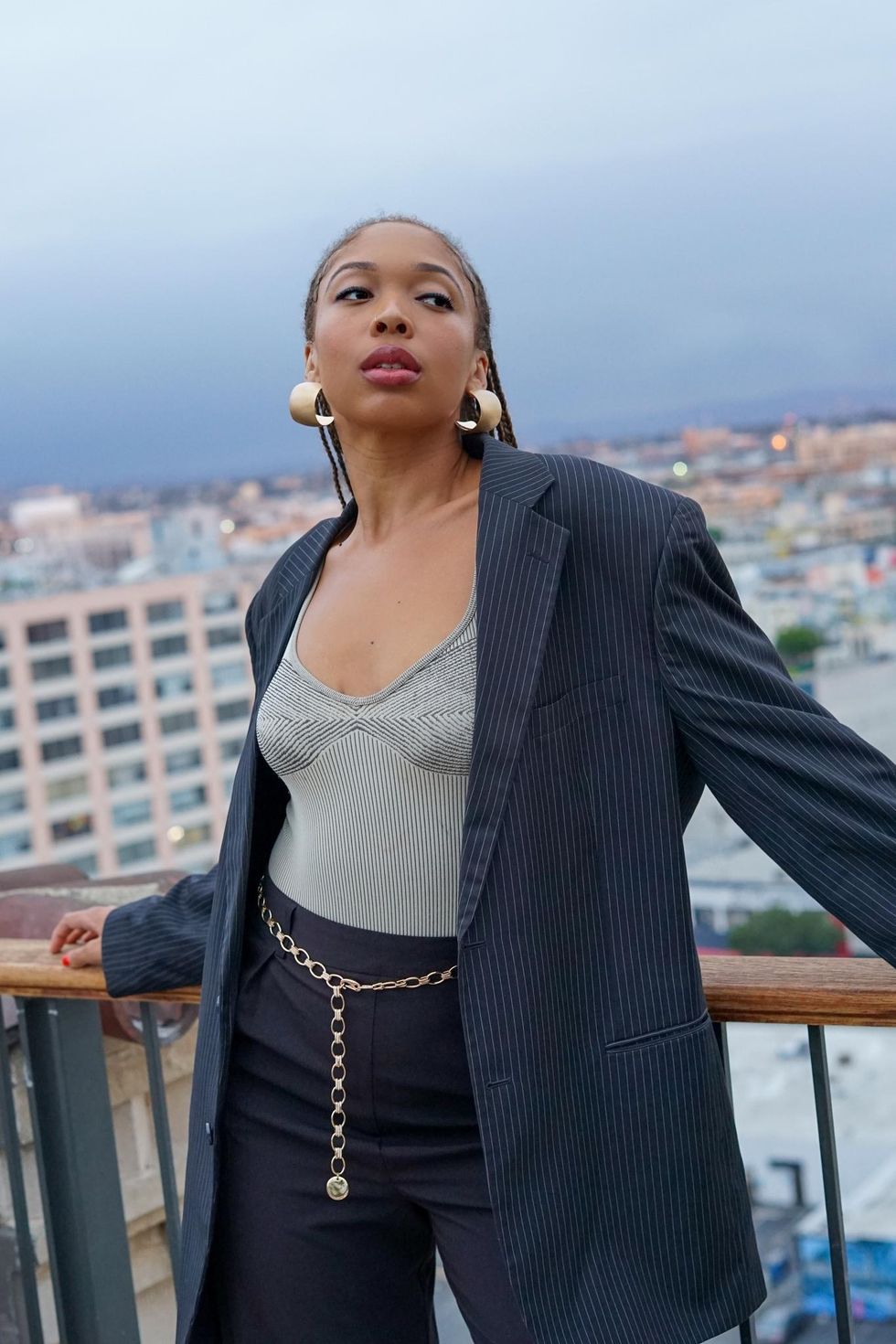 Shahirah Ahmed/xoNecole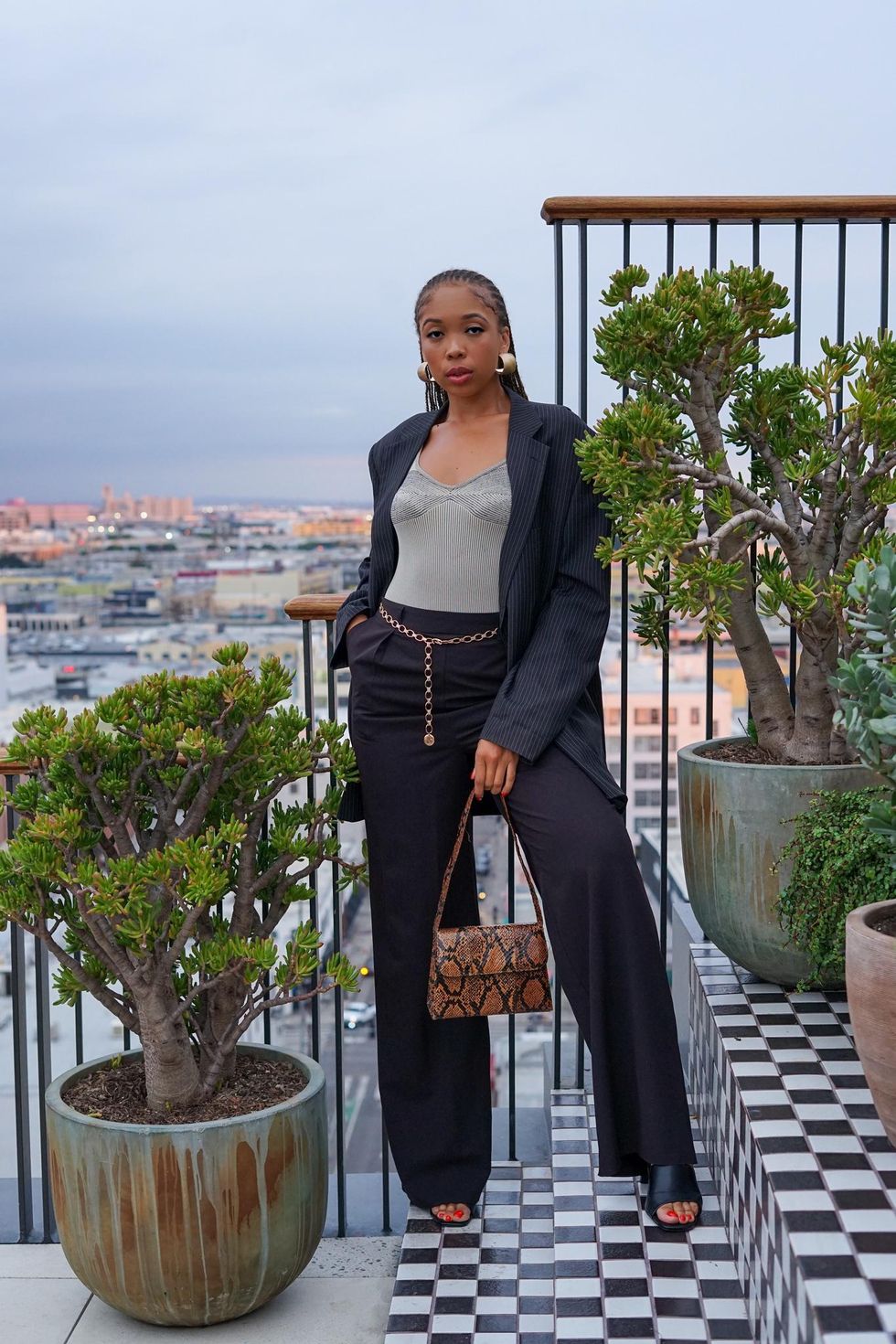 Shahirah Ahmed/xoNecole
To get your fashion fix and to stay up to date with the latest trends, check out the xoNecole Style section here.
Featured image by Shahirah Ahmed/xoNecole