---
Celebrating the Fourth of July might be the last thing on your mind with all that's going on in the world, but we do have a historical moment to celebrate in American history: Juneteenth. It falls on June 19 and is a day not only to celebrate the enactment of the Emancipation Proclamation, but to honor our contribution to American culture and advancement. Some companies are even making it a paid holiday and we're definitely here for it.
Whether you're self-isolating and limiting group outings, or living your best life out and about, here are a few ideas for fun things to do---and great ways to support black-owned brands at the same time---for a lit Juneteenth: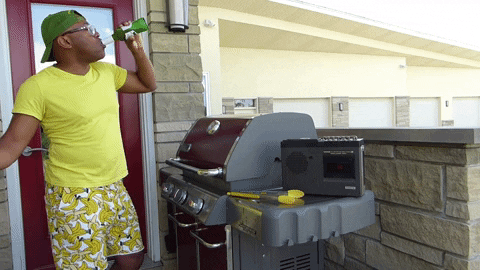 Giphy
Solo Celebration: Indoor or Patio Barbecue
If you're still feeling a bit apprehensive about any type of group activities, I'm with you sis. Fire up the grill anyway or put that oven broiler to work. Cop a few sparklers and streamers and hit up a few vendors for fab party decor on Etsy. Find menu inspiration via cookbooks including The Cooking Gene by Michael W. Twitty or Jubilee by Tony Tipton-Martin.
Make a nice sangria with a wine bundle from the McBride Sisters or a few grown-and-sexy cocktails with HH Bespoke Spirits. Put on that holiday cookout mix from Spotify, and wear that printed romper you would've worn to that cancelled street festival.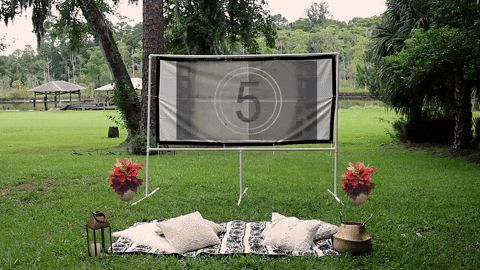 Social Distance Soiree: An Outdoor Movie Party
This is a good way to get people together while promoting social distancing. Invite a small group (no more than 10-20), supply masks, rent a projector (or even invest in an affordable one like this or this ) and make a station for hand-washing and sanitizing. Place the seating strategically apart to accommodate interaction but discourage crowd-gathering.
Stream films like Miracle at St. Anna (a Spike Lee joint set during World War II), Glory (an Oscar-winning Civil War classic starring Denzel Washington), Hidden Figures (about black female NASA phenoms) or Barry (a Netflix film about the early life of former President Barack Obama). Not into history films?
Bring out the oldies but goodies set in summer like Crooklyn,The Inkwell, Independence Day, or Girls Trip.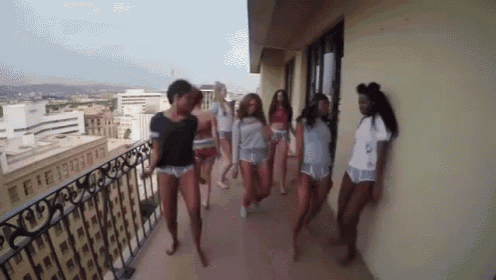 Giphy
Holiday Staycation: Friends Sleepover Edition
So your state has reopened its businesses and you feel comfy going outside---just not in a super-public space with strangers you don't know. Try renting a suite at a local or nearby hotel with a pool and create your own Juneteenth slumber party with a few besties or your immediate family. (You can start with this great list of black-owned bed-and-breakfast spots.) Or go with a local Airbnb that has a private pool. (Hosts are even offering "quarantine retreats" or "social distancing spaces" for people who want a break from their usual surroundings.) Wear fun PJs, tune in to a live DJ set on IG or streaming radio, and get creative with the snacks and drinks.
Remember, hotels have safety and sanitation guidelines they must adhere to. You can always bring your own wipes and disinfectant sprays, and continue practicing social distancing where mandated.
Airbnb even has updated its guidelines and best practices for hosts. If you're still a bit apprehensive about the cleanliness of a property where you'd like to stay, message the host, ask lots of questions, and look for listings that have flexible cancellation policies.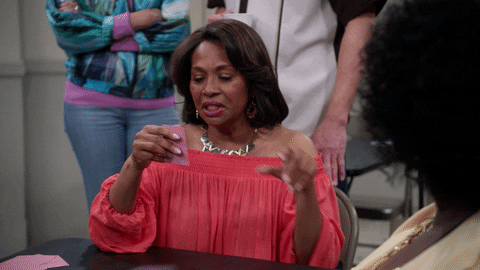 Giphy
Interactive Game Party
I know, I know. Some of us have had enough of virtual events. But it might be nice to step things up a bit and have giveaways, care packages with wine glasses, snacks, and drinks sent to attendees beforehand. You can also set up breakout rooms where people can hear different types of music being played and mingle separately. (I attended an awards event that included these elements and it made participating that much more fun.)
Add games to the mix like University of Dope, Black Card Revoked, or One Gotta Go, and have everyone contribute to a Cash App or Paypal prize for the winners of each round. You could even do virtual karaoke and dance contests where everyone gets a chance to participate.
Share videos from past trips or parties and anecdotes about those memories. Make your party truly interactive where the guests feel like they're not even missing out on the in-person aspect of the usual holiday festivities.
We Outside: Rooftop Party
If you're OK with getting your party on and all the social distancing restrictions for gatherings have been lifted in your state, by all means, do you. This is a great option for those who live in smaller apartment buildings or brownstones where rooftop access is allowed, or for those who'd rather party with familiar faces in slightly larger crowds.
If you don't already live in a cool spot with roof access, try a platform like Peerspace or Splacer to find a cool space. Put a little money in the pockets of black lounge and bar owners and rent their rooftop or smaller cabana spaces.
(Here's a good place to start.) I still recommend a sanitation station for all entering guests (stocked with antibacterial soap, a wash basin, bottled water, and hand sanitizer at least)---and you might even want to throw in a few masks for those who still choose to wear them. Charge a fee or monetary gift for entry and then donate the proceeds to a great organization that supports creatives, entrepreneurs or activists of color.

Whatever you choose, be sure to remember what Juneteenth is all about: Remembering the magic that is us and empowering ourselves to continue to survive and thrive.
Want more stories like this? Sign up for our newsletter here to receive our latest articles and news straight to your inbox.
Featured image by Shutterstock