I don't care how old we get, we can never be too old for a sleepover. So, why don't more of us do it? While things like schedules, partners and kids can make it challenging, I honestly believe that it's because a lot of us aren't sure how to throw one in such a way that it doesn't feel awkward or, let's be honest — childish.
---
If that's exactly what your line of reasoning is, because I personally think that there is something that's so wonderful and unique about sisterhood bonding, I've put together 15 tips that can make you want to host a grown ass sleepover and also cause your friends to want to RSVP ASAP.
1. Come Up with a Theme
To me, party themes are all about building up anticipation. It doesn't have to be anything deep. You can ask everyone to wear a certain color. You can focus on them coming dressed from a particular era. If you plan on going with a specific type of cuisine or music, folks can show up representing that. It's totally up to you. One way to give your guests an idea of what to expect is to send an e-card invite that has the theme featured on it. Paperless Post, Evite and Smilebox are just some of the online options you've got to choose from.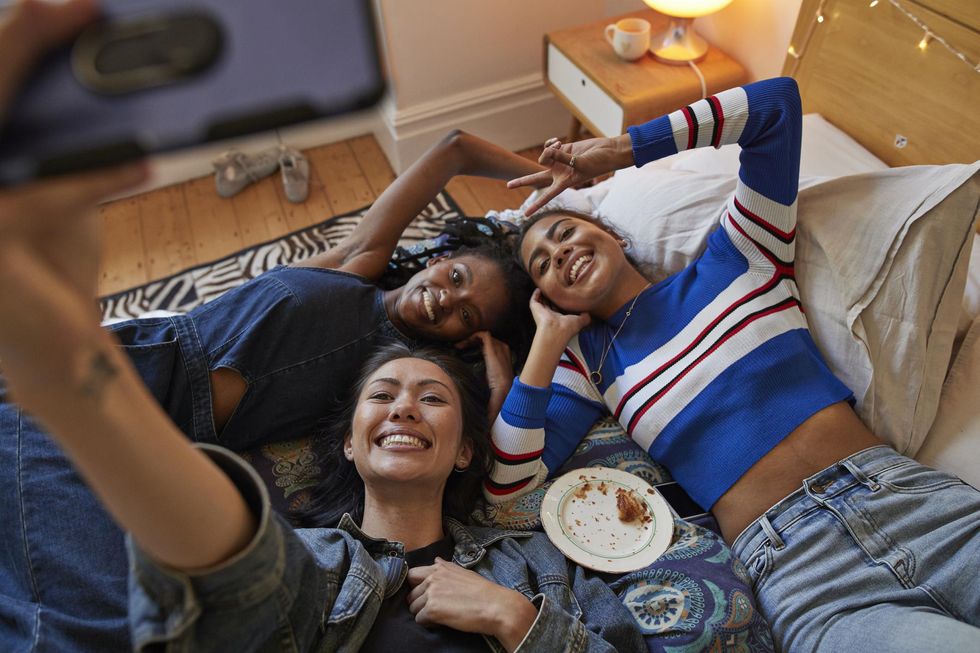 Getty Images
2. Cop Some Mattress Toppers
I'll be honest — sometimes I'll pass on an event like this (or not stay the night) simply because I'm getting too old to be sleeping all uncomfortable on the floor, even with a sleeping bag. Something that can immediately prevent this from being an issue is going to your local Walmart and picking up some mattress toppers (you know, like egg crates). You should be able to find a few for under twelve bucks. They can provide a bit of extra cushion, so that folks aren't waking up with a killer backache the following morning.
3. Potluck It. Kinda.
I recently had a birthday (Geminis, stand up!). When one of my friends asked me if I thought I would ever throw a party, in true Gemini fashion, I said, "Why? So I can go into debt while some folks weren't even thoughtful enough to bring a present?" Chile, please. Along these same lines, just because you may be the one who is hosting the sleepover, that doesn't mean that you need to be trying to figure out how to pay your rent once everyone leaves. Since food is probably going to be the biggest expense (well, that and liquor; I'll get to the latter in a bit), why not have everyone bring something? And to avoid ending up with nothing but plasticware, make specific requests. A dish and a bottle of something to get lit with should do.
4. Get Some Old School Candies
As you're gonna see with some of these other points that I'm going to make, one of the most fun things about a grown woman sleepover is cultivating an atmosphere of nostalgia. One way to do that is to include some bowls of candy that include old-school brands. Something that I like about the website Old Time Candy is it breaks candy down into sections like eras, flavors and types. You can peruse to your heart's content by clicking here; then order and have what you want delivered directly to your house.
5. Serve Snacks That Are Liquor-Infused
Speaking of stuff to snack-on, why not make the kind that are liquor-infused? There's a recipe for vodka chocolate-covered strawberries here. A recipe for vodka-spiked watermelon here. A recipe for drunken salsa here. A recipe for tequila-spiked caramel corn here. And all kinds of recipes for boozed-up ice cream here.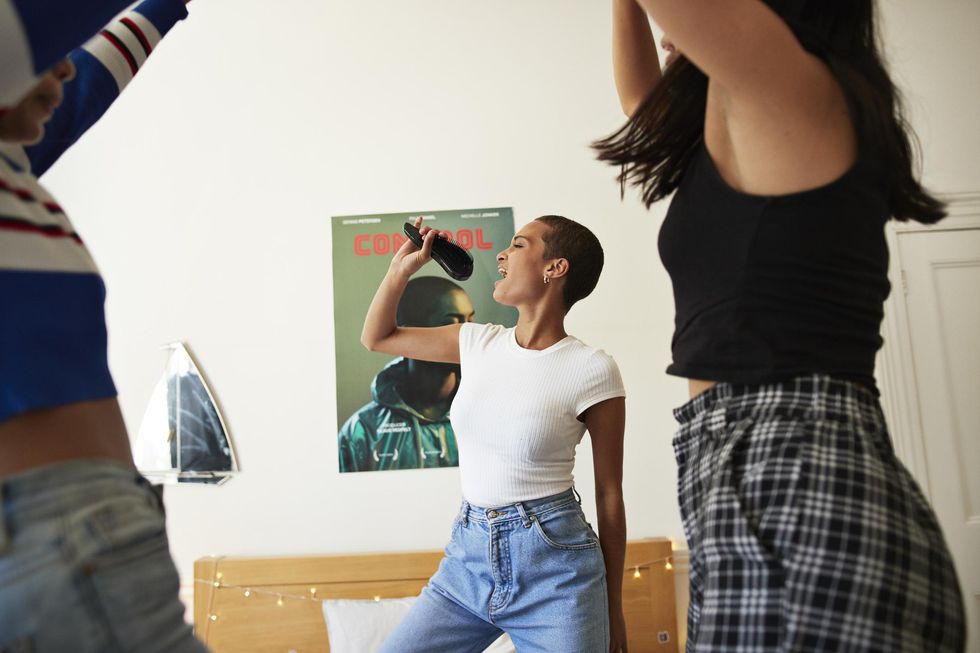 Getty Images
6. Put Together a Playlist from Your Collective College Years
Listen, I adore 90s R&B so much that I've got at least five graphic tees in honor of it. Every time I listen to music from that decade, I can literally hear a sigh come out of my body as I recall my college days. Taking out a couple of hours to put together a playlist from your own college years is a great way to get people hype and to hear some pretty awesome stories while songs are playing in the background — whether you went to school with your homies or not.
7. Stream a Couple of Throwback Movies
I already know that y'all got at least three streaming subscriptions thinking that it would be lower than your cable bill was (is it? LOL). So, why not look ahead of time for one or two movies that will take all of you back to either a simpler or more fun time (college anyone? 20s anyone?)? If you don't have streaming or cable, you might be able to find some gems on Tubi. It takes a little bit of digging and there are random commercials that pop up while viewing, but how much complaining can you do about a free app. Right?
8. Or, Binge-Watch a Favorite Black Sitcom
A show that I binge-watched a couple of years ago and thoroughly enjoyed is Survivor's Remorse. Now that it's back on BET, I've been catching up on it again. I also dig that TV One has put A Different World into rotation. Not only are both shows really good, they take me back to a time and place in my life that hold certain memories that I oftentimes don't think about until I do some binge-watching. Whether it's one of these or something else, maybe pull out five favorite episodes of a show that you and your girls used to like to watch all of the time. Even if you end up eating and talking while it's on, good Black programming always sets the best kind of atmosphere and tone.
9. Create a Signature Cocktail
Sometimes, I will do writing for wedding websites. It's there that I first heard of signature cocktails, and I like everything about the concept. Oftentimes, at wedding receptions, the bride and groom will have their own customized drink or they will come up with something that symbolizes them as a couple.
To commemorate your sleepover with your girls, why not make your own drink too? If you're down yet have no idea where to start, Sip Awards has some helpful tips here. Or, you and your friends can take a signature drink quiz, they can send the results to you and you can come up with a couple of mixtures that way (a cool quiz is right here).
10. And/Or Have Some Cotton Candy Cocktails on Tap
If you just read what I said and thought to yourself, "Girl, I'm gonna be good just to host this thing. What else, you got?", another option is to serve up a cocktail that already exists. One that tends to be a fan favorite is cotton candy cocktails that has strawberries, champagne, vodka, rosè, limes and cotton candy in it (the recipe is here). Talk about a drunkety-drunk-drunk sugar rush!
11. Then Play 20 Questions, Truth or Dare or Never Have I Ever with It
I've played all of these games with some of my girlfriends before and you know what — no matter how long I've known them and how much we've discussed before, when they've got some drinks in them, the game never ends without my mouth falling wide open, at least a couple of times. The main point here is to get an understanding, beforehand, that everything that is shared is confidential. Hell, if you want to makeshift some NDAs, I ain't mad at you. Celebrities do it all of the time. I totally get why.
12. Or, Go a Round of Social Sabotage
If y'all are more of an actual card or board game kind of person, BuzzFeed actually created a game called Social Sabotage (and yes, it's a card game). Basically, the box comes with two sets of cards — where and what. The best way to explain it would be that it's an online/smartphone version of truth or dare with a whole lot of twists to it. Things really could get kinda wild. Anyway, if you want to buy the game, go here. If you want to watch a video that explains how the game works, check that out here.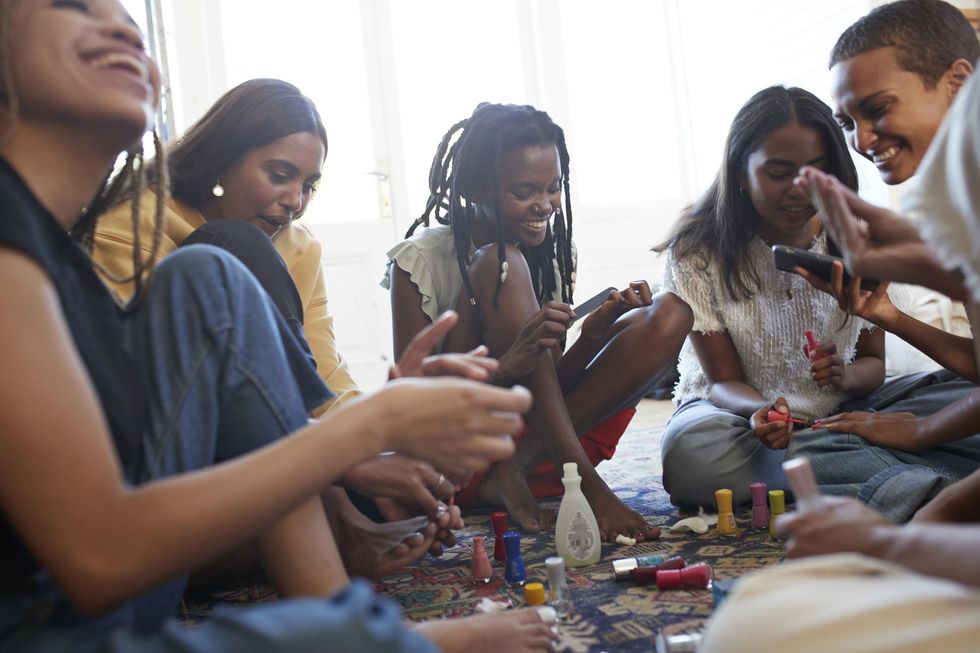 Getty Images
13. Paint Each Other's Toenails (or Fingernails)
OK, while I know that spa activities are a traditional girls' night in move, my experience has been that oftentimes they end up being a lot more trouble than they're worth when it comes to setting up and cleaning up. A happy medium is to have some polishes available for folks to either paint each other's toenails or fingernails. Personally, while I'm good when it comes to my feet, I'm always thrilled when someone can help me to switch out colors for my fingernails when I'm in between mani/pedi appointments. It's a cool way to slow down the night.
14. Give Everyone Their Own Bonnet as a Party Favor
Y'all and these bonnets, boy. One day, I'll write something, just on that alone. For now, can we all agree that they were initially made to protect our glorious hair while we sleep at night? That said, I can't think of a more profound way to end a Black woman sleepover than to hand out a party favor in the form of a new bonnet. If you go to Etsy and put "bonnet" in the search field, you can find a variety that are made from Black women. Some merchants even customize, chile. #yourewelcome
15. Have Breakfast Delivered the Next Day
Once half of y'all are either slightly hungover or too tired to make that big breakfast that you see folks do on TV, I've got an idea. Since actually eating breakfast can help you to feel better after a night of getting totally lit up (so does drinking water or chewing on some ginger, by the way), why not have breakfast (or brunch, depending on the time y'all wake up) delivered?
If you're up to trying something new, My Recipes published "51 of the Best Breakfast Destinations in America". Also, your favorite delivery app should have a breakfast section for you to peruse. It's the perfect way to end an awesome sleepover, don't cha think? Have fun!
Join our xoTribe, an exclusive community dedicated to YOU and your stories and all things xoNecole. Be a part of a growing community of women from all over the world who come together to uplift, inspire, and inform each other on all things related to the glow up.
Featured image by Getty Images