For many newly engaged couples, the euphoria of their engagement is quickly replaced by the stress and chaos of wedding planning. For writer Ashley Reese and her new husband Robert Stengel, the anxiety around planning their recent nuptials was only intensified by having just a week to plan and execute it.
---
"That's still something I'm really shocked by," Reese tells xoNecole as she continues to try and wrap her head around the events that preceded the beautiful day.
The Brooklyn-based couple's short notice matrimonies came after a tumultuous few years for them that started back in 2019, when Stengel began experiencing stomach issues. "We had just come back from a trip to Hong Kong and he had some symptoms like bloating and GI stuff," Reese recalls. After weeks of medical testing, Stengel received a diagnosis of peritoneal mesothelioma, a rare cancer that only about 300 to 500 people are declared to have every year.
For Reese, who at the time wrote for the feminist publication Jezebel, and Stengel, who had to put his law school career on hold, their hopes for the future were traded in for a series of uncertainties. "I was 28 at the time and I think when you're at that age, that's an age where you think about marriage, you think about settling down, you think about the future," Reese says. "And for that to be a moment when the future became very uncertain to us – it was very jarring."
After rounds of chemotherapy, followed by surgery and even more chemo, the future was beginning to look bright for the couple. Stengel went into remission just as parts of the country locked down in response to the pandemic. "I remember people in 2020 being like '2020 is like the worst year of my life; I didn't think anything could get worse than this,' and I'm like, yeah my shit time started in 2019," Reese said. "The pandemic was like a walk in the park compared to dealing with the fact that your partner has very fatal cancer."
Life was beginning to look hopeful for the couple again. Stengel started law school and Reese started a new job at Netflix. Things were going well until earlier this year in April when Reese and Stengel were told that the cancer had returned. "That was scary but we were told that they would try immunotherapy which was a newer kind of a treatment option that wasn't really available to us when he was first diagnosed and they can have high success rates," Reese said. "I was really hopeful."
Reese described the situation as going downhill around May. Stengel's illness progressed rapidly, prohibiting him from keeping food down causing him to lose a lot of weight in a short amount of time. He was hospitalized for weeks on end. This was also around the time that Reese learned she was one of the many people who were laid off from Netflix. She got the news just as she entered the doors of the cancer hospital. "It's one thing to deal with cancer, it's another thing to deal with cancer and also losing your job," she said.
Losing her job meant losing her and Stengel's health insurance. In a small turn in fortune, they were able to secure the money they needed for Stengel's further treatment after strangers helped Stengel's GoFundMe exceed its goal. The relief that provided only made room for the rough summer they had. "He couldn't eat certain foods, we had to do like feeding tubes. A lot of his medicines had to be put [in] through syringe," Reese said. "You kind of turn into a nurse overnight."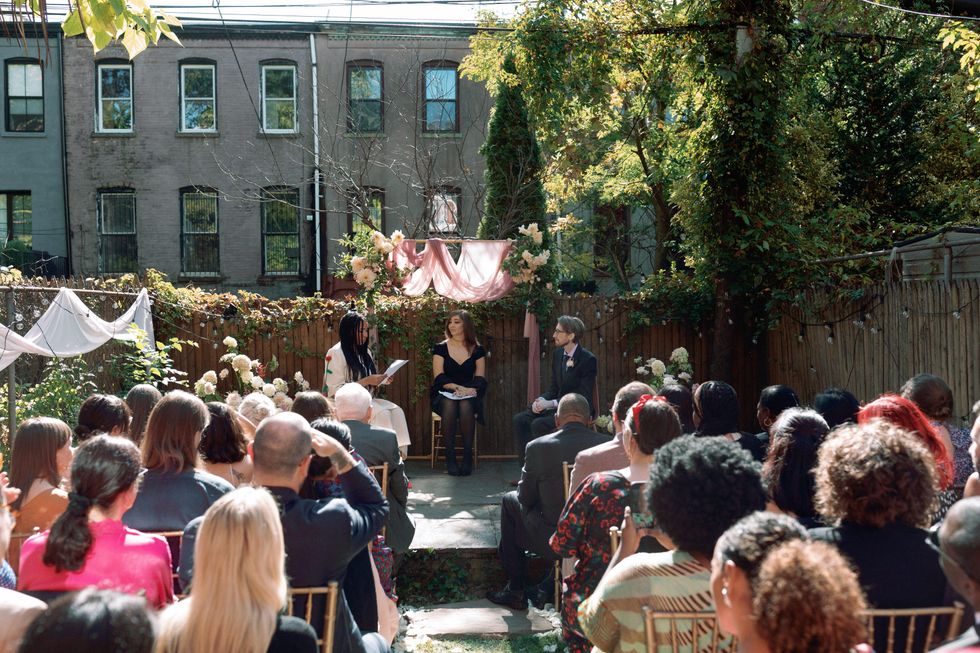 Ashley and Robert with their community on their wedding day
Sylvie Rosokoff
On October 7th, Reese said Stengel sat her down after months of ongoing treatment. "He had the kind of 'manage your expectations' talk with his team," Reese said. Stengel decided to pivot from treatment to palliative care, meaning he had chosen to live the remainder of his days under hospice care.
Reese said it was that same day that Stengel decided to call Reese's parents to ask for Reese's hand in marriage. A day later, Reese said that she told Stengel "let's get married – next week."
"He was given weeks or months," Reese says. She told him: "I don't want to take a gamble on waiting like a couple of weeks or months to get married, let's get married ASAP."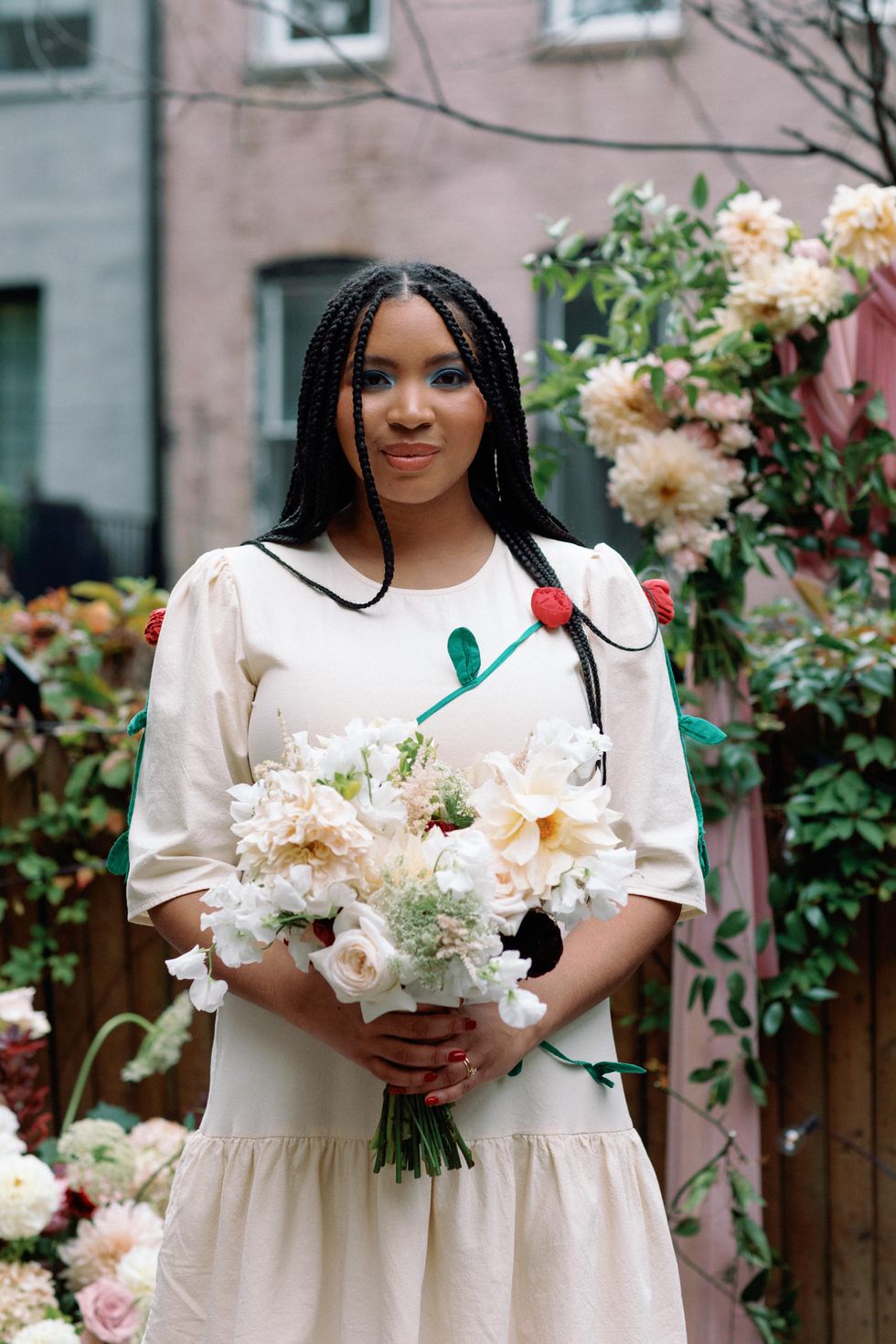 Ashley Reese
Sylvie Rosokoff
With just a week to pull together a ceremony in their backyard, Reese sent out a mass text to as many of her close friends as she could. "I was like, 'Hey are you going to be in town on the 16th? We think we're going to get married,'" Reese texted. To Reese's pleasant surprise, not only were many of her close friends available to attend, they also began to volunteer to help pull the wedding off. Friends of both Reese and Stengel began offering to pay for photographers, invitations, floral arrangements, and furniture. "People were coming out the wood work being like, 'I will clean your apartment,'"Reese said.
In just a matter of days, Reese's dream of a wedding materialized. "It was really a community effort, something that I would not have been able to pull this off in a week," Reese said. "I had this very nebulous thought of how things would go."
On the day of the wedding, which Reese described as being a bit "chaotic" due to her lack of sleep, all the communal efforts came together to make a beautiful day for her and her soon-to-be husband. "After getting my makeup done, I see the house completely transformed, the backyard completely transformed," Reese said. "It was just simply beautiful."
Reese said her friend, writer Zeba Blay, said something to the effect of: "Look at these people we know through all these different walks of life – from schools, neighbors, work. People we just met through our journey as a couple." She continued: "She's like 'look around at all the people who are here to celebrate you from different backgrounds, races, religions." Reese joked, "It looked like the fucking UN in there."
A week after the wedding, Reese posted a video of the day to both her Twitter and Tik Tok, both going viral on their respective platforms, with strangers around the world celebrating their love story. But even with all of the joy and love, there's still sadness. "I'm worried about the post-wedding high dwindling and I'm left with this reality that my now husband is dying," Reese said. While the wedding was a beautiful day of celebration, it also in many ways felt like a goodbye between her and Stengel, she said.
Despite the tragedy of slowly losing him, Reese and Stengel's community rallied behind them in their time of need. "You don't get to that overnight," She says. "You get to that by fostering community and being there for each other. As much as people were there for me, I will be there for those same people."
You can donate to Ashley and Rob's GoFundMe here.
Let's make things inbox official! Sign up for the xoNecole newsletter for daily love, wellness, career, and exclusive content delivered straight to your inbox.