Hanna Phifer
Hanna Phifer is a twenty-something-year-old Black writer and critic based in Charlotte, North Carolina.
In a world much fairer than the one we currently occupy, Angela Bassett shelves would be adorned with multiple Oscars. While watching the latest installment of the Black Panther franchise, I was reminded of the sheer brilliance and excellence of the actress who has blessed audiences with her boundless talents for over three decades now. I wasn't the only one captivated by Bassett's performance, with some people even going as far as to suggest that Bassett might garner award recognition for the role.
To borrow from her husband, actor Courtney B. Vance, when talking about his wife in the Nov/ Dec Essenceissue: "I don't know anybody else like her. She's once in a generation; once in a lifetime. I always tell her that the world is waiting for her Oscar so that we can lift her up 30 years past when we should have."
xoNecole takes a look back at some of Bassett's stand-out roles.
1993: 'What's Love Got To Do With It' 
In her career-defining role, Bassett stars as rock 'n' roll icon Tina Turner in a biopic about the legendary singer's career and tumultuous relationship with her ex-husband Ike Turner. The role would earn Bassett her first and currently only Oscar nomination. In a 2018 interview with Watch What Happens LiveWith Andy Cohen, Bassett agreed with the host when he said that he felt like Bassett was robbed of the Academy Award that would end up being awarded to Holly Hunter.
This wasn't the first nor last time Bassett would prove that she could portray a real-life person. She has also played Michael and Janet Jackson's mom Katherine Jackson in The Jacksons: An American Dream as well as historical figures such as Betty Shabazz, Rosa Parks, and Coretta Scott King.
1995: 'Waiting to Exhale'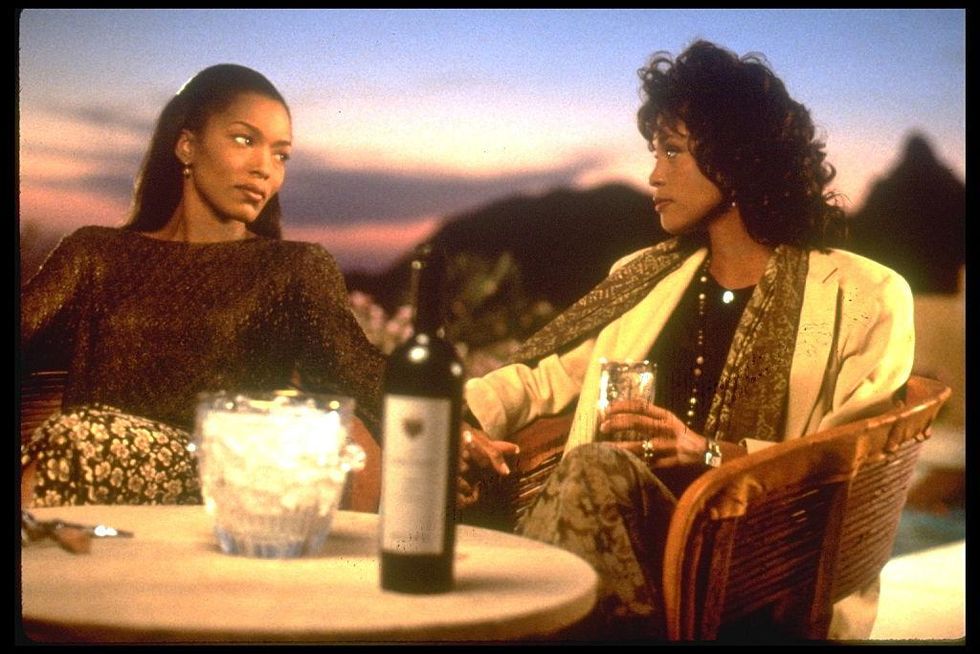 Frank Trapper/Corbis via Getty Images
This classic film based on the Terry McMillan novel of the same name boasted a star-studded ensemble cast that includes Loretta Devine to thee Whitney Houston. But it was Bassett who stole the show when her character Bernadette lit her unfaithful ex-husband's car on fire after going on an emotional tirade. The scene would go down as one of the most iconic in film history while also invigorating every woman scorned who watched it.
1998: 'How Stella Got Her Groove Back' 
In another Terry McMillan film adaptation (which is based on a true story), Bassett plays the titular Stella as she sojourns to Jamaica after her divorce and meets a young, fine local played by Taye Diggs. Bassett's role would once again inspire Black women across the country to find their own groove again.
2006: 'Akeelah and the Bee'
In what would be the breakout role for a then-unknown Keke Palmer, Bassett plays the mother to Palmer's character who is a spelling bee prodigy. Marking her third on-screen appearance with actor Laurence Fishbourne, Bassett plays the concerned mother role the only way she knows how.
2022: 'Black Panther: Wakanda Forever'
Returning as Ramonda, the queen of Wakanda, Bassett is every bit as regal as she was in the first film. With her role expanded in the wake of Chadwick Boseman's death, Bassett delivers a stunning performance that many think will finally secure her second chance at Oscar gold.
Let's make things inbox official! Sign up for the xoNecole newsletter for daily love, wellness, career, and exclusive content delivered straight to your inbox.
Feature image by Emma McIntyre/WireImage
Hair Tales, the new OWN six-part docuseries hailing from the minds of noted documentarian and executive producer Michaela Angela Davis, media mogul Oprah Winfrey, and everyone's best friend in their head Tracee Ellis Ross who produces and hosts the series, tells the beautifully complicated relationship Black women have with our hair through a historical, political, and sisterly context.
Each episode uses the story of a famous Black woman we've all come to love and adore as a conduit to discuss the larger cultural context in which our relationship with our hair exists. xoNecole has compiled a list of our favorite moments from the series packed with standout moments.
"Our strength, our beauty, our power is in our crowns … but we are not those things also" — Tracee Ellis Ross
In the episode centered around Representative Ayana Pressley, she speaks about the painful decision to cut off all her hair after suffering from alopecia totalis, which caused her hair to come out in clumps. However, Rep. Pressley's journey of losing her hair liberated her, so much so that after wearing a wig on the house floor once, she decided from then on to show her head in all its glory.
"What I admired about women who changed up their hair a lot is that they were free" – Dr. Tiffany Gill 
Our favorite Awkward Black Girl Issa Rae talks to Tracee about the decision to cut off all her hair over a decade ago. Her journey with her hair would intertwine with her personal and professional journey as she launched her hit web series with the premiere episode showing her character shaving off her hair. "I was born — I was reborn — in a new way," she said. Looking at her hair throughout the years, you can track the evolution of Rae as a person by the varying hairstyles, as she has admitted in an interview that she started experimenting with her hair more as she learned more about it.
"If we can legislate hurt and harm, then we can legislate healing and justice" — Ayanna Pressley
The Crown Act, a bill co-sponsored by Pressley, seeks to end hair discrimination against Black people in schools and in the workplace. The bill, which is currently sitting in the Senate, if passed would be a bold step forward in combating toxic ideals about who or what is or isn't considered to be professional. That not only could natural hair be beautiful, but it could also exist in the workplace and classrooms.
"I live in God's dream for me" — Oprah Winfrey 
The executive producer of Hair Tales Oprah Winfrey speaks about her own relationship with her hair, which dates back to her childhood. She was taught that straight long hair was what was considered to be the pinnacle of beauty. The award-winning host even recalled a moment early in her career when her boss insisted she straightened her hair, even going as far as to recommend plastic surgery in order to assimilate to white beauty standards.
Feature image by LaylaBird/ Getty Images
Let's make things inbox official! Sign up for the xoNecole newsletter for daily love, wellness, career, and exclusive content delivered straight to your inbox.
Let's make one thing clear, we support Black women– period. Megan Thee Stallion has become the latest example of the mistreatment Black women often face when speaking up for themselves. Since July 2020, when reports first surfaced that Megan, born Megan Pete, was allegedly shot by singer/ rapper Tory Lanez, she has had to deal with the dual trauma of the initial shooting and the subsequent harassment by Lanez, his fans, powerful people in the music industry, and the overall effort to discredit her.
Gun violence is an issue that continues to disproportionately impact Black women. According to a 2022 study, "Black women are three times more likely to be fatally shot by an intimate partner compared to white women." (Megan has denied having an intimate relationship with Lanez.) During a particularly fraught time in hip hop, when we've lost so many artists to gun violence, including the recent murder of rapper Takeoff, it's difficult to witness the continued minimizing and victim blaming of Megan by her peers in the business.
xoNecole has compiled a timeline of the events that unfolded following Megan's shooting, including members of the industry who have seemingly undermined her story.
Let's make things inbox official! Sign up for the xoNecole newsletter for daily love, wellness, career, and exclusive content delivered straight to your inbox.
Feature image by Rodin Eckenroth/ Getty Images
Here's an indisputable fact: Black is beautiful. It always has been and it always will be. No one understands this more than Diarrha N'Diaye-Mbaye. As a little girl growing up in Harlem, New York, the Senegalese-American entrepreneur spent a lot of time in her mother's hair salon watching the carousel of Black women that would come through the doors of the shop and saw how beauty could be a communal experience.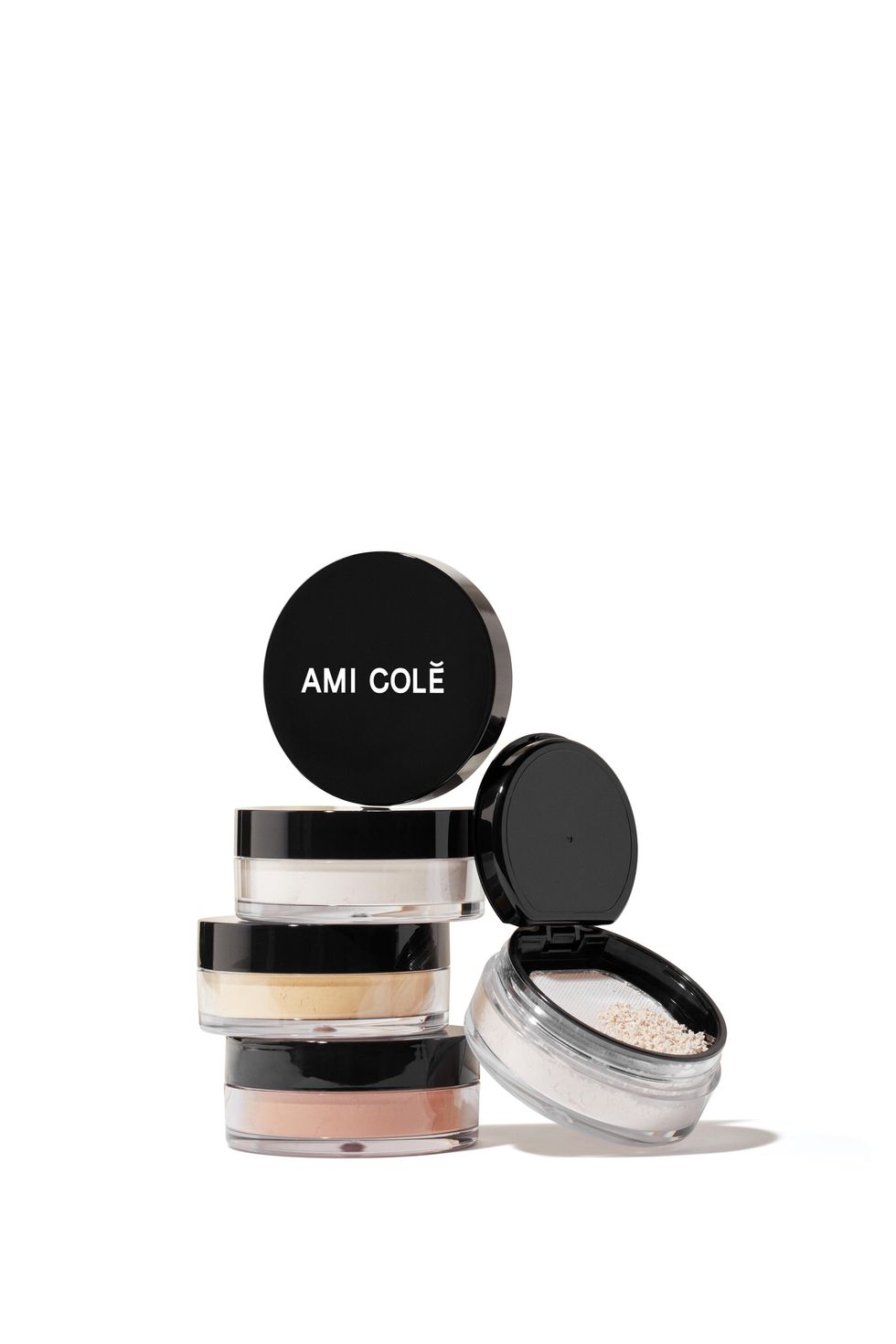 Ami Colé Powder
As an adult, beauty would continue to occupy a significant portion of her ye's life. "I worked in places like Temptu, L'Oreal, Glossier," N'Diaye-Mbaye told xoNecole. But there was still a nagging feeling inside of her of wanting to capture the beauty she was exposed to in her mother's shop as a child. "You know what? Lemme try this crazy thing," she said. Enter: Ami Colé.
Ami Colé is the makeup brand N'Diaye-Mbaye founded as an homage to both the Black women she was surrounded by in Harlem and her friends. "I wanted to create something simple that most of my girls were wearing and things that I saw growing up in Harlem," she said.
Up until this past decade, there's been a dearth of products and cosmetic lines dedicated specifically to people with darker complexions, with Black women being left with little to no options for skin-matching coverage. With a boom in brands in recent years that have put Black beauty at the front and center of its mission like Range Beauty, The Lip Bar, and of course Rihanna's Fenty Beauty, suddenly a new dilemma emerged for people like N'Diaye-Mbaye who wanted to launch their own makeup brands. "It was very difficult not only to get access in terms of people answering your emails," N'Diaye-Mbaye said of her early struggles in trying to get funding from financiers for Ami Colé. "People would say: 'Well Rihanna has a brand, why would you need another brand?'"
It wasn't until 2020 following the Black Lives Matter uprisings, when N'Diaye-Mbaye said that investors became "a little bit more sensitive and sensitized to where they sit on the spectrum of equity," that she was finally able to fully fund her company. N'Diaye-Mbaye officially launched Ami Colé in May 2021. Before launching, N'Diaye-Mbaye said that she surveyed Black women to see what customers wanted from a beauty brand. "By the time we launched, we knew exactly what type of makeup look, makeup style this customer was going for," she said. "We knew what shades she was using already and the new products she was missing or how to make her makeup routine just more simple." In addition to their makeup products like the popular lip oil and foundationless base products, Ami Colé offers items like incense and N'Diaye-Mbaye said they're even hoping to expand to fragrances in the near future. "We're always challenging ourselves to think about Ami Colé as a lifestyle," she said.
Ami Colé has already brought in $2 million in revenue, proving that there is space for more than just one Black beauty brand to thrive. When I asked N'Diaye-Mbaye if she ever felt like giving up through the arduous process of trying to get her dream off the ground, she said: "My parents are from Senegal and came here with no playbook, no internet, no security. They were able to come here and kind of forge to this new chapter and era of our family and a generation. So, whenever I do feel discouraged – which happens a lot, I'm only human – I think back to what people before me had to do to make sure that I can even have the option or the blessing to even create my own plan. So I never quit."
Let's make things inbox official! Sign up for the xoNecole newsletter for daily love, wellness, career, and exclusive content delivered straight to your inbox.
For many newly engaged couples, the euphoria of their engagement is quickly replaced by the stress and chaos of wedding planning. For writer Ashley Reese and her new husband Robert Stengel, the anxiety around planning their recent nuptials was only intensified by having just a week to plan and execute it.
"That's still something I'm really shocked by," Reese tells xoNecole as she continues to try and wrap her head around the events that preceded the beautiful day.
The Brooklyn-based couple's short notice matrimonies came after a tumultuous few years for them that started back in 2019, when Stengel began experiencing stomach issues. "We had just come back from a trip to Hong Kong and he had some symptoms like bloating and GI stuff," Reese recalls. After weeks of medical testing, Stengel received a diagnosis of peritoneal mesothelioma, a rare cancer that only about 300 to 500 people are declared to have every year.
For Reese, who at the time wrote for the feminist publication Jezebel, and Stengel, who had to put his law school career on hold, their hopes for the future were traded in for a series of uncertainties. "I was 28 at the time and I think when you're at that age, that's an age where you think about marriage, you think about settling down, you think about the future," Reese says. "And for that to be a moment when the future became very uncertain to us – it was very jarring."
After rounds of chemotherapy, followed by surgery and even more chemo, the future was beginning to look bright for the couple. Stengel went into remission just as parts of the country locked down in response to the pandemic. "I remember people in 2020 being like '2020 is like the worst year of my life; I didn't think anything could get worse than this,' and I'm like, yeah my shit time started in 2019," Reese said. "The pandemic was like a walk in the park compared to dealing with the fact that your partner has very fatal cancer."
Life was beginning to look hopeful for the couple again. Stengel started law school and Reese started a new job at Netflix. Things were going well until earlier this year in April when Reese and Stengel were told that the cancer had returned. "That was scary but we were told that they would try immunotherapy which was a newer kind of a treatment option that wasn't really available to us when he was first diagnosed and they can have high success rates," Reese said. "I was really hopeful."
Reese described the situation as going downhill around May. Stengel's illness progressed rapidly, prohibiting him from keeping food down causing him to lose a lot of weight in a short amount of time. He was hospitalized for weeks on end. This was also around the time that Reese learned she was one of the many people who were laid off from Netflix. She got the news just as she entered the doors of the cancer hospital. "It's one thing to deal with cancer, it's another thing to deal with cancer and also losing your job," she said.
Losing her job meant losing her and Stengel's health insurance. In a small turn in fortune, they were able to secure the money they needed for Stengel's further treatment after strangers helped Stengel's GoFundMe exceed its goal. The relief that provided only made room for the rough summer they had. "He couldn't eat certain foods, we had to do like feeding tubes. A lot of his medicines had to be put [in] through syringe," Reese said. "You kind of turn into a nurse overnight."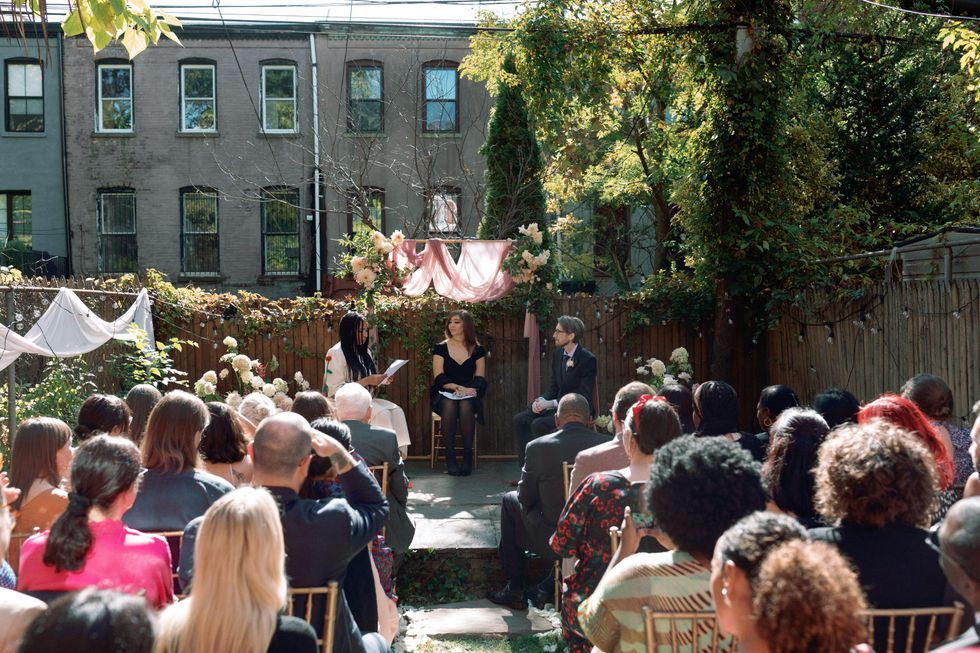 Ashley and Robert with their community on their wedding day
Sylvie Rosokoff
On October 7th, Reese said Stengel sat her down after months of ongoing treatment. "He had the kind of 'manage your expectations' talk with his team," Reese said. Stengel decided to pivot from treatment to palliative care, meaning he had chosen to live the remainder of his days under hospice care.
Reese said it was that same day that Stengel decided to call Reese's parents to ask for Reese's hand in marriage. A day later, Reese said that she told Stengel "let's get married – next week."
"He was given weeks or months," Reese says. She told him: "I don't want to take a gamble on waiting like a couple of weeks or months to get married, let's get married ASAP."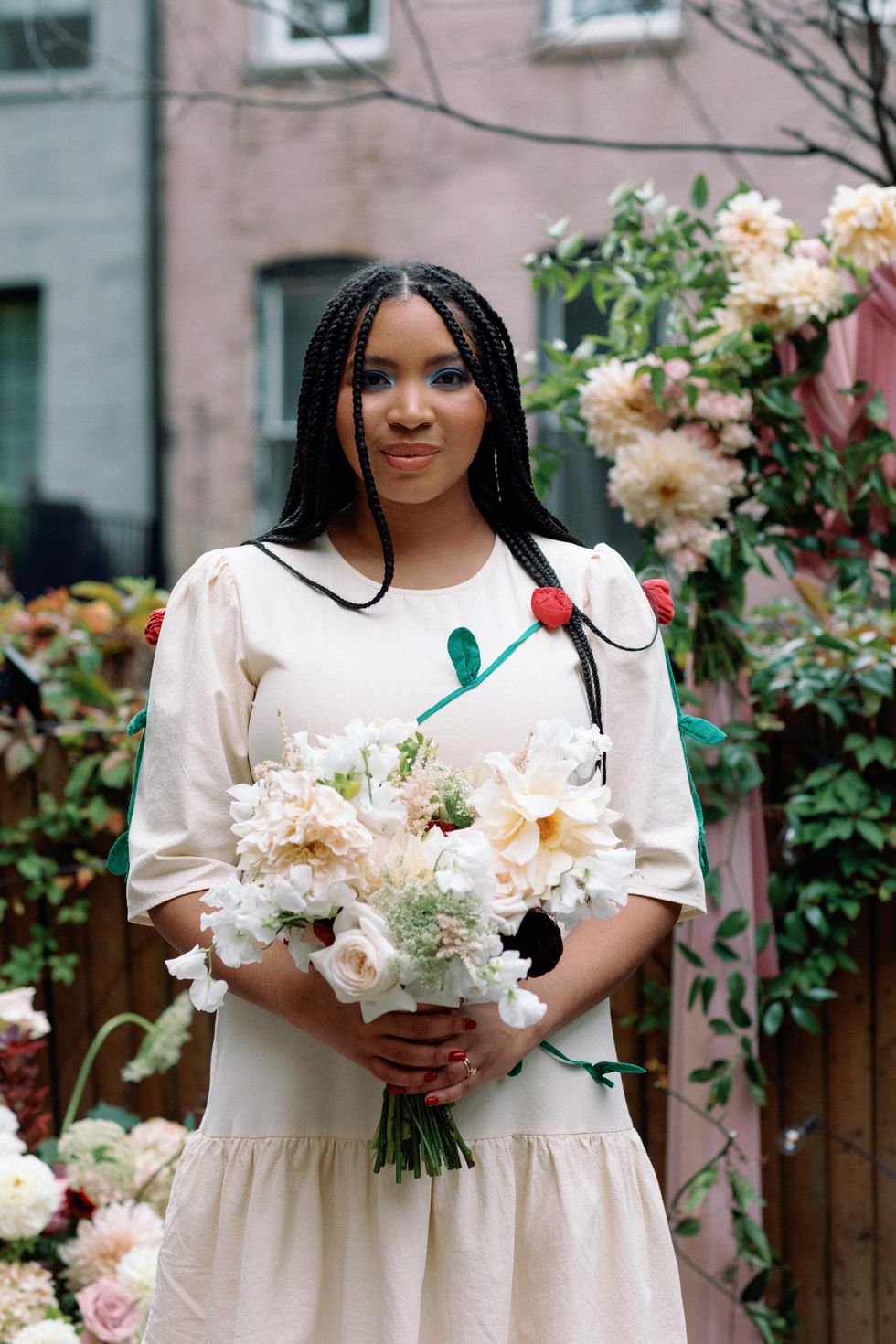 Ashley Reese
Sylvie Rosokoff
With just a week to pull together a ceremony in their backyard, Reese sent out a mass text to as many of her close friends as she could. "I was like, 'Hey are you going to be in town on the 16th? We think we're going to get married,'" Reese texted. To Reese's pleasant surprise, not only were many of her close friends available to attend, they also began to volunteer to help pull the wedding off. Friends of both Reese and Stengel began offering to pay for photographers, invitations, floral arrangements, and furniture. "People were coming out the wood work being like, 'I will clean your apartment,'"Reese said.
In just a matter of days, Reese's dream of a wedding materialized. "It was really a community effort, something that I would not have been able to pull this off in a week," Reese said. "I had this very nebulous thought of how things would go."
On the day of the wedding, which Reese described as being a bit "chaotic" due to her lack of sleep, all the communal efforts came together to make a beautiful day for her and her soon-to-be husband. "After getting my makeup done, I see the house completely transformed, the backyard completely transformed," Reese said. "It was just simply beautiful."
Reese said her friend, writer Zeba Blay, said something to the effect of: "Look at these people we know through all these different walks of life – from schools, neighbors, work. People we just met through our journey as a couple." She continued: "She's like 'look around at all the people who are here to celebrate you from different backgrounds, races, religions." Reese joked, "It looked like the fucking UN in there."
A week after the wedding, Reese posted a video of the day to both her Twitter and Tik Tok, both going viral on their respective platforms, with strangers around the world celebrating their love story. But even with all of the joy and love, there's still sadness. "I'm worried about the post-wedding high dwindling and I'm left with this reality that my now husband is dying," Reese said. While the wedding was a beautiful day of celebration, it also in many ways felt like a goodbye between her and Stengel, she said.
Despite the tragedy of slowly losing him, Reese and Stengel's community rallied behind them in their time of need. "You don't get to that overnight," She says. "You get to that by fostering community and being there for each other. As much as people were there for me, I will be there for those same people."
You can donate to Ashley and Rob's GoFundMe here.
Let's make things inbox official! Sign up for the xoNecole newsletter for daily love, wellness, career, and exclusive content delivered straight to your inbox.
Midterm elections are coming up on November 8, 2022, and a lot is on the line for voters. An election that people across the country are particularly focused on is the gubernatorial race in Georgia that has once again found the current governor, republican Brian Kemp, and the democratic candidate and former Georgia state representative Stacey Abrams competing for the coveted governor role. After the 2018 state election that was marred with voter suppression that favored the Georgia republicans, Abrams has committed herself to making sure that Georgians' votes matter.
xoNecole recently caught up with the gubernatorial hopeful about her campaign, what's at stake for voters, and what voters can expect from her if she's elected.
xoNecole: The last time you ran for governor in 2018, that election ended in voter fraud that favored your opponent. What informed your decision to run again knowing the corruption that exists and can succeed in electoral politics? 
Stacey Abrams: I wanna make sure we use the right language: it was voter suppression. Voter fraud is when someone manipulates the outcome, and that's what Donald Trump attempted to do. And what's so important about understanding voter suppression is it's not about the outcome – it is the outcome – but it's mostly by manipulating who has access. And that is what is so concerning about what happened in '18 and why I'm running. Because every Georgian who is eligible to vote deserves to have access to the right to vote. And unfortunately, this governor, both as Secretary of State and now as governor, has instituted multiple barriers to access, which leads to voter suppression. But the reason we have democracy is so that communities can have what they need.
We vote for leaders who will see us and serve us. And unfortunately, over the last four years, Brian Kemp has proven he doesn't see us. He has refused to tackle the core issues affecting our communities. He won't expand Medicaid, which means that thousands of people are denied access to healthcare for cancer treatment, for diabetes treatment.
We know that he has refused to invest in our schools. Too many of our young Black kids who are trying to go to college can't get financial aid and he won't tackle that issue. And we know that affordable housing is a crisis across the state of Georgia. In fact, he's sitting on 400 million for rental eviction assistance and won't spend the money. And then we know that in the state of Georgia there is a 100-year gap between Black and brown economic revenue and white revenue. He said that he'll study the issue. I actually have a plan to solve the issue in 15 years. And I say all that to say this: I'm running because I believe Georgia is at a moment of opportunity but we need a governor who sees us and is willing to serve all of us, not just as friends, not just people who he thinks are like him. And by pushing back against voter suppression, we have done the work of letting voters know that they have the right to be heard. And I believe in this election, they're going to show up and decide that they want more for their lives and for theirs.
xoNecole: You were praised after the 2020 election for your organizing efforts in getting Black people registered in Georgia in record numbers. Still, in the two years since then, many Black voters have expressed frustrations with democrats for seemingly once again using them for votes only to abandon them once in office. How do you convince someone who has felt let down by the democrats over and over again to once again cast a ballot for the party?
Abrams: First I begin by saying that Democrats have actually delivered in the last few years and it's going to feel as if it's not as much as we need, but it's more than we had. I point to the Inflation Reduction Act, which has poured money into our communities. The Infrastructure Act, which is going to employ so many of our communities. The CARES Act and the ARPA Act, which allowed so many millions of Americans, including Georgians, to have access to healthcare and some small relief.
But we need more. And part of that is that we need governors who actually work with the federal government to get the money to the people. What so many in Georgia don't understand is that yes there's money coming from the federal government –6 billion extra dollars in the state of Georgia – but the governor won't spend it on our people.
And so my reason for running and what I want people to understand is, I need you to trust one more time. We've tackled the federal level. We understand mayors, but until we control governorships, until we have people who actually are the intercessors between the federal and the local to actually do the work, we aren't going to get what we need. We aren't going to get the support that we deserve. And so, I am proud of the work that Democrats have done to send resources here, but now it's time to have a governor to get the resources into the pockets of our people, to get more money into our communities and more opportunity into our neighborhoods.
And when we have that governor, when I am that governor, we can deliver and we can finally push back on the reason people don't trust. They don't trust because they don't see change. And with a new governor in the state of Georgia, they will see change.
xoNecole: What do you believe is at stake for Black people in this election?
Abrams: Everything. We know that Brian Kemp doesn't care. He won't help. And he has attacked our freedoms. I say he doesn't care because he has refused to expand Medicaid. That means that half a million Georgians are being denied health insurance, 40% of whom are Black people. 40% of the people being told "no" are Black people who need that access to healthcare so they can take care of themselves and their families, and it's physical healthcare and mental healthcare.
And by refusing to draw down those dollars, he is saying no. We also know that under Brian Kemp, we have seen a skyrocket in gun violence rate, including guns being the number one killer of our children, and most of the children dying are Black. If we don't have a governor who believes in common sense gun laws, our children and our communities will continue to be the victims of gun violence and those guns are gonna get easier and easier to secure. But we also know that because he's let so many of our hospitals shut down. When they get shot, when they get hurt, there's nowhere to go for help.
Number two, we need access to housing. Affordable housing is a crisis and for Black communities, it is also the major pathway to wealth if we don't have access to housing.
We lose not only the daily opportunities for stability but long term opportunities for growth. And I intend to invest in affordable housing in the state of Georgia, especially to make certain that black communities have the chance to build generational wealth.
Number three, we know that the issue is can you make a living in Georgia? And unfortunately, this governor has been very comfortable with 1.5% of all contracts in the state of Georgia going to Black and brown people. Now that means that 98.5% go to white people in a state where Black people are 33% of the population. I want to be the Maynard Jackson of Georgia. I wanna make certain that we are growing wealth in our small businesses immediately, and you don't need legislation. You just need a good leader.
But I also know that Black women are in danger in Georgia because of Brian Kemp's draconian abortion ban. After six weeks, Black women already have a three times higher likelihood of dying from pregnancy-related illness than anyone else, and Georgia is number one in maternal mortality with his refusal to expand Medicaid. One in five women does not have access to healthcare. Then he puts on top of it, forced pregnancy and no opportunity for help. On the other side, I want to be the governor who repeals that abortion ban. And this is crucial, not only for Georgia but for Black people across the country because 56% of Black people live in the south. And that means unless I become the governor of Georgia, for Black people from Texas to North Carolina, from Tennessee to Florida, they will be denied access to reproductive care unless Georgia becomes an oasis for freedom and so on gun violence, on having the right to choose, on the right to vote, on the right to make your life better.
I am the only person who is looking at Black communities, talking to Black communities, and has plans for the success of the Black communities.
xoNeocle: Speaking to your pledge about investing in affordable housing, childcare, and minority-owned businesses: there has been criticism of your platform on policing which is to pour even more money into police departments, saying "higher pay [for police] leads to fewer negative interactions." During a time when many Black people are still being unjustly killed by police and many people are organizing around defunding police departments and putting those resources directly into communities instead, how do you justify giving even more money to the police?
Abrams: So what I've called for is expanding pay raises for law enforcement because we have law enforcement officers in Georgia who make less than a living wage, and we cannot say that we believe in a living wage and not say that that includes the people who protect us. We know that when someone commits a crime, it's often that they commit a crime against someone in their community. And I've got a brother who's been one of those people who has victimized members of our community. And I want people to be able to call for help. I want them to be able to call the police and say, please come and protect me. But I also know that my brother doesn't lose his humanity simply because he makes a mistake. And that's one of the reasons I'm calling for increased pay for correctional officers because our correctional facilities are in crisis and those who are in our prisons are being victimized and abused because we don't have adequate protection for them inside.
And so one of the pieces I'm pushing for is making sure we increase pay for correctional officers so those our prisons aren't being run by gangs who are victimizing and doing dangerous things to our communities. I also wanna pay for the salaries for our community supervision officers. When my brother finally stabilized, when he finally got out of prison, he for the first time had a good parole officer who kept him off of the road to recidivism.
And now my brother has been readmitted to Morehouse College. He is stable, he is clean, and I want that for every Georgian. And so my push is to make certain that we, the public, those who do law enforcement, who do it right, that they make a living wage, but that we also have adequate support to protect our communities.
But I also have a brother who's been pulled over for driving while Black. Many times. He's a social worker who was helping keep people out of jail, and he risked his life every time someone pulled him over. I believe in accountability. I believe that anyone in law enforcement who exhibits disregard and disrespect for our community should be held accountable.
And I am the only candidate calling for that accountability because I know that we have to have both public safety and accountability. That we have to have criminal justice and we have to have law enforcement. It is dangerous to pretend that we can pick one over the other. And because of my two brothers, I know we need to have both.
xoNecole: During the 2020 primaries, you defended Biden for president, even going as far as defending him against allegations of sexual misconduct, even as people like Vice President Harris said she believed the women [accusers]. Even to some of your supporters, this defense [of Biden] was unexpected. When it comes to issues of sexual misconduct and justice for victims, what policies can voters expect you to uphold and defend as governor?  
Abrams: I believe that women deserve to be heard. I believe women deserve protection from sexual violence, and they deserve to have a platform and access to opportunities. And I will stand on my record any day of the week. I believe that it is important for us to create spaces, not only for hearing our victims, but making sure they get access to the help and the support they need and that's one of the reasons I want to expand access to Medicaid and expand access for those who have needs to get the mental healthcare treatment and have the law enforcement responsibility to take care of them as well.
The other piece of this is that in a state like Georgia where we have no access to abortion, we know that victims of sexual violence are going to be forced to carry their attackers' progeny and that is wrong. We need a governor who's actually going to protect the right of a woman to choose to control her body and to control her future. And I am proud of my record defending women and defending our right to choose.
Let's make things inbox official! Sign up for the xoNecole newsletter for daily love, wellness, career, and exclusive content delivered straight to your inbox.