Hanna Phifer
Hanna Phifer is a twenty-something-year-old Black writer and critic based in Charlotte, North Carolina.
*Editors note: this article contains information about sexual assault, child pornography and rape. Please read with care. If you have experienced sexual violence and are in need of crisis support, please call the RAINN Sexual Assault Hotline at 1-800-656-HOPE (4673). If you are thinking about suicide, please call the National Suicide Prevention Lifeline at 1-800-273-TALK (8255) or the Suicide Crisis Line at 1-800-784-2433.
On June 29th, R&B singer and producer Robert Kelly, best known by his stage name R. Kelly was sentenced to 30 years in prison by New York Federal Court after being convicted in September of 2021 on charges of racketeering and sex trafficking. The sentencing was announced after many of his victims tearfully shared the impact his graphic abuse of them has had on their lives. This conviction and sentencing come nearly thirty years after the singer began facing allegations ranging from rape, possessing child pornography, marrying a then-15-year-old Aaliyah, having his own sex cult, and more.
In the weeks leading up to the sentencing, xoNecole spoke with four Black women activists who work diligently to address sexual violence within the music industry and writ large on R. Kelly's conviction. Now that Kelly has been sentenced, we're sharing our conversations with each one, condensed below: author and founder of the Me Too movement Tarana Burke (featured in the docuseries Surviving R. Kelly and the Russell Simmons documentary On The Record) and the founders of the #MuteRKelly movement Kenyette Barnes and Oronike Odeleye (who also appeared in Surviving R. Kelly ) and author and activist Sil Lai Abrams, who shared allegations against Russell Simmons in The Hollywood Reporter and the HBOMax documentary On The Record.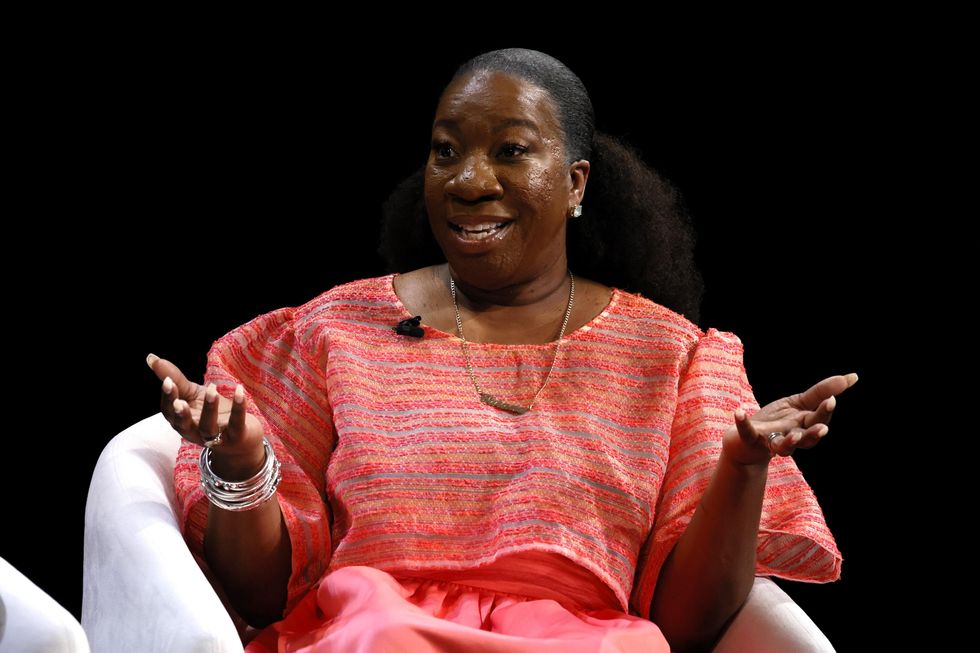 NEW YORK, NEW YORK - JUNE 07: Tarana Burke speaks onstage at the TIME100 Summit 2022 at Jazz at Lincoln Center on June 7, 2022 in New York City.
Photo by Jemal Countess/Getty Images for TIME
xoNecole: I also invited journalist and Surviving R Kelly documentarian dream hampton who declined an interview but did provide a statement:
"As someone who wants to believe in restorative justice, I think this could have been the beginning of actual healing and justice had R Kelly, at any point, admitted to the harm he's caused for decades. His victim should have a financial fund from which they can draw to rebuild their lives. He could have changed the culture by being accountable in this way. He could have opened up a conversation where predators and abusers could enter too. Which is radical. But no, he'll have his sentence meted out to him by a broken system. He will continue to have the currency of love and devotion by countless Black people, even as he spends these years in prison. It is all a shame."
xoNecole: What was your initial reaction to the news of R. Kelly's conviction?
Tarana Burke: I was asked this question when [Harvey] Weinstein was convicted when [Bill] Cosby was convicted and it stays the same: these convictions are not a victory. I understand the catharsis for the survivors. There is a duality, that you have an immediate sort of excitement that feels like we have *something.* Right? You can't help it. I think that's human nature. That feeling of we have something, especially as Black women. Because we never get anything. So, I think there's that first wave of that.
And then there's the immediate slap in the face – especially if you engage in anything public, like social media or walking down the street – of the rejection of that. So my reaction came in stages, is what I'm explaining. That first stage of sort of surprise and relief that we got something. And that something is acknowledgment of that – even from a f-cked up system – an acknowledgment that our trauma and our pain deserve acknowledgment. It deserves accountability. You have that first wave and then you get slapped in the face with "no, it doesn't." I don't know if we even had sixty seconds of whatever that first wave was. I get settled in just the catharsis of the survivors. It's like they get a chance to breathe after holding this sh-t for so long. They get a chance to be like, "I get to hold something."
Sil Lai Abrams: I was not surprised because the conviction was the result of decades of lobbying by activists and advocates. In many ways, his social currency in the Black community was diminished in a way that would enable a conviction to occur in the criminal legal system. To dream's point, the system as it exists is not one that takes into consideration the needs of survivors or even those that have caused harm. He's being used as a totem in many respects and I believe that his conviction in some way shields other people who cause sexual harm because I think that society can look at him, point to what will occur with him, and say, "You see? The system works because R. Kelly went to prison." When in fact, his incarceration does nothing to address the systemic nature of sexual violence and the very broad ways in which harm affects our entire society.
Oronike Odeleye: Honestly, my first reaction was relief. I was relieved for his victims because they have been gaslit for years about the abuse that they've suffered. I was also relieved for myself. This has been a long journey that I did not mean to embark on [as a founder of the #MuteRKelly movement]. It's been emotional and hard, so I'm glad that my part was over and now someone else can take over. And I was relieved for our community because for so many people, a lot of the visceral and emotional reaction they had to this was not necessarily about R. Kelly but about their own interactions. Their own experiences of abuse and trauma that they had carried, a lot of the secrets they had carried and they wanted to see justice play out. I was relieved for everyone involved.
Kenyette Barnes: It was very complex emotions. There was sadness of course because no one wants to be a part of perpetuating a broken system that over incarcerates Black bodies. However, thirty years has gone by and nothing has been done. And on several occasions, I believe that Robert Kelly had the opportunity to fix this in some way and didn't. So my feelings were sadness because I feel like why did it get this far? My next emotion was a sense of relief for the survivors. They had been fighting for years. The #MuteRKelly movement had put that advocacy on a global stage. And through strategic organizing had resulted in a financial boycott of his music. We received some backlash and unfortunately, this accountability included the criminal justice system.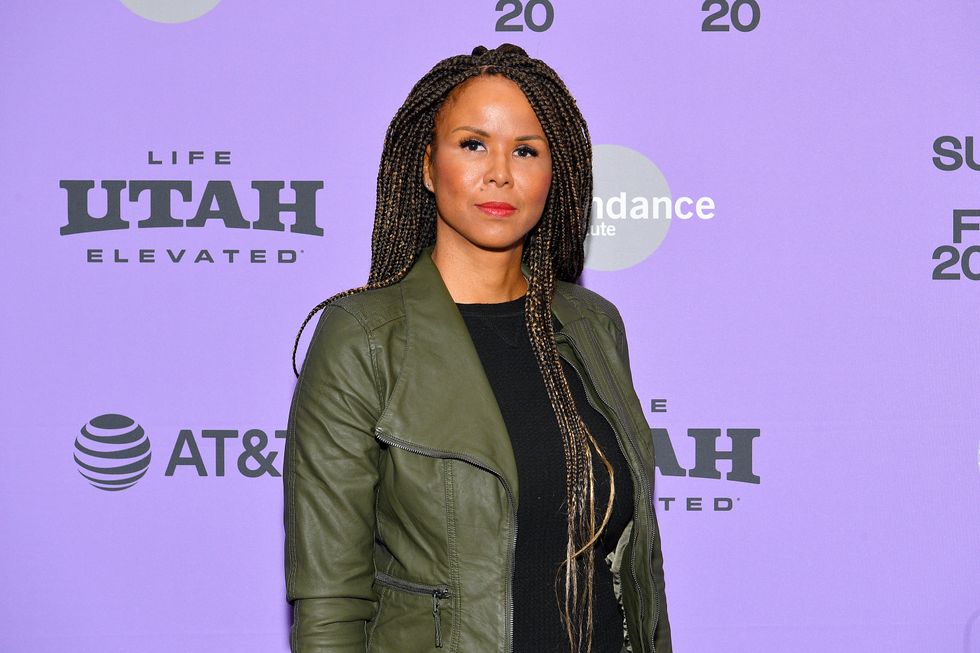 ​PARK CITY, UTAH - JANUARY 25: Sil Lai Abrams attends the 2020 Sundance Film Festival - "On The Record" Premiere at The Marc Theatre on January 25, 2020 in Park City, Utah.
(Photo by Dia Dipasupil/Getty Images)
xoNecole: It's been nearly thirty years since allegations against R. Kelly first started. Why do you think it's only now that we're seeing a conviction?
TB: There had to be like six exposés. I feel like The Miami Herald did one. The Chicago Tribune did one. The Village Voice did one. And so, it's not from lack of media coverage. It's not from a lack of raising voices. Every Black woman journalist that I know has been raising their voice across social media. More than one social media campaign. Because #MuteRKelly preceded #MeToo going viral. People conflate those two. The #MuteRKelly hashtag started in August of 2017 after the article came out in Buzzfeed. It got amplified after the #MeToo movement went viral [in October 2017]. So, it took all of that and then the documentary to get people to pay attention. But it was like we had to stand on our heads and light ourselves on f-cking fire in order to get one singular Black man. There's this narrative about the Black man being targeted. It's so crazy because that was the singular person. And to your point, we've been talking about him for nearly twenty-five, thirty years. And it took that because of that famous Jim DeRogatis quote from The Village Voice where he says the one thing that he's discovered in all these years that he's been chasing R. Kelly is that nobody in America matters less than Black girls. I'm paraphrasing the quote, but I'll never forget reading that quote. This is a sixty-something-year-old white man from Chicago who writes about rock n' roll, who just on his own was so bugged out about how no one was paying attention to R. Kelly.
SLA: The #MuteRKelly campaign is really the driver behind this push for accountability, this incarceration, without which I don't believe this would've occurred. It took a certain amount of critical mass to come together. They had built a groundwork and a framework for the campaign in the years preceding the #MeToo era. So when #MeToo exploded in 2017, it just facilitated his downfall, so to speak, because there was such a tremendous body of work, of evidence that had been collected and been disseminated for at least three years, I think. So, I believe that is a large part of why this has happened.
In addition, our views around sexual harm have evolved. And even now when someone is now "legal," [i.e. age 18+] that is no longer seen as a shield against allegations or recognition of predatory behavior. So, for example, you could see an 18-year-old in a consensual – "consensual" – relationship with a 45-year-old and people don't respond the same. People will call that out and note the disparities in power between the two parties. And I think that's a big part of it. There is a very slow shift that's going on in online discourse and I think that's very healthy. I think another reason why change is happening is because many of the barriers that existed before such as all-powerful public relations agencies and representatives for some celebrities are no longer as effective because social media has had a democratizing effect upon those who recognize harm is occurring.
OO: I think so much has changed within our society. The way we talk about sexual abuse, the way we think about rape. The way we now have vocabulary around grooming. The way that we understand consent. The way that we talk about adulthood and childhood are different than when these allegations first came out thirty years ago. So, I think we are in a place now, to really reckon with all the things that he's been doing. I think the time that it came out, the idea of these rampant groupies I guess a very dominant idea. We did not think about women's bodies in the same way. We really thought about women's bodies as the spoils of war for rich and famous men.
KB: Because they were Black girls and we didn't give a damn. Even in the space of defending Blackness against white supremacy, that Blackness is Black masculinity. It is not Black femininity. We look at rates that over 60% of Black girls are going to be a survivor of sexual assault before her 18th birthday. Sexual violence as a practice tends to be intraracial.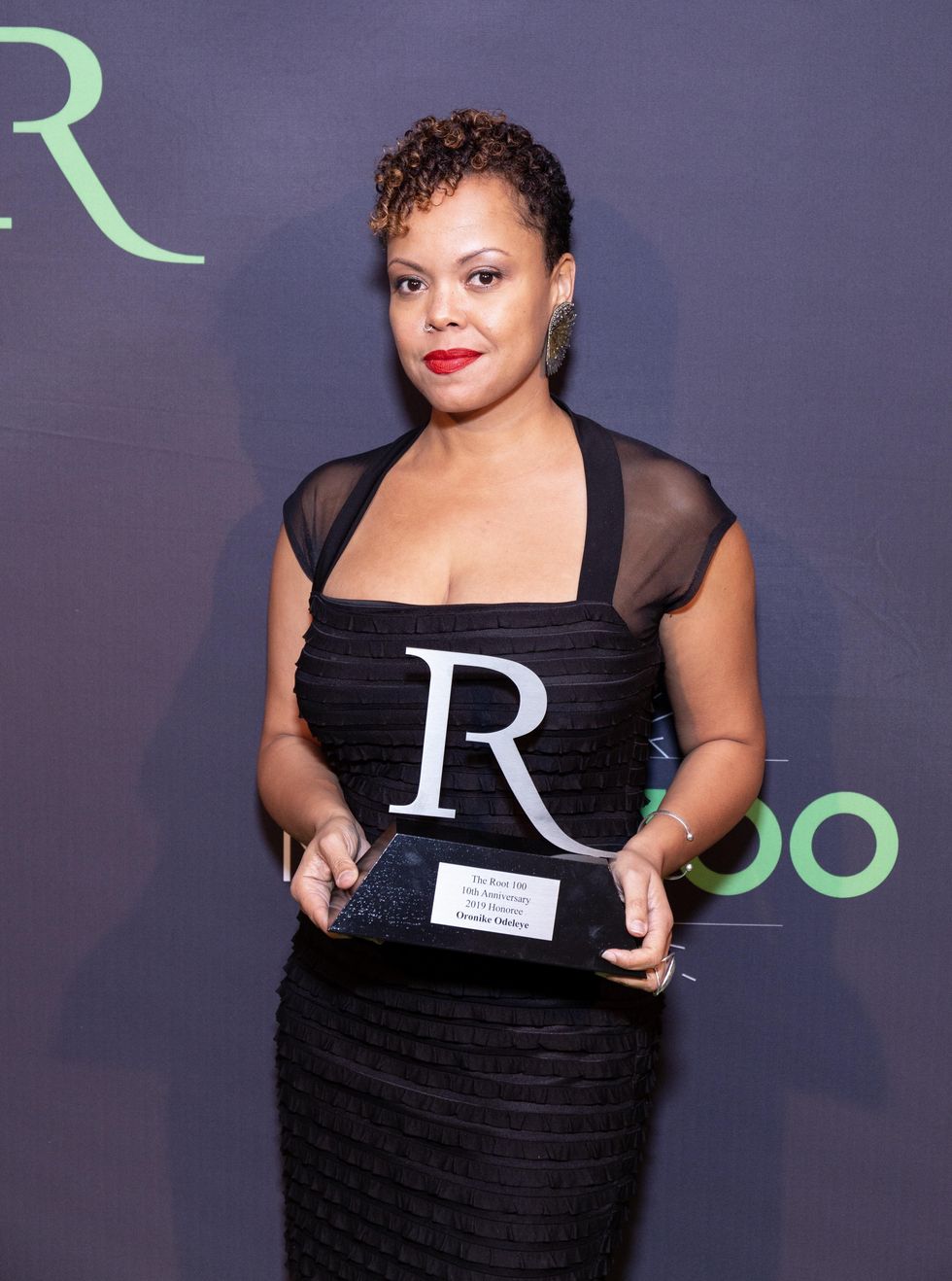 NEW YORK, NEW YORK - NOVEMBER 21: Oronike Odeleye attends 2019 ROOT 100 Gala at The Angel Orensanz Foundation on November 21, 2019 in New York City.
(Photo by Arturo Holmes/Getty Images)
xoNecole: Why do you think the #MeToo movement hasn't taken off in the music industry the same way it's taken off in Hollywood?
TB: This idea though that Hollywood was broken wide open is not true. I think the cases that we saw were really huge. Weinstein was obviously the big one and there's several more behind that. And for one Weinstein, there's 25 that we don't know about. And that's why they keep trickling out little by little and they just get less and less attention every year. Because people care less and less every year. So the question of why hasn't there been a case as big as Harvey Weinstein in the music industry? I don't know. Most people when they ask this question they're asking about hip hop and R&B. I have heard horrific stories off the record that artists have shared with me or industry folks have shared with me and I've said why won't you come forward? And they're like, "There's no way that my career would recover if we did." In fact, there were people who would not come forward about R. Kelly even though R. Kelly doesn't even have a career, because they were scared of the retribution inside of the industry. So, I don't know what the music industry is set up in vs. Hollywood in terms of the way people's careers are controlled. But if we're talking about white women vs. Black women, Black women just have way less protection. And I think Black women have way more to lose. Even if you look inside Hollywood, how many Black women in Hollywood have come forward? And the ones that did come forward, look what happened to them.
SLA: The music industry has always been one in which personal relationships can facilitate success even with individuals with no talent. There isn't a requirement of any type of education. The barrier to entry is very, very low in many respects. Which is a good thing. At the same time, in the way in which people are connected to each other and the amount of money that's at stake, people are unwilling to go against the status quo. They're not willing to speak up because they don't want to have their money messed with. I believe that society is a cesspool of relationships that are highly interwoven and interconnected, the music industry in particular is just particularly patriarchal. It's particularly rife with nepotism in a way that really encourages groupthink and group movement.
OO: Well, I don't know if I would agree with [the framing of that question]. I think that it has in fact put artists and record labels on notice that the community is paying attention. Right now, I'm seeing so much conversation around Trey Songz. We're seeing so much conversation around Chris Brown. We're seeing so much conversation about Tory Lanez and violence against women. So I think everyone is hyper-tuned in and paying attention now. And so I think people now are way quicker to call these things out when they're seeing it and to come forward.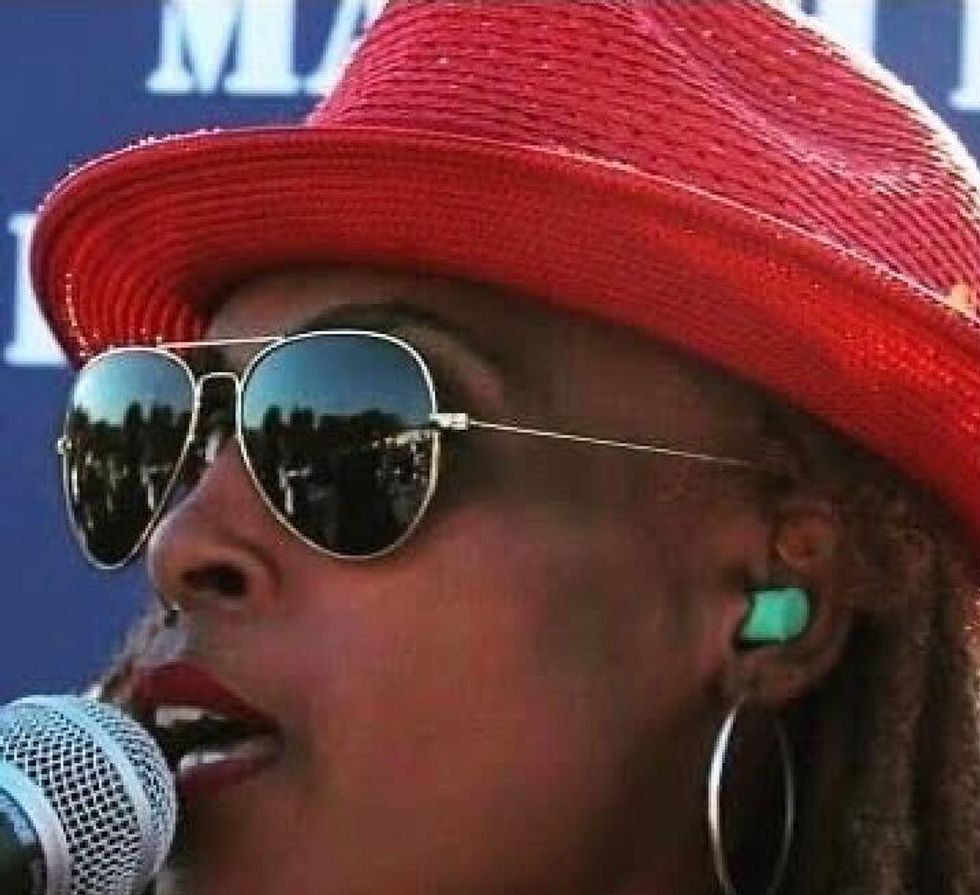 Kenyette Barnes
Photo courtesy of Kenyette Barnes
xoNecole: Even with the conviction of R. Kelly which has been a long, long time coming, the culture that created him and allowed him to thrive still exists. What do you think it'll take to finally dismantle rape culture within the music industry and writ large?
TB: This is the magic question. I think we have to have a huge culture shift and I think it has to happen from multiple directions. The example I use all the time is cigarettes. A little over thirty years ago, we could smoke on airplanes. Most people under a particular age don't remember that. I remember when you could smoke on airplanes, in clubs – everywhere. And that's how I grew up. Sitting in the back of my father's car with the windows closed and he was smoking a cigarette. Then there was a huge concerted effort to shift how we thought about smoking cigarettes. And it's obviously a very different paradigm, but the reason that I use it is because when I think about how they came at that, it was political, because laws had to change that said you can't smoke in public places. It was a public narrative. We had major campaigns but also you don't see the Marlboro Man anymore. Cigarette smoking was cool because everybody did it everywhere. It was a part of the culture that was just sort of ingrained. The way that rape culture is so ingrained that it's natural to us. So there was a political intervention, there was a cultural narrative intervention. There was a research intervention. All of a sudden there was all this research on how second-hand kills. Obviously, people still smoke now. But the culture around smoking today and the culture around smoking thirty years ago are completely different. I think about shifting rape culture the same way. We need multiple interventions.
SLA: Going back to what dream said, I think that there needs to be a space in our society where people can actually acknowledge the harm that they've caused in a way that's not going to be met with highly punitive measures. We have to look at the ways in which sexual harm is fostered. It happens everywhere, the music industry is an easy scapegoat. I honestly don't have an answer if I knew what it would take I would be extremely wealthy. I don't have the answers, I have some ideas but everything is connected to something else. I'm a huge advocate for restorative justice and our existing system just doesn't work when it comes to facilitating some kind of redress, for harm period, but particularly for sexual harm. As dream had said, because Robert refuses to take responsibility, it doesn't even open the door to any type of restorative action. But also, I don't want to forget that we can posit about restorative justice and restorative practices and how I think that would be an appropriate way to proceed, but the people whose voices matter and who's going to drive restorative justice are his survivors. So if his survivors don't want that to occur, I can't offer that as a unilateral response that's going to address things. Some might want to see him incarcerated. That's their choice. I'm not going to shame them for it.
KB: I think what #MuteRKelly did was a direct attack at the music industry. And it was one of the first campaigns that really directly targeted the sexual oppression of Black women and girls. I think we're going to have to continue those conversations. I think we're going to have a call-in of the entertainment industry. We saw people like John Legend and Chance the Rapper really speak against this, but we need more.
If you have experienced sexual violence and are in need of crisis support, please call the RAINN Sexual Assault Hotline at 1-800-656-HOPE (4673).
Let's make things inbox official! Sign up for the xoNecole newsletter for daily love, wellness, career, and exclusive content delivered straight to your inbox.
With a YouTube channel that boasts millions of views from her hair and skincare tutorials, beauty influencer Candice Jones knows what it takes to look great on the outside. But when it came to her mental wellbeing, Jones started feeling a disconnect. "Because a lot of the things that I was seeing on social media like: take a bath, pour you some wine," Jones tells xoNecole about her initial attempts at self-care. "I was doing all of those aesthetic things, but it wasn't making me feel better."
Jones' turn to wellness came during a time in her life when she was dealing with a series of compounding anxieties. "What I considered the lowest point in my life," Jones says, "where I graduated, I was working in a job that I didn't feel passionate about and I had my parents kind of like pushing me in a certain direction." She continues: "And I felt very guilty for not performing the best when I was in school and then not pursuing my doctor career that they really wanted me."
Unable to afford traditional therapy, Jones turned to the internet to begin her self-love journey. But she would quickly run into another unexpected roadblock. Jones found that a lot of the websites and online guides she turned to didn't resonate with her as a Black woman. "The information was not coming from people that looked like me and people that I felt like other people would trust with their journey," she says.
This led to Jones creating her wellness website Everything She Is. She describes the site as being "a platform for self-love, self-development for young girls and young women, self-empowerment, all of those kinds of things," Jones says. "And we create tools and resources to help women along their self-love journeys as they come into womanhood."
When creating the website, she says the first thing she wanted to address was self-acceptance. "That was something I grappled heavily with: finding myself," Jones says. "Once I kind of uncovered a lot of the stuff that was there, a lot of things that I didn't feel proud about, how to move forward and how to heal through self-acceptance I feel like a lot of people go through that when they're transitioning - especially through womanhood."
Jones sells guided self-love journals on the site that have helped in her process. "I was my first customer," Jones says, "and it is something that really helped me kind of get to the bottom of what was really weighing me down."
Jones says that her readers have also shared how much these journals have helped them too.
"It helps them dig deeper, ask questions that they would have otherwise not asked," Jones says. "[Customers say] that the work has been difficult, but rewarding that a weight has been lifted, that they feel much freer and it's really just a story of, releasing. And sometimes that's what people need. Sometimes people just are carrying so much."
Jones says that she also hopes that her website can be a guide for Black women on how to set their boundaries. "A lot of people around me are very self-sacrificing," she says. "That strong Black woman trope that a lot of people are touching on now and resisting against with the soft-life movement is what I saw and what I wanted to breakdown the idea of kind of having to put yourself to the side in order for other people you're around to advance."
She is mindful about saying that her website is not an alternative to therapy for people who are able to access that and more so a companion to it. "Therapy is very, very, very important and something that we encourage," Jones says. As she considers adding a formal education to her informal wellness training, she says that creating the website has been a way for her to help people in the meantime, "Just from a human aspect," she says. "Not from a scientific aspect or accolade or certification, but just being a human being and seeing women and myself struggle and wanting to be there and offer some help."
Let's make things inbox official! Sign up for the xoNecole newsletter for daily love, wellness, career, and exclusive content delivered straight to your inbox.
This month, SZA released the deluxe version of her debut album CTRL in observance of the fifth year anniversary of the album's release. Featuring previously unreleased tracks, including an alternate version of "Love Galore," which fans got an opportunity to hear during one of the Grammy-winning singer's live performances, the revamped collection of songs has given fans a chance to reflect on life when the album first came out vs. now.
Despite the fact that only five years have passed, 2017 feels like several lifetimes ago. A series of personal and societal catastrophes have taken place over the course of the half-decade since CTRL was released. Relistening to the album recently activated a tender pang in my chest for the Black girl I was when the album first came out and all the Black girls that have similarly found themselves in the lyrics of Solána Imani Rowe.
In the opening track "Supermodel," you first hear the voice of SZA's mother saying "That is my greatest fear/ That if, if I lost control/ Or did not have control/Things would just, you know/I would be fatal." From there SZA sings about finally laying to rest a relationship with a toxic ex. "I'm writing this letter to let you know/ I'm really leaving/And, no, I'm not keeping your shit."
Throughout the entire album, we hear SZA wrestle with the heartache brought on by both a toxic relationship and the growing pains of being in your twenties. In "Love Galore" we hear her exclaim to her partner "why you bother me when you know you don't want me?!" In "Drew Barrymore" she posits: "I get so lonely I forget what I'm worth/ We get so lonely we pretend that this works."
It's the disarming honesty that draws people into SZA's world. We hear her attempts to gain some form of power in her relationship in "The Weekend" where she casts herself as an adulterous seductress who arranges the timetable with her man's woman for when she can see her man.
Naming the album CTRL, despite it being so much about the loose, unmanageable time of your twenties, feels apt for all the contradictory moments when you're just so desperately wanting things in your life to make sense. When CTRL first came out, I felt aimless. I was a 22-year-old college dropout who was worried I had ruined any chance I had at a fulfilling life. Listening to her song "20 Something," in particular when she says "How could it be?/ 20 something, all alone still/ Not a thing in my name/ Ain't got nothin', runnin' from love/ Only know fear/ That's me, Ms. 20 Something/ Ain't got nothin', runnin' from love/ Wish you were here, oh," that resonated with me the most. It felt like for the first time in my adult life I was no longer so consumed by the loneliness of assuming that I was the only one feeling this unbearable cluelessness.
The newer tracks don't offer anything new by way of insight, only reaffirming the initial message of CTRL. A lot has changed since we first heard SZA singing about her sneaky links and love gone awry and about her love for Narcos and Tacos. But singing about the growing pains that plague so many Black women in early adulthood is why five years after its debut, during a time when music often fades into obscurity, we are still all under SZA's CTRL.
Let's make things inbox official! Sign up for the xoNecole newsletter for daily love, wellness, career, and exclusive content delivered straight to your inbox.
It's the BET Awards weekend, and L.A. is the place to be, according to power-house entertainment marketer and entrepreneur Miss Diddy. "It's always been a time when people come from all major markets and they want to be in the city and everything like that," the LA Native tells xoNecole.
That's why every year, Miss Diddy kicks off BET Awards weekend by hosting her annual LA event, A Toast to Black Hollywood. Founded in 2014 initially as A Toast to Young Hollywood, the event was born from Miss Diddy's desire to celebrate people who typically don't get the recognition they deserve for their impact on the culture. "Years ago …it really started for me to really give an ode to the people that were moving the culture forward," she says. "So the executives, the people behind the scenes, the people who had a big effect on my career as well."
In the event's first year, the honorees included Meagan Good, Baron Davis, Eric Bellinger, and Steve Rifkind. This year's honorees include Valeisha Jones, Nina Parker, Cynthia Bailey, and Shayla Cowan, among other movers and shakers in the industry.
After a two-year hiatus due to the pandemic, Miss Diddy is relaunching the event under its new name, A Toast to Black Hollywood – a shift that came in response to everything that happened post-2020, including the protests against police brutality. "As soon as everything kinda changed in the world during the time of the pandemic, and everything that happened as a culture and as a community, I wanted to make sure to change the name to A Toast to Black Hollywood," Miss Diddy tells xoNecole. "We're being really intentional about our messaging moving forward and what's important to us as a community."
Alongside the new name for the event, Miss Diddy also prides herself in the charity work she does for the community. "I've partnered with the mayor of Compton, Asia Brown, to do many community initiatives," she says. "Whether it's Thanksgiving, making sure we're feeding families, handing out turkeys, serving the elderly. Whether it's Christmastime and I've partnered with Champion for them to give us so much clothes for the community. Mattel is one of my partners that come and give our kids in Compton so many toys."
Since the beginning of her career as an entertainment marketer, Miss Diddy has had a front row seat to culture defining moments. "When Kanye started Good Music, I started over in the promotion department with [West's Co-manager] John Monopoly and just built my career from there." It wouldn't be long before Miss Diddy would begin facilitating her own legendary moments.
When reflecting on what moment from over the years at The Toast to Black Hollywood event stands out to her, Miss Diddy points to 2018 when the event honored Lauren London who was attended by her partner, the late rapper Nipsey Hussle. "Nipsey was there and just having a great time with us. He was so proud of Lauren and so proud of me."
Miss Diddy credits her drive and tenacity to her Los Angeles rearing. "It's a place I was born in, grew up in, raised in, and became successful in – extremely successful," she says. "This is where people come to make their dreams come true. They come here to be in the city that we built with our hands. Everything about Los Angeles has shaped who I am." With the forthcoming Toast to Black Hollywood event and all the work she continues to do in her career, Miss Diddy is certain to always put on for her city.
Let's make things inbox official! Sign up for the xoNecole newsletter for daily love, wellness, career, and exclusive content delivered straight to your inbox.
In a recent IG live, actress Moses Ingram disclosed details about the harassment she'd been receiving from Star Wars fans after the premiere of the Disney+ TV series Obi-Wan Kenobi in which she plays Inquisitor Reva. "Long story short, there are hundreds of those," Ingram said about the racist messages she has been receiving directly through her social media.
The racist harassment Ingram is facing is just the latest example of Black actors being attacked by fans for playing historically white characters. In May, actress Leah Sava Jeffries was attacked after being cast as Annabeth Chase in the Disney+ Percy Jackson and the Olympians TV series because fans noted that the character Jeffries was playing is described as white in the popular book series. Back in 2018, Amandla Stenberg reflected on the racist hate she received from The Hunger Games fans for her portrayal as Rue in the film adaptation, a character that was actually described as Black in the book series. And in 2015, Michael B. Jordan wrote an op-ed about the experience he had with the blowback from being cast as Johnny Storm in Fantastic Four back in 2015.
This is not new. Even within the Star Wars franchise, actor John Boyega has spoken at length about the racism he faced during his tenure in a galaxy far, far away:
"[I'm] the only cast member who had their own unique experience of that franchise based on their race," Boyega said. "It makes you angry, with a process like that. It makes you much more militant; it changes you. Because you realize, I got given this opportunity, but I'm in an industry that wasn't even ready for me."
The insidiousness and illogical nature of racism is always exposed during these situations when a fandom can easily suspend their disbelief over human characters are fighting in outer space alongside aliens and other fantastical creatures, but draw the line at Black people existing in these imaginary worlds.
Actor and writer Ryan Ken tweeted a damning theory on why Black existence in sci-fi/fantasy ruins the racists' experience:
"It kinda amuses me when white people don't want non-white people in their sci-fi/fantasy when most of those stories are just allegories about how non-white people are treated. For a certain type of white fan, I think the real fantasy appeal is getting to imagine you're resilient," they tweeted.
"You watch the movie and say "I'm the hero! I would fight oppression!" Then you go home to your family/neighborhood that has the identical views of the movie villain and all you say is "Nice weather we're havin'!" And because we know that about you, we "ruin" the fantasy lol."
Regardless, Black people in sci-fi/fantasy will continue to exist. Studios have tried to course-correct the historical dearth in Black characters in the sci-fi/fantasy genres by casting Black actors in historically white roles as a means of legacy maintenance and paltry attempt at diversity. But too often, as was Boyega's experience, studios leave their Black stars defenseless against the vitriol of their fanbase.
In a fortunate rarity, producers for both Jeffries' and Ingram's series have spoken up in support of them. Lead actor and producer on Obi-Wan Kenobi Ewan Mcgregor said in a video on his Instagram: "Moses is a brilliant actor. She's a brilliant woman, and she's absolutely amazing in this series. She brings so much to the series. She brings so much to the franchise and it just sickened me to my stomach to hear that this has been happening." The Star Wars official Twitter account even sent out a message reading: "We are proud to welcome Moses Ingram to the Star Wars family and excited for Reva's story to unfold. If anyone intends to make her feel in any way unwelcome, we have only one thing to say: we resist."It's now been reported that Ingram will star in a Disney + Obi-Wan Kenobi spinoff centered on her character, Reva.
Inclusion is not only about having Black actors in your cast, but also aggressively defending them against racism. Films and TV shows do not get to pat themselves on the back for the simple act of finally recognizing we exist when their initial erasure of Black people from their world created a fanbase that could use their work as a form of white escapist fantasy. Do the work in protecting Black women from the jump, or leave us alone.
Let's make things inbox official! Sign up for the xoNecole newsletter for daily love, wellness, career, and exclusive content delivered straight to your inbox.
It's time to go back down in the Valley!
This Friday marks the premiere of the highly anticipated second season of STARZ's hit drama series
P-Valley
. Set in the hot and steamy world of stripping located in the even hotter and steamier state of Mississippi,
P-Valley
quickly amassed a fanbase thanks to its sexy cast and its tackling of issues like sex worker rights and challenges, poverty, domestic violence, gentrification, queerness and more.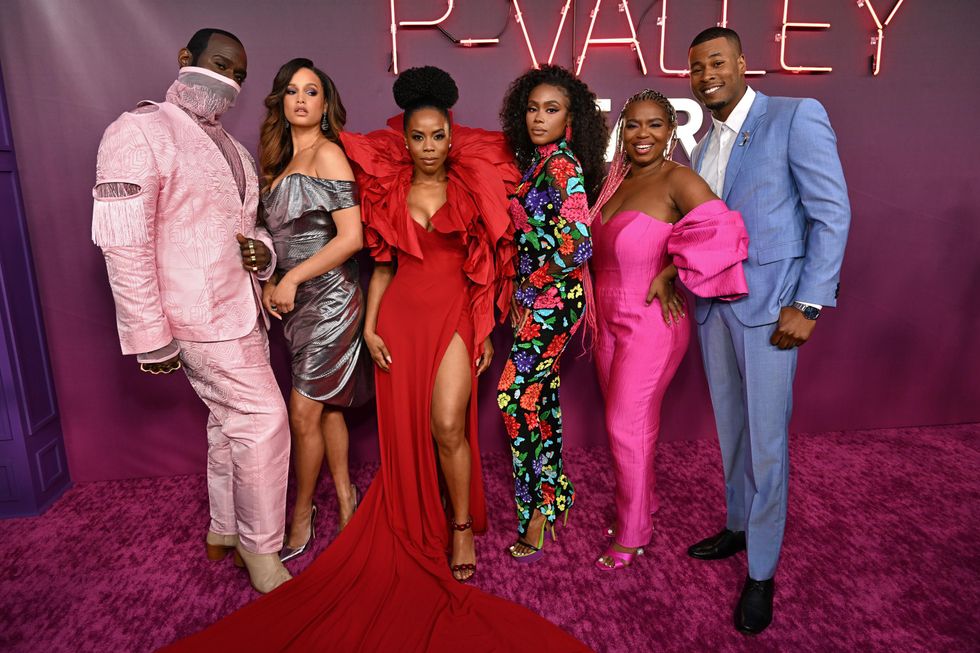 Katori Hall stands with the stars of P-Valley, (L-R) Nicco Annan, Elarica Johnson, Brandee Evans, Shannon Thornton, and J. Alphonse Nicholson at the P-Valley Premiere in LA
Rodin Eckenroth / Stringer
One person who wasn't surprised by the show's immediate success is its creator Katori Hall. "I had an inkling," Hall tells xoNecole. "If the show had an opportunity to be seen, that it actually would take flight."
Hall first got the idea for P-Valley in 2009, inspired by her frequent trips to strip clubs in the south and her brief time taking pole dancing classes. "My own experience with strip clubs and that class collided in my brain," Hall says. "And it made me want to do a lot more research about the women who are dancers and just learn more about their lives."
Hall initially conceived the idea for P-Valley as a play. The Pulitzer Prize and Olivier Award winner and two-time Tony Award nominee have been thriving in the medium since 2009. "Stripping is such a theatrical experience," Hall explains. "I grew up down south, I grew up going to clubs. So I was really impressed and inspired by the show of stripping." Once she saw her characters come to life on stage, however, she realized she wanted to explore them for a longer period of time than a stage play allows. "I want my characters to participate in more than just this story," Hall says."There's so many other stories that I want to tell with these characters."
Much of the success of the show comes from the vibrancy of the characters such as the flamboyant strip club madam of the Pynk, Uncle Clifford (Nicco Annan). Hall credits her family for providing the inspiration for those characters. "Uncle Clifford is actually a fusion of my real Uncle Clifford and my mom and my dad," Hall says. "I just wanted to create this very gender-fluid character who was very feminine and masculine in equal measure." Other characters she says like the Pynk's OG star stripper Mercedes (Brandee Evans) or the Pynk's fastest rising star Miss Mississippi (Shannon Thornton) are amalgamations of women she's met in the strip clubs and also her older sisters.
As the youngest of four girls, Hall says that her parents were "tired" by the time it came to raising her, so she says that she was given the space to explore her creative interests more. "From the time I was itty, itty, bitty, I was writing in my journals and creating plays with my dolls," Halls says. "I knew that I was destined to put words down on paper and create characters and worlds."
When she attended college at Columbia University, she initially pursued theater as an actress. However, it was the dearth of meaty roles for Black women in her theater program that led to her wanting to create her own roles for herself and for other women that Hall says "look like myself." It was through creating her own stories and characters that Hall realized the sort of power she was able to possess over her career.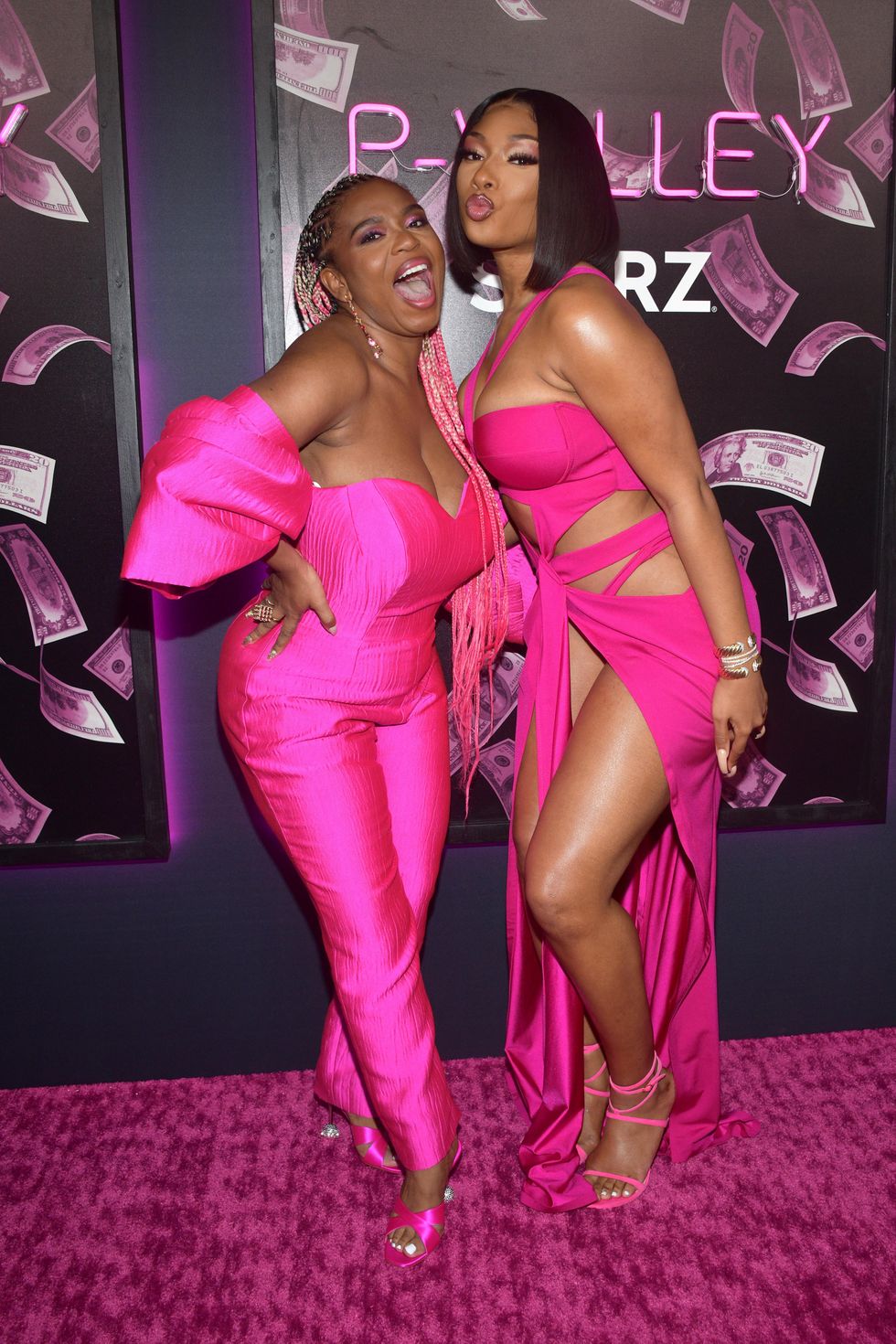 Katori Hall and Megan Thee Stallion at the P-Valley Premiere in Los Angeles

Araya Doheny / Stringer
Hall says that she is committed to writing stories that center the Black female experience, stories about survival, and stories about the underdog. By setting P- Valley in a strip club, she allowed her to use that space as a metaphor. "Oftentime within a strip club there are moments of liberation and then there are moments of exploitation," Hall says.
We see it all and more in the latest season, including more music from Lil Murda (J. Alphonse Nicholson) and even a track by Megan Thee Stallion. At the Los Angeles premiere of P-Valley on Thursday, Hall took the stage to tease what we can expect in season two of her hit show: "It's deeper, it's darker, and it's 1000% better."