---
Tamron Hall received a bachelor's degree in journalism from Temple University at only 22 years old. At 37, Tamron secured a position on MSNBC's national news syndicate and landed an exclusive interview with the only president we acknowledge, effectively catapulting her career into the spotlight. Little did she know, only a decade later, at age 47, Tamron would see everything that she had worked for come crashing down.
After the very public termination of her relationship with NBC, Tamron Hall was left out of work, out of patience, and out of options, leading her to take some serious personal inventory when it came to her priorities. In an exclusive interview with O Magazine, Tamron explained:
"I was 46 years old, and suddenly my dream job wasn't there, and I was unemployed for the first time since I was 14. I saw a photo of me that day walking out of the studio. On the outside, people saw someone who is confident, who was walking out like a boss—and it helped that I was wearing a coat that was sick, okay?! But inside, I was very vulnerable. I was not afraid, but I was worried. I wasn't clear on what was next, though I was hopeful. But absolutely, it was unsettling."
Although initially, Tamron was devastated by the news of her lay off, she soon learned that the breakup she was experiencing in her professional life was the key to breaking through to her true destiny. Like many of us, the talk show host said that her epiphany came after coming to terms with the fact that she wasn't valued in the relationship: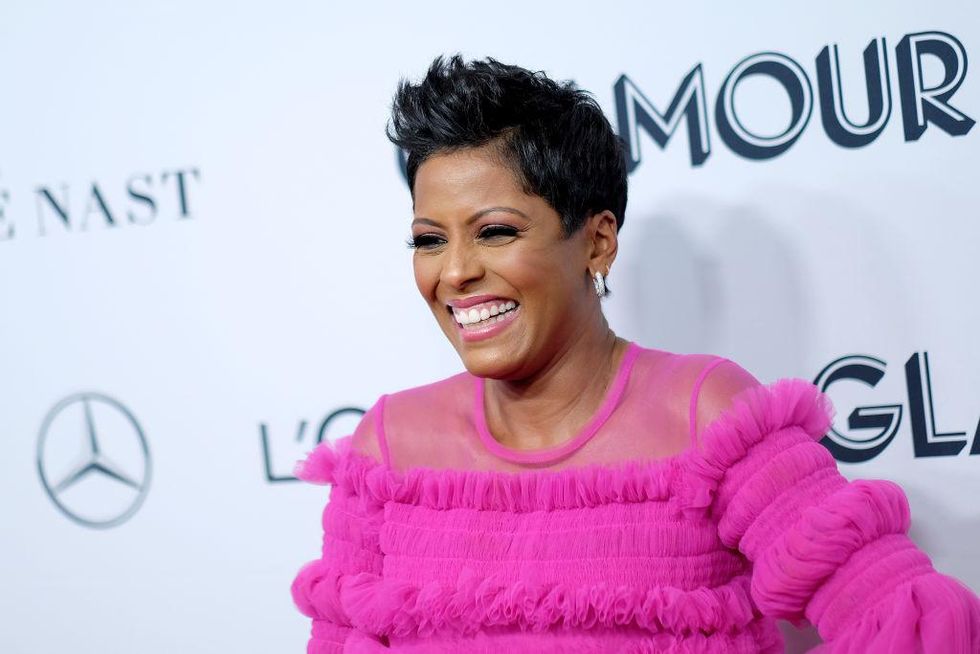 Dimitrios Kambouris/Getty Images for Glamour
"I think that people relate to what I experienced because we've all been there. We've all been in a relationship where it didn't work out—where we felt we were giving 100 percent and the other person was giving just 10."
After some time away from the industry, Tamron is back in full effect to shake up the industry with a new baby, talk show, and perspective on life, but she says it's all thanks to two very important words: f*ck it:
"Yes. It took me some time, but I've finally reached a f*ck it stage. In fact, I've been firmly in my f*ck it stage since my early 40s. I've never been more myself and more at peace!"

Tamron graduated at 22 and reached what she thought was the pinnacle of her career at 47. Today, at 49, Tamron is the mother, wife, and career woman that she always dreamed of becoming, but first, the host says she had to realize that her value was worth more than all of the titles she's had combined:
"So I think that in my journey, people have seen my ability to bounce back, and that makes them want to cheer me on. They see that it's okay to not be defined by the title on your business card."
Featured image by Dimitrios Kambouris/Getty Images for Glamour