---
Our biological clocks can sometimes feel like ticking time bombs, waiting to explode and devastate our chances of ever giving birth to children of our own. FOMO is real when you're getting older and have no prospects for marriage and no plan of having children. Although some women are perfectly fine with never having kids, others may feel like their ovaries are their own worst enemies. No matter where you stand on the spectrum, know that this picture of 48-year-old Tamron Hall with her newborn son is the best thing you'll see all day.
Last month, the Tamron shocked everyone when she and her husband, music executive Steven Greener, announced that she was pregnant with her first child in a baby shark-inspired reveal video on Instagram that will give you all the feels. She said:

"I've wanted to share this news for many months and now finally my doctor has said I am in a safe place, at 32 weeks, to share my joy with y'all. So, it's clear a daytime talk show isn't the only thing I've been trying to produce!"
After jamming out to an amazing delivery room playlist and giving birth to a bundle of joy, Tamron's at home with a bouncing baby boy named Moses and we couldn't be happier for her. Now, if you aren't familiar with Tamron, please stand by while I give you a crash course in Black girl magic.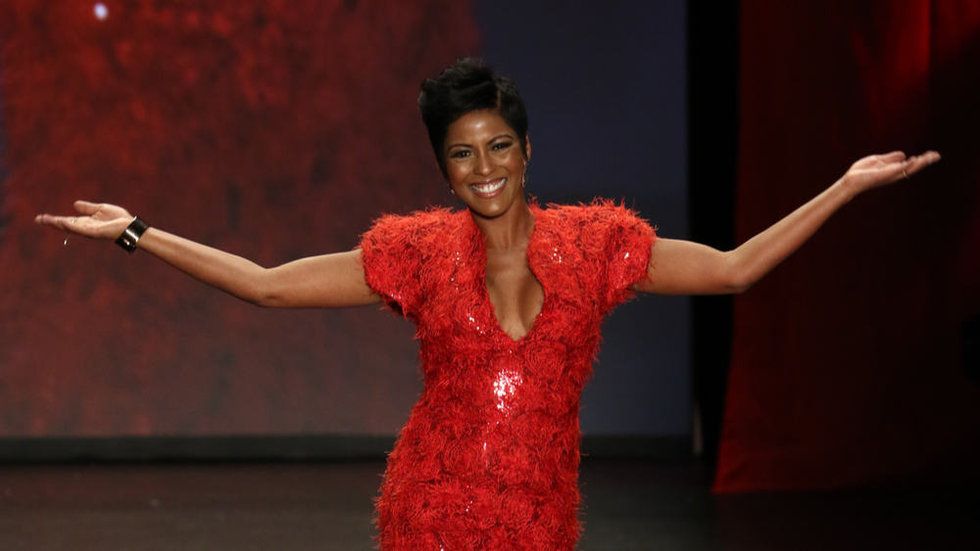 FashionStock.com / Shutterstock.com
The Texas-born Temple graduate started her media career as a daytime talk show host with NBC/MSNBC in 2007. After her sister's murder in 2004, Tamron became an advocate for homeless, hunger, and domestic abuse and she later made history as the first Black woman to co-anchor The Today Show. Since the beginning of her career, she's garnered a number of awards and Emmy nominations for her hard work, and recently penned a deal with the Disney corporation to host her own syndicated talk show.

Tamron is the fearless industry giant that we all aspire to be, but behind closed doors, she was fighting her own battles. The first thing that probably comes to your mind when you hear about a geriatric pregnancy is your grandmother in a Miu Miu getting an epidural, but that's not the case. Thanks to modern technology, pregnancy for women over the age of 35 looks much different than it used to for our mothers and grandmothers. Stars like Halle Berry, Gabrielle Union, Michelle Obama, and Kenya Moore are also apart of the geriatric club and have been open about their struggles with infertility and difficult pregnancies. Although Tamron hasn't spoken specifically about having trouble conceiving, she did say that her pregnancy was a difficult process. In an Instagram post:
"There have been many tears, but today I embrace the smiles. My husband Steven and I are beyond excited! We're in constant prayer, so if you pray, add us to your list; if you meditate, send calmness our way; and if you believe in luck, we'll happily take that too."
I was a bit of a surprise to my parents, who were 39 and 40 and had a blended family of six children when I was born. They weren't necessarily "trying" for a baby, and there were some complications, including a hole in my heart that required surgery at age 5. My mother's pregnancy wasn't ideal, but even though it's scary to experience a high-risk pregnancy, it's a risk worth taking.

My mom and Tamron are proof that you can never be "too old" to become a mother. Geriatric-smariatric. It's time for us as women to relinquish the amount of control our biological clocks have on our current circumstances. Snap out of that mid-to-quarter life crisis and show your uterus who's boss.

No matter how old you are, if you still have a desire to be a mother, it's definitely worth a try; whether that be via adoption, IVF, or plain old knocking the boots. You owe it to yourself not to let your age determine your future. Tamron reminds us that there is no expiration date on being a new mom, and it's never too late to chase your dreams… Even if that dream is a beautiful baby boy.
Thanks for inspiring us all, Tamron, and congrats on your new bundle of joy!
Featured image by Tamron Hall/Instagram