It really is kind of crazy, the things we seem to insist only learning, only by hindsight. Even though I've always been told that I would be a good mom and I've consistently had a special connection with kids (including ones I don't even know running up to me or literally clapping for me in random places like the mall), at almost 45, I think I've made peace with not having any. Or, at least not giving birth to any.
---
It's not for the reason that you probably think either. As a doula, I know that women are having healthy children in their 40s and even 50s. But when I look back over my past choices (including four abortions and opting to not aggressively pursue dating or to even be sexually-active in my 30s), there's a part of me that wonders if I ever wanted to be a mom. I can't help but think that it was more about subscribing to the thought I should simply because, well, that's what people with a female reproductive system are supposed to do…right?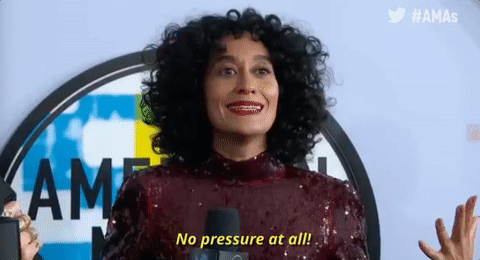 media.giphy.com
Every 21st of the month, around noon, my period begins. The blood is bright red. There's no pain or clotting. Eggs are still dropping. Maybe once all of this stops, I'll start to freak out. But for now, if there is one word that I can use to describe how I feel, it's "peaceful." Truly peaceful. About being a 40-something single woman who can have children but doesn't have any.

If you're approaching 35, you just read all of that and you can't even remotely relate because on your Top 5 list of life accomplishments, becoming a mother is on it and so right now, you're not even close to being peaceful about your situation, I'm hoping that I can provide you with a little bit of reassurance that you and your biological clock can live in harmony; that not being a mommy (yet) isn't something that should totally consume you. Not at all.
Featured image by Getty Images.
Related Articles:
My Uterus, My Business: 5 Things You Should Never Say To Women Without Children - Read More
Michelle Obama Gets Candid About Infertility & Gives Us The Ultimate Marriage Advice - Read More
Tracee Ellis Ross Talks Being Single Over 40 & Childless - Read More
Everything You Need To Know About Freezing Your Eggs - Read More