There is one milestone in a woman's life that may not get talked about a lot, but it remains firm in our memory — it's the first time that we notice that we've got a gray pubic hair. When I tell you that there's nothing like it — Lawd, have mercy! I mean, even more than seeing the first gray hair on our head, there is something that is far more "What TF is going on?" about a gray pubic hair that…I'll just say that if it hasn't happened to you, just wait until it does.
I think it's because, if anything is a true sign that time is marching on and we are getting older, it's that. It's also proof that, just like every other part of our body, vulvas (the outer part of our vagina) and vaginas do indeed age.
Is there anything that can be done to stop it? I'm gonna shoot it straight — absolutely not. That's the "bad" news. The good news is there are all-natural tips that you can do to help slow down the signs of aging down below as well as things that can make that perfectly natural season of life so much easier to, not only deal with but actually embrace as well.
That said, let's look at some top signs of vaginal aging along with some things that you can do about it, shall we?
Featured image by Christopher Pedraza/Getty Images
I was today years old when I learned the 'why' behind getting a pap smear. I always used to look at it as one of my annuals that I booked an appointment for, propped up my legs, braced for the discomfort of the speculum, and just did. I knew it was for my health but for some reason, it never clicked for me that a pap smear had everything to do with being preventative and was mostly about your cervix. Even as a 31-year-old who had a LEEP procedure done to remove precancerous cells nearly a decade ago, the dots never totally connected for me that 'pap smear' is to the cervix and cervical cancer as 'mammogram' is to breasts and breast cancer. Don't come for me, but I was simply doing what I was 'supposed' to do without thinking of the bigger picture as it relates to my health and preventative measures like annual pap smears.
Coming to terms with that realization is actually what led me to write this piece. I realized that there was probably someone like me who was simply rolling with the punches of booking yearly doctor exams, or even someone who might not even go because they may believe going to a gynecologist is only for people who have "an issue" down there. I'm here to demystify some of the myths around pap smears. In honor of it being Cervical Cancer Awareness Month, I am here to also do my part in empowering women to advocate for their health needs, especially when it comes to a form of cancer with a 92% survival rate when diagnosed in its earliest stages. And do you know the easiest way to detect cervical cancer before it becomes cancerous? If you said 'pap smear,' you are right on the money.
I spoke with Dr. Janelle Howell, DPT, WCS, also known as the Vagina Rehab Doctor to help spill the deets on what you need to know about pap smears and cervical health.

What is a pap smear? 
Perhaps it's elementary, my dear Watson, but I wanted to cover all of my bases when breaking down pap smears for this piece. A pap smear, or a pap test, is short for the Papanicolaou test. It is a diagnostic procedure that tests for cervical cancer in women. A doctor takes a small instrument to brush sample cells on the cervix and then sends those samples to a lab for the results. Once the samples have been tested, a patient can either get a normal test result (which literally means everything is all good under the hood) or an abnormal result (which could signify abnormal changes found on the cervix).
Depending on your doctor, they might suggest doing a colposcopy or a biopsy to ensure that the abnormal test result is not due to the presence of precancerous cells. If it is due to precancerous cells, the next step might be scheduling a procedure like a LEEP to remove those cells from the cervix. Your gynecologist will know best in regards to formulating a treatment plan that works best for you.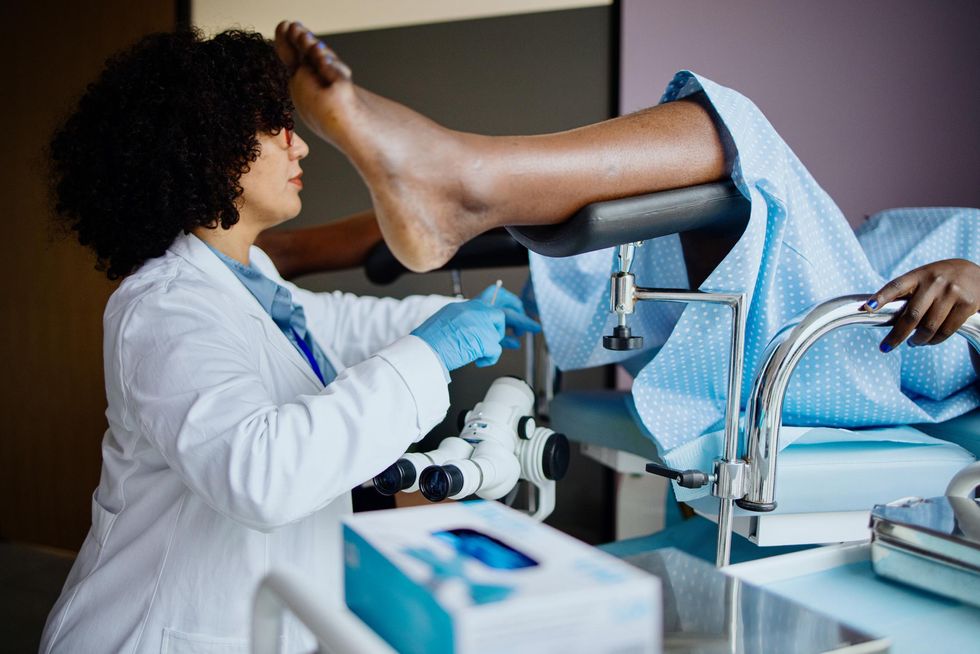 Anchiy/Getty Images
How often should you be getting a pap smear?
The answer to this question may differ depending on your medical history, but Dr. Howell shares that "generally speaking, about every three years is a good frequency to get one." She also adds that every five years, it is recommended to get an HPV test for the human papillomavirus, which is what leads to cervical cancer.
While Dr. Howell suggests people visit their gynos yearly, pap smear or no pap smear, she says that ultimately your specific gynecologist will be able to tell you how often you should visit and what the plan should be if you do have an abnormal pap test result.
When should we visit the gynecologist and what should we expect? 
Although there are some people who prioritize regular checkups, there are others who do not have the privilege of accessible healthcare. There are also folks who might not resort to visits with healthcare professionals unless there is a problem or an issue. Such is the case sometimes with gynecologists. As previously mentioned, Dr. Howell advises women to visit their gynecologist yearly even if they don't have a pap smear or a symptomatic health issue or concern. During those routine wellness checks with your gynos, you are able to get things done like a pelvic exam where they exam the vulva as well as the internal reproductive organs, which includes the cervix. Dr. Howell adds that during these exams, gynecologists usually "do an internal exam, apply manual pressure along the abdomen to see if you have tenderness along the uterine border, and order any other needed tests or measures, like a pelvic ultrasound."
She also shares that even if they don't go through the uncomfortable steps of giving you a pap smear, they will look at the cervix and the vaginal canal. "Think about it like getting an oil change. You gotta pop in there every now and then, especially if you are sexually active. You want to make sure you are staying on top of your pelvic health, your reproductive health, and all of that because we are getting our periods monthly, we are in our reproductive ages, and we still have our uterus that needs to be checked on."
"If we are having a lot of clotting, if we are having a lot of pain with our periods, or having missing periods or irregular periods -- those are things that we want to be updating our gynecologist on, so they can make sure nothing more serious is going on causing those symptoms," Dr. Howell concludes.
At what age should you start getting pap smears?
The most common age to start getting pap smears is 21, but typically when a patient is sexually active, they are advised to start getting pap smears then. Of note, just because you aren't sexually active doesn't mean you shouldn't be getting regular pap smears, especially if you are over the age of 21.
This brings us to our next question and answer...
Should you get a pap smear even if you're not sexually active? 
Sometimes, we look at doctor's visits from a lens of reactivity versus proactivity. Such is the case with gyno appointments. Sexual activity and/or vaginal health issues are not a prerequisite for gynecologist visits. But Dr. Howell encourages everyone to see the importance of getting pap smears, and even HPV tests, even if you aren't sexually active. "HPV can be transferred, not just from internal sources [like the penis and vagina] but you can get HPV just from skin-to-skin contact."
She states this to emphasize the point that sex is not the only way to get HPV, which is ultimately what leads to cervical cancer. "You can literally just have someone's skin who has HPV contact your skin, then you are at risk of getting it. There are HPV cells that live on the vulva, that live on the penis, that live on the groin. There's also oral HPV," she continues, "You don't have to have sex to get it. So be aware of that."
HPV can even be transferred from mother to child through the vaginal tract, so children can get it from their mothers if their mothers have it. The bottom line is, just because you aren't sexually active doesn't mean you shouldn't be getting pap smears and regularly testing for HPV.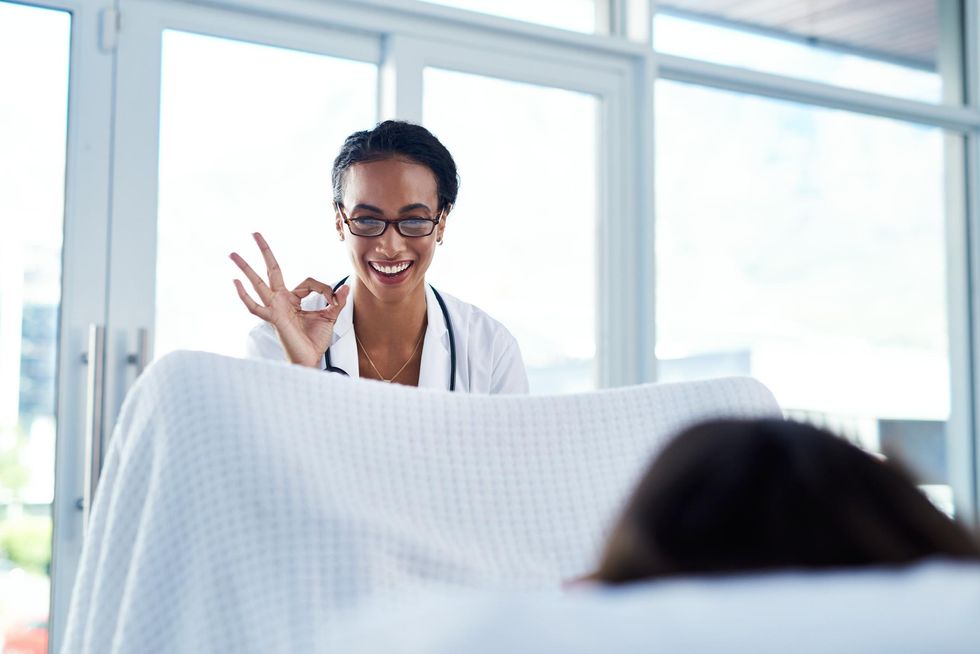 PeopleImages/Getty Images
How can you advocate for your cervical health in relationships and gyno visits? 
If you are sexually active, the number one thing you can do to better support your cervical health is to use protection. Dr. Howell notes that using condoms during sex is "one of the most basic, affordable, and safe ways" to guard the cervix. By practicing safe sex "we are limiting the amount of exposure to bodily fluids and bacteria on someone's genital skin that can impact our cervix. Exposure to someone's bodily fluid or [the] skin of someone who has HPV is a common way to become infected. We generally get it from another person."
In instances where women want to feel empowered to go beyond the routine pap smear, Dr. Howell wants you to advocate for your cervical health by doing your research and talking to your doctor openly in order to feel confident and comfortable with your cervical health status.
What are some holistic ways to support your cervical health?
Supporting your cervical health can go beyond regular doctor visits, getting pap smears, and using protection during sex. It also looks like having strong sexual health boundaries overall, as well as making better lifestyle choices. "If our diet is filled with more inflammatory foods than anti-inflammatory foods, then that is not going to necessarily help the cervix. So like processed foods, those things are more inflammatory than fresh foods."
For that reason, Dr. Howell suggests doing things like adding "color to your diet." She goes on to say, "You want to make sure that you are getting more color in your diet from plants, which help us to fight inflammation and fight disease. That's the whole purpose of food, to nourish our bodies." Speaking of diet, another key to nourishing your cervical health is by decreasing your sugar intake. "When I am saying sugar, I am talking about artificial sugar like the sugar that we are putting in our coffee, or the sugar that is in juice; it's concentrated into one small cup. Artificial sugar and high amounts of it, have been associated with just more inflammation in the body, which includes the cervix."
In addition to watching the amount of sugar you consume, she suggests observing your vitamin A and vitamin D levels as they are "protective for the cervix." "We are eating every day anyway, so you might as well eat foods that help your body to thrive." And for a beta-carotene-rich food that is accessible as it is nutritious, Dr. Howell looks to carrots and says one carrot a day is enough to assist with vitamin A levels which are necessary for cervical health.
As a Pelvic Floor Physical Therapist, Dr. Howell knows the importance of considering the pelvic floor as a way to support the cervix. "Your pelvic floor includes all the muscles that support your cervix and supports your uterus to prevent prolapse. So, checking in on your pelvic floor for pelvic floor symptoms, like urinary leakage, a bulge in the vagina, a 'heaviness' in your vagina, or constipation -- these are things you want to consider in terms of your pelvic floor. Seeing a pelvic floor physical therapist is crucial to helping you overcome those symptoms and take care of your pelvic floor muscles, which are by far the most important muscle group for supporting the position of your cervix and uterus."
For more of Dr. Howell, follow her on Instagram @vaginarehabdoctor.
Featured image by Natalia Gdovskaia/Getty Images
The strong Black woman trope has had us in a chokehold for years but a new movement has been overtaking our social media feeds as the cure, the soft life. Since the soft life has become a trending topic, there have been many misconceptions about the term and what it truly means to live softly. The founder of Black Girl's Healing House, Delilah Antionette, promotes this innovative way of thinking in her popular Facebook group and even sees it as a form of wellness.
If you are wanting to manifest a soft life in 2023, Delilah has the perfect tips for you. xoNecole spoke with the wellness entrepreneur about being a Black woman in the holistic space, creating a platform for Black women to feel seen, and how you can join the soft life.
xoNecole: Tell us a little about yourself and how Black Girl's Healing House started.
Delilah Antionette: I started my healing journey a few years ago after I graduated from college. I was struggling with anxiety and depression and finding mental healthcare was difficult for me. I ran into challenges such as affordability and cultural competency so I turned to holistic wellness. I got into crystals, the chakra system, yoga, self-development, and astrology.
But, I found that in the wellness industry, there were not many representations of me. I would often be the only Black girl in class, I would get awkward looks and racially profiled. I didn't necessarily feel safe in these healing spaces.
I hoped that I could also find a community while I was on this journey but there weren't any there yet so I created Black Girl's Healing House-- the Facebook group.
Within years we've grown to over 60,000 Black women around the world who are also on this journey of healing.
xoN: 'Soft life' has been a buzzword in 2022 but there have been many misconceptions about it such as it is seen as a luxury and not a necessity. What is a soft life and what isn't a soft life?
DA: I see this argument a lot in our community and some would define it as luxury and femininity, and others just do not understand the need for Black women to be soft. I am so for the soft life. I do not wish to ever struggle or get things [muddy.] It's exhausting.
For me, when I think of the soft life I think of healing. I think about letting go of the version of myself that I created for my survival. And oftentimes when we've been through trauma we create tough exteriors to protect us from getting hurt again. I want to be able to be more vulnerable yet have healthy boundaries, I want to have strong bonds with people and I want to be kinder to myself. I want to experience all of the little luxuries that life has to offer and I feel that I can achieve this through softness.
I believe that working towards a soft life is generationally healing. The women in my family could never experience softness and I hate that. I want my children to have that privilege so that they can experience the highest level of their potential.
"When I think of soft life I think of healing. I think about letting go of the version of myself that I created for my survival."
xoN: How does the soft life relate to wellness?
DA: Soft life promotes a healthier way of being. Soft life teaches you to slow down and ground yourself. You learn to stop prioritizing hustling and start prioritizing flow state which can be achieved through self-care. And again healing plays a major role in your ability to have a soft life.
xoN: What are five ways Black women can manifest a soft life in 2023? 
DA: Starting therapy. Self-care. Movement, such as yoga or Pilates. Joining a supportive community. Getting [in tune] with your intuition.
xoN: What does Black Girl's Healing House have in store for 2023?
DA: Black Girl's Healing House is working on building our directory of Black female holistic wellness professionals for our community. While admiring our Facebook group, I saw that our members were always in search of holistic therapists, Black girl-friendly yoga classes, and wellness spas and I was so lucky to meet so many healers in our community. So I created a platform where Black women can find culturally competent holistic care.
On our website blackgirlshealinghouse.com you would be able to search for mental health professionals, doulas and midwives, dermatologists, spas, and fitness classes in your local area.
Feature image courtesy of Delilah Antionette
With more than 84% of women experiencing painful periods, there's no wonder why "that time of the month" is filled with negative connotations. As someone who doesn't fall into the 84% percent noted in that study, I can still attest to factors like age, stress, and lifestyle affecting my menstrual cycle and the way I experience my periods. Gone are the days when my symptoms peaked at salty and sweet cravings, and in its wake, I've been introduced to cramping, low estrogen levels, and a heavier flow than I've experienced in all my years of having a period. Where I used to look at my periods as a time of the month when was indifferent, I am now feeling the effects and I can only imagine how the other 84% of women reporting period pain go through (more power to y'all, for real).
Two things changed the menstruating game for me. One, the conscious decision to look at my cycle for the full 28 days that it is (anywhere between 21-40 days is considered "normal.") instead of just the 5-7 days I am actually in the menstruation phase of my cycle. And two, looking into cycle syncing as a holistic way to change my relationship with my period and my cycle overall. You see, instead of acting in opposition to what I experienced during my periods, I could lean into it and restructure my life in a way that aligned with the different phases of my cycle, and therefore the different "seasons" I was in. When it comes to all that cycle syncing entails, ladies and gentlemen, this is just scratching the surface.
Berrion L. Berry, founder of Optimize Your Flo and menstrual health educator, explains, at its core that cycle syncing "is aligning different aspects of your lifestyle such as fitness, nutrition, wellness, and even business with the phases of your menstrual cycle." And although the results could vary from person to person, it is still something she recommends to women and menstruators to see if it positively affects the way they experience their cycles. She adds that not only can cycle syncing transform your periods, but it can also evolve the way people with periods work.
"As more and more research is being conducted we're finding things that are so unique. Did you know that there are times throughout the cycle perfect for brainstorming new ideas like during the menstrual phase?" Berry continues, "When practicing cycle syncing and understanding changes that happen, people can actually work more effectively and I think that's incredible. Especially if you're someone who's looking to go from feeling burnout to embracing the soft life."
Keep reading for the phases of the menstrual cycle and how to optimize each phase for ultimate alignment as well as potentially less painful periods.
The Phases of the Menstrual Cycle
Phase 1: Menstruation (Winter)
Phase 2: Follicular (Spring)
Phase 3: Ovulation (Summer)
Phase 4: Luteal (Fall)
Cycle Syncing During the Menstruation Phase (Days 1-7)
Menstruation is the "shedding of the uterine lining and when your period happens." Berry notes that since the hormones are in an 'off' position during this time, your overall energy can feel low. Nourish the body with unprocessed, nutrient-rich foods and filtered water to keep your blood sugar and energy levels steady.
The Optimal Way to Nourish the Body:
"A good mix of lean proteins, healthy fats, and low GI carbs such as root vegetables, whole grain, and legume-packed stews, can support the energy-intensive process of menstruation."
The Optimal Way to Move the Body:
"Since your body is physically releasing, the best thing you can do is rest or active recovery. The reason you want to do this is so that you don't apply additional stress (increased cortisol) to the body and create an inflamed, exhausted, or overwhelmed environment within the body.
"Light jogs, long hikes, a nice yoga flow for most people. If you're someone who likes to train a lot, one of the best things you can do during this time is a low-intensity workout like Pilates as well, preferably mat Pilates.
Cycle Syncing During the Follicular Phase (Days 8-13)
The follicular phase is "the time between the end of the period and ovulation" and can be viewed as the "spring" season of your cycle. To prepare for ovulation, the body's hormone levels are on the rise as your egg follicles mature, Berry explains. In contrast to the low energy levels you might have felt during the menstruation phase, during the follicular phase, you may start to feel more energized.
The Optimal Way to Nourish the Body:
"Supporting your gut aids the body in processing estrogen and potential toxins that may be in your body. The more micronutrients you focus on getting during this time, the better. This is a good time to incorporate light, fresh and vibrant foods, such as salads and fermented foods like kefir, probiotic yogurt, or sauerkraut, which support gut health and detoxification."
The Optimal Way to Move the Body:
"During this time, since your hormones are beginning to rise, it's the perfect time to pick back up on your workouts and training. Exercises like reformer Pilates, boxing, spin class anything a bit intense and vigorous is perfect for this. You may also want to consider adding a bit of resistance training in."
Cycle Syncing During the Ovulation Phase (Days 14-21)
Berry refers to the ovulation phase as "the main event" of your menstrual cycle as it is when the egg is released from the ovary. "During ovulation, hormone levels are skyrocketing and estrogen is the life of the party. It aids in the ovulation process along with a surge in LH. Our basal body temperature also increases during this time, which can impact increased energy levels."
She also adds that "ovulation is not always day 14 of a cycle no matter what you've been taught in the past. Ovulation can actually change based off so many things, so just make sure you know your body."
The Optimal Way to Nourish the Body:

"Consuming foods that are nutrient-dense, but also refreshing like a smoothie bowl or salad is definitely a must. See, excess estrogen can have a negative impact on our cycle, including breast tenderness and increased spotting, however, consuming nutrients that support the liver to remove estrogen is good to include and are found in foods such as kale, broccoli, onions, garlic, and radishes."
The Optimal Way to Move the Body:
"During this time, since your hormones estrogen, LH, and testosterone have surged, it's the perfect time to do those higher intensity workouts and anything that will have you actively sweating and increasing your heart rate. Exercises like spinning, sprinting, and heavy lifting are perfect during this phase."
Cycle Syncing During the Luteal Phase (Days 22-28)
​The last phase of your menstrual cycle is "the time between ovulation and before the start of menstruation when the body prepares for a possible pregnancy if the egg is fertilized." Berry continues, "During this phase, there's a shift in hormones, and around day 23 of your cycle, your body begins to prepare for the shed of the uterine lining. You may notice your cravings are a bit more intense, and you just want to eat everything in sight."
The Optimal Way to Nourish the Body:

"With estrogen on the decline and progesterone on the rise, you'll want to make sure that you focus on nourishing your body with additional nutrients like iron, magnesium, and zinc as well as complex carbs."
The Optimal Way to Move the Body:
"Since your body is preparing to physically release, the best thing you can do is low-intensity workouts and active recovery. The reason you want to do this is so that you don't apply additional stress (increased cortisol) to the body and create an inflamed, exhausted, or overwhelmed environment within the body. I suggest light jogs, long hikes, or a nice yoga flow for most people."
How to Start Cycle Syncing
If you want to start cycle syncing and optimizing your period health, Berry has the perfect method to start. In her teachings, Berry recommends beginning your cycle syncing journey through a process of habit stacking where you optimize cycle syncing by building on basic healthy habits you've already mastered. Berry sums this process up with the statement, "Standardize before you optimize." Her step-by-step process to standardize healthy habits is as follows:
The O.N.E method:
O is for "organize your meals in sync with your cycle;"
N is for "nurture your adrenals" which Berry says means working out in sync with your cycle, making time to meditate, journal, or pray at least once a day, and getting on a regular sleep schedule;
E is for "execute daily" which Berry created a checklist to help people with this step (download the checklist here).
After utilizing her method to standardize your healthy habits, Berry advises looking at where you are in your cycle to optimize your lifestyle habits according to the recommended lifestyle habits according to the phase you are in. For more specifics, check out her guide on fertility awareness here. "Once you know where you're at in your cycle, I like to recommend people start with nutrition, then add fitness and wellness, but ultimately people can start with wherever they want," Berry shares.
If you are starting your cycle syncing practice and don't wish to go the DIY route, Berry has a wealth of resources, including classes that she advises period havers to take if they are looking for a step-by-step plan with all of the details. Learn more about her classes here.
For more information about cycle syncing and daily tips, follow Berry on Instagram or TikTok @berrionlberry.
Featured image by Kevin Kozicki/Getty Images

We (the collective) get a lot of shit about how women ought to smell "down there." Hell, some of it comes from within — the idea that we're supposed to smell like buttercups and roses. When in reality, pussy has a smell and it's not "sweet." But we're not here to talk about this — not quite, that is. We're here to discuss the causes of abnormal smells that may be a bit pungent to ourselves or even others. Leave it to Nick Cannon to spark the dialogue here after he made comments on Lip Service, a podcast hosted by Angela Yee, about whether or not women know when they're "stinkin' up the room" or nah.
In the episode, he claimed his observations led him to believe approximately 80% of women need assistance when it comes to their hygiene. Specifically, he said, "80% of women probably need assistance when it comes to female hygiene," before adding, "There's this magnificent 20% that have no smell." And at the very end of the clip, you hear Angela point out that he may be giving women bacterial vaginosis.
Being as unbiased as I can be, this felt like a real lightbulb moment and not at all a dig at Nick's lifestyle choices. No, I'm not judging him for having multiple babies and multiple partners, but both of these truths do point to the fact that he's having unprotected sex with these women (see below).
Why Nick Cannon Is ONLY Having Unprotected Sex | Daily Pop | E! Newswww.youtube.com
Outside of potentially contracting sexually transmitted diseases — what does this mean for the women he's dealing with? What does this mean for anyone in a noncommittal partnership where one or both partners are having unprotected sex with other people? Can yeast infection and bacterial vaginosis, in fact, be passed via penile-vaginal sex?
Well, we hit Dr. Kerry-Anne Perkins, a board-certified OB-GYN with some of these questions and a few more. And while you may have guessed, the short answer is: yes!
Featured image by PixelsEffect/Getty Images
"Bad bitches have bad days too." When I heard thee Hot Girl Coach Megan Thee Stallion spit this indisputable fact on "Anxiety," the eleventh track of her new album Traumazine, I had to pause for a moment.
My initial shock came from hearing Meg's willingness to be so vulnerable about her mental health, especially while continuing to deal with a world that only wants stoicism from Black women in the face of unrelenting abuse.
With her sophomore follow-up to her 2020 debut Good News, the Grammy-winning rapper has returned barred up with her signature braggadocious punchlines and her IG caption-ready lyrics that could also double as manifestation spells.
But her meteoric rise to stardom has been punctuated with as much trauma as it has success. From being shot in her feet in 2020 allegedly by R&B singer Tory Lanez and her ongoing legal battle against him to hitting #1 on the charts with Beyoncé for the remix of "Savage" which garnered the Houstonians a Grammy win to the contractual dispute she's had with her old record label (that with the release of this project has finally freed her from her commitment to the company), to her first #1 album on iTunes with Traumazine — the highest of highs has been met with the lowest of lows.
She lets out all her frustrations on Traumazine and particularly on "Anxiety" – the album's most revealing and unguarded track.
"People call me rude 'cause I ain't lettin' 'em try me," she raps, echoing a sentiment that many Black women feel when trying to enforce our boundaries or trying to stand up for ourselves. She expresses a similar feeling in the track "Not Nice" when she says "I guess my skin not light enough, my dialect not white enough/Or maybe I'm just not shaped the way that make these niggas givе a fuck." It's her Rolling Stone interview come to life.
Another revealing moment in "Anxiety" is when she says "They keep sayin' speak your truth/And at the same time say they don't believe, man" – a line that's seemingly pointed toward people who have tried to discredit that she was even shot when her publicly available medical records prove that bullet fragments were removed from both of her feet.
It's not the first time since the incident that the rapper has had to combat people who have attempted to undermine what happened to her. She talks about it extensively in her recent interview with Gayle King, telling the veteran journalist about the details of the night in question. "I'm a victim," she told King. "I am the victim. I'm not defending myself against anything. Something happened to me!"
Over half way through "Anxiety," she shouts out three iconic women. "Marilyn Monroe, my favorite ho/My favorite bad bitch, I think she the GOAT/Jammin' to Britney, singin' to Whitney/I just wan' talk to somebody that get me, yeah." Along with being three of the most famous women in history, these women also have had publicly documented downfalls stemming from many things including being over-scrutinized by the media and the world writ large – something that Megan can definitely relate to.
In the most gut-wrenching part of the song, the rapper speaks about her mom, Holly Thomas, who passed away in March of 2019 just as Megan was beginning to gain significant momentum in her career.
If I could write a letter to Heaven/
I would tell my mama that I shoulda been listenin'/
And I would tell her sorry that I really been wildin'/
And ask her to forgive me, 'cause I really been tryin'/
And I would ask please, show me who been real/
And get 'em from around me if they all been fake/
It's crazy how I say the same prayers to the Lord/
And always get surprised about who he take, man/
After a public falling out with her best friend in the aftermath of the shooting and the loss of so many of her loved ones, on top of the trauma of being shot and the unwarranted backlash she's received as a victim coming forward, it's clear that Meg is struggling.
With "Anxiety," thee head hot girl has made space for Black women to know that bad days do not diminish our abilities to still be bad bitches too.
Let's make things inbox official! Sign up for the xoNecole newsletter for daily love, wellness, career, and exclusive content delivered straight to your inbox.
Feature image: Noam Galai/Getty Images for ABA