Off the rip, some of you may wonder what prompted me to write on a topic like this. There are two main causes for the inspiration. One, I find myself having a lot of conversations with women who can't seem to figure out, for the life of them, why sometimes their sexual experiences are the peak of pleasure while others are more on the ho-hum side. Secondly, I've read before that reportedly 46 percent of women have stated that they've always or almost always (whatever that means) have had an orgasm before while only six percent professed to it happening for them all of the time.
Because this phenomenon seems to baffle more than a few, I thought it would be a good idea to share some of the underlying causes for why climaxing may not be as consistent as you would like for it to be. First, so that you can take some of the pressure off of yourself (and sometimes even your partner) and two, through the process of elimination, you can potentially get down to the root of things, so that you can hang off of chandeliers more often than you currently are.
1. Stress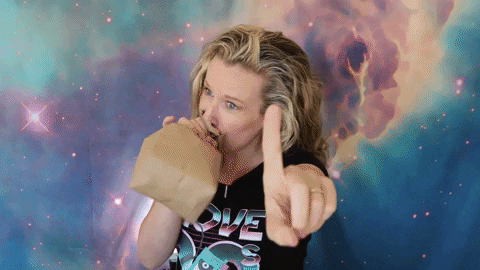 If there is one thing that you need to be during sex, it's completely and totally present — and that is exactly what stress prevents you from being. I'm pretty sure you know that it is extremely possible to be with someone physically and yet be somewhere totally different on the mental and emotional (more on that in a bit) tip. Thoughts being all over the place, cortisol (your natural stress hormone) levels being at their peak and you feeling worried or anxious can sho 'nuf keep you from having an orgasm. That's why it can be a really good idea to take a long bath, do some meditating or even just light a soy candle in the scent of lavender, rose, sandalwood, orange or jasmine (all of which are considered to be solid de-stressors) to calm down your senses.
2. An Emotional Disconnect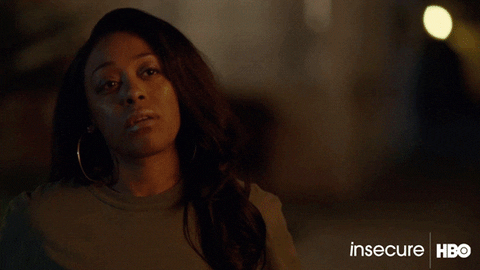 Contrary to what the media and pop culture want you to think, we aren't dogs or cats in heat. Sex, for humans, is supposed to be more than "getting off" — on some level, there should be an emotional connection too. That said, even if you're not planning to walk down the aisle (or you haven't already jumped the broom), ask anyone who has a sexual history and I'm pretty sure they will vouch for the fact that sex with someone you have some type of feelings for is so much more pleasurable and meaningful than someone who is nothing more than a super casual partner.
So, if there are moments when you feel disconnected from your partner when it comes to your feelings towards them, that can definitely hinder you from having orgasms because, whether you realize it or not, a wall is up and in order to climax, you've got to feel as free and open as possible. So, if you and your partner have some issues going on right through here, that could be a huge part of the reason for why orgasms aren't exactly flowing very freely.
3. It's a Different Time of the Month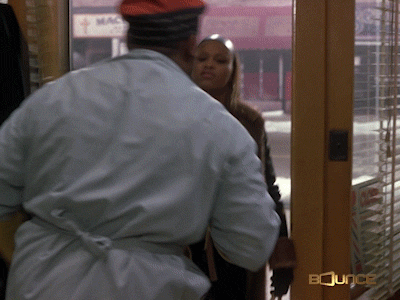 It probably comes as no shocker that a lot of women are off-the-charts horny when they're ovulating (when they're able to get pregnant) while, at the same time, they can kind of take or leave sex the week before their period (when they are PMS'ing which oftentimes includes bloating, breakouts and fatigue). Did you also know, though, that there are studies which state that many women are more interested in sex on the weekends than on the weekdays?
Sometimes, just paying close attention to your body and your calendar can help you to understand why climaxing may be easier for you on some days rather than others. That's why it's also a good idea to keep a period app on deck.
Women's Health Mag has a list of some really great ones here.
4. There's Not Enough Foreplay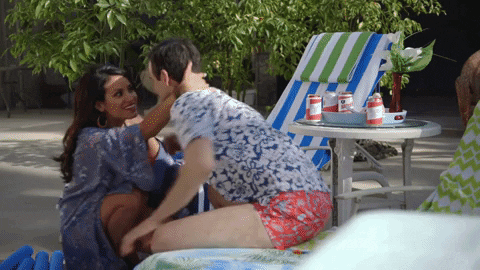 I believe I've shared before how, a wife (who is now divorced from her husband) once said to me in a session with her husband that, in order to get wet enough for intercourse, sometimes she has to use her own spit. Between her husband being somewhat sexually selfish, him not being the biggest fan of cunnilingus (although he's all about fellatio…chile. CHILE) and him believing that having a big member should be enough to keep her satisfied (check out "BDE: Please Let The 'It Needs To Be Huge' Myth Go," "Sex Hacks For Different Kinds Of Penises (You Heard Me Right)," and "Apparently, A Certain Penis Size Can Make Us Orgasm The Most (Chile)"), his foreplay game had much to be desired.
So is the case for a lot of men because without us feeling super desired, without there being at least 10-15 minutes to literally warm us up and without us getting/being wet enough (check out "Why You May Be Struggling With Getting "Wet Enough"), not only can it be difficult to climax, it can be really uncomfortable to have sex altogether. So, if your man is all about the "cake" without the "icing," if there is one time when that is totally his bad, this one would be it. And if, for the sake of your sex life, there is ever a time when you should let him know, now (relatively speaking) would be the time (not when you're having sex and preferably outside of the bedroom too; it needs to be a calm and loving conversation not something that makes him feel super self-conscious).
5. Your Diet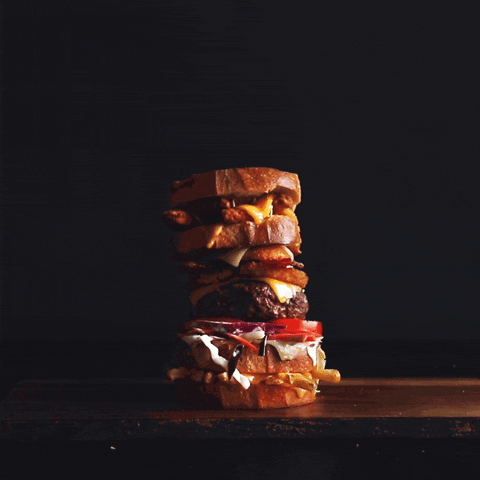 When you get a chance, check out "So, Here's What Your Diet Says About Your Sex Life." The reality is — and this is so not a pun — when it comes to having a happy and fulfilling sex life, we really are what we eat. Too much sugar can drain your energy. Not enough fluids can affect how naturally lubricated you are. Fast food can jack up your hormones. The list goes on and on. So, if you know that you either rarely or straight up don't eat as healthy as you should, do not underestimate what that could be doing for you in the bedroom department.
And just what should you be consuming more of? Dark leafy greens are high in Vitamin E; it's a nutrient that can keep your sex hormones balanced out. Fresh fruit is loaded with Vitamin C which is great when it comes to keeping your sex hormones healthy and strong. Eggs are a good source of Vitamin B which can help to give you a lot of energy. Then there are aphrodisiacs that can make having an orgasm easier too.
Check out "Eat Your Way To Better Sex With Aphrodisiacs" and "10 In-Season Fall Foods That Are Incredible Aphrodisiacs" for a list of some of those.
6. Sleep Deprivation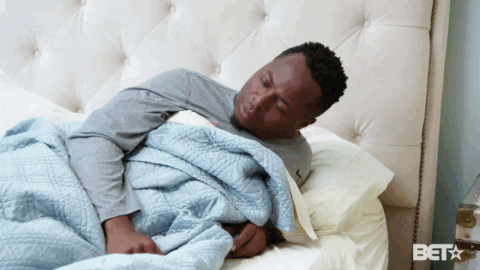 You wanna know how important sex is when it comes to having a great sex life? It's so important that I wrote an entire article about it for this platform — "6 Fascinating Ways Sex And Sleep Definitely Go Hand In Hand." There are solid studies which indicate that when we (meaning women) are lacking sleep, it can significantly reduce, not just our ability to get sexually aroused but our desire to have sex at all. This is why, something that I will oftentimes mention to some of my clients is, if you seem to be screaming your partner's name in pure ecstasy while on vacation yet not very much when you're at home, it could be because you are well-rested when you're off of work. There are a billion-and-one reasons why getting no less than six hours of sleep, on a daily basis, is such a good idea. So that you're able to orgasm more is just one of them.
7. Being in the "Wrong" Positions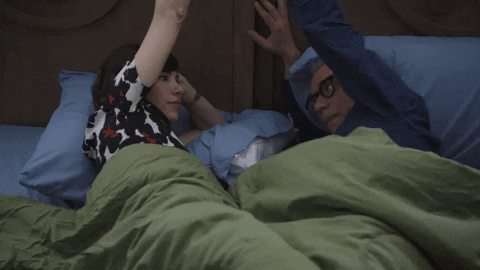 Back in my gettin'-it-in days, sometimes I would humor my partner and get into certain sexual positions, just because they liked it. Meanwhile, it did very little for me. And y'all, this is something that you've got to keep in mind too — which positions work for you and which ones don't, because it still rings true that around 70 percent of women still aren't able to achieve an orgasm, just with vaginal penetration alone. And what kind of positions have a pretty good reputation for making "seeing the mountaintop" a lot easier for you? Honestly, anything that makes it easy for your clitoris to be stimulating in the process of you being penetrated.
This would include spooning, your hips being on the edge of the bed so that he can easily access your clitoris, reverse cowgirl, doggystyle and, what I would call the "cat position". If you've never seen cats have sex before, it's like doggystyle only, they are on their stomach. Listen, it really can't be emphasized enough that the more your clitoris is "in the game" during intercourse, the far greater your chances will be of having, not just orgasms but blended and multiple ones too.
8. You're Having Sex FOR Rather than WITH Your Partner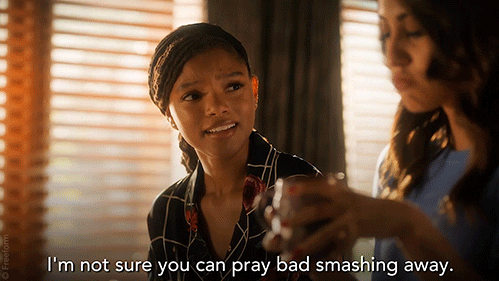 Some people are simply too selfish for a relationship; they really are. Sex isn't exempt from this particular point either (check out "Got A Selfish Lover? This Is What You Should Do About It."). While there is something to be said for the responsibility of sex in a long-term relationship, if you find that you're having sex, mostly to appease your partner, that is the difference (to me) between having sex FOR someone vs. WITH them. And while a good lover definitely doesn't want their partner to participate in anything that is purely obligatory, the flip side to this is, how is your partner supposed to know this is how you are feeling, if you're not saying anything?
Articles like "The 'Pre-Sex Interview'. To See If You're Both In Sync." (for new relationships), "Ask These Sex-Related Questions BEFORE You Marry Him" and "9 Sex-Related Questions You & Your Partner Should Ask Each Other. Tonight." are specifically designed to encourage couples to verbally communicate their thoughts and needs, so that everyone is on the same page before getting in between the sheets. Because when you feel heard and understood that definitely makes it easier to feel…felt, if you know what I mean. #wink
9. You're Not Paying Enough Attention to Your Body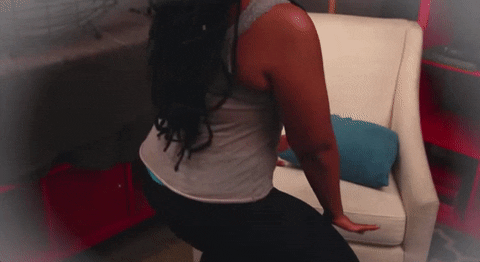 Some women feel sexier after a shave or wax. Sometimes, in order to keep your pH balance right and your vagina smelling fresh, you need to up your probiotic take. If you're not washing your underwear by hand, the harsh detergent you're using could be triggering a yeast infection and/or if you're not getting a regular dose of omega-3s in your system, that could be why you're not as naturally lubricated as you should actually be (check out "What Your Vagina Wishes You Would Do More Often").
Sometimes, a situation can trigger us which can cause a mental or emotional block of some sort and so we need to do what is known as vaginal mapping (check out "Why 'Vaginal Mapping' Needs To Be Part Of Your Healing Journey"). Sometimes, there's little pieces of lint and hair that need to be cleaned out of our clitoral hood, so that it's less irritated (check out "7 Reasons You Should TOTALLY Be In Love With Your Clitoral Hood"). Then there are moments when your vagina might just be stressed the hell out and therefore, requires a bit of TLC (check out "Ever Wonder If Your Vagina Is Stressed TF Out?").
Unfortunately, some of us make the grave mistake of assuming that our vagina doesn't require as much time and attention as say, our face or skin does, when that couldn't be further from the truth. The reality is, the more in touch you are with "her," the more you will know how to supply her with what she needs. That's not just good food for thought outside of the bedroom but once you're inside of it as well.
10. Boredom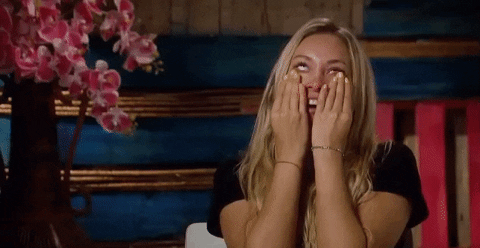 That saying, "If it ain't broke, don't fix it"? There are layers to that when it applies to sex because if you and yours figure out things that work and you just keep doing the same thing(s) over and over again, that can lead to tedious repetition which is the exact definition of boredom. Sex is too dope to only think that one position, one technique, one approach that has worked for you in the past is the only one that will in the present. So, if being on top has been your "old faithful" for months (or even years) now but it doesn't seem to cultivate as much intensity as it once did, get creative (check out "15 Sex Hacks To Take Your Bedroom Action To The Next Level," "I've Got 7 Hacks To Get You More Of What You Need In The Bedroom," "The Wetter, The Better: 10 Creative Ways To Use Lubricant," "10 'Weird' Things Could Actually Elevate Your Sexual Experience" and "15 Simple-Yet-Kinda-Buck Items To Take Sex To Another Level") .
Your body is made to respond to more than just one approach to sex, I can promise you that. So, yourself a favor and test this fact out…tonight, so that you can find other ways to receive the orgasms that you want — and are certainly very worthy of. More than just every once in a while. (I'm sayin'...)
For more love and relationships, sex tips and tricks, and marriage advice, check out xoNecole's Sex & Love section here.
Featured image by Getty Images
Keep reading...
Show less
Since November is typically the month when a lot of emphasis is placed on the importance of expressing gratitude for all of the things that you are thankful for and also since I tend to spend a somewhat significant amount of time talking about one of the things that makes womanhood so amazing — our vaginas — I thought that now was as good of a time as any to share some ways where you can actually show your vagina — and vulva (which is the outer part of your vagina) — some love in this lane. And while I know that, initially, this all might sound a little crazy, if you look at what gratitude really means, I'm thinking that it will help to put this into context in a pretty inspiring way.
Gratitude: to be appreciative
Appreciate: to be thankful for; to value or regard highly; place a high estimate on; to be fully conscious of; be aware of; detect; to raise in value
Vaginas help to bring us sexual pleasure. Vaginas play a role in our reproductive system and helping us to conceive. Oftentimes, our babies are birthed through our vaginas. How could something that holds so much significance not deserve to get a little appreciation every once in a while? So, in honor of my vagina and yours, here are 12 things that we all should at least consider doing in order to let "her" know that we see her and that we are so thankful for all that she does. Straight up.
1. Think of All of the Reasons Why You're Thankful for Your Vagina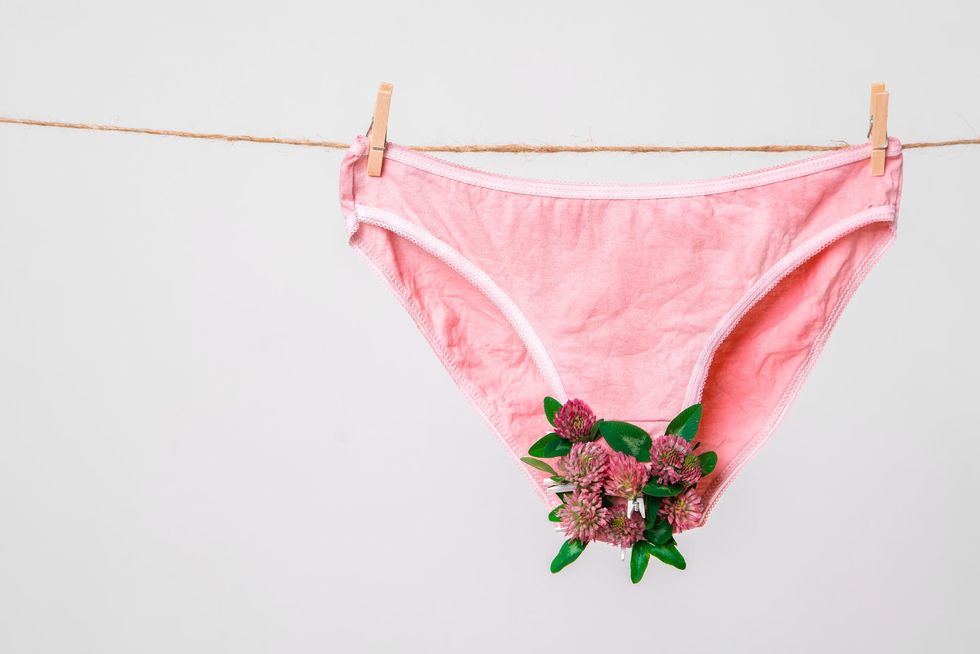 I've got a friend who says that she's never looked at her vagina, professionally "manicured" her vagina or really given her vagina much thought at all. "I mean, I'll cut the hair down sometimes for my husband but that's about it." As a marriage life coach and doula (by profession, I see a lot of vaginas due to the second gig) and also knowing that she's been married for over 30 years and has vaginally birthed two kids, I often say, "You don't want to show your vagina some gratitude for all that 'she's' done for you?" She always finds that to be a hybrid of hilarious and ridiculous. Meanwhile, I'm dead serious.
It's easy to take anything for granted when you don't stop to reflect on what it does for you — body parts included. So, before doing anything else, take a moment to think about why your vagina is bomb. I've done it and doing so has made it a lot easier to do some of the other things on this list, consistently and without hesitation.
2. Bathe in Honeysuckle and Coconut Oil Once a Week
Whether it's to soothe any minor irritation that your vulva may be experiencing or to pamper it, treat your genital region to a soak — one that contains honeysuckle and coconut oil.
While some of you may not have heard the word "honeysuckle" since you were a kid, it's actually got a ton of health-related benefits including the fact that it contains properties to help reduce inflammation, strengthen your immunity and help to prevent viruses too. If you add to honeysuckle, a half cup of coconut oil, thanks to the oil's potent antimicrobial and antibacterial properties, it can help to naturally reduce yeast-related symptoms, fight UTIs and also restore moisture if you happen to be dealing with any vaginal dryness.
And where, pray tell can you find honeysuckle? A lot of health food stores that carry loose leaf herbs happen to have it. In fact, Walmart even sells it online (click here). Add ½ to a cup of honeysuckle and a couple of tablespoons of organic coconut oil to your bathwater, let it sit for 10 minutes, soak for 20 and you'll be in a bath of luxury.
3. Soak in a Sea Salt Water Solution Following Your Period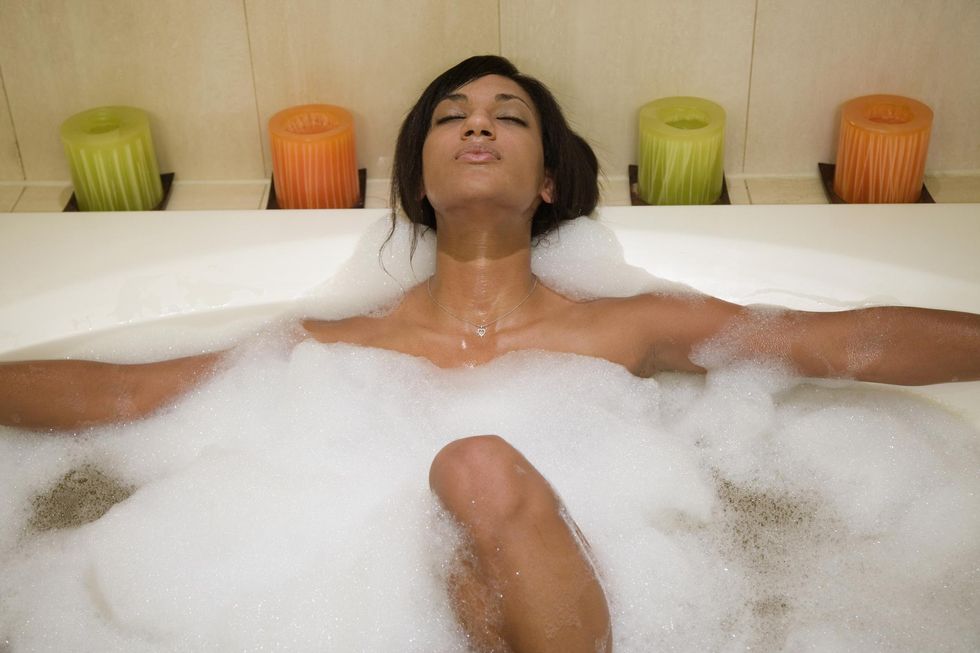 I don't know about you but sometimes, on the day after the last day of my period, there is a little bit of discharge that irritates my vulva. Something that helps to bring everything back to balance is soaking in a tub that has about a half cup of sea salt in it. This works because this kind of salt contains antibacterial properties that help to decrease itching while also stopping bacteria from multiplying. A 30-minute soak, two days in a row after your cycle, should just about do the trick.
4. Cleanse Your Vagina with a Rosemary, Basil and Honey Solution
A couple of years ago, I wrote an article for the site entitled, "Love On Yourself With These 7 All-Natural DIY Vaginal Washes". The main reason why is because, from articles I've read, conversations with health professionals that I've had and also personal experience, I've learned that when it comes to cleaning my vagina 1) less is more and 2) if you do want to use a wash of some sort, it should be as natural as possible. Here's where another DIY recipe comes in. If you make one that consists of rosemary, basil leaves, organic honey and distilled water, your vulva can receive all sorts of benefits (because remember, your vagina is self-cleansing, so it doesn't need any "help").
Rosemary oil is dope because it's loaded with antioxidants and anti-inflammatory compounds that can help to fight bacterial growth and increase blood circulation. Basil leaves are awesome because they have antimicrobial, antifungal and antibacterial properties in them. And honey? Honey is good because it has antibacterial and antifungal effects properties in it that can help your vagina to maintain its natural flora while also soothing irritated skin and even helping to fight off a yeast infection.
Just steep two cups of basil leaves in three cups of distilled water (which is the kind of water that has no impurities in it) for an hour. In the last two minutes, add three tablespoons of organic honey and two tablespoons of rosemary oil. Pour the solution into a container and then use as needed. It's great.
4. Treat Your Vagina Like a Plant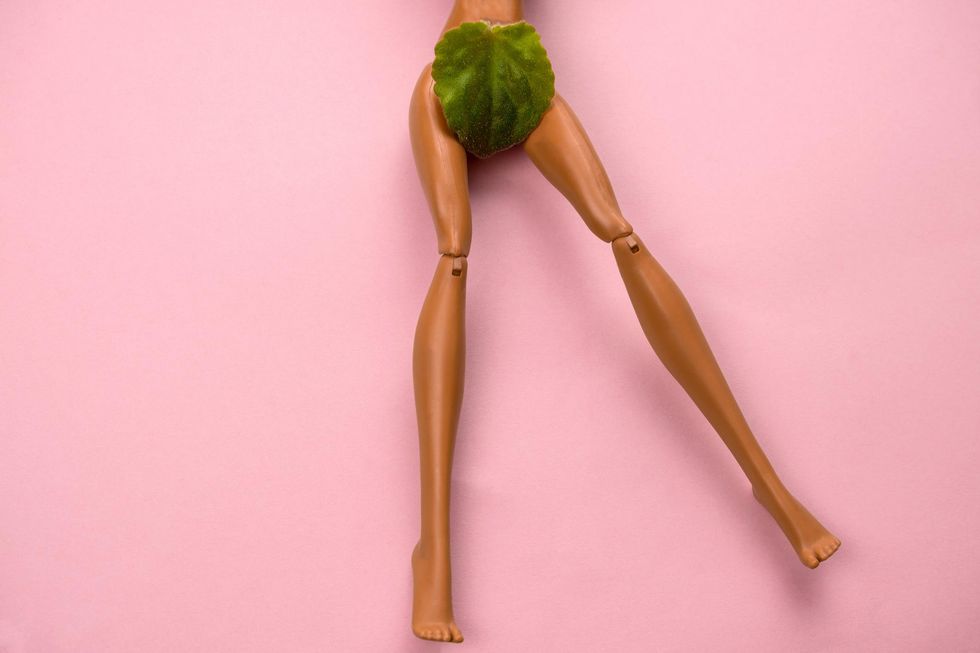 Did you know that talking to your plants can help them to fight off infection? Along these same lines, while there isn't necessarily a lot of scientific data that supports talking to your vagina, you definitely should feel comfortable talking about it (especially with your doctor) as well as looking at it on a fairly consistent basis; not just as preventative measure but so that you can become more confident with that part of your body too (check out "10 Sensuous Ways To Boost Your Sexual Self-Esteem").
One way to do that is by giving yourself a vaginal self-exam (check out "Why You Should Give Yourself A 'Vaginal Self-Exam'"). As you're doing it, have a "plant parent" mentality by being positive, gentle and at peace with whatever your vulva and vagina looks like (check out "Did You Know That There Are 10 Different Kinds Of Vaginas? Yep.") because they're all special and wondrous in their own special way.
6. Eat Probiotic Foods
When you get a chance, check out "80% Of Your Immunity Is In Your Gut. Take Care Of It Like This." Since so much of your immune system is in your gut and because there are good and bad bacteria in it, it's important to consume probiotics in order to keep the bad bacteria from taking over. This same line of thinking applies to your vagina because there are good and bad bacteria there too.
In fact, there is actually a strain of probiotics known as L. acidophilus that has been proven to help keep your vagina's pH in balance (check out "Sis, This Is How To Keep Your Vagina's pH Balanced"); the more "balance" you have, the less prone you will be to yeast infections and bacterial vaginosis. Some foods that are high in probiotics include fermented ones like yogurt, pickles, mozzarella and cheddar cheeses, pickled veggies and kefir.
7. Take Your Vagina on a Panty Shopping Spree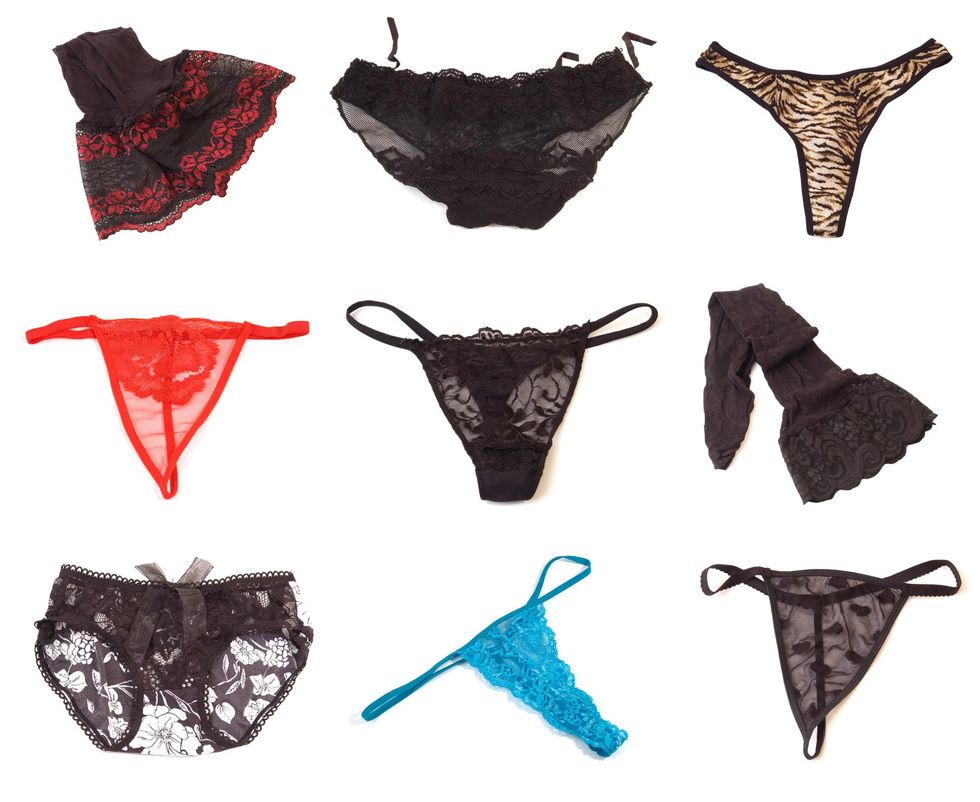 I'm willing to bet some pretty good money that you've got some panties that are well past their expiration date. How do I know? Because we are supposed to swap out the old for the new, every six months.
So yeah, nothing says, "I love you, vagina. Good lookin' out" quite like setting aside some time to do nothing but purchase new undies. Cotton ones for day-to-day wear so that your vagina can breathe. Silk, satin and/or lace ones to seduce your partner. Boy shorts because they are comfortable and still casually sexy. Some hipsters and bikinis because the cuts are cute on just about everyone. Some thongs for when you don't want your panty lines to show. Some control briefs for your bloat days. And if you're really honest with yourself, it's probably time to get some new period drawers too. If anything carries bacteria, it's those bad boys.
It would suck to get a yeast infection following your period because your panties had your vulva and vagina all stressed out. Anyway, Women's Health Mag published an article on some of the best period panties around. You can check it out here.
8. Give Your Vagina a Massage
If there's one thing that you keep telling yourself that you are going to start doing more often is getting a massage, make the time to read "12 Different Massage Types. How To Know Which Is Right For You.", then consider giving yourself a vaginal massage. While, off the rip, it might sound like I'm talking about masturbation, I'm actually not. Sometimes, I will take a favorite carrier oil (sweet almond is one of mine; it's good for the vulva because it deeply moisturizes) and gently massage my vaginal lips (especially once I get out of the shower).
It's great because it improves blood circulation, adds healing oils to that area of my body and helps to de-stress my vagina (check out "Ever Wonder If Your Vagina Is Stressed TF Out?") too. While a lot of cities actually have vaginal massage practitioners (some prefer to call themselves a yoni massage practitioner), this really is an exercise that you can do on your own, so long as you're doing it strictly for pampering purposes only.
9. Apply Some All-Natural Vagina Oil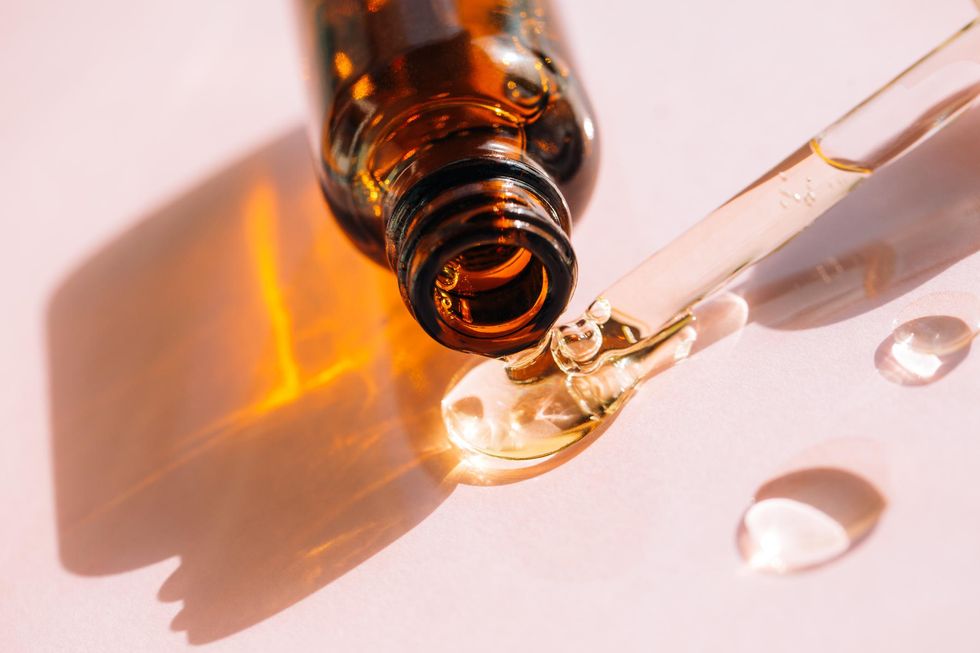 Not too long ago, I wrote an article for the platform entitled, "OK, So WTF Is 'Winter Vagina'?". Long story short, when it's cold outside and/or you spend too much time in dry HVAC heat, it can dry out your vulva lips and lead to irritation or discomfort. Something that can bring about some much-needed relief is applying a little bit of oil. Just make sure it's an oil that is proven to be highly beneficial for your skin (and won't irritate your vulva) like grapeseed (it's got an abundance of Vitamin E in it), avocado (it improves elasticity and helps to prevent dry skin) and sunflower oil (it's got Vitamin E, antioxidants, fatty acids and linoleic acid to help your skin to retain moisture). Whether applied separately or mixed together, these oils will be sure to keep your vaginal lips well soothed and moisturized.
10. Let "Her" Breathe Sometimes
I've shared before that while my health is pretty darn good, one thing that I do have is a fungal sensitivity. As a result, I have to be super proactive when it comes to staying away from things that would trigger a yeast infection or a skin condition known as tinea versicolor. For instance, sometimes there will be a patch of skin, underneath my armpit, that will turn into a yeast patch. It can be hell because, since my arm is down 95 percent of the time, that can be a breeding grown for moisture which yeast likes to thrive off of.
Another place that stays moist is your vagina. So, in order to keep it from being a breeding ground for bad bacteria and an overgrowth of yeast too, it's important that you let it breathe sometimes as well. Definitely go to bed naked (at least a few times a week) and shoot, don't be afraid to go commando (if you're wearing a dress or skirt; pants could be really uncomfortable and cause unnecessary friction) sometimes also. Because, word on the street is, wearing underwear less often can also reduce your chances of getting a UTI (urinary tract infection) because you decrease the risk of tiny pieces of fecal matter going into your vagina. Plus, you also reduce the chances of your vaginal lips chafing or getting irritated. The more you know.
11. Drink Some Pomegranate Juice (in a Champagne Glass)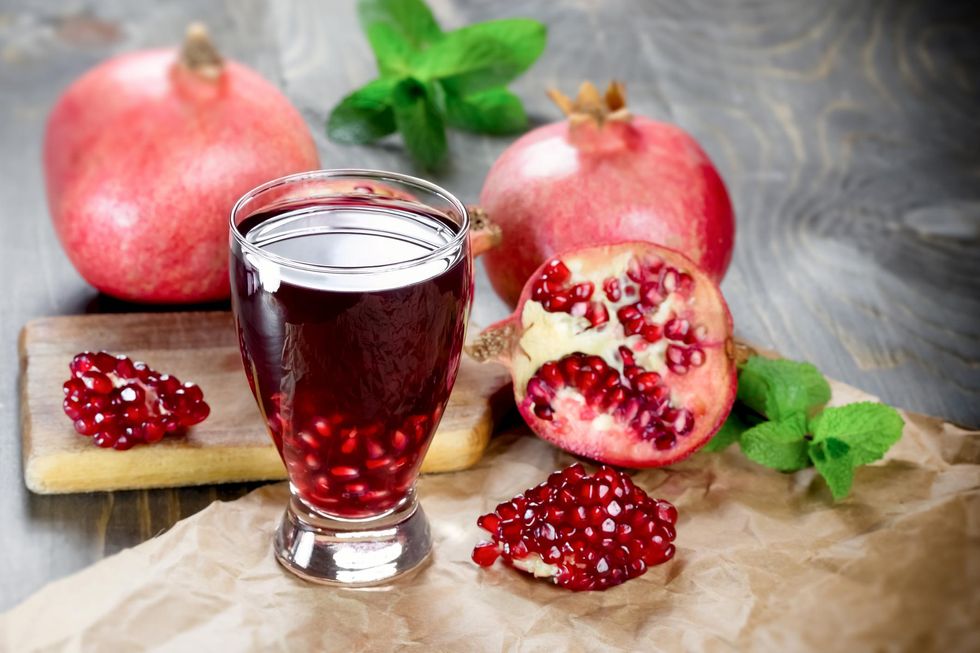 If you've never tried pomegranate juice, I personally find it to taste pretty good. And once I found out how beneficial it was to my health, I started making it a part of my health regimen.
Pomegranate juice is full of antioxidants and Vitamin C. It's loaded with anti-inflammatory and antiviral properties. Plus, it has Vitamin E and potassium in it. This means that when it comes to your vagina specifically, this is the kind of juice that can help to keep bacteria at bay, moisturize your vagina and even act as an aphrodisiac too.
Just pour some of it in a champagne glass — you know, to toast you and "her" — and you're good to go in more ways than one, chile.
Write a Vaginal Mission Statement (No, Really!)
Personally, I'm all about mission statements, not just professionally but personally as well. To me, they are a succinct way of sharing what you believe the purpose, intention and desire for an overall thing or goal should be. And well, when you put it that way, why shouldn't your vagina have its own mission statement? What purpose does "she" serve? What's your intention for her? What do you desire to be the ultimate outcome for her in this season of your life?
Because, as unconventional as it might sound to approach your vagina from this angle, when you're clear about what you want for her and how you want her to be treated, it will make care, upkeep, health-related priorities, "extracurricular activities" and yes, showing her some gratitude, so much easier to do. So, before this month wraps up, definitely jot down a paragraph or two that centers around a mission statement for your vagina. She'll appreciate the forethought — and sis, so will you. Give thanks.
To learn more about all things vaginal health and wellness, check out the xoNecole Women's Health section here.
Featured image by Getty Images
Keep reading...
Show less
While uterine fibroids — which are abnormal growths that can develop in a woman's uterus — aren't something that I've personally had to deal with, because I am a doula, I've had several clients who've struggled with them when it comes to trying to conceive and/or when it comes to safely carrying their baby to term; that's why, I've done quite a bit of research on them over the years. Interestingly enough, reportedly 80 percent of women will develop them over some point in their lifetime and a quarter of us, between the ages of 18-30 will get them in comparison to six percent of white women.
As far as what causes these particular kinds of fibroids, they've been linked to the roller coaster ride of hormones, pregnancy (due to pretty much the same thing), obesity and DNA. As far as Black women go, it needs to also go on record that more and more studies are linking uterine fibroids to the use of hair relaxers as well. So, if when it comes to your period, you are experiencing heavy cramping (or increased cramping), a lot of clots or that your period is lasting longer than it typically does or, beyond that, you're having pain during intercourse, swelling in your abdominal area or that you've been having to pee more usual, make an appointment to see your doctor, just so they can be sure that fibroids aren't the cause.
No matter what the outcome of your visit, please be intentional about your diet because, believe it or not, there are foods that can help to prevent and heal fibroids and there are foods that can trigger the growth of them at every turn. Let's look at five of each.
Five Foods to Eat to Help Heal Fibroids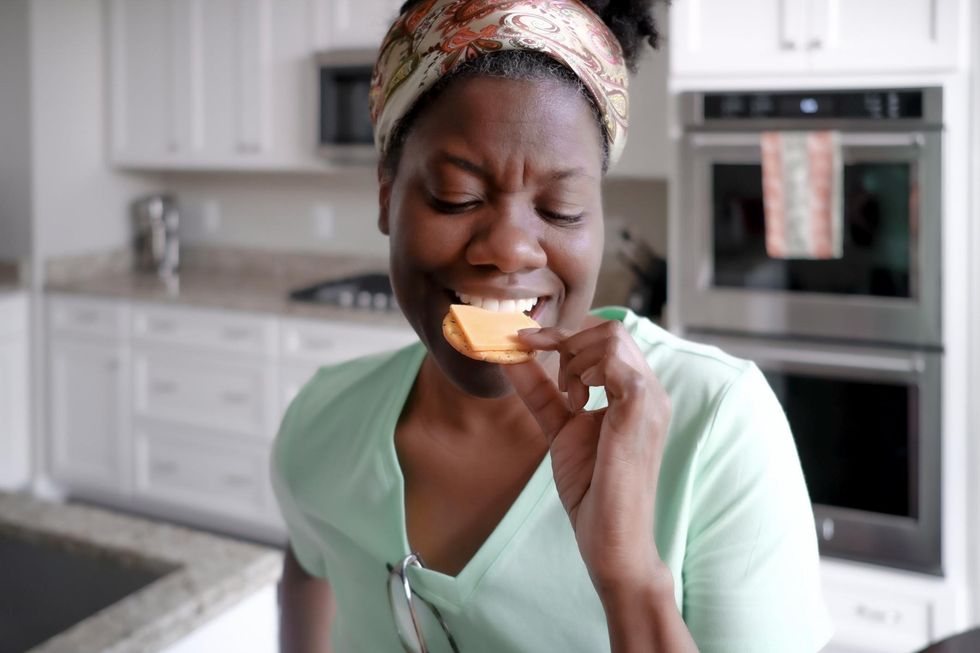 1. Legumes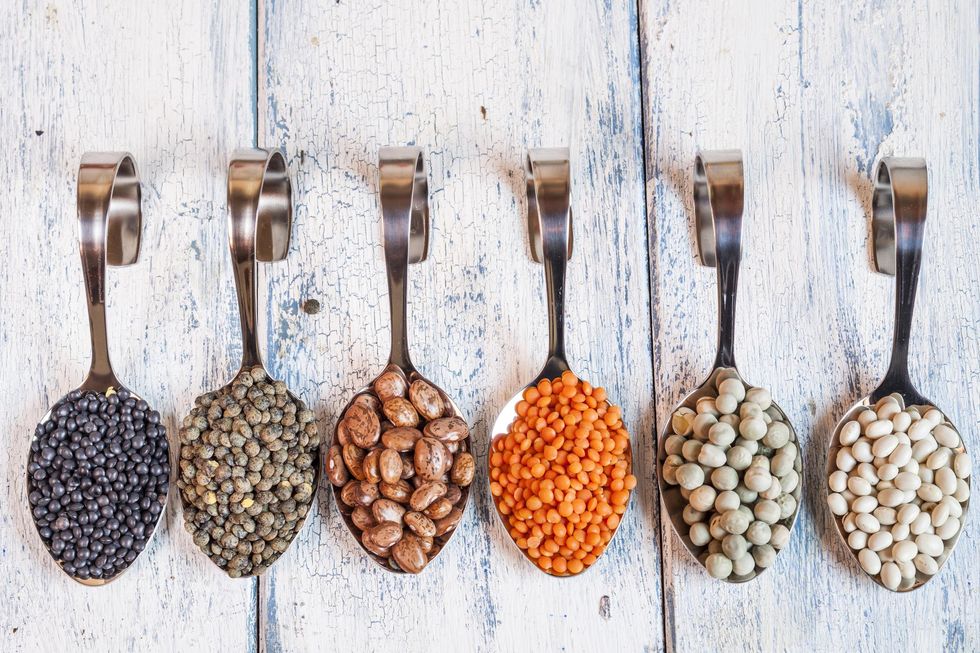 If you've ever said to yourself, "What the heck are legumes?", beans, peas, lentils, soybeans and peanuts are all considered to be a part of the legume family. If the next question is "What makes them different from beans?", the technical answer is they are the leaves, stems and pods of a plant while beans are just the seeds. With that out of the way, legumes are good for you because they are loaded with antioxidants; the kind that help to fight off cell damage and reduce signs of aging (inside and out).
Legumes also have a reputation for reducing the risk of heart disease and cholesterol. When it comes to helping to prevent or heal fibroids, what makes them really effective is legumes are high in fiber which makes it easier for your system to get rid of the kinds of toxins that could either help to create a uterine fibroid or "feed it" so that it gets bigger or lasts longer.
2. Garlic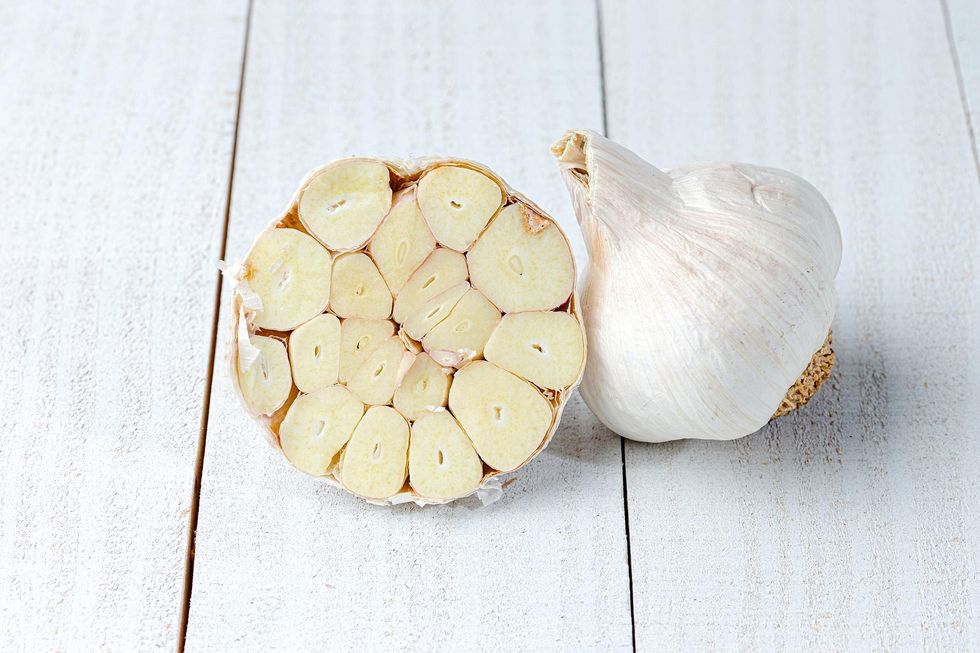 If you like to cook with fresh garlic, good for you, sis. Garlic has potent medicinal properties in it. Garlic can help to reduce your blood pressure. Garlic has a reputation for increasing athletic performance. Garlic even adds to longevity.
Fibroids hate garlic because the antioxidants and sulfur in it fights off the kinds of free radicals that can lead to the development of uterine fibroids over time. Not only that but sulfur is a powerful healer and has been known to help heal scars caused by fibroids too.
3. Flaxseeds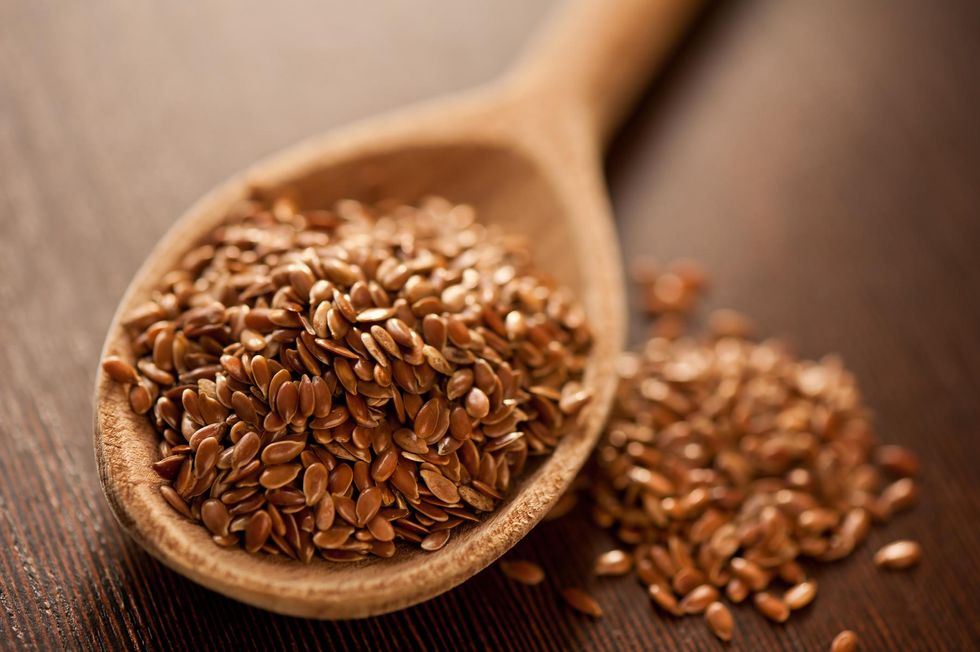 Something that I sometimes take in supplement form are flaxseeds. Flaxseeds are good for you because they're a good source of fiber, protein and omega-3 fatty acids. Not only that, flaxseeds can help to lower your cholesterol and blood sugar levels, plus they're great at helping you to feel fuller which can curb your appetite, so that you end up losing weight.
What makes them great for uterine fibroid health? I read a study that said some of the properties in them caused hens with uterine fibroids to end up with 40 percent less of them over time, just by adding 10 percent of flaxseeds to their diet. To me, that's a good enough reason to at least give flaxseeds a shot.
4. Non-Gluten Grains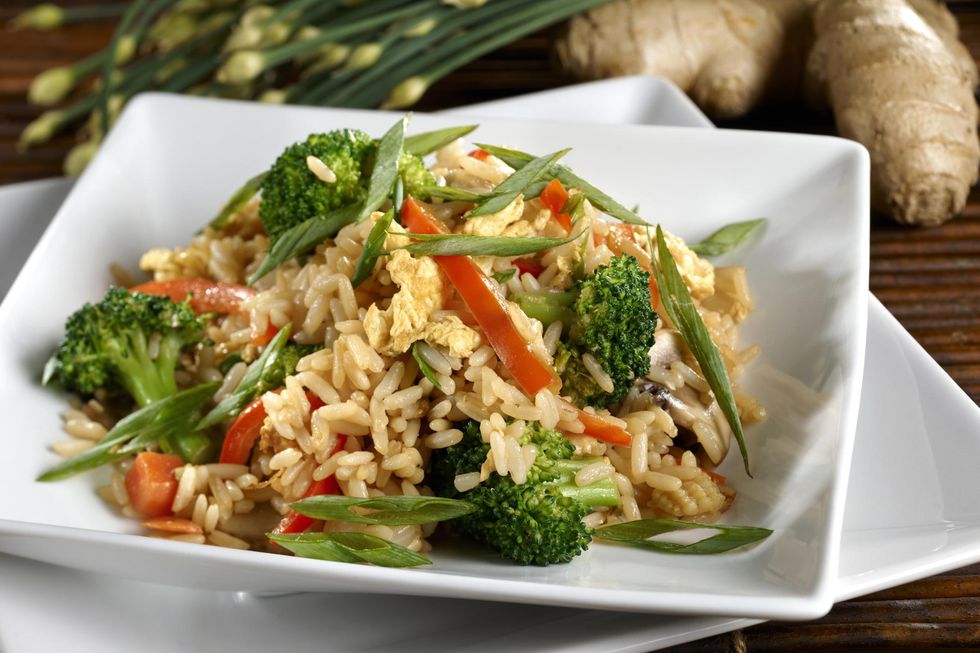 When you get a chance, feel free to check out the article, "8 Reasons Whole Grains Are Good For You. 4 Reasons To Eat Them In Moderation." that I wrote for the site not too long ago. Since it covers a good amount of ground about why whole grains are good for you, what I'll just say, specifically, as it relates to uterine fibroid prevention and healing, is whole grains that don't have any gluten in them (which is a protein in wheat that doesn't really have much nutritional value although it's not all bad either; mindbodygreen did a good article on its benefits that you can check out here).
Some of those foods include brown rice, buckwheat and millet. All of these are beneficial because the antioxidants, protein and fiber in them can help to protect against uterine fibroid growth while improving the health of your uterus overall.
5. Organic Produce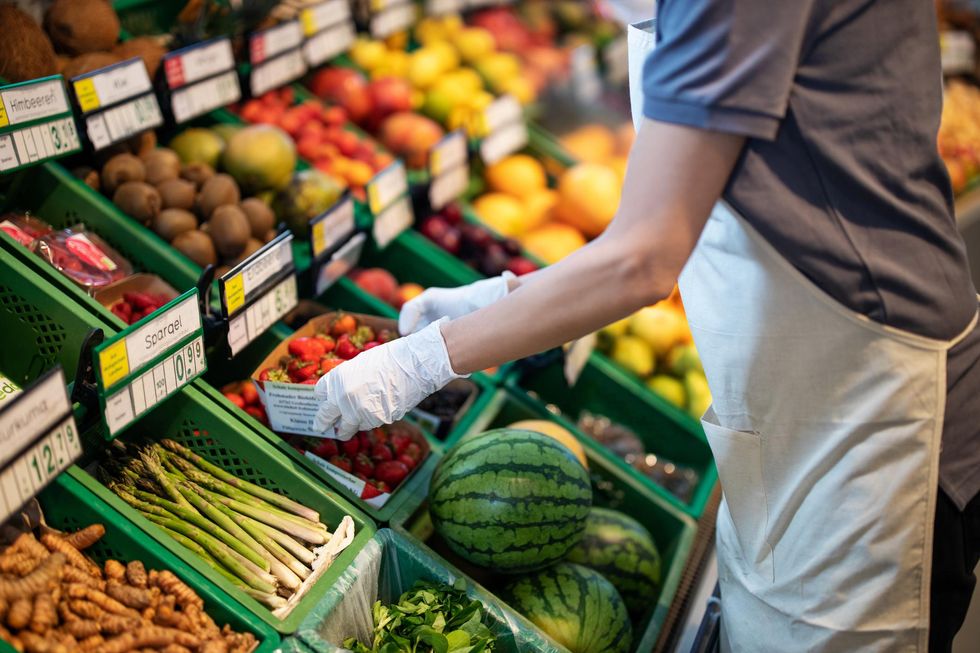 Since fresh fruits and veggies are loaded with nutrients, including fiber which helps to keep us regular, it makes complete and total sense why they would be the kind of food that helps to prevent and also heal uterine fibroids. The key is to make sure that you go with the kind that are organic. Why? Well, that means they don't have any of the fertilizers and pesticides that are oftentimes used in order to make produce last longer.
I already know — organic produce at local grocery stores is like paying rent. This is just one more reason to support your local farmers market. Stuff is cheaper and typically so much fresher. Plus, you're supporting your local farmers when you decide to go that route.
Five Foods to Avoid in Order to Prevent Fibroid Growth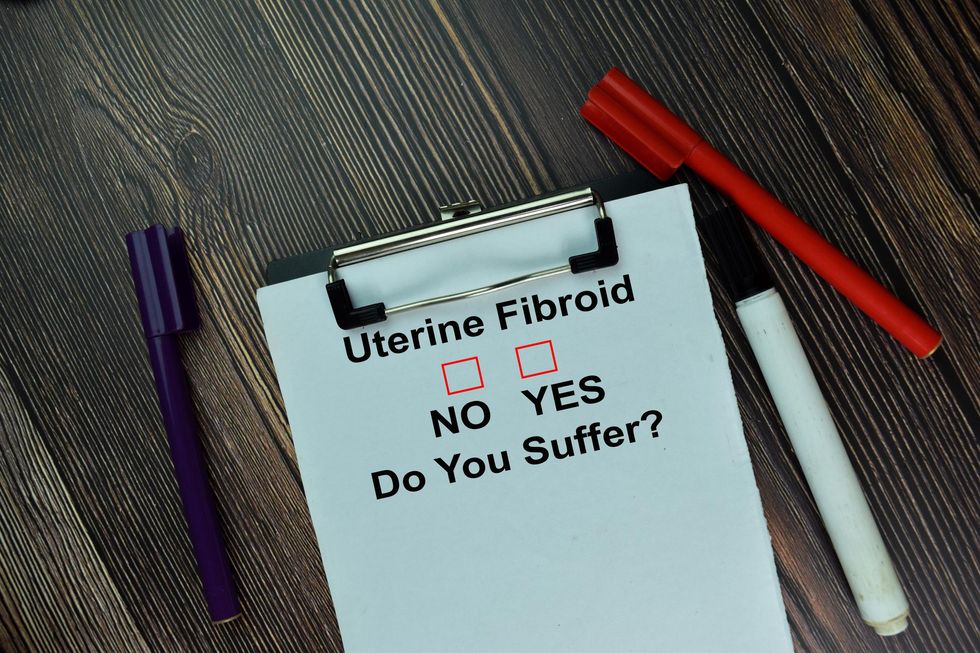 1. Refined Sugar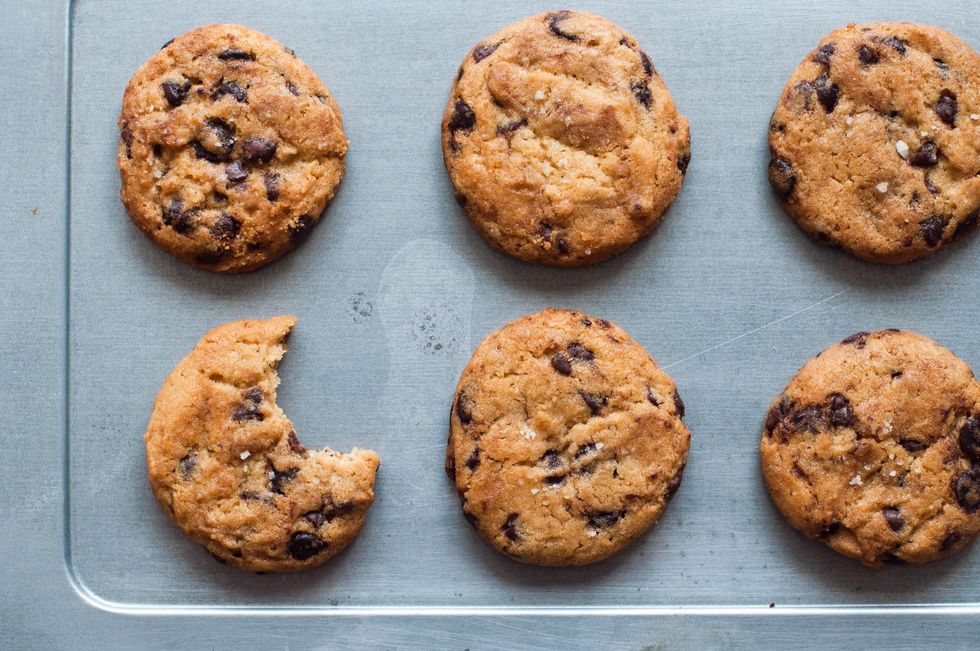 Remember how I said in the intro that obesity is connected to uterine fibroid growth? It's no secret that perhaps the leading cause of so many people being overweight in this country is refined sugar, so that's enough of a reason to cut back a bit. However, another reason why refined sugar isn't really a good look is because it can throw your hormone levels off. Imbalanced hormones can lead to inflammation and fibroid growth. When it comes to (refined) sugar, less is certainly best (check out "Ever Wonder If You've Got A Low-Key Sugar Addiction?").
2. Soy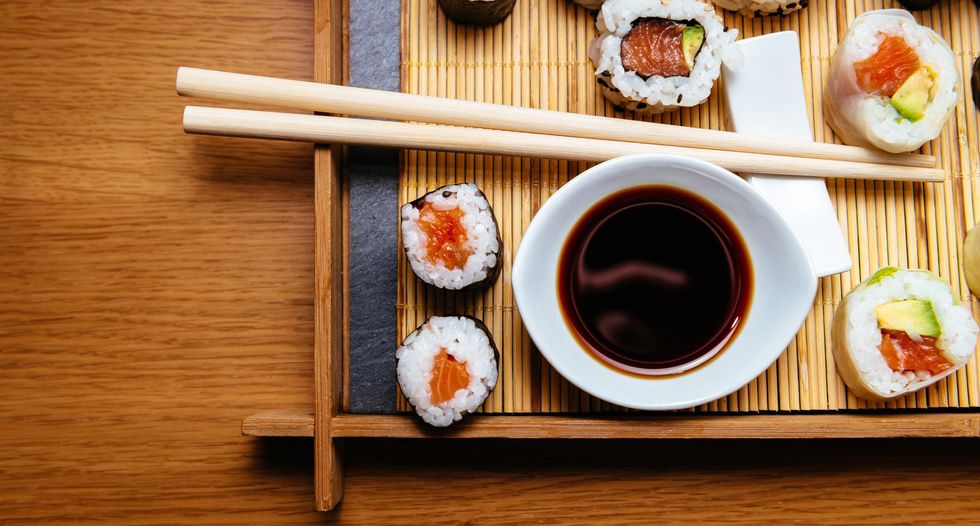 The two hormones that can trigger the growth of uterine fibroids are estrogen and progesterone. That said, the reason why the consumption of soy can be a real problem when it comes to uterine fibroids is because it contains phytoestrogens which is a compound that mimics estrogen. So, if soy is totally your thing but you want to do all that you can to keep uterine fibroids at bay, you might want to consider eating a lot less of it.
3. Caffeine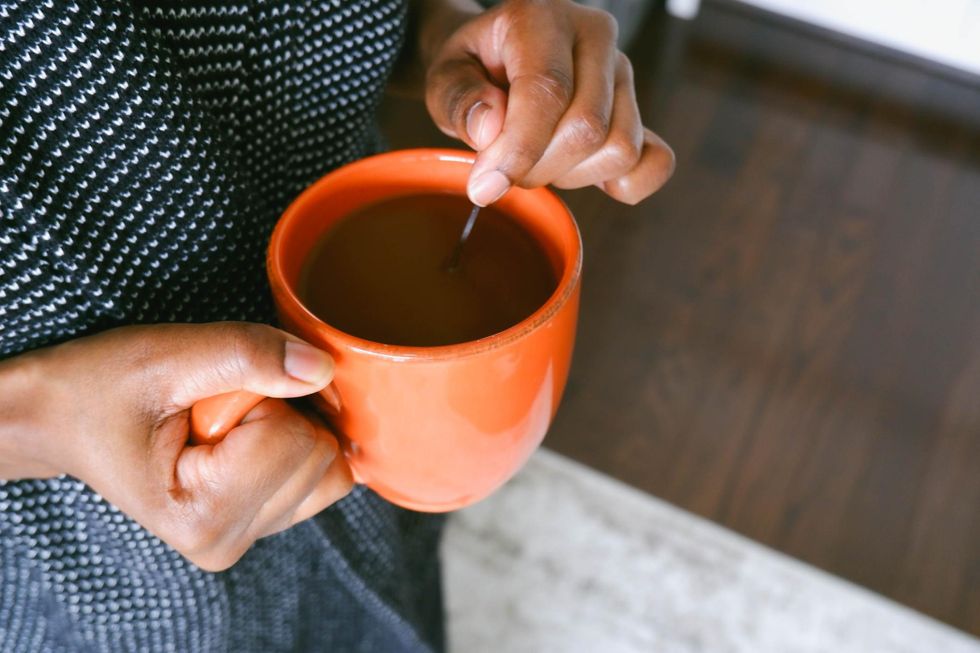 Something that can put a lot of stress onto your liver is caffeine and when your liver isn't working at its best, that can play a role in your hormones not being as balanced as they would need to be in order to keep you from experiencing uterine fibroids. No one is saying you have to ditch your java altogether, but if you're drinking more than 2-3 cups a day, definitely cut back. (Speaking of your liver, do some research on milk thistle when you get a chance. It's an herb that helps to detoxify your liver. Whenever I take it, I can actually see a real difference.)
4. Fatty Processed Meat
Red meat is high in iron and Vitamin B12; since these are two nutrients that we, as Black women, are oftentimes low in, that's a good reason to not feel bad about having an occasional steak or burger. At the same time, it's always a good idea to remember that moderation is key when it comes to meat consumption and, if you want to avoid getting fibroids, you should definitely tiptoe around processed meats (meats that were made via the process of curing, salting, smoking, drying or canning).
Some examples of processed meats include cured bacon, hotdogs, ham, sausage and salami. The reason why these are problematic for uterine fibroids is because they have a lot of additives that can also throw your hormones off. Some even have more estrogen put into them and you definitely want to avoid that as much as you can.
5. "White Stuff"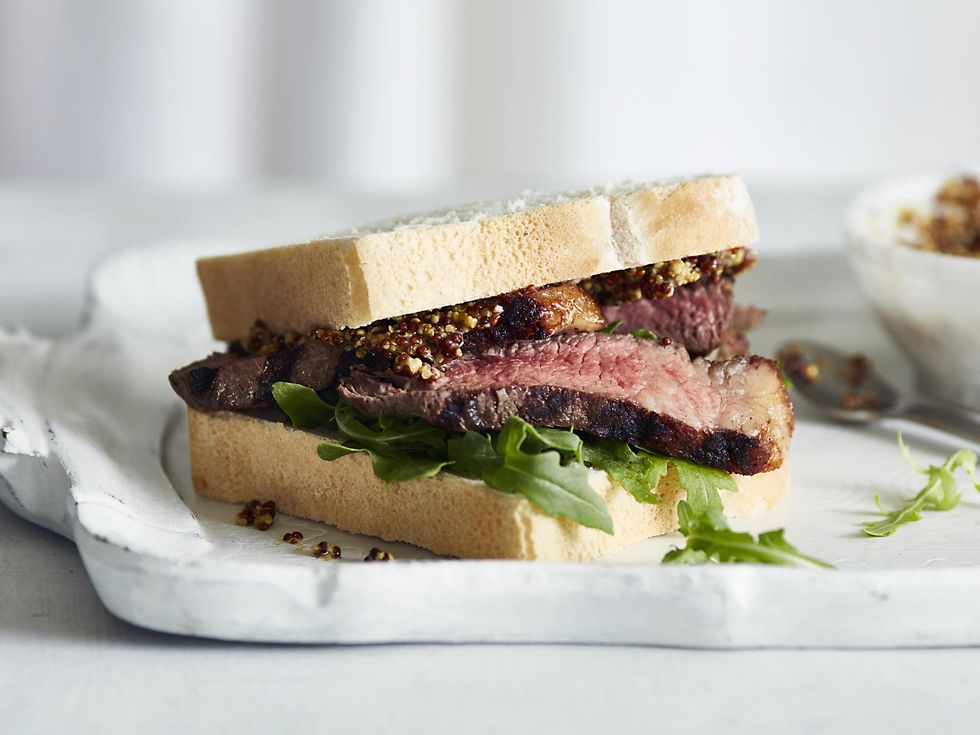 White bread. White pasta. White rice. You get it. Something that all of these things have in common is they are refined carbs which means they've got very little nutritional value to them. This is a not-so-good thing overall but what makes them suck when it comes to uterine fibroids is they can throw your estrogen levels off and cause your fibroids to grow in size. In short, in this instance, "white ain't right", so definitely avoid it as much as possible. Your body, including your uterus, will be oh so grateful. Indeed.
Join our xoTribe, an exclusive community dedicated to YOU and your stories and all things xoNecole. Be a part of a growing community of women from all over the world who come together to uplift, inspire, and inform each other on all things related to the glow up.
Featured image by Getty Images
Keep reading...
Show less
While tea is the kind of drink that those of us who are tea lovers typically consume all throughout the year, I'm pretty sure I'm not alone when I say that there is nothing like looking out of the window on a chilly day while it's raining, curling up under a favorite throw blanket and sipping on a warm cup of herbal tea while reading a book or watching a favorite throwback movie. What's so dope about herbal tea is, aside from it tasting pretty good (especially when it's got some honey and/or lemon in it) is all of the health benefits that it provides. Herbal tea is proven to boost your immunity, de-stress you, fight off free radicals and viruses, improve your digestive system, fight inflammation and oh so much more.
I'm personally such a fan of the stuff that I once wrote an article for the platform entitled, "10 'Uncommon' Teas You Should Add To Your Stash (& Why)". Today, though, I'm going to share with you a list of teas that are specifically good for your overall vaginal health. That way, if you do decide to cop a couple of 'em, you can be confident that not only will they be soothing to your soul but great for your va-jay-jay too.
1. Burdock Root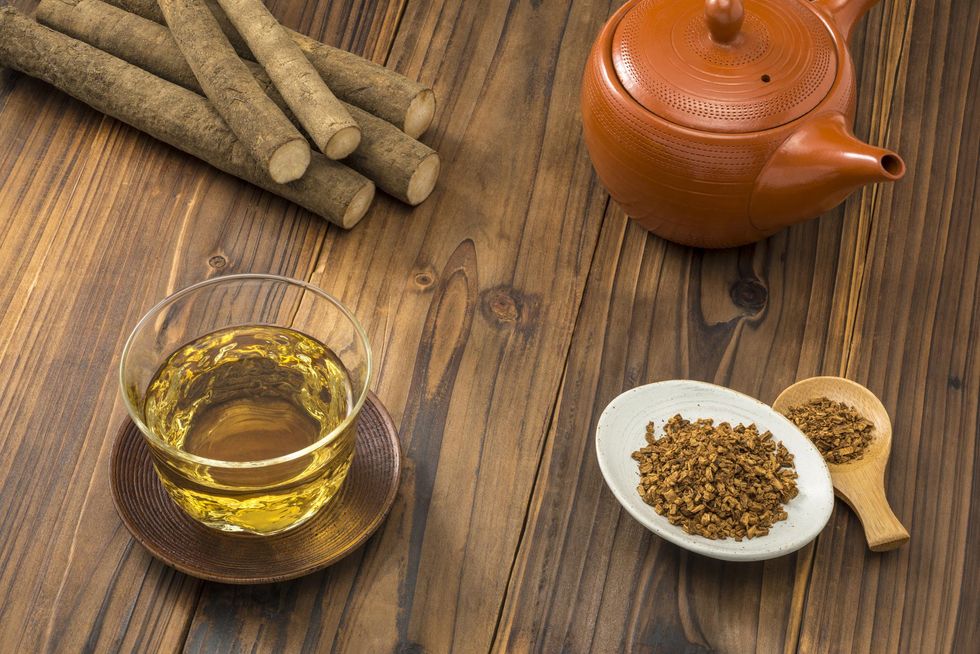 Burdock root tea is really good for you, first of all, because it's packed with all kinds of antioxidants. That's why it's got such a great reputation for being able to reduce bodily inflammation and detoxify your blood. In fact, it detoxifies so well that it's been known to inhibit the growth of certain cancer cells and help to ease the symptoms that are associated with eczema. Some other benefits of this particular tea include that it's able to lower your blood sugar levels and that it works as a diuretic. What makes burdock root great for your vagina is it contains properties that can help to balance your hormones as well as strengthen your uterine walls. A must-have, for sure.
2. Chamomile
When it comes to teas that are able to effectively reduce stress levels, it's pretty common for chamomile to top the list. Aside from that, it's also got anti-estrogenic effects that can increase bone density, compounds that can help to reduce symptoms that are associated with the common cold and, thanks to all of the antioxidants that it has, chamomile is even known to improve heart health and boost immunity. As far as vaginal health goes, if period pain drives you totally up the wall, the anti-inflammatory properties in this tea can significantly reduce any discomfort you may feel. The key is to consume it all month long, though, not only when you're on your cycle.
3. Chasteberry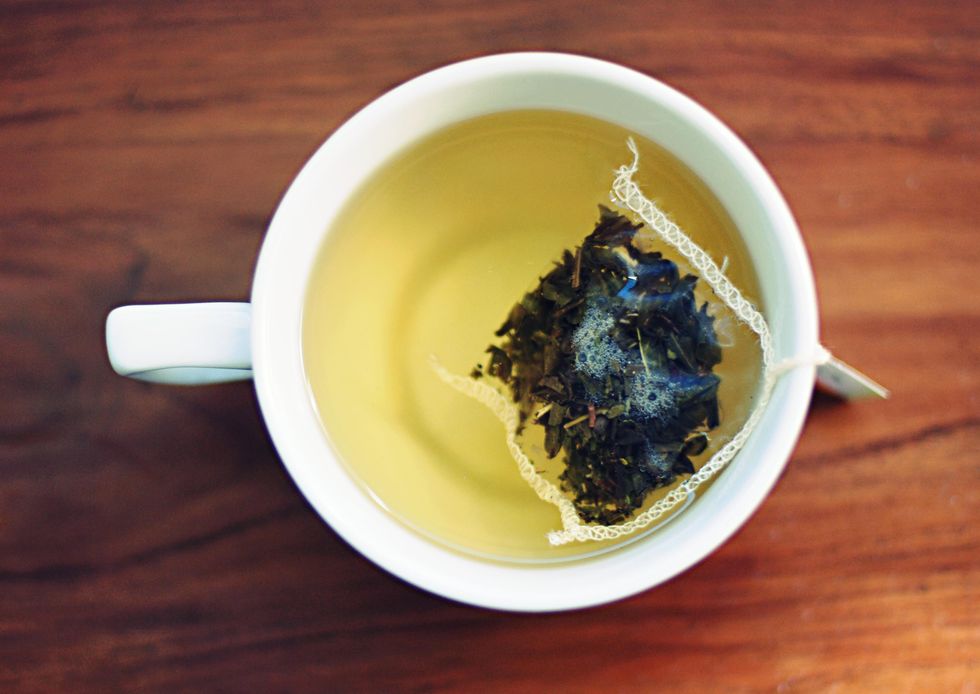 While chasteberry may not be the kind of tea that comes up in regular conversation, that doesn't make it any less valuable or relevant. In fact, when it comes to women's health, it's considered to be top-tier. That's because the properties in this tea are able to do everything from increase fertility and make producing breast milk easier to reduce PMS and menopause-related symptoms.
The reason why is because chasteberry has powerful enzymes and compounds in it that are able to stimulate estrogen levels in your system. So, whether trying to conceive or getting through menopause is what you want to do, a warm cup of chasteberry can help to make things so much better.
4. Cinnamon
If you're all for something that's a combination of sweet 'n spicy, you definitely need to invest into some cinnamon tea. It's another tea that's high in antioxidants. It also lowers inflammation and blood sugar levels, promotes collagen production (which keeps you looking younger) and it can even help to increase cognitive function (dope). And just what does cinnamon do for your vagina's overall health and well-being? For starters, it helps to reduce PMS-related symptoms. Also, because of the powerful antibacterial and antifungal properties that it contains, consuming cinnamon tea a couple of times a week is a proactive way to keep vaginal infections at bay as well.
5. Ginger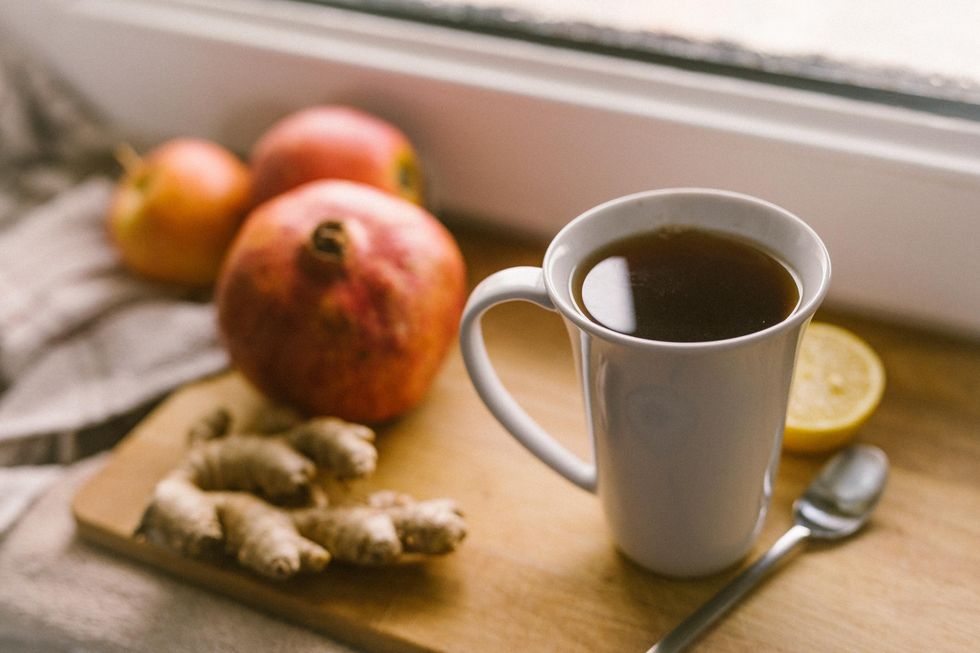 Another pretty spicy tea is ginger. But listen here, if you happen to have a bout of morning sickness, motion sickness or nausea, you will be more than just a little happy that this is in your stash. Ginger also has a good amount of anti-inflammatory properties in it which makes it pretty effective when it comes to helping to relieve headaches and even migraines. Some other reasons to drink this particular tea is it's rich in the kind of antioxidants that can help to prevent cancer cells, it has a lot of antimicrobial properties to speed up the healing process of a cold and it's loaded with antifungal properties that are great for maintaining good oral health.
There are also properties in ginger that can help to relieve muscle contractions that are typically associated with period cramps. Plus, because ginger is effective in keeping your gut healthy, that means you've got a greater chance of warding off the kind of bad bacteria that can ultimately trigger a yeast infection or bacterial vaginosis.
6. Green Tea
If there is a tea that is above all teas, it would probably have to be green tea. It actually has a reputation for being one of the healthiest teas on the planet and it is well-deserved. Green tea is full of antioxidants that are great for your brain, weight loss and protecting your system from cancer. Green tea also has polyphenols that reduce bodily inflammation, antioxidants called catechins that help to prevent cell damage and properties that fight off germs that cause bad breath.
Some other great things about this tea is it helps to prevent heart disease and type 2 diabetes as well as strengthen your bones. And why does green tea please your vagina so? Well, remember the catechins that I mentioned earlier? Something else that they do is protect your urinary tract. This is great because that can significantly decrease your chances of having a UTI — and if you've ever had one of those before, you know you want to avoid getting those bad boys at all costs if you can.
7. Lemon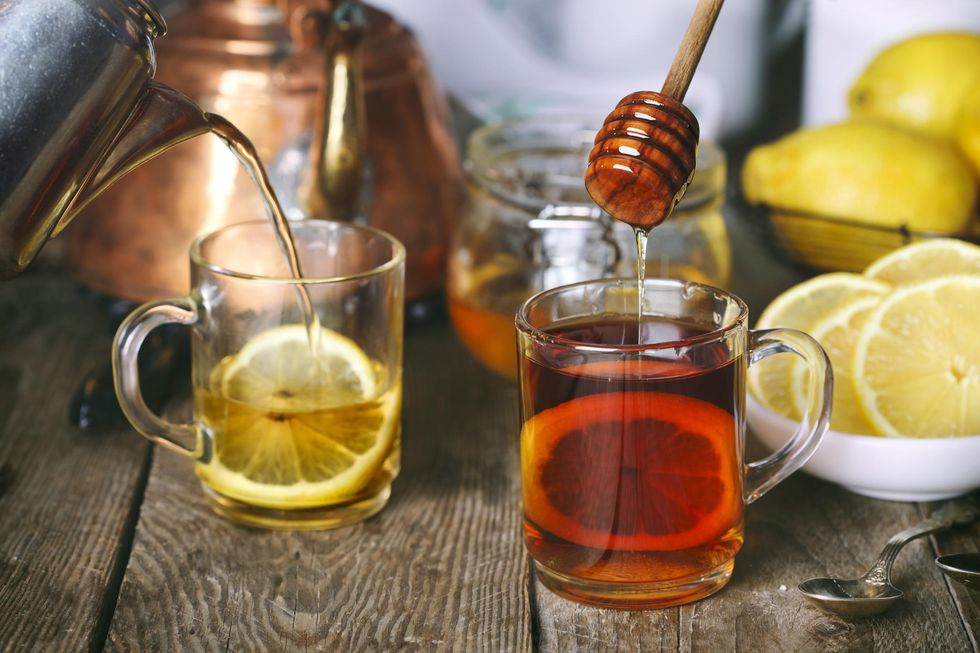 Lemon tea is good for you because it's full of Vitamin C. In Vitamin C, there is citric acid that can help to cleanse your liver and ultimately detox your system. Lemon tea also has astringent properties in it that work to combat acne and give your skin an overall radiance and youthful appearance. Something else that's cool about this particular kind of tea is it's got plant flavonoids that can help to lower your cholesterol levels as well as properties that can help to heal inflamed gums and restore oral health. As far as your vaginal health goes, the acidic nature of the tea is great at helping your vagina to maintain its pH levels as it also fights off free radicals and keeps your immune system up, so that it's harder for you to get vaginal infections.
8. Rooibos
The first time I recall having a cup of rooibos tea was the first time I went to South Africa. To me, the best way to describe it is, if you're looking for a coffee (tasting) substitute, it's one to strongly consider. And why is it so good for your health? Rooibos can assist with supporting your weight loss plan; the alpha hydroxy acid that's in it can help to improve your skin's appearance; it has the bioactive flavonoid chrysoeriol that can reduce allergy-related symptoms; it's rich in antioxidants that can help to boost your immunity and it's caffeine-free if, again, you're trying to get less of a caffeine fix.
The anti-inflammatory properties in rooibos can help to reduce period-related pain because the properties in this tea are able to stimulate the production of potassium in your system. Also, the antioxidants aspalathin, nothofagin, and quercetin are great because they can decrease oxidative stress, including in your vaginal area. This is good to know because this kind of stress has been directly linked to fibroids, endometriosis and the overproduction of vaginal mucus.
So, what are you waiting for? Rooibos is just waiting to do your body good — vagina and all!
To learn more about all things vaginal health and wellness, check out the xoNecole Women's Health section here.
Featured image by Getty Images
Keep reading...
Show less
Back when I was touring heavily and the topic of my abstinence journey would come up, it never failed that, during the Q&A portion, someone would ask me how they could effectively attempt, at least a few months of being "eggplant free". Something that I would share, consistently so, is "watch who you're around when you're ovulating" — you know, when it's that time of the month when an egg is released from one of your ovaries and it has about 48 hours to be fertilized by somebody's son's sperm (this typically happens around the 14th day if you're on a 28-day menstrual cycle or 4-5 days before or after the midpoint of your period). Why was that my advice?
Simple. I'm thinking that it's pretty common knowledge that, overall, we're the horniest when we're ovulating. So, if you're trying to avoid "giving it up", that would be the time to binge-watch some television, hang out with your platonic homies or take up a new hobby. Here's what's interesting, though. Aside from the fact that your ovulation time can make you more, umm, amorous than usual, there are some other things that can transpire during that semi-intense time of the month too; things that you may not have heard of or considered before.
Are you ready to learn what eight of them are? The answers just might surprise you — and help you to connect a few dots.
1. You're More Productive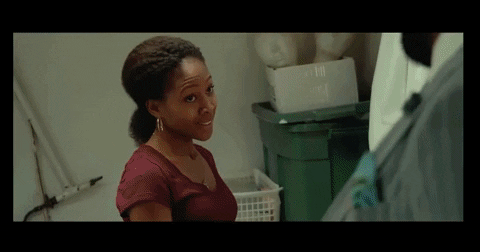 Actually, what inspired me to pen this piece is an article that I checked out on Independent's website, not too long ago. The title was "Women do their best work when they're ovulating, according to a new study".
The rationale is, one thing that happens when we ovulate, is our estrogen levels spike. This, in turn, can cause us to actually get into a better mood and, you already know — the better you feel, the more inclined you are to get more stuff done.
So, if you've got a big a big project coming up or there's something that you've been putting off for a while that you know needs to get done as soon as possible, waiting until you're ovulating (a period app can help you to figure that out, by the way) is definitely a scientifically-proven way to go.
2. Your Voice "Goes Up"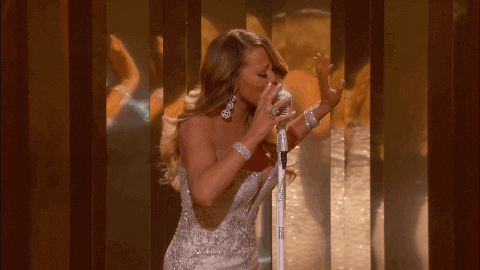 While I haven't exactly tested this one out (meaning, I haven't really noticed), I think I will next month (meaning, I will ask some of my male friends) because if ovulating really makes my voice higher, I'm super intrigued. The logic is this — since ovulation is when we can best conceive and we need a man to make that happen (the old-fashioned way, anyway), it seems that we will go up in our speaking voice as a way to appear more feminine which, in turn, makes us more appealing to men. Very interesting.
3. Your Sense of Smell Intensifies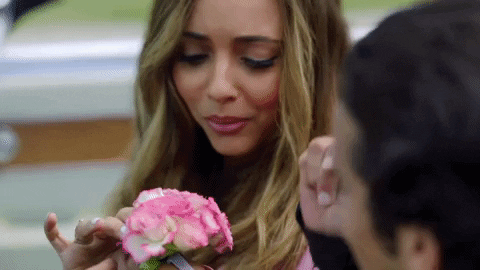 Here's something that's kind of a trip. Did you know that when you're ovulating, your sense of smell intensifies too? A study that consisted of women who are both on and off of the pill and smelling things like lemon, peppermint, rose, musk and the male pheromones revealed that "naturally cycling women" were extremely sensitive to the smell of lemons and male pheromones. The belief is that our olfactory sensitivity is connected to our reproductive system. This makes sense when you think about the fact that a lot of pregnant women experience a heightened sense of smell too. By the way, word on the street is men can smell when we're ovulating as well; especially if they have a higher level of testosterone. Which, to me, also makes sense.
4. You Like the Colors Red and Pink More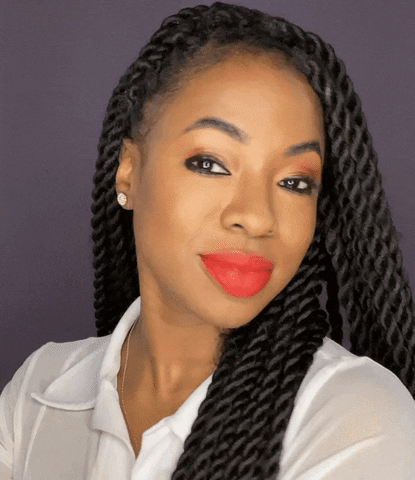 Do you tend to not think about wearing red lipstick or that cute ass pink sweater until the middle of your period's cycle? While it might seem random, it actually isn't. There is also data to support the fact that a lot of women are prone to want to rock red and pink shades during their ovulation time. One, because both are hues that are sexy and feminine. Two, because we tend to want to draw more attention to ourselves, these are two colors that typically do it. I mean, with red symbolizing things like love, passion and desire and pink being about love, femininity and romance, this doesn't seem too off base either.
5. You Up Your Chances of Having Less Health-Related Issues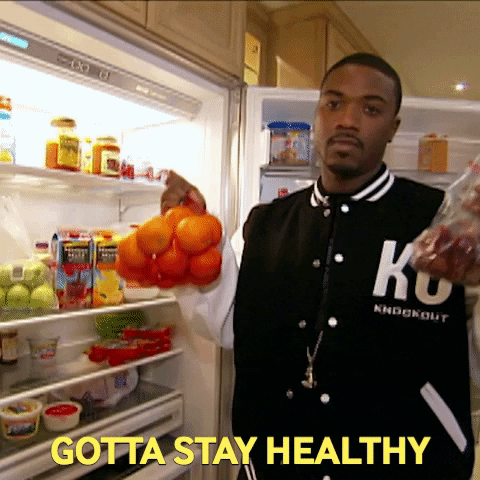 Something else that happens when we ovulate is we get an extra dose of the hormone estradiol and progesterone. Why is this such a good thing? Well, estradiol assists with the long-term health of our bones, brain and heart while also promoting muscle gain as progesterone helps to reduce bodily inflammation, balance our immune system and support our thyroid. In short, this means that something else that's cool during our ovulation time is our health tends to be in peak form as well.
6. You're Meaner. Kind Of.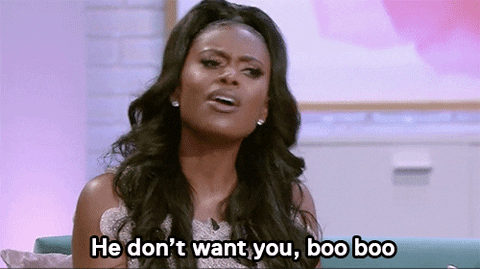 One study I read that tickled me comes out of the University of Texas. Apparently, something else that may transpire when we ovulate is we become meaner. "Meaner" in the sense that we're more competitive with women (including professionally) while also being nicer to men. I'm pretty sure you get why this would be the case. If you want to copulate, you want all prospective obstacles moved out of your way. Chile. CHILE.
7. You're Willing to Take More Sexual Risks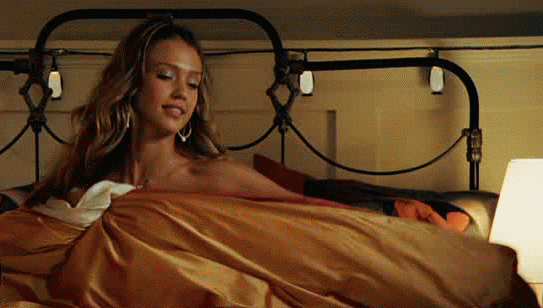 Do you have more sex-related dreams around the middle of your cycle? Does your taste in clothing seem extra provocative/seductive around then too? Does almost every image that you see resemble something sexual in your mind? Do beards and deep voices make you wanna climb the walls more than ever? All of these things are also directly tied into ovulation.
And because we are more…sexually intense during this time of the month, it can be a lot easier to convince ourselves to take sexual risks or perhaps even do things that we never would consider doing otherwise. Y'all be careful out here. #wink
8. Your Processing of Men Is…Varied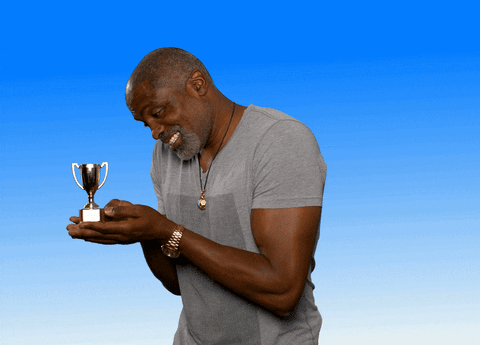 And finally, another sign of ovulation is how we see men. For one thing, we're better at determining a man's sexual orientation. The pure physical attractiveness of a guy matters so much more. And something that's a real trip? It would appear that the mere thought of catching up with our dads — whether in person or even just hearing their voice — is one of the last things on our to-do list. Because, well, who wants to think about their father when they're also thinking about getting some?
The body is an amazing and very detailed machine. Nothing about it is happenstance — clearly. So, the next time your ovulation cycle rolls around, take note of if these eight things transpired and then think about how cool it is to be a woman. Even our period's seasons are pretty dope and entertaining. Hey, this article just proved it.
To learn more about all things vaginal health and wellness, check out the xoNecole Women's Health section here.
Featured image by Getty Images
Keep reading...
Show less
Many people love October for the new fall fashion fits, changing weather, and never-ending horror movies. And while all of those are valid reasons, there's another one that should be added to the mix, the fact that it's Breast Cancer Awareness Month. Like many, cancer has impacted my family personally, and I'm well aware of the forever effect it can have on individuals, loved ones, and survivors. That's why I appreciate that this month serves as a personal reminder to donate, foster community, and volunteer toward a fight that affects so many of us.
Recently, actress and Grammy-award-winning singer Mary J. Blige appeared on a women's panel entitled, "Screening the System: A Dialogue on Bias and Breast Health'' and passionately shared her conviction for prevention and education around the disease. During the conversation, the Power Book II: Ghost actress admitted that she wasn't aware of the importance of mammograms until it was time for her to get screened.
"I found out about it at the GYN. They don't discuss this when we're children. They don't say, 'Go get a mammogram.' You learn about this as you get older. So they don't speak about it, and that's why they end up in the hospital with two weeks to live, and now you know about it."
While scrolling online I noticed a few people criticizing Mary J., saying she should've known to do this earlier. But to me, it's like, how? If it wasn't discussed, who would make that decision voluntarily? Nonetheless, the comments did make me think, if we don't know the actions to take toward prevention, how can we work toward fixing the problem?
So, below I've listed a few diseases that disproportionately affect Black people and women and a measure we can take toward prevention. I challenge you to have a conversation with your homegirls, parents, or even a bae and ask if they've had all the necessary checks. Because, hey, if we know better, we do better, right?
Mammograms, Breast Cancer (40) 
According to statistics, "About 1 in 8 women will develop breast cancer throughout her life." And Black women are 40% more likely than white women to die from breast cancer. One of the best preventive care methods is mammograms. Women should start getting them at the age 40.
Mary J. Blige reflected on the importance of preventive care stating, "My health is my wealth. My health is my beauty. Beauty is healing from the inside out."
Pap Smears, Cervical Cancer (30)
Although cervical cancer rates in the US have decreased, in January 2021, the American Cancer Society estimated that over 4,000 deaths a year will come from the disease. One of the best preventive methods is to get regular pap smears. Although you can get tested earlier, at age 30, women must ask to also be tested for HPV.
Colonoscopy, Colon Cancer (45) 
I know getting a colonoscopy isn't at the top of everyone's favorite thing to-do list. But according to the CDC, it is the second leading cause of cancer deaths, and screenings should start at age 45.
A1C Tests, Diabetes (45) 
Now, these numbers surprised me. The American Diabetes Association states that almost one-third of the country's population is affected by diabetes. And the risk of diabetes is 77% higher among African-Americans than Caucasians. With these alarming rates, it's best to be safe and get a blood sugar test every three years starting at 45, even if you are non-symptomatic.
Featured image by Kevin Mazur/MG21/Getty Images For The Met Museum/Vogue
Keep reading...
Show less