---
I love to cook, but when things get boring, it's time to get into some of the best international dishes to make at home. Switching things up and recreating dishes helps me get over the travel blues, and you can re-imagine a great global experience through food, too. Plus, who doesn't love having a good cooking session where you relieve stress and then sit down to an amazing meal afterward? Try these 15 recipes for international food that are quick and easy or worth the effort and wait. (Thank me later.)
15 Best International Dishes To Cook At Home
Whole roasted fish and veggies features all of the flavors of the Mediterranean you never knew you'd been craving. It's especially perfect for those of us who ain't got time to be slaving in the kitchen for hours and leaving a bunch of dishes to wash. Even if you've never been to Greece, you'll love the clean, simple, yet delectable flavors of lemon, olive oil, and garlic typically used in signature Greek dishes. I prefer roasted branzino, a popular European bass---and yes, head on, please---but you can also substitute with black sea bass, snapper, or whiting fillets. This classic recipe has just six ingredients and takes less than 30 minutes to cook. I also love this recipe if you want to get a bit more fancy with it and add two of my favorite ingredients for fish: white wine and capers.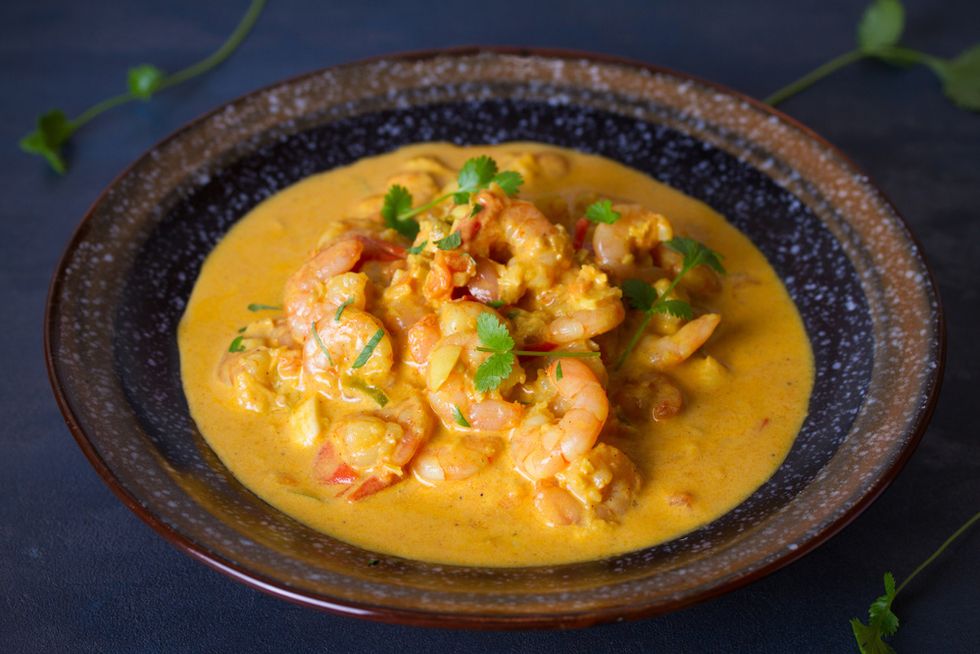 Image via Shutterstock
OK, so I'm a bit biased on this since I love anything curried. Sometimes curry dishes can be labor intensive---especially if you're keeping it authentic like my people do---but when you use shrimp it's a quicker process. I have my own recipes from influence, trial-and-error, and well, it's in my blood, but I love this simple and tasty curry shrimp recipe for beginners who aren't making everything from scratch. You can also add more veggies, including red and green peppers, green beans, or carrots and your meal is done in less than 40 minutes. Add the pelau, a traditional dish in Trinidad, for a break from the typical white rice. Trini food vlogger Chris De la Rosa, cookbook author and founder of CaribbeanPot, has a nice recipe for a veggie version that is gluten-free. There's an instant pot recipe that's good as well.
Tacos are a given at your favorite Mexican spots, but I love the traditional breakfast dish huevos rancheros and will eat it at any time of day. Huevos rancheros is hands down one of the best Mexican meals to make at home. All you need is a skillet and five core ingredients that you probably already have in the fridge or cupboard. Try this health-conscious recipe from Kevin of Fit Men Cook or this super-savory huevos rancheros recipe by chef Sunny Anderson that incorporates cheese and cilantro. I sometimes substitute the black beans for pinto, or use cheddar cheese and bake it in the oven, You can also add shredded pork or sausage or throw a little of the American South in there by using biscuits (from scratch or the can) instead of tortillas.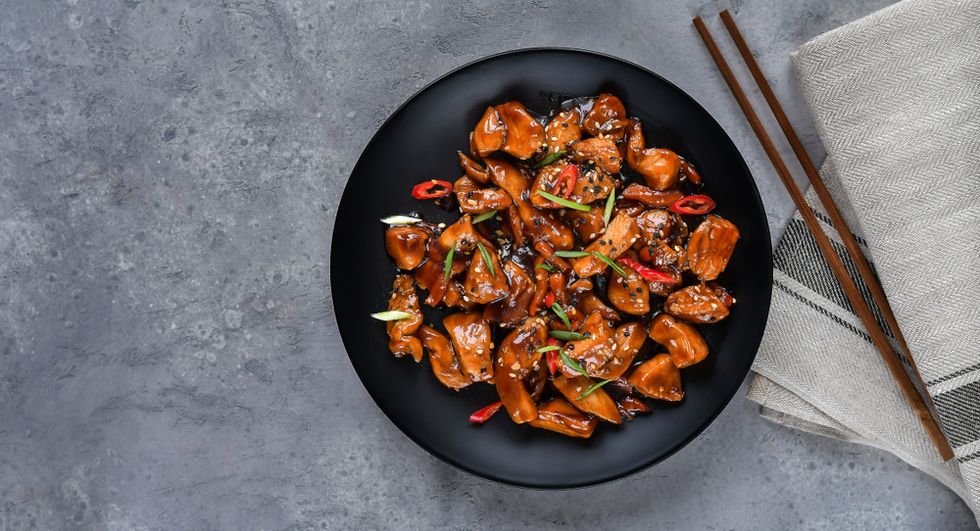 Image via Shutterstock
Once you make your own Teriyaki sauce at home, you won't want anything out of a bottle or from the local take-out spot. This Teriyaki chicken noddle bowl recipe proves that it's actually easier than you think, and the just-right mixture of sweet and salty made me want to make larger batches to keep in the fridge. You can get really authentic and buy noodles from your local Chinese or Thai restaurant, or you can go the low-budget route, as I have, by using dry packs of $1 ramen noodles. (Hold the spice packet.)
It takes just one pan of seafood paella to create a masterpiece that will make you think you're at a seaside eatery on the coast of Spain. What I like about this is that you can use the ready-made bag of frozen mixed seafood and a bag of frozen mixed veggies for a dish that comes out absolutely fantastic. Try this one-skillet seafood paella recipe that includes saffron, a healthy dose of hot spices, and mussels, or go uber-traditional with this paella recipe if your local farmer's market specializes in gourmet ingredients.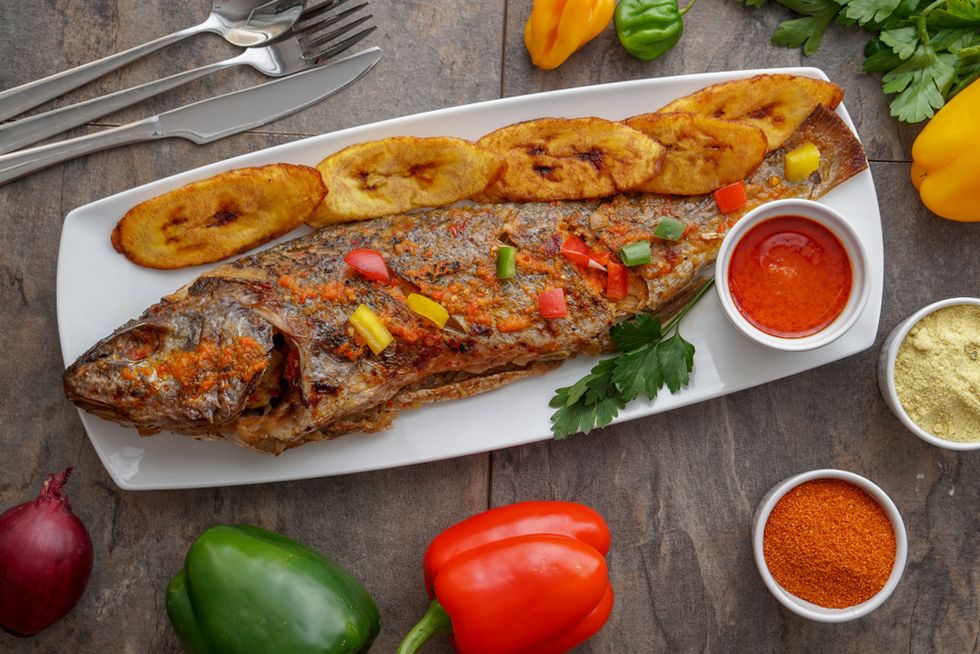 Image via Shutterstock
I used to frequent a popular Brooklyn, N.Y. restaurant where I'd always order grilled tilapia with extra stew on the side. The stew, made with a base of tomatoes, peppers, and onions, will for sure become a go-to in your home to add to rice, veggies, fish, or meat dishes. Here's an easy recipe for Nigerian fish stew, and you can use spices right from your pantry. For the fish, you can cook via your oven if you don't have (or don't feel like prepping) a grill. Otherwise, try this oven-grilled fish recipe by a favorite Nigerian lifestyle vlogger of mine, Sisi Yemmie. You can substitute the tilapia for snapper (whole or filet), catfish, or trout---just be sure it's a meaty variety that can stand up to the sauce of the stew.
Canadian comfort food might be just what the doctor ordered for that work-from-home rut you've been in. If you've ever had loaded fries, you'll love this. Cheese curds may not be your thing, but you can substitute with queso fresco, fetta, or mini mozzarella balls. (I'd highly recommend the curds, otherwise the authentic taste of this poutine recipe is a bit off---good but a little left of the norm.) Use this easy 15-minute poutine recipe with a few cheats, or get your French cook on and try this made-from-scratch gravy.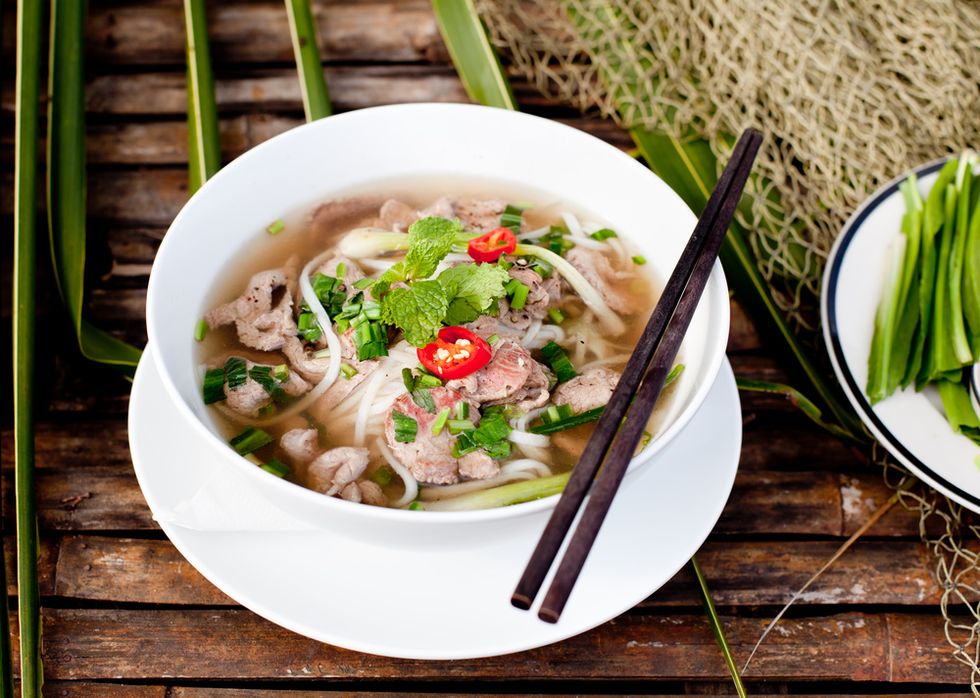 Image via Shutterstock
A divinely sweet and sour soup from heaven? Yep, this is it. Pho is served from street stalls to high-end cafeterias to strip-mall joints in the South (where my sister and I typically order this, with $1 sticky wings, and $5 lychee martinis). Though authentic pho takes hours to cook, you can still easily concoct this at home in much less time using this traditional Vietnamese beef pho recipe for red-meat lovers or this one for something leaner.
Don't worry sis. Nobody's asking you to spend hours kneading dough. I like Mama Mary's pizza crusts which I buy at Walmart or my local grocery store, but you can also buy pizza dough from your favorite Italian spot or order online. (Keep it in your freezer to make breadsticks, rolls, and pizza whenever you want.) One thing I like about Neapolitan pizza is that it's a bit more Italian than the cheese-saturated stuff we're used to in the States. You can either recreate this Neapolitan pizza recipe by A Couple Cooks or invest in a good olive oil and mozzarella, try fresh tomatoes and basil, and follow this marinara recipe.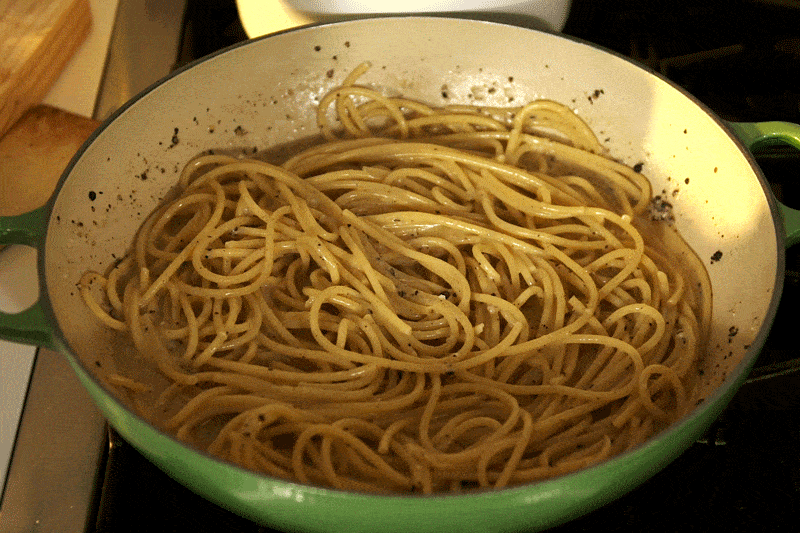 Image via Giphy
I've always been partial to the usual red or alfredo sauces and I've refined my favorite recipes in making those. (And please don't insult me with anything in a jar. Once you make it from scratch, it's hard to back to that crap.) When I was initially encouraged to try cacio e pepe, a common Roman Italian mainstay, I immediately thought, "Ew, a spaghetti dish with no protein, no massive amounts of cheese, and no trifecta of root veggies? I'll pass." Well, I was binge-watching YouTube videos looking for easy pasta dishes I could make with few ingredients and this kept popping up. When I tell you I was shook! Just pasta (a decent one), pepper (fresh-ground of course), cheese (pecorino romano or a good Parmesan), and salt, and you've got a good excuse never to wasting time making spaghetti and meatballs again. Try the classic Spaghetti Cacio e Pepe recipe here.
French culture is something I've studied and adored for years, and the first French dish I ever had the pleasure of enjoying was escargo, a buttery, garlicky delicacy made with snails. Now sis, I know that might not be your cup of tea, so I'm going to share my second-favorite French-originating food (other than everything the French make related to bread) I eventually learned how to make: quiche. I've always turned to it when I want to bring something other than bacon and eggs to a brunch, and this Quiche Lorraine recipe is where it all began. (OK, I cheated a bit by turning to the legendary Julia Childs, but here's a recipe inspired by an iconic French chef you can try as well.)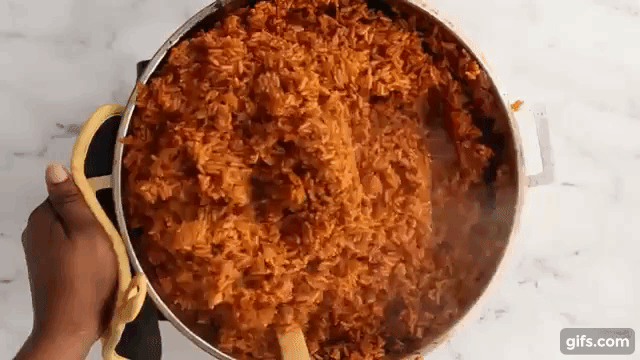 Image via Giphy
Nope, I'm not choosing. I like them all! I can eat a whole bowl of jollof rice by itself. It's savory, full of flavor, and can be paired with almost anything. (Trust me, I've had it with boiled eggs, fried chicken, stewed beef, goat, and even in a burrito). OK, I'll admit that the Nigerian version is my favorite (and you can find a good recipe for that one here), but there are others I enjoy, including this veggie-filled version by Kenyan chef Kaluhi Adagala. Thieboudienne is the Senegalese version, and here's a pretty good recipe for that as well. You can cheat and make jollof rice in an instant pot, or use canned or frozen ingredients if you don't have fresh on hand. (Yep, I've done it. It came out great. And please, Jolloff Judges, don't come for me.)
Not only is this a great dish to cook when you just don't feel like putting too much effort into cooking, but Swedish meatballs are great for next-day leftovers on a cold day. This recipe can be done with simple ingredients, and you can even sub the pork or beef for turkey or ground Beyond Beef. A good quick fix I've done for this dish is using frozen meatballs and a good ole' can of Campbell's beef gravy (with my own added seasoned salt and herbs) instead of making those two from scratch. (Just be sure not to omit the flavor of sour cream or cream of mushroom soup this recipe often requires.) This is also another great dish you can make low and slow while you're cleaning the house. Eat with egg noodles, mashed potatoes or veggies of your choice.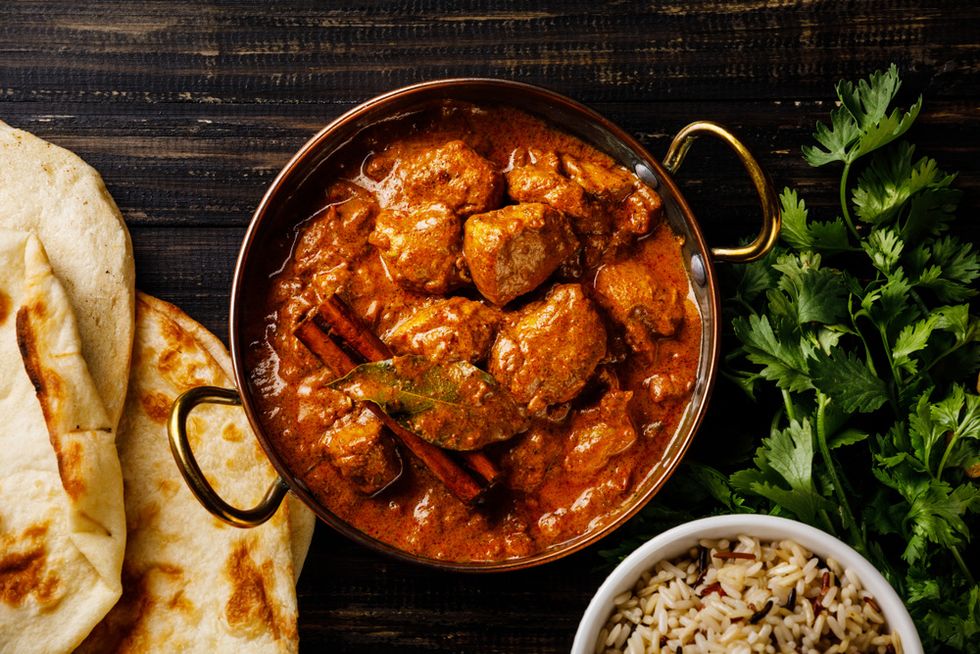 You gotta love the cool hints of yogurt mixed with the garlic and ginger spices of this dish. The key to this dish is the marinade, and I've even tried this with seafood and it was a hit. For starters, find a great recipe for chicken tikka masalahere, or try this one if you want to truly feel like you got the chance to take that trip to Mumbai this year. Make some homemade roti if you're brave, (which I have been in the past, starting with this recipe). You can also buy the flatbread, which goes deliciously with this dish, from your local restaurant or grocery store.
People will argue that there's no such thing as jerk chicken that's not cooked over coals or pimento wood, but when you're nowhere near a Negril roadside stand or a grill, you've got to use what you got. The oven is the next best thing, and I love to make this oven jerk chicken dish when I'm yearning for food from my favorite island. Getting the right flavors truly depend on the recipe, and this one helped me when I first ventured to try this at home. You can also try this remixed jerk sauce recipe courtesy of the fab singer and chef Kelis. And you don't have to make the jerk sauce from scratch. I love the jarred wet version by Walkerswood or Grace which can be found at your local grocery store or ordered online.
Are you a member of our insiders squad? Join us in the xoTribe Members Community today!
Featured image by Shutterstock