Are you someone who has a really hard time focusing? If so, don't be so hard on yourself. Between stress, fatigue (which oftentimes comes as the direct result of sleep deprivation), a fluctuation of hormones, getting easily distracted, and even sheer boredom, a lack of focus and concentration is something that happens to us all — more often than most of us would care to admit.
The good news is there's one way that you can actually get yourself back centered — and that is to eat certain foods; ones that are proven to provide the kind of nutrients that you need in order to focus on the task(s) at hand. Because the reality is, our diet plays a direct role in how much we're able to focus (or not focus). So, are you ready to see what can get you back on track?
1. Berries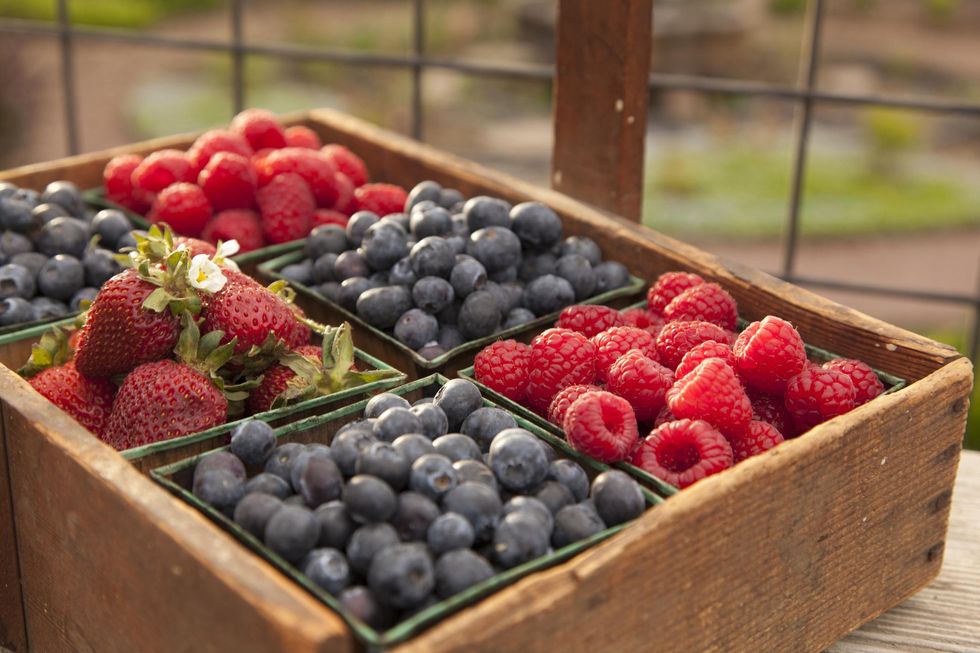 Personally, I'm someone who is a fan of eating berries when they are actually in season, which is basically from May thru August. Waiting until then means that you are able to get the most benefits from them. Plus, you don't have to worry (as much) about artificial colors and preservatives that are oftentimes found in berries when they are sold year-round. Berries are good for you because they are full of antioxidants and fiber, can improve your blood sugar levels, and are great at fighting bodily inflammation.
And why are berries beneficial when it comes to helping you to maintain your focus? It's because they contain flavonoid compounds called anthocyanins that help to increase blood flow to your brain. As a direct result, berries can increase your brain power and even improve your short-term memory.
2. Eggs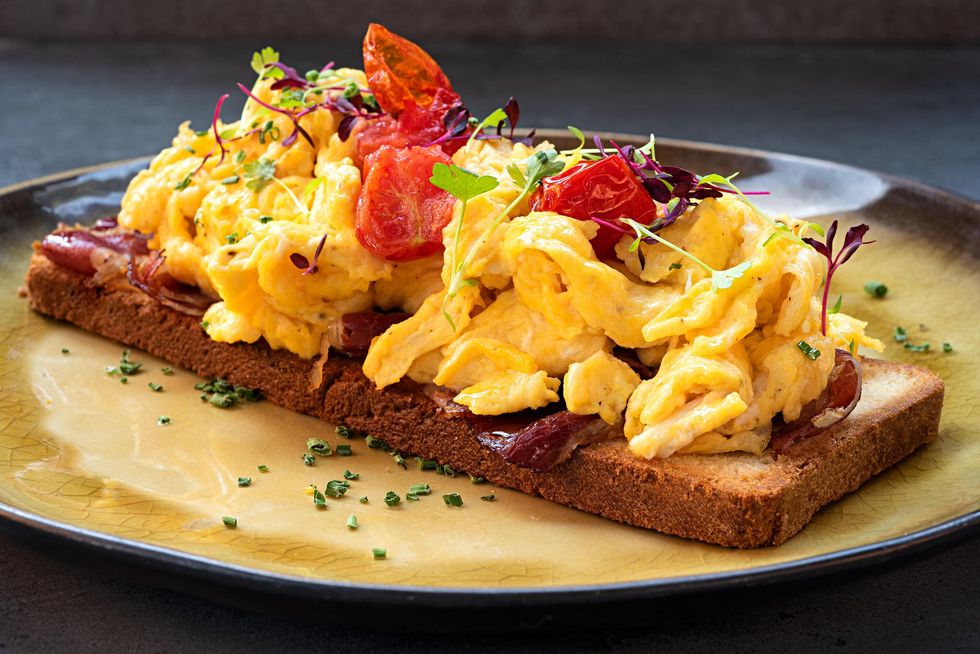 If you're looking to get some protein, selenium, and zinc into your system, eggs will totally have your back. Eggs are also good for you because they've got choline in them; it's awesome because it helps to build up the cell membranes that are in your system. Some other cool things about eggs are they play a role in lowering your risk of heart disease and they're full of amino acids (which support your immunity, are a great energy source, and support the growth of hair, skin, and nails) too.
Thanks to the vitamins B6 and B12 that are also in eggs (these vitamins help to increase brain health) and the choline that is directly linked to improving your memory, this is why eggs have easily made this list too.
3. Fatty Fish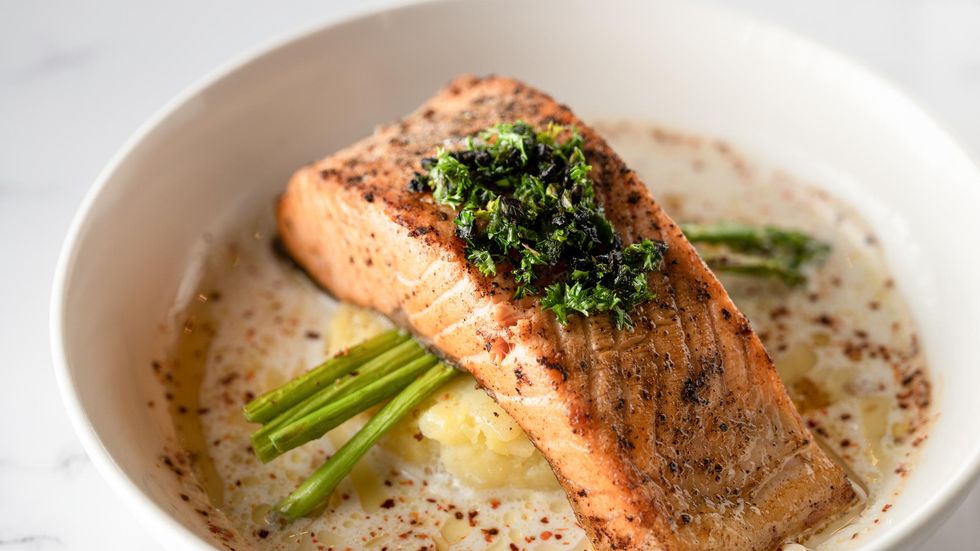 The kinds of fish that make the "fatty fish" list include salmon, albacore tuna, and sardines. What makes these a standout kind of fish is they are loaded with omega-3 polyunsaturated fatty acids. These acids are good for you because they assist with improving your eye health, reducing your heart disease risk, fighting bodily inflammation, fighting off autoimmune diseases, decreasing asthma in children, easing menstrual discomfort, improving bone and joint health and it can help to prevent cancer.
Oh, but when it comes to all of the foods on this list that are great for your brain, fatty fish is unmatched because omega-3s can also level out mood swings, reduce ADHD levels in kids, improve blood flow to your brain, sharpen your memory and preserve brain cell membrane health. So, if you like nothing more than a salmon Caesar salad…what are you waiting for?
4. Dark Leafy Greens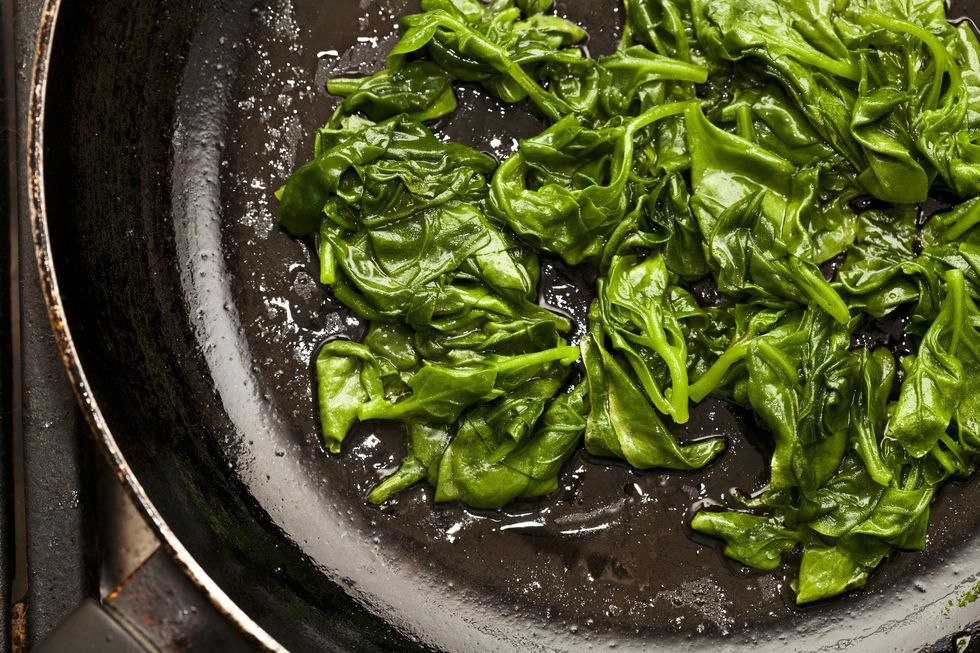 I say it often because it will always be the truth. If there is any kind of food that is the ultimate multivitamin, it's dark leafy greens. They're full of just about every vitamin you can think of (especially iron, calcium, potassium, fiber, and vitamins A, C, E, and K). They're able to reduce oxidative stress. They improve bone health. They boost immunity. They improve digestion. They strengthen vision. They reduce the risk of heart disease. They also keep your blood cells in good shape.
Having a salad a few times a week can be great for your brain because not only can it help to keep your brain young, the folate that's in them can also improve your mood, calm your nervous system and decrease mental fatigue too. When your brain is alert, you can definitely concentrate better.
5. Oranges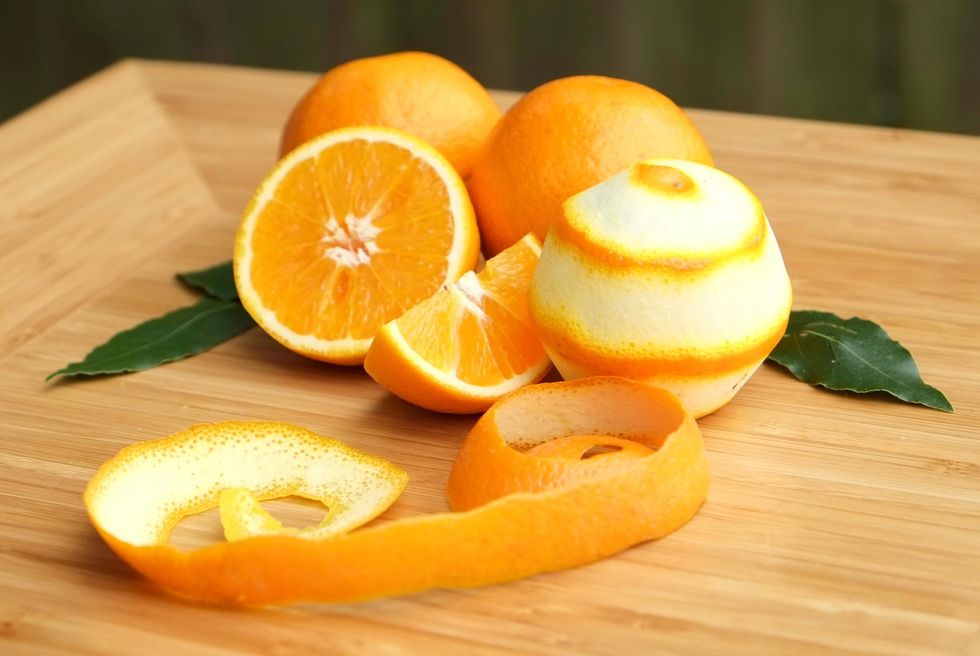 Oranges are a good source of protein (when it's the fruit, not the juice), fiber, and definitely vitamin C. It's a type of citrus fruit that also contains plant compounds that reduce inflammation, lower your blood pressure and support how antioxidants are processed throughout your system. Oranges also assist with preventing chronic disease and anemia as well as lowering your cholesterol and blood sugar levels.
Since oranges are a solid source of fructose (also known as "fruit sugar"), they can kick up your energy levels, so that you are able to focus better and complete tasks that you may have on hand. (Do keep in mind that a "sugar rush" typically only lasts for 30-60 minutes, though.)
6. Beets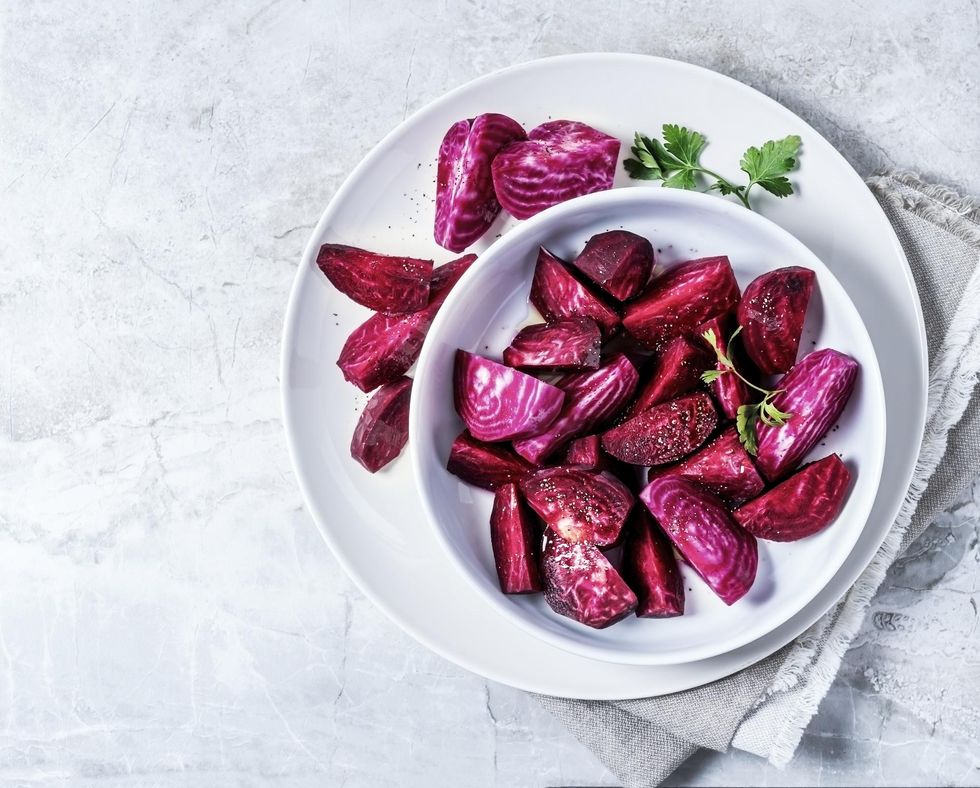 When I would spend the summers with my great-grandmother, there were going to be at least a few days when she was going to put some beets on my plate (yuck). And while I can probably count on one hand, just how many times I've had them since I've been able to grocery shop on my own, my memory continues to be pretty on-point; so, maybe beets have played a part in that. Aside from them also being a good source of fiber and protein, beets contain folate, manganese, nitrates (which improve athletic performance), and anti-cancer properties.
Brain-wise, beets are great because the nitrates in them can increase blood flow to your brain; specifically the part of your brain that is connected to assisting you with your decision-making process.
7. Green Tea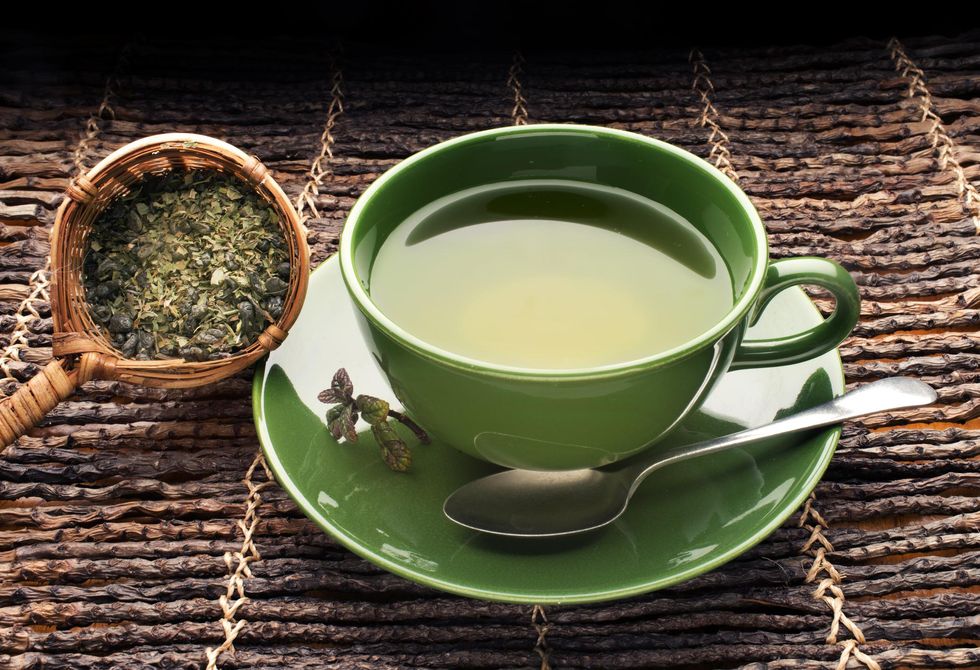 If you wanna get a ton of antioxidants into your system with one drink, look no further than green tea. Its polyphenols will reduce inflammation and fight cancer. Certain properties in it can help to boost your metabolism levels and burn fat. If you've got a bout of bad breath, green tea can help to inhibit the growth of oral bacteria. Green tea can also help to prevent type-2 diabetes, reduce the risk of cardiovascular disease and it can even increase longevity.
Drink some (hot or cold) if you want some help concentrating because it's the kind of tea that boosts both dopamine and norepinephrine levels (which can help with your memory and your level of alertness). Plus, green tea has caffeine in it and since caffeine is a stimulant, it can give you an energy boost. Long-term, another benefit of green tea is it also has catechin compounds; those are awesome because they can help to prevent cognitive decline.
8. Rosemary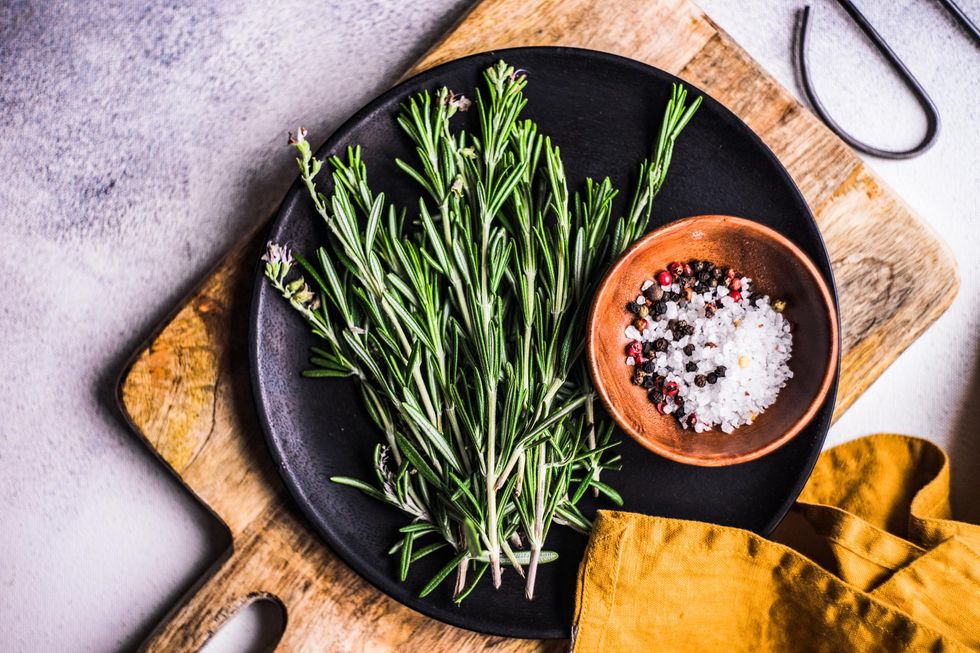 As more and more time goes by, an herb that I'm becoming a huge fan of is rosemary. I like cooking with it and using rosemary essential oil on my hair and skin has been life-changing! Benefits-wise, rosemary is good for your overall health and well-being because it's a great source of vitamins A, B6, C, iron, calcium, and antioxidants. All of this works together to strengthen your immunity, improve blood circulation, assist with digestive issues, fight bacterial infections, and even slow down the greying process.
Rosemary is beneficial if you need a focus pick-me-up because it can reduce the stress levels that make it difficult for you to concentrate, it's a cognitive stimulant that can improve your memory and, its scent can put you into a better mood and clear your mind so that you're able to knock more things off of your daily to-do lists.
9. Dark Chocolate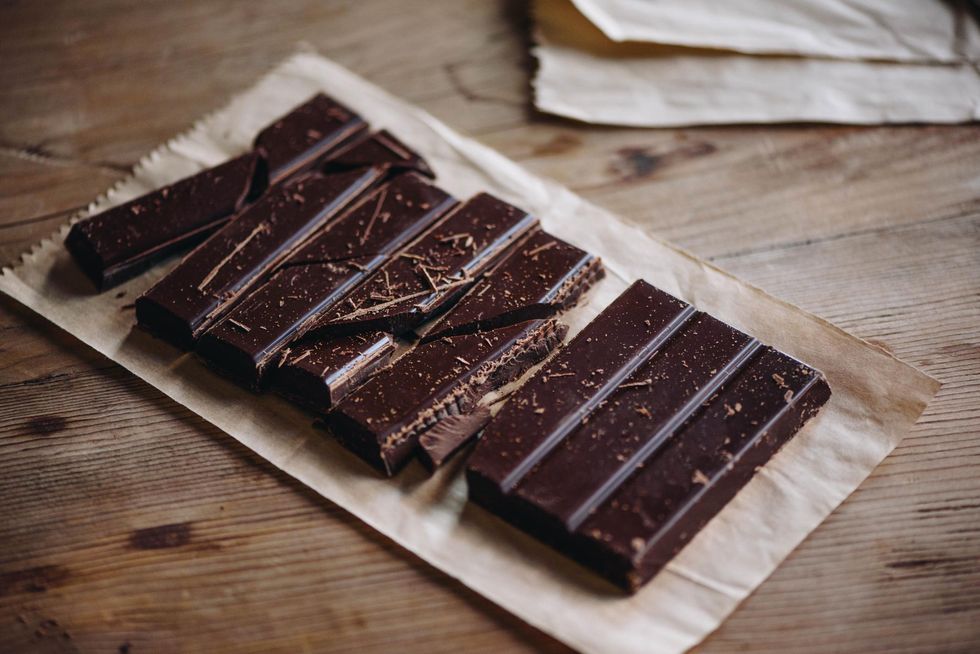 Iron, magnesium, zinc, copper, protein, fiber, and antioxidants are just some of the nutrients that are found in dark chocolate. What's awesome about this treat is it lowers your cholesterol levels, boosts your libido, decreases your heart disease risk, protects your skin from damaging UV rays, and lowers your risk of having a stroke.
The flavonoids, caffeine, and antioxidants in dark chocolate are helpful because they can enhance your memory, boost your mood and increase blood flow to your brain — that way, you're able to concentrate so much better.
10. Broccoli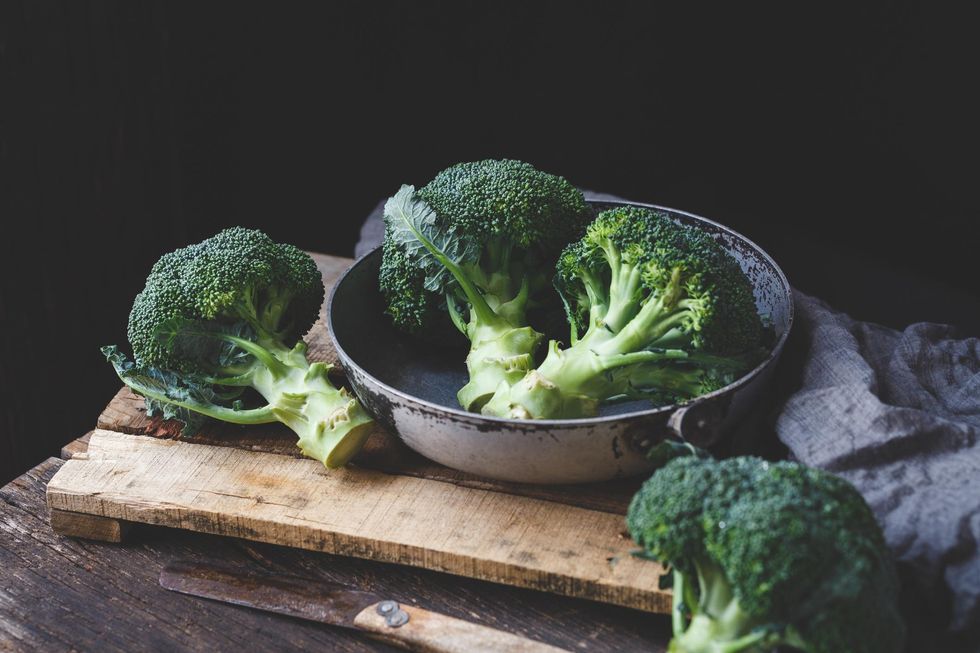 Protein? Broccoli's got that. Fiber? Broccoli's got that. Vitamins A and C? Broccoli is a super source of both of these. It also contains antioxidants, sulforaphane (a sulfur-rich compound), and bioactive compounds that can help to prevent inflammation. Some other great things about broccoli include the fact that it helps to prevent certain types of cancer (like breast, bladder, and prostate) from developing, it supports heart health and it can relieve constipation (although the flip side of this is it could create gas).
Eating some broccoli for lunch could get you through the rest of your workday. That's because it also contains bioactive compounds that help your brain and nerve tissue. Plus, the sulforaphane in this veggie can help to prevent oxygenation of your brain so that it's able to work at peak conditions. So, even if it's just snacking on a few florets while dipping them in your favorite dressing, help your brain out by having some broccoli more often. When it comes to that thing that needs your total concentration, broccoli just might do the trick!
Featured image by Getty Images
Not to toot my horn or anything but I have a natural six-pack. Whether I exercise or not, it's right there — showin' out and off. Here's the challenge, though — as I've gotten older, it's been easier and easier for a layer or two of fat to cover it, so I've had to get real with myself about the fact that drinking IZZEs all day and eating ice cream late at night are not the way to go if I still want my natural six-pack to make an appearance.
Besides, the harsh reality is, belly fat isn't exactly the best for our health. While it's kind of a long story, there are basically two kinds of fat — there's visceral which covers up our abdominal organs and there's subcutaneous which sits right underneath our skin and creates a bit of a protective layer as well as helps to regulate our body temperature. Problem is, when either of these become too much, they can lead to things like heart disease, type 2 diabetes, and even certain kinds of cancer.
That's why, even if it's not for aesthetic reasons, it's important to monitor how much alcohol you drink, to balance your stress, to get consistent rest, to not smoke, to understand your family's health-related history, and to watch your diet — so that you can do your part to keep your liver, stomach, uterus and other organs in your abdominal region is good condition.
As far as the diet part goes, there are several foods that you can eat that can help you to lose some of your belly fat (if losing some is currently one of your personal goals). So, are you ready to learn about which 10 foods can help to make that happen?
1. Oatmeal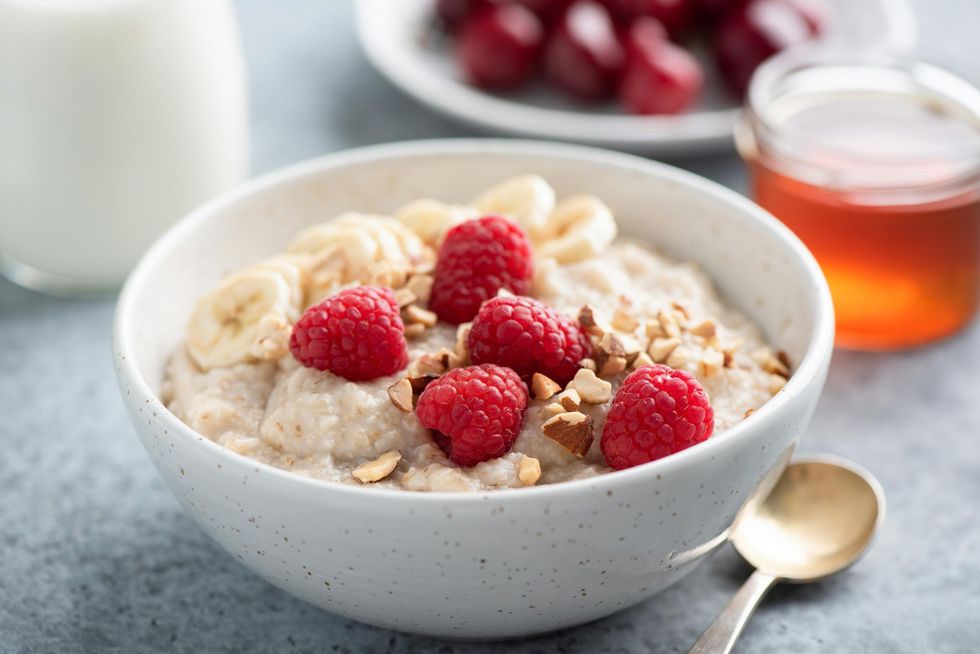 As far as nutrition goes, oatmeal is really good for you. It's got an off-the-charts amount of manganese in it (191 percent of the Recommended Dietary Intake) along with fiber, phosphorus, magnesium, iron, zinc, and Vitamin B. As far as other health benefits go, oatmeal contains antioxidants known as avenanthramides; these are beneficial because they help to lower your blood pressure. Oatmeal is also good for you because it helps to lower your blood sugar levels, can relieve constipation, and can offer you up a boost of energy too.
And why does oatmeal top the "belly fat burn" list? Well, thanks to the fiber in it, oatmeal can help to remove toxins that may be stored up, even in your gut area. Also, oatmeal has a soluble fiber called beta-glucans in it that can help you to feel fuller longer so that you're able to resist the urge to eat junk food or snack on sugary stuff all hours of the day. So, if you're ready to shed a few inches around your belly area, a bowl of oatmeal (with some fresh fruit like berries) can help to make that happen.
2. Eggs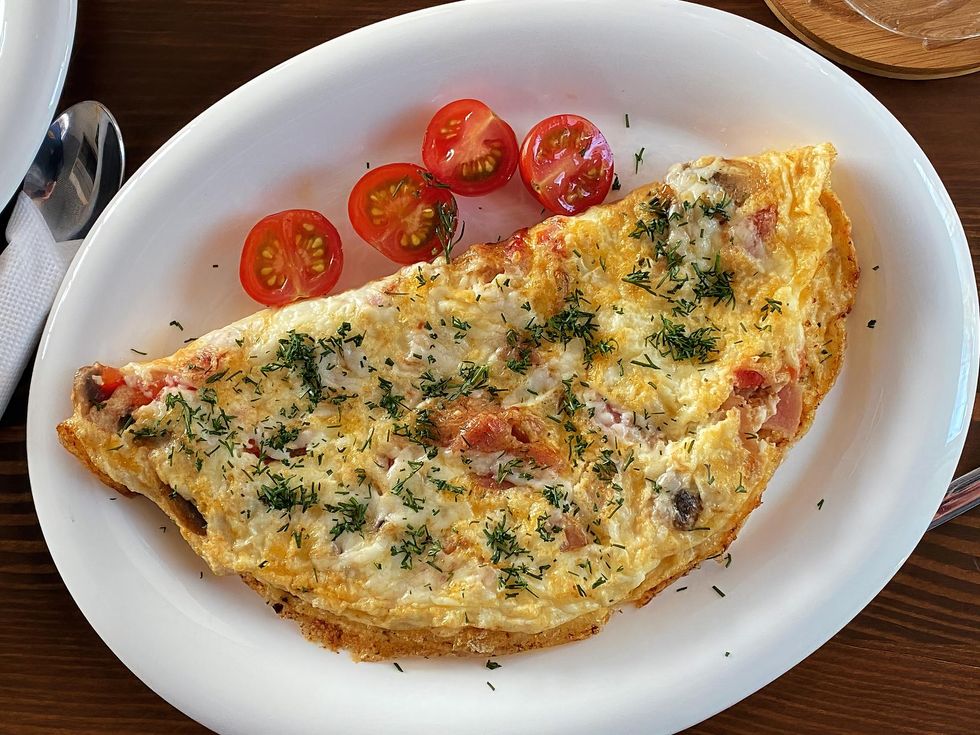 If you're looking for a good dose of protein or Vitamin B, eggs have both. Some other things worth noting about them is they are full of "good cholesterol," the choline in them helps to build your cell membranes and the antioxidants lutein and zeaxanthin make eggs really beneficial when it comes to maintaining your vision.
And since eggs are such a protein-loaded kind of food (six grams per serving) and protein is what's needed to build muscle, if while you're trying to lose abdominal fat, you also want to gain muscle tone, a hard-boiled egg is always a good look.
3. Mushrooms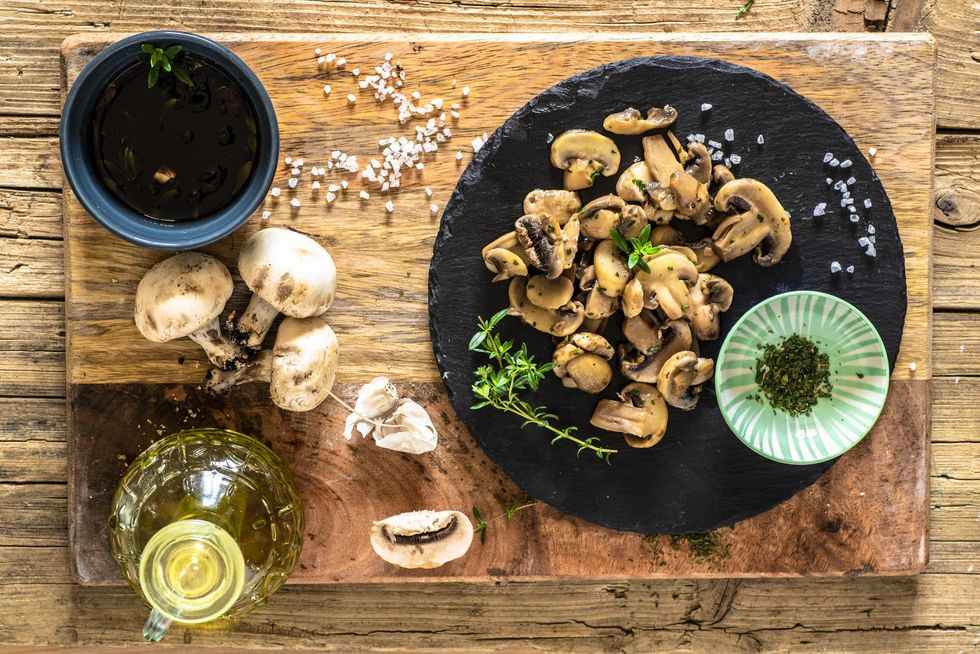 Even though I have a fungal sensitivity (and mushrooms are indeed a fungus), I still have moments when I absolutely cannot resist them. I actually like them so much that sometimes I will pan-sear them with rosemary, butter, salt, and white pepper and…whew, chile! Mushrooms are healthy because they've got vitamins B and D, antioxidants, copper, and potassium in them. They are also good for you because they help to keep the cancer cells that cause prostate and breast cancer at bay, fight free radicals, lower cholesterol levels, strengthen bones and hair, and can even fight anemia.
Since vitamin D deficiency is directly linked to belly fat accumulation and mushrooms are a good source of this nutrient, if you're a mushroom lover as well, you can see how it can effectively assist with getting your tummy down to where you want it to be.
4. Grass-Fed Meats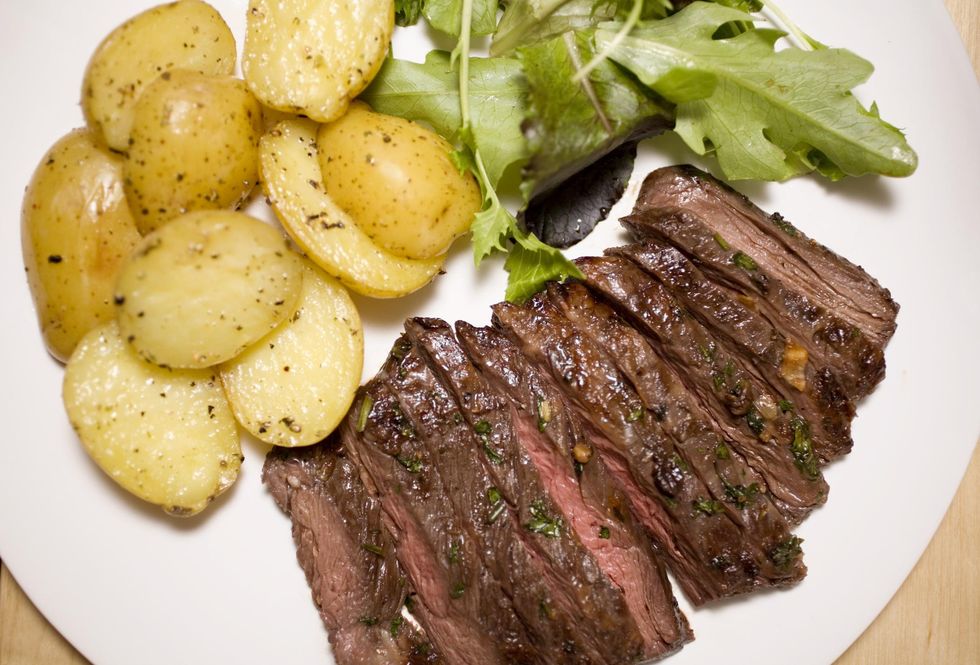 Because cows were meant to graze on grass, that's why grass-fed meats are a lot healthier for you. That said, not only is grass-fed meat lower in calories, it's high in antioxidants, omega-3 fatty acids, and even electrolytes. And since it's also antibiotic and hormone-free, you don't have to worry about this kind of meat throwing off your hormones and packing on even more pounds.
Specifically, when it comes to your belly, grass-fed meats have an amino acid called leucine in them. It works alongside omega-3s to reduce bodily inflammation and produce lean muscle mass.
5. Raspberries and Blueberries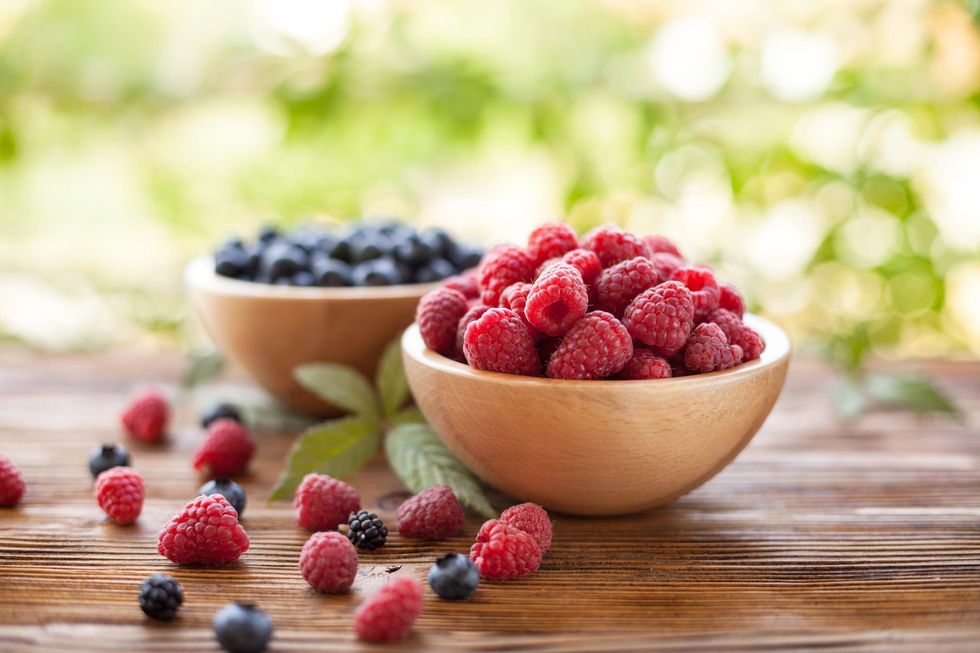 If nothing makes you happier than snacking on a bowl of fresh raspberries and blueberries (raspberries are at their best from June thru October and blueberries are at their peak from June thru August), you are already well on your way to doing your body a world of good. That's because both fruits are high in vitamins C and K, antioxidants, fiber, and manganese. If you're looking for foods that can reduce inflammation, lower cholesterol levels, fight off free radicals, protect your skin from damaging UV rays, help to prevent UTIs (urinary tract infections), and help to fight heart disease, raspberries and blueberries are tough to beat.
Belly-wise, they're dope because they both are low-calorie fruits that can boost your metabolism and curb your appetite in the process. So yep, eat up and on!
6. White Tea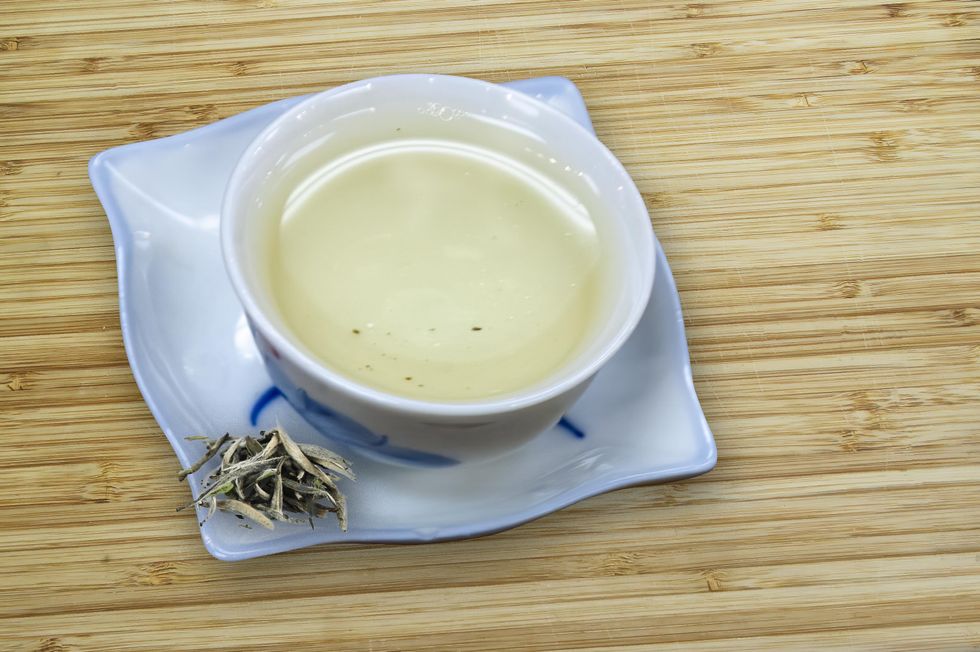 If you happen to be a tea lover, make sure that you've got some white tea in your stash. It has lots of antioxidants in it. It helps to reduce bodily inflammation. It's got fluoride, catechins, and tannins in it that can help to keep your teeth and gums in really good shape. It contains compounds that help to prevent and fight cancer. White tea even has compounds that can help to slow down the signs of aging in your skin.
What makes it truly amazing in the fighting belly fat department is some of the properties in it will literally block the formation of fat cells in your system while helping to increase the breakdown of fat at the same time. So again, if you don't have any white tea in a pantry somewhere…what are you waiting on, sis?
7. Bell Peppers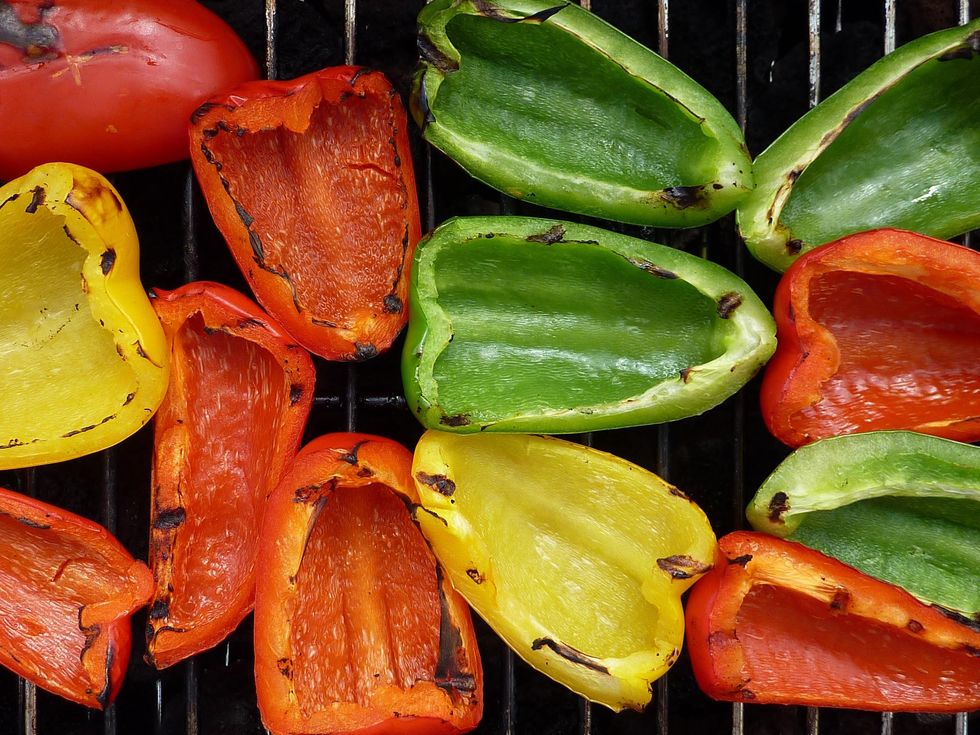 There aren't too many foods that I'm not a fan of; however, for those of you who are totally down for bell peppers any chance that you get, please drop a note in the comments and let me know why. I mean, purely from a taste standpoint because, when it comes to health benefits, I totally get it. Bell peppers are made up of 92 percent water yet they still are a pretty good source of fiber and protein, not to mention vitamins A, B, C, E, and K. Bell peppers are also full of plant compounds that are good for maintaining eye health and preventing chronic diseases like cancer and heart disease. Also, bell peppers are beneficial because the iron levels in them can reduce your chances of becoming anemic.
As far as belly fat goes, bell peppers are helpful, thanks to the fact that the compound capsaicin in them is not only able to increase the rate that your body is able to burn fat, it's able to significantly suppress your appetite too.
8. Tart Cherries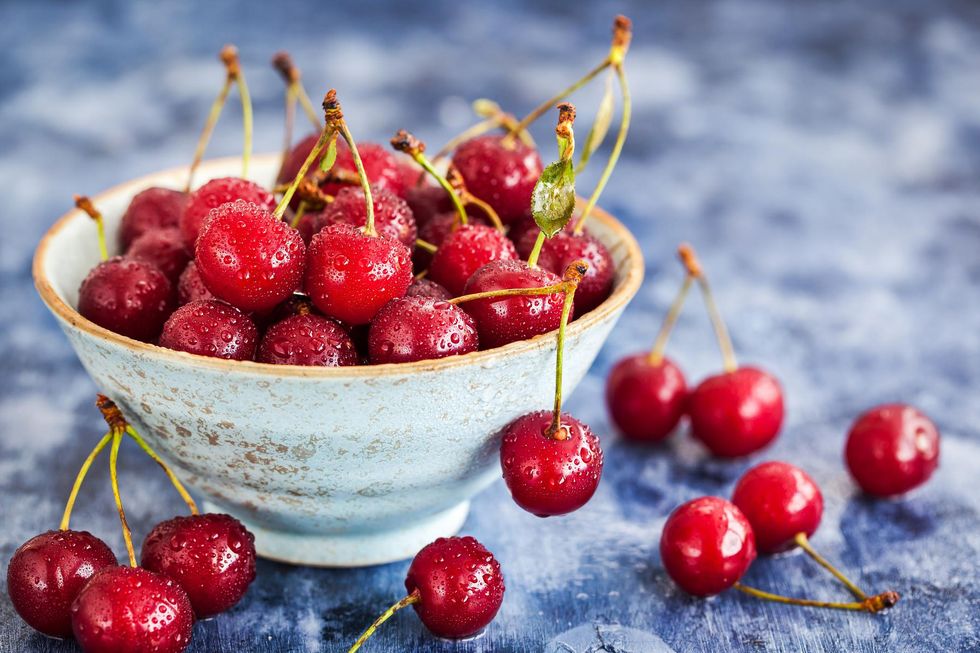 The "technical" name for tart cherries is Montmorency cherries and, believe it or not, they are loaded with protein. Along with that, some other of its nutrients include fiber, vitamins A and C, manganese, potassium, and copper. Athletes like to snack on tart cherries because they're able to reduce muscle soreness. Some studies say that tart cherries can help to reduce the pain that's directly associated with arthritis and gout. They also contain melatonin which can make it easier to fall asleep at night. And the antioxidants in tart cherries are able to boost your brainpower.
If, like me, you like to eat cherries (their peak season is July and August), eat up because one study revealed that they are really good at reducing abdominal fat and decreasing fat mass overall.
9. Pickles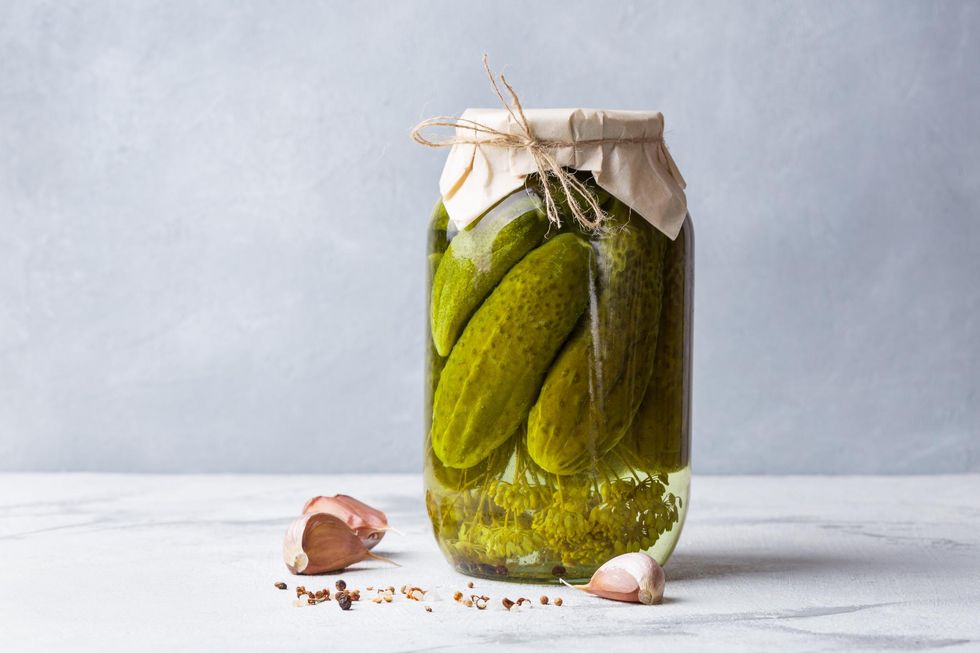 I'm pretty sure that most of you know that pickles are simply cucumbers that have sat in vinegar for a good amount of time. This process puts pickles into the "fermented foods" category. This is great because fermented foods help to promote a healthy gut (check out "80% Of Your Immunity Is In Your Gut. Take Care Of It Like This."). They also help your body to better digest vitamins B and K and improve your overall mood. Some other benefits of pickles include the fact that they're full of antioxidants, they support your immune system remaining in top shape and they're a solid source of potassium; this is great because potassium works to keep your heartbeat regulated while making sure that your muscles and nerves work as they should.
When it comes to belly fat, pickles are its enemy due to the fact that the vinegar in pickles is a consistent fat burner. Plus, since cucumbers are made up of 96 percent water, it's a low-calorie snack that you can enjoy without any worry or guilt.
10. Dark Chocolate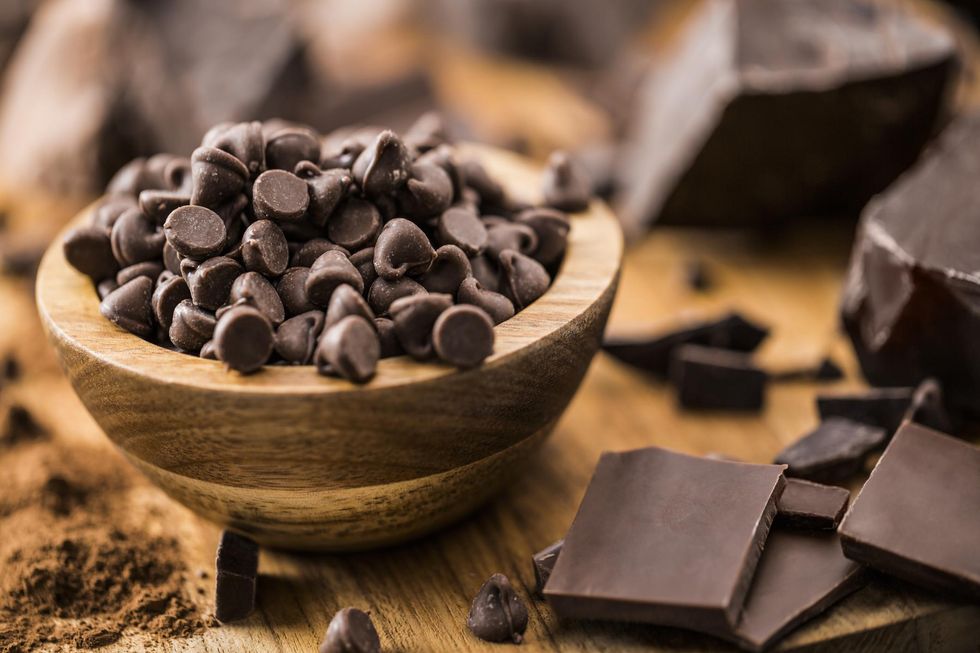 The more I read and research the foods that are good for our overall health and well-being, the more I'm amazed by how often dark chocolate ends up on so many different lists. Did you know that whenever you eat the kind that contains no less than 65 percent cocoa, you're taking in lots of iron, magnesium, copper, fiber, manganese, zinc, and antioxidants? All of these things work together to lower your cholesterol levels, increase blood circulation, reduce heart disease, protect your skin from damaging UV rays, improve brain function and keep your libido on track.
And how awesome is it that dark chocolate is good at reducing belly fat too? Thanks to the anti-inflammatory flavonoids that it has in it, it is able to reduce your overall body fat which is ultimately good for your stomach area in the long run.
11. Eggplant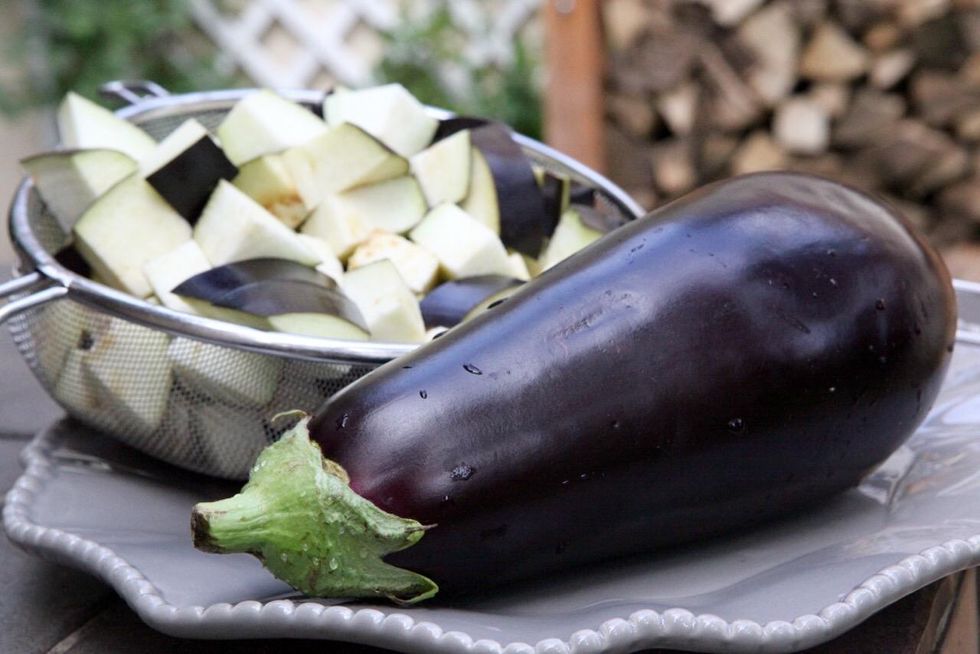 Know what else I ain't got no problem patting myself on the back about? I can make the entire hell out of some homemade eggplant parmesan! That's why I can definitely vouch for the fact that it's a great meat substitute/alternative (check out "10 Foods That Make Eating Less Meat...Easier"). Eggplant is also high in fiber, a pretty good source of protein and manganese and it has some potassium, antioxidants, and vitamins C and K in it too. Not only that but eggplant helps to reduce the risk of heart disease, lower your blood sugar levels and the phytonutrients can help to boost brainpower.
Eggplant is great at reducing belly fat because the fiber in it can help to remove excess waste and the protein in it can help to build muscles. So, if you're looking for food that will be a perfect complement to your cardio and crunches, eating eggplant can never steer you wrong.
12. Quinoa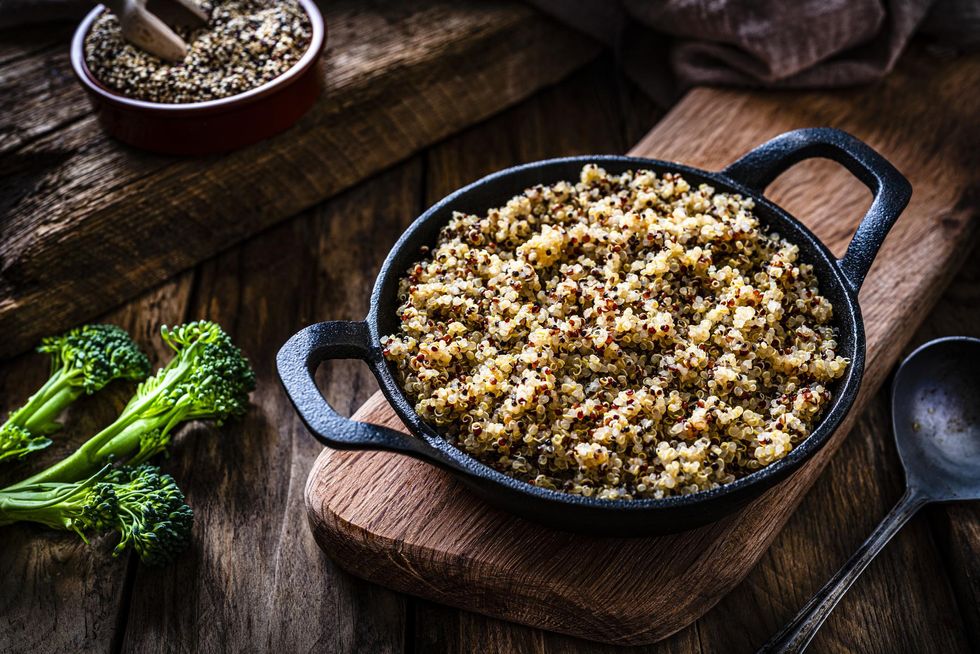 Quinoa is a grain that's considered to be a superfood. If you're a vegetarian or vegan, it's got a ton of protein in it (eight grams per serving), along with lots of fiber, manganese, magnesium, phosphorus, folate, iron, copper, and zinc. Quinoa is also good for you because it contains plant compounds that fight inflammation, amino acids that support your immune system and give you extra energy, properties that help to control your blood sugar levels, antioxidants that slow down signs of aging and, it's a gluten-free food if you happen to be someone who has a gluten intolerance.
What makes it such a powerful belly fat fighter is the fact that quinoa contains a super high level of the neutral chemical compound betaine. That's great because betaine increases metabolism and helps to inhibit the production of fat at the same time. Not to mention the fact that zinc and magnesium are two nutrients that fight against fat that likes to develop in the gut area too.
BONUS: Extra Virgin Olive Oil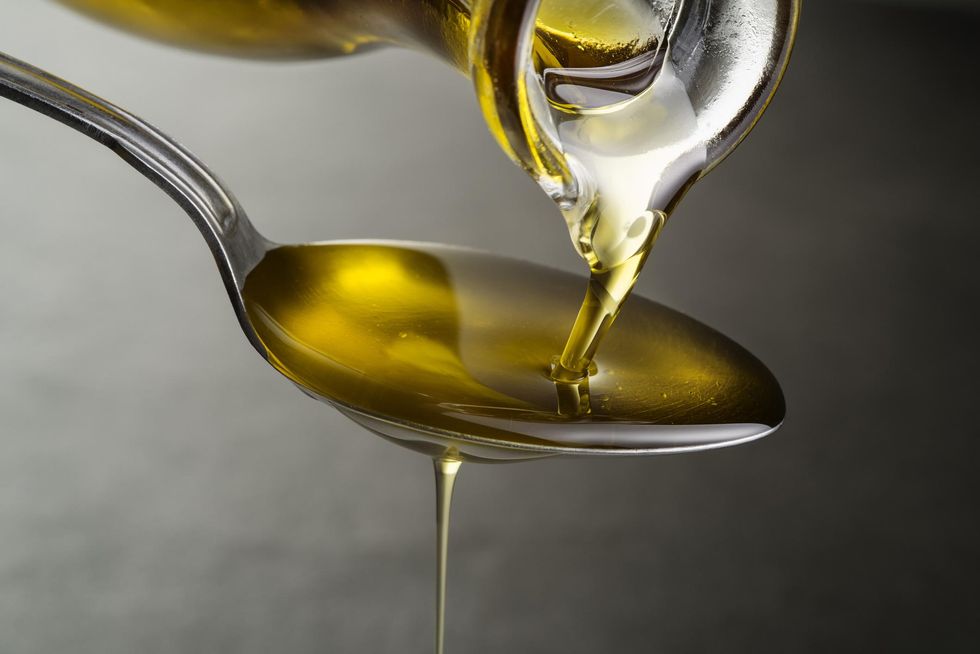 At the end of the day, extra virgin olive oil is olive oil that has been processed the least so that you can get the most out of it. And what you're getting are vitamins E and K, antioxidants that fight inflammation and properties that boost skin health, lower your blood pressure, improve digestion, help to prevent gallstones, slow down the aging process and so much more.
Since extra virgin olive oil helps to increase your metabolism, contains monounsaturated fats (these fats are actually semi-difficult to gain weight from) and it also has the polyphenol oleocanthal in it (it fights against inflammation in the gut area), cooking with this particular oil can work in your favor as you're trying to get your tummy tight and right for the spring and summer seasons.
There you have it. 13 foods that are delicious to eat and great for dissolving belly fat…so that this summer, you can show that tummy off on a whole 'nother level! (Be sure to send us some pics, chile!)
Featured image by Getty Images
It was around this time last year when I wrote the article, "Let's Gain An Inch A Month Of Hair Growth 'Til December, Shall We?". What I forgot to do was circle back around and ask everyone how they did. So…how'd it go? Did you gain at least 3-4 inches that you may have been shooting for? If not, there is certainly no time like the present to try and make a few hair miracles happen.
One really easy way to do that is to add a few of the drinks that I'm about to share with you on your grocery list. Because, as you're about to see in just a sec, not only can they help your hair to truly flourish, they're really good for your health in a myriad of other ways too. You ready to sip on 10 great suggestions?
1. Coconut Water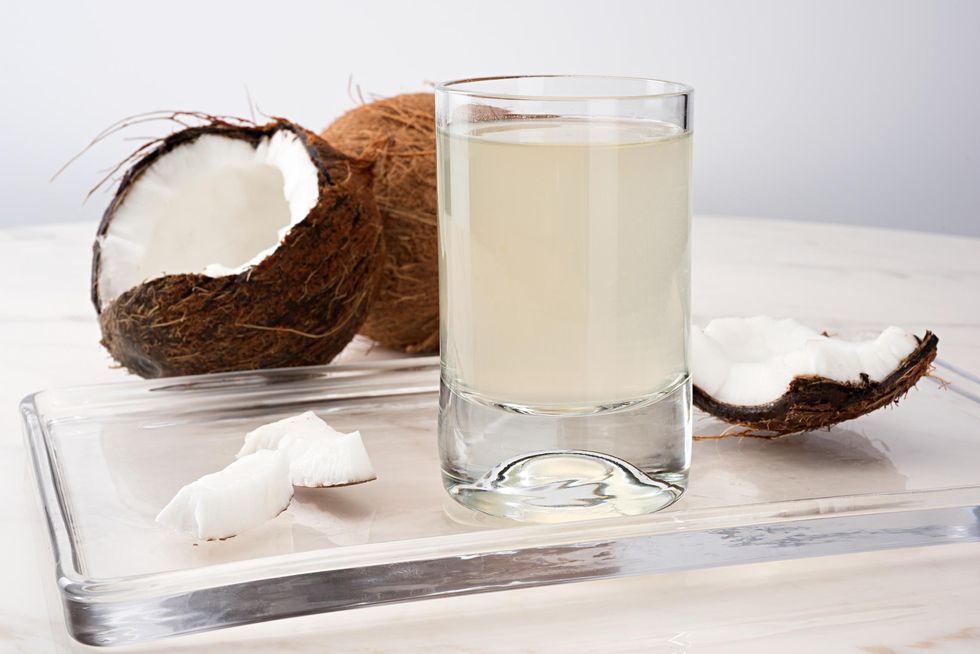 Something that's cool about coconut water is, even though it is made up of 94 percent water, it still has a fair amount of potassium in it, along with some traces of magnesium and calcium too. Not only that but it contains antioxidants which are really good for your immune system. Some other benefits that come with this particular drink are it can help to lower blood sugar levels in diabetic individuals, can help to reduce the development of kidney stones (by increasing urination which removes potassium, chloride, and citrate buildup), supports your heart health, gives you more energy and, it can even replenish electrolytes after exercise.
What makes coconut water outstanding as far as your hair is concerned is the fact that consuming it can help to renew cellular hair growth from the inside out. Also, the amino acids in the water can make your hair stronger and, if you rinse your hair with it, coconut water has the ability to increase blood circulation to your scalp, so that your strands are able to become stronger as a direct result.
2. Aloe Vera Juice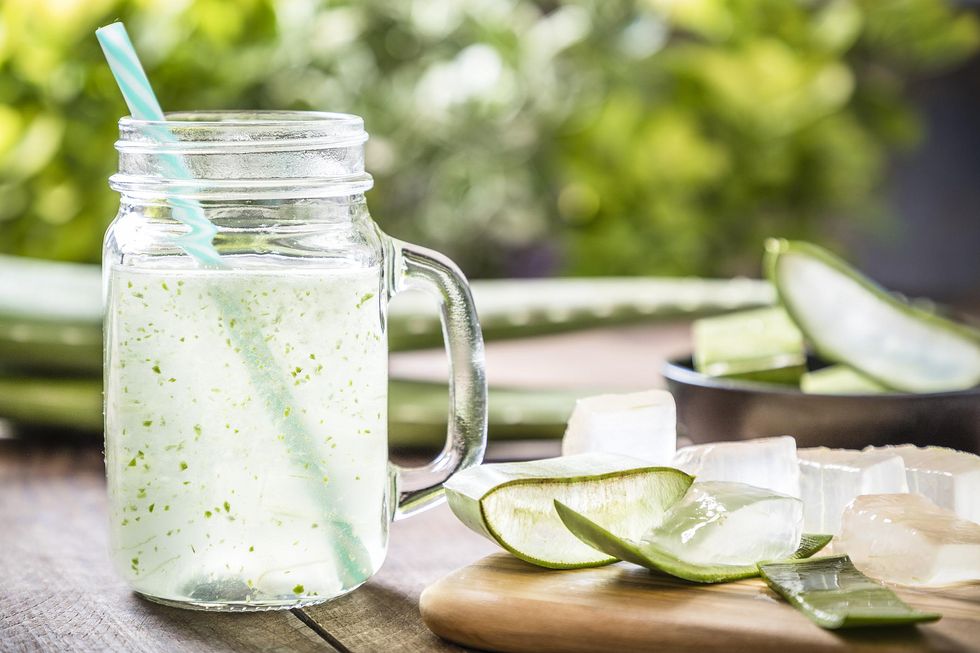 Now I'll be honest with you — there is nothing so thrilling about the taste of Aloe vera juice that it will make you want to down it on a daily basis. However, if you mix it in with another drink or add it to a smoothie, you'll barely be able to taste it and you'll still be able to get all of the benefits that come with consuming it. That said, Aloe vera juice is good for you because it helps to detox your body, hydrate your system and, vitamins B, C, E, and folic acid can help to keep your skin radiant and glowing. Something else worth taking note of when it comes to Aloe vera juice is the properties in it are good at preventing plaque from forming which makes it awesome when it comes to maintaining good oral health.
And what does it do for your tresses? Drinking it can help to moisturize your hair from the inside out. It also can help you to retain hair length and, if you apply a bit of Aloe vera juice to your scalp, it can relieve itching, almost instantaneously (in most cases). Oh, and a lot of people enjoy using Aloe vera juice or gel as a pre-poo on wash days as well.
3. Guava Juice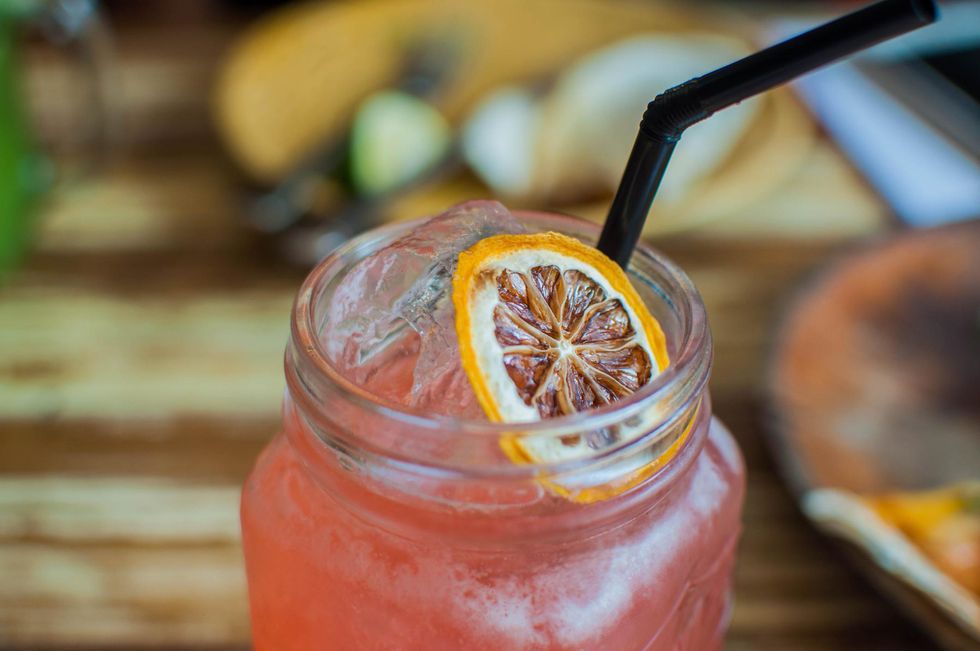 If there's one juice on this list that is pretty unsung, it would have to be guava juice. The reason why I say that is because its benefits are kinda close to being endless! Aside from being a good source of vitamins A, C, and E, along with folate, magnesium, dietary fiber and so much more, guava juice has a great reputation when it comes to strengthening your immunity, improving your vision, providing your system with anti-aging properties, boosting brain power and giving your skin a natural radiant glow.
And why is guava juice awesome when it comes to your hair? Thanks to its antioxidant, anti-inflammatory, and anti-microbial properties, it helps to keep your scalp healthy. Plus, the Vitamin C in it helps to trigger collagen production, so that your hair has more elasticity to it, which reduces its chance of breakage (which helps you to maintain length retention).
4. Peppermint Tea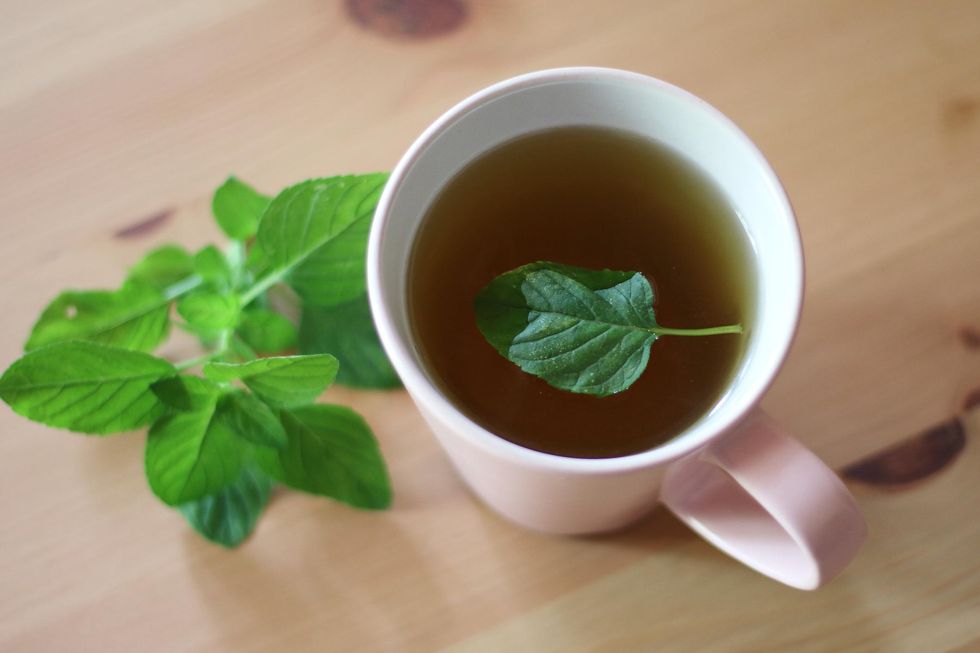 Growing up, there was quite a bit of tea in my house which is probably why I'm always down for a piping hot cup of herbal tea with some honey in it, to this day. When it comes to tea, probably one of the most popular kinds is peppermint tea, and with good reason. Peppermint tea contains properties that are able to reduce headache and migraine tension, unclog sinuses, give you an energy boost, relieve menstrual cramps and fight off bacterial infections. Yeah, peppermint tea is all of the things.
What makes it so good for your hair is the fact that the menthol in the tea helps to soothe your blood vessels while also stimulating blood circulation so that your hair follicles are able to receive the nutrients that they need. As a direct result, your hair strands are able to become stronger and thicker. How cool is that?
5. Carrot Juice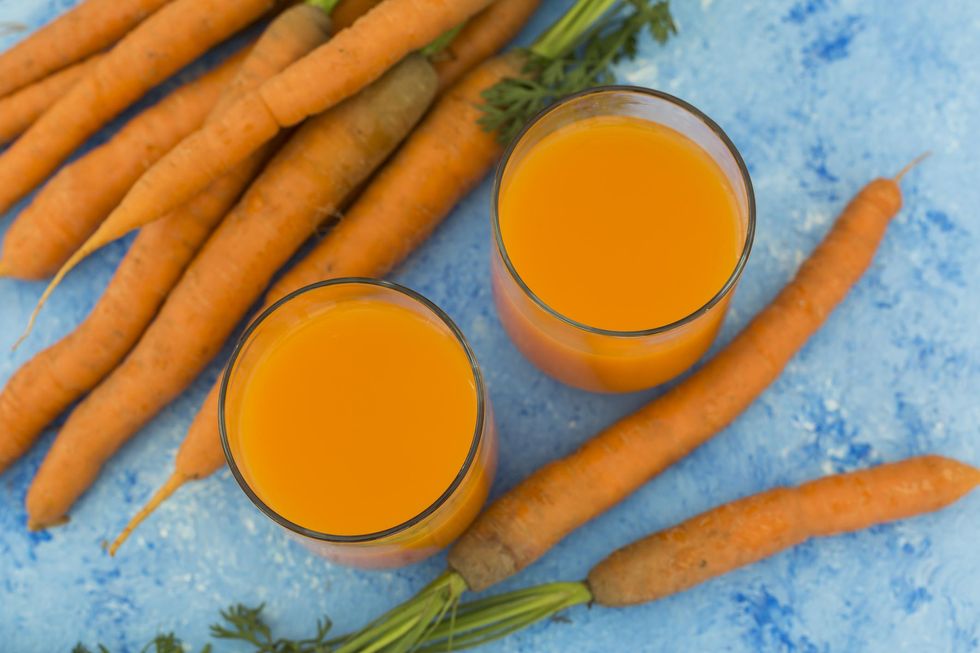 I don't think I've ever had carrot juice on its own. I have had a carrot and apple blend that was pretty bomb, though, so if you've never had it before, don't be afraid to "mix it up" with another favorite juice flavor. Anyway, carrot juice is beneficial thanks to the protein, fiber, vitamins A, C, K, and potassium in it. You've probably heard that carrots are good for maintaining your vision and that is absolutely the truth. Carrots are also good for you because they help to boost immunity, control your blood sugar levels and, keep heart disease at bay.
Another great thing about carrot juice is it contains a really high amount of beta-carotene. That's awesome because, when it's digested, it turns into Vitamin A and that's a vitamin that helps to protect your skin from damaging UV rays. Another thing is that the Vitamin C in carrot juice helps to slow down your skin's aging process too. As far as your hair goes, the nutrients in carrots can help to prevent hair loss. Also, if you consume carrot juice on a regular basis, it can improve the quality of your hair while giving it a natural sheen in the process.
6. Apple Juice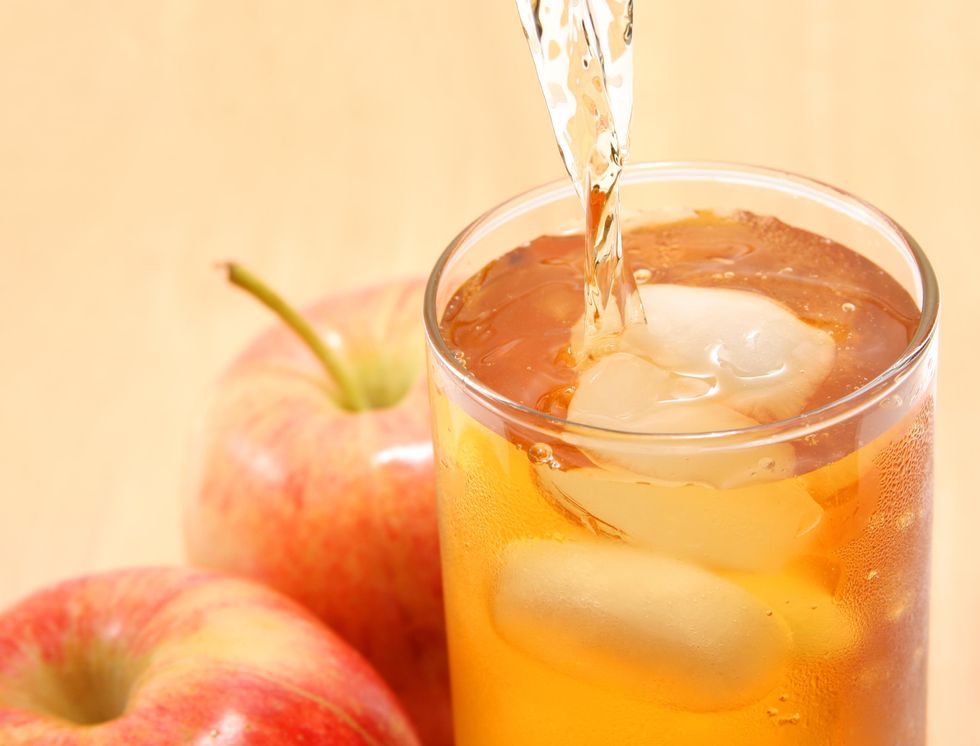 If you've got a little bit of constipation going on, something that can definitely help you out is an apple; that's probably because it reportedly has about four grams of fiber per serving in it. Other nutrients that are found in this very popular fruit include a fair amount of Vitamin C along with some traces of potassium, manganese, copper, and vitamins B12 and K. All of these work together in order to protect your heart, lower your diabetes risk, maintain your gut health, fight asthma and even help to prevent cancer cells from forming.
One of the best things about apples is they have a way of maintaining the pH balance of your scalp. This is a good thing because when your scalp is healthy, that means less scalp itching and irritation and less dandruff too. Some people are actually big fans of rinsing their hair in 100 percent pure apple juice on wash days because the antioxidants in it are able to strengthen your hair (and scalp) from the outside in. Just make sure that it's 100 pure and organic juice; not the sugary cocktail kind.
7. Ginger Tea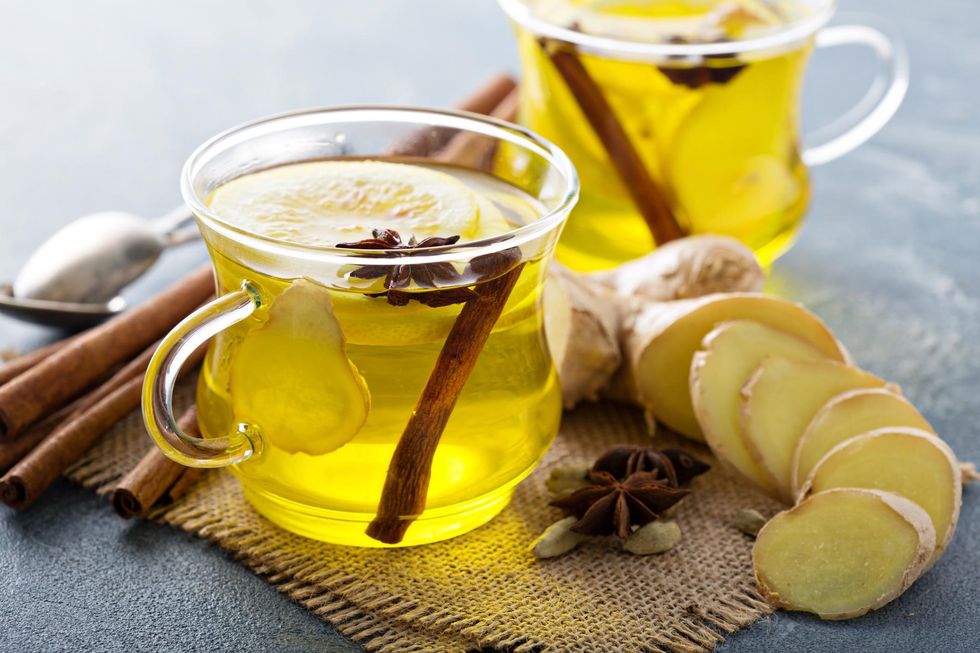 A particular kind of tea that I enjoy is ginger tea. I think it's because I like a nice spicy flavor and ginger certainly provides that. Ginger tea is dope, in part, thanks to its super potent anti-inflammatory and antioxidant properties. It's great for treating nausea (including the kind that is related to morning sickness and motion sickness), lowering blood sugar levels, decreasing the risk of heart disease, reducing menstrual discomfort and, it helps to relieve chronic indigestion too.
Hair-wise, ginger tea is that one because it helps to increase blood circulation to your scalp and restore moisture loss which is good to know if you are someone who has low porosity hair. Ginger tea is also great for your hair due to its antimicrobial and antiseptic properties that can help to fight off dandruff and other forms of scalp irritation.
8. Tomato Juice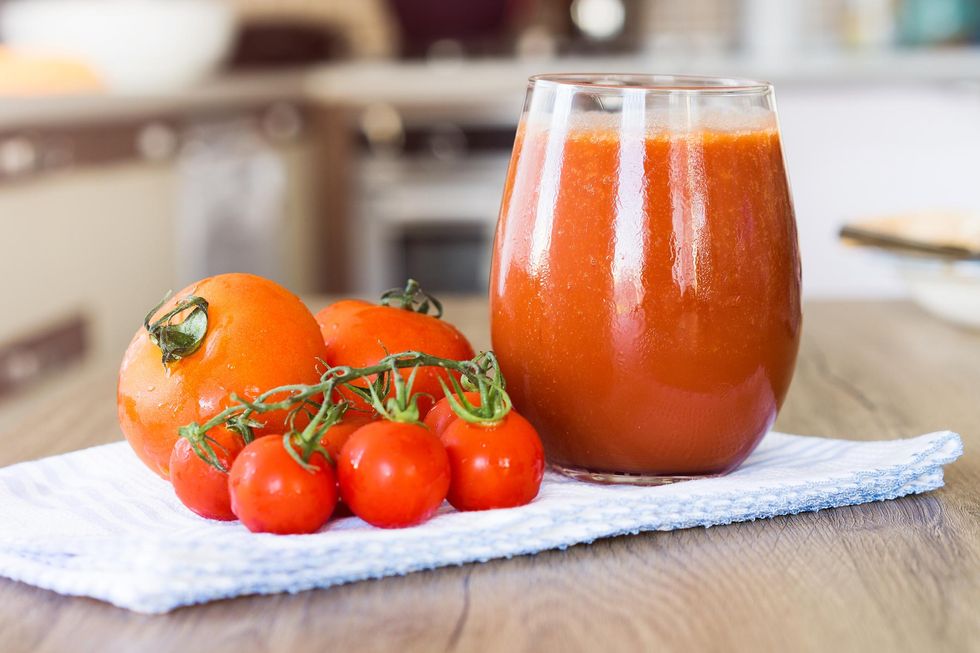 If Bloody Marys are your thing, then you'll be glad to know about this. Protein, fiber, vitamins A, B, and C along with potassium and antioxidants are just some of the reasons why drinking this kind of fruit (yes, fruit) juice is so good for you. Aside from the fact that tomato juice helps to reduce the risk of heart disease and skin cancer, it's also helpful because it aids in digestion, lowers cholesterol levels, helps to regulate bowel movements, detoxifies your system, and is a great source of energy.
Since tomato juice has iron in it, it helps to strengthen your hair and reduce shedding. And, if you apply it as a rinse to your hair after shampooing it, it can relieve itchiness and dryness, so that your scalp is able to thrive.
9. Berry Smoothie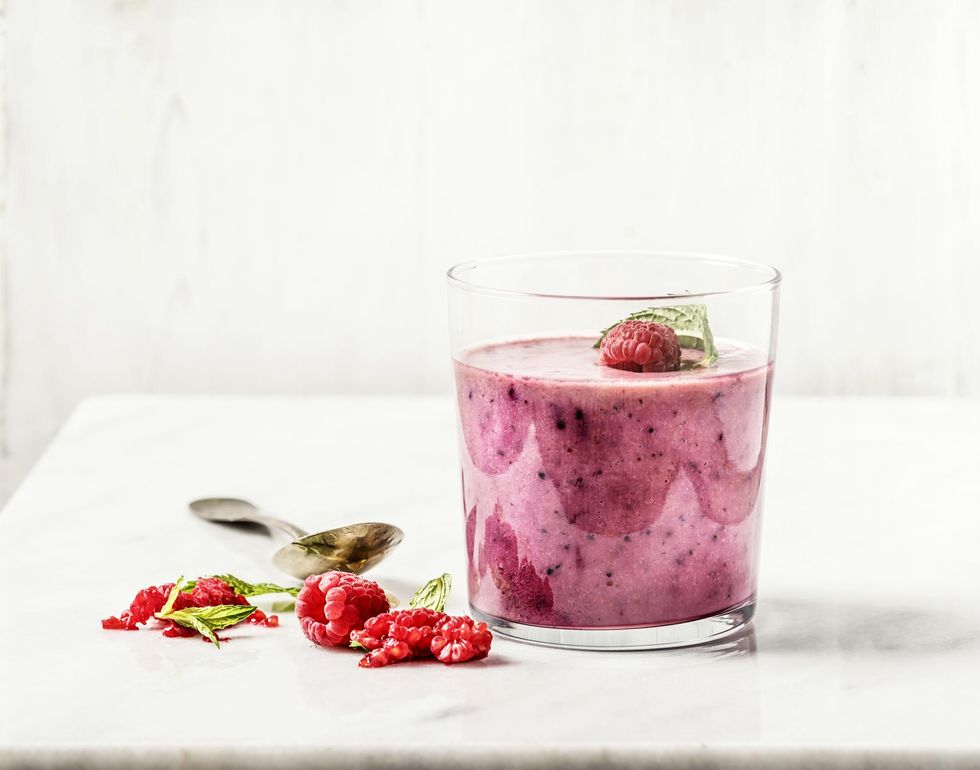 There is nothing like a bowl of fresh berries, boy. Health-wise, they're good for you because they are full of antioxidants, fiber, manganese, and vitamins B, C, and K. Some other perks include the fact that berries help to lower cholesterol levels, fight pre-cancer cells, reduce inflammation, improve blood sugar levels and, they can also keep free radicals from damaging your skin.
And why would an all-natural berry smoothie be oh so very good for your hair? Vitamin B provides oxygen to your hair follicles so that your strands are strong and premature grey is delayed. Vitamin C increases blood circulation to your follicles (so that they are able to get more of the nutrients that they need). The antioxidants keep free radicals from weakening your hair. What a delicious way to keep your hair on point.
10. Water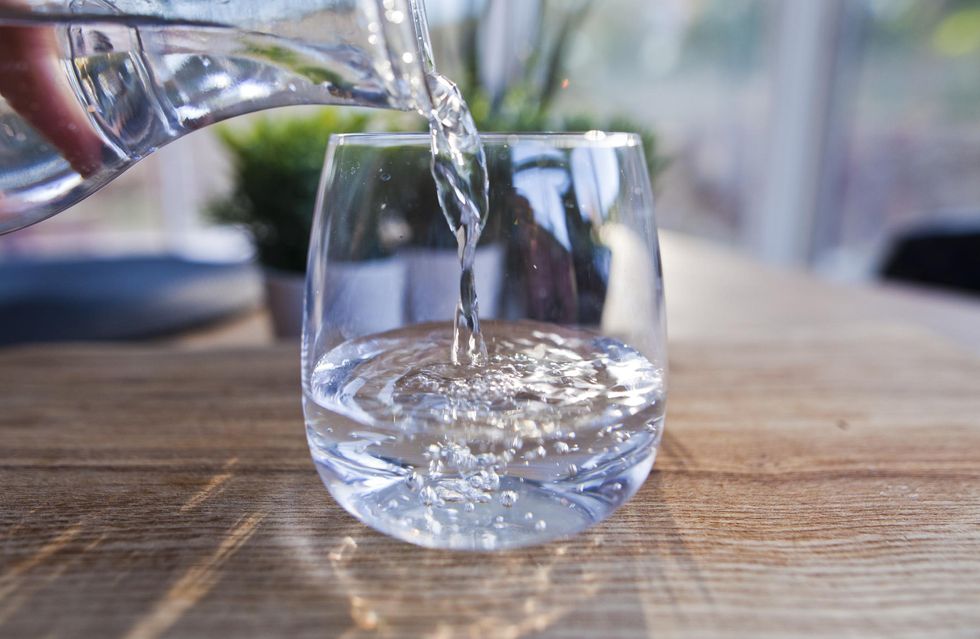 Somewhere between 60-65 percent of our system is made up of water, so it truly can't be said enough that we need to drink it on a daily basis. The reasons why are never-ending. Water helps to bring oxygen (and therefore nutrients) to your body's cells, detoxes your system, makes it easier to digest your food, supports your joints, regulates your body temperature, stabilizes your body pressure, and hydrates you from the inside out.
That last point is why drinking water is so good for your hair. When your hair has moisture in it, that reduces its chance of becoming dry and brittle, getting split ends, and being hard to manage. That's why it's so important to get no less than 6-8 glasses in, no matter what. Your hair will thank you. The rest of you will too!
Featured image by Getty Images
Honestly, there's not just one thing that can cause your period to become irregular. It could be because you've gained or lost weight. It could be due to some stress that you are under. Maybe you're taking a certain medication that's causing it. Perhaps you're exercising too much or eating too little. Again, the answers tend to vary. Yet if there's one thing that a lot of these issues boil down to it's that your hormonal levels aren't as balanced as they need to be. That's why, if you've noticed over the past few cycles that your period is all over the place, it's important that you make an appointment to see your doctor sooner than later. It's also a good idea to add some of the following foods into your diet; ones that are proven to help to bring some consistency back to your cycle, if you consume them on a regular basis.
1. Pineapple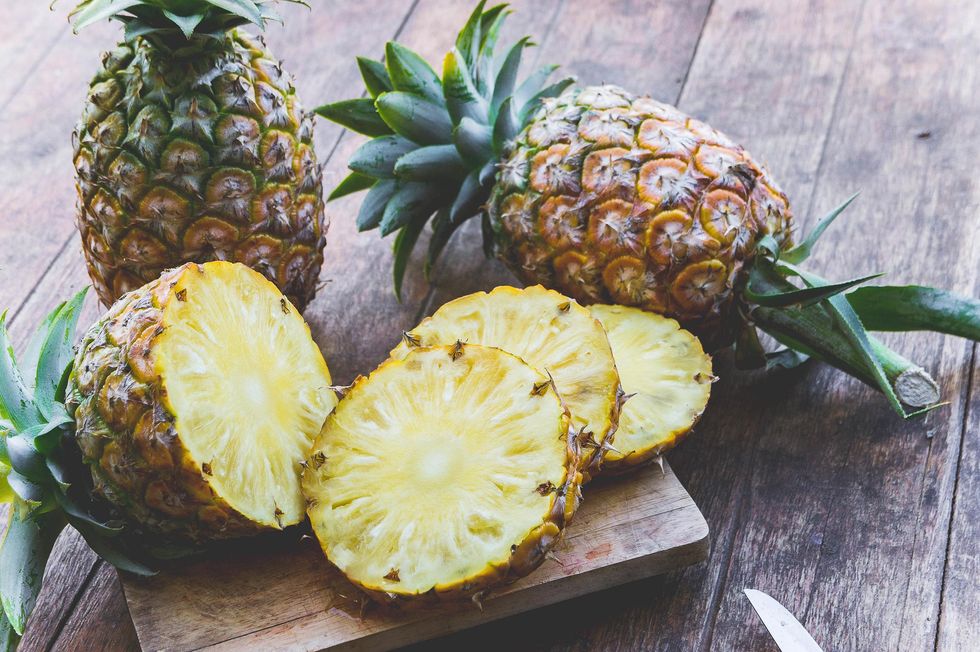 Although pineapple probably has the best reputation for helping to make our bodily fluids down below taste better, it's got a ton of other benefits too. Pineapple is good for you because it's got a ton of Vitamin C and manganese in it, not to mention the fact that it contains properties that can help to boost your immunity, fight cancer, ease digestion, suppress inflammation and even help with arthritis-related symptoms.
The reason why it's helpful on the irregular period front is because the enzyme in it called bromelain increases the production of red and white blood cells (which makes for an easier blood flow) as well as makes it easier for your uterus to shed its lining when it's time for your period to start.
2. Cinnamon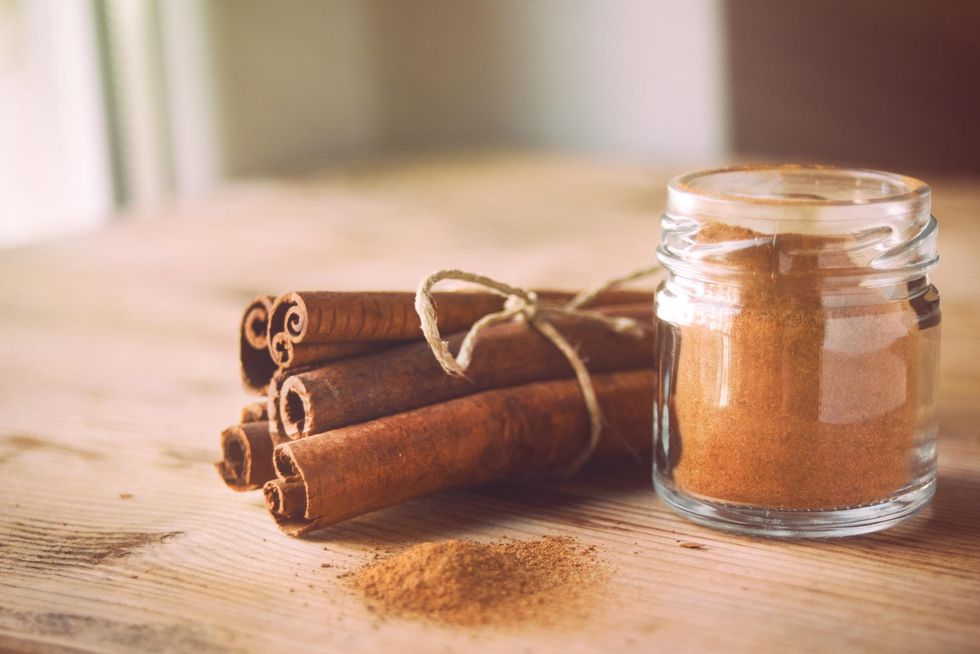 A couple of years ago, when I wrote about how putting some cinnamon oil on your genitalia can take oral sex to new heights (you can read more about that here), some of y'all asked if there was a burning factor. Nah, it's more like a warming sensation (although you can add a carrier oil like sweet almond oil if that will make you feel "safer" about it). Anyway, that's my introduction to how much of a fan of cinnamon I am. I like the way it smells, I like the way it tastes and it's definitely good for you. Cinnamon is another food that is full of antioxidants. Not only that but it contains anti-inflammatory properties, can help to lower your blood sugar levels, is able to help fight fungal and bacterial infections and there are even studies to support that it helps to fight HIV too.
Since cinnamon is great at helping to bring balance to insulin levels in your system, this is why many medical professionals say that it can be beneficial when it comes to regulating your period; this is especially the case if you happen to be a woman who deals with PCOS (polycystic ovary syndrome).
3. Salmon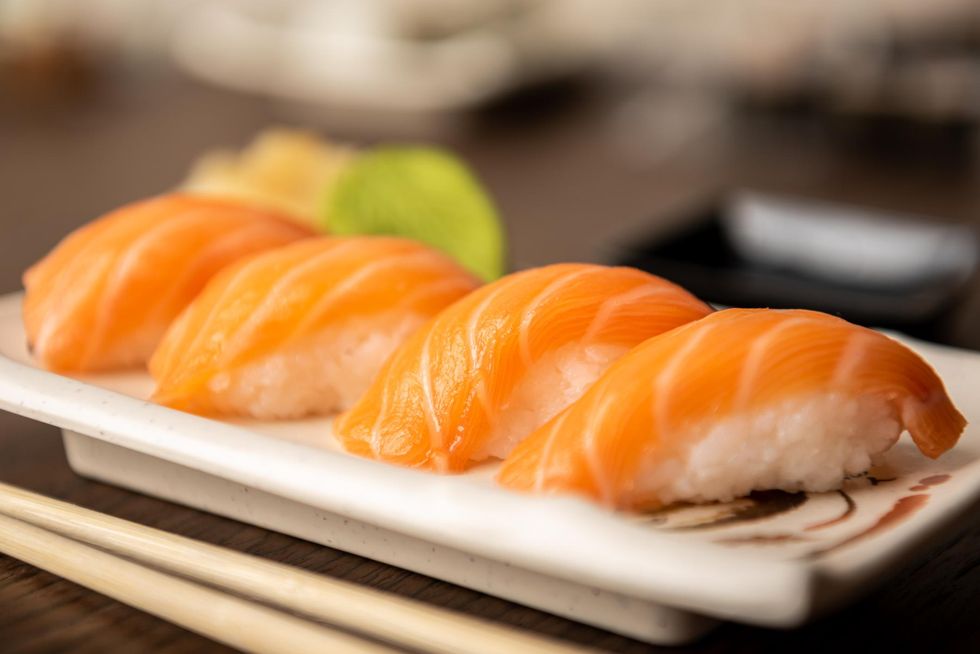 There aren't too many articles that touch on the topic of foods that are good for you where salmon isn't going to be somewhere on the list. It's full of protein. It's super-rich in omega-3 fatty acids (which reduce inflammation, lower your blood pressure, and help your arteries to stay healthy). They also contain a good amount of B vitamins, potassium and selenium that work together to help you to manage your weight, boost your brain health and help your skin, hair, and nails to remain strong. Also, due to the omega-3s that are in this particular kind of fish, salmon helps to balance hormones and reduce the severity of period discomfort — both are huge wins in the menstrual cycle department.
4. Mushrooms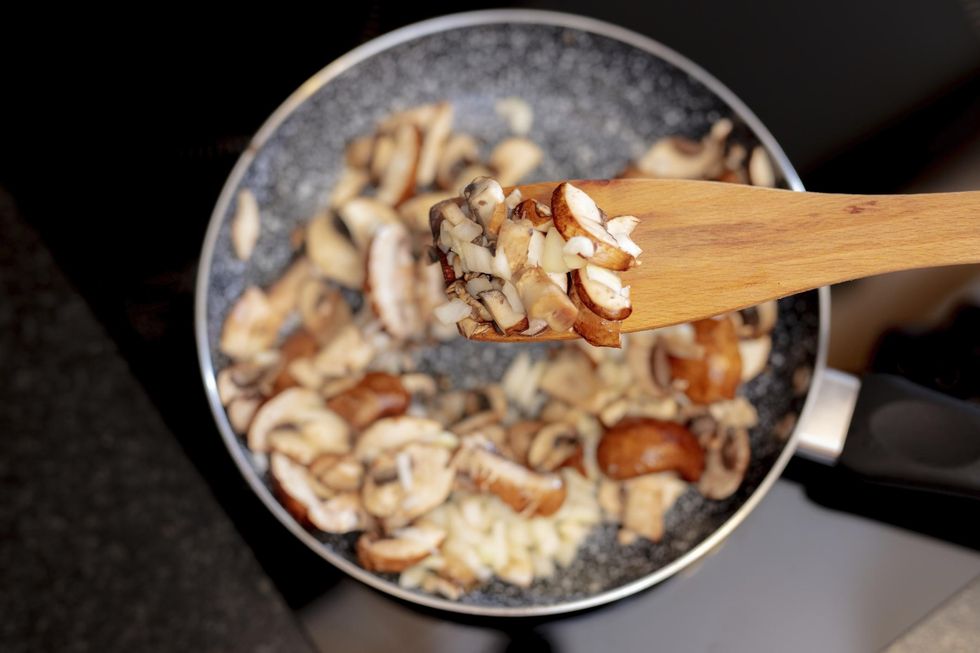 Mushrooms are good for you because they're a great source of Vitamin B, copper, potassium, and antioxidants. Also, because it contains compounds that "mimic" prebiotics (which are basically plant fibers that help your gut to produce the good bacteria that it needs to stay healthy), mushrooms can aid in digestion and strengthen your immunity as well. So, why are they so good at regulating your period? A lot of it comes down to the Vitamin D that is in them. There are a good amount of studies that say that having Vitamin D in your system won't only help your cycles to come on time, they can also shorten them if they happen to last longer than six days. All good reasons to cook with them more often, if you ask me.
5. Chia Seeds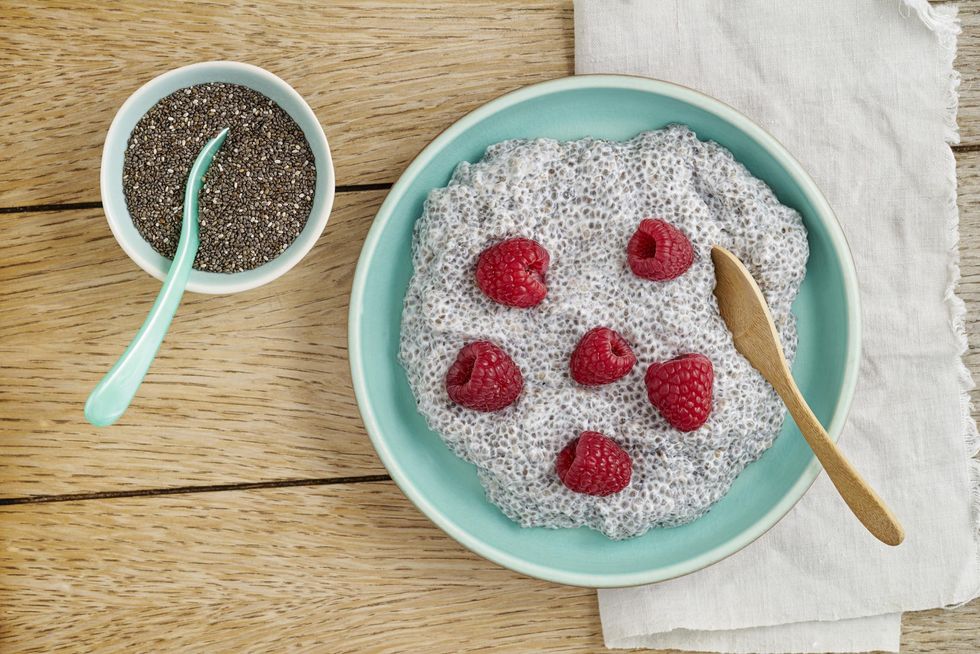 There are plenty of good things to say about chia seeds. They are full of protein, fiber, magnesium, phosphorus, and zinc. They contain antioxidants to keep your immune system in good shape. The calcium in them can help to support your bone health. Some health professionals say they are good at reducing blood sugar levels. Chia seeds are a pretty good source of iron as well. These nutrients, combined with the omega-3s that are in them, all work together to ease your blood pressure, decrease your cholesterol levels, increase blood flow and reduce damage to your blood vessels including the ones in your ovaries — all of which make having a more regular period possible.
6. Raw Papaya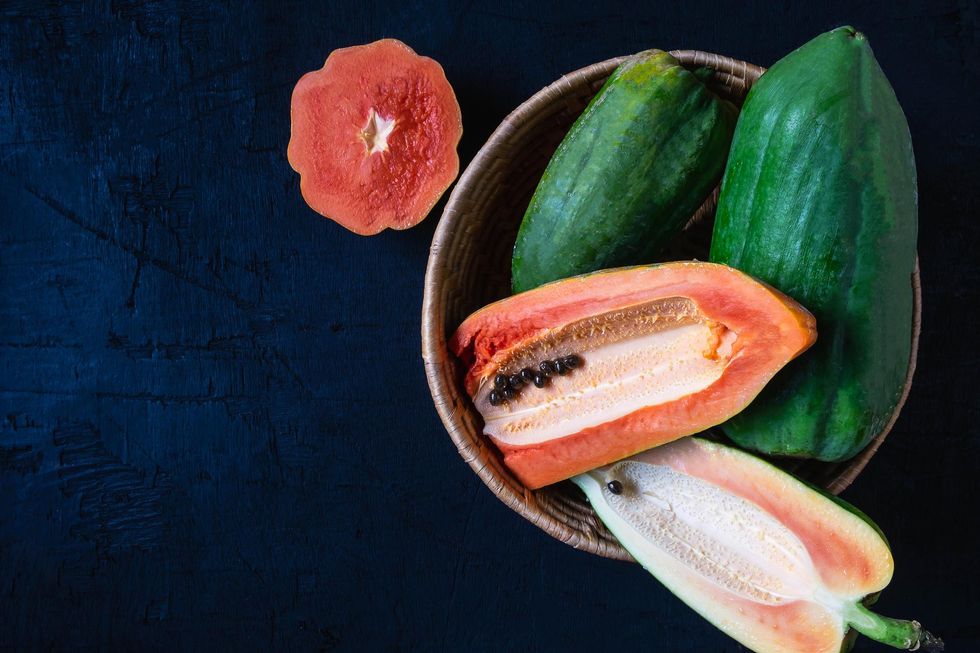 If you're looking for a fruit that's basically a multivitamin, raw papaya has totally got your back. Aside from the vitamins A, B, C, and E that's in it (which makes it the kind of fruit that is really good for your skin), it has fiber, folate, and potassium in it. Raw papaya is also really good for you because it's got antioxidants, anti-cancer properties and it's able to fight bodily inflammation. Some other perks are it helps with cellular repair, relieves constipation, and can help to improve your heart health over time.
Because properties in it can also trigger muscle contractions (including when it comes to your cycle), that's why it gets a period regulating shout-out. A word of caution on this is to eat or drink it a couple of times a week in order to help to get your period regulated but to AVOID it during your actual cycle. Again, because it can get contractions going, I'm not sure how much more intense you want your cramps to be while you are actually on your period.
7. Turmeric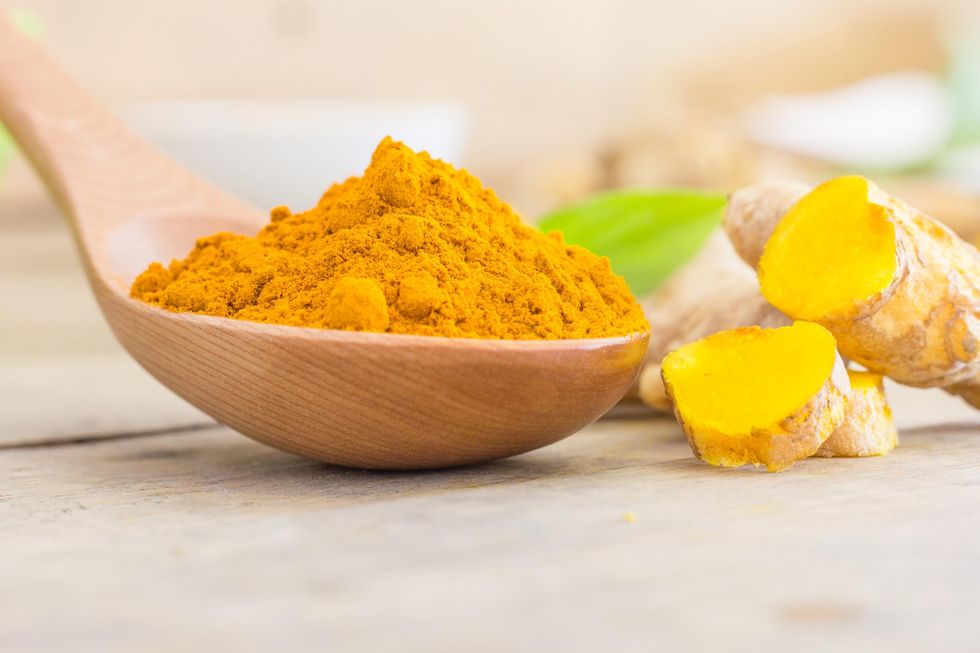 When it comes to the spice turmeric, make sure that you get the kind that contains curcumin because that is the active ingredient that will give you all of the benefits that I'm about to mention. Turmeric can be super beneficial because it has powerful medicinal compounds that are able to reduce inflammation, lower your risk of heart disease, help to prevent cancer, reduce depression-related symptoms and fight free radicals. As far as your period goes, because turmeric also has anti-spasmodic properties in it, that along with its anti-inflammatory benefits can help to balance your hormones which definitely attributes to you having a more regulated cycle.
Just a word of caution, though — I used to take turmeric on a pretty consistent basis and what it did to me was significantly increase my period flow (I mean, A LOT). I think it's because it's also a blood thinner. If you've got clots during your period, that could be a good thing. Otherwise, it could end up looking like a mini crime scene in your bathroom. Just a heads up.
8. Apple Cider Vinegar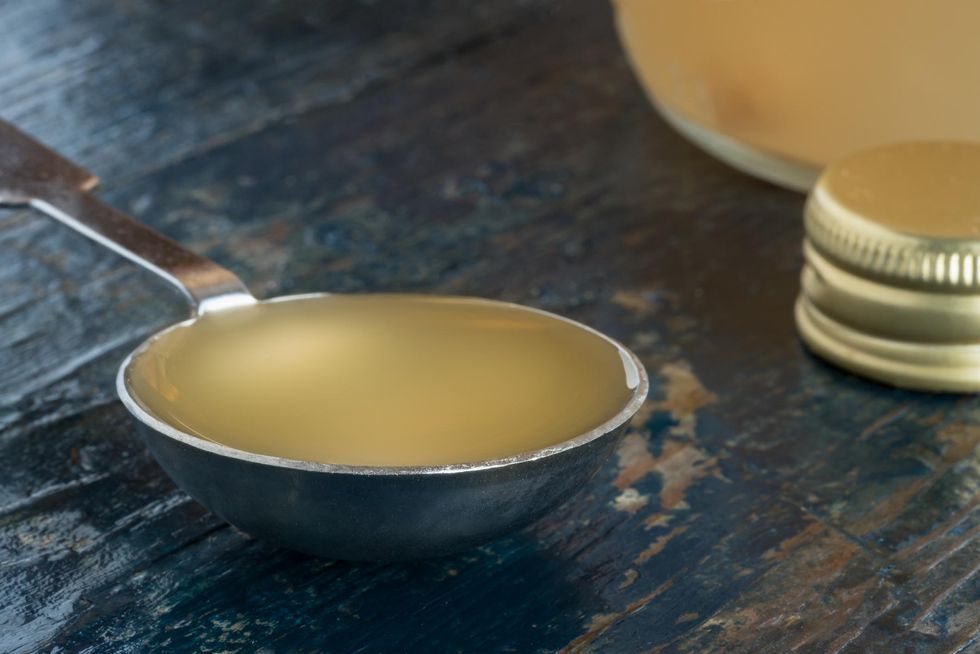 It certainly isn't the best-tasting stuff on the planet, no way around that. Still, if you want to boost your health, apple cider vinegar can certainly make that happen for you. It kills harmful bacteria. It can assist with lowering your blood sugar. It helps to balance your skin's pH levels. It lowers cholesterol. It can help to burn belly fat. It really deserves an article, all on its own. And what does apple cider vinegar do for your cycle? There are actually a few studies that say that it's so potent that it can help to restore ovulatory function in women who have PCOS, so long as they consume it on a regular basis. How amazing is that?
9. Parsley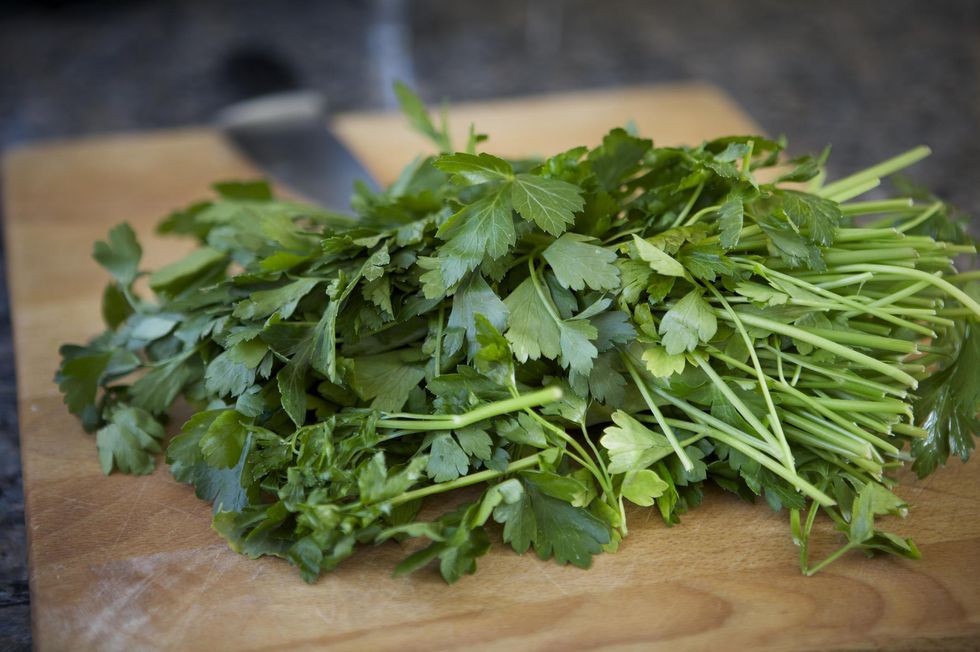 It's kinda crazy, how much a lot of us don't give parsley a second thought beyond it being garnish on some of our dishes because it really is an herb that's pretty good for our overall health and well-being. For starters, it's a fair source of protein and fiber. Parsley also contains a ton (and I do mean A TON) of vitamins K and A per serving, along with a pretty impressive amount of Vitamin C and antioxidants. If you're looking for food that will keep your bones and teeth strong, protect your eyes and even freshen your breath, look no further than it. Period-wise, it's good for you because it helps to increase blood flow which could result in your periods coming more on time (if you consume it semi-regularly, that is).
10. Dark Chocolate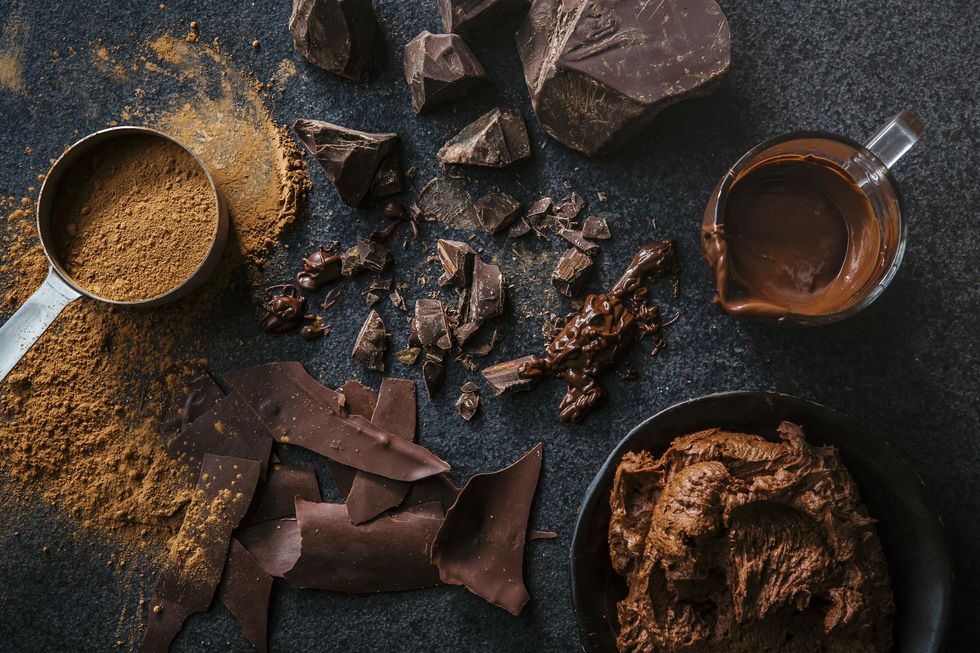 If you're looking to get a good dose of fiber, manganese, iron, magnesium, and copper, you don't need to look any further than dark chocolate. It also has antioxidants and fatty acids that help with lowering your cholesterol levels and keeping your heart healthy. As if that's not impressive enough, dark chocolate can help to ease feelings that are associated with depression, lower the risk of you having a stroke, suppress coughs that are related to the common cold, boost your brain function, and even protect your skin from damaging skin rays.
And if you eat a piece of it on a daily basis, the flavonoids in dark chocolate can "mimic" estrogen, so that your hormones are able to level out and your blood circulation will be able to improve all throughout your body. Just make sure to not get a Hershey's bar but rather the kind of dark chocolate that has no less than 65 percent cocoa in it. It might not taste as good, but you'll get a lot more benefits — your body, including your period, will thank you. Guaranteed.
To learn more about all things vaginal health and wellness, check out the xoNecole Women's Health section here.
Featured image by Getty Images
Now that the weather is finally starting to feel more like it should (being that it is officially fall 'n all), I thought it would be a stellar idea to share with you, not just some drinks that can help to take some of the chill out of your bones, but also ones that are great when it comes to relieving stress. Because, let's face it, even though autumn and winter can be some of the most exciting times of the year, when you factor in all of the activities on your plate, the family that you will be seeing, the money that you'll be spending and whatever else that you've got on your upcoming to-do list — whew, they can also trigger feelings of anxiety, restlessness and even low-key frustration, if you're not careful.
So, this week, do your mind, body and spirit a favor and treat yourself to one (or more) of the 10 drinks on this list that can help to soothe and de-stress you. Because, in just a minute, you'll see why they are such bomb ideas on every health-related level. (Where's your favorite mug at anyway, chile?)
1. Apple Cider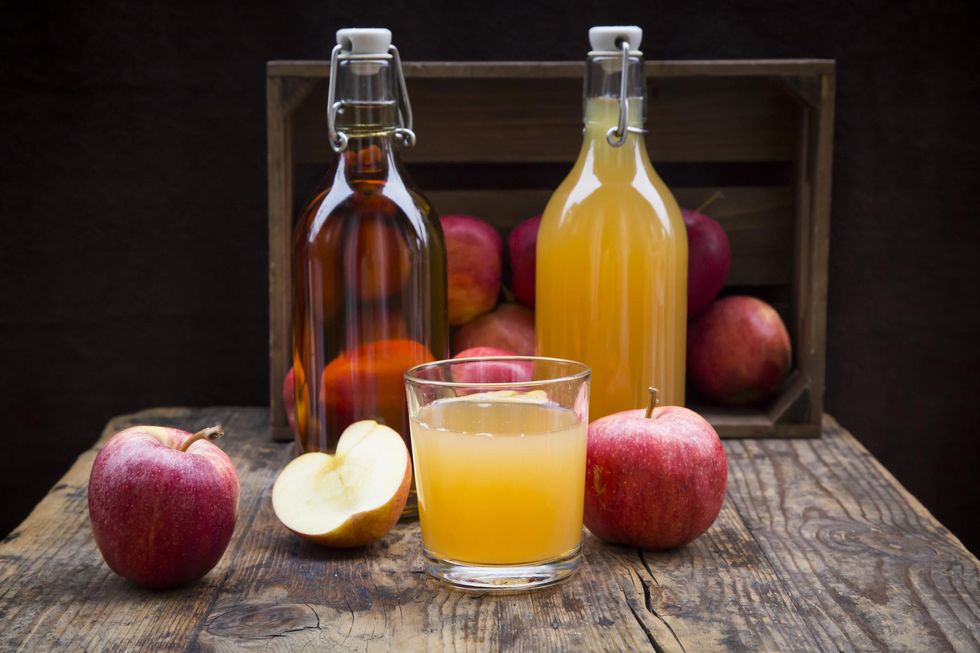 If there's a part of you that's always wondered what the difference is between apple cider and apple juice, cider is simply an apple drink that is totally unfiltered and unsweetened. This means that, at the end of the day, you are getting the benefits of apples in their purest form. Some of those benefits include the fact that they are a good source of fiber and Vitamin C, they can help to lower your diabetes risk and prevent cancer and they even contain compounds that fight cancer. As far as relieving stress goes, apples are good for you because the phosphorous and iron in them can help to reduce oxidative stress which, at the end of the day, is basically an imbalance of oxygen in your system. So yeah, if you want to calm your system down so that you can rest and relax easier, a warm cup of apple cider can easily do the trick.
Make Some: Homemade Apple Cider
2. Oat Straw Tea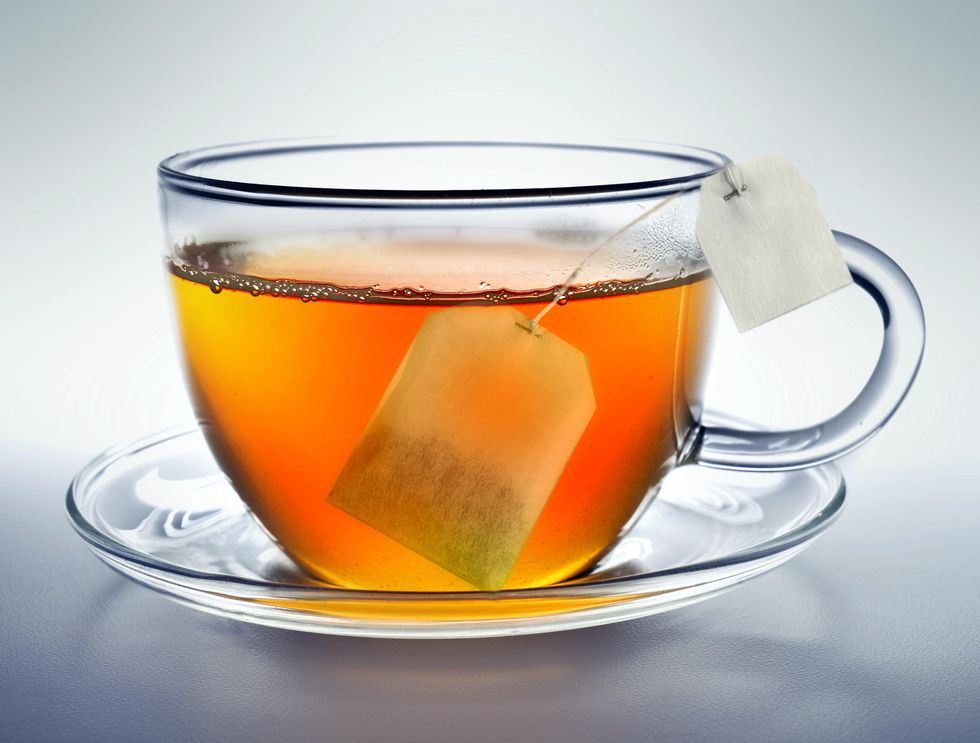 Whenever I do articles like this, I try and find things that aren't commonly mentioned. Personally, I think oat straw tea qualifies. It's a tea that also goes by the name Avena sativa and has a great reputation for being a mild relaxant as well as a sleep aid. Some other cool things about this particular tea are it has a reputation for helping women when it comes to strengthening our bones, stabilizing our blood sugar levels, soothing our nervous system, reducing depression-related symptoms and, some say that it can even help to boost our libido. A part of the reason why it can pull all of this off is that it's rich in B-vitamins.
Anyway, if you've never given oat straw tea a shot, you just received some pretty solid science-backed reasons to.
Make Some: Oat Straw Tea
3. Winter Lemonade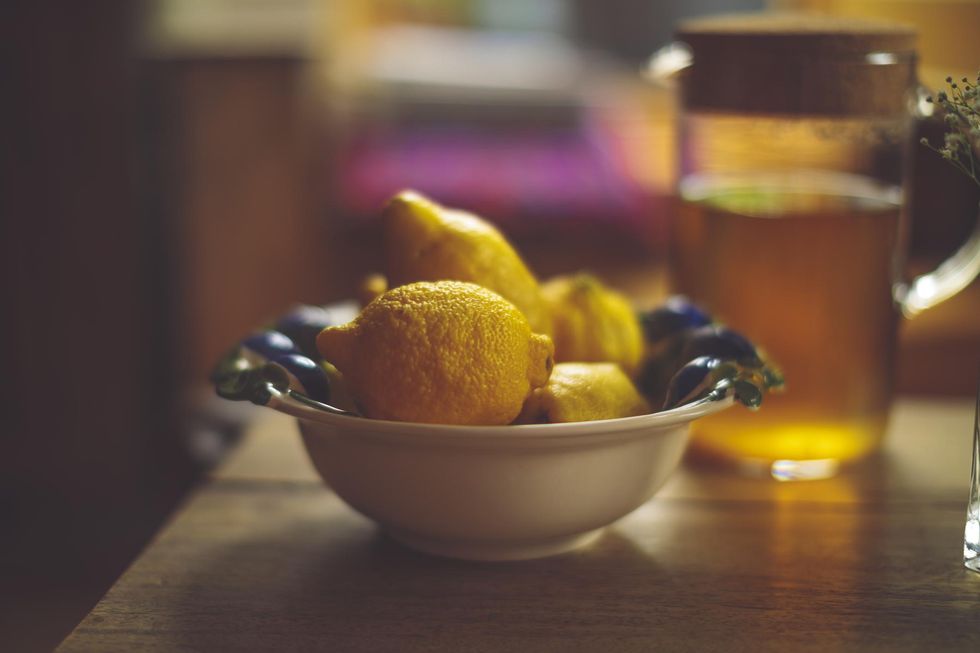 If you're a fan of lemonade yet you've never had the pure pleasure of drinking the twist on it, known as winter lemonade, sis, what are you waiting on? While there are all kinds of variations to the recipe, it generally has ginger, cloves, and cinnamon (and sometimes vanilla) in it. Lemons are great because they are a natural detoxifier which is always beneficial when it comes to keeping stress levels down. Ginger is bomb because it contains powerful medicinal properties, can reduce menstrual pain (if that's when you're feeling the most stressed), and helps to fight off infections (being sick is always stress-filled).
Cloves are cool because they're loaded with antioxidants and are able to help kill bad bacteria as it strengthens your liver (which pulls toxins out of your skin). Cinnamon is a lick because it also has strong medicinal properties, can help to reduce inflammation, and is full of antioxidants. As far as vanilla goes, it contains anti-inflammatories that boost brain health; plus, it has antioxidants in it too. Drinking this kind of lemonade warm or cold is not only delicious but so satisfying to your senses as well.
Make Some: Winter Lemonade with Ginger and Cloves
4. Warm Oat Milk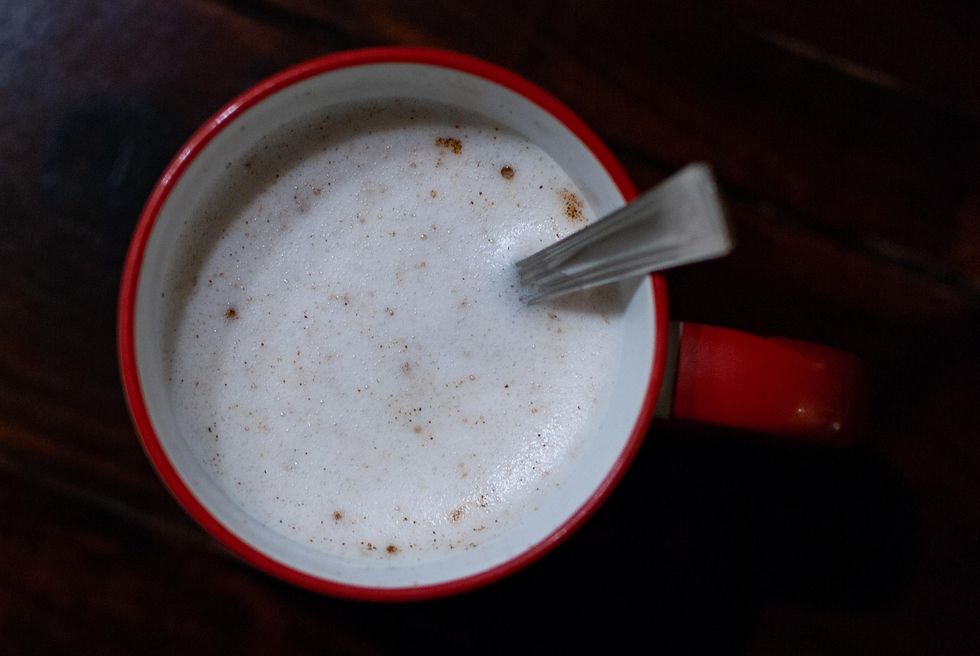 Once I realized that almond milk isn't the best thing for the environment, I switched over to oat milk and haven't looked back since. Aside from the fact that it's dairy-free, oat milk is good for you because it is high in fiber and B-vitamins. Plus, it's cholesterol-free, can help to regulate your blood sugar levels and, thanks to the magnesium and zinc that's in it, oat milk can relax your nerves and muscles too. And because drinking anything warm or hot can be truly relaxing, if you're looking for something to help you sleep at night, a cup of warm oat milk in your favorite mug just may be what you've been looking for all this time.
(Heads up: the recipe that I've enclosed contains espresso which you would want to leave out at night…for obvious reasons.)
Make Some: Spiced Oat Milk Latte
5. Cinnamon Hot Chocolate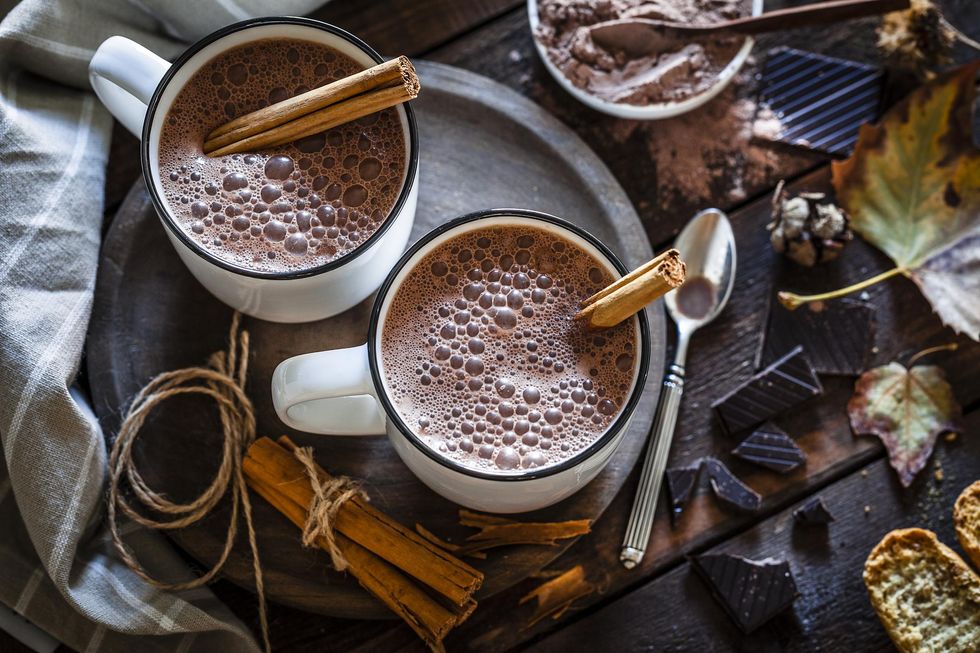 Anyone who doesn't like hot chocolate gets an immediate side-eye from me. I mean, what in the world, y'all? Not only does it taste like a slice of heaven, if it's dark chocolate, but there are also some pretty impressive health benefits that come right along with it too. Dark chocolate's got fiber, magnesium, iron, copper, and manganese. Dark chocolate is a good source of antioxidants. Dark chocolate can also help to lower your blood pressure, improve your brain function and increase blood flow throughout your blood.
And just what does it do for you stress-wise? Aside from the magnesium that's in it, dark chocolate has a way of altering your brain frequency to where your body's natural stress hormone cortisol levels are able to drop which can cause you to feel calmer. And since something else that cinnamon can do is help to soothe anxiety and depression-related symptoms, how could you not want to make yourself a cup of hot cocoa and then sprinkle some cinnamon spice on top of it?
Make Some: Homemade Cinnamon Hot Chocolate
6. Ashwagandha Tea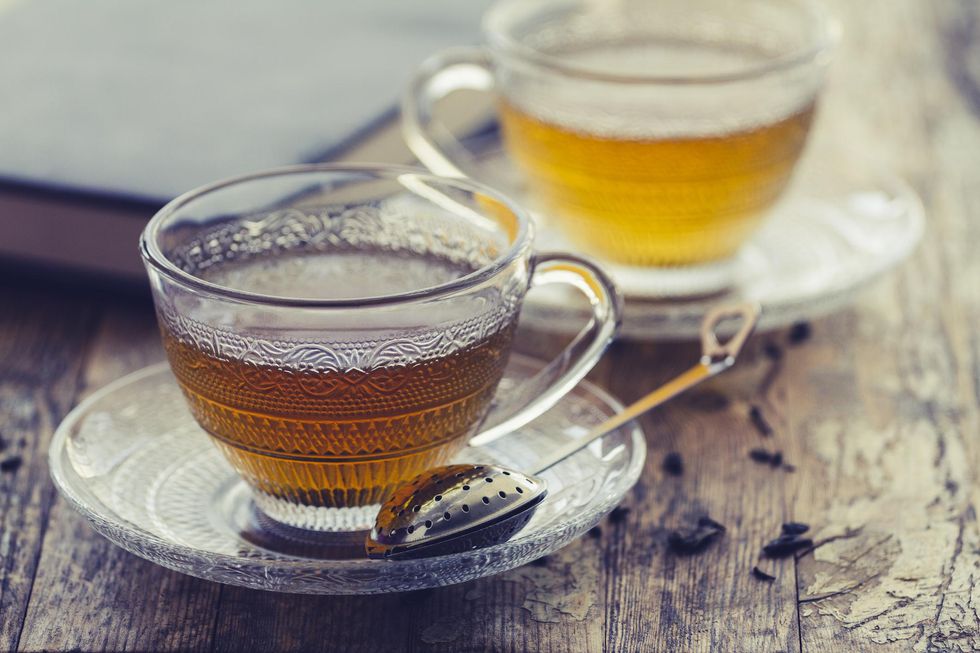 An herb that's pretty popular in Ayurvedic medicine is ashwagandha. Health-wise, it's good for you because it contains properties that regulate blood sugar, helps to reduce the growth of cancer cells, reduce bodily inflammation, and even can boost fertility in men (although pregnant and breastfeeding women should consult their doctor before consuming it). Ashwagandha makes this de-stressor list, though, because it's another tea that has a great reputation for keeping stress at bay. That's because there is plenty of data to support that it plays a significant role in reducing cortisol in your system.
Make Some: Ashwagandha Sleep Tonic
7. Warm Vanilla Milk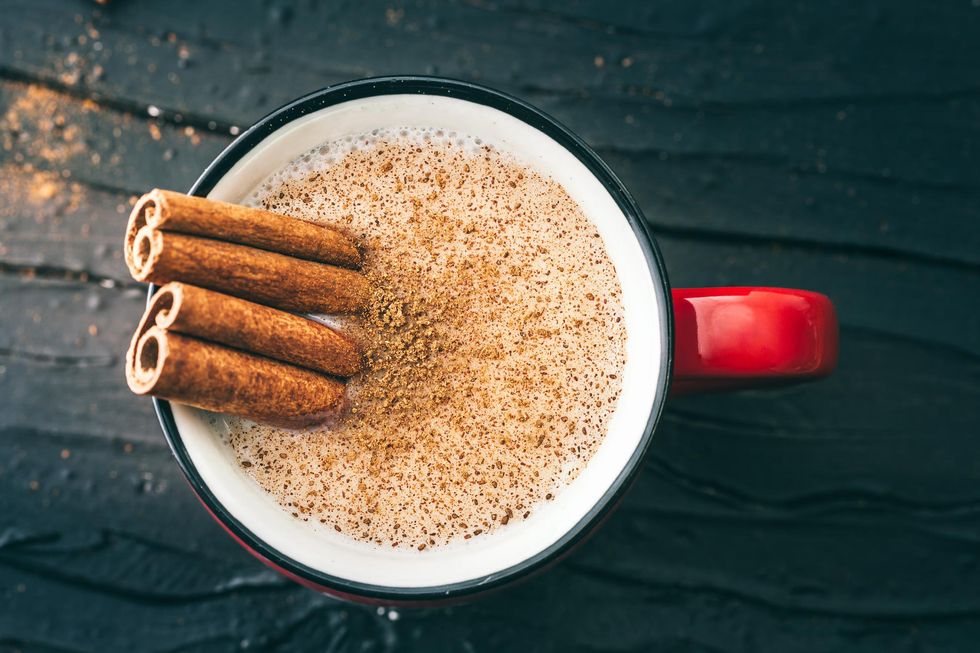 While I've already touched on what a cup of warm milk can do, because vanilla milk is so delicious, I had to circle back and emphasize a couple of other reasons why vanilla can benefit you when it comes to de-stressing your system. For starters, just the aroma of vanilla has a way of creating a calming effect (which is why, as an essential oil, it's considered to be a de-stressor). Also, because it also has antibacterial properties, drinking some warm vanilla milk can be good for you if you're trying to prevent a cold or if you need help falling asleep if you already happen to have one (check out "Got A Killer Cold? These 10 Hacks Will Help You To Sleep Better.").
Make Some: Hot Vanilla
8. Lavender Hot Chocolate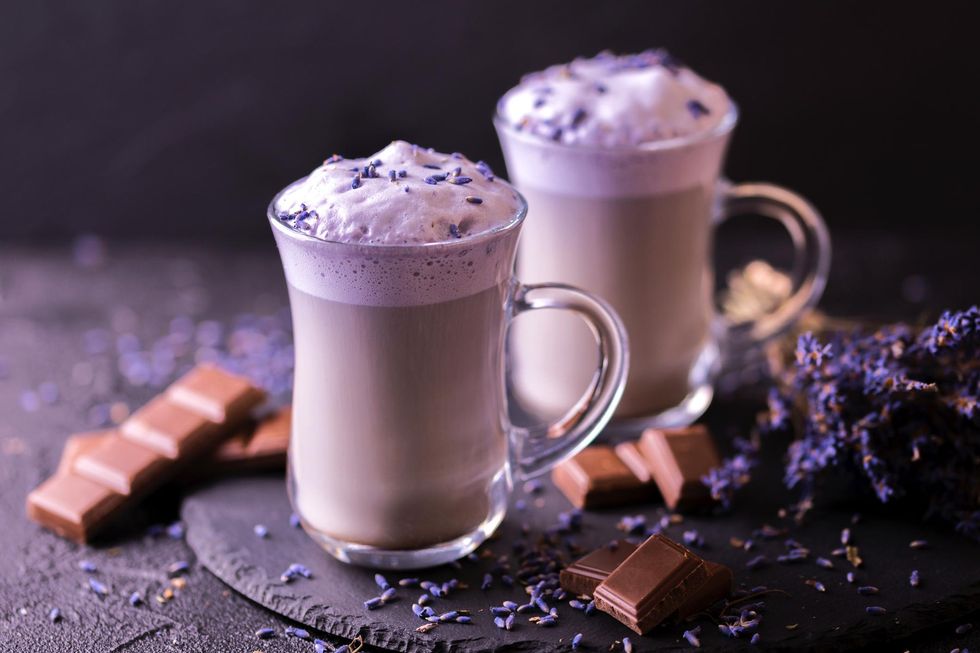 If cinnamon is so not your thing or you want to step out of the box a bit when it comes to the variations of hot chocolate that you're typically used to, have you ever had lavender hot chocolate before? When I tell you that it is something that tastes truly divine! Not only that but lavender contains properties that help to heal chronic pain, lower your blood pressure and heart rate, lessen hot flashes that are directly related to menopause and improve your quality of sleep.
The key here is to not make your hot chocolate with lavender essential oil. Look for drops that are food-grade or add some dried lavender to your recipe.
9. Mulled Wine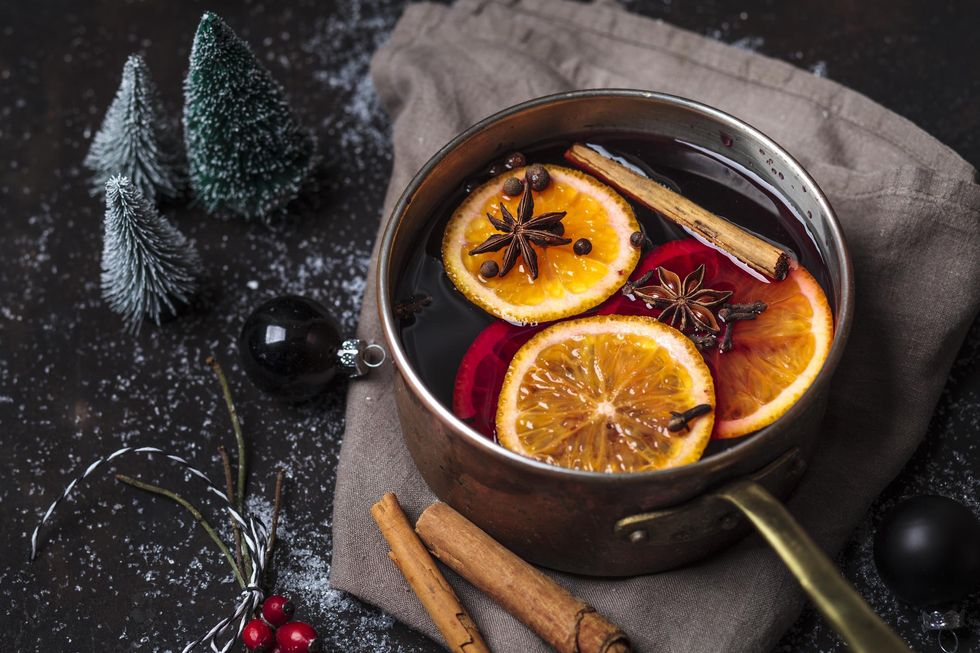 A pretty popular drink during the fall and winter months is mulled wine which is basically red wine with some fruits and spices in it. The recipe that I've included calls for red wine, apple cider, orange, honey, cinnamon, cardamom, and some brandy if you really want to get buck with it. Red wine is good for stress because the compound resveratrol that's in it helps to literally protect your DNA from being affected by stress. Oranges help to bring stress relief thanks to the Vitamin C in them that helps to lower your cortisol levels.
Honey's good because it reduces stress levels and produces a natural calming effect. Cardamom is a dope spice because it aids in lowering cortisol and your blood pressure. And brandy's cool because it contains soothing properties that can actually help you to sleep more soundly at night. Definitely another reason to pick up another bottle of red wine and do some steeping, if you ask me.
Make Some: Mulled Wine
10. Chai Latte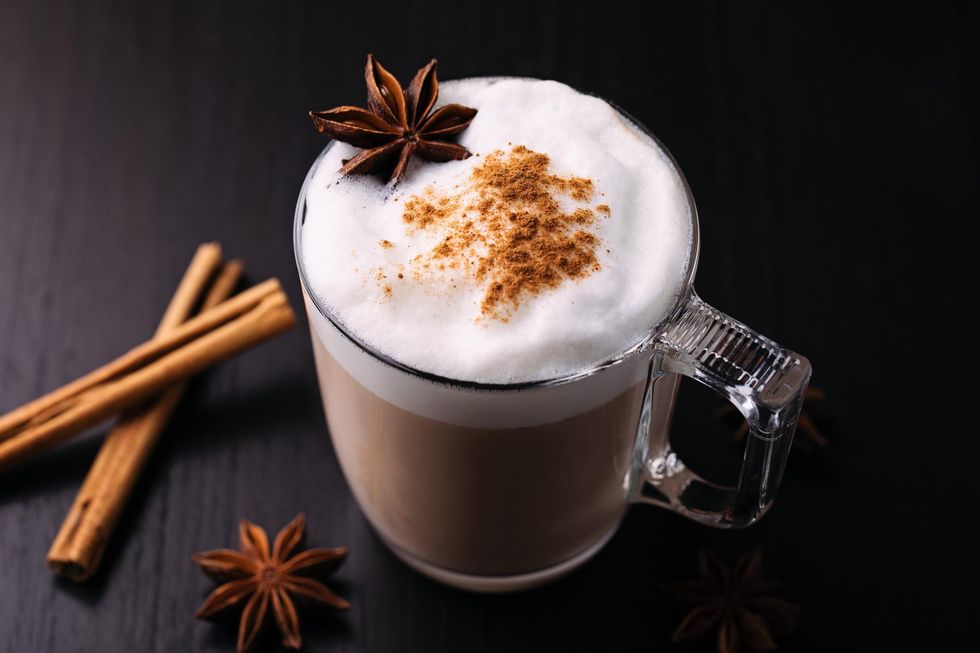 If you want to go all out and make your own chai lattes from scratch, you'll need some black tea, cinnamon, ginger, cardamom, nutmeg, allspice, honey, and milk (or a milk alternative). Black tea is ideal because it lowers stress levels. Nutmeg is beneficial because it acts as a natural antidepressant. Allspice assists with lowering your blood pressure. So, if there is a warm drink that is the de-stressor of all de-stressors, it's a fair conclusion that chai latte would probably be it. Enjoy!
Make Some: The Ultimate Chai Latte
Featured image by Getty Images
I don't know about y'all, but it seems like these days, every time I go to the gas station or the grocery store, I find myself saying "WTF?" (sometimes audibly, sometimes not) when I notice the prices. It really is amazing that with the work and housing crises that we're currently going through, somehow we're also trying to figure out how to make $20 to get our gas talk above a quarter full and a hundred bucks to get us past two plastic grocery bags.
While it's pretty hard to come up with gas hacks, in the spirit of doing what I can to get y'all ready for the holiday season, I did want to share several grocery shopping hacks; 12 that can hopefully get you more bang for your buck, so that your Thanksgiving and Christmas can be as stressless (on your budget) as possible.
1. Download an App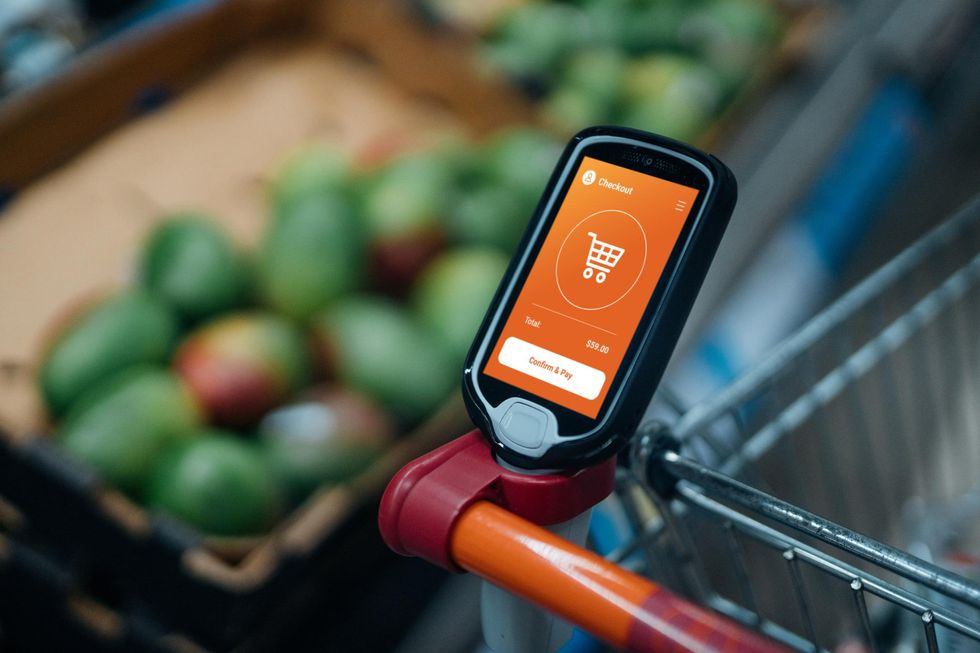 These days, there's an app for just about everything. The cool thing about grocery-related ones is many of them can help you to keep some extra coins in your pocket. Ones that you should definitely check out include Checkout 51 (which gives you a list of offers, then gives you cash back whenever you purchase something that's on the list), ibotta (which gives you money when you take a pic of your receipt and submit it; you need to reach $20 and you typically get it back within a day) and Coupons (which offers a good variety of paperless coupons that you can easily scan at checkout).
2. Use a Calculator
Now tell the truth — how often do you actually use the calculator app that is there for your convenience on your smartphone? I once read that a couple should be spending around $130-150 a week on groceries; however, with inflation and all of this shipping drama that's currently going on, it's a pretty safe assumption that you should set aside $25-50 more, just to be on the safe side. Since groceries are a bit higher, going into the store on a set budget and then making sure that you honor said-budget by keeping track of your costs with a calculator can help you to get what you need without stressing out in the process (so can using the handheld or smaller baskets and/or purchasing generic brands).
3. Get Produce at a Local Farmers Market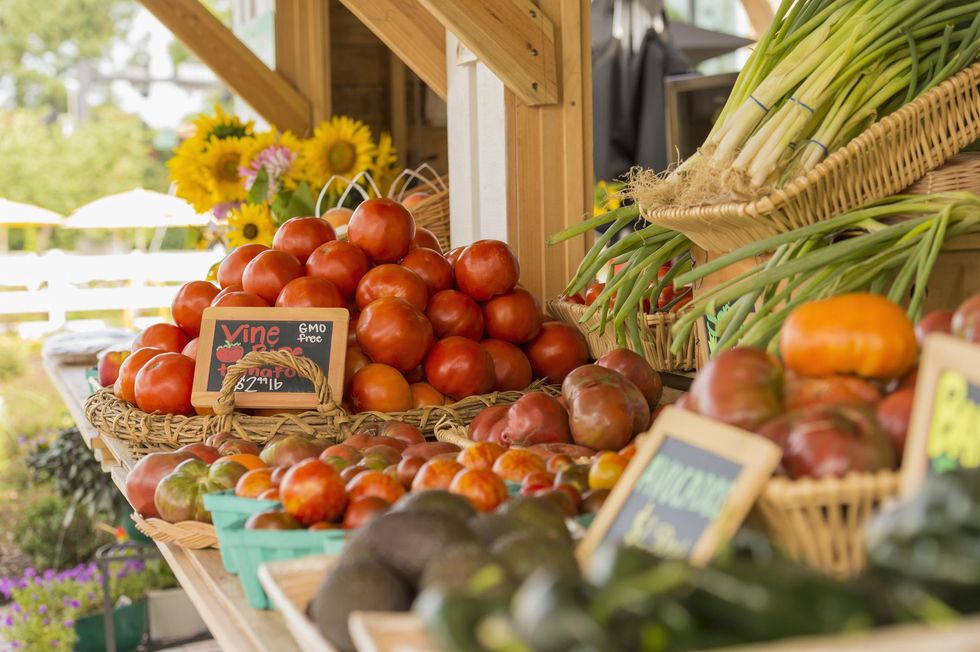 Fresher fruits and veggies. A wider variety. Cheaper prices. Support of local farmers. Better for the environment. These are just a few solid reasons why you should consider not getting your produce at the grocery store and stopping by your local farmers market instead. I can't tell you how many times I've compared costs in my mind and honestly been pretty pissed by how much a grocery chain will charge for not nearly as much or delicious as a farmers market does (Whole Foods is absolutely not exempt in this case either).
4. At the Store, Get Things in Season
Speaking of produce, if you click right here, you will be taken to a site that will provide you with information about when different fruits and vegetables are available, based on the season of the year that you are in. And just why should you care? For one thing, produce is best for you when it's in season. And when it comes to saving money, purchasing it when it's in season means that you should be able to get stuff at a lower cost because your grocery store will be carrying an abundance of it all. Make sense?
5. Don't Turn Your Nose Up at Aldi's, Trader Joe's and Walmart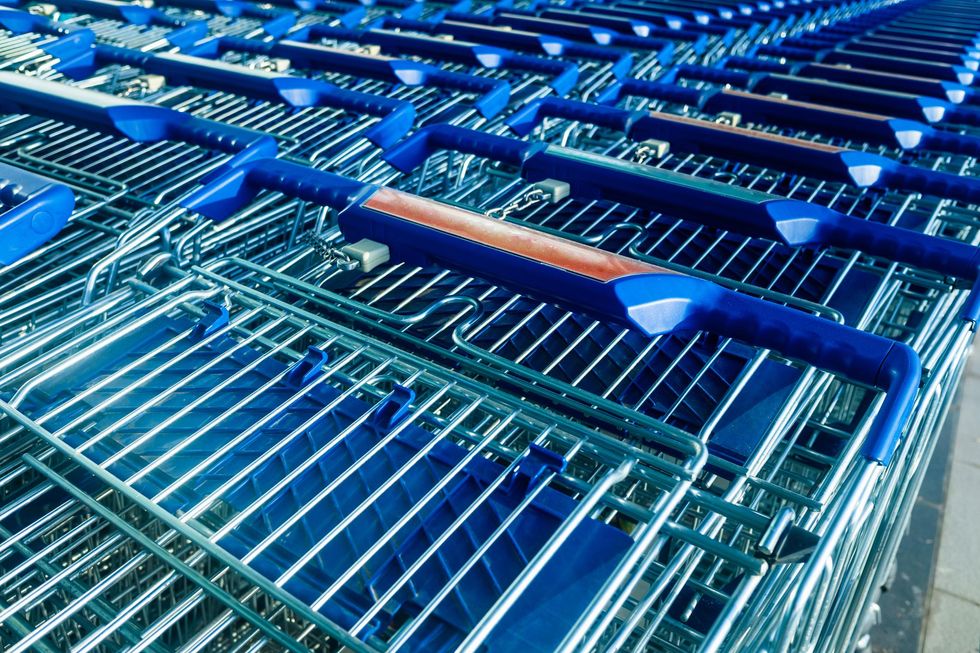 Earlier this year, I checked out an article entitled, "America Just Named Its Cheapest Grocery Store. Do You Shop There?" Can you guess which one it is? I mean, it's in the title and yes, Aldi's, it is. While they don't tend to have as much of a variety, a lot of your "staple stuff", you can get for much cheaper. The same goes for Trader Joe's, Walmart, Walmart Neighborhood Market (I don't really like their produce, but their meat costs are bar none), and Costco's. Oh, and while Target wasn't on the list, I do know quite a few people who get groceries from there. If you scan the circle on your Target app, it'll take you to deals throughout that store. You're welcome.
6. Learn the Bottom Shelf/Outer Aisle Trick
Grocery stores are a business too, right? This means that they've got their own marketing strategies. One of them is putting some of their most expensive stuff at eye level because that's what will catch your attention first. That said, a workaround for this is to be intentional about looking for what's on their bottom shelves and outer aisles. If you do a bit of comparing, it might shock you how much you can stand to save by applying this lil' trick to your shopping routine.
7. A Few Meat-Buying Tips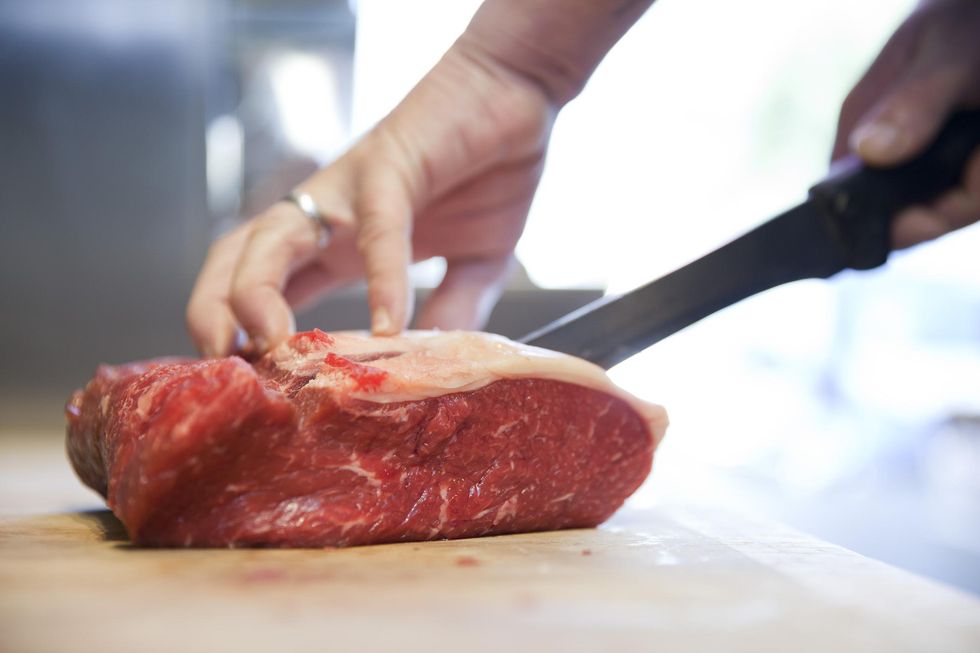 Hats off to all vegetarians and vegans (did you peep the recent report tied to veganism and depression? Thoughts?). Personally, I am a meat-eater and not ashamed of it. If you're a part of my tribe, I've got a few tips for you. One, although tougher meats are more expensive than tender cuts, oftentimes butchers will run your tougher orders through a tenderizer if you ask them to (sometimes you can get better cuts if you tip them on the low too). Two, get meat based on the portions that you actually need. What I mean by that is, if you know that you're not going to eat an entire roast, ask the butcher to cut the roast in half so that you don't waste any and, since they weigh by the pound, you can save a couple of dollars. Three, don't overlook the area where meat is marked way down. Just make sure to cook it ASAP or that you immediately freeze it properly. Four, the holidays are the perfect time to stock up on meat for your freezer.
For instance, Thanksgiving is going to have a lot of turkeys and because those bad boys can't sit around forever, stores are going to cut the rate (especially the day before and after the holiday) so that they can get rid of them.
8. Stock Up on Frozen Stuff (and Freezing Stuff)
According to many health experts, frozen fruits and veggies are just about as healthy as fresh produce is. The reason why they can actually be better for you, in the long run, is fresh produce tends to expire pretty quickly (which means you have to hurry up and eat it or toss it when it goes bad) while frozen stuff lasts much longer and is cheaper too. Just make sure that you read the labels carefully to make sure that the brand that you go with is low on preservatives, additives, sugar, and salt. Oh, and when it comes to buying frozen meat, to avoid freezer burn, it's important to vacuum seal everything. While the better ones are going to run you between $100-200, they are worth every dime considering how long they're able to keep so much of your food nice and fresh. A list of some of the top ones is provided for you here.
9. Remember That You Can "Break Up" Bulk Deals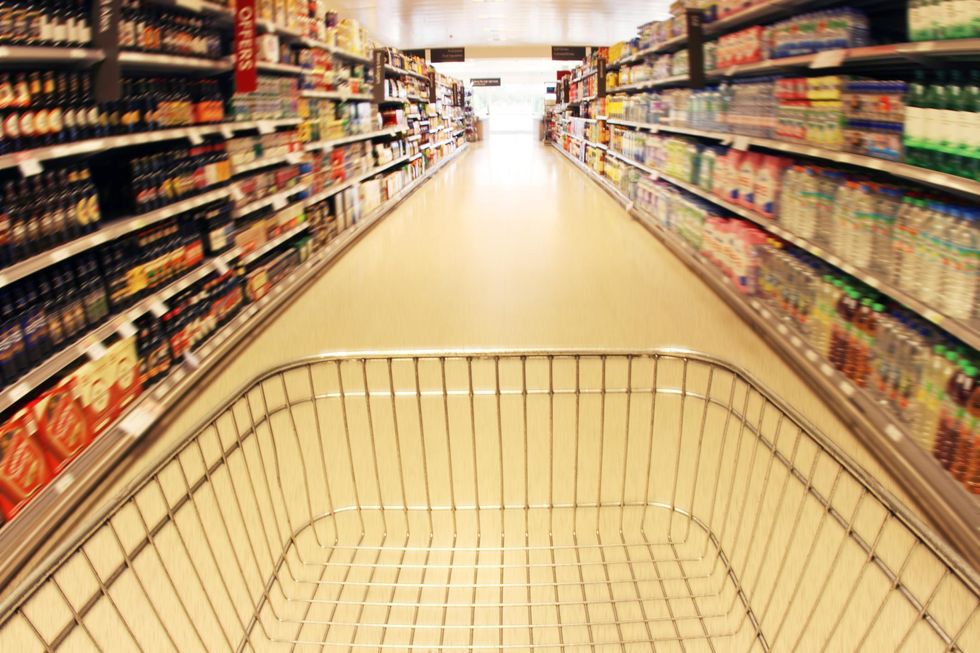 Getty Images
Something that it took me a second to catch is when you see those "Get 10 for such-and-such price" bulk deals, you don't have to purchase all 10 items. If you get just two, you will still end up with a discounted rate. And how can you be sure that you don't overdo it on the bulk stuff, in general? Easy — take a picture of the inside of your refrigerator and pantry before you head out. That way, you can easily recall what you need and what you've already got a ton of.
10. Cop a Rotisserie Chicken
I honestly can't think of the last time that I went into a grocery store — pretty much any grocery store — and I didn't see a mini-kiosk that had a whole bunch of rotisserie chickens on it. Good thing too because that kind is healthier than fried chicken, is affordable as all get out (usually a whole one is less than ten bucks) and it's so easy to prepare a meal with, with plenty of room for leftovers if there aren't a ton of people in your house. I have spared myself a "shame drive" to a drive-thru several times by picking up a rotisserie on the way home. If you've never considered it before, I promise you won't regret it.
11. Take Advantage of Bulk Bins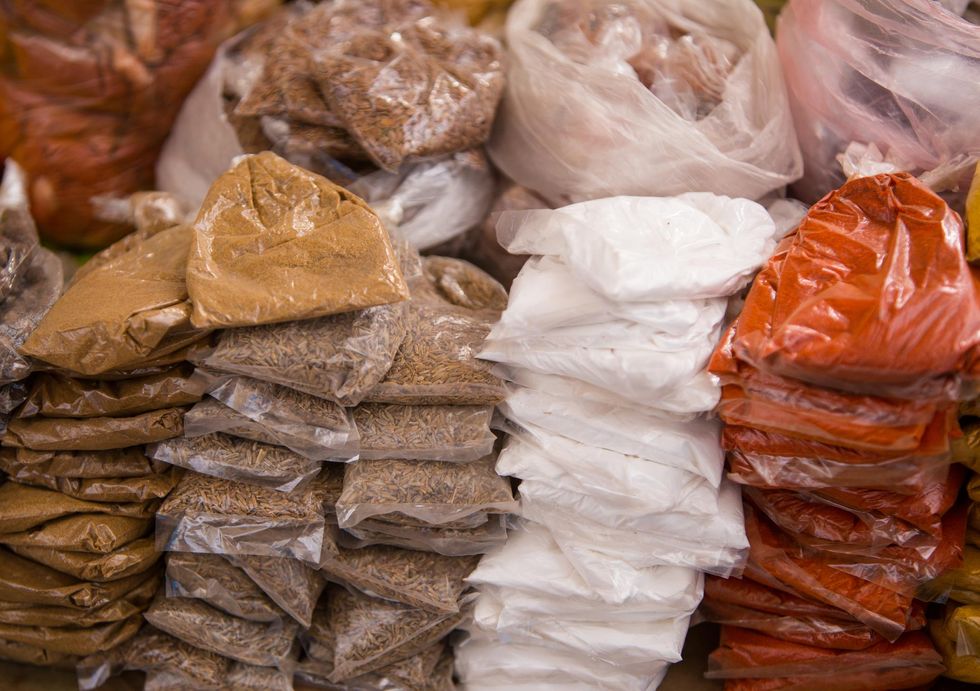 If you're a single gal like myself, it can be challenging to grocery shop in smaller servings. When it comes to this, one hack to apply is to get things like beans, spices, and grains out of bulk bins. That way, you can measure out exactly what you want; especially if you're experimenting with a new recipe and you're not exactly sure if you want to "marry yourself" to some of the ingredients just yet.
12. Avoid Shopping After Work 
While some of y'all might be tempted to "yeah right" me on this one, when you're too hungry or too tired to go grocery shopping, you don't tend to make the best decisions because you're not as alert as you should be. So, while it's OK to cop a couple of items real quick when you're on the way home after a long day at work, try and do your major shopping on the weekends, on your lunch break, or at least after taking an hour nap. That way, you won't be rushed, anxious or so ravenous that you end up making unwise shopping decisions. Make sense? Cool.
Featured image by Getty Images