I don't care if you've been with someone for several weeks or many years, if there's one thing that should be made a top priority for the entire duration of the relationship, it's both individuals, being extremely intentional, about keeping the romance alive. One way to do that is to cook together.
So, what if you hate to cook? So much, in fact, that there isn't one single thing that you find to be even remotely attractive or appealing (let alone romantic or sexy) about doing it? That's where today's article comes in. Whether you want to save money, stay in for a weekend and/or come up with a quality time date that is both healthy as well as seductive, I've got 10 tips that can make spending a little time in the kitchen hotter (and easier) than it's been in a really long time.
1. Go Grocery Shopping Together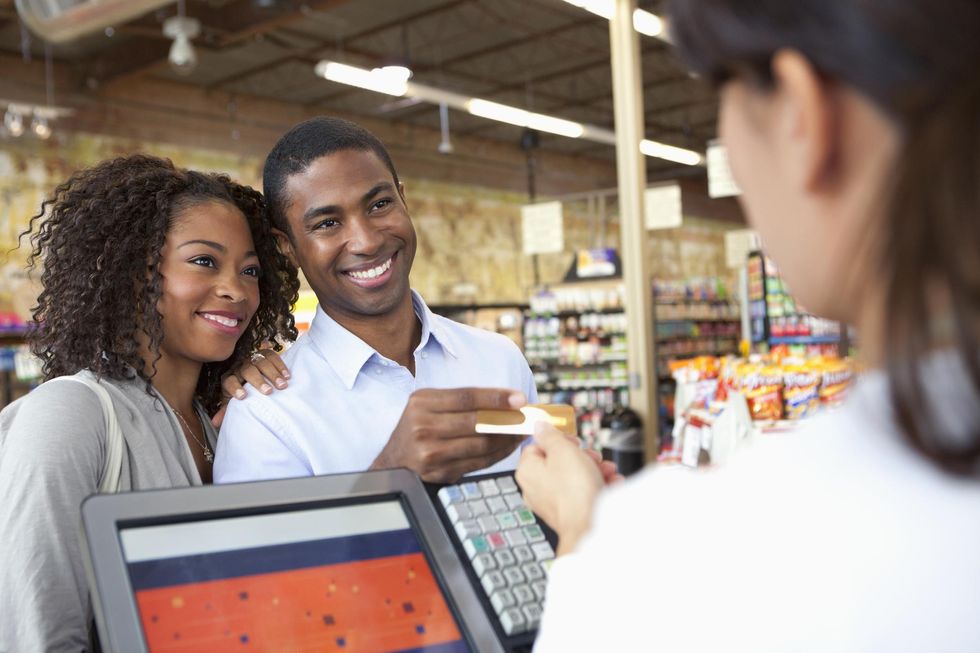 I know I might be the rare one here to be saying this but I'm actually someone who enjoys grocery shopping. A part of the reason why is because I actually like to cook. Plus, for some reason, I'm able to get some deep thinking accomplished as I'm strolling from aisle to aisle. Yet even if you're someone who kinda loathes the idea of going to your local grocery store, something that can make it more bearable is to take your partner along with you sometimes.
There are a few benefits that come with doing this. One, you both can get what you want (rather than relying on each other to get what each of you truly desires). Two, it's an effective way for both of you to stick to a budget (which means, one less financial conversation that will need to be had). Three, look at it as a quality time date and a way for you to plan a sexy meal together. I'm telling you, shopping with your boo can be more fun than you might think. Try it before totally shooting the idea down.
2. Cultivate Some Ambiance
Once you get home and all of the groceries are put away, make sure that you create the right kind of atmosphere to make a dinner for two. Turn off your phones and the television. Light some scented soy candles (soy candles burn cleaner and last longer). Play some R&B music or load up your favorite playlist (just make sure that it's sexy and/or romantic). If your blinds or curtains are open, close 'em (I'll explain why in a bit). Pull out a bottle of your favorite wine. Light one up too, if that's your thing (check out "7 Proven Ways Weed Makes Sex So Much Better").
Sometimes, what makes people hate the thought of cooking is it seems more like a chore than a fun activity. By cultivating a chill environment, it can take some of the stress out on the front end which can make it so much more of a pleasurable experience on the back end.
3. Go All Out on the Décor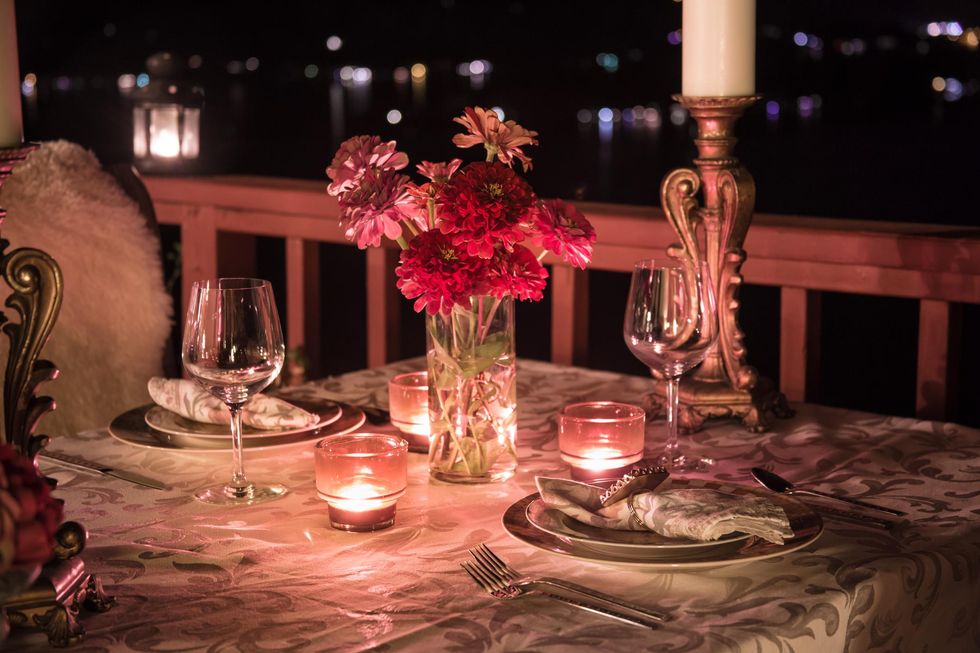 Question. When's the last time you pulled out your really good dishes? Your fine china or the plates that you totally fell in love with; you know, the ones that you can count on one hand that you've eaten off of. Cooking and dining with your man is as special of an occasion as any, so make sure to pull those out. While you're at it, don't forget about some champagne flutes, a pretty centerpiece for your dinner table (Taste of Home has some cute DIY ideas that you can check out here), some rose petals for the floor around your table and a linen or lace tablecloth.
When you're not eating food on paper plates while sitting on the couch and instead, you're taking things up a few notches even in your dinnertime approach, that can get you all excited about preparing a meal together too.
4. Wear Very Little
Now let's talk about the two of you. While sometimes, dressing to the nines is what the occasion calls for, this time, how about wearing as little as possible instead? I've shared before that several men have told me that while lingerie is definitely appreciated when sex is about to transpire, what they really like is when a woman is in a teddy, baby doll, corset, body stocking or matching bra and panty set — just because.
He can pick out what he'd like to see you in as you do the same for him. Watching each other cook and then eat in your favorite alluring wear can be a visual aphrodisiac all on its own (it also explains why I recommended closing your window treatments).
5. Cook Together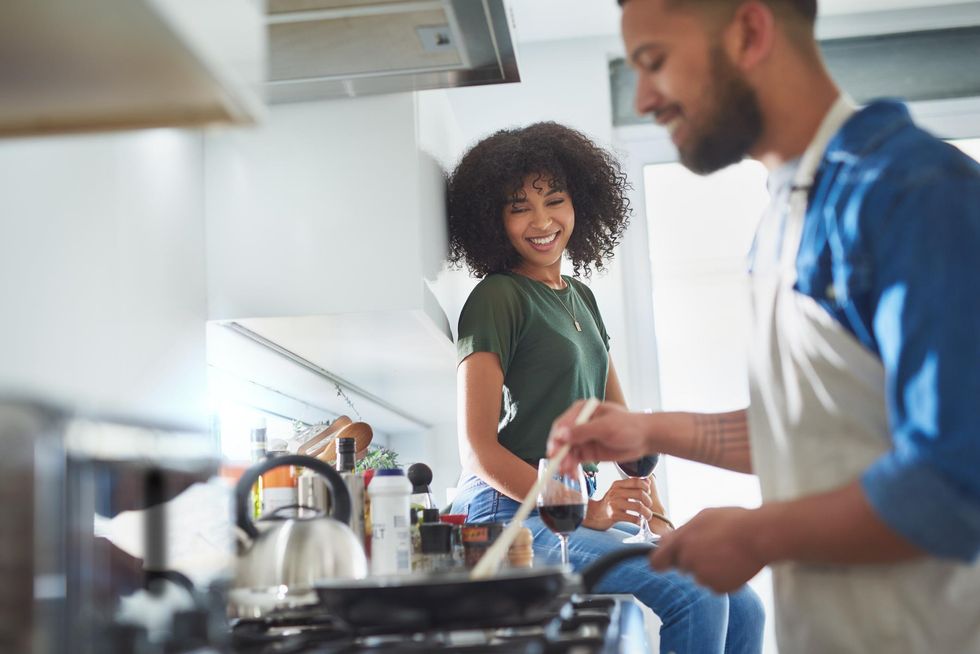 Cooking together can be very romantic; erotic even (as you'll see by the time you finish reading all of this). Plus, there are plenty of articles to support the fact that it's a great way to spend quality time with your partner; it helps to create positive and lasting memories; it helps the both of you to get back to enjoying the simpler things in life; it helps the two of you to sharpen your cooking skills and, it can actually de-stress you both because it gives the two of you the opportunity to discuss things — things that you may not have time for any other way.
7. Make Fruit the Appetizer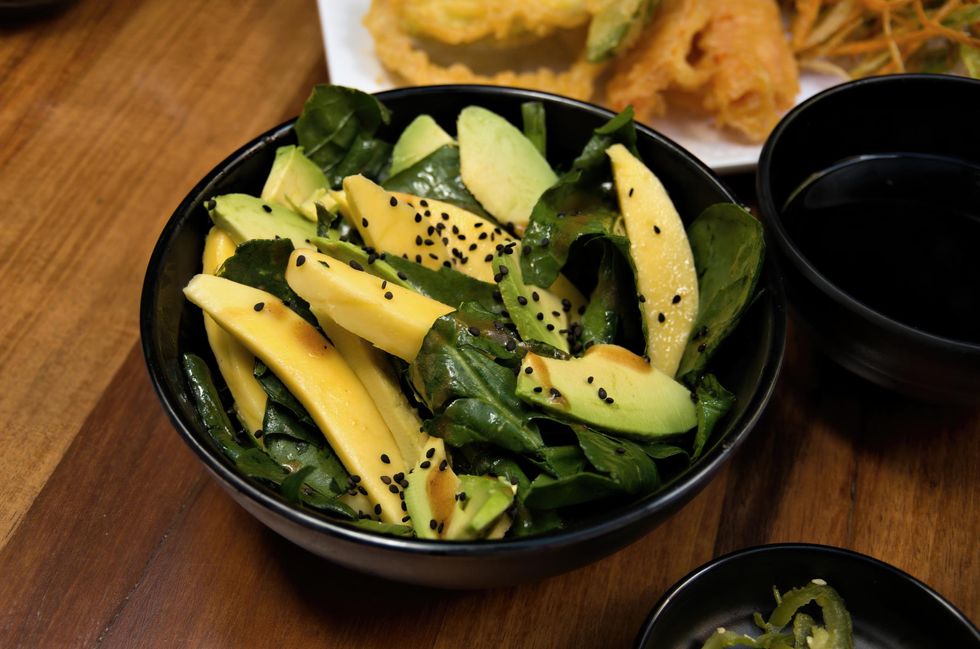 If you and your partner want to truly impress yourselves, your sexy menu needs to consist of an appetizer and a dessert. And since, if all goes well, the dessert may be something that you don't have to cook at all (if you know what I mean), go with a fruit appetizer. It's sweet. It's refreshing. And it's typically light, so that you're not too weighed down for, umm, dessert later.
Maybe some Strawberry Cheesecake Bites. A Mexican Fruit Salad. A bowl of Frosted Grapes. Some Fruit Salsa with Cinnamon Chips. Or some Lemon Whip Fruit Dip.
8. Experiment with Condiments
After you've enjoyed your appetizer and the meal that you planned, it's now time to pull out some condiments because guess what? Technically, the cooking is now over and again, once you review the recipes that I shared with you, you'll see that it really wasn't as much work as you probably anticipated (especially since you're only doing half of the work because you've got your partner in the kitchen with you).
And just what are the condiments gonna be for? I'll let your imagination run wild with this one. What I will say is if you check out "12 'Sex Condiments' That Can Make Coitus Even More...Delicious", you might be surprised how many condiments are sexy AF. Straight up.
9. Come Up with Some "Special Rewards"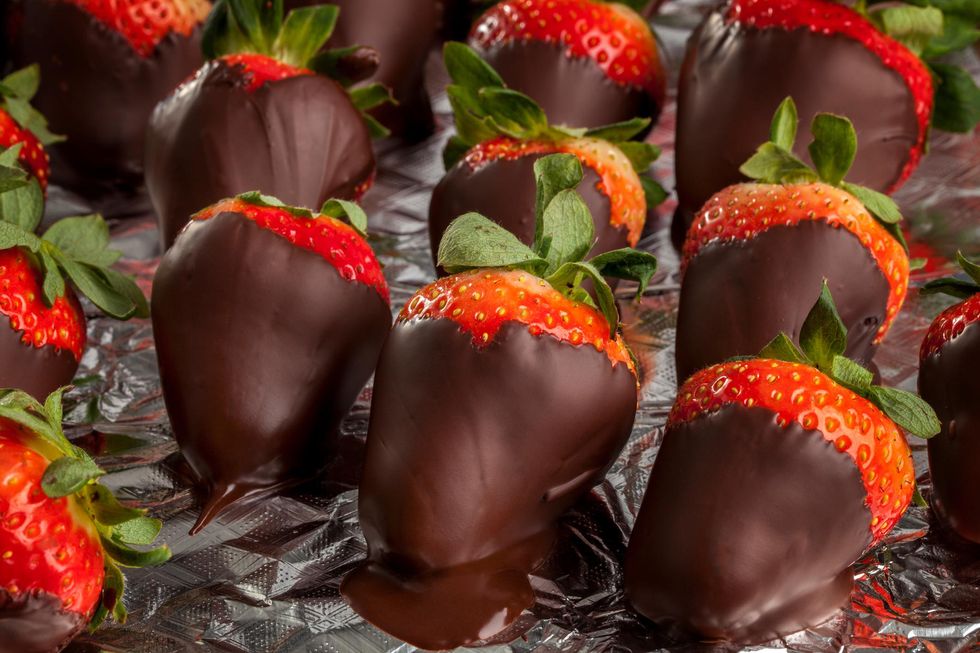 Although I do enjoy cooking, depending on what I'm making, sometimes prepping the ingredients can get on my nerves. Don't even get me on clean-up.
So, if it's not so much that you hate cooking altogether, it's just that there are certain parts of it that you and/or yours can do without, come up with some sort of rewards incentive that will keep the both of you engaged. It could be deep kiss in between bites of chocolate-covered strawberries for every task that's completed or something checked off of y'all's sex list (check out "This Is How To Create The Best Kind Of 'Sex Bucket List'") if one of you agrees to do something that you loathe (like maybe peeling veggies or putting dishes away).
When there's an incentive to do something, that always makes it easier to do and more worthwhile.
10. BE THE DESSERT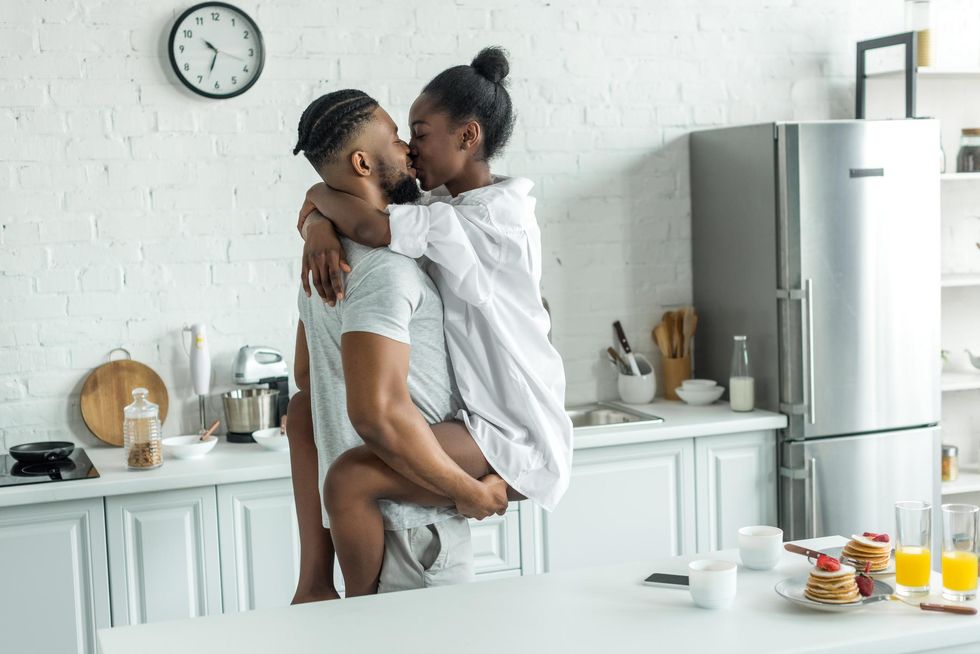 By definition, dessert is defined as being something sweet that is served up after the final course of the meal. You know, men find it sexy when a woman can cook. Women find it sexy when a man can cook too. Since you and your boo watched each other do it, there's already been some mental foreplay that's gone down. Now it's just time to take all of that sexual stimuli into the bedroom (or stay in the kitchen, if you please).
If you want some tips on how to make that extra special too, check out "15 Simple-Yet-Kinda-Buck Items To Take Sex To Another Level", "15 Sex Hacks To Take Your Bedroom Action To The Next Level", "12 Absolutely Bomb Sex Techniques To Try Tonight", "So, This Is How To Make Shower Sex So Much Better", "What In The World Is 'Prostate Milking'? And Chile, How Do You Do It?" and "How To Have Mind-Blowing Multiple Orgasms. Tonight, Chile."
All of them can help you and yours end the night off with things being extra sweet. So sweet that you'll want to repeat all of this sooner than later. Promise.
Join our xoTribe, an exclusive community dedicated to YOU and your stories and all things xoNecole. Be a part of a growing community of women from all over the world who come together to uplift, inspire, and inform each other on all things related to the glow up.
Featured image by Getty Images
Keep reading...
Show less
There is no way for me to hide the absolute joy unspeakable that I have about the fact that fall is just a few days away (September 22)! While there are a billion-and-one things that I adore about this time of the year, one of my favorites is preparing warm dishes, on purpose, to contrast the cooler weather that's headed our way.
At this point, it's kinda becoming a tradition for me to share some of the food trends that are big during each year. So why break with tradition, right? If you enjoy cooking (or you're so-so about it but you want to cook more this fall), here are 10 popular things that totally hit the spot when it comes to autumn-focused foods and drinks (by the way, all of the hyperlinks on foods are connected to recipes. Enjoy!).
1. All Things Apple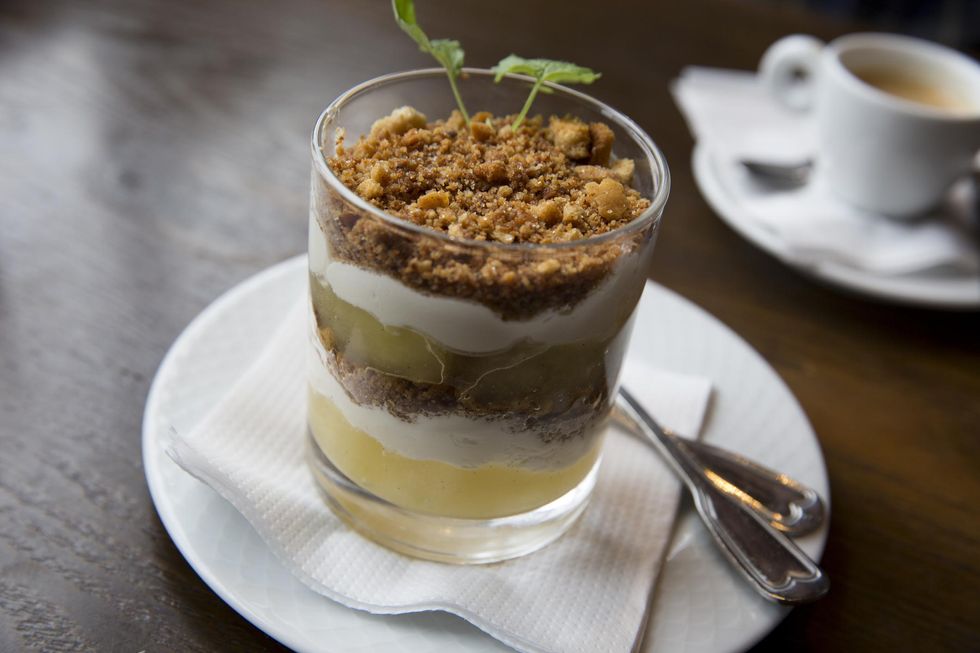 It's kinda crazy that we see apples all year-round considering they are in season from late July thru early November yet we'll have to get into the kind of preservatives that are oftentimes put in foods so that we can eat them 12 months out of the year at another time. For now, what I'll say is since the fall is harvest season and apples are being picked in abundance during this time of the year, this is when you should enjoy making as many apple-inspired meals as possible. Apple pie. Apple crisp. Apple butter. Applesauce. Apple waffles. You name it.
2. All Things Pumpkin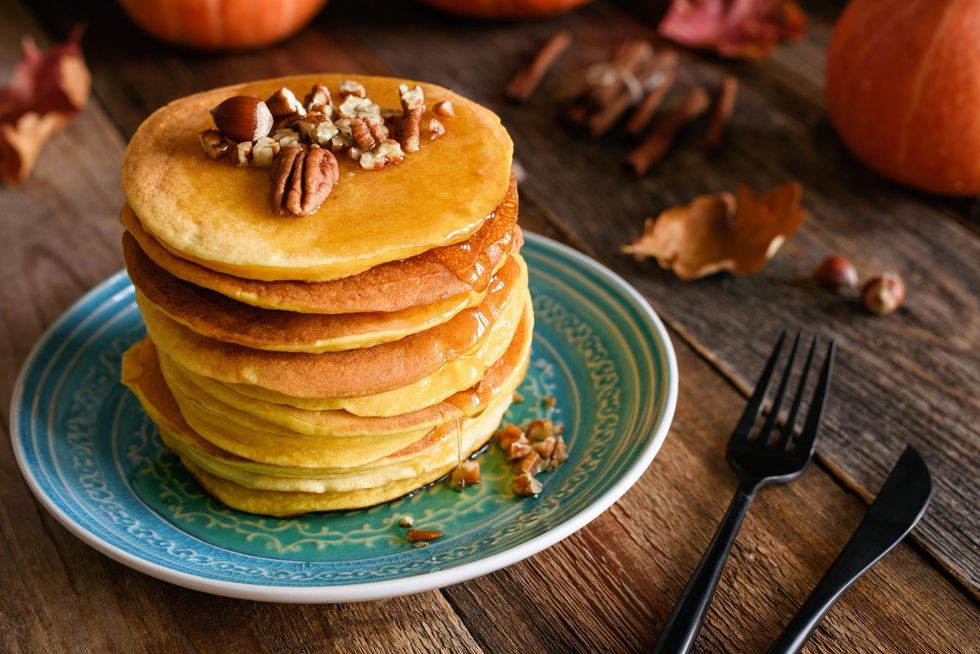 You already know. The signature fruit for fall is definitely the pumpkin. Makes sense too since it's in season from mid-September through November. While the first dish that probably comes to your mind is pumpkin pie, don't sleep on other ones like pumpkin bread, pumpkin donuts, pumpkin soup, pumpkin pancakes and even pumpkin milkshakes!
3. Espresso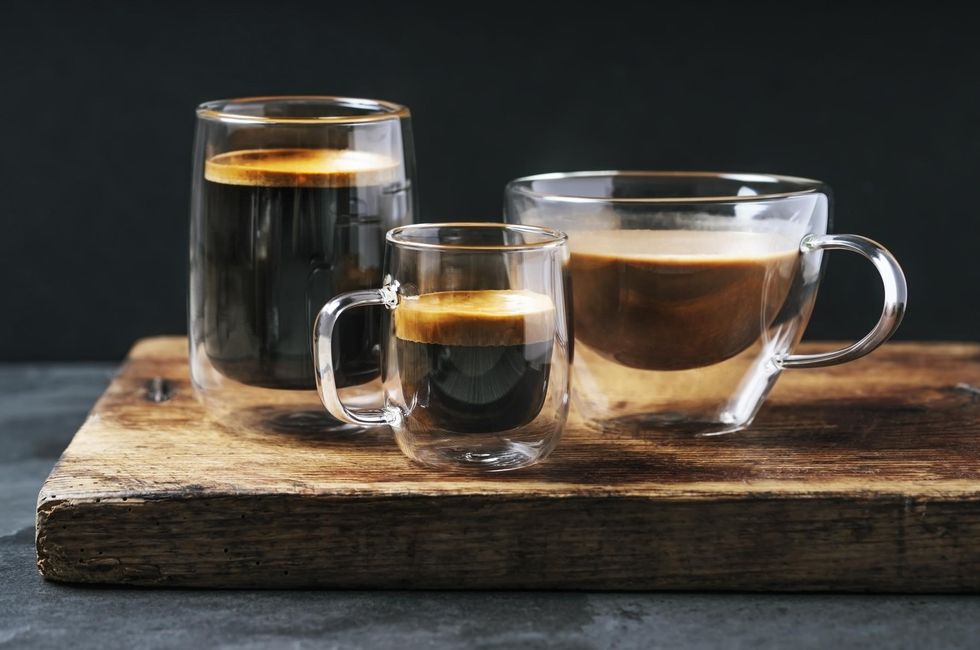 If you've ever wondered what the differences are between a cup of espresso vs. a cup of coffee, the short long of it is they both are brewed differently which results in espresso being a thicker and more concentrated form of whatever coffee bean you're consuming. It's also like taking "a shot" of the bean because while coffee servings are oftentimes eight ounces, espresso is usually just one.
That said, as far as heaping hot brews go, this year, it's espresso that's getting a lot of attention. If you're curious about what some of the current best beans are, Roasty Coffee did an article on the topic. You can check it out here.
4.  Pickling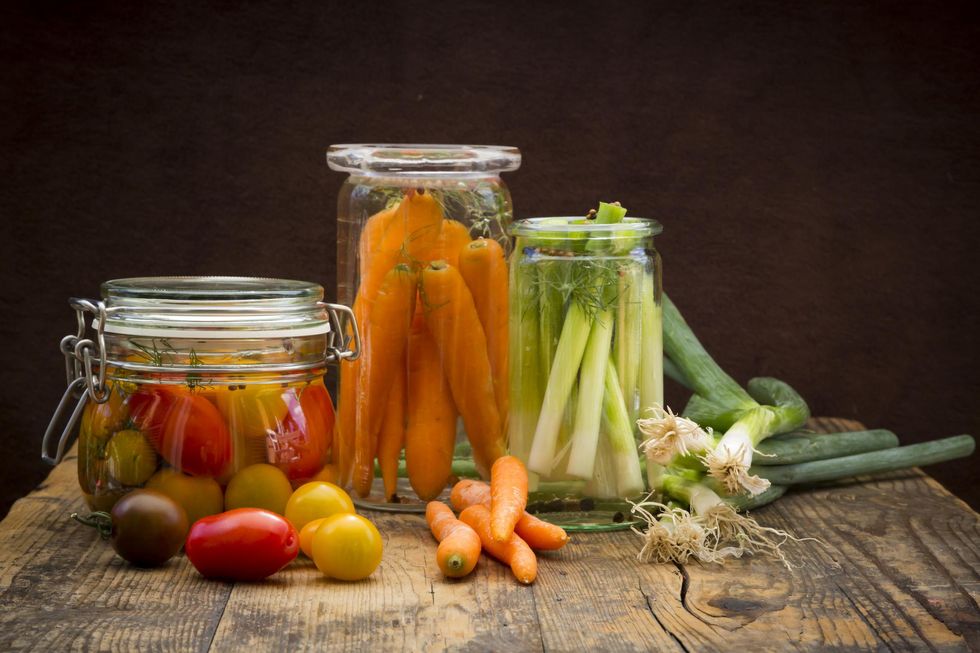 Again, since fall is harvest season, I shouldn't be shocked in the least, just how much I've been reading about pickled veggies. Basically, when you choose to pickle a food, you are allowing it to ferment in a brine or vinegar solution (think cucumbers turning into pickles). The health benefits of pickling are pretty cool because it can help you to better digest your food, curb sugar spikes, increase your antibiotic intake, treat muscle cramps and balance your electrolytes. Plus, pickling is so much better for you than canned goods. If you'd like to attempt to do some pickling this fall, it's a lot easier to do than you might think. Click here to watch a video that will walk you through it.
5. Hot Chicken "Junk Food"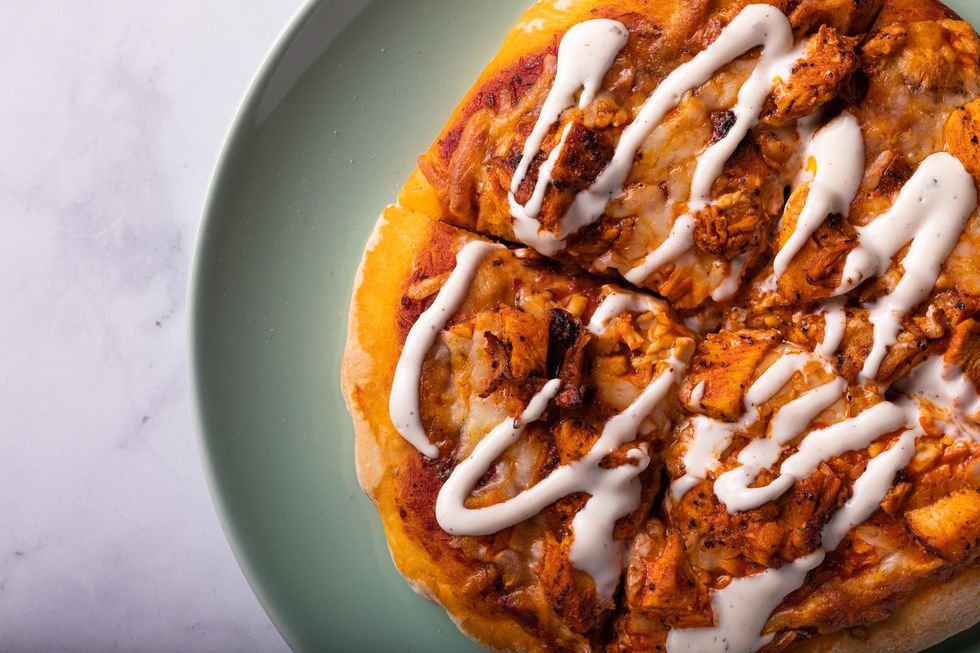 I live in Nashville, so of course, I smiled when I saw that hot chicken was a big fall food trend right now (I mean, Nashville Hot Chicken, right?). Hot chicken burgers. Buffalo chicken pizza. Hot chicken wings. Hot chicken chili. Homemade buffalo chicken sauce. If hot chicken is totally your thing, then this is totally your season to dig all the way in!
6. Sweet Potatoes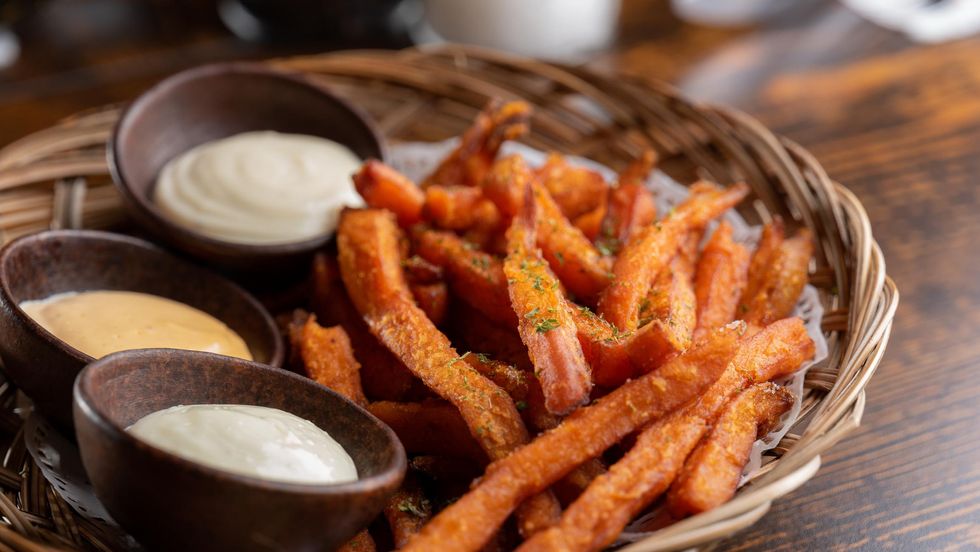 I like sweet potatoes a lot. One, because they taste great and two, because they're considered to be a perfect food (that basically means that they have a ton of nutrients in them). This is another food that goes really well with being a fall food trend because it's harvested between September and early October. Sweet potato fries. Mashed sweet potatoes. Sweet potato cornbread. Sweet potato guacamole. And definitely sweet potato pie. You can't go wrong with putting some of these in your grocery cart. That's for sure.
7. Mocktails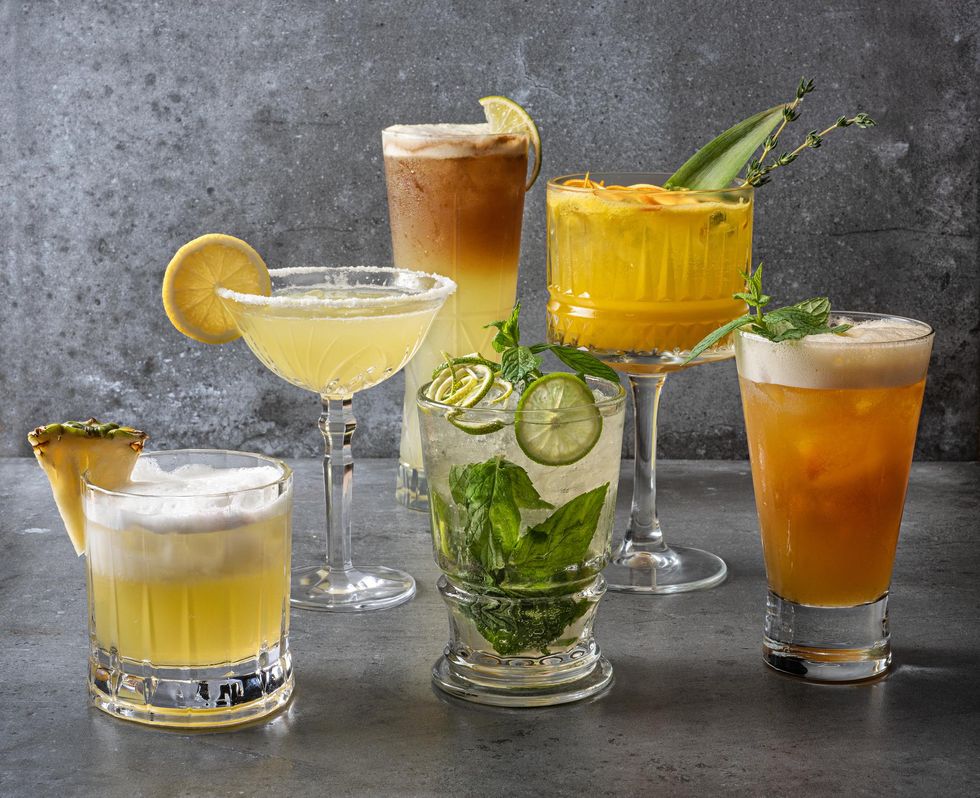 Whether you realize it or not, whether it was intentional or not, I'm pretty sure that you've had a mocktail before. It's simply a cocktail that doesn't have any alcohol in it and this is another thing that is big this fall season. I mentioned in the intro that I would hyperlink recipes to all of the specific kinds of foods that I mention. Well, for this, I decided to share mocktails that have a fall theme to them. Caramel Apple Pie Mocktail. Sparkling Citrus Pomegranate Mocktail. Non-Alcoholic Sangria. Maple Pear Sparkler. Mocktail Kahlua Coffee Frappuccino. These are just some of the ones that particularly caught my eye.
8. Vegetarian Soups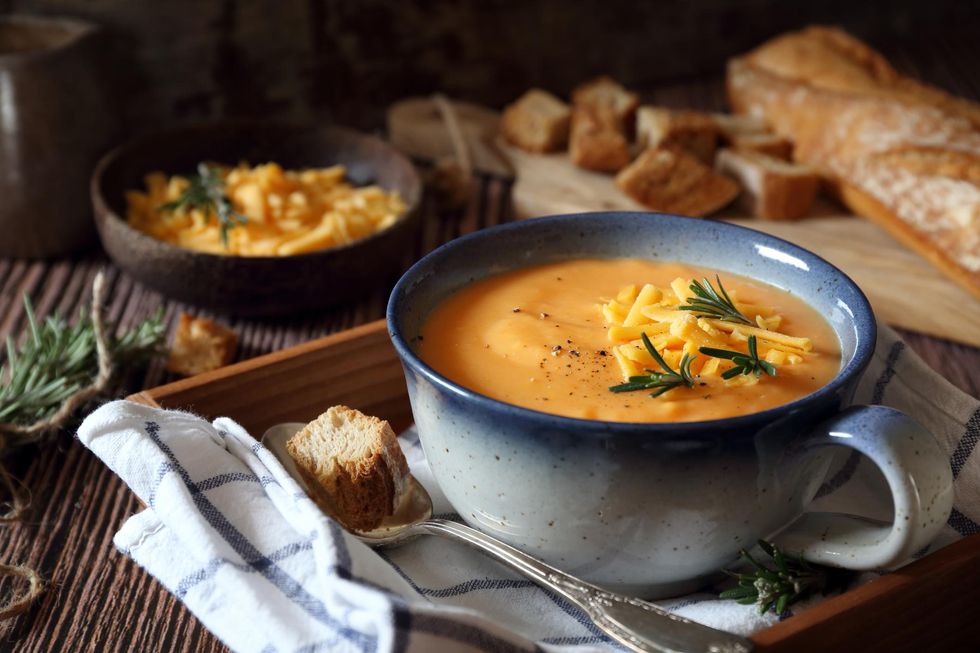 Ah. Vegetarian soups. This makes me think about the interesting relationship that I have with tomato soup. For one thing, I absolutely have to crave it. Secondly, I don't really like it unless I can have a homemade grilled cheese sandwich along with it. And boy, if that doesn't say "welcome to fall", I'm not sure what does.
Quinoa Vegetarian Soup with Kale. Vegetarian Tortilla Soup. The Absolute Best Lentil Soup. Chipotle Butternut Squash Chili. Classic Minestrone Soup. Lawd, is there anything better than curling up on your couch when it's cold outside and sipping on a cup of hot homemade soup? I doubt it. I seriously do.
9. Comfort Foods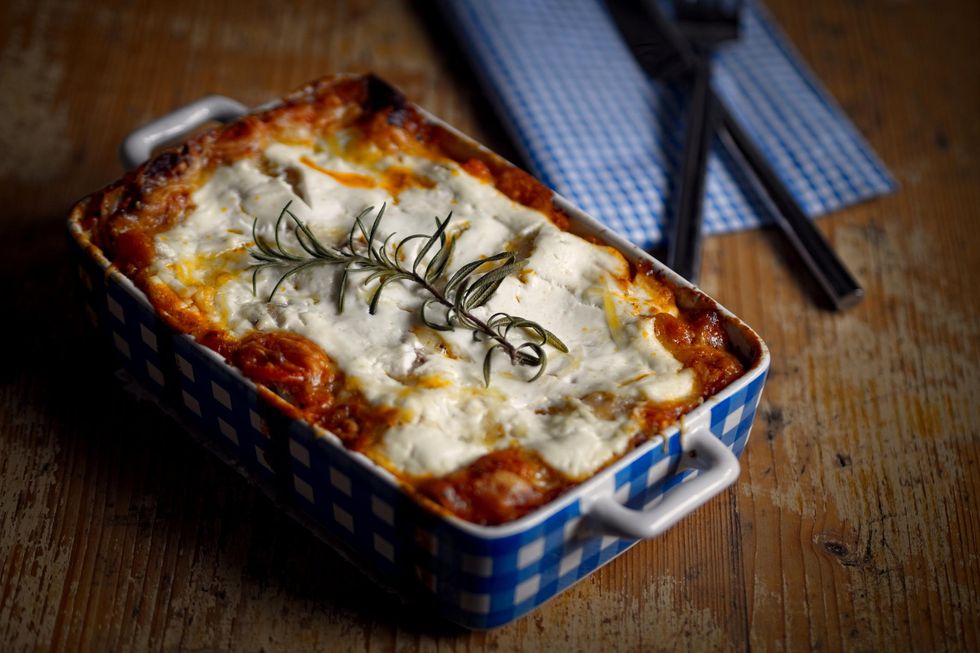 Comfort foods are just that — foods that bring us comfort, joy and relaxation. The challenge with consuming them all of the time is many of them are high in sugar and/or carbs. Still, being that comfort foods are another huge fall food trend, try to not totally deprive yourself of things like macaroni and cheese, chicken and waffles, deep dish pizza, lasagna (meat here and veggie here) and whatever it is that your favorite auntie likes to make around the holiday season. The way I see it, comfort foods shouldn't be avoided, just consumed in moderation. Enjoy, sis.
10. Tea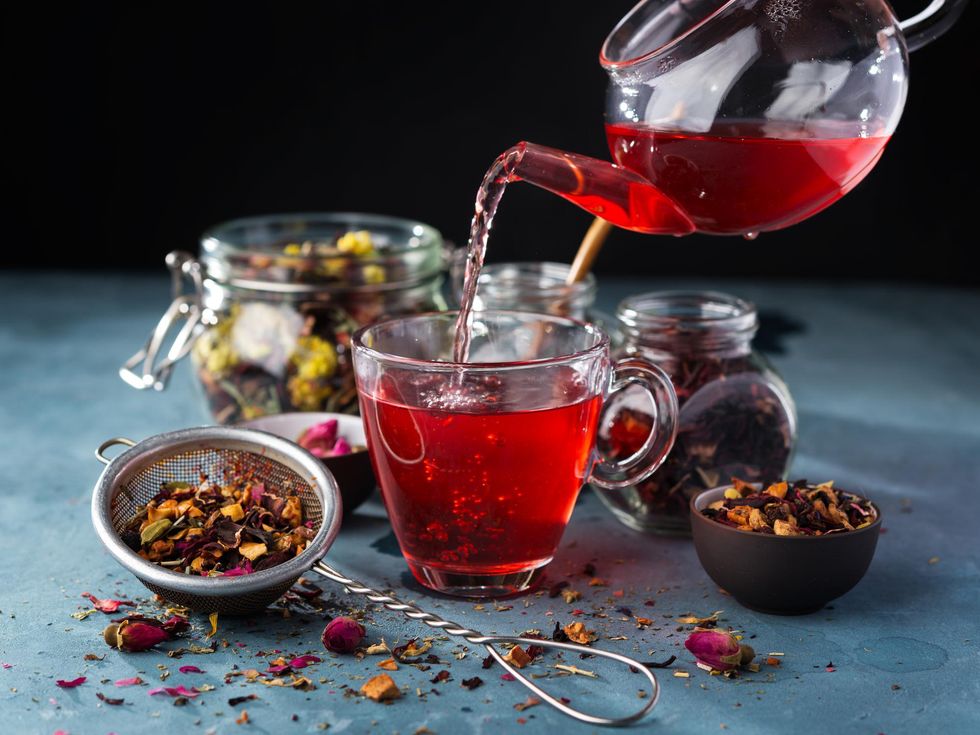 Raise your hand if you're shocked that tea is a big fall food trend. If anything, I'm thinking that we're all giving a collective "duh". Still, since herbal tea helps to hydrate, boost immunity, improve digestion, prevent chronic diseases and even stimulate brain function, definitely take out a few moments to check out my shout-out to teas via "10 Hot Drinks To Keep You Warm This Fall & Winter" and "10 'Uncommon' Teas You Should Add To Your Stash (& Why)". So, set aside a weekend to finish that book you've been trying to get around to all year-long and don't forget to have a warm cup of tea while you do it. It's one of the best ways to ring in the fall season. No doubt about it.
Join our xoTribe, an exclusive community dedicated to YOU and your stories and all things xoNecole. Be a part of a growing community of women from all over the world who come together to uplift, inspire, and inform each other on all things related to the glow up.
Featured image by Getty Images
Keep reading...
Show less
Not too long ago, someone was venting to me about how it gets on their nerves when a relatively thin person goes on and on about how "fat" they are. When they asked me if I thought it was a tactic used to bait compliments, I simply said, "You know, some folks are survivors of eating disorders, so you've gotta be careful with your responses."
I'm introing this article this way because, like our relationship with people, oftentimes our relationship with food can be layered and quite complex. Our upbringing plays a role. The media plays a role. Our body image plays a role. Our mental and emotional health play a role. What our systems may be lacking at any given time plays a role. And unless we process all of this from a healthy and balanced perspective, it can be really easy to bring some level of guilt or regret into the dynamic whenever we sit down to have a meal.
Let's get free from the ties that bond today, OK? While a topic as complex as this can only be broached on a semi-surface level in one article, I really do hope that the following eight "hacks" can make your own experiences with foods less about shame and more about joy — because you deserve for them to be.
1. Accept That We All Have a Relationship with Food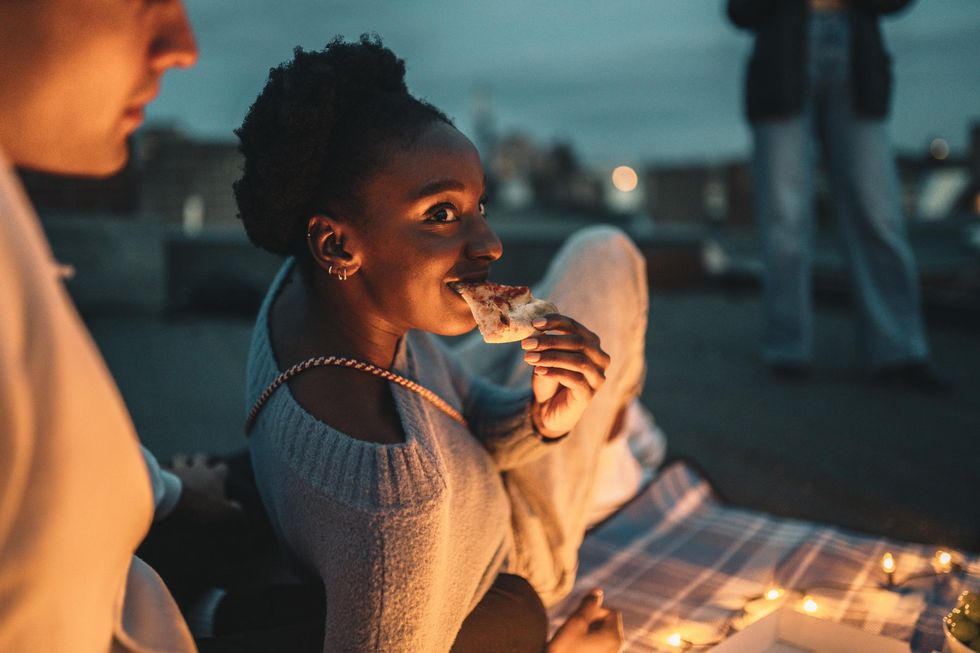 Like I just said, we all have a relationship with food. And, like virtually all relationships, sometimes there are going to be good days. Other times, not so much. So, just how can you know if you and food are in a great spot? It's really about approaching food from a levelheaded and practical perspective. You don't rely on food to make you feel good (more on that in a sec). You don't find yourself being extreme (either eating tons of what isn't good for you or depriving yourself of certain things that make you happy). You also don't allow yourself to make food define your worth or value. You also are forgiving when it comes to you and food. What I mean by that is, if you go on a diet and break it, it doesn't totally devastate you or, if you're trying vegetarianism or veganismand you have meat sometimes, you don't feel riddled with shame. In short, you know that even when it comes to food, grace has to be extended.
Wanna know another sign of having a good relationship with food? You don't isolate your feelings. You don't lie to yourself and say that you're the only one who has good days and bad days. You also know that it's OK to share with those who care about you the thoughts that you may be having about food.
No relationship is easy all of the time. Yet what we need in our lives, we find a way to work through. We definitely need food and so, a good relationship provides space to figure out how to see food from a healthy perspective while also offering up self-compassion on the not-so-good-days — knowing that there will be some.
2. Ponder If You're an Emotional Eater. Or Not.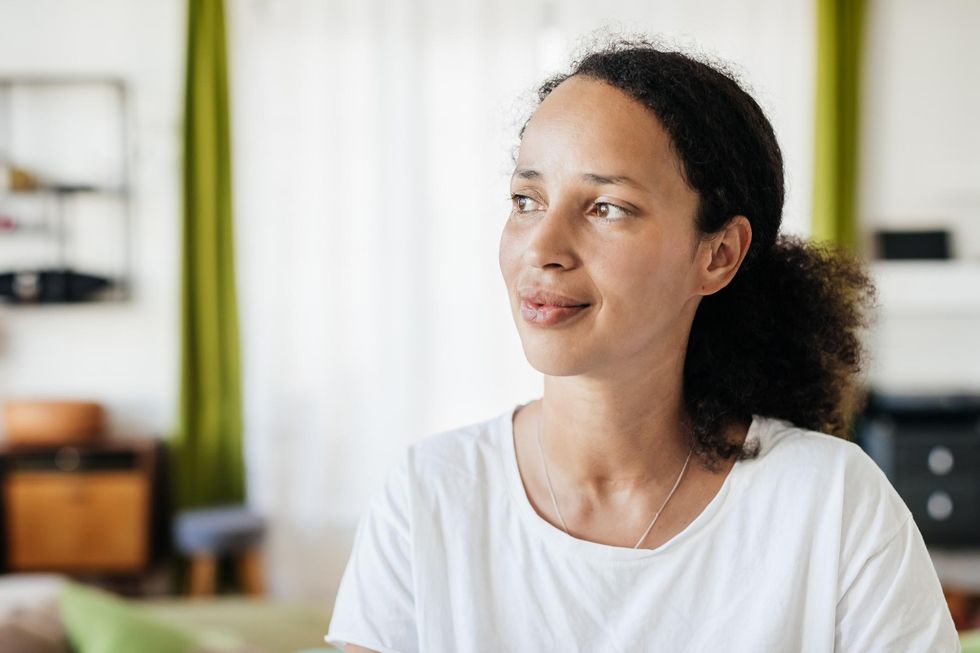 There's someone I know who, over the years, has caused me to see emotional eating in a bit of a different light. It's because she is very open about the fact that the state of her marriage can cause her to put on or lose 25 pounds (literally), depending on how things are going. Matter of fact, whenever I see her on the heavier side, she will casually say, "Girl, you know I'm an emotional eater and he stresses me out."
What she should do about her marriage is another topic for another time. For now, let's hit on some pretty telling signs of an emotional eater. Someone who comforts themselves through food is typically an emotional eater. Someone who eats more when they are stressed out or anxious is typically an emotional eater. Someone who eats, even when they are full, because it helps them to deal or distracts them from dealing with a particular matter at hand is typically an emotional eater. Someone who almost sees food as a friend is typically an emotional eater. Someone who uses profoundly intense words to express their relationship with food (words like love, tempted, obsessed, guilt, drawn to it) is typically an emotional eater.
The problem with all of this is, once you start leaning over into this way of thinking and feeling, you tend to become more attached to food than you should be. Instead of it being a necessary substance for your survival, you rely on it as a coping mechanism. And when you become this food dependent, there's a chance that feelings of guilt or regret will occur.
The thing about this particular point is it's not really something that you can "get a hold on" all by yourself (which is why the person I was talking about remains on a constant "weight loop"). So, if you happen to see yourself here, schedule an appointment with a reputable therapist/counselor and also a nutritionist. They can help you to see food from a more productive perspective, so that you can enjoy it more than rely on it.
3. Let Up on Yourself, the Week Before Your Period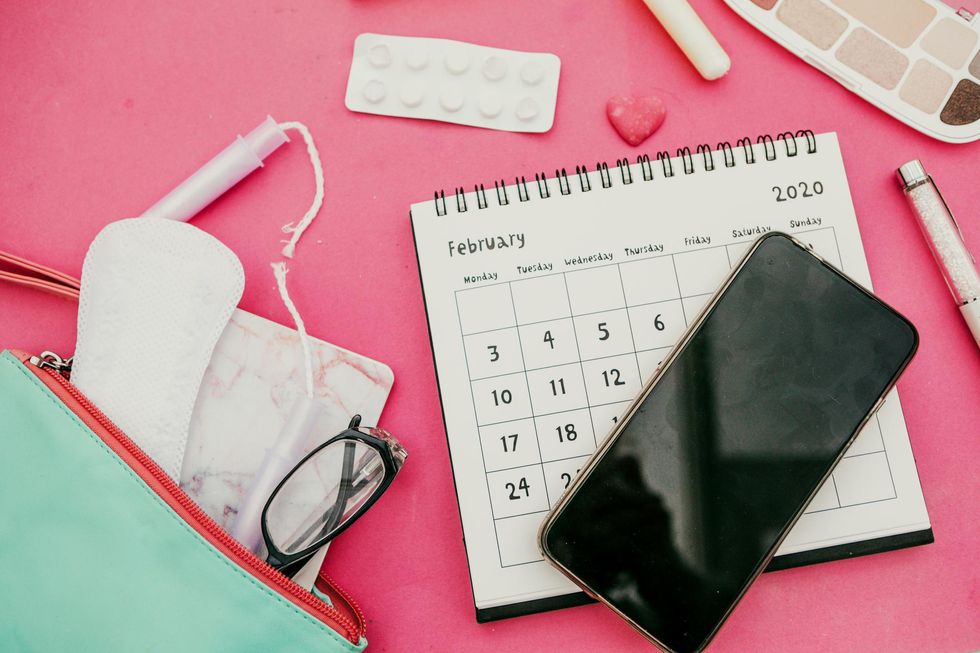 If you and food are pretty good other than a week or so before your period, girl, let that ish go. There is a legitimately scientific reason for why you may want stacks of pancakes every morning and a plate of fries every night. It's because your estrogen and progesterone levels are all over the place. Not only that but when you eat starches and sugars, it can give you a serotonin surge which can actually make you feel happy, at least for a little while, when you are PMS'ing. So, while this is no excuse to totally go ham, what I am saying is if you've got cravings around your period, there is no reason to feel guilty about that. If there's one thing that is pretty universal with women when it comes to food, this would be it.
4. Give Yourself "Cheat Days"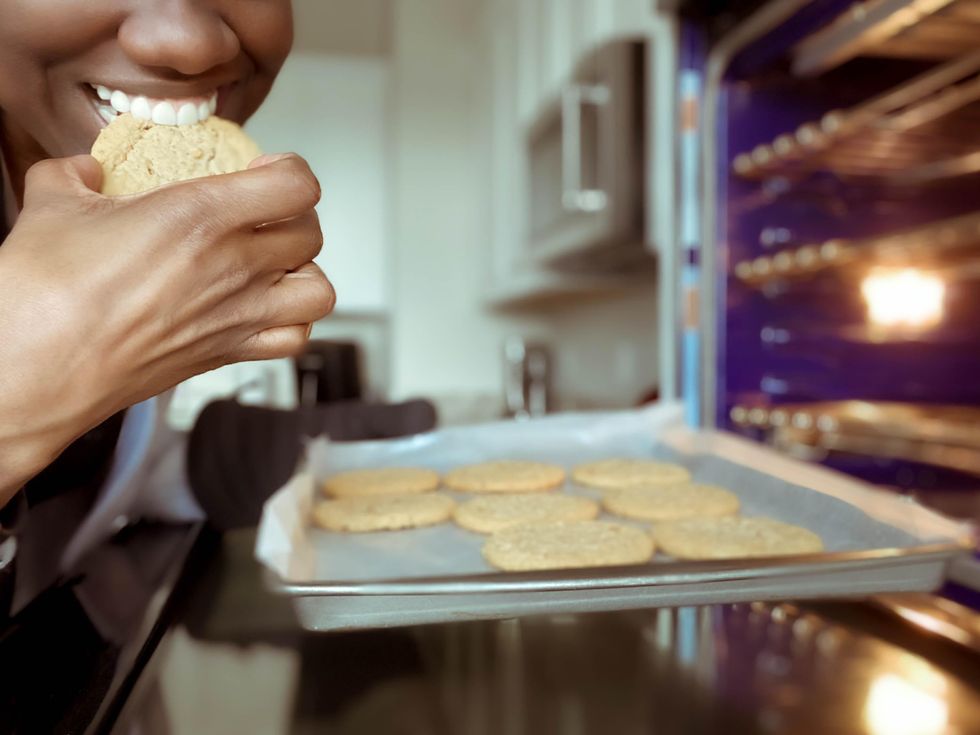 Whenever folks talk about developing better eating habits and then they say something like "I'm never gonna eat such-and-such again," unless it's something that is super bad for them (soda immediately comes to mind), I'm kinda like, "why?" Life is too short to not have a scoop of your favorite ice cream, a slice of your favorite pizza or whatever else brings you joy from time to time. That said, there's no reason to totally deprive yourself. The answer is to give yourself a cheat day — you know, a day in the week when you actually give yourself permission to indulge in some of your faves without feeling any guilt about it. If you come at certain foods from this perspective, there will be no reason for shame or regret because you will still feel like you are in control of things. You set (for instance) Saturday aside, by design, so that you can sit back and eat what you want without having to second guess it later.
5. Don't Always "Reward Yourself" with Food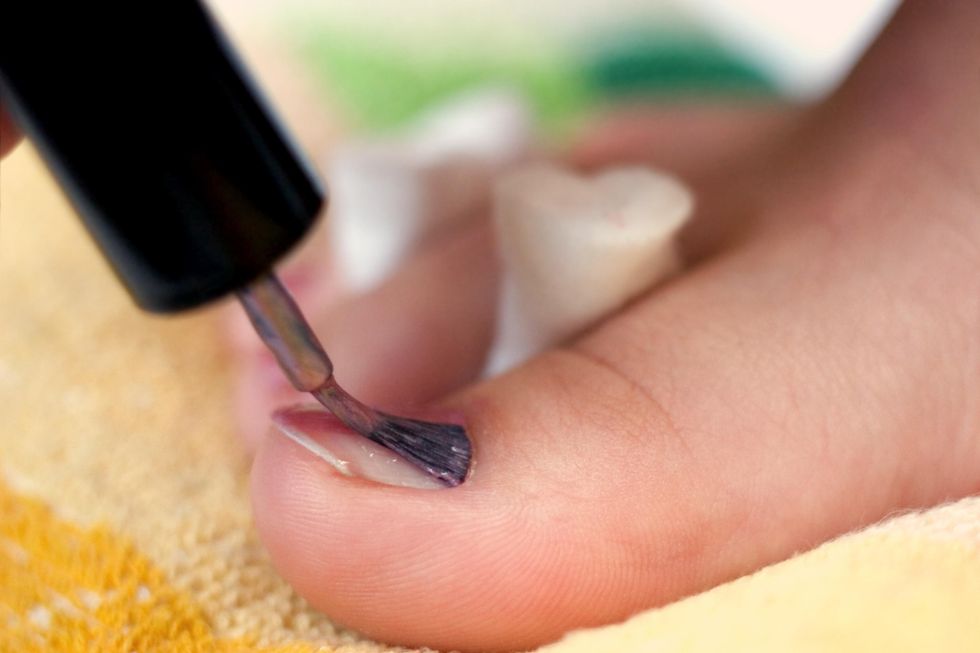 I honestly can't remember how many times I've written an article for this platform and not referenced enjoying some ice cream in it (like this one, for example). That's how much I like the stuff. That's why, I would absolutely be a total hypocrite if I said that it's 100 percent wrong to reward yourself with food sometimes. However, in the context of this particular piece, I think the wiser focus would be to "treat yourself" from time to time with food rather than all out reward yourself.
Here's why.
If every time you set a goal and reach it or make a commitment (even to yourself) and keep it and you eat as a way to pat yourself on the back, it can cause you to create some pretty unhealthy eating habits. Because after all, how many of us are out here rewarding ourselves with a salad, right? Plus, approaching things this way can program your mind to think that food is the pinnacle prize for "good behavior".
While something sweet or delectable can be cool sometimes, strive to be more intentional about rewarding yourself in other ways. Go on a trip. Purchase those pumps you've been eyeing. Have an at-home pampering day. Spend a night in a swanky hotel room. Do absolutely nothing one weekend. Again, food is great. Delicious too. Still, when it comes to rewarding yourself, put forth the effort to think outside of the box. There are a ton of other ways to celebrate yourself. Ways that won't possibly make you feel bad after you do them.
6. Cook More Often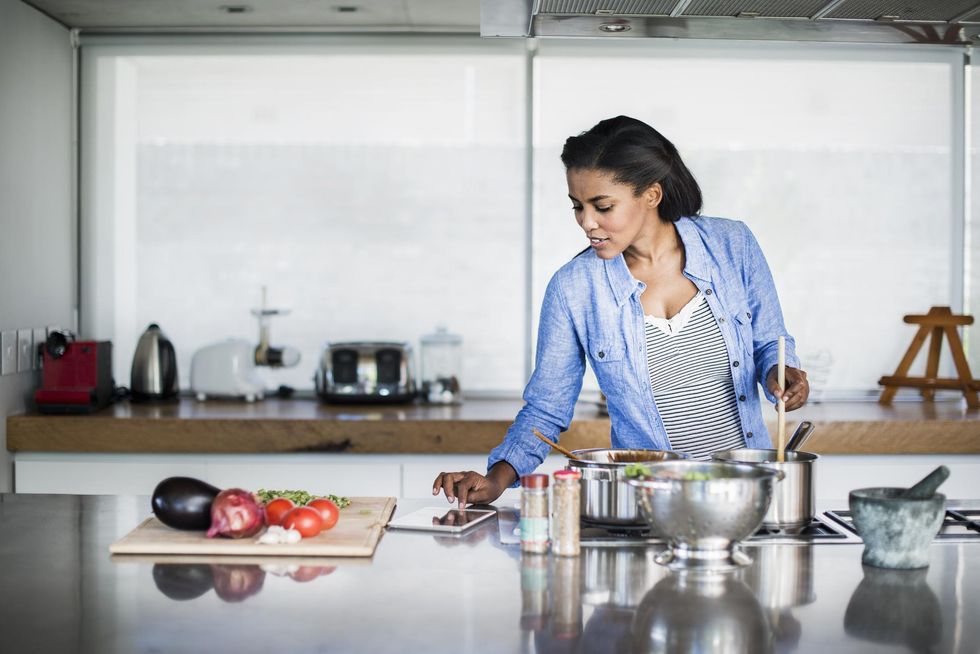 Maybe you feel guilty because you are constantly spending money by going out to eat or sitting through drive-thrus. The best way to remedy this is to cook at home more often. As someone who cooks, at least five days a week, I'm here to tell you that once you get into the swing of it, it's hard to not get totally hooked. After all, cooking is proven to be healthier, far more cost-effective, it saves time, can help you to lose weight (because you can control the portions) and, if you do it with loved ones, it's a fun way to spend quality time too.
There have been times when I've ordered a salmon Caesar salad to be delivered to my house and guess what? Afterwards (sometimes even during), I felt guilty for doing so. Why? Because the delivery fees were high as hell (plus, I like to tip well) and, sometimes, it wasn't prepared to my liking either. So, in the back of my mind, all I could think is, "I should've just made this myself." Not to say that eating out is bad or wrong. I'm just saying that if you tend to experience what I just said, there's a high probability that cooking at home can instantly remedy that. Try it. It just might surprise you.
7. Remember That Being Healthy Is the Top Priority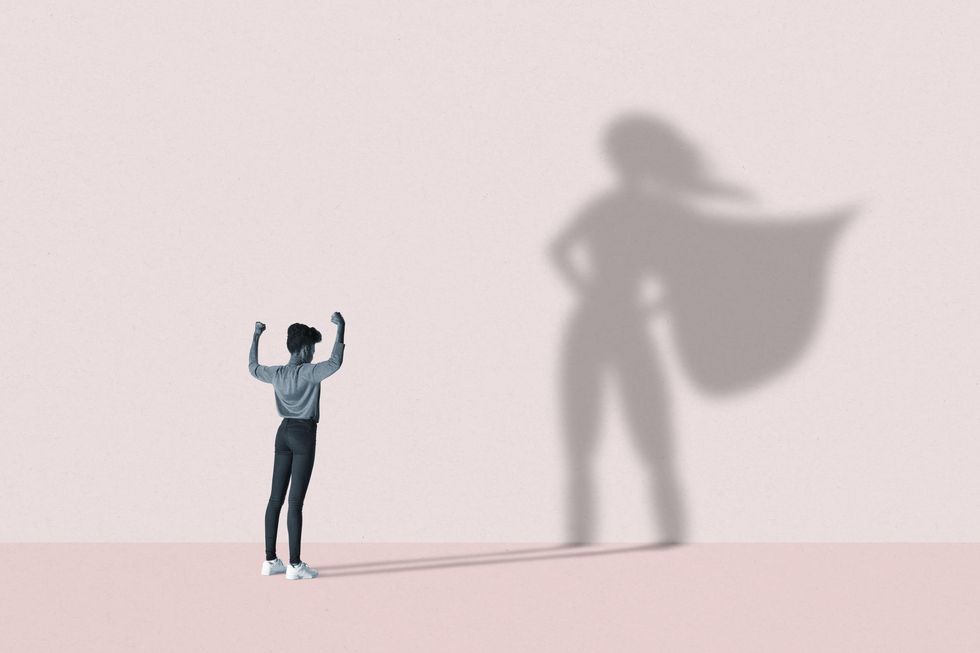 Please hear me, loud and clear on this point. There are some thin people with clogged arteries. There are some not-so-thin people who are in great physical condition. That's why I'm not big on talking about size so much as the word "healthy". You know, on the topic of guilt, I once read that two of the problems that arise from it is it can cause you to constantly punish yourself and prevent you from fully embracing and enjoying your life. You don't need to give food that much power. So, if the reason why you struggle with guilt and regret is because you think you should look like someone on an IG profile or magazine blog, please let yourself off of the hook. For one thing, filters, Photoshop and cosmetic surgery run in abundance in these streets and besides — we all need to eat in order to be healthy more than anything else.
If you need some help understanding what that requires, this is another dynamic where a nutritionist can be of great service. If you'd like to know how to begin your search, a Black, female, registered dietician nutritionist by the name of Marisa Moore published an article on her site entitled "Black Nutritionists You Need to Know" earlier this year. I'm thinking it can at least point you into the right direction.
8. Keep Everything in Balance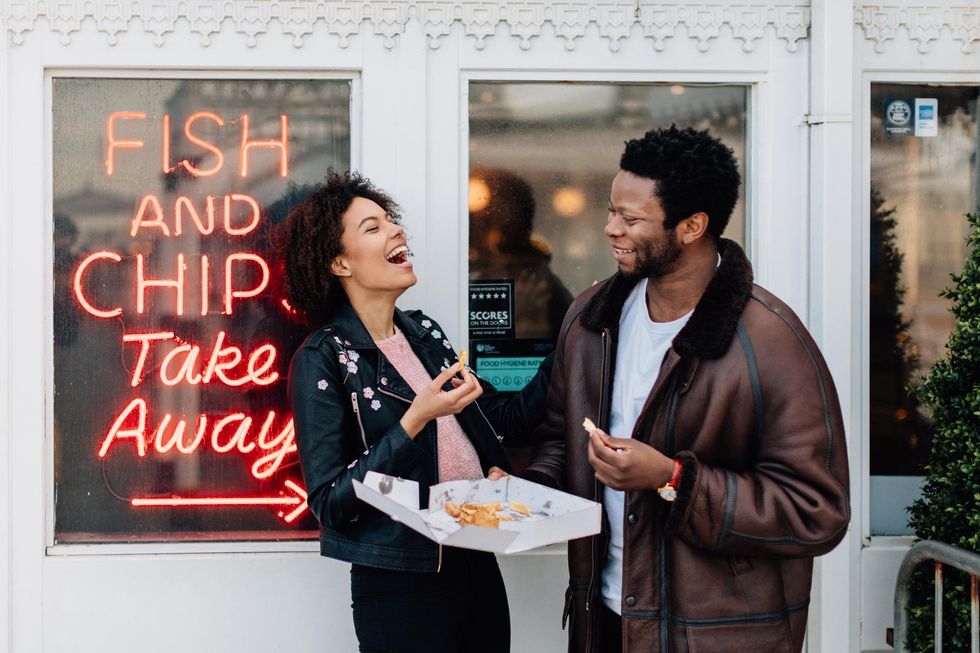 An author by the name of Joshua Osenga once said, "Balance is a feeling derived from being whole and complete; it's a sense of harmony." I totally agree and you know what? When it comes to achieving balance as it relates to your relationship with food, it's also really important to ponder if things are a little out of balance when it comes to other areas of your life. Because oftentimes, what we do physically is an extension of things that are going on (or not transpiring) mentally, emotionally, relationally, financially or even spiritually. This means if those areas are straight, we oftentimes see food from a more holistic perspective.
So, before you beat yourself up for the way you've been eating lately, do some journaling about how you've been feeling or what you've been experiencing overall. If things seem chaotic, confusing or overwhelming, tend to those areas specifically. I'd be really surprised if that doesn't alter your eating patterns, so that balance can be restored.
Join our xoTribe, an exclusive community dedicated to YOU and your stories and all things xoNecole. Be a part of a growing community of women from all over the world who come together to uplift, inspire, and inform each other on all things related to the glow up.
Featured image by Getty Images
Keep reading...
Show less
It's kind of a trip, what inspired me to cover this particular topic. While I was doing some of my usual online perusing, a particular Twitter post was brought to my attention. I really want you to watch it; however, if you're skimming this, the gist is that — surprise, surprise — a main reason why so many of us think that we should have three square meals a day is because (eye roll), back in the day, Europeans thought it was "uncivilized" that Native Americans ate when they felt like it rather than be on some sort of a schedule.
The more you know, chile. The more you know. Anyway, if after watching that, you first got a little pissed off and then breathed a sigh of relief because a) maybe breakfast ain't really your thing and/or b) you tend to go with a much lighter dinner and/or c) you like lunch most or even least of all, I still think this article may provide some additional ah-ha moments. Because whether you eat three meals, two smoothies and one meal or some variation in between these options, if you've ever had some lingering questions in the back of your mind about the true purpose that lunch can serve in your life and/or you've been wondering how to make the most of your lunchtime, hopefully this can "scratch that itch". At least a little bit.
Why You Should Eat Lunch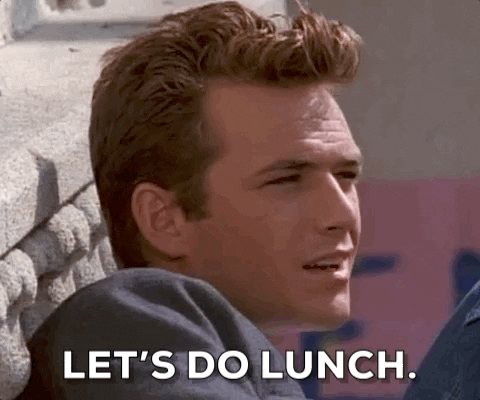 As someone who isn't that much of a breakfast person myself (I'll typically make myself a smoothie or have some fruit; I only really do a big breakfast on the weekends and even that's not all of the time), I usually don't even think about eating for real for real until around what's considered to be the traditional lunchtime (between 11:30 a.m. -1 p.m. for me). The reason is because it's not until then that I'm actually hungry.
Yet when I looked up why eating lunch can be a wise move on the health tip, what I discovered is it's a great way to give your mind and body time to rest and recharge, so that you can be productive throughout the rest of your day.
So y'all, if you're like some of the people I know who work through their legal-right-to-partake-of-lunch period, you really should rethink that. Even if you treat your lunch as I do my breakfast (and you have something super light), the time away can actually help you to be more effective at your job. In fact, a lot of health experts say that if you don't take at least 15-20 minutes to recharge by getting some sort of fuel into your system, it can make you moody, lethargic and cause you to have a really difficult time concentrating. So yeah, take your lunch period seriously. Literally too.
What Time of Day Should You Be Eating Lunch?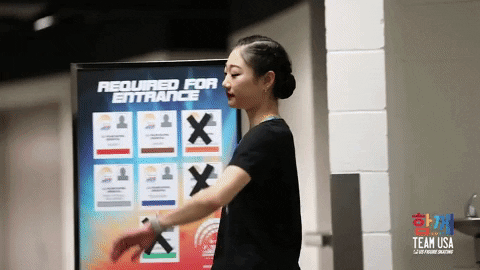 As far as the time of day when you should enjoy your lunch, I did some looking around and found some interesting points from various registered dieticians. What many of them said was if you had a full breakfast at around 7:30-8 a.m., you should feel satisfied until around 11 a.m.-12 p.m. And what if you ate at a different time than that?
Well, the main takeaway is about 4-5 hours from when you had breakfast is a good time to have lunch.
And what if you didn't have much breakfast or you skipped out on it altogether? In that case, the recommendation is to have a low-calorie snack that can help you to feel satisfied for at least an hour or two (so that your energy levels are up until your lunch period). OK, and what if you decide to skip lunch and wait for dinner? Well, aside from what I shared about the benefits that come from having something for lunch, there is plenty of data to support that going light in the morning and afternoon and having a big dinner not only significantly increases the chances of you consuming way more calories than you should but it can also make it difficult for you to sleep soundly because your body is trying to digest all of that stuff that you just ate. That's why a lot of health professionals also recommend that you stop eating within three hours of your intended bedtime.
So, you know what all of this points too, right? More and more, it's looking like eating lunch is a good idea; especially if you're someone who enjoys having a heartier meal but you want to keep your weight in check and your sleep consistent.
Lunch Hacks That Make Eating (at Work) Easier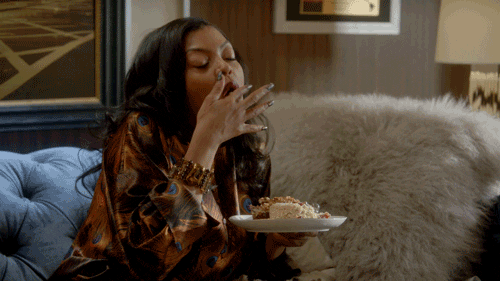 So, what if, after taking all of this in, you're down to give lunch more of a shot yet you feel like making your lunch instead of avoiding the drive-thru (check out "Why You Should Consider Leaving Fast Food Alone") is going to be more of a prepping headache than you can handle? No problem. I've got a few hacks for that.
Make the most out of cupcake cases (liners). Wanna keep different foods better organized? You'd be shocked what some cupcake cases can do. For instance, if you've got a container that doesn't have dividers, there's no need to purchase one. Just pick up some cases and put different things in those. Everything will be in its "rightful place" without you having to spend extra coins to make it happen.
Play around with muffin tins. Here's the thing about muffin tins — you can put more than just muffins in them. Little omelets. Mini quiches. Fritters. Tiny shepherd's pies. Small mac 'n cheeses. When you let your imagination run wild, the possibilities really are endless. And since these kinds of meals will be in muffin tins, they're super easy to take to work with you.
Put salads in mason jars. Wanna take a salad or burrito bowl to work but you're afraid that it'll get soggy? One of the best hacks ever is to put it into a mason jar. The seal will keep everything fresh. The size of the jar will help you with portion control. And just think about how convenient bringing a jar into work will be when you've got so much other stuff to lug around.
Remember that paper towels absorb moisture. Speaking of sogginess and the way to avoid it, whether it's a salad in a different kind of container or you're going the raw veggie route with some other type of dish, you can also keep stuff from wilting by putting one sheet of a paper towel on the bottom of your container and another on top (after you've put your food inside of it). It has a way of drawing in the excess moisture when you do. By the way, wax paper does a pretty good job at this when it comes to sandwiches too.
Keep oil and vinegar at your desk. Infused oil and vinegar jars are actually very pretty to look at. So, if you're someone who uses a lot of both when you're having lunch, pick up some tall bottles at a local arts and crafts store (you know, the ones that come with a cork), pour the oil and vinegar into them and store them on your desk. How handy is that?
Get drink pouches for smoothies. If you're someone who goes the big breakfast route yet reading all of this has convinced you to at least have a smoothie for lunch, don't break the bank (and take in a ton of calories) by purchasing one every day. Instead, pick up some smoothie pouches. They're compact. Reusable. And since you'll be making your smoothies yourself, you can control exactly what's going into them.
Freeze stuff. As far as prepping for the week goes, freezing rice, quinoa and soups are always a good idea. Putting a frozen fruit box into your lunch container can keep stuff like yogurt cool. Frozen grapes are a great snack for your desk. Bottom line, freezers are your friend when it comes to enjoying your lunch, so don't be afraid to use them — whether you have lunch at 11 or 2.
Join our xoTribe, an exclusive community dedicated to YOU and your stories and all things xoNecole. Be a part of a growing community of women from all over the world who come together to uplift, inspire, and inform each other on all things related to the glow up.
Featured image by Getty Images
Keep reading...
Show less
Not too long ago, I wrote an article for the site entitled, "15 Foods Every Woman Should Have In Her Fridge At All Times". I did it because, after doing a bit of research and consuming many of those foods on a consistent basis, I started to have more energy, my periods were shorter and I felt better all the way around. In the spirit of that, this piece is going to shout-out some other foods, albeit with a bit of a different approach. Today, what I'm going to break down are how 12 different ones are able to specifically address some of the health concerns that many of us, as women, tend to have.
So, if you currently feel pretty good yet, in your mind, you believe that you could always feel a little bit better, consuming some of these foods more often will certainly help you to reach that very goal.
1. Cucumbers Will Detoxify Your System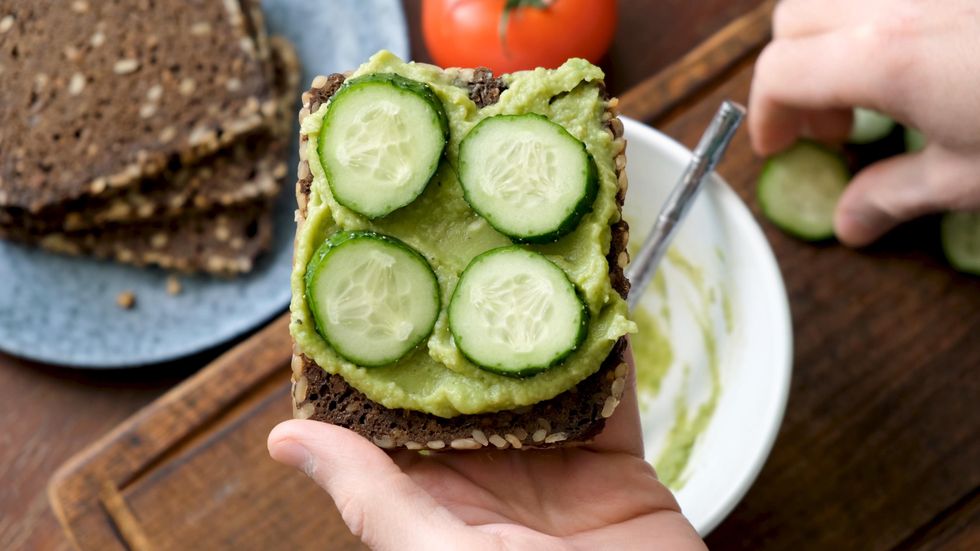 It always fascinates me when I discover that a food that contains a ton of water also has quite a bit of nutrients in it too. Such is the case with cucumbers. They are made up of 96 percent water and they've got protein, fiber and a ridiculous amount of Vitamin K, along with some vitamins C, potassium, manganese and magnesium. Cucumbers are good for you because they're also a good source of antioxidants, can help to lower your blood sugar levels and, thanks to all of the water and fiber that's in them, if you're looking for another way to detox your system, consuming cucumbers is quite the lick.
Cucumber Recipe: Asian Cucumber Salad
2. Eggs Will Strengthen Your Hair and Nails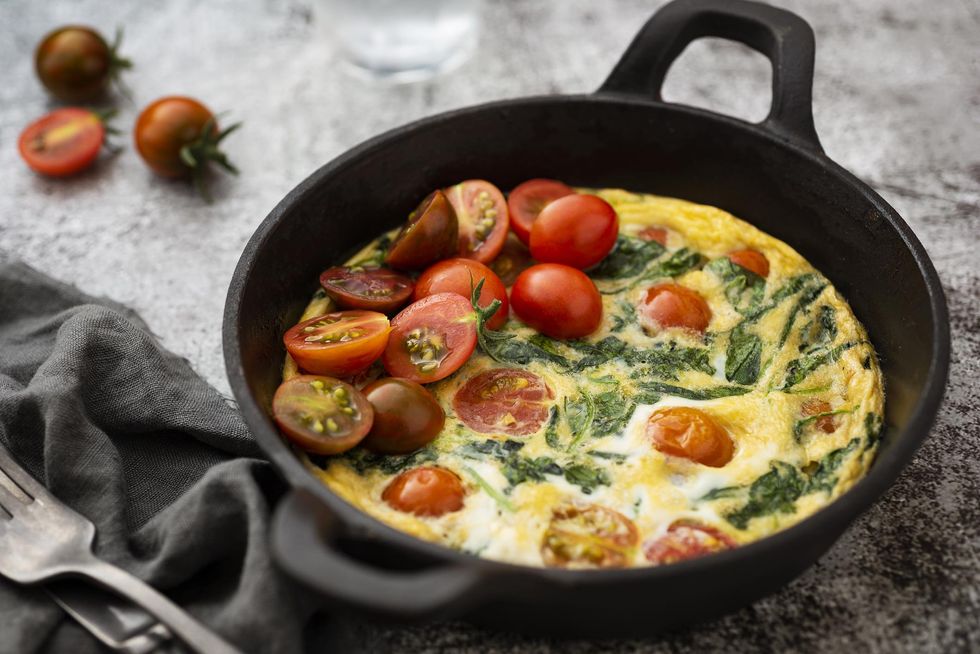 Something that is present in every cell that you have and also helps to make up 20 percent of your body is protein. That's why it's so important to eat some of it on a daily basis. As far as nutrients go, protein is a wonderful source of B vitamins and selenium (a powerful antioxidant). Eggs can raise your "good cholesterol" levels, improve your eye health, reduce your risk of heart disease and it contains quite a bit of amino acids (they can improve your exercise performance, prevent muscle loss and even make it easier to sleep at night). And since your hair and nails are made up of a protein known as keratin and one serving of an egg has six grams of protein in it, you can see why having a couple of eggs a week could keep your hair and nails nice and healthy.
Egg Recipe: Avocado Deviled Eggs
3. Bell Peppers Will Reduce Bad Breath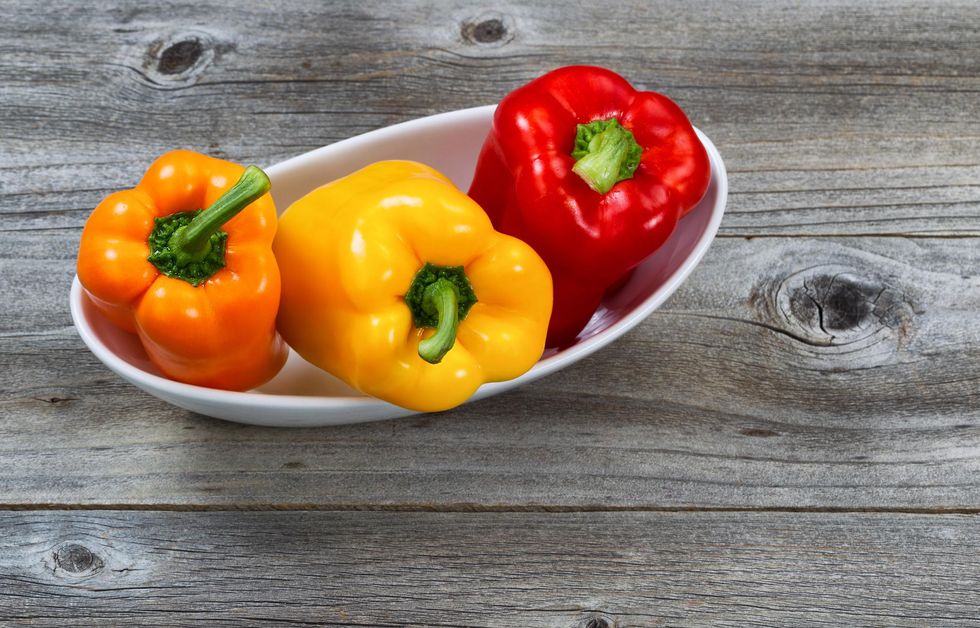 Bell peppers are cool because they're a low-calorie food; one that has quite of bit of water in them (92 percent) along with fiber, vitamins A, B6, C, E and K, as well as folate, potassium and several plant compounds. If you consume bell peppers on a fairly regular basis, they've got the ability to protect your eyes, reduce your anemia risk, boost your immunity, improve your moods and lower your chances for getting cancer too.
However, I decided to give bell peppers a shout-out because something that they are also able to do is help to keep your breath smelling fresh. Thanks to the high amount of Vitamin C that's in them, bell peppers are able to combat the bacteria that leads to bad breath in the first place. So, if you don't have a mint around but you do have a bell pepper or two on hand, believe it or not, that's about just as good.
Bell Peppers Recipe: Vegan Fajitas
4. Citrus Fruit Will Reduce Inflammation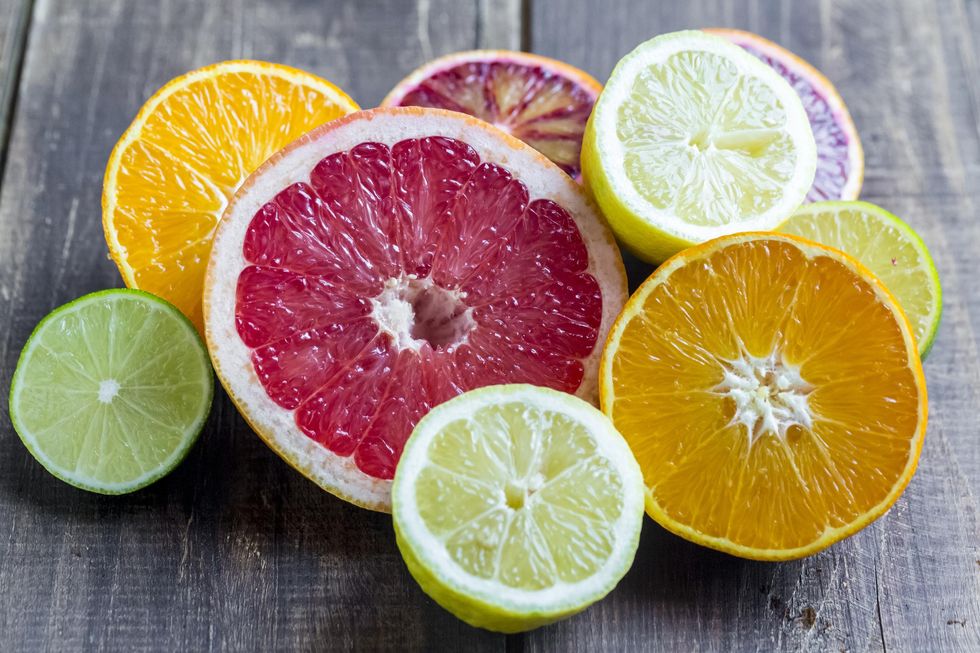 If you're looking for something that is a powerful source of antioxidants, fiber, folate, potassium and Vitamin C, look no further than an orange, grapefruit, lemon or lime — things that qualify as being a citrus fruit. Aside from being able to keep your immune system strong, citrus fruit is also great at boosting brain health, reducing the risk of kidney stones, improving heart health, keeping you hydrated (it's also loaded with water) and even helping your system to absorb more iron. Another solid bonus that comes with citrus fruits is the antioxidants in them can reduce inflammation in your body and also help to repair damaged tissues, both of which are highly beneficial.
Citrus Fruit Recipe: Hint-of-Orange Pancakes with Grapefruit Syrup
5. Garlic Will Reduce Stress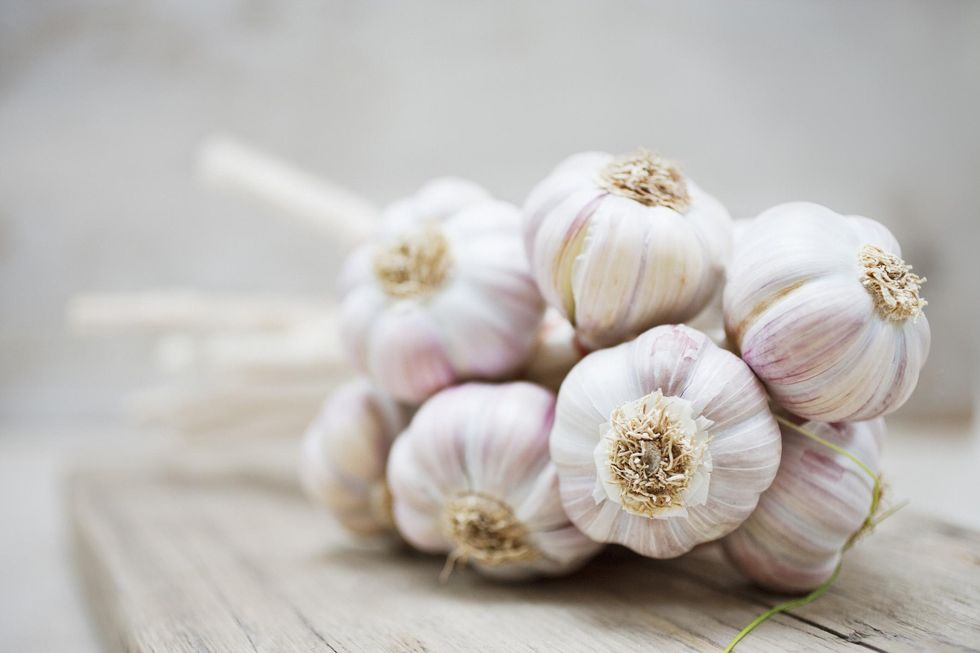 When I sense that I've got a cold coming on, something that I will be quick to get are some garlic bulbs. This particular food, which happens to be a member of the onion family, has manganese, vitamins B6 and C, selenium, fiber and traces of calcium, copper and iron in it. It's a surefire way to strengthen your immune system (thanks to all of its potent antioxidants), lower your blood pressure, improve your cholesterol levels, reduce blood clotting and, it can even increase longevity. Also, since garlic is loaded with the compound sulfur and sulfur can increase the substance glutathione and that is what helps your body to feel less stressed, if you're feeling anxious or overwhelmed, eating something that has fresh garlic in it can certainly never hurt.
Garlic Recipe: The Garlickiest Fried Rice
6. Berries Will Stabilize Your Moods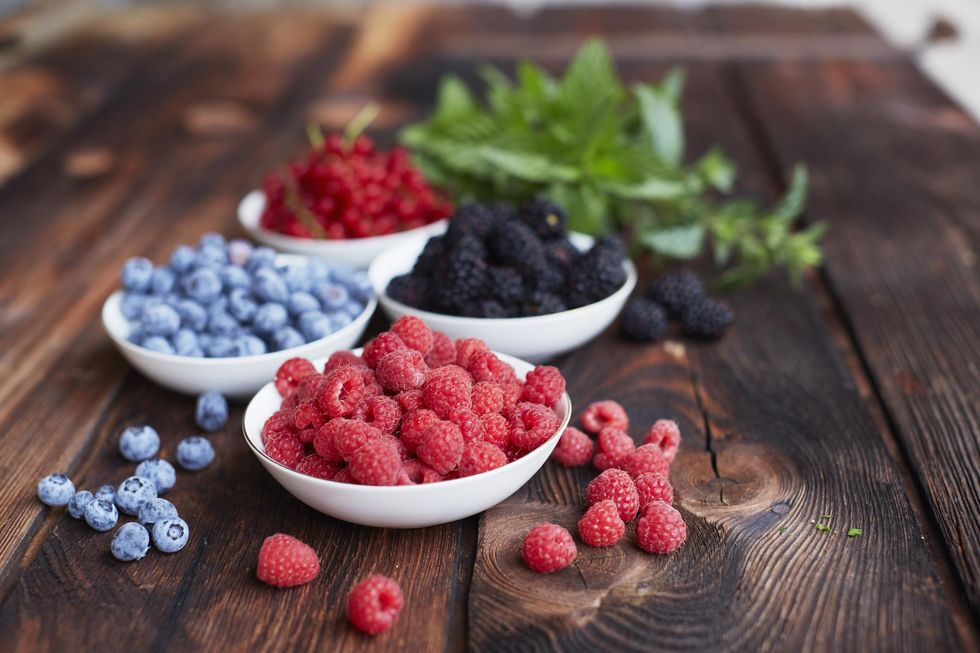 Berries are considered to be a really healthy food, in part, because of the antioxidants, fiber, manganese and vitamins C and K that are in them. Eating ones like raspberries, blueberries, blackberries and strawberries on the regular can fight inflammation, keep your gut healthy, improve the quality of your skin, protect against cancer and can even help to keep your arteries in good condition. Something that I really like about berries is they contain properties that will reduce the production of the stress hormone cortisol. The less cortisol, the more balanced your moods will be.
Berries Recipe: Triple Berries Salsa
7. Swiss Chard Will Fight Signs of Aging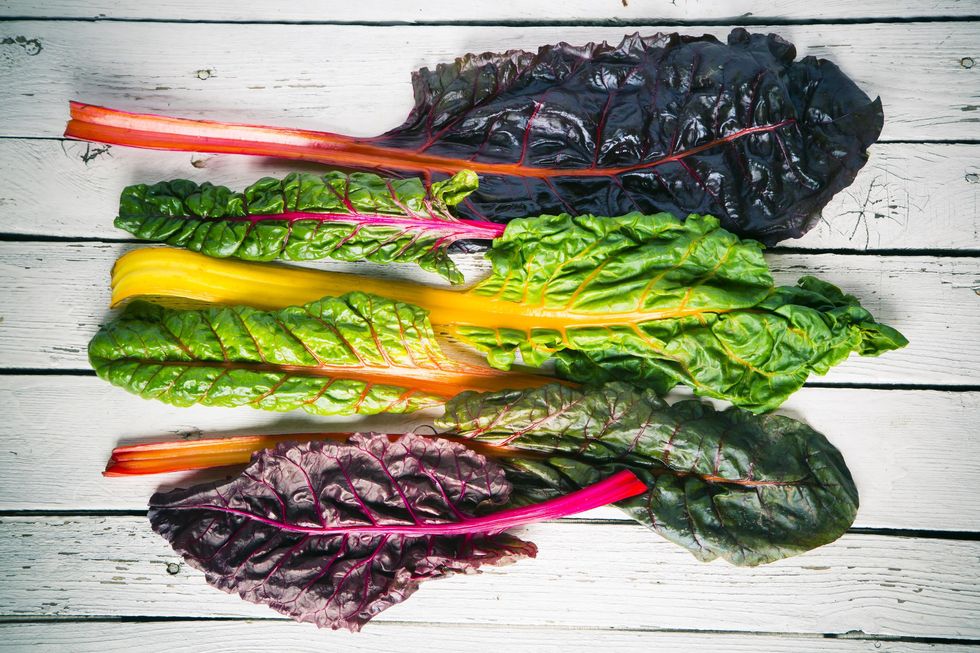 Some health experts consider Swiss chard to be a superfood. That's because it really is a multivitamin that comes in the form of a dark leafy green. There's not enough space for this particular article to list everything that's in it; for now, I'll just share that it's got protein, fiber, iron, vitamins A, C, E and K, magnesium, manganese, calcium, copper, potassium and antioxidants in it. This makes it the kind of food that fights off free radicals, helps to keep you regular, decreases inflammation, destroys cancer cells and boosts brain power.
Another plus about Swiss chard is, since it's also rich in beta-carotene (a nutrient that your body converts to Vitamin A so that your system is able to repair damaged tissues and grow skin), it's just the kind of food that you should have in your diet, if you want to keep aging at bay.
Swiss Chard Recipe: Simple Sautéed Swiss Chard
8. Guava Will Improve Your Memory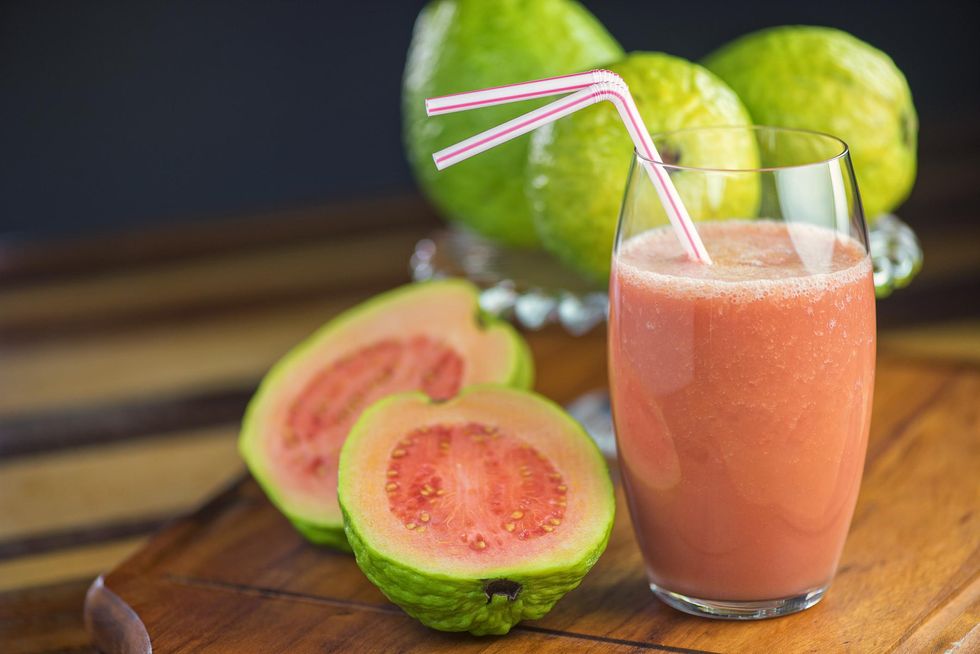 Although guava is a fruit that is available all year long, it's typically at its best during the spring season. As far as nutrients go, Vitamin C, fiber, potassium and antioxidants are what it's best known for. On the benefits tip, guava can lower your risk for diabetes and cancer, relieve constipation, treat a toothache (due to its anti-inflammatory and antibacterial properties), reduce stress and shorten the lifespan of a cold. And yes, guava can also help to improve your memory (and productivity) because its Vitamin C and antioxidant levels are helpful when it comes to providing your brain the nutrients that it needs to function properly (especially when it comes to your prefrontal cortex and hippocampus which are responsible for your short- and long-term memory).
Guava Recipe: Guava Chutney
9. Ginger Will Decrease Any Bloating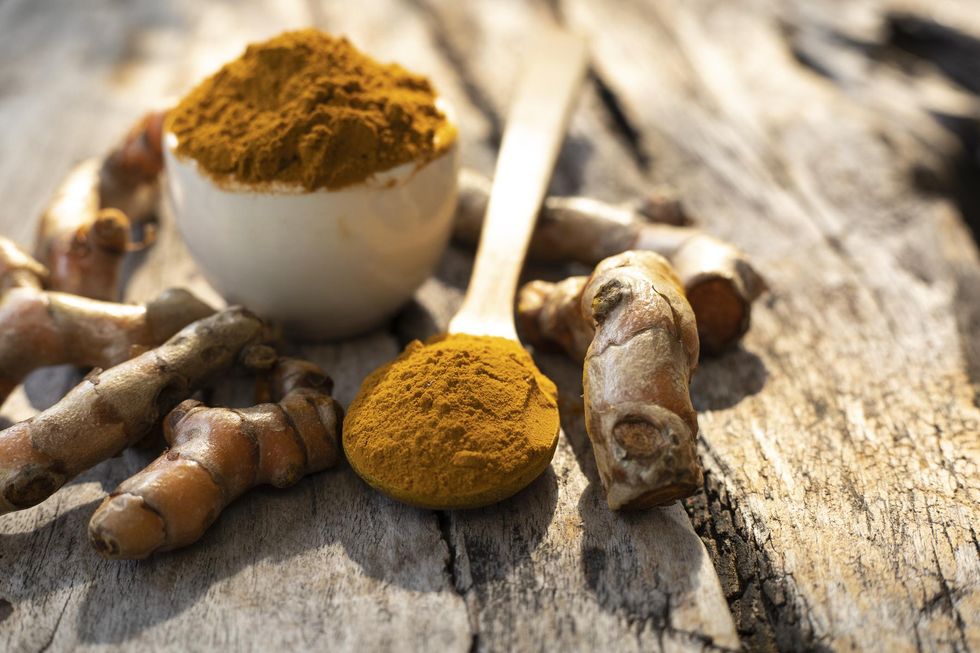 The older I get, the more of a fan of ginger that I become. Probably the best thing about this particular plant is the fact that it contains gingerol which has some super potent medicinal benefits in it. You probably already know that ginger is a wonderful way to ease the kind of nausea that's associated with pregnancy or motion sickness but there's more. Ginger also lowers blood sugar levels, reduces menstrual pain, fights off infections, decreases inflammation and, it can also make getting over a cold easier to bear. Something else that's fascinating about ginger is the enzymes in it help to break down the gasses that may be lodged within your intestinal tract. Because of this, eating ginger can help to decrease any bloating that you might experience.
Ginger Recipe: Ginger Lime Hummus
10. Brown Rice Will Give You a Fuller Butt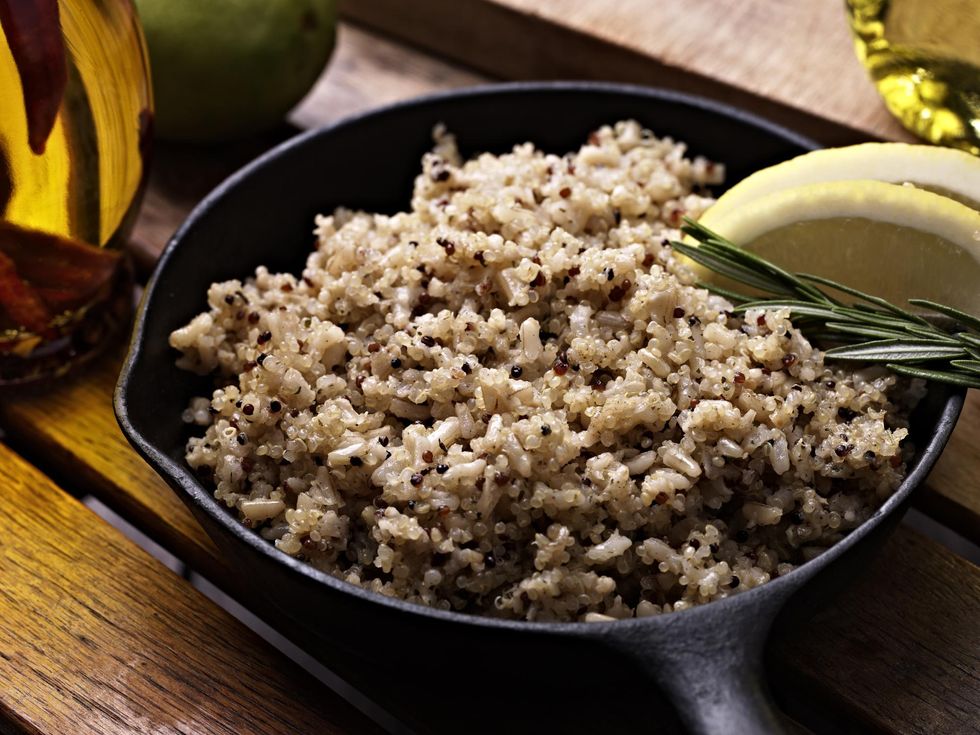 Brown rice makes the list for foods that can make you feel good because it's a whole grain and whole grains are definitely great for you. It's considered to be better for you than white rice because it contains all parts of the grain (hence the "whole" word) while white rice has most of the nutrients removed from it. Some of the many vitamins and minerals in brown rice include a few B vitamins, vitamins E and K, magnesium, iron, zinc, calcium, potassium and dietary fiber. Other benefits of brown rice include the fact that it aids in digestion, improves heart health, supports weight loss, helps to control cholesterol levels and even has the reputation for helping to manage some depression-related symptoms.
Yet here's what tripped me out about it — brown rice is also full of what are known as branched-chain amino acids (BCAAs). These are not only a good source of energy but the way they get processed into your system can result in less muscle loss which can result in a bigger butt over time. #themoreyouknow
Brown Rice Recipe: Asian Turkey Lettuce Wraps
11. Water Will Lubricate Your Vagina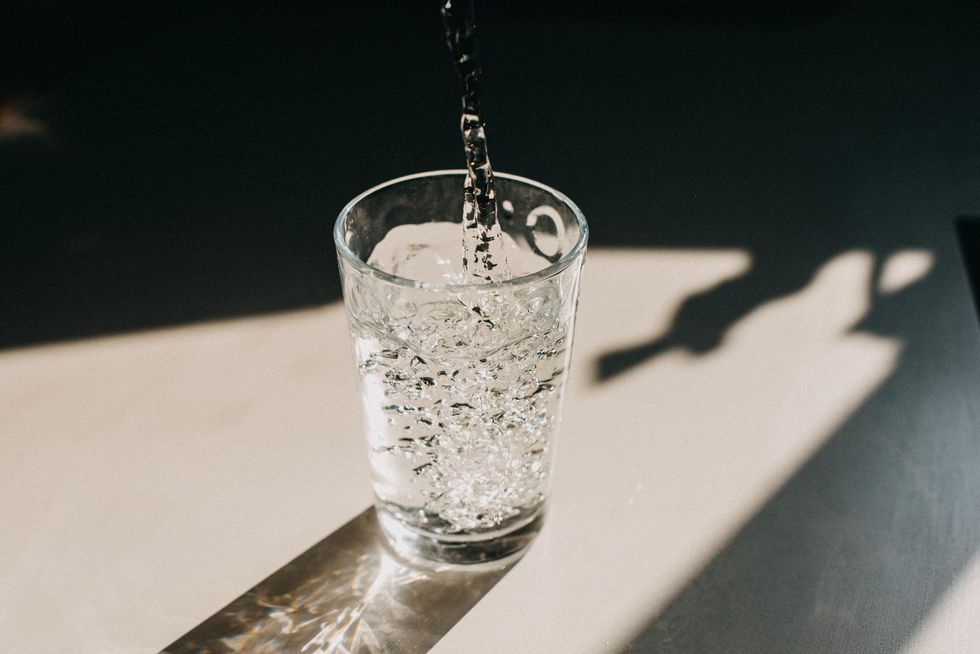 Believe it or not, water is considered to be a food and since our bodies are made up of around 60 percent water, we need to keep plenty of it in our system at all times. Water is good for you because it regulates your body temperature, flushes out toxins, lubricates joints, replenishes cells and body tissues, increases energy levels, keeps you regular, moisturizes your skin and hair and naturally lubricates your vagina — and since wetness makes sex so much more pleasurable…where's your water bottle at, sis!
Water Recipe: Spa Fruit Infused Detox Water
12. Saffron Will Increase Sexual Pleasure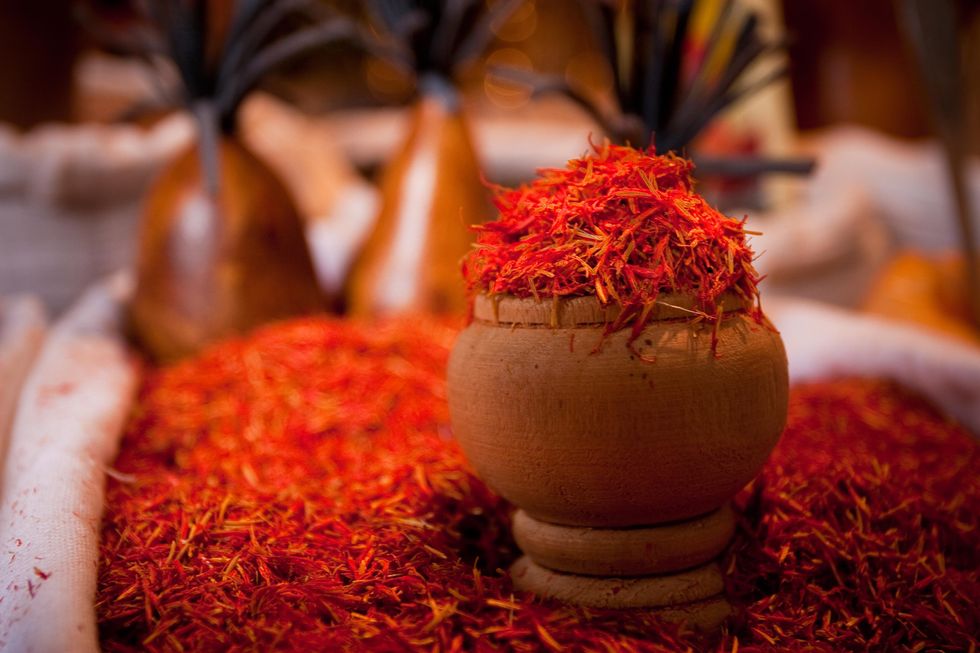 Saffron is dope on a few levels. So much, in fact, that I actually listed it as a food that can help you to handle your period better (check out "These Foods Will Make Your Period So Much Easier To Handle"). Because it's considered to be such a powerful antioxidant, saffron also contains cancer-fighting properties, can curb your appetite (which can result in weight loss), improve eye health, balance blood sugar levels and, it's at the top of many aphrodisiac food lists. Not only have some studies attributed it to improving erectile dysfunction in men and increasing the libido of women who are on antidepressants, saffron has a way of increasing lubrication too and again, wetter is always much better. Enjoy.
Saffron Recipe: Oven-Baked Risotto with Saffron and Chorizo
Join our xoTribe, an exclusive community dedicated to YOU and your stories and all things xoNecole. Be a part of a growing community of women from all over the world who come together to uplift, inspire, and inform each other on all things related to the glow up.
Featured image by Getty Images
Keep reading...
Show less
"Healthy" is such a big word. It means that you are prosperous. It means that you are vigorous. It means that you are sound. And there is absolutely no way that you can maintain a state of healthiness if you're out here eating tons of junk food, living in drive-thrus and frying everything on the planet. Yeah, as much as a lot of us may not want to hear it, if we want to be physically healthy, we've got to be intentional about what and how we eat.
Below, I've got 10 ways to ease into doing that. While you may be rolling your eyes on the front end, I think once you get a little more than halfway through, you'll realize that eating healthy doesn't have to be boring or tasteless or stressful. All you need to do is make a few tweaks here and there and you'll be well on your way to physically thriving more than you currently are.
1. Cook More Often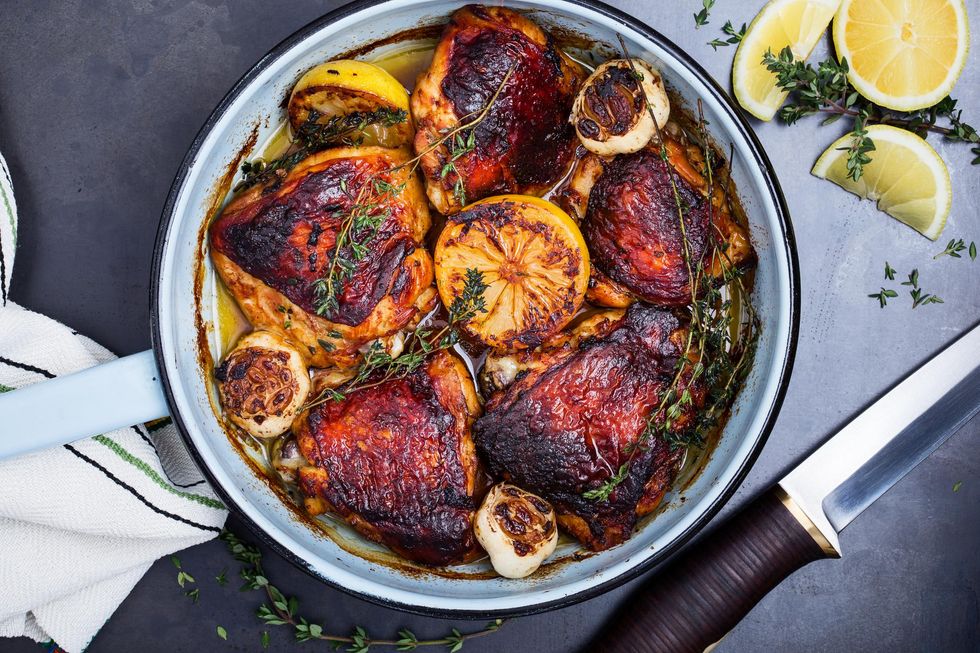 Aside from the fact that cooking at home can save you a ton of cash (the average household spends a whopping $3,000 a year on eating out), it can be really good for you, health-wise too. When you prepare meals in your own kitchen — you are aware of all of the ingredients that you are using, you will typically eat smaller portions and you are in control of the condition of the kitchen ('cause some of these restaurants and their health scores are a hot ass mess).
And what if even hearing all of that doesn't move you much because you hate cooking just that much? Check out an article that I wrote a while back on the platform entitled "10 Hacks That Can Make Cooking Easier (If You Hate To Cook)". It could make the thought of spending more time in the kitchen a bit less dreadful.
2. Use Fruit to Curb Your Sweet Tooth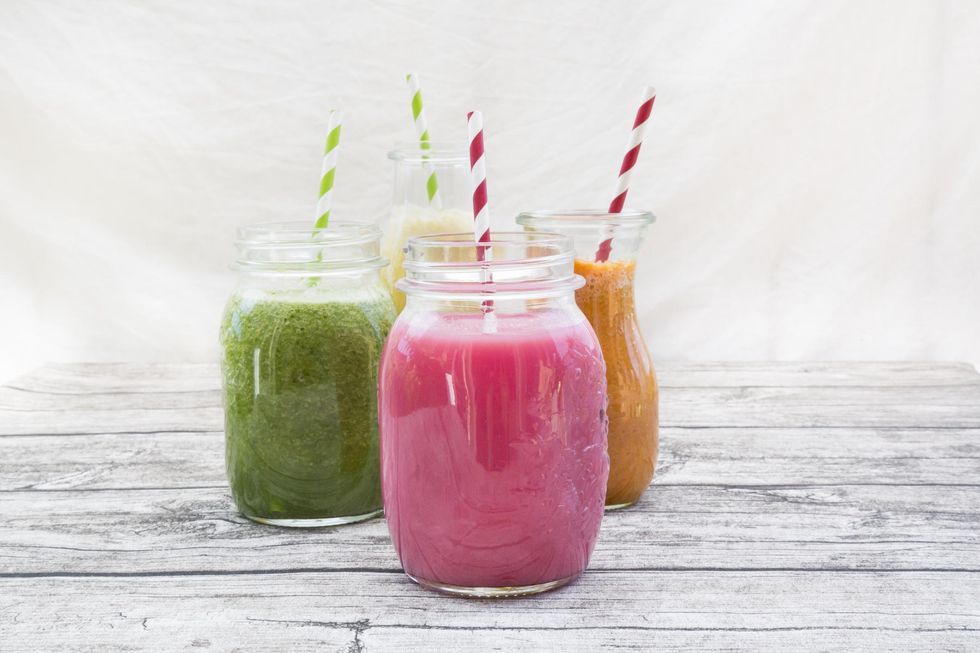 Let me tell it, you can NEVER have enough ice cream. Still, with all of the sugar and cream that's in it, I've learned that my waistline and digestive system need me to scale it back a bit. Something that I've been doing more of is making smoothies instead of milkshakes. Or when I have a sweet tooth, I'll dip some fresh strawberries into some dark chocolate, make my own sorbet (which is basically sugar and fruit; but when it's DIY, you can control how much sugar you use) or snack on some dried fruit. Does that mean I never have a Nutty Buddy or a slice of cake? Sure, I do; however, going with healthier alternatives tends to hit the spot so that I'm not packing on pounds or setting myself up for a sugar addiction (check out "Ever Wonder If You've Got A Low-Key Sugar Addiction?").
While we're on this topic, I do think I should put on record that the Vitamin C and fiber in fresh fruit makes it a much better option than desserts 'n stuff; just make sure to keep your portions under control. Fruit contains fructose which is still sugar and could lead to health issues like diabetes, if you're not careful and you mess around and overdo it.
3. Go for the Dark Meat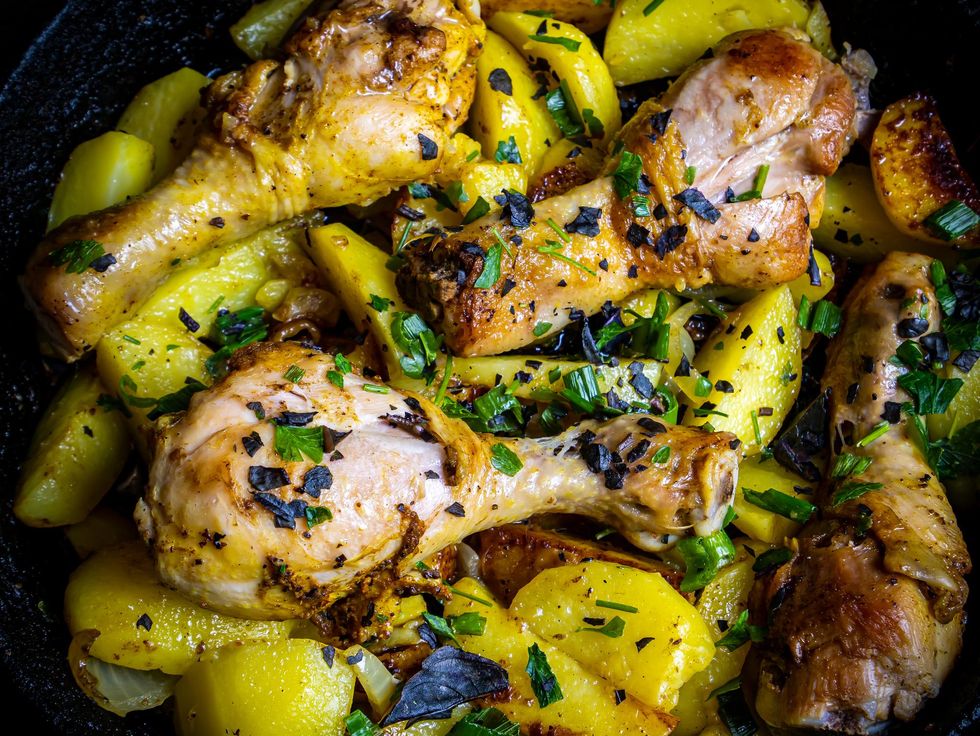 Pun intended and not intended, I'm a dark meat kind of gal. Well, even if you're someone who prefers the white meat of chicken and turkey, let's not act like it's not typically drier and oftentimes harder to chew unless it's got a lot of condiments on it. And here's the thing — while dark meat oftentimes catches heat for having more fat and calories, on average, that's only around 10-15 more per serving. And since dark meat tends to be much more tender and full of flavor, it actually makes more sense to eat dark meat as you prepared it rather than white meat that's consumed with a ton of extra "stuff". By the way, drums of a chicken are dark meat while wings of a chicken are white (thought that should go on record for those of you who are big-time chicken eaters).
4. Take the Whole Grain Route for Pasta, Rice and Bread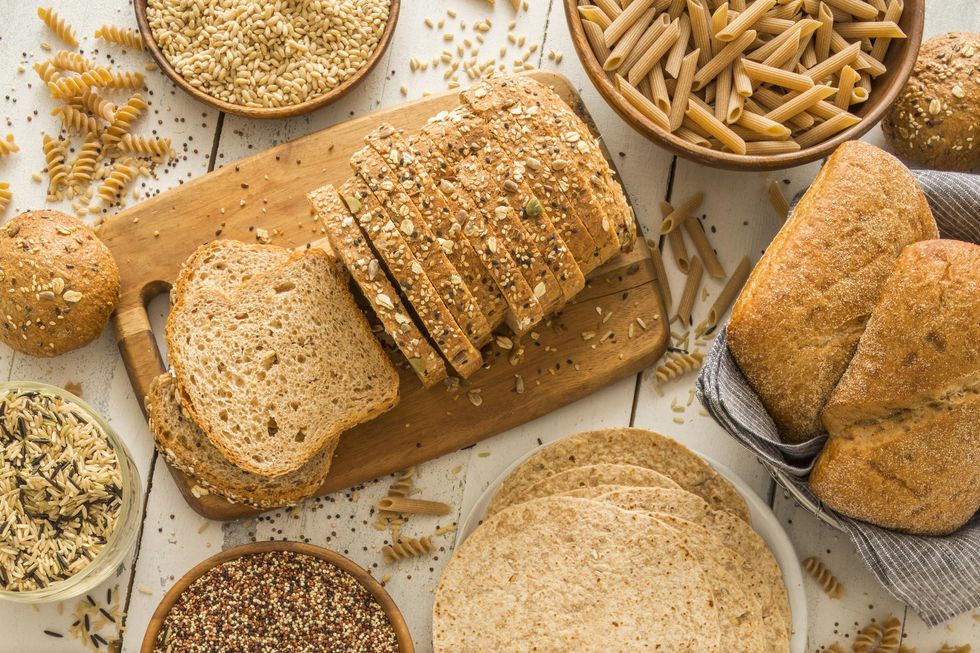 My goddaughter often mentions to me how irritated she is that her parents don't keep bread in the house. I feel her pain. I don't have that rule. While I don't keep a ton of bread, pasta or rice around, I will indulge. I just try and make sure that whatever it is, it's whole grain instead of white because those kinds of white foods are processed in such a way that almost all of the nutrients are stripped away. As far as the health benefits of whole grain (which means it contains all of the grain — the bran, endosperm and germ) goes, it's a good source of fiber, calcium, plant compounds, manganese and B vitamins; it lowers your risk of heart disease, type 2 diabetes and stroke; it's easy on your digestive system; it reduces chronic inflammation and, it even increases longevity. So, enjoy your spaghetti and grilled cheese. Just go with whole grain when you do.
5. Consume the Skin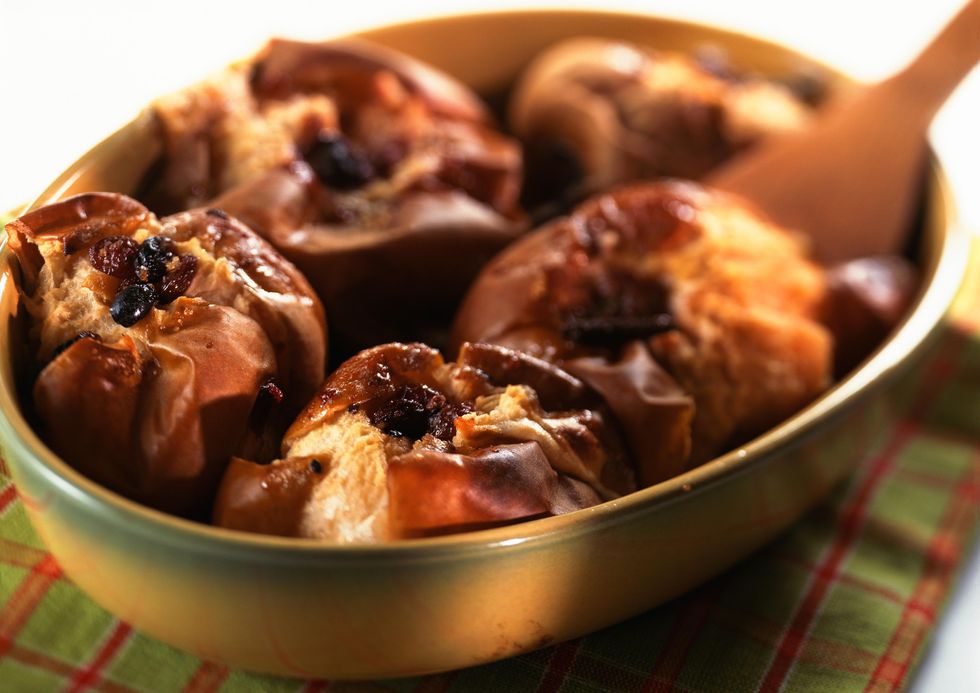 When it comes to eating healthier, if there are two mistakes that a lot of us make far too often, it's cooking food for so long that most of the nutrients are taken out (in most cases, the "rawer" the better) and/or it's removing skin from fruits and veggies that are better for us if we would just leave them on. The reality is that a lot of foods have skins that are loaded with nutrients, including powerful antibiotics and an incredible 30 percent more fiber than peeled produce does. So, when it comes to foods like apples, peaches, eggplants, zucchini, potatoes, cucumbers, kiwi, pears, tomatoes and grapes, eat them as is. It's a little thing that can make a really big difference when it comes to your overall health and well-being.
6. Sauté More Often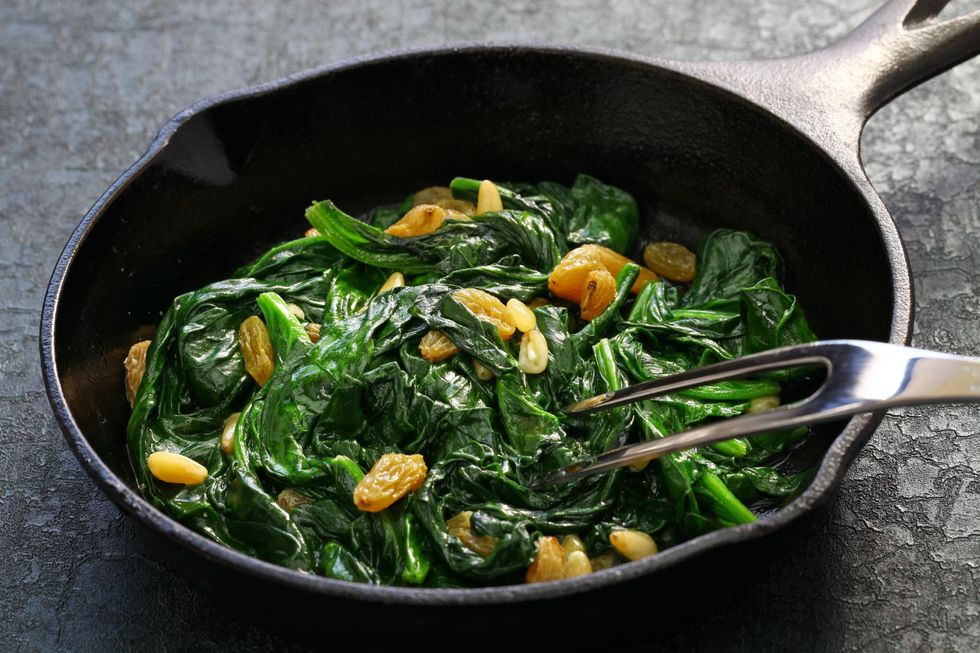 There is someone in my family who sautés collards and they are the absolute bomb.
That said, if you're someone who likes to use your cast iron skillet a lot (and if so, may God richly bless you), you should consider sautéing more often too. The reason why is because if you add a little extra virgin olive oil to whatever it is that you're preparing, that will kick the antioxidants in them known as phenols up a notch. This is good to know because those can help to prevent cancer, muscular degeneration and diabetes from setting in.
If you've never sautéed before, what exactly does that mean? It basically means that you put food into a pan and cook it in a short amount of time with a little oil and on high heat. You can check out a video for tips on how to do it here.
7. Bake Instead of Fry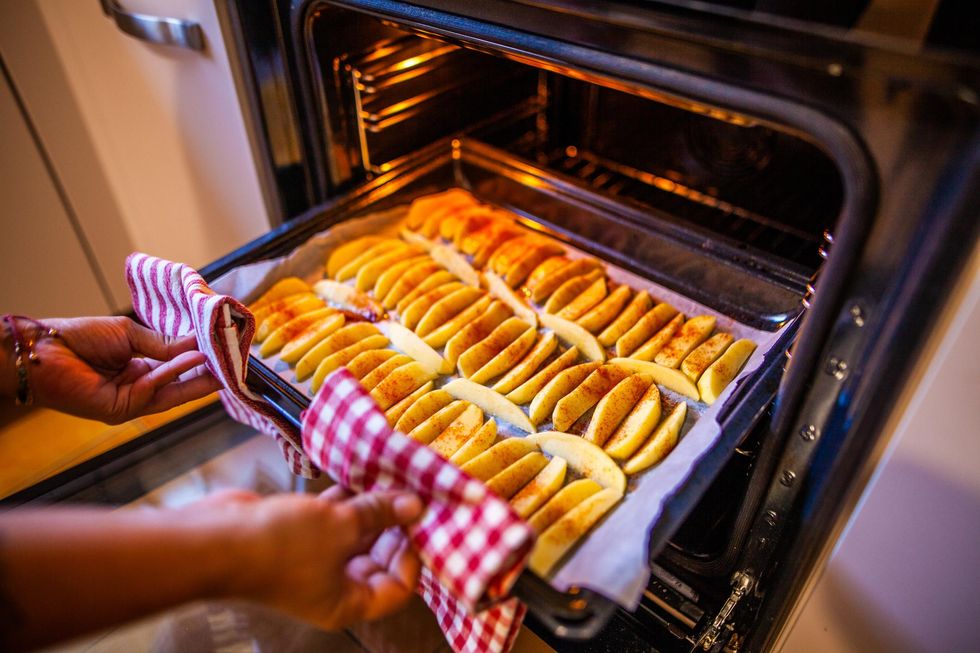 Fried foods taste great. I'll be the first to say that. The reason why less is more when it comes to eating them is because they are usually prepared in oil and, since oil is typically a saturated fat, that makes it pretty high in calories. The alternative? Baking. You don't need oil (or at least as much) which makes it a better option. Or you can go with an air fryer. It's healthier than using a deep fryer. It can reduce the risk of certain compounds forming that come directly from frying foods. It also can reduce the heart disease risk. For the record, all of this is great, so long as you also keep in mind that if you're using an air fryer to fry food, it's still frying food. I know some of us feel like air fryers are miracles, but they still need to be used in moderation.
8. When Getting Takeout, Nix the Sides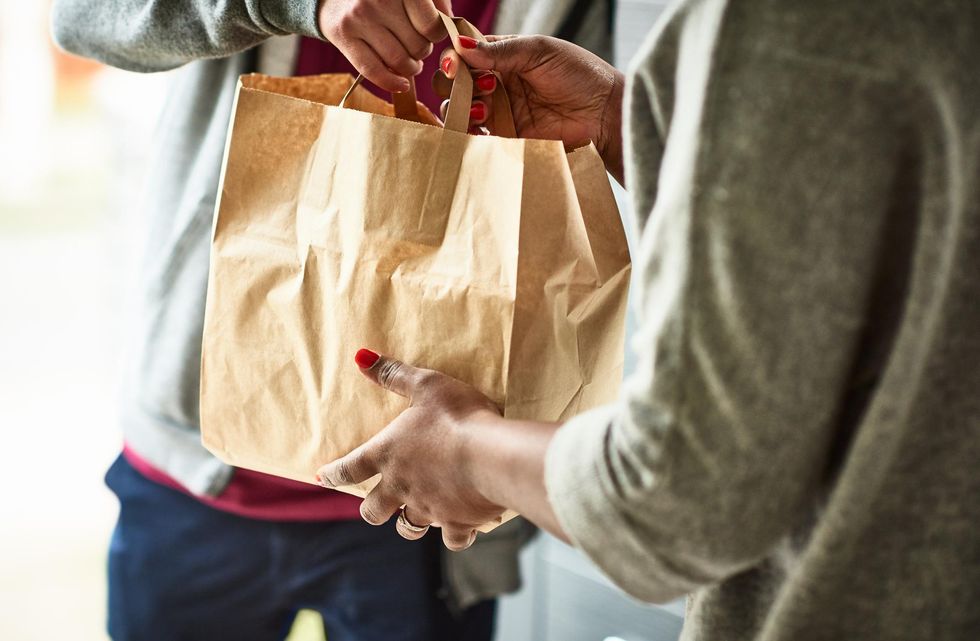 There really is no way around the fact that cooking is healthier (and cheaper) than eating out. Still, I get that sometimes you may be too tired to prepare a meal or you simply want to "treat yourself" by picking something up or having it delivered to you. In these instances, try and order a main dish and still have sides at home. For instance, if you want some Mexican food, get the tacos or burritos, go without the beans and rice and have some carrot and celery sticks. Or, if you're craving burgers and fries, perhaps go without the fries and partner the sandwich up with a salad. You'll save a few coins and get in some extra nutrients this way.
9. Go Easy on Condiments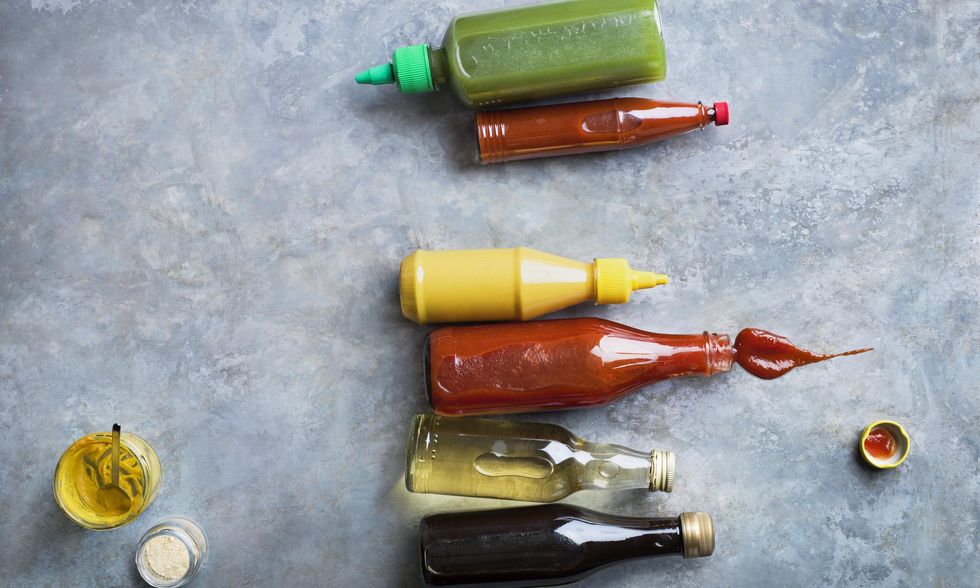 I've got an ex who used to say, "If you've got to rely on condiments to make your food taste good, you didn't prepare it right." For the most part, I totally agree with him. Not to mention that a lot of condiments contain a pretty high amount of fat, sugar and/or salt. For instance, on average, mayonnaise is 180 calories per serving; salad dressing is 130 calories per serving; tartar sauce is 120 calories per serving; maple syrup is 105 calories per serving and barbeque sauce is 100 calories per serving. Does this mean you can't enjoy condiments at all? I'm not saying that. What I am recommending is that you read the labels of condiments before purchasing them and that when you order foods that typically come with them, it's best to get your condiments on the side. That can significantly reduce the portion of them that you consume.
10. Drink More Water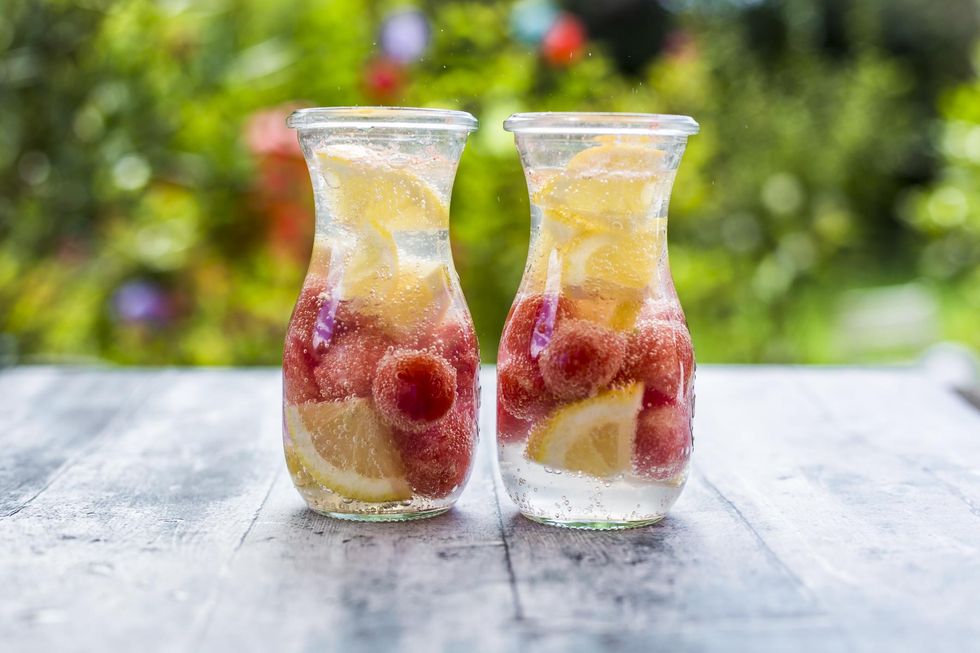 OK. I'm thinking that you already know that soda isn't good for you. The main reason is because the amount of sugar that's in it is totally off the charts — literally.
For instance, there are 39 grams of sugar in one can of Coke. Now guess how many grams you're supposed to have a day — 24 grams. Exactly. To give you a bit more perspective, there is around 23 grams of sugar in fruit juice and 22 grams of sugar in sweet tea (depending on who makes it). Not to mention the calories that can easily be 120-150 per serving. This means that you can drink all of the calories that your body needs every day if you're not careful.
The alternative? Yep, more water. If the thought of that drives you crazy, remember that there are options like sparkling and mineral water (which assists with heart health, constipation and lowering your blood pressure) which adds some bubbly to whatever you drink. If you make a drink that is one-third juice and the rest is water, you're still getting flavor without as much sugar and calories. Or you can always go the infused water route; both are personal favorites of mine. It's one more way to make it easier to eat/drink healthy while still enjoying your food/drink in the process.
Join our xoTribe, an exclusive community dedicated to YOU and your stories and all things xoNecole. Be a part of a growing community of women from all over the world who come together to uplift, inspire, and inform each other on all things related to the glow up.
Featured image by Getty Images
Keep reading...
Show less