Over the last year, charcuterie boards have taken over social media. So many people have been jumping on the trend by sharing videos of themselves on Instagram and TikTok making boards in new and creative ways such as sushi boards or pizza boards. But not all boards are created equally. Some of what we see as charcuterie boards aren't actually charcuterie boards. How? You may be wondering. Well, we spoke with the owner of The Bougie Grazer Shandra Turner and she schooled us on the difference.
"'Charcuterie' is just the cured meat that goes on the board. It has nothing to do with the cheese or anything like that. Cheese just [accompanies] the meats but 'charcuterie' is just a fancier way (and a French word) of saying 'meat' and that's all it really is," she says.
"What you've been seeing out there are more so 'graze boards' but everyone likes to say the word 'charcuterie,' so it's been dubbed as 'charcuterie' but really it's a 'graze board' where it would have those wings on it or chips or a 'nacho board' or just kind of any of those things that you can put together and everyone can just come together around a board and just kind of nosh on what they enjoy or what they want. It gives everyone choices."
Meaning, the next time you come across a dessert board or a brunch board on social media or you decide to hop on the craze, remember to call it what it really is, a graze board.
For Shandra, The Bougie Grazer started off as a way to keep her creative juices flowing outside of working a corporate job. After sharing videos of herself making charcuterie boards on social media and building a following, she began receiving inquiries about workshops. She started her first charcuterie board workshop in 2021 around Valentine's Day and she continued having workshops and even partnered with Atlanta Georgia's Bellyard Hotel for classes.
But The Bougie Grazer is more than just a charcuterie board business, it includes many other products and services such as lavish graze tables, picnic basket rentals in the summer, watermelon cakes, and fruit carving. And she calls her business "therapeutic" and her saving grace.
"I feel like if I can do it, anybody can do it. Just get started. This business is literally therapeutic and it saved my life. I was on the couch wondering what I was gonna do next after pivoting from a career and I just picked something that I do all the time and I made a business out of it," she explains.
"So, if you knit booties all the time or if you make cakes all the time, take it and turn it into a hustle. So, you know, just don't give up on yourself, and don't feel like you're too old to pivot in any industry or do something different."
However, with charcuterie boards being a huge trend, Shandra hopes to "ride this wave and see where it takes me." Making charcuterie boards is a fun activity you can do by yourself or with others. Whether you decide to have it for a party or as an appetizer before your dinner, remember to keep it fun. Here's a few tips and tricks:
It's all about variety.
While charcuterie is just meats, it's good to have a variety of meats on the board. Some go-to's are chorizos or prosciuttos. But you can also add different types of cheeses, fruits, vegetables, and more.
Get in touch with your creative side.
One of the popular trends we see with charcuterie boards is making a salami rose. Shandra shared an easy tutorial on her IG that included using a cup to shape the salami into a rose.
Fill in the gaps.
When creating a charcuterie board, you not only want to make it look appetizing but you want to make it look full. Once you create your base, you can throw in other items such as crackers, spreads like hummus, or garnish to fill the board.
Feature image by @thebougiegrazer/ Instagram
Everyone knows that beauty comes from within, which starts with what you put into your body. Eating and drinking the right things can lead to clear skin, youthfulness, and an outer glow. We all know the beauty benefits that fruits and vegetables have and the fact that they help you achieve beauty goals; but what about drinks? There are a lot of products on the market that promises to give you the skin you so desire. There's collagen, which is popular, and other beauty elixirs that parade themselves around as the best of the best.
But at the end of the day, healthy, beautiful skin can come from natural, everyday products. Here are seven drinks to add to your beauty routine.
Bone Broth
Bone broth has a lot of benefits. Research suggests that it can aid in weight loss but it can also help you get brighter and tighter skin due to the collagen it naturally has.
Pomegranate Juice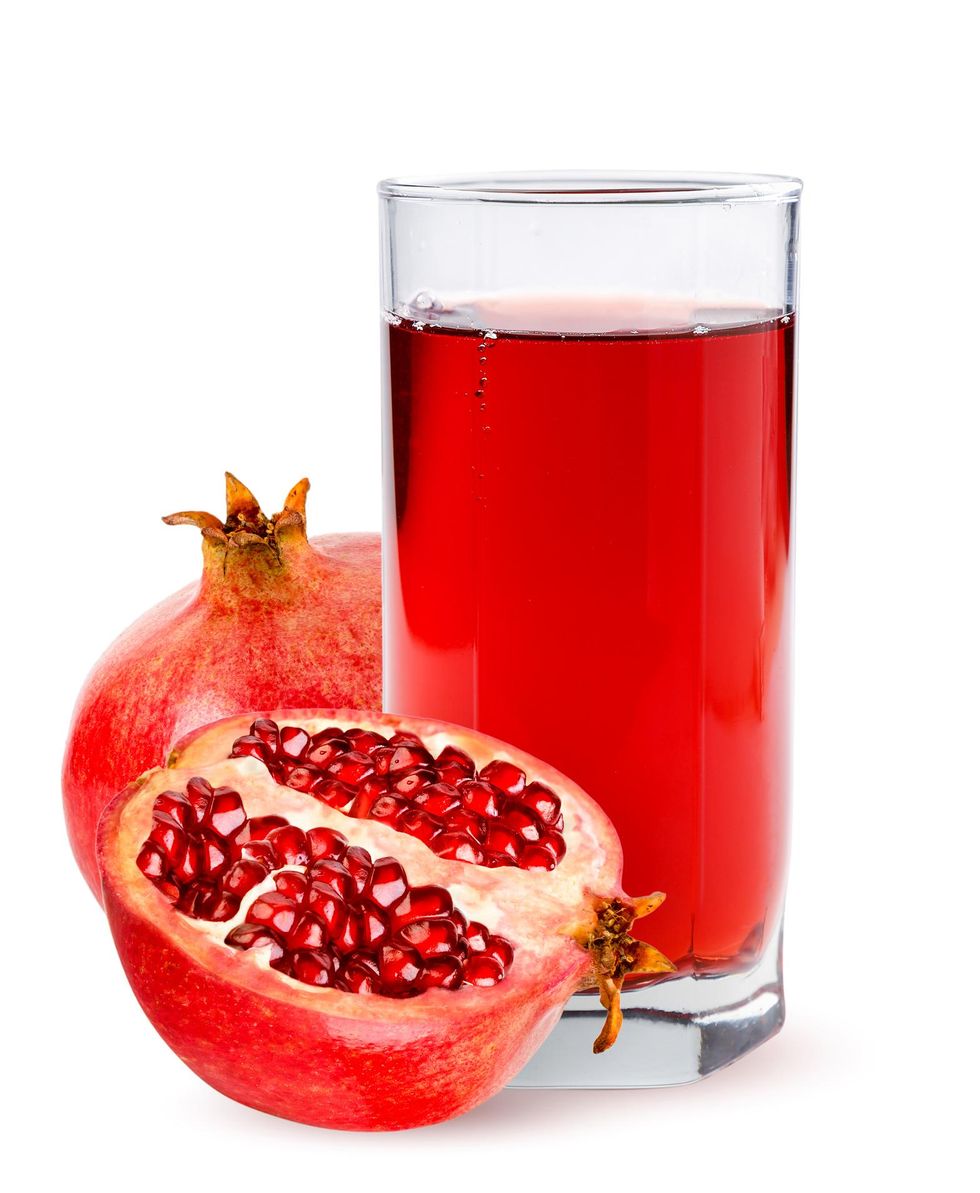 Inna Tarasenko/ Getty Images
If you want skin renewal then pomegranate juice is your friend. Packed with vitamin C and K and omega-3 fatty acids, this juice can heal acne scarring and reduce breakouts.
Green Tea
With its anti-inflammatory properties, green tea is a great option to drink to preserve your beauty. It treats acne, reduces skin irritation, and it can help fight premature aging.
Coconut Water
There's a reason why people in the tropics often look young and vibrant. It's in the water. Coconut water that is. Coconut water is packed with nutrients and vitamins such as vitamin C and can aid in breakouts.
Spinach Juice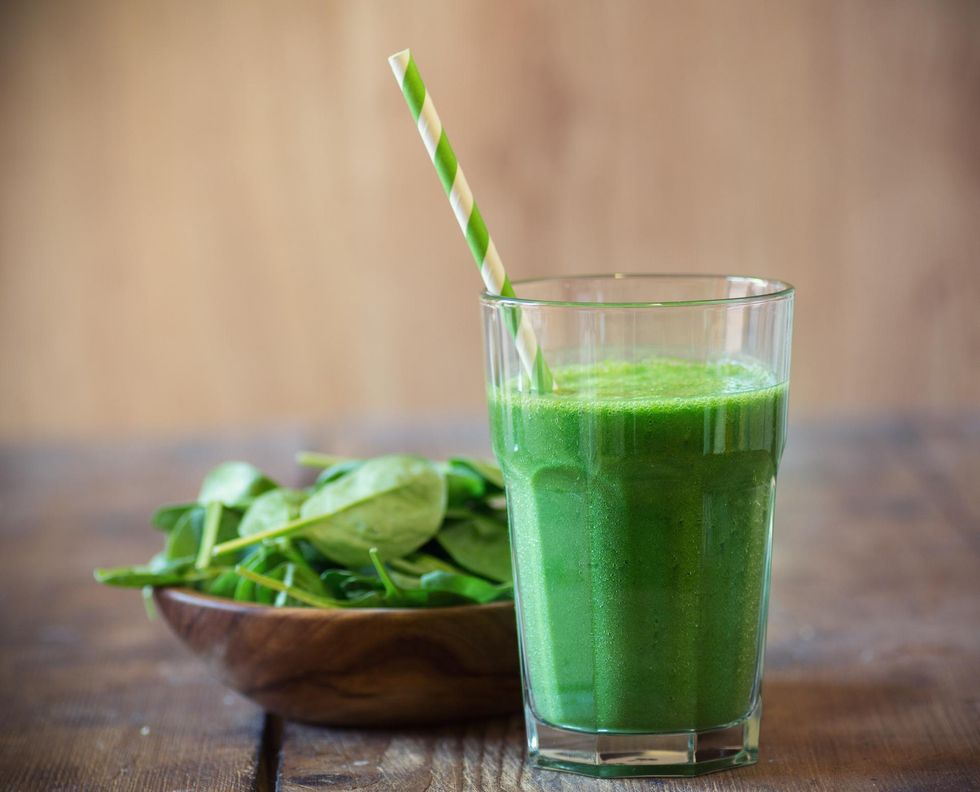 Lecic/ Getty Images
Spinach juice may not sound tasty but it has a lot of benefits that you may want to take advantage of. This leafy green can reduce wrinkles and dark circles and keeps your skin hydrated thanks to vitamins A, C, and E.
Carrot Juice
Carrot juice is rich in vitamin C and beta carotene, which can help protect your skin from the sun's UV rays and free radicals. It also helps with skin elasticity due to collagen found in carrots.
Lemon Water
Water is considered the holy grail for health but adding lemon not only tastes good but it also does the body good. Lemons have antioxidants and vitamins and squeezed into water purifies your skin and gives you that glow.
Feature image by Mapodille/ Getty Images
There are so many things to do during the holiday season from ice skating to Christmas parties. But a new activity on the scene is quickly becoming popular during this time of year: holiday pop-up bars. If you aren't familiar with them yet, you will be soon because they are popping up everywhere in cities all over the U.S. from New York to Detroit and even sunny Miami. I've visited a few of these Christmas-themed bars in Atlanta, GA as well as Greenville, SC, and they are as festive as they sound.
But you may be wondering, what are holiday pop-up bars. Well, I'm gonna put you on today. Read more about it below.
What are Holiday Pop-up Bars?
Holiday pop-up bars are exactly what they sound like. They are holiday bars that pop up around the holiday season. These bars are typically decorated from wall to wall with things most people dress up their homes with during Christmastime such as ornaments, stockings, Christmas lights, presents, bows, and Christmas trees. So, when you walk in, you feel like you've been transported into a jolly wonderland.
The food and drinks will also have you feeling merry as they are often holiday-themed. There are some holiday bars that only exist during this time of year but some restaurants and bars that are open year-round transform their space every December from their everyday aesthetic to a holiday explosion. Because the talk of these bars is spreading like wildfire, some of them are reservation only and get booked up quickly. But most are first come, first serve and open immediately after Thanksgiving, so you have plenty of time to experience one.
Where Did Holiday Pop-up Bars Originate?
The first known holiday bar originated in 2014 by the CEO of Cocktail Kingdom and Miracle Company Greg Boehm. In an interview with Eater, he explained that he was doing construction on a new bar in NYC but his mother inspired him to create his holiday bar Miracle Pop-up instead.
"And, right when I bought it, we were going to do construction, December. My mother was traveling, in Tibet, and had an idea," Boehm says. "And, when she got back to Hong Kong, she called me, by mistake, at 4:30 in the morning. And said, 'Stop. Do not do construction in December. Open a Christmas cocktail bar and do construction in January.' And I hung up because it was 4:30 in the morning. But, the next morning, I went, 'Wow, that's a really good idea.'"
The interview also revealed that a lot of the holiday bars that have sprung up in different cities are franchised by his company.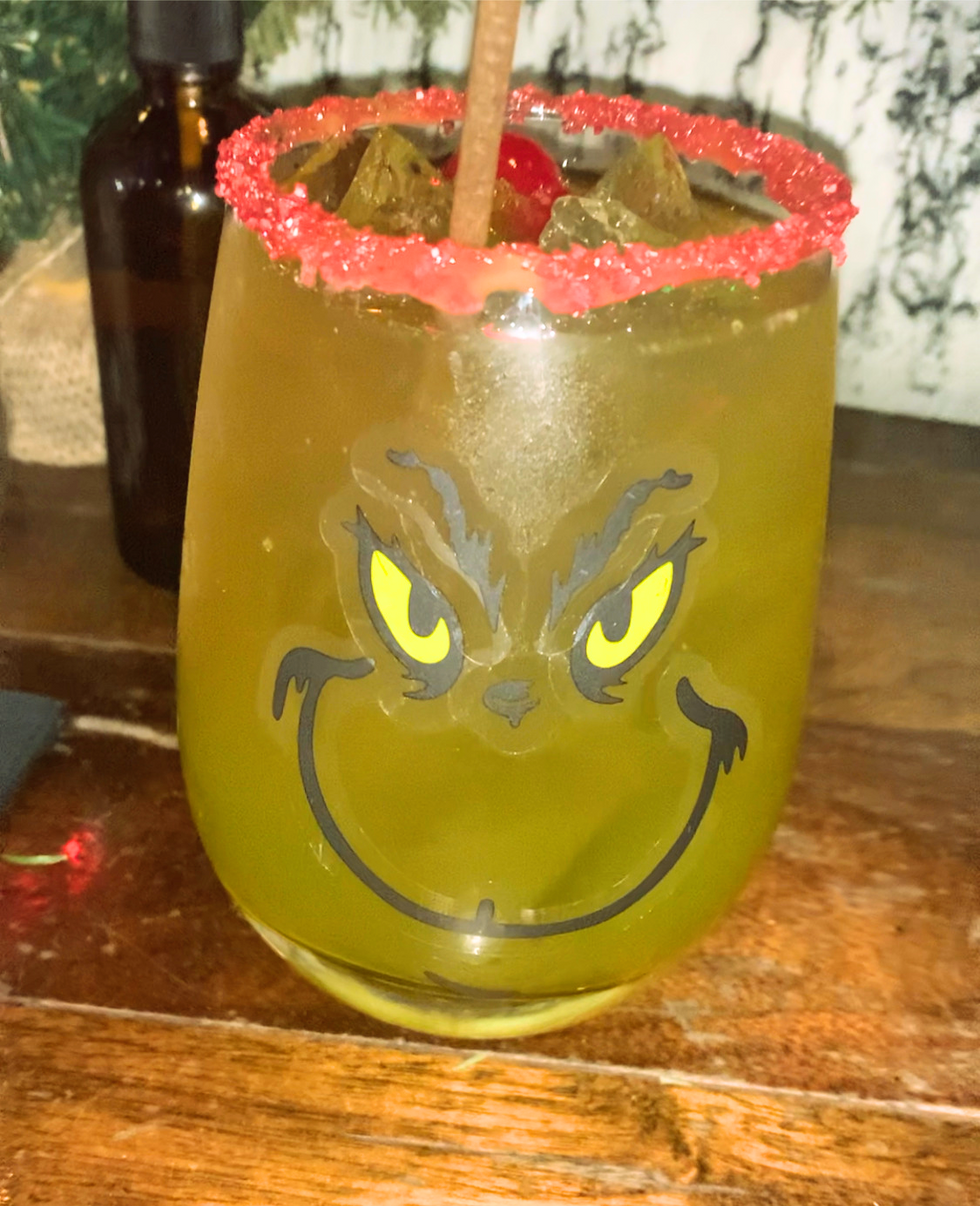 A Grinch-inspired drink from Urban Tree Cidery's holiday pop-up bar, which is located in Atlanta, GA.
Photo courtesy of London Alexaundria.
What to Expect at a Holiday Pop-Up Bar?
Every holiday pop-up bar is different. You have some that have the traditional Christmas feel and some that are more on the playful side. And I can't forget the pop-up igloos. (Yes, you heard that right). It's whatever your preference is. You can go make it a girls' night out like I did or go with family or your partner. You can even have a good time solo. Either way, you are sure to have a good time while being filled with the spirit of Christmas (or Jack Daniels.)
Feature image by Westend61/ Getty Images
This post is in partnership with Toyota.
Rosco Spears is a do it all type of woman that can adapt to any position she's called to, and she credits that with growing up in Detroit. Known as the "motor city," this famous midwestern city has a thriving art, culinary, and nightlife scene. Rosco currently works as the creative director of The Lip Bar alongside the brand's founder Melissa Butler. Rosco and Melissa had been friends since high school. The Lip Bar has become a nationally recognized beauty brand, and the brand's corporate offices are right in the heart of the city they grew up in.

"I'm from the west side of Detroit," Rosco tells xoNecole. "Dexter and Linwood, to be exact, which is a little hood, but it's still home."
Despite the negative stereotypes that exist about Detroit, Rosco believes there is so much beauty and togetherness in her hometown. "For a while, people were making [Detroit] out to be a very dark and eerie place. But Detroit is so beautiful. I mean, I'm pretty sure everybody would say that about their hometown, but it's really such a beautiful place. The people are genuinely good and friendly. it feels like family."
As a busy executive, wife, and new mom, Rosco is committed to building a future and legacy for herself and her family. While she currently resides in North Carolina with her family, she often travels back to Detroit for business and to visit family. Reflecting on Detroit brings up many memories for Rosco, including growing up with folks that looked like her.
Her most fond memory is escaping to Belle Isle for the most scenic drives. Since the new Toyota Corolla Cross is made for cruising, Rosco recommends this offshore destination as one of the best ways to experience the city. "This is not technically Detroit, but I love the St. Clair shores. You just get to drive along the shoreline. That's like if you're riding up Jefferson, which is a very popular street downtown, you just keep going up Jefferson and you can get a scenic route. It's such a great way to experience the city.
Check out Rosco's favorite hang outs, wellness experiences, and eateries in her Detroit city guide below.
Condado Tacos, 634 Selden St, Detroit, MI 48201
"I love Condado Tacos. It's a Mexican spot. They have amazing tacos, amazing drinks, amazing taco bowls, veggie bowls. I've never had anything on their menu that I complained about. I think it's amazing."
Yum Village 6500 Woodward Avenue, Detroit, MI 48202
"There's this really amazing Caribbean spot called Yum Village. I actually found out about them because they used to have a food truck right behind our pop-up store. They have the most amazing plantains and the most amazing jerk chicken."
American Coney Island, 114 W Lafayette Blvd Detroit, MI 48226
"American Coney Island is the spot that you go to after the club because that's the only thing that's open. So it's essentially the let-out, because after everybody is out partying, Coney Island is open and they literally have everything. You can get salads, you can get a chicken pita wrap, you can get chicken wings, you can get a steak. But they're known for their Coney Dog which is a hot dog with chili, onions, and mustard. I would say the Coney Dog is a Detroit staple."
Woodhouse Day Spa, 1380 H Street, Washington, D.C. 20002
"What's funny is that I work in the beauty industry, but I am the opposite of a beauty girl. But when I want to get my body wrap done or a massage, I go to Woodhouse Day Spa. They're Black-owned and the founders are very kind people."
The Heidelberg Project, 3442 McDougall Street Detroit, MI 48207
"There's this guy, his name is Tyree Guyton. He created the Heidelberg project where he essentially went to this neighborhood that was kind of impoverished, lots of abandoned houses, and created artwork everywhere. So he painted the cement, he painted the streets, he painted the houses, he did installations all around. I love visiting it and taking people visiting Detroit for the first time. I like to take them over there because it's just such a wild art installation and it's so unexpected."
BLOOM Transformation Center, 227 Iron St. Detroit, MI, 48207
"The last time I was home, I went to this spot called BLOOM Transformation Center. I went with my sister for sound therapy. We went in, we took our shoes off, we laid on the mats, and we just spent an hour having a sound bath, and it was the most amazing experience."

This post is in partnership with Toyota.
Angel Gregorio, a former school principal turned culinary maven, was born and raised in Washington, D.C. but has left traces of her flavor all over the world. Her seasoning company, The Spice Suite, is nestled in the Takoma neighborhood of Washington, D.C. and frequently draws in corner-circling lines of customers waiting to purchase her hand-tossed seasoning blends. Angel's spice mixes are a labor of love; she travels around the world, sourcing spices from different countries and cooking up unique blends like Sri Lankan curry and smoky tea rub, so it's no wonder she keeps a packed house and sells out online spice boxes in minutes.

As a business owner, wife, mom, and avid traveler, Angel's time is precious. More than that, she knows exactly who she is and what's made for her. That's why she's leaning all the way into the "soft life" by outsourcing her to-do list and having her favorite service providers make house calls. "I am all about convenience," she tells xoNecole. "So while I love a good farmer's market, I also enjoy grocery delivery services." She's also deliberate about pouring back into the community, saying "If ever I'm out and about spending money and not eating at home, then it's almost always going to be with a Black business."
Just like the new Toyota Corolla Cross, Angel is always on the move and making space for what matters. "The way that I make space for myself, even when there are hiccups in life, is to not accept excuses...even from myself," she says. "If I have a nail appointment at 10 am, I'm getting to my nail appointment at 10 am. [Store] shipment delays can't delay my self-care."
The Toyota Corolla Cross is the perfect hybrid vehicle for a road trip with its spacious interior, immersive sound system, and fuel-saving efficiency. Pair this with the scenic views of D.C., and I'd say you have the perfect summer getaway. And when you get there, whip out this to-do list curated by Angel of the best Black-owned businesses in Washington, D.C. to eat, shop, get pampered, and unwind.
She Nailed It, East Capital St SE Washington, DC 20019
"In terms of self-care, I think people who follow my page know that nails are a thing for me. I probably change my nail designs weekly. So having a really bomb nail tech is really good. And even that is a form of convenience for me because [my nail tech] will come to me."


2D Pole Fit 11392 Livingston RoadFort Washington, MD 20744
"I've been going to this place called Two D Pole Fit for aerial yoga and pole classes which keep me active. It's a Black woman-owned studio and I fell in love with it."
Catwalk Boutique, 225 7th St. SE Washington, D.C. 20003

"I love to shop, but I mostly shop online. There's a boutique here by Eastern Market called Catwalk Boutique, and I've been shopping with her for years. I found her while shopping for my baby shower [twelve years ago]. She will let me try things on at home and pick it up whenever they're ready. Her clothes are [made by] low-key designers across the world. I've found the most whimsical, feminine, funky things I've found from her."
Turning Natural Juice Bar, 1380 H Street, Washington, D.C. 20002
"I don't always want to [leave home]. But if I am getting out, it's usually for something quick and simple, but really good. Turning Natural is one of my favorite juice bars in the city. They do really simple, clean smoothies and vegan treats. I'm not even vegan, but they do desserts really well."
"I have friends who garden, and I'm grateful a lot of them will grow things for me. My friend Falani has a business called Byrd's Nest Box and she grows organic produce. So if I'm making salads or sandwiches and I need lettuce and tomato, Falani will pull up."
Are you someone who has a really hard time focusing? If so, don't be so hard on yourself. Between stress, fatigue (which oftentimes comes as the direct result of sleep deprivation), a fluctuation of hormones, getting easily distracted, and even sheer boredom, a lack of focus and concentration is something that happens to us all — more often than most of us would care to admit.
The good news is there's one way that you can actually get yourself back centered — and that is to eat certain foods; ones that are proven to provide the kind of nutrients that you need in order to focus on the task(s) at hand. Because the reality is, our diet plays a direct role in how much we're able to focus (or not focus). So, are you ready to see what can get you back on track?
1. Berries
Personally, I'm someone who is a fan of eating berries when they are actually in season, which is basically from May thru August. Waiting until then means that you are able to get the most benefits from them. Plus, you don't have to worry (as much) about artificial colors and preservatives that are oftentimes found in berries when they are sold year-round. Berries are good for you because they are full of antioxidants and fiber, can improve your blood sugar levels, and are great at fighting bodily inflammation.
And why are berries beneficial when it comes to helping you to maintain your focus? It's because they contain flavonoid compounds called anthocyanins that help to increase blood flow to your brain. As a direct result, berries can increase your brain power and even improve your short-term memory.
2. Eggs
If you're looking to get some protein, selenium, and zinc into your system, eggs will totally have your back. Eggs are also good for you because they've got choline in them; it's awesome because it helps to build up the cell membranes that are in your system. Some other cool things about eggs are they play a role in lowering your risk of heart disease and they're full of amino acids (which support your immunity, are a great energy source, and support the growth of hair, skin, and nails) too.
Thanks to the vitamins B6 and B12 that are also in eggs (these vitamins help to increase brain health) and the choline that is directly linked to improving your memory, this is why eggs have easily made this list too.
3. Fatty Fish
The kinds of fish that make the "fatty fish" list include salmon, albacore tuna, and sardines. What makes these a standout kind of fish is they are loaded with omega-3 polyunsaturated fatty acids. These acids are good for you because they assist with improving your eye health, reducing your heart disease risk, fighting bodily inflammation, fighting off autoimmune diseases, decreasing asthma in children, easing menstrual discomfort, improving bone and joint health and it can help to prevent cancer.
Oh, but when it comes to all of the foods on this list that are great for your brain, fatty fish is unmatched because omega-3s can also level out mood swings, reduce ADHD levels in kids, improve blood flow to your brain, sharpen your memory and preserve brain cell membrane health. So, if you like nothing more than a salmon Caesar salad…what are you waiting for?
4. Dark Leafy Greens
I say it often because it will always be the truth. If there is any kind of food that is the ultimate multivitamin, it's dark leafy greens. They're full of just about every vitamin you can think of (especially iron, calcium, potassium, fiber, and vitamins A, C, E, and K). They're able to reduce oxidative stress. They improve bone health. They boost immunity. They improve digestion. They strengthen vision. They reduce the risk of heart disease. They also keep your blood cells in good shape.
Having a salad a few times a week can be great for your brain because not only can it help to keep your brain young, the folate that's in them can also improve your mood, calm your nervous system and decrease mental fatigue too. When your brain is alert, you can definitely concentrate better.
5. Oranges
Oranges are a good source of protein (when it's the fruit, not the juice), fiber, and definitely vitamin C. It's a type of citrus fruit that also contains plant compounds that reduce inflammation, lower your blood pressure and support how antioxidants are processed throughout your system. Oranges also assist with preventing chronic disease and anemia as well as lowering your cholesterol and blood sugar levels.
Since oranges are a solid source of fructose (also known as "fruit sugar"), they can kick up your energy levels, so that you are able to focus better and complete tasks that you may have on hand. (Do keep in mind that a "sugar rush" typically only lasts for 30-60 minutes, though.)
6. Beets
When I would spend the summers with my great-grandmother, there were going to be at least a few days when she was going to put some beets on my plate (yuck). And while I can probably count on one hand, just how many times I've had them since I've been able to grocery shop on my own, my memory continues to be pretty on-point; so, maybe beets have played a part in that. Aside from them also being a good source of fiber and protein, beets contain folate, manganese, nitrates (which improve athletic performance), and anti-cancer properties.
Brain-wise, beets are great because the nitrates in them can increase blood flow to your brain; specifically the part of your brain that is connected to assisting you with your decision-making process.
7. Green Tea
If you wanna get a ton of antioxidants into your system with one drink, look no further than green tea. Its polyphenols will reduce inflammation and fight cancer. Certain properties in it can help to boost your metabolism levels and burn fat. If you've got a bout of bad breath, green tea can help to inhibit the growth of oral bacteria. Green tea can also help to prevent type-2 diabetes, reduce the risk of cardiovascular disease and it can even increase longevity.
Drink some (hot or cold) if you want some help concentrating because it's the kind of tea that boosts both dopamine and norepinephrine levels (which can help with your memory and your level of alertness). Plus, green tea has caffeine in it and since caffeine is a stimulant, it can give you an energy boost. Long-term, another benefit of green tea is it also has catechin compounds; those are awesome because they can help to prevent cognitive decline.
8. Rosemary
As more and more time goes by, an herb that I'm becoming a huge fan of is rosemary. I like cooking with it and using rosemary essential oil on my hair and skin has been life-changing! Benefits-wise, rosemary is good for your overall health and well-being because it's a great source of vitamins A, B6, C, iron, calcium, and antioxidants. All of this works together to strengthen your immunity, improve blood circulation, assist with digestive issues, fight bacterial infections, and even slow down the greying process.
Rosemary is beneficial if you need a focus pick-me-up because it can reduce the stress levels that make it difficult for you to concentrate, it's a cognitive stimulant that can improve your memory and, its scent can put you into a better mood and clear your mind so that you're able to knock more things off of your daily to-do lists.
9. Dark Chocolate
Iron, magnesium, zinc, copper, protein, fiber, and antioxidants are just some of the nutrients that are found in dark chocolate. What's awesome about this treat is it lowers your cholesterol levels, boosts your libido, decreases your heart disease risk, protects your skin from damaging UV rays, and lowers your risk of having a stroke.
The flavonoids, caffeine, and antioxidants in dark chocolate are helpful because they can enhance your memory, boost your mood and increase blood flow to your brain — that way, you're able to concentrate so much better.
10. Broccoli
Protein? Broccoli's got that. Fiber? Broccoli's got that. Vitamins A and C? Broccoli is a super source of both of these. It also contains antioxidants, sulforaphane (a sulfur-rich compound), and bioactive compounds that can help to prevent inflammation. Some other great things about broccoli include the fact that it helps to prevent certain types of cancer (like breast, bladder, and prostate) from developing, it supports heart health and it can relieve constipation (although the flip side of this is it could create gas).
Eating some broccoli for lunch could get you through the rest of your workday. That's because it also contains bioactive compounds that help your brain and nerve tissue. Plus, the sulforaphane in this veggie can help to prevent oxygenation of your brain so that it's able to work at peak conditions. So, even if it's just snacking on a few florets while dipping them in your favorite dressing, help your brain out by having some broccoli more often. When it comes to that thing that needs your total concentration, broccoli just might do the trick!
Featured image by Getty Images