I already know. Some of y'all are like, "I know that drinking water is good for me. That doesn't mean I like it, so trying to convince me that I'm doing it wrong is asking for a lot." Sis, I hear you. It's not like drinking water is my favorite thing to do either. So much, in fact, that I oftentimes go with sparkling water with a splash of juice in it, just to get my daily quota in. Still, personal feelings don't change the fact that water consumption is oh so very necessary if you want to keep toxins out of your system, regulate your body temperature, keep your joints lubricated, produce saliva and lubrication, push oxygen throughout your organs, keep your skin healthy and so much more.
That's why it's not only important that you drink water but that you do it right. If you had absolutely no idea that there are a myriad of different ways to do it wrong, let me share 10 of 'em, along with how to correct these common mistakes—now.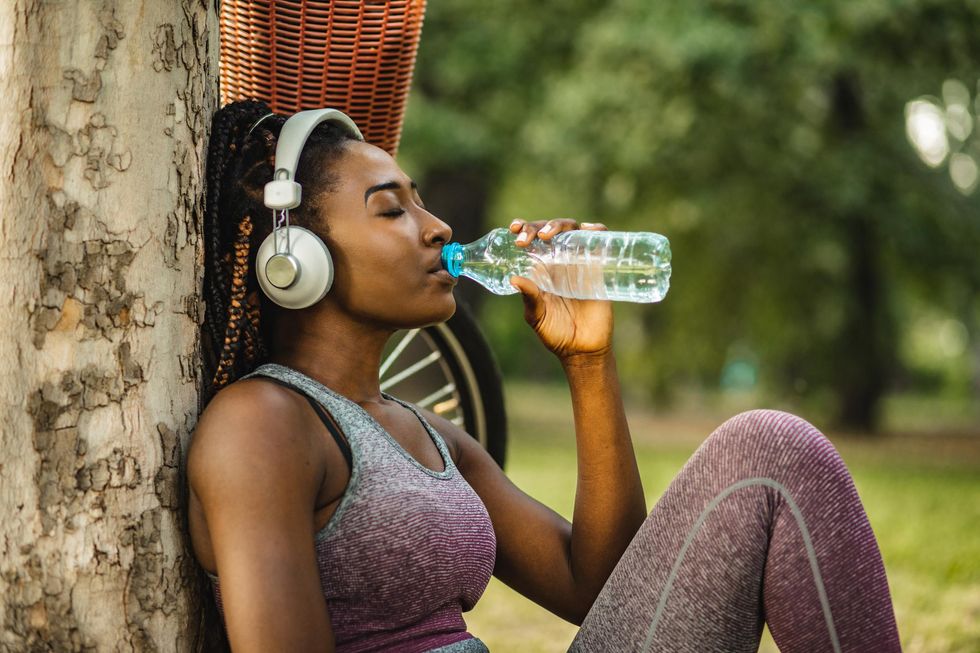 blackCAT/Getty Images
1. Stop Drinking Bottled Water
Let's start with something that I'm thinking is a given, at this point (although I see A LOT of people do it so, maybe not). Bottled water—what I mean is water that comes from a plastic bottle—needs to be an absolute no-no. Aside from the fact that it is absolutely horrible for the environment (it's been reported that there will be somewhere around 30 million metric tons of plastic in the oceans, every year, by 2040), plastic oftentimes contains BPA (which is a synthetic compound known as bisphenol A) and other plastic toxins.
This can ultimately lead to all sorts of health-related issues including fertility problems, weight gain and even heart disease. Instead, you're much better off using a recyclable bottle. It lasts longer, there's no trash and it's so much better for your overall health and well-being.
2. Drink Less Cold Water
While I can certainly get down with the fact that drinking cold water can be really refreshing, when it's ice cold, it actually isn't all that great for you in the long run.
For one thing, if you heard somewhere that it boosts your metabolism, drinking cold water doesn't really do that any more than room temperature water does. Also, because it can restrict your blood vessels, cold water can make it harder to digest your food easily. Other challenges that it presents? It can decrease your heart rate, hinder your body from breaking down fat and even leave you constipated.
So yeah, water with a ton of ice in it isn't really the way to go. Room temperature water is your far better bet.
3. Leave the Lemon Slices Alone (When Eating Out)
If you're someone who's good for getting a couple of lemon slices in your water while you're out—yeah, you might wanna chill on that. There are many studies which indicate that as much as 70 percent of lemon slices have all kinds of nasty germs including bacteria, viruses and E. coli all over them. What about lemon slices at your crib? Well, that's an entirely different story.
If you drink it there, lemon water can help to detox your system, give you a boost of Vitamin C, freshen your breath, reduce your chances of getting kidney stones and even aid in your body's digestive process (especially if you have a glass, first thing in the morning). The reason why DIY lemon wedges are better is because you know what's going on with your knives, countertops and kitchens (and your hands). In restaurants? Not so much.
4. Use a Straw
If water isn't really one of your favorite things on the planet (again, I get it; I oftentimes say it's like drinking wet air) yet you want to amp up your water intake, try drinking it from a straw. Believe it or not, drinking liquid from a straw makes it easier to consume more of it. Hmph. Maybe that's why so many fast food joints want us to take as many straws as possible for those sodas, huh?
5. Have Some Water with Your Alcohol and Coffee
Two things that are diuretics are alcohol and coffee. This is why a lot of people can drink either (or both) and end up still being thirsty all of the time. If you check out the article, "10 Overlooked Signs That You're Dehydrated" on our site, you'll see several reasons why being dehydrated (75 percent of us are, by the way) is absolutely not a good look.
Yet what if you can't imagine a day without a glass of red wine or a couple of cups of java? At least balance things out a bit by following those with a glass of water. It can help to keep you hydrated. It can also reduce your chances of drinking more alcohol or coffee than you actually should.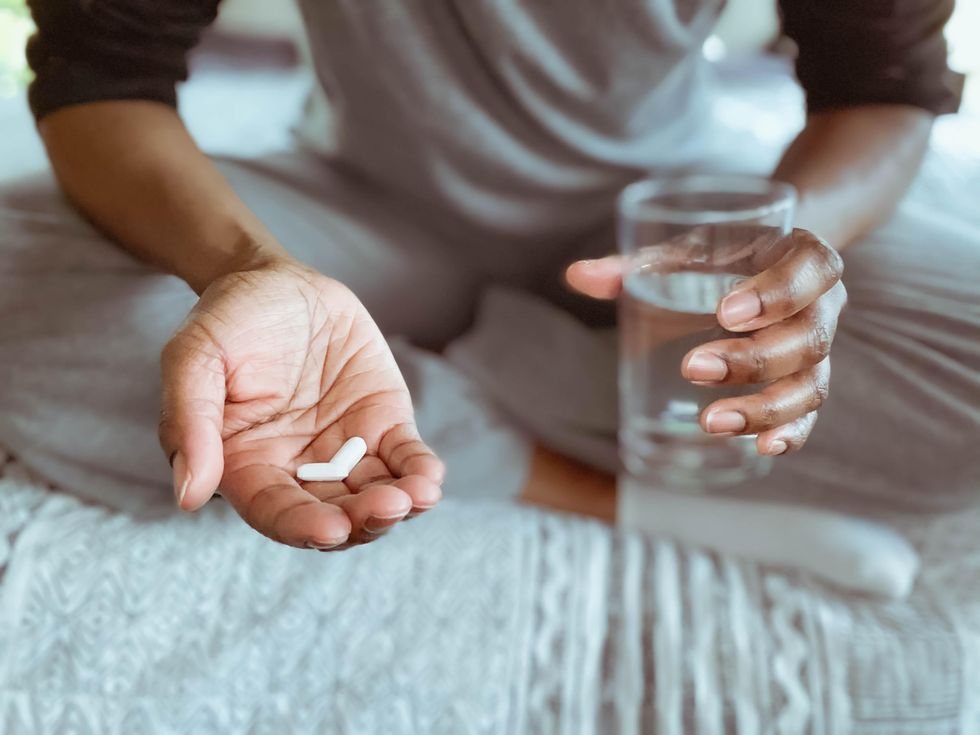 Grace Cary/Getty Images
6. Drink a Full Glass with Your Vitamins or Medicine
Whether it's some sort of medicine that you've been prescribed or you're like me and you are all about getting some vitamins and supplements into your system on a daily basis, chase those down with a full glass of water.
If you're concerned that doing this will flush out what you just took in, first, one glass shouldn't be able to rock any kind of boat. And, as far as vitamins and supplements are concerned, many of them are water soluble which means that the water can actually help them to dissolve into your system easier/quicker.
7. Avoid Artificial Flavorings. Add Fruit Instead.
OK, so back to the wet air thing. There are plenty of products on the market that claim to make drinking water easier because they will add flavor to it. Uh-huh. What they don't tell you in the ads is all of the artificial flavors, colors and other chemicals that are in them too.
Water is supposed to free you of toxins, so it makes absolutely no sense to intentionally put things into it that will work against instead of for you. Your better bet would be to make some of your own infused water. Whatever fruits, veggies or herbs that you decide to go with will help to add nutrients to your water without all of the added fake drama.
8. Have a Couple of Glasses When You're Tired
Question. What's the first food or drink that you reach for, whenever you are feeling completely worn out? If it's not water, chile, it should be.
The truth is a sign of being dehydrated if feeling like your energy levels are zapped. So, when you combat that with a glass or two of water, it can increase your brain functionality by as much as 14 percent. Since your brain is made up of around 80 percent water, that actually makes a lot of sense.
9. Know the Signs of When You're Water Deprived
You might've heard somewhere before that if you wait until you're thirsty to drink water, you're already mildly dehydrated. And yes, there is a lot of truth in that. That's why it's smart to drink water throughout the day.
Just in case you're wondering what some not-so-obvious signs of water deprivation are, they include headaches, joint pain, dry skin, cravings for salty foods, stomach pain, dark urine and not urinating between 6-8 times a day (up to 10 if you're drinking water around the clock).
10. Drink Water at in the Morning Instead of at Night
To be honest with you, there isn't really a "bad" time of the day to drink water. However, if you've gotta choose, taking in 2-4 glasses, first thing in the morning is really wise. For one thing, waiting until nighttime could cause you to have to keep getting up and going to the bathroom. Also, consuming more in the morning is one of the best ways to kick your metabolism into high gear.
The reason why is because, when you're asleep, your metabolism slows down. So, when you drink water, it helps to get your metabolic processes going while aiding in burning fat in the process. Having some water in the morning is refreshing on some many levels. Tomorrow morning, why not give it a shot?
Join our xoTribe, an exclusive community dedicated to YOU and your stories and all things xoNecole. Be a part of a growing community of women from all over the world who come together to uplift, inspire, and inform each other on all things related to the glow up.

Featured image by blackCAT/Getty Images
Keep reading...
Show less
I've never had a migraine before. From what one of my closest friends has said, it looks like I need to thank my lucky stars on the daily because she describes them as being pure hell on earth. While oftentimes they're simply described as being an absolutely awful headache, migraines are actually a type of neurological condition that can come with many more symptoms than just a throbbing headache. Some people end up with dizziness, nausea, vomiting and/or extreme sensitivity to light. Not only that but some folks actually receive physical indicators, alerting them that a migraine is on the way too. Some of those signs include food cravings, fatigue, irritability, neck stiffness and even depression.
Even though most migraines "only" last for around 4-5 hours, there are instances when they can go on for as long as a week. The really sucky part, though, is there currently isn't a cure for migraines. Treatment is all about getting properly diagnosed by your healthcare provider, considering the medications or other forms of therapy that they might recommend—oh, and doing all that you can to prevent them from happening in the first place.
That's what this article is going to touch on because, believe it or not, there are certain kinds of foods that can either trigger a migraine or make one so much worse for you. If you're someone who suffers with migraines, you might want to adjust your grocery list from now on. Some stuff may taste really great; yet, without you even realizing it, they are making you feel so much worse.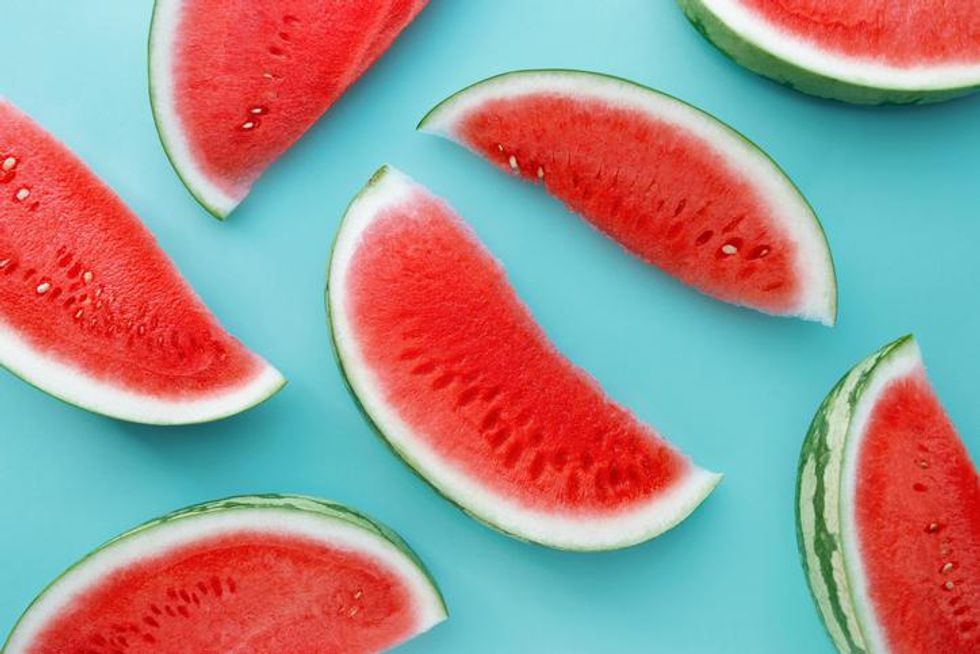 Somrudee Doikaewkhao / EyeEm / Getty Images
1. Watermelon
I know, right? How in the world can some watermelon trigger a migraine? Well, the deal is that, if you get one when it's perfectly ripe, you might be OK. The challenge is, that's a hit-or-miss endeavor and if you do end up with one that is not ripe enough, the acid that it produces could give you a migraine. Not only that but if the watermelon is too ripe, that can produce the biogenic amine called tyramine—which can give you one of the worst migraines you've ever had!
You can reduce the chances of encountering either issue by cutting up your watermelon as soon as you get home and putting what you don't plan on eating over the next day or so in the freezer. Also, do not leave a watermelon sitting out for more than a couple of days if you do suffer from migraines. Leaving one out only increases your chances of the watermelon becoming too ripe and giving you all sorts of headaches. Literally.
2. Caffeine
Caffeine is a weird one. It is a diuretic and dehydration definitely doesn't help to prevent a migraine; however, research hasn't been able to find the exact reason for why it's best to consume as little of it as possible if you don't want to bring a migraine on.
Long story short, if you have one serving of say, coffee a day, you should be fine. Three or more cups of java, Pepsi or whatever your caffeine fix may be could cause you to have a migraine for the rest of the day. If that ain't a good enough reason to cut back, I don't know what is.
3. Chocolate
I don't know too many people who don't enjoy chocolate. That's why, if you're a migraine sufferer, I really do hate to be the bearer of bad news. Still, it must be said that if you're all about getting some chocolate in and it also seems like migraines come out of nowhere, chocolate could be an underlying culprit.
The problem is it's full of caffeine and an organic compound known as beta-phenylethylamine. Matter of fact, I actually read that when it comes to foods that do trigger migraines, chocolate is second on the list. Sorry, sis.
4. Aged Cheese
I touched on tyramine when I was talking about watermelon. When it comes to aged cheeses, let me break it down a little more.
Long story short, tyramine is a natural compound that is found in animals and plants. More specifically, it's an amino acid that can help to regulate your blood pressure. The challenge is, too much of it in your system can actually lead to side effects that can make you miserable. Some of those include high blood pressure and yep, you guessed it—migraines.
As it relates to aged cheese specifically, the "older" it is, the more tyramine that's in it. This means that blue cheese, feta, Parmesan, gouda, aged cheddar and Brie are all the kinds of cheese that may taste good but aren't great for you in the not-having-a-headache department.
5. Soy
Because soy contains a high amount of phytoestrogens, it's best to consume it in moderation. Another reason why this is such a good idea is because soy also has tyramine in it as well as MSG (monosodium glutamate) which is an additive that gives flavor to things like soy sauce, soups, condiments, chips and instant noodles.
Unfortunately, MSG is oftentimes linked to cramps and headaches. That, along with the tyramine and high amounts of sodium which can drain water from your system, if anything creates the perfect storm for a migraine, soy would be it.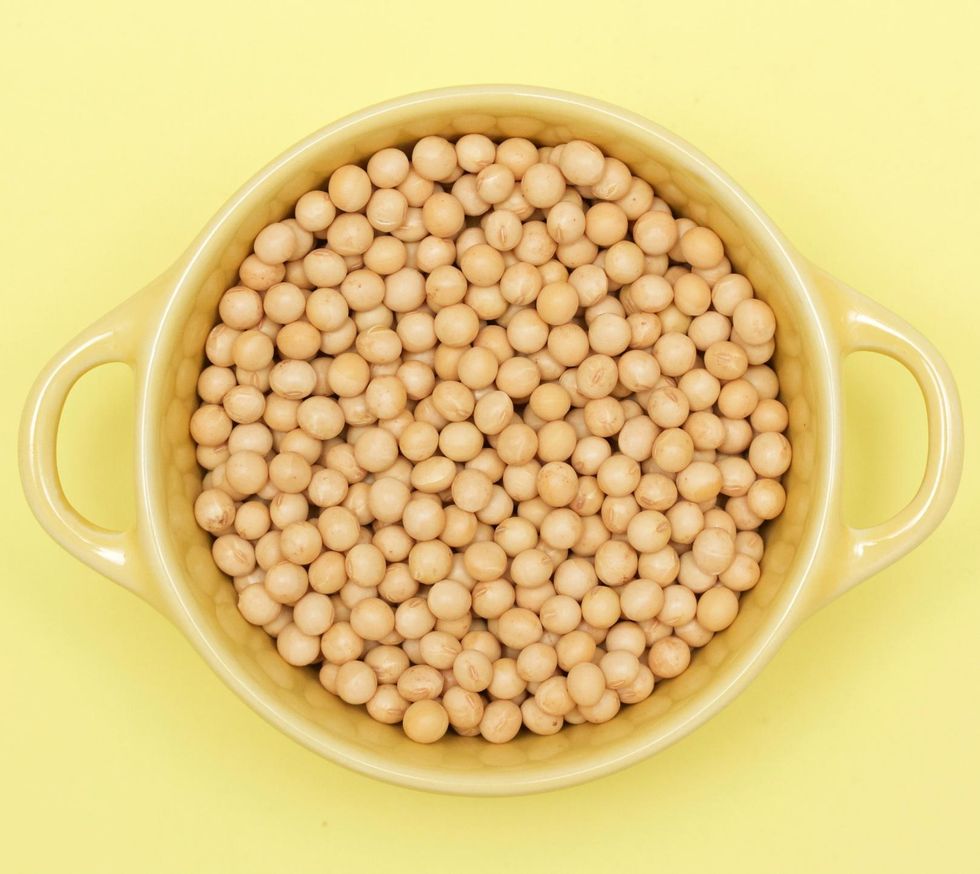 Sarah Saratonina / EyeEm / Getty Images
6. Alcohol
For those of you who like nothing more than a glass of red wine at the end of the day, I don't know what to tell you. Well, other than the truth. The bottom line here is alcohol is a diuretic and when you're dehydrated, that can definitely either bring on a headache or make one that you've already got a whole lot worse. One study I read said that 35 percent of the people who participated in it admitted that alcohol was a top migraine trigger.
If you're like, "IDC, IDC" on this, at least drink a glass of water before and after any kind of alcohol consumption. Otherwise, you could end up having a migraine from hell. And now, you'll know exactly why.
7. Pineapple
Pineapples are a bit of a wild card. The reason why I say that is because if you have headaches that you know, beyond the shadow of a doubt, are allergy-induced, a couple of slices of fresh pineapple may help you out. The backstory is bromelain is an enzyme that provides an anti-inflammatory and antihistamine effect.
On the flip side, it's not the best thing for you if you suffer with migraines because they're highly acidic and the acid could do more harm than good. Proceed with caution.
8. Processed Meats
I said processed meats but honestly, any kind of salty foods can go into this category. The reason why these can trigger migraines is again, sodium has a way of increasing one's blood pressure while dehydrating them at the same time. That combo is a migraine just waiting to happen.
So, if eating bacon is how you typically start your morning, you might wanna go with something else and see if you have less migraines once you do.
9. Bananas
Guess what else has its fair share of tyramine in it?
Before you throw your monitor, the good news is banana peels have around 10 times more of the compound in it than the actual pulp of the fruit does. So, if you limit yourself to about half of a banana a day, you should be OK. Only, make sure that you remove all of the strings from it because, technically, those are considered to be a part of the peel not the pulp.
The more you know.
10. Ice Cream
Although I put ice cream here, the reality is anything that's super cold could qualify. And just why are cold foods a migraine-triggering issue? Whenever we eat things that are really cold in temperature, that coldness can trigger the local pain receptors in our sinuses. Also, when we take something cold into our system, the blood vessels at the roof and back of our mouths end up relaxing which can cause the cold to go straight to our head which can cause pain too.
There isn't too much that can be done to avoid this. What I will say is not having ice cream or choosing not to suck on an ice cube right after you've exercised (because your body will be overheated) and not consuming these things too quickly can certainly help.
I know this was hard to take but something tells me that eating these less is certainly better than enduring another migraine. Hey, at least give it a try. This simple "food hack" could do a world of difference in the earth-shattering-headache-known-as-a-migraine department. Let us know.
Are you a member of our insiders squad? Join us in the xoTribe Members Community today!
Featured image by Shutterstock
Keep reading...
Show less
I have moments when I want to lose 5-7 pounds. Typically, when I come up with a plan to do it, I really only have to cut out one thing. What is it? Juice. I am someone who adores me some fruit juice. Thing is, juice contains quite a bit of sugar which means quite a bit of calories. Shoot, you'd be lucky to find a brand that is less than 110 calories per serving, and if you drink four glasses throughout the day, that's already 440 calories (when we as women basically only need 2,000 calories a day)! See how easily we can get a ton of extra calories into our system, simply by drinking them? Alcohol is no better, chile. Beer is around 150 calories per serving. Liquor is 80. Whiskey is 70. Vodka is 64 calories. Wine isn't bad. It's around 24.
So, what do you do if you really like having a cocktail at the end of the day or a beer while watching a movie or a game and still, you want to make sure that it doesn't show up on your waistline? That's a good question. If you're interested, I've got a few drinking hacks that can help you to enjoy your favorite drink without regretting it a week later.
1. Lay Off of the Cheap Stuff. If You Can.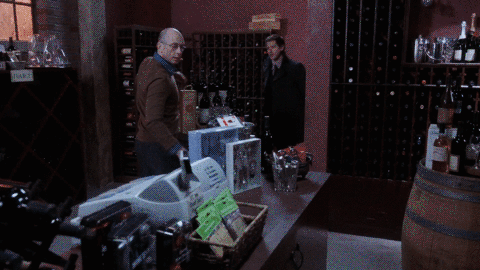 While this first point may cause you to roll your eyes, it's still a valid point. Just think about it. A burger at Mickey D's is way cheaper than one from a higher end restaurant. A part of the reason why is because the quality of meat at the restaurant is way better—and better for you—than one that you can pick up at a drive-thru.
For similar reasons, that's why cheap alcohol isn't really a good look. The more manufactured it is, the higher amounts of sugar and acids it contains. And all of that sugar only leads to more calories. Case in point—a Boone's Farm Strawberry bottle (which is roughly six bucks)? Guess how many calories are in one serving? A whopping 520 calories! Need I say more?
2. Have No More than Two Drinks at a Time
As with just about everything in life, moderation is key. When it comes to alcohol specifically, there are some health professionals who say that 1-2 drinks a day is cool. Eh, you might want to cut even that in half because alcohol can definitely throw off your metabolism and put some stress on your liver over time. And when your metabolism is totally out of wack, that can result in you putting on more weight. So, maybe a half glass a day (at the most) or, if you are a much more moderate drinker (like you only do it on the weekends), only have a couple of drinks at a time. Then make sure to follow my next tip.
3. Chase Your Drinks Down with Water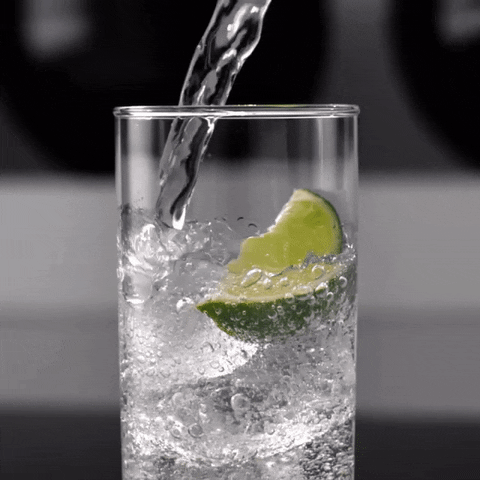 Something else to keep in mind is alcohol is a diuretic. This means that it has the tendency to dehydrate you. And when your body needs more fluids, it can either cause you to feel hungry or mimic symptoms related to hunger like fatigue and lightheadedness. A hack that can help you to get around all of this is to drink a glass of water for every glass of alcohol that you consume. Not only will the water help to flush out your system, it can cause you to feel fuller, so that you don't end up overeating.
4. Eat Before You Drink
Out of all of the suggestions in this article, if there's one thing that you've probably heard before, it's that you should eat before you drink. Back in your college days, you probably did it to avoid getting drunk faster (understood). However, it can also help to keep you from gaining weight because, with food in your body, your blood sugar levels will be more balanced and that can prevent you from craving junk food or wanting to go on some random late night eating binge.
5. Consume Protein More than Anything Else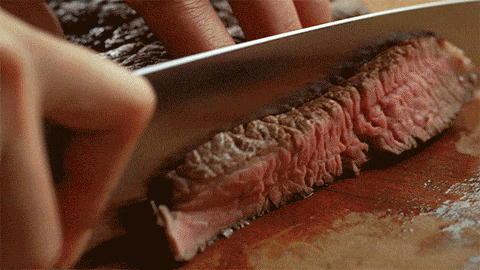 And what kind of foods should you eat before you consume alcohol? It's a good idea to eat protein, if you can. It's a great way to keep your blood sugar levels in check so that you're not wanting to eat everything in sight. Foods that are high in protein include eggs, almonds, poultry, Greek yogurt, pumpkin seeds, fish and lean beef. For the record, some other foods that can balance your blood sugar include broccoli (the sulforaphane in it reduces blood sugar levels), okra (it's got polysaccharides and flavonoid antioxidants that lower blood sugar levels) and raspberries (they've got fiber and antioxidants that can keep your levels in check too).
6. Do a Little "Comparison Drinking"
Sometimes we end up drinking more calories than we ever planned because we have no clue what's in our favorite drinks. Just for the record, mixers are loaded with calories. As you could see from the intro, beer bellies are a real thing because beer has a ton of calories in it as well.
Schnapps has almost 200 calories in a single shot. Cognac is clocking in at a little over 100 calories a shot. Champagne is 95 calories a glass. And, to give you a little perspective on a few other drinks, a piña colada contains the same amount of calories as a donut and a frozen margarita has the same amount of calories as a cheeseburger.
Something that I oftentimes say is "Google is your friend." So yeah, taking a little time to seek out how many calories are in your favorite drink before making it or ordering it can never hurt you in the long run.
7. Let Up on Sweet Wine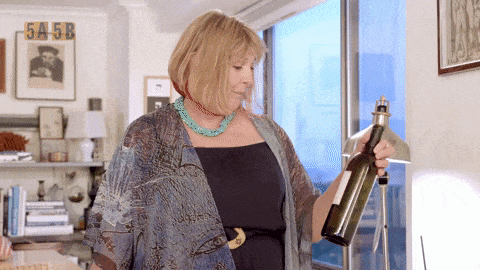 Since I've seen enough of the comments on this site to know that our readers are big time red wine consumers, I want to stress something about sweet wines. For one thing, the caloric intake of them typically equals out to being the same thing as having a slice of cake (who knew, right?). Not only that but when you opt for a sweet wine rather than a drier one, it's got a lot more sugar in it and offers a significantly lower amount of health benefits. So yeah, push back that bottle a little more if it happens to be your thing.
8. Have One You Really Want Rather than a Few You Kinda Like
There are a few health benefits that come from drinking certain kinds of alcoholic beverages (check out "Liquors That Are Gluten-Free (& Beneficial In Other Ways)"). Still, let's be real. Most of us drink alcohol for the taste and/or how it makes us feel. That's why it really is best to order up a cocktail that you know you're gonna really enjoy instead of settling for something lighter in calories and less satisfying, only to end up having 2-3 of those, thinking that you're better off going that route when all you're doing is drinking more calories.
9. Don't Drink Yourself to Sleep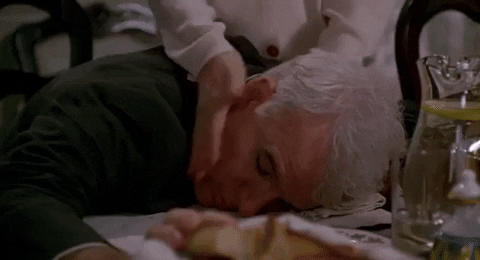 A glass of wine before bed may help you to feel more relaxed. However, it doesn't actually give you the kind of quality sleep that you might think that it does. For one thing, alcohol has a way of throwing your REM sleep off. And when it comes to packing on the pounds, since the alcohol tends to raise blood sugar levels in your system, it can actually cause you to wake up in the middle of the night and hit your fridge in order to balance your levels out a bit. So go with some herbal tea and honey or warm almond or oat milk instead. There will be less calories and you'll be able to sleep more soundly.
10. Exercise
There really is no way around it, sis. Eating right and exercise is the strongest combo when it comes to keeping your body tight and right—especially if you enjoy drinking alcohol on a regular basis. If your tummy area is your biggest area of concern, cardio along with some sit-ups and crunches, for 30-45 minutes, 2-3 times a week, will help to burn belly fat and strengthen your core. That way, you can have your alcohol with less weight-related concerns. Enjoy!
Are you a member of our insiders squad? Join us in the xoTribe Members Community today!
Featured image by Shutterstock
Keep reading...
Show less
One thing about me? Oh, I'm gonna eat some meat. While I don't do pork or shellfish, a steak, some salmon and some good 'old dark meat fried chicken can bring a smile to my face in a way that a lot of other foods simply cannot. That doesn't mean that I don't get that sometimes my body needs a break from "indulging in the flesh". When I choose to take one, I still prefer to eat something that has a bit of a meaty feel to it. And since I know that a lot of meat substitute products contain so much sodium and preservatives that I might as well stick to a cow, fish or chicken, I typically prefer to go a meat alternative route that is strictly a vegetable and then prepare it to my liking at home.
What? You didn't know that there are some vegetables that have a texture that is so close to meat that it can make going the vegetarian/vegan route—even if it's just temporarily—easier on your palate? Indeed, there are and if you've got a sec, I'll share with you 10 that top my personal list.
1. Portobello Mushrooms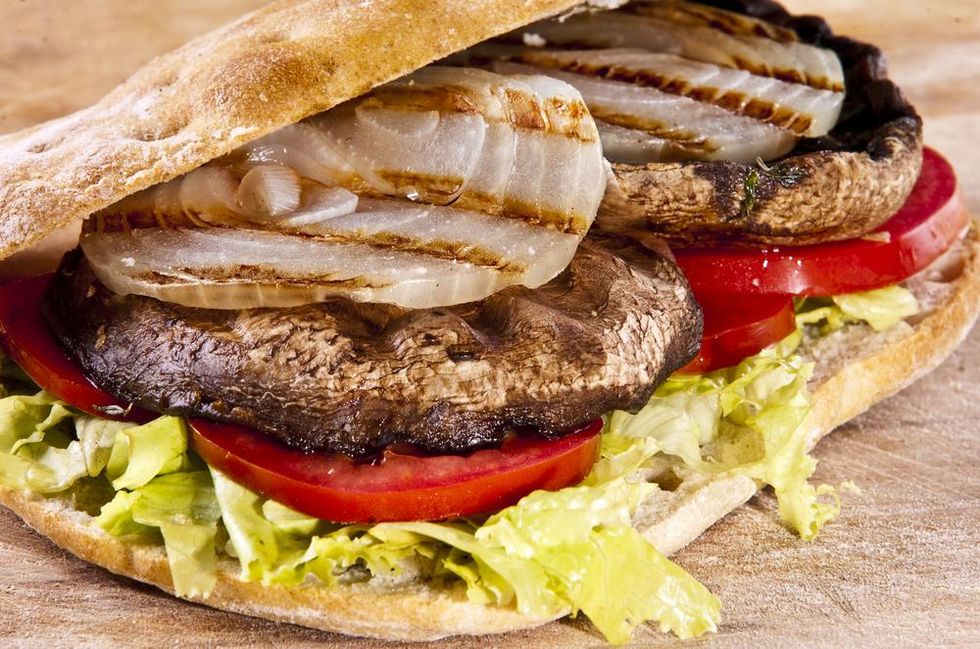 Off top, whenever I want to take a break from meat while still wanting something that has a meaty texture to it, my automatic go-to is portobello mushrooms. They are probably my favorite hamburger stand-in, hands down. Matter of fact, the only reason why I don't eat them more often is because I've got a fungal sensitivity and well, mushrooms are a fungus. Anyway, on the health benefits tip, portobello mushrooms are cool because they contain Vitamin B, copper, fiber, selenium, antioxidants and anti-inflammatory compounds. As a bonus, they can help to lower your risk of getting cancer too. So, if you've got a craving for a sandwich and you want to chill on the meat tip, grill yourself a portobello. You won't regret it.
2. Jackfruit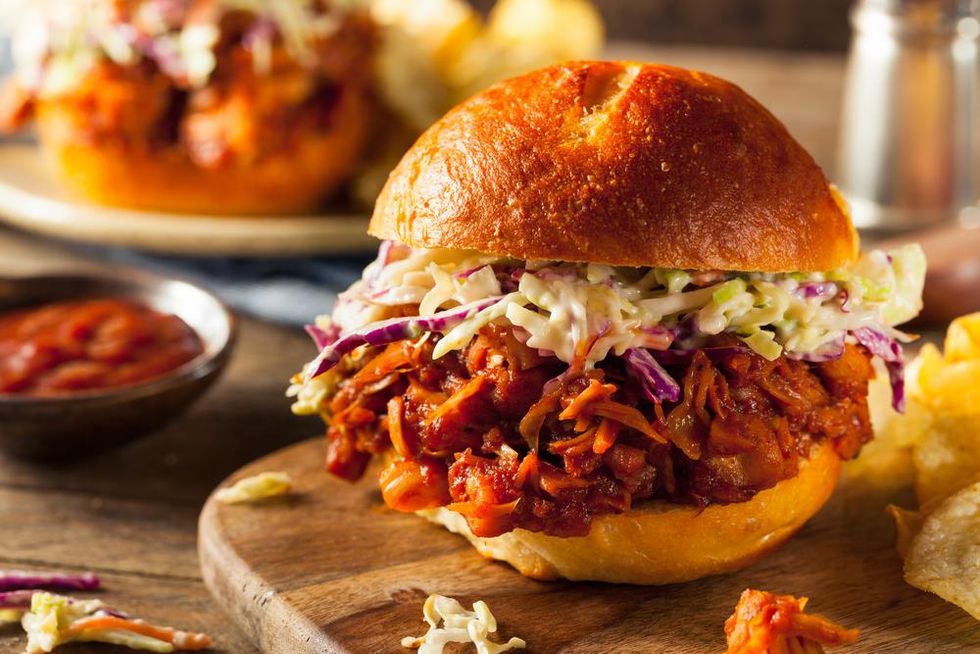 If you were to go to your favorite search engine, right this second, and put "meat substitutes" in the search field, I'd be floored if you didn't see jackfruit come up in almost every article.
Even though it's a tropical fruit, a lot of people like to swap meat out for jackfruit because they find that its texture is similar to shredded meat. For the record, if you've never had jackfruit before, it has a mild sweet flavor.
And what are its health benefits? Jackfruit is a good source of protein and fiber. It's also got a fair amount of Vitamin C, magnesium, manganese, copper and potassium in it as well. Some other good reasons to give jackfruit a shot is it can help to lower your blood sugar levels, boost your immunity, strengthen your heart, ward off diseases and improve the quality of your skin too. Yep, jackfruit is that one.
3. Seitan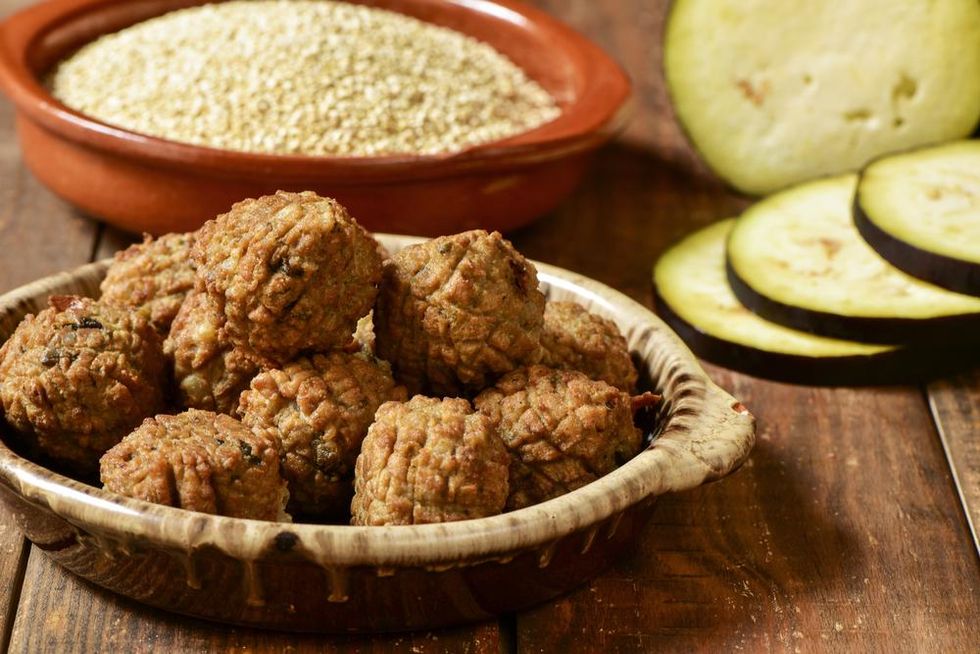 Let me just say that, off the top, when it comes to this one, if you've got a gluten allergy, just pass on by this suggestion. The reason why is because seiten is literally wheat gluten. The reason why some people like it as a meat alternative is because it has a texture that is quite reminiscent of meat protein. That said, if you're good with wheat, seiten can be beneficial because it is loaded with protein and is a pretty good source of selenium, iron and phosphorus with a dab of calcium and copper. Cutting it into slices like meat and preparing it is a popular route to take. So is grilling it in the summertime.
Try This: Vegan Meatballs Recipe (they're made with seitan)
4. Eggplant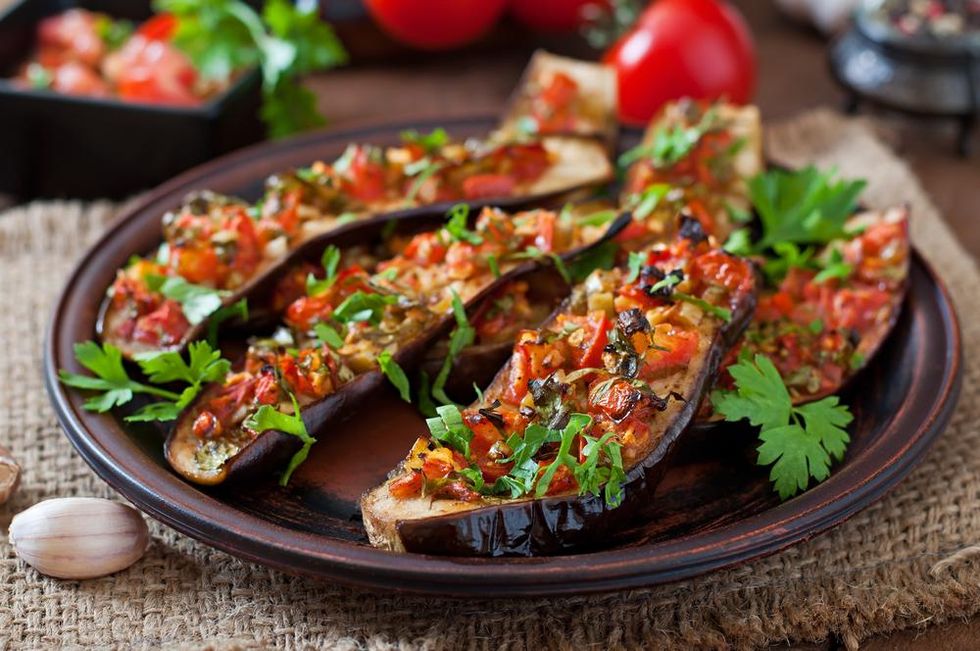 Second in line for me, when it comes to meat substitutes, would have to be eggplant. Based on how you prepare it, it also can have a similar texture to meat. It contains a good amount of fiber, iron, antioxidants and plant compounds in it as well as a fair amount of manganese, potassium and folic acid. Eggplant is also good for you because it can help to reduce your risk of heart disease, it contains cancer-fighting properties, it can help you to lose weight and, because of the iron that's in it, eggplant can help to keep you from becoming anemic too. Dope.
Try This: Vegan Eggplant "Bacon" Recipe
5. Black Beans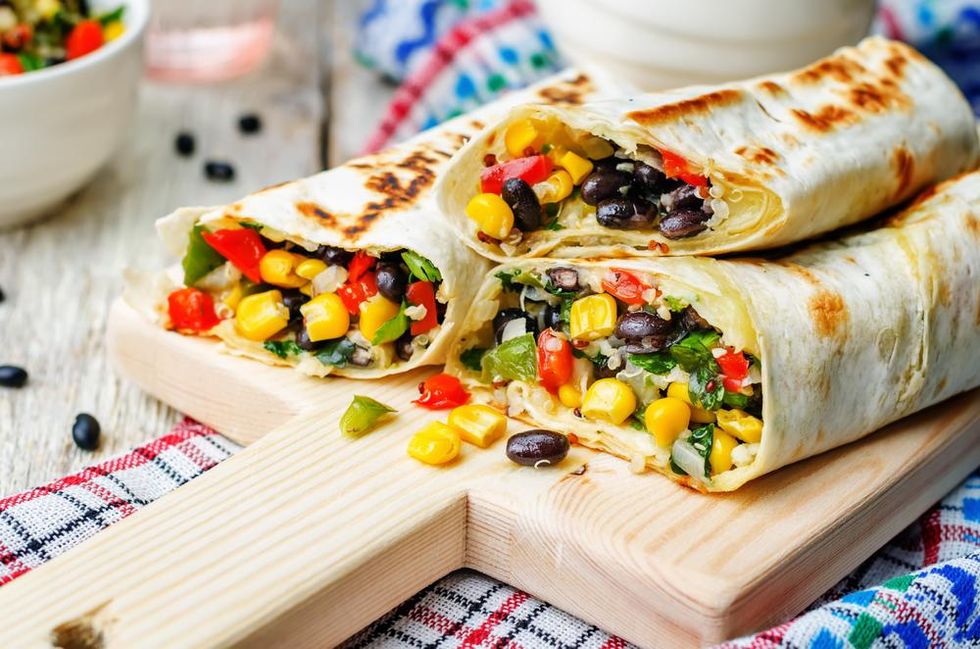 Beans make the list. It's not that it has a texture like meat; it's just that, say you're making a Mexican dish that calls for something like ground beef. If you go with black beans instead, it's been my personal experience that you don't really miss the beef all that much. Black beans, nutrient-wise, have protein, fiber, iron, zinc, calcium, phosphorus, magnesium and manganese in them. All of these things work together to keep you regular, lower your blood pressure, fight heart disease, manage weight loss and, if you've got diabetes, black beans can help to lower your blood glucose levels too. So, pull out some tortillas and do some damage tonight.
Try This: Black Bean and Vegetable Burritos Recipe
6. Potatoes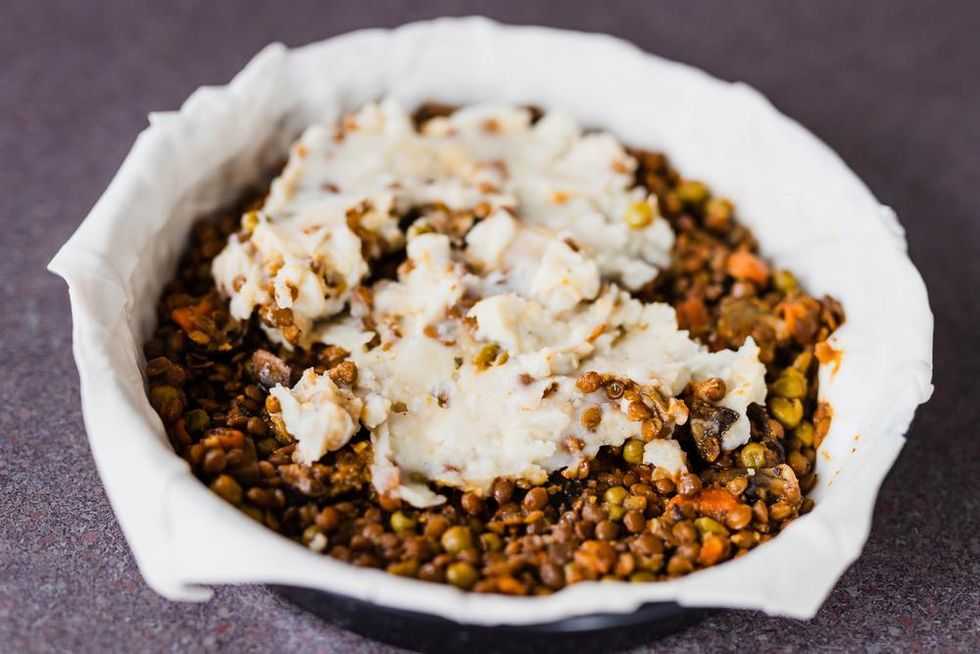 Potatoes don't really have a meaty texture to them either. Still, if you want to prepare a vegetarian or vegan casserole, they can be a nice addition because nothing sticks to our ribs quite like meat AND potatoes do, right? Potatoes also have your back because they are full of protein and fiber. Plus, they contain vitamins B6 and C, potassium, manganese, phosphorus, folate, magnesium and antioxidants. Something that a lot of people like about potatoes is that they're gluten-free. Not only that, they are beneficial when it comes to maintaining your digestive health, reducing inflammation and, because potatoes have the amino acid L-tryptophan in them, they're a vegetable that can help to keep you calmer and more relaxed too. Shepherd's pie, anyone?
Try This: Beyond Beef Shepherd's Pie Recipe
7. Tempeh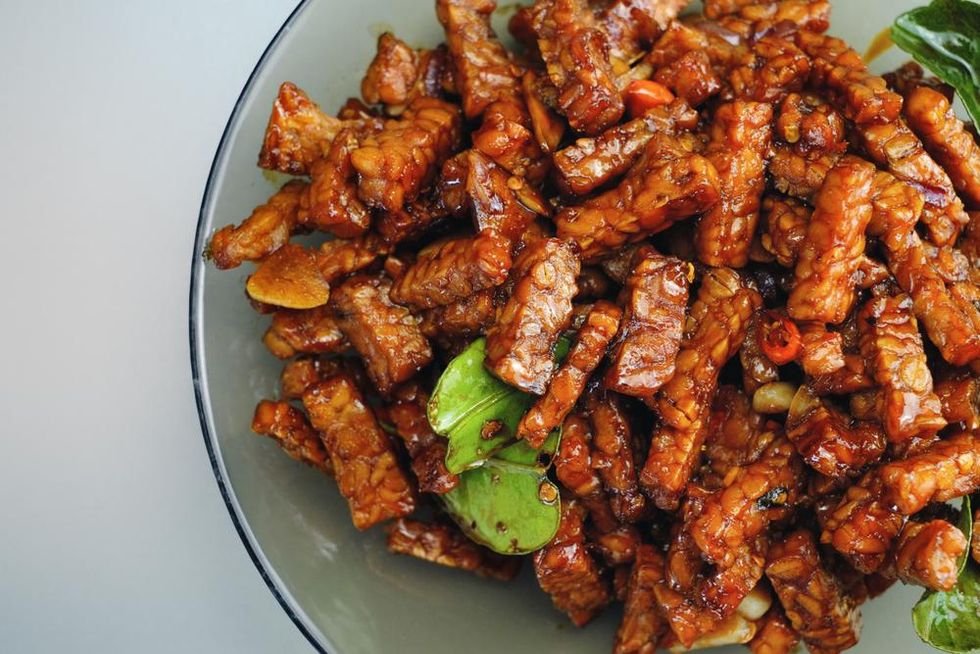 Personally, I'm not the biggest soy fan, mostly because it seems to be the non-meat substitute that isn't consumed in moderation when it absolutely should be (a read worth checking out is "The Dangers of Soy"). If you happen to be a soy fan, though, tempeh is something worth checking out. Long story short, fermented soybeans, grains and beans are put together to create this product. The protein amount is high. The Vitamin B, iron, manganese, magnesium and phosphorus levels in it are good (there's some calcium in tempeh too). Health benefits include the fact that tempeh has prebiotics, it can help to reduce oxidative stress and promote bone health too. Not bad for a meat alternative. Not bad at all.
Try This: Teriyaki Tempeh Recipe
8. Mango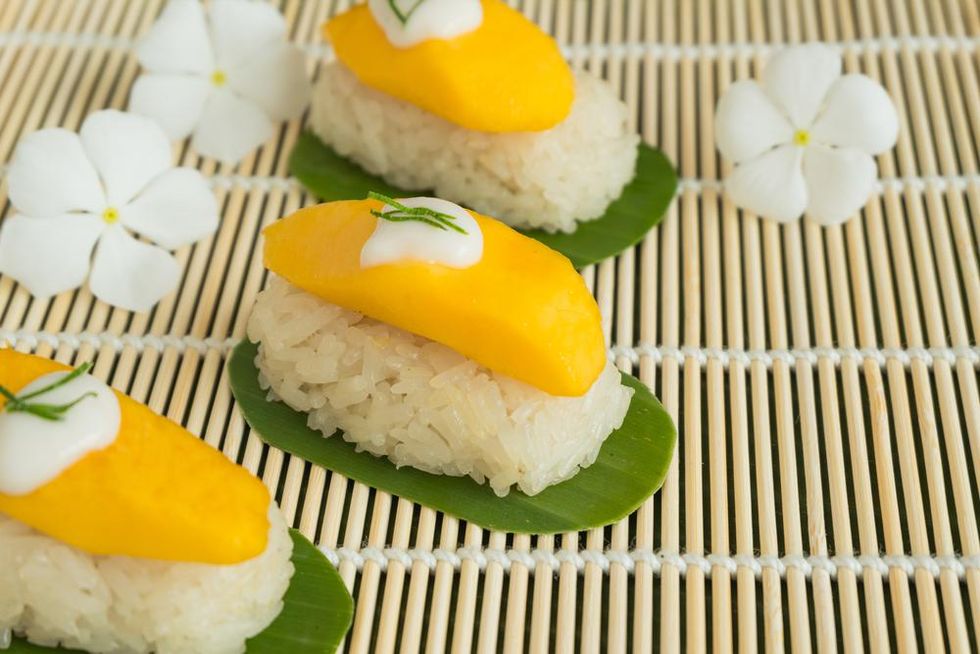 Mangoes? Yep. Mangoes. I actually came across a recipe for BBQ mango that was interesting (check it out here). Others like to use this fruit to make homemade mango stew (you can see that recipe here). However, if you're a big sushi eater, there's a huge chance that you've had mango in a roll before. Why are they good for you? For starters, they're protein and fiber amounts are pretty impressive. Mangoes also have a ton of Vitamin C, folate and copper in them, along with some vitamin A, B, E and K and antioxidants. If you eat them regularly enough, they can boost your immune system, improve your digestive health and even make your eyes stronger. So, why not make a mango sushi roll? What do you have to lose, chile?
Try This: Avocado Cucumber Sushi Roll Recipe (it's got mango in it)
9. Cauliflower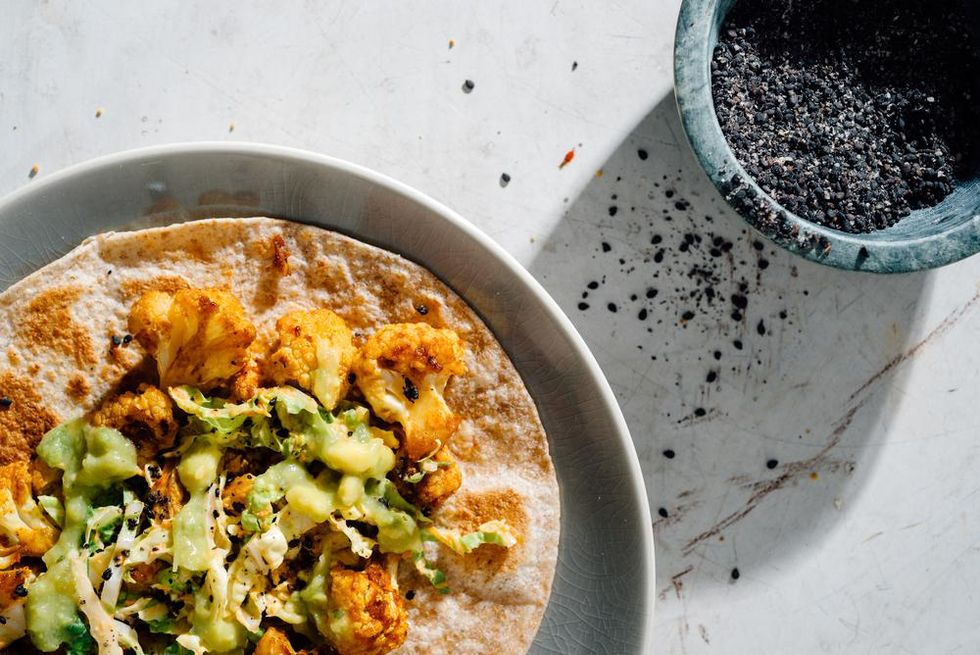 OK. Off top, this one might seem like a bit of a wild card yet just hear me out for a sec. There are many vegetarians and vegans who sing cauliflower's praises in this lane because they find it to be a cool chicken alternative, especially when it comes to Asian-themed dishes.
Its health benefits? Cauliflower has vitamins B6, C and K, as well as folate, pantothenic acid and potassium in it. Since it also contains antioxidants, cauliflower is able to help keep free radicals out of your system. Also, since it has choline in it, you can be sure that your cell membranes are being provided with a very essential nutrient that they need. Yeah, cauliflower can seem a little boring on its own. Still, if you season it right, you could look up and wonder why you've gone without using it as a substitute for poultry (sometimes) for as long as you have.
Try This: Asian Crispy Cauliflower Tacos Recipe
10. Meatless "Meat"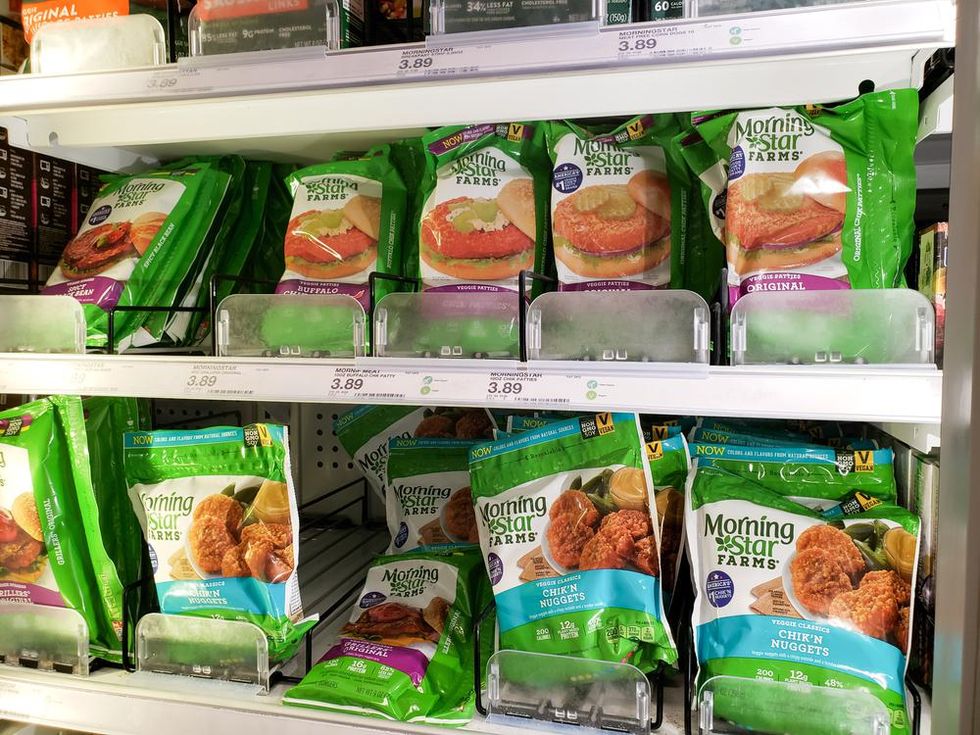 This one, I'll keep short 'n sweet. Whether you hate to cook or you're looking for a quick way to enjoy some meat substitutes, there are more and more plant-based meatless products that are available at your local stores. One that I grew up on as a child was Morning Star and it's still alive and kickin'. Anyway, Peta has a list that you can check out here. Urban Tastebud has a list that you can check out here. Enjoy!
Join our xoTribe, an exclusive community dedicated to YOU and your stories and all things xoNecole. Be a part of a growing community of women from all over the world who come together to uplift, inspire, and inform each other on all things related to the glow up.
Featured image by Shutterstock
Keep reading...
Show less
Someone once told me that they use dental floss to cut their desserts. Y'all. When I heard that—and the person proved to me that doing it does indeed work—that inspired me to look up some other underrated approaches to food because, again, if folks are out here slicing up cake with floss, what else am I missing? What could I be sharing with others who enjoy food—whether it's eating it and/or preparing it—too?
So, let's do this. Here are 15 things that have revealed to me that I've either been consuming food or cooking it, not necessarily the wrong way but a way that is far less beneficial than what is listed below.
1. Kiwi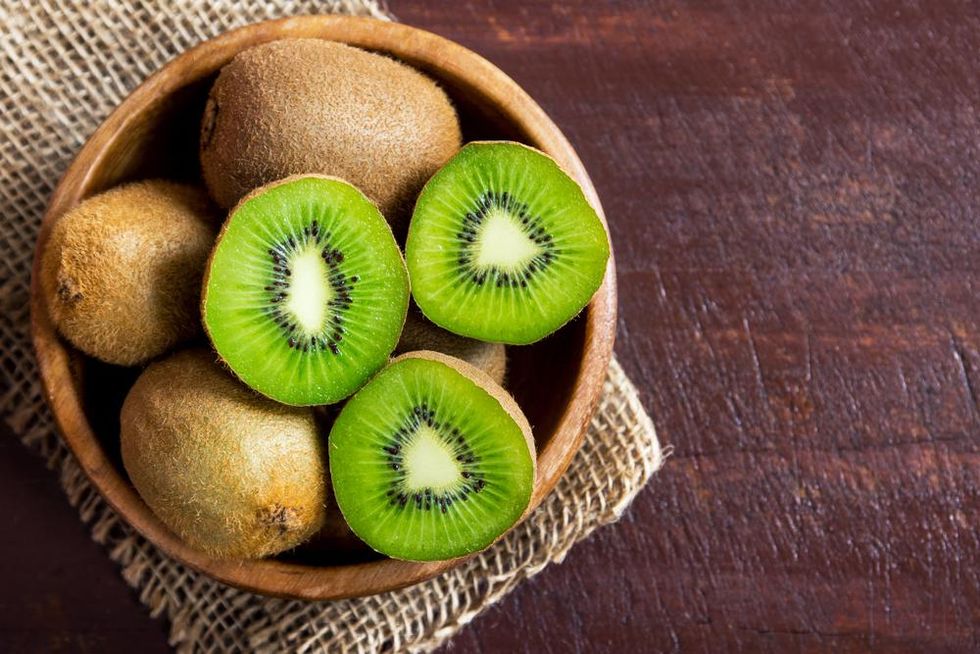 Aside from those semi-annoying tiny seeds in kiwi, I really like this particular fruit. Good thing too because it's high in vitamins C, E and K, fiber and antioxidants. In fact, what a lot of people don't know is kiwi not only supports digestion and boosts immunity but because of the high amount of Vitamin C that's in it, kiwi has the reputation for relieving asthma-related symptoms too. Anyway, while I won't be getting into all of the health benefits of every food mentioned in this article, I thought it was important to share this because the main way folks eat kiwi wrong. It's wrong because they remove the skin when it's actually the skin that contains the most nutrients. So, the next time you decide to have some kiwi, remember to keep the skin on. It's better for you that way.
2. Carrots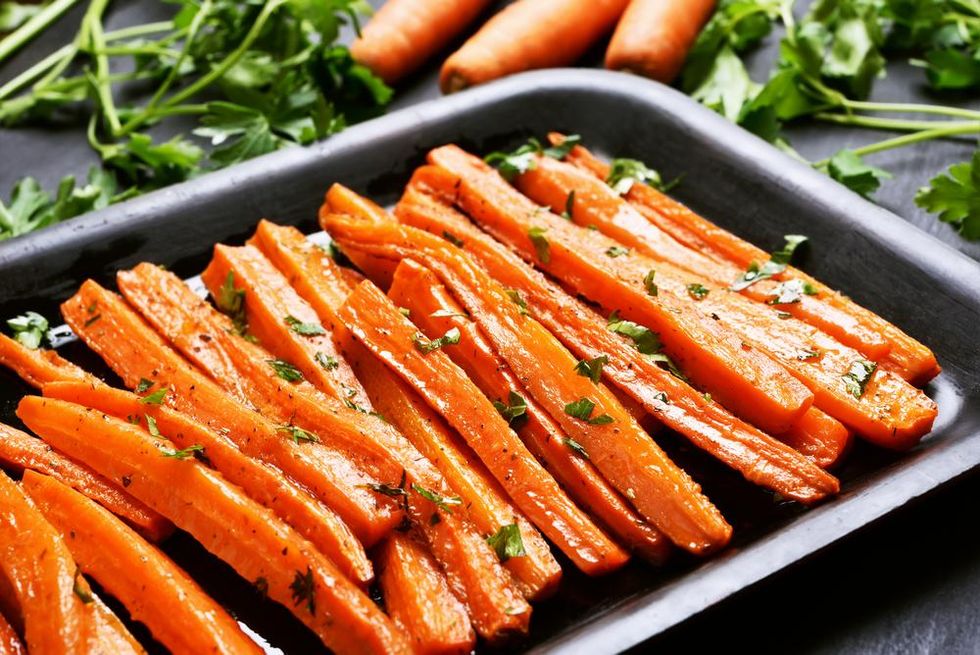 Most of us grew up hearing that carrots were good for our eyes. There is a lot of truth to that, thanks to all of the Vitamin A that's in them. Carrots also contain fiber, biotin, potassium, beta-carotene, Vitamin B6 and even some protein. All of this helps to lower your cholesterol levels, reduce your cancer risk and keep you regular.
If you happen to be like me and you prefer to snack on baby carrots, you might want to consider cooking them more often. The reason why is because, when carrots are cooked, it actually raises the level of carotenoids that are in them. This is cool news because carotenoids help to protect your skin from sun damage as well as strengthen your bones, boost your immunity and even give you a little more brain power.
So yeah, that kinda debunks the myth that all vegetables are better when they're raw…doesn't it?
3. Strawberries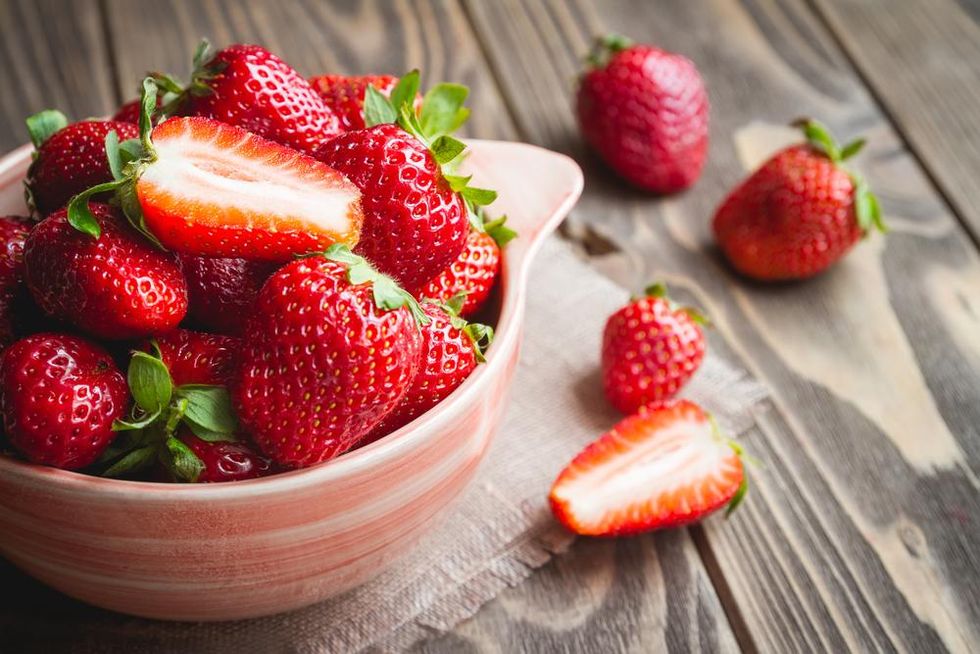 Strawberries are a low-calorie way to get in some fiber, Vitamin C, folate, manganese, potassium, several plant compounds and even a little bit of protein into your system. Eat them consistently enough and you'll be doing your part to help to regulate your blood sugar levels, protect your heart and reduce your cancer risks. Well, that is if you eat your strawberries whole. Although a lot of us like to slice this particular fruit up, the reality is that strawberries are extremely sensitive to light and oxygen. So, when both hit them, they lose their potency rather quickly. That's why it's far better to just rinse them off and eat them as is. No knife needed.
4. Grilled Fish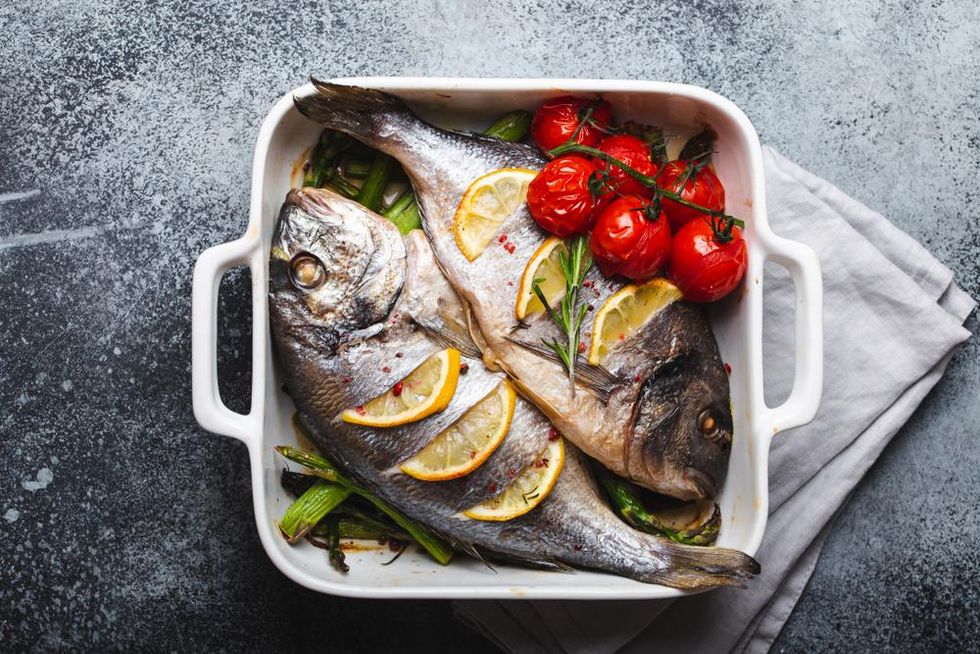 Do you like the taste of grilled fish but hate the clean-up process that follows making it? Something that you can do to keep your fish from sticking to your grill while also giving it an amazing citrusy taste is to place your fish on a bed of sliced lemons and limes. It will make for a delightful tasting, softer fish that won't get all into your grates. (This one tripped me out a lot, actually.)
5. Yogurt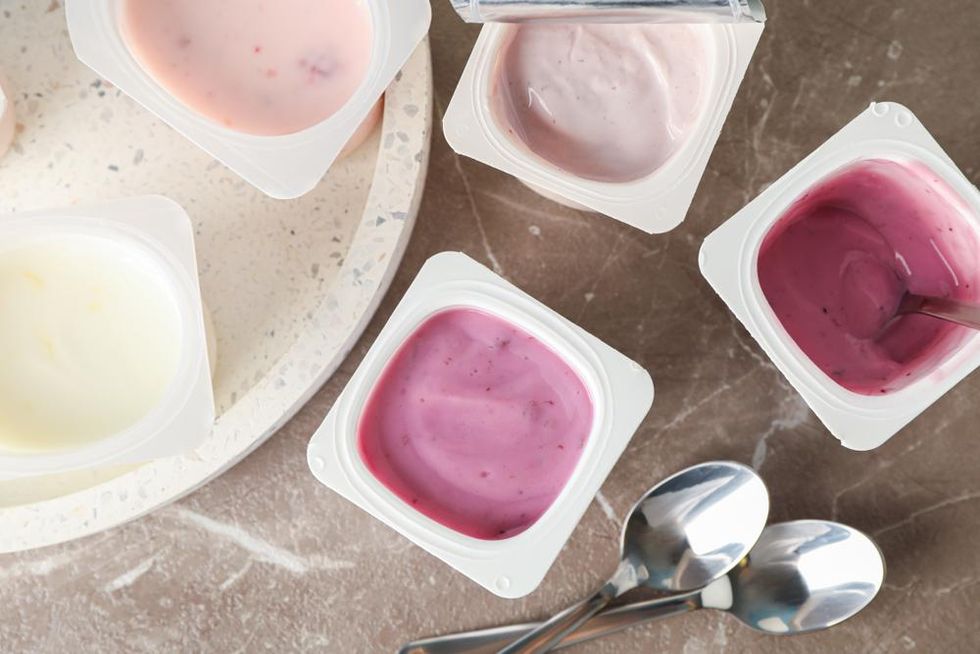 This point was definitely an ah-ha moment for me. Have you ever opened up a container of yogurt, seen that watery stuff in it and immediately poured it out? Yeah, try not to do that. Believe it or not, what you're looking at is whey protein which is an excellent source of protein (especially if you're a vegetarian or vegan).
As you may already know, protein helps to build muscle mass, keep your hair and nails nice and strong, lower your blood pressure, reduce bodily inflammation and can even help to treat type 2 diabetes. So, unless the yogurt you're about to eat has expired, mix the watery stuff in with it and eat it like you normally would. It will literally do your body good.
6. Cherries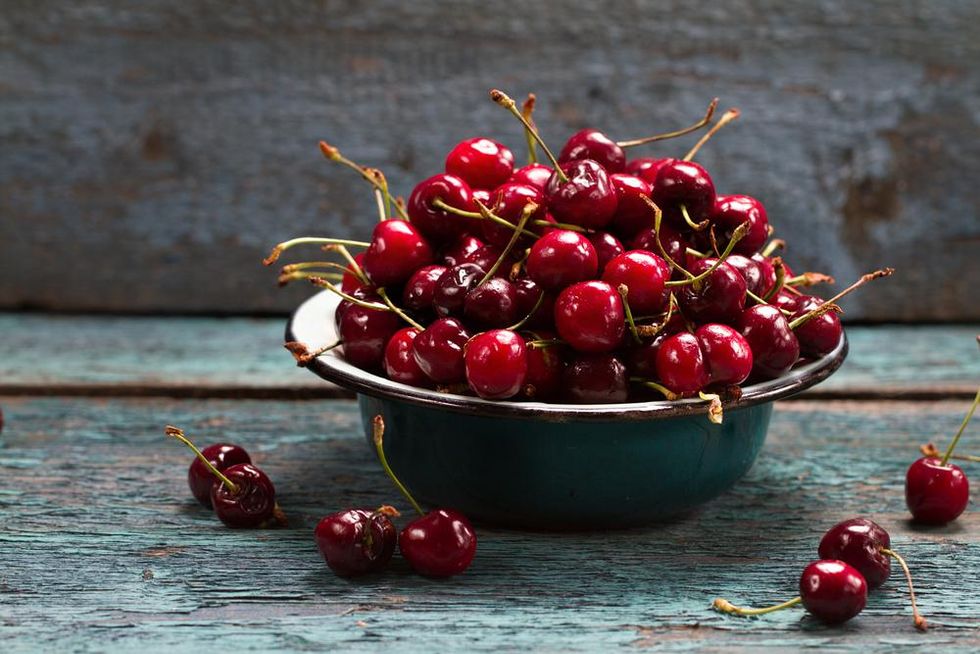 Like cherries yet hate the pits of them? Here's a hack that can make eating them so much easier. Simply place a cherry "right side up" on an empty glass bottle (like a soda bottle). Then take a thin wooden chopstick and poke it through the top of the cherry. The pit will fall into the bottle and then you can enjoy your cherries with ease.
7. Black Tea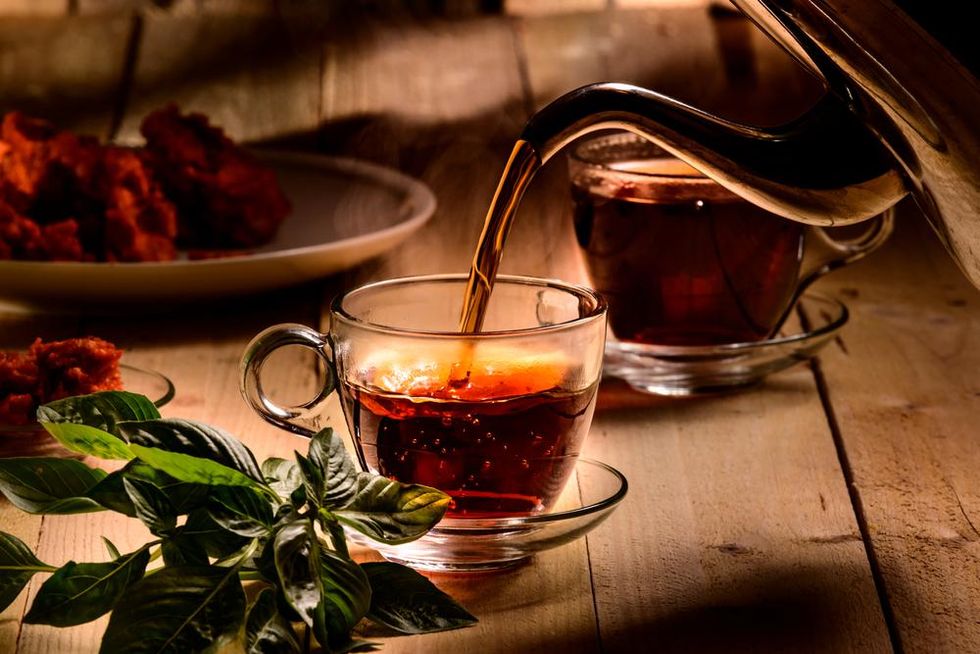 If you're a tea fan, I'm thinking that you've got some black tea somewhere in your collection. That's awesome because it's got a ton of antioxidants, it's good for your heart health, it helps to improve your gut health, lowers your blood pressure and can even reduce your chances of having a stroke. Just make sure that when you have a cup that you leave milk out of it. Interestingly enough, when you put milk into black tea, it can negatively alter the cardiovascular benefits that the tea can provide. That's because milk proteins literally make it more difficult for your system to absorb tea's vitamins and nutrients. Gee, just one more reason to consider going without dairy, huh?
8. Tomatoes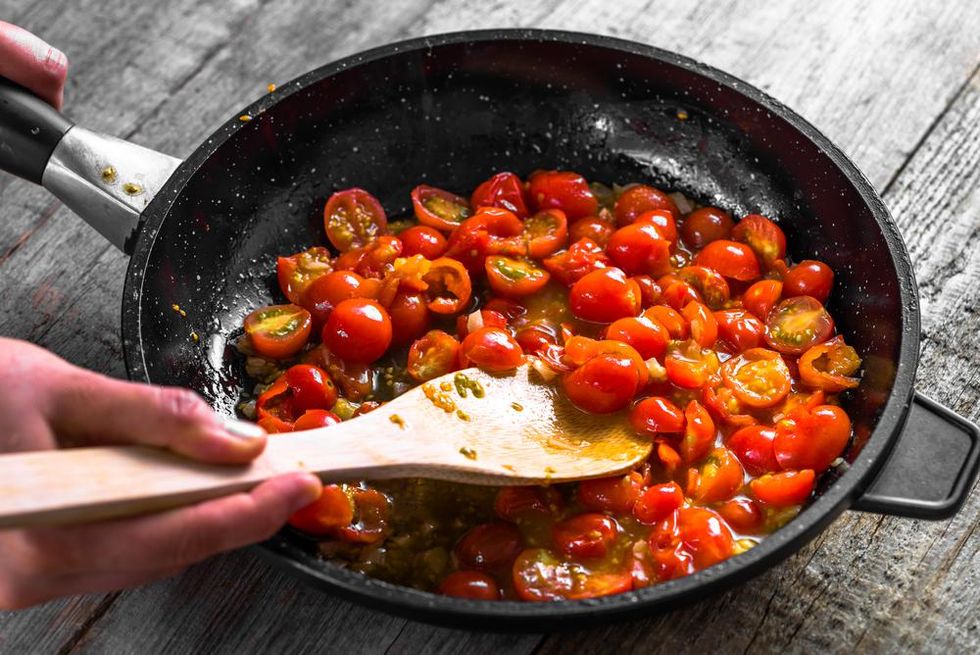 Tomatoes are the kind of fruit that's really good for you because it's a great source of vitamins C and K, fiber, potassium, protein, folate and lycopene (and antioxidants that fight heart disease, cancer and aging signs). It's also got 95 percent water in it which makes it the kind of food that helps to keep you hydrated from the inside out. Anyway, while most of us tend to eat tomatoes when they're raw, it's actually best if you consume them once they've been cooked. That's because the nutrients in them significantly increase if tomatoes are prepared at around 200 degrees (Fahrenheit).
9. Ice Cubes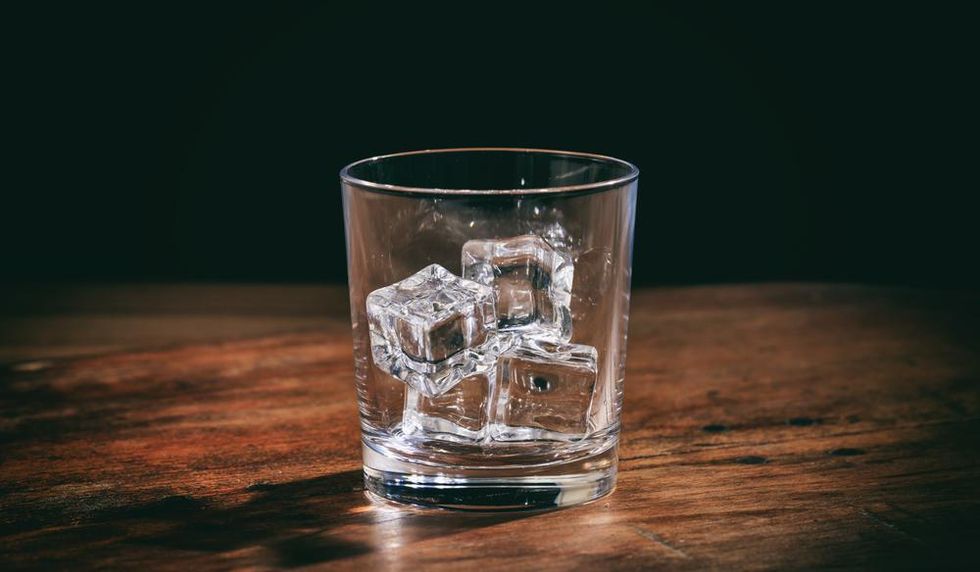 Ever wonder why your ice cubes tend to look rather cloudy when you put them into your glasses? The workaround for that is to boil the water that you plan to put into your ice cubes.
That will help to get all of the impurities in the water out, so that your cubes will look crystal clear. How cool is that?
10. Eggs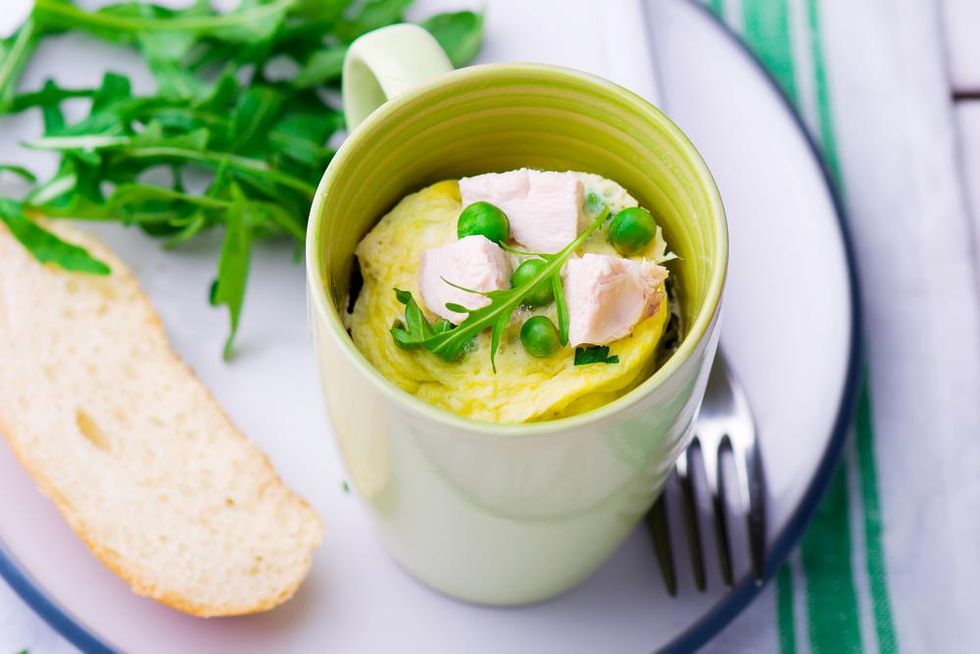 I got rid of my own microwave several years ago. If you still have one, you're pressed for time in the morning, yet you would still like to have more than a cup of java on your way out of the door, DIY microwave omelet eggs taste pretty darn good. Just scramble a couple of eggs, add the other ingredients that you want and pour everything into a microwave-safe mug. Put it into the microwave on medium for 2-2 ½ minutes and you're good to go. Also, if you're looking for a way to keep your eggs perfectly round in your skillet (maybe for a sandwich or something), slice a couple of onions into some thick rings and place them into a hot pan that already has a bit of oil in it. Then crack your egg inside of the onion. Your egg will be round as the ring is. Perfect.
11. Avocados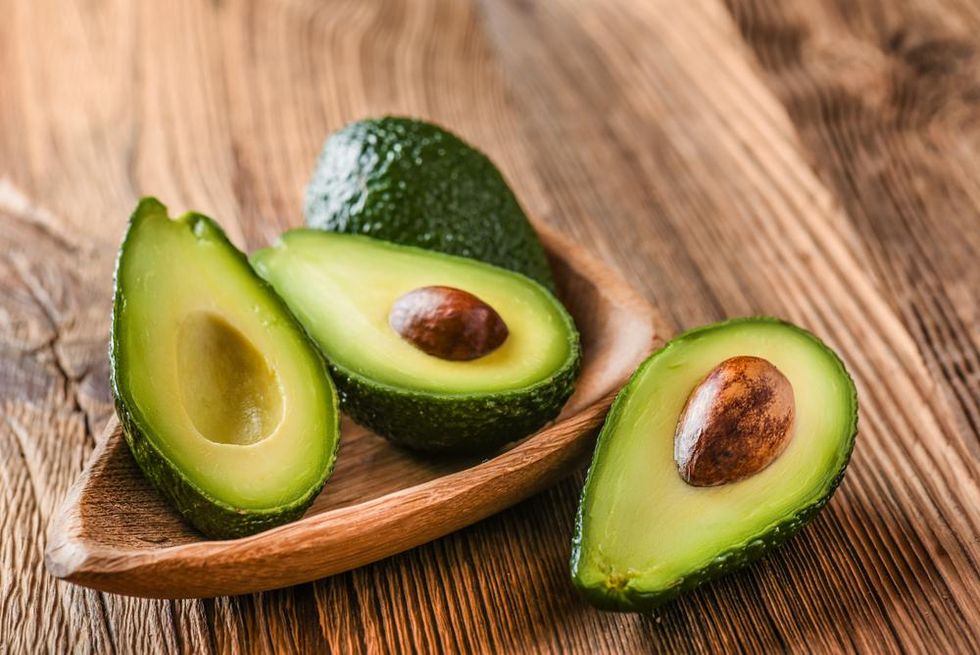 I actually enjoy making my own guacamole. Problem is, the urge to eat some is pretty random and sometimes, when the craving hits, the avocados that I've bought aren't ripe enough yet. If you can totally relate, you can speed the process up by covering an avocado up in foil and placing it into your 200-degree oven for about an hour. Just make sure that you use it immediately because the "speed up process" does cause avocados to taste slightly different.
Come to think of it, another ripen hack is to pull off the stem of a fresh avocado. If after you do it, the avocado is still green, it's not ripe. If it's brown, it's over-ripened.
12. Garlic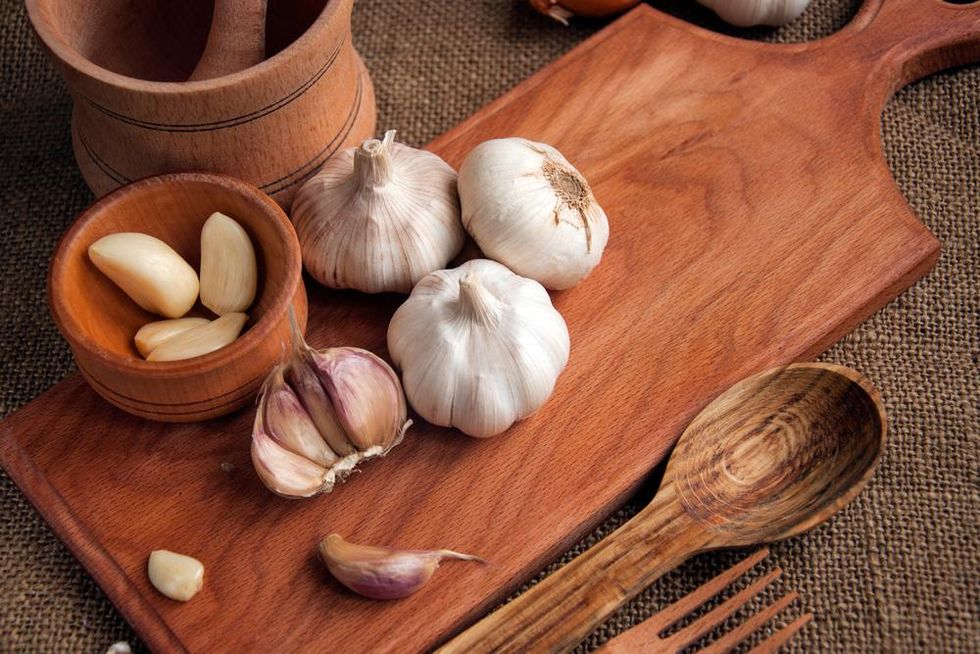 One of the most potent natural medicines is garlic. Straight up. A part of the reason is thanks to the 33 different sulfur compounds that it contains. And while a lot of us already know that garlic is a wise thing to eat when we're feeling under the weather, many of us miss out on getting as much of its strength as we should because we're eating it all wrong. See, there's an enzyme in garlic known as allicin that actually gains its power by being exposed to the air. That's why, if you plan on cooking with garlic, it's best that you don't mince it and immediately put it into your pots and pains. Instead, crush or press the pods, let them sit for 10-15 minutes and then put them into your dishes. That way, you'll get more of the anti-inflammatory, anti-fungal, antiviral and antibacterial properties that garlic has to offer.
13. Bacon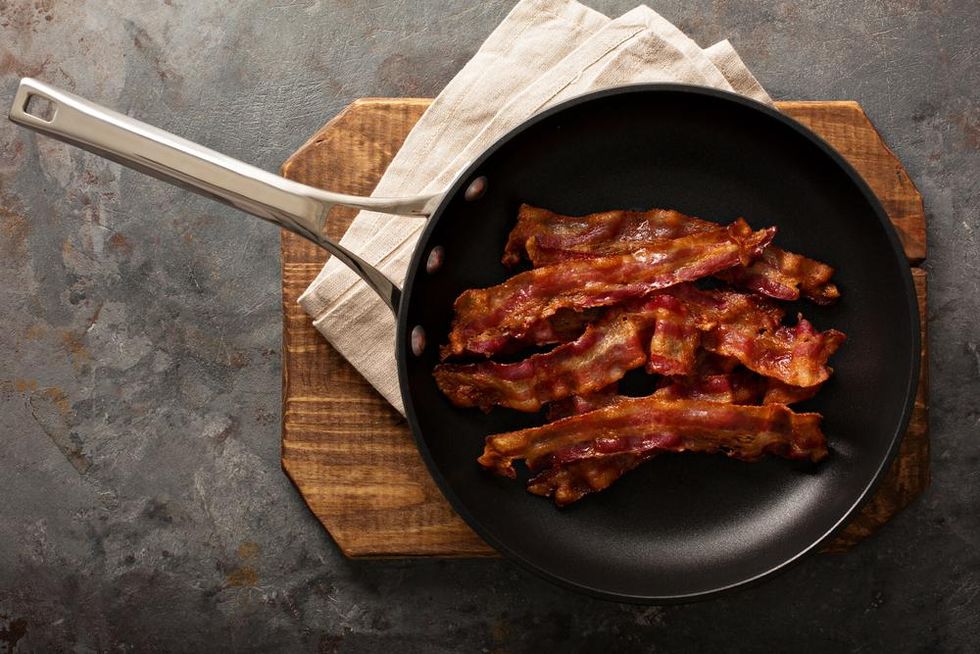 Whether it's pork, turkey or my personal favorite beef bacon, here's a hack to keep in mind. If you'd prefer your bacon to appear nice 'n flat like it does in restaurants and on food blogs, opt for baking it instead of frying it. Simply lay your bacon on a baking sheet that's been covered with aluminum foil and set your oven to 350 degrees. In 15-20 minutes, you'll have crispy bacon. Plus, by going this route, you can bake a considerable amount of bacon at one time. Plus, it's healthier which is always a bonus.
14. Sushi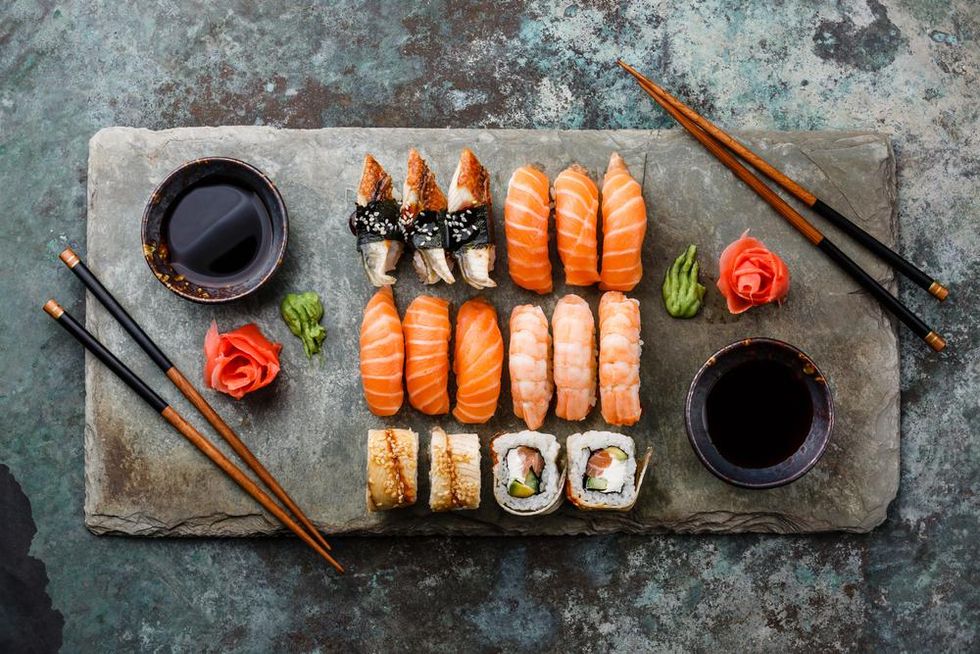 I know a lot of us like to look so extra when we're eating sushi (LOL). Here's the thing, though. Chopsticks are actually for classic sushi, not sushi rolls. Rolls we are supposed to eat with our hands. Know what else? Ginger and wasabi are never supposed to be combined with soy sauce. In fact, the actual purpose of ginger is to cleanse your palate. So, eat it first and then enjoy your sushi rolls. Again, with your fingers.
15. Cake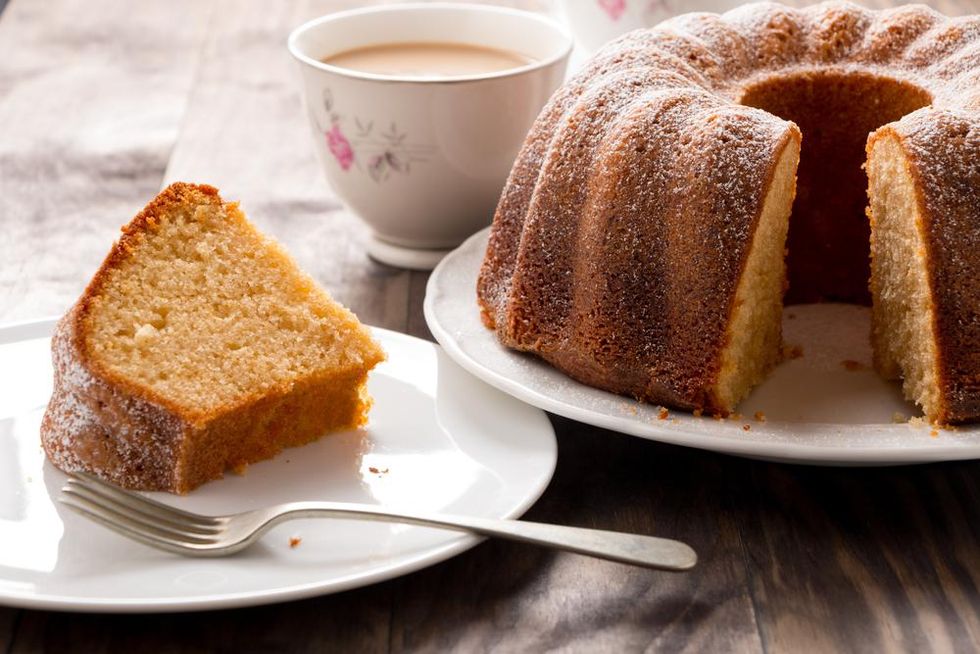 And now, the floss thing. Me? I like to bake. A lot, actually. The only thing that really gives me any anxiety about it is when it comes time to cut a cake (including a cheesecake). Sometimes the knife seems to do more harm than good. If you can totally relate, guess what hack will help you out? Dental floss. Yep, so long as it's unflavored (waxed is helpful, though) and you keep your hand steady the entire time, it can slice through your cake in a way that makes for a much cleaner cut. Hmph. Makes me wonder how many bakeries do this. I might call a couple of 'em up to see. Anyway, enjoy eating the "right" way, sis.
Join our xoTribe, an exclusive community dedicated to YOU and your stories and all things xoNecole. Be a part of a growing community of women from all over the world who come together to uplift, inspire, and inform each other on all things related to the glow up.
Featured image by Shutterstock
Keep reading...
Show less
Nicole Byers is everybody's friend-in-my-head and if you've ever watched her host Netflix's Nailed It, you've probably thought about you guys grabbing a bite to eat while she served up a witty critique of the meal. While that exact dream sequence is aspirational, Nicole treated fans to what she eats in a day, courtesy of Harper BAZAAR's #FoodDiaries. The comedian, actress, writer, and podcaster had plenty of LOL-worthy reviews of her favorite foods that include everything from a vegan dish to international cuisine. Hint: Her favorite food cities are New York and Rome.
Yes, only true foodies have a favorite food city—and Nicole has two. So without further ado, here's what die-hard foodie Nicole Byers eats in a day:
Breakfast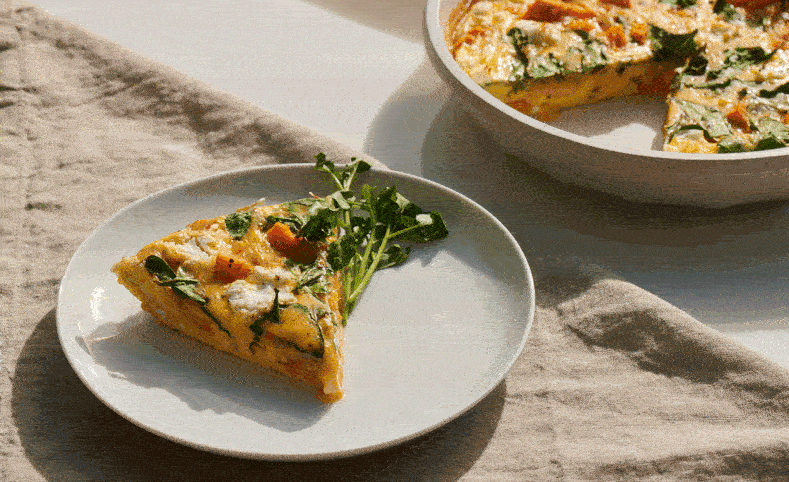 Nicole starts her day off with a meal fit for a queen. She describes her typical breakfast as "a weekend in Palm Springs and someone else is doing the cooking." What does that look like? Bacon, eggs, and toast or a bagel. And when she's actually in Palm Springs you might catch her chowing down on a frittata. Her frittata review: "A thing in a thing. Delicious. My favorite."
Lunch
After a hearty breakfast, Nicole lunch is more like a snack. It consists of Nature Valley Peanut Bars, and influencer-favorite carbonated beverage, LaCroix.
"My favorite LaCroix flavor is Peach Pear. A close second is Coconut because it tastes like sunscreen."
Just call her LaCroix connoisseur.
Dinner
For dinner, Nicole's been serving up Purple Carrot meals. The subscription-based meal boxes cater to vegans, but if you're confused (refer to Nicole's breakfast above) whether she's a vegan or not, so is she. She explains, sort of:
"I'm a vegan. I'm not a vegan, but I like to claim it."
Well, when she's claiming veganism, she makes spaghetti with meat sauce but substitutes the traditional recipe with Impossible ground meat.
Dessert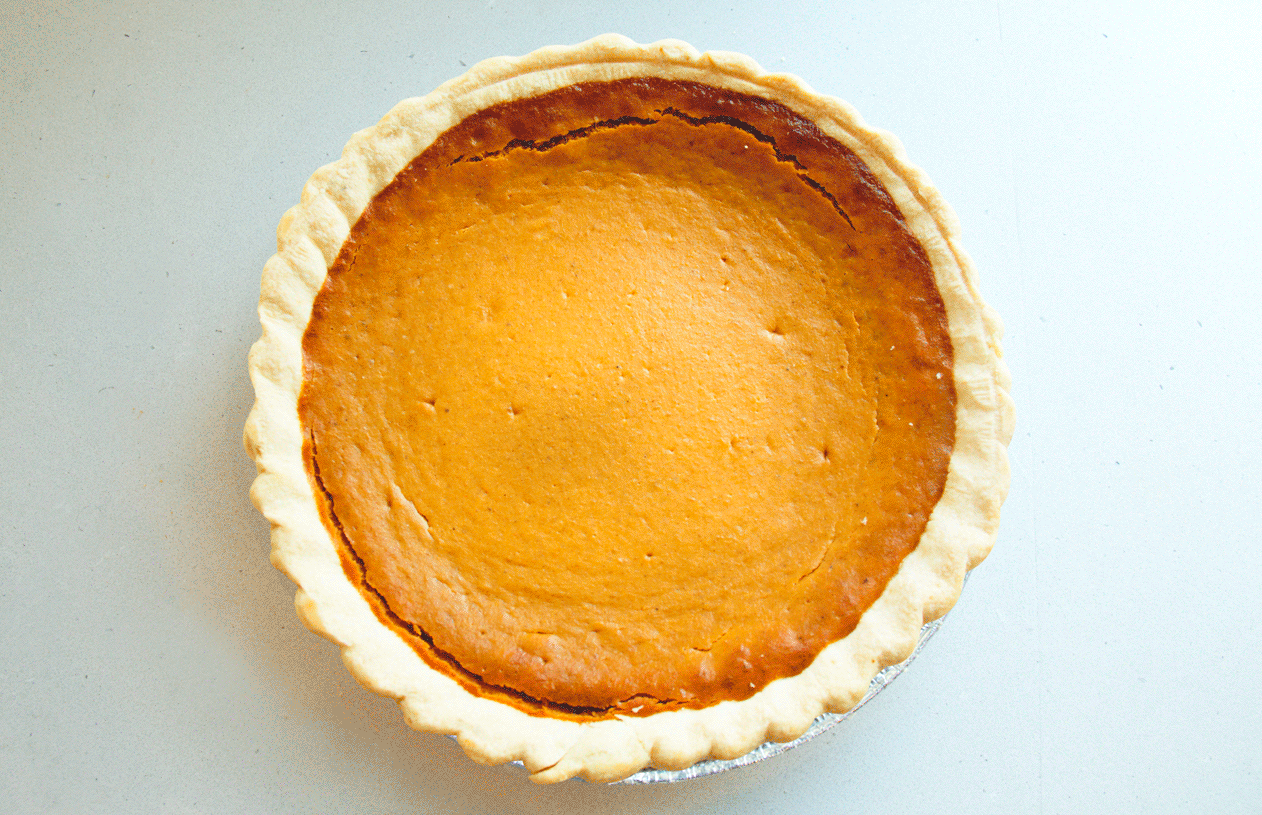 For dessert, veganism is a thing of the past. Nicole is having sweet potato pie but only if she can raise her Aunt Bertha from the dead or one of the church ladies she grew up with. Her words, not ours. We wonder if a Patti Pie will do. Hmmm...
Snacktime
The girl loves her peanut butter. She keeps it simple and munches on the hard-to-find Ritz Peanut Butter Crackers for a snack. Someone let Nicole know we found them at Target!
Not-So-Guilty Pleasures
Nicole travels A LOT. So indulging in cuisines city to city, or sometimes country to country is the norm for her. She has her orders down to a science in her favorite locations:
"In LA, I would get a Howlin Ray's chicken sandwich, with no pickles because it is the best chicken sandwich I've ever had...I would do cheese fries from this restaurant uptown [in New York] called Toast. It is so good. Also, their mac and cheese is really good. If I get their mac and cheese, I also get a Caesar salad with chicken, bacon, light on the croutons, dressing on the side...Then I would head on over to Italy. I would go to Rome and get carbonara. They make it there with egg yolk. Here they make it with cream—incorrect and kind of disgusting. But there they use egg and very slowly, envelop it into the pasta. It gets this like bright yellowy, orangey color...and they don't make it with bacon they make it I think with pancetta."
The carbonara in Rome made us shed a real tear.
Everything Comedian Nicole Byer Eats in a Day | Food Diaries: Bite Size | Harper's BAZAAR
Featured image by Nicole Byers/Instagram

Keep reading...
Show less