In 2019, Grammy-nominated Tank and the Bangas released their second live album, Live Vibes 2 (Live). On this album, Tank begins her song "DM Pretty," with a spoken word poem that discusses the problem of being seen as beautiful only on social media or being told about it only through secrecy. Early this year, her infamous riff of "this boy be in my DM say I'm pretty," took TikTok by storm and became the new audio clip worth putting on any video of a beautiful girl's page.
The poem and clip conclude with Tank stating that although the compliment was appreciated, it was unnecessary, because "she already knew that." Her beauty is not and would not be defined by someone's late-night 2 a.m. discovery.
Tank and the Bangas - Full Set | Best of the Beat 2020New Orleans favorite Tank and the Bangas deliver a stellar set for OffBeat Magazine's 2020 Best of the Beat Awards. The band ...
Now, many wonder who this trailblazer is, igniting herself and others in a relentless form of self-love and setting the bar for those who shower her in misguided affection. To understand who Tank truly is, it's time to get out of her DMs and into her discography.
Here are the top 8 Tank and the Bangas songs that will keep you out of her DMs, unless it is to state that her music should have been found years ago.
1. "To Be Real" (feat. Hasizzle, Keedy Black & Big Choo)
In 2020, during the height of the pandemic, Tank and the Bangas had me by the throat when they released the EP Friend Goals. On this EP was the track "To Be Real," a song that from the moment it begins will have you bobbing from side to side, only to get up and shake your ass a minute later. Her lyrics tell of a house party, her music makes you feel like you're having one in New Orleans, Louisiana. By the time the song ends, you will be out of breath and happy for the dance break.
2. "Spaceships"
"Money. Look at all the money. Look at the money, money fallin'' from the sky."
This song is just plain fun, as it should be given its theme. This song is like a pat on the back when one understands they have finally accomplished their goal of reaching the charts. Tank and her crew choose to simply throw their money up and enjoy their riches, rediscovering themselves back home, where it all began, rather than lavishly spending it and wasting it on expensive items and destinations. Though, she does consider the idea of pointlessly wasting it all. Thanks to Mark Batson's incredible beat, the children's catchy chorus, and the pure delight of oneself, this song will be in your head for days.
3. "Boxes and Squares"
One thing about Tank is that she is extremely aware of her value; in fact, she is occasionally forced to remind her suitor when he forgets. In this song, she takes the time to tell her ex all of the wonderful things she could have been for him. She is no longer interested in the nothingness he can offer, however, as a result of his constant falsehoods, jokes, closed-off demeanor, and immature desires. He simply offers empty boxes and loops of never-ending mediocrity, while she embodies everything that healthy cultivation entails. Tank makes it abundantly clear, she's the bar.
4. "Dope Girl Magic"
It's crazy how simple things may seem when you're really good at them. Tank tells her audience that being this dope is almost too simple as she slickly follows along with the music. She may grow a little tired of it all because it is so simple. Yet, that doesn't stop her from being boastful and bragging about how talented she and her bangas are. She is limitless. She is extraordinary, and she is only beginning. Her group is distinct in its excellence, and she knows it. Some might be great, but their type of great is so different that it's unattainable by others.
5. "No ID"
What a groovy song, and an even better message. "No ID" sends the crystal-clear message to any would-be suitor: I'm not interested. Tank compares her admirer to someone who thinks she is so simple-minded that she will just fall for his old tactics with the help of some clever tropes. But she has dealt with men who seem to want her without truly working for it before, and she is too busy now to deal with them. Particularly when she is so familiar with the game's outcome. He needs to demonstrate his desire for her more clearly than he has, and he most definitely needs to provide proper ID.
6. "Heavy"
What a fantastic soulful track to accompany a fantastic soulful album. Tank and the Bangas is excellent because she feels confident in her abilities and desire. She knows exactly what she wants; in this case, she wants everything to hit her heavily. She desires an almost crushing pressure of connection, trust, communication, and love. She has a healthy longing for every moment to be remembered and cherished and a lover who wants the same.
7. "Fluff" (feat. DUCKWRTH)
In "Fluff," Tank and DUCKWRTH watch a young lady who seems to be addicted to fluff. She wants all of the drugs, the parties, the festivals, and everything else that is simply unimportant. In the end, they come to the realization that the girl is looking for something in all of life's joy, but is not successful in finding anything enjoyable. She sings about a woman who can never be satisfied and should be left behind over another 70s groove.
8. "Nice Things"
​Tank's only goal in this song is to gain appreciation. She, therefore, implores her lover to show her some kindness. He ought to take her dining out, shopping, to the beach, among other things. She merely wants some nice things, because she is conscious of her value.
Must See: NPR Tiny Desk, Tank and the Bangas (NPR Performers of 2017)
Take a moment to actually be entertained by Tank and the Bangas' Tiny Desk NPR Performance. You will smile nonstop for about 25 minutes thanks to the band's chemistry, showmanship, and musical prowess. Once you're done watching, you'll see why they won performers of the year.
Tank and the Bangas' Pretty Poems EP is available now on all platforms.
Featured image by Vivien Killilea/Getty Images for Universal Music Group for Brands
If there ever was a year for new artists to show themselves, it's without a doubt been within the post-pandemic era. Thanks to the increasingly widespread rise of the social media platform, TikTok, artists have secured another means of promoting their work and figured out how to cash in on simply being viral sensations. New artists such as Coi Leray, Yung Baby Tate, Doechii, and Ice Spice are just a few examples of on-the-rise superstars who've thrived from TikTok streams, and inevitable Billboard charting success, but Ice Spice, alone, is figuring out her own lane: one that's about being herself and enjoying young, rockstar lifestyle fame.
And if you've been anywhere near social media lately, then you've probably heard, seen, and been enamored by the star that the kids can't get enough of – whether streaming videos, reading about her in headlines, or learning from them what a 'munch' is.
Standing at 5-foot-7, she dons an enviable, signature curly 'fro, as she raps in a calm, Bronx-laced monotone flow. She rose to popularity in the fall of 2022 with "Munch (Feelin U)" which took social media by storm, and is now, sitting pretty on Billboard's #3 Hot 100 Song as a feature on PinkPantheress' "The Boy's a Liar Part 2." Now, it's her time to shine as she becomes the face of Gen-Z's best attribute: rebelling against society's made-up rules and trailblazing their own paths.
So, while we sit back and wait for her to shoot into superstardom, here are 7 things you should know about emerging hip-hop starlet, Ice Spice:
1

.

Her music is considered 'Bronx-drill.'
Despite the cute pop sound you've heard from her lately, Ice's roots are heavy into the Bronx's drill music scene. Originating in Chicago in the 2010s from artists like Chief Keef, drill music is a type of hip-hop trap music that focuses on inner city daily occurrences and crime. Although it can get pretty dark, the drill sound means a lot to those who can relate to the lyrics and the city from which it originated from. When asked about her hit song, "Munch (Feelin U)," Ice Spice, 23, told Rolling Stone:
"'Munch' is bringing out the fun in drill. It was a little serious before, a little violent sometimes, which is cool. I be bumping that rah-rah shit all day. But 'Munch' definitely brought out the zesty side of it. I want everybody to feel like a baddie."
2

.

Despite her genre, Ice Spice wants to collaborate most with Rihanna.
We're not sure how the two sounds would mix, but she sure doesn't mind telling Ellethat she loves Coldplay and The 1975, but if she could collaborate with any artist—it would be Rihanna. "She's the GOAT. She's gorgeous. I love her. I'm obsessed with her."
Spice also lists Doja Cat and Nicki Minaj as dream collabs.
3

.

Erykah Badu and her daughter, Puma Curry, interviewed her for 'Interview Magazine.'
Puma introduced her legendary mother to Ice Spice's music, which prompted them to sit down for an interview. The trio discussed what life was like growing up for Ice in the Bronx, her relationship with her parents as she adjusts to fame, and her plans for 2023. They thanked her for her time and gave her words of encouragement, with Spice simply replying, "Thank you. Puma, you're the GOAT."
4

.

Ice Spice credits her dad for giving her the courage to rock her signature 'fro.
When asked about her signature hairstyle, Spice gave credit to her dad, who she says taught her the importance of individuality:
"I think my father helped me get past [wearing my curls] because he would always say, 'It's beautiful, you're beautiful, wear your natural hair.' I loved to straighten my hair and I loved to pretend it wasn't curly. I would literally pray to God before I went to sleep, like, 'Please let me wake up with straight hair,' because at the school I went to, there were so many white girls, and I was the only one with curly hair."
She adds:
"Once I finally started doing it, it was like ripping off a Band-Aid. I'll never forget the first time I went to school with my natural hair. I spent so much time in the bathroom just looking at myself before going back to class. I was so nervous for something that didn't even fucking matter. But when you're 15, the whole class's opinion matters to you."
5

.

She's all about girl power.
During her Interview Magazine interview, Spice was asked what type of imprint she wants to make during her career to which she responded, "I want to make girls feel confident. Like the Marilyn Monroe impact or the Rihanna impact, the Erykah impact. You have a way of hypnotizing people, you cast a spell on them. I want to do the same thing."
Confidence is a constant theme for Spice as she also says 'confident' is one of the top three words she'd use to describe herself.
6

.

Ice Spice's influence has the numbers to back it up.
You know how the saying goes, "men lie, women lie, numbers don't," and when it comes to Spice, this rings true. Whether you understand her rise to stardom or not, the girl has pull and certainly has the figures to back it up. In addition to sitting pretty at #3 on Billboard's Hot 100, the hashtag #munch now has over 2 billion views on TikTok, with videos reiterating the song's lyrics "You thought I was feeling you?" as a trend. The hashtag #IceSpice has over 4 billion views.
But don't think she isn't planting her roots. Her EP Like..?, released on Jan. 20, included singles "Bikini Bottom," which samples music from the cartoon series SpongeBob SquarePants, and "In Ma Hood," which has over 30 million collective Spotify streams.
7

.

Beyoncé personally chose her for IVY PARK x Adidas "DISCOVER YOUR PARK" collection.
On Feb. 9, IVY PARK dropped its new Park Trail performance-wear collection in collaboration with Adidas. The brand tapped Ice Spice as one of the celebrities to star in the campaign for the launch, alongside Offset (and his son Kody Cephus), Devon Aoki, and more sporting head-to-toe camouflage in the form of cargo pants, jackets, and even sock boots.
Ice Spice told PEOPLE:
"When I got the call I was in disbelief. It was all sinking in on the flight over [to the photo shoot]. I'm still so excited to be a part of this!"
In an Instagram post, Beyoncé herself said that IVY PARK Park Trail is "my favorite drop to date."
Let's make things inbox official! Sign up for the xoNecole newsletter for daily love, wellness, career, and exclusive content delivered straight to your inbox.
Featured image by Matt Winkelmeyer/Getty Images for Spotify
It looks like 2023 will be the year of the tours thanks to Beyoncé, Rihanna, and Janet Jackson. After releasing her highly-anticipated album Renaissance, Beyoncé may be giving the gworls what they've been asking for (aside from the visuals from her album), a tour. Page Six first reported that the "Alien Superstar" singer was planning on touring the world next summer and began booking stadiums. But the latest news sent the Beyhive into a frenzy.
Featured image by Mason Poole/A.M.P.A.S. via Getty Images
While music videos may not be held in the same regard they once did in the '90s and the early 2000s, fans still anticipate them when they drop especially when it's a bop. And a lot of artists make sure to deliver on the videos by giving us a story, style, and special effects. If you are like us, you may be waiting on Beyoncé to drop her visuals for Renaissance any day now. But in the meantime, some of our other favorite artists have finally given us visuals for their singles this week.
Check them out below:
Featured image by Rodin Eckenroth/Getty Images
This past Sunday, singer Lizzo took home the MTV Video Music Award for "Best Video for Good" for her #1 song "About Damn Time." Lizzo directed a portion of her acceptance speech to her haters. "And now, to the b-tches who got something to say about me in the press:" the 3x Grammy Award winner says. "You know what— I'm not gonna say nothing. They be like 'Lizzo why don't you clapback?' Because, bitch, I'm winning, hoe!"
Her comments come after a video went viral this past weekend of Def Comedy Jam has-been Aries Spears made disparaging remarks about the singer's body and a few weeks after Real Housewives of Beverly Hills star Kathy Hilton referred to Lizzo as "Precious," the titular character from Lee Daniels' 2009 film, which has become a derogatory name used to invoke shame around being a dark skinned fat Black woman.
Since becoming a viral sensation with her mega hit song "Truth Hurts," in 2019 (two years after its initial release), Lizzo has been subjected to unrelenting hatred with regards to her body. When speaking about it in an interview with David Letterman for his Netflix show My Next Guest Needs No Introduction, she said: "It bothered me for a long time that all people could talk about or think about was my size. I didn't like when people condemned me for it, and it also kind of rubbed me the wrong way when I was praised. Like, 'you're so brave!'"
Despite the awards and accolades she's accrued in her career, the conversations that surround Lizzo don't focus on her talent or her accomplishments or that she can sing, rap, twerk and play the flute all in the same performance. In just the last few weeks, her fourth studio album Special released in July went number one on the Billboard charts, a first in her career. She earned her second number one song with "About Damn Time." Her Amazon Prime reality competition show Watch Out for the Big Grrrls was nominated for six Emmys and is one of the most empowering celebrations of Black women's bodies onscreen. Her undeniable impact on pop music and the culture is what should define Lizzo as an artist.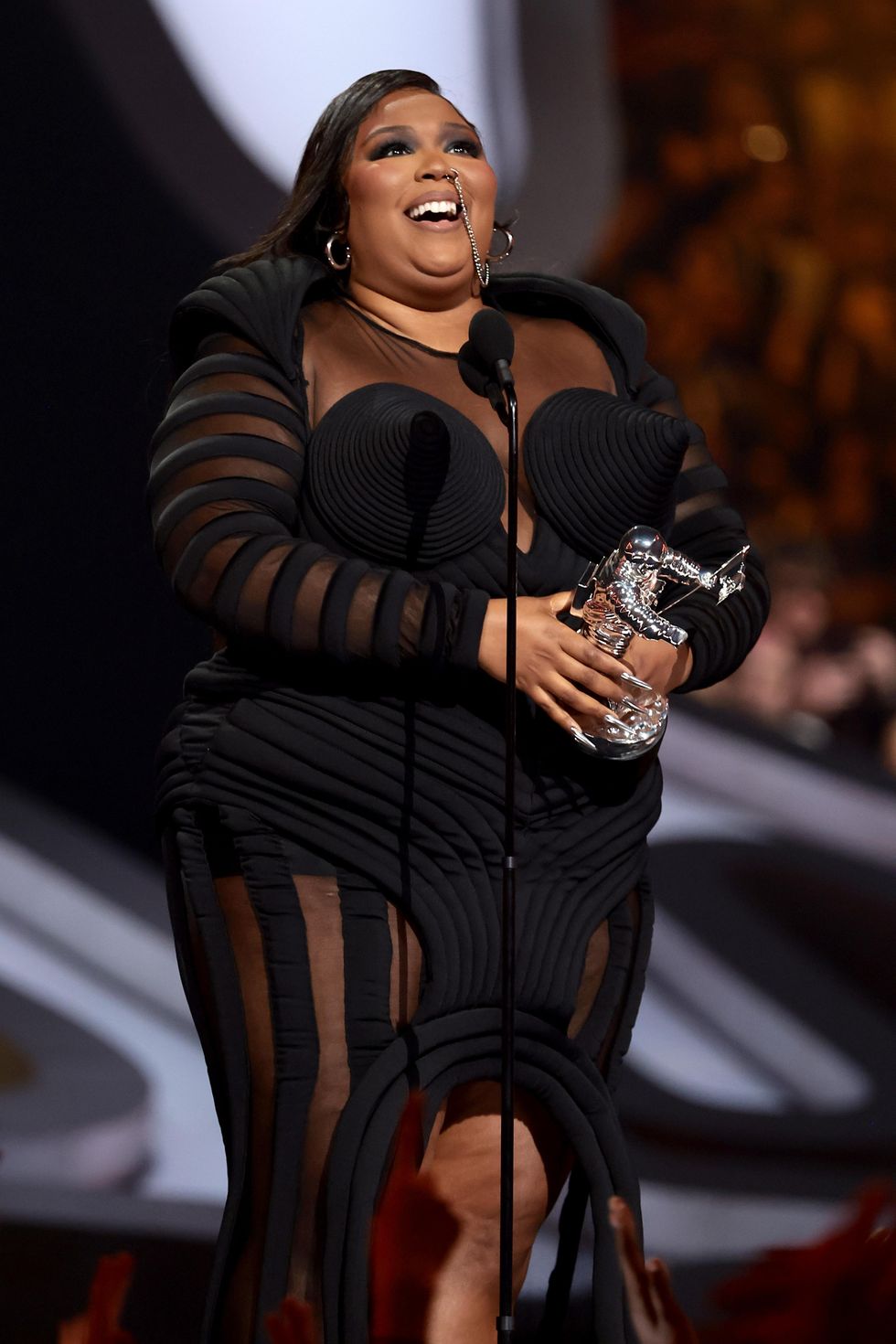 Lizzo winning at the MTV VMAs 2022
Photo by Dimitrios Kambouris/Getty Images for MTV/Paramount Global
Instead, Lizzo has become a buzzword, a shorthand that groups choose to utilize. She's either emblematic of a supposed woke culture run amok or she's an affirmation generator, a series of Pinterests quotables meant to be plastered on a coffee mug.
In both scenarios, Lizzo isn't allowed the full breadth of her humanity. There's no room for her to grow, for her to make mistakes, to cry, be angry, or to express any form of discomfort.
Many fans of hers have pointed to Lizzo's seemingly endless reserve of self love whenever anyone makes derogatory comments about her. There's no doubt in my mind that Lizzo is a confident woman. But someone's confidence isn't an invitation to subject them to endless abuse. Confidence isn't a test in how much one can endure. Her refusal to shrink herself metaphorically or literally is not an invitation for the world to test the tenacity of her self-love commitment.
Lizzo deserves to not be used as a punchline or a rhetorical device. She deserves to be celebrated for her talents and be given the same love and joy that she puts out through her art.
Let's make things inbox official! Sign up for the xoNecole newsletter for daily love, wellness, career, and exclusive content delivered straight to your inbox.
Featured image by Gotham/WireImage

Once again, we've been accosted by discourse about the current state of R&B. Despite his status as an elder statesman in hip hop and R&B, billionaire mogul Diddy decided to take to Twitter last week to ask the public: "Who killed R&B?"
He received many responses, including accusations that the exploitative contracts he had his artists sign played a role in the demise of the genre. Whatever his sincere intentions were, it bears repeating — again — that R&B is alive and well. It may not be as popular on the airwaves as it was in its 90s heydey, and you may have to search a little harder to find it (which is what people probably mean when they say R&B is dead) but there are artists like Ari Lennox, Summer Walker, SZA, Kehlani, Chloe x Halle, Doechii, Jazmine Sullivan, and countless others who continue to hold down the beloved genre.
xoNecole has compiled a list of five up-and-coming artists to know who are making R&B for the new generation of listeners.