While music videos may not be held in the same regard they once did in the '90s and the early 2000s, fans still anticipate them when they drop especially when it's a bop. And a lot of artists make sure to deliver on the videos by giving us a story, style, and special effects. If you are like us, you may be waiting on Beyoncé to drop her visuals for Renaissance any day now. But in the meantime, some of our other favorite artists have finally given us visuals for their singles this week.
Check them out below:
Featured image by Rodin Eckenroth/Getty Images
This past Sunday, singer Lizzo took home the MTV Video Music Award for "Best Video for Good" for her #1 song "About Damn Time." Lizzo directed a portion of her acceptance speech to her haters. "And now, to the b-tches who got something to say about me in the press:" the 3x Grammy Award winner says. "You know what— I'm not gonna say nothing. They be like 'Lizzo why don't you clapback?' Because, bitch, I'm winning, hoe!"
Her comments come after a video went viral this past weekend of Def Comedy Jam has-been Aries Spears made disparaging remarks about the singer's body and a few weeks after Real Housewives of Beverly Hills star Kathy Hilton referred to Lizzo as "Precious," the titular character from Lee Daniels' 2009 film, which has become a derogatory name used to invoke shame around being a dark skinned fat Black woman.
Since becoming a viral sensation with her mega hit song "Truth Hurts," in 2019 (two years after its initial release), Lizzo has been subjected to unrelenting hatred with regards to her body. When speaking about it in an interview with David Letterman for his Netflix show My Next Guest Needs No Introduction, she said: "It bothered me for a long time that all people could talk about or think about was my size. I didn't like when people condemned me for it, and it also kind of rubbed me the wrong way when I was praised. Like, 'you're so brave!'"
Despite the awards and accolades she's accrued in her career, the conversations that surround Lizzo don't focus on her talent or her accomplishments or that she can sing, rap, twerk and play the flute all in the same performance. In just the last few weeks, her fourth studio album Special released in July went number one on the Billboard charts, a first in her career. She earned her second number one song with "About Damn Time." Her Amazon Prime reality competition show Watch Out for the Big Grrrls was nominated for six Emmys and is one of the most empowering celebrations of Black women's bodies onscreen. Her undeniable impact on pop music and the culture is what should define Lizzo as an artist.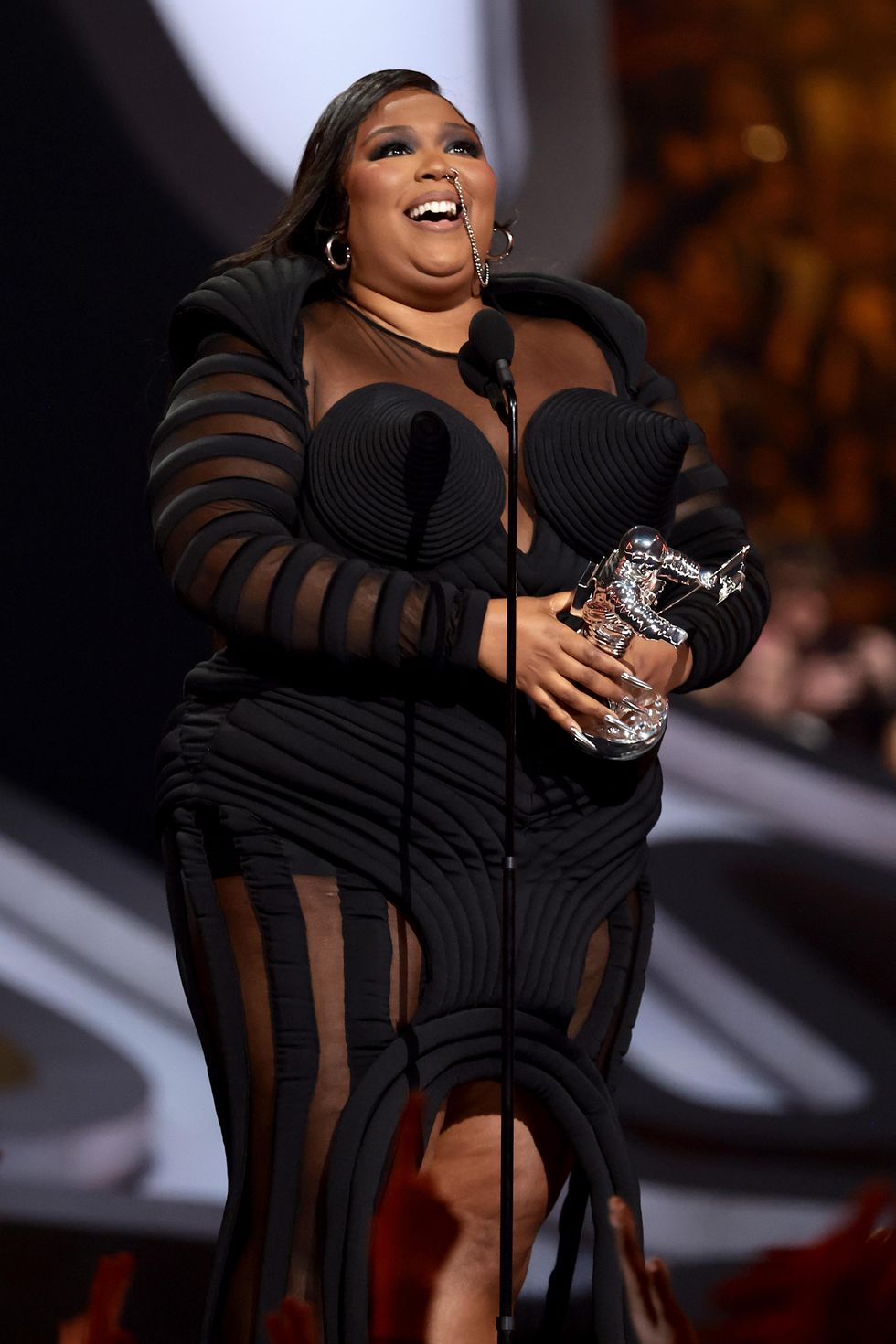 Lizzo winning at the MTV VMAs 2022
Photo by Dimitrios Kambouris/Getty Images for MTV/Paramount Global
Instead, Lizzo has become a buzzword, a shorthand that groups choose to utilize. She's either emblematic of a supposed woke culture run amok or she's an affirmation generator, a series of Pinterests quotables meant to be plastered on a coffee mug.
In both scenarios, Lizzo isn't allowed the full breadth of her humanity. There's no room for her to grow, for her to make mistakes, to cry, be angry, or to express any form of discomfort.
Many fans of hers have pointed to Lizzo's seemingly endless reserve of self love whenever anyone makes derogatory comments about her. There's no doubt in my mind that Lizzo is a confident woman. But someone's confidence isn't an invitation to subject them to endless abuse. Confidence isn't a test in how much one can endure. Her refusal to shrink herself metaphorically or literally is not an invitation for the world to test the tenacity of her self-love commitment.
Lizzo deserves to not be used as a punchline or a rhetorical device. She deserves to be celebrated for her talents and be given the same love and joy that she puts out through her art.
Let's make things inbox official! Sign up for the xoNecole newsletter for daily love, wellness, career, and exclusive content delivered straight to your inbox.
Featured image by Gotham/WireImage

Once again, we've been accosted by discourse about the current state of R&B. Despite his status as an elder statesman in hip hop and R&B, billionaire mogul Diddy decided to take to Twitter last week to ask the public: "Who killed R&B?"
He received many responses, including accusations that the exploitative contracts he had his artists sign played a role in the demise of the genre. Whatever his sincere intentions were, it bears repeating — again — that R&B is alive and well. It may not be as popular on the airwaves as it was in its 90s heydey, and you may have to search a little harder to find it (which is what people probably mean when they say R&B is dead) but there are artists like Ari Lennox, Summer Walker, SZA, Kehlani, Chloe x Halle, Doechii, Jazmine Sullivan, and countless others who continue to hold down the beloved genre.
xoNecole has compiled a list of five up-and-coming artists to know who are making R&B for the new generation of listeners.
Beyoncé has had a lot to celebrate over the last few weeks after the release of her album RENAISSANCEand now her eldest daughter Blue Ivy Carter can join in on the fun. Blue reportedly has scored two gold RIAA (Recording Industry Association of America) certifications, one for "BROWN SKIN GIRL" from The Lion King: The Gift and "Blue" from Beyoncé's self-titled album. These gold plaques only add to the 10-year-old's other accolades.
In Sept. 2021, the young entertainer became the youngest person to win an MTV VMA award with "BROWN SKIN GIRL," and that same year she won a Grammy for the music video. In Dec. 2021, she also won a Voice Arts Artist award for the best voice-over of a children's audiobook for narrating Hair Love.
Blue's recent accolades come on the heels of her mom Beyoncé receiving 70 RIAA certifications in one day. According to reports, the new certifications occurred after her catalog sales were updated.
Parkwood Entertainment on Instagram: "📀💿 Congratulations to @Beyonce on 70 new #RIAATopCertified albums and singles!"
The decorated singer's hit song "Break My Soul" is spending its second week at the top of the U.S. Billboard Hot 100 and her seventh album has been holding steady atop the U.K. Albums charts. The mother of three's recent accolades reportedly makes her the third most awarded female artist in US music history with 114 million RIAA Single Awards.
Here are all of Beyoncé's 70 new RIAA certifications:
Beyoncé's Platinum Albums
6X Multi-Platinum Album – Dangerously In Love
6X Multi-Platinum Album –I Am… Sasha Fierce
5X Multi-Platinum Album – B-Day
5X Multi-Platinum Album – Beyonce: Platinum Edition
4X Multi-Platinum Album – 4
Beyoncé's Platinum Singles
6X Multi-Platinum Single – "Crazy In Love"
6X Multi-Platinum Single – "Irreplaceable"
6X Multi-Platinum Single – "If I Were A Boy"
6X Multi-Platinum Single – "Drunk In Love"
4X Multi-Platinum Single – "7/11" (2014)
4X Multi-Platinum Single – "Run The World (Girls)"
4X Multi-Platinum Single – "Partition"
4X Multi-Platinum Single – "Love On Top"
3X Multi-Platinum Single – "Sweet Dreams"
3X Multi-Platinum Single – "Formation"
3X Multi-Platinum Single – "Best Thing I Never Had"
3X Multi-Platinum Single – "Sorry"
3X Multi-Platinum Single – "FLAWLESS"
2X Multi-Platinum Single – "Check On It"
2X Multi-Platinum Single – "Countdown"
2X Multi-Platinum Single – "XO"
2X Multi-Platinum Single – "Hold Up"
2X Multi-Platinum Single – "Dance for You"
2X Multi-Platinum Single – "Diva"
2X Multi-Platinum Single – "Beautiful Liar" with Shakira
Platinum Single – "Ring The Alarm"
Platinum Single – "Déjà Vu"
Platinum Single – "Naughty Girl"
Platinum Single – "Baby Boy"
Platinum Single – "6 INCH (FEAT. THE WEEKND)"
Platinum Single – "All Night"
Platinum Single – "BEFORE I LET GO (HOMECOMING LIVE)"
Platinum Single – "End of Time"
Platinum Single – "Get Me Bodied"
Platinum Single – "MINE (FEAT. DRAKE)"
Platinum Single – "Pretty Hurts"
Platinum Single – "Upgrade U (Ft. Jay-Z)"
Platinum Single – "1+1"
Platinum Single – "Ego"
Platinum Single – "Listen"
Platinum Single – "Me, Myself and I"
Platinum Single – "Party"
Platinum Single – "Video Phone"
Beyoncé's Gold Singles
Gold Single – "Ave Maria"
Gold Single – "ALREADY"
Gold Single – "BLACK PARADE"
Gold Single – "Freakum Dress"
Gold Single – "Haunted"
Gold Single – "Heaven"
Gold Single – "I Was Here"
Gold Single – "Love Drought"
Gold Single – "No Angel"
Gold Single – "Pray You Catch Me"
Gold Single – "Rocket"
Gold Single – "Sandcastles"
Gold Single – "Superpower (Ft. Frank Ocean)"
Gold Single – "Blow"
Gold Single – "Daddy Lessons"
Gold Single – "Freedom (Ft. Kendrick Lamar)"
Featured image by Alberto E. Rodriguez/Getty Images for Disney
Like a true Beyoncé stan, when Renaissancedropped, I listened promptly at 12 a.m. with the rest of Twitter. The 16-track album was released just over a month after the debut of its only single "Break My Soul" and, based on my adoration for that song, I knew the album was one that I was guaranteed to dance to–even if alone in my living room. The song that directly follows "Break My Soul" on the house-inspired album is none other than the transformative track "Church Girl."
When I first read the name of the track, I was fully prepared to hear a ballad featuring a religious reference or nod, but what I was not prepared for was hearing a sample from none other than gospel legends, The Clark Sisters. In "Church Girl," Beyoncé samples their song "Center Thy Will." The song starts with a religious cry from the original lyrics, "Lord, place me, Lord, place me. I want to be centered in thy will" before a beat drop that transforms the song into a certified twerk anthem that makes it impossible to sit still.
Featured image by Delmaine Donson/Getty Images
Bey is back with her highly anticipated seventh studio album, Renaissance. The 16-track record is her first solo album in six years since Lemonade. And like with everything she does, she's raised the bar.
The album is a sonic masterpiece as Bey delivers her style and interpretation of the house music she was exposed to growing up. Beyoncé credits that exposure to her Uncle Johnny, who died of complications from AIDS, and she dedicates Renaissance to him in the album's liner notes.
"He was my godmother and the first person to expose me to a lot of the music and culture that serve as inspiration for this album," she writes. Uncle Johnny was a pivotal figure in Beyoncé's life and career, designing costumes for Destiny's Child with her mother Tina before high-end labels would dress "four Black, curvy, country girls." As a Black queer southerner living with HIV, Beyoncé's decision to dedicate Renaissance to Uncle Johnny and to center Black LGBTQIA voices and Ballroom history and culture in the music is one of unconditional love and hope. Music journalist Gerrick Kennedy agrees.
"She's talked about her uncle over the years, but to really celebrate that [with Renaissance] ... If we hadn't had this moment [with COVID lockdown] where we have been sitting and reflecting, I don't know if we would've gotten a project like this," Kennedy tells xoNecole. "It also feels like [Beyoncé] allowed herself to grieve this family member, but also this part of her and her mother's life and how she was raised and the [queer] scenes that she was privy to as a kid [in the South] before we all really knew her," says Kennedy.
Fans got a taste of her intentions to honor the Black queer community with this album on June 21, when she dropped the lead single from Renaissance, "Break My Soul." The lead single features samples of Robin S.'s 1990 hit "Show Me Love" and the Queen of Bounce, Big Freedia's 2014 song "Explode."
"For [Beyoncé] to extend her hand to her queer fans, hold us up the way that she did and create a universe for us [with this album]. There's something really magical about it," Kennedy says.
"Cozy," the second song on the album, serves as a proudly queer-centric affirmation of being comfortable with who you are and features trans icons Honey Dijon and Ts Madison. In verse two, Beyoncé sings about colors that describe Daniel Quasar's 2018 Progress Pride flag design that brings marginalized LGBTQIA+ people of color, trans people, and those living with HIV/AIDS to the forefront. And in the post-chorus and bridge, there's a sample of Ts Madison's video "B**tch, I'm BLACK."
"There are no words to describe my feelings," Ts Madison tells xoNecole about the opportunity to feature on "Cozy." "Beyonce is a global phenomenon. For her to add my voice and statement piece on this project means a great deal to not only the Black community, but also the trans and queer community," she says.
My favorite track, "Church Girl," reminds me of Sunday sermons ending at 3 p.m., followed by a community fish fry and great music as the Louisiana heat beams down on my skin. Besides its reminder of my southern roots, "Church Girl" serves as a form of catharsis to let go of your burdens, whether at the altar or on the dance floor.
That form of release is the common theme throughout the album, emphasizing the importance of agency, self-love, and freedom to express yourself.
Renaissance also features contributions from The-Dream, Tems, NO I.D., NOVA WAV, Raphael Saadiq, and Mike Dean, to name a few. Songwriter Diane Warren might have tried to come for Beyoncé crediting 24 writers on one track of Renaissance, but it's Beyoncé's communal approach to her craft that makes Renaissance flow so beautifully; it's how she's able to merge regional sounds and flip them with some southern spice.
Music historian and author Craig Seymour says that with her collaborations on Renaissance – like featuring live trumpets played by Bastrop, Louisiana native Jamelle Adisa on "Cuff It," – Beyoncé reconnects house music that had been born in places like Chicago back to its southern roots, honoring the foundation of the genre itself.
"People always want to act like Black history is brand new, but the first thing is to understand the huge influence of the Great Migration," Seymour tells xoNecole. "All those people who created early house music were the grandchildren of Southerners. So those southern cultural traditions and things like that were a part of their lives even though they were in an urban environment," says Seymour. "The kind of yearning, the desire for acceptance that you get with a lot of early house, you can trace a lot of those elements even back to the urban blues, which essentially was the soundtrack to the Great Migration."
Seymour also tells us that the sub-genres of house Beyoncé chose to recreate on the album show her commitment to authentically representing the culture.
pic.twitter.com/wgYIRZg465
— BEYONCÉ (@Beyonce) July 29, 2022
"One of her most significant influences on the album is the sub-genre of house called 'bitch tracks,' which were often made by drag performers who were basically reading somebody on a record. Moi Renee's "'Miss Honey'" is one of the foundational ones, and she sampled Kevin Aviance's "'Cunty'" on [the track] "Pure/Honey," says Seymour.
It's that track, as well as "Alien Superstar" that season one winner of the HBOMax vogue competition show Legendary Calypso Jetè Balmain relates to the most. But Calypso, who's worked with Megan Thee Stallion and more, is no stranger to how thin the line between homage to the culture and commodification can be.
"Being a Black trans woman and knowing Ballroom, going back to the roots and everything, I don't want this to just be another way of getting people to tune into music," says Calypso. "I'm kind of sad that it took for Beyoncé to do things like this [for the community to get the attention it deserves]. I love it; I appreciate it. But I don't want this to be [seen as] a trend because Ballroom has been around for so long." She hopes that the visuals for Renaissance will showcase the culture authentically.
"It will open the eyes of many who are allies or not LBTQIA+. Because right now, people are just hearing it, and people are probably like, 'Oh, my God, this is a great time because Beyoncé made it,' says Calypso. "If you were to walk into a straight club and say, 'Oh, play Kevin Jz Prodigy.' They'll never play Kevin Jz Prodigy. They don't know who that is."
In recent years, Ballroom — traditionally an underground haven for Black and brown LGBTQIA+ folks — has become a part of the mainstream pop culture discussion thanks to TV series like Pose and Legendary, and a resurgence of house music. While the general public gawks at the beauty, glamour, and voguing, there's a deeper story of resilience, survival and strength in community. "Nobody wants to talk about AIDS because it created a substantial generational gap," Seymour says. "The government's inaction caused gay men to die disproportionately of AIDS, especially Black gay men."
And now, at the height of anti-LGBTQIA+ legislation and the short life expectancy of Black trans women, who are attacked daily, we must look beyond the surface. Renaissance is more than a musical masterpiece; it's inherently political and communal as she lends herself and platform to the memory of her Uncle Johnny and to generations of queer folks. Looking back to move forward through music is a form of resistance in her wheelhouse, using this album to bridge young queer folks to their elders, roots, and the ongoing fight for our rights. That's the true essence of Renaissance in every sense of the word.
Let's make things inbox official! Sign up for the xoNecole newsletter for daily love, wellness, career, and exclusive content delivered straight to your inbox.
Featured image by Carlijn Jacobs