Music has always had a way of evoking all the feels. When you're down bad, mid-breakup, there's nobody propping you up quite like music. The same goes for when you're feeling love or lusty. When you look back in time, you'll likely associate songs with the struggle. I mean, just think of the days of delicately crafting a playlist (to burn) that stimulated one emotion or another, allowing you to vibe out was a vibe in and of itself. It's the equivalent of that scene from Say Anything with John Cusack.
There's nothing like a good soundtrack, so consider this your soundtrack to slow-burning, passionate sex. Each of the 20 songs below for sure passed the vibe check – from today's R&B to a sprinkle of indie rock and throwback (because you can never go wrong with some "oldie but goodie."). Download these songs via your favorite streaming app, set the mood with your favorite wine, and hit play the next time you have a cute, in-house dinner date or purely a sex date – whichever is preferable on your menu that evening.
Try to keep in mind: vibes over everything. In no particular order, here are 20 slow jams that are as sensual as they are vibey.
"You Right" x Doja Cat & The Weeknd
In true Doja Cat style and, hell, even The Weeknd for that matter, this song comes equipped with a futuristic sound, immoral message, and overall it somehow sets a very sensual mood. The whole song is about infidelity but that never stopped a song from doing numbers – the people seem to love a lowkey sneaky link song. Plus, with this one in particular you can't help but admire the audacity.
"Like I Want You" x Giveon
"Falsetto" x The Dream
"Hrs and Hrs" x Muni Long
It may be too soon to refer to this as a TikTok classic, but in due time it will certainly become that. For now, we'll simply classify Muni Long's "Hrs and Hrs" as a TikTok hit. This song went up right before Valentine's Day, and we were all taken by its cathartic melodic sounds.
"So Anxious" x Ginuwine
"Anointed" x Miguel
"Customer" x Raheem DeVaughn
"Nothing Without You" x Tanerélle
This neo-soul jam by Tanerélle is so vulnerable and raw – it puts the blues in R&B. It's the way love was intended to be, both beautiful and authentic. It's a love letter. It's Boyz II Men's "On Bended Knees" but from a woman's POV in a new era with a different sound.
"Slow Down" x VanJess & Lucky Daye
"Company" x Tinashe
"pov" x Ariana Grande
​Say what you want about Ariana Grande but she never misses. However, she does have some songs that are more prominent than others, especially when it comes to a more gentle vibe. This is one of my favorites because not only is it a lyrical manifestation of self-love wrapped in a love song, but the beat is very soothing.
"Bluff" x Kelela
"Wild Irish Roses" x Smino
"Body" x Summer Walker
Summer Walker knows how to make a toxic love anthem. With "Body" though, there's a subtle vulnerability to her usual choice of subject matter as there's a hint of more self-awareness. She is aware that she shouldn't want or what she feels she needs, but she is revelatory in the fact that it's her body in the driver's seat. The sensual feel of the song and the lyrics are what make it an addition to this playlist.
"PILLOWTALK" x ZAYN 
"Sativa" x Jhené Aiko ft. Rae Sremmurd
"Just Another Interlude" x Bryson Tiller
The 'trapsoul' genre is a bad bitch genre, indeed. Bryson Tiller has created something special, to say the least! This song reminds me how much I miss rappers riding the R&B wave with the roughneck rhythm and blues. Not going to lie, this song is personal for me! It tells the story of long-term lovers who can't help but find their way back to one another despite it only ever resulting in a situationship – they know other people are only temporary. We've all been here before. I can't think of one person who can't relate to this seemingly perfect summer bop.
"Vibin' Out with ((( O )))" x FKJ
"Get You" x Daniel Caesar ft. Kali Uchis
"Leave the Door Open" x Silk Sonic
Remember what I said about oldies being goodies? Yeah, well, this is definitely not an old song but the whole intention behind it is to provide old-school sounds in a modern era. And though I can count on Bruna Mars to always, always deliver in this niche this one hits something different – providing the sounds and simplicity of the '60s and '70s. By simplicity, I mean lyrics didn't have to be super intricate; they just put whatever they were feeling out on paper and somehow it sounded seductive. Seriously, my guy said he had some weed, potato chips, and romantic dick – we ate it up.
Featured image by Getty Images
At face value, one might not think the classical composer Bach and the rapper Future could occupy the same space. However, classically trained violinist Meredith Ezinma Ramsay (also known as just Ezinma or "Classical Bae") proved that it's a magical combination when she responded to the viral #MaskOffChallenge on Instagram in 2017 with a violin rendition of the rapper's hit song.
"I was practicing a piece written by Bach," the violinist tells XoNecole. "I just sort of had this idea: 'What if I just sort of looped it?'" By looping, or continuously repeating, the classical piece with the "Mask Off" melody, Ezinma said that for the first time she created something that felt true to herself. She posted the video of her performing her classical rendition to Instagram "on a whim," and not long after, the video took on a life of its own.
"[The video] just went viral, like crazy viral. I woke up the next day to 22,000 followers. I had two hundred the day before," Ezinma recounts.
For the violinist, her interest in the violin began at just the age of four years old. "At the school I went to, they had a very small violin program. And just because I saw these kids with violins, I begged my parents if I could play," she says. It took a bit of convincing for her parents to finally rent her a tiny violin, but once they gave in, Ezinma says that she was a natural at playing the instrument.
Her love for violins led Ezinma all the way to New York after she finished her undergraduate degree at the University of Nebraska where she studied both science and the violin. "[New York is] such a fertile ground as a creative person, especially as a musician, because there are so many genres everywhere," she says. "You walk down the street, you hear jazz, or you see a hip hop club or a classical concert. So I was really in heaven."
Not long after moving to New York, she received a phone call that changed her life while at the gym. "I was living in Harlem at the time and I get this call from this contractor in New York City. And she was like: 'Hey, can you be at Central Park in 30 minutes? There's a gig with Stevie Wonder. We're going to do a quick soundcheck. We need a violinist,' for whatever reason, so-and-so fell through." Ezinma recalls.

"There was no sheet music. There was hardly [any] rehearsal. It was just really being up there and jamming," she says. "And it was, I think for me, such a pivotal moment because it was super early on in my career. And when you show up for yourself and you see just how capable you are, it kind of empowers [you.]"
The experience of playing with the legendary musical genius who Ezinma says is her "favorite artist of all time," reminded her of the old industry adage: "when you get the call, you better be ready."
Another lesson Ezinma learned came after she toured with Queen Bey for years. Ezinma performed with Beyoncé and Jay-Z during the On The Run 2 tour, as well as Beyoncé's iconic Coachella performance, Beychella, which became the Netflix documentary Homecoming. Still, Ezinma said in a 2020 interview that there was a part of her that felt unfulfilled, even after having achieved such an illustrious milestone in her career. "For me, purpose is very closely aligned with service," she tells me after I ask her if she still feels that way now that more time has passed. "Success is great and awesome and it's wonderful, right? But, for me personally, just sort of doing things without getting to connect, especially with kids, it feels like I'm missing out on a really important part of the puzzle."
Born in Lincoln, Nebraska, Ezinma was 13 years old and had been playing violin for nearly 10 years before she'd ever met another Black string musician. Now, she's making it her mission to help more kids of color have access to string instruments and lessons.Recently, Ezinma founded the non-profit Strings by Heart which aims to bring classical music to underprivileged communities through education. "There's this really sobering statistic…that less than 4% of people in orchestras are Black or brown," Ezinma says. "And when I saw that number – and also just based on my experience – it was like, gosh, how do we improve this?"
While going on a tour of schools in Harlem and the Bronx, she says that so many of the kids she met were natural when given an instrument. It's reminiscent of her own early connection with the violin when she recalls how she doesn't think she would've ever played the instrument if she had never seen those kids at her school playing the violin. "So much of what we do is because of what we're exposed to," says Ezinma. "It's not because of a lack of talent among Black and brown people. It's really about a lack of opportunity."
As for her own future, Ezinma hopes to broaden her musical talents onto the big screen. "I did my first project as a film composer maybe six years ago," she tells me. "And I really, really loved it!" At the beginning of the pandemic Ezinma says that she decided to go back to school at Berklee College of Music in Boston, Massachusetts to pursue a degree in film scoring. "I live and breathe music and that could either be on the violin, that can be on stage, that can be teaching, that can be film scoring. I really see it all as one."
Ari Lennox's soulfully crooning voice has blessed our ears with many tracks since the release of her first EP in 2016, PHO. Songs like "Whipped Cream," "Shea Butter Baby," and "New Apartment" showed us the songstress' undeniable staying power in the industry with the release of her 2019 debut studio album, Shea Butter Baby. There's no denying Ari's light, and with the recent announcement of her sophomore album getting a 2022 release, it's clear it's high time for "Pressure" to be applied.
Just yesterday, Ari took to Twitter to share that the untitled project has been in the works since 2020 with over 70 recorded songs to show for it. "Wow we've created or 70 songs since 2020 alone. That's so cool," she wrote. In another tweet that included a photo of her smiling next to a dry erase board of 80 songs and their titles listed, she captioned the pic, "Grateful."
Featured image by Emma McIntyre/Getty Images for Billboard
After the exhausting start of the decade that was last year, 2021 revealed itself to be yet another trying year for our patience with everyone and the audacity they held. Though, instead of wallowing in the uncertainty created by all of the unexpected, like we did last year, this year we were given a soundtrack that challenged how we'd interpret our world.
Last year, the best songs were the ones that distracted us from the tragedy outside. This year, the best songs came from artist who embraced themselves and found peace with the tragedies within. These artist gave us songs that taught us how to love the world we are in, but most importantly, they gave us songs that taught us how to love ourselves within this world.
Below, check out the list of artists that made this year memorable, and brought a wondrous soundtrack to the chaotic second year of what's sure to be an inevitably chaotic decade.
1

.

Megan Thee Stallion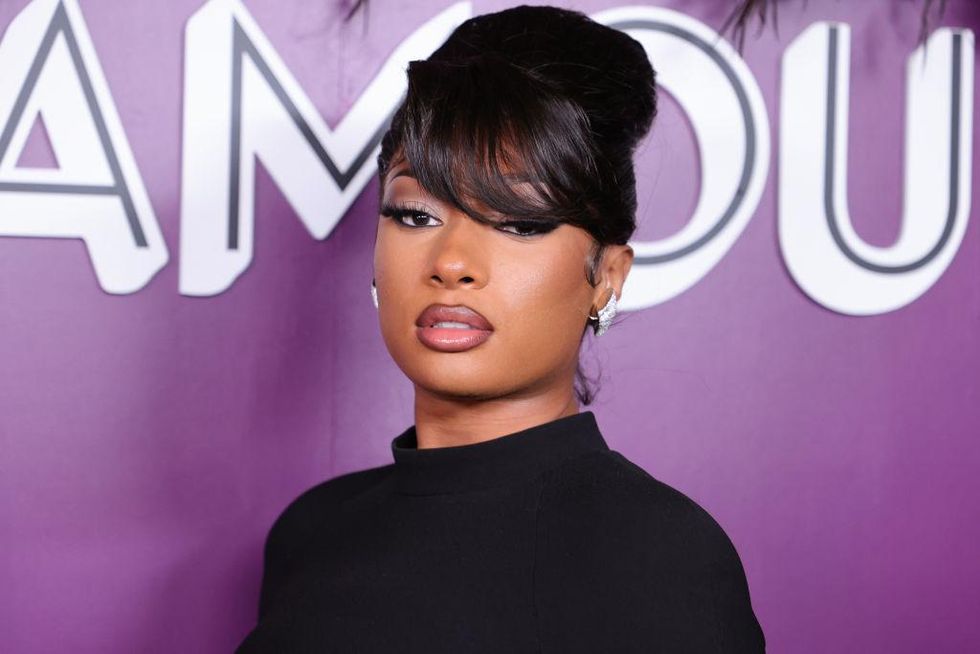 Megan Thee Stallion
Theo Wargo/Getty Images
There are some people that you don't have to meet to know that they are good people and should, at all times, be rooted for. For example, Barack and Michelle Obama. I don't need to know them to know that they are probably the nicest people in the world. Don't get me wrong. I know that they aren't perfect, but so do they, and that only makes them that much more desirable to root for. Amongst them, I would count Megan Thee Stallion. Yes, I know she is not in the exact same category as the Obamas. She is not a huge activist or civil worker as they are, but her genuineness and her ambition place her among their ranks.
Whether it's Megan judging ballroom on HBO Max's Legendary, her three Grammy wins, her promotion of "The Hottie Sauce" for her partnership with Popeyes, her collaborations with Ariana Grande, BTS, Maroon 5, Lil Nas X, her Sports Illustrated cover, her Met Gala appearance, or even graduating college with a degree in health administration, Megan Thee Stallion has made this year her own. And don't we love to see it!
Unlike the other artists on this list, Megan Thee Stallion has managed to succeed in every aspect of her life this year. While being in school, she managed to bring her music and artistry to other artists and to her own stage. Her performances have been entertaining, her features have been awe-inspiring, and her relentless body positivity has been a mirror for all Black women to unapologetically love themselves.
She has been a great artist, but most importantly, she has been a great reflection of how someone can succeed despite all of the odds stacked against them.
2

.

Silk Sonic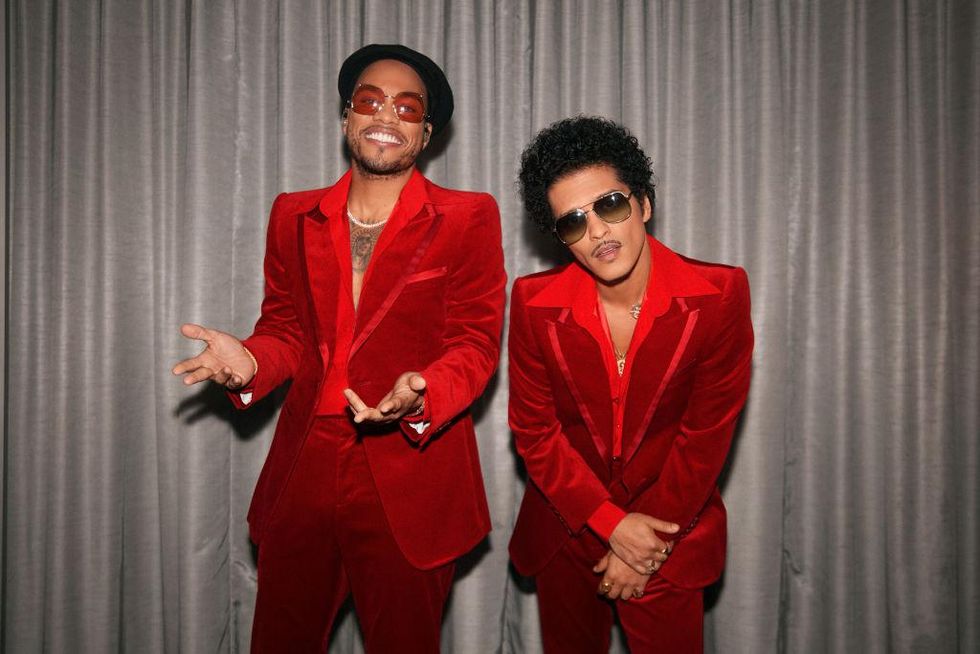 Silk Sonic
John Esparza via Getty Images
Before the announcement of their collaboration, the idea of Anderson .Paak and Bruno Mars teaming up was ludicrous to me. Like a shot out of nowhere, I remember finding myself thinking, What a strange occurrence. Don't get me wrong, I had known them to have toured together before, but I never imagined them making an album together. My greatest bewilderment of the pairing had been everyone else's selling point: Bruno Mars. My mind just could never wrap its head around Bruno Mars truly being an R&B singer. (In hindsight, I attribute this to my once insistent belief--which I know now to be wishful thinking-- that Bruno Mars' singing funk and R&B was just a phase.) Nevertheless, my concerns were quickly assuaged from the moment the duo released "Leave the Door Open" under the name Silk Sonic.
Recreating R&B of the 60s and 70s, Silk Sonic easily reminded audiences of the once bold, vibrant, and adorned music of our past.
From "Leave the Door Open" to "Smoking Out the Window," Silk Sonic has made "come through" messages, insistent flirting, and unforeseeable heartbreak soulful, passionate, and, at times, downright silly. Their music is as smooth as it is nostalgically fun. Even listening toAn Evening With Silk Sonic album felt like a Friday after a long week, with a warm, inviting fire and cold beer. The album isn't perfect, but its playfulness and fervent delivery are worth a listen. With "Leave the Door Open" still on repeat on the radio (and in my car) twenty times a day nine months later, there is no doubt that Silk Sonic remains powerful artists of this year.
3

.

Doja Cat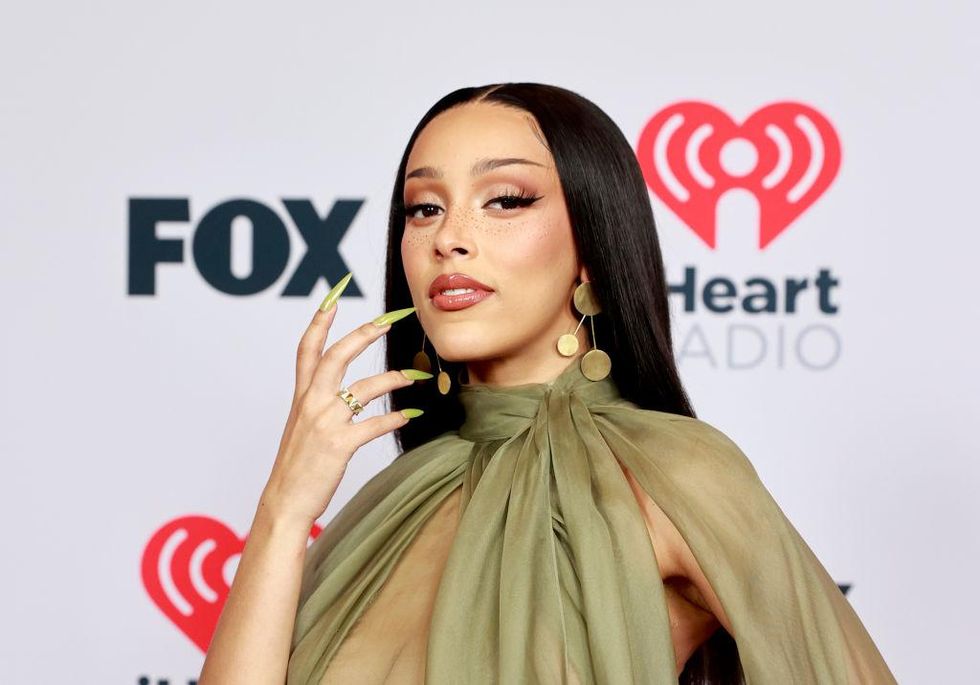 Doja Cat
Emma McIntyre/Getty Images for iHeartMedia
I am by no means a Doja Cat fan. Between her endless antics--her use of anti-gay slurs, her mockery of COVID (just to get it months later), alleged association with white supremacists--and constant evasion of cancellation, I find it hard to root for her. With this in mind, I reluctantly listened to Doja Cat's Planet Her album after not being able to escape one damn single from the radio. After listening, I find myself coming to a stunning realization: Planet Her is a damn good album, and the marketing behind its promotion was exceptional.
With a star-studded collaboration set, Planet Her is an infectious pop album that is quirky, insouciant, and quippy. While remaining pop, Doja Cat cleverly takes on melodies and beats of other genres, incorporating musical elements such as afrobeat, reggaeton, pop-rap, funk, trap, amongst others, to tell a compelling story. Which, in turn, makes songs that would have been typical and redundant into something new, worth enjoying. The album comes across as strong due to its intentionality. Nevertheless, this intentionality does not seem forced, or contrived, but instead cleverly crafted.
Some songs embrace womanhood and feminine diversity, such as "Woman," other songs explore the anxiety that one receives from the idea of intimacy, "Naked." Some aren't as thought-provoking and are made to only seduce or show one's desire to be seduced ("Need to Know" and "You Right").
Though there is no chance that Doja Cat will be seeing me at a concert any time soon nor paying any amount of money towards her empire, I must admit, with this album it is understandable why she is considered one of this year's guilty pleasure artists.
4

.

Lil Nas X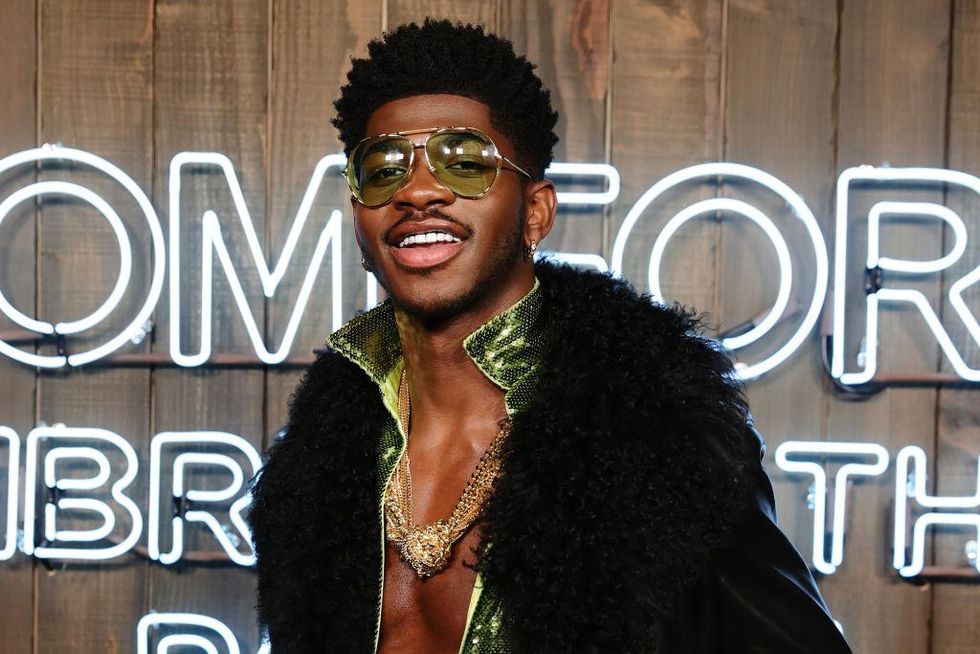 Lil Nas X
Rich Fury/Getty Images
Truth be told, I thought "Old Town Road" would be the first and last time we'd ever see Lil Nas X. Damn, I have never been happier to have been so wrong. At this point, I am elated that the world has not turned its backs on this beautifully, proudly open Black queer man. I am happy that the public is allowing his music to speak for itself and that Lil Nas X does not have to hide in a shadow of shame like so many queer Black men are forced to do in the music industry.
Every single released this year from Lil Nas showed that he has always been more than just some cheap gimmick, but an artist and businessman worth respecting. The visuals of his videos have been staggeringly artistic. His debut album Montero played with different genres and sounds, while the artist remained completely and unapologetically himself.
The album also reveals the loneliness that comes when one is a lone force to be reckoned with. It is catchy, yes, it is entertaining, but underneath all of the drums, the pop hooks, and melodious tunes, it is clear that happiness is a journey for the young artist. He is happy being himself, but with the price of that happiness, he seems to be sacrificing it everywhere else. Nevertheless, this year has been Lil Nas X's for the taking.
5

.

H.E.R.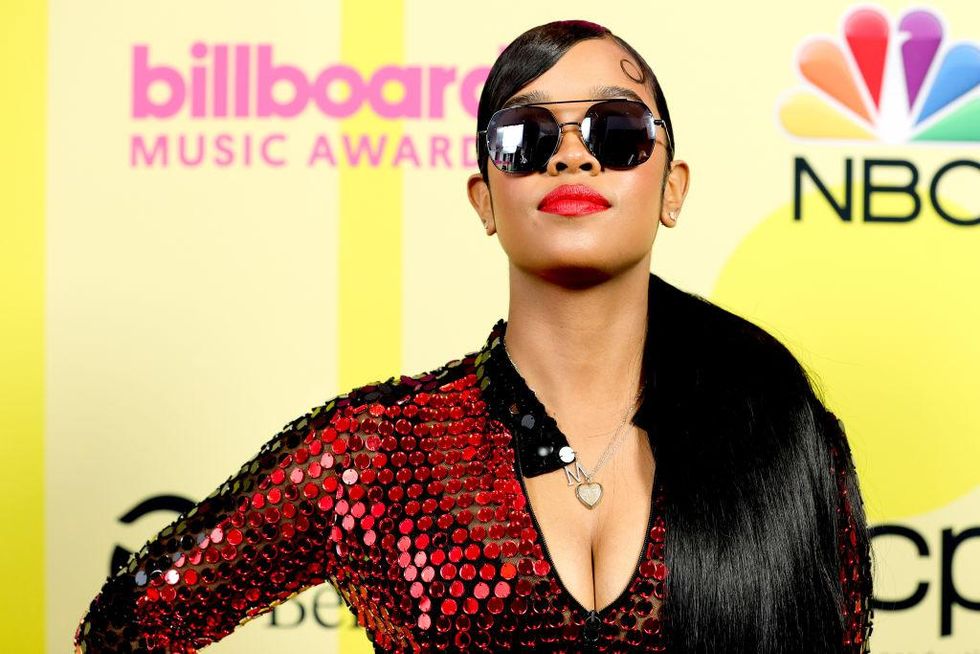 H.E.R.
Rich Fury/Getty Images for dcp
Despite only being around for five years, it feels like there has never been a time without H.E.R. and her music. With her EP H.E.R. Volume 1 and compilation albums H.E.R. and I Used to Know Her, the artist made a name for herself amongst the public and the music industry. As if overnight, H.E.R. songs became known for their soulful flare, beautifully elegant arrangements, and powerful messages.
In 2021, she won a Grammy for Song of Year for the single "I Can't Breathe," a song about the anger, frustration, and pain of witnessing the death of another black innocent man, George Floyd. That same night, she won another for her moving ballad "Fight for You." Later this year, she followed up her wins with her first full-length album Back of My Mind. This album received acclaim for its maturity, ballads, and messages on success. Heavily leaning towards ballads, Back of My Mind is an R&B album that showcases H.E.R.'s vocal talents, but most importantly her songwriting skills.
By placing a contemporary spin onto the R&B genre, H.E.R. released an album that is as soulful as it is political, romantic, and unremorsefully honest.
6

.

Jazmine Sullivan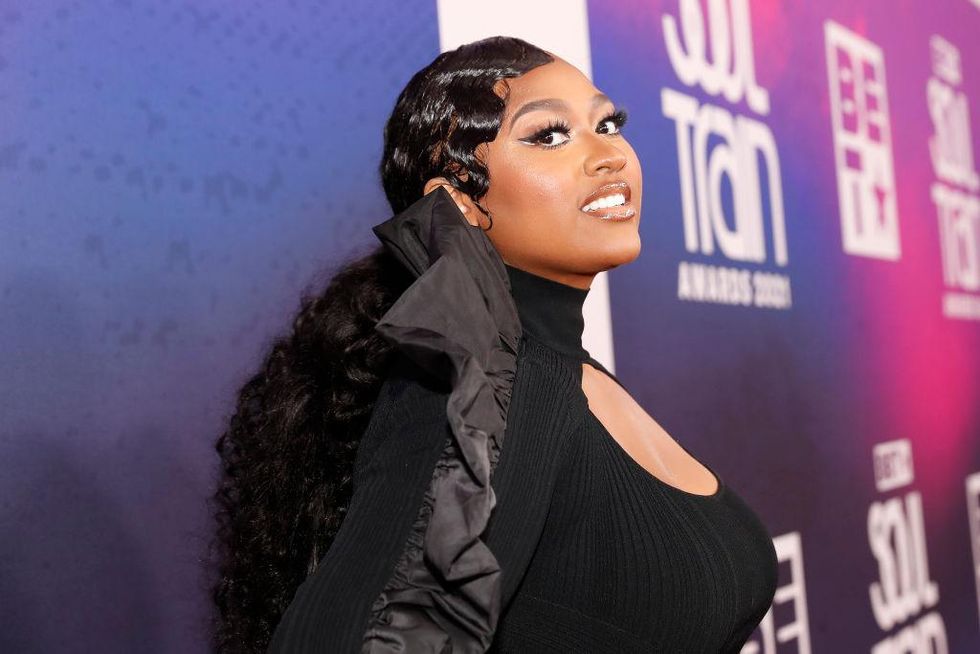 Jazmine Sullivan
Johnny Nunez/Getty Images for BET
It has always been my biggest grievance (and if you've read any of my other music reviews you'd see that I have not hidden it well) that the world does not give Jazmine Sullivan the recognition she has always been due. Despite being an artist since 2003, and known to many, she always seemed to be a best-kept secret in the industry. There were moments when she would go mainstream ("Bust the Windows Out Your Car" is what mainly comes to mind), but those moments were few and rare in between.
Luckily, this year, the world showed Jazmine Sullivan that it is better to show up late to the party than to never come at all. And instead of turning her back to those who are finally looking, Jazmine Sullivan has made it her mission to step out and give us a show.
With the exceptional, empowering EP Heaux Tales, Jazmine Sullivan discusses the themes of feminism, sexuality, classism, body-shaming and positivity, and other moving topics with interludes in between. The EP is art and her live renditions of the album's songs, especially "Pick Up Your Feelings," only highlight the show-stopping talent that Sullivan has always been.
During her well-deserved SoulTrain Award for Album of the Year acceptance speech, Jazmine Sullivan mentioned being "uncomfortable being seen," and that after some time, she made a "promise to [herself] to not hide anymore." And thank goodness for that because the music scene and the Black community are much better for such deserving representation.
7

.

The Weeknd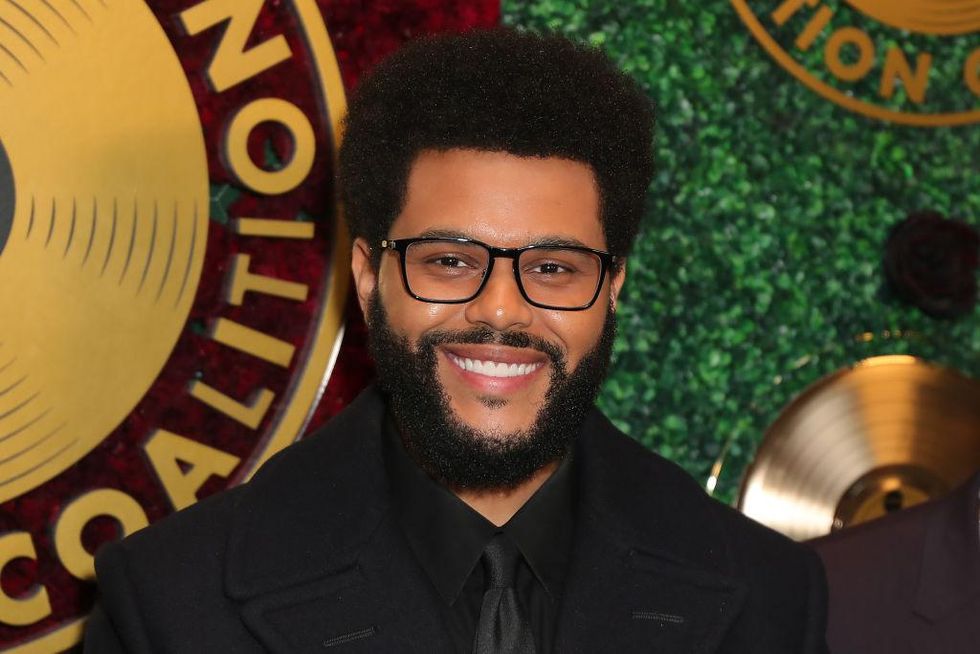 The Weeknd
Leon Bennett/WireImage
After his big showdown with the Recording Academy and lackluster halftime show at the Superbowl earlier this year, one expected The Weeknd to take some time off and focus on his artistry away from the public eye. However, this was not the case. Instead, every month, we found The Weeknd releasing something new. Whether it was a single that could, "Blinding Lights" dethroning "The Twist" for the all-time No. 1 Billboard single, or another collaboration with a fellow pop artist, Doja Cat or Post Malone, The Weekend managed to stay in the spotlight all of 2021. So much so, Apple Music named him the "Global Artist of the Year."
No longer known as the pop-synth guy, The Weeknd revealed himself as a true artist with his creation of After Hours. His ability to receive Grammy nominations, despite his boycott, shows just how truly an amazing artist the Weeknd is.
8

.

SZA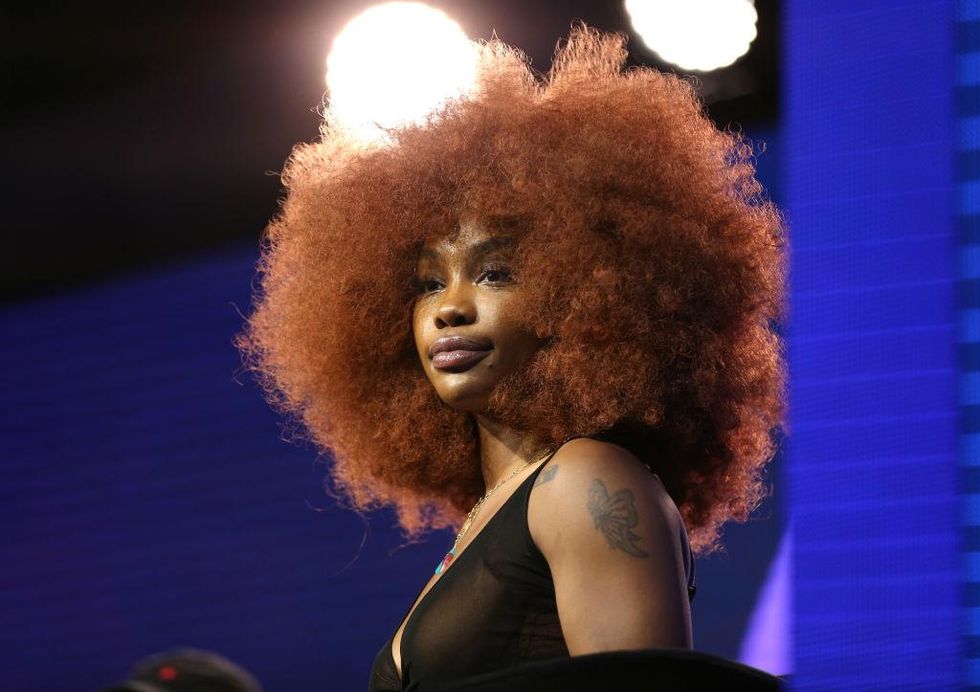 SZA
Phillip Faraone/Getty Images for REVOLT
SZA has been everywhere and, strangely, nowhere at all this year. Here, let me explain. With SZA's December release of "Good Days," it was inevitable that the single would climb the charts in the new year. After the release, SZA recorded live sessions from her home singing the single amongst others. In March, she released a video for "Good Days" and a month later "Kiss Me More," by Doja Cat featured the alt-R&B singer.
In later months, she would continue to release live performances, a mini fall tour, a single for Dear Evan Hansen's terribly acclaimed film, Summer Walker's "No Love," and another single titled "I Hate U." So, it's clear that SZA has been everywhere. Yet, in between all of these releases, she had managed to disappear from the limelight, for weeks to months at a time. So much so, that you would often have to go to her Twitter or Instagram profile to see what was going on with the singer.
Small clips of potential videos would be released, but when it came to the video--I'm looking at you, "Shirt"--and other projects, it all just felt like a tease. We know the work is out there, we can even see it. We just can't quite touch it. Still, I believe this "tease" is what has made SZA one of the artists of the year. She was never too much, always just enough.
She would release songs when the time was right and when it wasn't she would be off doing whatever she wanted while we shouted for another album. And honestly, despite desperately wanting that album, I find myself eager to wait because this year alone says it will be worth it. There are glimpses of her continuous indecisive behavior in her singles, that reflect the acclaimed CTRL. However, it is clear that the SZA that stands before us is one that is a little more whole than the one four years ago.
As if she's playing chess, SZA's ability to be in within and far out of one's reach this year, made it easily hers for the taking.
9

.

Tyler, the Creator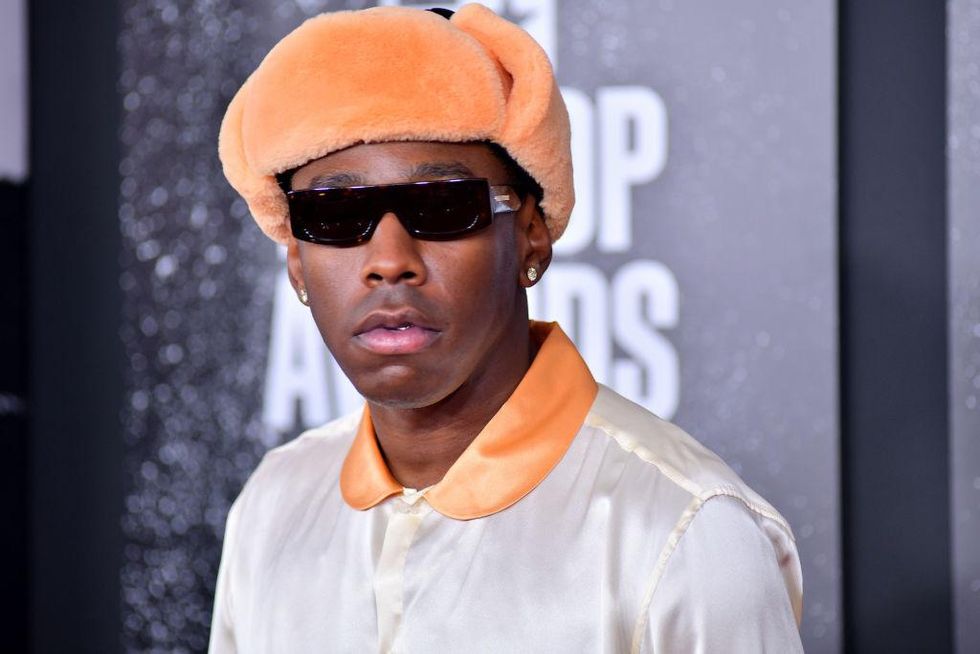 Tyler, the Creator
Derek White/WireImage
Who would have thought that the teenager eating cockroaches and singing about killing other artists to a demon in his head would, or even could, come so far?
Now, over the last ten years, Tyler, the Creator has released six albums, each one better than the formidable one before. Especially the newest release, Call Me If You Get Lost, which is the most cohesive and artistic album to date. Talking about the blessing and curse of growing up in the public eye, Call Me If You Get Lost takes us into the world of Tyler, the Creator under the guidance of DJ Drama. In this album, he confronts his success and the rollercoaster it has created. Tyler talks about love and its haunting. He talks about becoming wealthier and wiser, but in the end, the album seems a little more broken than before, but not unsalvageable.
The album is masterful, and in addition to his features this year, Tyler, the Creator himself is the same. He shows what beauty can be created when a person is given time to grow, instead of immediately calling for one's cancellation. He is more refined here, more mature, but he is still himself as audacious as ever.
Now, it's just a little more purposeful and controlled.
10

.

Cardi B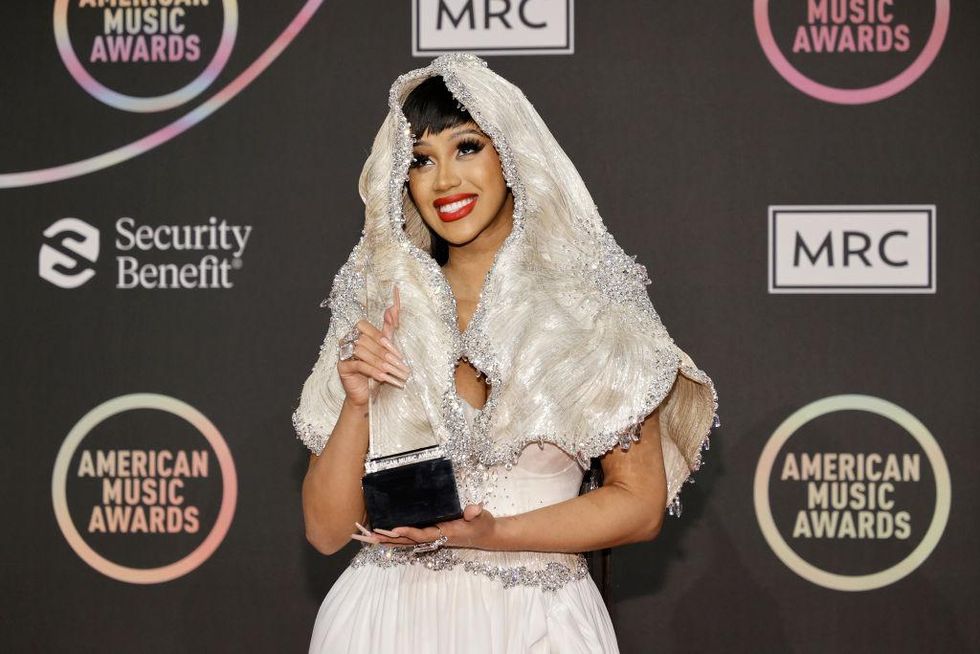 Cardi B
Amy Sussman/Getty Images
Cardi B hosted the American Music Awards. She recently earned her third diamond single certification with the song, "I Like It." She starred in Normani's heavily praised "Wild Side" video while pregnant. She set February on fire with "UP" single, video, and TikToks. She collaborated with Lizzo, gave inspiration to Summer Walker, and became one of the most lucrative female rappers in 2021.
Cardi took the year for her own in the early part of the year, had a baby, took a two-month break, and came back to dominate the fall.
Just like H.E.R. and Meg Thee Stallion, Cardi B made her career off being 100% authentic and cultivated her career in knowing just when to be so. She could have released a full-length album this year, and in the spirit of rappers, it is honestly surprising that Cardi hasn't released more albums between now and her first. Instead, this year we found Cardi stepping into the role of product promoter, host, collaborator, and businesswoman.
Due to her ability to put on multiple hats--and wear them nicely--Cardi has shown all audiences and fans alike why she will always be "up" and "stuck."
Featured image by Arturo Holmes/Getty Images for Whipshots
When we think of R&B, we think of soul. Soul, by definition, is emotional or intellectual energy or intensity, especially as revealed in a work of art or an artistic performance. Black people are soul. Everything about us. Our hair. Our energy. Our skin. And, without a doubt, the creativity that courses through every inch of who we are. So, when it comes to our music, spiritual experiences are often what we call them. Makes sense, for there are no other people who remain unbroken the way we do. And every so often, an artist comes along who seems to be the physical manifestation of all that we are.
One such artist is R&B singer Lucky Daye.
Daye embodies the very essence of who we are. With his warm silky vocals, intricate lyricism and ability to wring beauty from a love drought, Lucky Daye has become one of the most sought after and revered vocalists in the industry. With R&B being such a cherished part of our culture's influence on the musical landscape, new artists, at times, have a hard time breaking away from comparisons to legends of the past.
However for Daye, this is a welcomed challenge.
"I find that my music is a reflection of the classic R&B that I grew upwith and have come to love," he said. "Paying homage to Black artists who have come before me comes naturally. Those artists are an an example to me but it's something that flows naturally when I create music."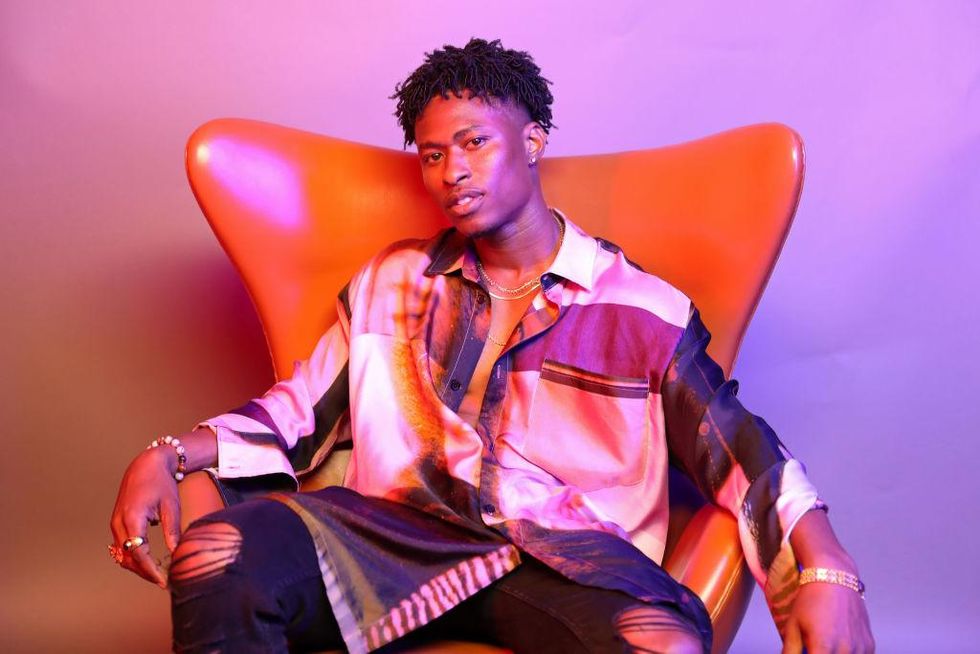 Bennett Raglin/Getty Images for BET
"Paying homage to Black artists who have come before me comes naturally. Those artists are an an example to me but it's something that flows naturally when I create music."
After years spent penning hits for other artists, in 2018 Daye stepped from behind the boards and burst onto the scene with his hit "Roll Some Mo". Equal parts sultry and masterful, Daye's debut project Painted left us wanting more.
And he delivered.
Offering his talents to the motion picture soundtrack for The Photograph, his hit "Fade Away" became a must-have on made-for-love playlists all over as our country went into lockdown last year. 2021 kicked off with new music from Lucky as well with the release of his EP, Table for Two, a seven-song project that saw him collaborating with artists like Ari Lennox and Queen Naija. Duets, which for so long have been foundational to R&B music, have all but died out except for the rare occurrences that two artists just decide they want to work together.
So, we had to know who was on Lucky's list to collaborate with next. "Beyonce," he confessed, "...Jazmine Sullivan and Grace Jones." Swoon.
Perhaps what we love more about Lucky Daye than his immense talent, is his obvious love for our culture. The Grammy-award winning singer teamed up with Crown Royal to shine a light on Black artists in all disciplines and proclaim, boldly, that our soul is what moves the world forward for Juneteenth this year.
Daye performed alongside legends Earth, Wind and Fire and India.Arie in a virtual festival that paid homage to our roots and our future. "I'd encourage other artists like myself to continue to use their talents for good and give back to the culture that is keeping the world alive," he said about his decision to join the initiative and to work alongside the luxury cognac brand on similar efforts.
It's clear that whether Lucky is keeping R&B music alive or using his influence to promote the art of Black artists across mediums, he is always showing up as his truest self.
In his music and where he dedicates his time (did I mention he's a part-time chess master?!), there is a thorough line: do it from the soul or do not do it at all.
For more of Lucky, follow him on Instagram @iamluckydaye.
Featured image by Bennett Raglin/Getty Images for BET
Jill Scott is one of those timeless artists that we have to thank the ancestors for time and time again. She never goes out of style, her music always feels new, and to be honest, we probably don't deserve her. I remember the first time I head "The Way", it was so familiar even though it was the first time. That's the Jill Scott effect.
To date, Scott has made 12 projects, including studio albums, live albums, compilation albums, and even a remix album. And while Scott's music is what she has became the most known for, she also got bitten by the acting bug, starring in Tyler Perry's Why Did I Get Married? and as Hazelle Rachelle in the BET+ series First Wives Club, which the second season premiered July 15.

And thankfully, sis knows just as much as we do, that her music is like that. So much so, that when asked by Glamour Magazine to pick her top five, she was like the rest of us, and had a hard time. And if you're like me, you know what time it is soon as you finish reading this one.
So grab your wine, sit back, and press play. Here are the five songs Jill Scott says means the most to her soul:
"The Way"
"The Way" is the third single from her debut album, Who Is Jill Scott? Scott co-wrote the song with songwriter and producer Andre Harris. "The Way" reached the top 20 of Billboard's Hot R&B/Hip-Hop Singles & Tracks chart.
"I was definitely in love. My boyfriend at the time was just so sweet to me and very kind and thoughtful and was real nice. I was being pretty literal in the song, talking about the day that I experienced waking up and making breakfast—like it was very, very literal. There really wasn't a lot of science to it…I was talking about the day. I even worked on Third Street, as the lyrics say."
She continued:
"Why was I so happy? I was questioning if it was the way he loves me. This mutual sweet love started with a friendship. That's what made it so different—it being mutual. That's what made me write about it in the first place. It was precious, you know?"
"Whenever You're Around"
"Whenever You're Around'' was the third single from Scott's 2007 album, The Real Thing: Words and Sounds Vol. 3. Released in 2008, the song was cowritten by Scott and songwriter and producer JR Hutson. Although there was never an accompanying video, it did well on R&B charts and reached number 16 on Hot Adult R&B Airplay.
"'Whenever You're Around' is a song I wrote when things took a left. When the relationship wasn't as sweet anymore; we had been married, and it was time to part ways. I had this awesome rhythm that easily could have been like a party song. In fact, Musiq Soulchild asked me why didn't I make this a jam, and I said that's the story that came out of me when I heard the music. Because it was bittersweet, at least. That's the best way I can describe it—the hook of the song says, 'I'm lonely whenever you're around.'"
Yes, poetry! She then says:
"I tend to put my whole life into music. And then later on, I'm like, "Dammit, why did I say that? Why did I write that?" Now I have to either sing it or explain it. I think the challenge is that I have to relive it, you know? I have to keep reliving these things."
"Until Then (I Imagine)"
From Scott's fourth album, The Light of the Sun, the lyrics and sound of "Until Then (I Imagine)" epitomizes the sexy soulfulness that has been a signature for Scott. Though never a single on its own, the song was a big favorite among Scott's fans when the project came out in 2011. It was co-written by Scott alongside renowned writer and producer Warryn Campbell.
"I do enjoy my sexual music very much. This is my favorite one, and I think it's great writing too. I love this track. That ding, ding, ding, ding, ding, ding, ding—I love that; it's soooo dirty. And it's so well written in my opinion. I'm not trying to get myself up, but I really think that if I didn't write it, I'd be like, 'Damn, that sounds good!'
"The song was about someone, but I'm not going to tell you who it is because he's long gone! But he was very confident in himself. He believed in the power of his energy and of his penis. We know what he was working with, and he was fully aware of how to work it. It's the confidence for me."
"One Is the Magic #"
"One Is the Magic #" is another track from Scott's debut album in which she worked with Vidal Harris, who co-wrote it. Since it wasn't released as a single, there isn't a video for the song either. But for Scott, the track showcases her lonesomeness. Growing up as an only child, Scott says she doesn't like to be around people much; at that time of her life, it was a testament to the necessity of self-love and self-reliance.
"I was really on this mindset at that time that there's nobody else that's gonna do it for me. They're not going to work for me, they're not going to try for me, they're not going to pray for me. They're not going to cry for me, you know? I was thinking life is really about what I do, and how I do it. I remember writing that and feeling free. Because as a young woman, you get this idea that some prince is going to come and save you from the big bad world. That is a fairy tale; that is a myth."
She continues:
"So 'One is the Magic #' was that moment when I felt like I had come into another level of my womanhood. I said, 'You're going to have to figure this out on your own, and it's okay because you can.' The math that the world is using may not be right for you, how they're adding up life may not suit or fit your spirit—that was the metaphor of it all at the time."
"Rolling Hills"
Taken from Scott's The Light of the Sun album, "Rolling Hills" was the final song of the first rendition of the album (prior to an iTunes deluxe edition). Scott wrote and produced the album with Adam Blackstone, Randy Bowland, George "Spanky" McCurdy, and Eric Wortham.
"That song came up in the middle of the night. I was minding my business, asleep, and that thing jumped out of my spirit so hard and came out in one complete thought.
"I woke up—I was in a hotel in L.A.—and I was scrambling, trying to write it all down. It came out fluidly. I love when that happens. That's my favorite part of being a vessel—when it all just comes out like that. Because you know better, I know better.
"I know I was there—nobody else was there. I wrote it; I put this in my handwriting. But I know I didn't write it. Does that make sense? It's so beyond me. I love that, feeling that level of communication. I do feel like the Creator was speaking exactly through me, I really do. Being able to catch those things, I shout myself out in these moments because it's like you have to really be obedient to it. It comes and it is not a guarantee, those thoughts, those pictures. That voice will leave you if you don't get up and write it down. It's a gift, not a given."
Thank you for sharing your words with us, sis!
Are you a member of our insiders squad? Join us in the xoTribe Members Community today!

Featured image by John Shearer/WireImage