When we think of R&B, we think of soul. Soul, by definition, is emotional or intellectual energy or intensity, especially as revealed in a work of art or an artistic performance. Black people are soul. Everything about us. Our hair. Our energy. Our skin. And, without a doubt, the creativity that courses through every inch of who we are. So, when it comes to our music, spiritual experiences are often what we call them. Makes sense, for there are no other people who remain unbroken the way we do. And every so often, an artist comes along who seems to be the physical manifestation of all that we are.
One such artist is R&B singer Lucky Daye.
Daye embodies the very essence of who we are. With his warm silky vocals, intricate lyricism and ability to wring beauty from a love drought, Lucky Daye has become one of the most sought after and revered vocalists in the industry. With R&B being such a cherished part of our culture's influence on the musical landscape, new artists, at times, have a hard time breaking away from comparisons to legends of the past.
However for Daye, this is a welcomed challenge.
"I find that my music is a reflection of the classic R&B that I grew upwith and have come to love," he said. "Paying homage to Black artists who have come before me comes naturally. Those artists are an an example to me but it's something that flows naturally when I create music."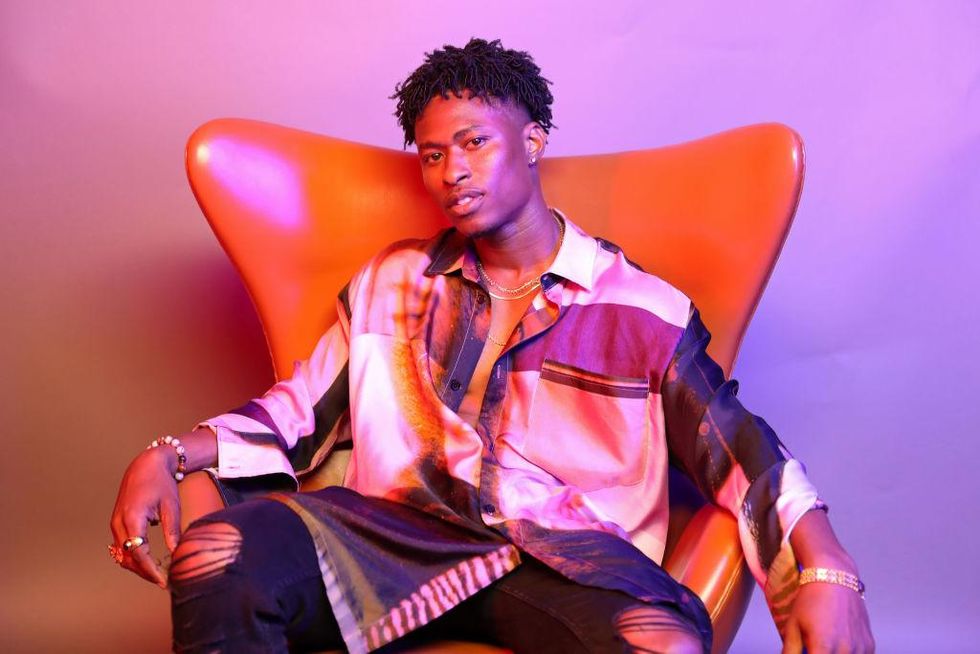 Bennett Raglin/Getty Images for BET
"Paying homage to Black artists who have come before me comes naturally. Those artists are an an example to me but it's something that flows naturally when I create music."
After years spent penning hits for other artists, in 2018 Daye stepped from behind the boards and burst onto the scene with his hit "Roll Some Mo". Equal parts sultry and masterful, Daye's debut project Painted left us wanting more.
And he delivered.
Offering his talents to the motion picture soundtrack for The Photograph, his hit "Fade Away" became a must-have on made-for-love playlists all over as our country went into lockdown last year. 2021 kicked off with new music from Lucky as well with the release of his EP, Table for Two, a seven-song project that saw him collaborating with artists like Ari Lennox and Queen Naija. Duets, which for so long have been foundational to R&B music, have all but died out except for the rare occurrences that two artists just decide they want to work together.
So, we had to know who was on Lucky's list to collaborate with next. "Beyonce," he confessed, "...Jazmine Sullivan and Grace Jones." Swoon.
Perhaps what we love more about Lucky Daye than his immense talent, is his obvious love for our culture. The Grammy-award winning singer teamed up with Crown Royal to shine a light on Black artists in all disciplines and proclaim, boldly, that our soul is what moves the world forward for Juneteenth this year.
Daye performed alongside legends Earth, Wind and Fire and India.Arie in a virtual festival that paid homage to our roots and our future. "I'd encourage other artists like myself to continue to use their talents for good and give back to the culture that is keeping the world alive," he said about his decision to join the initiative and to work alongside the luxury cognac brand on similar efforts.
It's clear that whether Lucky is keeping R&B music alive or using his influence to promote the art of Black artists across mediums, he is always showing up as his truest self.
In his music and where he dedicates his time (did I mention he's a part-time chess master?!), there is a thorough line: do it from the soul or do not do it at all.
For more of Lucky, follow him on Instagram @iamluckydaye.
Featured image by Bennett Raglin/Getty Images for BET
Keep reading...
Show less
Jill Scott is one of those timeless artists that we have to thank the ancestors for time and time again. She never goes out of style, her music always feels new, and to be honest, we probably don't deserve her. I remember the first time I head "The Way", it was so familiar even though it was the first time. That's the Jill Scott effect.
To date, Scott has made 12 projects, including studio albums, live albums, compilation albums, and even a remix album. And while Scott's music is what she has became the most known for, she also got bitten by the acting bug, starring in Tyler Perry's Why Did I Get Married? and as Hazelle Rachelle in the BET+ series First Wives Club, which the second season premiered July 15.

And thankfully, sis knows just as much as we do, that her music is like that. So much so, that when asked by Glamour Magazine to pick her top five, she was like the rest of us, and had a hard time. And if you're like me, you know what time it is soon as you finish reading this one.
So grab your wine, sit back, and press play. Here are the five songs Jill Scott says means the most to her soul:
"The Way"
"The Way" is the third single from her debut album, Who Is Jill Scott? Scott co-wrote the song with songwriter and producer Andre Harris. "The Way" reached the top 20 of Billboard's Hot R&B/Hip-Hop Singles & Tracks chart.
"I was definitely in love. My boyfriend at the time was just so sweet to me and very kind and thoughtful and was real nice. I was being pretty literal in the song, talking about the day that I experienced waking up and making breakfast—like it was very, very literal. There really wasn't a lot of science to it…I was talking about the day. I even worked on Third Street, as the lyrics say."
She continued:
"Why was I so happy? I was questioning if it was the way he loves me. This mutual sweet love started with a friendship. That's what made it so different—it being mutual. That's what made me write about it in the first place. It was precious, you know?"
"Whenever You're Around"
"Whenever You're Around'' was the third single from Scott's 2007 album, The Real Thing: Words and Sounds Vol. 3. Released in 2008, the song was cowritten by Scott and songwriter and producer JR Hutson. Although there was never an accompanying video, it did well on R&B charts and reached number 16 on Hot Adult R&B Airplay.
"'Whenever You're Around' is a song I wrote when things took a left. When the relationship wasn't as sweet anymore; we had been married, and it was time to part ways. I had this awesome rhythm that easily could have been like a party song. In fact, Musiq Soulchild asked me why didn't I make this a jam, and I said that's the story that came out of me when I heard the music. Because it was bittersweet, at least. That's the best way I can describe it—the hook of the song says, 'I'm lonely whenever you're around.'"
Yes, poetry! She then says:
"I tend to put my whole life into music. And then later on, I'm like, "Dammit, why did I say that? Why did I write that?" Now I have to either sing it or explain it. I think the challenge is that I have to relive it, you know? I have to keep reliving these things."
"Until Then (I Imagine)"
From Scott's fourth album, The Light of the Sun, the lyrics and sound of "Until Then (I Imagine)" epitomizes the sexy soulfulness that has been a signature for Scott. Though never a single on its own, the song was a big favorite among Scott's fans when the project came out in 2011. It was co-written by Scott alongside renowned writer and producer Warryn Campbell.
"I do enjoy my sexual music very much. This is my favorite one, and I think it's great writing too. I love this track. That ding, ding, ding, ding, ding, ding, ding—I love that; it's soooo dirty. And it's so well written in my opinion. I'm not trying to get myself up, but I really think that if I didn't write it, I'd be like, 'Damn, that sounds good!'
"The song was about someone, but I'm not going to tell you who it is because he's long gone! But he was very confident in himself. He believed in the power of his energy and of his penis. We know what he was working with, and he was fully aware of how to work it. It's the confidence for me."
"One Is the Magic #"
"One Is the Magic #" is another track from Scott's debut album in which she worked with Vidal Harris, who co-wrote it. Since it wasn't released as a single, there isn't a video for the song either. But for Scott, the track showcases her lonesomeness. Growing up as an only child, Scott says she doesn't like to be around people much; at that time of her life, it was a testament to the necessity of self-love and self-reliance.
"I was really on this mindset at that time that there's nobody else that's gonna do it for me. They're not going to work for me, they're not going to try for me, they're not going to pray for me. They're not going to cry for me, you know? I was thinking life is really about what I do, and how I do it. I remember writing that and feeling free. Because as a young woman, you get this idea that some prince is going to come and save you from the big bad world. That is a fairy tale; that is a myth."
She continues:
"So 'One is the Magic #' was that moment when I felt like I had come into another level of my womanhood. I said, 'You're going to have to figure this out on your own, and it's okay because you can.' The math that the world is using may not be right for you, how they're adding up life may not suit or fit your spirit—that was the metaphor of it all at the time."
"Rolling Hills"
Taken from Scott's The Light of the Sun album, "Rolling Hills" was the final song of the first rendition of the album (prior to an iTunes deluxe edition). Scott wrote and produced the album with Adam Blackstone, Randy Bowland, George "Spanky" McCurdy, and Eric Wortham.
"That song came up in the middle of the night. I was minding my business, asleep, and that thing jumped out of my spirit so hard and came out in one complete thought.
"I woke up—I was in a hotel in L.A.—and I was scrambling, trying to write it all down. It came out fluidly. I love when that happens. That's my favorite part of being a vessel—when it all just comes out like that. Because you know better, I know better.
"I know I was there—nobody else was there. I wrote it; I put this in my handwriting. But I know I didn't write it. Does that make sense? It's so beyond me. I love that, feeling that level of communication. I do feel like the Creator was speaking exactly through me, I really do. Being able to catch those things, I shout myself out in these moments because it's like you have to really be obedient to it. It comes and it is not a guarantee, those thoughts, those pictures. That voice will leave you if you don't get up and write it down. It's a gift, not a given."
Thank you for sharing your words with us, sis!
Are you a member of our insiders squad? Join us in the xoTribe Members Community today!

Featured image by John Shearer/WireImage
Keep reading...
Show less
Since arriving on the scene roughly four years ago at just the age of 19, Gabriella Sarmiento Wilson infiltrated the music landscape as we know it. She came in hard, with heavy hitter anthems which all solidified her as an artist to watch. Since, H.E.R. has made major strides: number one album releases, performing alongside industry giants, and even celebrating the 60th birthday of the supremely adored former president, Barack Obama.
Her mystique has become a part of her persona, and her sun-shaded anonymity is what TF she does. In fact, as her career elevates to newer levels, who she is as an artist becomes more revealed, and the less we know about her, leaving us all with our hands out and wanting to know more. We decided to compile a list of the journey of H.E.R., from how she got started, all the way to songbird that she has emerged into. Here's 7 things you didn't know about the songstress taking over music:
1. H.E.R. spent the early part of her career working to keep her identity under wraps.
H.E.R. released an album in 2017 with just seven songs, no biography, and only a mysterious full-body silhouette on the cover of her first album. She spent the greater part of the beginning of her career declining to show or confirm her identity. Who is this person? What is this music? Why won't she show her face? But it wasn't all just a gimmick. While she went to great lengths to remain lowkey, according to Billboard, fans figured out who she was after digging through SoundCloud, with Janet Jackson and Drake both raving about her and revealing H.E.R. identity on social media.
She would then go on to wear her signature sunglasses in order to continue to conceal her identity, a practice she still does today. When discussing why she created this image of herself, she told ELLE:
"I think it has allowed me to make the music the focus, and for people not to care about the superficial things or who I'm associated with, what clique I belong to—all those things that don't matter. It's really made people focus on the music, and that's what's special about it."
2. Yet, ironically enough, H.E.R. stage name is an acronym for "Having Everything Revealed."
Today, although H.E.R. has almost entirely shedded her secrecy, she does still gaze at her adoring fans from many a pair of stylish sunglasses. It's almost ironic, actually, that as her name is an acronym for "Having Everything Revealed." But amazingly, her shades serve as a metaphor for what her career is about as they are often extremely reflective, so when you try to look directly in her eyes, you see yourself.
"I try to always stay focused, and stay true to myself, because as a woman, it's easy to look at other women and feel like, Maybe I should be doing this. In the age of social media, you look at other women who get attention, or compliments, and we start to question ourselves. I think the pressure is not just on me as an artist. I think it's on everybody."
3. She signed her first record deal with Sony at age 14.
H.E.R. had been singing and performing since girlhood as Little Gabi Wilson, singing in her dad's cover band and, at age 10, making her way to the Today show where she covered Alicia Keys' "If I Ain't Got You." When she was 12, she got her big break as one of five finalists in an American Idol-esque radio show contest, hosted by Radio Disney.
She ultimately lost the competition but was signed to her first record label, Sony at 14.
4. H.E.R. can play five instruments. FIVE.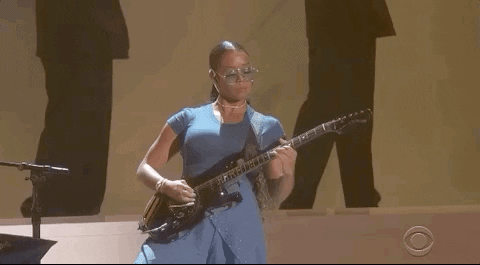 Giphy
In very Prince-esque fashion, H.E.R. has taken a page from the Purple One's book and has managed to learn (self-taught) to play multiple instruments. A pianist, drummer, and masterful guitarist who can solo with the electric, acoustic, and bass guitar, the woman can get down with the best of them (likely because she's one of the best of them). She told Rolling Stone:
"Playing guitar is part of who I am, since I was a kid. I remember watching a video of Lenny Kravitz and Prince [from the Rave Un2 the Year 2000 concert] when I was a kid. That video changed my life—it made me want to play guitar just because of how rock star it is."
5. Her greatest career advice came from Alicia Keys.
If you ask her, it's no secret that one of H.E.R.'s greatest inspirations is the one and only Mrs. Problem-On-The-Keys, Alicia Keys. In fact, some of her greatest advice came from the giant. She told Refinery29:
"Alicia Keys told me that when it comes to music, all you need is three chords and the truth. I think you can apply that to life, too."
6. Grammys are inevitable, but H.E.R. is an Oscar winner as well.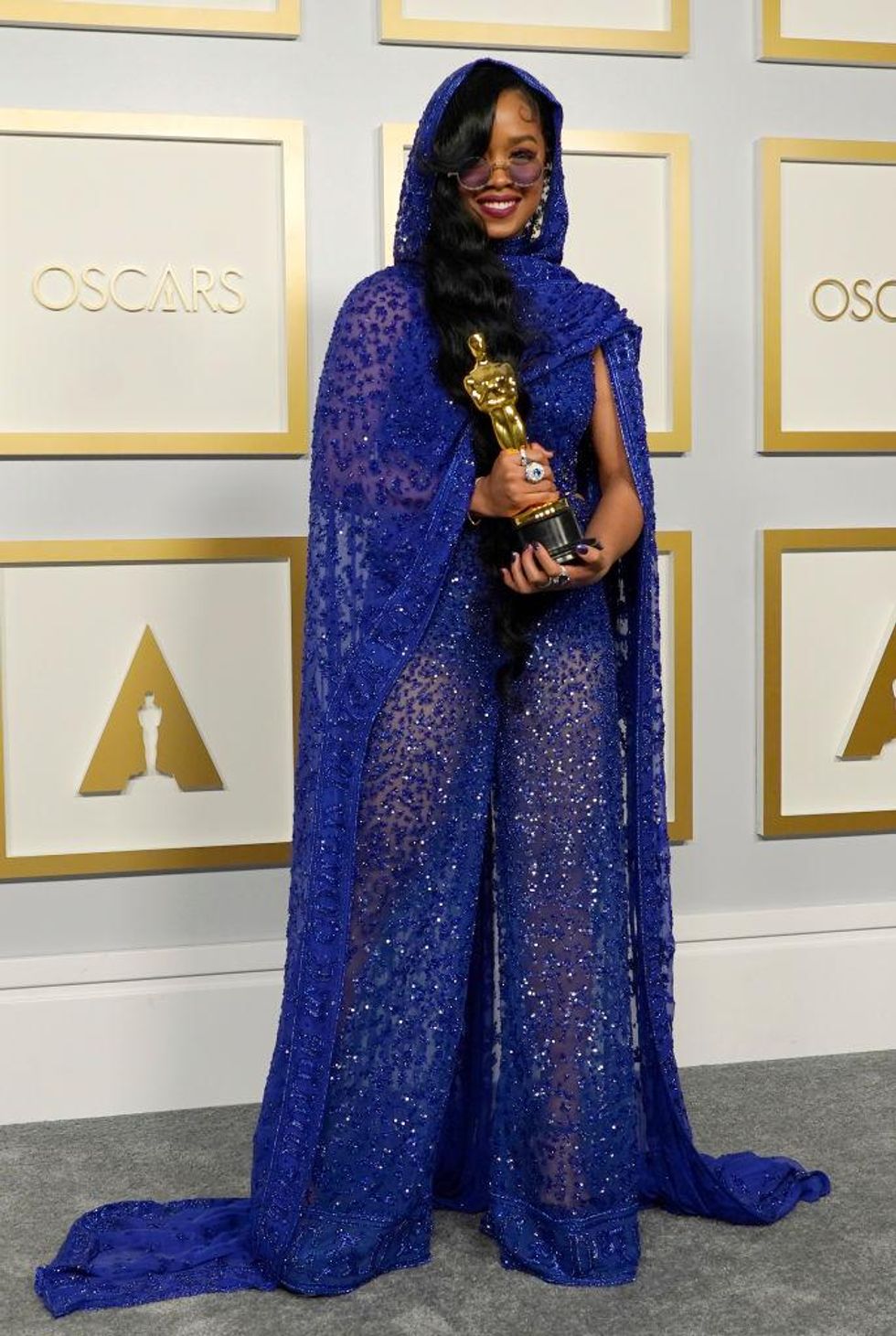 Chris Pizzello-Pool/Getty Images
After five EPs, one album and a cool 12 Grammy noms in just three short years, 2021 has been a year of recognition for H.E.R. that's extended beyond her talent, which is an 'ask about me' flex we didn't know we needed. One of H.E.R.'s latest accomplishments, is an addition of an Oscar to her trophy case for the song "Fight For You", her soulful addition to Judas and the Black Messiah soundtrack that picked up the Academy Award for Best Original Song. To pay homage to Prince, she rocked an outfit similar to the outfit Prince won his Oscar in that night and proudly said:
"All those days of listening to Sly & the Family Stone, Curtis Mayfield and Marvin Gaye really paid off, so thank you dad."
Additionally, she has taken the moment to reflect on the bigger picture of her career: finding a balance of being herself and using her voice, and welcoming the journey of responsibility of giving a voice to the voiceless. She told NME:
"At first I didn't realize activism was part of my artistic purpose but I guess my voice matters."
7. She believes her superpower is the ability to be all things as a woman.
In the same way that you can't place H.E.R.'s music in only one genre, a young Gabi Wilson refused to be defined by either of her cultures growing up (she Filipino and African-American). She told GlamourUK:
"There were times where I felt too Filipino for the Black kids and too Black for the Filipino kids. Or when I was going to the grocery store with my mom and people [were] like, 'That's your mom? Her hair's straight, your hair's curly. And it's like, 'I come from both places. This is what you get."
"I was just trying to figure out what that all meant and not put myself in a box, because people always tried to do that. You know, they need a point of reference. But sometimes you can be all things… and I think that's been my superpower."
She continued:
"I'm always trying new things, always recreating things that I love, but honestly, I think it's all about doing you. It's cool to be on new trends or whatever but how does it make you feel? What do you feel like? It's dressing from the inside out. Sometimes I want to be a rockstar, sometimes I want to look like Lenny Kravitz!"
Well, if Lenny Kravitz is anything like us, he wants to be you too.
Watch the video of her latest single, 'Come Through' featuring Chris Brown below:
Her album, Back of My Mind, is available on all streaming platforms right now!
Are you a member of our insiders squad? Join us in the xoTribe Members Community today!

Featured image by Aaron J. Thornton/Getty Images
Keep reading...
Show less
In the summer where couples are breaking up left to right, the idea of keeping one's relationship seems implausible. With the endless bickering, never being on the same page, and constant dissatisfaction, it is only natural for couples to want to call it quits. Though, just because it's natural, doesn't mean it's necessary. Sometimes the best thing for a rocky relationship is to take a step back and decide what you want and need. This could be something as simple as acquiring your partner's attention ("Focus"), space and time to return to yourself ("Distance"), or just a time out from yet another fight ("Don't Wanna Fight").
Regardless of what it is, it is important to attempt to fix one's relationship before throwing the whole thing away. In a time where things are so easily picked up and thrown back down, fighting for your relationship, no matter how frustrating, might just be your solution. At the end of the day, if it doesn't work out, you'll know you at least gave it your all. With break-up songs leading in the summer hits, turn off the radio, and put these hits about fixing your relationship at the top of your queue.
1

.

"Need U Bad" - Jazmine Sullivan
"Need U Bad" by R&B sensation Jazmine Sullivan perfectly represents the relentless, desperate passion one exudes when attempting to save their relationship. Over a Carribean bounce, and entranced by a harmonious flow, Sullivan calmly begs for her lover. She is begging for him to let her back in, to regain his trust. Extremely self-aware, she apologizes for her shortcomings. Although, it's clear that she has some groveling to do. Eventually, the juxtaposition of the calm island sway combined with the anxious drums, bleeds into an emotion-filled R&B groove. It's good. Making-an-ugly-face-and-shaking-your-head kind of good. So good, that it's the perfect song to fully explain how heart-wrenching and critical fixing a relationship can be.
2

.

"Ordinary People" - John Legend
Contrary to those who preach: relationships are hard. Learning to be with another person is hard. They don't think the way you do. They don't act the way you do, and they certainly don't react the way you do. Therefore, it's hard. Despite learning the way they speak, argue, or react, everyone manages to go back default sooner or later, and arguments are bound to happen. In "Ordinary People," John Legend knows exactly this. In this piano ballad, Legend explains that he is in love with this woman. Not cute, infatuated love, but real, honest to God—hand to the Bible kind of love. And in being in love, he is willing to take a step back and consider fixing their relationship. Maybe things aren't working out because they're putting too much pressure on themselves, and, in turn, one another. Instead, they should consider the notion that they are just ordinary people.
3

.

"Don't Wanna Fight" - Alabama Shakes
"Don't Wanna Fight" shows how truly frustrating fixing a relationship can be. Beginning at the 40-second mark, at what could only be interpreted as a frustrated screech, Brittany Howard perfectly depicts the moment where you realize you love your partner, but you don't quite like them. In moments like this, it's best to step back, acknowledge what has been said, and take a break. Sometimes it is crucial to just let a fight die. Especially when you realize that what you're fighting for, isn't something worth fighting about at all. There is a clear difference between fighting for a relationship and fighting pointlessly for your pride. When this is discovered, Alabama Shakes serves as a reminder to give up the battle for the sake of winning the war.
4

.

"We Belong Together" - Mariah Carey
I'm sure that I don't have to explain why "We Belong Together" makes for a great song about fixing a relationship. Although, in case I do, here it goes: Mariah Carey. This chef's kiss of a song, doubles as a ballad and a bop. The moment the piano riffs and Mariah harmonizes, it's clear she is out for blood. And boy, how easy it was to fall into her trap. With enticing vocals, layered harmonies, and a moment to scream, it's hard not to. "We Belong Together" is the final call. The moment where everything is laid out on the line. Where you try to stop the arguments, the coldness, or whatever it is that's making your relationship rocky. Instead, you work out your problems because the idea of the two you not being together is ridiculous. After all, returning to one another is inevitable.
5

.

"Distance" - Emily King
"One room just ain't enough when there's two folks trying to get along." A truer statement has never been said. "Distance" by Emily King shows that, sometimes, the best way to fix a relationship is to give one another space.
Not the type of space in the sense of "taking a break." But more in the sense of maybe you should spend a day apart returning to yourself. In relationships, it easy to get lost in being someone's else partner. Being stuck in just that one role, when you're a multitude of others, can be irritating and result in unnecessary arguments. Therefore, spend a day or two apart. Take time to check in with yourself and what you want. Then, if you must return back to your argument when you're both clear of mind.
6

.

"Let's Stay Together" - Al Green
Why break up when you can just stay together? In "Let's Stay Together," Al Green believes that if you love someone you should work with them whether your relationship is at the highest high, or lowest low. Mainly about compromising, "Let's Stay Together" talks about what happens when one person is willing to compromise what they want for what their partner needs. Sometimes, it is OK to give a little, especially when what you're fighting for doesn't compare to what you could lose. To fix a relationship--as long as you're not playing martyr for your partner--consider if what they're asking for is rational and plausible.
7

.

"Slipping" - Eryn Allen Kane
In the impassioned ballad, "Slipping," Eryn Allen Kane sings about the hardships of solely fixing a relationship. Unlike some of the ballads before her, Kane doesn't need a chance to step back and view her relationship. Instead, she sees things for what they are: her partner is unhappy. Knowing this, she makes it her mission to help them find happiness. Though, in doing so, she loses her own when she realizes her partner doesn't care for her efforts. There is an enchantment in being seen. Though she sees her love, she becomes bitter knowing that he doesn't see her. In the end, she challenges him. They could either work it out, or continue to slip away. They still have time to win, but he is going to have to be willing to step up.
8

.

"Passionfruit" - Drake
This song is a coin toss. On one hand, it's clear that Drake is realizing that his relationship might've come to an end and wants to fight for it. On the other hand, he understands why his lover might choose to leave. Regardless, in this R&B, pop, dancehall tune, Drake attempts to fix his relationship. Having a long-distance relationship is stressful. Not only are you separated from the person you care most about, but that separation can also bring about insecurities.
In "Passionfruit," this is no different. Drake is constantly away and the woman he has left behind has had enough. This eventually puts them at an odds, where Drake is left to explain that he is still wanting this relationship. Although, he understands why his romantic interest might think differently because he is not around to prove it. By the end of the song, he is left fighting for the relationship, but whether his partner wants to remain is up to her.
9

.

"Focus" - H.E.R.
Giving your partner attention is important. Despite our hectic lives and busy schedules, the need to ensure connection with your partner should always come first. When connection and attention are often ignored, problems in the relationship can easily occur. In H.E.R.'s "Focus," politely demands attention of her partner. Instead of being focused on the games, phones, and other miscellaneous things, she asks that he just focus on her. This song shows many ways a relationship can be fixed. The most important way being communication. Unlike other songs, she isn't beating around the bush, she isn't alluding to what she wants. Instead, H.E.R. is very clear about what she needs to save this relationship, and that's her partner's unrelenting focus.
10

.

"Lost In Translation" - Johnnyswim
Listening to "Lost in Translation" by Johnnyswim is like listening to the aftermath of a huge, heated argument. Stopping in the middle of their argument, or immediately after one has ended, Abner takes things into perspective. Realizing that he might have taken things too far, he wants to know what can be done to salvage their relationship and the guilt he feels. He no longer cares why they are arguing, he just wants to return back to how things were. Meanwhile, Amanda agrees. She acknowledges that they are missing something, so instead of choosing to fight or figure it out that night, she wants them to enjoy one another's company like they did in the past. Fighting has gotten them nowhere and they are aware that despite wanting the same thing, they keep colliding. So, instead of trying to end the argument, maybe the best thing would be to leave it where it is.
11

.

"He Won't Go" - Adele
At times, fixing a relationship often requires silencing the people closest to you. Not that they're not right in what they're saying. They just aren't as informed as you. They know only what you've told them and are responding with your best interest in mind. You and your partner on the other hand know what you've gone through and what has brought you in. This can be said for "He Won't Go." In this R&B pop song, Adele sings about wanting to try for her relationship because her past cannot let her easily leave it behind. The same can be said for her partner. Therefore, they are going to try to make the relationship work because they have something worth fighting for. As long as he is willing to stay, she is, too.
12

.

"Mercy" - Jacob Banks
This type of relationship in need of fixing is far from romantic. Nevertheless, it could be interpreted as such. "Mercy" by Jacob Banks talks about the ostracism African-American experience in the United States. Tired of being treated like a "second-class citizen," Banks demands "a little mercy" be given to himself and his community. After sacrificing and playing along with the majority, he hopes to be treated like someone who has hopes and aspirations of his own. This makes the perfect song for fixing a relationship, because it calmly takes things into perspective. When we're in a rough place, we spend most of our time victimizing ourselves and wondering why we're being treated badly. Nonetheless, when the situation is calmly addressed, there is an opportunity to acknowledge and validate the imbalance someone might be experiencing in a relationship. This can, of course, lead to a road of rectification.
13

.

"Loved By You" - Kirby
When you've been a relationship for too long, it is easy to take advantage of what you have. Whether you're used to the affection, care, love, kindness, or whatever it is your partner gives to you, it would be wise to speak up and openly appreciate the love given. Otherwise, you won't know what you had until it's too late. Kirby's soulful, heartfelt ballad, "Loved By You" is the final chance to acquire the love she always wanted. Hoping to amend her previous relationship, Kirby openly expresses her desire to love and be loved. She knows that this might be the last chance that she is given to experience true, all-encompassing, passionate love and she wants to work on doing so with the one she admires.
14

.

"Piano Joint (This Kind of Love)" - Michael Kiwanuka
Michael Kiwanuka has been beaten and bruised by love. This time, he won't let it happen, again. "Piano Joint (This Kind of Love)" focuses his relationship on the right type of love. Kiwanuka tells his partner that he is tired of fighting and hopes that in choosing to lose this battle, he might actually win in the end. Giving up in hopes of fixing his relationship, he tells his love that this kind of love is something that he has never experienced. Due to this, he knows that this has the potential to make him happy. So, he chooses to put their grievances aside and gives himself the opportunity to enjoy "this [new] kind of love" that has liberated him.
15

.

"Mad" - Ne-Yo
According to studies, going to bed while angry can create long-term damage in relationships. When one goes to bed angry, one's brain places that experience into sections that hold long-term memories, while asleep. Which ultimately results in the argument holding a lasting impression and intensified anger on the matter. Therefore, it's best to refrain from going to bed mad and/or find a comprisable stopping point. Ne-Yo's hit single "Mad" says just this. Knowing that possibly going to bed mad will only ruin his relationship, Ne-Yo asks his girlfriend what they're fighting for. When they realize that they can't recall why they're arguing or why they're mad in the first place, Ne-Yo asks for the argument to end. He doesn't want to go to bed mad at her or vice-versa, so it's best to just settle things.
Featured image by Getty Images
Keep reading...
Show less
Between May's randomness and June's endless heartbreak, I was beginning to think that July would be another moment of Summertime Sadness. Nevertheless, the artists of this week show that there is always a rainbow at the end of the storm. With the broken-hearted out of the way, room has been made for the fun ("Pink Noise"), the smiting ("Around), and the downright in love ("Sinner").
Get ready to turn up the heat with these latest hits that will be sure to reignite your summertime happiness.
"Pink Noise" - Laura Mvula
First of all: You're welcome.
Second of all: Thank you, Laura Mvula.
Everything this song is and everything this song tries to be is nothing short of excellent. Supreme. Top-notch and/or whatever whimsical adjective you fancy. This 80s-fueled dance pop track, "Pink Noise" will have you moving before the ten-second mark begins and you won't stop until long after it concludes. It's the fun summer song you've been looking for, long deprived of and my goodness it's a shame we haven't gotten it sooner. There's no denying that this song will have you hooked with its Janet Jackson and Grace Jones vibe. With its audacious trumpets and compelling vocals, "Pink Noise" is a summer hit I pray doesn't go ignored.
Also, if you're in the mood for a little self-care, treat yourself to Laura Mvula's newest album Pink Noise. Now available on all streaming platforms.
"The Jackie" - Bas ft. J. Cole & Lil Tjay
Juxtaposing their previous collaboration "Tribe," Dreamville's Bas and J. Cole return with a summertime hit made for the clubs. With the addition of rapper Lil Tjay, Bas and J. Cole share stories of their adventures while traveling along Jackie Robinson Highway, which connects Brooklyn and Queens ("The Jackie"). This song will definitely become a summer anthem. Between J. Cole's catchy hook and verse, Bas and Lil Tjay sing-song-esque melodious flow, the song is guaranteed to make you move. This is J. Cole's first appearance since dropping his latest acclaimed album, The Off-Season this past May. Meanwhile, Bas is rumored to be dropping an album later this year.
"Around" - JONES ft. Nardeydey
"Around" by JONES ft. Nardeydey perfectly captures and recreates the butterflies one gets in their stomach whenever a crush is near. It's the dopey grin you never knew you could make. The little giggle you're too embarrassed to release. It's the nervous feeling you get when you're uncertain if your crush feels the same. The excited feeling you get when you discover they do. It's incredibly cute. And it's the perfect summer vibe in a time where breakups seem endless. Perfect for a summer jam, "Around" is a charming, melodic tune worthy of being saved to your library.
"Get Up" - Logic
Logic returns from his short-lived retirement, with his second single in two weeks, "Get Up." In this reflective and acoustic-heavy single, Logic reflects on his journey and career as an artist. Focusing on his accomplishments, he gives recognition to his family, friends, and team for helping him get this far. Though, he is willing to also give some credit onto himself, crediting a lot of his success to his own determination, ambition, and perseverance. With lyrics like "every time I fall, you know I get up," Logic's new single "Get Up" is the motivational song you need for the summer.
YS Collection Vol.1 album, including single "Get Up," is now available on all streaming platforms.
"I Love You, I Hate You" - Little Simz
From the upcoming album Sometimes I Might Be Introvert, is Little Simz newest single, "I Love You, I Hate You." Reminiscent of 90s and 80s rap, Little Simz confronts her absent father over a grooving baseline and eccentric jazz track. Entering and leaving the chorus, she mentions that she loves her father, but because of the person he chooses to be she hates him. The verses are raw and impactful as she explains her resentment and hatred toward his absence and denial. Ultimately, she discovers that she must forgive her father for herself and that it is OK to simultaneously love and hate his existence.
Sometimes I Might Be Introvert will be released September 3, 2021.
"Day Off" - Cynthia Erivo
"Day Off" is the second single released from Cynthia Erivo's forthcoming album Ch. 1 vs. 1. Perfect for an early morning, or relaxing evening, this calming track is an alt-R&B song about making time to spend with a significant other. With Erivo melodiously requesting for one to take the day off, it's hard not to be allured by the soothing plea. By the time the song has concluded, you'll be so enraptured by the soul-stirring synth and tranquil vocals, you'll be compelled to do just as she asks.
Ch. 1 Vs. 1 will be released September 17, 2021.
"Make U Go" - Duckwrth
In his upcoming EP SuperGood 8, newly independent artist Duckwrth returns with single, "Make U Go." In his signature rap-singing flare, Duckwrth sings about the pleasures that he can give a woman, should he be given the opportunity to. Ever the confident one, Duckwrth assures her that she will have a great night, one worth bragging about to her friends. Though, despite his experience, she will not need to worry because despite his "thotty ways" she is the only one he wants to make go "ooh." This single is fun, relaxing, and the very song you need during this summer of break-ups. It's playful without being silly and smooth without being cocky.
Duckwrth's EP SuperGood 8 drops September 3, 2021.
"ARE YOU WITH THAT?" - Vince Staples
Having just released his self-titled album, Vince Staples returns with his second single, "ARE YOU WITH THAT?" In an album meant to offer fans and peers a new insight to who Staples truly is, "ARE YOU WITH THAT?" questions what Staples is down with and what he has outgrown. Throughout the song, he mentions gangbanging and violence nonchalantly and as a former aspiration. When he was younger, all Vince Staples imagined was being "a thug," now that he is older and wiser, he questions what he is willing to return to and the life that he now chooses to claim. With a more somber take, this song might not be a club sensation, but that's a sacrifice one is willing to take with a song of such substance.
Vince Staples, the album, including single "ARE YOU WITH THAT?," is now available on all streaming platforms.

"Go(l)d" - Mereba
"Go(l)d" is serene. Warm. Hopeful. And a little romantic. Beginning with a soft acoustic guitar and brooding rhythms, Mereba reflects on her journey and how she has changed during its travel. At the end of this journey, she has seen hardships, and she is unsure what everything she has seen means. Nevertheless, despite what she has seen and the confusion exploring the world has created, she manages to still "believe in gold" and the good things that the world has to offer. Doing so might make her crazy, nonsensical, or even a little naive, but in this new chapter of life (motherhood) a little faith can go a long way.
AZEB EP, including single "Gold?," is now available on all streaming platforms.
"Sinner" - Adekunle Gold ft. Lucky Daye
Nigerian singer-songwriter Adekunle Gold collaborates with Lucky Daye in his newest single "Sinner." Smoothly romantic, the song begins with a violin reminiscent of Celine Dion's "My Heart Will Go On" only to later take a calming trance with the addition of drums and Adekunle Gold's melodious vocals. The song could easily fall into the a cliched romance about love being almost sinful, but with his entrancing instrumentals and a gentle, confident approach, the song is anything but. Instead, we are left with a something that reflects the peace one exudes when finding the one. This might be about sinner, but it isn't about one remorseful of their sin. Instead, Gold believes that if their relationship is sinful, he is more than happy to worship at this alter.
For more new music releases in the month of July so far, keep scrolling:
"Wild Side" - Normani ft. Cardi B
Normani x Cardi B – "Wild Side" Out Now!Listen Here: https://smarturl.it/xWildSide Follow Normani:https://www.twitter.com/Normani https://www.facebook.com/n...
"Bouncin" - Tinashe
"F Yah Job" - Childish Major
"MIA" - Ray BLK ft. Kaash Paige
"Lonely As I Ever Was" - Spencer.
"Romeo" - Jungle ft. Bas
"Type of Day" - BJ the Chicago Kid
"My Lil Dance" - Hotboy Wes ft. Gucci Mane
"Nevada" - YoungBoy Never Broke Again
"Plastic Surgery" - YN Jay ft. Lil Pump
"Section" - Ant Clemons ft. Kehlani
"Fuck Him All Night" - Azealia Banks
"Whole Lotta Money (Remix)" - BIA ft. Nicki Minaj
"Wake Up" - Drumma Boy ft. Lil Got & Kollision
"Feeling Good" - Ledisi
"Worth It" - Mya
"Aura" - Mariah the Scientist
"Shirt (Partial)" - SZA
The 48:26 mark, thank us later.
"Good Good" - Tanerelle
"Gametime" - Amine & Lil Tecca
Featured image via Giphy
Keep reading...
Show less