I've been friends with my best friend since the second grade. It's a friendship that now feels like family, and I'm forever grateful we connected in the library that day. Unfortunately, all my friendships haven't lasted for over twenty years. Many of the people I was friends with five years ago are no longer part of life—people I thought would always be there.
At first, losing people made me feel a bit ungrounded. I spent most of my time with these friends; shared so many of my secrets. I spent a lot of time ruminating over what I could have done differently to salvage the relationships. But after years of reflection, I realized the only thing that could have saved the relationship was for me to stay the same. Those relationships ended because I changed. I wasn't the same person I used to be and it caused a lot of friction in my relationships.
As we age, many of us lose friends because we evolve—our needs and priorities are different. Sometimes our friendships can withstand the strain of growing into different versions of ourselves, but most times, they won't. And, that's okay.
Finding people that will walk with you through life is rare. So, if you've found yourself navigating a few friendship breakups or experiencing unsteadying moments in your friendships lately, try to keep the following in mind:
1

.

All friendships won't last forever. 
Friendship breakups are difficult because it's hard to imagine yourself parting ways with a friend the same way you see yourself splitting up with a romantic partner—you may not even think it would hurt just as much or even more. People grow apart. People will come into our lives for a season and leave once our time together ends. Some of these endings will feel natural and some may be a bit more traumatic. The ending of a friendship doesn't mean either of you were "bad" people. Nor does it mean you all were never "real" friends to begin with (endings have a way of clouding judgment). The truth is, even good friendships have expiration dates, and that's okay.
2

.

Your needs in friendship change as you get to know yourself better. 
The things you needed from your friends when you were a teenager or in your early 20s are different than what you need as you get closer to 30. When you're younger, you're likely still figuring things out and deciding how you want to show up in the world. As you become more grounded in who you are, liking someone is no longer a good enough reason to continue being friends, especially when your values and beliefs about friendships begin to clash. It can be hard to admit, but sometimes your friends evolve into people you don't like. Being dishonest about how you feel and forcing yourself to be around someone can create resentment in the friendship.
3

.

Emotional safety matters.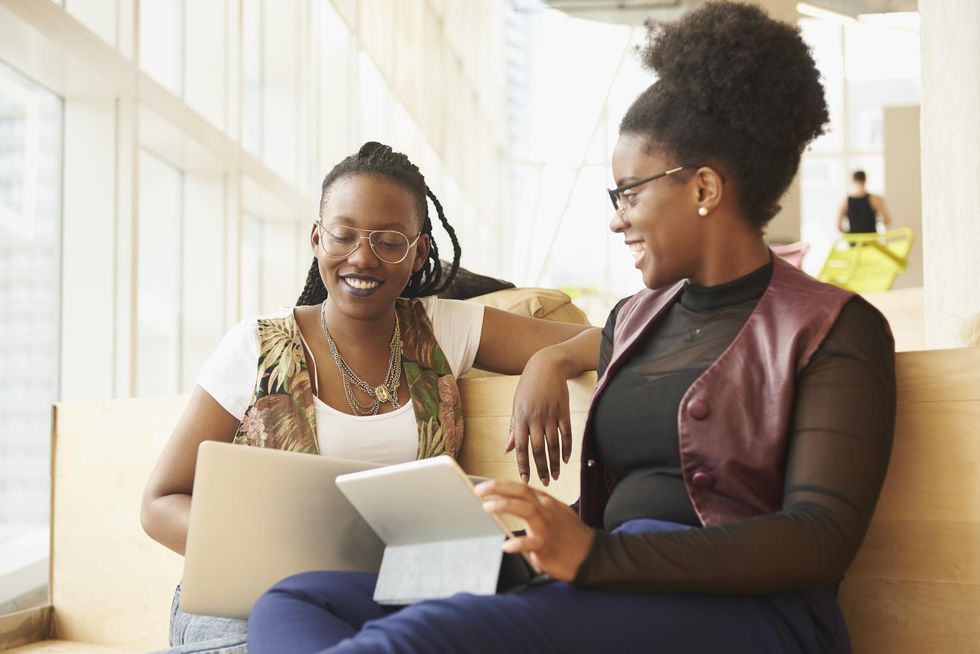 Getty Images
Feeling emotionally safe with my friends is important to me. Do they respect boundaries? Do we assume the other is operating with good intent? Are they kind to me in public and private? Do they talk about me behind my back? Some of us are accustomed to drama being at the center of our friendships because we used to be ineffective communicators, or we witnessed adults have drama-filled relationships as a child. If we're going to have healthy friendships, we must unlearn unhealthy relationship patterns. We also have to be responsible for the harmful things we've done in the past and commit to doing things differently in the future to establish safety. We may also need to raise our friendship standards.
4

.

Life is too short for one-sided friendships. 
Sometimes we hurt our own feelings by holding on to things that are no longer holding on to us. In a one-sided friendship, the other person has stopped participating, but we keep fighting to maintain our position in their lives. For whatever reason, this person has decided they no longer want to keep investing in a friendship with us, and we have to accept that boundary and move on. Easier said than done, especially if they haven't directly stated they want out. They may stop returning your calls and start canceling plans at the last minute. Magically they're always busy. Sometimes it isn't personal. Your friend may be going through a challenging time and doesn't have the energy to be around people. They may also be finding it hard to communicate what's going on. Either way, you have to decide how you want to be treated and what you're willing to tolerate in the name of friendship.
5

.

Different stages of your life require different levels of understanding.
As we age, we may get partnered, get married, or become a parent. These new relationships require a substantial amount of time—especially in the beginning. Some of us may have chosen careers that require us to work outside of the standard 9 to 5. At some points, you'll have fewer things binding you together than you do pulling you apart, and sometimes life ushers in a 'quiet season' in your friendship. If you've been missing your friends, tell them you'd like to see them. Sometimes people need a gentle nudge.
6

.

As you age, quality becomes more important than quantity.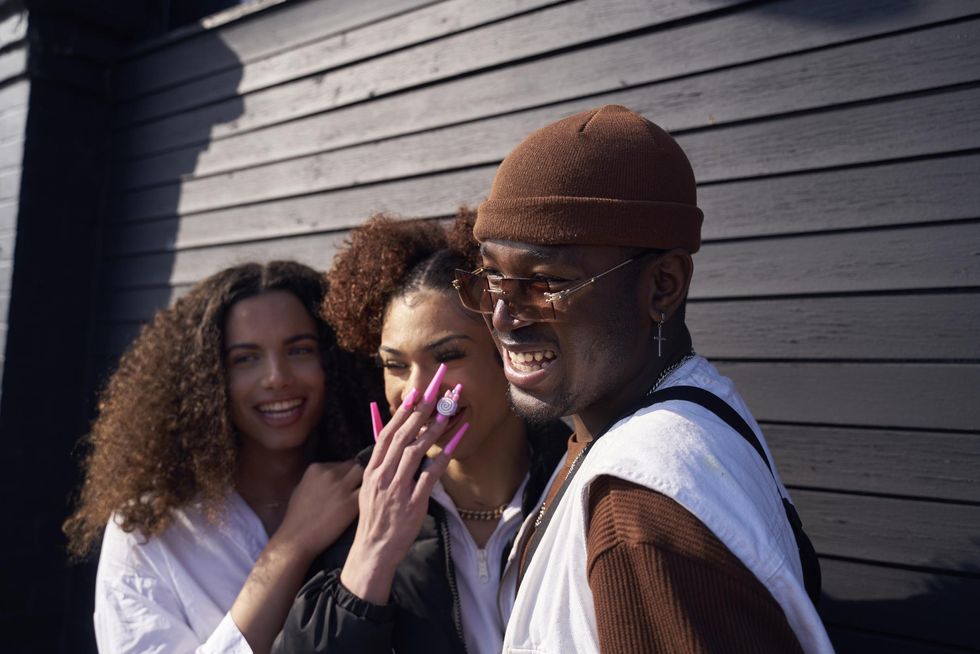 Getty Images
It's easier to make friends and maintain friendships when you're younger because most of the people you connect to are in your hometown or go to school with you. As you get older, you prioritize certain friendships over others. Studies show that on average, most adult Americans have four close friends. Sometimes you gradually realize that you're spending a lot of time trying to maintain superficial relationships and decide to spend the little time you have pouring into friendships that have the chance to stand the test of time.
7

.

Every relationship isn't a friendship. 
We're taught to make friends as kids in ways that don't benefit us as adults. Being friendly and being friends is not the same thing. You just met someone, and now they're your friend. You just ended a relationship with someone, and now you're friends. Your dating situation didn't work, and now you're friends. Friendship is built. Sometimes we rush into friendships with people to maintain connections, but it isn't always the healthiest decision. Nor is it the most genuine response. A friendship is a mutual agreement and investment from both people. It's important to vet people for friendship, just as you would vet someone for romance. You may know many people, but you don't have many friends.
8

.

A friend doesn't have to tell you everything to be your friend.
"There's a difference between being in someone's business and being in someone's corner." I don't know who said that quote, but it's one of my favs. Some people associate friendship with how much they know about someone. But, knowing everything about someone doesn't make you all friends. I've seen people get mad at a friend for being what they deemed "secretive." Try not to take someone's non-disclosure personally. A friend may feel stressed out, overwhelmed, or ashamed and not rush to tell you because they're still processing their situation. People are allowed to tell you things when they're ready. They also don't have to share at all.
9

.

Communication is key.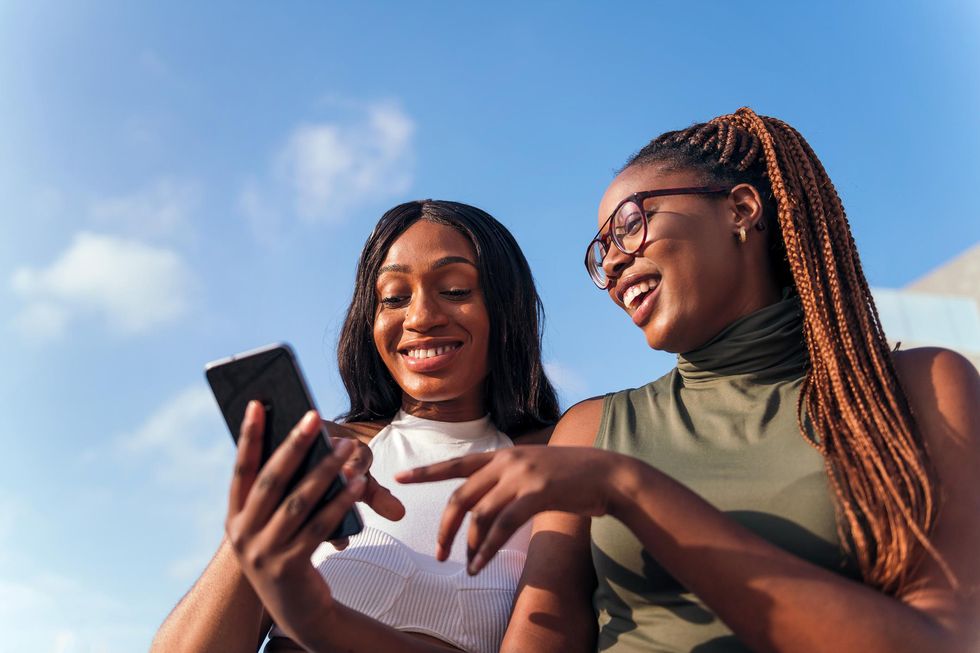 Getty Images
It can be easy to think people should just understand and get you, especially if you all have known each other for a long time. But just like a romantic relationship, friendships benefit from communication too. Continue getting to know your friends and be open to seeing their different sides as they evolve. One of the best books I've read on friendship is Frientimacy: How to Deepen Friendships for Lifelong Health and Happiness by Shasta Nelson. This book helped me make sense of my experiences when I started losing friends. I could go back to all my friendships that ended and point out exactly where things went wrong. According to Shasta, "frientimacy" is intimacy experienced in friendships based on positivity, consistency, and vulnerability.
All healthy friendships require a strong foundation built on positive experiences. Consistency is vital because even if we like someone, we will begin to question where we stand with them if they can't make time for us, ultimately making us feel unsafe in the relationship. Without vulnerability, the relationship doesn't have the chance to deepen, which means there will always be a feeling of distance between the two of you. All three things need to work together to make a friendship last. If one of these things becomes unbalanced, the friendship can still last if you all can communicate effectively to get the relationship back on track.
As we get older, our friendships evolve. And while it can be scary to part ways with people, it allows us to connect with people who fit with who we are and who we're becoming. And for that, we can be both excited and grateful.
Remember, friends, are the family you choose, so choose wisely.
Let's make things inbox official! Sign up for the xoNecole newsletter for daily love, wellness, career, and exclusive content delivered straight to your inbox.
Featured image by Getty Images
Adrienne Houghton is opening up about her renewed friendship with Naturi Naughton. The artists were in the early 2000's singing group 3LW as teenagers along with Kiely Williams but controversy ensued after Naturi exited. The Power star claimed she was kicked out of the group after she got into an altercation with Kiely which resulted in chicken being thrown at her. She was then replaced by Jessica Benson but the group eventually disbanded and Adrienne and Kiely went on to star in the Disney Channel's hit movie The Cheetah Girls.
Fast-forward to June 2022, the former The Real co-host shared a photo with the actress on Instagram and captioned it "#2LW 😜 #LetTheHealingBegin."
The 38-year-old recently sat down with ET and opened up about the photo that had everyone talking.
"Crazy enough she's been on The Real several times and I feel like we never had animosity towards each other in that way that it just was like, 'oh, hi. It's awkward 'cause there's an elephant in the room of all that we've been through,' but it would be like 'oh, hi,' " Adrienne said. "And I think there was always this idea of I'm happy for you and you're happy for me. This unspoken thing but we pretty much greet each other and just go right into interviews.
"And this last time she was like, we're almost 40 years old now, that's the reality of it," she continued. "And she found out that I was moving back to New York and we were just like, we're both in New York now, let's spend some time together, let's get together, let's have dinner and that's what that was."
Adrienne also explained the meaning behind the hashtag #LetTheHealingBegin. "The hashtag #LetTheHealingBegin, I think that's key. I think so many of us have had experiences in our lives where we're just like what was that all about?" She said. "And you let them go but at the same time, you almost want to revisit them when you get older to actually be like what was that about and how can we move forward? And I think that's where we're at."
She also shared that the two of them healing separately from their time in 3LW allowed them to heal together and repair their friendship. "There are things that her and I will share forever that no one will ever know or understand and that's just the truth of it."
But while the two have rekindled their sisterhood, 3LW fans may not want to hold their breath for an actual 3LW reunion. "There is nothing set. There is no reunion set, Adrienne admitted. "There's nothing like that setup but I think the most important thing is not music but the real life is good."
Adrienne Houghton on Possible 3LW and Cheetah Girls REUNIONS (Exclusive)
Let's make things inbox official! Sign up for the xoNecole newsletter for daily love, wellness, career, and exclusive content delivered straight to your inbox.
Featured image by Jamie McCarthy/Getty Images for alice + olivia
Oprah Winfrey and Gayle King are the O.G.'s of friendship goals. The veteran journalists met working at a Baltimore TV station in 1976 when Oprah was 22 and Gayle was 21. They eventually formed an unbreakable bond after being stuck in a snowstorm together. Oprah and Gayle spoke with PEOPLE about that time in their lives. "We ended up talking all night long," Oprah said. "We've literally been friends ever since."
Oprah was an anchor at the station while Gayle was a production assistant. She offered the CBS Mornings anchor to stay at her place to avoid being out in the storm. Gayle even remembers the outfit her best friend lent her for the next day. "It was purple with a scoop neck and bell sleeves," she said.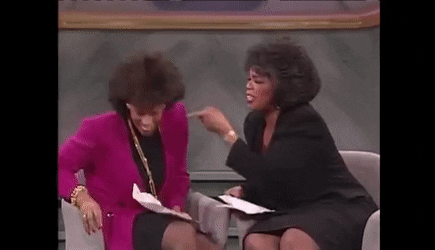 Fans have gotten a peek into their friendship over the years. They've supported each other in the public eye and have entertained viewers with their stories about one another. Gayle made several appearances on Oprah's former daytime talk show like the time she surprised her bestie for her 40th birthday. And who can forget their epic cross-country road trip from Santa Barbara to New York City that was documented on Oprah's show? Fifteen years later, in September 2021, the two best friends reunited for another road trip proving that their friendship continues to be an adventure.
In 2019, they launched The OG Chronicles, which is a video series where they give fans advice about love, friendship, and more. They touched on what it's like to be everyone's friendship goals. "I always get, 'This is my Oprah,'" Gayle said. "It's one of the biggest compliments." Oprah also said, "And I always get, 'This is my Gayle.' I understand what that means: long-term, standing in the gap, no matter what I'm here for you."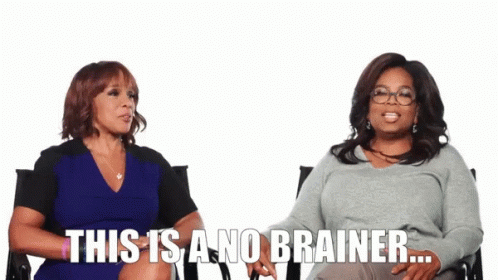 Being in each other's lives for 46 years, there are bound to be some disagreements, right? According to the besties, that's not the case. "People will find this hard to believe, but we've never had a serious argument," Oprah said. "It certainly is a beautiful friendship."
We love a beautiful, healthy friendship!
Life, Love and Friendships with Oprah & Gayle | The OG Chronicles | Oprah Mag
Let's make things inbox official! Sign up for the xoNecole newsletter for daily love, wellness, career, and exclusive content delivered straight to your inbox.
Featured image by Oprah Daily/YouTube
Our girlfriends are our chosen tribe. They pull us out of funks. They bring the wine when we've had a tough workday. They celebrate our babies and birthdays and new hairdos with the fervor of a winning football team. Our girlfriends don't fear telling us when we're wrong and they walk with us as we get it right. So, what happens when your girlfriends exhaust you with perpetually poor life decisions?
Most would agree that the mature thing is to sit them down and say, "Hey, you're wearing me out. I've given all the advice I can give. Your choices are harming you and as a result, I am exhausted and I do not want to stand by and watch. So, I need a break." Being honest, though intimidating at times, is the best way to deliver not-so-great news. But for those of us who feel that being honest and attempting to set boundaries has not worked, ghosting seems to be the next best thing.
As a 30-something with almost twenty years of healthy friendships to celebrate, I wasn't 100% sure what to do when one of my girlfriends started to drain me. I was past the age of talking smack but I wasn't quite seasoned enough to know how to take a break from a friend whose lifestyle was...well, toxic.
For the Living Single fans, I am the mediator spirit of Synclaire and the sarcastic humor of Khadijah, rolled into one. I don't want to see anyone downtrodden or harmed. Ever. However, I have a cap for drama. Recently, a close friend pushed that cap and my mediator spirit almost flatlined.
We've been friends for over a decade. Even though I knew her relationship with her boyfriend was toxic, I didn't say much in the first couple of years. I kept my opinion to myself until she asked for it. I chose to be unequivocally honest. I let her know that from the information she presented and what I witnessed, her boyfriend does not respect her and that he does not value the fullness of who she is. Fast-forward years later and she has not let him go.
The drama has continued and intensified.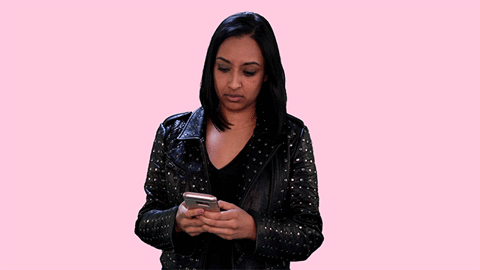 I found myself at a crossroads. I don't have the capacity to coddle someone who is not willing to make healthy choices. I was consumed with her problems to the point that I was putting my own major life decisions on the backburner. Perhaps I was a bit arrogant to think that I could help. I now know that I am not equipped, called, or certified to continue being her ear on this matter. I'm just not and that's ok.
So, I stopped answering her phone calls. I needed a break and I took one. I went ghost. Ghosting my homegirl offered me peace of mind when I was just struggling not to curse her out. And, you know, yes, perhaps it's better to be straight up but when you're all tapped out, you'd rather just distance yourself. It's a reality.
While ignoring her attempts at communication and journaling myself through the experience, I realized that I had allowed too many people - not just my friend - unlimited access to me, to my schedule, to my spirit, to my listening ear under the banner of "being a good friend."
Exercising my right and ability not to answer my phone when I do not want to has been one of the most freeing ways I've cared for myself this year. The right not to go into crisis mode when my friend texts me six paragraphs about the same boyfriend who has been cheating on her for years felt like a radical act, staking my claim to freedom.

Sometimes, we're so caught up in establishing and loving our tribe that we build codependency into our relationships without realizing it. (Yes, it can happen even after college.) We want to ensure that we're there for one another and that we exemplify what a good friend should be but that can often lead to us overextending ourselves. And overextension can lead to a mess of problems, including but not limited to, resentment, pettiness, isolation, and disinterest.
Some crosses aren't ours to bear. Some problems aren't ours to try to fix.
Being a good girlfriend to our girlfriends does not mean we are their saviors, therapists, or pastors. It simply means that we commit to doing life with one another in as healthy a way as possible.
In just the first week of not interacting with my girlfriend, my sleep was less restless and I could think with more clarity and focus. Her troubles were taking up less emotional space and I could begin to redirect that energy to my own path.

Once I was able to find the peace of mind I'd been missing, I called to let her know I would not be in contact for a while. I didn't say how long and I didn't blame her. I kept the focus on me, letting her know I had a series of huge life decisions I needed to tend to and would be out of contact. She accepted that graciously.
While our girlfriends are all of the wonderful things, there is room for evaluation and repositioning. Being a good girlfriend doesn't mean blindly accepting harmful behavior.
Loyalty to a fault is not admirable or commendable. It's unhealthy and a disservice to all parties involved.

I'm not yet equipped with the language, energy, or desire to jump 100% back into a relationship with my friend. I'm just not. So, the best thing I can do is love her from a distance and take care of myself until I can.
Featured image by Getty Images
Originally published on August 26, 2019
It was probably around the end of 2017 when I really started deep-diving into what narcissism really is. A part of the reason why I did it was because I was counseling some people who seemed to reveal some telling signs of being one. Then, because I am definitely the exception and not the rule when it comes to not being on social media, I was finding more and more data to support that it is creating more narcissists than ever before. Jump ahead a couple of years and I actually had a close relative who said, "Of course, I'm a narcissist. My mother and father are narcissists." Boy, did that start to connect some dots as it relates to narcissistic abuse within my family tree and when it came to some of the friends and even guys that I picked — because it really is true that until you know better, it's hard to do better.
As I started becoming a semi-expert on how to discern a narcissist before you find yourself getting beat the hell up by them (check out "3 Warning Signs You're In Love With A Narcissist" and "What If It's Your Parents Who Happen To Be The Narcissists?"), that's when I began to learn more and more about gaslighting (check out "Gaslighting, Love Bombing & 5 Other Triggers To Call Out In Your Relationships") and y'all…Y'ALL. Hmph. Matter of fact, the more that I learn about what it is beyond how much folks just randomly throw the word out into the atmosphere, the more I get that if a lot of us nipped gaslighting right in the bud, our lives would be so much more peace-filled and we'd have a lot more clarity on what the quality of our relationships actually are; including our friendships.
Last year, I shared some intel on what it means to date a gaslighter (you can read more about that here). Today, let's get into what it's like to be gaslit by a friend (or "friend"). Because the sooner you know the signs, the sooner you can know if that person is worth keeping in your tribe or not — because why choose to be "burned" all of the time if you absolutely can avoid it?
Gaslighting. Revisited.
If someone were to ask me to provide a really quick and concise definition of gaslighting, I would probably pull from the author of the lead quote up top. Tracy Morgan also once said, "Gaslighting is an attempt to change the truth." Some other keepers from the same writer include: "Gaslighting is mind control to make victims doubt their reality," "Gaslighting is implanted narratives cloaked in secrecy," and "Gaslighting is when you don't remember things the same as they do." OK, but just so that we're all on the same page, let's go just a bit deeper than that.
At the end of the day, gaslighting is a form of emotional and/or psychological abuse where the gaslighter tries to make the "victim" question their own reality when it comes to their memories, experiences, and even feelings that are directly associated with the gaslighter. And why would someone be so diabolic? It's all about manipulation and control. Egomaniacs like to gaslight. Abusers like to gaslight. Narcissists like to gaslight. Control freaks like to gaslight. People who suck at taking personal accountability for their actions like to gaslight. Some would say that ghosters are also pretty good gaslighters because if you're leaving someone to question what happened, that is messing with their feelings…right? And because ghosting is pretty intentional, that means that 8 times out of 10, that is exactly what you wanted to do in order to have some sort of control (or get some control back)…right?
And here's the thing — so long as someone is able to keep undermining you and, as a direct result, keep you "unstable" when it comes to how to deal with them, in their mind, they have the upper hand. They are able to keep pulling strings that can sway you into all kinds of directions, all the while acting innocent or even like you're the problem. When I tell you that gaslighting is evil…it really is so evil, chile. And that's why, again, it's so important — crucial even — to know when someone you consider to be a friend is actually doing it to you.
And because, unfortunately, gaslighting is super common, I wanted to share a few signs of when you're being gaslit in a friendship (or you're possibly doing it to someone else), so that you are very clear, moving forward.
6 Ways a Friend Can Gaslight You (Sometimes, Without You Noticing It)
1. They Can Have a Selective Memory
When I tell you that I have a relative who is an Olympian gaslighter in this very realm? When it comes to what I had on in grade school or what I said 10 years ago, they can remember that. Oh, but call them to the carpet on some blatant physical, verbal or emotional abuse and, all of a sudden, they can't remember. Chile, bye.
The reason why gaslighters like to get off of having a selective memory is 1) they want to try and mess with your own. For instance, while another relative of mine was still alive, this master gaslighter used to try and appear virtuous by saying that they didn't want to speak ill of them and their narratives. Oh, but when that person died, all of a sudden, the gaslighter said they were a liar and too inebriated to recall what the relative had said about how the gaslighter got down. Of course, to the gaslighter, now it's cool to say all of that because the person can't defend themselves or contradict their story. Now the gaslighter remembers things like it was yesterday.
Watch people who try and act like you don't know what you're talking about when you know damn well that you do. Not only is it condescending as all get out, but it's also their way of trying to make you become the "character" in the story they've written — or rewritten. Depending on the day. Either way, it's gonna have nightmarish results for you if you let it continue to go on for a long period of time.
2. They Are Dismissive of Your Thoughts, Feelings and/or Needs
Someone I know had a relative who was very ill. When a mutual friend of ours kept telling me that I needed to go and visit that person (the sick one), out of courtesy only (because I really didn't have to do it), I asked the "friend" if they were OK with that. Their response was, "I need to pray about it" (if that ain't passive-aggressive). What? Meanwhile, all kinds of other people were given "their blessing" to visit and it wasn't until the individual was literally unconscious that I was contacted with a green light.
People who know me know that I am not passive-aggressive; if anything, I'm overly aggressive in communicating my thoughts and so, when that person reached out after their relative passed (no doubt to get sympathy), I shared how I felt about what they did. This was all email correspondence. Did they respond? Nope. And when I ran into them months later, did they say anything? Nope. Not about that. How in the world do you get petty on that kind of level and then how do we come back from a death?
Is this gaslighting? A billion times over because when you state how you feel about something or what a need is and your friend acts like you didn't say anything at all, not only are they trying to invalidate you but they oftentimes want you to get so upset that you end up popping all of the way off, so that, that way, they can tell everyone how you victimized them.
Luckily, I learned about gaslighting before all of this went down. Still, that showed me, live and in living color, how that individual gets down. You ain't gotta burn me at that level again, chile. I won't fight you in the street about it but…we're good.
3. They Are Big-Time Flatterers (with a Jacked-Up Motive)
I say it often because it's true — not even the Bible has good things to say about flattery (Job 17:5), so I don't know why so many folks fall for it (well, other than receiving an ego boost, I guess). Anyway, watch out for the friends who ooze flattering words. For one thing, it oftentimes comes off as being super disingenuous. Also, it's typically a set-up. They are trying to make you feel good so that they can get something out of you (which is basically the same thing as being disingenuous, right?). Or, it could be how they get out of apologizing for doing you dirty. In other words, when you confront them about something that either hurt your feelings or was flat-out wrong, rather than them owning it (more on that in a bit), they will deflect with some sort of compliment or praise — including praising that you didn't react in the manner that they probably deserved.
Do good friends affirm one another? Yep. The key here is to pay close attention to the motive. Affirming is just about celebrating someone. Flattery is about buttering someone up for your own agenda. Or stratagem. It all depends on what you're after in the long run. Motives are a trip, chile. Always pay a good amount of attention to them.
4. They Don't Take Ownership for Their Actions
Gaslighters don't like to apologize. Gaslighters try and avoid confrontation at all costs. Gaslighters will even lie to get out of taking accountability for their actions. The reason why is because if they deal with things, head-on, in their mind that means they aren't in control anymore and they always want to be in control.
A few years ago, I wrote about a former friend who ghosted the mess outta me (check out "I Was 'Ghosted' By My Best Friend"). When I wrote them a couple of years later to be like, "I really can't believe you did that," did they apologize? Nope. They went on and on about how they decided on their own that I didn't want to be involved with them anymore.
Nope. The issue was they were going through a crazy marital situation. I had come in to help defuse it and told them that I would give them some time to work it out. I also gave them a firm date when we should revisit it all. Instead, they got a divorce and I'm pretty sure that's why they got ghost; they didn't want me to know that. And so, rather than just being honest, they tried to make it be like ghosting me is what I wanted. Whew, gaslighting is crazy.
Personally, I don't trust people who can't own their ish — straight up and flat-out. I think a part of the reason is due to how direct I tend to be. Another reason is because I've spent far too many precious years of my life surrounded by folks who like to play those kinds of games. If you've got a friend who wants to hold you accountable and yet you can never do the same thing for/to them…that's a gaslighter. Be careful.
5. They Don't Respect Your Boundaries in Your Other Relationships
Last year, one of the articles that I wrote for the platform was entitled, "Why I Prefer My Friends To NOT Be Friends With Each Other." I remember reading a comment on one of our social media pages that said I was childish and problematic. Honey, I guess. First, I doubt she read the piece, and second, experience has brought me to that place and my life has been so much better for it. See, if two people are already close before I come onto the scene or we all meet at the same time, it's whatever. But getting all close with my people's people just because they are? For what? That's their friends and everyone deserves to have their own space and boundaries.
It's kind of a 2.0 way of thinking yet hear me out. None of us is perfect and even friends need a place to vent — even about us. I would much rather my friends go to some random (in my world) who I don't even know than someone who is close to me. Doing the latter just makes stuff awkward, if not super messy, and who has time for that kind of stress when it can be avoided?
Gaslighters? Oh, they would hate my article because they like everyone to be close-knit. That way, they can sow seeds of division among everyone, so that all relationships feel a little off-kilter. And when everyone is feeling kind of insecure, they can do their best manipulative work. Gaslighters loathe relational boundaries. They don't have as much power when those exist.
6. They Constantly Play the Victim
Out of all of what I just said, probably the worst thing about a gaslighter is that they don't know how to do anything other than play the victim. And because what they did to you is oftentimes right under the bar of catching a beatdown, they are pretty good at making it look like you're just exaggerating what your issues with them are. UGH.
So, just what are some telltale signs that someone enjoys playing the victim role?
They refuse to accept responsibility for the things that they've done.
They will withhold their friendship until you apologize (even if they are wrong).
They live to throw pity parties.
If you do confront them about something, they will turn the issue onto you.
They act like they are above correction or criticism and so if you do it, you are just jealous (to them).
They are emotionally draining as all get out.
They like you to be on eggshells when it comes to dealing with them.
They will try and make you feel bad for what they did.
They place blame on anyone and everything else.
It's basically like, if someone shares the pearls of wisdom, "Don't play victim to the circumstances you created," they will find some way to act like they have no idea what anyone is talking about. All they know is they are right for gaslighting and you are wrong for calling them out on it. And that reminds me of what another author by the name of Maranda Pleasant, once said — "People who harm you will blame you for it. Remember, an abuser will generally always play the victim, spin a story, tell everyone and then generally call you 'crazy.'"
I know it was a lot, y'all. Gaslighting is a lot. I still think it was well worth discussing because if your gut has been telling you that someone doesn't sit quite right in your spirit and you haven't been quite able to put your finger on anything, perhaps now you can.
Gaslighting is the worst. The good news is when you don't provide the "kindle," there's very little they can do to affect — or infect — you. So…don't (any longer).
Featured image by Giphy
If you're looking back on 2021 like, "Where did the days go?" trust us when we say we are, too. As the holidays approach, it's natural to become reflective and muse over the peaks and valleys, accomplishments, and tough lessons that the year threw your way—and for many of us, we didn't do it alone. From the homegirls who helped us through breakups, to the long-distance sisterhoods held together by hours-long FaceTime calls. For the friends who always know what to say when you can't seem to gather the words, and the ones who see you when you can't see the greatness in yourself. What better way to say, "you deserve," than with a thoughtful gift made for and by Black women.
We're here to drop all the gift-giving gems for every type of woman in your life. And if you find yourself frequently asking, "Is it really Black-owned though?" The answer is: Absolutely. From skincare to the latest style staples, we've got you and your homegirls covered this holiday season.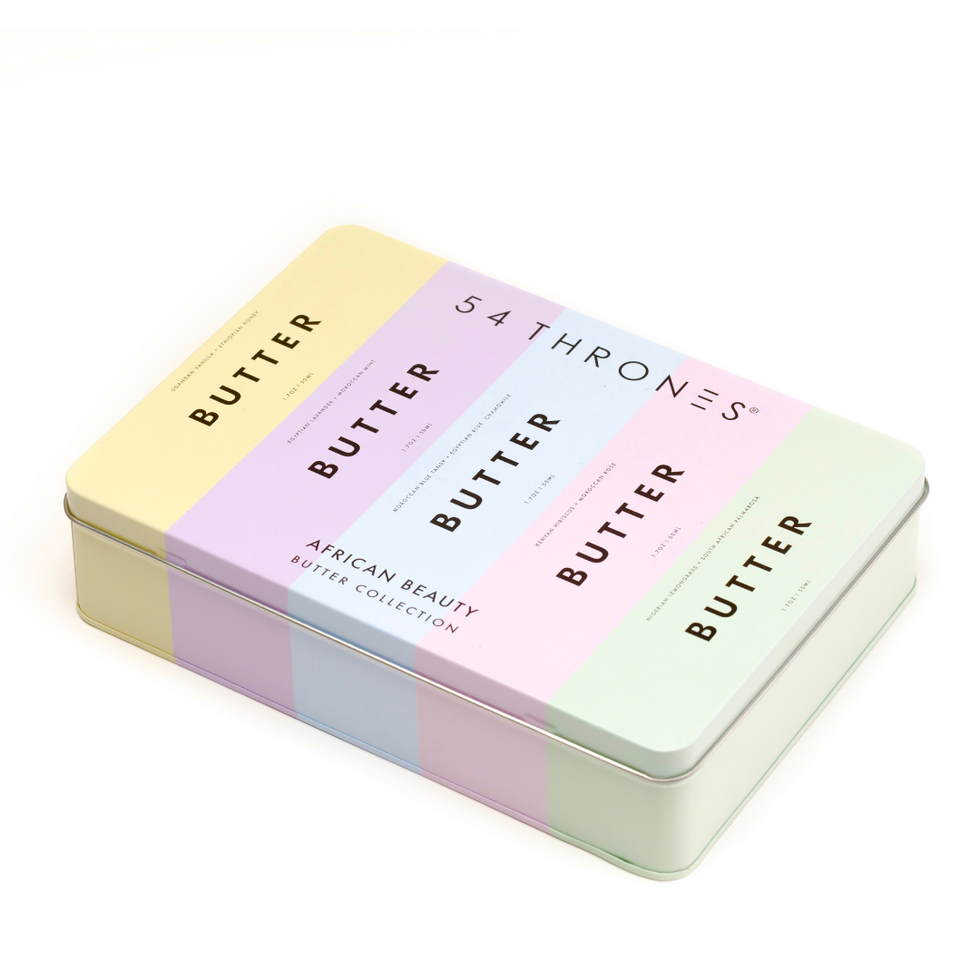 54 Thrones
From Oprah's Favorite Things List to your hands, legs, and shoulders. This hydrating formula is enriched with nourishing plant botanicals with a thick and creamy texture that's sure to make you a certified Shea Butter Baby.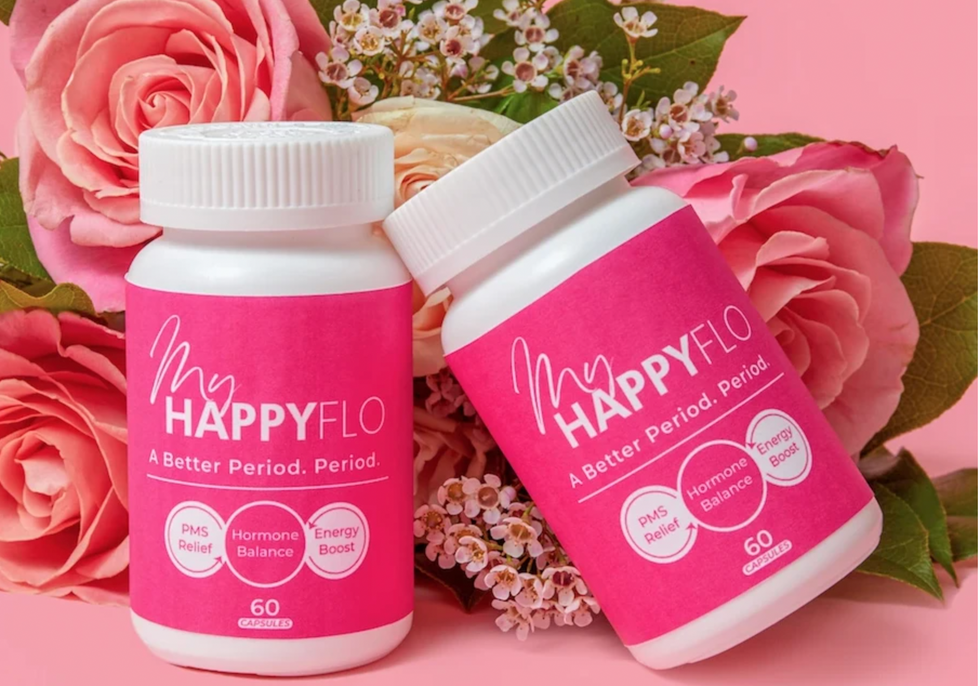 "It's time for heavy bleeding, bloating, mood swings, and headaches from your period to stop cramping your style. Thankfully, a new all-in-one supplement just hit the wellness space to help ease your flow and disrupt your PMS symptoms, ASAP. Packed with plant-based ingredients and mood-boosting vitamins like D3, B6, Iron, and B12, your pain-free period is just a bottle/capsule away."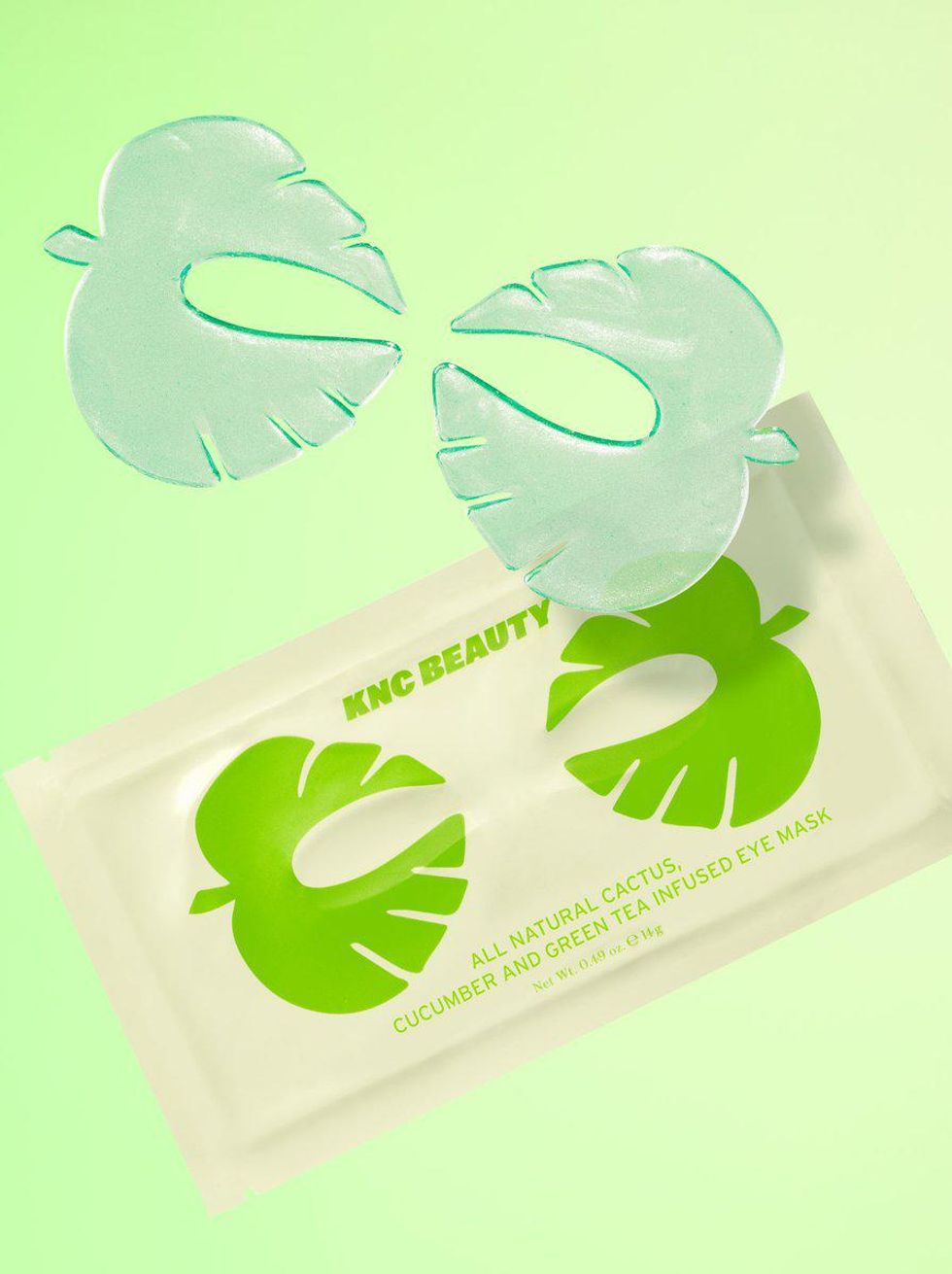 KNC Beauty
This is your reminder to not leave your undereye area out of your skincare routine because it needs love, too. Add these selfie-ready, all-natural eye masks into your routine for some much-needed TLC and effortless glow.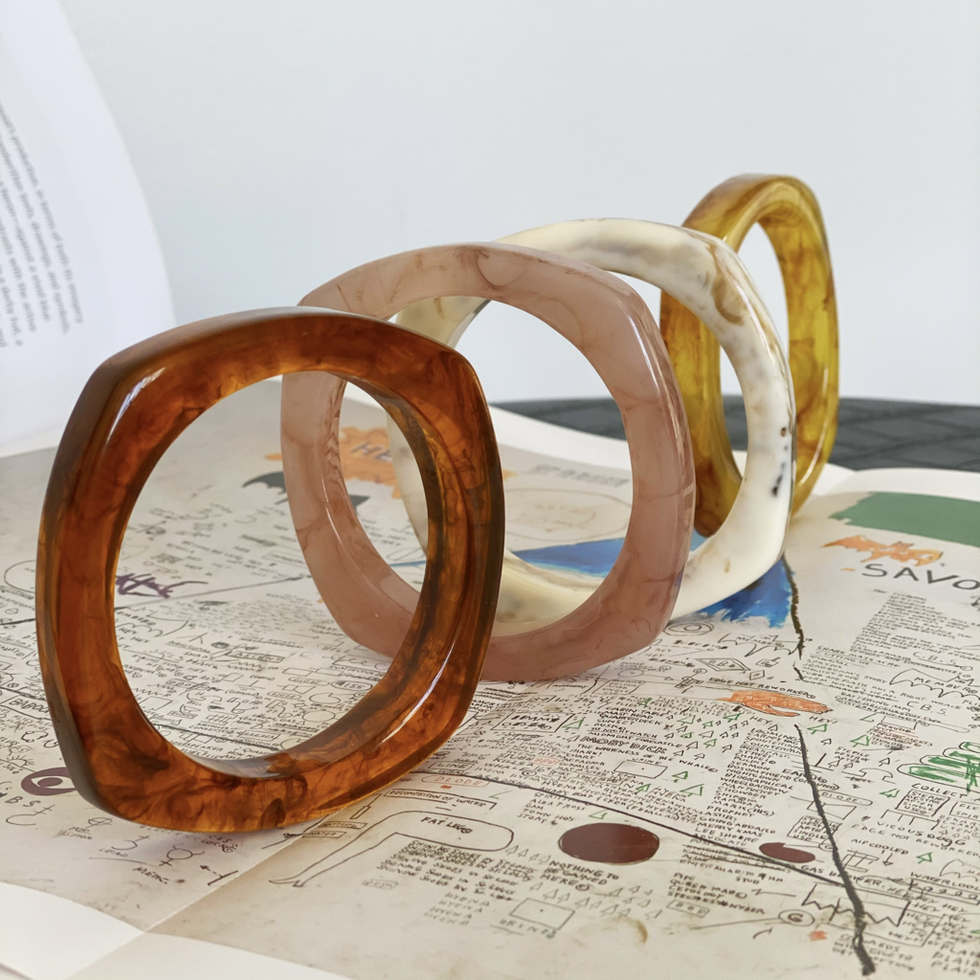 Gems Plzz
In need of some new arm candy? We just might have found your new favorite set.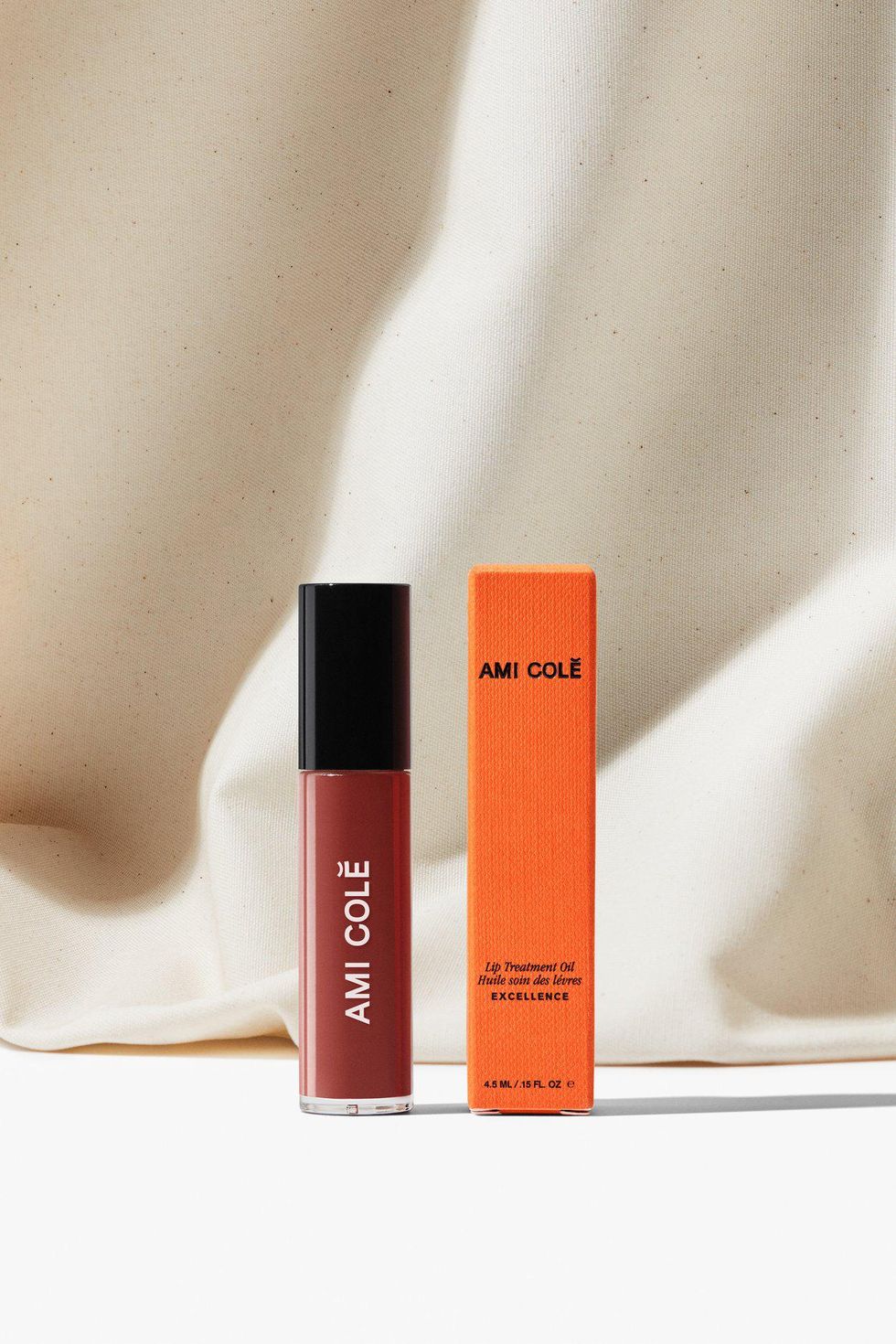 Ami Cole
If you haven't heard about the lip gloss, gather 'round, because once you've got this in your purse, you'll never want to live without it again. The oil-to-gloss formula provides the perfect shine and brown girl-friendly tint. Snag one or two or six — we won't judge.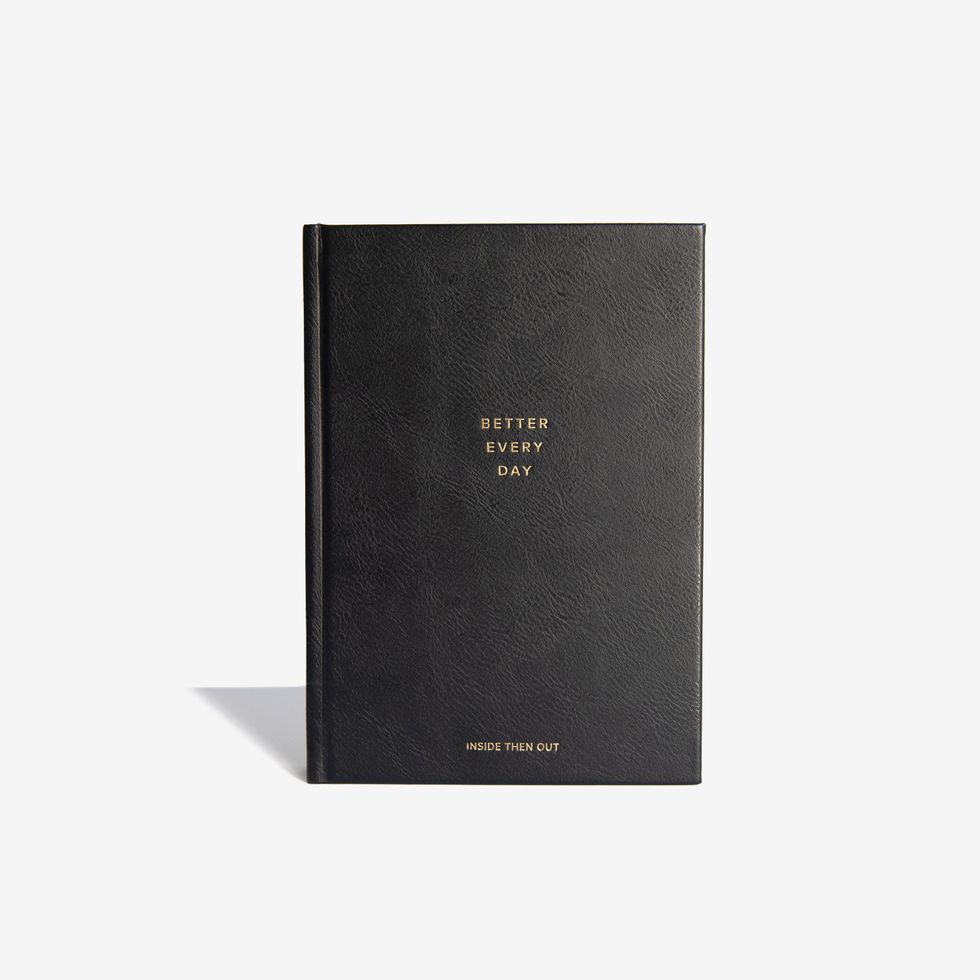 Every Day Journal
We know how you girls love to journal. If tracking everyday growth, memories, and moments has become a newfound self-care practice or something to explore, this journal will fit right into your routine.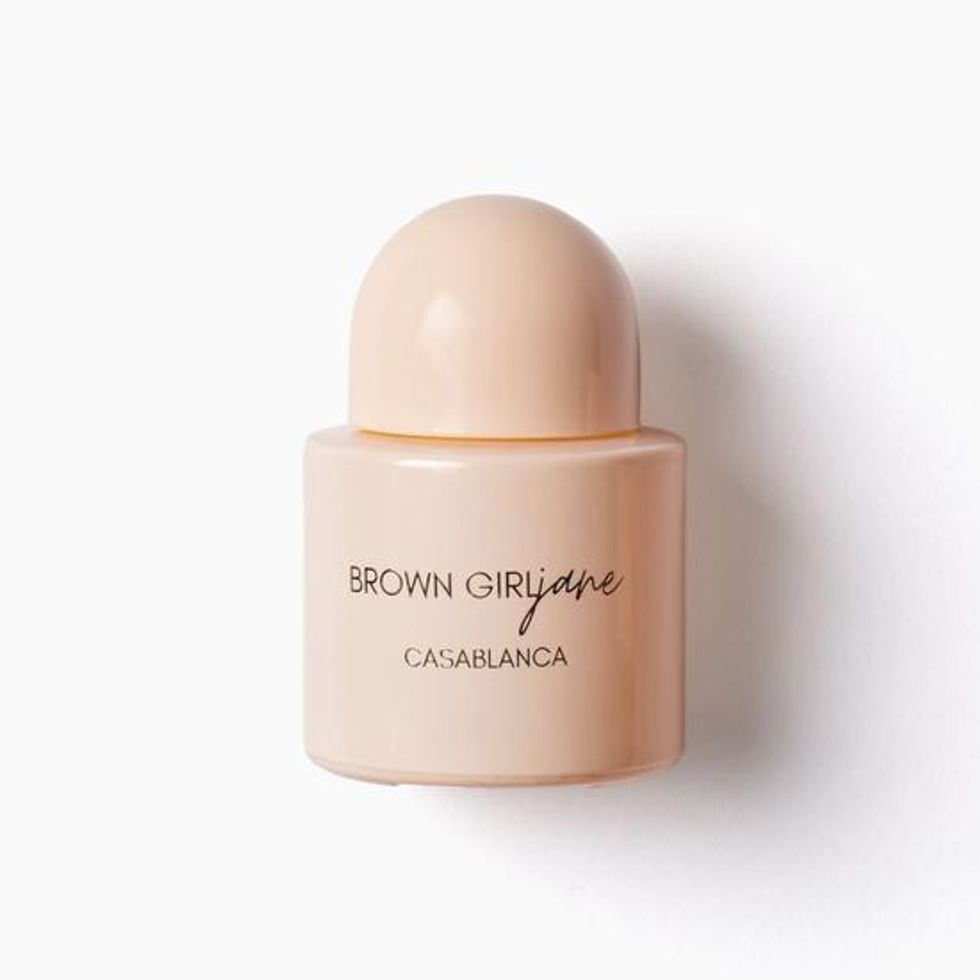 Brown Girl Jane
It's giving opulence, it's giving confidence, it's giving drama. If your homegirl's fragrance collection runneth over, what's one more gonna hurt?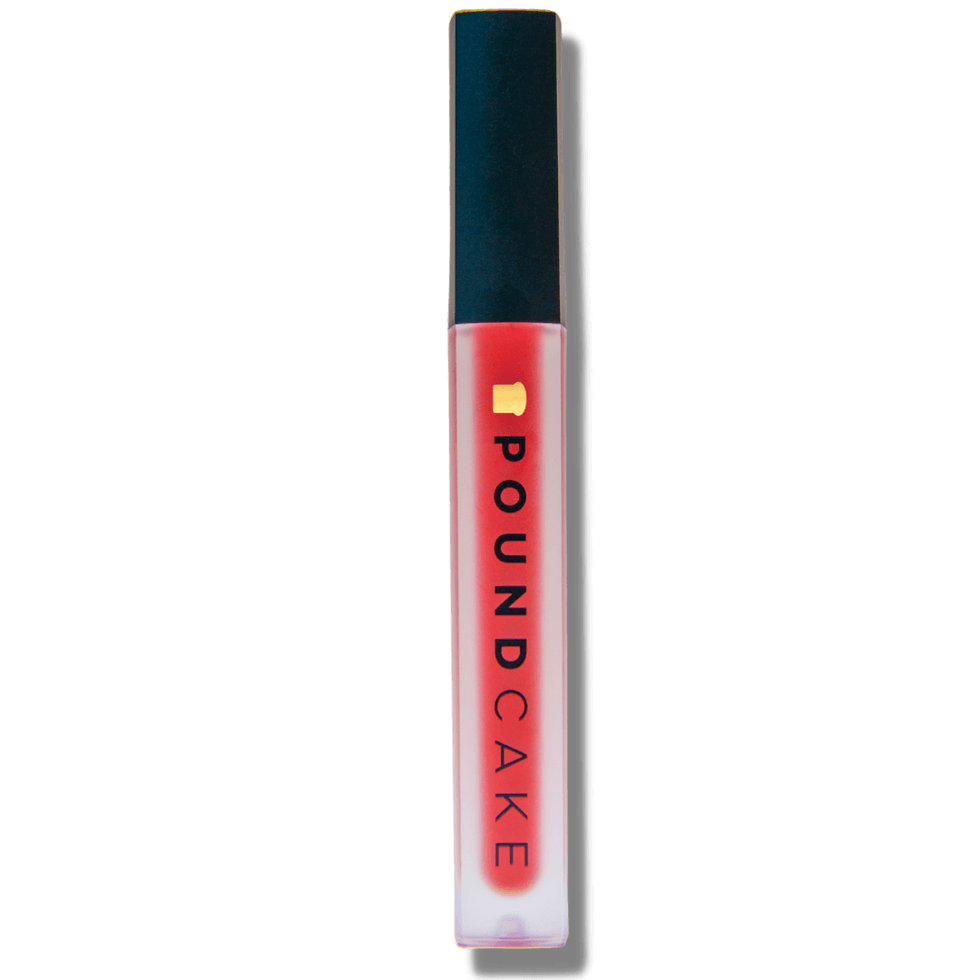 Pound Cake
Good news: the hunt for the perfect red lipstick for melanated skin ends here. This cherry bomb of color is lightweight on the surface and heavy on the coverage.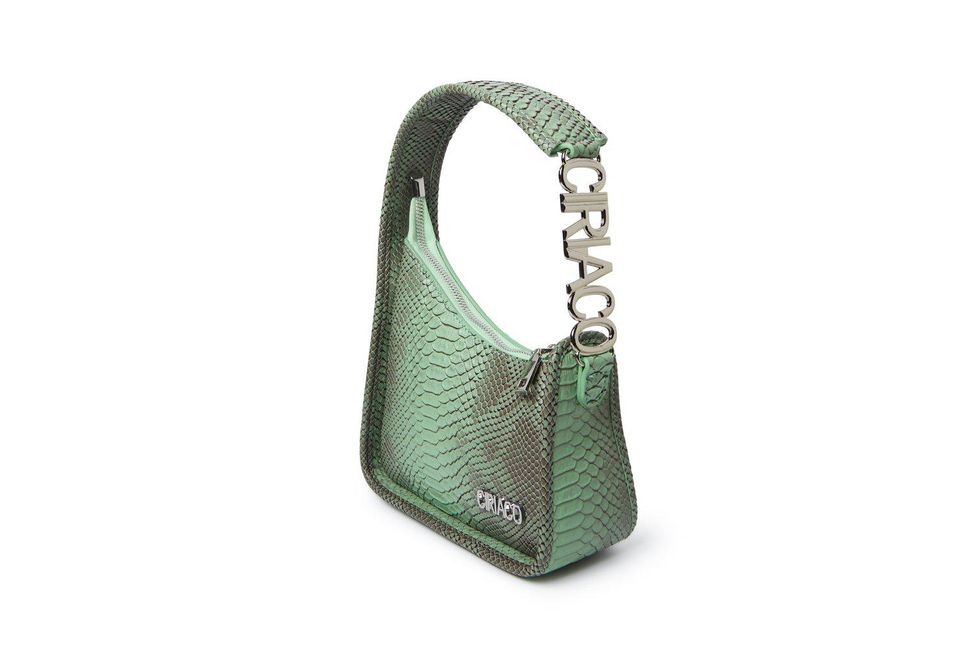 Ciriaco
Have you seen something so beautiful that demands your full and undivided attention? Maybe it's the viper snakeskin or the signature silver metal logo that shines like a jewelry piece of its own, but whatever this purse is saying, we're listening. Talk about making a statement.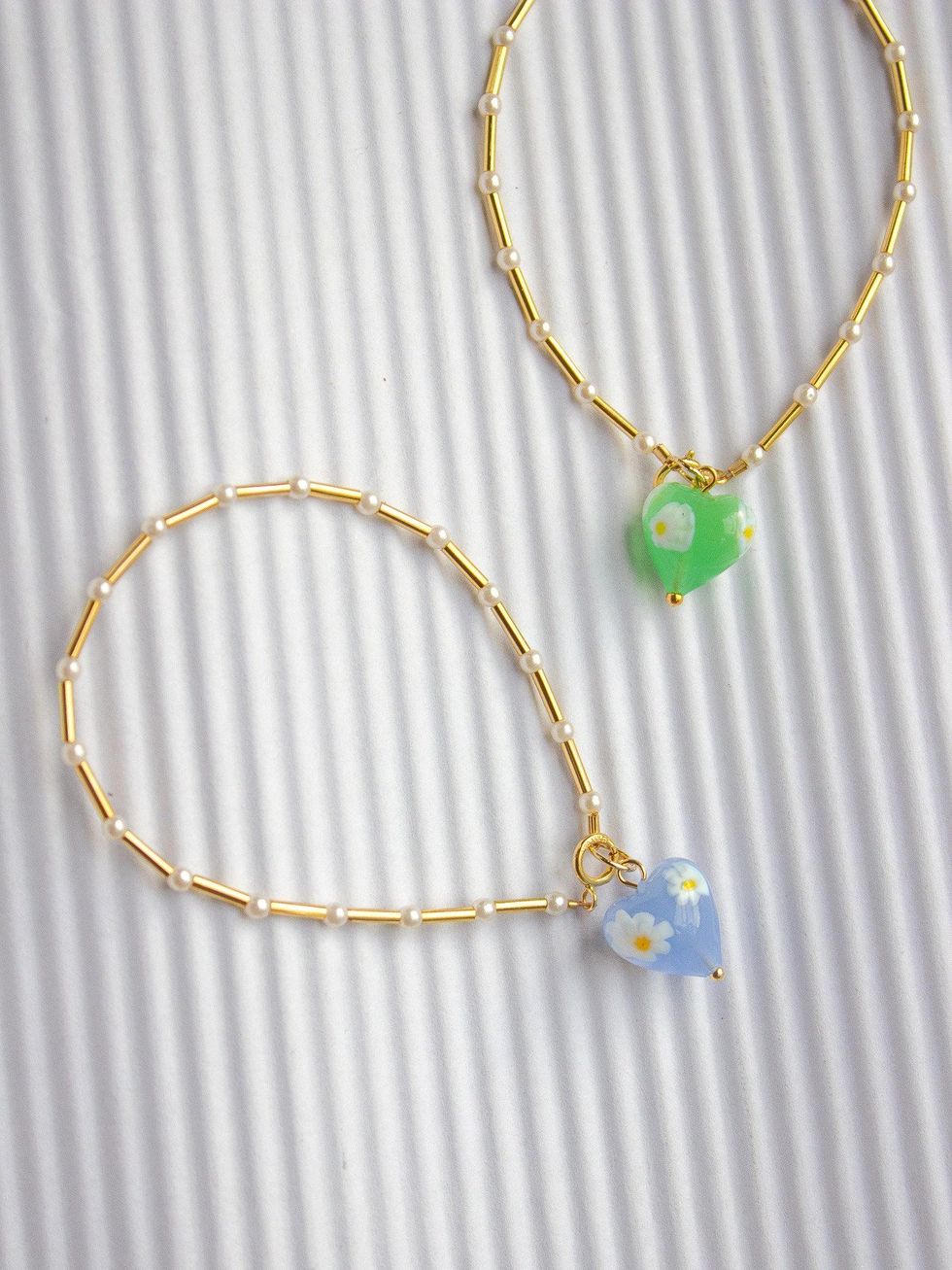 Yam Posy
There's nothing like a little nostalgia — especially when it comes in the form of dainty everyday jewelry. Inspired by childhood imagery, this brand takes vintage silhouettes and brings them into the 2020s and beyond. Did we mention it's handmade?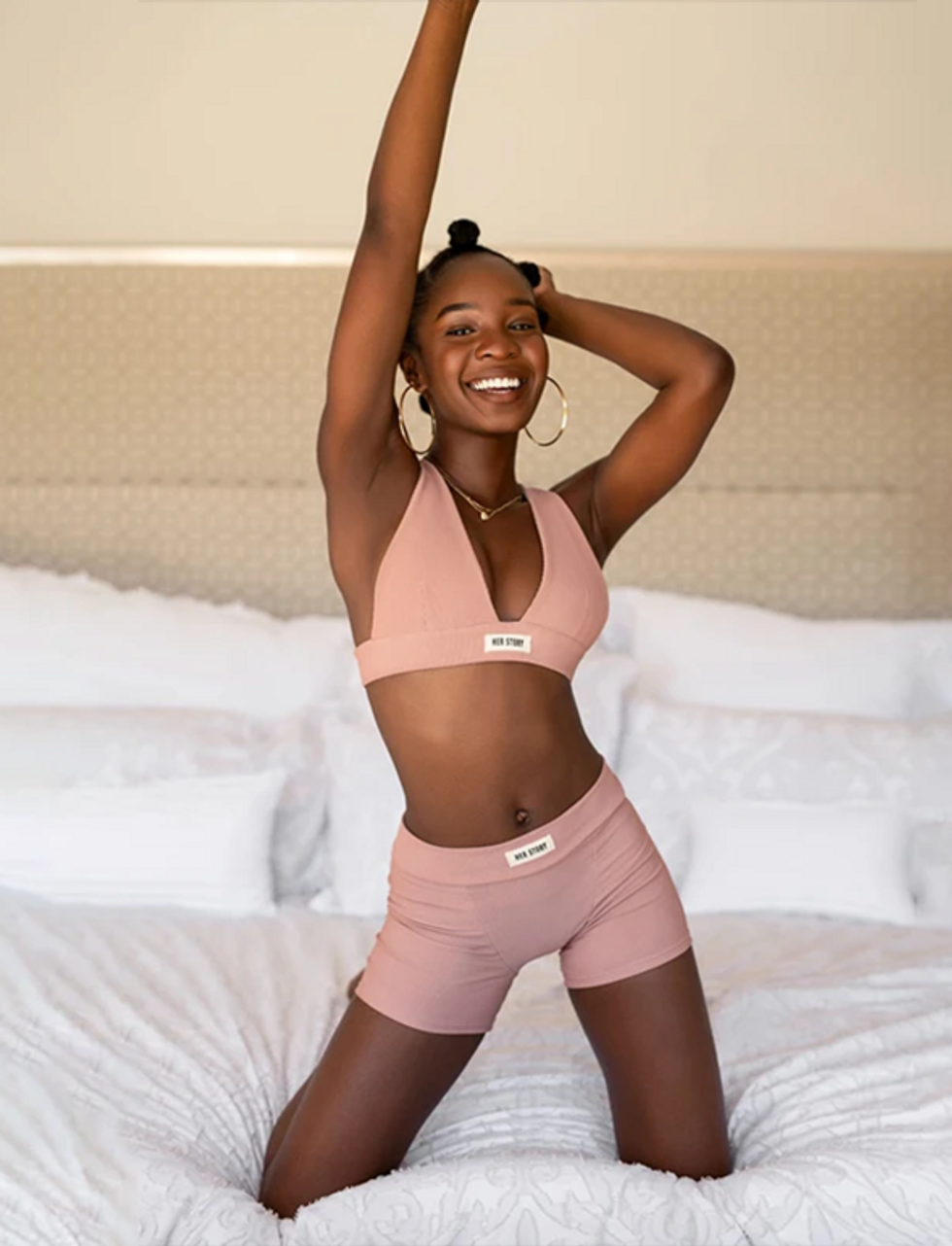 Her Story
Raise your hand if the majority of your wardrobe has been reduced to loungewear and athleisure? Same, sis. Level up your cozy girl energy with this ribbed bralette and boxer bottom set. Who says those lazy days around the house can't be sexy too?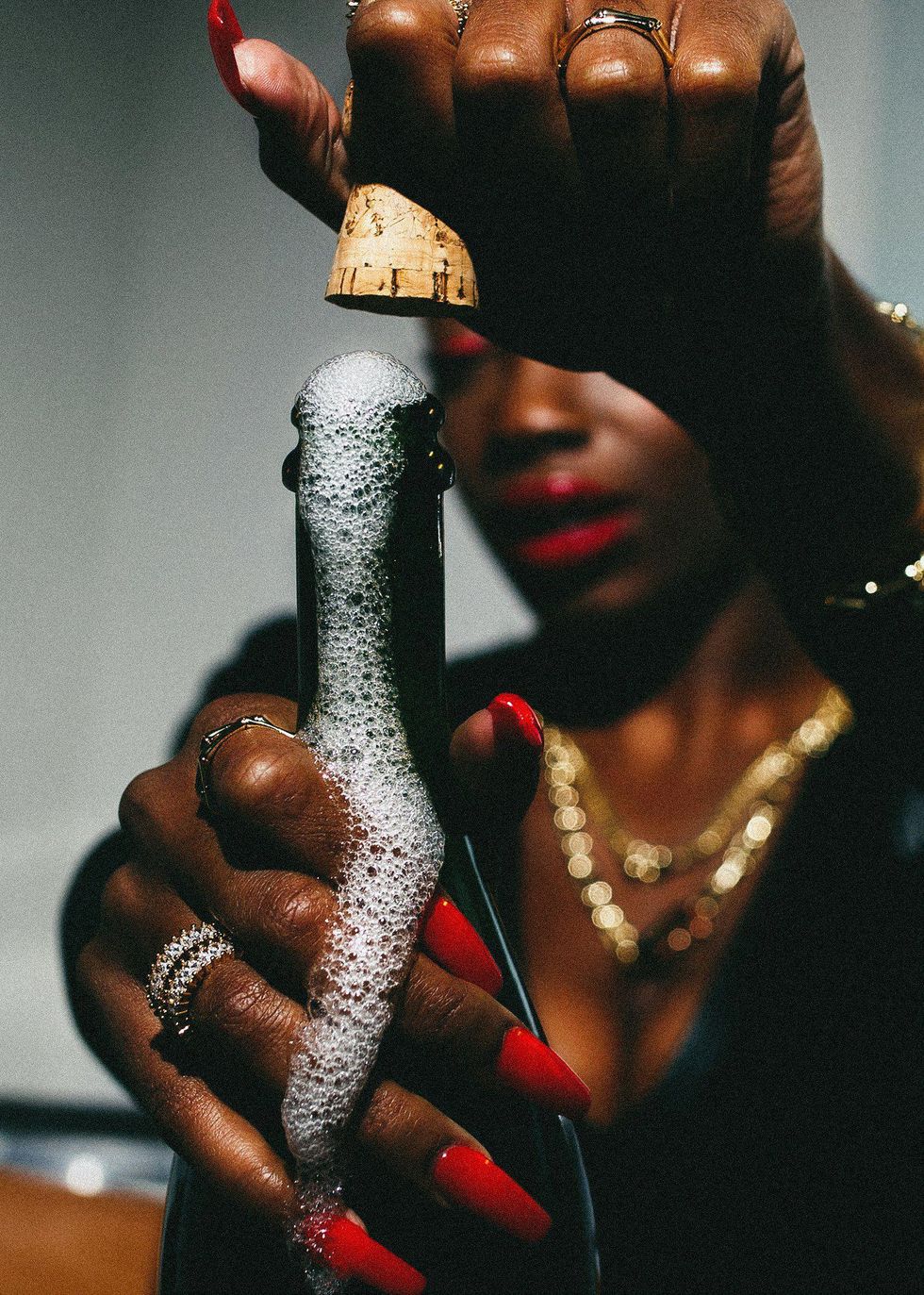 Sucre Couture
Black women in gold jewelry are our favorite genre. Whether you're looking for simple, timeless pieces, or tapping into '90s classic styles with a twist, you'll find your steez here.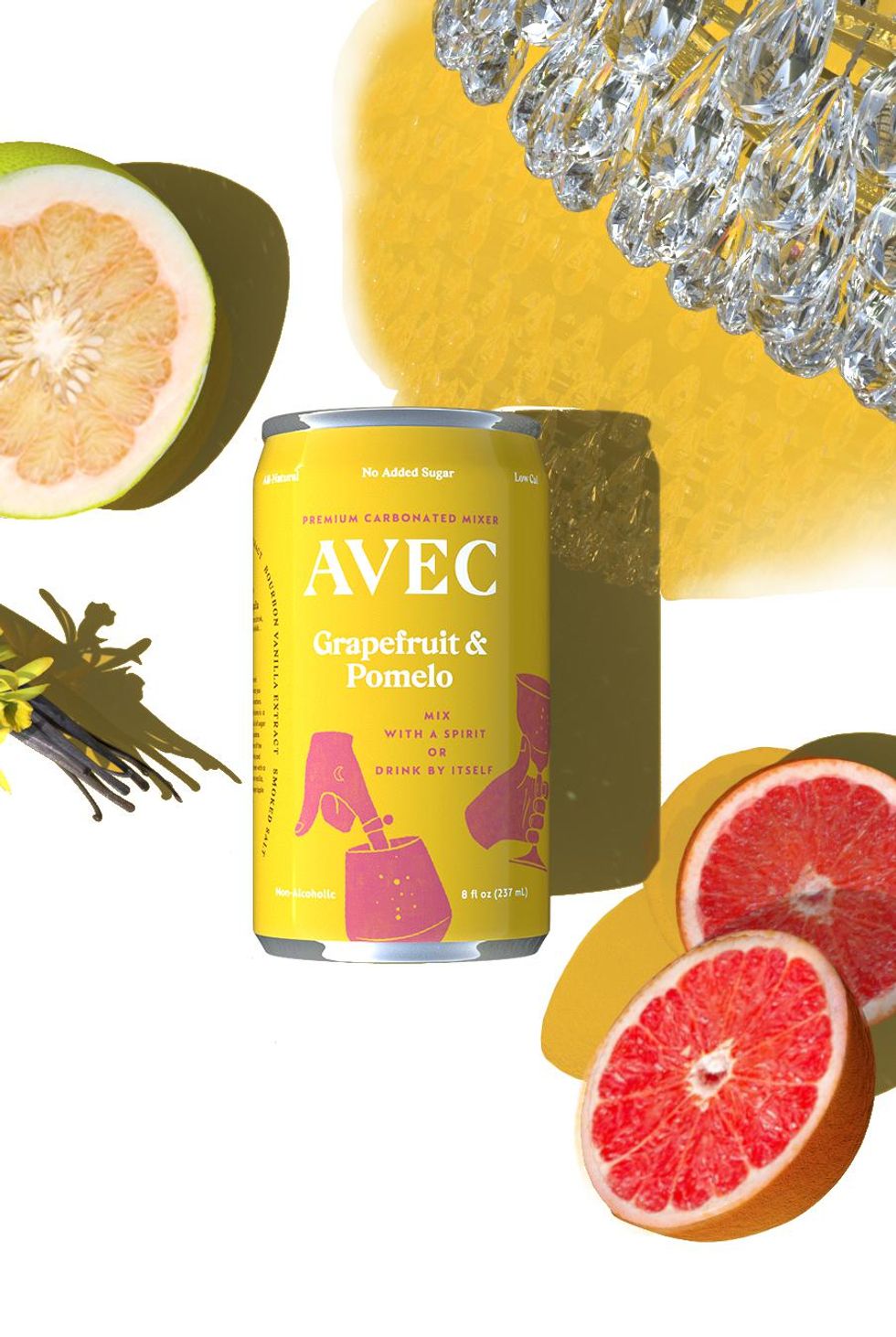 AVEC
We all have that one friend that knows how to mix a crafty cocktail and throw a lively party. For her aesthetic-driven eye and knack for flavor profiles, we thank her. Replenish her bar cart in style with this sparkling treat.

Featured image by Jose Luis Pelaez Inc/Getty Images