It was probably around the end of 2017 when I really started deep-diving into what narcissism really is. A part of the reason why I did it was because I was counseling some people who seemed to reveal some telling signs of being one. Then, because I am definitely the exception and not the rule when it comes to not being on social media, I was finding more and more data to support that it is creating more narcissists than ever before. Jump ahead a couple of years and I actually had a close relative who said, "Of course, I'm a narcissist. My mother and father are narcissists." Boy, did that start to connect some dots as it relates to narcissistic abuse within my family tree and when it came to some of the friends and even guys that I picked — because it really is true that until you know better, it's hard to do better.
As I started becoming a semi-expert on how to discern a narcissist before you find yourself getting beat the hell up by them (check out "3 Warning Signs You're In Love With A Narcissist" and "What If It's Your Parents Who Happen To Be The Narcissists?"), that's when I began to learn more and more about gaslighting (check out "Gaslighting, Love Bombing & 5 Other Triggers To Call Out In Your Relationships") and y'all…Y'ALL. Hmph. Matter of fact, the more that I learn about what it is beyond how much folks just randomly throw the word out into the atmosphere, the more I get that if a lot of us nipped gaslighting right in the bud, our lives would be so much more peace-filled and we'd have a lot more clarity on what the quality of our relationships actually are; including our friendships.
Last year, I shared some intel on what it means to date a gaslighter (you can read more about that here). Today, let's get into what it's like to be gaslit by a friend (or "friend"). Because the sooner you know the signs, the sooner you can know if that person is worth keeping in your tribe or not — because why choose to be "burned" all of the time if you absolutely can avoid it?
Featured image by Giphy
Keep reading...
Show less
If you're looking back on 2021 like, "Where did the days go?" trust us when we say we are, too. As the holidays approach, it's natural to become reflective and muse over the peaks and valleys, accomplishments, and tough lessons that the year threw your way—and for many of us, we didn't do it alone. From the homegirls who helped us through breakups, to the long-distance sisterhoods held together by hours-long FaceTime calls. For the friends who always know what to say when you can't seem to gather the words, and the ones who see you when you can't see the greatness in yourself. What better way to say, "you deserve," than with a thoughtful gift made for and by Black women.
We're here to drop all the gift-giving gems for every type of woman in your life. And if you find yourself frequently asking, "Is it really Black-owned though?" The answer is: Absolutely. From skincare to the latest style staples, we've got you and your homegirls covered this holiday season.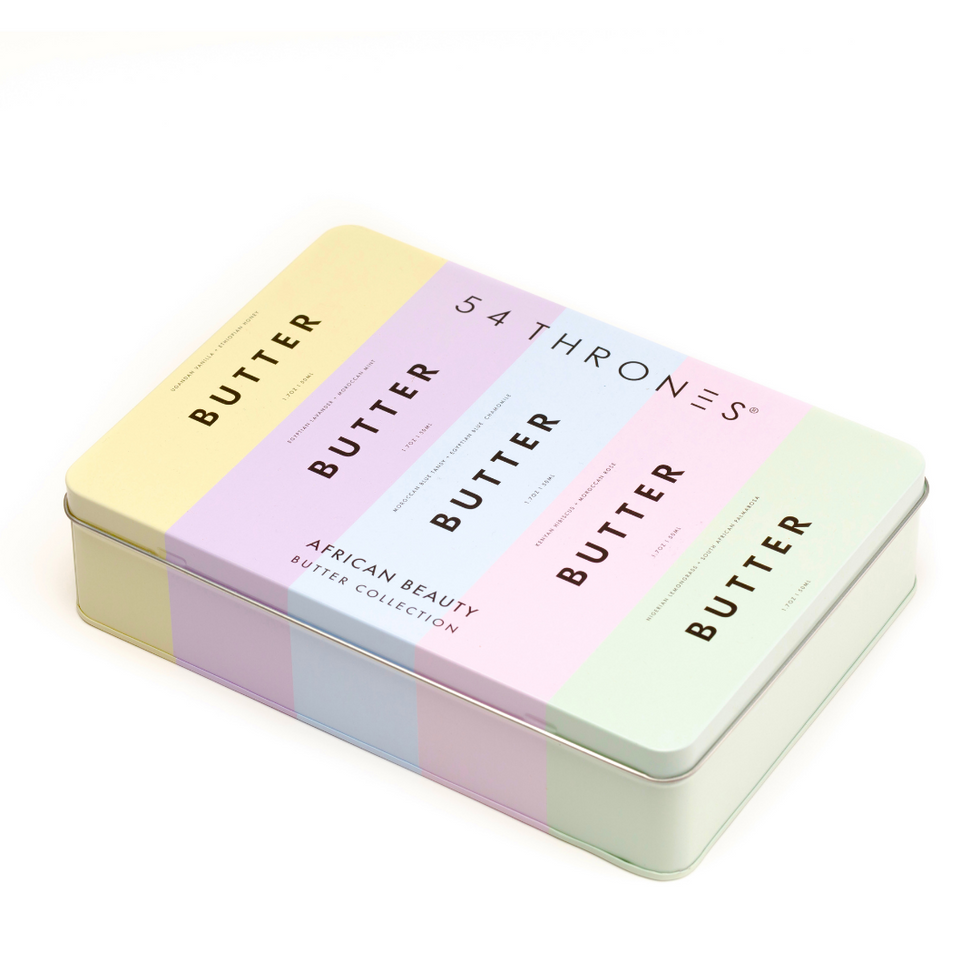 54 Thrones
From Oprah's Favorite Things List to your hands, legs, and shoulders. This hydrating formula is enriched with nourishing plant botanicals with a thick and creamy texture that's sure to make you a certified Shea Butter Baby.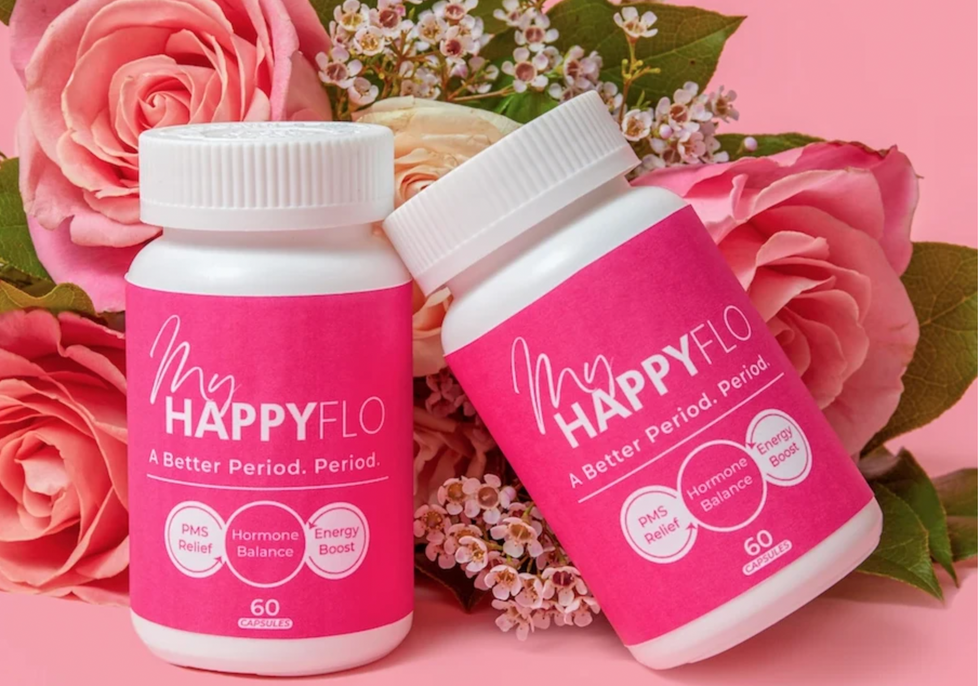 "It's time for heavy bleeding, bloating, mood swings, and headaches from your period to stop cramping your style. Thankfully, a new all-in-one supplement just hit the wellness space to help ease your flow and disrupt your PMS symptoms, ASAP. Packed with plant-based ingredients and mood-boosting vitamins like D3, B6, Iron, and B12, your pain-free period is just a bottle/capsule away."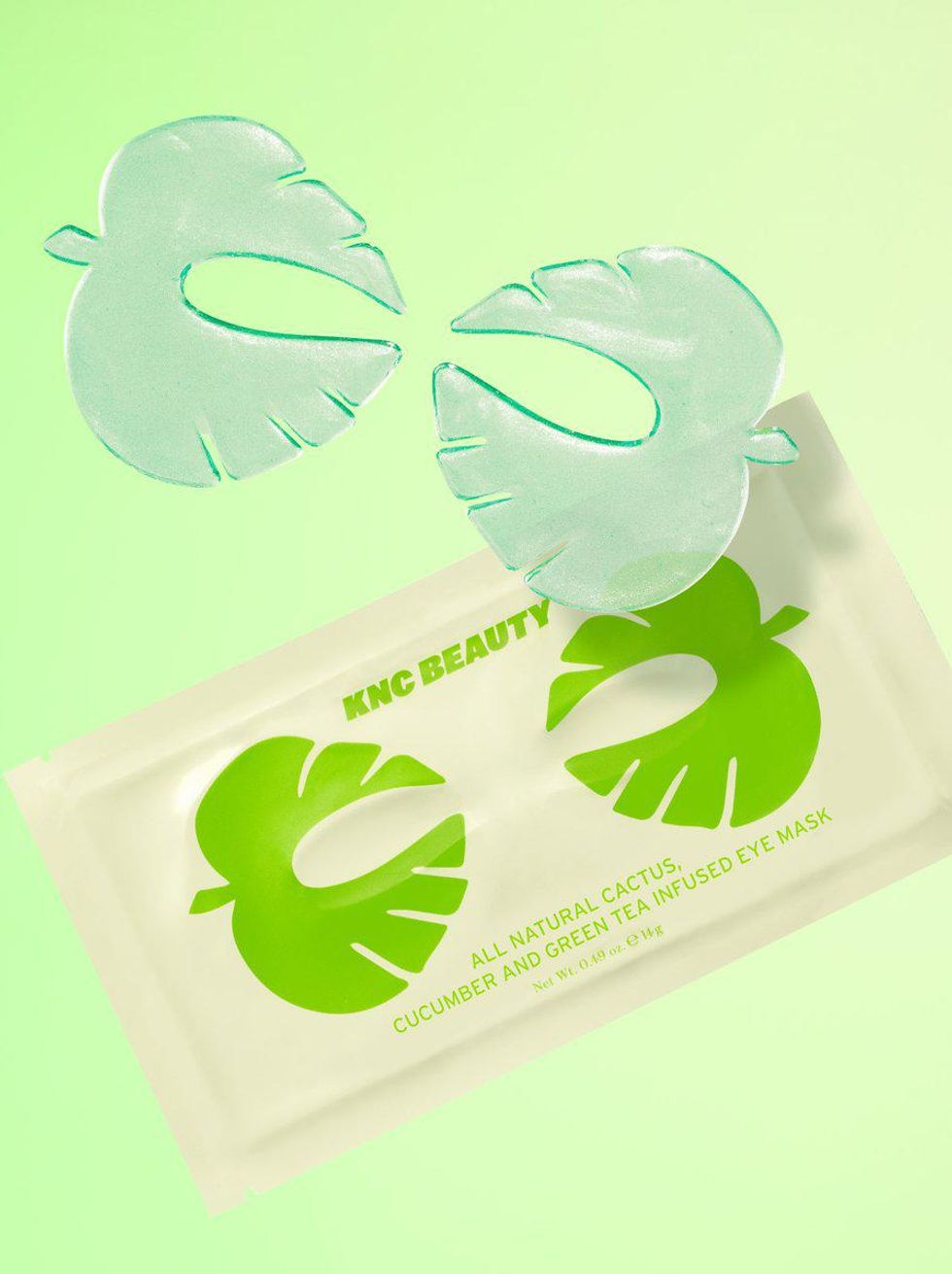 KNC Beauty
This is your reminder to not leave your undereye area out of your skincare routine because it needs love, too. Add these selfie-ready, all-natural eye masks into your routine for some much-needed TLC and effortless glow.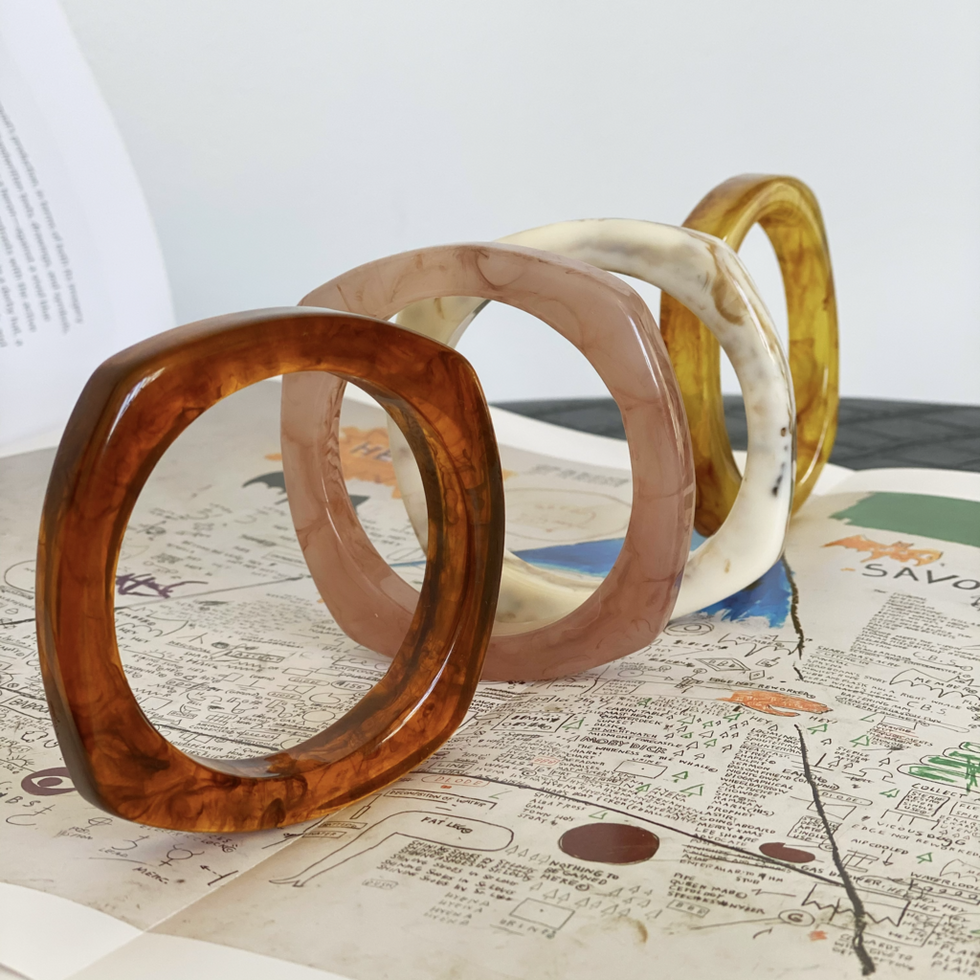 Gems Plzz
In need of some new arm candy? We just might have found your new favorite set.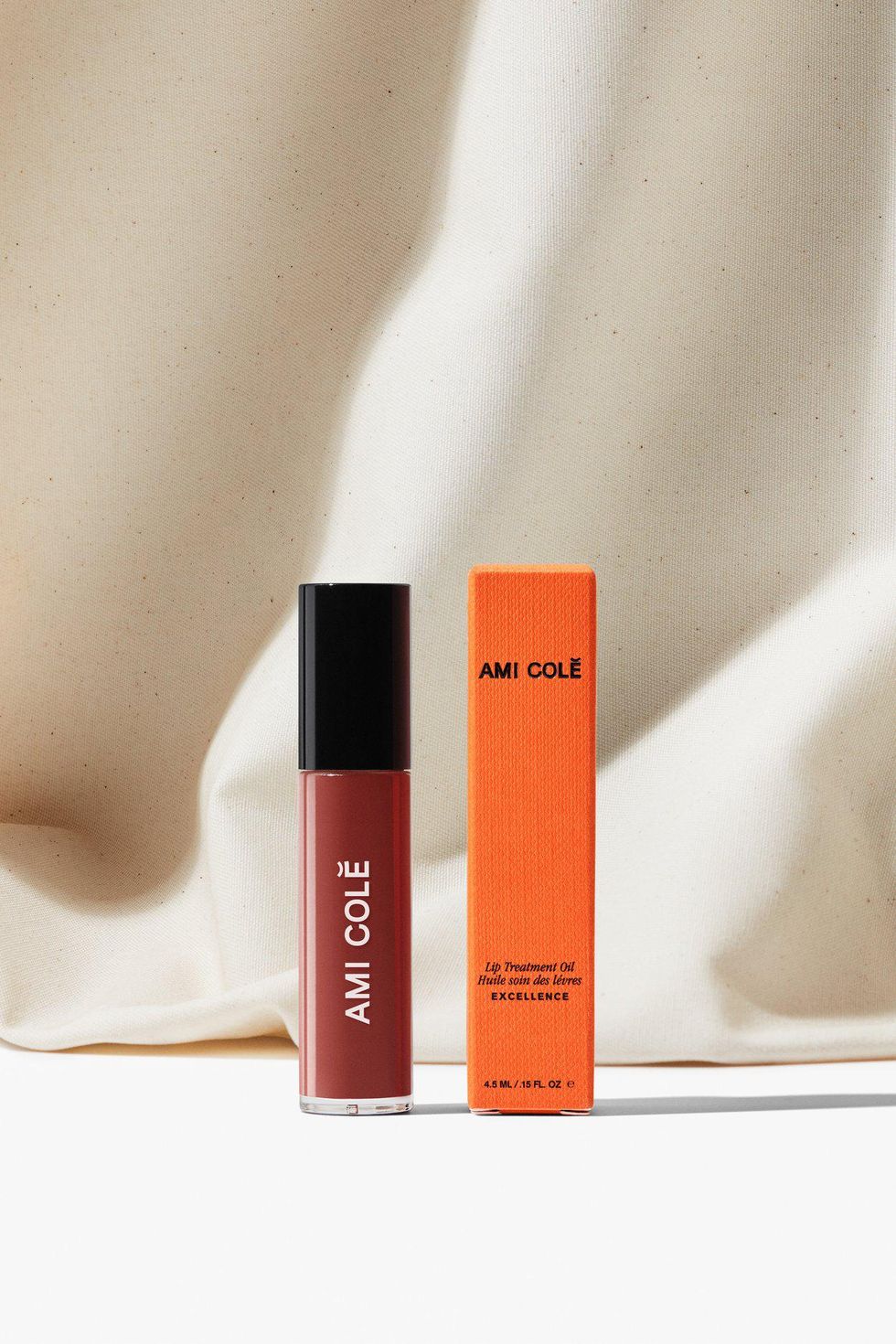 Ami Cole
If you haven't heard about the lip gloss, gather 'round, because once you've got this in your purse, you'll never want to live without it again. The oil-to-gloss formula provides the perfect shine and brown girl-friendly tint. Snag one or two or six — we won't judge.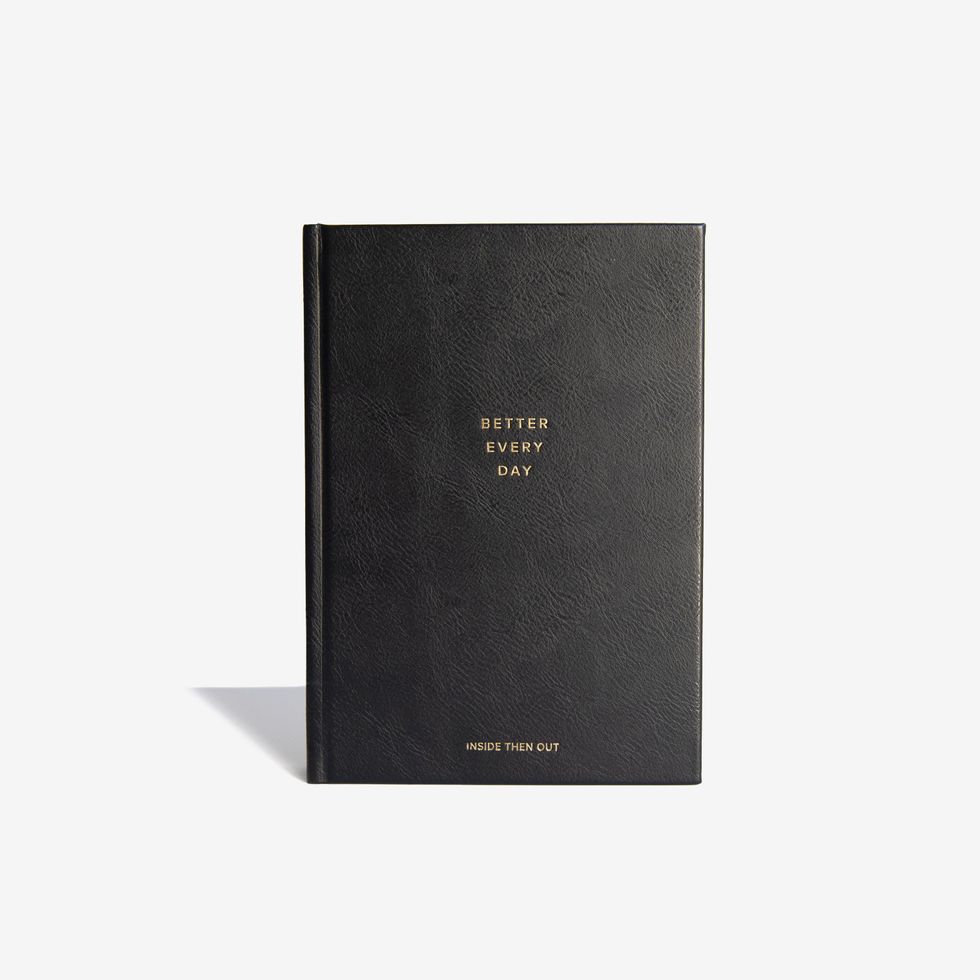 Every Day Journal
We know how you girls love to journal. If tracking everyday growth, memories, and moments has become a newfound self-care practice or something to explore, this journal will fit right into your routine.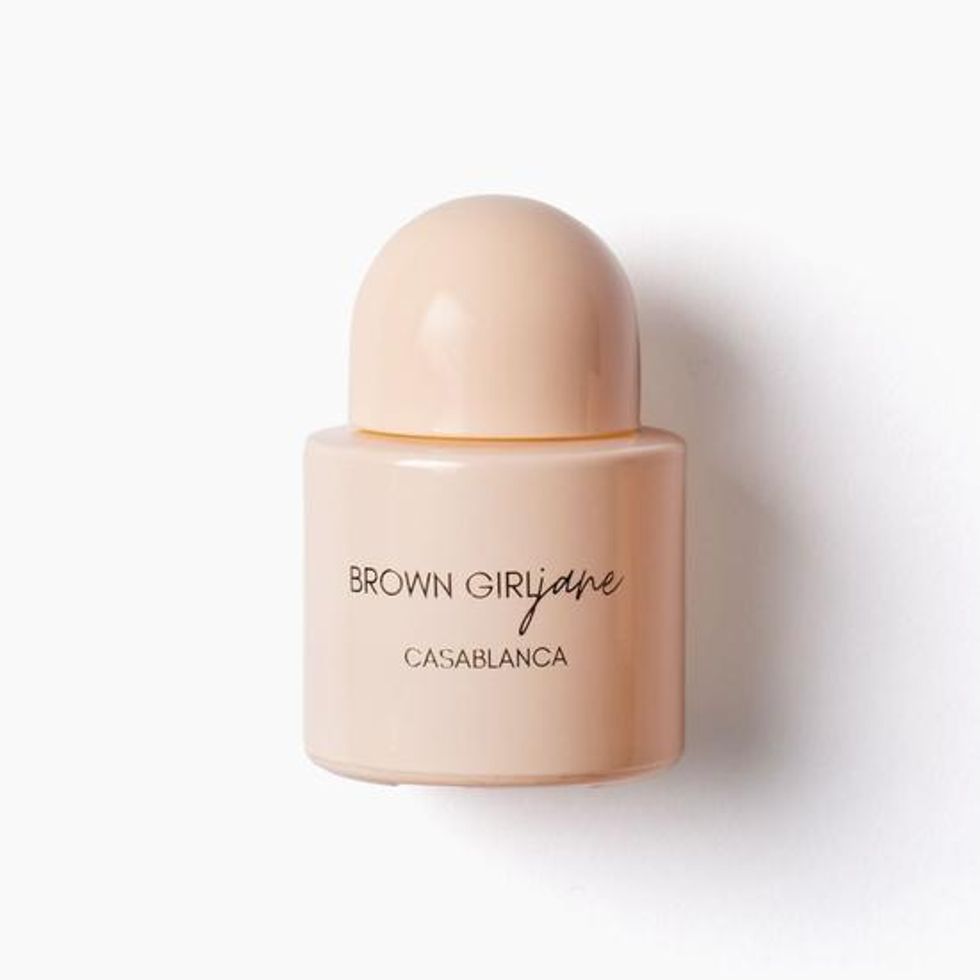 Brown Girl Jane
It's giving opulence, it's giving confidence, it's giving drama. If your homegirl's fragrance collection runneth over, what's one more gonna hurt?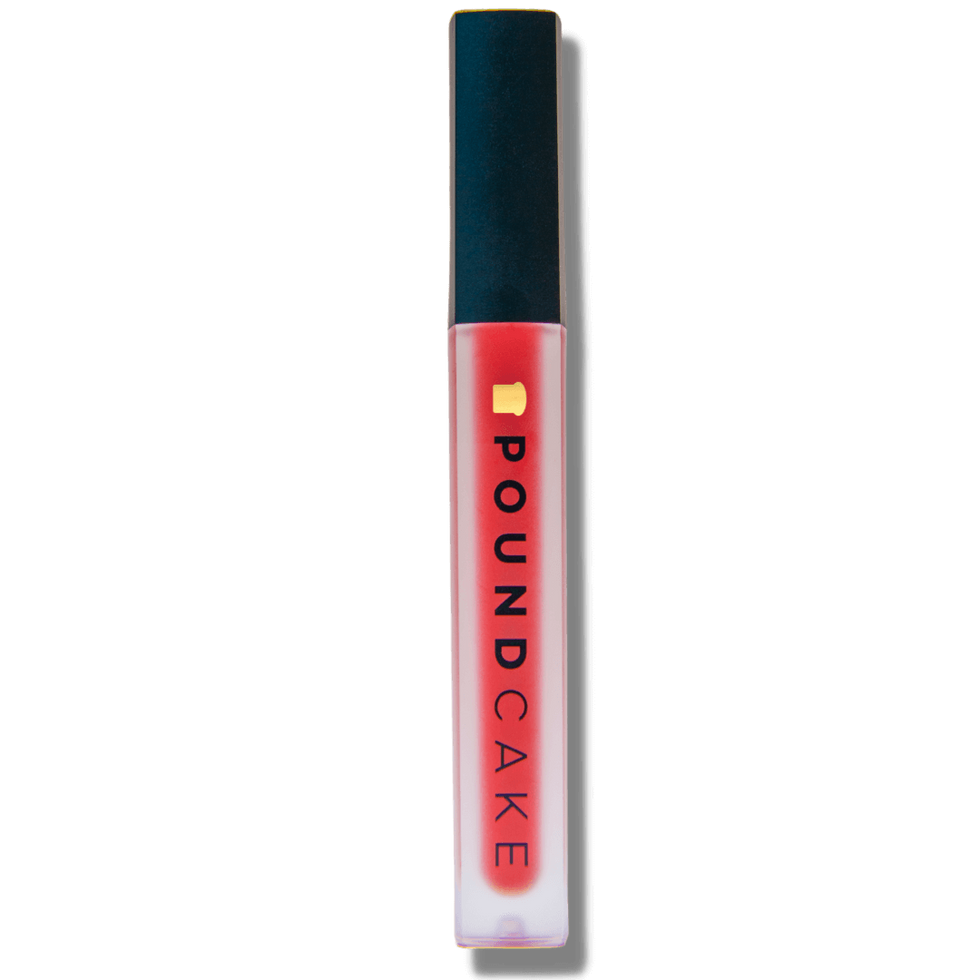 Pound Cake
Good news: the hunt for the perfect red lipstick for melanated skin ends here. This cherry bomb of color is lightweight on the surface and heavy on the coverage.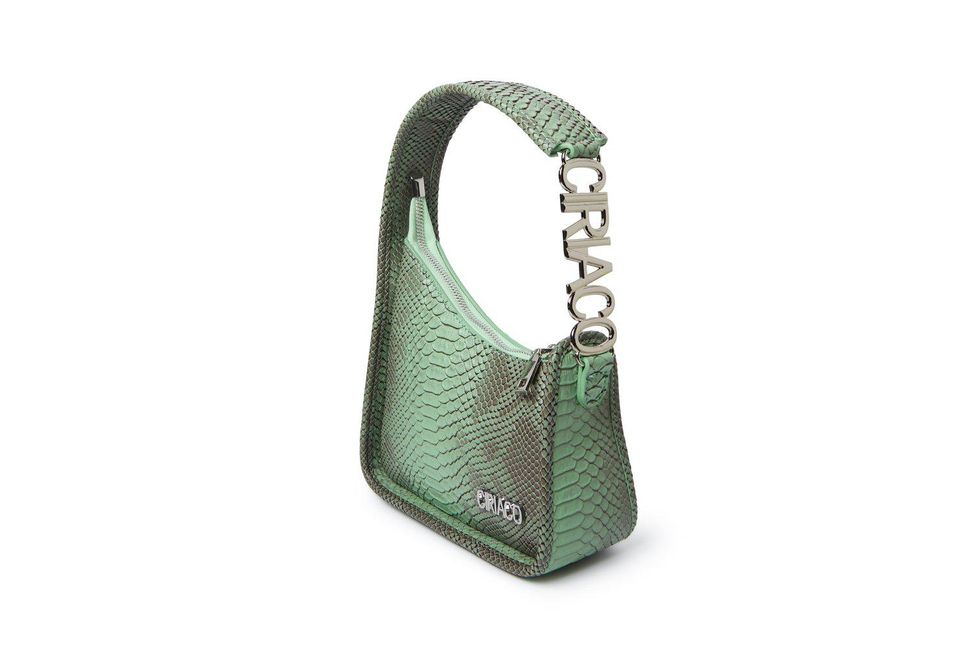 Ciriaco
Have you seen something so beautiful that demands your full and undivided attention? Maybe it's the viper snakeskin or the signature silver metal logo that shines like a jewelry piece of its own, but whatever this purse is saying, we're listening. Talk about making a statement.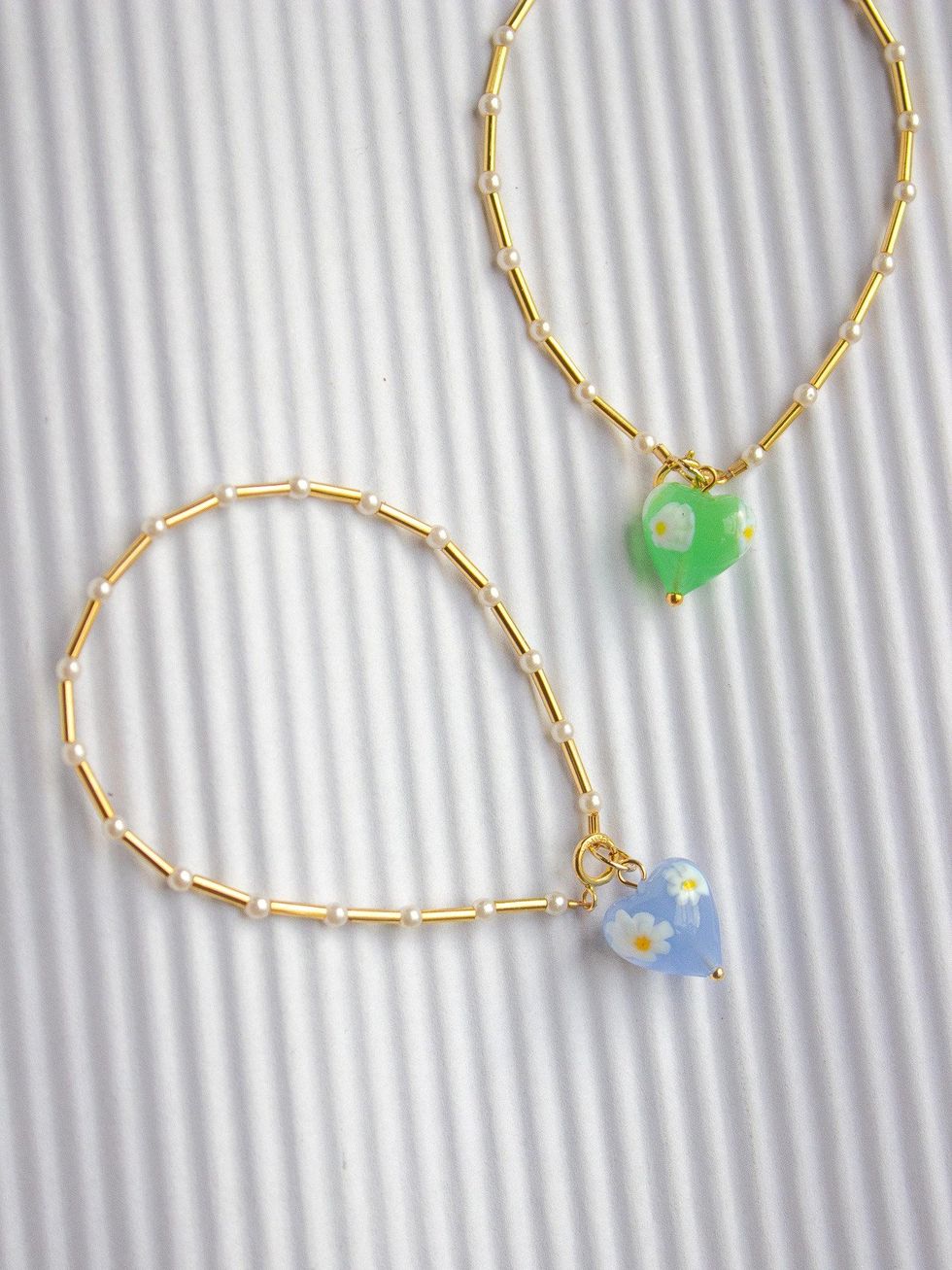 Yam Posy
There's nothing like a little nostalgia — especially when it comes in the form of dainty everyday jewelry. Inspired by childhood imagery, this brand takes vintage silhouettes and brings them into the 2020s and beyond. Did we mention it's handmade?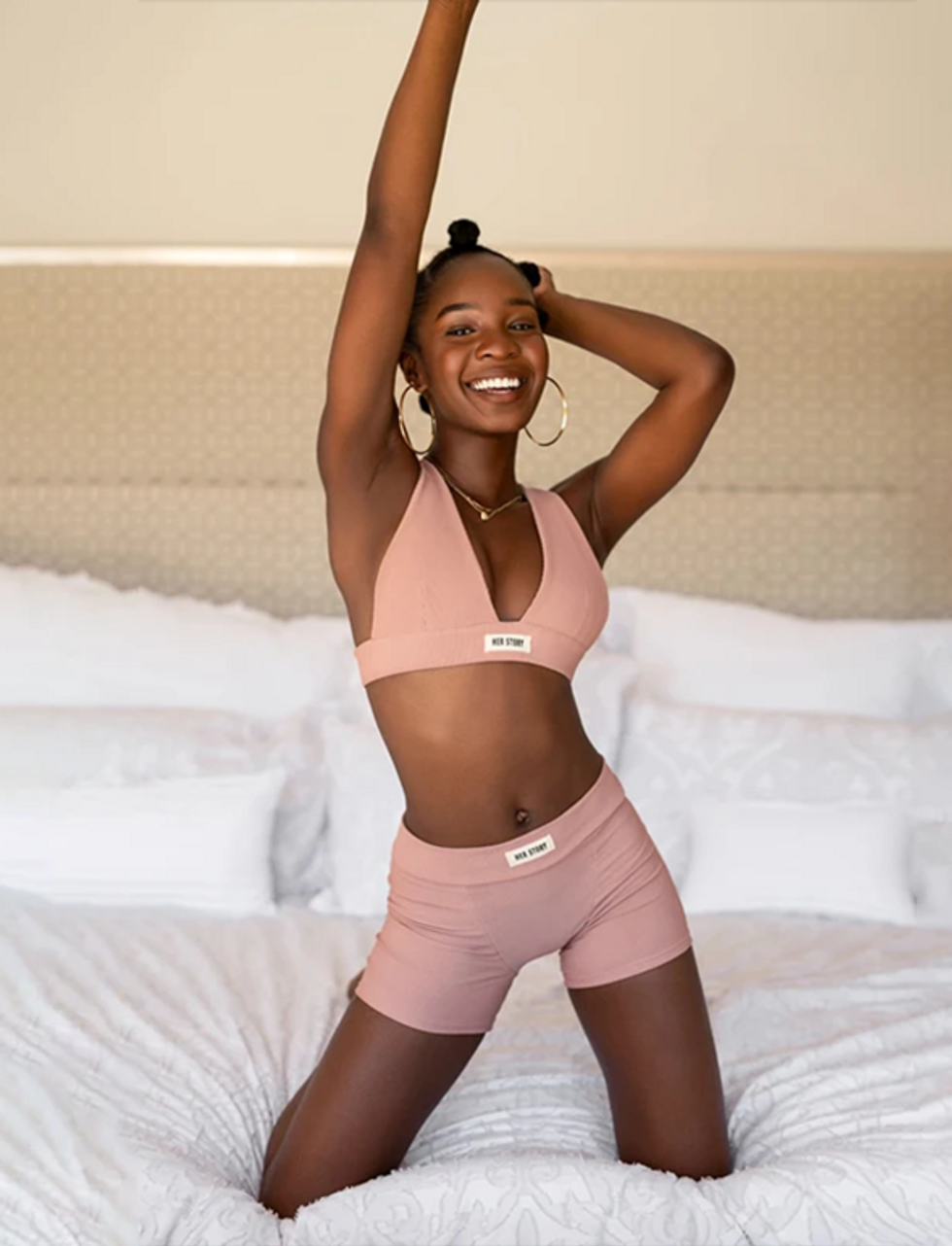 Her Story
Raise your hand if the majority of your wardrobe has been reduced to loungewear and athleisure? Same, sis. Level up your cozy girl energy with this ribbed bralette and boxer bottom set. Who says those lazy days around the house can't be sexy too?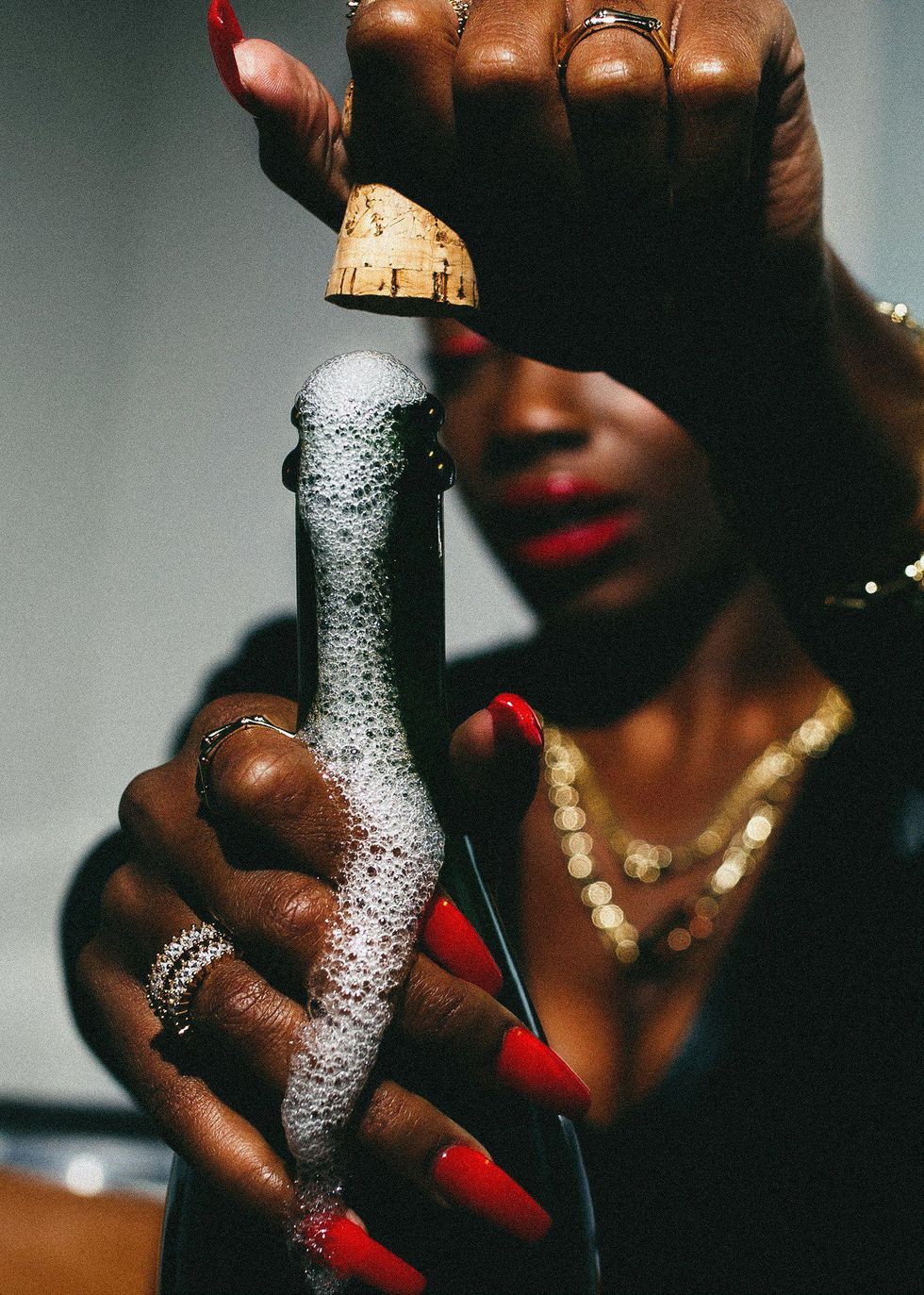 Sucre Couture
Black women in gold jewelry are our favorite genre. Whether you're looking for simple, timeless pieces, or tapping into '90s classic styles with a twist, you'll find your steez here.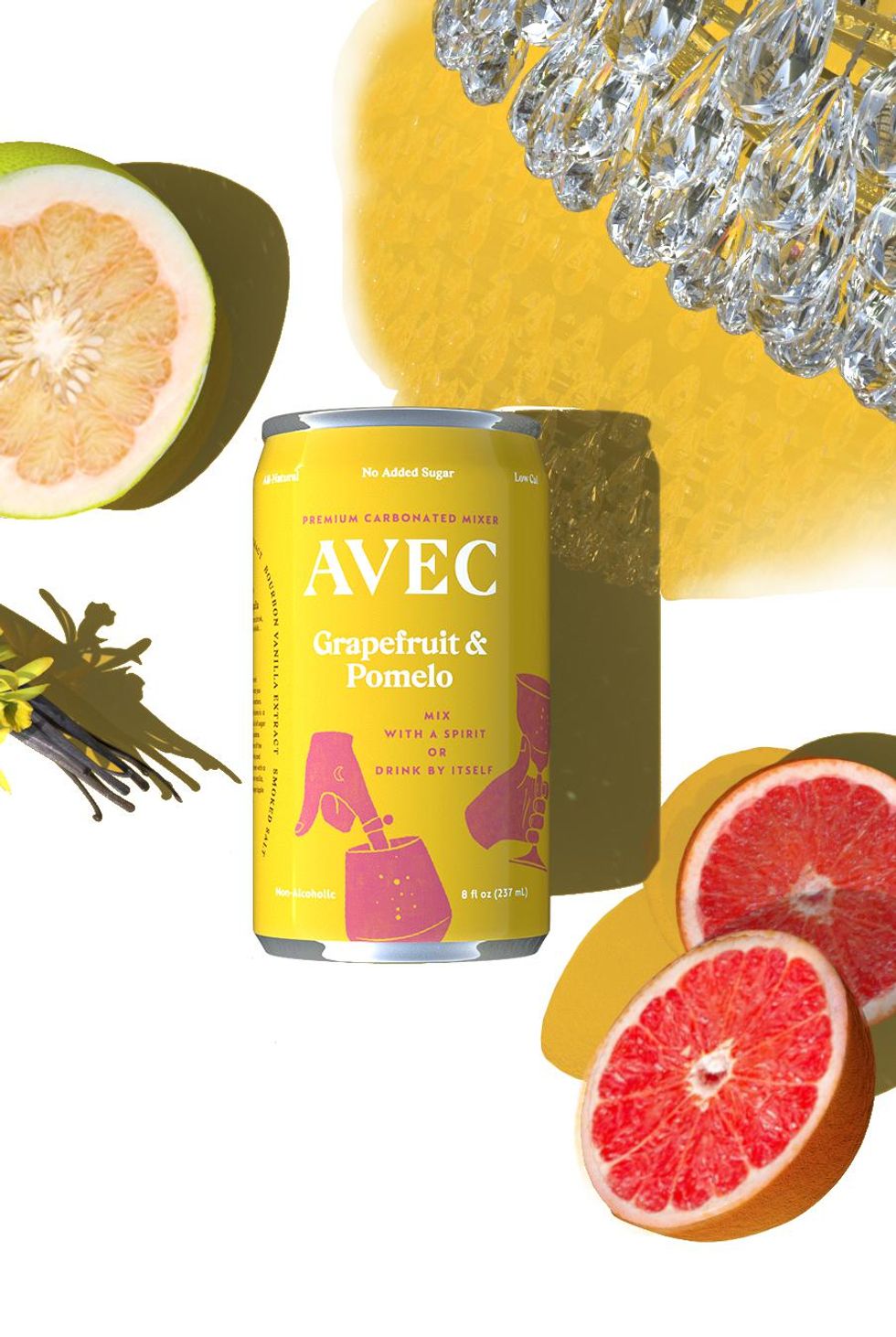 AVEC
We all have that one friend that knows how to mix a crafty cocktail and throw a lively party. For her aesthetic-driven eye and knack for flavor profiles, we thank her. Replenish her bar cart in style with this sparkling treat.

Featured image by Jose Luis Pelaez Inc/Getty Images
Keep reading...
Show less
'Tis the season for holiday cheer, yet for many of us this joyous occasion can be overshadowed by the stress that comes along with finding the perfect gifts for the women in our lives. As a self-proclaimed perfectionist, every year I become obsessed with choosing gifts that are special and useful in one's everyday life. Typically a last minute shopper, this year I'm getting a head start to avoid the ongoing shipping delays, "out of stock" notifications and even worse, the mad dash to the mall to pick over whatever's left of the holiday gift sets.
As I attempt to master the art of the annual gift exchange, my strategy is shopping for products that everyone loves, including myself. Whether for the annual 'Friendsmas' get-together or showing your bestie how much you care, these are the gifts that keep on giving no matter the gal you're shopping for. From beauty products to home goods, here's a list of my favorite things when considering what to buy this holiday season.
Featured image by Getty Images
Keep reading...
Show less
My heart breaks for humanity knowing that we have succumbed to coexist in two worlds both offline and online. And what I mean by this is our unhealthy dependency on social media for human connection. I hate the way we need the 'gram to feel connected. And the thing is before COVID-19, a healthy balance existed between online presence and reality. Now, not so much. Since the pandemic, our reliance on social media has become our daily norm. A temporary solution instantly became a reality and still is a reality today. And I am not sure if things will ever be the same.
The fact that we receive instant gratification from little red notifications is very telling. I, too, was guilty of being completely enamored and somewhat obsessed with an online presence. Likes, comments, DMs, reactions, and follows. It wasn't until a recent four-month social media break that I realized how much social media has changed human connection. I initially took a social media break to be more productive. I was and I have been. With all this masculine energy flowing through me, I'm out here slayin' my fourth-quarter goals. But then it got quiet—almost too quiet.
As the silence grew, I started to feel completely isolated and lonely.
Featured image by Getty Images
Keep reading...
Show less
Sunday night was filled with watch parties, buzzing group chats, and never-ending social media posts all in celebration of the beginning of the end to HBO's Insecure. From debates surrounding friendship and relationships to healthy discussions around therapy, postpartum, and office culture, Insecure explored it all, and in a way that felt authentic and incredibly familiar. And while I'm a lover of many different types of television shows, I can honestly say Insecure is just different, special.
And I think I speak for a lot of us when I say as excited as I was for it to come back, I'm just as sad for its approaching end. But, if the first episode of season five is any indication of what's to come, they're definitely going out with a bang. And by that, I mean an emotional bang. Because this first episode was a lot to digest. By the way, I'm about to drop a lot of spoilers so if you haven't watched, head to HBO Max and then come back. But, for those of you that are caught up, here are some of our takeaways from the season five premiere episode.
1

.

Looking back helps you move forward.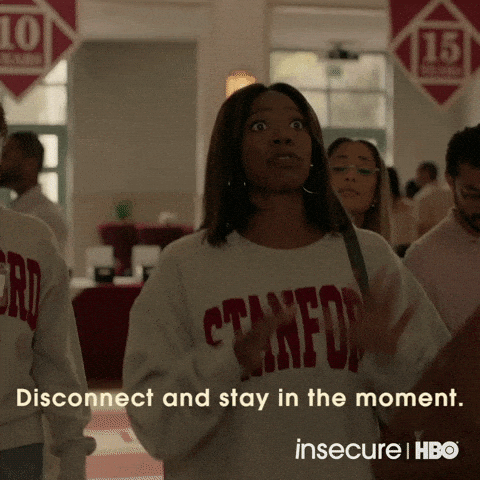 There was something so uniquely beautiful about the cast going back to Stanford (Issa Rae's actual alma mater) for their 10-year reunion. It showed them in a way we kind of always imagined, walking through campus, talking, laughing, and making the memories that formed the relationships we've seen throughout the show. I also have to believe it served as a really good reminder of the things the characters may have previously wanted out of life and how some of those things may have changed while others stayed the same.
For example in this episode, Issa Dee commented on how since Tiffany and Derrick's first date, everyone knew they were a match. And now, here the married couple was walking together happily on the same campus. On the other hand, there's Issa who, while in school, thought she'd become a lawyer and open a firm with Molly, yet there she was excitedly waiting to speak on a panel about being an entrepreneur.
Sometimes looking back allows you to remember the things you wanted, celebrate the things you have, and re-evaluate what's next.
2

.

It's OK to take meaningful risks.
Issa admitting that she's unsure if she's on the right path is real AF.

Like even with the best of planning, the reality is we're all really just winging this shit.

Sometimes it works, sometimes it doesn't and we have to pivot. Whew.. #InsecureHBO

— Shanelle Genai✨ (@shanellegenai) October 25, 2021
Pretty early in the episode, we learn that Issa has been flewed out, thanks to her alma mater, and is on a special panel to talk about her new company, BLOCC (Black Life Opportunity, Culture, and Connection). However, when she stutters over what the acronym stands for, it becomes apparent that she's still ironing out the kinks. Nevertheless, during the panel, she's asked many intimidating questions like, "What's the biggest lesson you learned on your journey?" and "When did you know you were on the right path?" And for a moment, we see Issa appear uncomfortable after making one of those awkward yet hilarious outbursts we've grown accustomed to hearing.
But, then she does something else, she shares a transparent truth, that's she's not sure that she's made the right decision and wonders if she's wasting her time. And while that response may not have been a hit with the panel audience, it resonates with Insecure's. Because, thanks to layoffs and toxic office cultures coupled with social media's need to appear like we have it all together, many Insecure viewers know all too well about having to change career paths. And there's something so freeing in embracing uncertainty and chasing true fulfillment.
3

.

Some bonds are forever.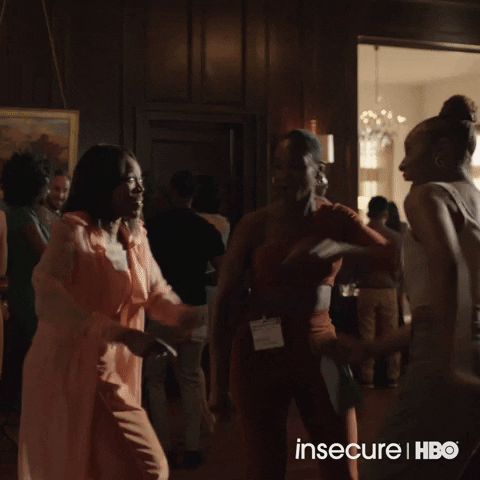 As we know, Insecure always starts a lot of conversation. I mean, one of the best things about the episodes is the gender wars and Twitter threads that appear after they air. But, one pretty clear thing is that this show is full of passionate relationships. And I don't just mean romantically. Issa and Molly's friendship has been a highlight of the show, and when season five begins, we're not quite positive where they stand. I mean sure, they seem friendly, but they're supposed to be best friends.
Friendly isn't really a word I'd use to describe the chemistry between best friends, it's supposed to be much deeper and more comfortable, but the two are clearly putting forth an effort to fix it. However, when they're at gunpoint holding onto each other (thanks to that shady Cheyenne) and later belting out in laughter, it becomes apparent that they have a forever connection. That's how it is with some people. You can go a long time without talking or even suffer hurdles in the relationship, but you're still always going to care for them, and I think Issa and Molly are a really good example of that.
4

.

Friends can be your soulmates, too.
Kelli deserves all the validation because she actually is the best friend to all of them. #InsecureHBO

— stacey.cash (@staceynicole__) October 25, 2021
One of the things I really liked about this episode is that we learned even more about Kelli. Because while she's one of my favorite characters, I don't know as much about her as I do the others. And when the girls are in the car before all hell breaks loose, Kelli irritably shares an authentic truth: she feels like everyone only sees her as the "funny friend." And while the rest of the characters laugh, Tiffany looks at her sympathetically.
To me, that moment spoke to their relationship. Because sometimes when it seems that everyone else doesn't understand you, the person who truly gets you, always will. And at the end of the show when Tiffany verbalizes that emotion to the group by saying "she's my soulmate, sorry Derrick," as she apologizes to her husband, it was just a beautiful reminder of the people in my life I'm thankful for. And that sometimes, friends can be soulmates too.
5

.

Trust your gut.
They ain't never gon just give us a happy & healthy Lawrence & Issa. It's always something #InsecureHBO pic.twitter.com/oWpnayD7gI

— Queen Ky (@CurlyKeekz) October 25, 2021
Whew, this one was hard to type. Because I'm one of the people that is rooting for Issa and Lawrence to find their way back to each other. Now, I know it's been quite messy and he has a whole side baby now, but they clearly love each other! Still, if there's one thing this life has taught me, it's to trust your gut, intuition, or vibe – whatever you want to call it –it's there for a reason. And when Issa was riding in the car with Lawrence during that final scene, it was obvious there was something major she needed to get off her chest. And whether the decision to end things is temporary or permanent, it's good to know she trusted herself.
Who knows what would've happened if she stayed when she truly wanted to leave? Maybe she would have cheated on him again, maybe she would have ruined their relationship altogether, or even formed a wedge between him and his child. Now, I know that may have gone too far, but my point is it reminded me to always trust myself, even if it's difficult or uncomfortable to do so. Because you never know what the repercussions may be. Still, I hope they find their way back to each other.
But maybe she can grab dinner with Daniel before that because I'd like to see him on-screen one more time. (smiles)
Featured image by Giphy
Keep reading...
Show less
Drake may have said there's no friends in the industry, but Taraji P. Henson and Gabrielle Union are proving him wrong.
Both actresses have achieved groundbreaking success in Hollywood and have also thrived in entrepreneurship. Taraji made a name for herself starring in Baby Boy as well as Hustle and Flow, Hidden Figures and the popular TV drama Empire. Gabrielle became a household name thanks to Bring It On, as well as Deliver Us from Eva, and the hit TV show Being Mary Jane. The two also starred in Think Like a Man and Think Like a Man Too together.
In regards to entrepreneurship, they both have their own haircare lines. Taraji's line is called TPH by Taraji P. Henson and Gabrielle's line is called Flawless by Gabrielle Union, but while they have similar careers and business ventures, they aren't in competition with each other. Taraji and Gabrielle both stopped by The Late Late Show with James Corden and talked about their 20 year-long friendship.
Both actresses shared their love for a cocktail and strip clubs when asked what a girls night out with them would be like. After much laughter, Taraji went on to praise Gabrielle about her vulnerability in her new book You Got Anything Stronger? and "what she means to our culture."
"I just sent her a text not too long ago thanking her for her book because, her vulnerability, (looks at Gabrielle) you're setting so many people free and especially in the Black community we have to be strong all the time. That is how we cope, but strength is killing us. Buildings are meant to be strong, not humans. You need a wall to lean on to help you stand up, but humans, we are emotional creatures and it's OK to feel all the feels and I think that was so beautiful to share."
The host of the Facebook Watch show Peace of Mind continued to gush over her friend Gabrielle, who looked on in appreciation, and opened up about how grateful she is to have a "sister" in the industry.
"It just feels good to be in an industry where it's so judgemental and it's so competitive; to find someone, to have someone, your sister in the business do the same thing you do, but we don't compete. I big her up. I'm proud of her for everything, every accomplishment she makes because it lets me know that I too can do it. It gives me hope."
Instead of competing, the L.A.'s Finest star and Muppets Haunted Mansion actress are teaming up to co-produce a feature film based off of the graphic novel Sorcerority.
Speaking on their new joint venture, Gabrielle said in a statement:
"Taraji and I have been looking for a project to work on together for a few years now and I'm excited to be partnering with her, TPH Productions and Gamechanger Films on this project. I'm looking forward to bringing this graphic novel to the big screen."
We love to see Black women working together and getting the bag.
Taraji P. Henson & Gabrielle Union Are Friendship Goals
Featured image by David Buchan/Getty Images
Keep reading...
Show less