---
I was today-years-old when I learned that I've been showering too much. According to Healthline and a number of dermatologists, a daily shower is totally unnecessary and can wash away the good bacteria in our bodies that keep us healthy. While this fact is unlikely to change my bathing habits, Atlanta star, Zazie Beetz says cat baths should be incorporated into your routine ASAP. She told Into The Gloss:
"I actually think Americans shower too much. I like a cat wash—I do my face, my armpits, and my… intimates."
Notorious for her relentlessly natural hair and flawless skin, the German-born entertainer says that she's recently decided to transition into a skincare routine using only natural products. The actress, who began making her own natural skincare products as a teenager, says that the recent environmental crisis inspired her to switch to a beauty regimen that was more sustainable. But let's be clear, Zazie will always keep a container of Palmer's cocoa butter, which she says is the "cornerstone" of her beauty routine, on deck.

In addition to switching up your showering style, Zazie also had some other skin, hair, and body tips that help her achieve the half-Hollywood, half-hippie glow that you've been looking for:
Zazie Beetz on Skincare
The actress says that since she isn't a morning person, her beauty routine begins around noon, starting with a morning pee and washing her face with Fresh Soy Face Cleanser, later using the True Botanicals Cellular Repair Serum, a product that is also also a part of her nighttime beauty routine:
"At night, I'll mix that serum with the Vitamin C Booster. In the past two years, I've been noticing some sunspots and fine lines, and I find that the booster brightens my skin, almost like an exfoliant. After the vitamin C, I'll use True Botanicals' Pure Radiance Oil, which is really thick and decadent, and feels really yummy. Lotions often leave a residue, and I find oil to feel more like something my body would naturally create. It feels more comfortable on my skin, and I think it absorbs better."
While Zazie doesn't use a toner, her beauty routine is abundant with masks that do everything from exfoliating to brightening.
"I'm not a toner lady, but I use all kinds of masks—whatever I can get my hands on. I like the sheet masks from Sephora, and I love an exfoliating mask. I have had to wash things off that are too strong, but the one from True Botanicals is a gentle sting—a gentle reminder. I put that on at night, before bed, and leave it on. I also sometimes use Sugar Polish from Fresh. I think physical exfoliants are out of date, but it does provide immediate results."
Vitamin C and sunscreen are essential to every skincare routine, and although Zazie doesn't love to use sunscreen, she knows that it's necessary AF and opts for Sun Bum when she knows she'll experience heavy sun exposure.
Zazie Beetz on Hair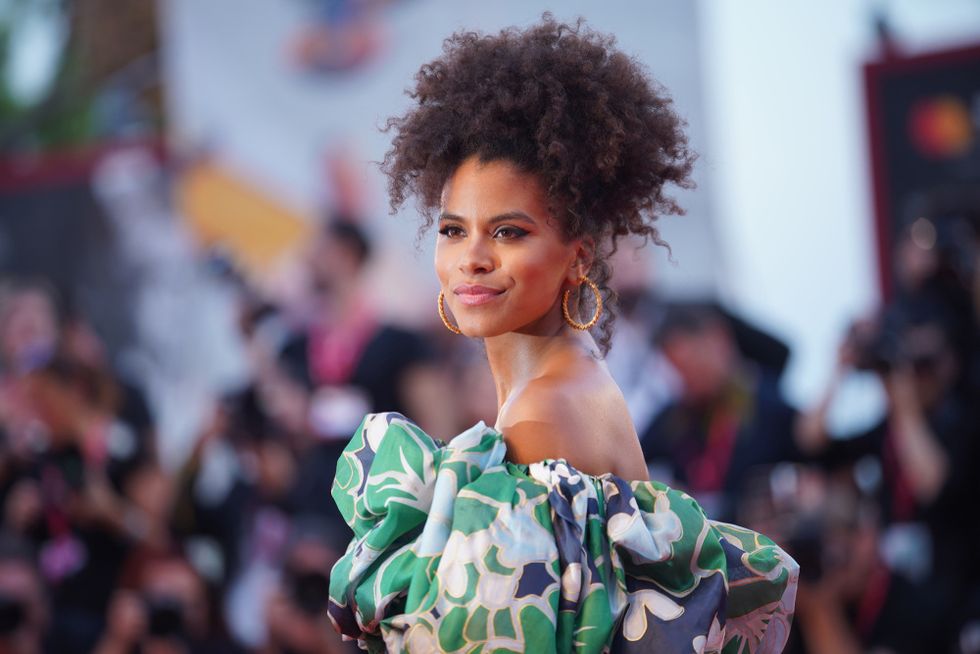 Denis Makarenko / Shutterstock.com
Zazie says that she washes her gorgeous mane about once every three weeks, and while she used to have a very specific haircare routine, ain't nobody got time for that.
"In terms of shampoo, I sort of use whatever's lying around in the house. I'm not too precious about it. I used to be, but I'm not anymore. Then I condition with Shea Moisture usually, or one from Miss Jessie's. Shea Moisture's lovely because it's sulfate free, paraben free—Miss Jessie's has a bunch of additives. But… you know. Sometimes it works. I'll mix an oil from Koils by Nature into my conditioner, and then I detangle with a wide-tooth comb."
At night, the Deadpool 2 actress says that she spends about an hour braiding down her hair using oil, Miss Jessie's Buttercreme, or a Shea Moisture mask. She told Into The Gloss:
"You're supposed to wash it out, but I leave it in. Maybe I do 15 braids. I've never liked the way it feels to sleep on silk—it feels sort of grimy. I don't have the patience for a silk scarf, and I have a Slap cap, but a bonnet always falls off. I just sleep with my braids."
Zazie Beetz on Body & Fragrance
Where there is melanin, there is Palmer's Cocoa Butter, and Zazie says that her skin is no exception. Although the actress does not have a signature scent, Zazie says that she still puts her DIY skills to use, often mixing her own scrubs, lotions, and body butters.
"I'll use cocoa butter to moisturize. Nostalgic and functional—and it smells wonderful. Sometimes I use Sabon's body scrub, but most of the time I just make my own with brown sugar and an oil, or brown sugar and honey. That's quick and easy. I don't use any perfumes… they're so expensive. For years, I have been saying that I want a scent, because I love when you smell somebody and think, 'Ah, you smell like you.' But I kind of do have a scent—it's just from the products I use, and not from perfume."
Read the full article here!
Featured image by Denis Makarenko / Shutterstock.com.