---
Zazie Beetz has been captivating viewers since her debut on FX's Atlanta as Earn's sometimes love interest. Since, she's been virtually everywhere including but not limited to Netflix's Easy, High Flying Bird, Deadpool 2, Joker, and Lucy in the Sky. Rapidly and quite effortlessly so, Zazie is asserting herself as a star on the rise and she's making those strides on her own terms. Recently, the German-born actress spoke with Allure about her earthy minimalist swag, from her crush-worthy afro to her glowy skin and her understated yet effervescent makeup looks.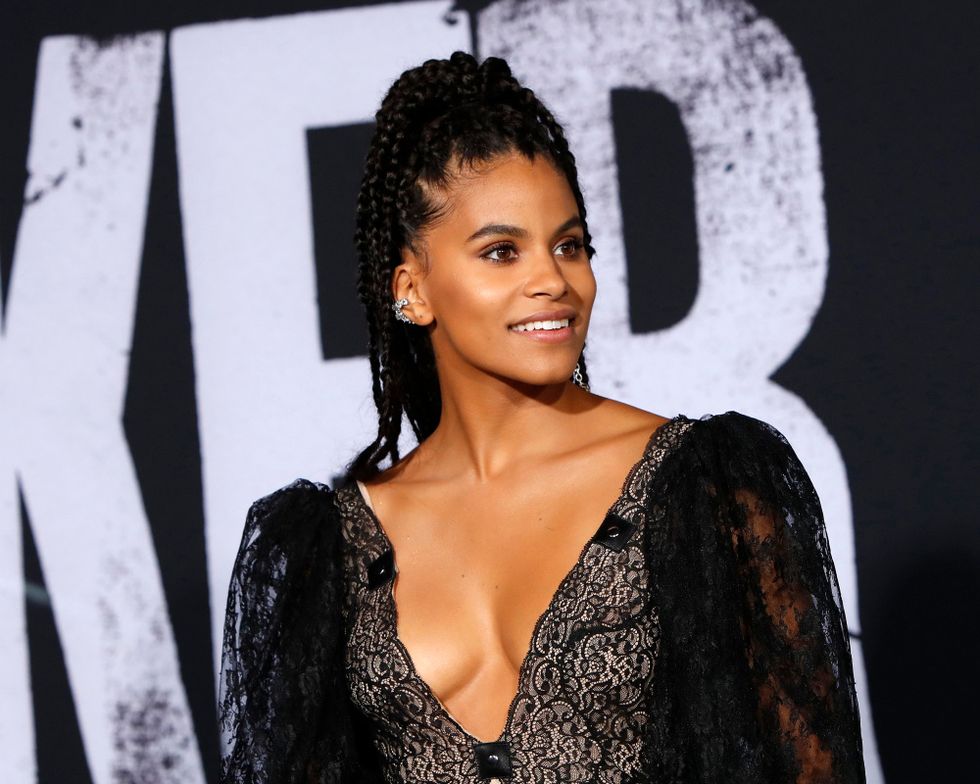 Kathy Hutchins / Shutterstock.com
It's no secret that I live for effortlessness when it comes to beauty and prioritize skincare above all, maybe it's laziness but I call it "low-maintenance". Plus, I feel like my most confident and beautiful self without a stitch of makeup on so Zazie's lowkey approach to beauty is one of the reasons she's an icon in the making for me. Although you can find rocking braids from time to time, Zazie wears her natural hair out and proud in most of her roles on the silver screen, something she has stated has helped more than hindered her when booking jobs.

In her interview with Allure, she talks about all things hair, her signature "undone" look, and the beauty rituals she swears by.
On feeling a responsibility to showcase her roots unapologetically:
"Being in this industry and having my hair natural, I feel such a responsibility to make sure people feel confident in their own locks and textures and to continue to show that, because I see how much it affected me to see other people wearing their hair naturally."
On her first hair memory: 
"I'm sitting on the floor, [my mother is] on the couch or she's on her knees, and she's watching a soap opera [while] braiding my hair."
"I was blessed with a mother who never let me do anything to my hair in terms of straighteners, perming, or blowing it out."
On growing up in Germany with natural hair: 
"Germany was such a homogenous country in terms of what people look like. They just really didn't even know how to start with my hair. I think with people [in the U.S.], there is still sort of a concept of what my hair could look like, what it could do, and what it is. But Germany, I think people were just like, 'Wow. Different.' [You] get a lot of people asking questions about it. Even today."
On her signature "undone" look:
"Whereas women still feel like there has to be an element of it being structured and specific and just a way, I suppose, to not make it look undone. That's just not my vibe. I think my vibe is a little undone, to be honest. And so, that's just what I've embraced, for me. It's important to continue expanding what that expectation is and to not [shame] other people for choosing to wear their hair how they want."
On her attachment to her hair:
"I have the confidence in other places, but I do attach my sense of beauty partially to my hair, which is why when I don't like [what] my hair [looks like] and I'm at an event, it's really emotional. It's emotional for a lot of people, but I think it would be a very different story if my texture [were] a softer, looser curl. I still get frustrated sometimes. I love my hair, I love the volume, I love how wild it is, but, certainly, I also think that it has taken up a lot of functional space in my life."
On her beauty rituals:
"I wake up, brush my teeth, wash my face, and then I use the True Botanicals Clear Collection. I really like the Repair Serum and Pure Radiance Oil. They also have a nice Vitamin C Booster that I'll also use, and their Antioxidant Booster that's a powder format that dissolves in the serum when you add it in."
To read the feature in full, head over to Allure.
Featured image by Kathy Hutchins / Shutterstock.com