---
When Biggie referred to the women in the place with style and grace, I'm pretty sure he was talking about Tracee Ellis Ross. The actress is known for coming through with some clutch AF beauty advice and her latest tutorial is just as fun as you would have expected. In the video, Tracee explained that although make-up is pretty much necessary in her line of work, she chooses to stay foundation-free on her off-days. This entertainer says she'll choose her natural contour and freshly hydrated skin over a full face of makeup any day. She explained:
"My beauty routine is more about how I feel than how it transforms me into some version of myself that I can't keep up with."
According to Tracee, she's not new to the skincare game, she's true to it and says that her high-end, semi-high maintenance beauty routine is decades in the making:

"I have always taken care of my skin as a young girl. I was a picker. I used to love to do my own extractions and I thought that I was an esthetician but I was not. So, I started getting facials really young so that I wouldn't pick and I would have a professional do it because my mom was like, 'You are going to scar up your skin."'
Tracee broke down some of her favorite skincare products and although your bank account may not be fit to drop $500 on a moisturizer, Tracee let us in on some affordable, must-have beauty hacks that will allow you to give your foundation a break and let your skin breathe for a few days.

Scroll below for details!
La Grande Crème by Biologique Recherche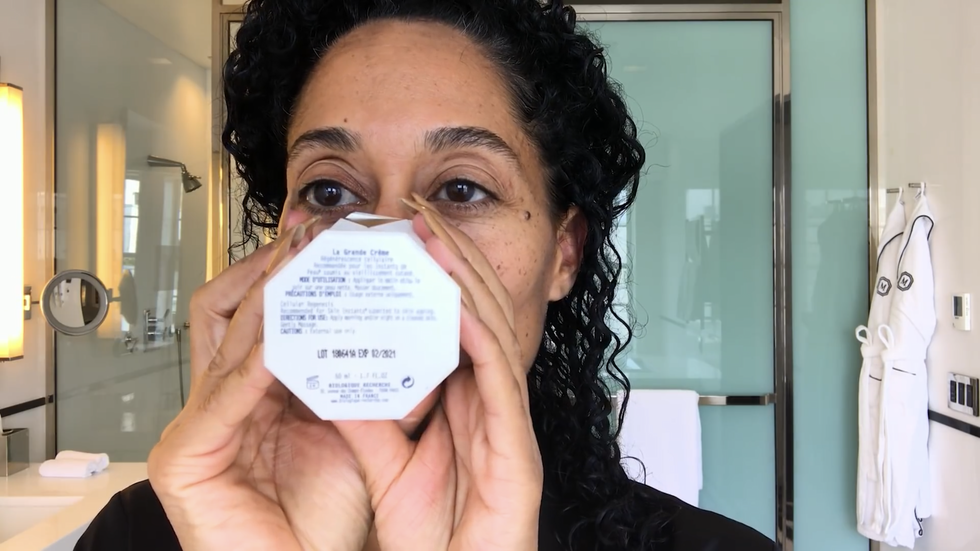 Vogue/YouTube
After applying some of her favorite serums, Tracee likes to continue hydrating by introducing one of her favorite face creams to the mix:
"This fancy jar is La Grande Crème. I like to use a spatula to get it out. I don't like to stick my fingers in there -- very sterile. So, I like a lot, because again, hydration, hydration, hydration. I like to heat cream up in my hands and then get in there."

"Some people spend time putting on makeup. I spend time hydrating my skin."
Vibrating Face Roller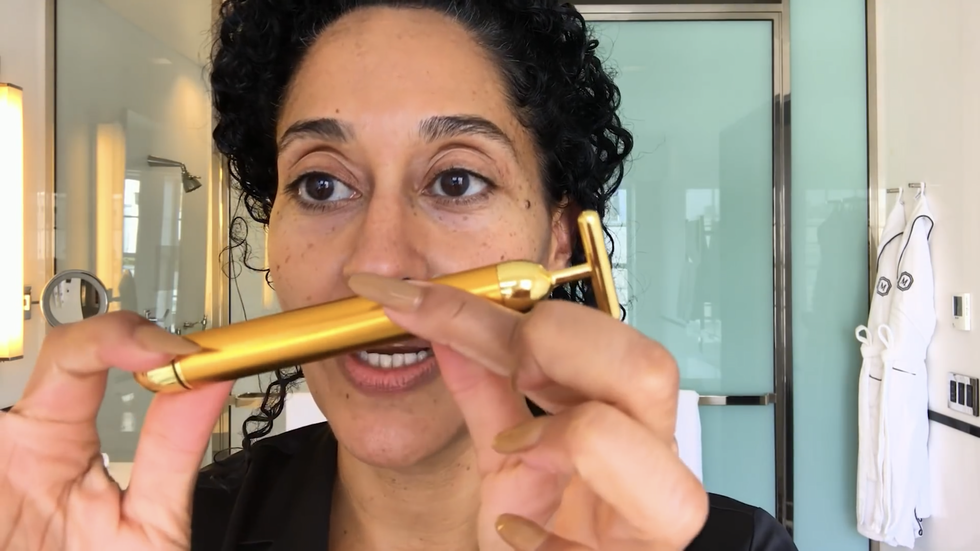 Vogue/YouTube
"This is a small vibrating tool. It was very inexpensive and it's from Amazon. I don't even know what it's called. I don't drink coffee. I rarely eat sugar. I don't like to drink alcohol at all when I'm going to be on camera, which is all the time. Instead of coffee, I like to dry brush my body or vibrate my face or roll my face or and wake it up because I'm often at work at five in the morning."
Retrouve Intensive Replenishing Facial Moisturizer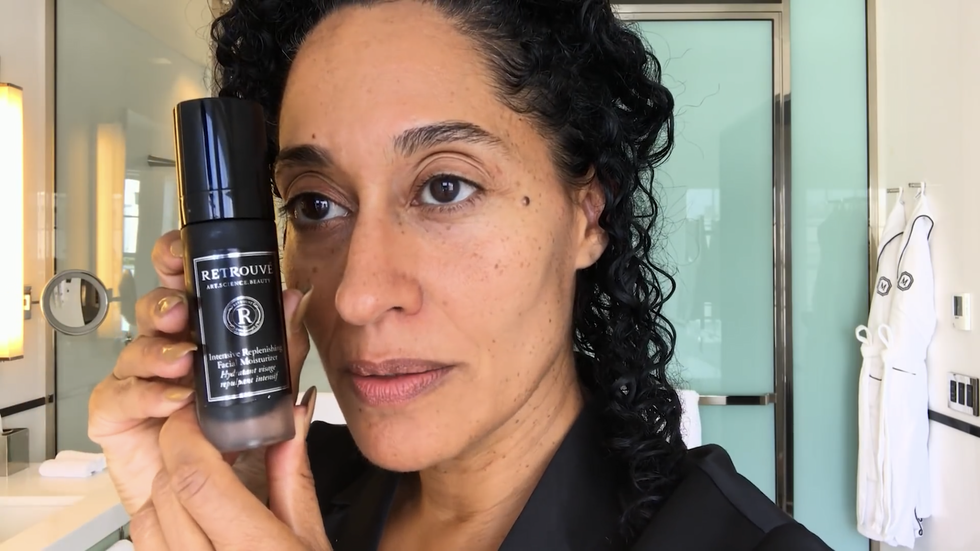 Vogue/YouTube
"Along with the four layers I've already put on [of moisture], I'm going to do a top layer of Retrouve Intensive. I just do one little squeeze, like a teeny little bit goes a long way. [It's] really hydrating and a little bit greasy and shiny, which I really love."
Face Massager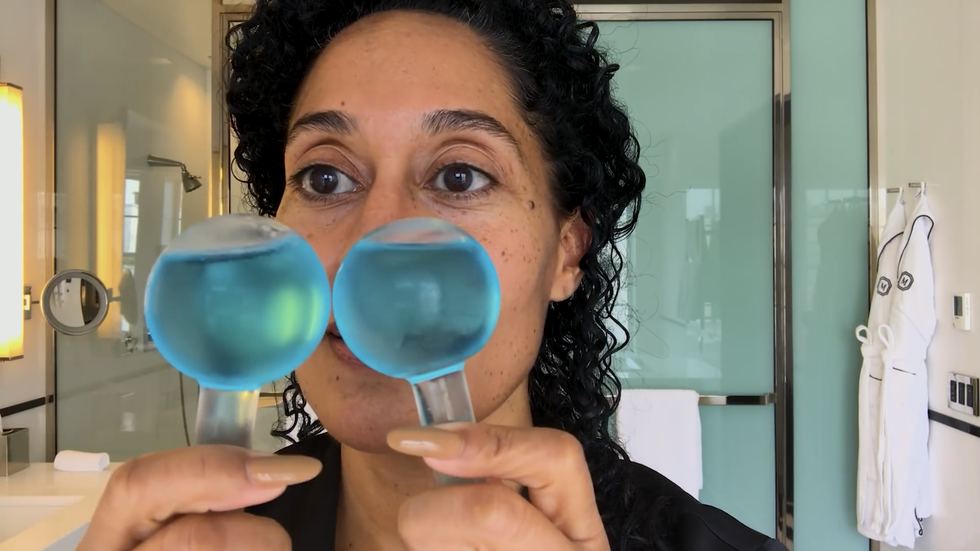 Vogue/YouTube
"The giant blue balls. They're glass and they're cold. I keep them in the refrigerator. I do this a lot of days at work when it's really early and I just feel tired. It is very hard to go to bed at nine o'clock and wake up at four and get your eight hours, but I need eight hours."

Ruby Woo & Cherry MAC Lip Liner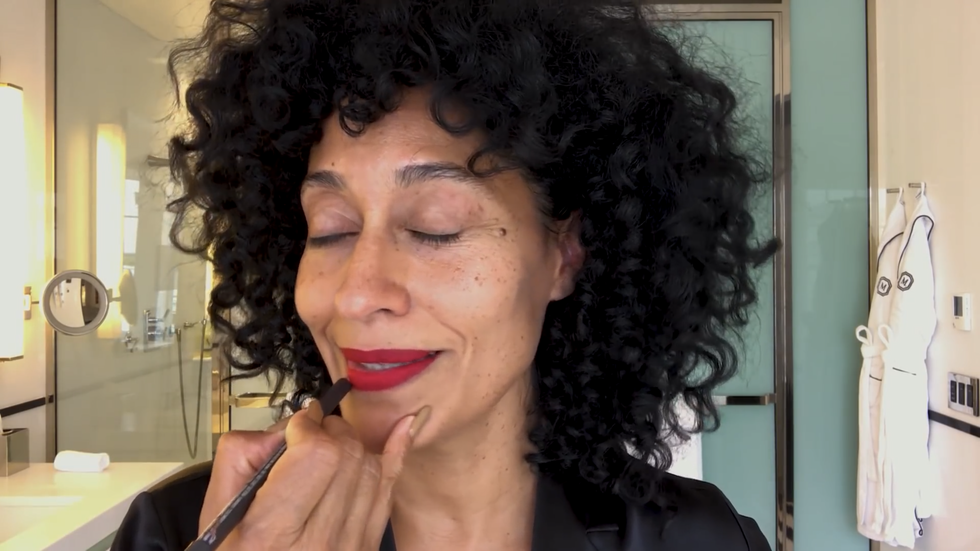 Vogue/YouTube
It! Cosmetics Brow Pencil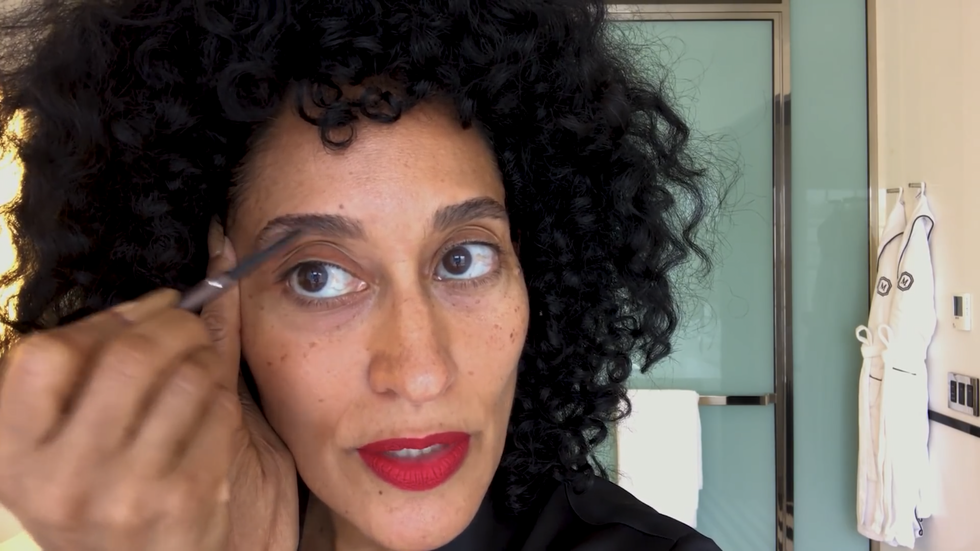 Vogue/YouTube
"I spent a lot of time hidden on the floor in my mom's dressing room while she did her own hair and makeup. My mom is so self-sufficient with her beauty and I think it's informed so much of what I believe. I feel like every person should be able to access their most beautiful self and feel beautiful in their own bathroom without having to be dependent on someone outside of themselves."
LANCER Dani Glowing Skin Perfector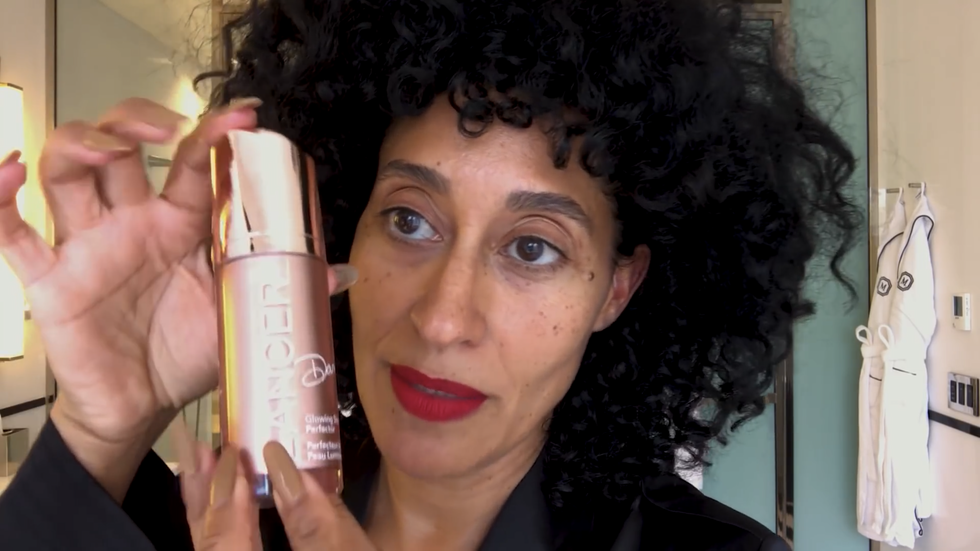 Vogue/YouTube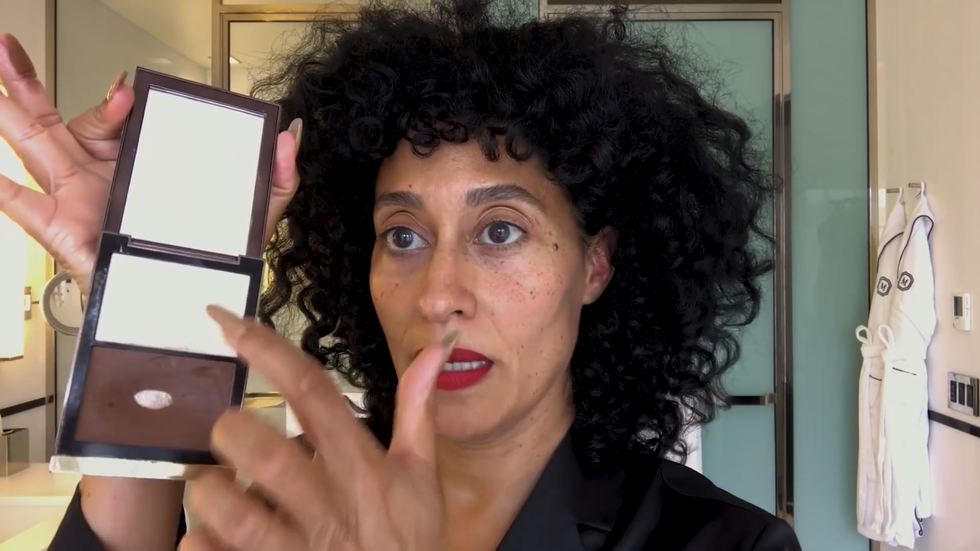 Vogue/YouTube
"I like [hot pink] blush in the front of my cheeks and then I might add a little Brown in there just to take down a little bit. Tom Ford. It's this little palette. I don't use the top guy. I basically contour my blush. I don't know which one goes first. I don't really care."
"Here's the thing at work sometimes or like if someone's doing my makeup, they'll put so much foundation. You can't even see my contour."
Opening Act™ Lash Primer & Benefit They're Real! Lengthening & Volumizing Mascara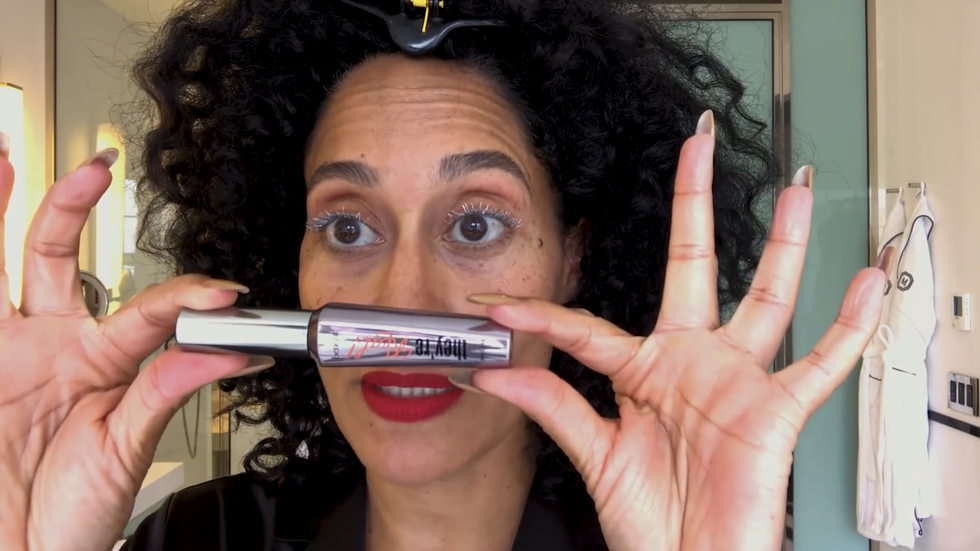 Vogue/YouTube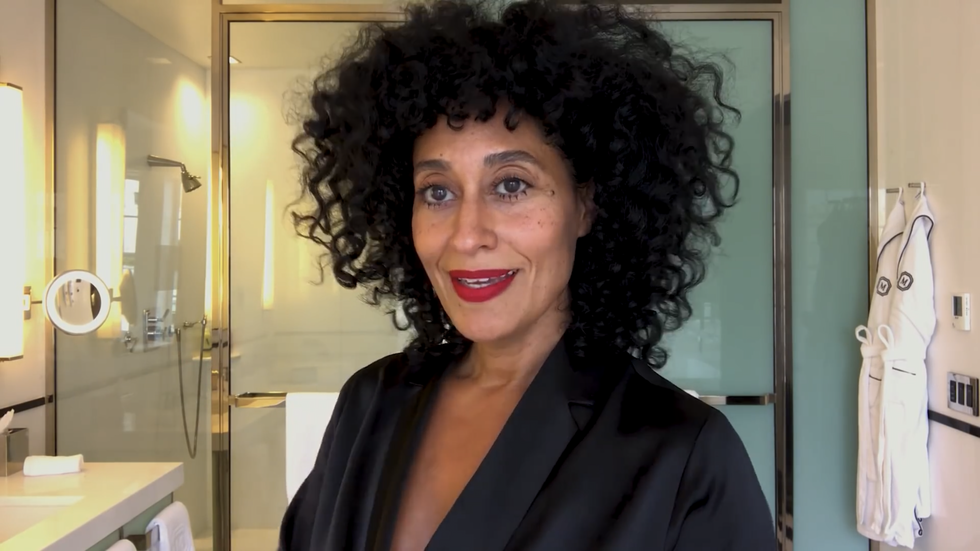 Vogue/YouTube
"Tracee Ellis Ross, no foundation. Happy, joyful hair. A sexy red lip and a little bit of a Twiggy Lash."
Watch the full video below!
Tracee Ellis Ross's Guide to Curly Hair | Beauty Secrets | Voguewww.youtube.com
Featured image by Vogue/YouTube
Originally published on November 8, 2019