---
In a world where we are not exactly sure what the hell is going on anymore, it's always refreshing to revisit the late, great classics of the earlier times. Whether throwing on a pair of sneakers for a double dutch match, sitting down to watch—and recite—all the words to Coming to America, or explaining pagers and floppy disks to Gen Z, there's something about each of them that never get old. And honestly, sometimes we just need them to center us back to good times (no pun intended).
But ultimately, we likely love to revisit some of our favorite shows that we grew up on the most. And although black sitcoms are somewhat-kind-of-not-really making a comeback, they just don't give off those cult classic vibes like they used to. I mean c'mon, The Fresh Prince of Bel-Air, In the House, The Parkers, Girlfriends, and more...damn, they all just make you feel a way, right?
Well, we needed some nostalgic comfort around the xoNecole offices, so we decided to do a bit of digging into one of our ultimate favorites: A Different World. More specifically, the entire A Different World cast.

Where are they now, how have our favorite school yard characters grown over time?
Here's what A Different World's cast up to today.
The Cast OfA Different World, Where Are They Now?
Lisa Bonet | Denise Huxtable
Denise Huxtable:
Lisa Bonet played the character of Denise Huxtable, second oldest to Cliff and Claire Huxtable of The Cosby Show. After graduating from high school, Denise packed her bags and headed to Hillman College to join A Different World's cast as a naive but spacey freshman for one season, which she spent most of her time navigating new situations and freedoms such as making new friends, grades, and dating. Denise's character departed the show after Lisa Bonet became pregnant with her now-famous daughter, Zoe Kravitz, with ex-husband, Lenny Kravitz.
Lisa Bonet:
Bonet briefly returned to The Cosby Show, but eventually departed for good after differences. Since, she has taken roles on shows such as Ray Donovan, and movies, like High Fidelity. Her personal life took more of a front seat to the career as she eventually divorced Kravitz in 1993, and married hunky Game of Thrones and Aquaman star, Jason Momoa in 2017. Together, they have two children: a daughter in 2007 and a son in 2008.
As for her daughter, Zoe, in a twist of fate, she plays the lead role in the adaption of High Fidelity series on Hulu.
Jasmine Guy | Whitley Marion Gilbert-Wayne
Whitley Gilbert:
When it comes to show characters, no one was as breakthough, or memorable as Whitley Gilbert. She originally appeared on the show in Season 1 as a character to contrast Denise Huxtable's down-to-earth persona. But she soon proved popular and once Bonet exited the show, Guy was moved to a lead character. She remained on the show as an art buyer turned teacher, even upon graduating from Hillman, and married her off-and-on boyfriend, Dwayne Wayne.
Jasmine Guy:
Guy won multiple awards for her portrayal of Gilbert, which ultimately led to her career's longevity. She went on to have roles in shows like Melrose Place, NYPD Blue, The Vampire Diaries, and most recently, a recurring role as Gemma on Grey's Anatomy.
Kadeem Hardison | Dwayne Wayne
Dwayne Wayne:
With his trademark flip up glasses, geeky-fly persona, and charisma, Dwayne Wayne was destined to become a pop culture icon. Originally a supportive ADifferent World cast member, after Season 1, he was bumped to a supreme spot. Once Season 2 arrived, he began an ongoing romance with Gilbert, later moved to Japan, became a teacher, and notoriously fought for his love for Gilbert through grand gesture in television's most beloved confession scenes.
Kadeem Hardison:
Kadeem Hardison went on to be a breakout star from the show, and has gone on to have a successful career in television. He's been in multiple movies and television shows and even had a primetime reunion with Guy on KC Undercover. Today, he stars opposite of two Teenage Bounty Hunters, which airs on Netflix, as well as Special Delivery with Sideshow Collectibles on Instagram.
Dawnn Lewis | Jaleesa Vinson-Taylor
Jaleesa Vinson-Taylor:
Jaleesa joined A Different World cast in Season 1 as a late arrival, enrolling in college at age 25. She brought a maturity to the cast, to balance the chaos of the likes of Wayne and Johnson. Her largest storyline was her relationship with Coach Oakes (Sinbad), but calling of the wedding at the alter. She went on to marry Colonel Bradley Taylor.
Dawnn Lewis:
Dawnn Lewis was more than an actress, she was also an accomplished singer who co-wrote the theme song to the show, as well as the theme song to her next gig, Hanging With Mr. Cooper. Her resume is filled with various roles and movies, such as Dream Girls, and voiceover work with Futurama, Boondocks, Rick and Morty, and The Simpsons.
Today, she has taken on reboots of shows like Veronica Mars, and Netflix's Carmen San Diego.
Darryl M. Bell | Ron Johnson
Ron Johnson:
Ron Jonhson, the comedic addition to the ADifferent World cast, stepped in to act as support to Dwayne Wayne's antics. He was an ROTC student, and Wayne's best friend who was always down for the ladies and a get-rich-quick scheme. He eventually opens his own nightclub, deals with a few dating and racism themes, and begins dating another prominent character on the show (Cree Summer).
Darryl M. Bell:
After A Different World, Bell went on to act in a few other shows, including Cosby, but eventually stepped away from acting altogether. He went on to marry Vanessa (Tempestt Bledsoe) of The Cosby Show and appeared on faux-reality show, House Husbands of Hollywood.
Outside of a few other appearances, he generally maintains a lowkey profile.
Cree Summer | Winifred "Freddie" Brooks
Freddie Brooks:
Possibly the most accomplished from ADifferent World cast member is Cree Summer. She portrayed Freddie Brooks, a social conscious and political activist who arrived on campus as Jaleesa's roommate. She spent her earlier time at Hillman crushing on Dwayne Wayne, but ended up developing a relationship with Shazza (Gary Dourdan) and then Ron. She went on to attend law school.
Cree Summer:
Cree didn't appear in many movies or shows in the physical form, but her voiceover resume is mind-blowing. Sis has worked on Inspector Gadget, Captain Planet, Kim Possible, and most famously, Rugrats. I could list her resume all day, but in the interest of saving time, if you've watched cartoons at all in the past 20 years, you've heard her voice.
Sinbad | Walter Oakes
Coach Oakes:
Originally appearing as a recurring character, Coach Oakes' colorful and larger than life personality landed him a part of the main cast. He was a graduate student and mentor to the younger students, but gravitated toward the older Jaleesa for a storyline that would follow throughout the show. He eventually left Hillman to manage a community center in Philadelphia.
Sinbad:
At the time of casting, David Adkins, a.k.a Sinbad was an unknown stand-up comedian. Over time, he began crushing the comedy scene with successful specials, and hosting It's Showtime at the Apollo. Sinbad has gone on to appear in many shows and movies, most recently Rel and voiceover work on Steven Universe.
Charnele Brown | Kimberly Reese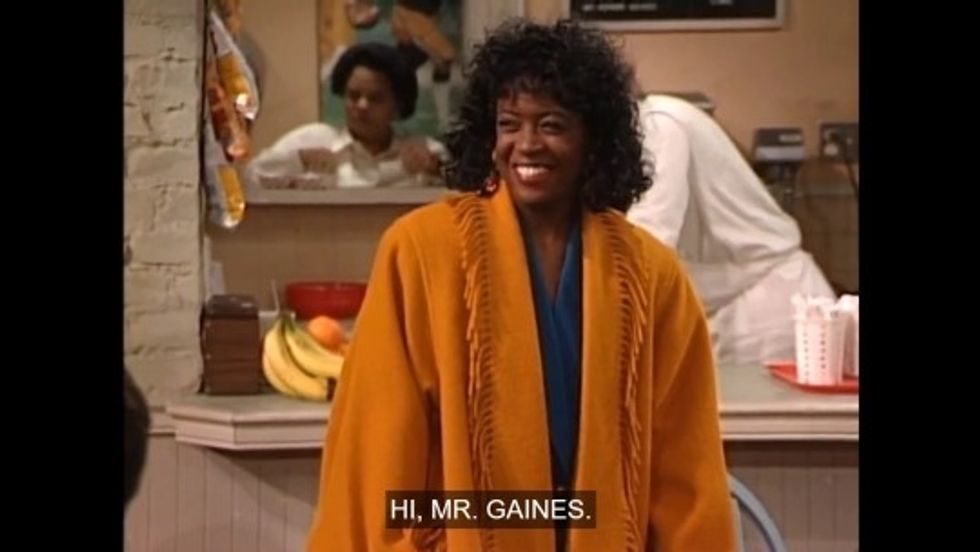 A Different World/Still
Kimberely Reese:
Upon Bonet's departure of the show, another character was added as Gilbert's roommate—and eventual best friends—to balance out the dynamic. She worked at the campus food hall, The Pit, and also performed in a few shows while being managed by Johnson. Her themes were a bit heavier at times, with references to the apartheid and difficulties of getting pregnant.
Charnele Brown:
Charnele Brown went on to guest appear in numerous other classics such as Martin and Living Single.
Today, Brown has ventured into the world of film production and have appeared in a variety of other shows.
Glynn Turman | Colonel Bradford Taylor
Colonel Bradford Taylor:
Starting as a recurring character, but eventually being bumped up to join a full-time cast, member Colonel Taylor was Vietnam War vet and nicknamed Dr. War. He was over the ROTC unit at Hillman and became a math professor. He ended up marrying and a having children with Jaleesa.
Glynn Turman:
Glynn Turman on the other hand, had been a industry vet for 25 years before ever joining A Different World cast. And like Cree, his resume is nothing to play with. If you've watch a movie or TV show within the last 30 years, you've seen Turman—from Black-ish, to How to Get Away With Murder, to Queen Sugar.
Also, Turman was briefly married to Aretha Franklin in the 80's, before divorcing in 1984.
Feature image by A Different World/Still