Lisa Bonet has been the effortlessly breathtaking sex icon that we all aspire to be since the 90's. It's not so often that a woman produces the spitting image of herself by way of her offspring, but Zoe Kravitz is a rare exception. Possessing the subtle sex appeal of her mother, Zoe has paved a unique path and a distinct a identity for herself that has caught the eye of the entertainment industry at large. As a star on HBO's latest hit drama, Big Little Lies, and a global beauty ambassador for YSL, Zoe's schedule is jam-packed. But that doesn't keep the 29-year-old mogul in the making from getting her skin all the way together.
Zoe recently stopped by ELLE to reveal a few of her most coveted beauty secrets and also shared the secret to having great skin despite having a chaotic schedule. According to the Big Little Lies actress, her daily beauty routine consists of very little makeup and whole lot of hydration. She said:
"[I use] Touche Éclat to even my skin out, I don't really wear foundation on a daily basis because I wear so much for work, but it's a great way to even the skin out, and brighten under the eyes. I use Couture Brow Mascara, I always love filling in the brow and giving it a bit of shape. I love a little bit of highlighter on the cheeks and the nose, so I use Glow Shot. And then, either a gloss or a lip."
Although her beauty regime changes along with her frequent flights and erratic travel plans, one thing is consistent when it comes to Zoe Kravitz' look: less is more. She had this to say about putting a bomb beauty routine together on-the-go: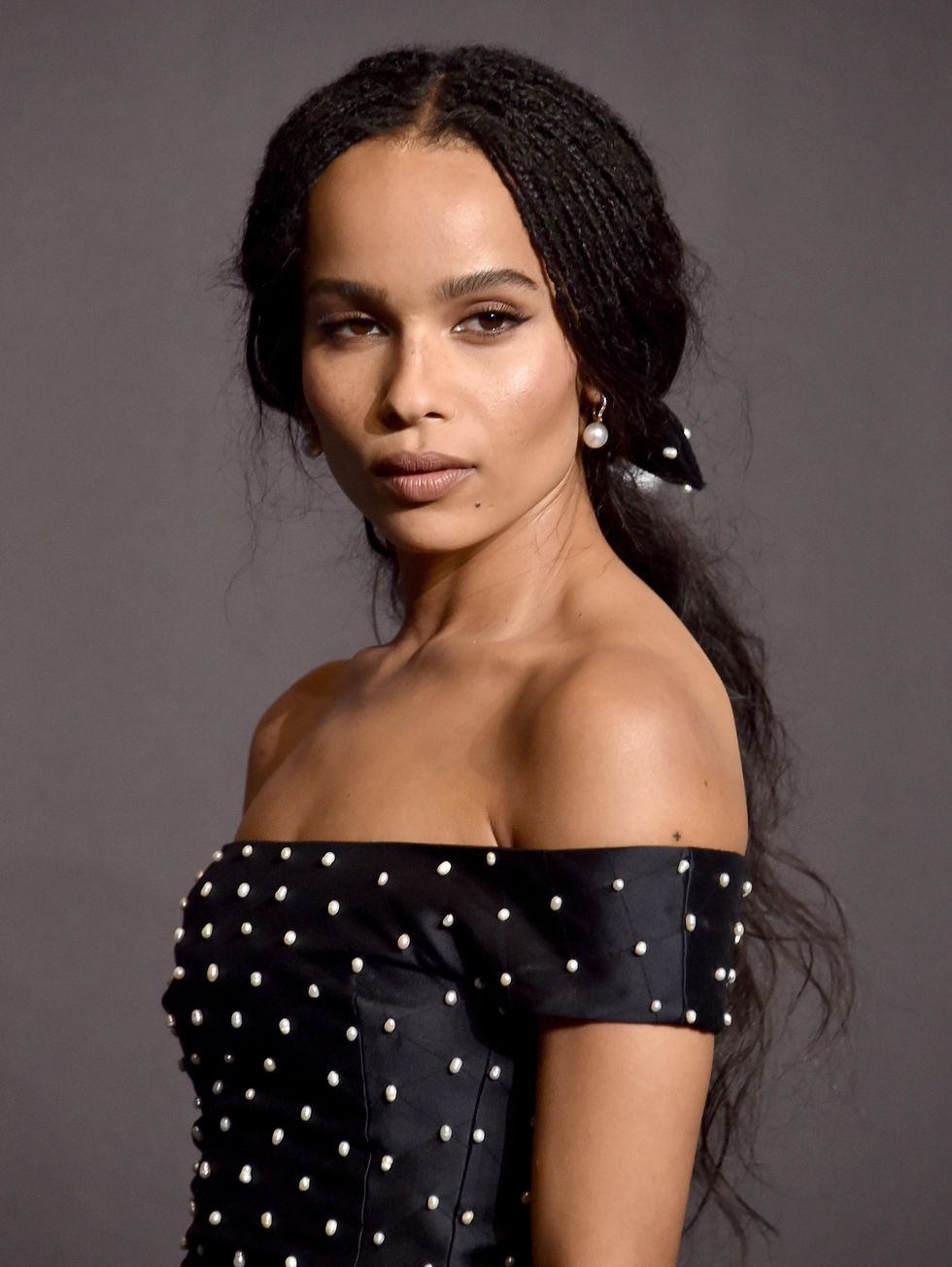 Zoe Kravitz shares her most coveted beauty secrets.Gregg DeGuire/WireImage
"It becomes more minimal. You don't have all the big compacts. You have your essentials: foundations, moisturizers, and I bring one blush or lipstick, or a lipstick that I can also use as a blush, which is really fun. I love when the lip and cheek are the same color."

Along with these thrifty travel tips, Zoe shared a little known makeup hack that will help your glow-up last all damn day. When asked when what is the best tip she's ever learned from a makeup artist, the actress replied:

"The one thing I'm into that [my makeup artist] Nina Park taught me is putting on your highlighter before your foundation. If you're not putting on super heavy foundation, it peeks through. Then, you can still add it on top but there's a glow underneath."
Although these tips are great for attaining Zoe Kravitz's signature sexy, she says that none of these hacks will be of much use if you aren't properly hydrating.

"If you're not eating well or drinking enough water, or getting enough sleep, makeup can only do so much for you. It has to start with taking care of your body first."
Zoe says along with a trip to spa every now and then, making sure she gets a proper water intake is an essential part of her regular self-care regimen, even though sometimes she's unsuccessful.

"Trying to drink enough water is such a huge thing. I really don't. Sometimes I'll realize it's five o'clock and I've had the tiniest glass of water."
Despite her shortcomings, Zoe reminds us to keep in mind that the goal is to be be healthy, not punish ourselves for our missteps. Although she doesn't get it right every time, Zoe affirmed how important it is to keep trying. She continued:
"I try to go to the gym or at least walk and move my body around. I try eating well—making sure you're eating greens or steamed veggies, or stuff that doesn't have a lot of oil or chemicals. But if you want to go to McDonald's every once in a while, do it! But it's about clean food that hasn't been processed."
To read the full interview, click here.
Featured image by Gregg DeGuire/WireImage