---
Well damn, Zoe! Don't hurt 'em!
Between box office smashes Insurgent and Mad Max: Fury Road and the upcoming critically acclaimed movie Dope, Zoe Kravitz is experiencing a win streak not known to too many actresses her age. With her star shining brighter than ever, the 26-year-old now finds herself delivering inside the pages of GQ.
Dressed in a sexier version of what her Mad Max character wears, Lisa Bonet's twin shows off her amazingly toned body in a tattered-up, barely there two-piece. The braided beauty serves allure in another shot that features her lying on a cow hide rug. Zoe even goes topless in the shoot shot by photographer Steven Pan, covering up her boobies in a fur shawl while gazing off to the side.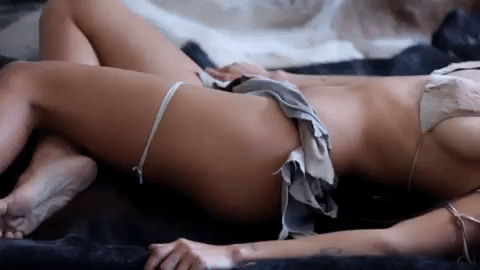 i.gifer.com
On the love side of things, Zoe's dangling "hope" in front of her legion of male fans. The actress, who may be dating Yasiin Bey (aka Mos Def), chatted with the mag on "how to date" her. Step 1. Try actually approaching her!

Get the deets below!
On being approached: Men don't talk to me. Ever. I think I'm demeaning -- I say that to make myself feel better. [That] or I smell funny.On music: Musical taste is so important. If you're passion about something you want someone else to listen to and, like, get that thing. If a guy puts on D'Angelo, I'm a sucker.
On pick-up lines: I like bad pick-up lines. If a guy comes up to me and is like, 'Did it hurt?' I could appreciate the ballsiness of it.
We can only imagine how Drake approached her --Re: Drake and Zoe Kravitz Makes Out At Beyonce Concert
Lil Lisa Bonet looks HOT!
How to Date Zoë Kravitz | GQwww.youtube.com
Featured image via Kathy Hutchins / Shutterstock.com