---
As Told To is a recurring segment on xoNecole where real women are given a platform to tell their stories in first-person narrative as told to a writer.
This is Raniyah Copeland's story, as told to Charmin Michelle.
My voice...is thunderous. And I keep it that way.
I regularly call out pharmaceutical companies, research institutions, and HIV organizations who have leadership and boards that do not look like or come from the communities that they serve. I get to connect with people across the country and the world in efforts to end HIV in Black communities. I meet with Black faith leaders, community activists researchers, Black leaders in federal government, and so many more.
Community is a huge component within the HIV movement, and I love being in the forefront. I proudly do this work every day.
I'm the President and CEO of the Black AIDS Institute. A SoCal native, I currently living in South LA with my amazing children and my husband. I come from a big family (I'm one of five kids), my parents are active and prominent members of the Nation of Islam, which is why we relocated from the East Coast to California. Growing up as a Black Muslim, my Blackness and the oppressive systems within the U.S. were always centered in the experiences that we had.
From a very young age, my parents explained how almost every oppression that Black people experience (increased rates of poverty, mass incarceration, police brutality) was linked back to how anti-Blackness showed up in overt and covert ways to shape every aspect of Black life.I was taught that we had to give forward to honor those who had given so much, to know the freedoms we did have. Over time, I saw the way inadequate health systems were directly impacting the well-being and length of Black lives. I knew I wanted my future contributions to consist of ensuring Black people could live long and healthy lives.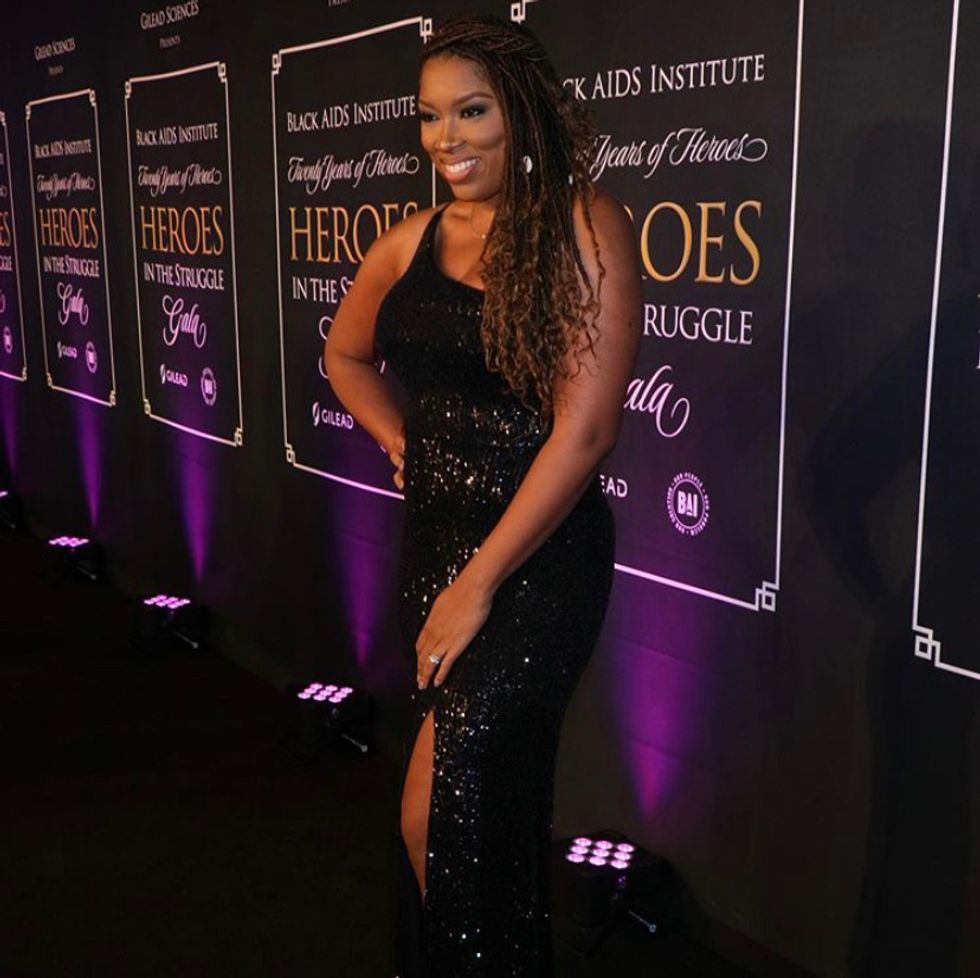 I attended UC Berkeley for undergrad and studied public health and African American studies, with plans of becoming a doctor. During that time, I studied more about HIV and Black communities and saw how heavily linked HIV rates were to homophobia, intimate partner violence, the 'war against drugs', and so many other things that I didn't know impacted HIV rates. After undergrad, I enrolled in a post baccalaureate program, where I was taking science classes in preparation to apply for med school, while working as a health educator at Planned Parenthood. Here, is where much of my outlook on the virus had developed.

So ladies, let's talk about it...
I once delivered an HIV-positive test result to a young Black gay man. When he was told he was HIV-positive, he was not surprised. He actually thought because he was Black and gay, it was inevitable that he would acquire HIV. I was saddened and devastated on so many levels.
You see, for Black folks, our health is so much larger than any individual decision we make. HIV is one of the most significant diseases where those who have historically been given the least, are the most impacted.
When I found out about the Black AIDS Institute, I knew the organization was a place where I could live out my personal values and make a true change as it pertains to the health of Black communities. It's amazing that almost four decades into this pandemic, we can say we have the tools to end HIV within our lifetime, which from a public health perspective, that is extraordinary!
However, there is no way to end HIV in America without ending HIV in Black America.
And in order to end HIV in Black America, we have to respond to the systemic reasons Black people have HIV at such high rates. It's not because we have sex with more people, or use more drugs. Nor does it have anything do to with our individual behavior. We have a higher rate of HIV in Black communities because HIV flourishes in systems of oppression. Read that again and again—as many times as you need—HIV flourishes in systems of oppression. If we can respond to the roots of systemic racism in this country, we will not only end HIV, but also end health inequities that plague Black Americans.
This has proven difficult because we don't like to talk about it. We rule out that this is a true pandemic, one of our firsts. And ladies, as CEO of the Black AIDS Institute, the most shocking statistic in the HIV pandemic as it relates to us, is that while new HIV infections among Black women have declined 21 percent from 2010-2016, Black women still account for 6/10 new HIV cases.

And we're concerned.
Not that the rates have declined, this is always great news. But those of us who work in the HIV field worry that the success that we've seen with decreasing new HIV cases, will be reversed because healthcare access may be limited due to COVID. In the last six months, COVID-19 has transformed the world, infecting more than 15 million people and claiming hundreds of thousands of lives. The virus also has had an indelible impact not only on the well-being of people living with HIV/AIDS, but potentially on the trajectory of the HIV/AIDS epidemic itself.
I think back to the time when Olga Osminkina-Jones, senior vice president for the consumer goods company, Reckitt Benckiser, said during the 23rd International AIDS Conference:
"COVID is threatening to erase a whole generation of effort that we have put into the fight against AIDS and HIV."
An entire generation of work, ladies. So, like her, I am well aware of the importance of having, and continuing, this conversation.
Why? Because here are the harsh facts, the COVID-19 crisis has drummed up another familiar theme: like HIV/AIDS, Black people being disproportionately impacted.
Black people acquire COVID at rates 2.6 higher than our white counterparts, are hospitalized at rates 4.7 higher than our white counterparts, and die at rates 2.1 higher than our white counterparts.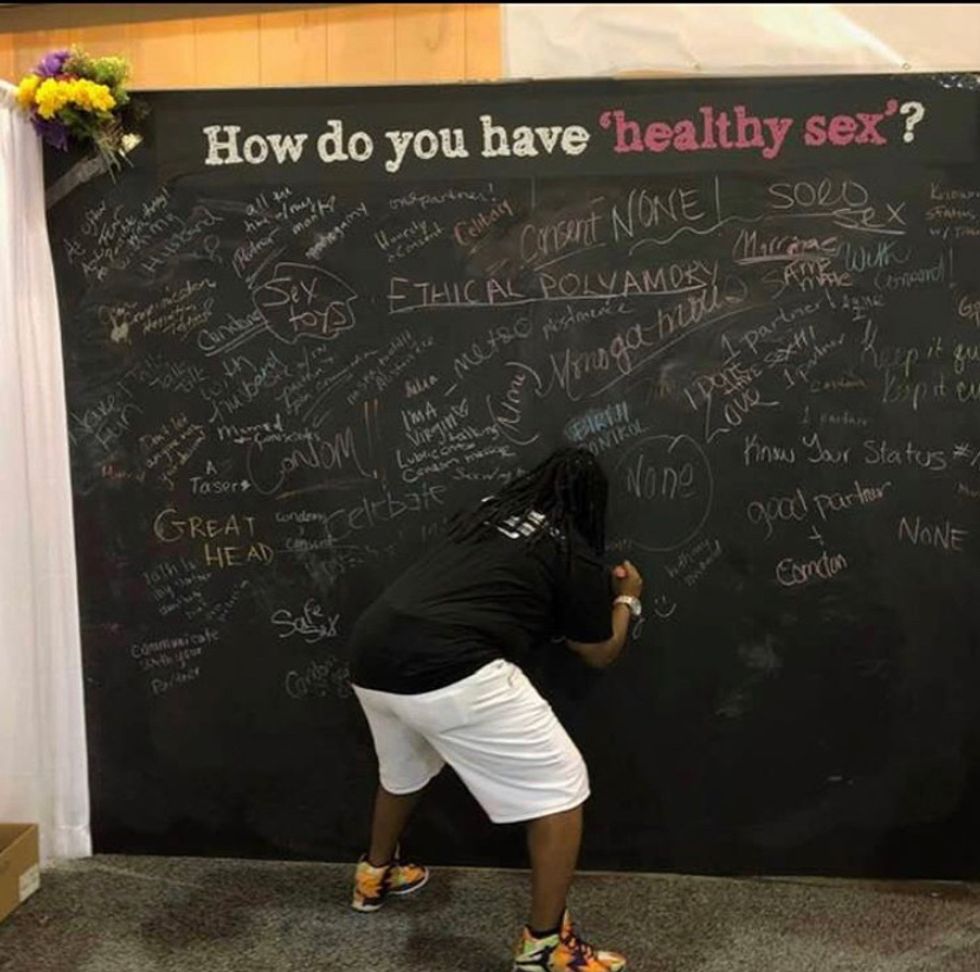 All is not lost, I have so many wonderful stories about working in HIV advocacy. One of the best things about my job is how I get to connect with people across the country and the world in efforts to end HIV in Black communities. One of my favorite experiences is when I get to meet with Black mothers who have been impacted by HIV. I've met Black mothers who are living with HIV and have taken great care and sacrifice to birth their children, most of whom are HIV-free, by engaging in care systems.
I've met many Black mothers who are boldly loving their son or trans daughter and are living with HIV. They are supporting and shielding their children through the stigma they experience. I've met Black mothers who lost their children in the HIV movement and have dedicated their lives to ensuring that others' children can live long and healthy lives. As a mother myself, the courage that Black mothers have shown in the HIV movement gives me chills.
--
In the end, the work I put into this space, will hopefully one day, allow my boys to live in a world where they don't have a fear of acquiring HIV. I hope my legacy is one where I contribute to a world where Black people are able to live long and healthy lives, free of stigma, and where Black health and well-being, are paramount.
To keep up with Raniyah, follow her on Instagram @raniyahcopeland. Also, visit blackaids.org for more ways to get involved with the Black AIDS Institute.
Feature image courtesy of Raniyah Copeland