Ever since I was a toddler, I've been a Nashville girl. That's why it brought a smile to my face when I recently read the headline "Couples from Around the World Visit Middle Tennessee to Elope." Cool. Very cool.
---
Since I'm a marriage life coach, I oftentimes get asked what I think about eloping. Honestly, if I were to ever jump a broom, I'd probably be the rent-a-vacation-home-and-have-a-really-small-wedding-there kind of gal. But when it comes to big weddings vs. eloping, let me just say that I personally believe eloping sometimes gets a bad rap; specially since a lot of people think that it's some sort of consolation prize rather than a well-thought-out plan.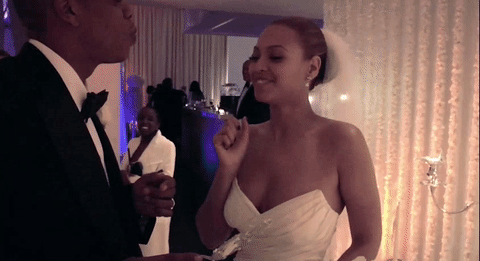 media.giphy.com
You might be shocked about how much of the hype surrounding throwing a big wedding is rooted in debt and superstition. The diamond engagement ring? It came out of DeBeers going broke and then convincing us that it's a symbol of love in order to keep their doors open. Big white wedding dresses? In the Bible, women wore colorful attire; it's actually Queen Victoria back in the 1800s who started the white dress, long veil, and ridiculous huge wedding cake thing. Bridesmaids all looking alike? Supposedly, that's to confuse evil spirits (so is being carried over the threshold).

So yeah, whenever I hear that a couple is taking the "No thanks, we'll pass" approach to the idea of having a huge ceremony and reception (or even not wanting folks present), I don't look at eloping as being cheap or not thinking things through. For (at least) the following seven reasons, I find it to be quite smart, financially-savvy, and a wise approach to marriage overall.
7 Reasons To Consider Eloping
Featured image by Getty Images.
Related Articles:
This is How My Hubby & I Paid For Our Frugal Wedding - Read More
We Skipped A Big Wedding To Buy Our Dream Home - Read More
I Do's And Dont's: A Wedding Planner Emailed Outrageous Demands & The Internet Went Crazy - Read More
One Photographer Reminds Us Why An "Unplugged Wedding" Should Be A Rule - Read More