Mothers in New York are an entirely different breed. To be fair, mothers in every city should be granted the medal of honor just for managing to get through one week. But here in New York, we are faced with a specific challenge. The average rent for a two-bedroom apartment in New York is around $3,200 per month, while the average income per household is around $50,000. For the childless New Yorker, these numbers are staggering – but for a parent, they can be crippling.
I decided to talk to some of the working moms of New York. Each of them with different stories and different support structures put in place. I like to think, that if women are capable of this, then we are capable of anything. Whether you have children or not, the hustle of a New York mother is inspiration for us all.
*Rachel, 33
Occupation: Seasonal sales person at high-end department store
Income: Less than $50k
Her Story: I'm a mom to a 7-year-old little boy living in Brooklyn. I went to Lincoln University in Pennsylvania and came back to New York after school. I met a guy. We married. Had a baby. Things didn't work out, so I moved to Atlanta as a single mom with my son who was 16 months old at the time. The job market in Atlanta was so rough that I decided to take on a "sugar daddy" to supplement my income. After 2 years of sitting on his lap for money, trying to catch my bearings, and losing my car to the Title Pawn in Atlanta, I decided to come back home to New York. By then, I'd pawned all my valuables: car, jewelry, electronics, cashed savings bonds, depleted CD accounts, and 401k.
I had to get a job – any job. Despite my education, because my child's needs do not cease, that means being underpaid and working schedules that don't agree with my parenting needs. My son is 7-years-old now. He is incredibly smart, he's happy, he's healthy and in a great school and gets good grades. However, in the last three years, we spent 8 months living with my best friend and 20 months at a homeless shelter. I still haven't found gainful employment, so my income is supplemented through food stamps and the $408 a month that the state garnishes from the father.
Before all this, I was an New York socialite on the urban scene. A walking directory for all things lit and fashionable. I had a corporate job and I shopped high end. Shelters, food stamps, and welfare were not a part of the vision I had for our future.
I pray that he never feels the the sacrifice, only the end result, which is fun and love.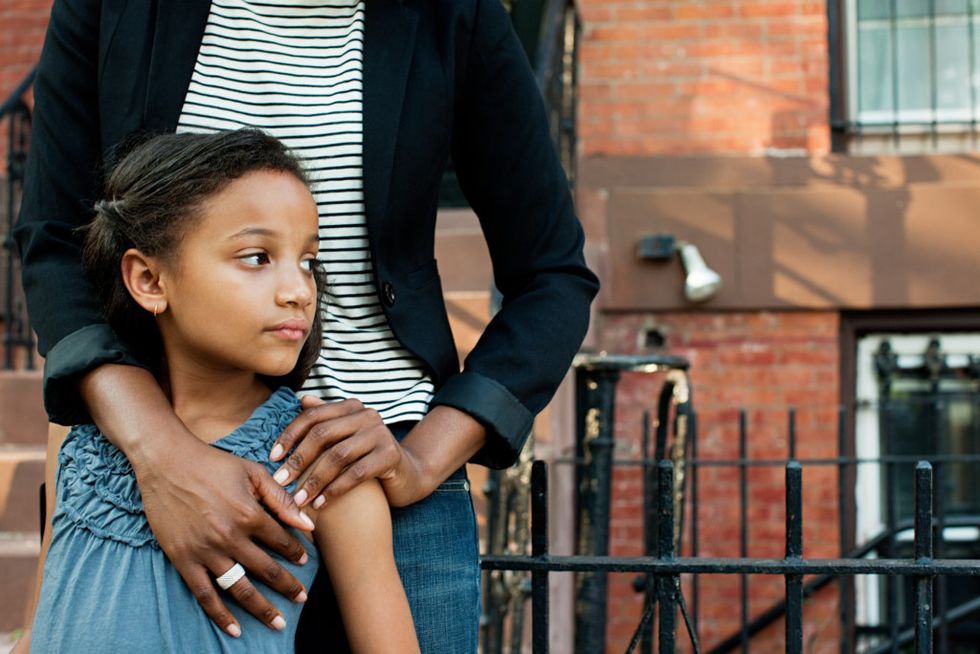 *Sabrina, 29
Occupation: Executive Assistant
Income: $50k - $75k
Her Story: Being a mother in New York City is extremely hard. Budgeting has become an everyday struggle in itself – choosing between what is more important week by week. I can't afford to move because of the rapid gentrification in Brooklyn. I'm living in a two-bedroom apartment with several other family members after I was evicted for being unable to pay rent.
My children go to separate schools miles away from one another because of the school district policy in place. There's a good quality public school minutes away from my house however, but it's zoned out of my district and my children cannot attend. Instead, I was told to enroll them into our zone school that is failing academically and farther away.
Because my neighborhood is in the process of gentrification, the only quality schools are charter or private. The people moving in can afford private school, so their children are not enrolling in the public schools. Because my children attend separate schools, more money comes out of my household budget to pay a van driver for drop-off services. To make things work, I'm forced to pay the extra $400 monthly for early drop-off and pick-up.
I also pay for tutoring, which is $450 monthly, swimming lessons for $180 per child, and soccer whenever I can afford it, along with the usual bills rent and car payments. All the while, I have student loans in default.
I've worked 16 hours in one day, causing me to miss quality time with my kids – missing homework, missing laughs, missing their little explanations of their day – all so that I can stay afloat in this beast of a life.
This struggle is never-ending, but as a mom, I put my best foot forward and smile whenever I see my kids.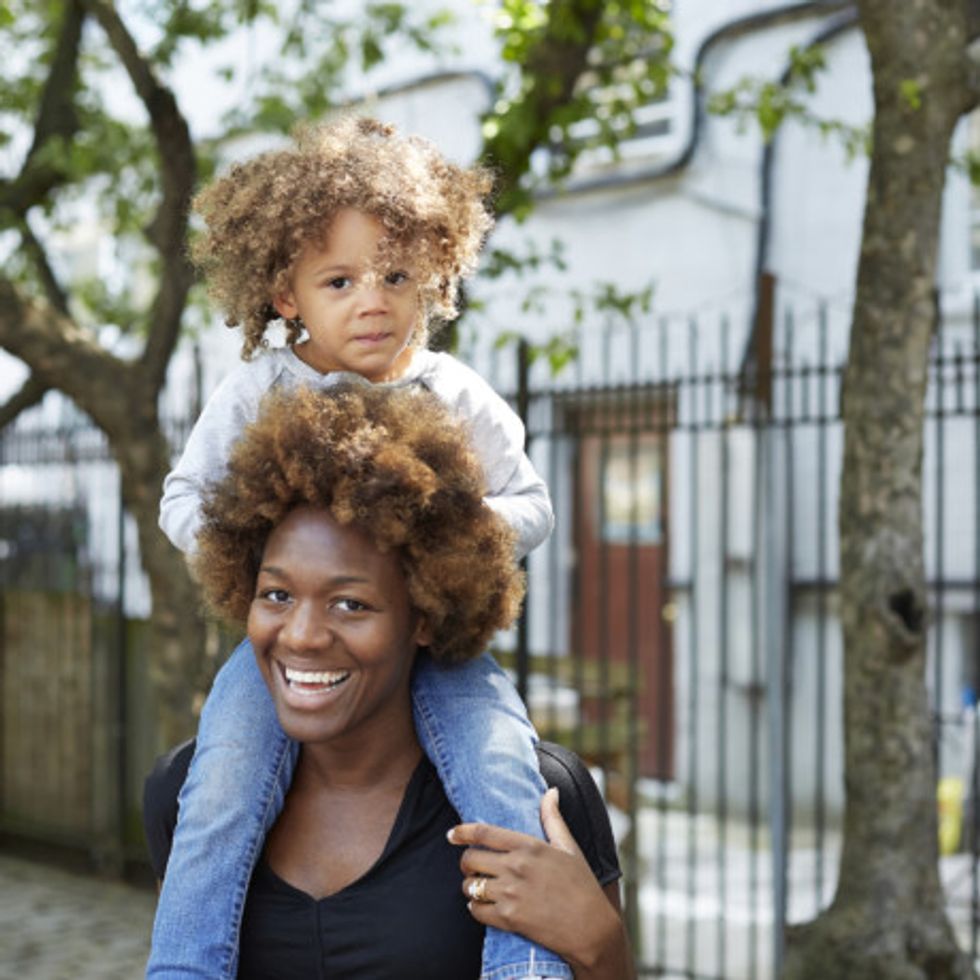 *Carla, 31
Occupation: Health Care Integrator
Income: Less than $50k
Her Story: We live in a one-bedroom apartment in the Bensonhurst section of Brooklyn. It has been both difficult and somewhat easy raising my child in such an expensive city. It is difficult because there is not much opportunity for working mothers to have assistance. It sometimes seems like I make too much to qualify for anything substantial because programs only see my pre-taxed without considering all of my expenses.
It can be easy because there are a lot of free entertainment programs I can take my daughter to that help expose her to culture. I spend a lot of time on Google looking for free things to do since money always has to go to more pressing things. It's also hard to arrange pick-up and drop-off since babysitters and nannies tend to charge more an hour than I make an hour. I would like to find a bigger apartment that I can afford so she can have her own room but the prices are very high. I continue to put my name on the housing lottery. What helps a lot, though is that I grew up here and I have friends with kids. My daughter receives a lot of hand-me-downs.
*Kim, 33
Occupation: Account Manager and PR Coordinator
Income: $50k - $75k
Her Story: Ever since moving back to New York in 2009, my sole purpose has been to give my daughter a life that will not only meet, but exceed the lifestyle that my mom - who was also a single parent - provided for me. I would have to say, it's not easy financially, but with faith, it is possible to raise my child in this city.
Like everyone, I have general expenses for everyday survival like rent, food, health care, transportation, etc. My daughter's father is married and lives out of state. I can never predict from one month to the next what type of support financial or otherwise I'll receive from him. So, I'm basically handling all of it on my own. That includes school tuition, after-school activities, childcare, clothes, getting her hair done, and weekend fun. I can't even begin to list all the other little things that come up in between.
I take advantage of sales whenever I can and shop for clothes off-season so we can be frugally fly. My mom is a big help. Sometimes, I food shop at her house and take advantage of her babysitting whenever she's in a good mood. I try to make sure my daughter is as comfortable as possible at home with things she's enjoys so I can save money on outside activities.
However, at the end of the day, faith is always my saving grace. I definitely have moments when I'm sitting there thinking, 'Damn, the struggle is real.' Right before I start to get frustrated or overwhelmed and sometimes after venting to my best friend, I realize that I've been here before and made it through.
My faith has trained me to start to recognize blessings and to worry less about my life because God got this.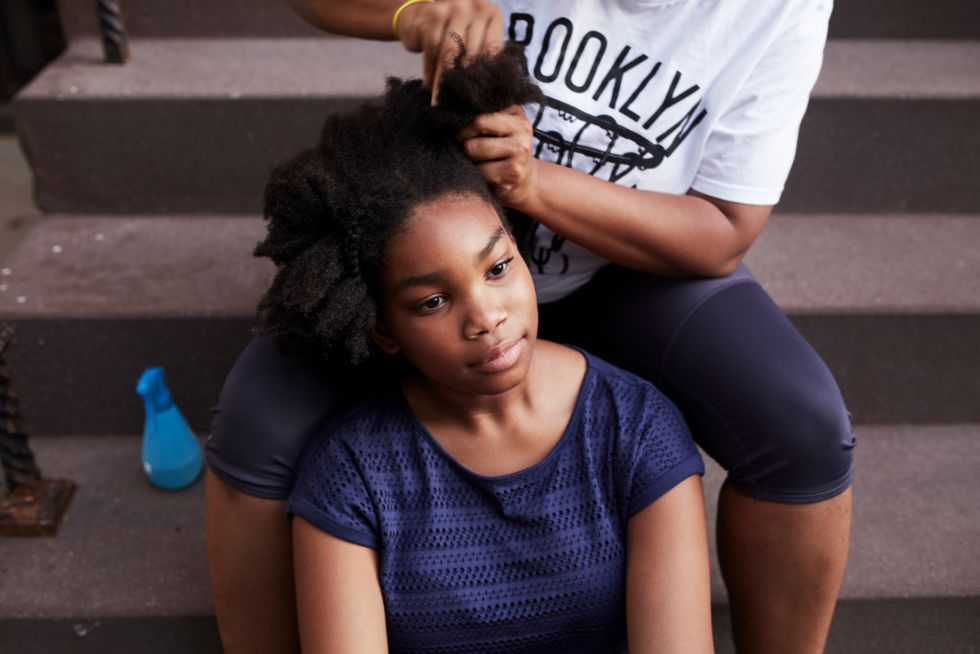 *Mya, 34
Occupation: Medical Receptionist and student
Income: Less than $50k
Her Story: I moved to Harlem four years ago from Philadelphia after me and my long-time boyfriend broke up. I dropped out of college after I got pregnant with my second child and before moving back to New York, I finished a medical training program and found a job in a clinic. My job can be very stressful, especially because they won't allow me to leave work an hour early to pick my kids up so I have to pay for aftercare, which is a lot for two kids. I do have some help along the way. I have two cousins who also have small children and we take turns babysitting each other's kids to get a break from time to time. Paying for babysitters is not even an option at this point.
I decided to go back to school this year and I'm taking classes at CUNY to complete my degree in Communications. Between raising my kids and school, I hardly have any time for anything else but I've been dating someone for over a year now. He also has a kid, so it helps that he understands my hustle. We try to be supportive towards each other in the ups and downs of parenting.
I have a car, which helps get my kids to school in the mornings and avoid being out in the weather when it's bad. However, I try to use public transportation as much as possible, especially on weekends when we do little activities in the city. It's important to find free things to do so I'm always looking through Groupon or looking up things online.
Honestly, the thing that keeps me focused is that I know raising my kids here in New York will be an asset to their upbringing.
The schools here, the opportunities, the culture – there's no place like it. I'm okay with my hustle because I appreciate the well-rounded life they can have here.
*Names have been changed for anonymity
---
Are you a New York City mom? Leave us a comment below with your experience raising a child in the Big Apple.