It's no secret that Chicago is plagued with violence, corruption, and other various predetermined lifestyles assumed to be synonymous to the black community. Murders, rivalries between the south and west sides, and gang affiliation all run rampant in its streets—and in national news—making outsiders wonder if we have to dodge crime at our doorstep everyday. And though these areas are disenfranchised and often disregarded for overall political improvement, these territories remain rich in culture and actively seek the betterment for their quality of life.
---
But even with the daily exertion of Chicago living, whether sensationalized or factual, the hustle is no match for Bridgette Flagg, owner and head chef of Soulé, a Creole-infused soul food restaurant in the up-and-coming area of West Chicago.
She dials back her busy day to shift her brazen focus to me as we discuss her mission of bringing Chicago together, through food. Standing at 5-foot-nothing and wearing a huge smile, her bright attitude and chief-like presence instantly commands the room. I take a moment to sit back and witness what she's built at this stage of her career as a sea of patrons swarm her to ask for a photo. She happily obliges, takes photos with every person who asks, and thanks them for their business.
When heading towards my table, she immediately checks on my entree and asks her staff to bring out servings of cornbread and yams for me to try.
Heck yeah, girl, bring it.
Named as the top soul food restaurant in Illinois by TravelNoire, Soulé has, in such a quick time, become a staple for food hunters seeking ironically what is difficult to find in Chicago: good soul food. Locals, travelers, influencers, and celebrities alike, all position it as one of the Windy City's most regarded locations for home cooked, slap-yo-mama cuisine. On Soulé's menu, entrees inspired by the Mississippi Delta, New Orleans and the West Side of Chicago are infused into every single dish.
No tricks. No gimmicks. All quality.
"We are your home away from home. It's not just about entrees, sides, drinks, and desserts… it's about the feelings around the food too." she says.
The walls house local scenic art of black artists. There's music playing from all corners of the restaurant, and the friendly customized couch-seating embodies the unique vibe of the dining experience she describes. "We are one of the only creole-infused soul food boutique restaurants in the world," Bridgette laughs. "That's what Google taught us."
As a black, female business owner entering a culturally saturated space, standing apart is essential to success regardless of experience level. And although her success comes with the glitz and glamour of having long lines and serving various celebrities, we wouldn't be doing our readers justice without stating the obvious: it's not always unicorns and rainbows. "Being a restaurateur was not—and still isn't—an easy journey. I thought I was 'on my way' because I had around $50,000 saved. [But then] I read that the average restaurant startup took about $150,000. In my mind, I thought I could fill the gaps by tapping into people who could do the work. Of course, I was wrong," she recalls with a forced smile.
"I had no business plan. All I had was my love for cooking and my faith. It took me about a year and a half for everything that could have gone wrong, to go wrong."
Before it all, Bridgette initially attended Jackson State, later dropped out to attend Paul Mitchell and became a hairstylist. Informally trained on how to cook by her late grandmother and mother, Bridgette remembers watching both women bring friends and family together through the powers of the kitchen.
Her eventual transition to food came when she began teaching herself to polish every single food item she had known. "It all started with string beans," she says with a laugh. "I taught myself how to perfect string beans. And then it moved to the next food item and [I] perfected that and then the next food until that was perfected as well. And that's how I learned."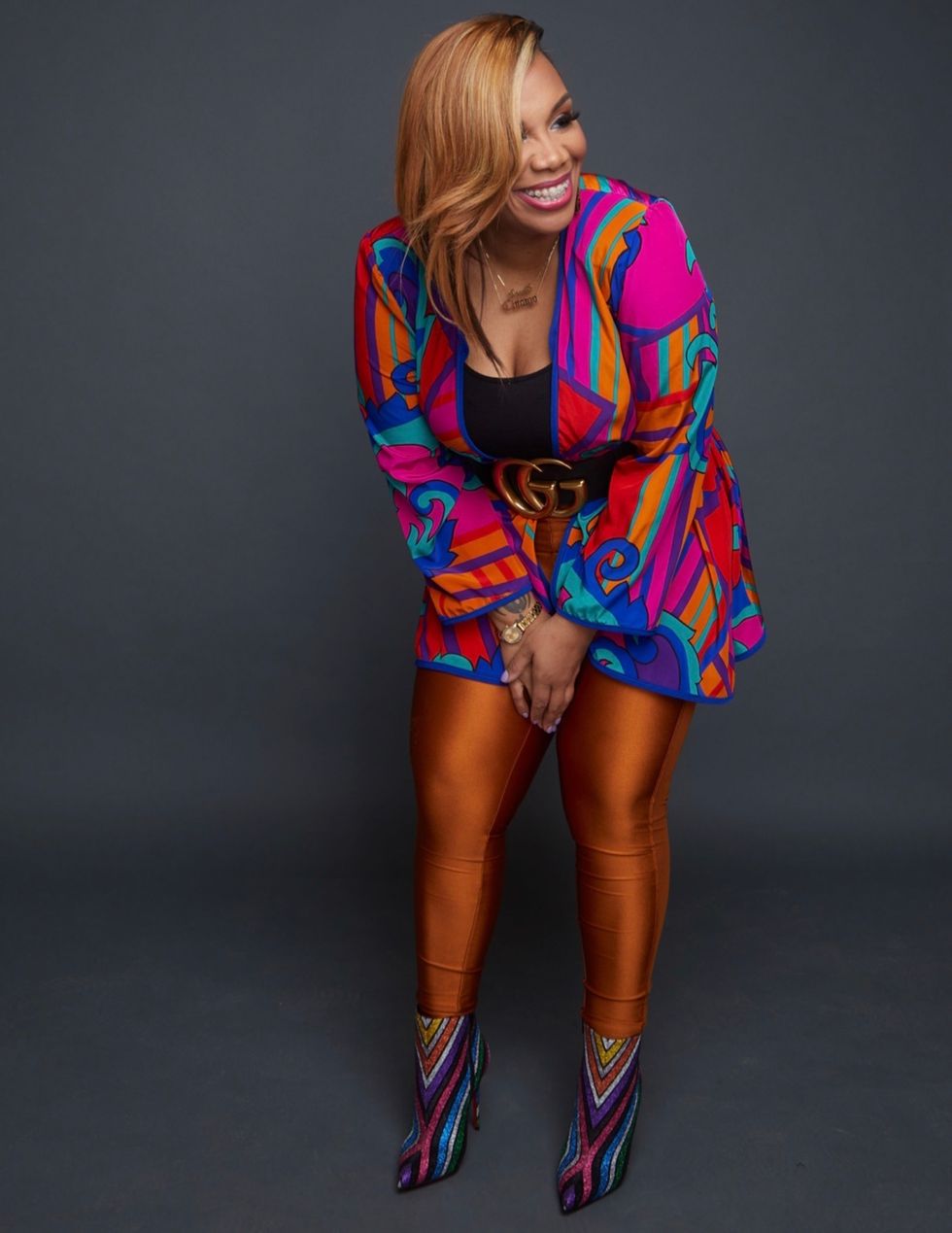 Courtesy of Bridgette Flagg
But she doesn't credit her talents to being informally trained alone. She pulls inspiration from her late grandmother and mother, who taught her the importance of being positive, chasing her dreams, and never burning bridges. This all ultimately cultivates to her brand message, which speaks for itself: "I want to bring back family. It's missing in our community."
Her "I'm Rooting for Everybody Black" shirt places an unspoken emphasis on exactly what she means and just how much she supports the uprising of the community. "I work with an organization who trains the formerly incarcerated. They go through a 10-week program and when they're finished, they receive their sanitation license. These young men are dedicated hard-workers and we make them feel at home."
I take a quick moment to marvel at how dope this is and she continues, "I don't remind them of their mistakes. Soulé's brand is all about the family and community."
And boy, does Chicago need both.
"People who are from here always talk 'westside' vs. 'southside' but [we] bring all sides together and prove that there are a lot of love within our city. And the city is looking for collaboration, unity and someone or something, from—and for—the Culture to root for."
When asked how she managed to escape Chicago's war on black youth, she explains with beaming pride, "Chicago pushed me to not become a product of my environment. I saw a lot of [crime, violence, drugs, and poverty] growing up. I wanted more for myself and I knew that my environment wasn't my final destination. I just wanted to do great things for, and in, my city."
"Chicago made me who I am, I am Chicago. And I wanted to make sure that whatever it is that I did, it was a reflection of its beauty."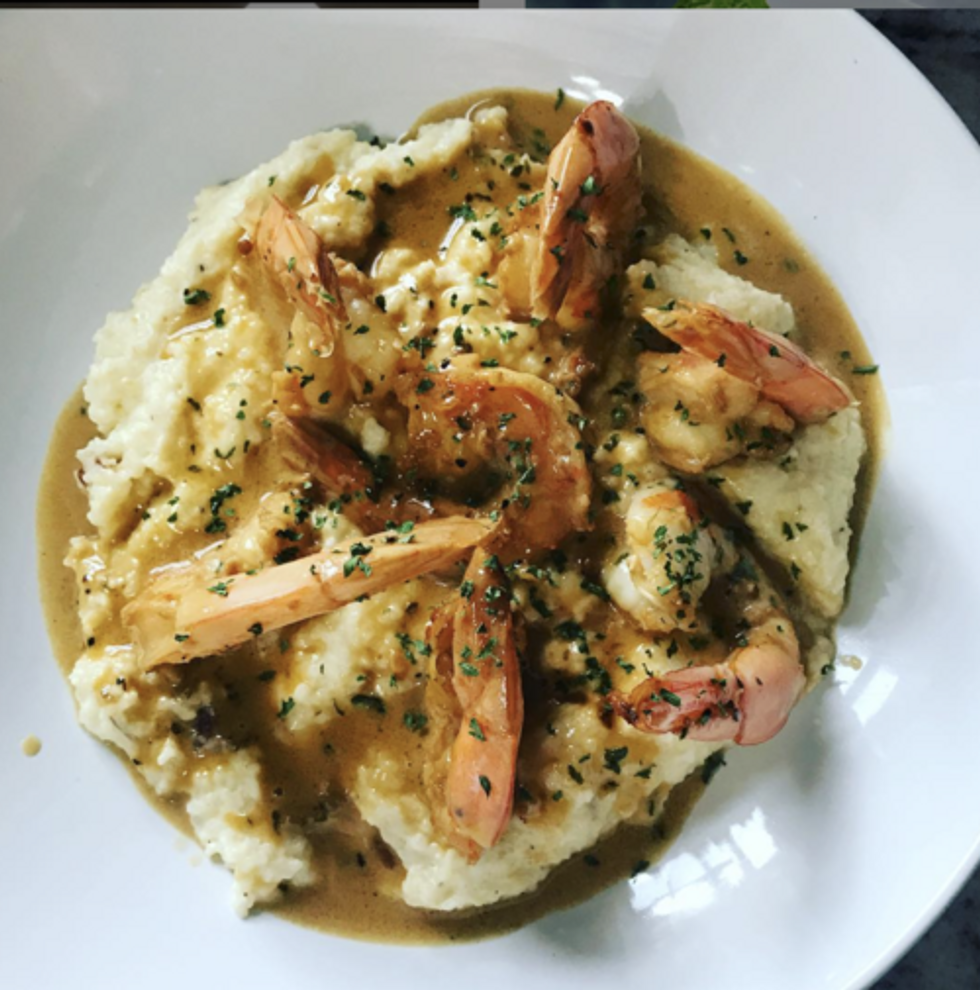 Shrimp and grits by SouléCourtesy of Bridgette Flagg/Soulé
I admire the affection Bridgette has for her business, which she displays in every detail while working the upbeat dining room. I can't help but to compare the scene to a conductor leading an orchestra. Her passion can be explained simply: "When I think of food, I think of happiness. Like, have you ever had some food that made you dance? That's my goal. I want to hit your soul when you eat my food."

And Bridgette has become a Mr. Miyagi master at just that.
With few black-owned businesses in Chicago receiving as much acclaim as Soulé, Bridgette has managed to escape the stigma of owning "just a soul food restaurant"—a major drawback restaurants of this genre are often associated with—and she's surpassed expectations by clinching to key differentiators and refining her niche. And although Soulé and various black-owned establishments have just as many diverse customers and are just as reputable, they are often left out of the prevalent conversations of fine dining.

Despite this, in their two short years, Soulé has continually attracted celebrities, has ranked as one of the best in the industry, been mentioned as lyrics in songs, and a plethora of other accolades that deem them ready to take on the giants, whether critically recognized or not. Bridgette dismisses this as minimal by focusing on what keeps her going.
"I have so many customers that come into Soulé and tell me how proud they are of me. These are complete strangers. These interactions keep me humble. Dismiss the naysayers and prove them wrong. I am. We all can."
She excuses herself for a moment to man the kitchen. I continue my entree, chat with the staff, and jam to some blaring Jodeci. I take in the Bieber look-alike next to me, enjoying the hell out of his lamb chops and the ladies across the room having a night out and enjoying a bottle of wine.
Bridgette returns and laughs at the atmosphere as if it's just another day. "With the tables being really close together, at times our guests chat with guests at the neighboring tables. Some days it feels like a family get together. One day, there was a table that paid for another table, and then, another table paid for another table. There was a pay it forward domino effect happening in the restaurant and it was cool to experience. Mary J. Blige's 'Sweet Thing' played out of our speakers, and the entire restaurant started to sing like a choir. It was hilarious. It felt like a family get together at Grandma's house."
We both laugh as a complimentary plate of New Orleans-style bbq shrimp arrives. "Enjoy." she says with a mega-watt smile.
Defeated, reluctant, and completely full, I dig right in.
For more of Soulé, follow them on Instagram.
Featured image by Shaun Andru
Charmin Michelle is a southern native and creative spirit who works as a content marketer and events manager in Chicago. She enjoys traveling, #SummertimeChi, and the journey of mastering womanhood. Connect with her on Instagram @charminmichelle.