Celeste Polanco
Celeste is a writer, DJ, and digital creative living in NYC. She has a strong passion for helping women of color reconnect with their mind, body, and soul.
TikTok has quickly become the go-to platform for all things beauty. With trends like the "clean girl makeup look" and "slugging" filling our "For You" pages, beauty lovers are inspired to level up their routines. As a result, #BeautyTikTok is evolving rapidly with new beauty hacks and influencers rising every day, making groundbreaking impacts on their community. TikTok seems to be the "perfect platform" for beauty influencers to grow, yet there's still a wide gap for creatives of color, and Black creatives, in particular, to be seen.
Black creatives have been vocal about the recent inequalities on the platform. There has been a clear gap between exposure and opportunity from the algorithm for brand deals. There have also been unfortunate cases of content being stolen from Black creatives without any credit or recognition. As a creative myself, there have been times when I've felt like I had to put in more effort than my counterparts just to be noticed and when I've had to advocate for myself in order to be paid my worth. However, I love my community, so I continue to push forward and create, an adage many creatives of color live by.
In an effort to shed light on the Black content creators in the TikTok space, xoNecole chatted with five Black beauty TikTokers about their journey and experiences in the social media landscape.
Finding Your Voice and Pushing Forward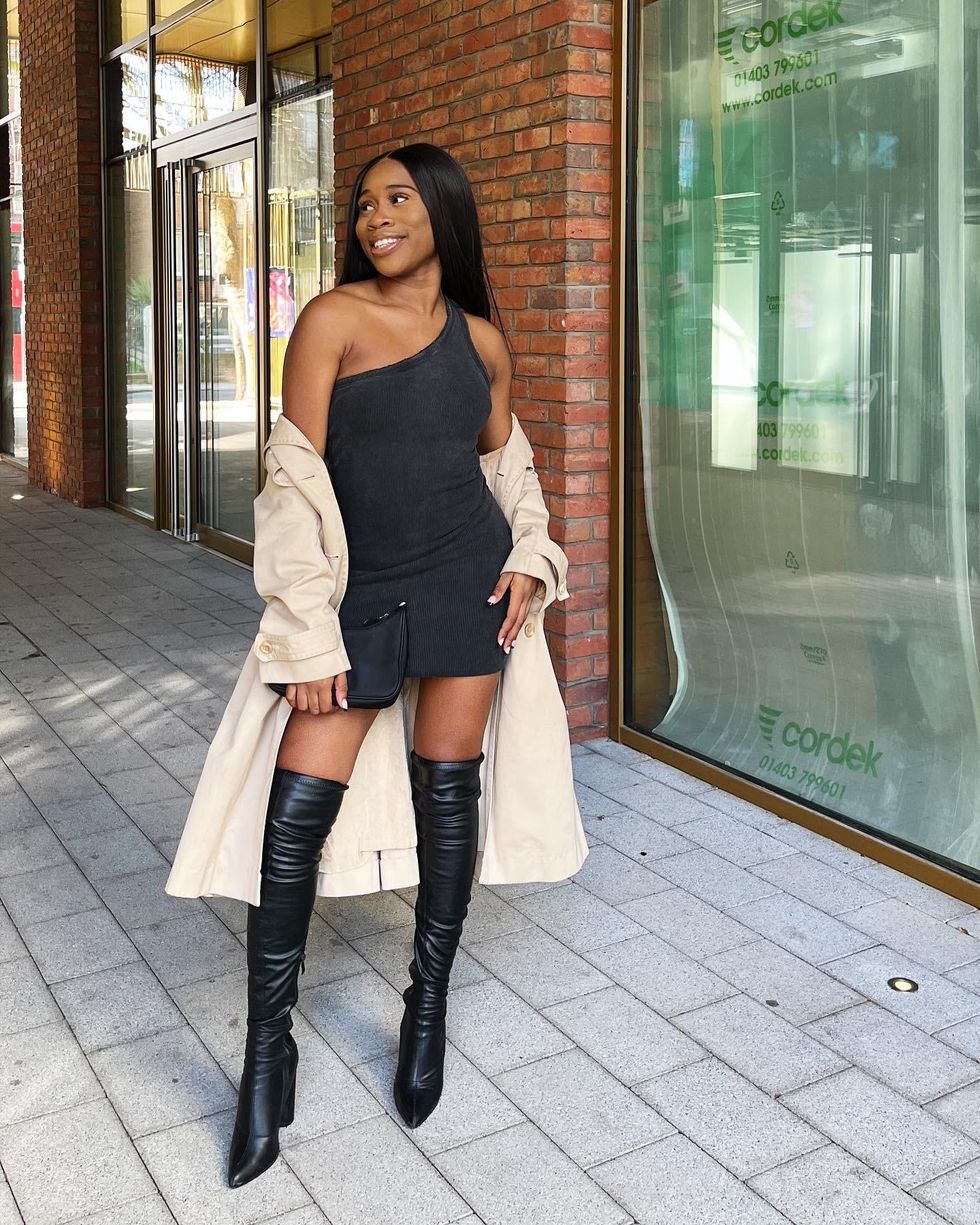 Courtesy of Victoria Azubuike
"My growth as a content creator has been prolonged, and then it dramatically increased recently. I've recently understood my voice on TikTok and Instagram and what I want to convey to my audience. I dabbled in a few niches when I first started - mainly fashion and motivational content. Now, I've finally learned how to show up for myself and the community I serve. There's no such thing as an overnight success. This journey is years of trying and sometimes feeling like giving up, there was a point I wanted to quit Instagram, as I just wasn't seeing the results... Then things finally changed. Thankfully, I found my voice.
There's no such thing as an overnight success. This journey is years of trying and sometimes feeling like giving up, there was a point I wanted to quit Instagram, as I just wasn't seeing the results... Then things finally changed.
"I'm learning to show up as my authentic self daily, and share elements of my journey with my community. I'm learning loads, it's a process and reminding myself not to overthink certain things and think about what I would want/need to hear from somebody else. It's not easy. However, I'm learning it's important to still show up as my authentic self. I used to use many filters, and this year, I decided to show up as I am - even with a pimple on my face. Through time I've realized people respect that more. My community wants to hear from me, the content creator, and that doesn't always mean showing up with makeup or being perfect. I'm very grateful for my community. They inspire me to push through and show up no matter my challenges."
Representation and Unity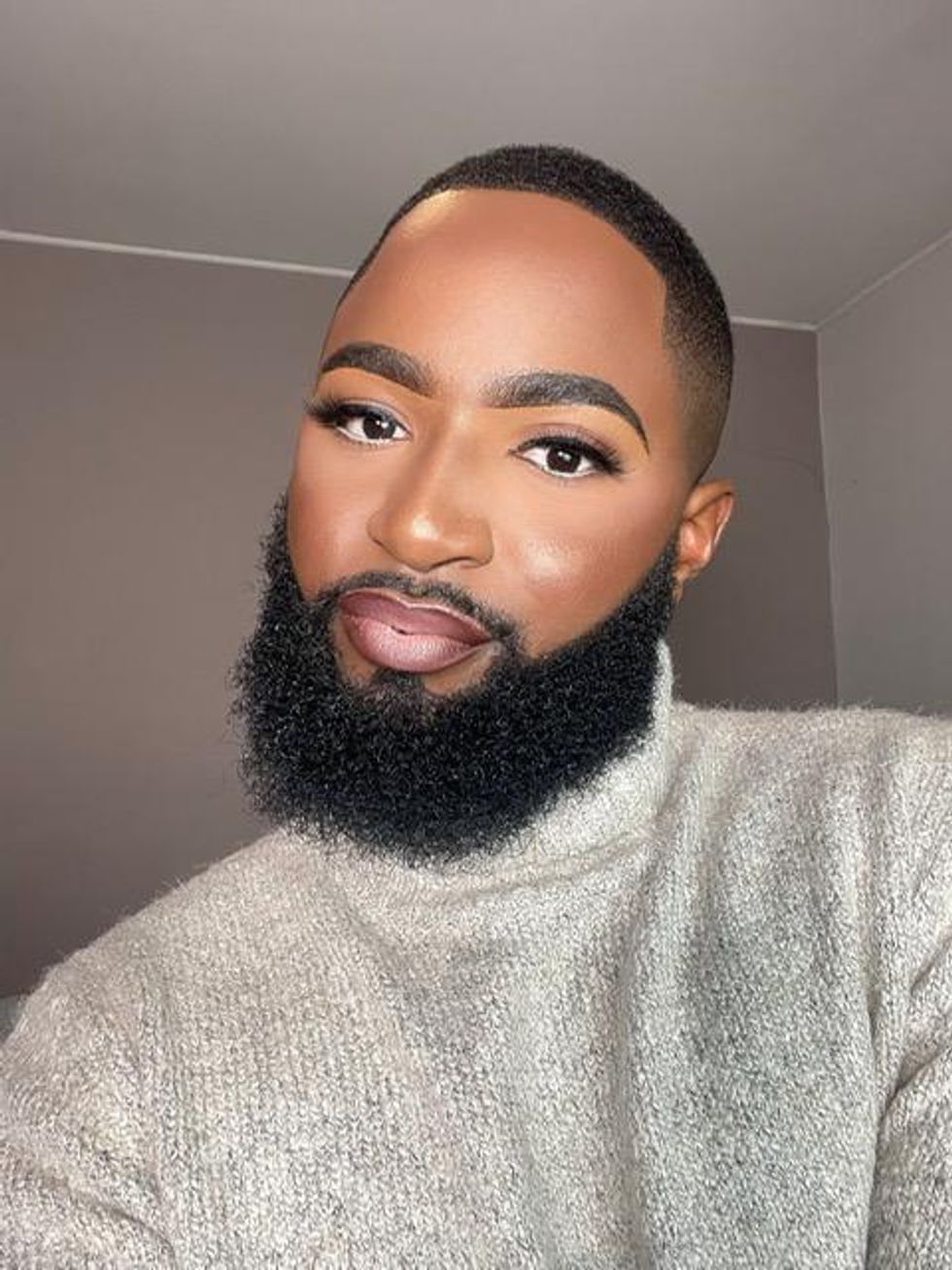 Courtesy of Damilola Adejonwo
"My journey as a content creator has been incredible, but at the same time, it has come with a lot of responsibility. Due to the racial climate, I always take it upon myself to show people how to respect me as a gay and Black man. Content and representation are important because they show who we are and where we come from. I want to show people that there are people who are gay, Black, and wear makeup. It's so important to see that. I'm happy that I can show that side of myself. Although it has been a good journey for me, I think we have a lot more to do to feel fully included.
"Whenever you're honest about your path, it's always hard. I've been through so much in my life, but creating has been so therapeutic for me. Talking to the camera and sharing my story has helped many other people and me. The process allowed me to heal and have the career I have today.

Whenever you're honest about your path, it's always hard. I've been through so much in my life, but creating has been so therapeutic for me. Talking to the camera and sharing my story has helped many other people and me. The process allowed me to heal and have the career I have today.
"Believing in myself is what helped me overcome my challenges and build community. However, what I learned through that is to take time for myself. Mental health and taking a break are so important. Especially if I want to be the change, I also have to be the action. Remember to take breaks, be inspired, and know what needs to change in our community. In my community, I feel like we're not always included, so now I make it my responsibility to include everyone for us to be unified. If I don't take that action, other people won't either."

Staying Positive and Being True to Yourself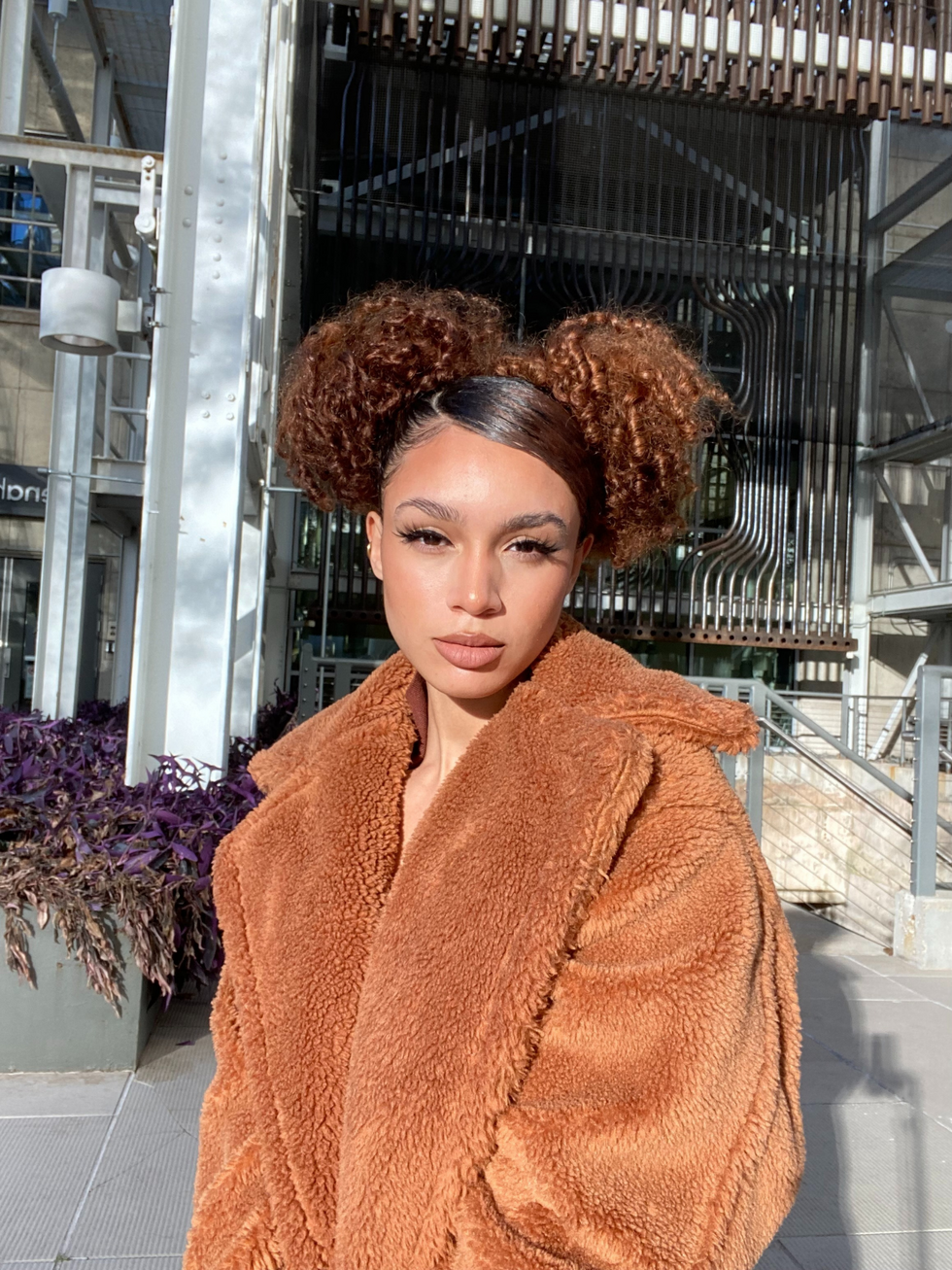 Courtesy of Brinkley
"In the beginning, being a content creator felt easy and came out of nowhere for me. As I put in more work, I felt like I had seen less engagement. I know it's because I am a creator of color. These days I see those who aren't part of our community do less and blow up because TikTok is showing their content. However, Black creators are constantly getting shadowbanned or not ending up on the #ForYouPage. I have over 200,000 followers, and I'm only getting 1,000 views - something is not adding up. At some point, It was disheartening, and I thought about quitting because I was putting in so much work. I can't give up on my online community.
"Being a hair content creator, representation is important. People want to see people who look like them. I've realized there aren't many people who look like me on the platform, which explains the lack of views I'm receiving. If my beauty content gets pushed out to a white audience, it will probably not do well because the relatability isn't there.
Being a hair content creator, representation is important. People want to see people who look like them. I've realized there aren't many people who look like me on the platform, which explains the lack of views I'm receiving. If my beauty content gets pushed out to a white audience, it will probably not do well because the relatability isn't there.
"My biggest challenge has been staying positive. There are times when I do get discouraged or receive hate comments that make me feel like giving up. These are the moments when it's important to remember who you are and not let anyone's opinions define you. The biggest lesson has been staying true to myself. When you're true to yourself, you can be proud of what you accomplish."
Focusing on Your Joy and What You Can Control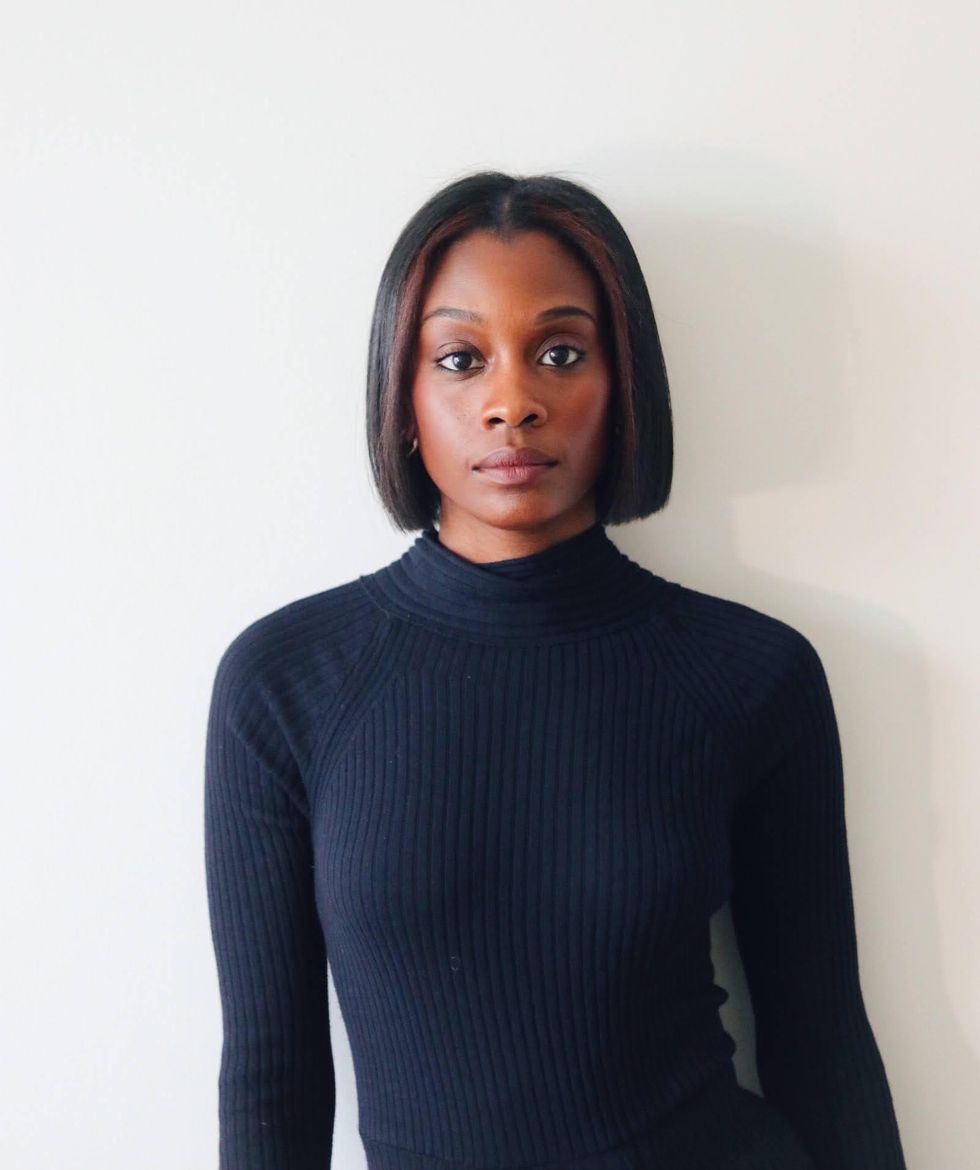 Courtesy of Alyssa Francois
"My journey as a content creator has been one of the most rewarding experiences, and I'm not referring to money. Being able to cultivate a community, learn from them and offer them value is one of the best feelings. However, so many challenges come with being a content creator of color. It often feels like I have to be working 1000 times harder to get the credit or pay I deserve from brands that reach out to partner with me. This could be discouraging, but I do my best to focus on what I can control. What is in my control is making sure the content I share about healing is inspiring, educational, enjoyable, attainable, and something one looks forward to doing because healing can be ugly at times.
What is in my control is making sure the content I share about healing is inspiring, educational, enjoyable, attainable, and something one looks forward to doing because healing can be ugly at times.
"After being diagnosed with endometriosis in 2021, I embarked on a holistic healing journey because I've learned that healing goes beyond the food on your plate and medications. Taking my community on my holistic healing journey has also helped me find new ways to become and feel beautiful from the inside first. I felt that I was making a positive impact as a Black content creator when women of all walks of life reached out to me, thanking me for sharing my endometriosis journey.
"I didn't know that simply opening up more about my autoimmune disease would be interesting to my community. Being a content creator and sharing my journey to help others brings me so much joy, and I want to make sure it continuously feels this way for me."
The Power of Pivoting and Being the Change You Want To See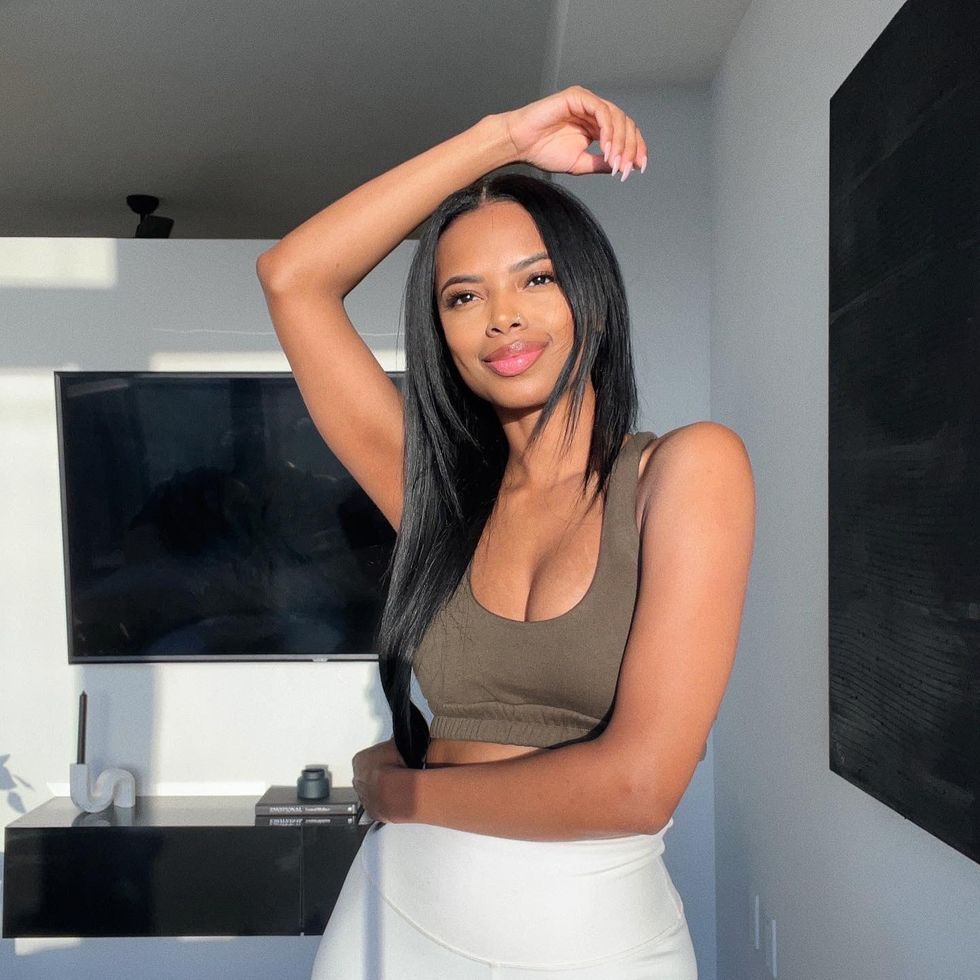 Courtesy of Trennei Adams
"As a woman of color who hasn't been in this industry very long, my experience has been great! I love the community I've built and continue to grow. However, I felt a lack when building a true community on TikTok. I decided to pivot over to Instagram, started taking it seriously, and posting consistently. That's when my community started to build and form. Something about Instagram feels more intimate to me; it has now become my main platform.
"I realized I was making more of an impact on Instagram as the messages would come through. Women were thanking me for inspiring them and being transparent. Those messages mean the world to me. People are drawn to what they relate to.More than anything, I believe the world needs more kind souls. Society has made it to where it's rare to be both kind and attractive. I am here to show that you can be both.
People are drawn to what they relate to. More than anything, I believe the world needs more kind souls. Society has made it to where it's rare to be both kind and attractive. I am here to show that you can be both.
"I'm unapologetic about being the change I want to see. I want to see more women cheering other women on. I want vulnerability. I want to see women evolving and stepping into their power, loving themselves fiercely and confidently while also holding space for the woman next to them!
"I want young Black girls to see that whatever they want to achieve in this lifetime is possible. You can be poised, classy, well-spoken, kind, educated, have nice things, go to therapy, etc. I want that to be normal for us Black women and not a shock! My platform exudes the change I would like to see more of."

Featured image courtesy of Trennei Adams
I've never been a foundation girl. Truthfully, I typically stay away from it because it can break out my skin, and it's tough to find a shade that fits. I have yellow undertones with a sprinkle of hyperpigmentation from previous acne struggles. Foundations with yellow undertones don't seem to have it all the way together yet. In my experience, the foundations always give banana-hued vibes. I usually purchase two foundations and mix to find my perfect shade, which isn't always ideal for my wallet.
When I scrolled on TikTok and came across the L'Oreal Magic Skin Beautifier, I was intrigued. The lightweight BB cream was going viral for its so-called ability to adjust to any skin tone. I watched as beauty gurus purchased it in green or orange, melted it into their skin, and raved about the results. At the time, I was entertained and fully convinced until I realized one common denominator: Everyone who reviewed the product was a white woman. I searched the "For You" page on the app to find women of color who had tried the product but fell short.
Still curious about the viral magical BB cream, I decided there was only one thing left to do. I added the product to my cart and purchased it. Check out more on my experience with the L'Oreal Magic Skin Beautifier:
About The Product
According to the site, the product is made to deliver four elements that will enhance your skin: It revives tired and stressed skin, evens tone, and hydrates. It's also supposed to transform into your perfect shade for a flawless look. I must say, the idea of a product adjusting to every skin tone and having us all looking amazing sounds way too good to be true. Skin is very complicated and unique to the individual.

Before we go any further, we should look at the ingredients. While doing my research, I noticed the product doesn't have SPF. I see this detail as a positive rather than a negative because SPF in beauty products can land differently depending on skin tone. I also noticed the product contains dimethicone which some may see as harmful to the skin because it is not a natural ingredient, however, this ingredient can prevent clogging pores by sealing any sweat or dirt on the face. Those with sensitive skin or who are prone to breakouts may appreciate this.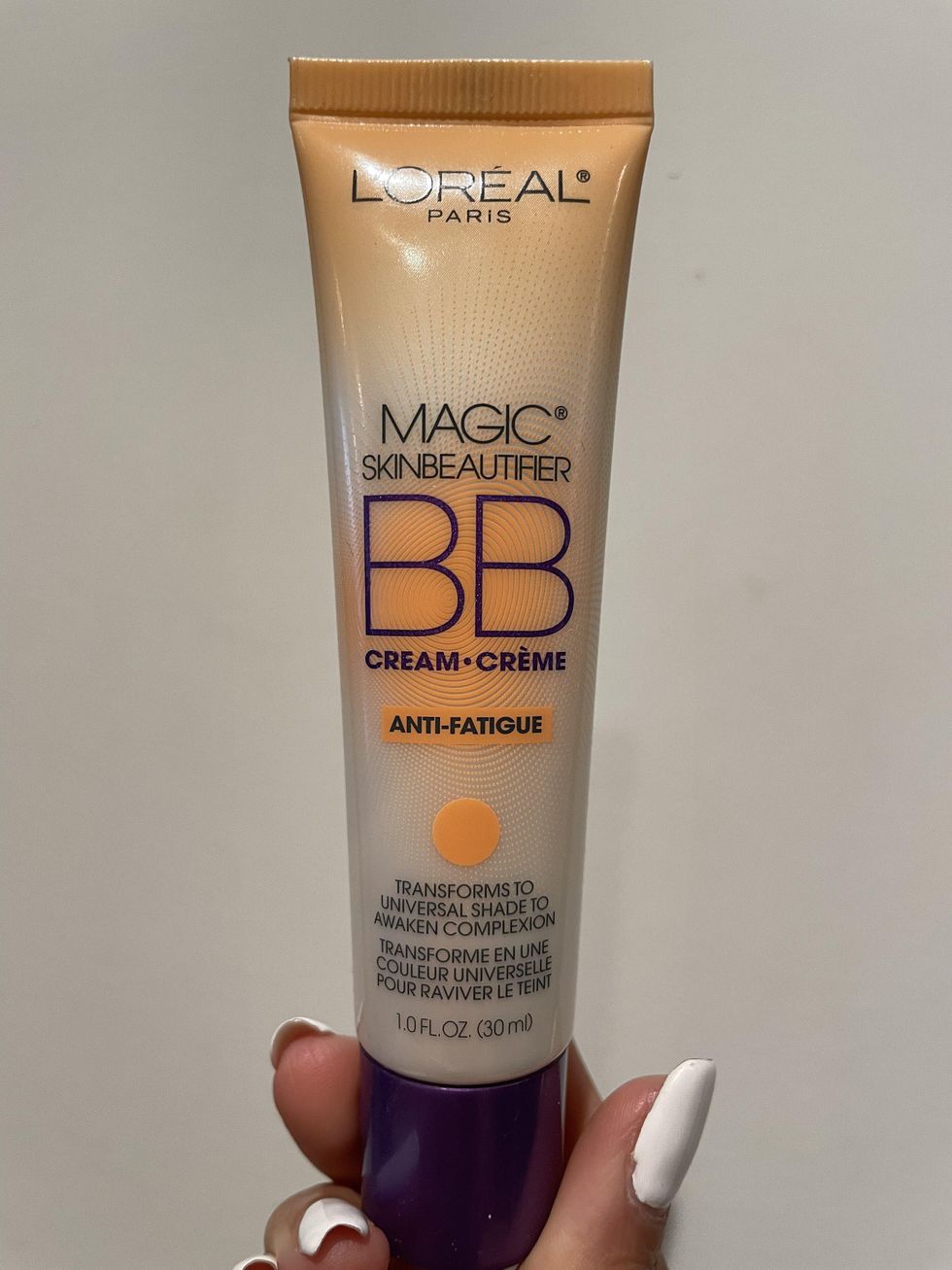 Courtesy of Celeste Polanco
About My Skin
My skin has been through many different phases in my life. There was the oil phase, which honestly was my favorite phase. My skin was glowing, and I barely found the need to use any highlighter or even foundation. I loved my skin's natural glow. Next was the acne phase, and as you can imagine, this was the least favorite time in my life. The stress of college and a toxic ex had my skin out of whack, but when college and my relationship ended, so did my acne.
Today, my skin is clear and more on the drier side. I love it, but I can admit that it could use an extra life boost.
I Tried The L'Oreal Viral TikTok BB Cream
I purchased the L'Oreal BB cream in orange because it aligned best with my needs. My skin looked very fatigued, and the orange BB cream targeted those issues. The alternative would have been the BB cream in green, which is specifically for dark spots, but I use concealer for those areas. As seen on TikTok, I squeezed the product directly on my face and rubbed it in. The orange color was intense at first, but as I massaged it into my skin, the product began to transform as promised.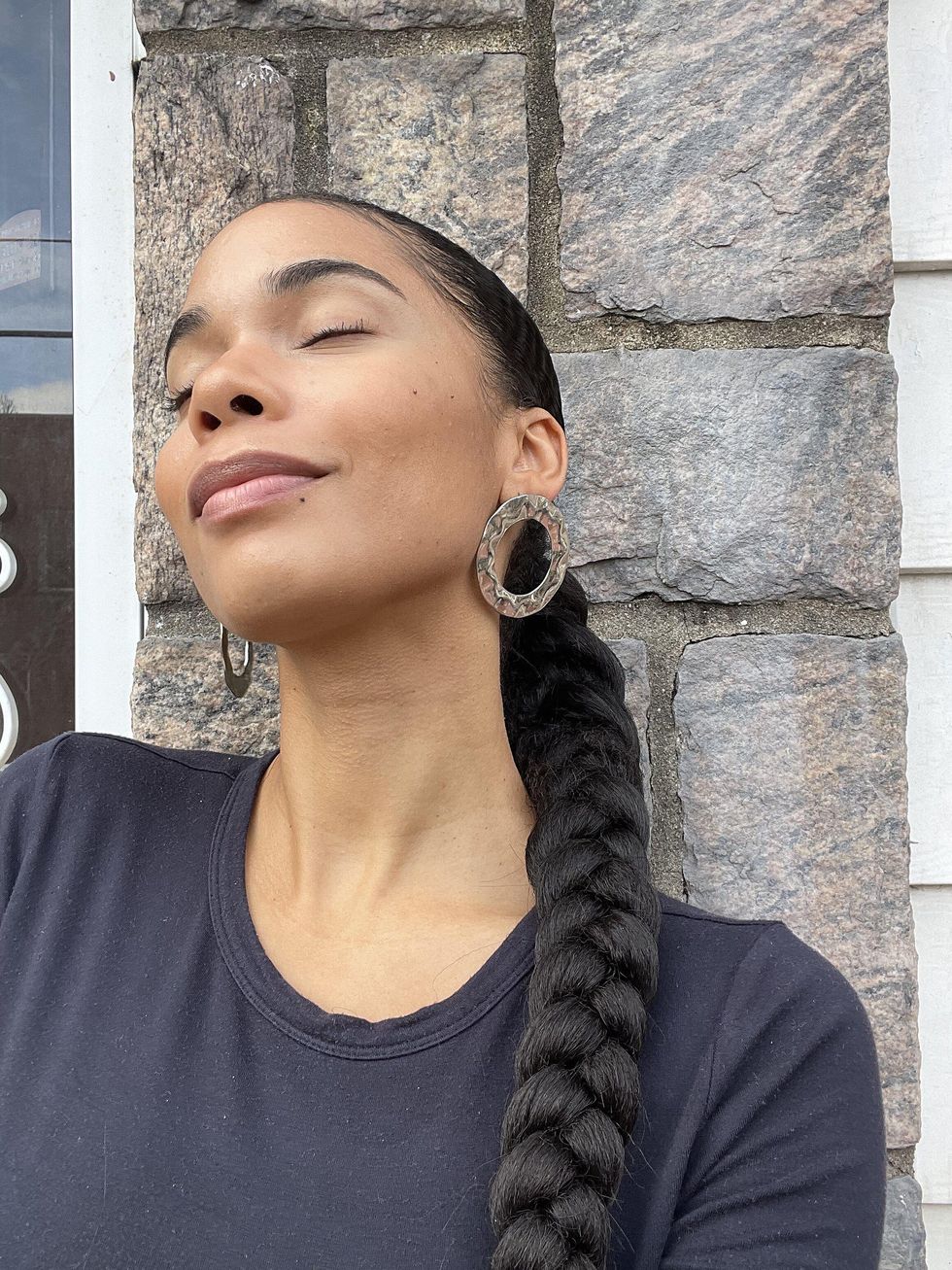 Courtesy of Celeste Polanco
The BB Cream Tried Me
The results of the L'Oreal Magic Skin Beautifier weren't that magical. Once the product settled in, I was pretty disappointed by the results. The product felt very dry on my skin, and when the orange liquid settled, my skin didn't look as flawless as expected. I felt the BB cream gave my skin a dull appearance. Since the product targets fatigued skin, I was surprised by a dull result.
I brought my skin back to life with bronzer and concealer, and the BB cream did take the layering of other makeup products better than expected. I was grateful for this, but I still wouldn't consider it a holy-grail product.
The Value
The only reason I'm not too upset about the result is because of the price point. At $10.99, it's a very fair price for a drugstore BB cream. If you're still debating trying this product, at least it won't break the bank.
The Final Verdict
To be honest, this just wasn't for me, and that's OK. I have yellow undertones and still felt like the product didn't align with my skin tone. People with darker skin tones may also struggle to find this product fitting. If you feel like the result may be different for you, go for it. The product is not expensive and won't take up all of your coins. However, for me and an ideal BB cream, the marathon continues.

Featured image courtesy of Celeste Polanco
If there's anything I love about makeup, it's a bold lip. I am that girl that will wear red, hot pink, and even black lip colors. As a child, I was always indifferent about my full lips. I now know that my insecurities stemmed from unrealistic beauty standards that catered to white features, so wearing a bold color is my creative way of taking back my power. It's also my way of saying my full brown lips are beautiful, good enough, and do not need anyone's approval to be part of the beauty standard. My lips are my way of being vocal, loud, and unapologetically proud.

Although I love my beautiful bold lip colors, I felt it was time I took things up a notch. While shamelessly scrolling on the #beautytiktok hashtag on TikTok, I came across Stay Golden's Glitter Lip Kit. The now-viral glitter lip kit is an electrifying vibrant kit that will have the spotlight on anyone's lips. I believe in my heart this glitter lip kit is my spirit animal. I was captivated by the videos showing how the glitter flawlessly glistened in the sun or a nighttime setting. I'm not ashamed to say I fell for classic social media marketing and bought the lip kit to try for myself. Keep reading to learn more about my experience with Stay Golden's Cosmetics Glitter Lip Kit:
A Little Tea About The Brand
Stay Golden Cosmetics is proudly island girl-owned by Danielle Edmond. The Jamaica-born model started her business on her living room floor in Brooklyn, N.Y. Her love for the city's nightlife and cosmopolitans infused her idea to create a beauty line that shined brighter than the city's night lights. She is now known for her super-popping glitter lip kits sweeping the TikTok For You page.
About My Lips
My lips are sweet, supple, and brown. Since the colder months are upon us, my lips are more prone to getting dry. My self-care routine for my lips consists of sugar scrubs and lip masks to keep them moisturized and smooth. I treat my lips with kindness when removing harsh lip stains or lipsticks. My preference is to use an oil cleanser to remove any bold lipstick of choice. I believe these treatment methods have helped to keep my lips healthy, helping me avoid over-drying, cracks, or sores.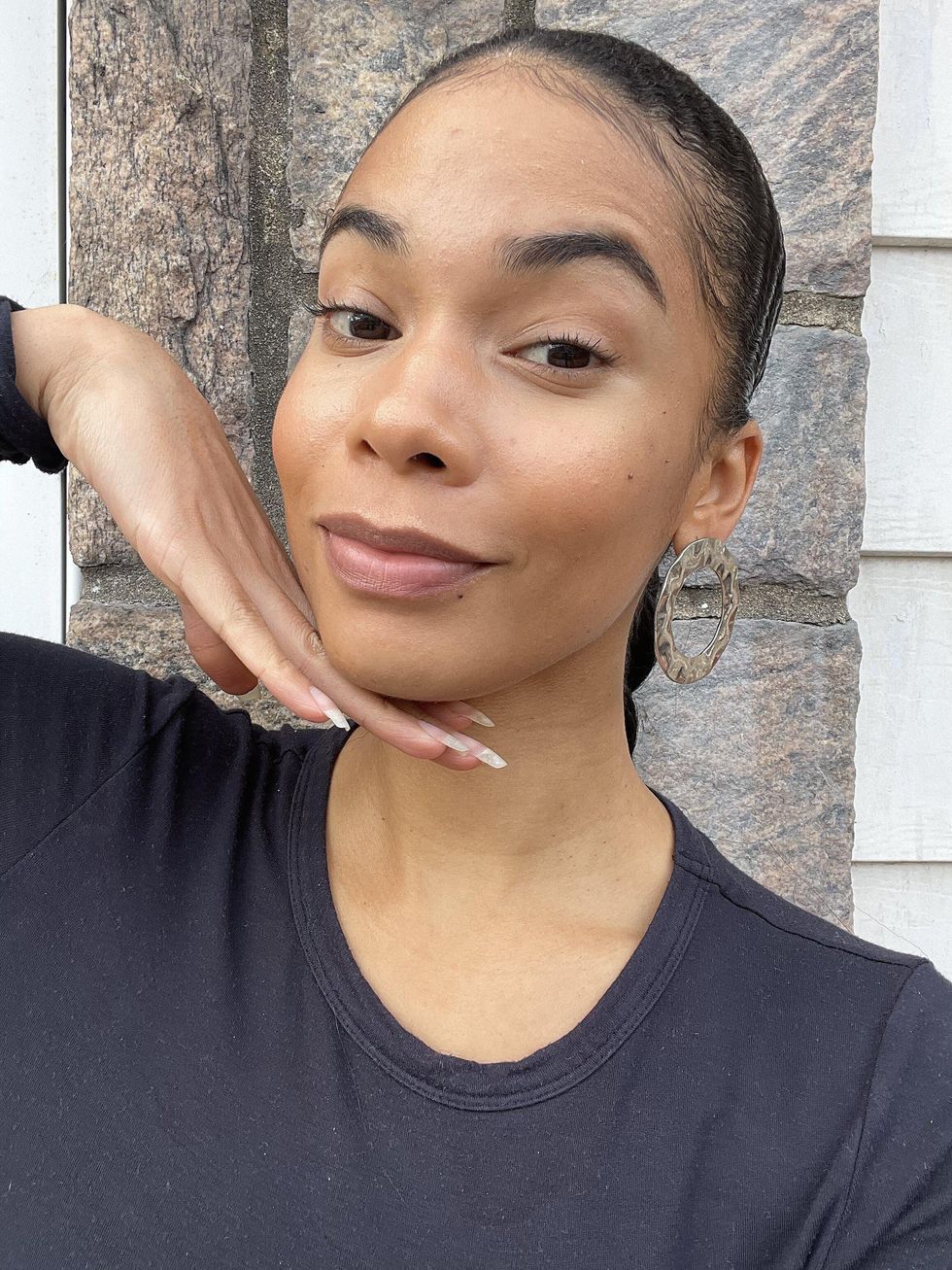 Celeste Polanco
How To Apply: Easy... Too Easy
The only thing that made me nervous about this product was the application. I was worried the process would be pretty messy. Although I love glitter, the last thing I want is a sparkly mess in my bathroom. To my surprise, applying the look was easy and didn't require any bathroom maintenance afterward. I credit this to the instructions, which listed steps that included using the lipliner, then gliding on the gloss bond, and finally adding the glitter on dry lips. All three items were included in the lip kit.

When I applied the gloss bond the texture surprised me. I would compare it to glue—which makes sense given the glitter must stick—but the feeling was a bit uncomfortable. It dried my lips more, but I guess that's the sacrifice you make for beauty in this case.
Applying the glitter was easy and fun, and I used the applicator brush that came with the kit to gently apply it. I had full control of where and how much of the glitter I wanted to put on.
The Results:
I gotta admit, I typically don't believe everything I see on social media, especially when it comes to cosmetics. You ever bought a beauty product because the hype on social media was too real, but then you get it in the mail and realize you've been bamboozled? I've been fooled by the algorithm and convincing beauty gurus one too many times. However, I am not a victim of buyer's remorse. I chose to spend my coins, and I've paid for my choices—literally.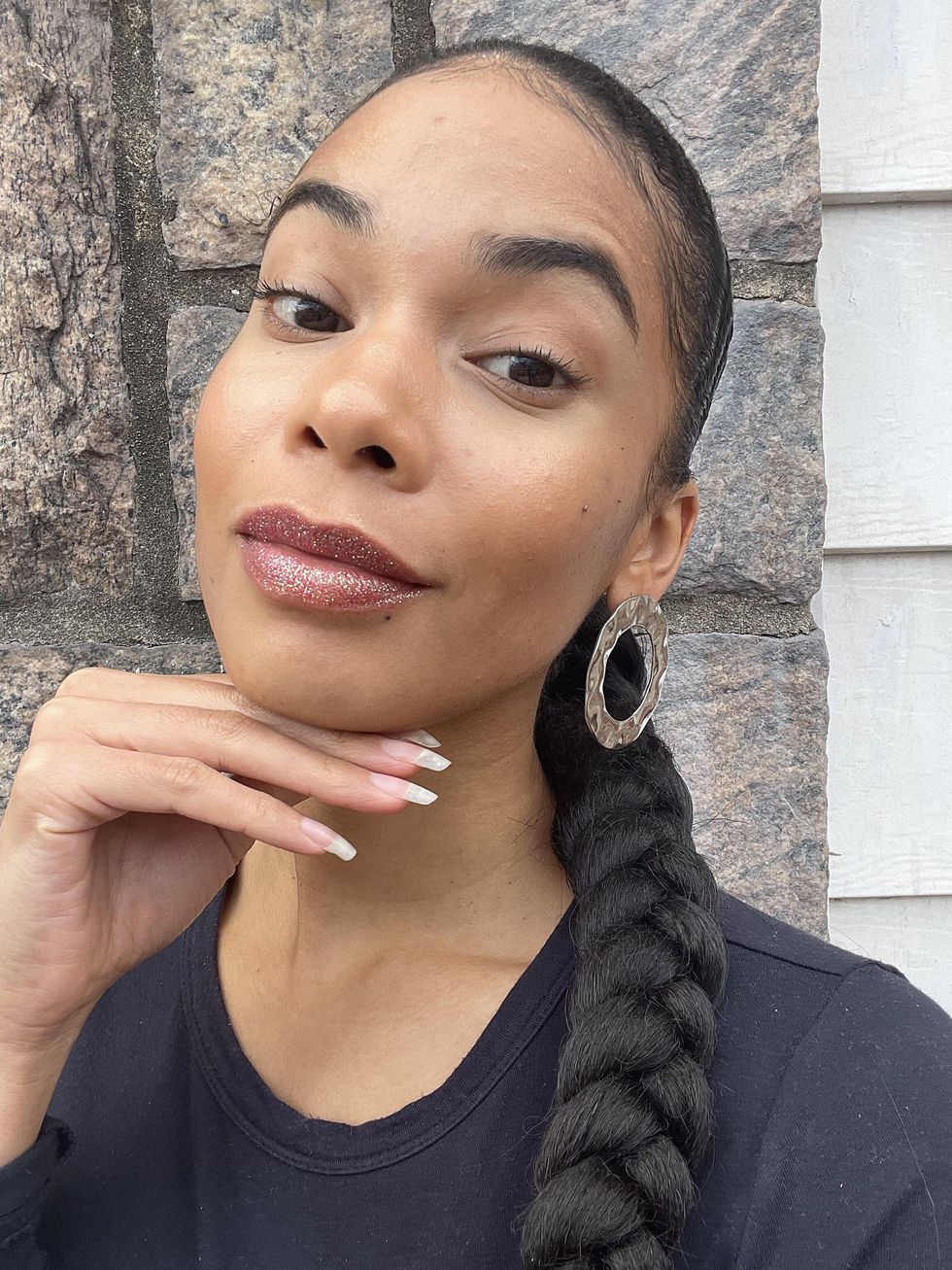 Celeste Polanco
I'm happy to report the coins were not wasted! This product looked exactly how it did when displayed on social media, if not better. The glitter was unbelievably gorgeous on my lips! At first, I expected the glitter to fall throughout the day or to find bits of it on my face. The total opposite happened! The glitter remained on my lips the entire day as I drank water, caught up with friends, and went about my business.
Remember that drying feeling we discussed earlier? After I applied the glitter, I put clear lip gloss on for moisture and extra pop.
The Value: Worth It
The kit retails for $20 plus shipping. I have to admit I'm actually OK with the price. Why? Because it works! I personally do not mind spending a coin on Black- and Brown-owned brands especially if the product works. I love that this kit provides you with everything you need to achieve the best results. Best $20 I've ever spent!
The Final Verdict
I mean, do I even need to say it? I love this product! I appreciated how bold the glitter was on my lips and how well it held up throughout the day. The removal process was also painless. Using an oil cleanser or coconut oil to remove this product will work just fine. Sure, the gloss bond was uncomfortable at first, but lip gloss took great care of that problem. The price point is appropriate, the product works, and it's Black-owned. Seriously! What's not to love?
10 out of 10, would recommend!

Featured image by Celeste Polanco
Anxiety and acne have been my biggest bullies for years. They have both traveled with me through the awkward puberty stage, college, and well into adulthood. I've separately tried various skincare products and methods to soothe my anxiety, yet nothing seems to work. My internal mental battle consistently manifested itself externally. Having an anxious day fuels my acne, and having acne fuels my anxiety. Eventually, I became fed up and did what any millennial would do—scrolled on social media and tried to filter my problems.

As I scrolled my way into the "Beauty TikTok" hashtag, I found myself becoming overwhelmed by the amount of perfectly pore-less skin beauty gurus I felt I could never amount to. Just as I began to wallow in self-pity, I came across ASMR skincare videos.
The sounds of freshly opened face masks, moisturizers rubbing into the skin, and subtle mouth motions placed me in a deeply relaxed state. I was immediately eager to learn more.
@nadina_ioana

🤍 #asmrskincare#asmrbelleza#koreancosmetics#skincare101#skincareproducts#asmrbeauty#nadinaioana#modellingmask#tonymoly#porepack
Autonomous sensory meridian response, or ASMR, is a tingly sensation and often sedative response that begins on the scalp and moves throughout the body. A selection of visuals and audio such as whispering, gentle mouth movements, or sounds from various objects typically encourage a sedative state. The feeling is similar to the one you get while relaxing on the beach while listening to the sounds of the ocean. Another example of a sedative state is the euphoria when someone is gently playing with your hair.
In recent years, ASMR has been gaining attraction, and for great reason. Although experts are beginning to scratch the surface on ASMR and its capabilities, the results are promising. According to a 2018 study, researchers found ASMR can reduce heart rate and promote calmness. A second study also notes ASMR helped their clinical patients sleep, reduce anxiety, relax, and feel comforted. These studies ultimately give us hope that ASMR is more than just a feeling.
@hudabeauty

#asmrtiktoks #asmrskincare #hudabeauty #foryou #wishfulskin
I began incorporating ASMR Beauty TikTok videos into my, well, beauty routine. Every night I would relax to the sweet sounds of skincare products. I immediately began to experience the tingly feelings. The sedative sensations promoted me to a mentally relaxed state.
Soon my racing thoughts slowed down, and I could feel my body from within. I began to notice tense muscles and target anxious areas in my body. I implemented breathwork to combat these areas, and it was the remedy my anxiety needed. Tensing my body with each inhale and releasing with every exhale.
I was finally cleansing my mind and body from the toxins that had been holding me back for years.
@rose.friederike

SKINCARE ASMR 💦💦🌸🌸 #asmr #asmr_tingles #skincareasmr #fyp #asmrsounds
The combination of breathwork and gentle ASMR movements gave me an internal detox that transcended externally. Relaxing my anxious thoughts lowered my stress levels over time. My skin slowly began to transform, but I needed a little extra help with proper products. When I would use ASMR for relaxation purposes, I would take notes on the best skincare solutions for my skin type. Soon, I began implementing face masks, moisturizers, and sunscreens for my anxiety-induced acne.
As time went on, my skin became clear, and so did my consciousness.
While ASMR isn't a cure for anxiety, it provided me with the all-around clarity I needed. The truth is, there is no "one cure-all method" for mental health. Mental health is a daily commitment to ourselves. It's not about always striving to be the "best version of ourselves," but the most accepting version of ourselves. We must accept that we're allowed to go through the ups and downs of life.
Most importantly, we must accept that we're deserving of the grace that comes with growth. Practice kindness during your mental evolution and become an observer of yourself in your darkest moments. The light within you will shine again.
Featured image by Getty Images
From the moment we are born, it seems there is a lot of anticipation for our future. As babies, our parents watch us take our first steps and wonder how we will step into the world. As children in grade school, our teachers may ask us who we want to be when we grow up before we know who we are. For most of us, as young adults, we are pressured to declare a major in college and land that job that requires years of experience before having any life experience. Anticipation for the future can come with a ton of pressure and make us feel anxious - at least it has for me.
Living with anxiety is like being in a time machine - always focused on the future or the past, and rarely present. Coming from a single mother who struggled to provide for her three children, I always felt pressured to make sure my future was bright. I constantly worry about my future because my future determines how the next generation in my family will live. The classic "breaking generational curses" has always sat heavily on my shoulders. An anxious worry most Black, brown, and first-generation young adults have on their shoulders.
The uncertainty about the future, especially in today's climate, has made me feel like I'm possibly not alone in this. Having anticipation anxiety seems to be becoming more common among young adults. While processing my anticipation anxiety, I wanted to dig further into the meaning of anticipation anxiety and how we can become more confident in our future and live more in the present. I had the pleasure of talking with mental health professionals Sierra Hillsman and Marline Francois-Madden.
Here are their thoughts.
Featured image by Getty Images

Ah, I miss the good old days when I would just pop in a Flintstones vitamin and call it a day. Those times are now long behind me, and my body has gone through many changes since my Flinstone days. I'm learning how important it is to take extra steps to keep my health in check. Drinking water, working out, and feeding my body only good things have helped me keep going. Something else offering an assist to my overall health are supplements.
Wellness supplements can make our bodies feel incredible, but finding a supplement that is right for our needs can be quite challenging. For generations, people of color have had a harder time finding proper medical care, health advice, and trusted supplements that speak to our bodies. I think it's fair to say it is the area where we feel the least heard on top of everything else.
Luckily for us, Black-owned wellness businesses are on the rise and are going the extra mile to make sure we're taken care of. Here is your list of black-owned wellness supplements.
MOVITA Organics is a popular Black-owned vegan supplement created by Tonya Lewis Lee. Her mission is to support women of color and their powerful choices to amplify their life. MOVITA Organics is a multi-purpose vitamin brand made with organic fruits, vegetables, herbs, and minerals. The vitamin is also gluten-free, allergen-free for shellfish and nuts and free of GMOs.
The vitamin-based brand offers a few different vitamins for any woman's needs. A few of the options are prenatal vitamins, which support the immune system and baby's development; beauty supplements support the healthy growth of hair, skin, and nails; and the multivitamin supports breast and reproductive health, heart health, immunity, and stress relief. The best part? The vitamins can be taken on an empty stomach. Perfect for taking your vitamin at the start of your day with no repercussions.
For some women, that time of the month is associated with negative feelings. Their cycles and cramps are painful, diagnoses like PCOS and fibroids fill the body with trauma, and something that should symbolize new life is affiliated with the inability to conceive. Coming in clutch and making #periodgoals a thing is My Happy Flo.
My Happy Flo is an up-and-coming supplement brand focused on empowering women to have a happy period, period. The brainchild of xoNecole founder Necole Kane, My Happy Flo is an all-natural plant-based supplement that helps to holistically balance your reproductive health system. The end result is a happier, drama-free period and elevating your menstrual wellness.
Sacred Vibes Apothecary was founded by Black herbalist Karen Rose. Her shop is based in Brooklyn, NY, and is a learning community center and a herbalist boutique. Karen makes an abundance of different cleansers for the body but is praised for her all-natural tonics. Her best seller being the Anti-Inflammatory Tonic.
The herbal tonic is made with devil's claw, turmeric, ginger and dandelion roots, garlic, and cayenne pepper. The product promotes weight loss, stops yeast and fungus growth, prevents infection, and balances blood sugar. Seriously, is there anything this tonic can't do? Not to mention it also prevents and removes inflammation. Simply include this in your water twice a day for maximum results. If you're looking for a rebirth, then this product is for you.
As women, that time of the month can be very hard on us. Our bodies are going through a beautiful process that can sometimes throw us and our pH out of whack. Now, there is a supplement to help get back in alignment with our pH. Bea Dixon founded the Honey Pot. Her now plant-derived feminine brand manifested through her struggles with bacterial vaginosis. She developed a series of feminine products as well as a vaginal supplement to help us all.
Her supplement Boric Acid & Herb Suppositories is a vaginal insert. The suppositories are made to help with pH balance but can support ongoing symptoms of bacterial vaginosis. The supplement is all-natural made with boric acid and tea tree oil for balance, plus coconut butter for an added boost of hydration and moisture. The supplement comes with an insert, similar to a tampon. It is advised to take the supplement for seven days twice a day.
Stress in our life can have hard effects on the body. Lack of sleep, weight loss, mood swings, the rise of blood pressure, and heart disease can all stem from stress on the body. Having a supplement to keep your stress levels low can save you a lifetime of health challenges. Good thing we have Nadine Joseph, the founder of Peak and Valley--an herbal company backed by science.
Peak and Valley promotes medicinal mushrooms and herbal supplements for holistic wellness. Nadine, a scientist, became passionate about providing products to help us deal with everyday stressful situations. Her powdered supplement, Balance My Stress Blend--is a chocolate blend of herbs and mushrooms to support calm and wellbeing without the need for prescriptions. The powerful ingredients are clinically proven to balance cortisol levels, support and enhance immunity, increase energy, and decrease stress. You may apply one tablespoon of the supplement to any tea, coffee, or milk.
VeganSmart
People of color, we have to do better about our eating habits. Now don't get me wrong, I love a saucy rack of ribs, but if I had it every day, I'd be dead. People of color are at a higher risk of having diabetes and other diet-related illnesses. In fact, Kareem Cook and Claude Tellis, owners of VeganSmart, saw this within their own families. The two college friends developed a protein powder and recipes to support nutritional health.
The VeganSmart All-In-One Nutritional Shake is a plant-based vegan blend of prebiotics, omega-3, digestive enzymes, and vitamins and minerals. Each ingredient contributes to the body's overall health, supporting cell function, brain and heart health, and the digestive system to absorb nutrients. You may also find a series of healthy recipes on their website to stay in alignment with your fitness goals.
Dr. Sebi's Cell Food
Giving our bodies a good cleanse can help us see the world just that much clearer, and Dr. Sebi's is helping us do just that. His cell food is proven to bring immense healing from the inside out. Most of his products are from botanical extracts and herbs, which help cleanse the body of toxins and every cell to promote profound self-healing and physical rejuvenation.
A few of his products include powders, tonics, and vitamins, but my favorite is Banju. This product is my personal favorite because it promotes brain health and reduces anxiety. The tonic is rich in antioxidants reducing neurological inflammation, elderberry, which protects and nourishes the brain, blue vervain delivers emotional and nervous restoration, and more. These ingredients make for the perfect anxiety-reducing potion.
Are you a member of our insiders squad? Join us in the xoTribe Members Community today!
Featured image by Getty Images