Celeste Polanco
Celeste is a writer, DJ, and digital creative living in NYC. She has a strong passion for helping women of color reconnect with their mind, body, and soul.
From the moment we are born, it seems there is a lot of anticipation for our future. As babies, our parents watch us take our first steps and wonder how we will step into the world. As children in grade school, our teachers may ask us who we want to be when we grow up before we know who we are. For most of us, as young adults, we are pressured to declare a major in college and land that job that requires years of experience before having any life experience. Anticipation for the future can come with a ton of pressure and make us feel anxious - at least it has for me.
Living with anxiety is like being in a time machine - always focused on the future or the past, and rarely present. Coming from a single mother who struggled to provide for her three children, I always felt pressured to make sure my future was bright. I constantly worry about my future because my future determines how the next generation in my family will live. The classic "breaking generational curses" has always sat heavily on my shoulders. An anxious worry most Black, brown, and first-generation young adults have on their shoulders.
The uncertainty about the future, especially in today's climate, has made me feel like I'm possibly not alone in this. Having anticipation anxiety seems to be becoming more common among young adults. While processing my anticipation anxiety, I wanted to dig further into the meaning of anticipation anxiety and how we can become more confident in our future and live more in the present. I had the pleasure of talking with mental health professionals Sierra Hillsman and Marline Francois-Madden.
Here are their thoughts.
Featured image by Getty Images

Keep reading...
Show less
Ah, I miss the good old days when I would just pop in a Flintstones vitamin and call it a day. Those times are now long behind me, and my body has gone through many changes since my Flinstone days. I'm learning how important it is to take extra steps to keep my health in check. Drinking water, working out, and feeding my body only good things have helped me keep going. Something else offering an assist to my overall health are supplements.
Wellness supplements can make our bodies feel incredible, but finding a supplement that is right for our needs can be quite challenging. For generations, people of color have had a harder time finding proper medical care, health advice, and trusted supplements that speak to our bodies. I think it's fair to say it is the area where we feel the least heard on top of everything else.
Luckily for us, Black-owned wellness businesses are on the rise and are going the extra mile to make sure we're taken care of. Here is your list of black-owned wellness supplements.
MOVITA Organics is a popular Black-owned vegan supplement created by Tonya Lewis Lee. Her mission is to support women of color and their powerful choices to amplify their life. MOVITA Organics is a multi-purpose vitamin brand made with organic fruits, vegetables, herbs, and minerals. The vitamin is also gluten-free, allergen-free for shellfish and nuts and free of GMOs.
The vitamin-based brand offers a few different vitamins for any woman's needs. A few of the options are prenatal vitamins, which support the immune system and baby's development; beauty supplements support the healthy growth of hair, skin, and nails; and the multivitamin supports breast and reproductive health, heart health, immunity, and stress relief. The best part? The vitamins can be taken on an empty stomach. Perfect for taking your vitamin at the start of your day with no repercussions.
For some women, that time of the month is associated with negative feelings. Their cycles and cramps are painful, diagnoses like PCOS and fibroids fill the body with trauma, and something that should symbolize new life is affiliated with the inability to conceive. Coming in clutch and making #periodgoals a thing is My Happy Flo.
My Happy Flo is an up-and-coming supplement brand focused on empowering women to have a happy period, period. Co-founded by life-long friends certified nutrionist and herbalist Fallon Mercedes Brock and xoNecole.com founder Necole Kane, My Happy Flo is an all-natural plant-based supplement that helps to holistically balance your reproductive health system. The end result is a happier, drama-free period and elevating your menstrual wellness.
Sacred Vibes Apothecary was founded by Black herbalist Karen Rose. Her shop is based in Brooklyn, NY, and is a learning community center and a herbalist boutique. Karen makes an abundance of different cleansers for the body but is praised for her all-natural tonics. Her best seller being the Anti-Inflammatory Tonic.
The herbal tonic is made with devil's claw, turmeric, ginger and dandelion roots, garlic, and cayenne pepper. The product promotes weight loss, stops yeast and fungus growth, prevents infection, and balances blood sugar. Seriously, is there anything this tonic can't do? Not to mention it also prevents and removes inflammation. Simply include this in your water twice a day for maximum results. If you're looking for a rebirth, then this product is for you.
As women, that time of the month can be very hard on us. Our bodies are going through a beautiful process that can sometimes throw us and our pH out of whack. Now, there is a supplement to help get back in alignment with our pH. Bea Dixon founded the Honey Pot. Her now plant-derived feminine brand manifested through her struggles with bacterial vaginosis. She developed a series of feminine products as well as a vaginal supplement to help us all.
Her supplement Boric Acid & Herb Suppositories is a vaginal insert. The suppositories are made to help with pH balance but can support ongoing symptoms of bacterial vaginosis. The supplement is all-natural made with boric acid and tea tree oil for balance, plus coconut butter for an added boost of hydration and moisture. The supplement comes with an insert, similar to a tampon. It is advised to take the supplement for seven days twice a day.
Stress in our life can have hard effects on the body. Lack of sleep, weight loss, mood swings, the rise of blood pressure, and heart disease can all stem from stress on the body. Having a supplement to keep your stress levels low can save you a lifetime of health challenges. Good thing we have Nadine Joseph, the founder of Peak and Valley--an herbal company backed by science.
Peak and Valley promotes medicinal mushrooms and herbal supplements for holistic wellness. Nadine, a scientist, became passionate about providing products to help us deal with everyday stressful situations. Her powdered supplement, Balance My Stress Blend--is a chocolate blend of herbs and mushrooms to support calm and wellbeing without the need for prescriptions. The powerful ingredients are clinically proven to balance cortisol levels, support and enhance immunity, increase energy, and decrease stress. You may apply one tablespoon of the supplement to any tea, coffee, or milk.
VeganSmart
People of color, we have to do better about our eating habits. Now don't get me wrong, I love a saucy rack of ribs, but if I had it every day, I'd be dead. People of color are at a higher risk of having diabetes and other diet-related illnesses. In fact, Kareem Cook and Claude Tellis, owners of VeganSmart, saw this within their own families. The two college friends developed a protein powder and recipes to support nutritional health.
The VeganSmart All-In-One Nutritional Shake is a plant-based vegan blend of prebiotics, omega-3, digestive enzymes, and vitamins and minerals. Each ingredient contributes to the body's overall health, supporting cell function, brain and heart health, and the digestive system to absorb nutrients. You may also find a series of healthy recipes on their website to stay in alignment with your fitness goals.
Dr. Sebi's Cell Food
Giving our bodies a good cleanse can help us see the world just that much clearer, and Dr. Sebi's is helping us do just that. His cell food is proven to bring immense healing from the inside out. Most of his products are from botanical extracts and herbs, which help cleanse the body of toxins and every cell to promote profound self-healing and physical rejuvenation.
A few of his products include powders, tonics, and vitamins, but my favorite is Banju. This product is my personal favorite because it promotes brain health and reduces anxiety. The tonic is rich in antioxidants reducing neurological inflammation, elderberry, which protects and nourishes the brain, blue vervain delivers emotional and nervous restoration, and more. These ingredients make for the perfect anxiety-reducing potion.
Are you a member of our insiders squad? Join us in the xoTribe Members Community today!
Featured image by Getty Images
Keep reading...
Show less
Honey, I don't know about you, but I love a good plant aesthetic. Yes, I'm that girl. Living in New York City, aka the concrete jungle, plants have been a great way of bringing nature into my home. My plants get me back to center; they listen to my problems and are always there to brighten up my day. Now, I must admit although my plants have been good to me, I haven't always been the best to them.
I believe the key to growth is being honest about your strengths and weaknesses, so here it is. My name is Celeste, and I am not a responsible plant mom. I have forgotten to water my plants, put them in the sun, and feed them plant food at times. Please don't cancel me. Finding the perfect plant for me felt more like dating. I swiped right on plenty of beautiful plants, read their profile, and brought them home after a few dates at my local plant store.
Everything was good in the beginning until a few of them showed their asses. Bringing flies into the house, smelling funky, and dying on the relationship altogether. I almost lost all hope until I met the aloe vera plant. Ever since I've been with aloe vera, life has been bliss. He only needs to be water about every 2-3 weeks and always cares for me. I'm in love! Here are 10 ways my aloe vera plant amplifies my self-care routine and my life.
Using Aloe Vera on the Skin
It's no secret the aloe vera plant can work miracles on your skin! I suffer from having acne-prone skin, and let me tell you, it is a struggle sometimes. When I have breakouts, I almost always have acne scarring. I have tried multiple acne products, but most of them are harsh on the skin. My skin is usually very irritated and dehydrated after using acne solution products. After numerous attempts, I decided to go the all-natural route, and that's when my aloe vera plant came in clutch.
Aloe vera is a natural treatment for multiple skin issues, including acne. The plant is anti-inflammatory and is excellent for safely clearing away any mild to moderate acne. Aloe vera has been a skin healer in many cultures. The aloe vera plant is perfect for combating both inflammatory acne and scarring. The remedy is simple, place the aloe vera gel on the problematic area before going to bed. Over time, the skin will become clearer and brighter.
Using Aloe Vera for Hair Growth
I was very against putting the aloe vera plant on my hair at first. In my opinion, the plant has a musky smell, and placing that on my hair frightened me. However, I couldn't help but run into everyone and their mama that swore on using aloe vera for hair growth. My mom always told me beauty is pain--if that pain meant me putting up with smelly aloe vera for a few inches, then I figured sacrificing my nose would be worth it. As a disclaimer: no research shows an aloe vera plant can contribute to hair growth.
I simply experimented from word of mouth, and I must say the rumors are true. Aloe vera naturally has intense hydration capabilities, and I believe this is what contributed to the rapid hair growth. The plant is also rich in vitamins, minerals, and fatty acids. I would highly suggest anyone suffering from dry scalp give the aloe vera plant a try! Simply use it as a pre-poo, leaving the gel (find a quick how-to here) in for about 30 minutes, and rinse when finished.
Using Aloe Vera for Oral Health
I am all about improving my oral health. My worst fear is catching the dragon, aka having bad breath. So any remedy to keep my teeth and breath in check, I am taking! At first, trying out aloe vera as a primary dental source was a bit of a nerve-racking experience. I didn't feel comfortable only using aloe vera to brush my teeth, rinse, and head out the door. Instead, I used my aloe vera plant as a pre-rinse and continued with my oral hygiene routine.
Aloe vera is highly effective in controlling bacteria that can eventually lead to oral issues. The most well-known prevention is cavities. Aloe vera has a natural way of removing toxic microorganisms. This factor can contribute to avoiding gum disease. In fact, according to Medical News Today, rinsing with 100 percent pure aloe vera gel can be more effective than using chlorhexidine, which is an ingredient found in mouth wash. I would suggest rinsing for about 30 seconds to one-minute a day.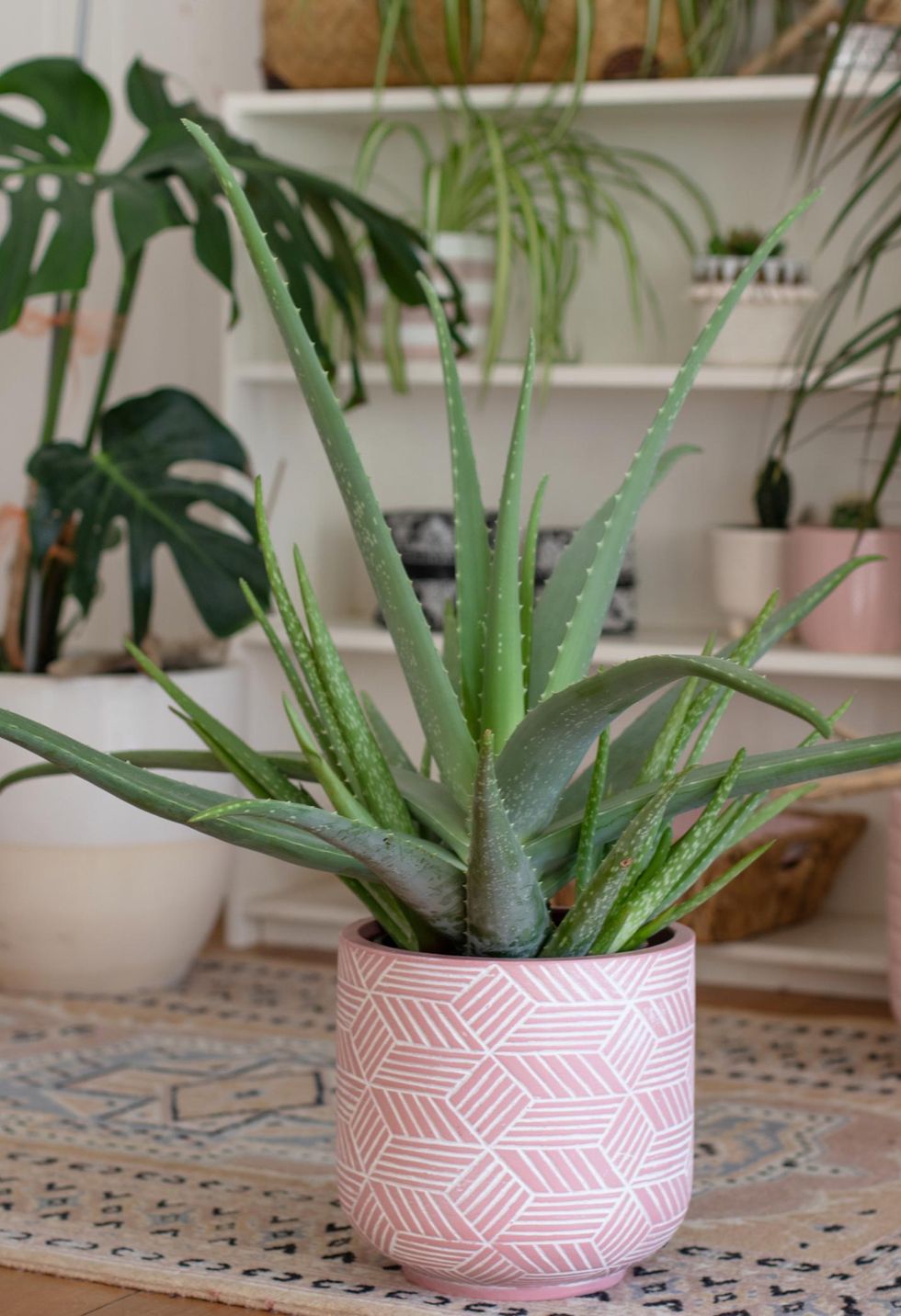 Getty Images
Aloe Vera Juice for Gut Health
It's funny how quickly your gut can switch up on you...or not. I miss the good ol' days when I could eat whatever I wanted with no consequences. Unfortunately, dairy had different plans for me. It took me a while to adjust to new eating habits. I ate cleaner, drank more water, but ultimately my gut needed an overall cleanse. I began drinking aloe juice, and it took some time, but the results finally kicked in.
Aloe vera is an effective and gentle way to keep your gut health in check. The plant contains enzymes, which helps in breaking down sugars and fats. Aloe can also help ease irritation in the intestines and the stomach. The best way to consume aloe vera is by blending the gel and straining the foam. Feel free to add a hint of lemon or mint for a more refreshing flavor.
Using Aloe Vera for Burns and Sores
Fun fact: your girl is clumsy! I am constantly bumping and bruising myself around my home. I swear one day I will get it together, but I will be healing myself with aloe vera until then. As I mentioned in my acne journey, aloe is the perfect skin healer. Not only for pimples, but cuts, sores, and burns. Growing up, I was taught to put butter on my burns (I know, I know). Truthfully, the butter wasn't very effective. Today, I use aloe vera whenever I hurt myself, and I find it much more calming.
Aloe vera is an excellent cooling resource for burns. The soothing properties of the aloe vera gel make it a calming aid for most skin abrasions. Its anti-inflammatory properties can help reduce swelling and reduce pain. It's essential, however, to know never to use aloe vera on open wounds. Only use it for burns and minor skin irritations. Using aloe vera to heal the skin is easy. Just apply the aloe gel directly to the injury. Please remember to wash the plant before using it.
Using Aloe Vera for Shaving
Now, I know what you're thinking? Aloe vera dries so fast on the skin, how could it be used for shaving? I know, I thought the same thing until I ran out of shaving cream. Aloe vera has a lot of lip to it and holds up well in the shower, but the real key is to mix it with other natural ingredients. You can mix it with almond or coconut oil, castile soap, Vitamin E oil, eucalyptus oil, and warm water. If you want a more detailed how-to for making your own DIY aloe vera shaving gel, find that here.
Place your homemade shaving gel in a small bottle with a pointed tip, and boom! Be prepared for the softest legs of your life.
Are you a member of our insiders squad? Join us in the xoTribe Members Community today!
Featured image by Getty Images

Keep reading...
Show less
Ego is a hella hard battle to beat, sis. Every day can feel like our ego is being tried and tested. It's always ready to show out, and sometimes it's hard to hold her back. I think we can all agree, Ms. Ego is always ready to pop off. Did your roommate drink your apple juice? Ms. Ego wants to pop off. Co-worker threw shade in the Zoom meeting? Ms. Ego is trying to pop off. Did someone beat you to the last seat on the subway? Ms. Ego said, "It's. on. SIGHT." Whatever the situation is, Ms. Ego is a part of ourselves we are all trying to navigate.
I've found myself in many situations where I've gone head to head with my ego. I have to admit there were times when she would win. The battles I have lost to my ego I've always looked at as an opportunity for growth. One of the growing pains I've learned about ego is: We should not kill our ego. Why would we destroy something that is a part of us? We shouldn't shame our ego but instead, nurture it. We should look at our egos as a guide to our insecurities. The ego is a beautiful piece of ourselves that is continually transforming. One way I'm changing my ego is by learning how other successful women work through their egos.
I've had the pleasure of speaking with three amazing and successful women who have had to work through managing their egos in their home life, work-life, relationships, etc. Here are their strategies for how they put Ms. Ego to rest.
Building Community to Address Ego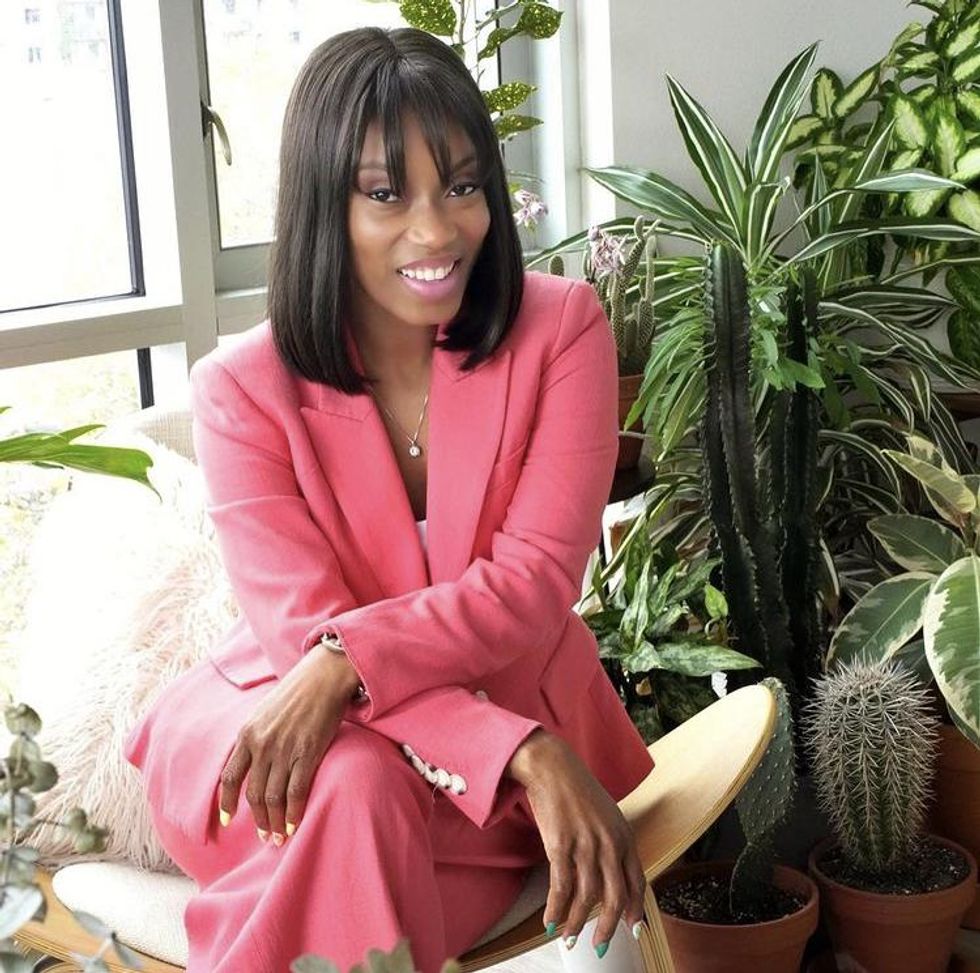 Courtesy of Alechia Reese
"My ego appears the most when I'm triggered! I started a podcast called Triggered AF with my life coach and sister-friend, Dani Foster, to work through the things that trigger anger and frustrate me. It's necessary to know what activates your ego and also to learn how to manage it. I consider my ego to be my protector and worth-reminder, so it tries to run wild when those are threatened. In the podcast, we work through triggers together, providing invaluable insight to help us all grow.
"I don't believe in defeating my ego. Just as masculine doesn't work as well without feminine. My ego is necessary for sustenance. I don't defeat my ego. I bring her back to her baseline. "
"I'm a firm believer in moderation in all aspects of life. I began working on controlling my thoughts and conscious mind in my mid-20s. Your mind is the most powerful element behind our energetic spirits, so learning to leverage and use it for good was a personal focus of mind. I bring myself back to myself by creating a baseline for who I am, how I want to feel, and who I want to be. When I feel my ego stepping far past that equilibrium level, I mentally walk myself back - while also giving myself grace for when it's too late."
Fighting to Get What I Deserve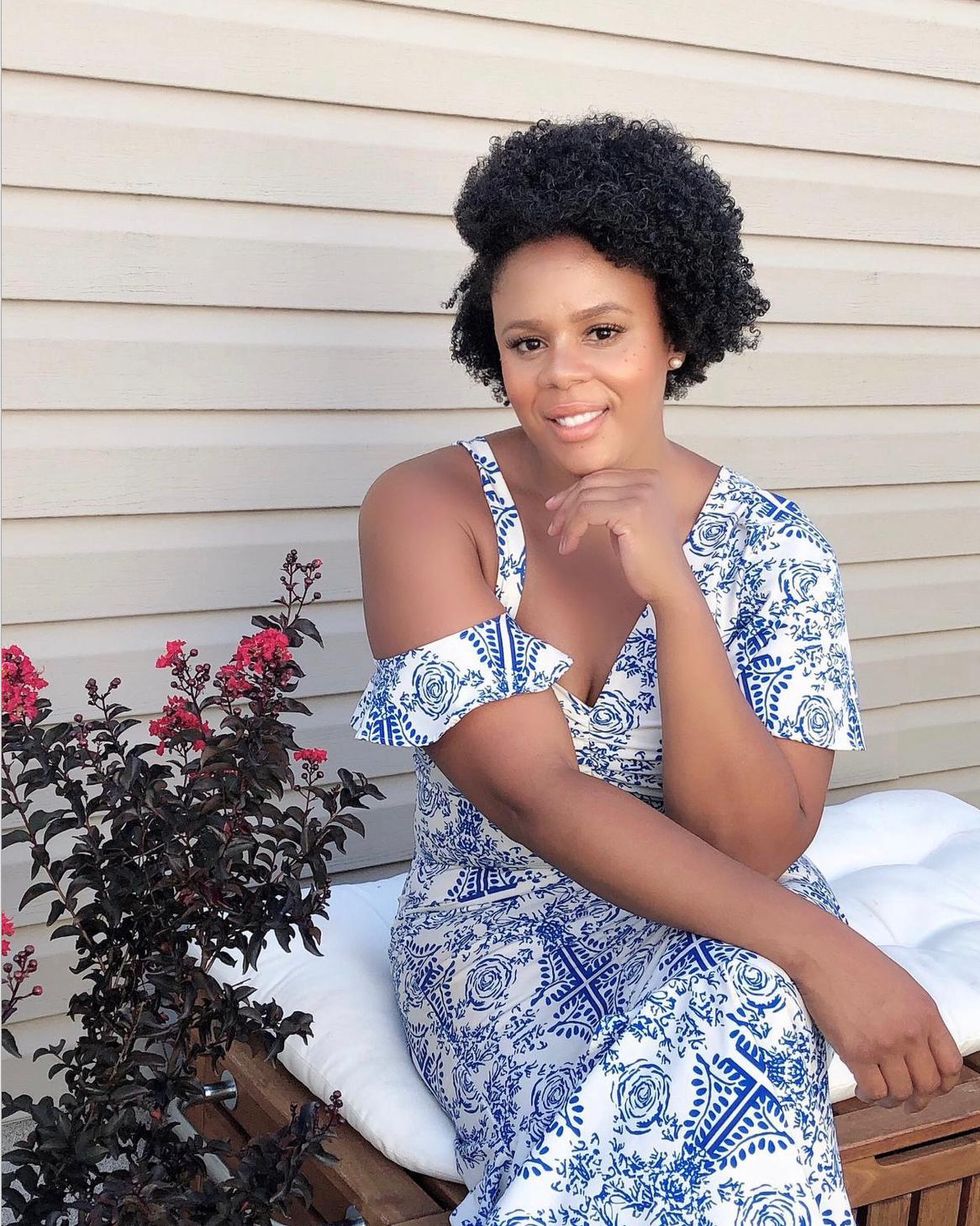 Courtesy of Aja Robinson
"Growing up, anytime I shared an idea with my mother, she always cheered me on. One of the most memorable ideas I had as a kid---a third-grader, to be exact--- was that I wanted to go to Howard University. Not only was Howard a long way from home, as I grew up in Wichita, Kansas, tuition for this university would be costly for my middle-class upbringing. Despite the many reasons one could think of to deter a third-grader from this big idea, my mother was my biggest champion and eventually made sure I'd see this idea to fruition. Confidence was instilled in me at a young age; I would also say my ego was boosted in a healthy way.

"Many would say, leave your ego at the door when negotiating, but I knew I needed to approach the situation with a certain level of independence and self-centeredness. Speaking up for what you deserve can be so challenging."
"A time I leaned into my ego to work for me was the first time I negotiated a salary. My first experience with salary negotiations was my first job out of college. I worked in retail while in school, and upon graduation, I was offered a promotion into a new role. I was beyond thrilled about the opportunity, but the salary was not precisely what I was expecting or in line with the value I was already contributing to the business.
"Long story short, I went back to the owners of the company and negotiated a higher salary. They didn't give me exactly what I wanted, and that was OK because as I really enjoyed working for the company and probably would've taken the job regardless, but most importantly, I appreciated the fact that they listened and acknowledged my value to the organization. In this particular situation, I'd say there was a nice balance of ego and self-confidence."
Channeling Spirituality to Build Humility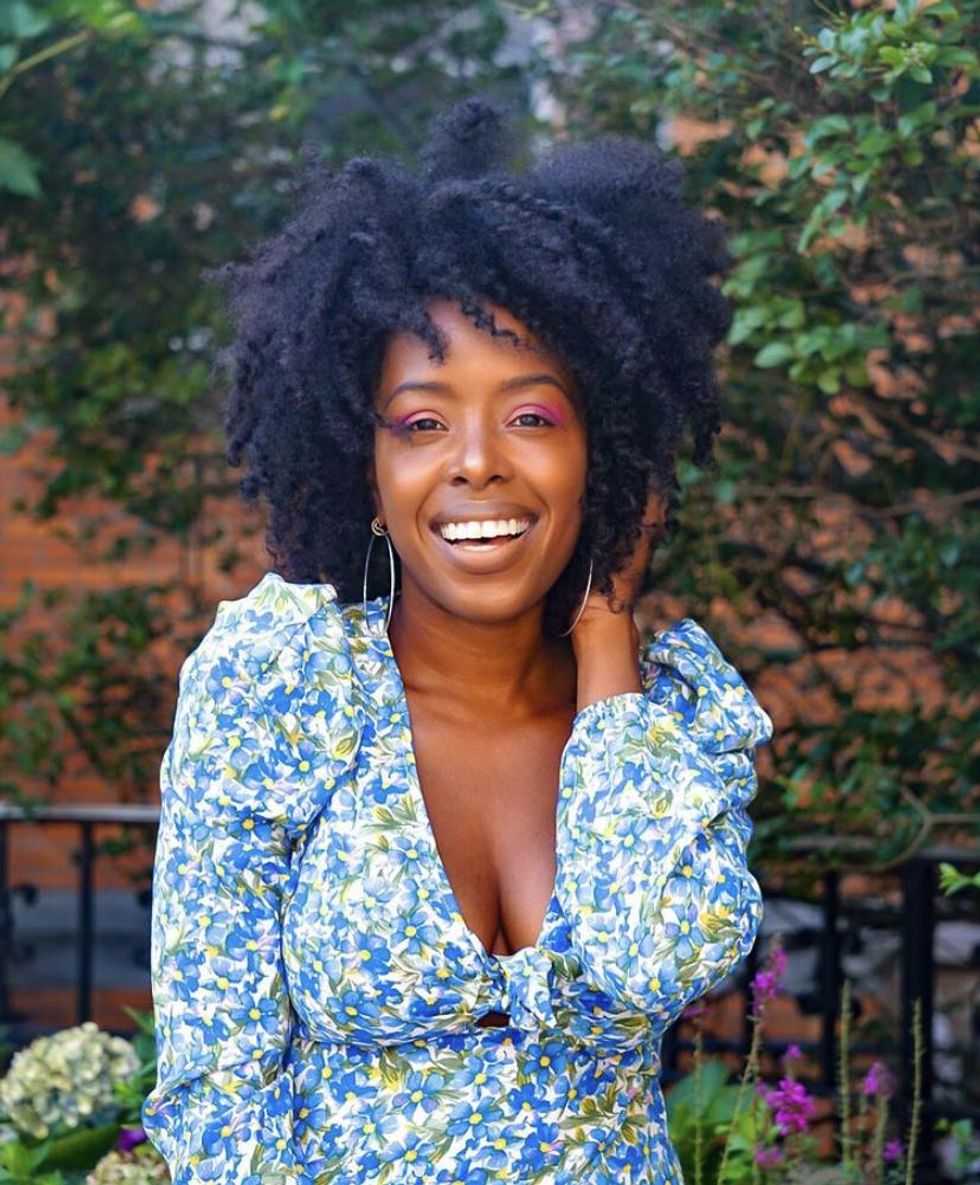 Courtesy of Sade Solomon
"The Holy Spirit has helped me defeat my ego! Here's the thing, there are a lot of the things I know I need to handle or overcome. I cannot do it in my strength. As a believer, I am super reliant on God's power to work through me because I cannot do it alone. If I had a choice, I wouldn't forgive anyone who has wronged me. I would be seeking out revenge right now! But I am reminded that God fights my battles, so I don't have to; I find strength in Him, to forgive. It is a journey because as long as we live: 'People will be people.' We will be wronged, hurt, talked about, and mishandled; we can't control what happens to us, only how we respond. The greatest strategy to defeating my ego is allowing God to help me.

"I have noticed a huge gap between who I think I am and how God has created me and views me. I haven't fully caught up to the depth of my worth in the eyes of God, but I am getting there. This gap is what I define as low self-confidence and worth."
"When God reads me and shows me a mirror of myself, that is a sure-fire way to calm my ego down. I don't think that I am always aware of being prideful or self-absorbed, even in my best attempt to be mindful. Interestingly, we think we know so much about ourselves until God shows us those ugly parts of us that we don't think are there. Hello, church!"
Are you a member of our insiders squad? Join us in the xoTribe Members Community today!
Featured image courtesy of Sade Solomon
Keep reading...
Show less
In life, I live for two things - food and a solid self-care routine. Having a weekly restart routine has been an influential part of my mental health, but it hasn't always been this way. In the past, I have fallen victim to the old 2017-2018 trend of #TeamNoSleep. The idea of grinding seven days a week, 24 hours a day, and 365 days a year towards your goals was once the ultimate burnout cocktail I drank daily.
Through conversations with friends and loved ones, I've come to realize many of us have suffered from a case of burnout. Especially people of color and those who come from Caribbean backgrounds. As black and brown people, we more than likely watched our elders work harder than their white counterparts for the "American dream". Witnessing them sometimes work two to three jobs and placing self-care on the backend. To them, overworking was a form of survival.
Fast forward to today, self-care is becoming an increasing priority within the black and brown community. We realize that our mothers' and fathers' work ethics may have been effective in the short-term but not sustainable in the long-term. Although most of us are doing our best to keep our cup in flow, it's natural for us sometimes to get caught up in overdrive. Here are some rituals to offer an assist with your reset button.
Sleep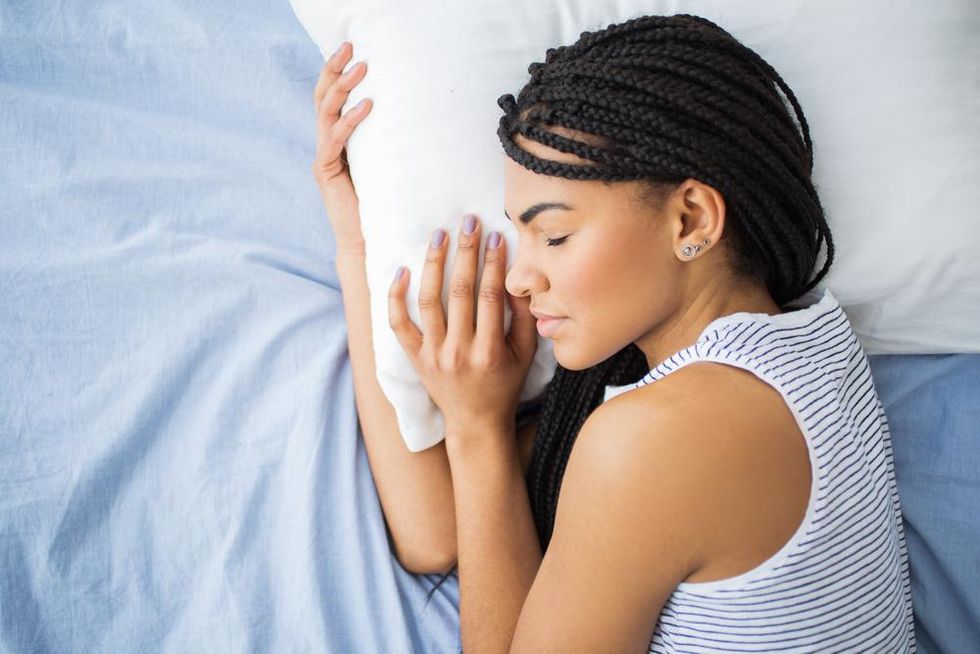 Shutterstock
Sleep is a simple yet very effective way to recover from a case of burnout. Sadly, sleep can also be hard to come by when you're feeling overwhelmed or stressed. It has been very easy for me to feel guilty for honoring my body with rest in my experience. The pressure of guilt had caused me to push myself when I had nothing left. My lack of rest also contributed to mood and productivity. When our bodies lack rest, our brains are naturally less alert and reactive.
Making sleep a priority has helped me recover from several cases of burnout. There are many benefits to resting your body. According to health.gov, a few of those benefits are thinking clearer, interpreting conversations, reducing stress, anxiety, mood, and overall productivity. Our bodies and brains need rest for us to operate as our best selves.
Sun 
When I am feeling burnt out, it's only natural for me to need space to myself. On the contrary, I find I can also become a little too comfortable in isolation. Purposely avoiding human contact because I'm not ready to open up about how I am "really" feeling. During these times, my body and mind are weakest, and so are my thoughts about myself. I slowly begin to suffer in the darkness of my thoughts, and that's when I know it's time to let the light shine on me.
Mother nature is our friend; she is always here to help and is an excellent energy source. When we are in a state of burnout or need to reset, we are also more likely to fall into depression. Burnouts can cause us to feel low and lead to isolation because we don't have the energy to be social. Although it's important to remember that burnout isn't depression and depression isn't burnout - it's also essential to know one can lead to the other. During these times, it's healing to enjoy the company of the sun.
There are many benefits of using the sun as a source of healing. Some of those benefits include increasing your mood, easing depression, as well as increasing your energy. A perfect way to get in your vitamin D source is by taking a simple 10-15-minute walk (with sunscreen, of course). We also recognize that during these spring months, there may be more rain than shine. Investing in a sunlight lamp can also be a great way of supplementing your source of vitamin D on those rainy days.
Self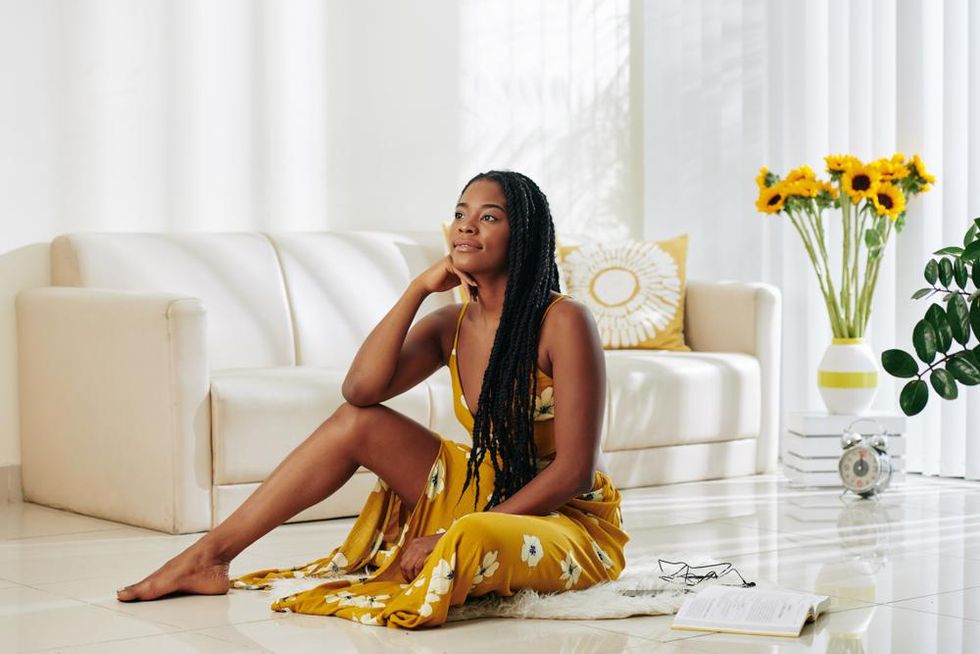 Shutterstock
I believe we can find growth in every situation, even the position we place ourselves in. Over the years, I have realized that burning out is also a perfect time for some self-reflection. I enjoy asking myself questions like, "How did I get here?" and "What habit can I change?" I discovered self-reflection helps me adopt better habits and prevent future burnouts.
A perfect way to incorporate self-reflection during your time of rejuvenation is journaling. Taking time to write out our thoughts and emotions can help guide us to how we got there in the first place. Journaling prompts are a great source to help us learn how we can make gentle decisions for ourselves in the future. To help you get started on your self-reflection journey through journaling prompts, please click here.
Finally, remember to be gentle with yourself. We understand being a #bossbabe is hard, but also remember how deserving you are, Queen! You are worthy of a break, sleep, and success! Heck, you're worthy of success while you sleep! When you're a queen building a kingdom, it's only right to take a moment to polish your crown. Rest easy!
Are you a member of our insiders squad? Join us in the xoTribe Members Community today!
Featured image by Shutterstock

Keep reading...
Show less
Women have been programmed for generations to look, act, speak, heal and not heal a certain way. Sadly, most of this has been passed down from the women in our families growing up. Our mothers, grandmothers, and aunts sometimes projected traditional beliefs or acted in ways we didn't always agree with. Continuing to love them, but consciously knowing the pain behind their lessons and actions.
I grew up in a household where both my mother and father worked. My father was bringing in most of the money and covering the bills from his mechanic business. My mother was working for minimum wage and providing her children with what they needed. As their marriage began to strain, so did the finances. My father (the breadwinner) eventually left home and started a new life. At the same time, my mother held the financial responsibility. As the bills began to pile, so did her stress. Food was now minimal, and cable was a privilege. One day, it all became too much. My mother grabbed me in frustration and said, "Don't you ever rely on a man!"
The pain in her eyes still haunts me to this day.
As an adult, I have struggled with financial roles in relationships. I find myself cringing when a man wants to pay for date night, cover living expenses, or even buy me a cup of coffee. The idea of a partner providing financial security is frightening. I know this fear comes from my childhood experience. I carry the narrative of being a strong independent woman because of the pain my mother endured. I'm learning through therapy that it's OK to be a strong independent woman and be cared for by your partner. A common factor many women of color struggle with today.
I believe I am the woman I am today because of my mom. I have inherited so much (both good and bad) from watching her as a little girl. As I learned this about myself, I began to wonder if other women felt the same way. Here are a few women on their experience with generational curses.
Khristina Williams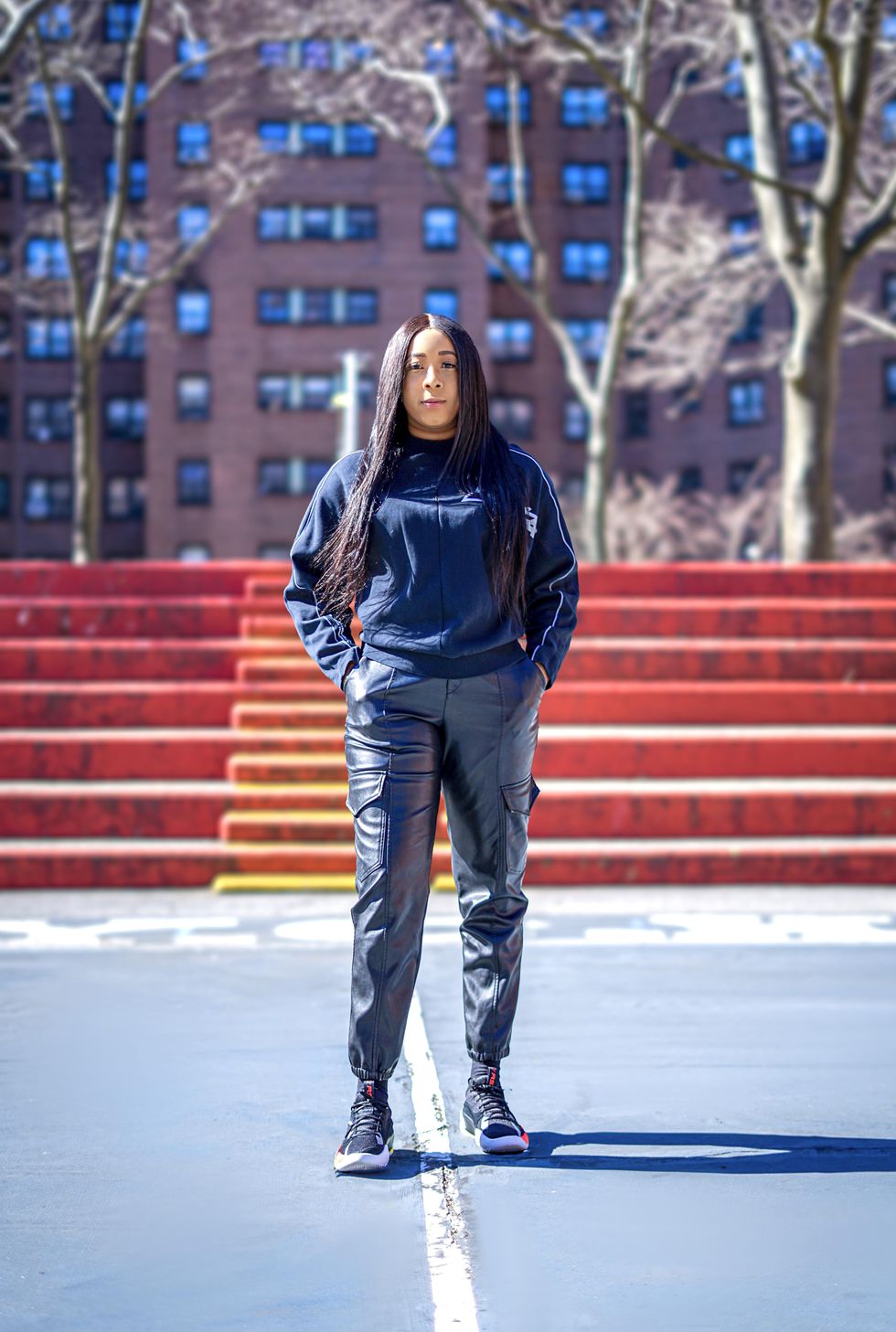 Courtesy of Khristina Williams
"As a little girl watching other women in my life, my experience was seeing women who constantly put others before themselves. The women I saw growing up were independent and strong. My mother always sacrificed so that my siblings and I could have a better life. My mother constantly worked, so we spent most of our time with my grandmothers and sitters. I have some strong women in my family, but the man was the head of the household.
"My great-grandmother, Ernestine, was a nurturer. Growing up, I observed her taking care of my great-grandfather, a former WWII vet. They stayed in separate rooms due to him being ill. Her entire day revolved around taking care of her husband until his demise. All of the women in my family leaned on one another in good and bad times.
"In terms of gender roles, the women in my family defied those expectations."
"The women (my mom's generation) were able to pursue careers. However, my grandmothers and great-grandmothers were housewives. So, it's interesting to see the changes through generations. Gender expression and gender roles are societal constructs. I was never raised to feel I couldn't do something because of my gender. My family has always encouraged me to be the best version of myself and do what I want to do."
For more of Khristina, follow her on Instagram.
Anisa Benitez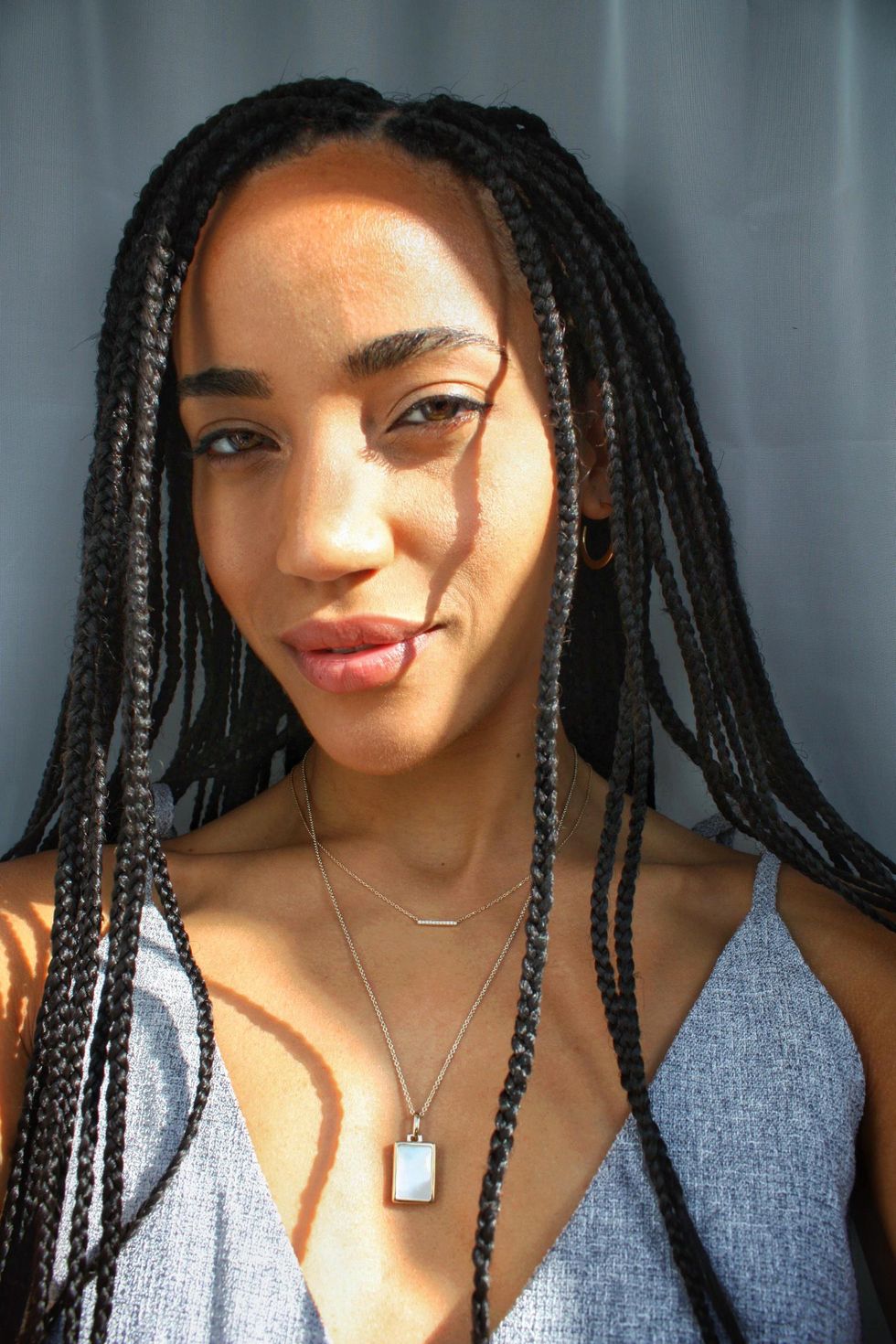 Courtesy of Anisa Benitez
"I don't believe in 'curses', but there are infidelity patterns and scarcity in my family. I grew up around others who felt and expressed a lack of prosperity, time, money, and love in their lives. Meanwhile, they weren't expressing appreciation for the abundance in their present moment; for example, gratitude for good health, the love of friends, and the money to always make ends meet somehow.
"In regards to breaking a scarcity mindset, I've learned that the present moment is abundant. Our clinging to the past or fixation on the future is the root of most suffering. When we can enjoy where we are and all we have, the more good opportunities we see in the present."
"Loving myself has been healing. I practice living mindfully and mind my thoughts most of all. 'What is the story I am telling myself?' is a common question I ask myself. I go to therapy, meditate, take care of my body, eat well, sleep, practice creative wellness, make time to laugh, enjoy this life, and take holistic care of my health. I make more love-based decisions than fear-based. It's a better time to be ourselves openly. It means more room to self-express, heal, liberate yourself and others."
"Women in my family are compelling and nurturing. However, taking on caregiving roles left them with little bandwidth to care for themselves. They didn't know how to enjoy their alone time. We need to normalize breakthroughs. It would be great to see enough women of color liberated, successful, and being themselves. This way of living shouldn't be considered a 'breakthrough'."
For more of Anisa, follow her on Instagram.
Britney Turner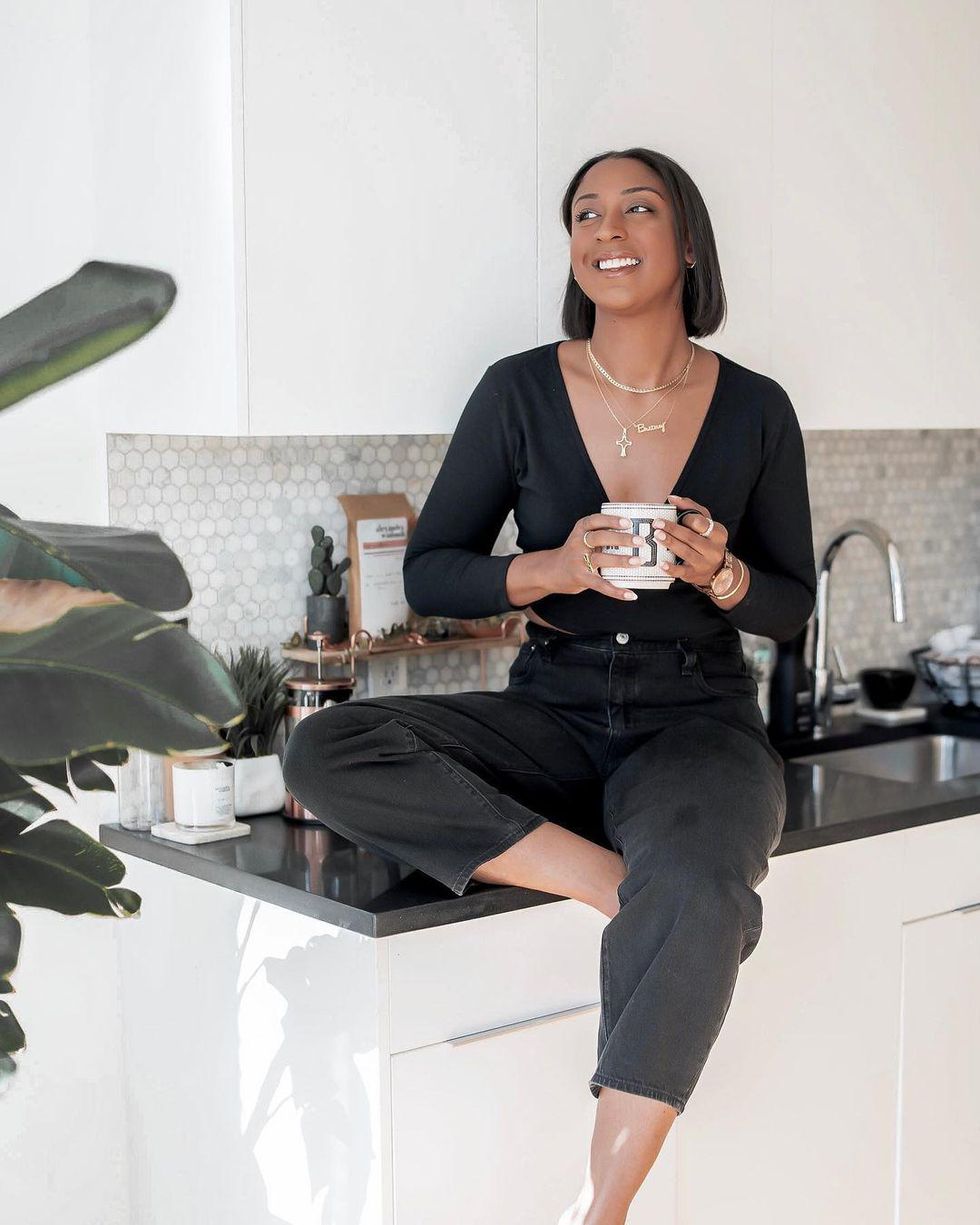 Courtesy of Britney Turner
"When it came to my mom, I observed something that I would rarely see on TV shows and movies at that time--a woman who was knowledgeable in finances and accounting. You always heard that men handled the finances and were the breadwinners, and women just didn't ask questions. Seeing her crunch numbers and budget gave me a different outlook on financial literacy and its accessibility to women. Not only did I learn about financial literacy from her, but I also observed the way she carried herself.
"In the media, women are often sexualized and exploited for their bodies - but I'm thankful that my mother and grandmothers rooted us in the church and taught us the importance of respecting yourself and demanding respect as a woman. Watching their mannerisms and how they were vocal about their needs helped set the tone of how I would present myself in the workplace, friendships, and relationships.
"As a little girl, watching the women in my life was a great experience. I took away so many different perspectives from each of them about being a woman, and more importantly, being a black woman."
"We still have so much work to do, but seeing the women I admire live life unapologetically and speak their minds is such a liberating feeling. Seeing women of color embrace their skin, natural hair, and features without shrinking themselves has made me want to cry. I think back to being in elementary school and feeling like straight hair was more 'appropriate' or more 'professional'. I remember being scared to embody what it means to be a black woman fully. Generational curses sometimes come from the stigma and stereotypes that society has placed on us as well."
For more of Britney, follow her on Instagram.
Featured image courtesy of Britney Nicole

Keep reading...
Show less