Jasmine Guy and Kadeem Hardison have taken many trips down memory lane to celebrate A Different World's 35th anniversary. Over time, Jasmine, who played Whitley Gilbert, and Kadeem, who played Dwayne Wayne became beloved sitcom figures, particularly in Black households, that influenced pop culture.
---
Who can forget Dwayne Wayne's iconic flip-up glasses that became a fashion trend and who didn't want to be bad and bougie like Whitley? Their love story was also looked at as goals, however, recently, many fans have spoken out against that idea. Probably the most memorable moment in the sitcom's history took place in season five when Dwayne crashed Whitley's wedding to Byron and pleaded with her to marry him instead.
A Different World: 5x25 - Dwayne interrupts Whitley and Byron's Weddingwww.youtube.com
While that scene is TV gold, Jasmine and Kadeem were not on board with it and shared that they expressed it to the writers. In an interview with The Breakfast Club, the '90s icons revisited that moment at the 56:33 mark. "We had done so many real things on the show. So many things that felt real from the AIDS and the apartheid and all of that, for me to crash this wedding like this felt like a complete leap. It didn't make any sense," Kadeem said. Dwayne and Whitley had experienced a lot of ups and downs in their relationship and during season five, Whitley began dating an aspiring senator who she agreed to marry after he proposed shortly after dating.
Kadeem explained that he was nervous because he didn't agree with the scene but he had to put his personal feelings aside and make his character seem believable to the audience. "Once I was getting dragged out and Iost the lyric, I panicked and I knew that her cue was will you? I'm supposed to run down all the vows and say 'will you?' which is what the preacher asked and then she said 'I do,'" he said. "But I got lost in the lyric and just yelled out 'baby please' just because I was drowning."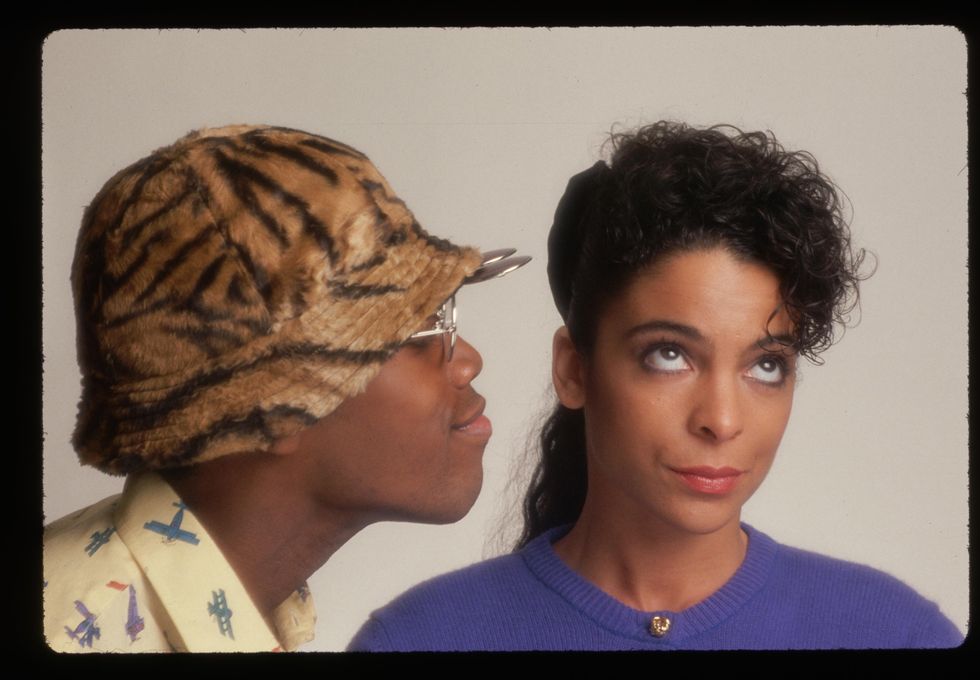 Lynn Goldsmith/Corbis/VCG via Getty Images
The K.C. Undercover star said that he was adamant about doing the scene in one take because he knew it would only get worse if they had to keep redoing it. "You don't want to do that again because of the emotional build but both of us thought that sh-t was corny," Jasmine said.
She continued, "First of all, I felt it was disrespectful and I've spoken at Spelman and those girls were like, 'that wasn't a compliment for him to come up there at the last minute, the night before you at your mama's house.' And if it had been me in my real life, if you came up in my mama's house and then the next day you object, no. It's too late."
Kadeem revealed that it was actually his idea to show up at Whitley's mother's house but he presented that as an option to the writers instead of breaking up the wedding. While the writers liked the idea, they still wanted him to object to the wedding. "And that's why that part one is more real to me than the wedding," Jasmine concluded.
Watch the full interview below:
Jasmine Guy & Kadeem Hardison On A Different World's Impact, Character Chemistry, Black Love + Morewww.youtube.com
Featured image by Cindy Ord/Getty Images